Ron + Mark

Gertrude's at the Baltimore Museum of Art - Baltimore wedding photography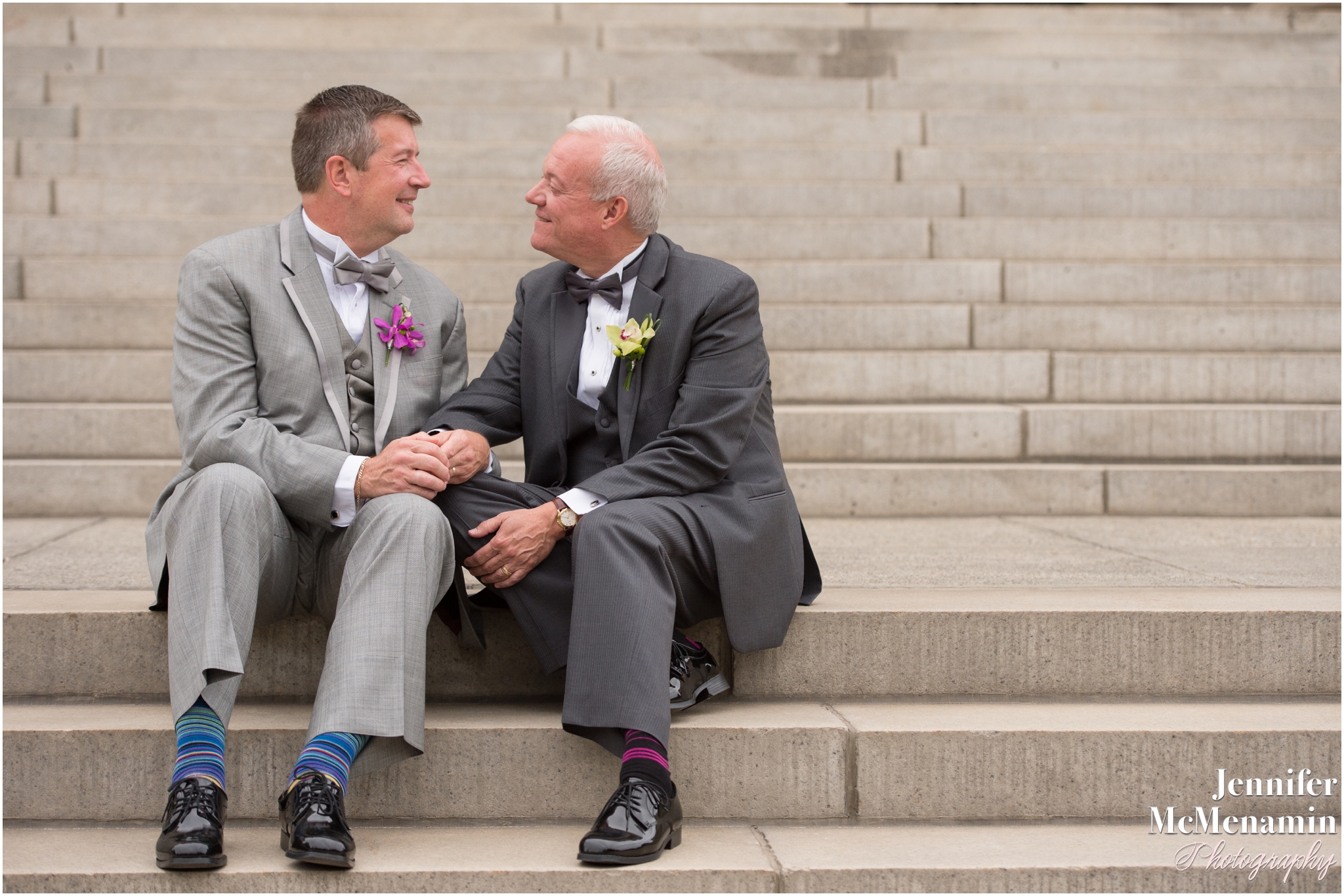 Ron and Mark's wedding was one of my most all-time favorites to photograph. What's not to love, after all, about a stylish outdoor summer wedding that starts with a cocktail party, ends with a Lady Gaga-Michael Jackson-Beyonce dance marathon and includes a feisty and hilarious singing performance by the couple to start the ceremony? (In lieu of a traditional processional, Ron and Mark tirelessly rehearsed and perfected a rousing rendition of Little Big Town's country hit, "Little White Church," and led a singing parade of their guests from the cocktail reception to the ceremony site. The song starts, "You've been singing that same old song, far too long, far too long. Say you'll buy me a shiny ring, but your words don't mean a thing. No more calling me baby. No more loving like crazy. 'Til you take me down, you better take me down, take me down to the little white church.") Ron and Mark, however, chose to exchange vows not in a little white church but at their cathedral to art, the Baltimore Museum of Art. Seventeen years after they started dating — and 35 years after they first met when Ron cast Mark in a high school production of A Funny Thing Happened on the Way to the Forum — the men were legally married in an emotional and incredibly personal ceremony in the sculpture garden of the BMA. Their close friend officiated. Friends and a cousin offered poems and readings. They played a John Denver song that has meant a great deal to them over the course of their relationship. They vowed to take each other as life partners, husbands and each other's one true love. And they removed the rings that they have worn for each other for more than a decade on their right hands, placing them at long last on their left ring fingers. "We said we wouldn't move them to the left side until we were able to be legally married," Mark told me. That declaration, at the very end of the ceremony, was an absolute joy to witness and photograph. Here are some of my favorites from Ron and Mark's amazing day: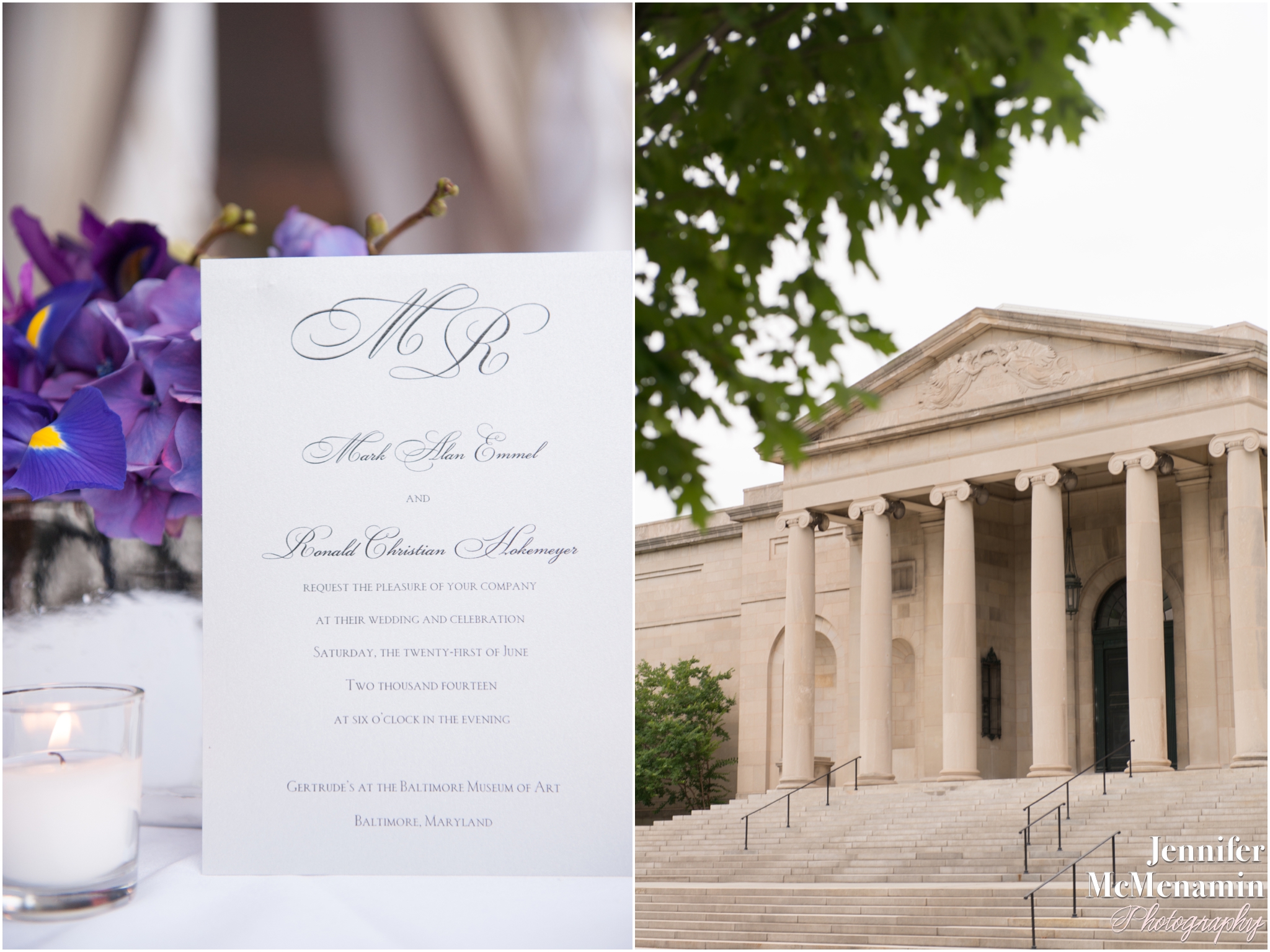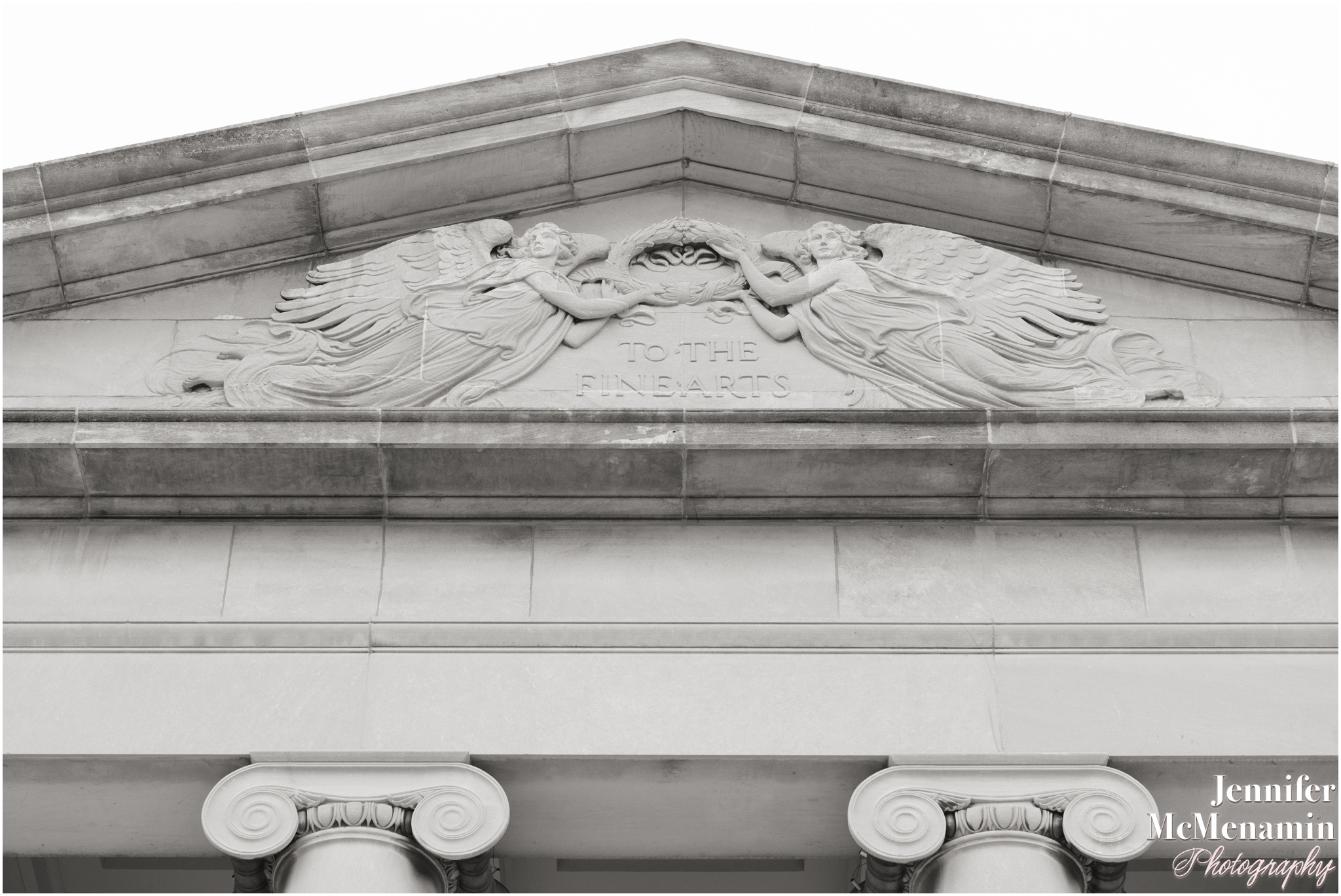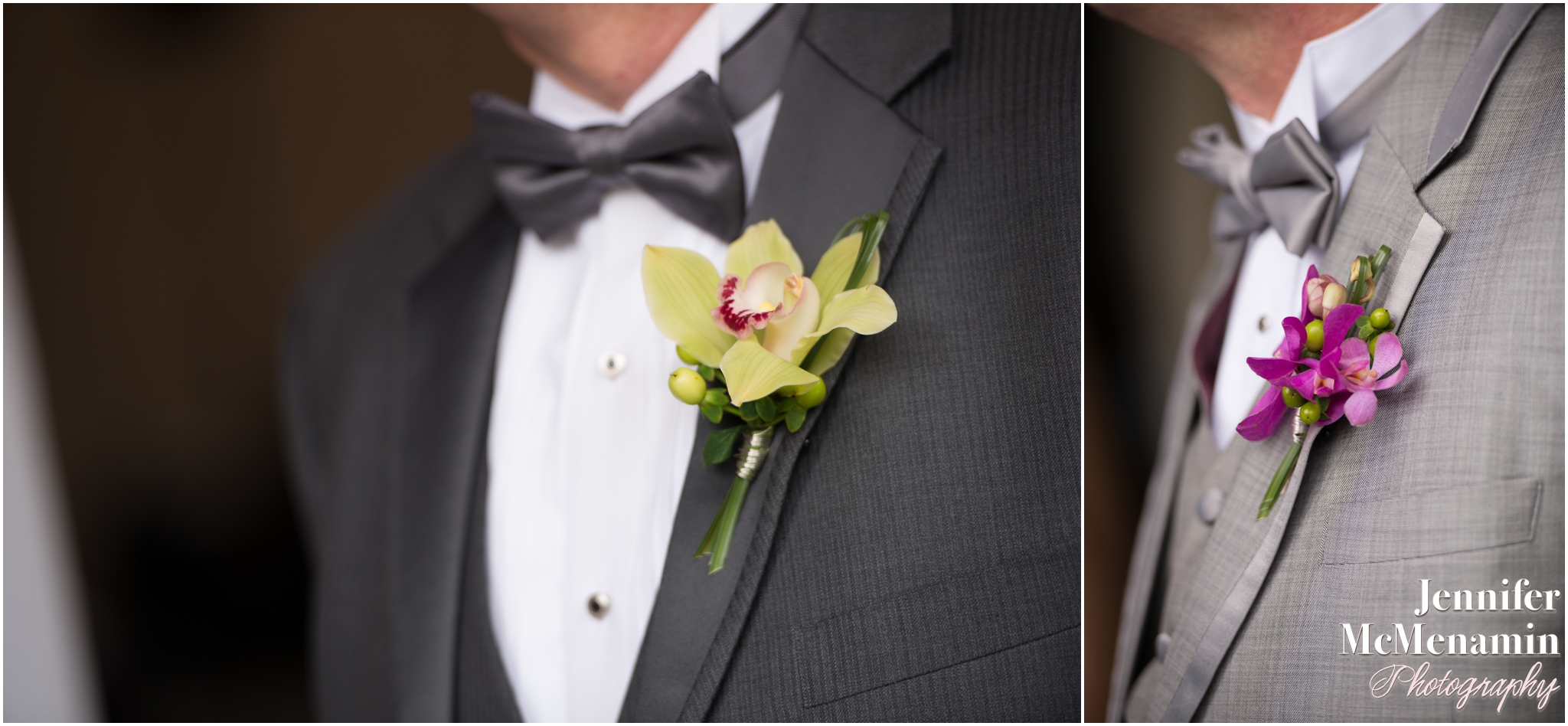 Ron and Mark's mothers — both in their 90s — were absolutely darling.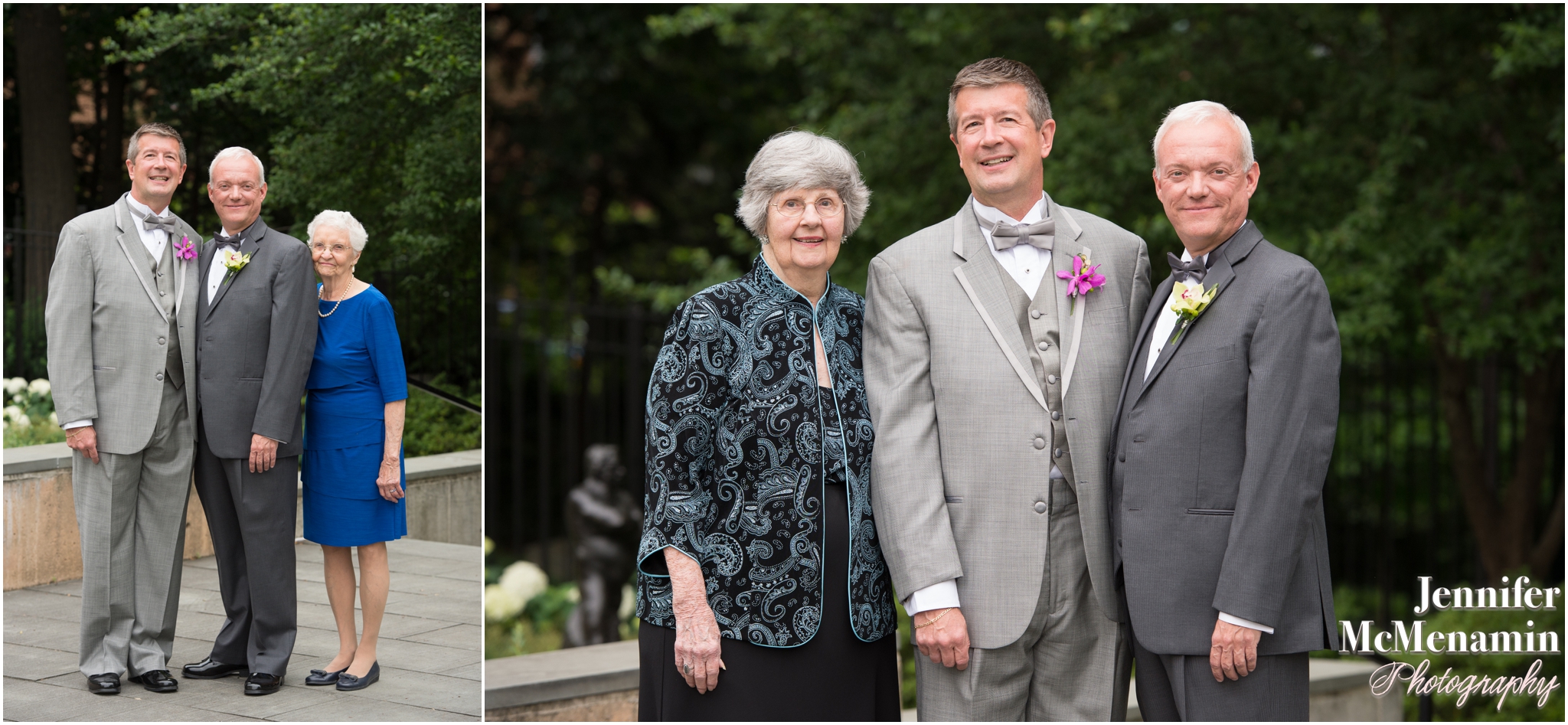 After some quick, efficient family photos, we shot some fun, casual portraits of the grooms.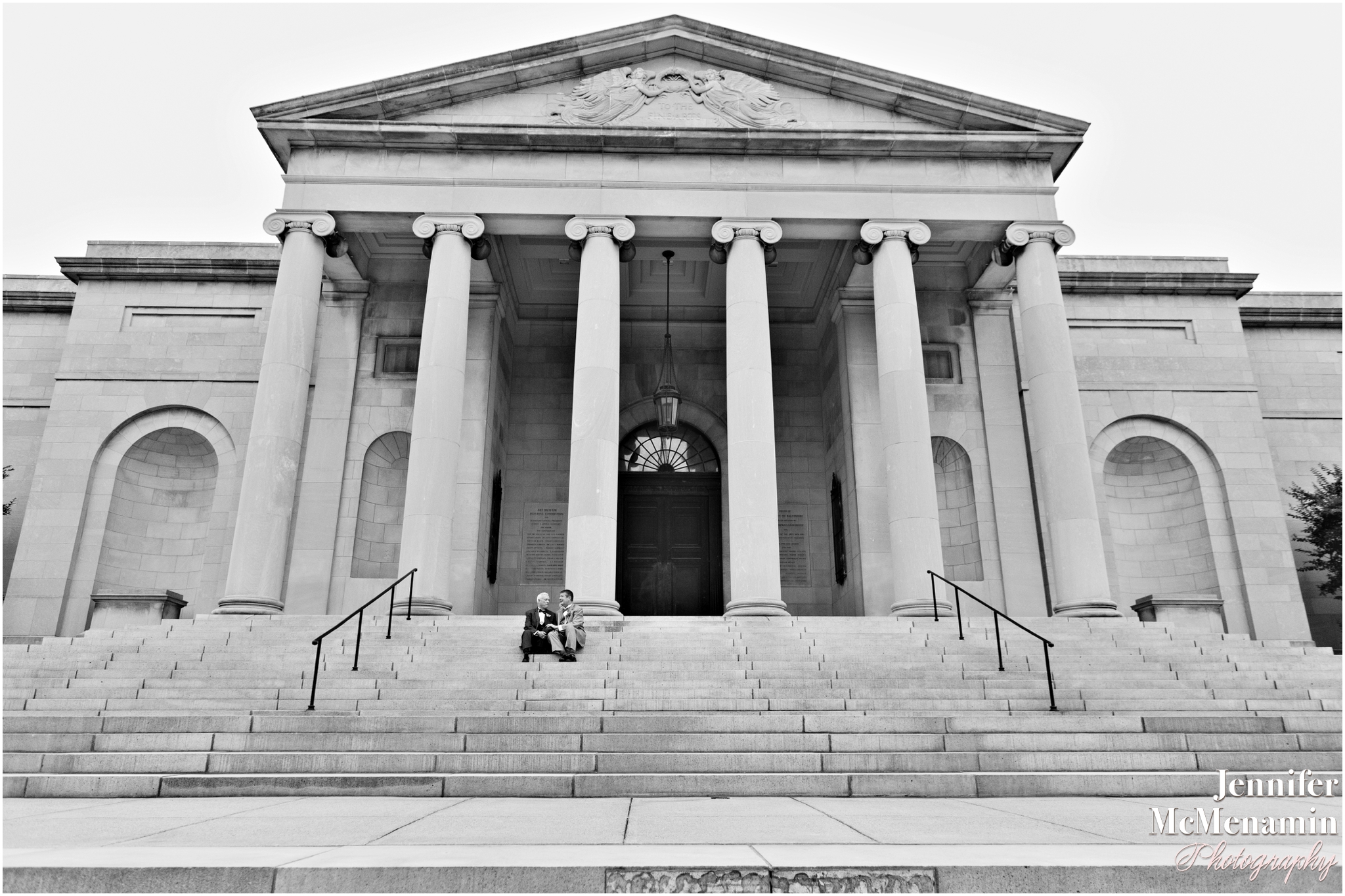 I was kind of crazy for their socks.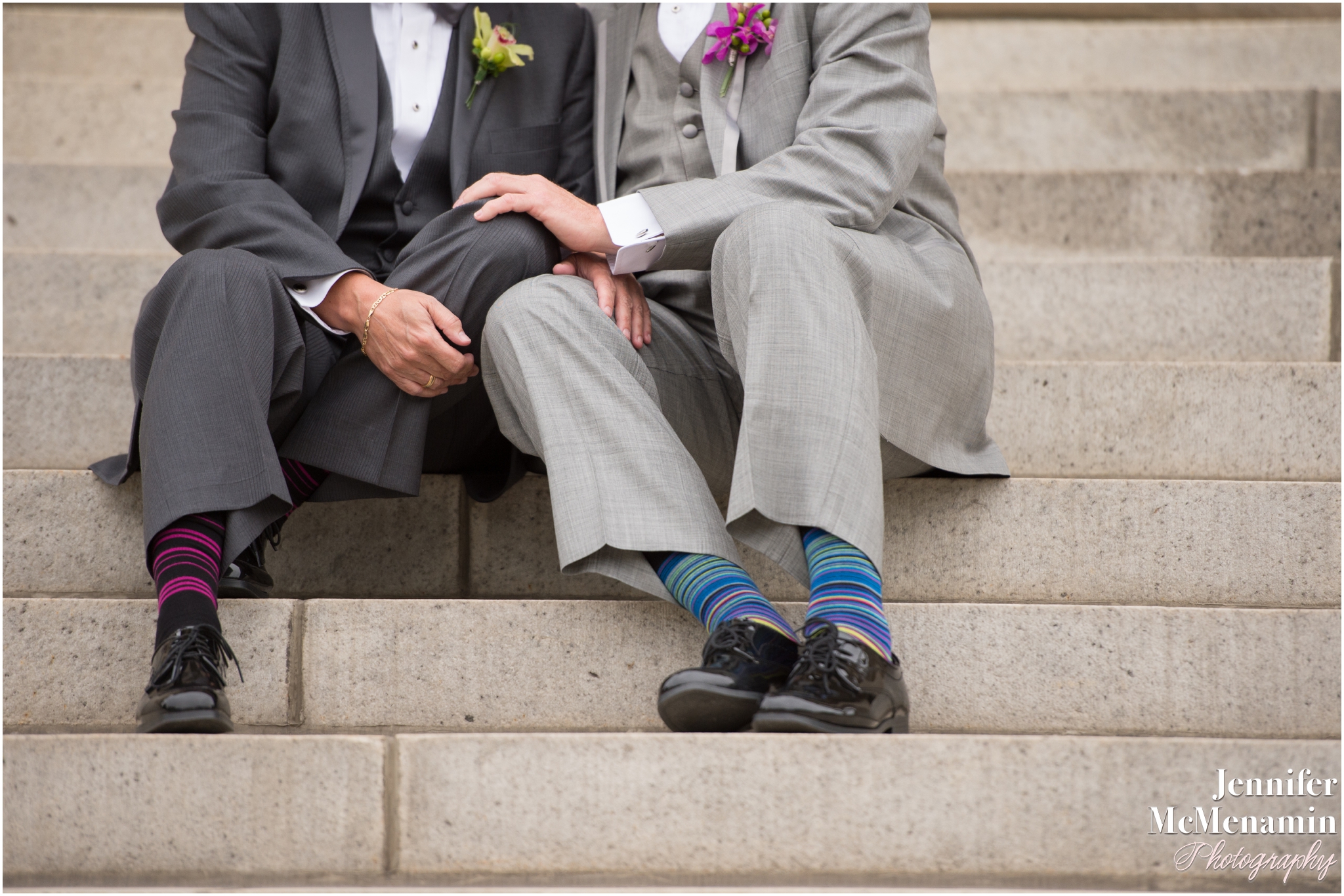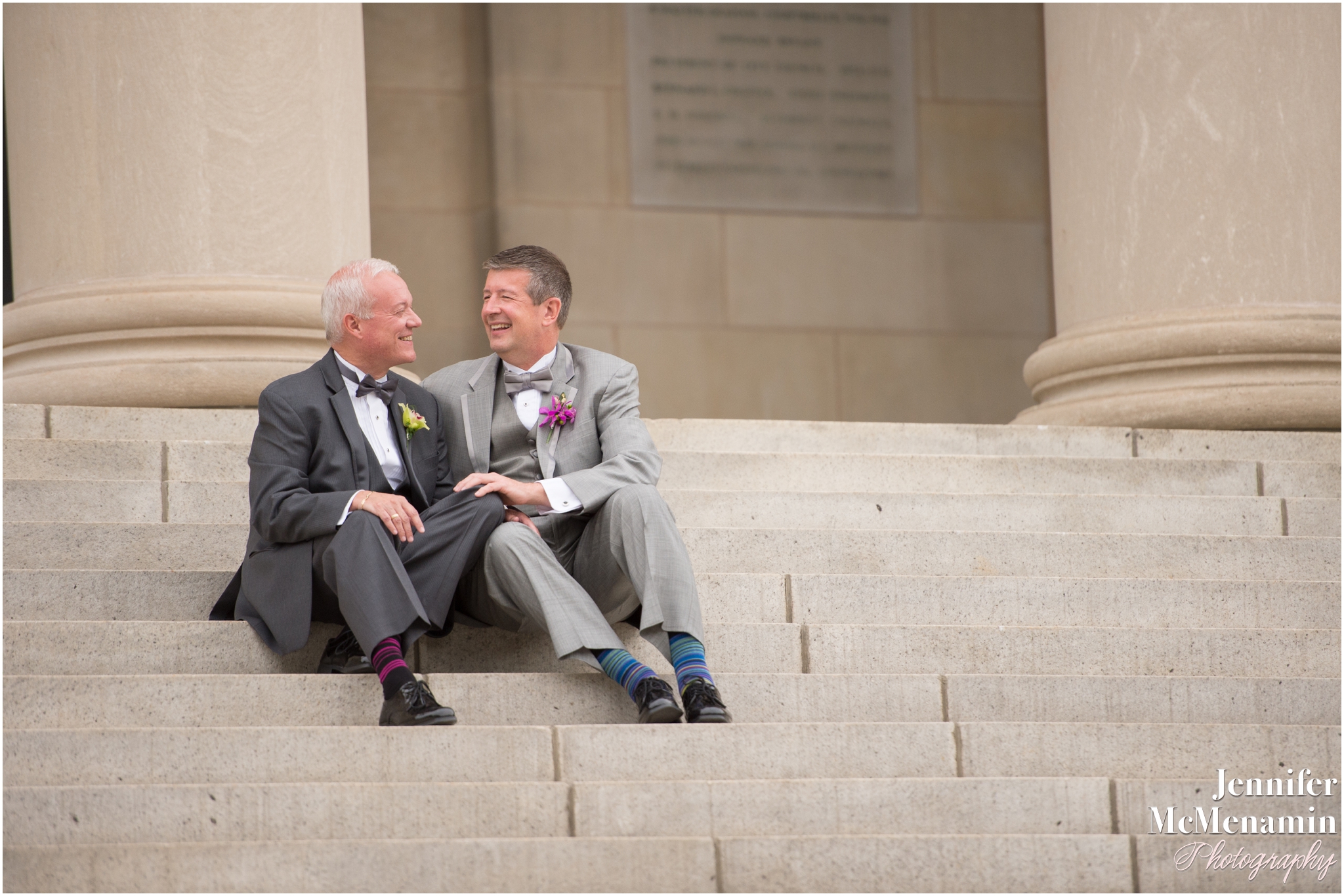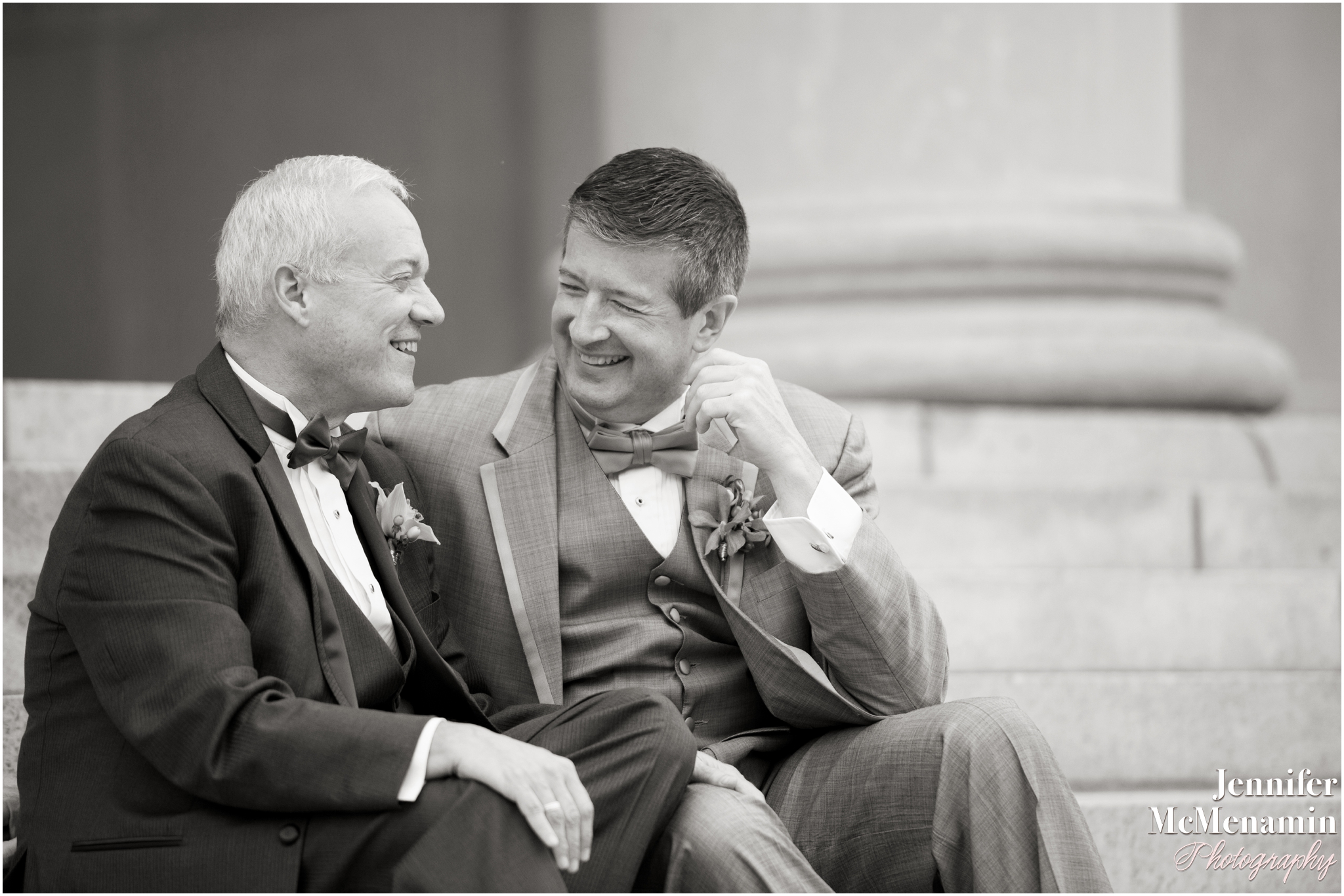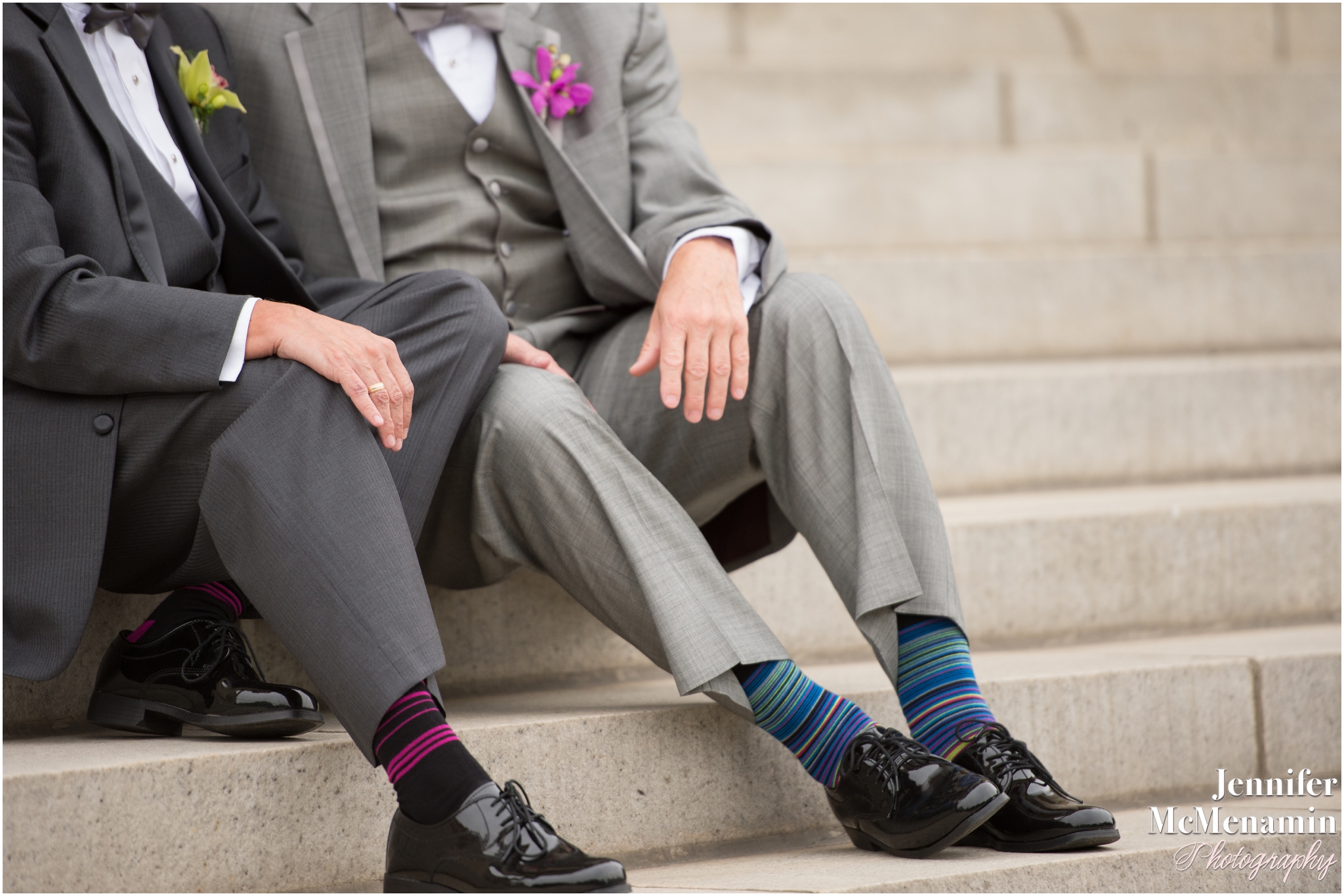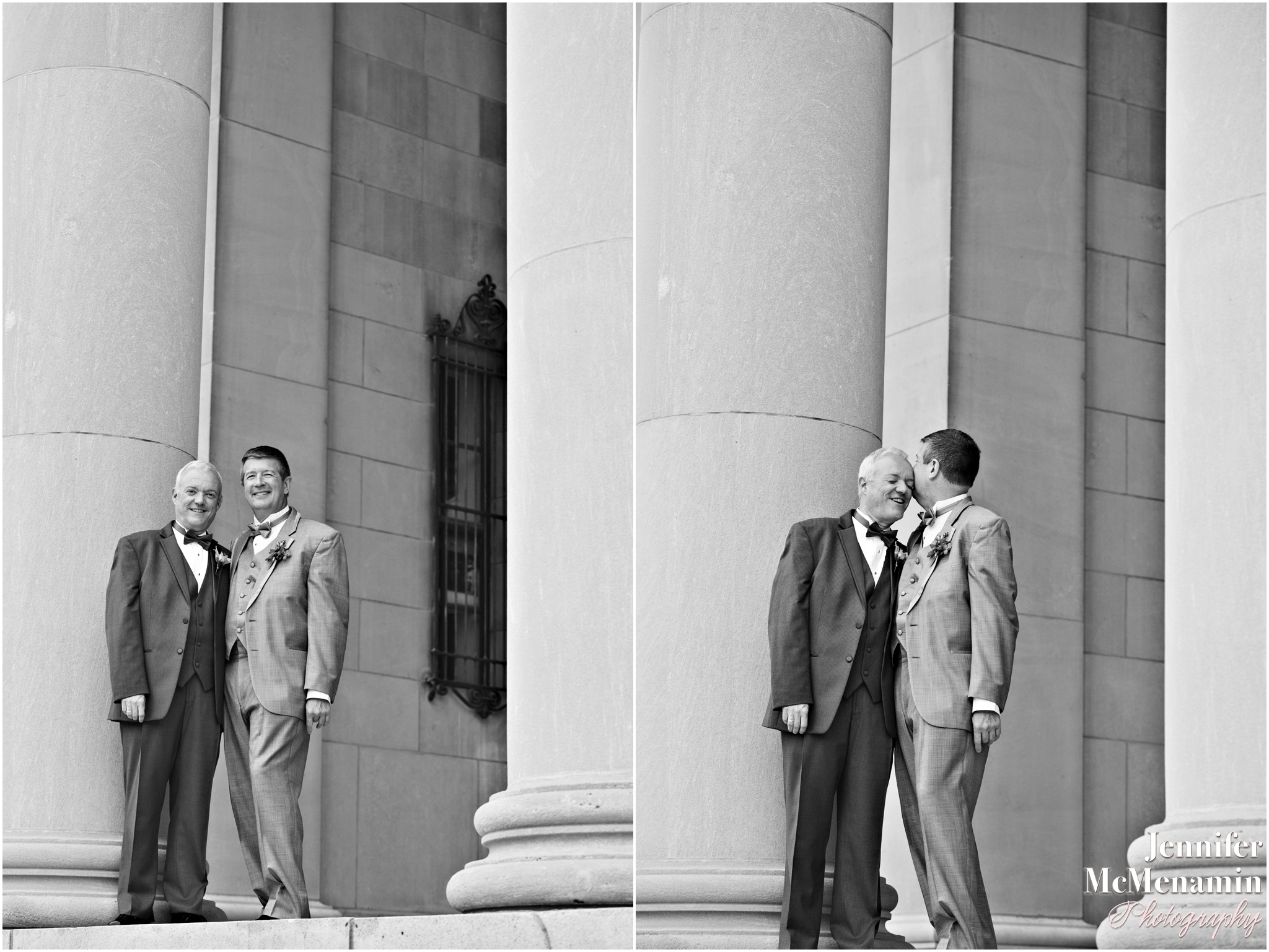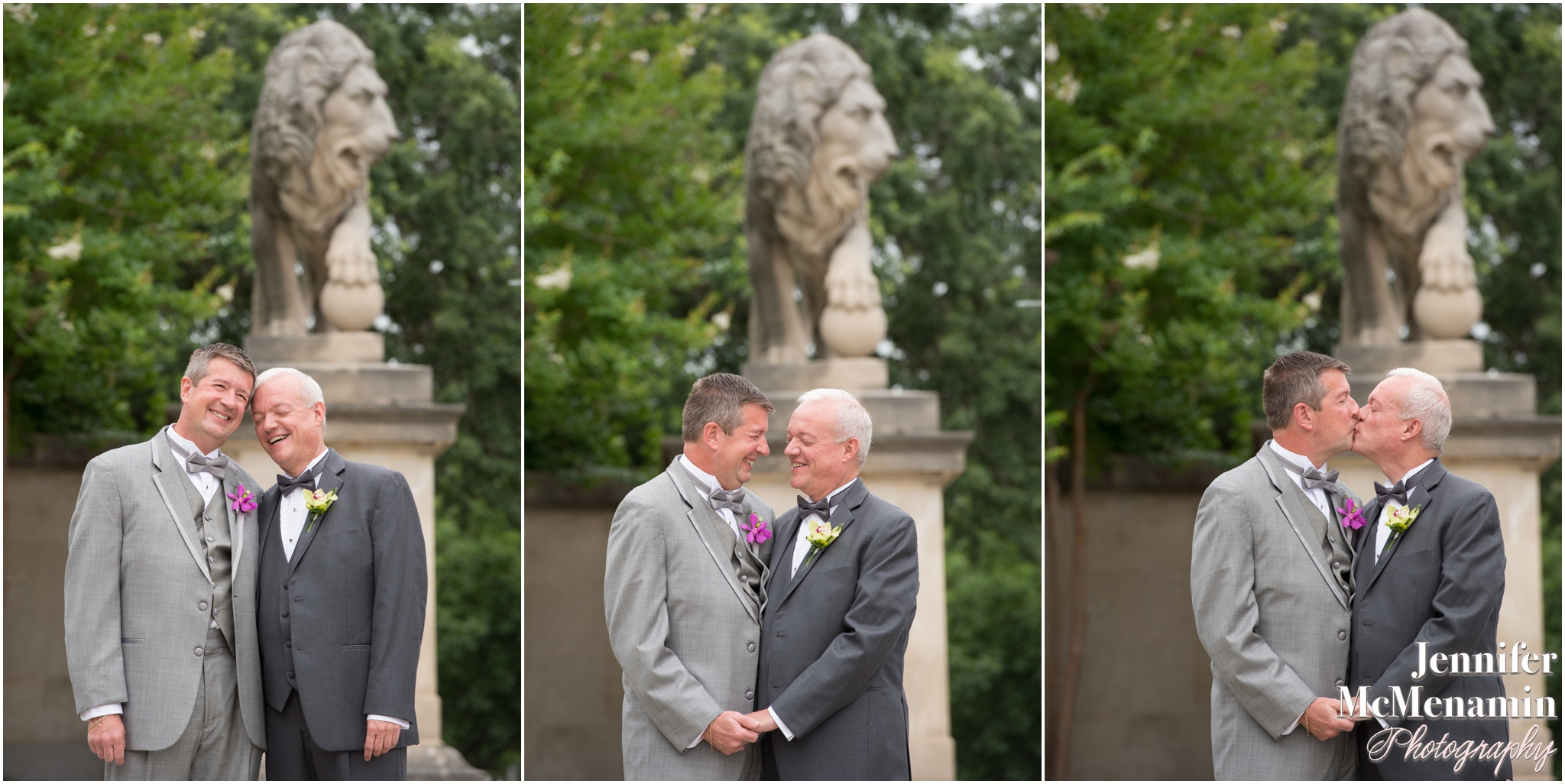 Although rain was initially forecast for their wedding day, the showers held off and we were graced with some lovely, soft light for photos. (I credit my 2- and 4-year-old daughters, who have perfected a no-rain dance this year for my wedding clients!)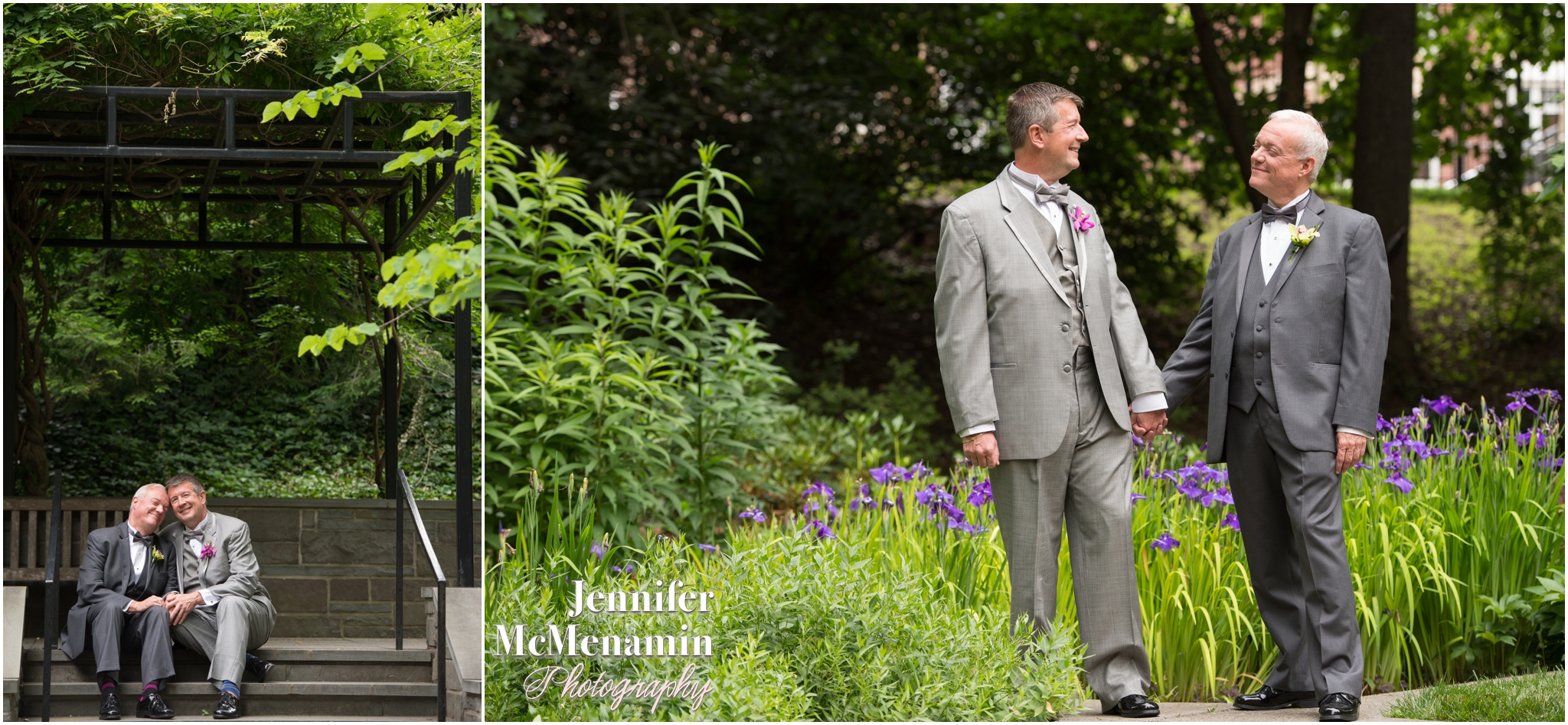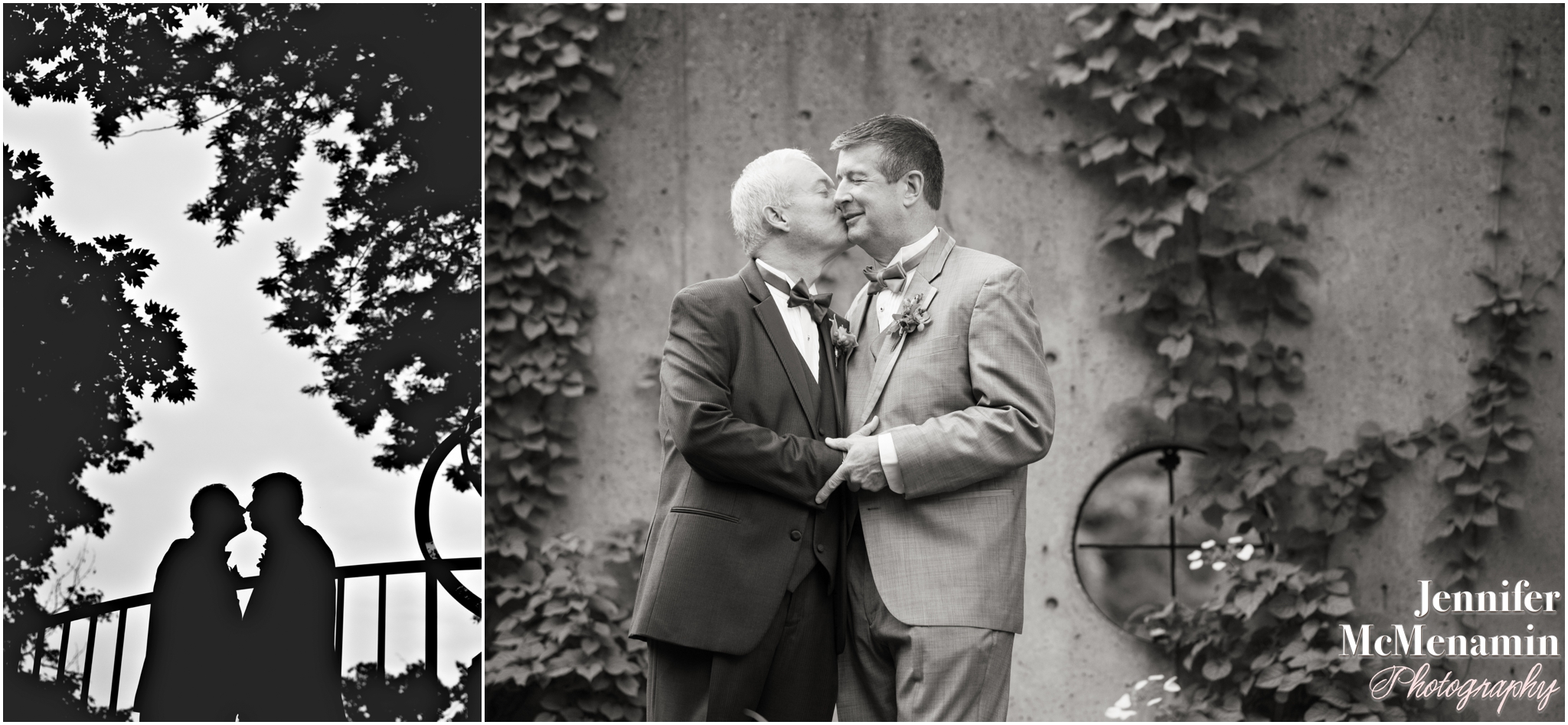 I was lucky to have my friend and assistant, Sam, working with me again for this wedding. He shot the next photo on the right and his images are mixed in with mine in this blog post.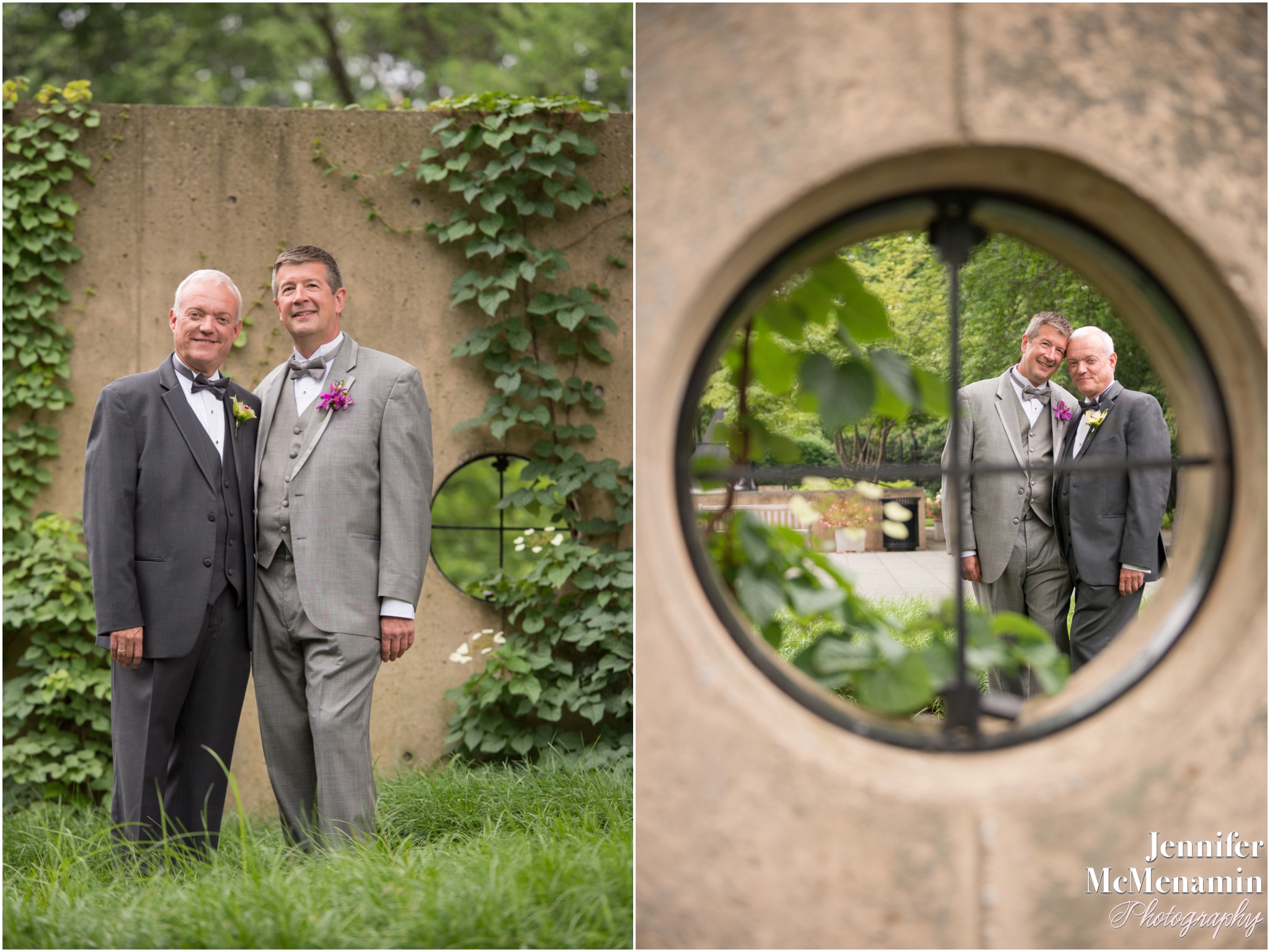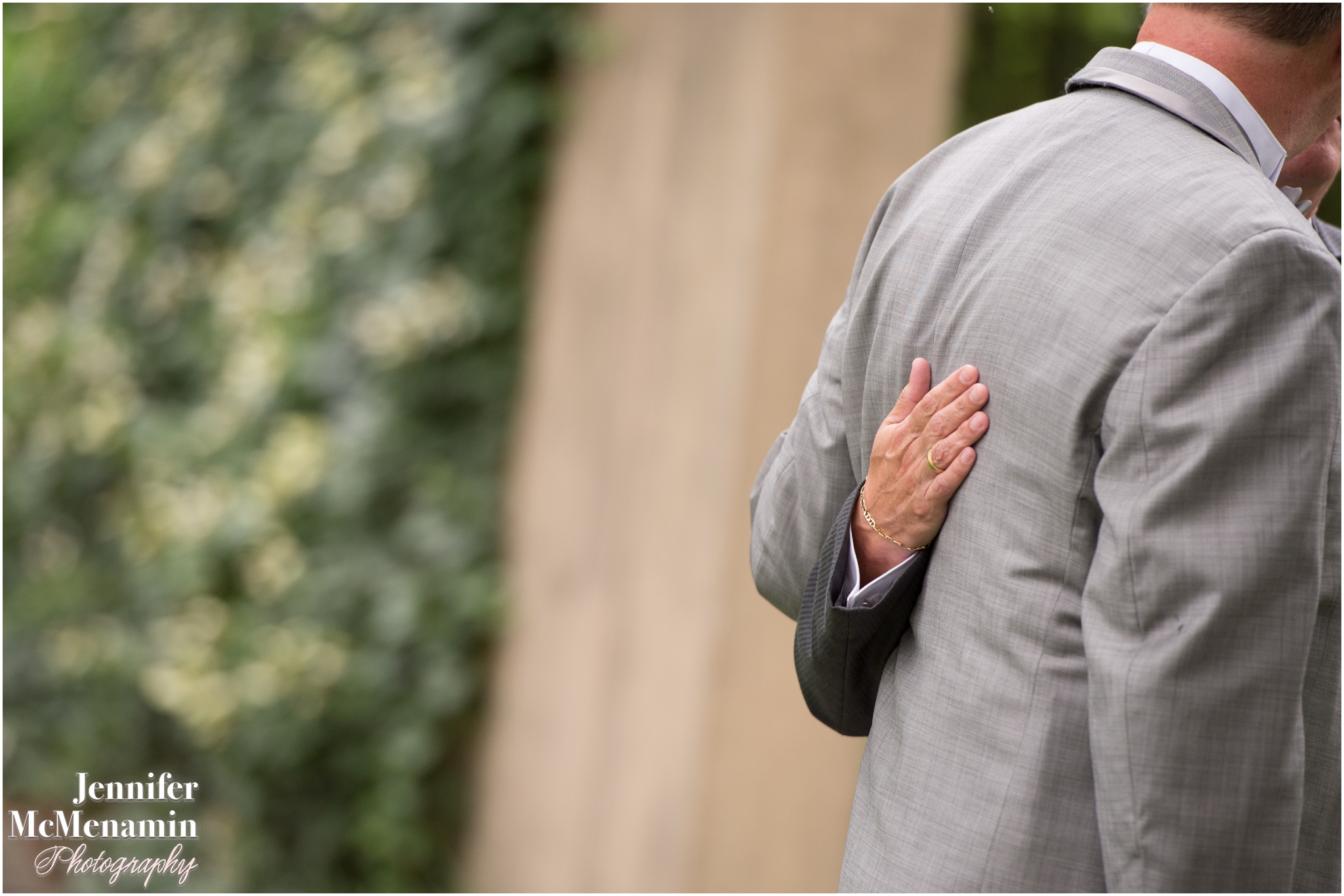 Amy Epstein-McManus of Crimson & Clover Floral Designs did an absolutely amazing job on this wedding. The arrangements, centerpieces and other flowers were so bright and summery.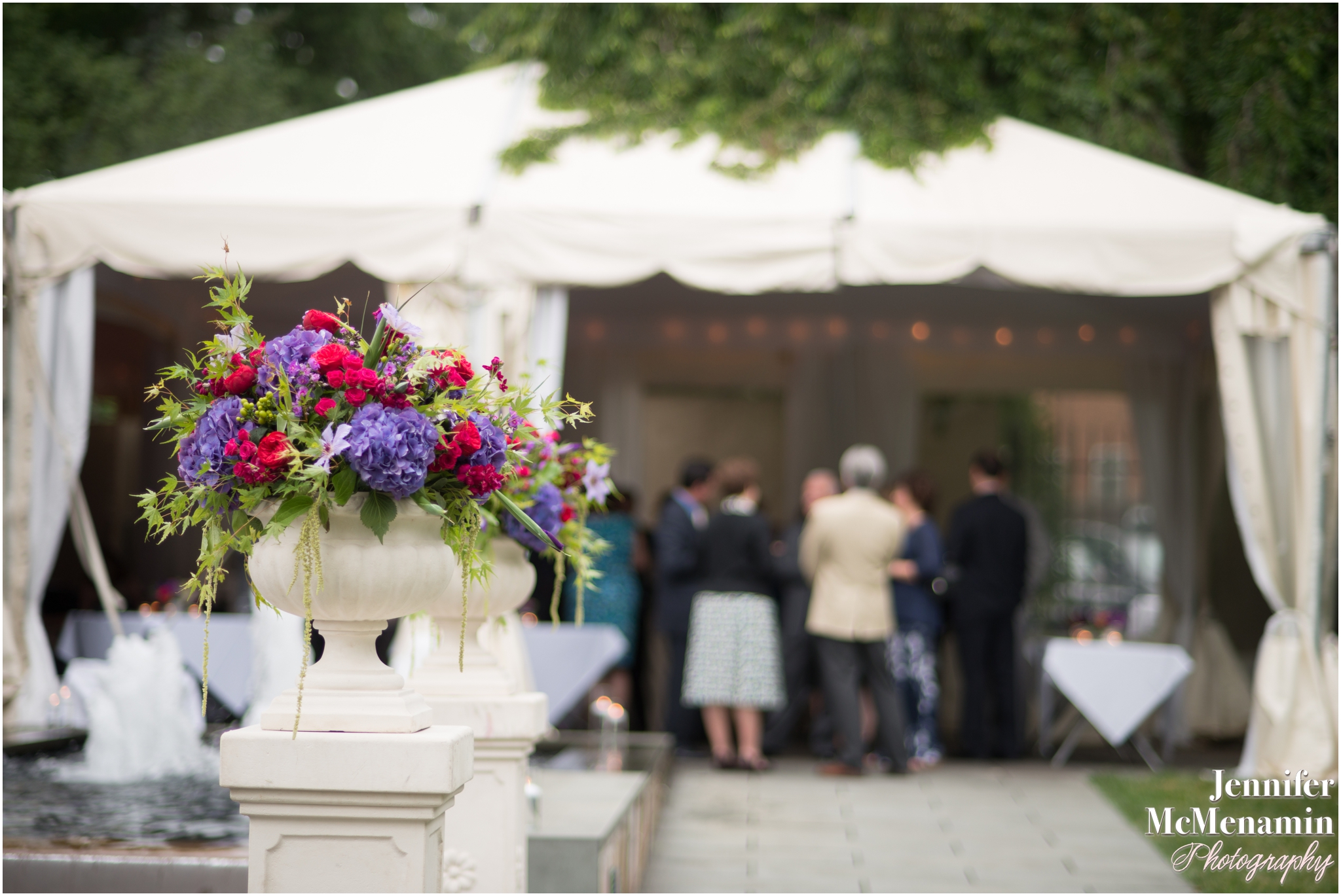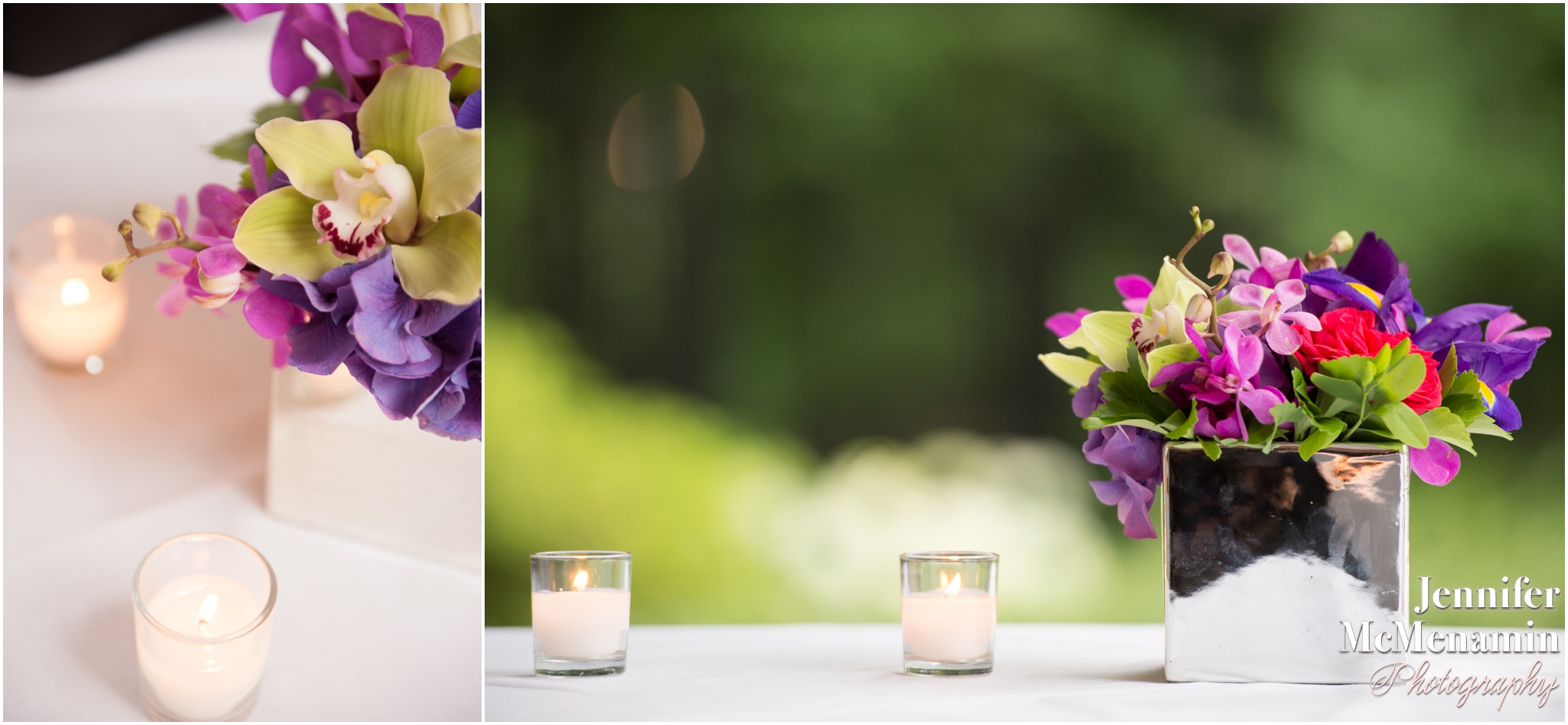 A few details from the cocktail party.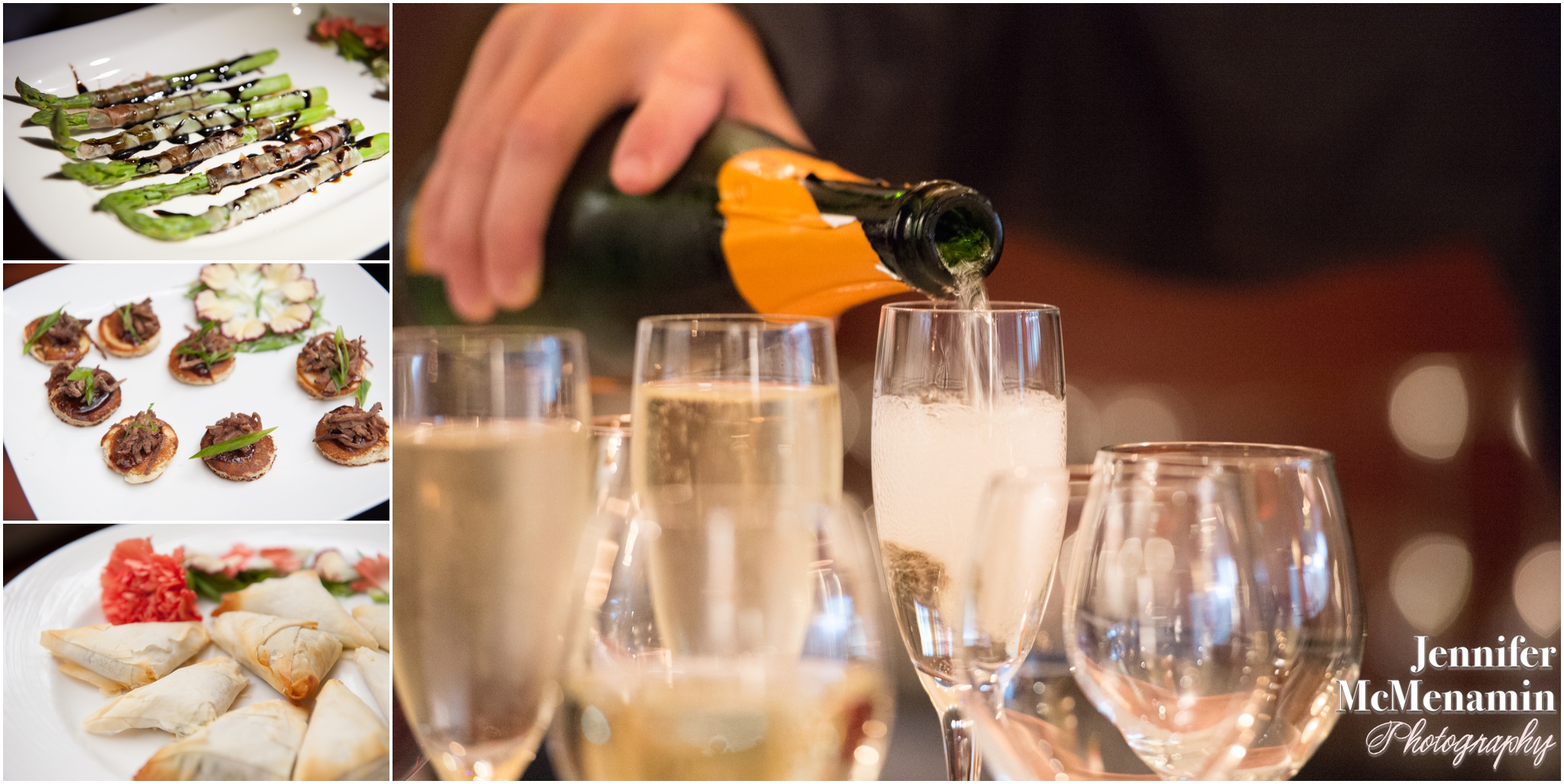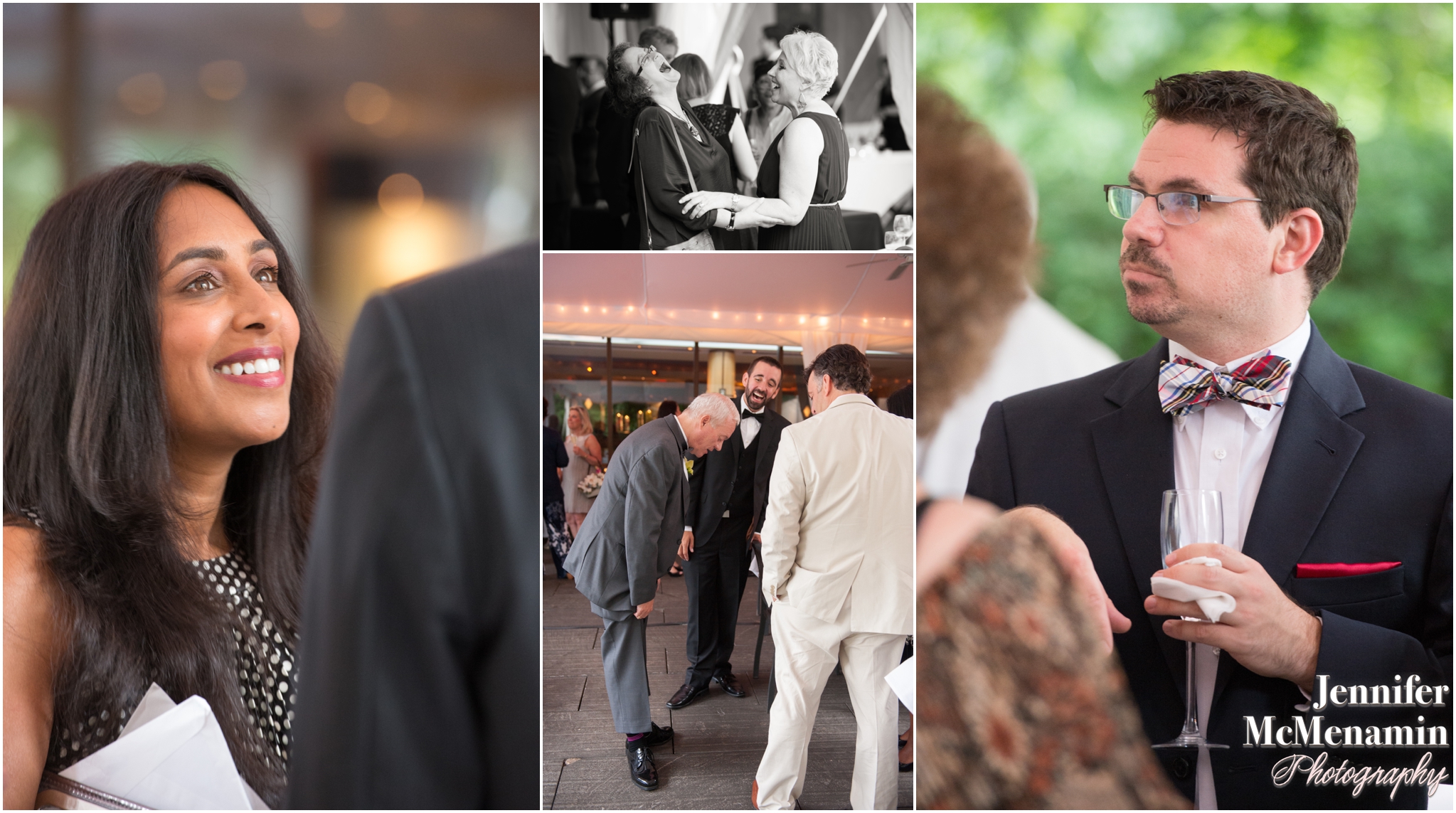 And then, it was time to get married. Cue the grooms' performance.



I love this next photo by Sam.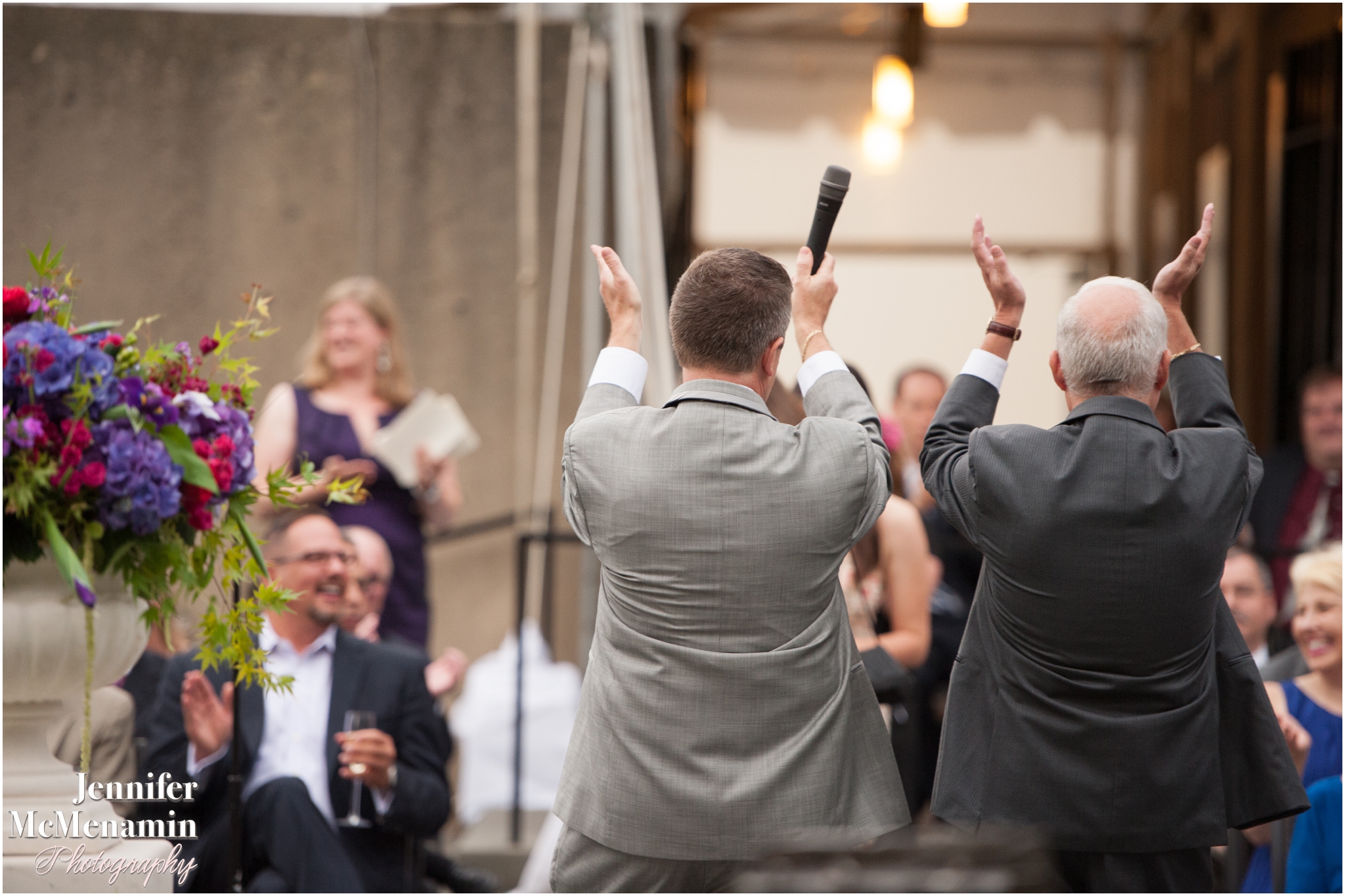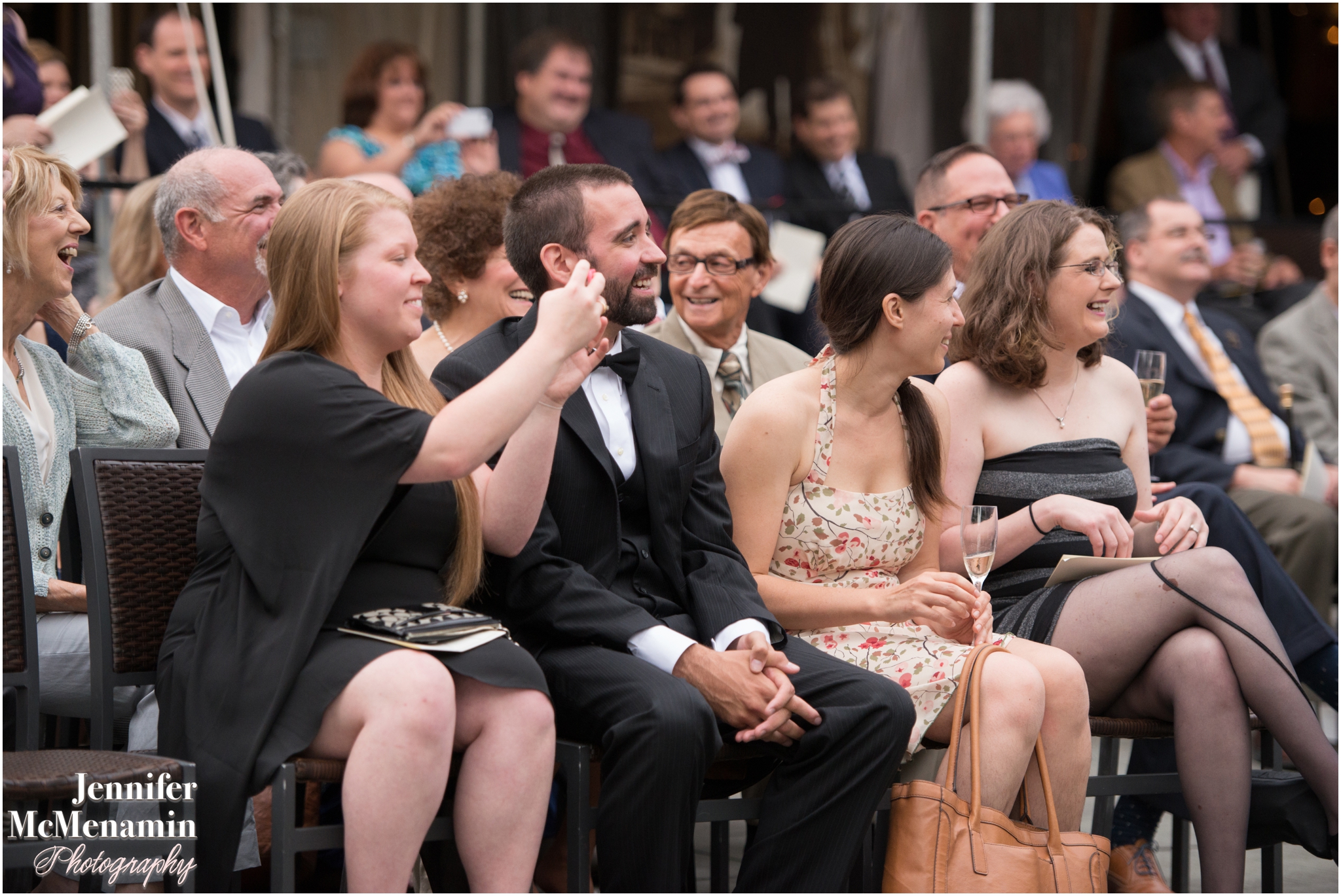 Mark's attendant of honor, Liz, has known him since he was 6 years old. Her reaction to the ceremony performance here is just fabulous.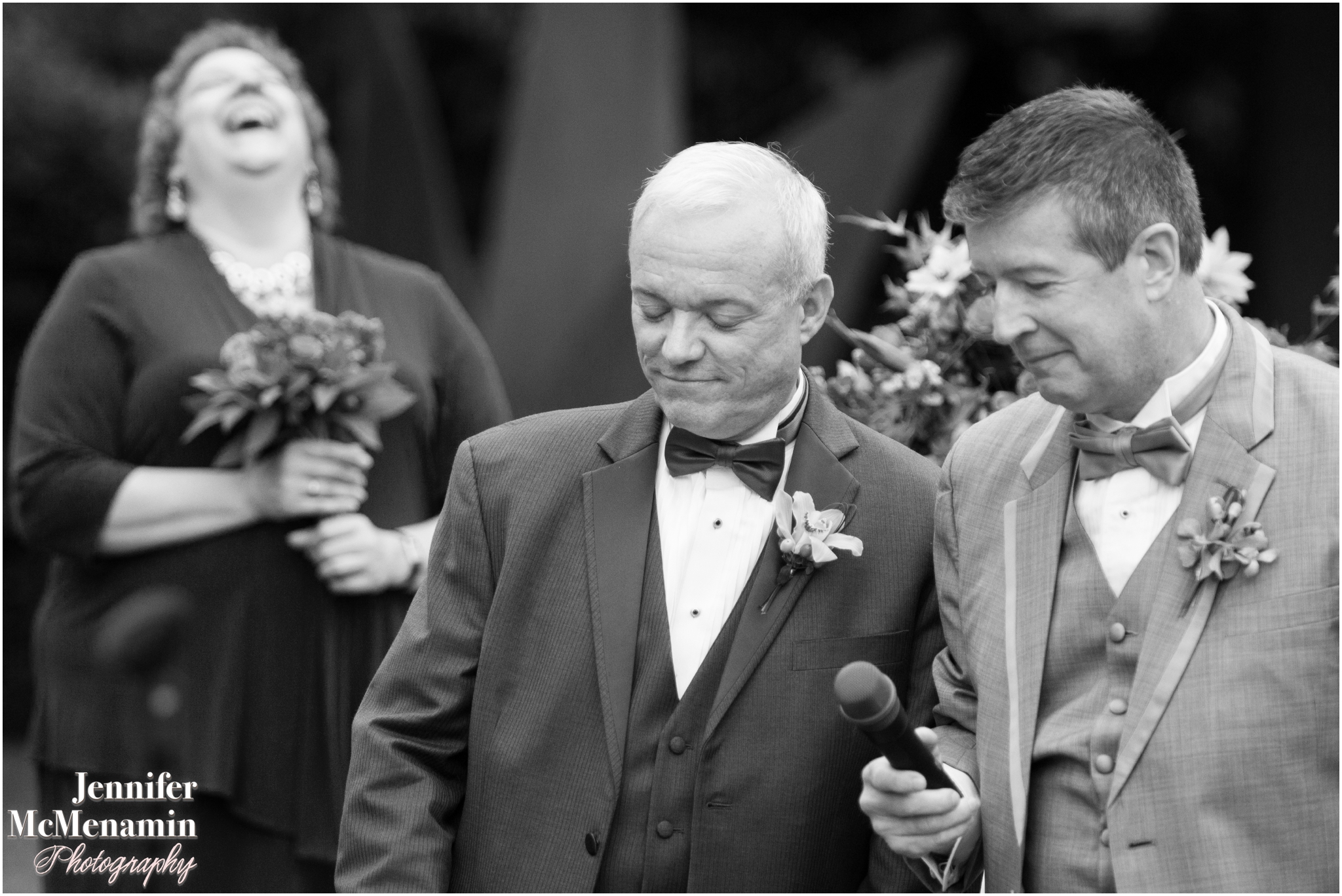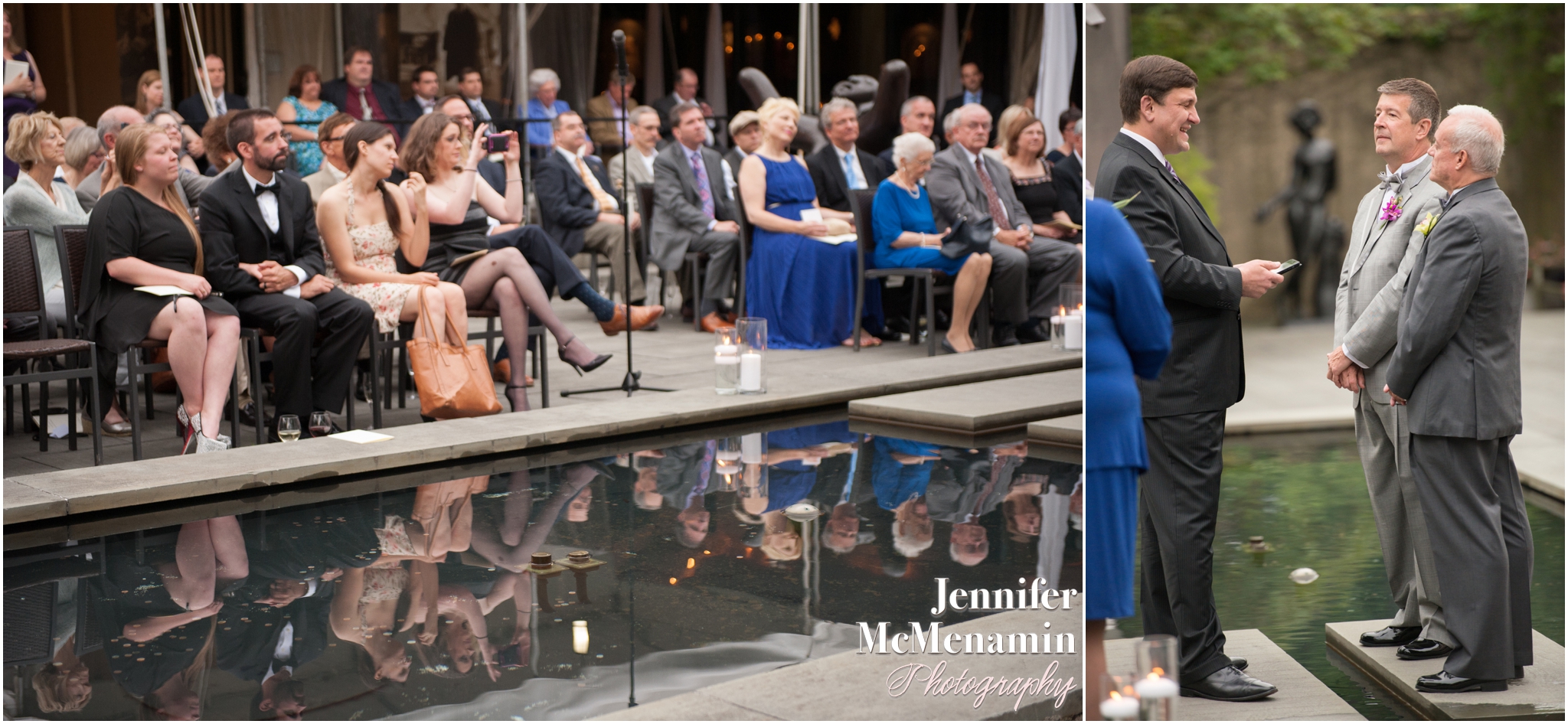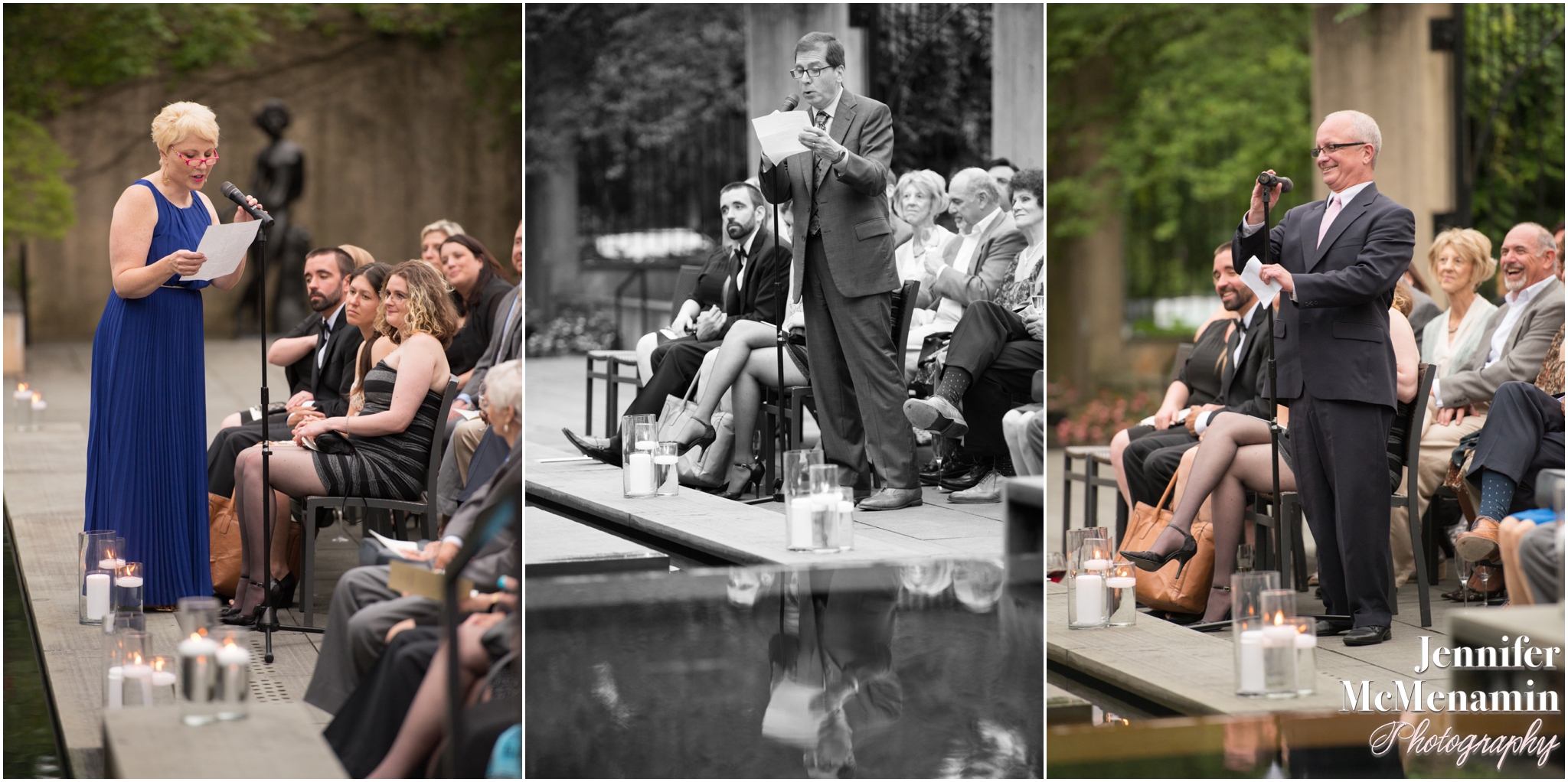 Eric, the officiant, instructed Ron and Mark to listen to the words of John Denver's "For You" as if they were hearing them for the first time. They had very obvious emotional reactions to the song.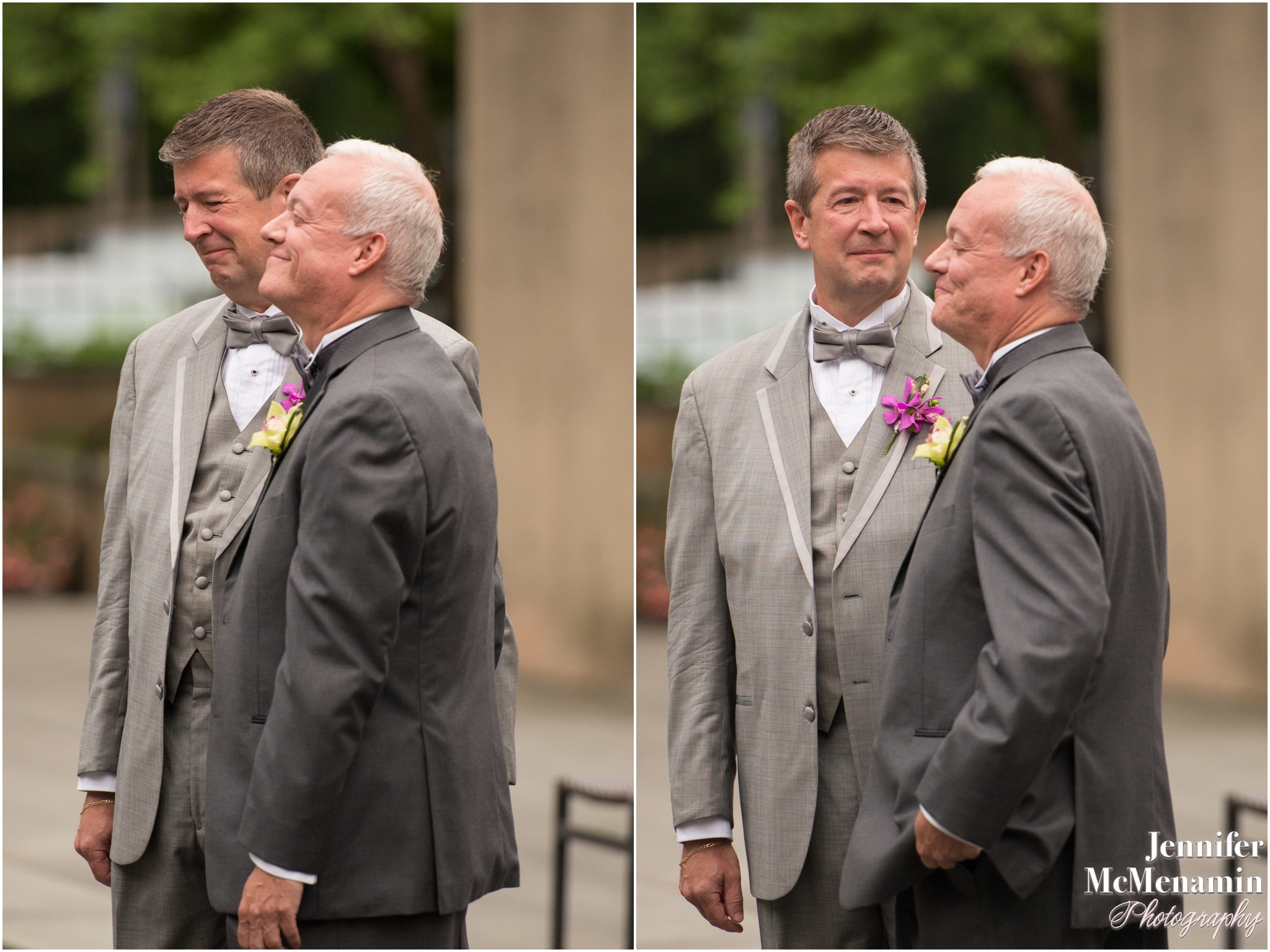 I'm pretty sure that Sam caught Mark in mid-wink in this next image.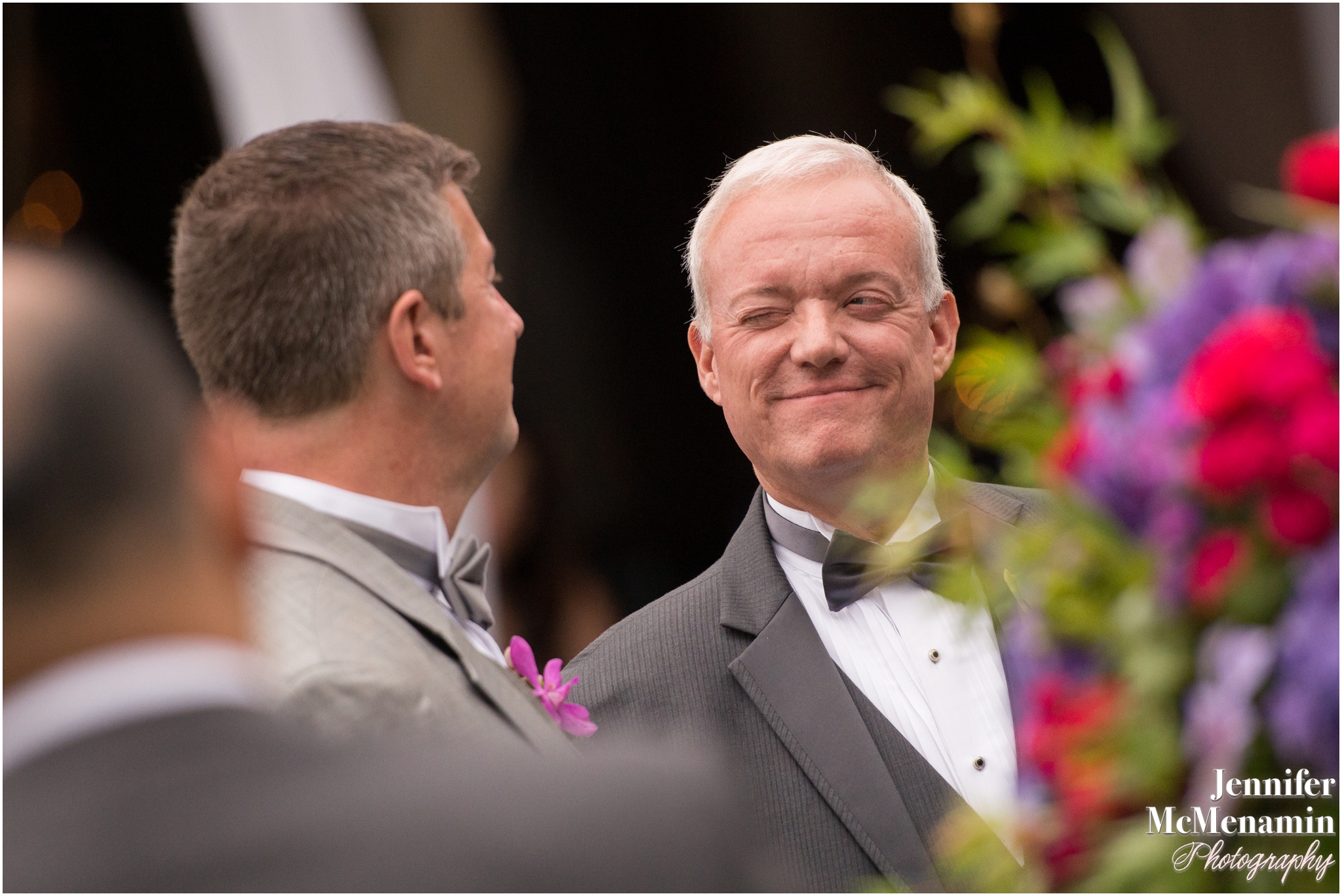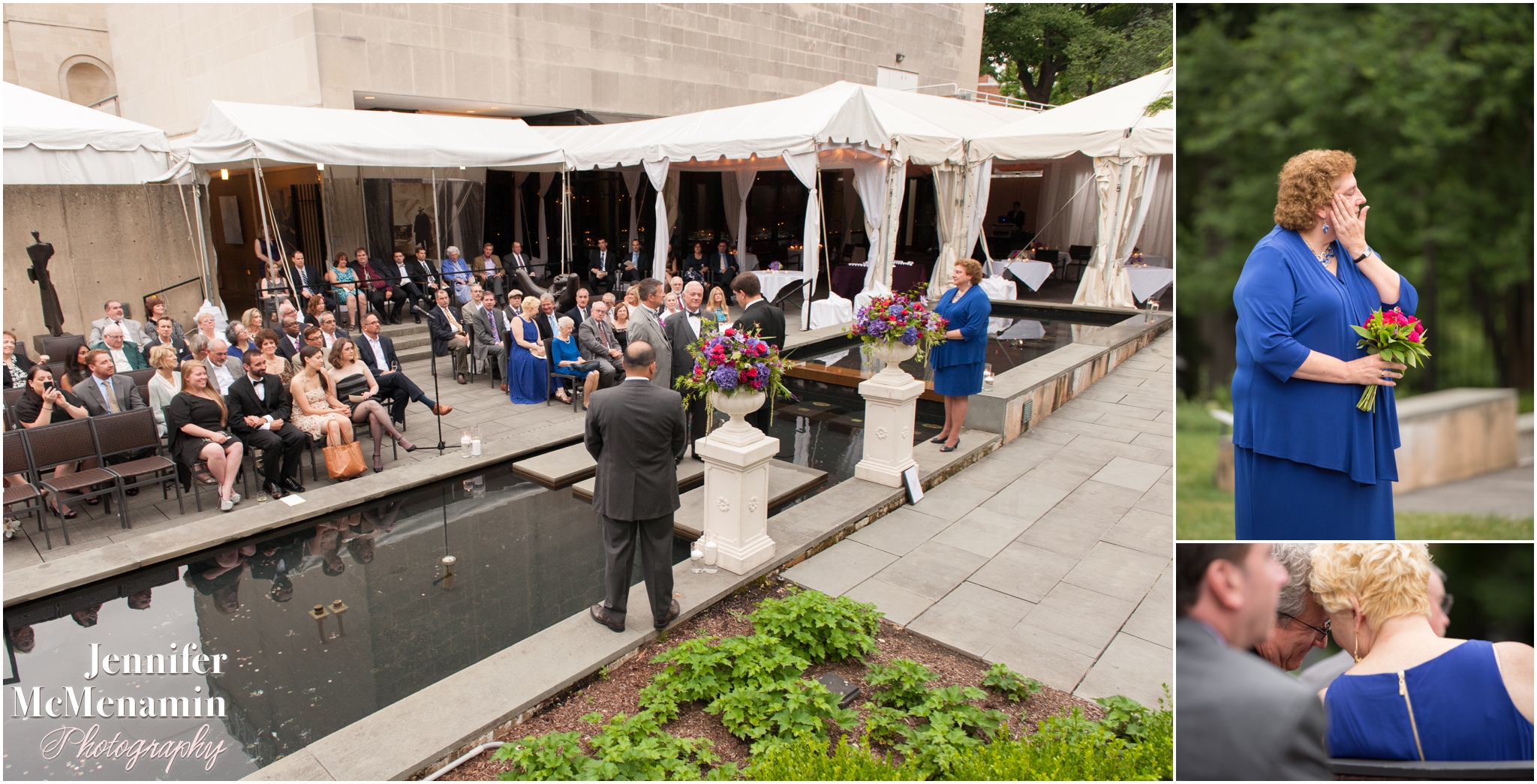 And then it was time for the vows and ring exchange.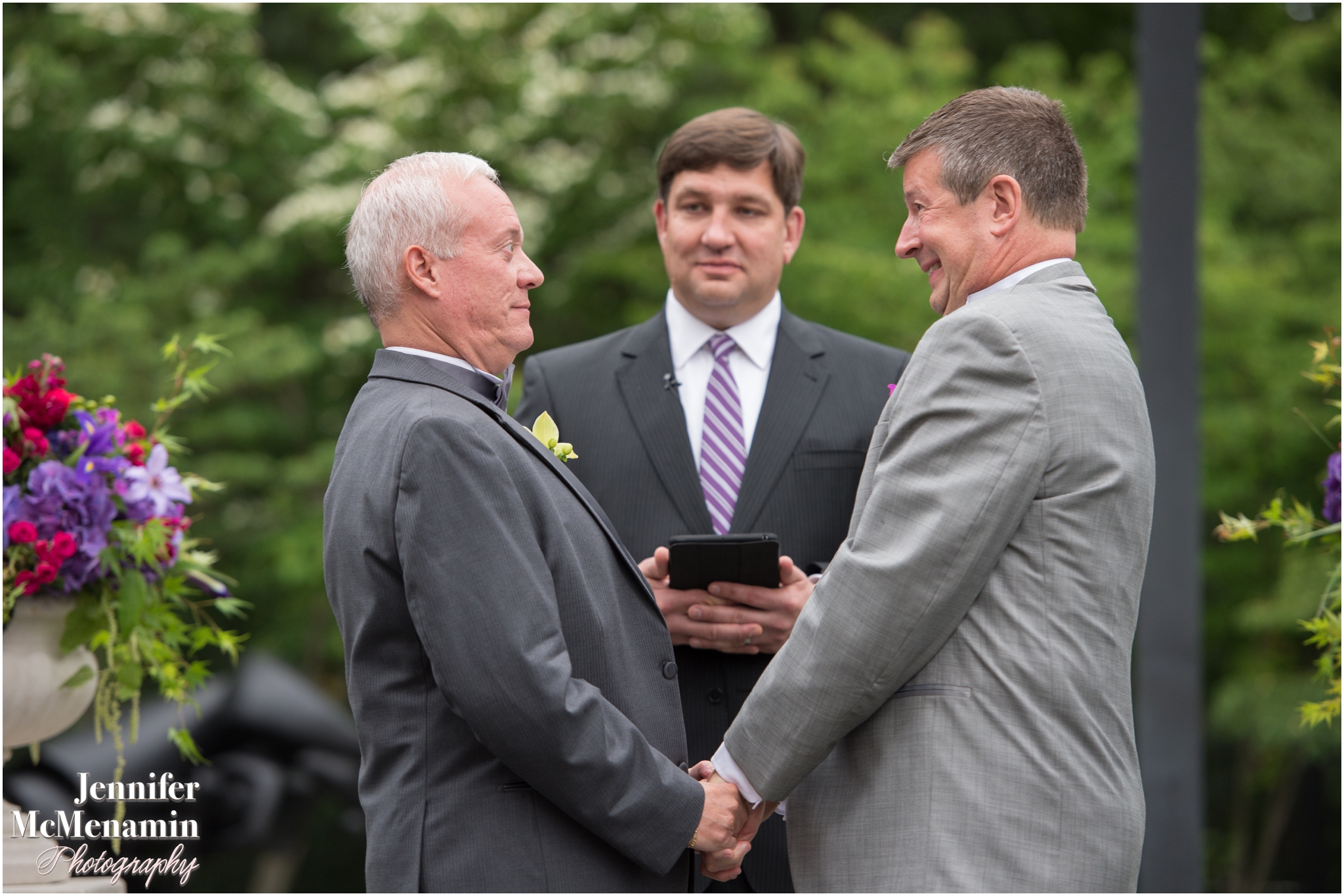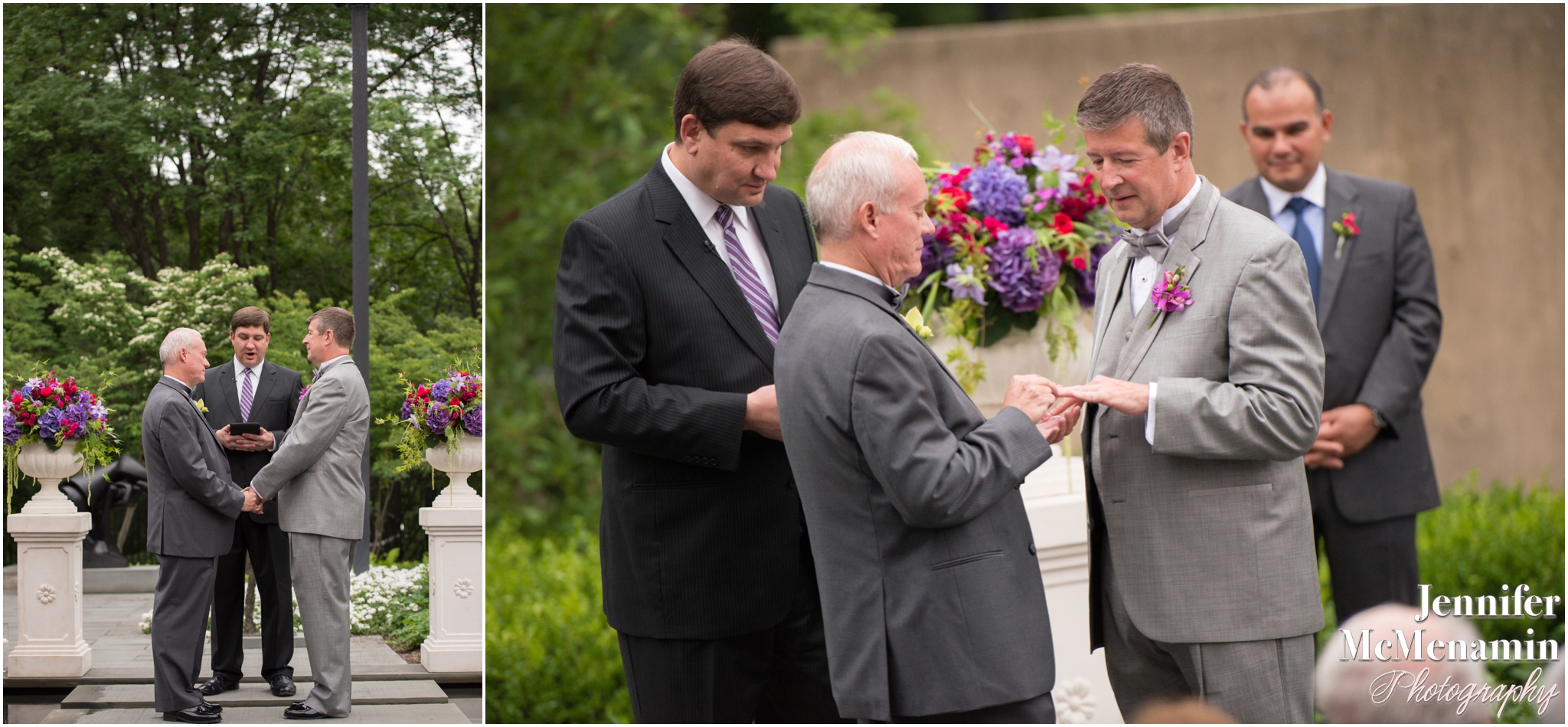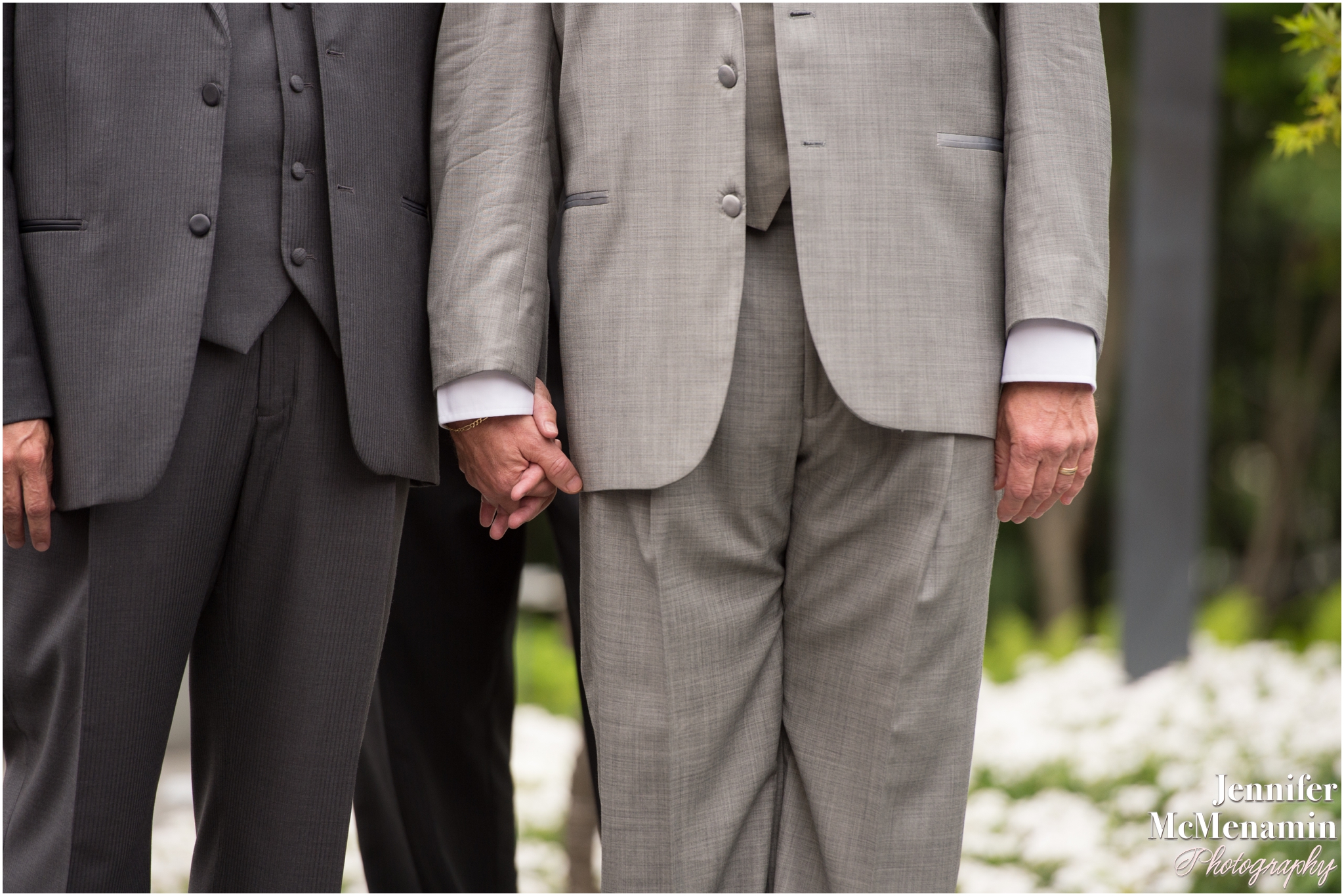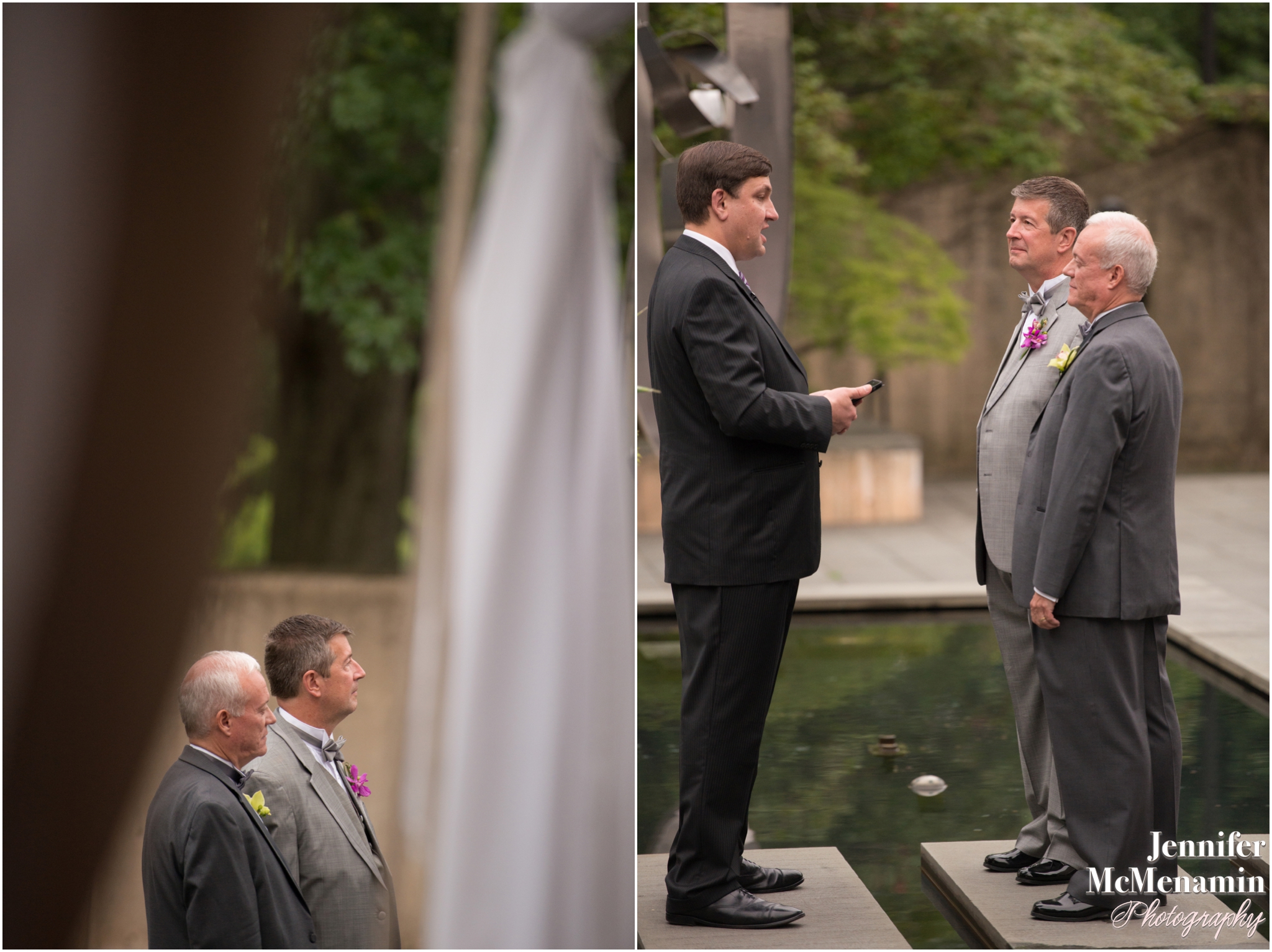 Just after crossing the stepping stones of Gertrude's fountain to end the ceremony, Ron and Mark stood for a few moments while their guests looked on, snapped pictures and were moved to embrace their own partners and spouses. Then, we headed back to the front of the museum — Ron and Mark's favorite spot — for a few more photos.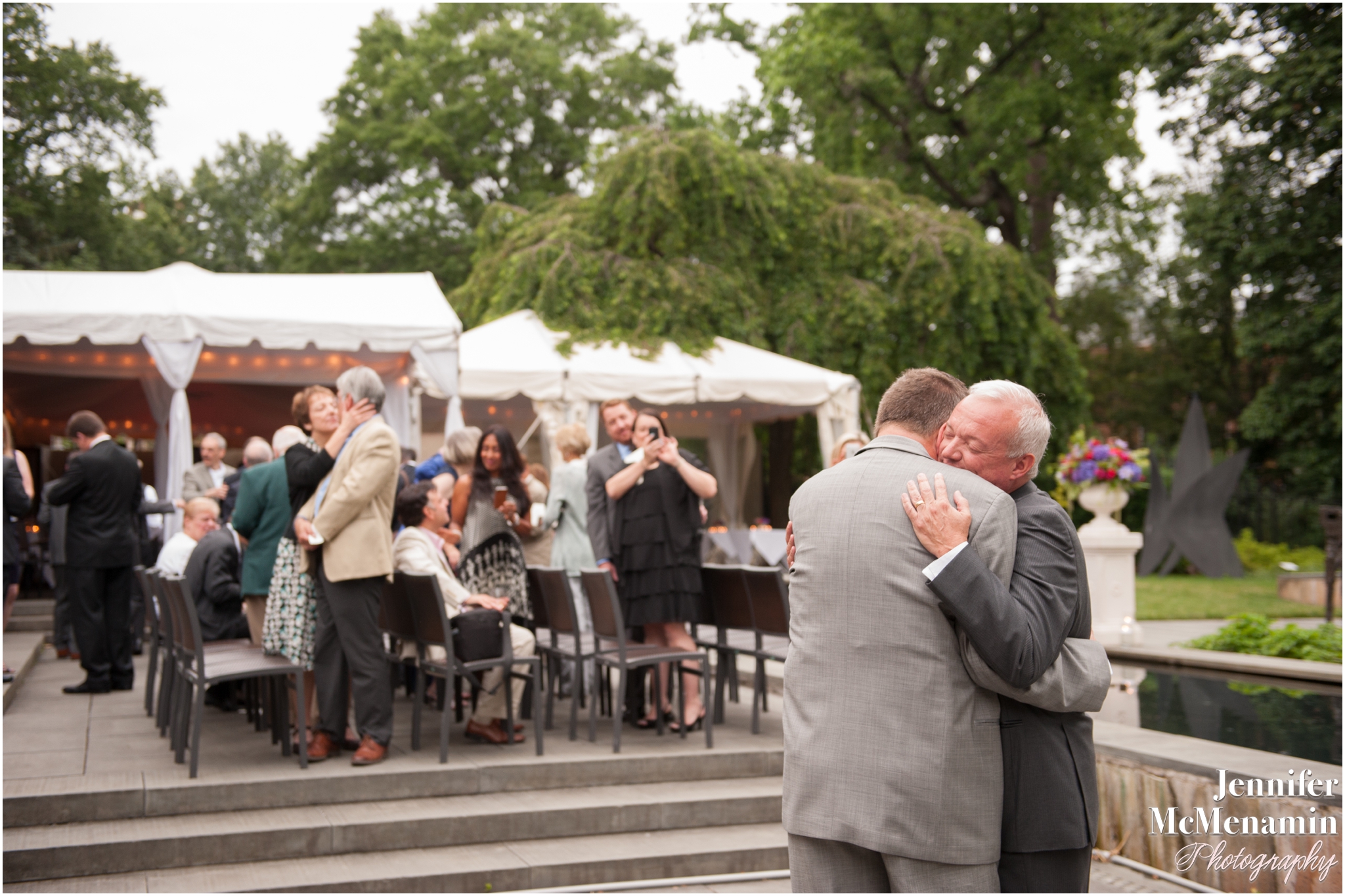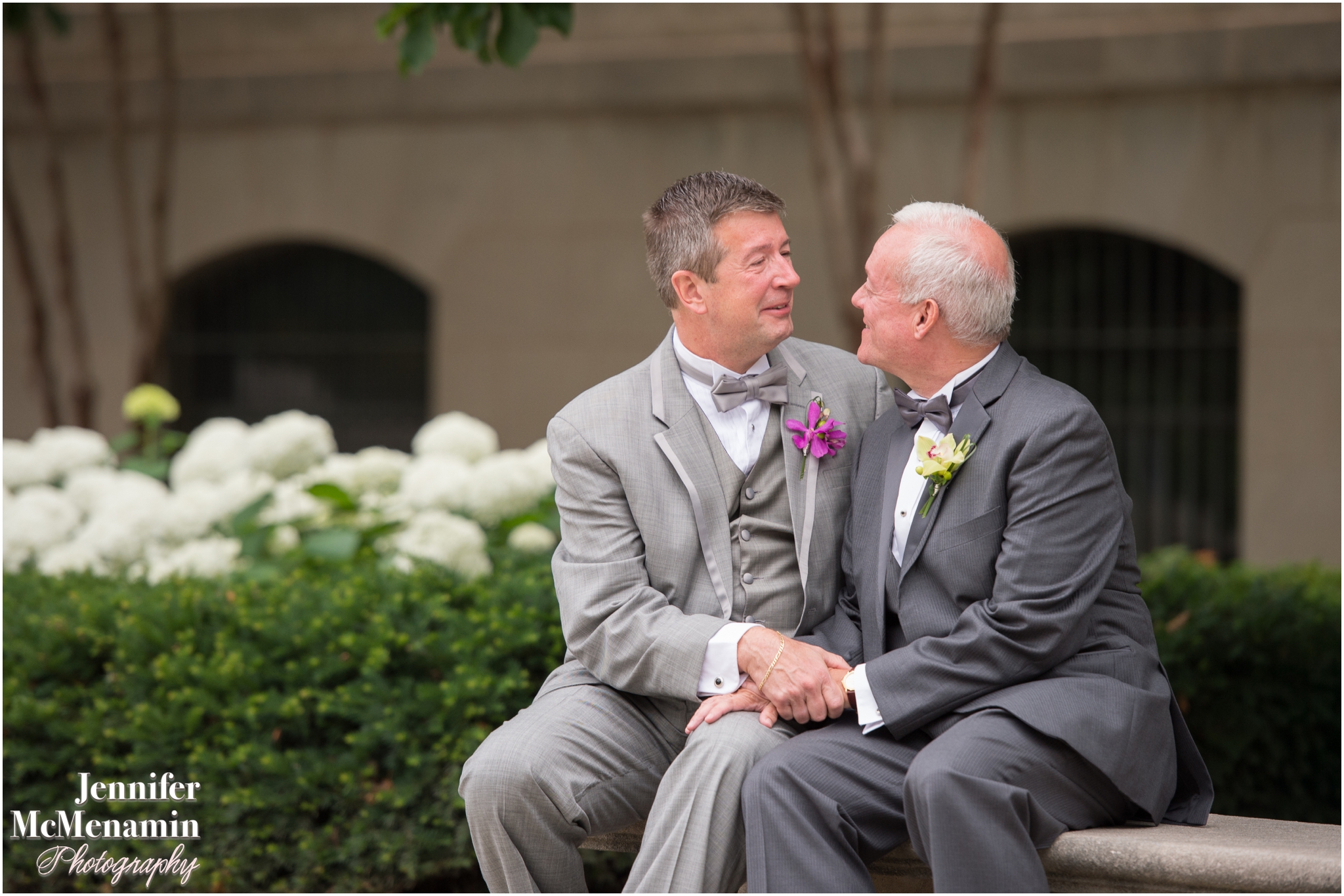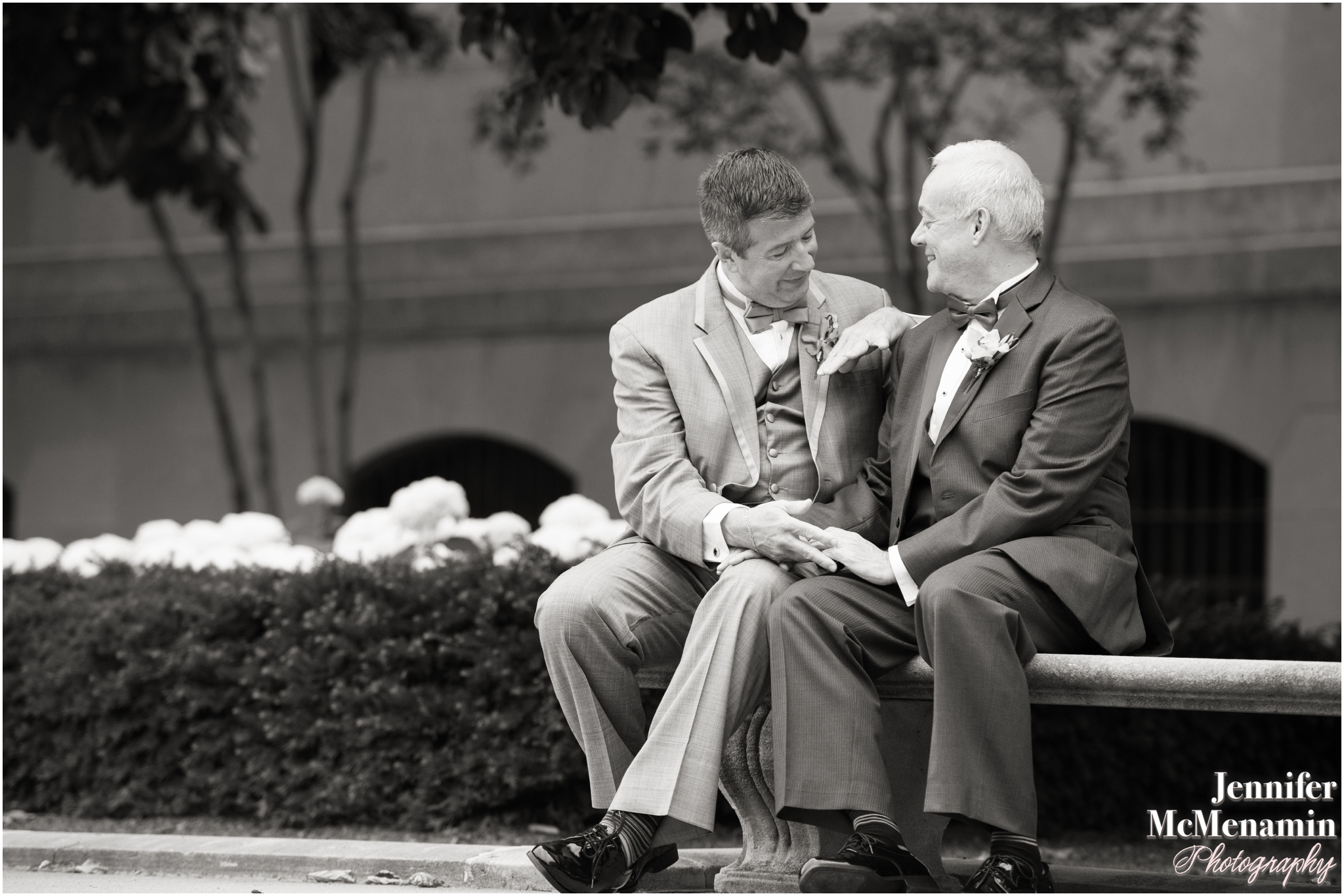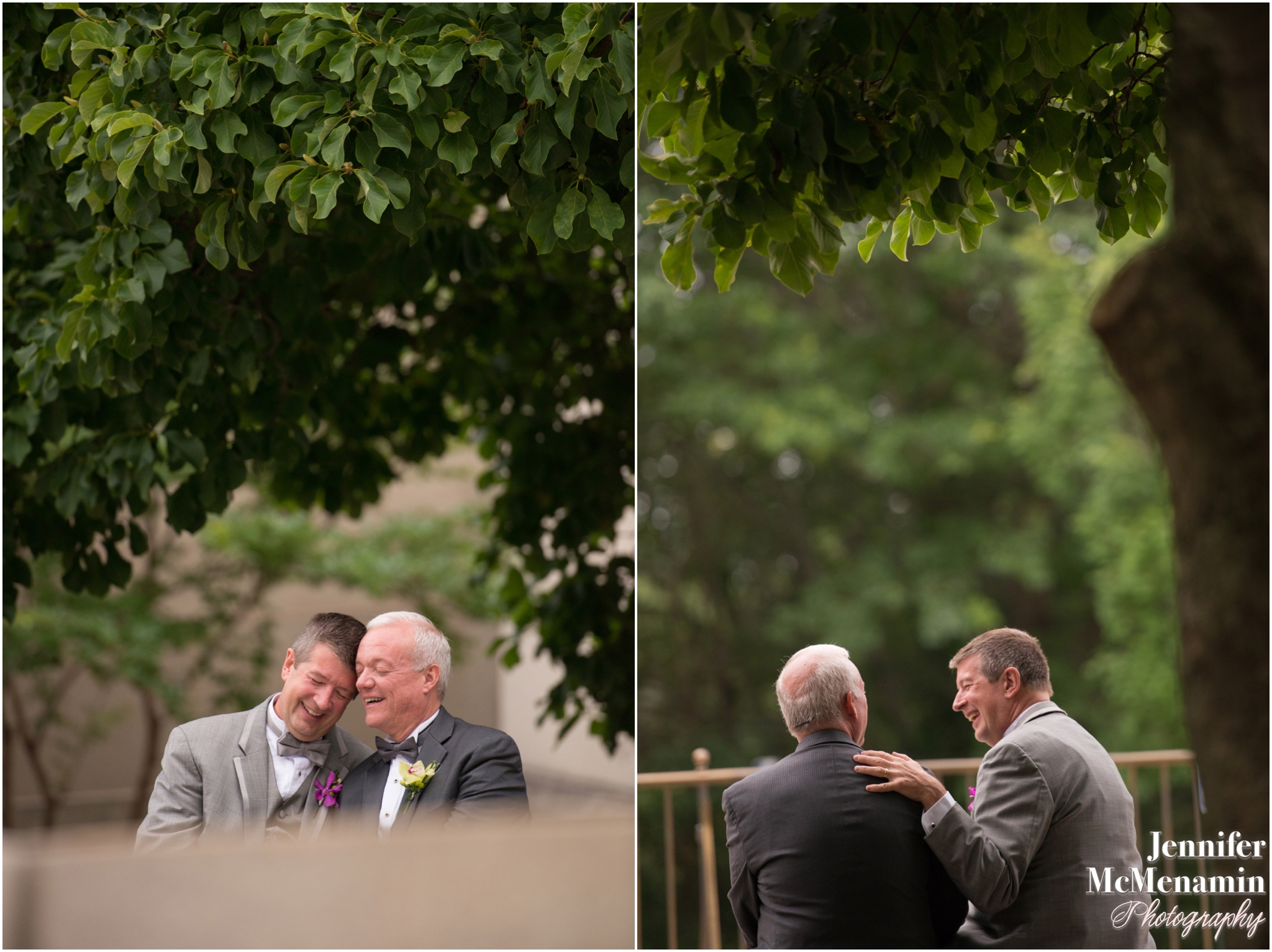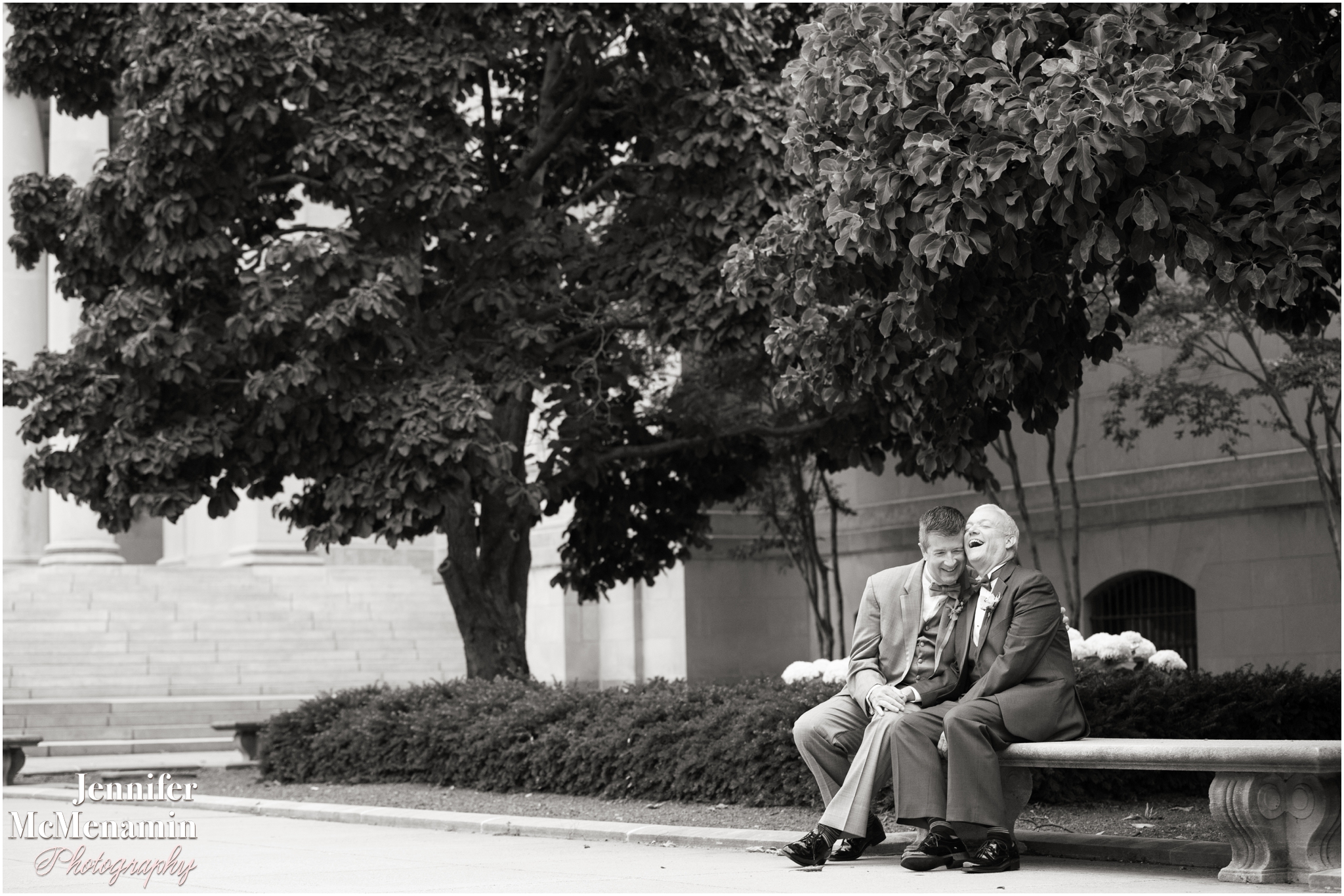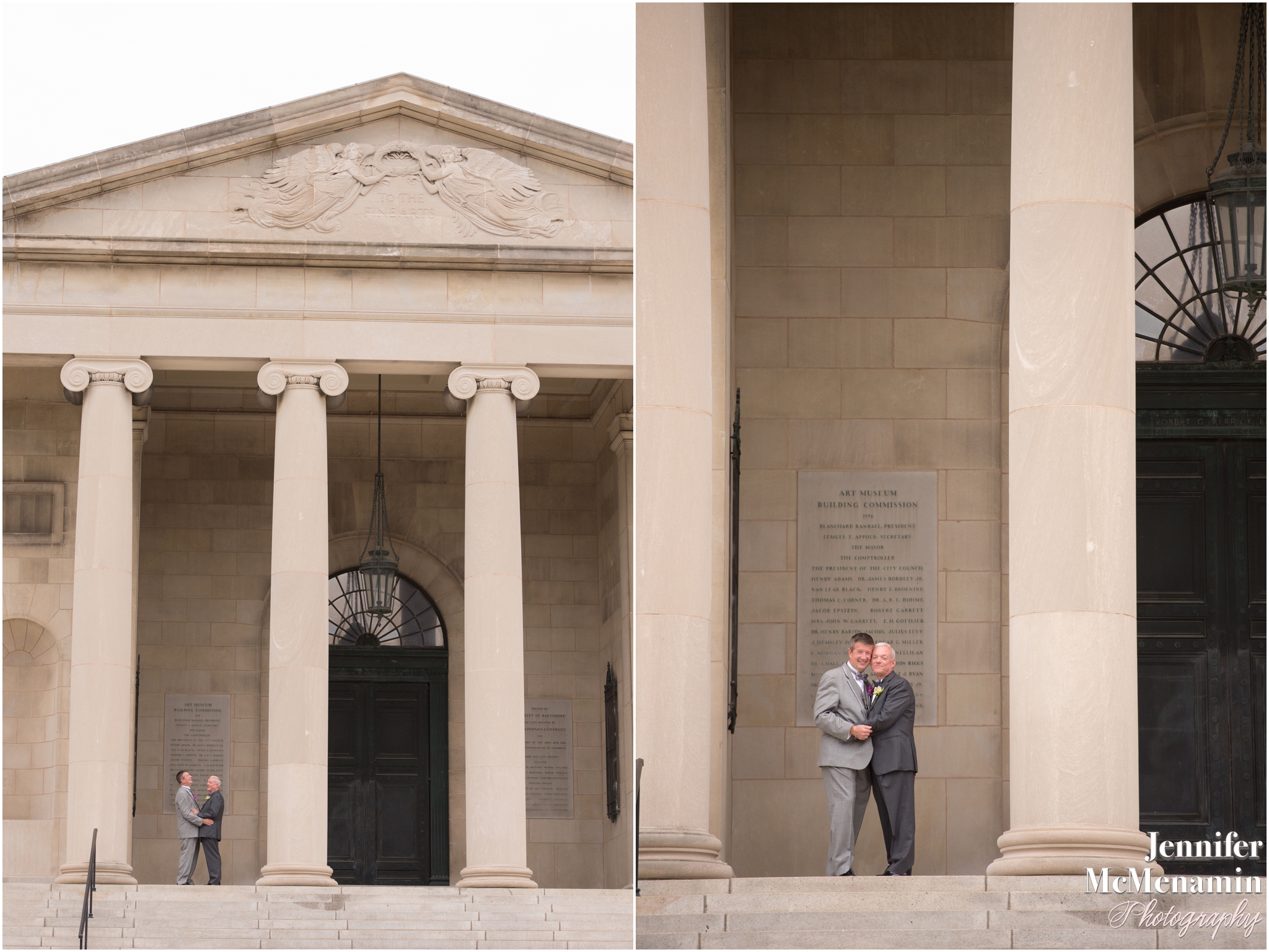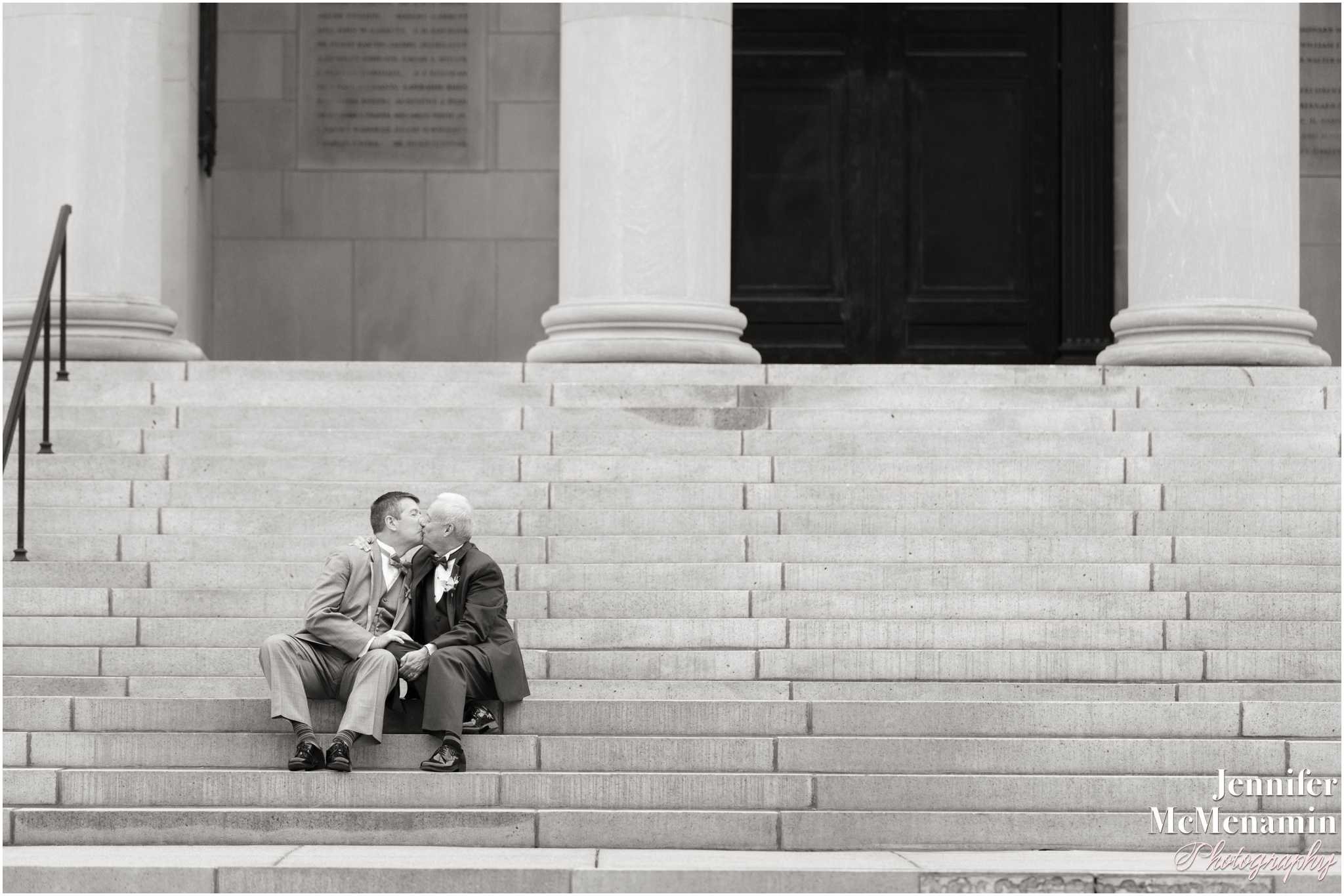 Then, it was off to the party! Ron and Mark used Playbills from musicals and plays they've enjoyed together over the years to name the tables for their reception at Gertrude's at the BMA.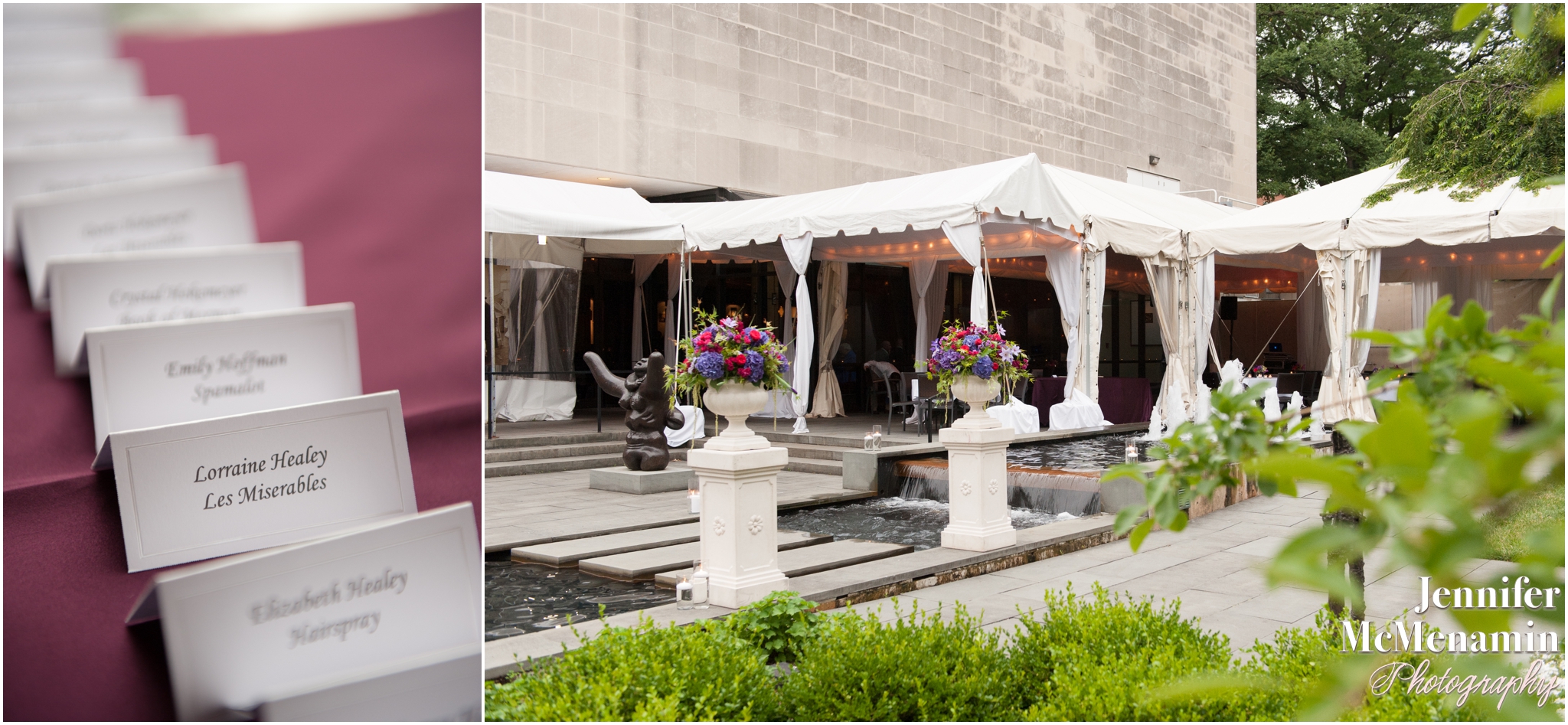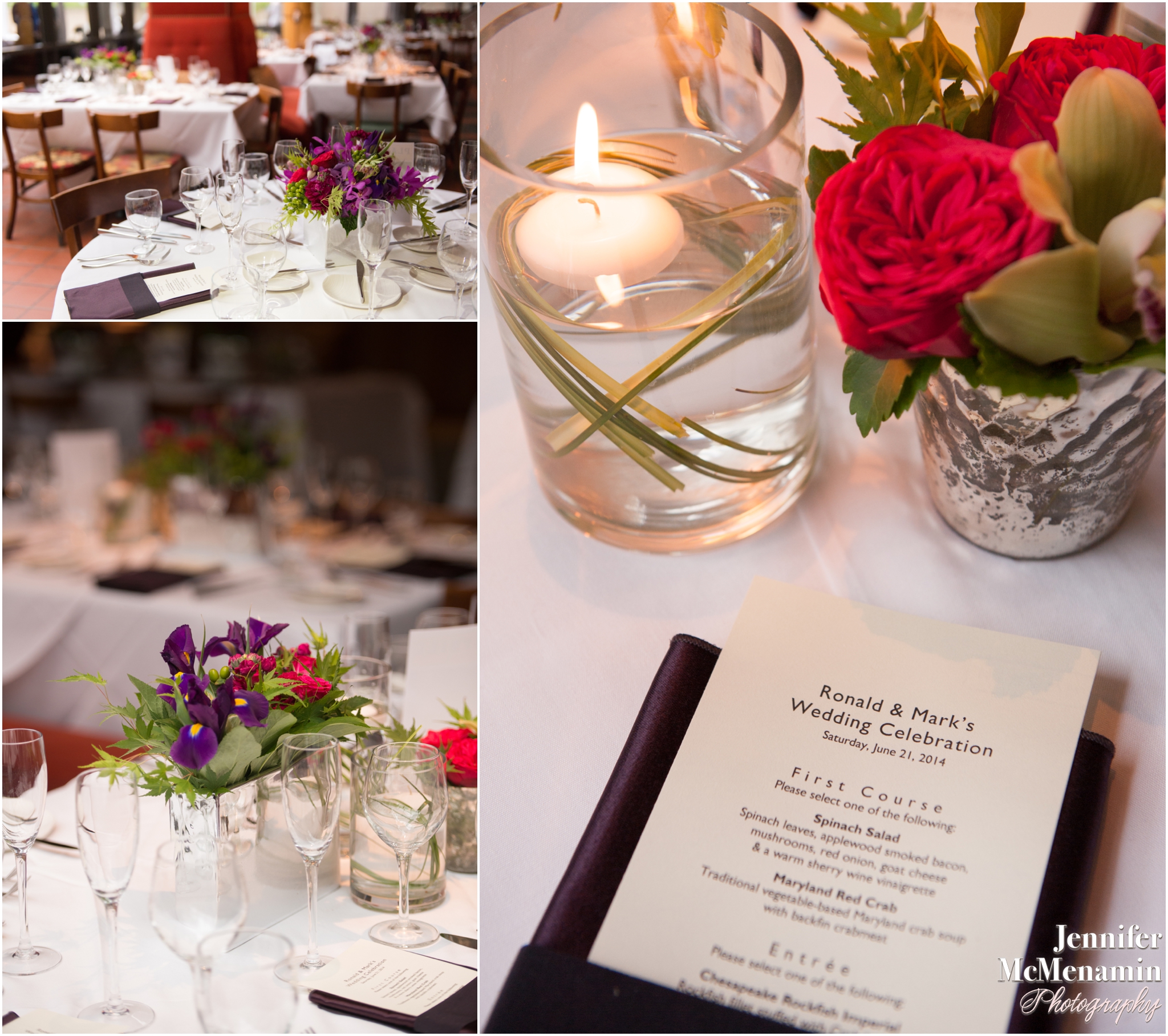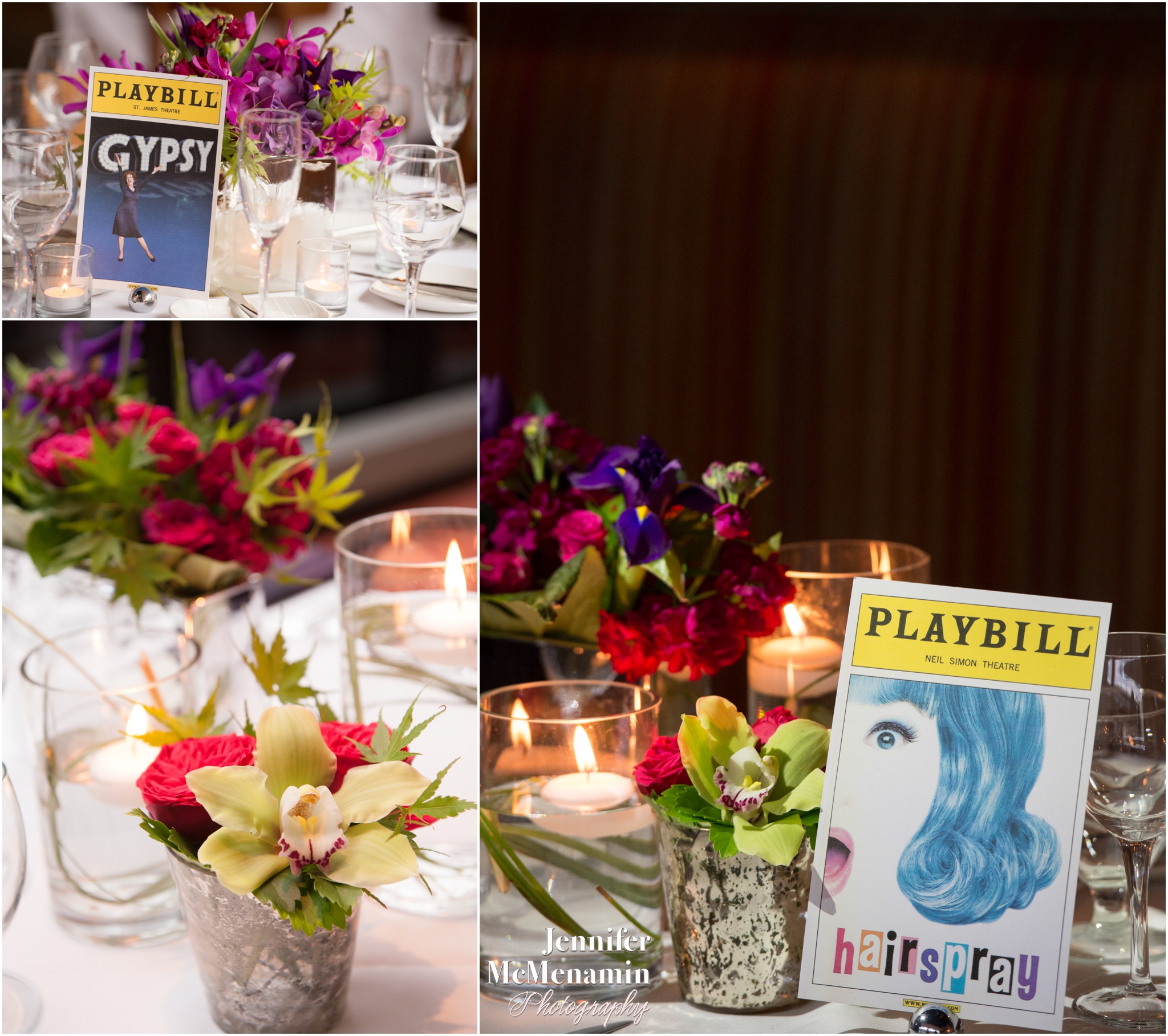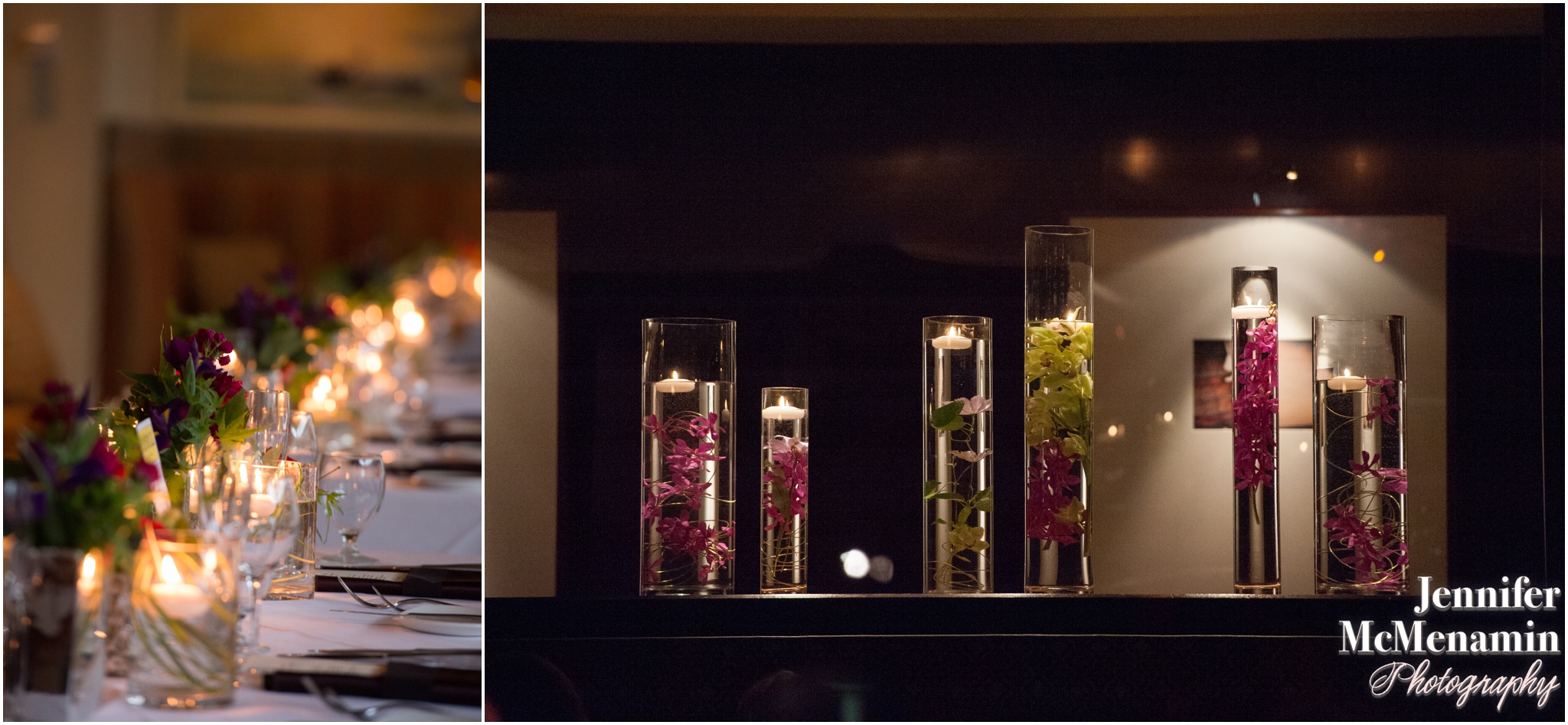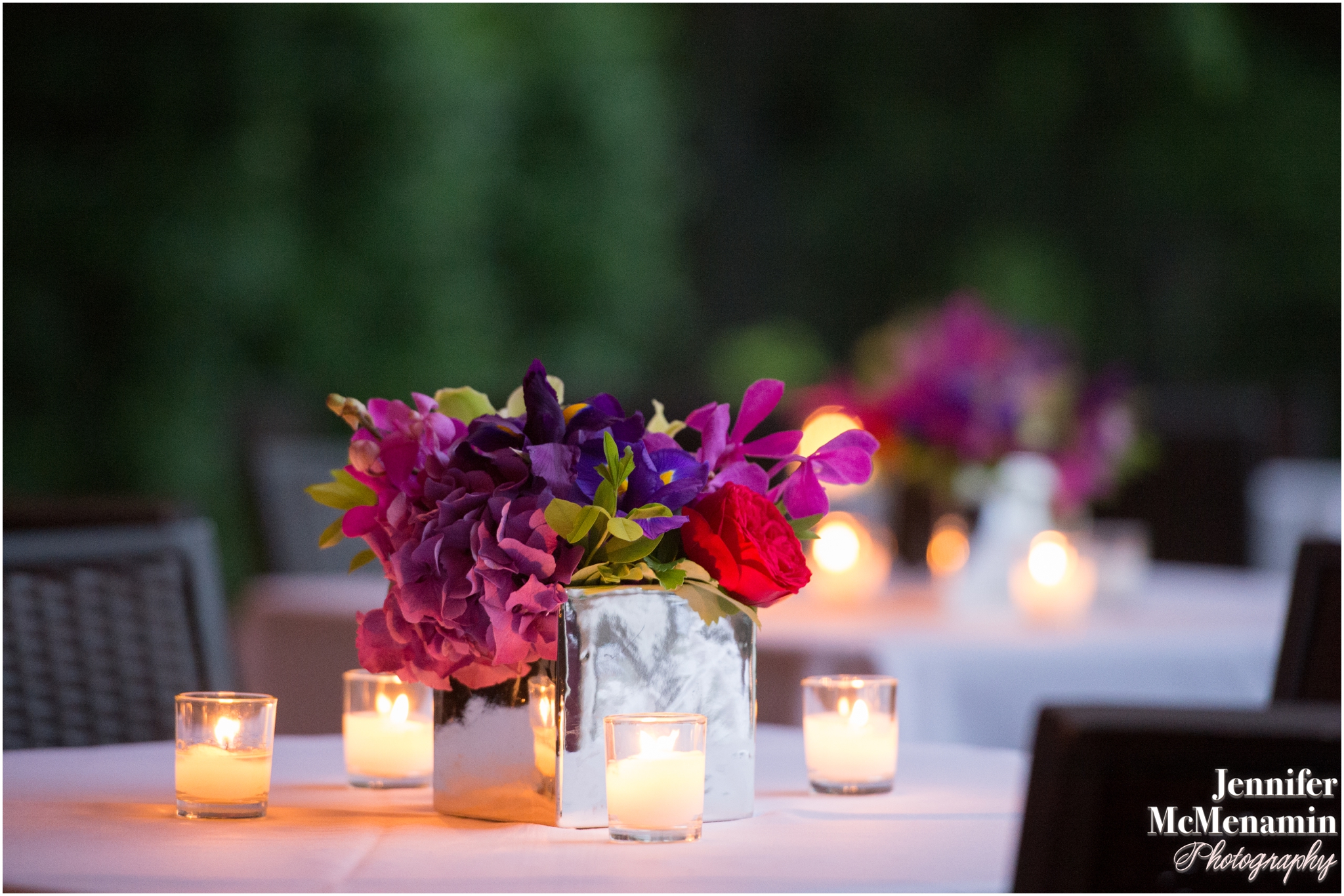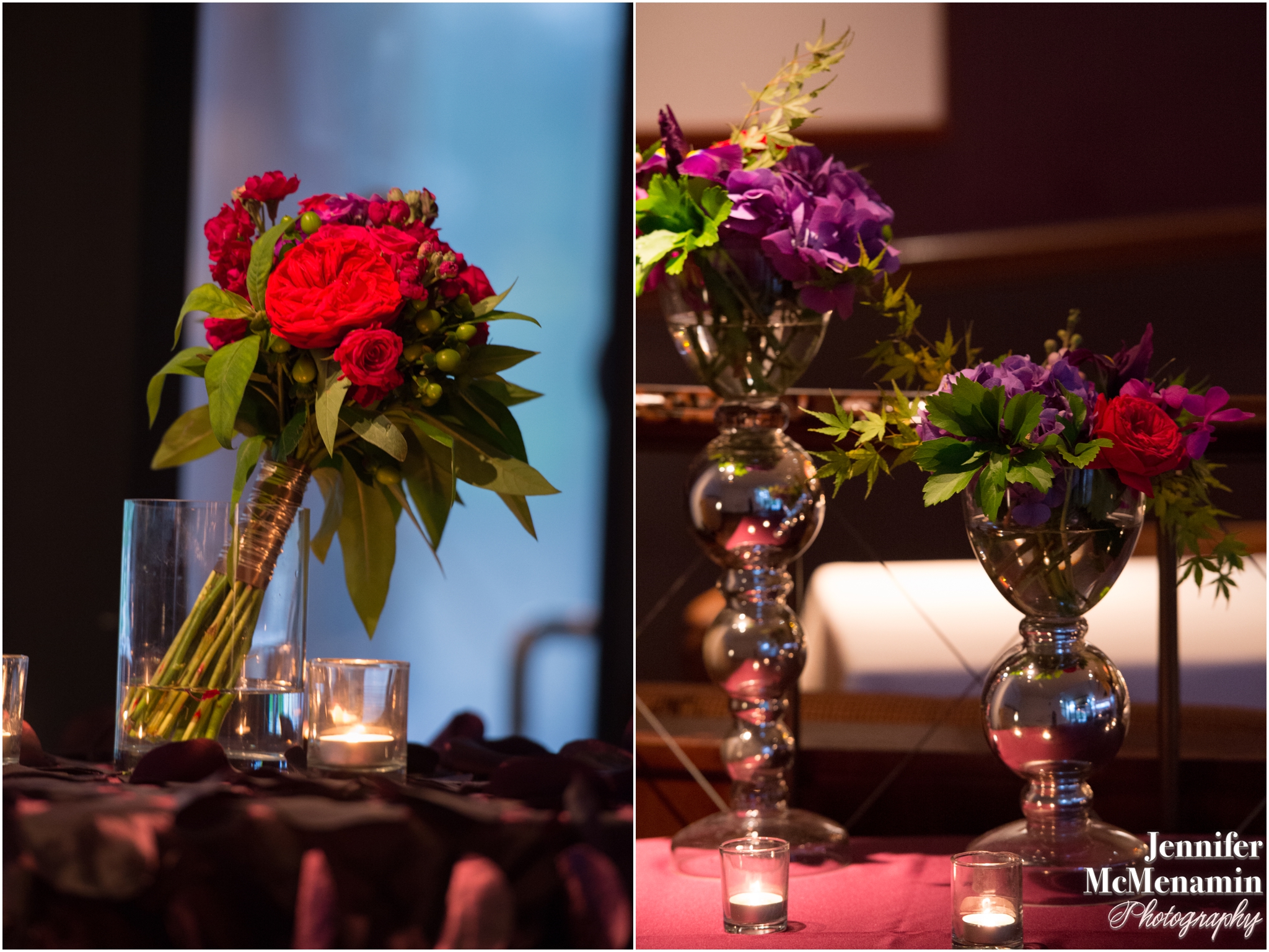 Instead of a traditional first dance, Ron and Mark kicked off the dancing at their party with "It's Raining Men." It was a big hit.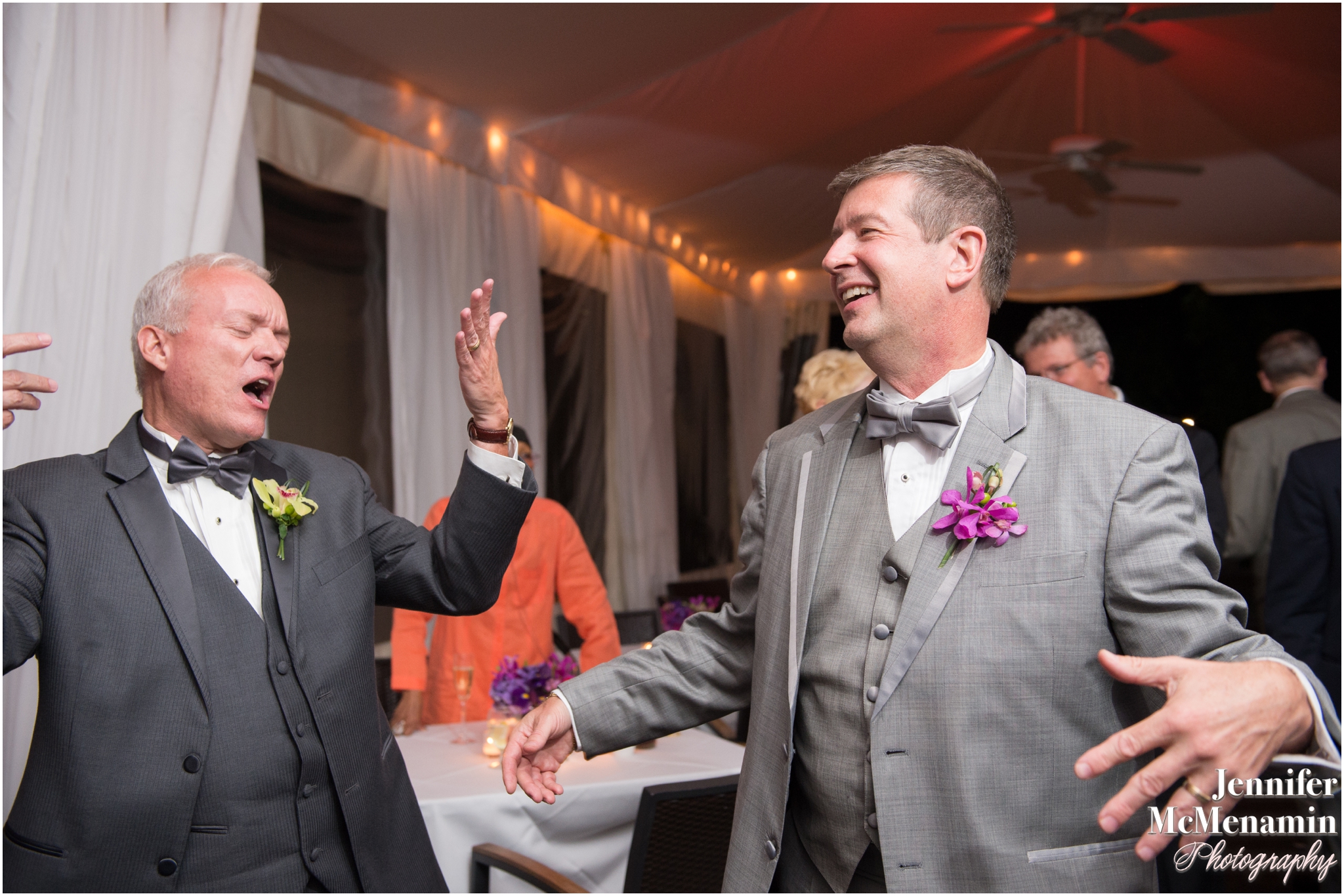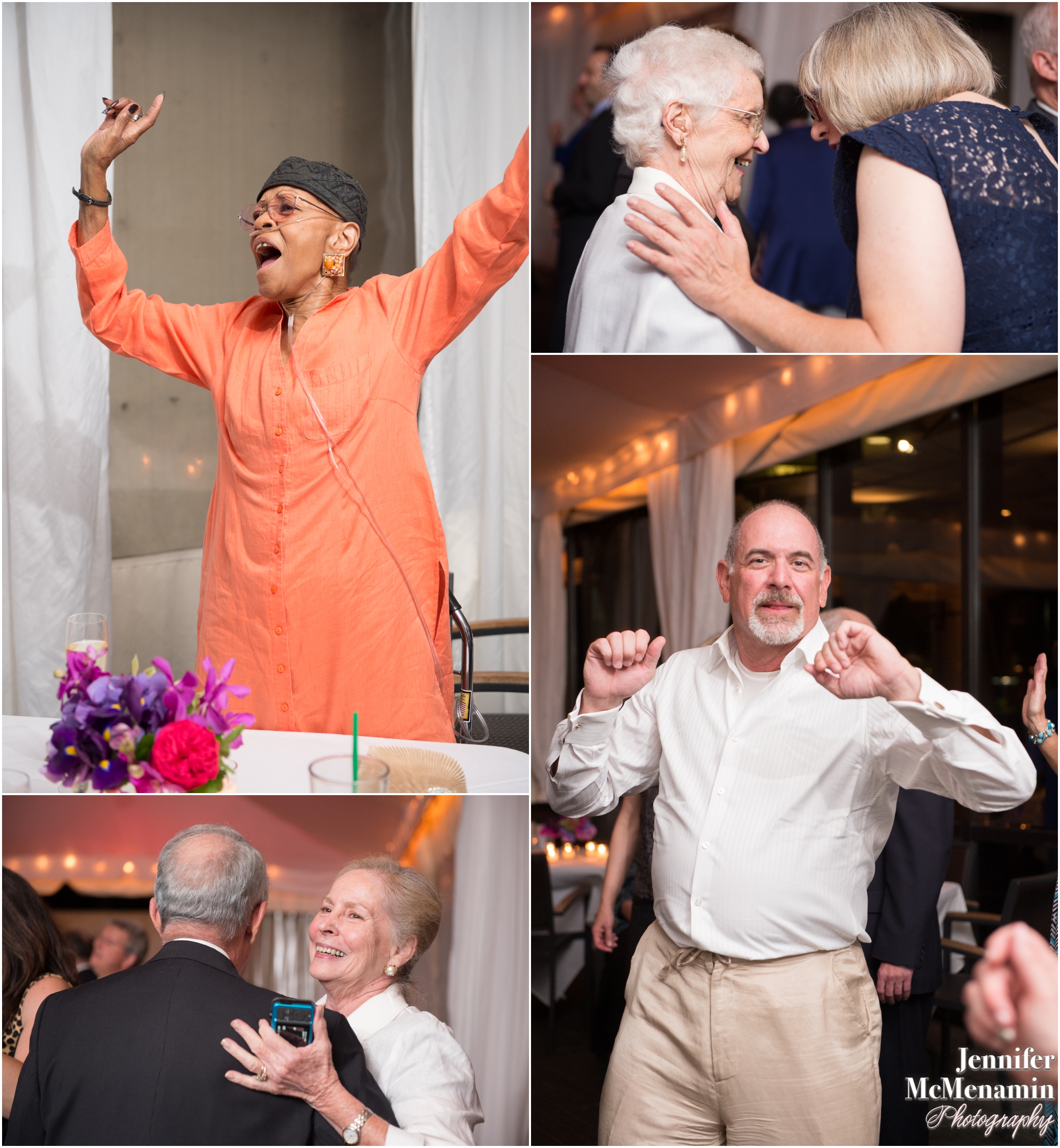 Juan Leon, from My Deejay, kept the dance floor packed all night.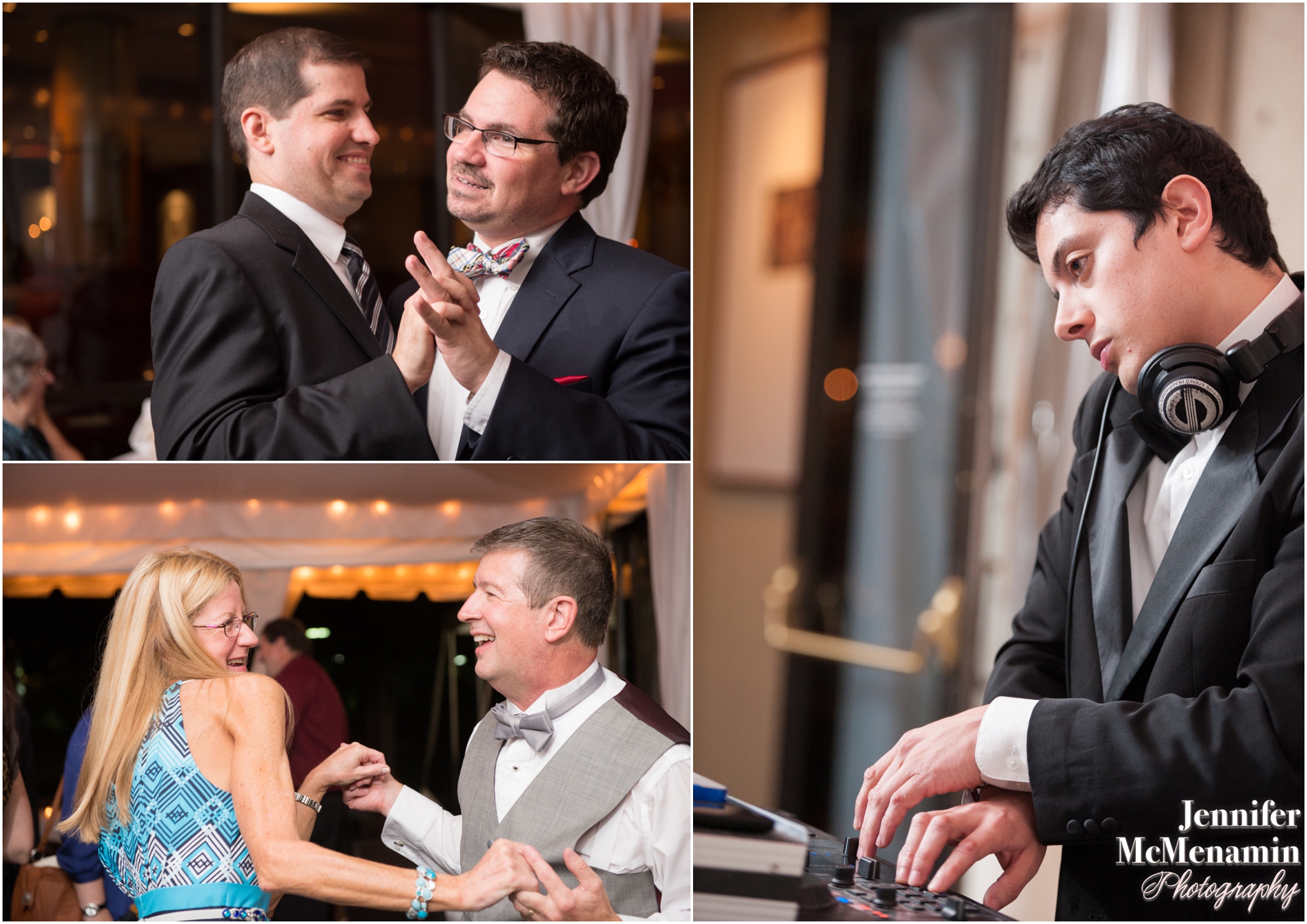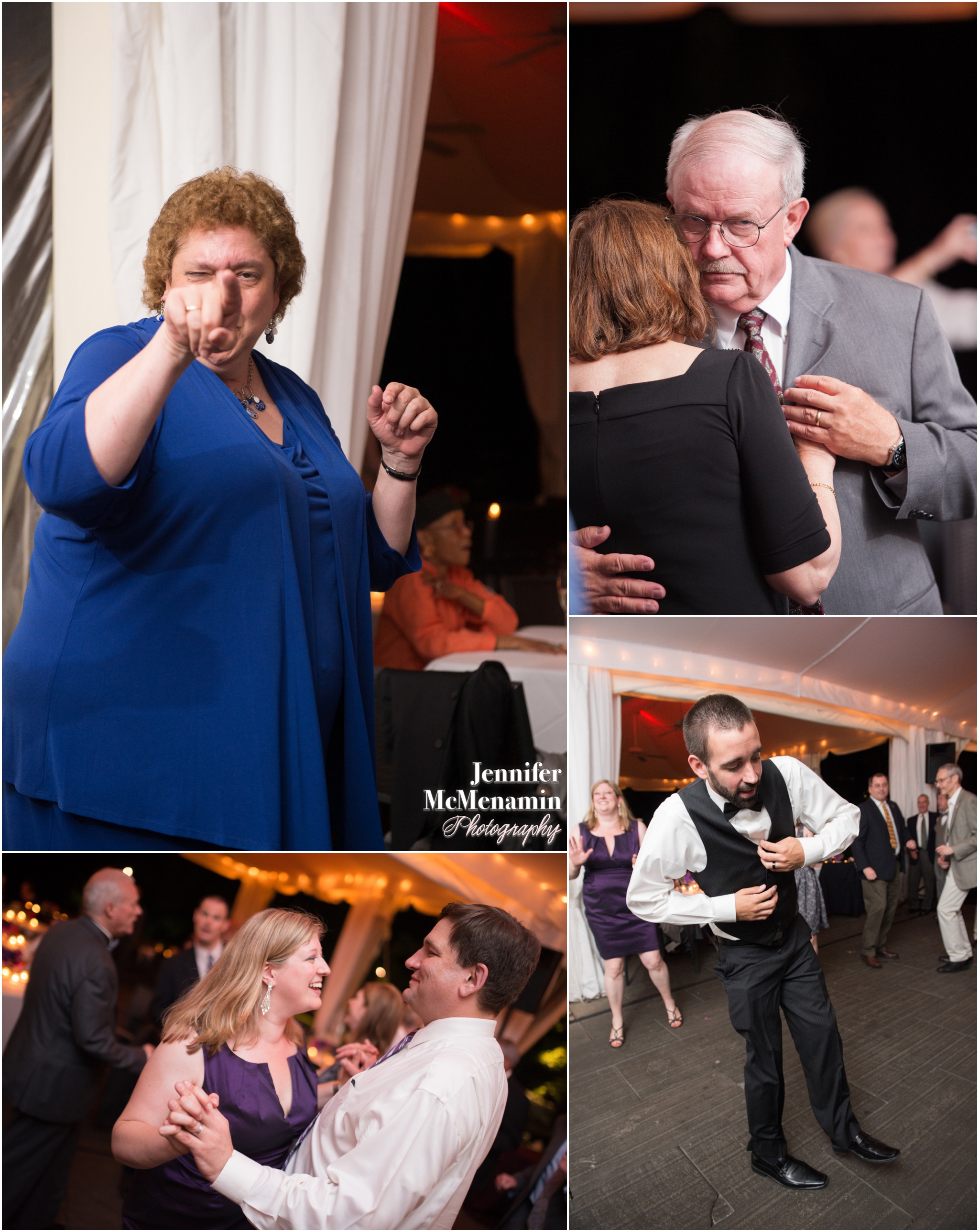 Mark and his daughter-in-law, Crystal, put on quite the show to Beyonce's "Single Ladies."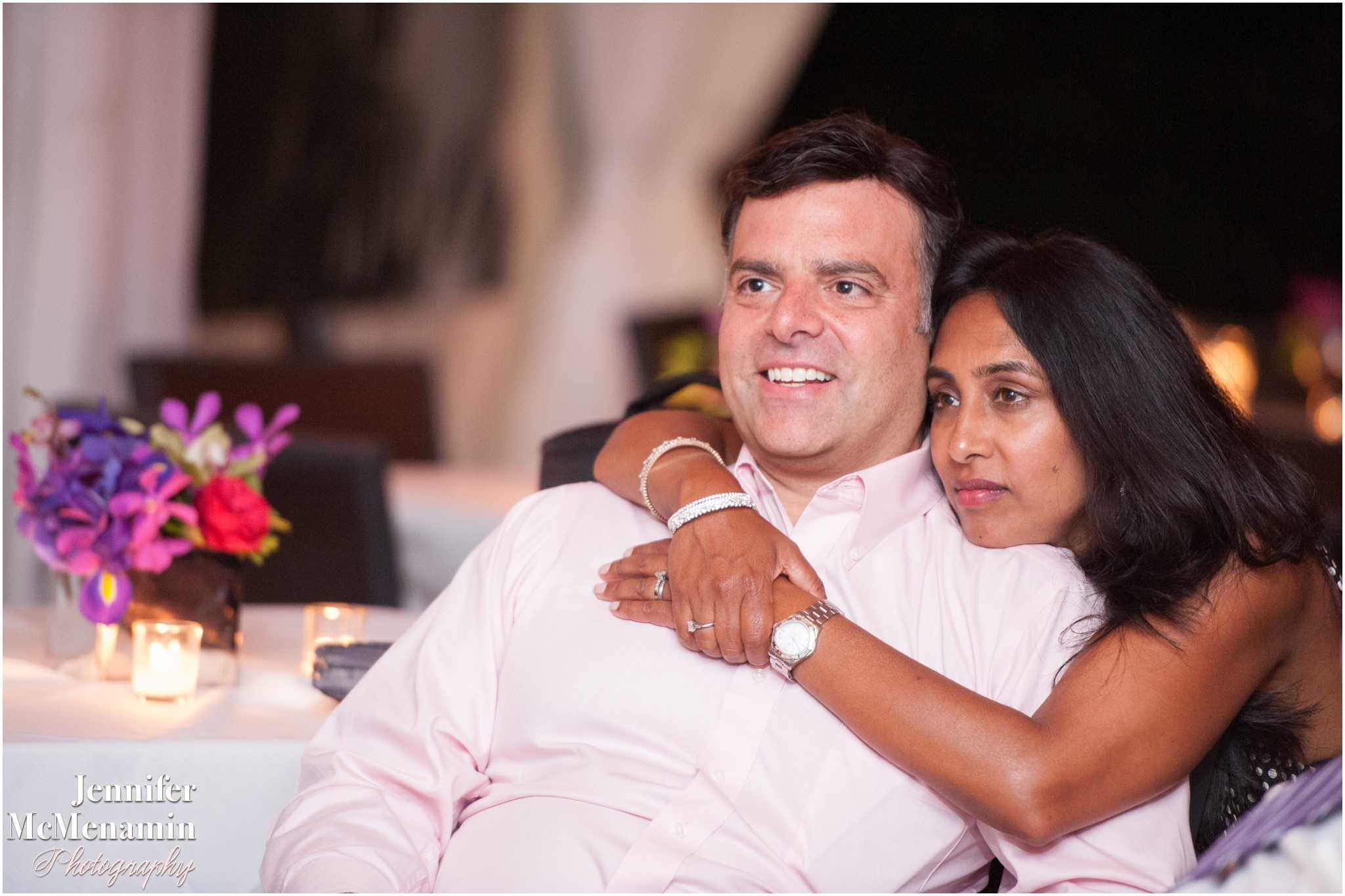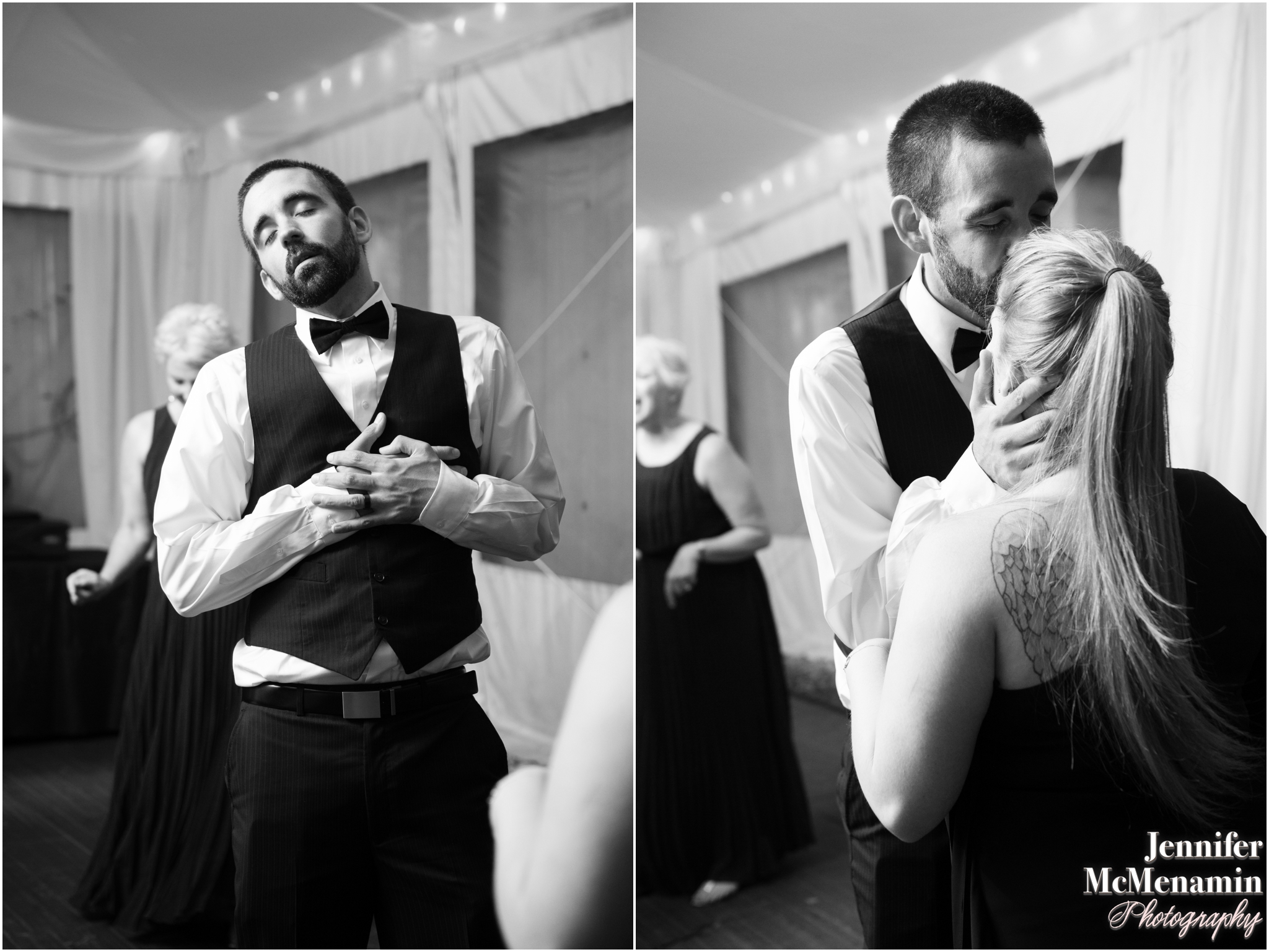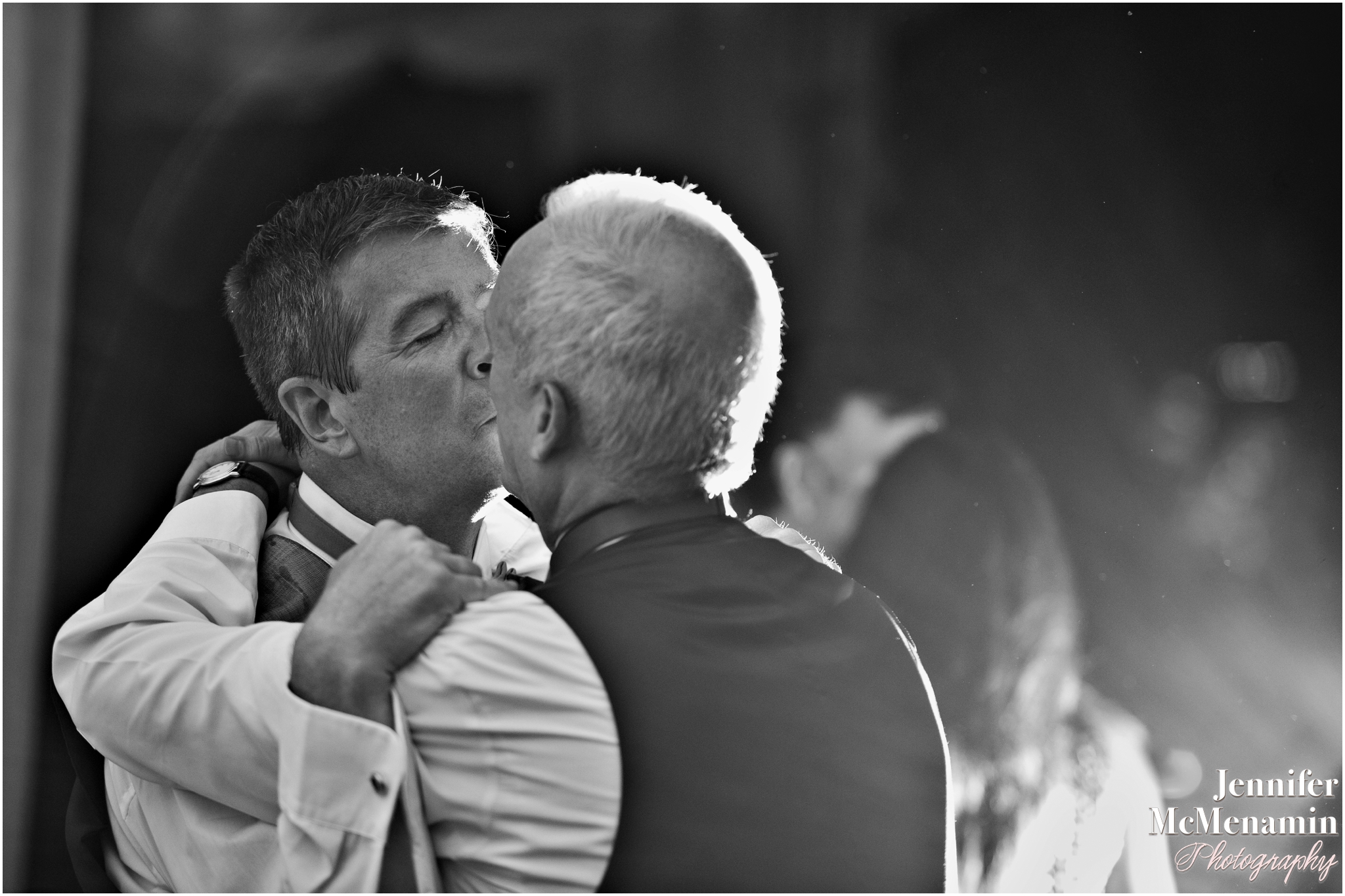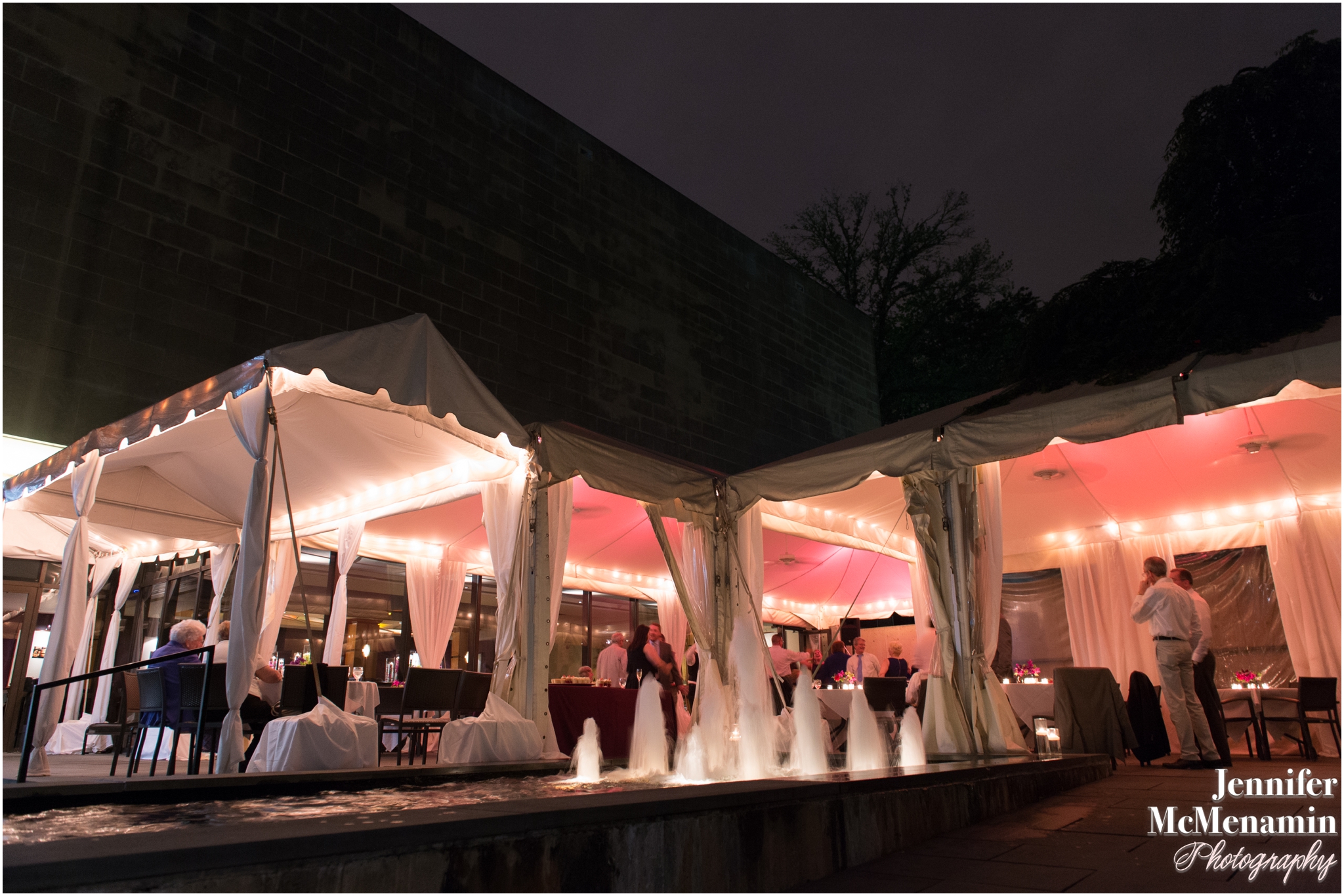 Many, many congratulations to you both, Ron and Mark. I absolutely, positively could not have had more fun working with you and your friends and family!
Credits:
Photography: Jennifer McMenamin Photography, LLC

Ceremony & reception: Gertrude's at the Baltimore Museum of Art
Officiant: Eric Virro, a friend of the couple
Catering: Gertrude's at the Baltimore Museum of Art
Rentals: Table Toppers
Grooms' attire: Tuxedos from Tuxedo House
Florist: Crimson & Clover Floral Designs
DJ: Juan Leon from My Deejay

Invitations: Greetings & Readings