Loren + Adam

The Woodend Sanctuary -- Washington DC wedding photography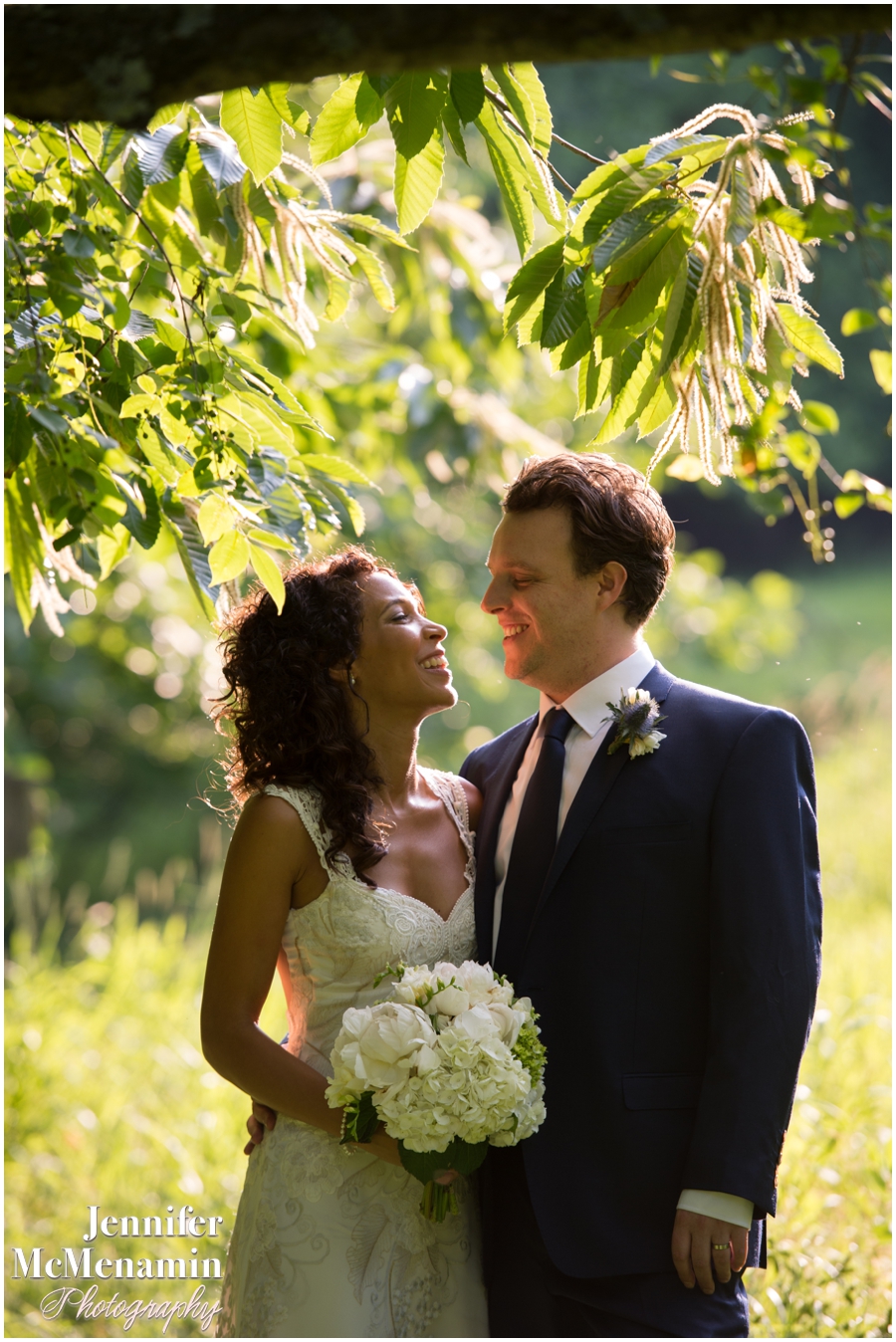 Loren and Adam put together one of the chicest and most elegant weddings I've seen at the always-beautiful Woodend Sanctuary. That they did so from 10,174 miles away in his native Australia, where they met and now live, is all the more impressive. It is also a testament to the countless wedding-planning middle-of-the-night Skype chats between Loren and her mother as well as the amazing team at Leslie Manning Events! The wedding was a perfect blend of the natural — like the bunches of flowers adorning ceremony chairs and the chuppah of curly willow and greenery, echoing the trees that stretch out of the grove where the ceremony was held — and the modern, including an outdoor lounge complete with throw pillows in the sea blue color palette of the day and nighttime lighting. But what really made Loren and Adam's wedding were their family and friends, many of whom traveled from across the globe to celebrate. They toasted and cheered and fist-bumped the couple. They brought the president and first lady along (kind of!) to join the party. They tore up the dance floor so hard that entire shirts were left dripping with sweat. And to honor the very international guest list, there was an oversized map of the world laid out in lieu of a guest book with an invitation for friends and family to leave notes to Loren and Adam. It all was a pleasure to photograph. My friend and assistant, Sam, joined me again for this wedding and his photographs are mixed in below with mine. Here are some of my favorites from Loren and Adam's wonderful day:
I started with Loren and her girlfriends, who enjoyed mimosas as they rotated through the hair and make-up chairs.
Meanwhile, down in the guys' room, Adam and his groomsmen chose a slightly stiffer beverage. Sam photographed their preparations.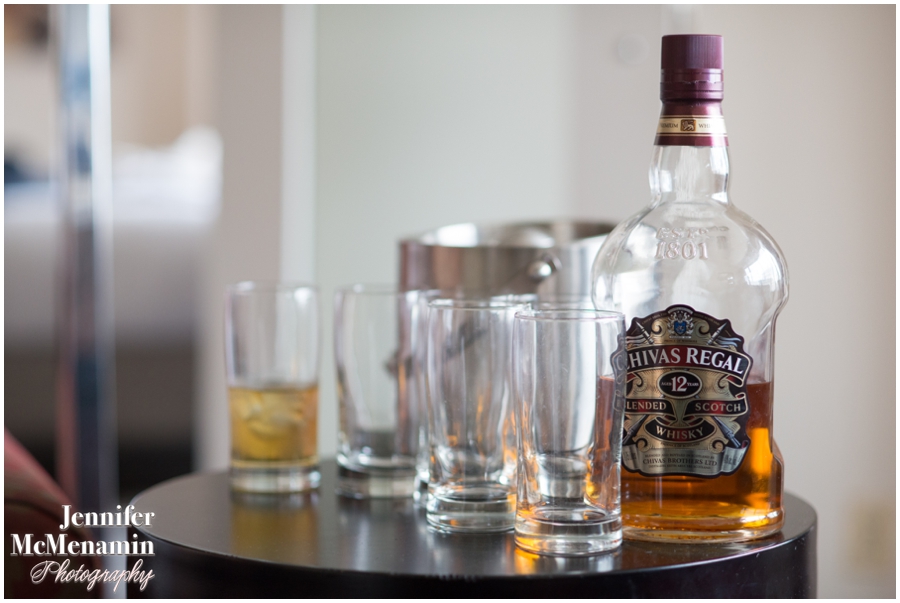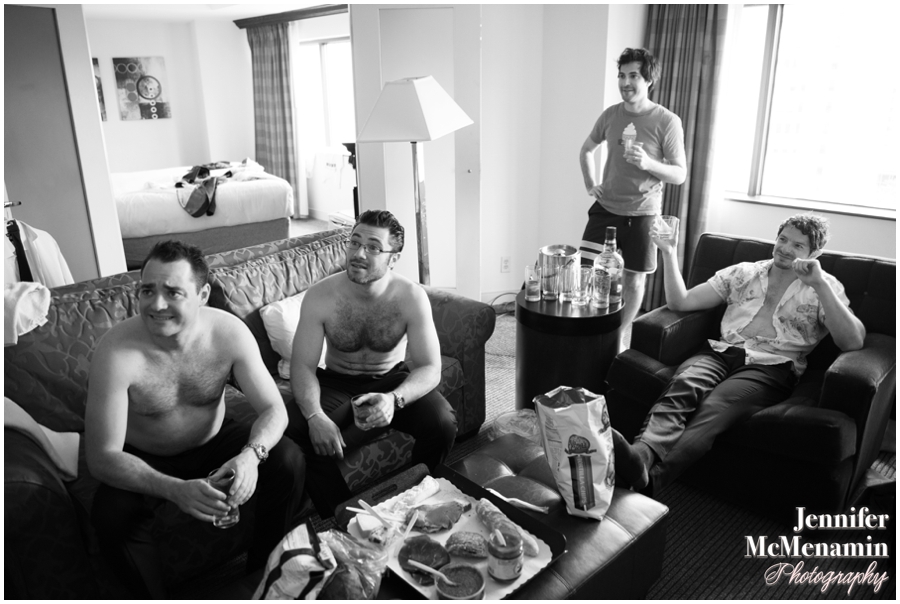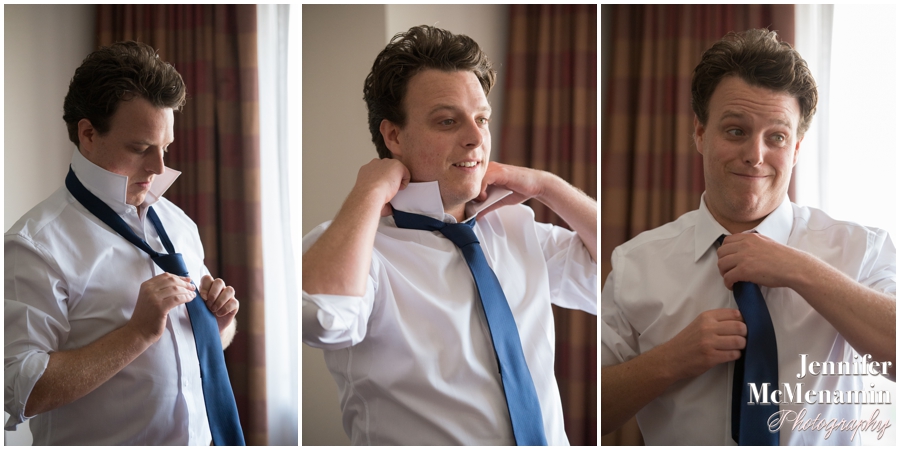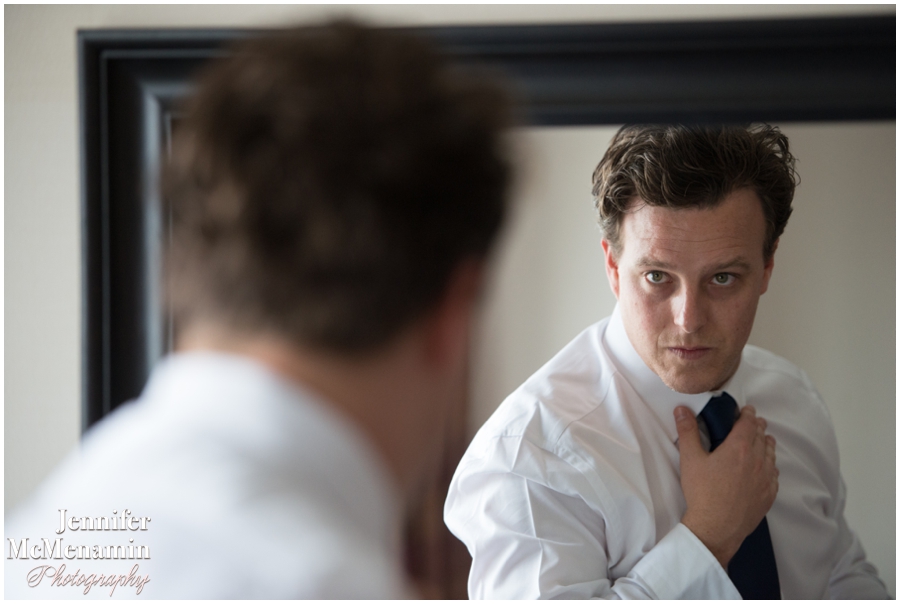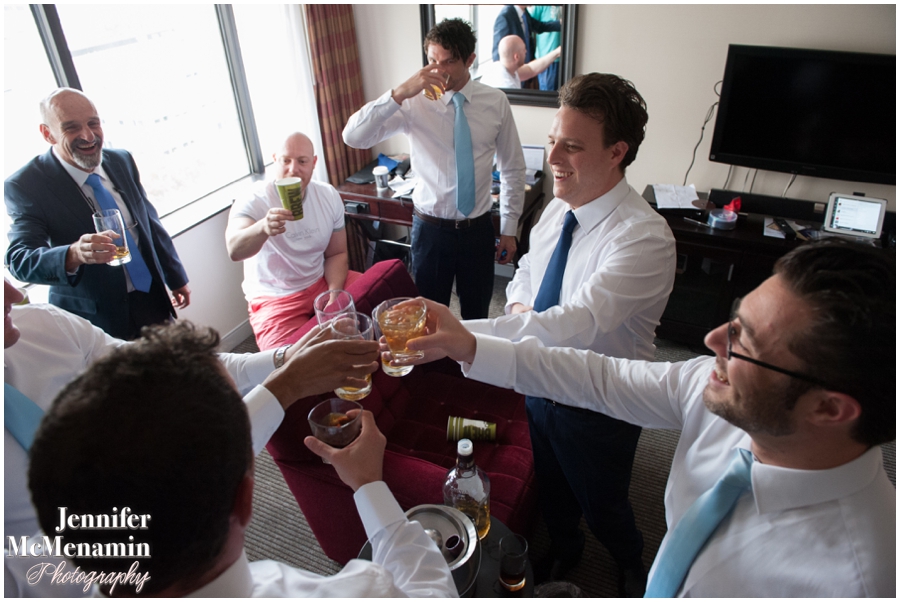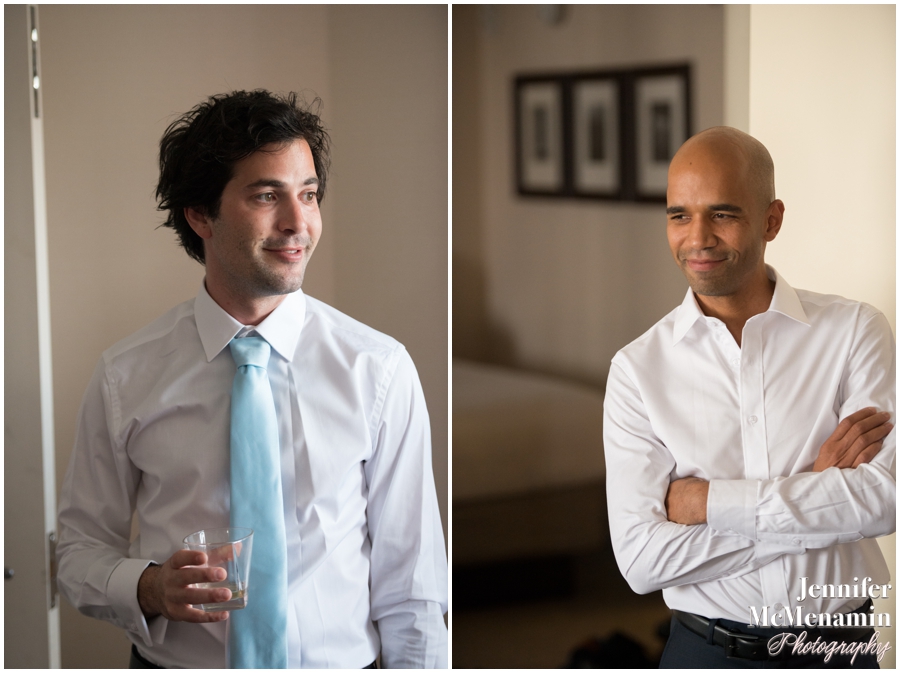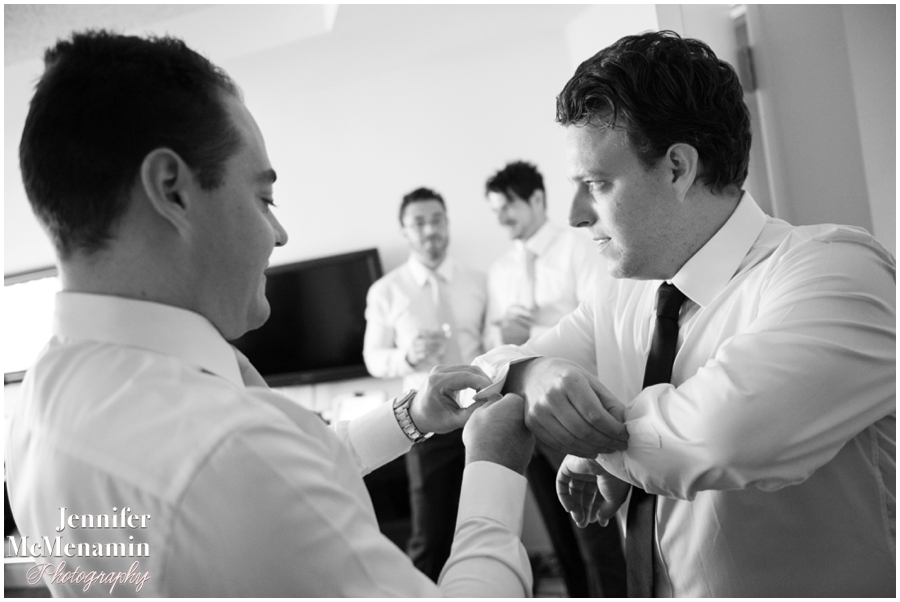 And then it was off to the Woodend, where Adam greeted the ring bearer and Loren slipped — or rather, kind of dove! — into her very sexy wedding gown.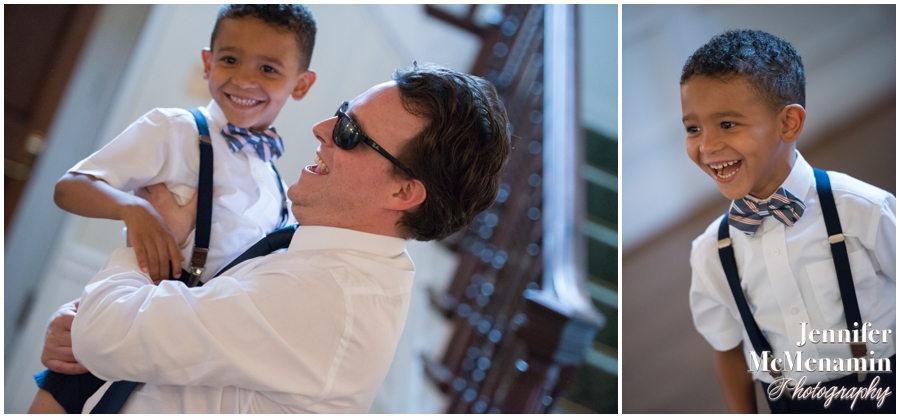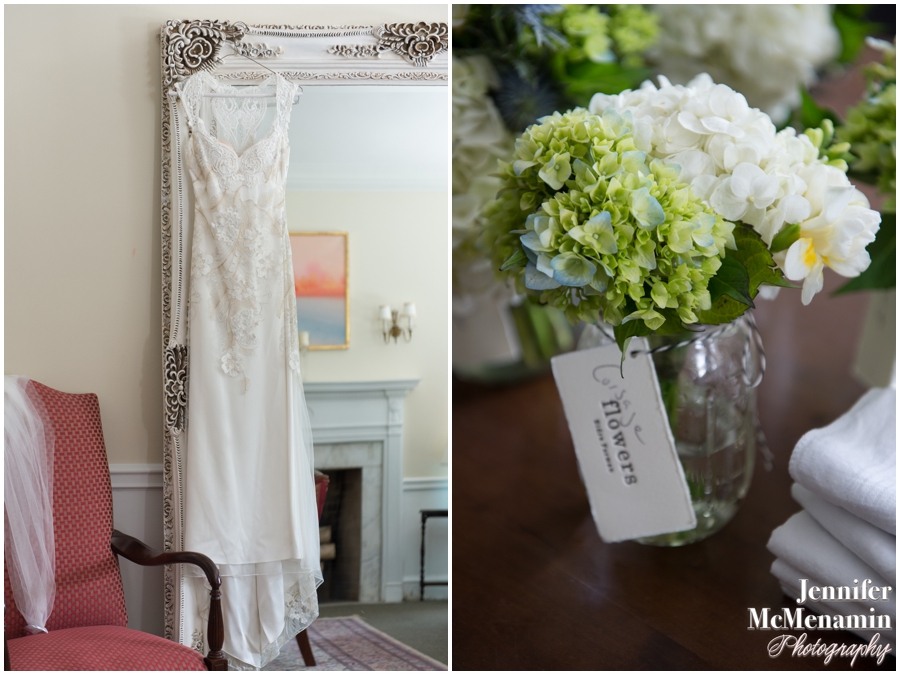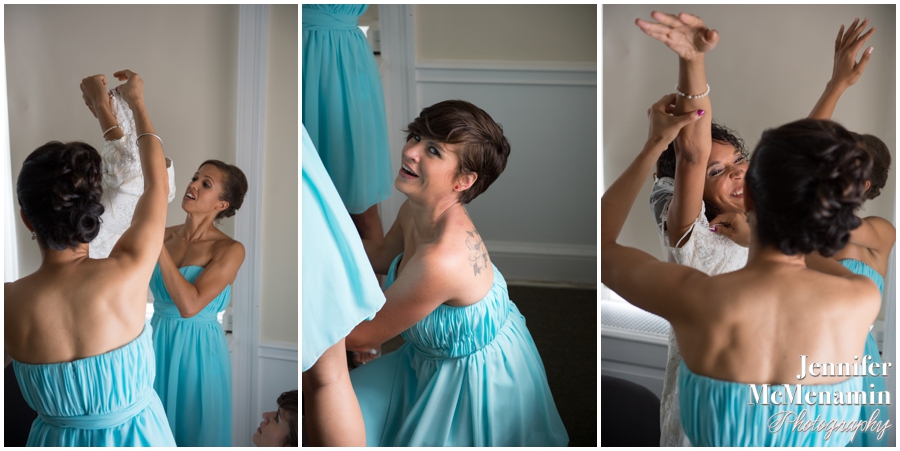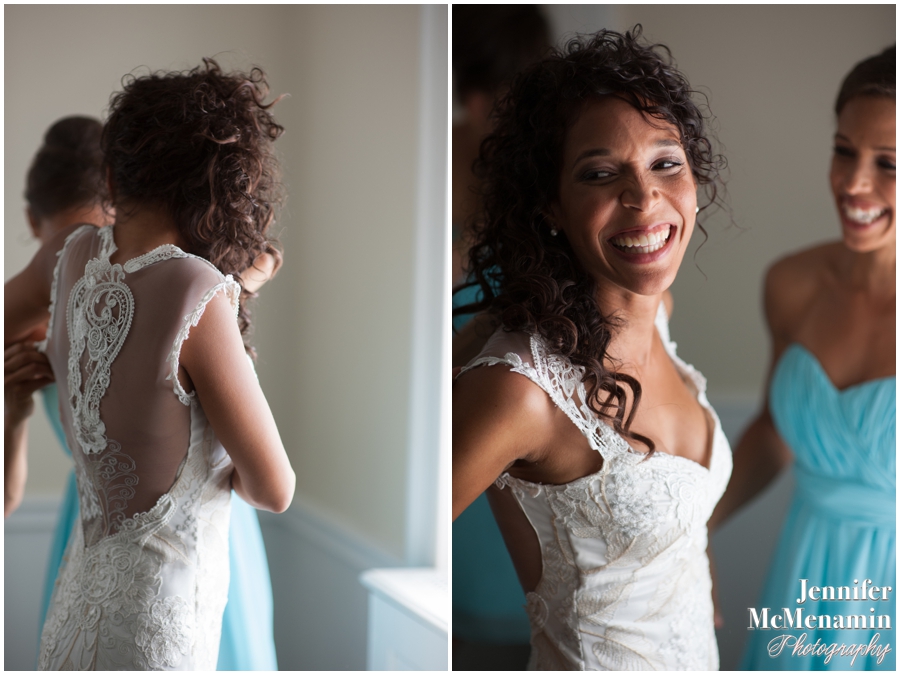 Loren and Adam decided to see each other before their ceremony for photos. He managed to completely sneak up on her — and then had a fabulous reaction after checking her out.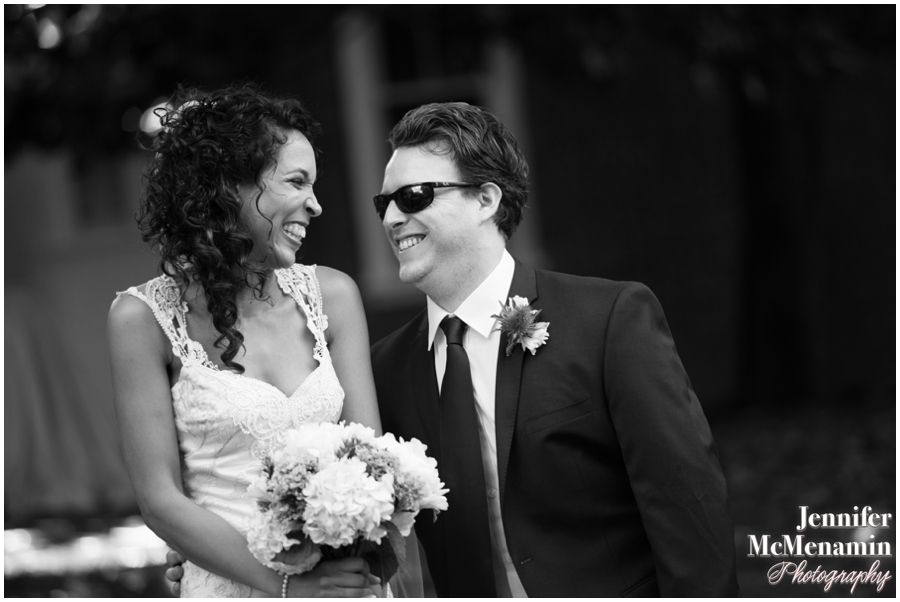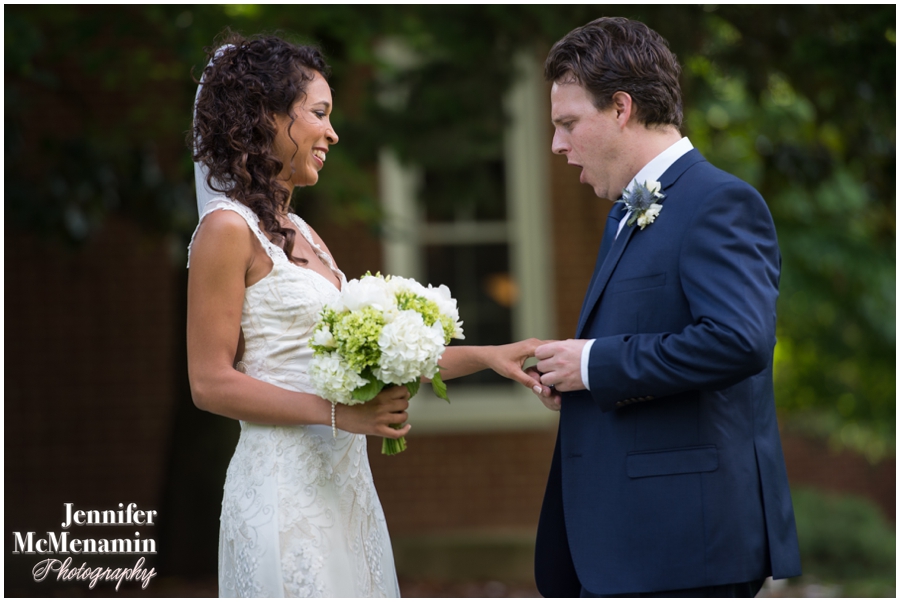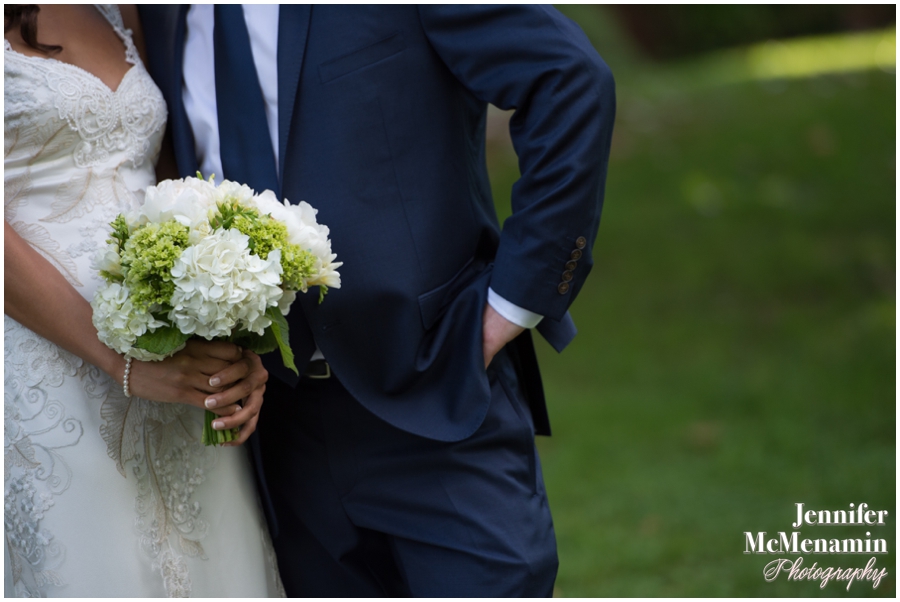 Handmade mail delivery from the ring bearer.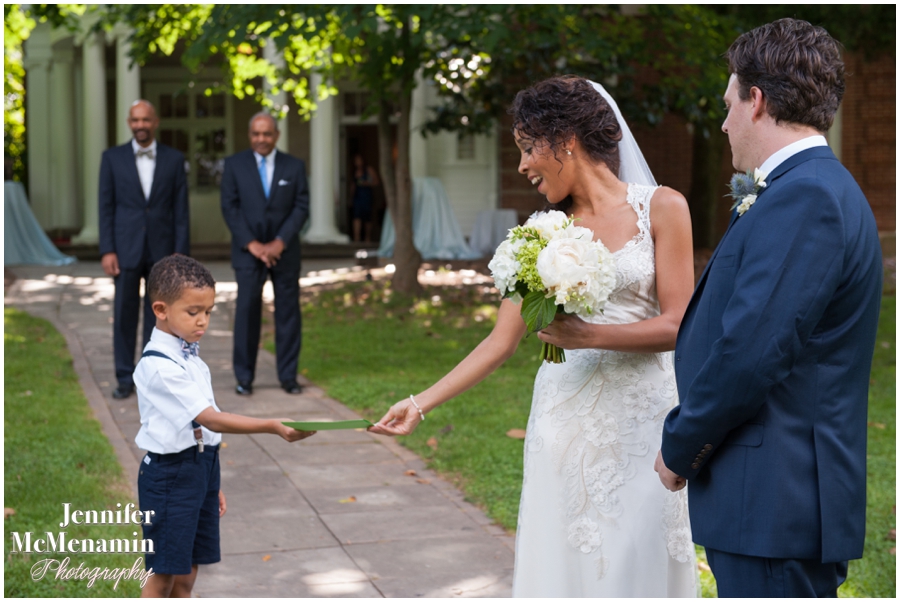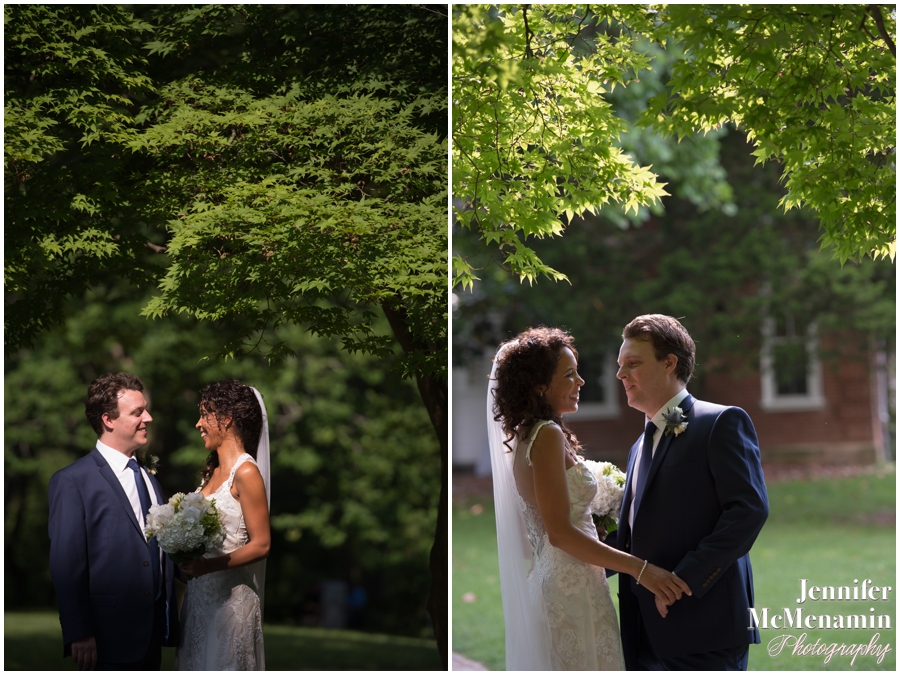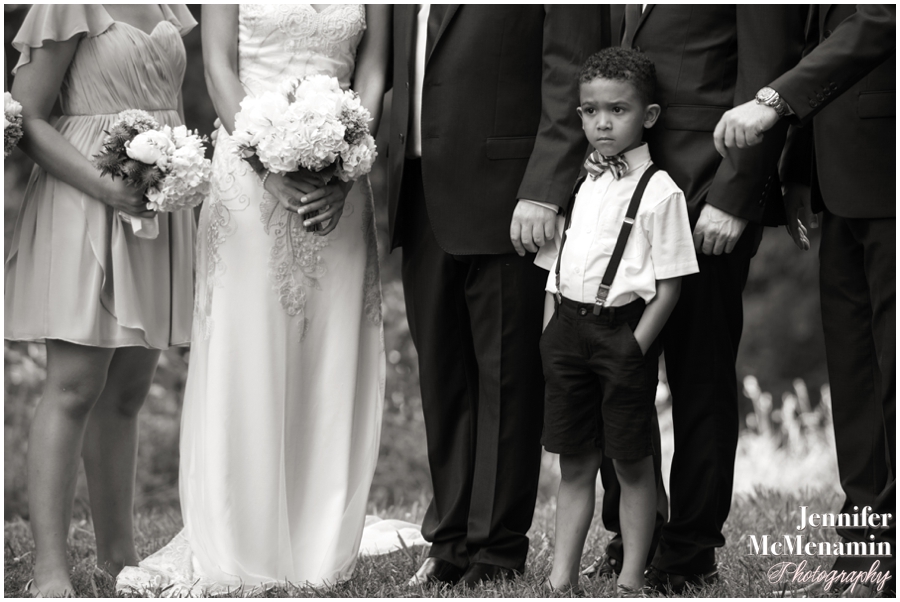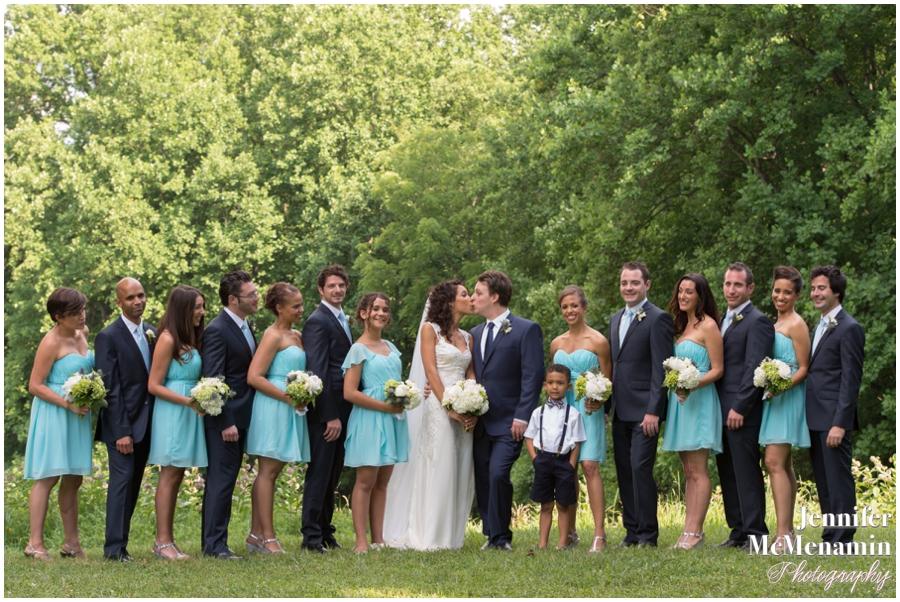 I loved photographing these ladies. They all obviously care about Loren — and each other! — a great deal.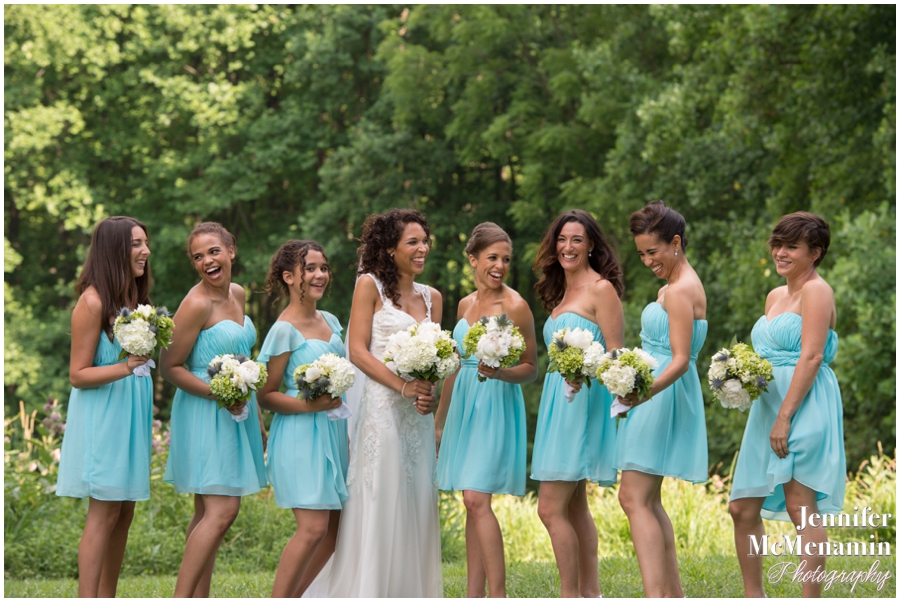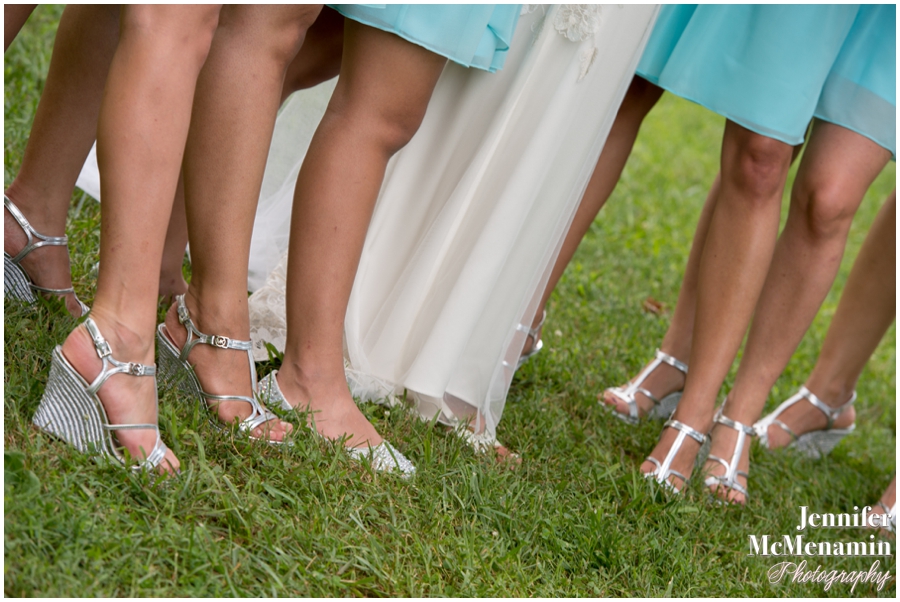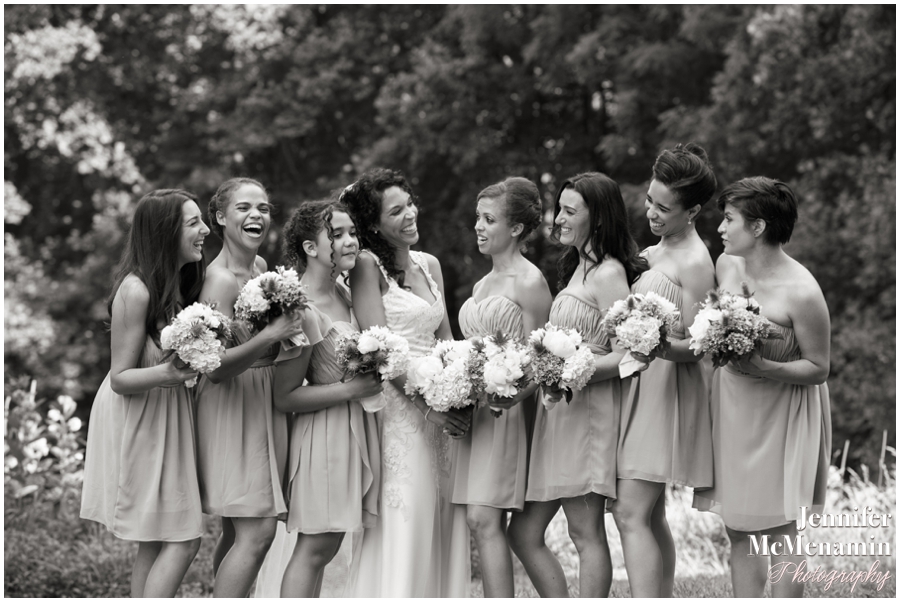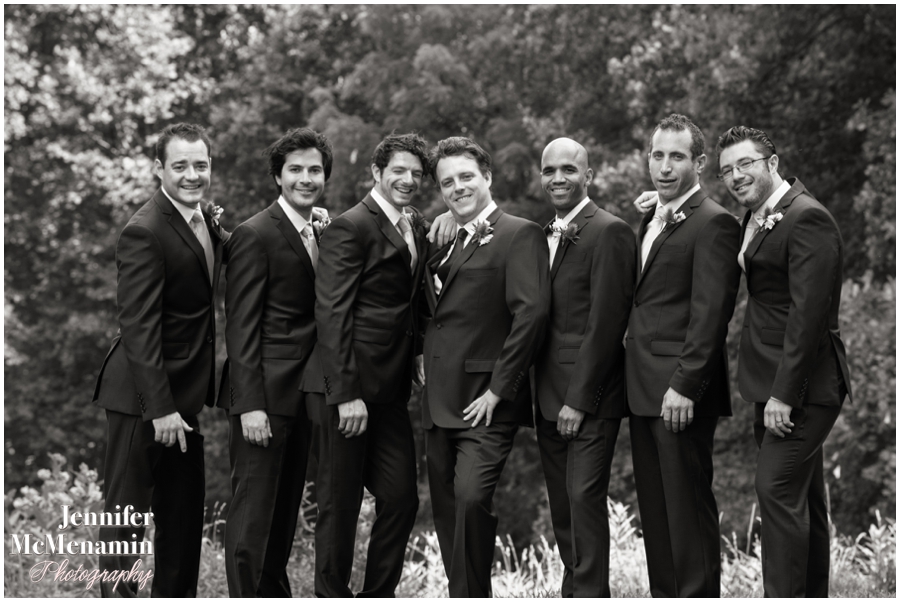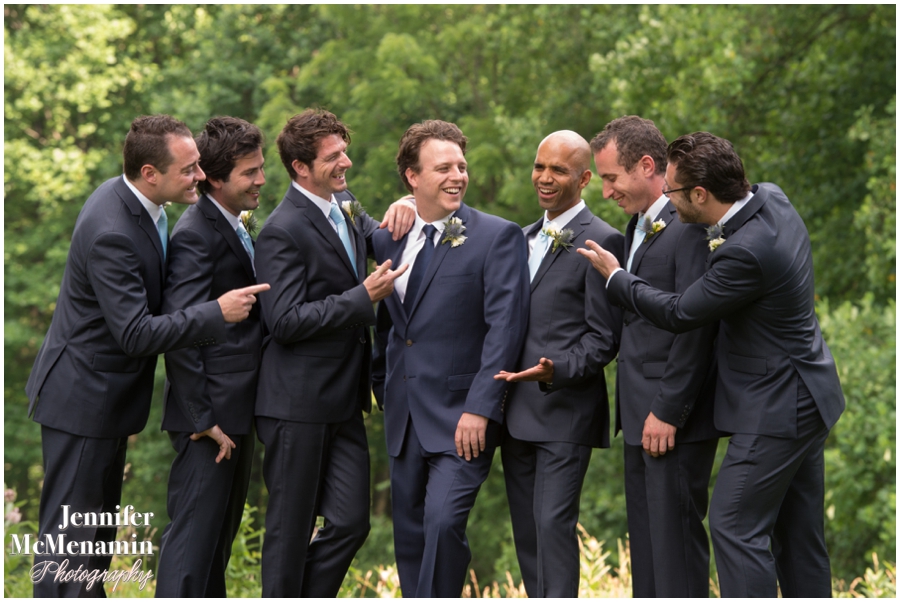 And then it was time to get married!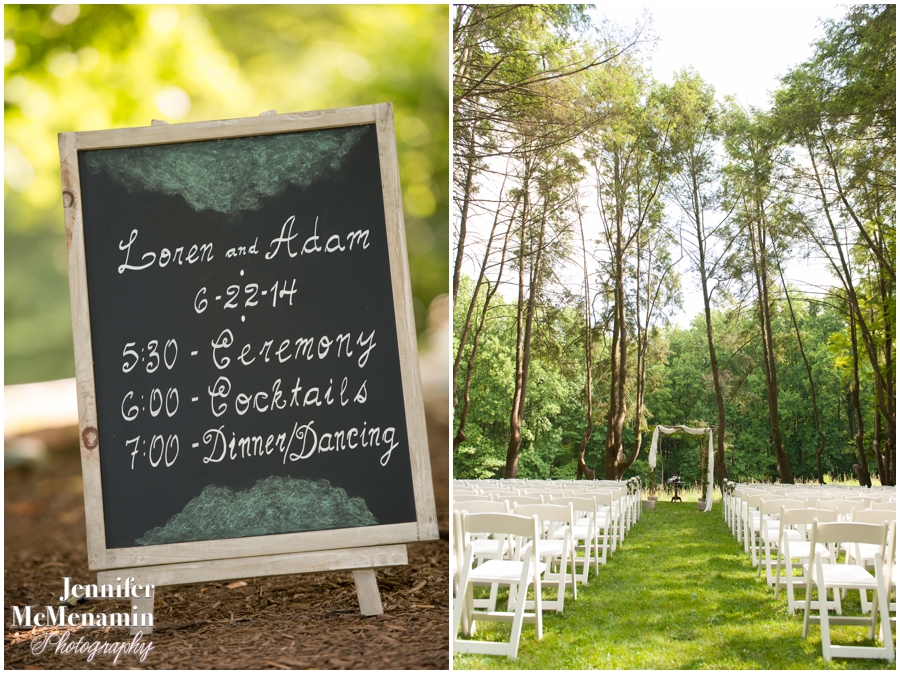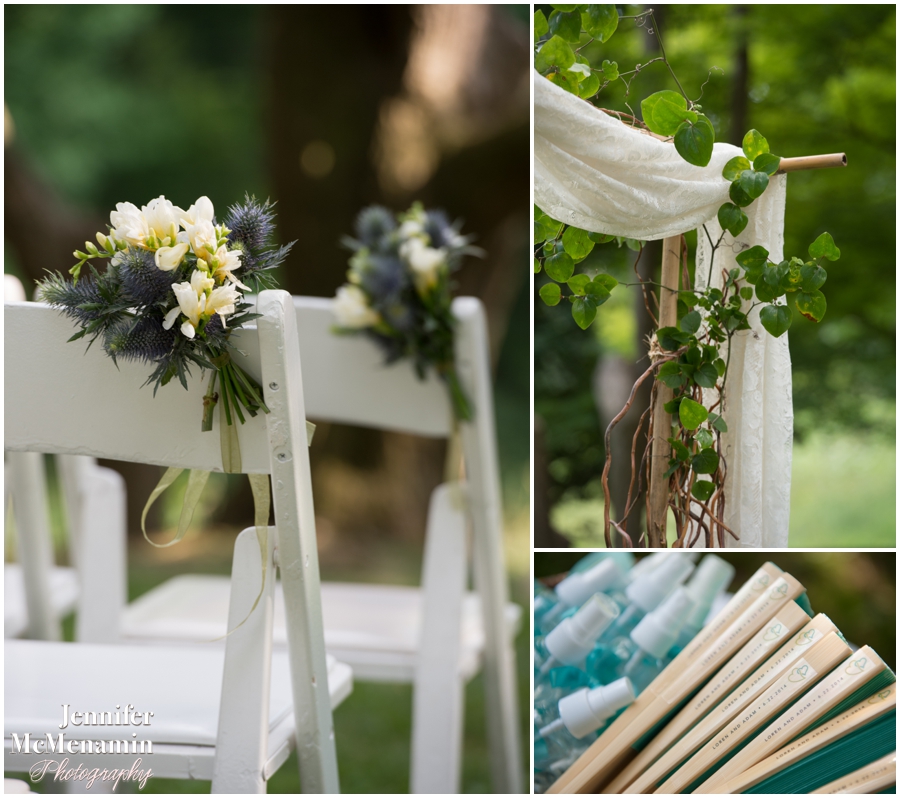 One of Loren's bridesmaids and best friends, an accomplished violinist, played during the processional.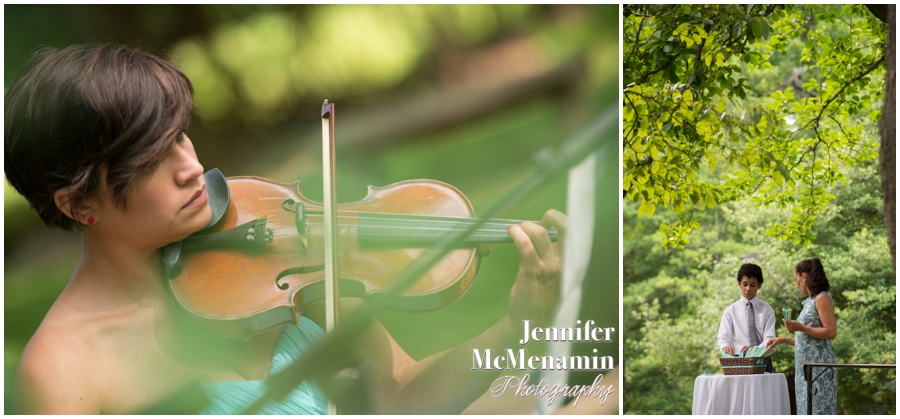 The groom, meanwhile, mugged for a guest's photo of the groomsmen by the chuppah. 

The bridesmaids had to dodge deer on their way down the path to the ceremony. I love this next pair of photos shot by Sam.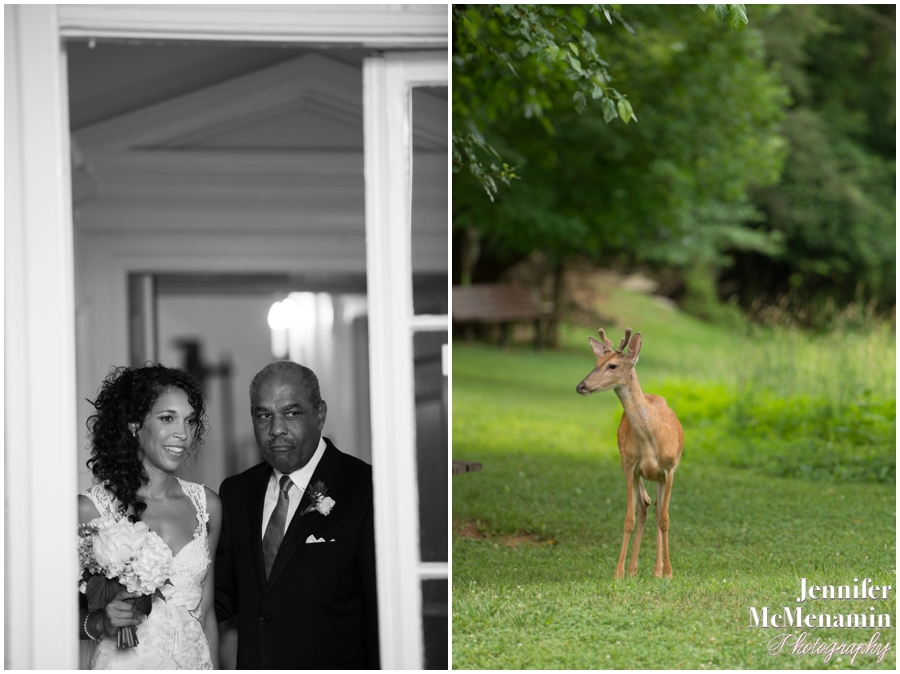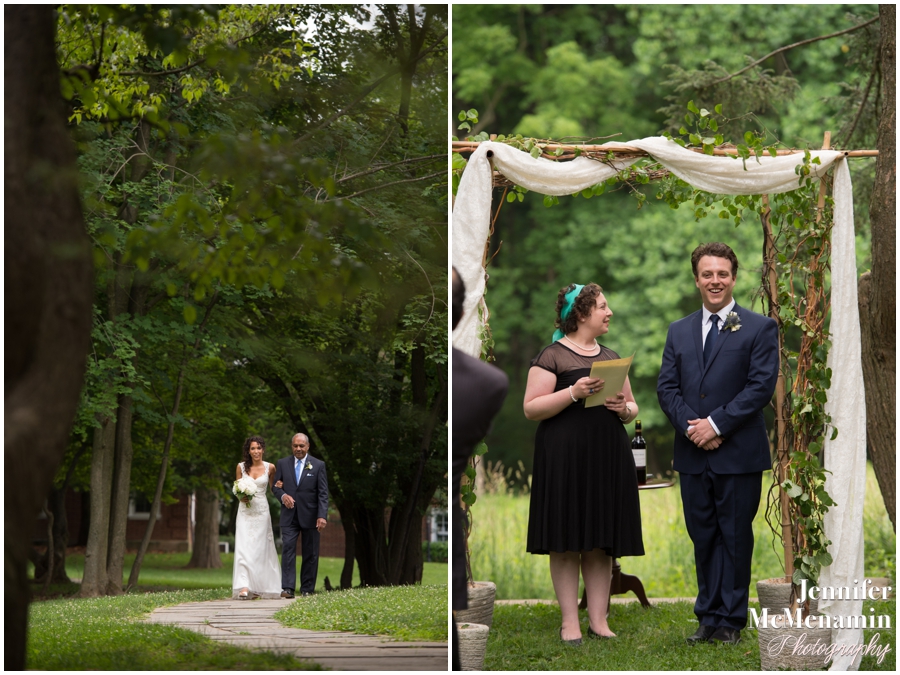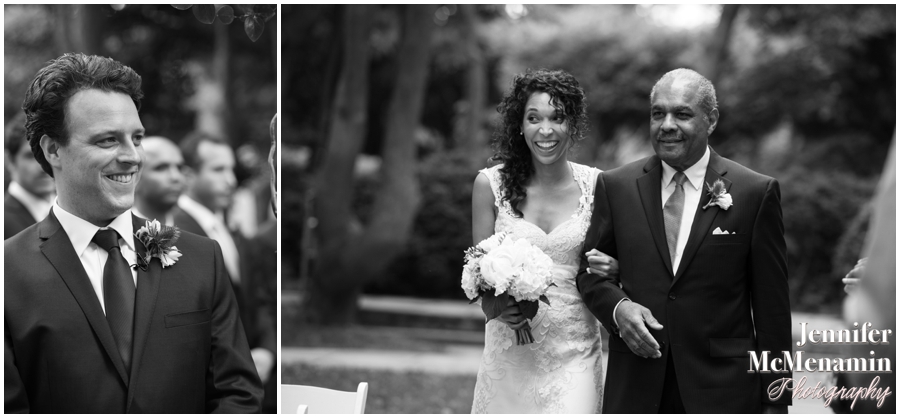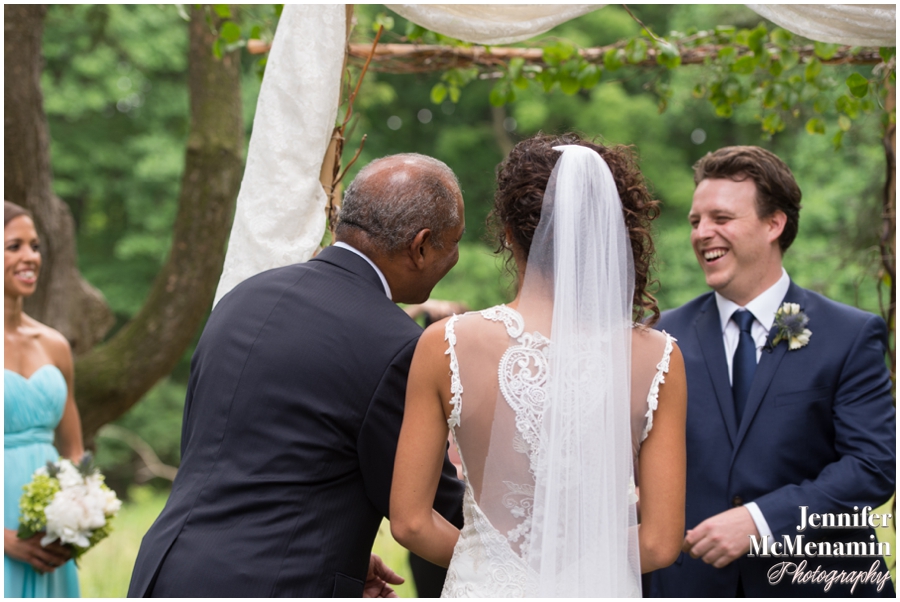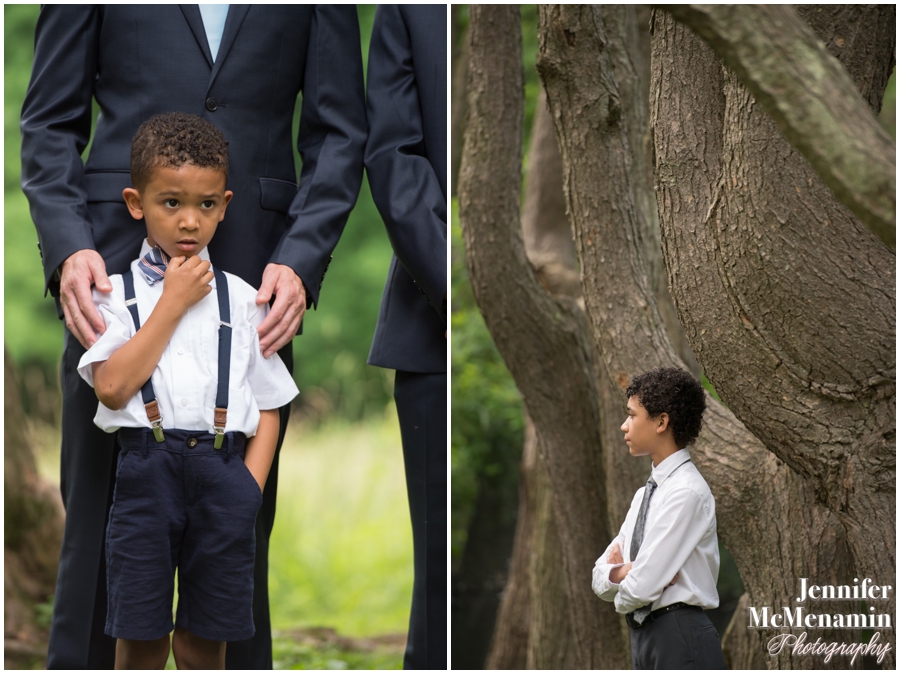 Loren's brother had a very emotional moment during the ceremony.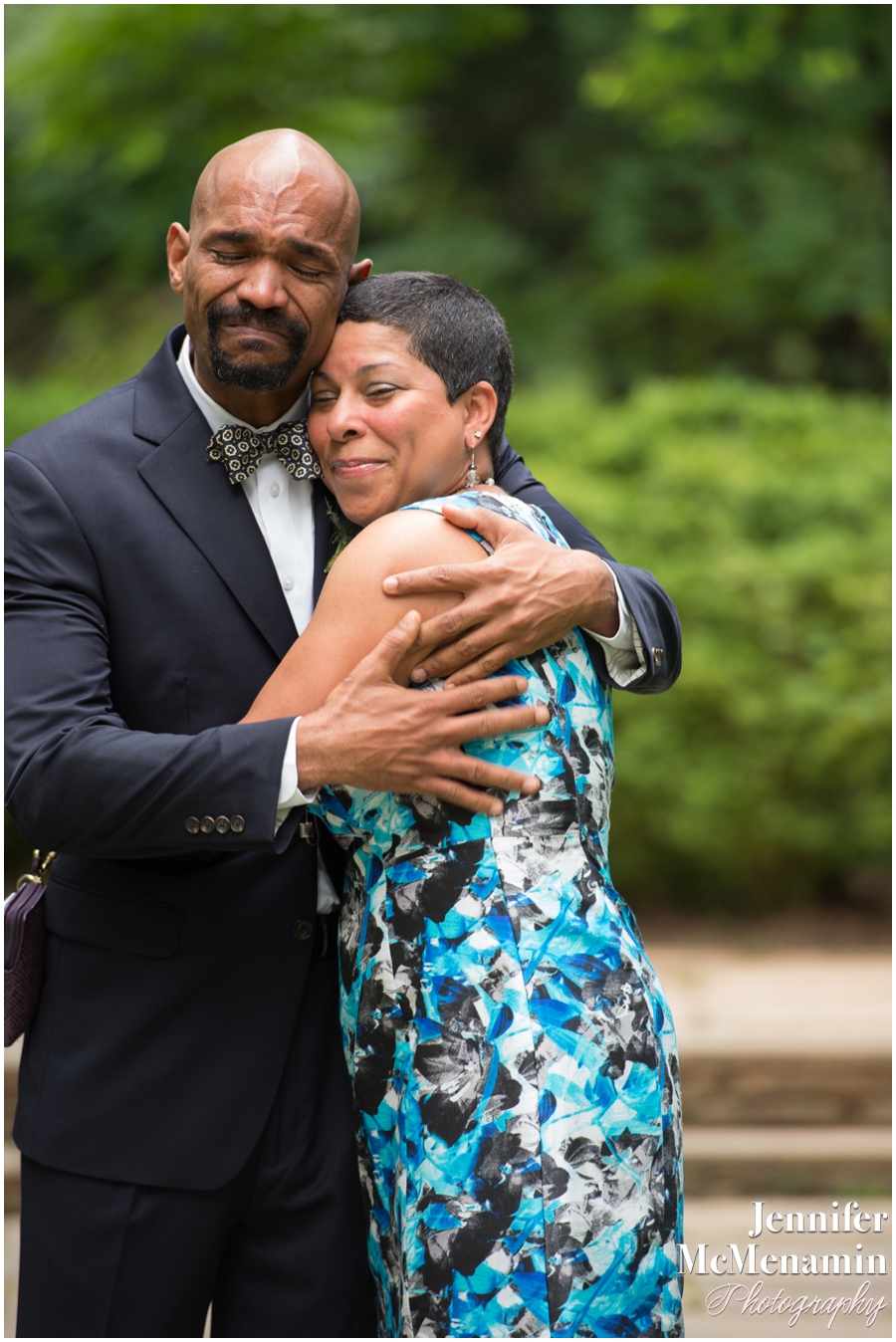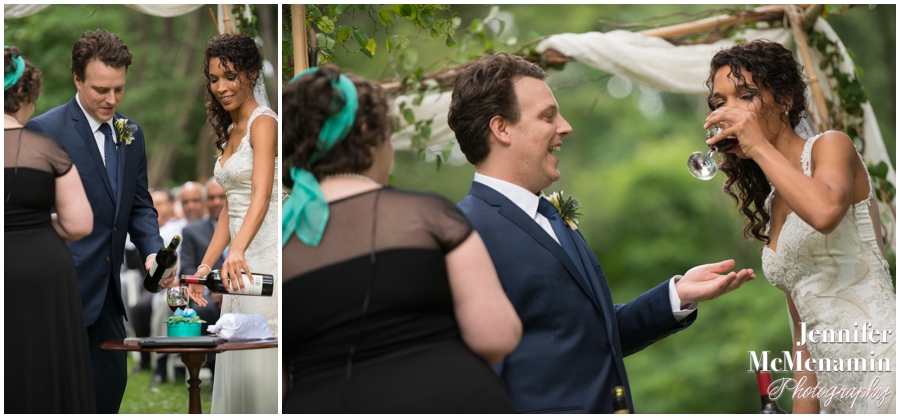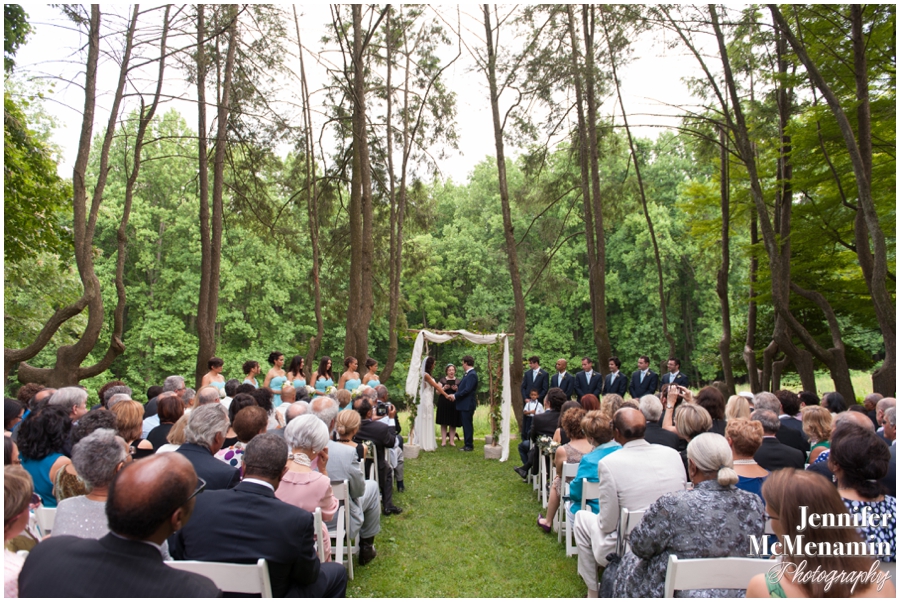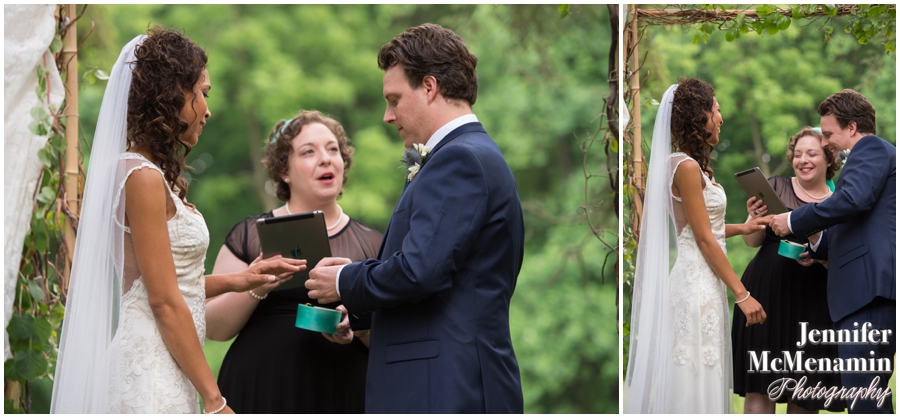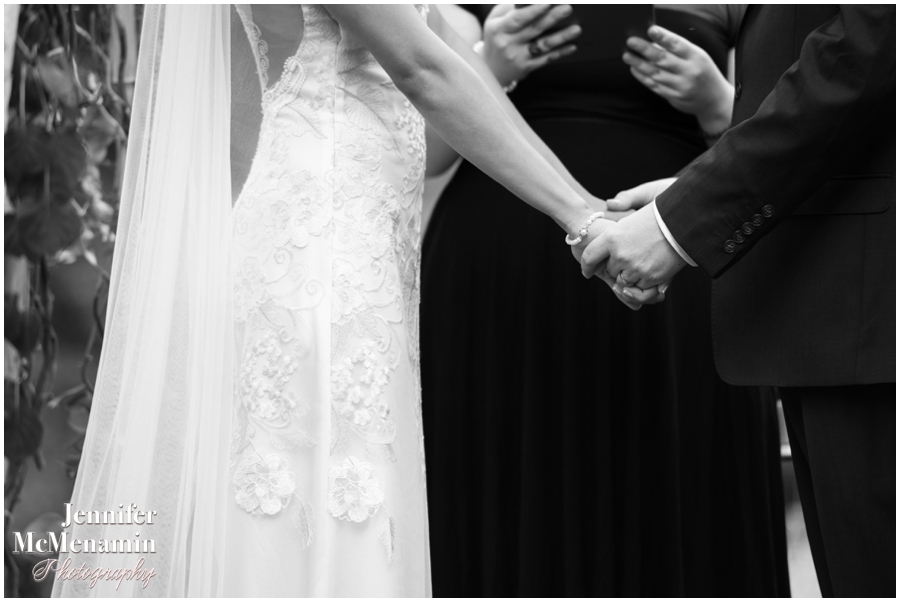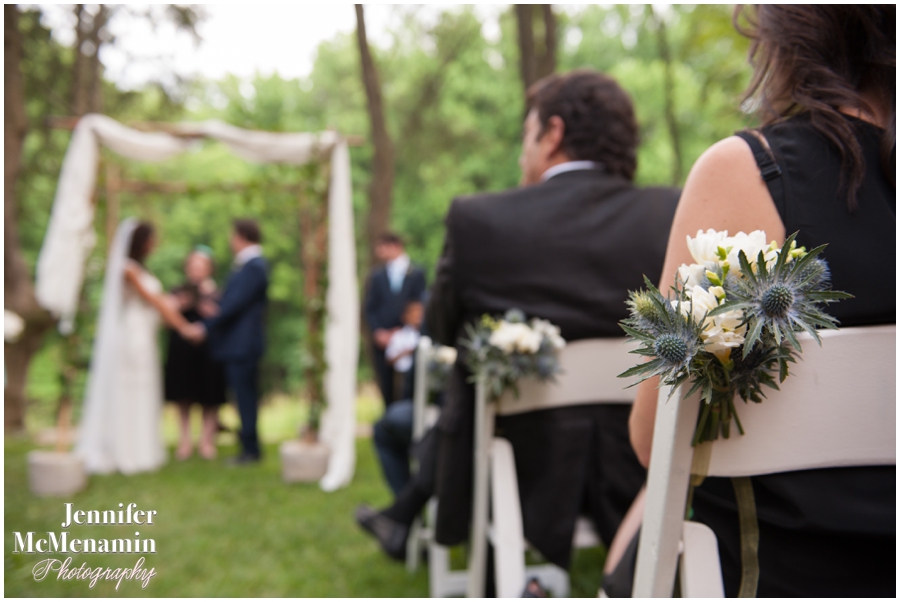 We had the opportunity to shoot some casual portraits of the newlyweds in exactly the most perfect early-evening light.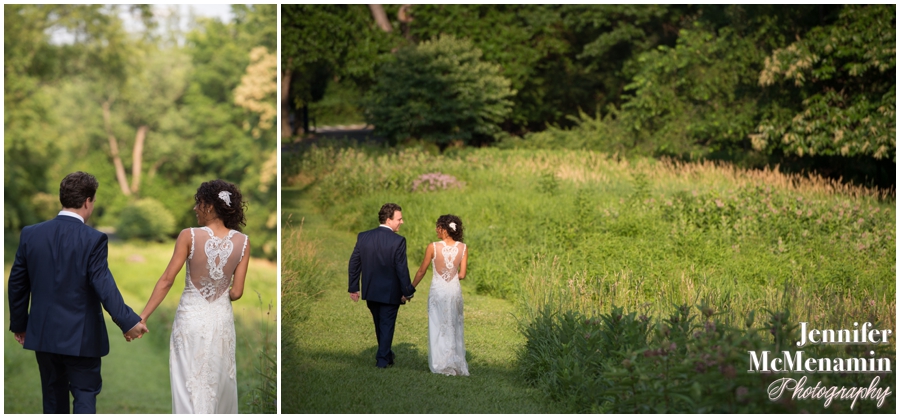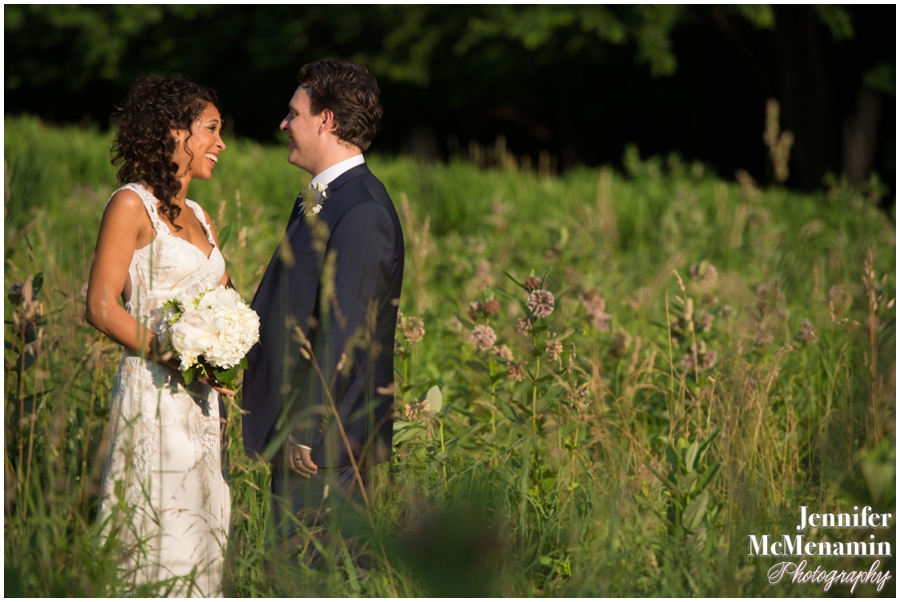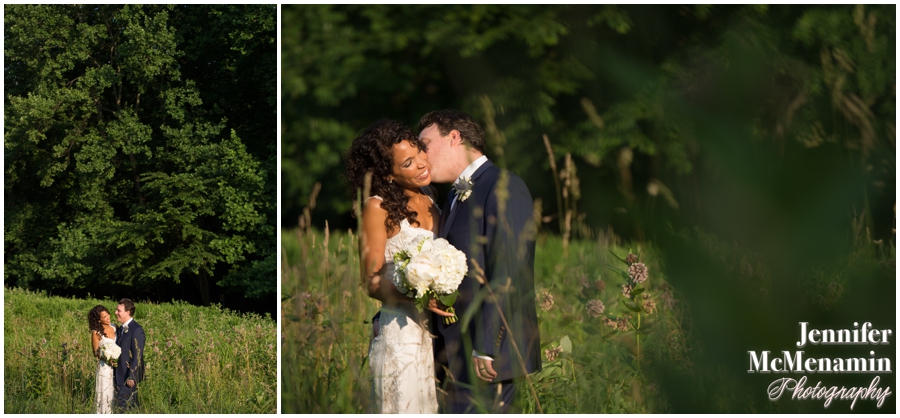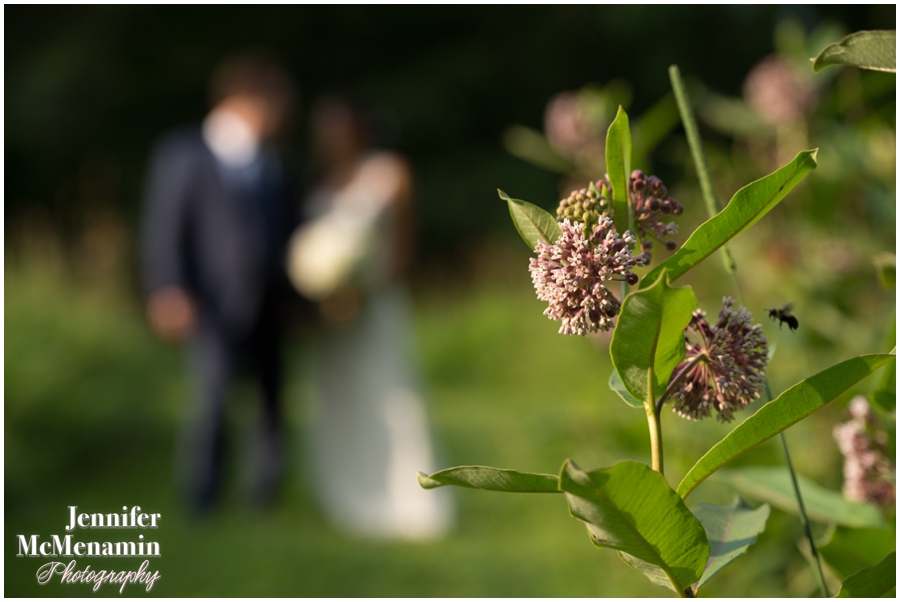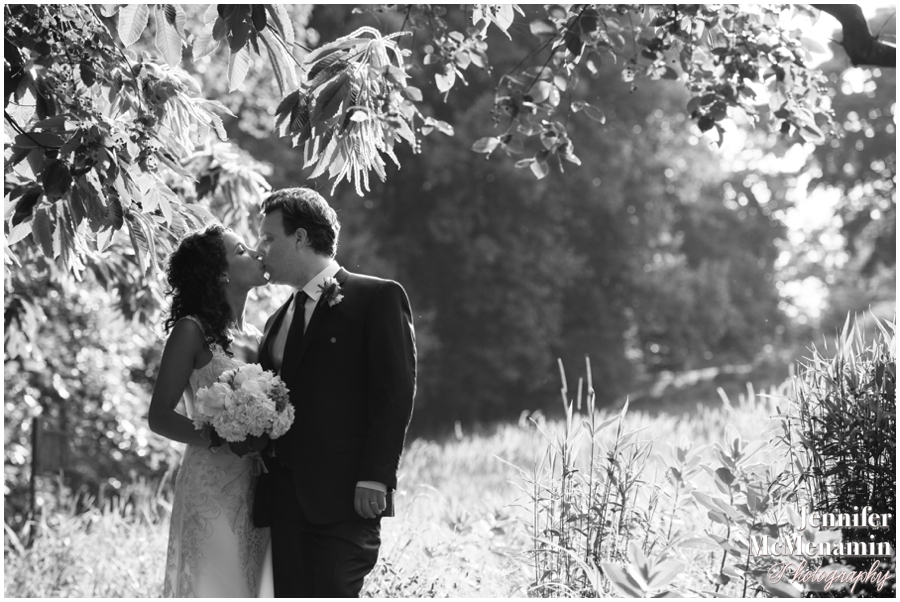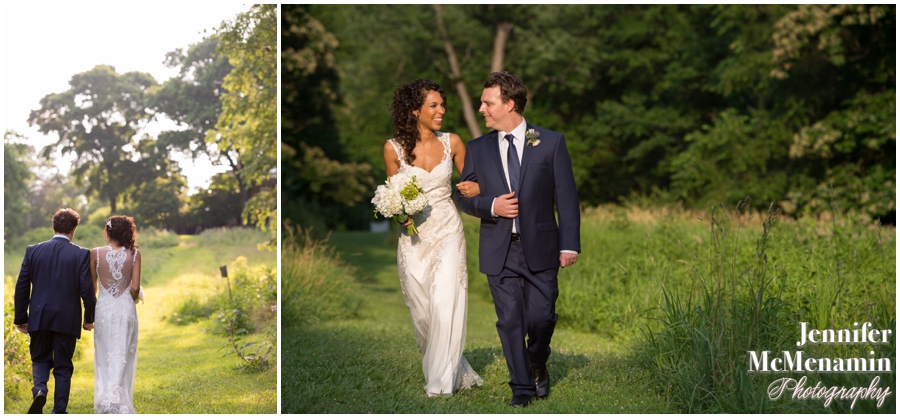 And then we were off to cocktail hour.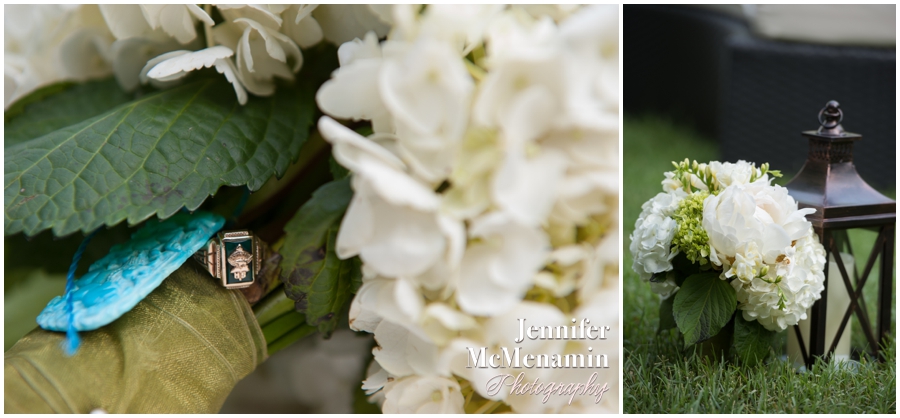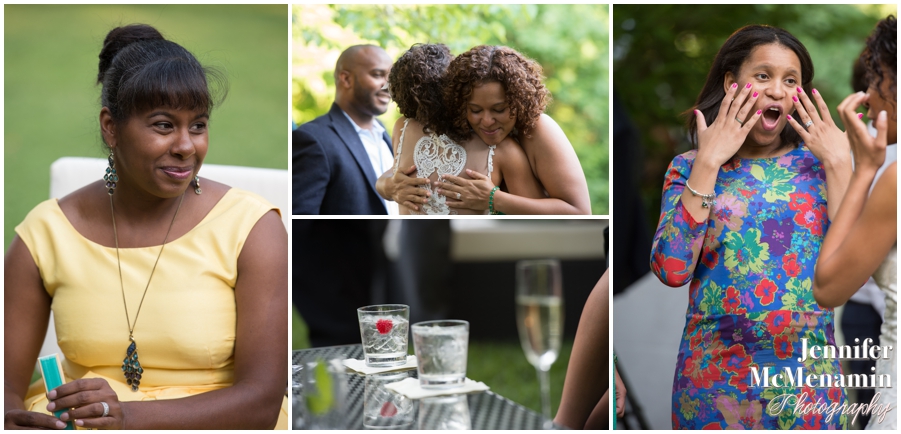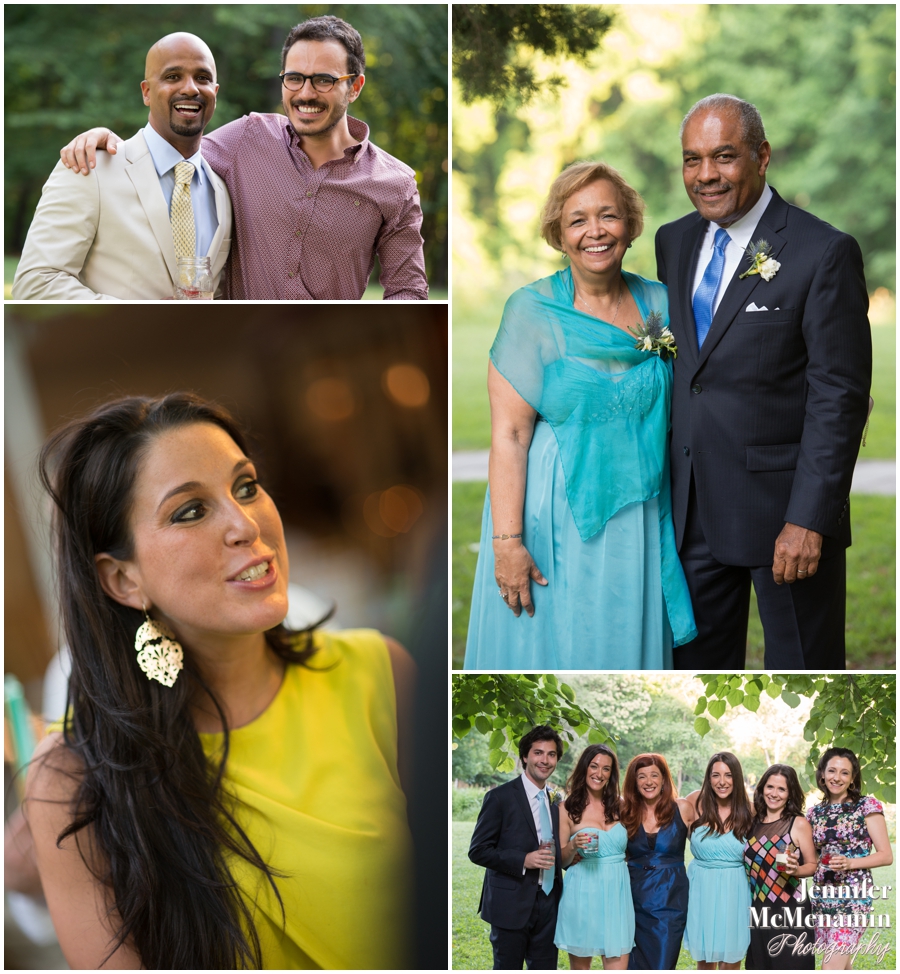 I was so excited to see my clients Beverly and Patrick, whose little boy I photographed when he was first born. And yes, he's unbelievably no longer a newborn — and he even served as ring bearer for Loren and Adam!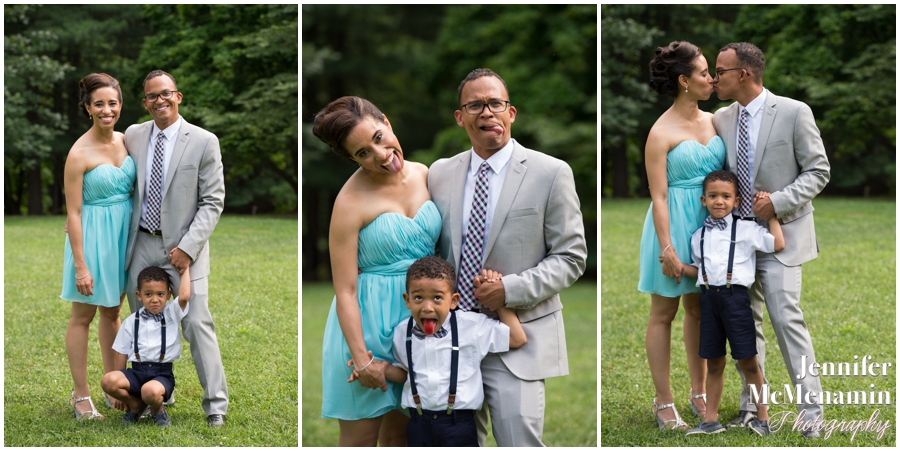 A few of those elegant and chic reception elements: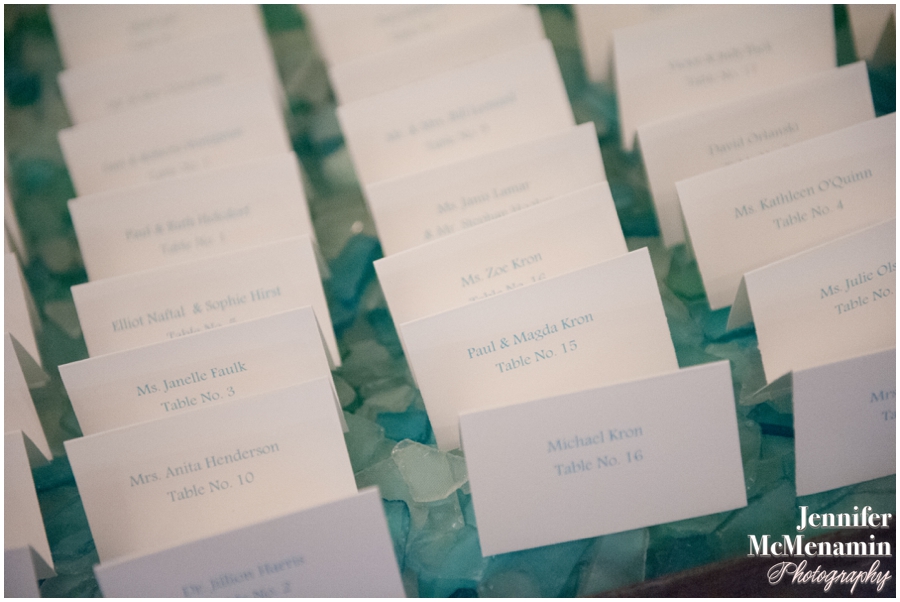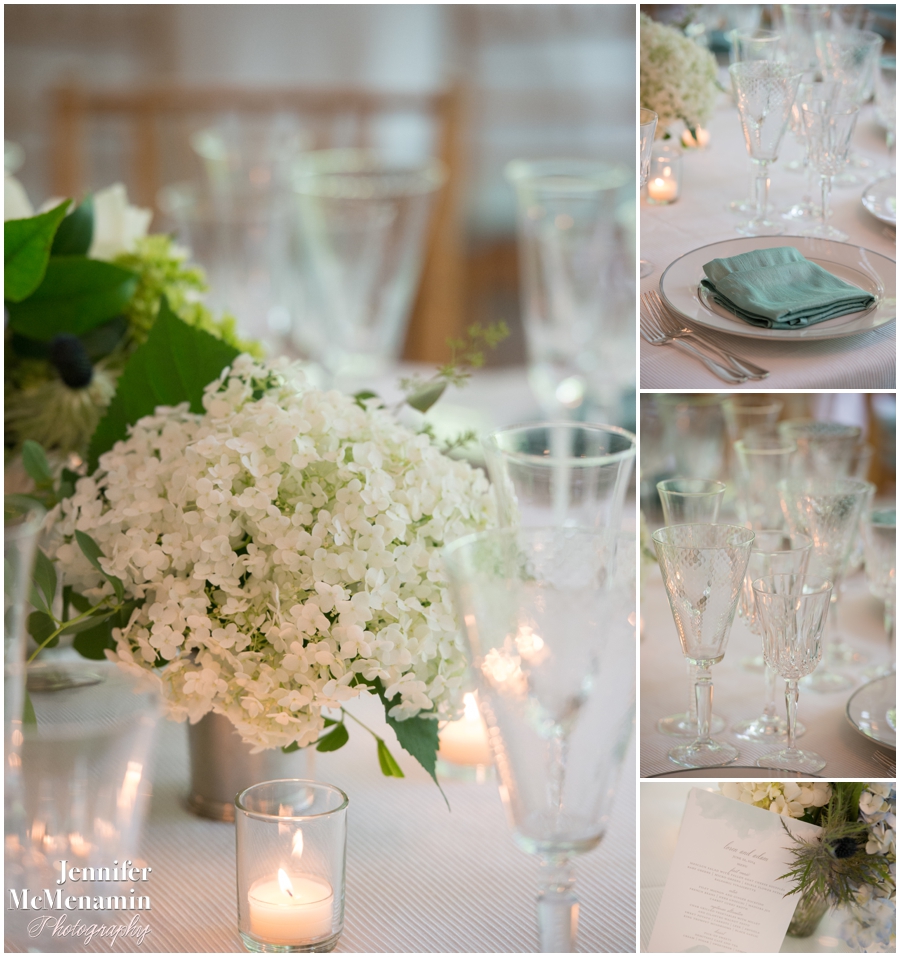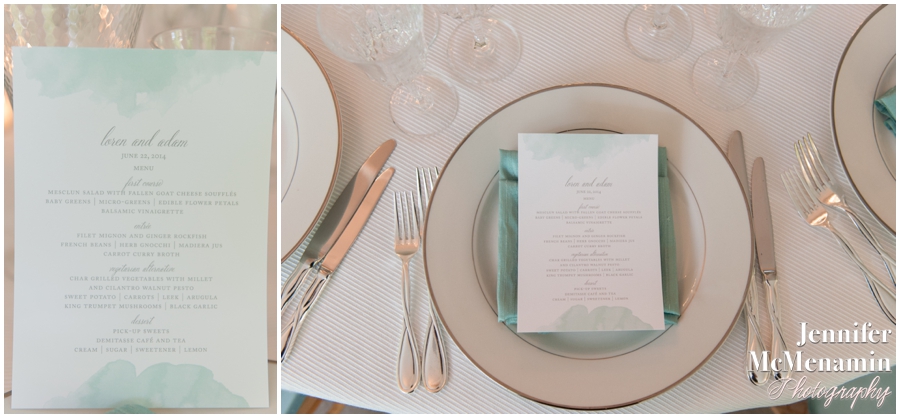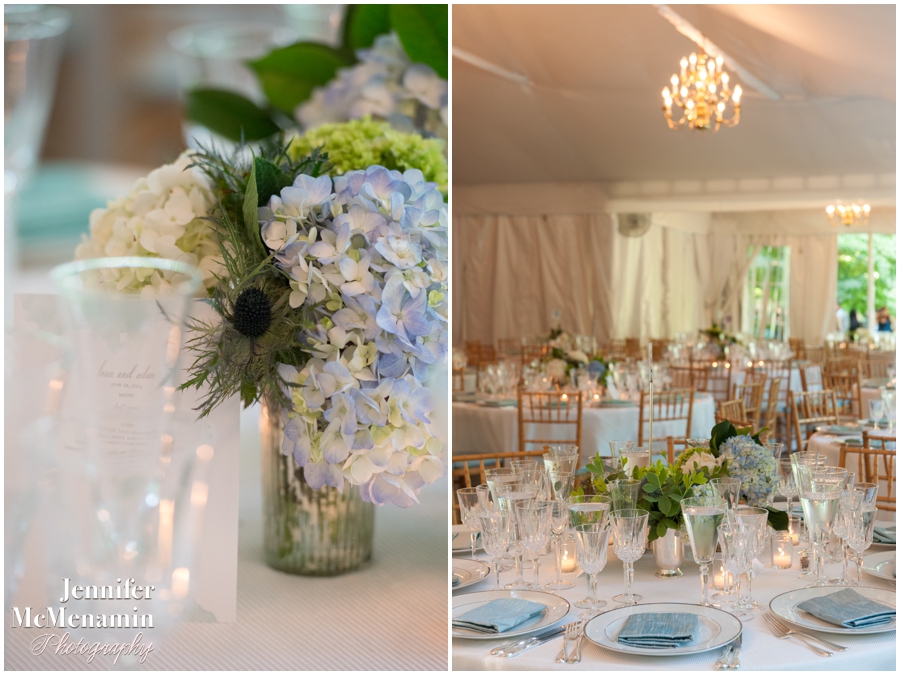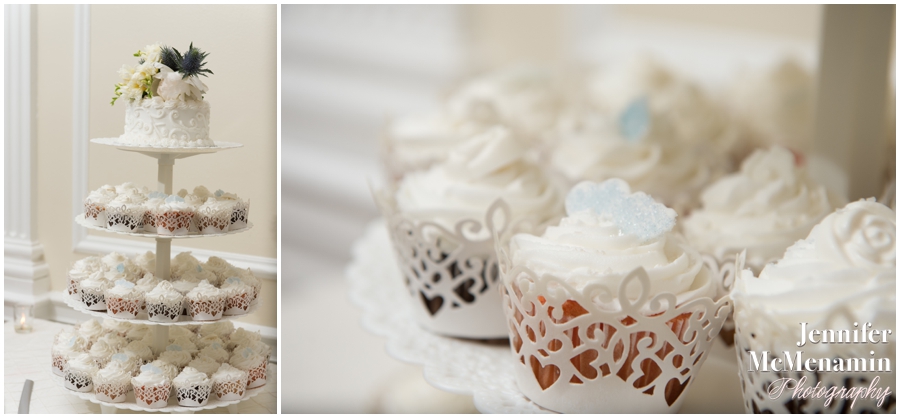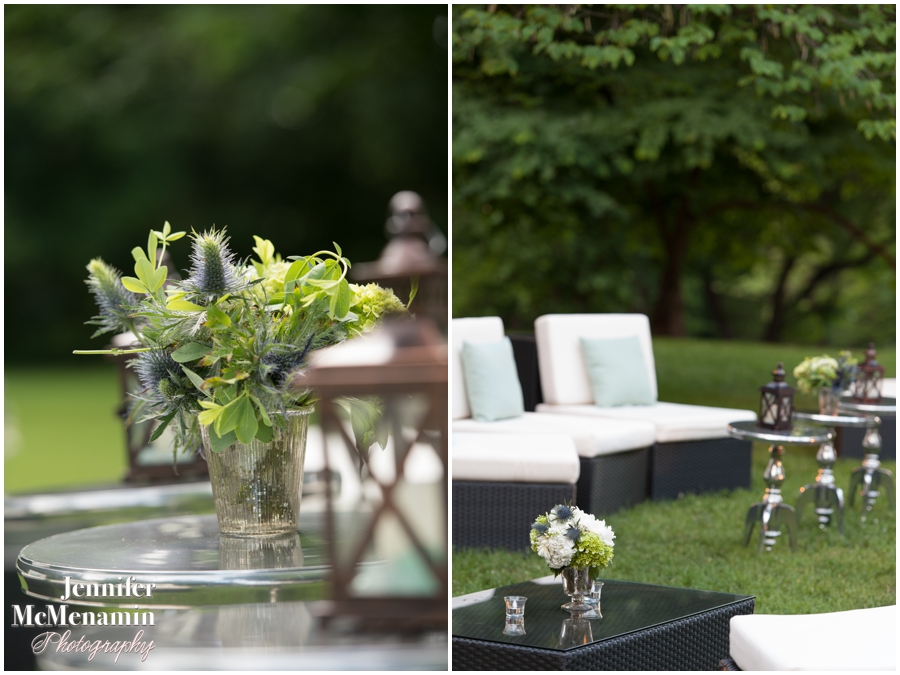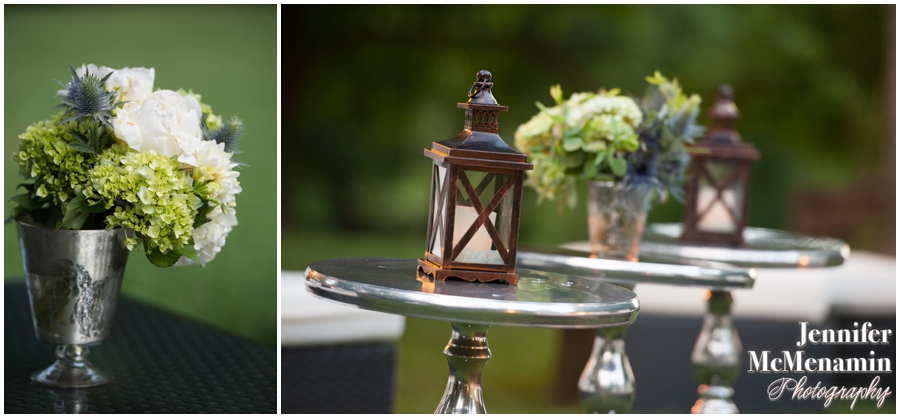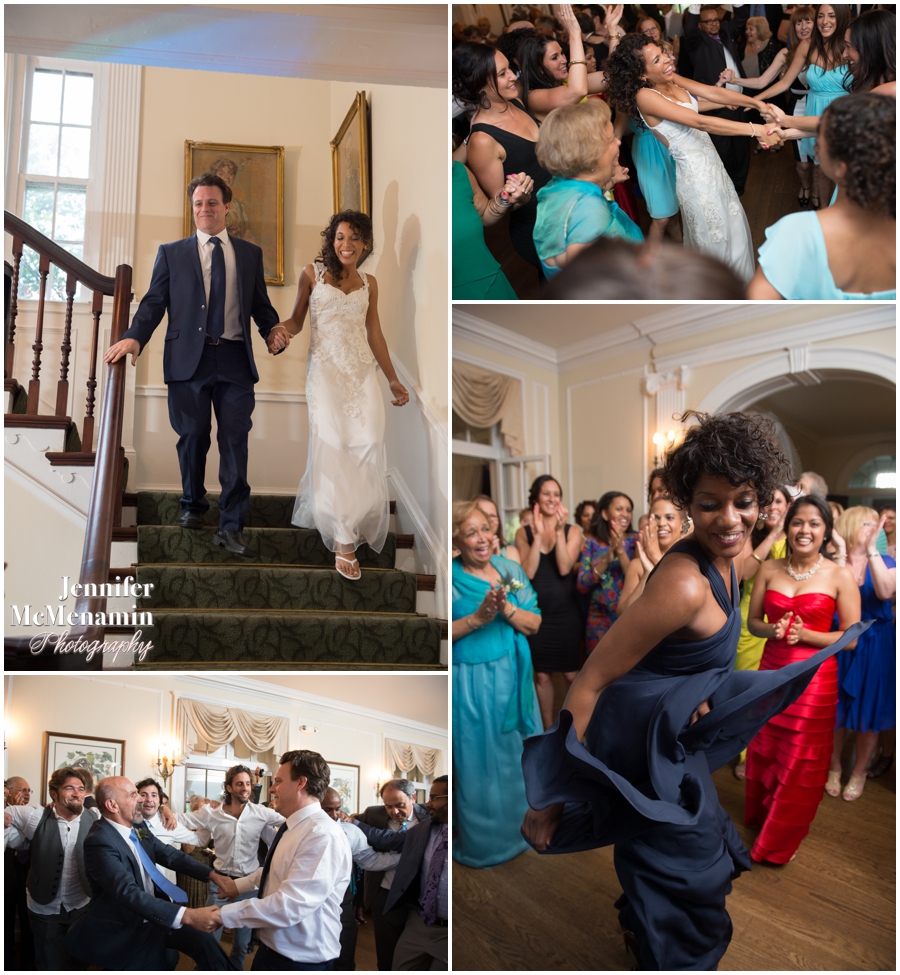 Loren and Adam's guests enjoyed such a rousing rendition of the hora that the deejay had to play it twice to accommodate all the requests for more dancing circles — and rockstar crowd leaping!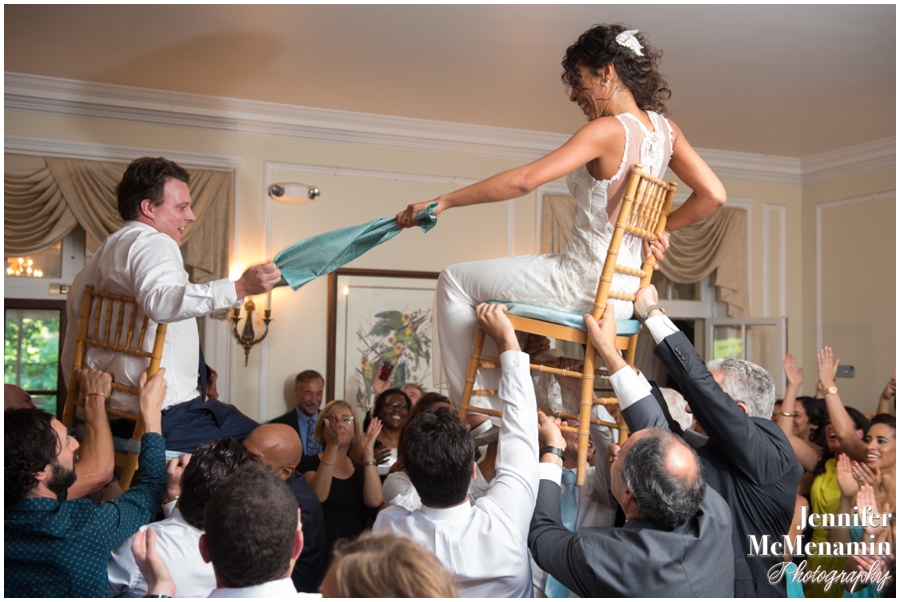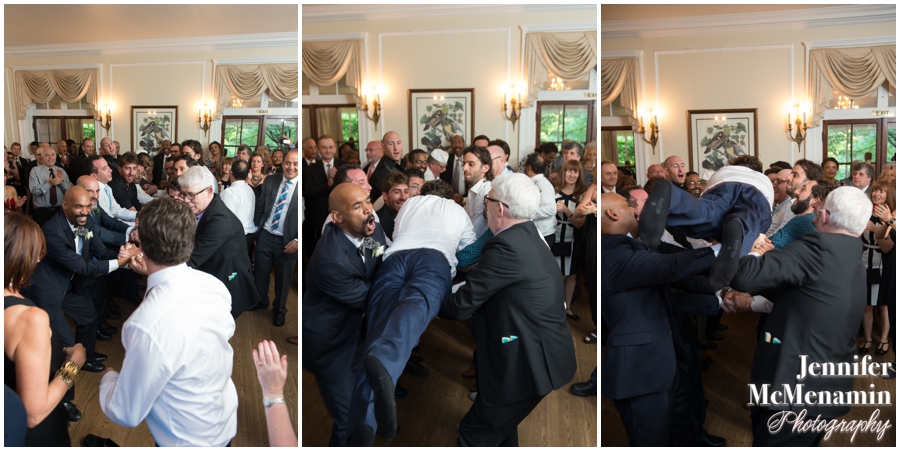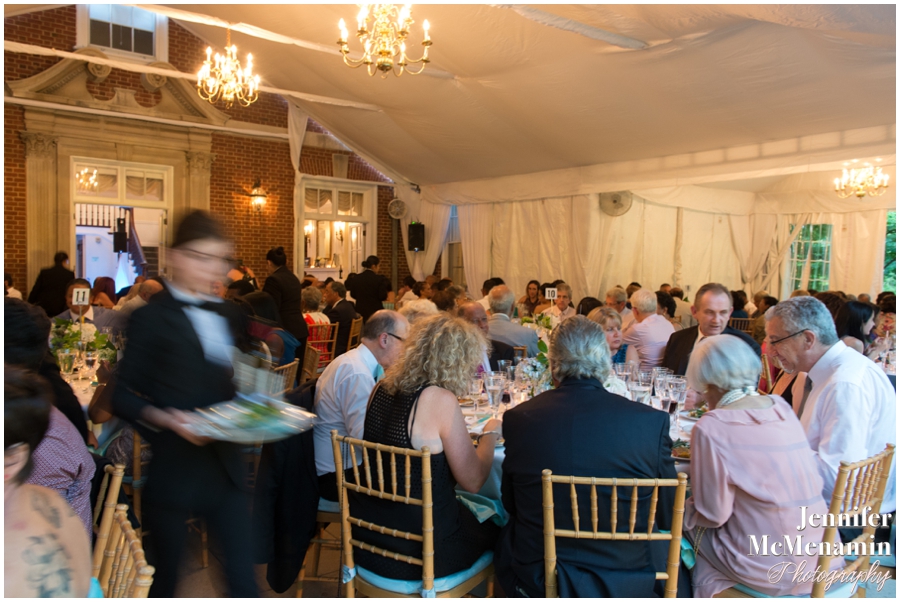 Some fancy desserts.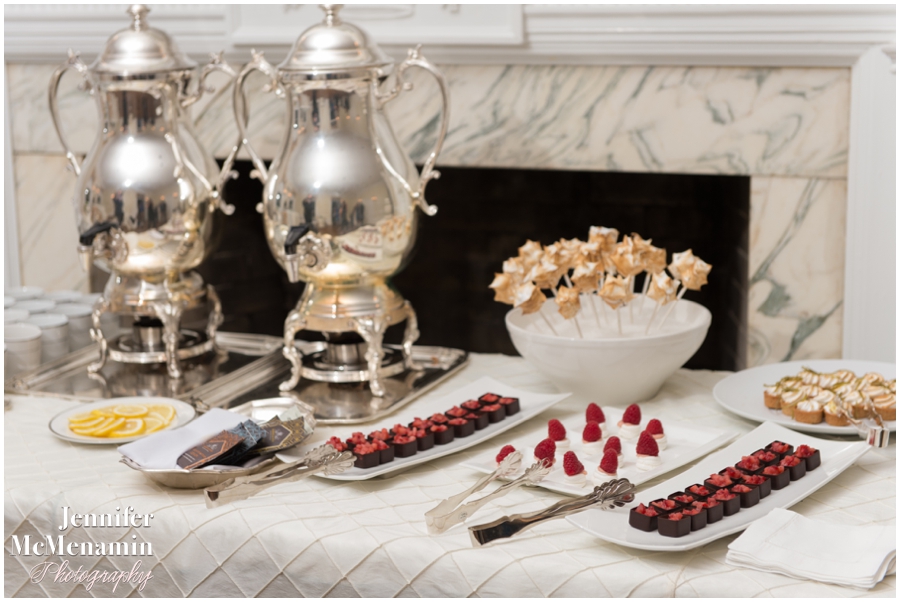 And a crazy, just-won't-stop dance party!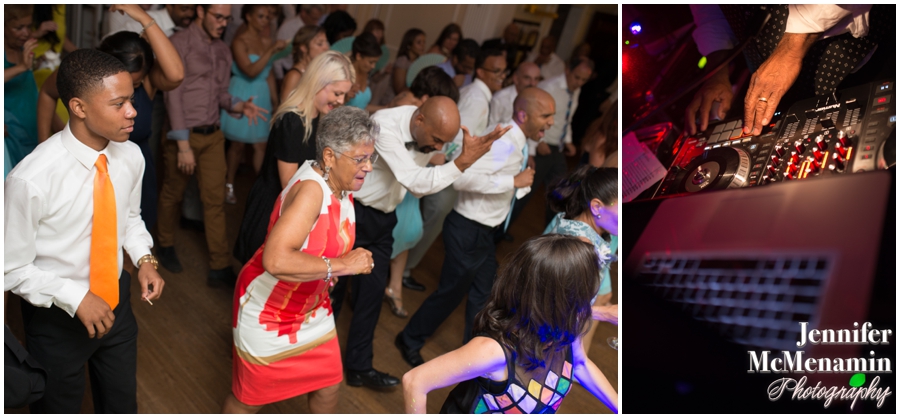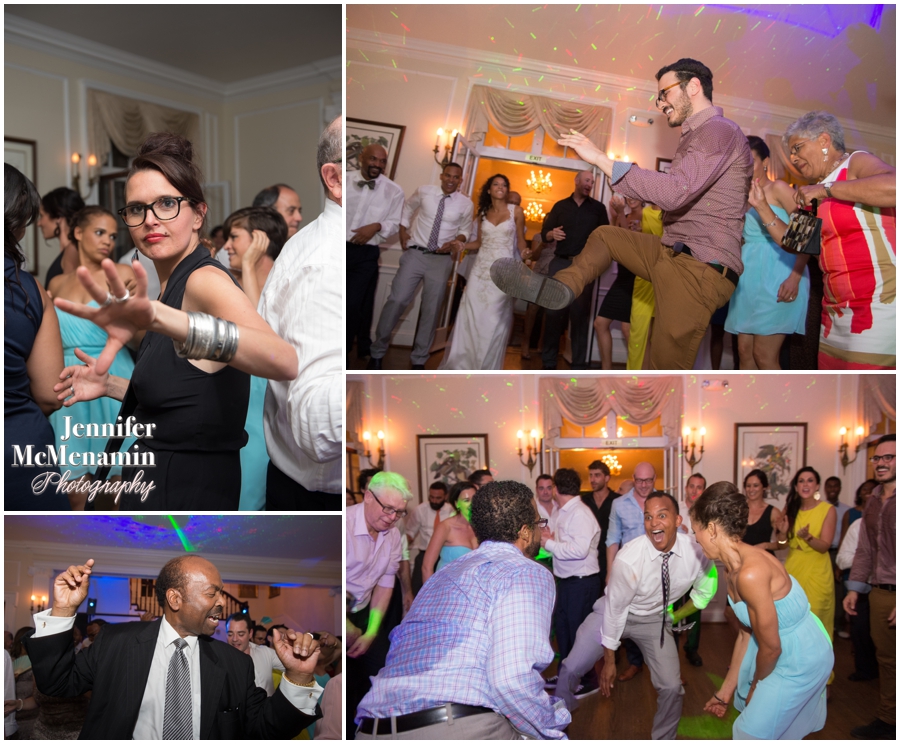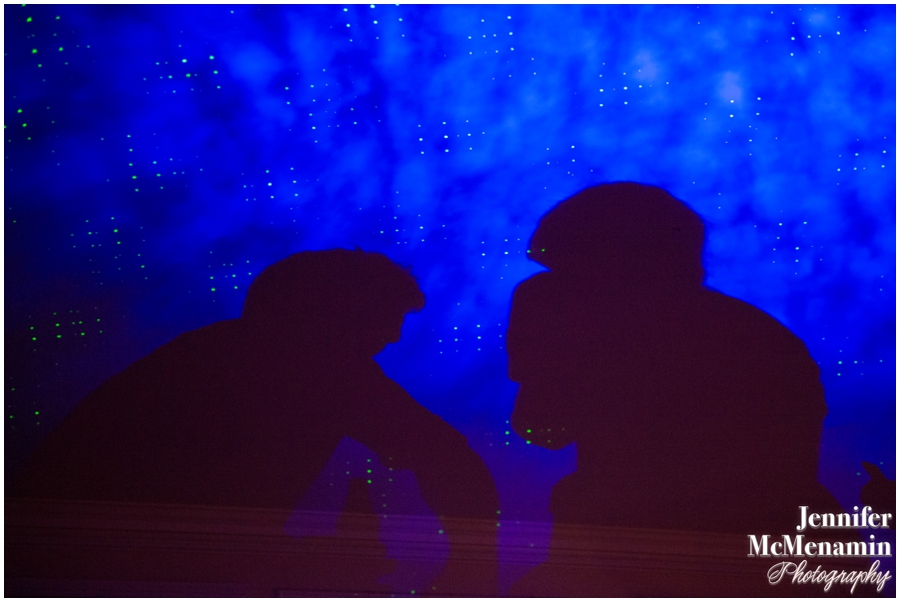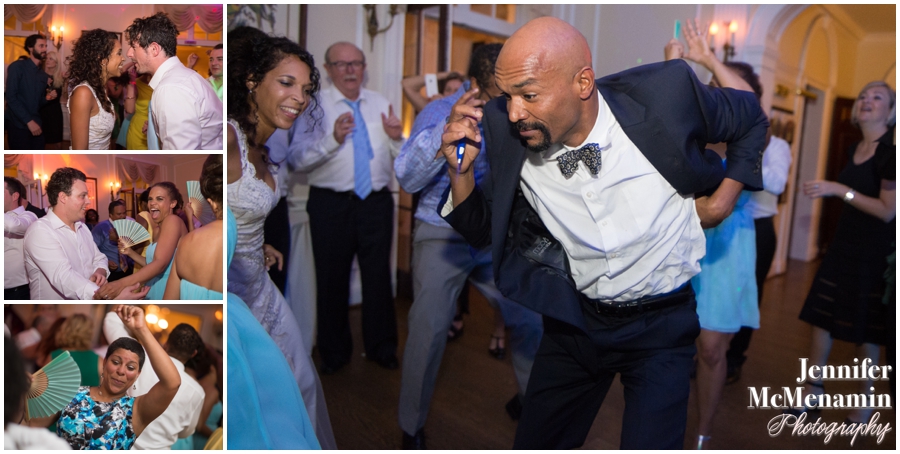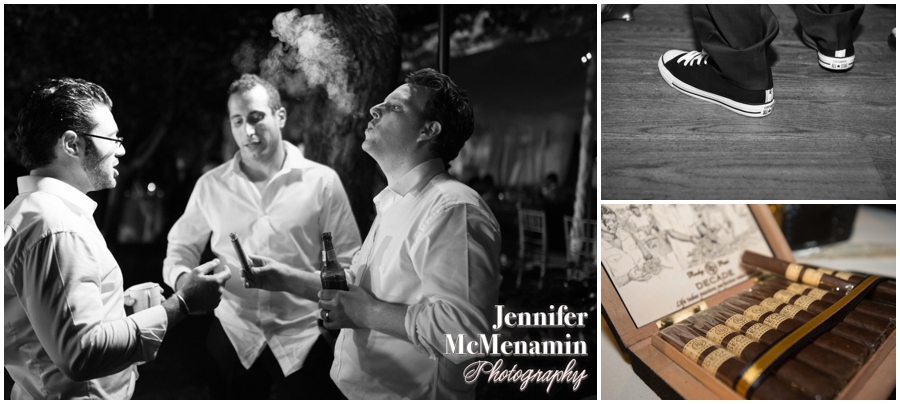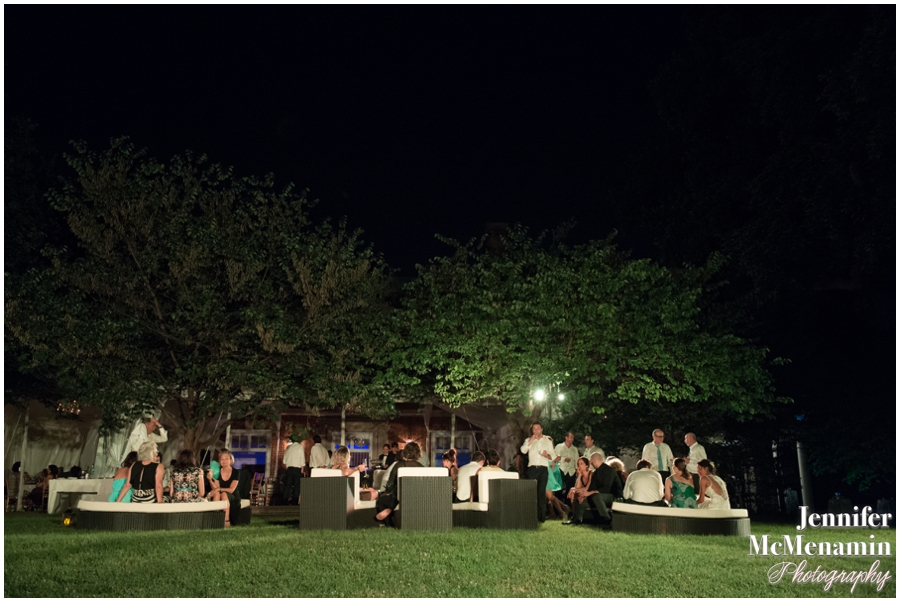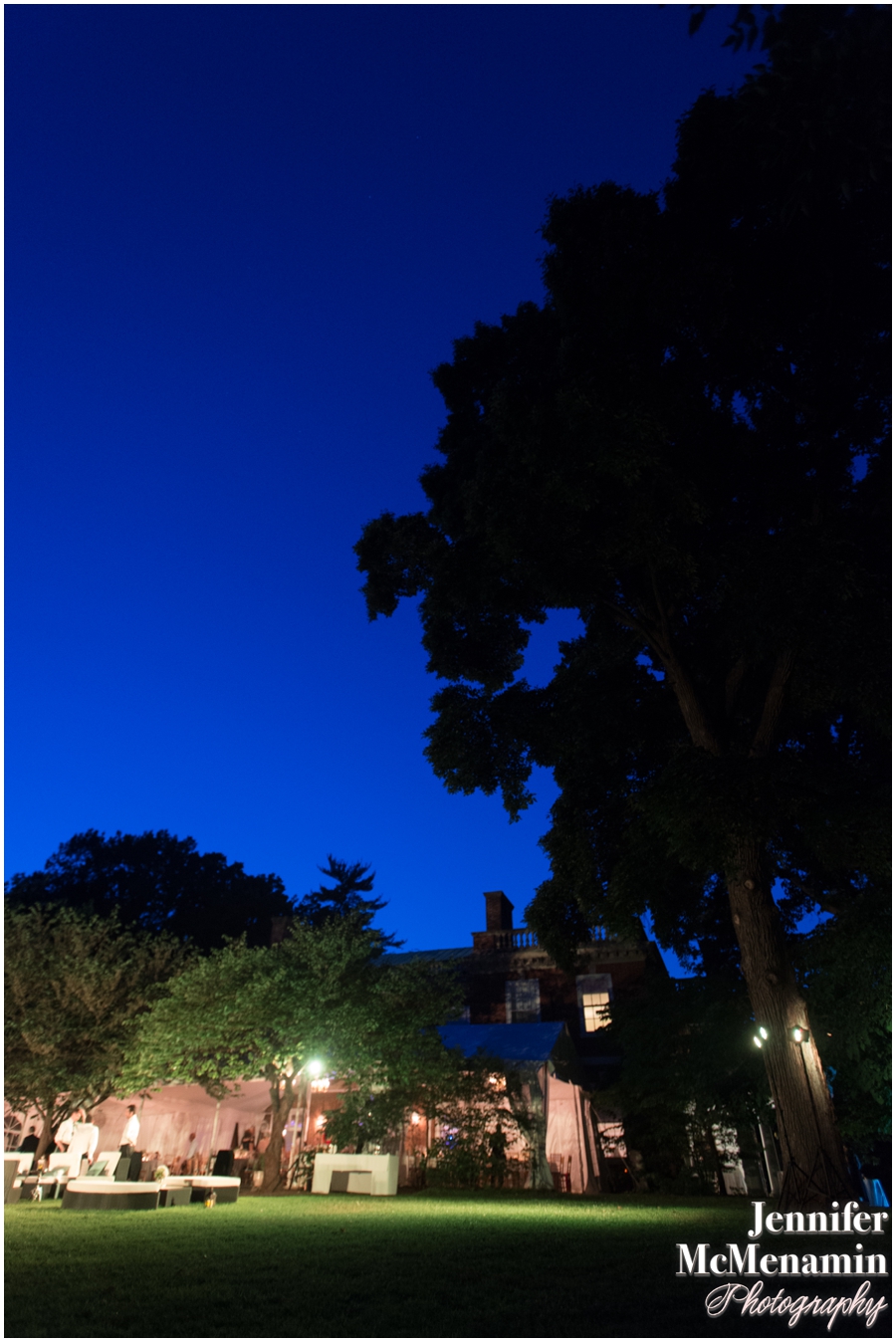 Many, many congratulations, Loren and Adam! I wish you a lifetime of happiness wherever your adventures take you!
Credits:
Photography: Jennifer McMenamin Photography, LLC

Ceremony & Reception: The Woodend Sanctuary
Officiant: Michelle Hilburn
Ceremony musicians: John Butler and bridesmaid violinist Julie Olsen
Catering: Design Cuisine

Event coordinator: Leslie Manning Events
Rentals: DC Rental
Bridal attire: Claire Pettibone wedding gown from Intique & Company Bridal Boutique in Australia
Hair & Make-up: David's Beautiful People
Bridesmaids' attire: Donna Karan
Florist: Sidra Forman Flowers
Cake: Michelle Huie

DJ: Master Productions

Invitations: Creative Parties