Katie & Ondrej

The Johns Hopkins University, Loyola Alumni Memorial Chapel + The Evergreen -- Baltimore wedding photography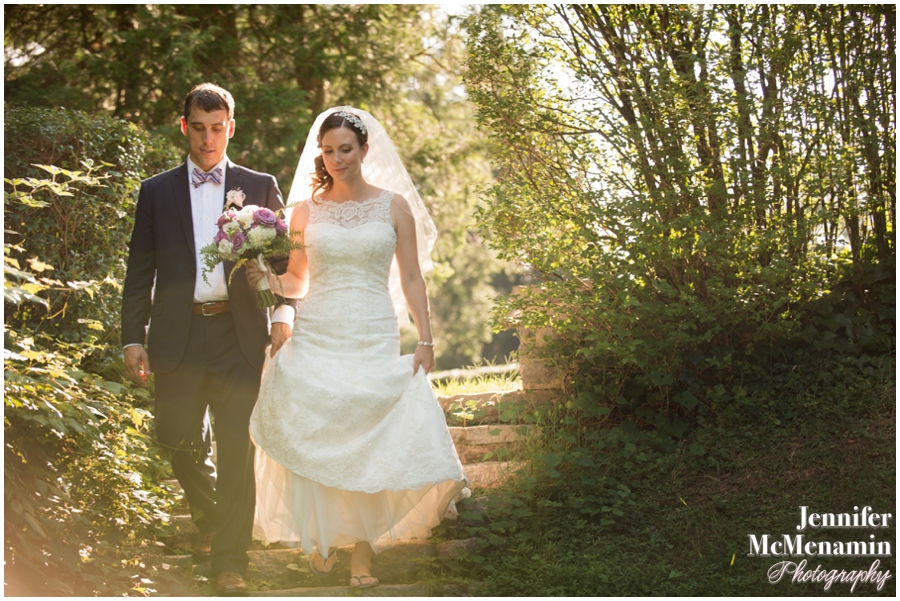 From our very earliest e-mail exchanges, I knew that Katie and Ondrej would be incredibly fun and easy to work with. When I initially asked what they were looking for in terms of photography for their wedding, Ondrej responded, "I'm not sure what I'm looking for. I went through your website and several others and your photos stood out to me the most. So I guess the style we want is whatever you normally do." So that's what we did! From afar in California — where she works with veterans at the National Center for Post-traumatic Stress Disorder and he is using his doctorate in aerospace engineering to help the U.S. Army build better helicopters — they planned a gorgeous wedding full of personal and meaningful touches. Since Katie earned her master's degree in clinical psychology at Loyola University, they exchanged vows at the college's lovely Alumni Memorial Chapel. To pay tribute to the very start of their relationship at the Johns Hopkins University, Katie and Ondrej decided to see each other on campus before their ceremony and then take photos at some of their favorite spots with their wedding party — many of whom were longtime friends from Hopkins. In a nod to Ondrej's Slovakian heritage, his sister and other relatives distributed sweets outside the church before the wedding and later kicked up their heels for some enthusiastic polka dancing. And keeping in line with the couple's complete lack of fussiness, Katie did not pick specific dresses or even colors for her bridesmaids. Rather, she gave them a general idea of the color scheme she had in mind and each cousin and sister and close friend made her own choice, resulting in a lovely mix of muted purple and lavender and lilac gowns that perfectly suited each woman. Before a crowd of friends and family — many of whom had traveled great distances from across the United States as well as England, Wales, Slovakia and the Czech Republic — Katie and Ondrej exchanged traditional Catholic vows, toasted their friends and family and danced the night away to DJ Neal Becton's fabulous record collection. (Yes, actual vinyl records!) In between, they also scaled a brick wall with their wedding party (more on that later!) and thoughtfully sang to a family friend and a couple of relatives whose birthdays happened to fall on the wedding weekend. Here are some of my favorites from Katie and Ondrej's magnificent day:
Katie was crazy about her shoes. Except for the part about them hurting her feet.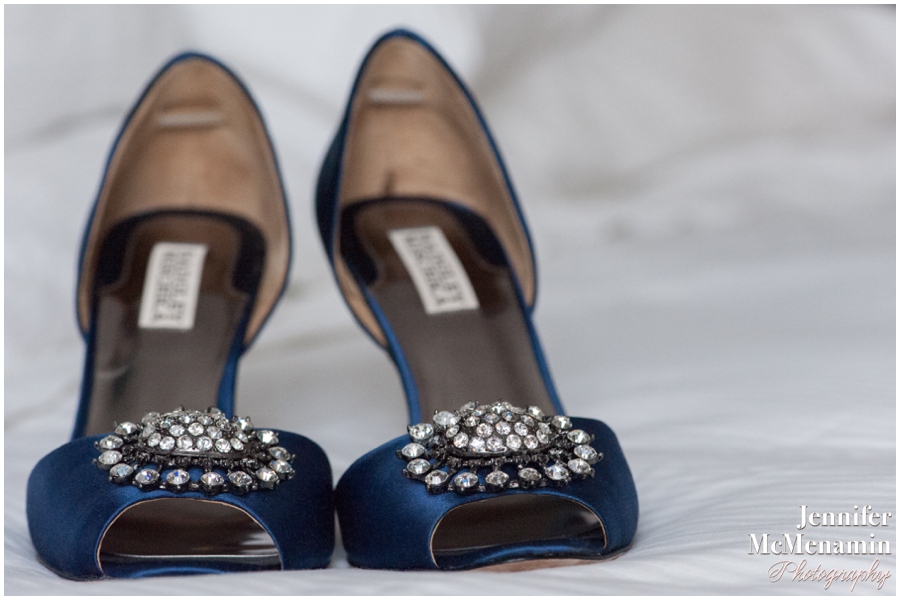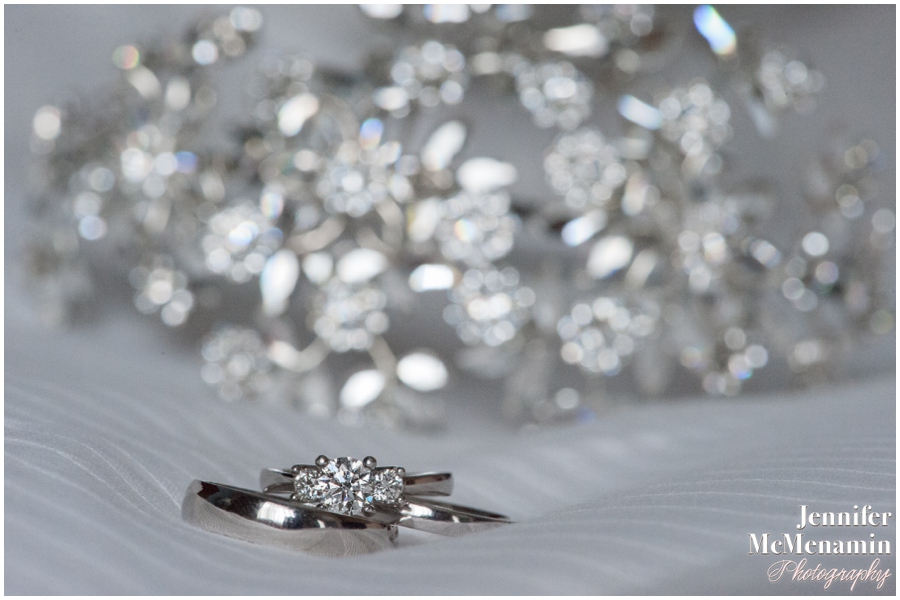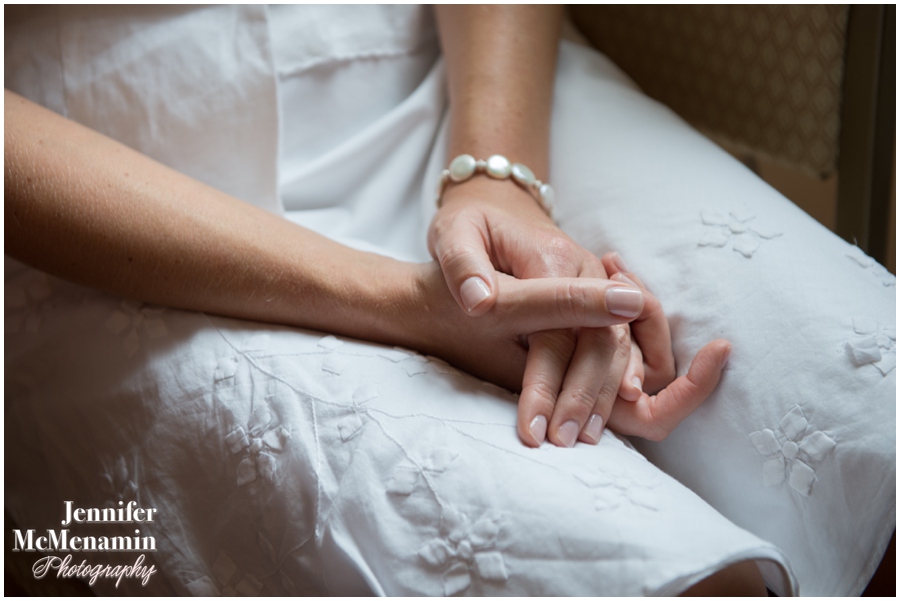 The bride and her girlfriends took over a huge suite at the Inn at the Colonnade to get ready.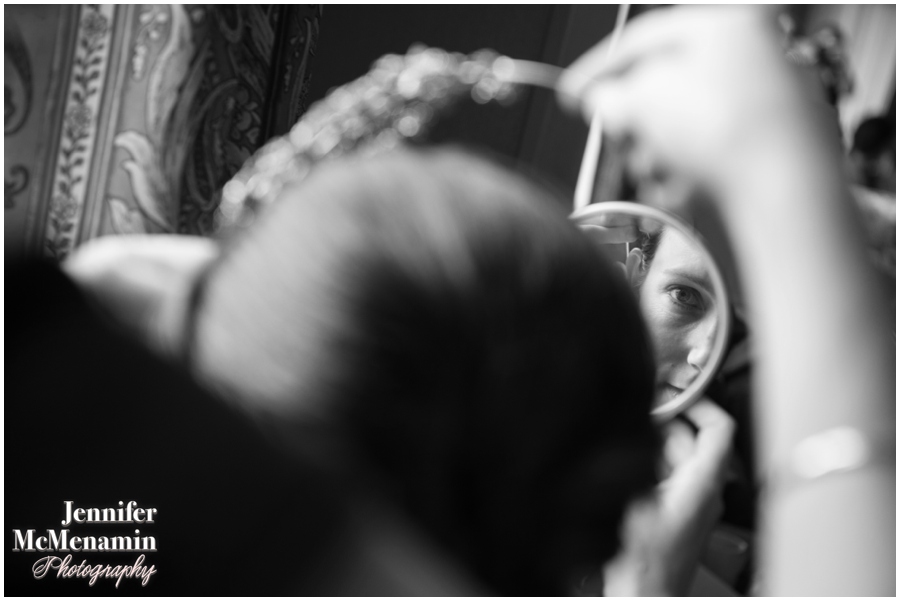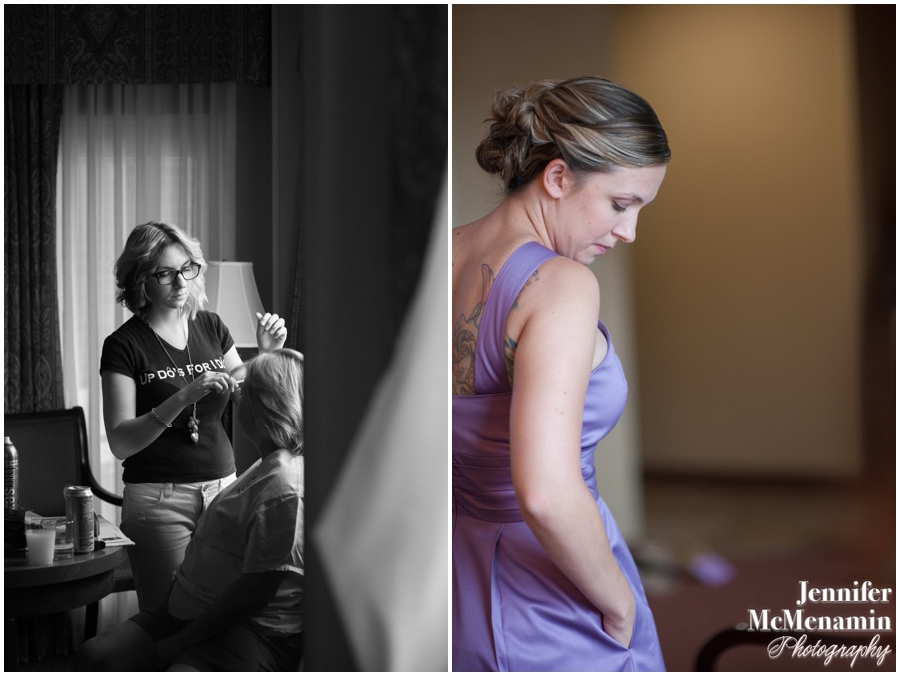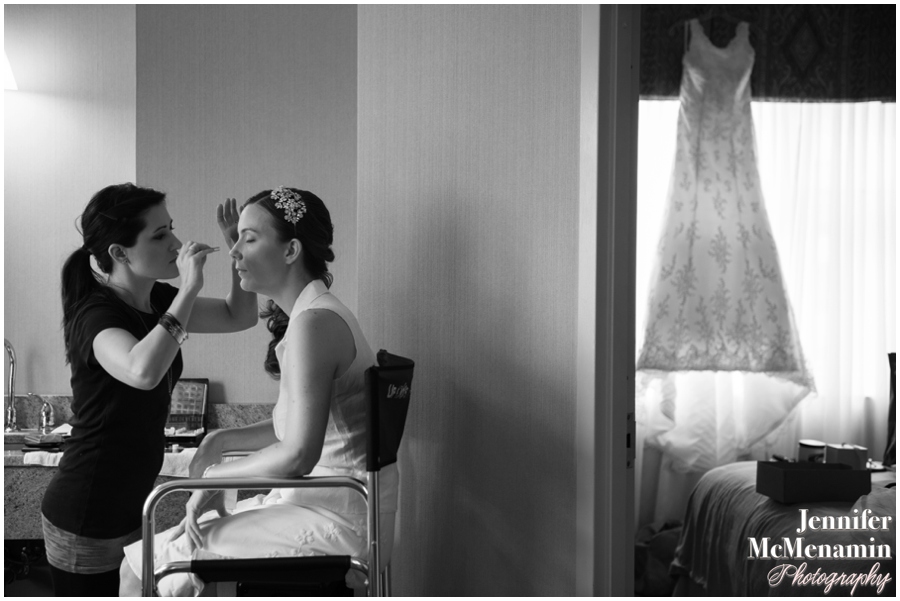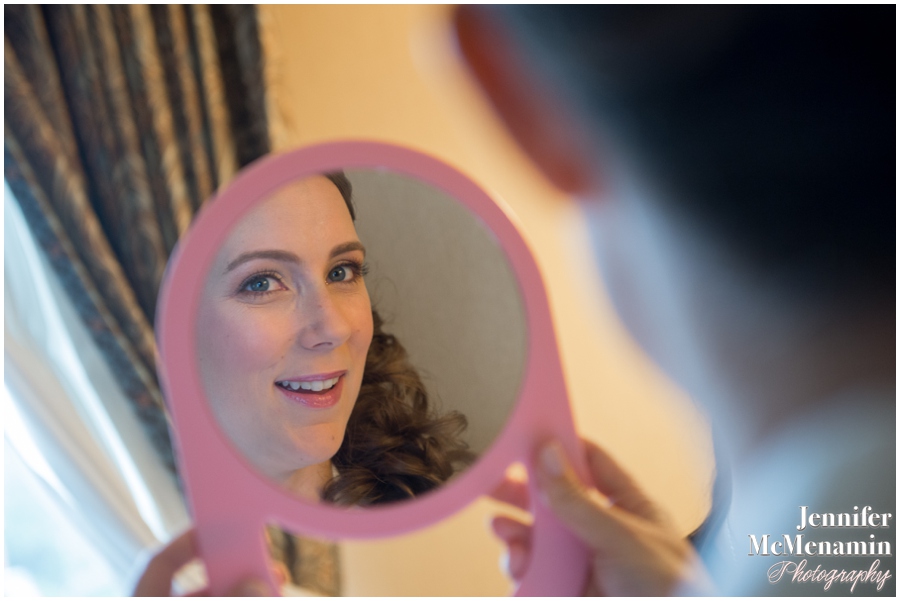 Meanwhile, the groom and his buddies watched and talked about sports.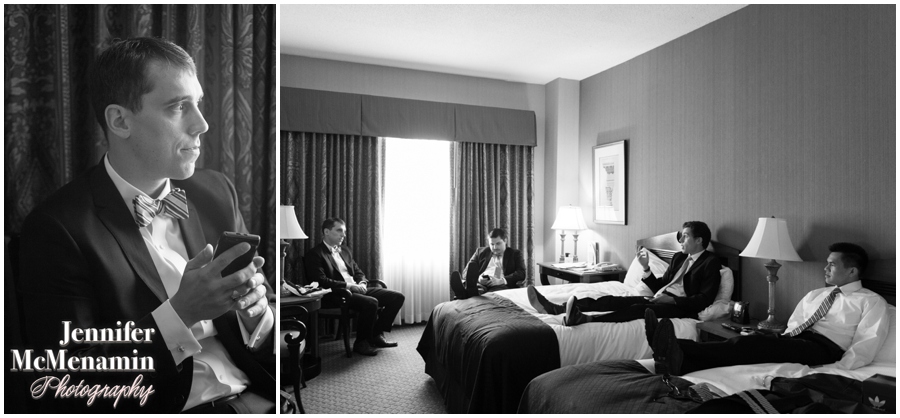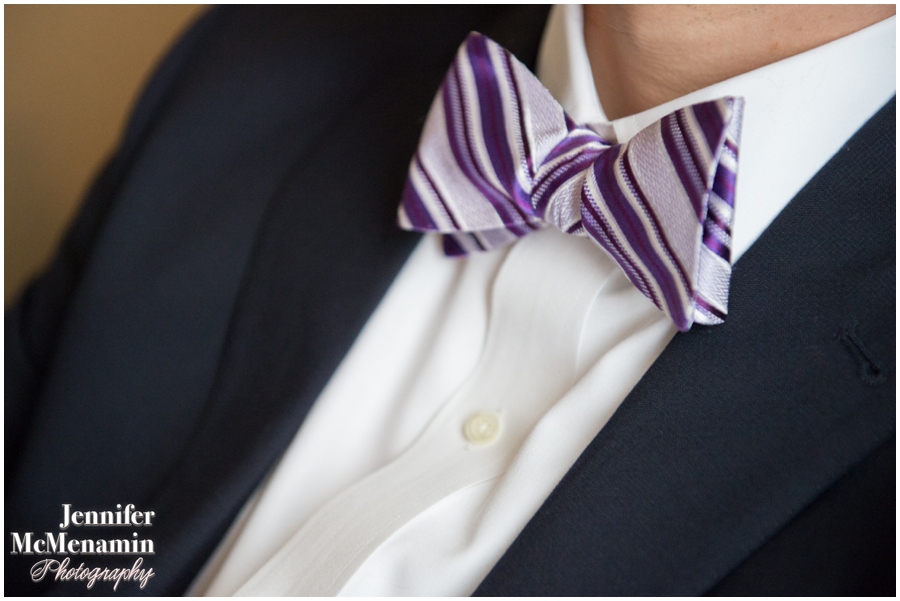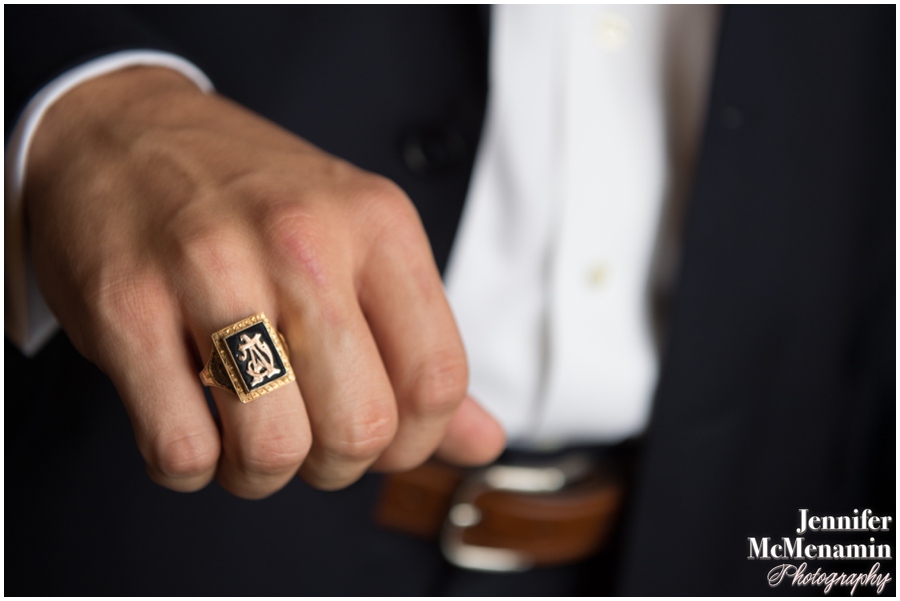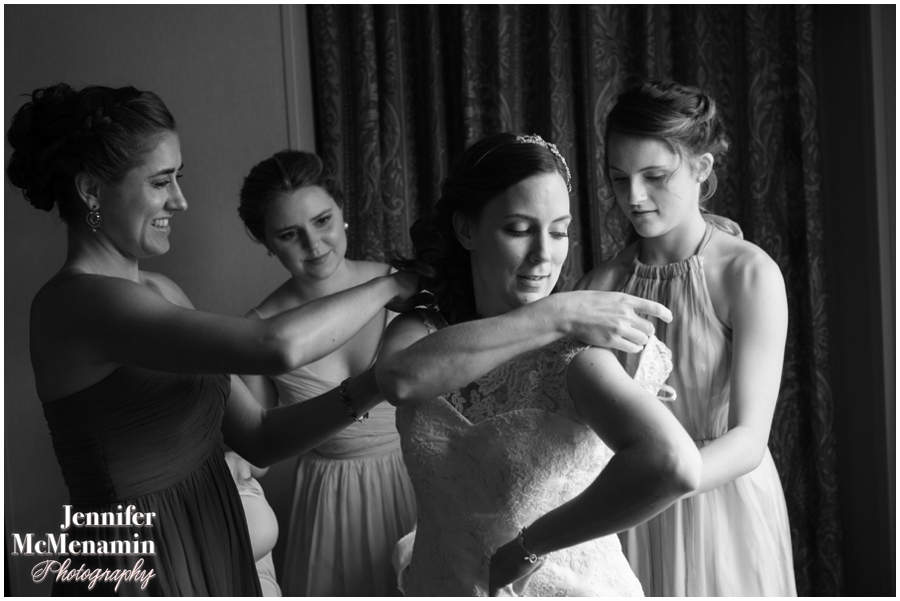 The bride's mum watches as she steps into her gown.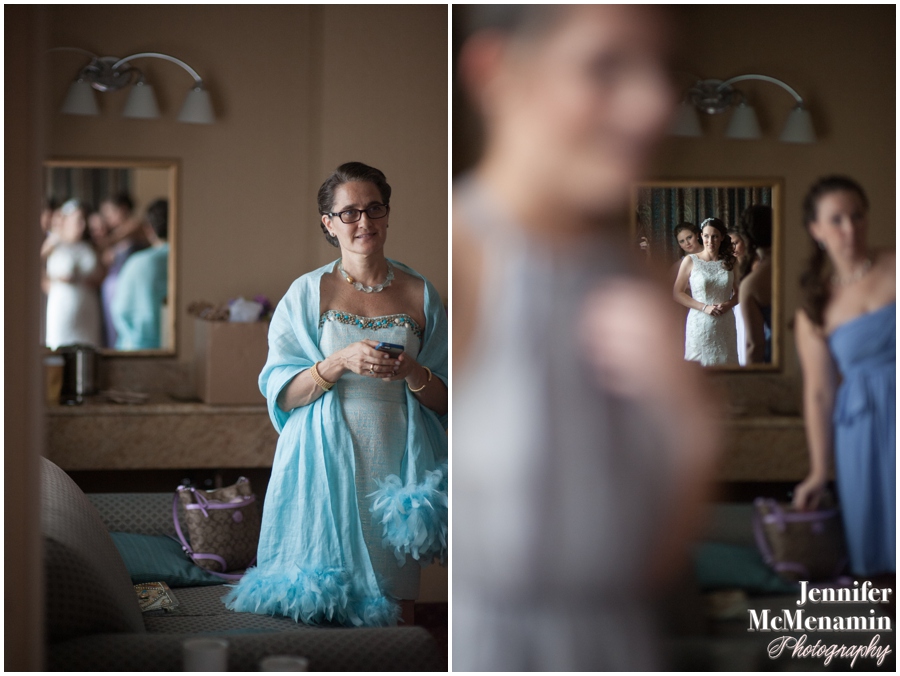 And her mother can't stop smiling as she looks on as well.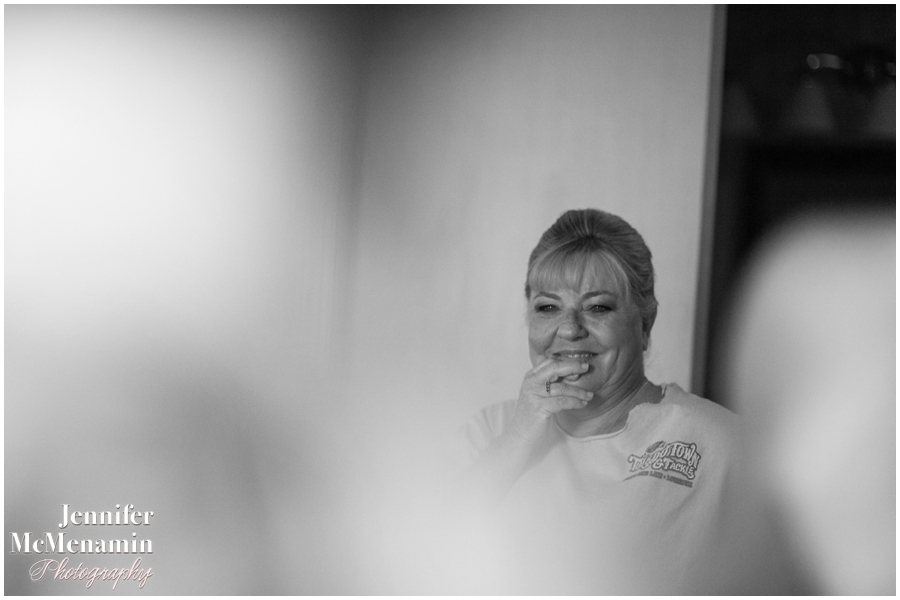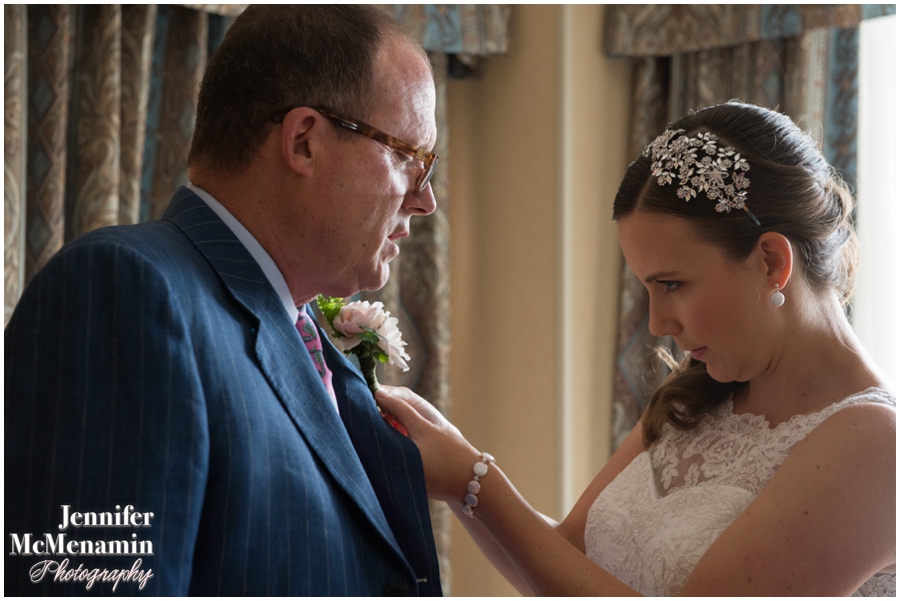 I love this next photo — this is Katie's reaction when she caught a glimpse of herself in the mirror with her gown and veil on.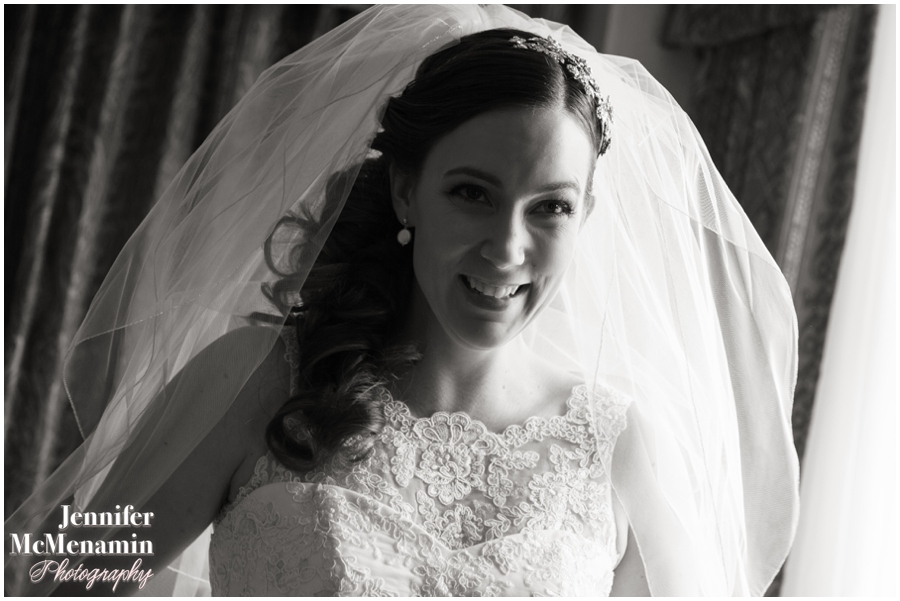 The couple arranged to have a shuttle take the wedding party to Hopkins for photos — but they didn't want to see each other beforehand and didn't want to have to make two trips! So Ondrej wore a sleeping mask at the very back of the bus until I whisked Katie away for their First Look.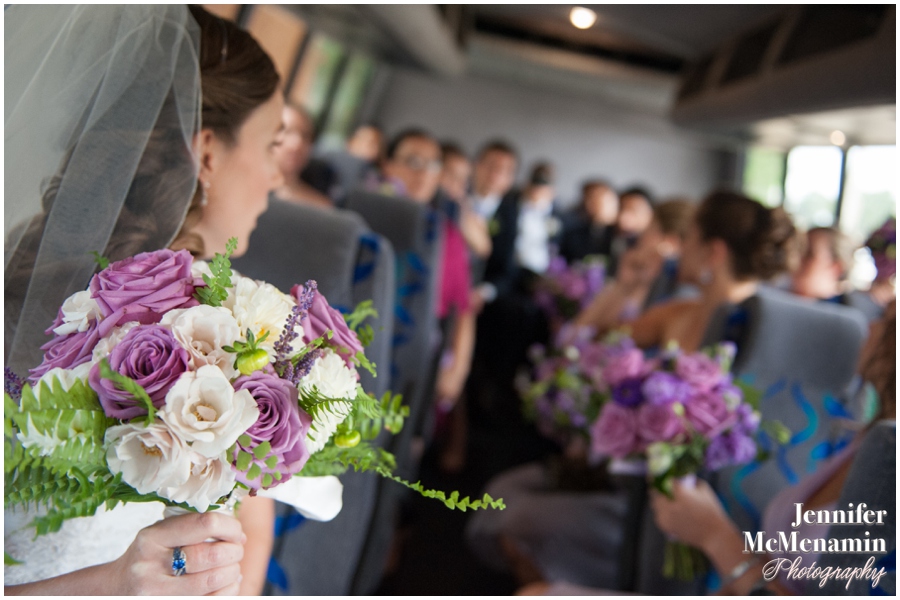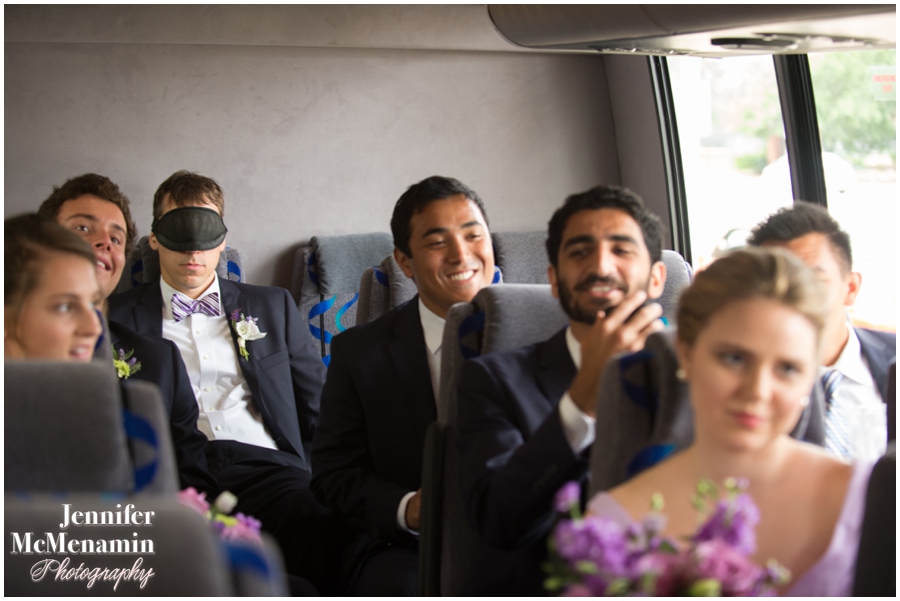 They were so, so happy to see each other. They took several minutes to hug and admire each other's wedding attire and soak in the beautiful day in the garden, which happened to be just steps from the spot where they first locked eyes at the Hopkins Spring Fair.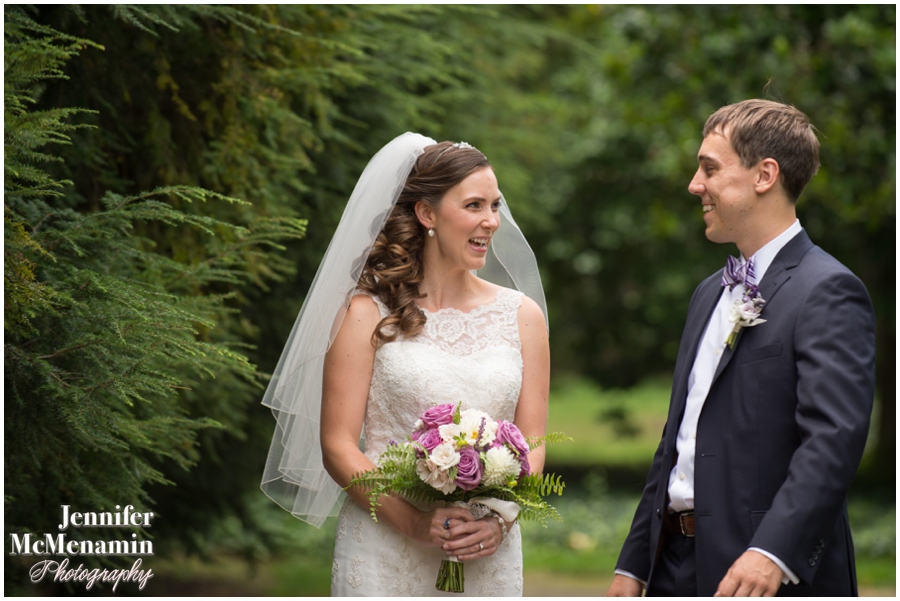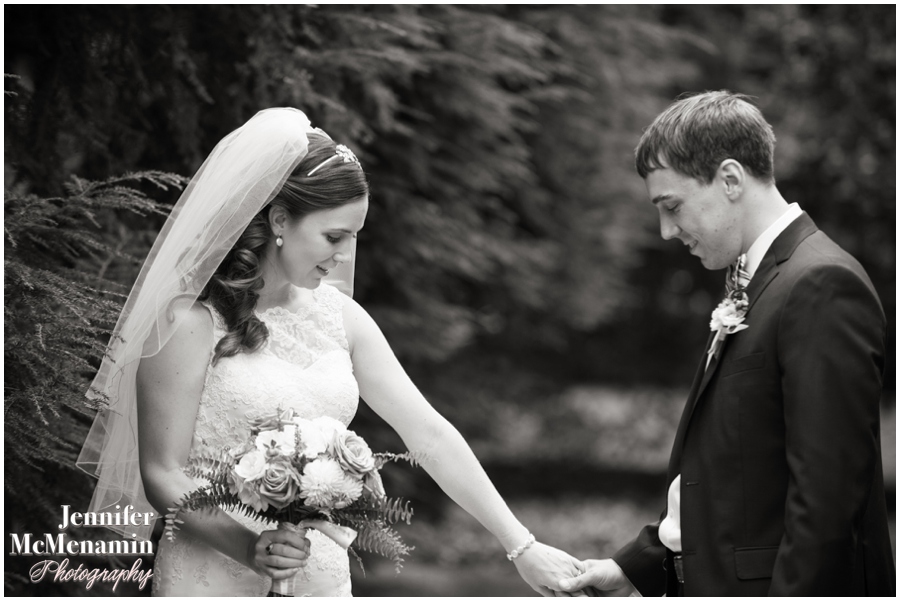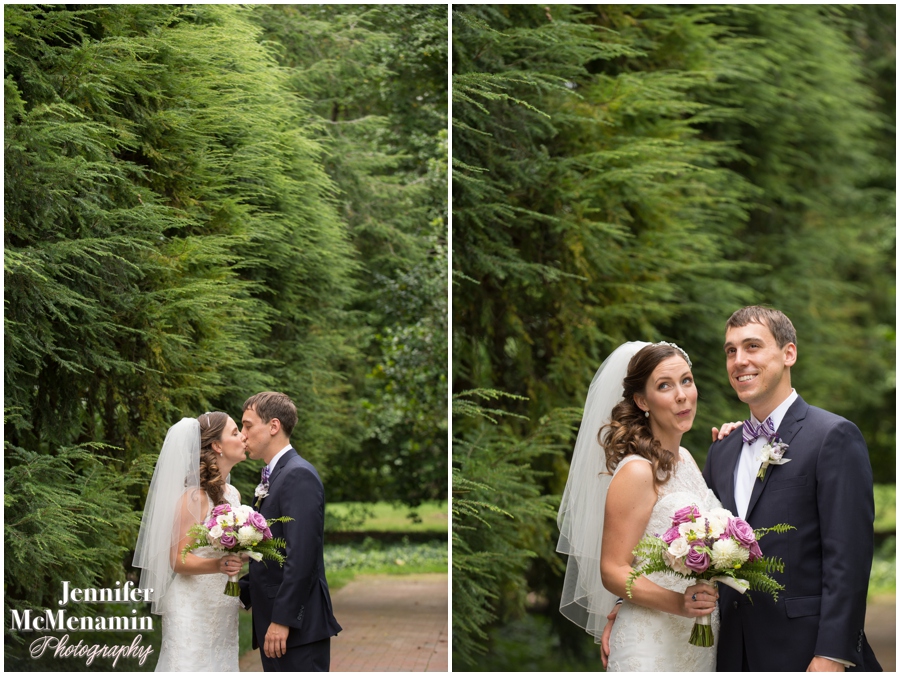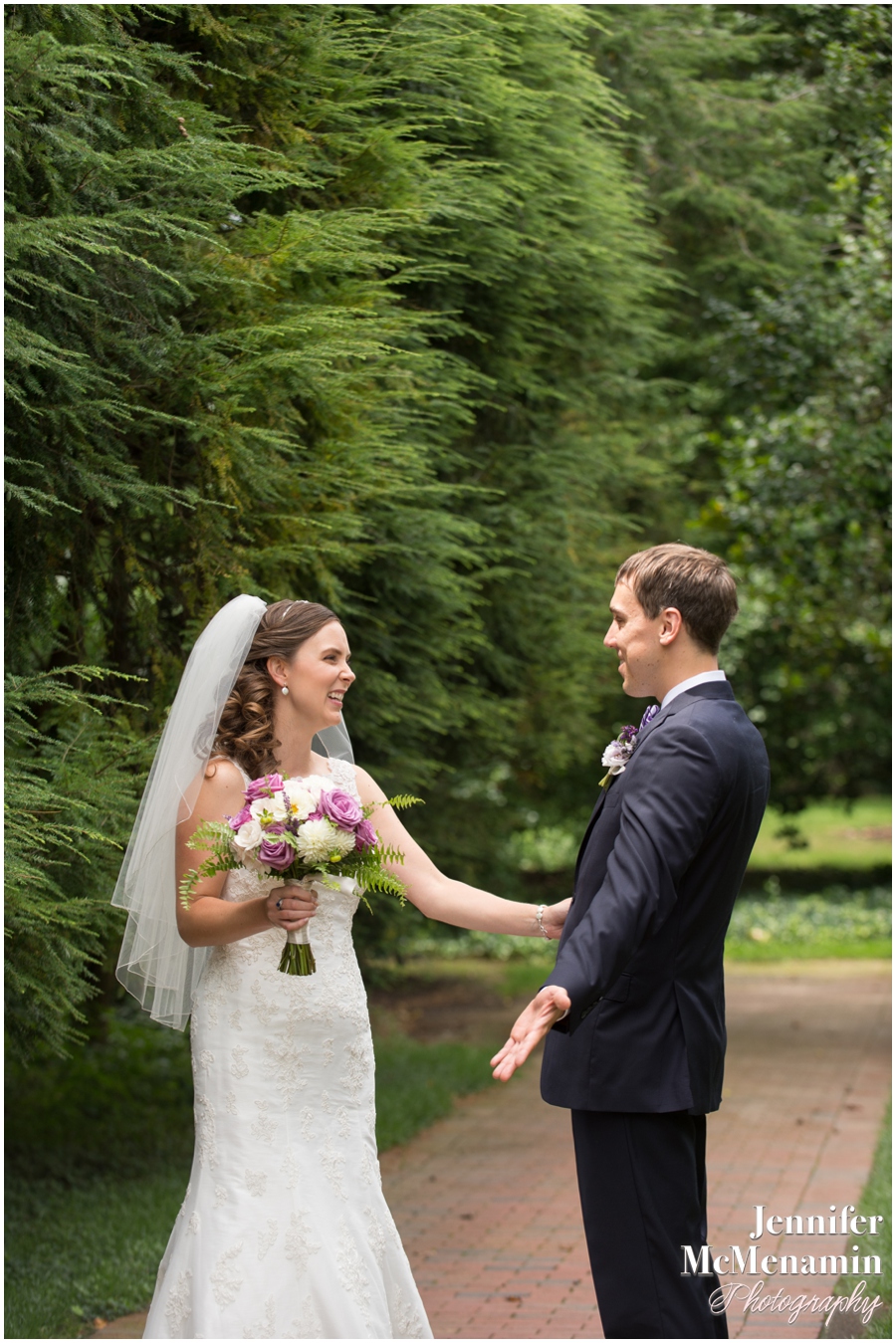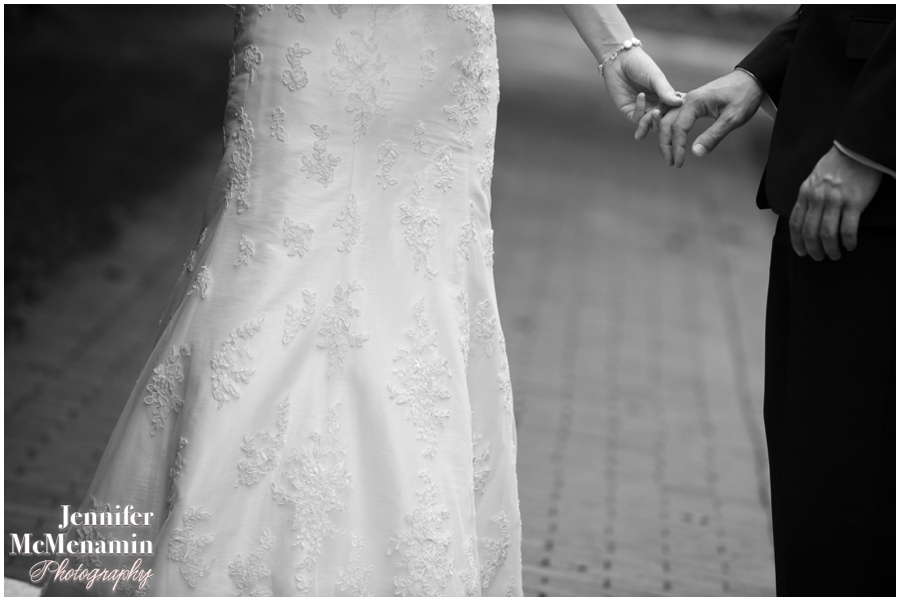 If you look closely, you can see the giant butterfly that landed on Ondrej's sister's bouquet.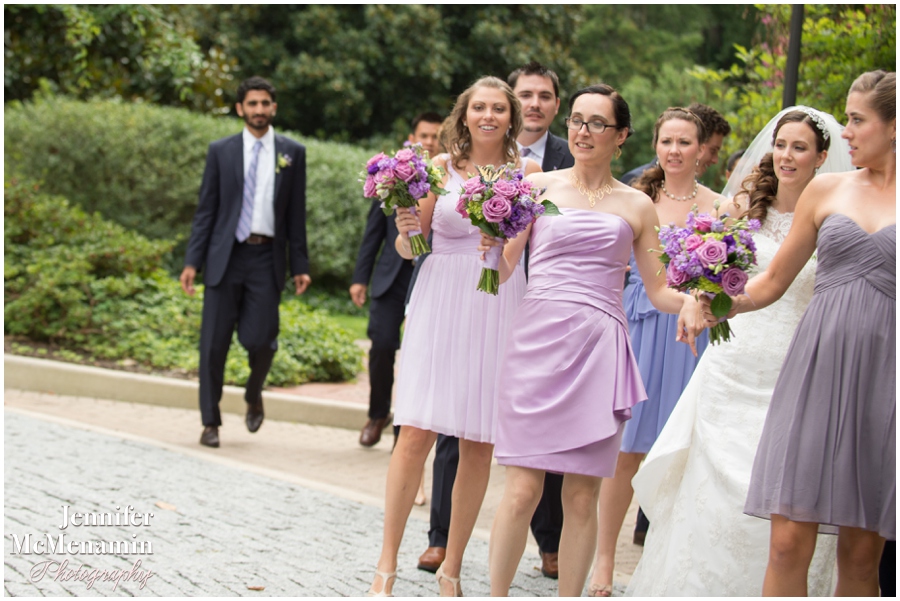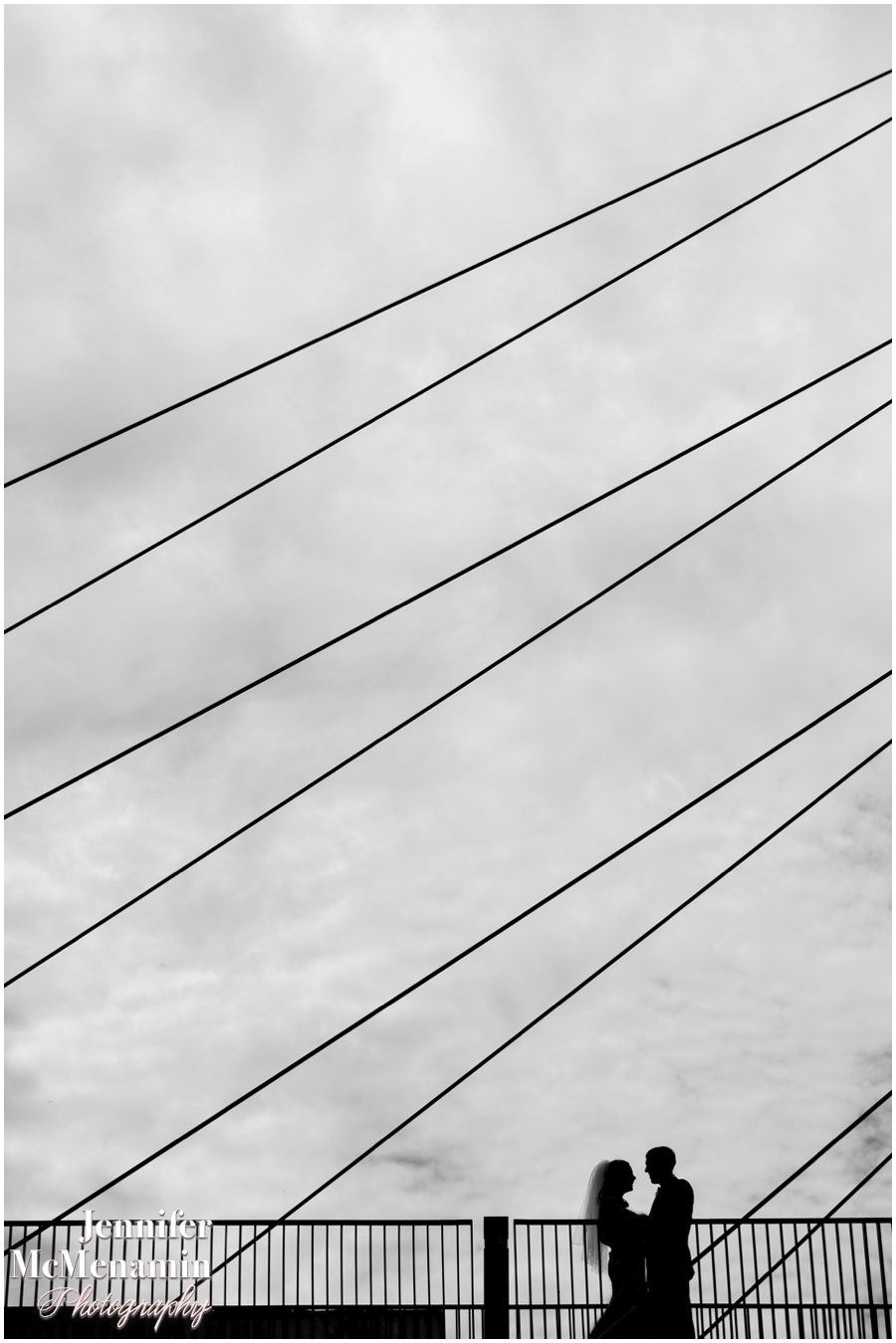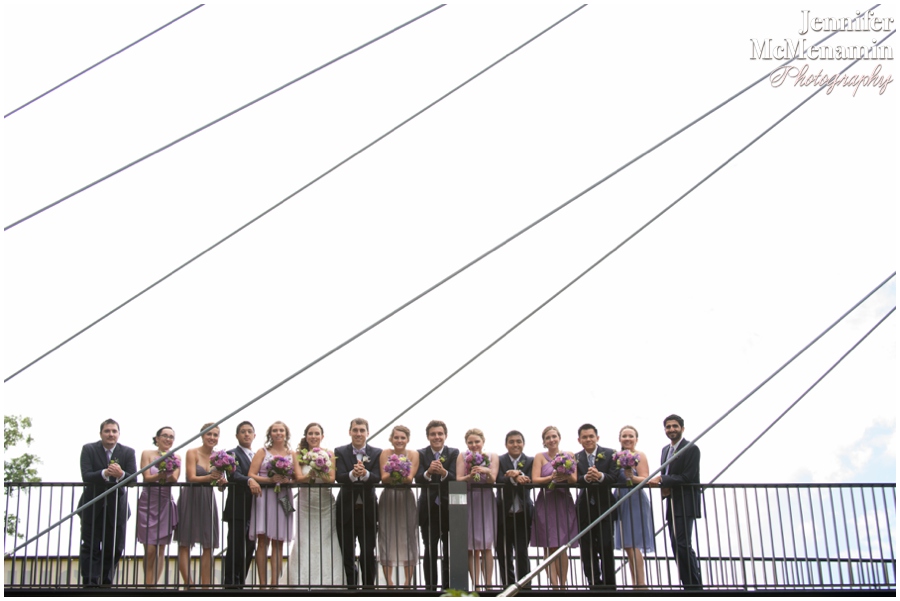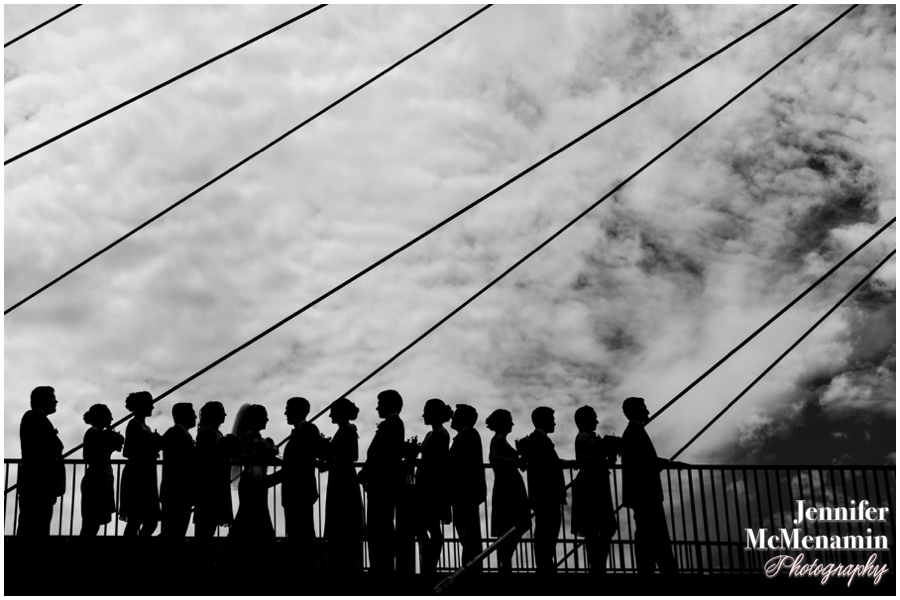 And later, a dragonfly took a ride on Katie's bouquet.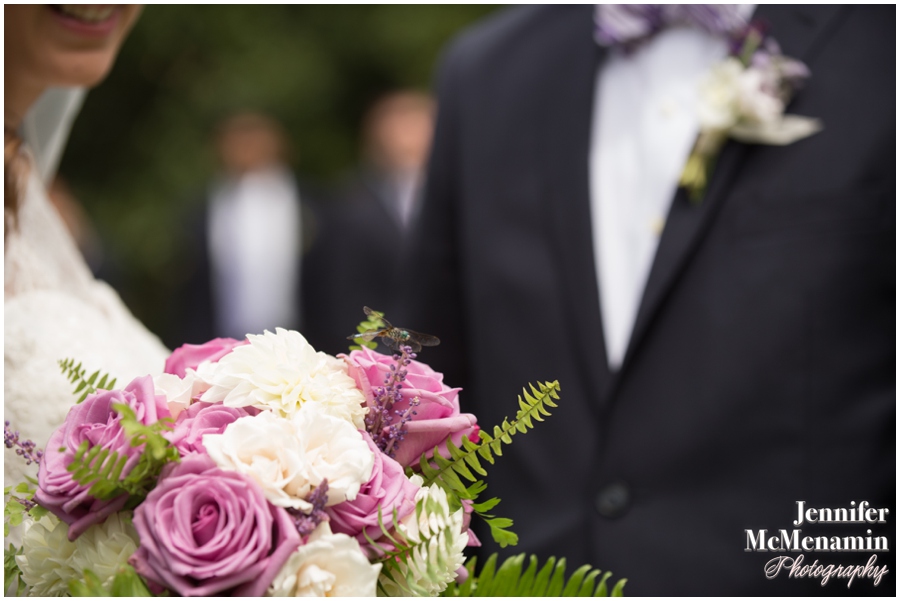 And back to that wall scaling. So Katie had decided that the one and only thing she wanted to be particular about was getting her entire wedding party onto the brick wall at the entrance to Hopkins with the name of the university. Complicating her plans was the fact that the wall is actually quite high off the ground AND the main entrance and much of Charles Street is under construction behind an 8ish-foot chain link fence. No matter. I scouted a spot from which they could access the wall — with the help of a stepstool that I brought along — and a vantage point from which I could climb a jersey wall and photograph them without including the fence. Mission accomplished!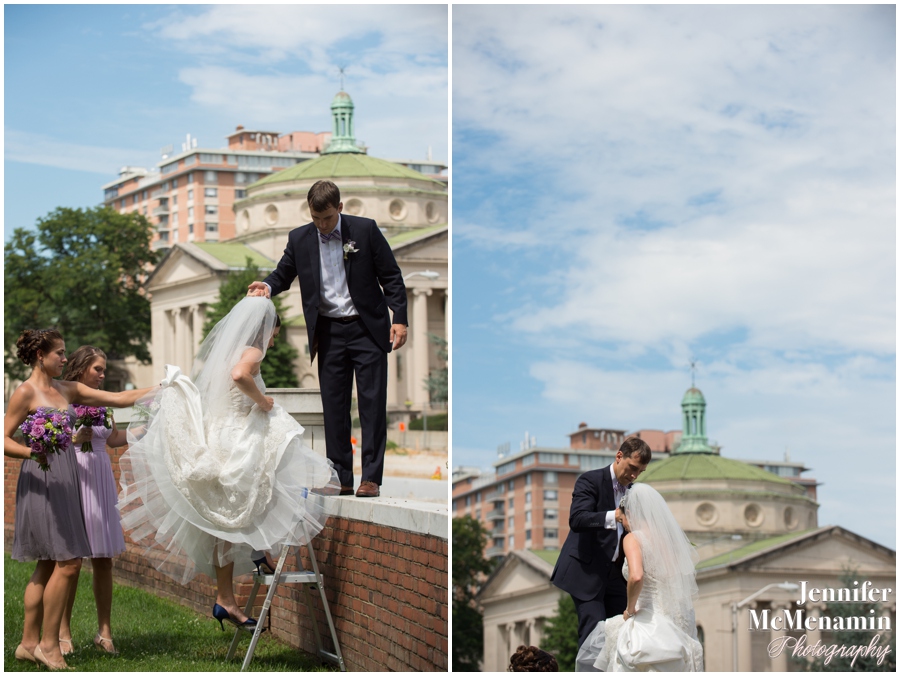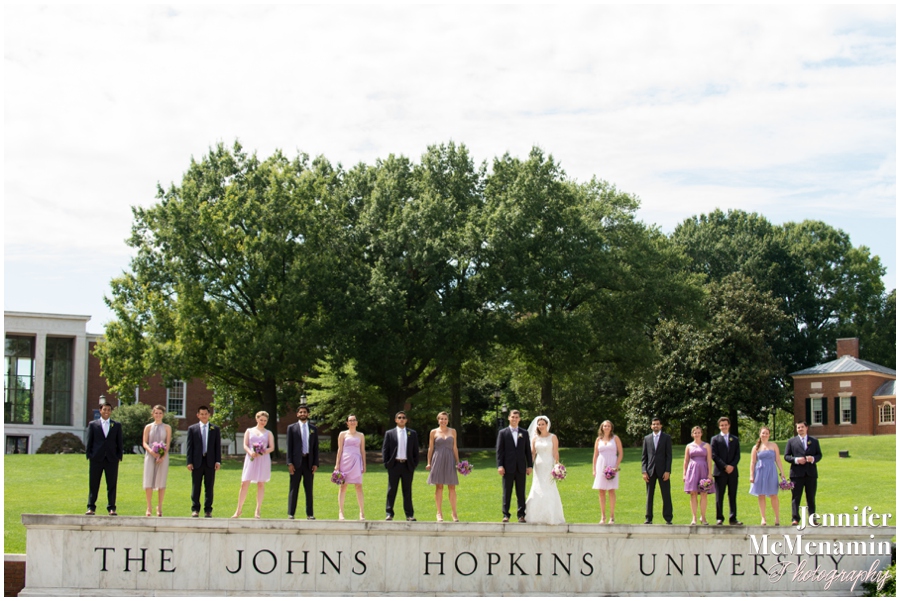 And we were off to the chapel for the wedding.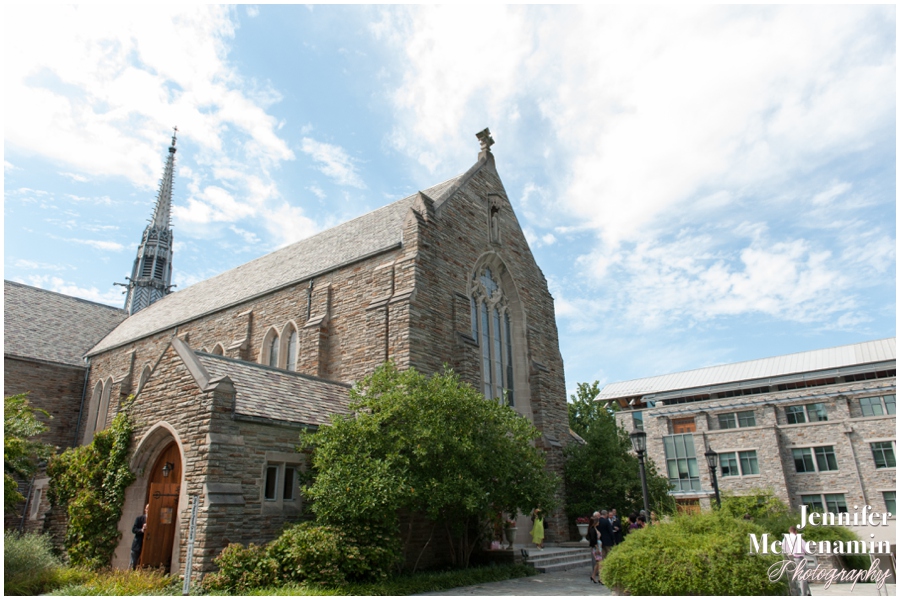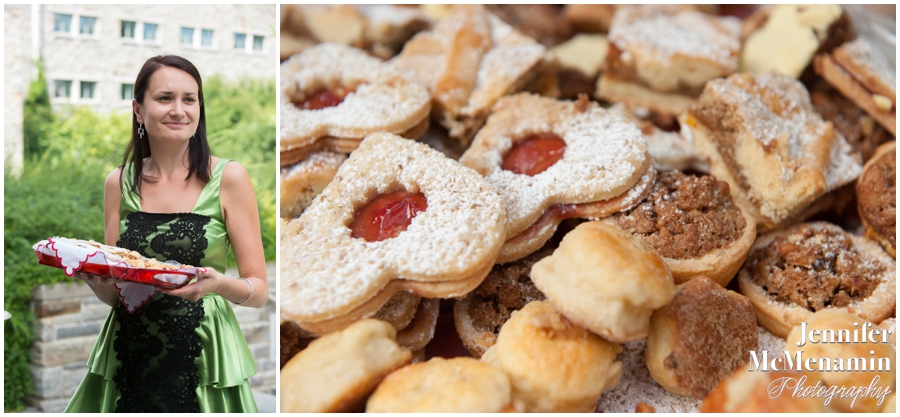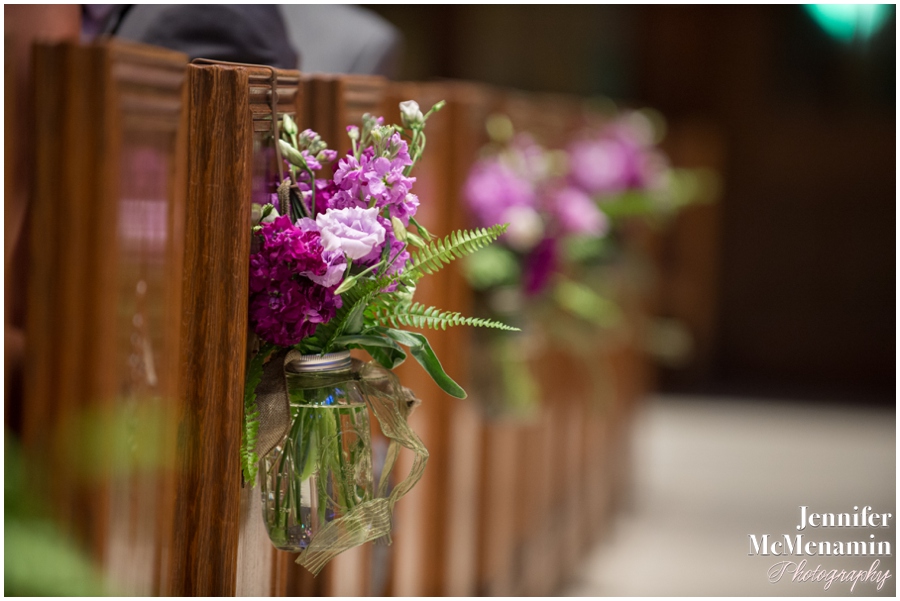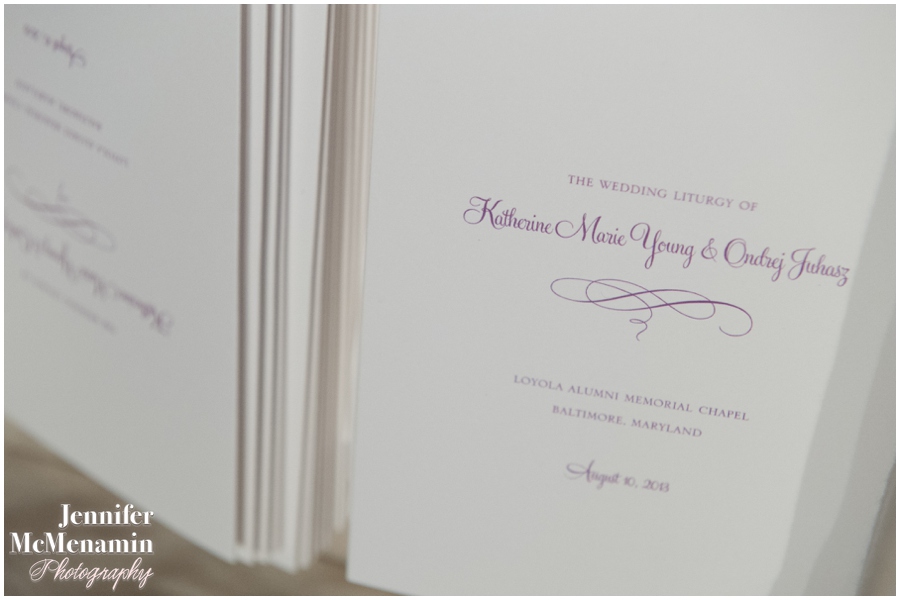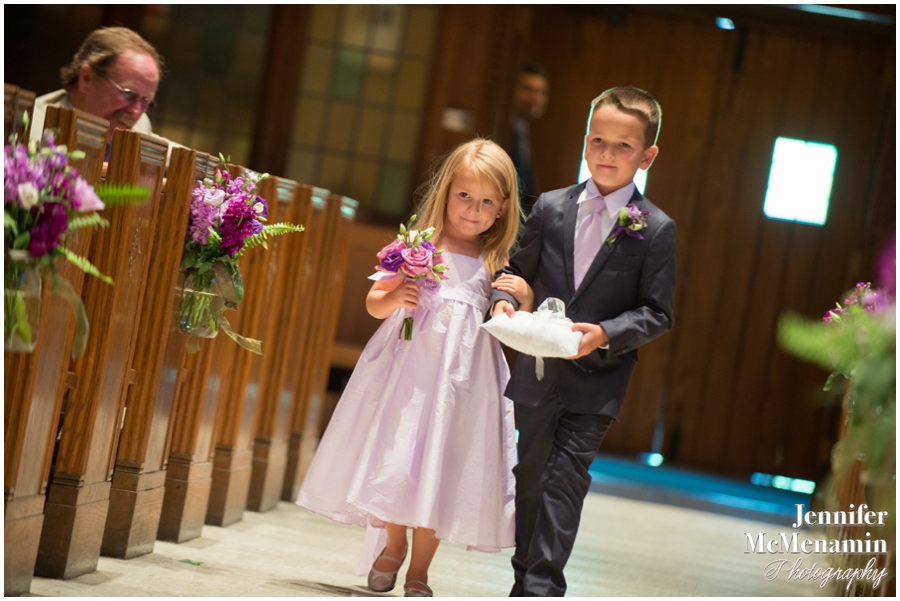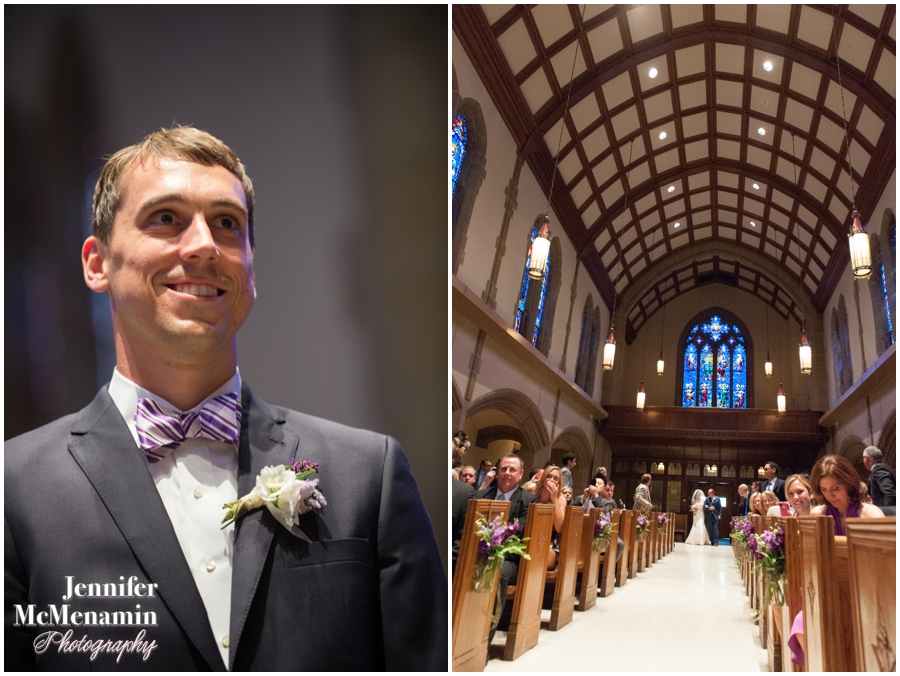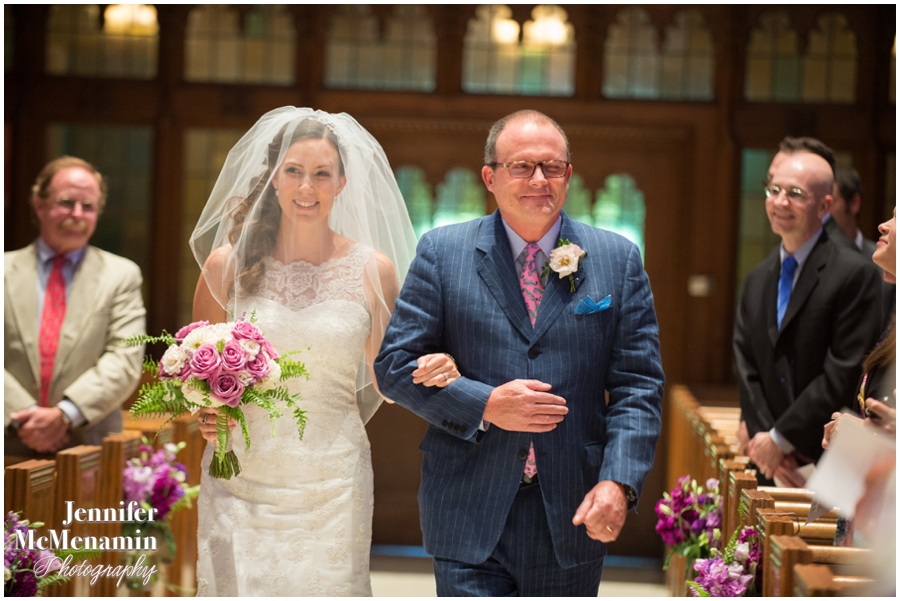 I love absolutely everything about these next two photos — the obvious love with which Katie's father gazes at her as he gives her away and the obvious happiness on Ondrej's face as he can't tear his gaze off Katie while hugging her father. So much sweetness.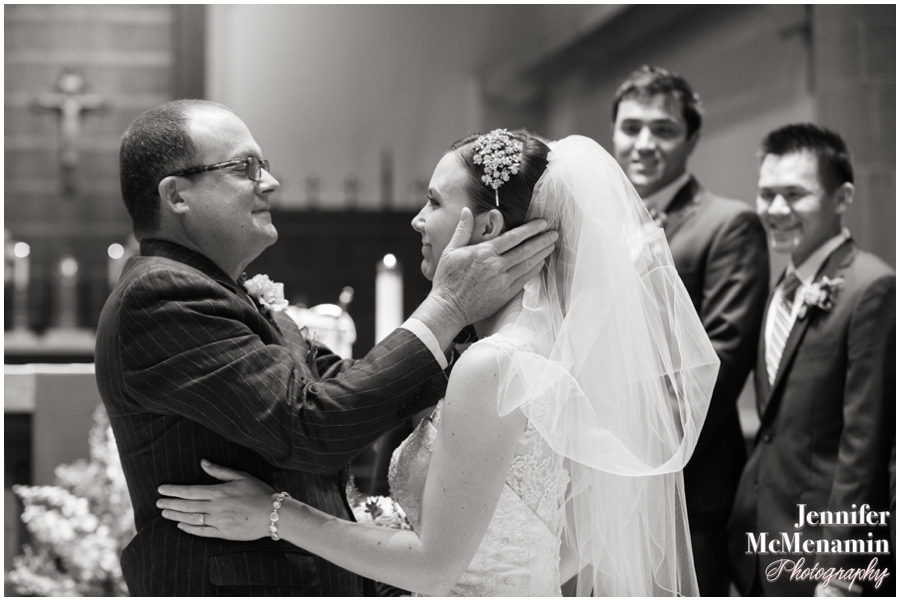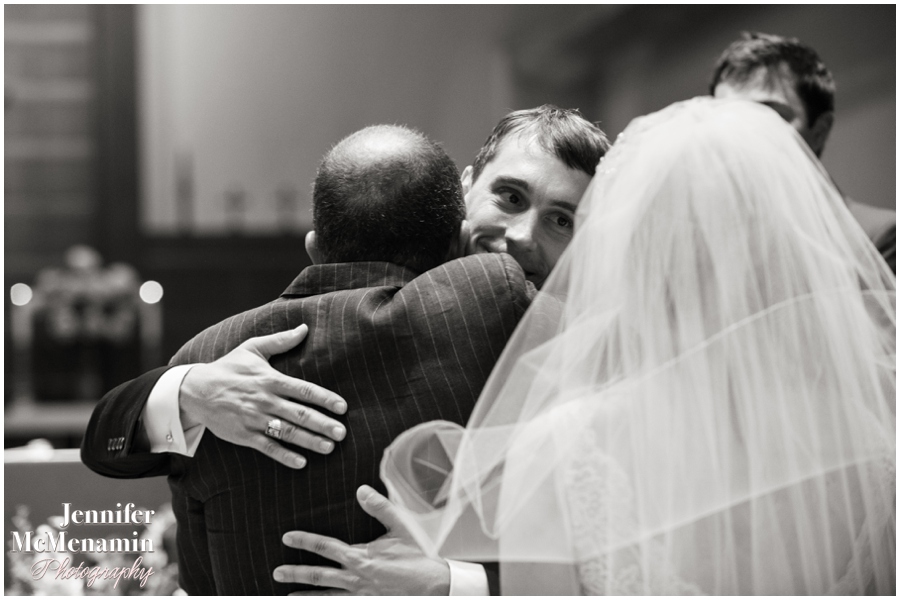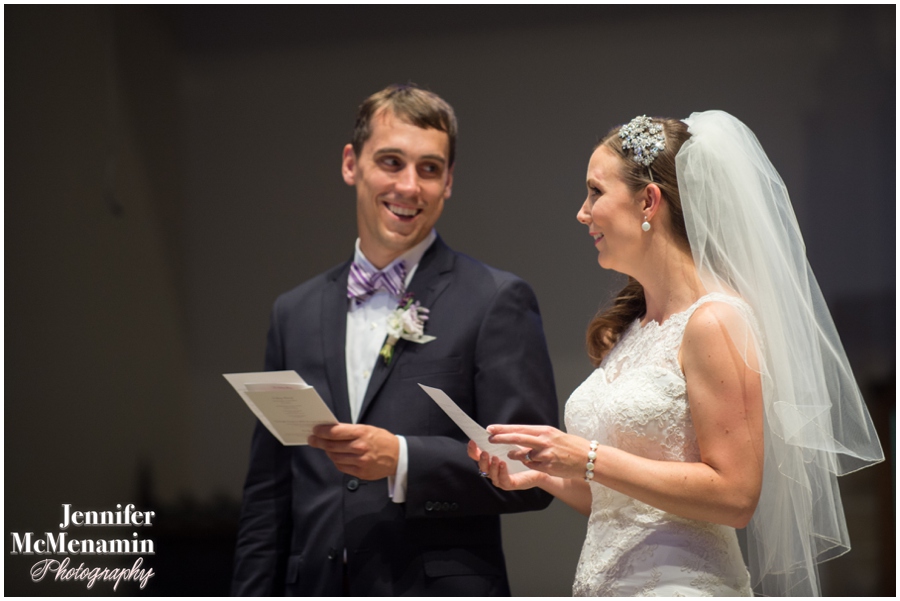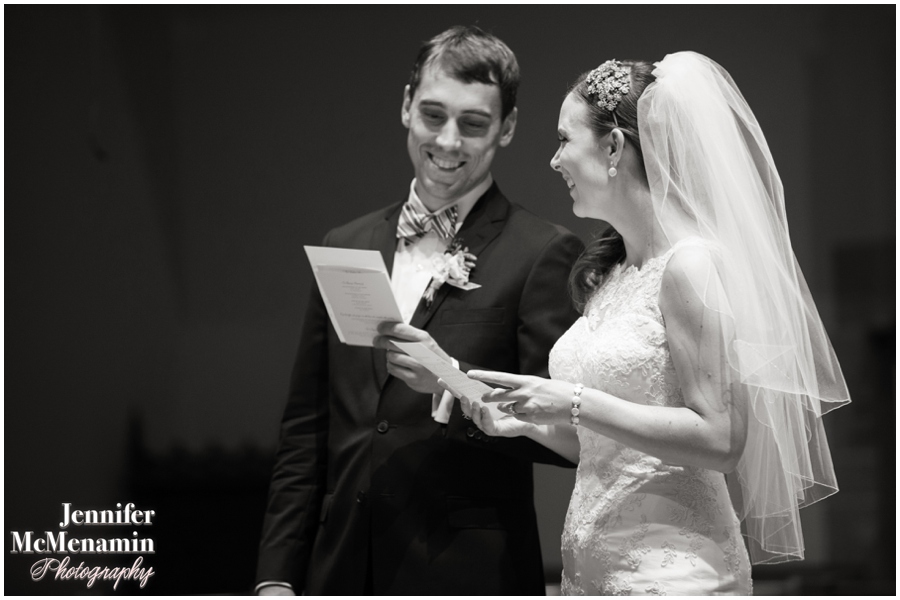 This next image (on the left) from the choir loft was shot by my assistant Lucas.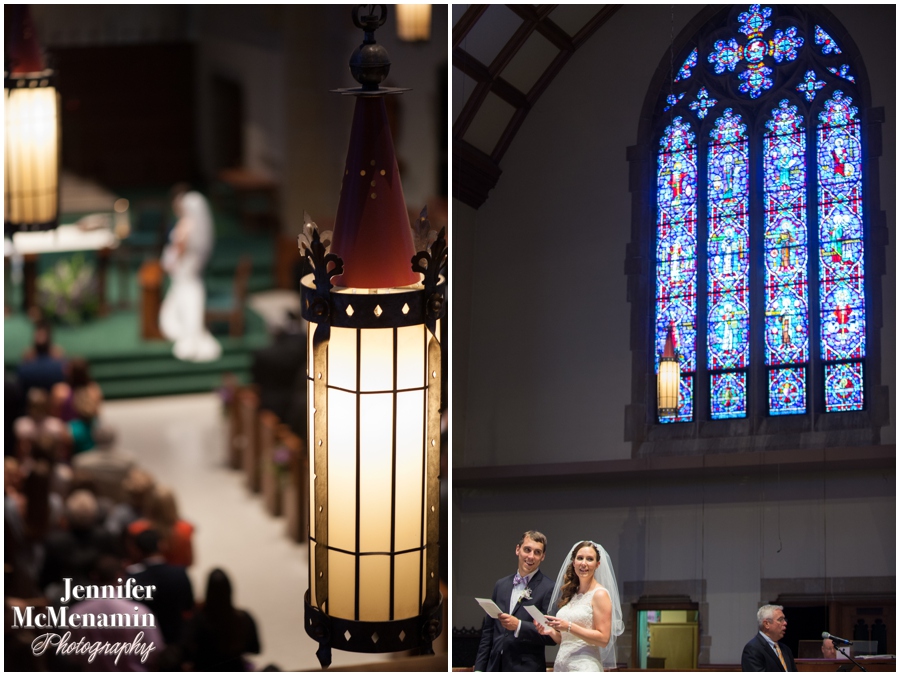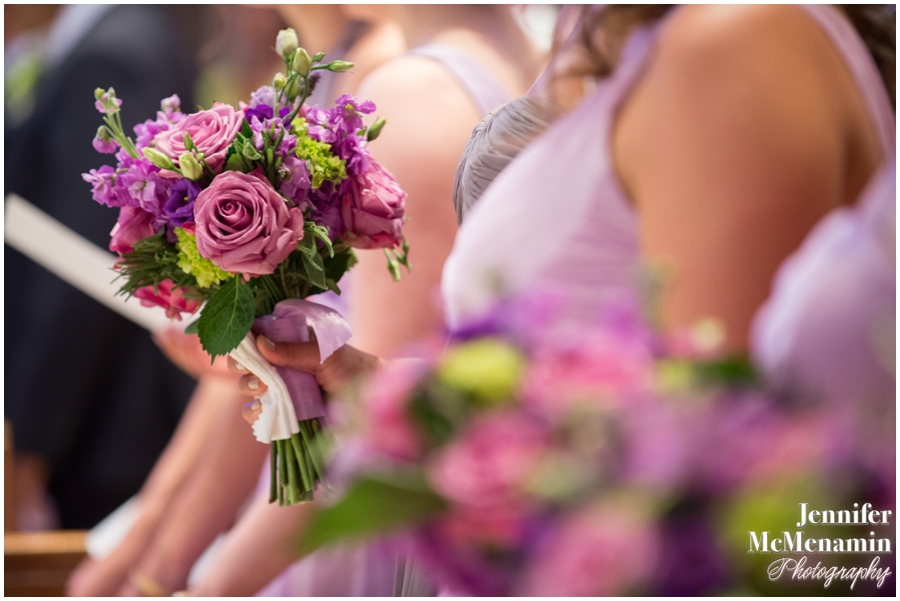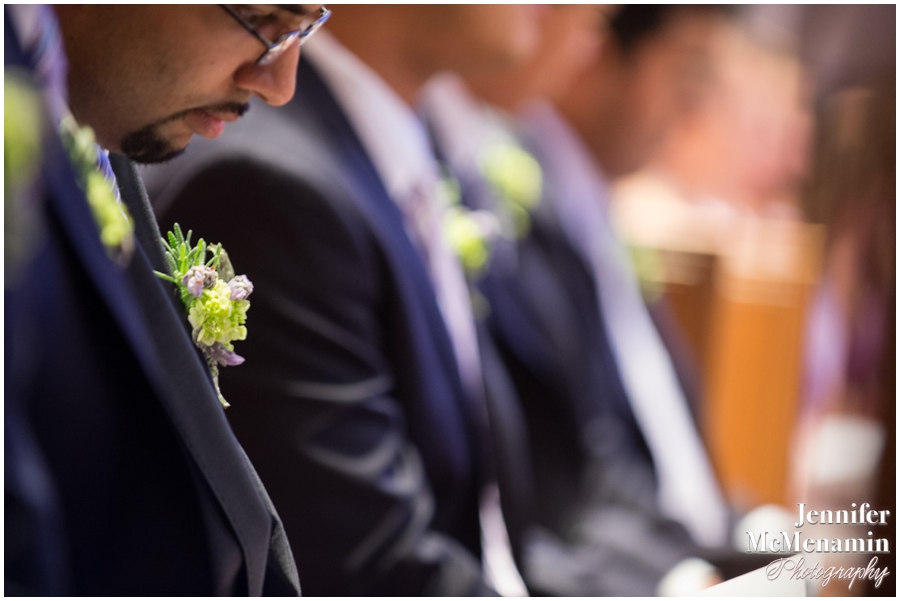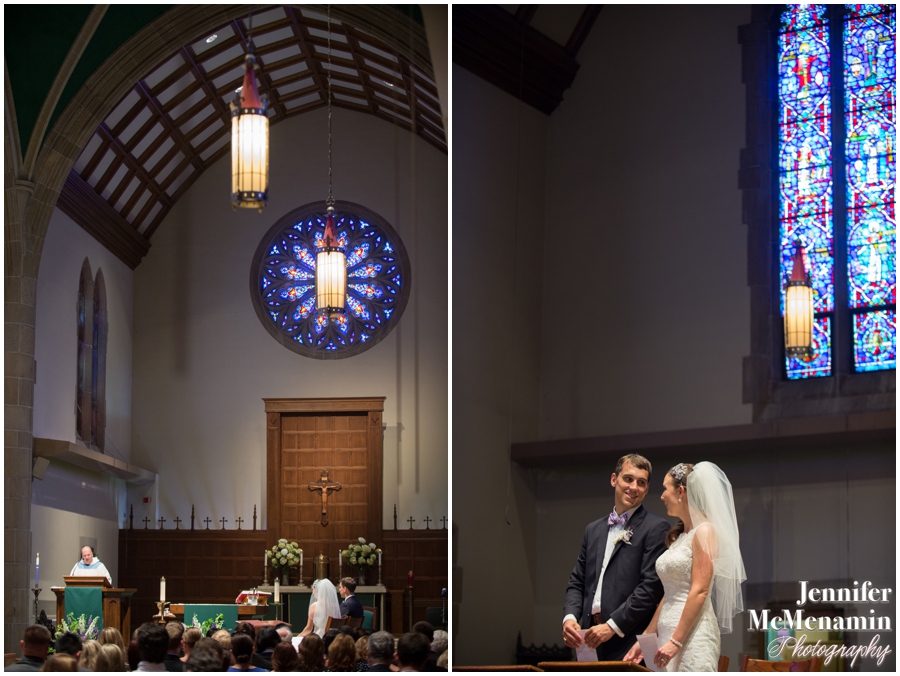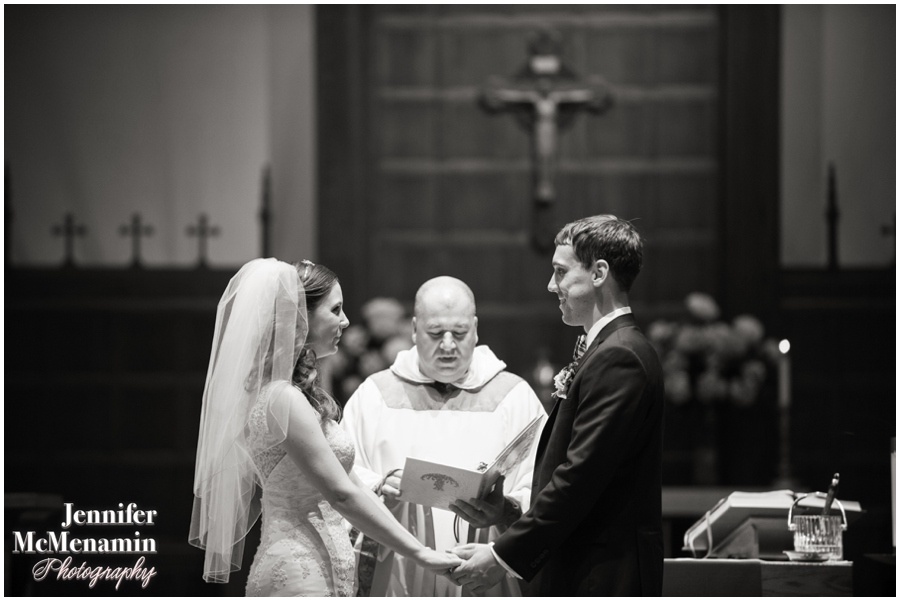 The Loyola chapel is one of my favorite churches in Baltimore for its gorgeous blue stained glass and for the dramatic lights aimed at the altar. The next photo on the right was also shot by Lucas.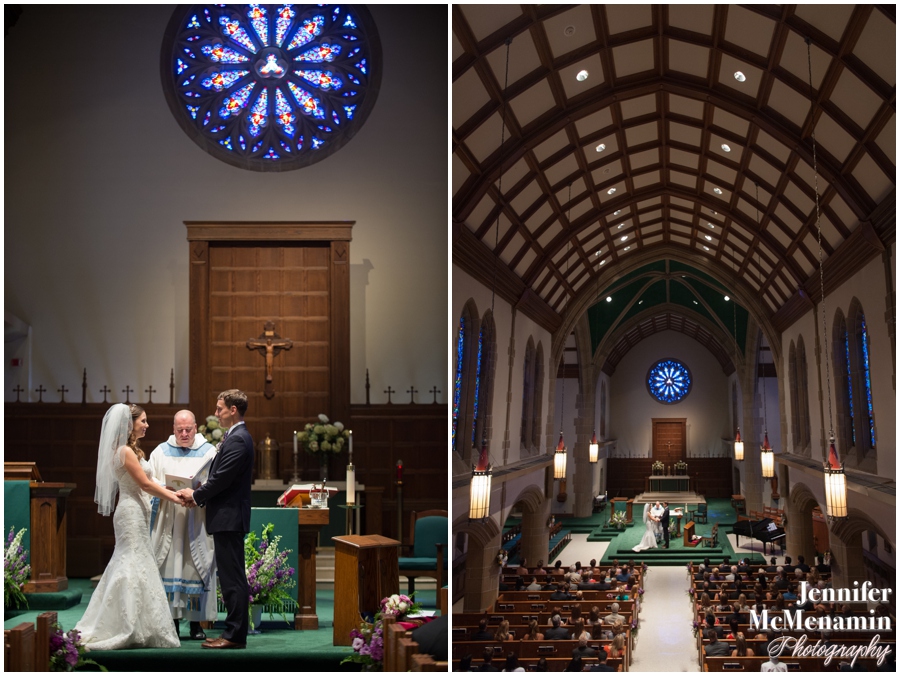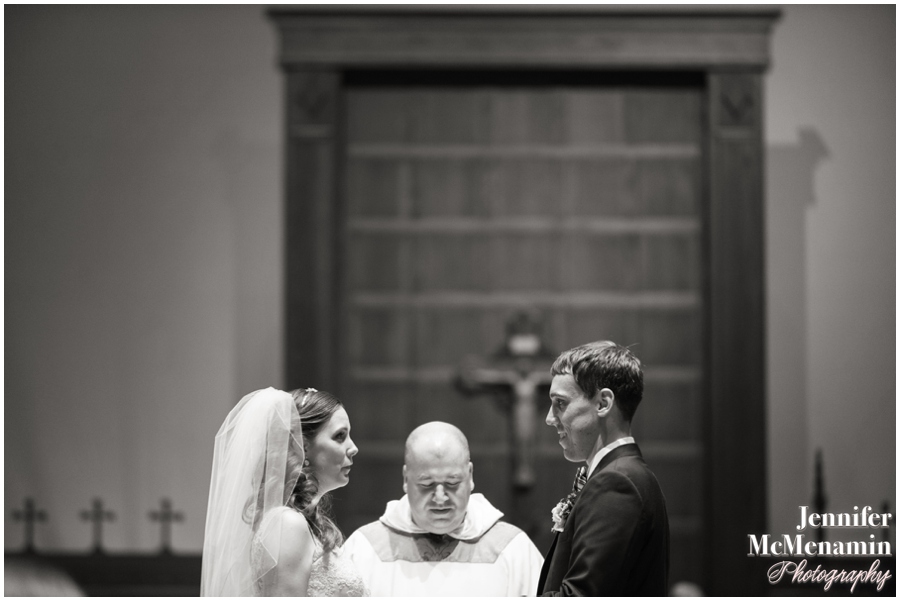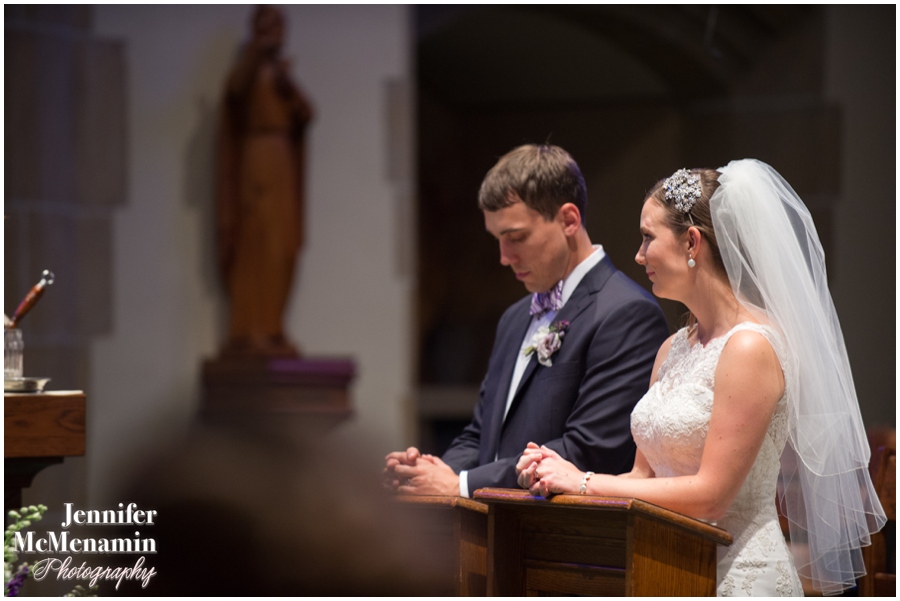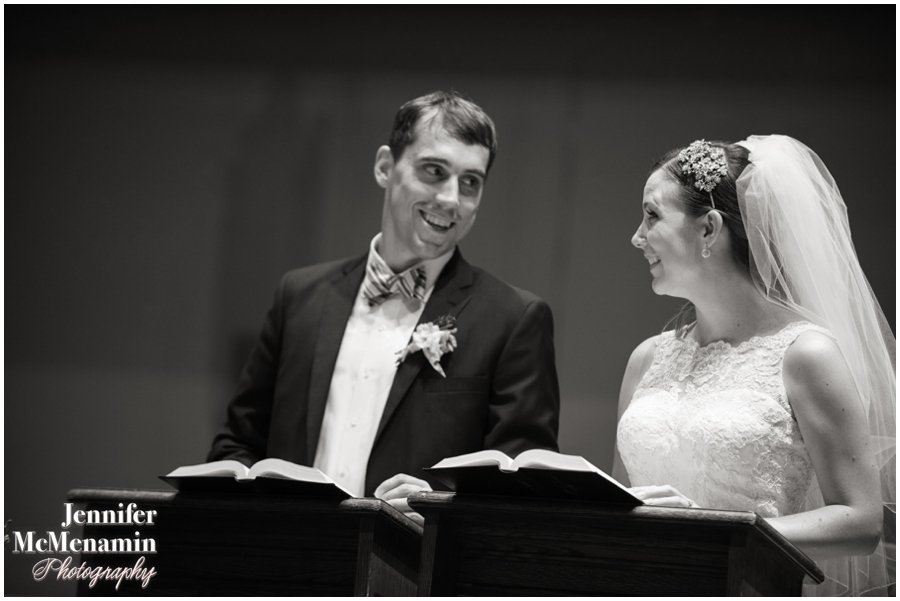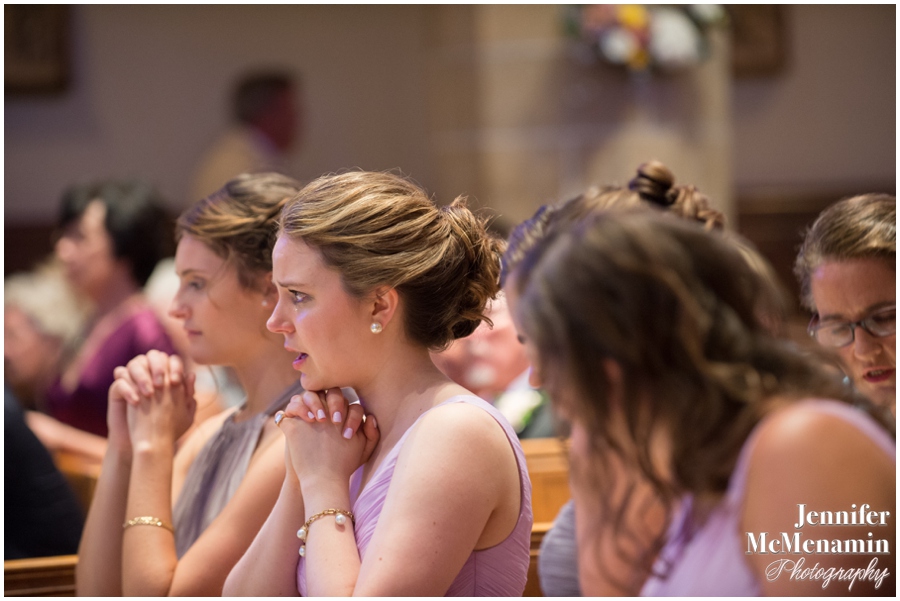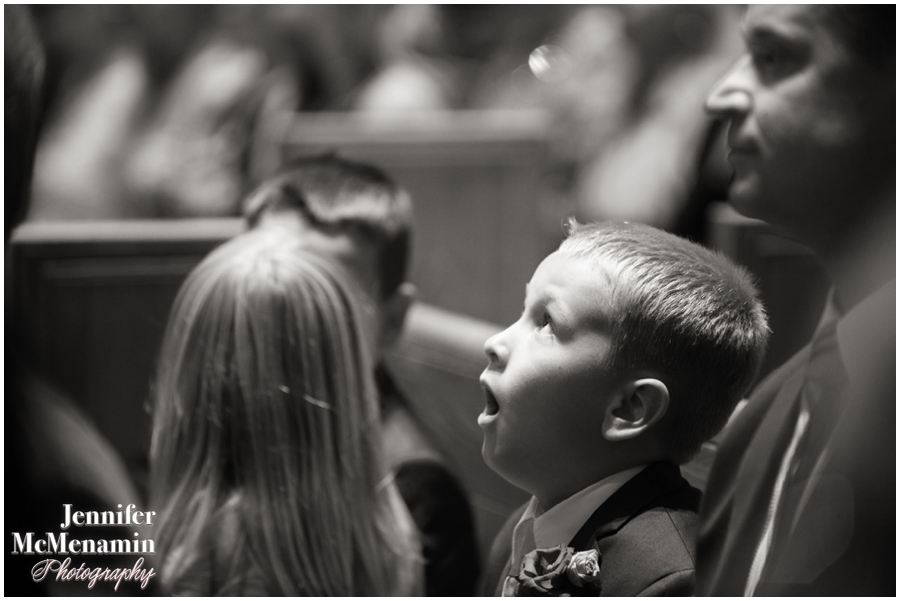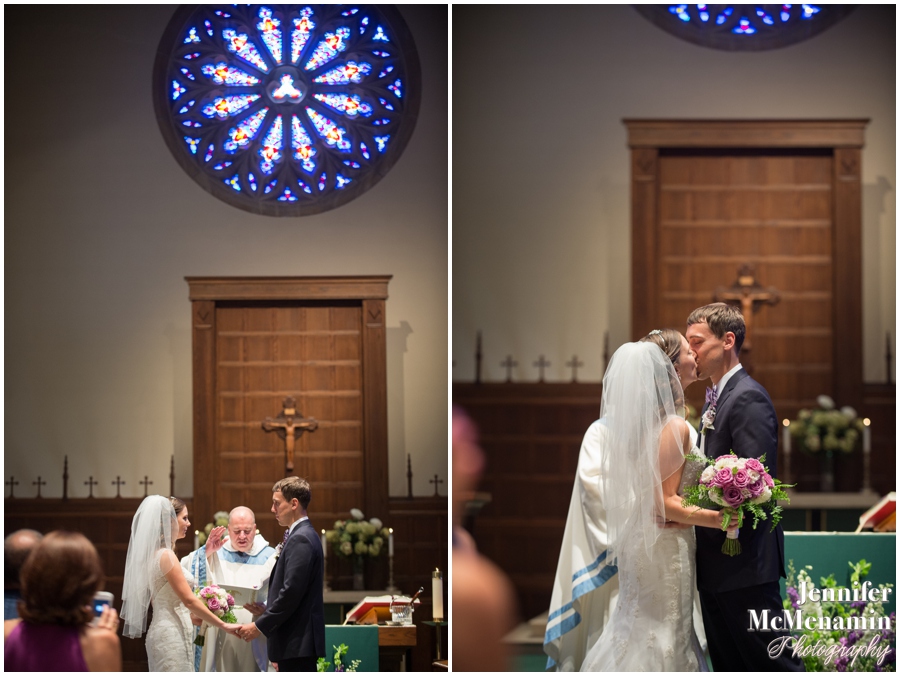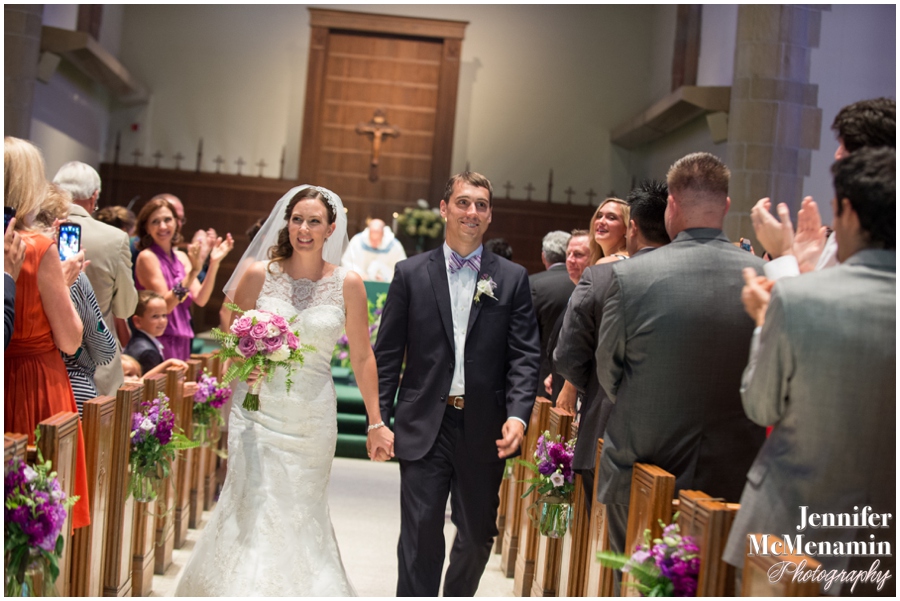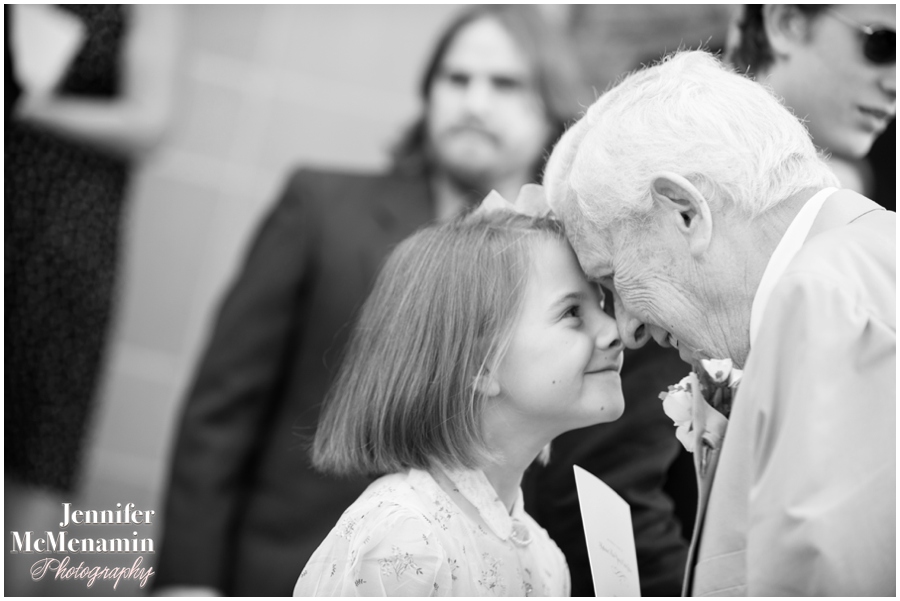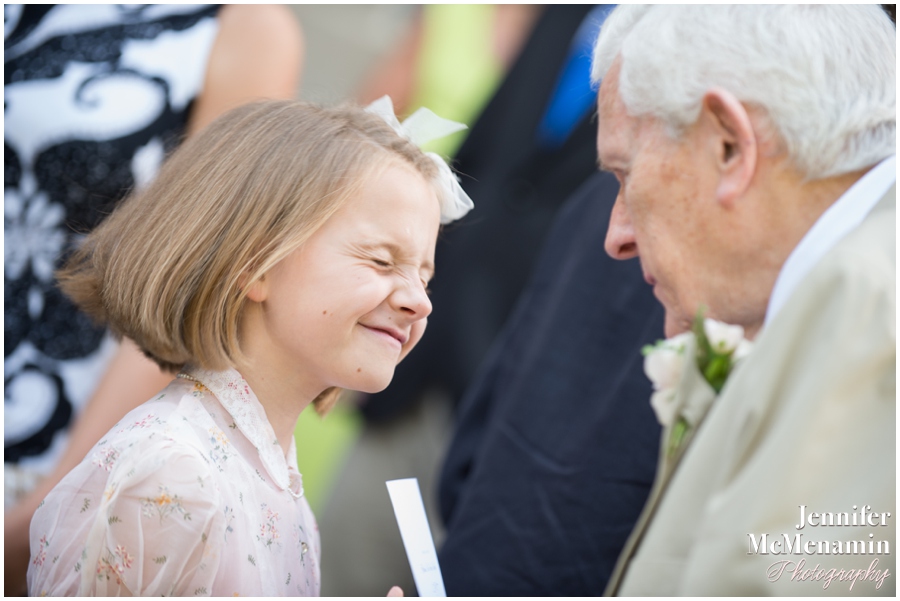 Some funny faces from the wedding party as Katie and Ondrej share a lingering kiss. Very. Lingering.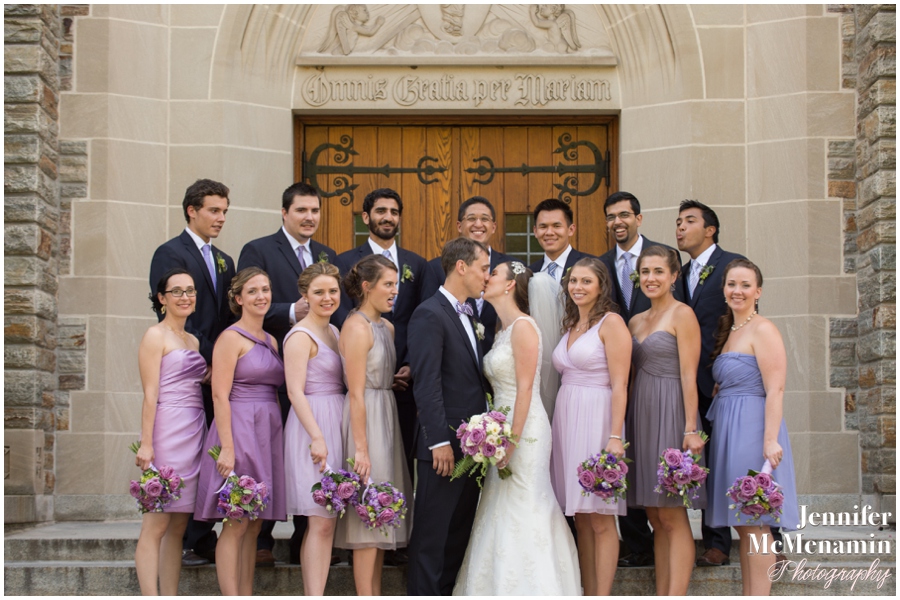 Making an immediate shoe swap.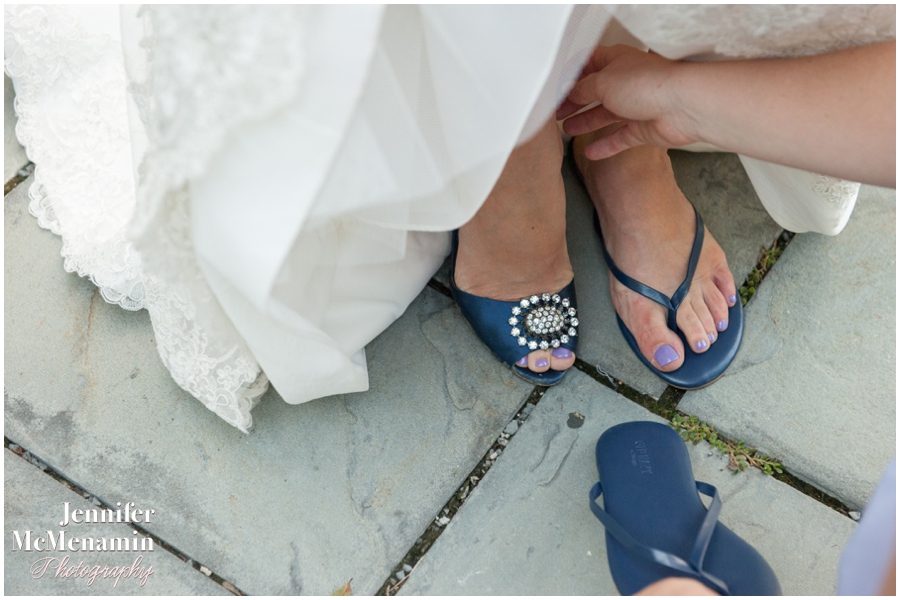 And we were off to the gorgeous Evergreen Museum & Carriage House. As a big fan of Downton Abbey, I always imagine that the Evergreen is the property of one of Cora's cousins back here in America. The sprawling grounds are simply gorgeous — and were full of perfect light for Katie and Ondrej's stroll for photos before their reception.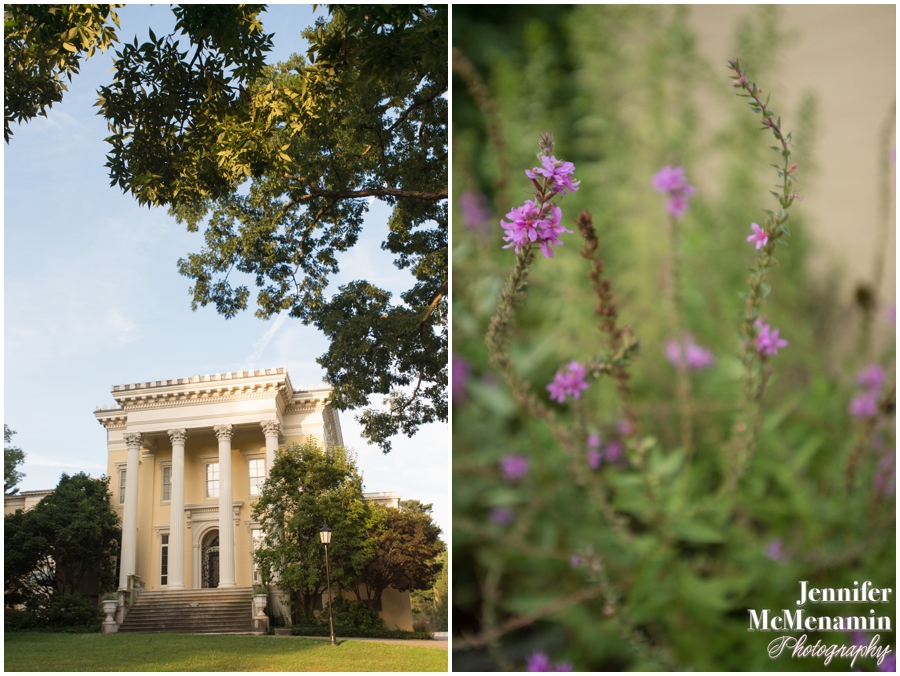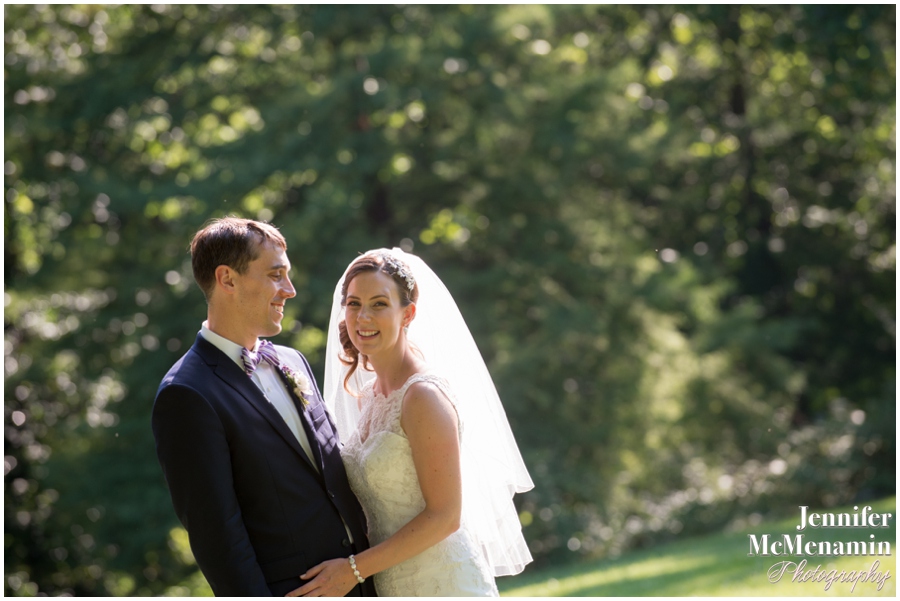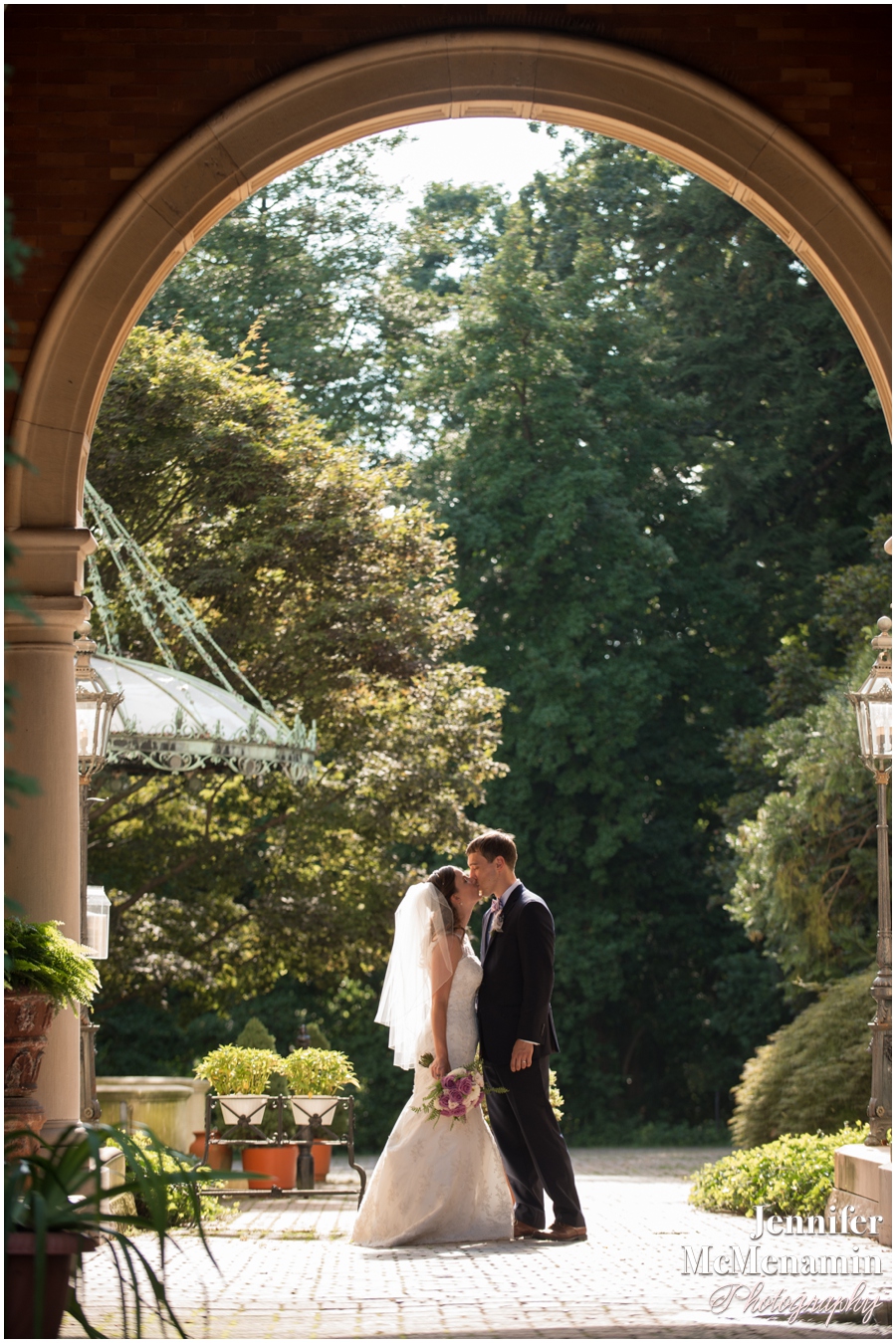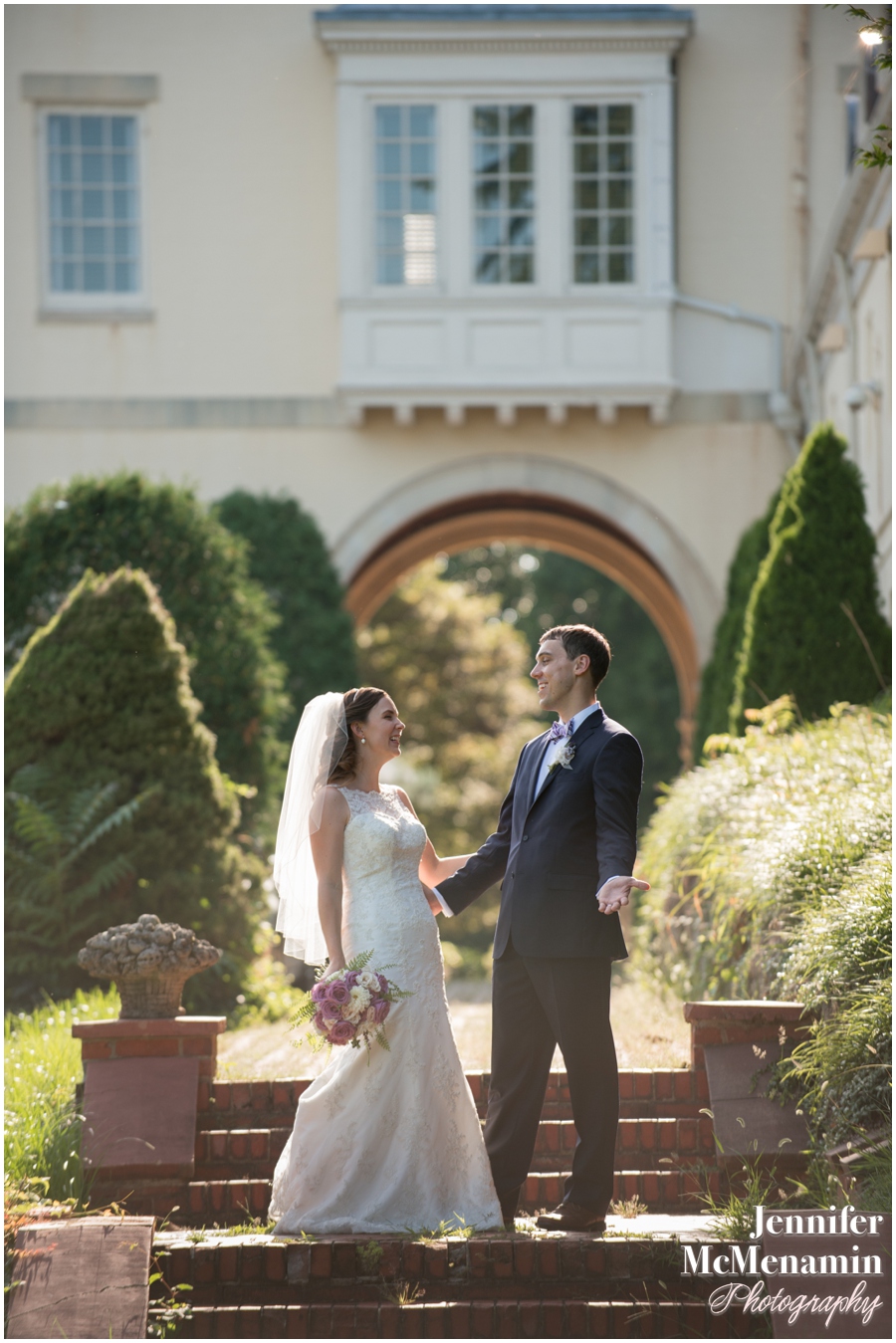 I don't ever, ever, ever ask my clients to jump together or dip each other or pick each other up. I'm more than happy to photograph any and all of that. But I want my clients' photos to reflect who they are and how they show affection for each other and how they have fun together. So while I offer some casual posing directions and mostly try to make them feel comfortable with me, I let them take the lead on any grand gestures. This next grand gesture was all Ondrej.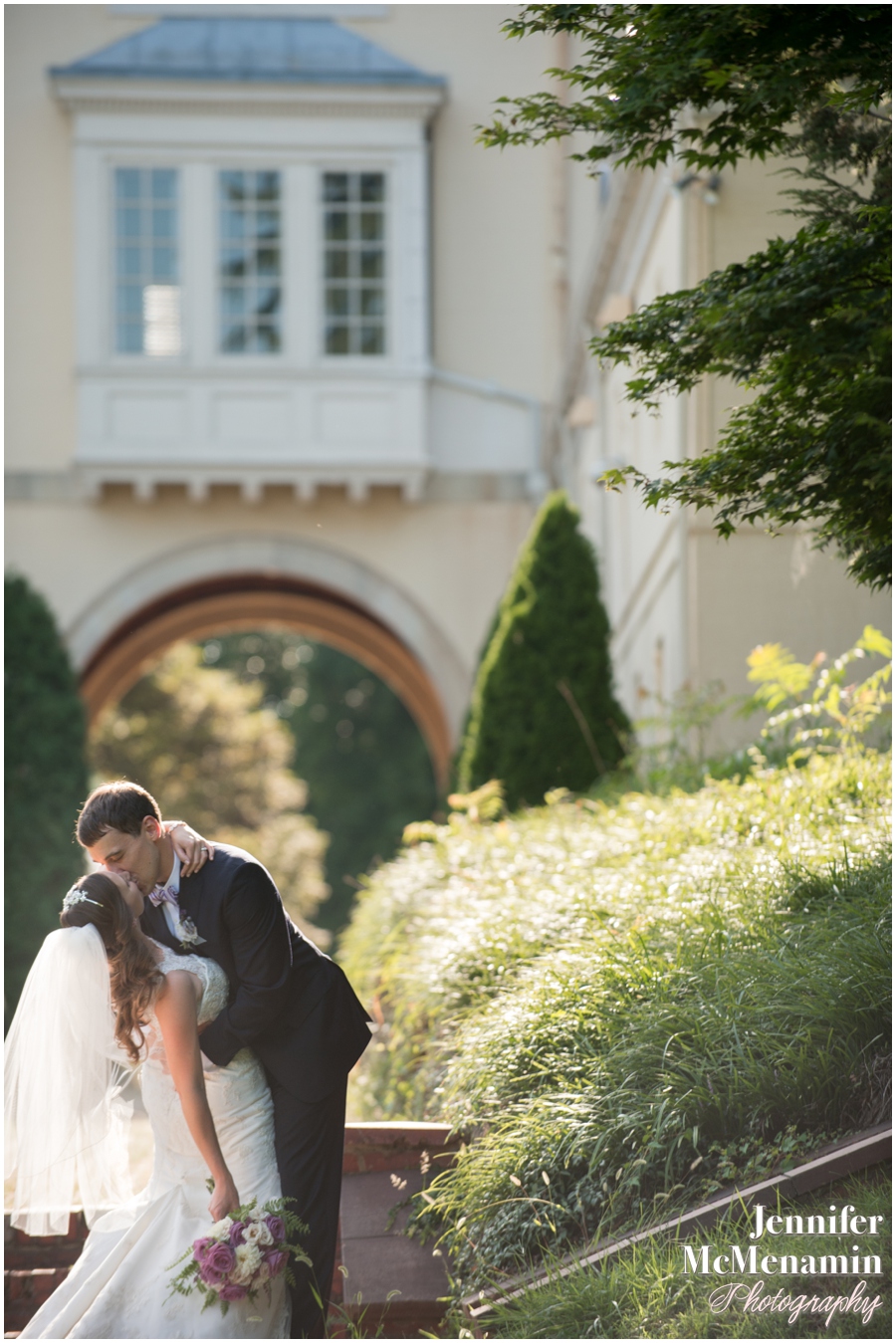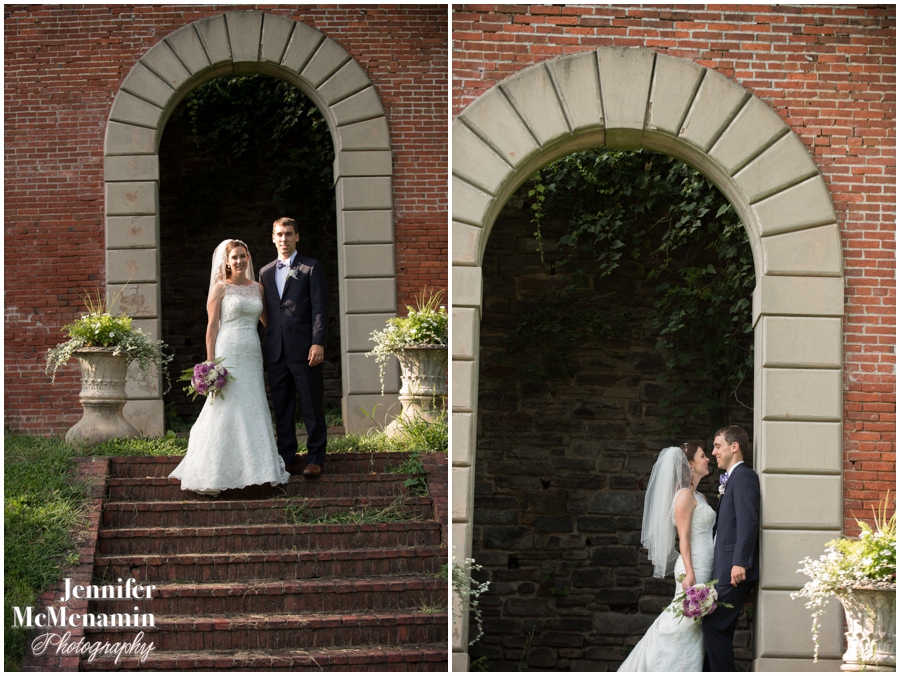 A great looking couple in some great light.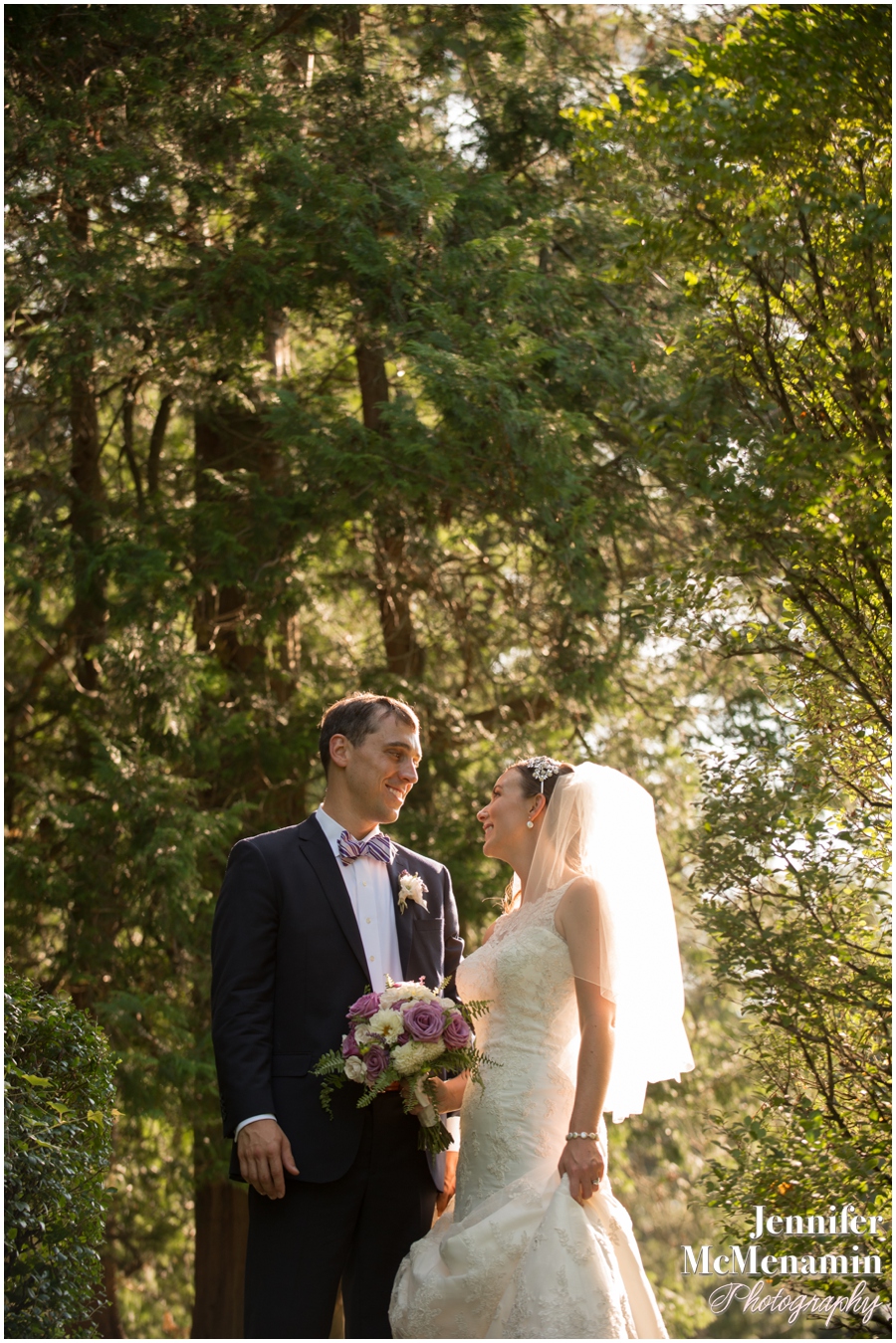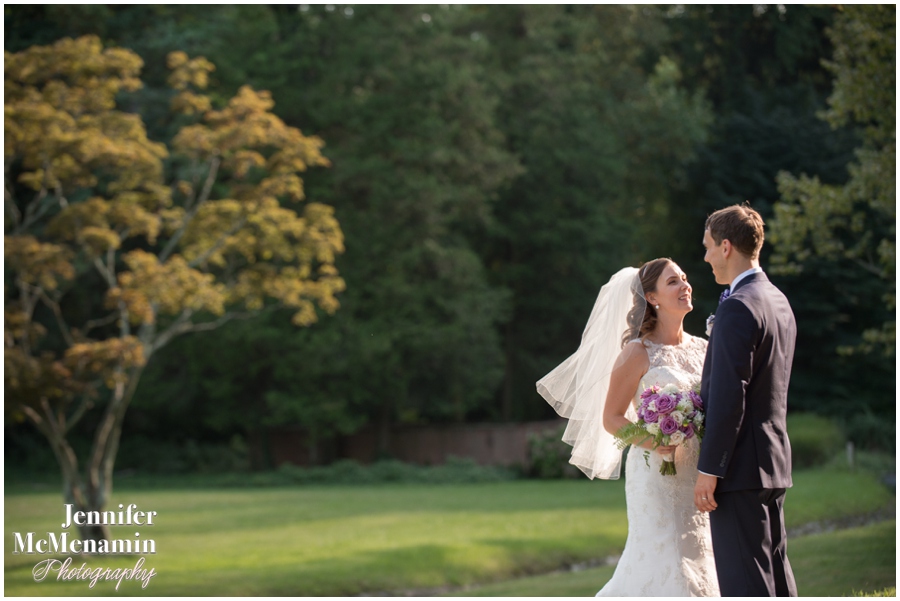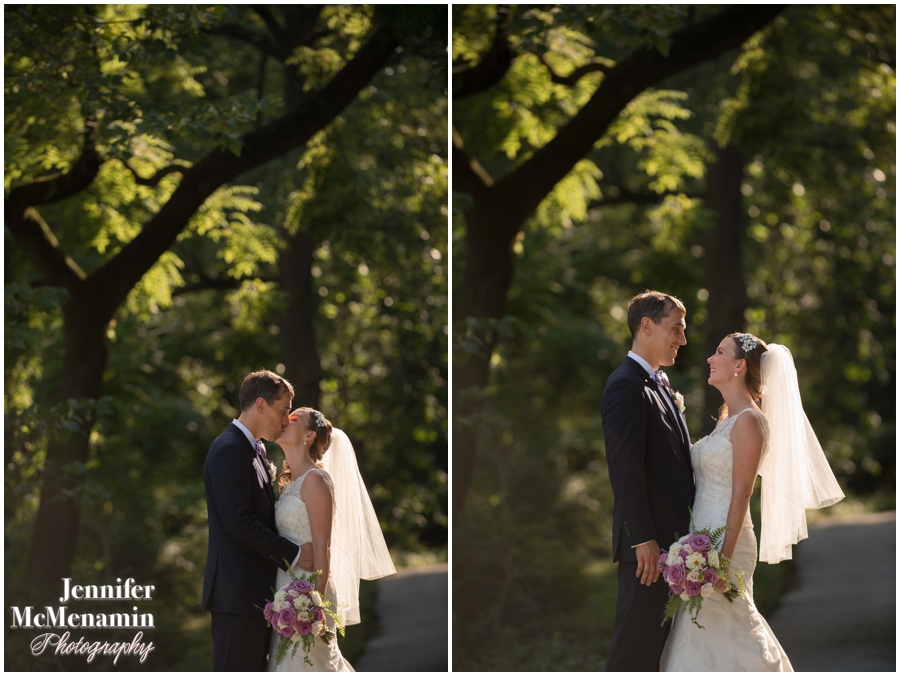 And then it was time for the party.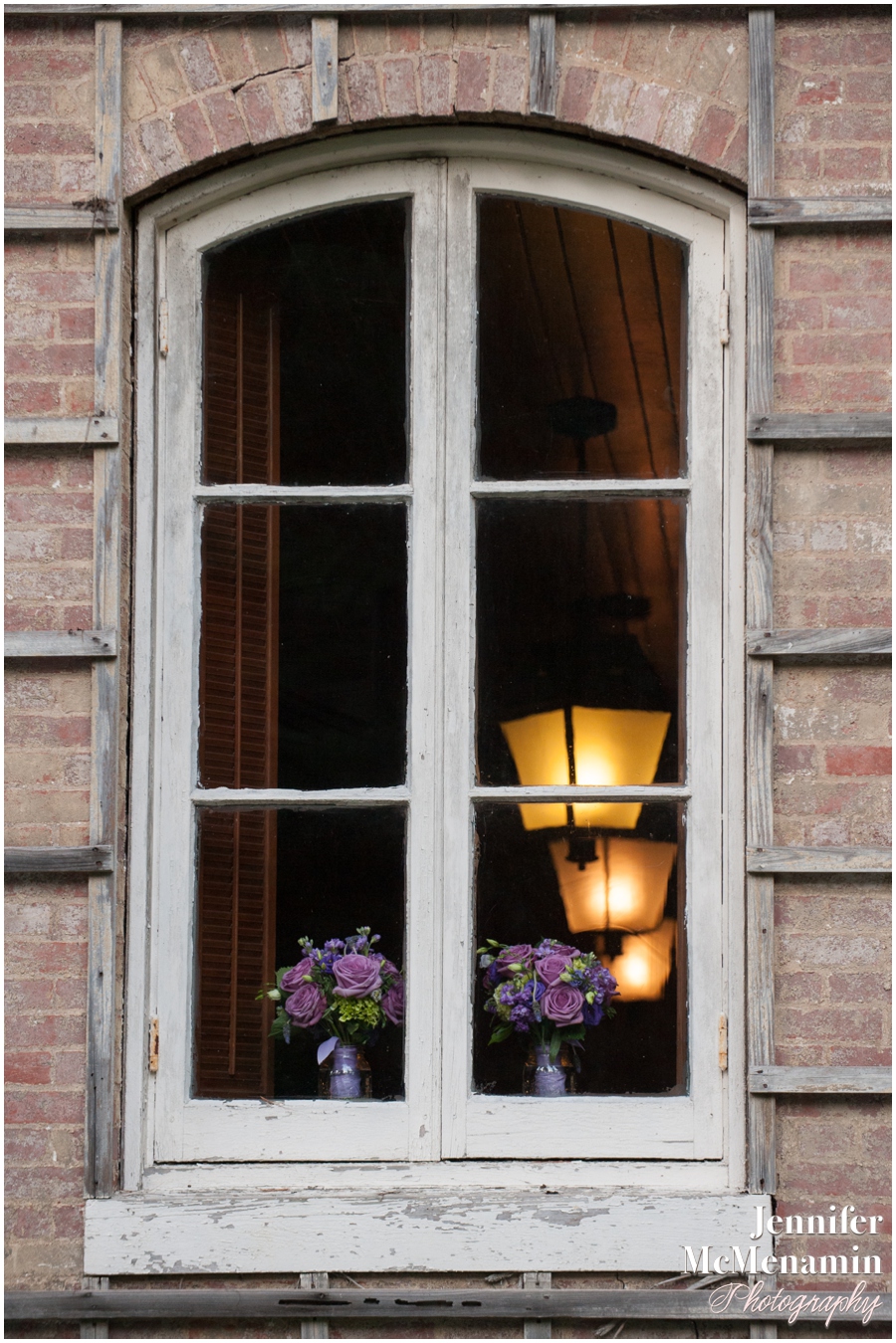 Wicked Willow florist put together some beautiful and very unusual centerpieces and floral decor.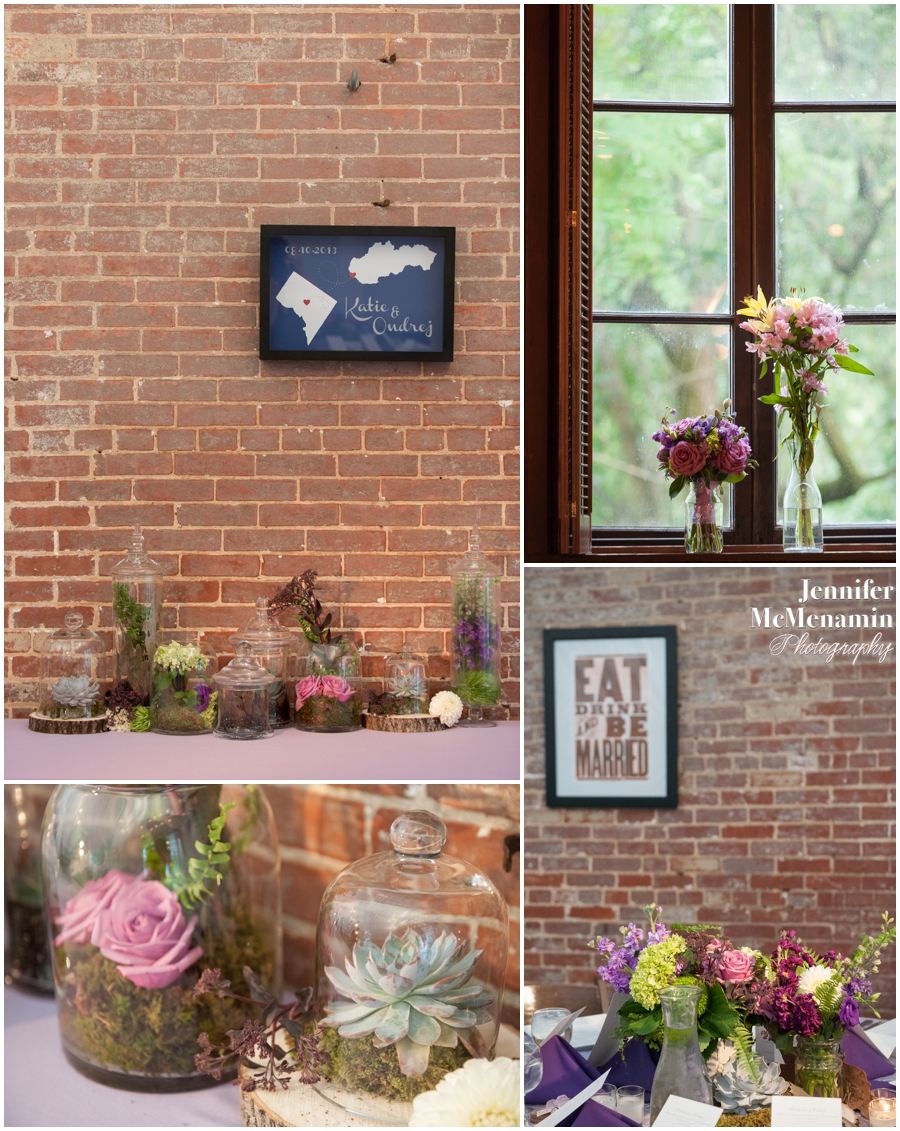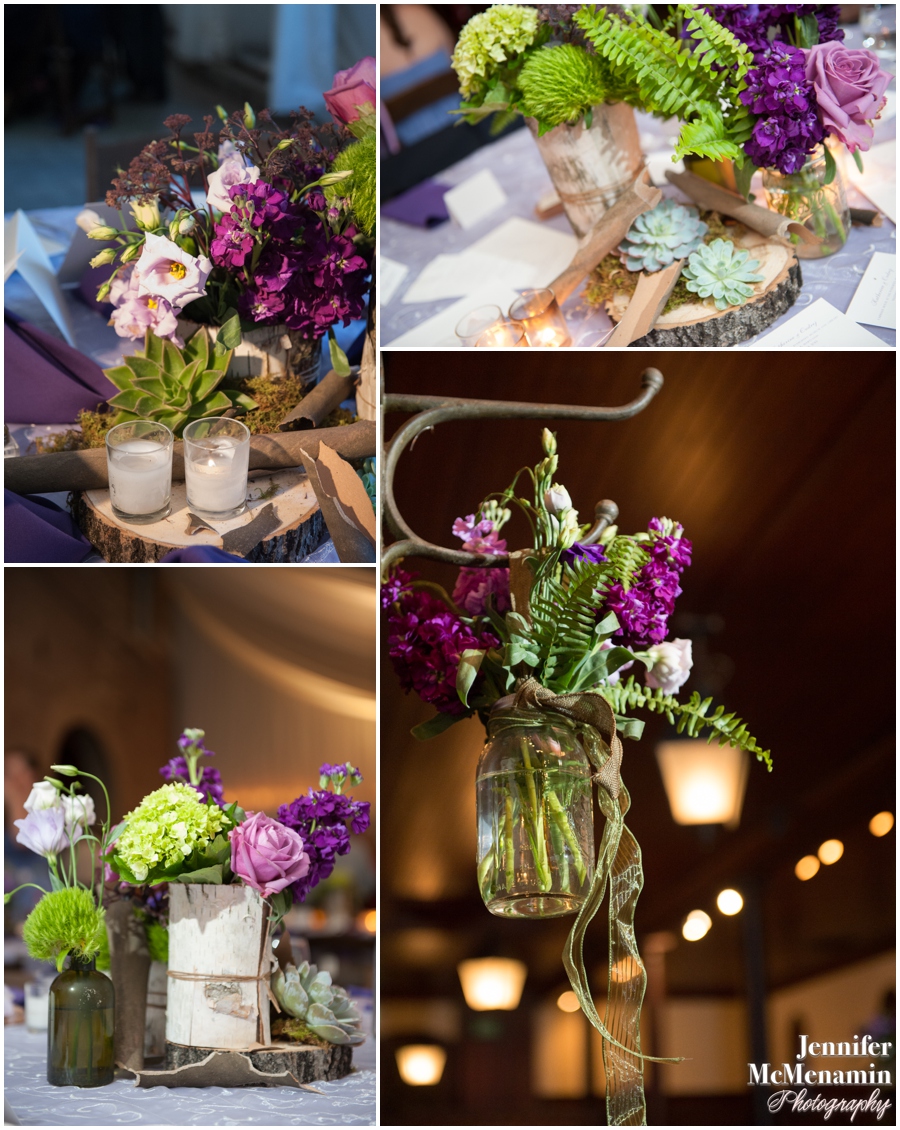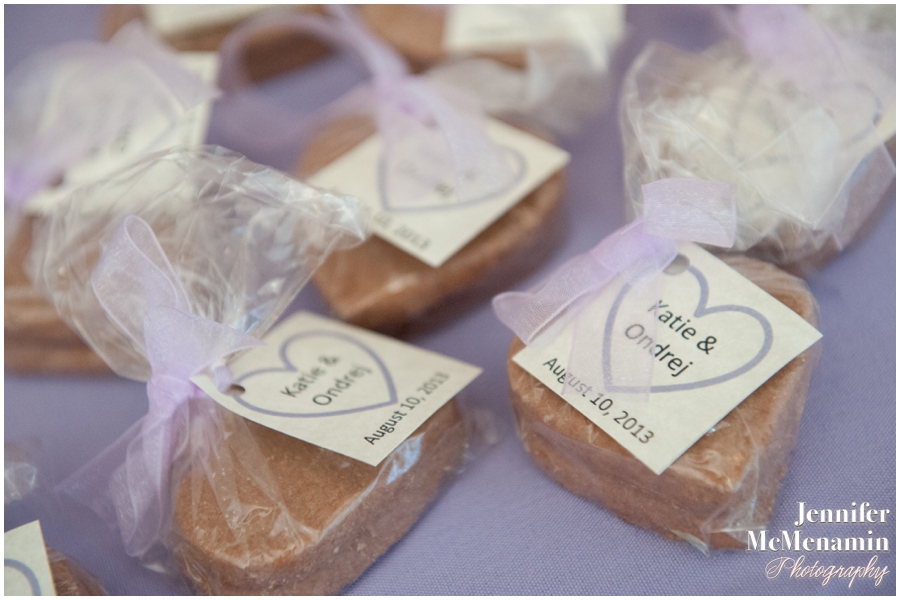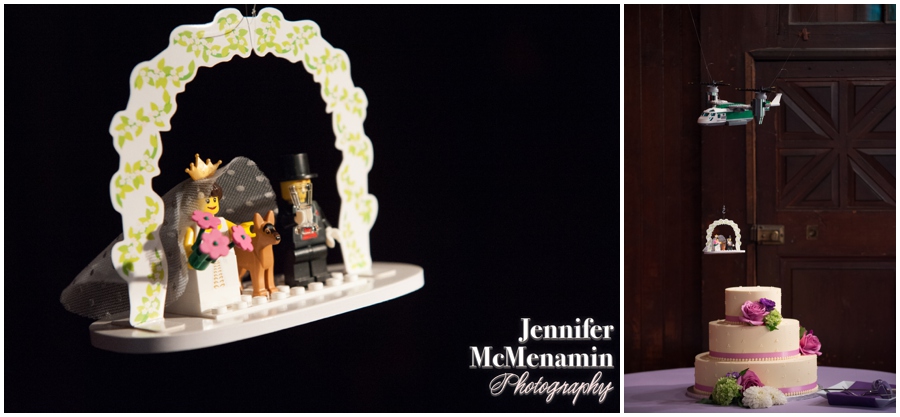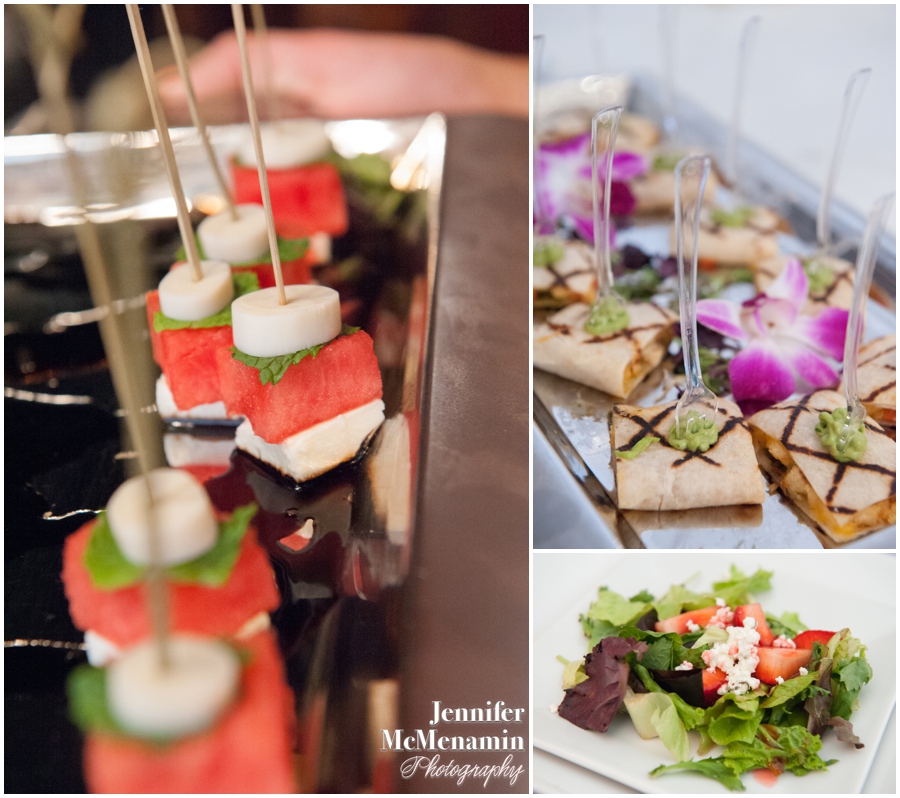 And some birthday cake. 
A toast in song.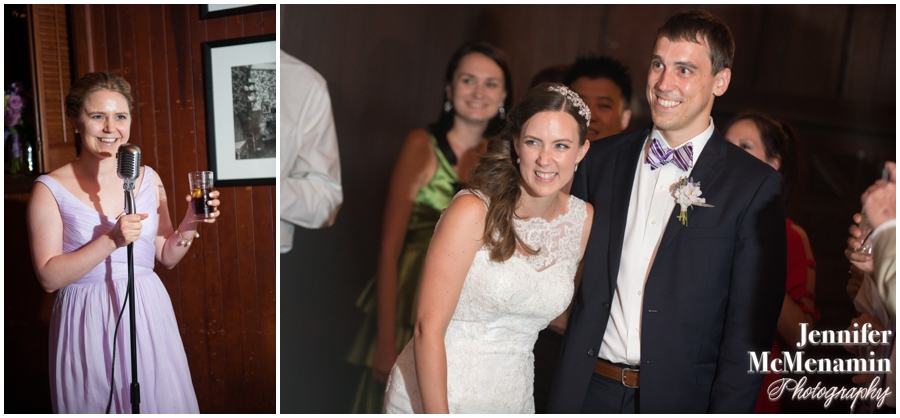 And then a super fun, vinyl-fueled dance party.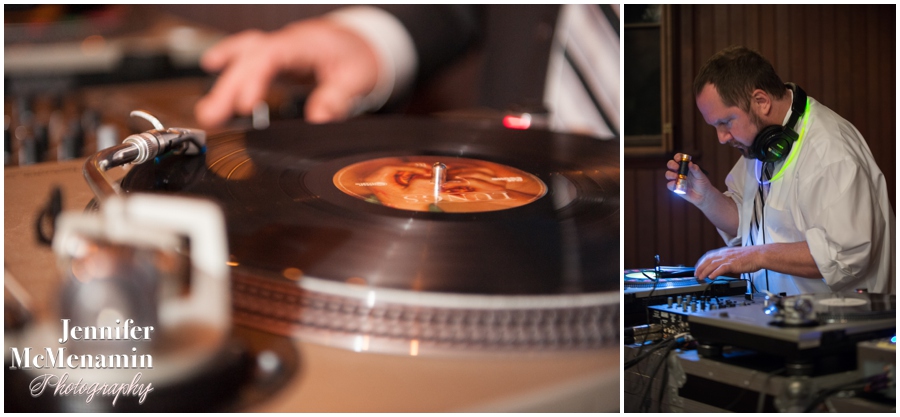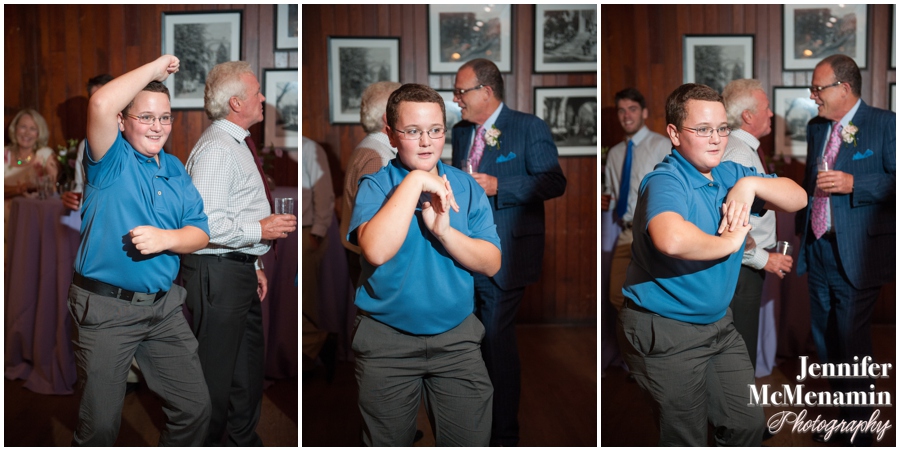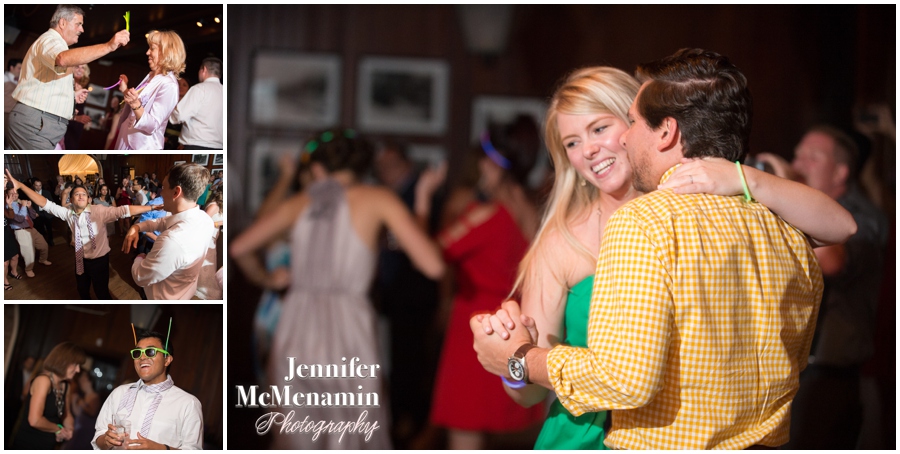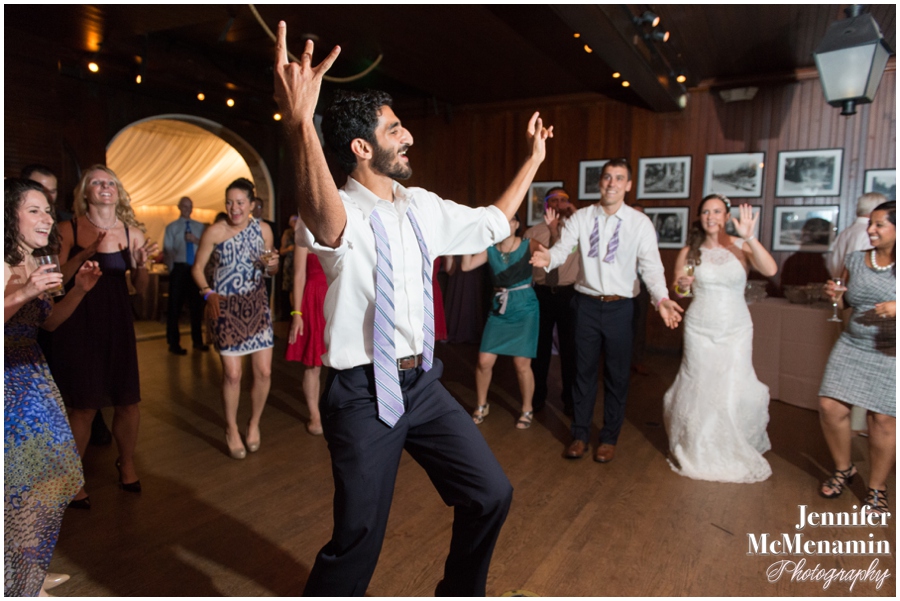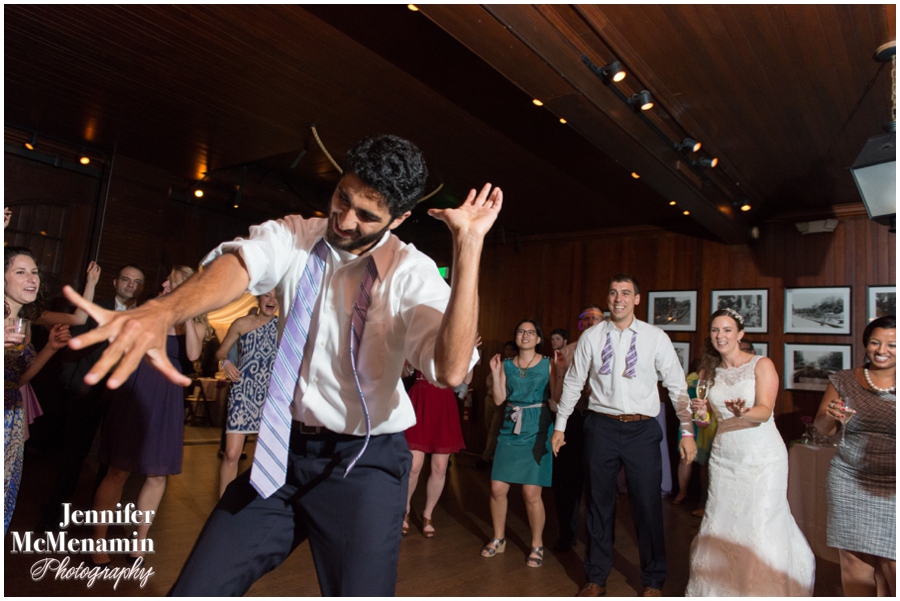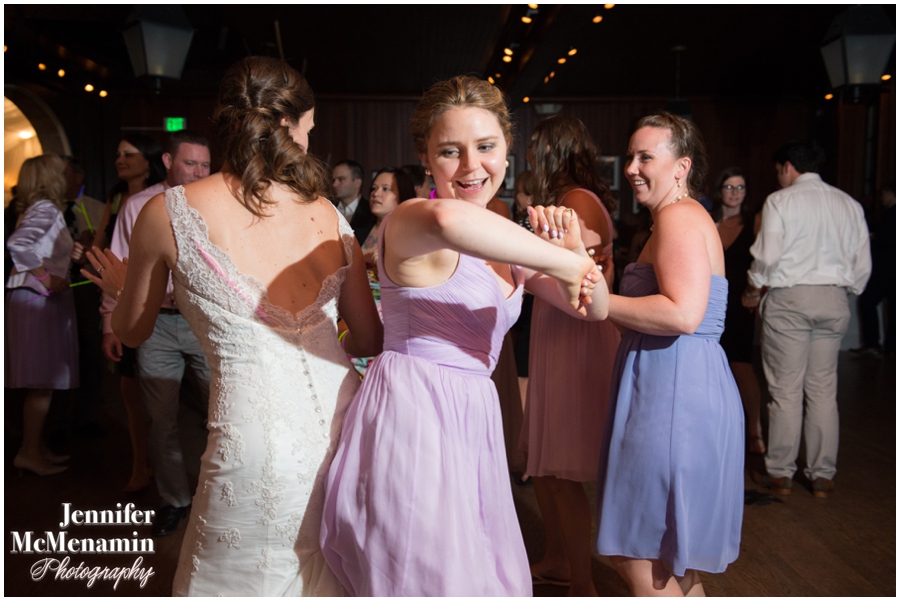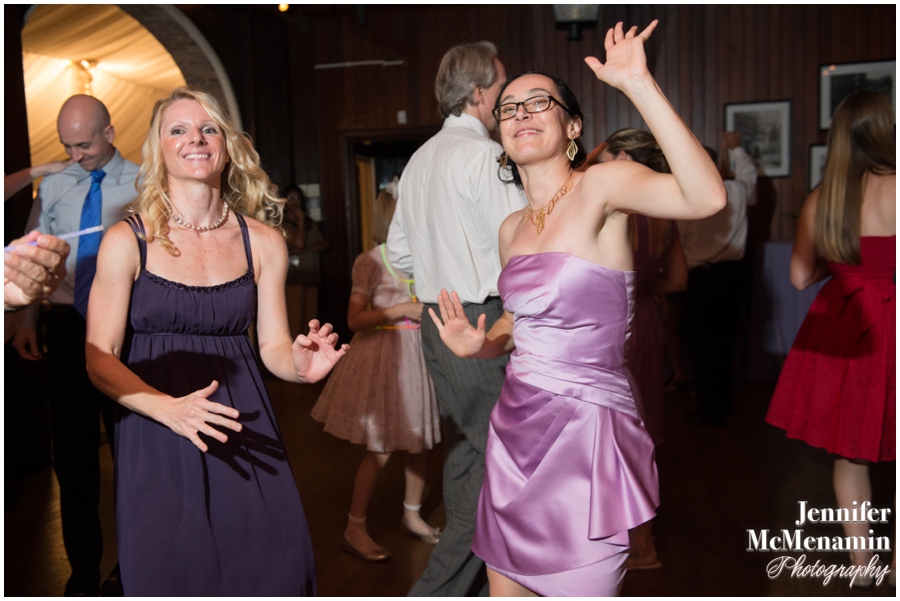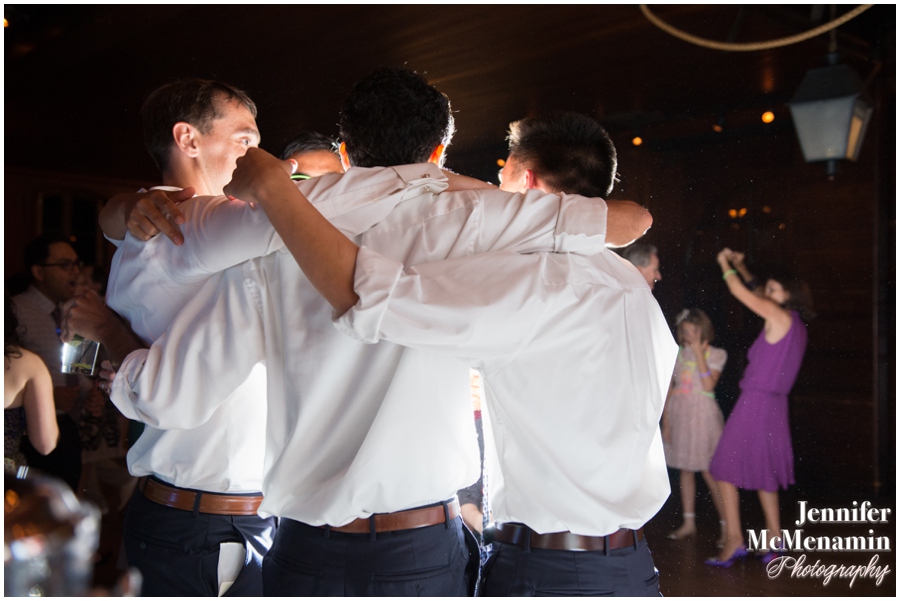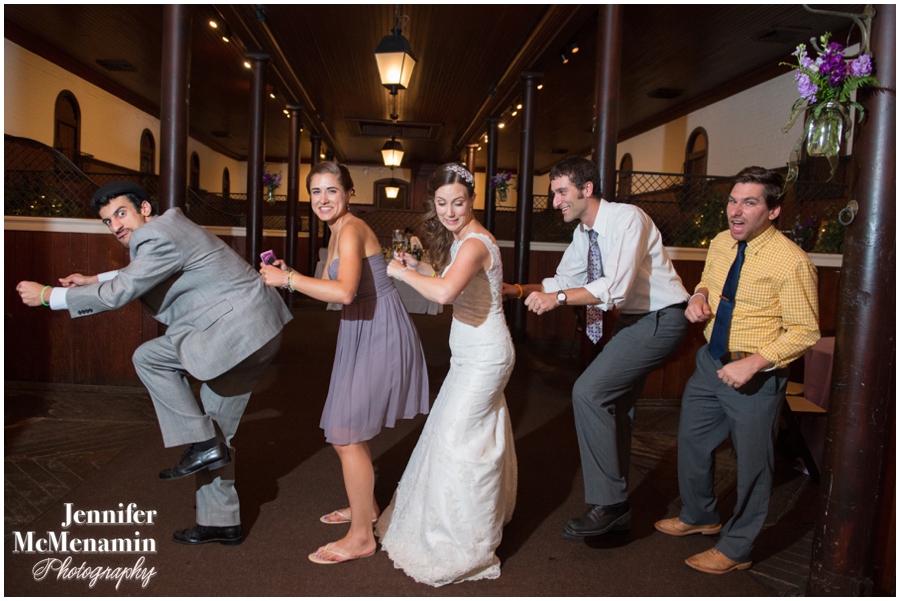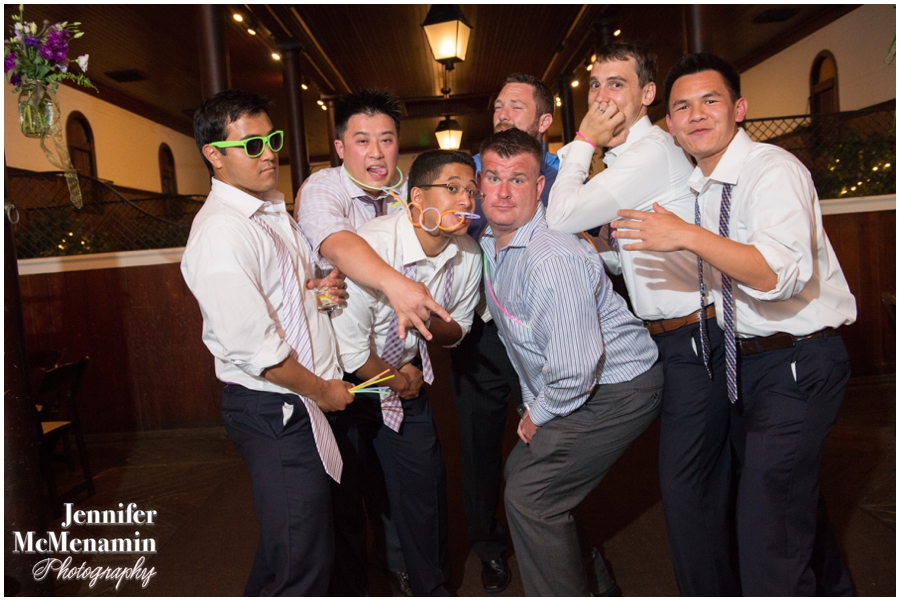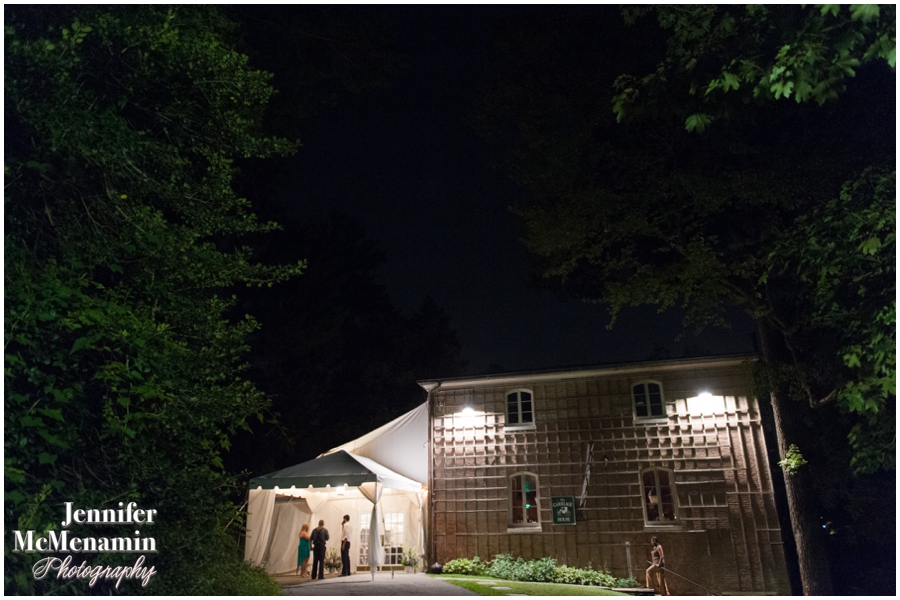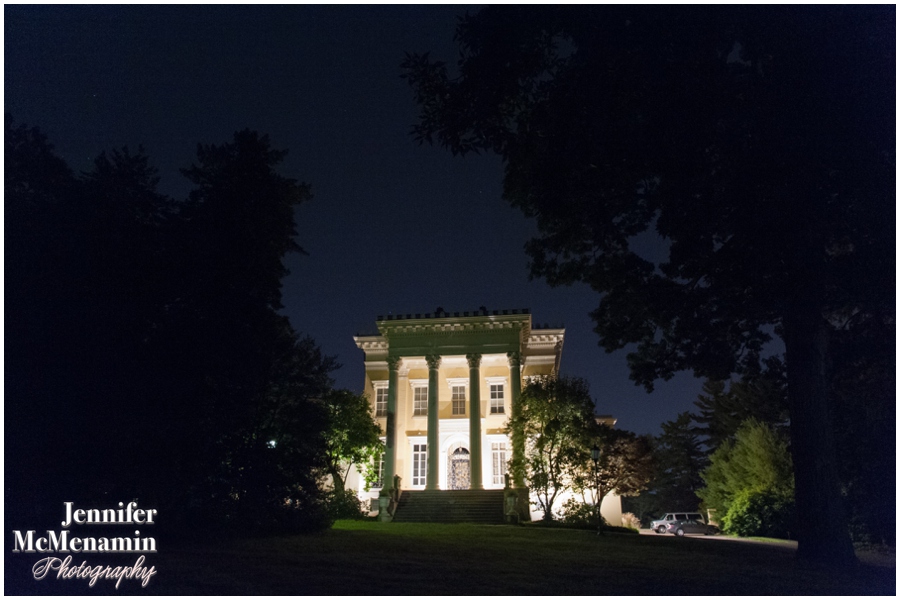 Congratulations, Katie & Ondrej. I could not have had any more fun working with you both and your families for your wedding!
Credits:
Photography: Jennifer McMenamin Photography, LLC

Ceremony: Loyola Alumni Memorial Chapel
Officiant: The Rev. David Mott
Ceremony musicians: George P. Miller (cantor/piano) and Adric Macsisak (organ)

Reception: The Carriage House at the Evergreen Museum & Library

Catering: Rouge Fine Catering

Bridal attire: Stella York from Bo Lee Bridal Couture
Hair + Make-up: Up Do's for I Do's
Bridesmaids' attire: J. Crew, Donna Morgan, Calvin Klein, Thread, Light in the Box & David's Bridal

Groom's attire: Jos. A. Bank

Florist: Wicked Willow
Cake: SugarBakers

DJ: Neal Becton of Som Records
Transportation: American Limousine 
Invitations and paper goods: Wedding Paper Divas