Karen + Michael

Saint Francis of Assisi Church & The Historic Belvedere -- Baltimore wedding photographer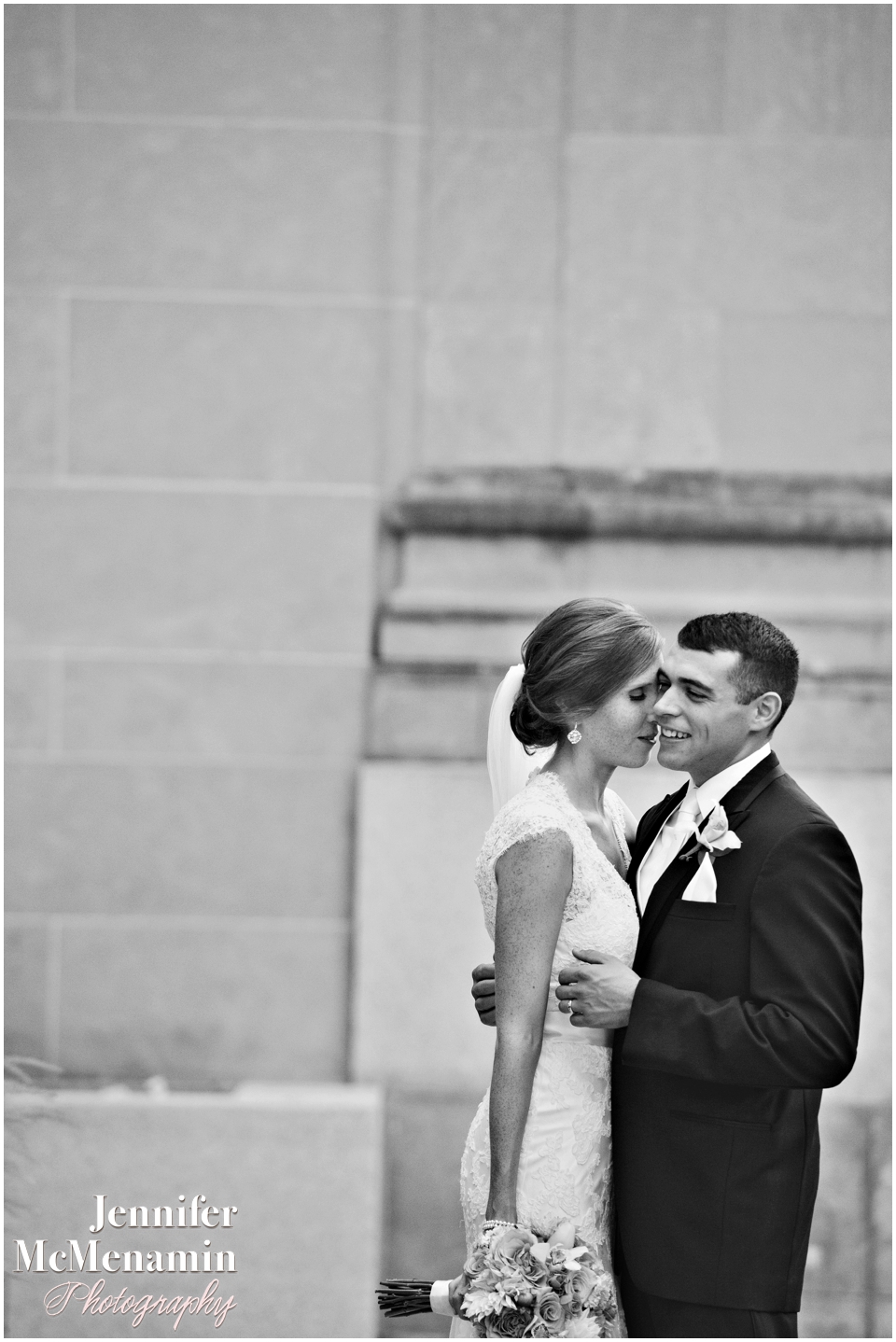 Karen + Michael had a wedding that seemed just magical from start to finish. Maybe it was that I liked this family so much through our planning, despite not meeting any of them until Karen and Michael's wedding day. Maybe it was the significance of them exchanging vows and rings in the church in which Karen was baptized, made her first communion and was confirmed, where she attended school and where all of her aunts and her parents were married. Maybe it was that so many of us recognized the huge sacrifices that this couple — both lieutenants in the U.S. Army — has made throughout their careers. Maybe it was the serenade from the bride's grandfather or the American flag dangling at the back of the church or the fact that it didn't rain one single drop when we were outside for photos, despite dark storm clouds and lightning and gusty wind that whipped up waves on the surface of Lake Montebello. Maybe it was that I remain in awe that they planned a wedding from oh so far away. (Karen, an Army nurse often assigned night shifts, first e-mailed me in July of 2013 when she was stationed in Germany and Michael, an armor officer, was deployed in Afghanistan. When they decided a few days later to book me and I e-mailed her a contract for them both to sign, she responded, "Mike is in a pretty remote base, so there are zero scanners that he could use. He does have his small laptop and a smart phone that occasionally hooks up to decent wifi. He said he will try his best to sign it  and there is an app that he will try to use. Also, I could have his mother sign due to the fact that she has power of attorney. Or we could send the paper contract snail mail…which could take up to two months to get just from him to me. And I do not want to go that long without our date being definitely written into your books." We instead had Michael add his signature to hers when I finally met him!) And maybe it was the overflowing emotion and happy tears and amazing toasts that marked the occasion. All I know is that it was nothing but joy to photograph these two. My friend and assistant, Sam, worked with me again for this wedding and his photos are mixed in below with mine. Here are a few of my favorites from Karen + Michael's magical day: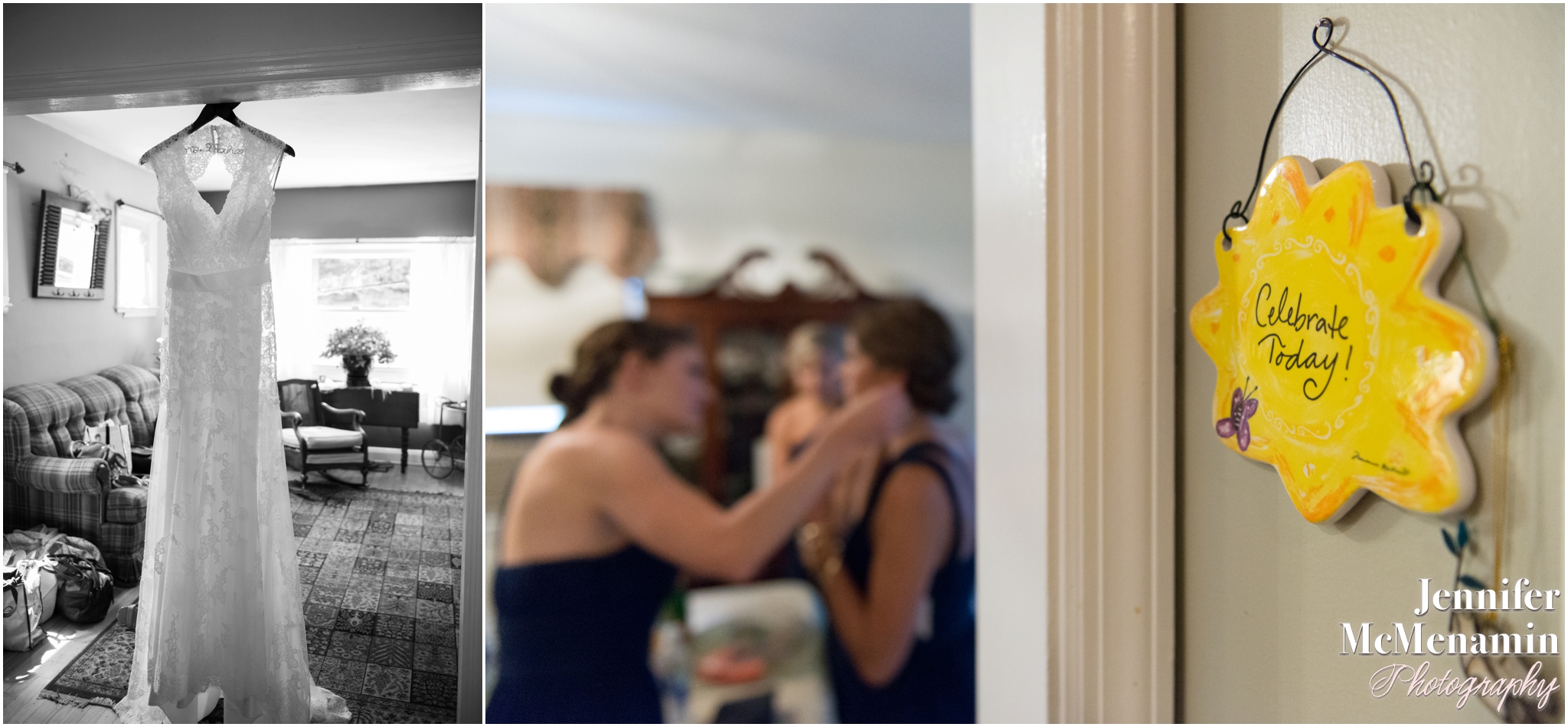 I started with Karen, her bridesmaids and her parents in the home in which she grew up.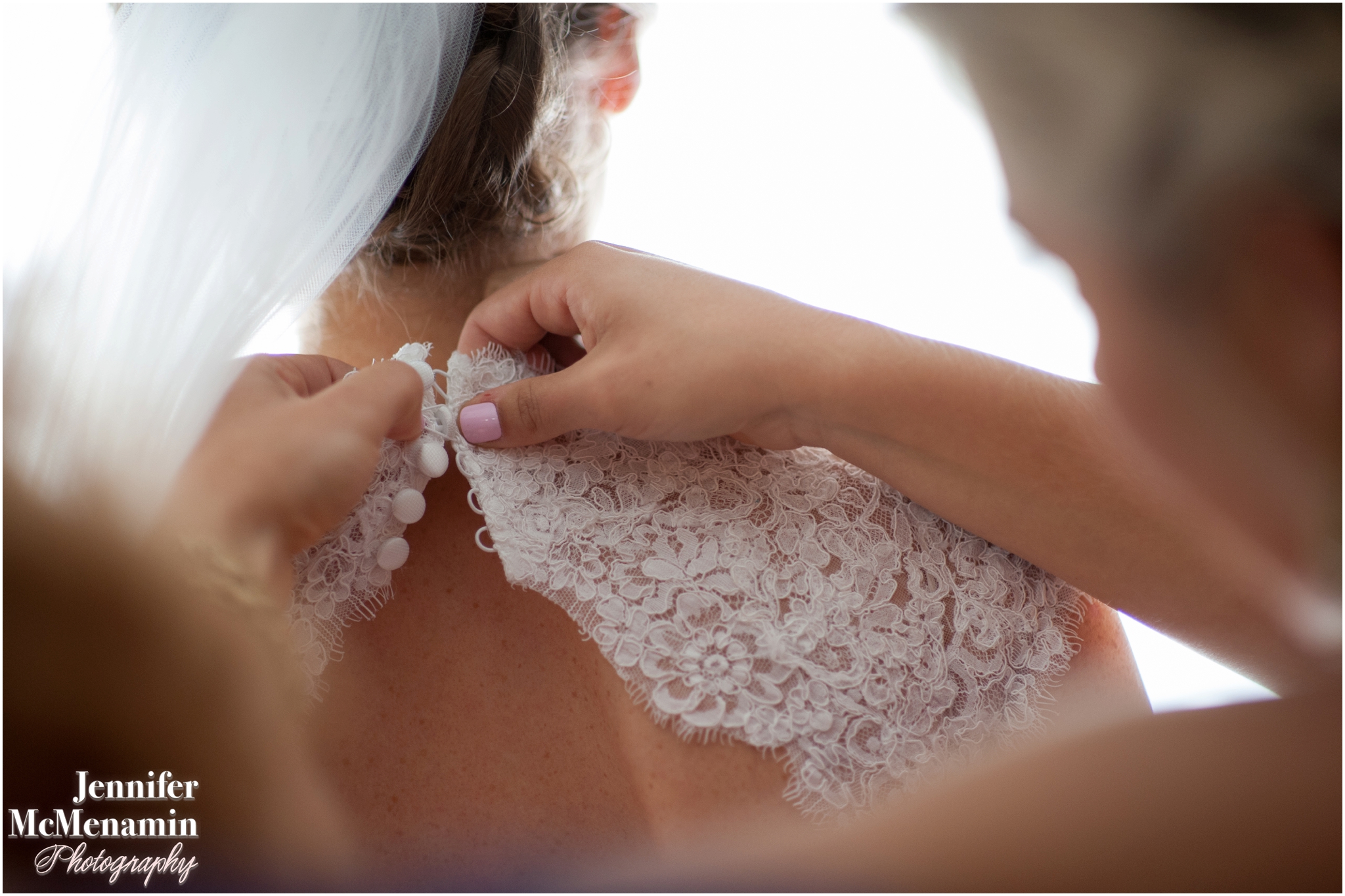 Her mother, Teresa, did not stop smiling the whole day. (Hi Teresa! After all the wedding posts of mine that you've read over the last 15 months, I'm so thrilled to finally have photos of your beautiful daughter on my blog for you to enjoy!)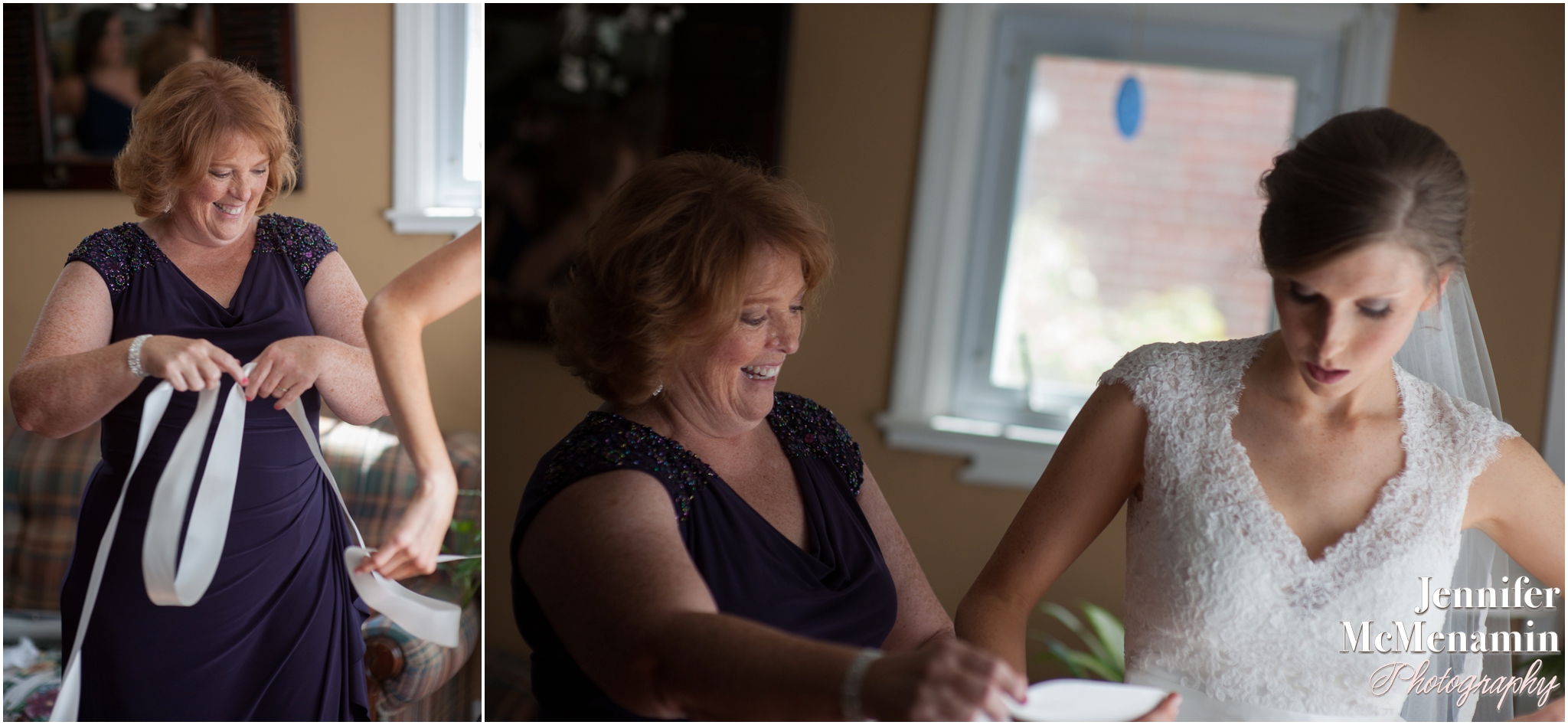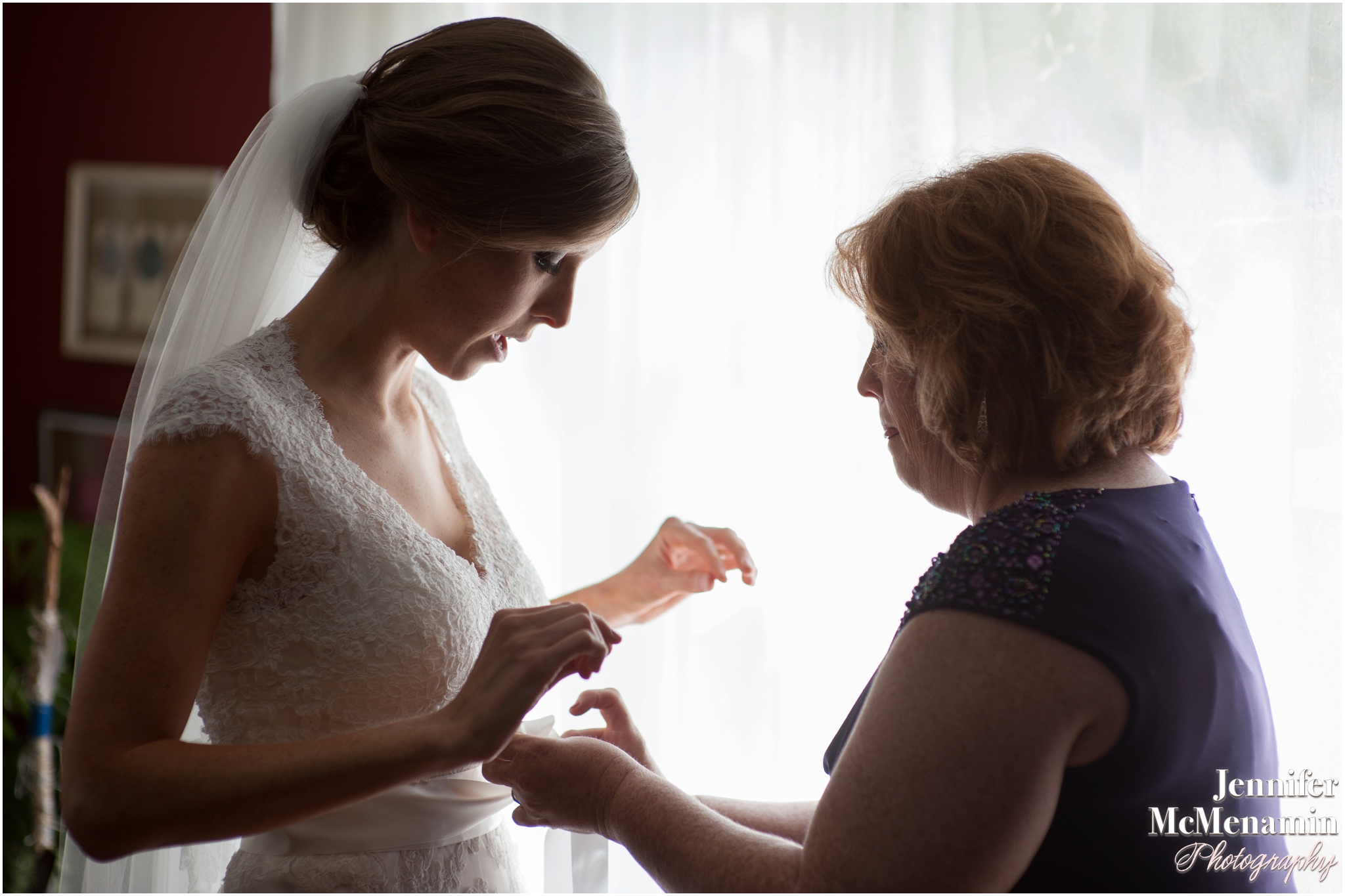 I love this next photo on the right that Sam shot of Karen's bridesmaids watching her get ready.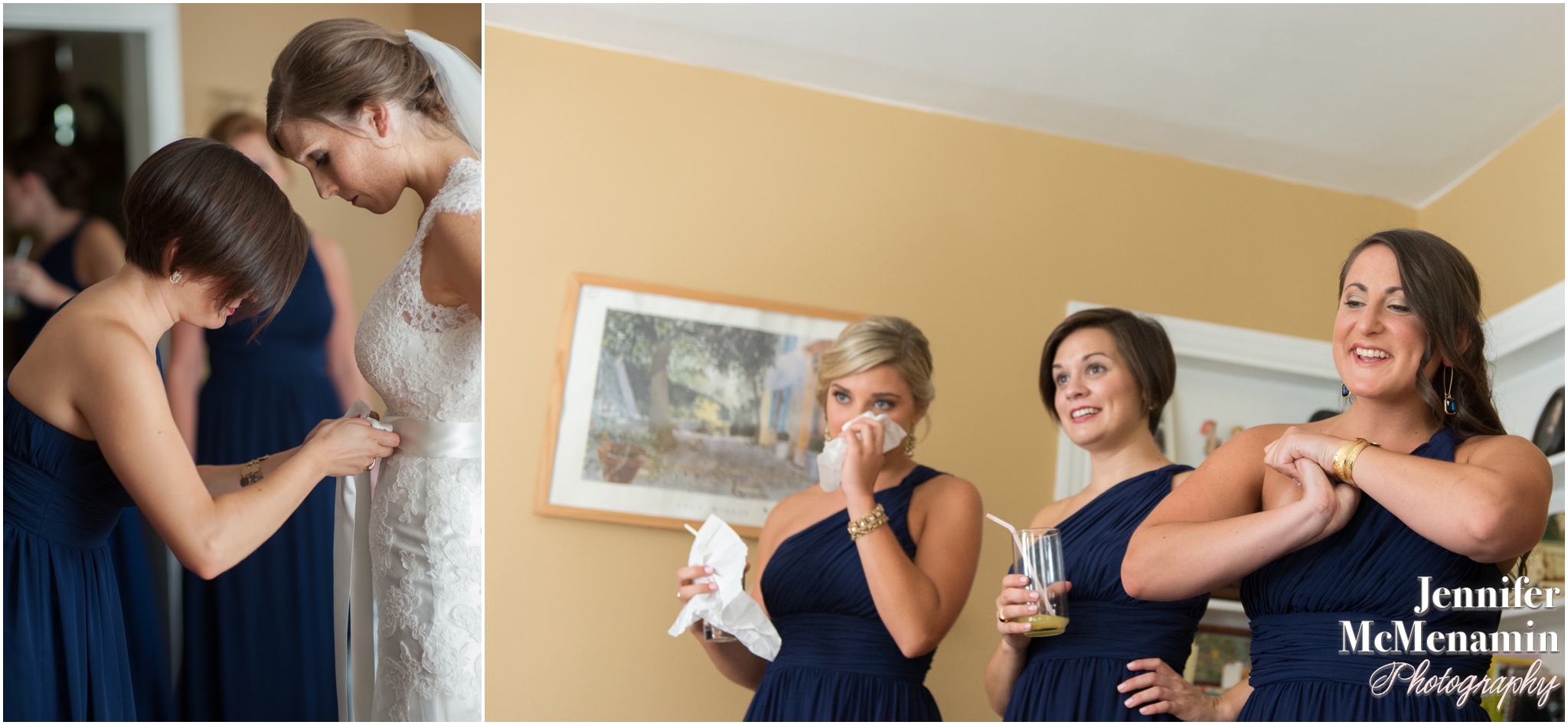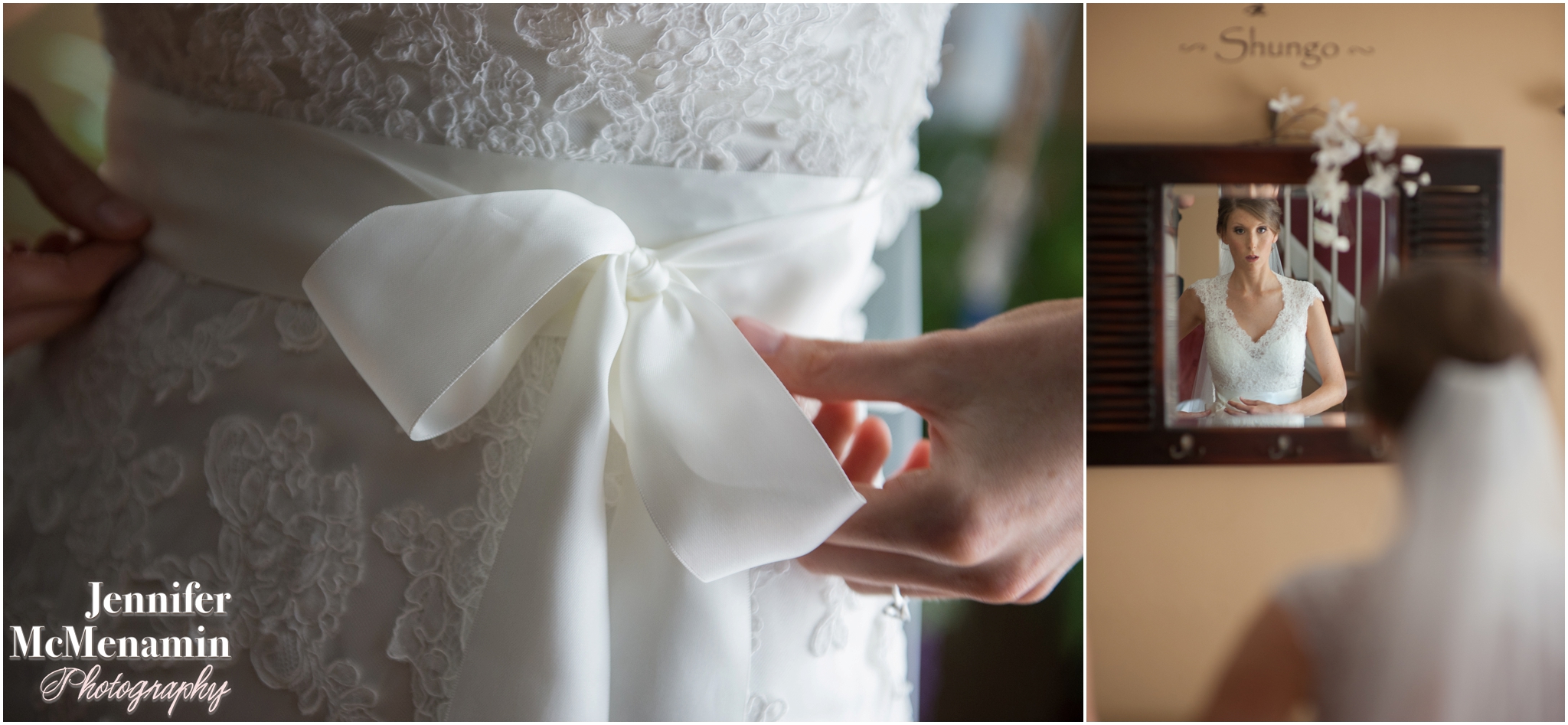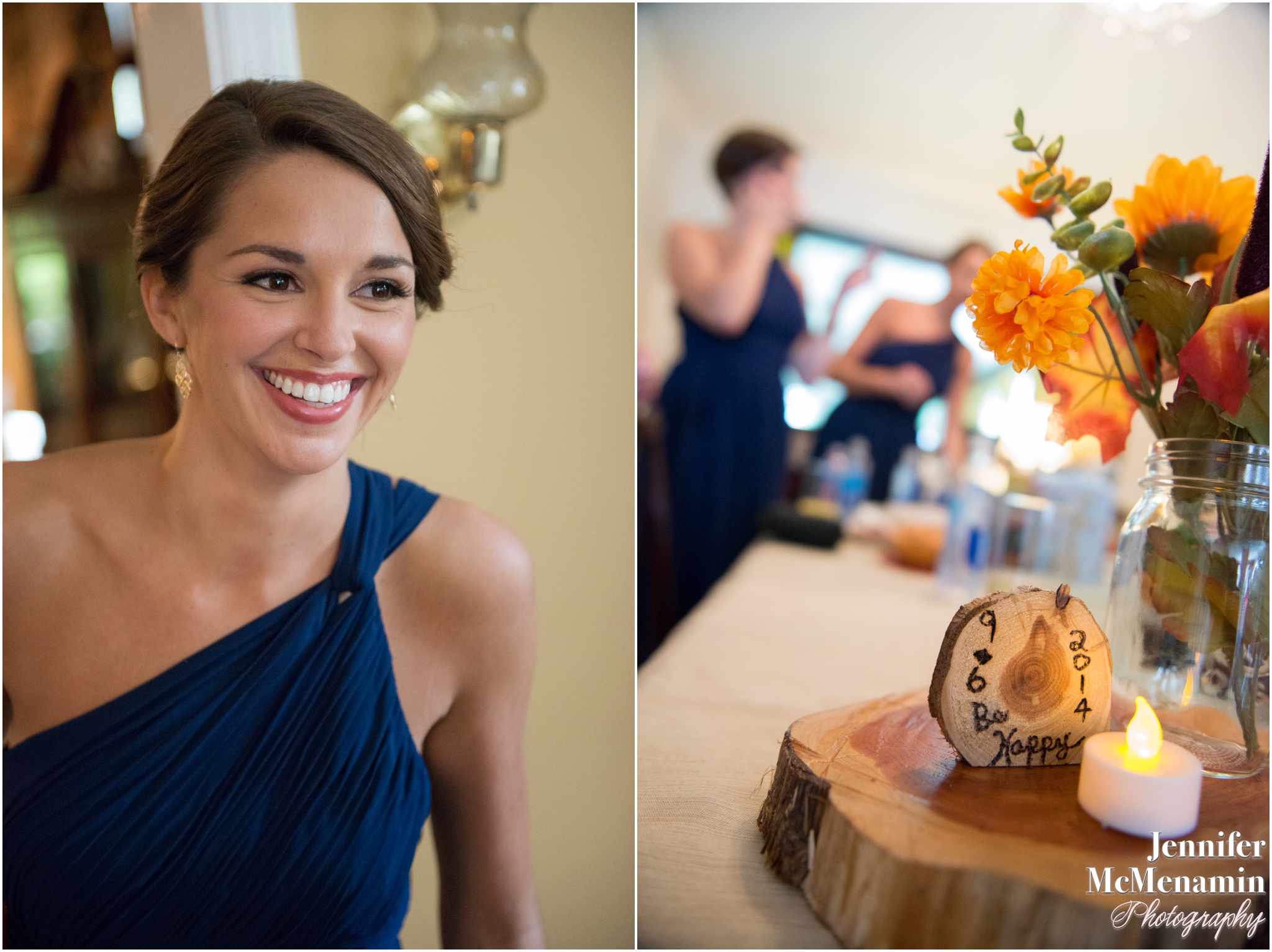 Reading a letter from her soon-to-be-husband.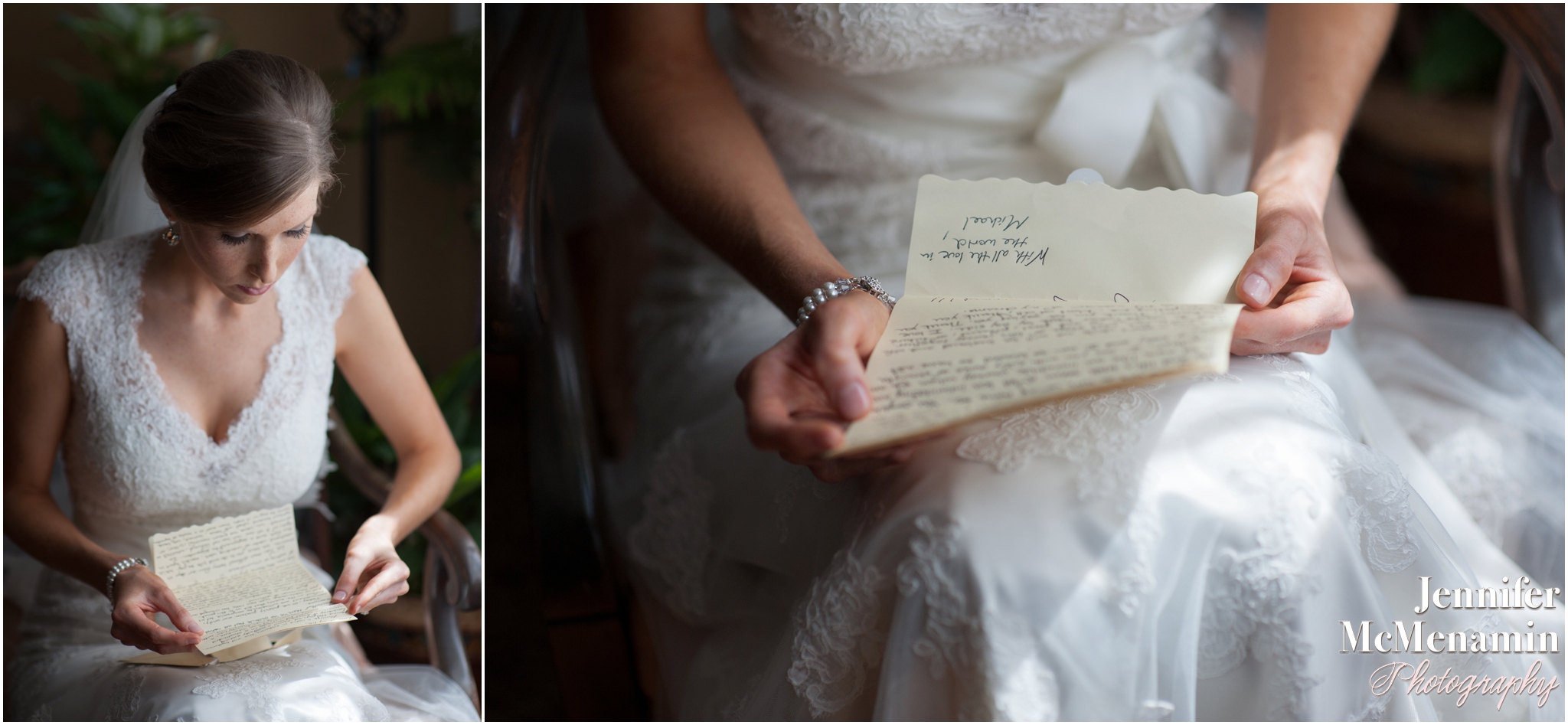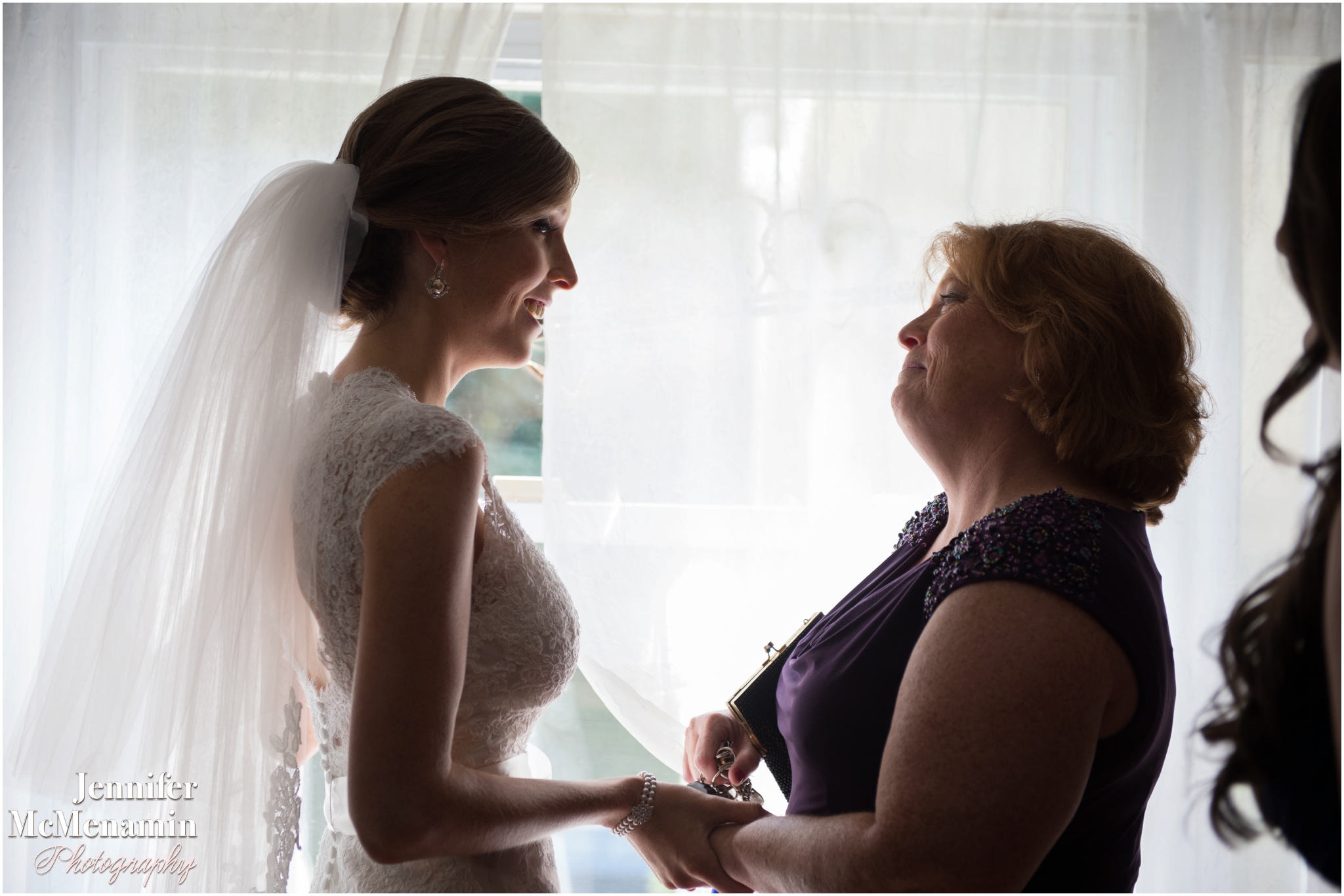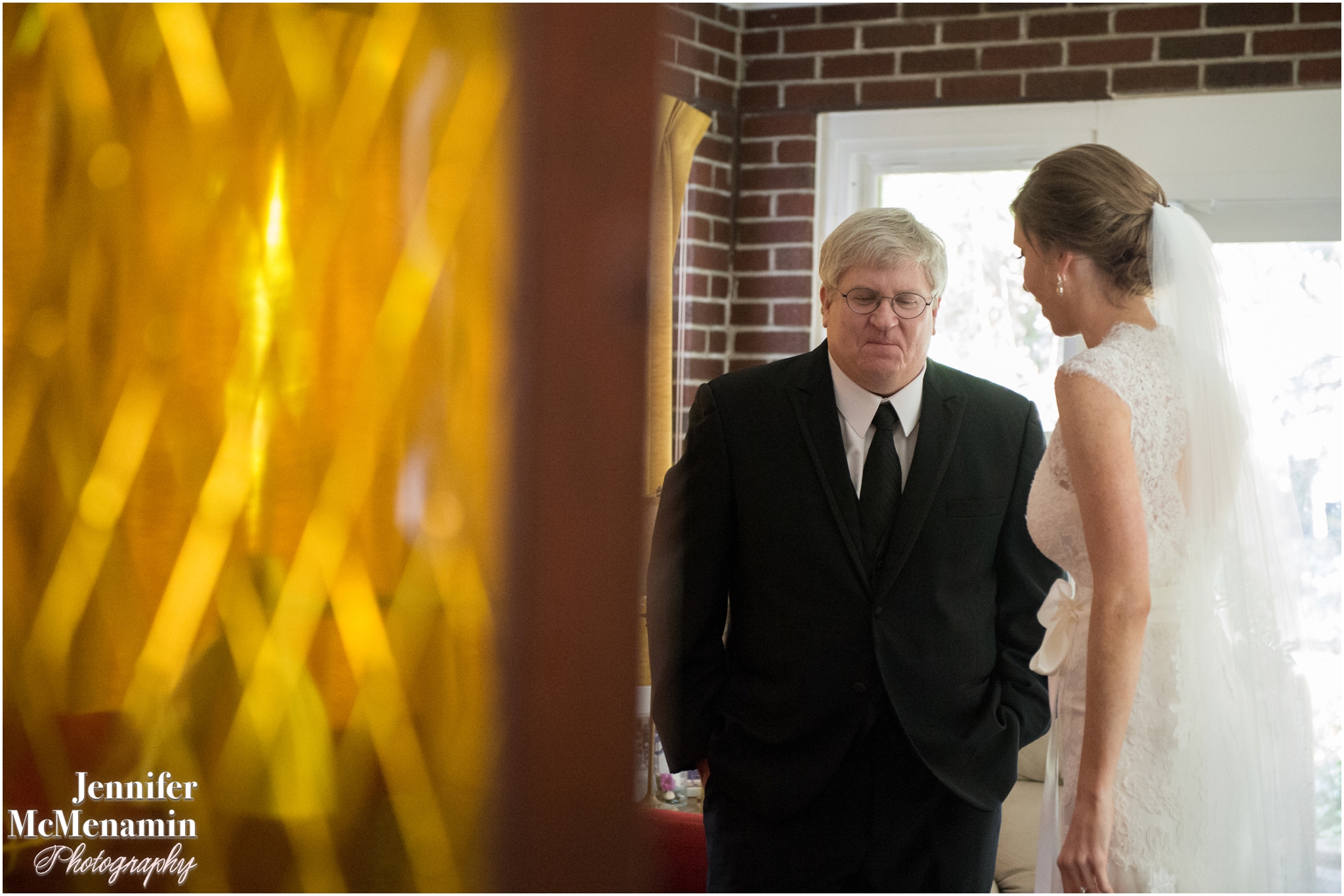 The bride, looking absolutely gorgeous. I am crazy about her freckles.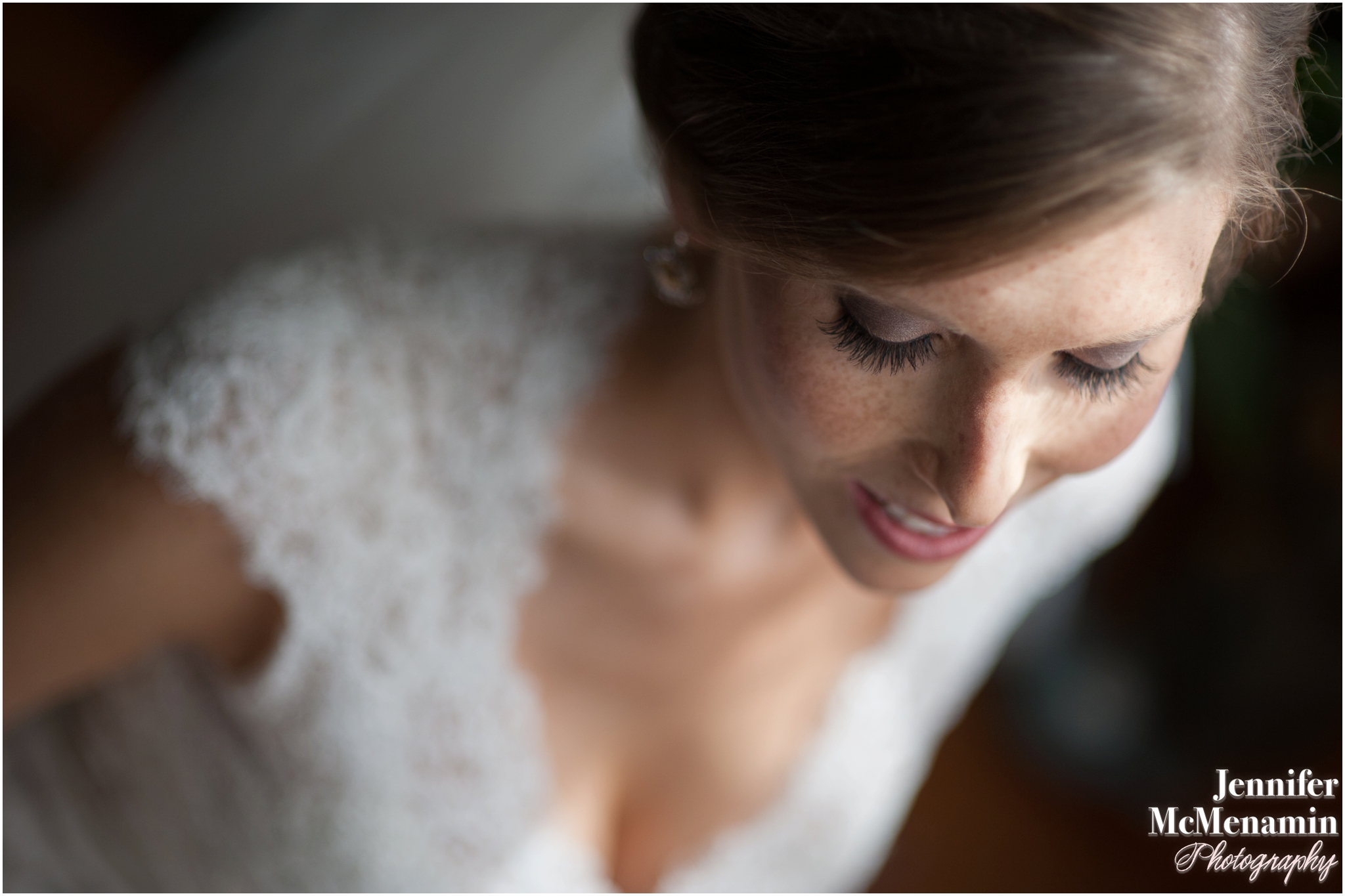 An old-timey car lent and chauffeured by a family friend.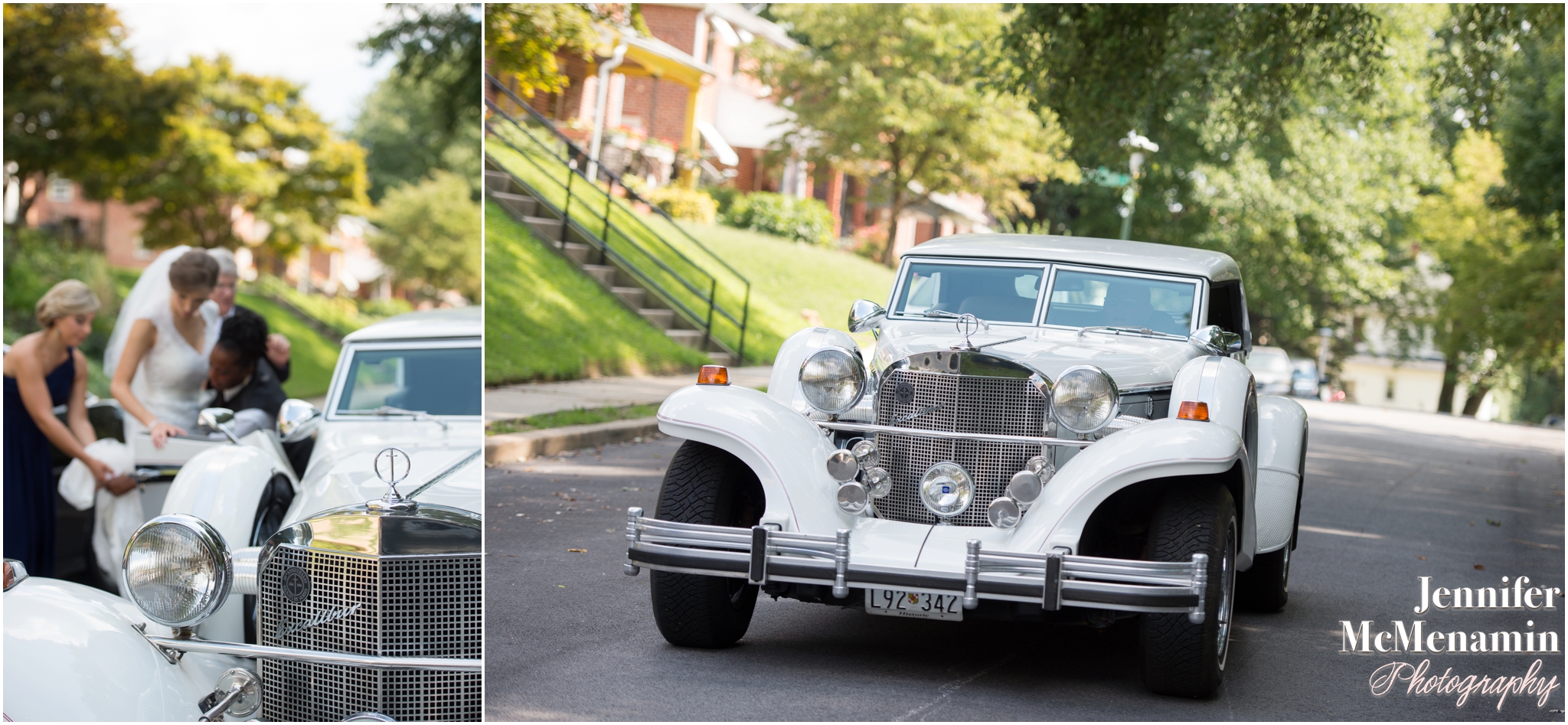 And we were off to Saint Francis of Assisi.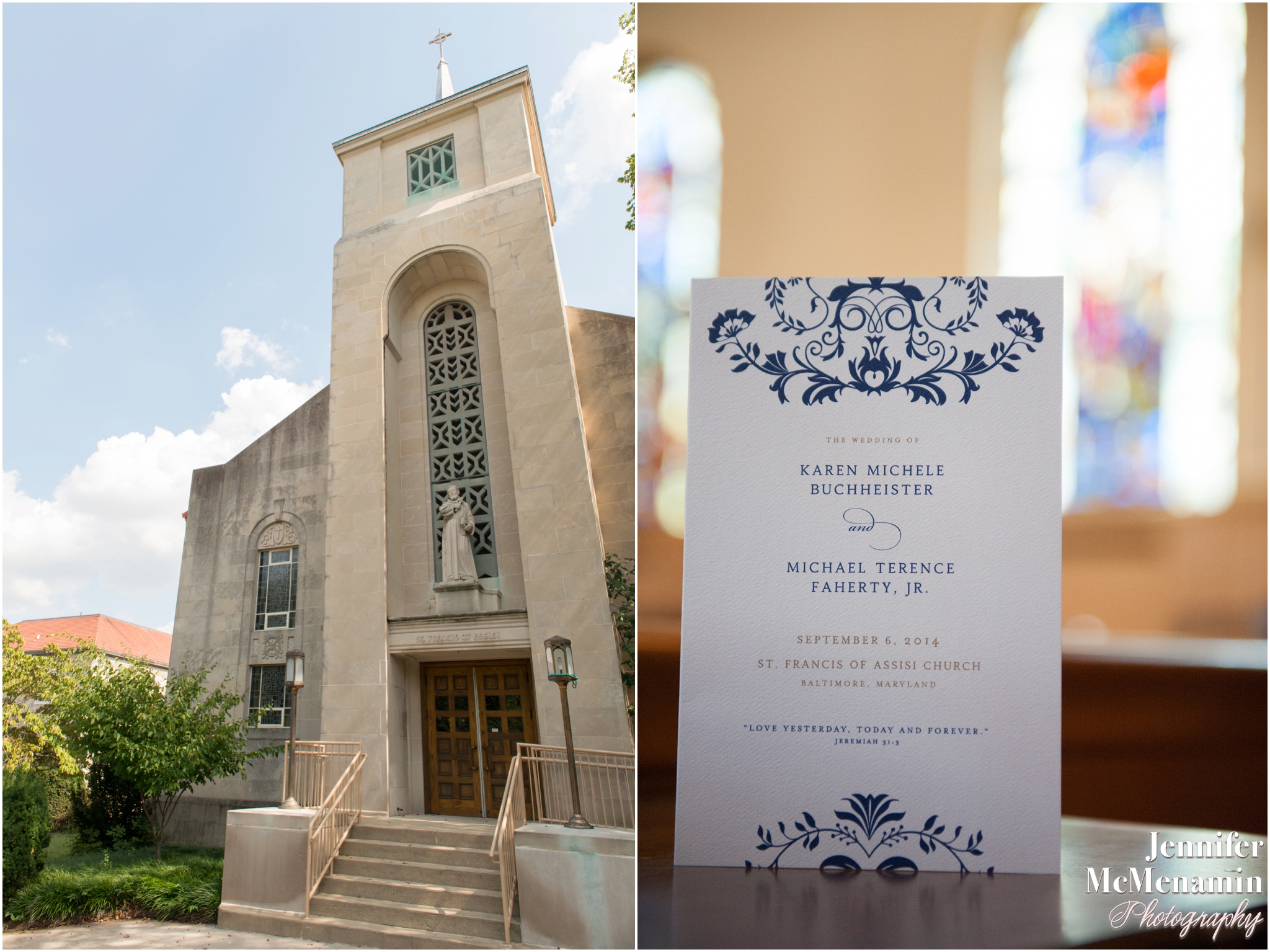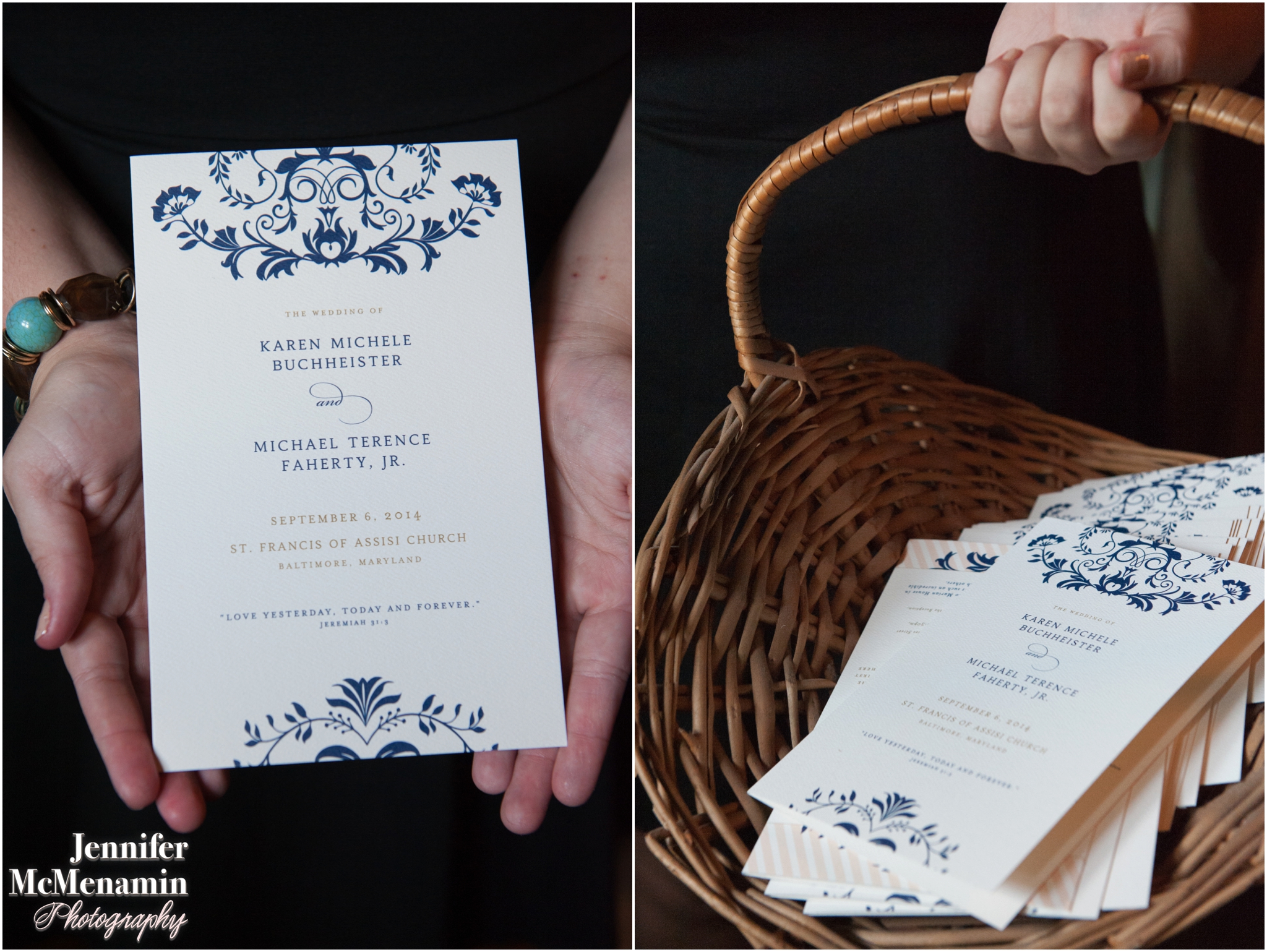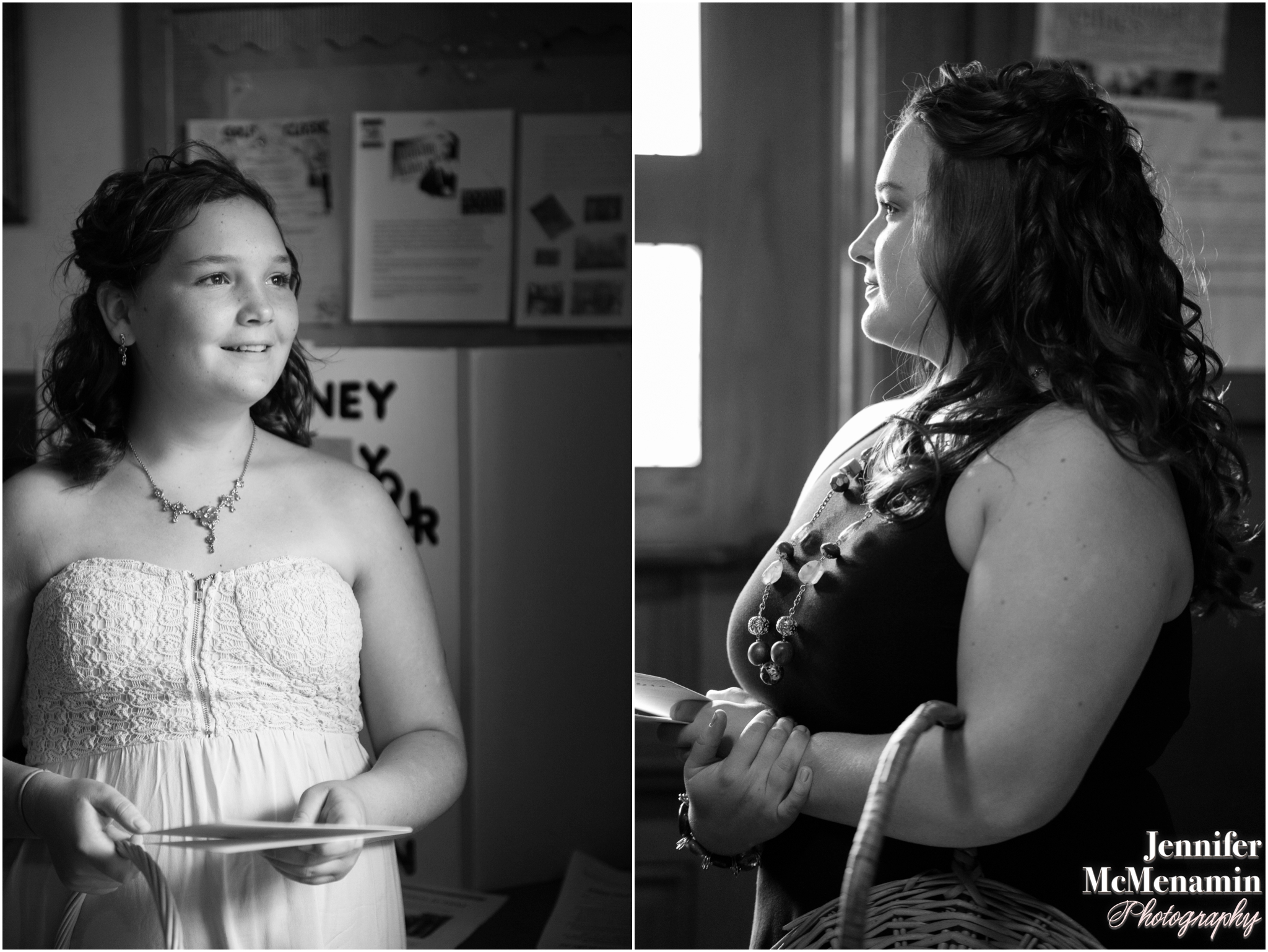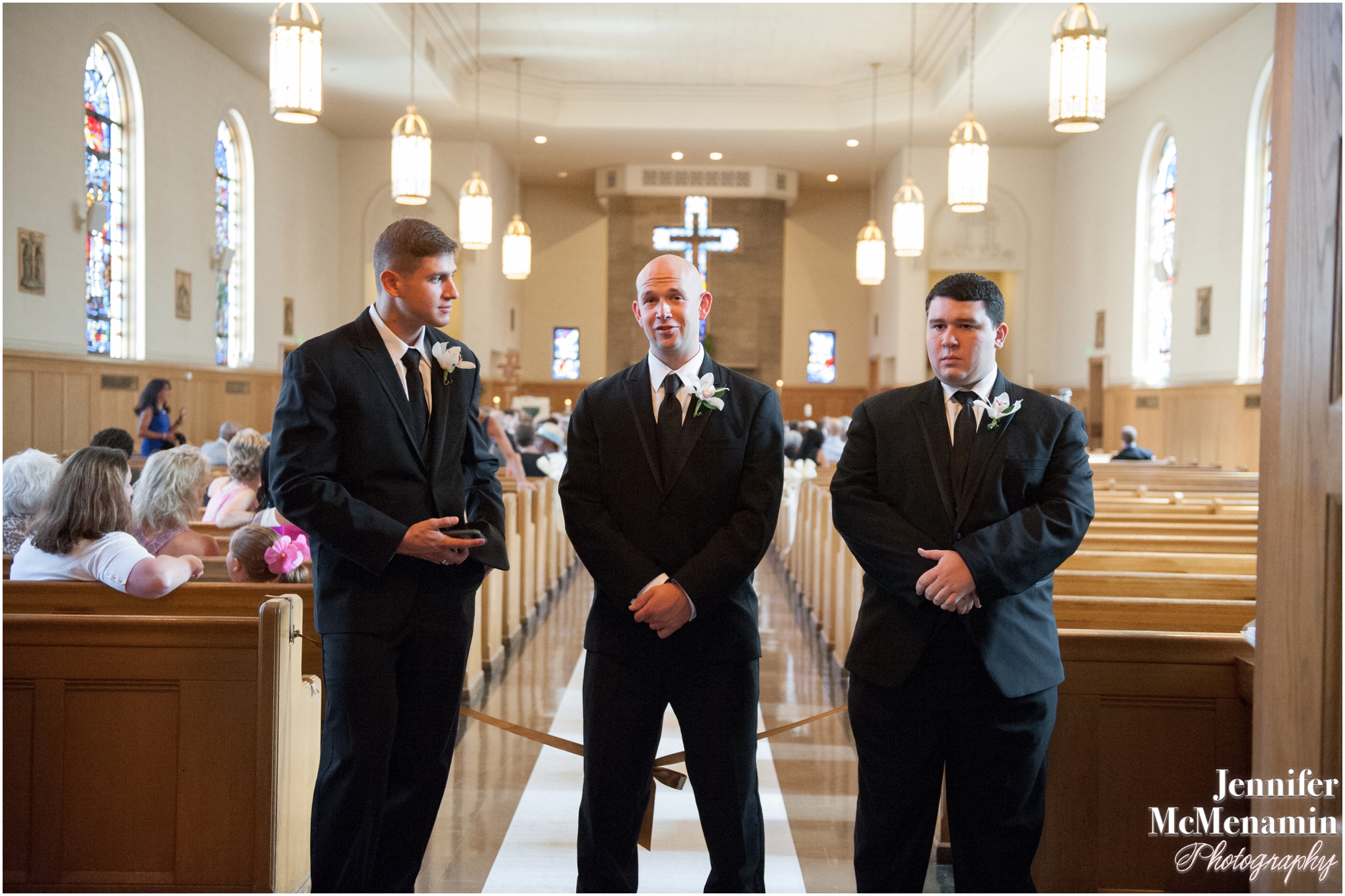 Sam shot these next two photos of Karen waiting in the church stairwell for the processional to start.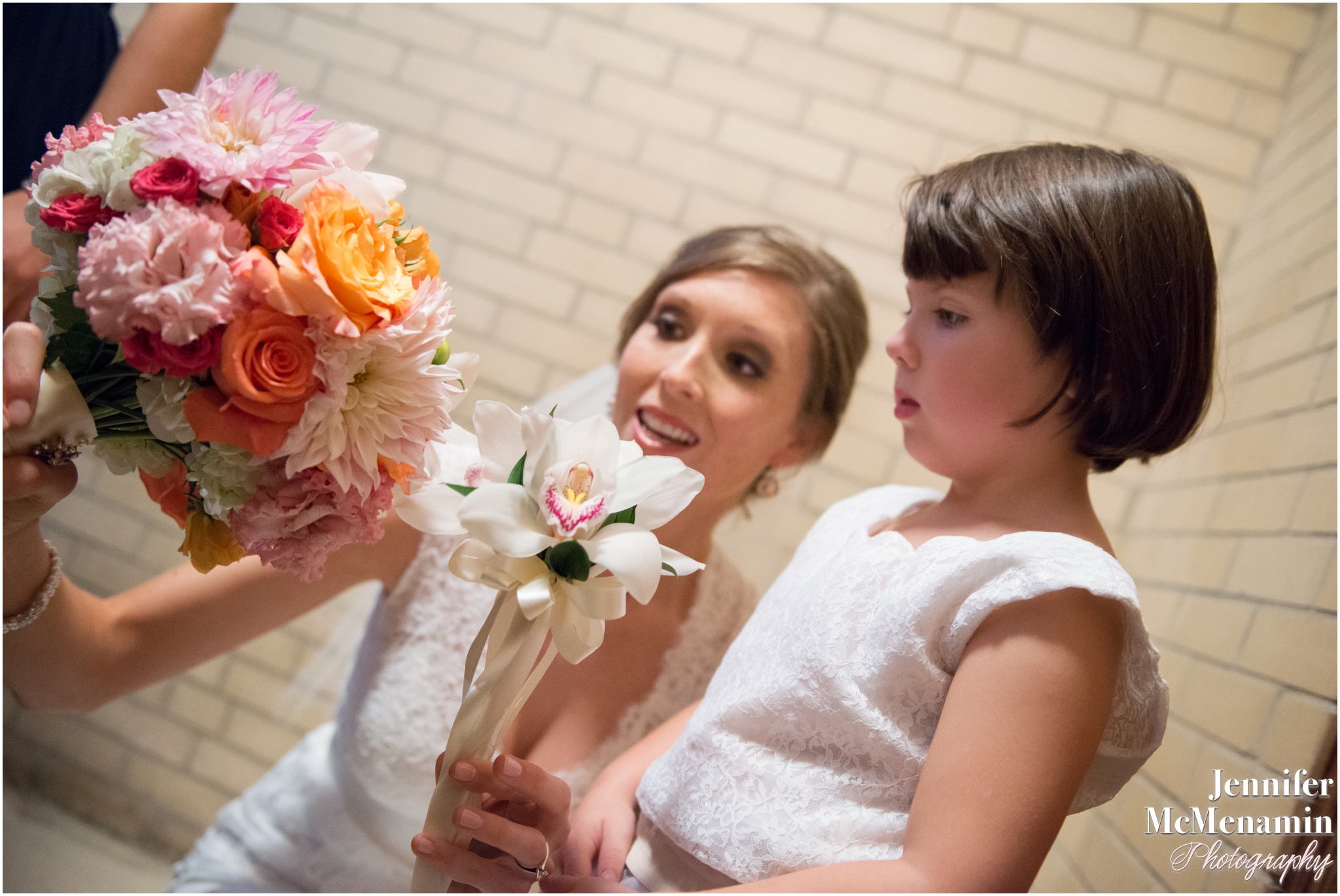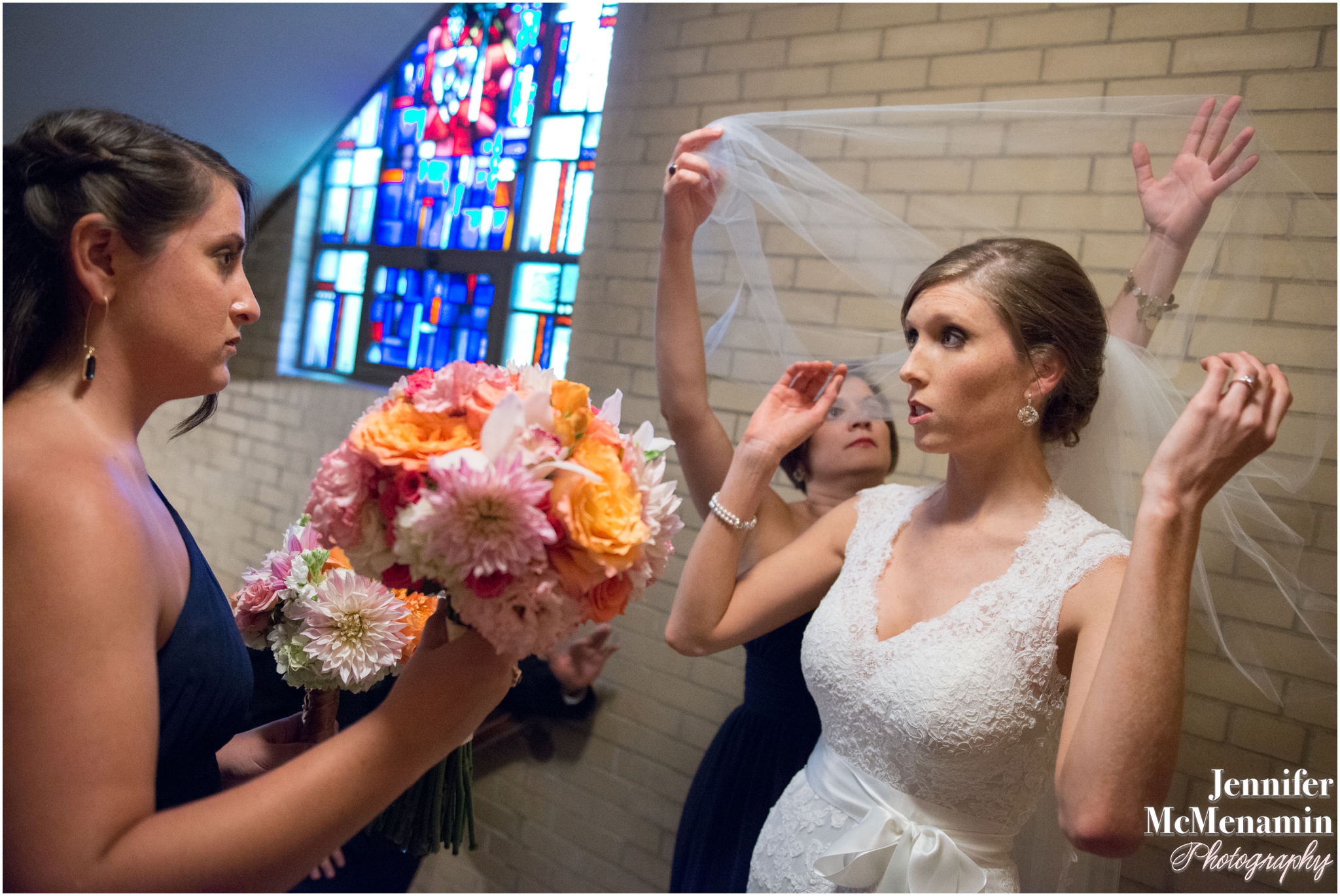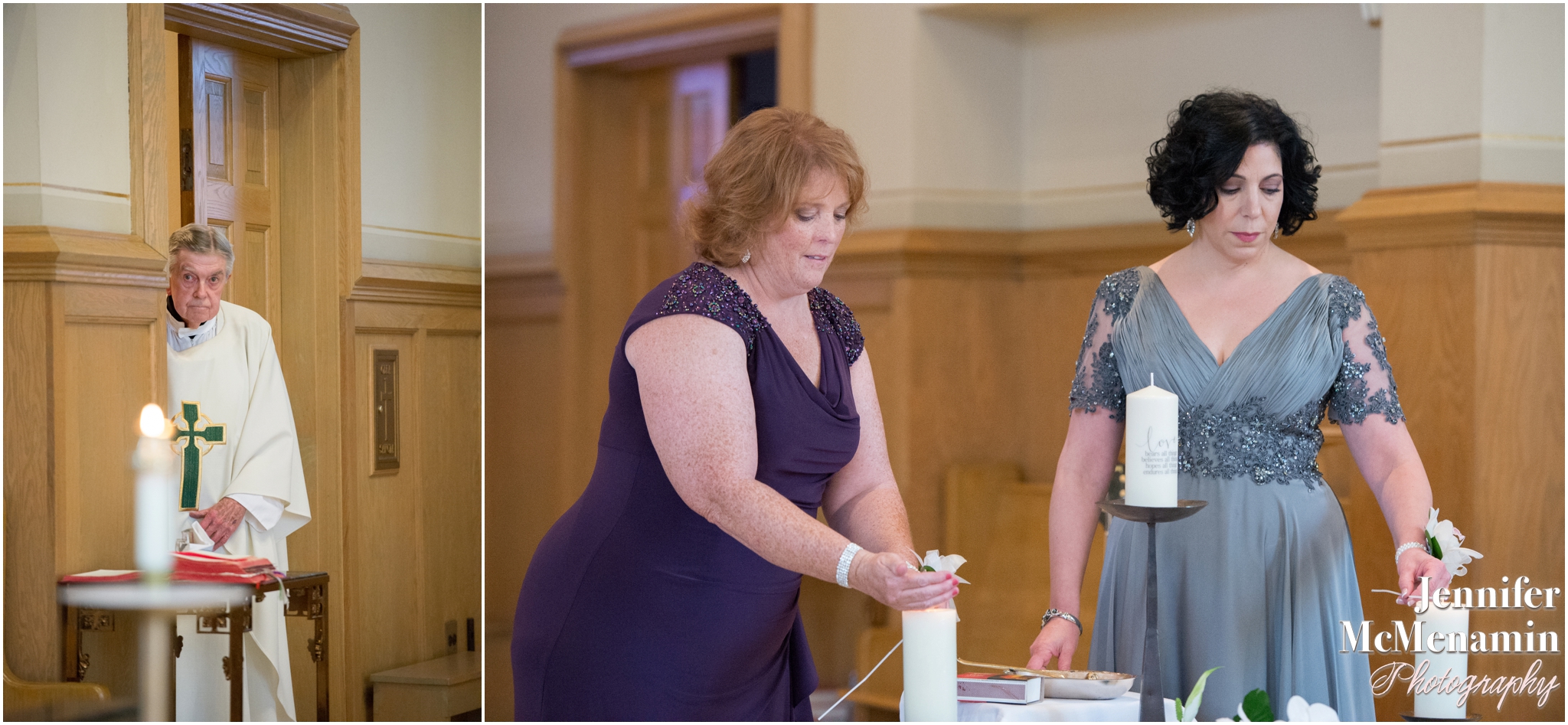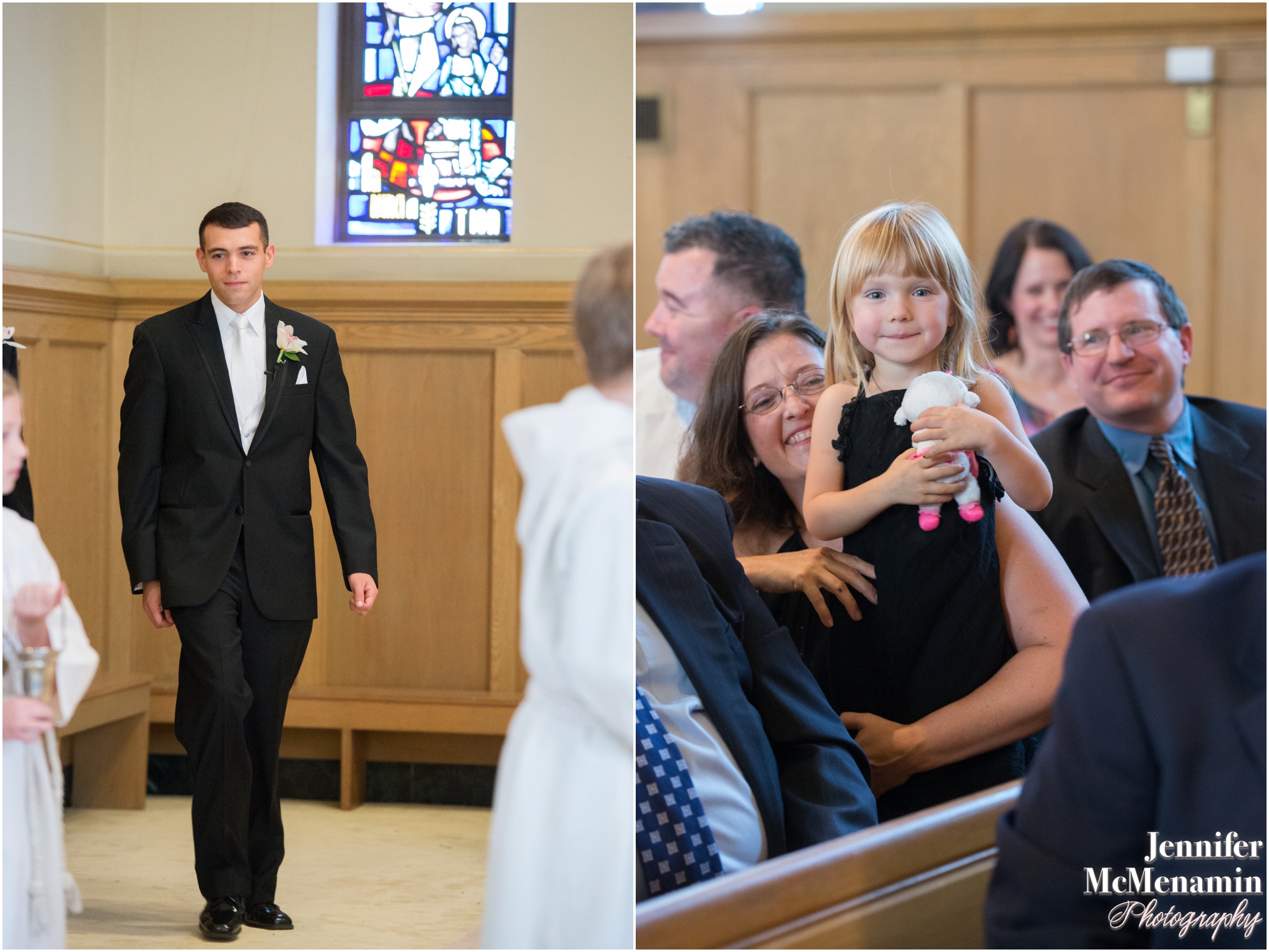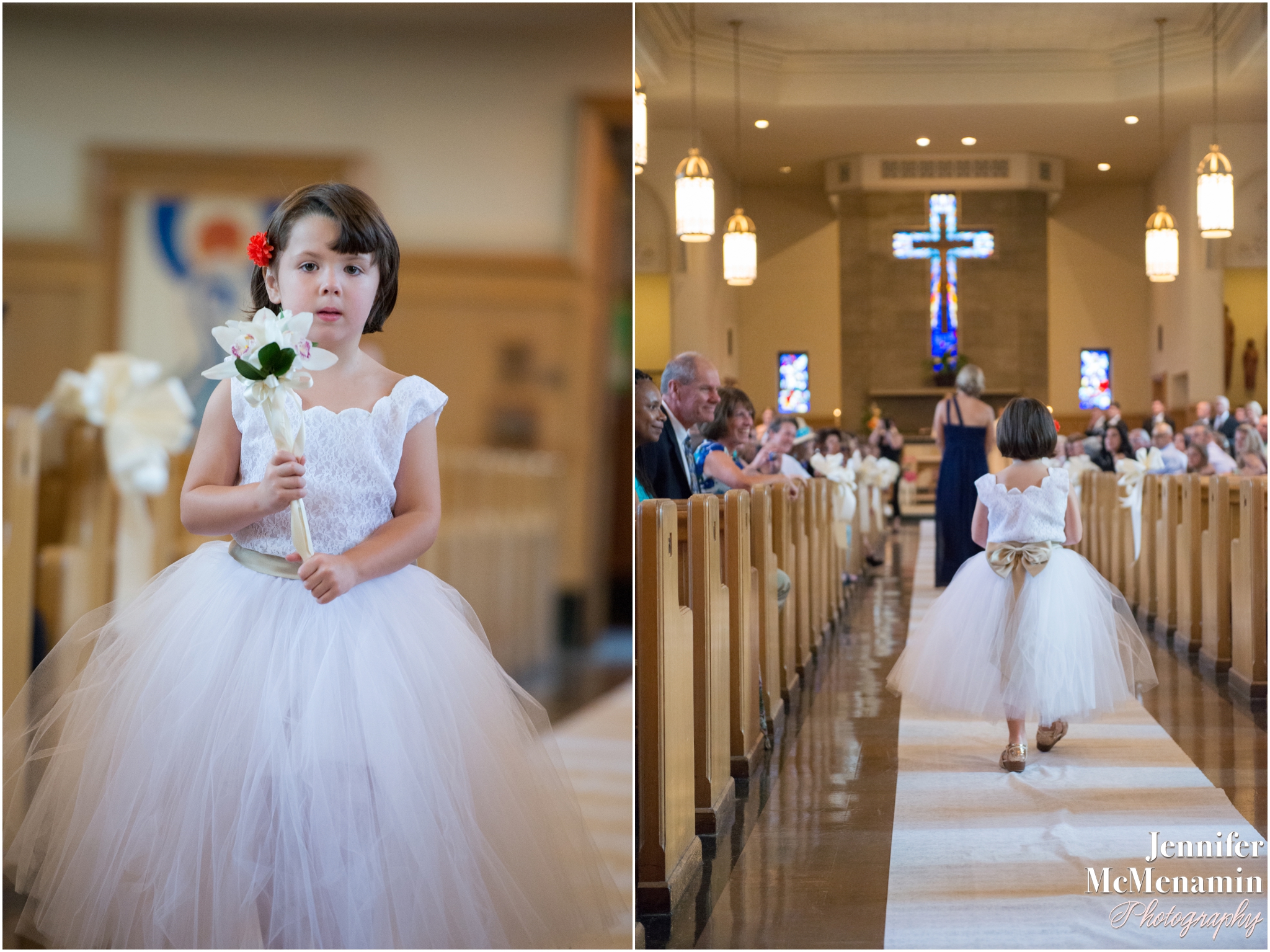 Michael had one of the most wonderful, emotional reactions to seeing Karen walking down the aisle toward him that I have ever had the privilege of photographing. I happen to catch a glimpse of his parents as I turned back toward Karen and her father walking down the aisle, and I saw that they, too, were quite overcome with emotion. Is it any wonder that I enjoyed these families so much?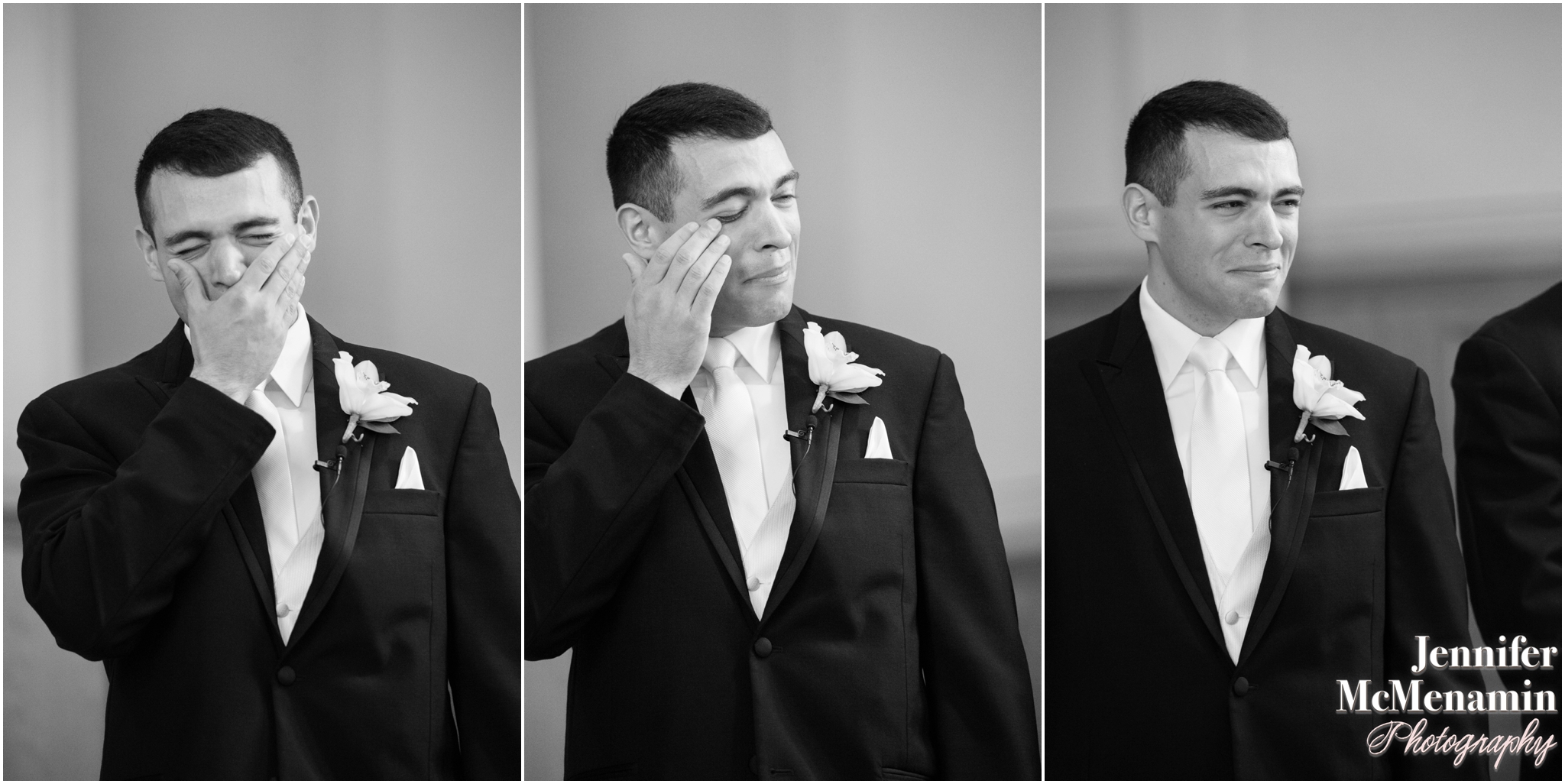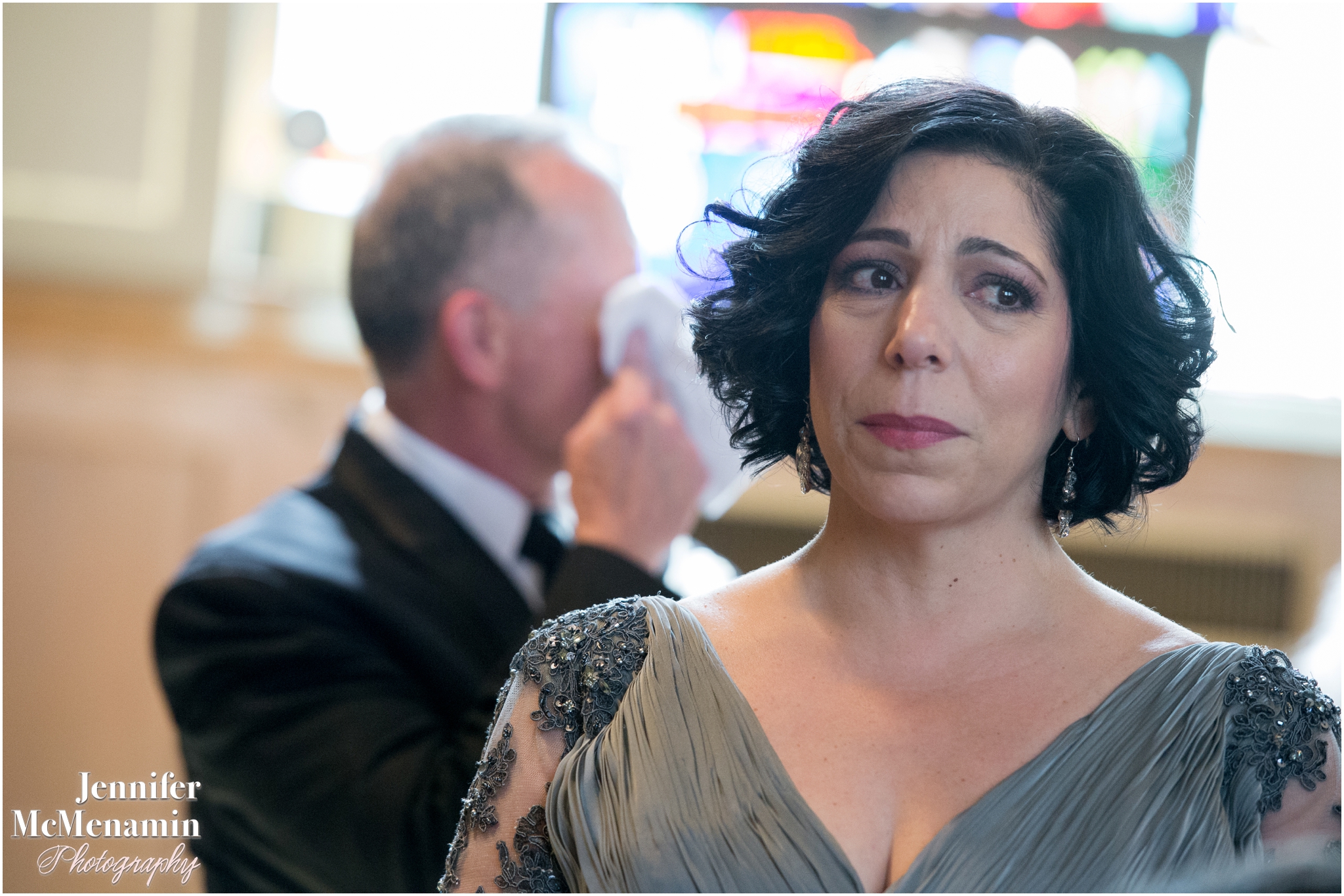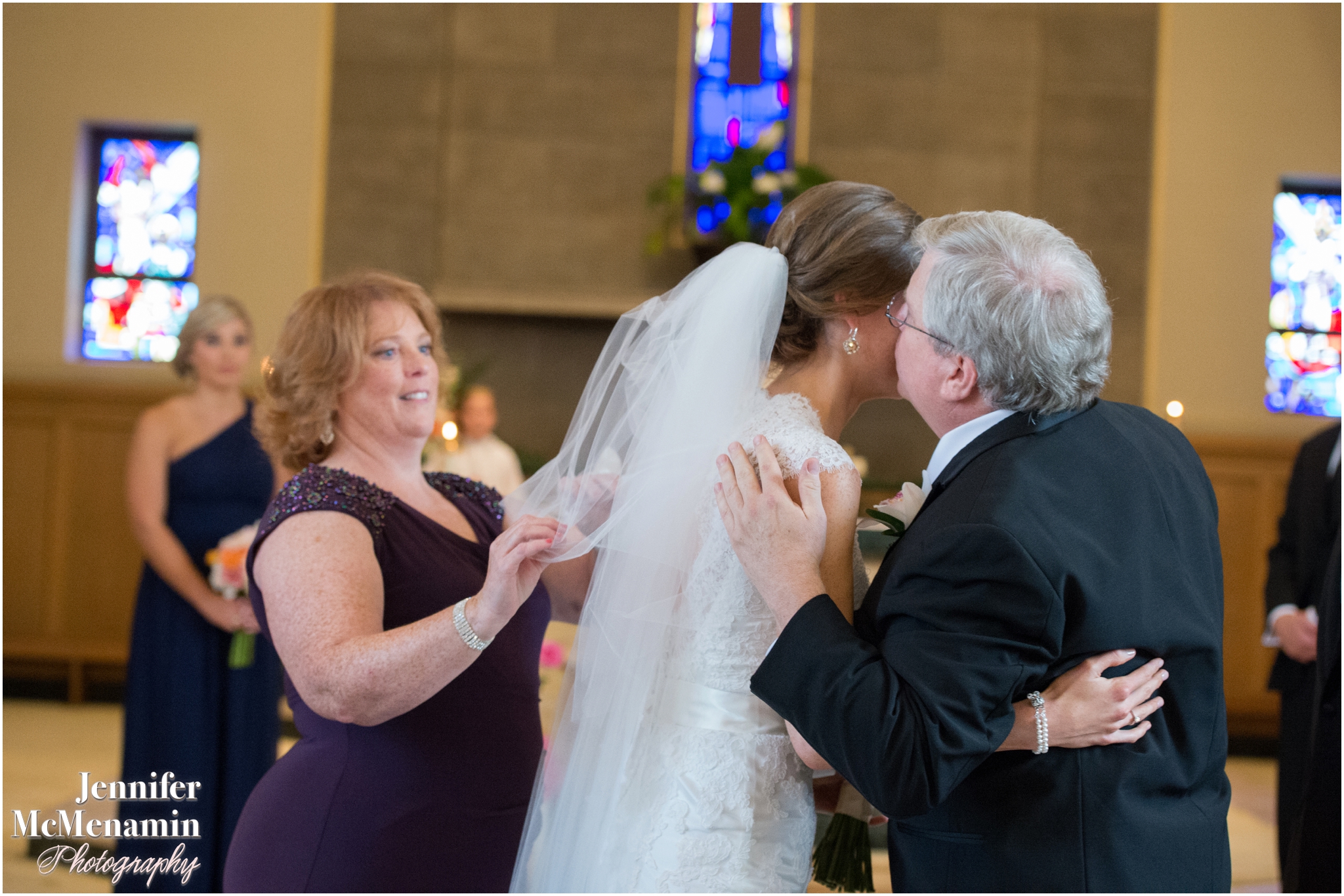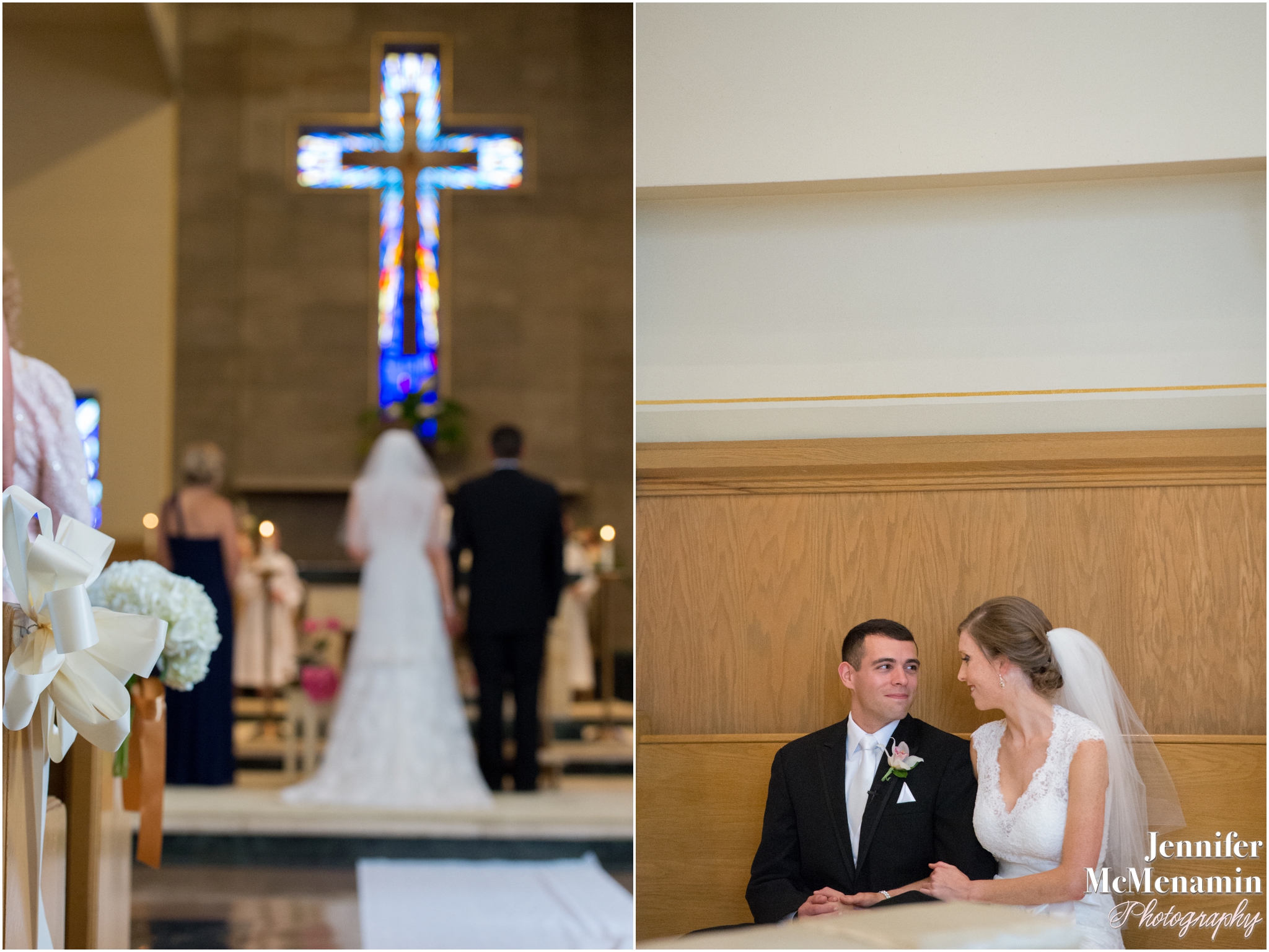 The groomsmen and Michael's father worked really hard to try to keep these candles lit throughout the ceremony.

Sam spent the majority of the ceremony in the choir loft. All of the photos from that vantage point were shot by him. I love this next image on the left of the church lights with the wedding in the background.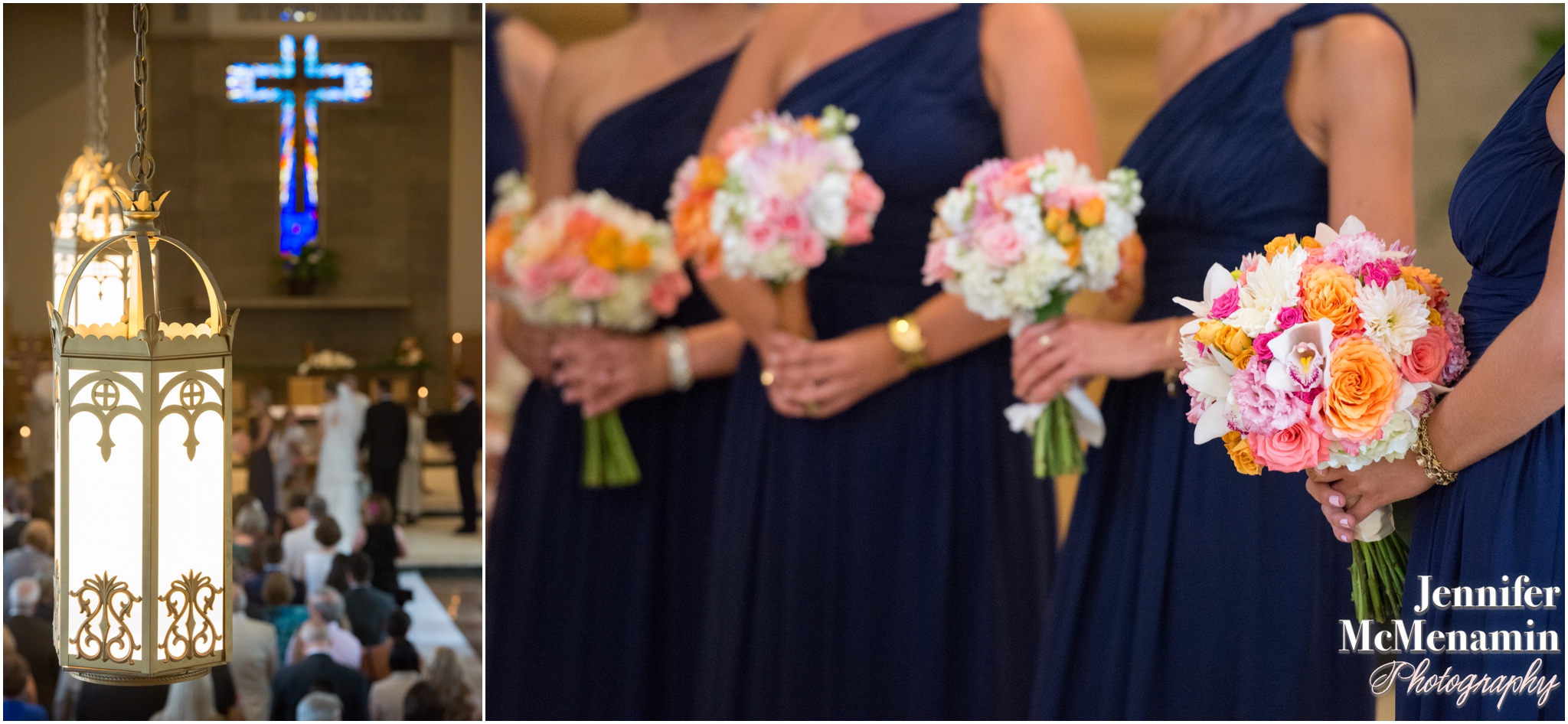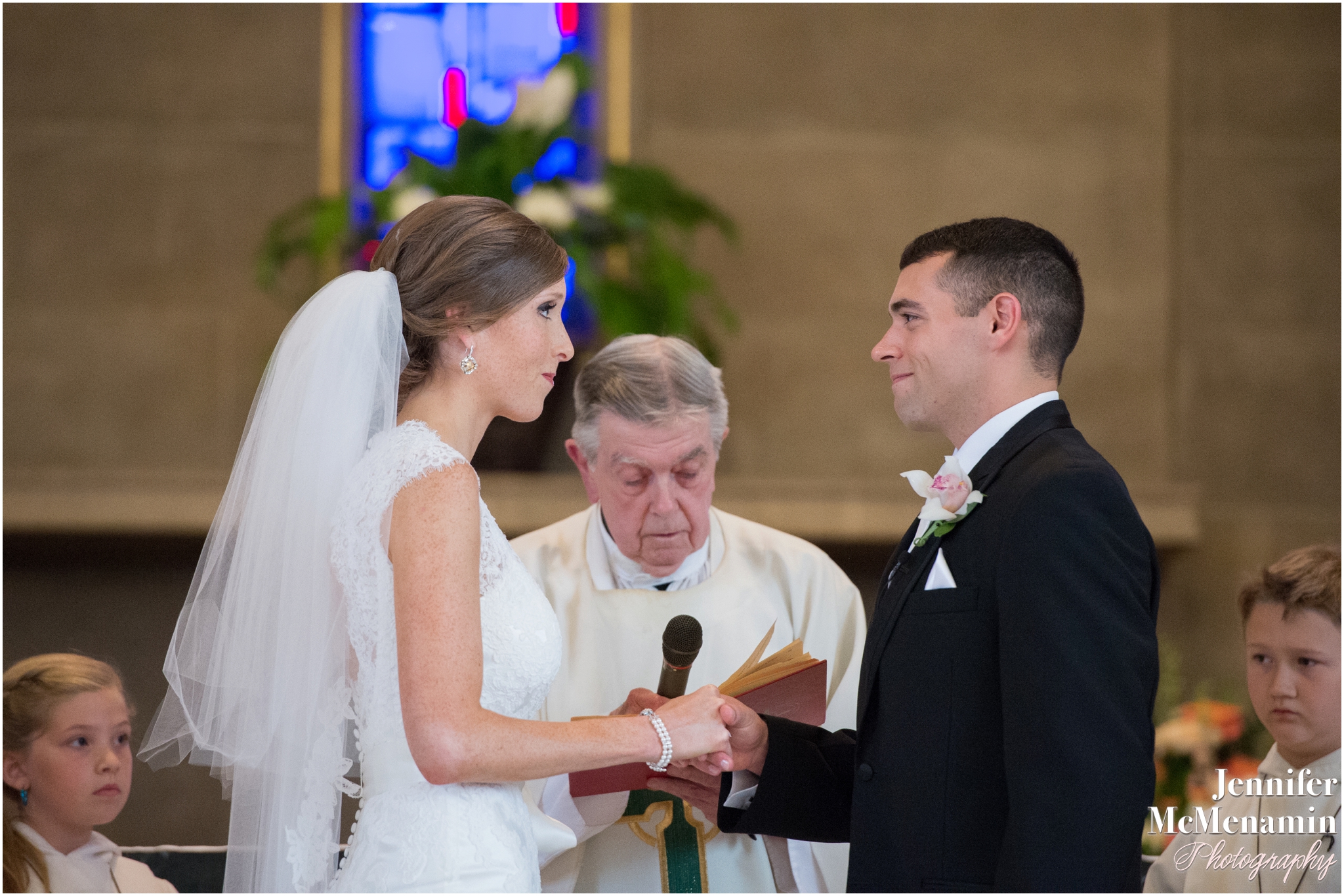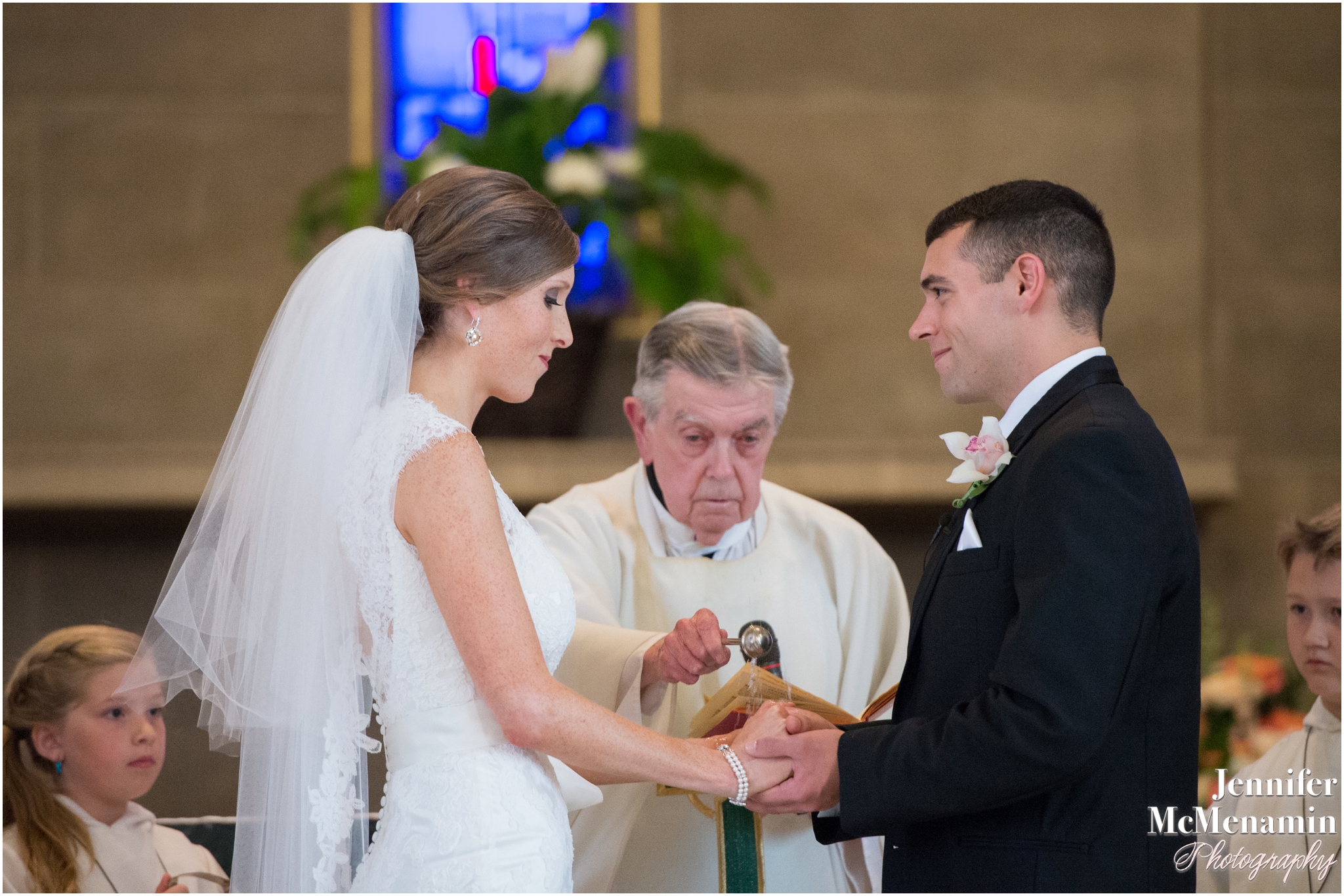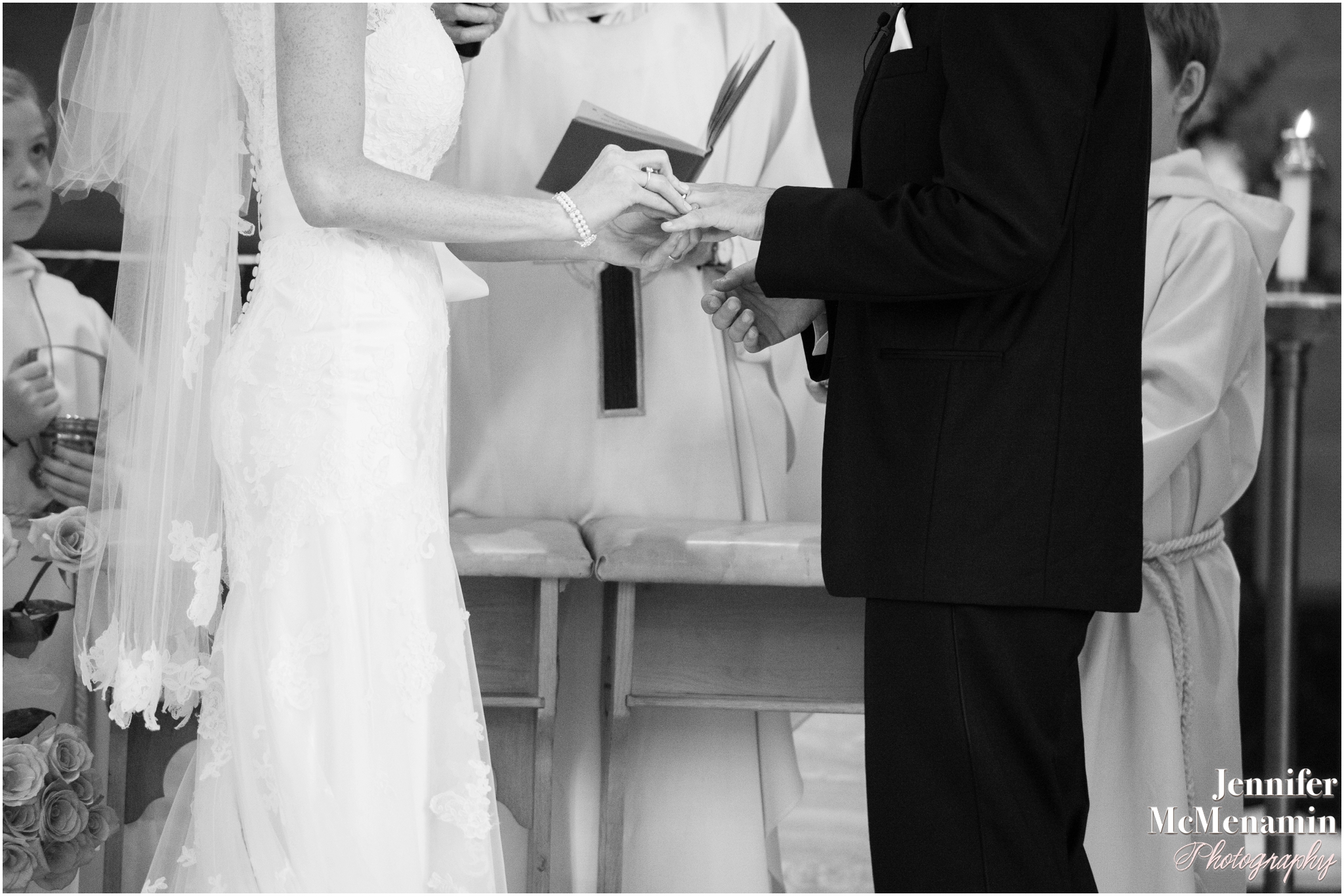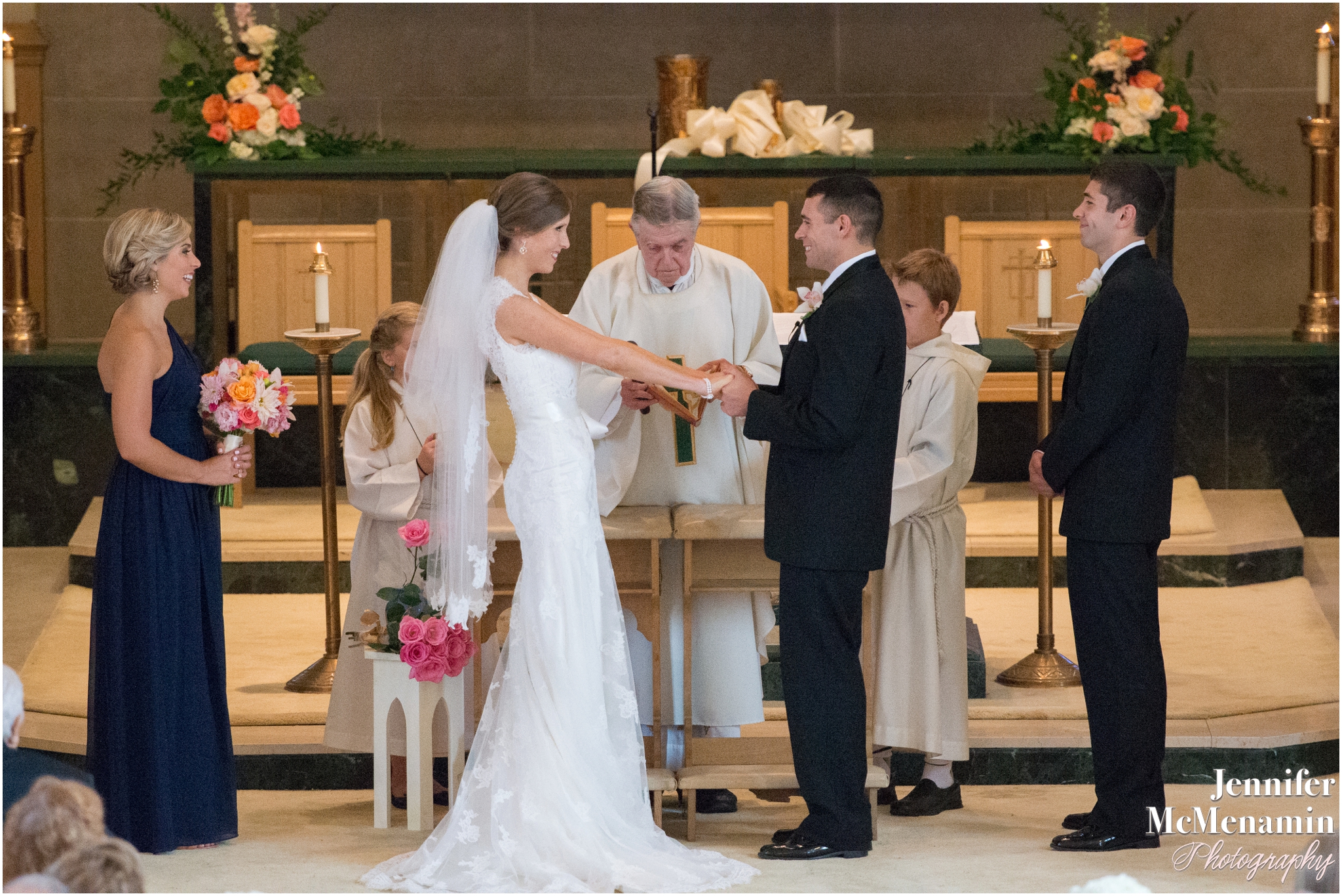 Karen specifically requested photos of the musicians at the church. "I'm pretty excited that this is such a fancy event that we've hired a string trio," she told me as we went over final details the week of the wedding. "I didn't think that was something I'd ever do in my life!"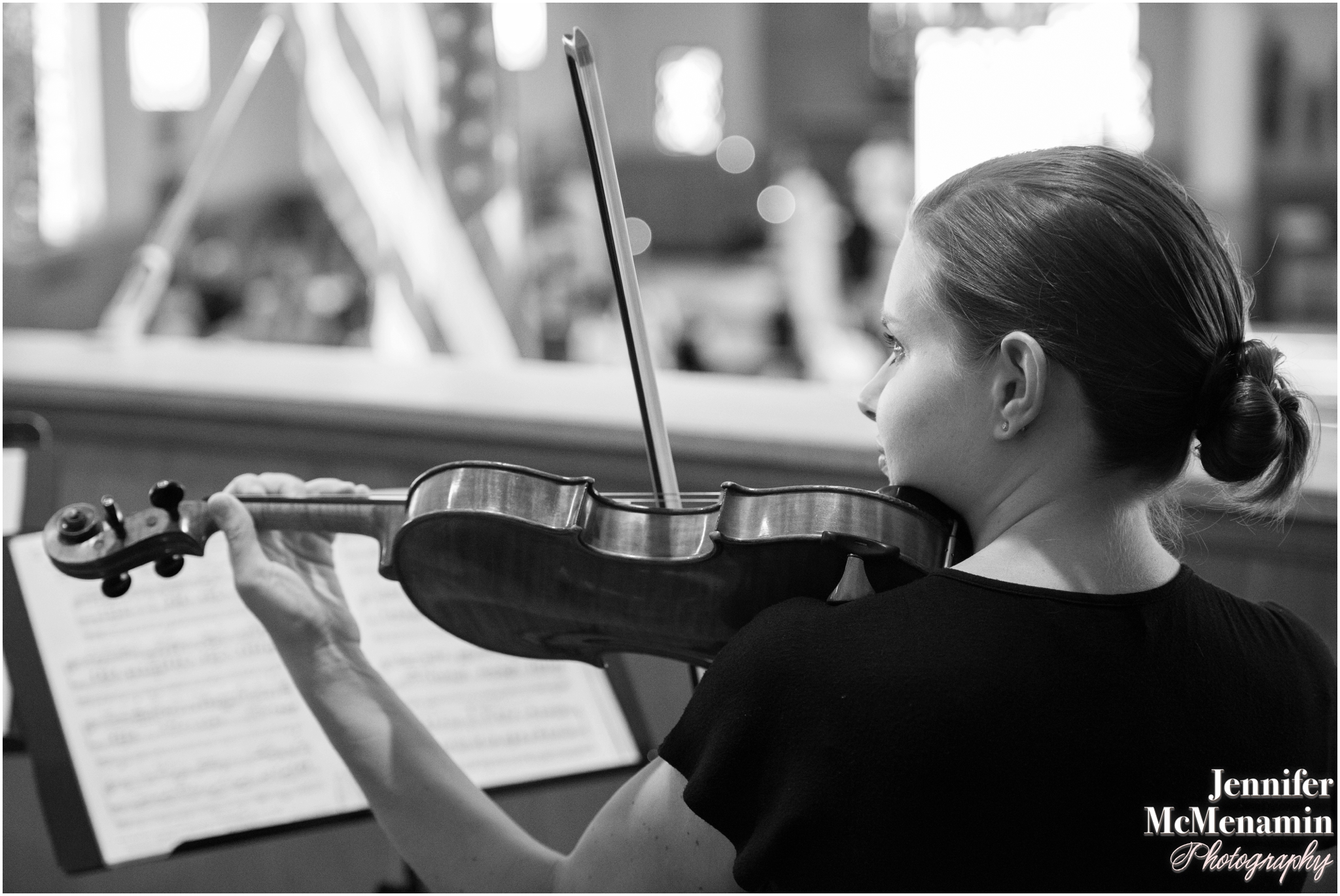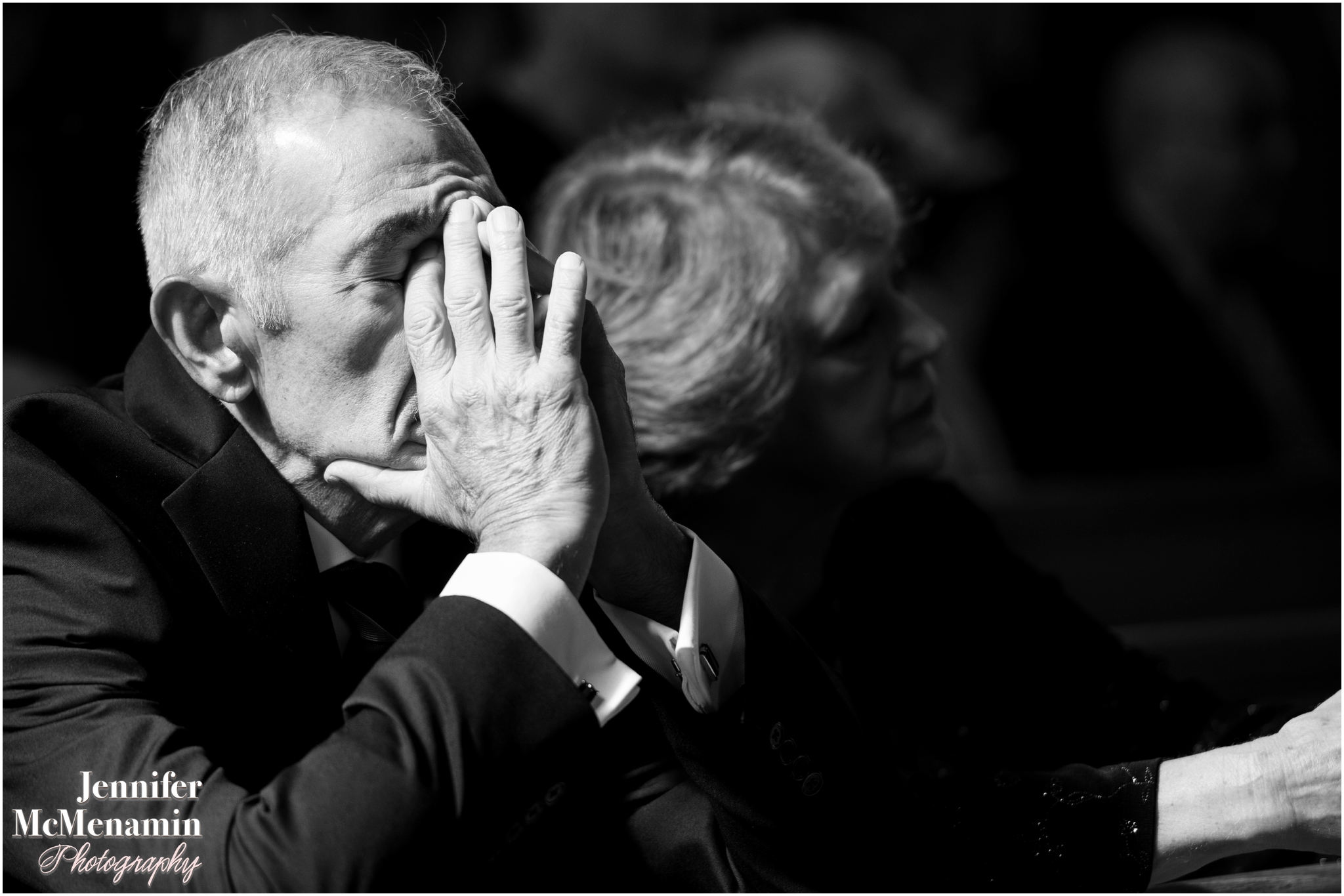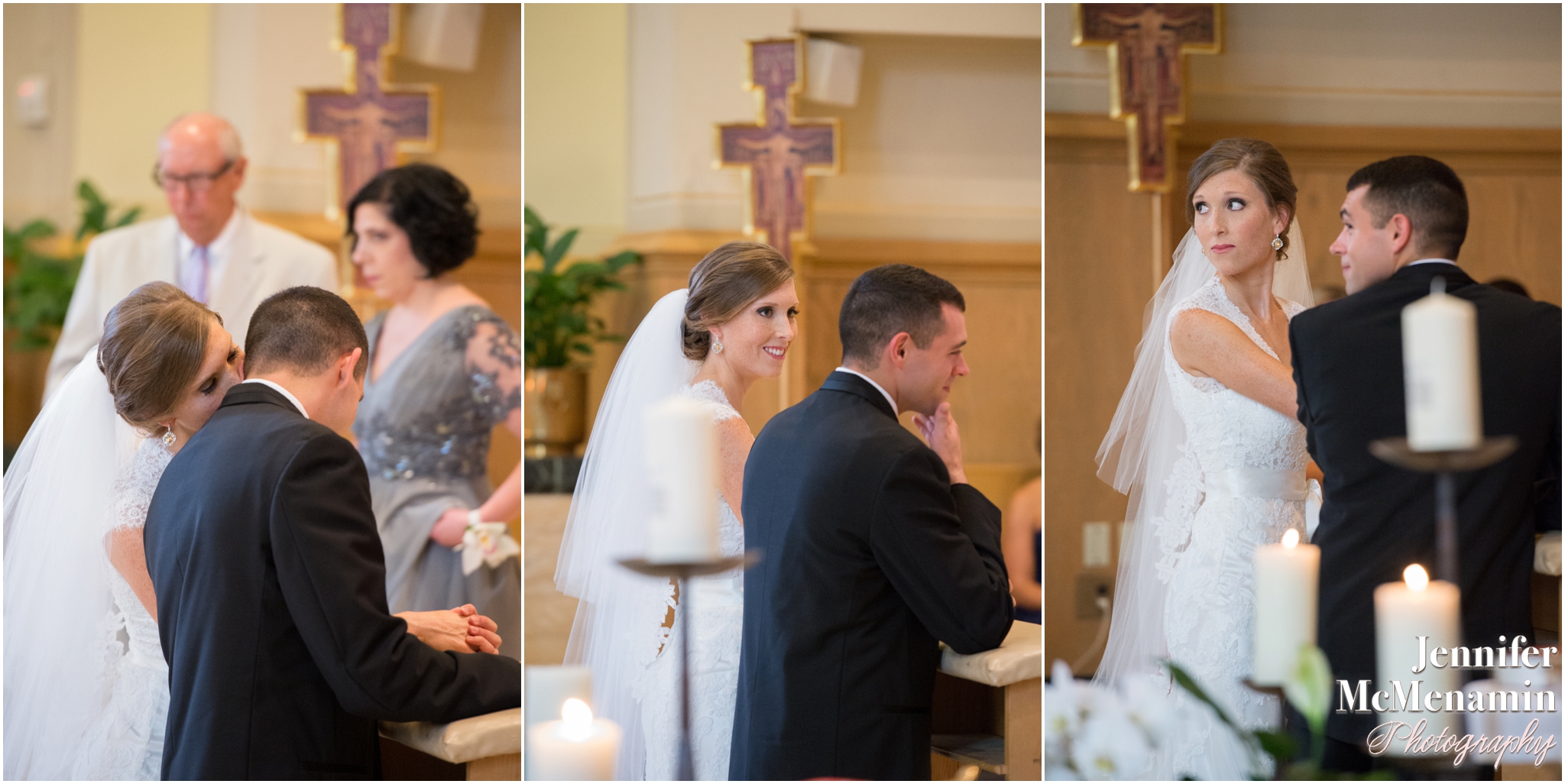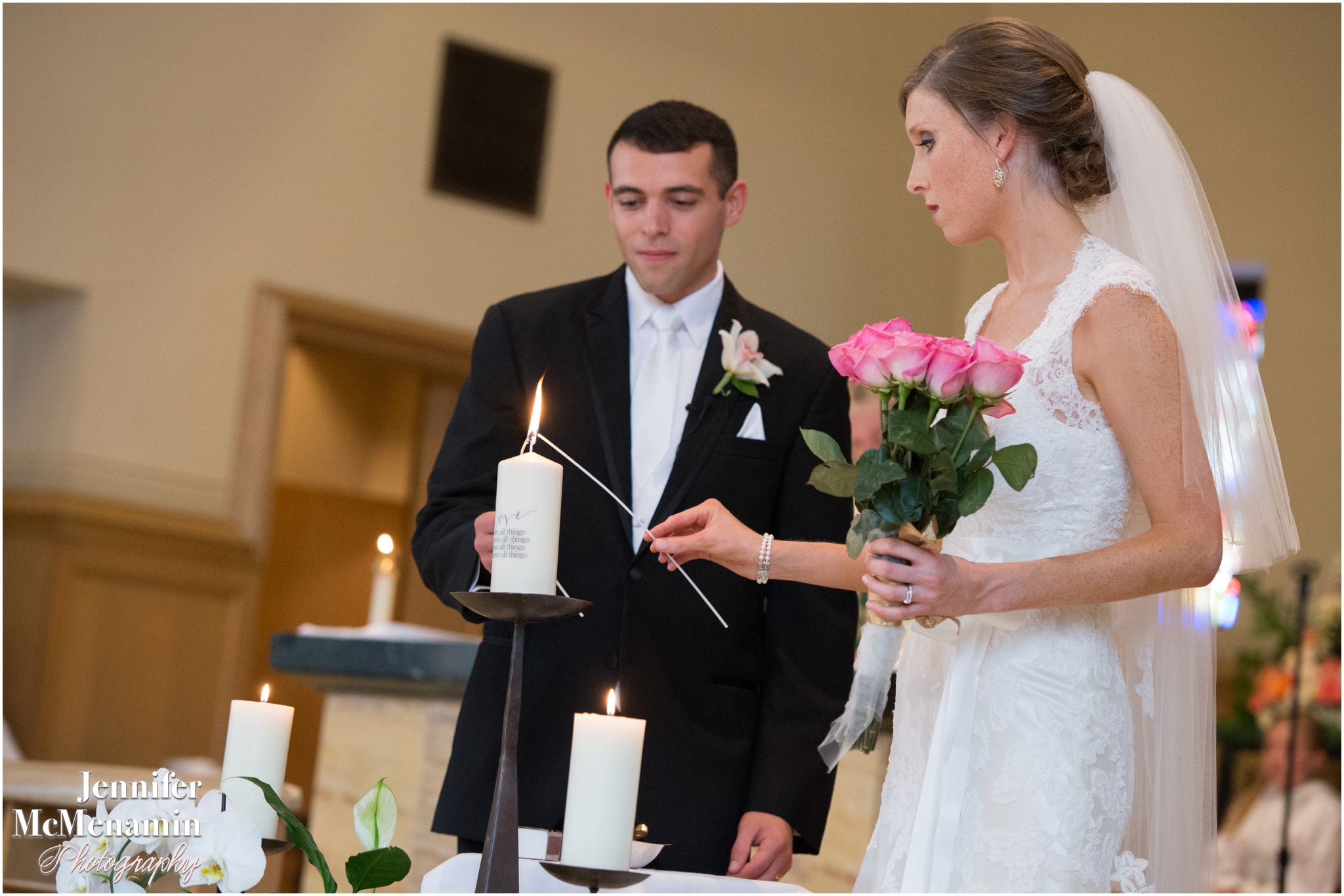 A grandfatherly serenade.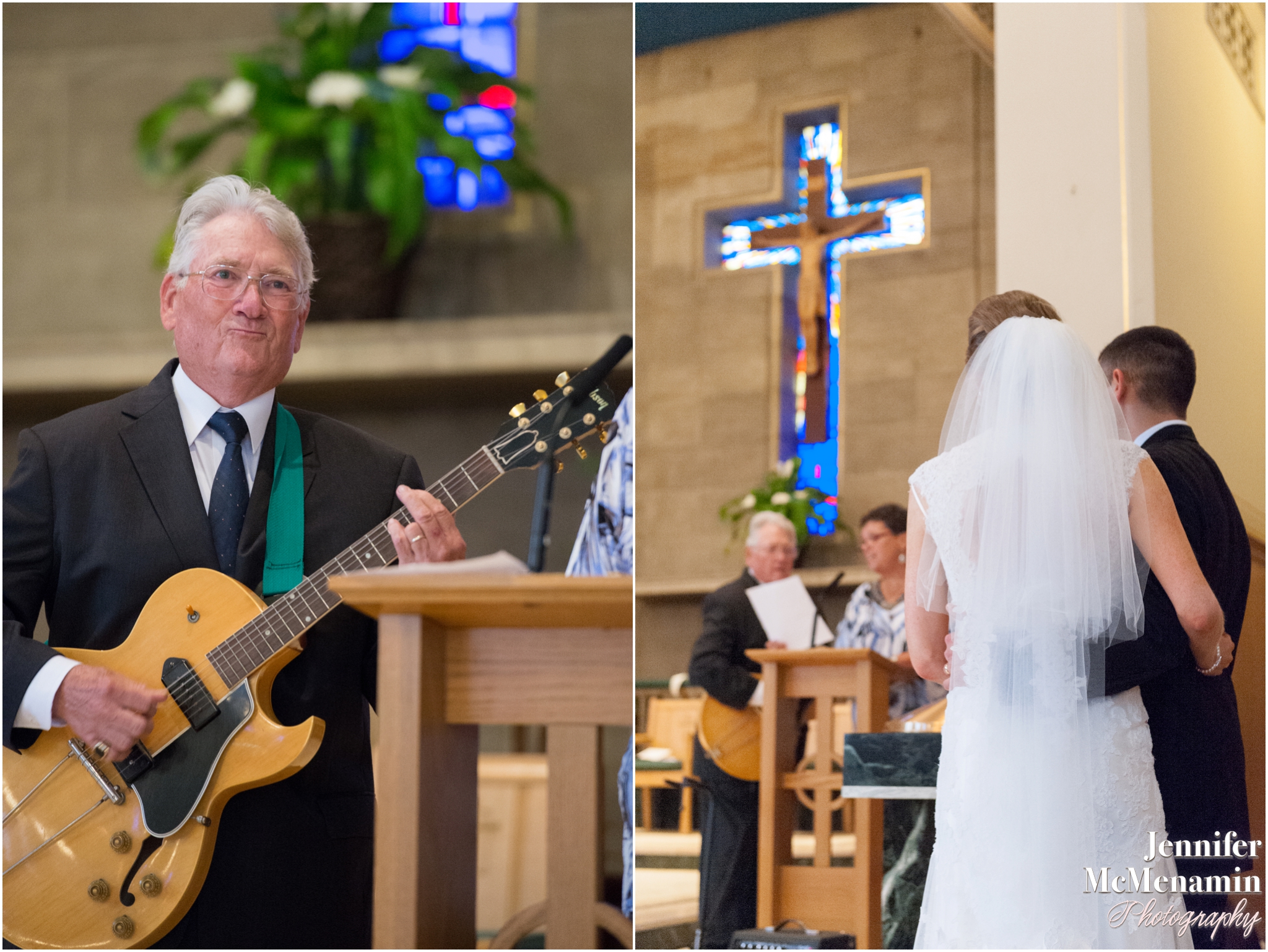 After a few very speedy family and wedding party photos at the church, we made our way to Lake Montebello for photos with the wedding party, nervously eyeing the darkening sky the whole while, before heading to the Historic Belvedere for more outdoor photos and then the reception.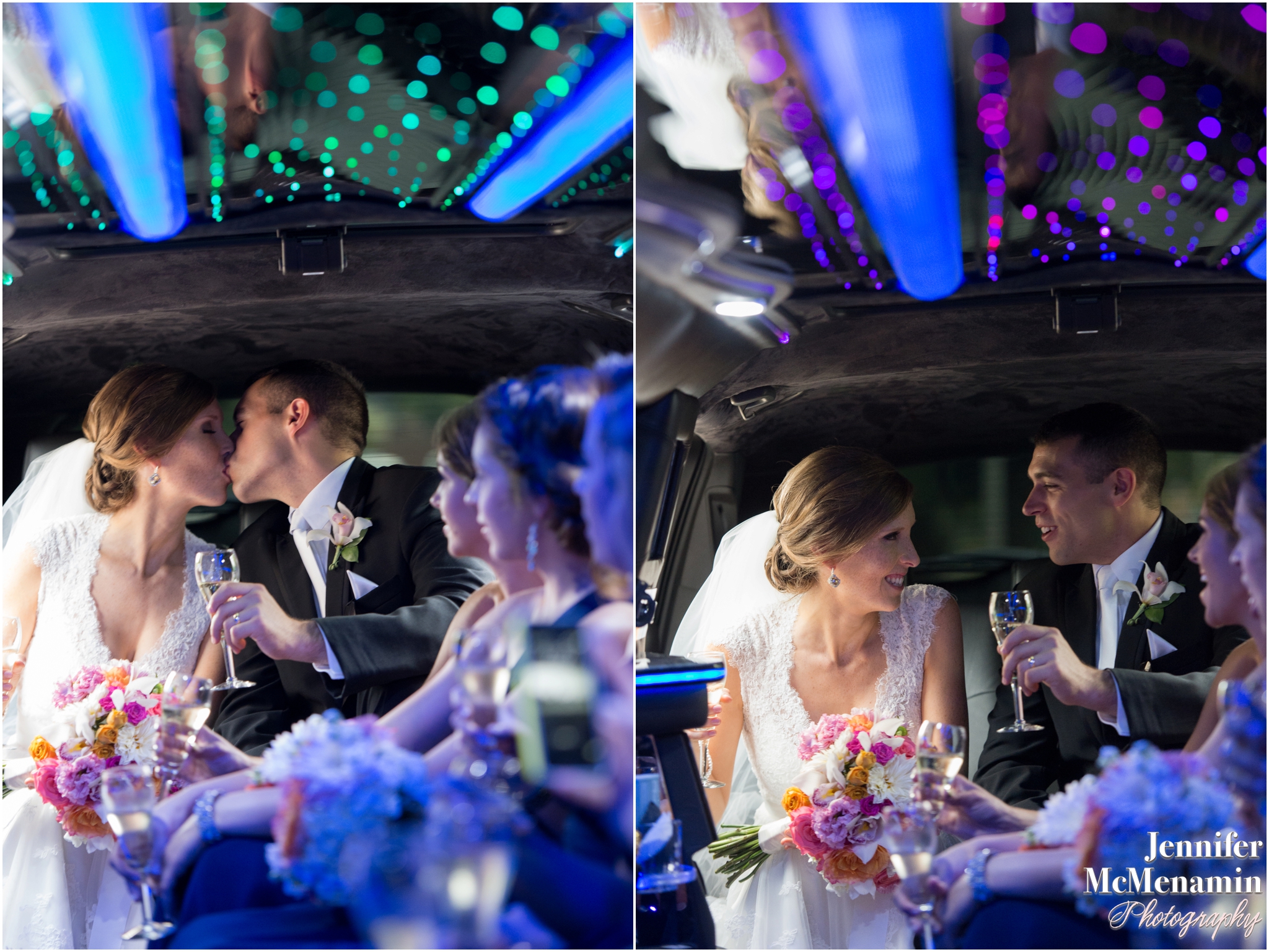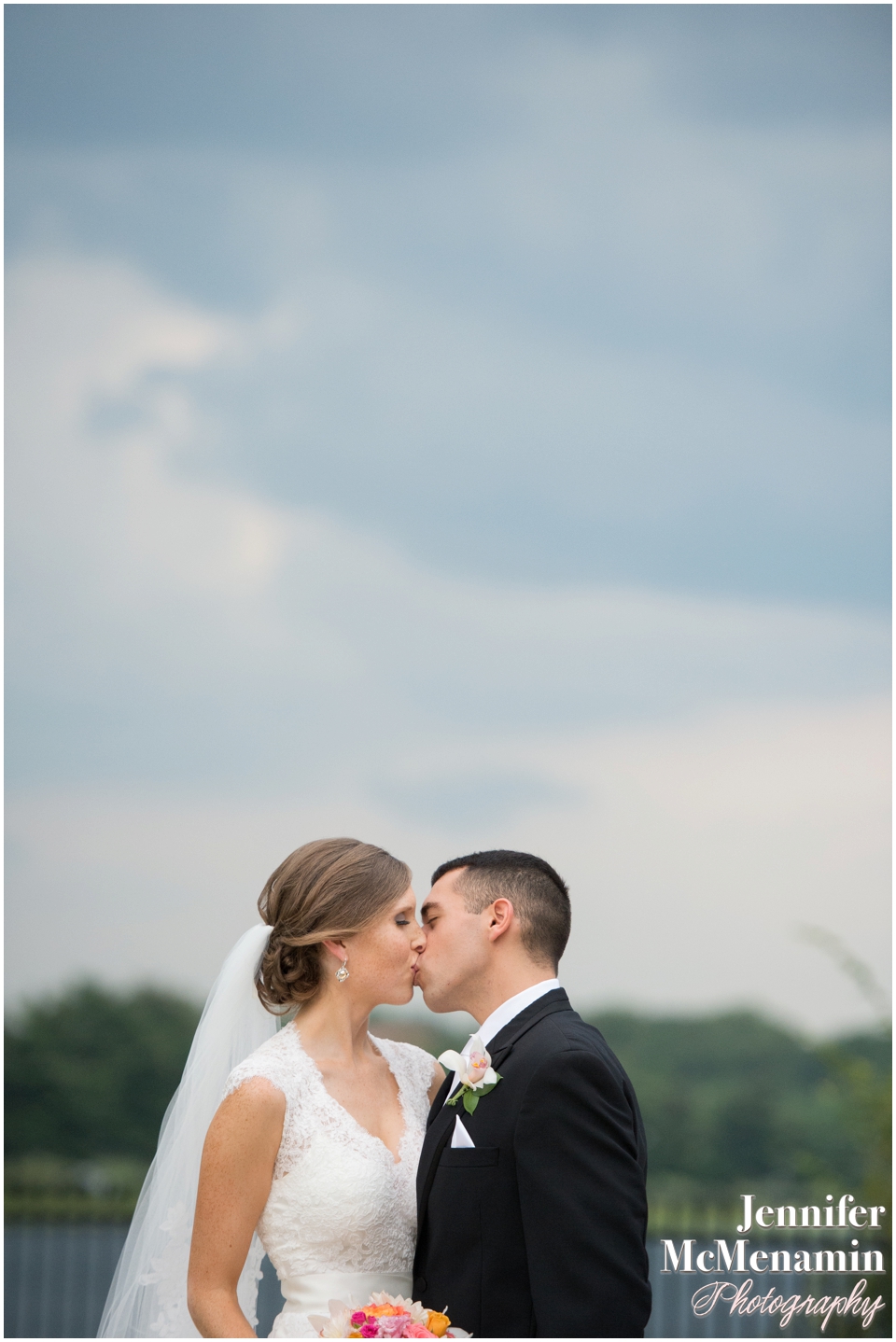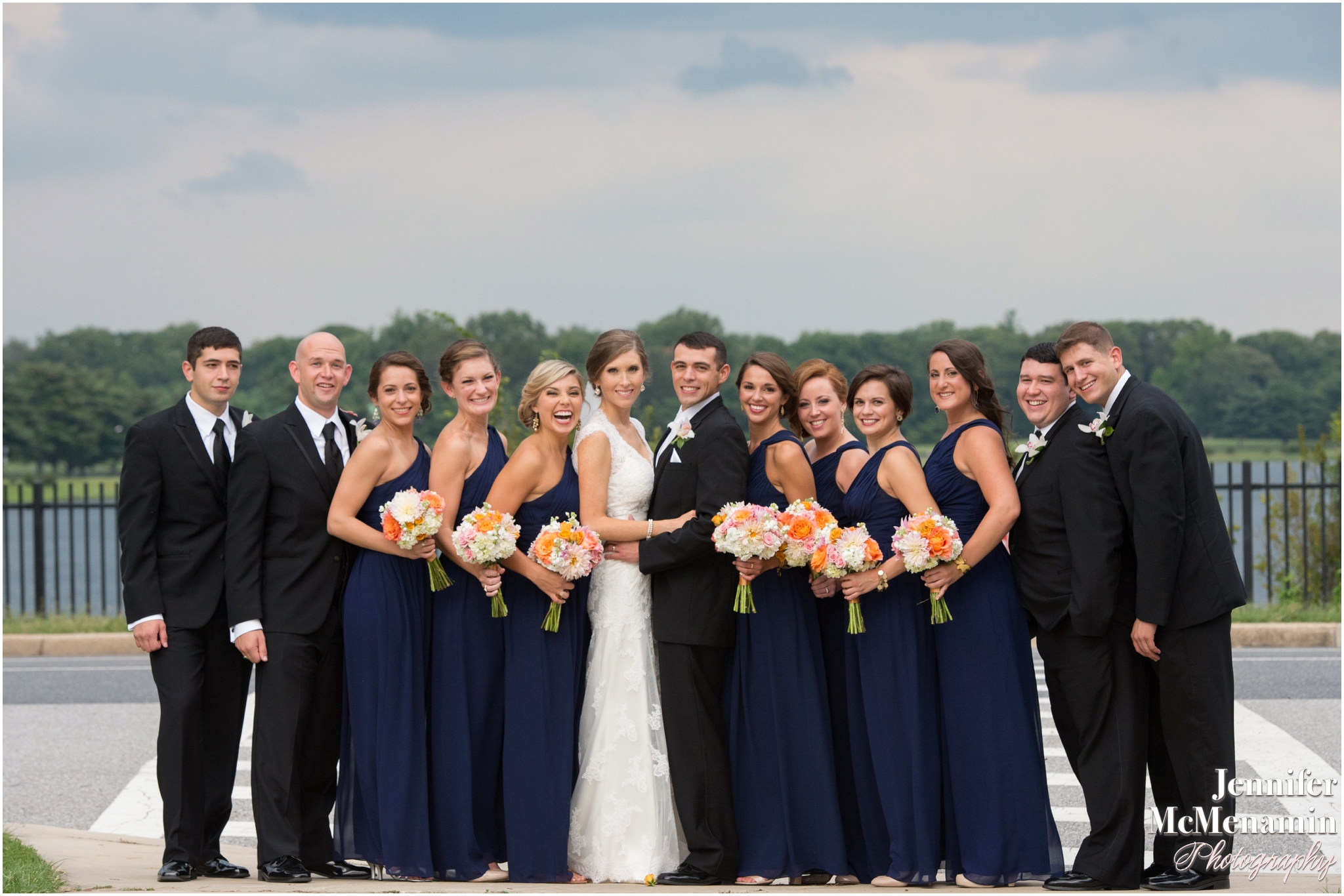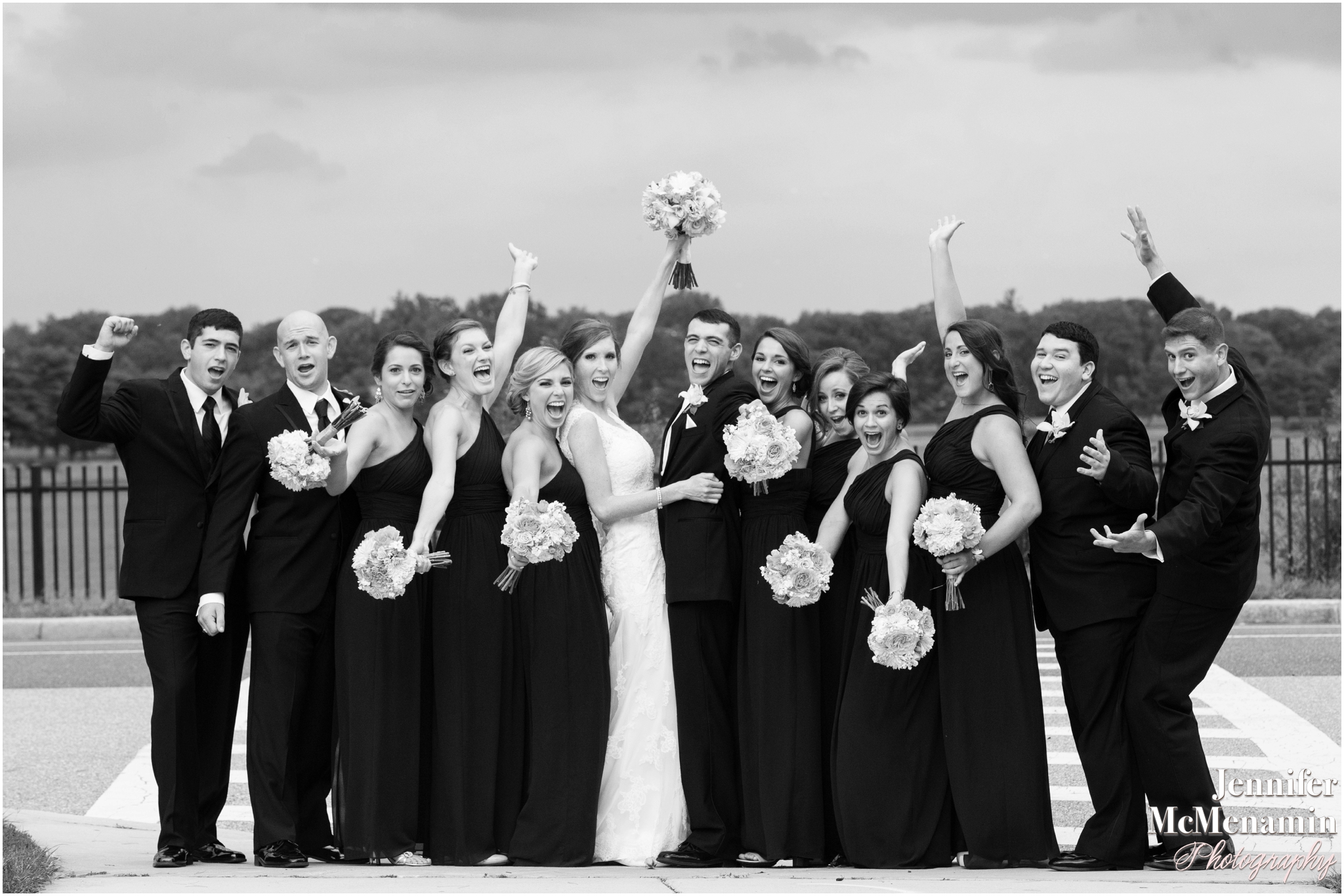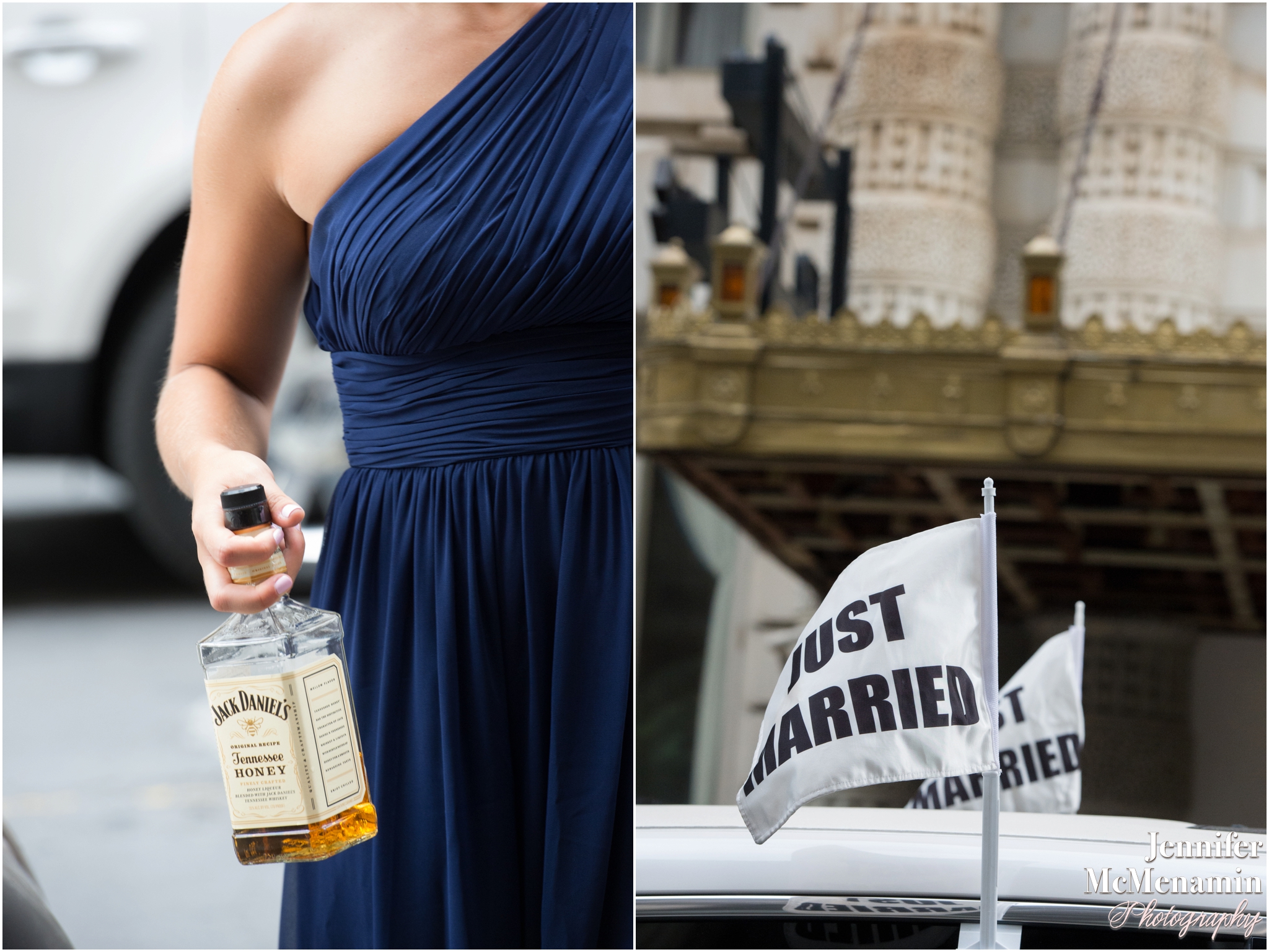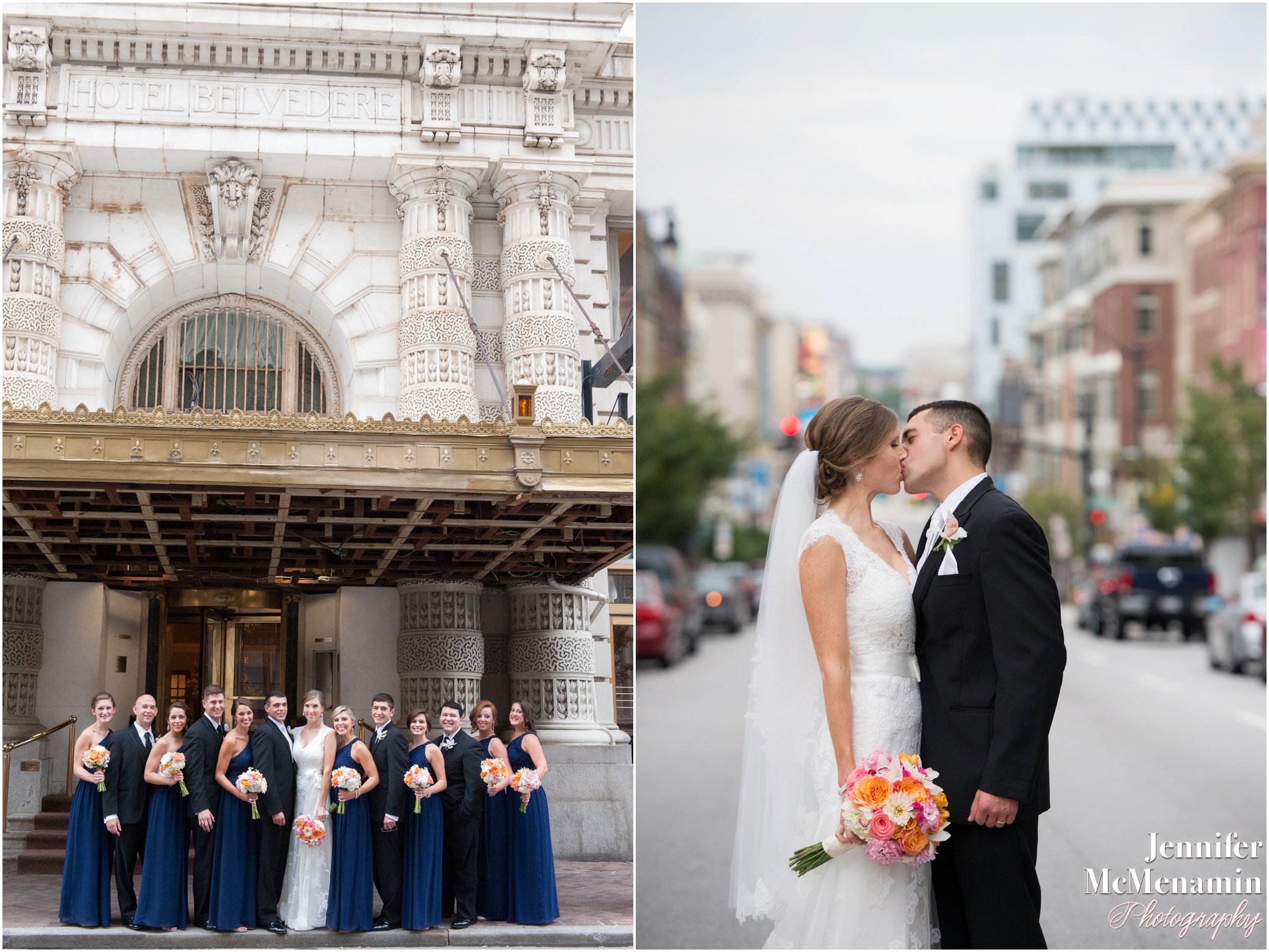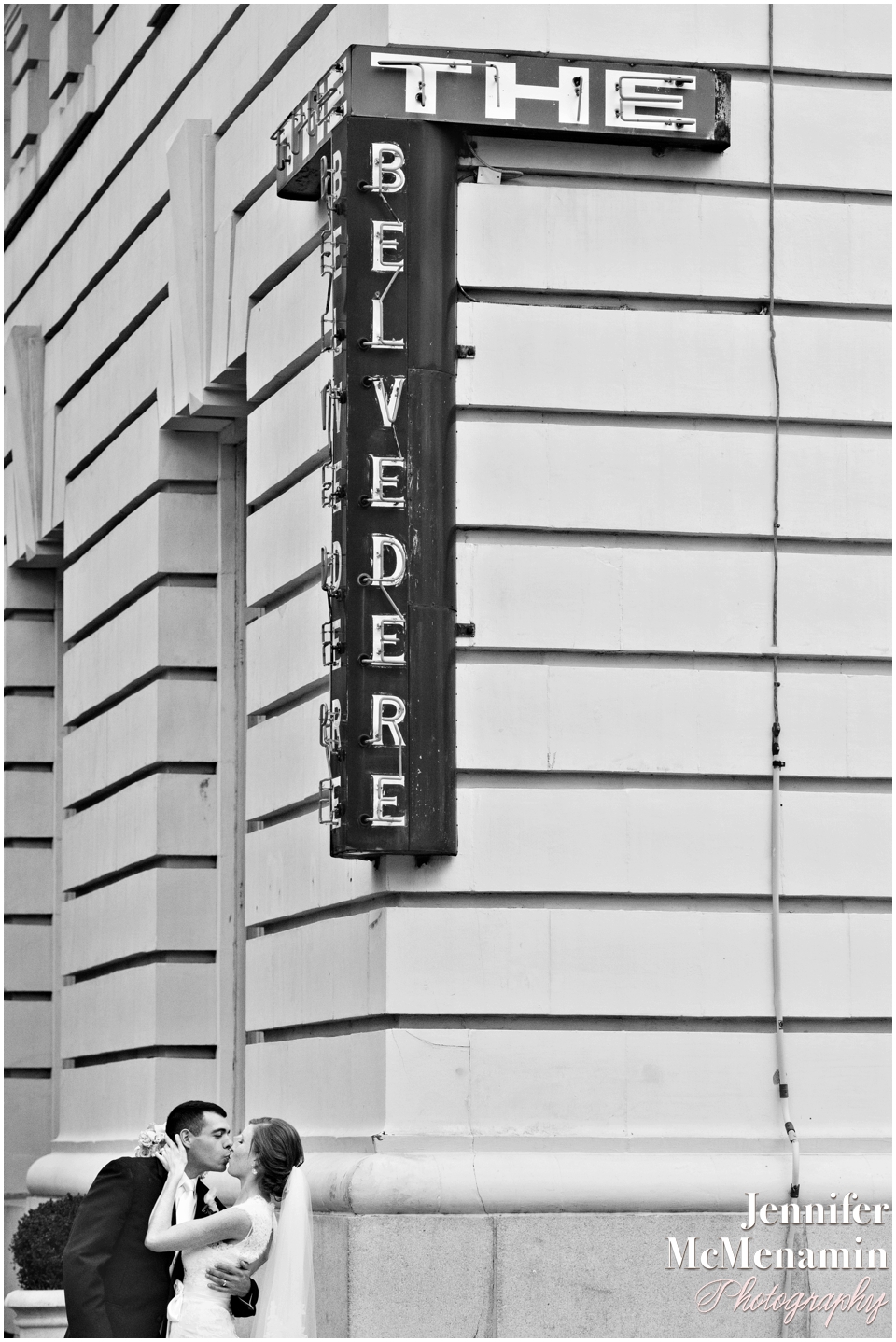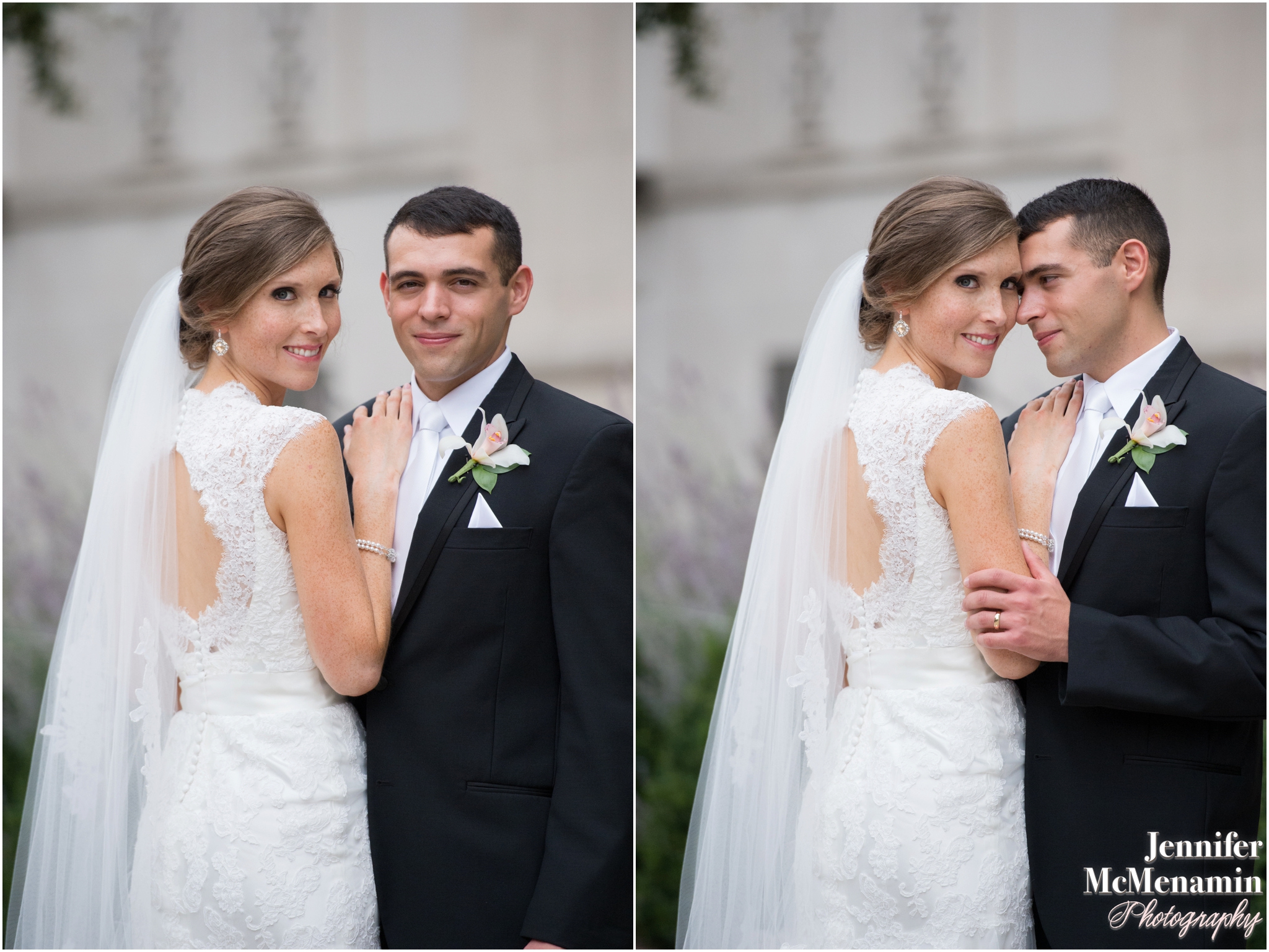 I loved this bouquet from My Flower Box Events. Such beautiful colors!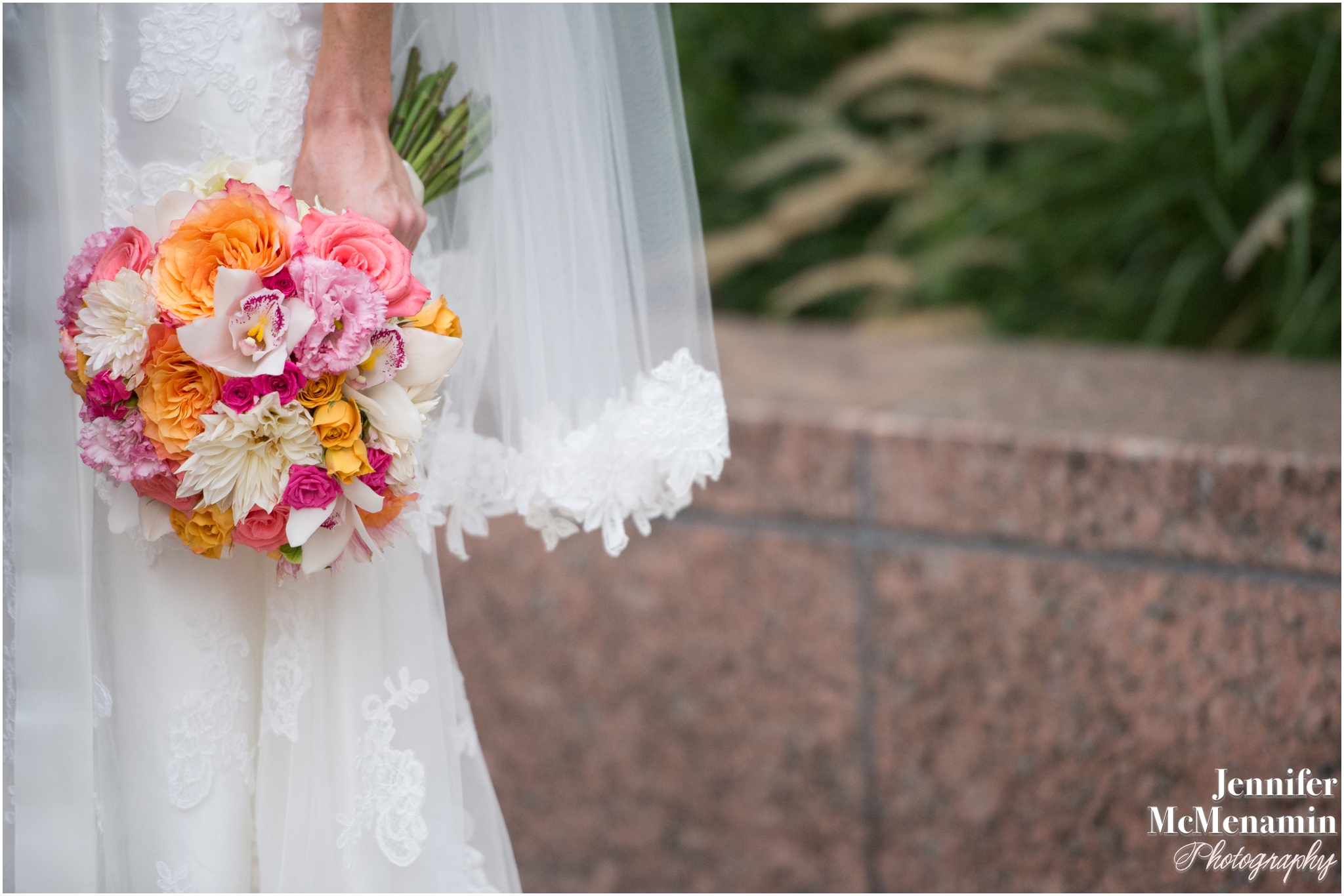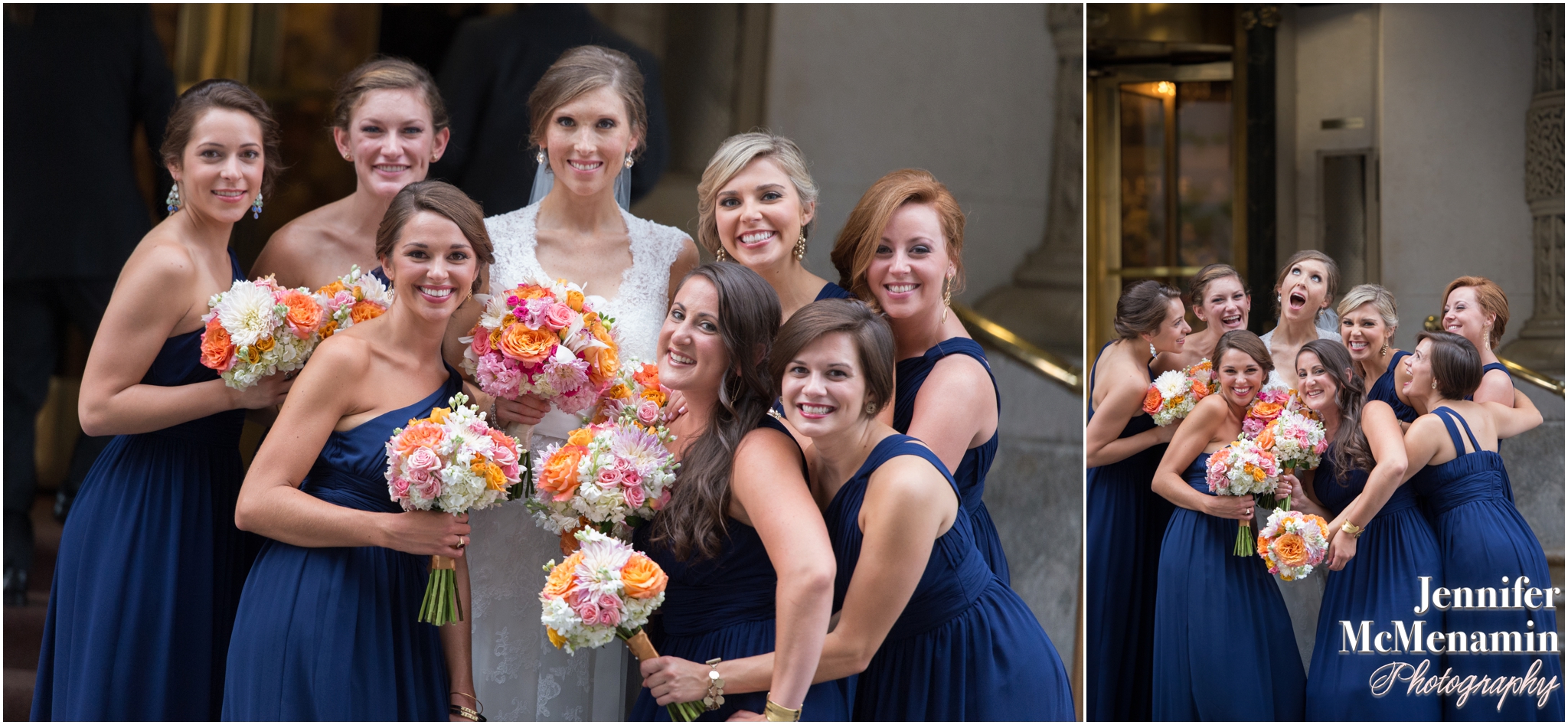 Madeline of mlc designs made Karen and Michael's invitations, wedding programs and paper goods. I absolutely loved them!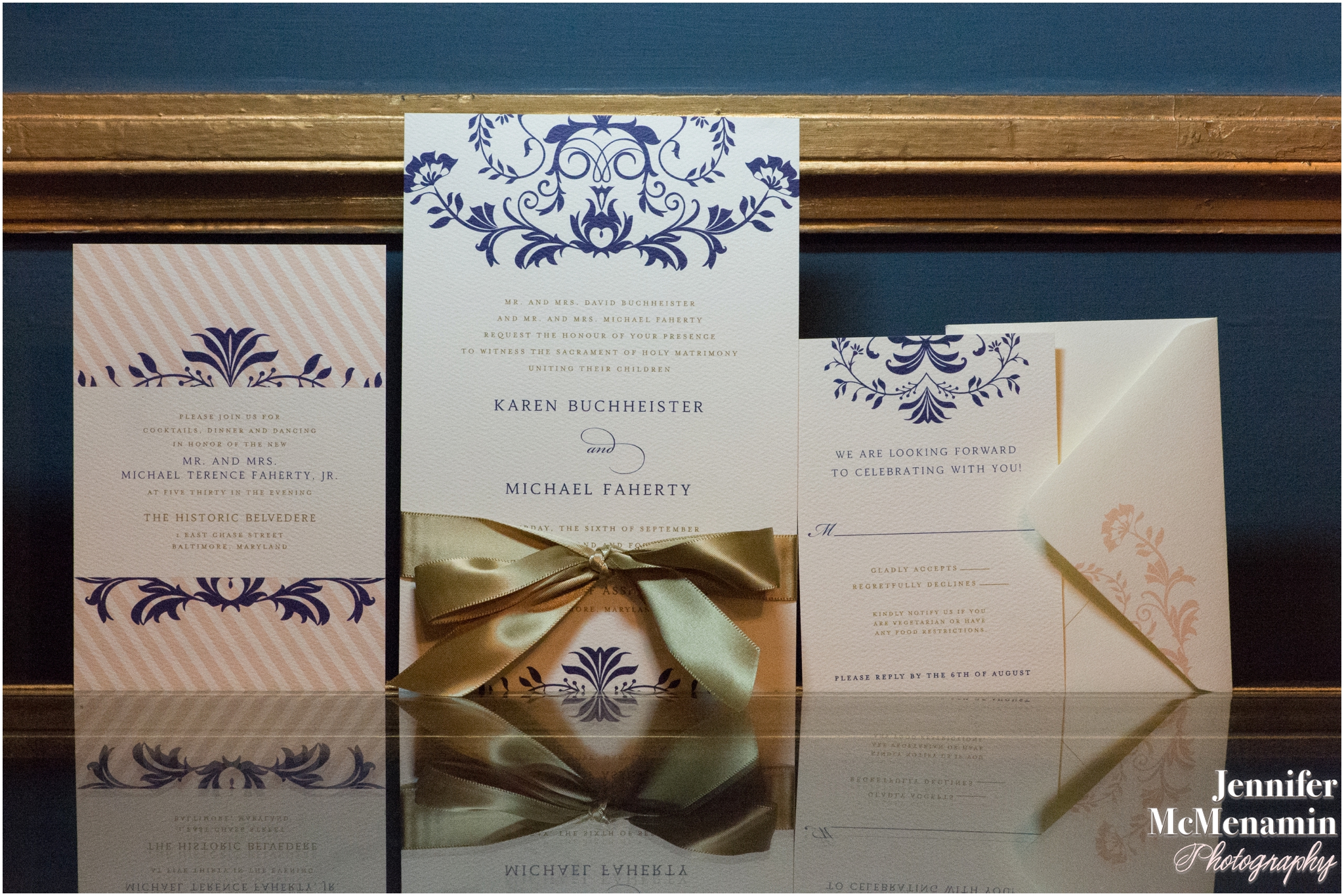 Sam caught this very sweet moment with these little ones.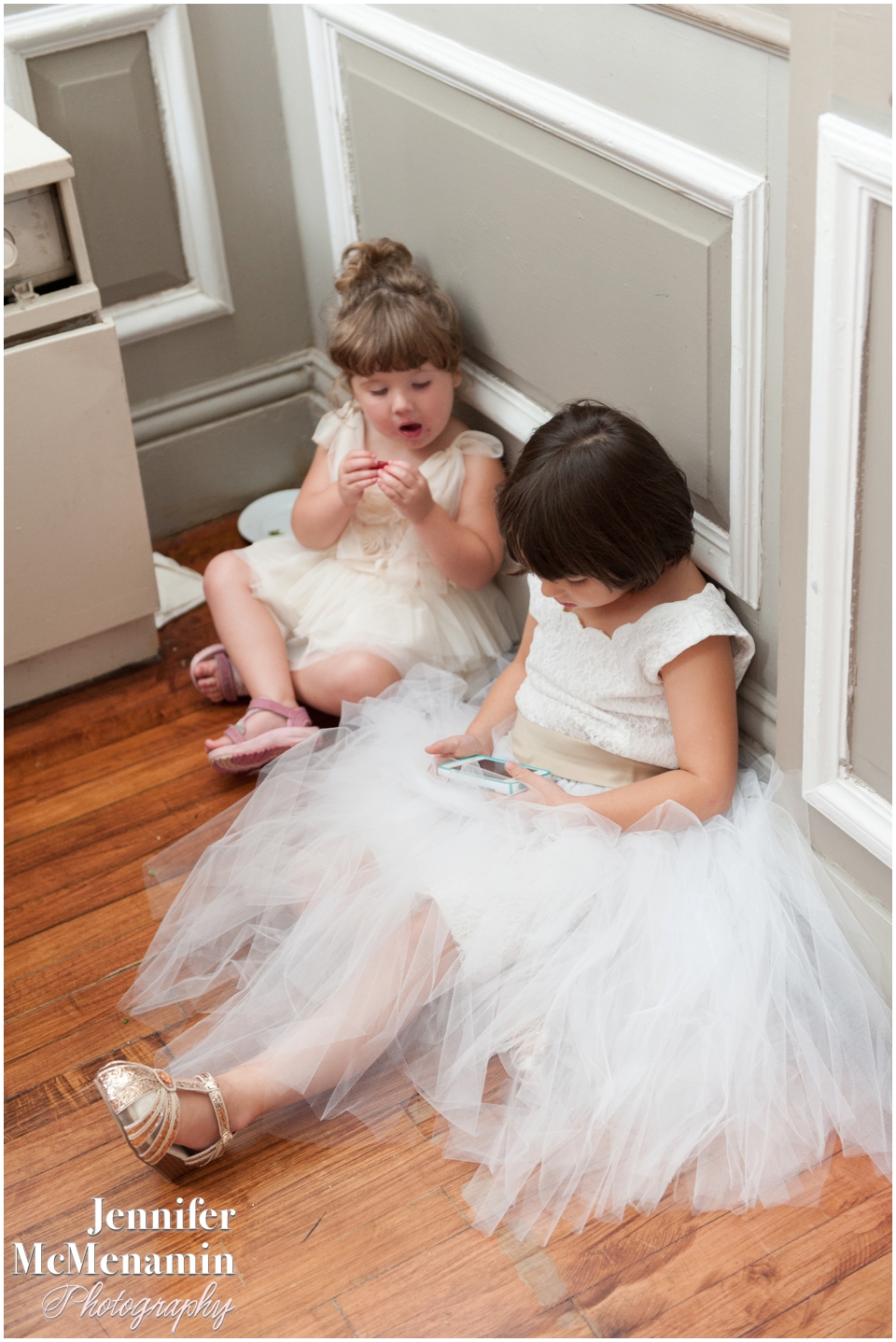 A first dance. I love love love this next photo. Most especially, I love that when I included this image in the little sneak peek that I posted for the couple, the bride's mother commented, "There is the 'magical' feeling I felt all night."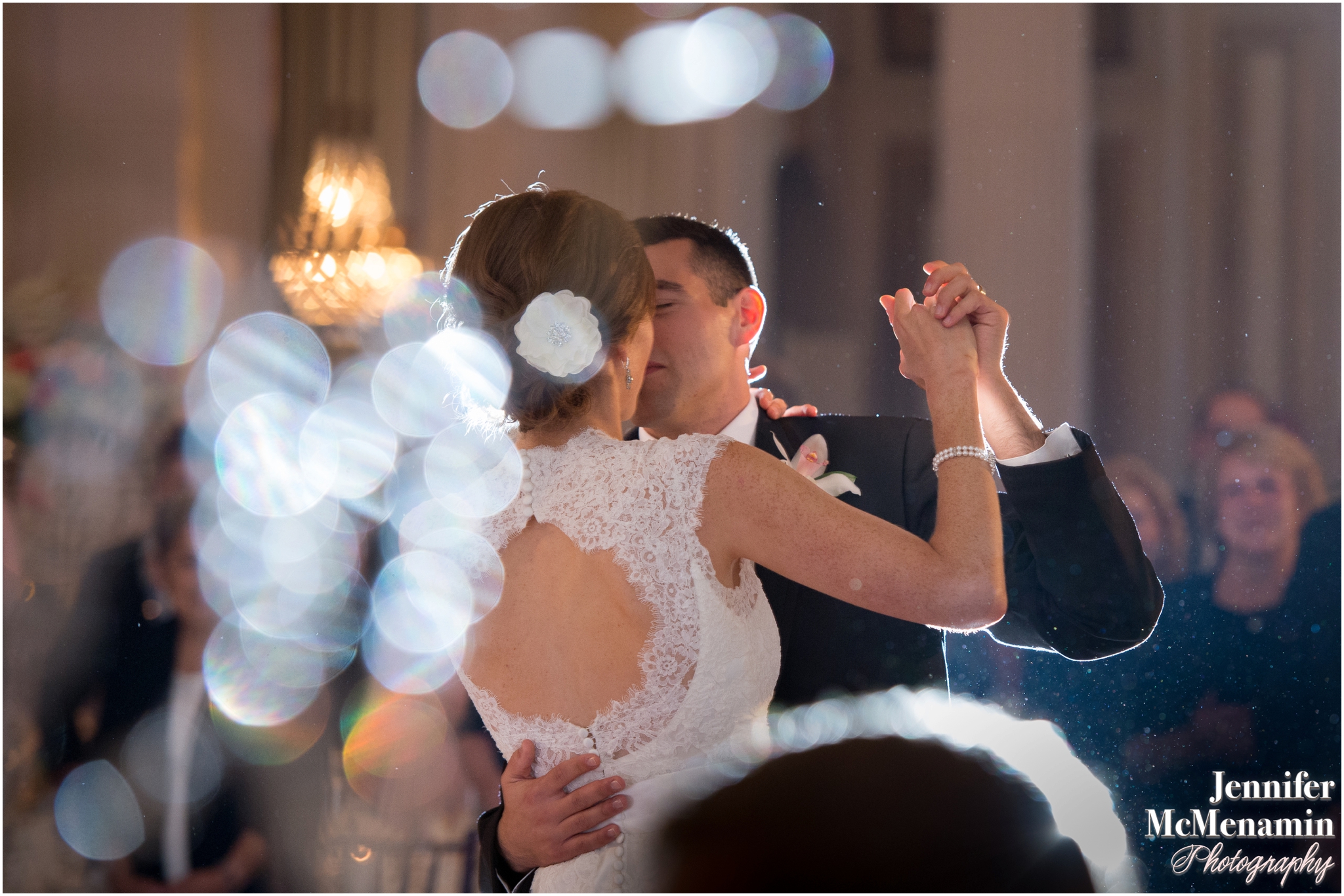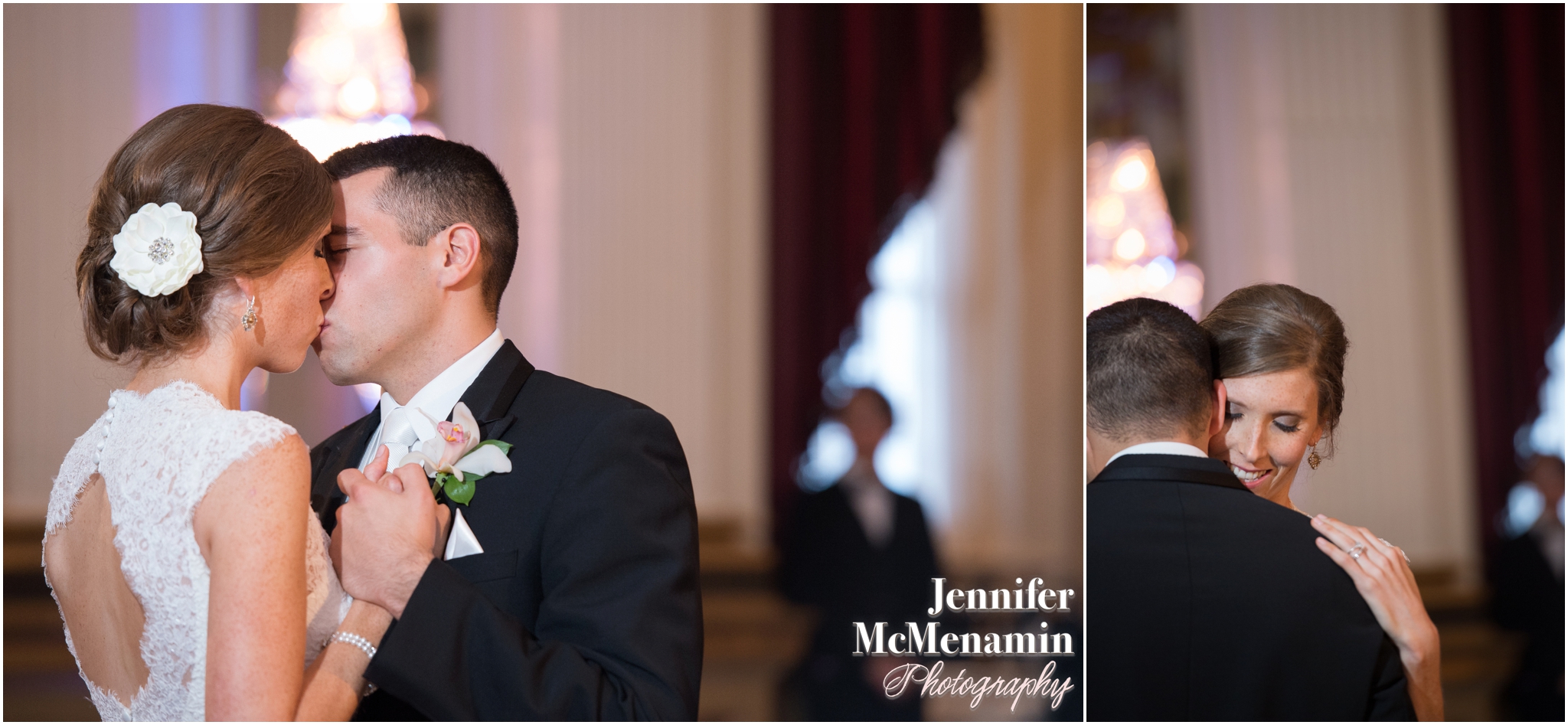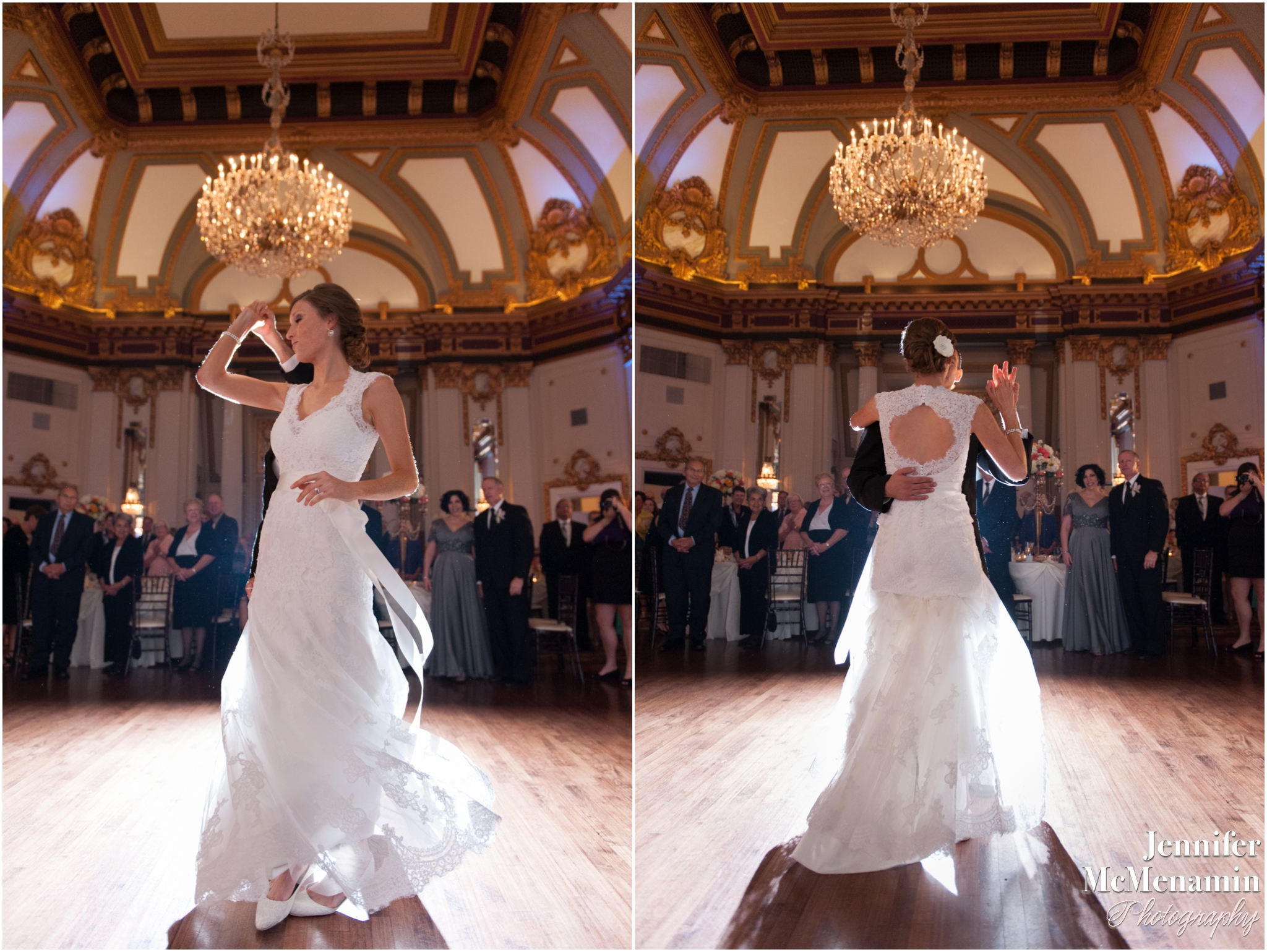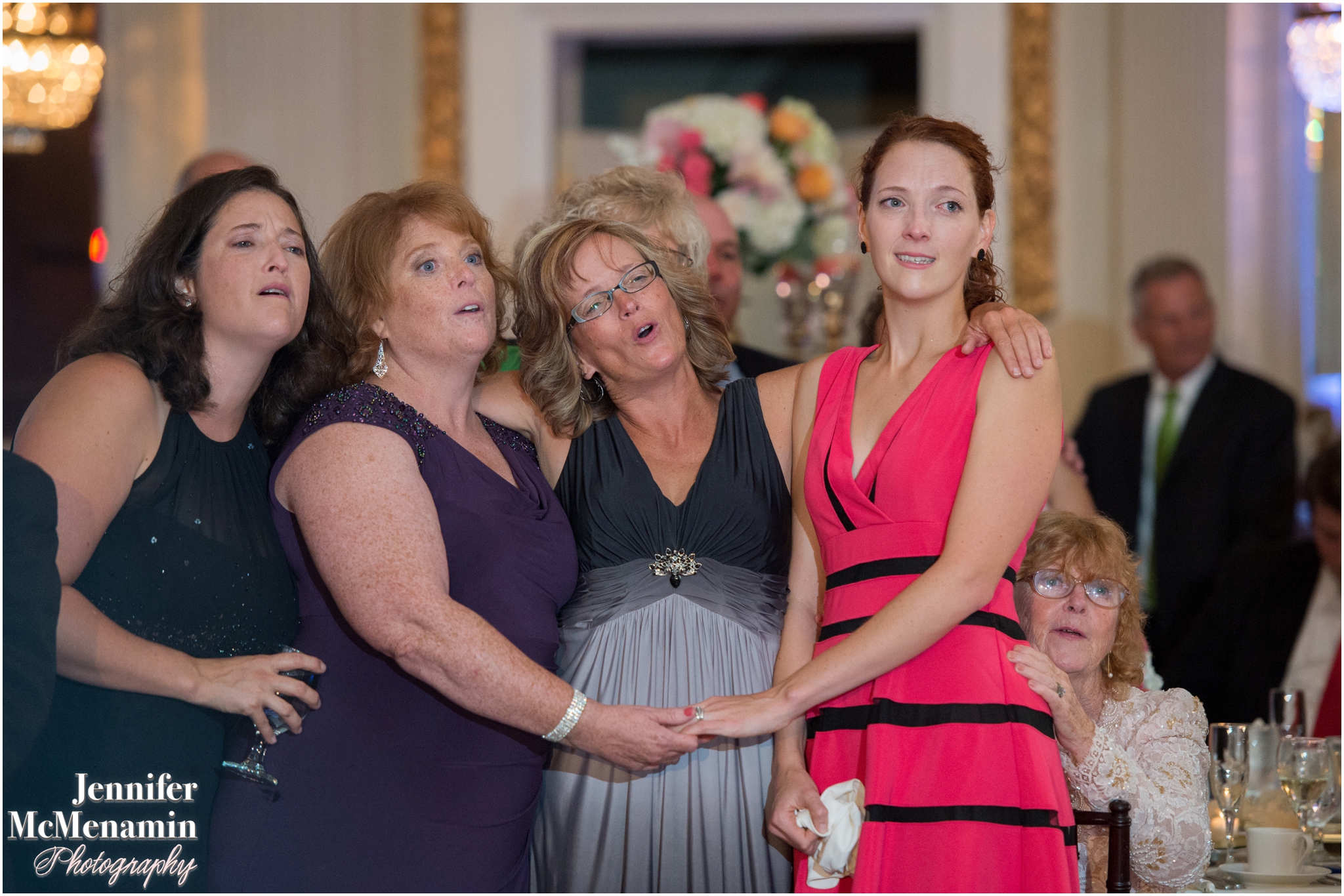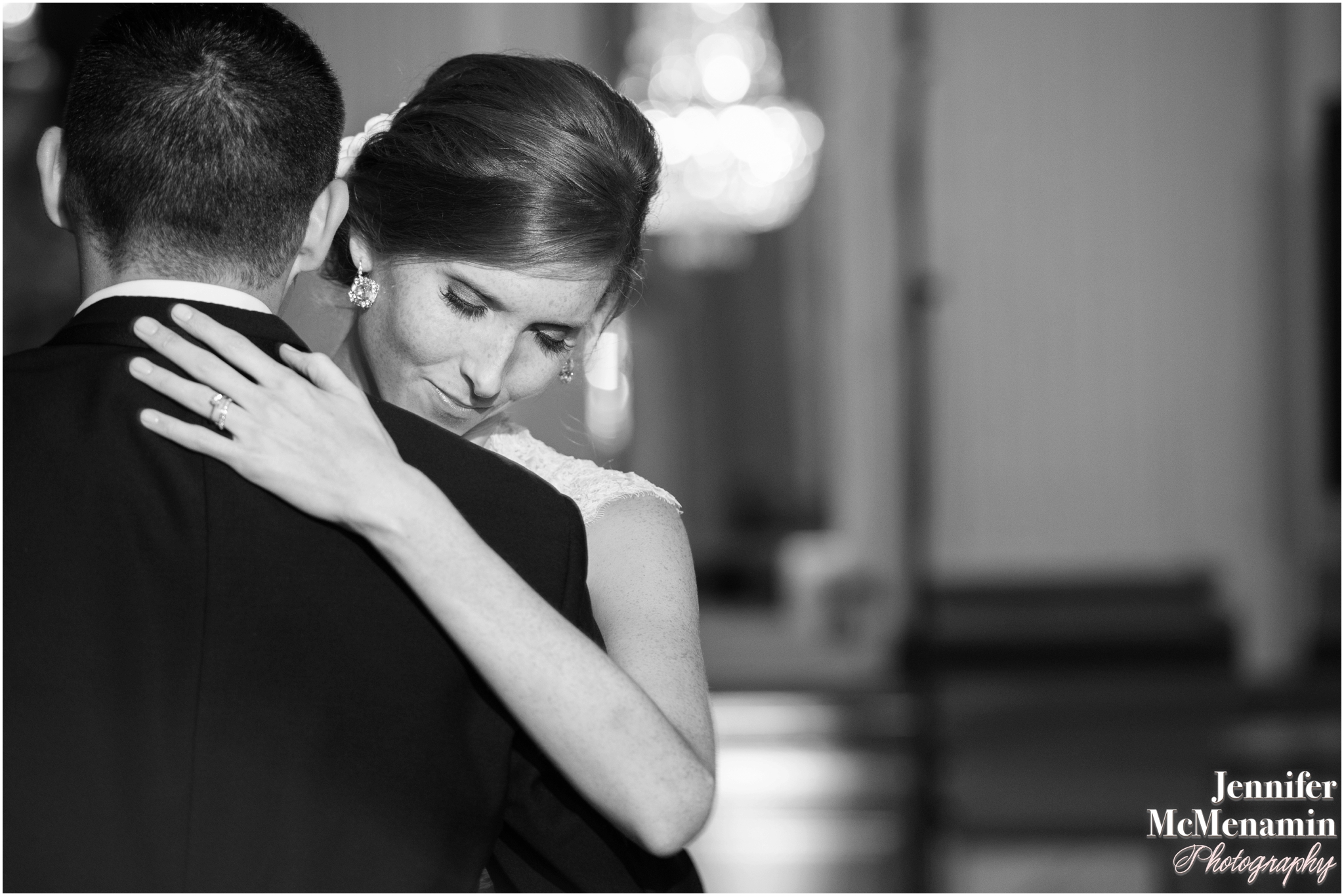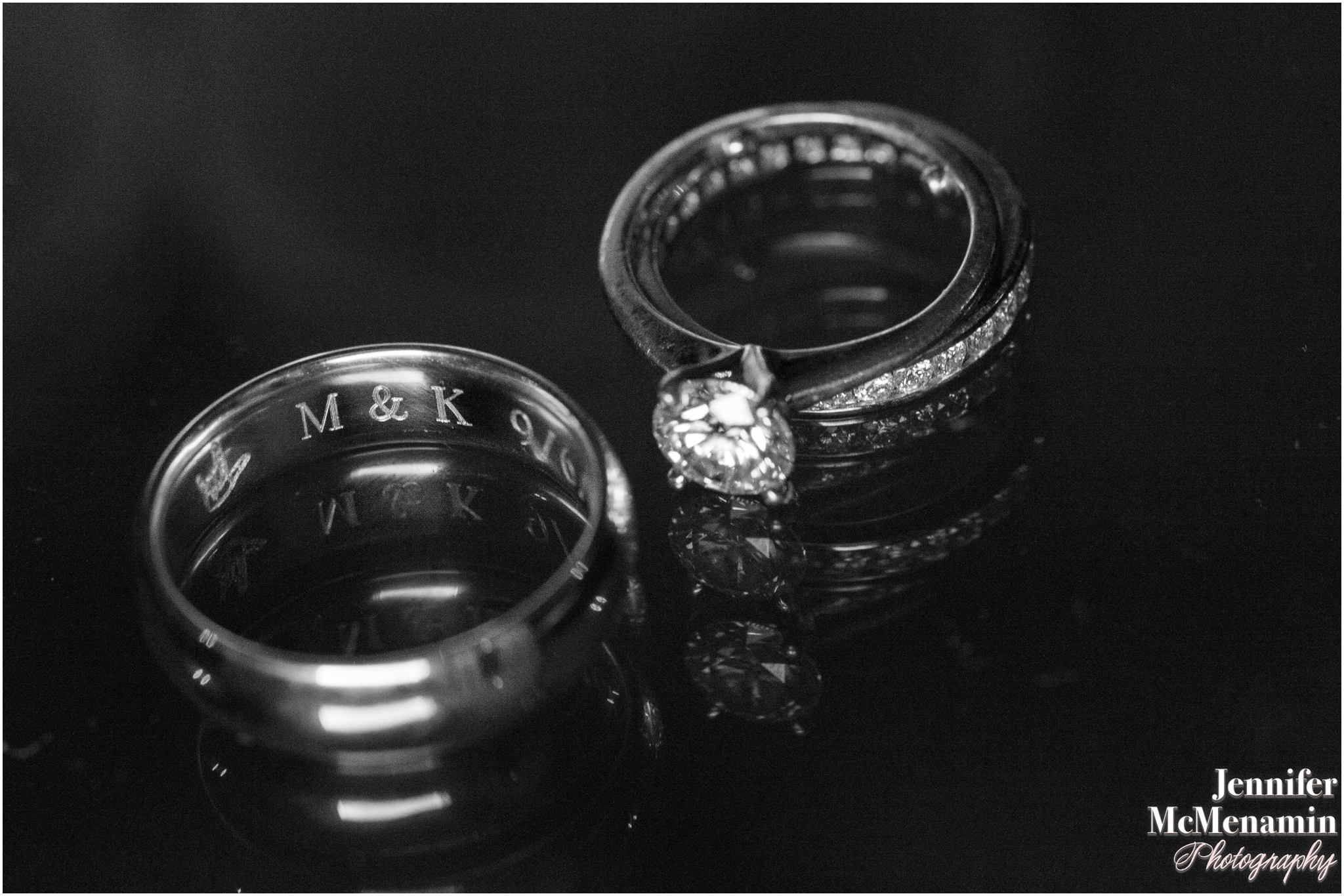 A pair of parent dances.

And oh so much fun — and magic.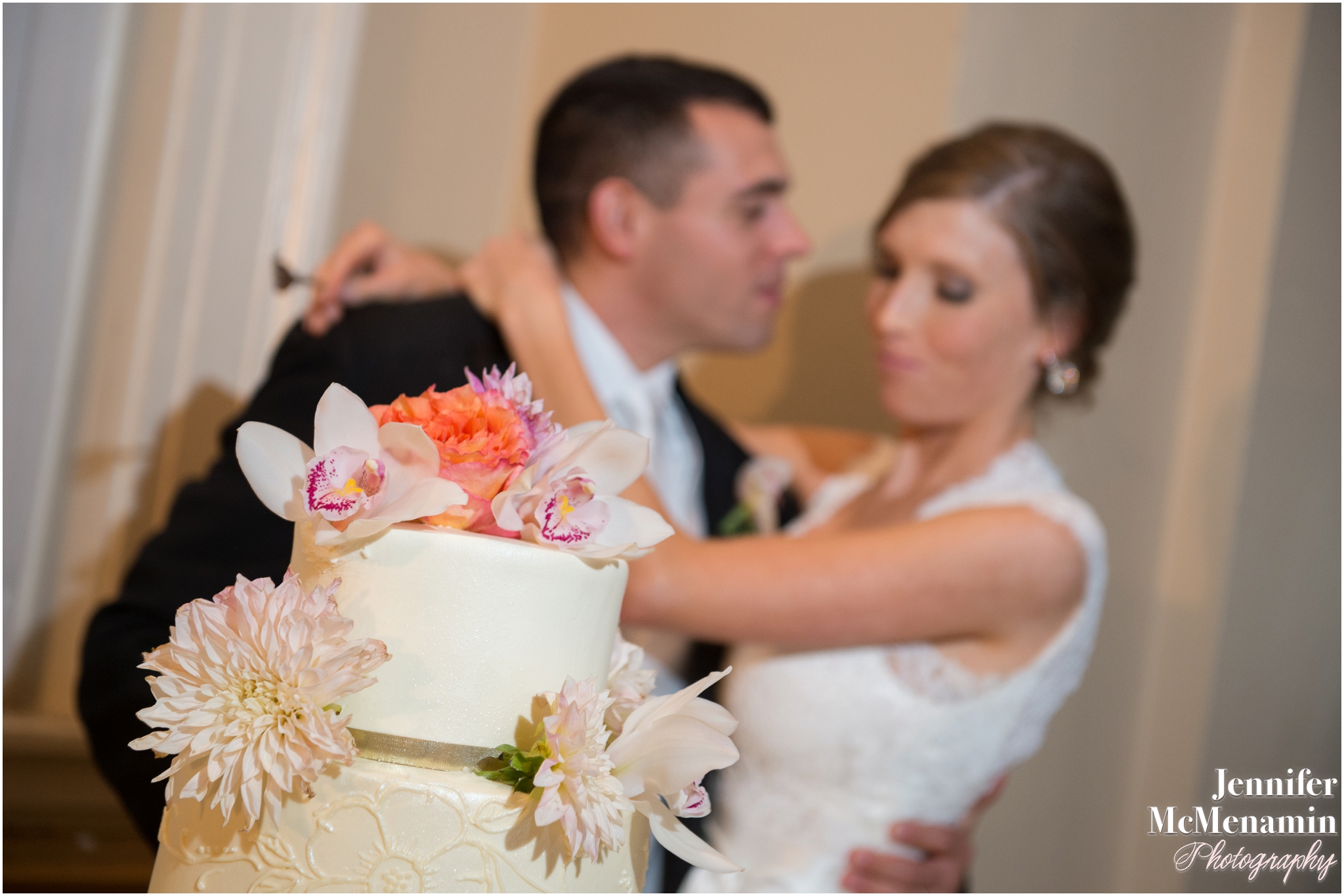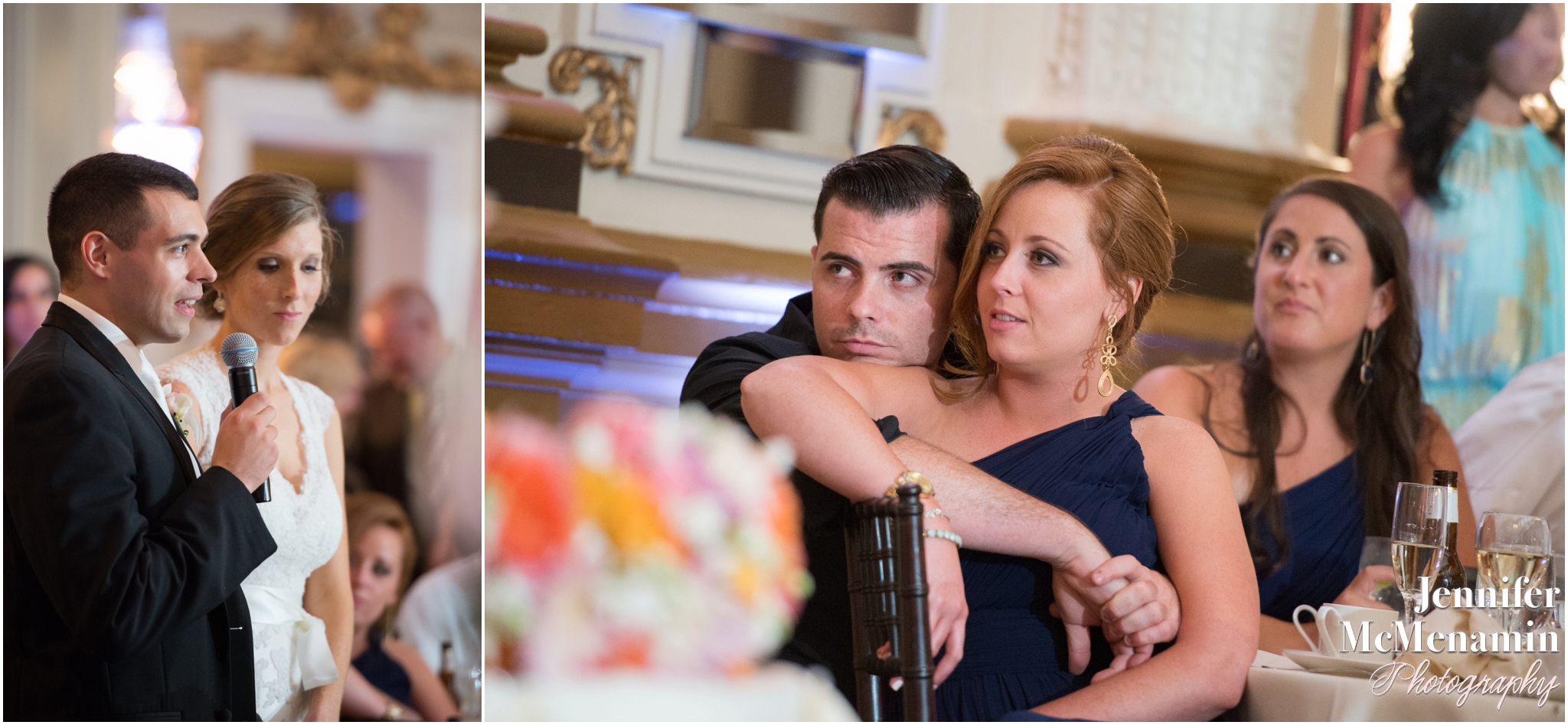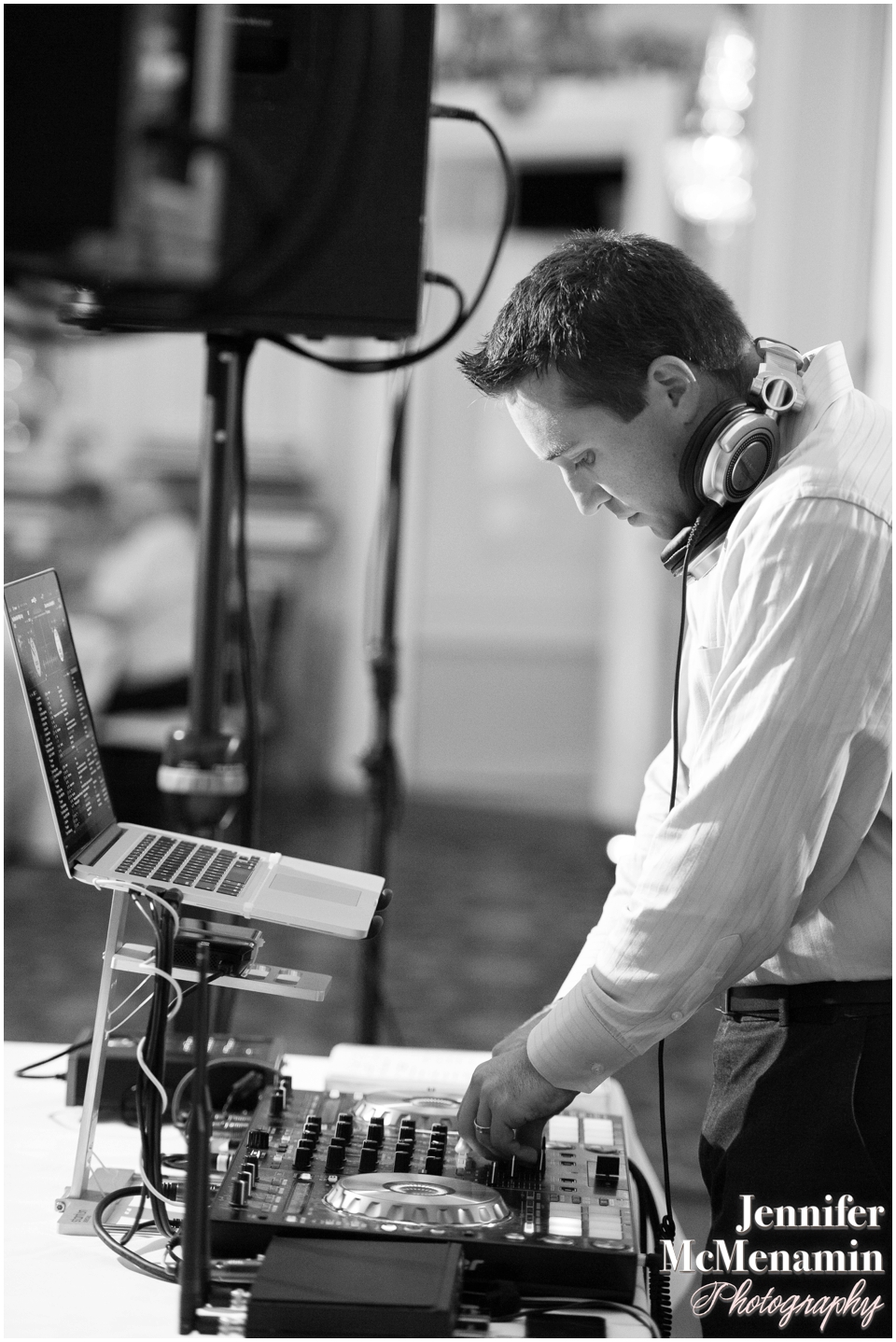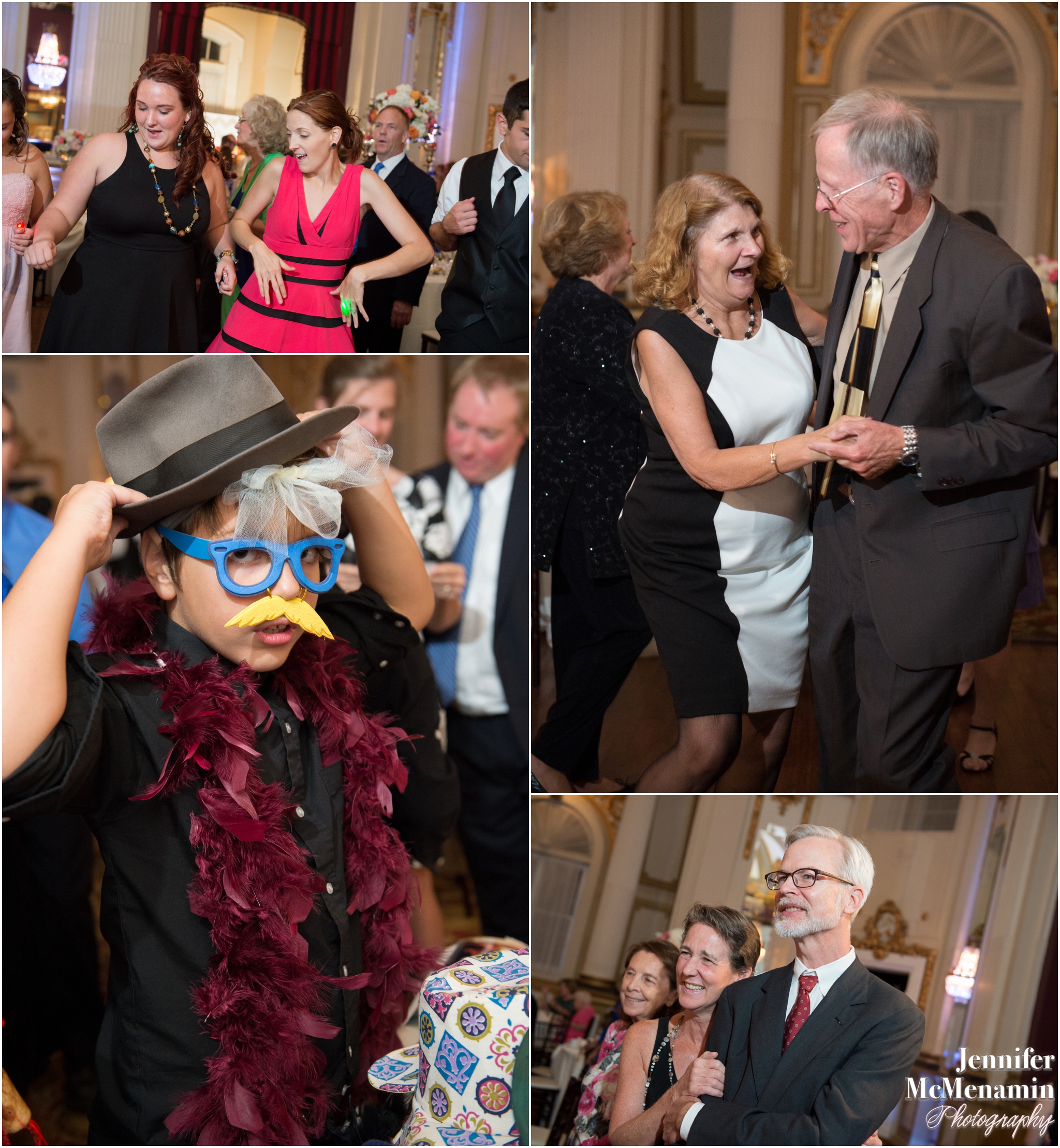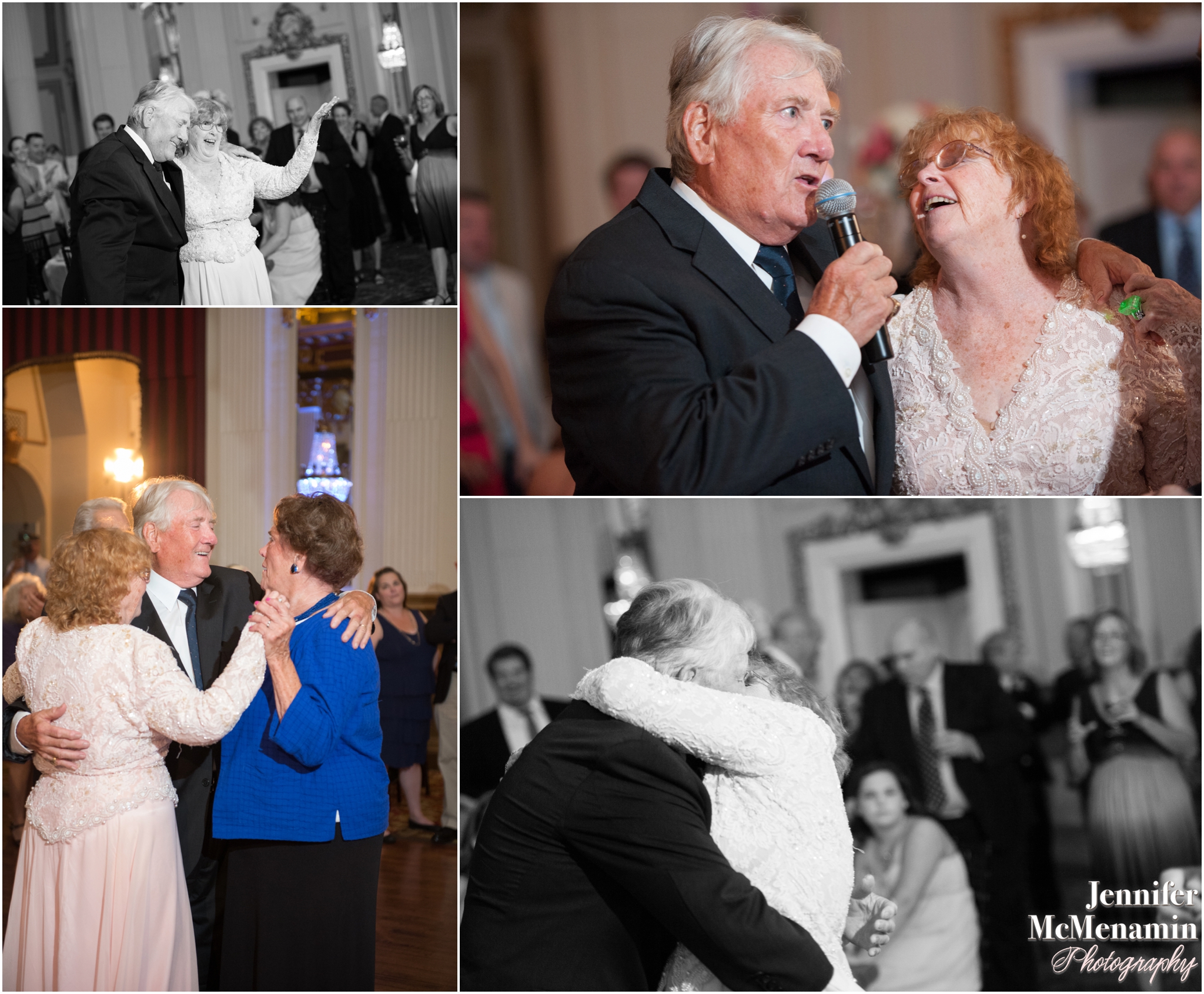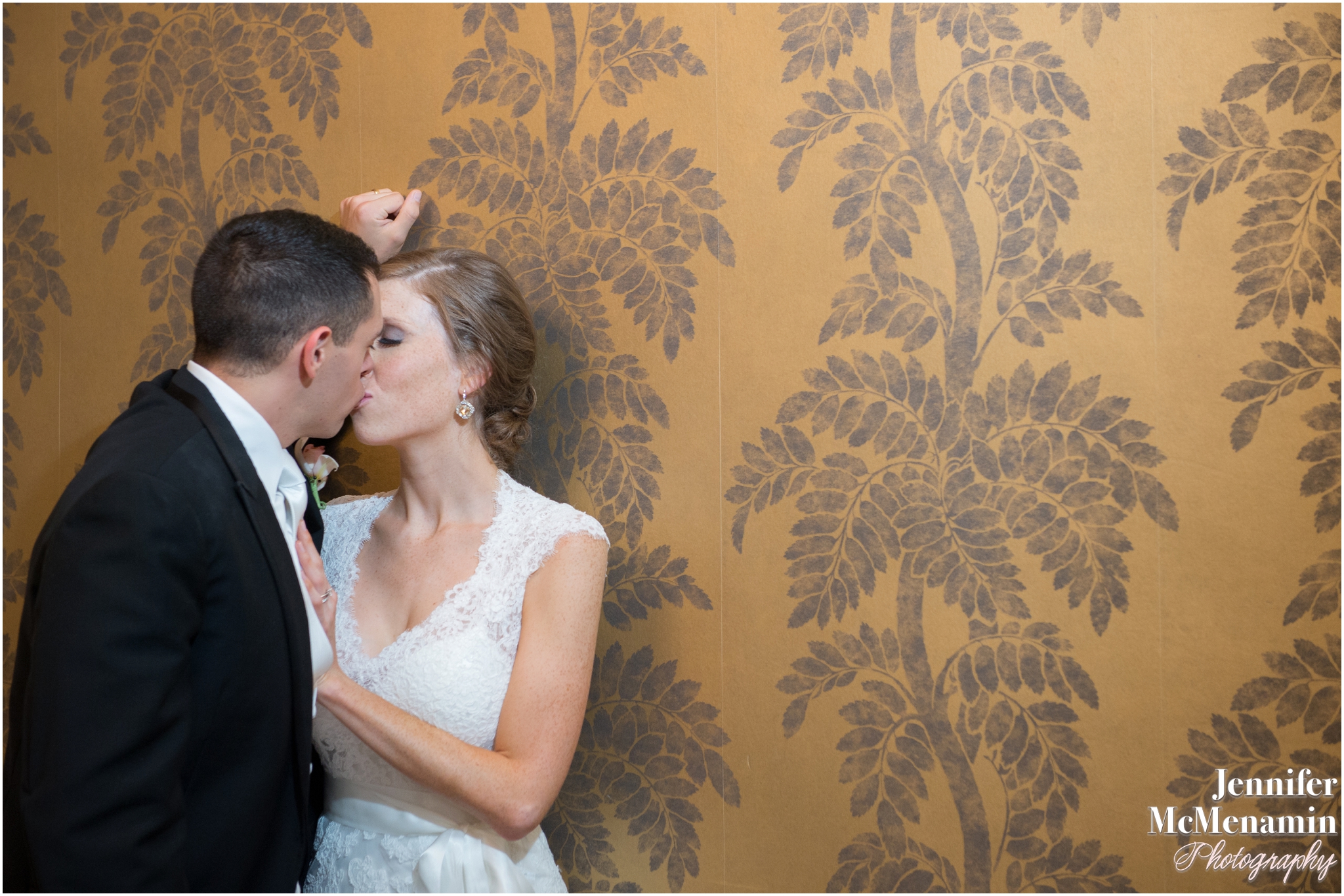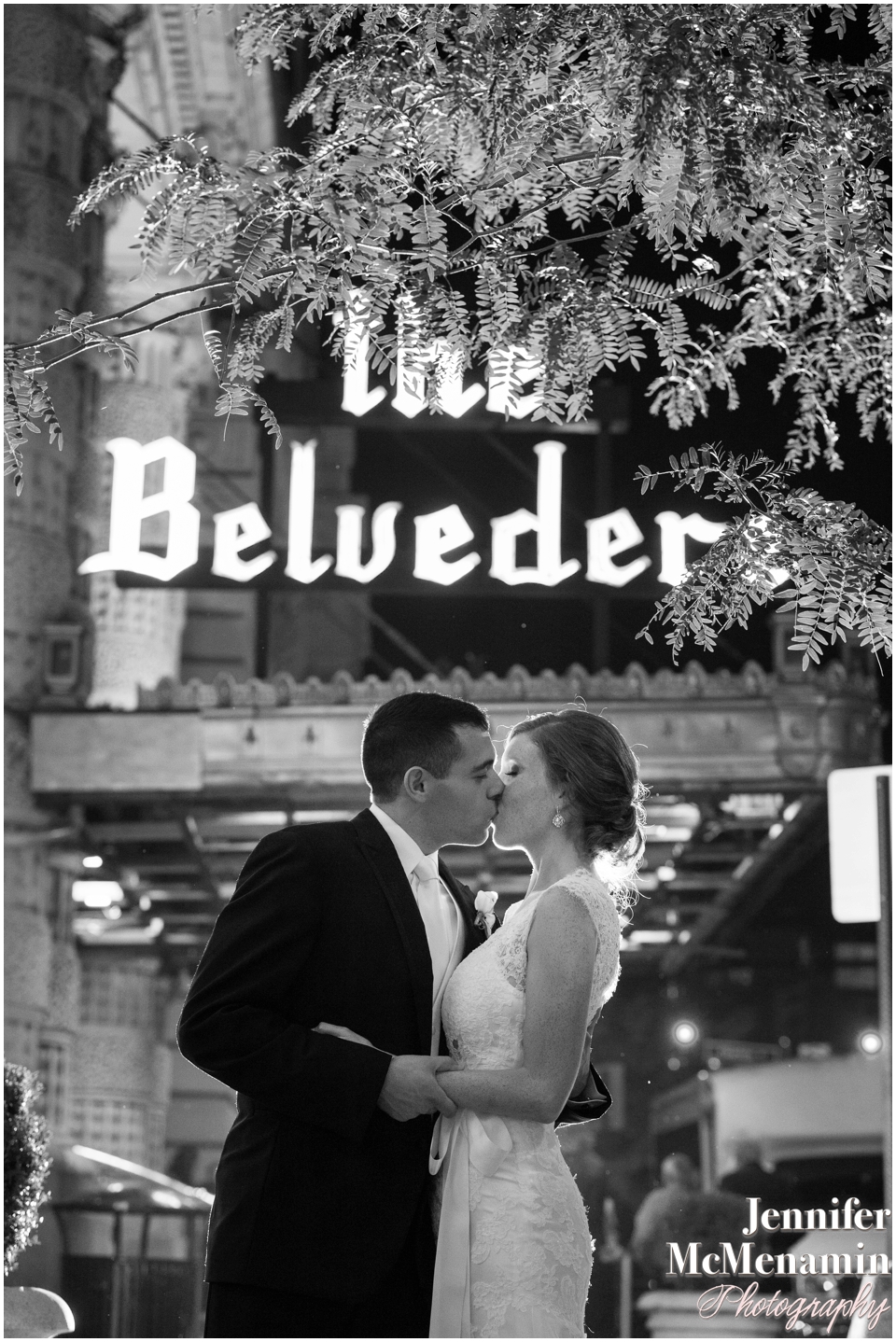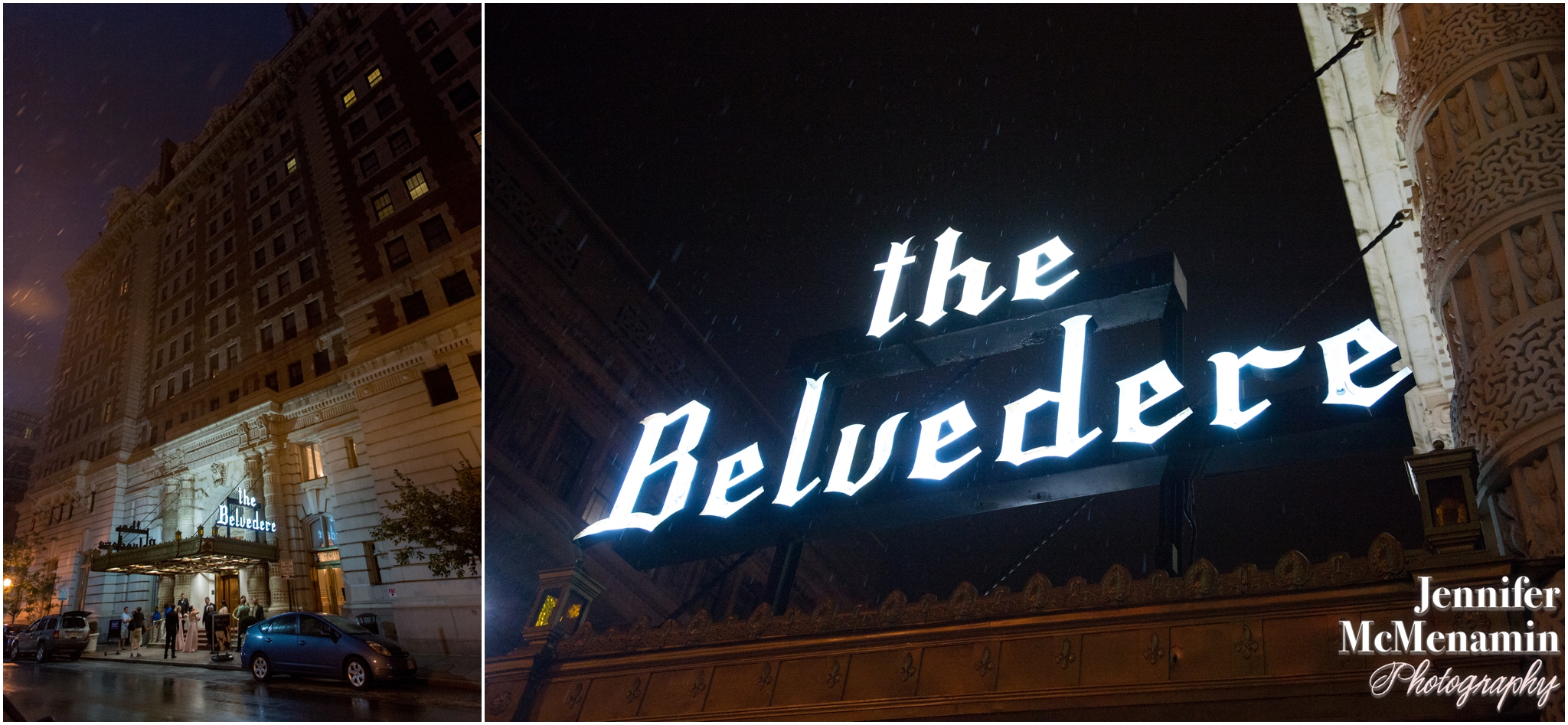 Many, many congratulations to Karen + Michael. I obviously could not have had any more fun working with you and your families!
Credits:
Photography: Jennifer McMenamin Photography, LLC

Ceremony: Saint Francis of Assisi Church
Officiant: The Rev. Msgr. William F. Burke
Ceremony musicians: Canterbury Strings trio, organist Joseph Teter and cantor Sue Muth

Reception: The Historic Belvedere

Catering: Belvedere & Co. Events

Bridal attire: Maggie Sottero from The Bridal Boutique
Hair & Make-up: Soiree Salon

Bridesmaids' attire: Donna Morgan gowns
Groom's attire: Calvin Klein tuxedo from Tuxedo Express

Florist: My Flower Box Events
Cake: Baltimore Cakery

DJ: Chris Hart of Bay Deejays

Transportation: Zbest Limousines
Invitations & paper goods: mlc designs