Jennifer + Eric

The Four Seasons Hotel Baltimore -- Baltimore wedding photography -- Baltimore wedding photographer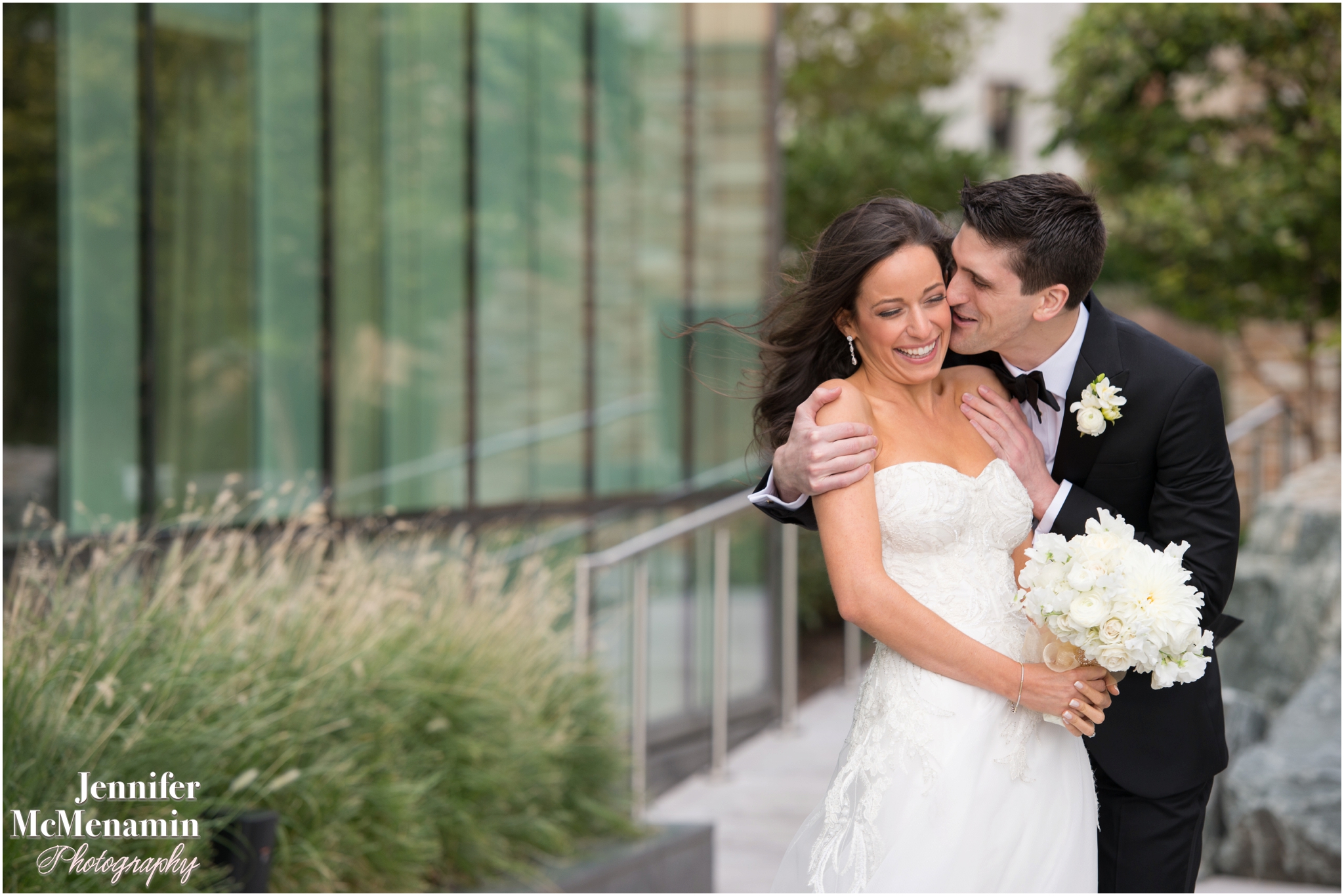 It does not take long to see that Jen + Eric are a perfect match. It took mere minutes of their engagement session in New York City's Central Park for them to appear utterly at ease in front of the camera, hugging, laughing and teasing each other. (Incidentally, they also told me that they are the least PDA-comfortable couple they know — and then proceeded to kiss and cuddle with endearing abandon all over Central Park!) A producer for MTV who studied opera, Jen had a very specific, beautiful and elegant vision for her wedding. With the help of her amazing mother Joanie and the extraordinary teams at Union 3 Event Productions and Victoria Clausen Florals, they put together a jaw-droppingly gorgeous wedding at the Four Seasons Hotel Baltimore. There were candles  and sparkle everywhere, from the glittering silver aisle runner and votives dangling above the dance floor to bejeweled chargers in the table settings and beaded lamps on the head table. There was also a floral statement piece that Jen was incredibly excited about — Victoria and her team took a drawing of a flower vase and filled it with actual, live flowers that appeared to grow out of the frame above the placecard table. Although all of this beauty was so enjoyable to document — the photographic equivalent, really, of being a kid in a candy store — it was the emotion and joy of Jen, Eric and their incredible friends and families that left me smiling from ear to ear all night. Jen and Eric chose to see each other before their ceremony for photos and that moment remains one of my most favorite ever. It was so windy on the pool deck of the Four Seasons that Jen's veil shot straight up in the air the moment we stepped outside. It was also so windy, however, that Jen really didn't hear Eric coming as he snuck up on her for their First Look. That series of photos — him grinning the very moment he spots her and her surprise as he throws his arms around her and pulls her close — makes me so, so happy. As did the touching serenade of "Carolina In My Mind" by the bride's uncle for the two Duke graduates. And the wonderful toasts from the couple's parents, maid of honor and a groomsman — especially when Eric's childhood friend paid tribute to the incredible successes of the even more incredibly humble groom, who is a co-founder and CEO of Oyster, a popular Netflix-like service for books. It was such a wonderful evening, from start to finish. Here are some of my favorites from Jen and Eric's big day:
I started with Jen and her girls as they primped and got ready in their suite at the Four Seasons.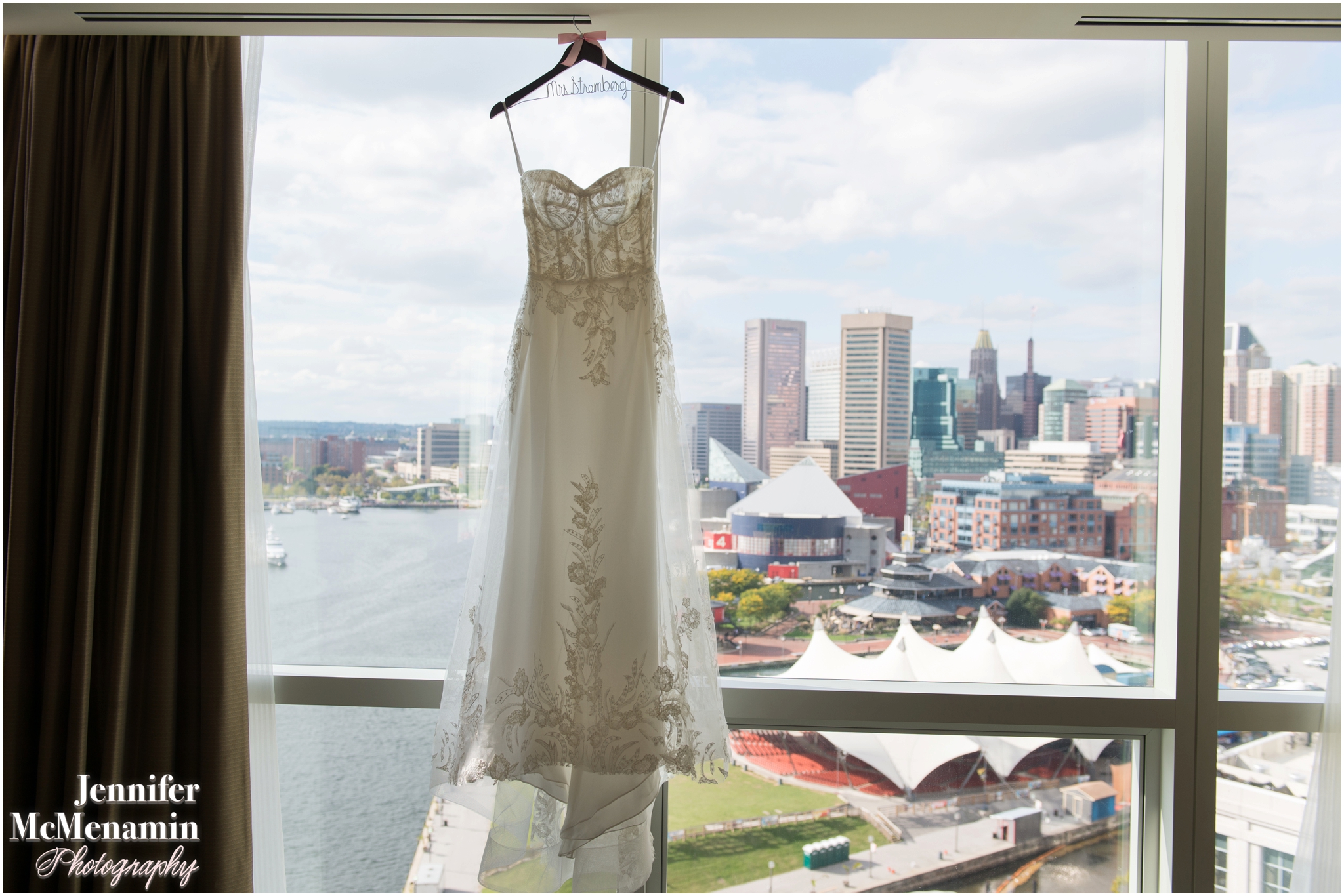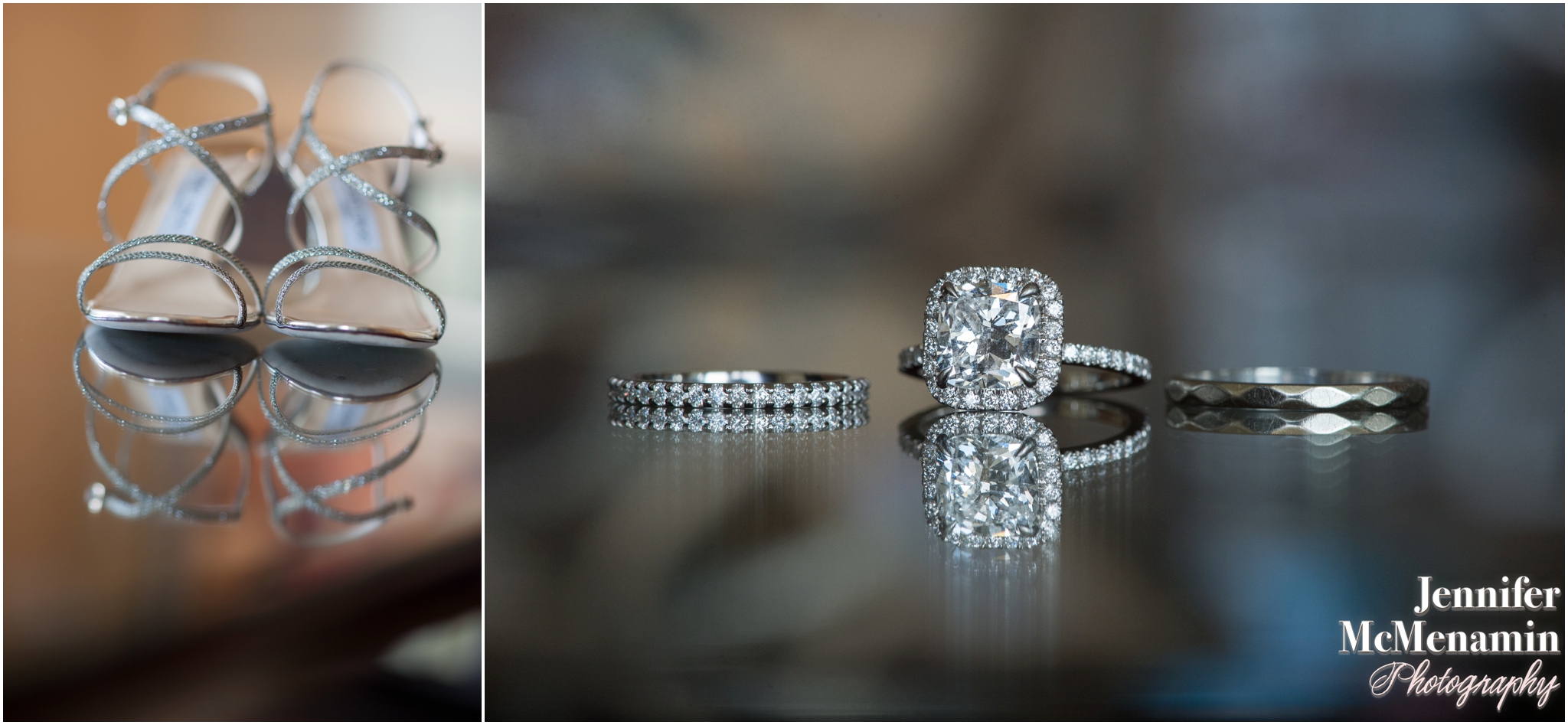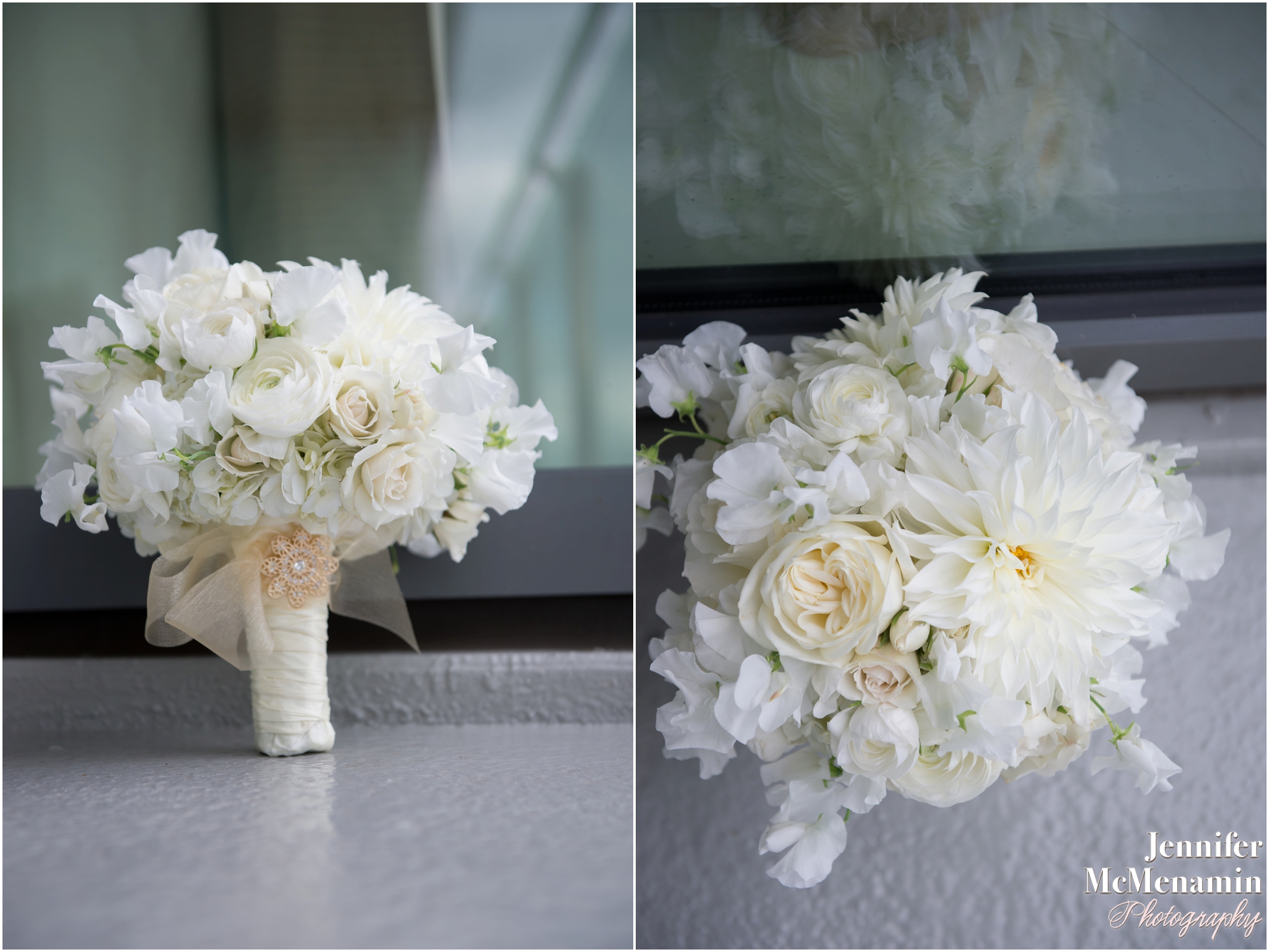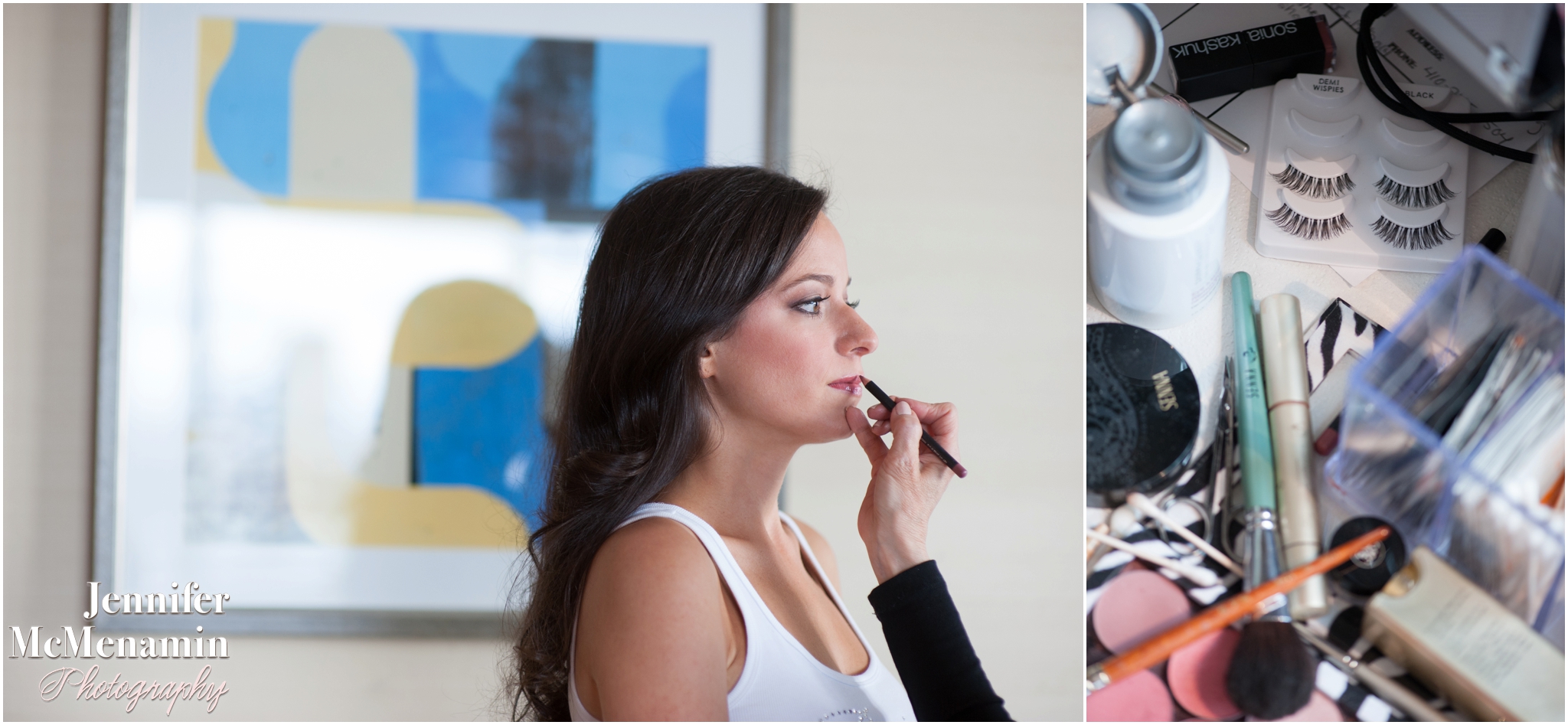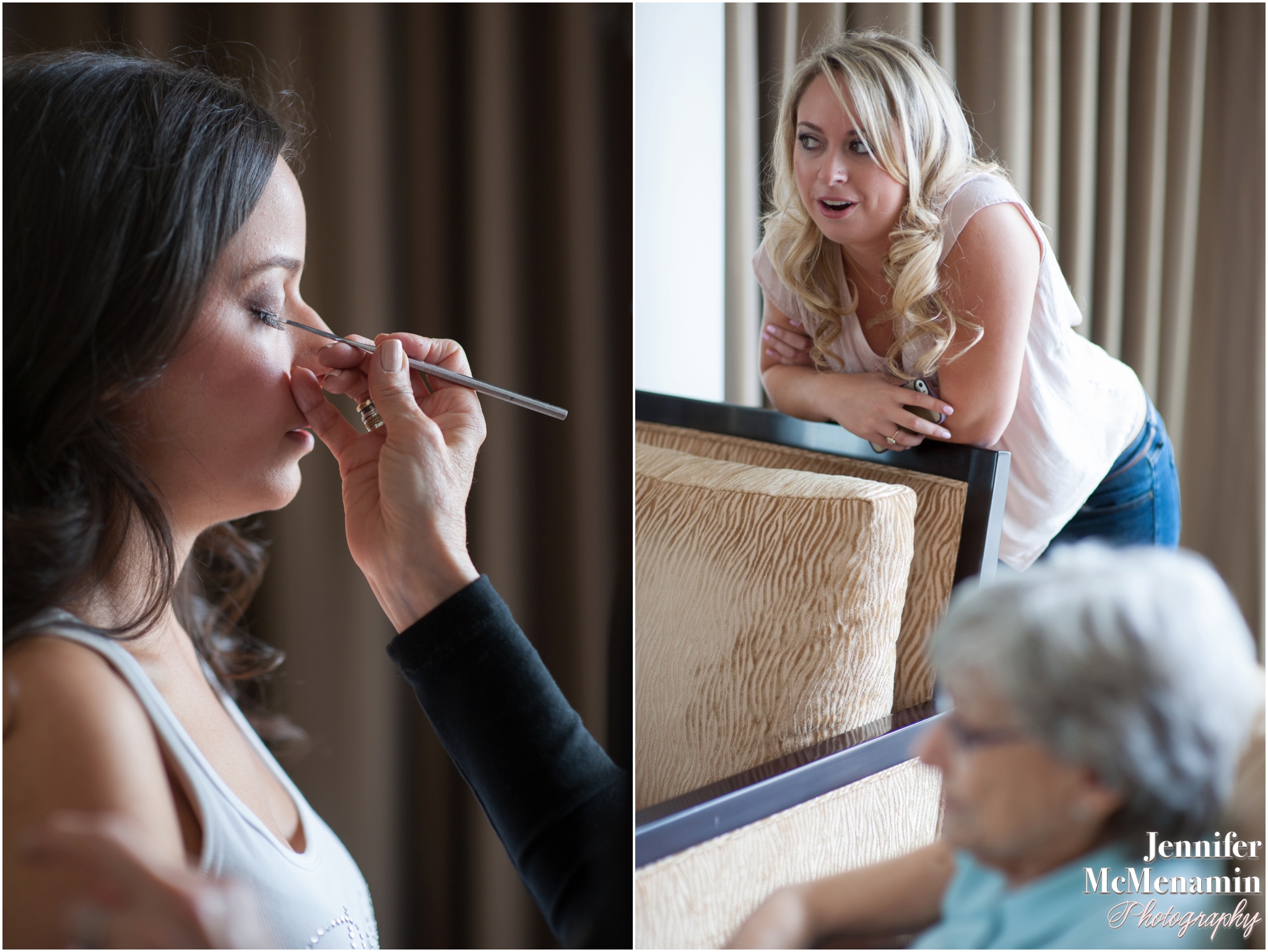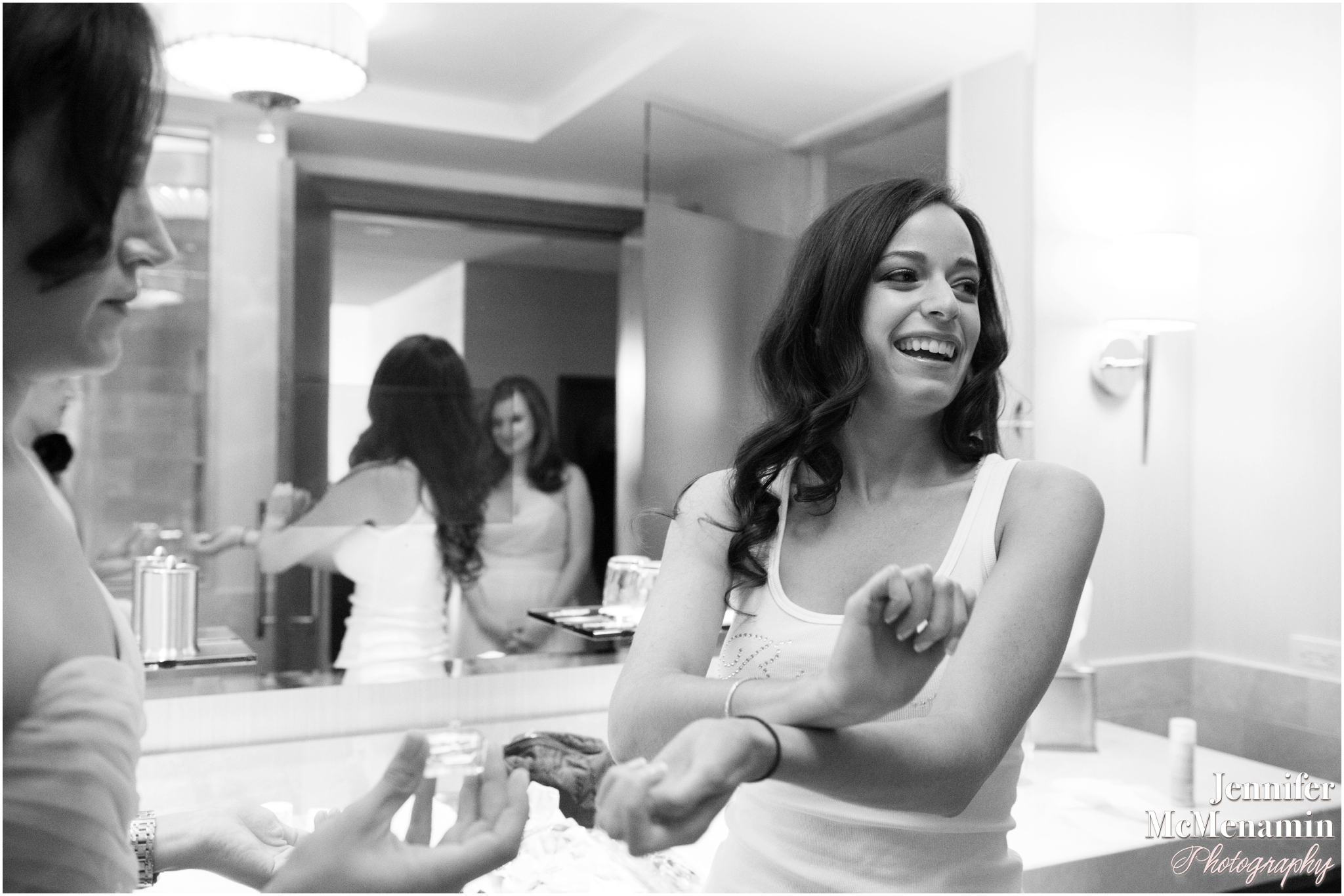 Meanwhile, Eric and the guys were fixing bow ties and helping Eric with his surprisingly tricky suspenders.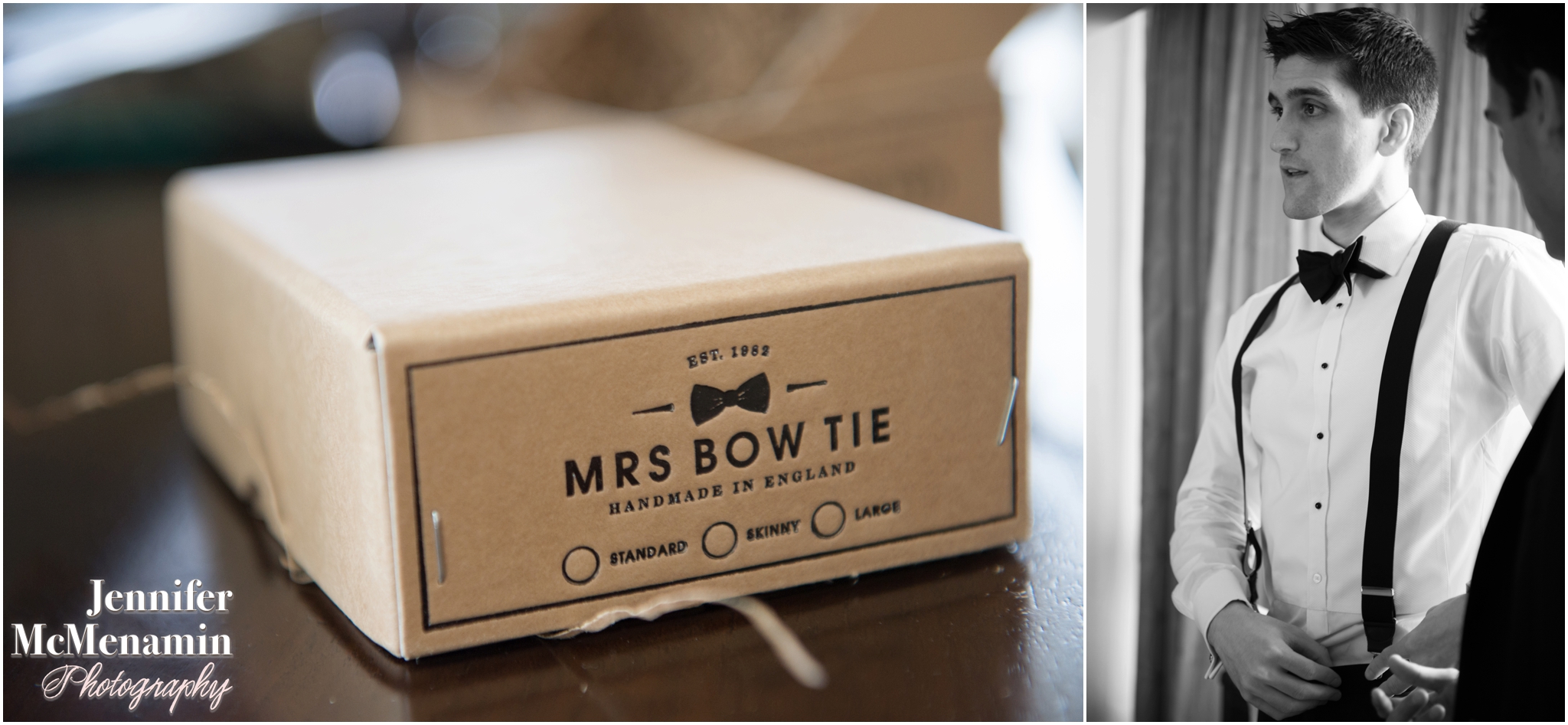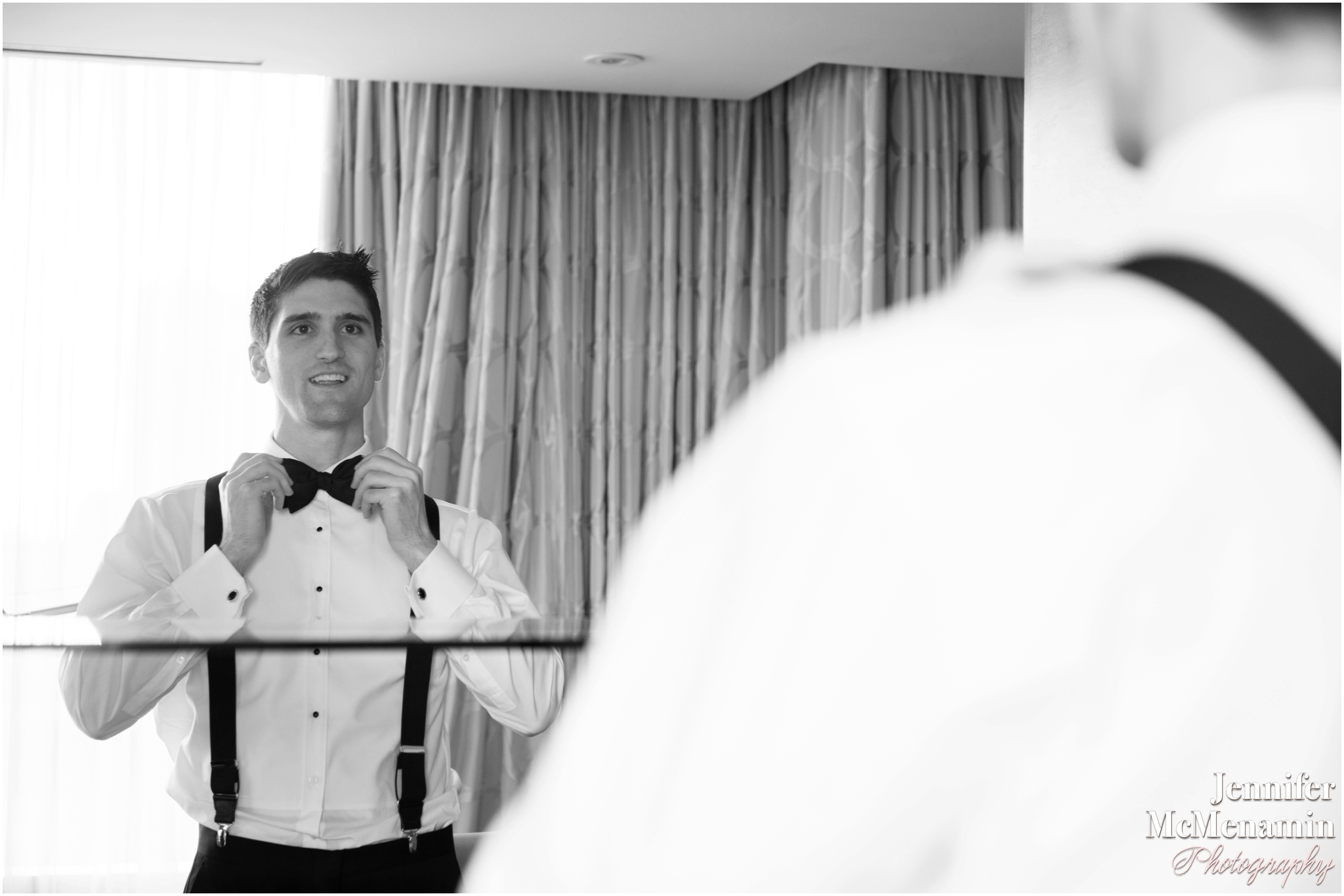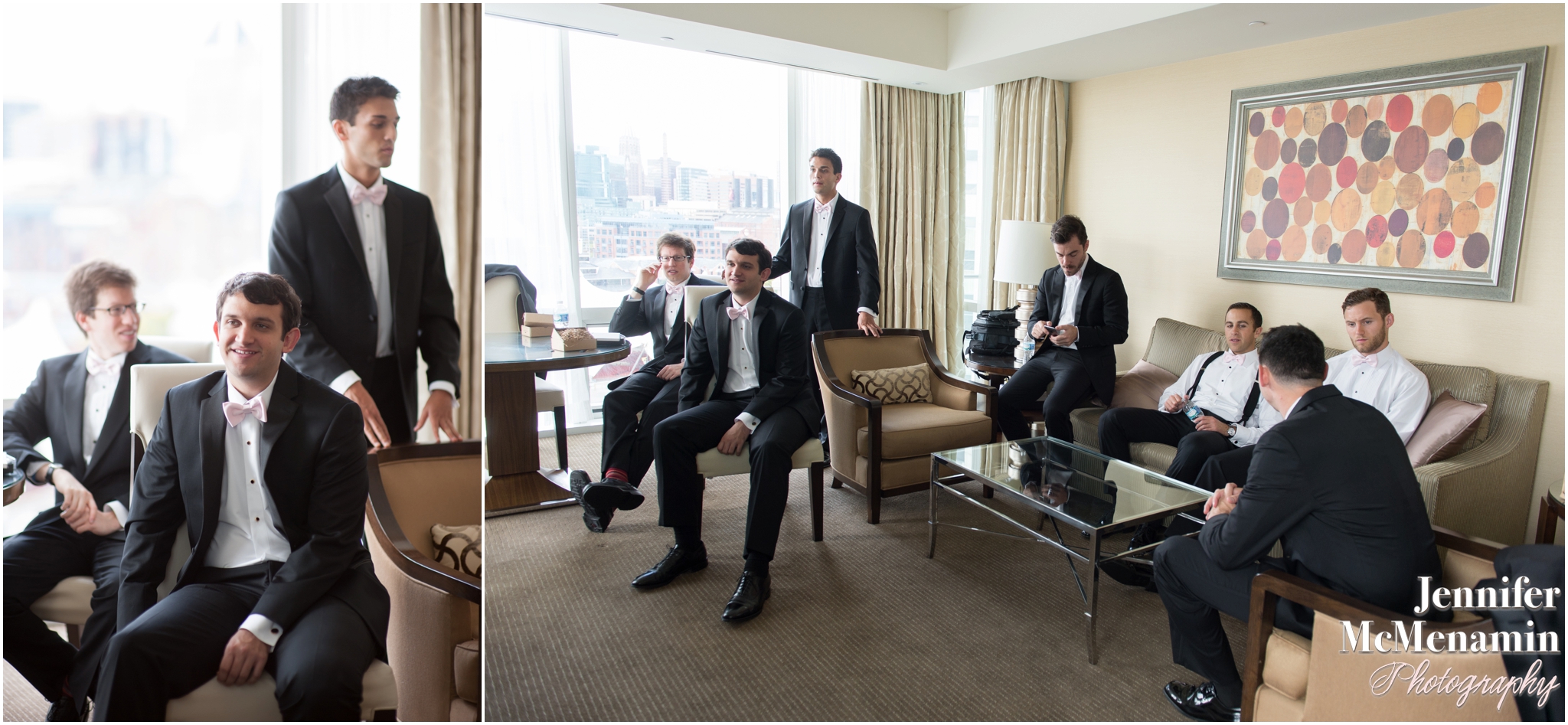 The groom, looking very dapper.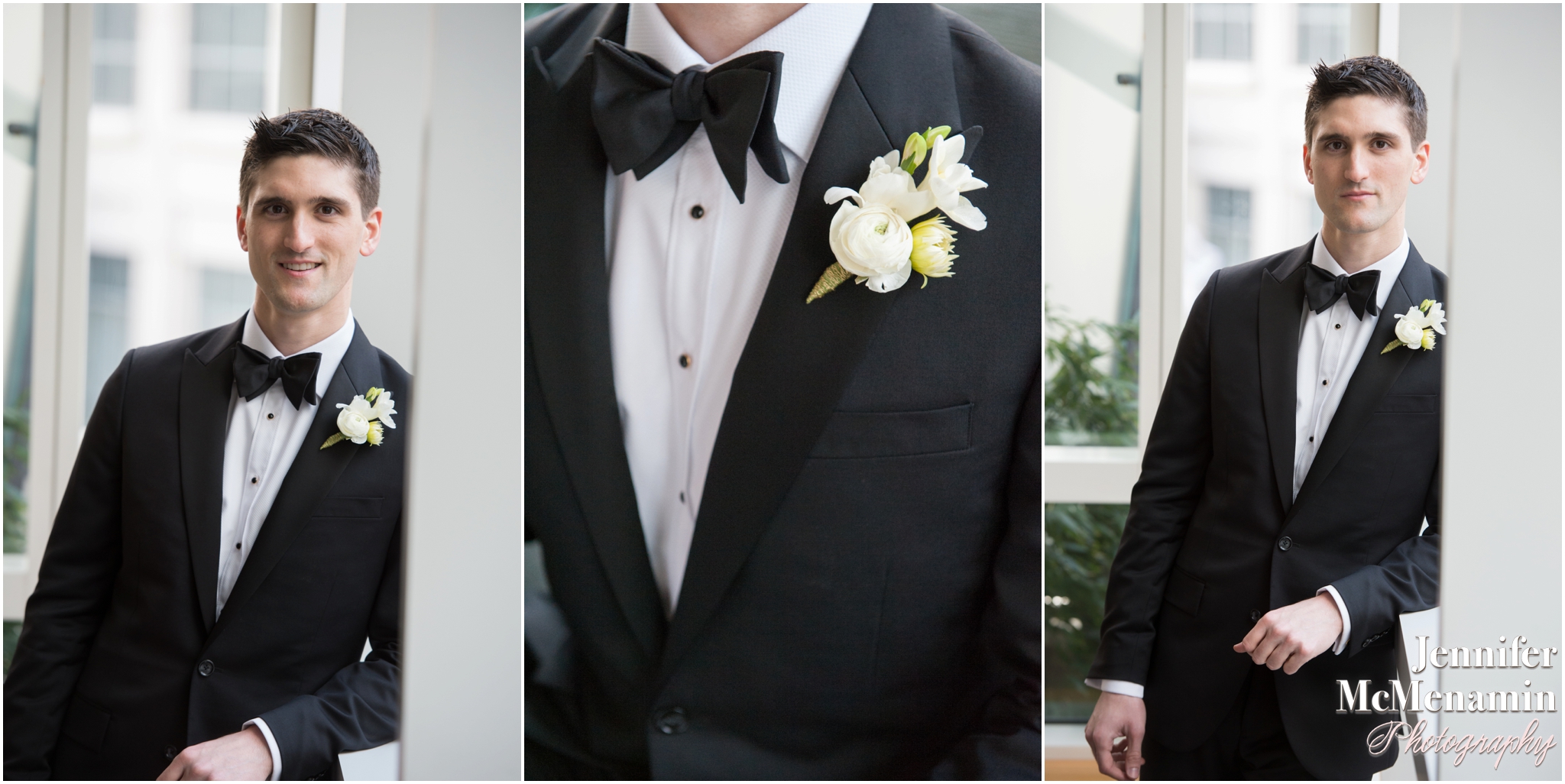 Soon, it was time for Jen to step into her beautiful gown.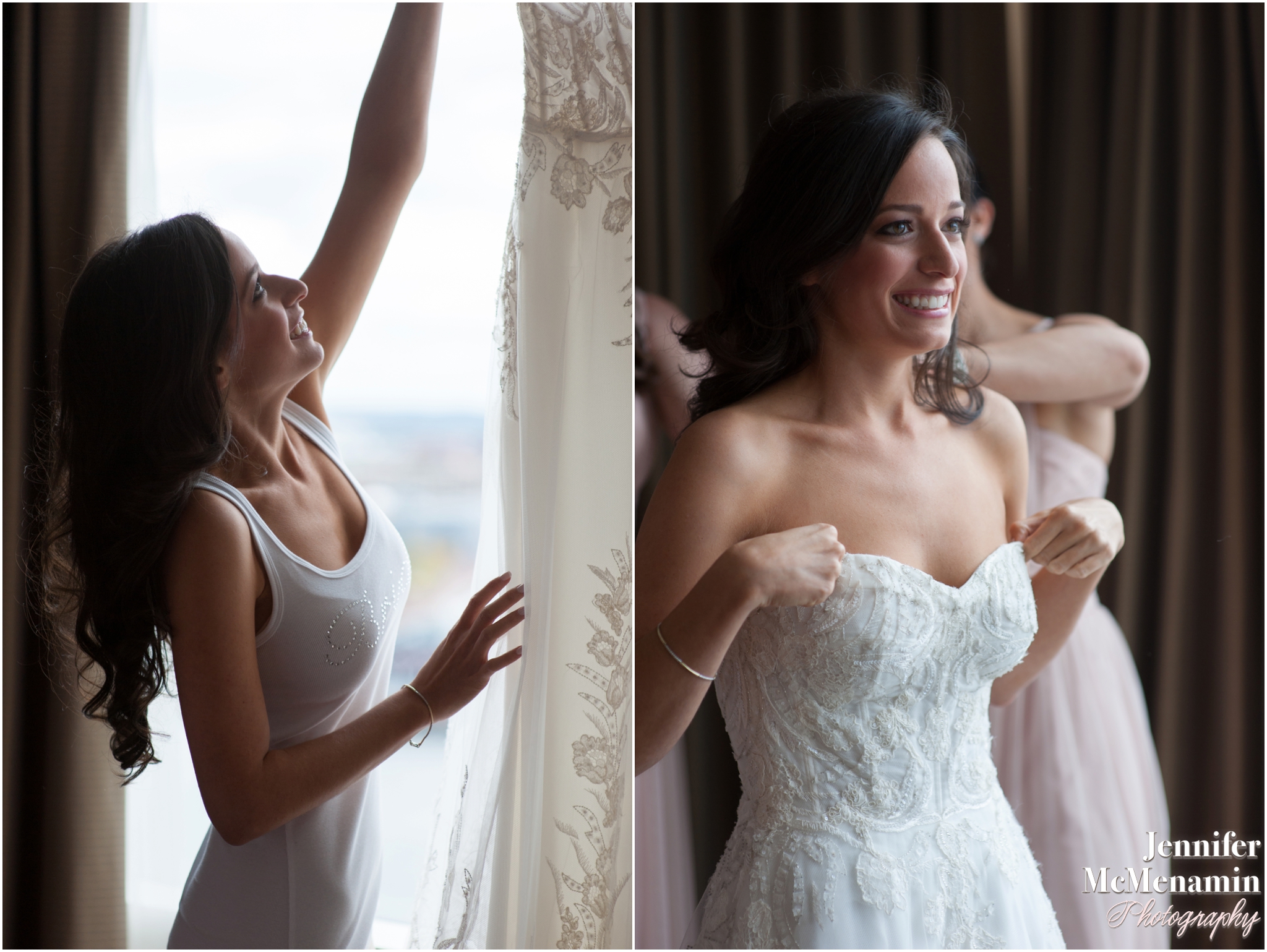 I love this next photo. So much happiness.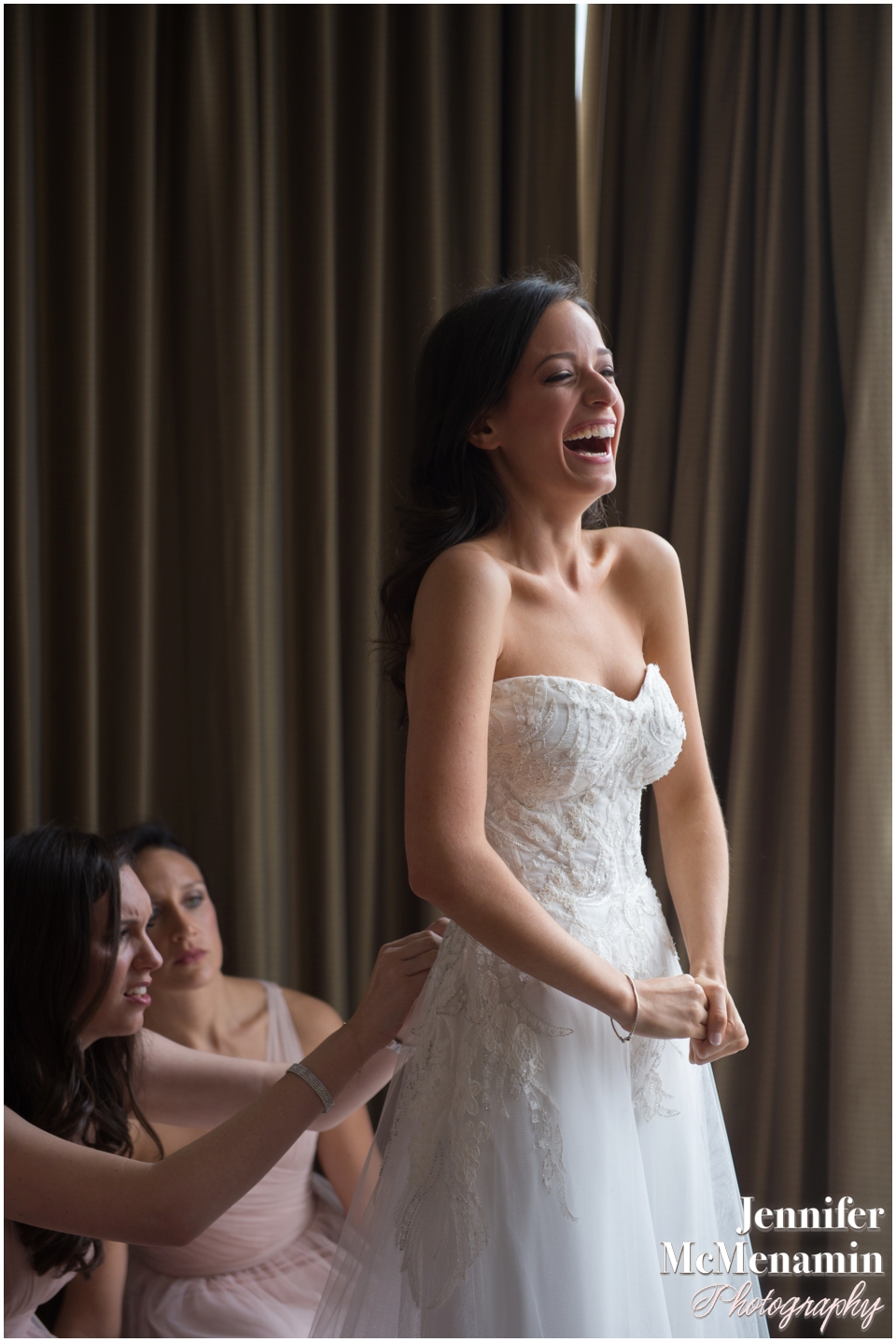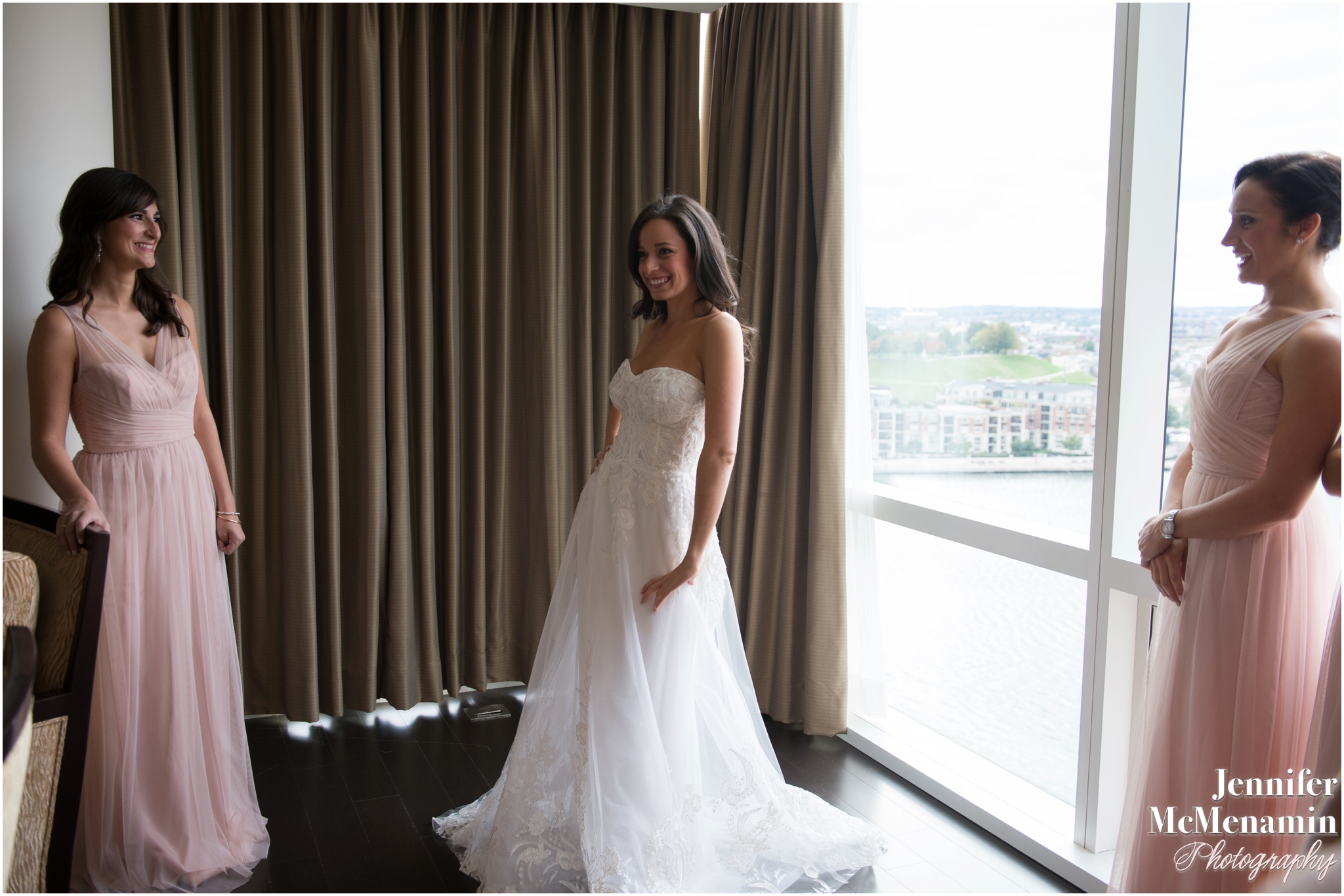 There was a very serious debate about earrings.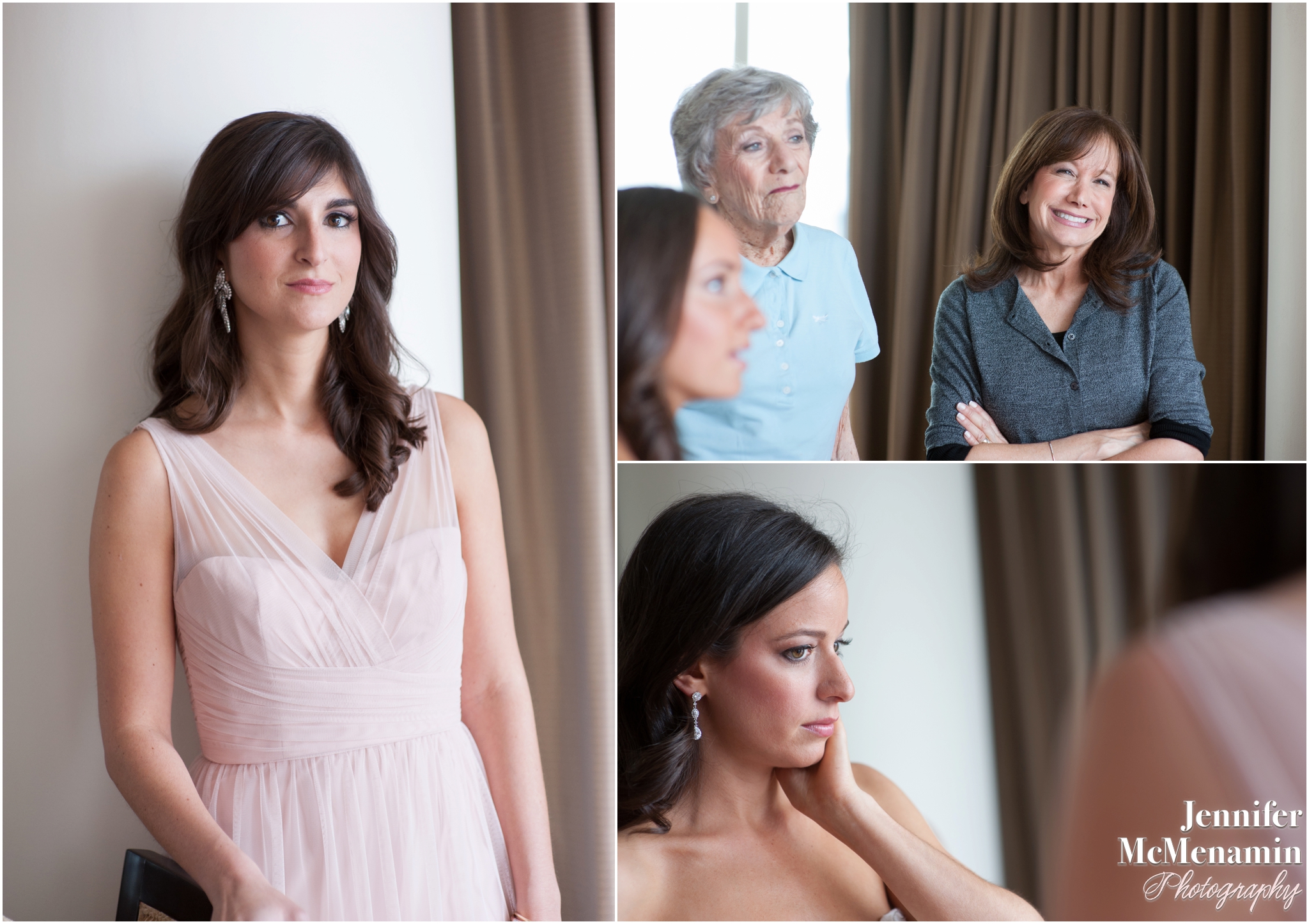 The bride, looking positively lovely.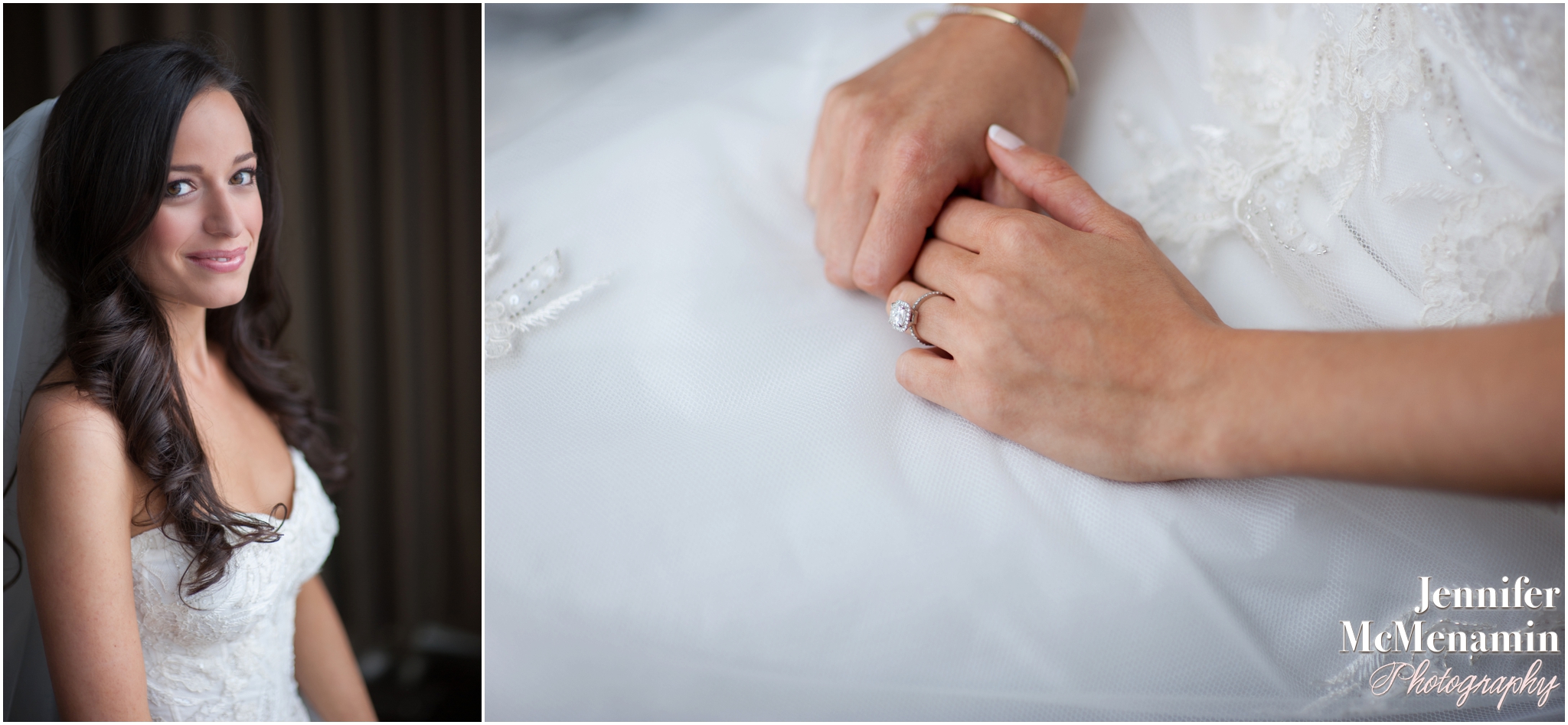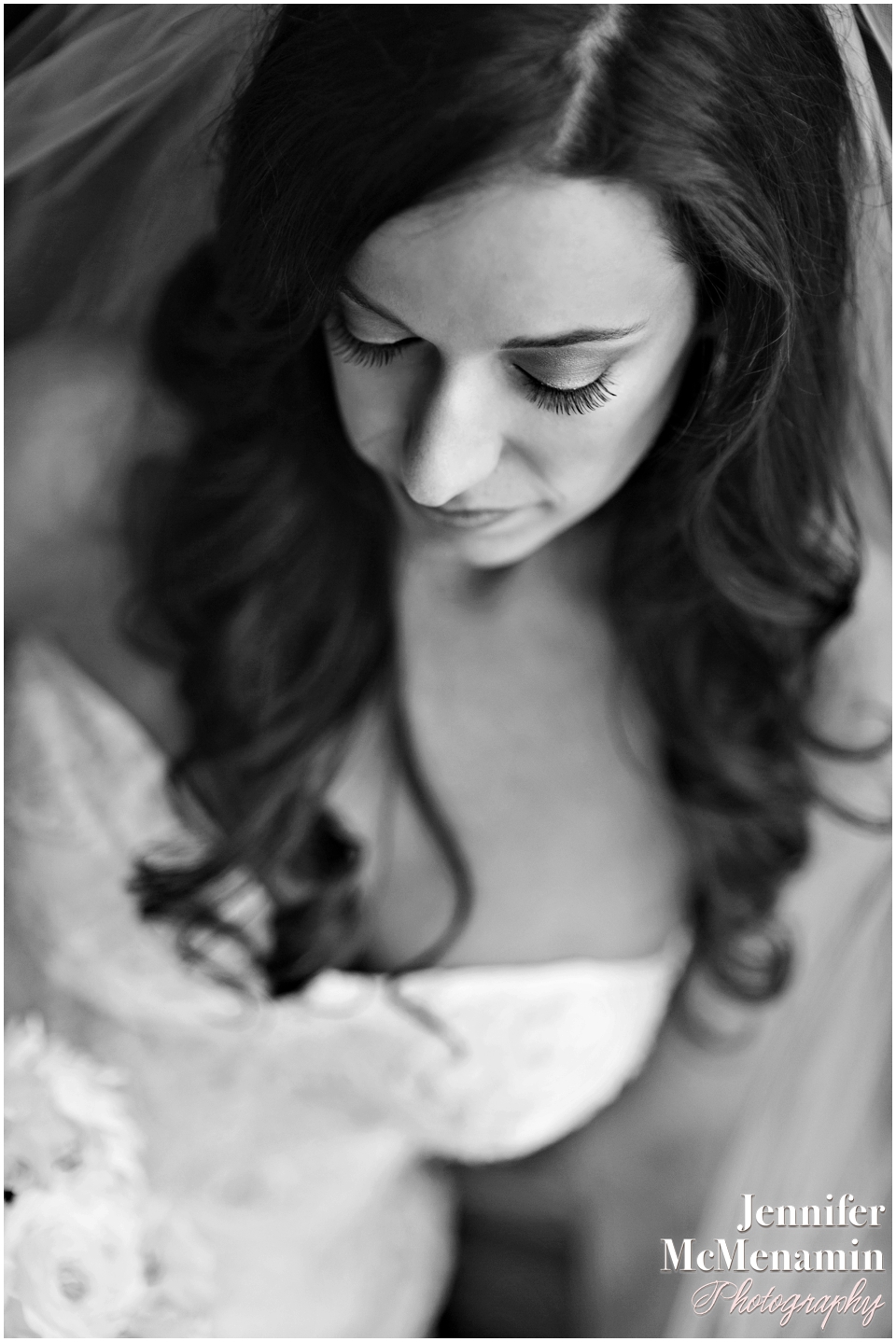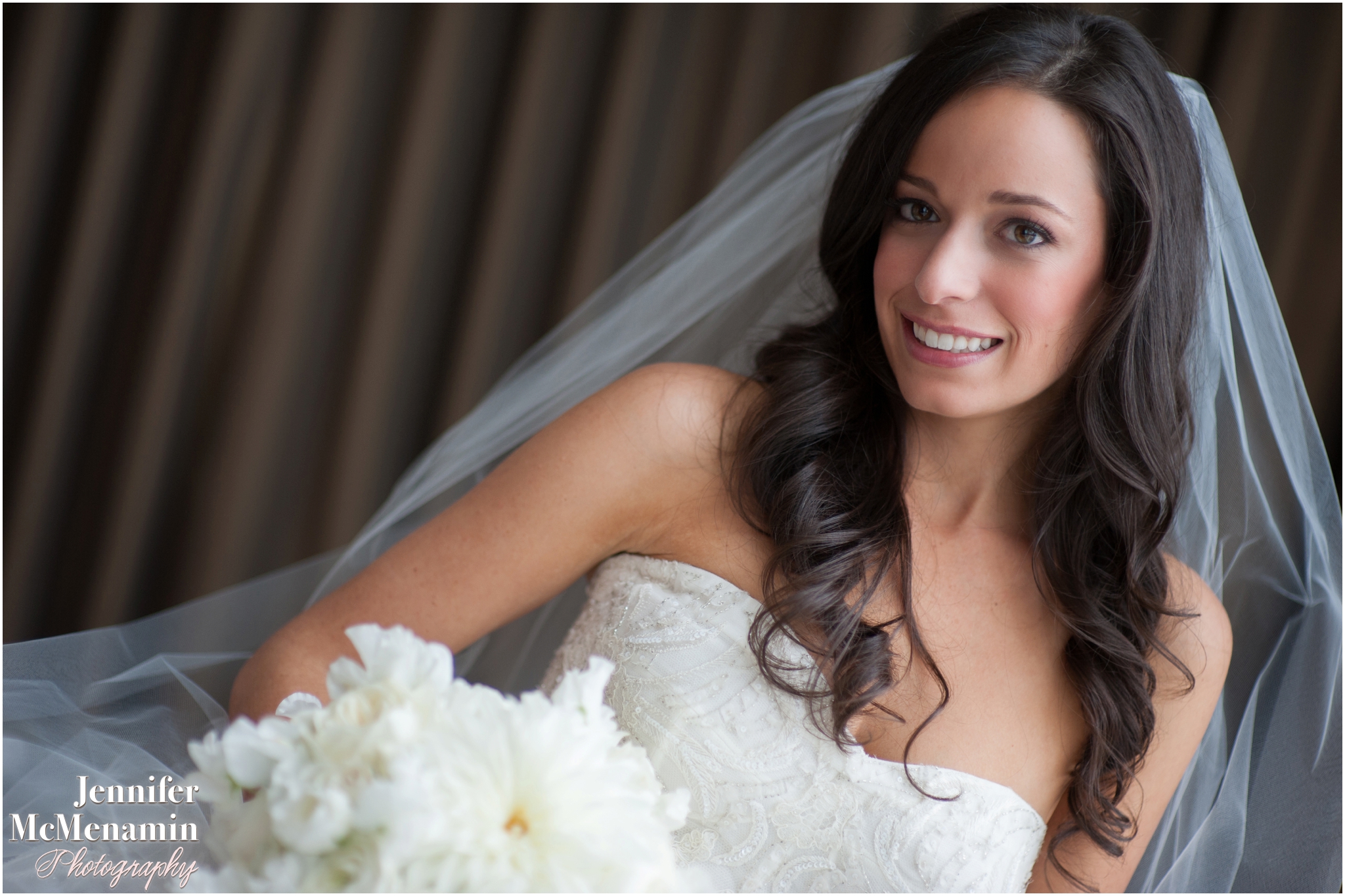 Jen sees her father for the first time in her dress and veil.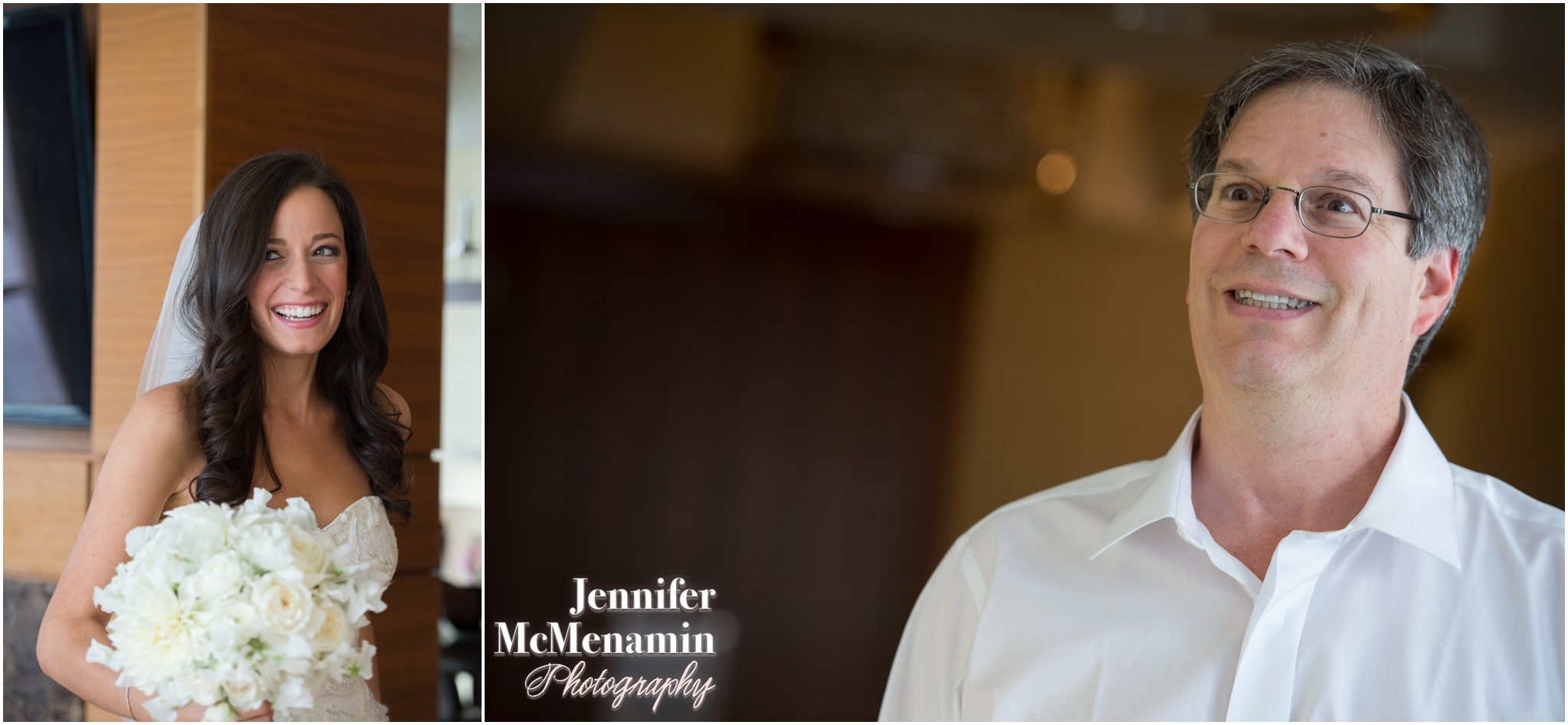 And then it was time to brave the wind — sans veil, after those first few moments outside — to see Eric. I love this next series of photos so much.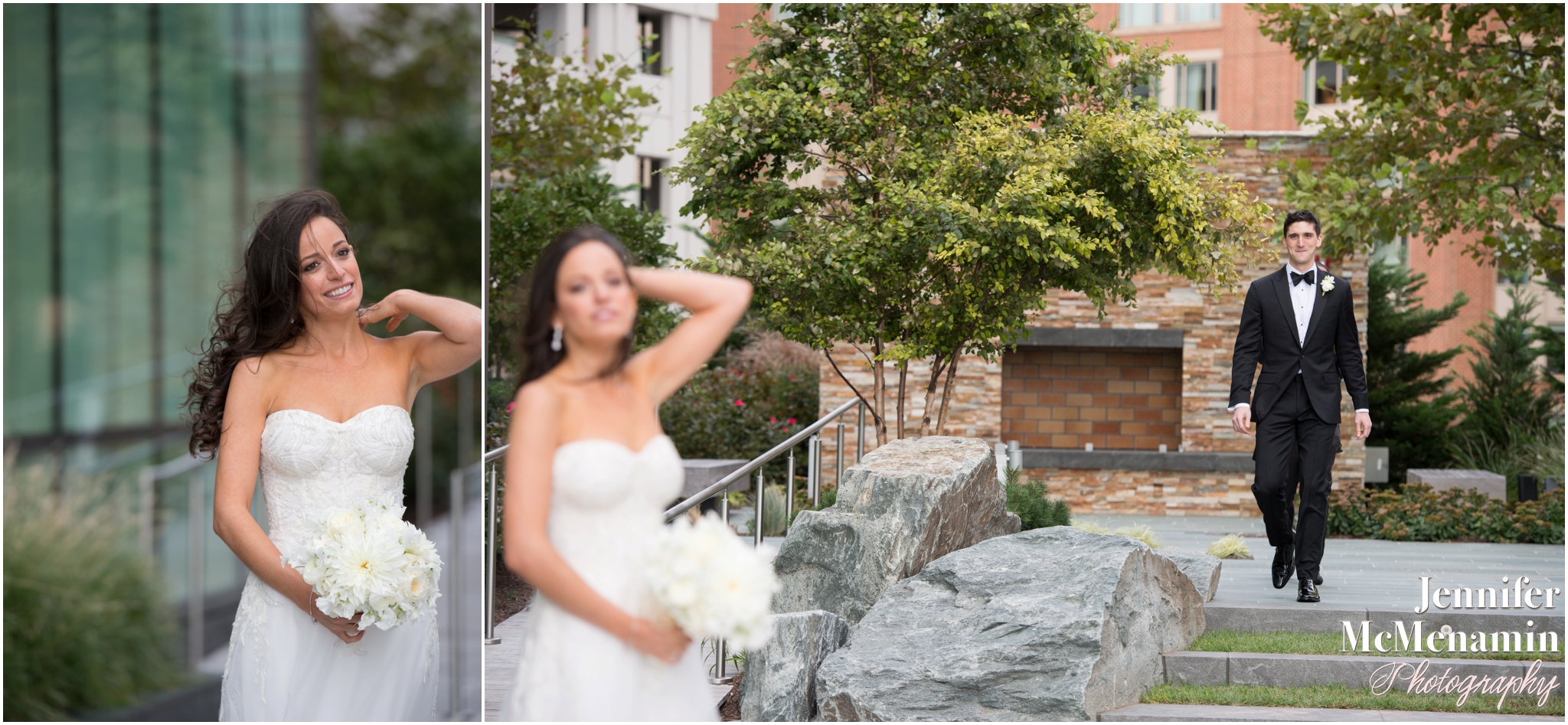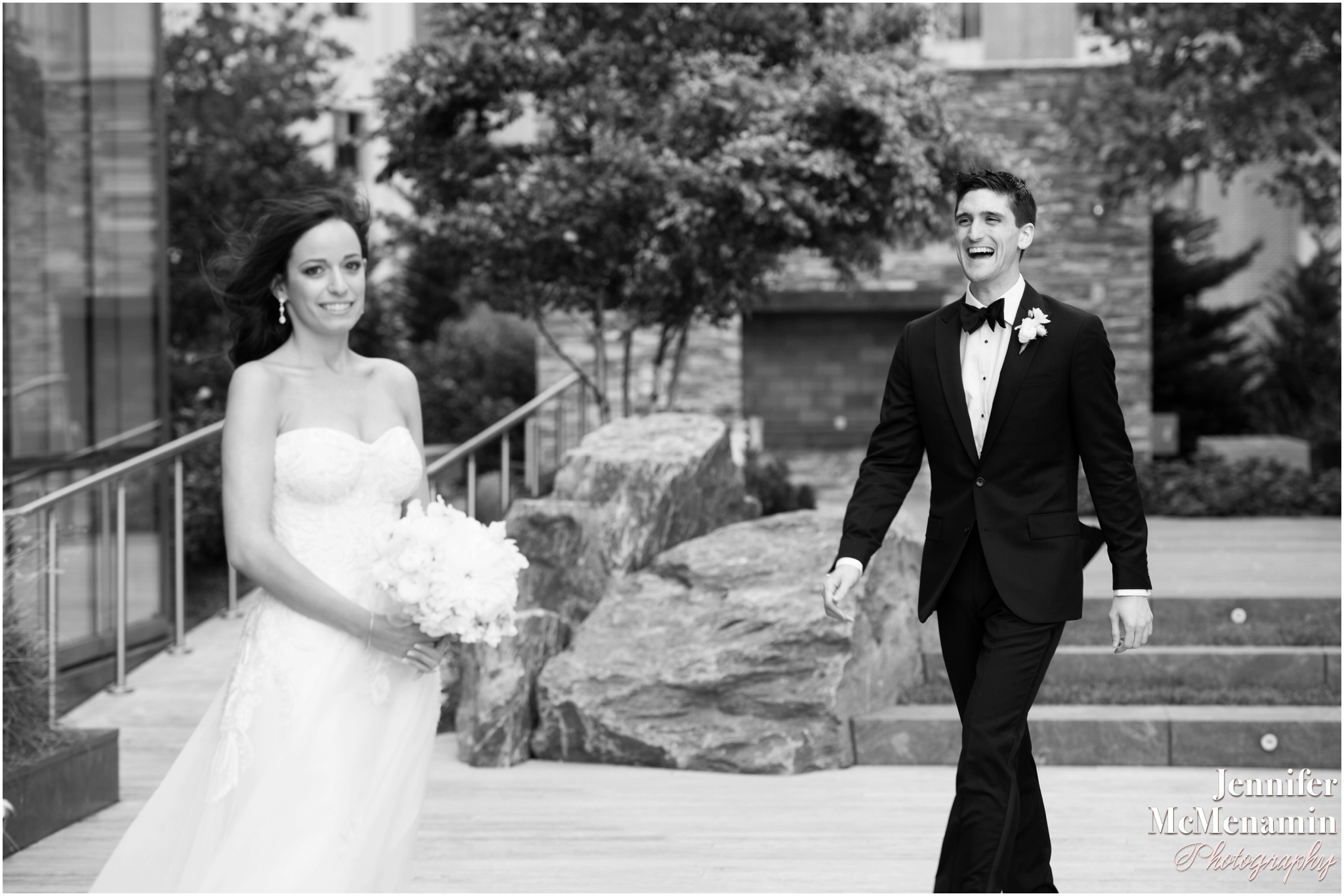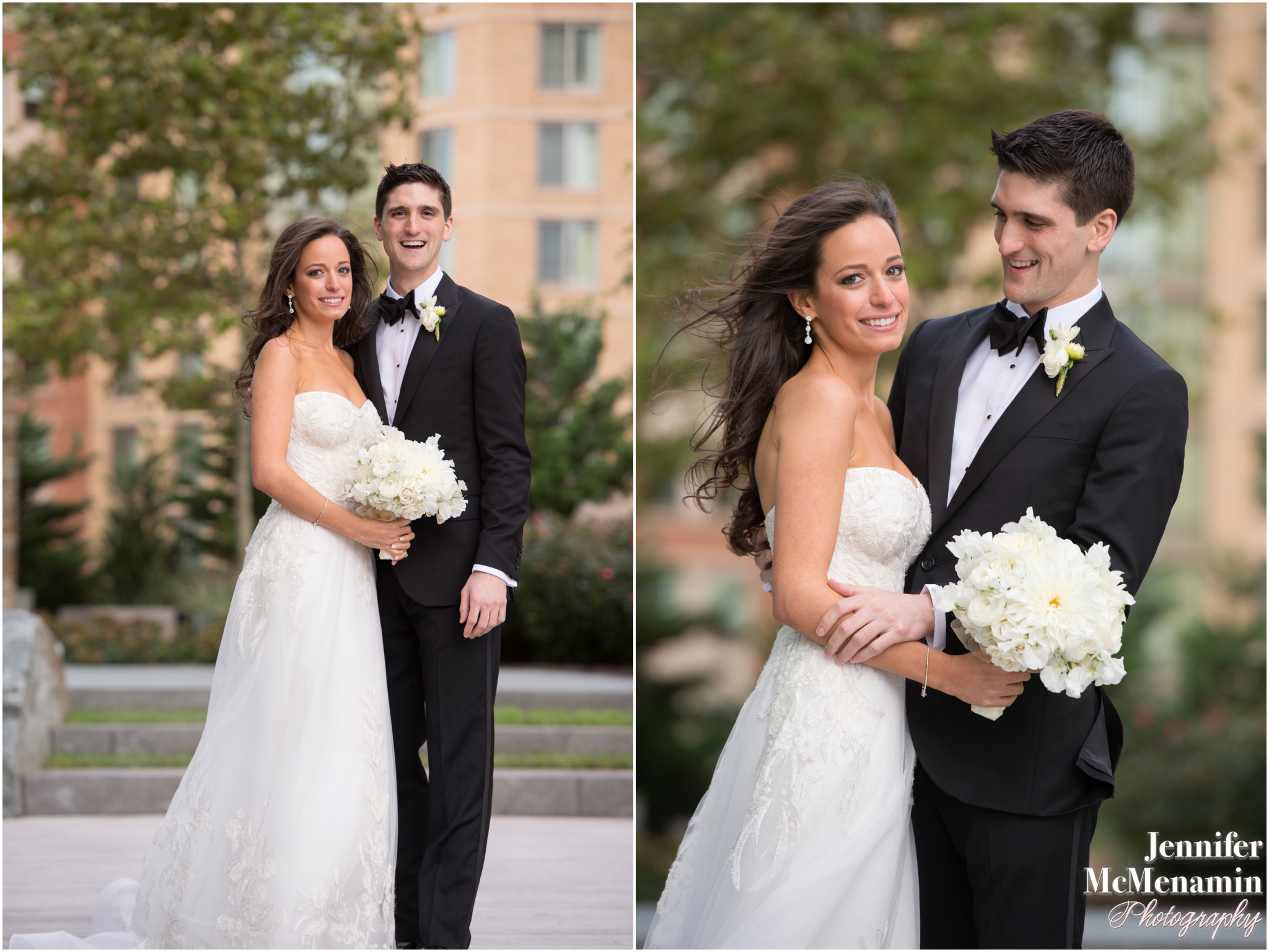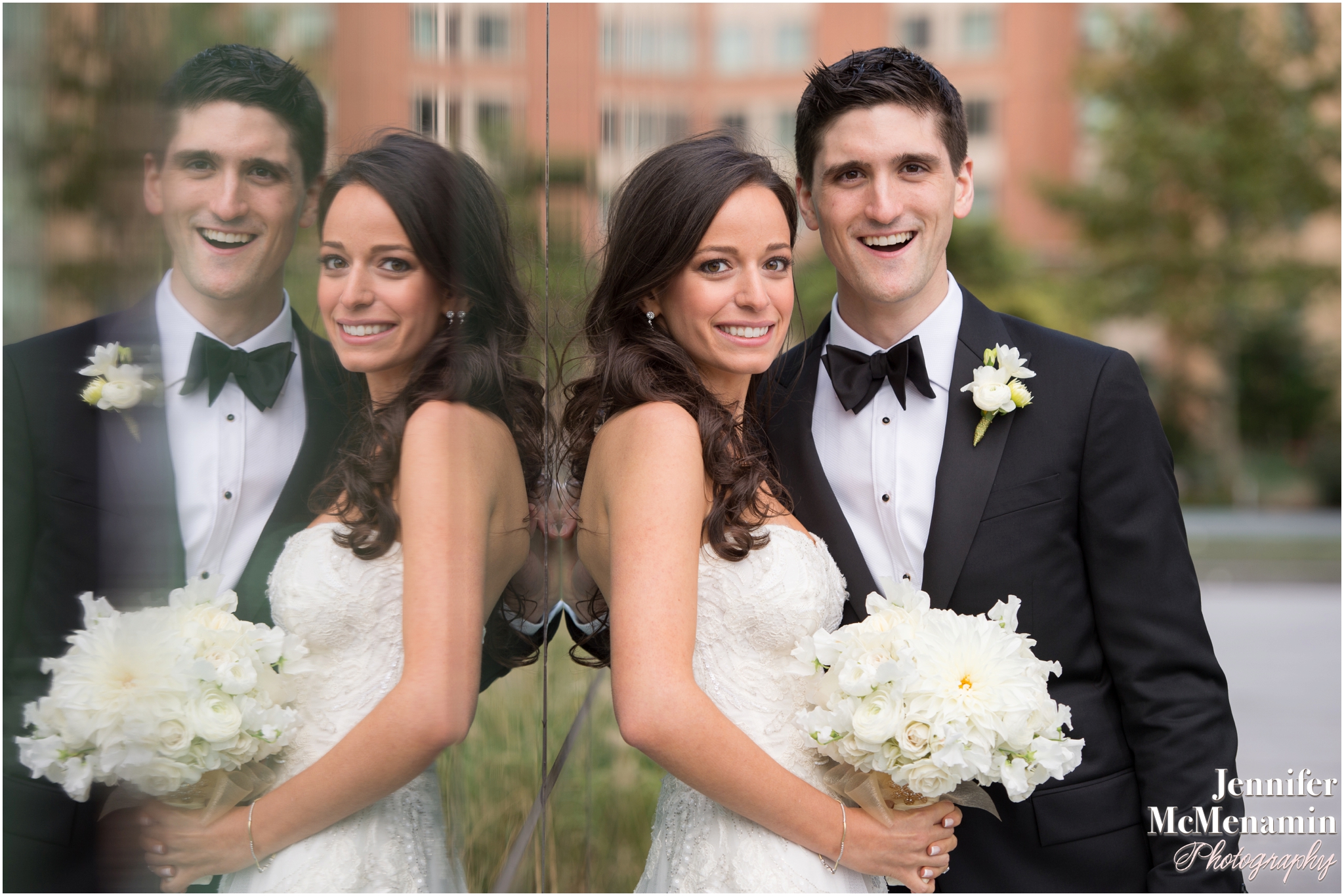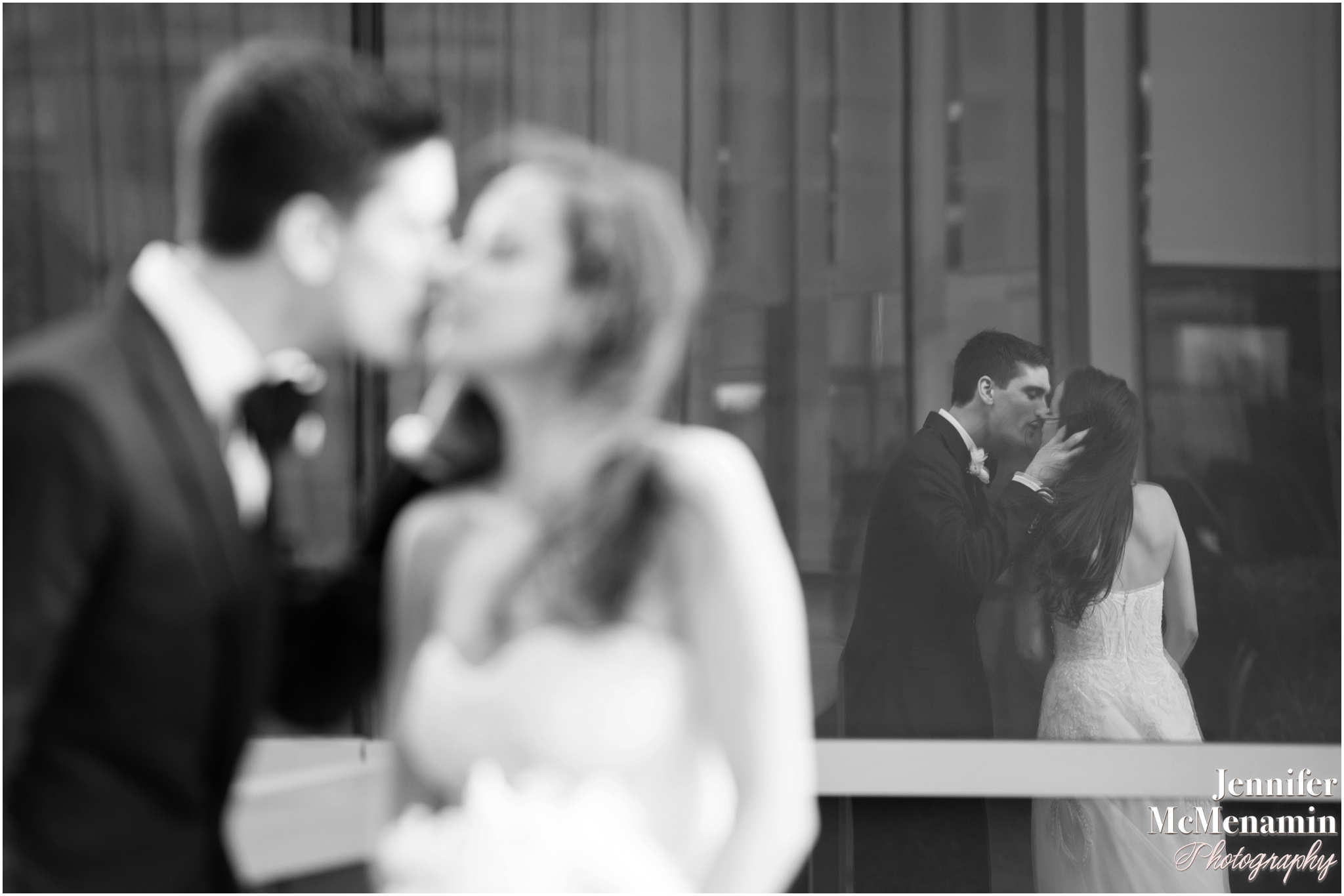 They both have such wonderful smiles. They were truly a joy to photograph.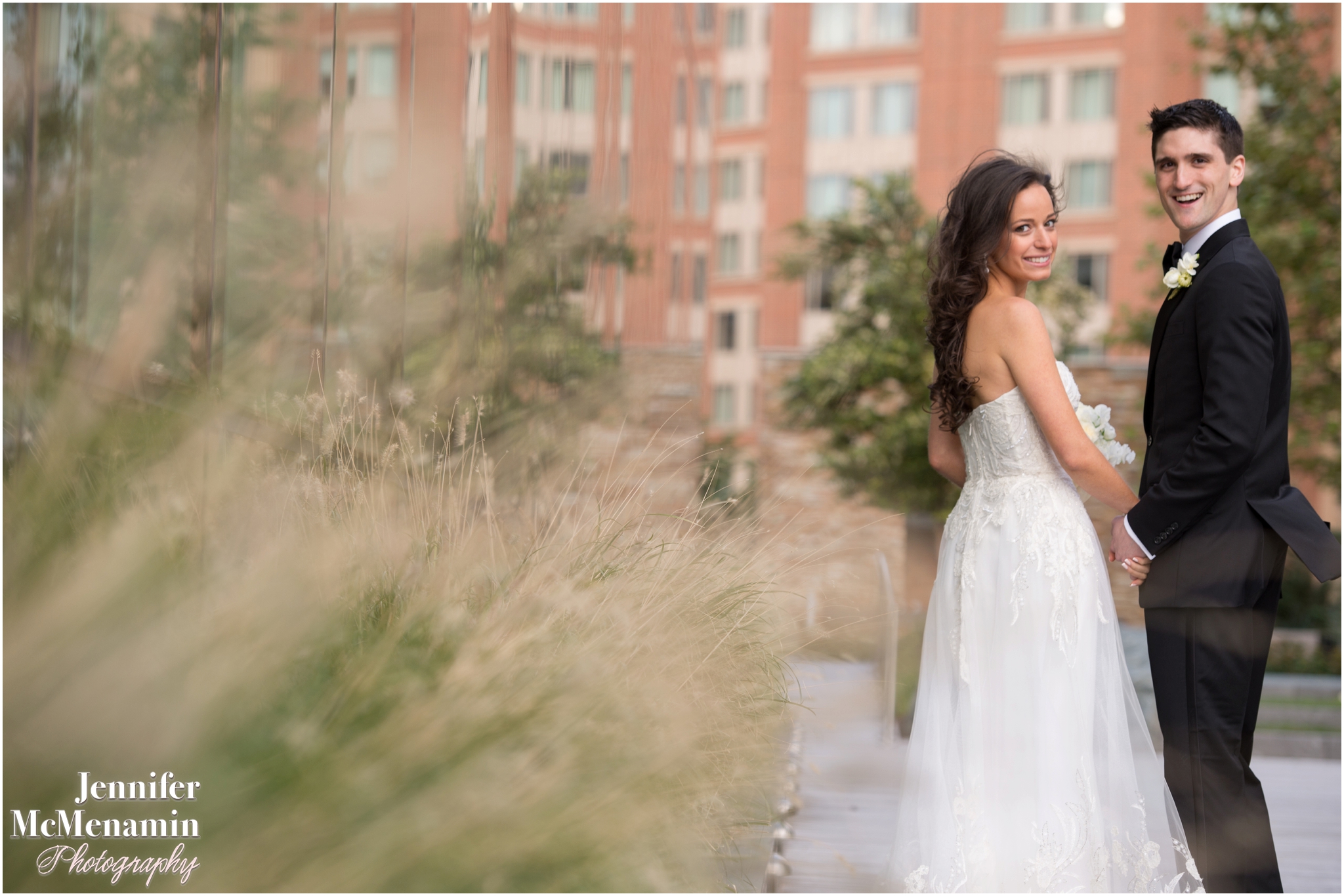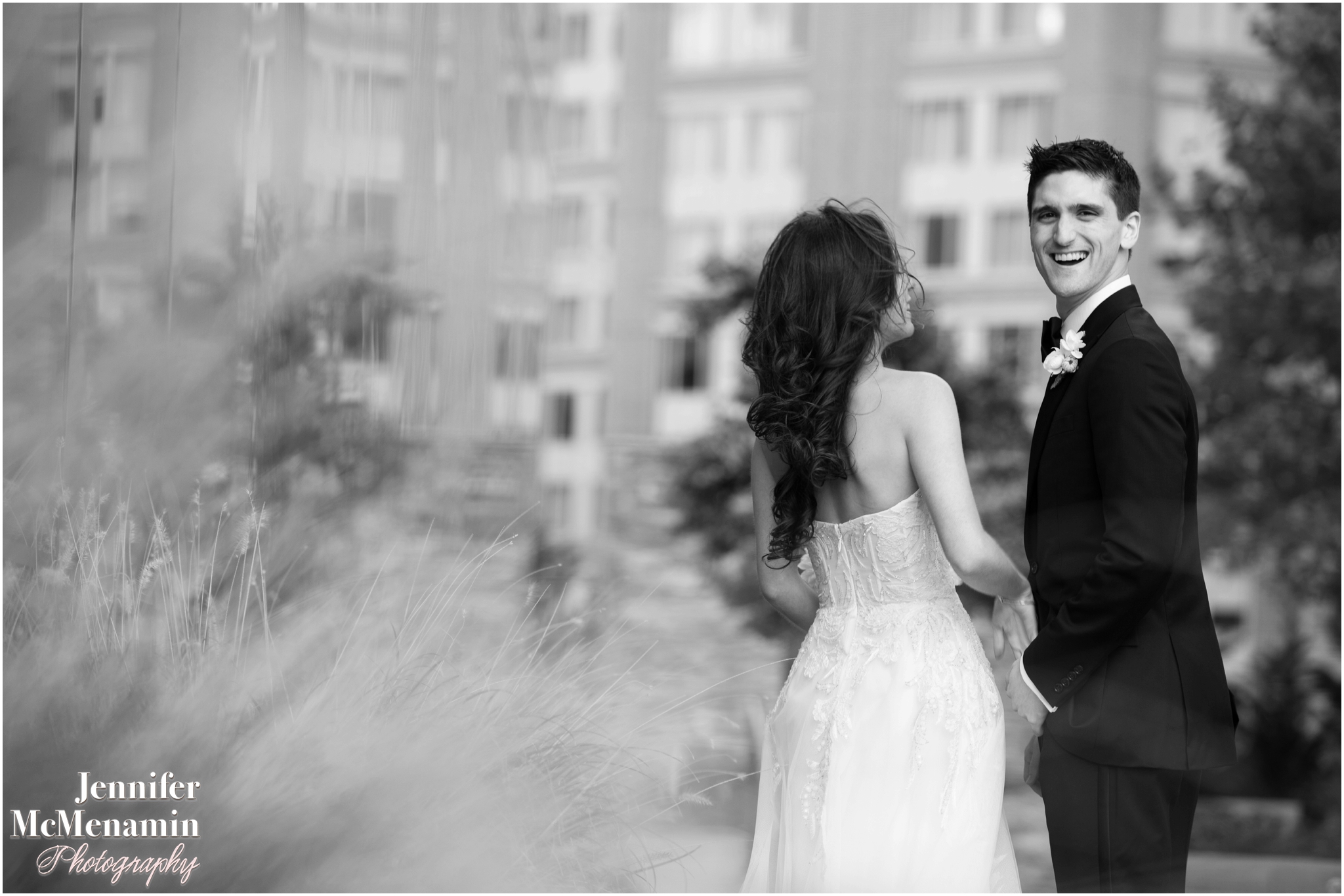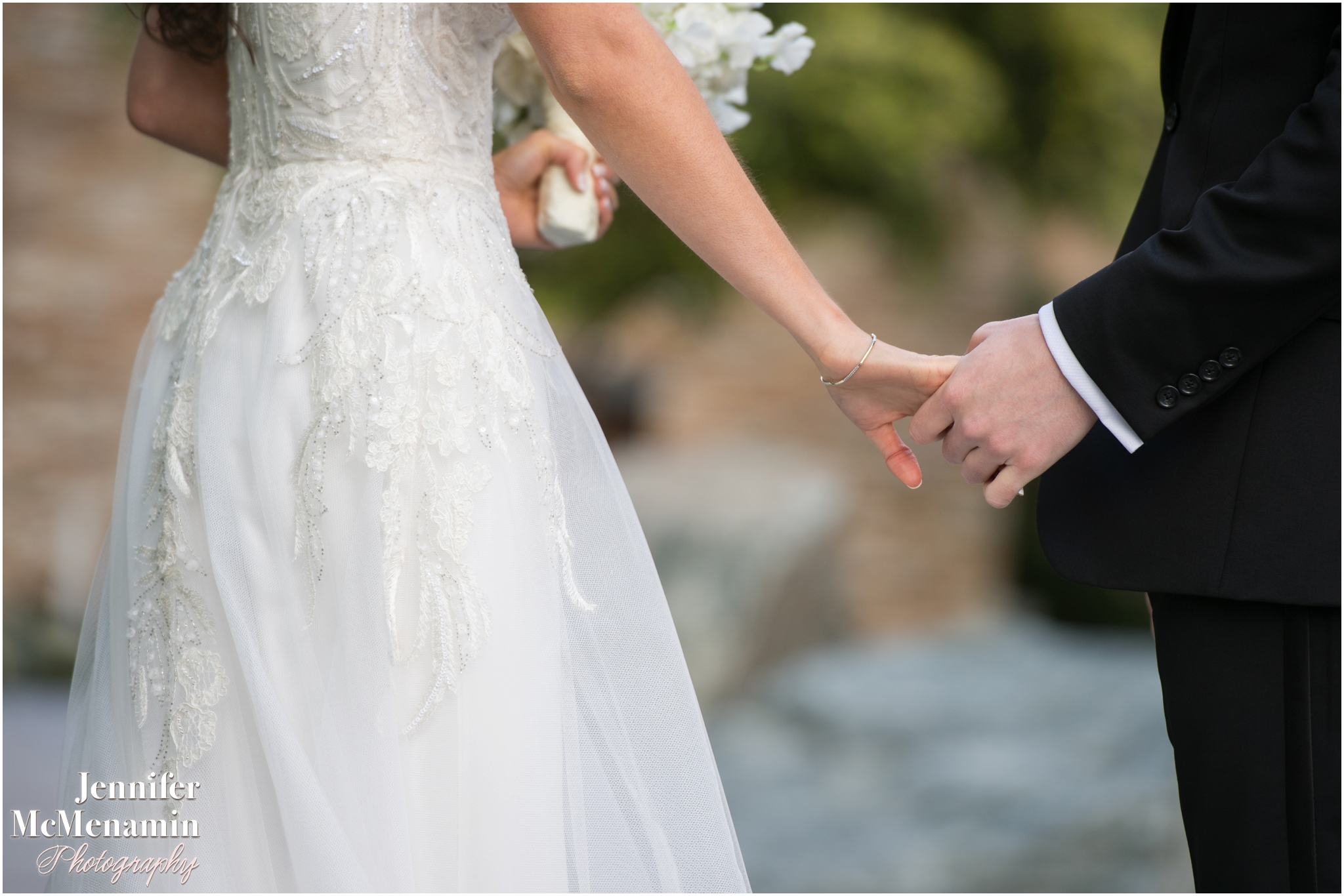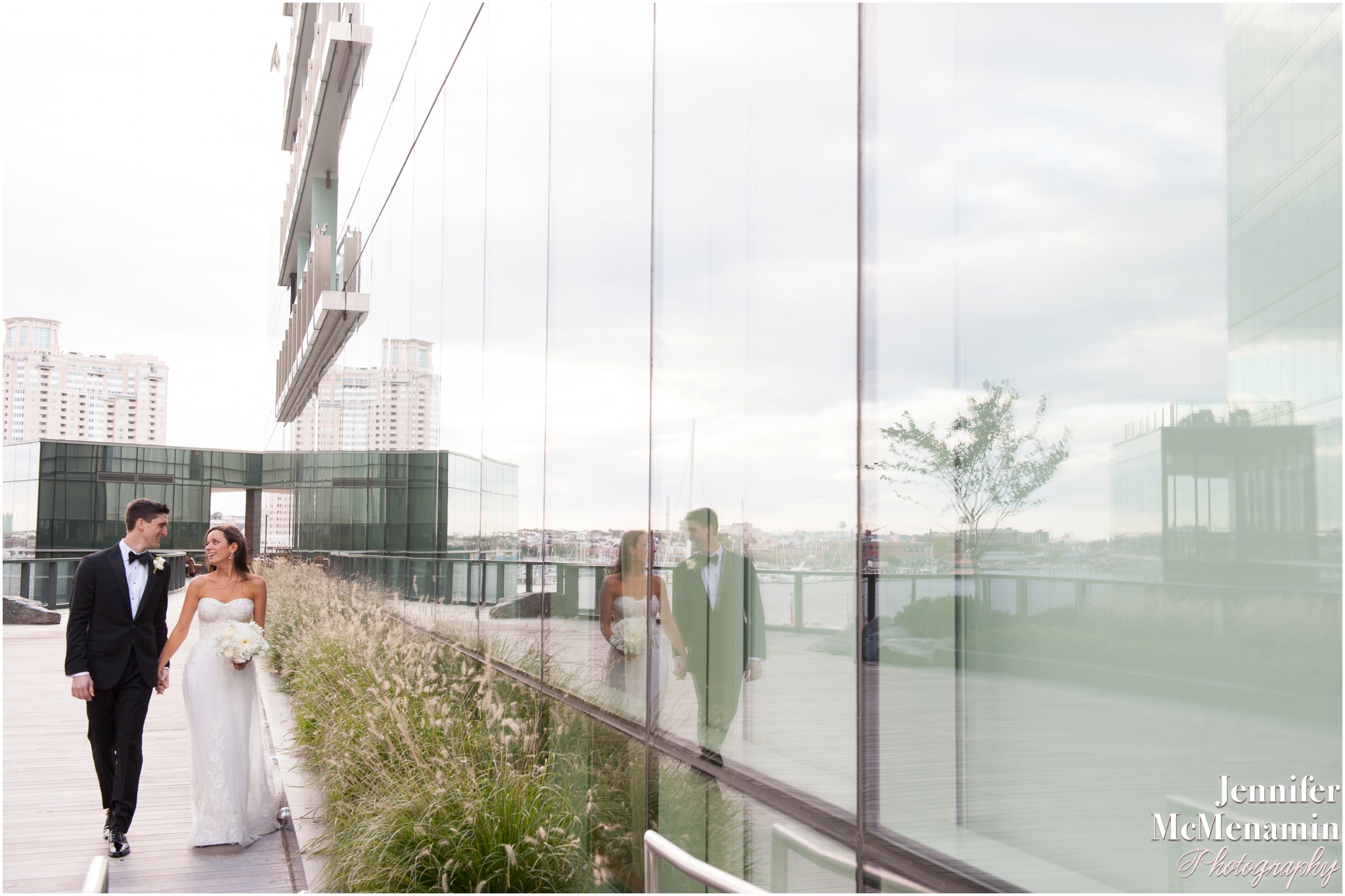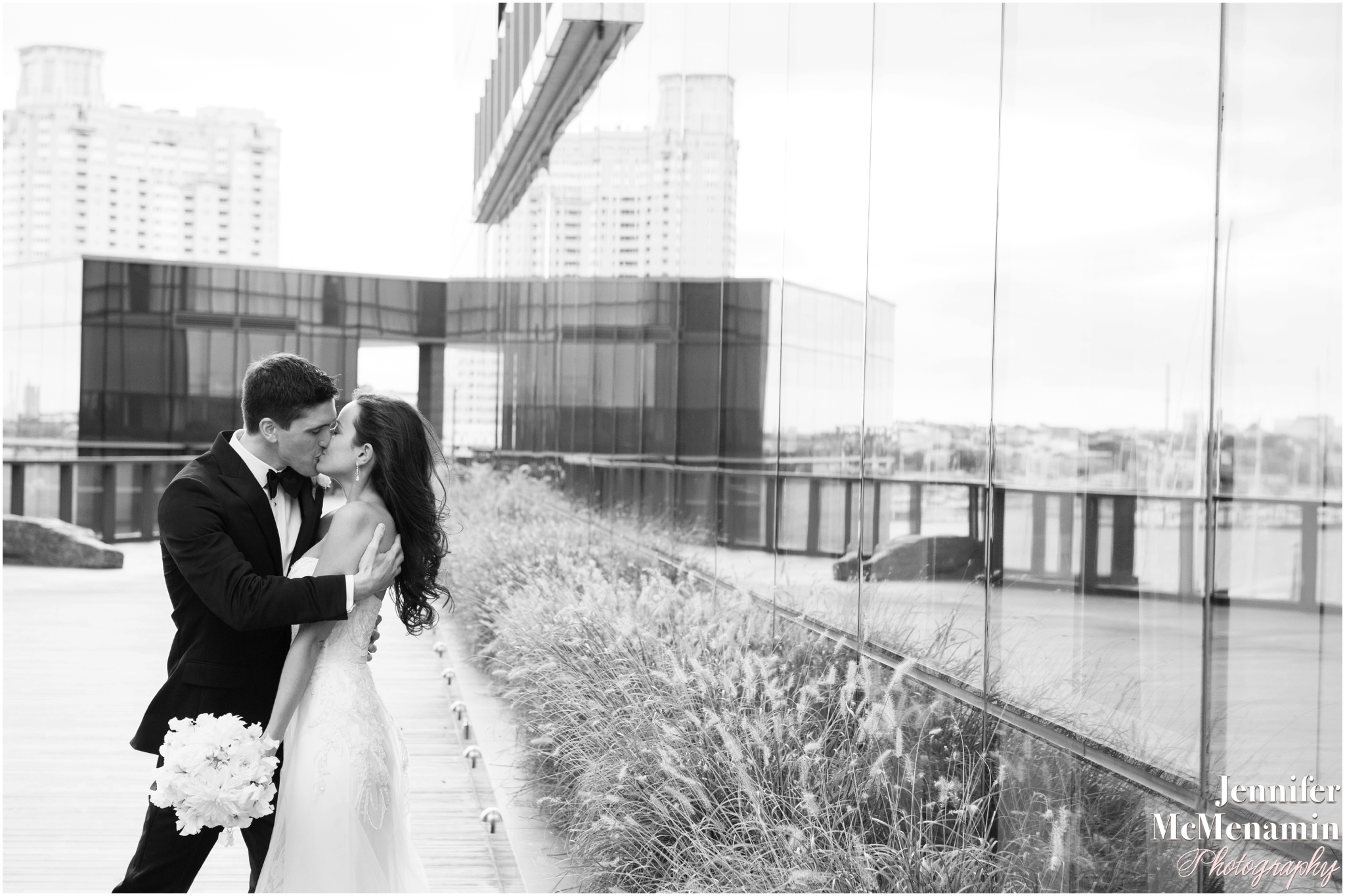 We ducked inside to warm up and to take advantage of the Four Season's many wonderful spots for photos.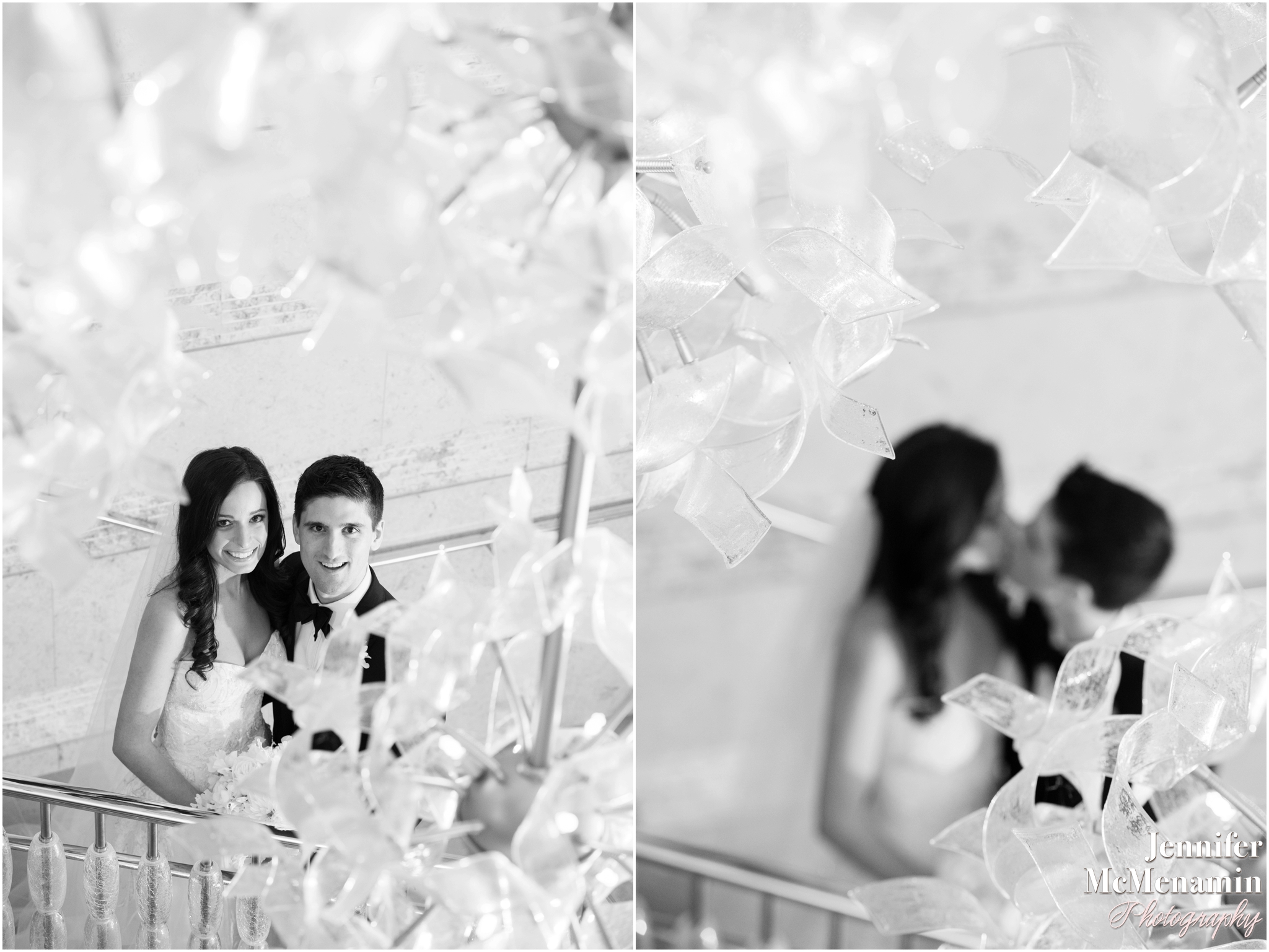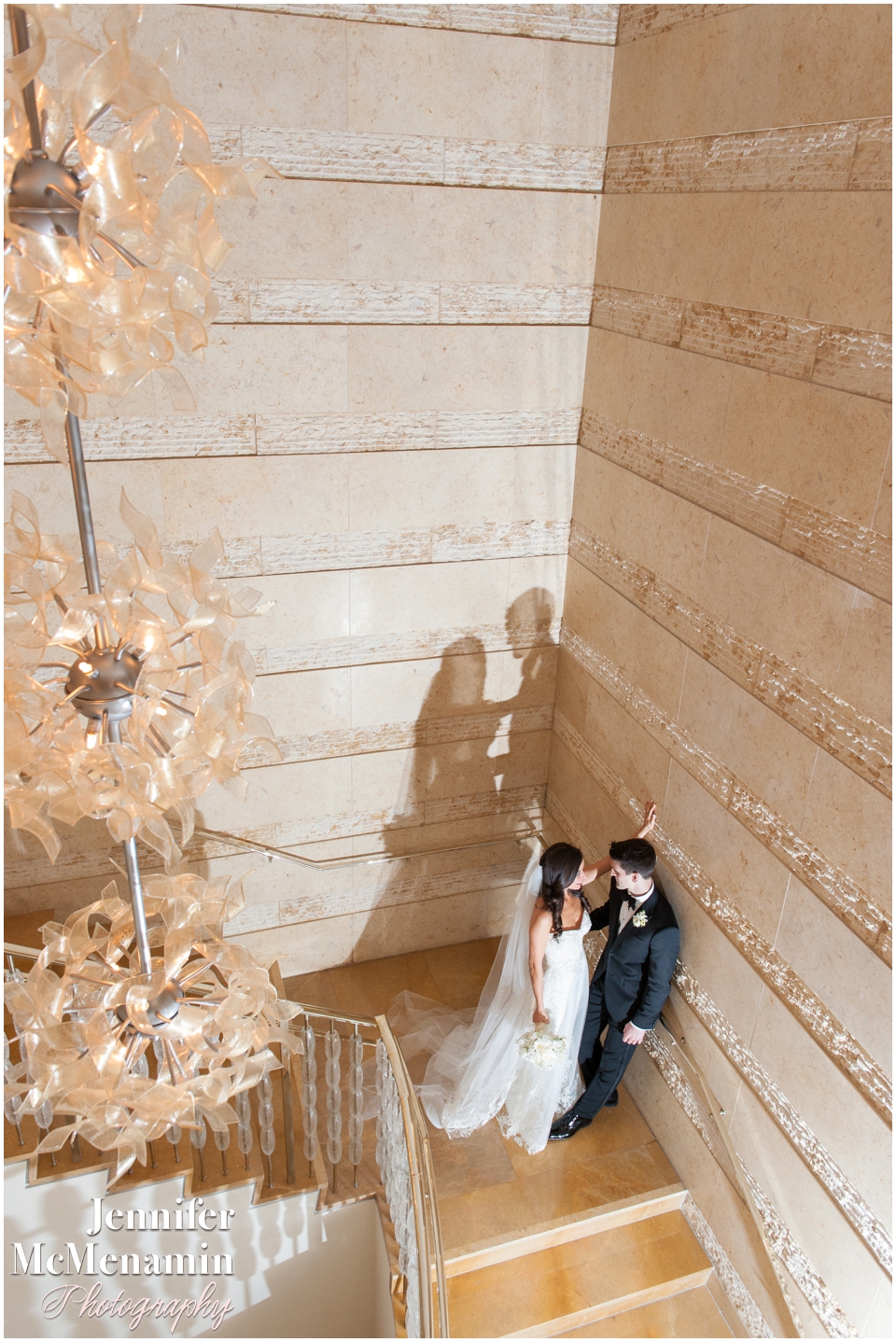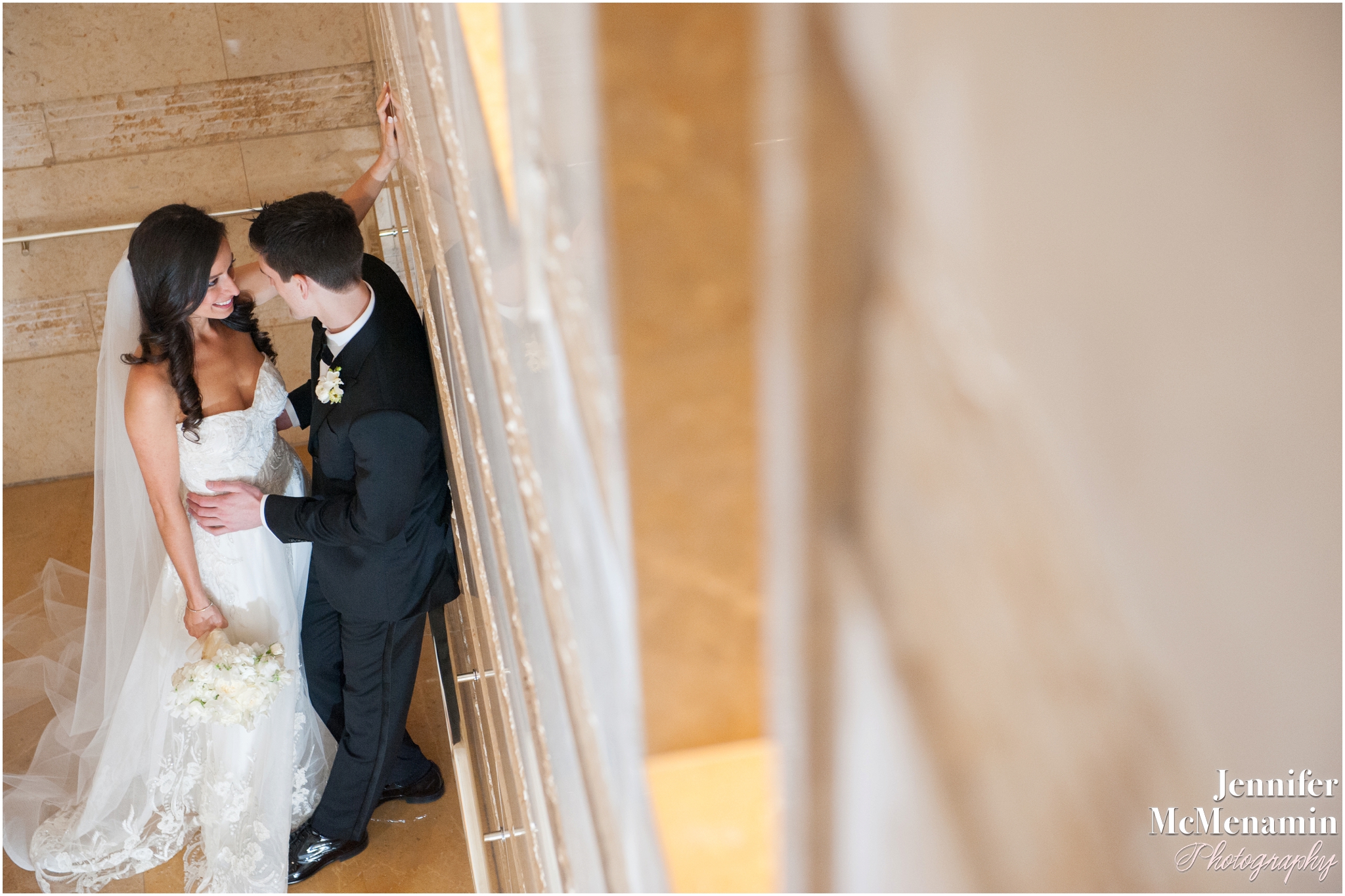 We ran back outside very briefly for the last few glimmers of light before sunset. Most definitely worth it!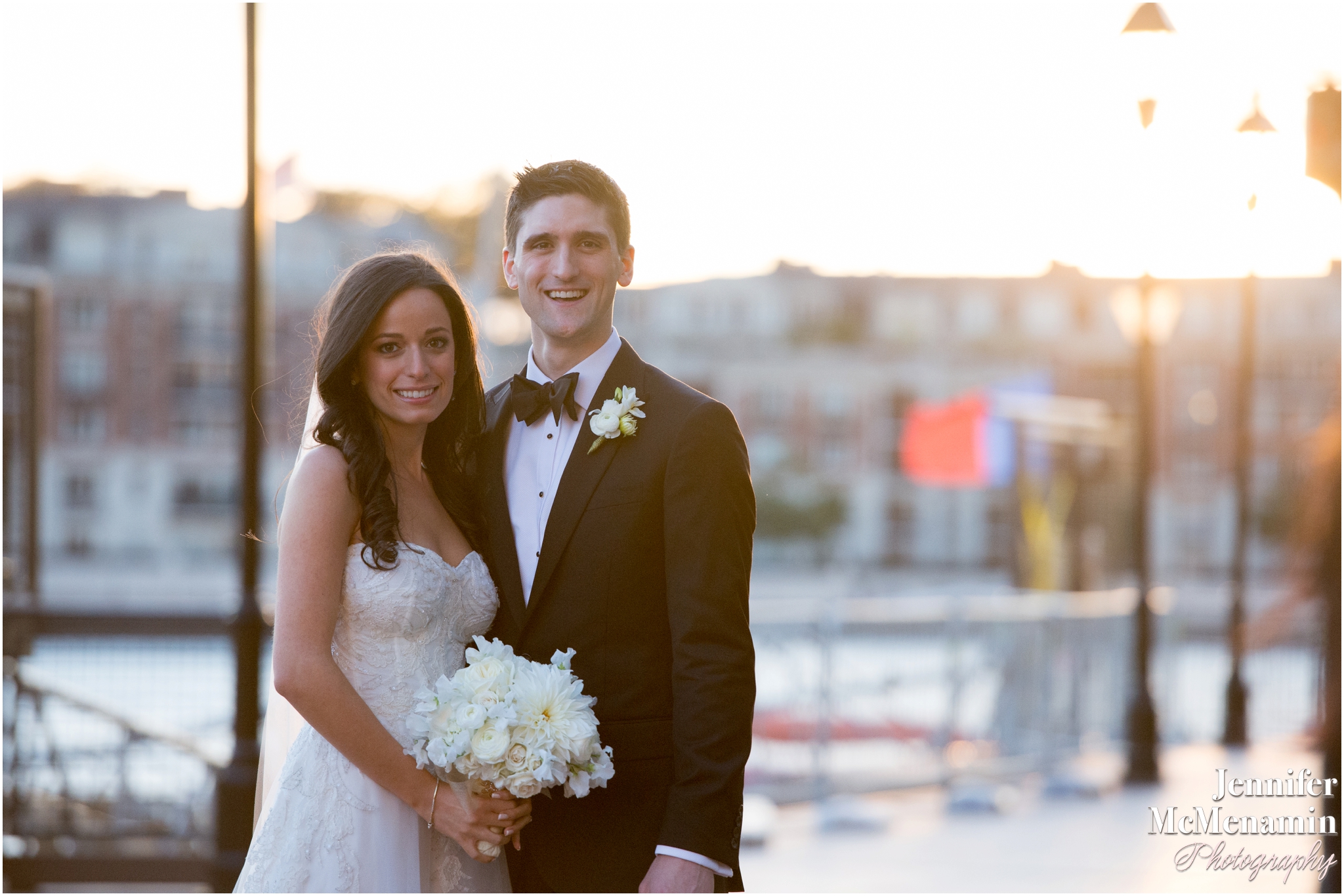 And some family photos under the chuppah.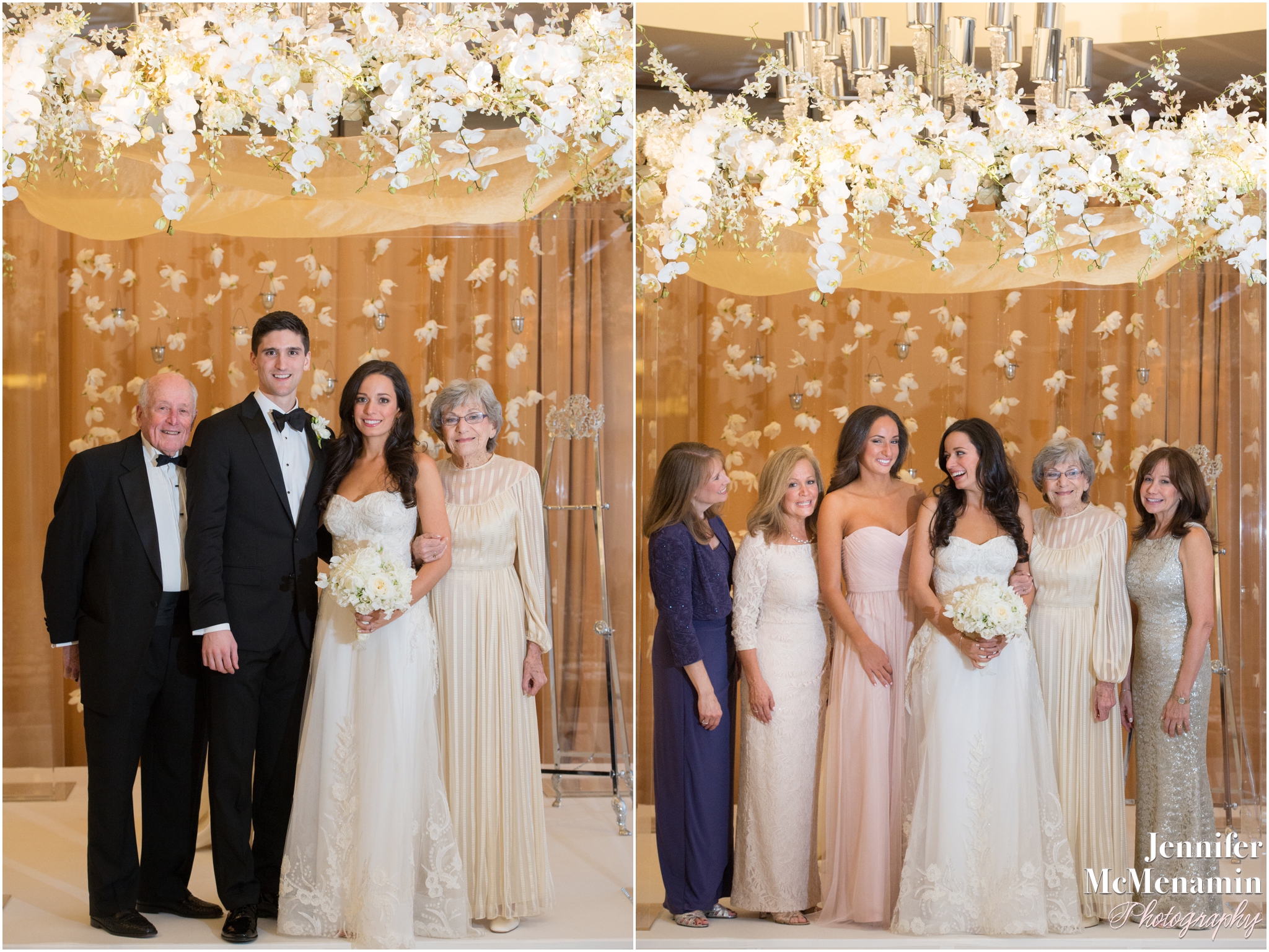 Then, it was time for a wedding!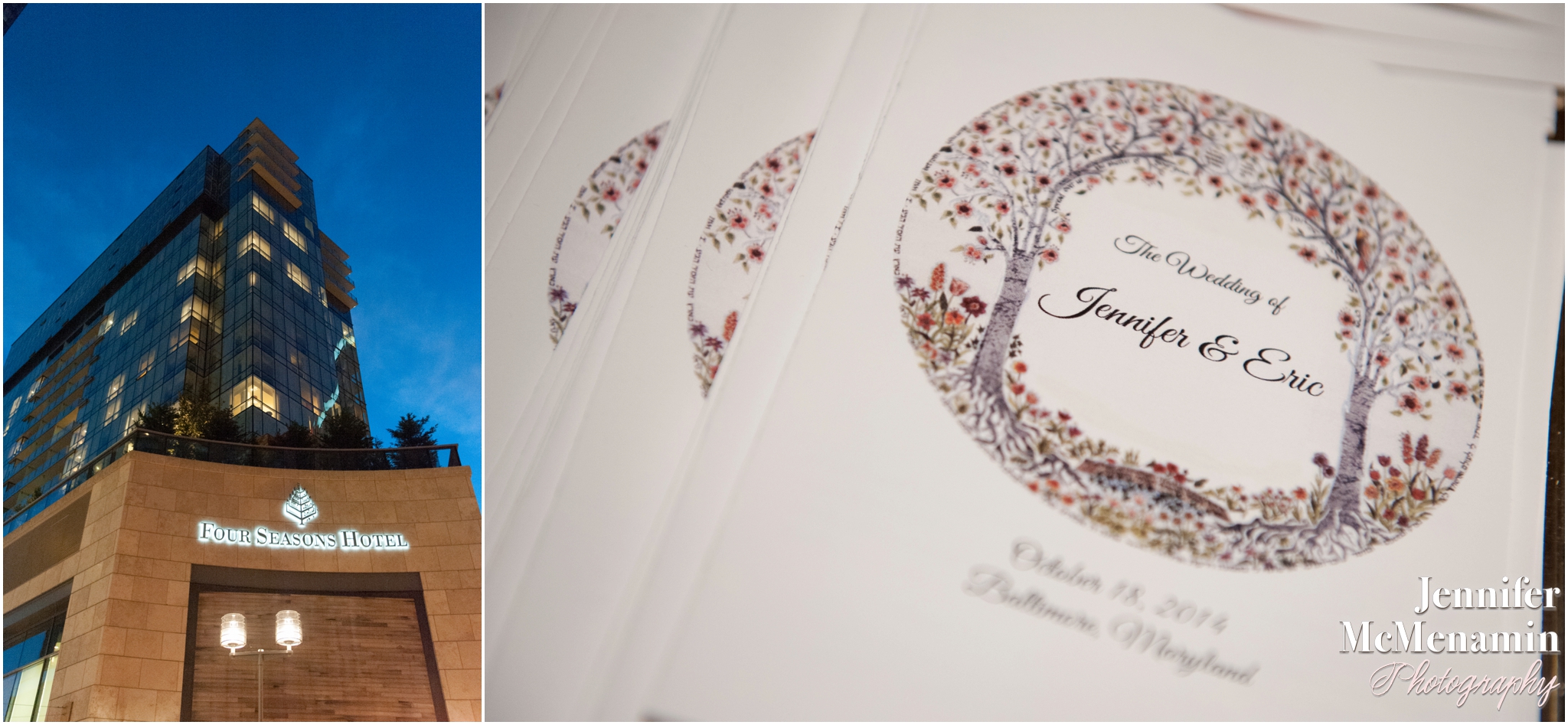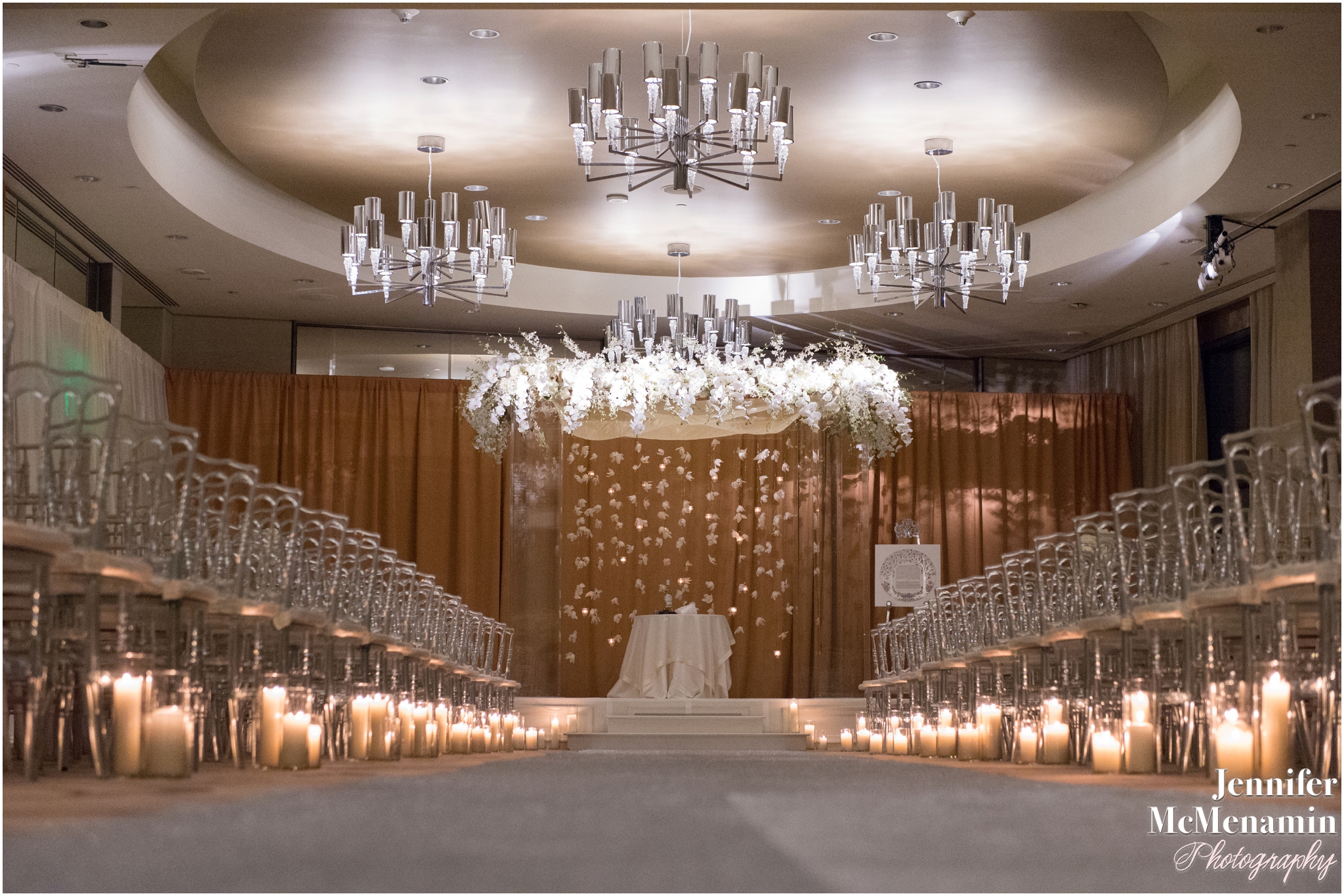 Dangling orchids and candles on silver wire made for quite the backdrop beneath the orchid-topped, see-through chuppah.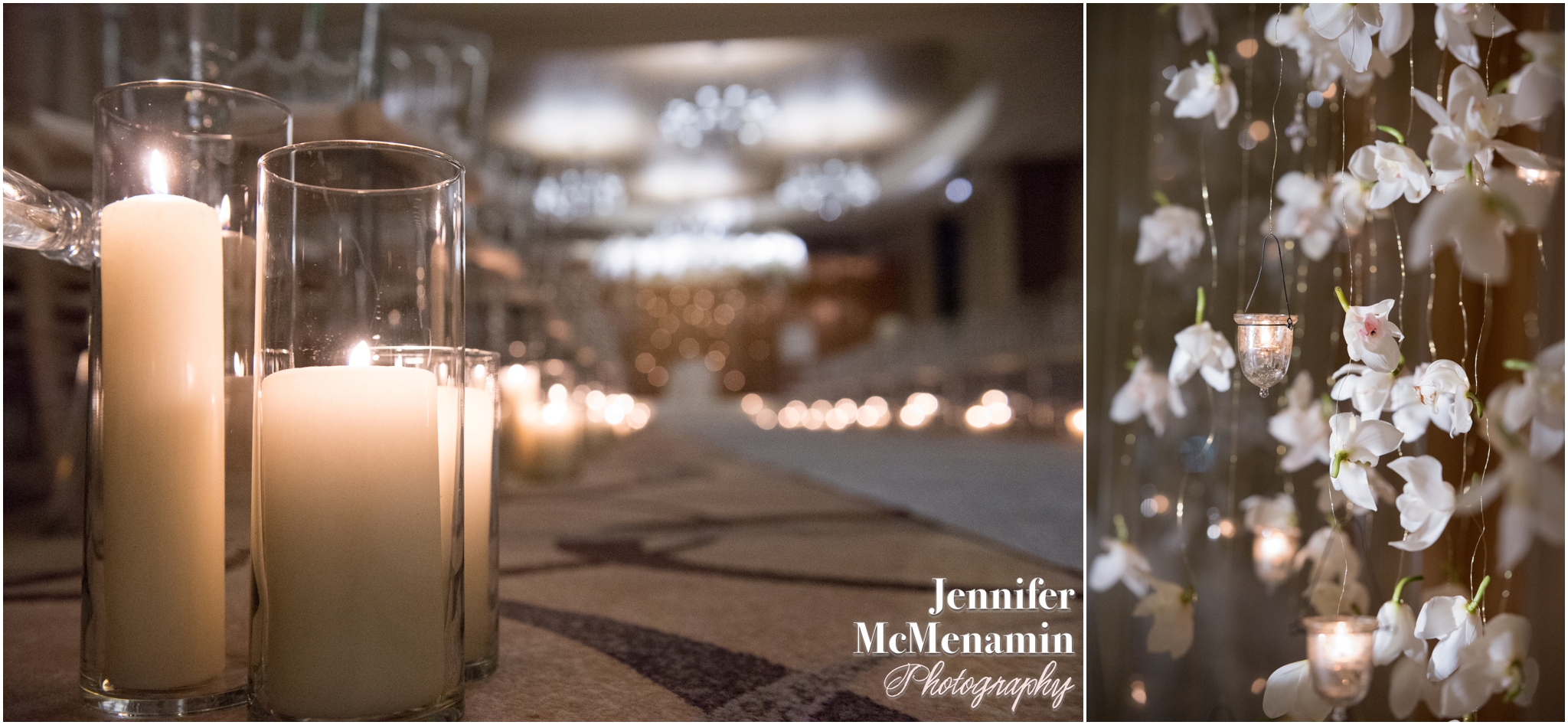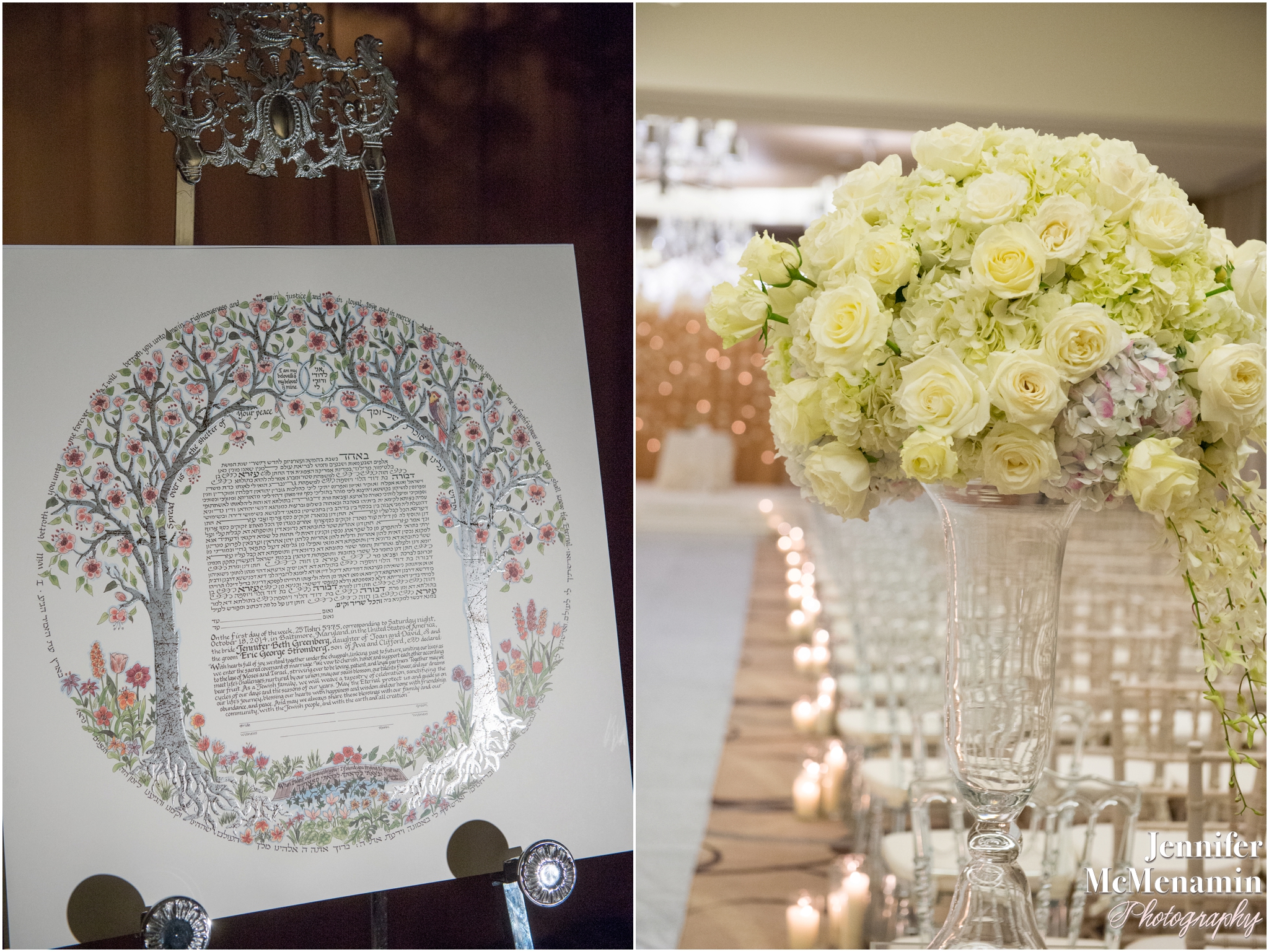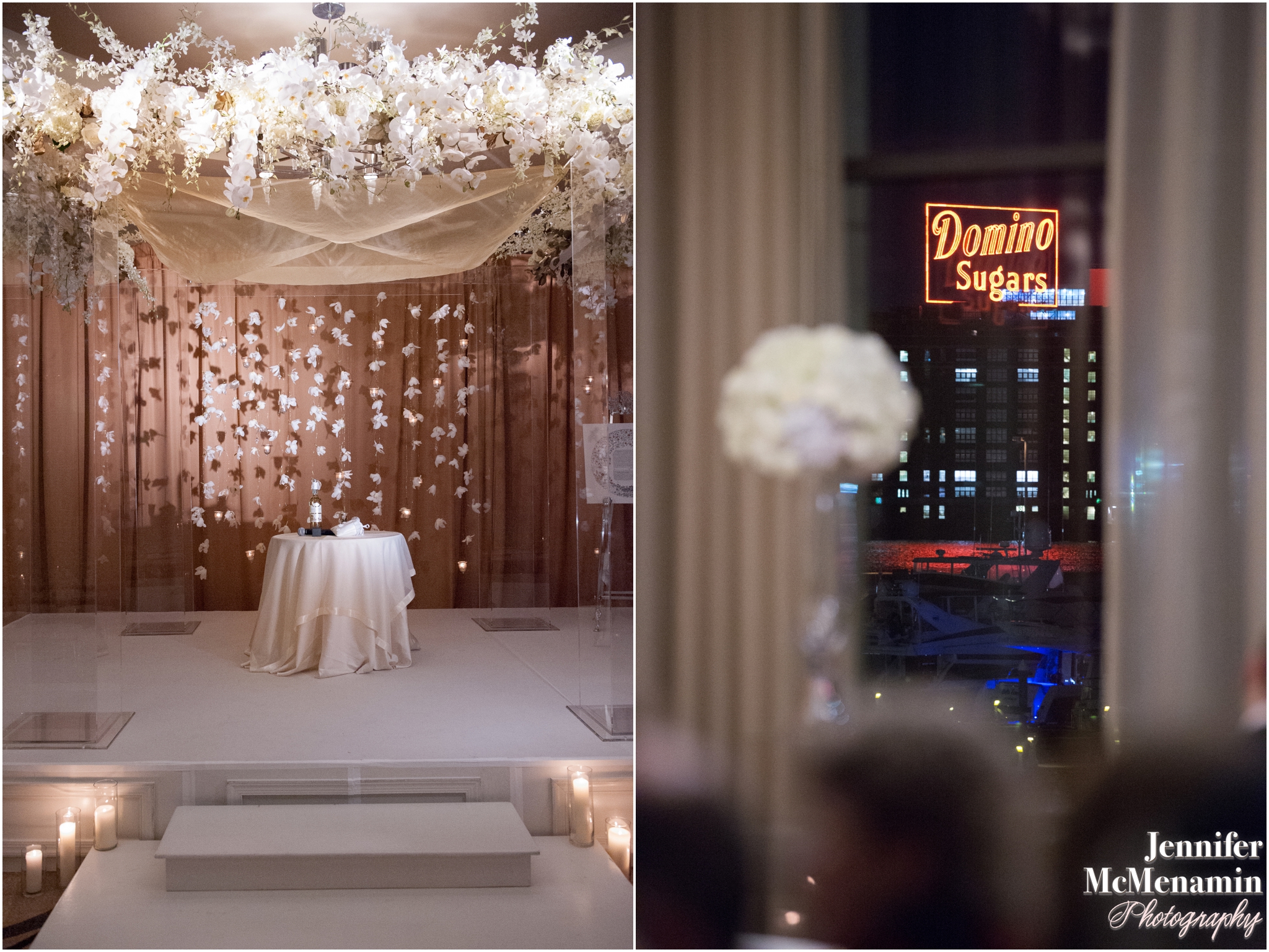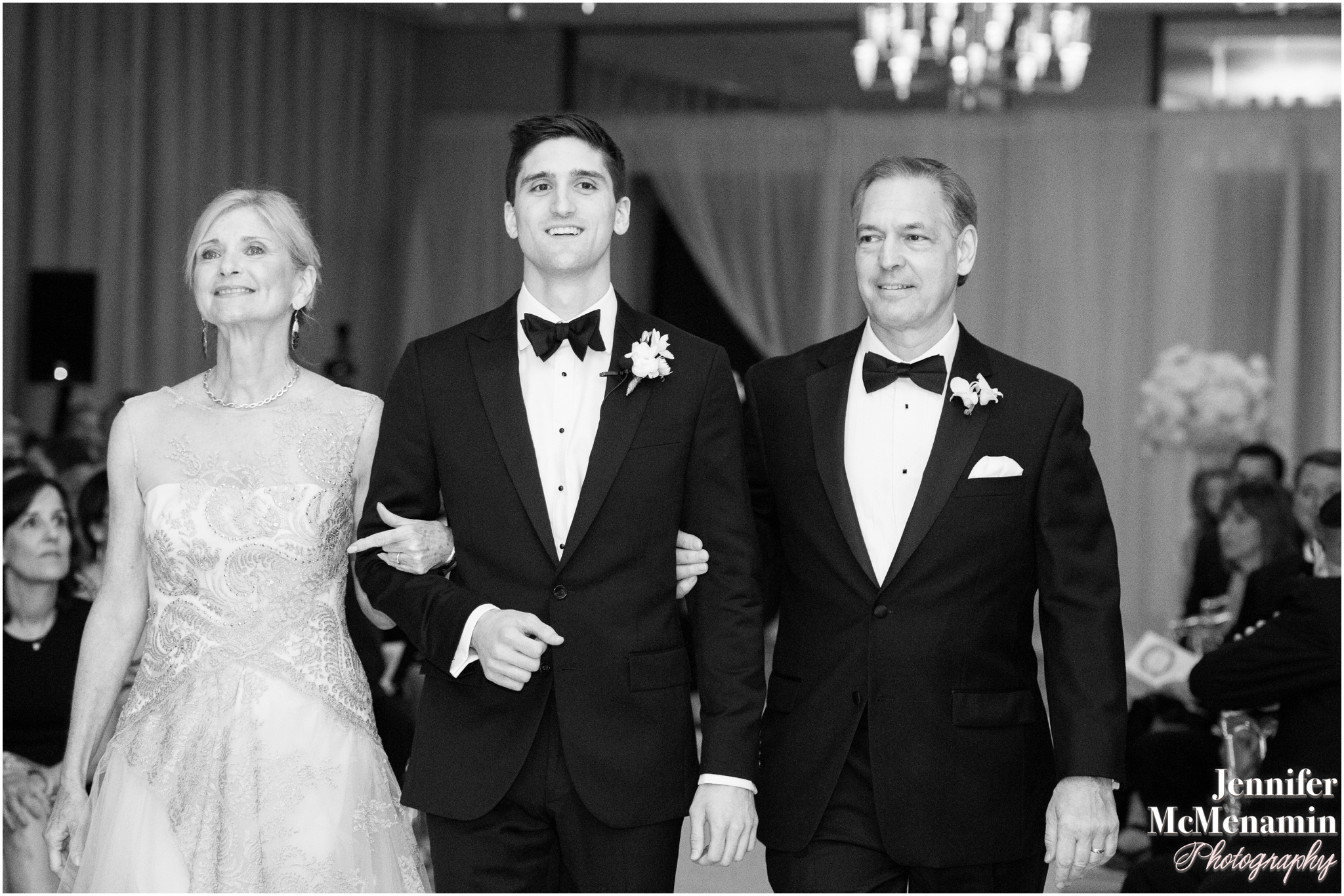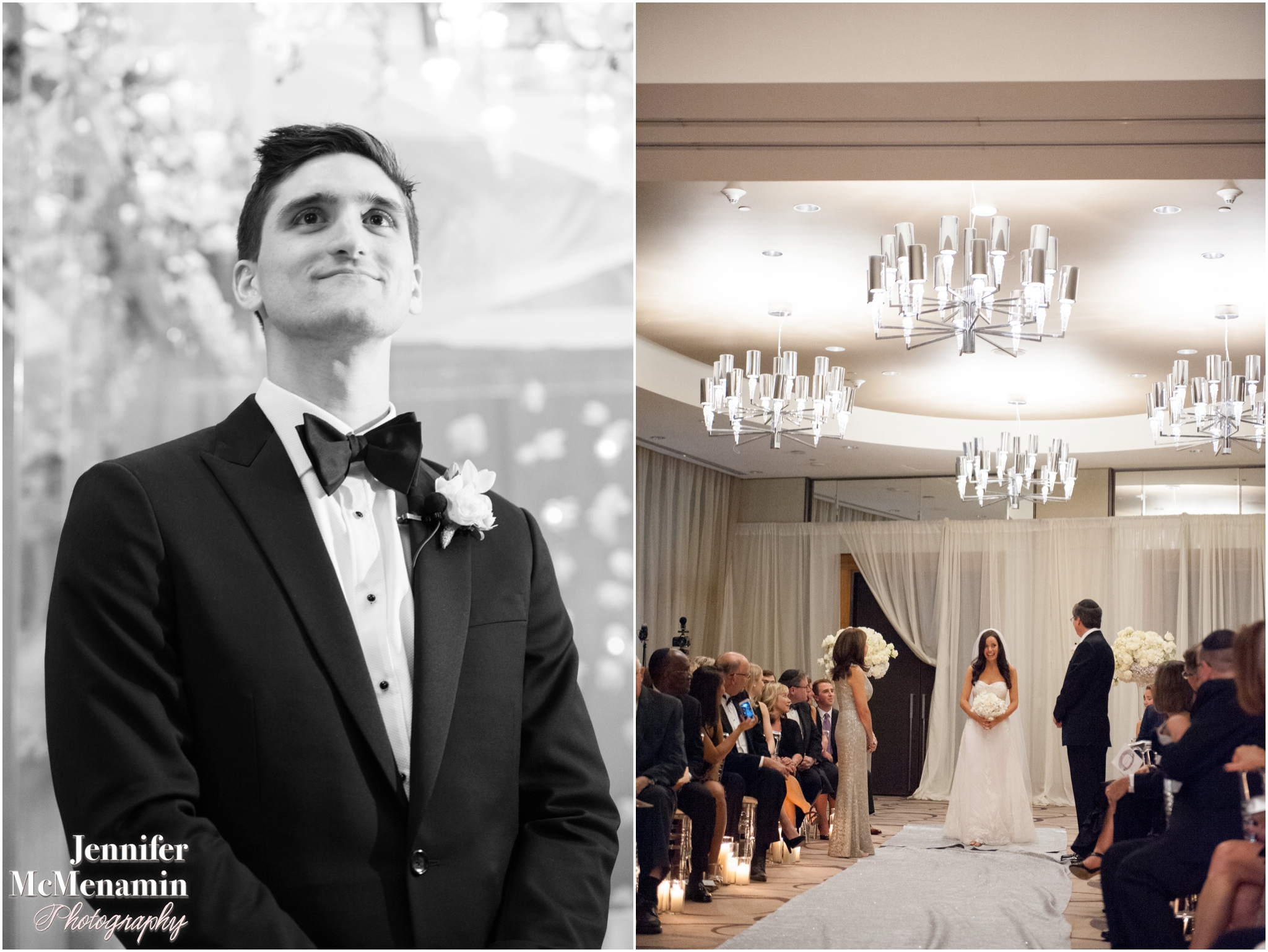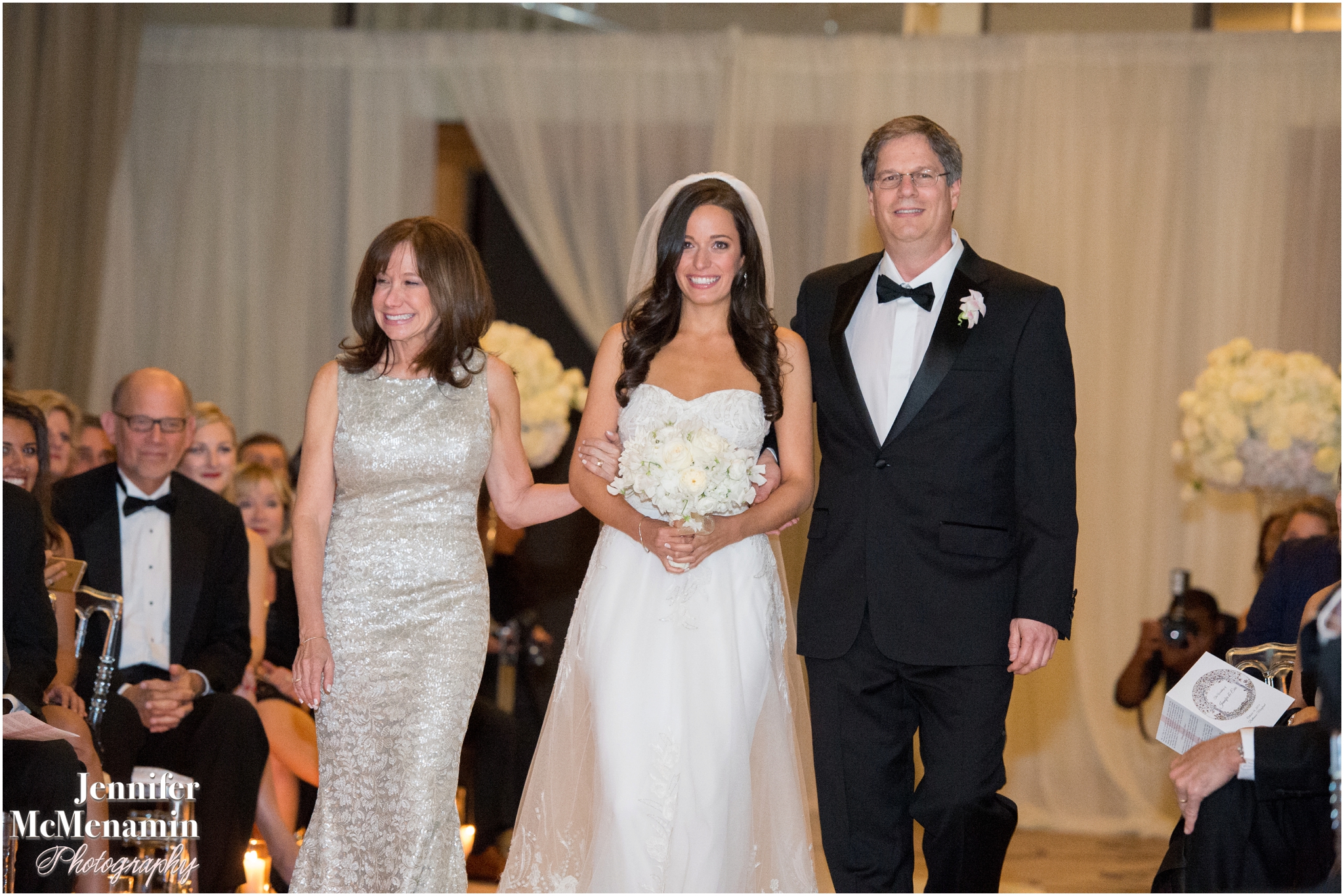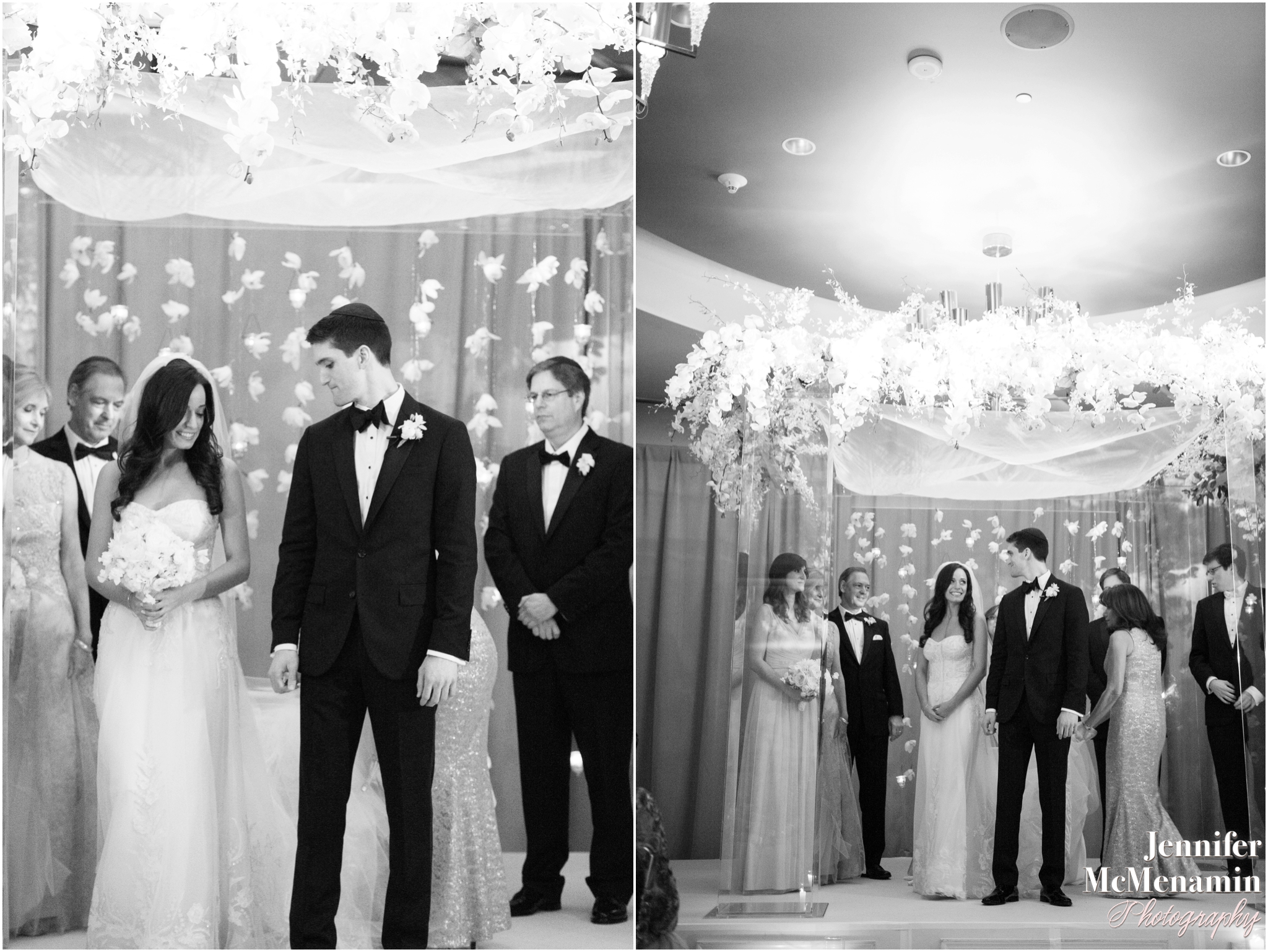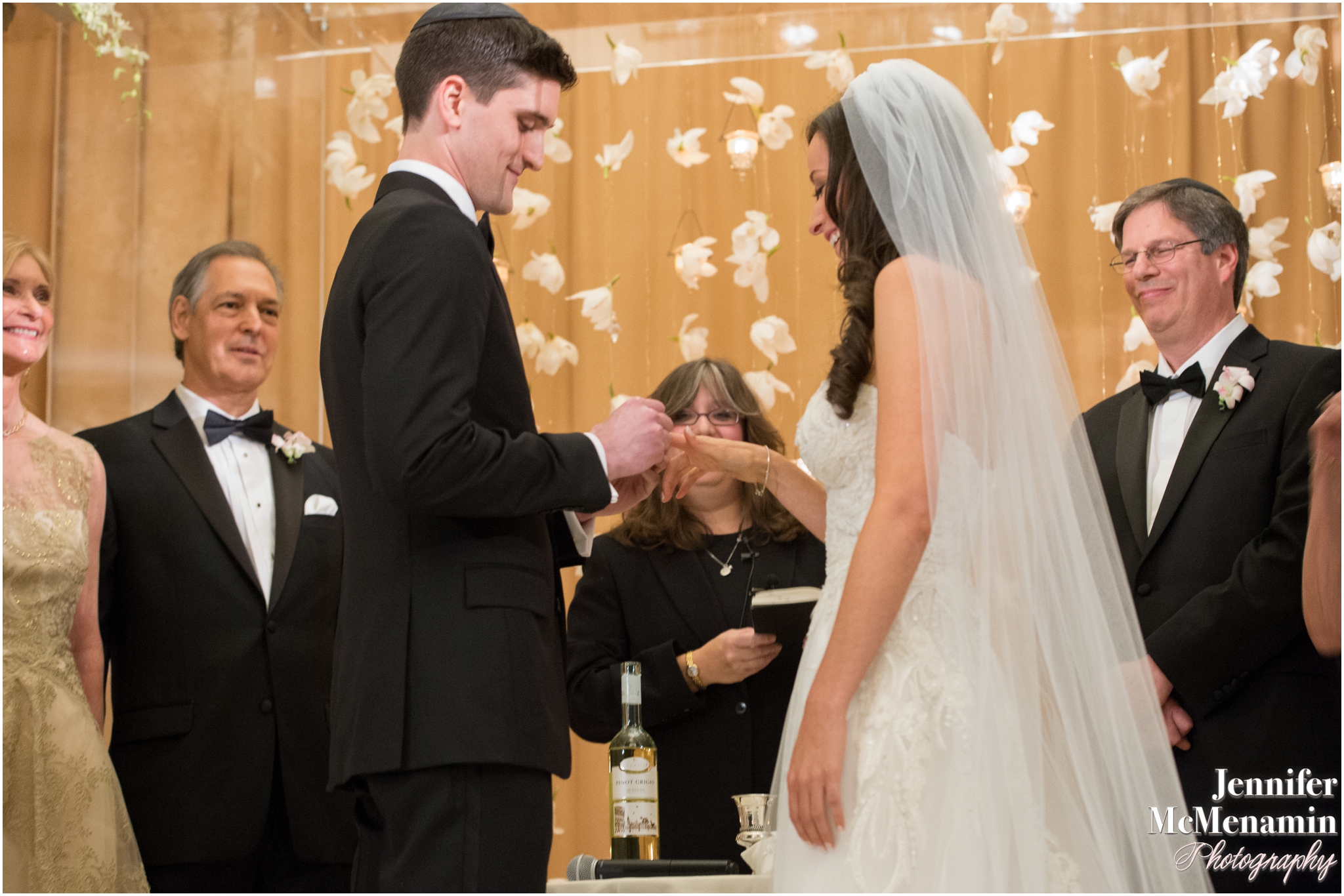 Jen and Eric hired Patricia Bennett, a talented painter, to produce a beautiful piece of artwork from the event. She set up her easel in the corner of each room of the event. It was a delight to watch it come together!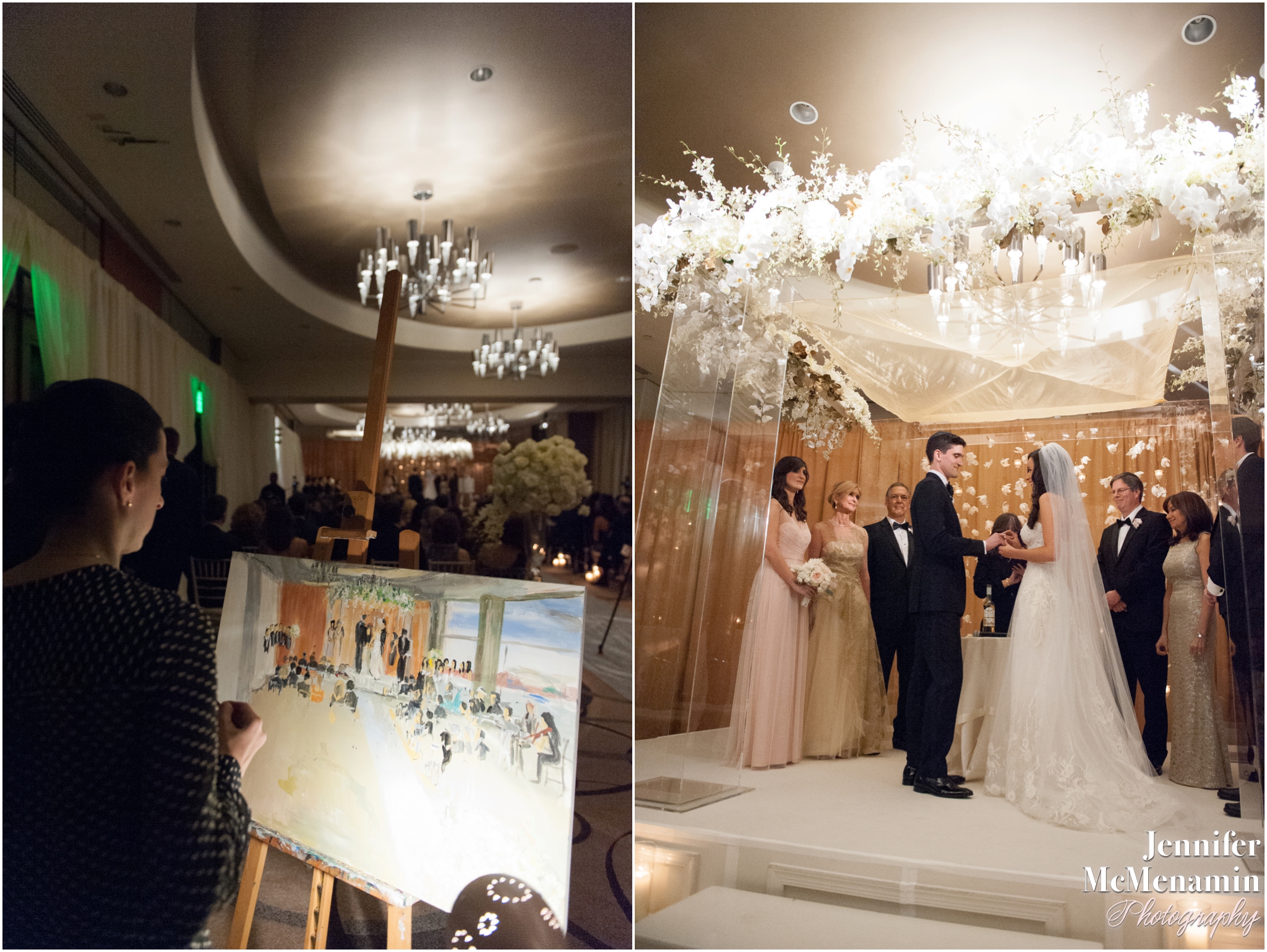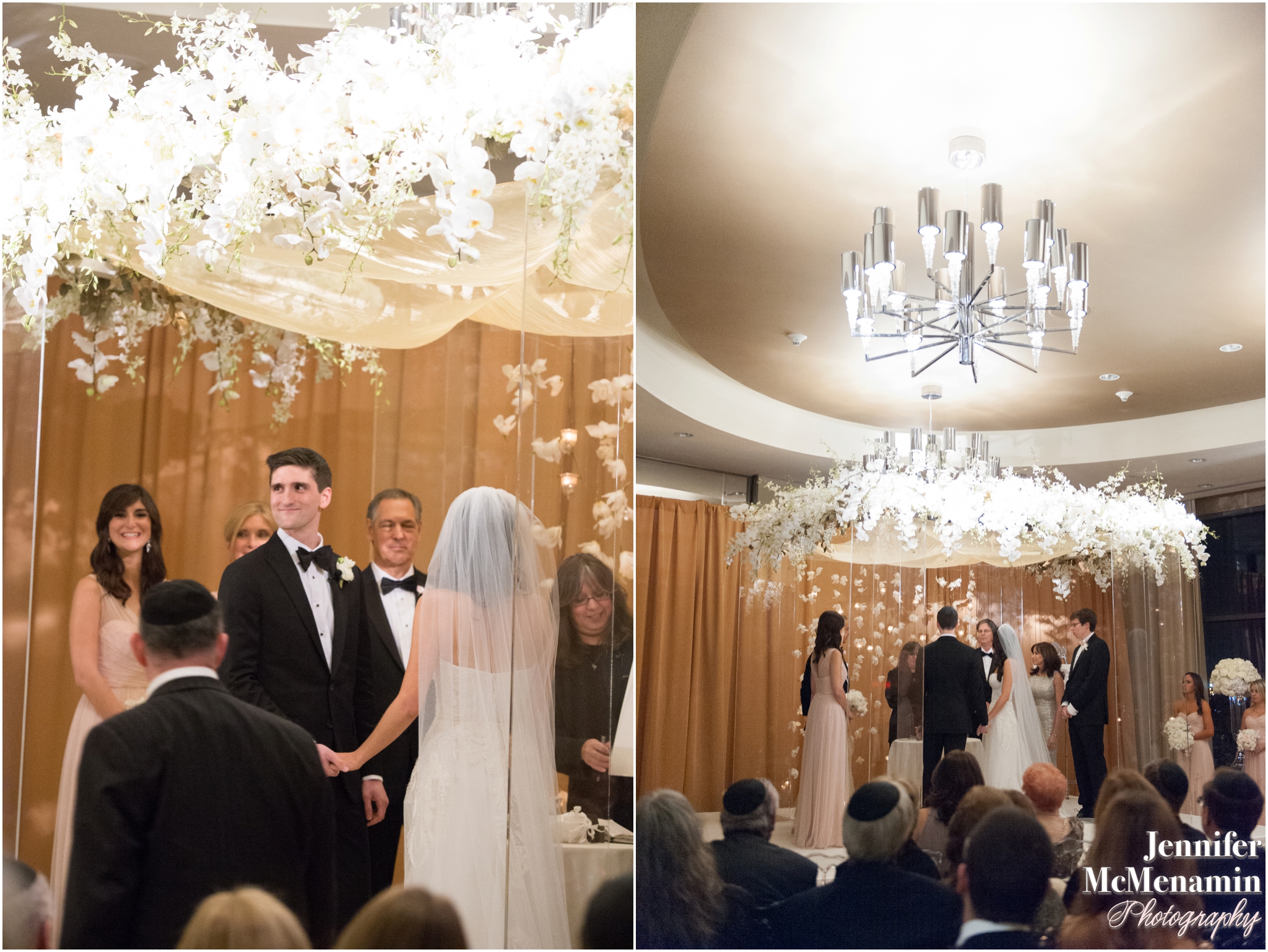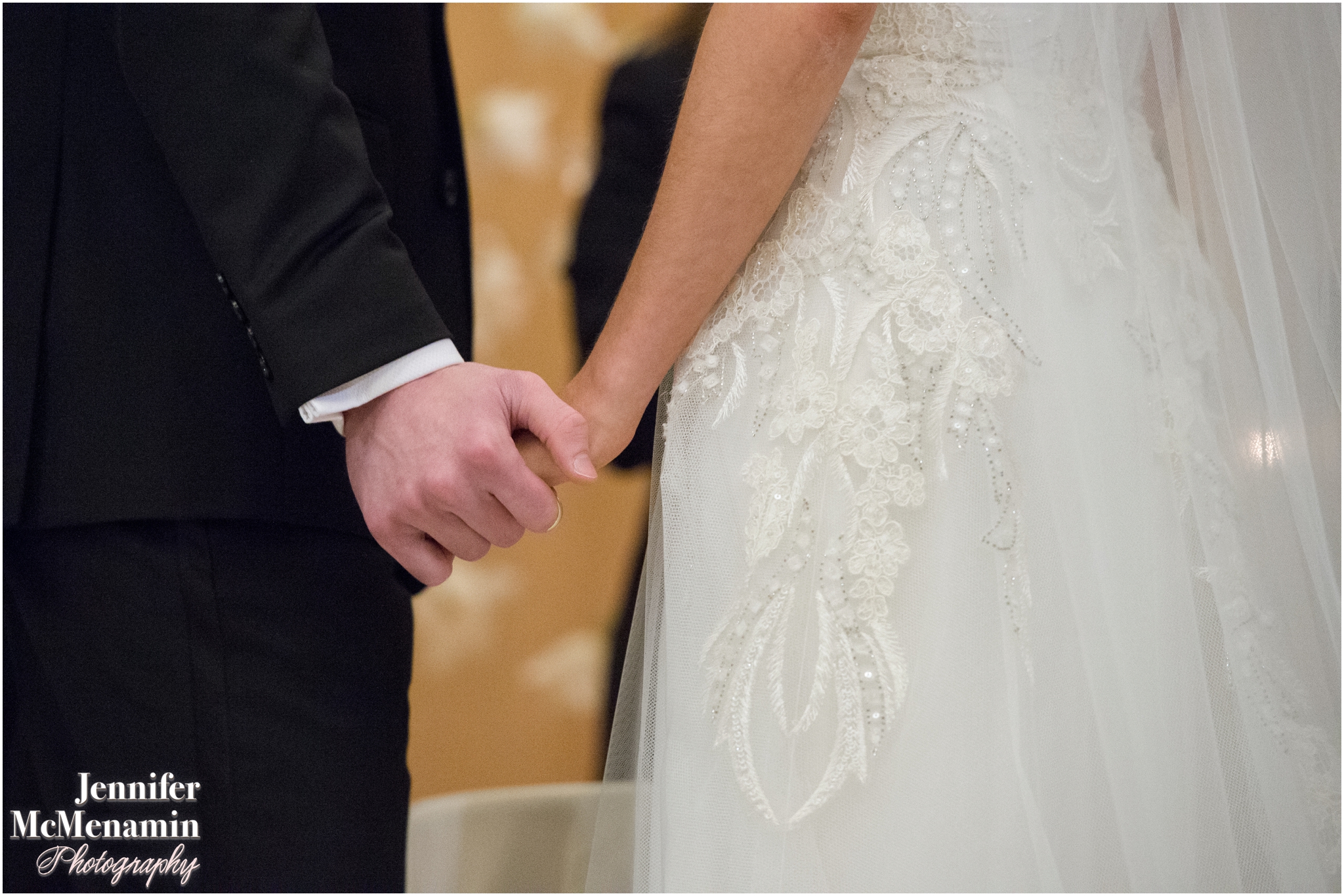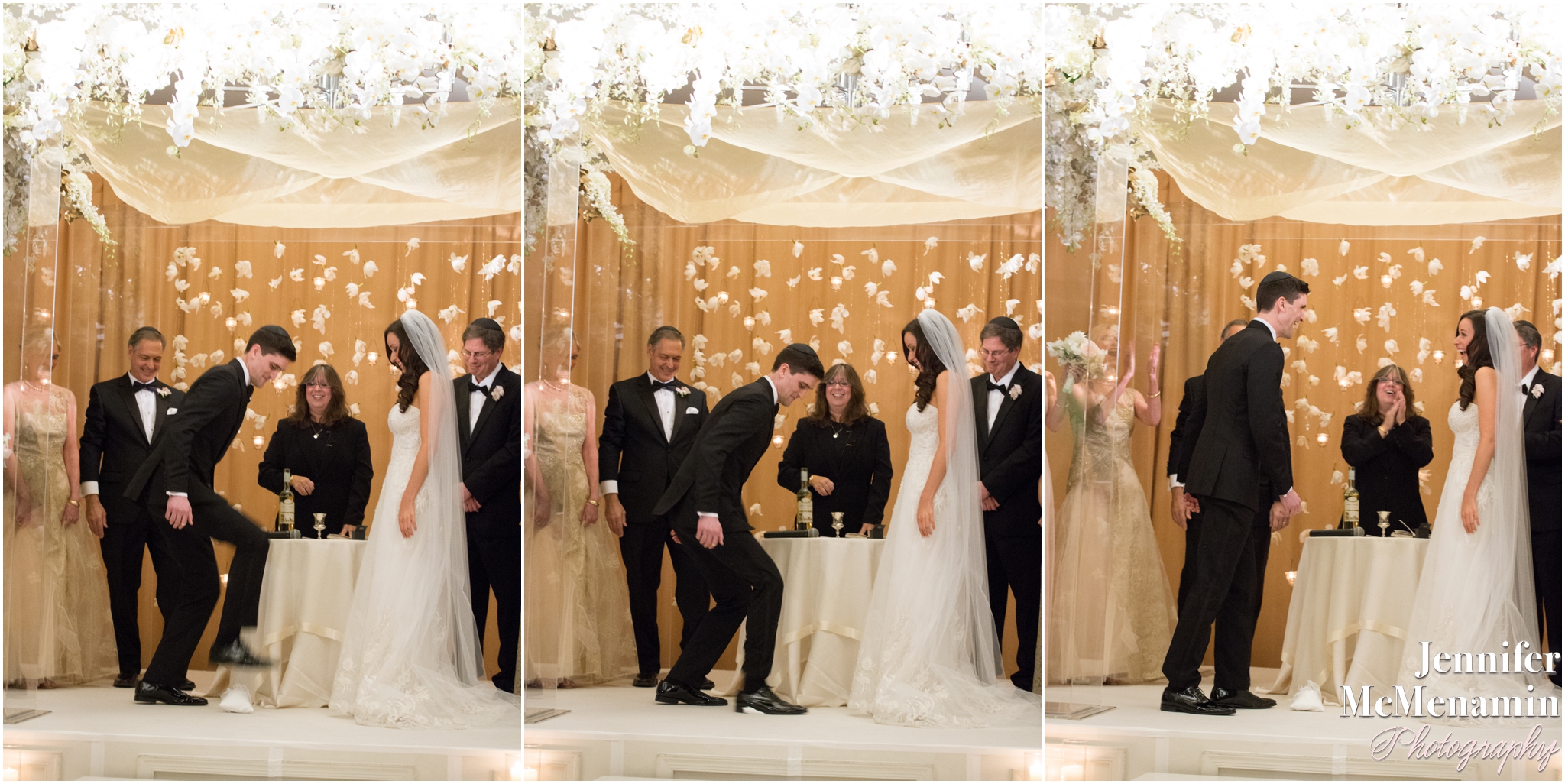 Since the wind had died down considerably, we dashed outside again for a few quick nighttime shots with the harbor in the background.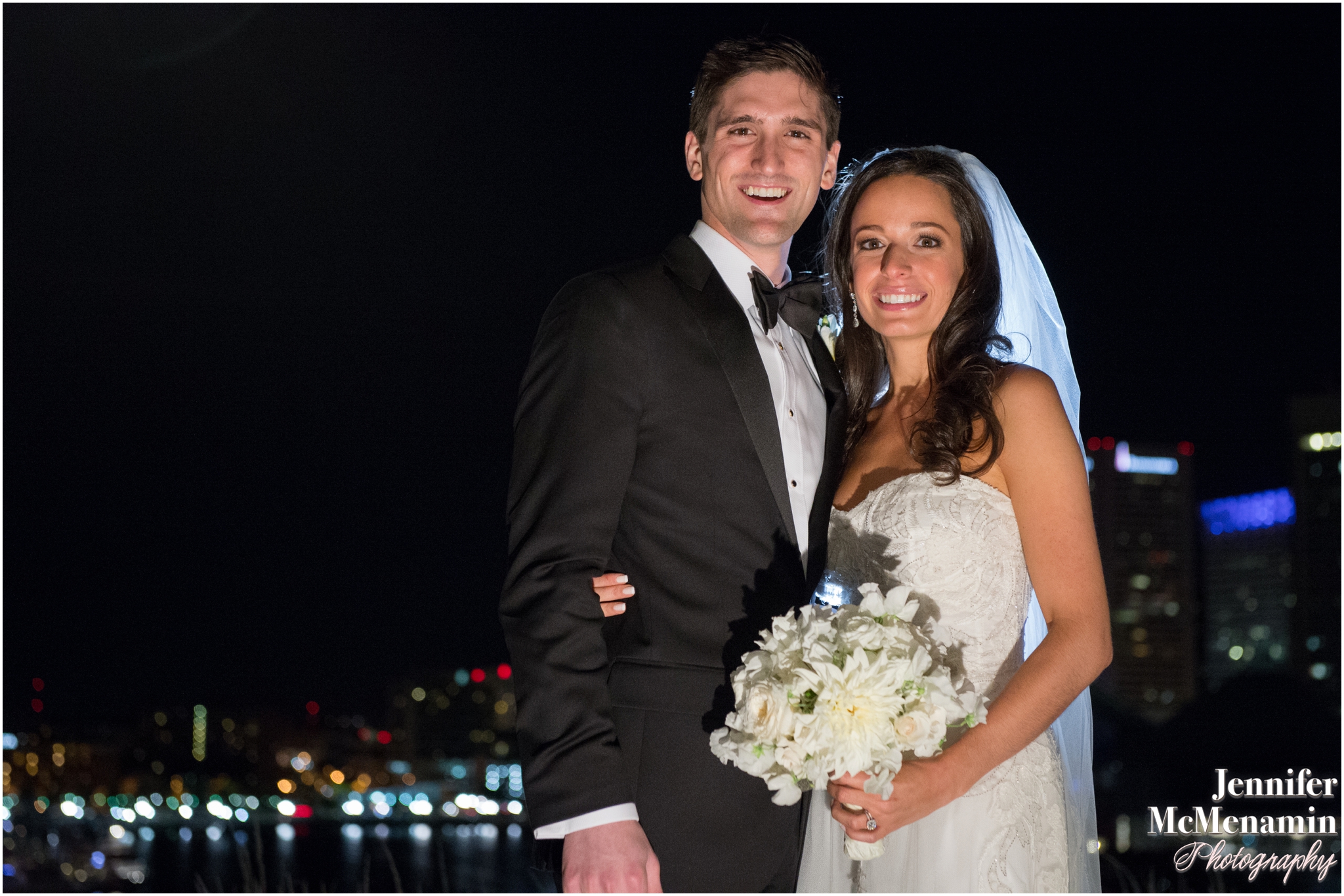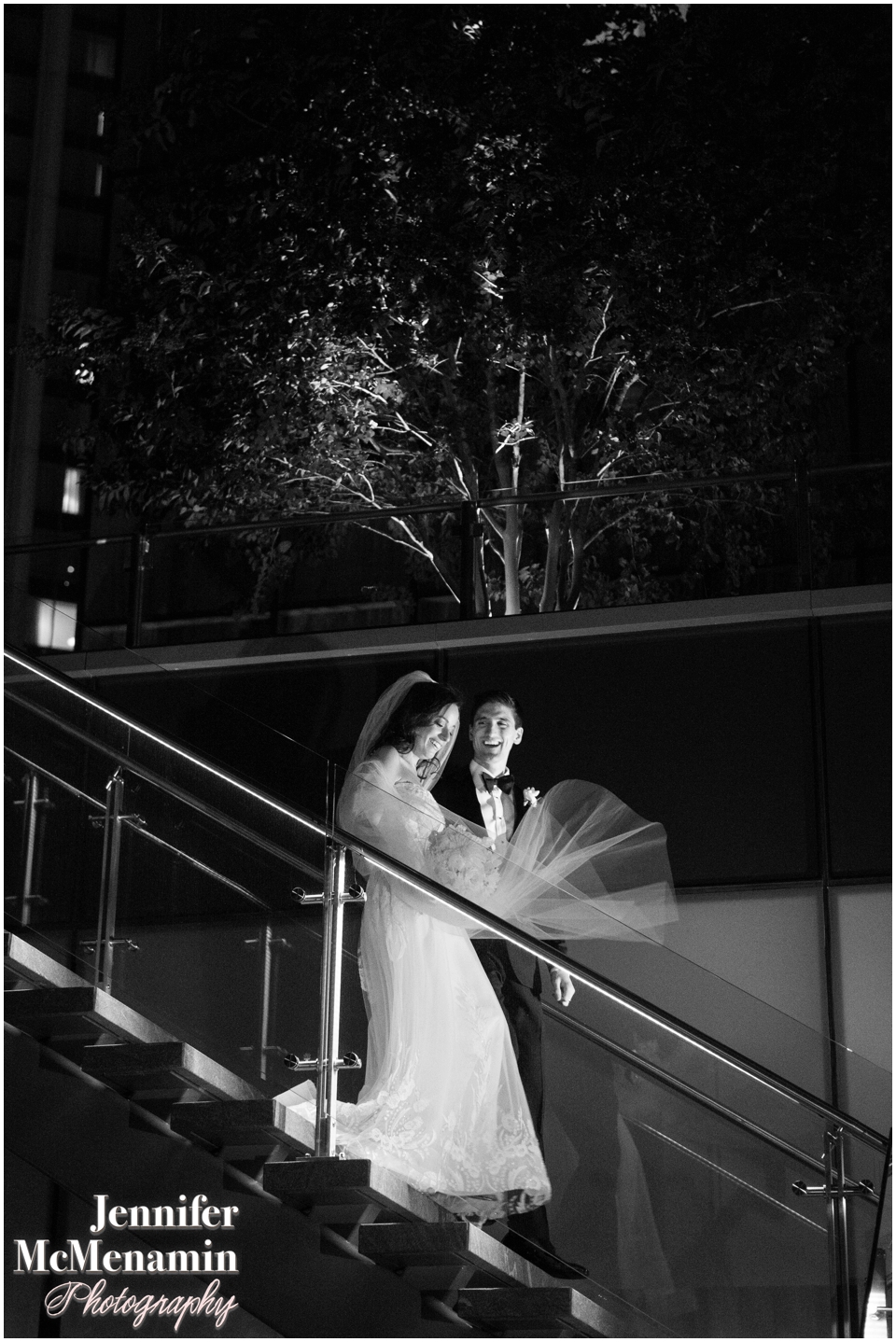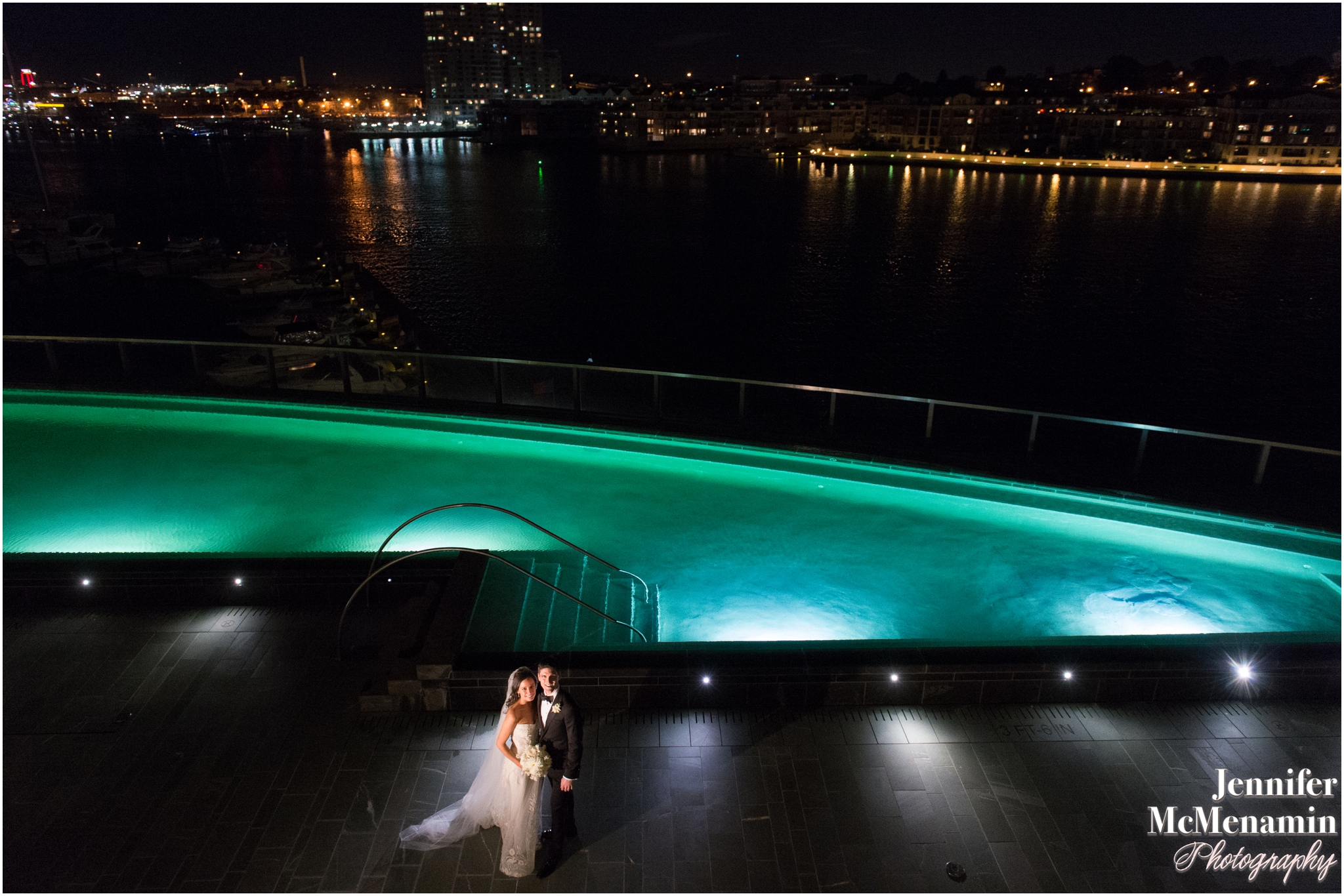 And then it was time for the party.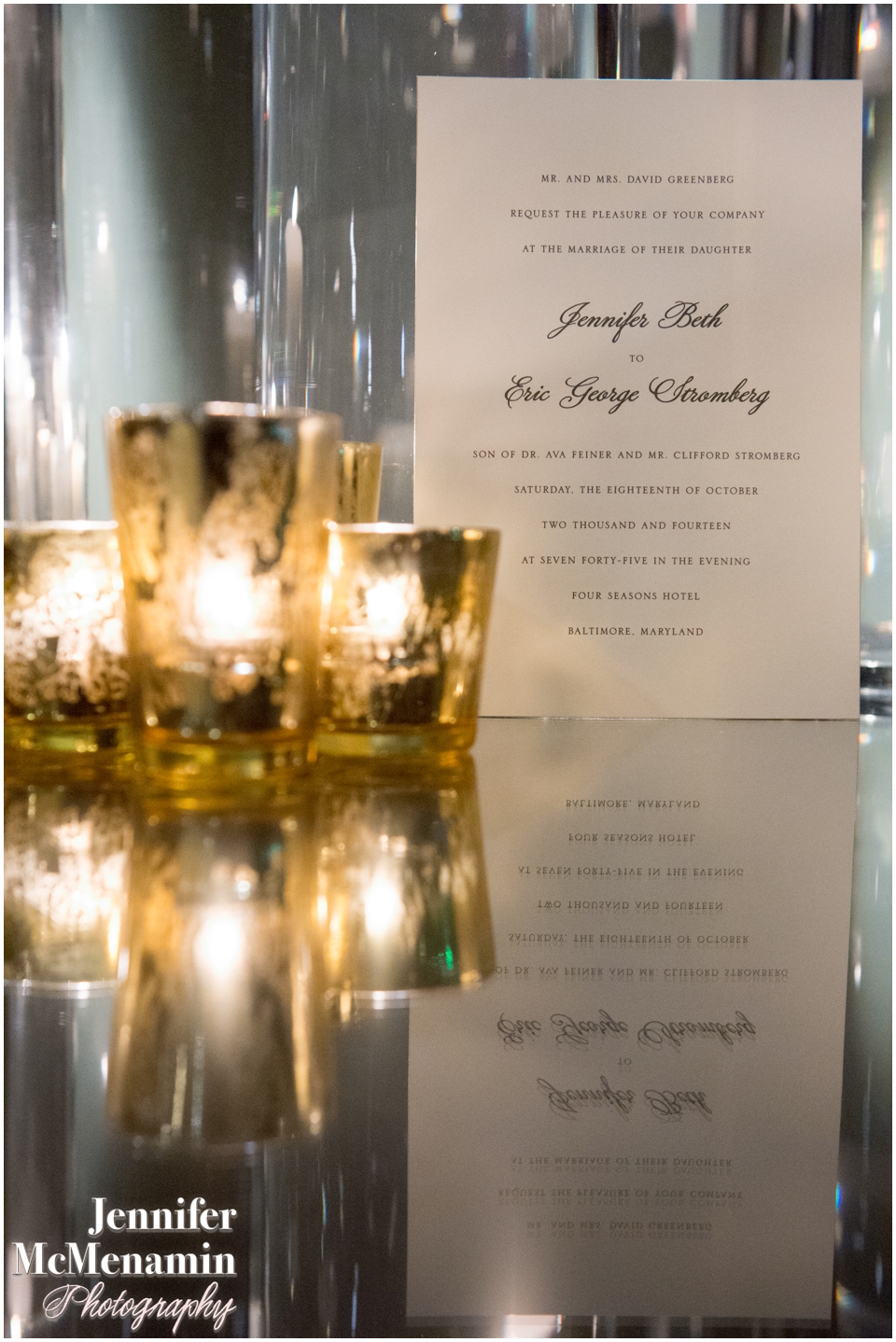 A few details from cocktail hour.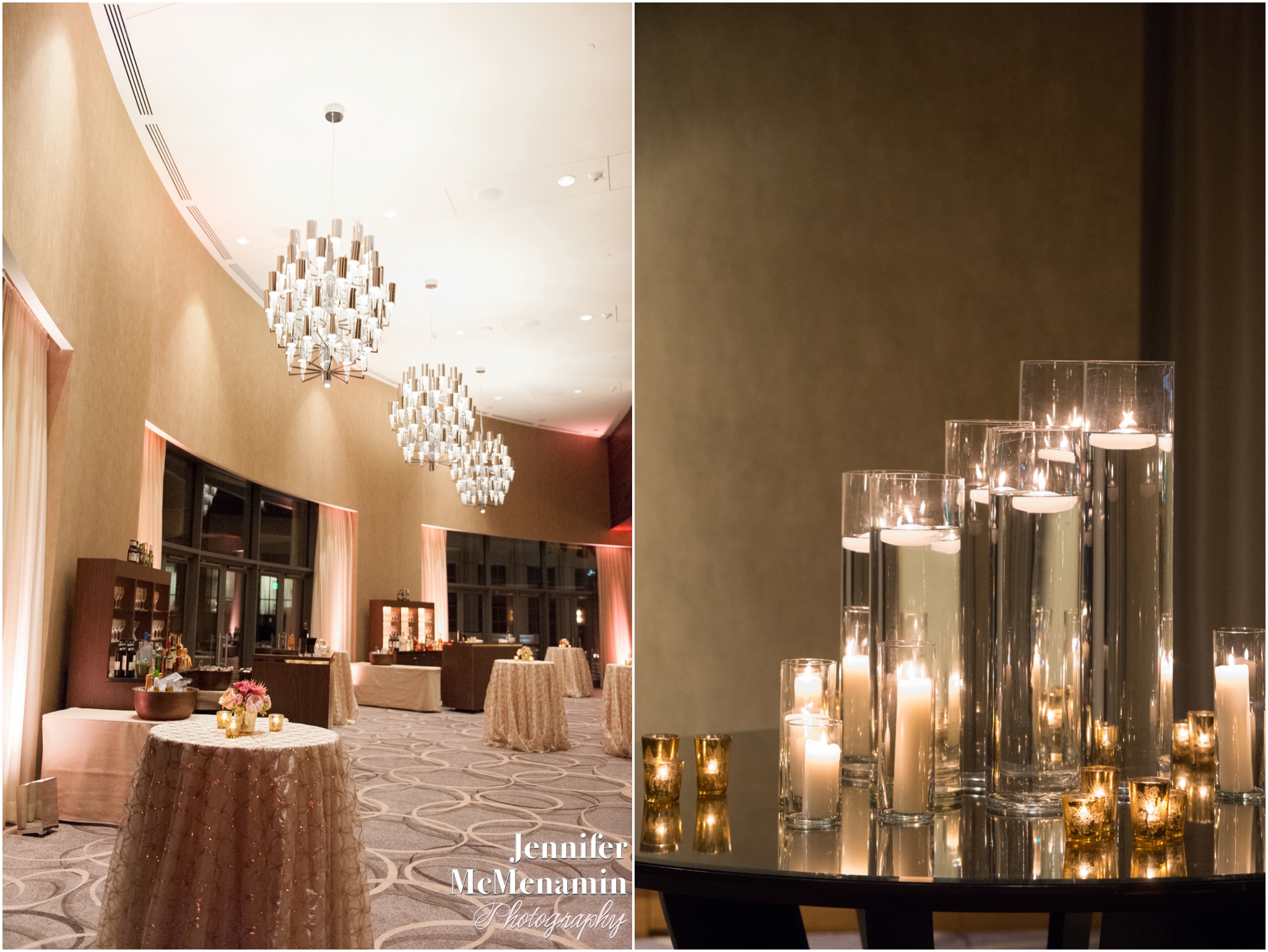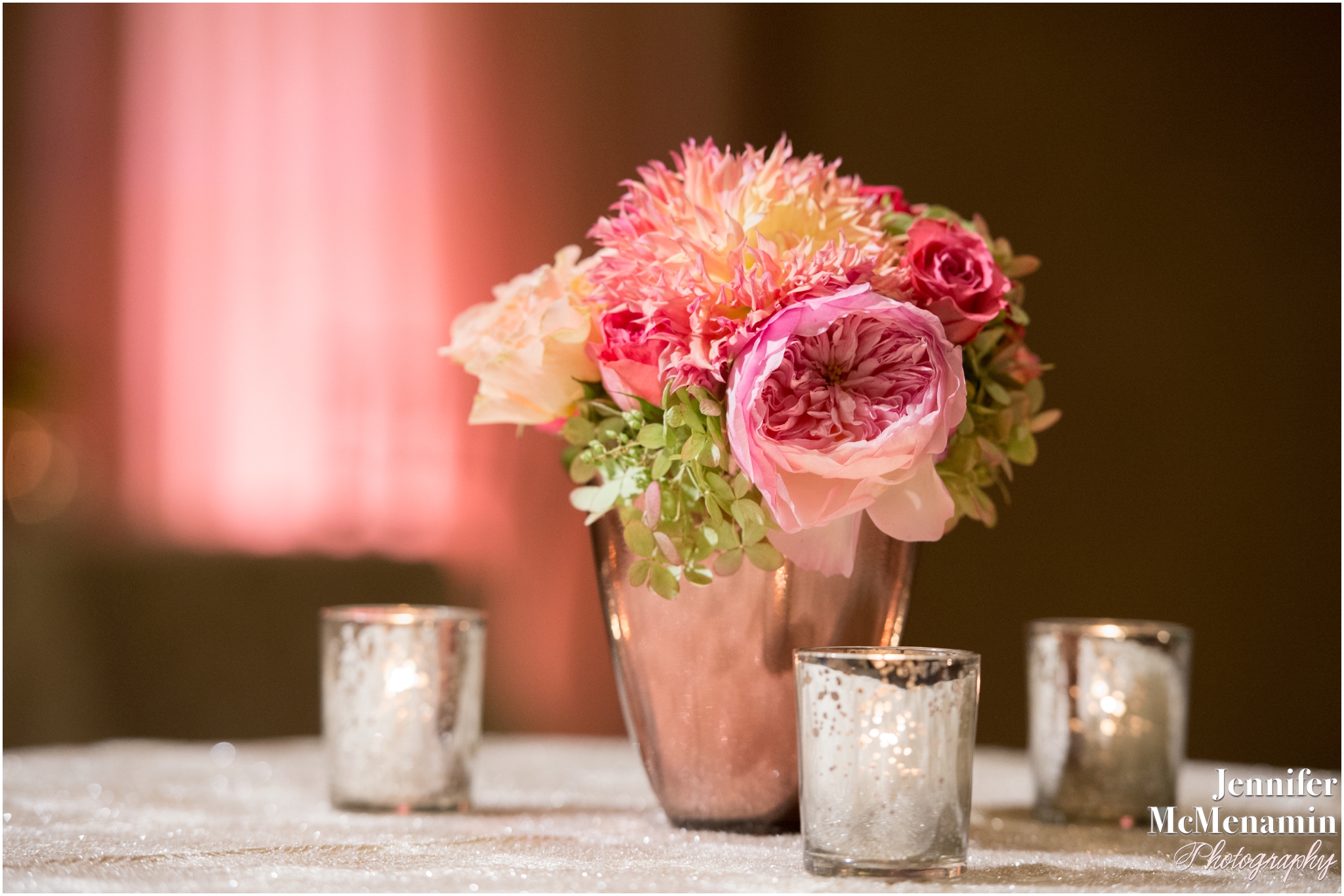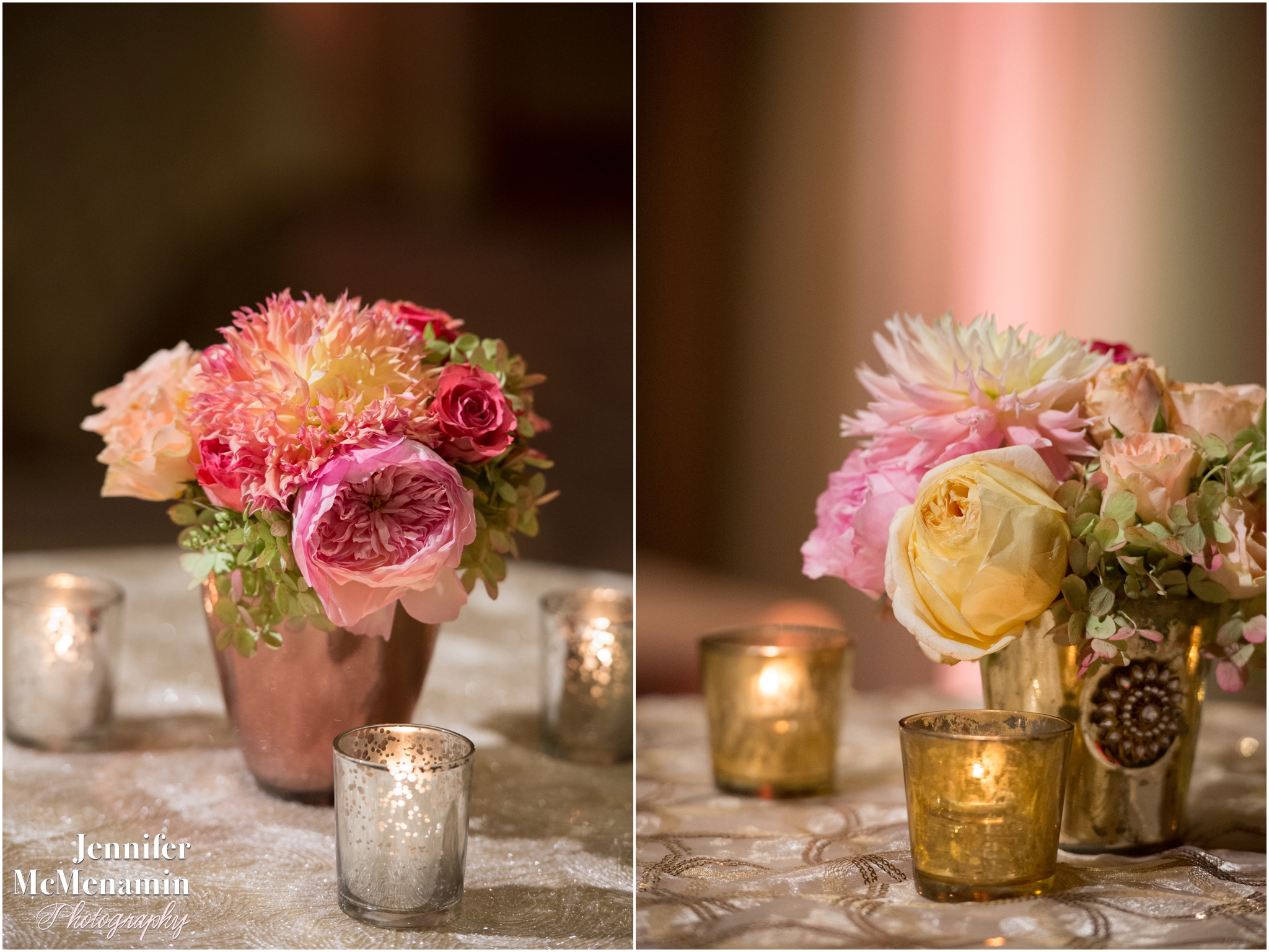 Such an amazing, creative piece for the placecard table.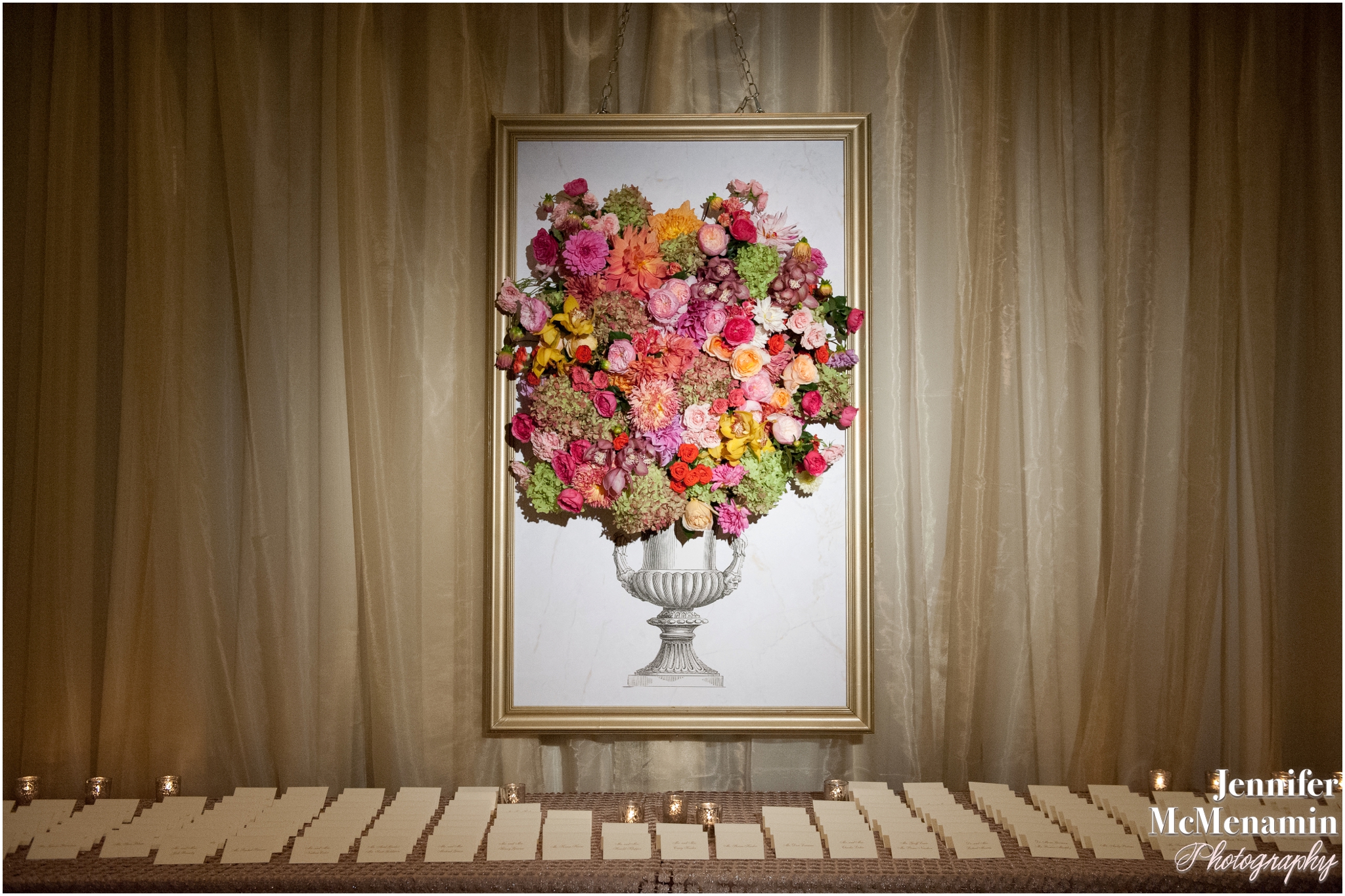 Jen and Eric designed a menu for cocktail hour that highlighted the foods of some of the places that are most important to them — fried chicken and waffles from North Carolina where they went to college; mini-caprese pizzas from New York where they now live; Old Bay fries from the Eastern Shore where they vacation; and skewers of pasta and meatballs from Florence where they studied abroad.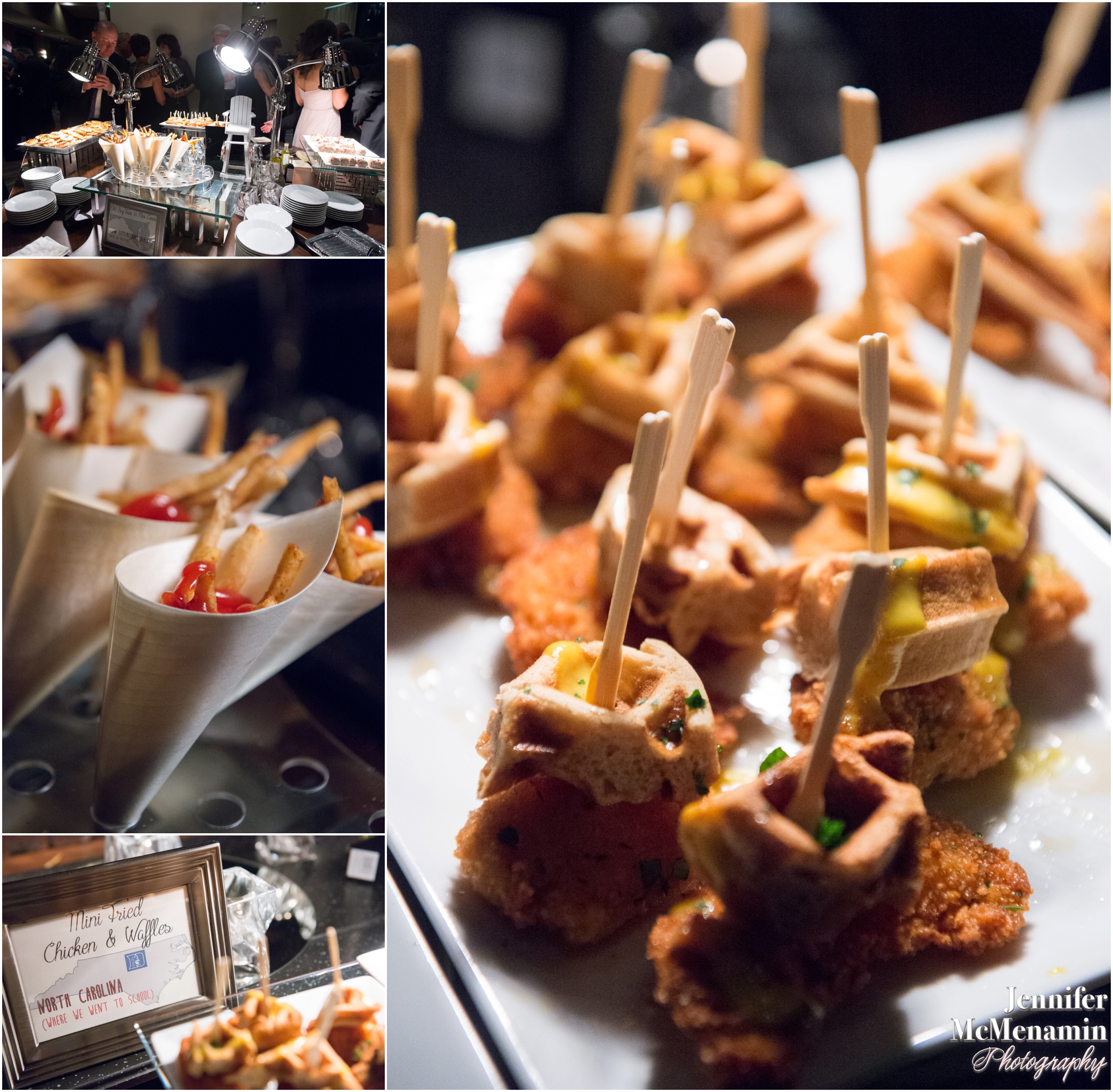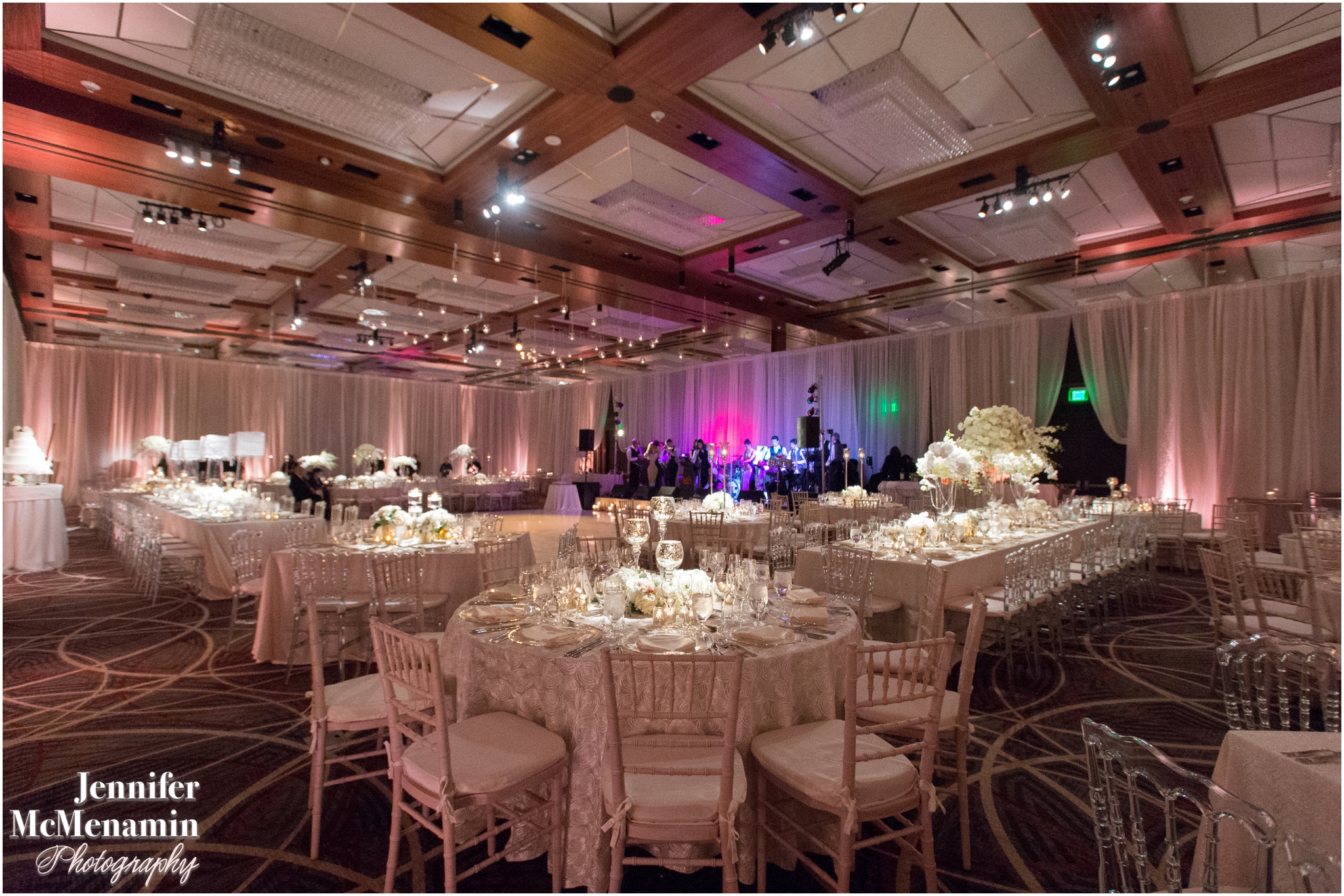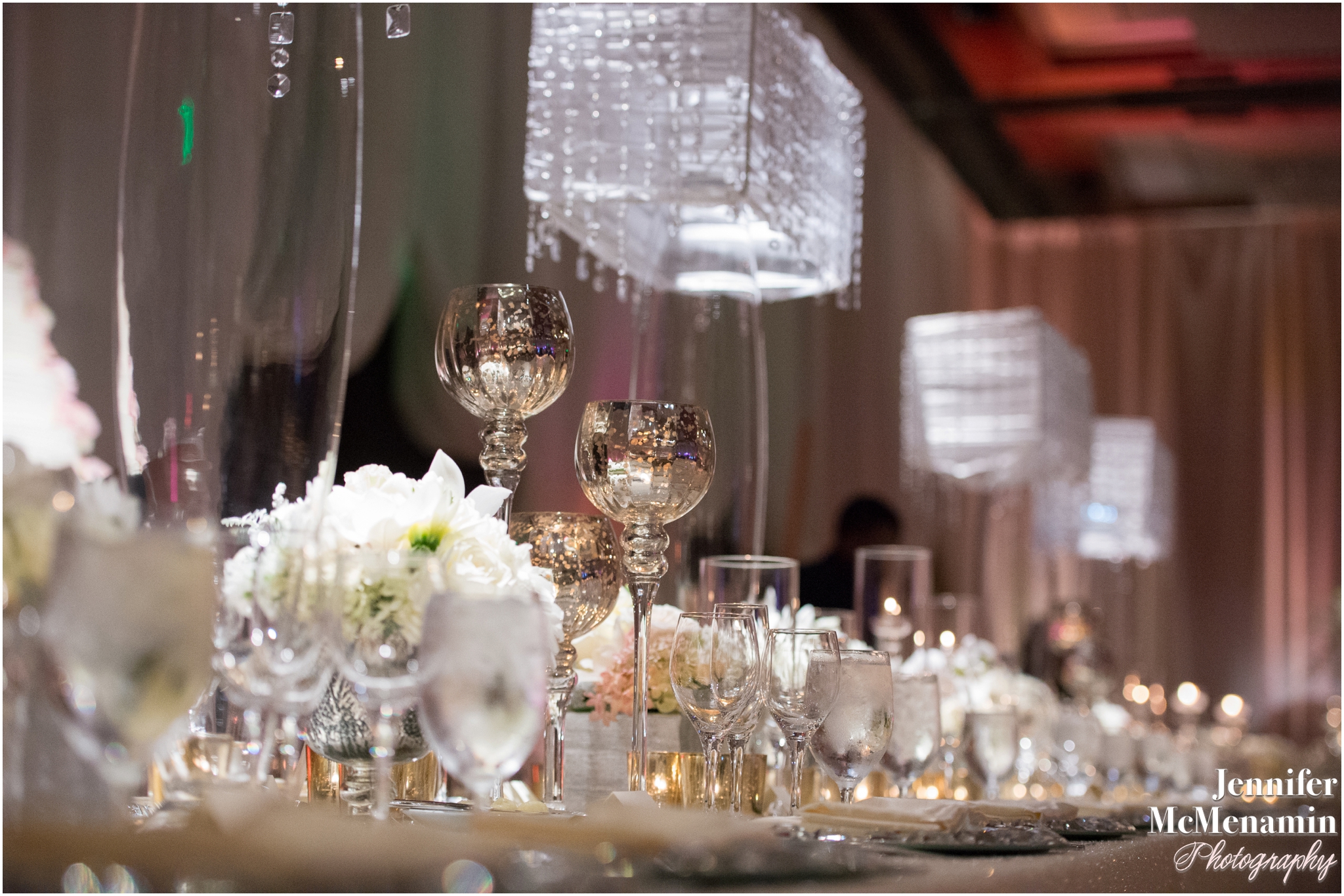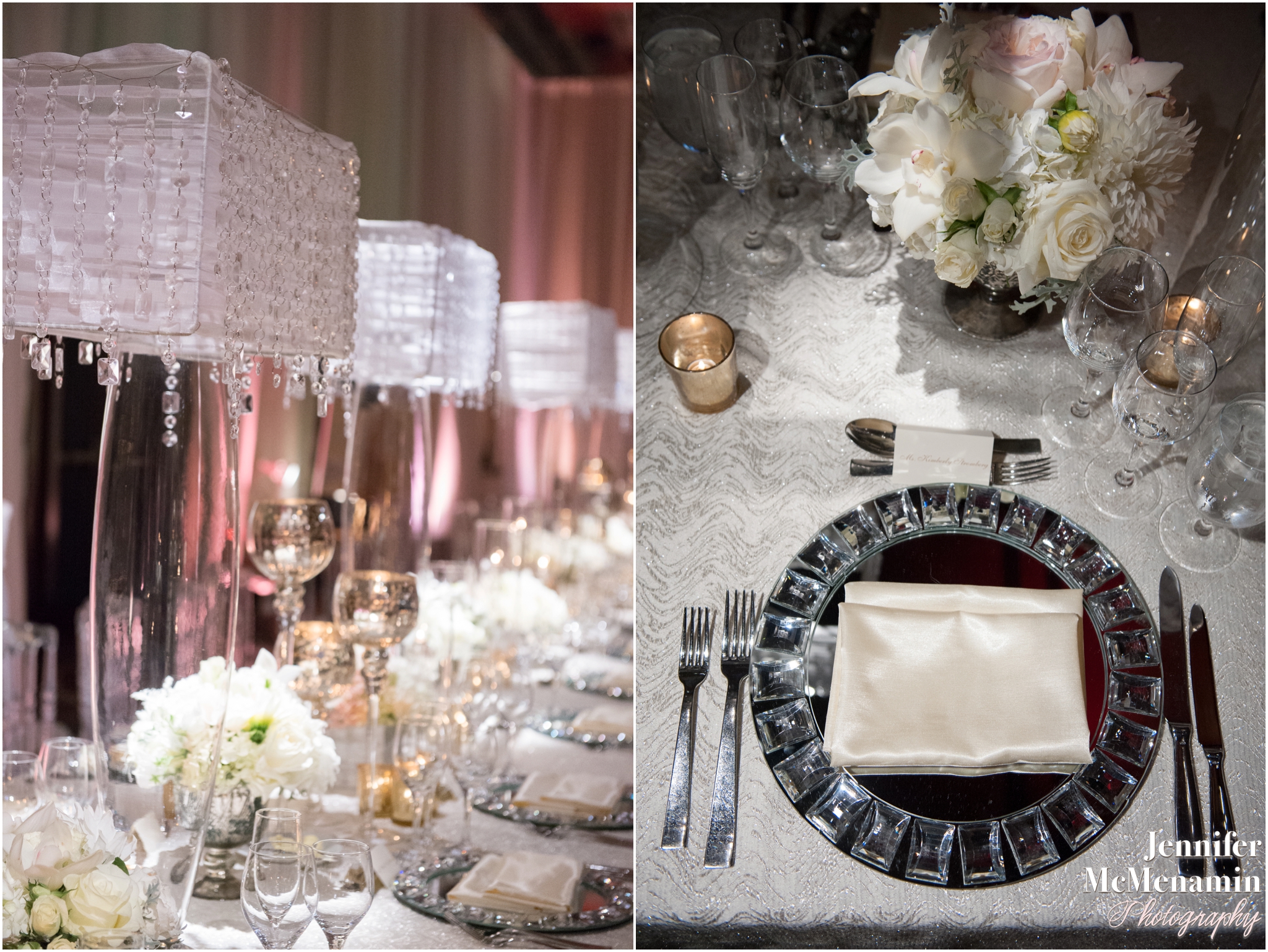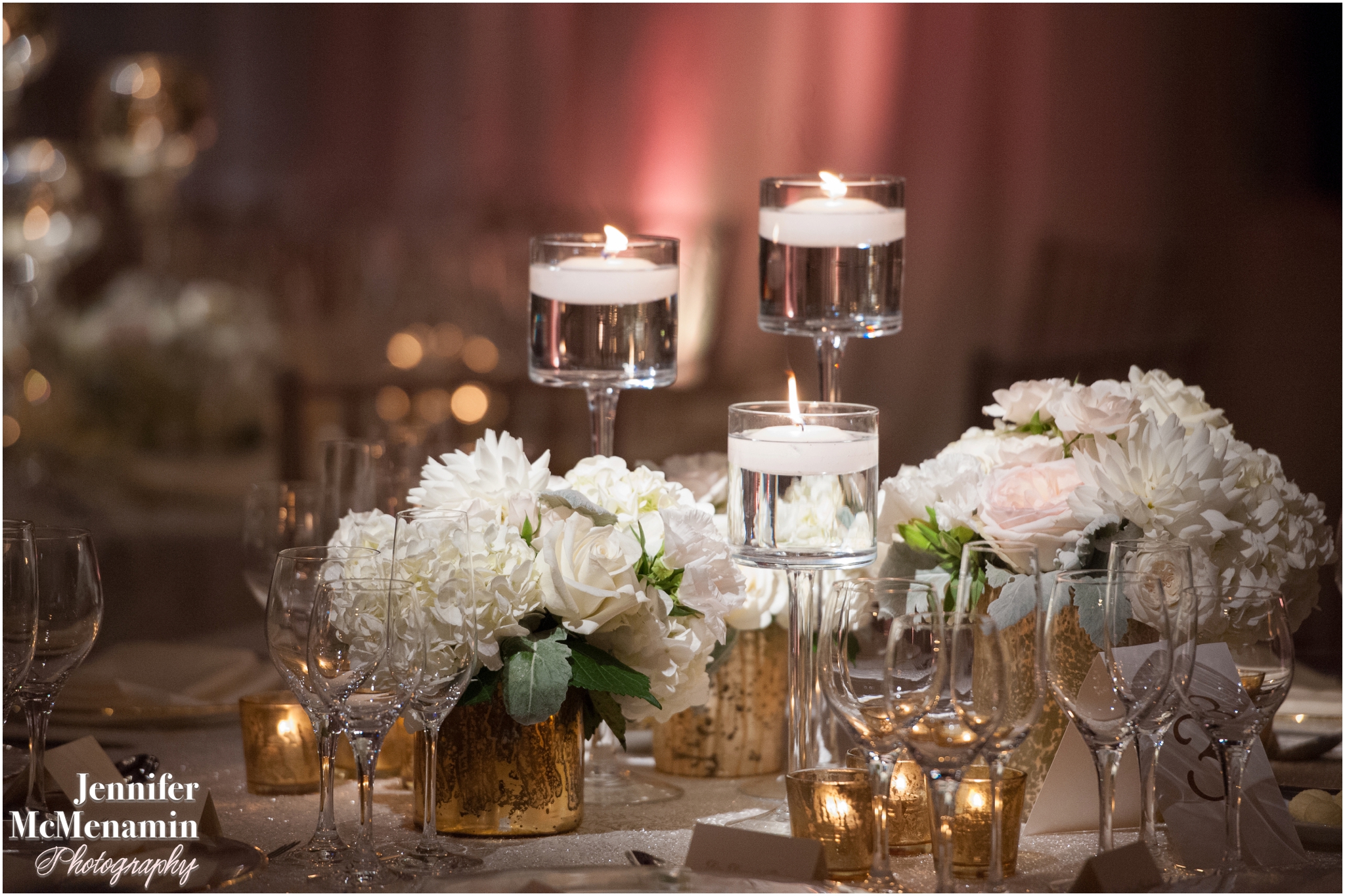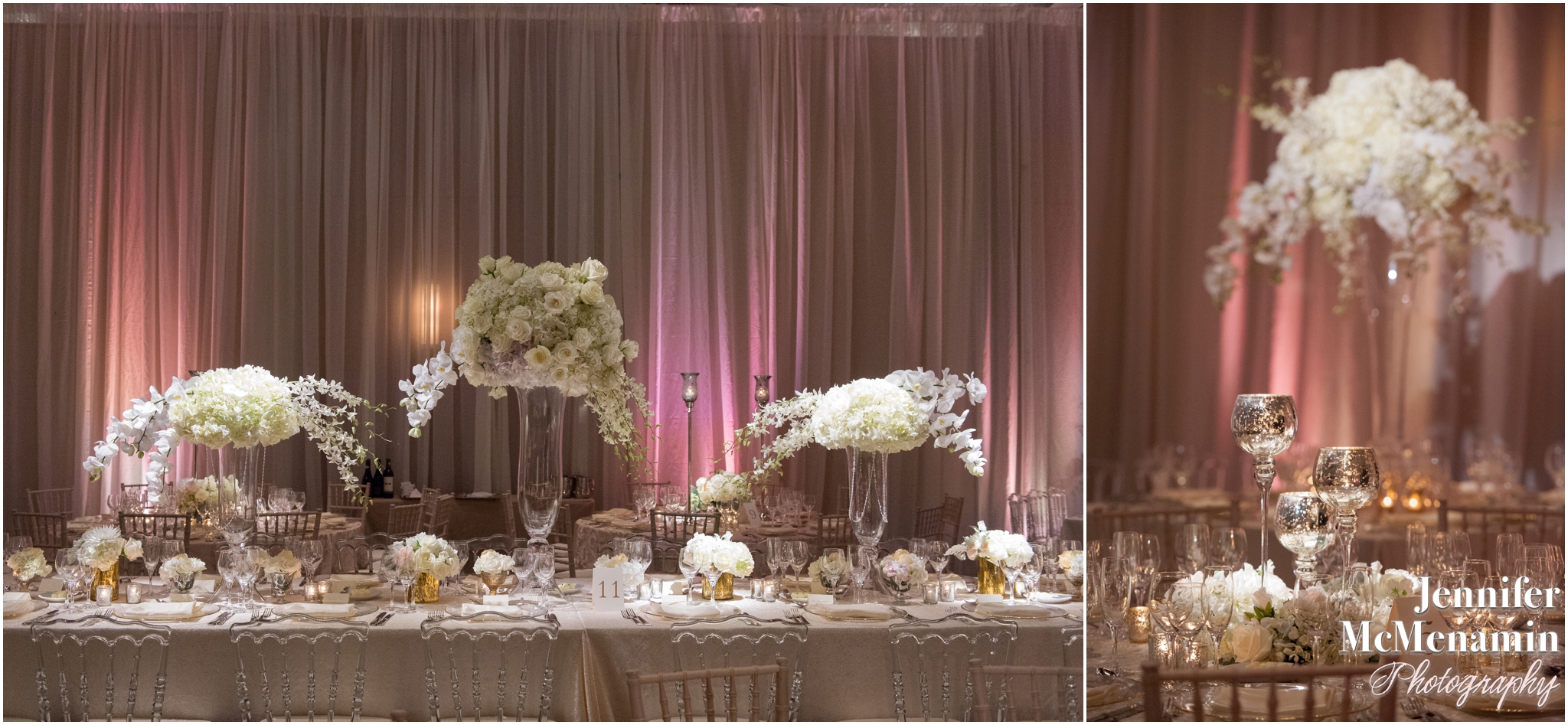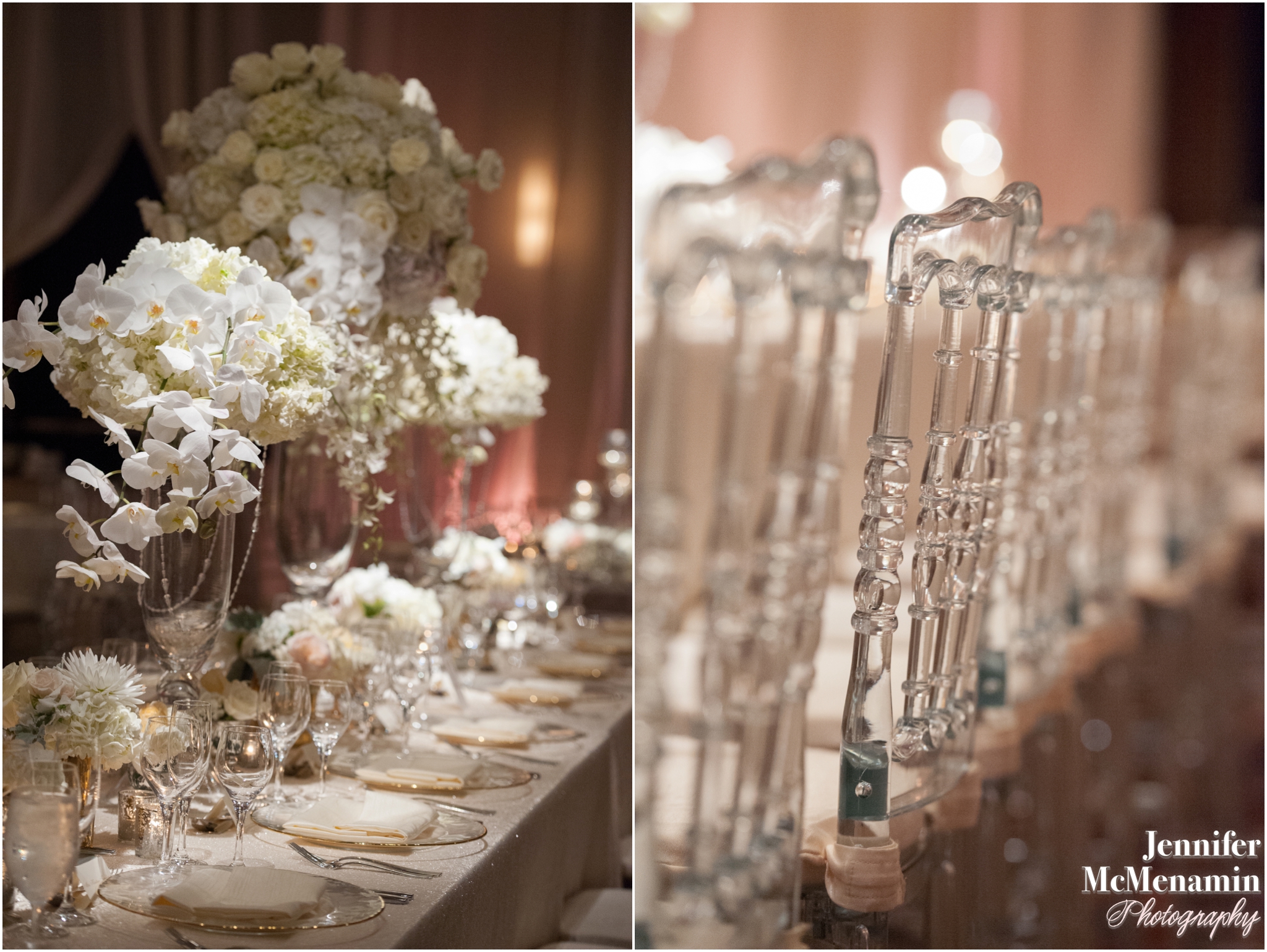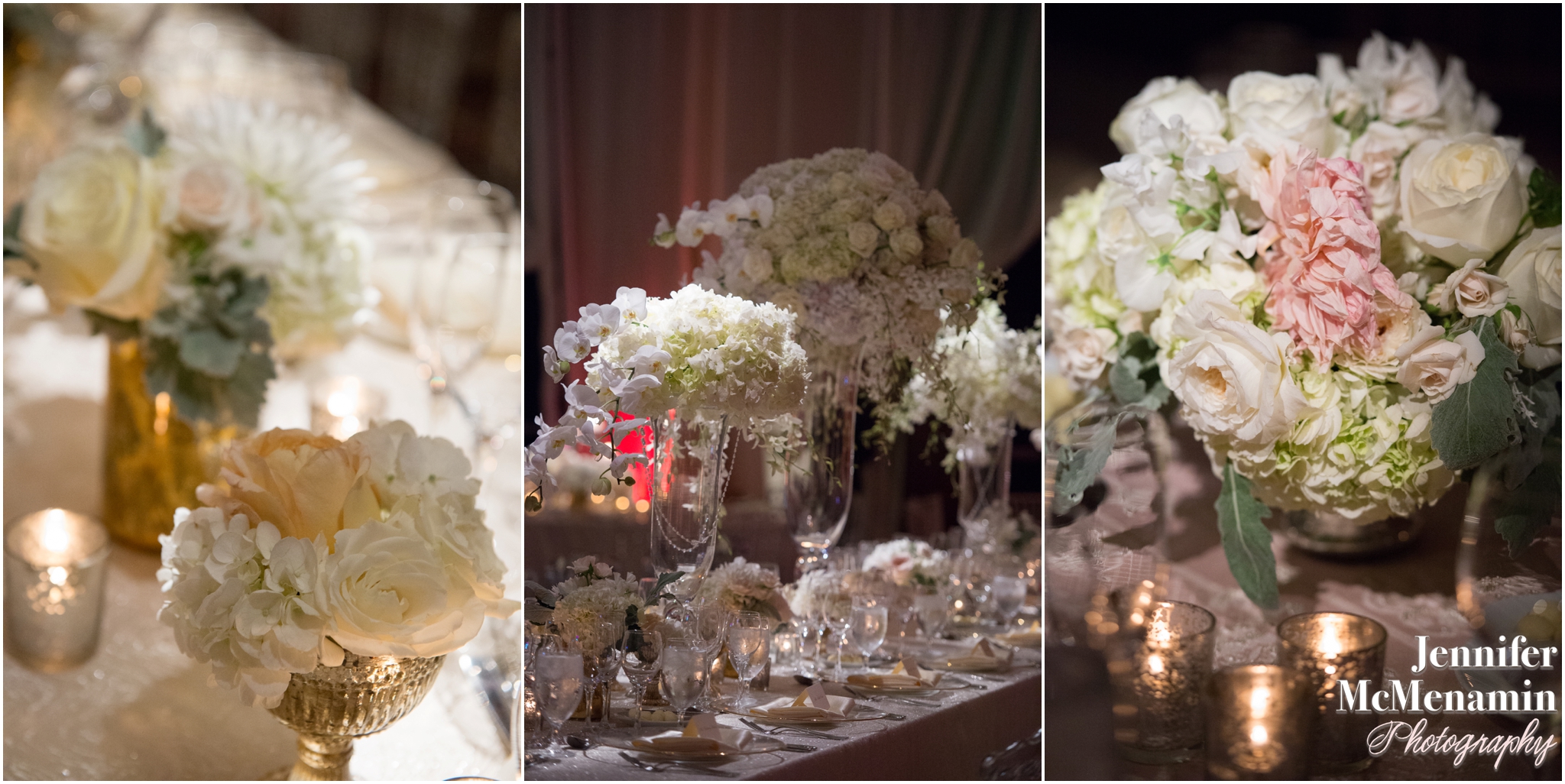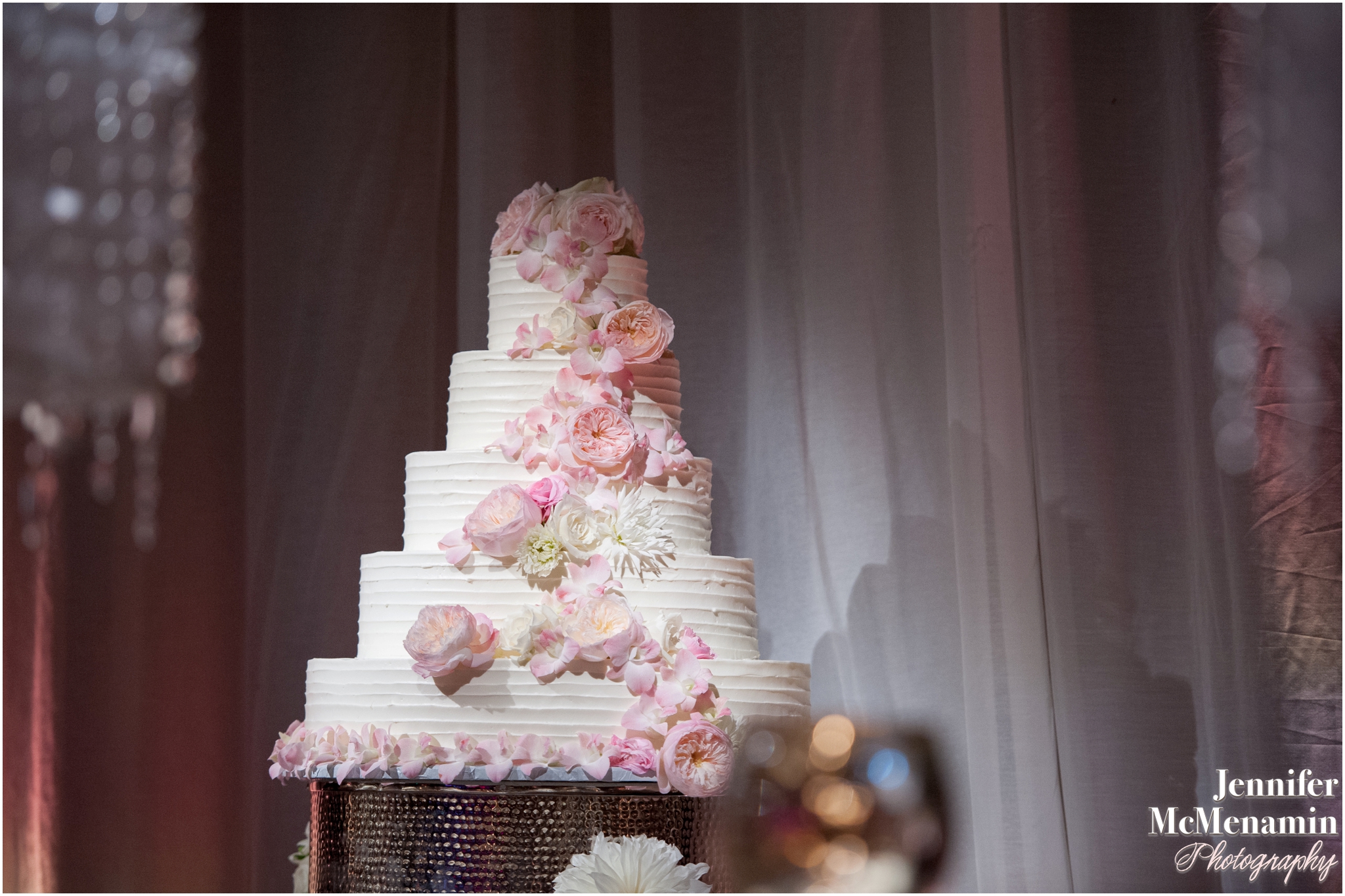 This wedding was the first occasion when I've seen actual candles — not the battery-operated fake votives — suspended above the dance floor. Amazing!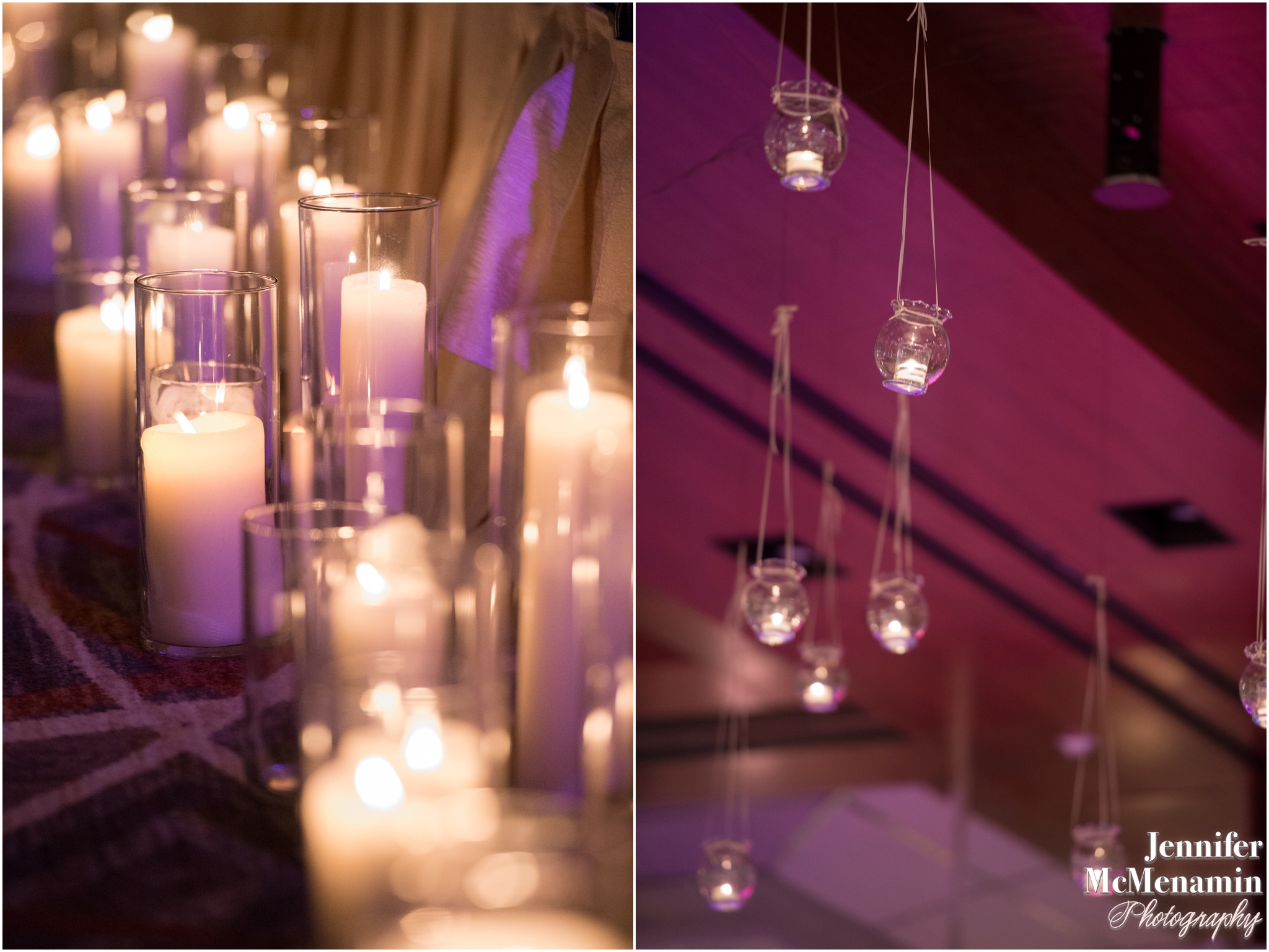 An incredible 16-piece band, LA Starz, kept the guests entertained and the dance floor packed all night.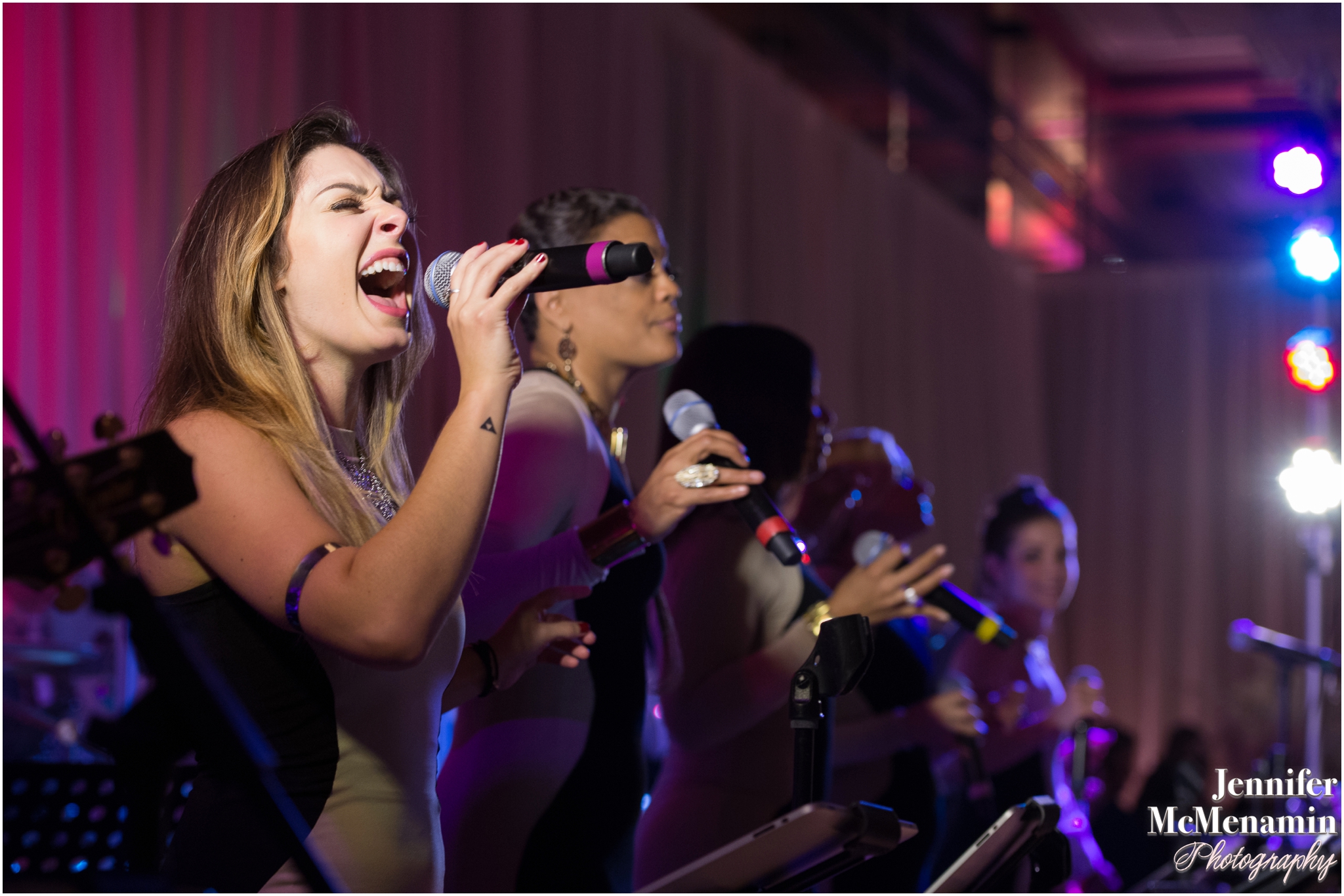 The bride's grandparents were so kind and so darling together.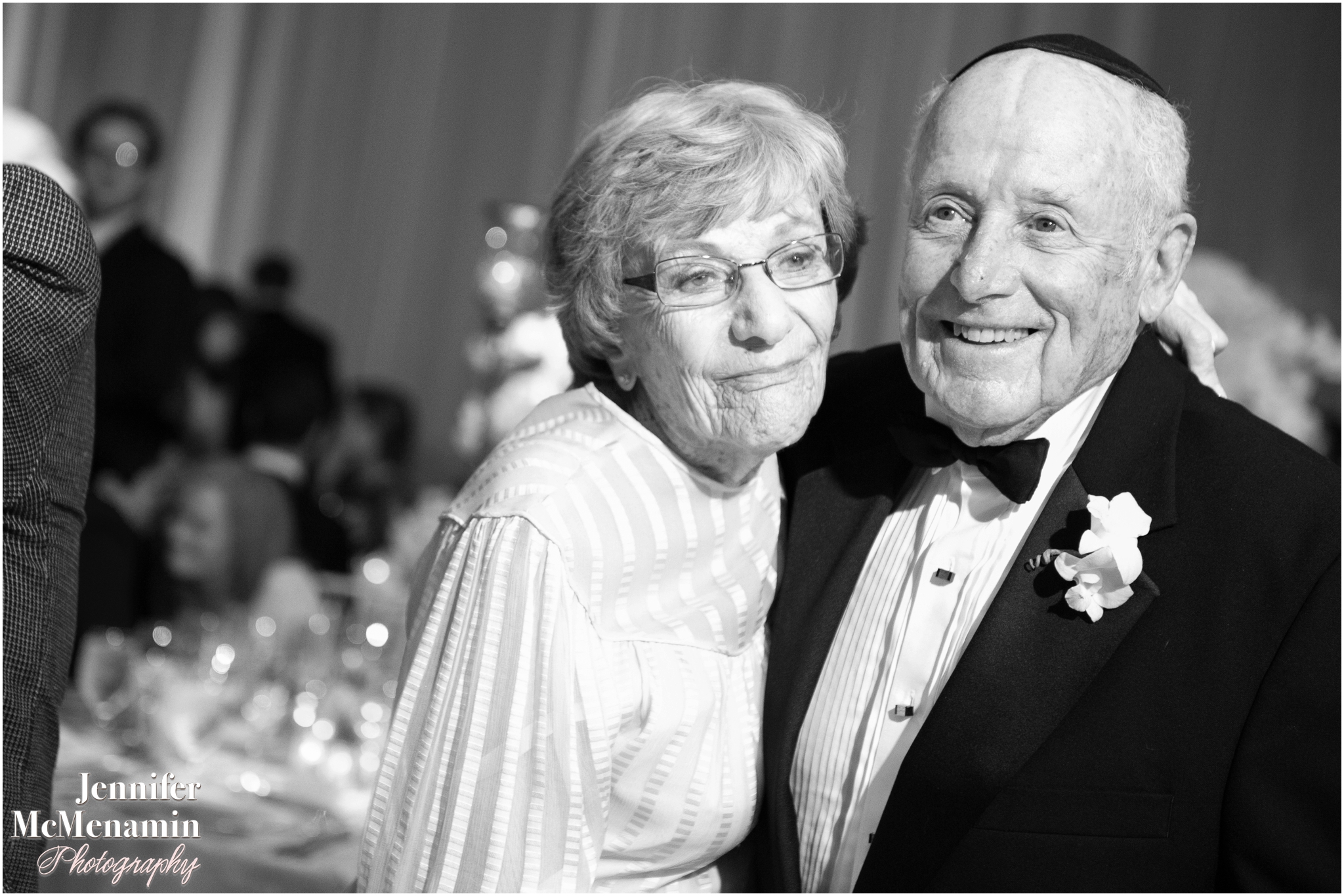 A welcome toast by the bride's parents, Joanie and David.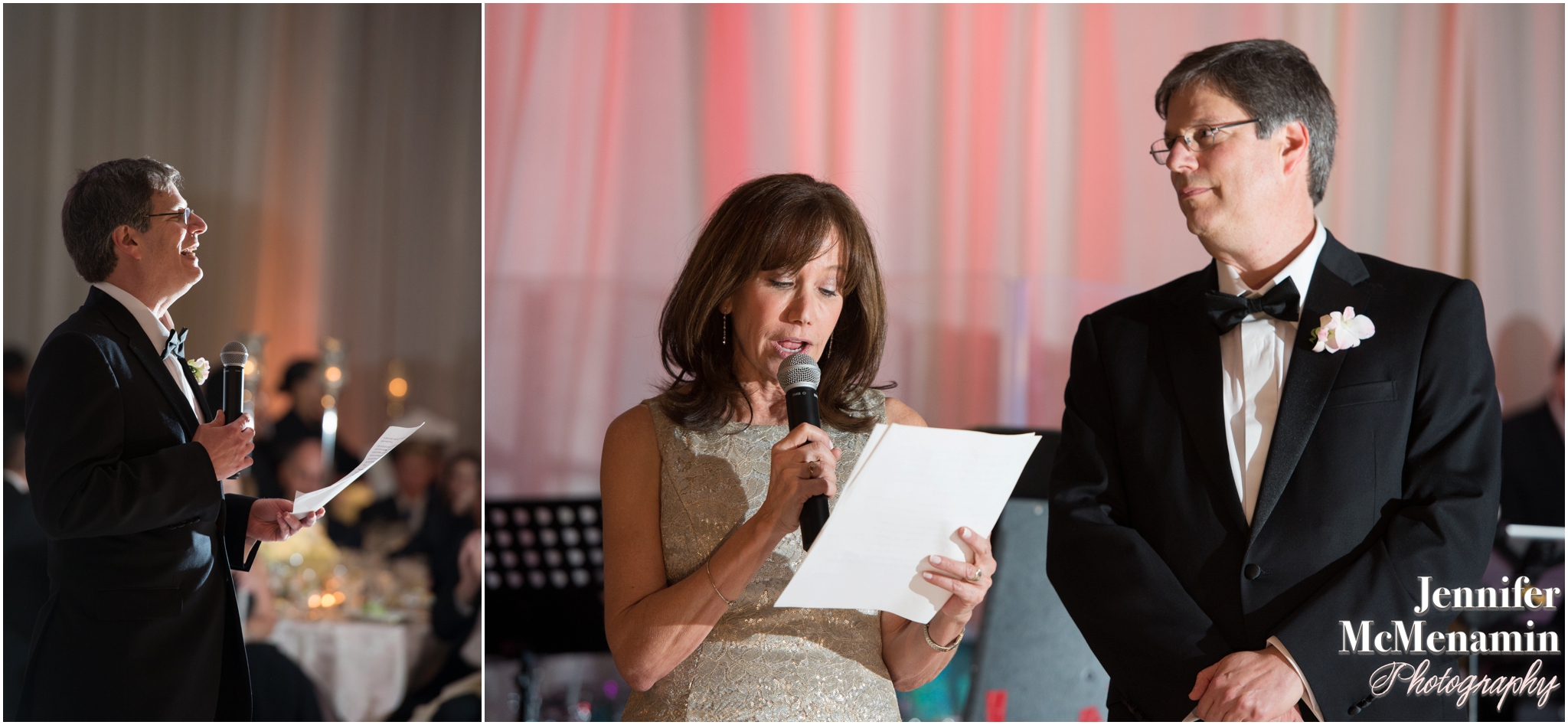 The blessing of the challah.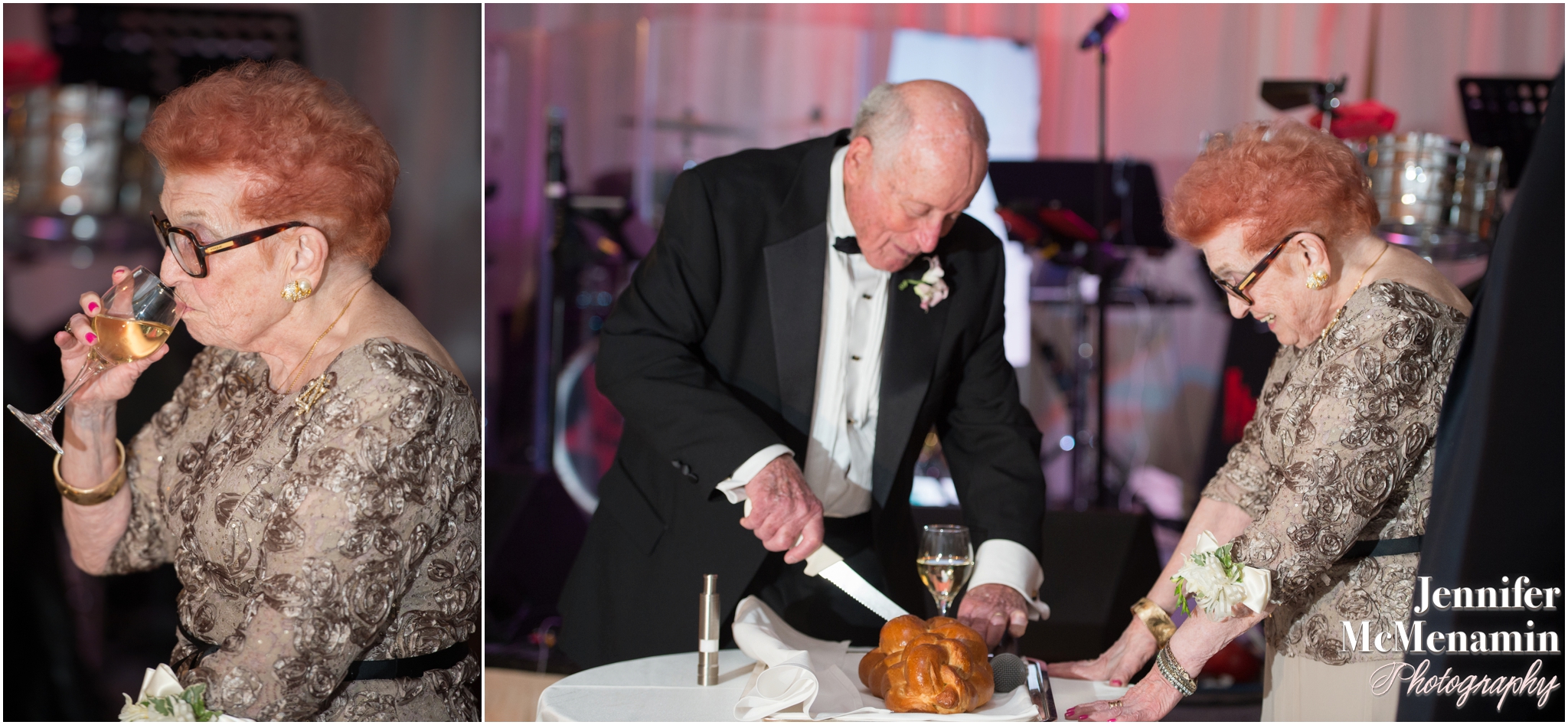 Live event painter Patricia Bennett moves to the reception room to continue work on the piece.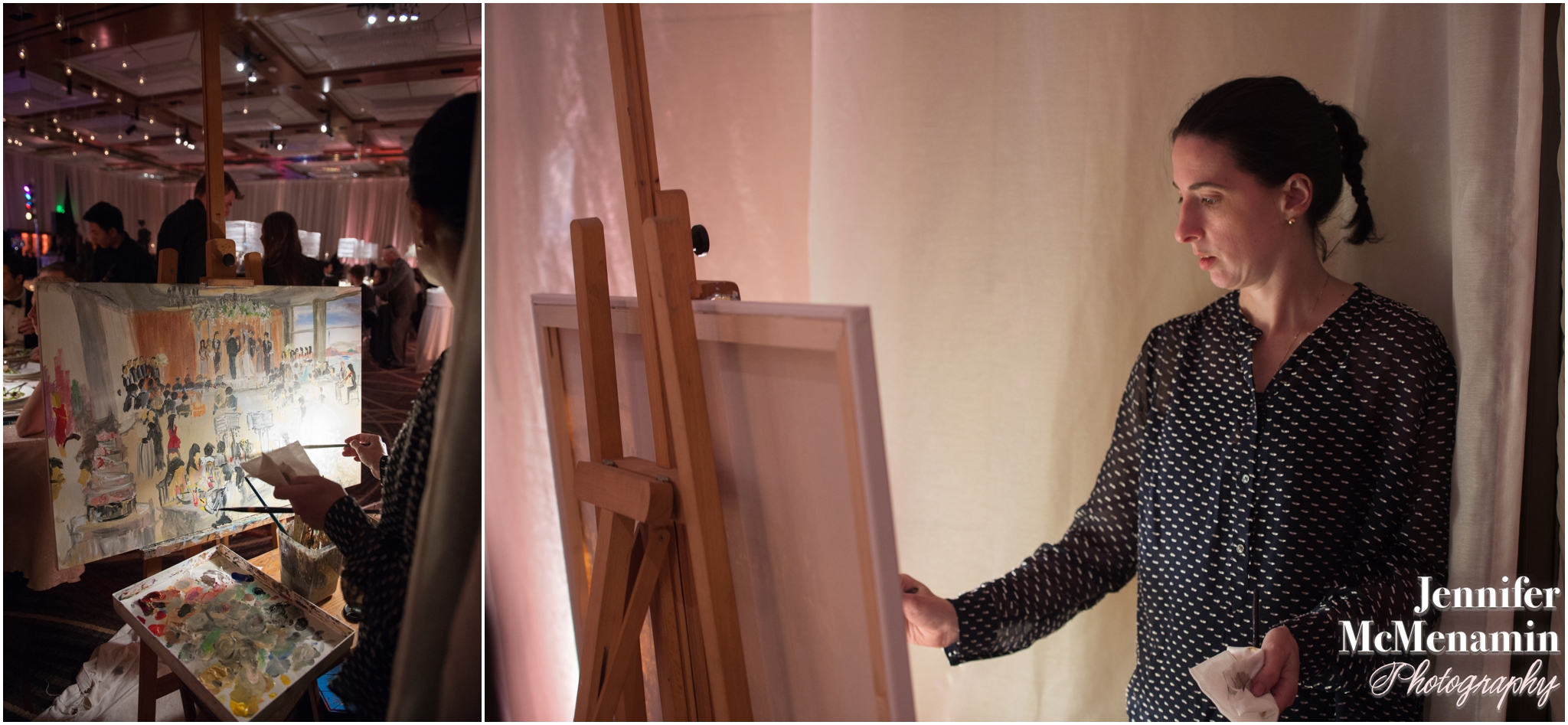 A trio of toasts offered such a wonderful opportunity to photograph not only the toasters but also the fabulous reactions of Jen and Eric and their families.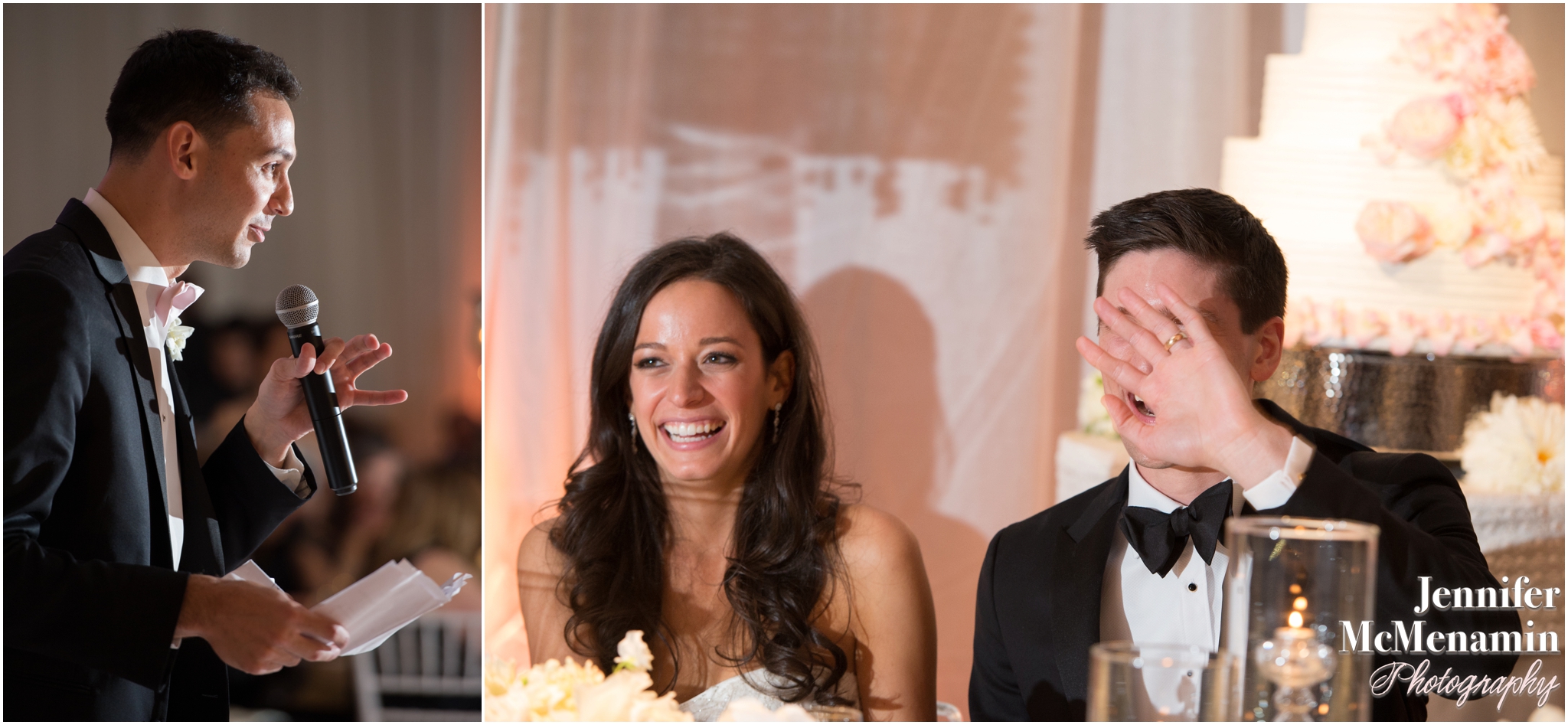 These are the little moments that I most love capturing for my clients. Eric doesn't see here in this next image how his wife is looking at him. But they have a photograph now that freezes that moment for forever.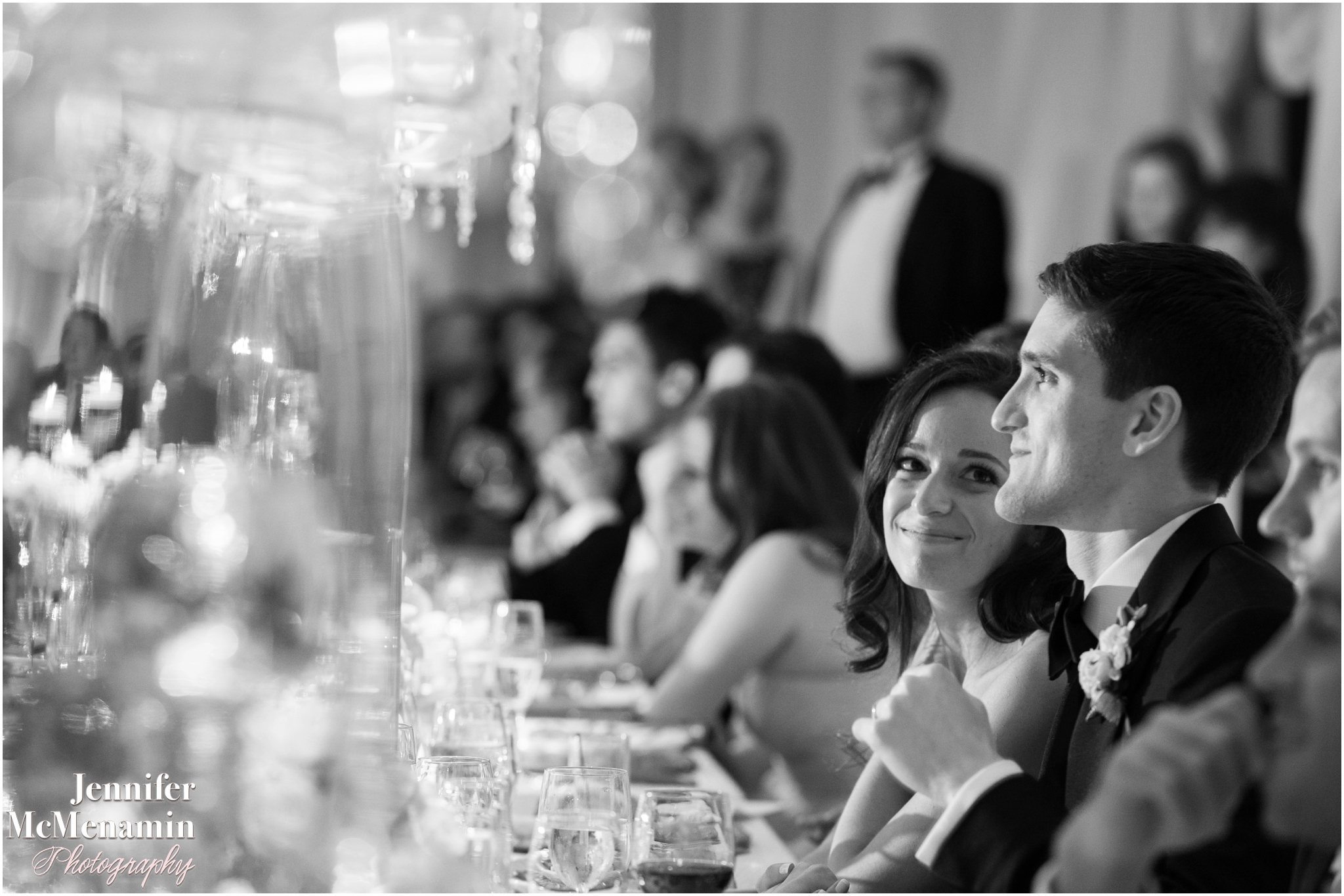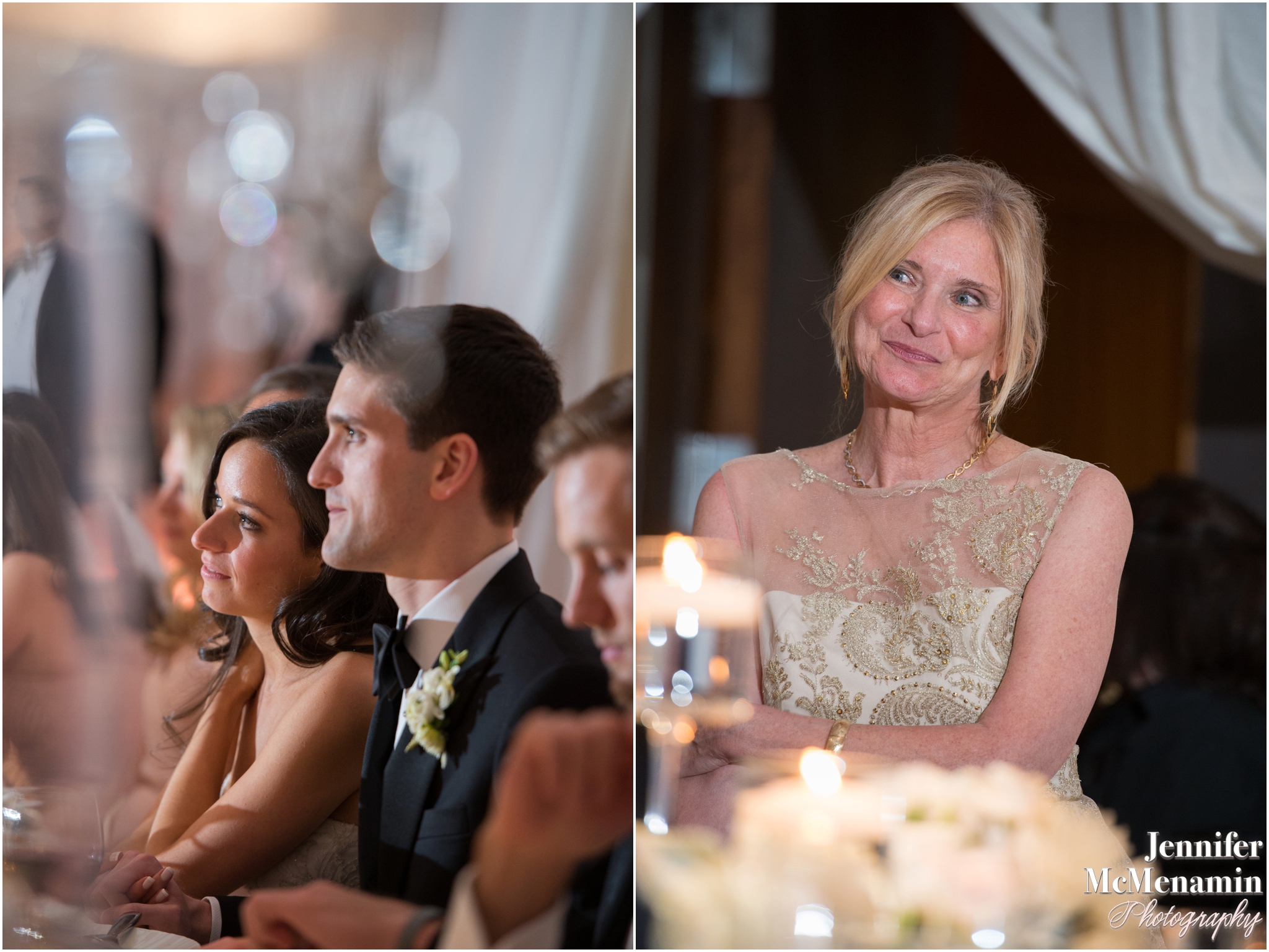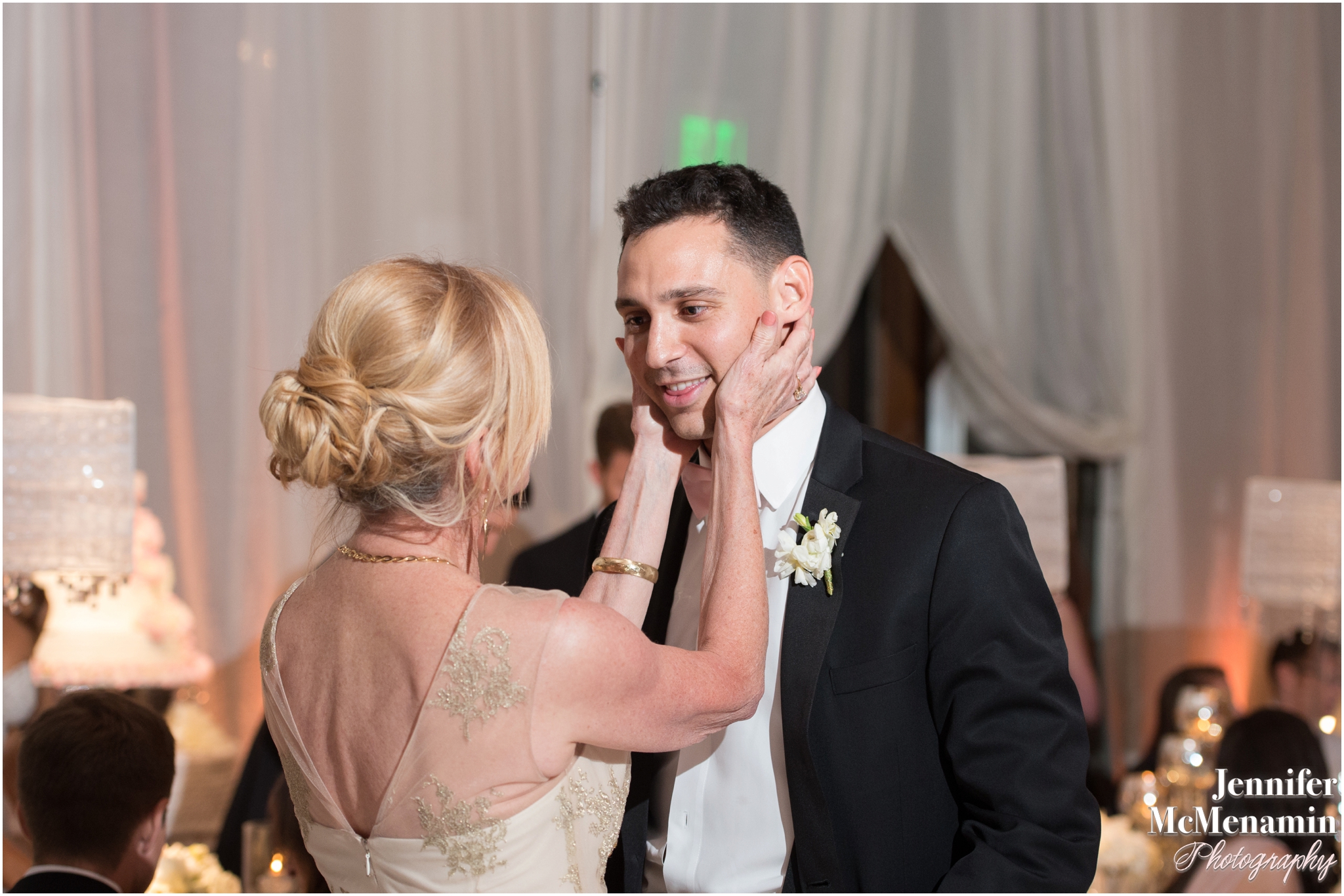 A serenade from Uncle Jonny.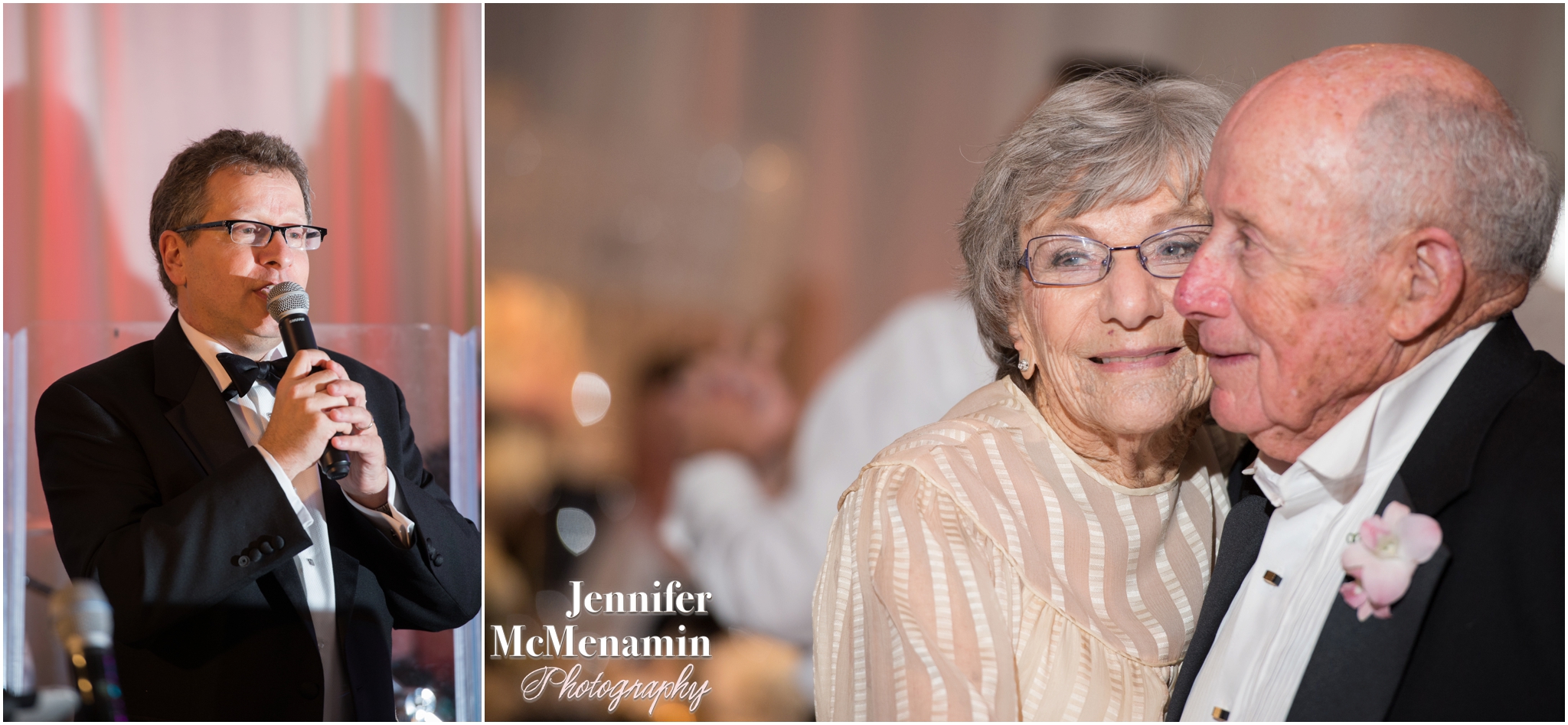 A few images of the incredible musicians of LA Starz, including their amazing rocking rendition of "Turn Down for What." 

Jen was so excited about their array of desserts — which included macarons and mini ice-cream sandwiches — that she specifically requested photos of them. This task was more difficult than I had anticipated since guests snapped them up almost instantly!

The newlyweds slice into their towering wedding cake.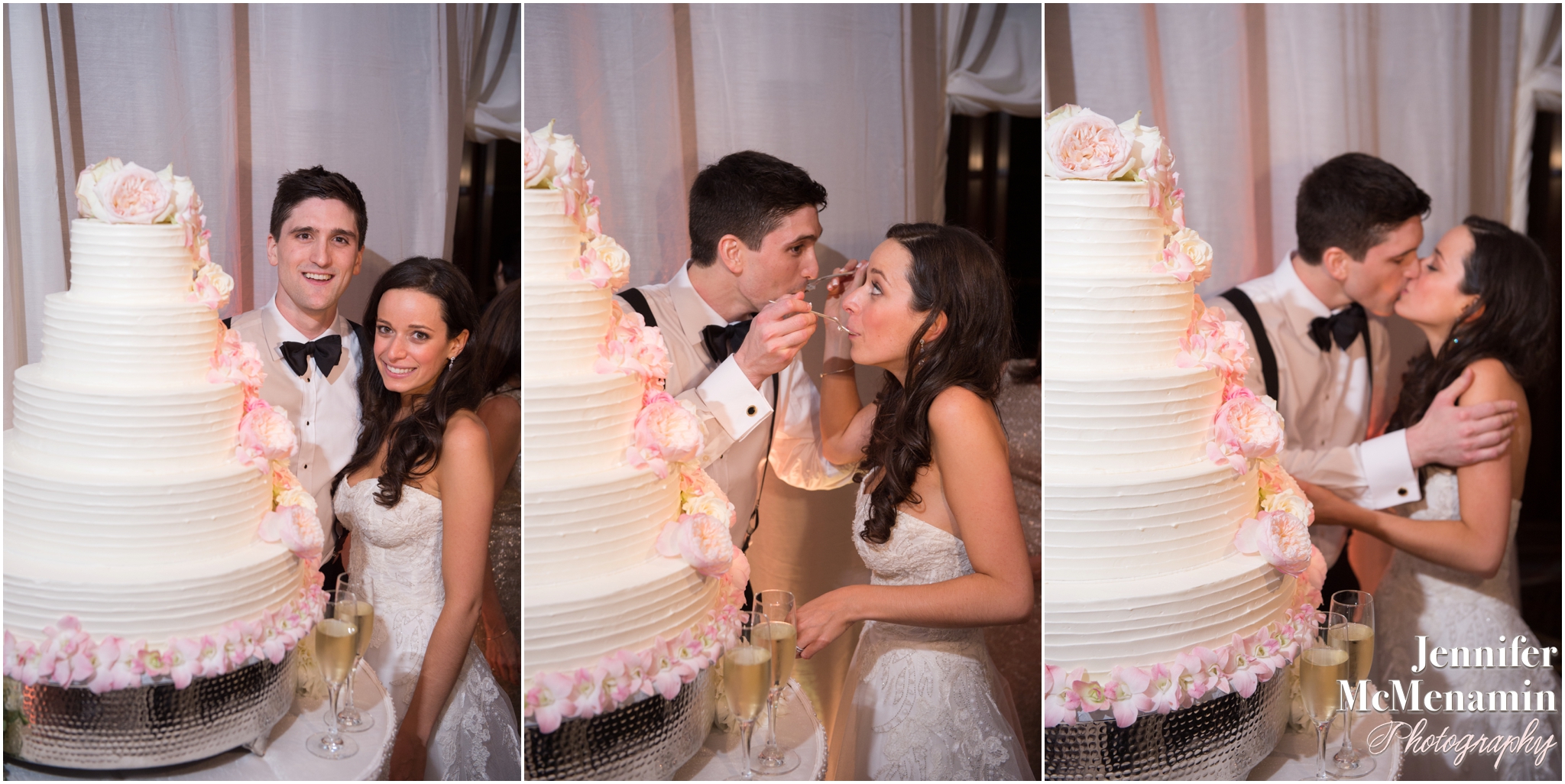 Many, many congratulations, Jen + Eric! It was such a delight working with you, your friends and your families!
Credits:
Photography: Jennifer McMenamin Photography, LLC

Ceremony + Reception: The Four Seasons Hotel Baltimore
Officiant: Rabbi Deborah Wechsler
Event design + coordination: Lindsey Stone of Union 3 Event Productions
Decor + Florals: Victoria Clausen Florals
Ceremony musicians: LA Starz
Lighting designers: Event Dynamics

Rentals: Table Toppers linens, DC Rental and Party Rental Ltd.
Make-up: Studio of Make-up
Hair: Haute Blow Dry
Cake: Debi's Cake Studio

Band: LA Starz

Invitations & Papergoods: Papers Plus
Live Event Painting: Patricia Bennett