Heather & Jason

The Antrim 1844 - Baltimore wedding photography - Maryland wedding photography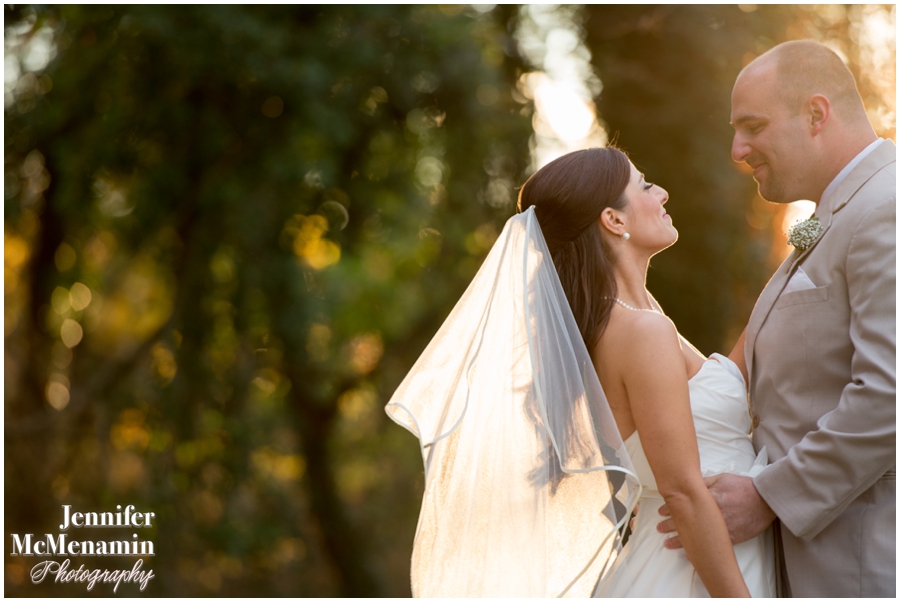 What a way to wrap up my 2013 wedding season! I looked forward to Heather and Jason's wedding all year long. Not just because Heather is the events director at Hayfields Country Club and I knew it would be a gorgeous — and amazingly well-scheduled and efficiently coordinated — wedding. Not just because I had a ridiculously fun meeting with her and her mother 15 months out from the wedding, after which my cheeks hurt from smiling and laughing so much. Not just because of all the little surprises that Heather had shared she had in store for Jason. And not just because of all the fun stories that she had told me about their wedding party. No, I mostly looked forward to this wedding for the 15 months from when they booked me because both Heather and Jason are good, wonderful people who quite obviously are completely crazy about each other. That was on full display on their wedding day — in Heather's thoughtfulness in the special dress hangers and robes for her nine bridesmaids and in making sure that each of them played a role in helping her get ready; in the nonstop laughter erupting from the Smith House where the guys got ready and all the jokes that cracked them up; in the careful way Heather and Jason included each of her parents and step-parents, all of their siblings and a gaggle of cousins and in-laws in their ceremony in a meaningful way; and most of all, in the absolutely amazing way that they looked at each other and made each other laugh all day long. Then, there were the beautiful details of the day.  Heather wore two different sashes for the ceremony and reception. Jason sported anchor socks and boat shoes in tribute to his profession as a Merchant Mariner. They gave their guests jars of hot cocoa mix as favors with little tags that sweetly compared love to swallowing hot chocolate before it has sufficiently cooled. ("It takes you by surprise at first but keeps you warm for a long time.") There were orange crush cocktails and 80s music in lieu of the traditional nondescript dinner music. And although it ended up being too chilly and windy for Heather and Jason to exchange vows in the gorgeous gardens of the Antrim 1844 as originally planned, we were graced with some perfect late-afternoon light for their portraits after the ceremony. I was lucky to be joined again by my friend and talented colleague Sam Levitan, who assisted me with this wedding and shot some amazing photos. Here are some of my favorites from Heather and Jason's wonderful day: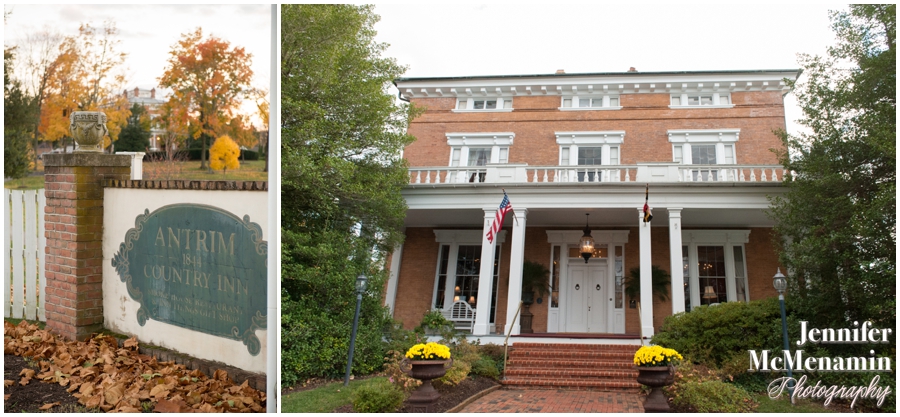 Located at the foot of the Catoctin mountains near Gettysburg, the Antrim 1844 is a country house hotel and acclaimed restaurant listed on the National Register of Historic Places. Its formal gardens, beautiful fall foliage and rolling grounds make it a perfect spot for a wedding — and for wedding photos!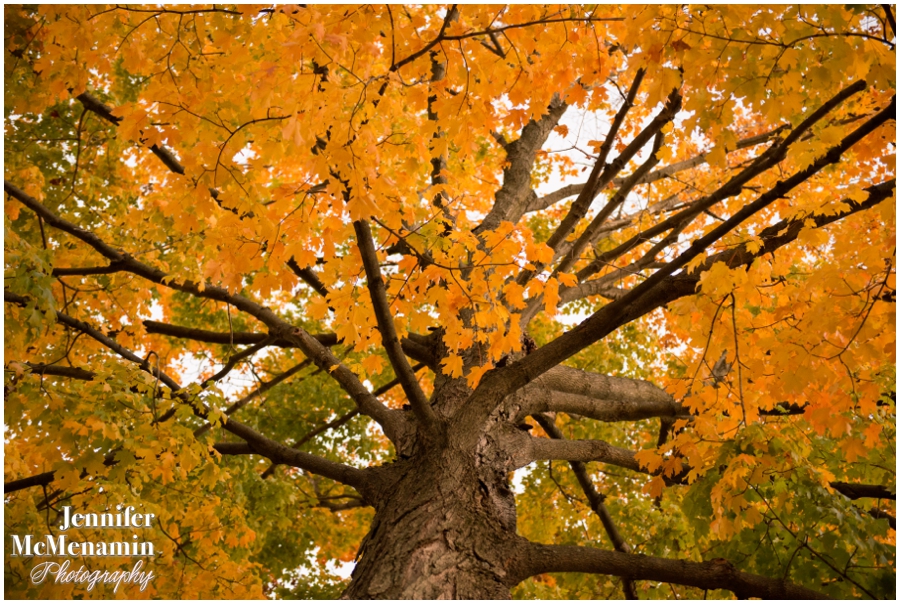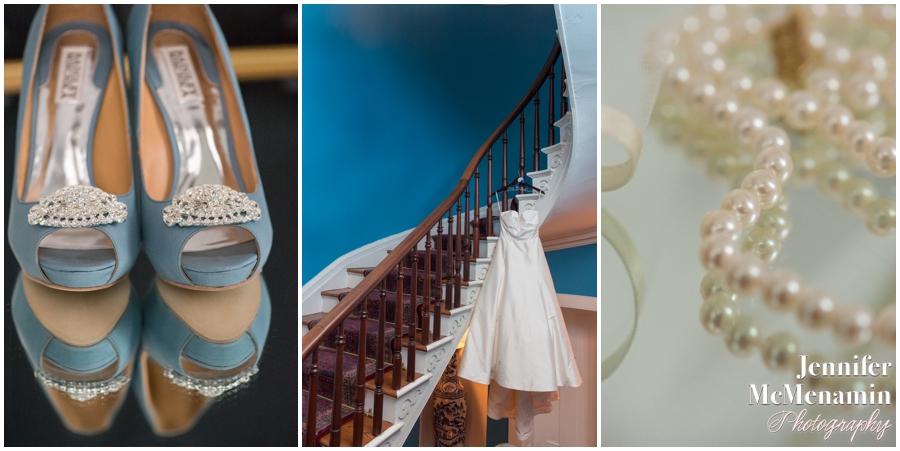 I started, very briefly, with Heather before accompanying two of her best friends to the Smith House as they delivered Jason's gift.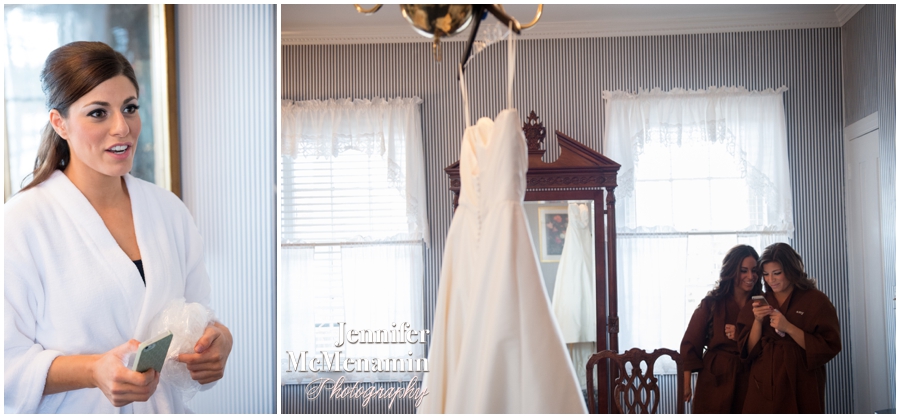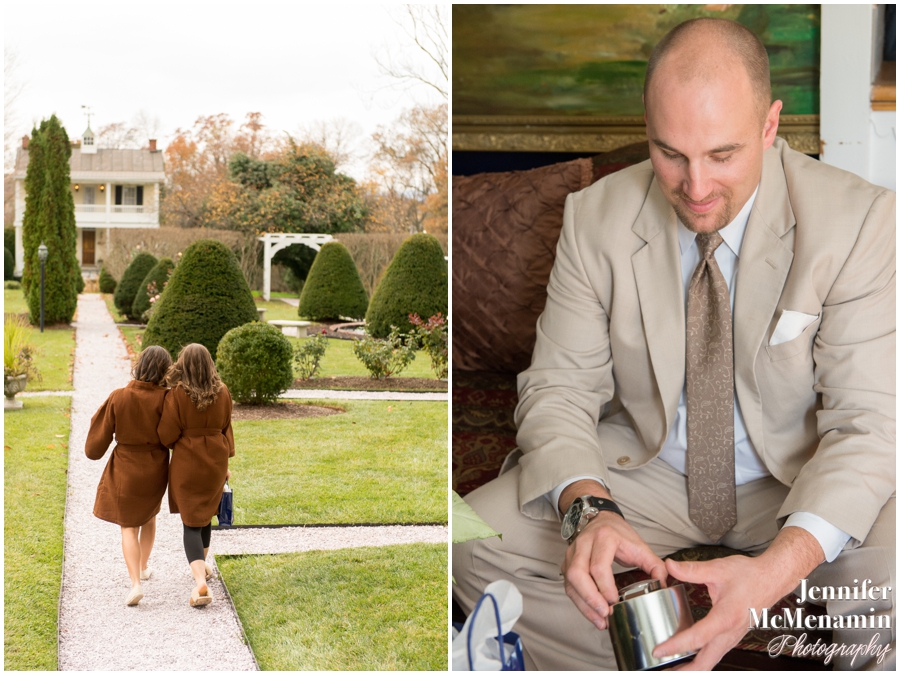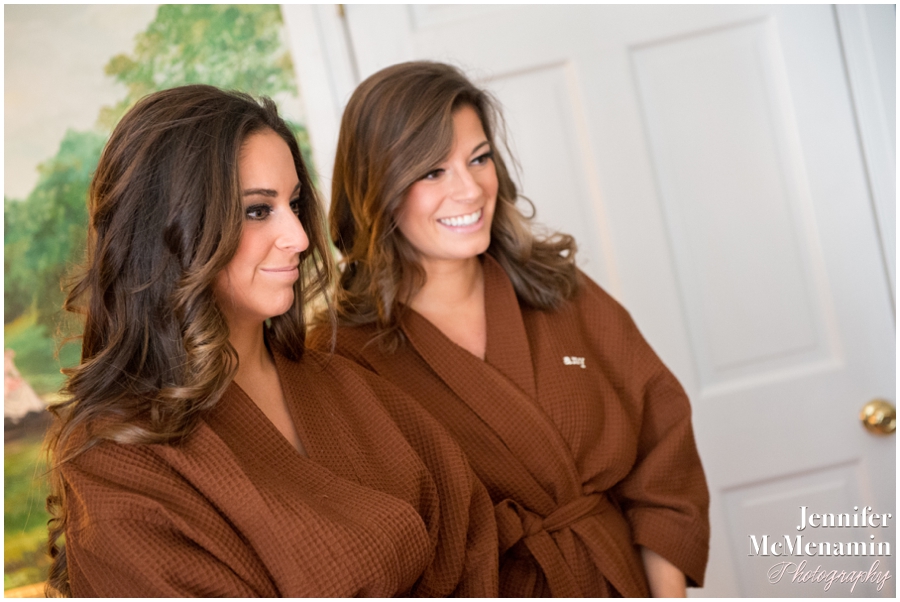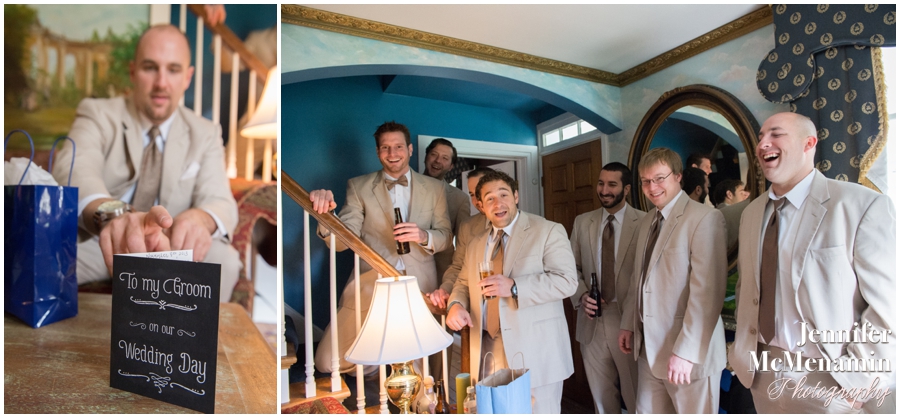 As promised, the guys were very entertaining during photos.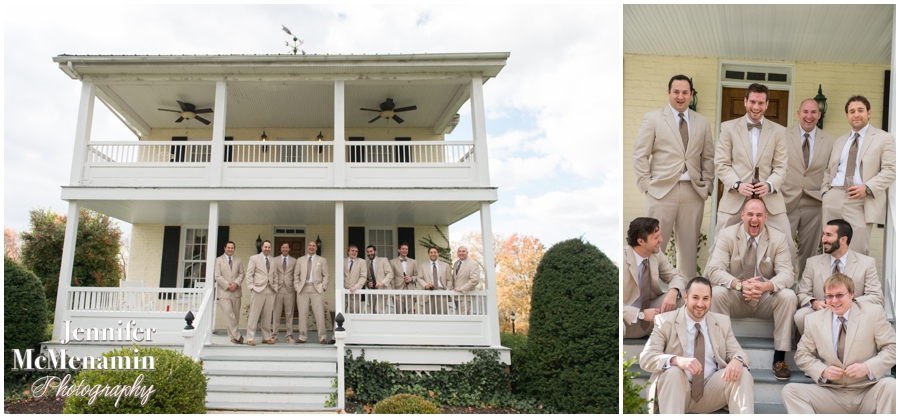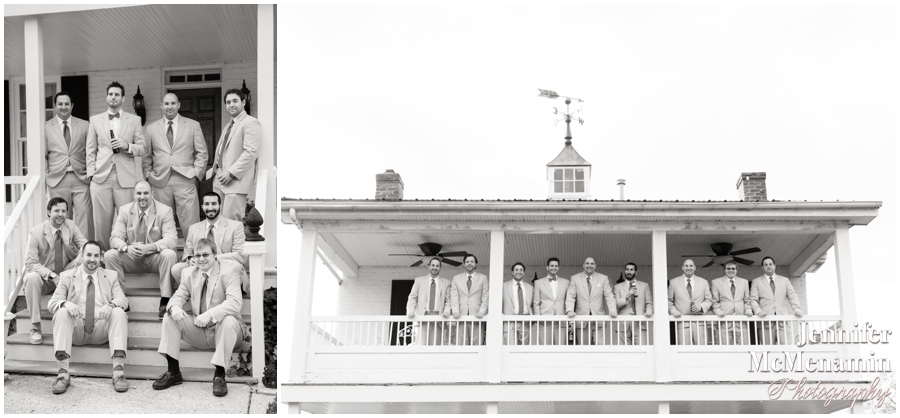 This next series of photos makes me laugh every single time I click through it. I was shooting a couple of portraits of Jason alone while his groomsmen waited upstairs on the porch for him. And yes, that is an ice cube that one of them dropped on him.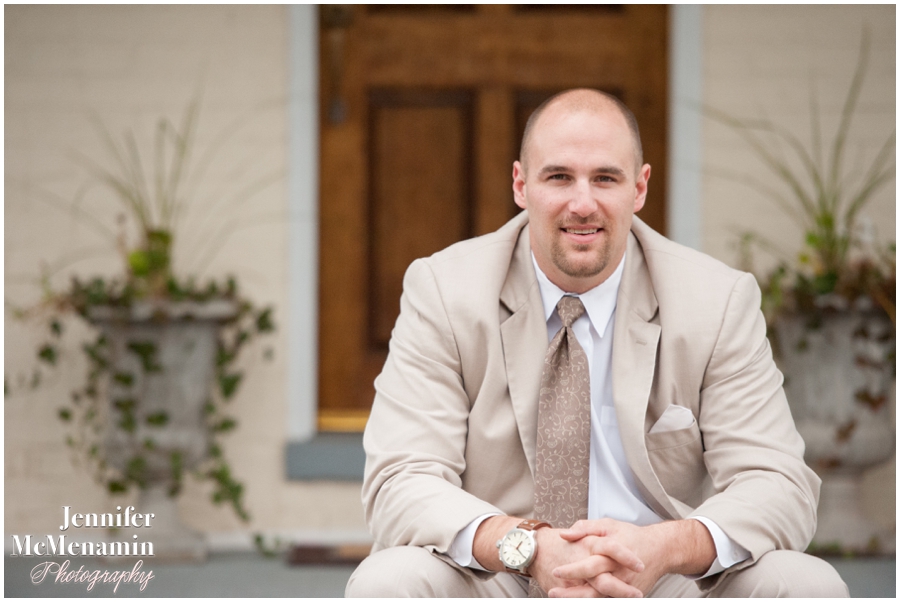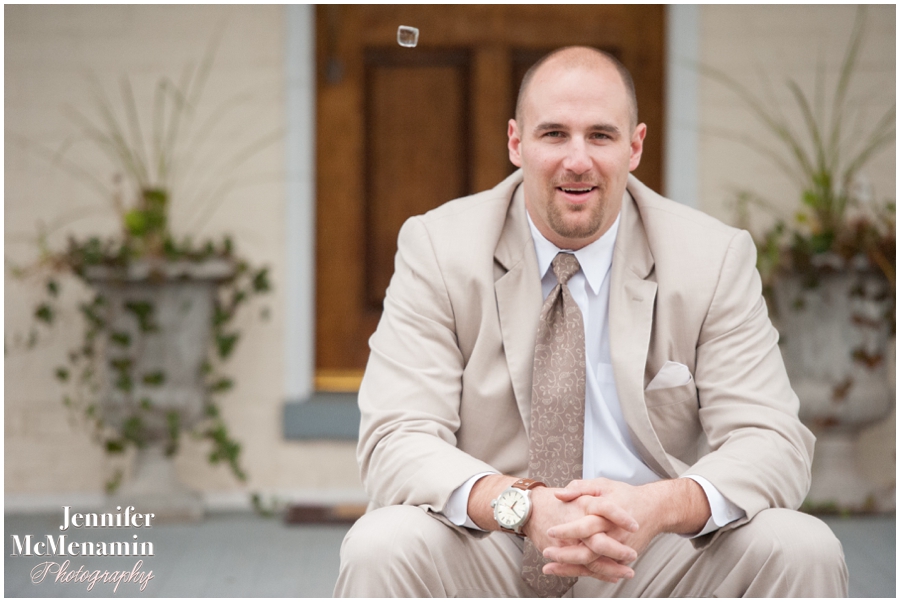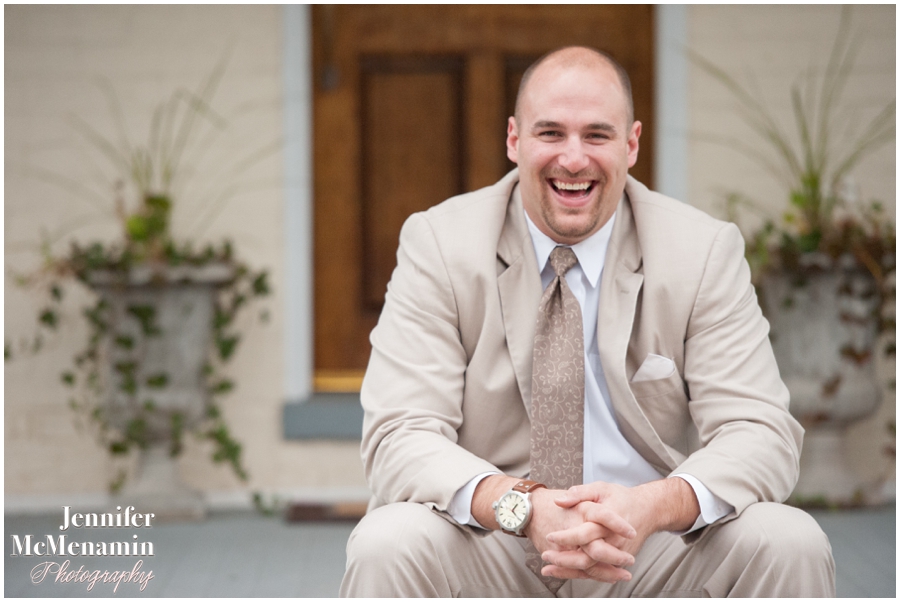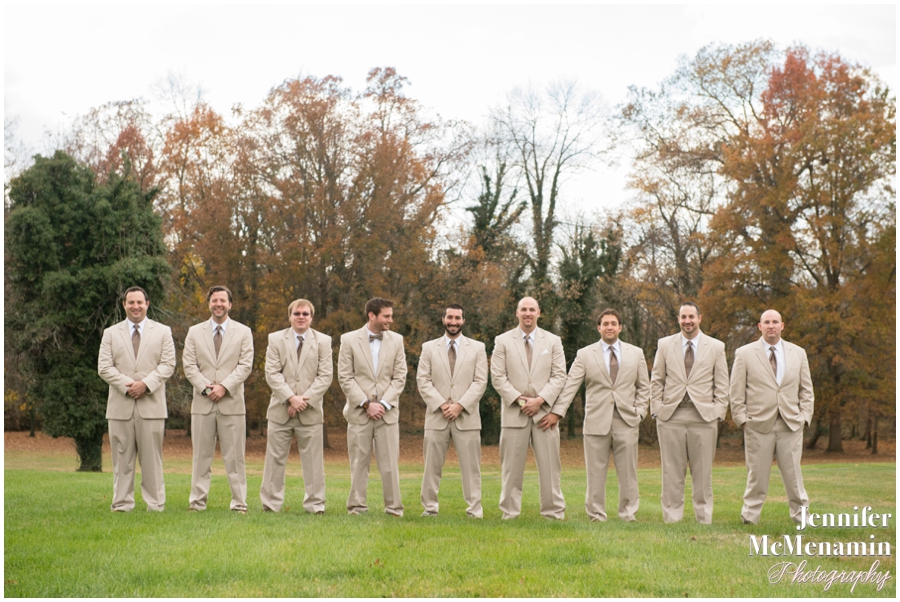 Showing off the dapper socks and boat shoes. 

The next handful of photos — eight of them, to be precise — were shot by Sam.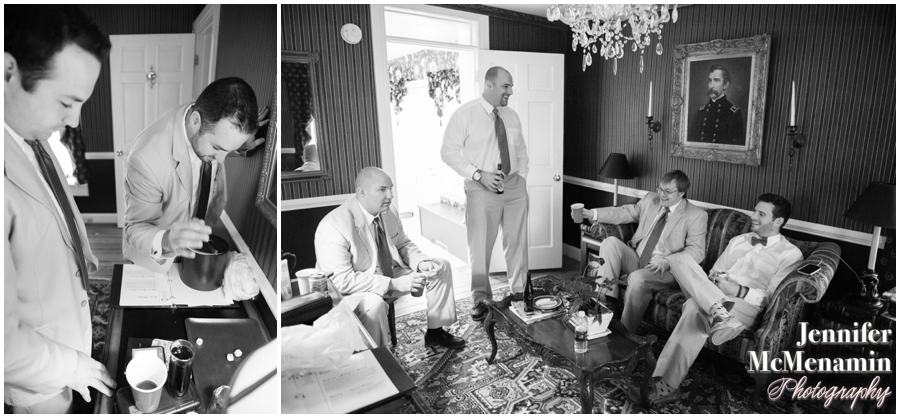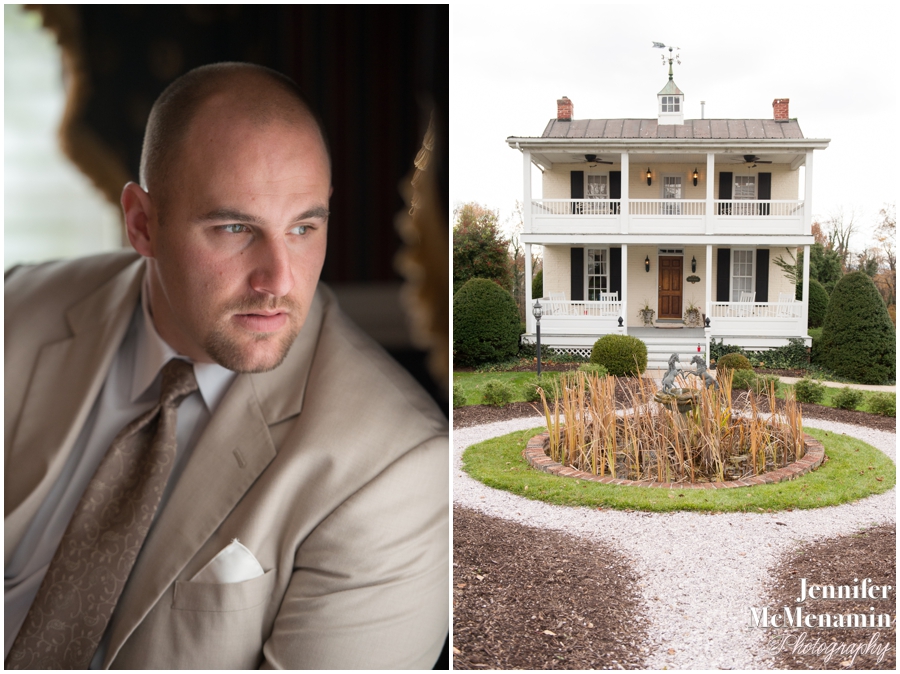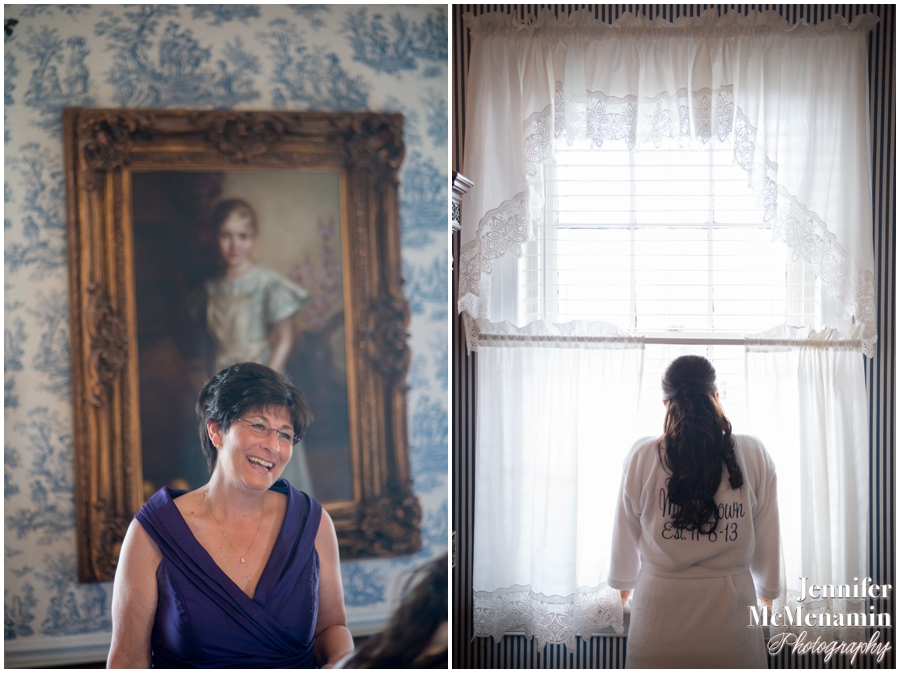 I especially love this next photo that Sam shot of Heather sitting quietly as her girlfriends primp and prep around her.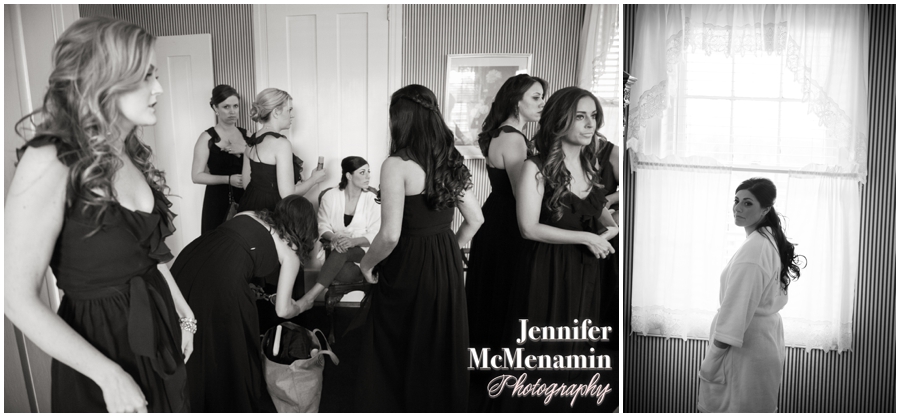 I accompanied Jason's brother and one of his buddies back to the Bridal Suite, where they delivered Heather's gift.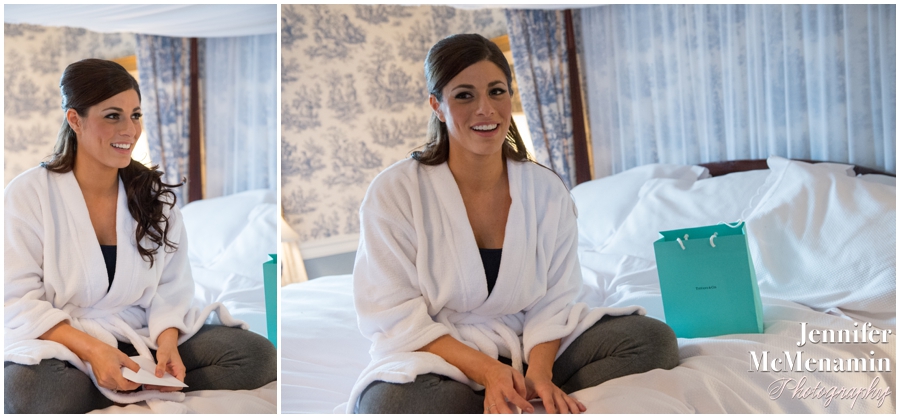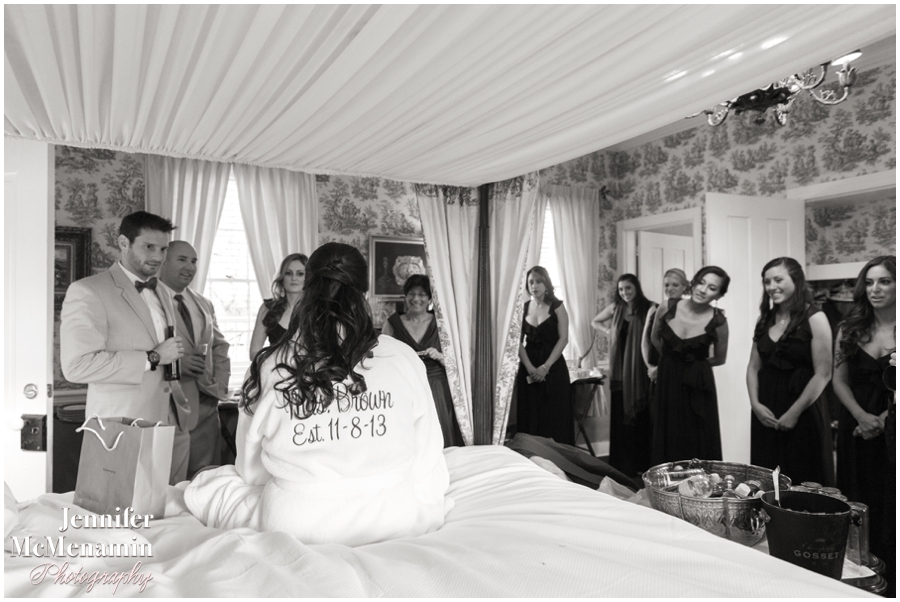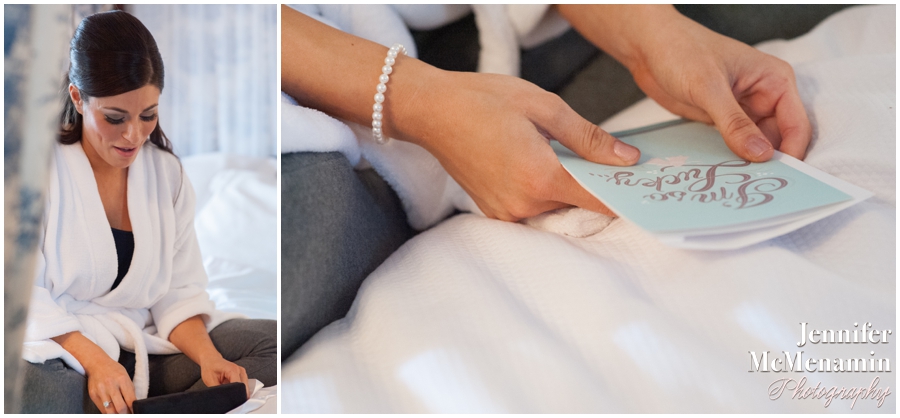 Heather's expressiveness made her especially fun to photograph.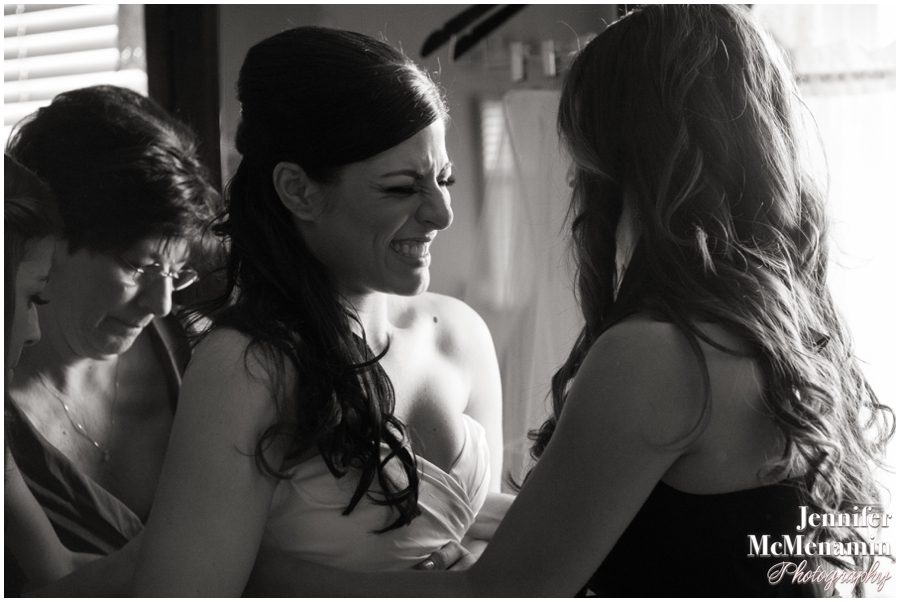 Emotional mamas are also always enjoyable to photograph.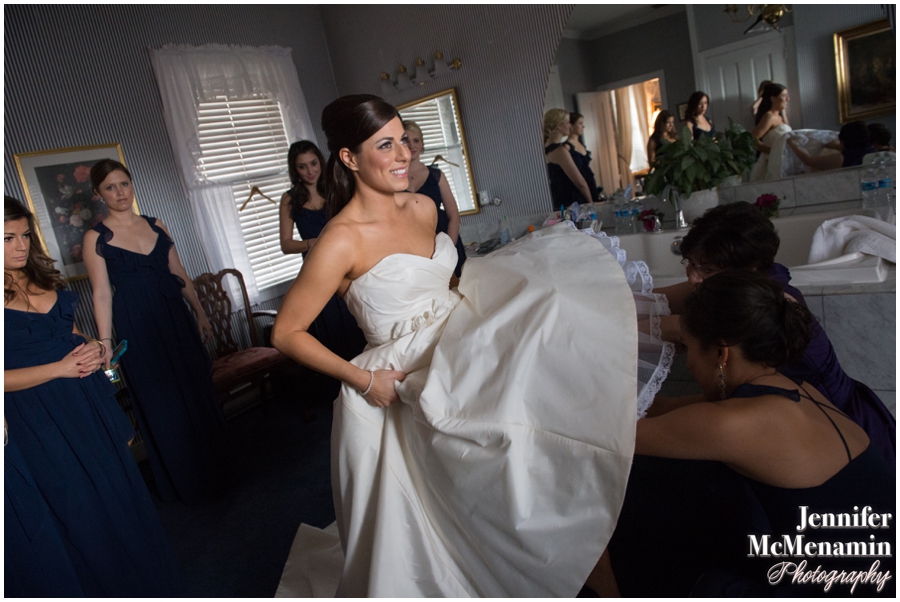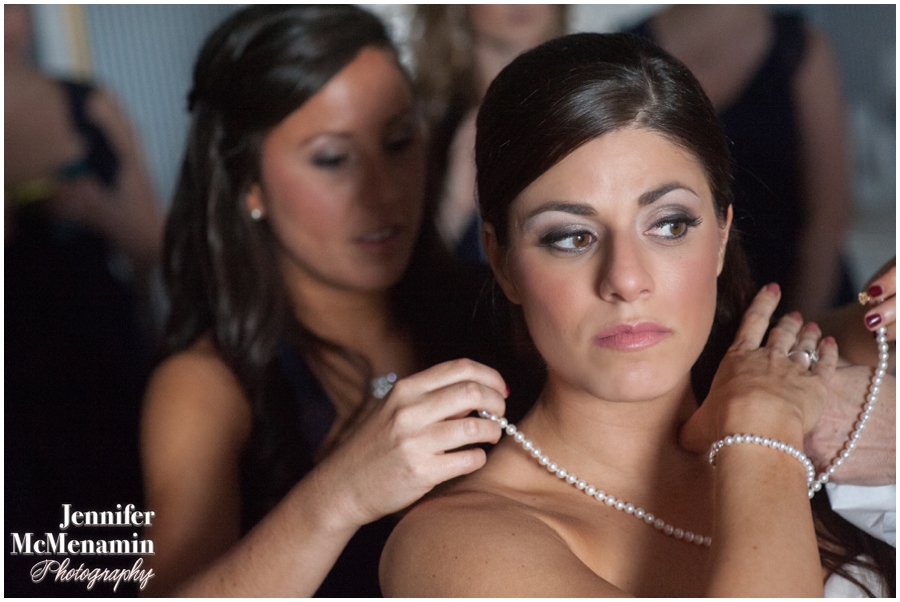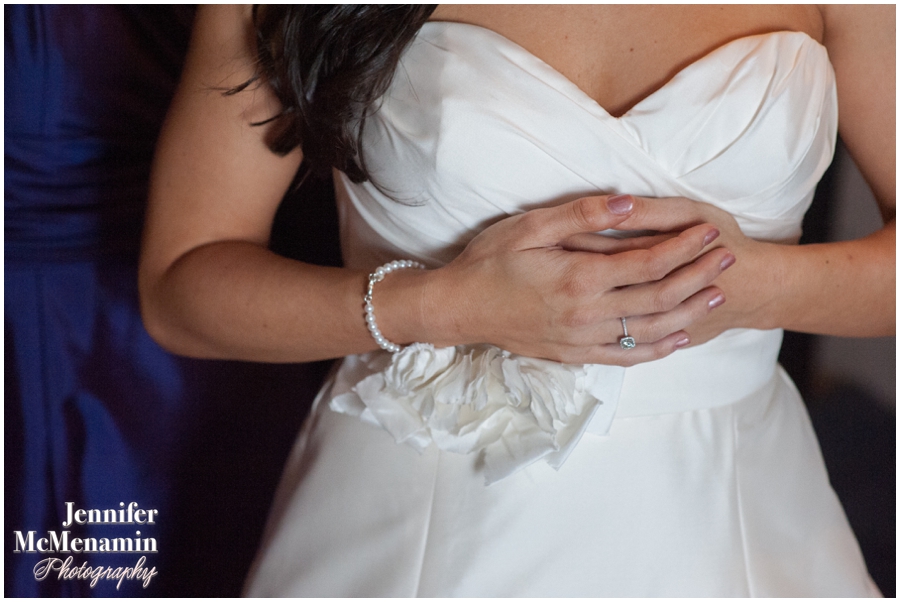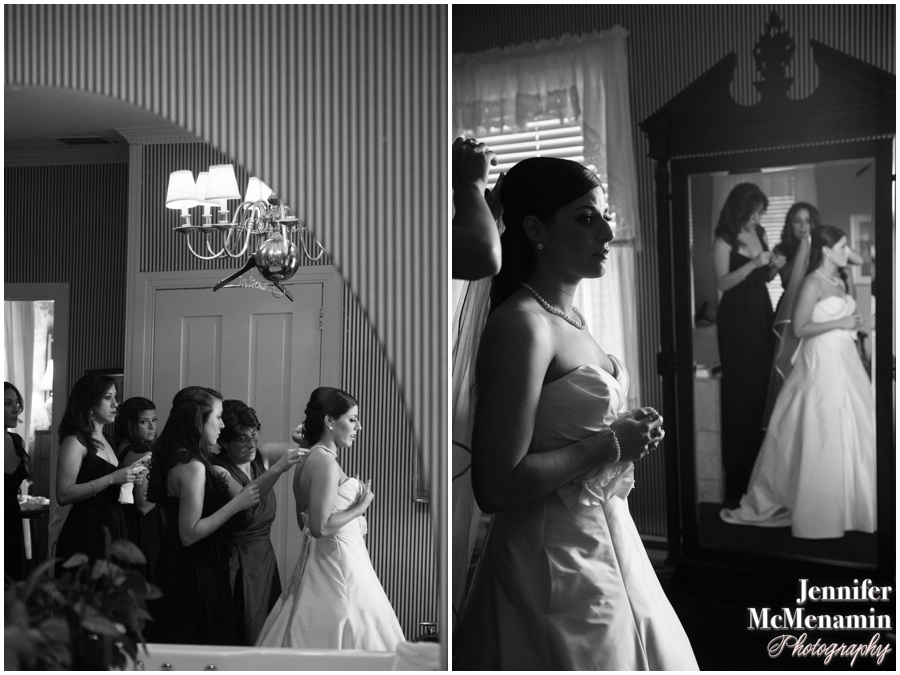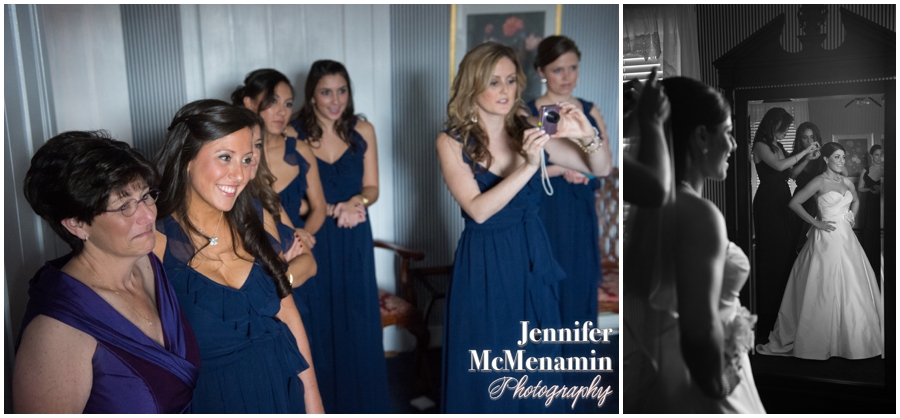 The bride, looking absolutely gorgeous.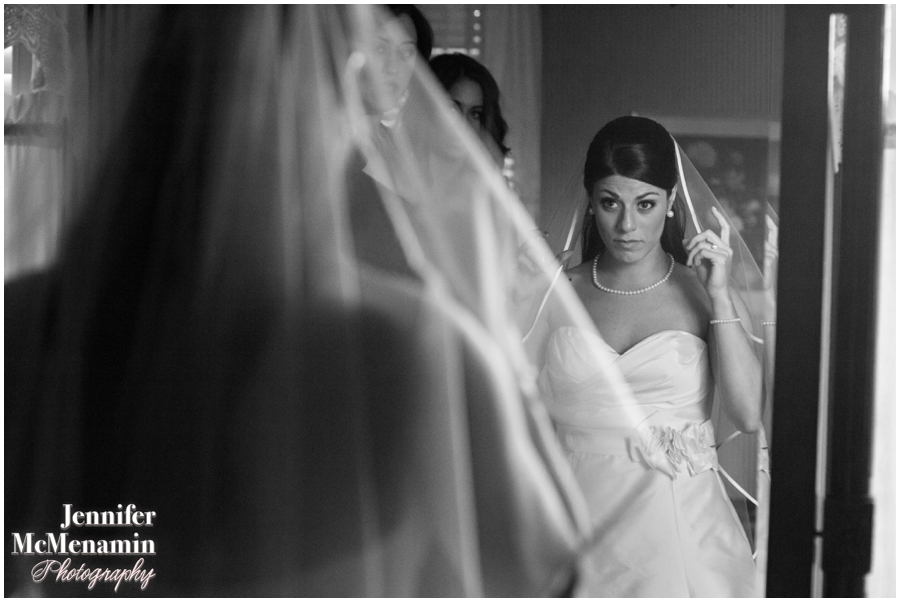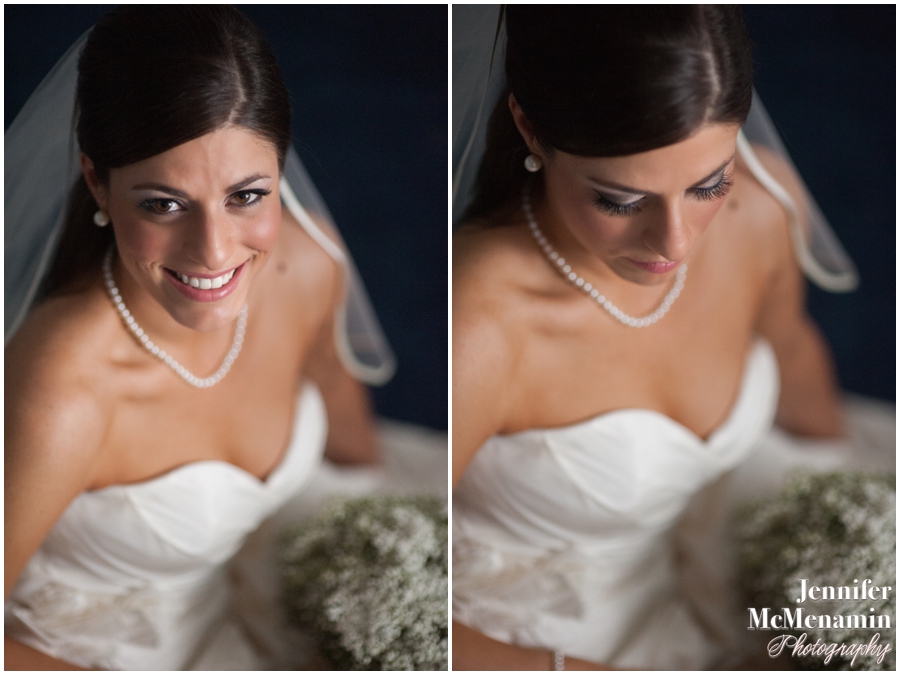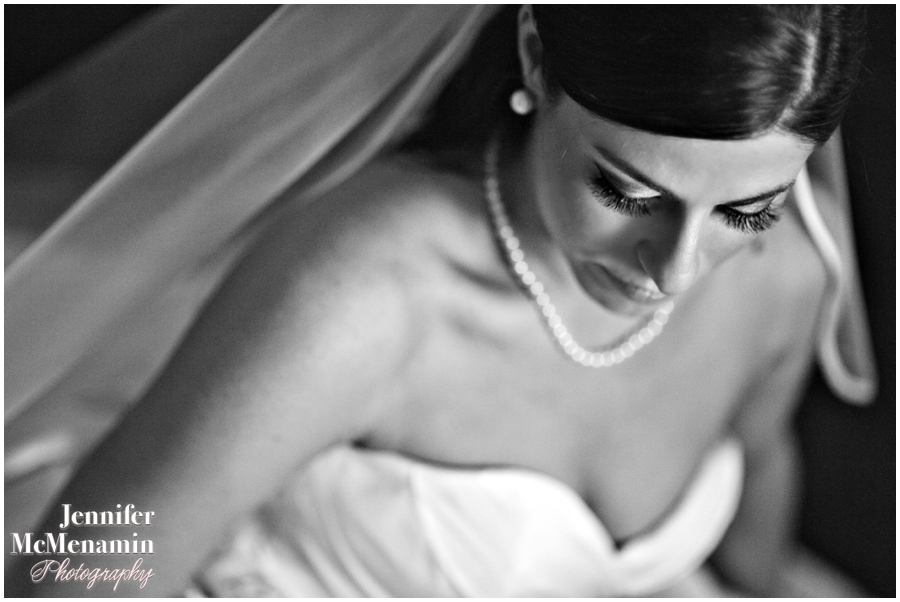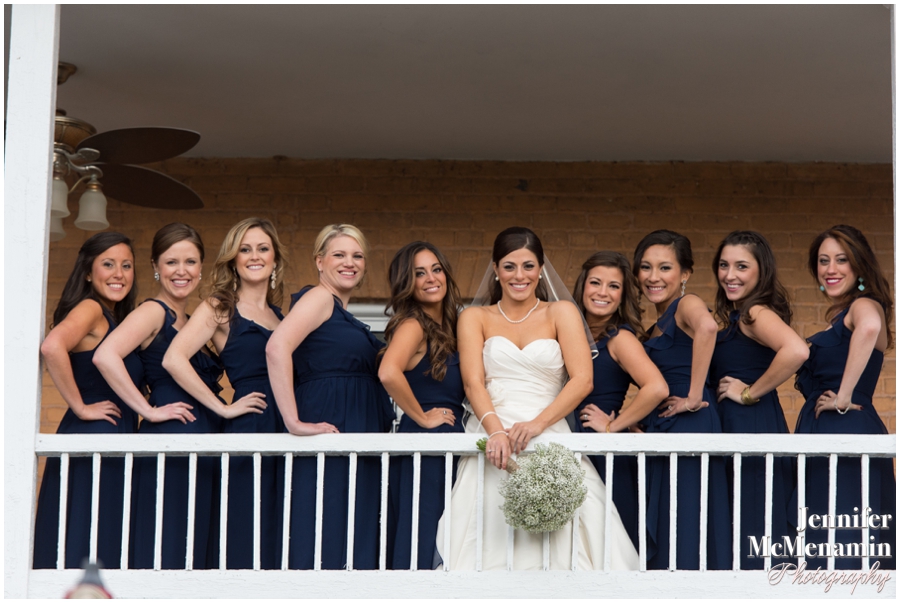 Heather and Jason chose to see each other for the first time in the Antrim's front parlor. Heather's nervous excitement, punctuated by many deep breaths, was palpable.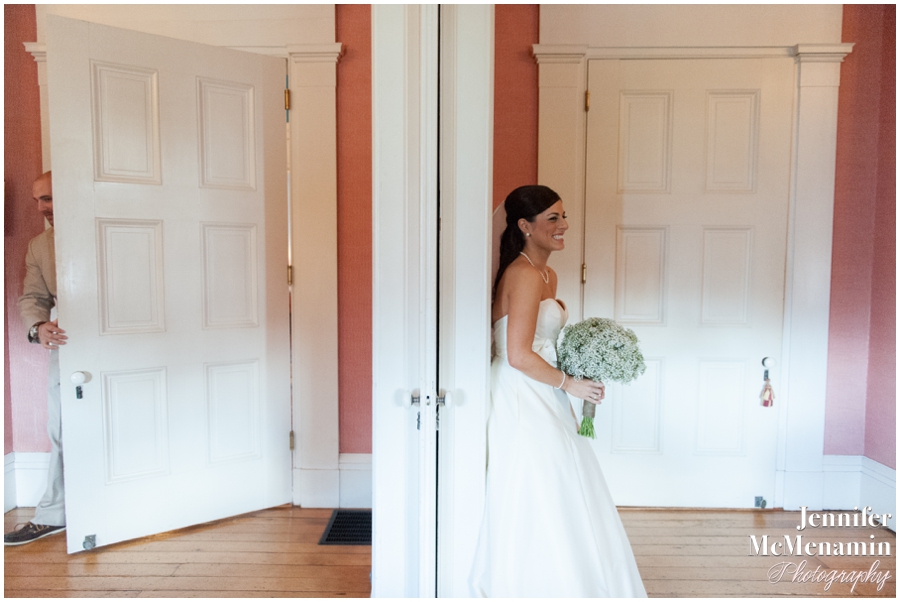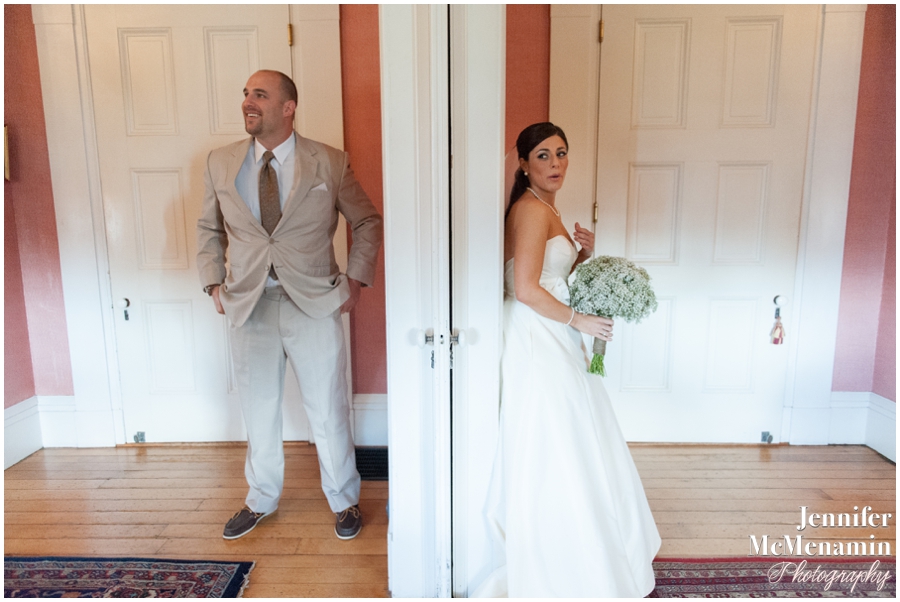 One of the best reactions ever: "Wow, look at you!" Jason said.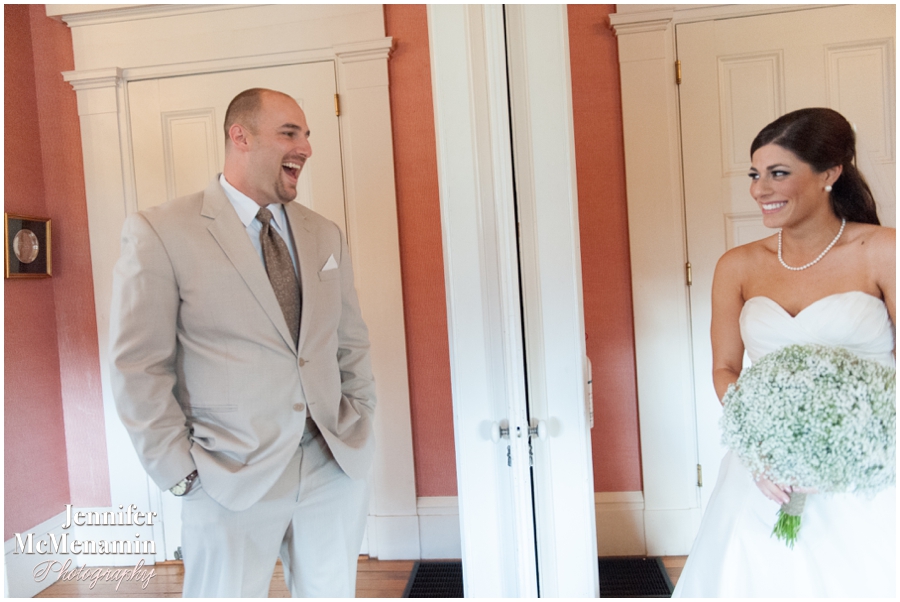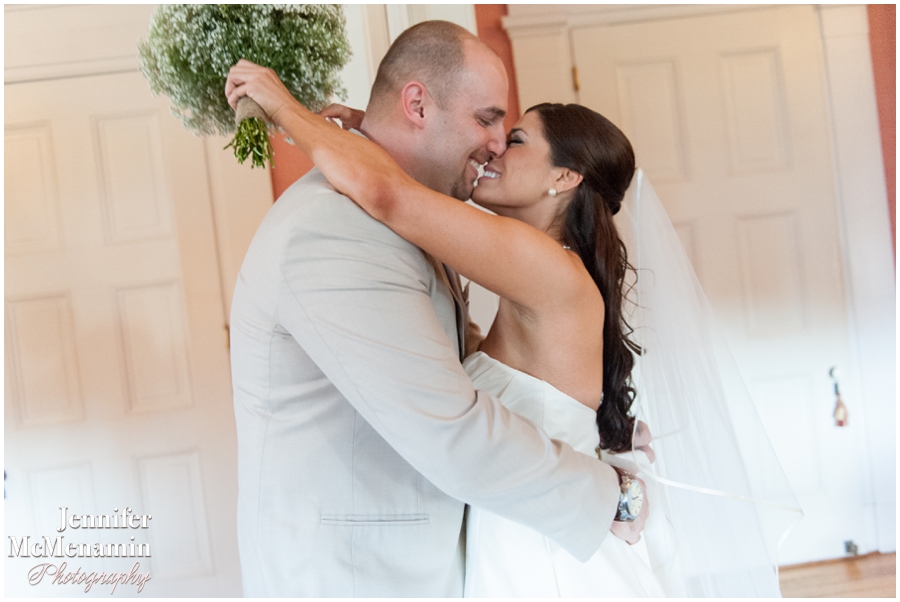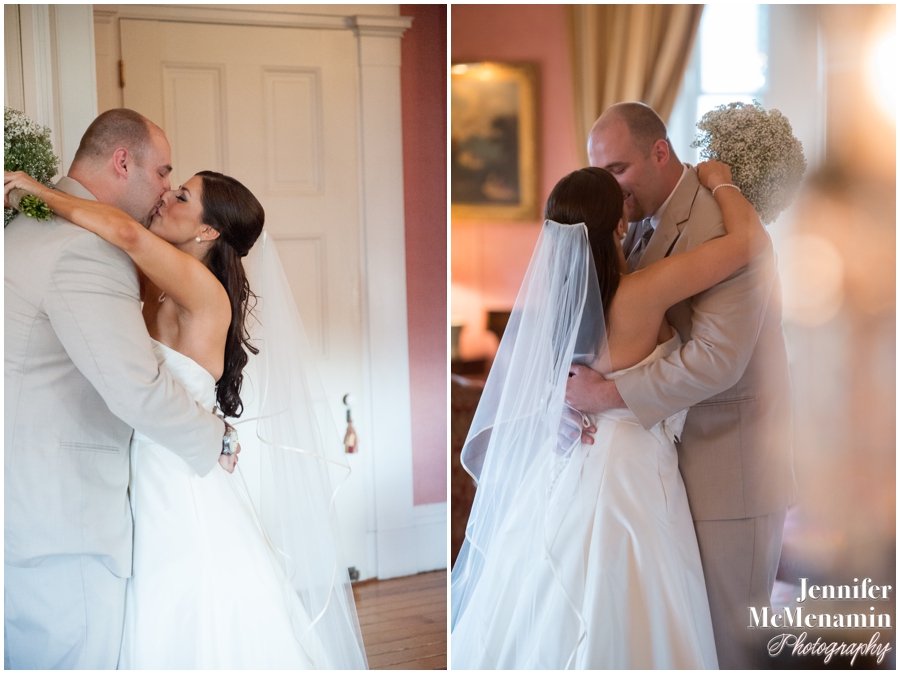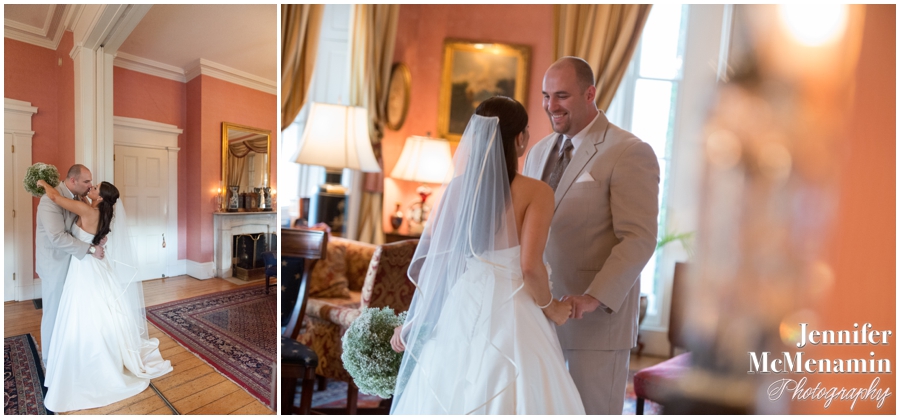 We ducked outside for a few quick portraits before starting family photos and were graced with a few moments of good light before the clouds took over again.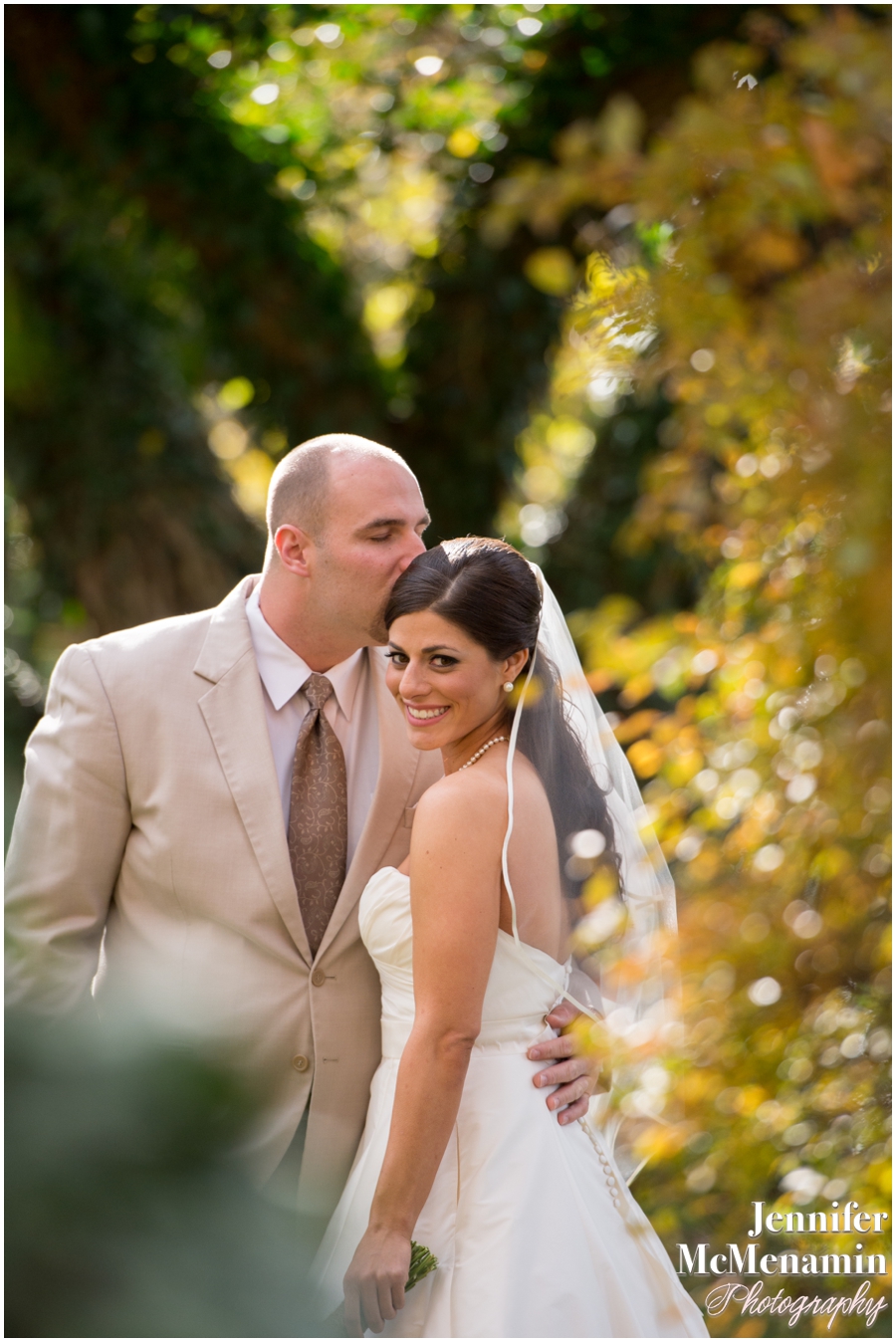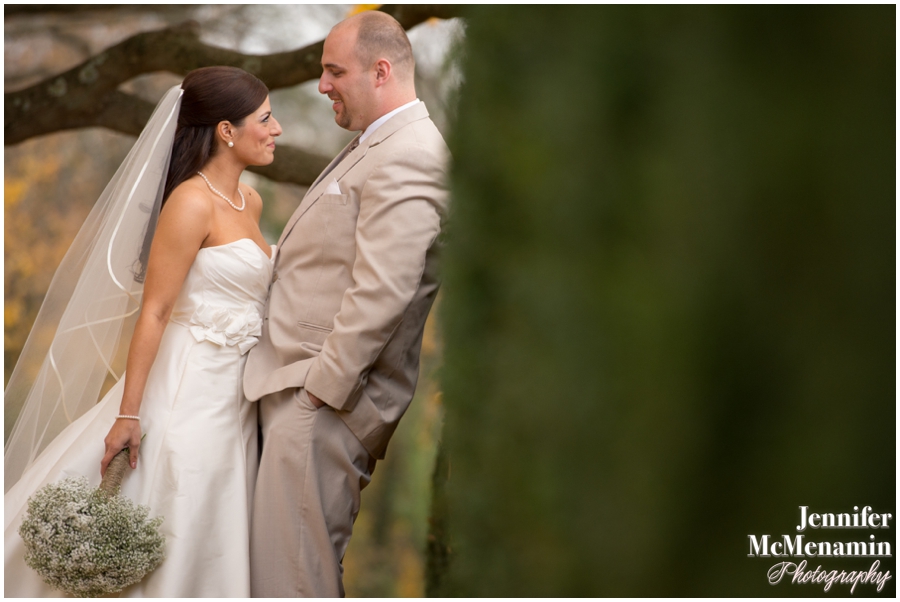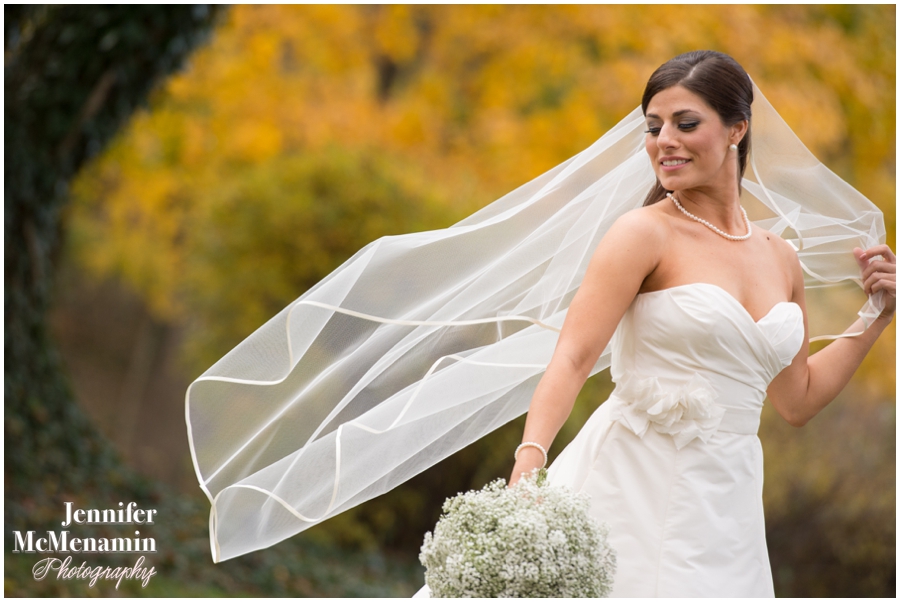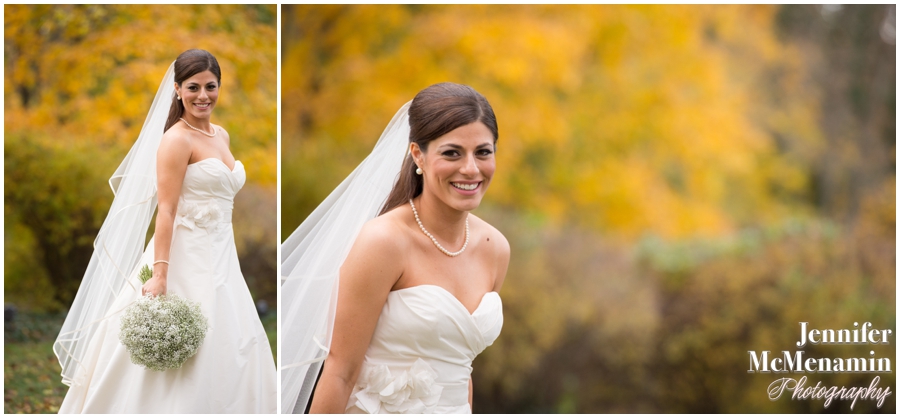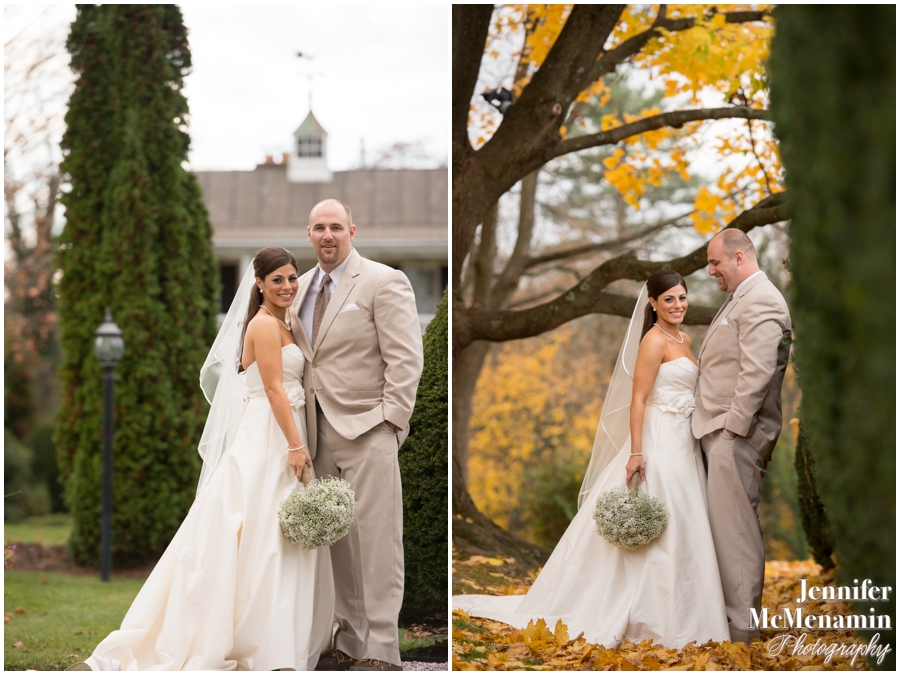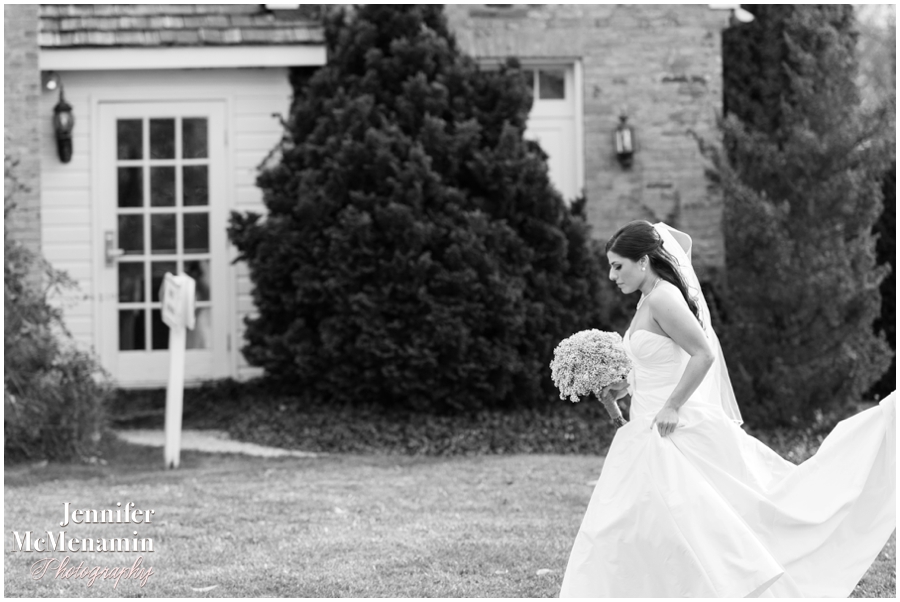 And then it was time to sign the ketubah, the Jewish marriage contract. The text, written by Jennifer Raichman for an interfaith ceremony, was one of the most moving I've heard. An excerpt: "In times of happiness we will cherish each other and in times of trouble we will protect each other. We will build a home together and fill it with laughter, empathy, faith, trust, friendship, companionship and love, a home in which  holidays and heritage are celebrated in accordance with our traditions. May we live each day as the first, the last, the only day we will have with each other."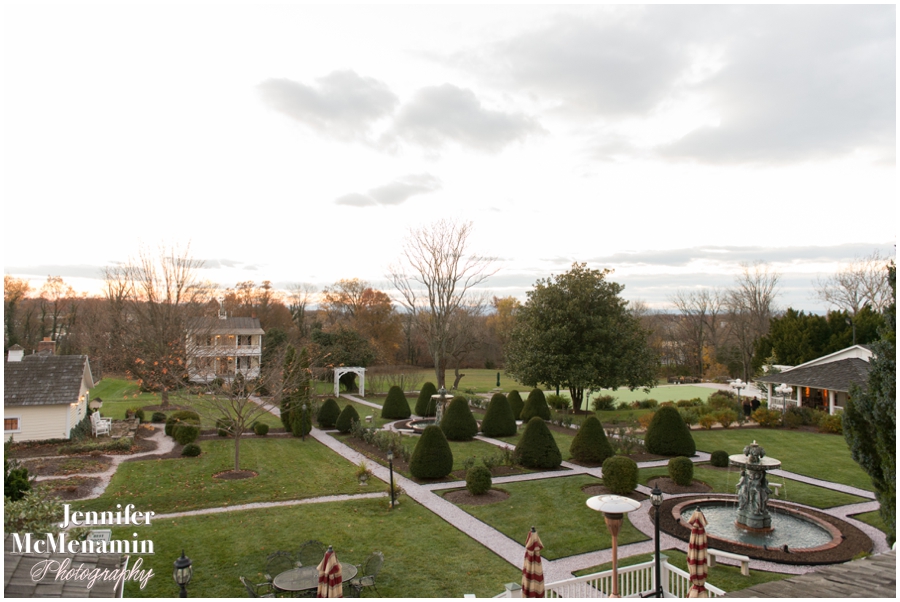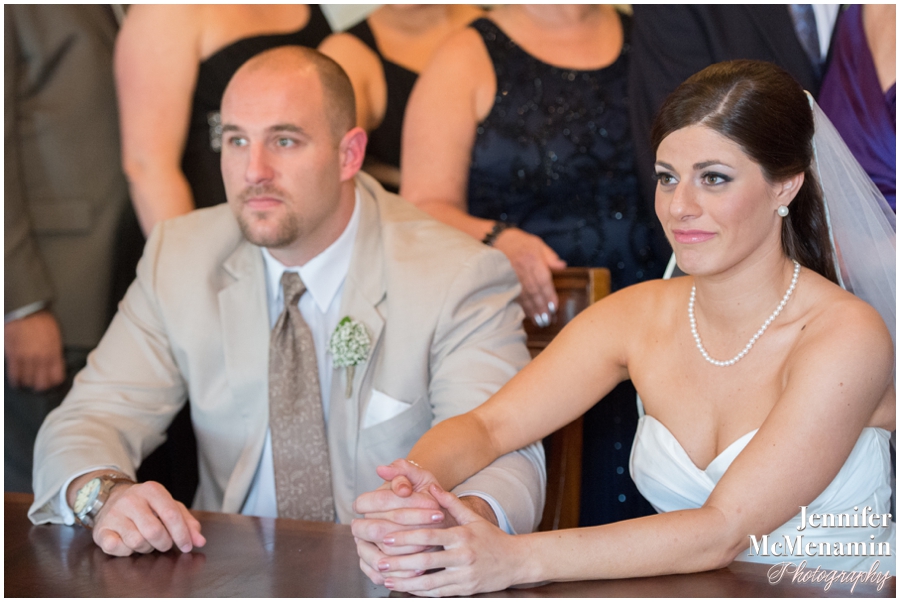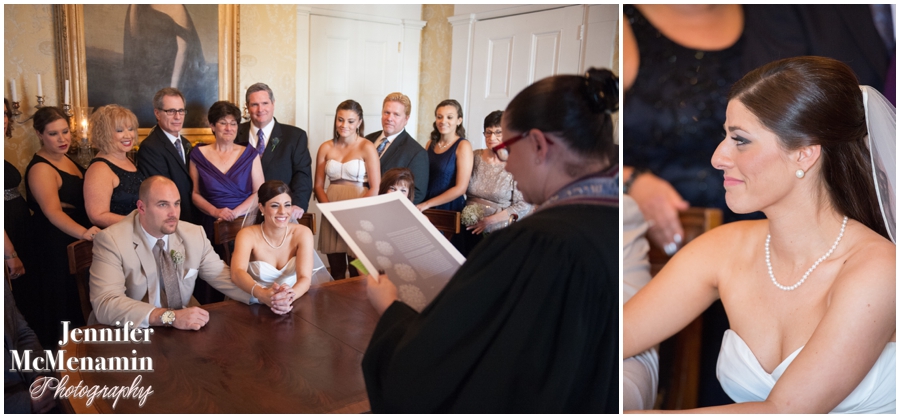 I love this next image on the left, which Sam shot.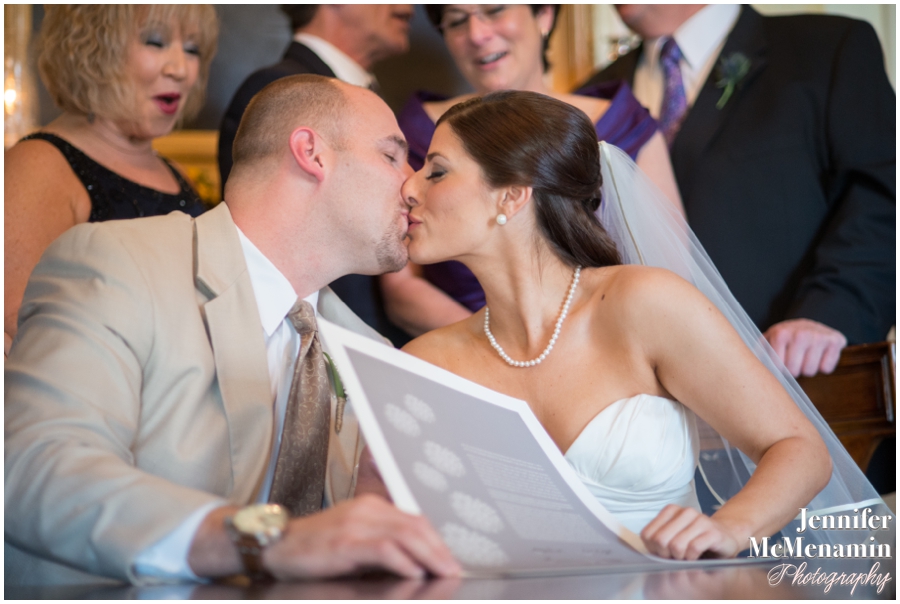 I loved shooting these next couple of photos of Heather with Jason's grandmother. It meant so much to both of them that she was able to attend the wedding.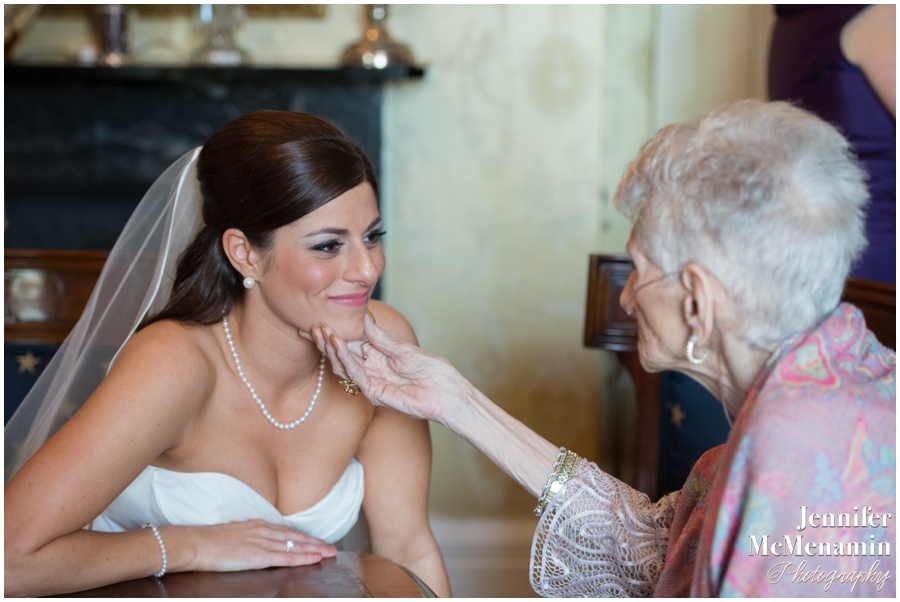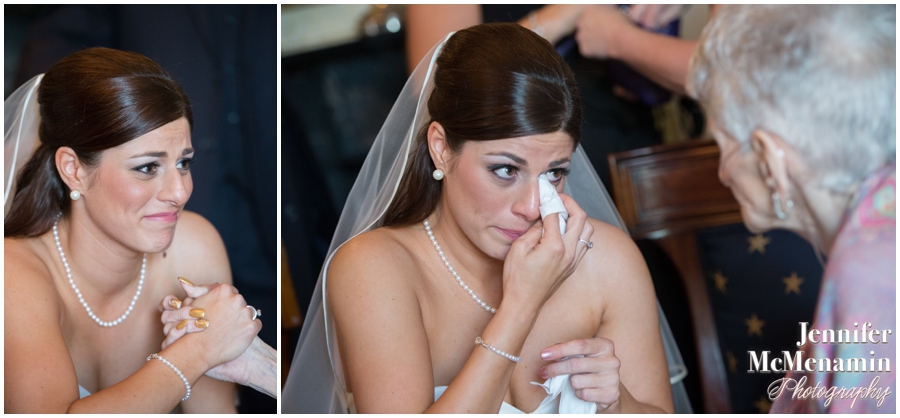 I loved the way Heather included all of her parents in her walk down the aisle to Jason — her step-parents escorted her from the country house to the doors of the ceremony site and her mother and father accompanied her the rest of the way. It was beautiful.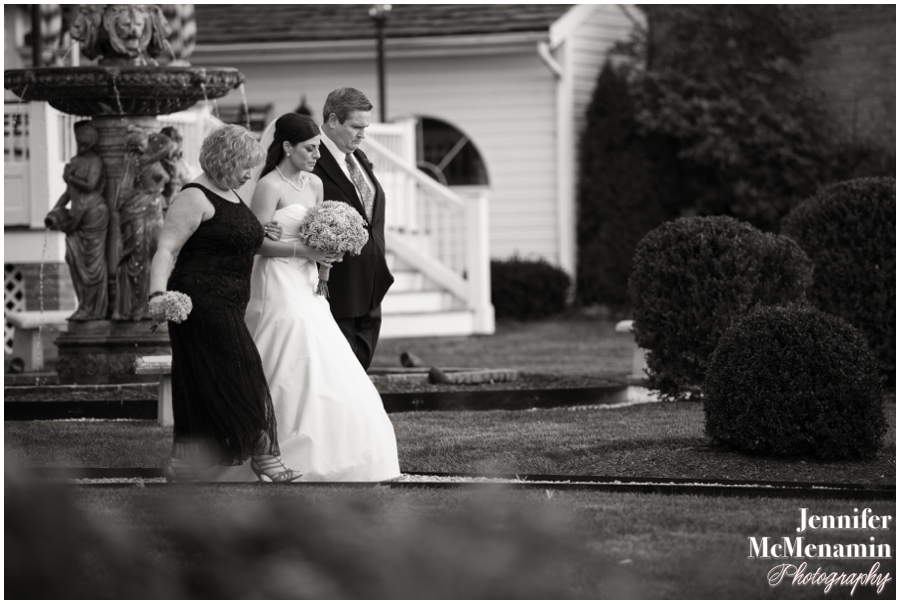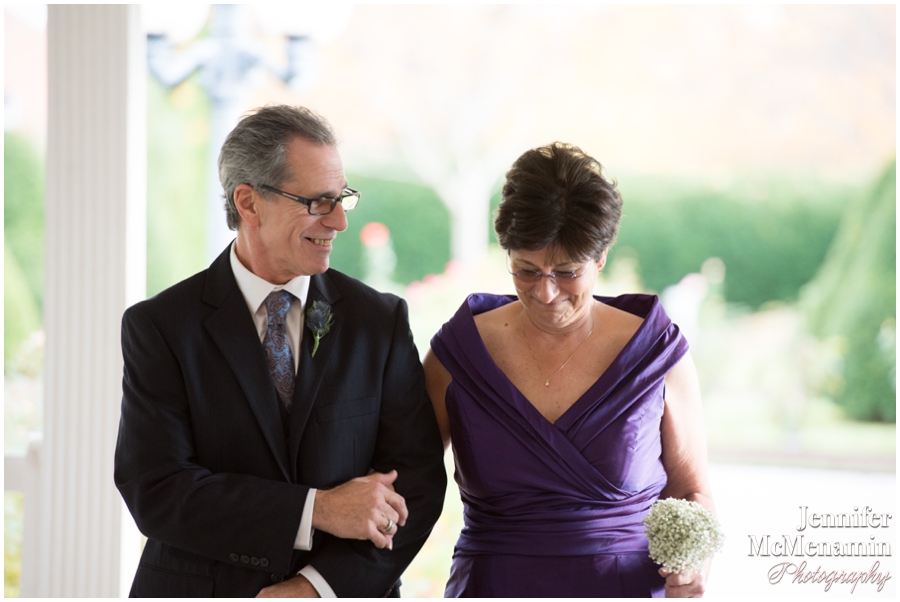 I love this next image that Sam shot.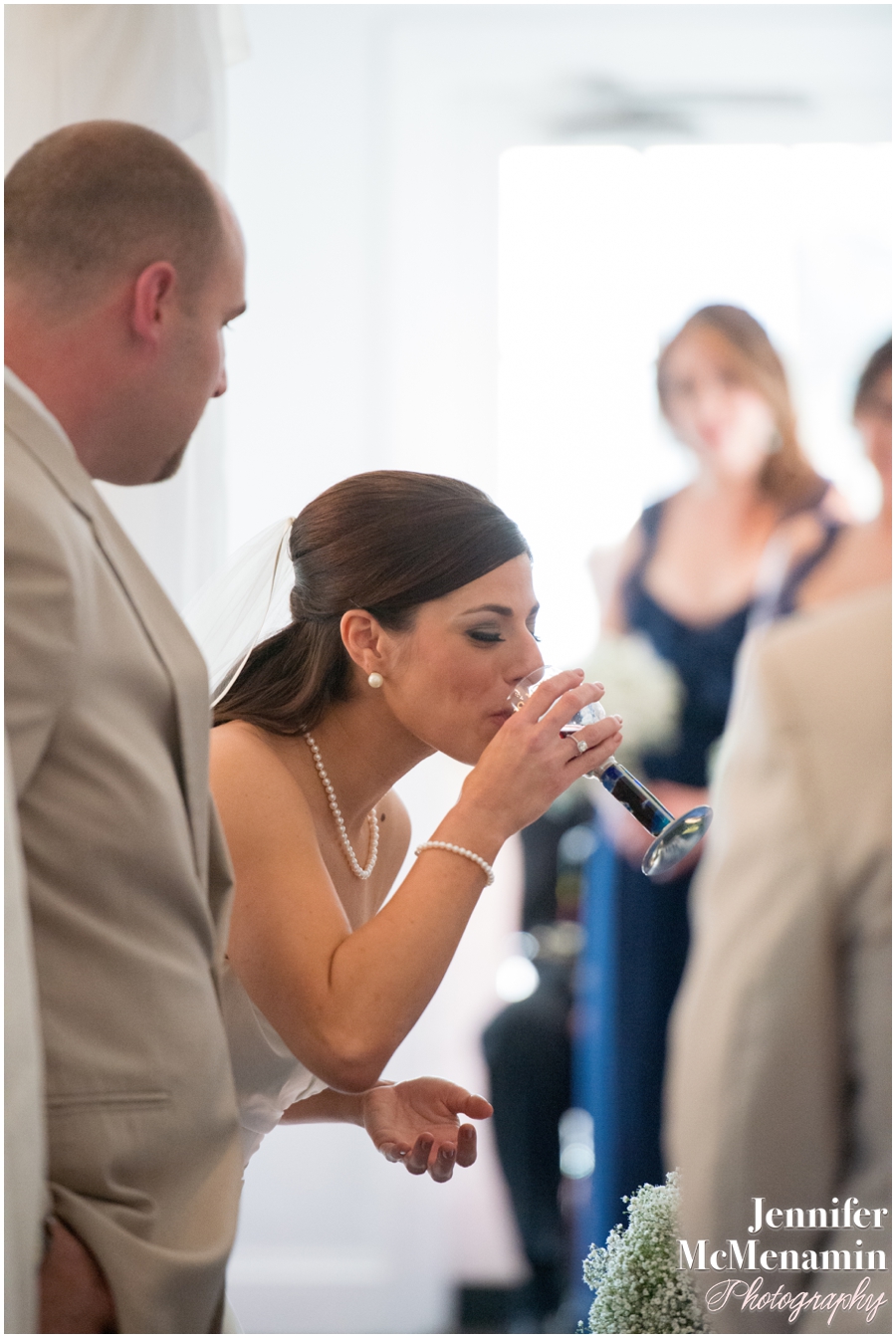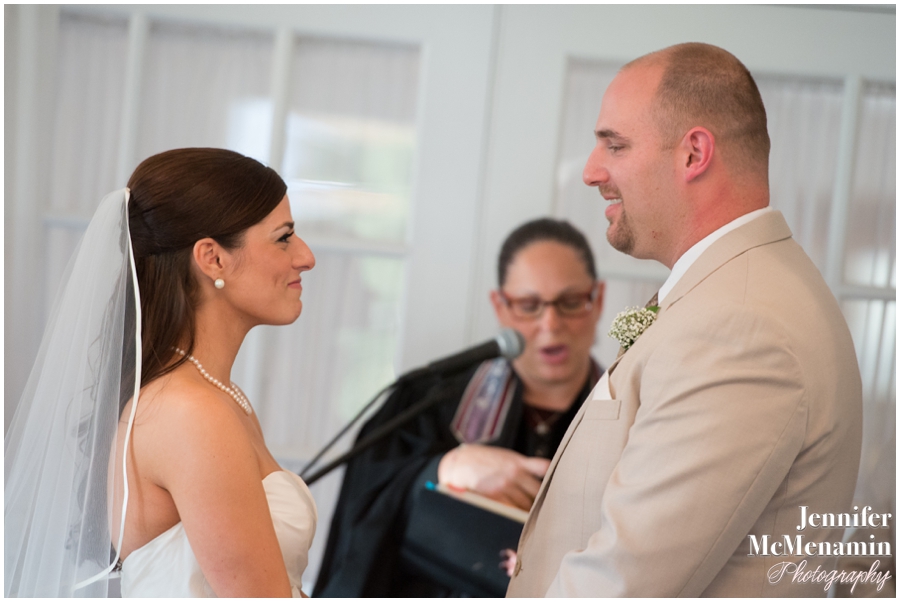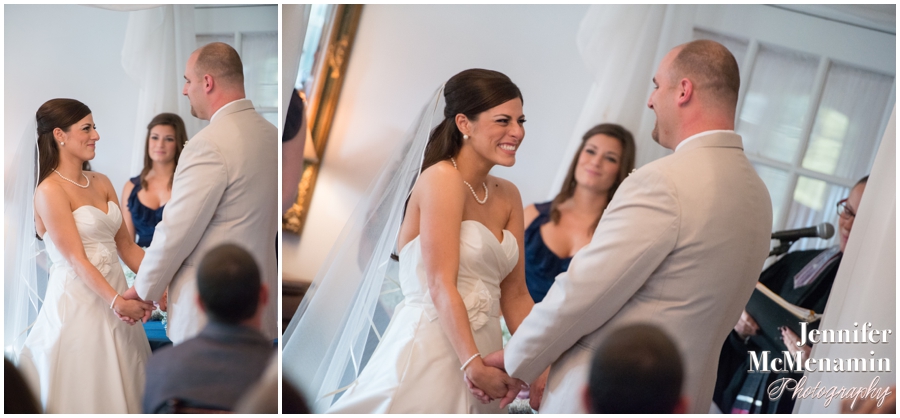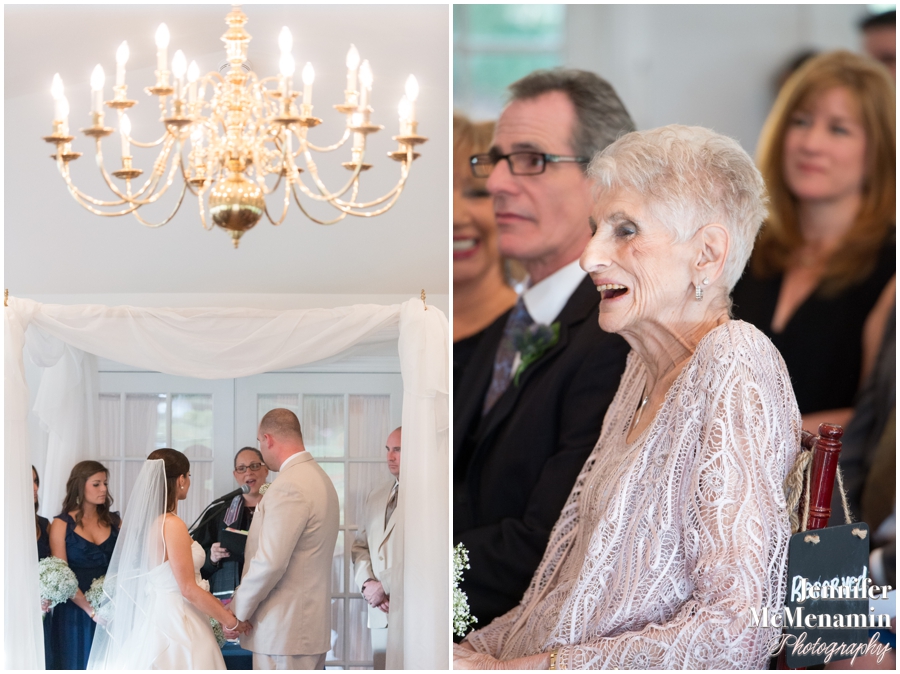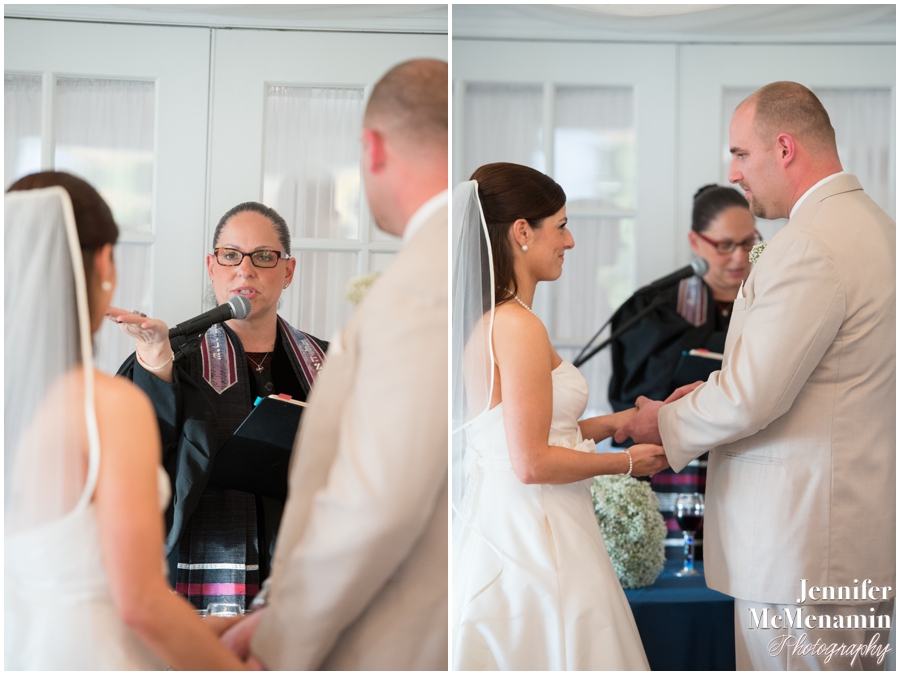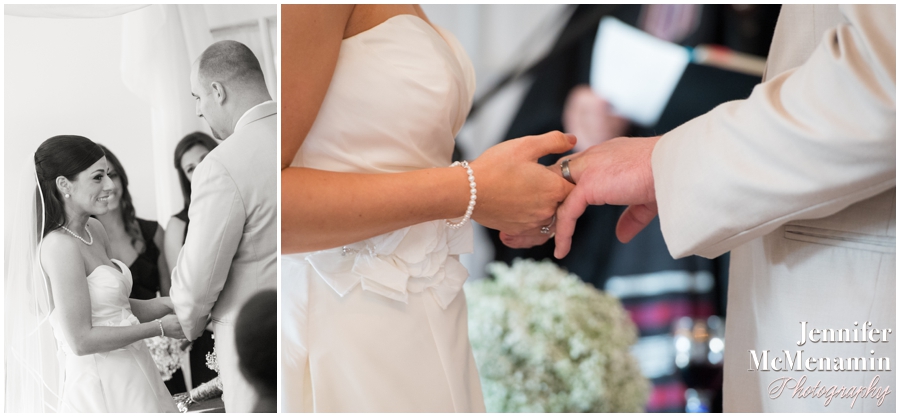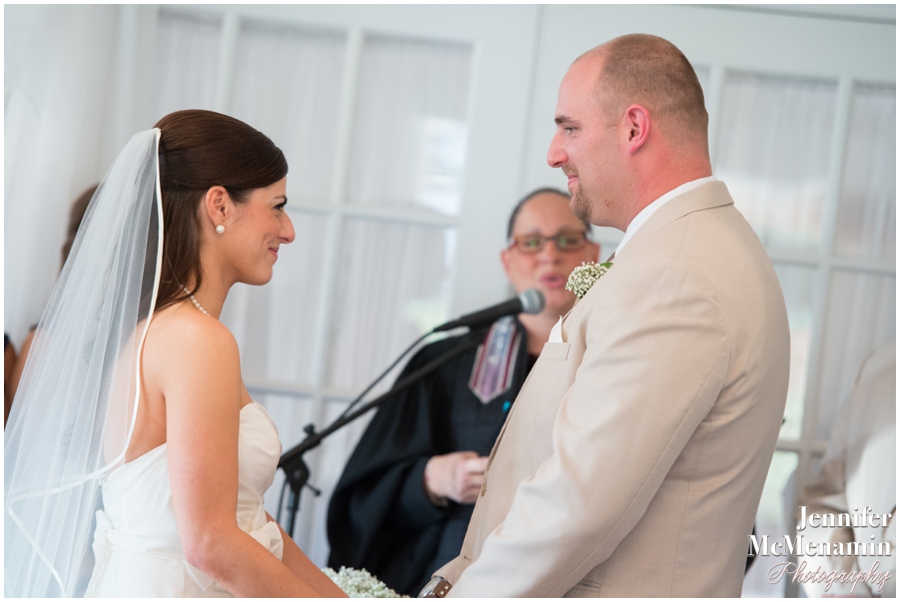 In secret, Heather had Jason's ring engraved for him. It says, "I win!" Which Jason found hilarious.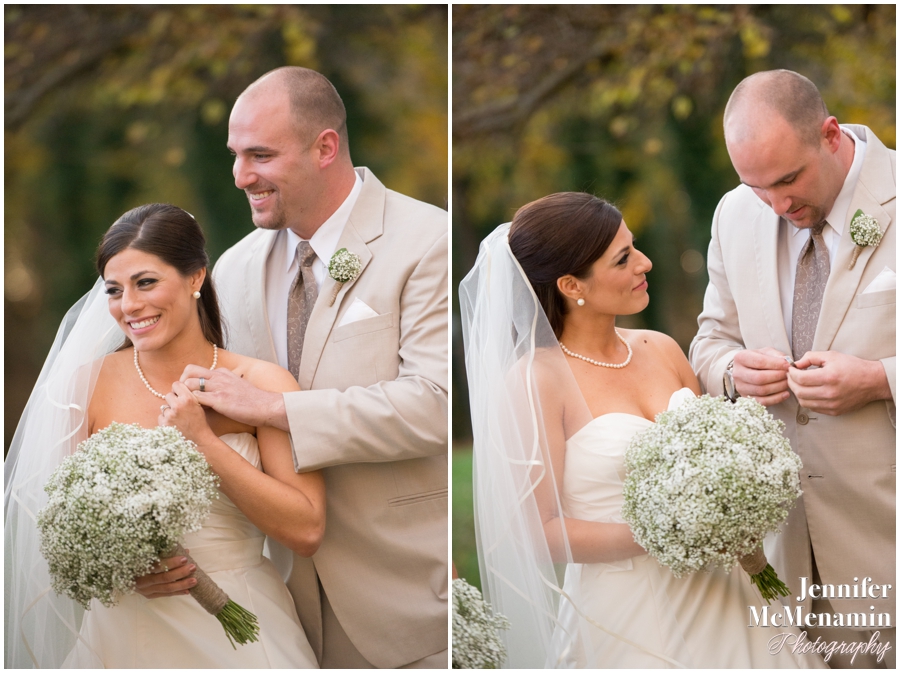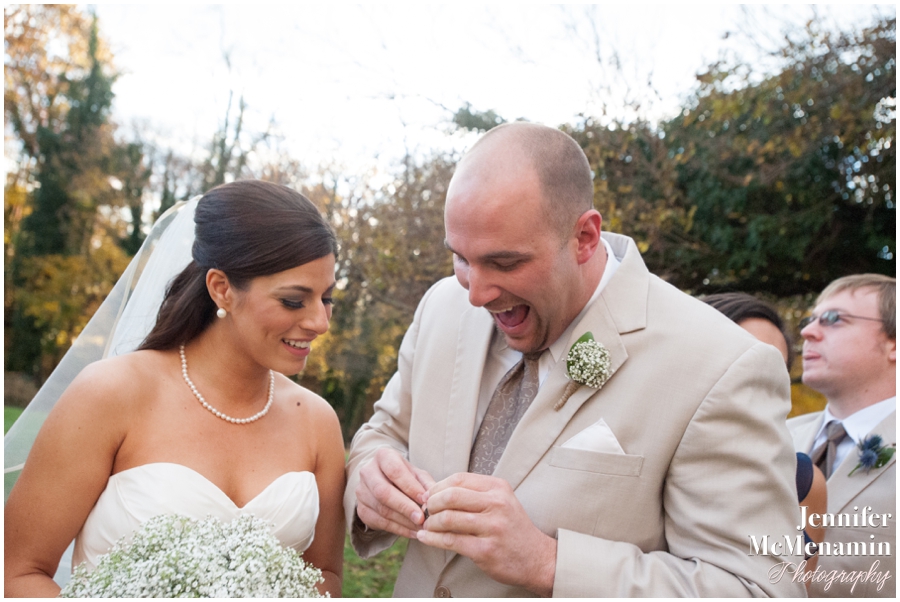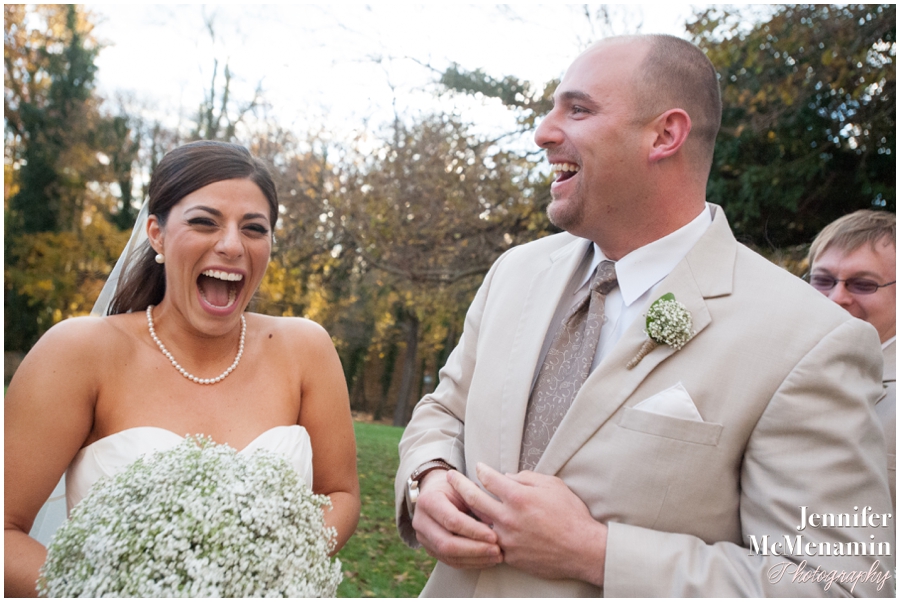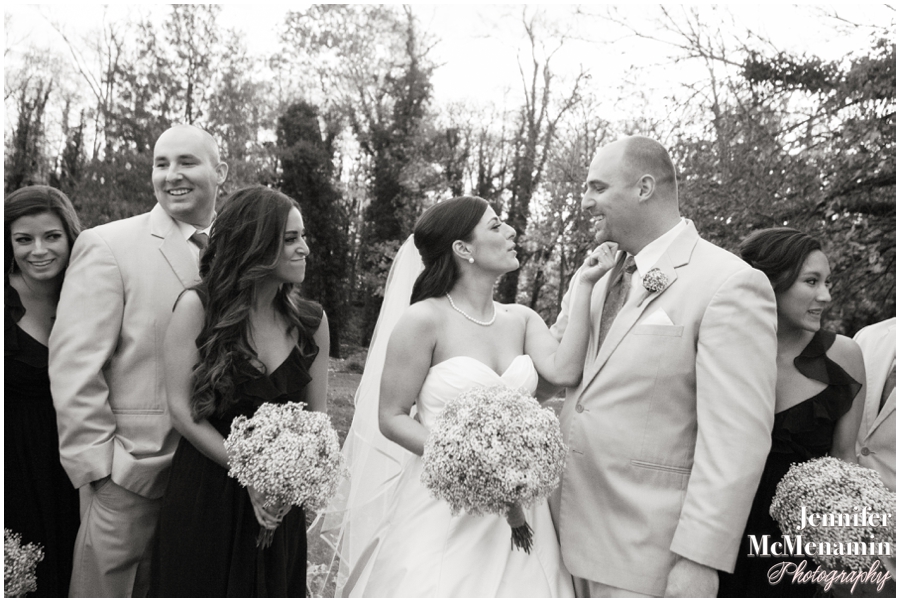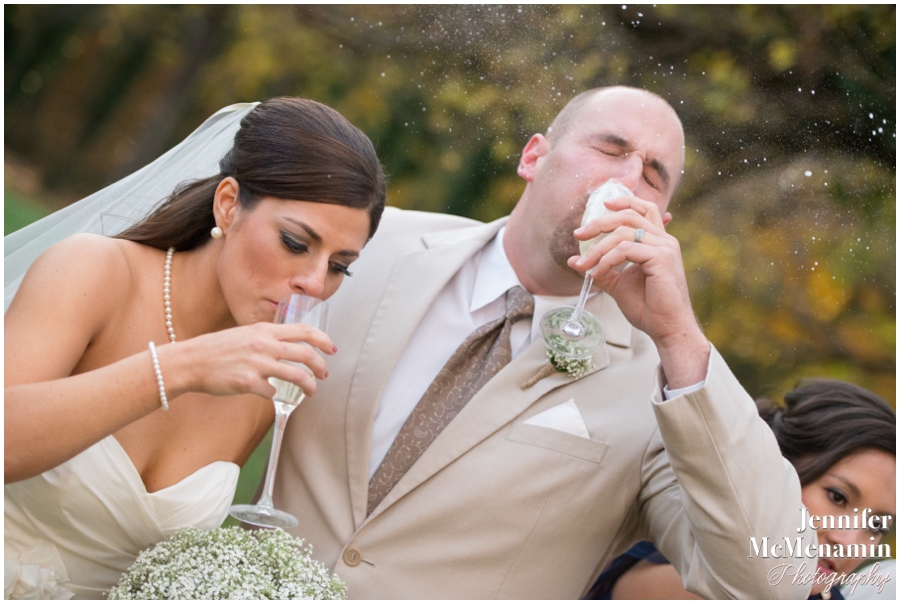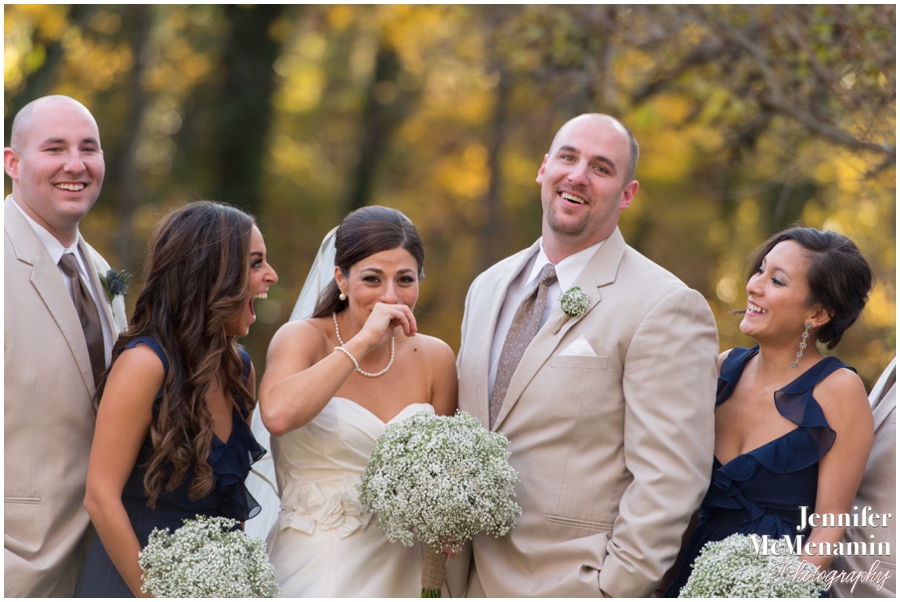 A rather ethereal detail of fall, shot by Sam.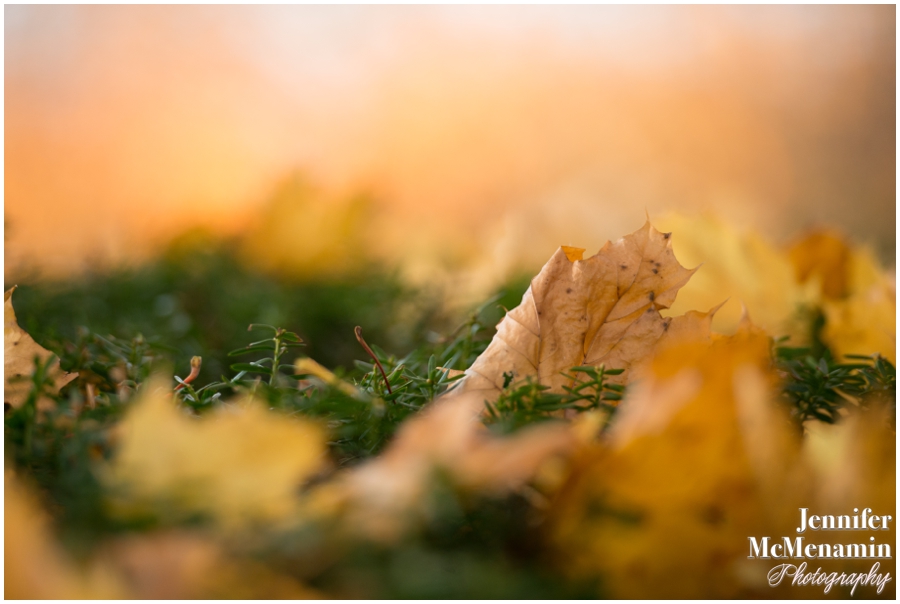 And a few casual photos of just Heather and Jason in the setting sun.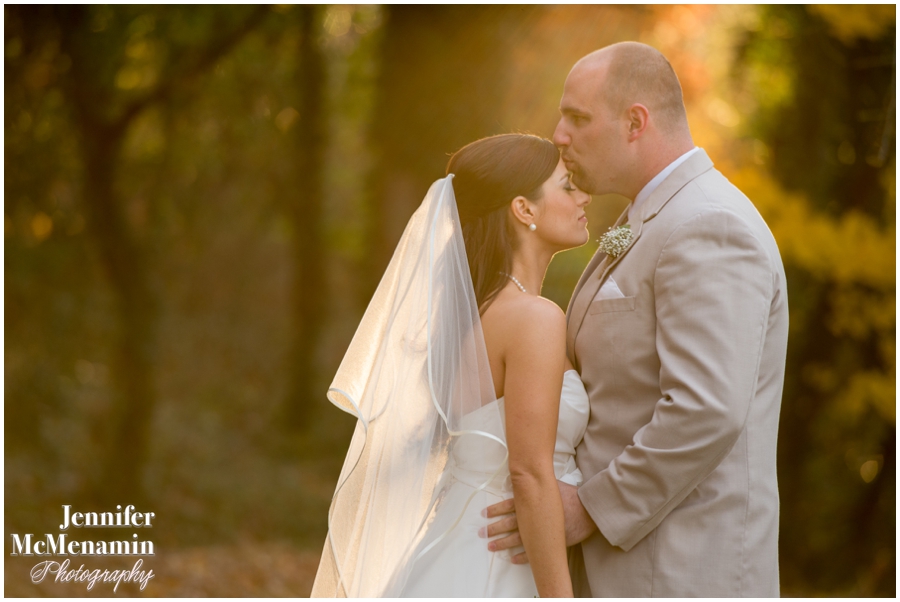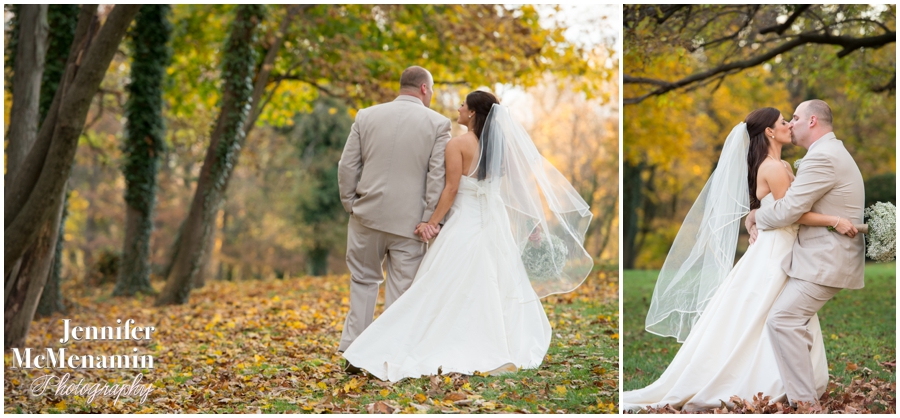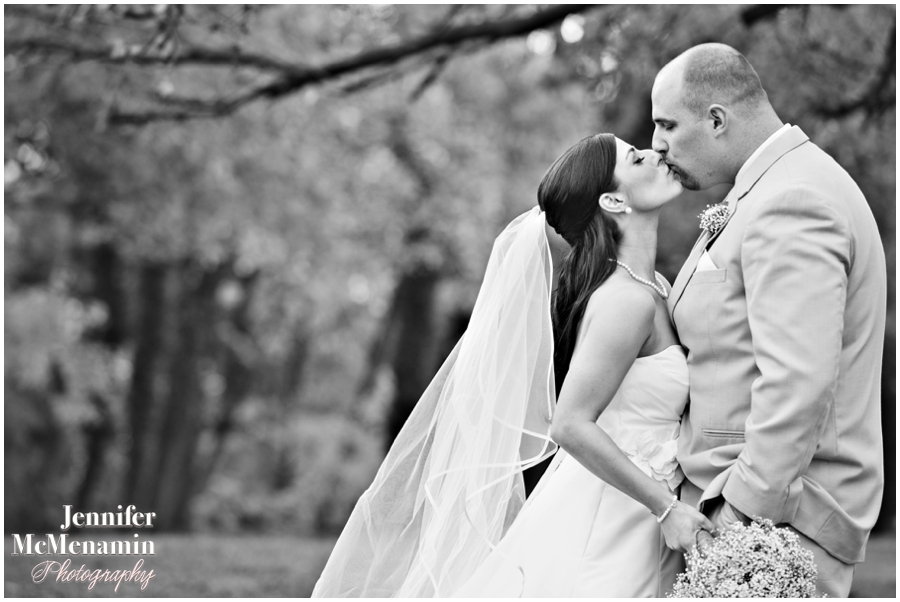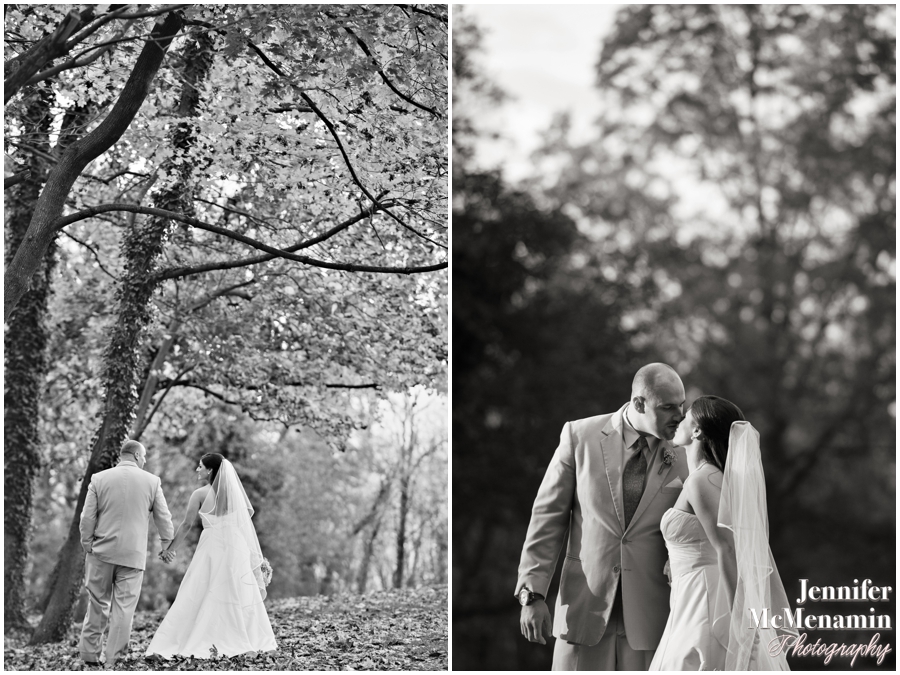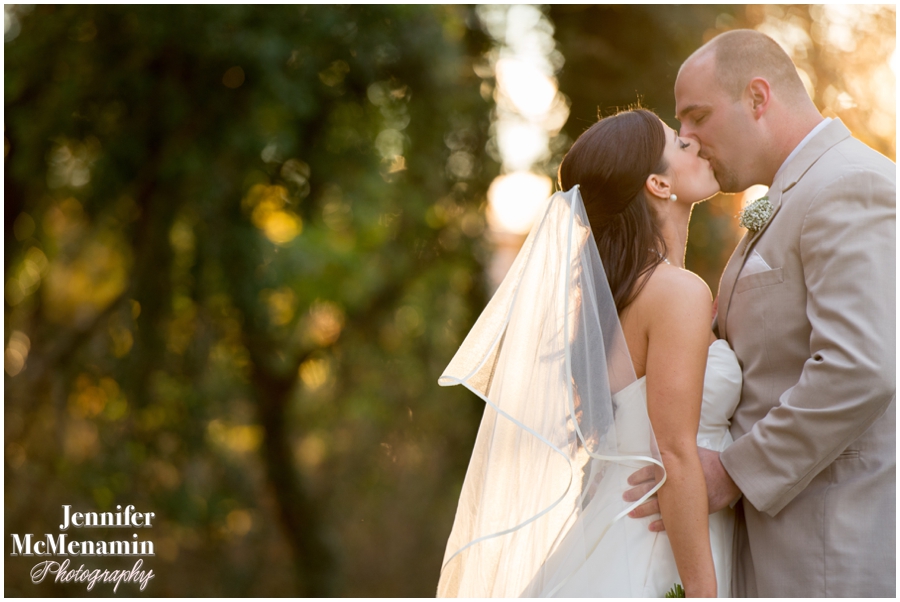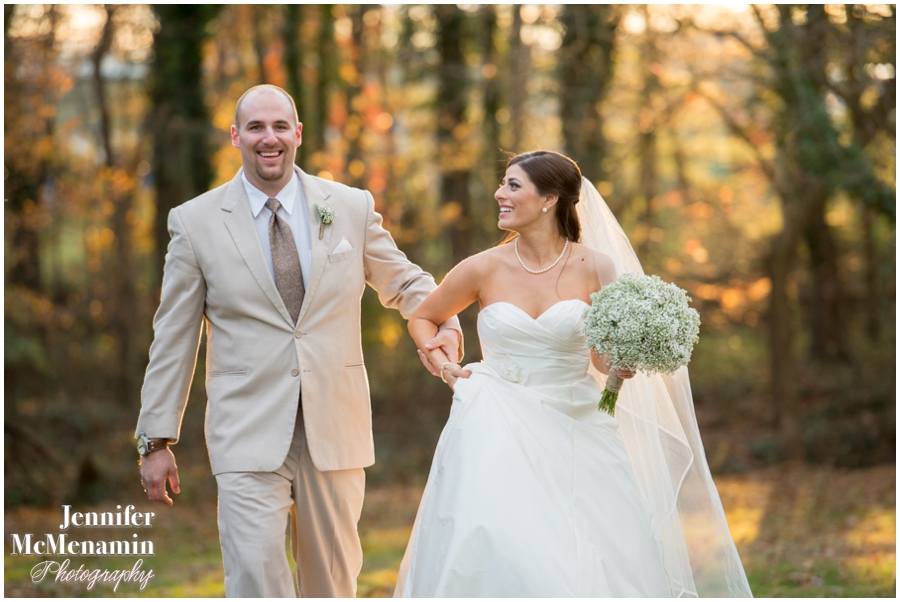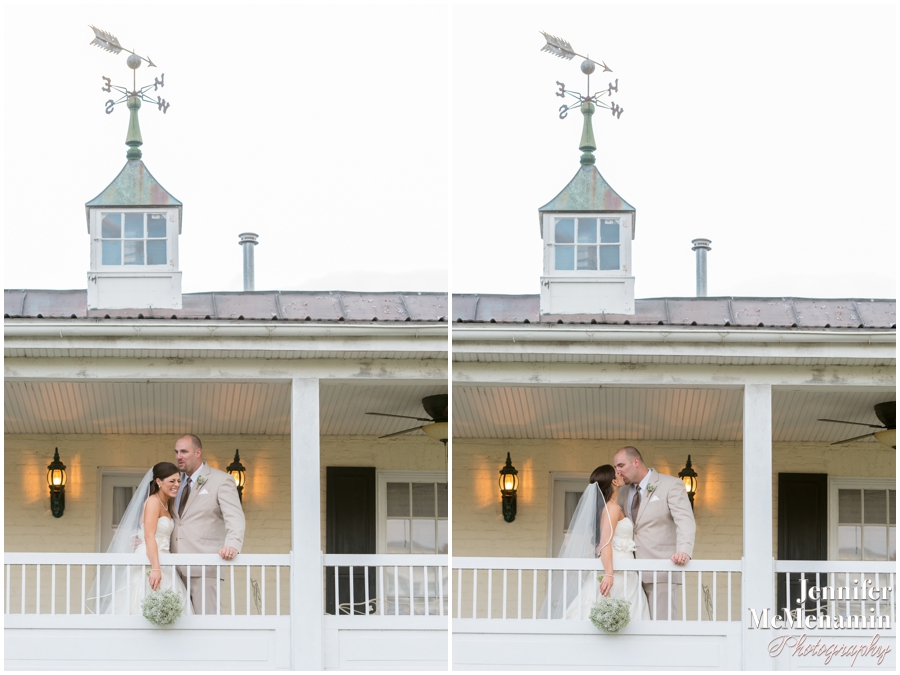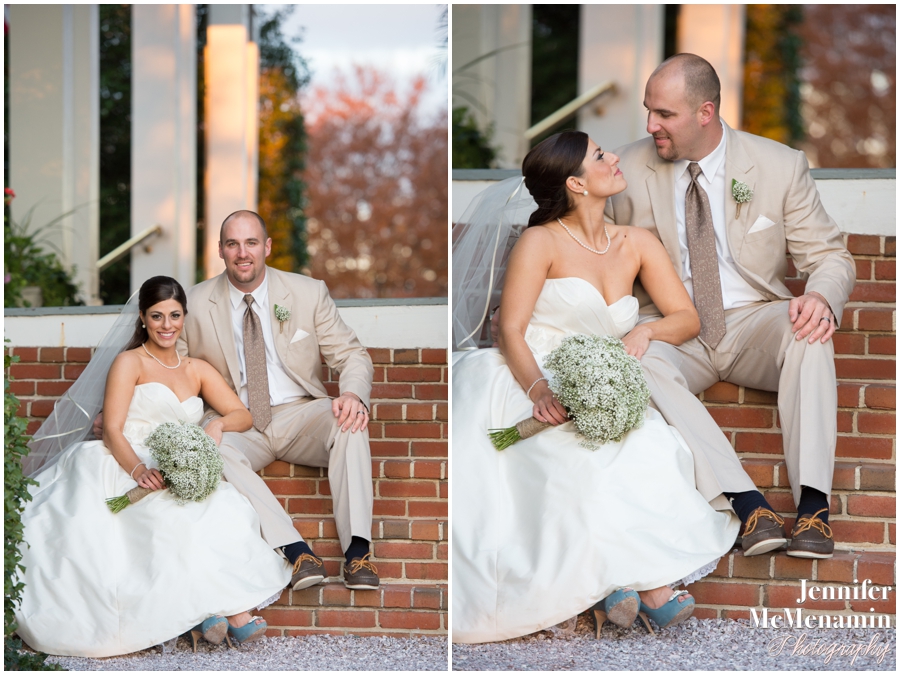 Changing her accessories for the reception.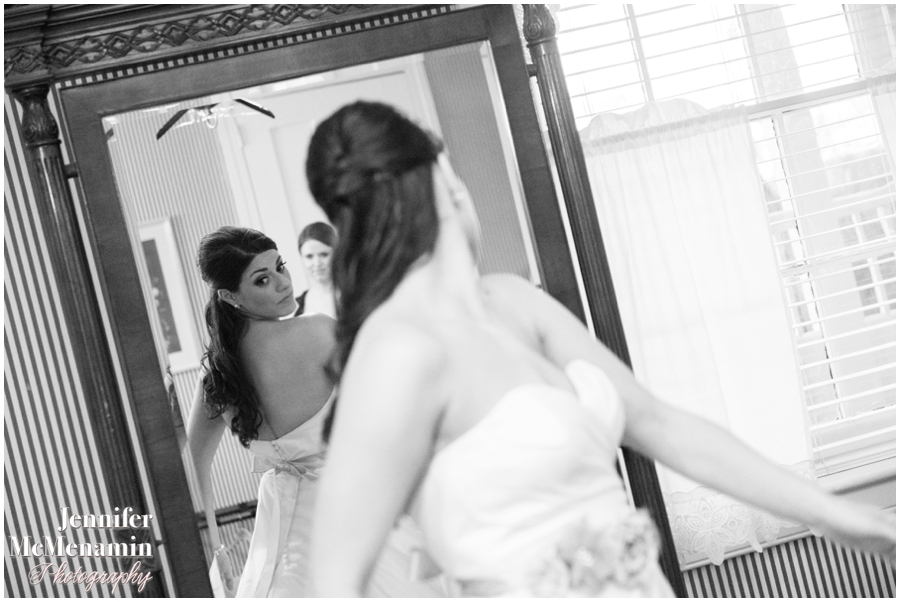 Meanwhile, Sam took care of most of the detail shots in the reception room, where there was similarly wonderful late-afternoon light.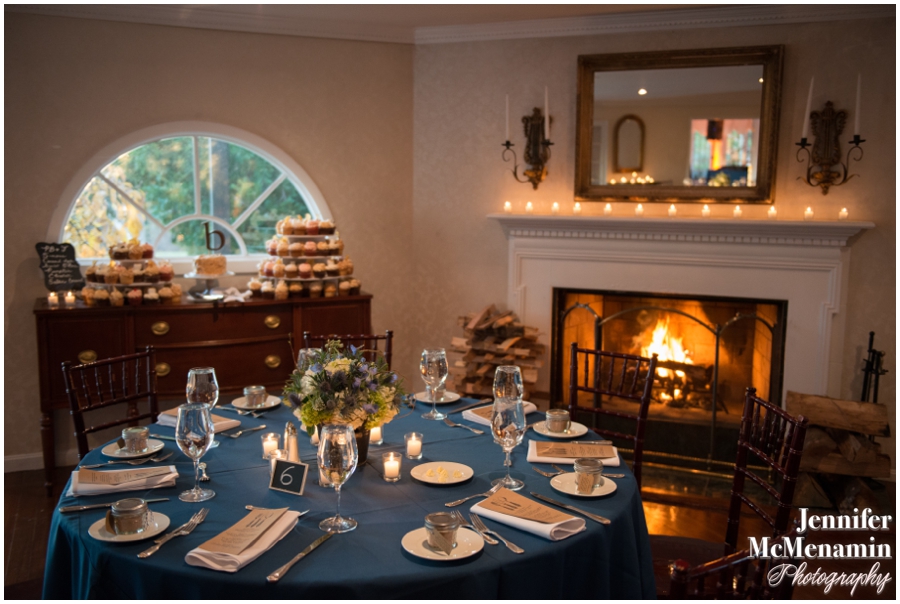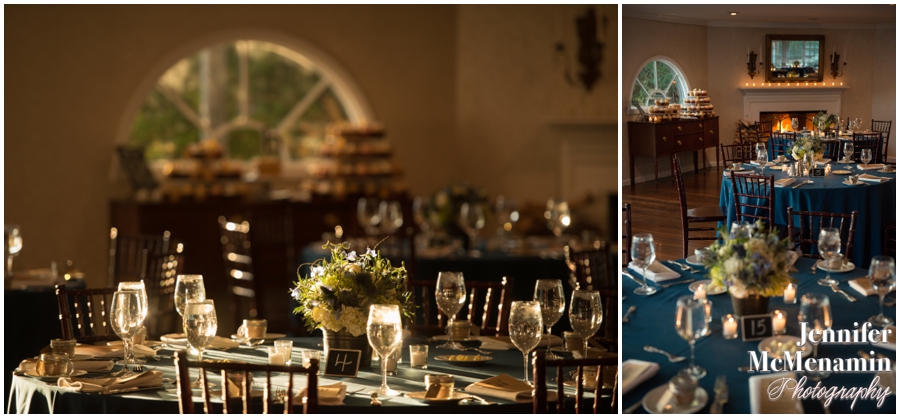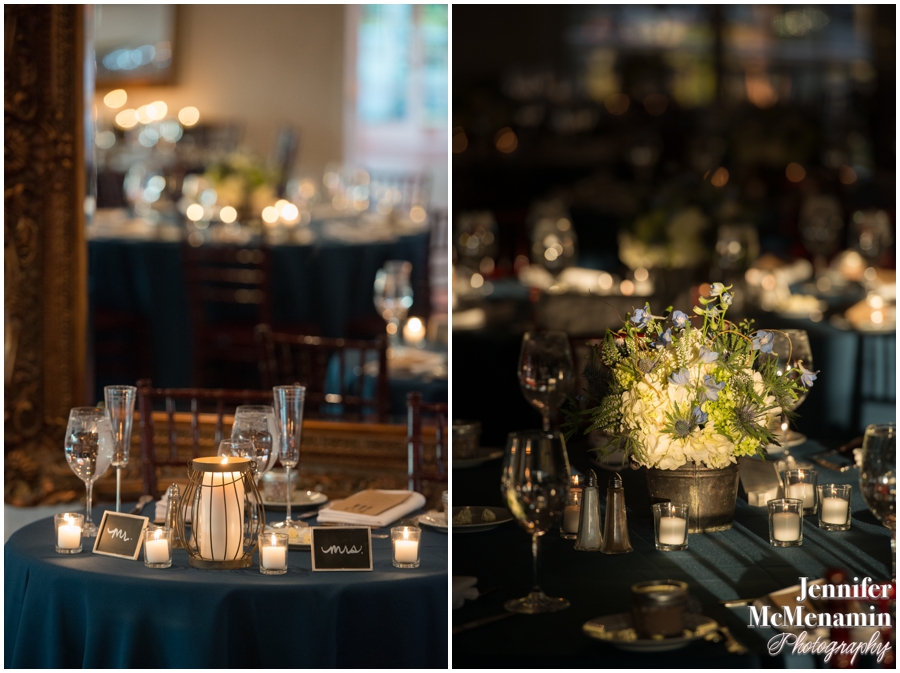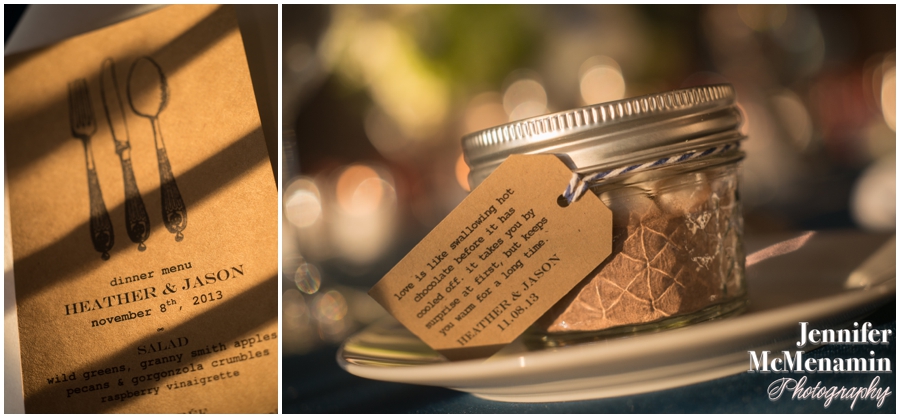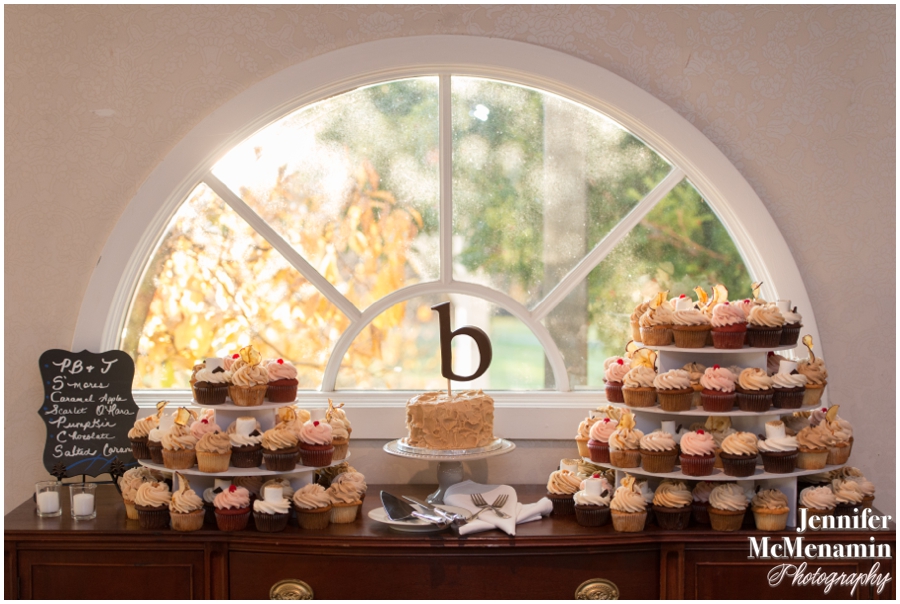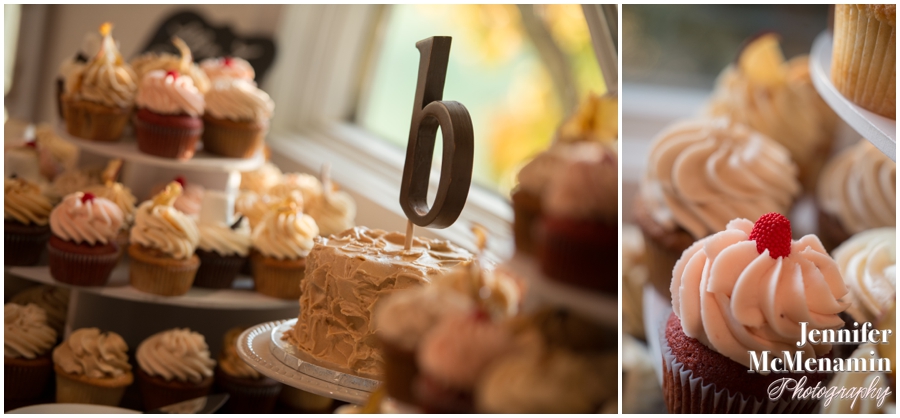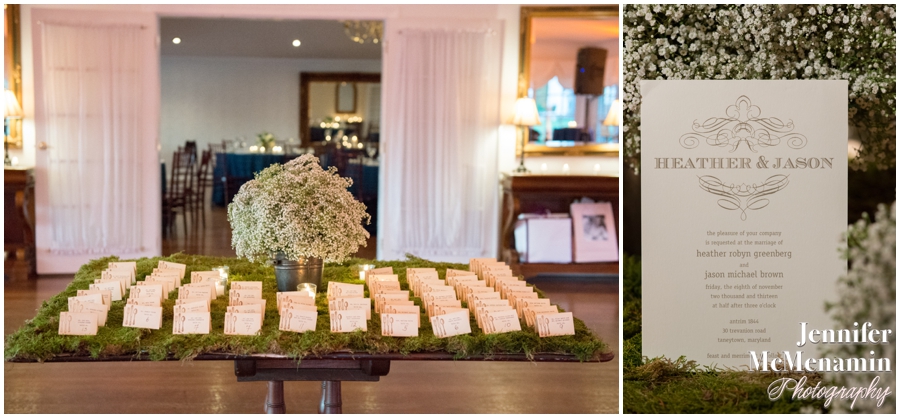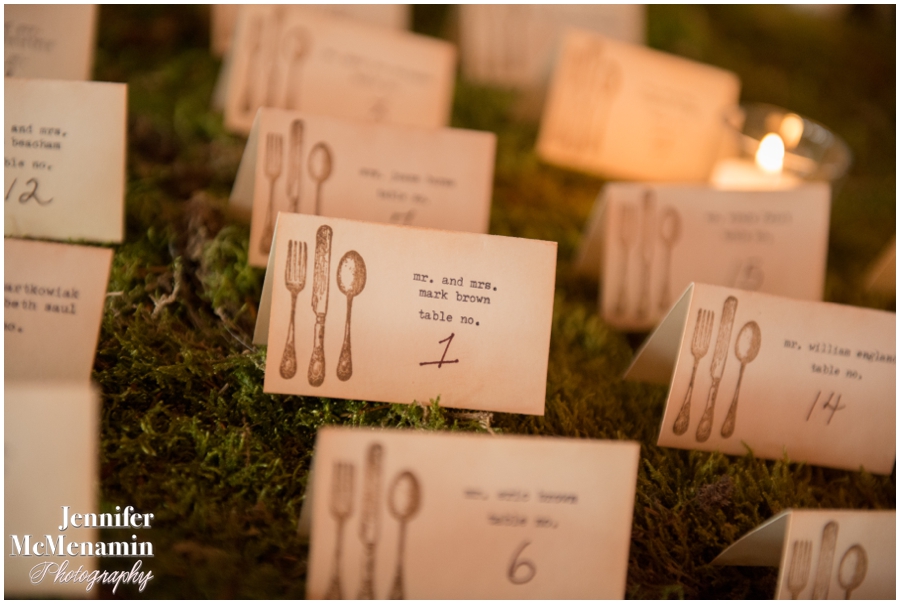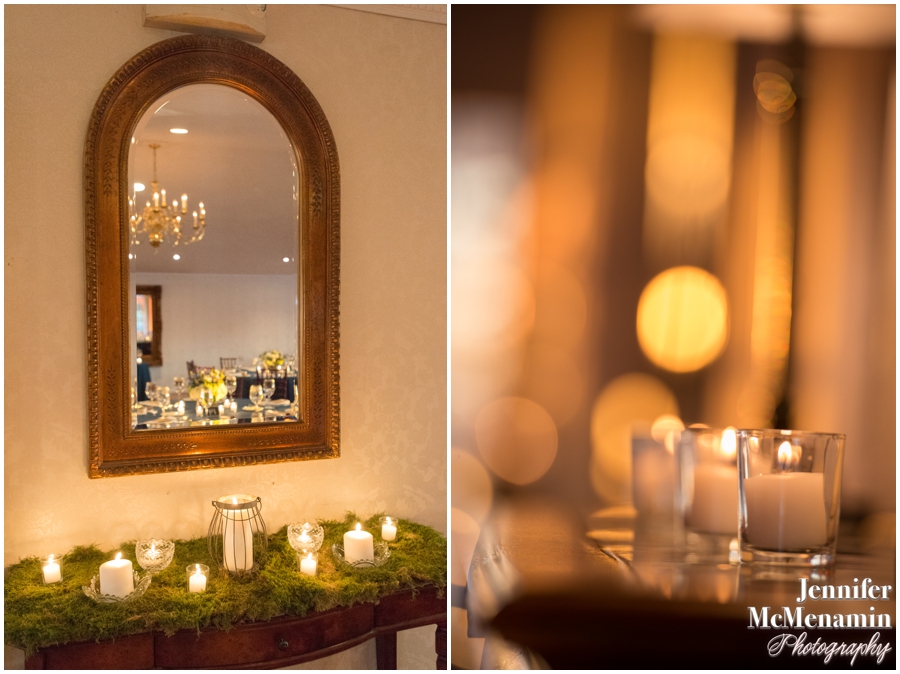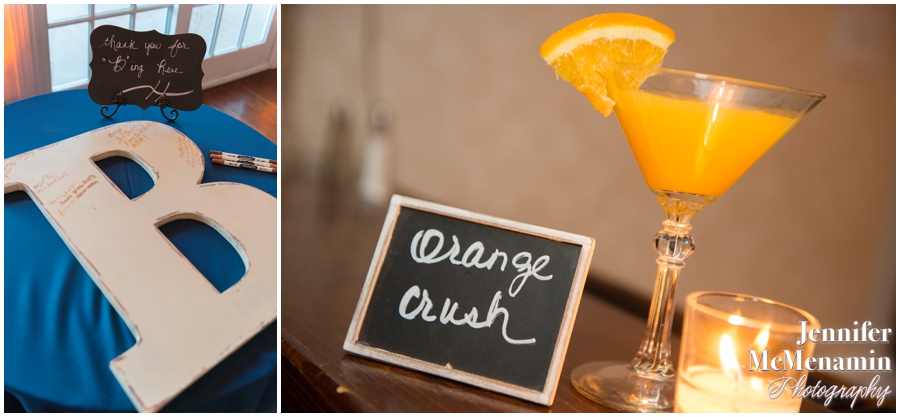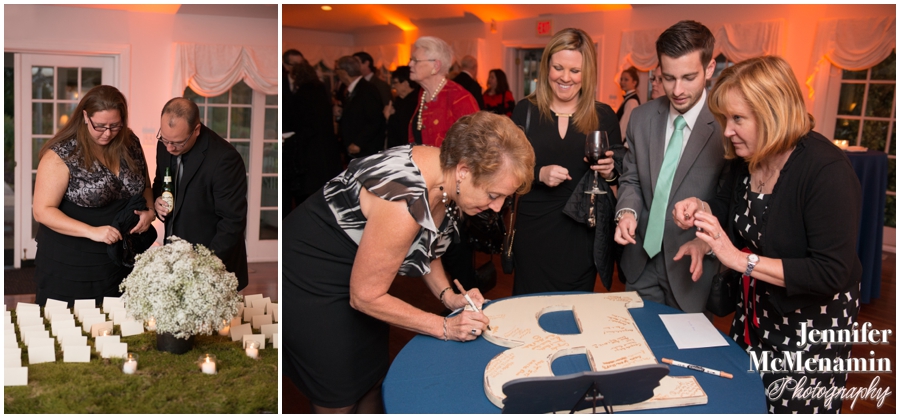 I was obviously quite smitten with Heather's grandfather!

This wedding party had some pretty terrific stunts for their reception introductions. Just a few highlights: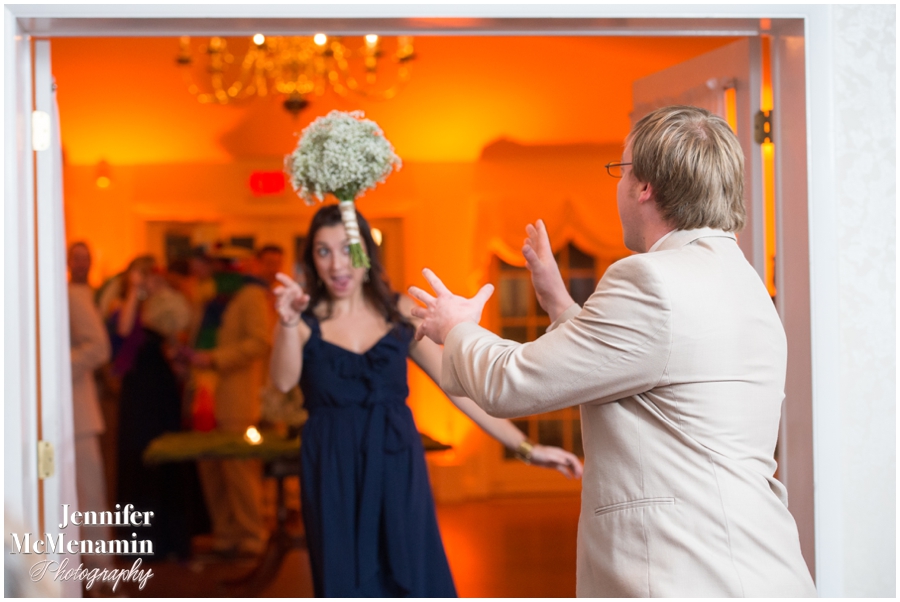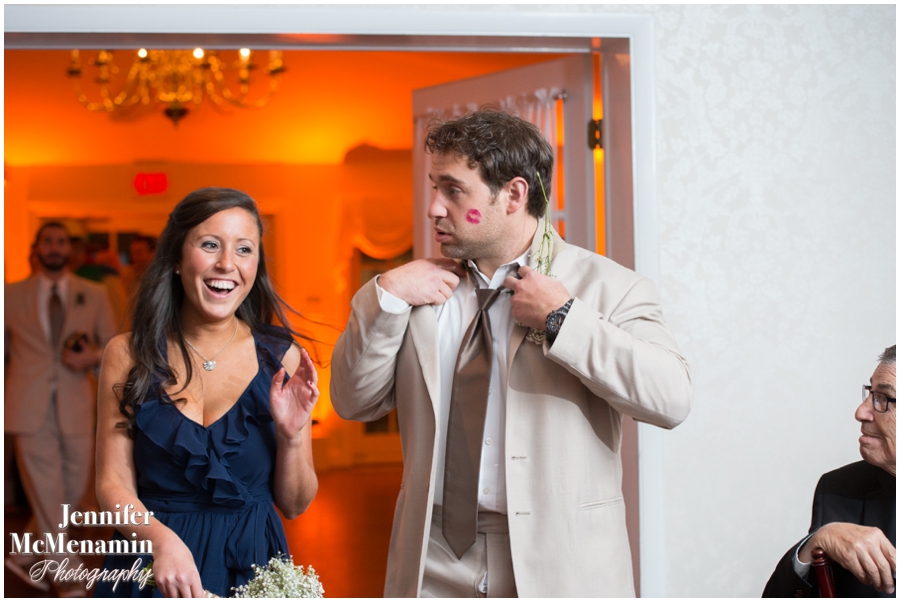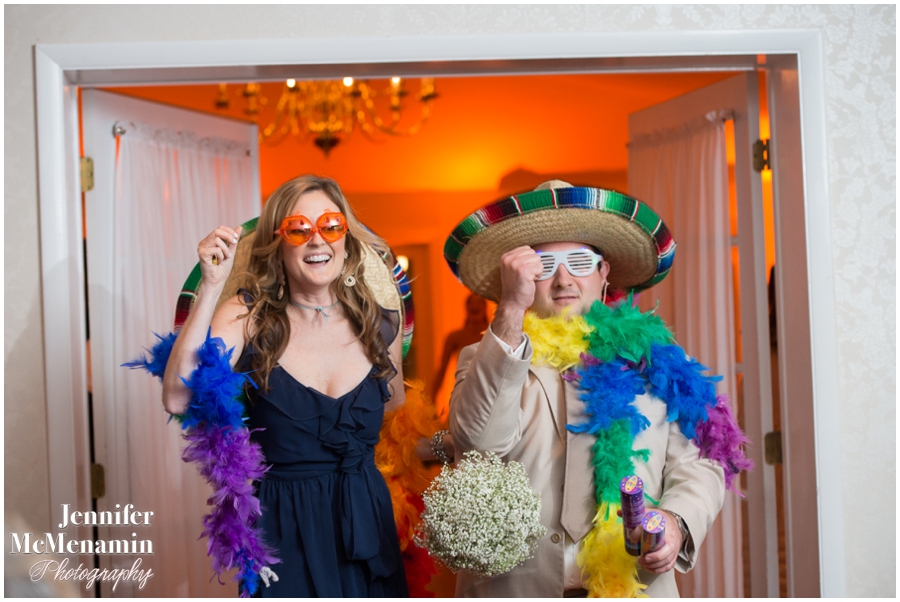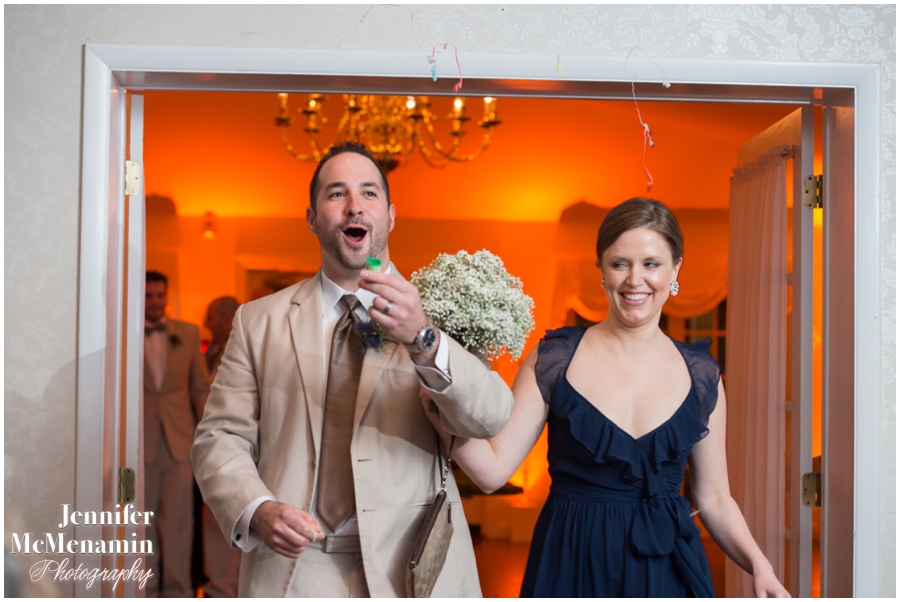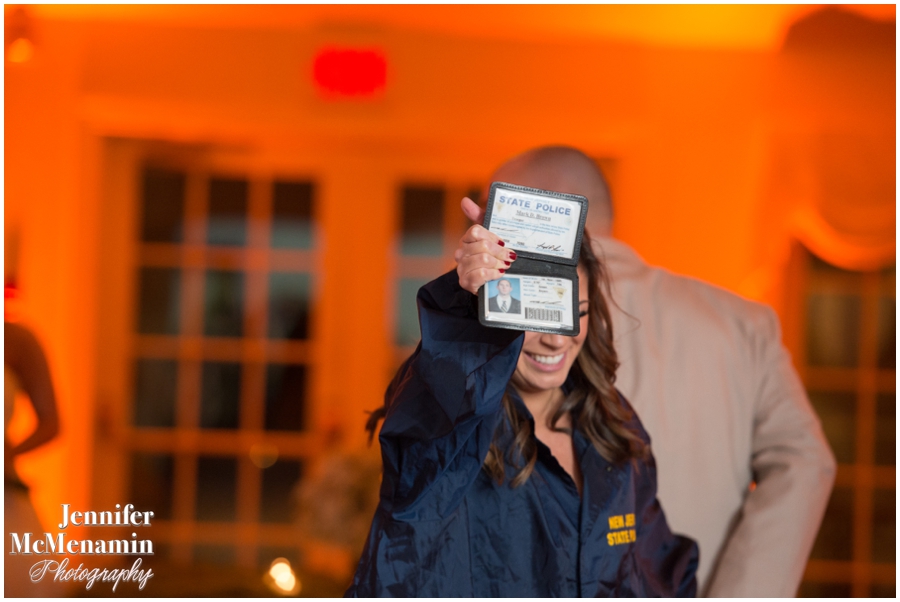 A father-daughter dance.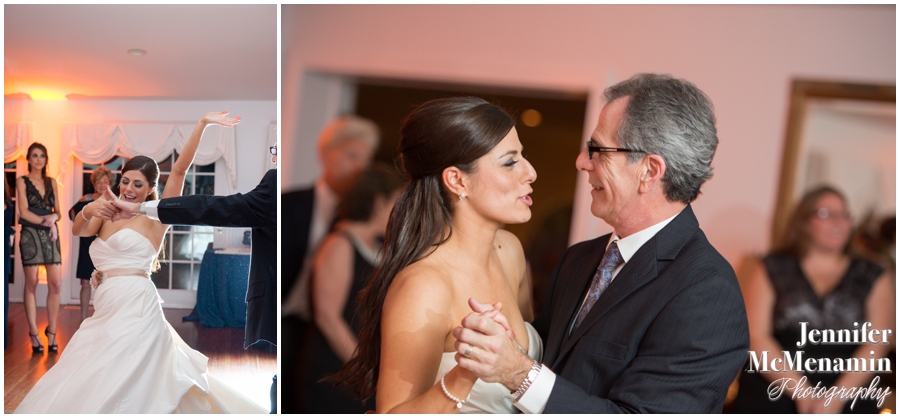 And lots of fun and frivolity.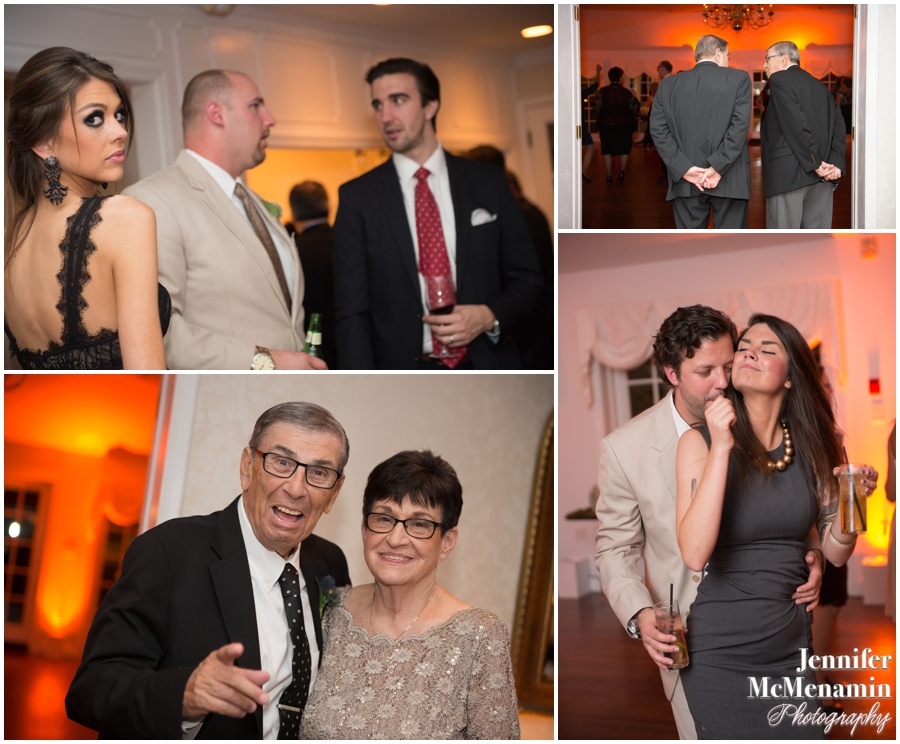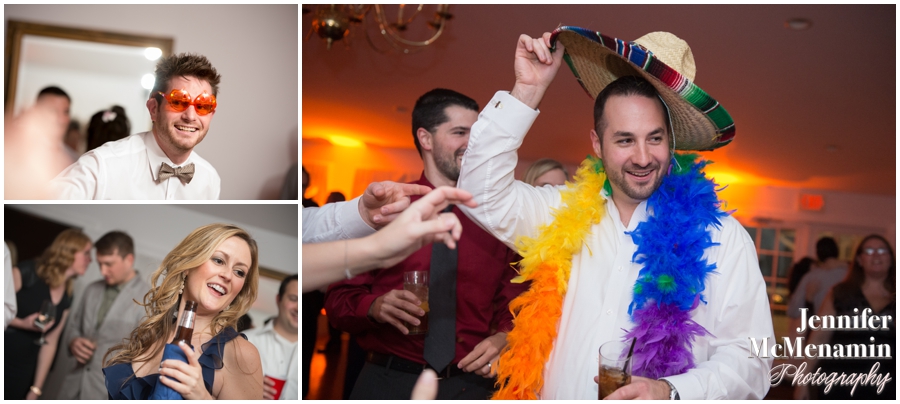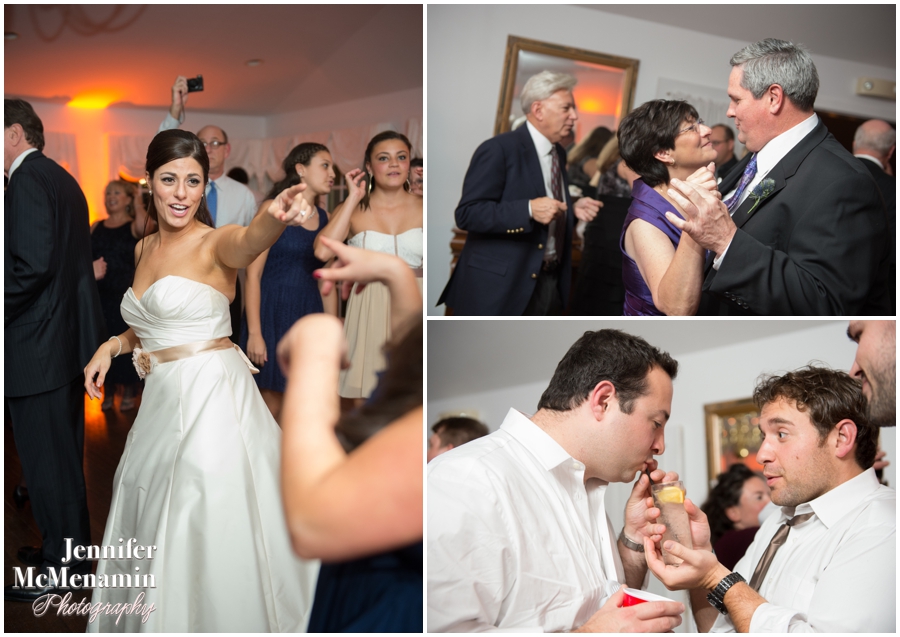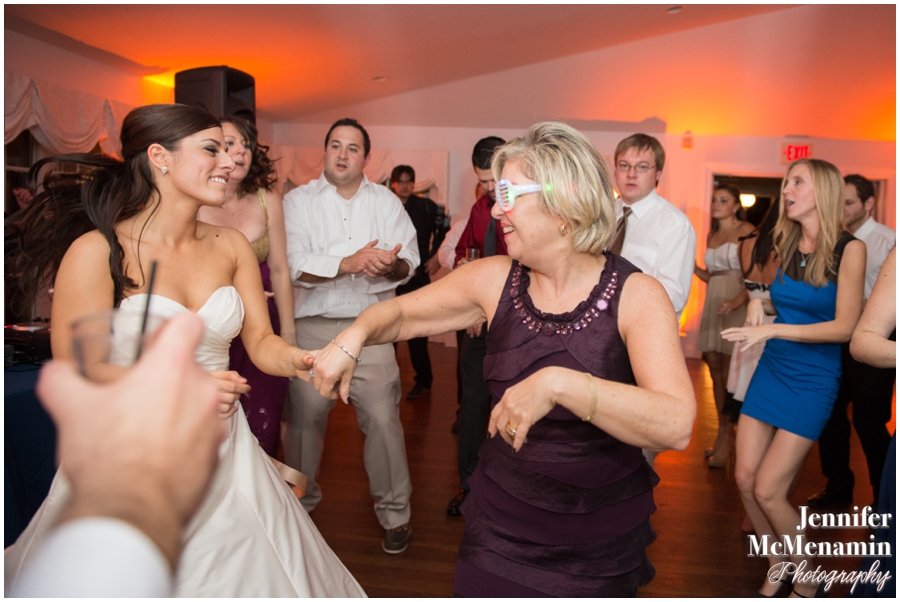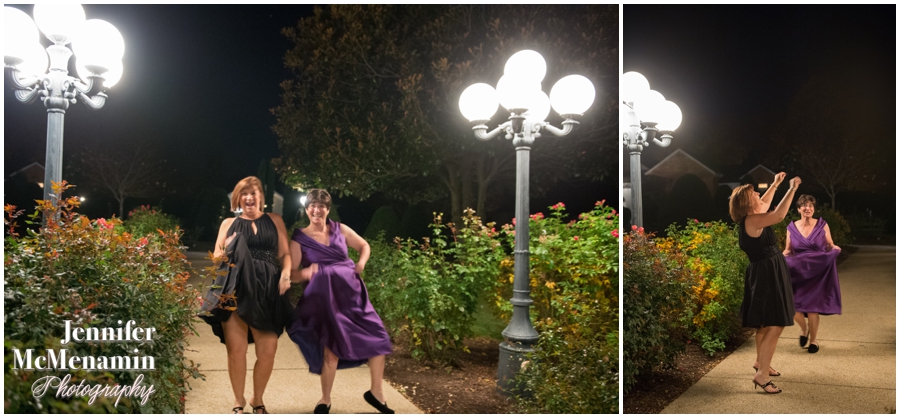 And finally, a nod to the very funny series of engagement photos that we unintentionally shot last fall when Jason's breath kept fogging over Heather's face on the cold early morning that we shot their engagement session.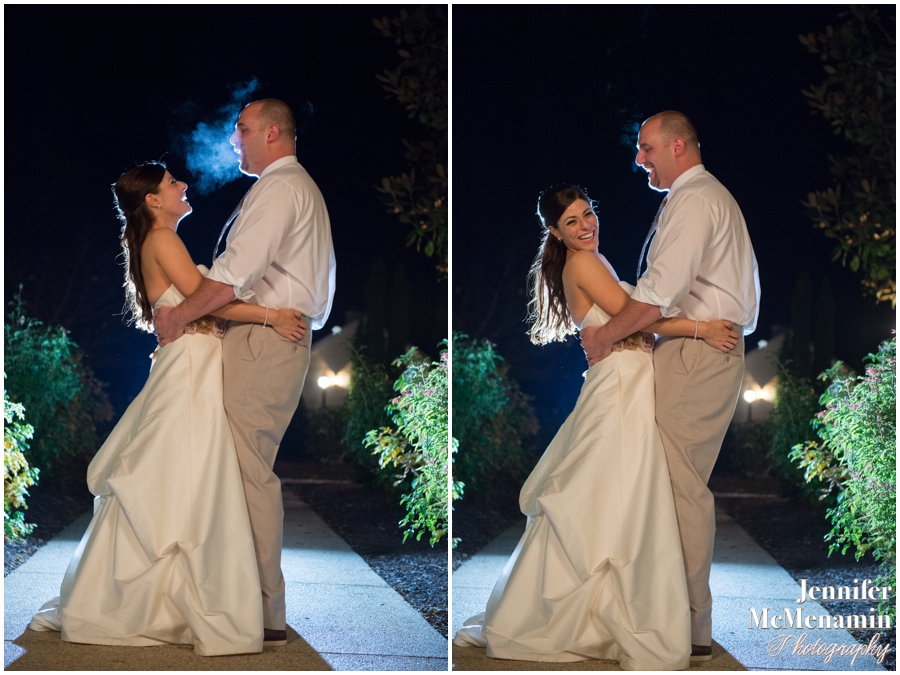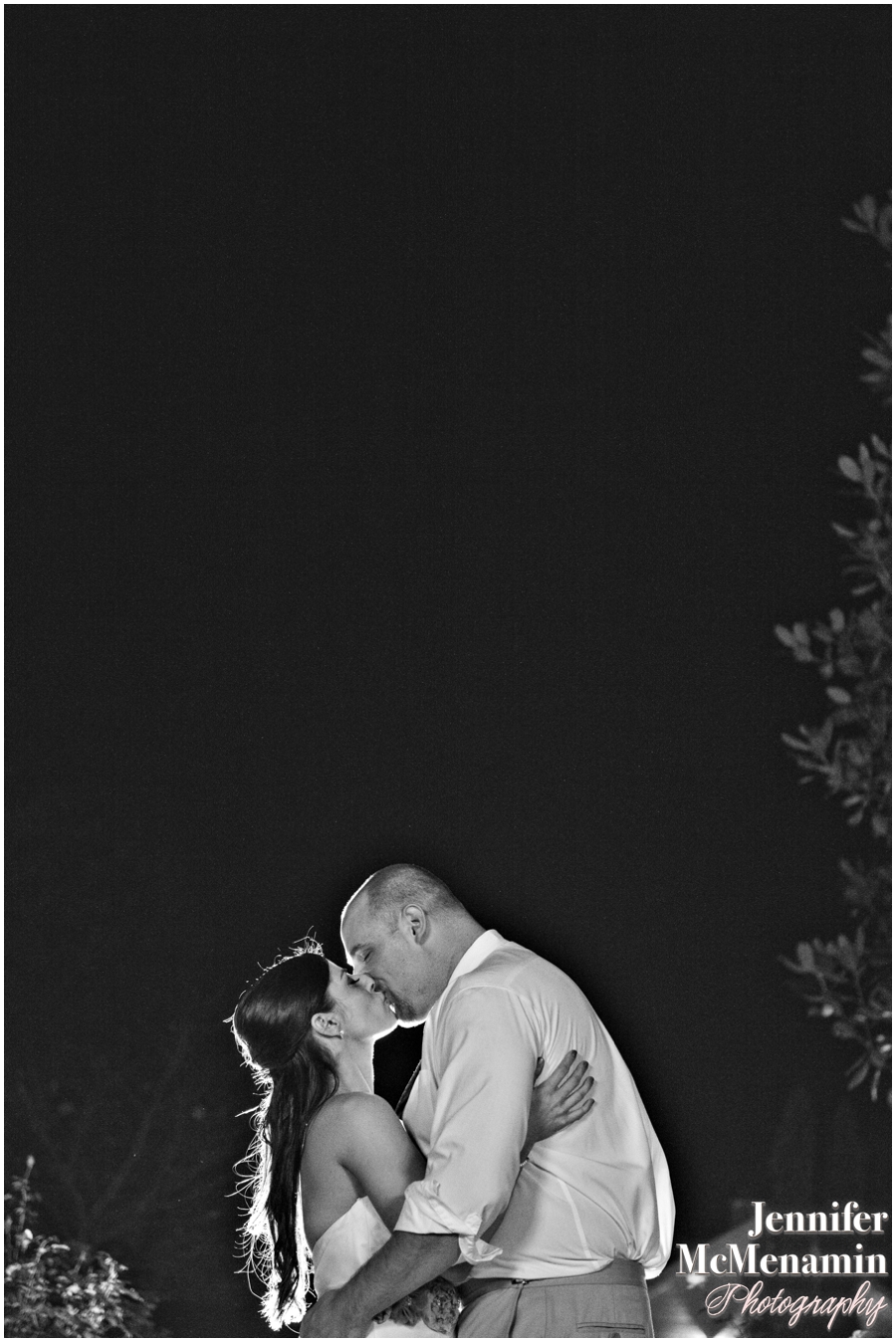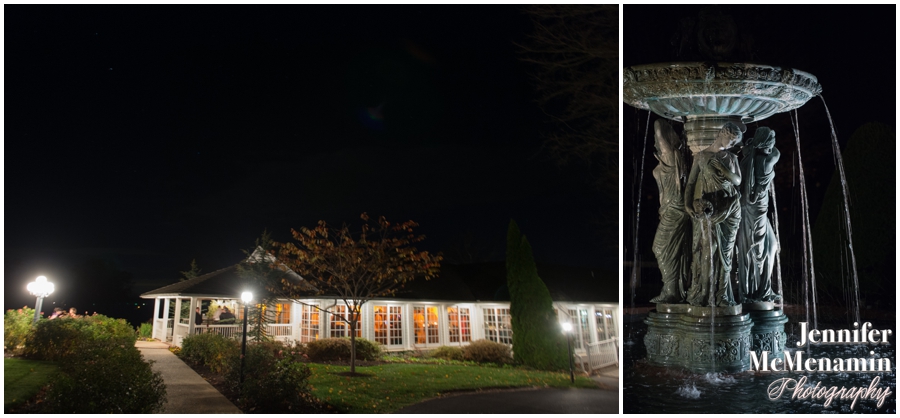 Congratulations, Heather and Jason. I could not possibly have had more fun working with you both, your families and your friends!
Credits:
Photography: Jennifer McMenamin Photography, LLC

Ceremony, reception & catering: The Antrim 1844
Officiant: Cantor Nancy Ginsberg
Ceremony musicians: Meridian Ensemble
Lighting designers: Event Pro Live

Linens: Connie Duglin
Bridal attire: Jim Hjelm from Garnish Boutique
Garter: Garter Girl
Hair & Make-up: Up Do's for I Do's

Bridesmaids' attire: Joanna August from Bella Bridesmaid
Groom's attire: Jos. A Bank

Florist: Flowers and Fancies
Cake & Cupcakes: Icedgems Bakery

DJ: Adam Feit of the Entertainment Exchange

Invitations: The Pleasure of Your Company
Placecards: 0names left
Favor Tags: Modern Typography
Ceremony programs & menu cards: DIY by the bride