Erin & Chris

St. Pius X Church & Hayfields Country Club -- Baltimore wedding photography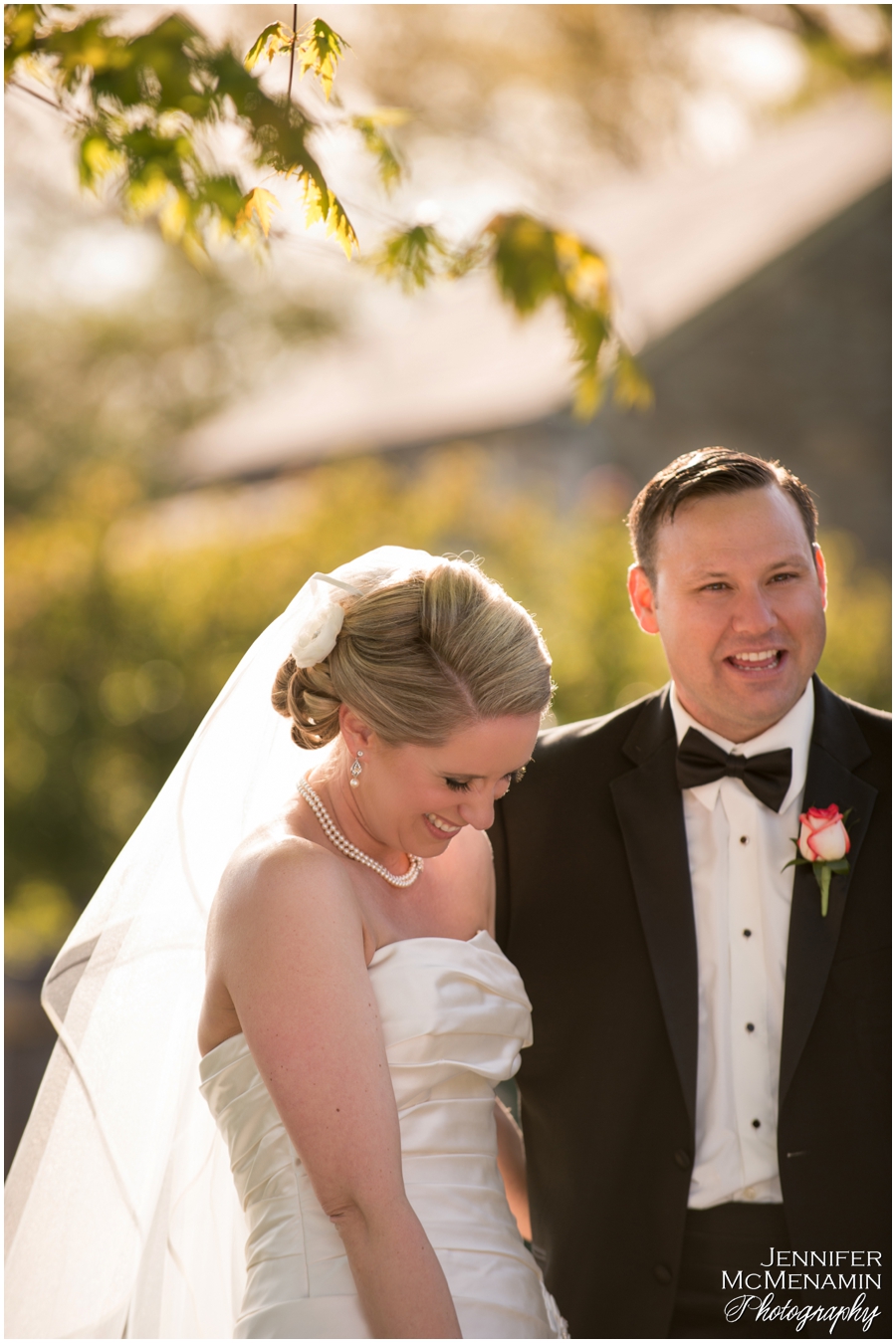 I first met Erin and Chris after they had already booked me for their wedding photography one winter afternoon for a rather unusual engagement session-style portrait shoot. Erin wanted to use a photo for their save-the-date cards that would serve as a little wink and a nod to their friends and family about the crazy photo bomb face that Chris makes almost every time he knows a camera is pointed at him. The save-the-date photo, you see, would not actually have their faces in it. Because, as Erin told me, Chris just couldn't be trusted to have his face in their engagement photos. So we shot a whole series of images of them from the neck down with Baltimore's skyline and the Legg Mason building — the firm where they met in 2005 — in the background. I was going to write that I knew from watching the two of them during that very funny and non-traditional photo shoot that I would love working with them at their wedding. (Chris started out seeming all annoyed and peeved to be shooting engagement photos but quickly softened and started joking around and laughing with Erin.) But the truth is, I knew it much earlier. I knew I wanted to work with Erin and Chris from Erin's description of their wedding plans in her first e-mails to me and our first phone conversation. Everything about their wedding — from the date itself and the locations to the compressed timeframe for planning and  the silly surprises the bride planned for her groom — was careful and deliberate and meant something to them. Their date — May the 4th — has special significance for die-hard Star Wars fans like Chris. And although they were just engaged at Christmas, they immediately decided they did not want to delay to have a spring wedding. "I have a very close aunt battling cancer and we realized we just didn't want to wait an entire year to get married. Life is short," she told me. So Erin kicked things into overdrive and got down to the business of planning a wedding in just four months on top of her very busy financial services job. They picked the church that her grandmother attended. Their officiant would be her uncle, a Catholic priest. She got ready in the same bedroom where her mother dressed for her own wedding years earlier. They chose the lovely Hayfields Country Club for their reception, not just for its beauty but also because it is just a stone's throw from the office tower where Erin and Chris first met and the vistas overlooking the Oregon Ridge valley reminded Erin of her childhood home in Western Maryland. True to form, much like their engagement session, Chris started out the day a sarcastic, funny-face-making jokester. But the moment he spotted Erin walking down the church aisle toward him, well, you can see for yourself in the photos. Their love is a beautiful thing. These two were just a joy to work with all day long. Here are some of my favorites: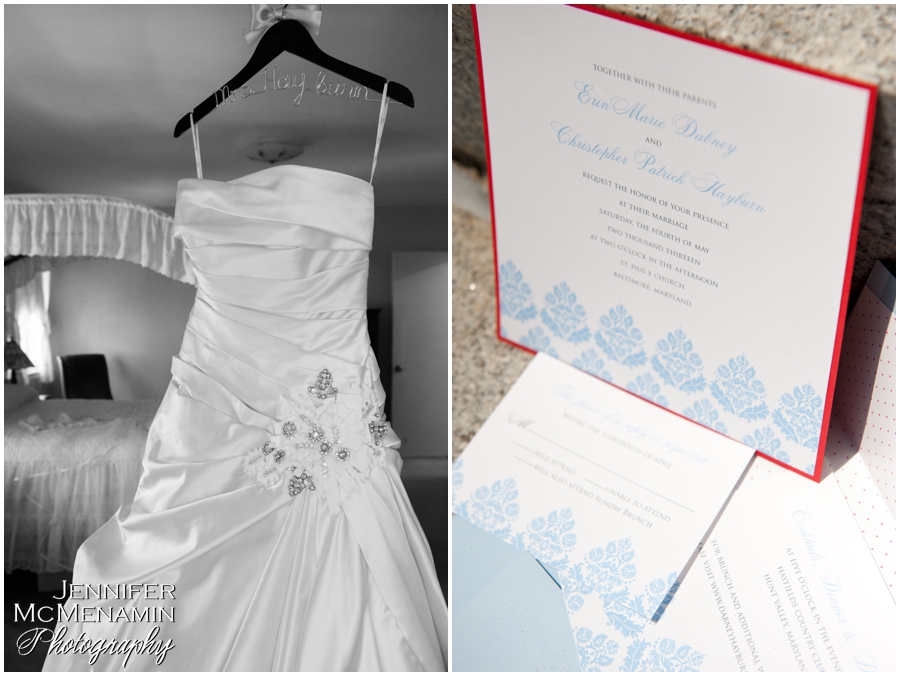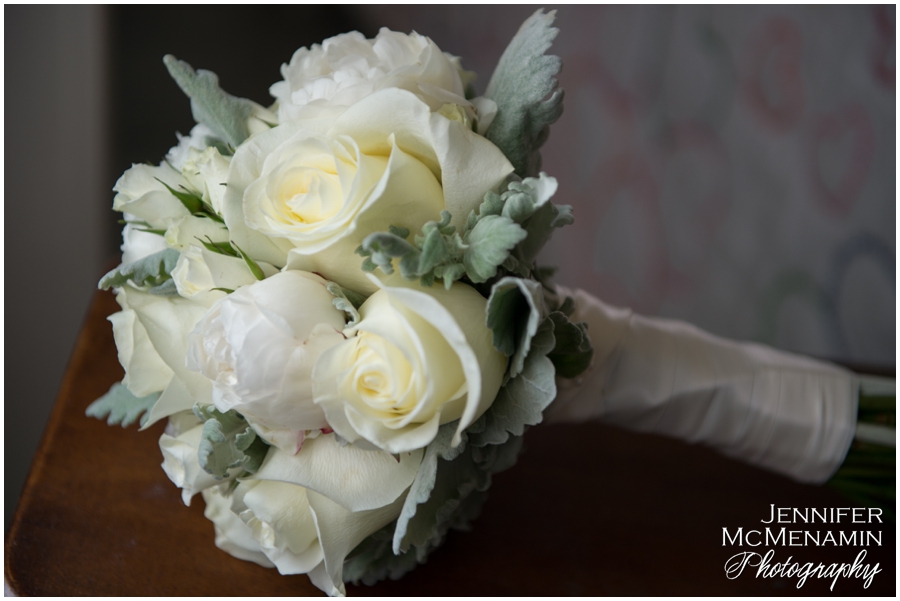 A photo of the bride's mother on her wedding day in the same bedroom where Erin got ready to marry Chris.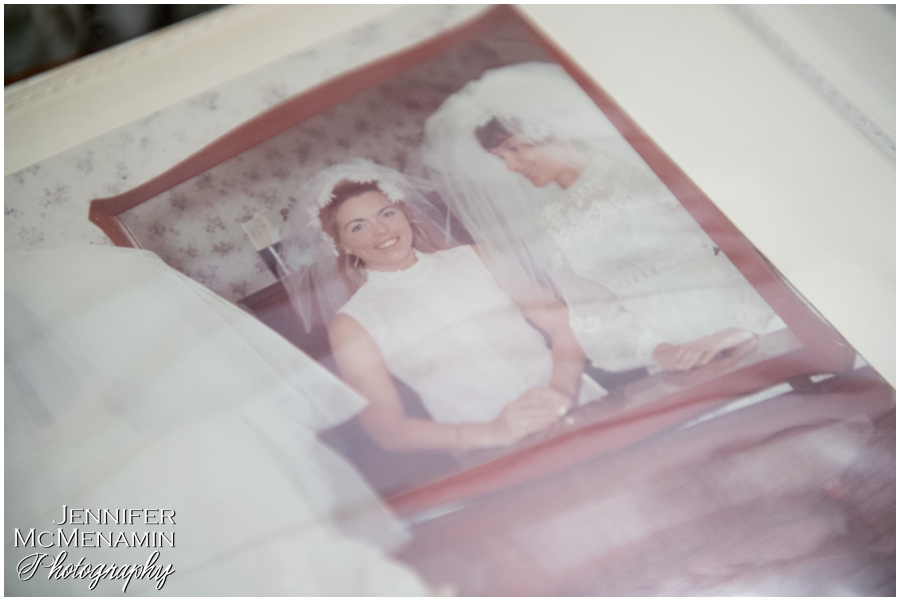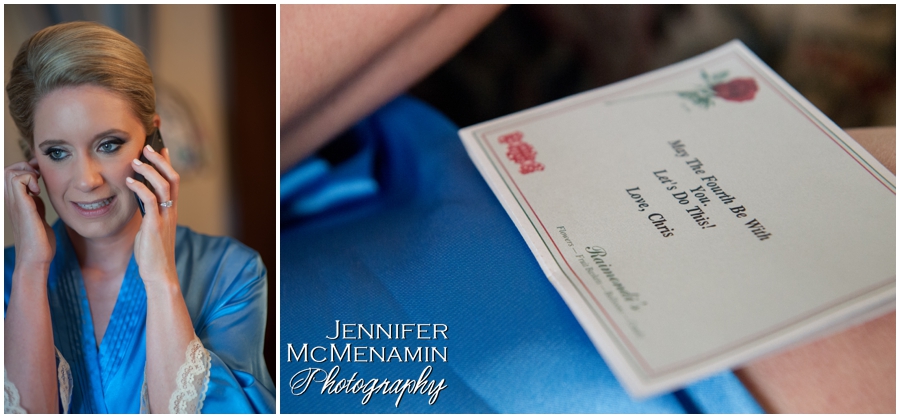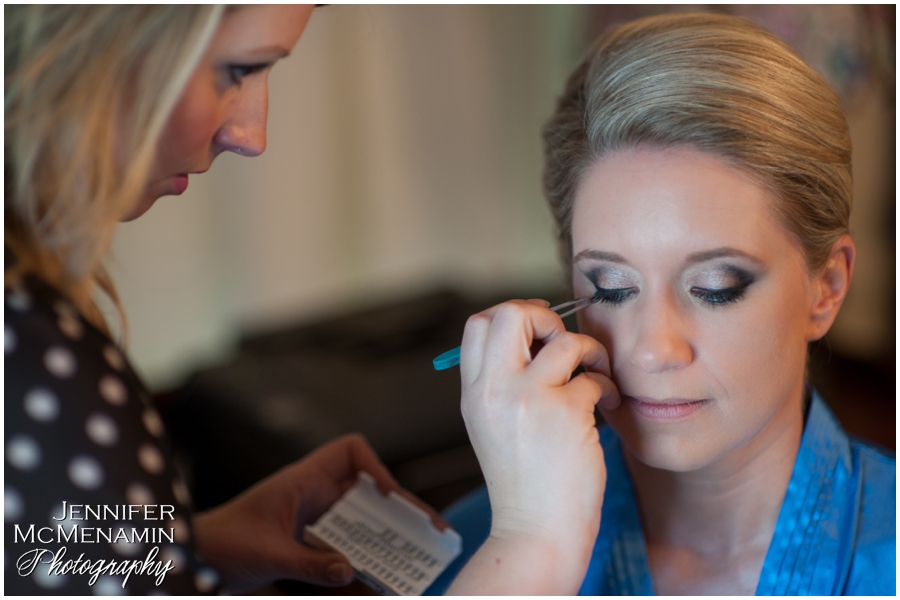 Erin has a positively beautiful smile. And when she laughs, well, her entire face lights up.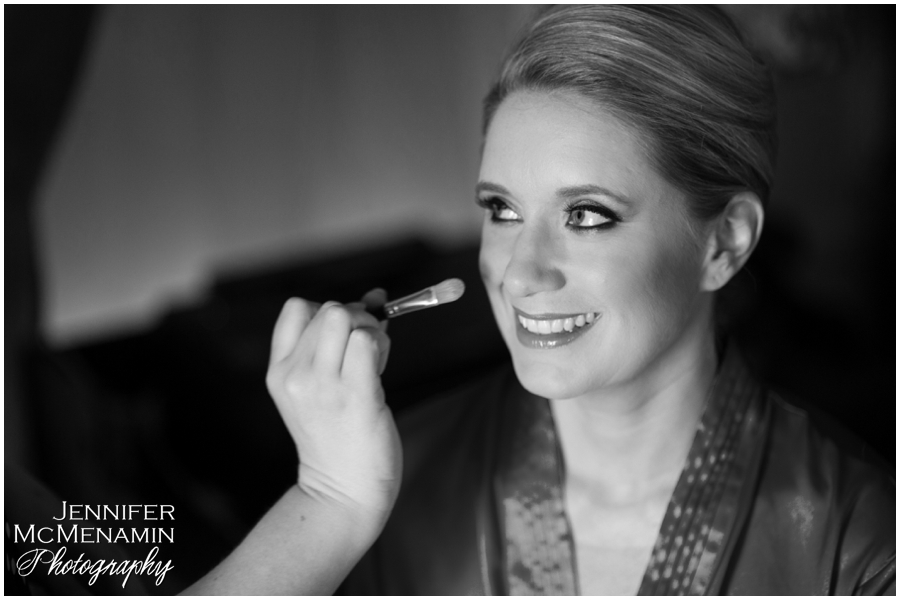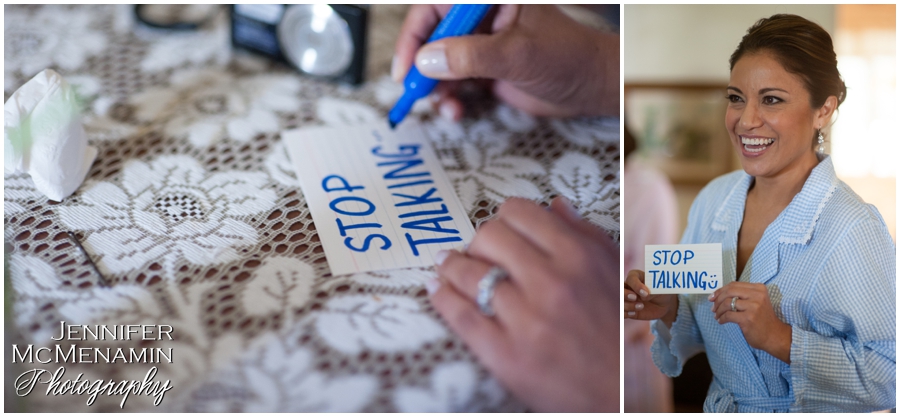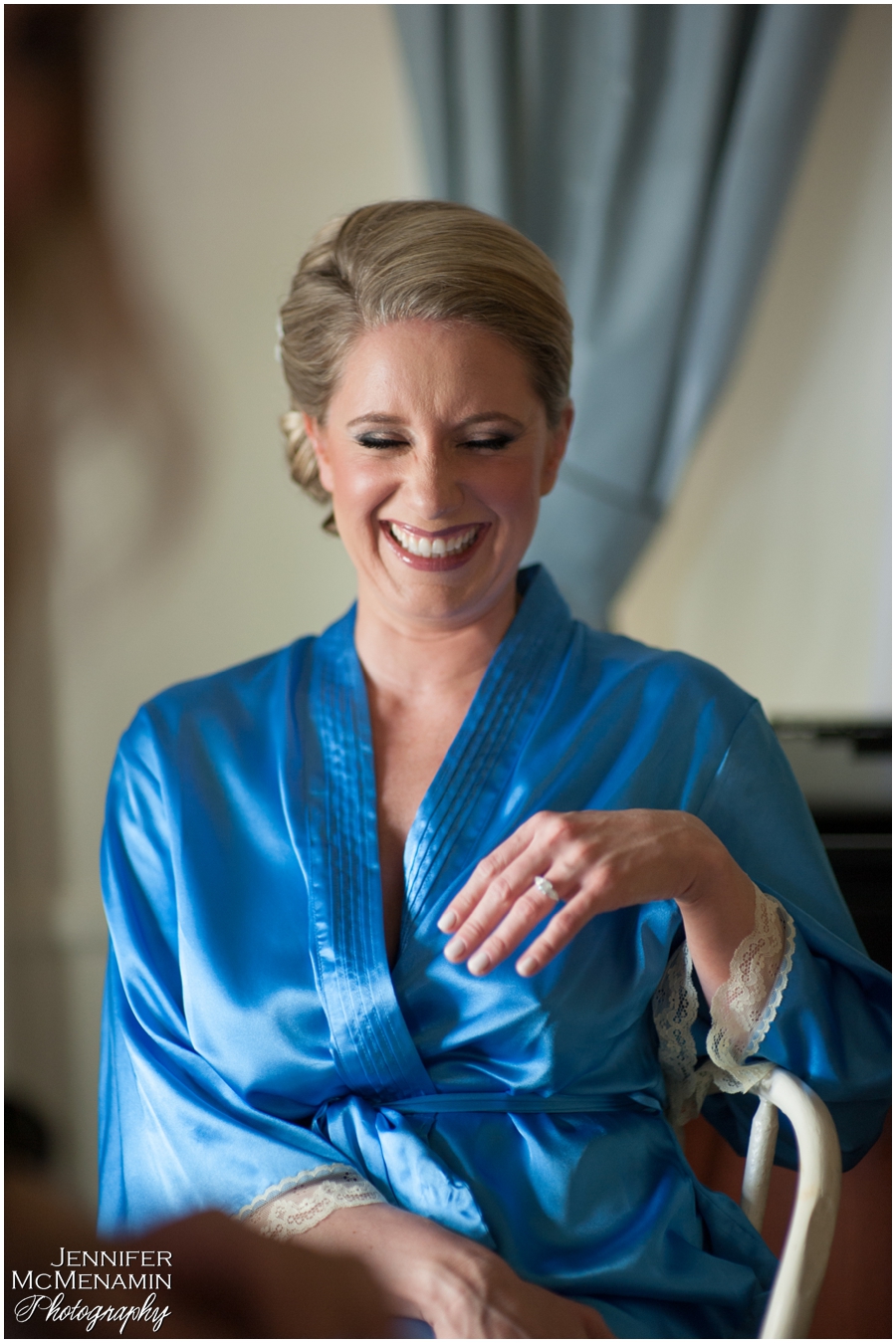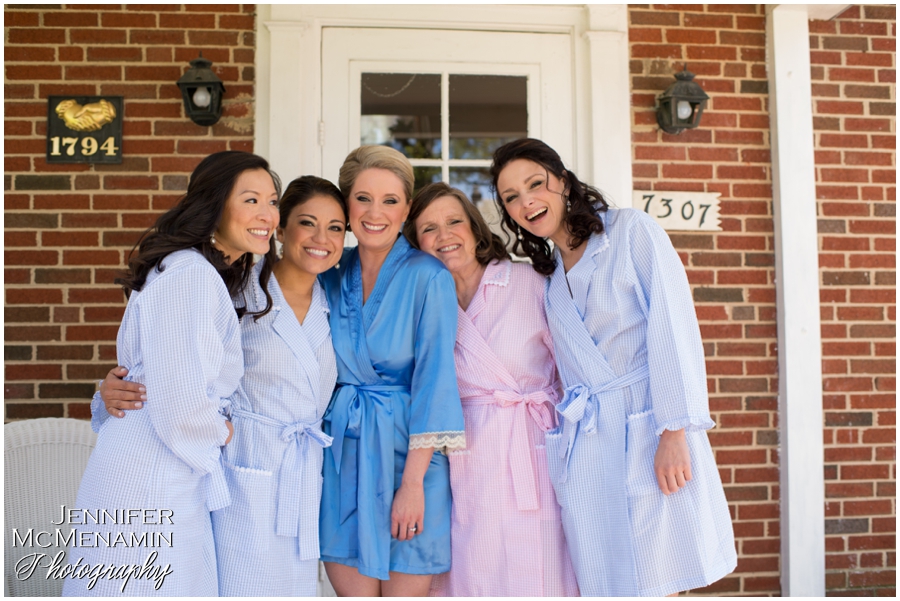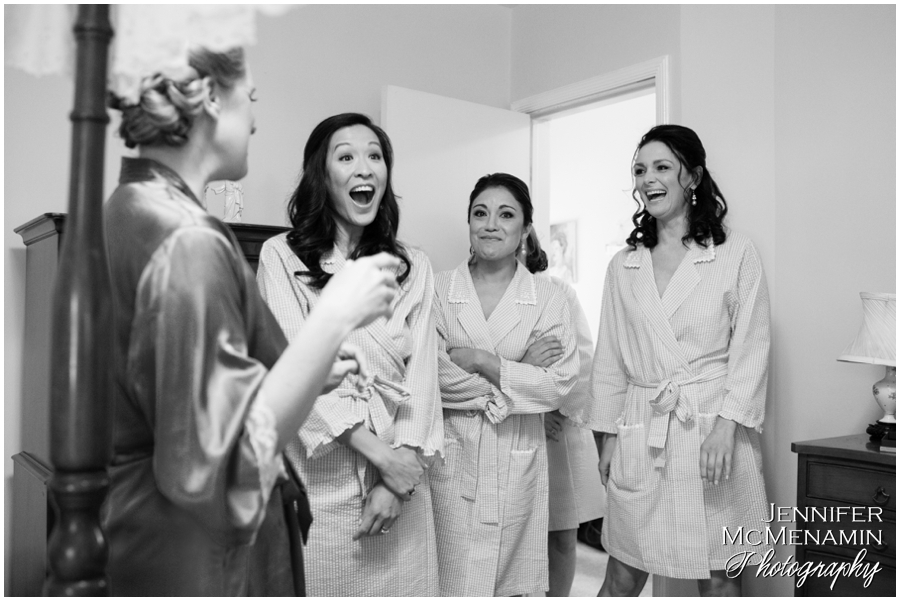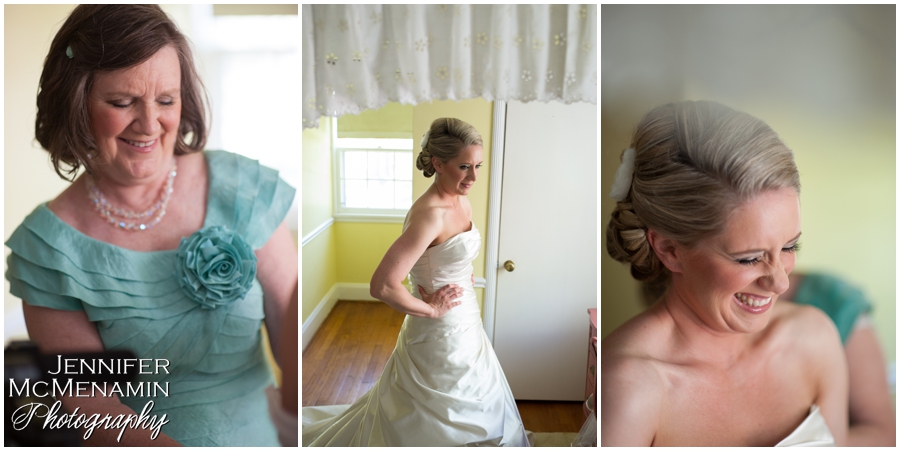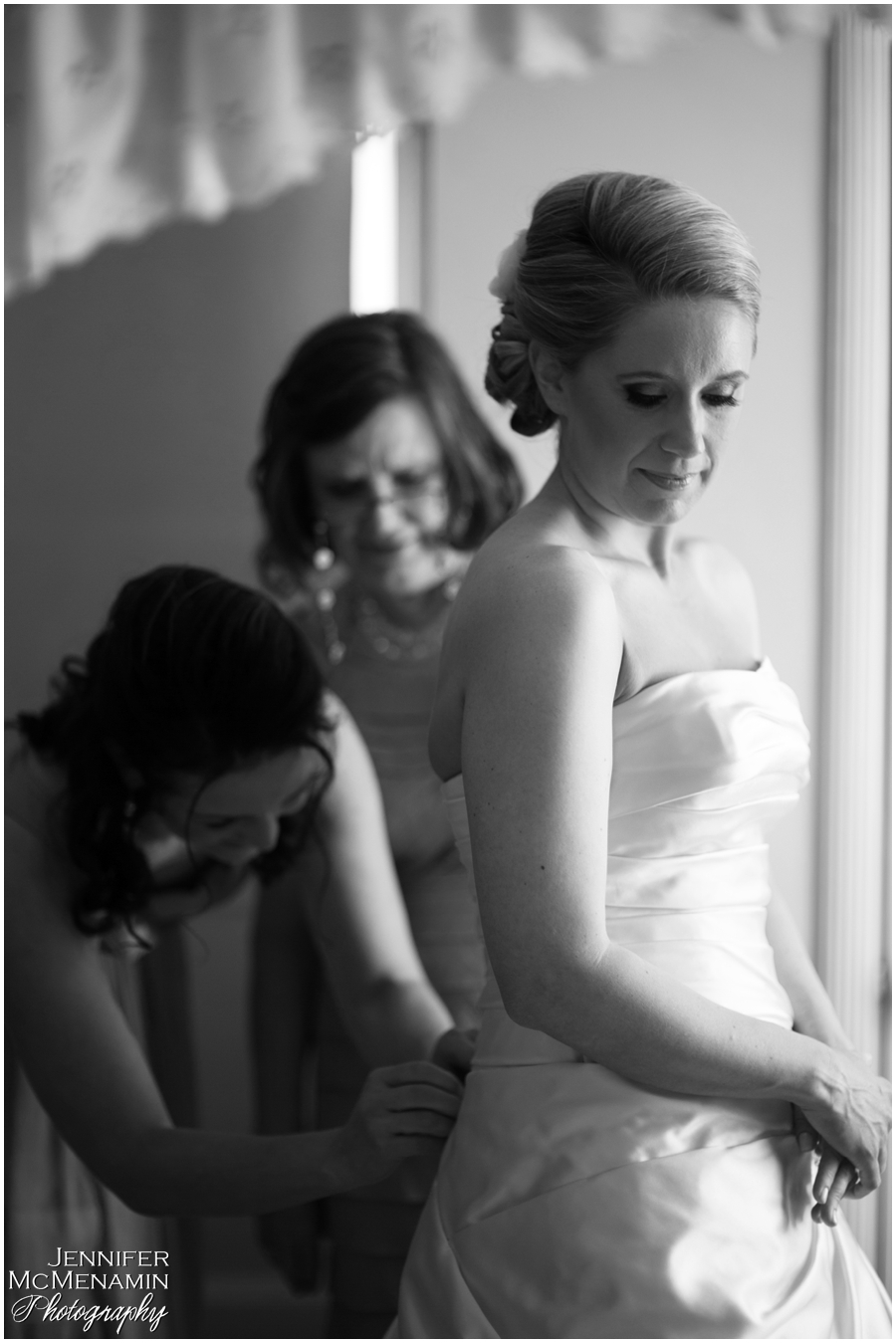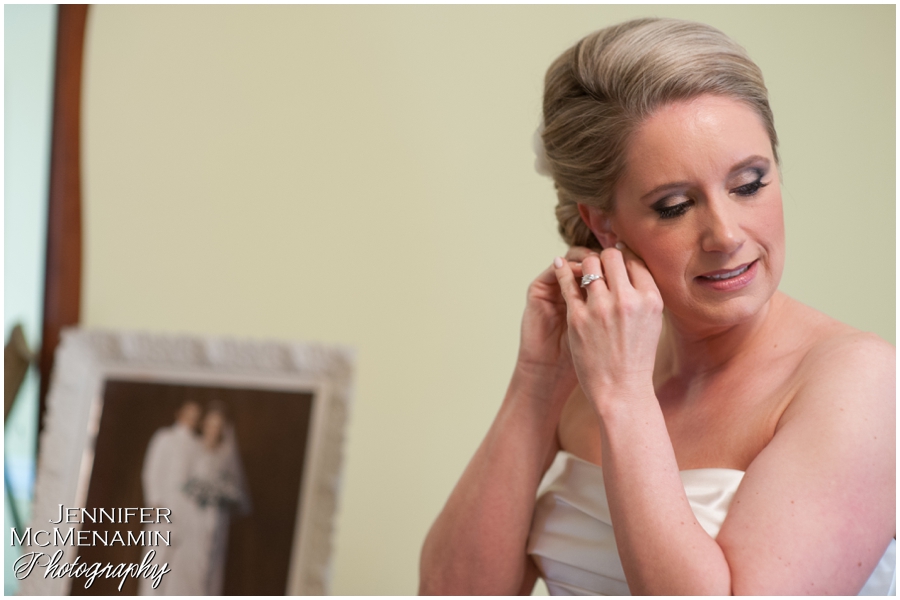 The bride, looking absolutely gorgeous!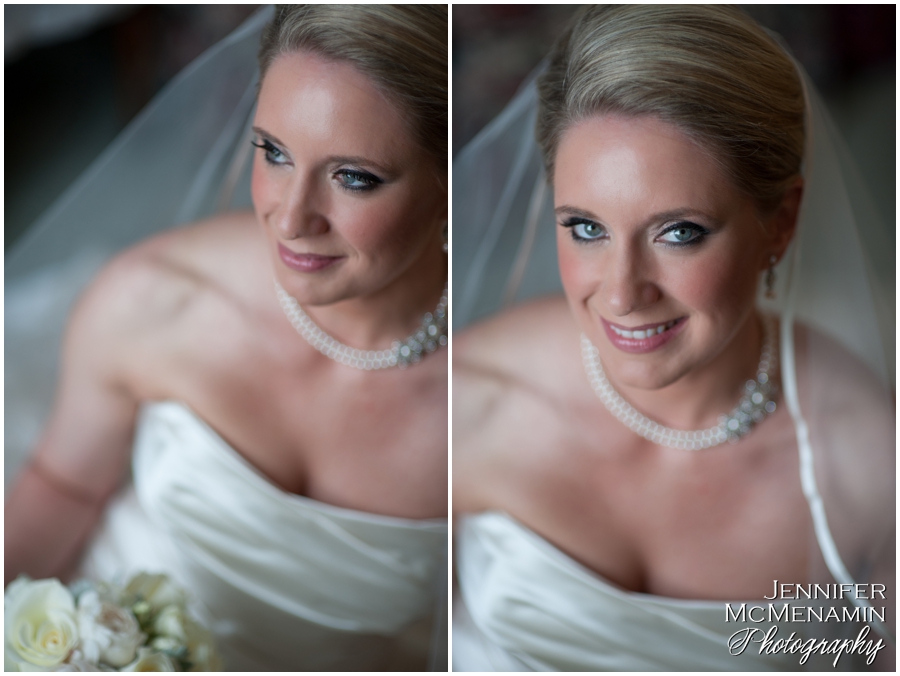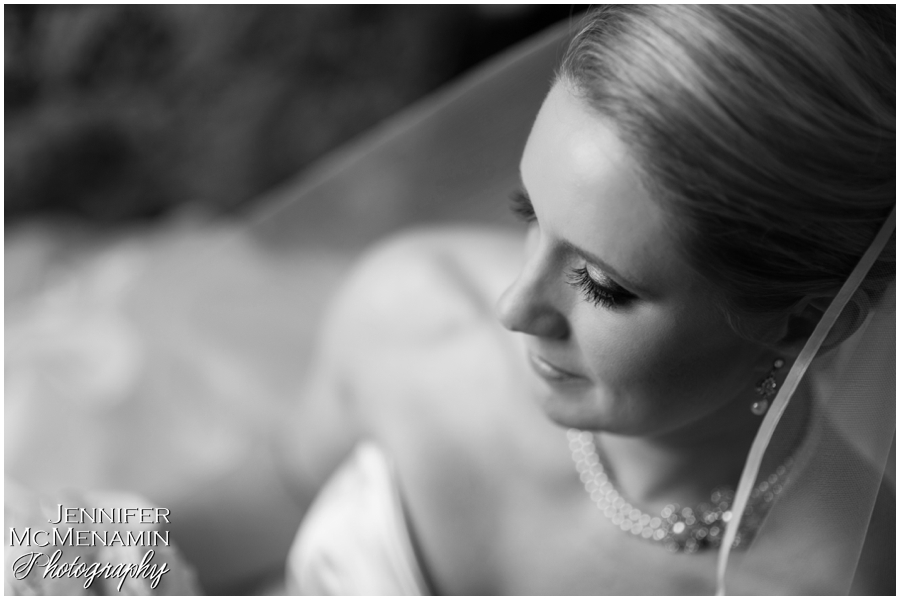 The dapper groom.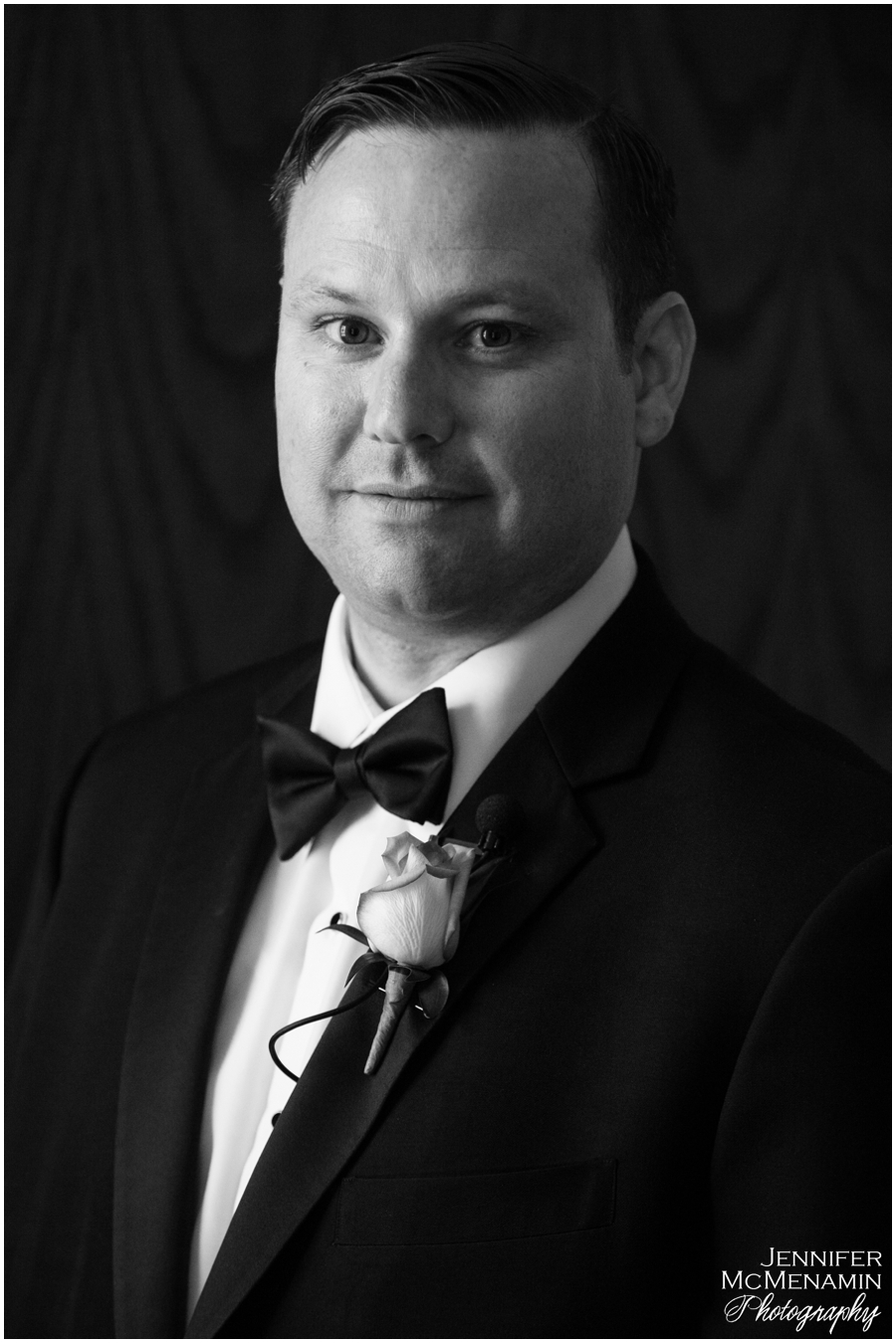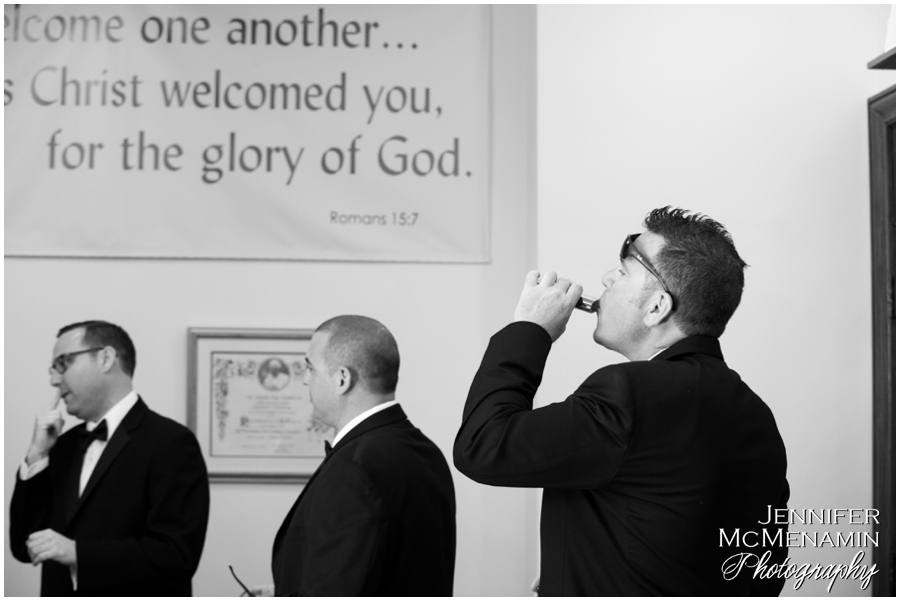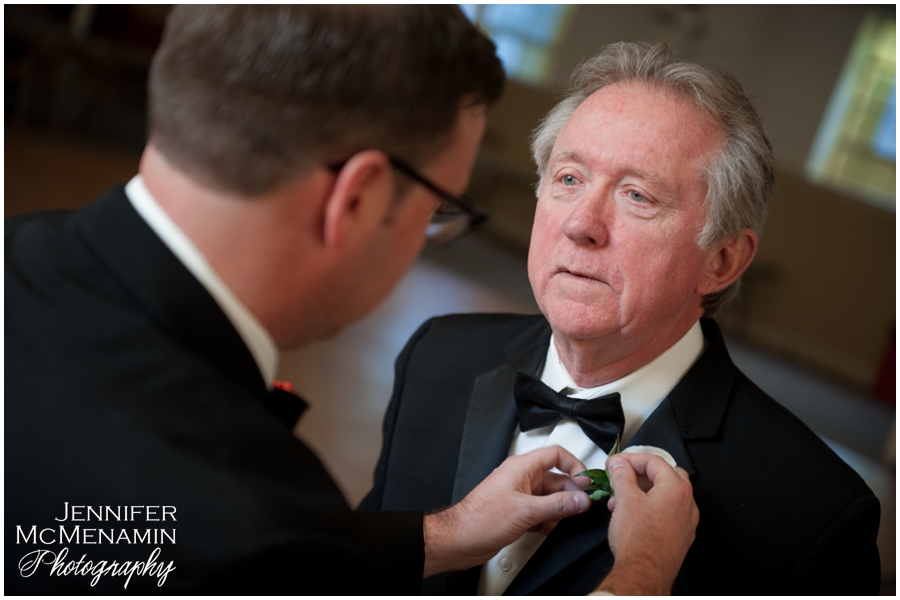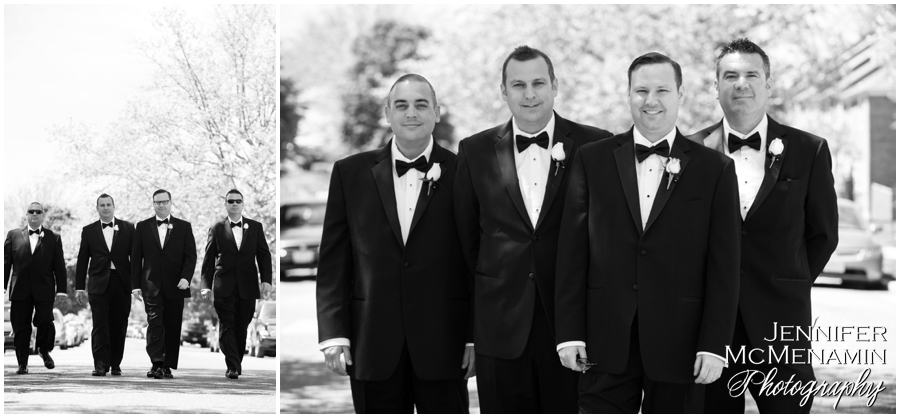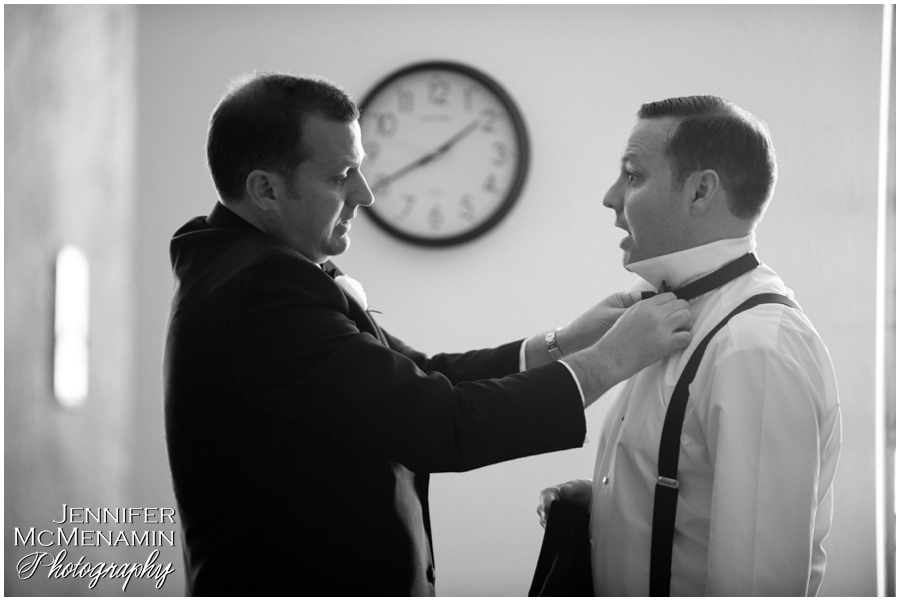 And then, just like that, it was time to get married.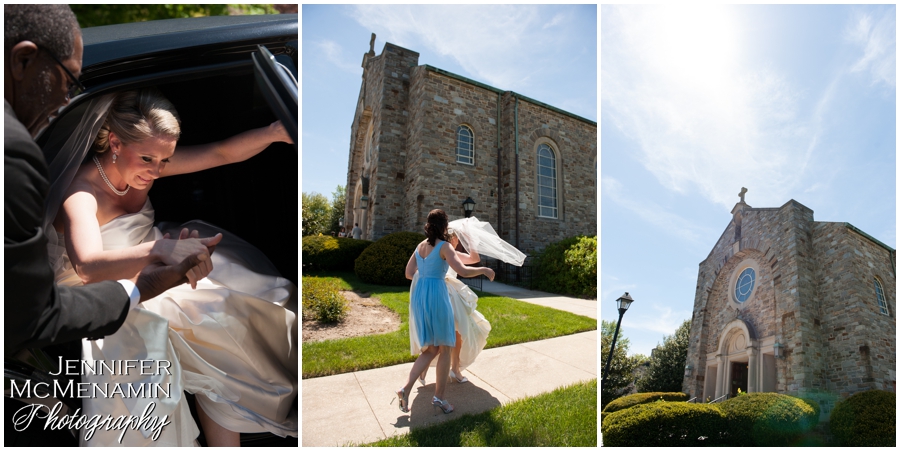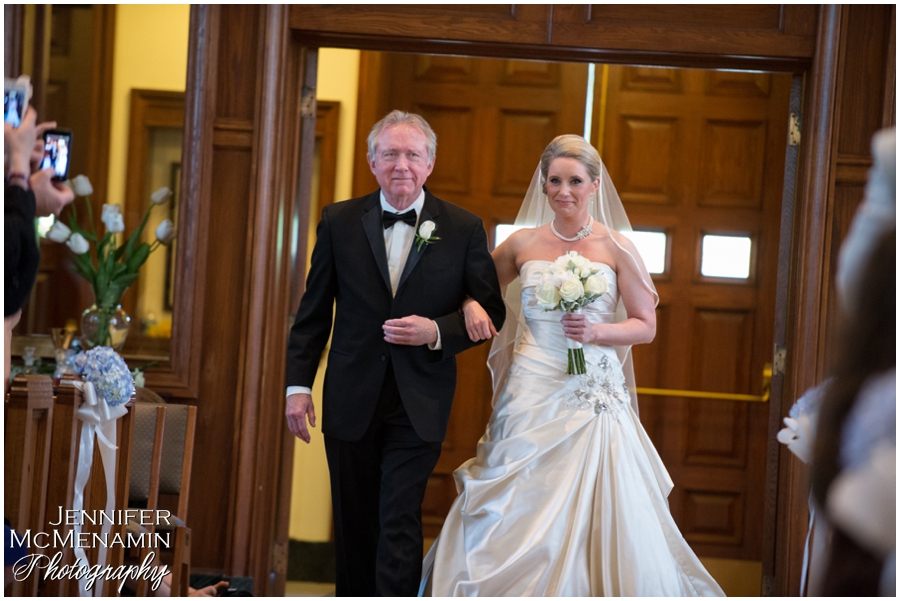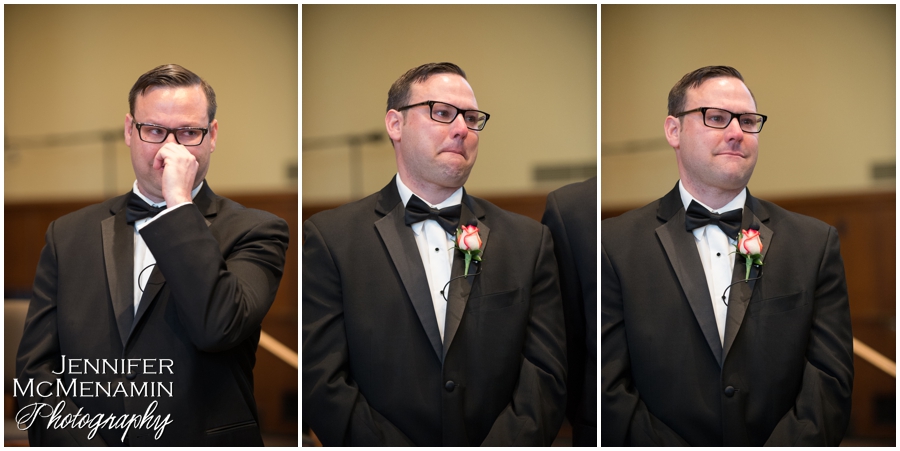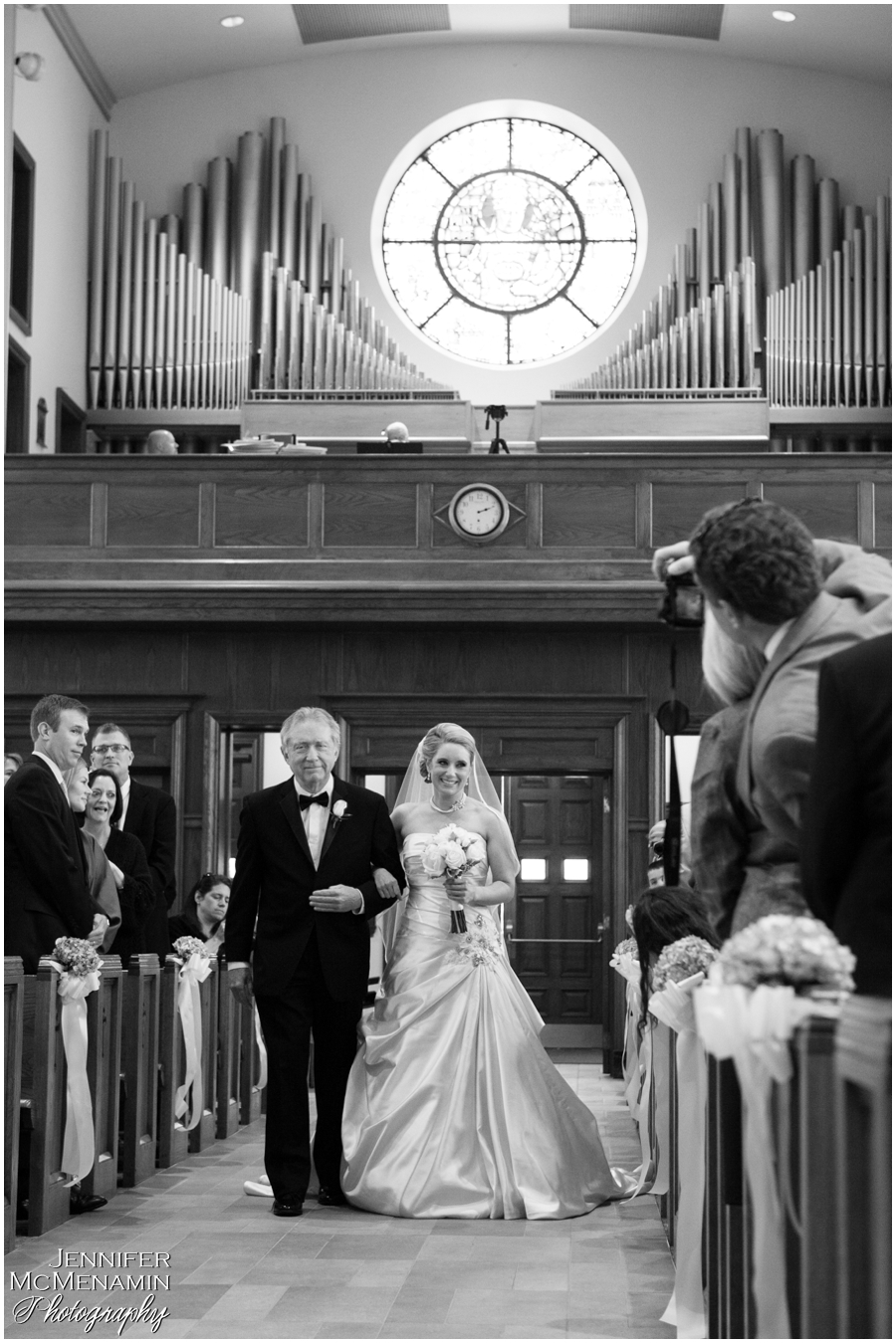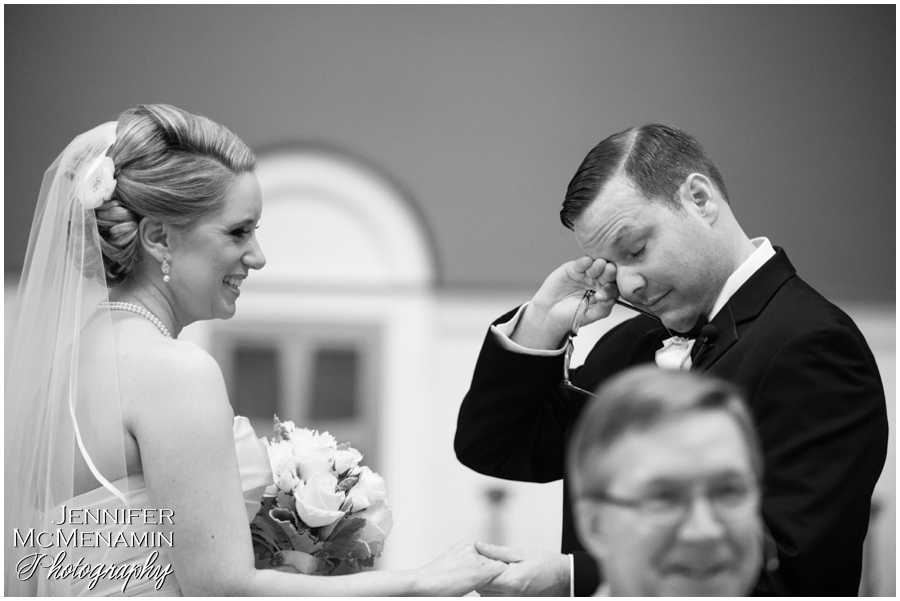 Talk about a personal sermon. The Rev. Philip Dabney, the bride's uncle, offered one of the most wonderful, personal homilies I have heard in my seven years of photographing weddings. My eyes got a little misty on more than one occasion. I also laughed a lot. It was the perfect blend.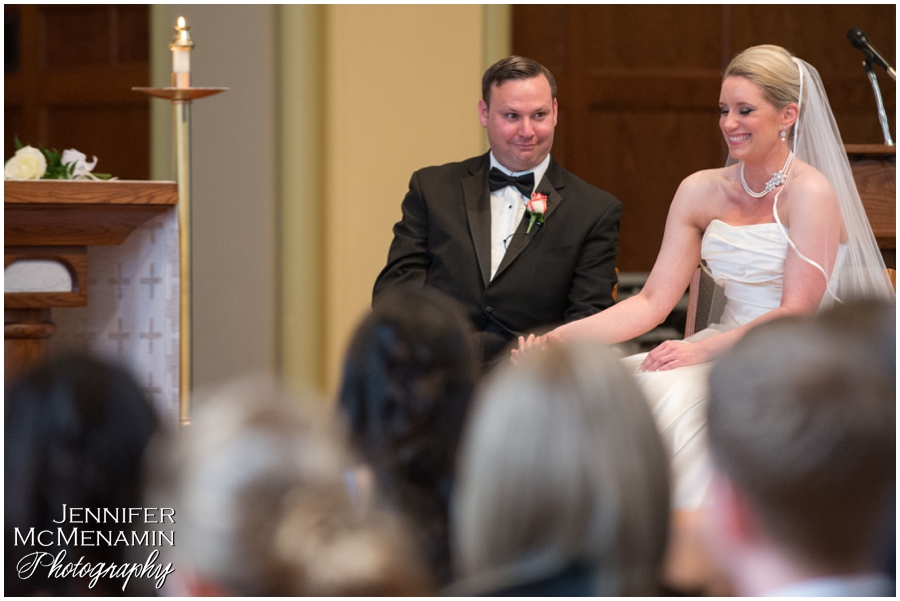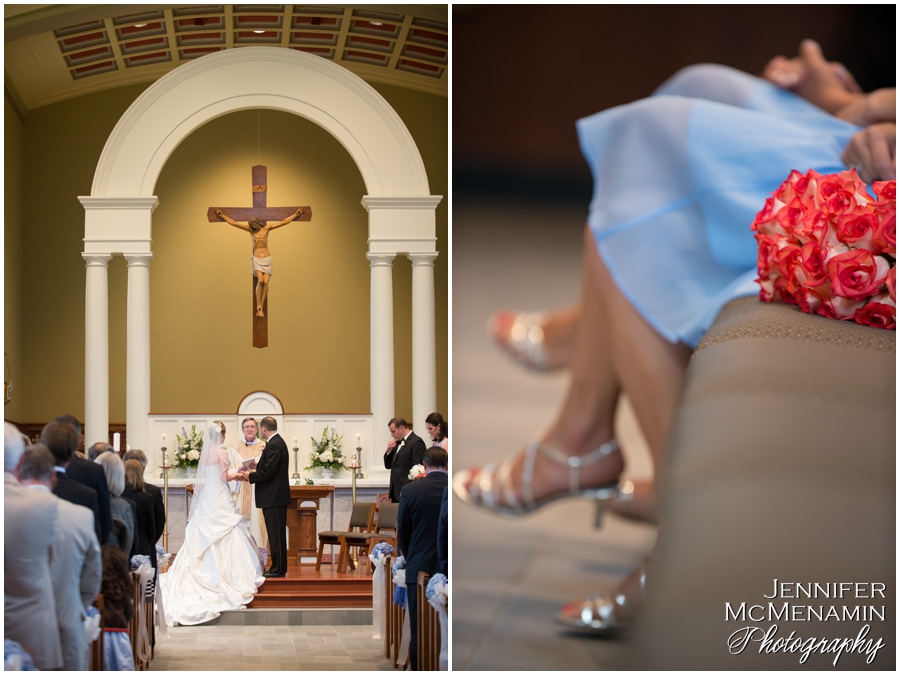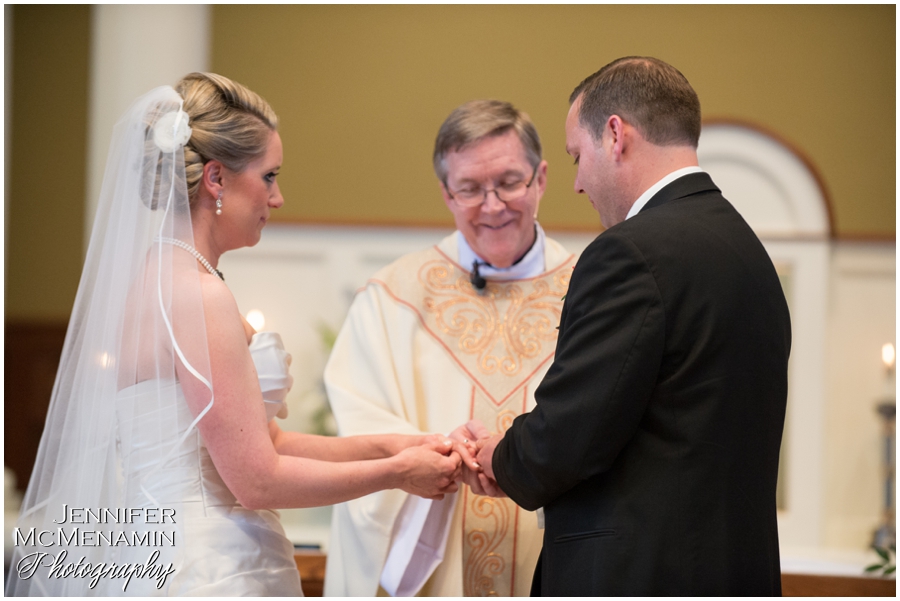 These next two photos — as well as the subsequent two photos from the balcony at the back of the church —  were shot by my assistant, Lucas. I love his alternate perspective high above the church pews.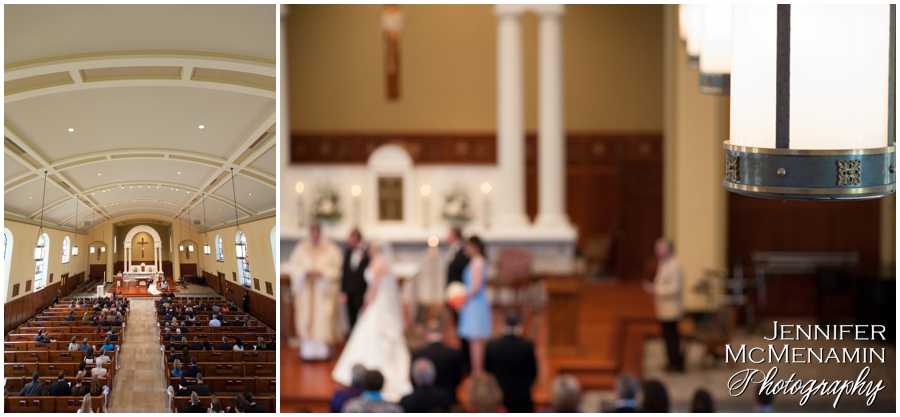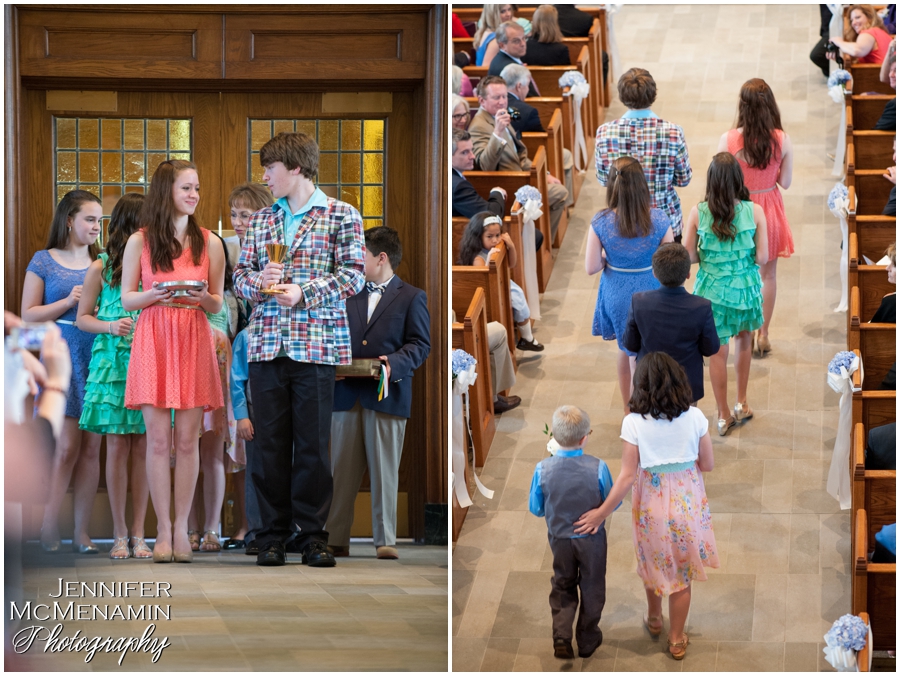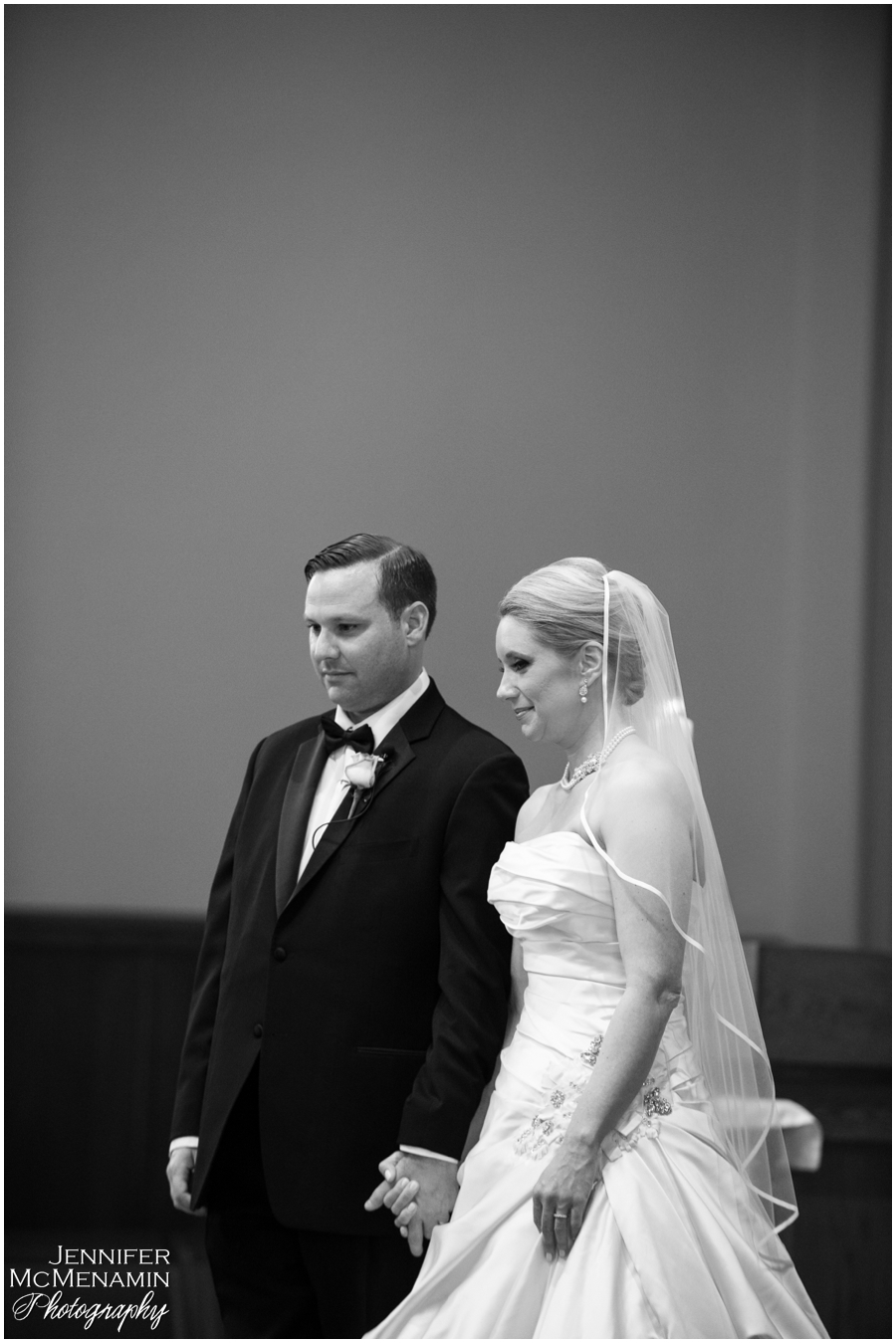 I love everything about this next series of three images. I have no idea what Erin was telling Chris — a reminder that he was wearing a microphone for the videographers and shouldn't say anything silly? A revelation that he wore the wrong boutonniere? Something else entirely? — but the animation on Chris's face makes me laugh every time. I hope it was a really fun moment that they'd like to remember for forever!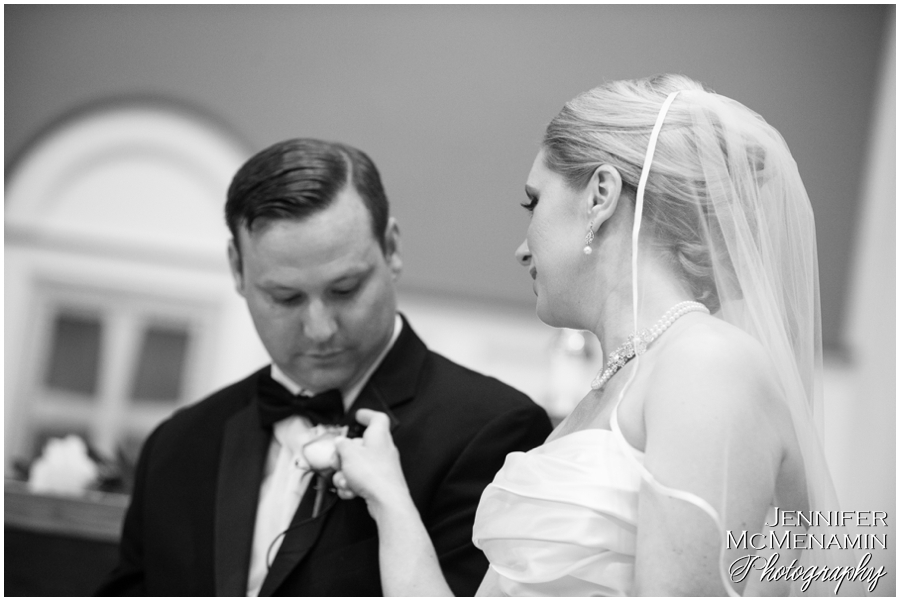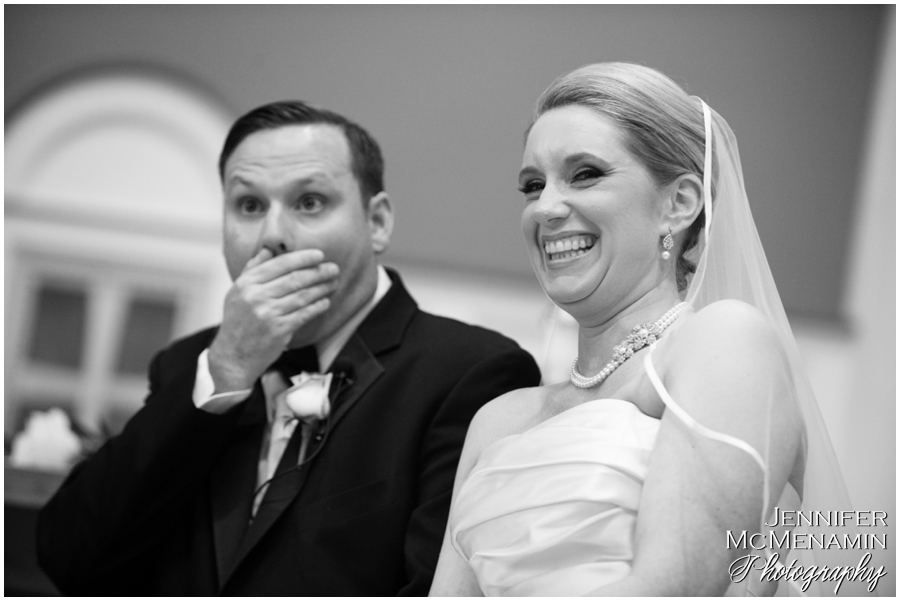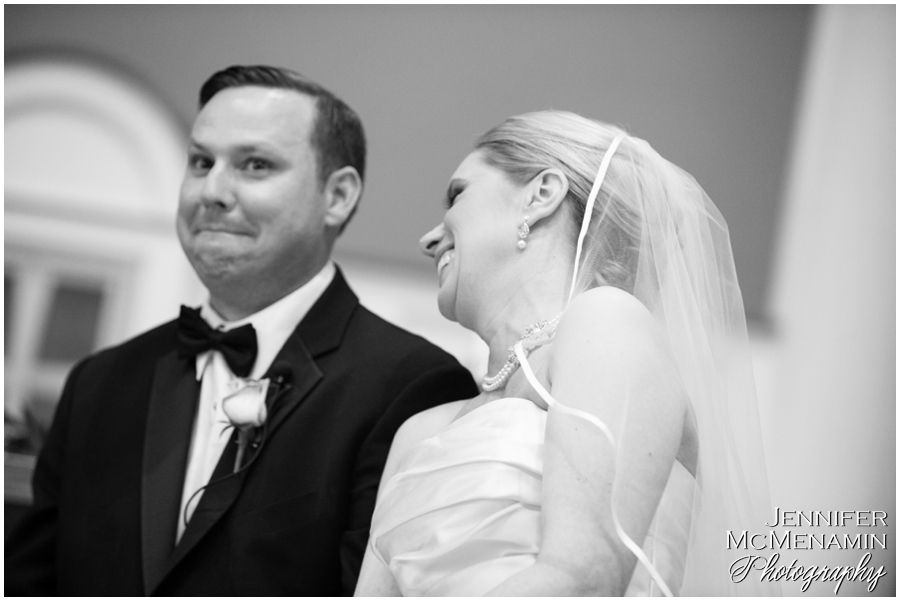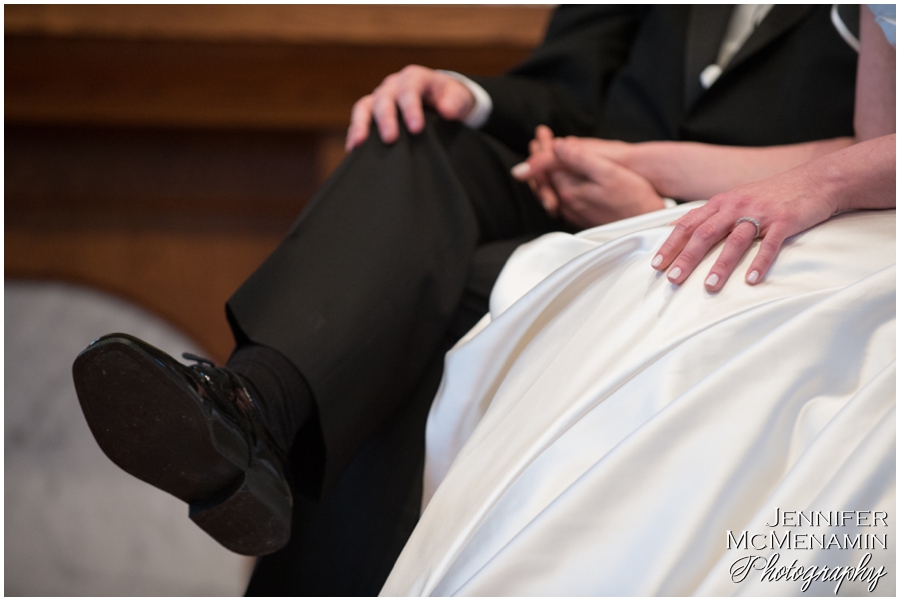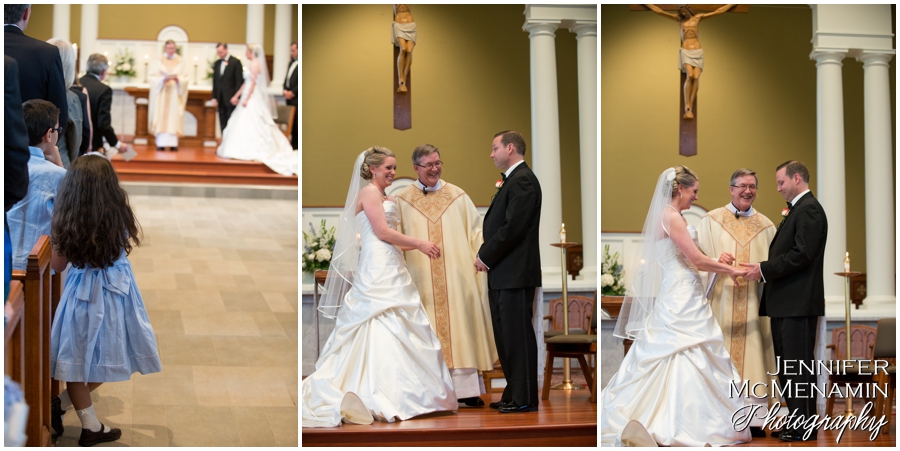 Married!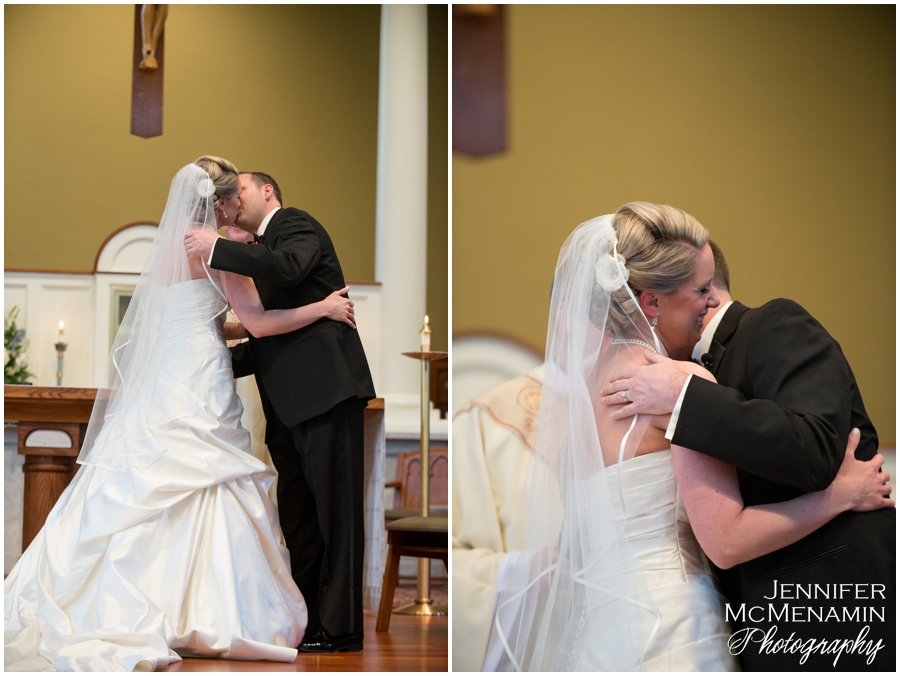 He was whispering in her ear all day long. I hope these photos help them remember every last whispered wish and joke and sweet moment they shared that day.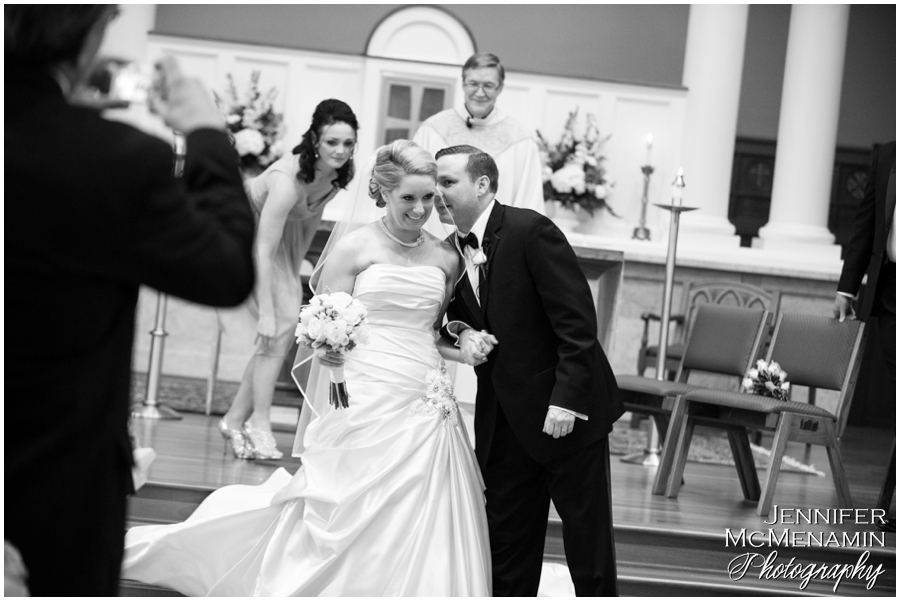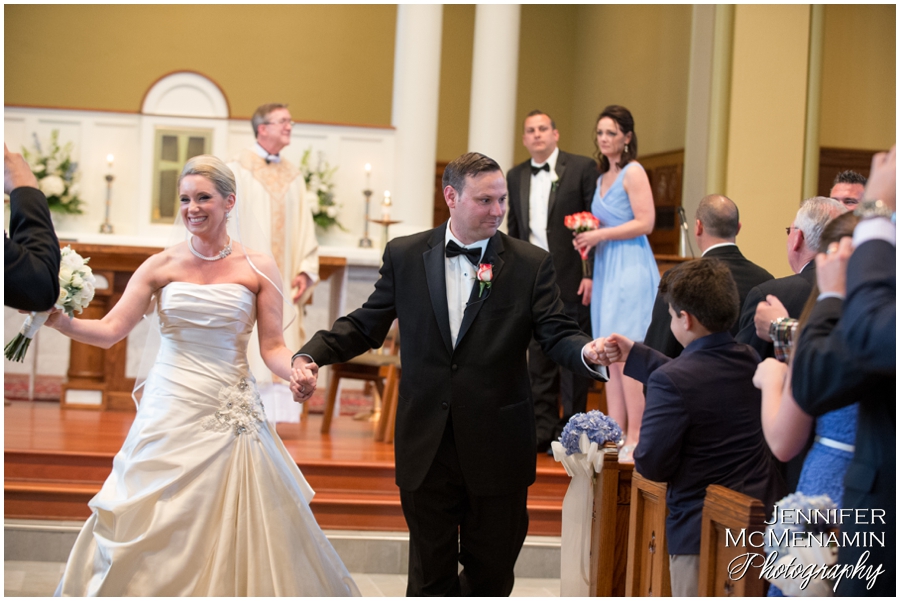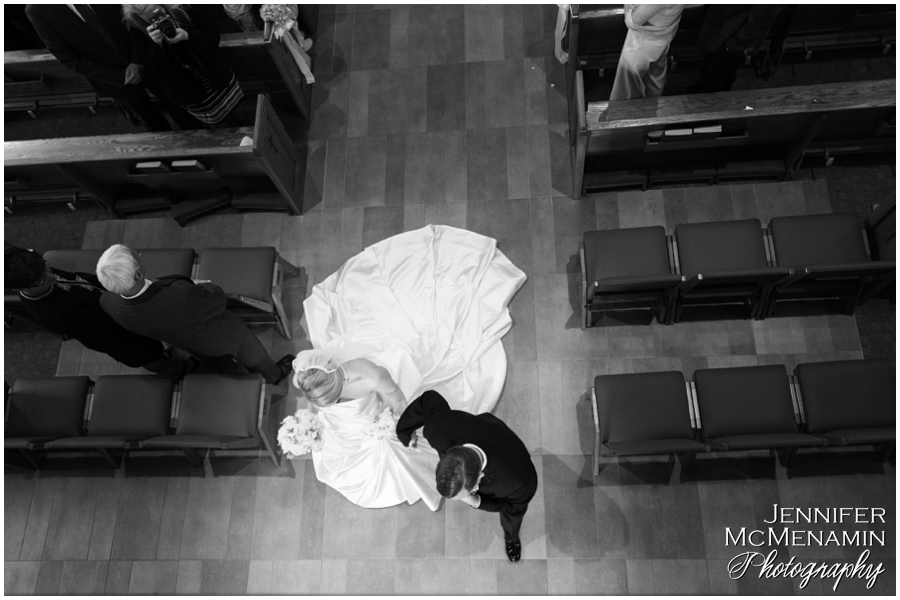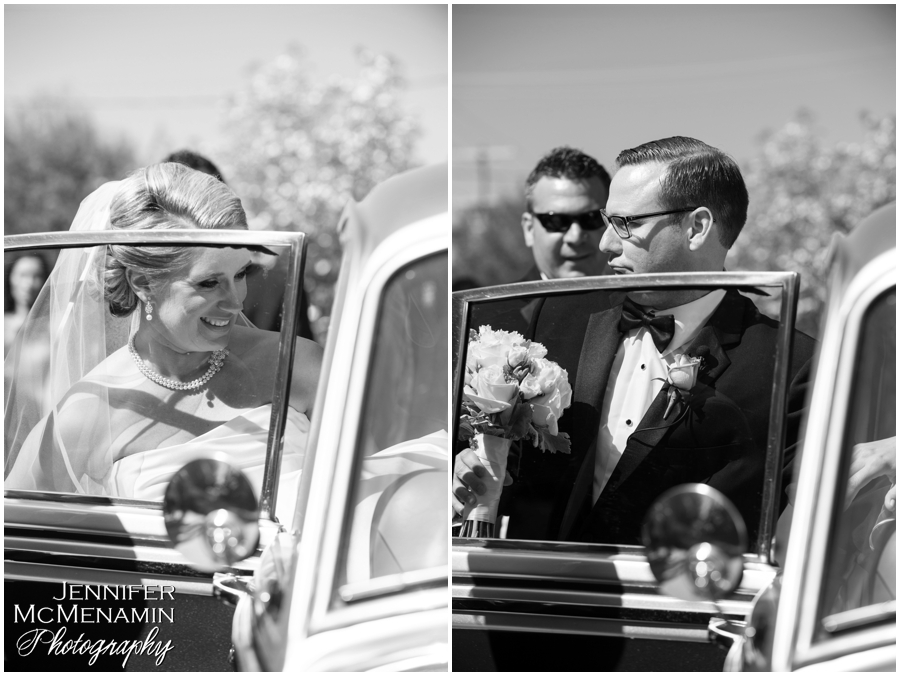 So. Happy.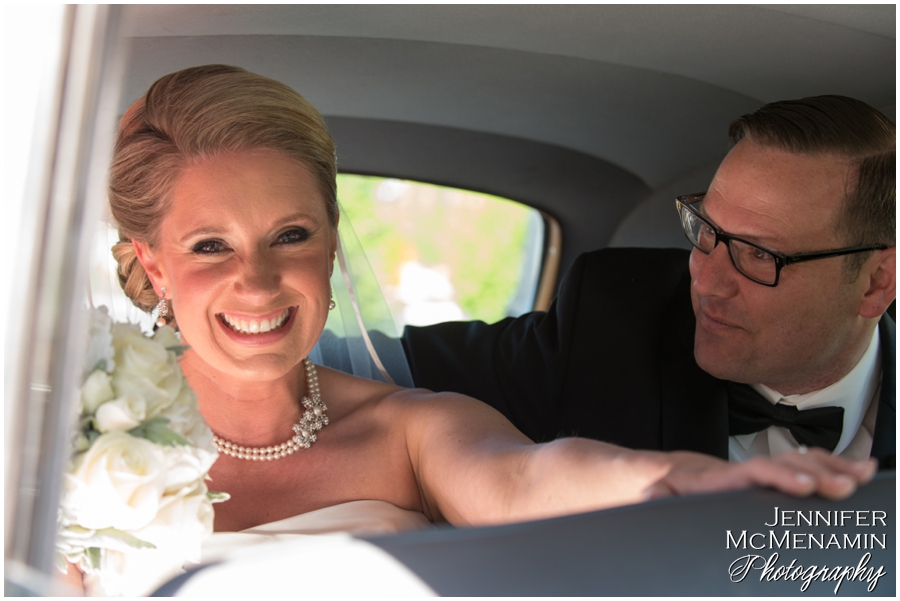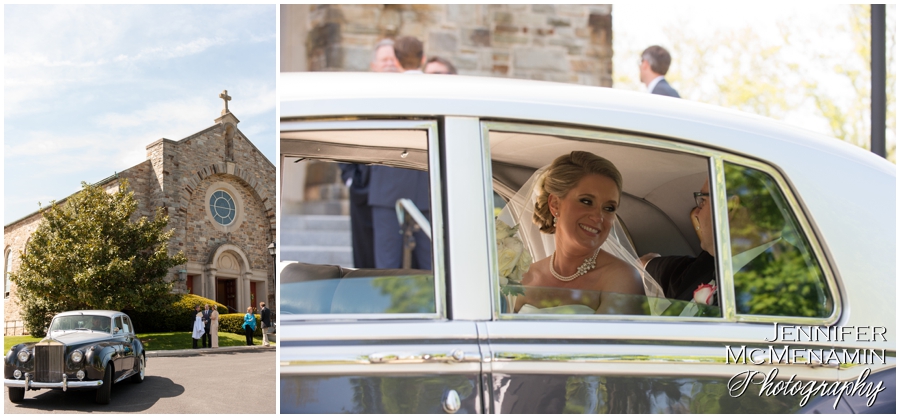 A quick little funny story: Since Erin was taking Chris's name and is now a Mrs. H, she was curious as to whether Hayfields had any big H signs where they could be photographed. I called the always-helpful Heather, the events and membership director at Hayfields (and also a wedding client of mine!), who told me that the one big H at Hayfields is located on a steep hillside at the edge of the club property. I planned to meet Erin and Chris there after the ceremony on their way to the club and beat them to the H by a few minutes with my assistant to scout the best way to get them up the steep hill for the photo. Long story short, Erin kicked off her Badgley Mischka heels, slipped her feet into my Cole Hahn rubber-soled flats and hiked up the hill like a champ. Mission accomplished.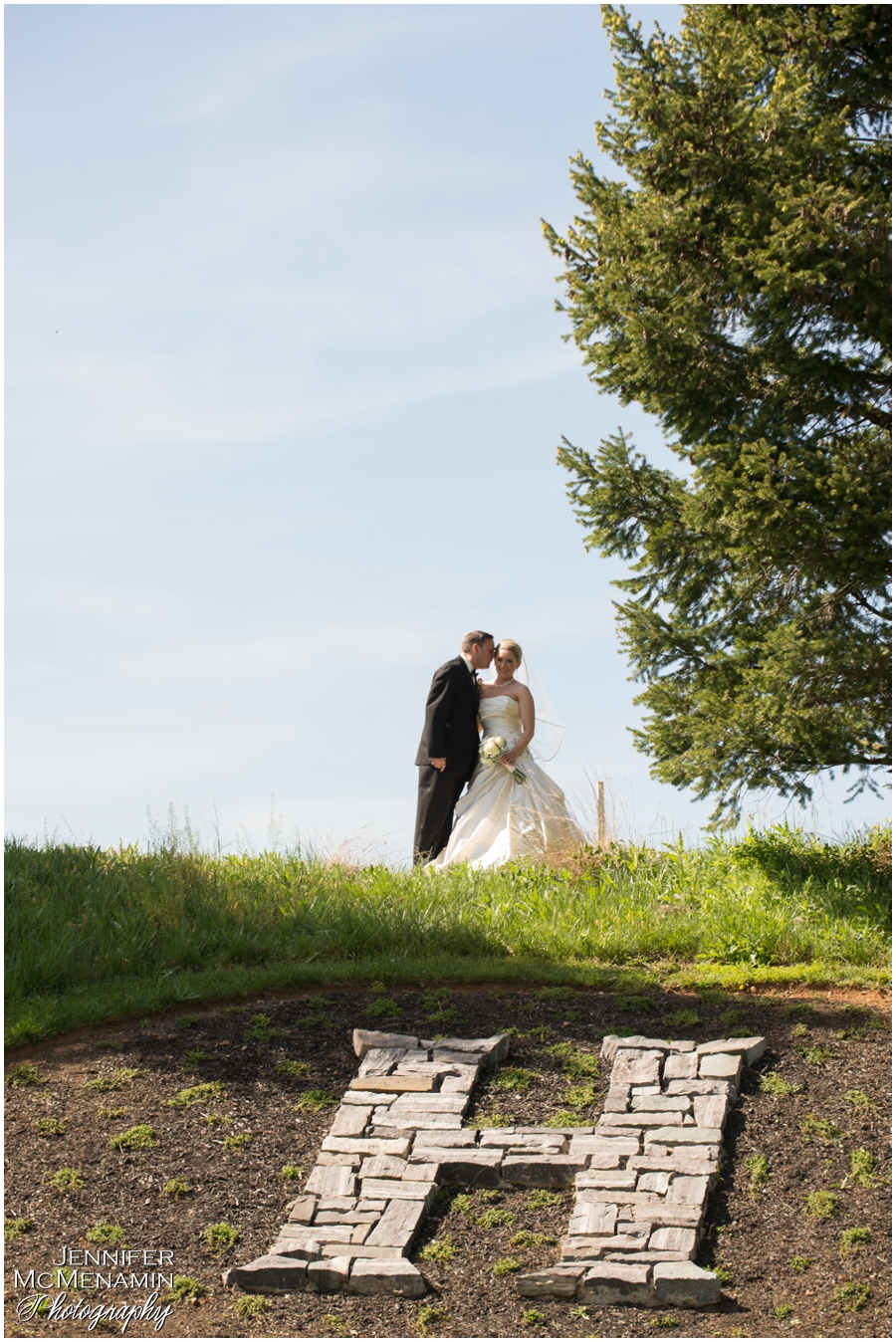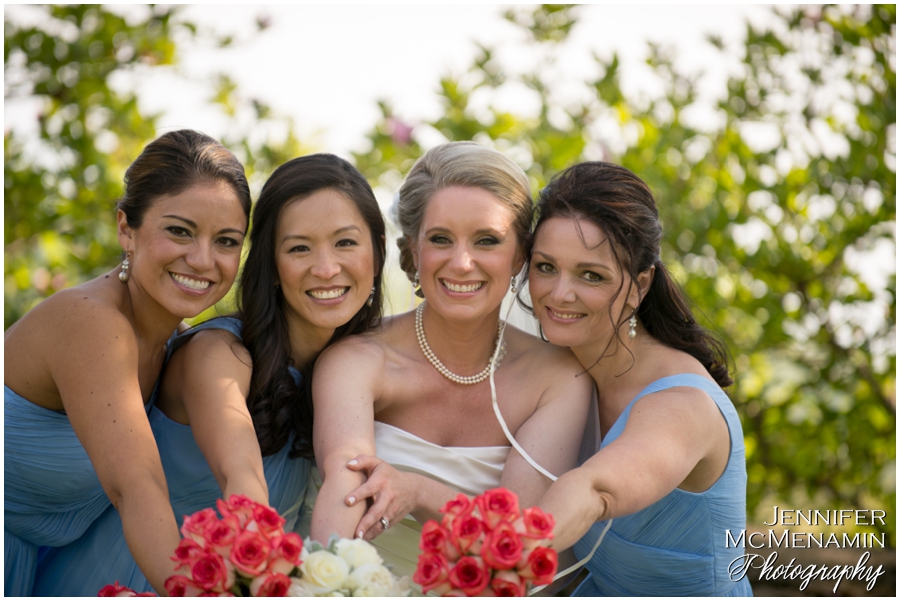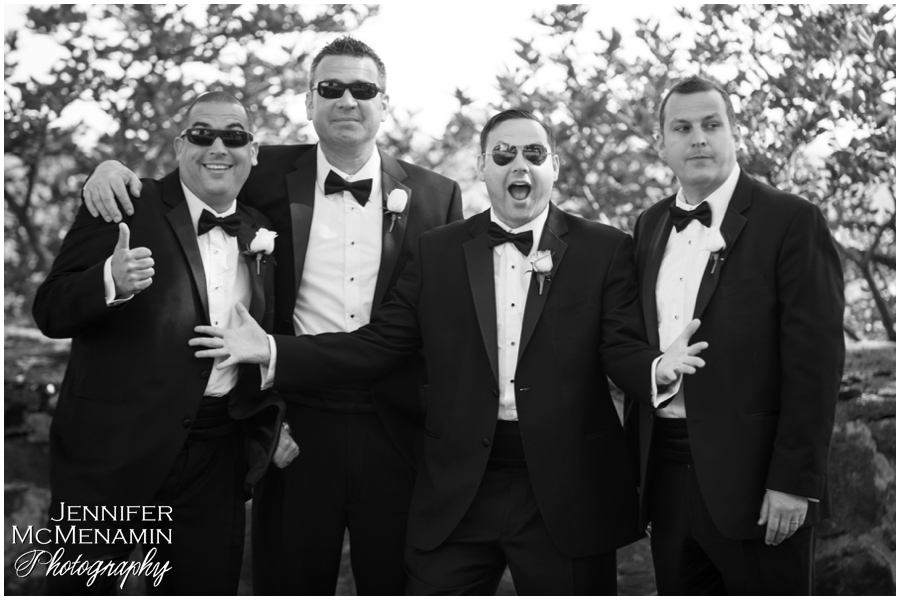 The many faces of Chris.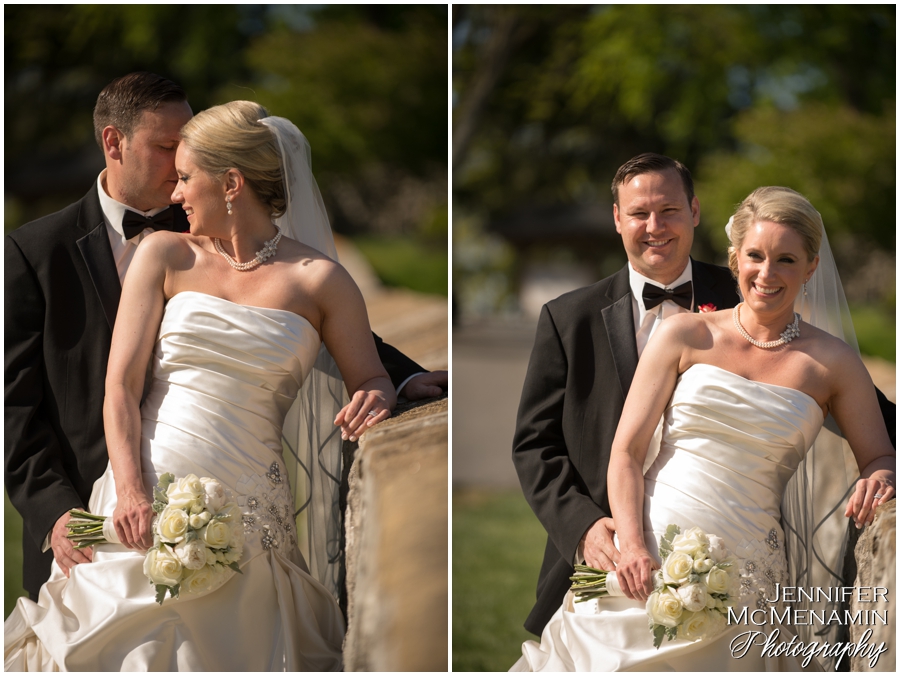 Although, let's be honest, *this* is mostly how he feels about photos!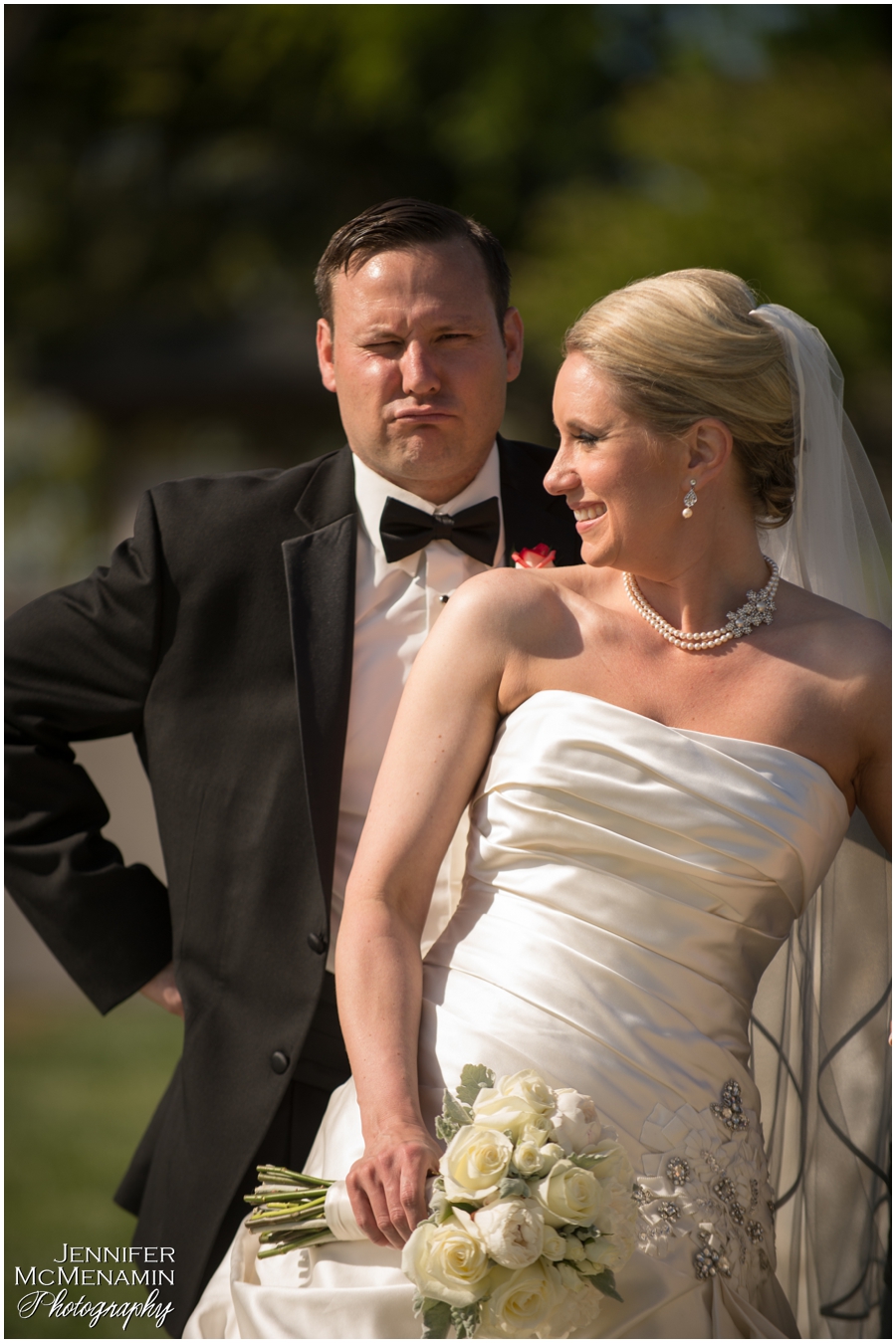 A few silly surprises from the bride to her thick-glasses-wearing and sweatband-loving husband.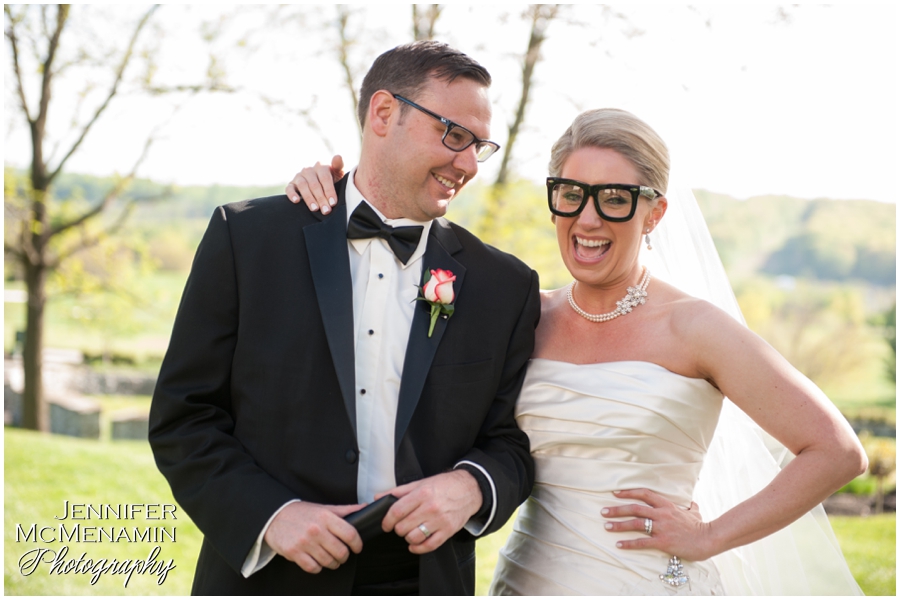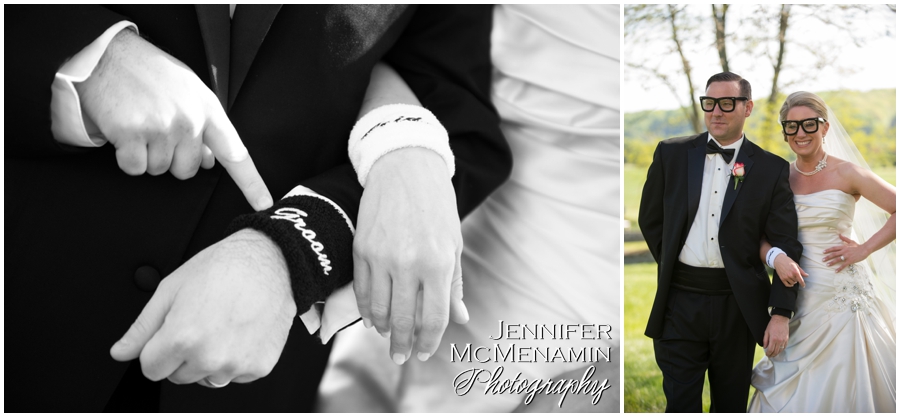 And a few quick portraits in some gorgeous late-afternoon light.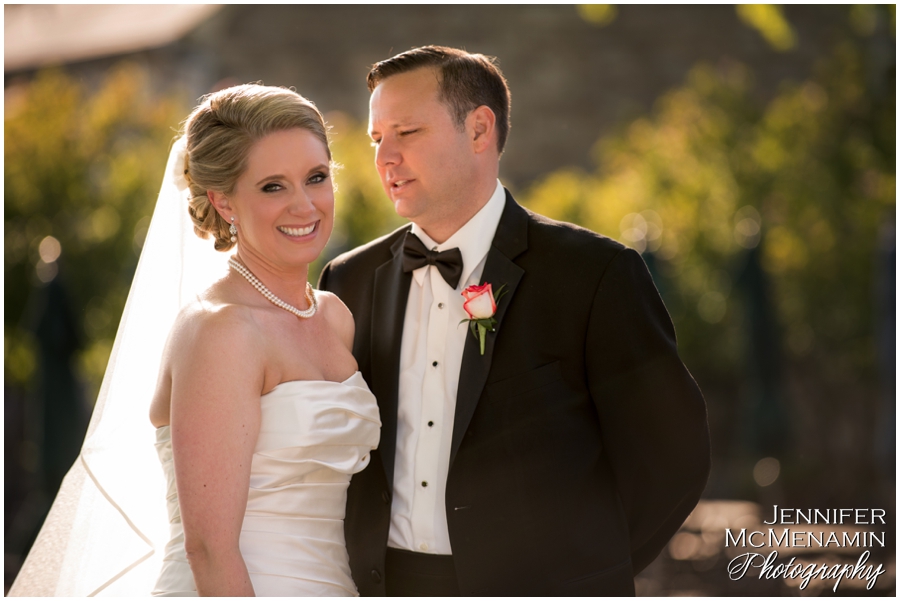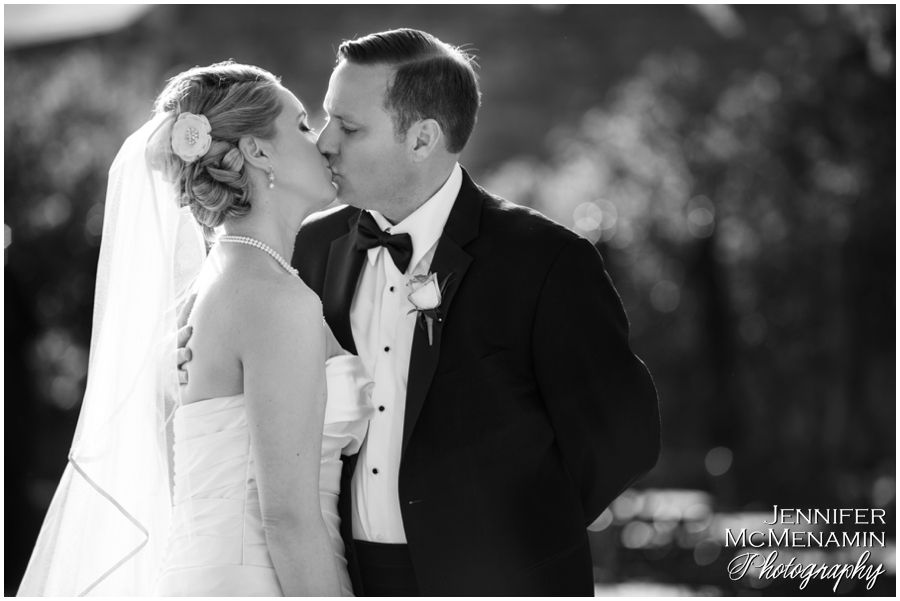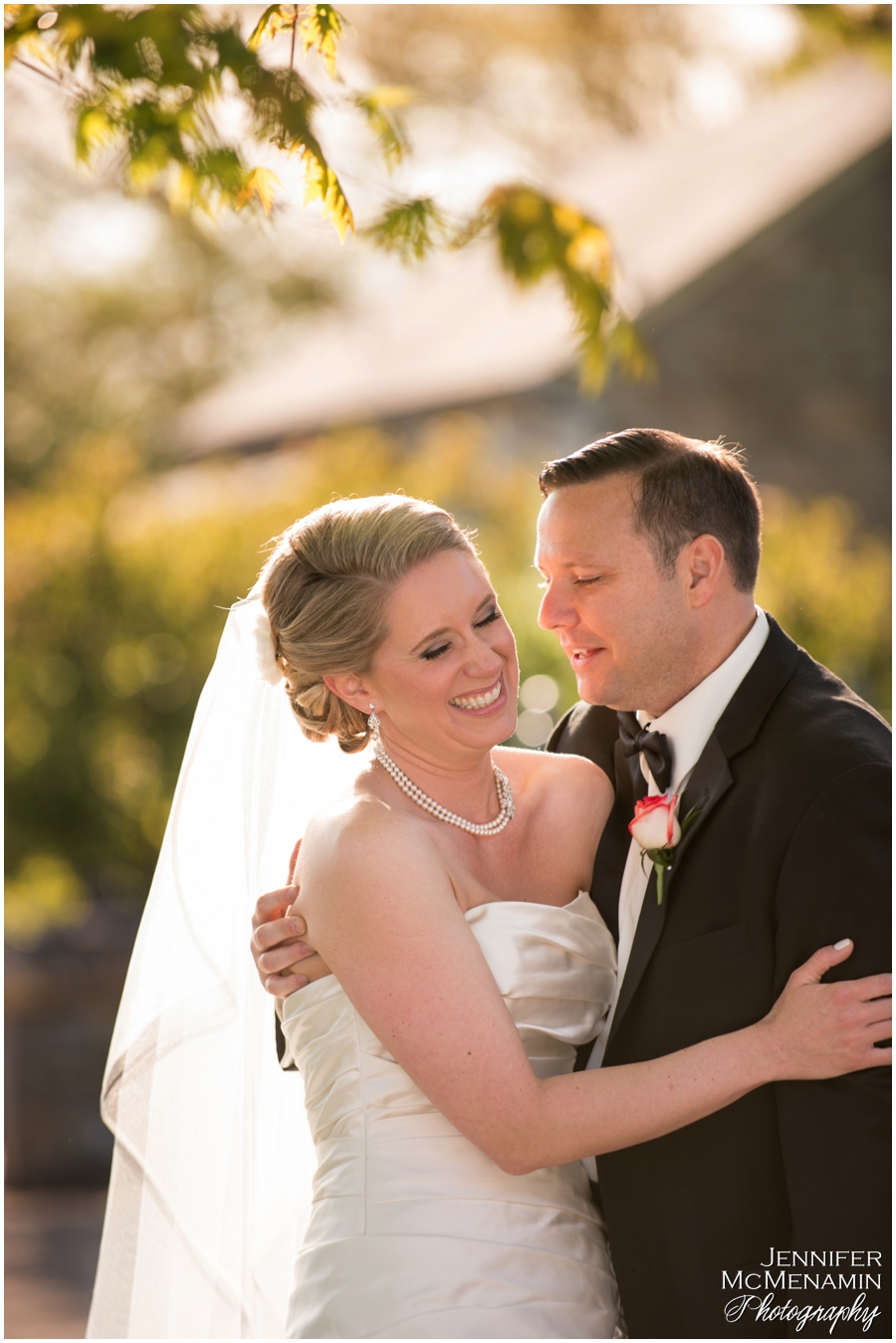 Cocktails on the patio with a Frank Sinatra singer.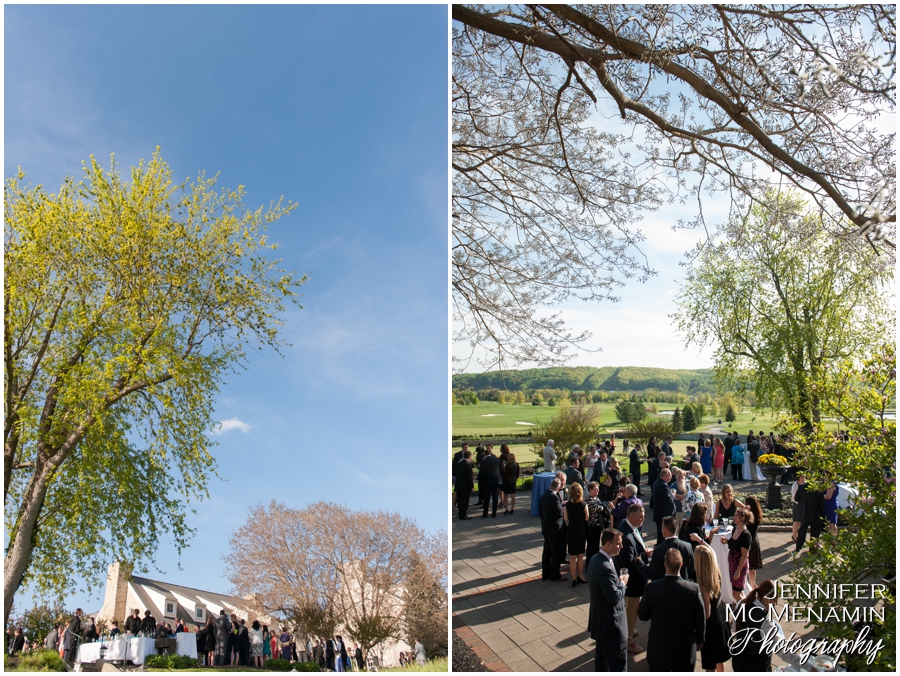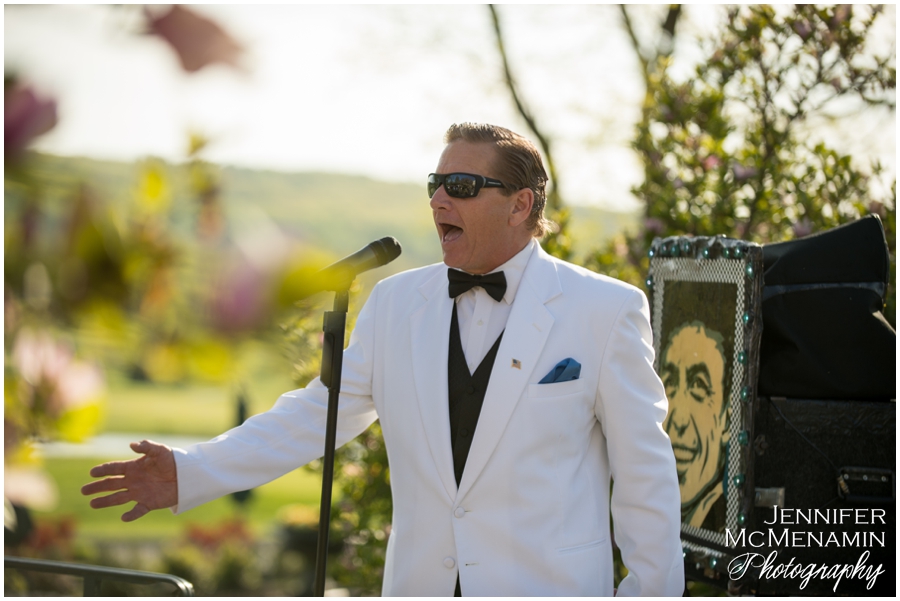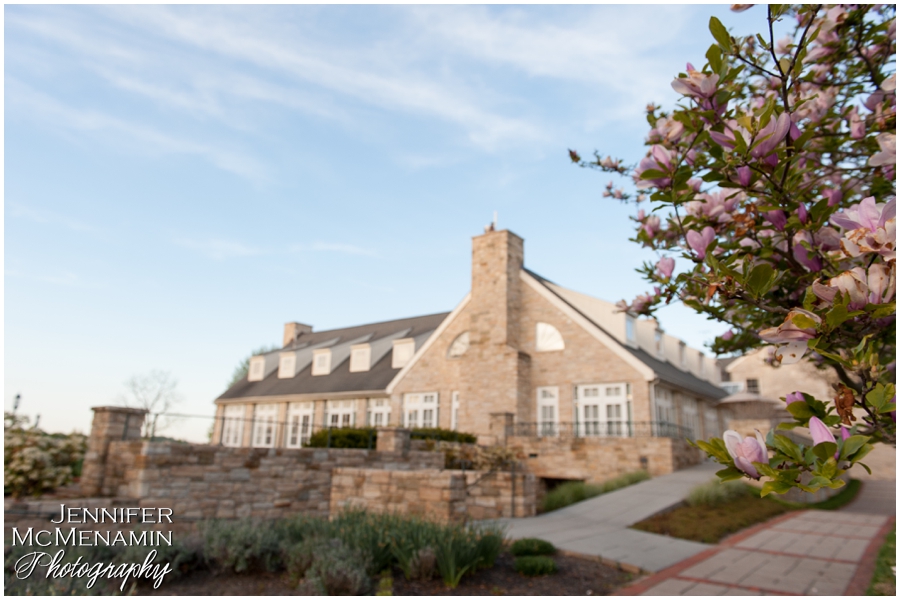 A few reception details.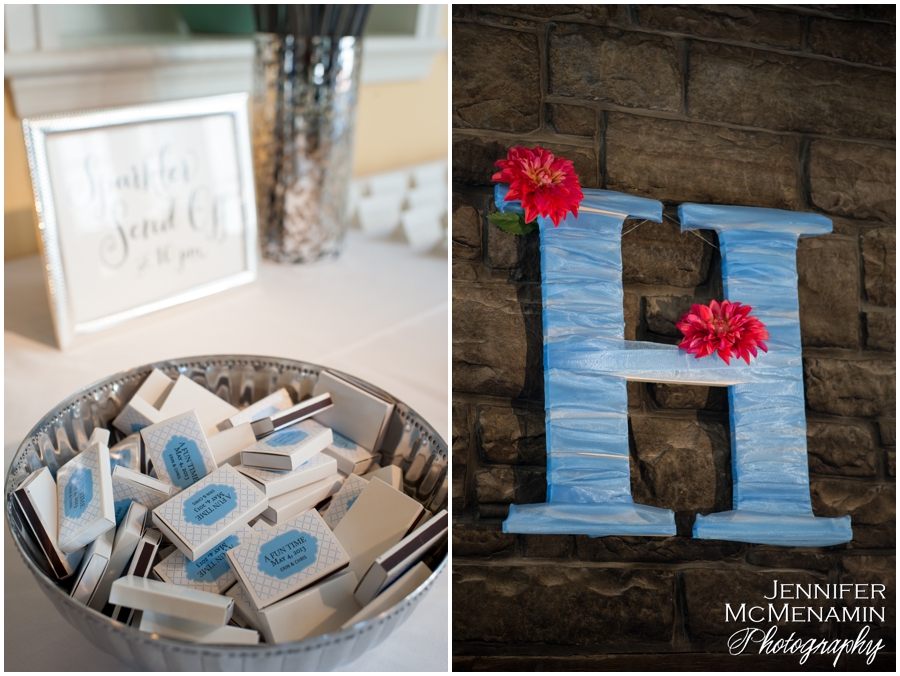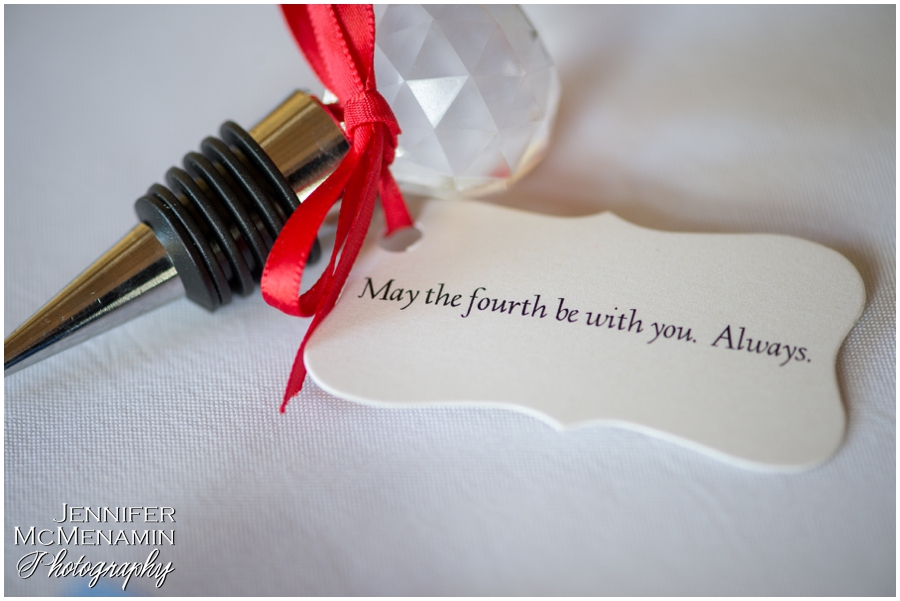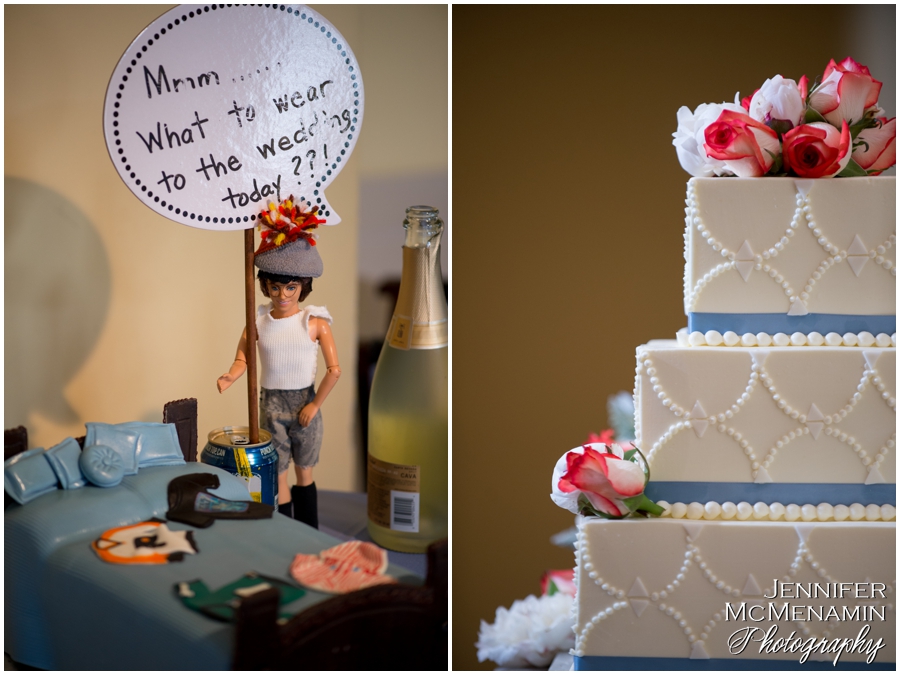 A lovely first dance, full of smiles and laughter.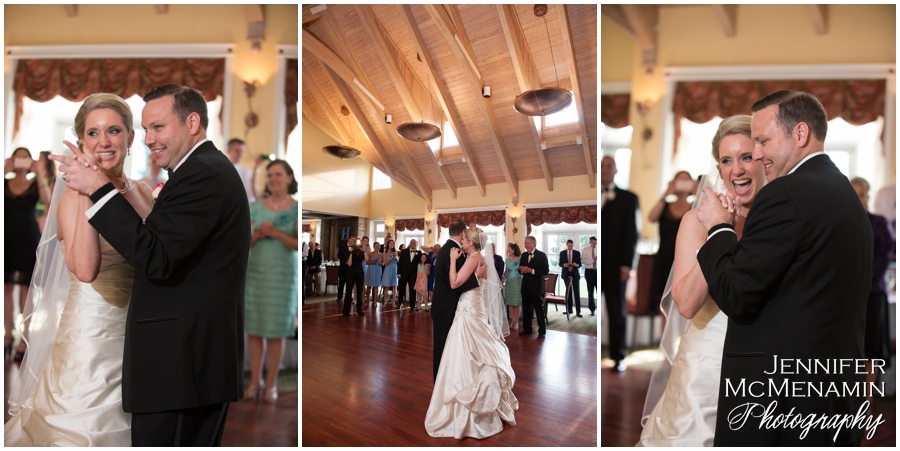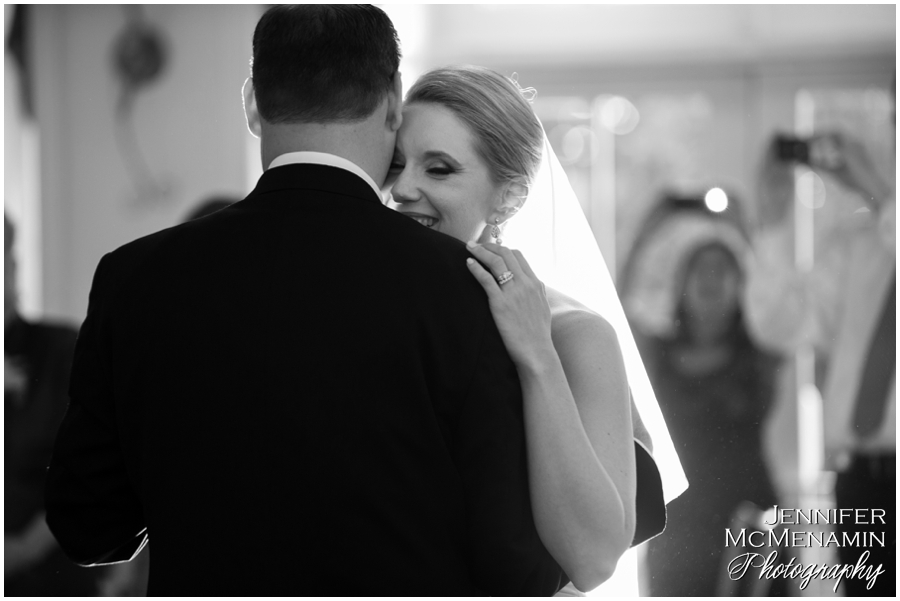 A few toasts.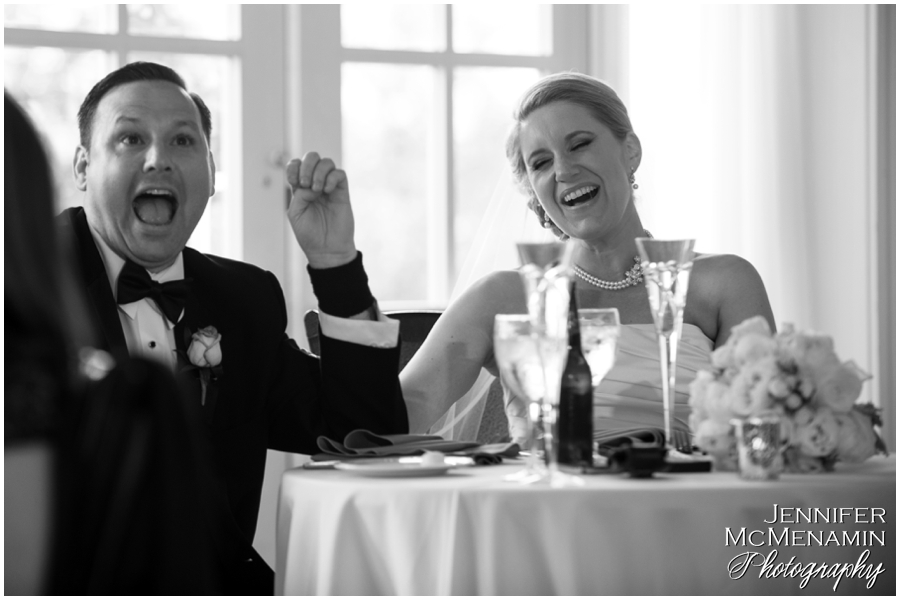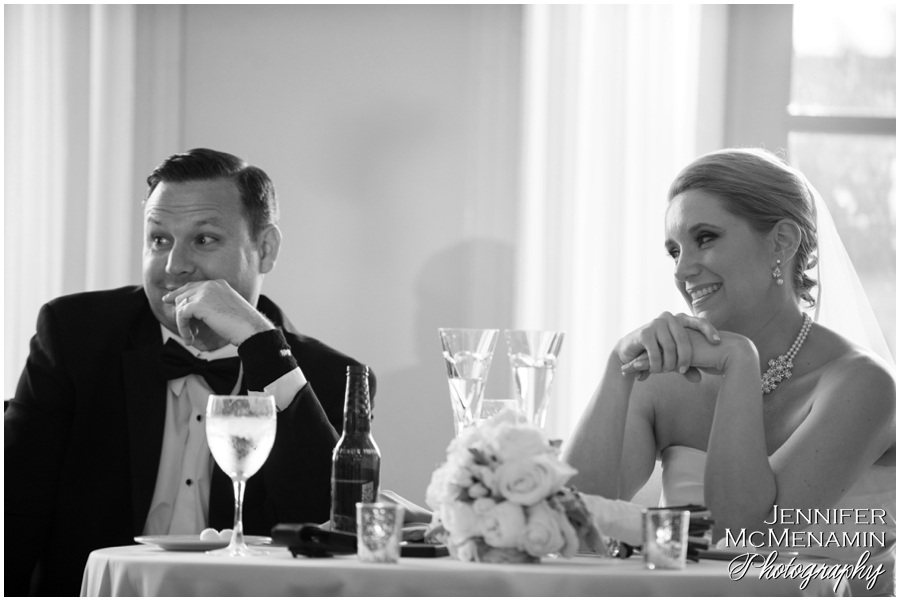 I love this little look in this next photo.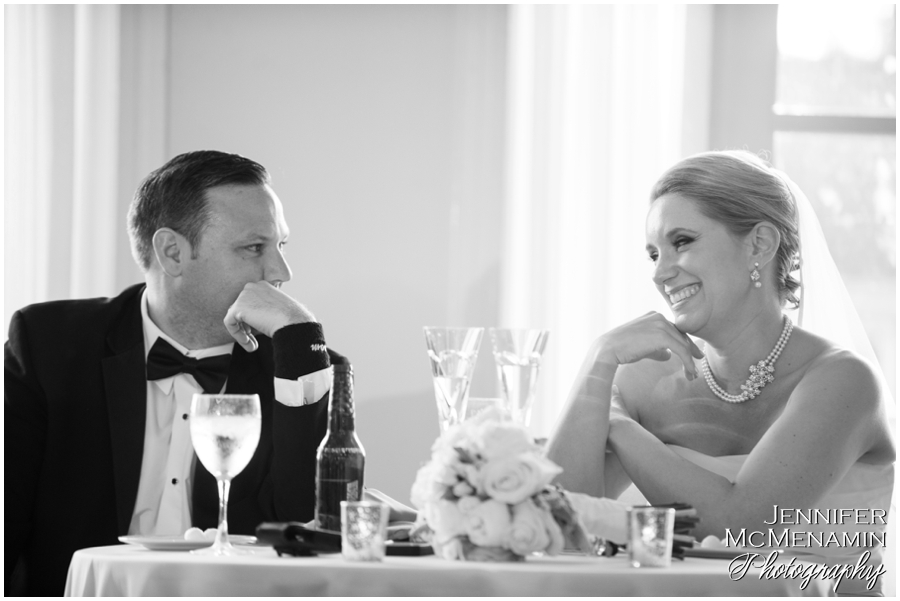 What Star Wars fan doesn't want to see Darth Vadar and Ewok masks as a surprise from his friends at his wedding? 

Parent dances.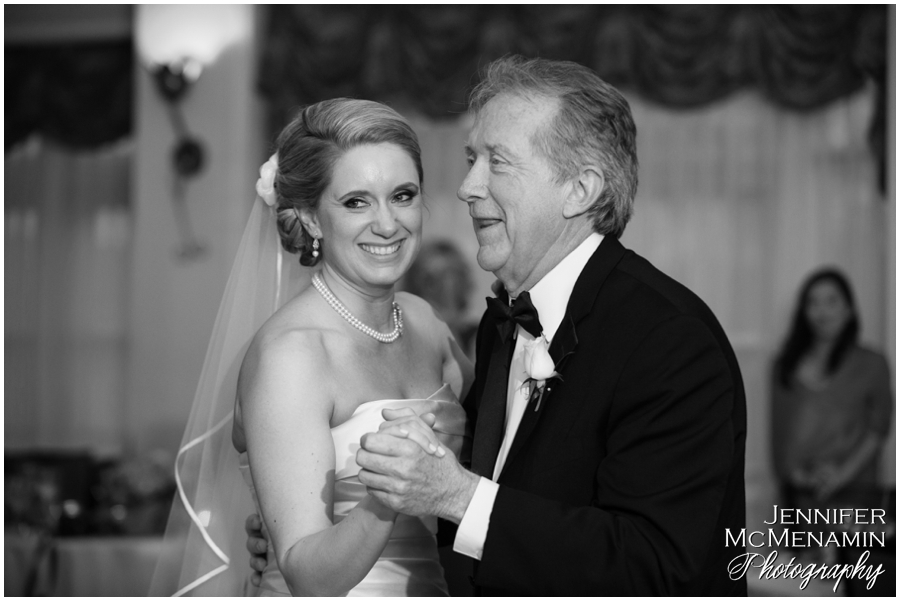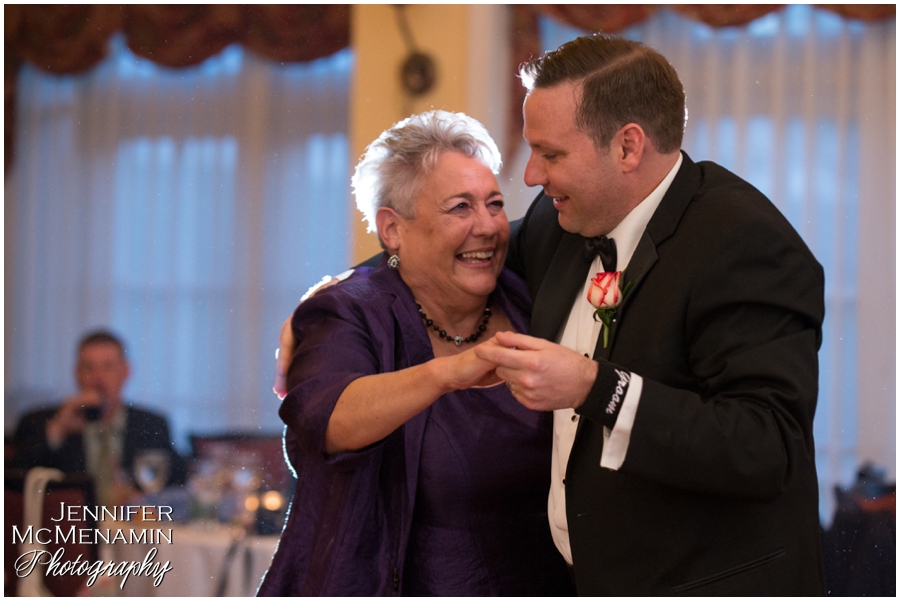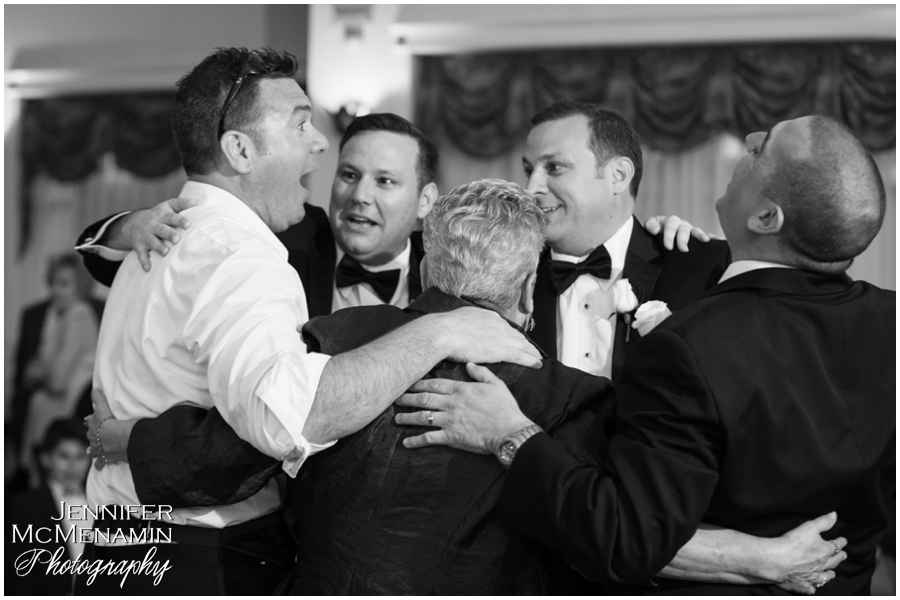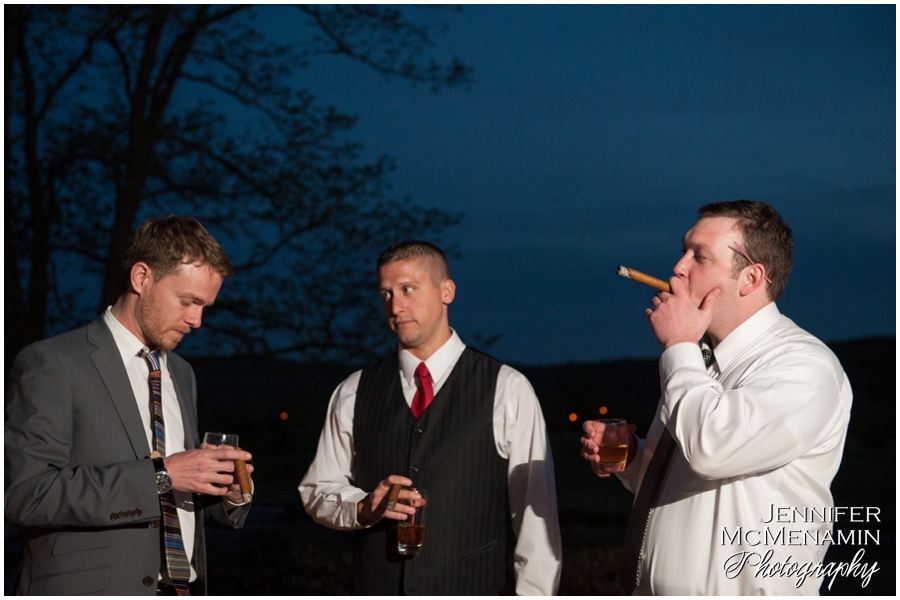 An amazing band, Total Soul, that kept the very lively dance floor packed all night.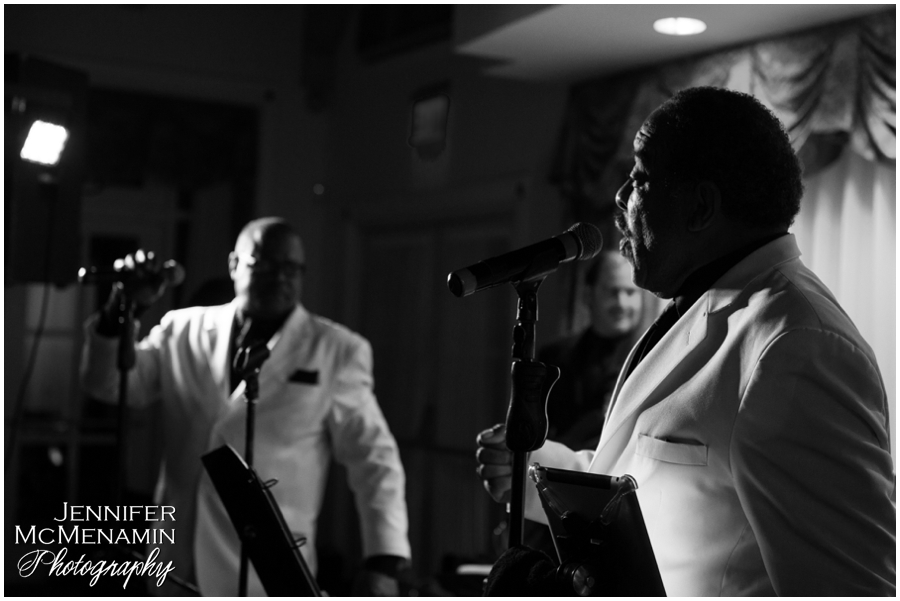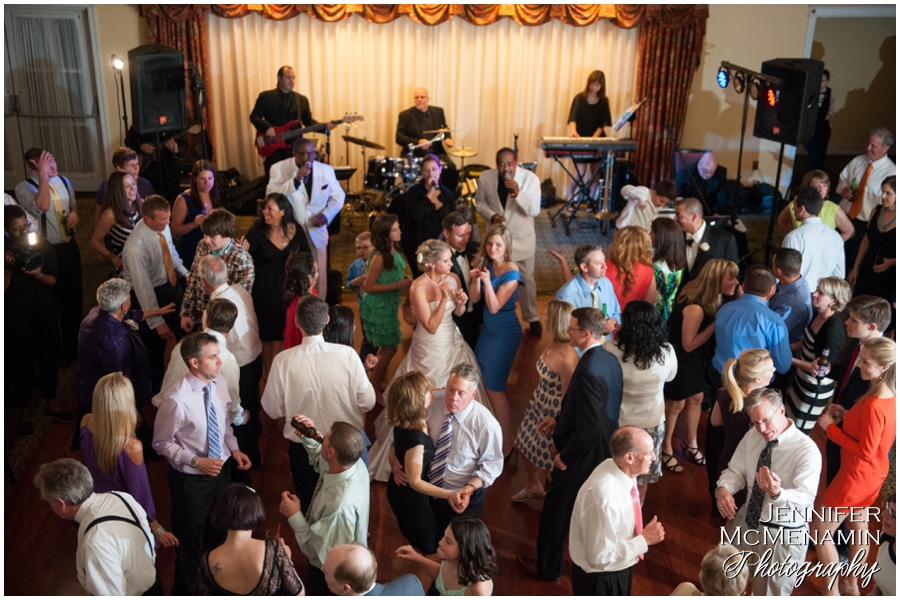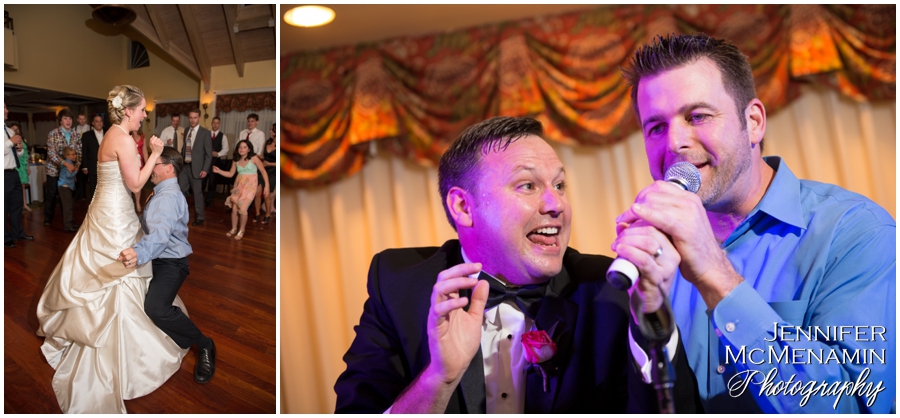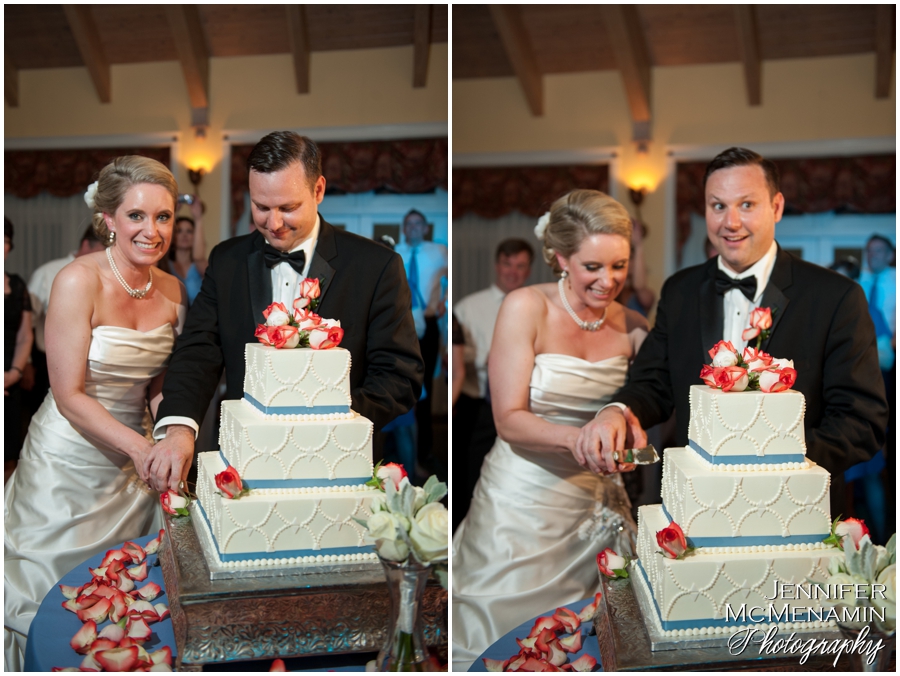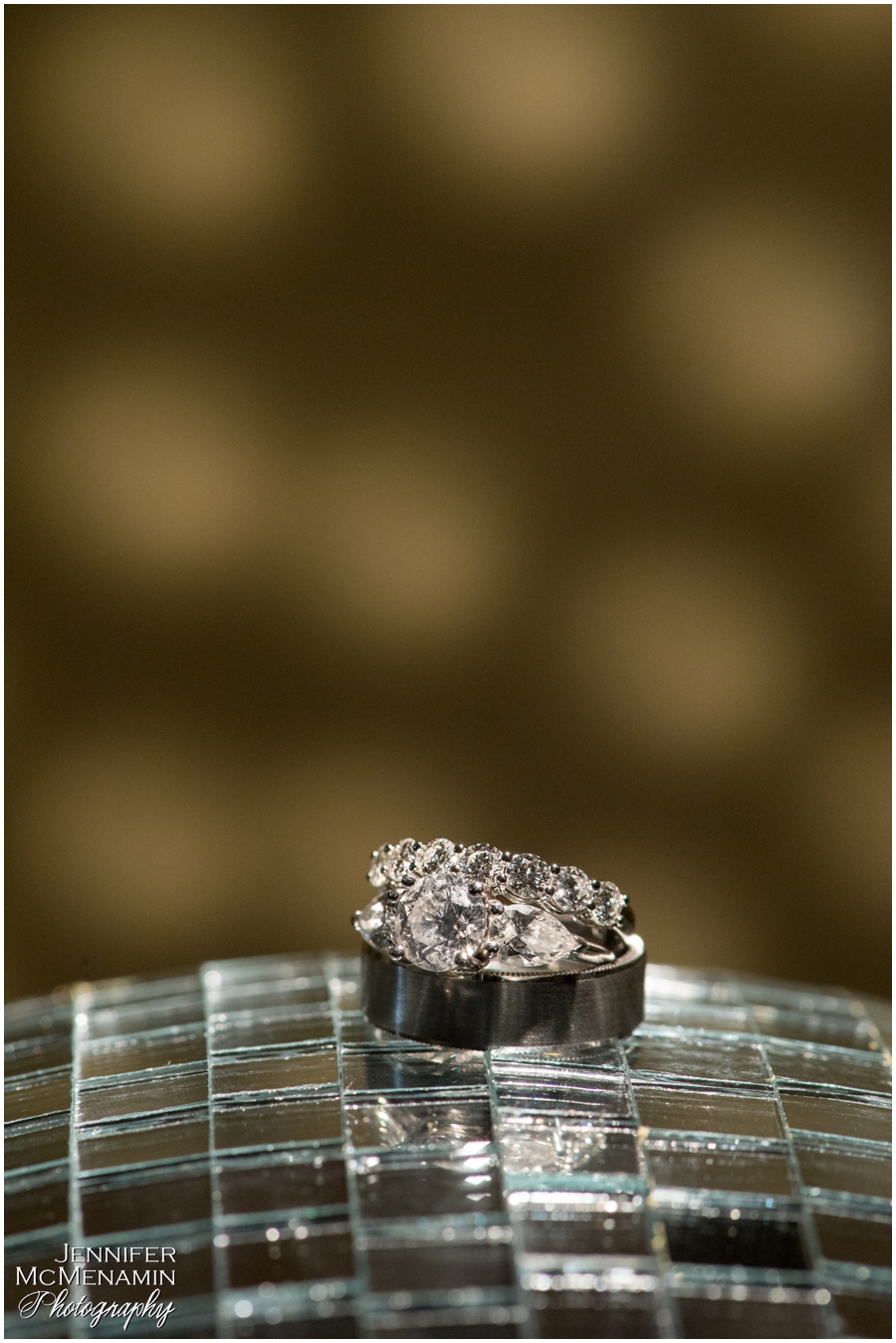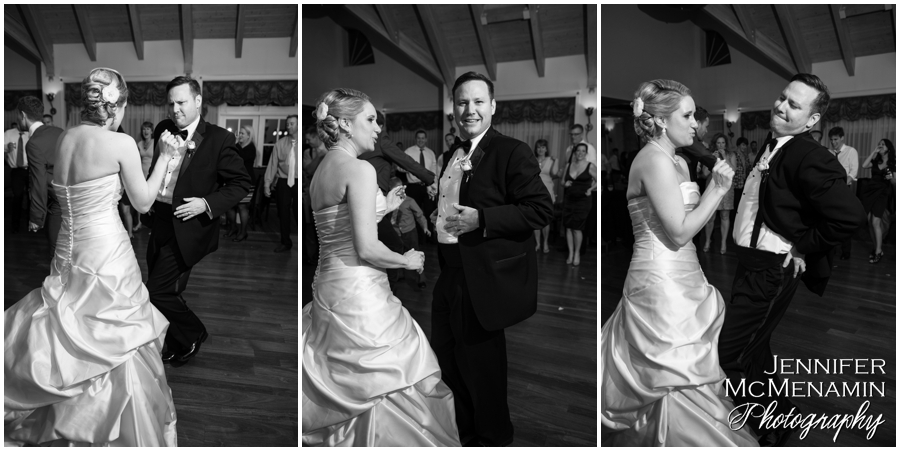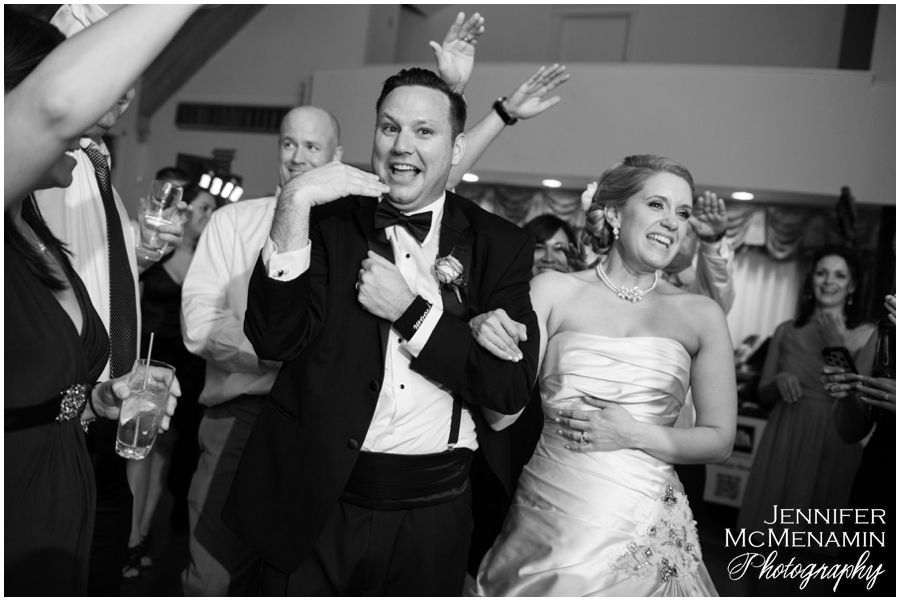 And a sparkler send-off to cap a perfect night.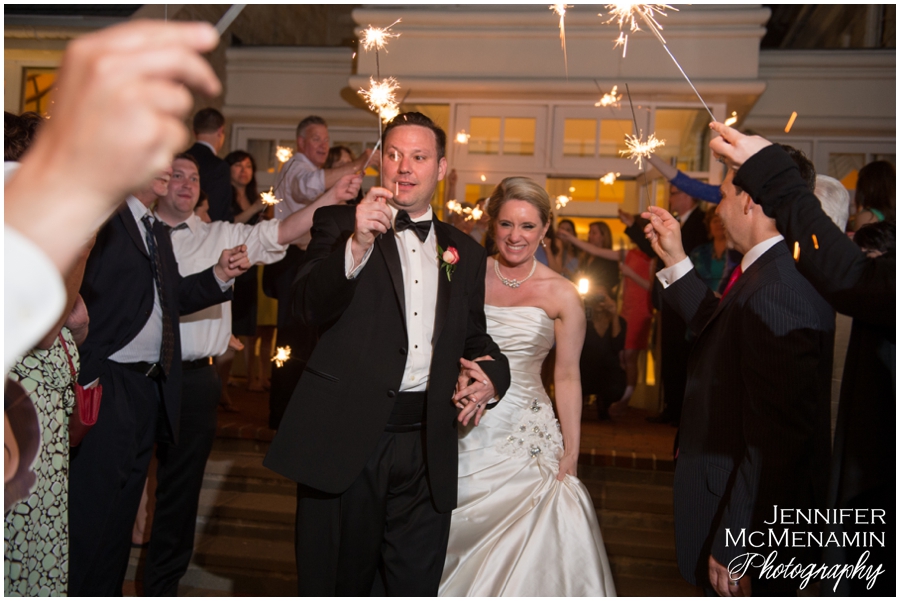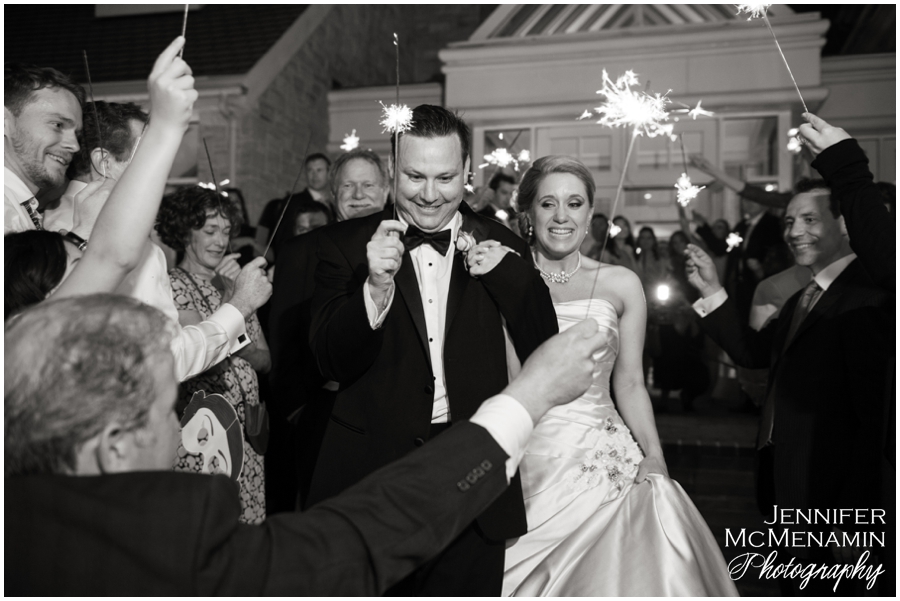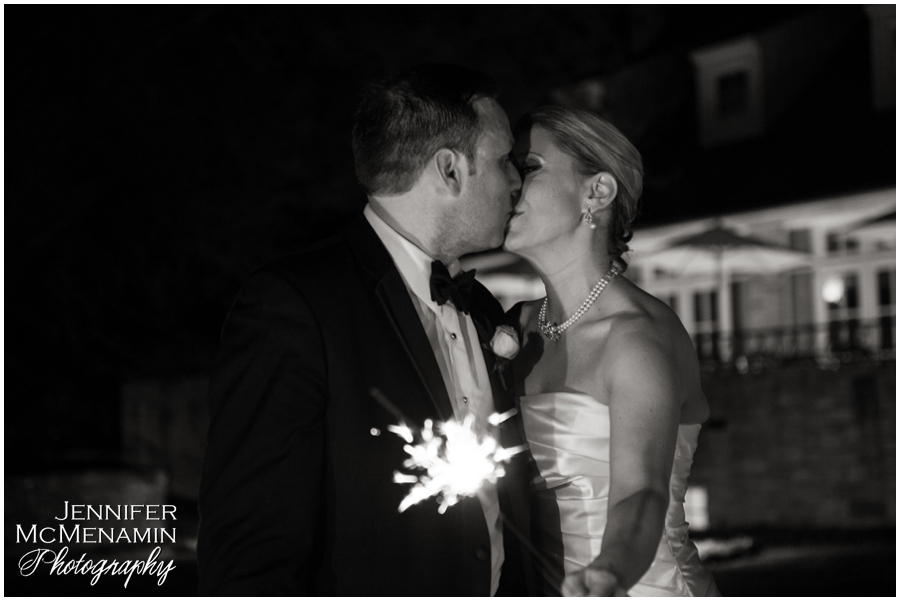 Erin & Chris, it was an absolute joy to work with you both. And may the Fourth be with you, always!
Credits:
Photography: Jennifer McMenamin Photography, LLC

Ceremony: St. Pius X Roman Catholic Church
Officiant: The Rev. Philip Dabney of the Basilica of our Lady of Perpetual Help in Boston
Reception & Catering: Hayfields Country Club
Bridal attire: Enzoani from Betsy Robinson's Bridal Collection
Hair & Make-up: Amie Decker Beauty
Bridesmaids' attire: J. Crew
Groom's attire: The Tuxedo House

Florist: Radebaugh Florist
Cakes: SugarBakers

Band: Total Soul

Transportation: Vintage Rolls Royce from Her Majesty's Service
Invitations: The Pleasure of Your Company