Elizabeth & Tommy

Shrine of the Sacred Heart + The Mansion House at the Maryland Zoo in Baltimore -- Baltimore wedding photography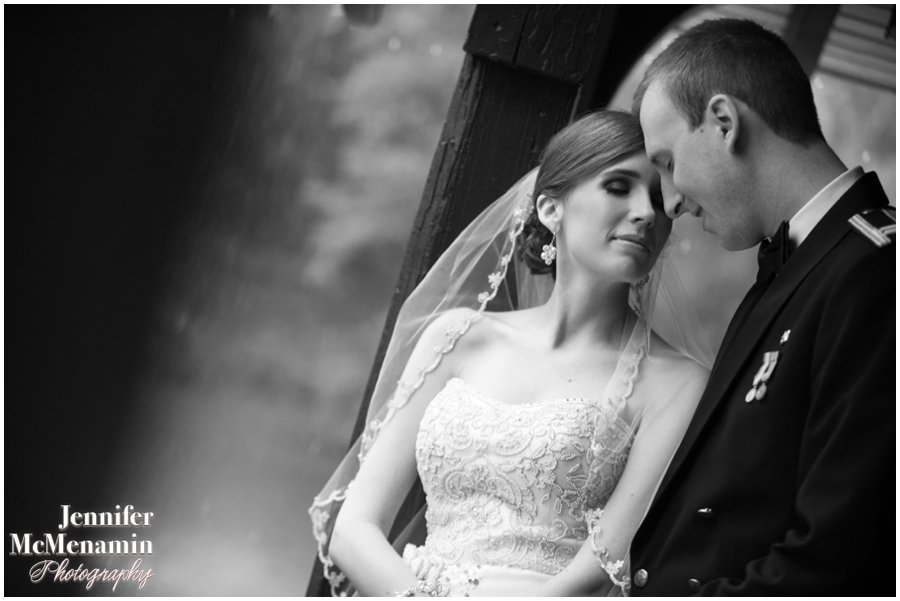 Elizabeth and Tommy love animals so much that he when he decided he wanted to propose, he did so at the Philadelphia Zoo while they were both studying dentistry at Temple University. But wait. There's more. They love animals so much that they decided to book their wedding reception at the Maryland Zoo in Baltimore, sight unseen. One of the biggest selling points for Elizabeth was the prospect of having penguins attend her cocktail hour. From afar in Texas, where Elizabeth is a dentist and Tommy (also a dentist) is stationed with the Air Force, they planned a beautiful day that was filled with dancing and fun and the laughter of their closest friends and family. I always ask my clients whether there is anything in particular that they'd like me to pay a little extra attention to on the wedding day. Many people understandably mention some of the things on which they've spent tons of time and money — bouquets that they're really excited about, placecards that they've painstakingly created and calligraphed themselves, the band that they've splurged on, the cake that they can't wait to taste again. Elizabeth mentioned her grandparents. And the penguins, naturally. From the very start of the day — when Tommy's mother pointed out that he had neglected to shave before getting into his formal dress uniform and bowtie, through the intermittent downpours when we were trying to take photos outside at the Zoo, the newlyweds' joyful visit with the penguins, their beautiful first dance and touching dances with her father, her grandfather and his mother to the non-stop dance party that ensued — Elizabeth and Tommy were nothing but joy to work with. Even when the rain chased us into a pavilion and trapped us for much longer than we would otherwise have spent shooting there, nothing phased them. They were just delighted to be together and to be getting married. I must not neglect to mention the most excellent toasts offered by Tommy's grandfather, Elizabeth's sister and Tommy's two brothers, who dropped a few sentimental stories into an otherwise nonstop stand-up comedy routine about the family's dental cartel, Tommy's inexplicable sweet tooth (for a dentist!) and tales of hilarity from their childhood. It was such a pleasure to work with these two families and their marvelous wedding party. Here are some of my favorites:
I started with the groom, his parents and groomsmen, who were getting ready together.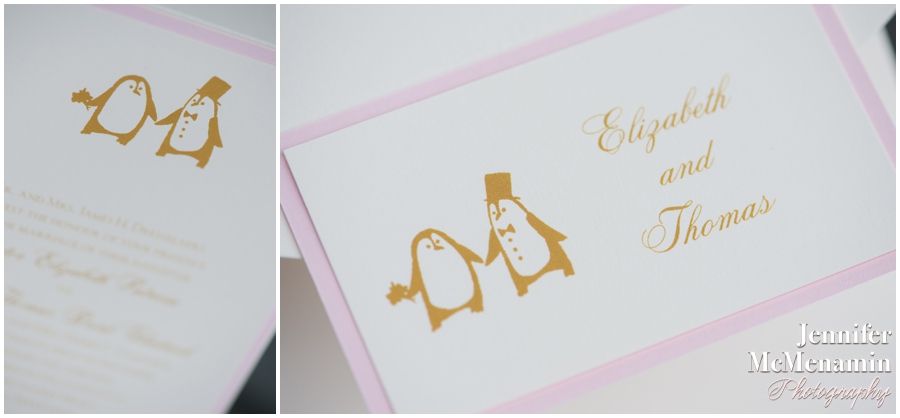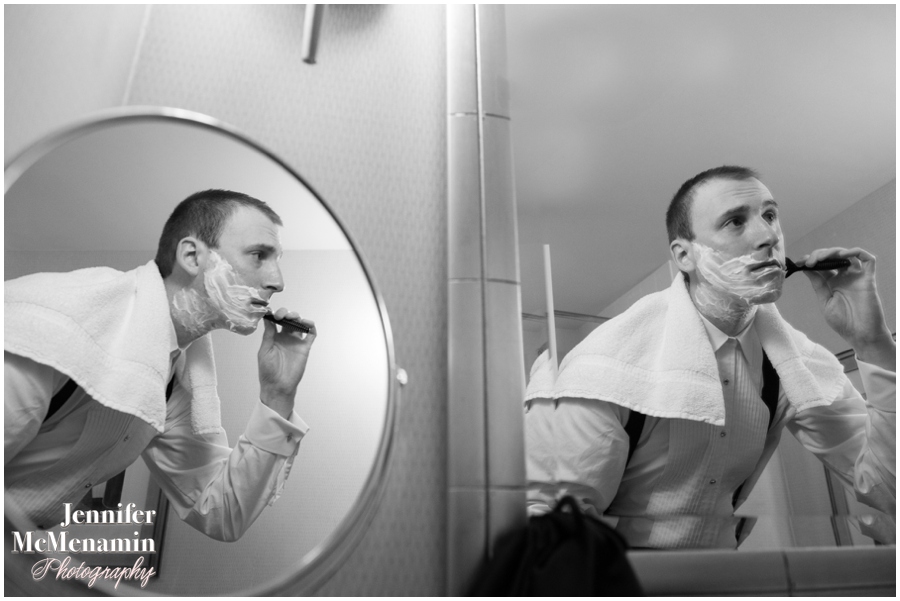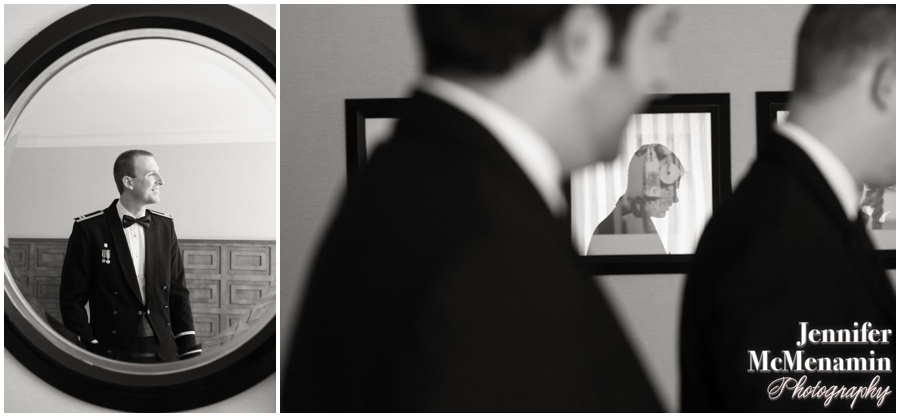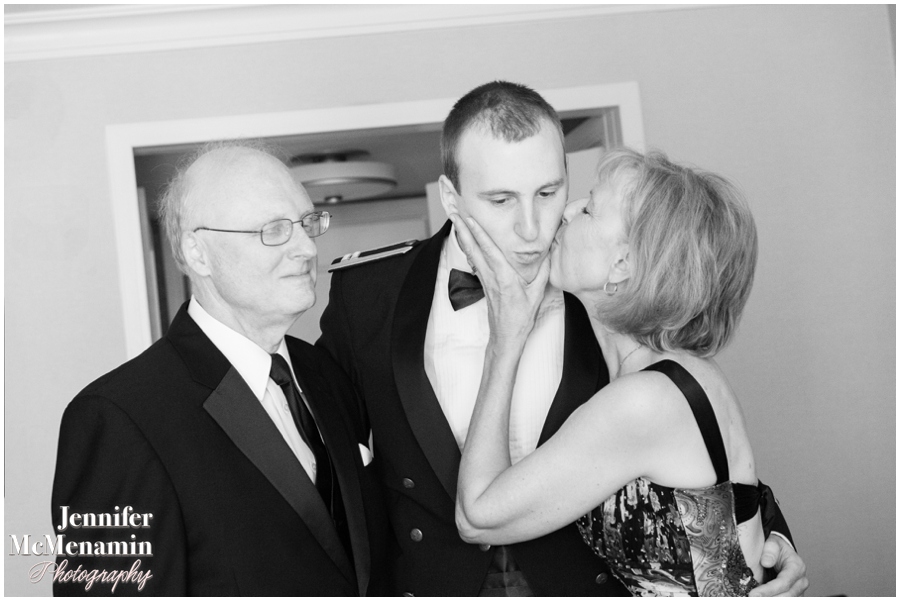 Then, it was off to see the bride.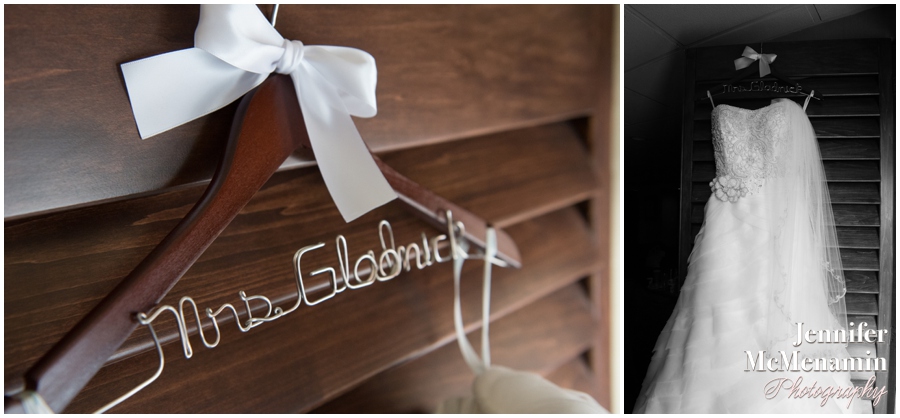 I don't usually include two ring photos in my blog posts. But I loved the engraving so much in Tommy's ring — Love & Liberty Forever — that I had to include both of these.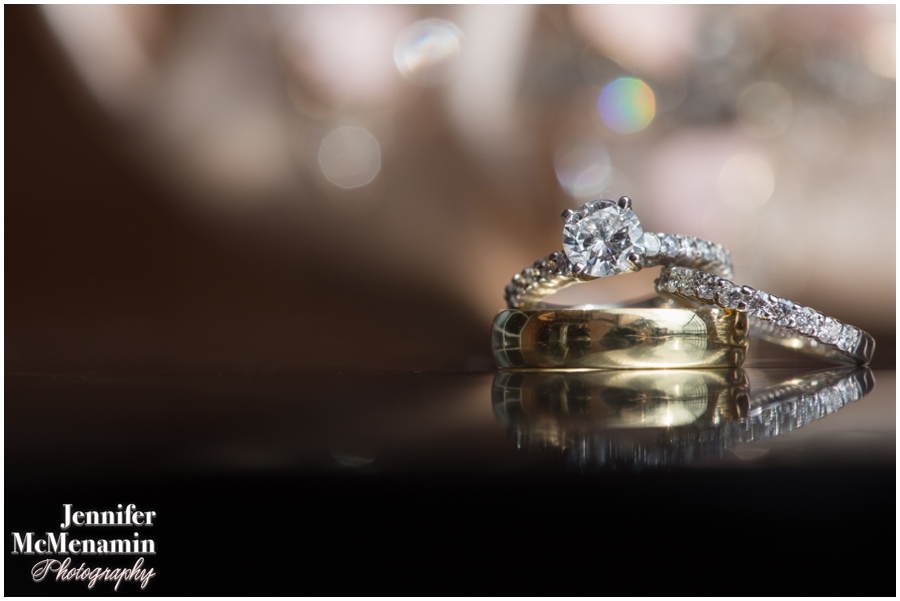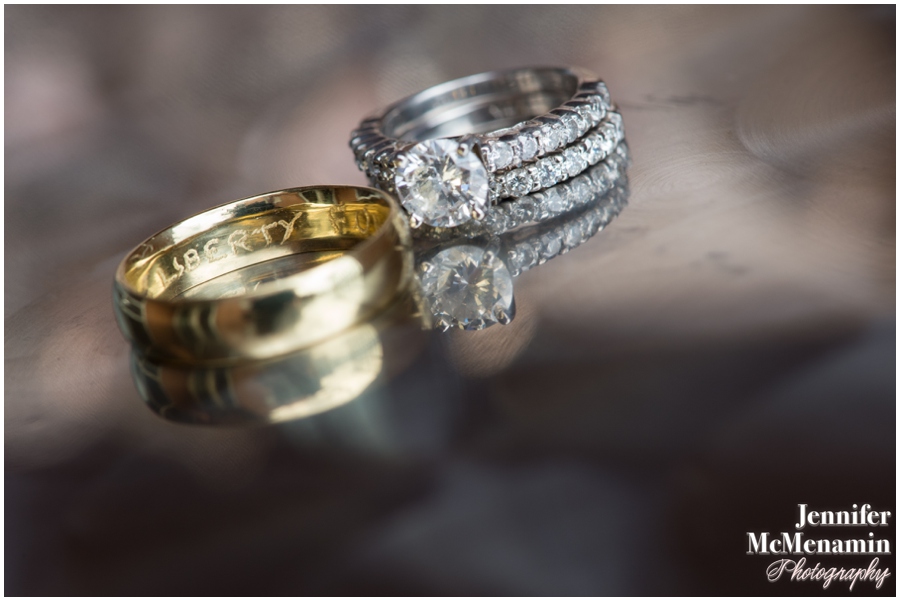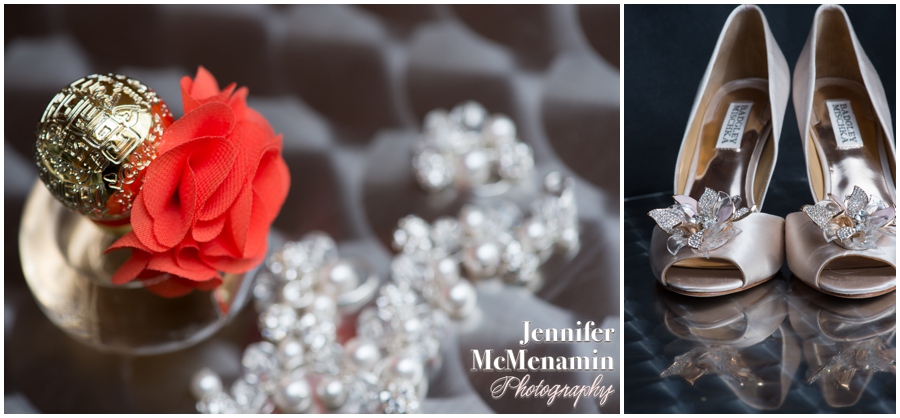 Elizabeth was practically hopping out of her skin with excitement when we arrived.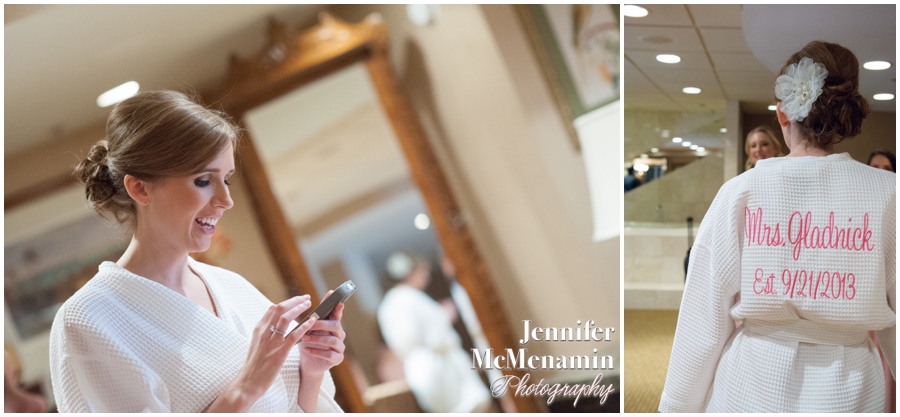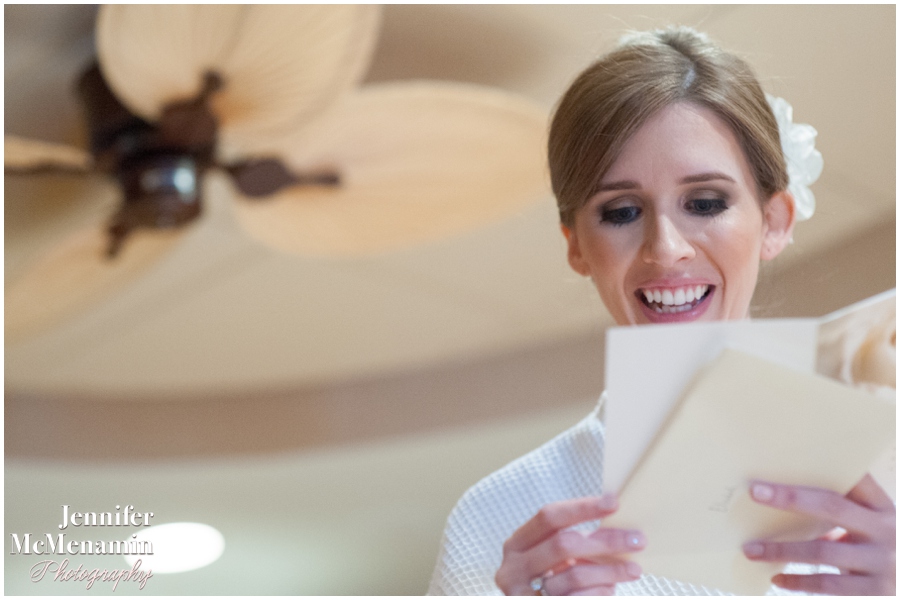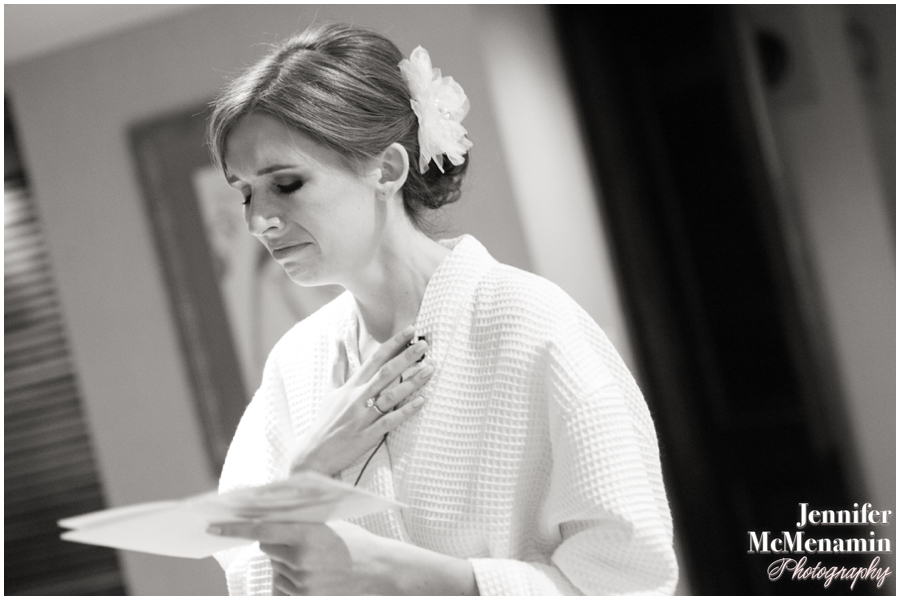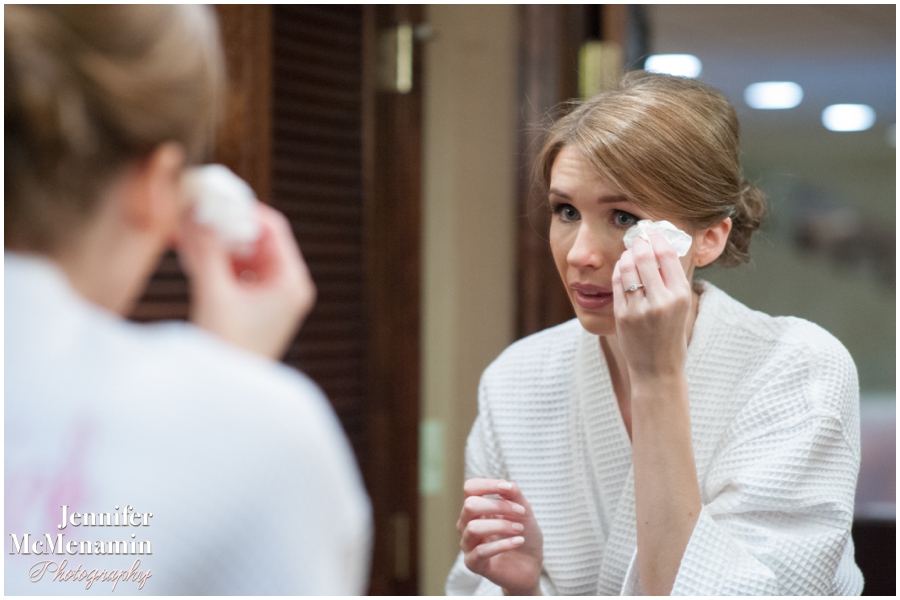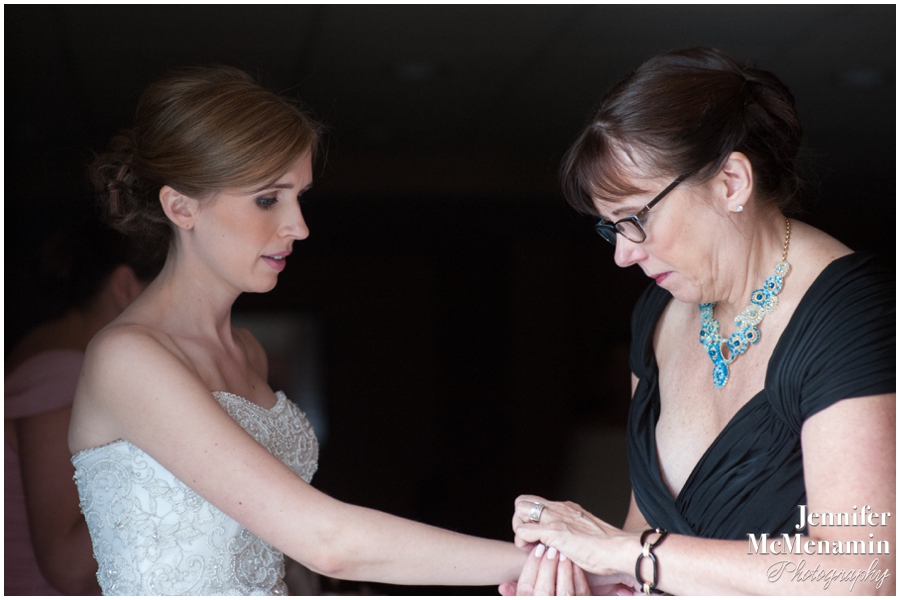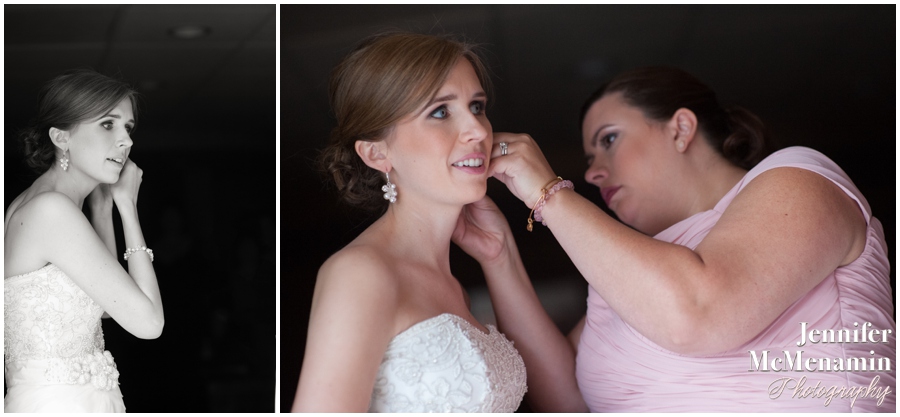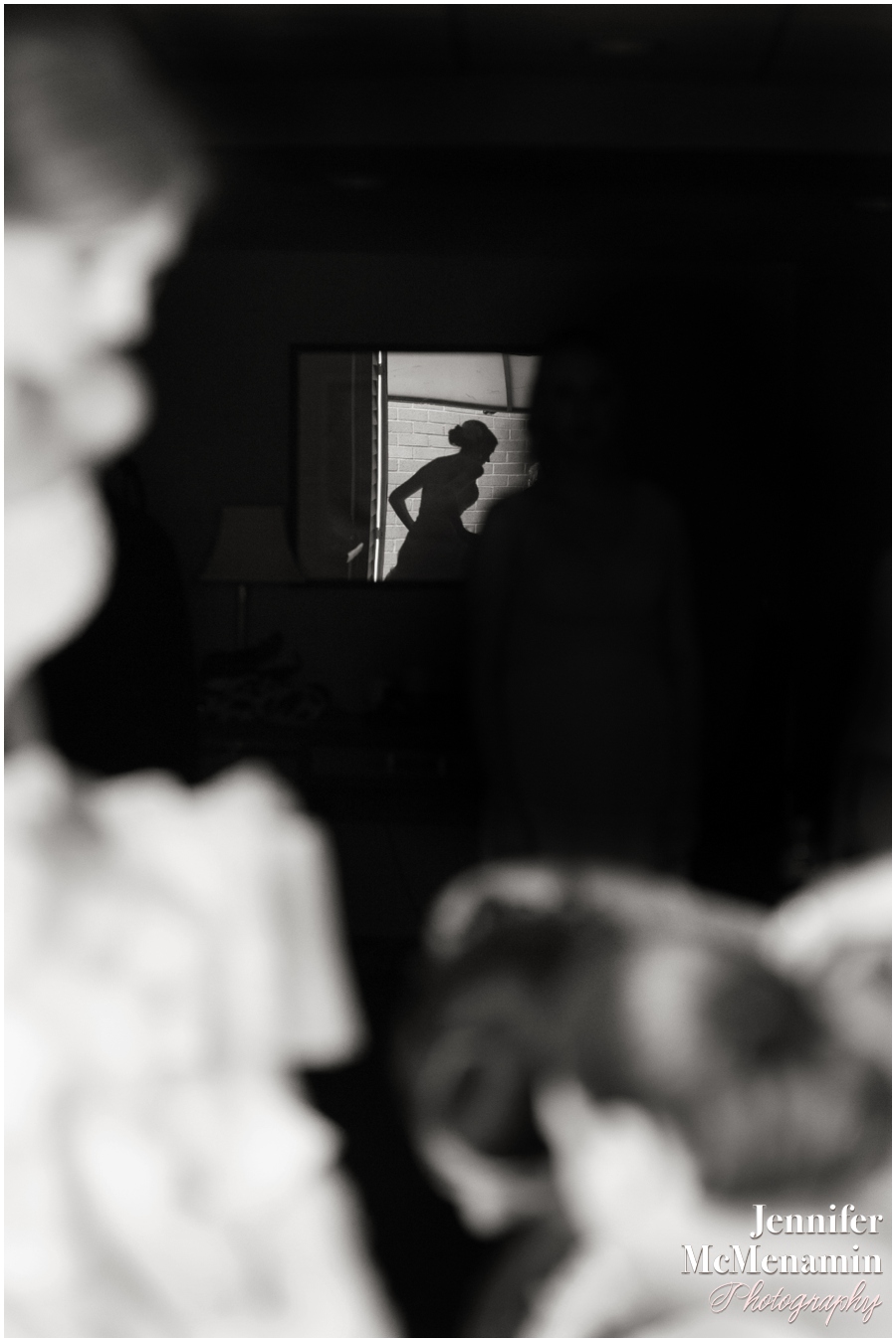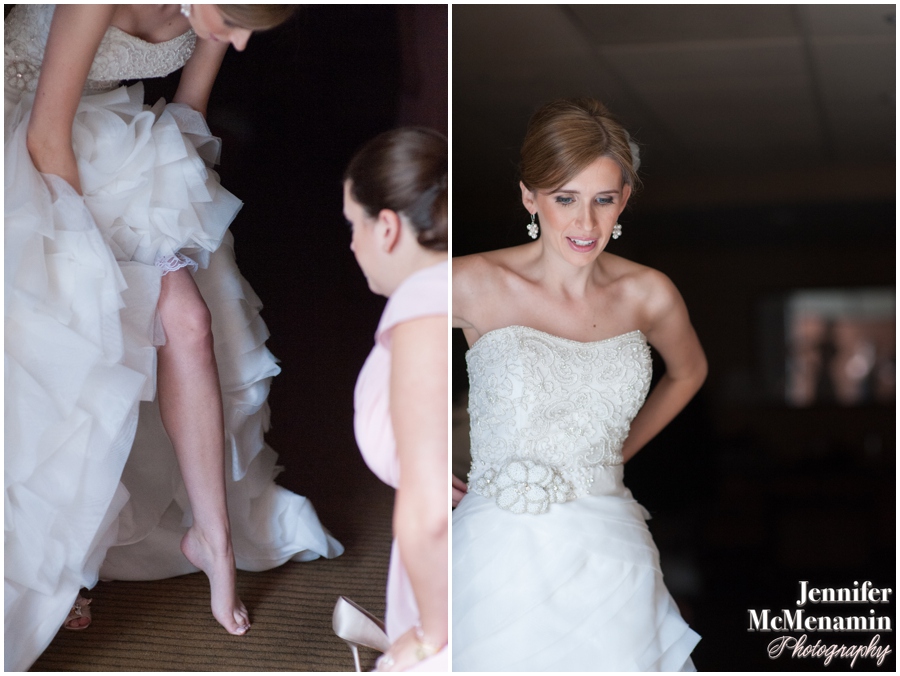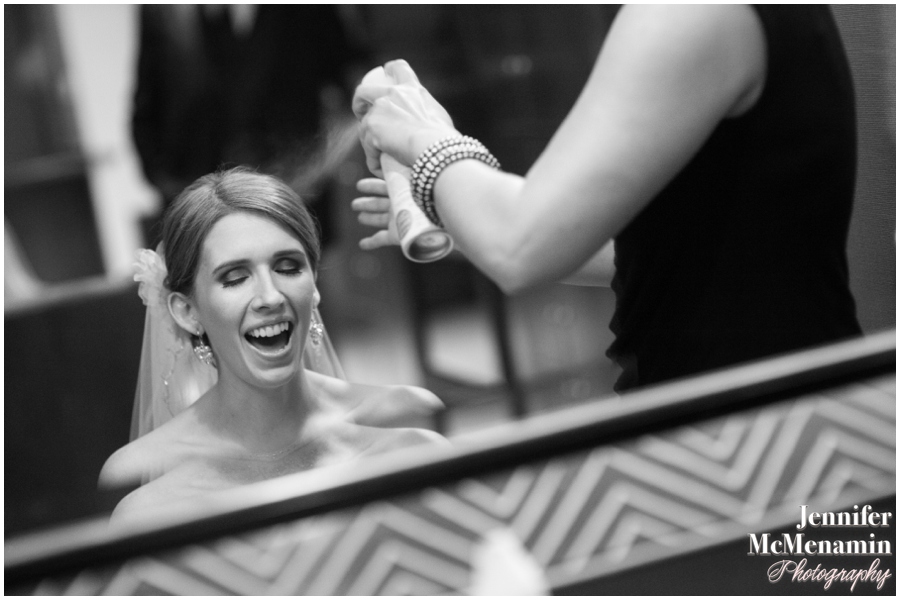 The bride, looking absolutely lovely.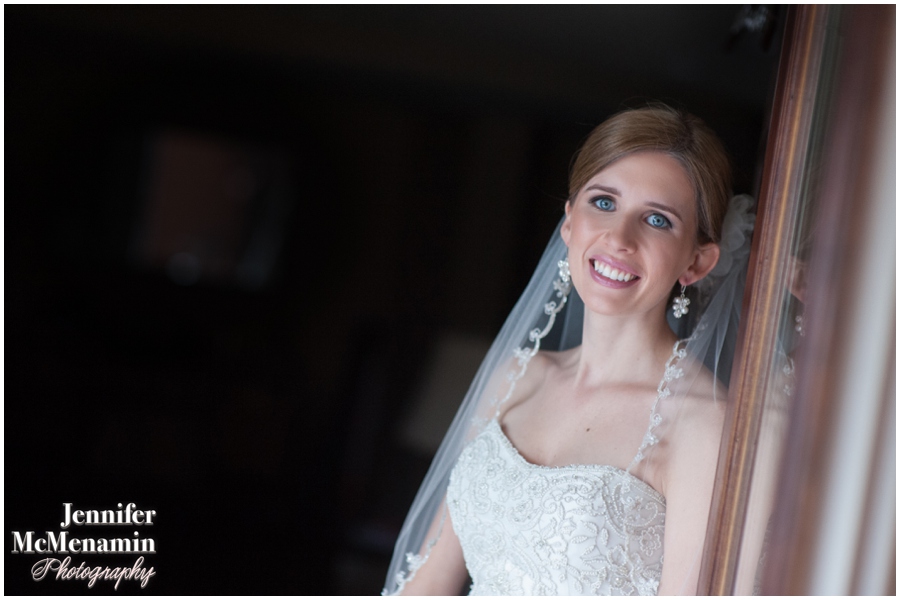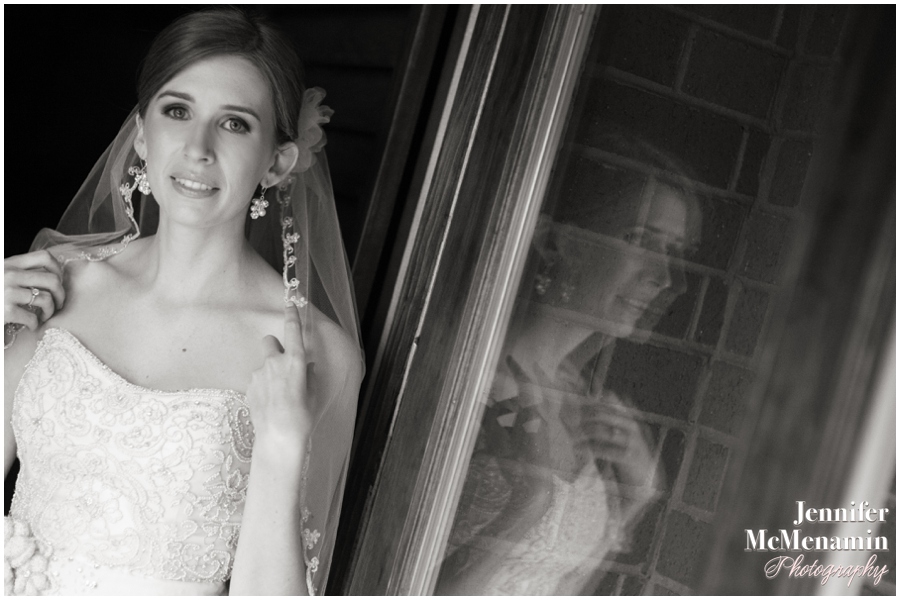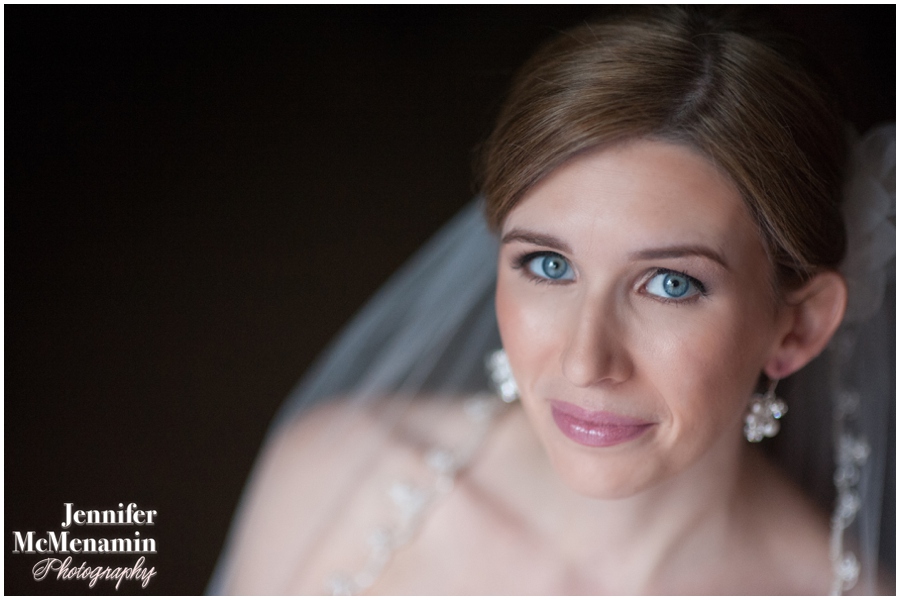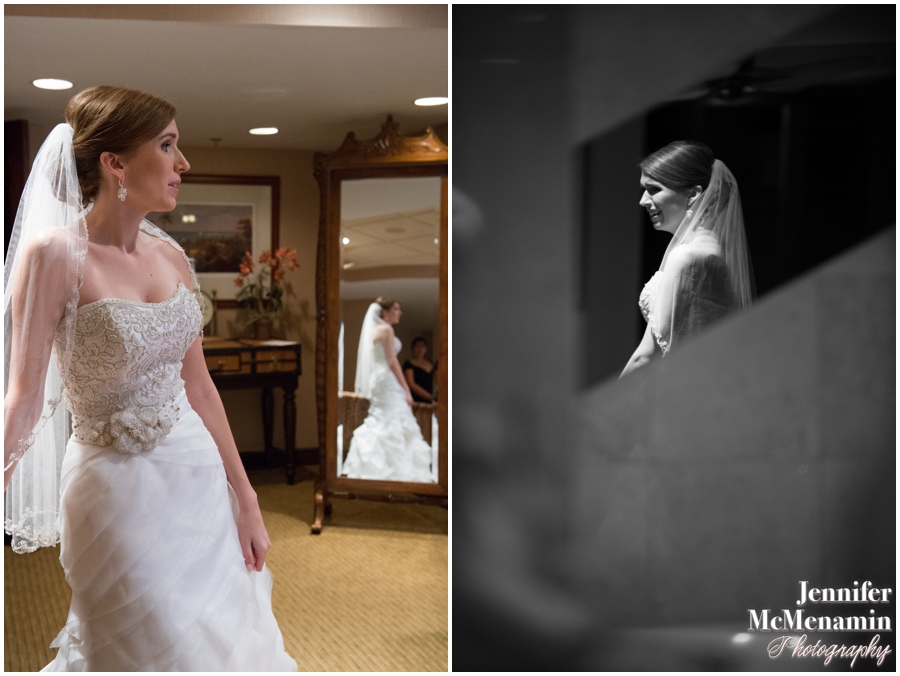 My assistant, Lucas, shot the next image as well as all subsequent photos from the balcony.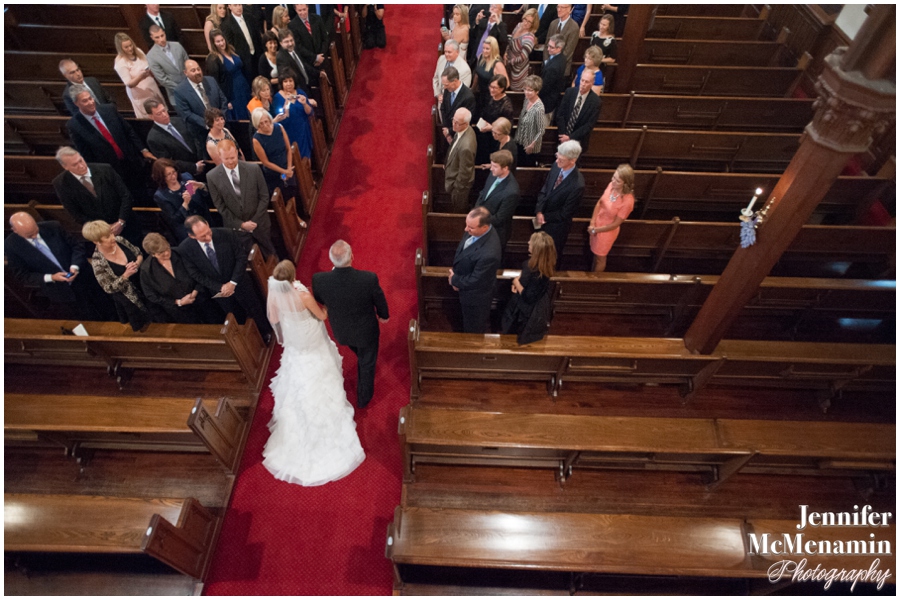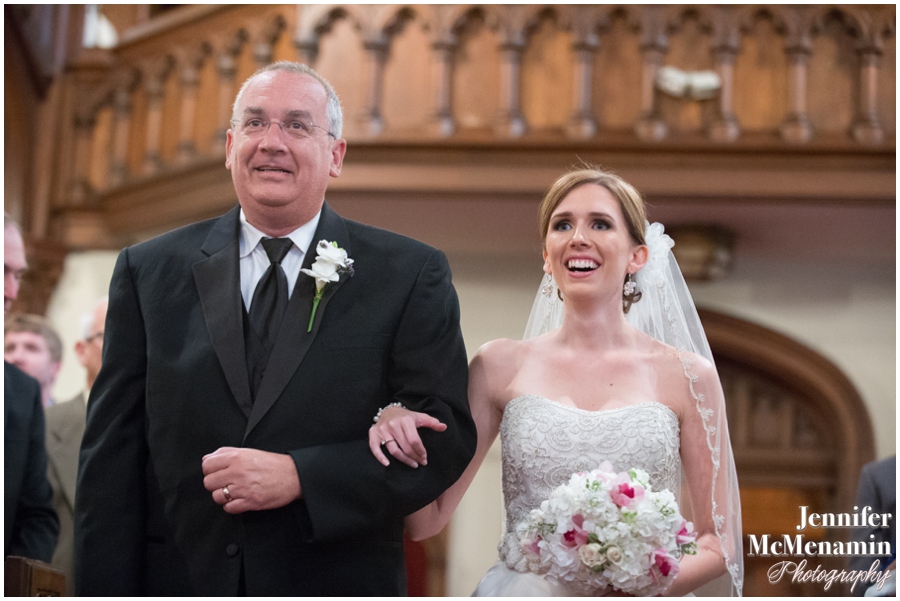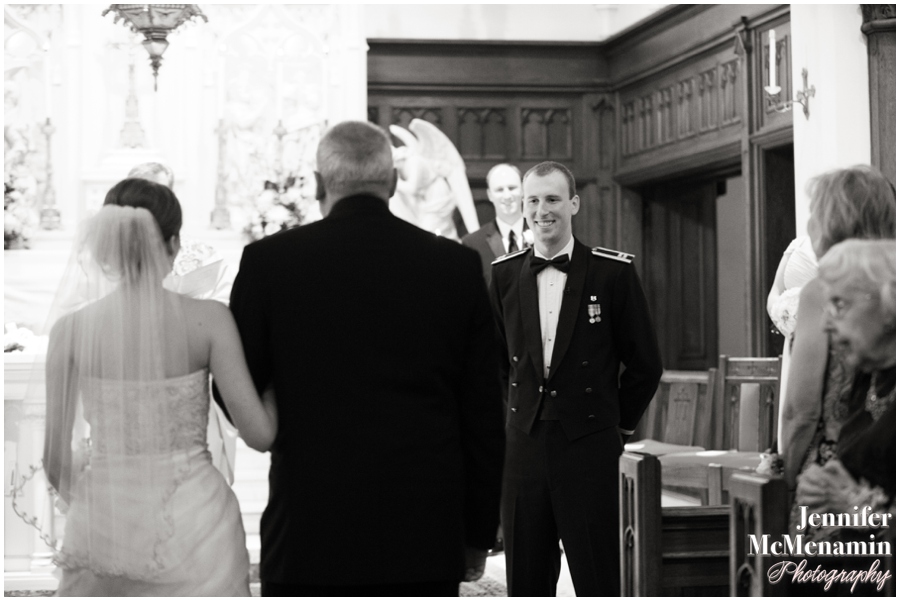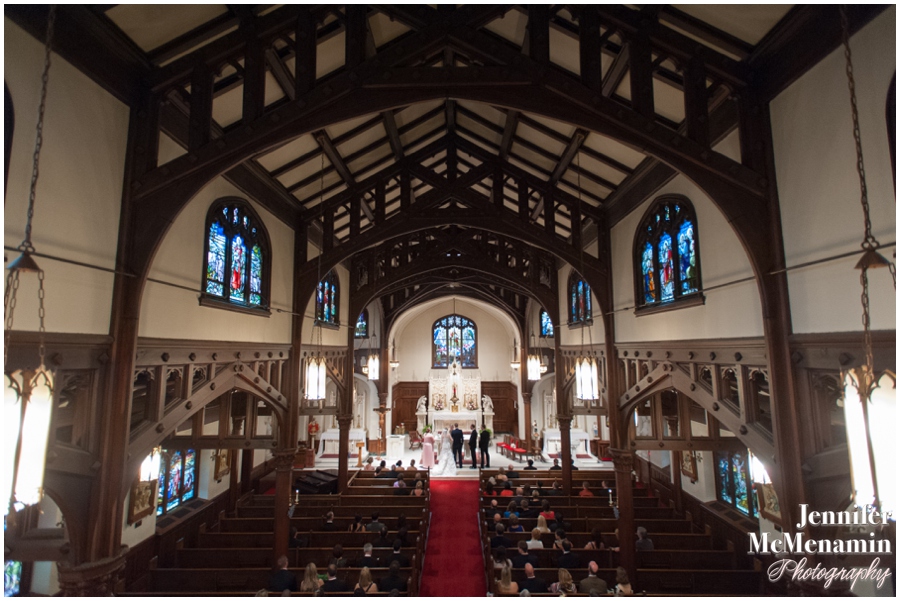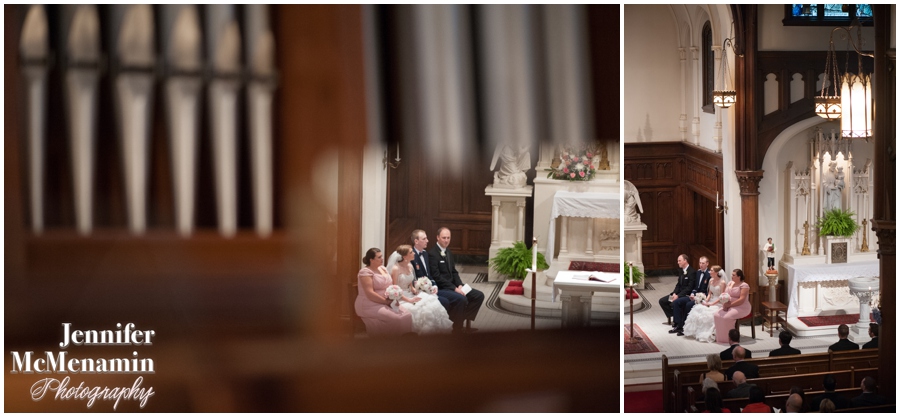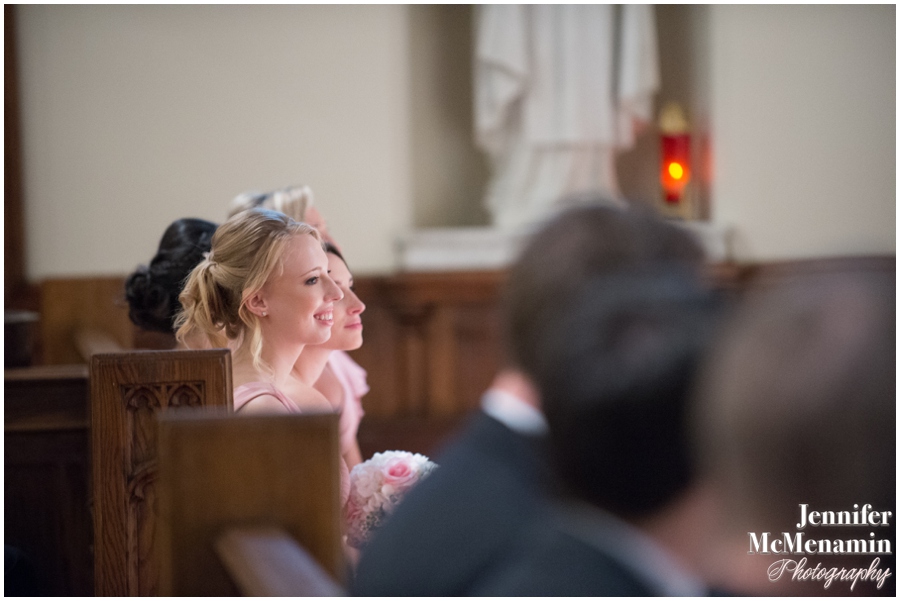 Because of the way the two sets of doors automatically closed behind Elizabeth and Tommy after their recessional, they had a couple of beautiful moments alone before their parents, grandparents, five bridesmaids, five groomsmen, a couple of aunts and uncles and the church coordinator all streamed into this tiny little room. They hugged. Tommy twirled Elizabeth, taking in her beauty. They held hands. It was really something. Then, the room instantly filled with people and and hugs and a joyful cacophony. It was also beautiful, in a very different way.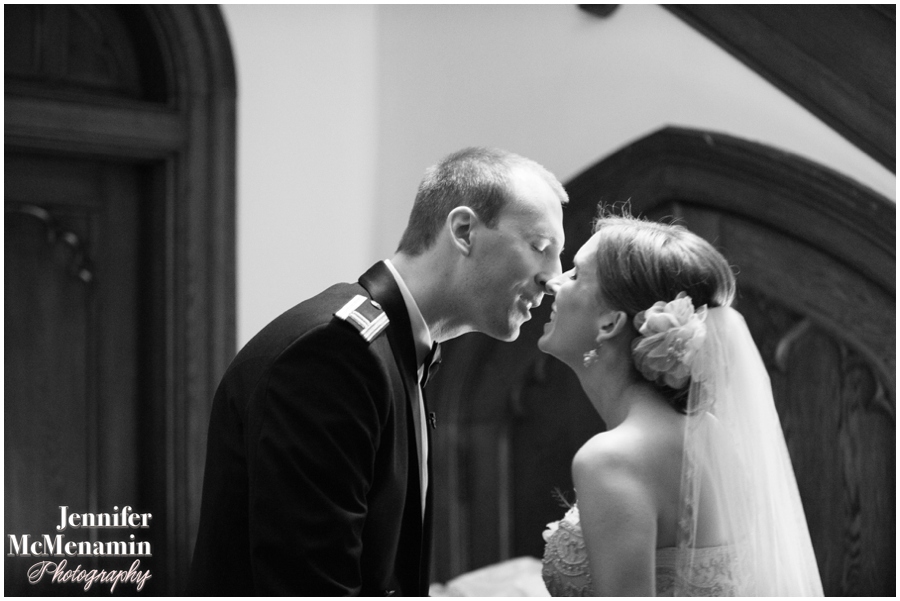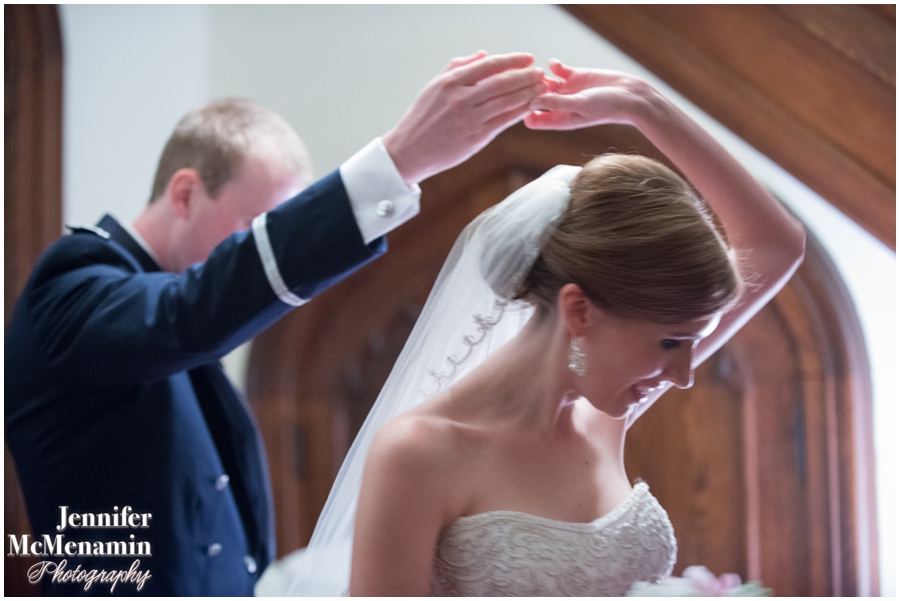 I love this next image, which was snapped by Lucas as he descended the steps from the choir loft. What a great moment.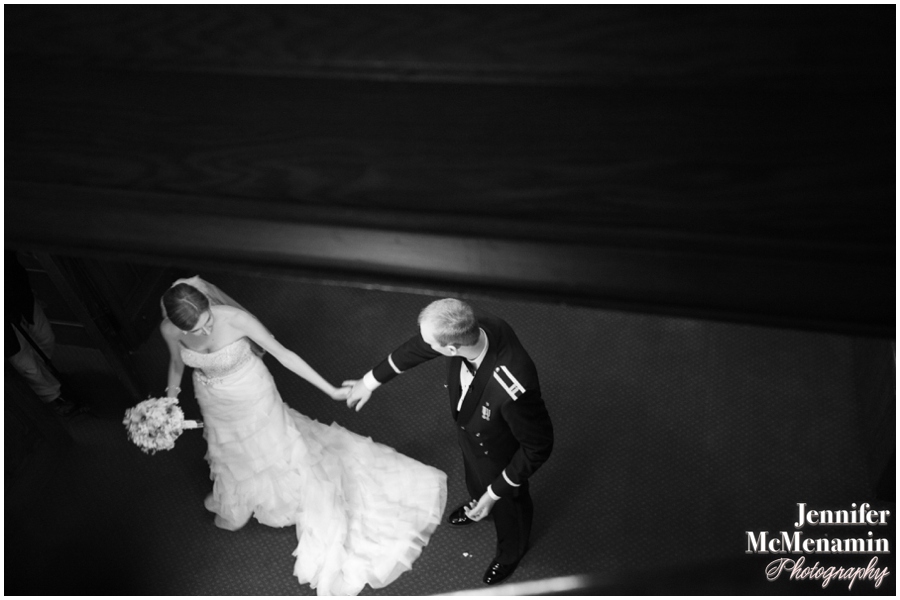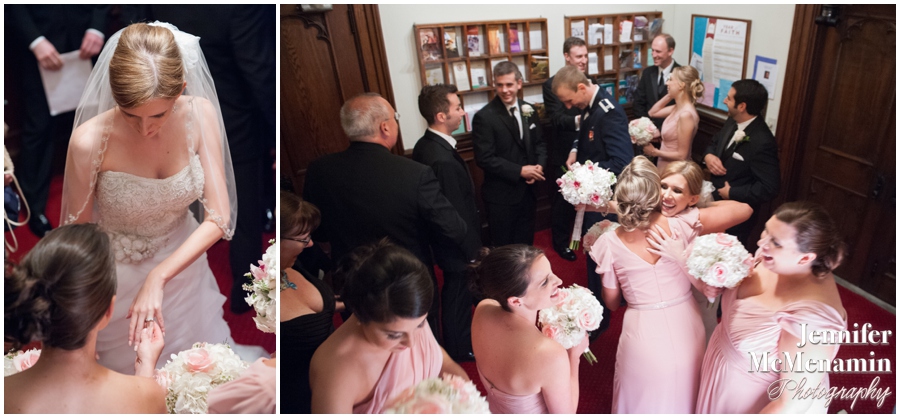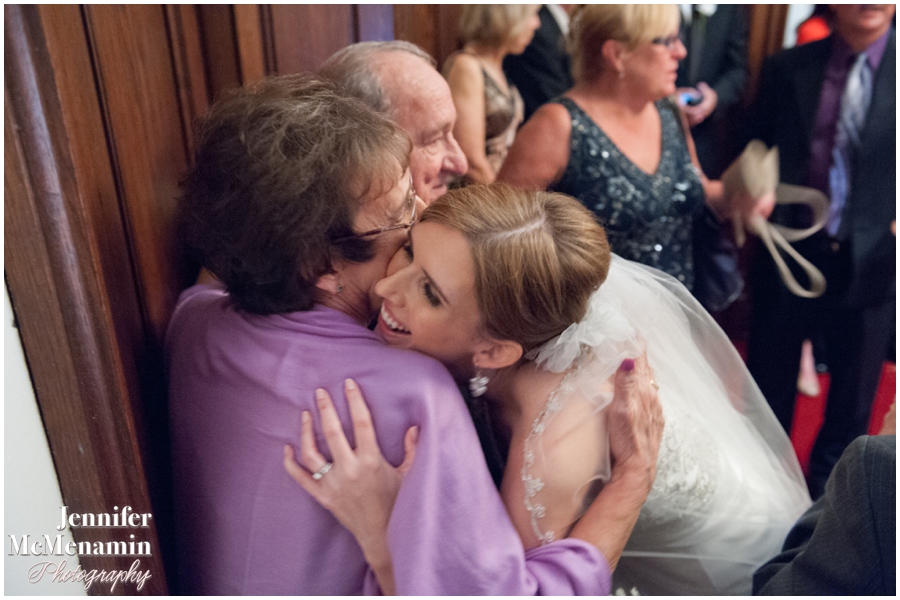 A few outdoor photos between downpours.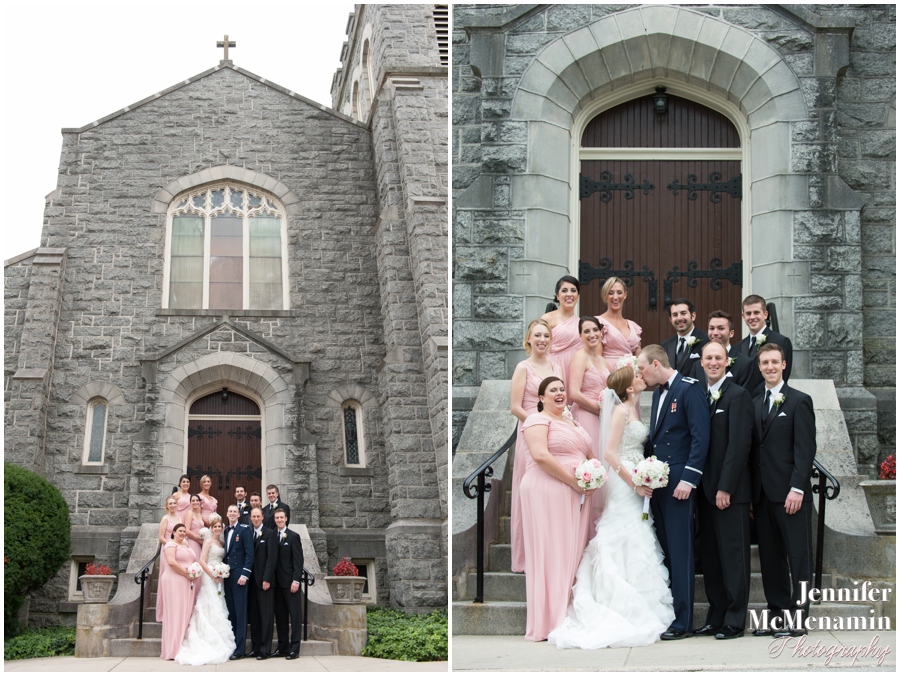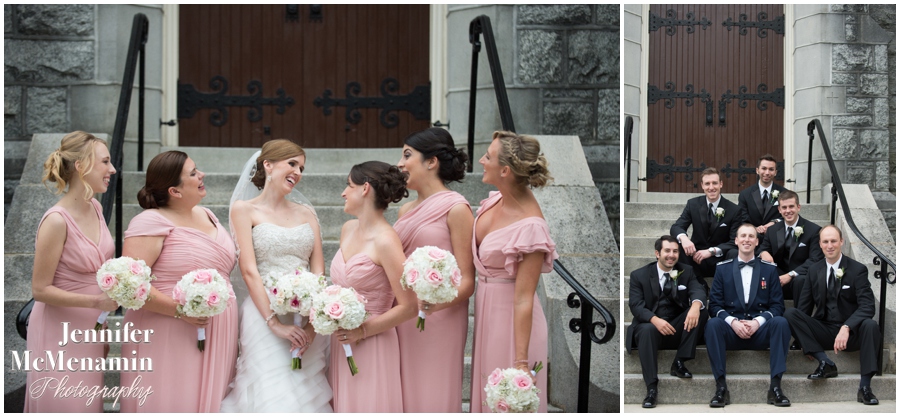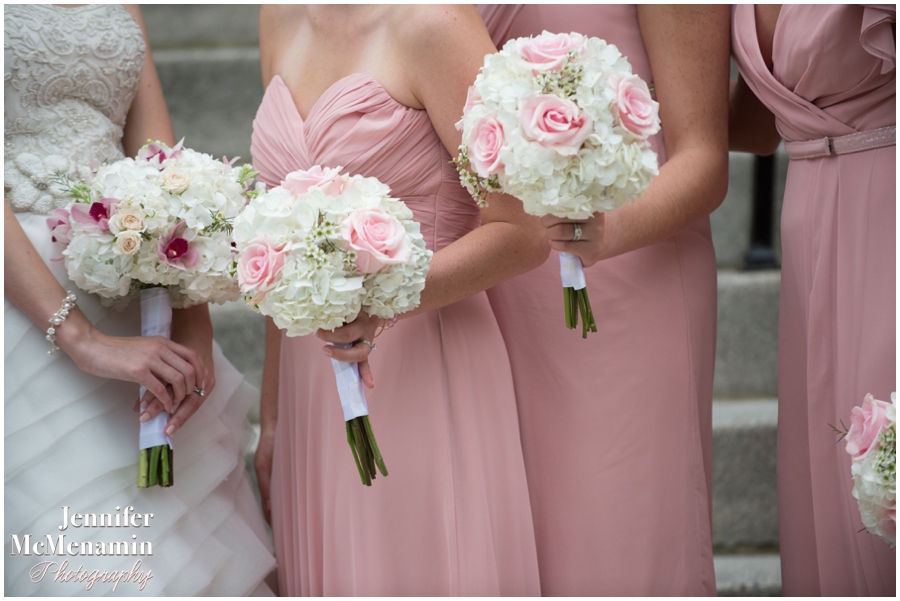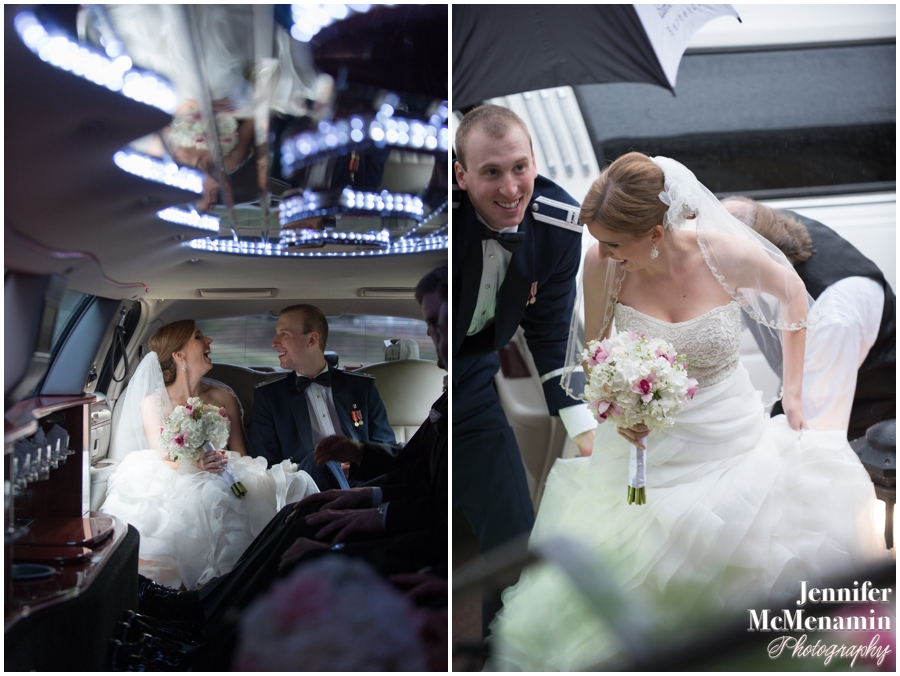 And a few photos under cover while the rain came down.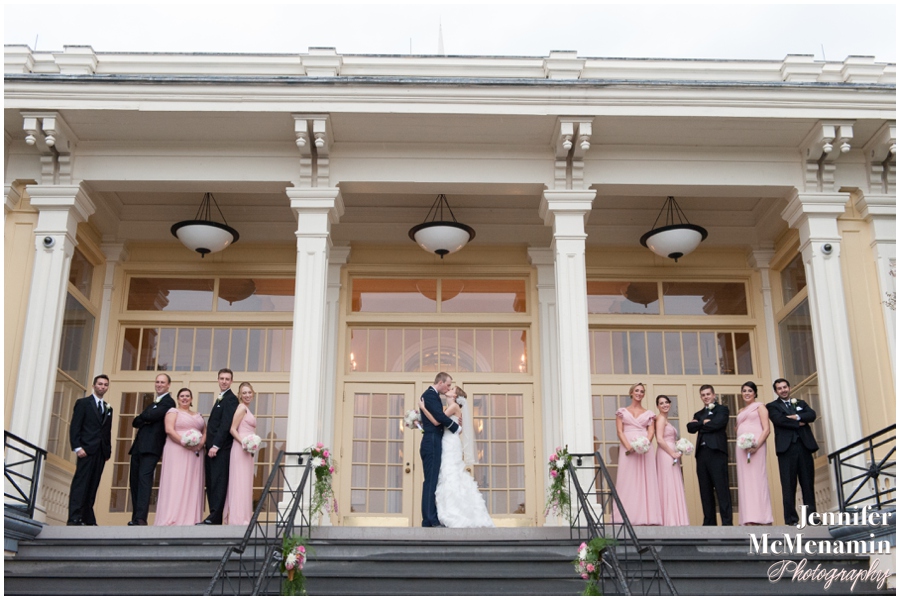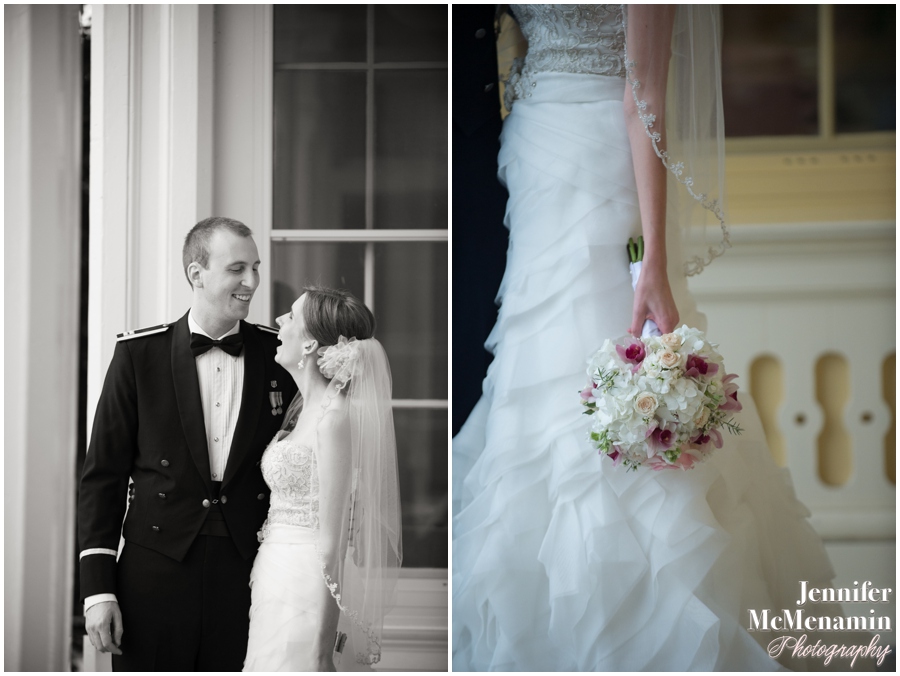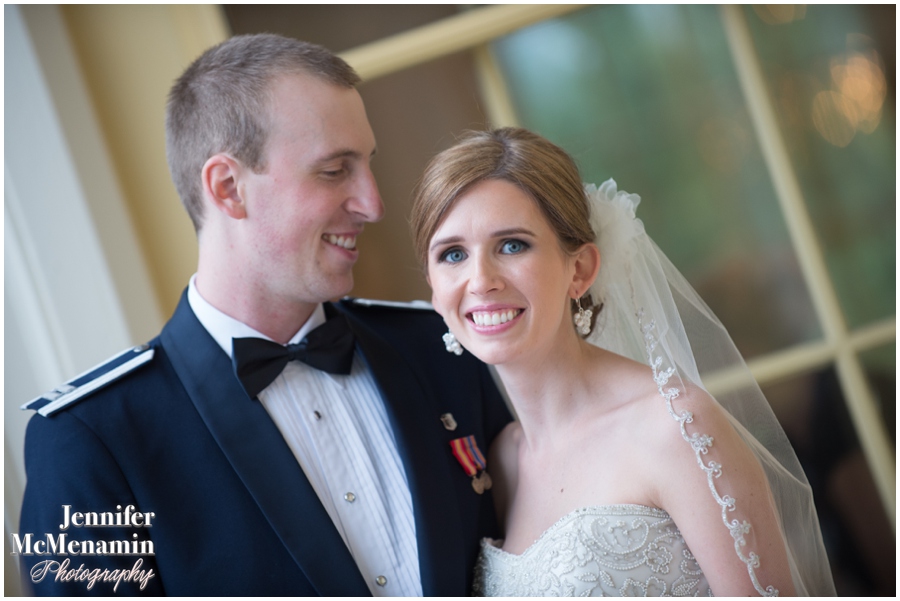 We scurried back out in the Zoo's golf cart during a break in the rain storm — only to be stranded for a good long while in the pavilion. Even with the giant umbrellas I always keep in my lighting bag for exactly this purpose on wedding days, it was still raining too hard to make a run for it back to the golf cart without everyone getting soaked. So we just shot more photos. And talked. And Tommy twirled Elizabeth.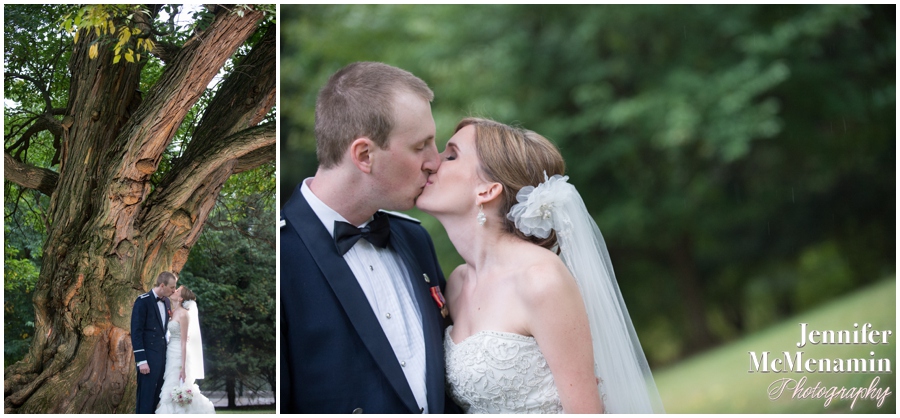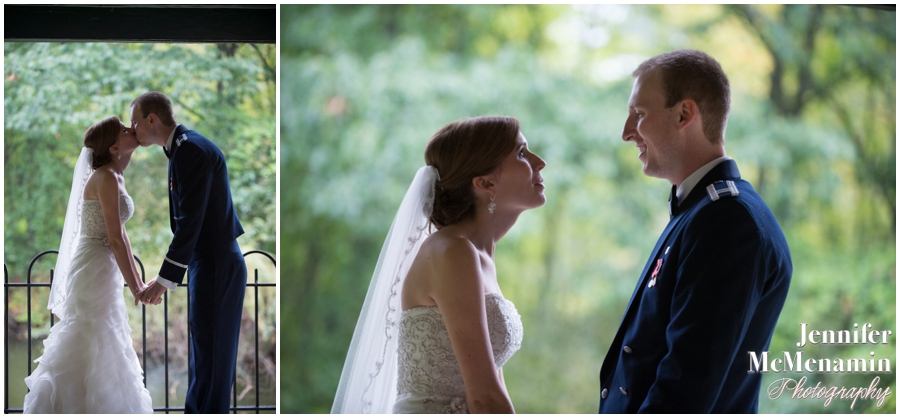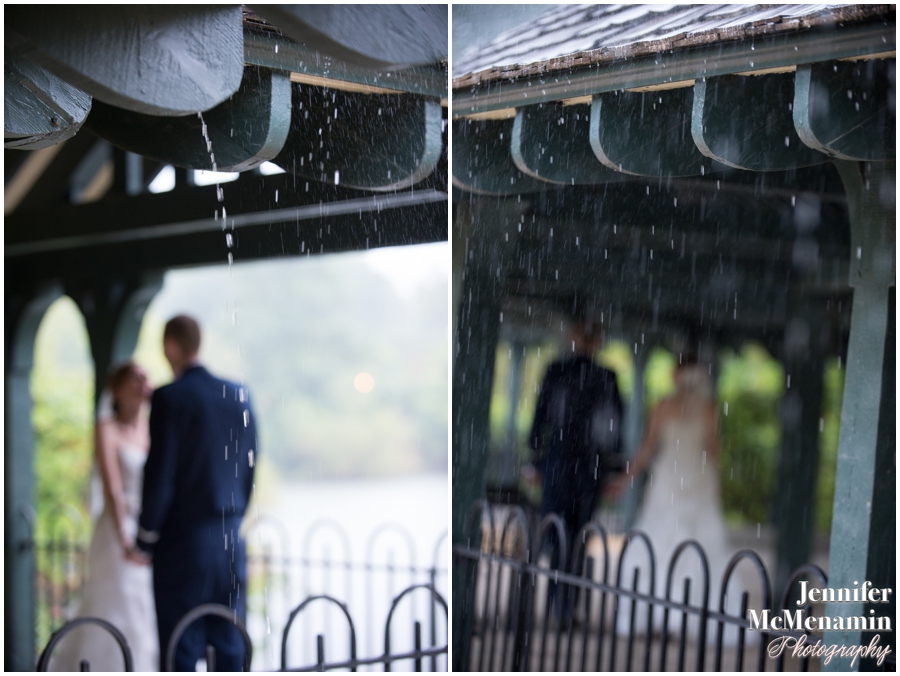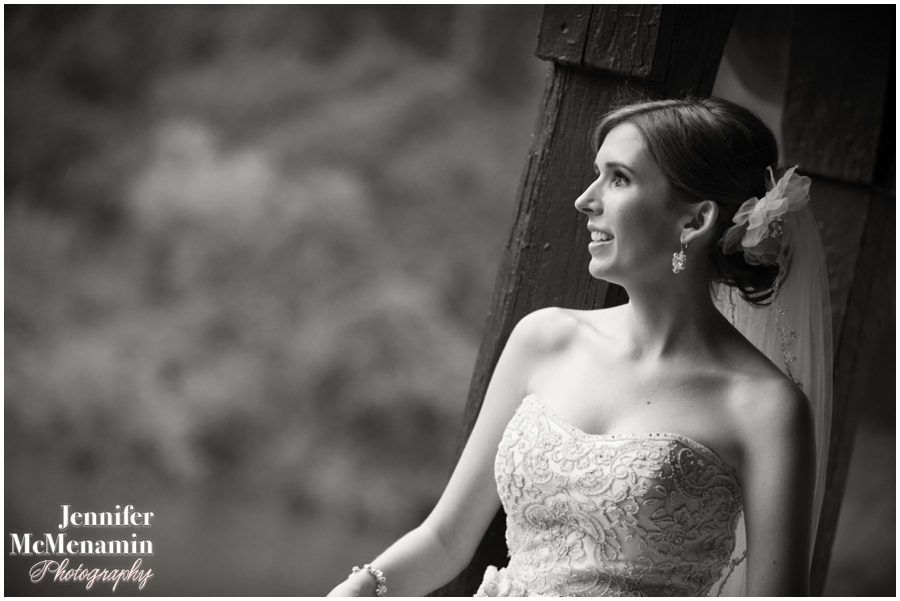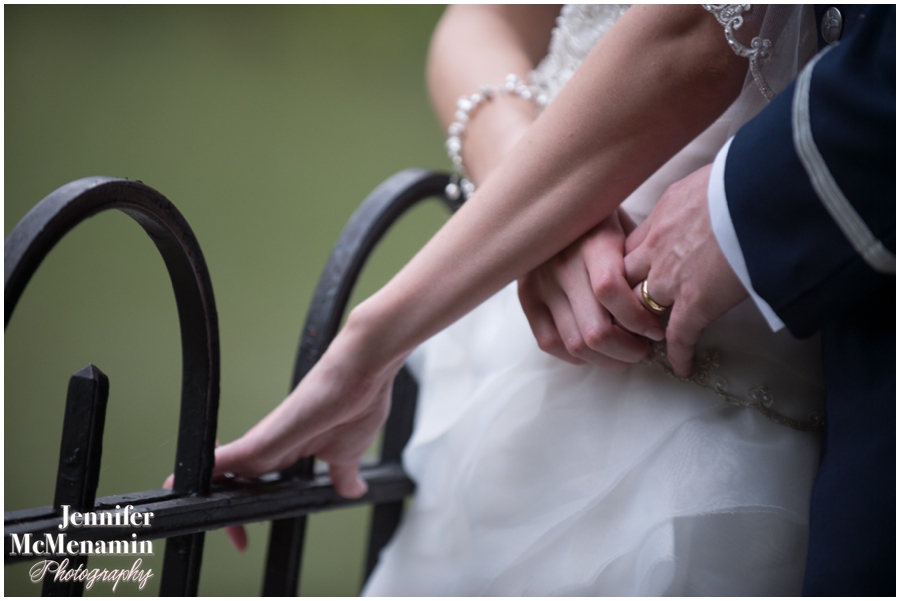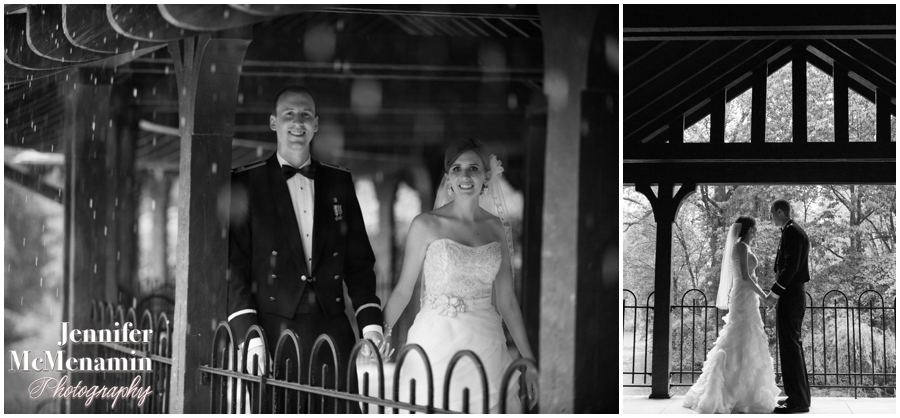 At last, the penguins arrived. How can one have a Maryland Zoo wedding without a visit from a darling pair of penguins? (And yes, lots of guests make jokes about how the little penguins are already in their formalwear. That, too, is expected.)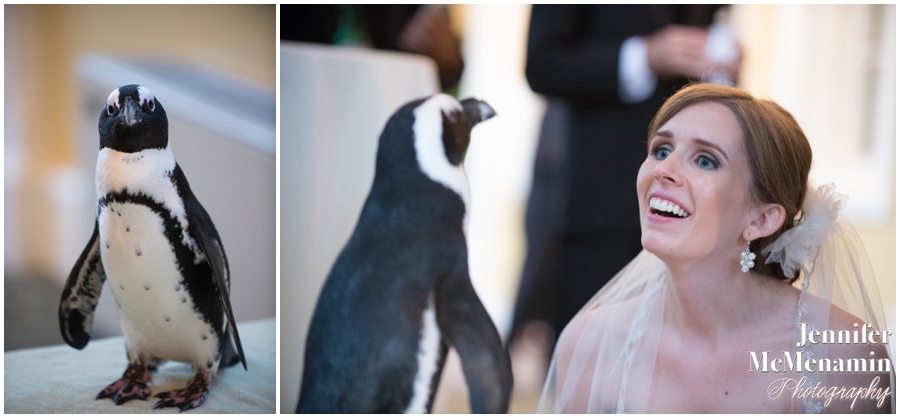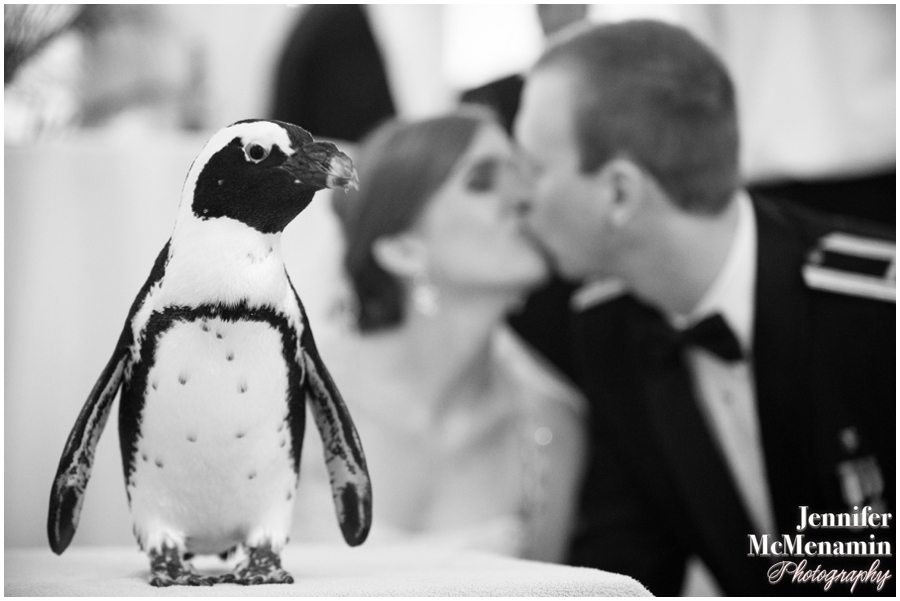 Since Elizabeth & Tommy's wedding invitation featured two penguins, we included it in photos with the real live penguins. And they were downright curious about what was inside — and why they hadn't gotten one in the mail!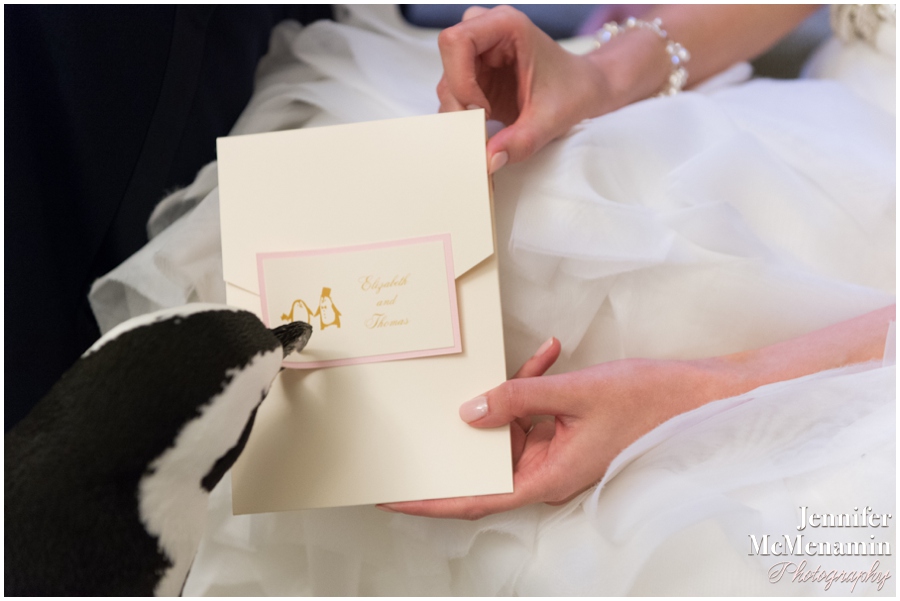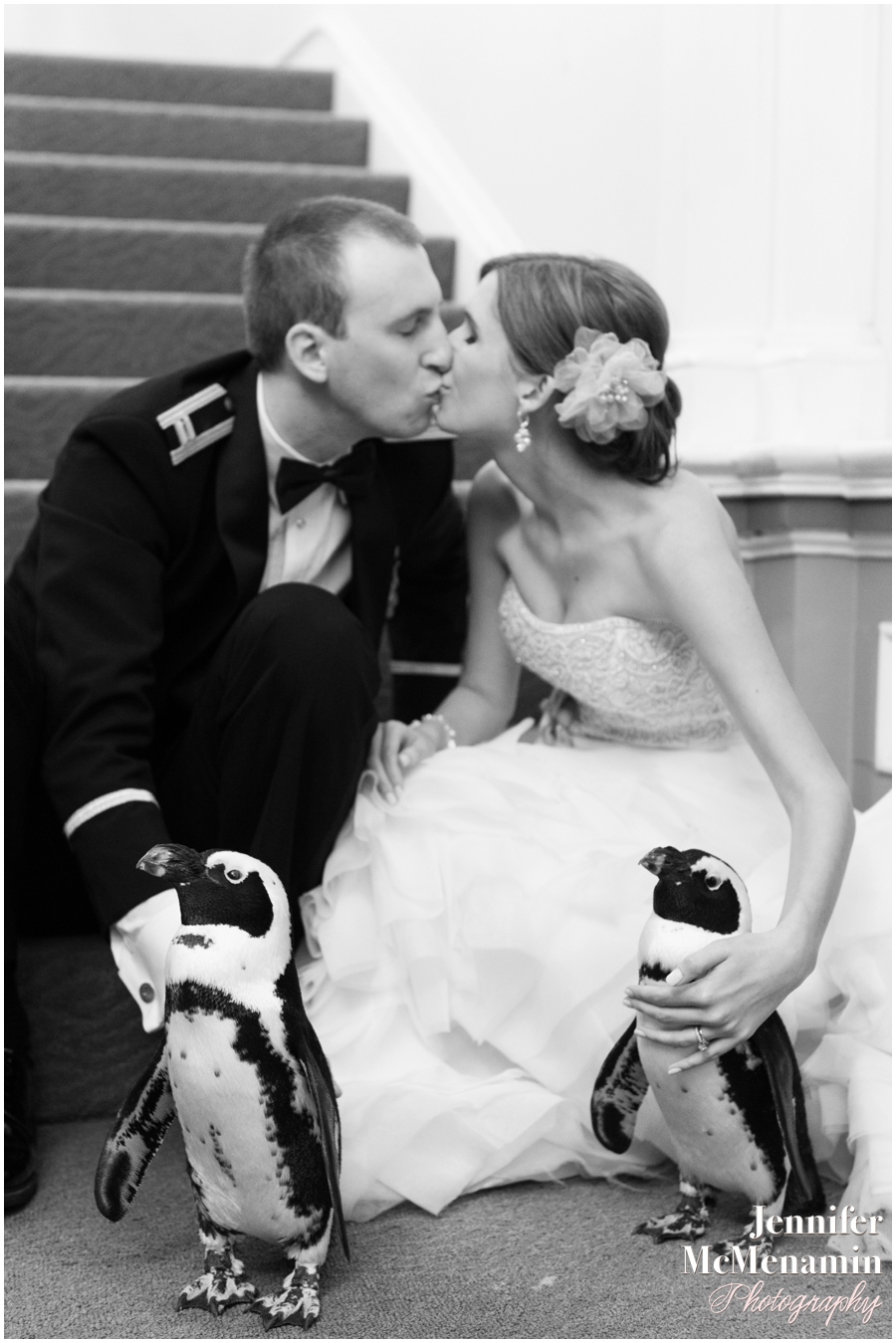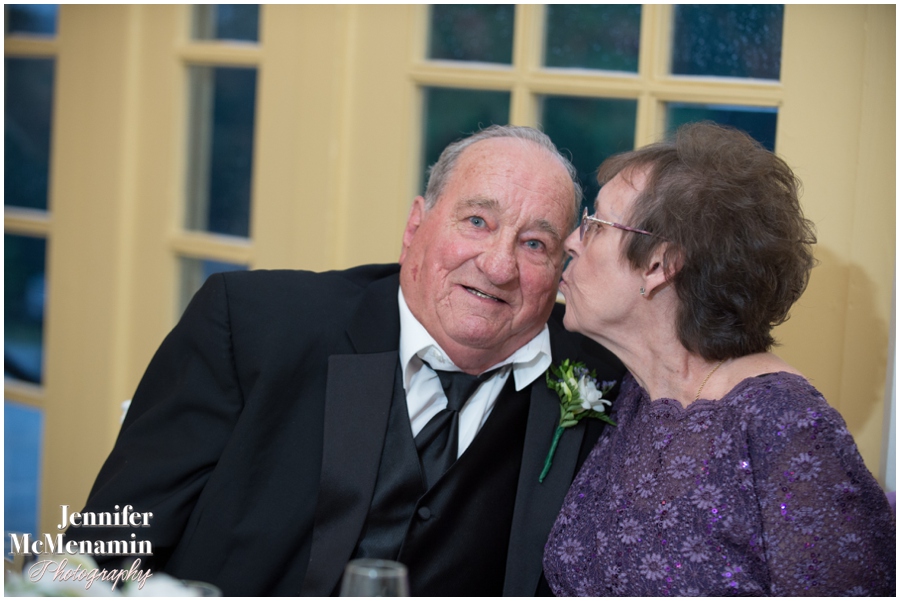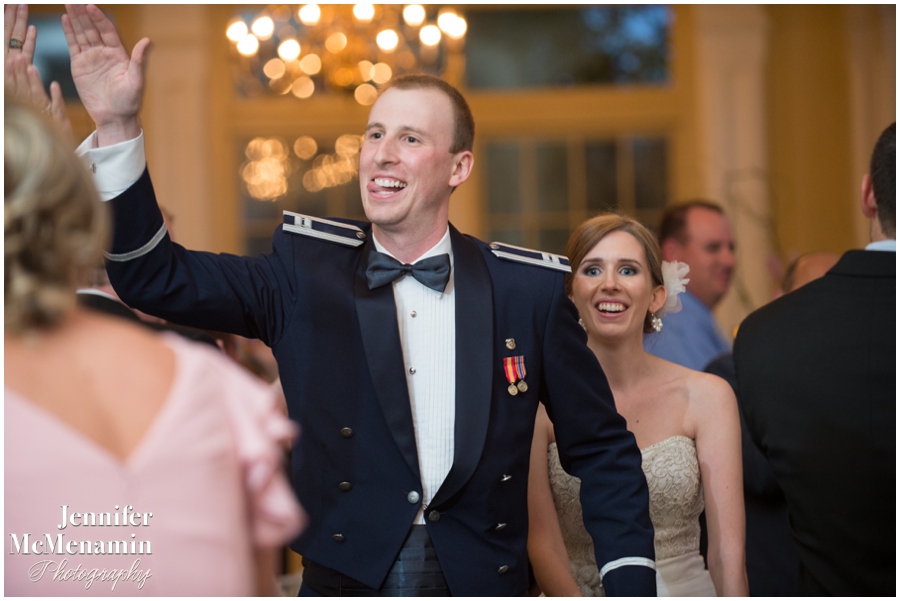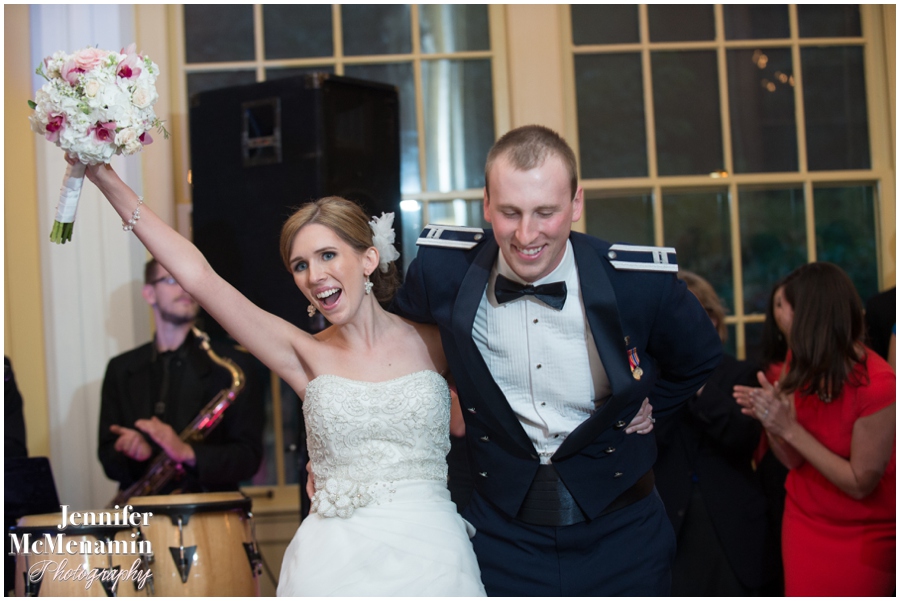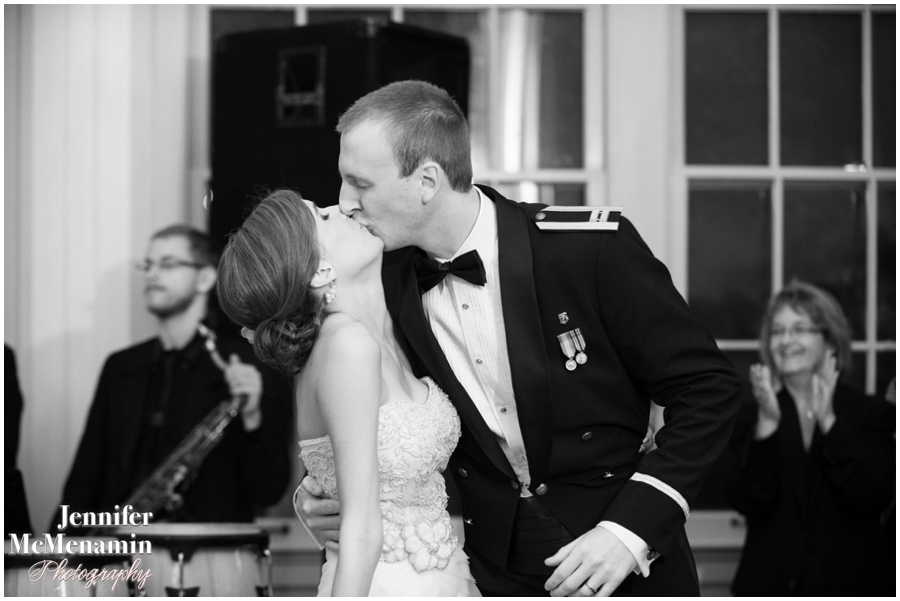 Many, many congratulations, Elizabeth & Tommy. It was an absolute joy working with you!
Credits:
Photography: Jennifer McMenamin Photography, LLC

Ceremony: The Shrine of the Sacred Heart
Officiant: The Reverend William Au
Ceremony musicians: Organist Thomas Wilson and Soloist Cara Rogers-Gonzalez

Reception: The Mansion House at the Maryland Zoo in Baltimore

Catering: Rouge Fine Catering

Bridal attire: Enzo Blue gown from Love Couture Bridal
Make-up: Behind the Veil

Hair: Studio Ten 83

Bridesmaids' attire: Dessy
Groom's attire: U.S. Air Force mess dress uniform

Florist: Floral Accents
Cake: SugarBakers Cakes

Band: Spectrum from Washington Talent Agency

Videographer: Maverick Productions
Invitations: Polka Dot Penguin