Danyale & Michael

Newton White Mansion - Washington DC wedding photography - Maryland wedding photography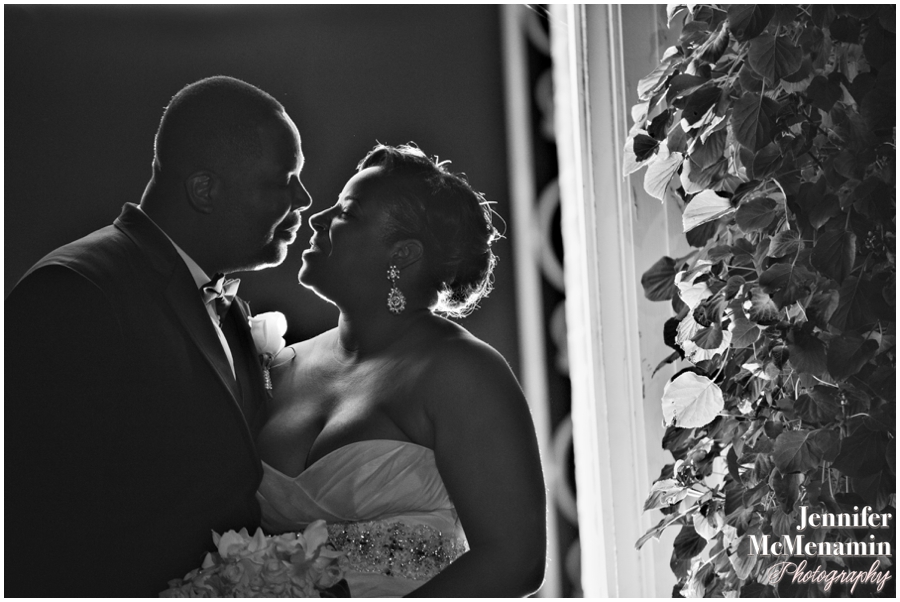 Danyale and Michael planned an incredibly elegant fall wedding with a color scheme that centered on the deep blues and turquoises of the peacock. Danyale's eleven attendants wore two shades of peacock blue. Michael's eight guys wore turquoise bow ties and neckties. The flowergirl carried a wand bedecked with streamers in the same hue and the darling, ham-it-up ring bearer wore a bow tie of turquoise — and later turned his tongue the same shade after a few visits to the color-coordinated candy bar at the reception! The forecast for Danyale and Michael's wedding day was iffy. This was troublesome because they had planned an outdoor sunset ceremony to take advantage of the often-beautiful October weather and colorful fall foliage at their venue, which faces the woods. It drizzled off and on throughout their wedding day and then again about 15 minutes before the ceremony, leaving some early-arriving guests in rain ponchos and umbrellas in their seats. But storm clouds moved on out just when we needed them to and Danyale and Michael were able to have a beautiful — if a bit dark! — outdoor wedding.  The reception included a series of wonderful toasts, including from matron of honor and matchmaker Manika, who was instrumental in setting up her good friend (the bride) with her cousin (the groom) and shared a few funny stories about their pairing. There was also a photo booth that was full all night long, a signature blue cocktail, a hopping dance party and a fabulous feathery reception dress for the bride. I knew after our DC engagement session that Danyale and Michael would be a lot of fun on their wedding day. But the combination of their amazing 23-person wedding party (!), Danyale's great sense of style and her and Michael's wonderful way of being together made it an absolute joy. Here are some of my favorites from Danyale and Michael's wonderful day:
I started with the bride and her girlfriends, who were primping and prepping together.
And then we were off to the beautiful Newton White Mansion.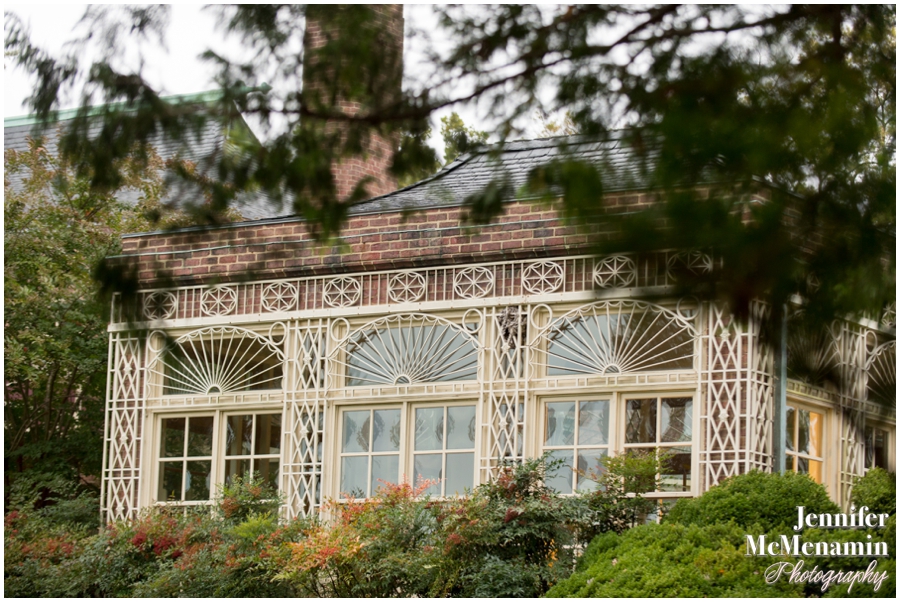 The groom arriving.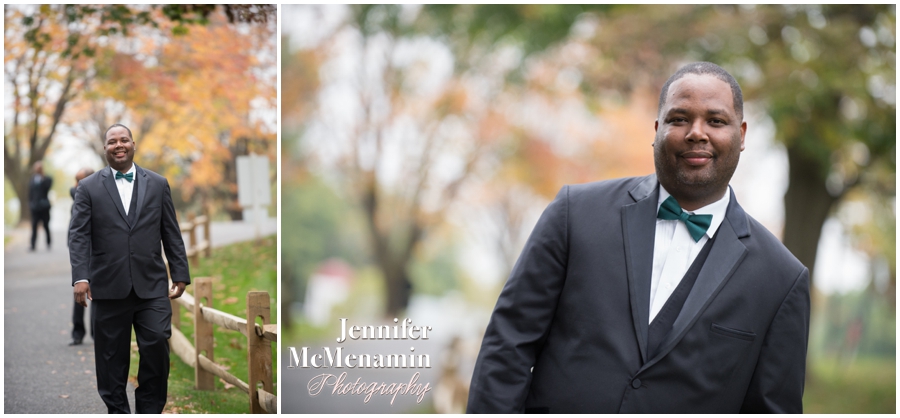 A dapper little guest.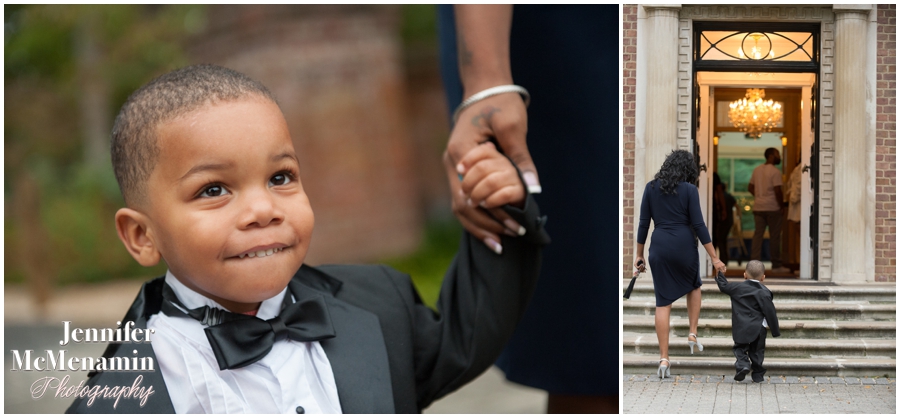 The bride and her girls arrived in a gigantic Hummer stretch limousine.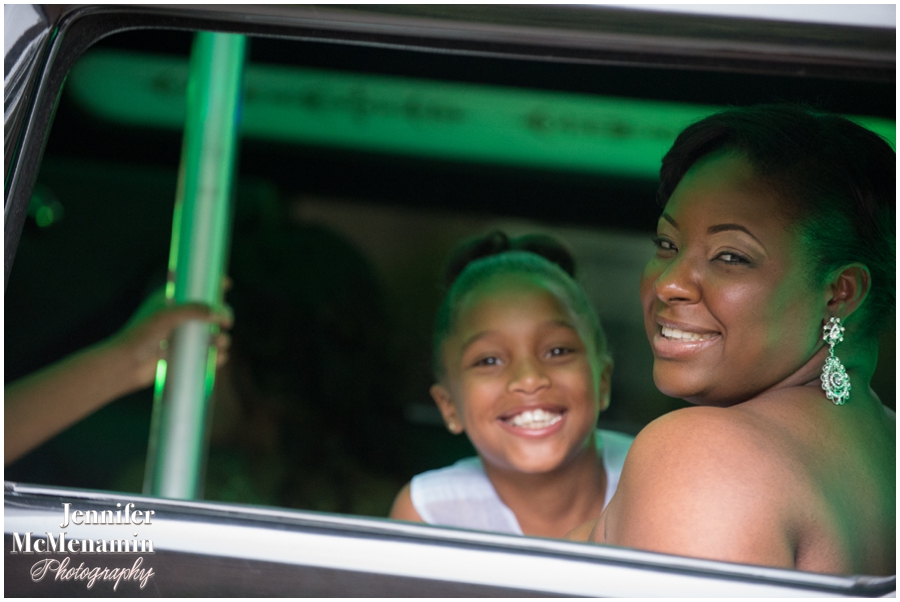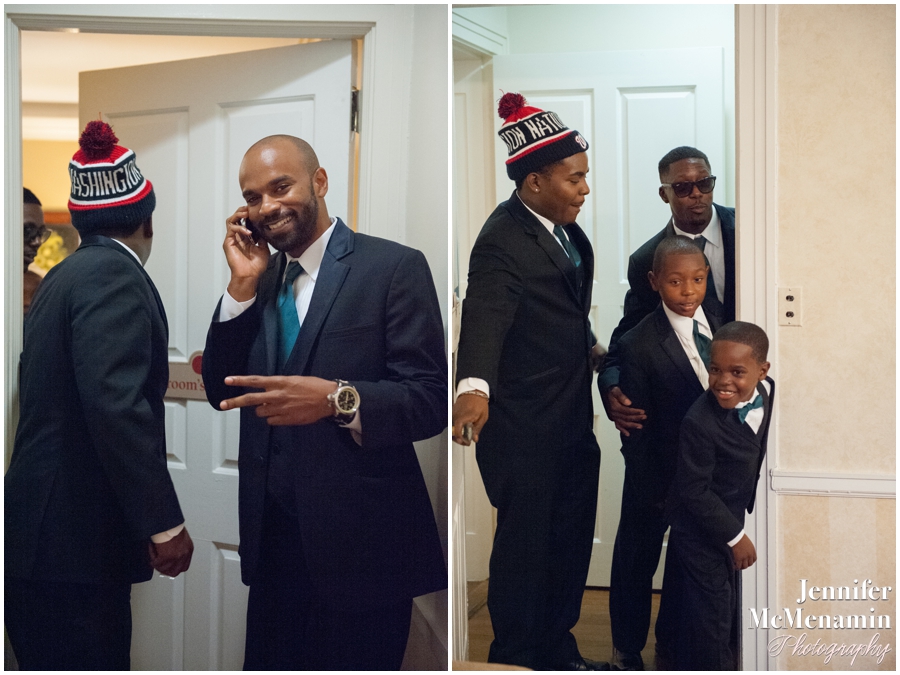 A few ceremony details before it got dark!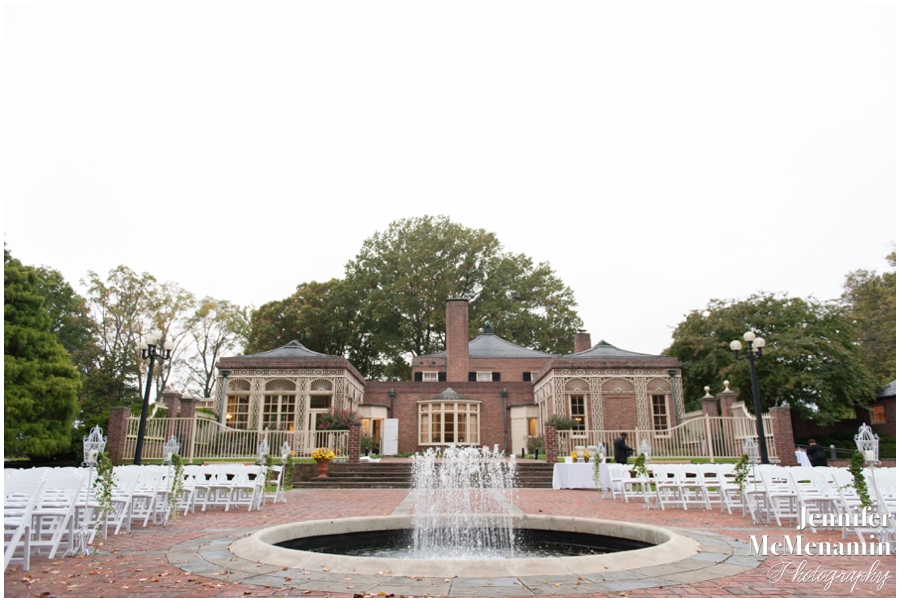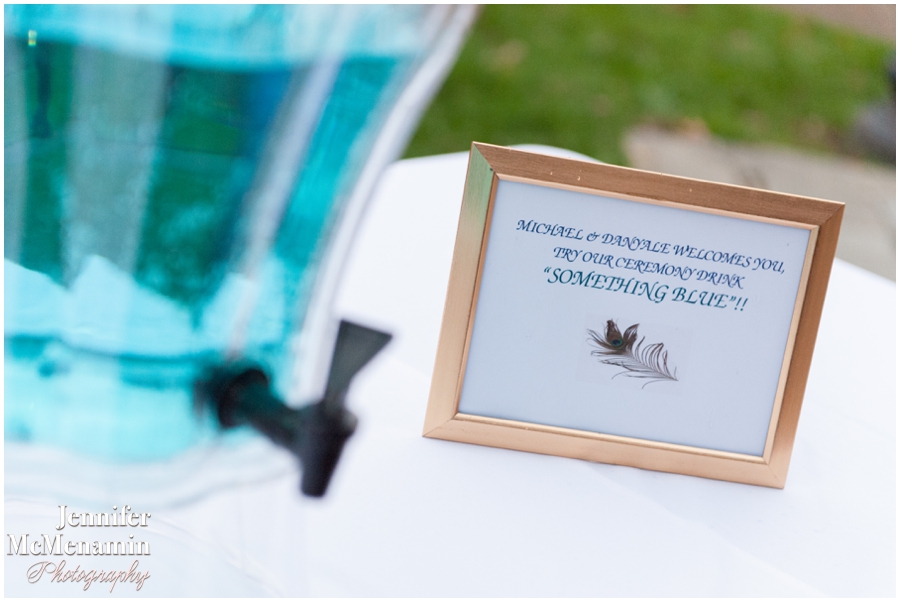 And then it was time to get married!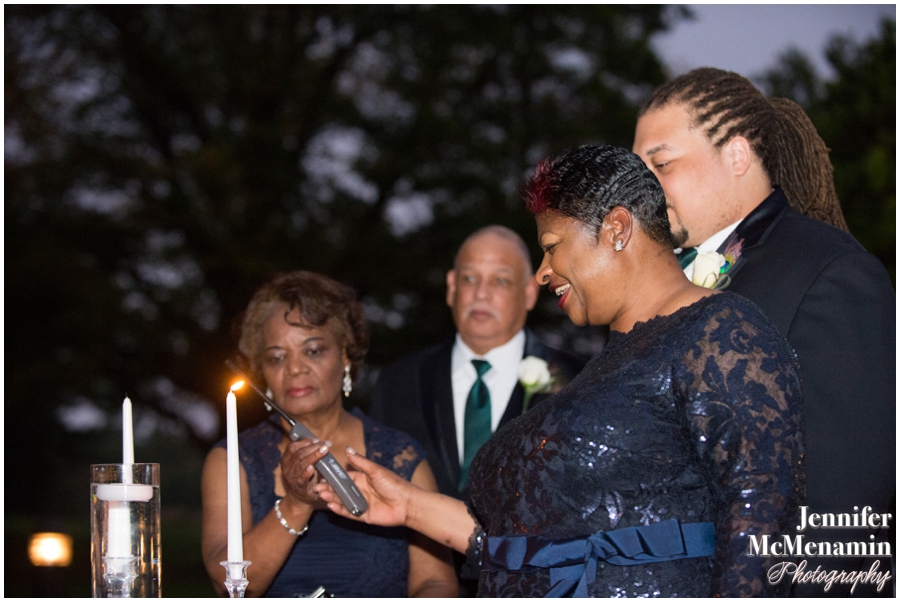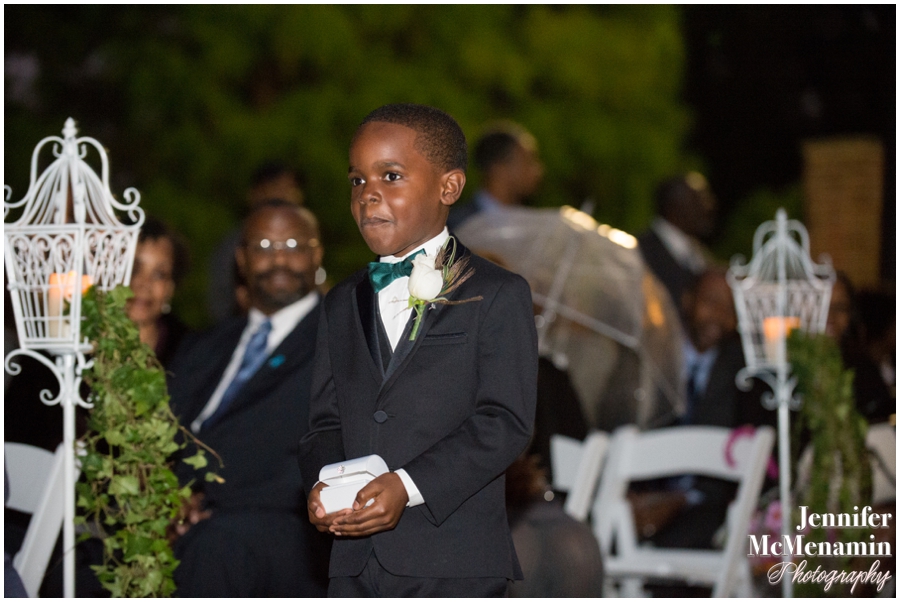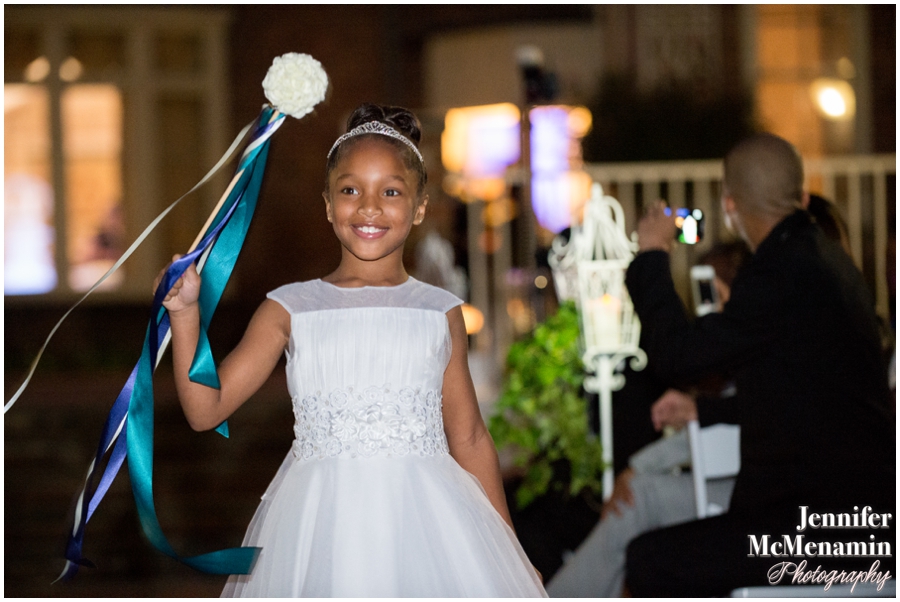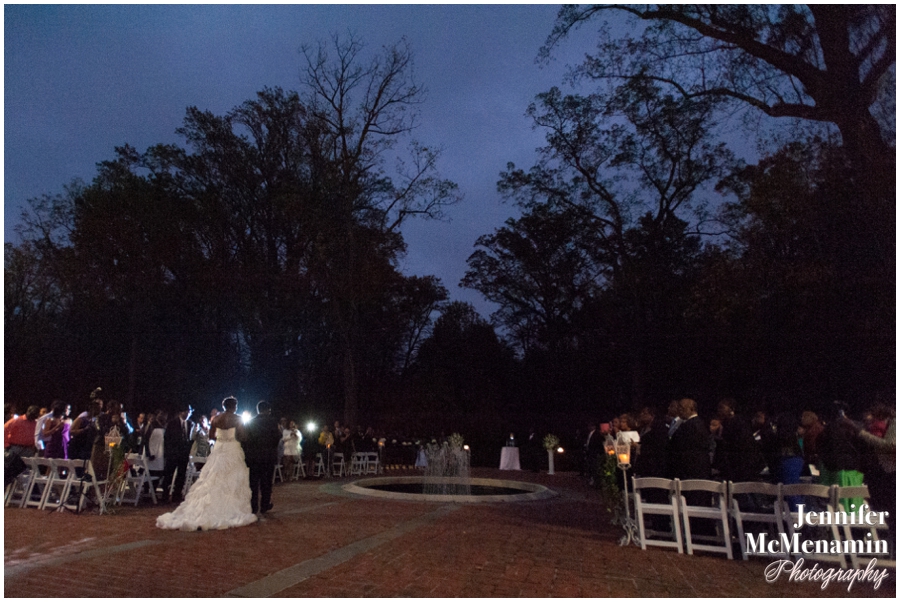 Thank goodness for the glow of the iPad screen from which the ceremony was read!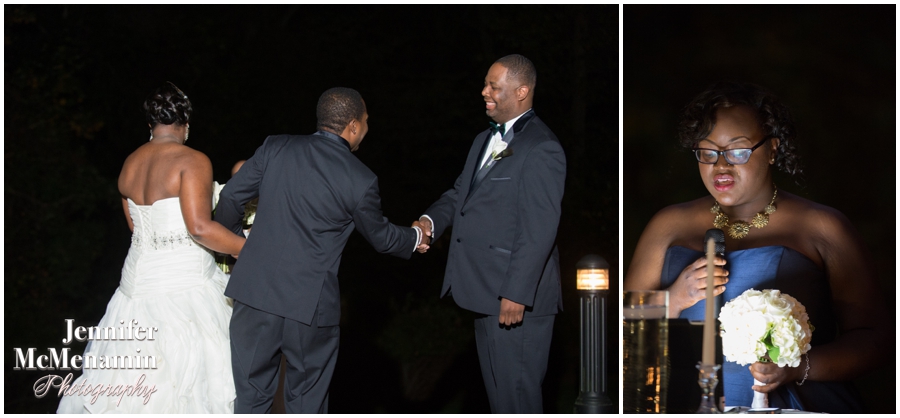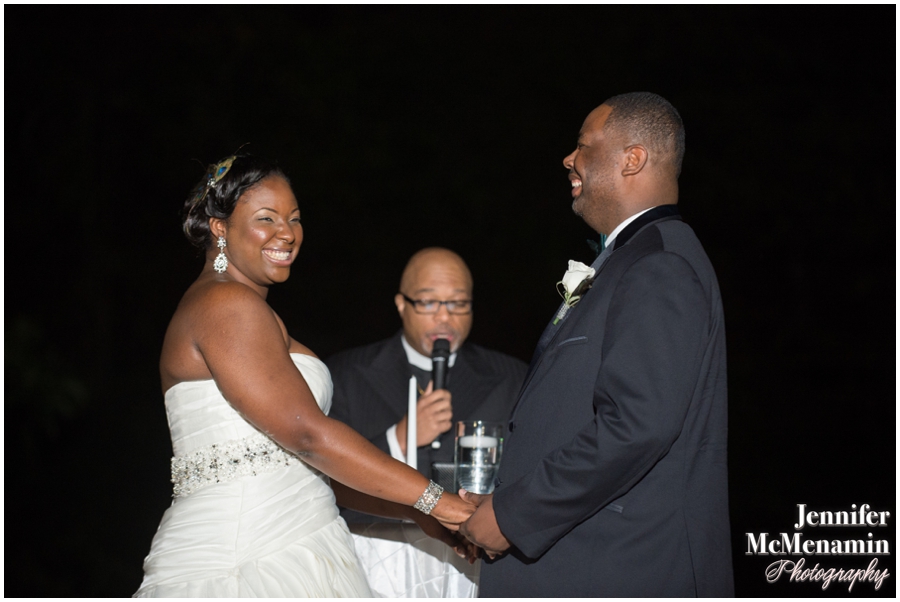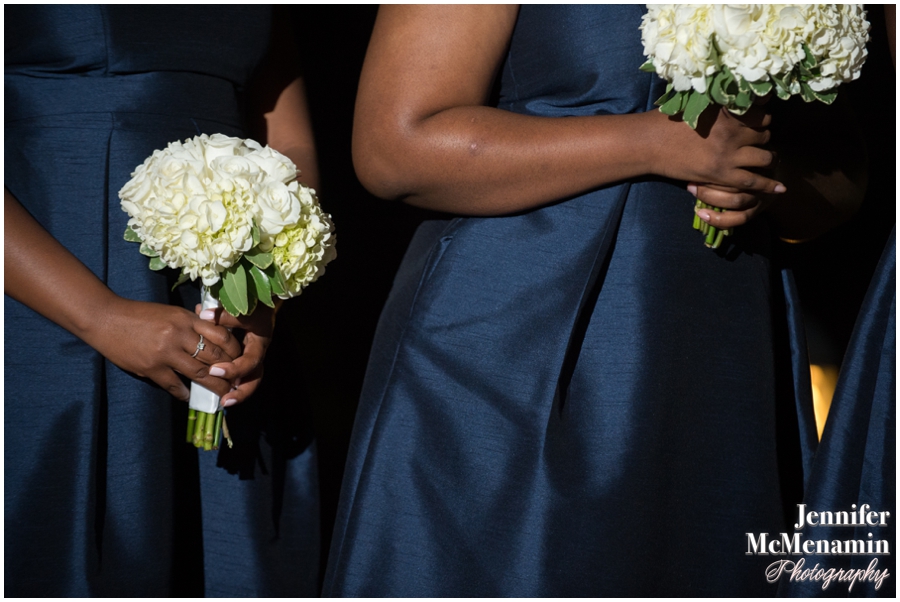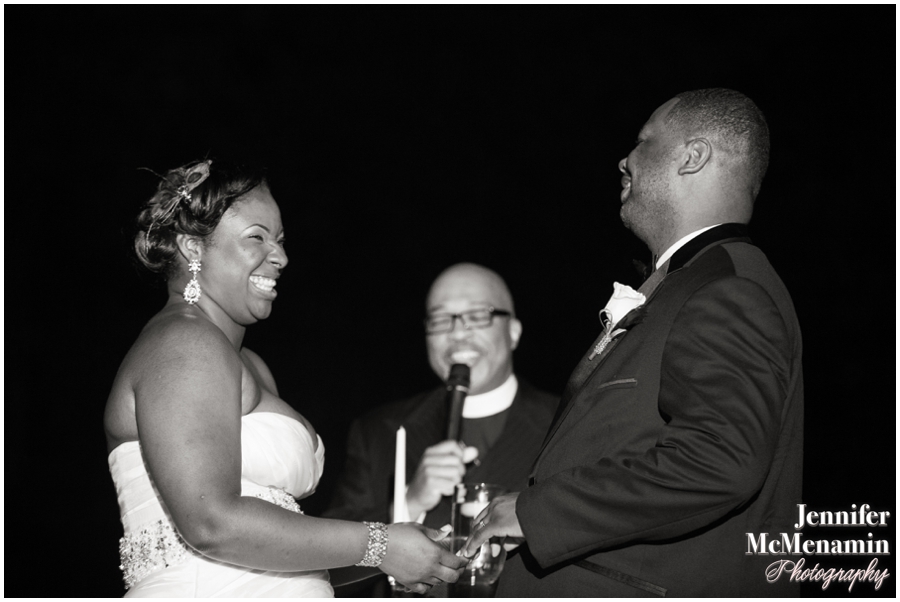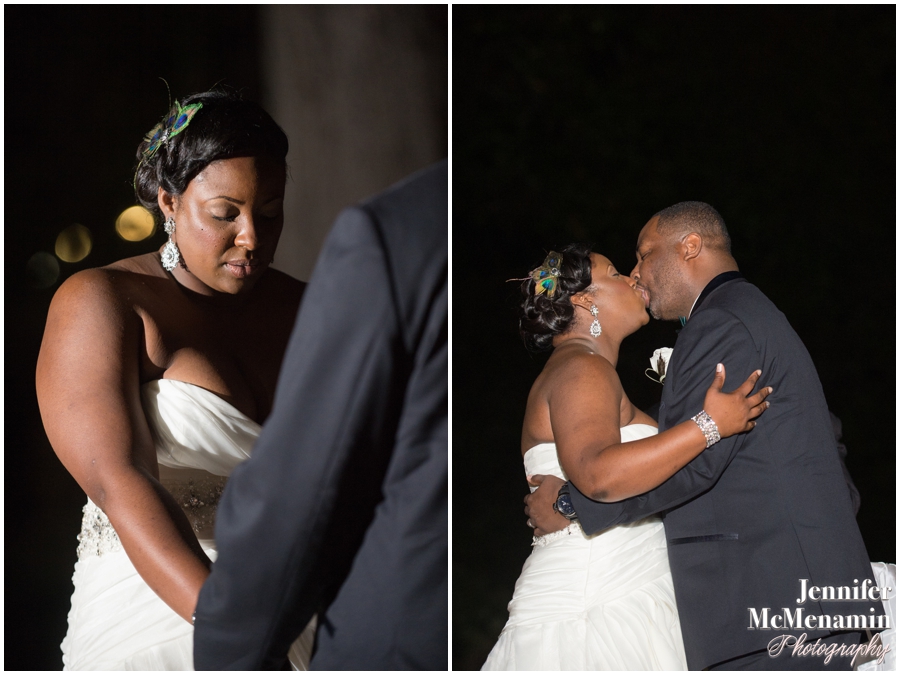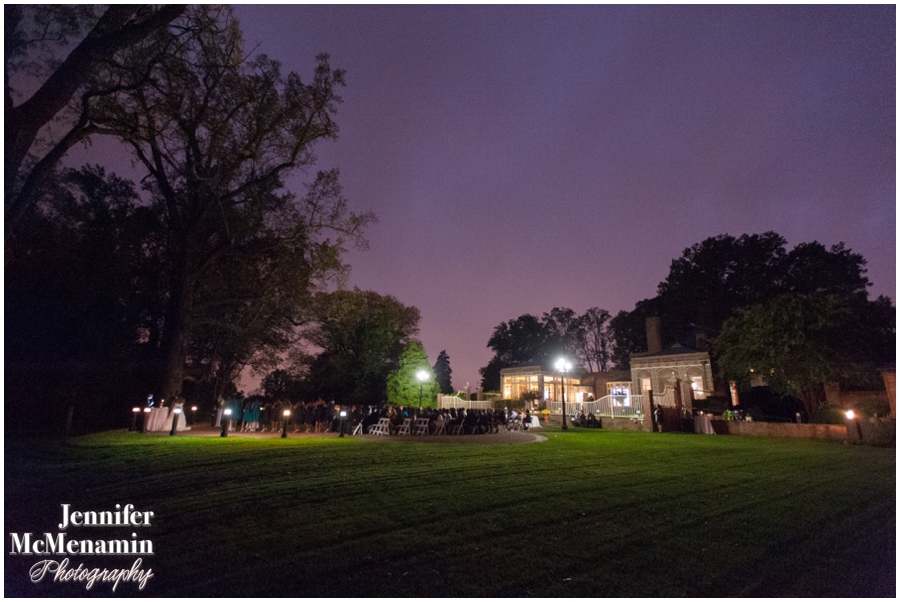 Danyale and Michael's wedding party could not have been more fun! She told me that she took some flak for having such a big group. But I agree with her that you should be surrounded by the people who mean the most to you in the world when you exchange vows, whether that's two friends or twenty!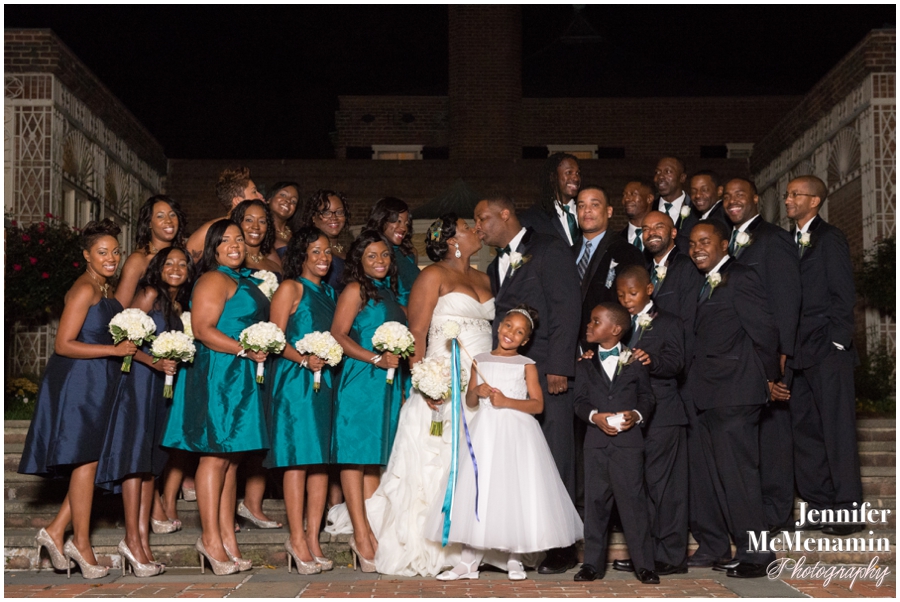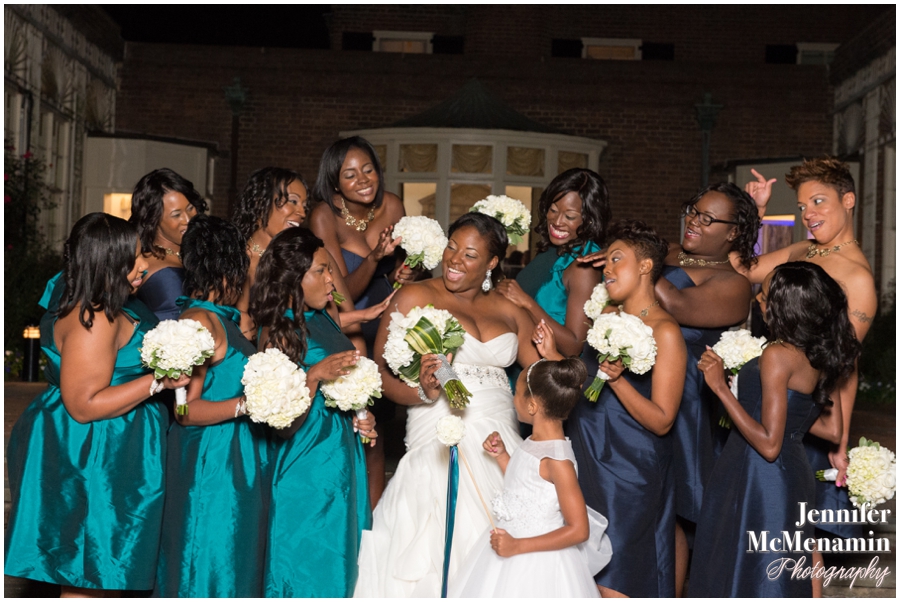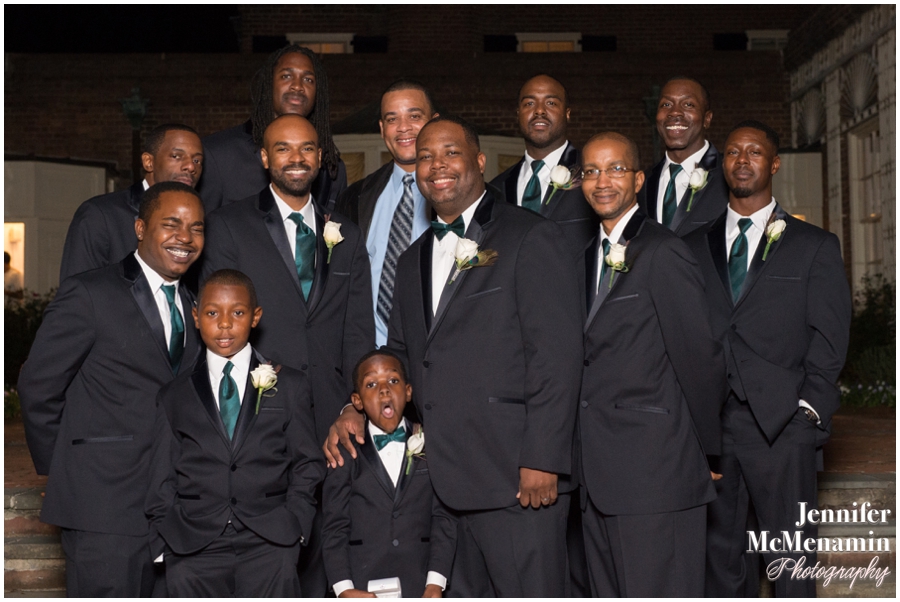 A few portraits of the newlyweds.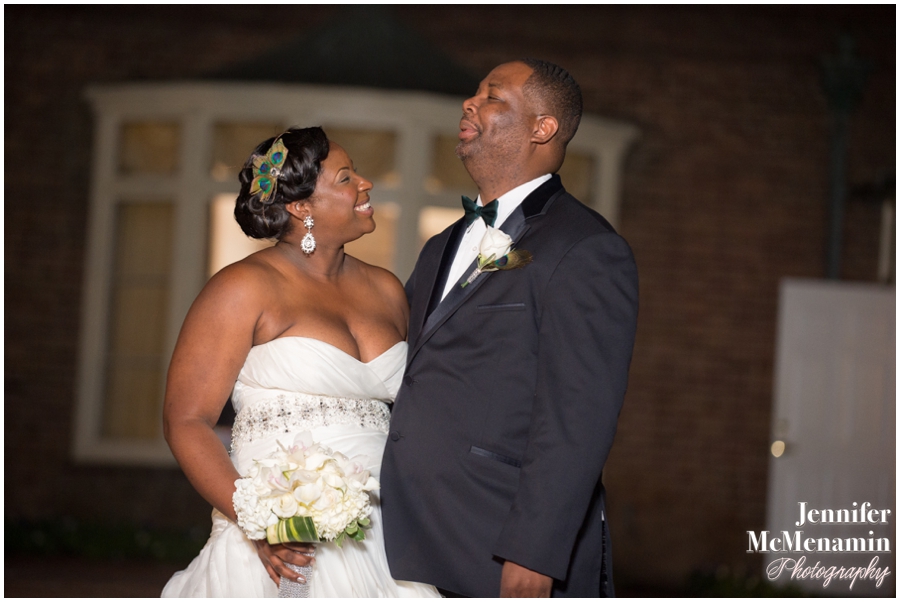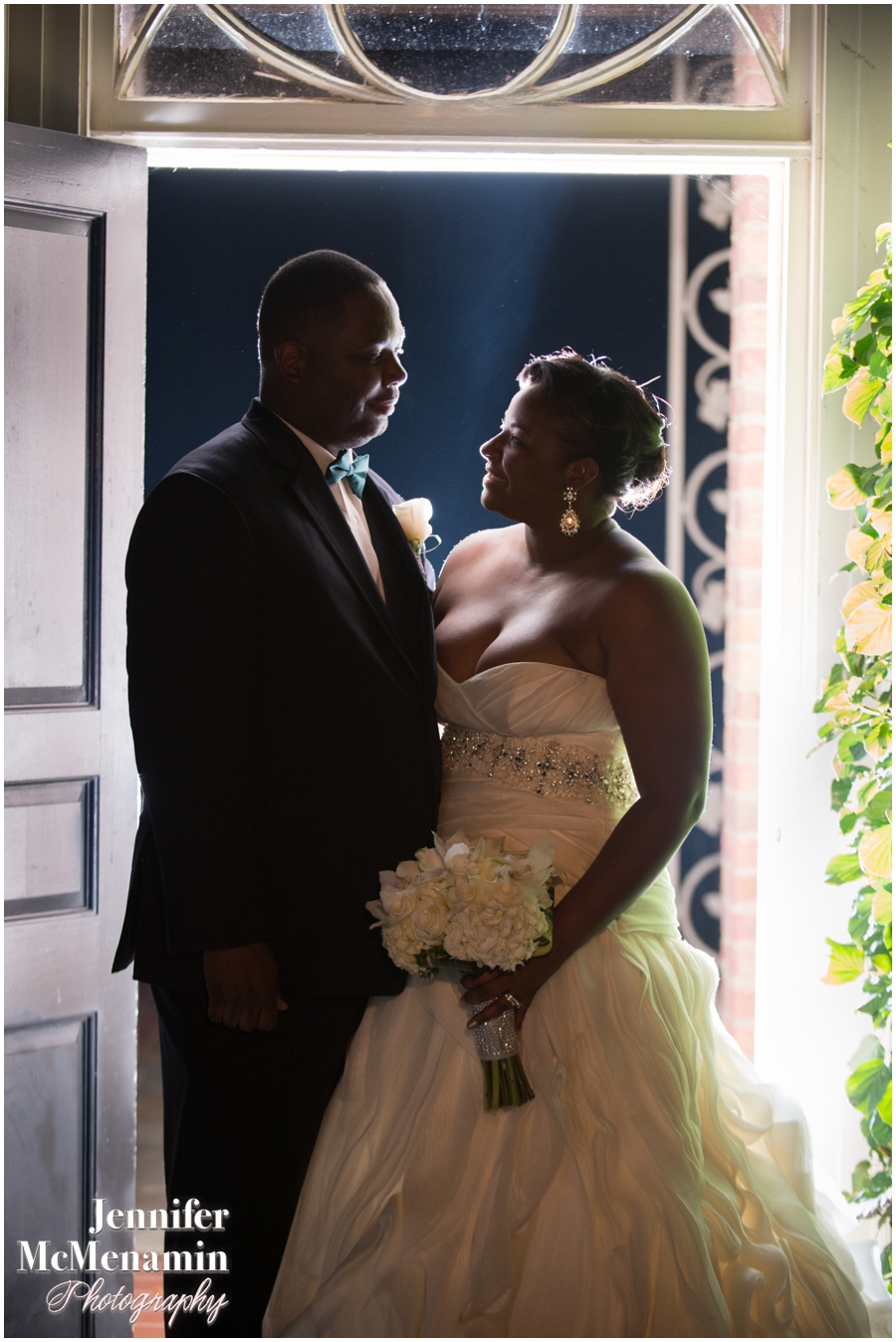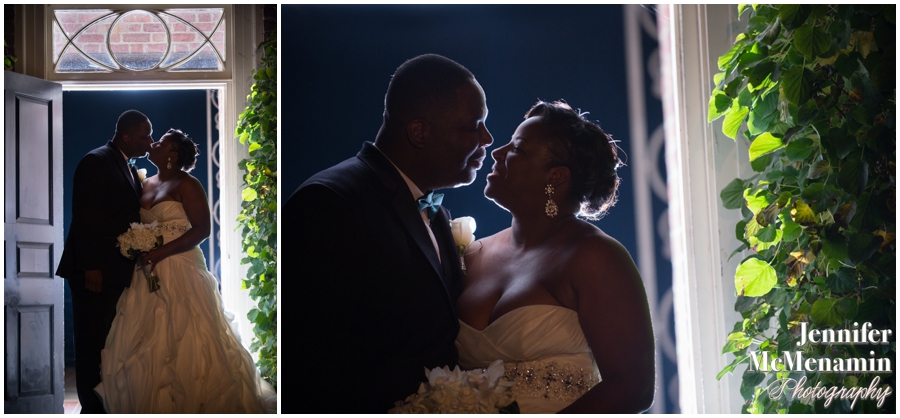 Danyale was super excited about her glamorous, peacock-inspired reception and asked for lots of detail shots. It was not difficult to oblige.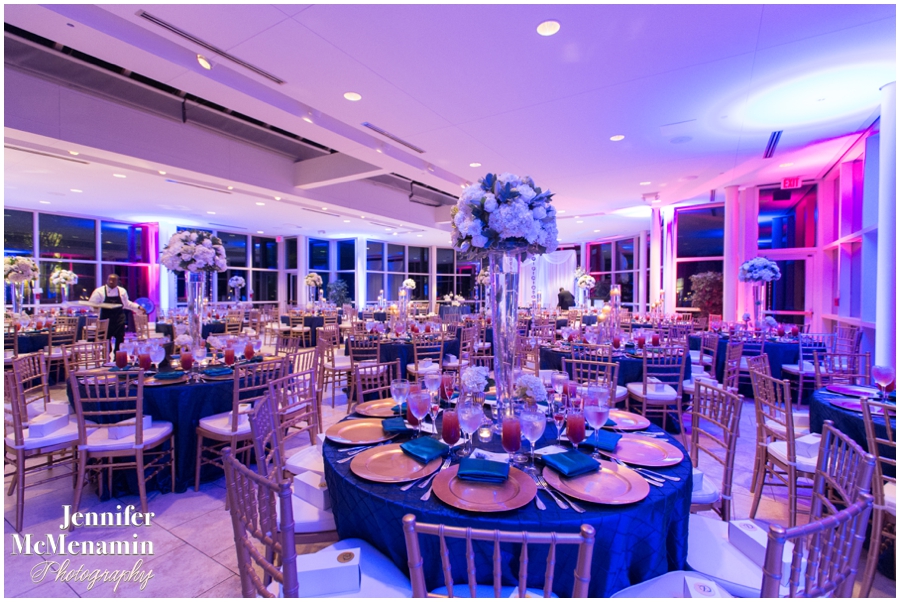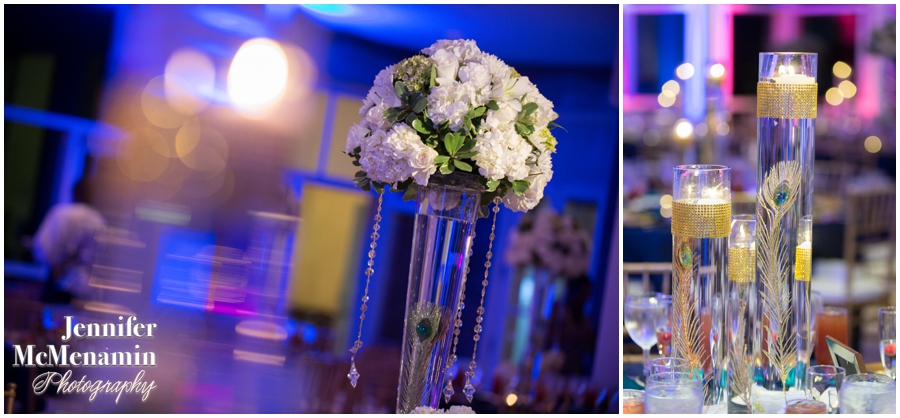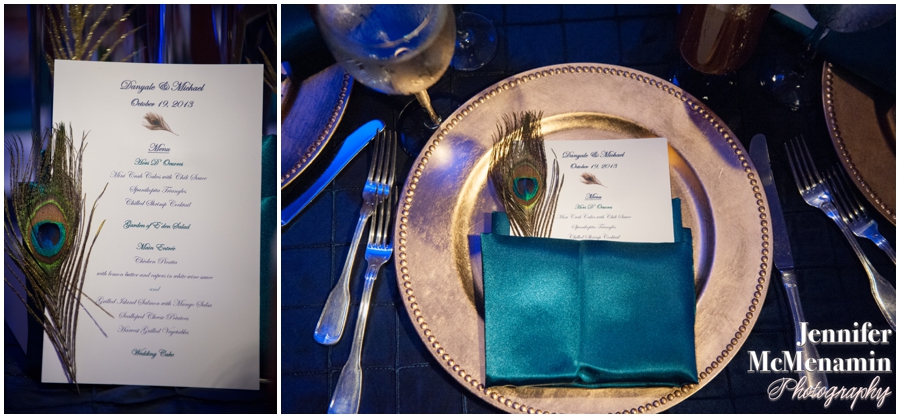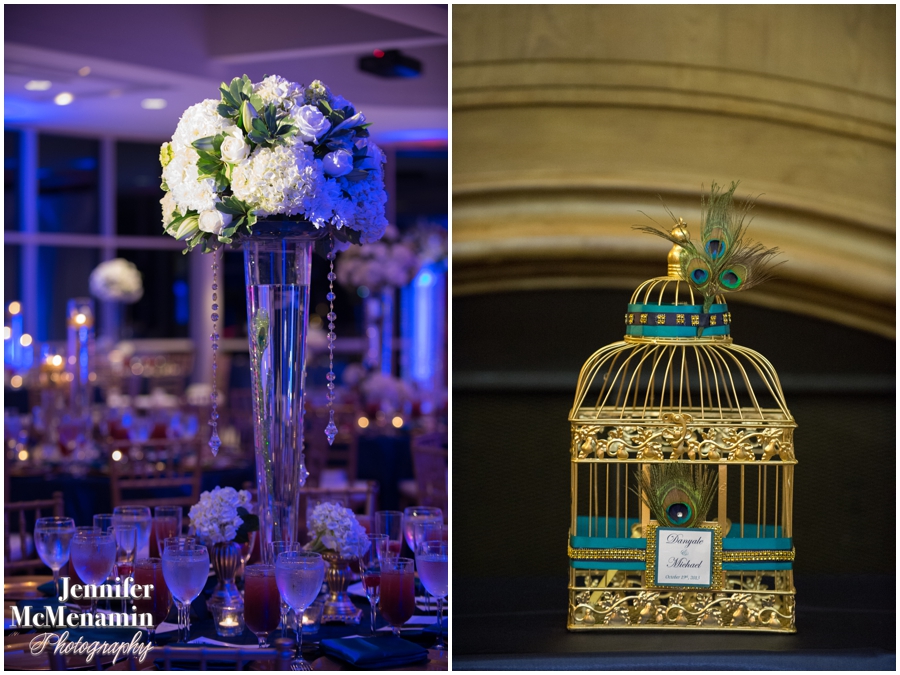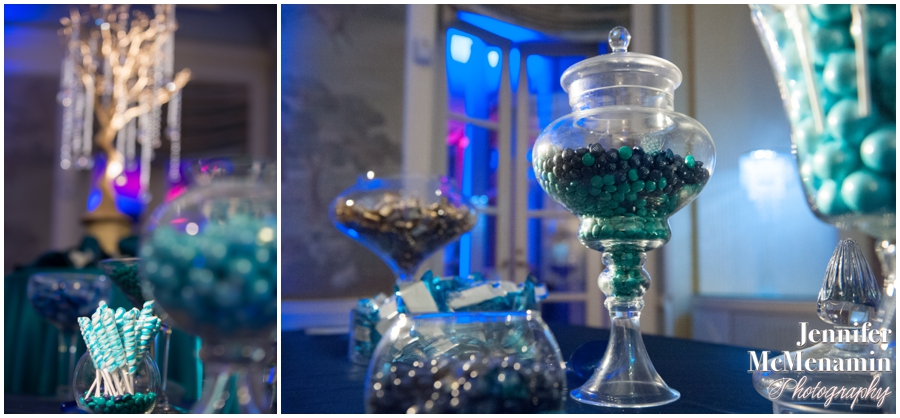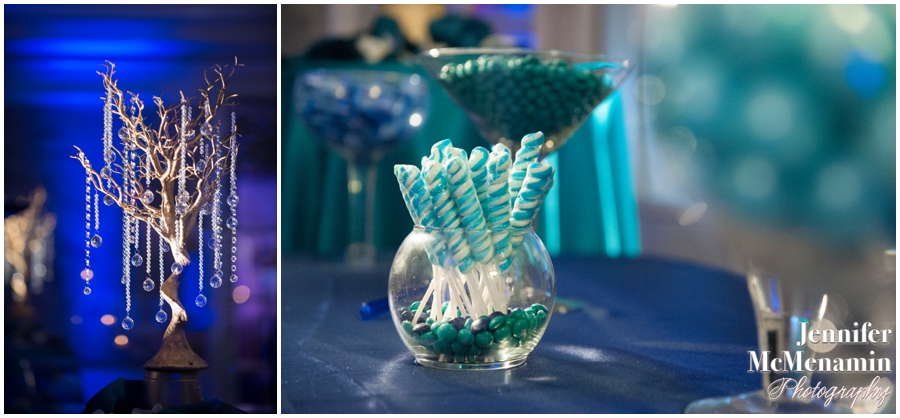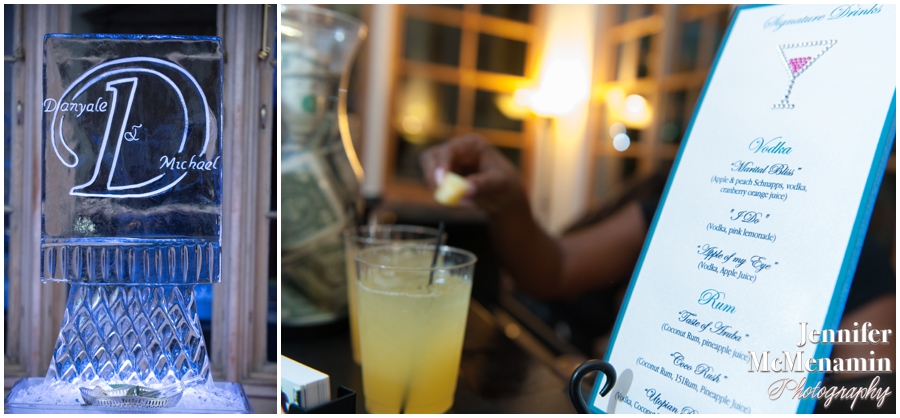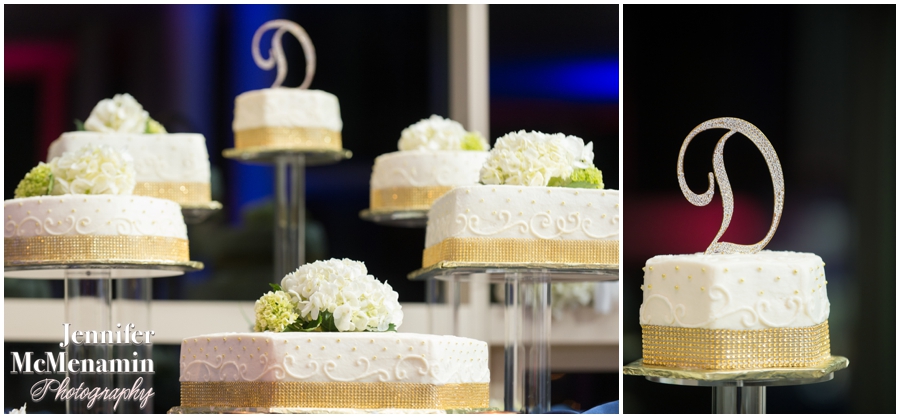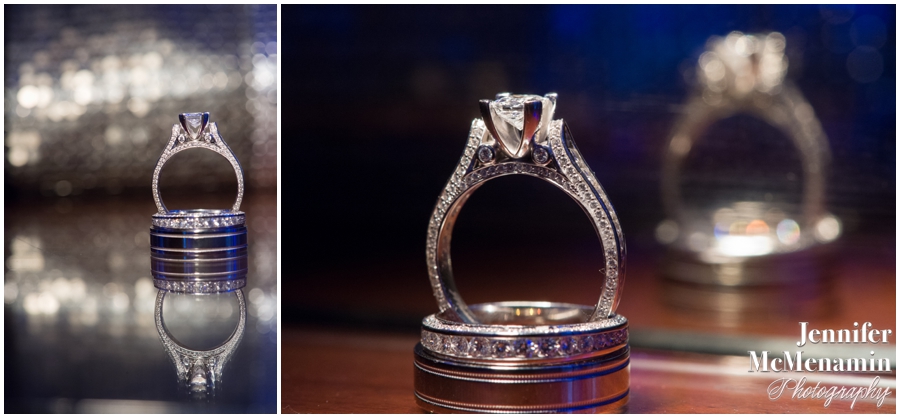 The seriously cute flowergirl and ring bearer.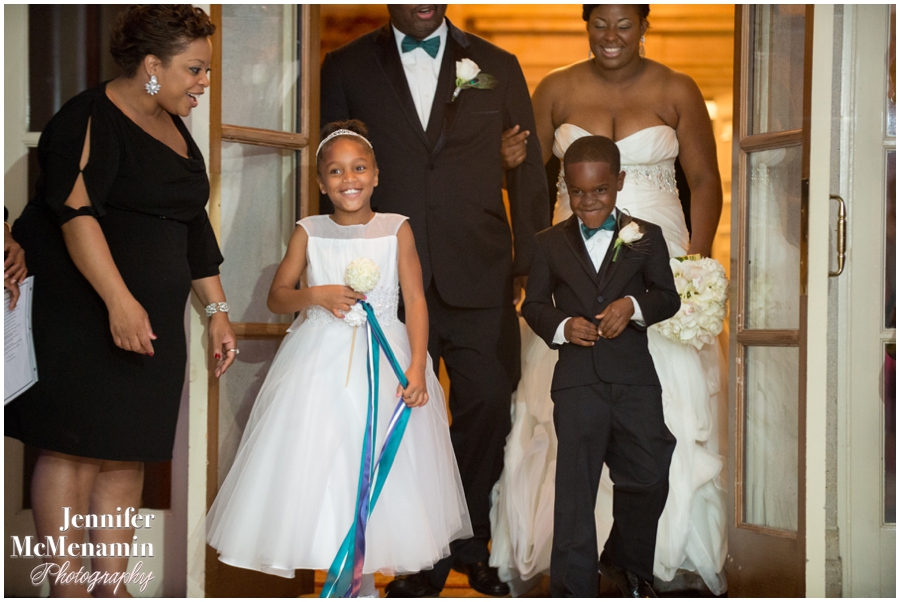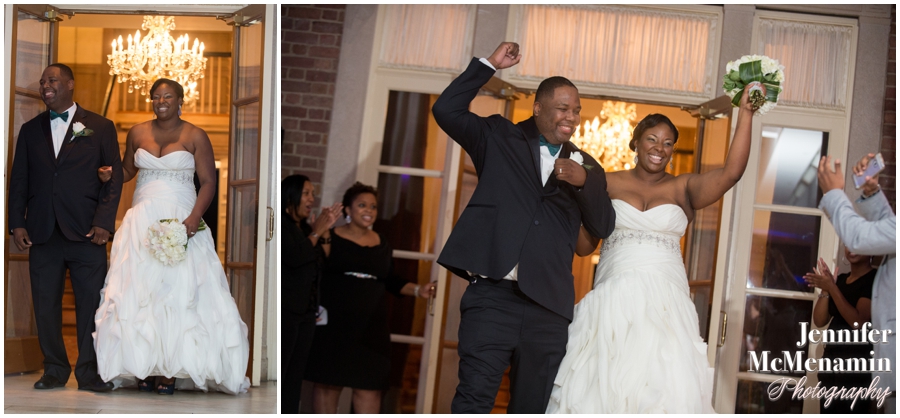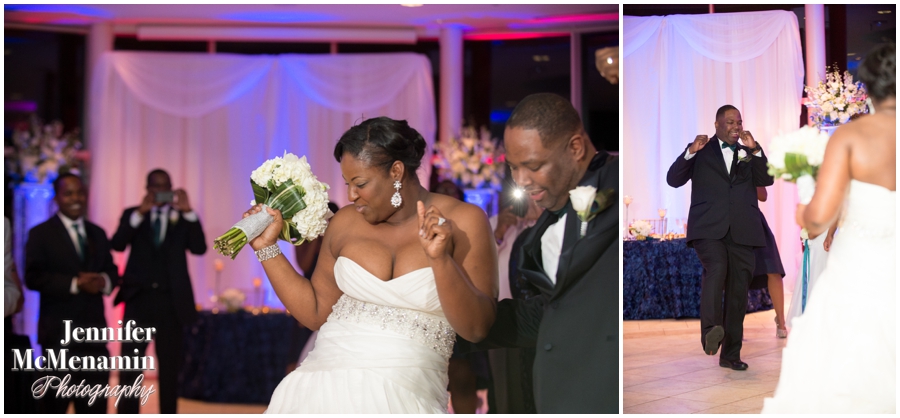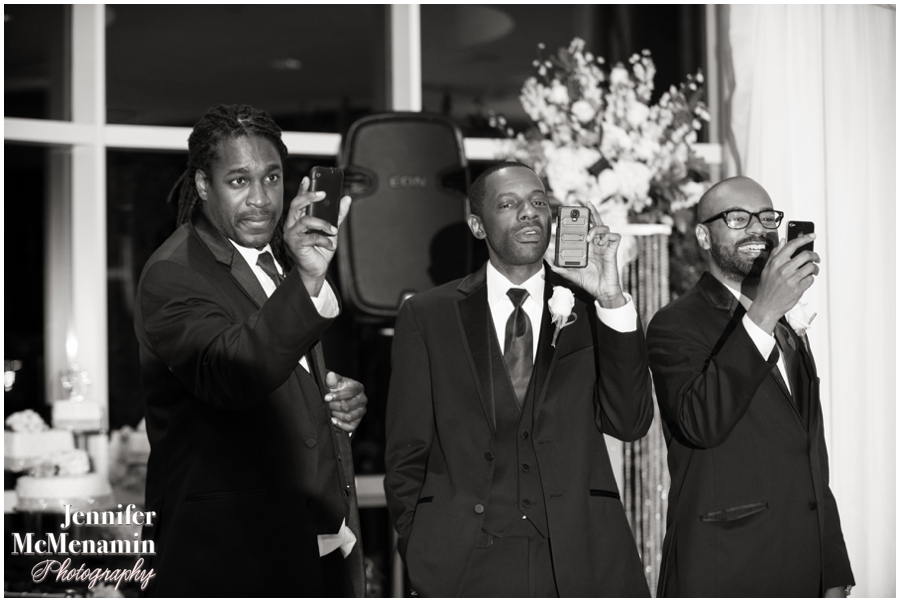 A first dance.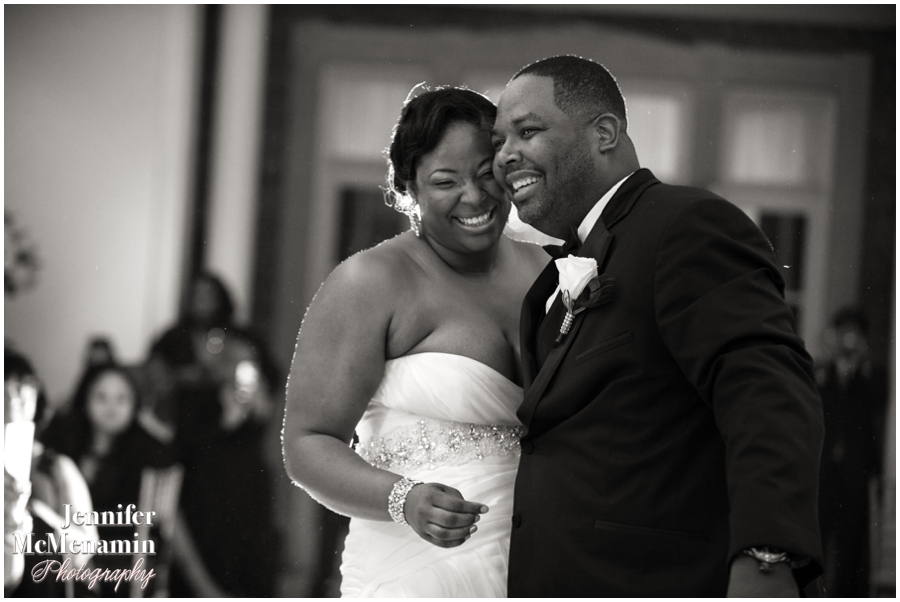 A little tossing of the bouquet and garter.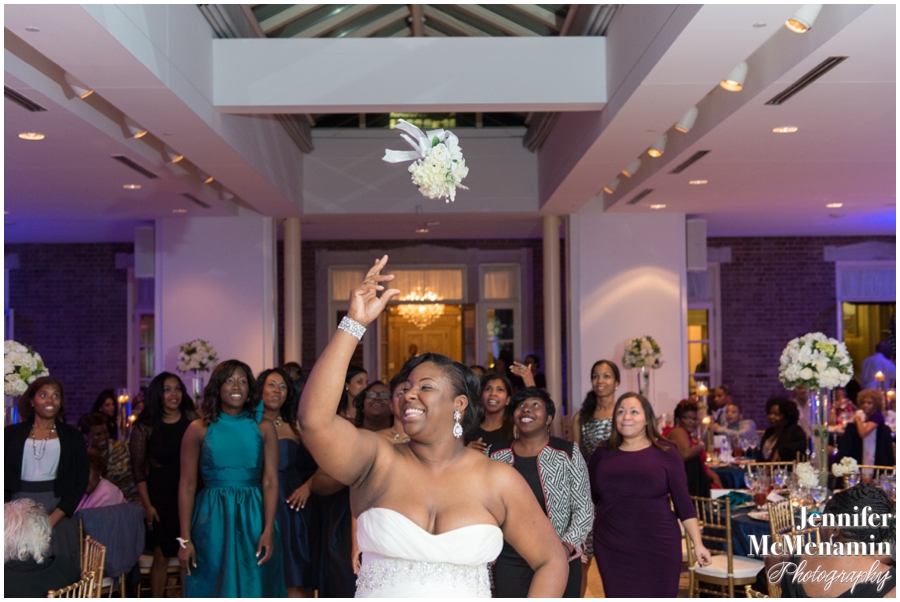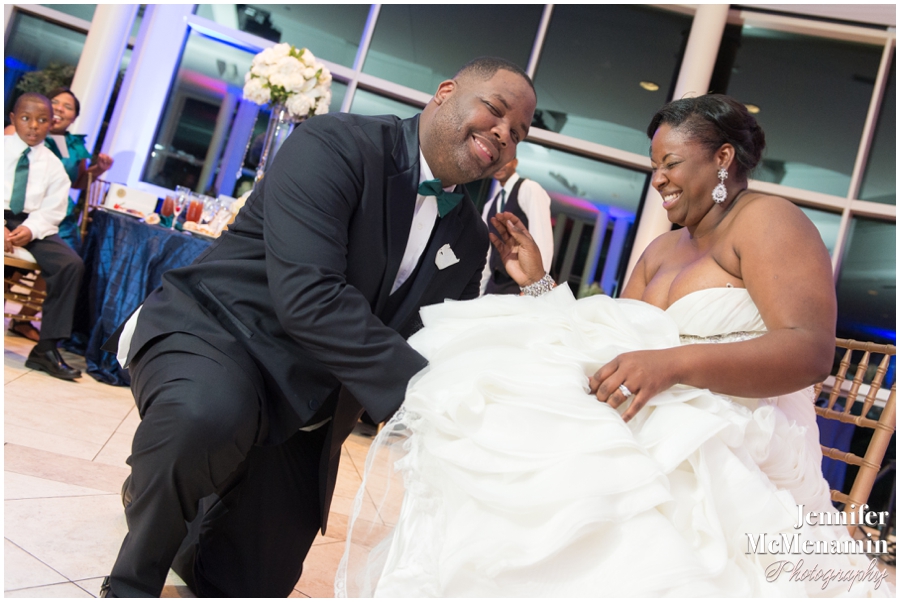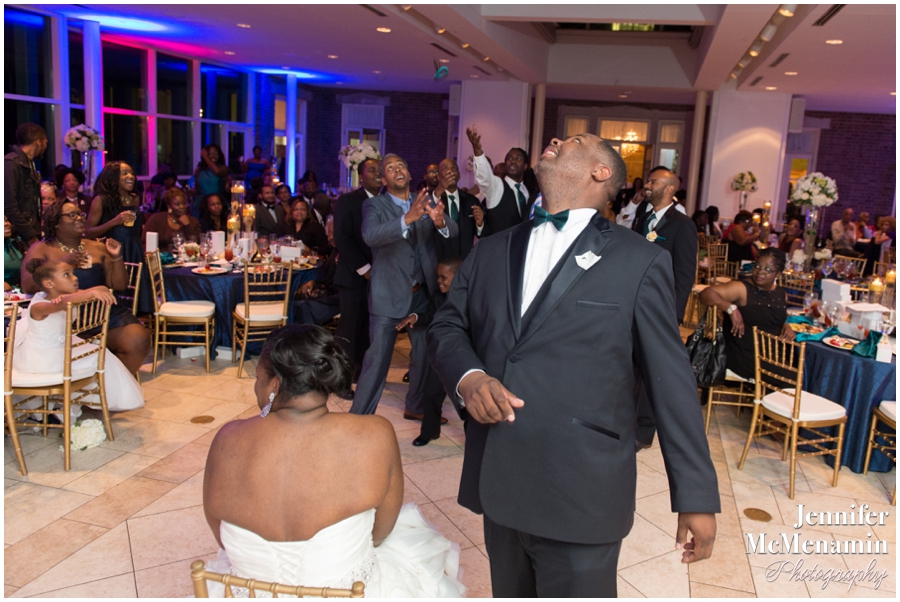 A cake cutting.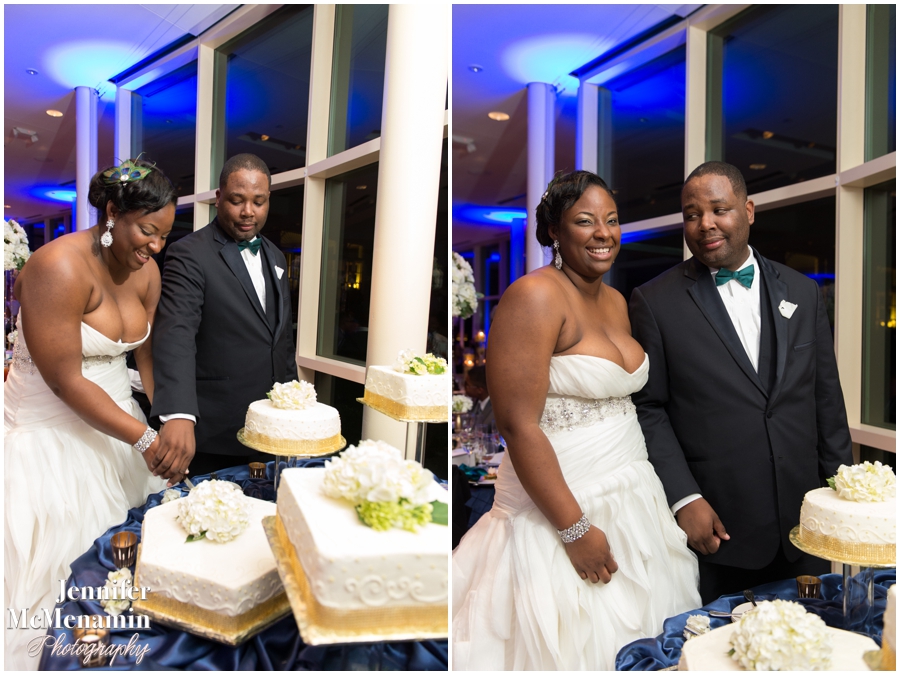 And an outrageously fun dance party.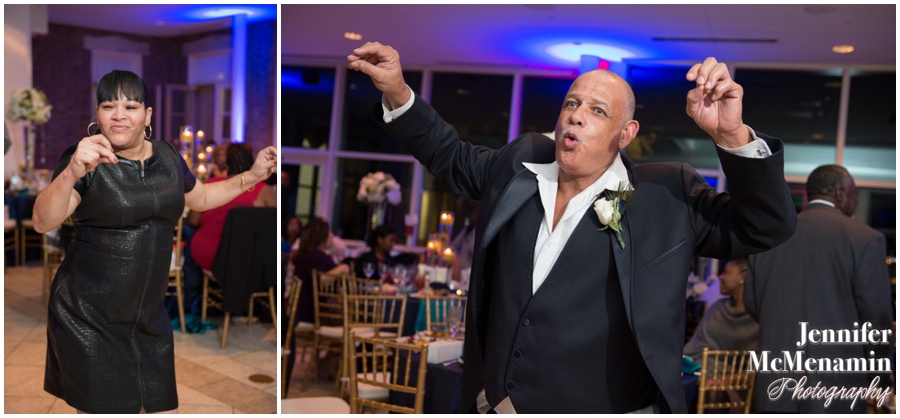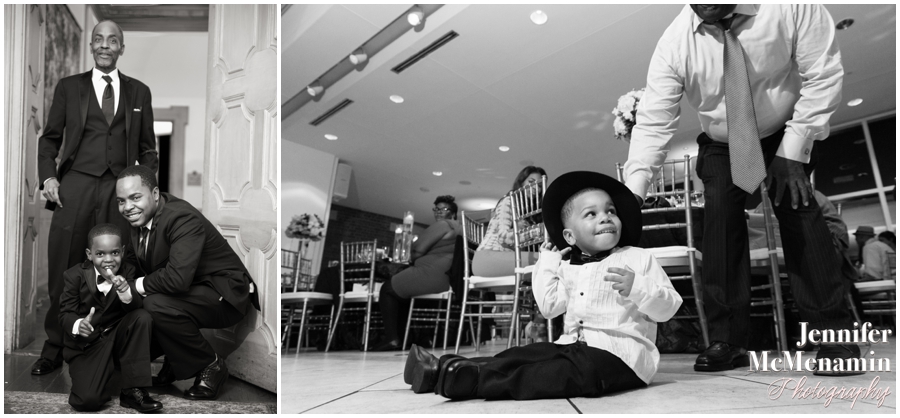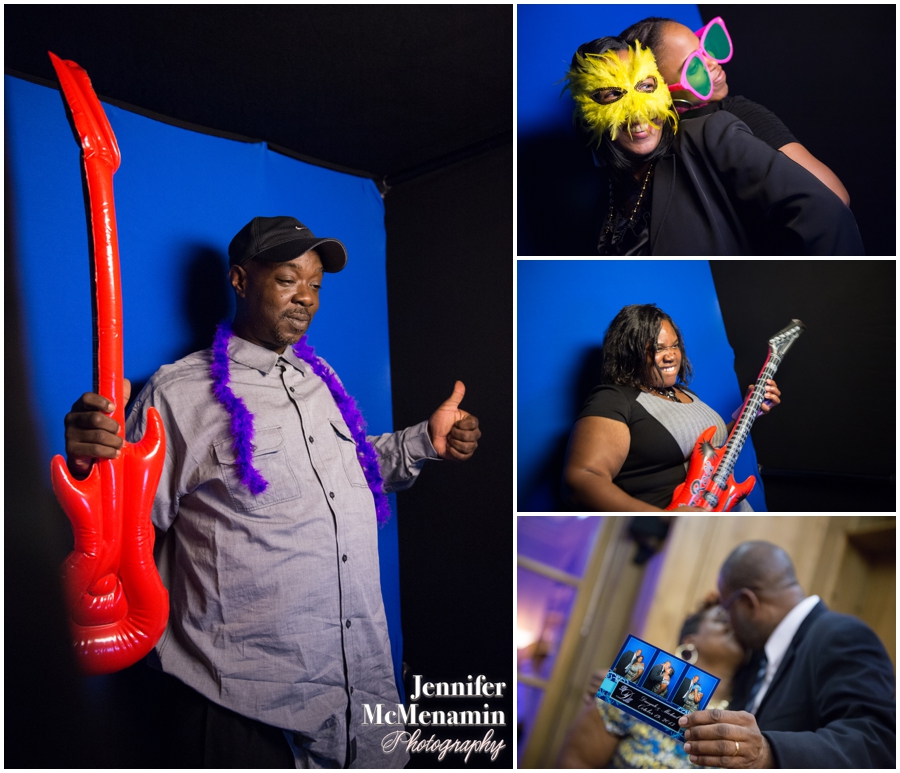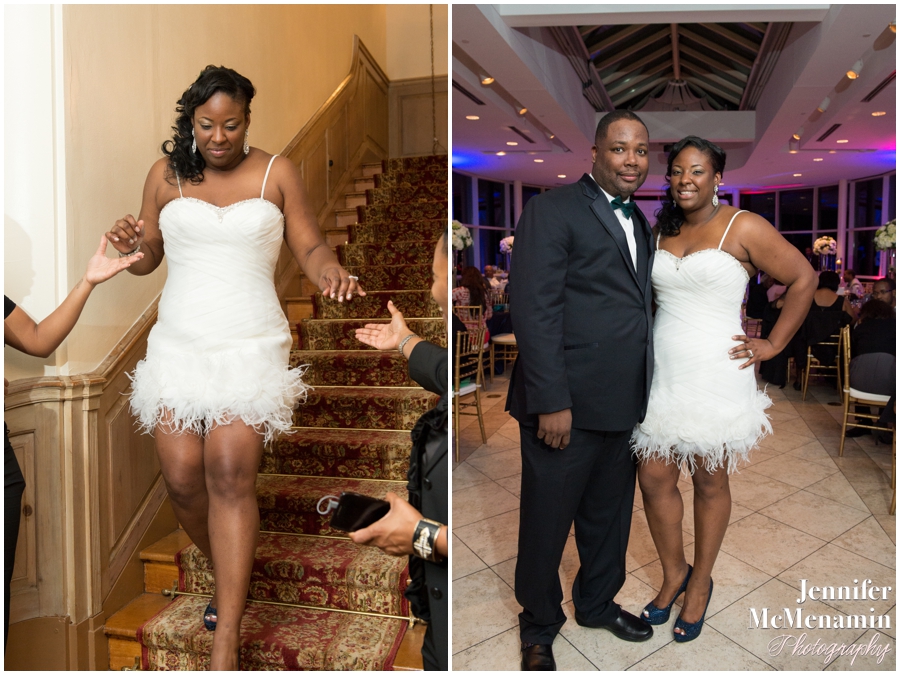 Danyale and Michael, it was an absolute pleasure to work with you both for your wedding! Many, many congratulations.
Credits:
Photography: Jennifer McMenamin Photography, LLC

Ceremony & reception: The Newton White Mansion
Officiant: Pastor Michael V. Kelsey Sr.
Catering: Catering by Vest

Event coordinator: Ronda Baker
Bridal attire: Maggie Soterro from P. Lawrence Bridal
Make-up: Lori Bowden

Hair: Gwendolyn Miller

Bridesmaids' attire: Alfred Sung from the Bridal Boutique
Groom's attire: Lustre Formalwear
Cake: Designer Cakes by JJ

DJ: Marcus Blanchard

Invitations: Cartes Amour