Baltimore Basilica & Engineers Club wedding: Stephanie + Matt

The Baltimore Basilica & The Baltimore Engineers Club wedding // Baltimore wedding photographer // Baltimore wedding photography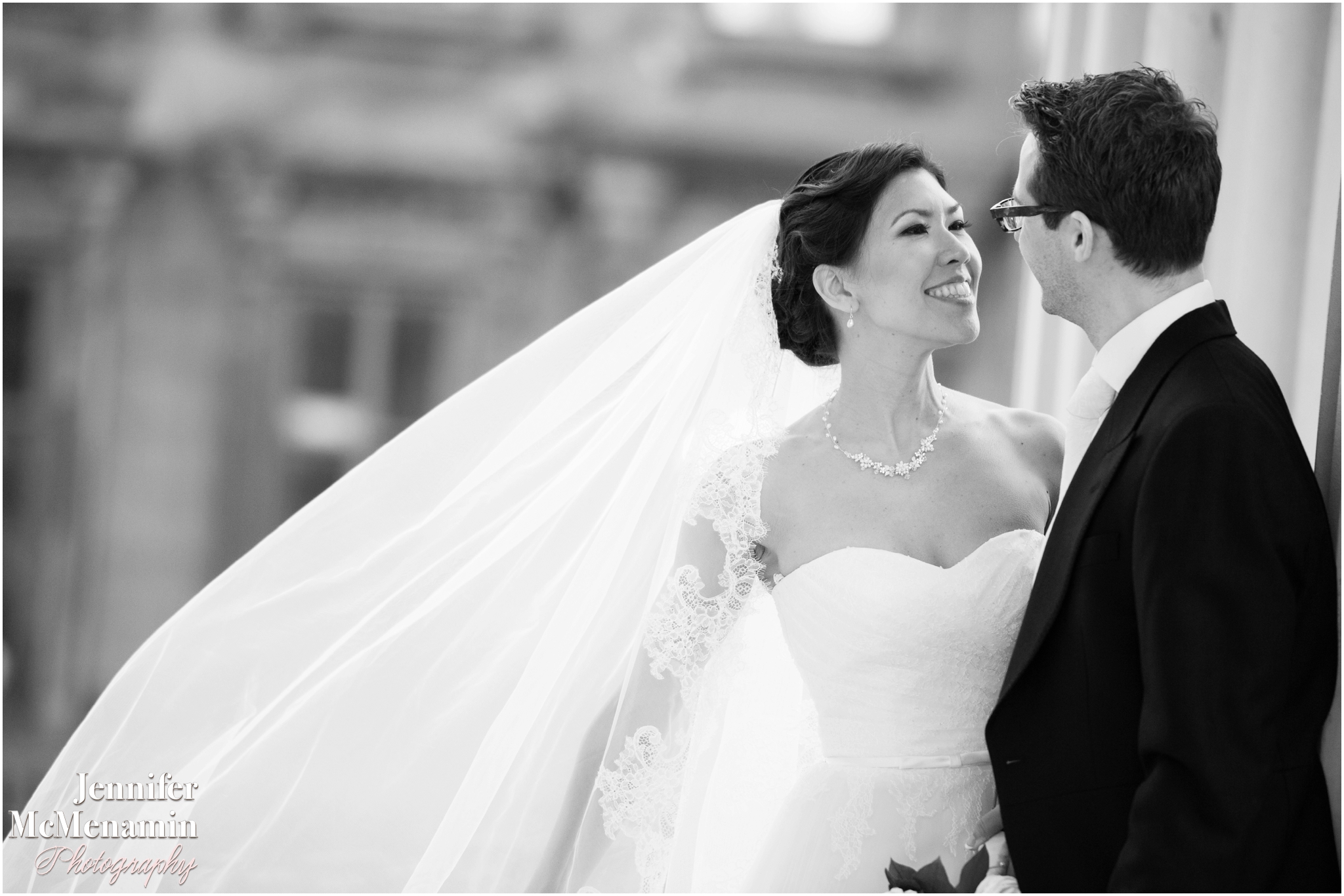 Stephanie + Matt planned one of the most creative, thoughtful weddings I've ever seen. Seeking to showcase their cultural backgrounds — she is French and Jamaican and he is English — they planned four distinctly different experiences for their guests at the reception. After a beautifully personal ceremony officiated by a friend of the bride's family at the Baltimore Basilica, guests were invited to a British cocktail hour in the front rooms of the Engineers Club at the Garrett-Jacobs Mansion. The 162-year-old mansion was originally purchased by the president of the B&O Railroad as a wedding gift for his son. Over the years, adjoining townhomes were bought, creating a stunningly gorgeous and grand home with more than 40 rooms, 16 fireplaces, 100 windows and a twisting hardwood staircase topped by a Tiffany glass dome. Stephanie + Matt used the building's more modern atrium for their dinner party, transforming the open and airy room into a French bistro complete with red and white check napkins, small round tables and white bistro chairs. Afterward, guests moved into the grand ballroom for dancing in a Parisian lounge with the always-incredible band, Millennium. With one final room transformation, the staff invited guests to end their evening back in the atrium with Jamaican music, games, Red Stripe beer and rum, and a late-night snack of Jamaican beef patties handmade by the bride's father. It was quite the evening! Matt's job requires that his face not appear on the Internet. So I've carefully chosen images to share of Stephanie, of their details and friends and of the couple in which Matt's face is not discernible. Here are some of my favorites from their wonderful day: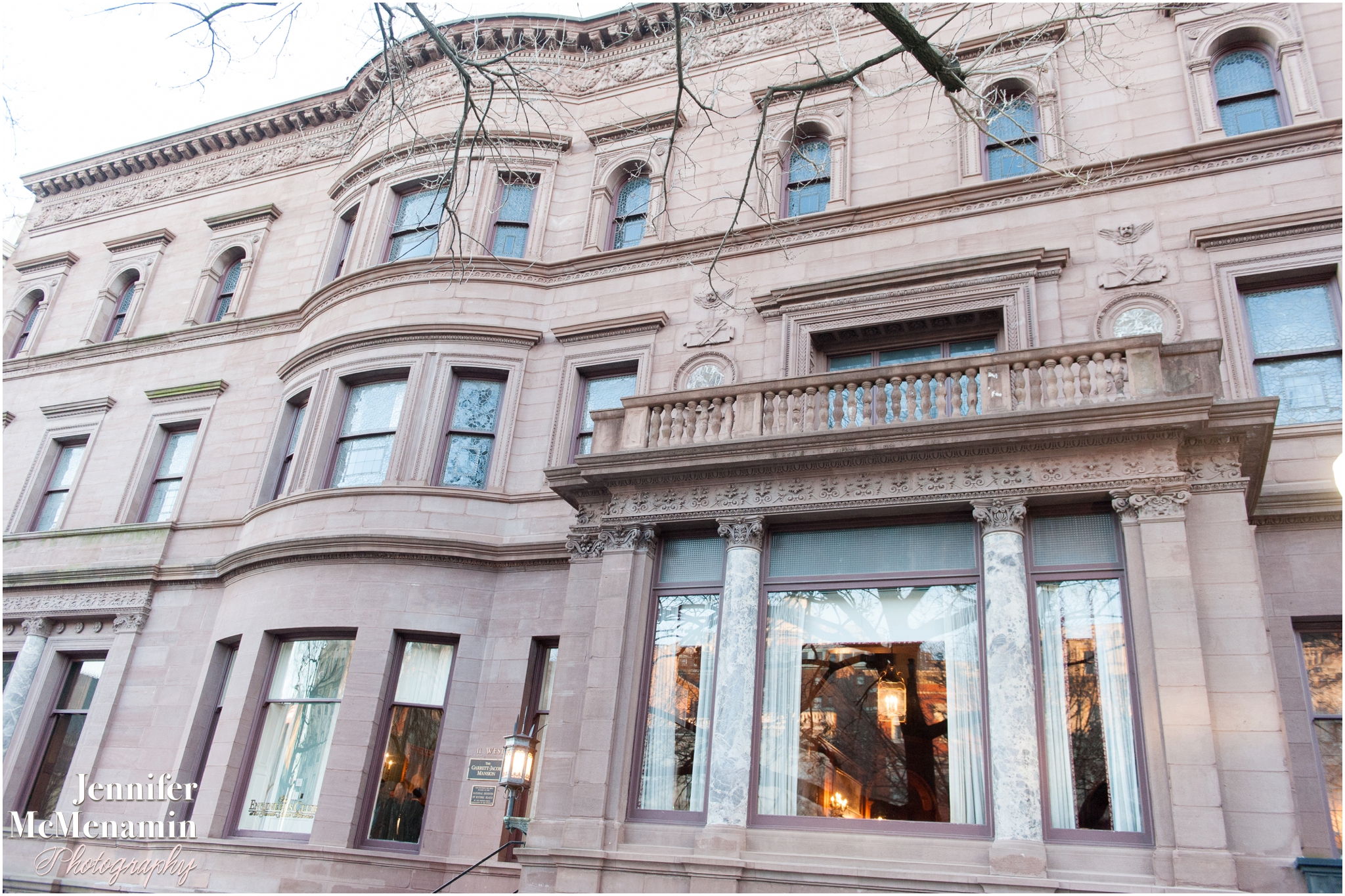 The Baltimore Engineers Club at the Garrett-Jacobs Mansion sits grandly on Mount Vernon Place.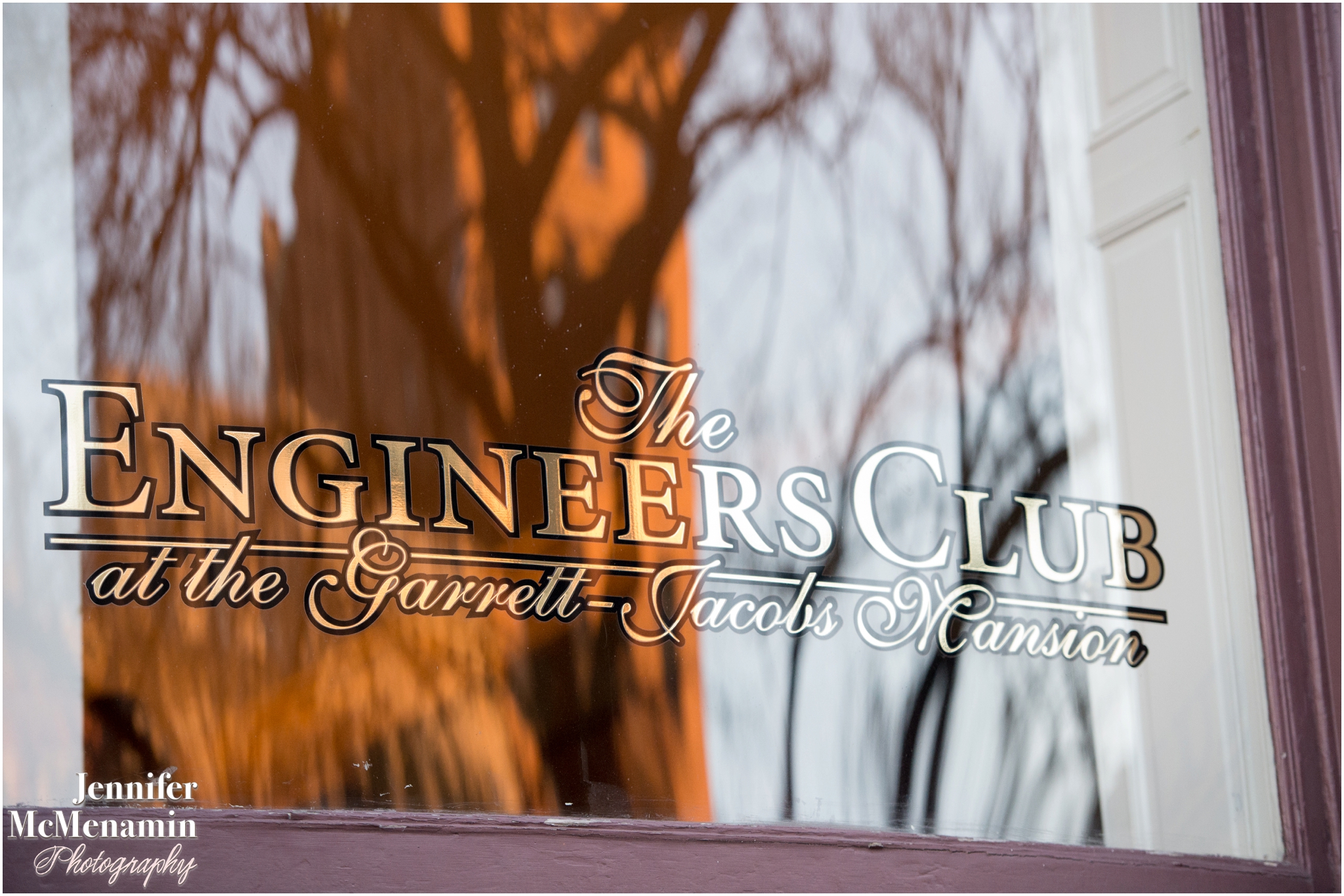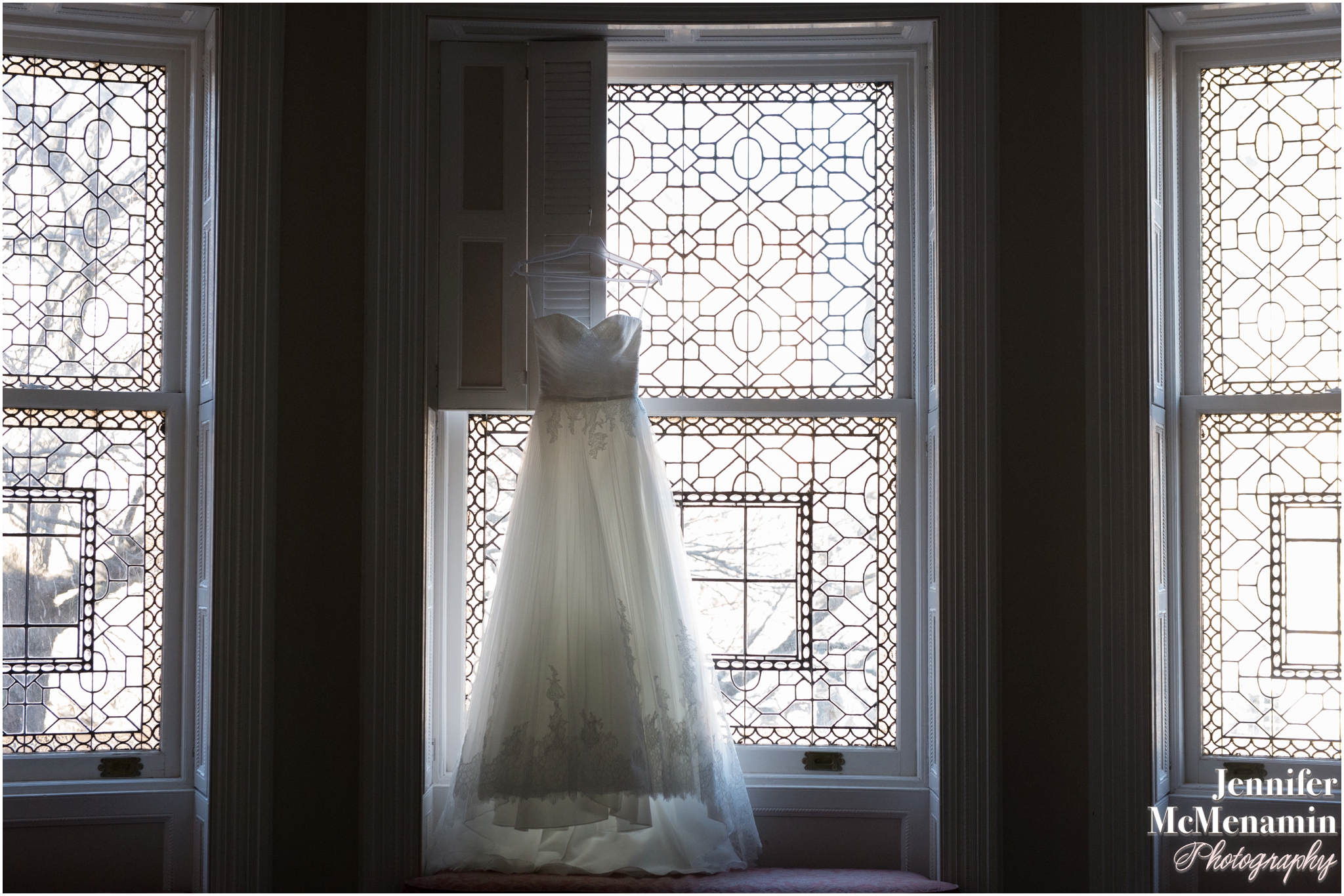 The towering stained glass windows of the Mansion's Women's Auxiliary, overlooking Mount Vernon Place, make it one of the loveliest places in Baltimore for getting ready for a wedding.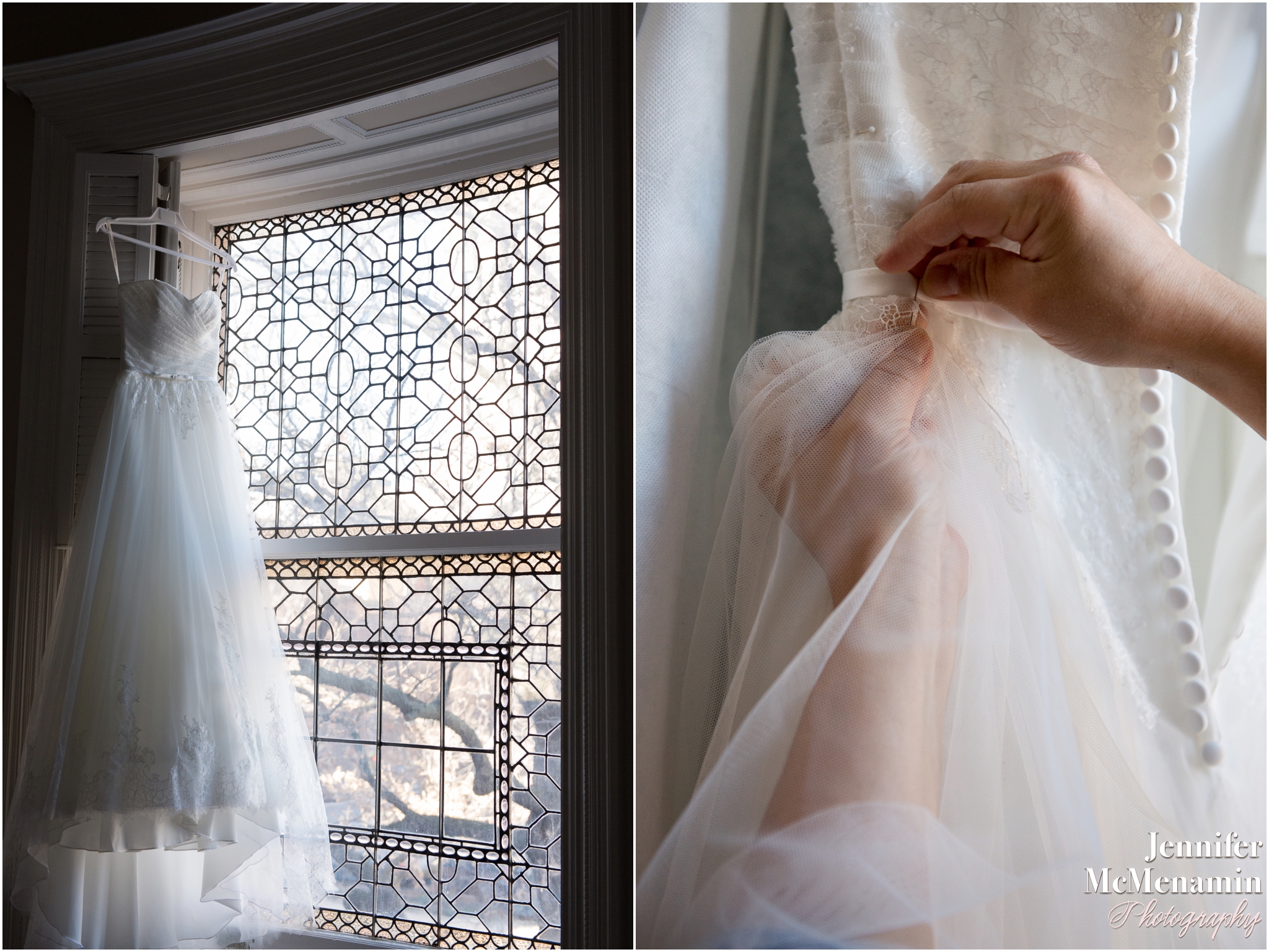 Meanwhile, downstairs, the guys played pool and got dressed in their coats and tails.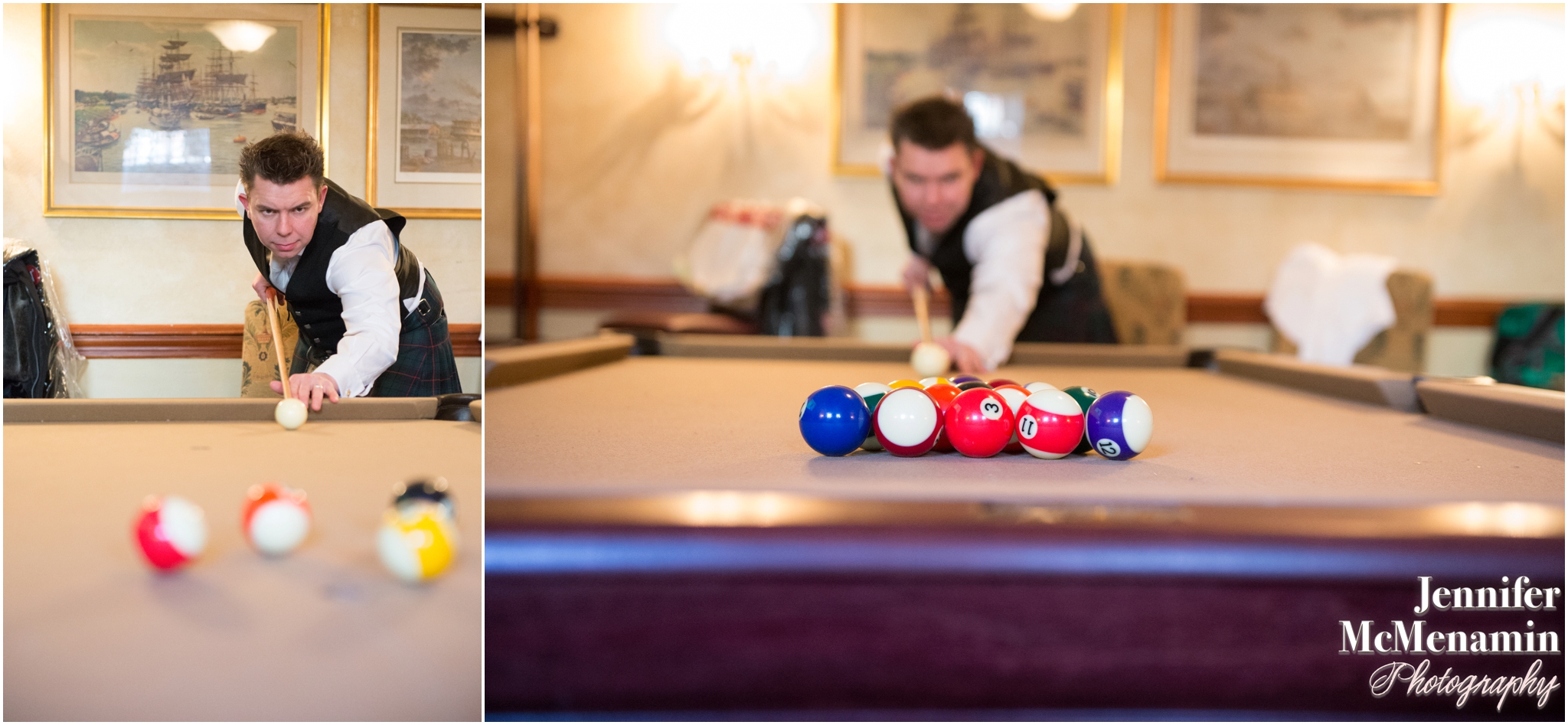 Matt's best man wrote to the queen about his friend's impending nuptials. Her lady in waiting wrote back! He read her note as part of his toast — with a joke about how Americans think that all English people are acquainted with the royal family.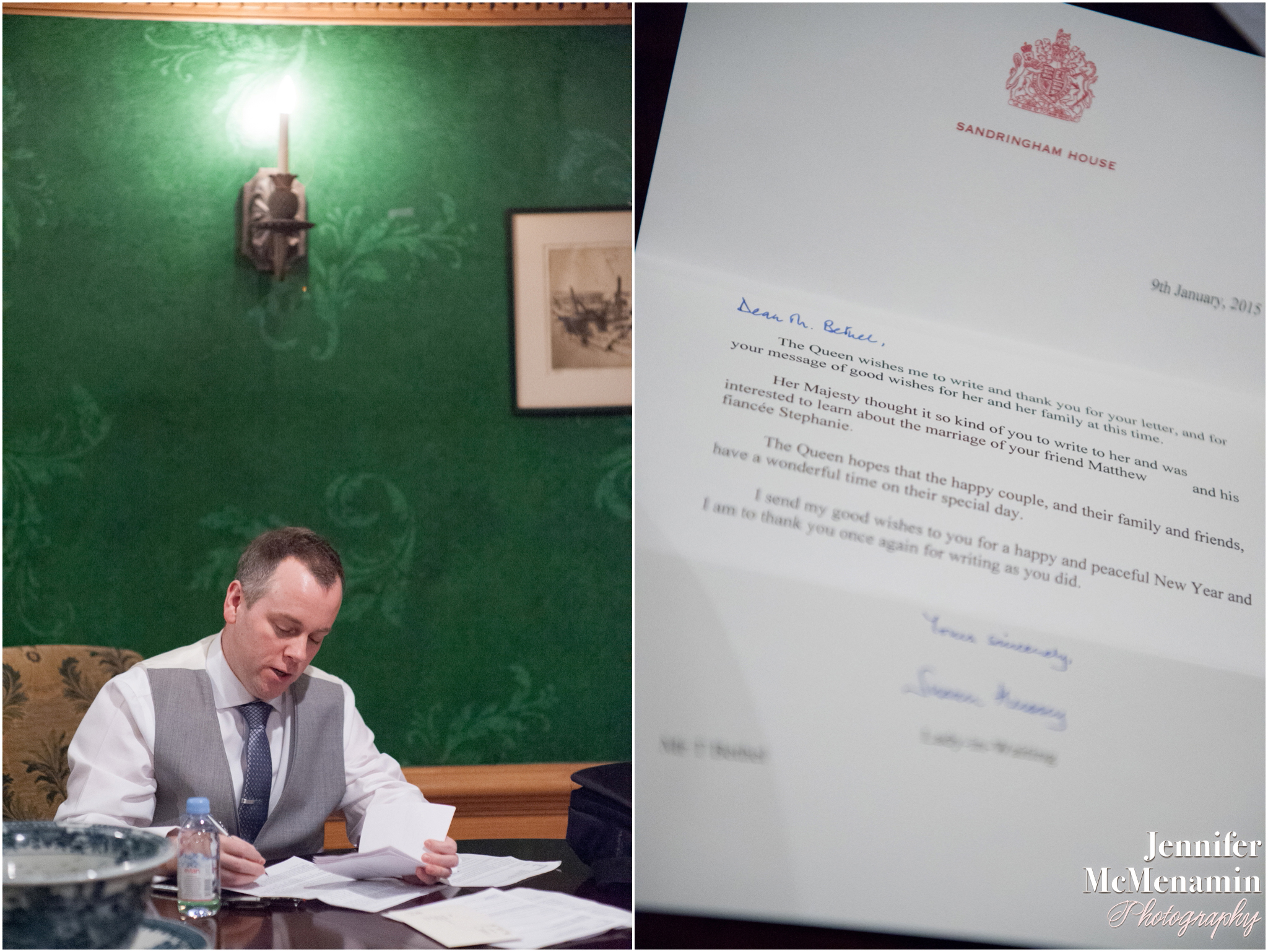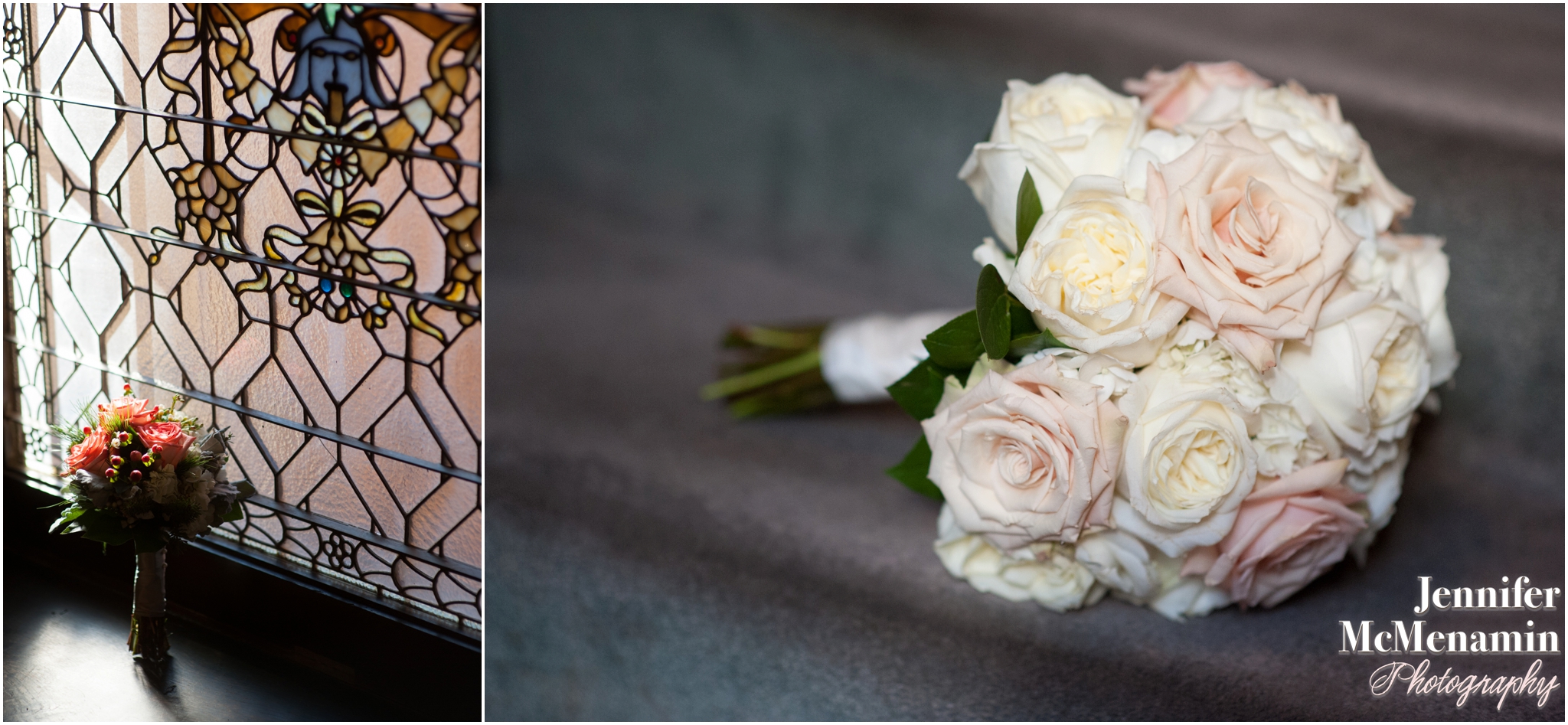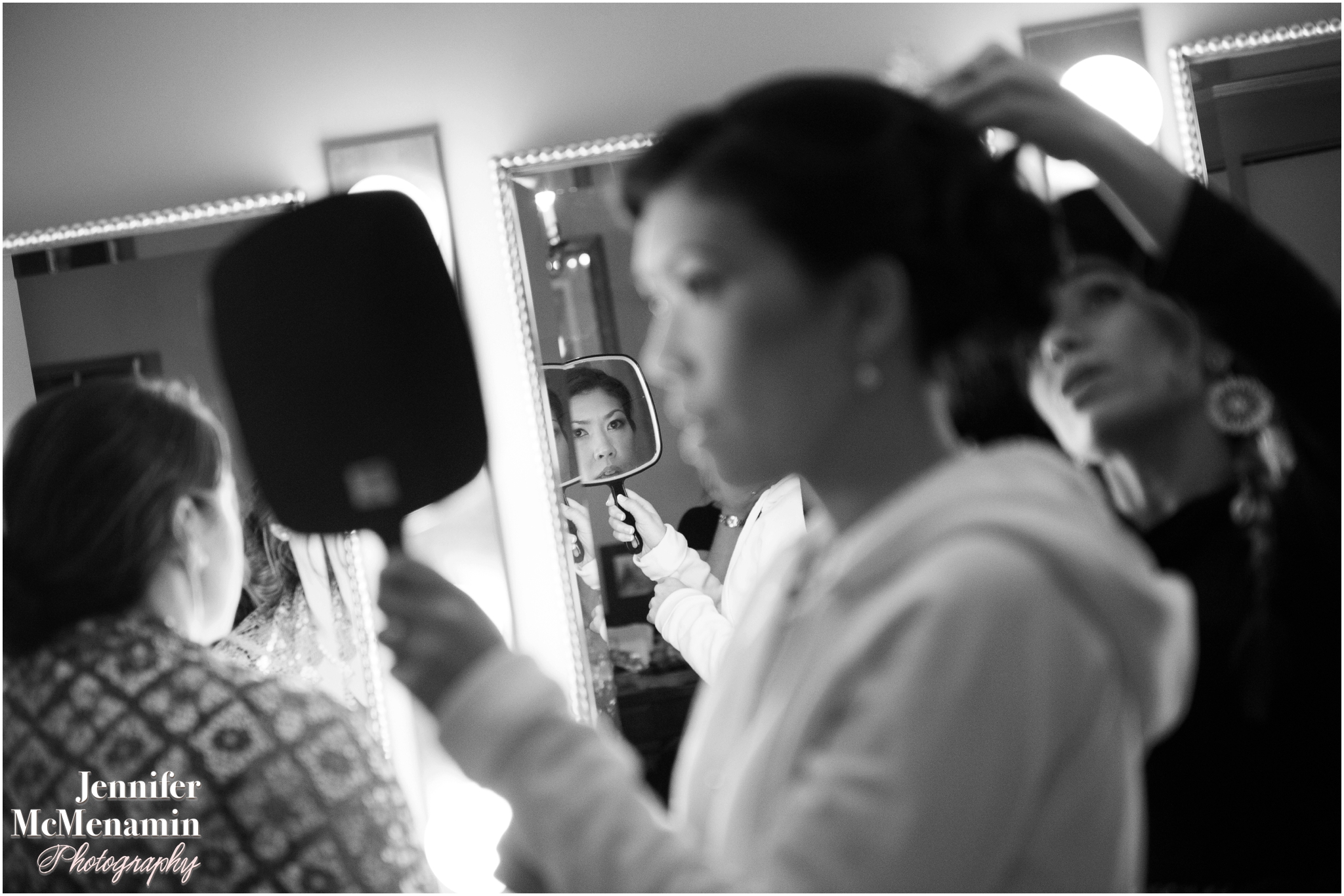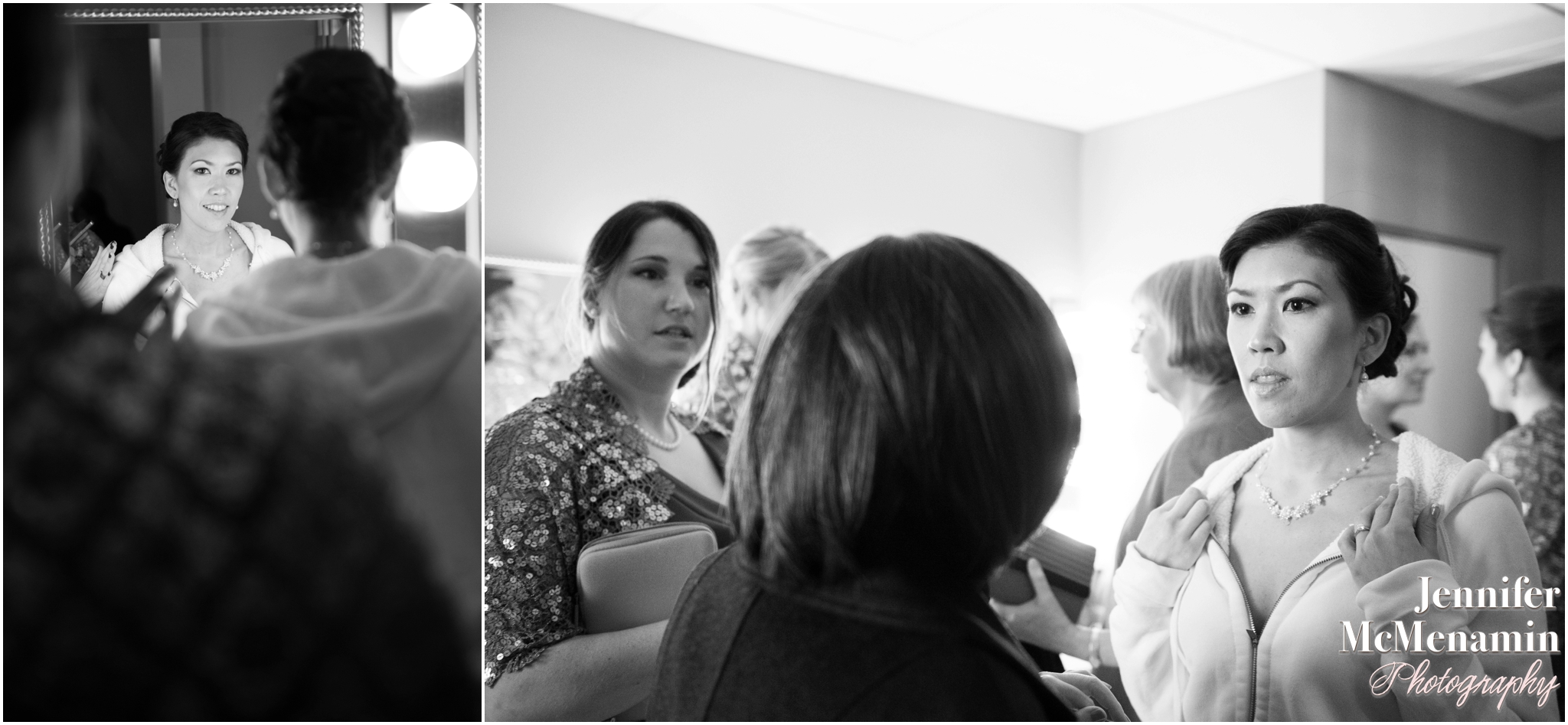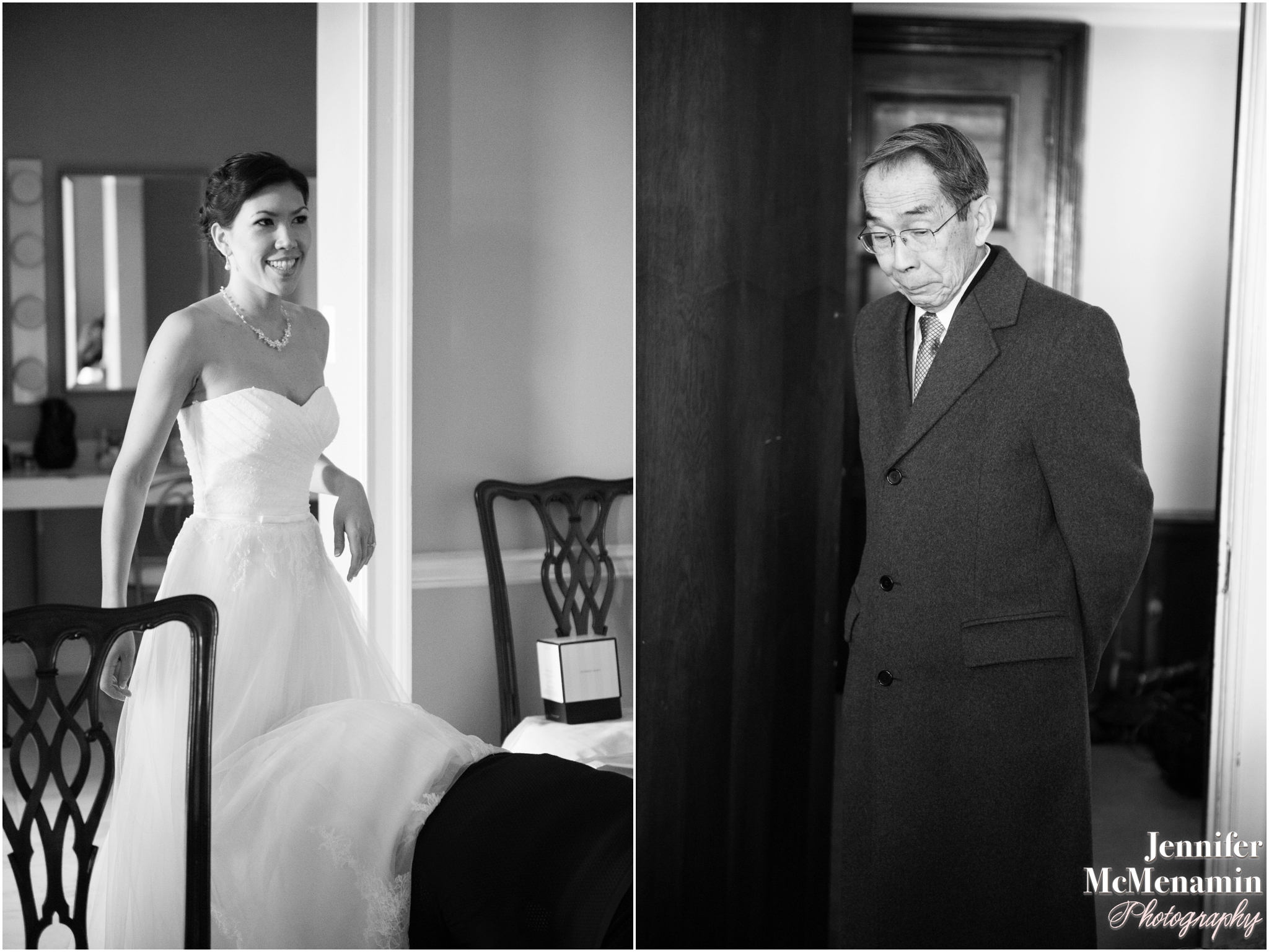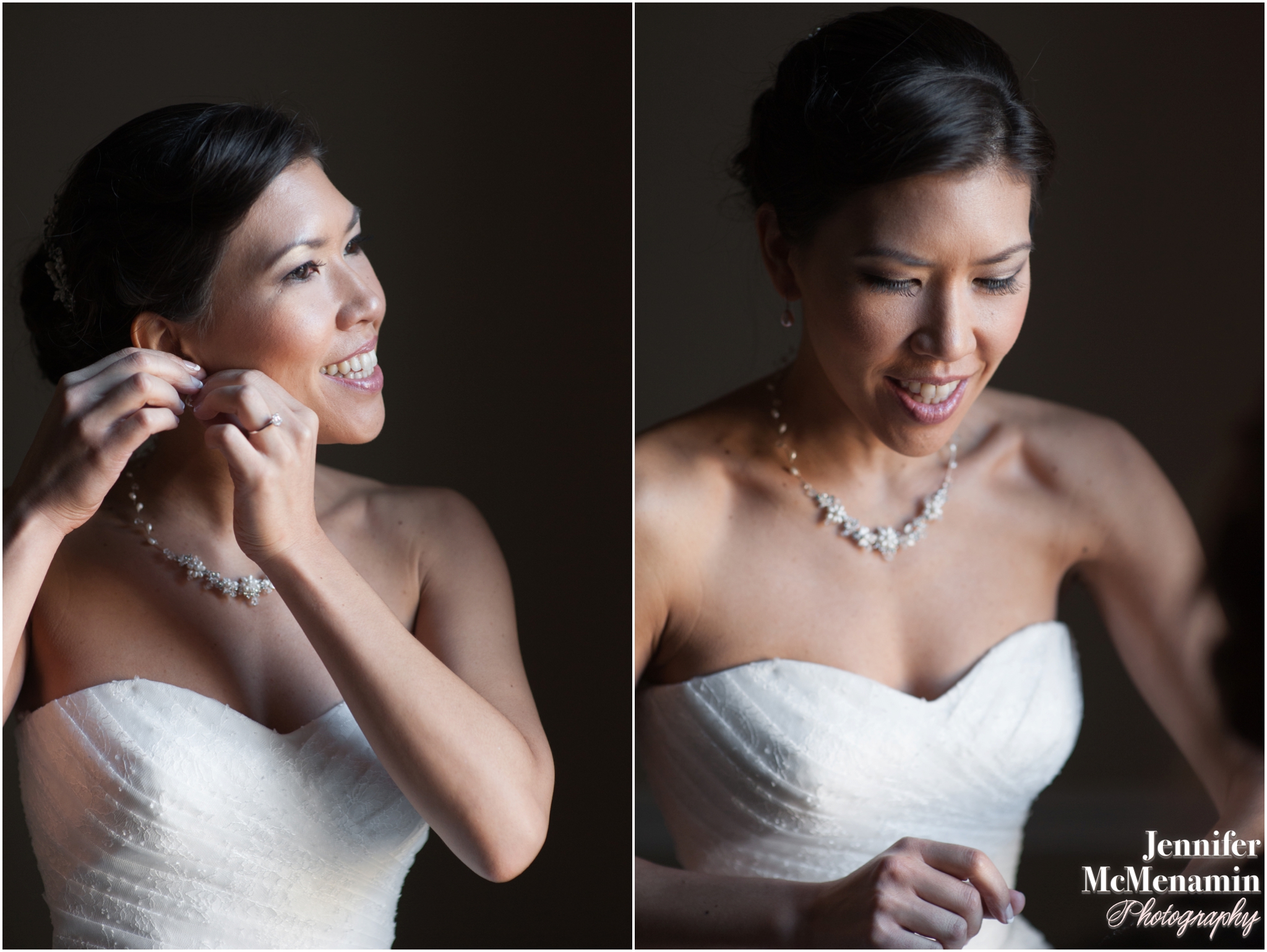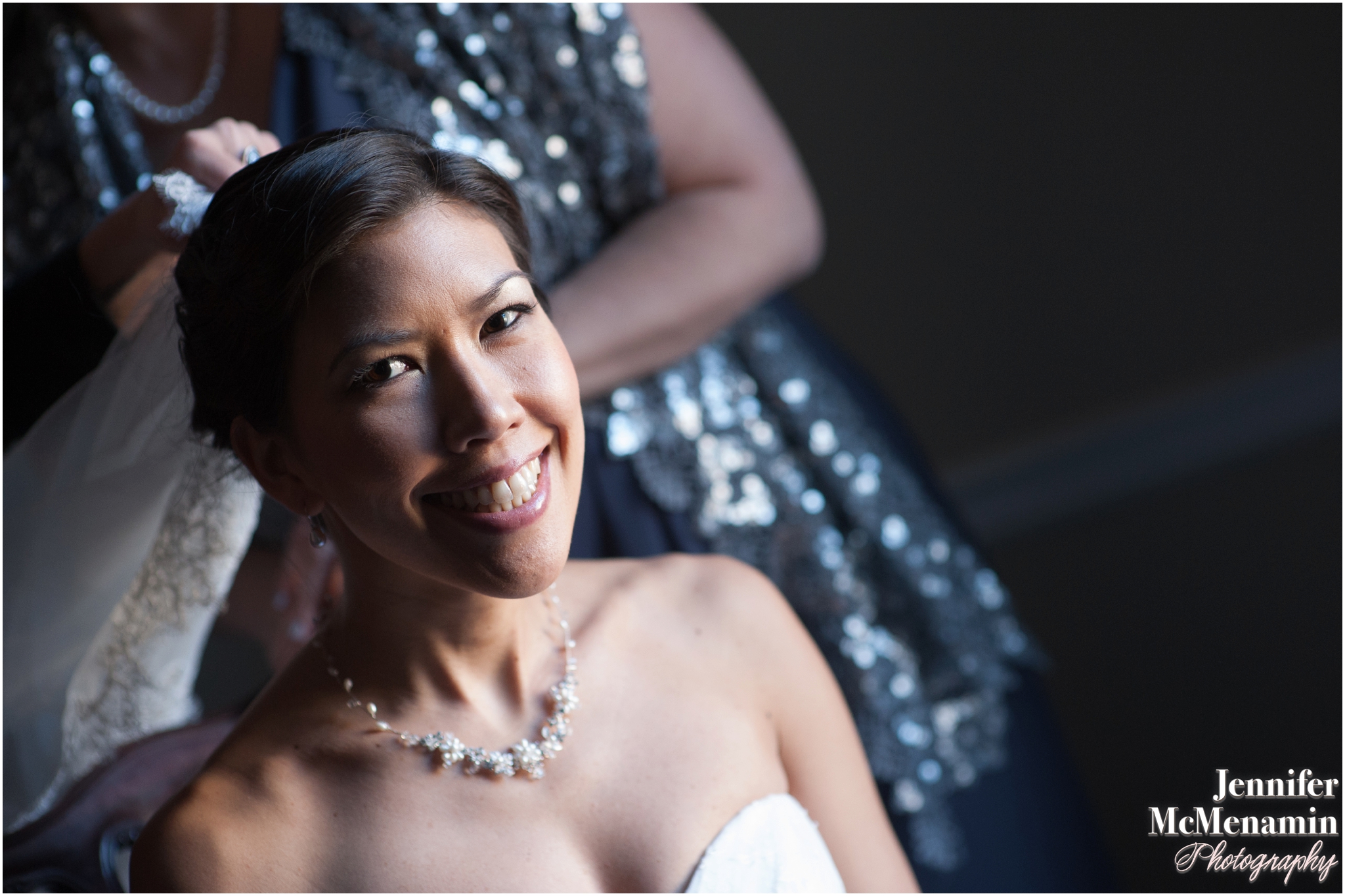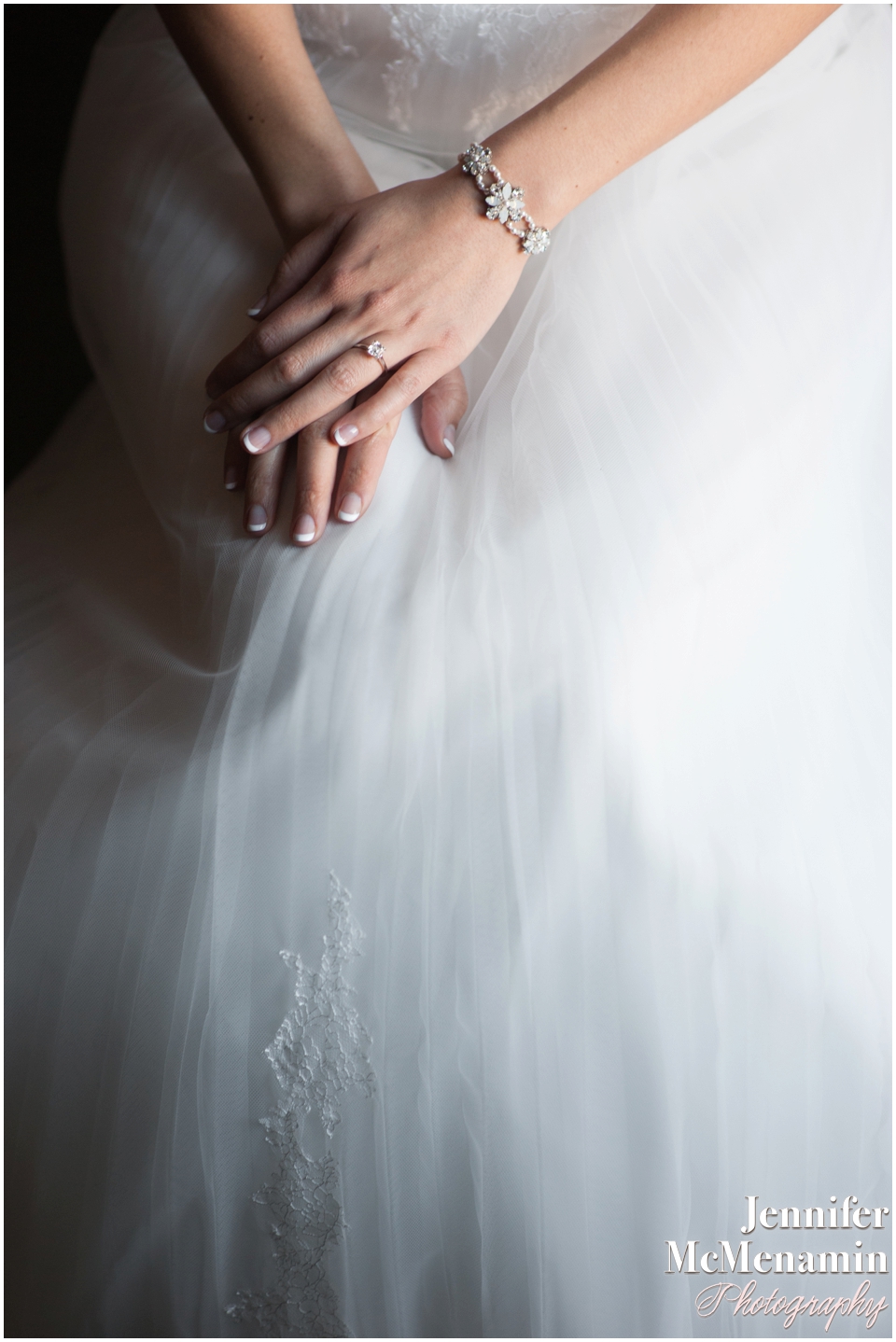 The bride, looking absolutely lovely.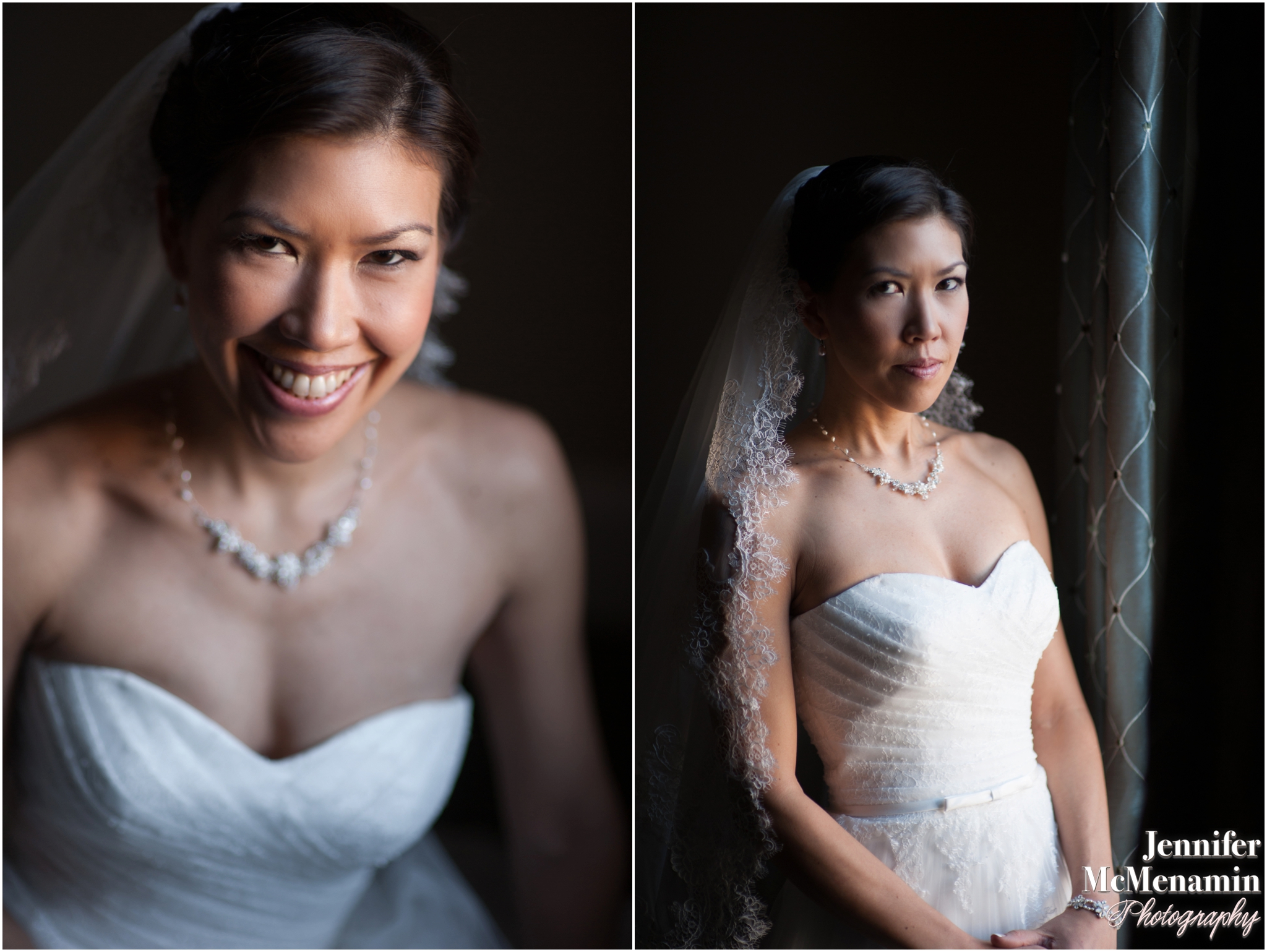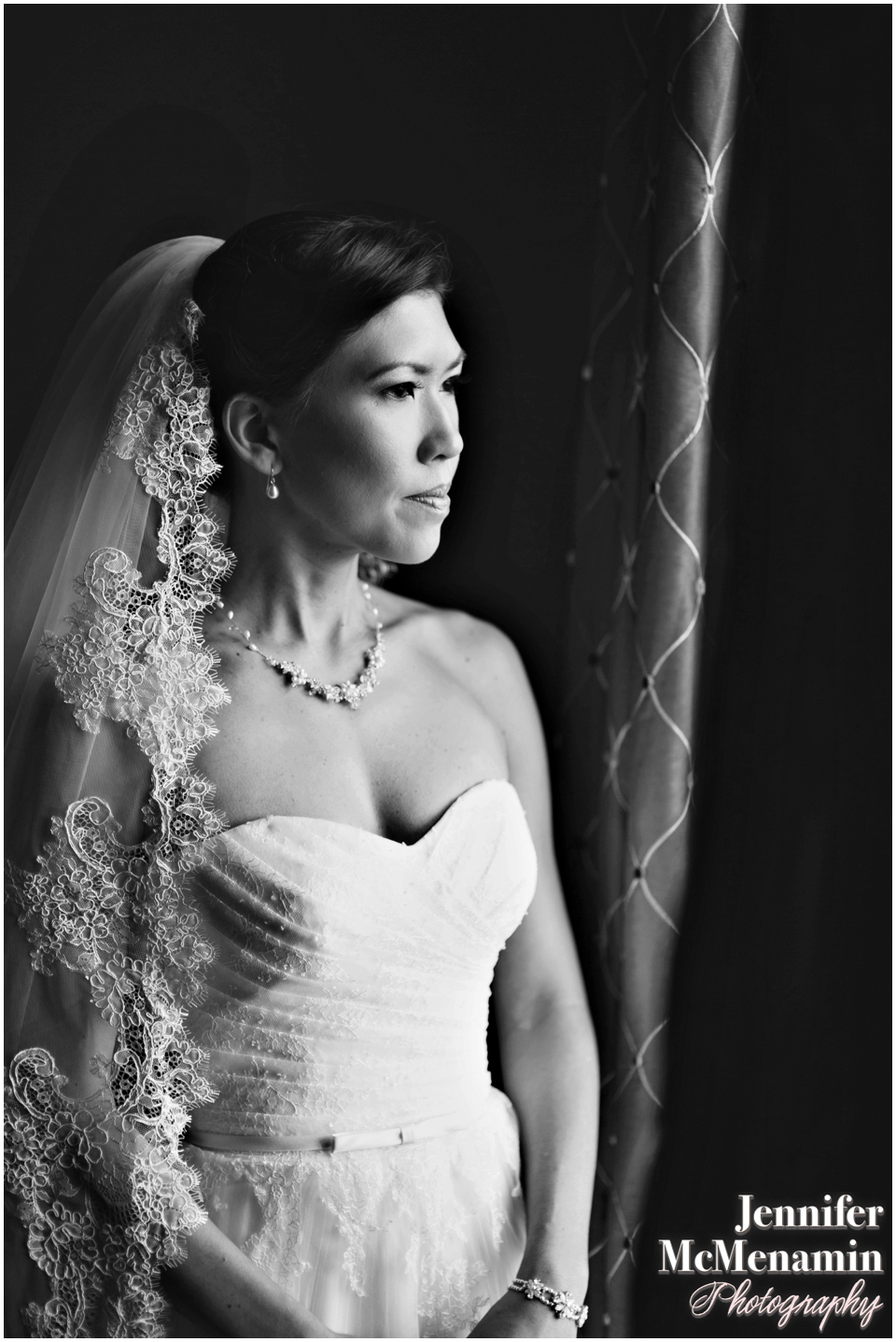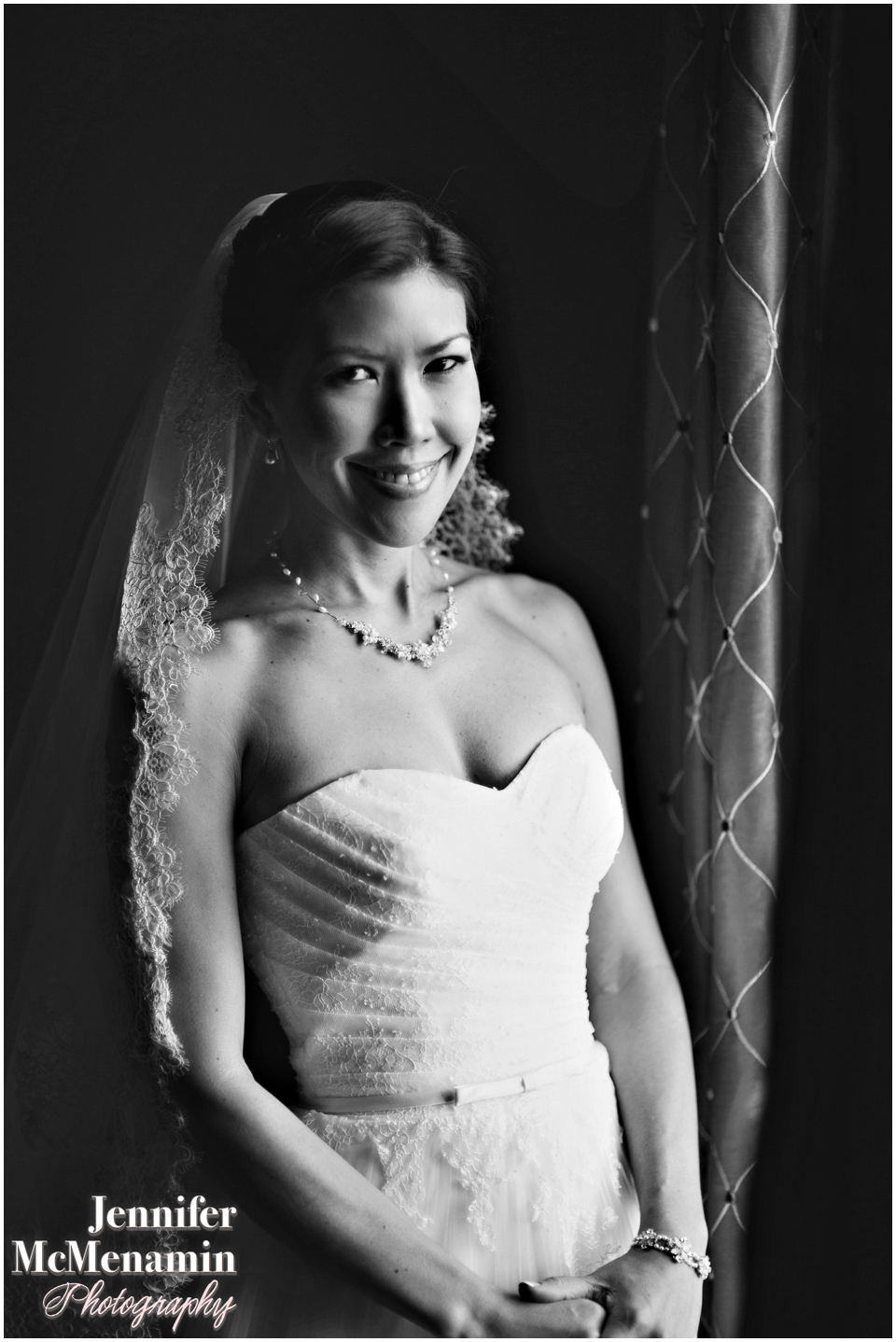 And then we were off to the Basilica. (With the freezing temperatures, Stephanie wore her big North Face mittens on her way!)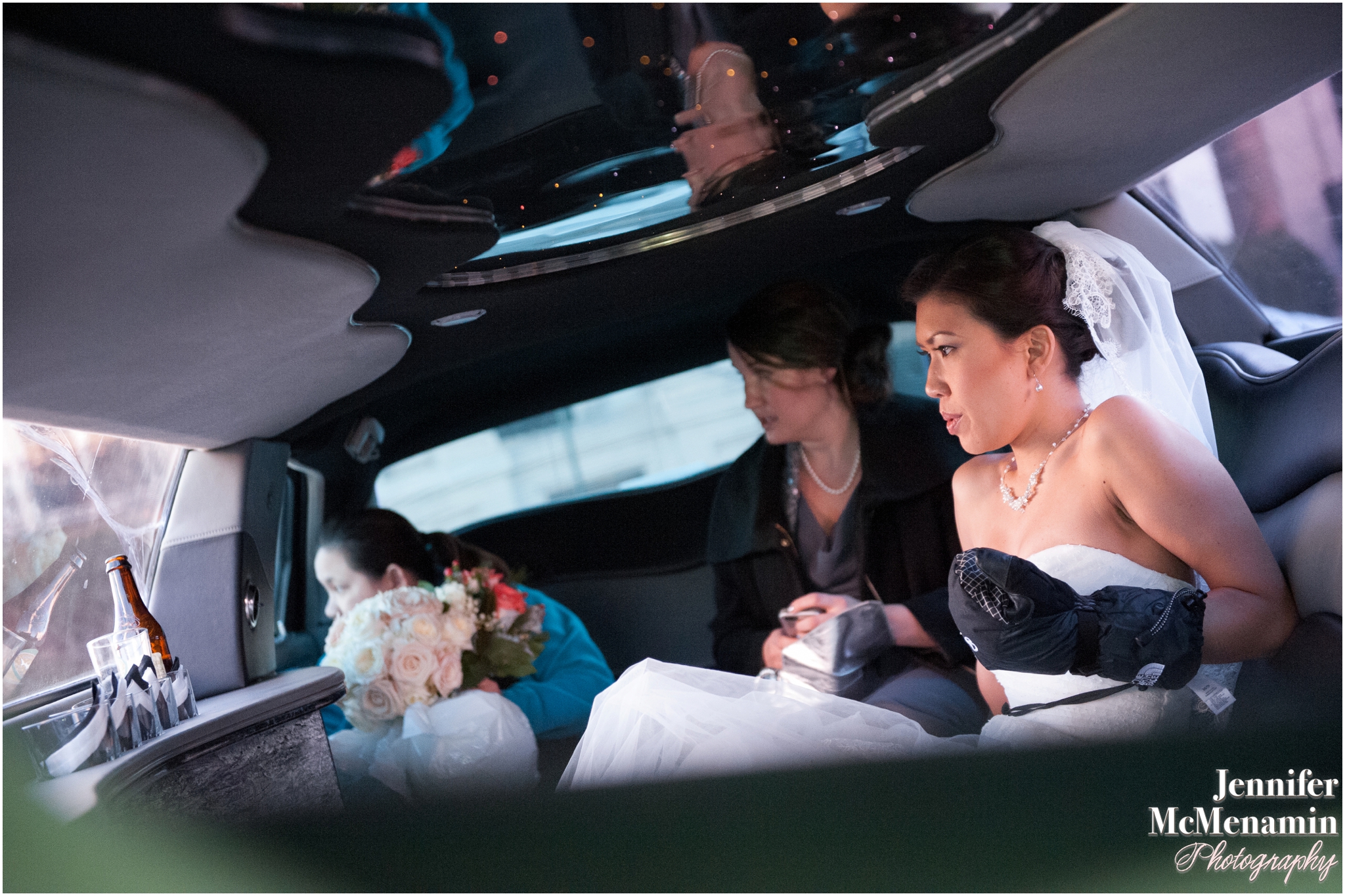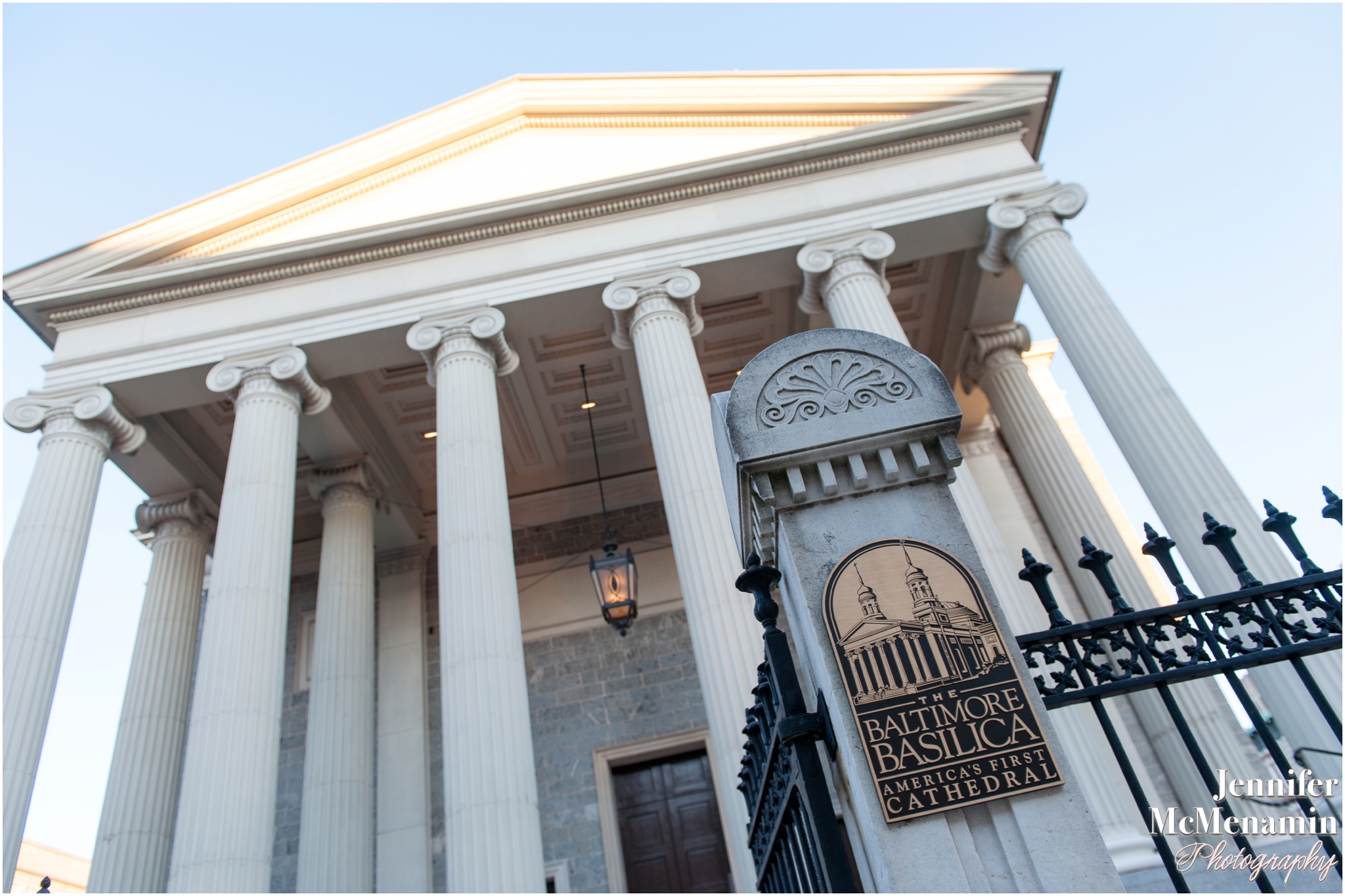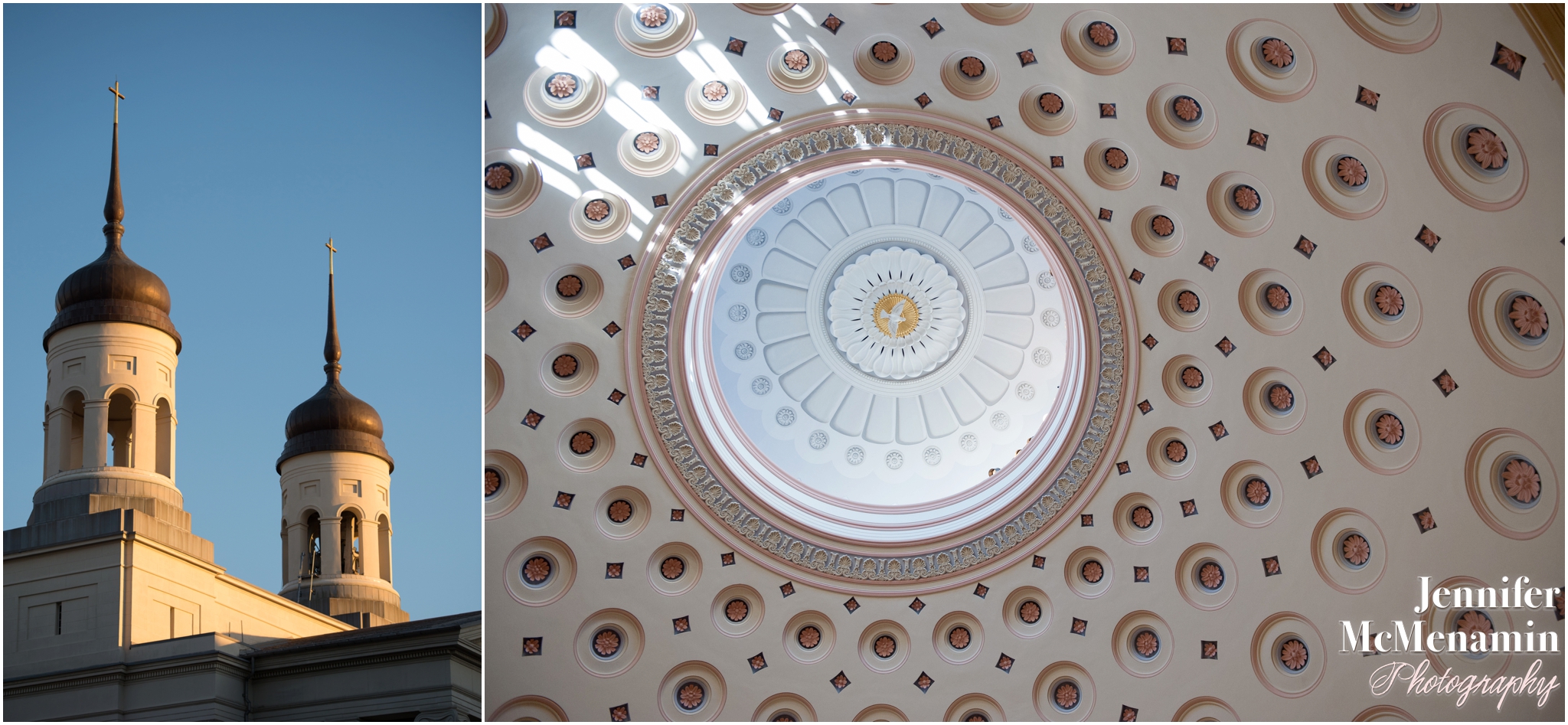 Stephanie and her father made their grand entrance. My wonderful assistant Lindsay spent the ceremony in the choir loft of the very grand Basilica. She shot the next image on the right and the remainder of photos in this post from the same vantage point.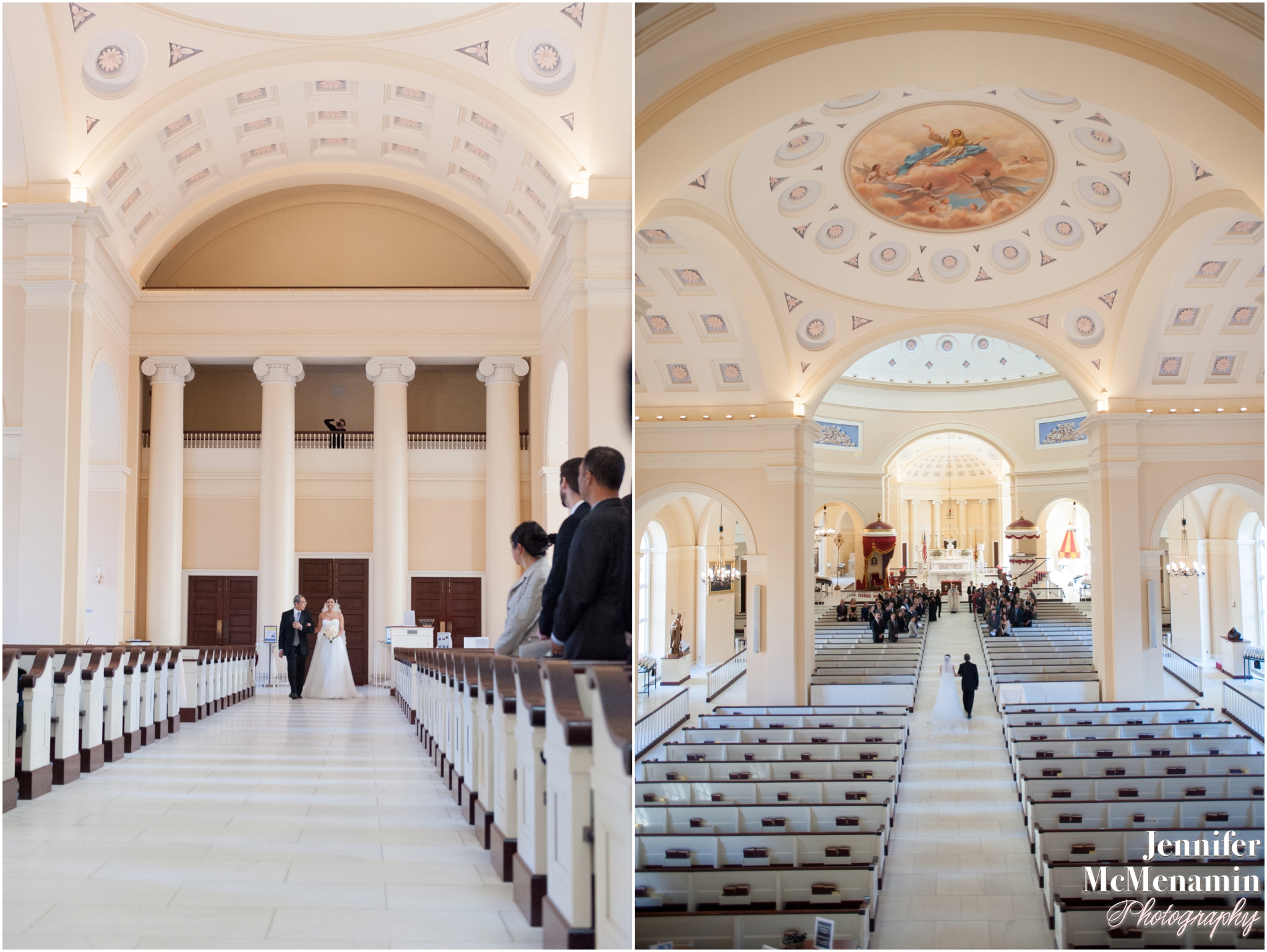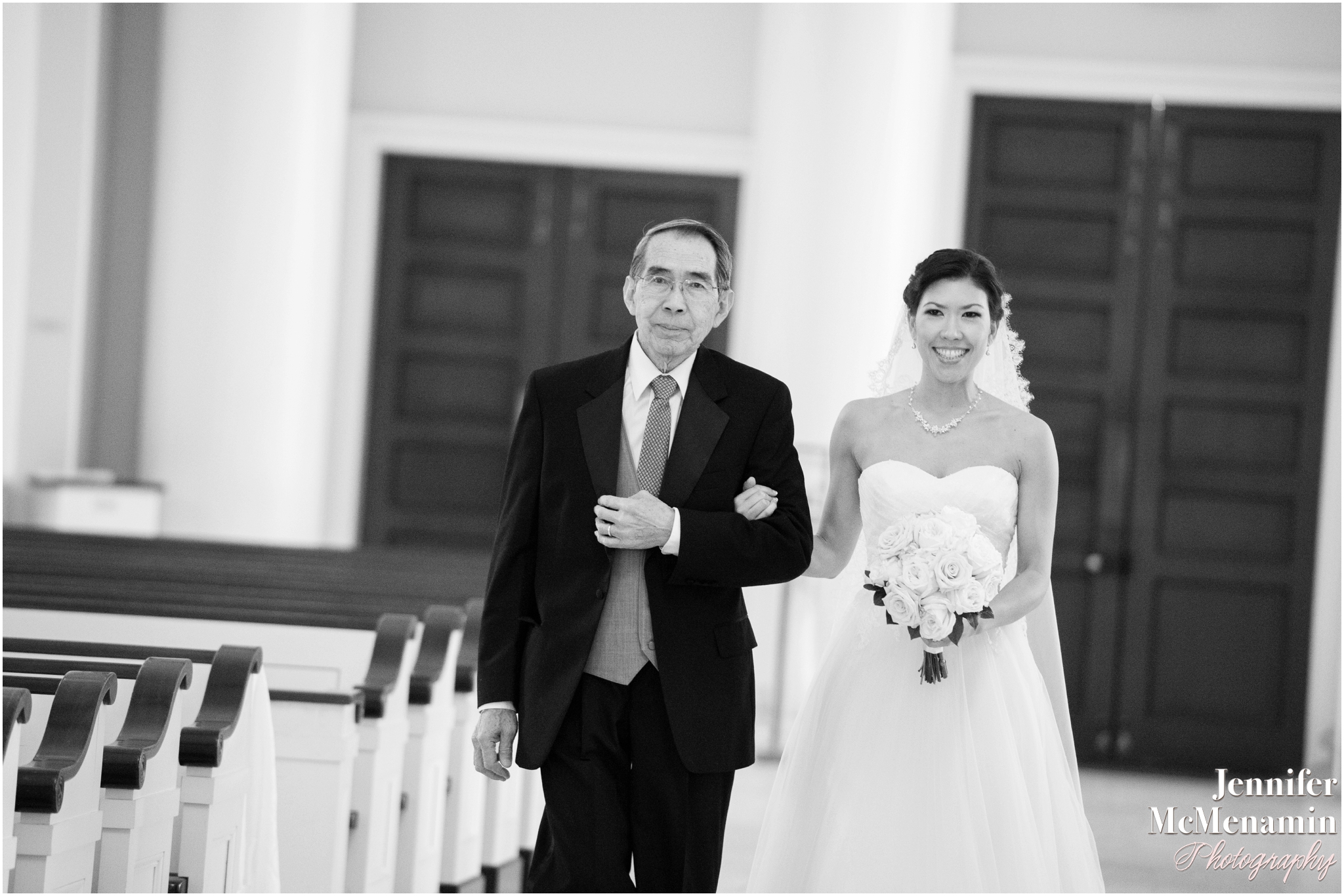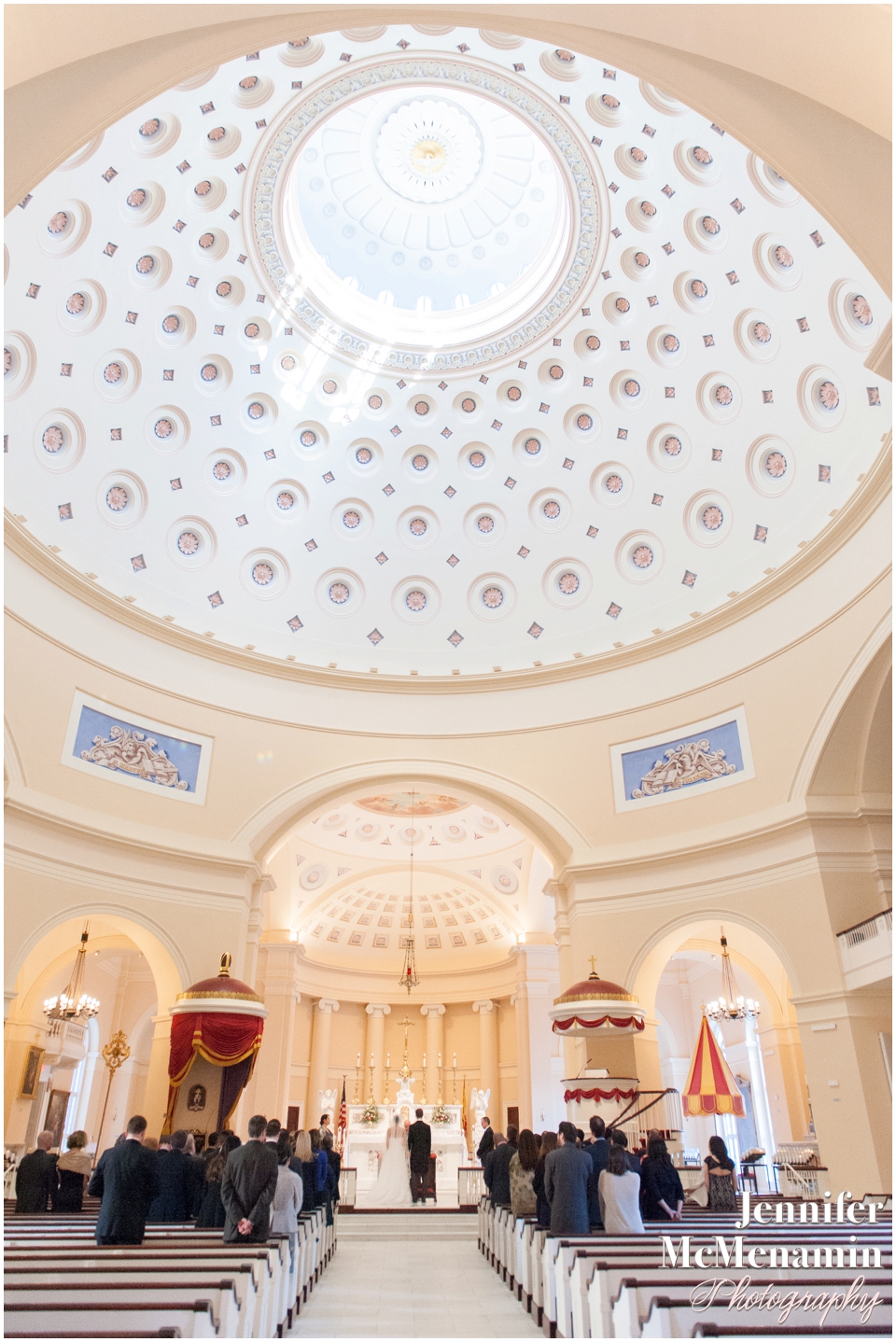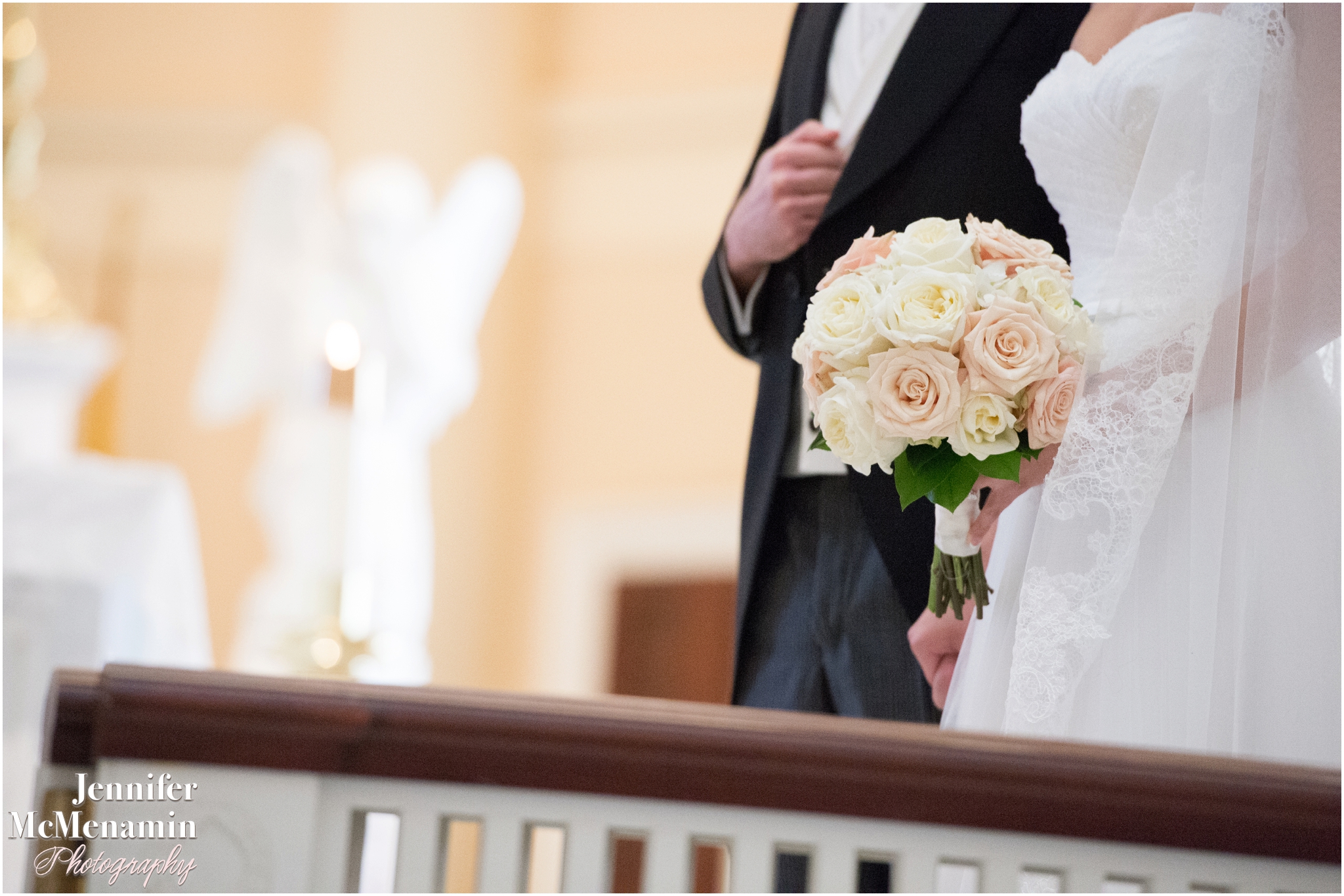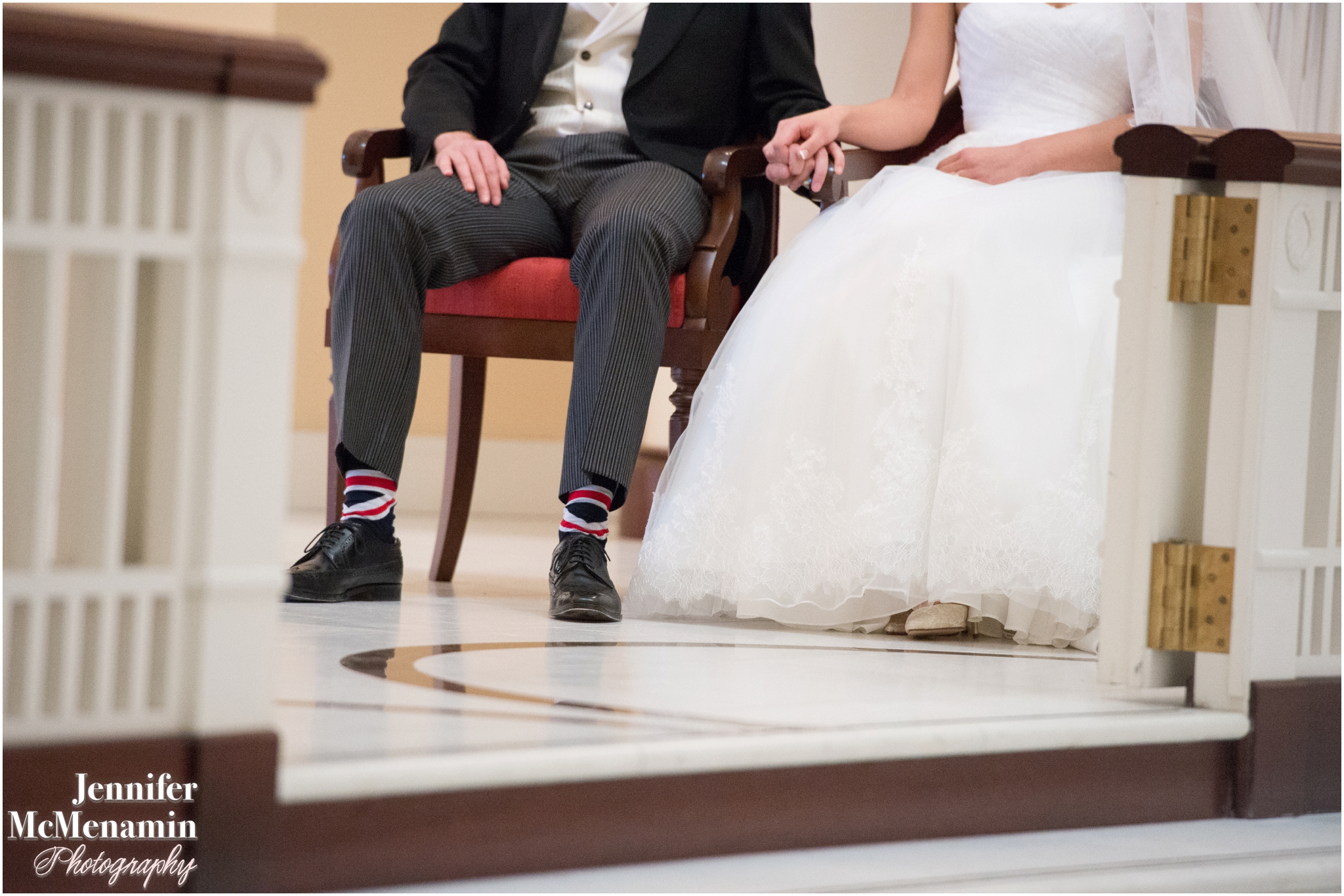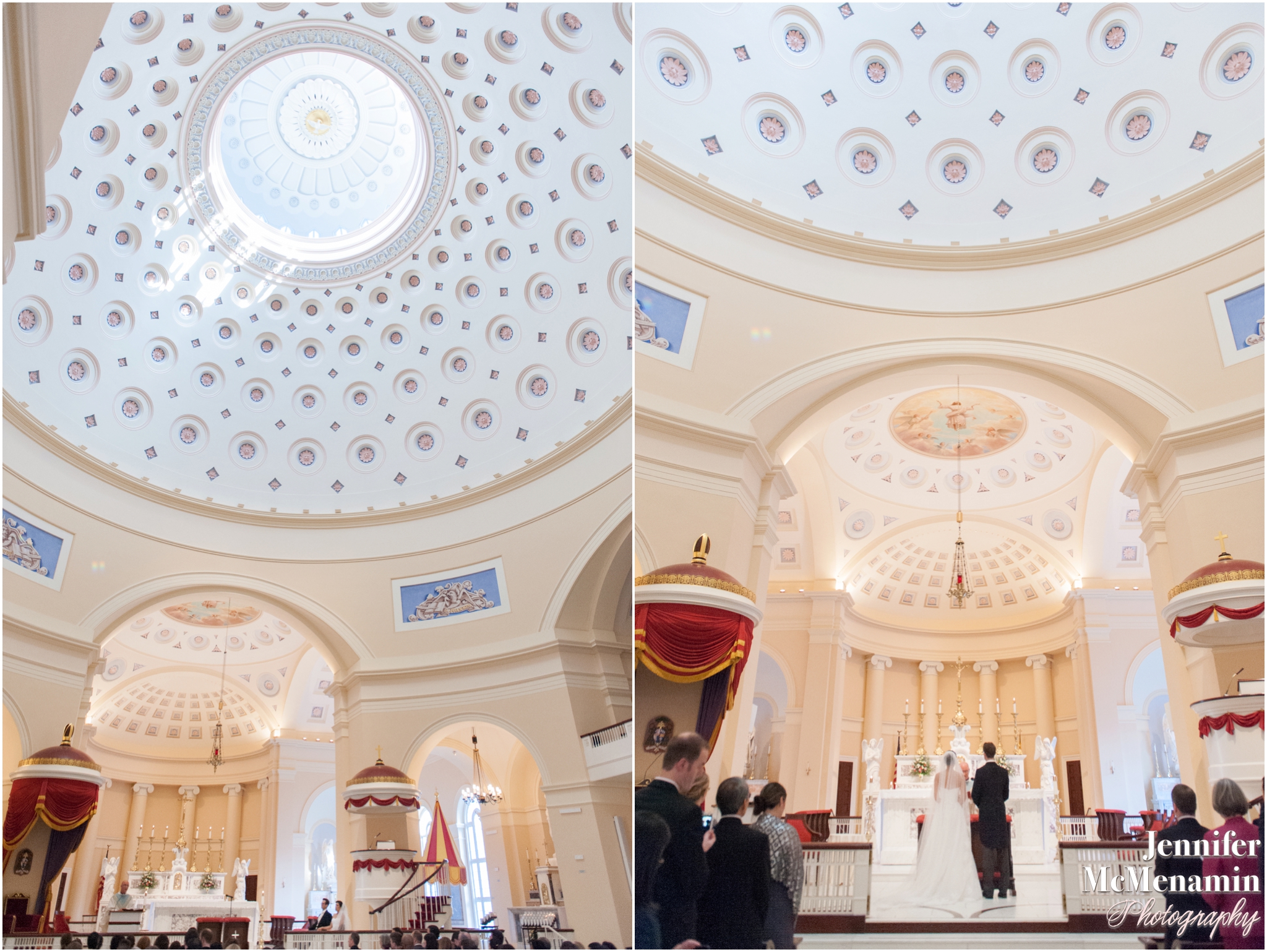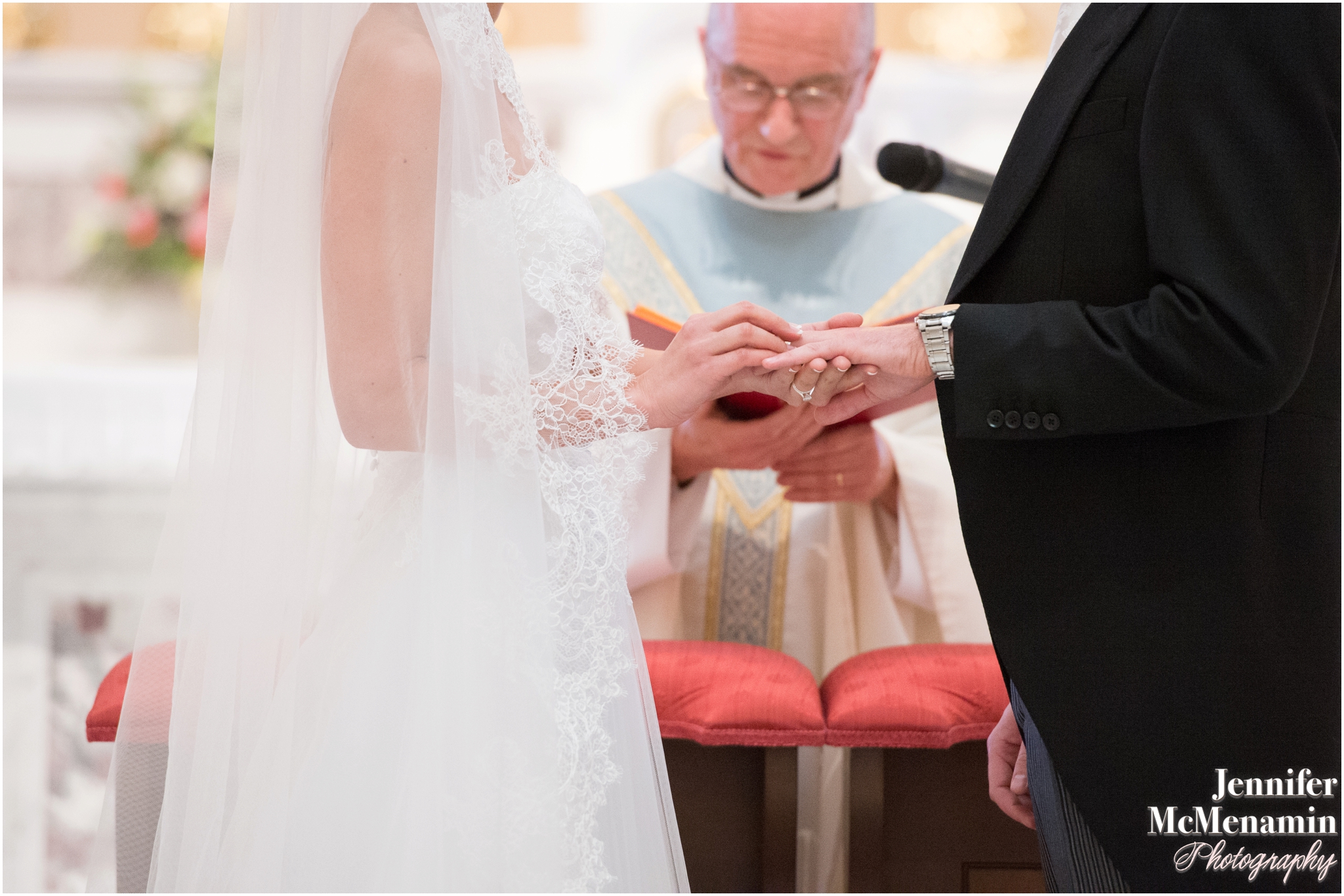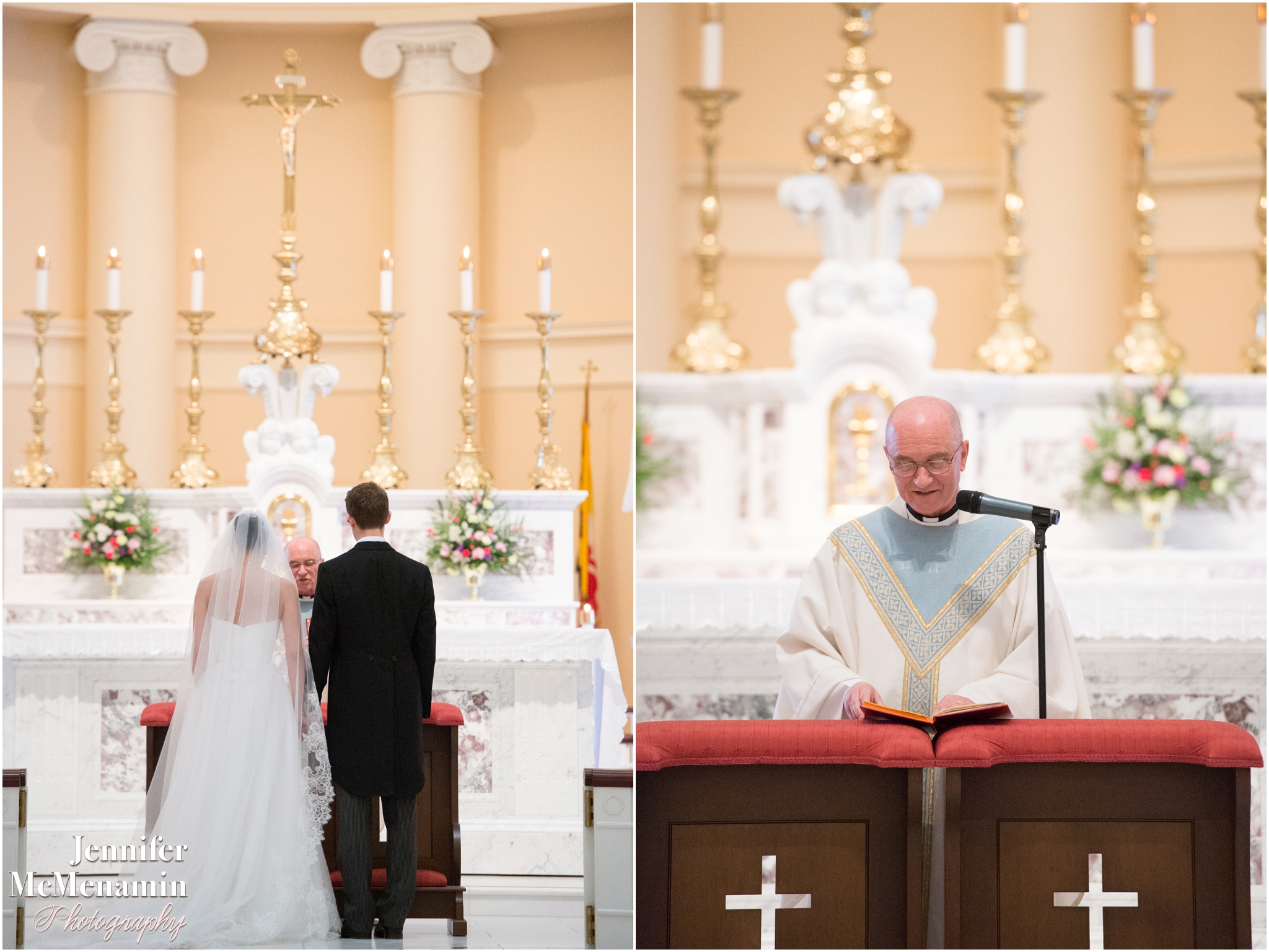 Married!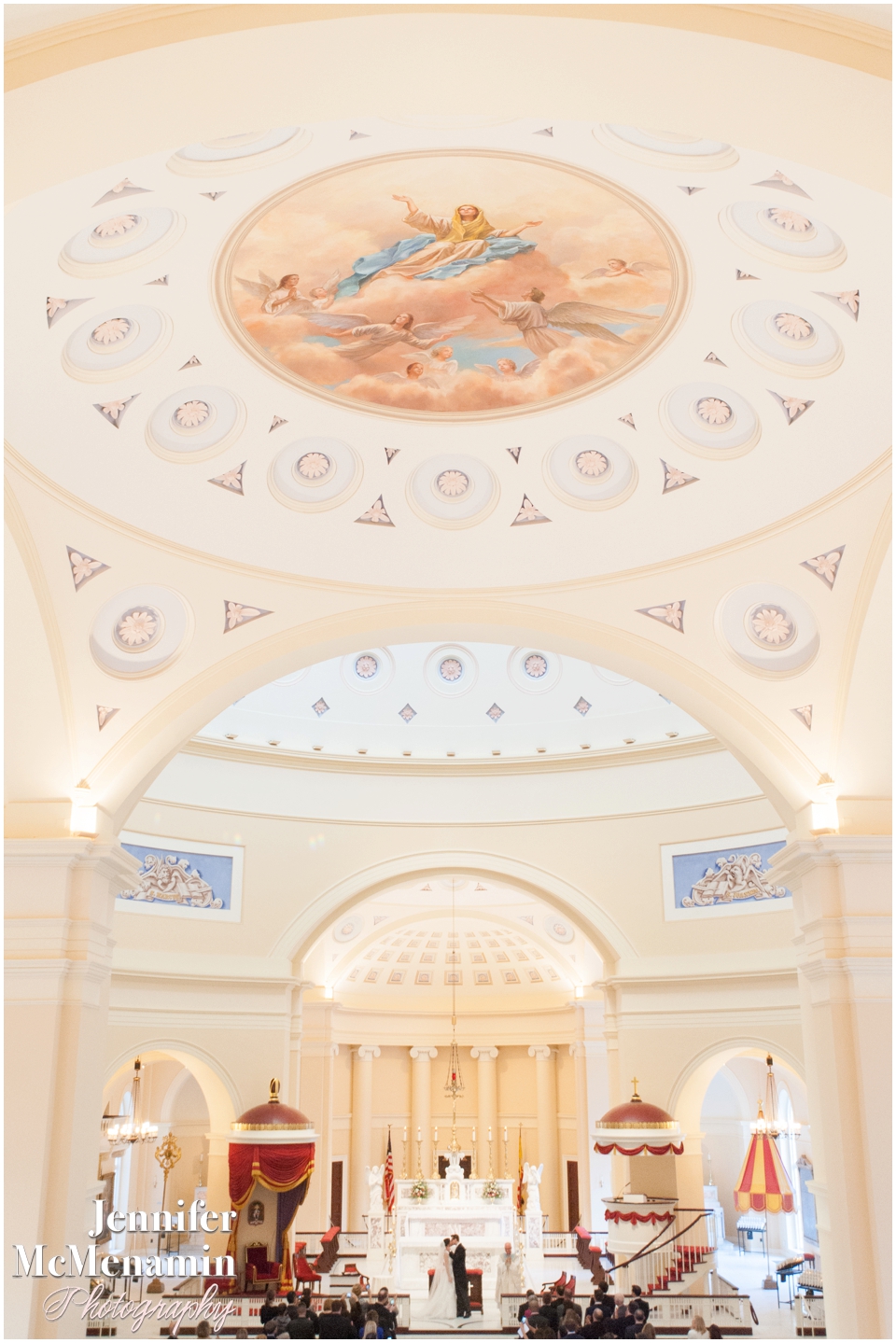 After a few efficient family and wedding party photos, we took advantage of the beautiful windows and late-afternoon light at the Basilica for photos with Stephanie + Matt.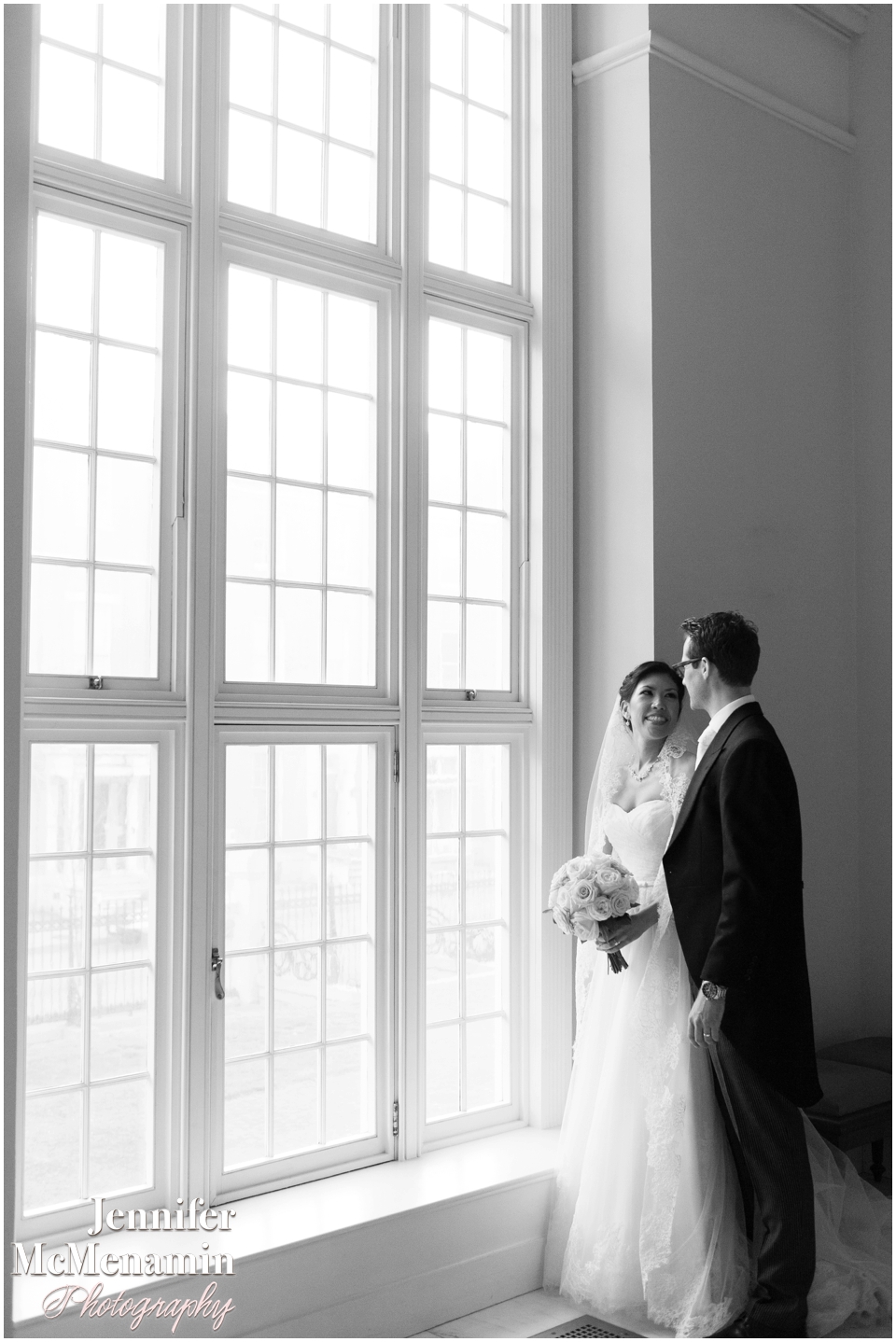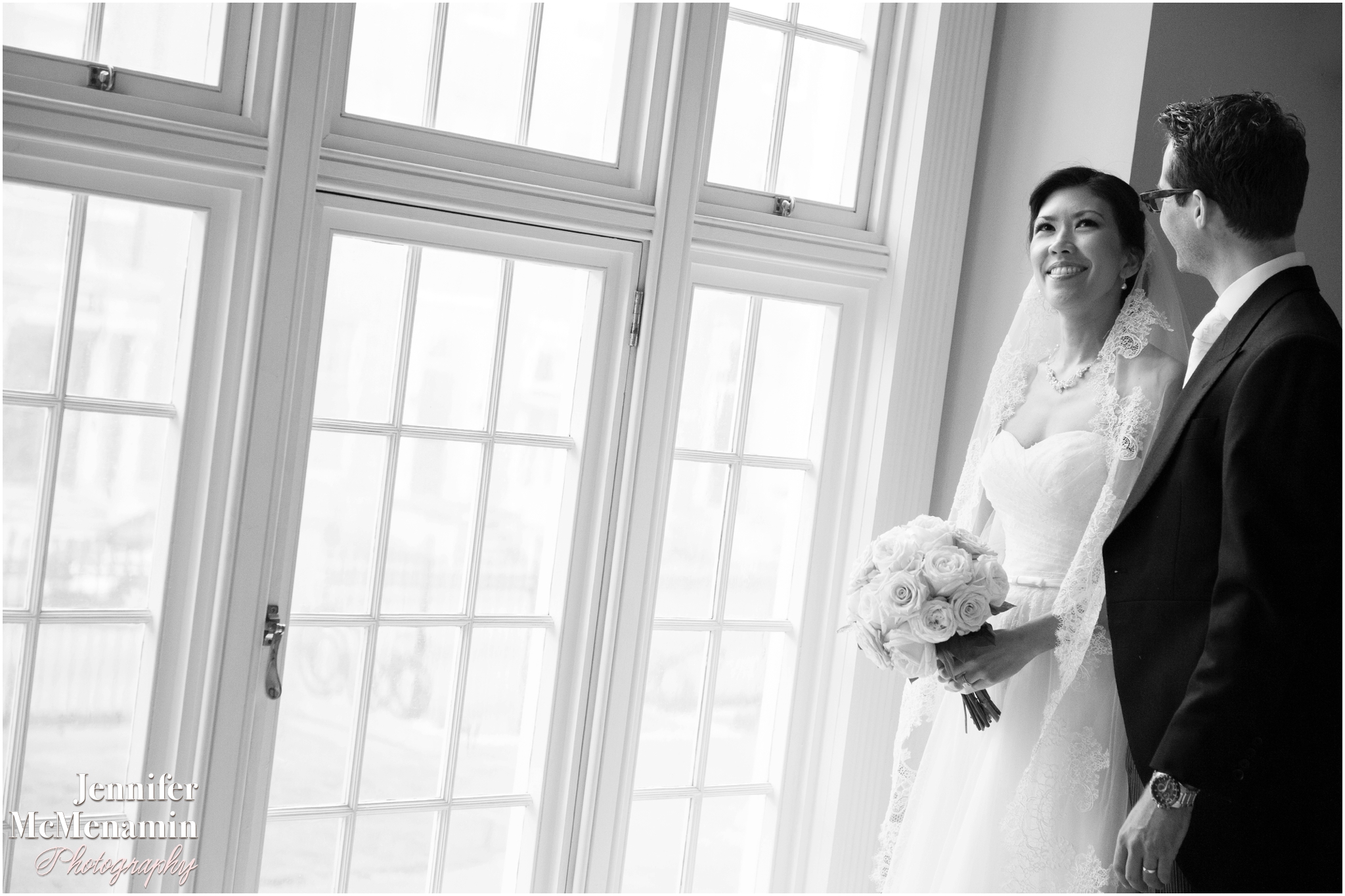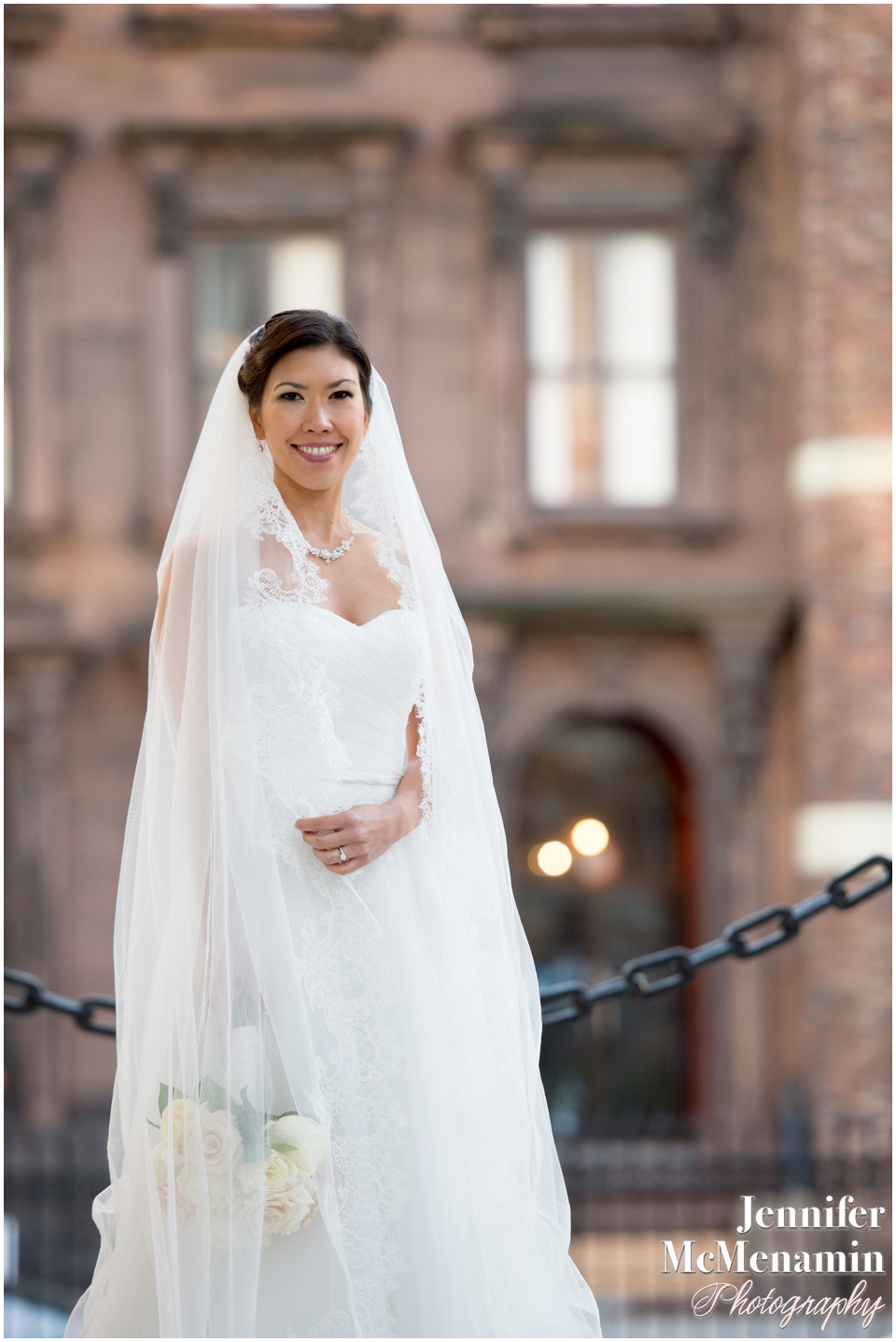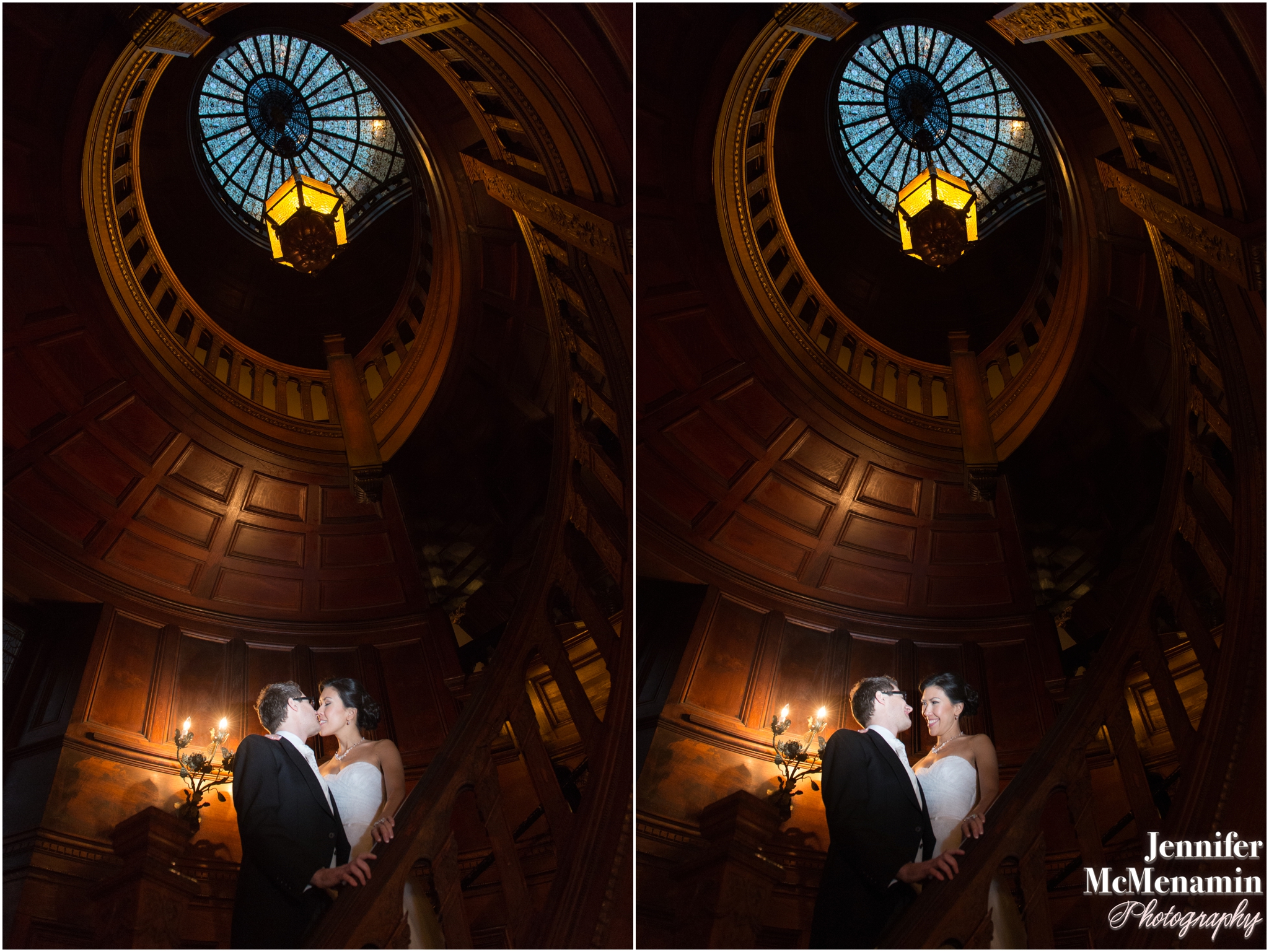 A few reception details.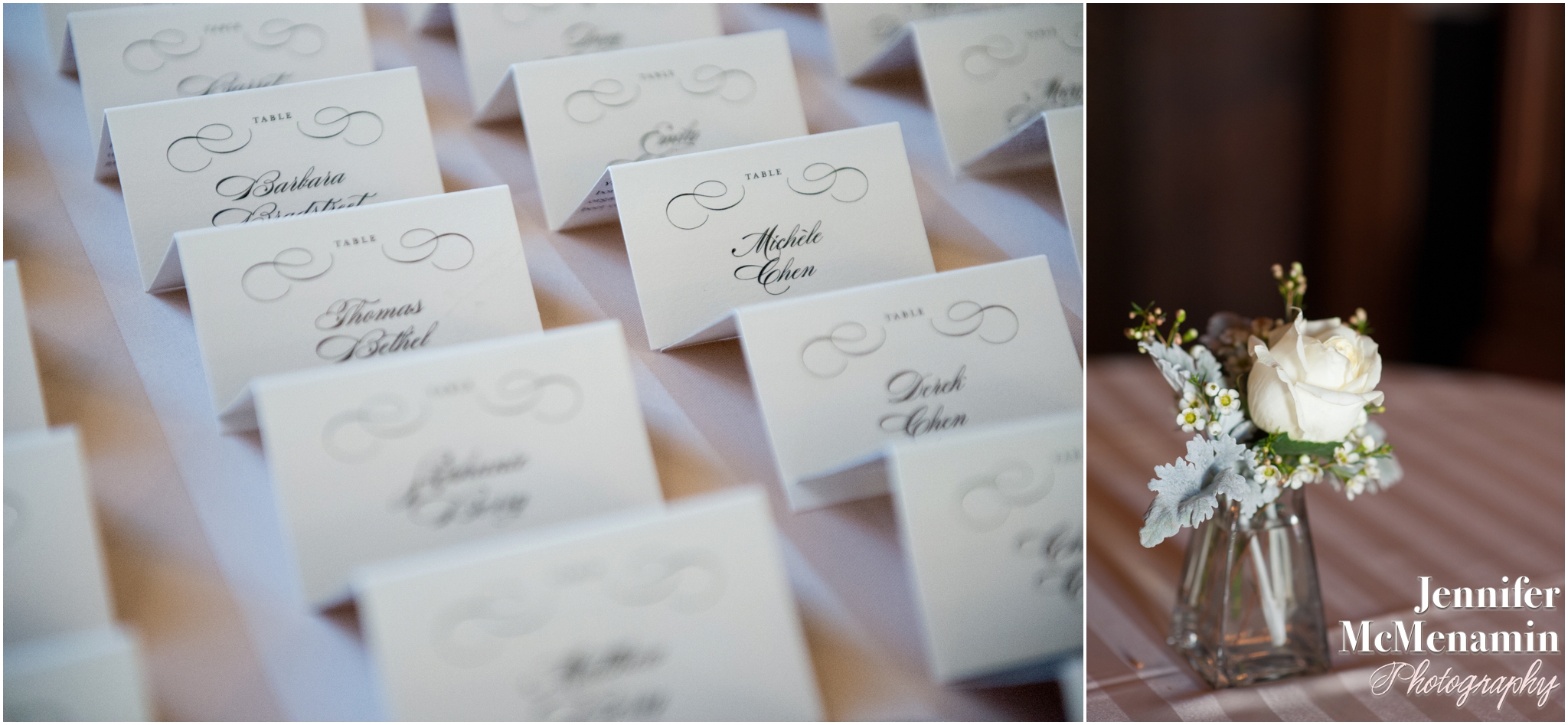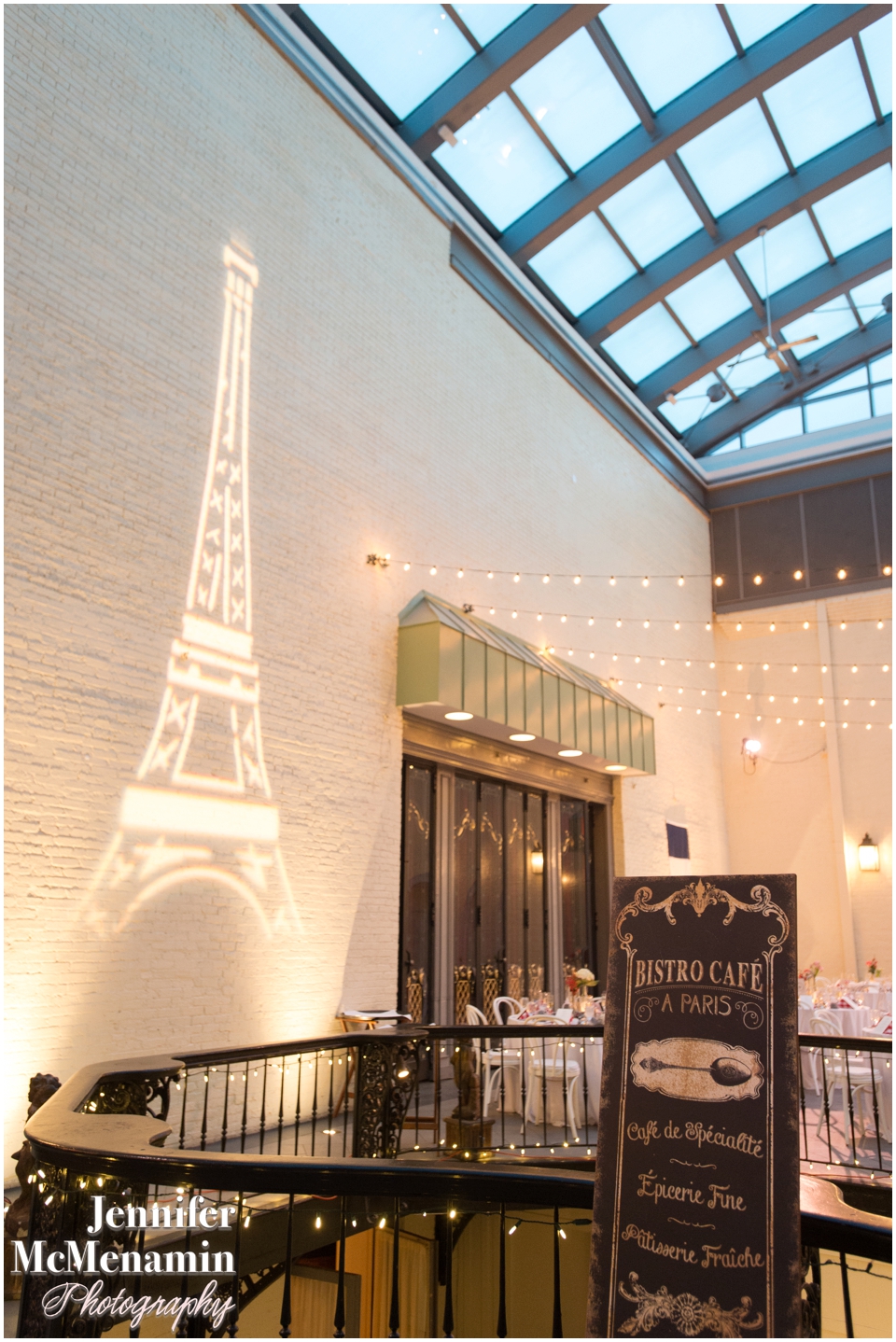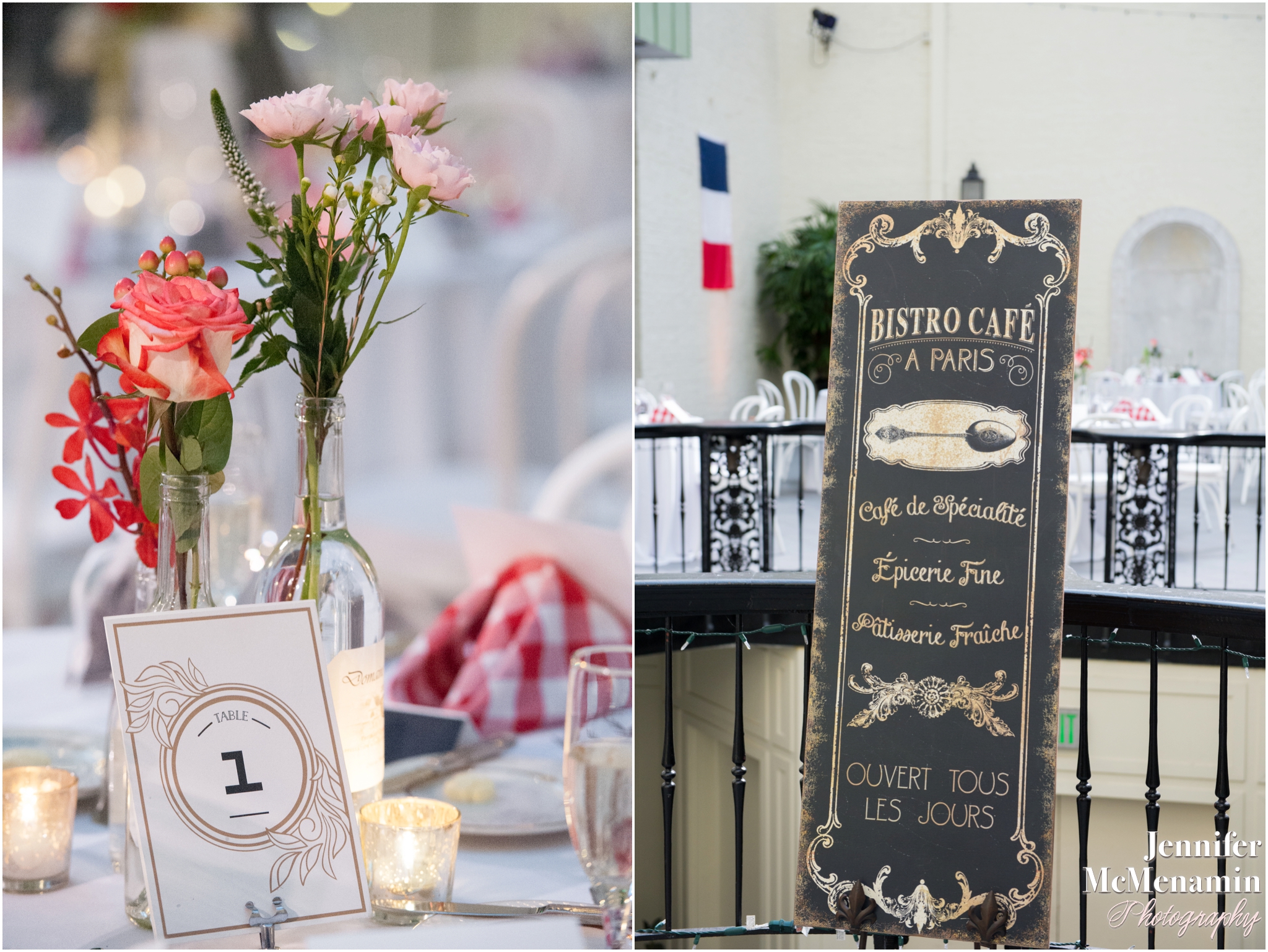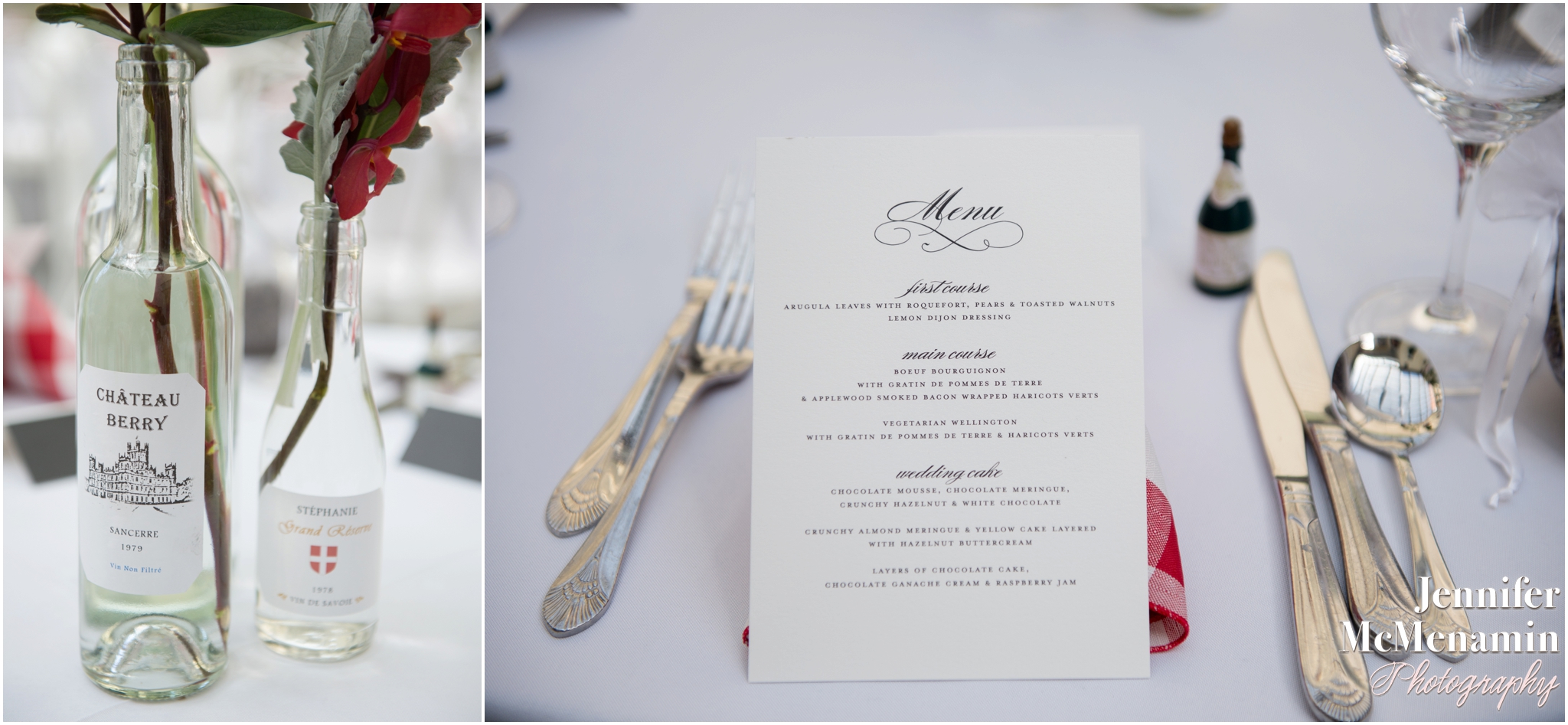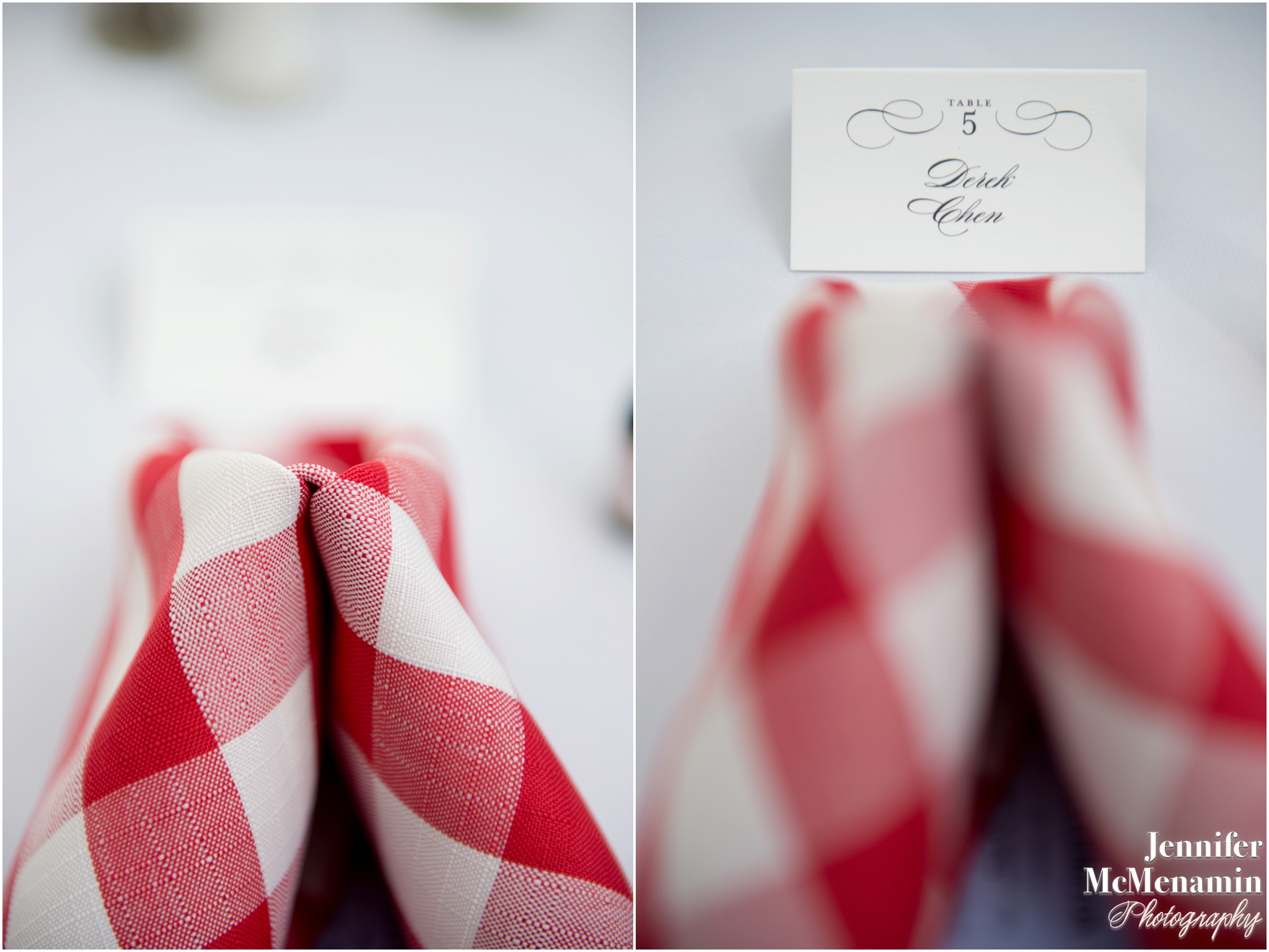 Toasts.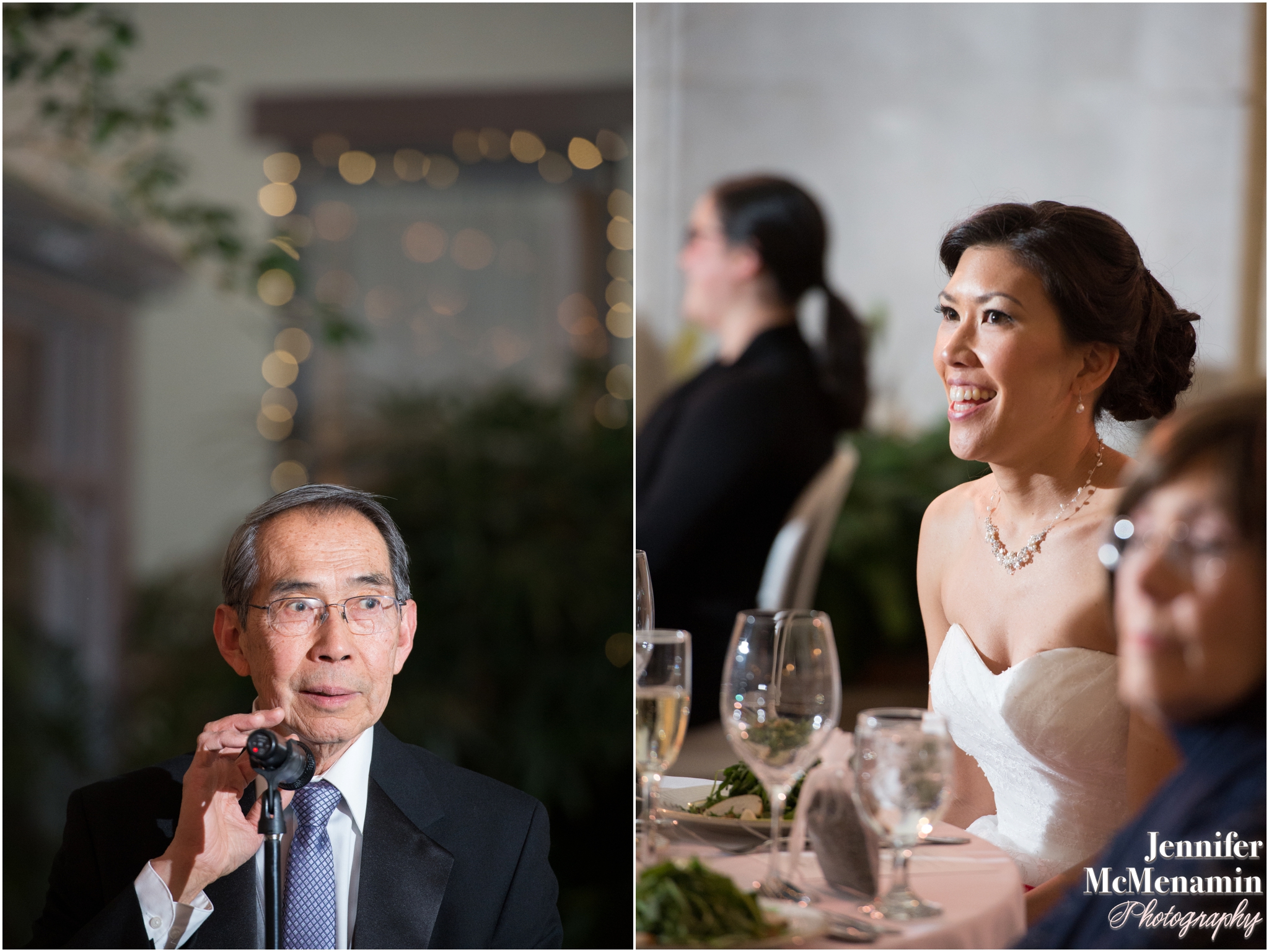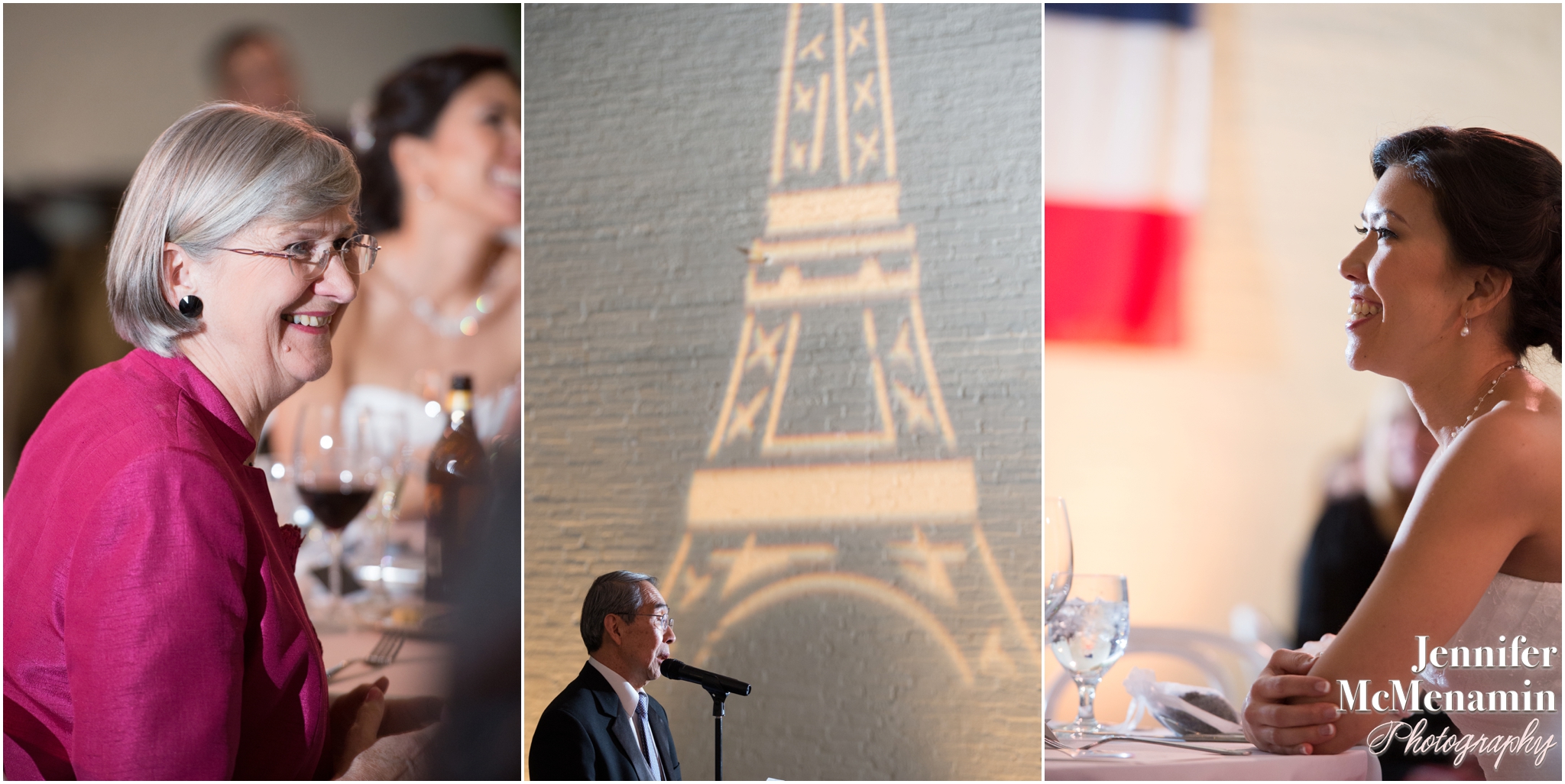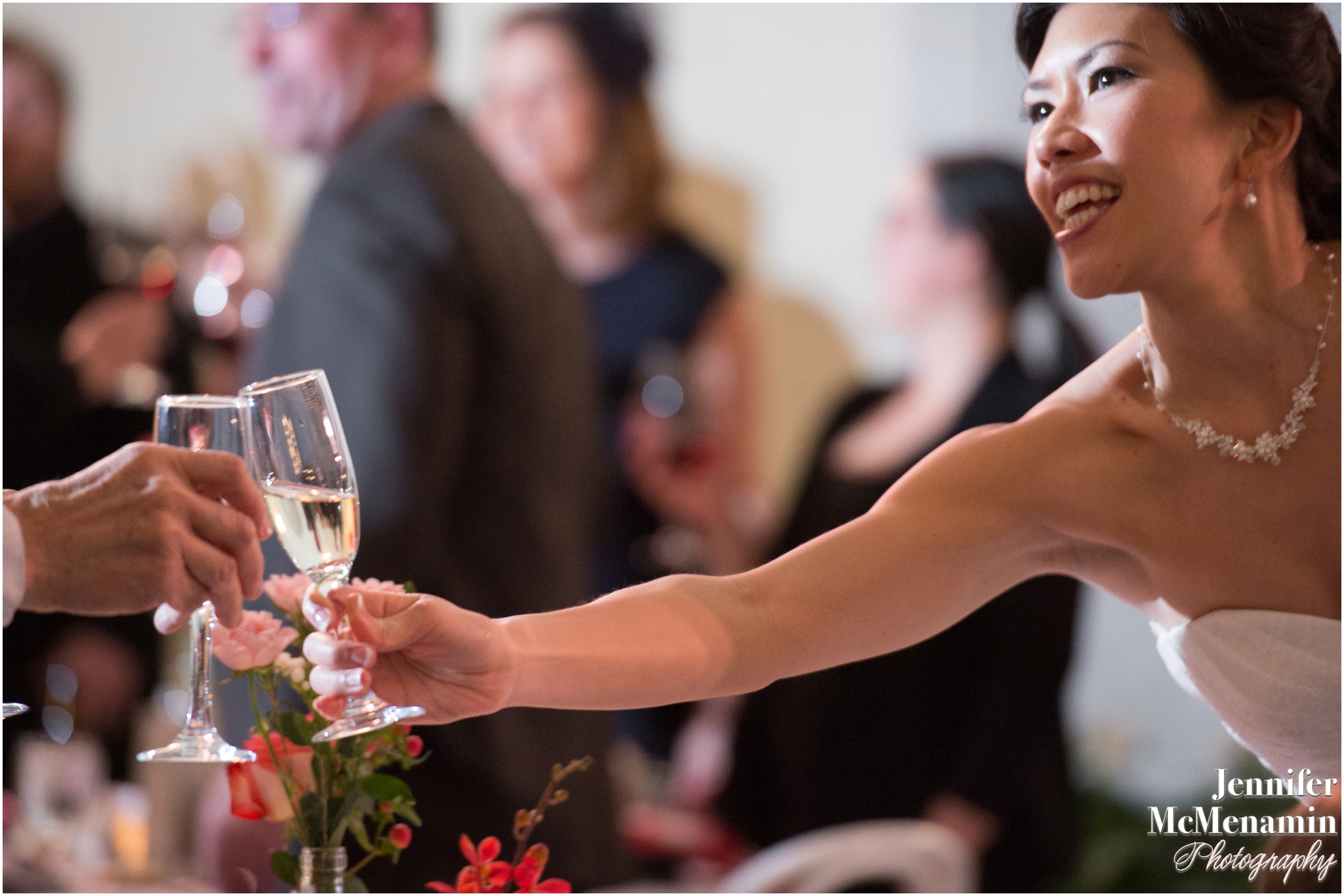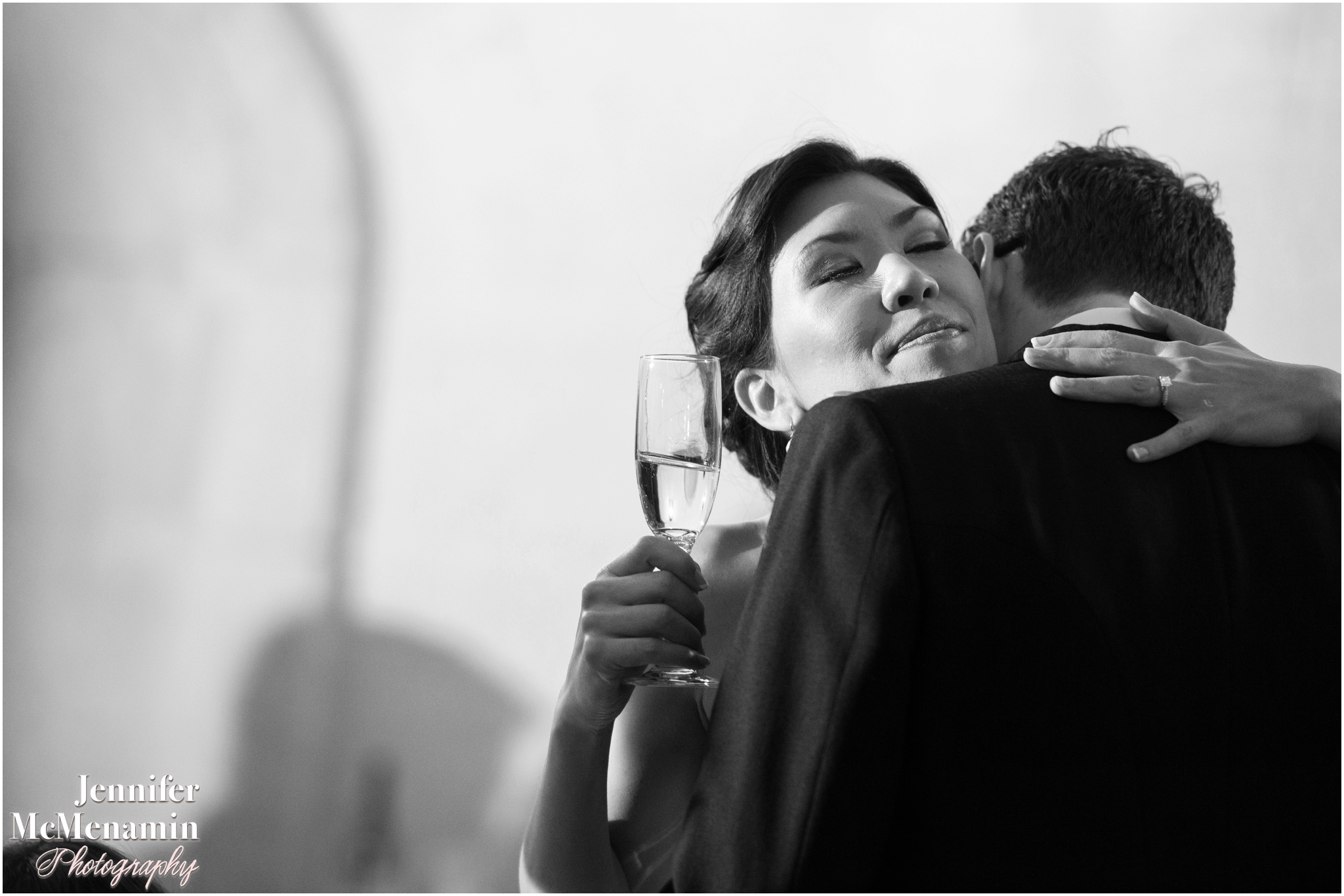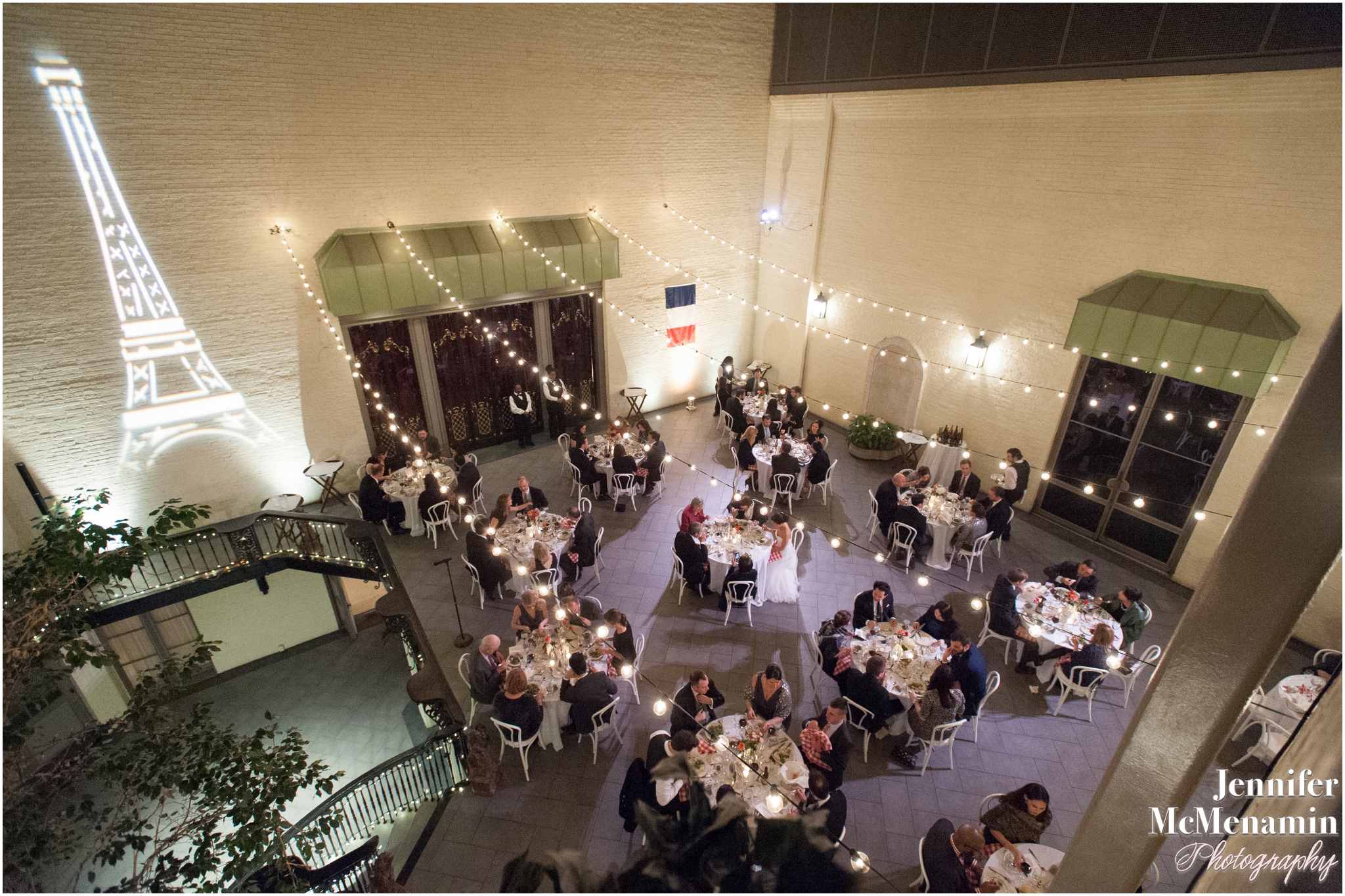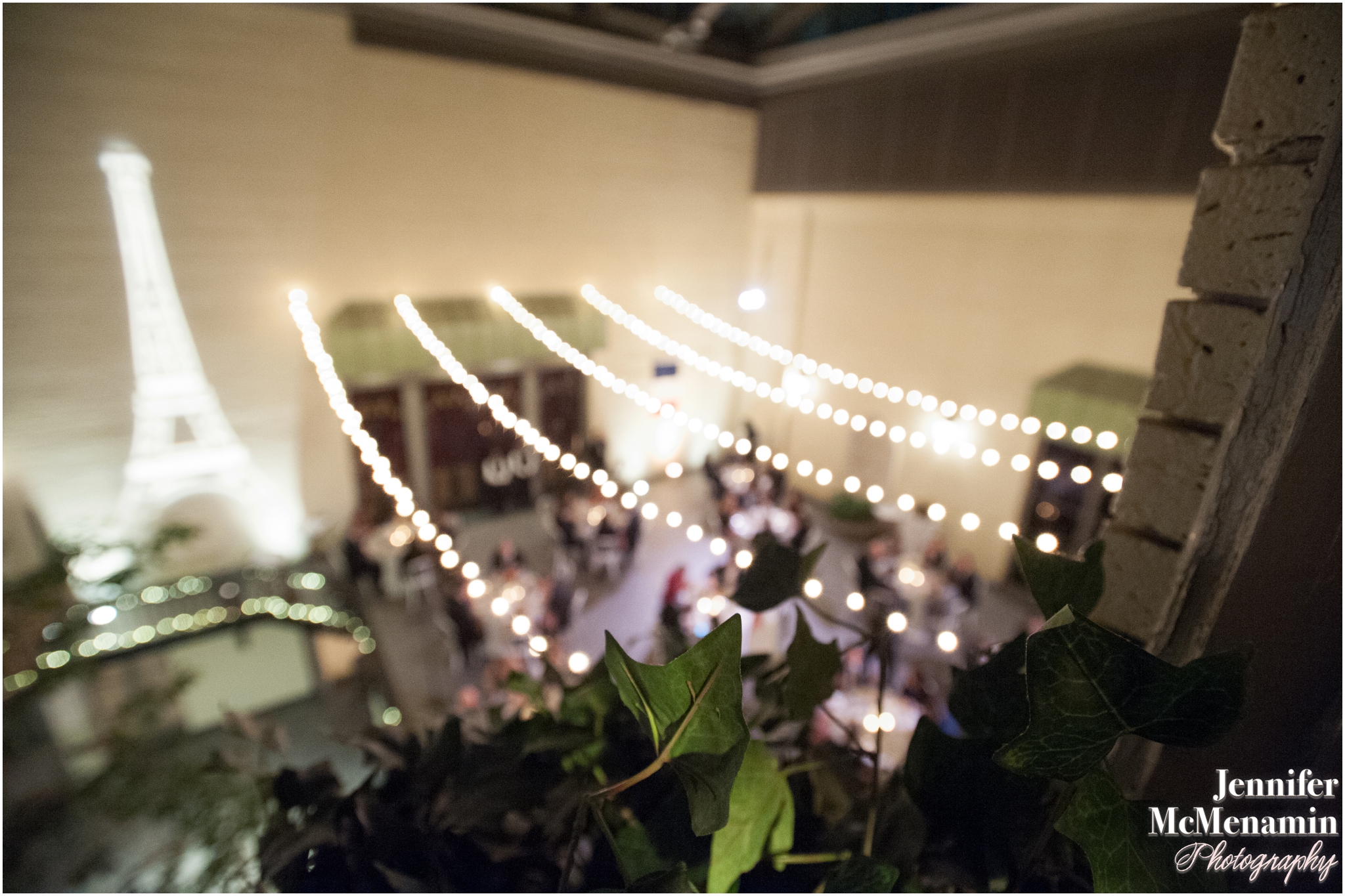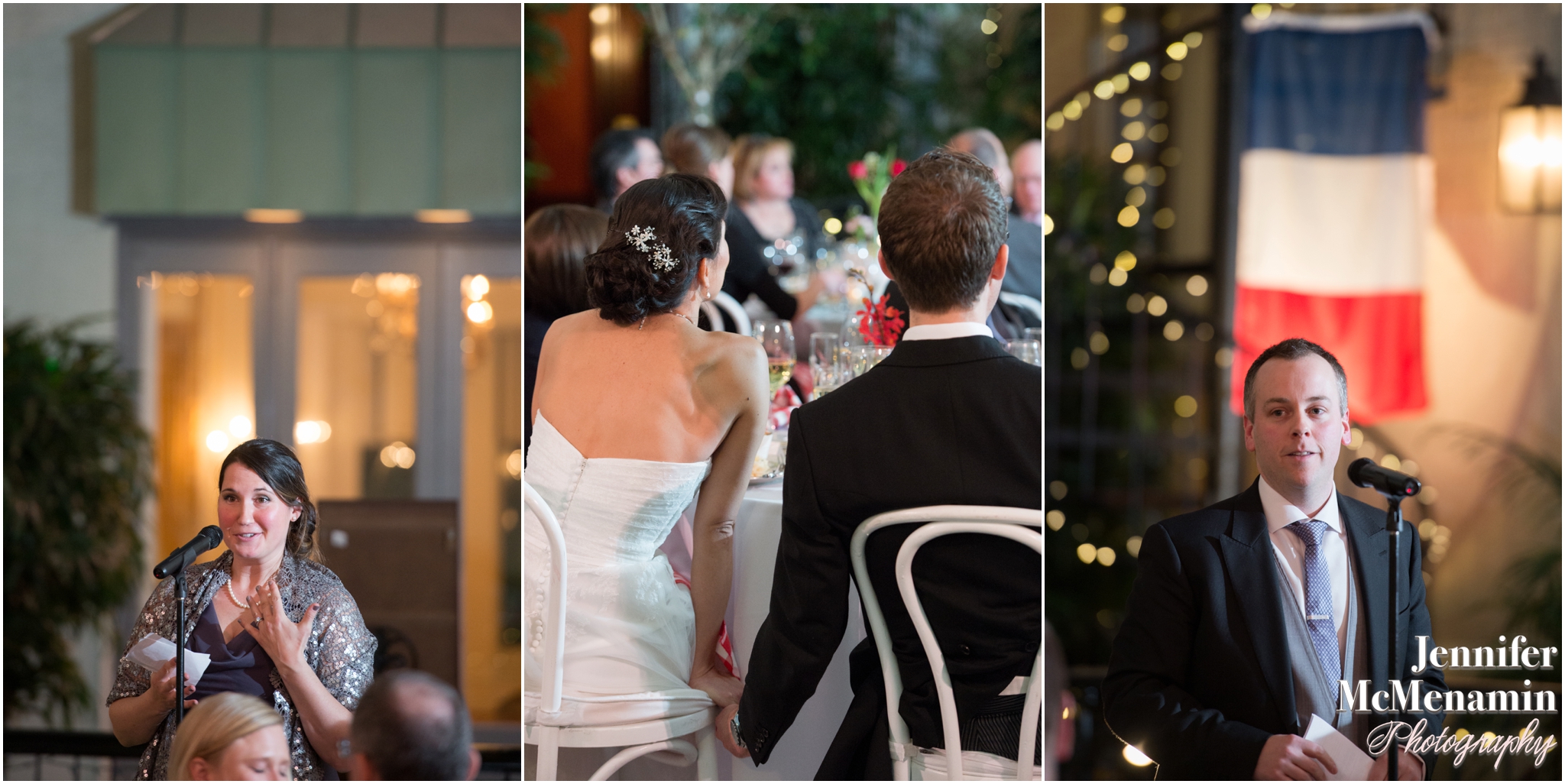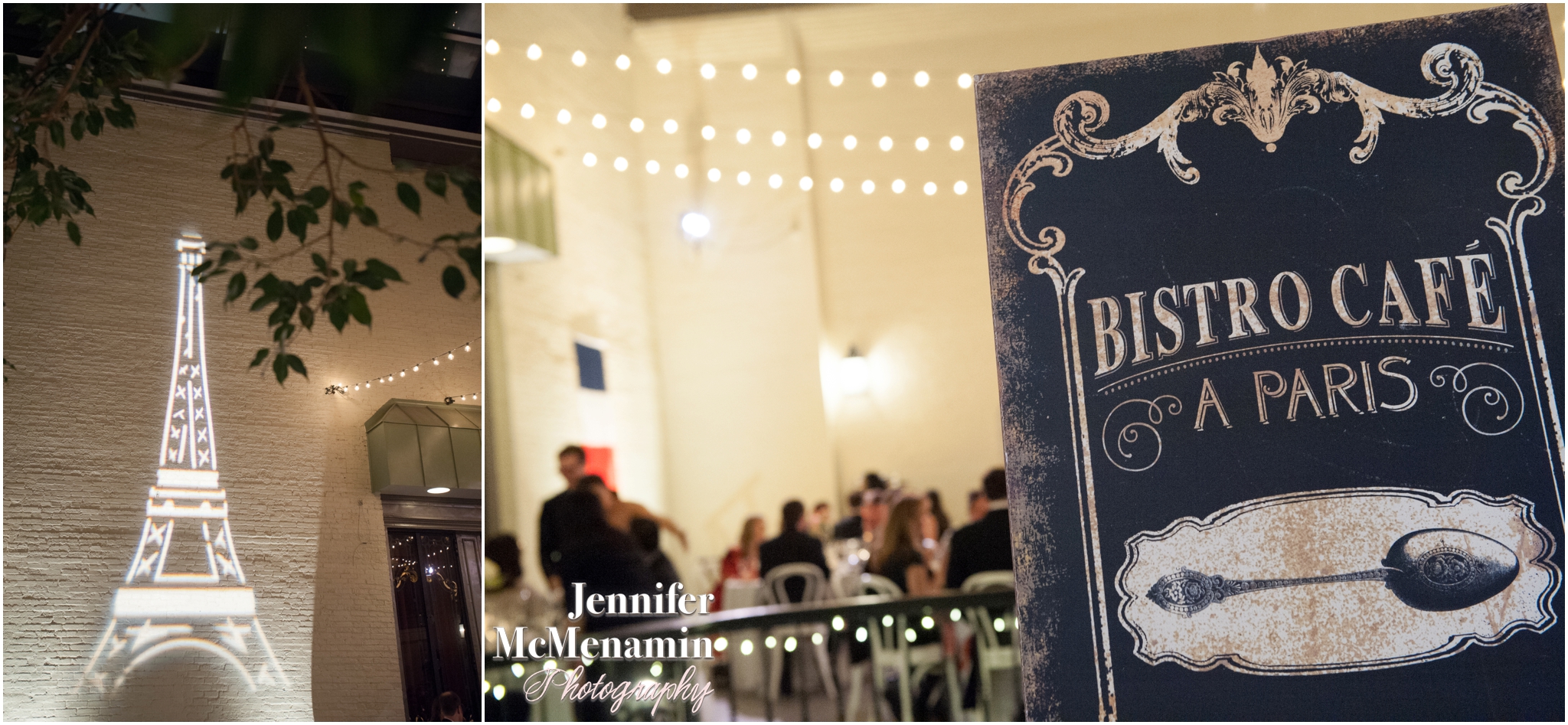 After dinner, it was time to move into the Parisian lounge for dancing.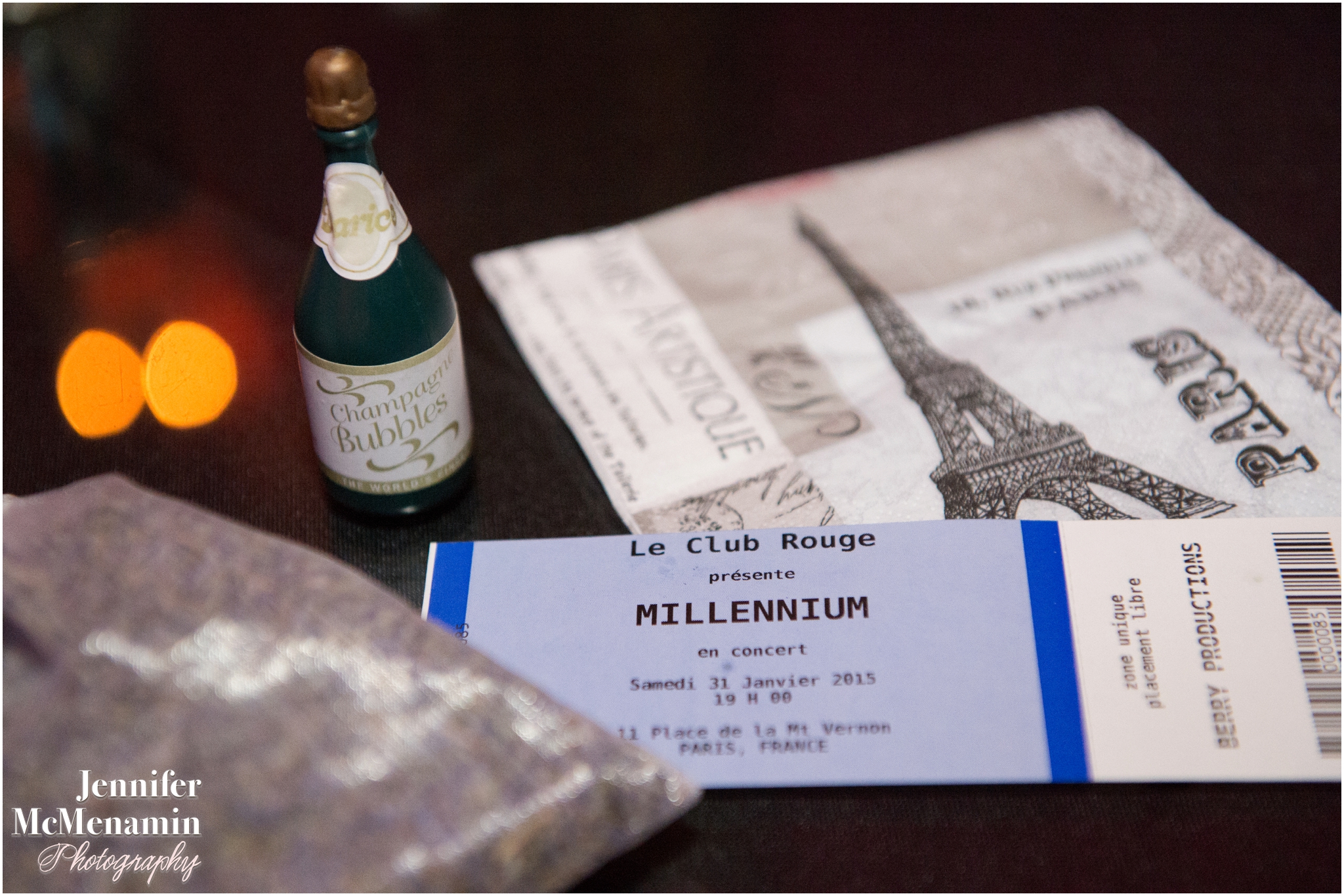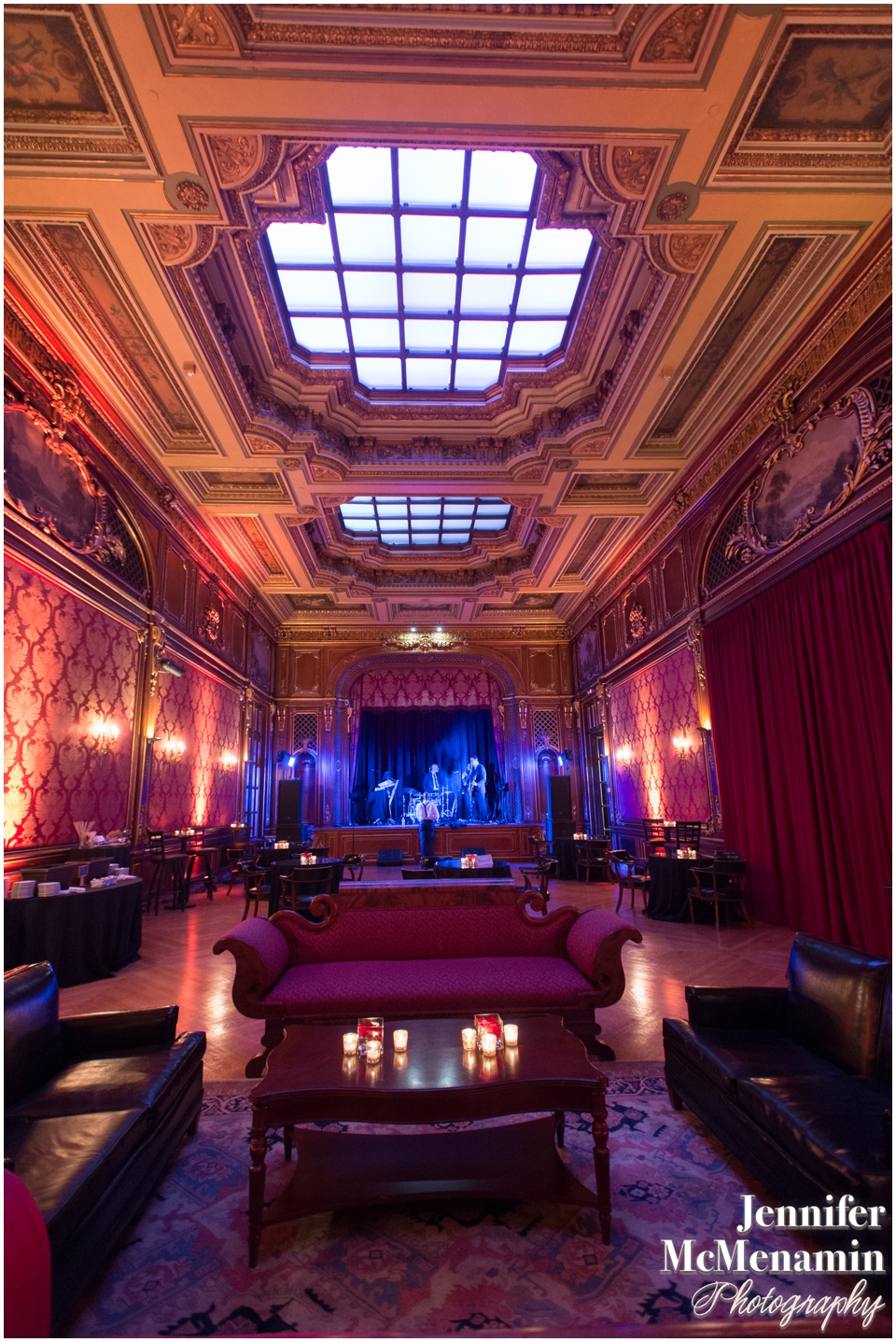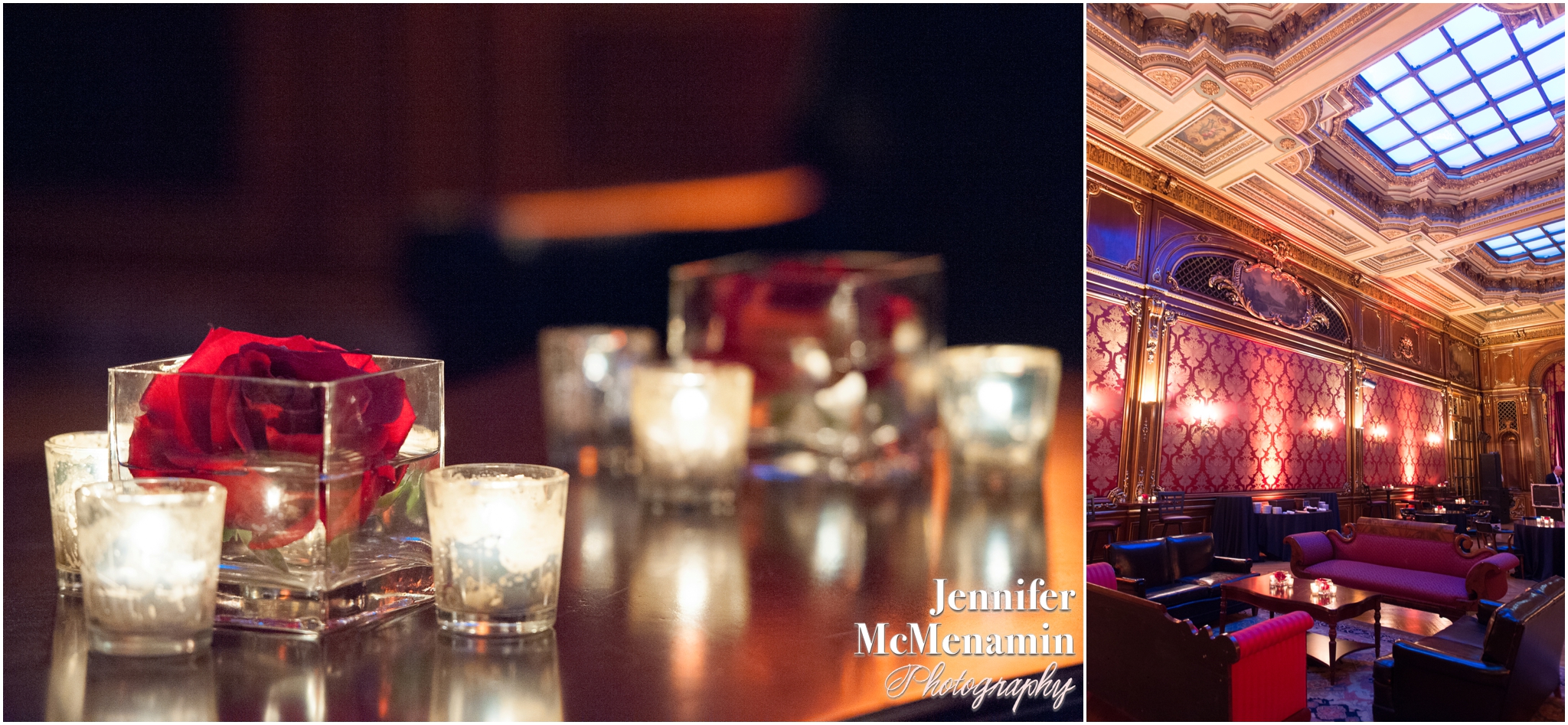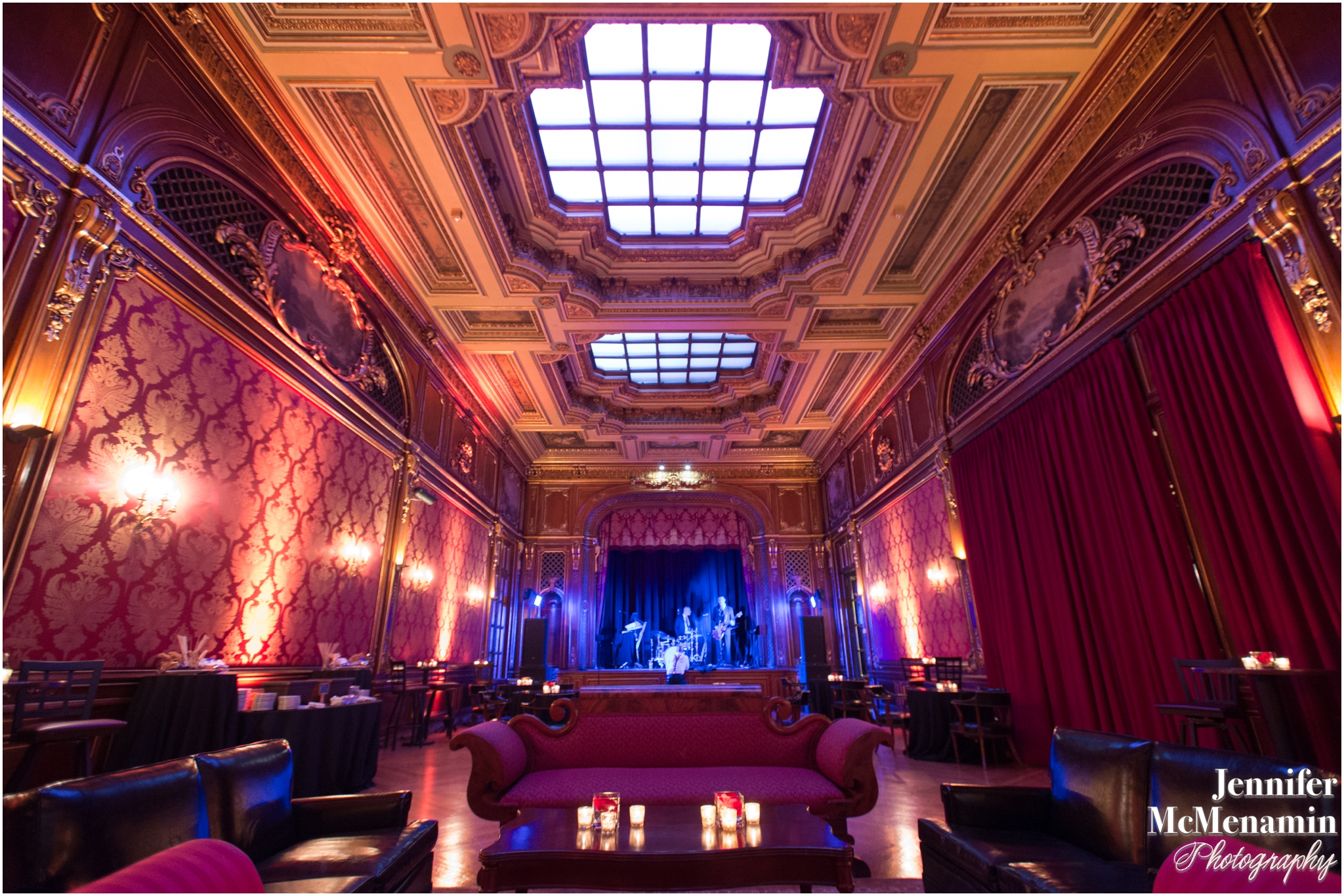 The couple's cake wonderfully depicted their loyalties to France and England.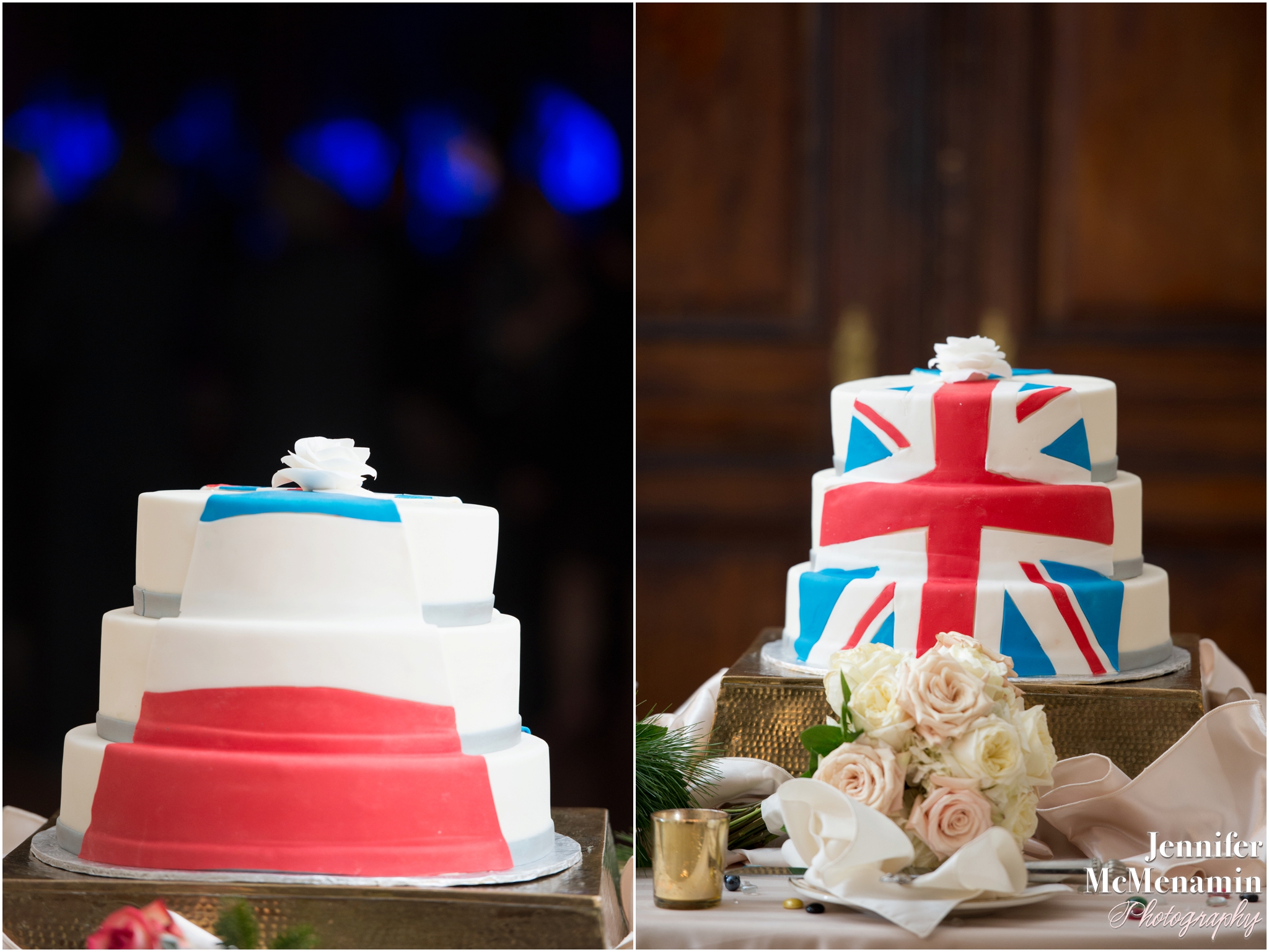 A first dance.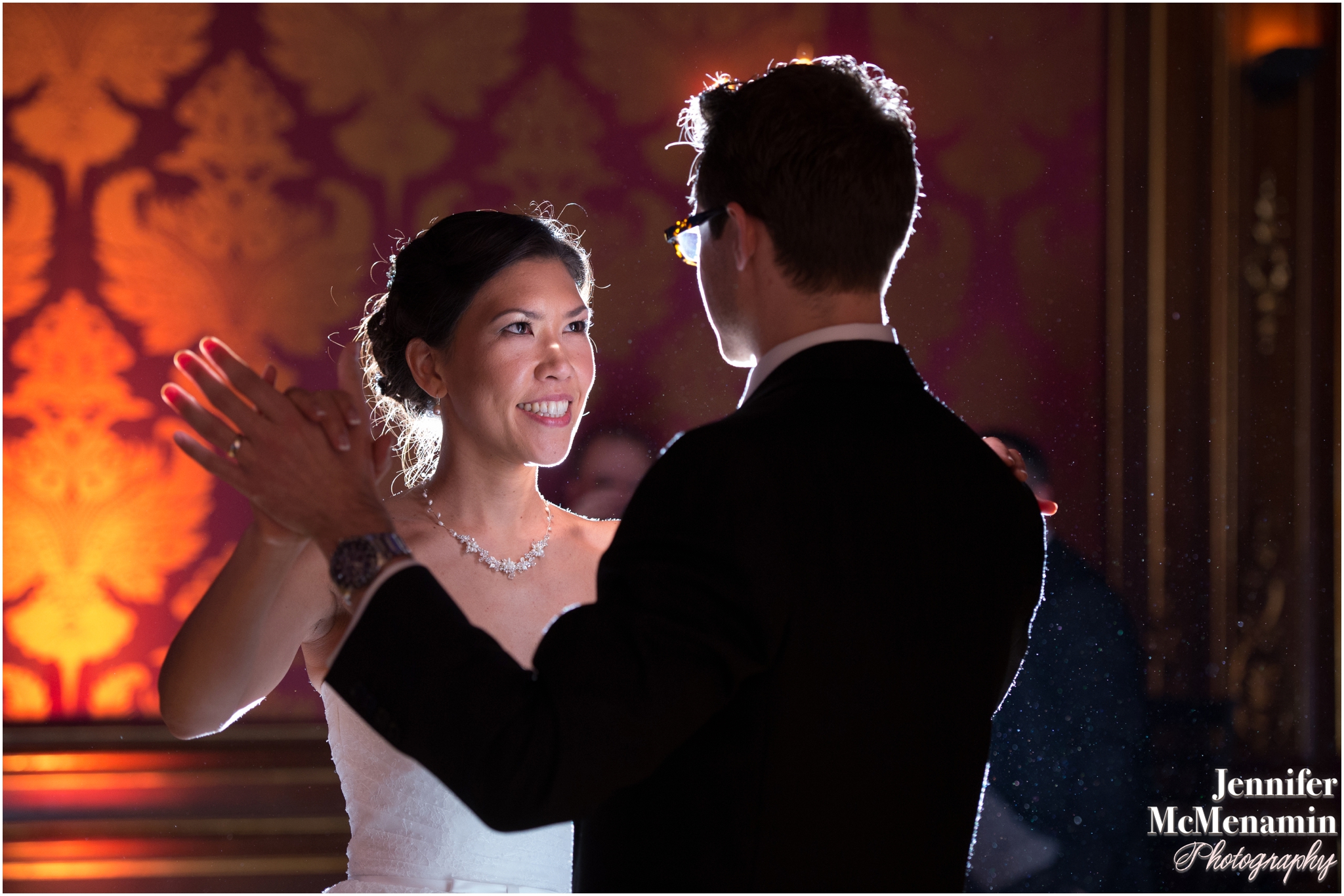 Since Stephanie + Matt both love music, they each wanted to surprise the other with a song for the wedding. "But since we spend basically every waking minute with each other," Stephanie explained, "neither of us had time to practice without the other one figuring it out. So we joined forces in the end." Together, they performed Ben Fold's "Luckiest" for their guests. Stephanie also shared a lovely dance with her father.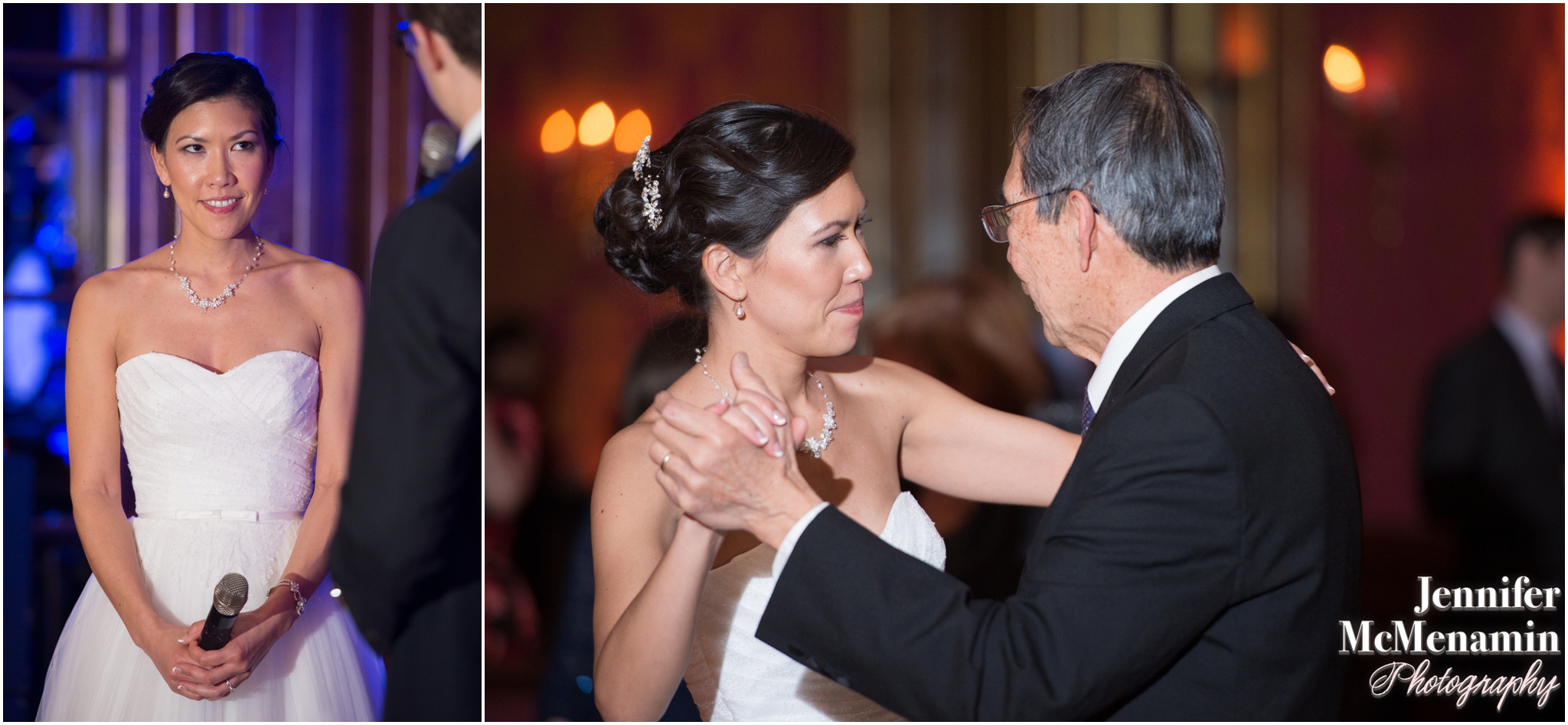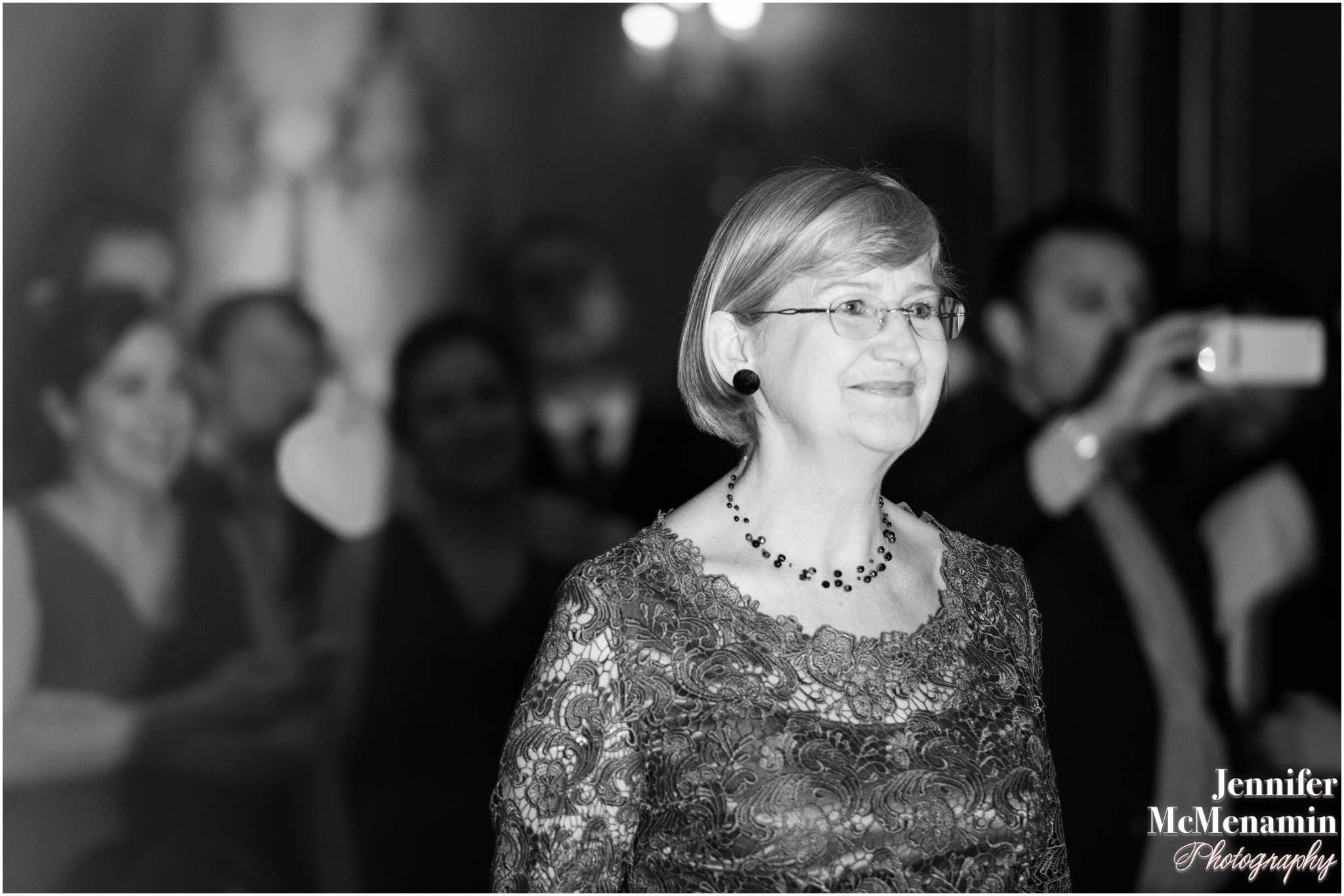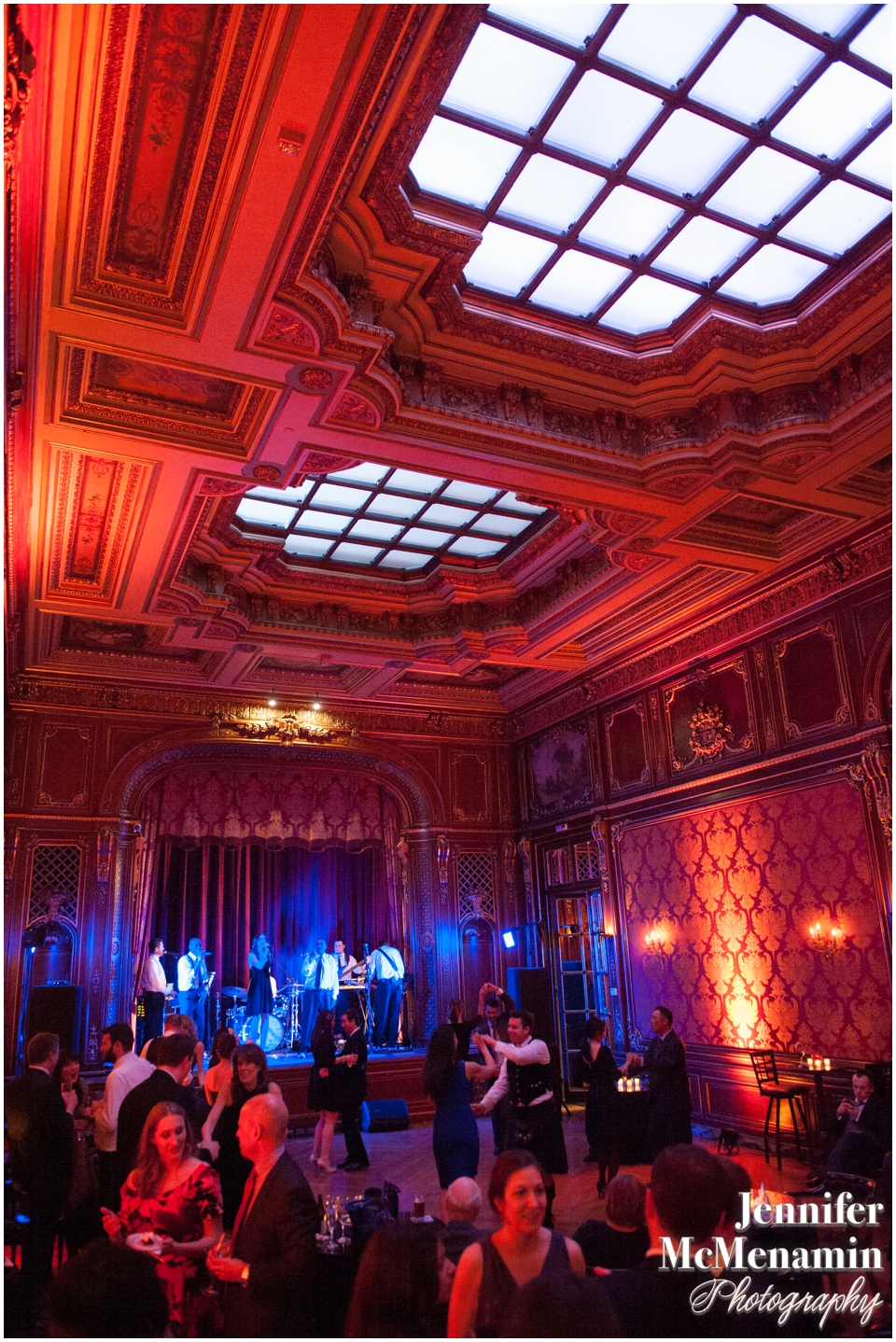 The talented musicians and performers of Millennium kept the dance floor packed all night long with their always-impressive, wide-ranging repertoire. 



I loved the s'mores bar that the couple offered as a special dessert — including the funny little note to the Brits in attendance!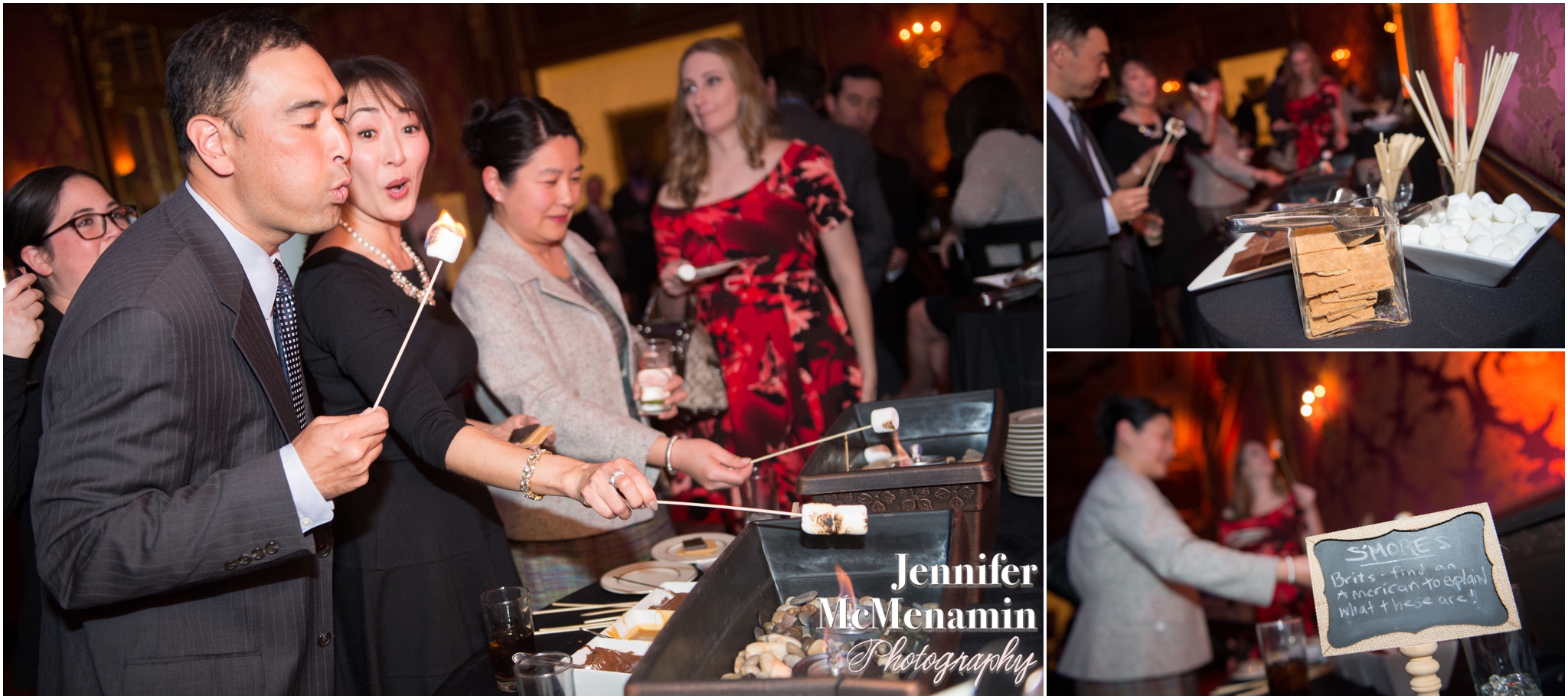 Then, it was time to travel to Jamaica for late-night snacks, games and then more dancing and photo booth fun in the Parisian lounge.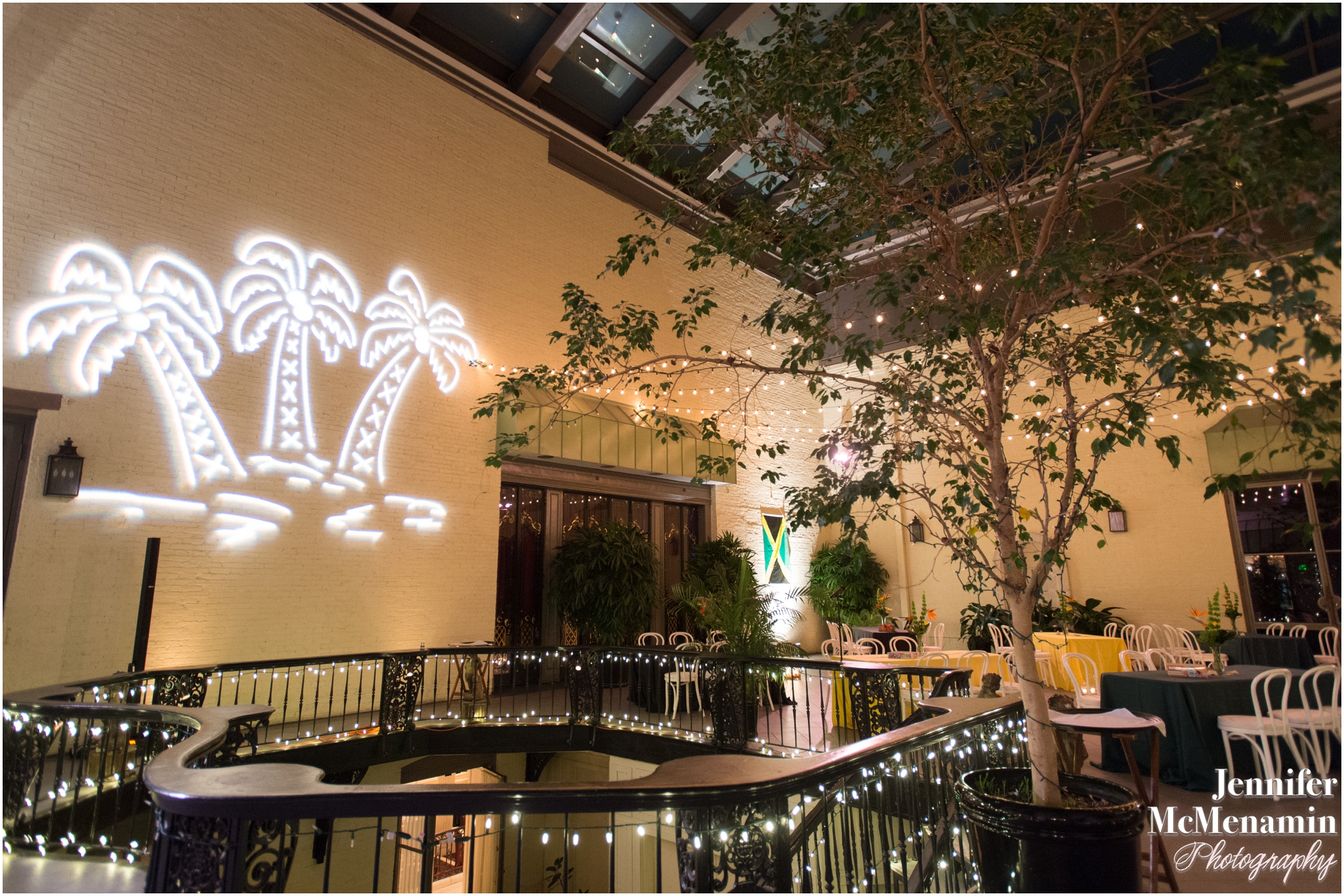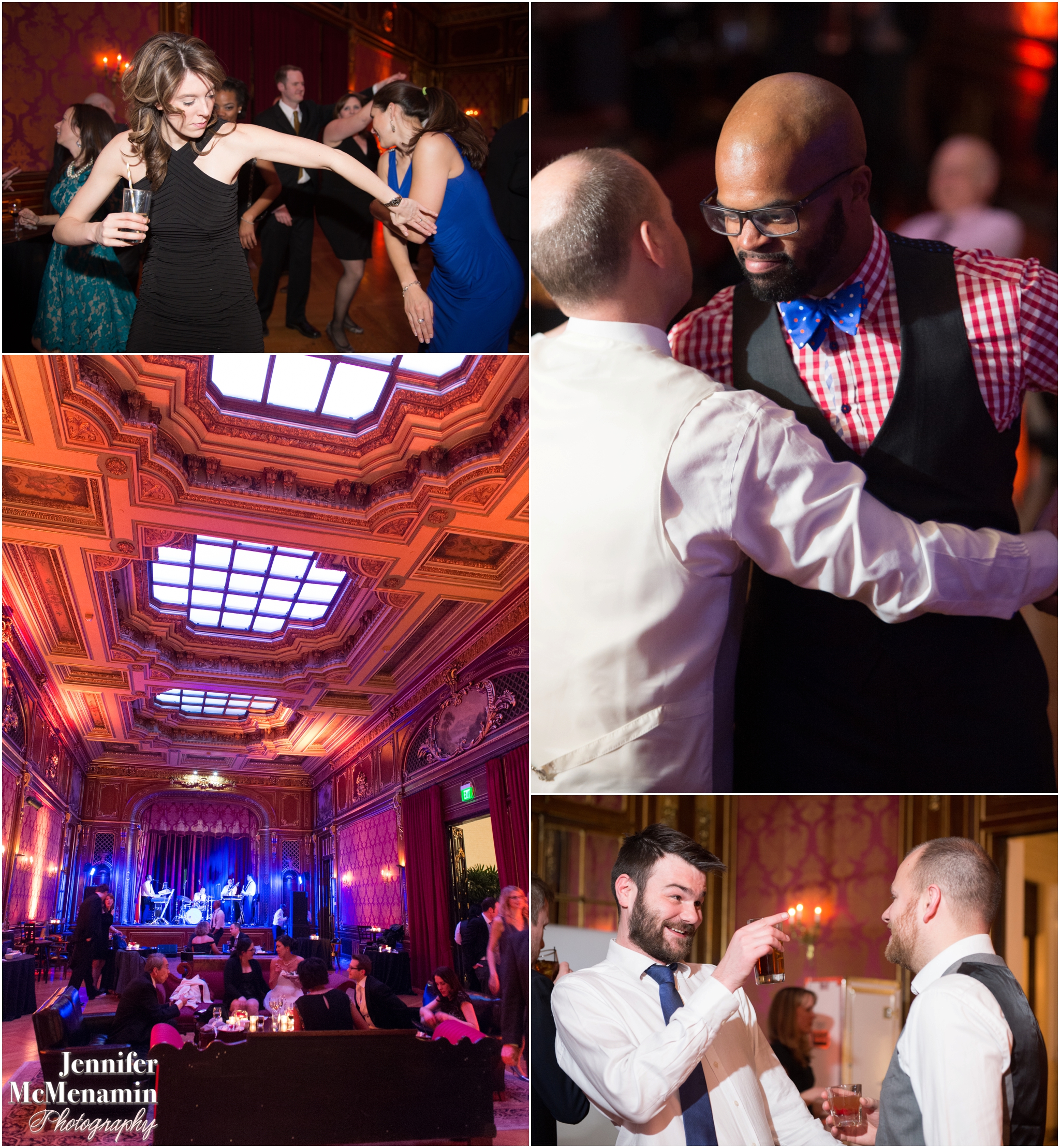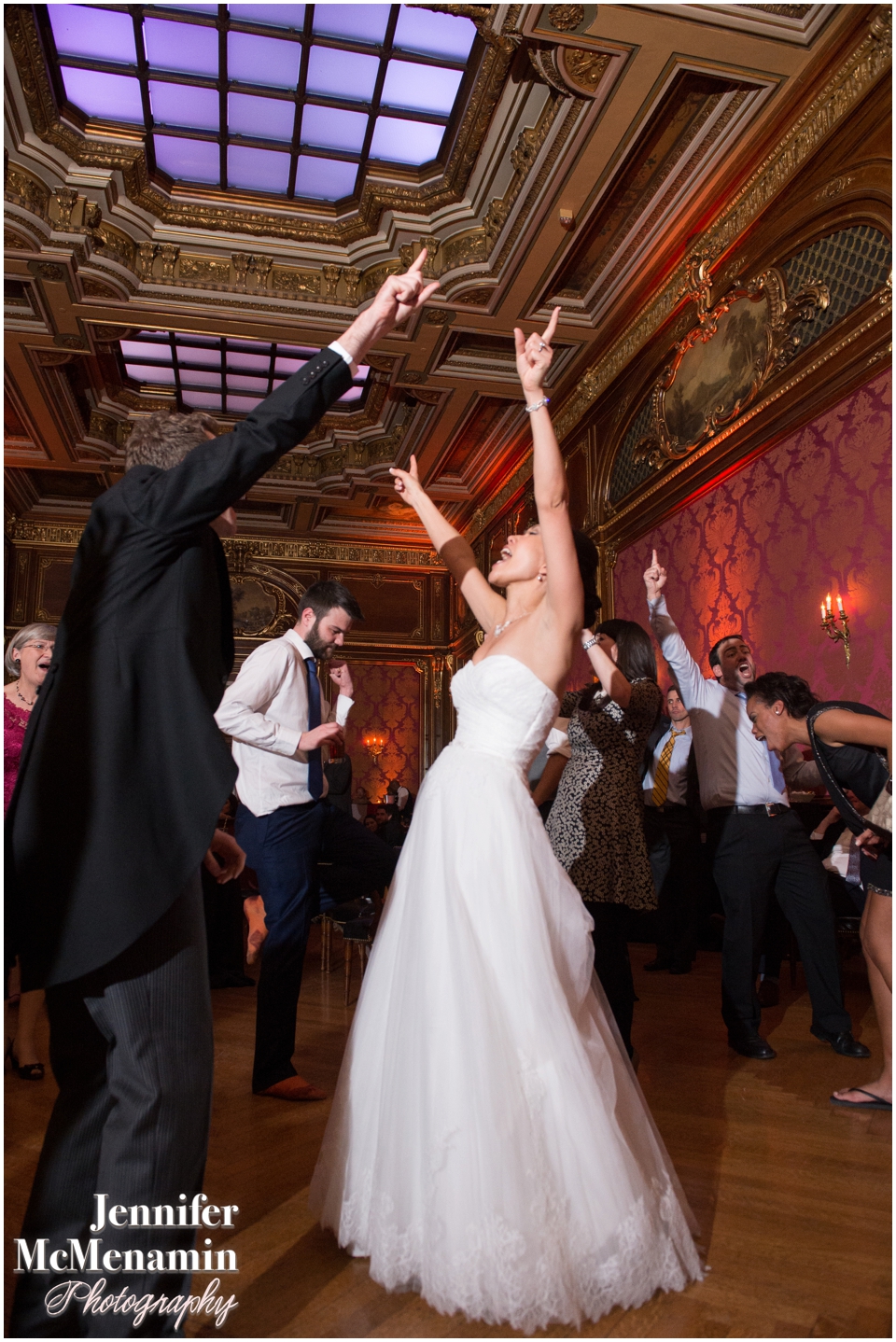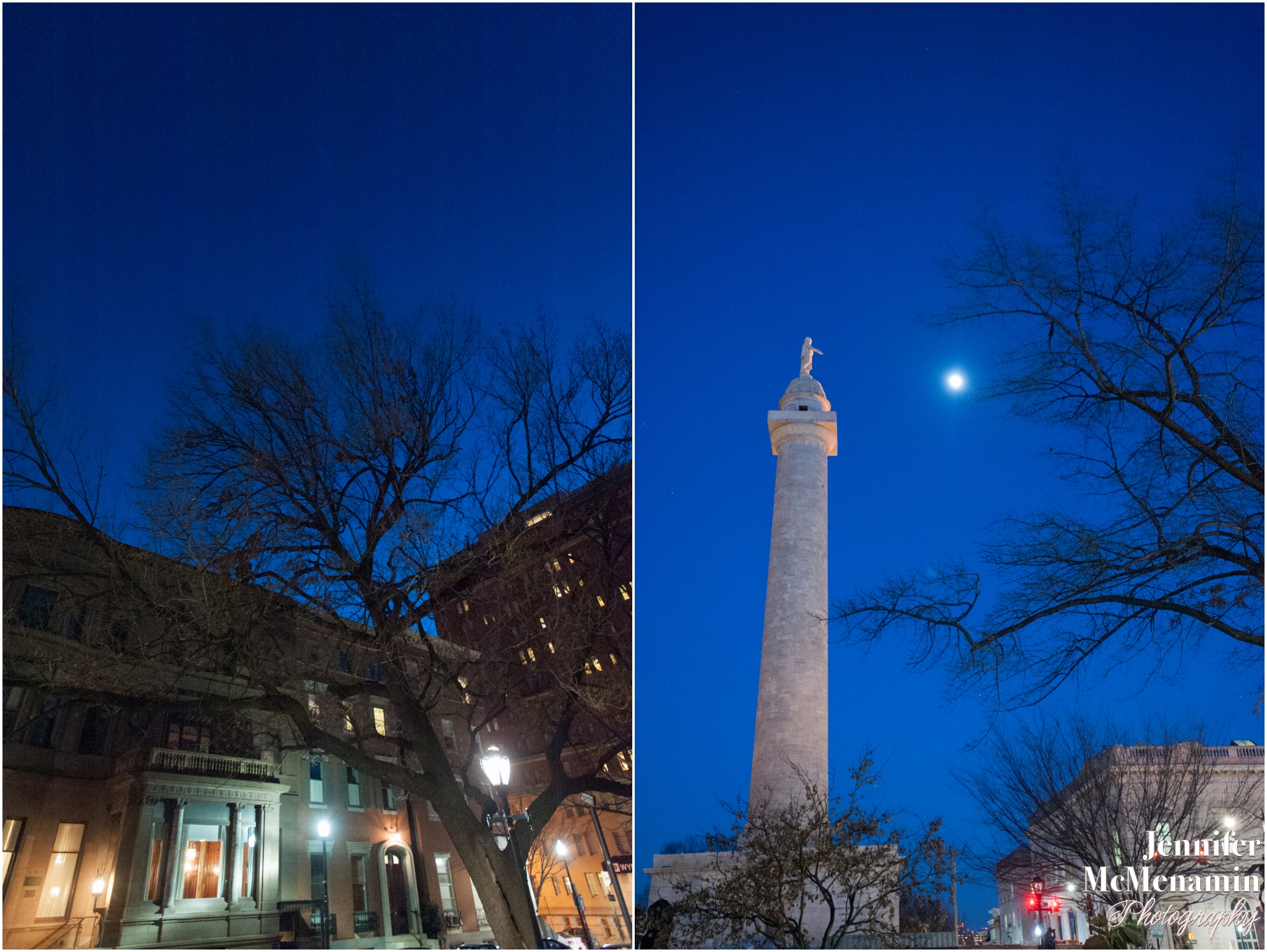 Many, many congratulations, Stephanie + Matt. It was a pleasure to work with you and your friends and family!
Credits:
Photography: Jennifer McMenamin Photography, LLC

Ceremony: The Baltimore Basilica of the National Shrine of the Assumption of the Blessed Virgin Mary
Officiant: Father Pere Alain Colliou
Ceremony musicians: Organist Muriel Hopkins, soprano Amanda Williams, alto Rebecca Roy, tenor Devon Borowski and bass Nick Scholl

Reception & Catering: The Engineers Club at the Garrett-Jacobs Mansion

Lighting designers: Event Dynamics
Rentals: Party Rental Ltd. 
Bridal attire: Aire Barcelona gown from Ebrada Atelier
Make-up: Nicole Palermo

Hair: Nicole Nadeau

Bridesmaids' attire: Lela Rose gowns
Groom's attire: Coat and tails from Charles Tyrwhitt of London and a Christopher Schafer Clothier waistcoat

Florist: Fleur de Lis
Cake: Patisserie Poupon

Band: Millennium

Transportation: Limousines Inc.
Invitations & paper goods: Minted and DIY
Photo booth: The Prop Stop Photo Booth