Sydney + Greg

The Evergreen Museum & Carriage House -- Baltimore wedding photographer -- Baltimore wedding photography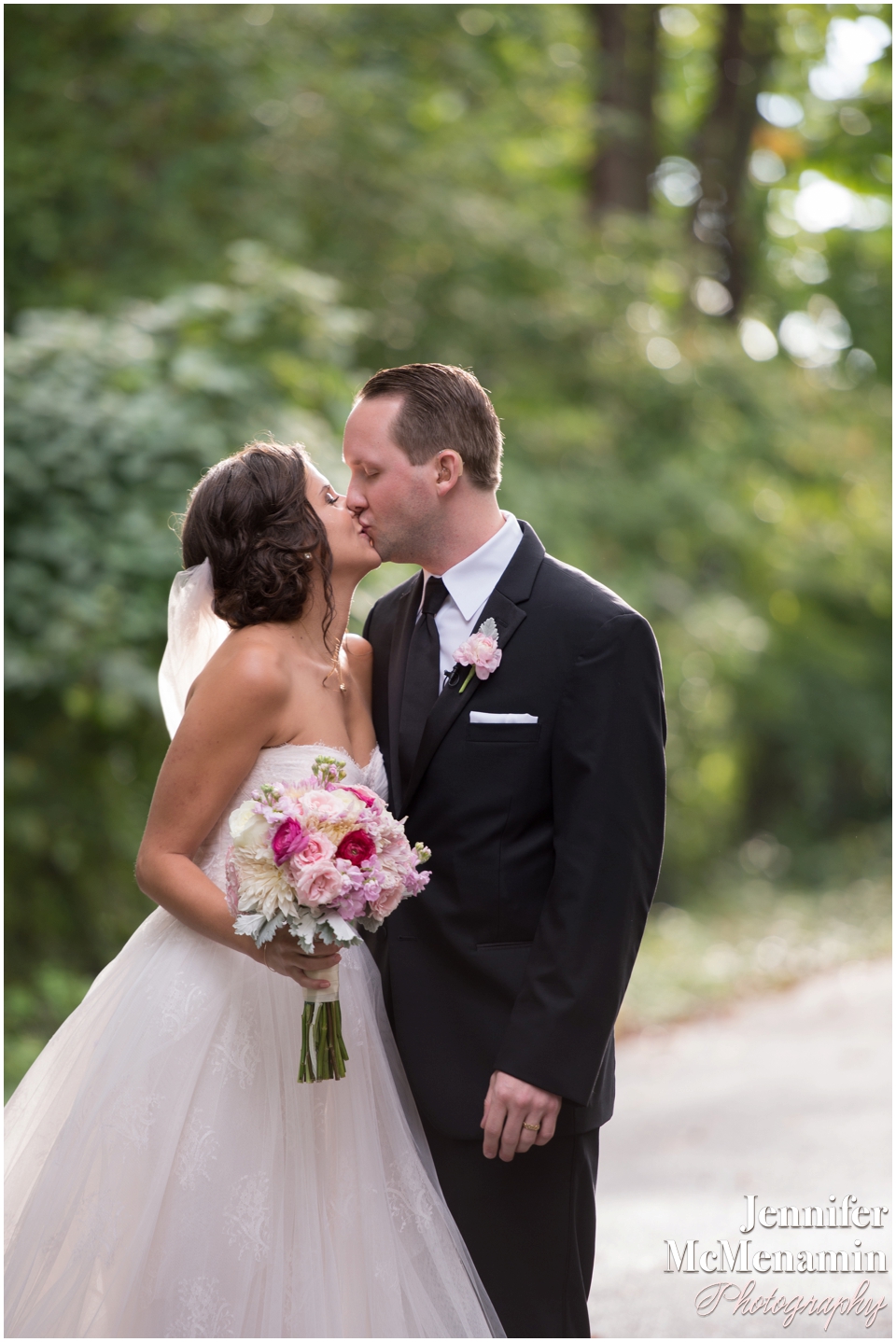 Sydney and Greg booked me for a wedding that I looked forward to for more than a year. Not only was I curious to see how Sydney would pull off a color scheme that heavily featured her favorite hue of gray. Nor was it her intriguing plans for a reception bar made of wooden ladders or her vision of friends holding big wooden doors at the end of the aisle for her processional, mimicking the look of church doors opening as the bride and her father make their grand entrance. It wasn't even that she occasionally sent me sweet notes throughout the year, telling me how much she loved seeing my work on Facebook and how excited she was for her own wedding photos. No, I looked forward to Sydney and Greg's wedding day because I knew — I just knew! — that it would be oh so much fun. I could not have been more right. Despite the gloomy day and the rain that forced their outdoor ceremony indoors, Sydney and Greg had an amazingly wonderful wedding day. From the love-themed shirts and statement necklaces that Sydney ordered for her bridesmaids and the fabulous relationship she has with her three younger sisters to the parade of thoughtful surprises — something old, new, borrowed and blue — that Sydney planned for Greg and their personal, hilarious and touching vows to each other, the day was a joy to photograph. Oh, and her dress. The gown — in the very lightest of blush pinks from Monique Lhuillier — was a confection of tulle and lace. It was so very beautiful! My most favorite part of the day, by far, was the way that both Sydney and Greg so obviously reveled in the company and affection of their closest friends and family members. They were so excited to see each and every person who approached them. That kind of joy and happiness is always a pleasure to photograph. My friend and assistant, Sam, joined me again for this wedding and his photos are mixed in with mine below. Here are some of my favorites from Sydney and Greg's wonderful day: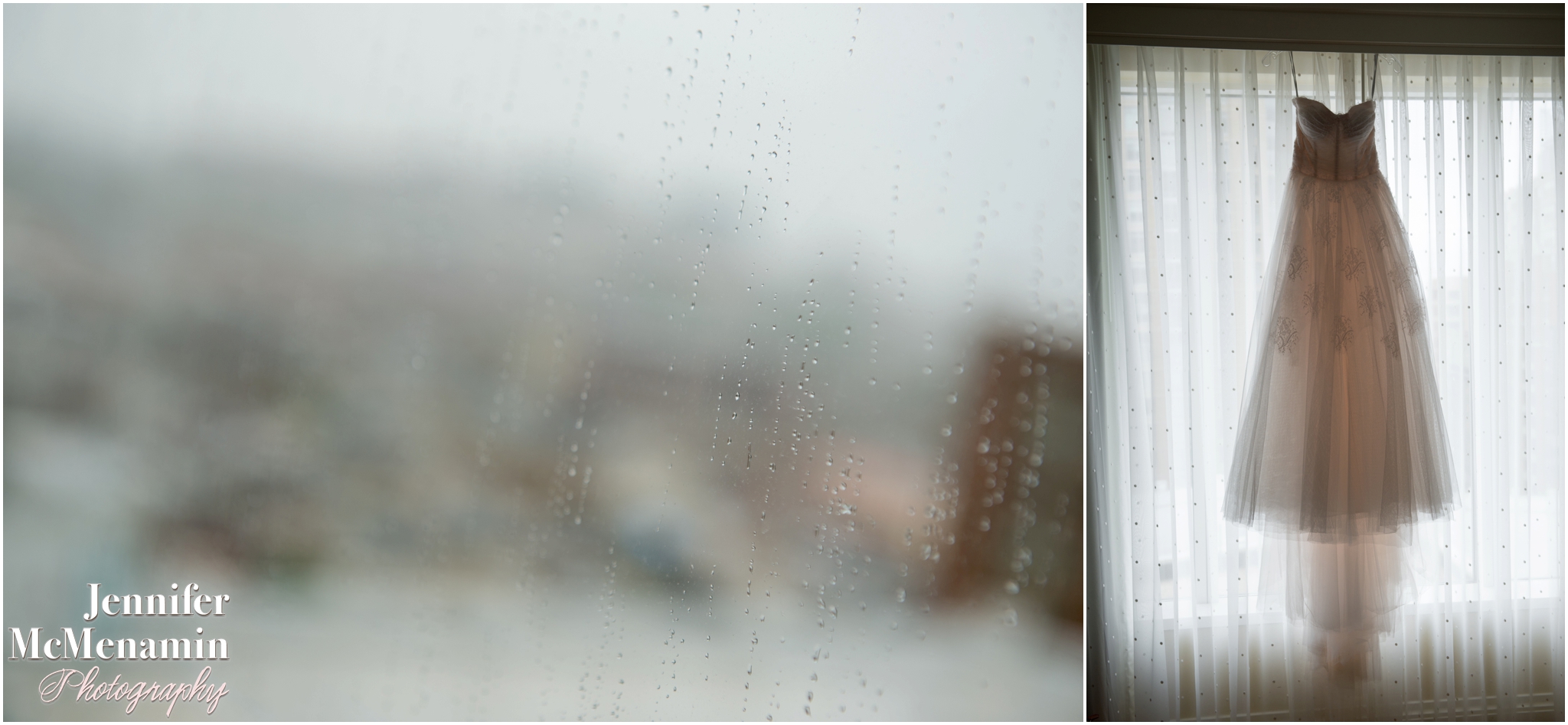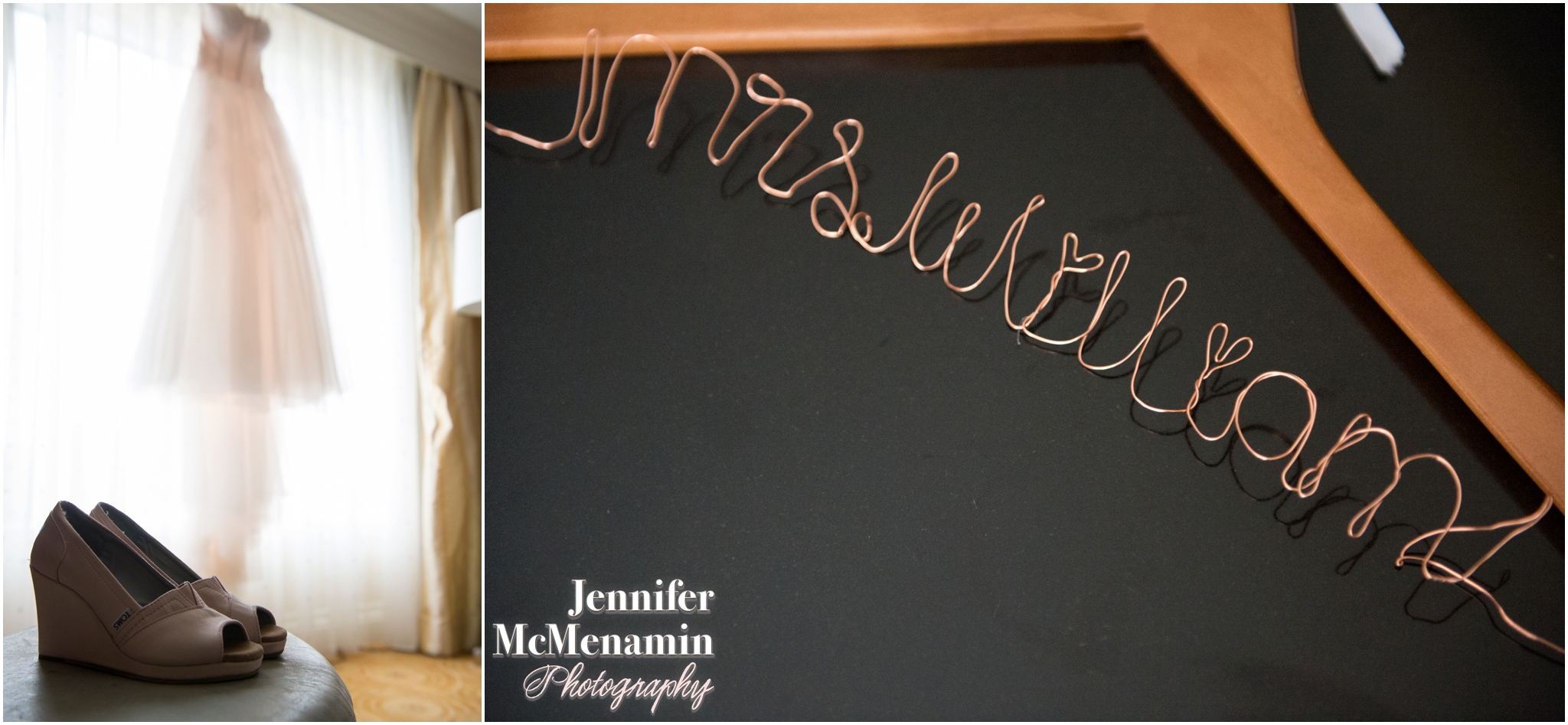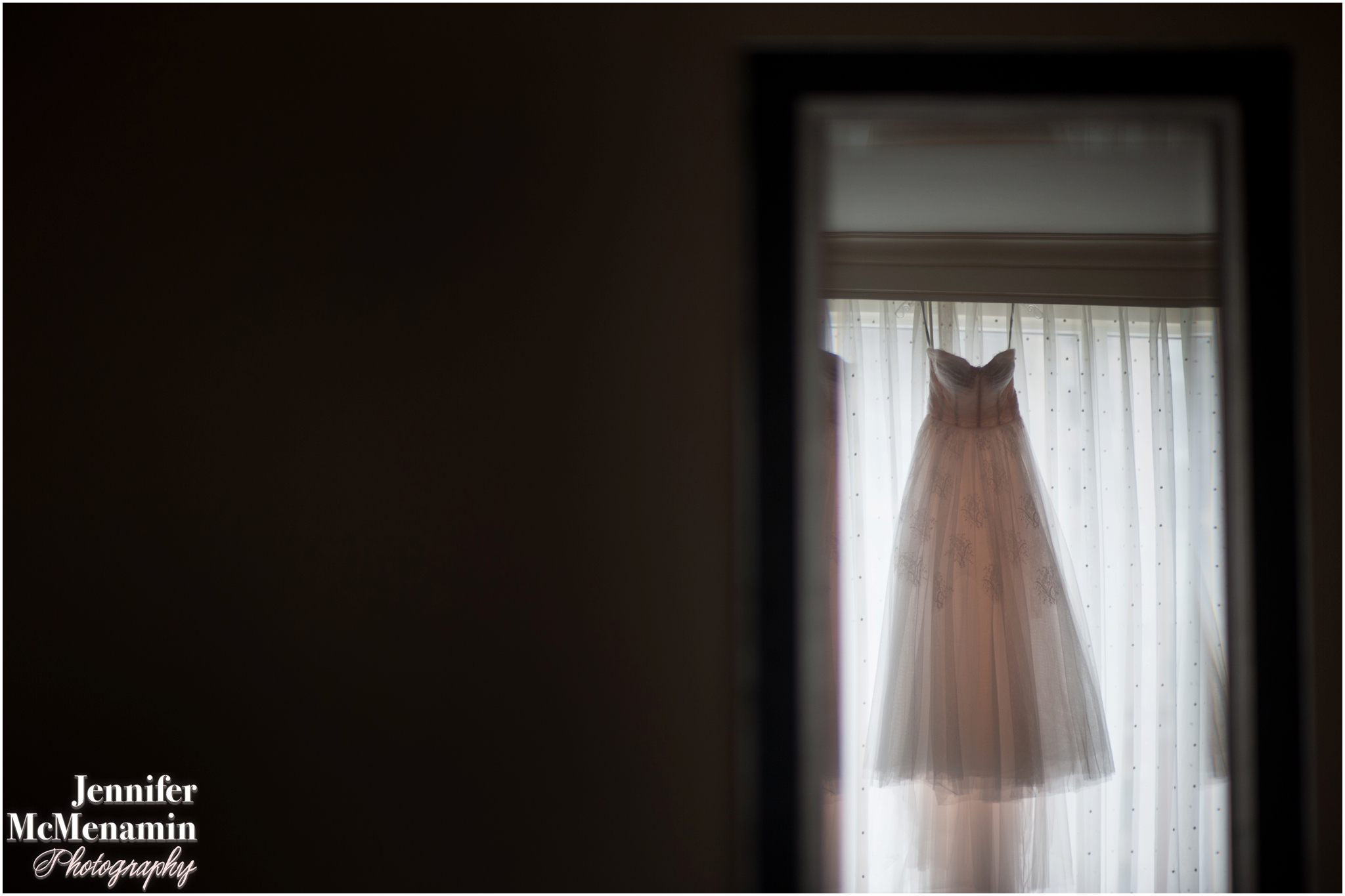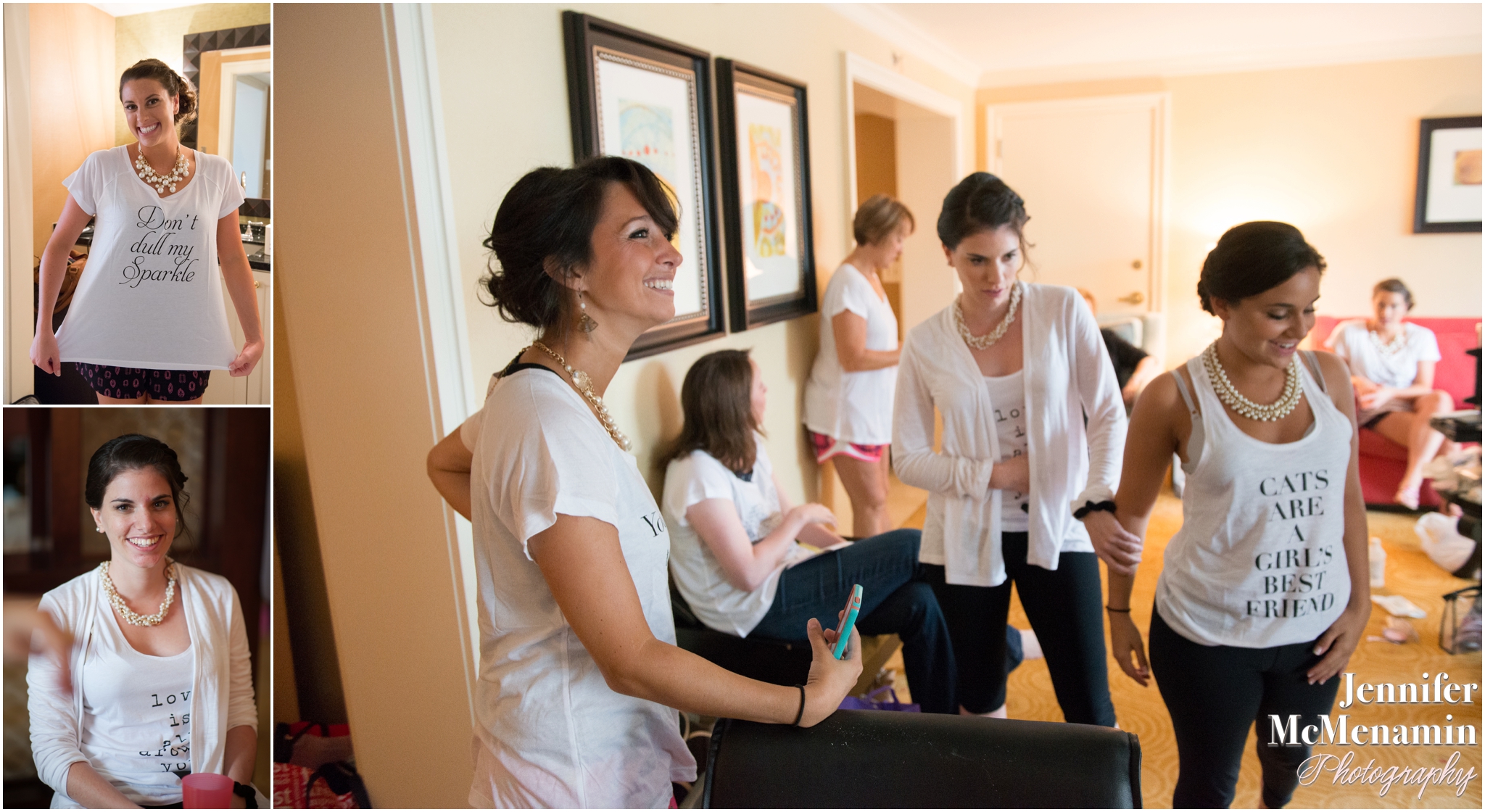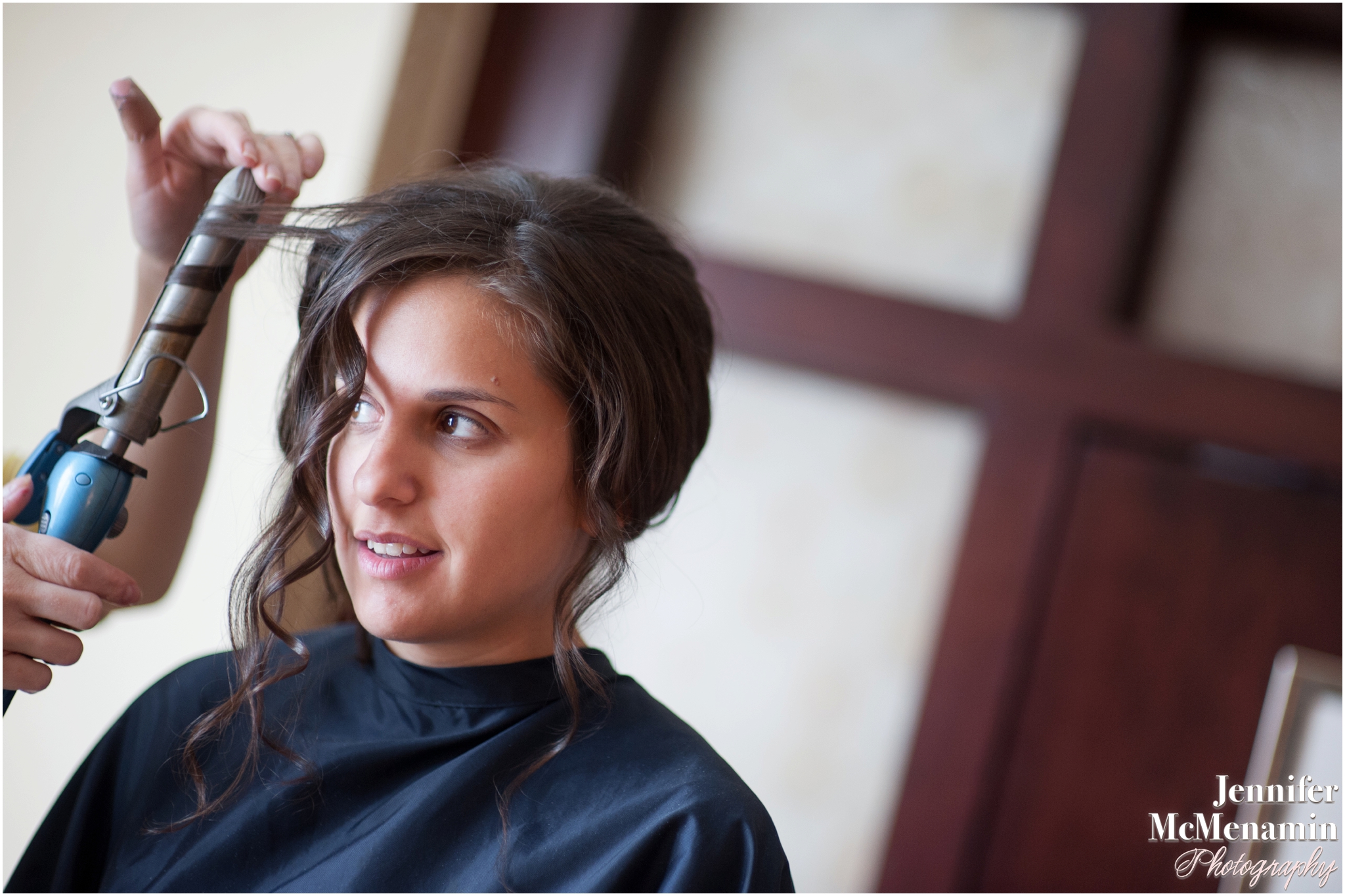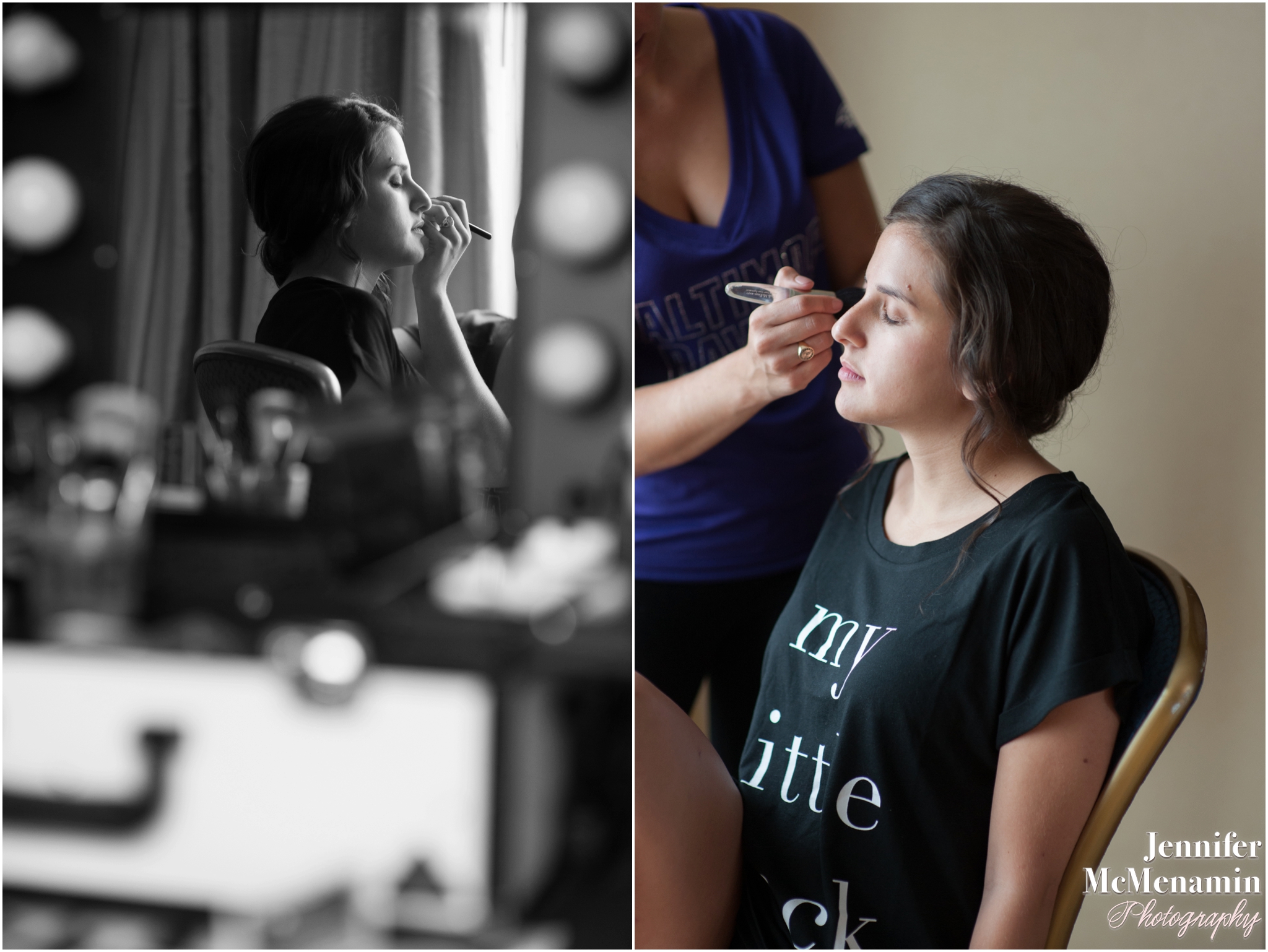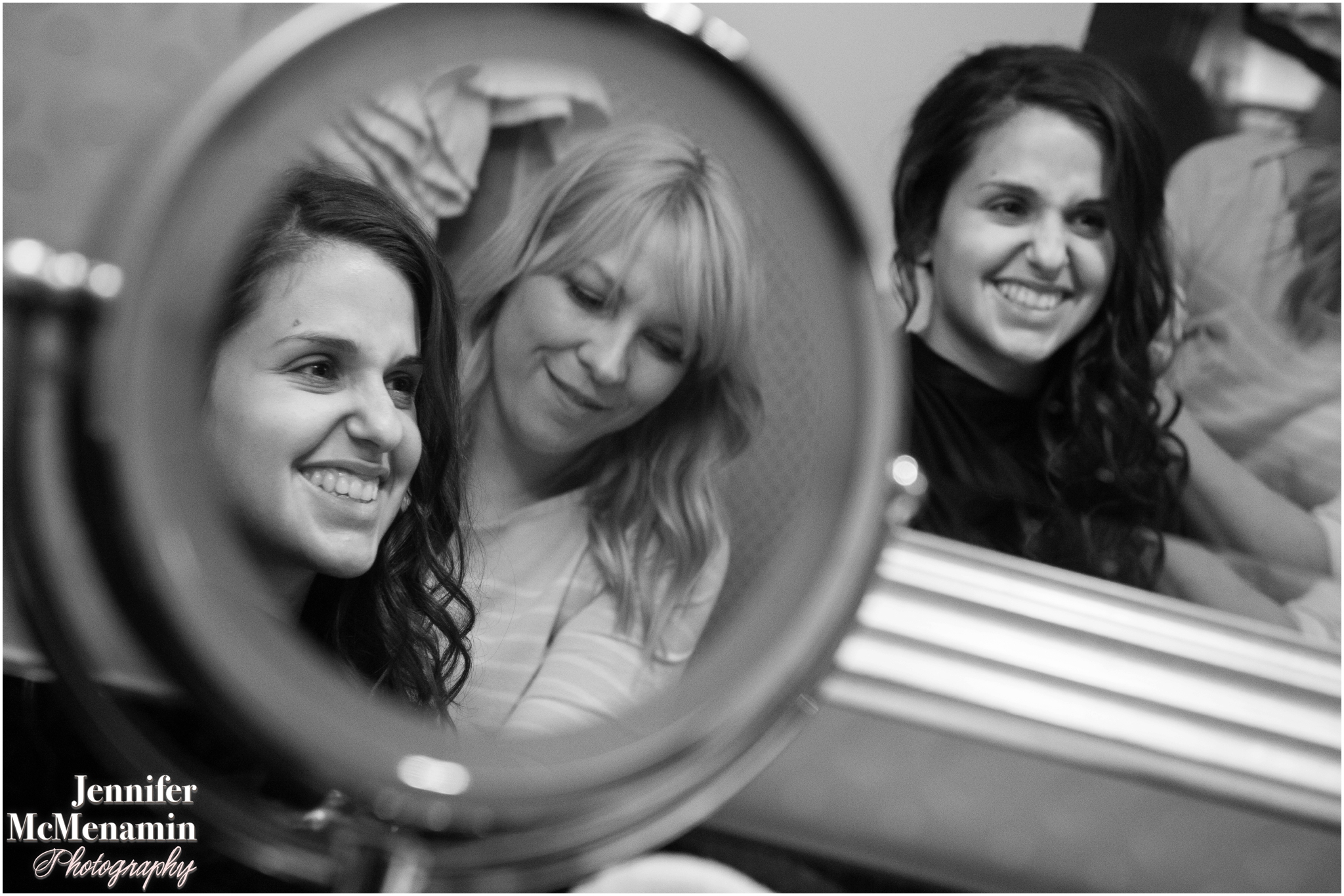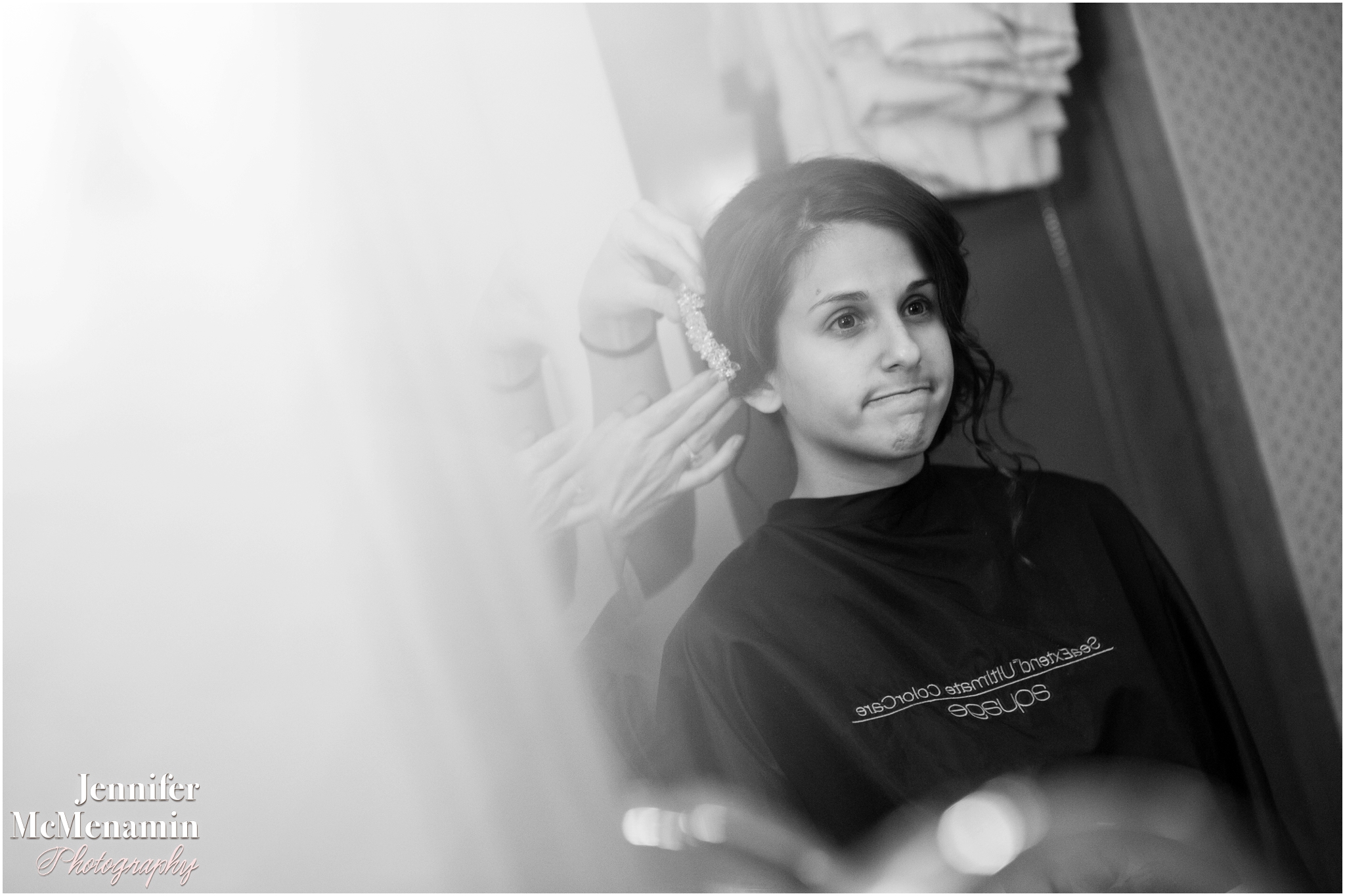 Sydney started a business, the Periwinkle Pig Gift Company, that creates really creative and stylish gift collections. (No wicker baskets of wine glasses and cork screws here!) It was no surprise that she put together really great and personalized gift crates for her bridesmaids and cigar boxes of gifts for the groomsmen.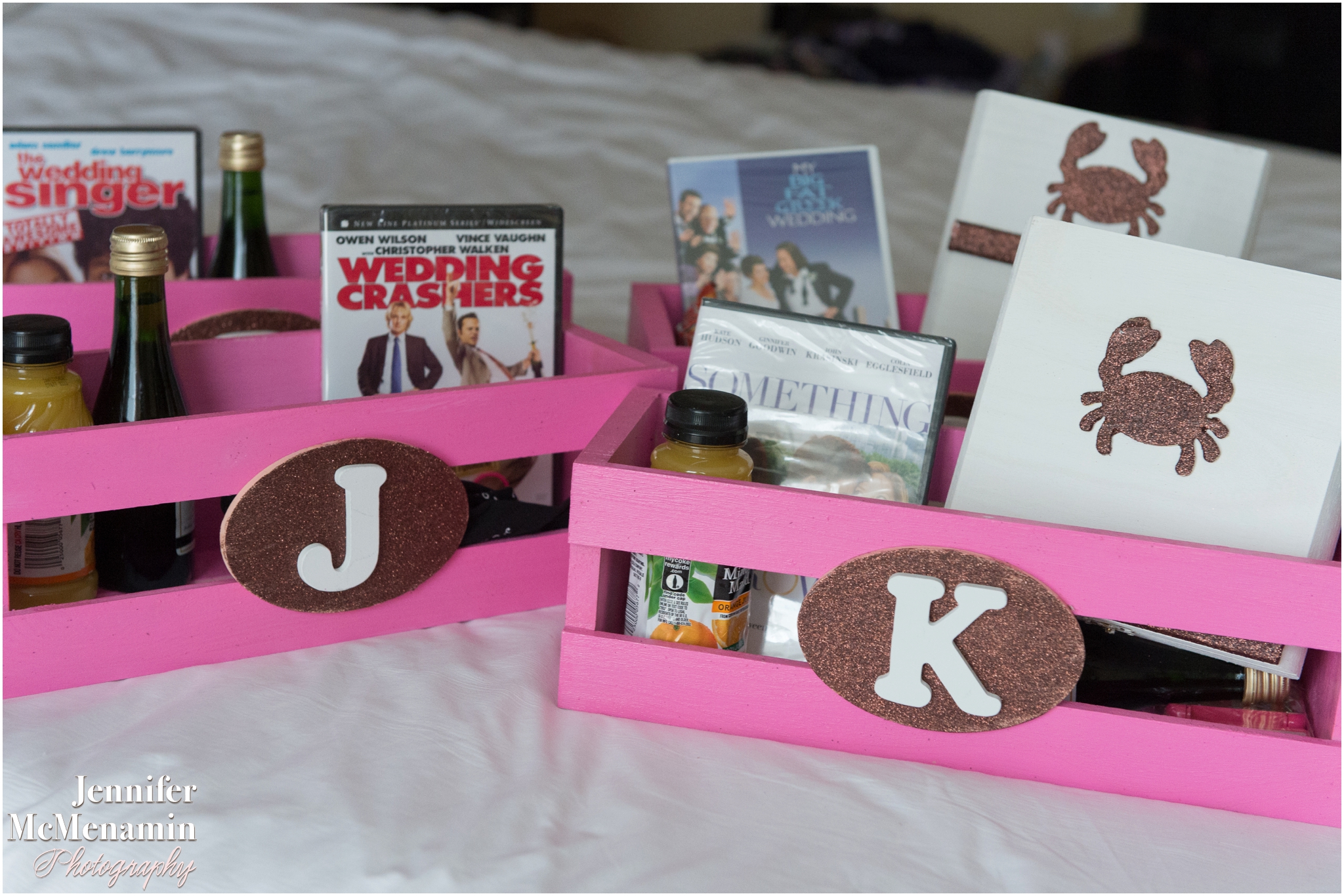 The parade of gifts — delivered by her bridesmaids to Greg's hotel room — begins. Old: a grocer's sign with his last name. New: a handsome watch. Borrowed: his grandfather's cuff links. Blue: a giant tower of PBR (which include his fraternity's seal on the can).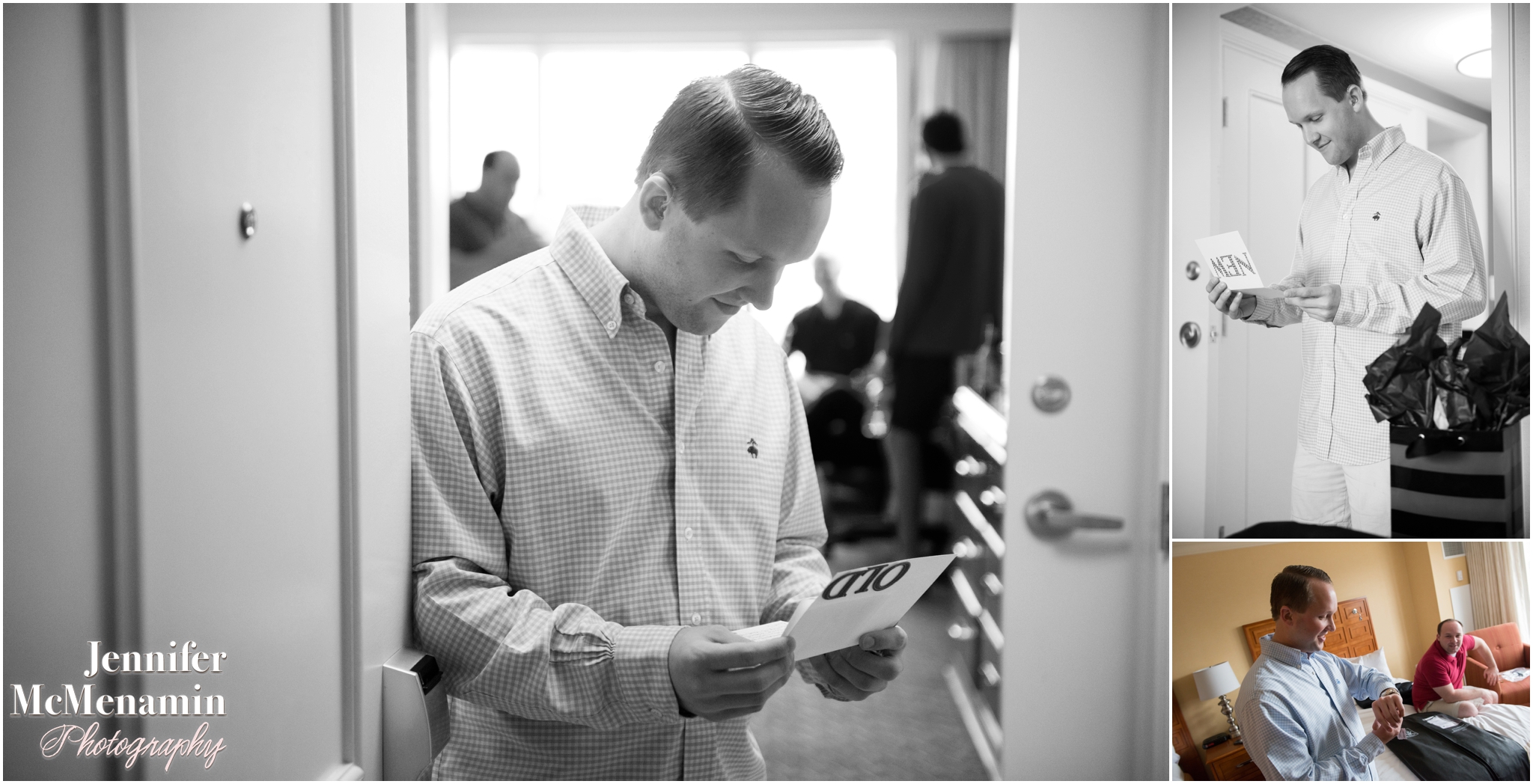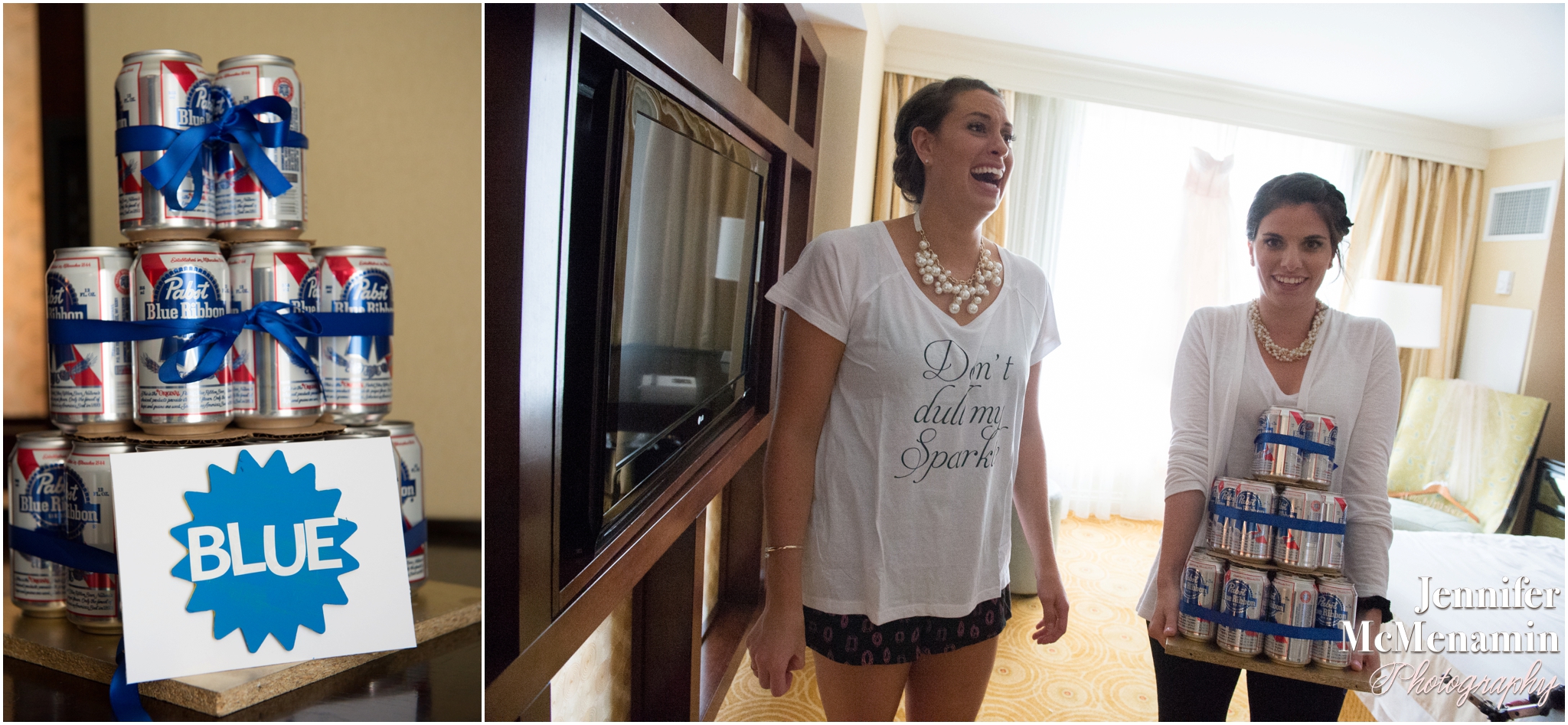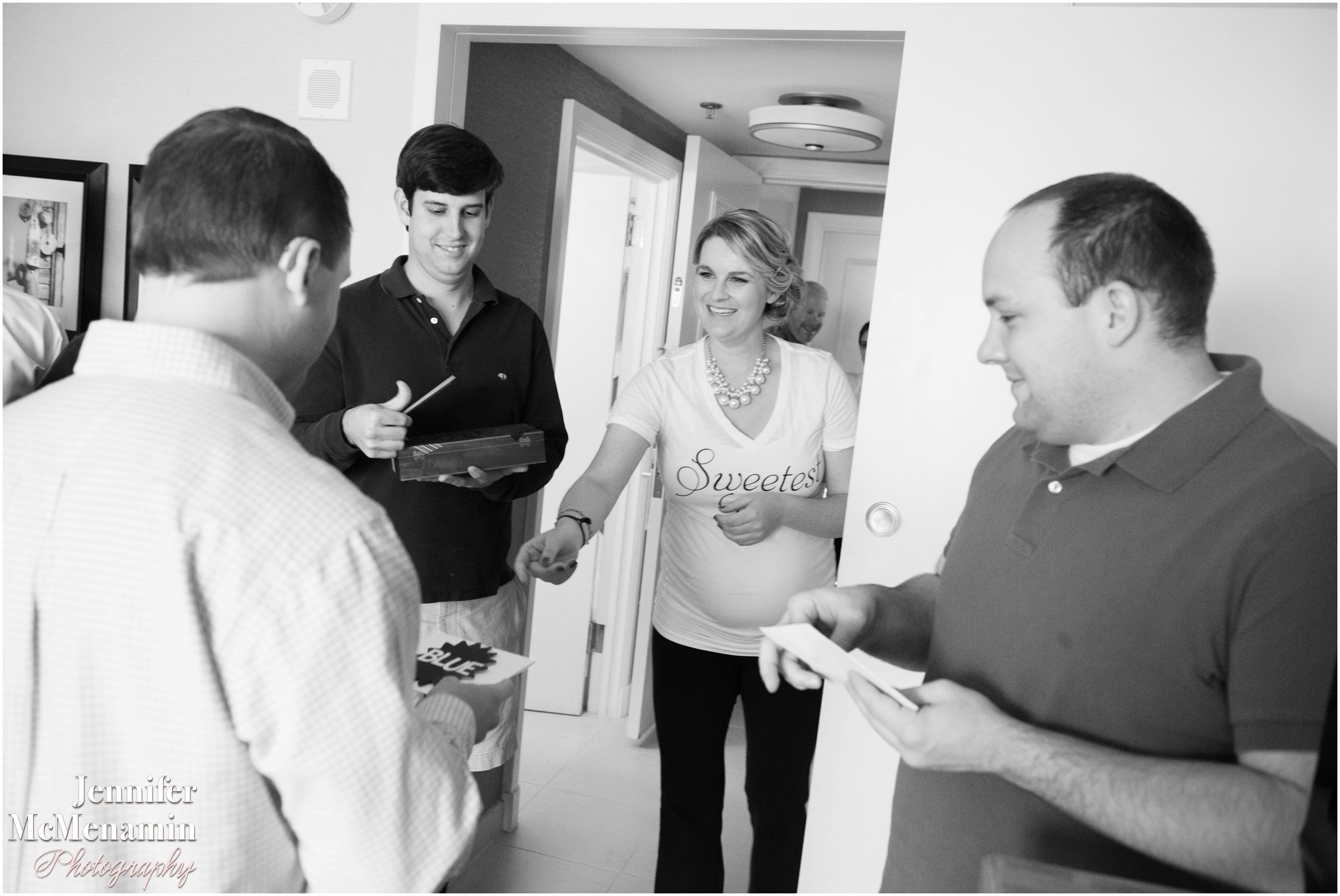 Sam started the day with the guys and these images of Greg getting ready and the gift delivery were shot by him.

I love the look on the faces of Sydney and Greg's fathers as they opened their very, very bright wedding day socks from the couple.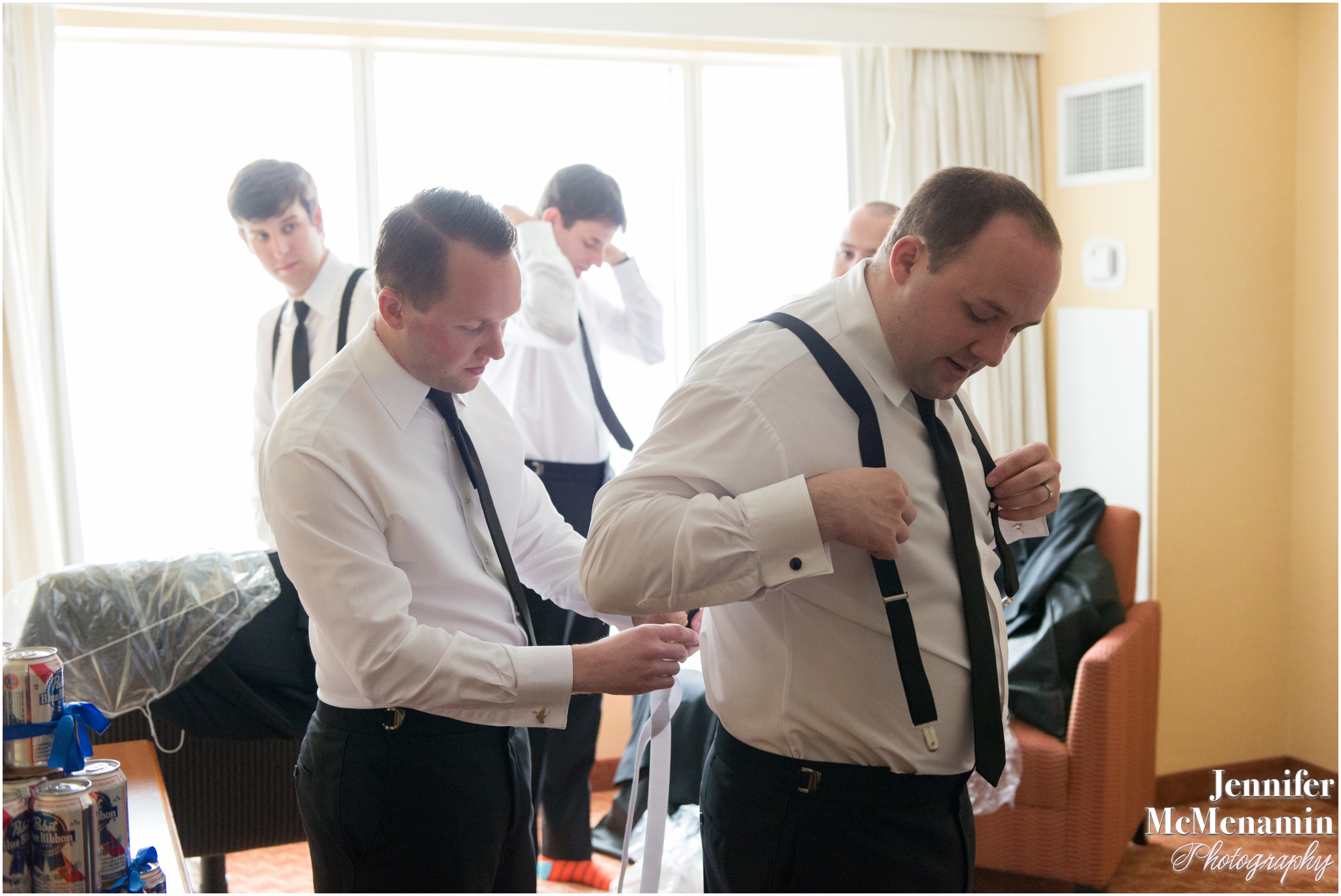 Meanwhile, I wondered if Sydney's wedding gown could be seen from outside the hotel, where she and her girls were getting ready. I spy, with my little eye …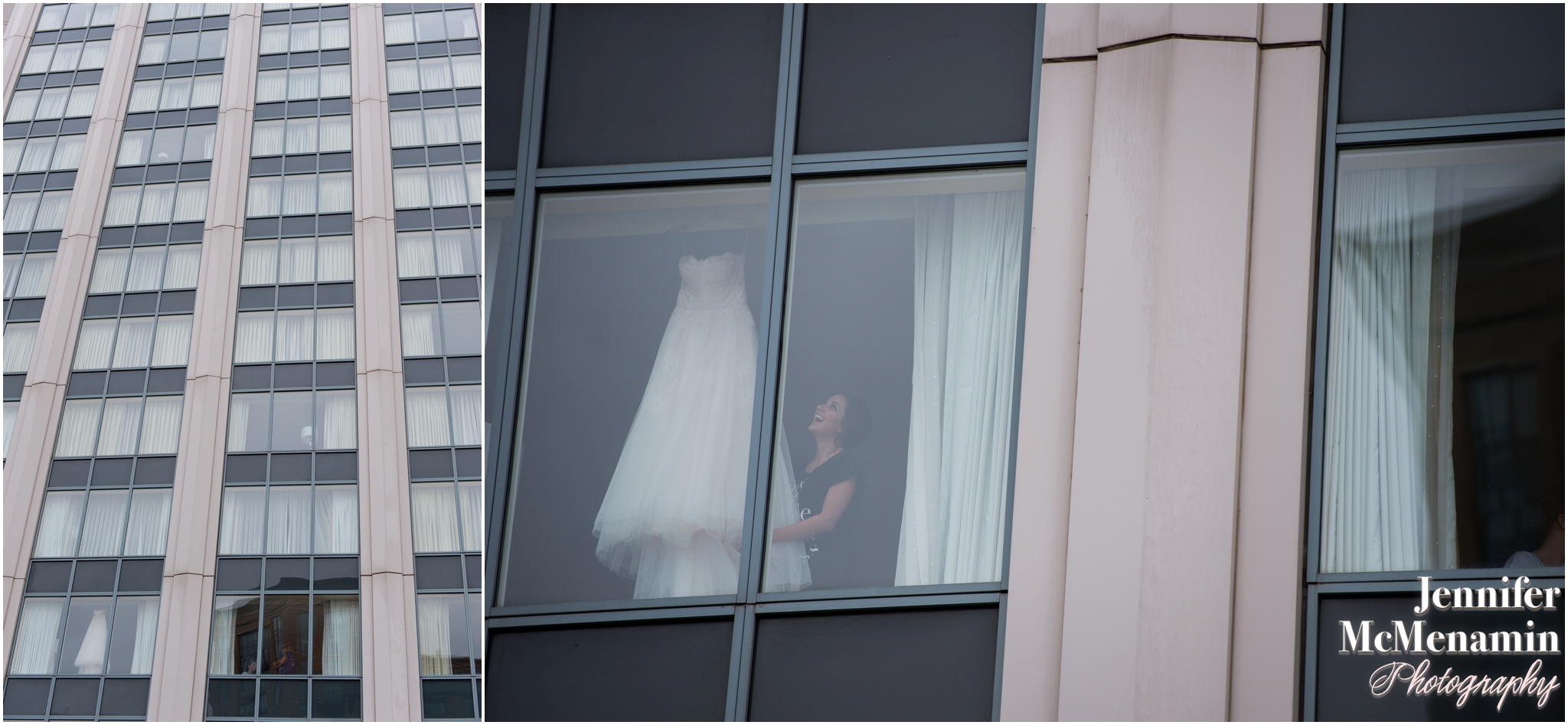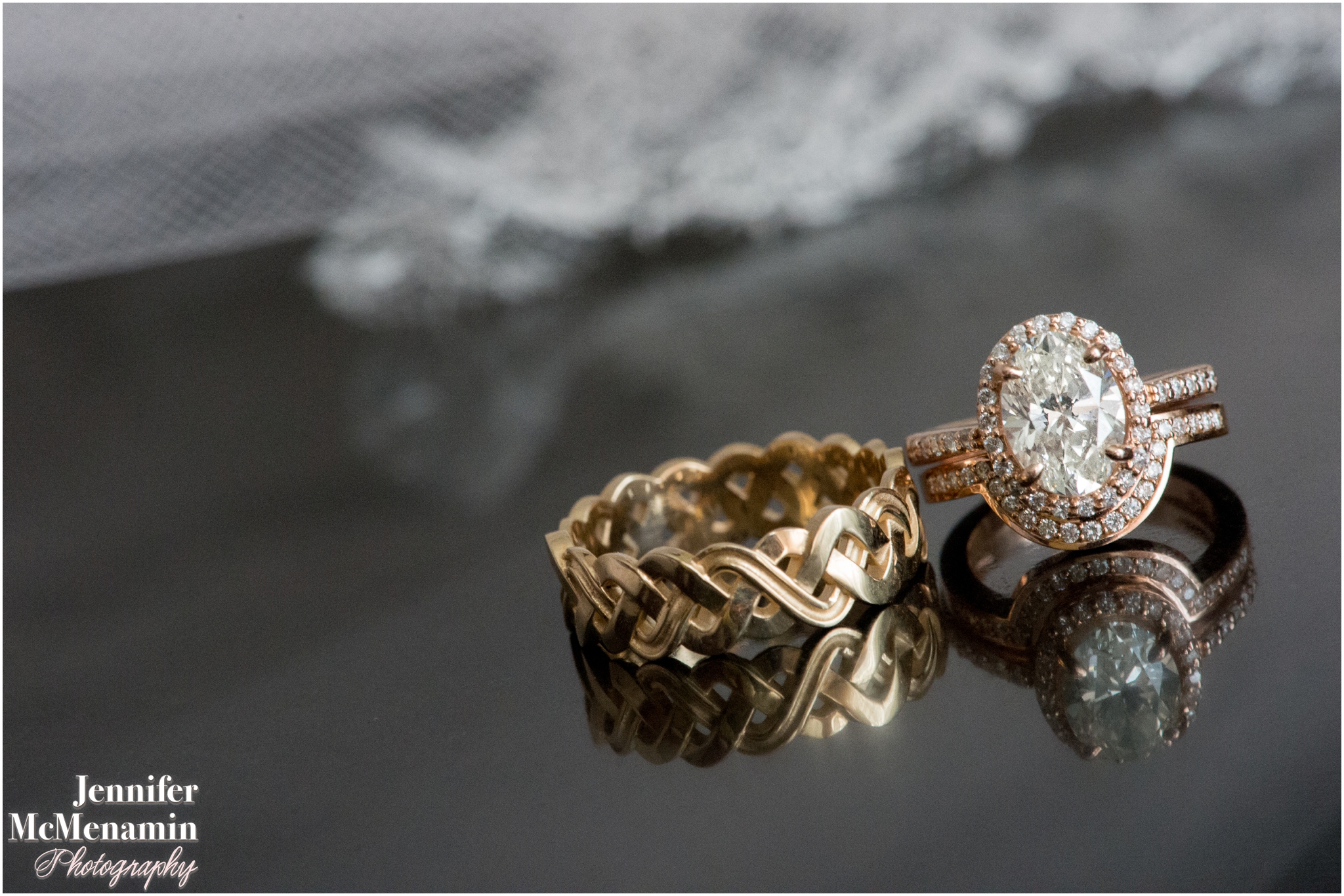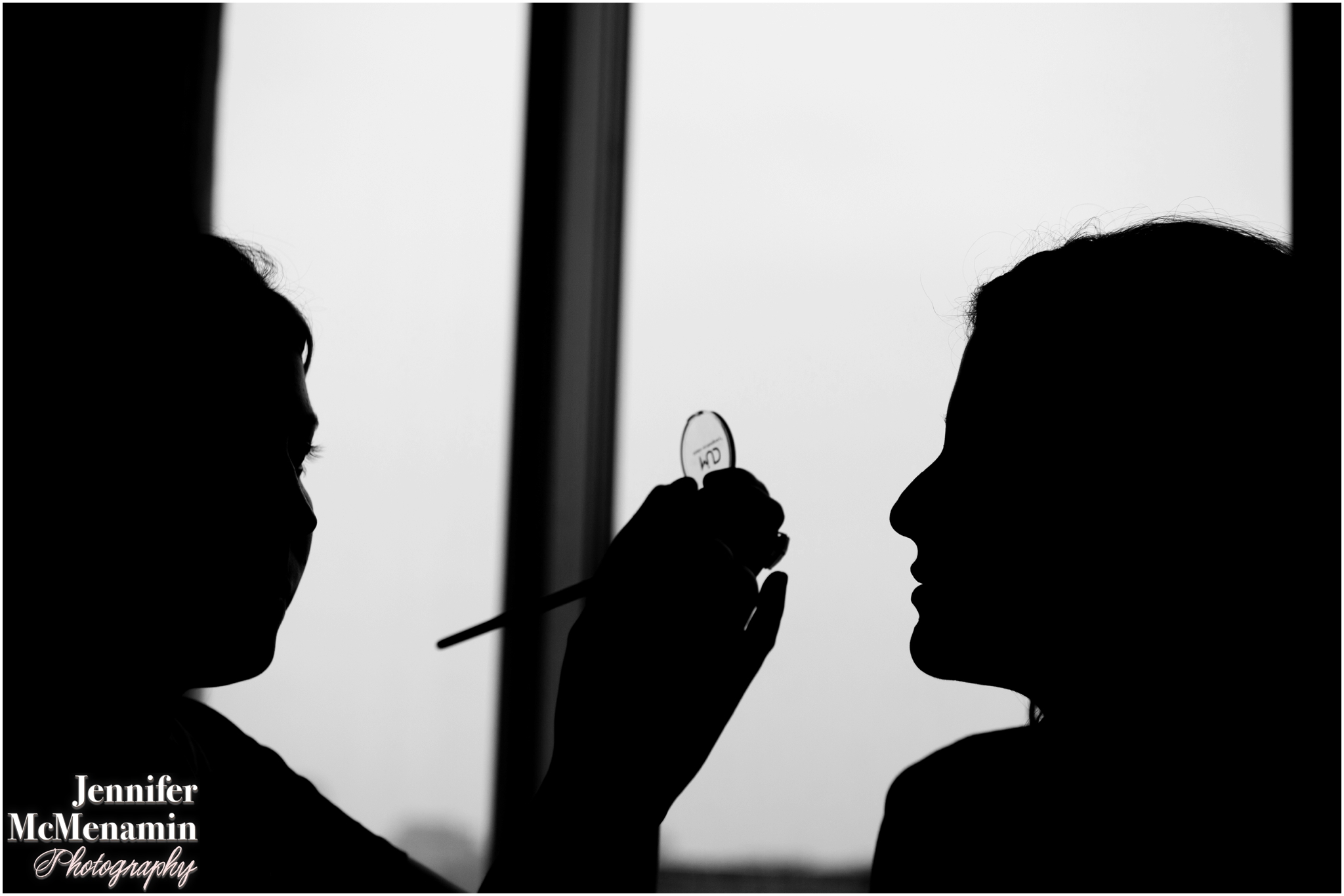 Caitlin (at left, in the next photo), a bestie of the bride and whose father officiated the wedding, rehearses her own remarks for the ceremony as two of Sydney's sisters listen. 
Outnumbered even more than usual by girls, Sydney's father looks on as wedding preparations continue.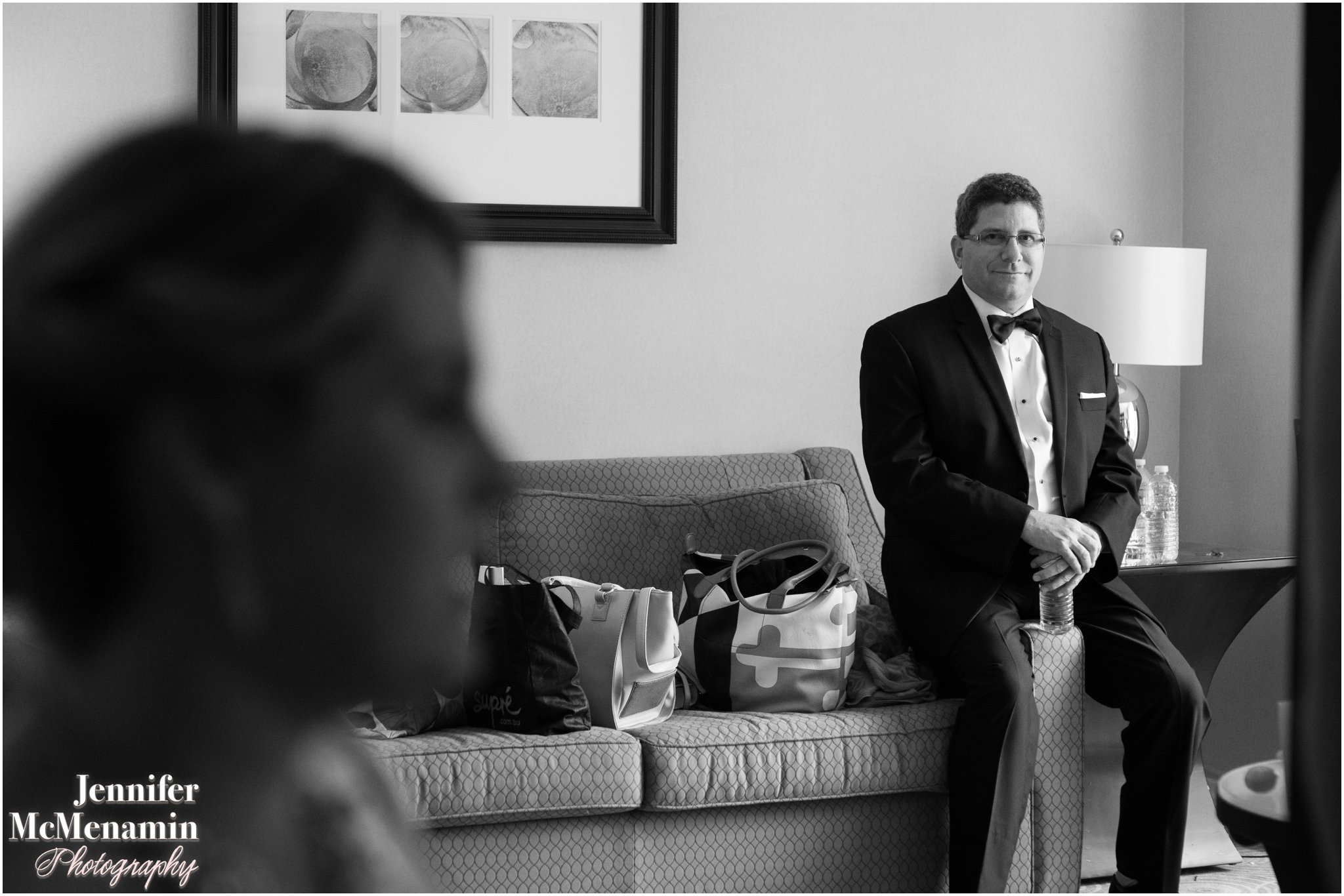 Sydney is so expressive that she was particularly fun to photograph. (Remember their sunflower engagement session!)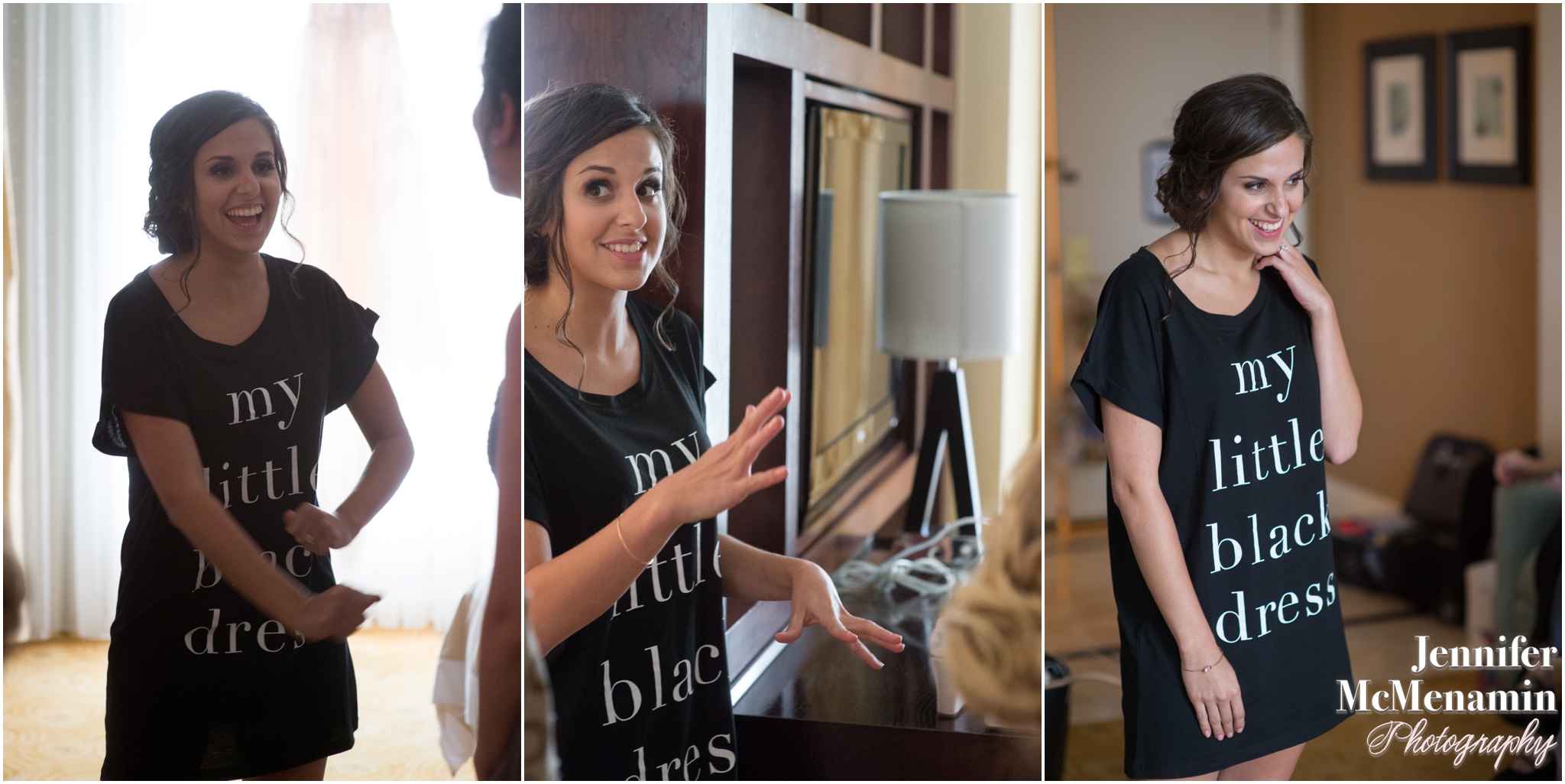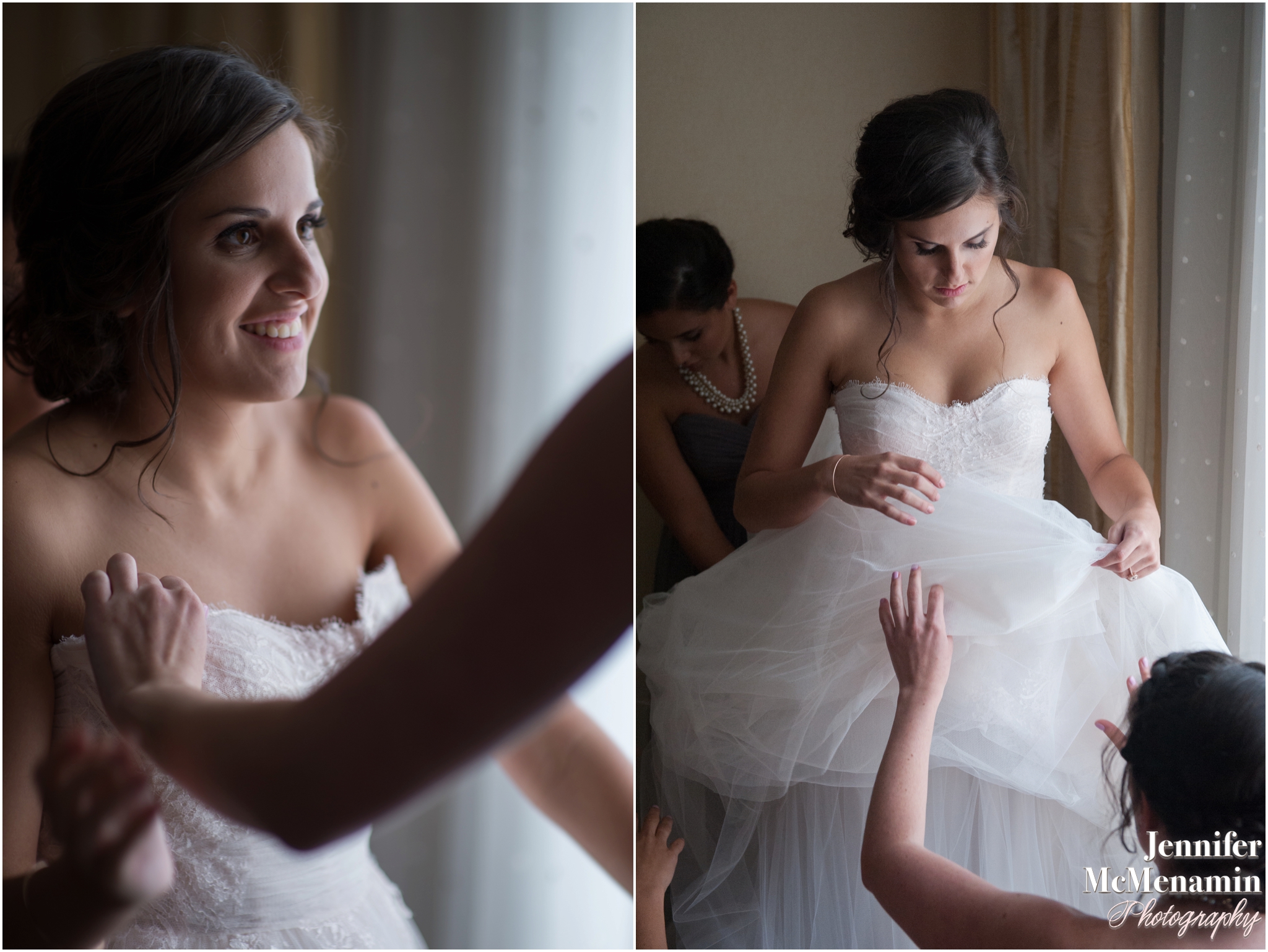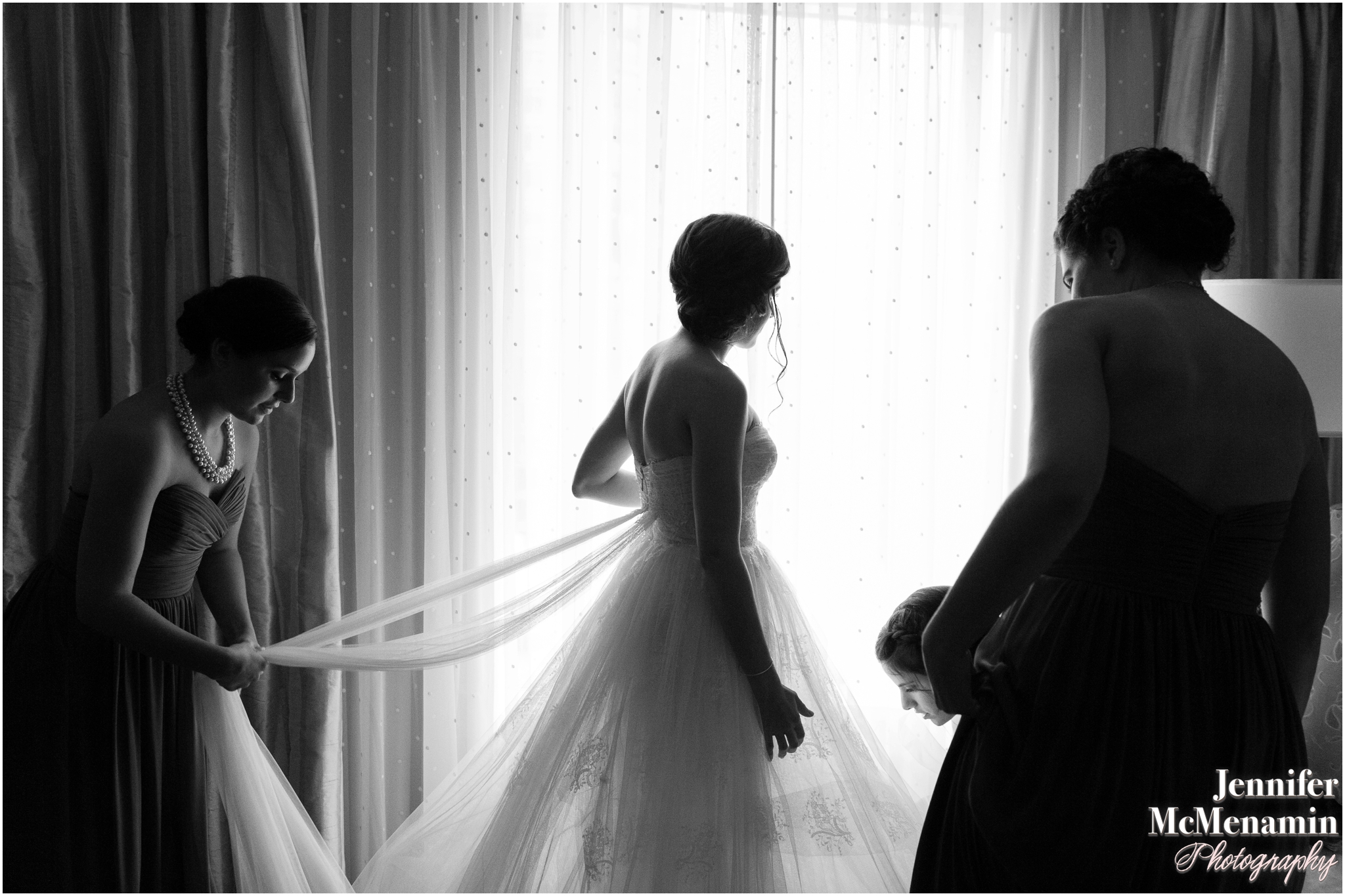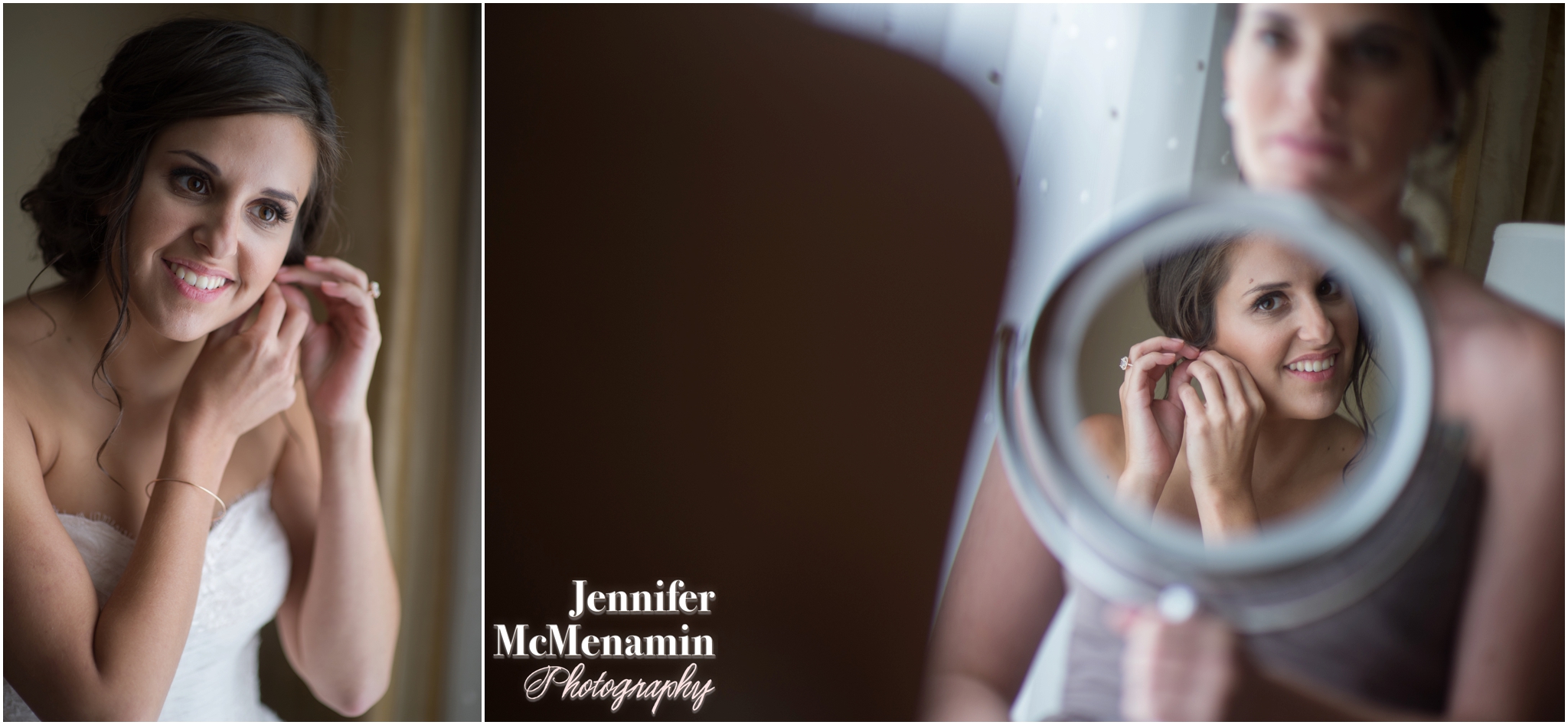 A few quick portraits of the bride, looking absolutely lovely.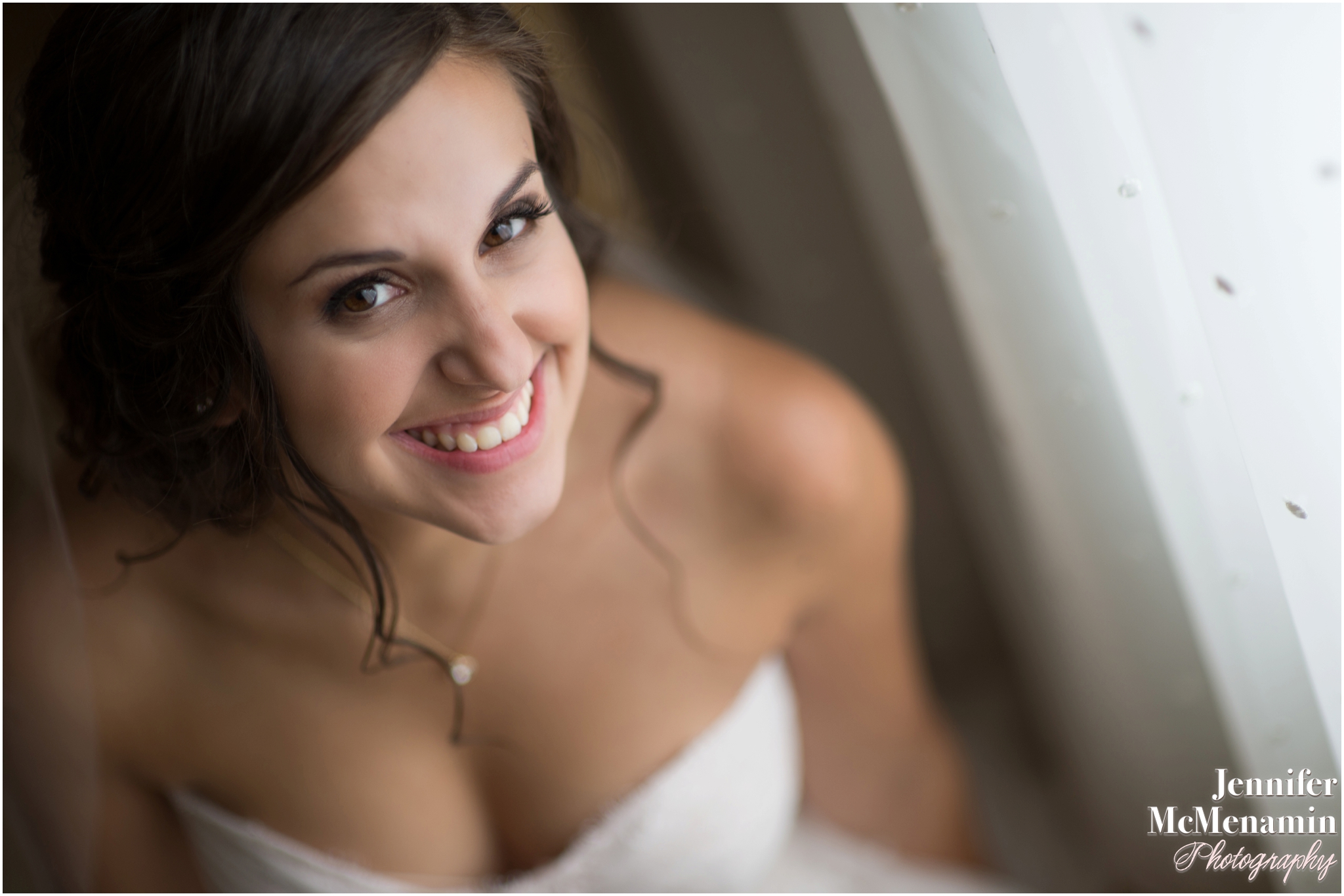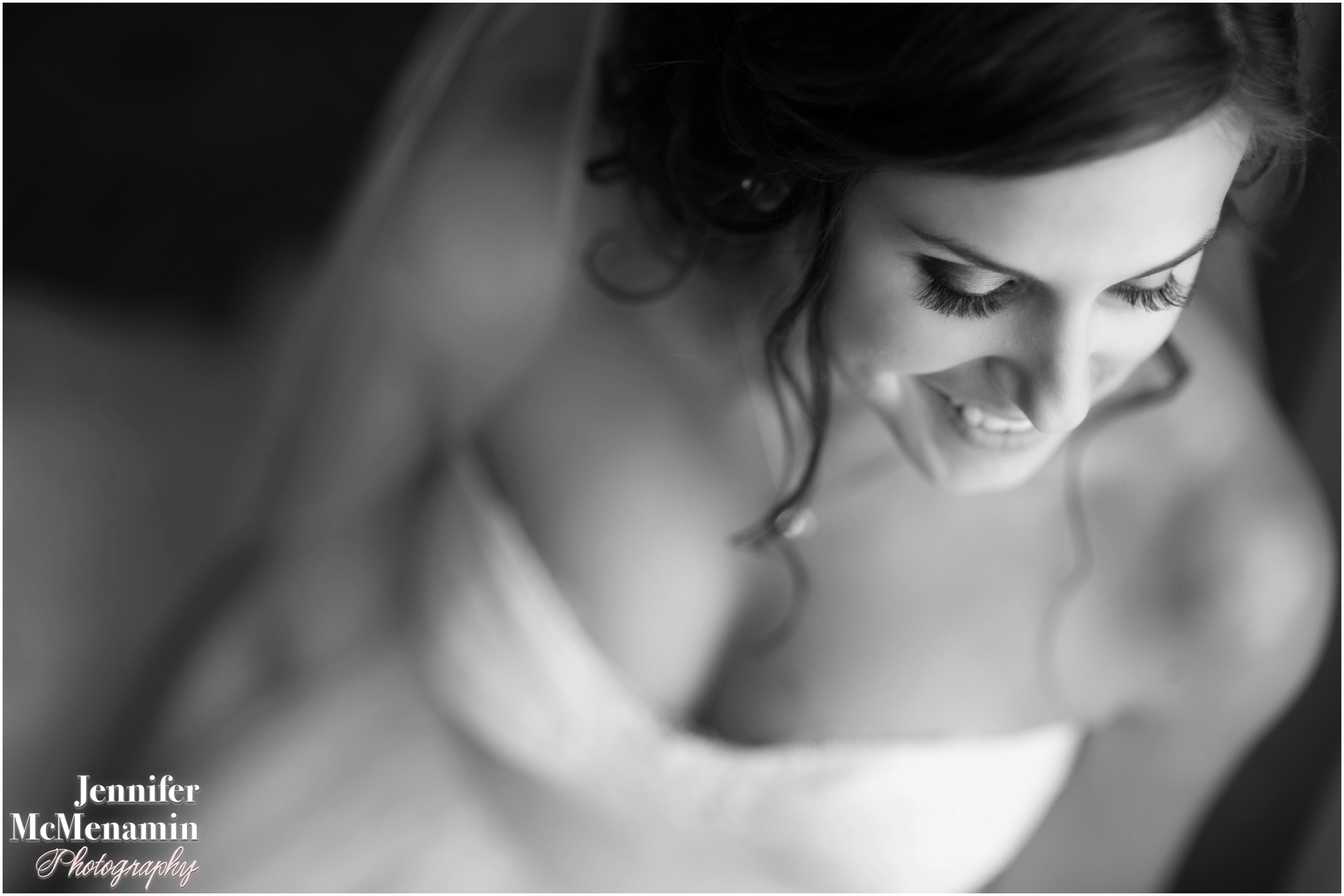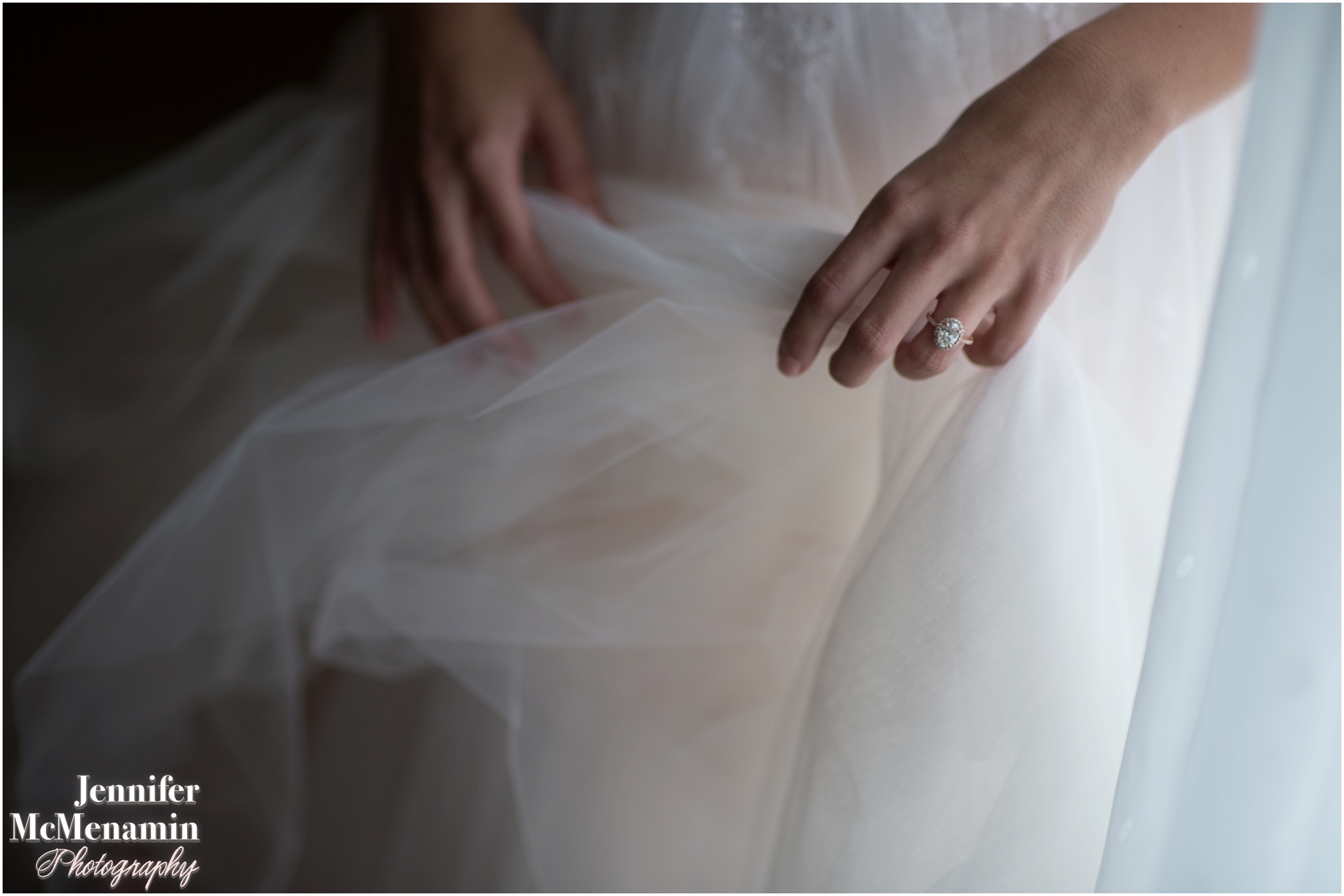 And then finally, after the accident that had shut down Interstate 83 cleared, it was time to head to the Evergreen.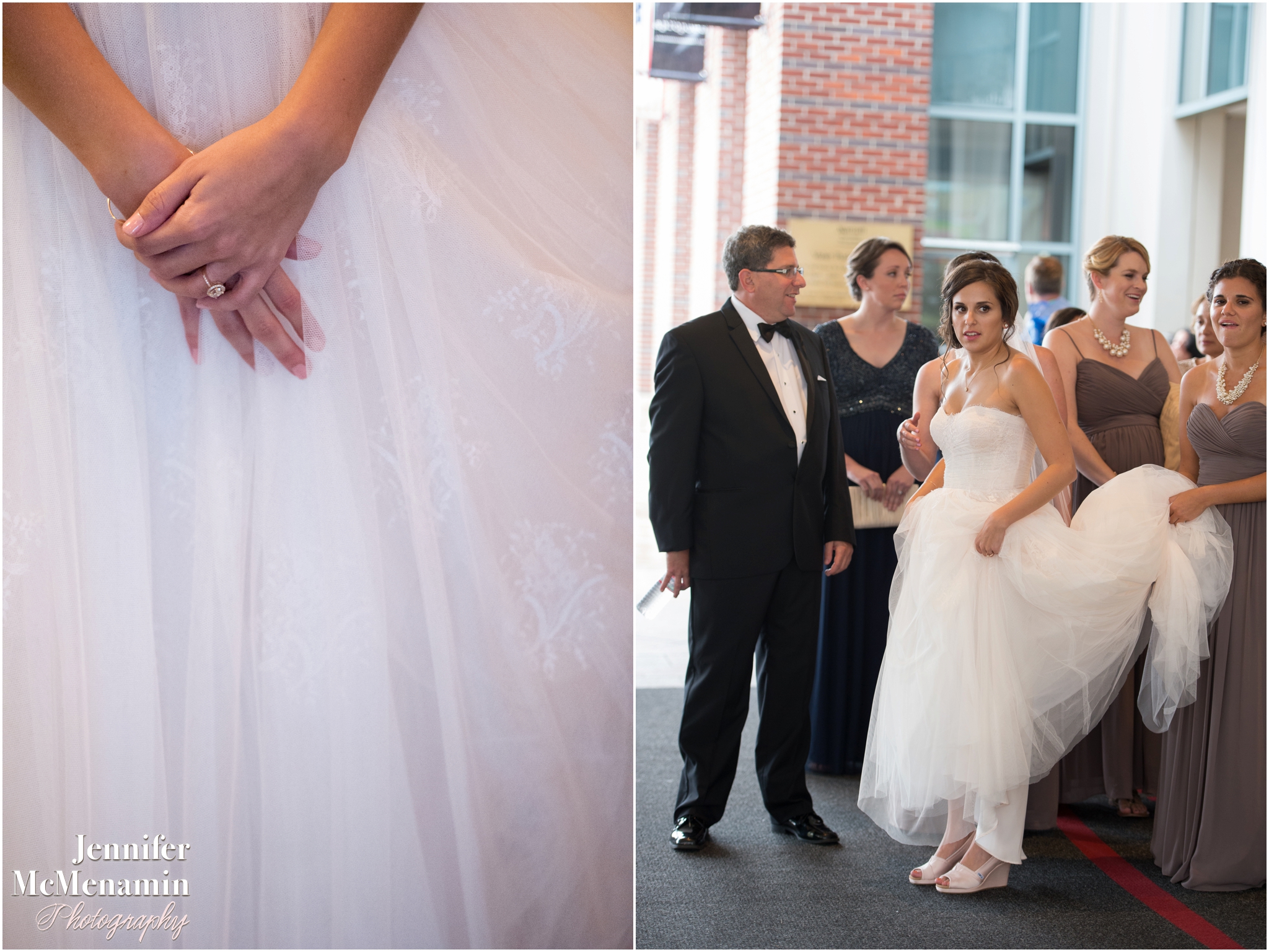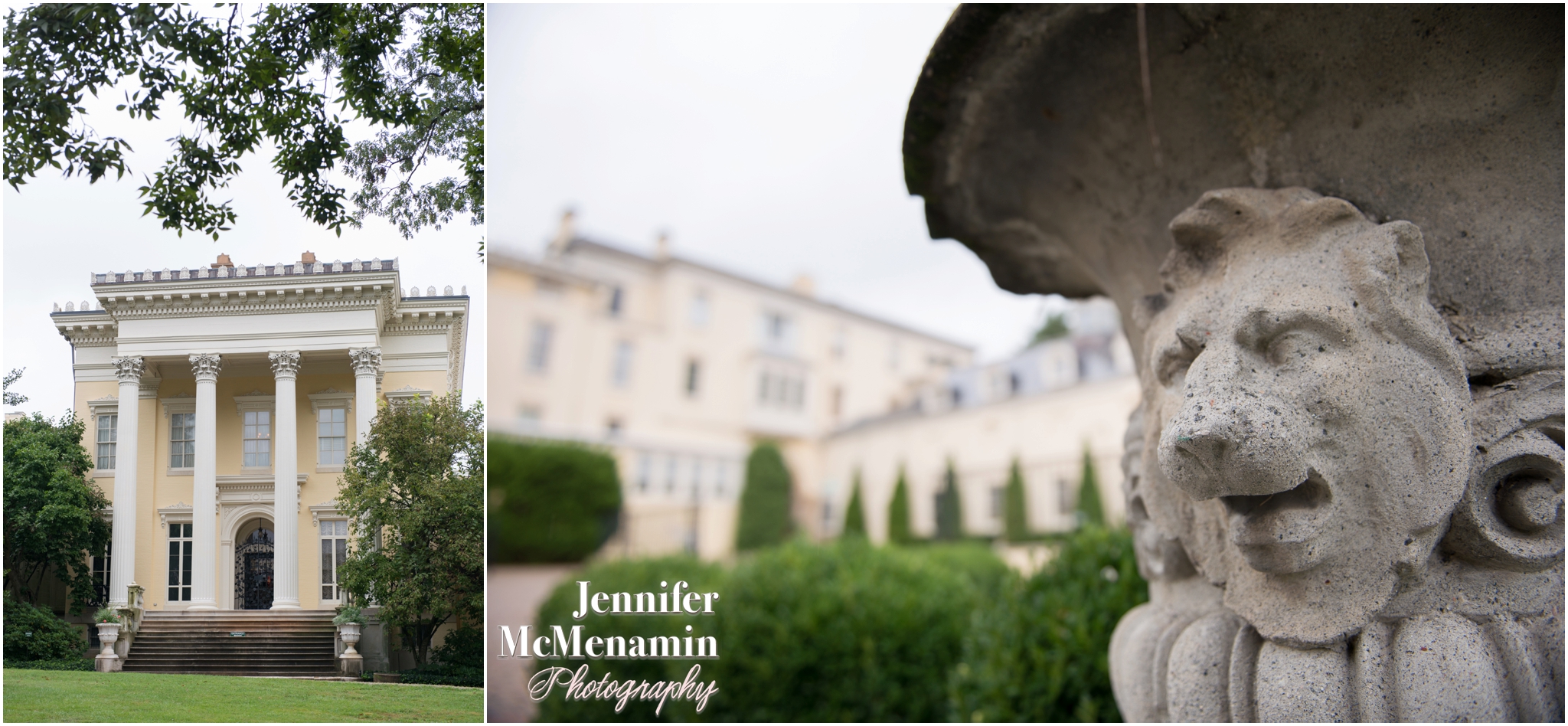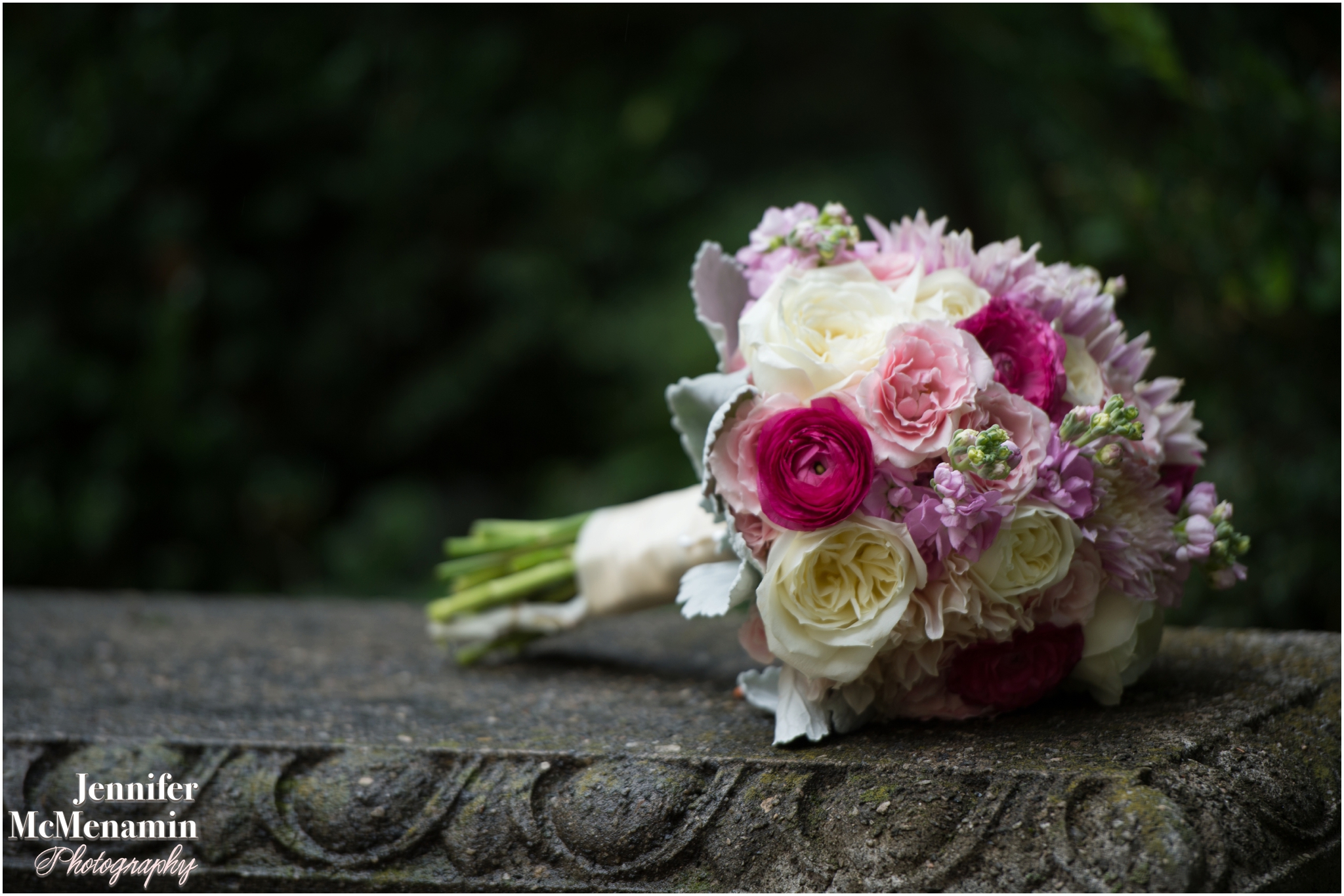 Despite our best no-rain dances, showers continued during the time Sydney and Greg were to see each other for the first time and we were to begin shooting wedding party and family photos. Fortunately, the Evergreen has some lovely covered outdoor areas and we went with our rain photo plan.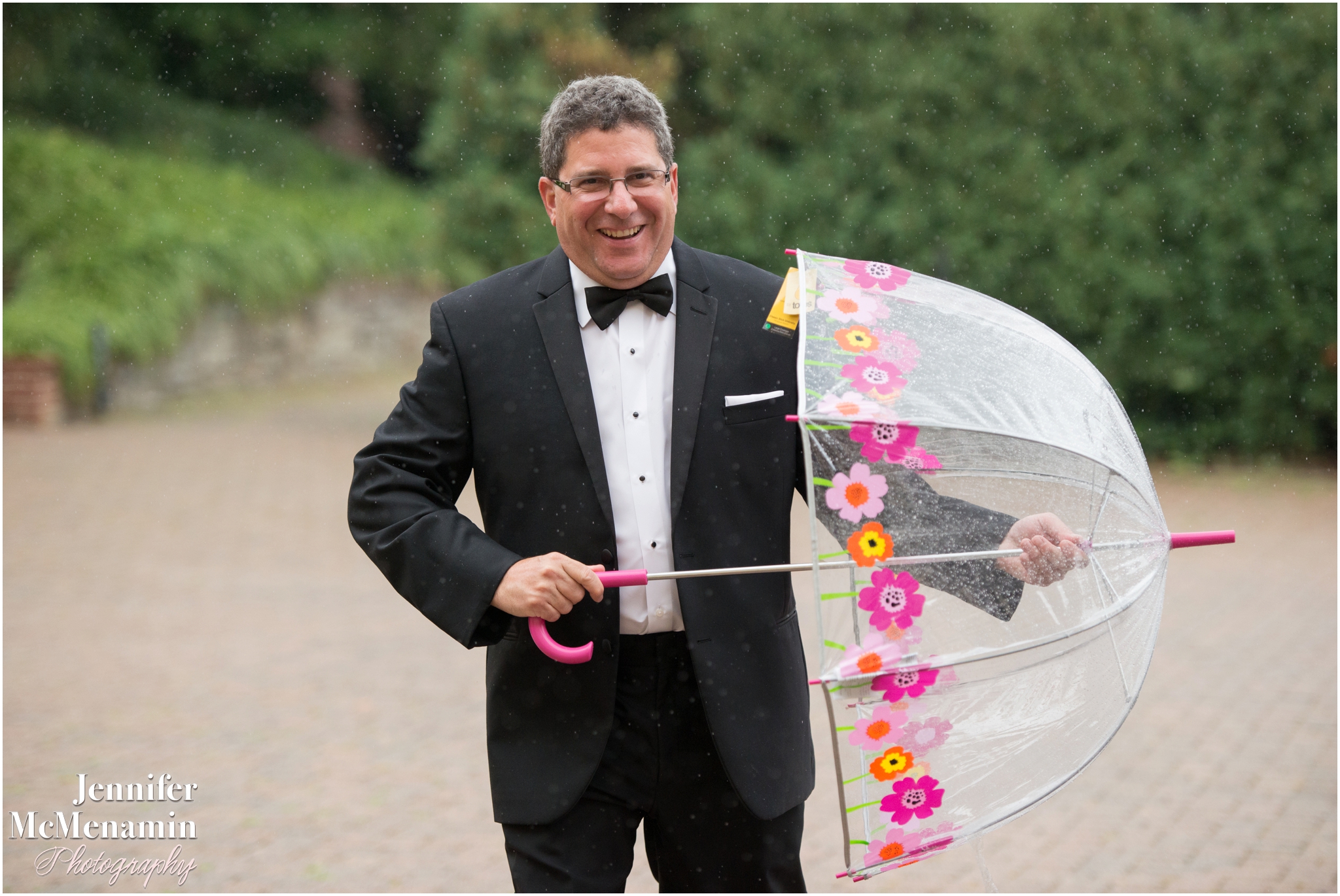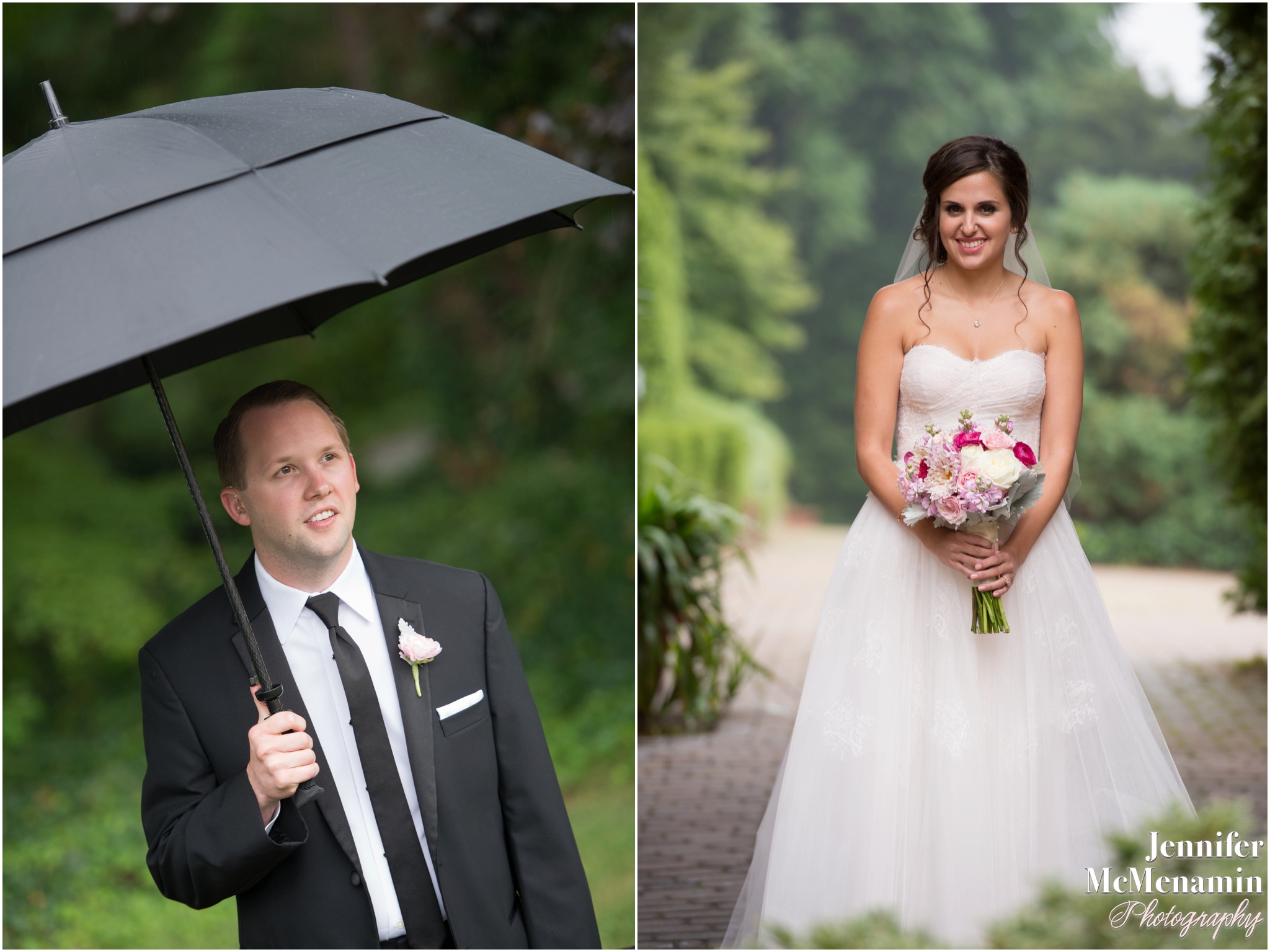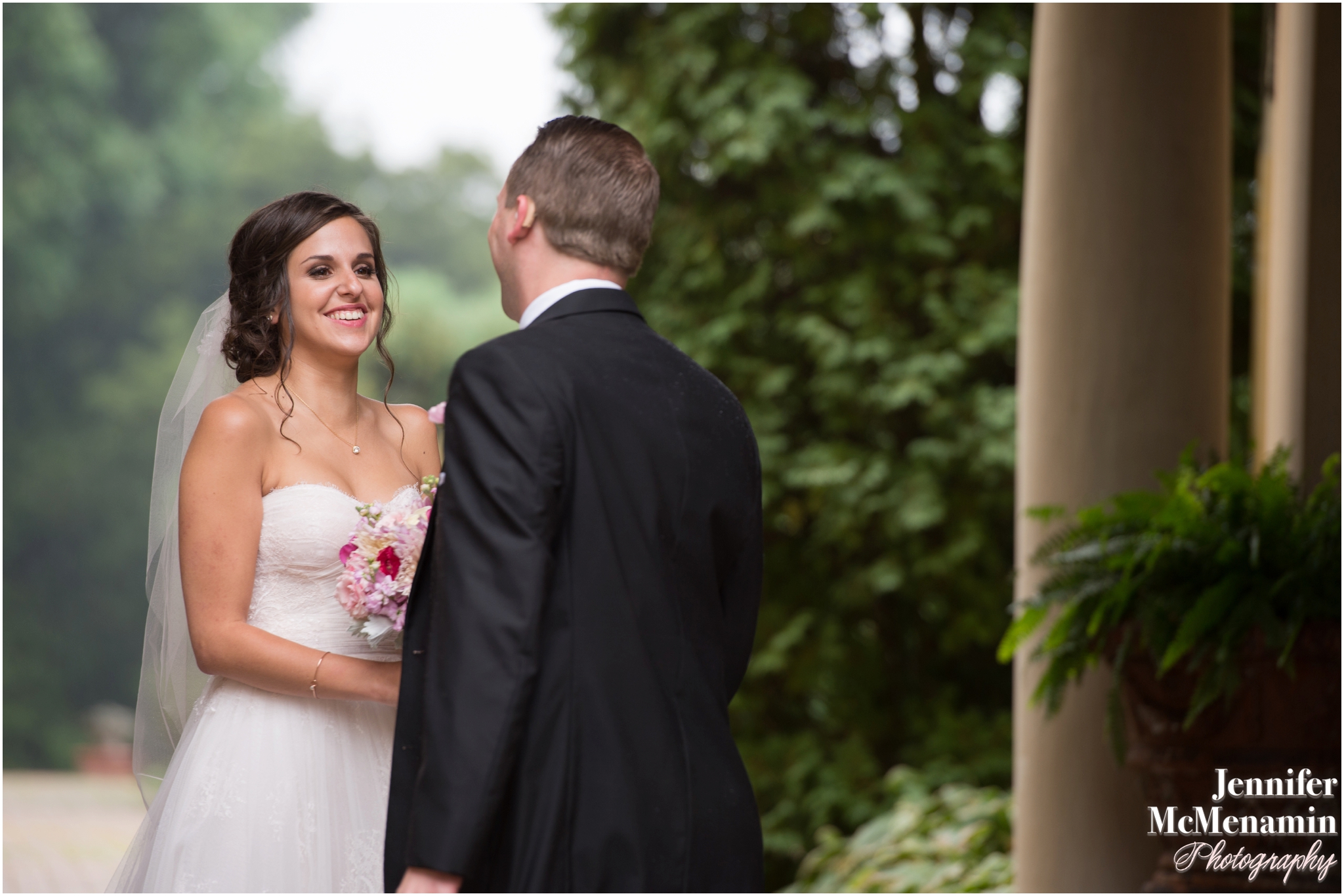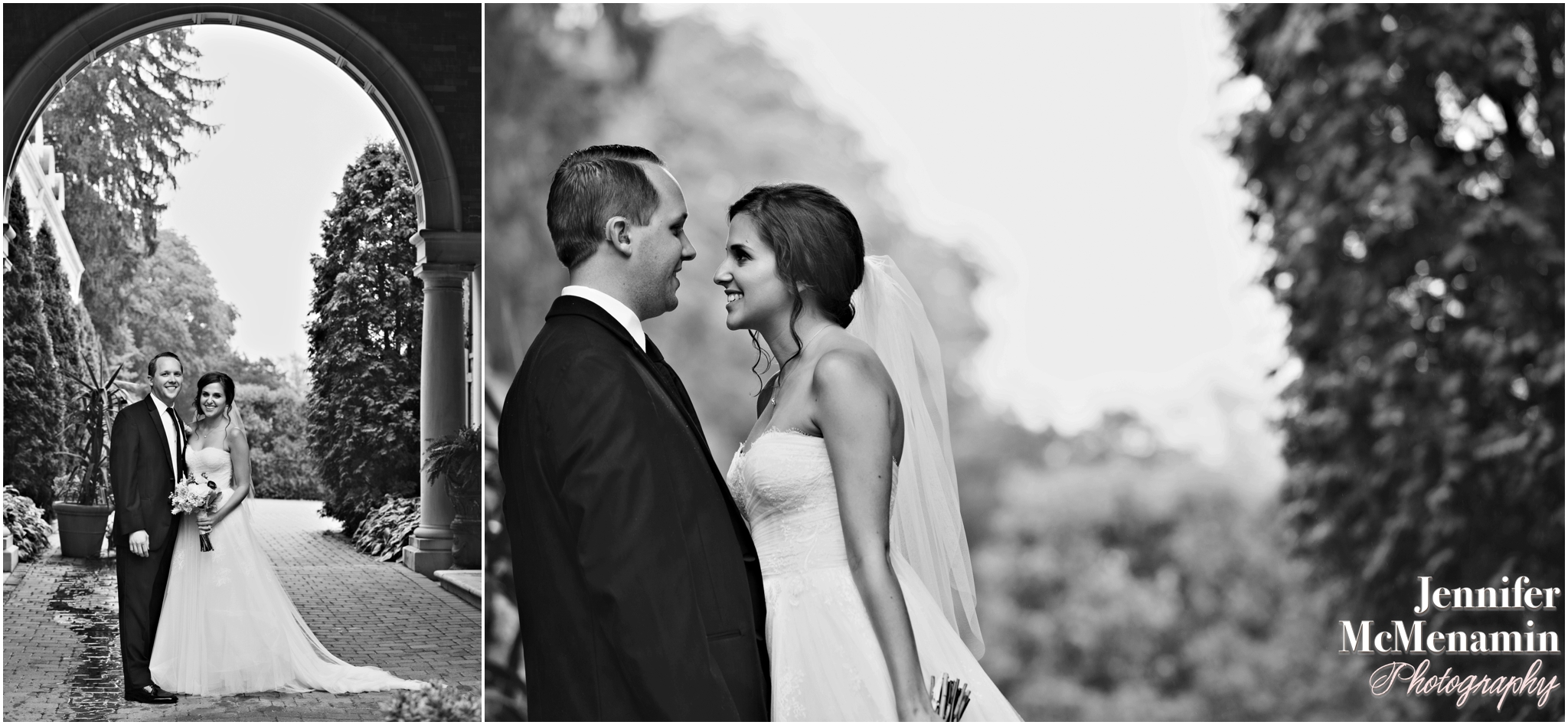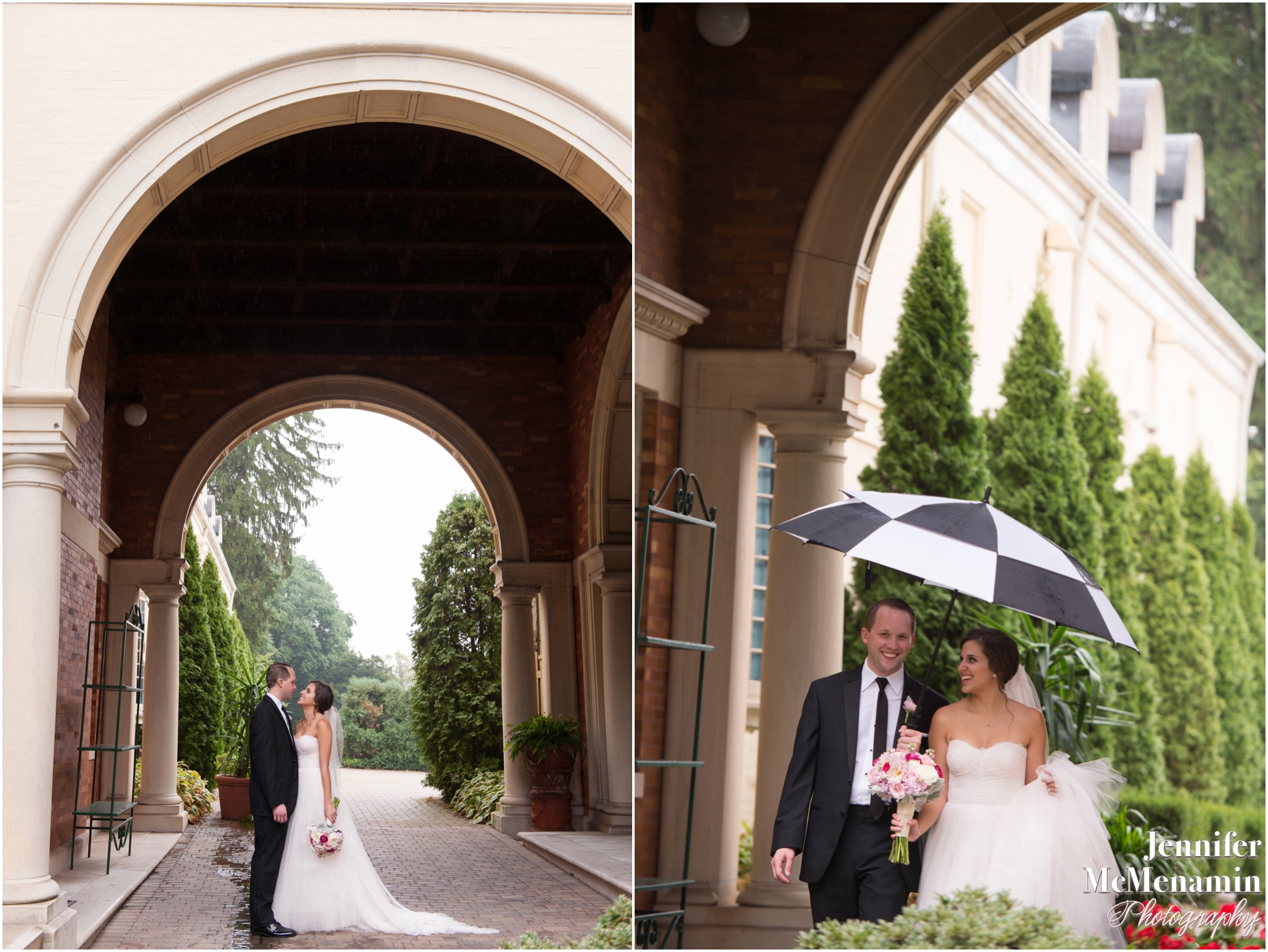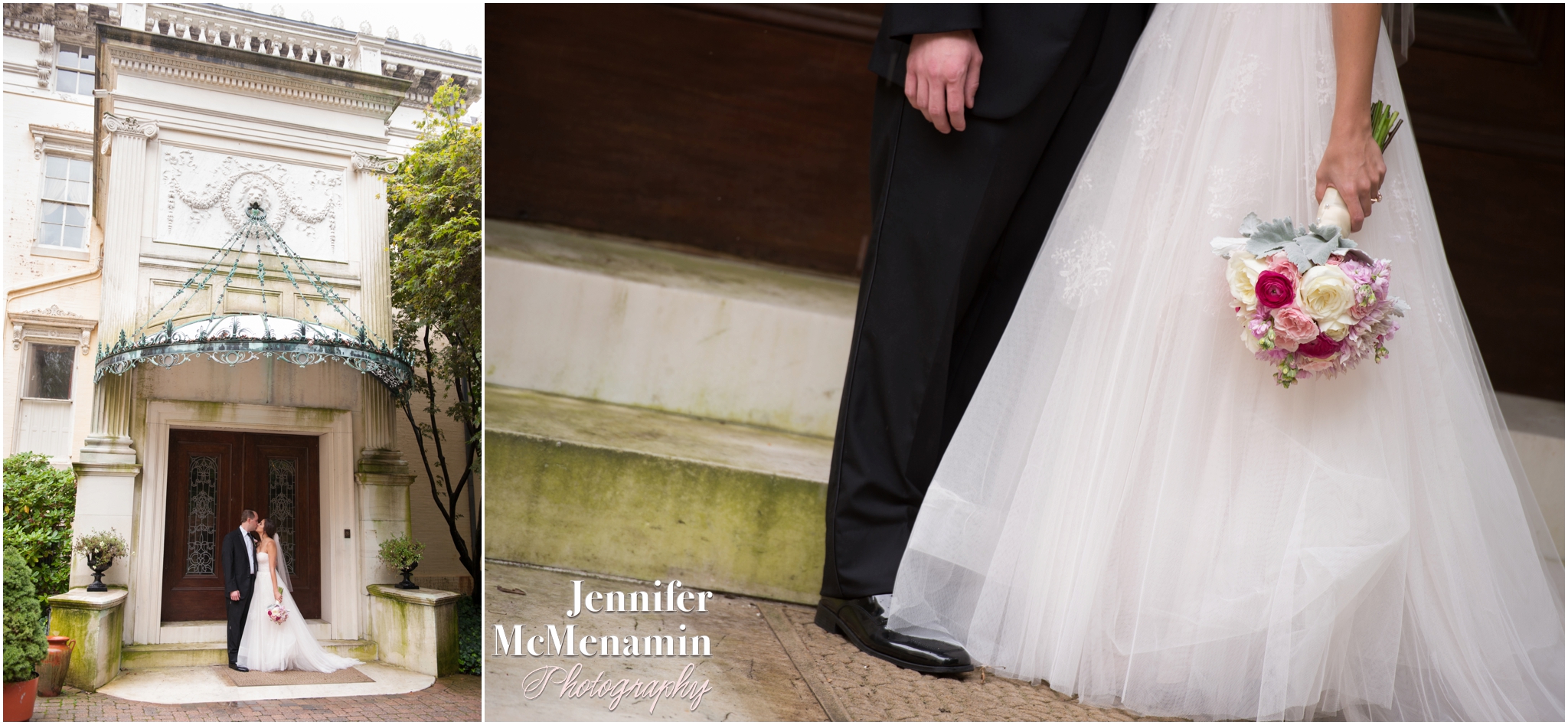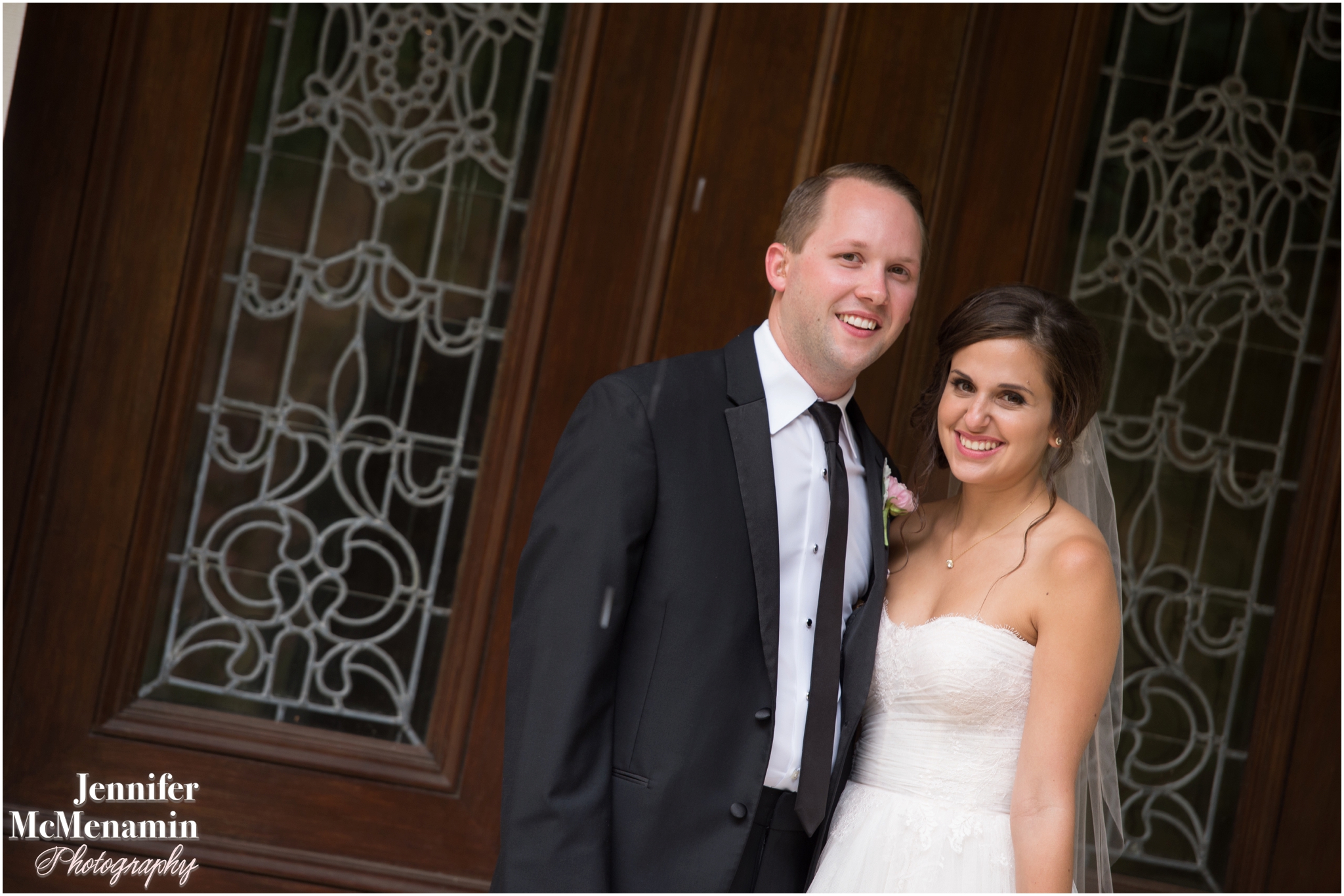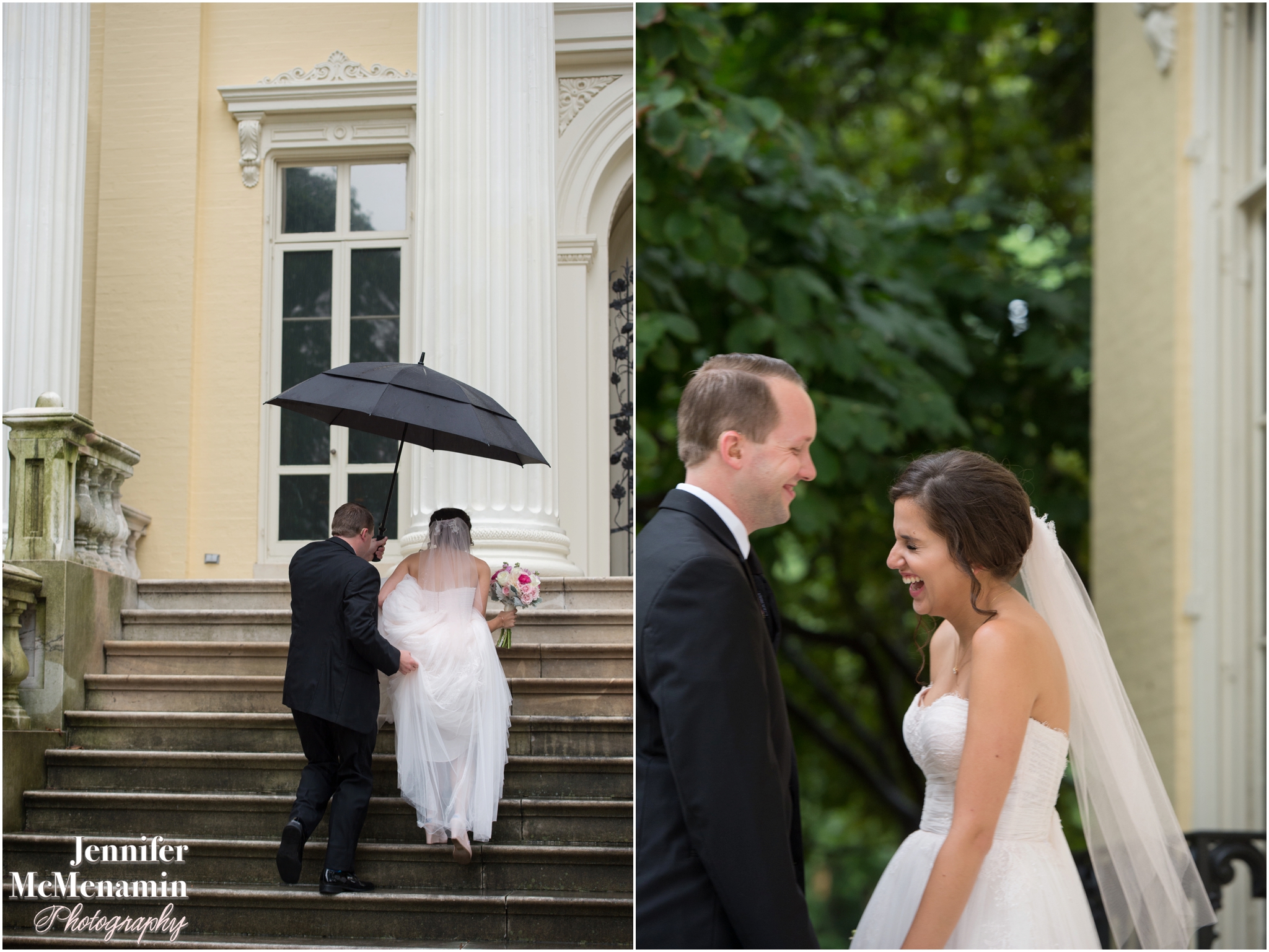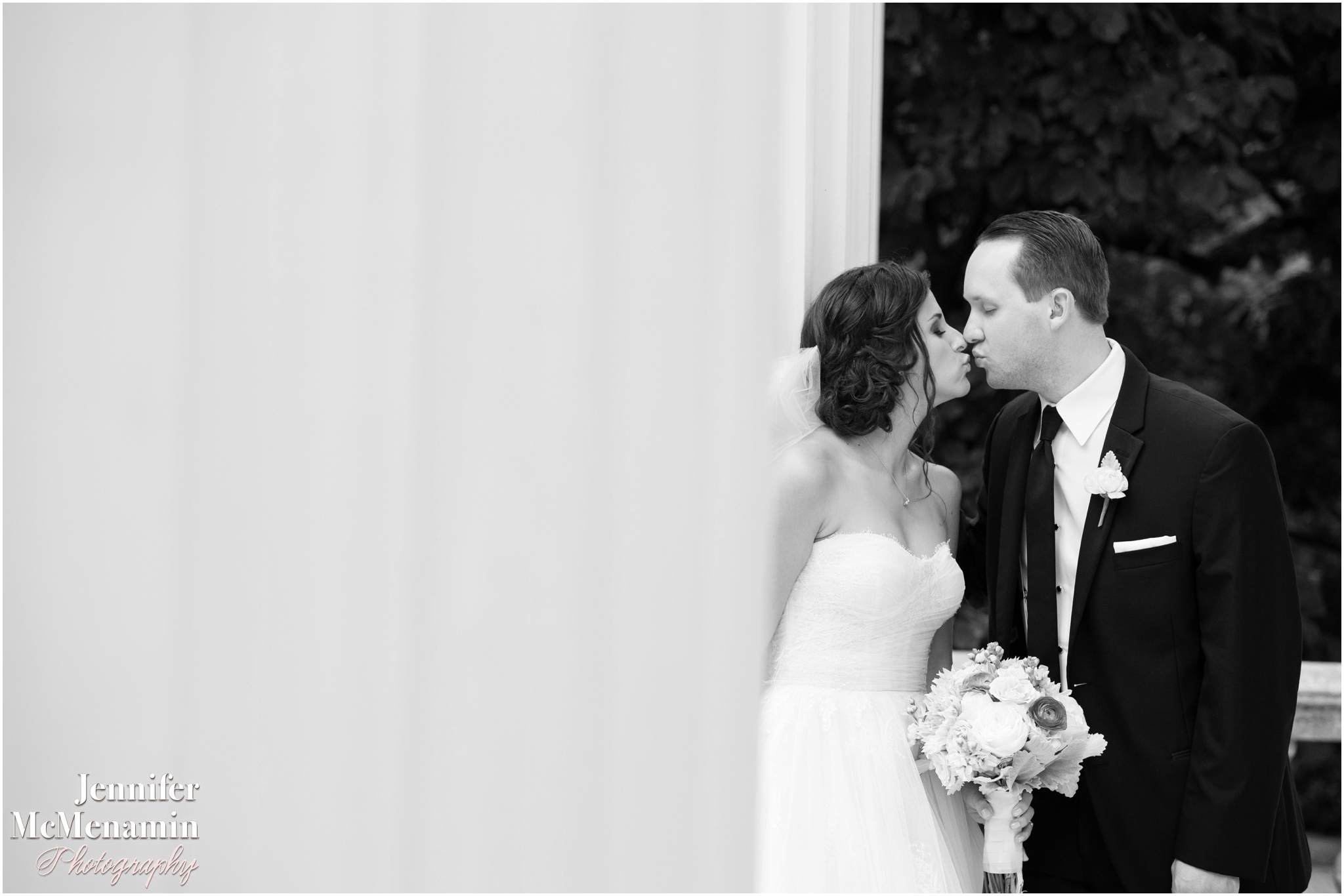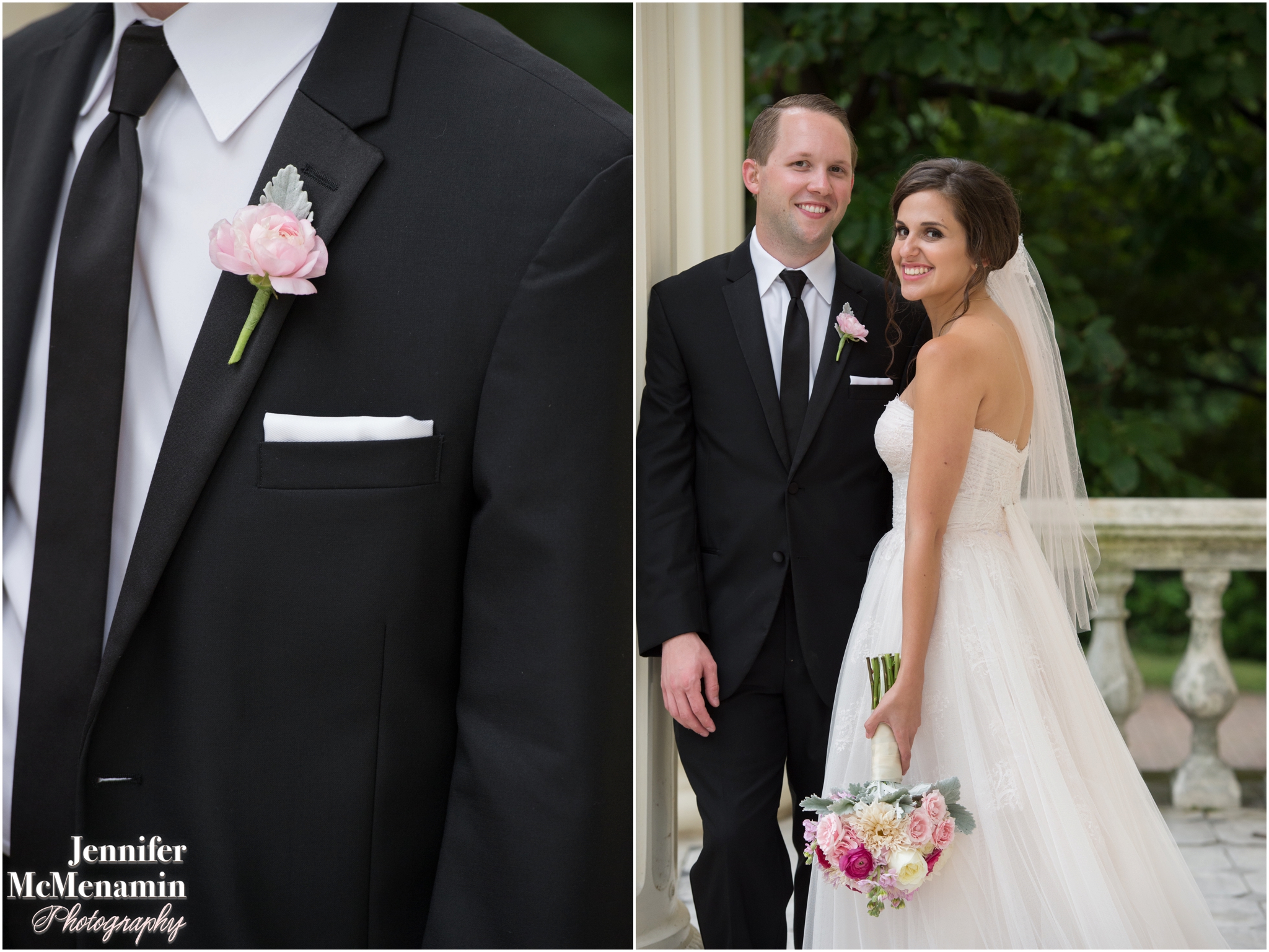 And then, just as we were starting wedding party photos, the rain stopped. Entirely. It was amazing! So we dashed around the property, seeking out little pockets of light amidst the grayness and hitting all the spots that Sydney and Greg wanted to include in their photos.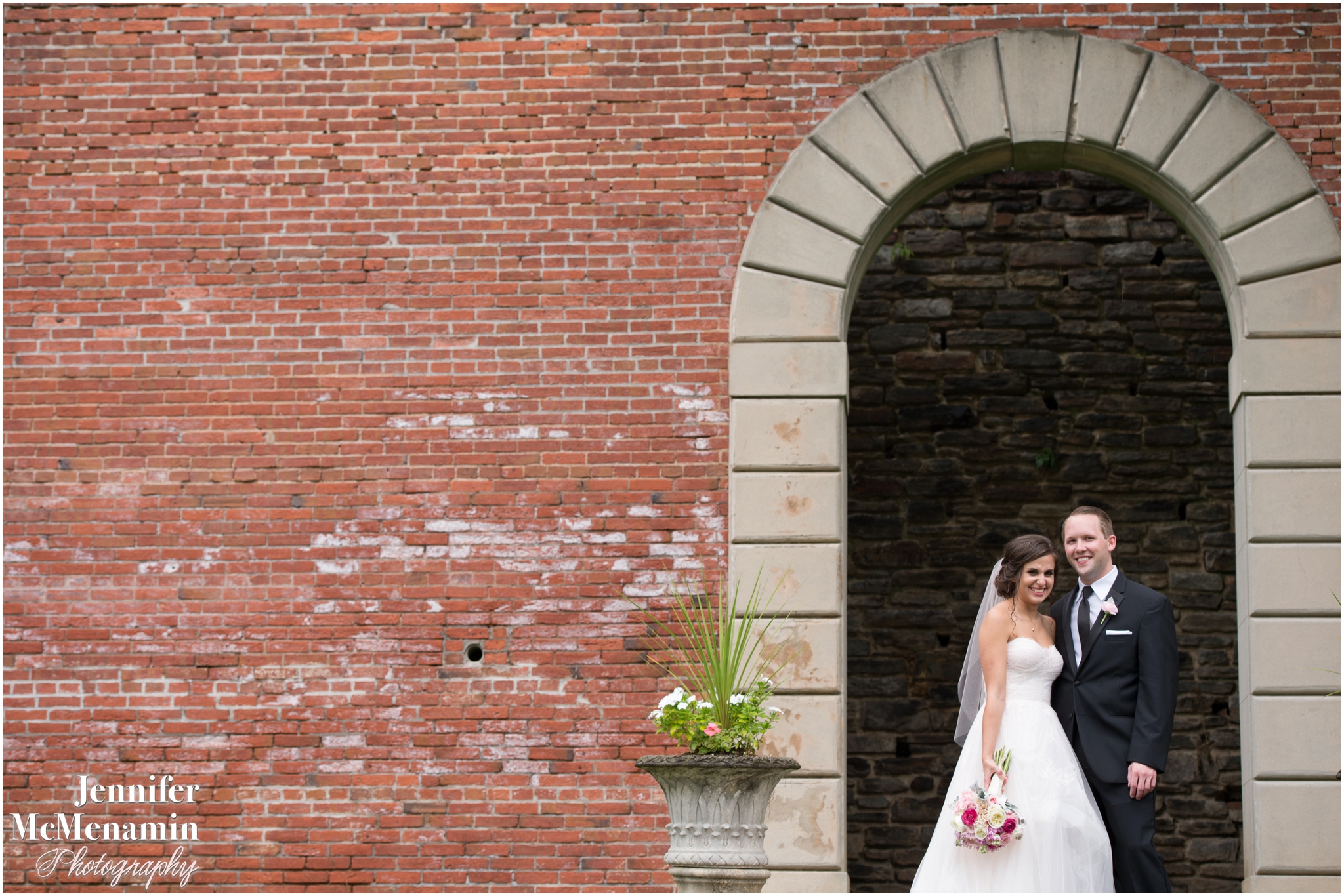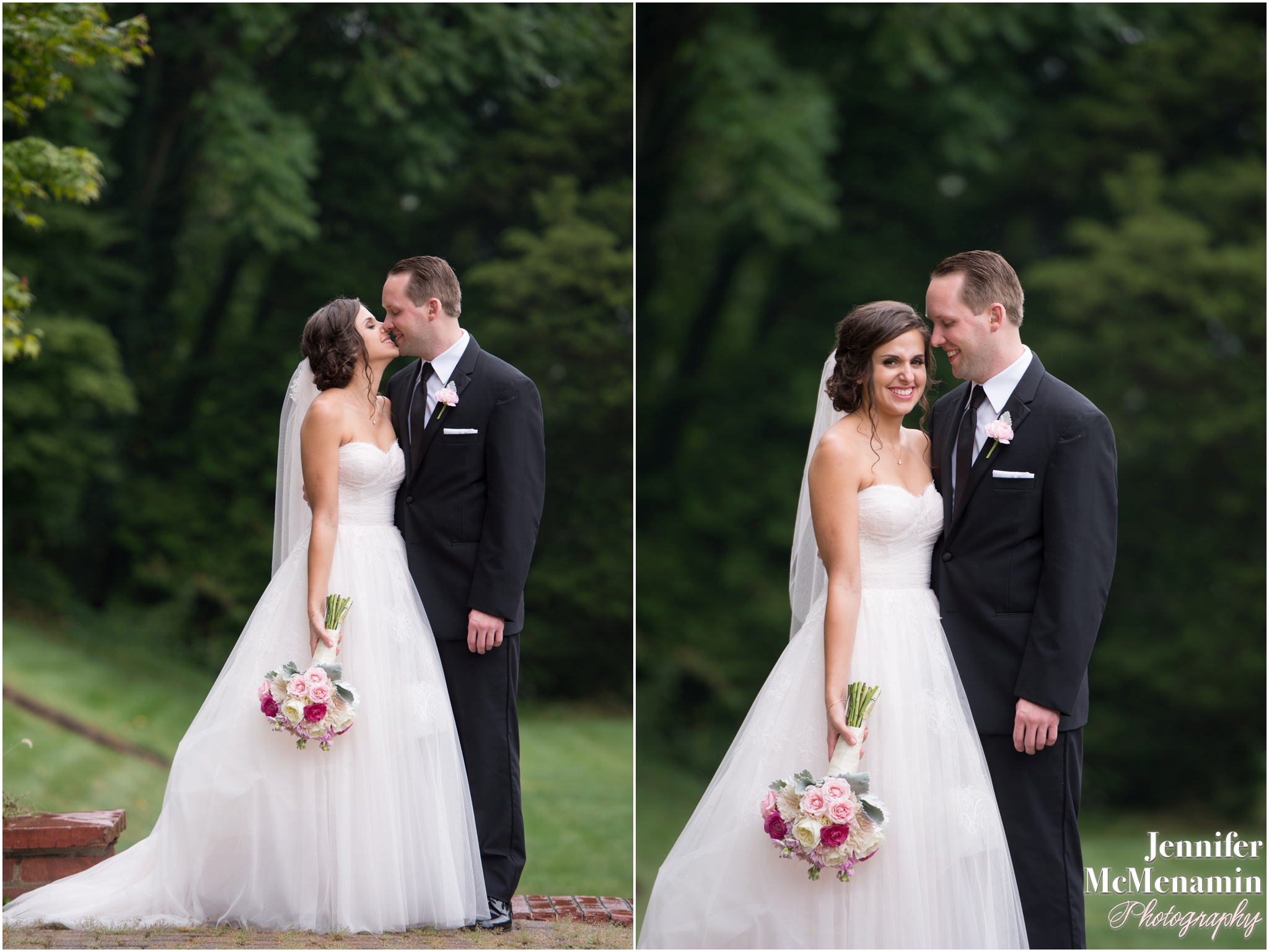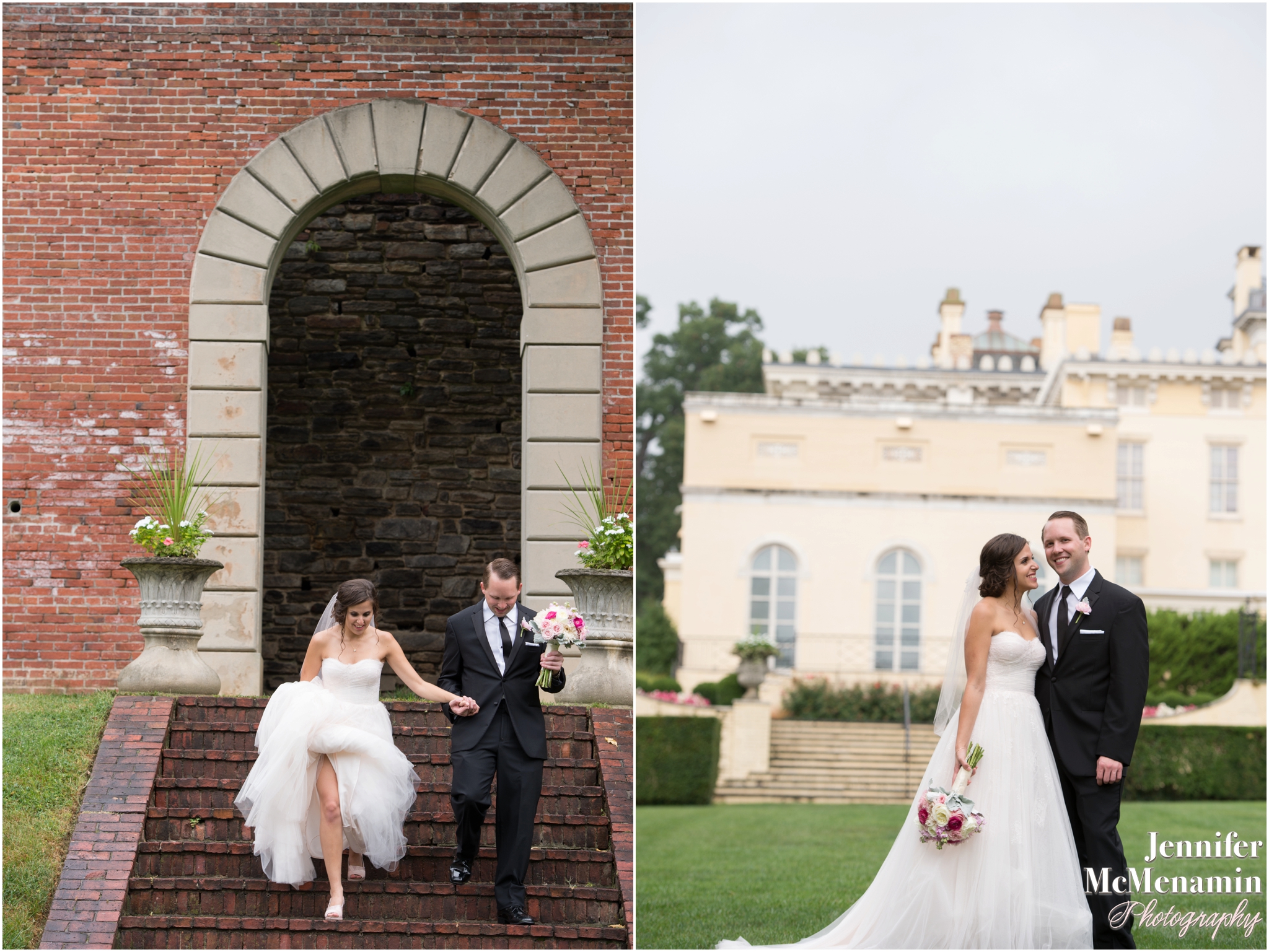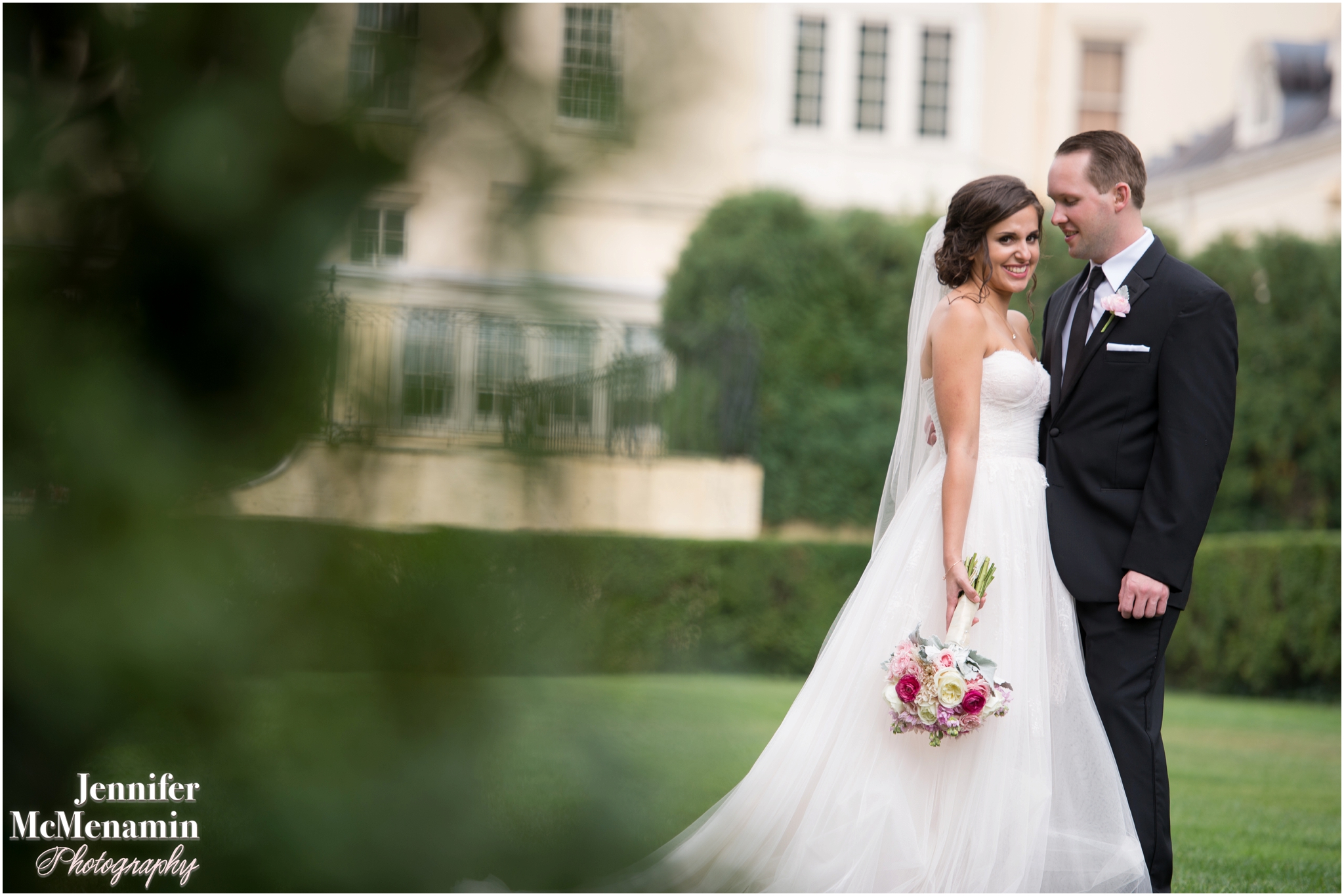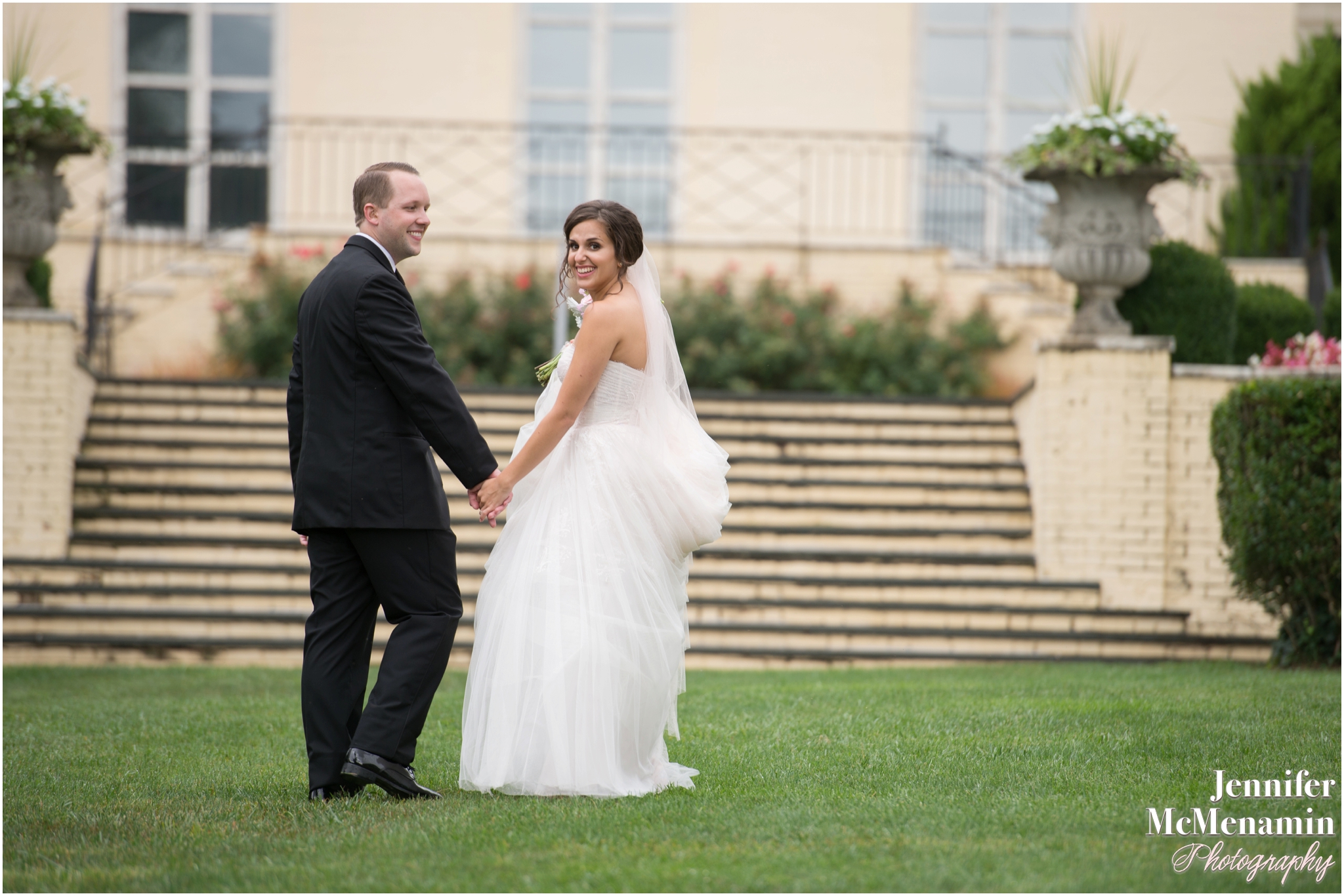 How darling are these girls together?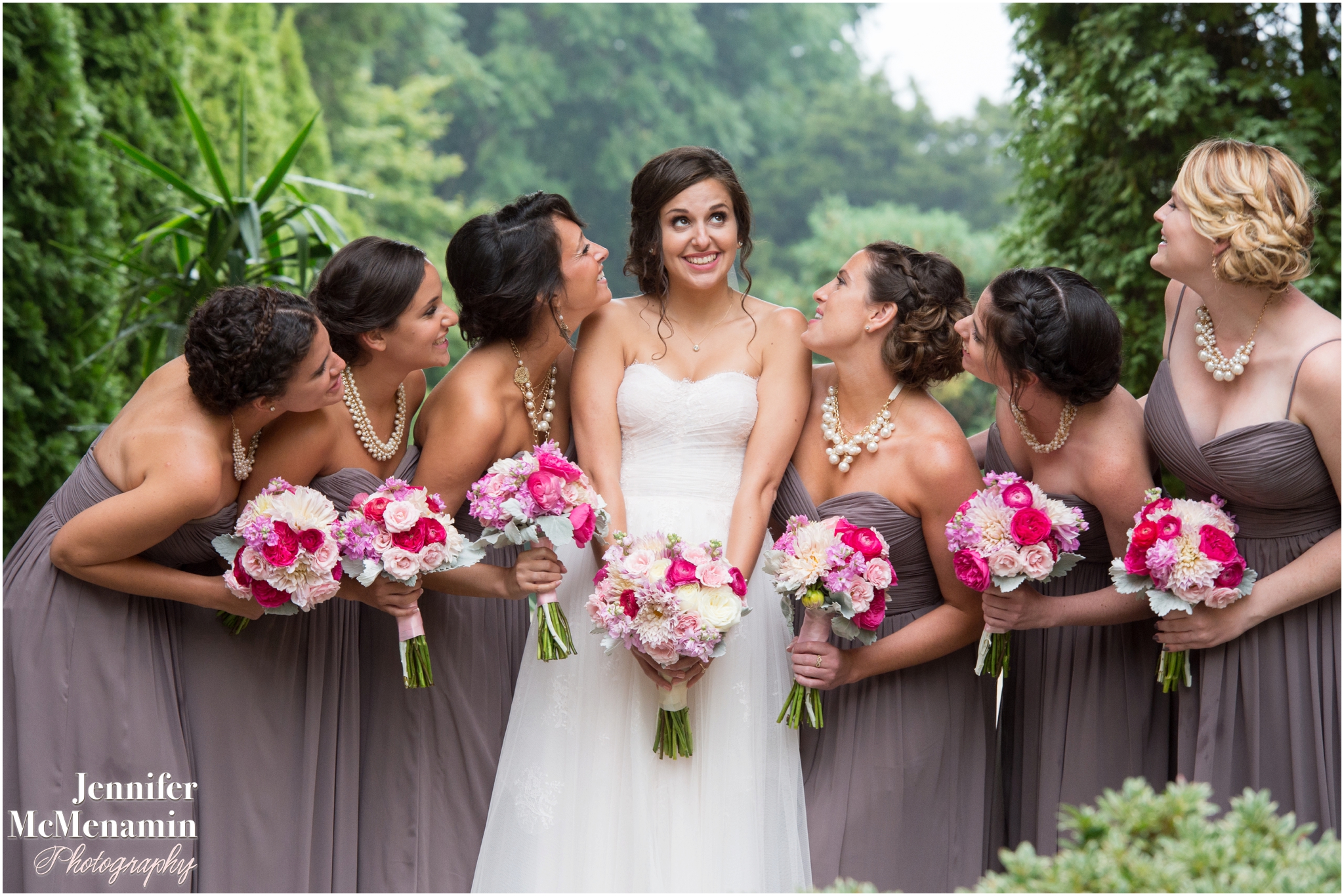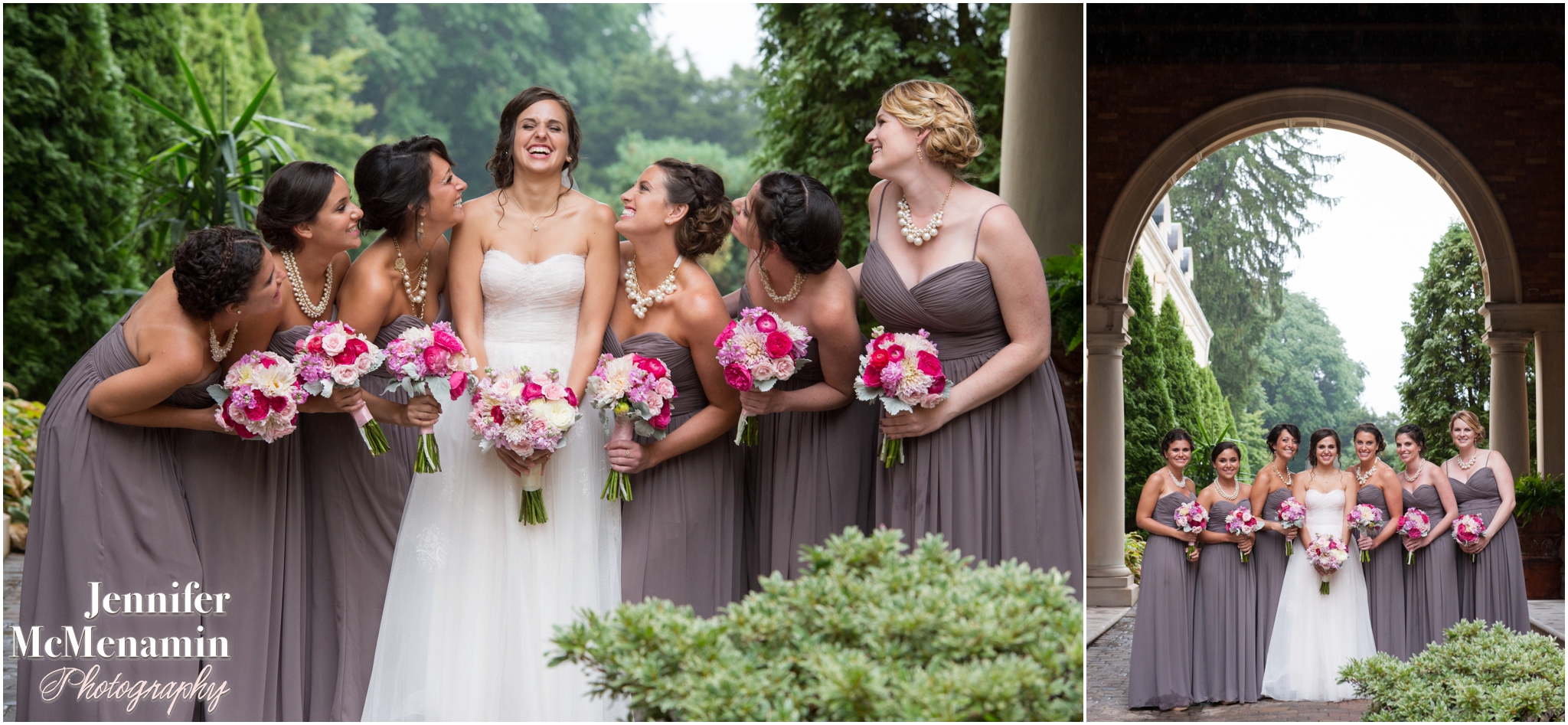 A few family photos.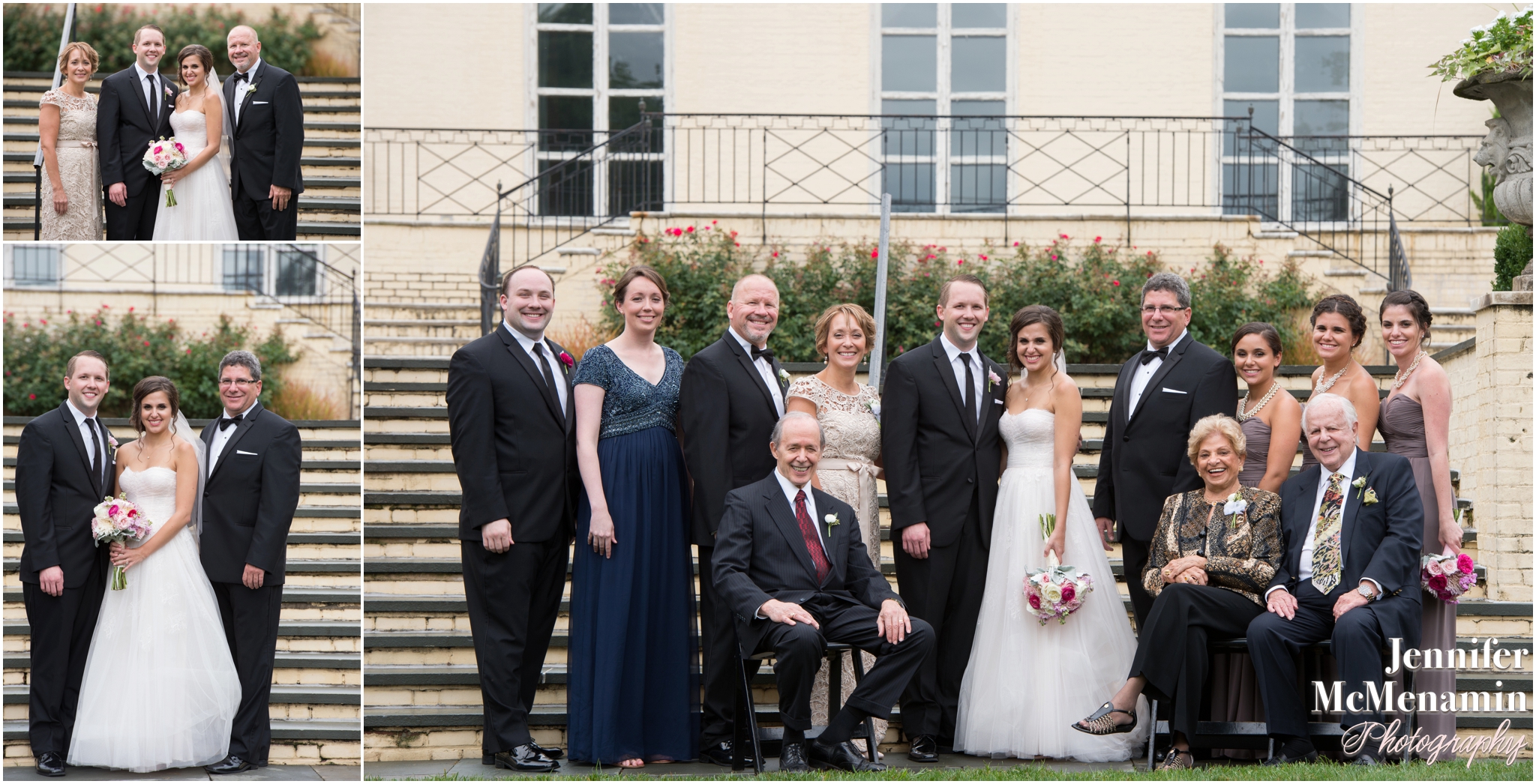 Ken and his girls.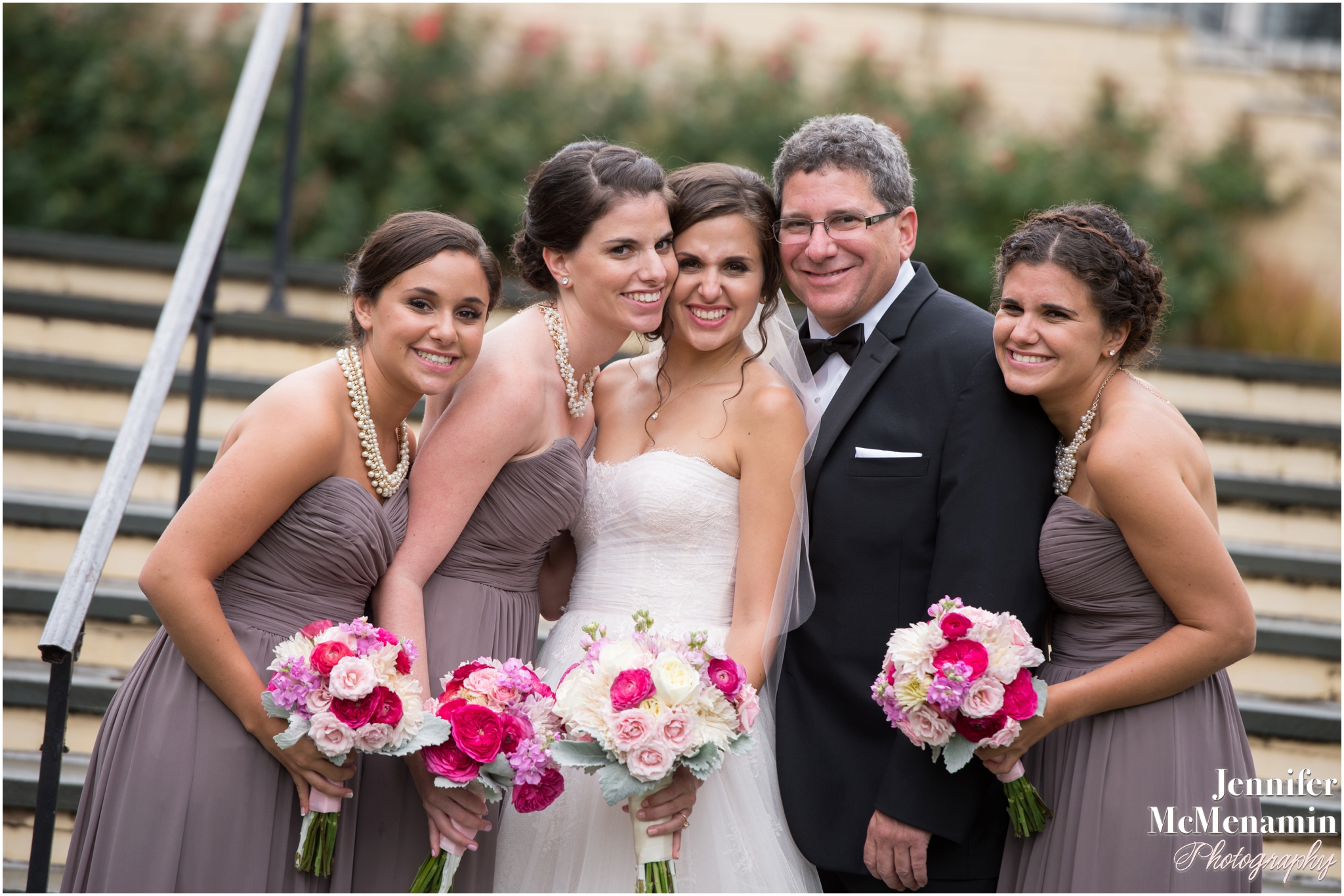 The gorgeous flowers — which, incidentally, went perfectly with gray! — from My Flower Box Events.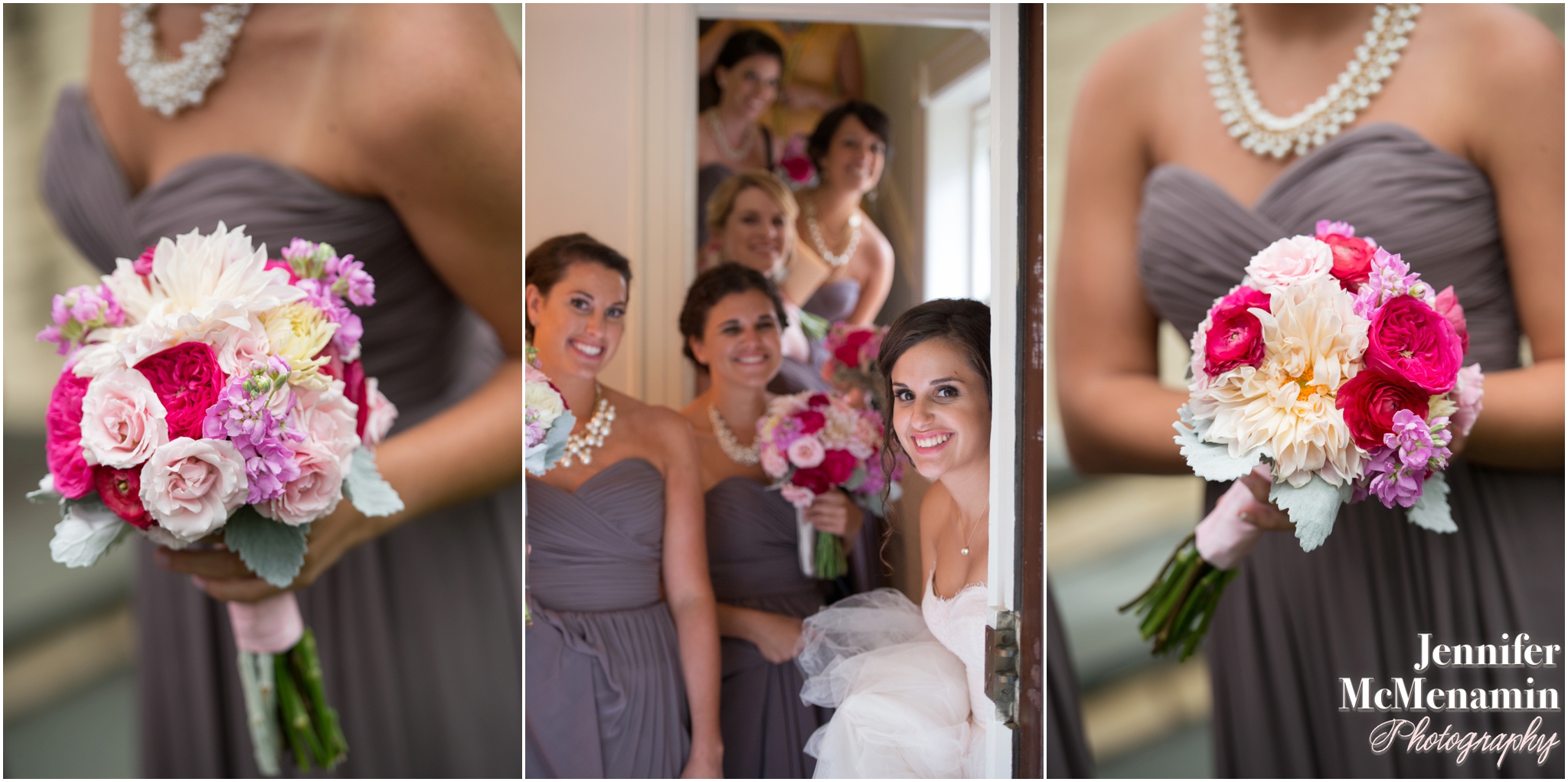 And then it was time to get married.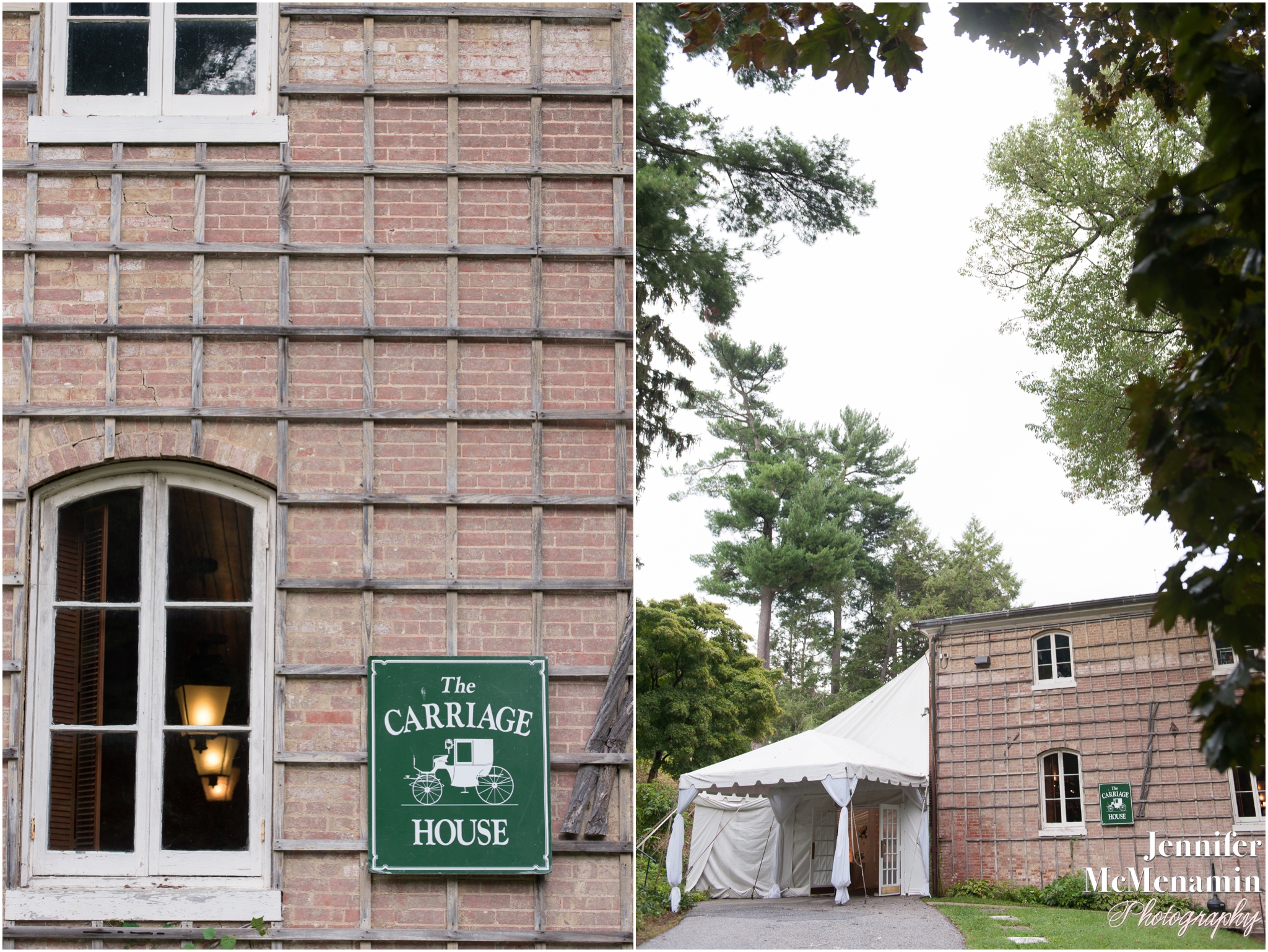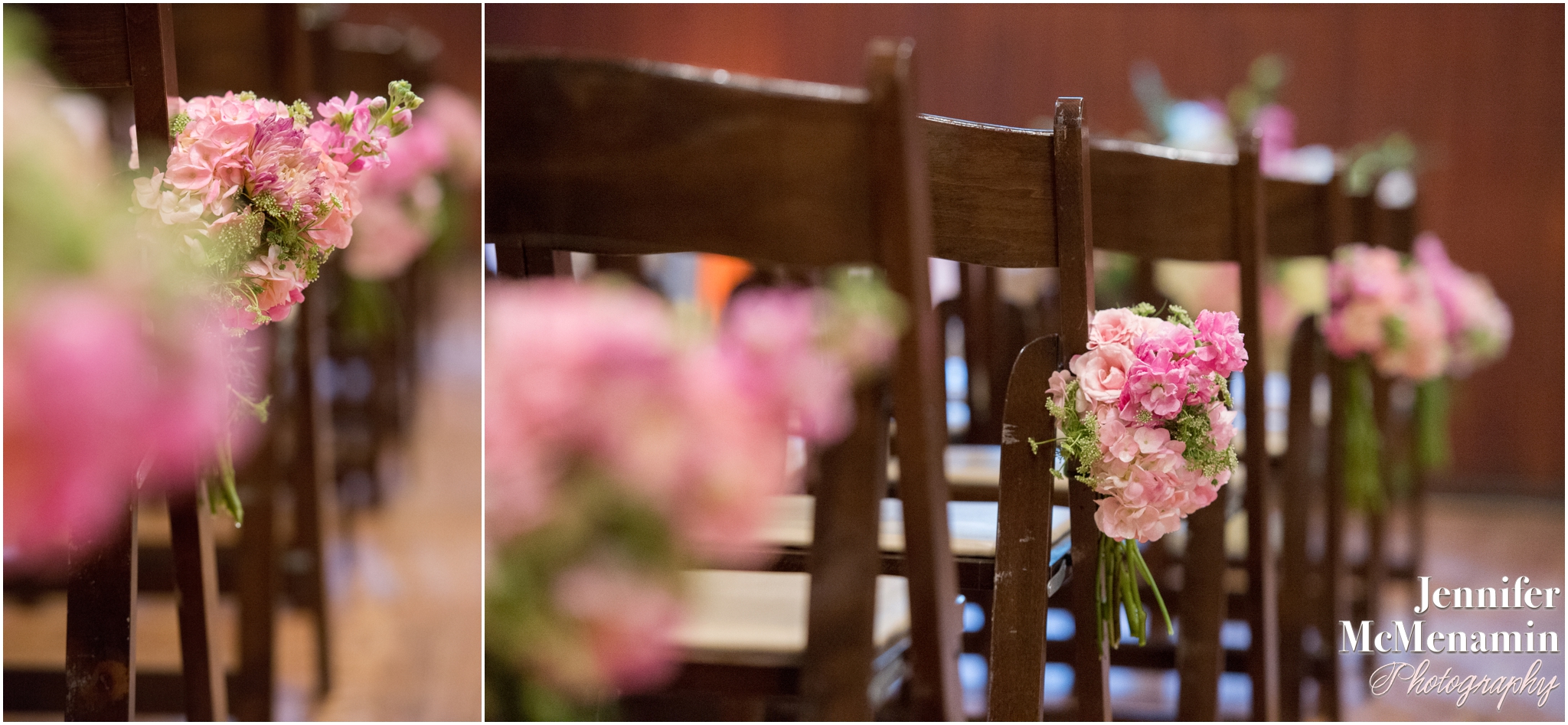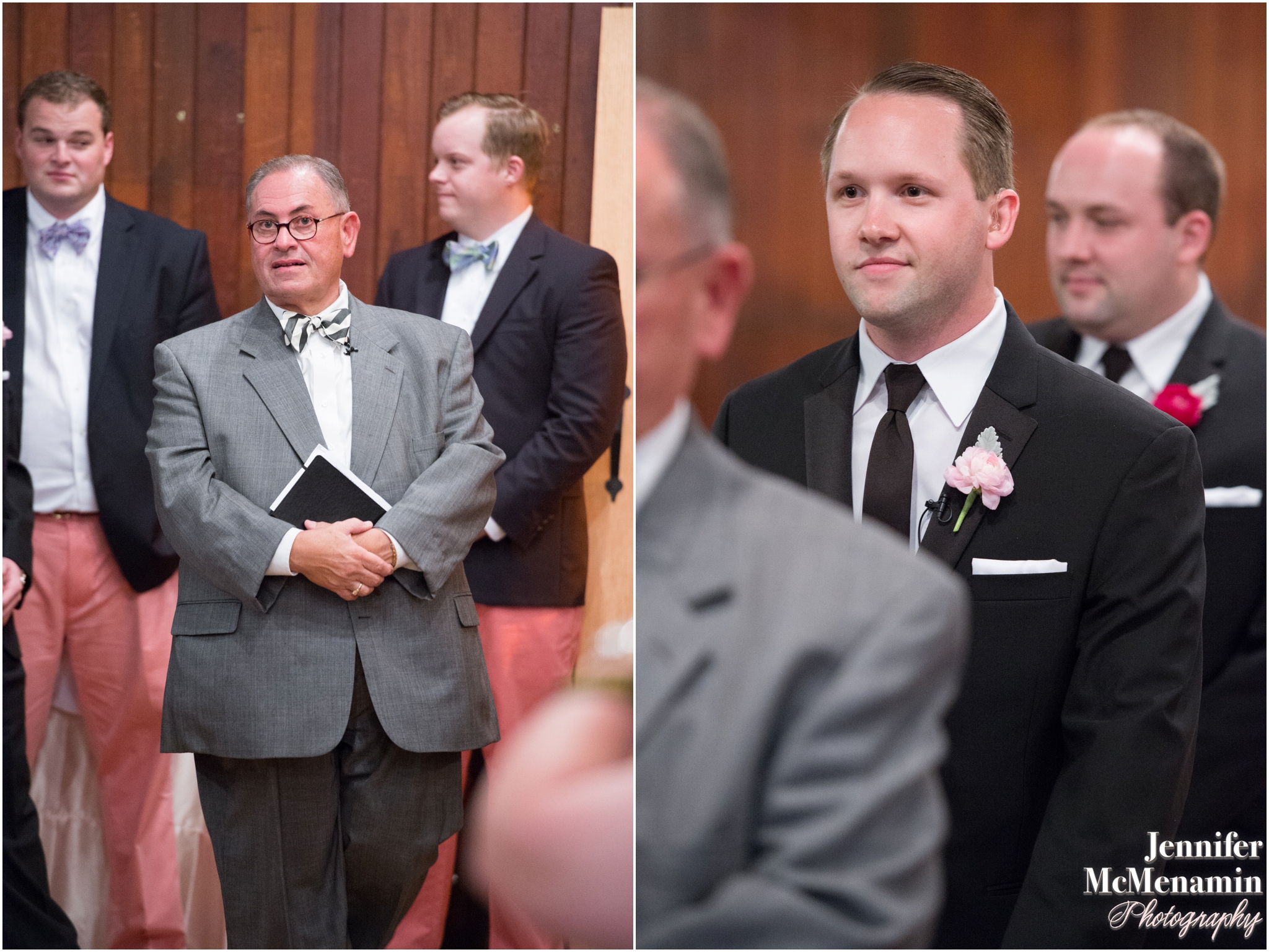 The big entrance from behind the doors. (I love the next behind-the-scenes shot on the far right that Sam took from the back of the aisle.)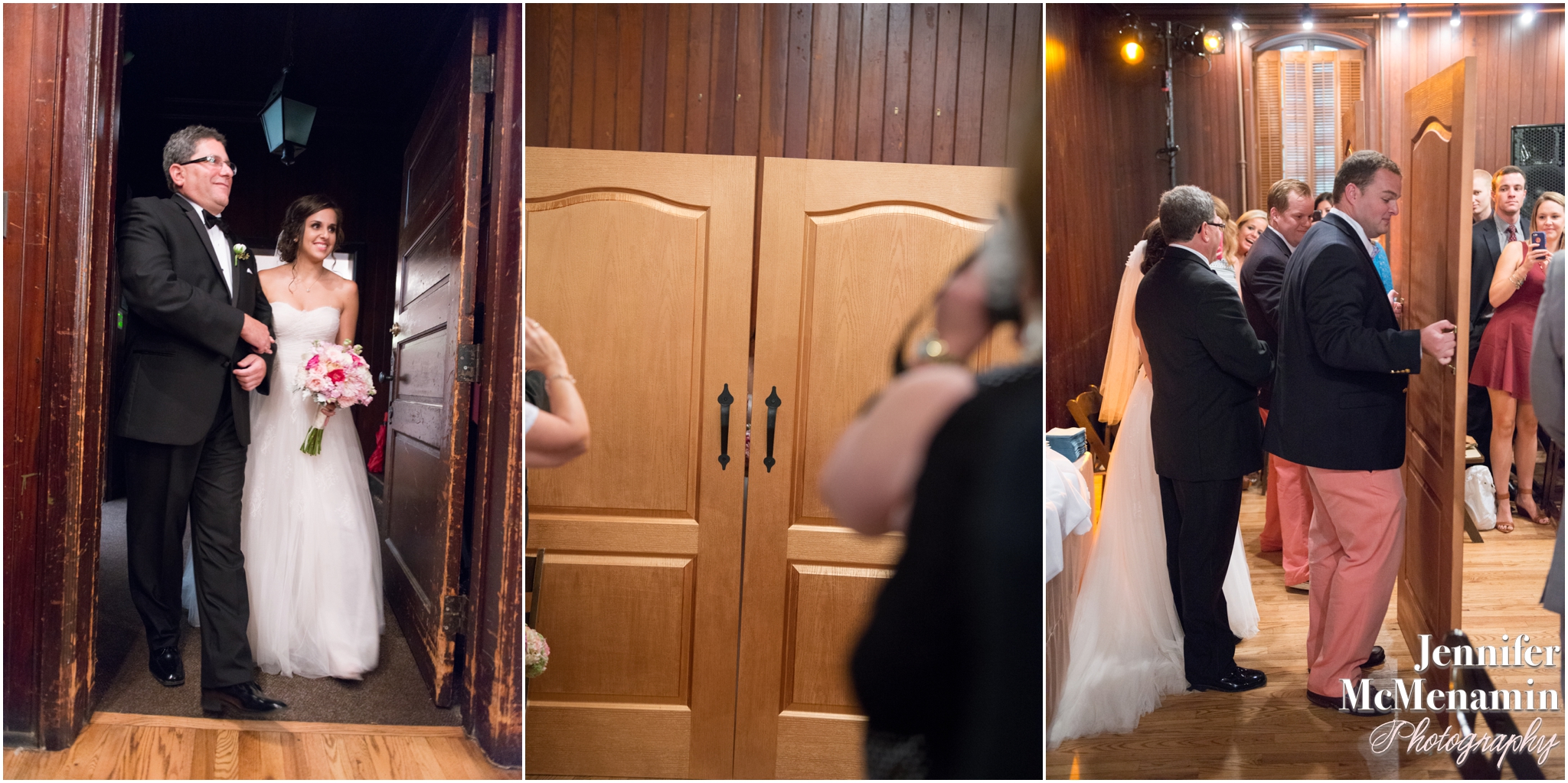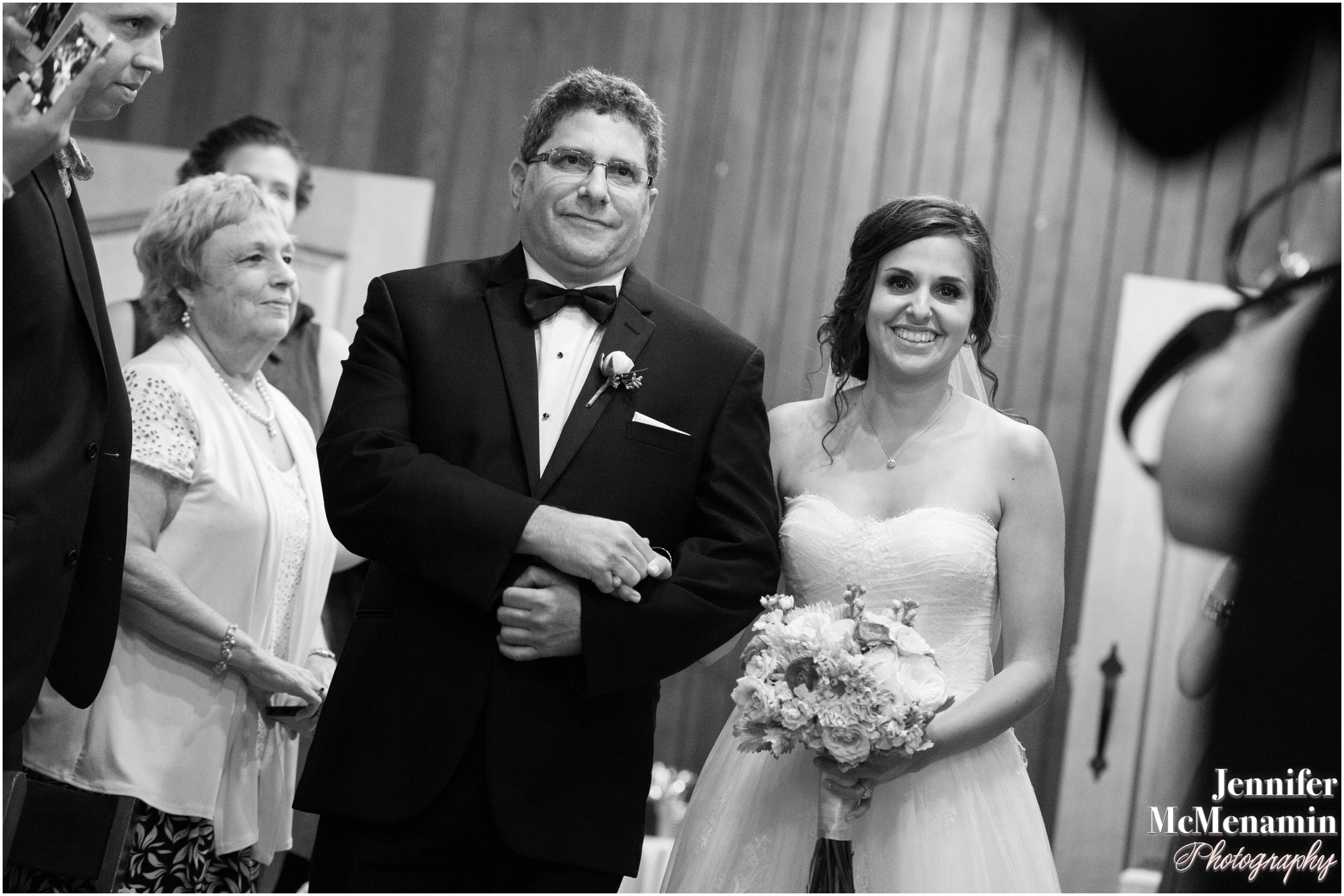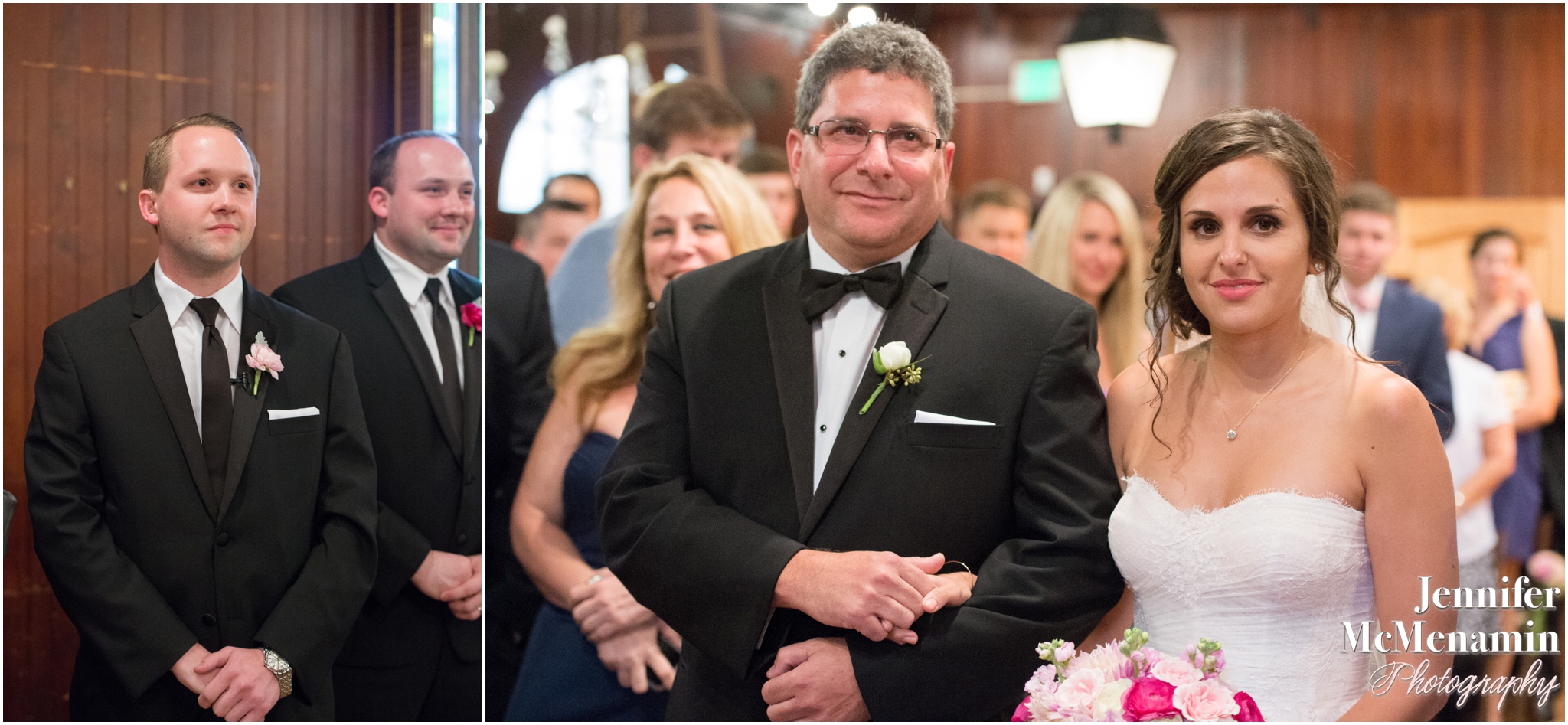 I love wedding ceremonies that are funny and moving and poignant and personal, all rolled into one. Sydney and Greg's was just that — including the unscripted moment when Sydney somehow worked the web site address of her gift company into her vows!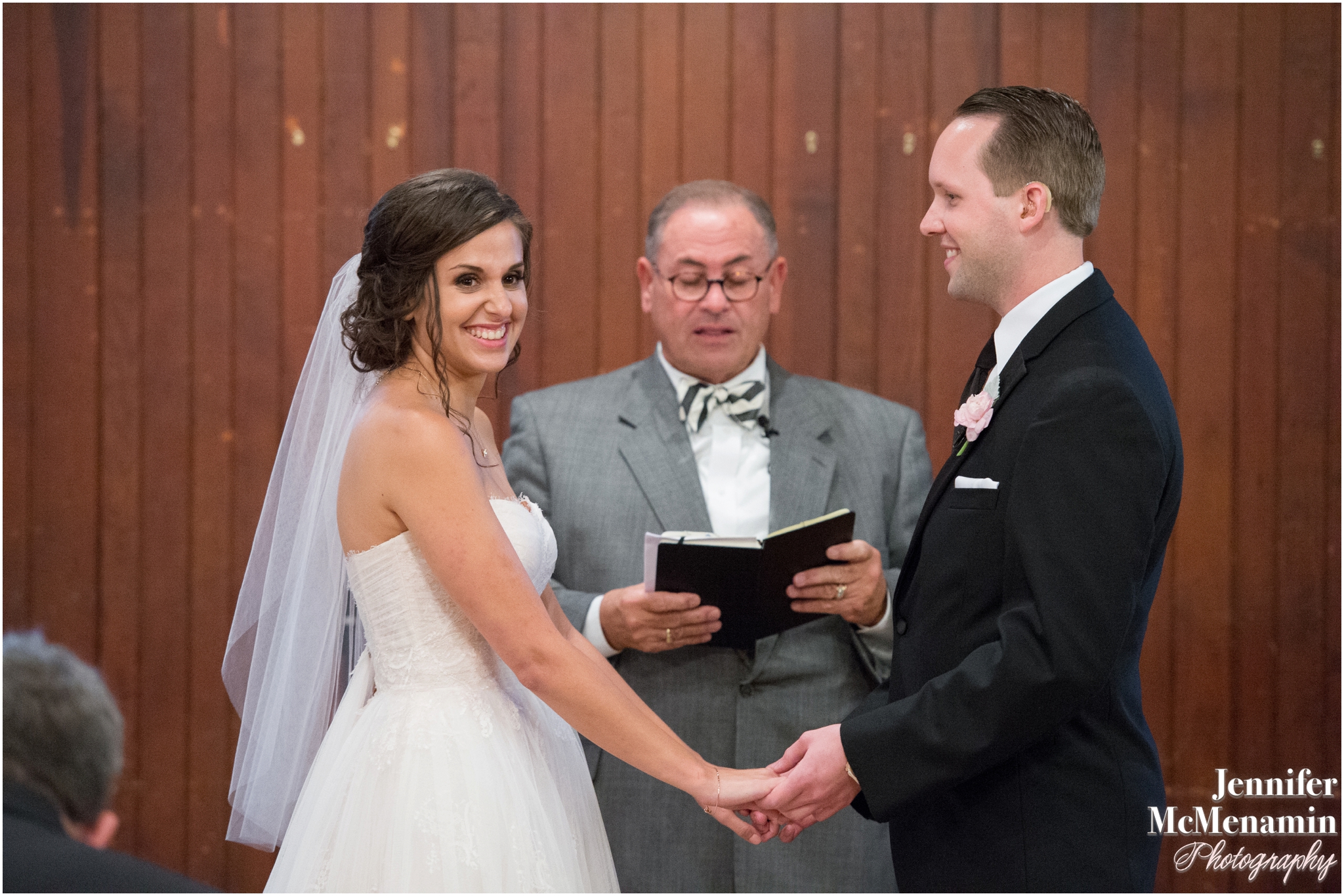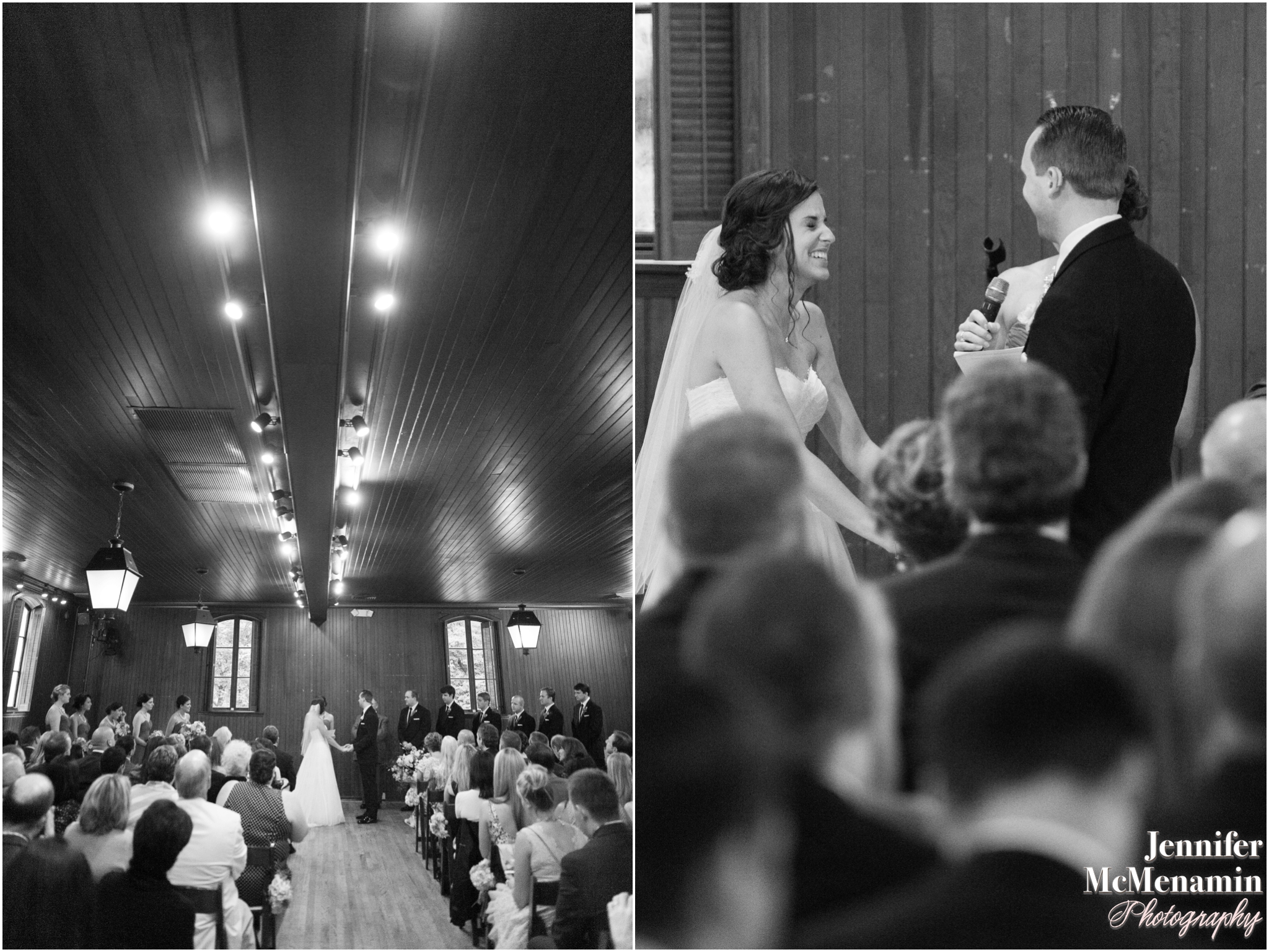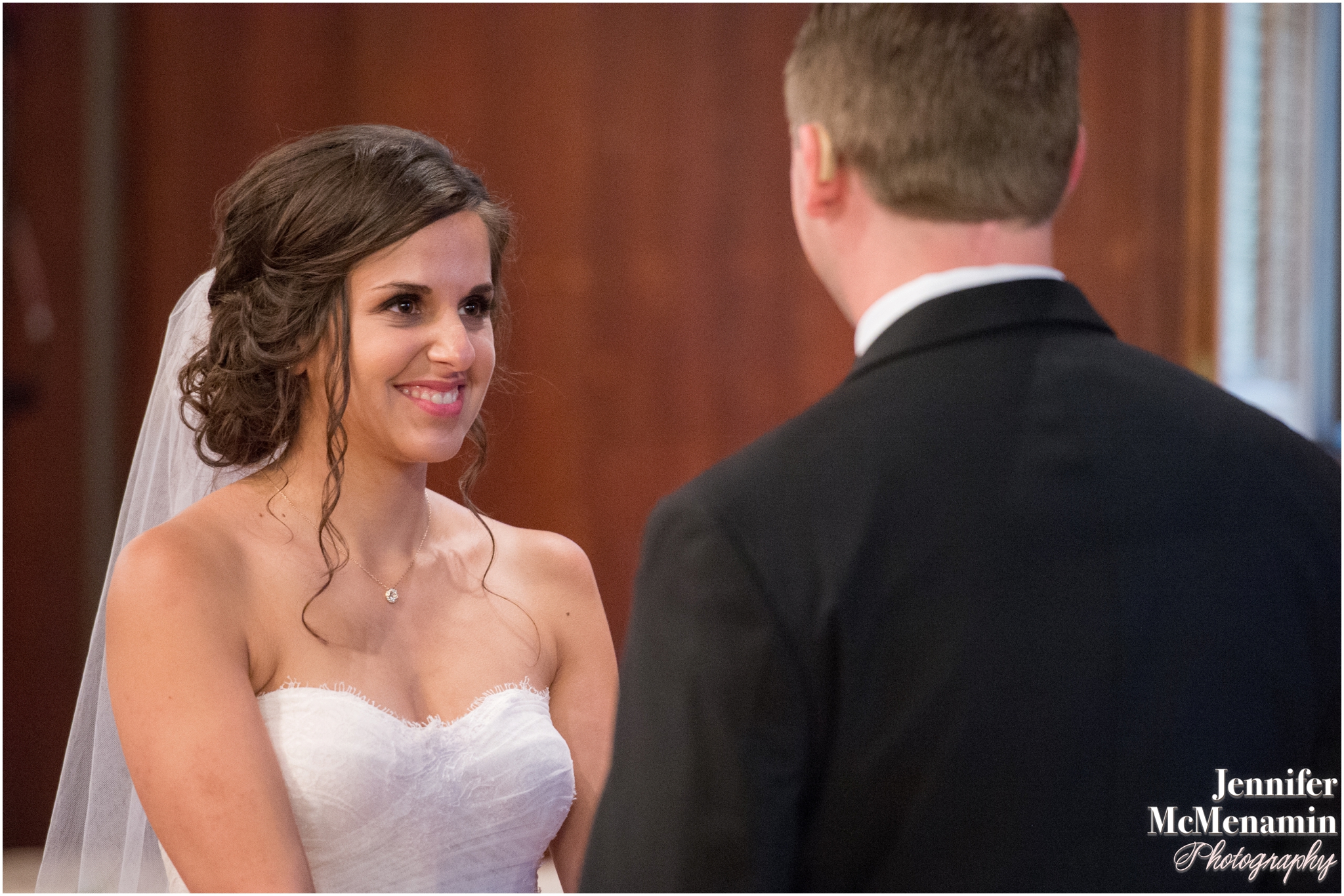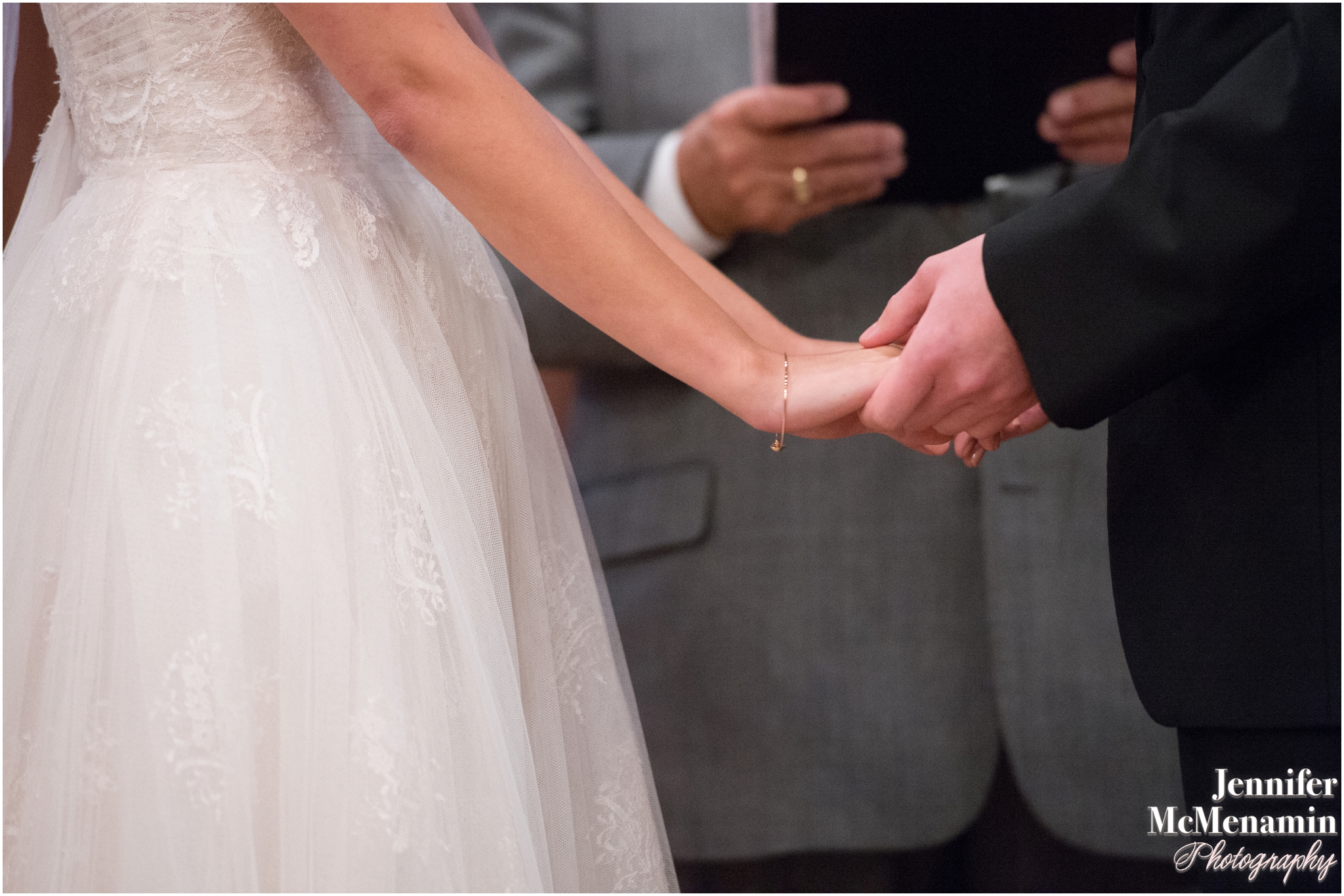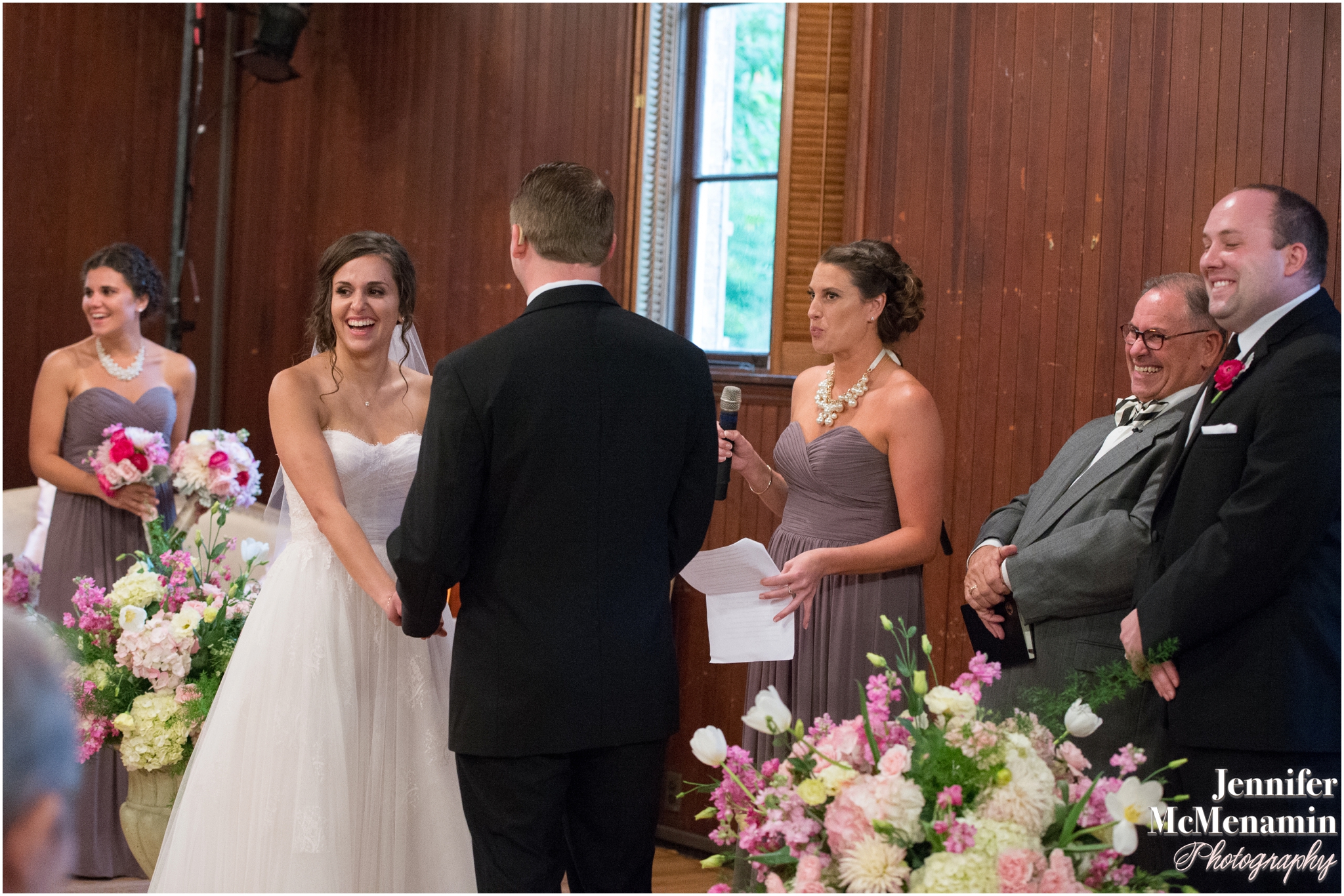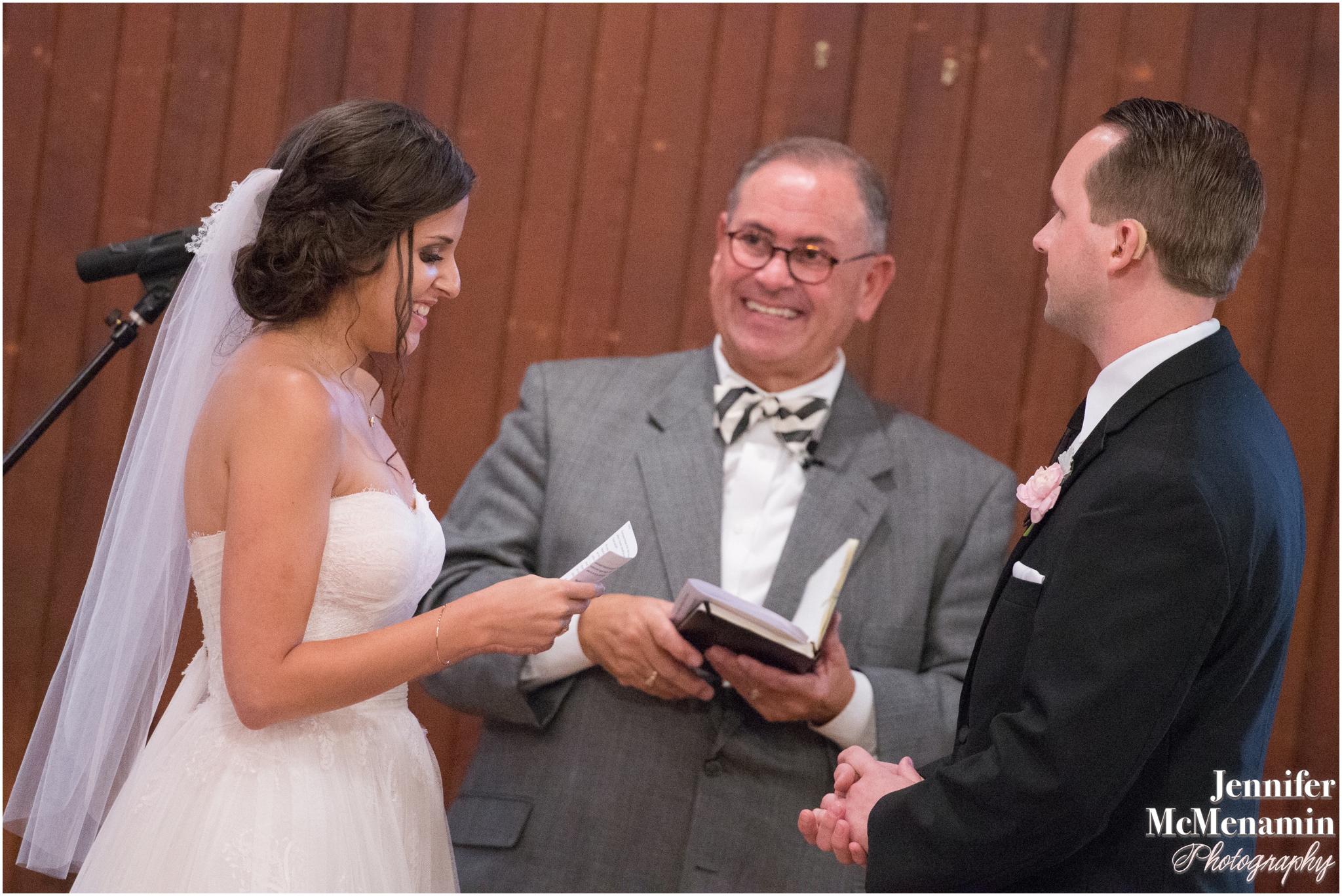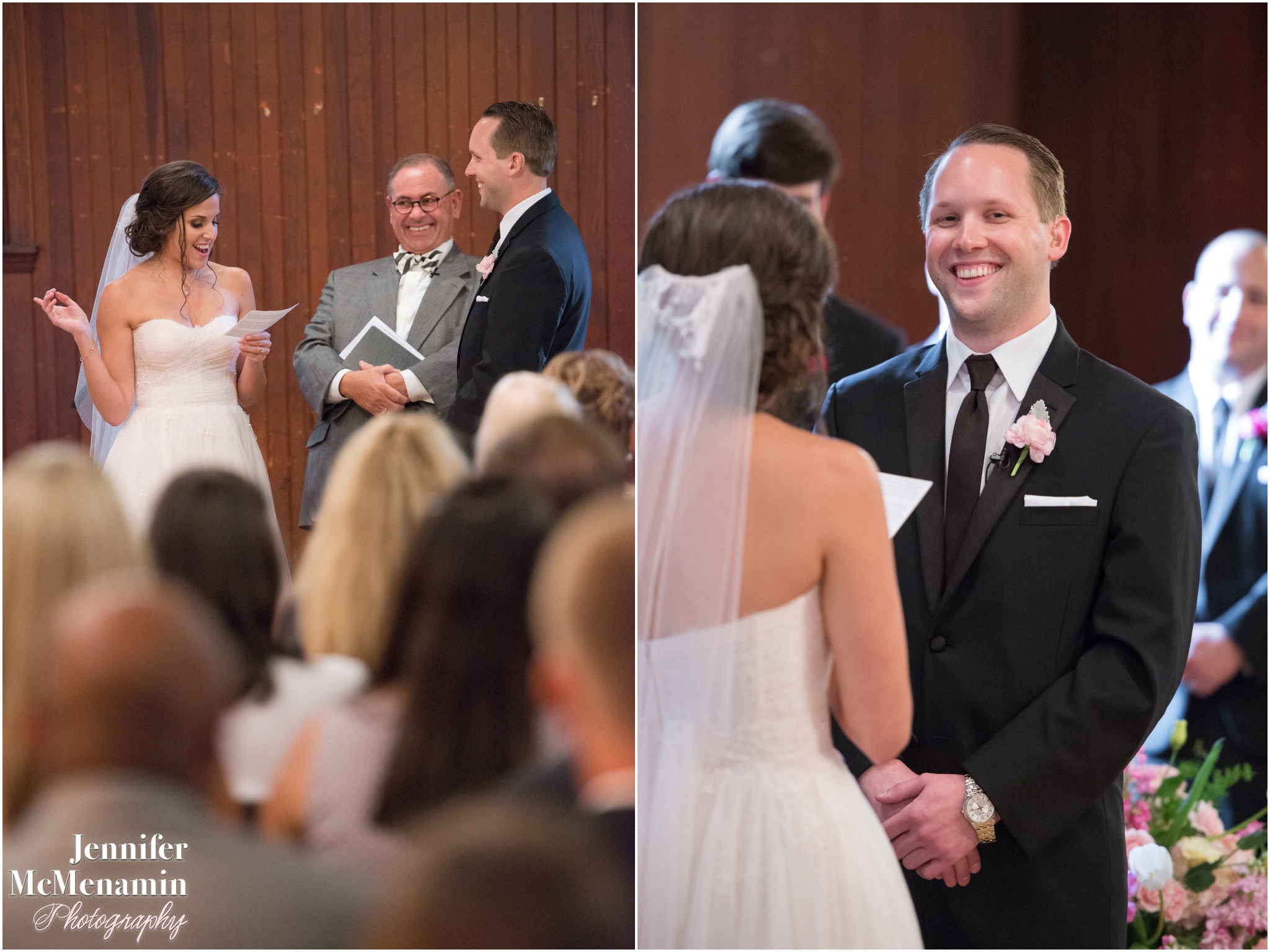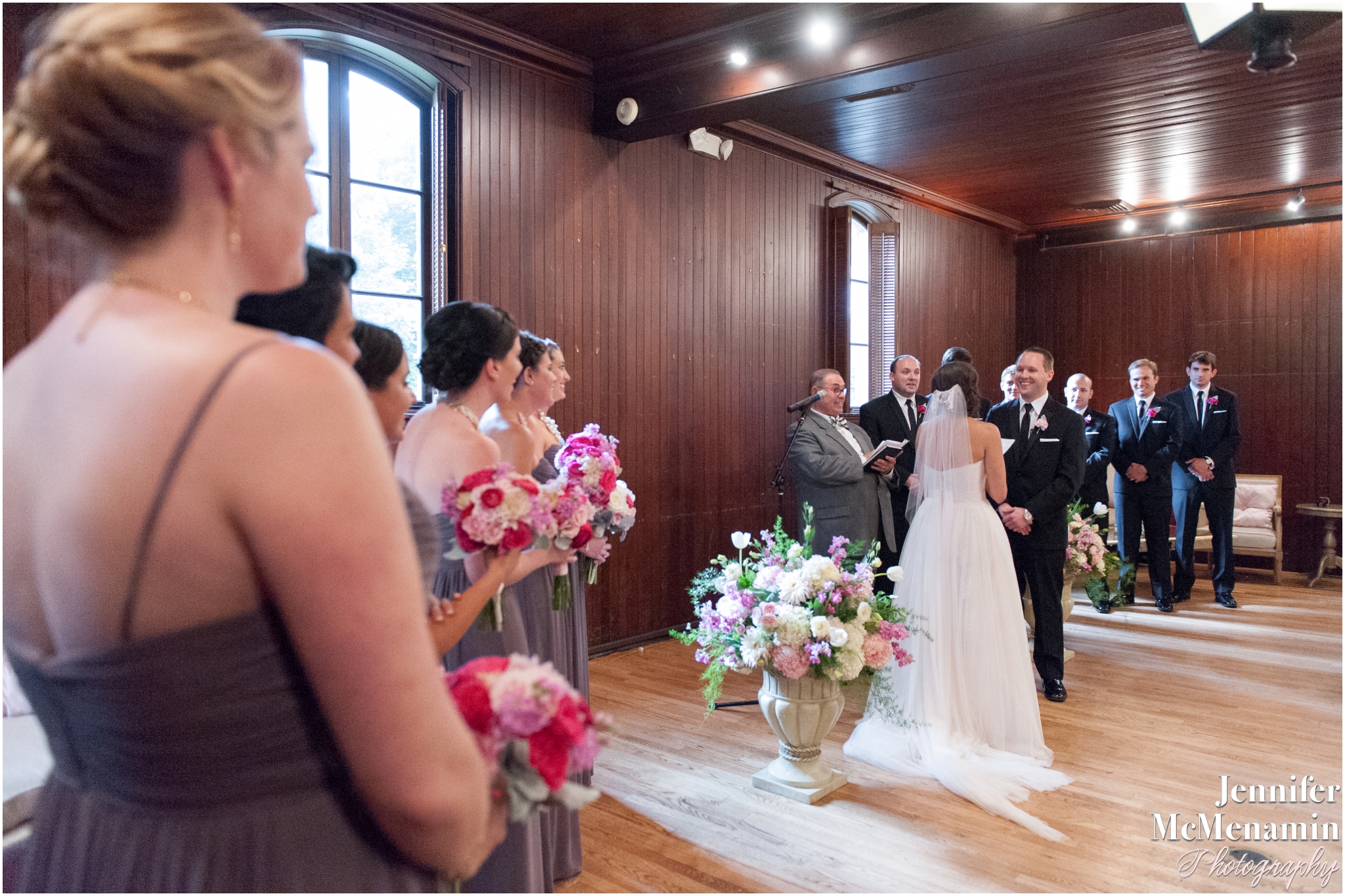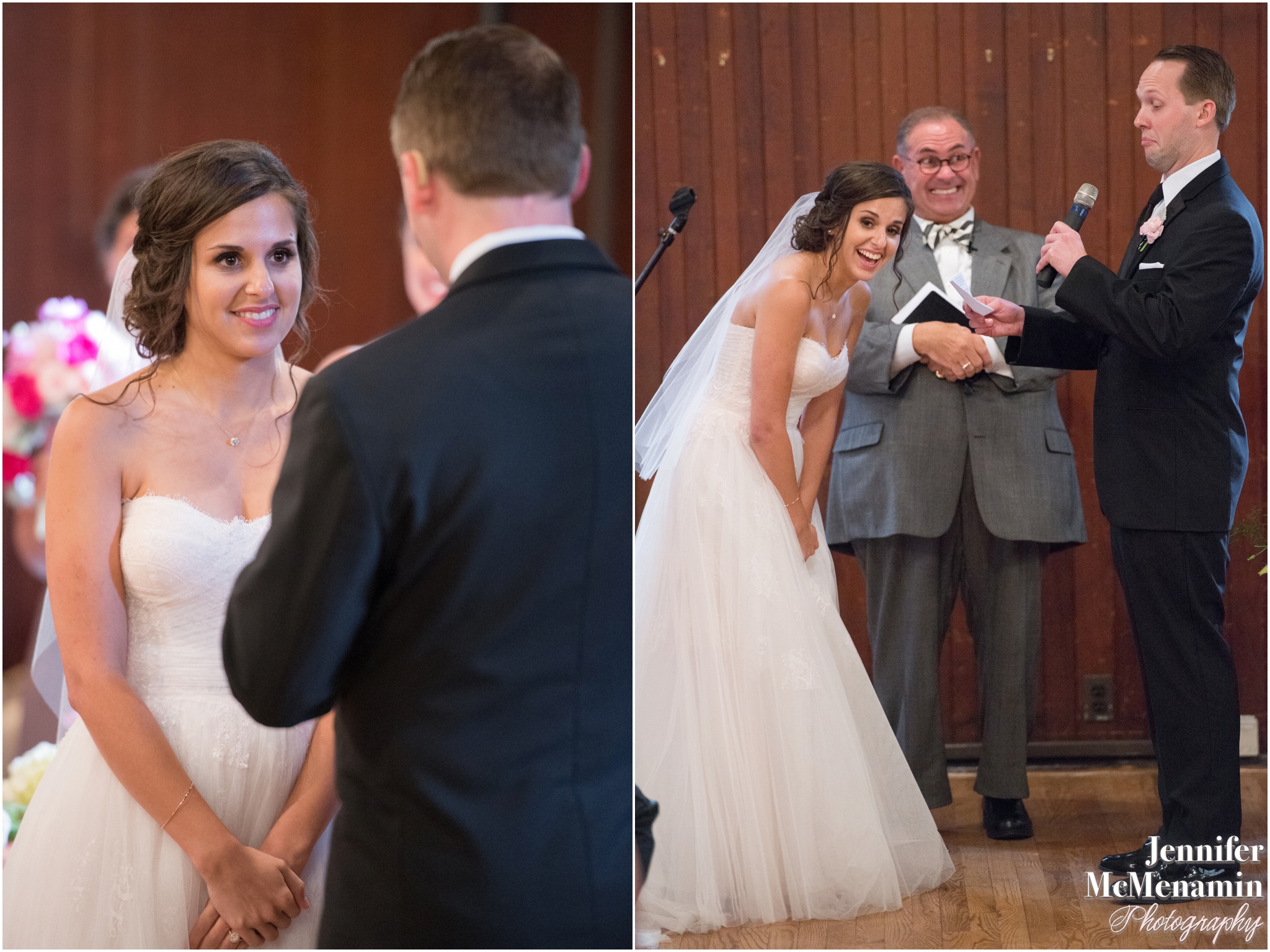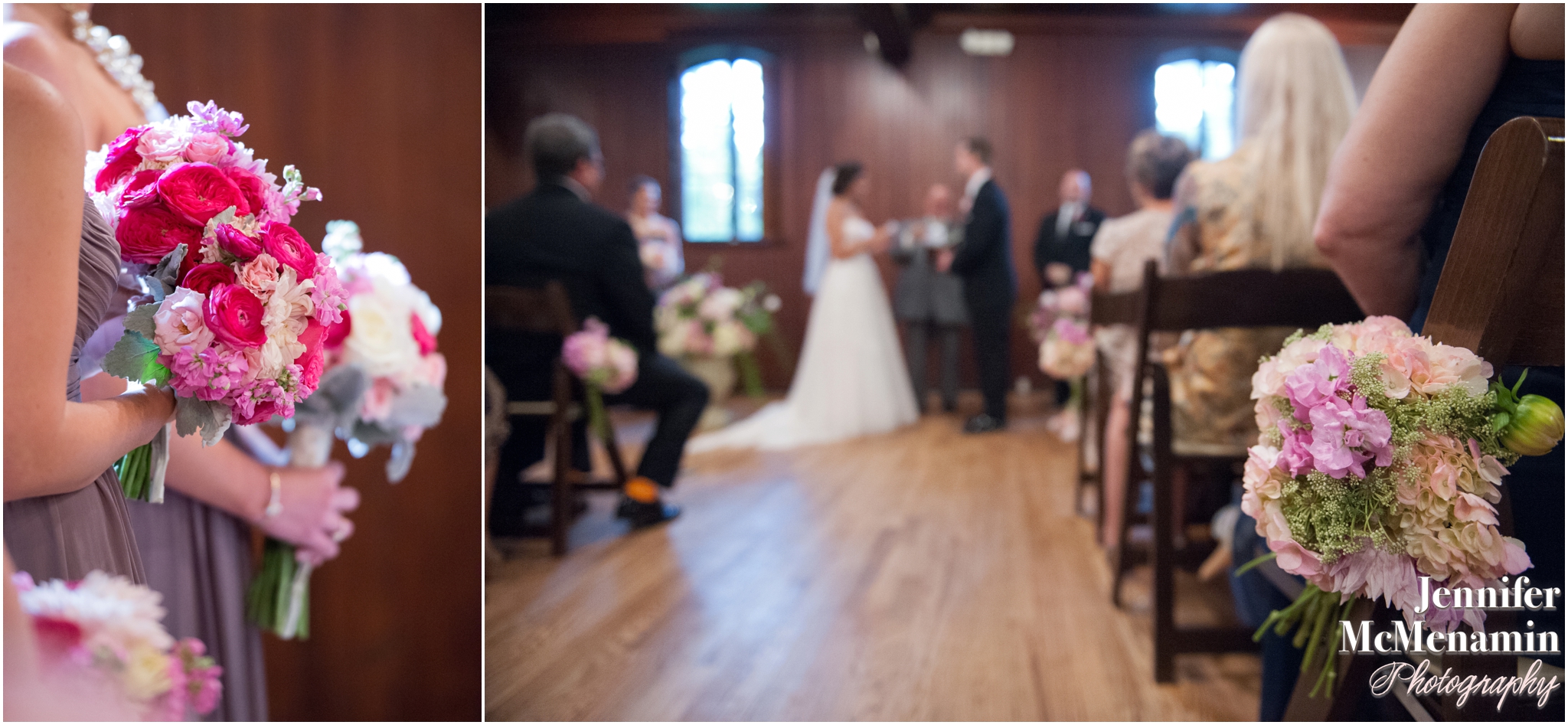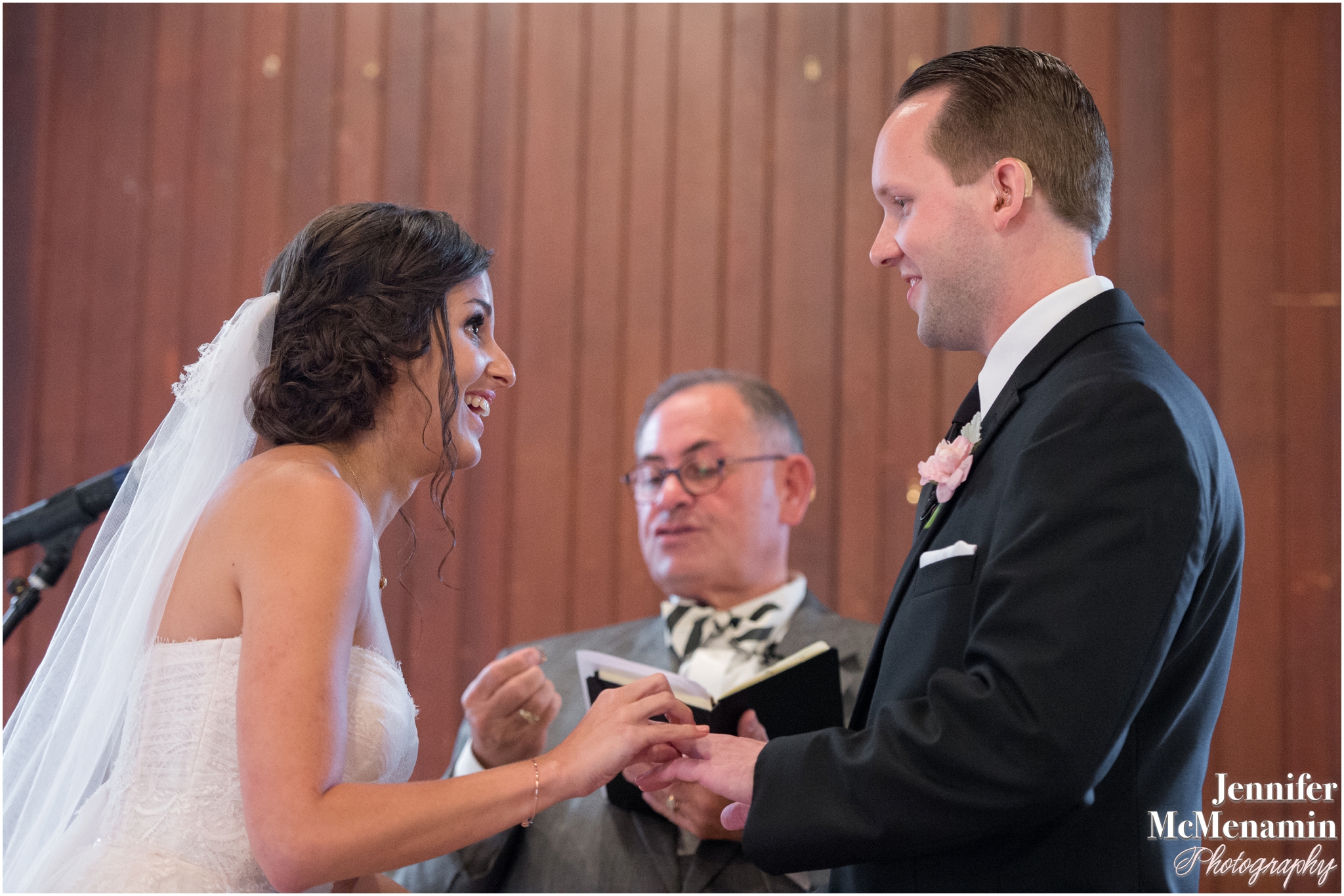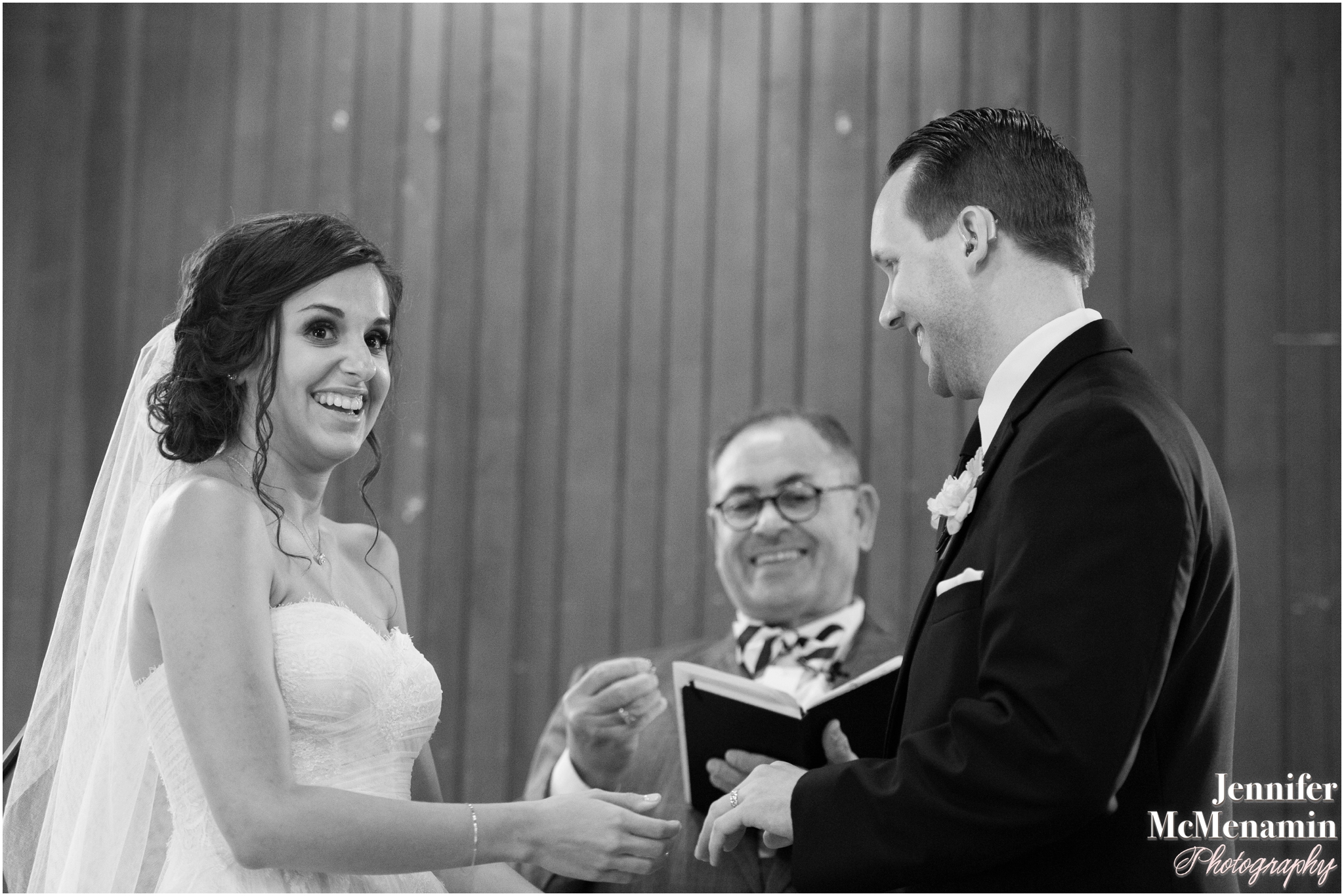 Married!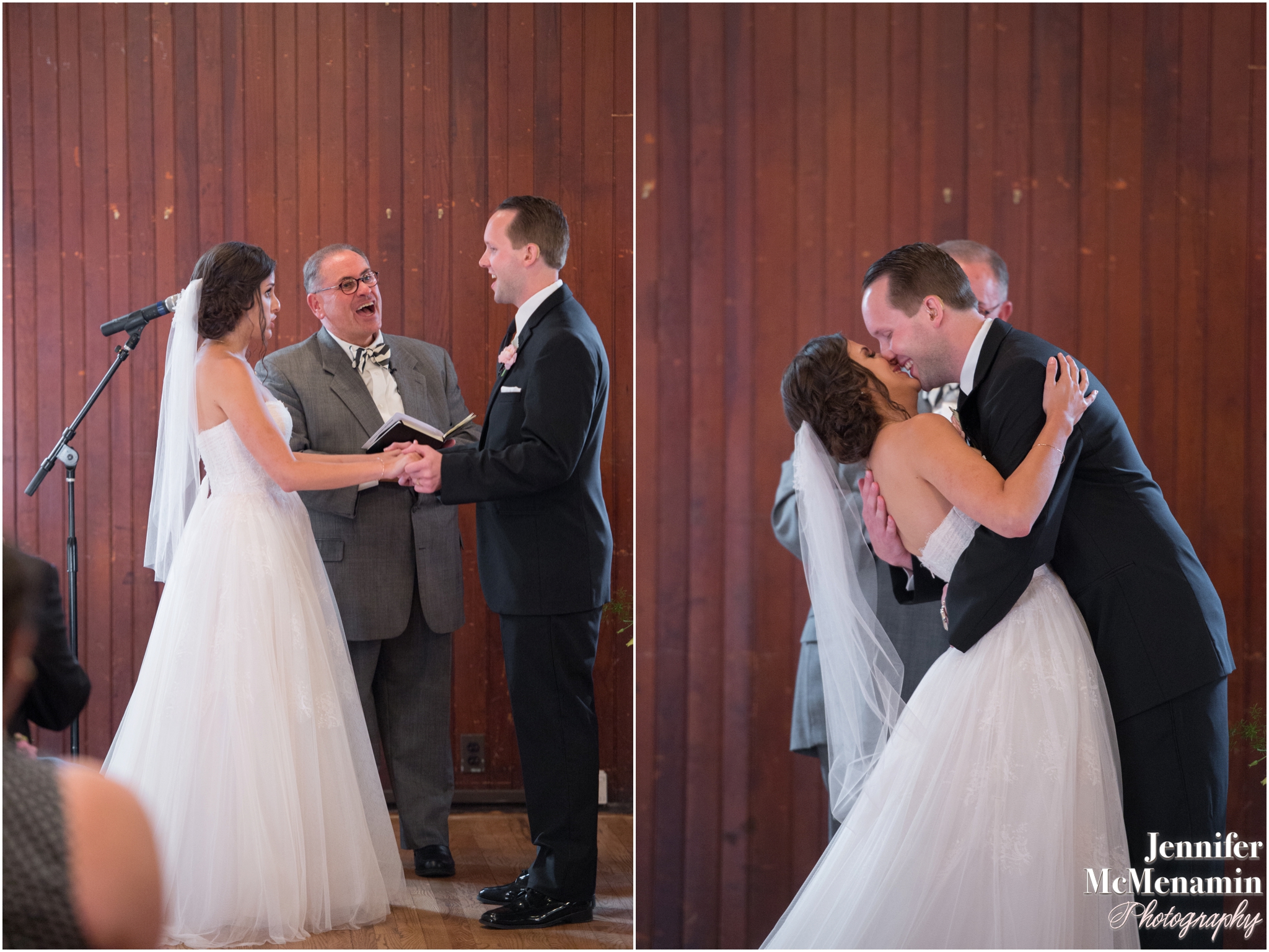 As the ceremony went on, it grew brighter and brighter outside, until gorgeous sunlight was streaming in the windows that framed Sydney and Greg as they were pronounced husband and wife. The gorgeous light remained just long enough for us to shoot a couple of post-ceremony photos in the woods before the skies turned overcast again.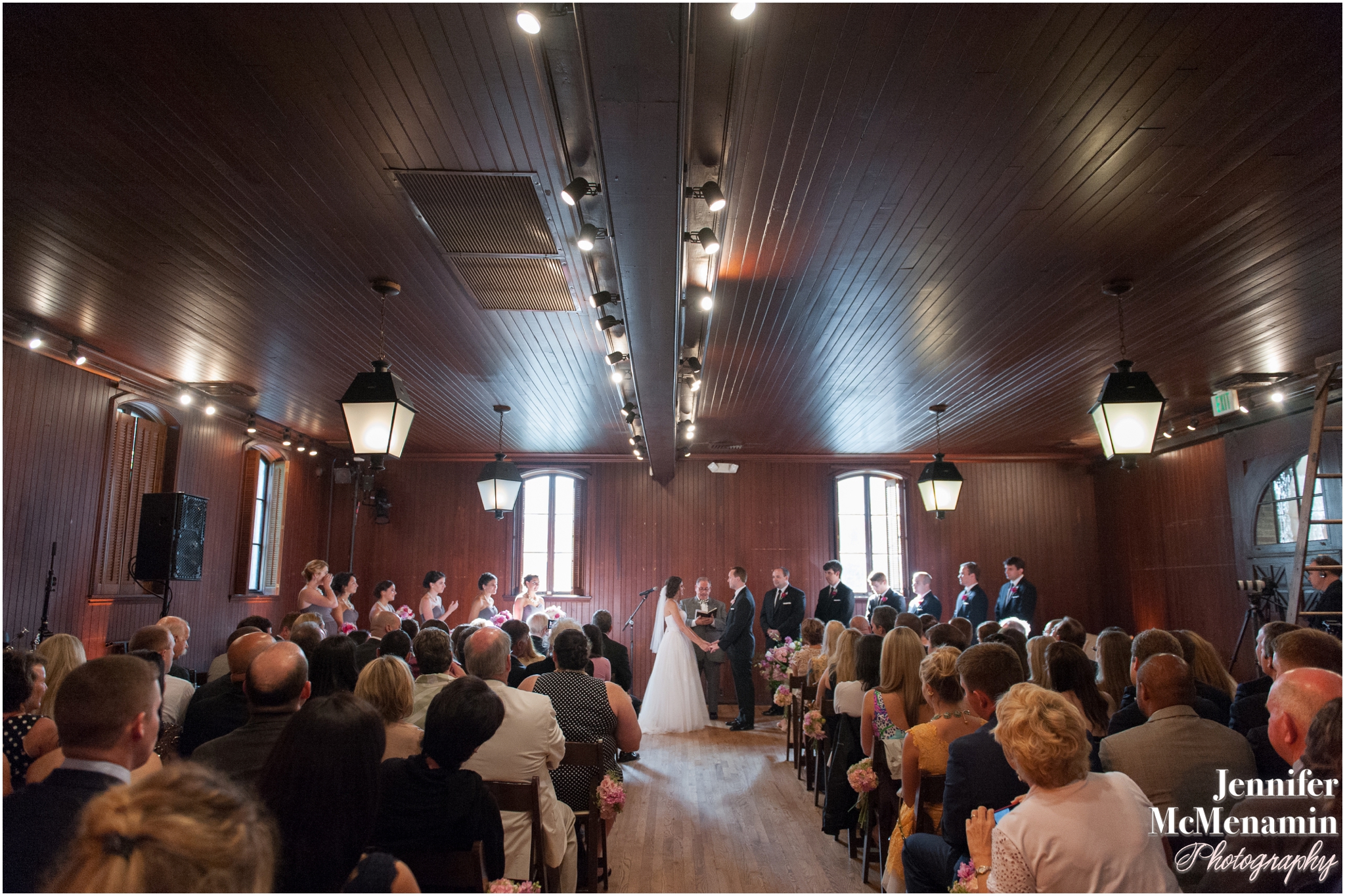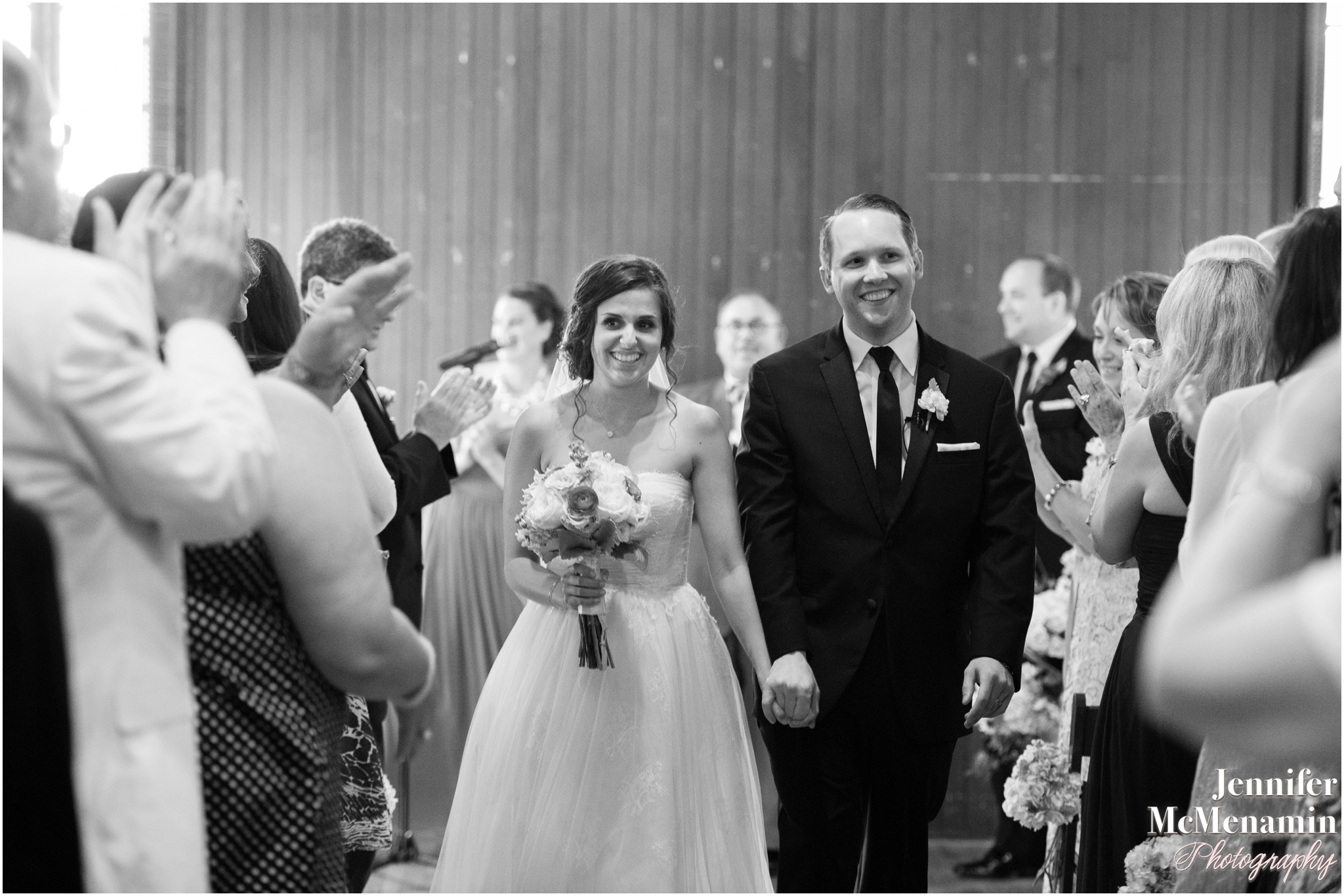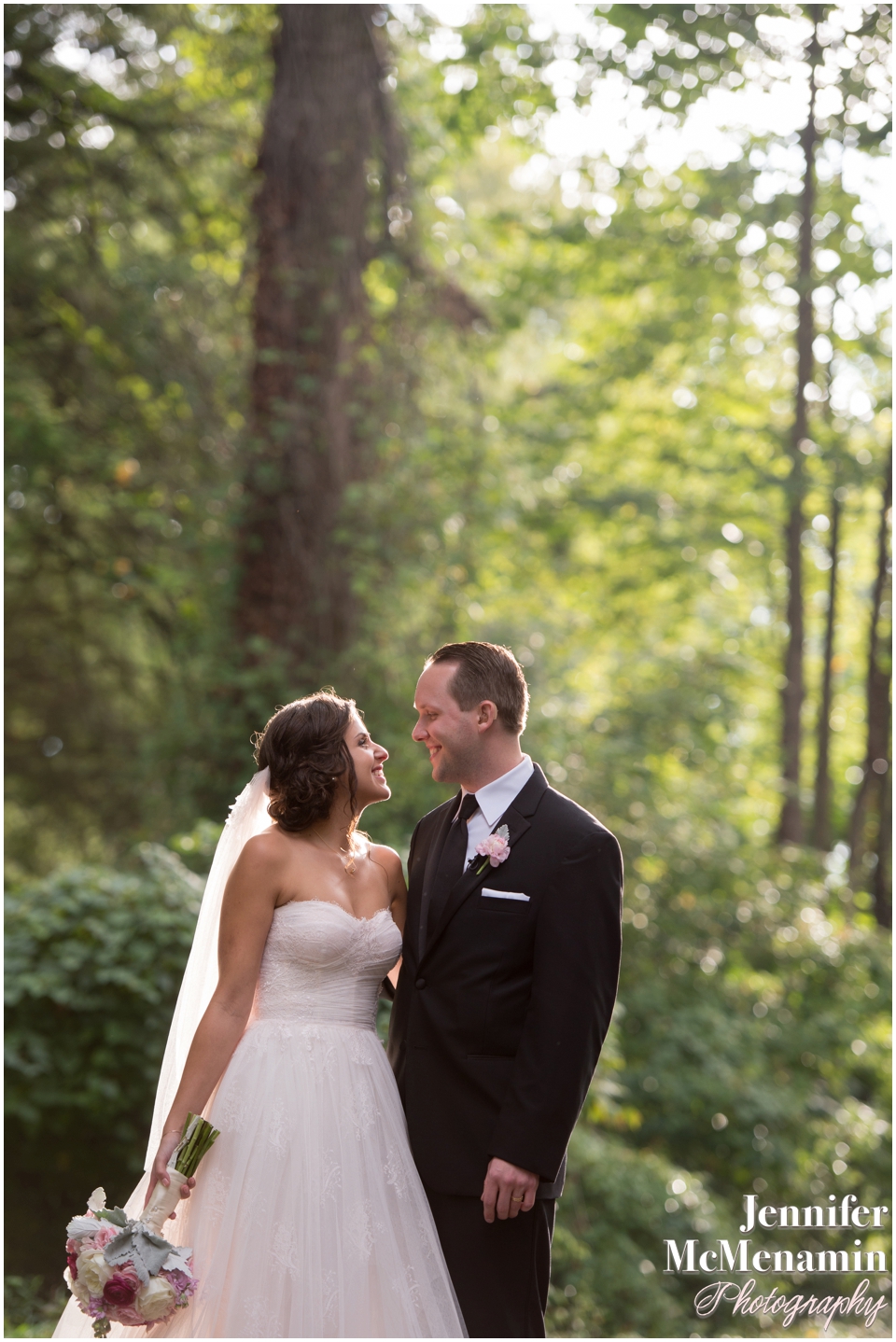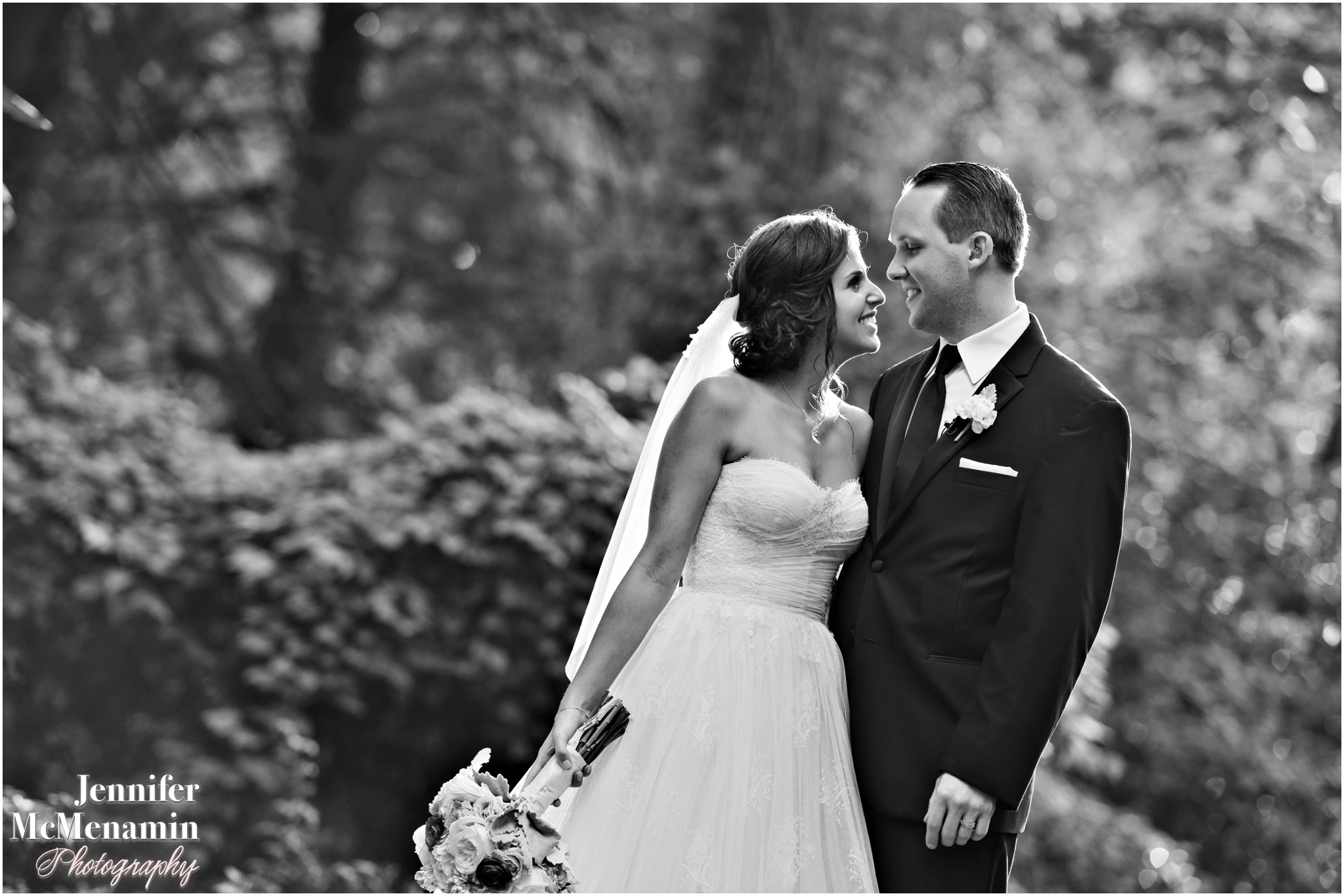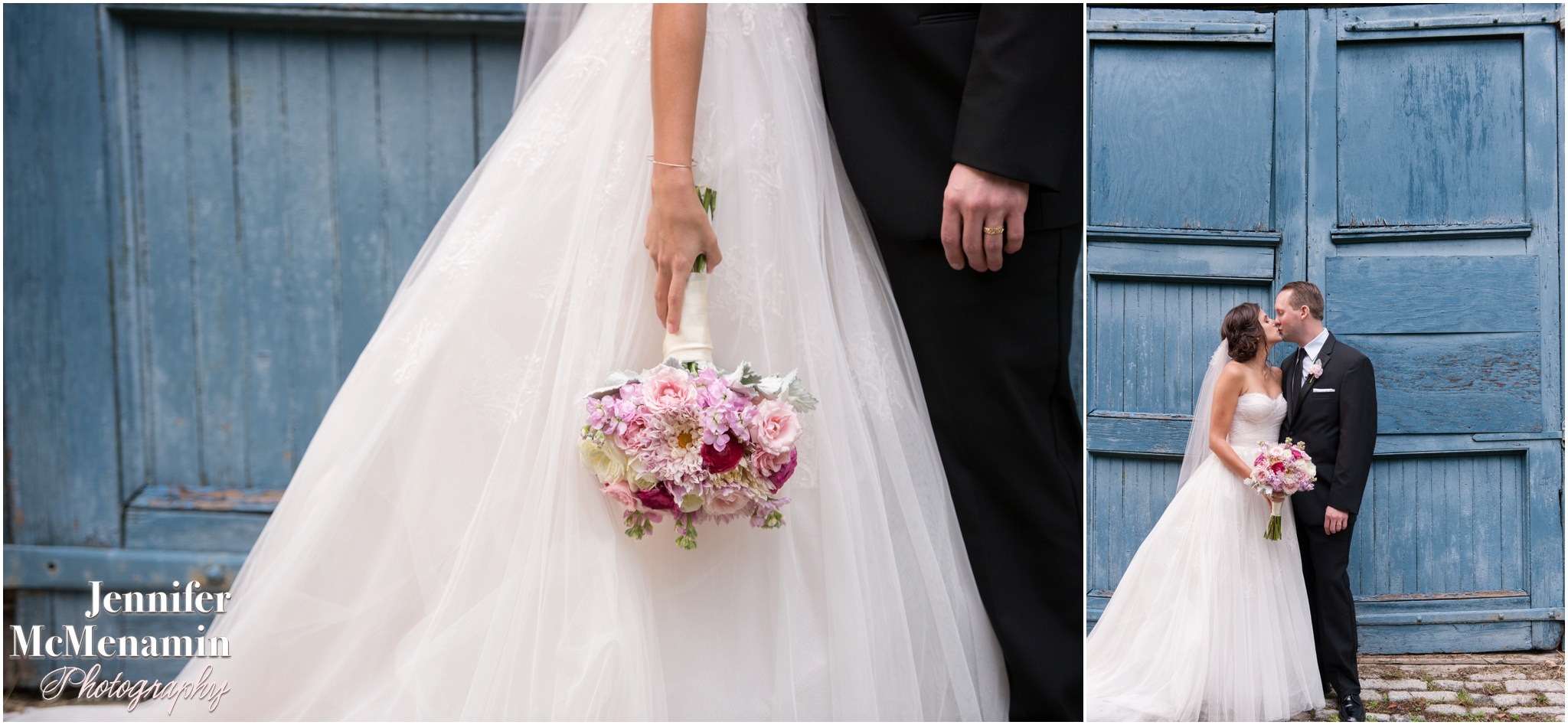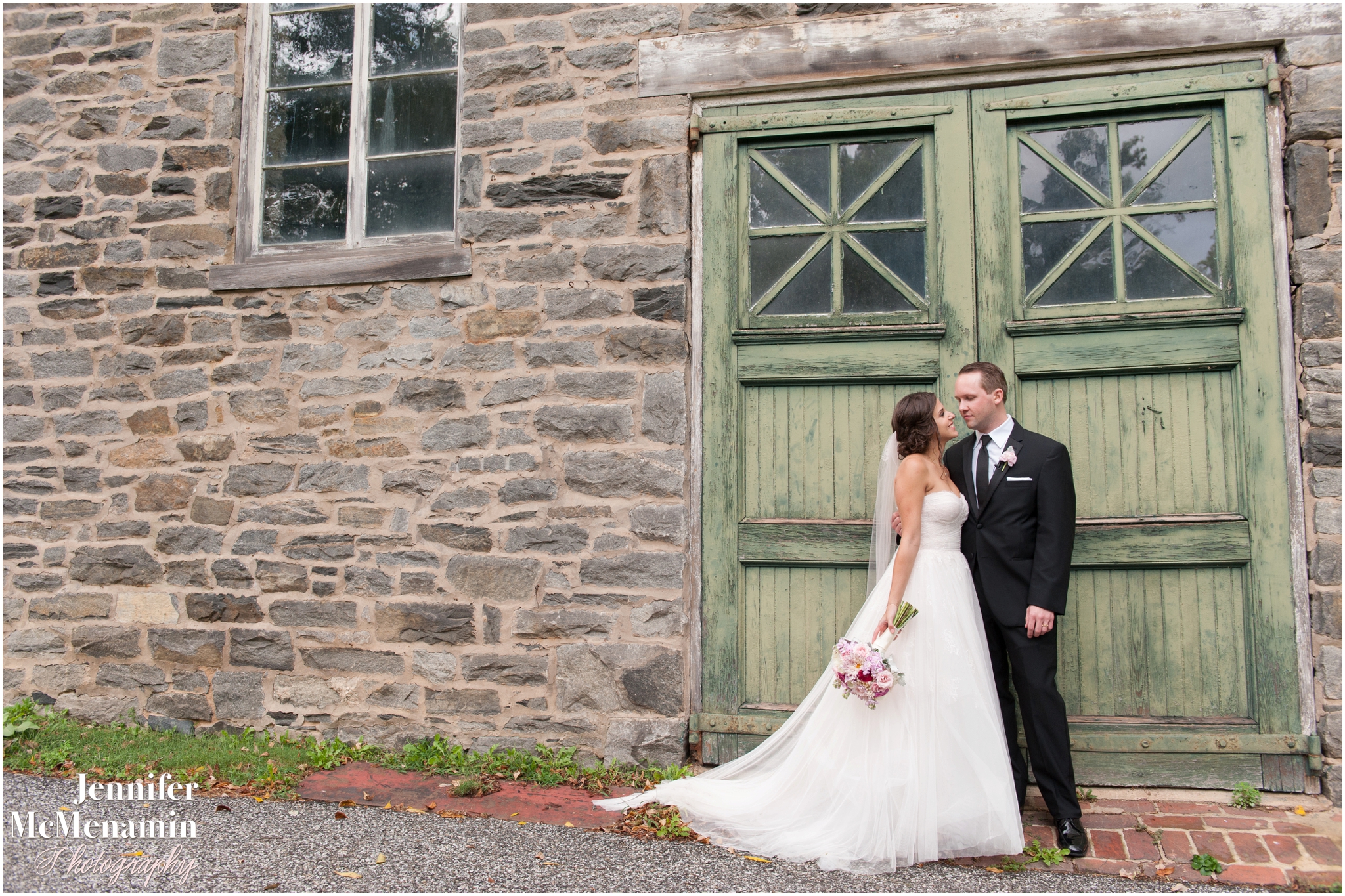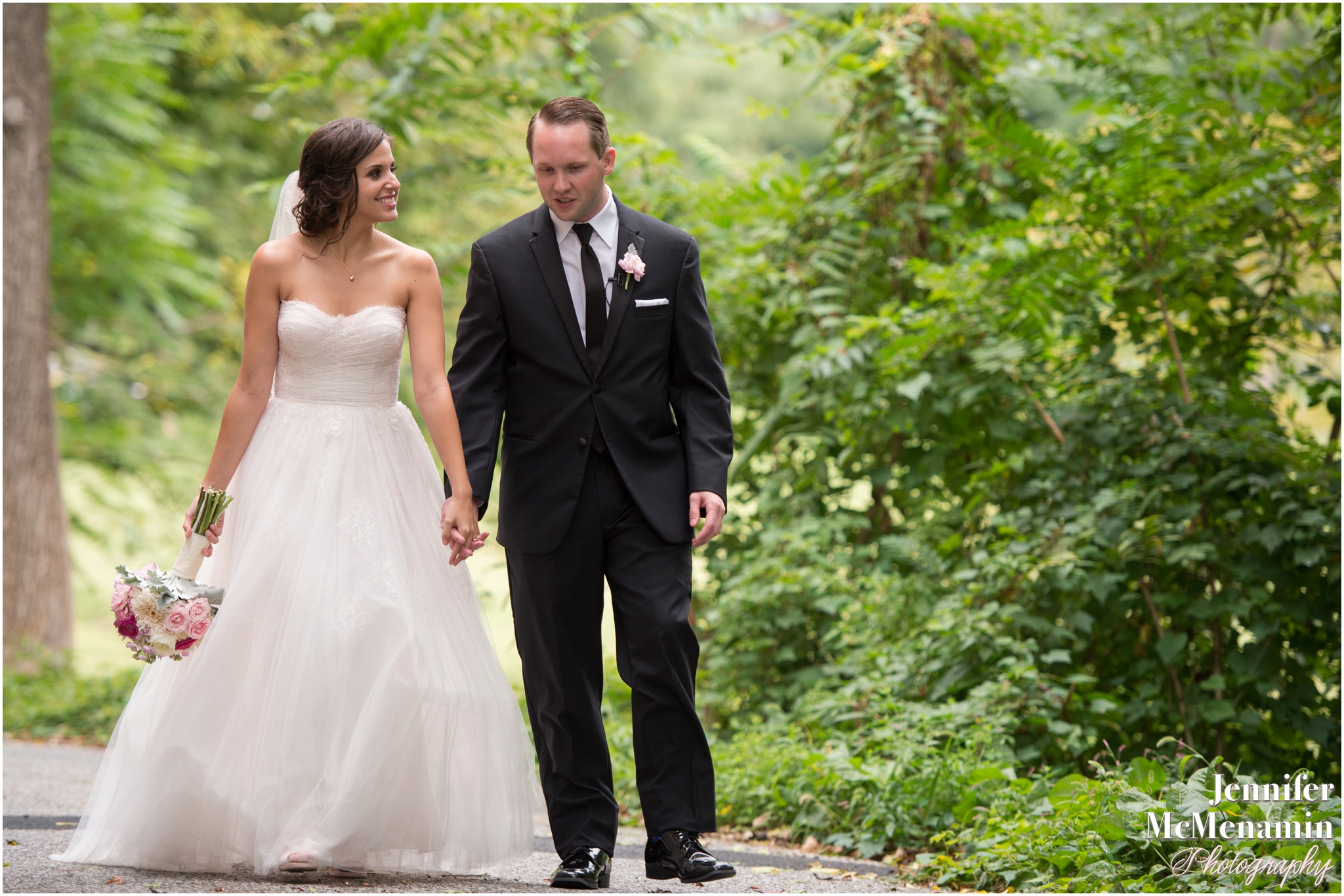 I seriously love photographing these two.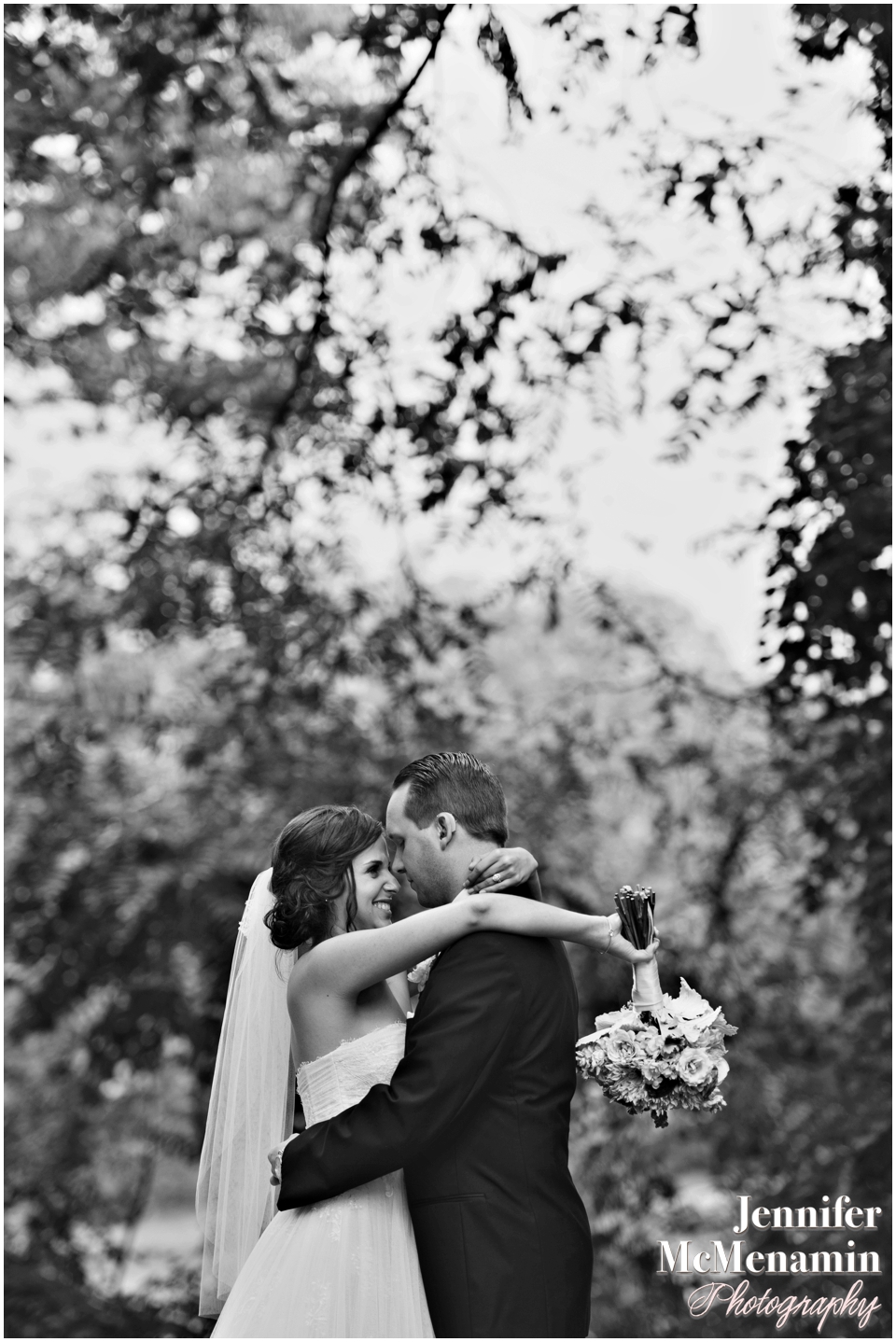 And then it was time for a party.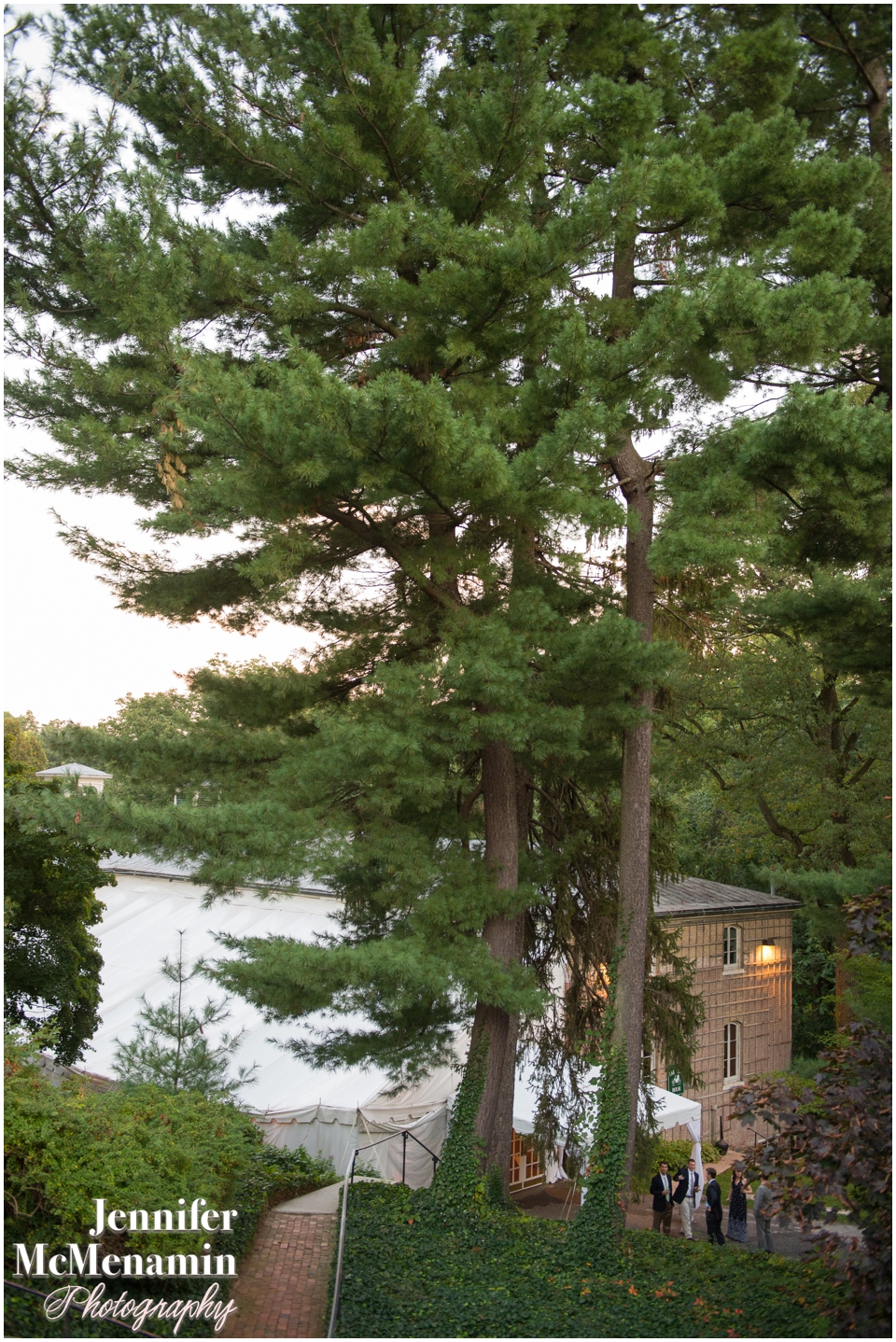 A signature cocktail.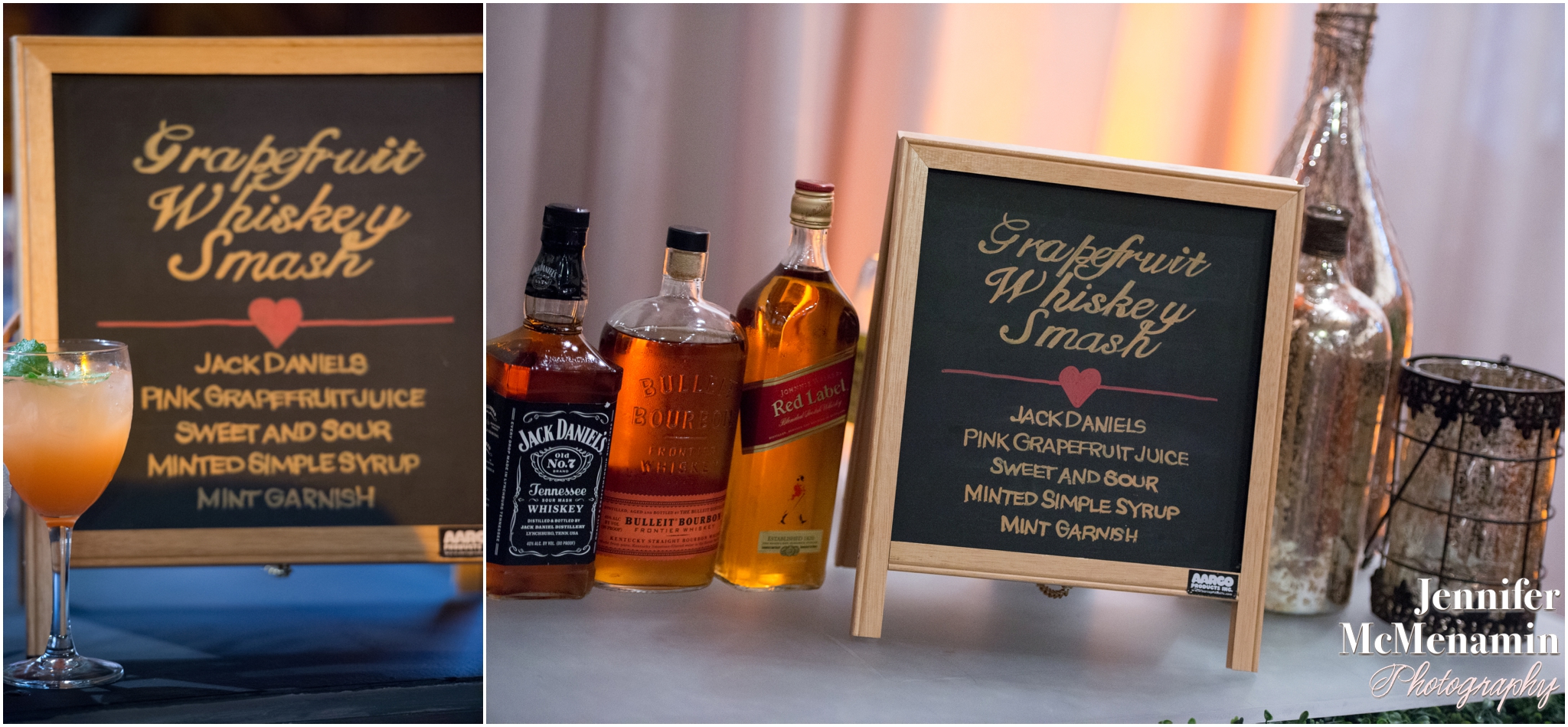 The ladder bar, complete with tiny dangling lightbulb-shaped vases of flowers.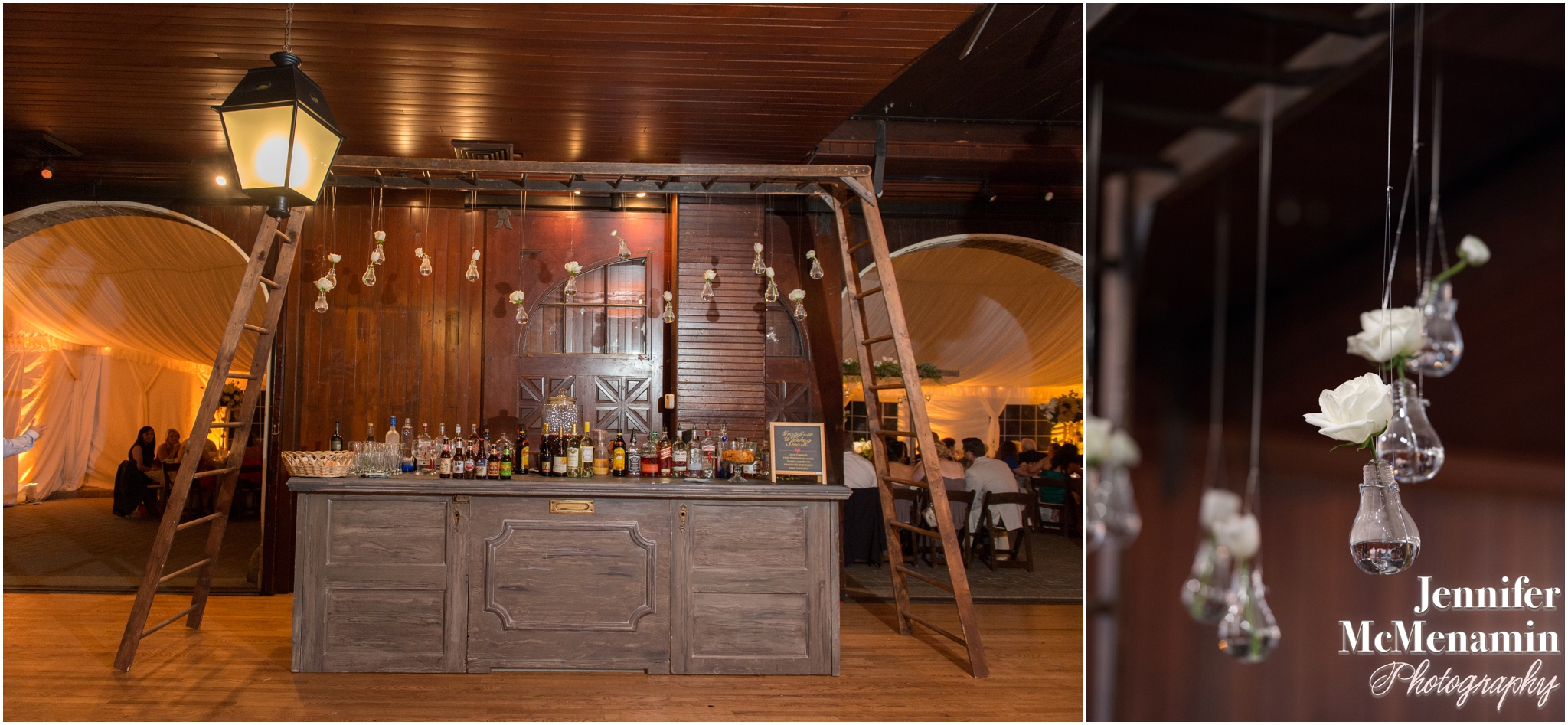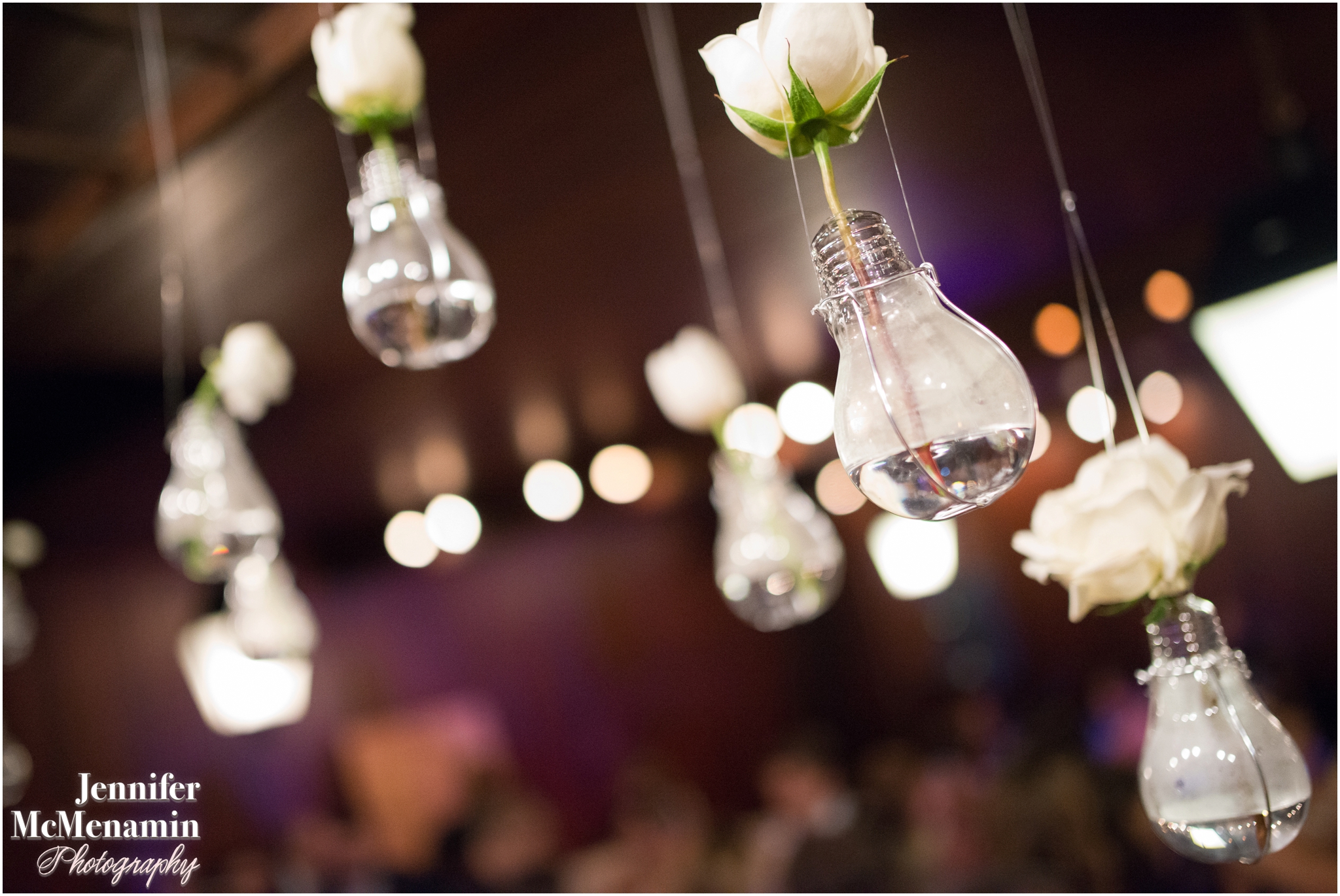 Sydney and Greg turned the stables into an elegant lounge.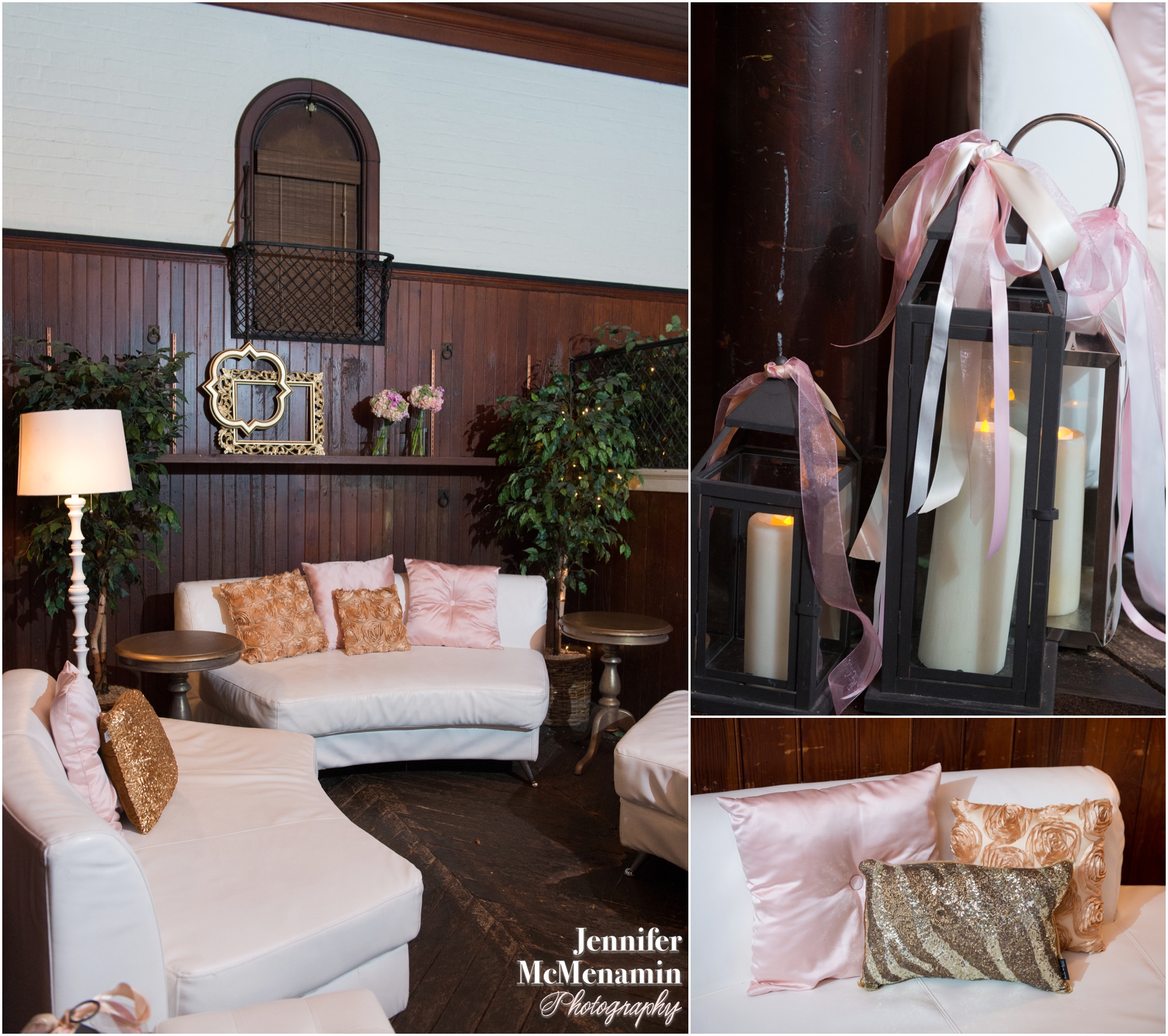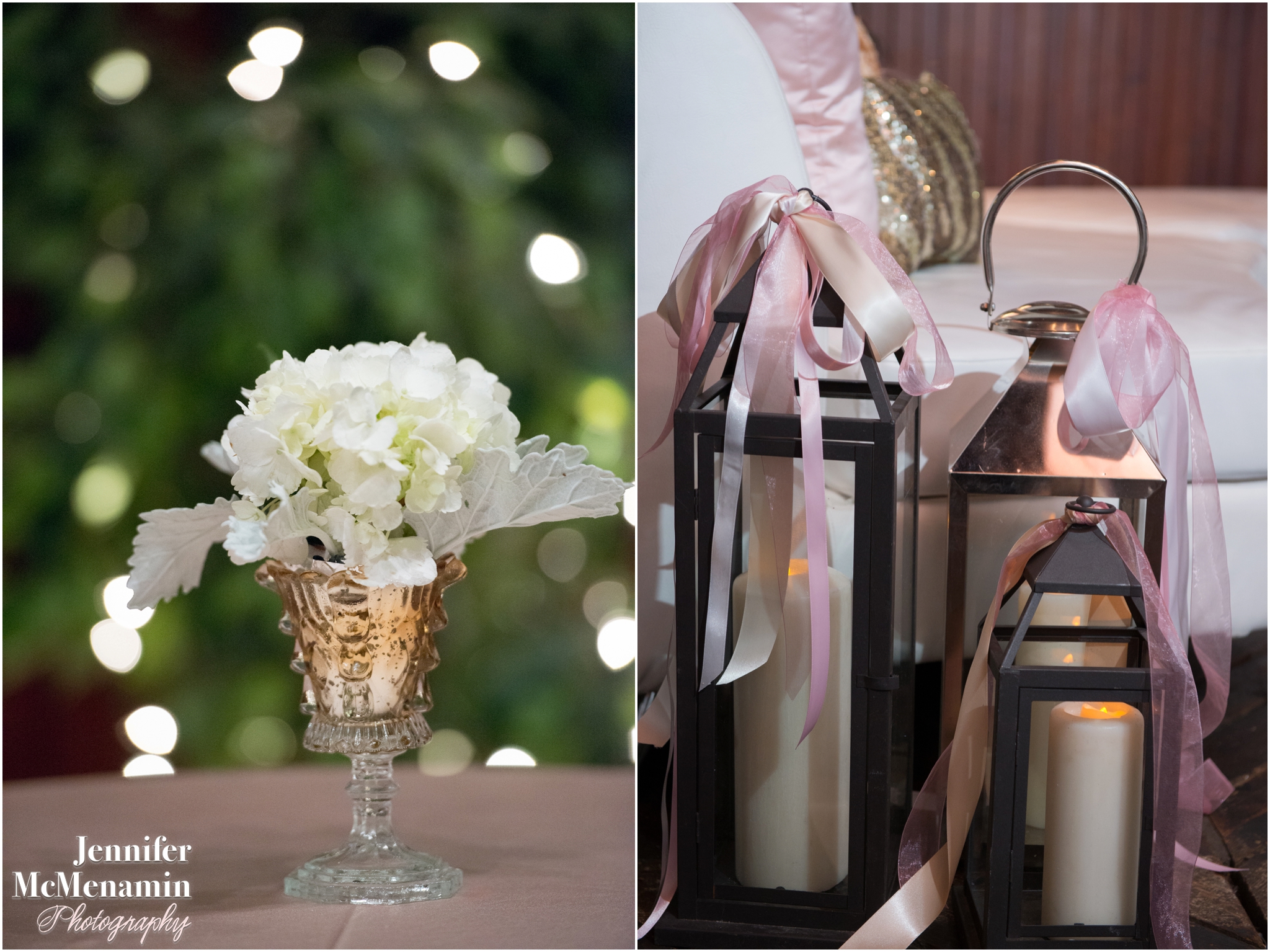 A few food details from the Classic Catering People's wonderful menu. (Public service announcement: Candied bacon wrapped around Italian breadsticks is one of the greatest snacks of all time!)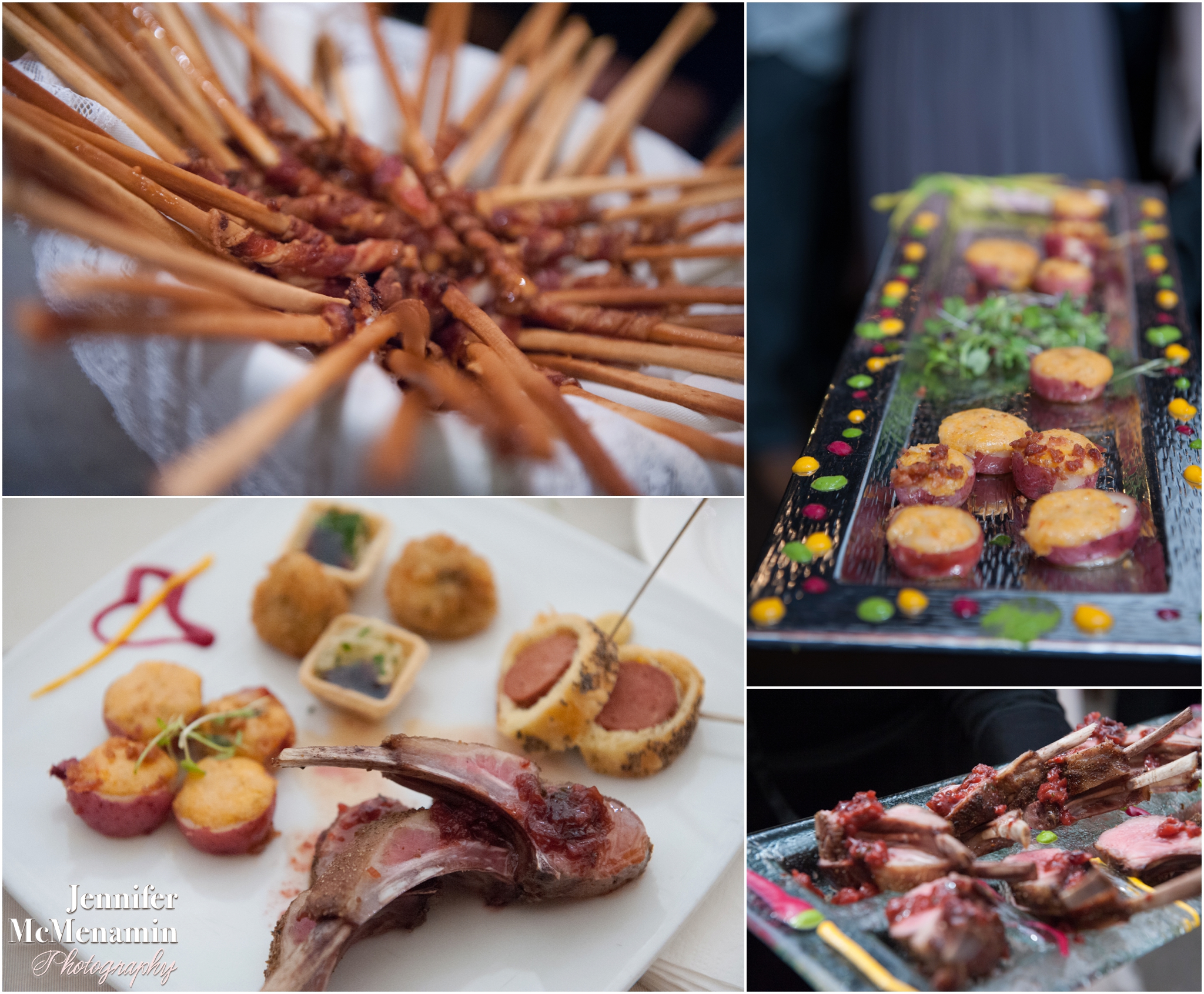 I'm not even sure what to call this piece that My Flower Box Events constructed for the head table. An arbor? An amazing flower-and-greenery-topped head table accoutrement? No matter the name. It was gorgeous. And I took sooo many pictures of it!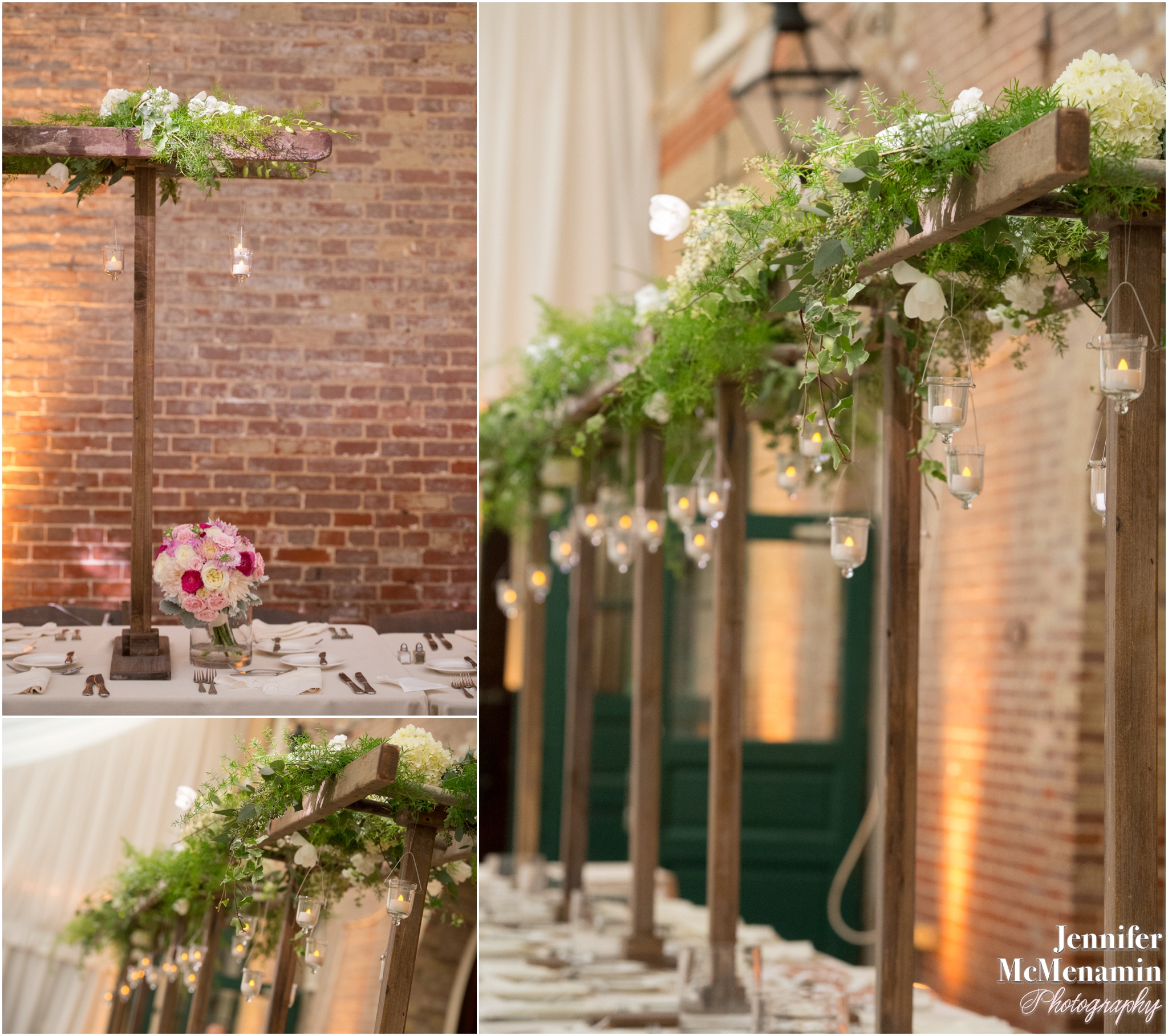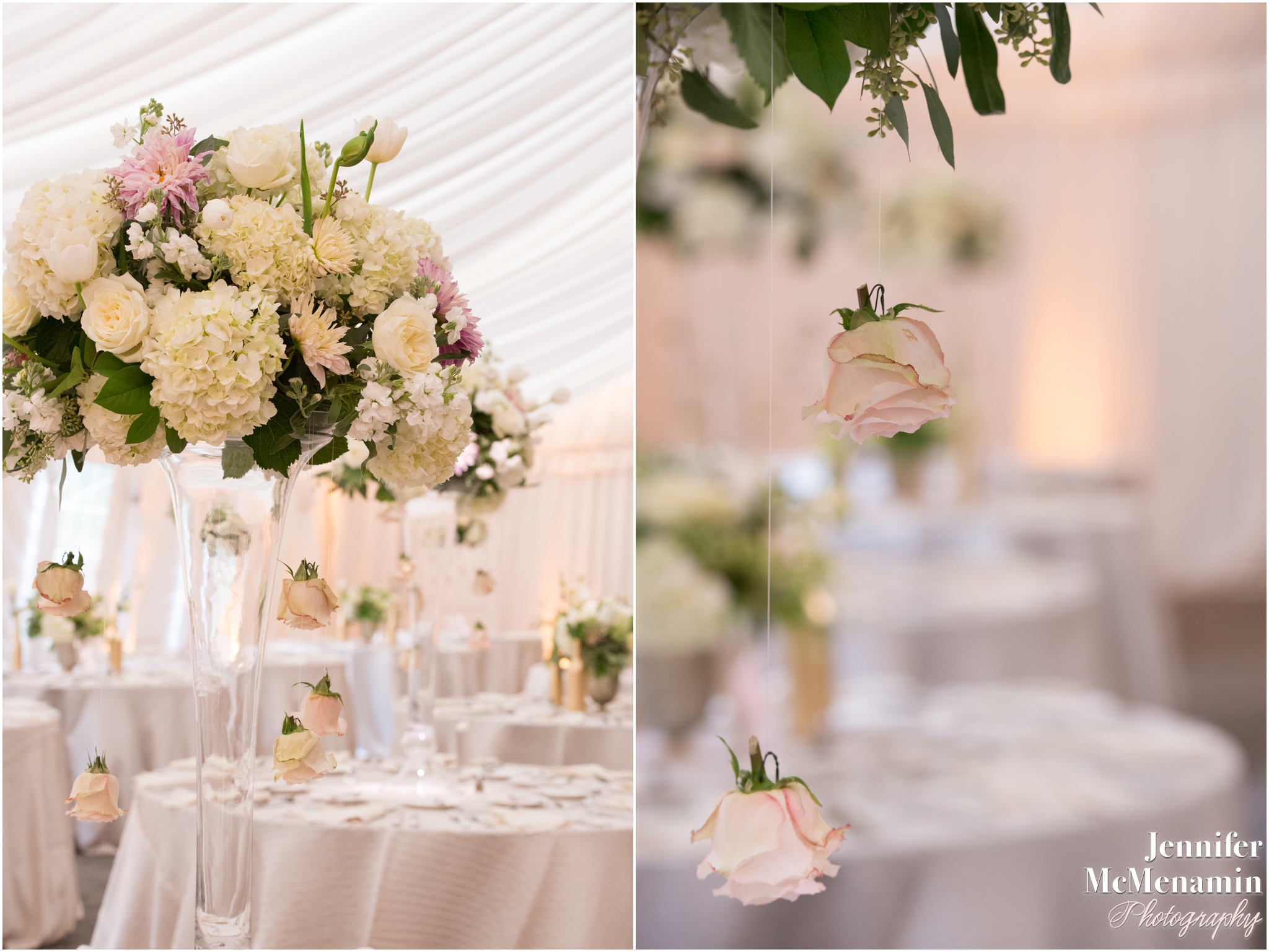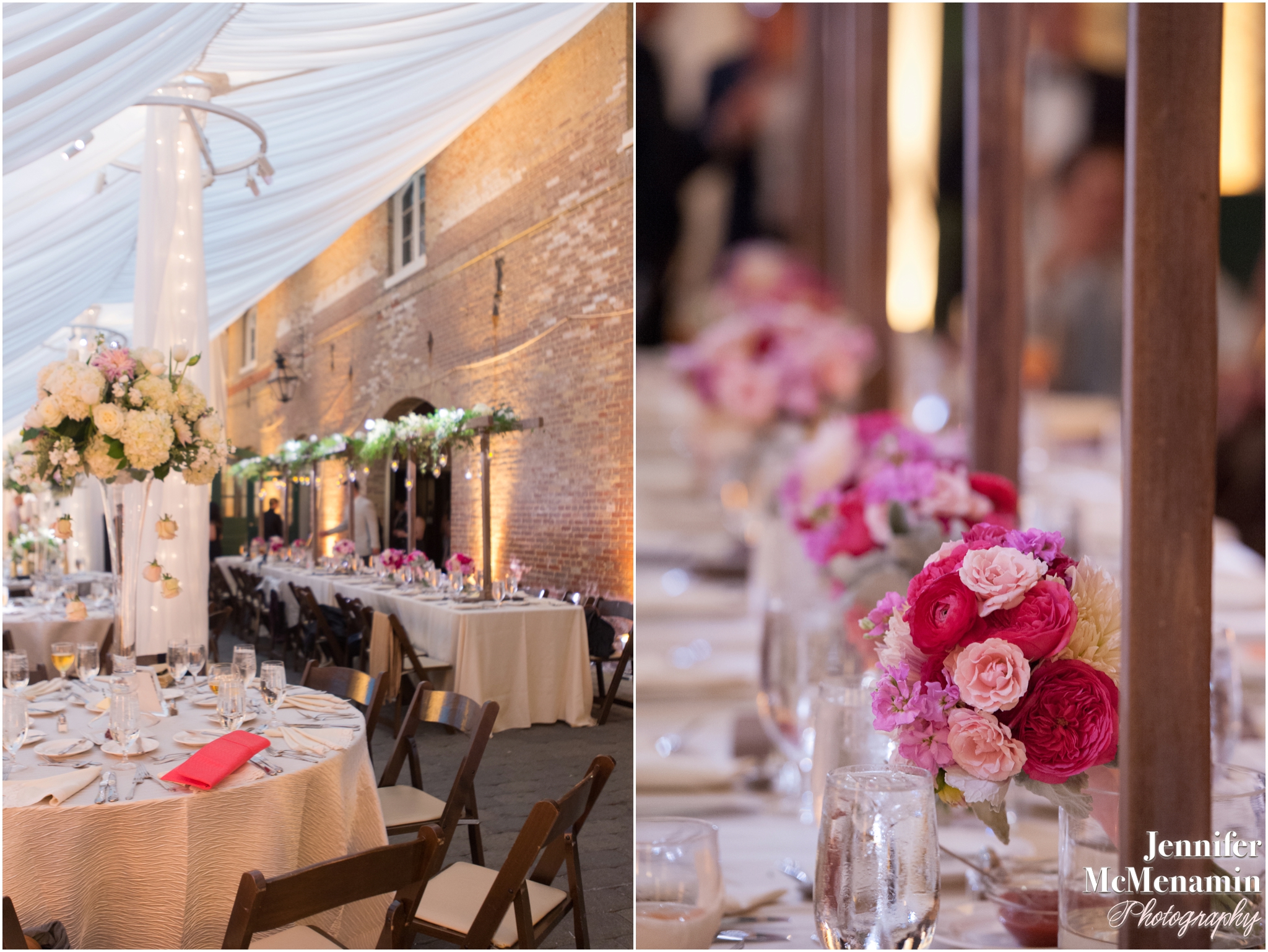 I loved that Sydney and Greg turned one of the photos I shot during their engagement session into stamps for their wedding invitations!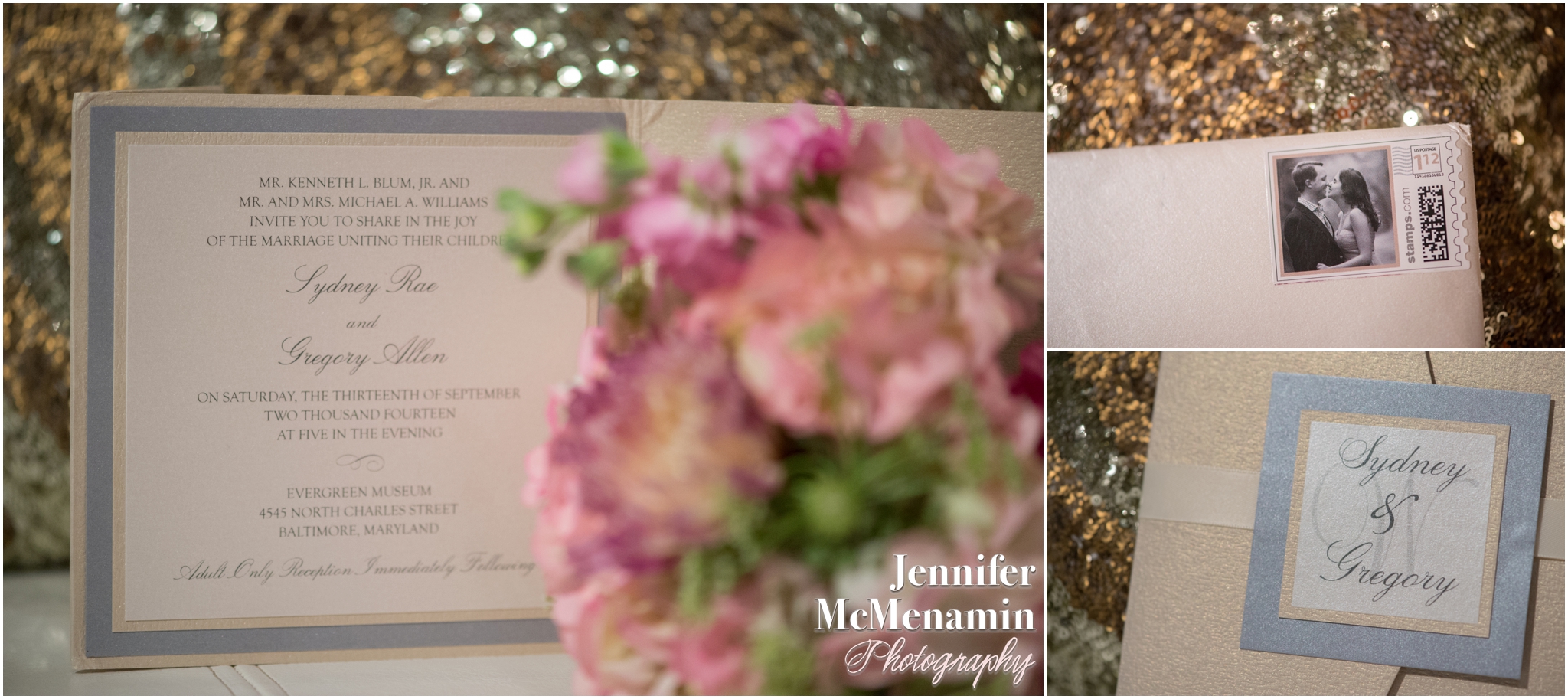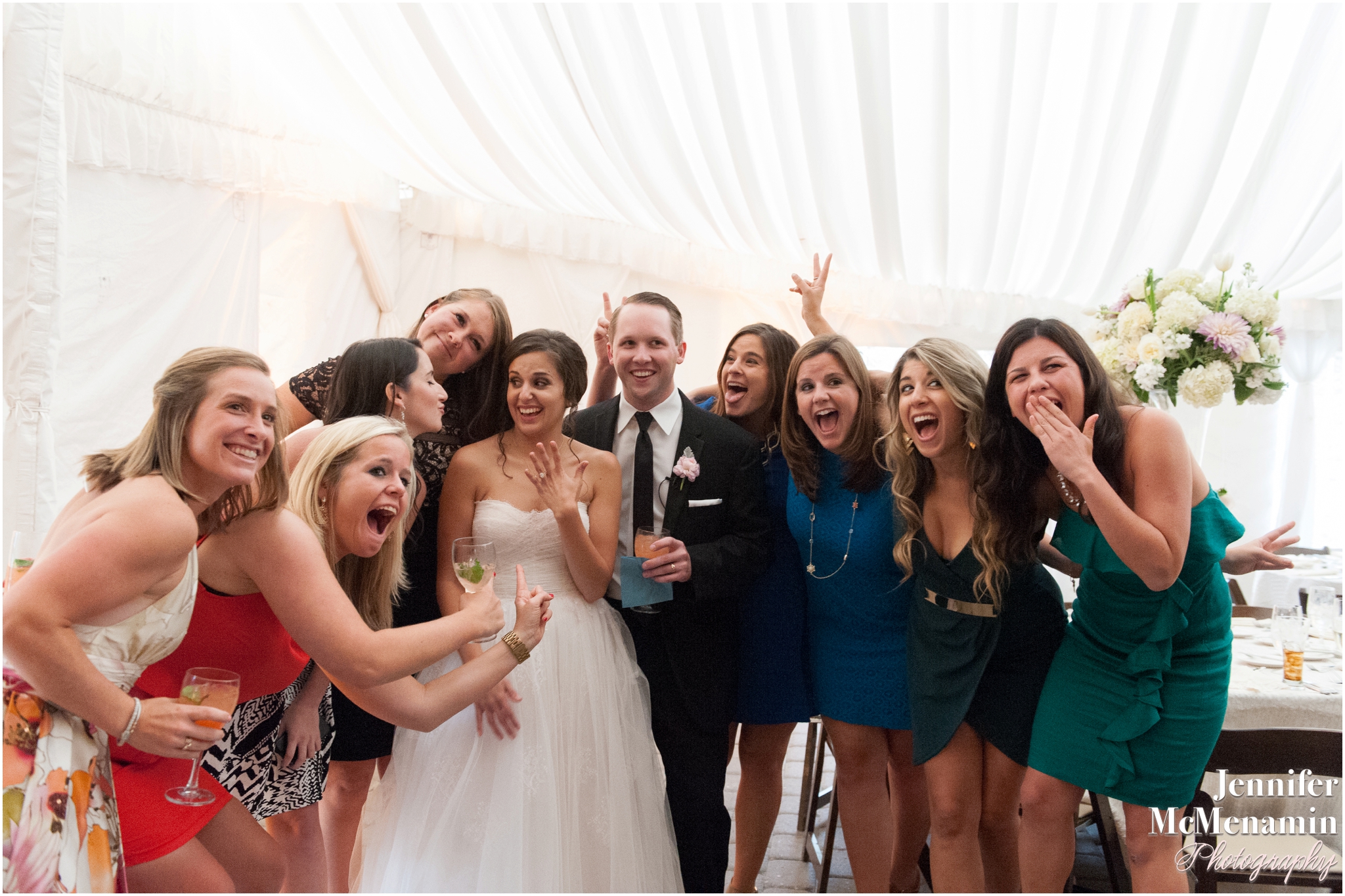 Sydney and Greg hired the always-fantastic Onyx band for their reception entertainment.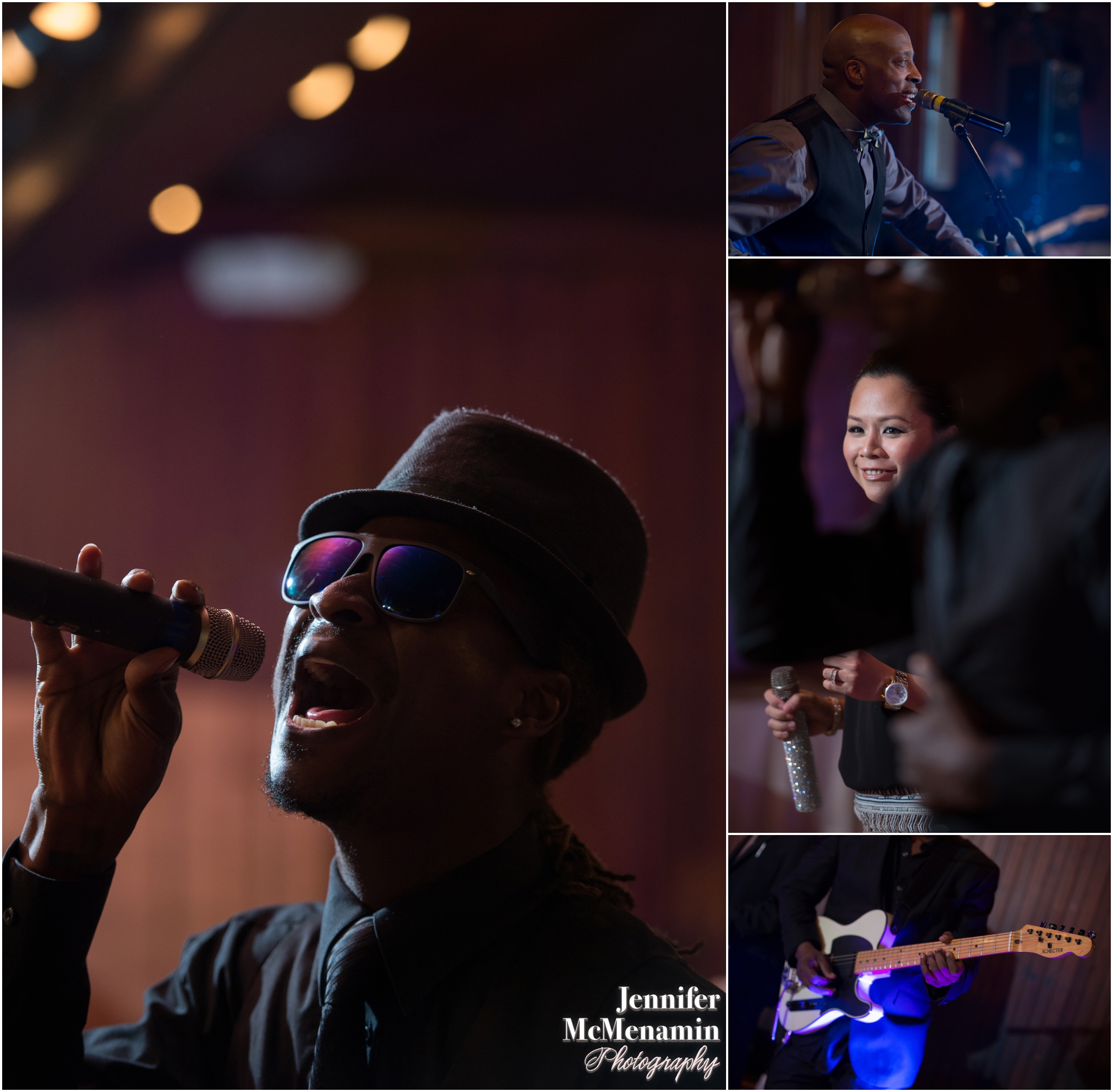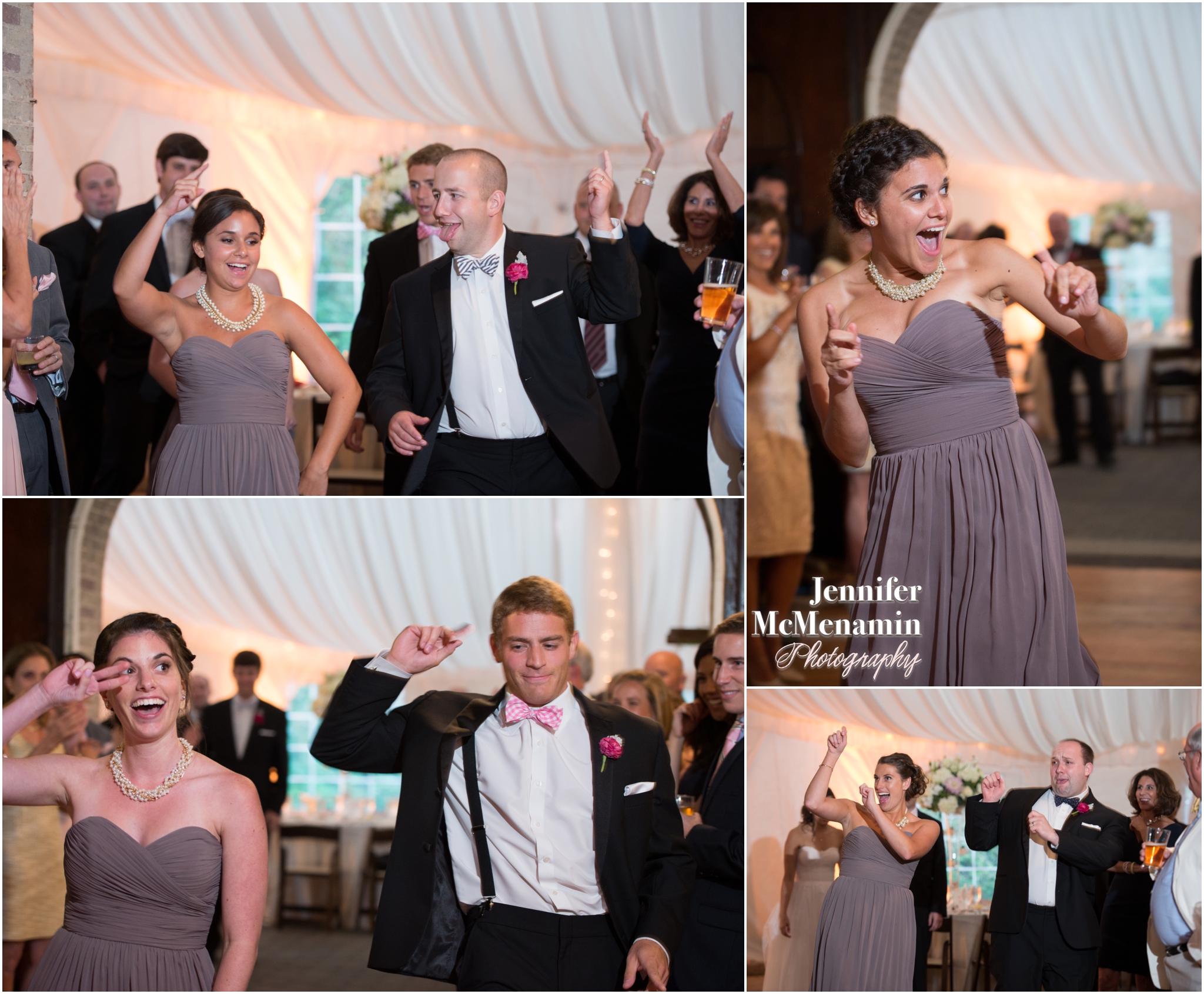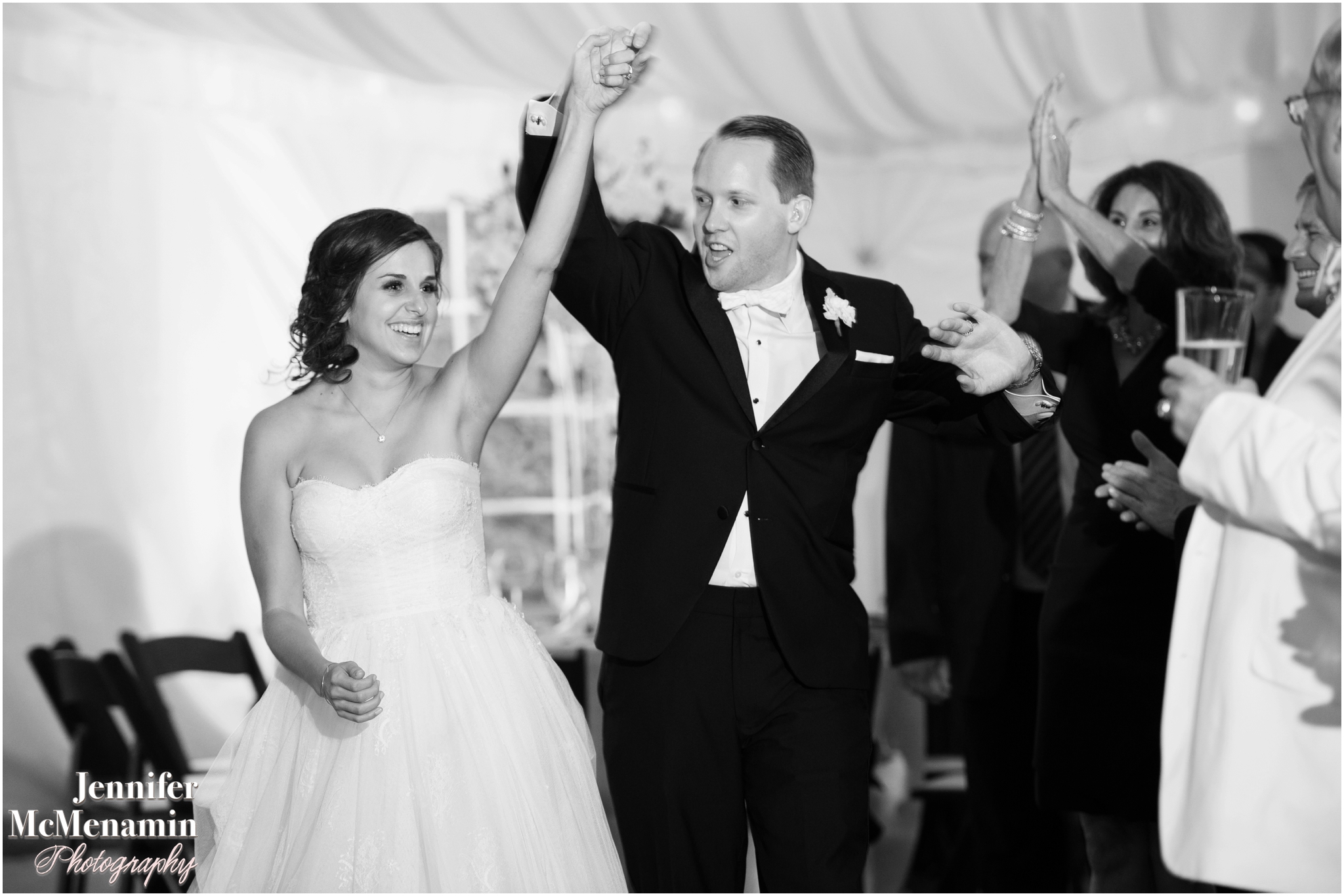 A quick welcome and thank you.

A pair of parent dances.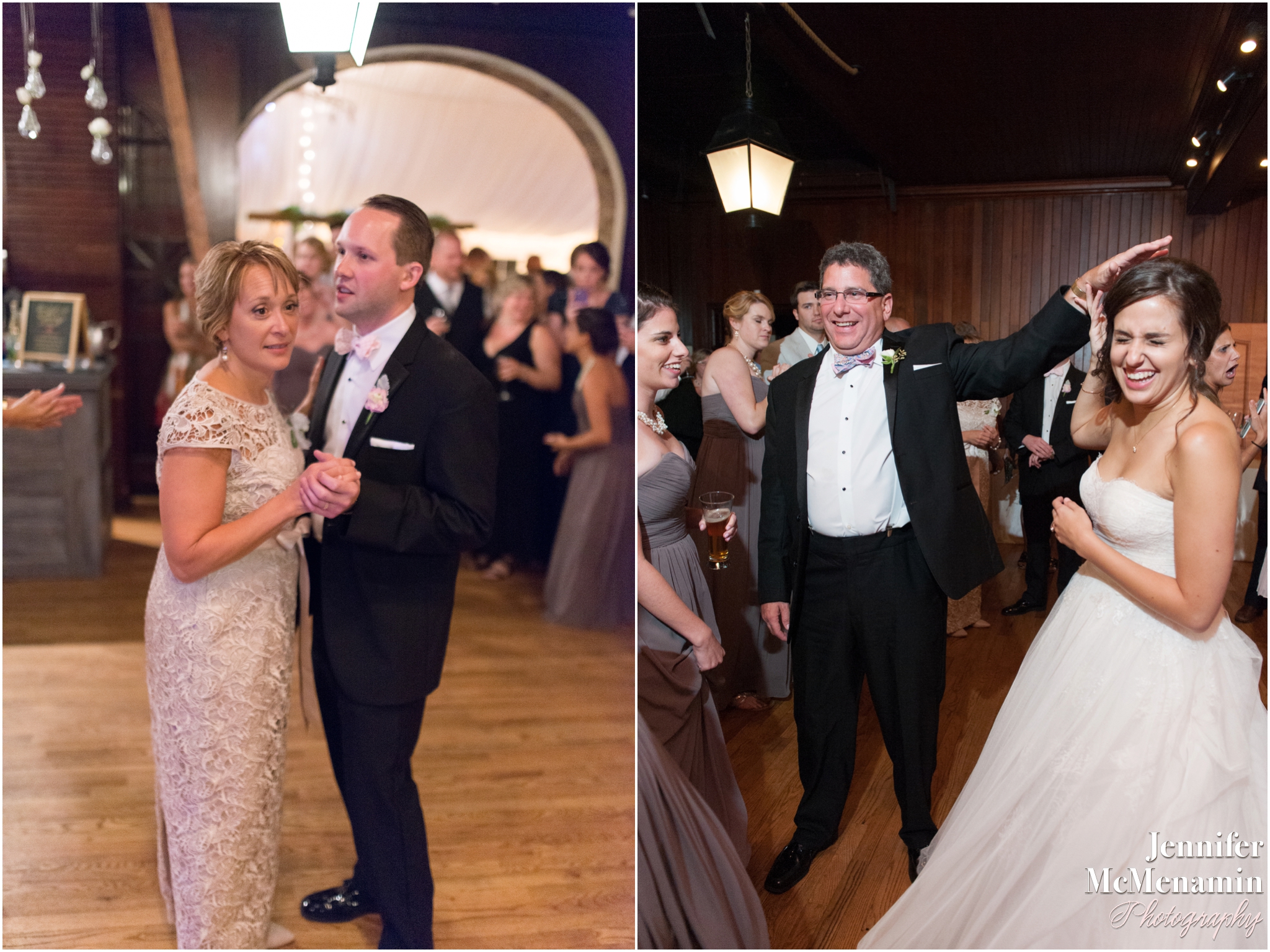 Sydney and Greg offered beef jerky, made by a friend, as favors at the end of the reception. I love that Classic Catering dressed it up with fancy flower arrangements next to the, you know, jerky. "Mark my words," Sydney told me early in the afternoon as she and her bridesmaids started getting ready. "Beef jerky is going to be the hot wedding favor by this time next year." Hmmmm.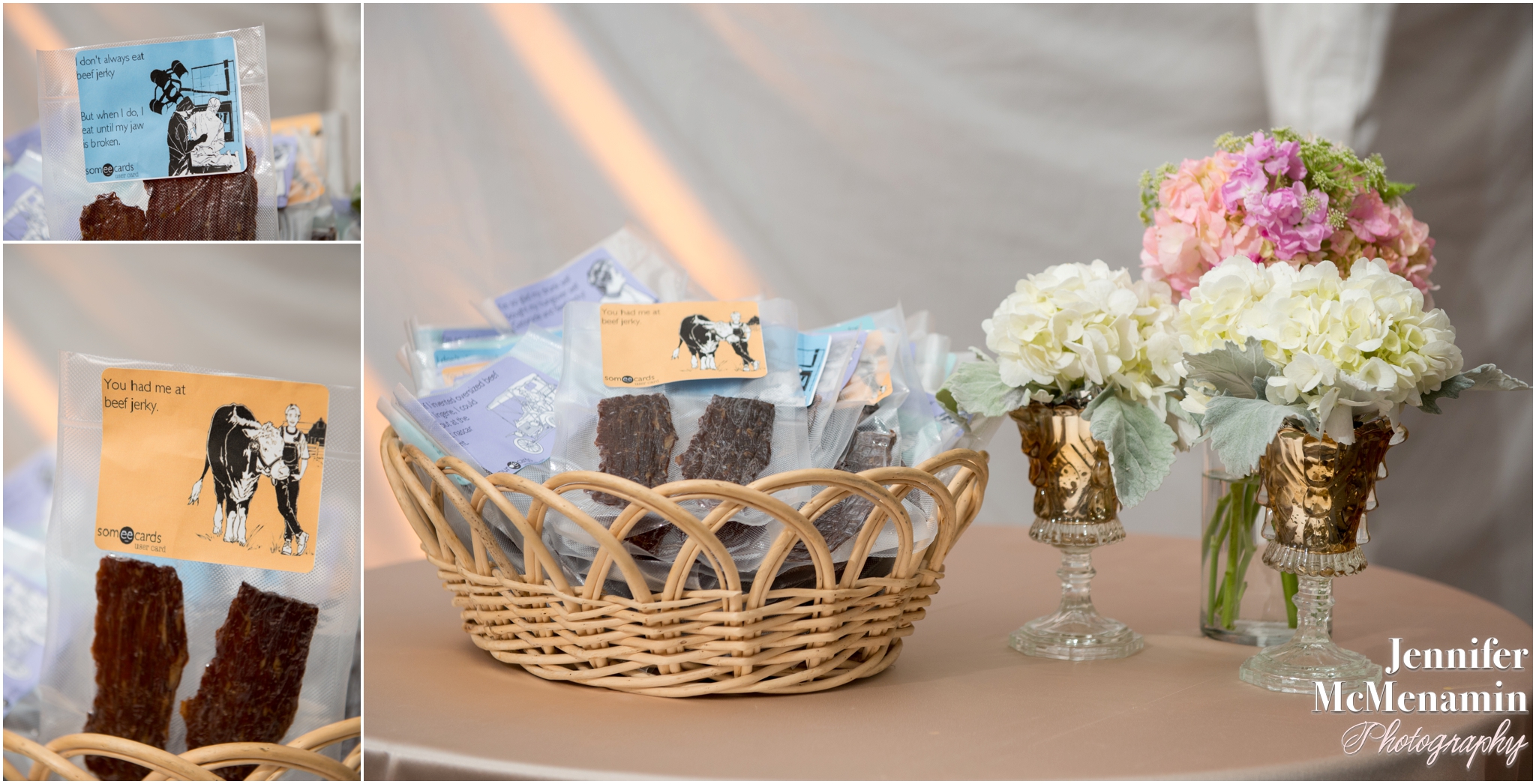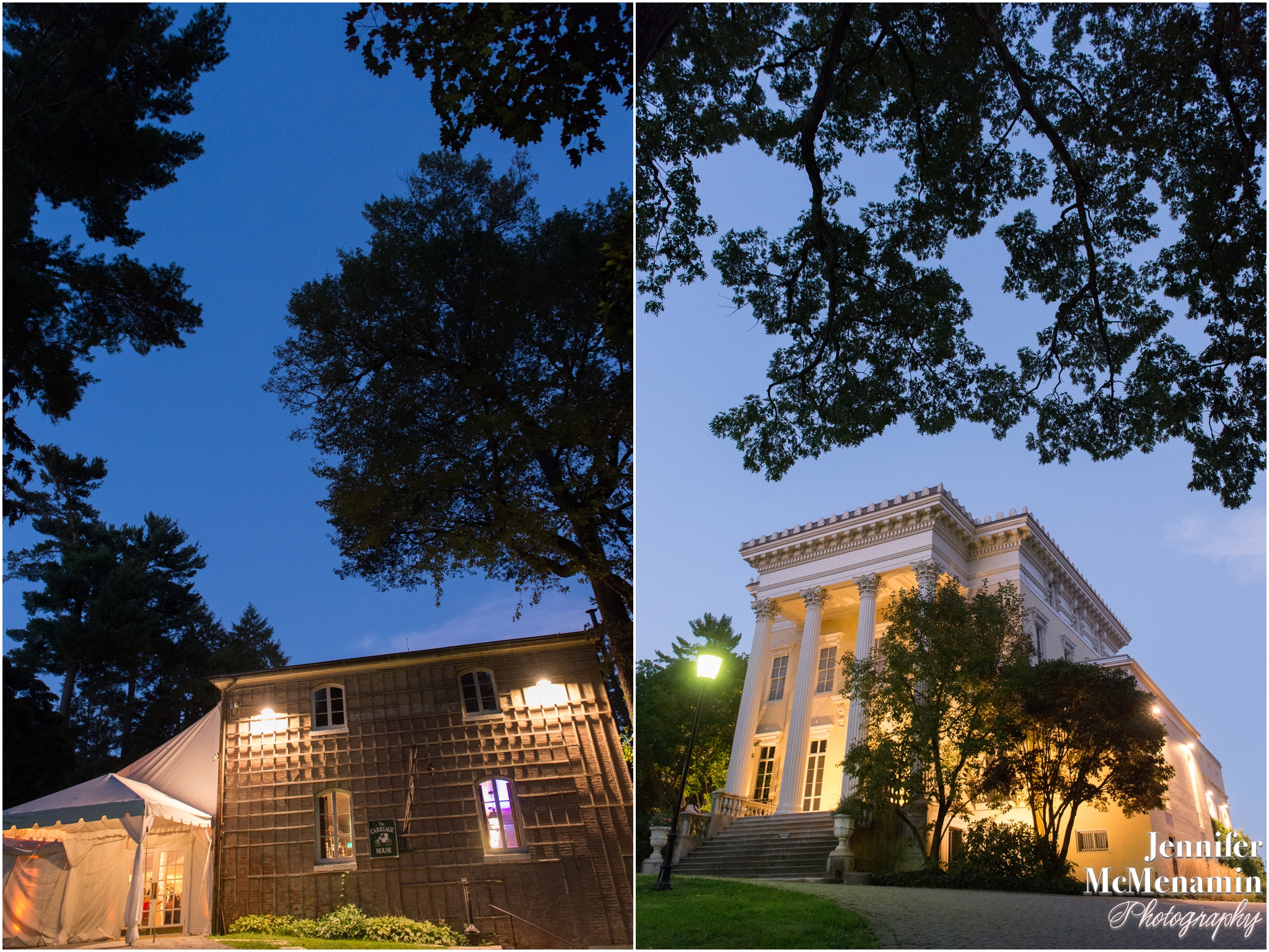 Many, many congratulations, Sydney + Greg. I could not have had more fun with the two of you. Thanks so much for trusting me to capture such a wonderful day for you and your families!
Credits:
Photography: Jennifer McMenamin Photography, LLC

Ceremony & reception: The Evergreen Museum & Carriage House
Officiant: Family friend, Denny Xenaxis
Ceremony musicians: DaVinci Strings

Catering: The Classic Catering People
Event coordinator: Charlene Libertini
Lighting designers: Chicka

Rentals: Gala Cloths and Chicka 
Bridal attire: Monique Lhuillier gown from the Betsy Robinson Bridal Collection
Make-up: Adriana Misoul

Hair: Lesley Mahla

Bridesmaids' attire: Watters and Watters gowns from the Betsy Robinson Bridal Collection
Groom's attire: Jos. A. Banks tuxedo

Florist: My Flower Box Events
Cake: The Classic Catering People

Band: Onyx

Videographer: Zinnia Films
Transportation: American Limo

Invitations: Kindly RSVP Designs