Rebecca & Charles

St. Michael Lutheran Church, Klausmeier Garage + Klausmeier Farm -- Baltimore wedding photography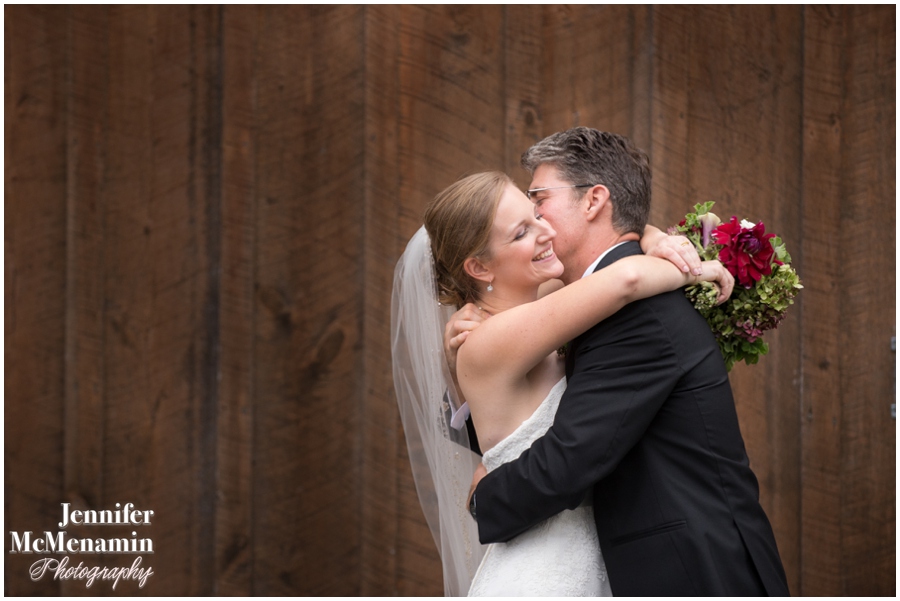 When an e-mail from a client lands in my inbox at 11.20 p.m. the night before their wedding, it's usually a bad thing. They're up late working on final projects and stressing out about something or worrying about the weather forecast and wanting to talk about rain plans or some other concern. Not so with Rebecca. Her "One last thing!" e-mail, which followed four or five days straight of heavy rain the week of her wedding on her family's farm, left me with goosebumps and happy tears: "Charles and I spent the day at the farm/reception site with family working on decorations and 'water management,'" she wrote. "I've been thinking of your question about any special parts of the day that we want to be included in the photographs. Now that we've spent the majority of the day with our aunts, uncles, parents and cousins running around the farm with flowers, pumpkins, and ingenious improvised rain spouts, I think I have an answer! So many people have put so much time into making the place look absolutely beautiful, and I would love for everyone's effort to come through in the photos. Two of my aunts spent the day decorating the barn; two of my cousins hung countless feet of garland around the inside of the tent; the guys of the family carted around straw bales and gourds to make everything look festive. I just can't believe everything that everyone has done, and I'd love to have their work show up in the photos." Even though I spent but a few minutes with Rebecca before her actual wedding day, I came to think of this as Classic Rebecca. Less than 10 hours before her parents' home would be descended upon by her bridesmaids, her uncles with their vintage cars, her hair and make-up team, floral deliveries and my assistant and me, she was thinking of her family and friends and wanting to be sure their heroic efforts to give her the wedding she had envisioned were reflected in her photos. This same thoughtfulness and attention to detail was woven throughout Rebecca and Charles' big day, from the little signs in the cocktail hour barn warning guests about the uneven floor to the massive display of family wedding photos, including those who married at the same church where Rebecca's parents exchanged vows in 1967 and where Rebecca and Charles said their "I do's" 46 years later. I would be remiss in not mentioning that Charles and Rebecca have one of the most magnificent love stories I have ever heard. They were introduced by one of Charles' lawyer colleagues who e-mailed Rebecca, his daughter's sixth-grade science teacher, completely out of the blue after accompanying the class on a field trip. There was just something about Rebecca that made him think she'd be a good match for Charles, he recounted during his toast at the wedding. After sweating it out fore more than a week, the attorney finally received an e-mail back from Rebecca, which he passed along to Charles. And that's how we all found ourselves at St. Michael's Lutheran Church and the gorgeous Klausmeier Farm last month for a truly touching wedding. Hooray for love and hooray for meddlers! Here are some of my favorites from Rebecca and Charles' big day:
I was lucky to have a friend and very talented colleague, Sam Levitan, working with me as my assistant for this wedding. His photos — including this great shot of Rebecca's parents' calendar during bridal preparations — are mixed in with mine.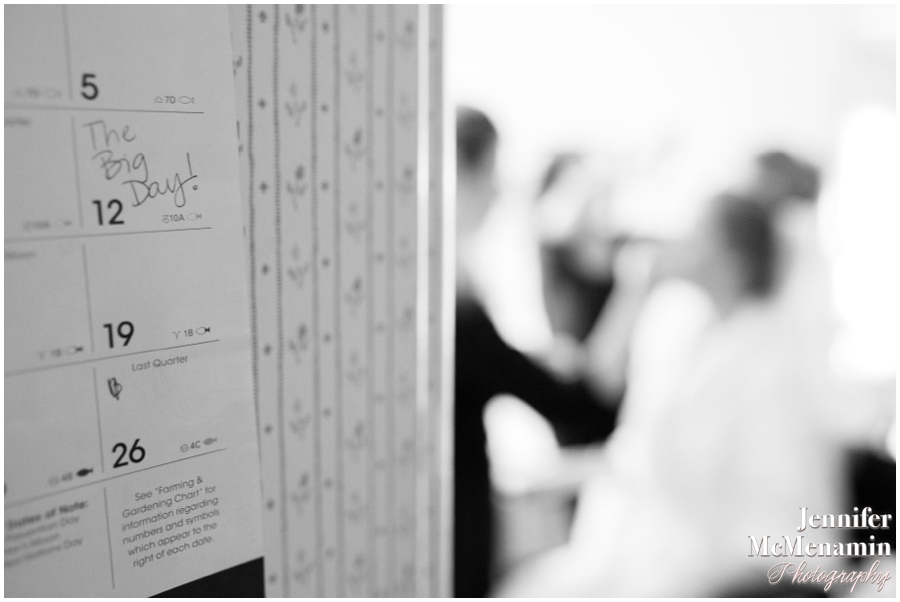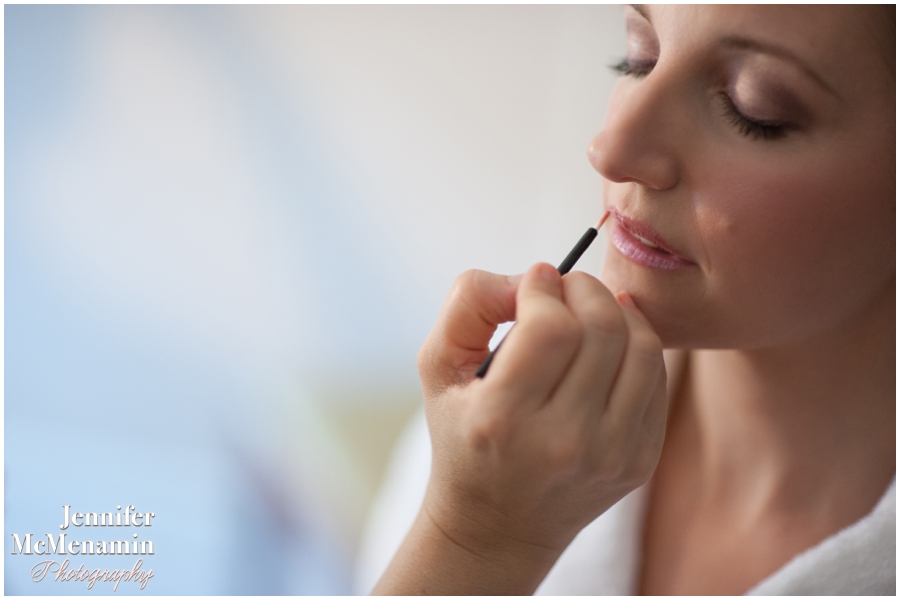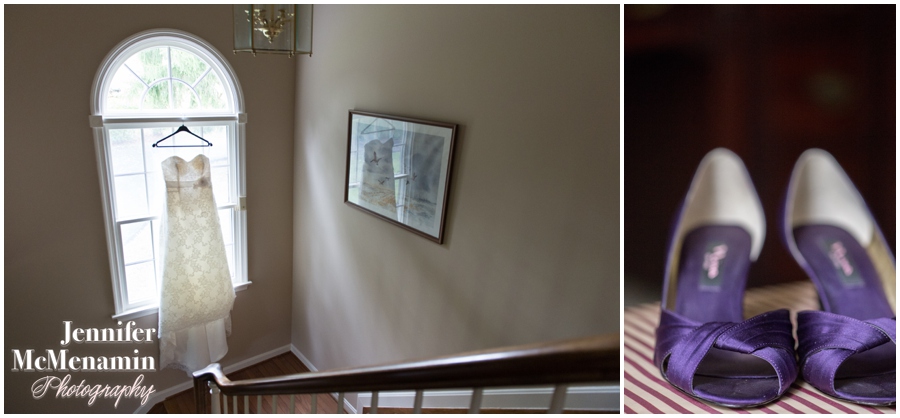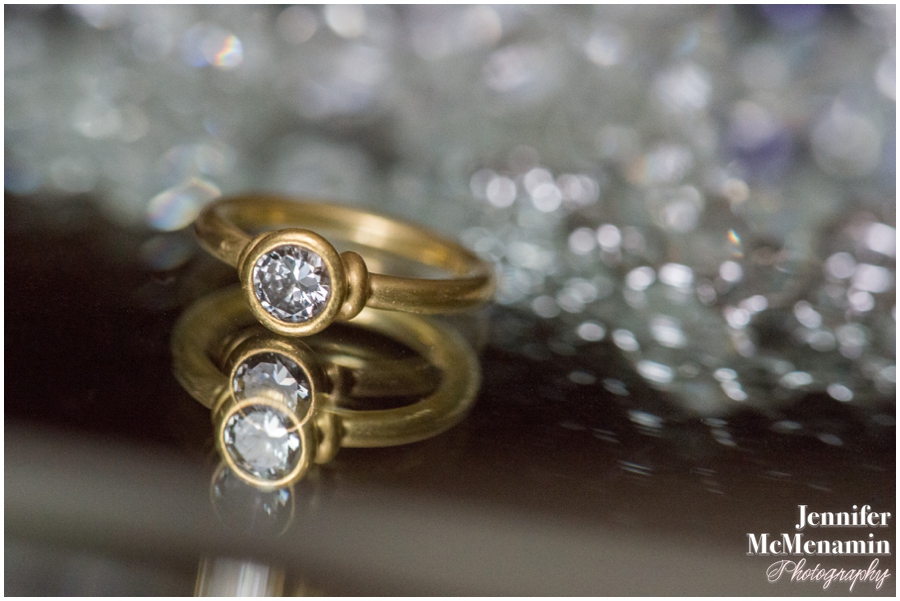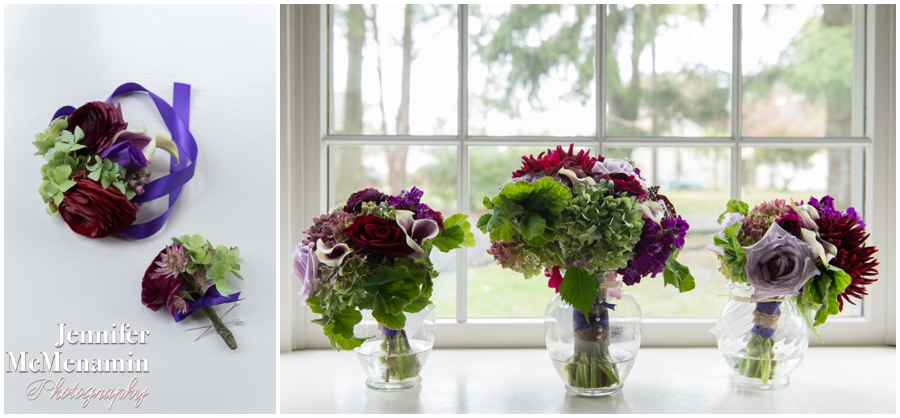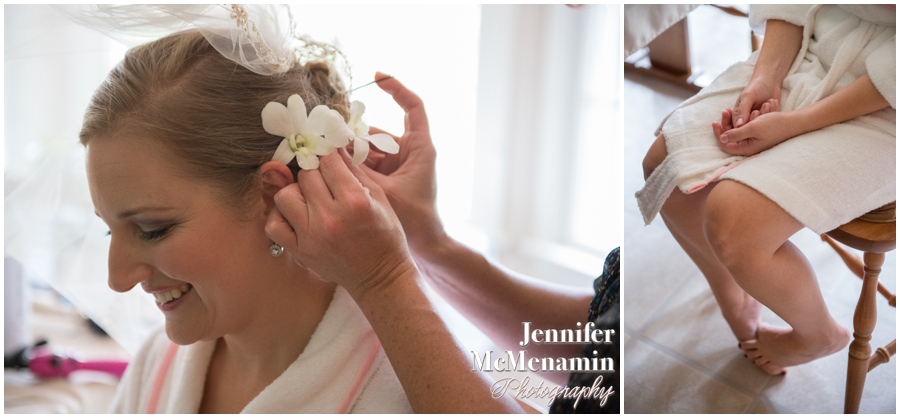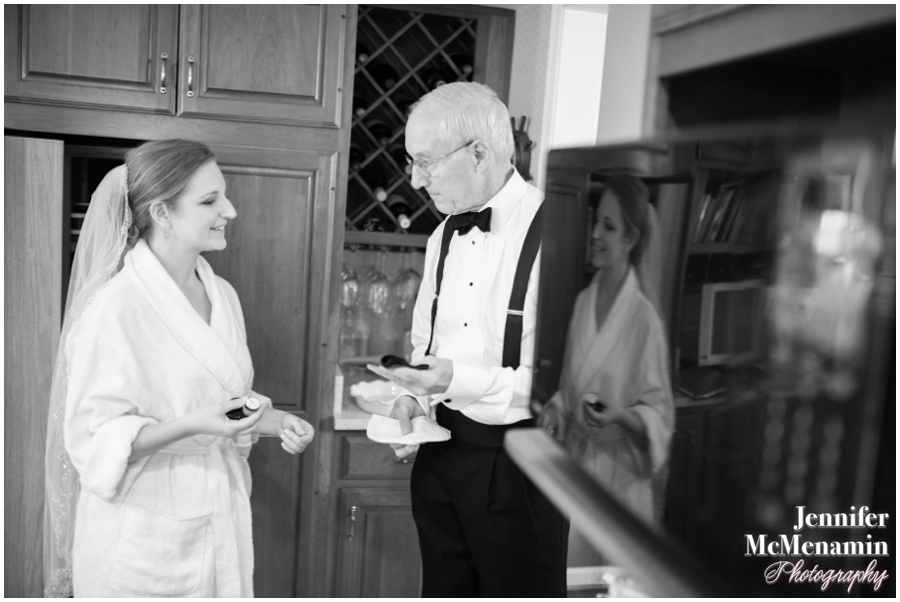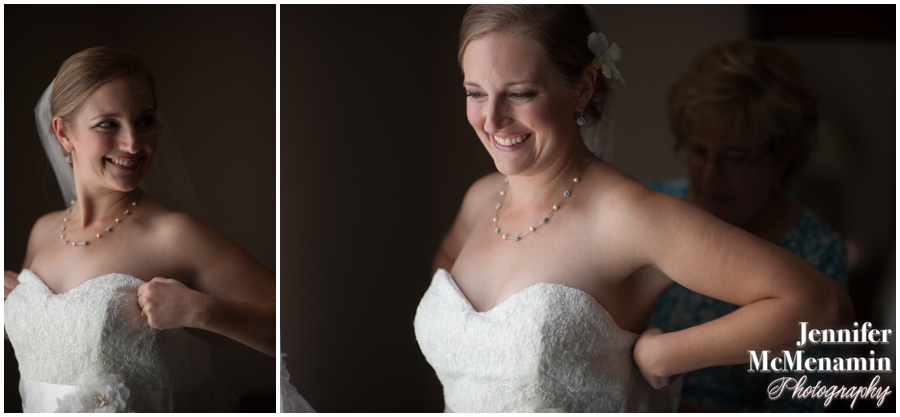 The bride, looking absolutely lovely.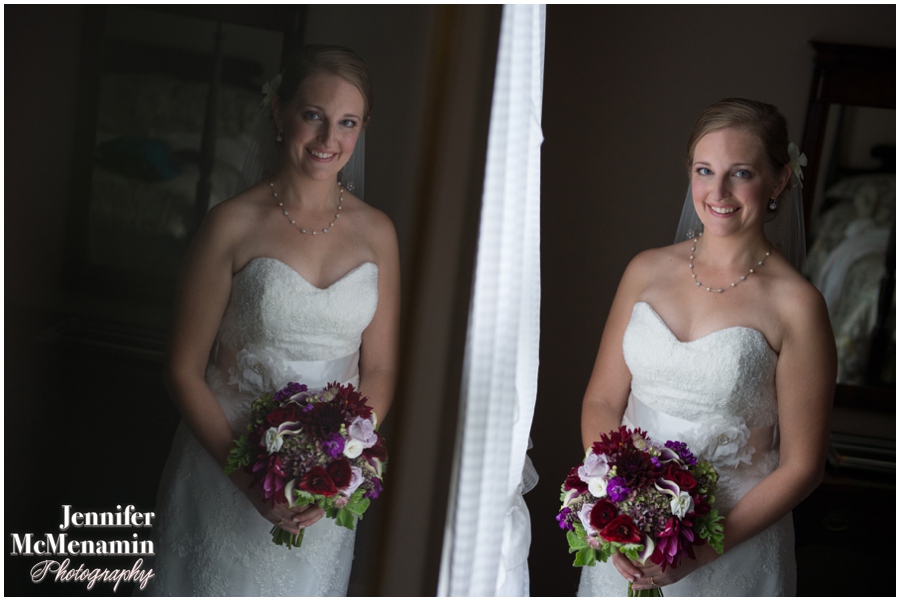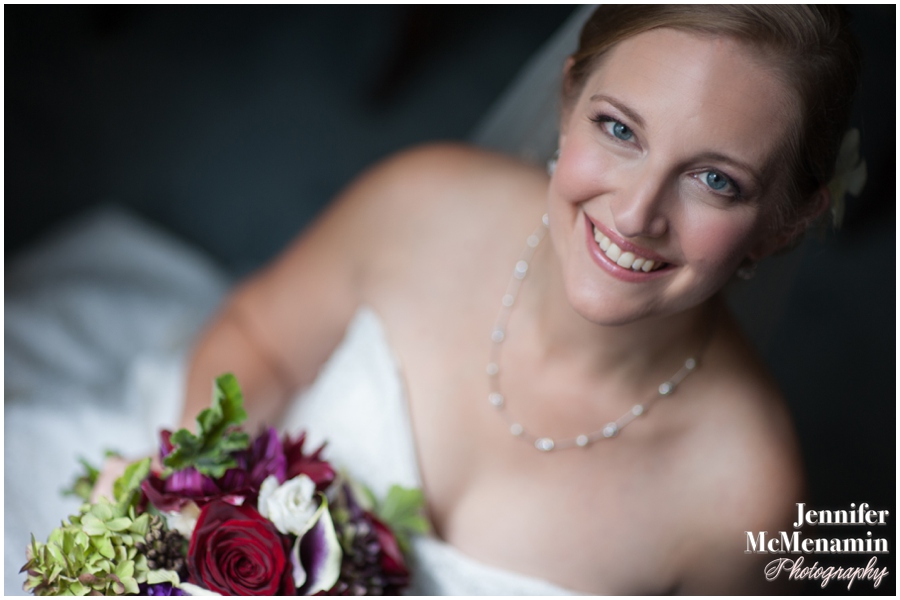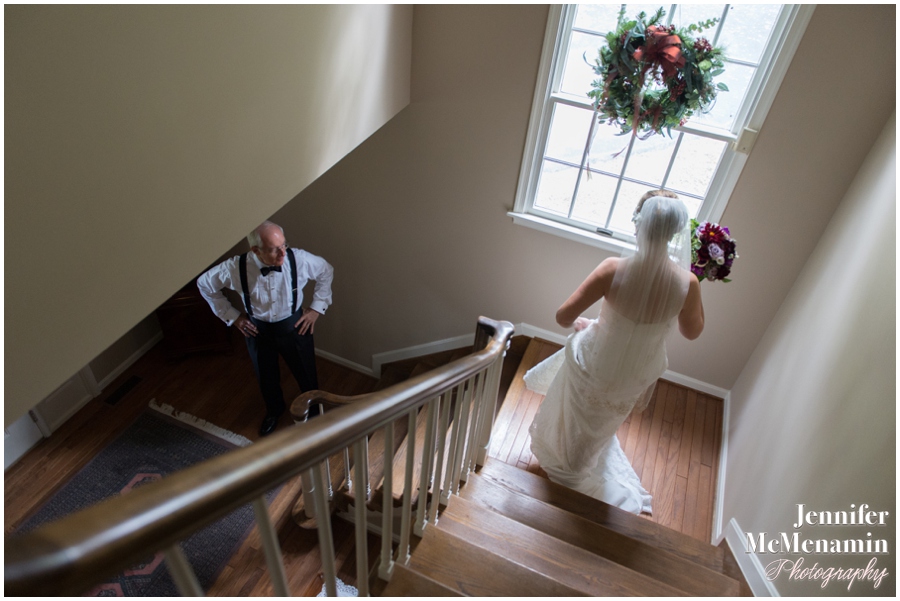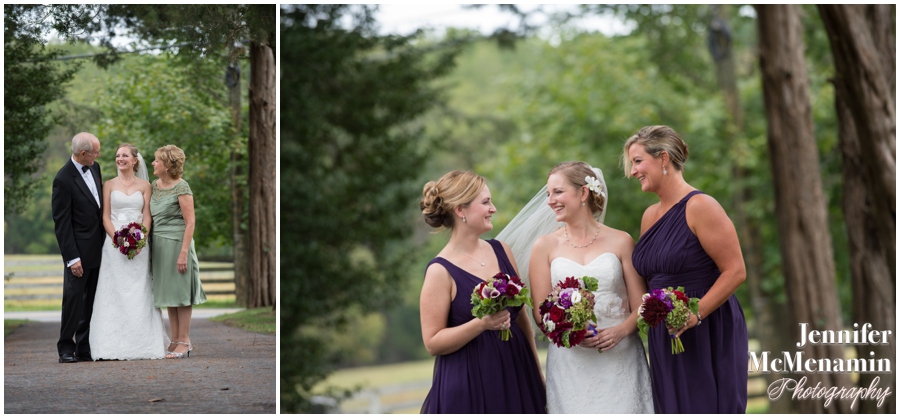 Rebecca's uncles have a bunch of vintage automobiles that they drive primarily for family weddings. This next image on the right is a recreation of a photo that Rebecca's uncle once spotted in Vogue and wanted to shoot for his niece.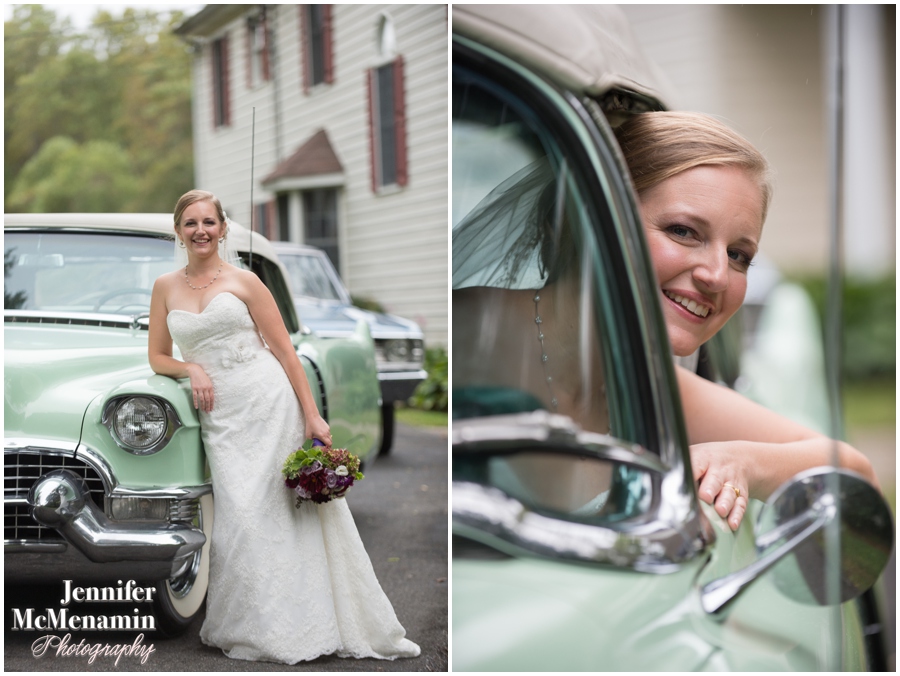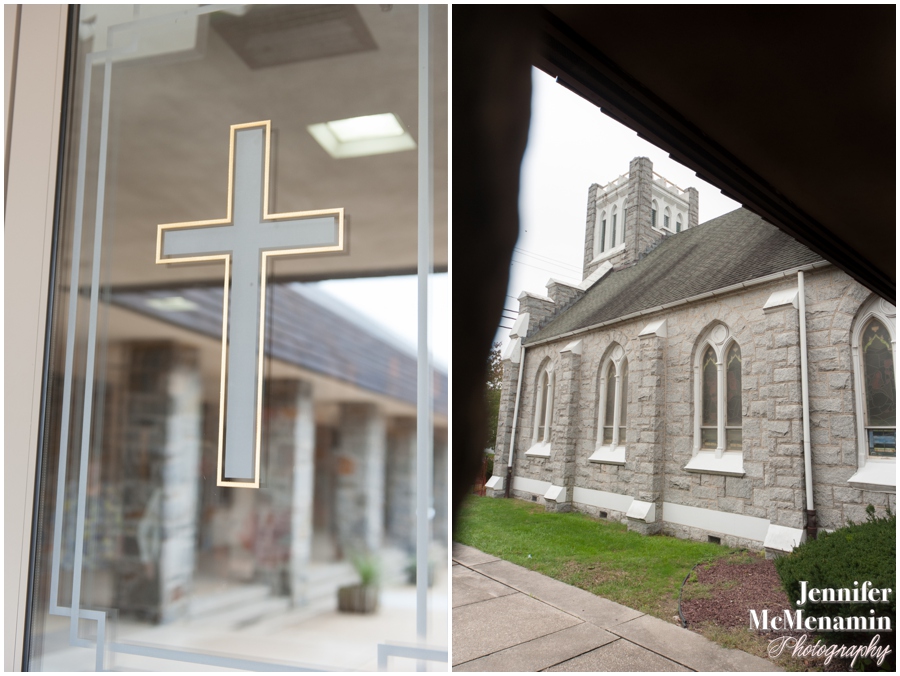 We met up with Charles, his mother and his groomsmen at the church.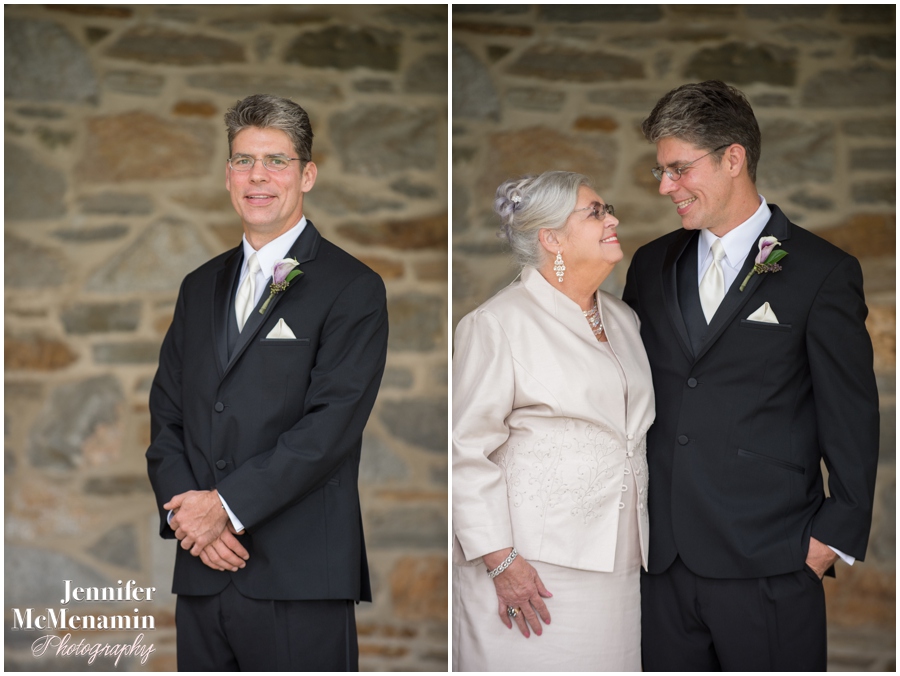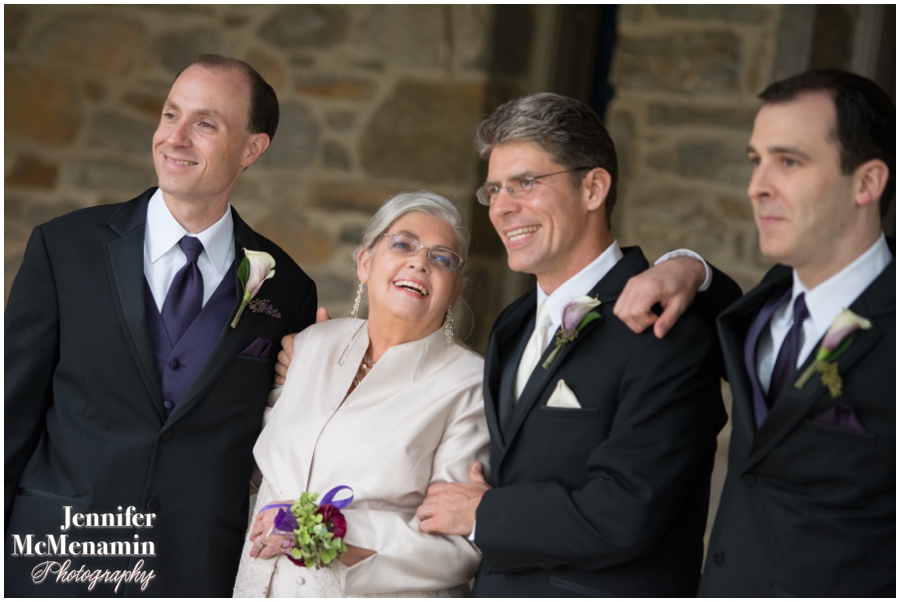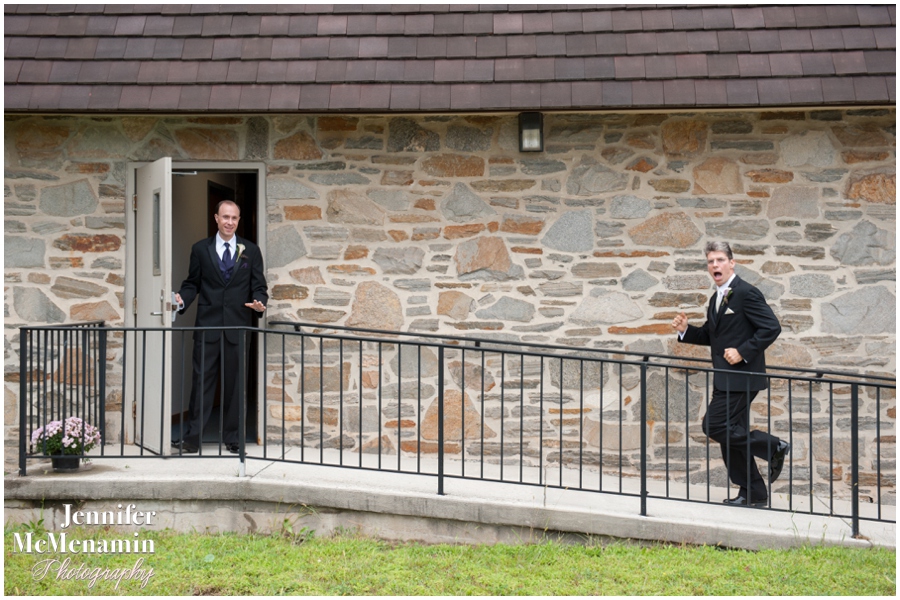 Fun fact: Rebecca and Charles' wedding was the first for which the new organ was used. Forty-six years earlier, the old organ was first used for the wedding of her parents, Betty and Ed.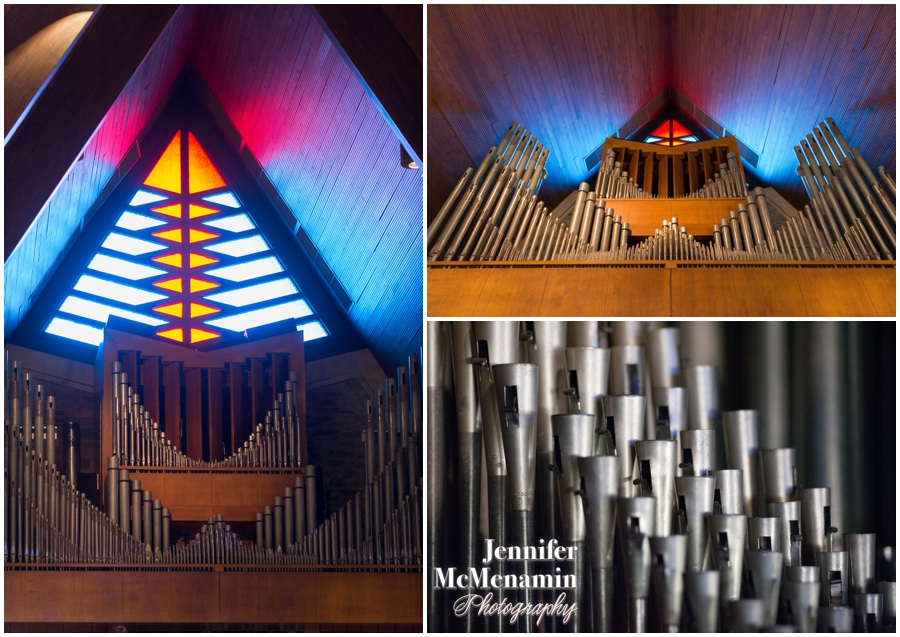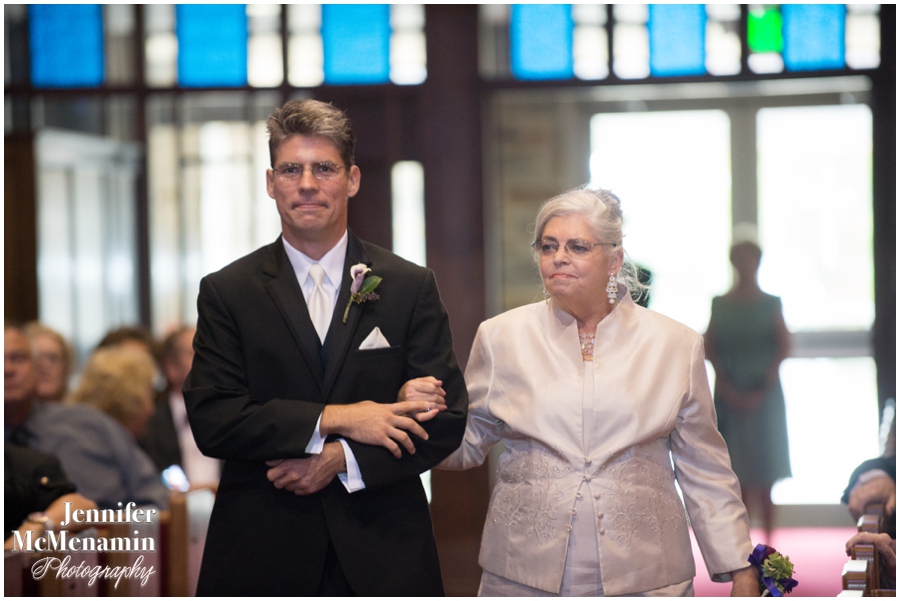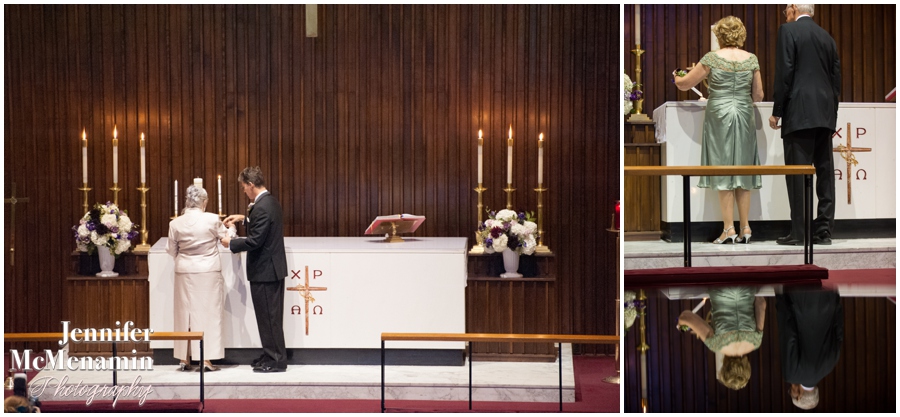 Sam spent the ceremony in the choir loft at the back of the church. I love this next image that he shot as Rebecca and her father walk down the aisle toward Charles.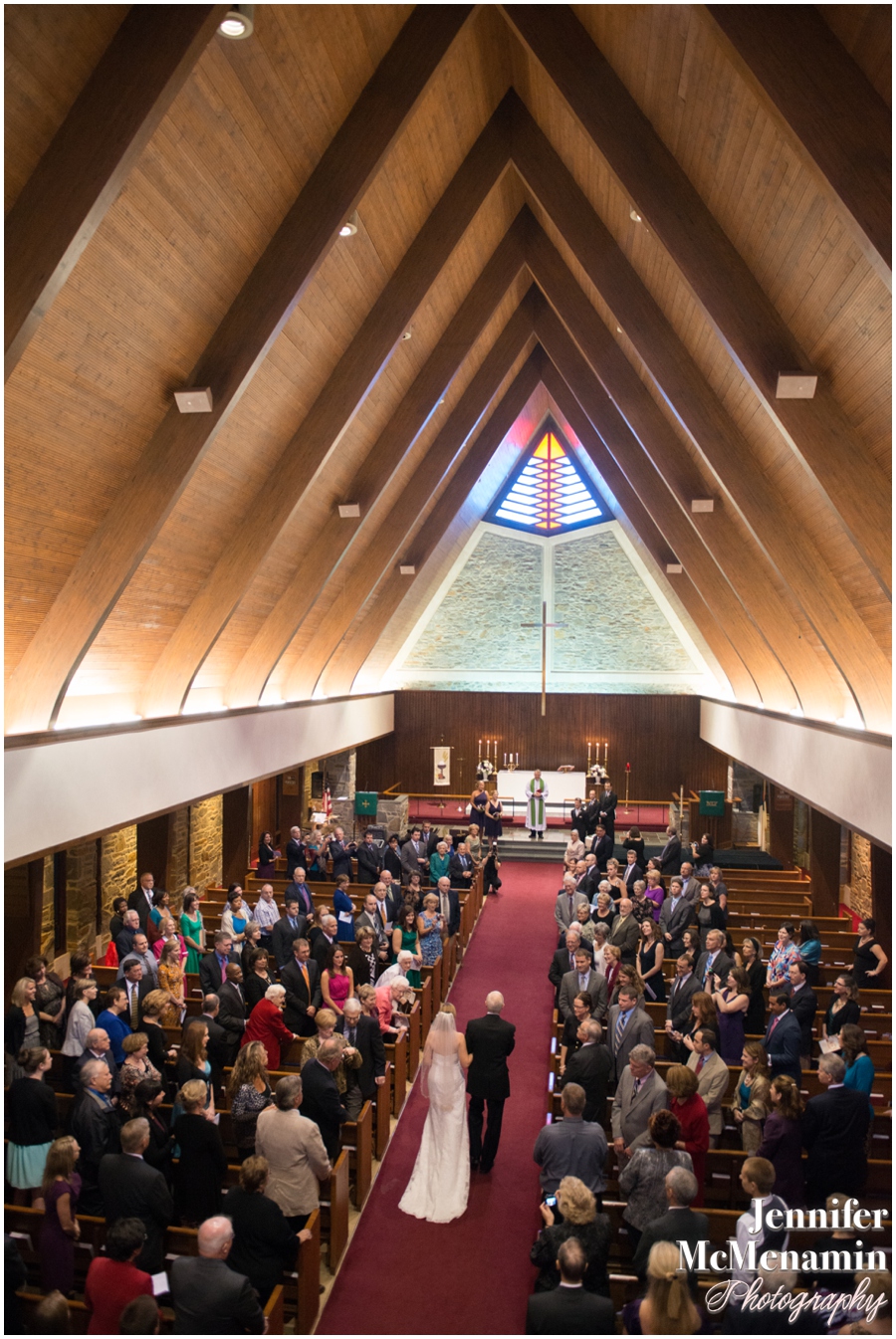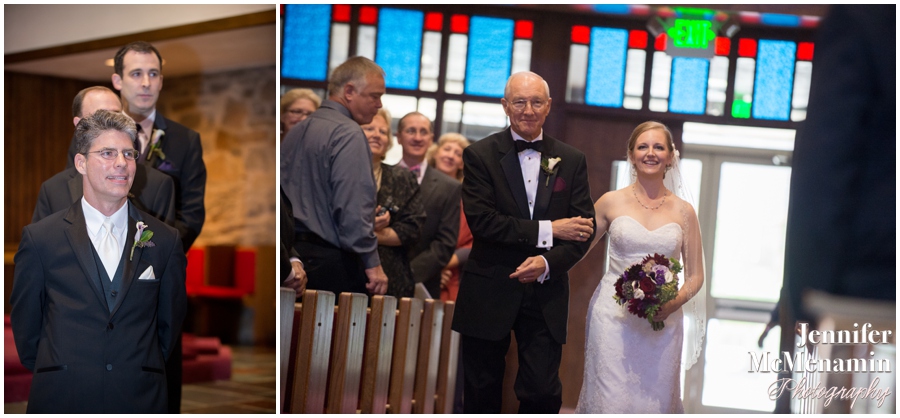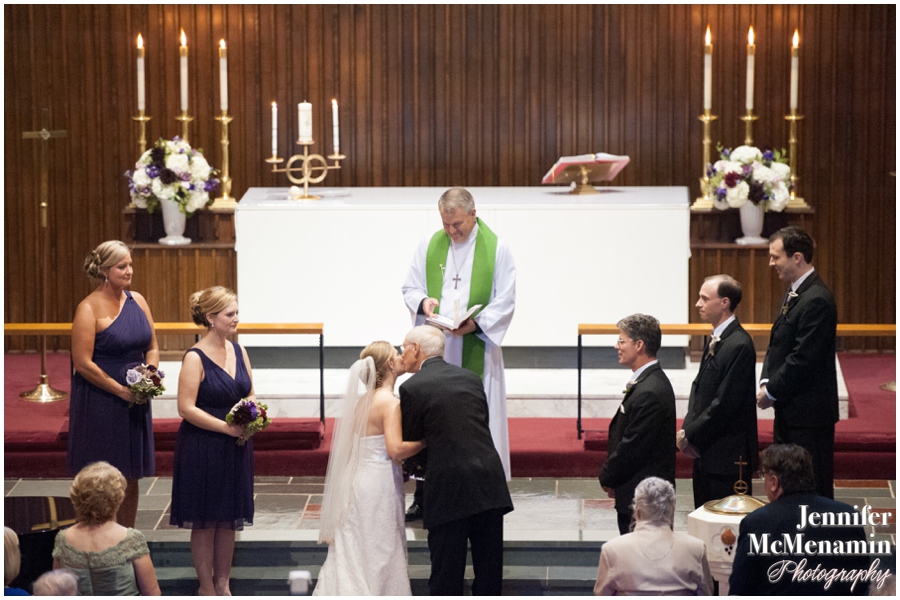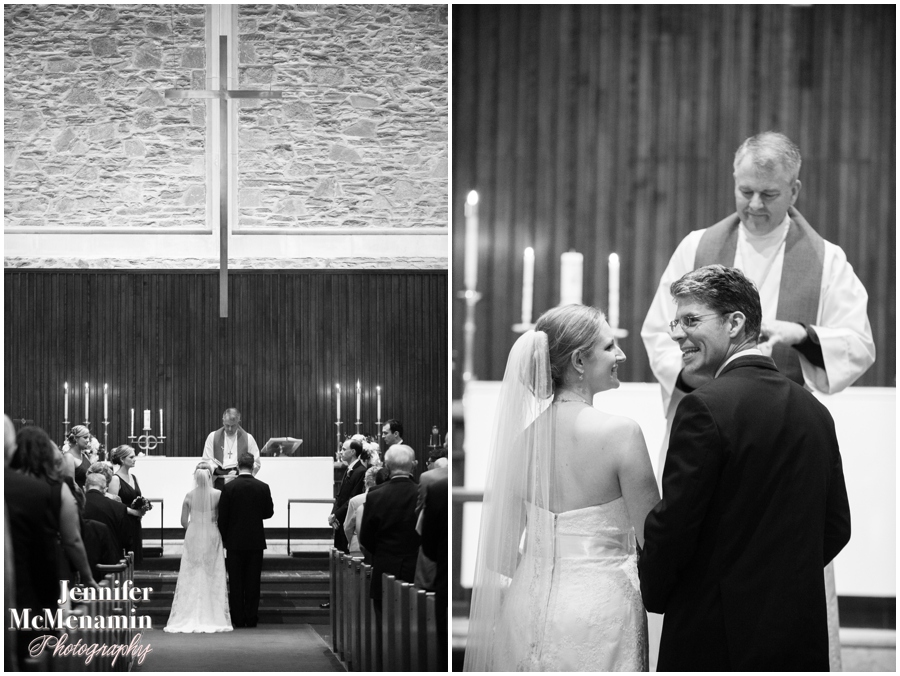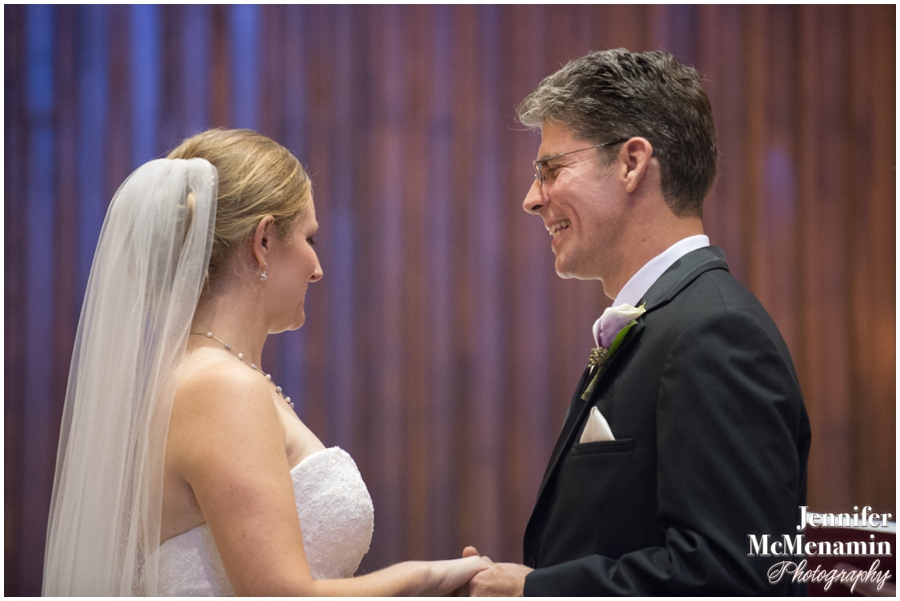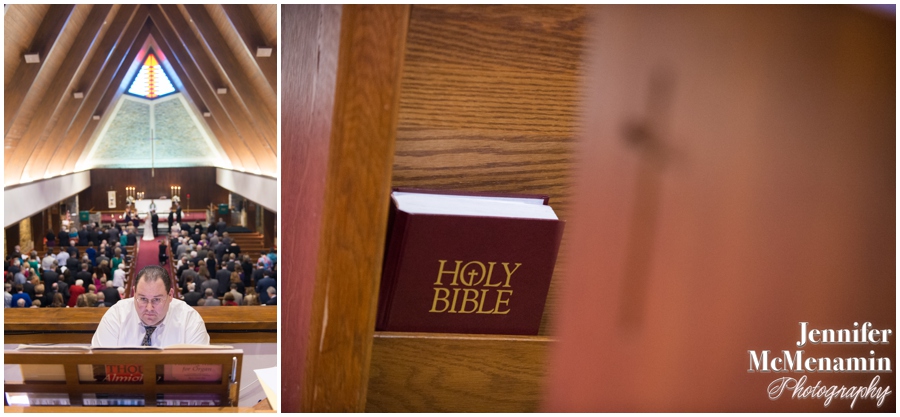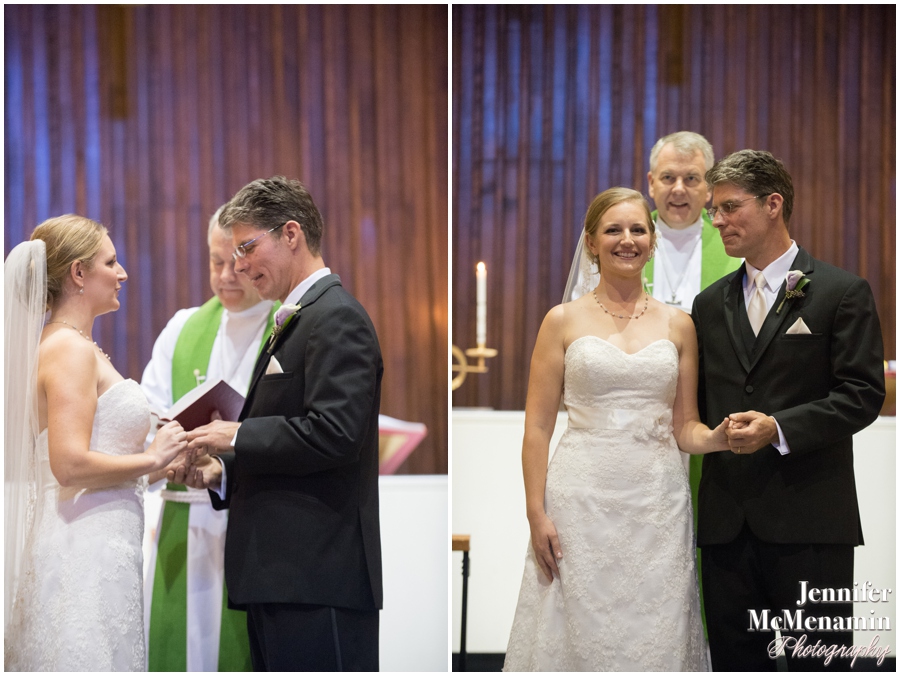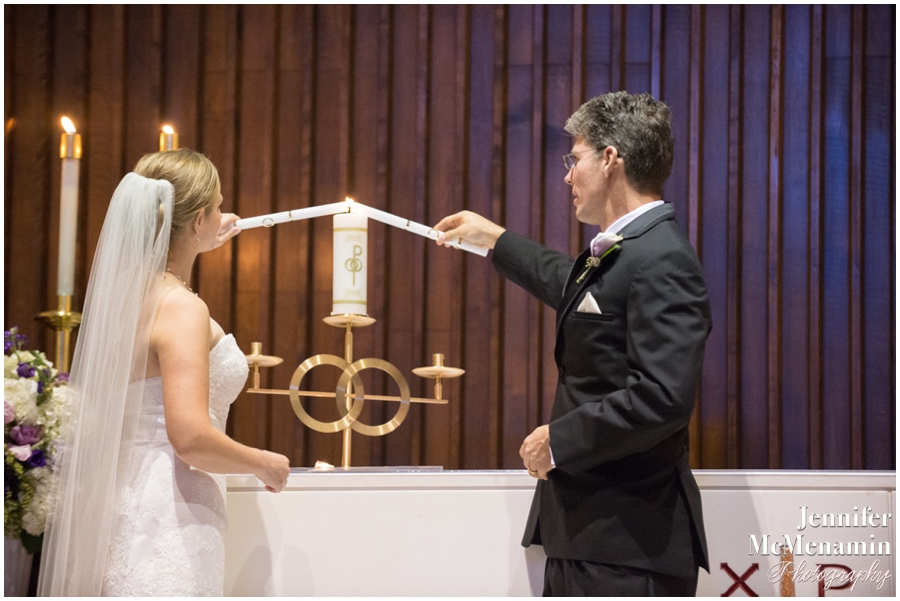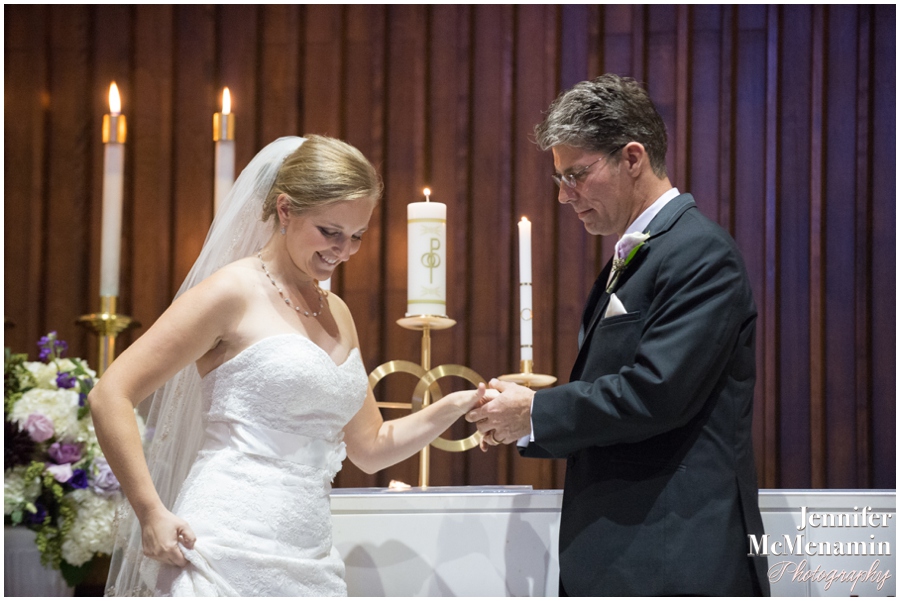 After finishing up some family photos in the church, the newlyweds and I jumped in the seafoam green Cadillac for a few quick shots at the nearby Klausmeier Garage, which displays congratulatory messages on their sign to mark special family occasions.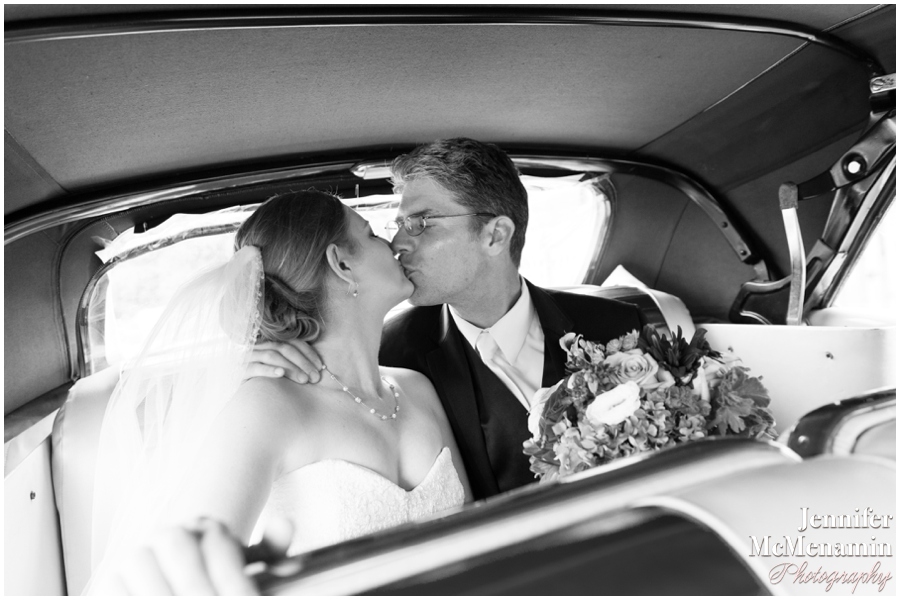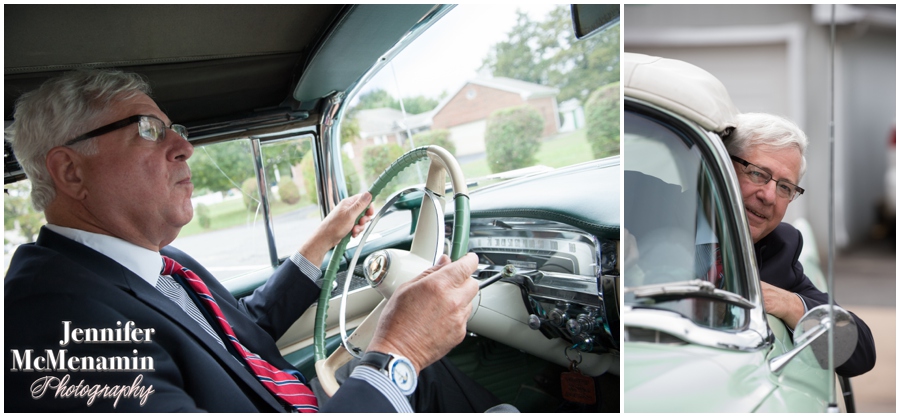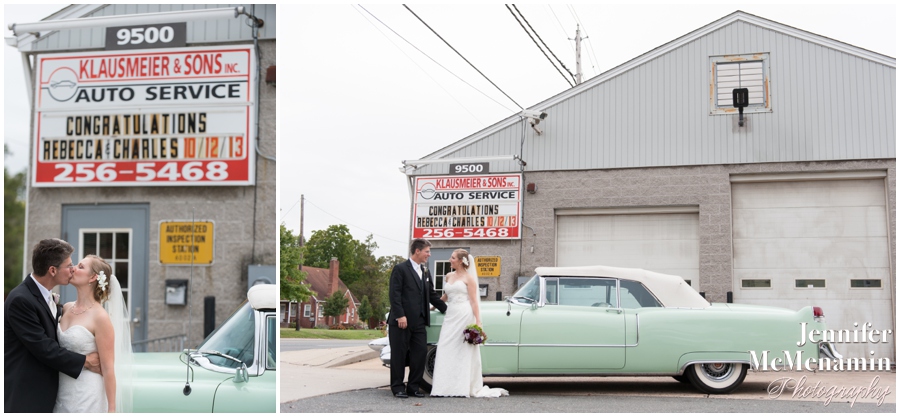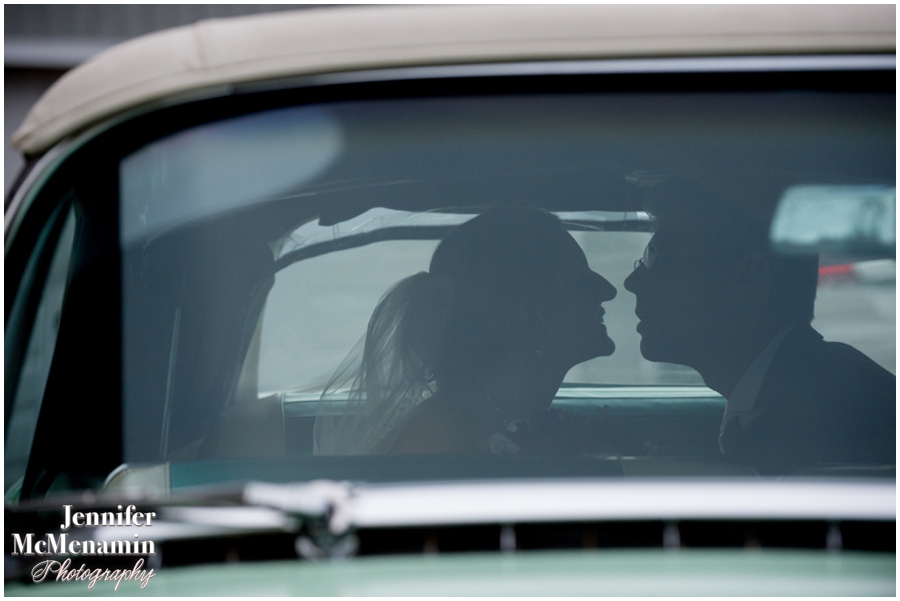 And then we were off to the farm. There are no words to adequately describe all the hard work that Rebecca's Aunt Pat and Uncle Carl put into preparing their property for the wedding. It was simply gorgeous!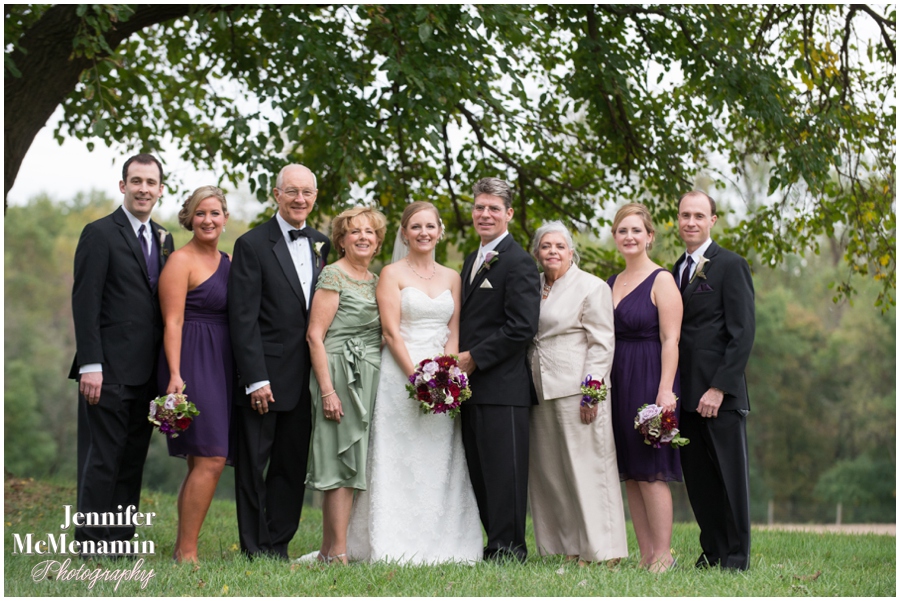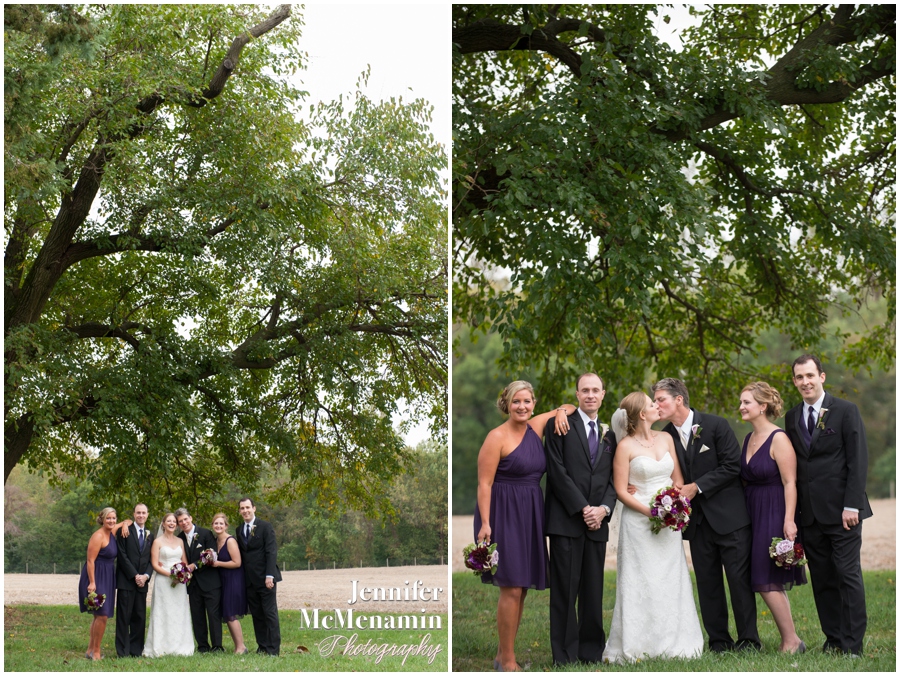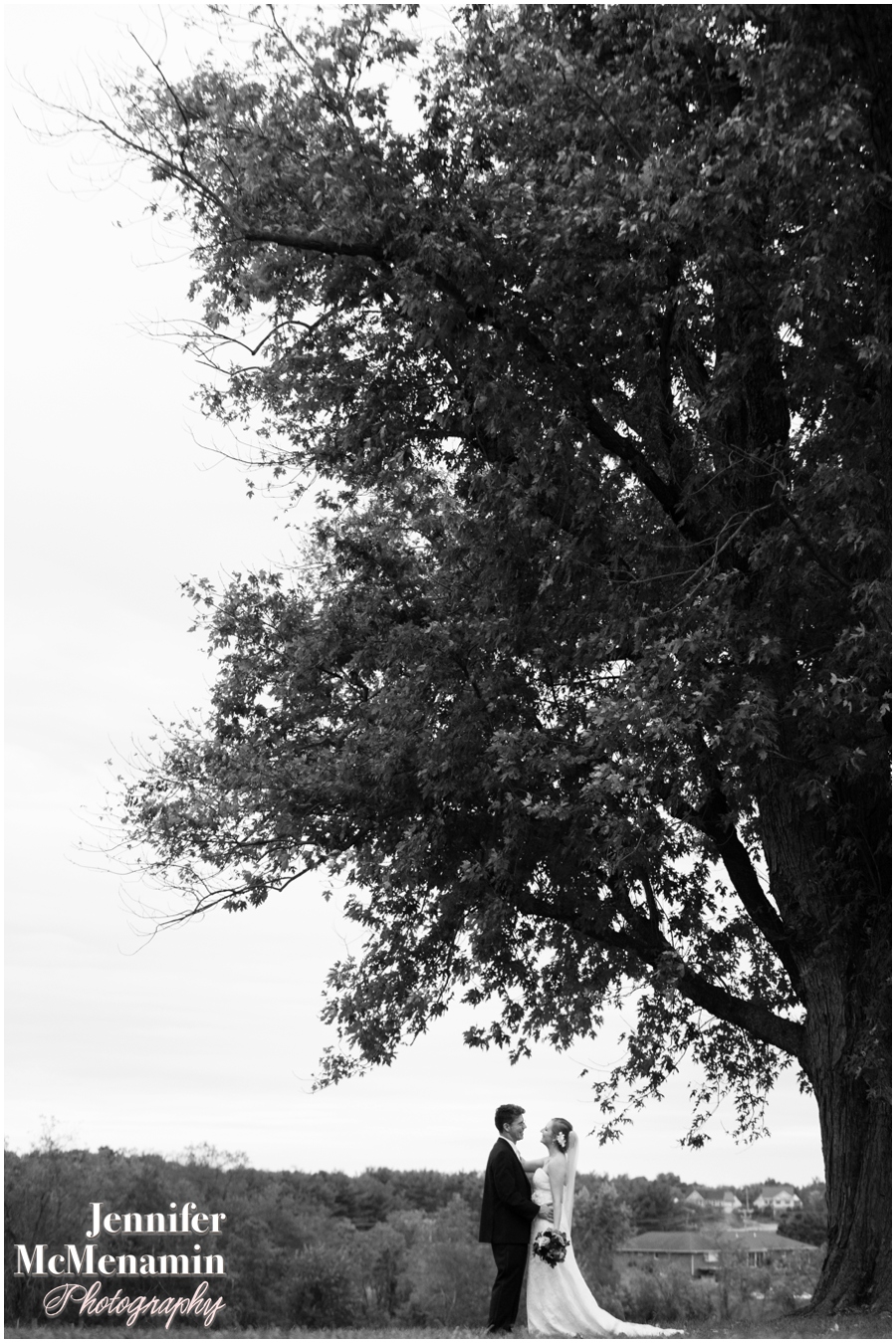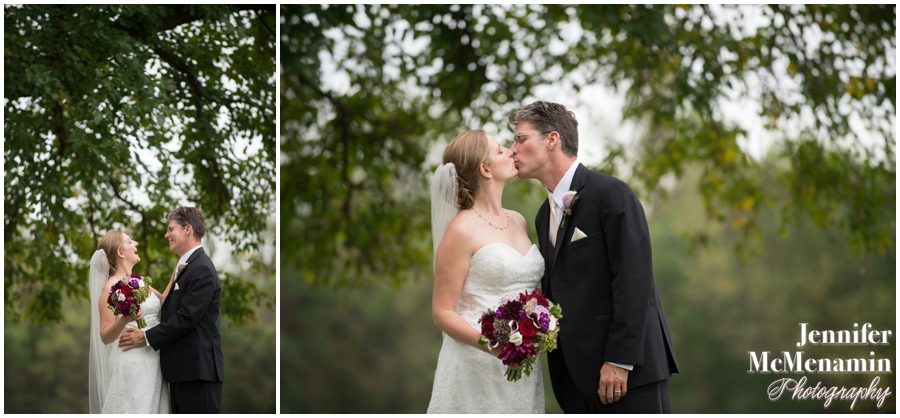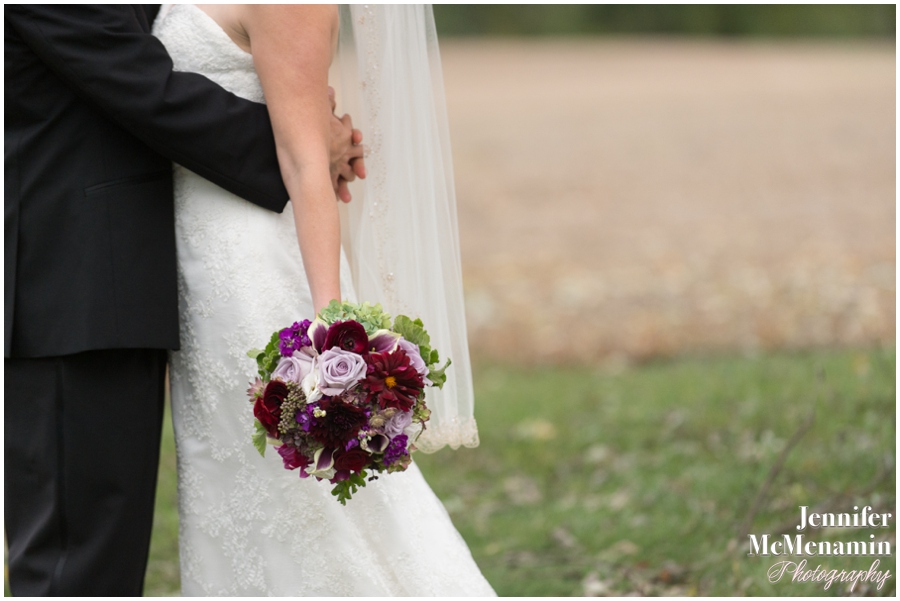 This is a little chapel — important in the Klausmeier family history —  that was moved to the farm.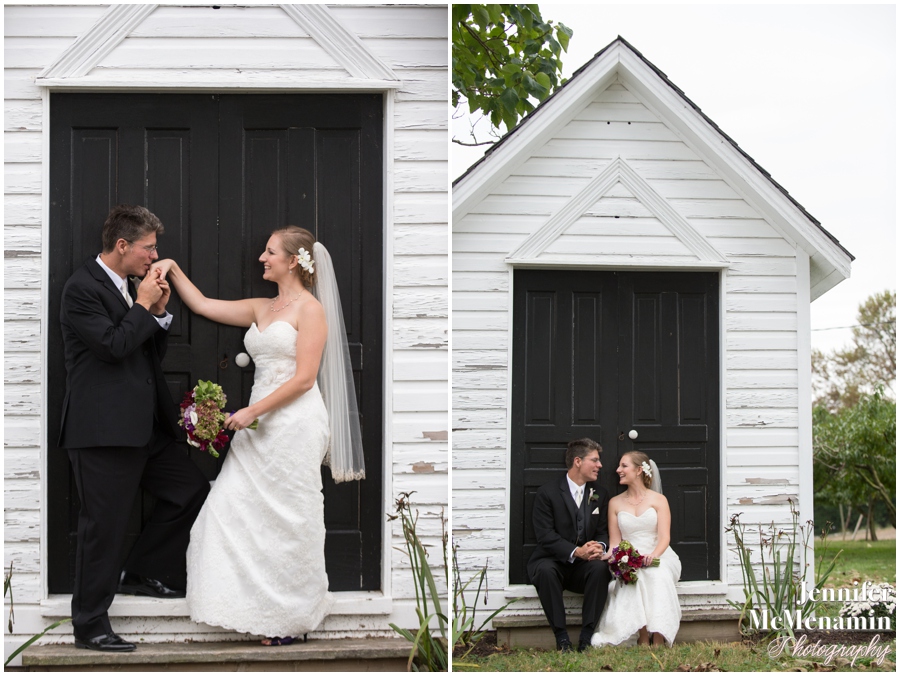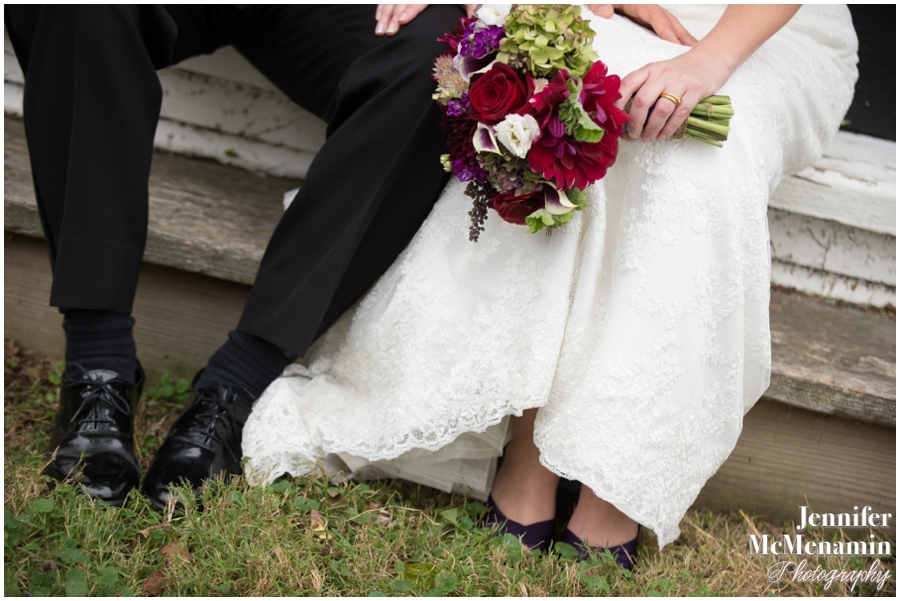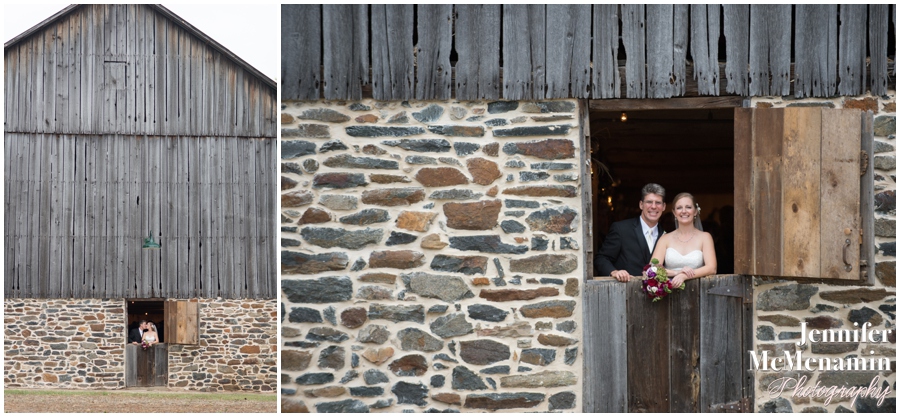 In addition to hosting the wedding at their farm, the Klausmeiers also made all of the ice cream for the big day with this very cool antique ice cream maker.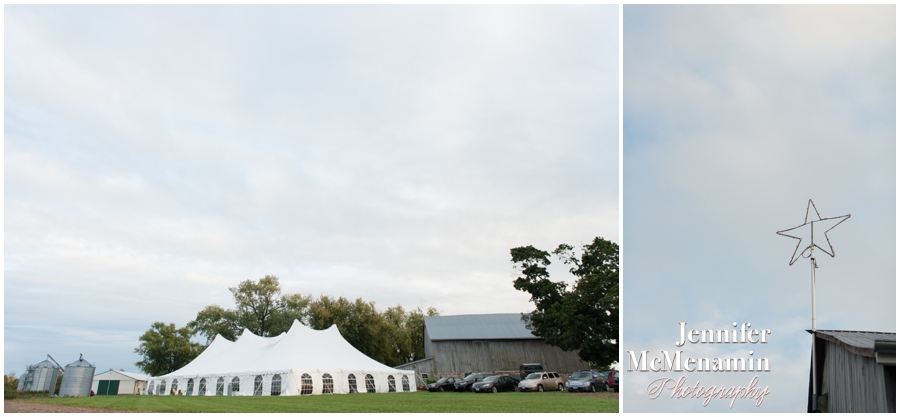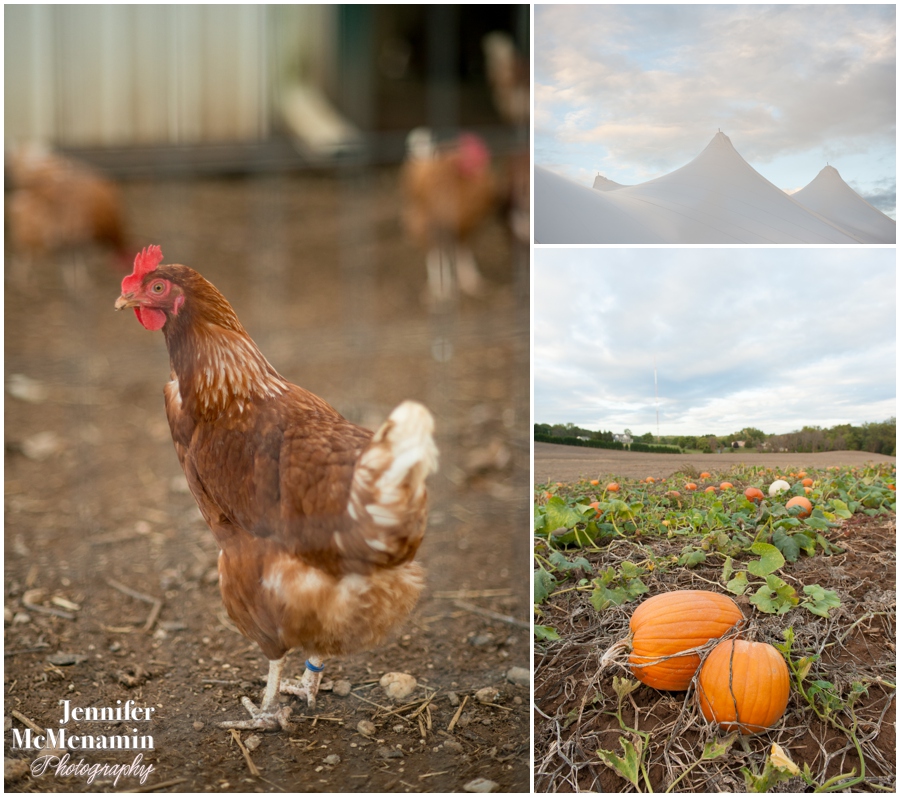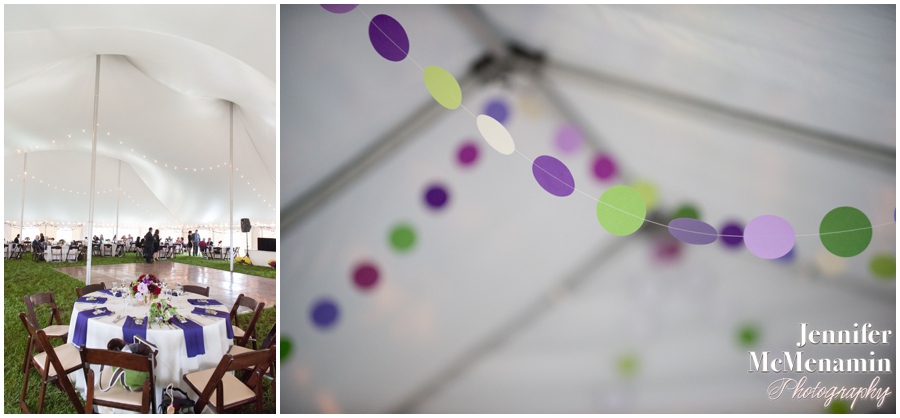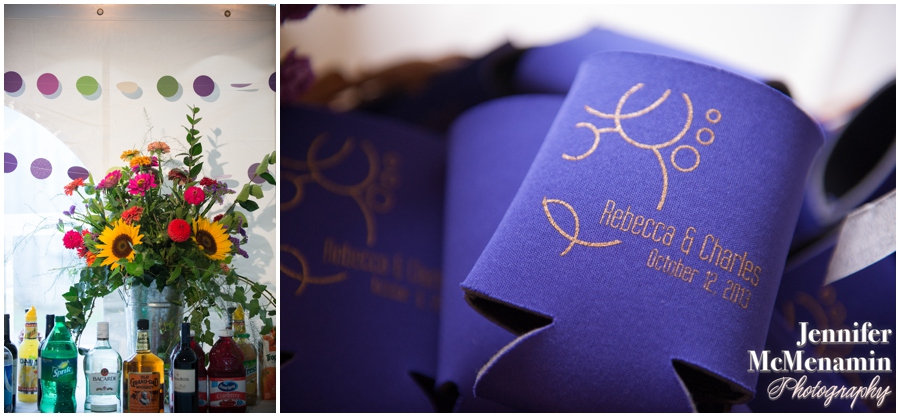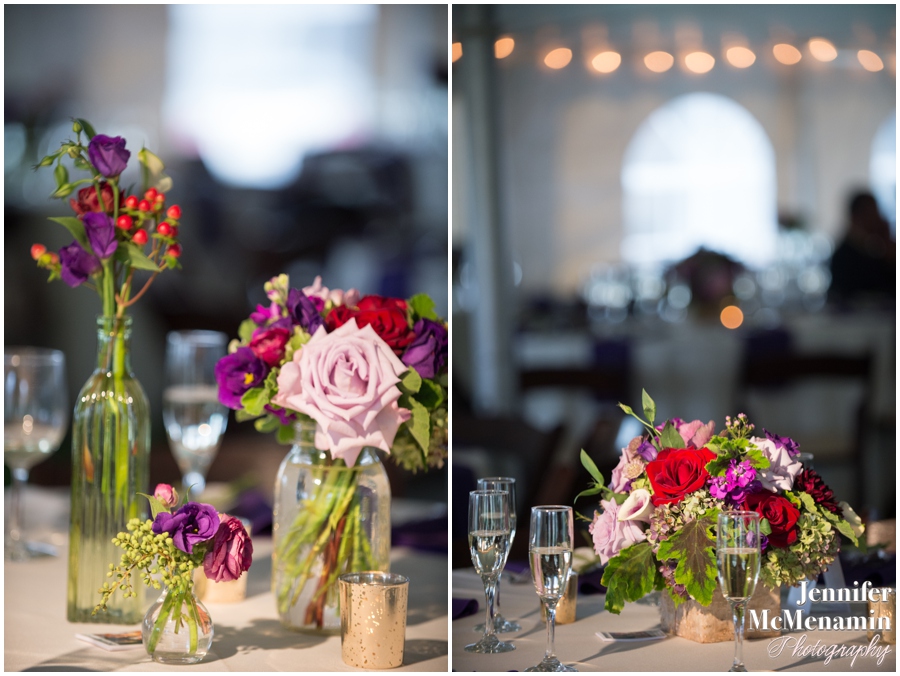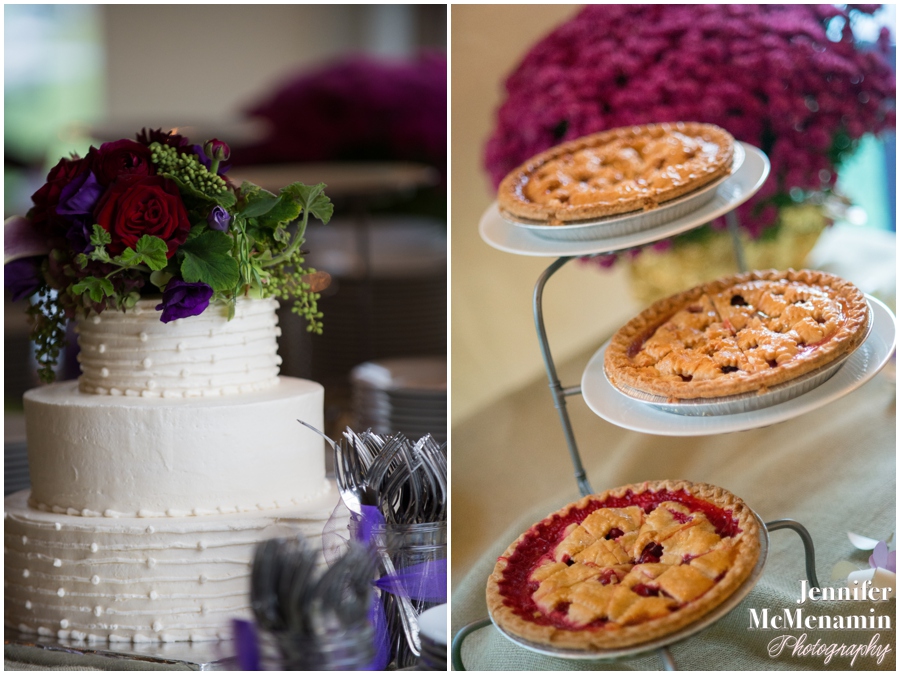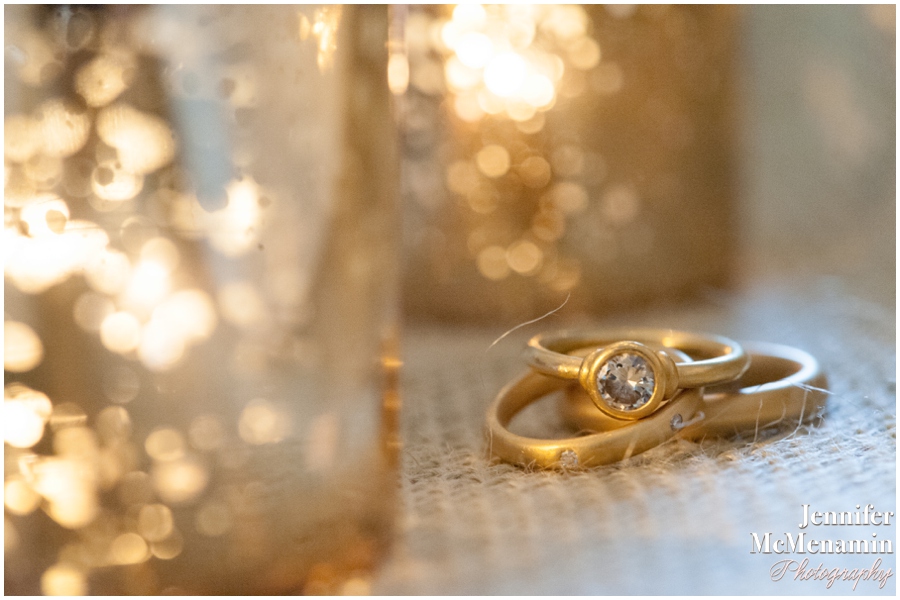 So happy.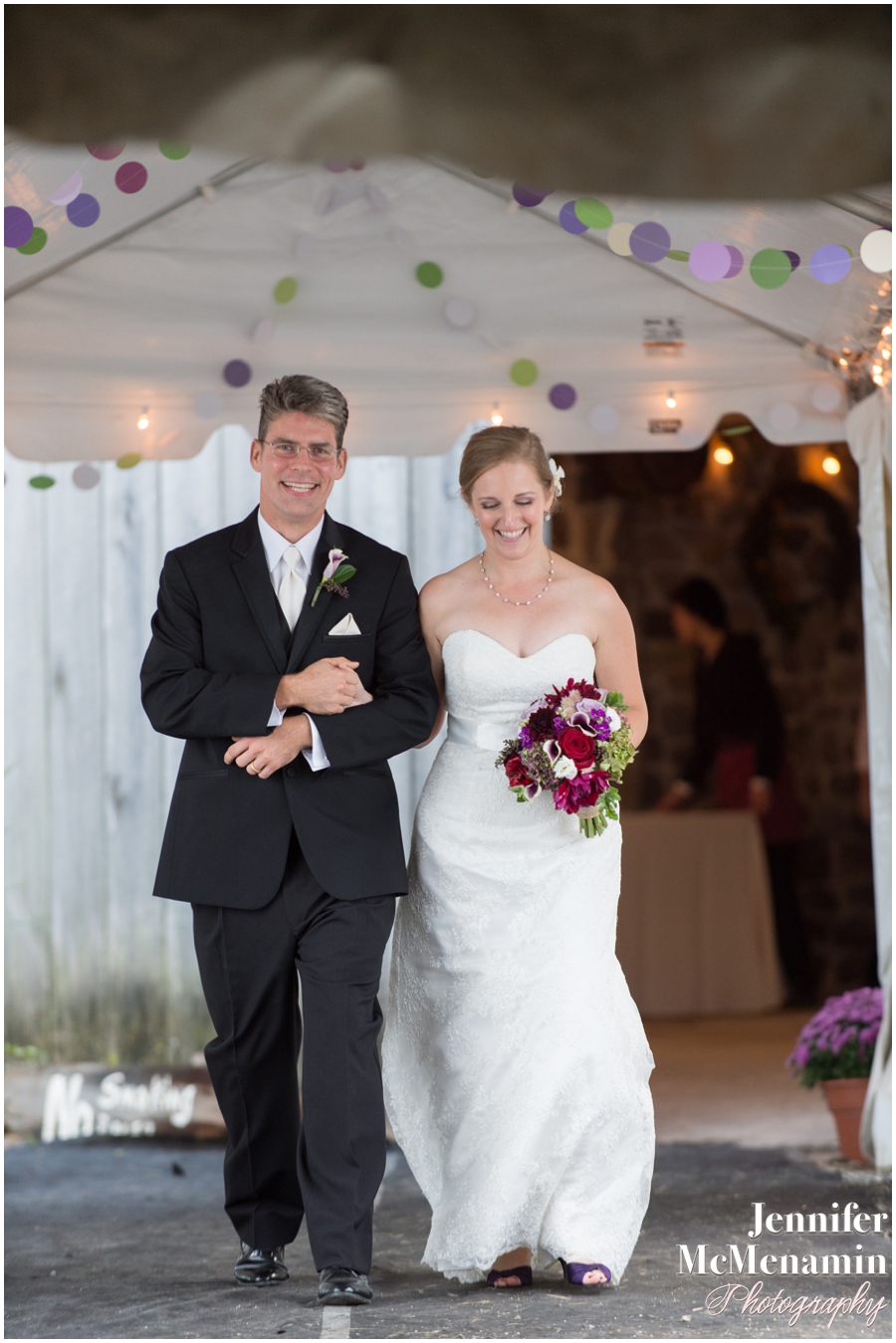 "Charles just hates having his picture taken!"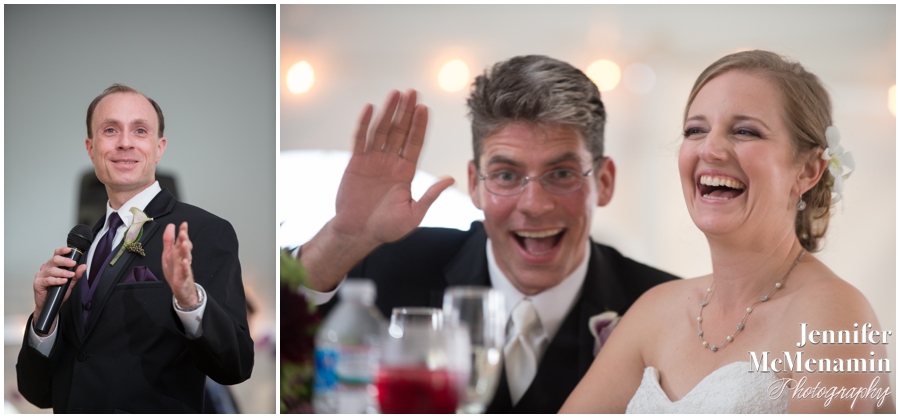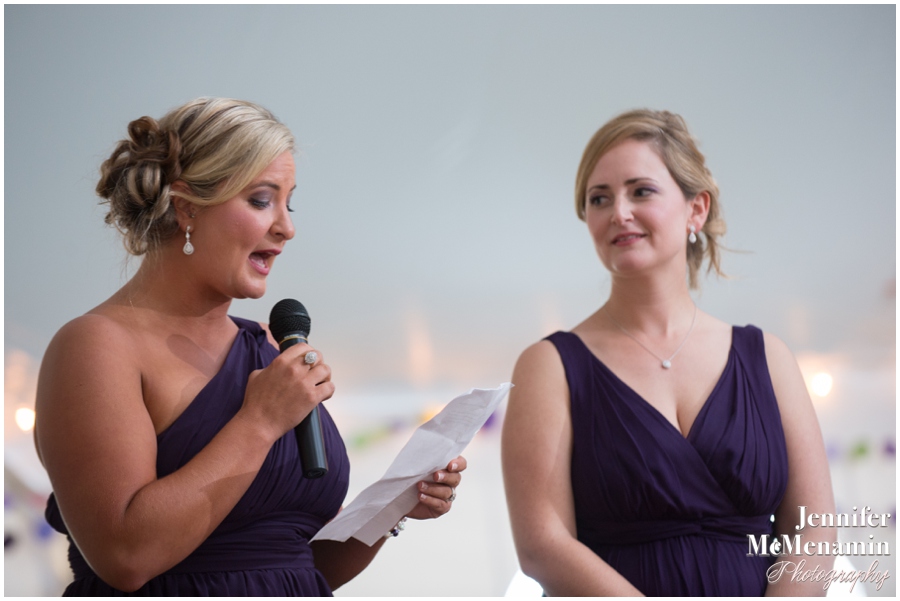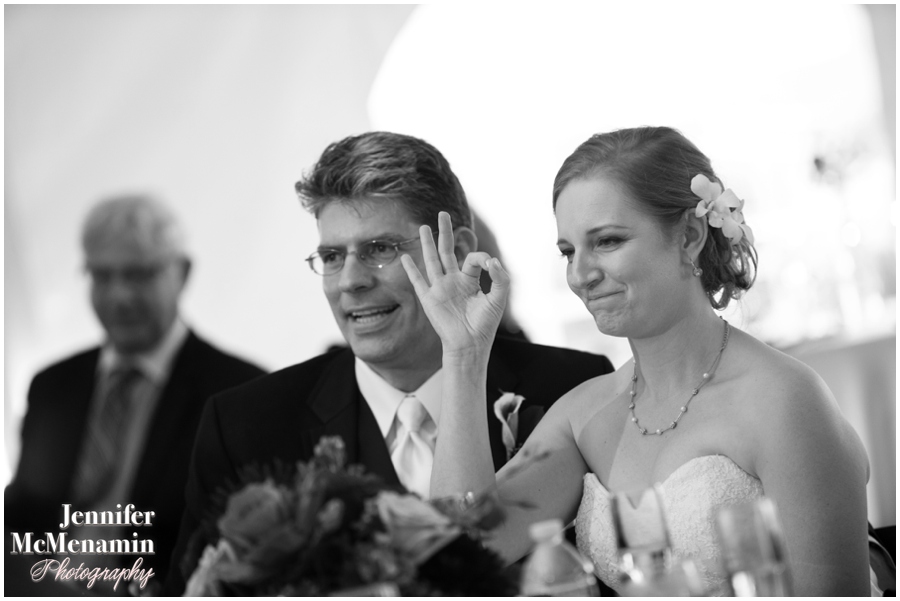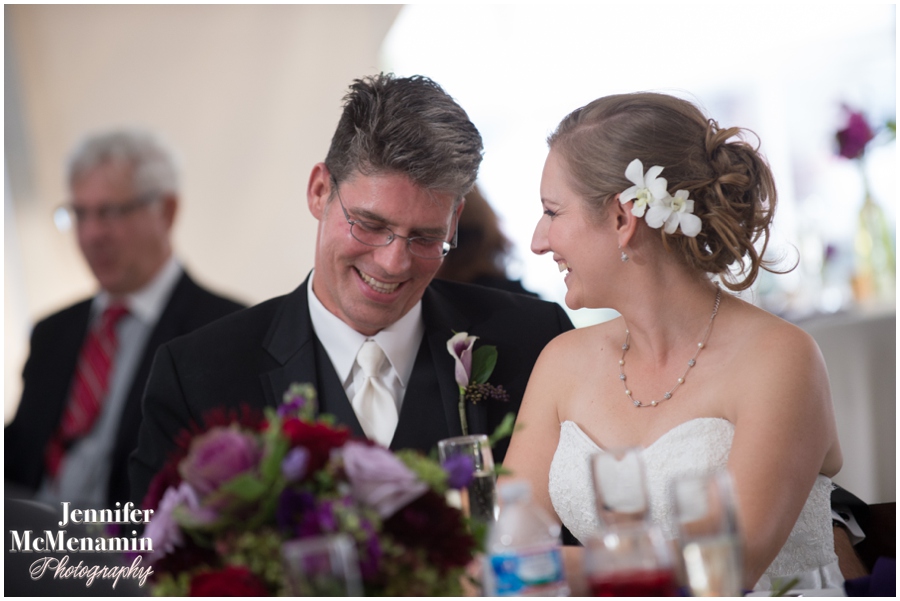 Despite a forecast that called for rain and clouds all day long, it barely even drizzled — and we were graced with a tiny little window of glorious light!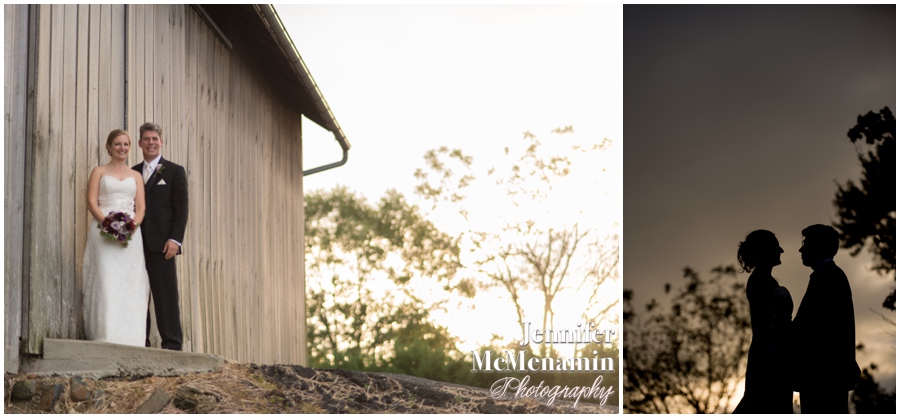 There are lots of fun things for guests to do at farm weddings.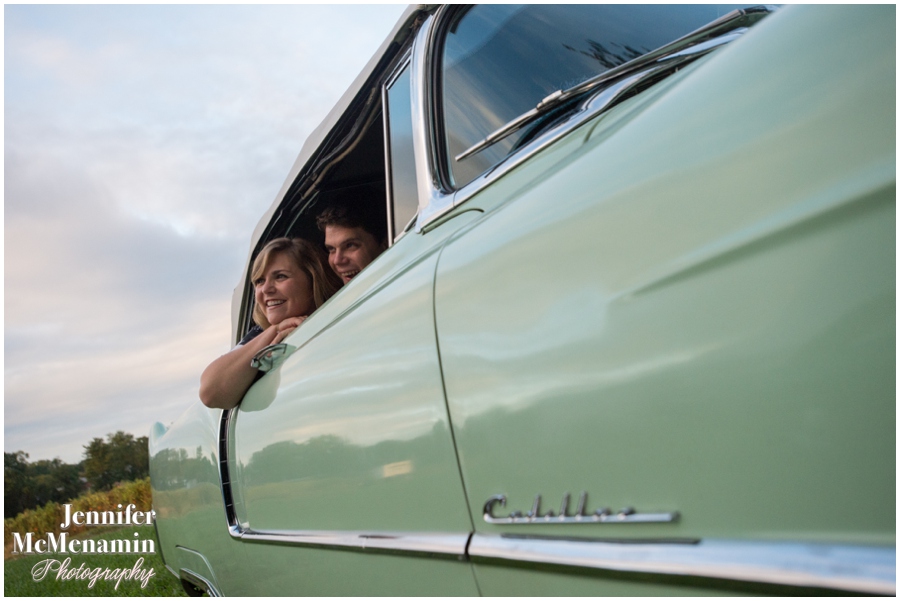 And lots of fun and merriment.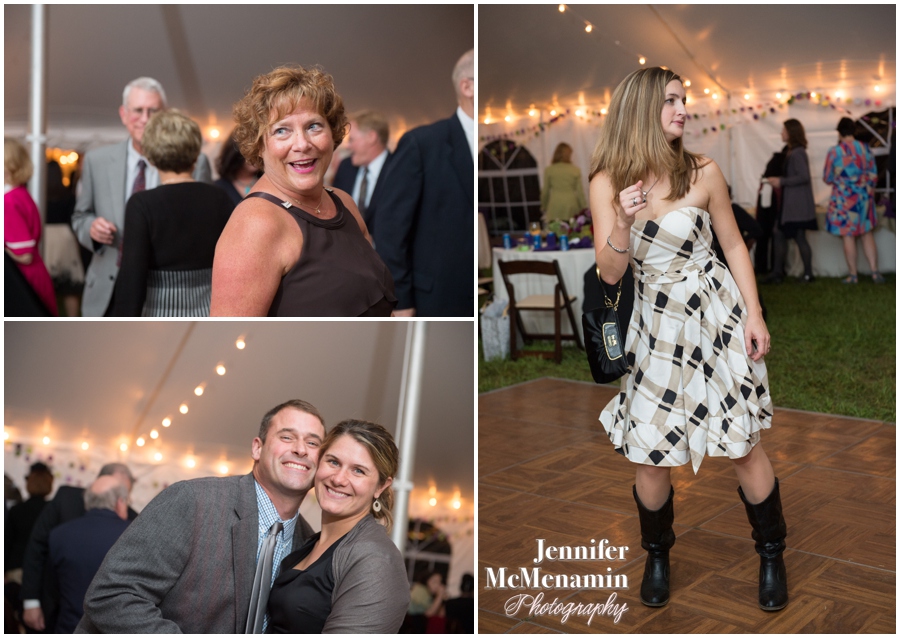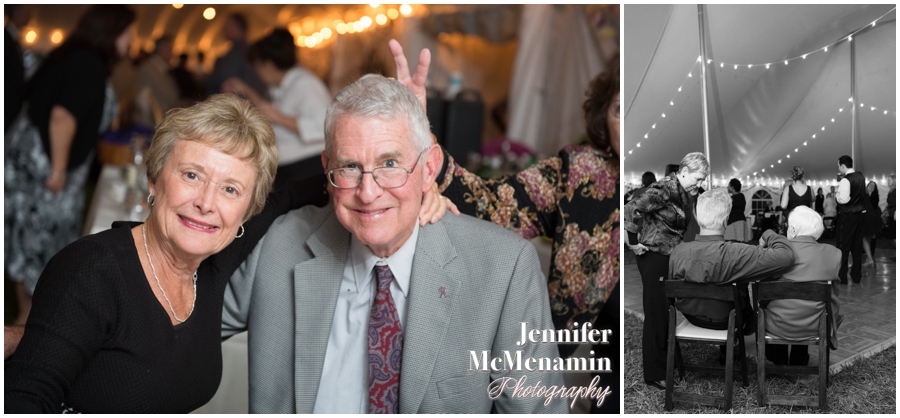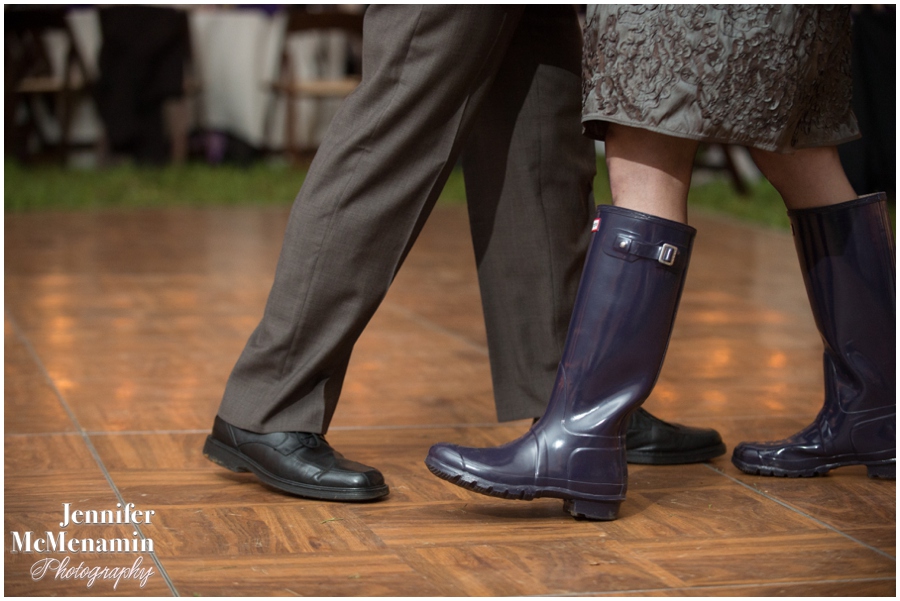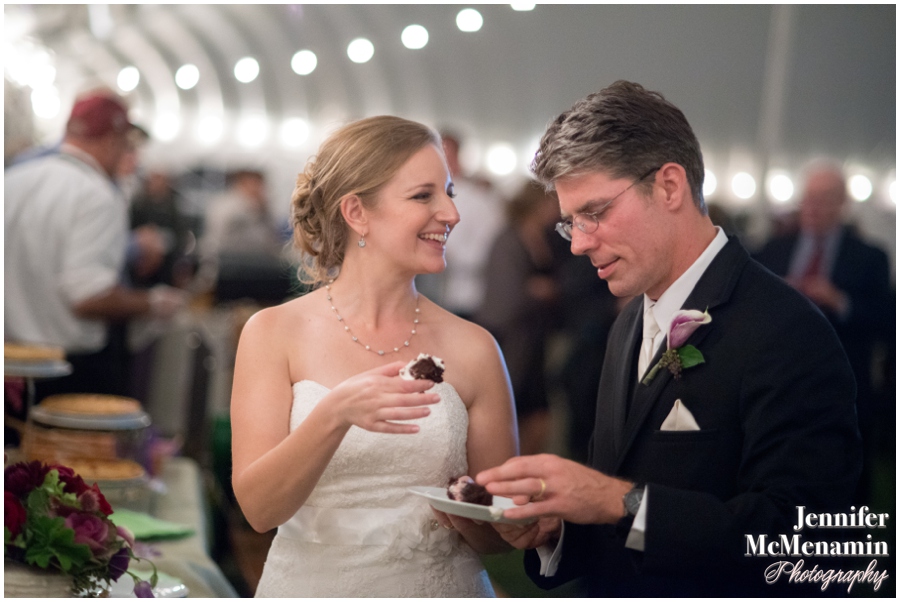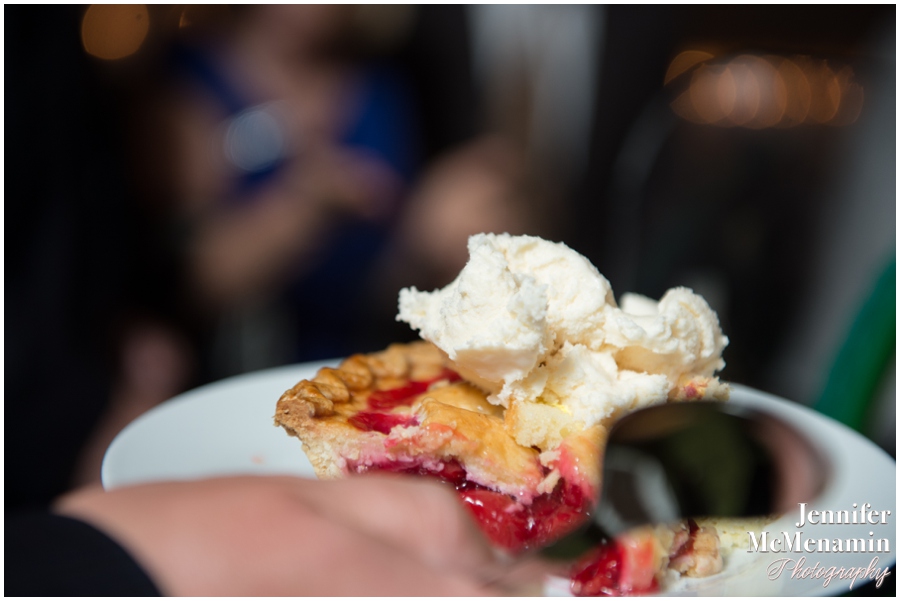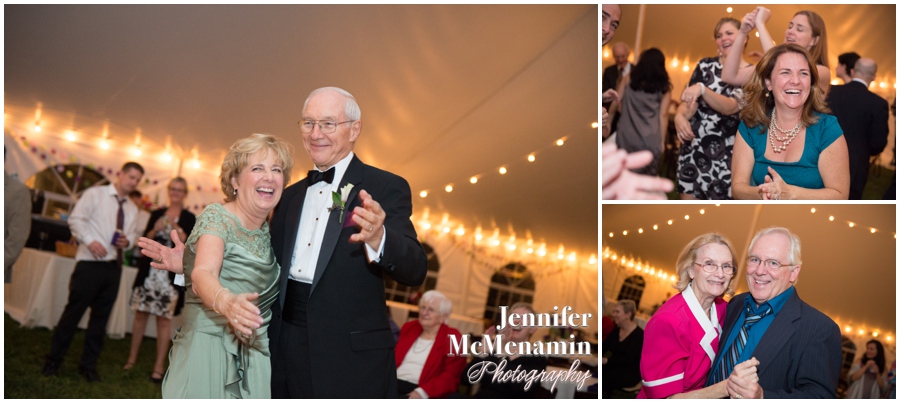 A few fireworks.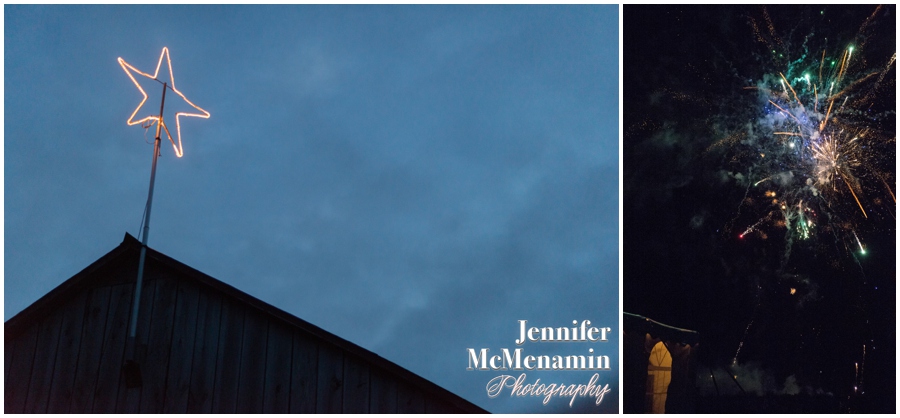 And one last beautiful photo of the newlyweds. 
Many, many congratulations to Rebecca and Charles. It was an absolute joy working with you, your families and your friends.
Credits:
Photography: Jennifer McMenamin Photography, LLC

Ceremony: St. Michael Lutheran Church
Officiant: Pastor John Mohan
Reception: Klausmeier Farm

Catering: Monaghan's Pub & Catering

Event coordinator: Brenda McCabe
Rentals: Eastern Shore Tents & Events
Bridal attire: Sweetheart gown from Amanda Ritchey Bridal & Beauty
Hair and Make-up: Nicole Palermo
Bridesmaids' attire: Donna Morgan gowns
Groom's attire: Elegant Touch Bridal and Tuxedo

Florist: The Floral Studio
Cake: Hamilton Bakery

Pies: Webers Cider Mill Farm
Homemade ice cream: Klausmeier Farm
DJ: Chris Luciano of Event Solutions
Transportation: Antique cars from the bride's uncles

Invitations: PaperSource