Rachel + Ben

The George Peabody Library -- Baltimore wedding photographer -- Baltimore wedding photography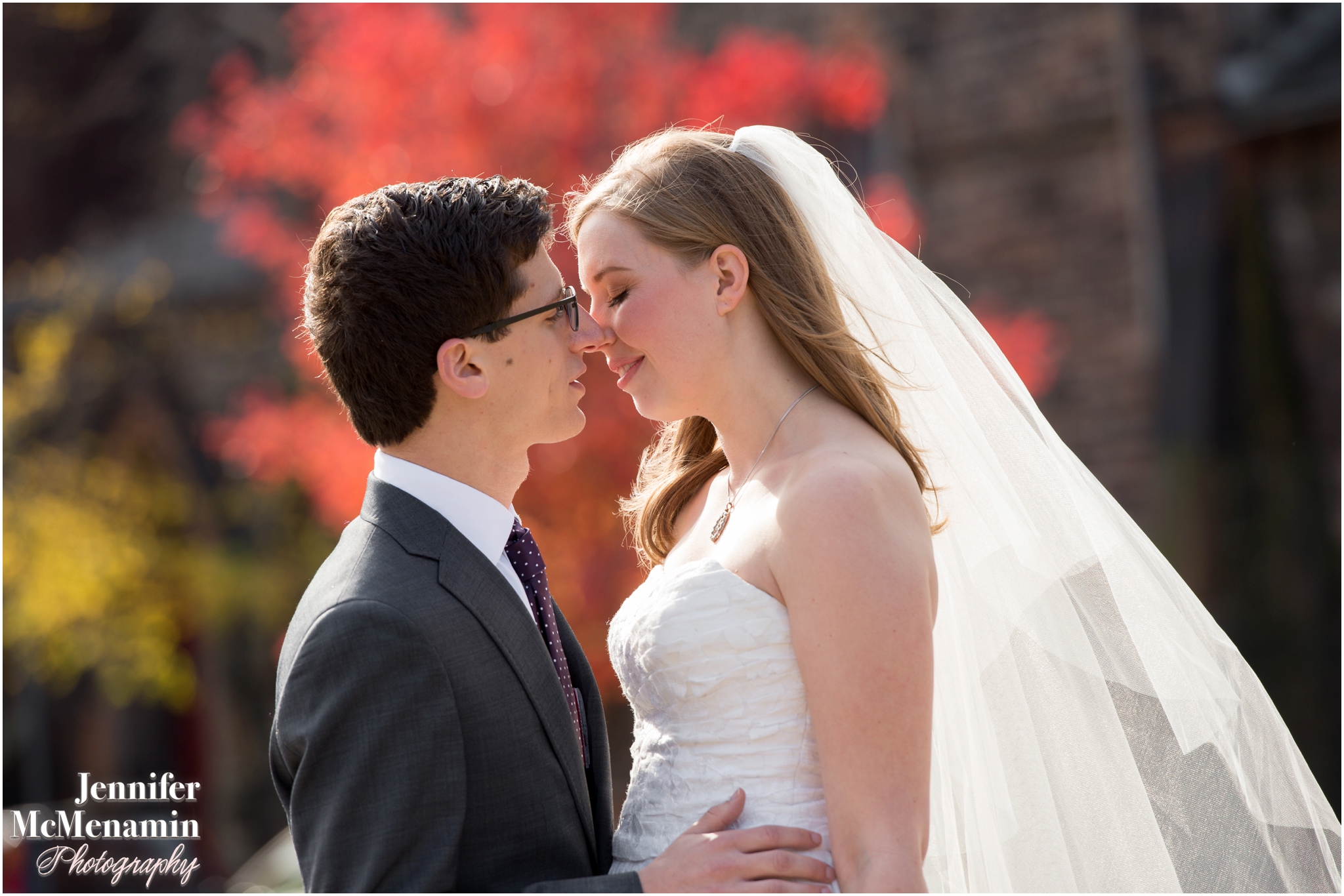 With every note and e-mail that Rachel sent me throughout the year before her wedding to Ben, I became more and more excited about their big day. She would share these little tidbits about their plans and the stories behind their wedding decisions — that the ceremony chairs would be decorated with cones of dried lavender that remind Rachel of her mother's garden back home in Utah, for instance, and that Ben bought her engagement ring at the jewelry shop in Chicago where his zayde worked for many years using his grandfather's very own diamond tongs. She also revealed that despite both being Baltimore transplants, she and Ben knew almost as soon as they got engaged that they would marry in Charm City. "In addition to putting our blood, sweat and tears (and sometimes those were literal tears — teaching is hard!) into Baltimore in our five years of teaching, this is where we met and fell in love," Rachel wrote. "We chose the George Peabody Library because my parents are both librarians, Ben's parents both teach and we are both teachers, so a place of learning was an obvious choice." She also seems to be *the* most regular and enthusiastic reader of my blog and would send me little notes about other clients' weddings. It always made me smile.
And then there was the very enlightened, wise-beyond-her-years e-mail about her approach to wedding planning. It should truly be published in every wedding magazine out there: "My dad has a really cool job," she wrote. "He is a historian, and his specialty is the history of whitewater rafting on the Green and Colorado Rivers. He's rafted the Grand Canyon over 50 times, and on the trip there is this huge rapid called Lava Falls. He says the day before, he spends the whole day tightening the straps, checking the oars, pumping up the raft, adjusting his lifejacket, and he feels really nervous and exhilarated and overwhelmed because this it it, the BIG moment, the biggest rapid. But as soon as he pushes off from shore, he feels an overwhelming sense of calm because the current has taken over, and he is just in for the ride. He doesn't know what will happen, he just knows it will be thrilling and crazy and totally out of his control. And to make a really long story short, that's exactly how I feel about my wedding:) I can't wait!"
This is, in fact, exactly how zen and happy Rachel seemed on her wedding day. She reveled in the time spent with her sister, girlfriends and her and Ben's mothers in the morning while getting ready. Upon seeing Ben for the first time that day, she grinned and laughed, burrowed her face in his neck and threw her arms around him. During the ceremony, I shot several photos of her very visibly just looking around to take everything in. It was such a pleasure to capture and document. One of my most favorite moments of the day happened at the very end: Without very much warning, Rachel and Ben took to the microphone to thank their guests and families, linked arms and strolled right out of the library, up the street into the dusky early-evening light and climbed into their own car to drive home to their apartment. It was wonderfully sweet. And after the wedding? They continued to be just the most lovely people ever. I received thank-you notes from not only Rachel and Ben but also their parents. I can't help but smile every time I think about them and their families. So without further ado — and because I know there are two amazing mothers waiting for more photos beyond the engagement session and the sneak peek of the wedding! — here are some of my favorites from Rachel and Ben's wonderful day: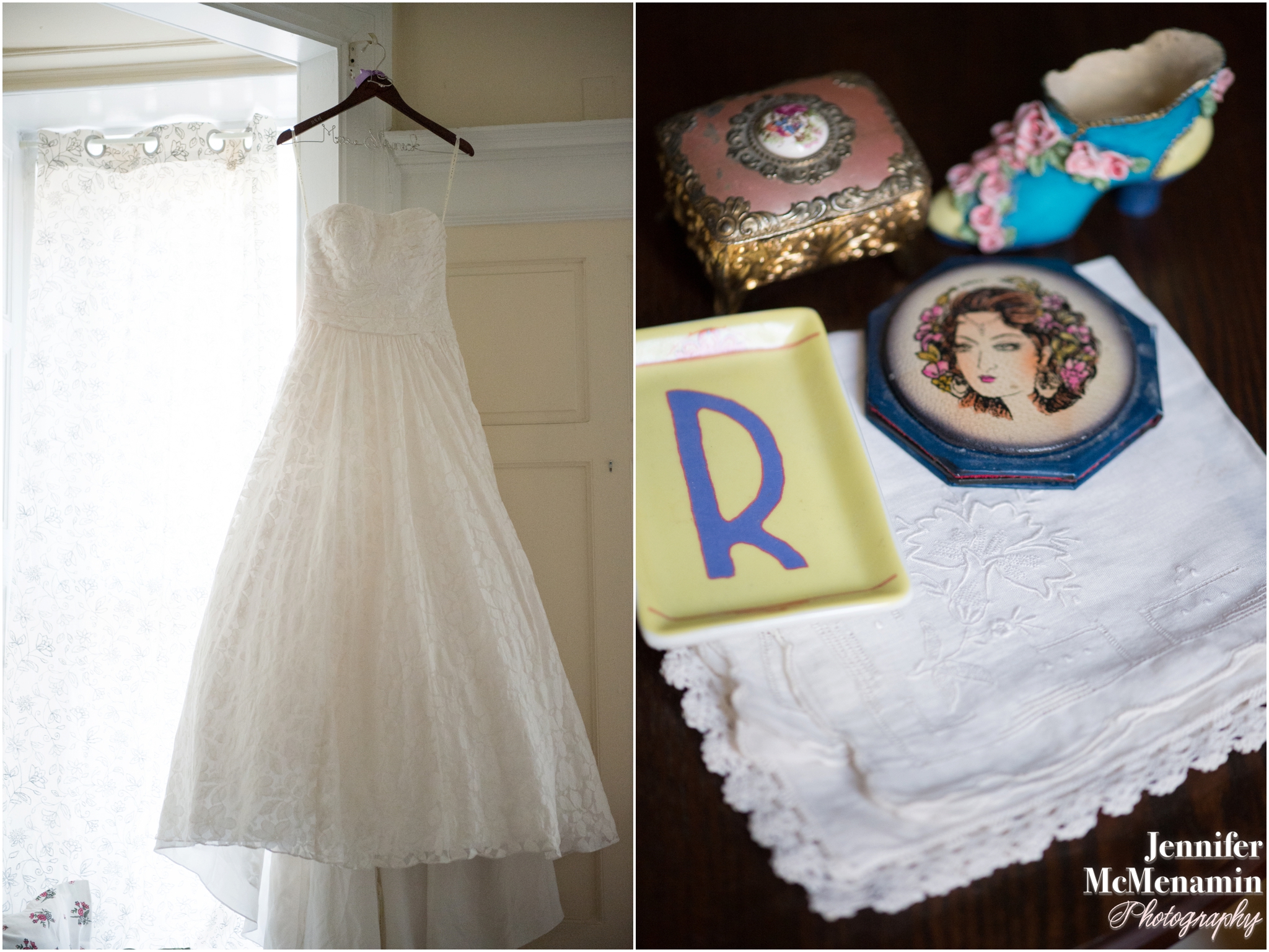 I started with the girls at a beautiful Mount Vernon apartment, where I photographed final preparations and all the lovely, meaningful little details that Rachel and her mother had assembled. This lovely diamond necklace in the next image belongs to Rachel's beloved 96-year-old grandmother, who was not able to make the trip from Berlin for the wedding.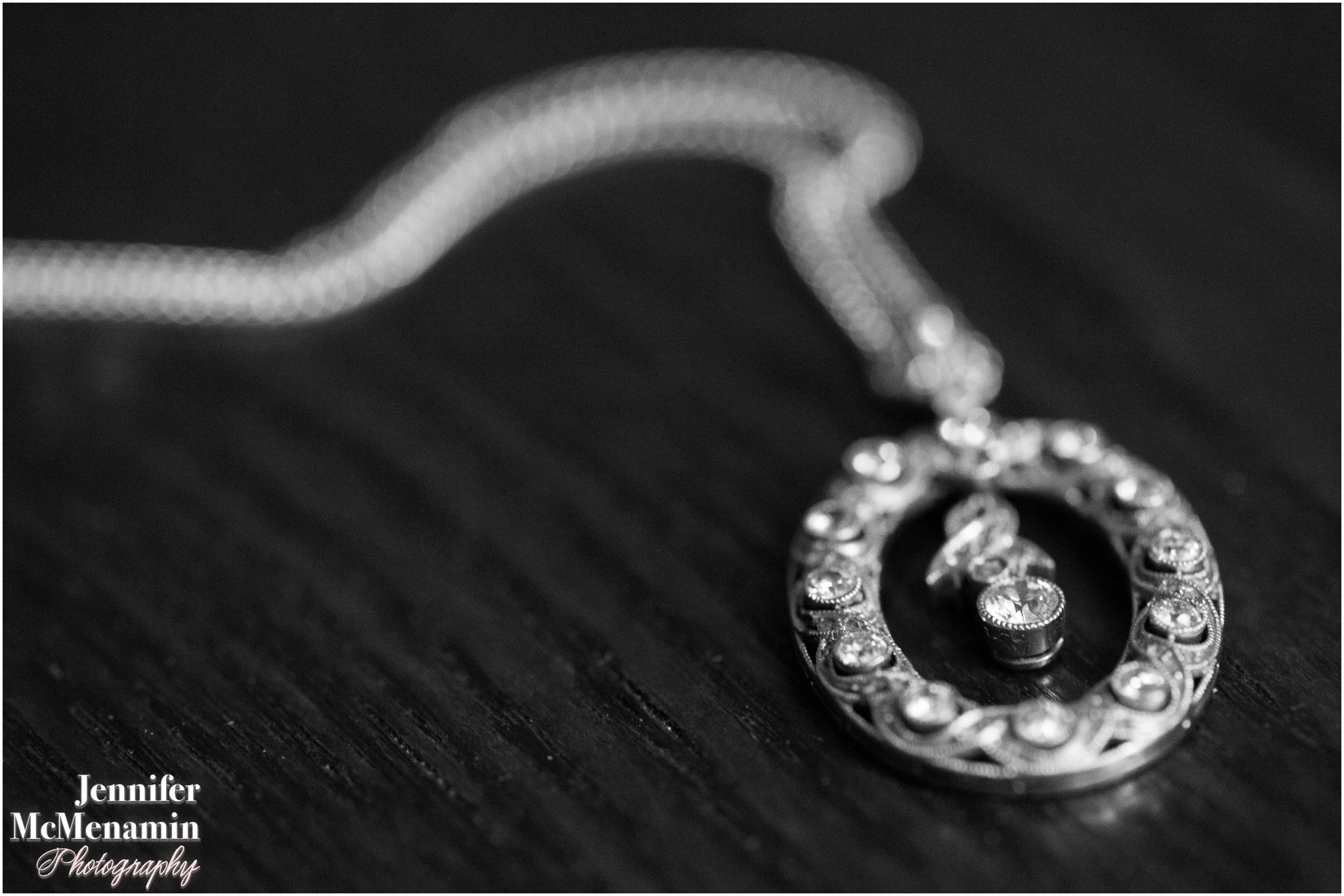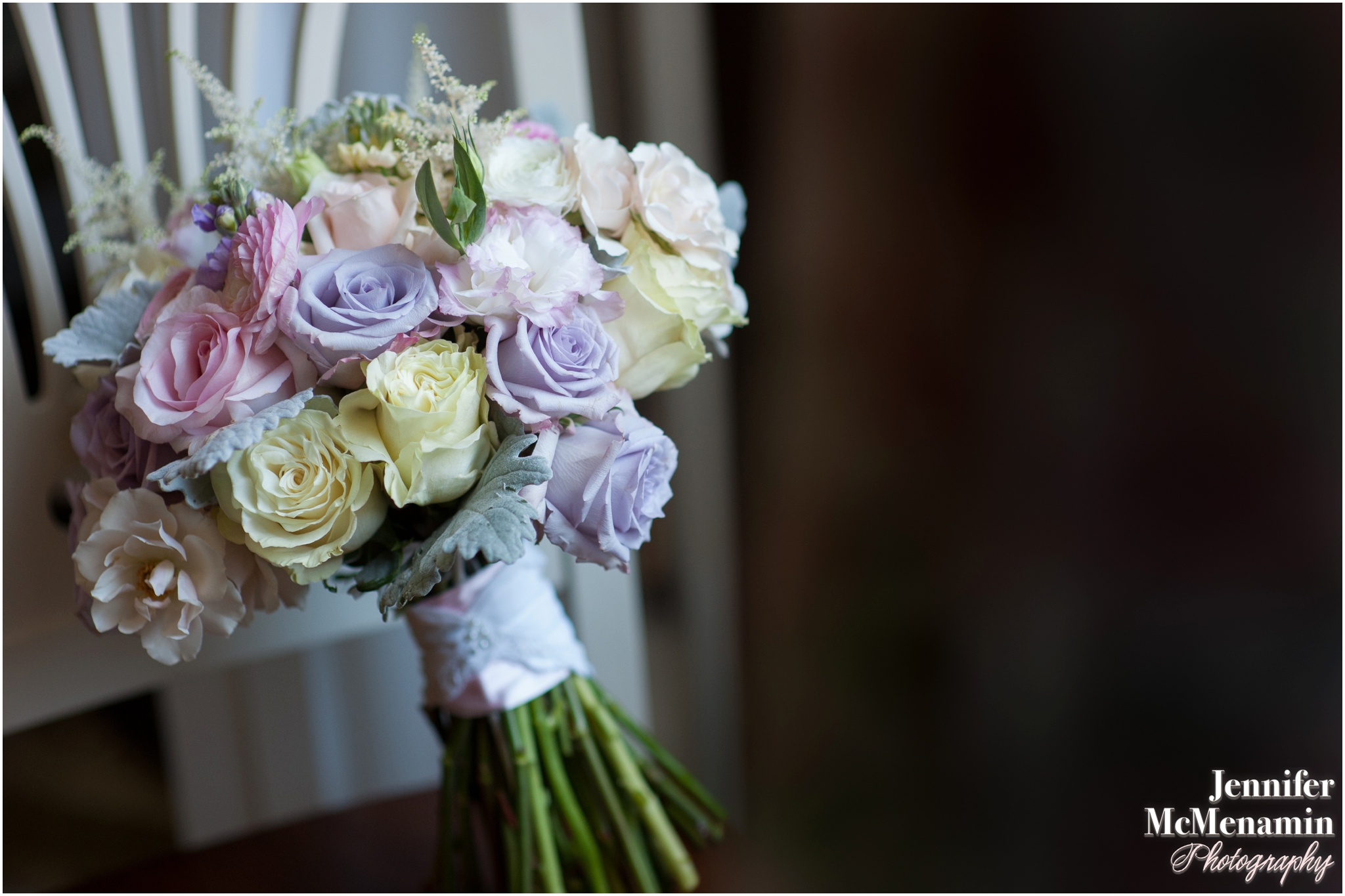 Another lovely detail that Rachel, a recent convert to Judaism, shared with me in one of her wonderful e-mails: "We decided to engrave our rings with a quote from the Book of Ruth, which is really special to converts," she wrote. "The backstory is that Ruth was a Moabite woman who converted to Judaism after caring for her sick mother-in-law. She said to her mother-in-law, 'Wherever you go, I will go. Your people will be my people and your God my god.' My ring says 'Wherever you go' and Ben's says 'I will go.' This means everything to us, both in being Jewish and in life."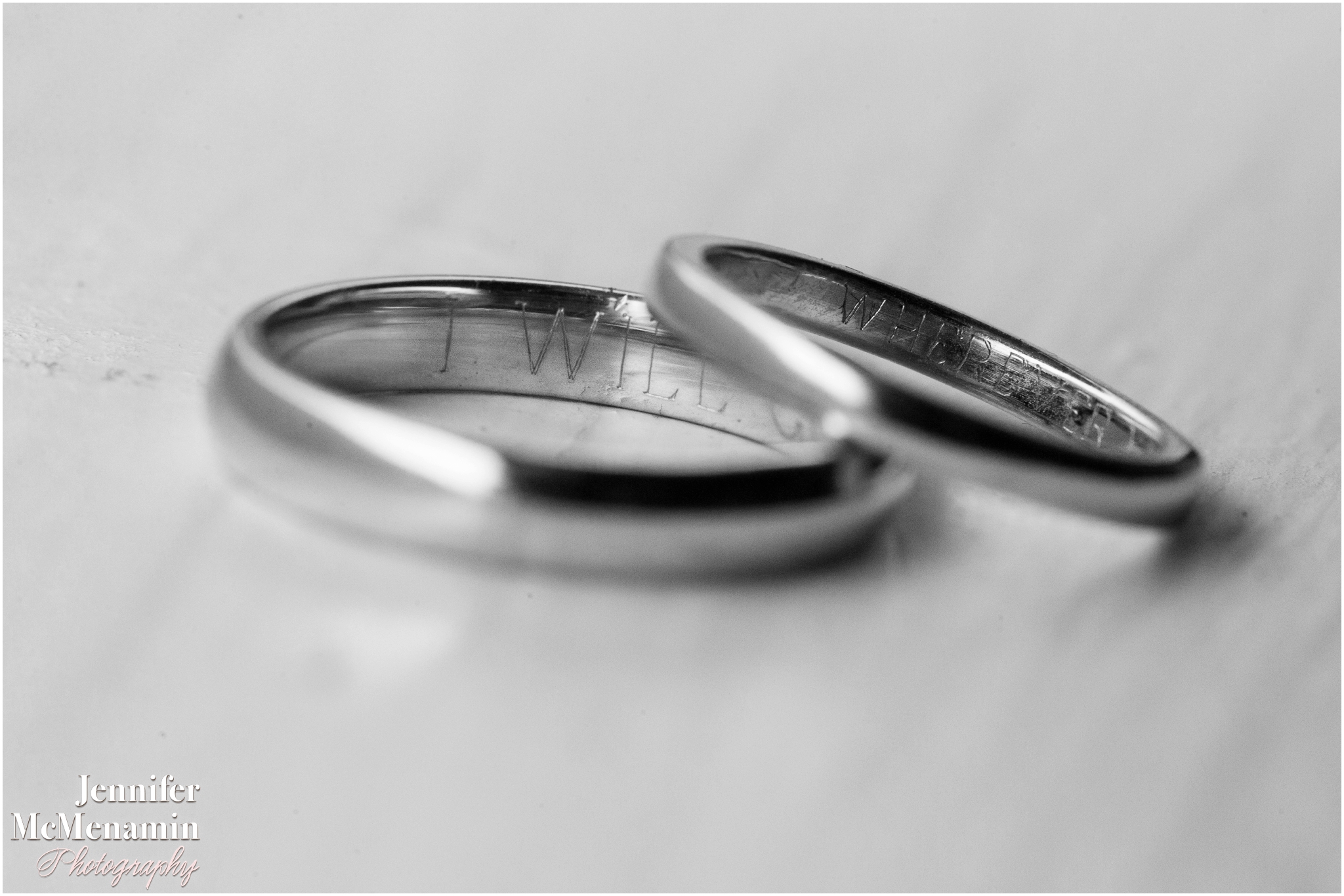 This is one of my most-favorite, happiest getting-ready photos of all time. Is she not immeasurably darling?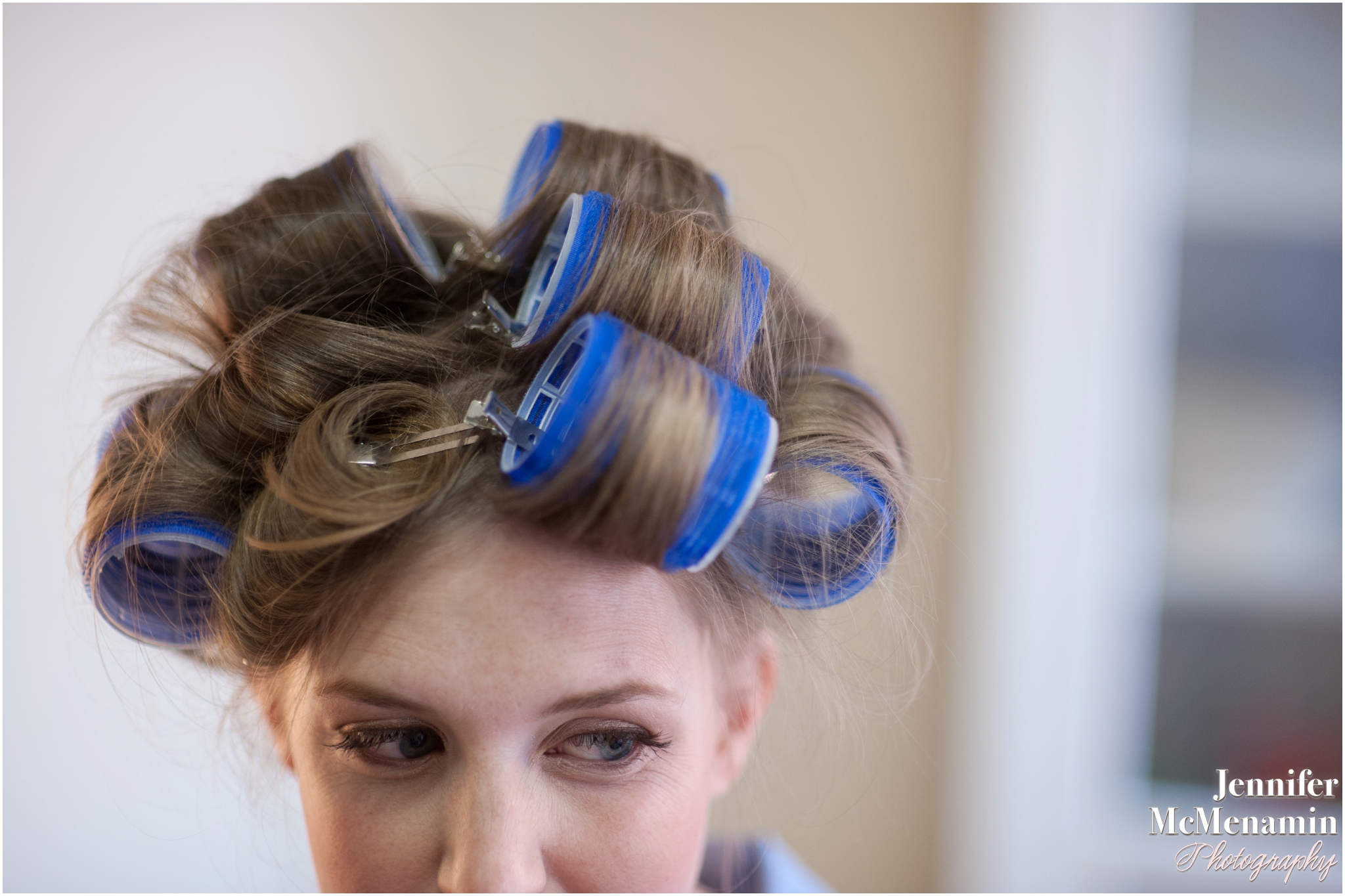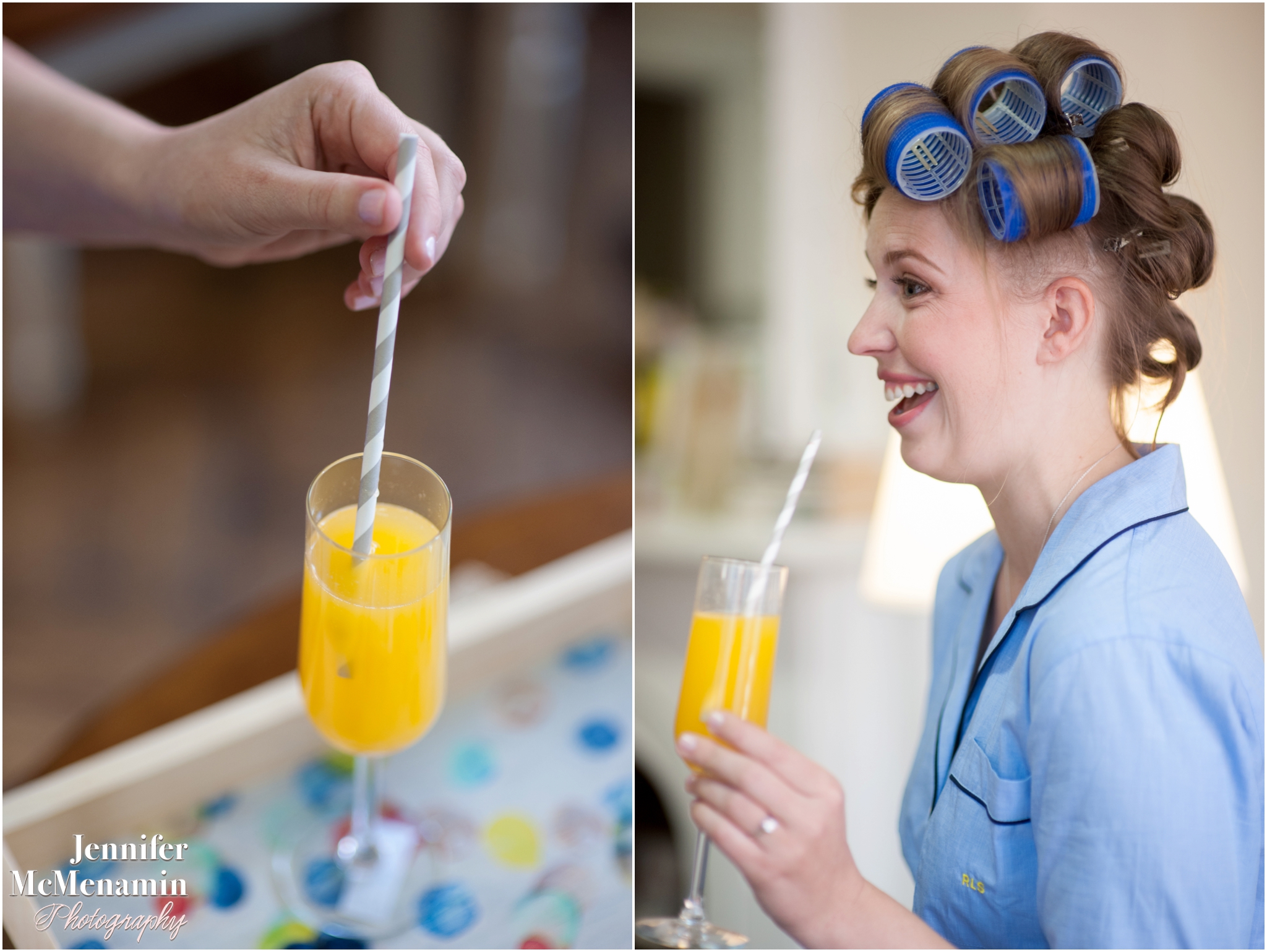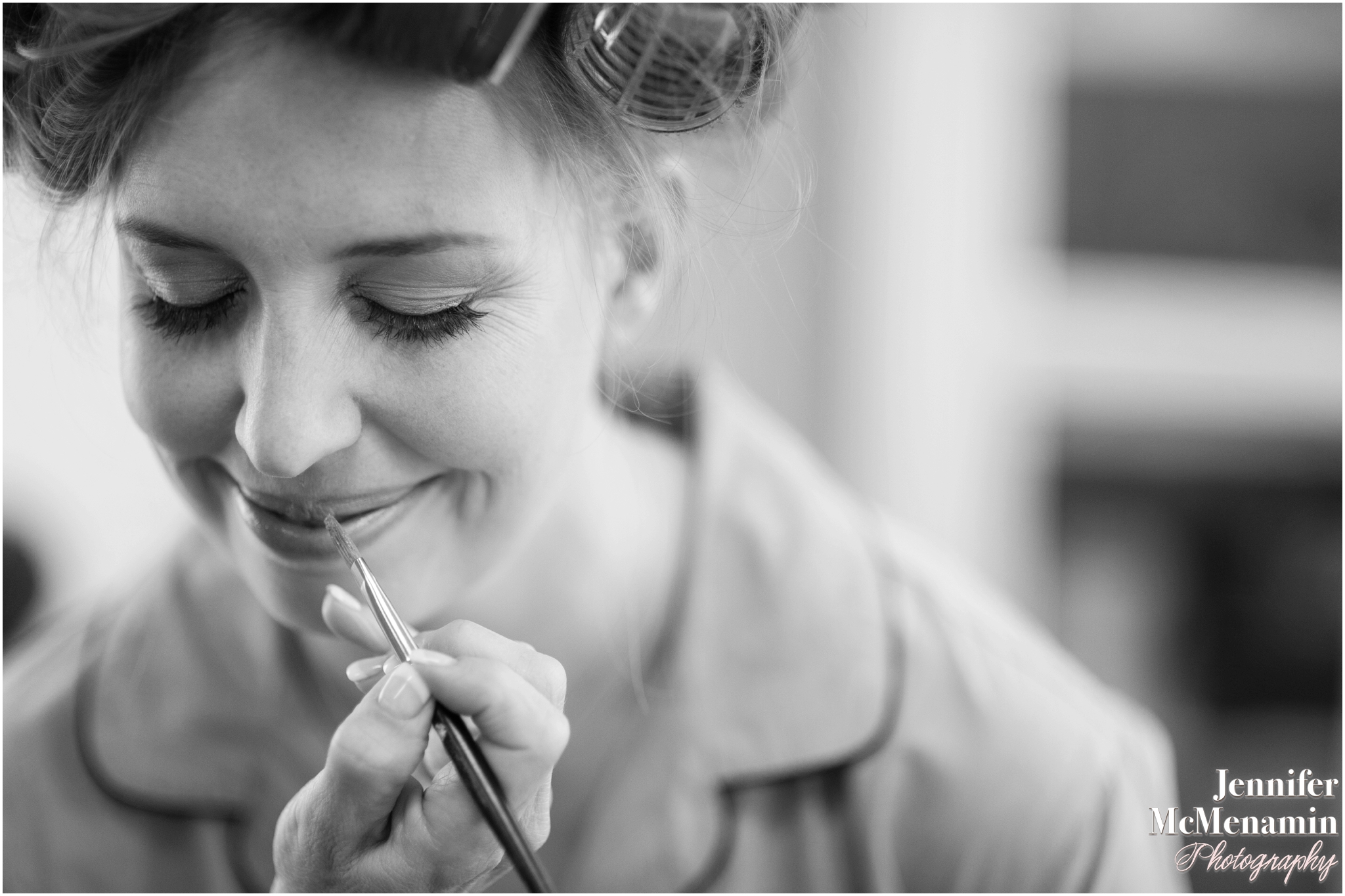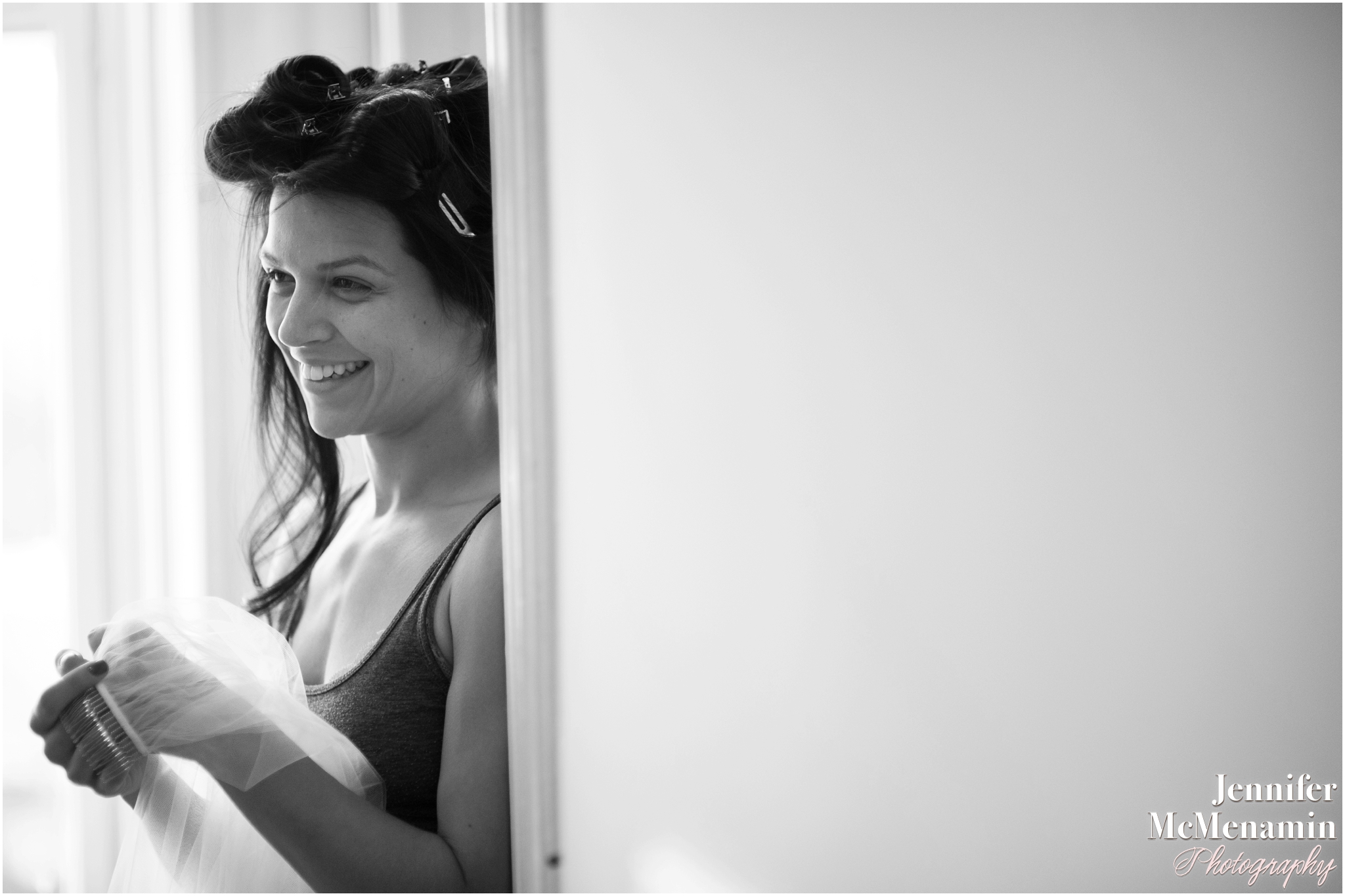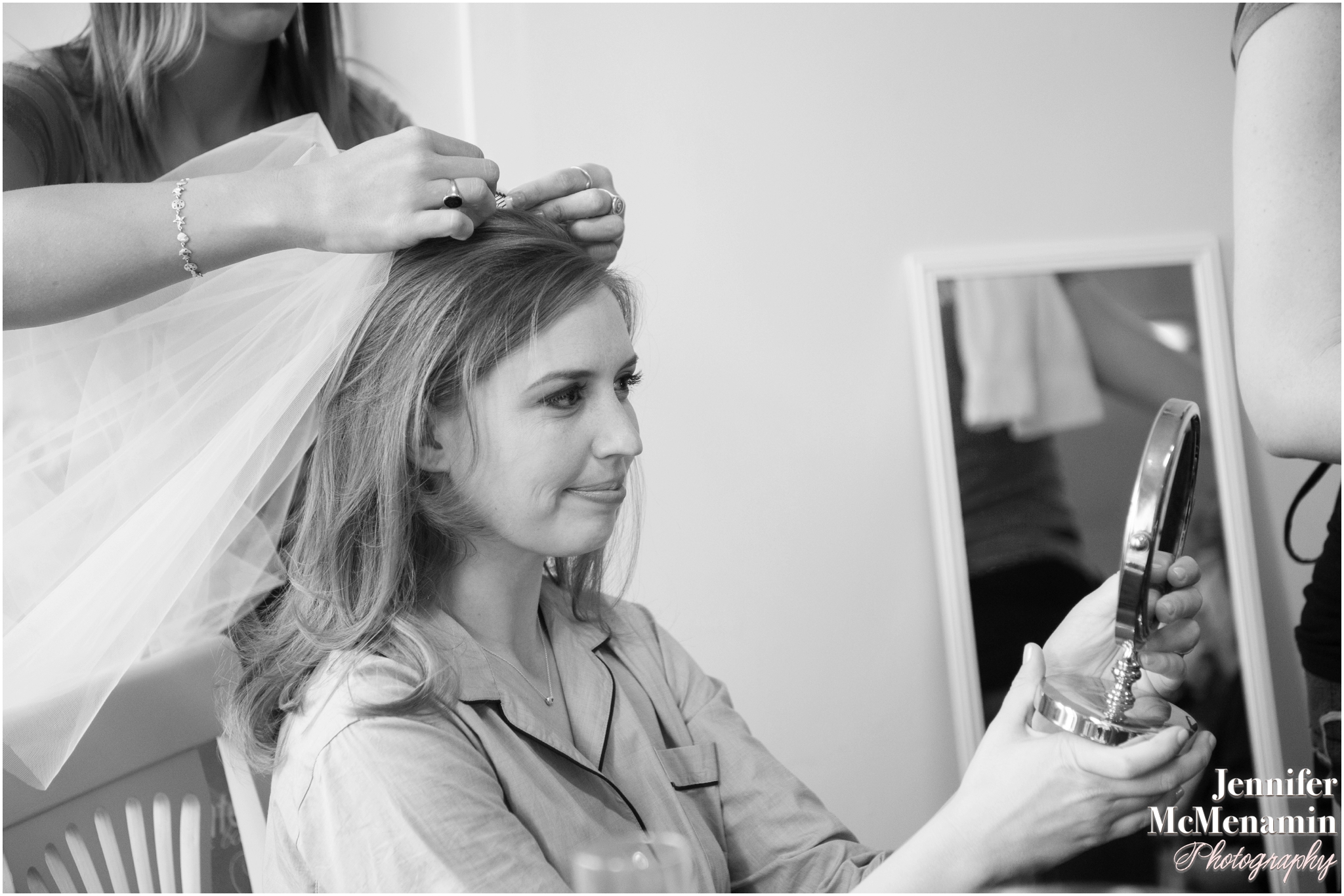 Getting buttoned into her gown.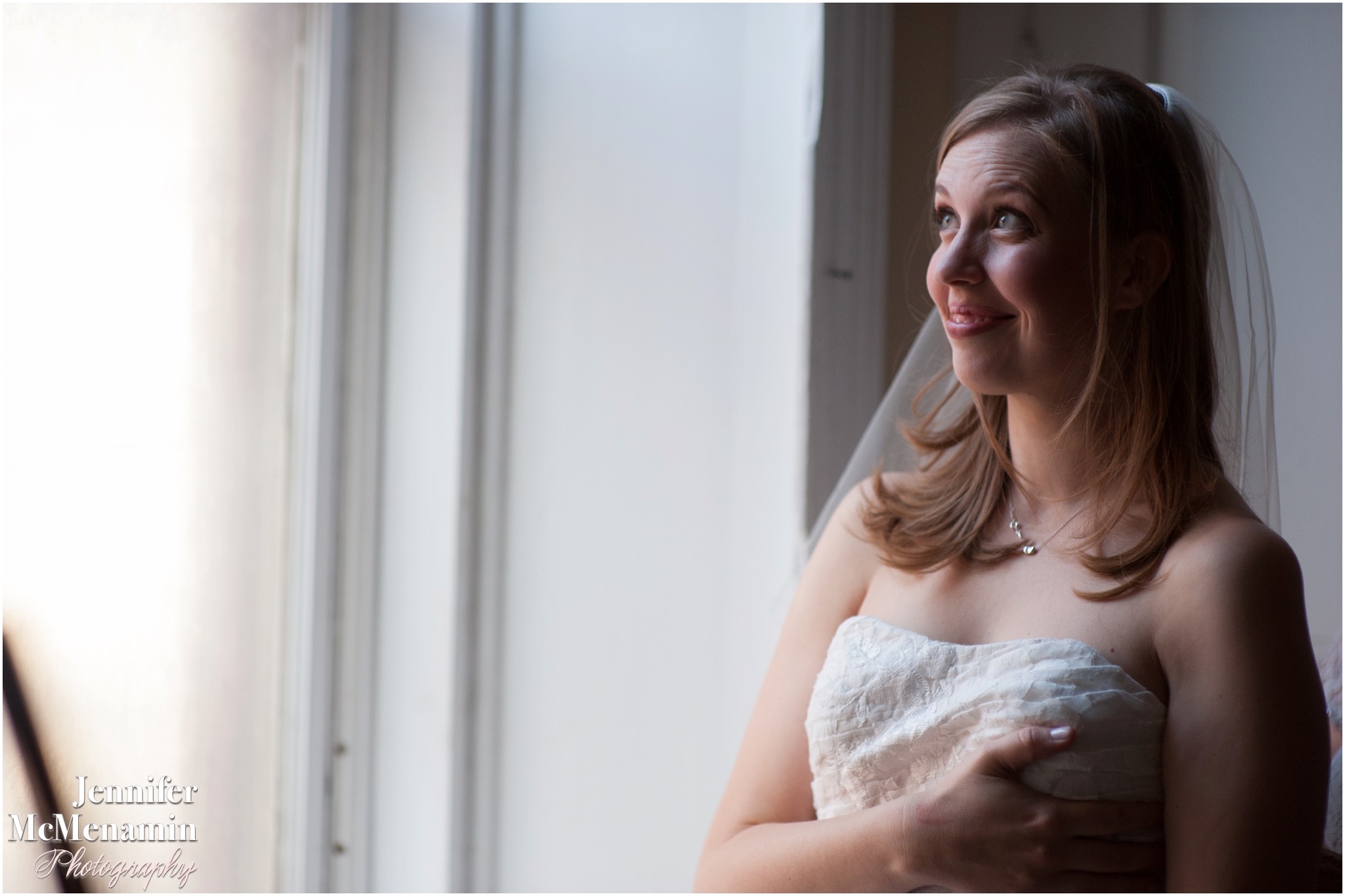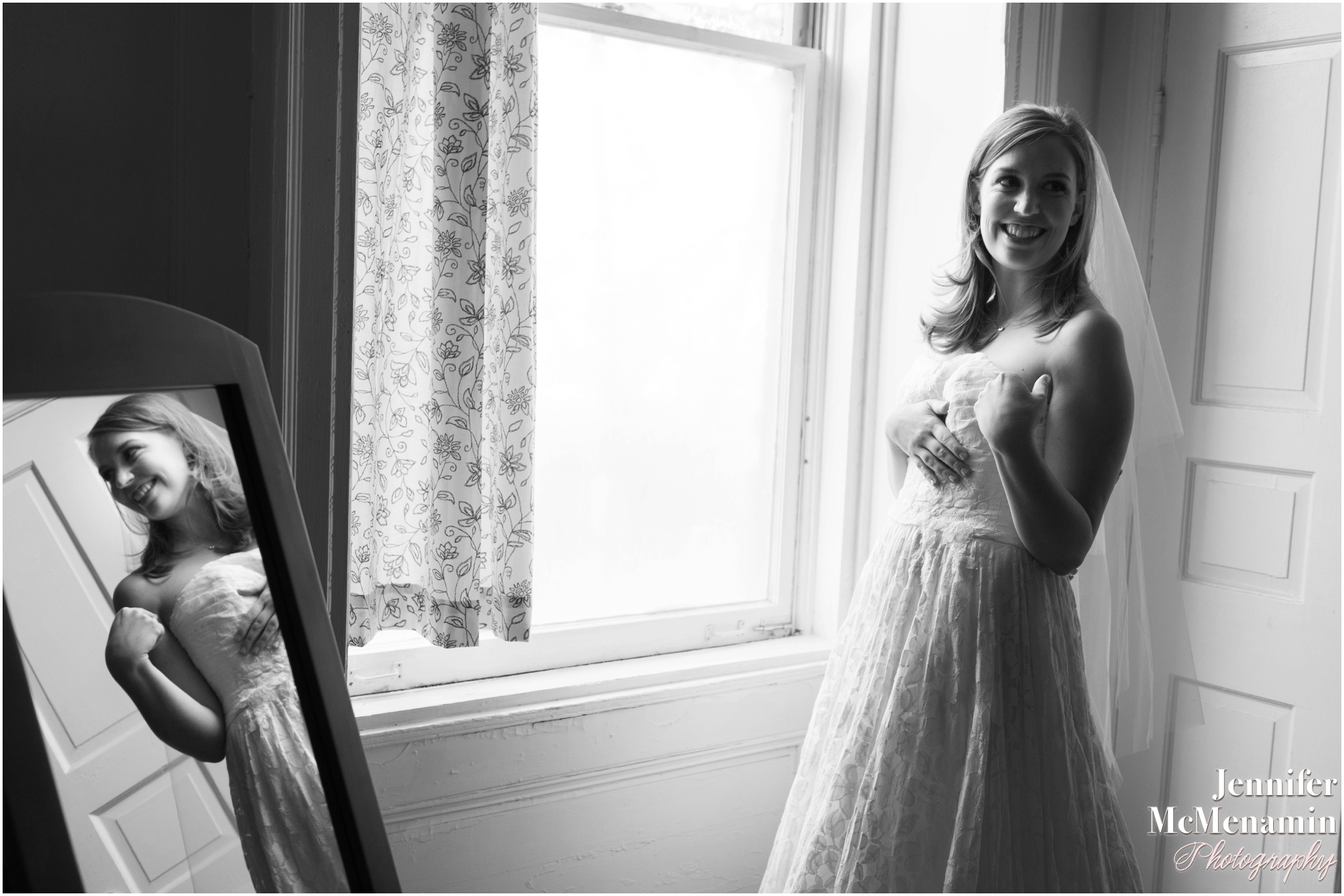 Rachel's friends applaud upon seeing her in her dress. Lovely friends for a lovely girl!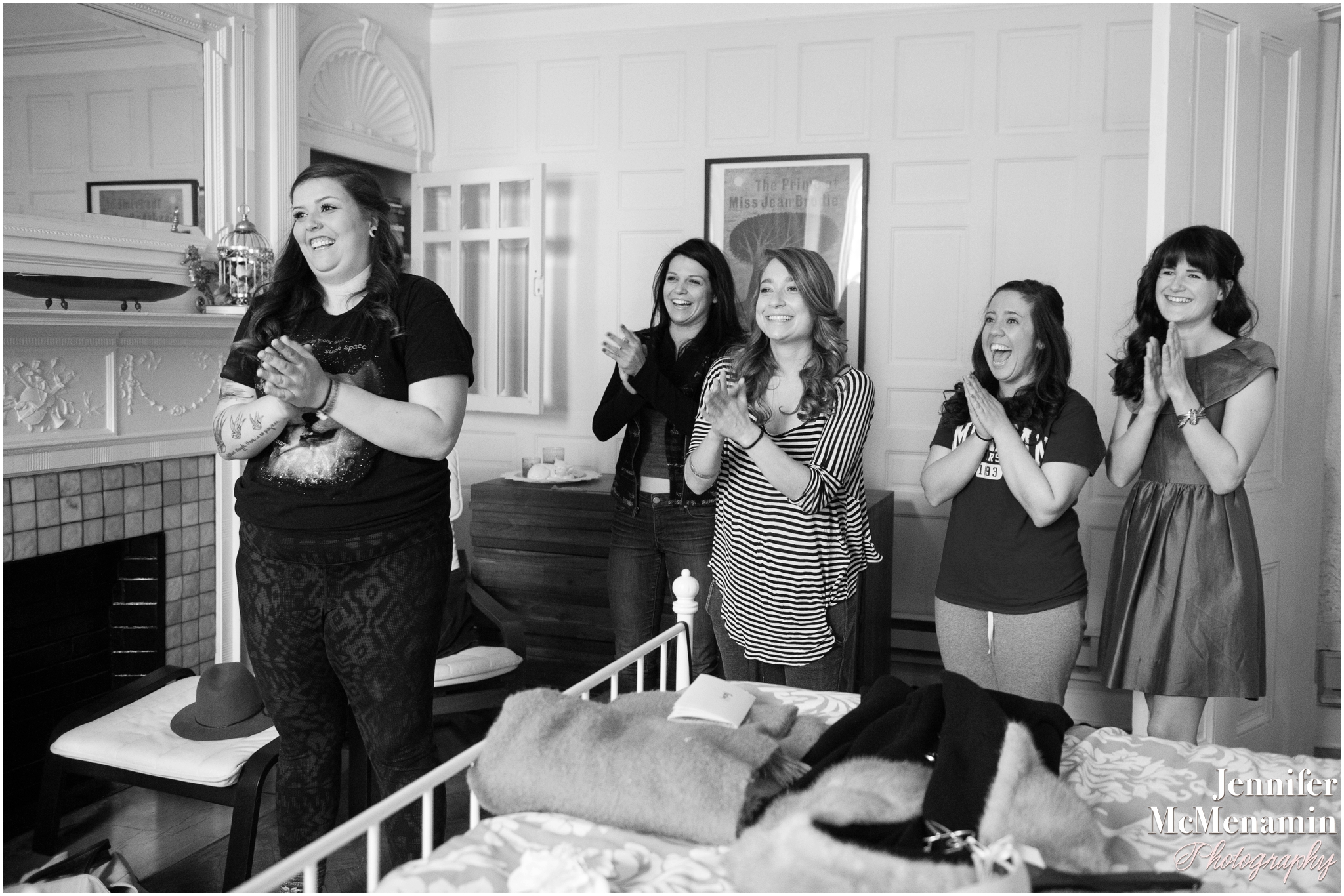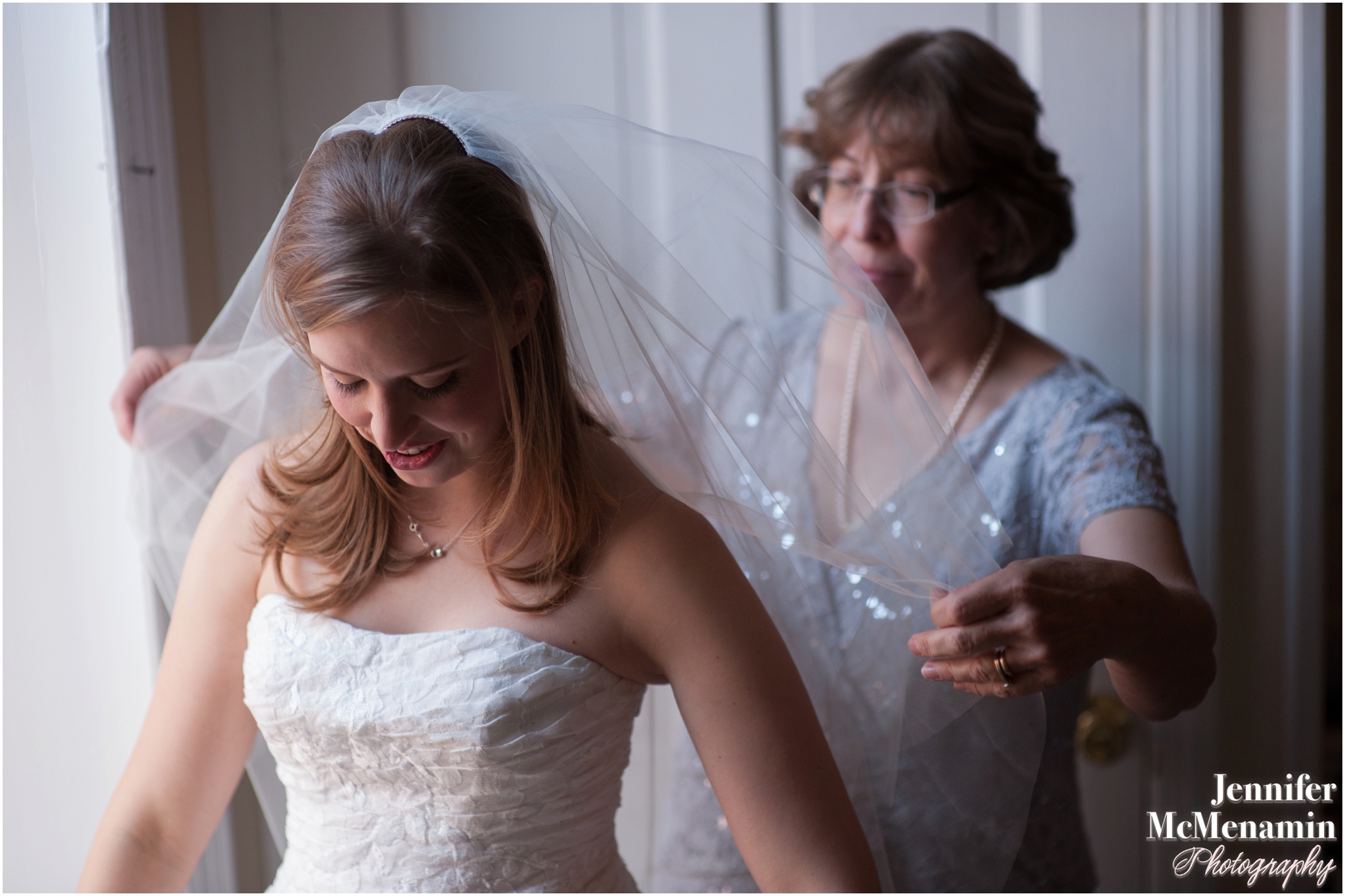 Rachel's mother, Becci, becomes emotional while helping Rachel with her own mother's necklace.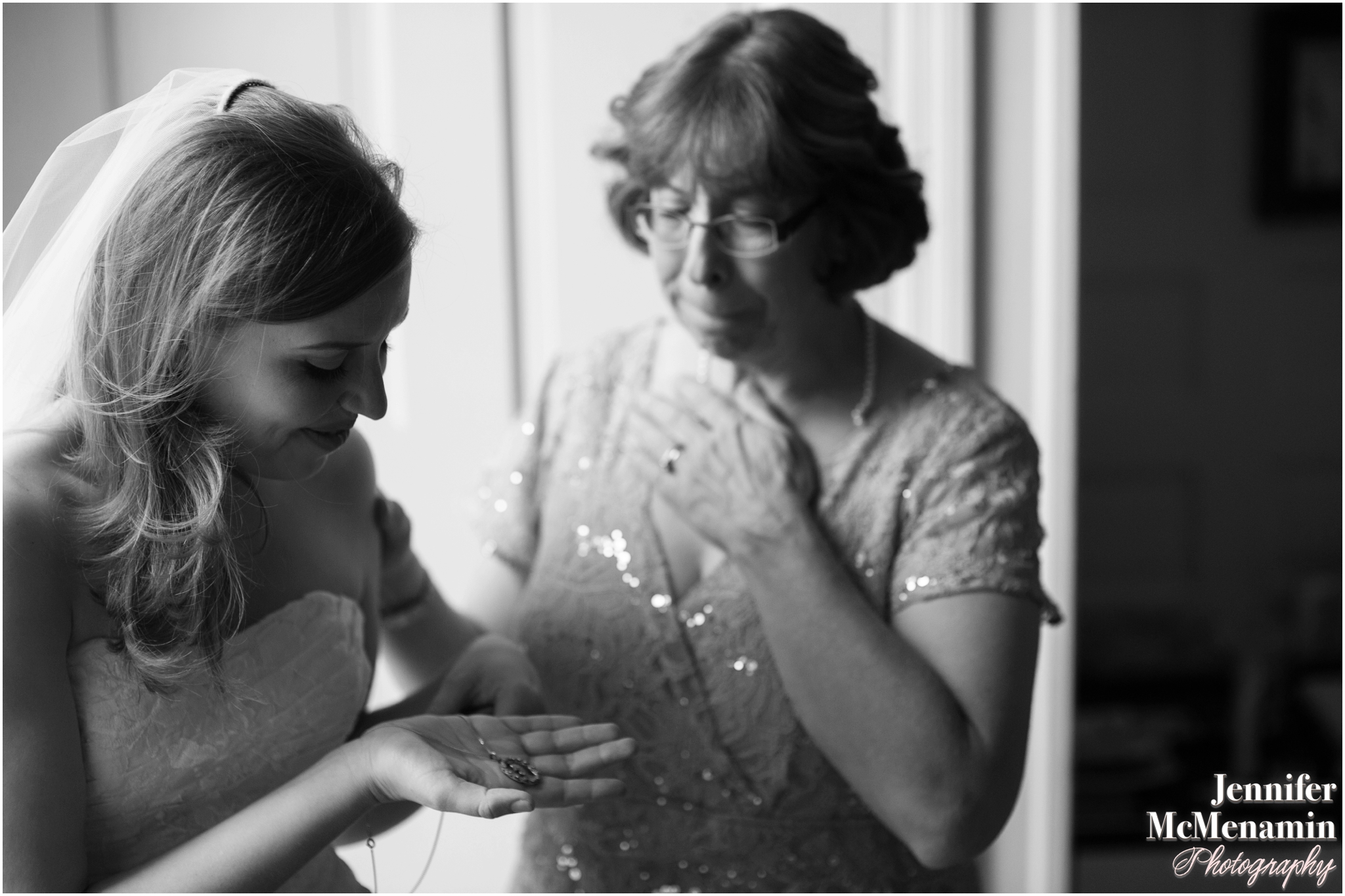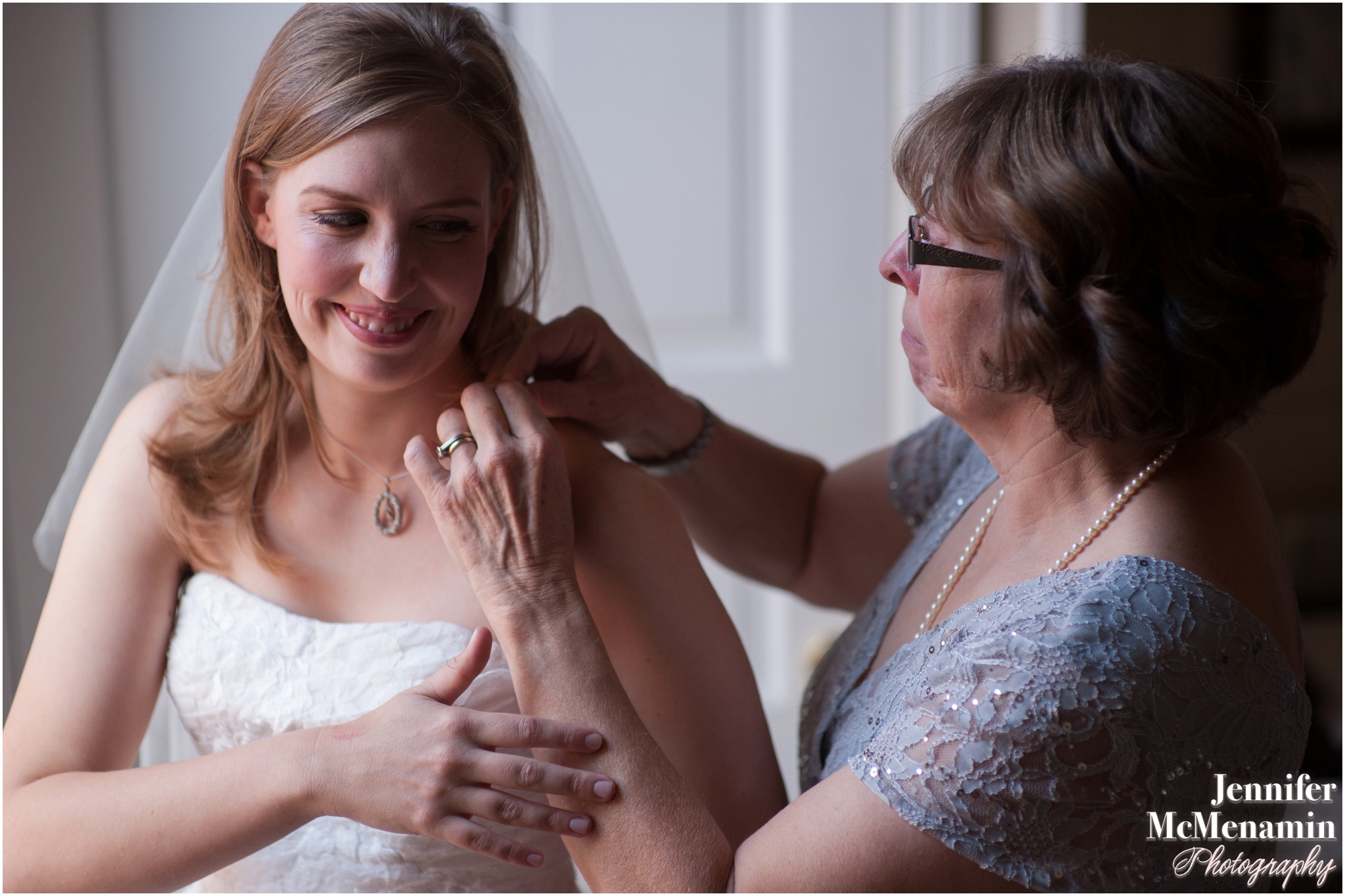 The bride, looking positively lovely.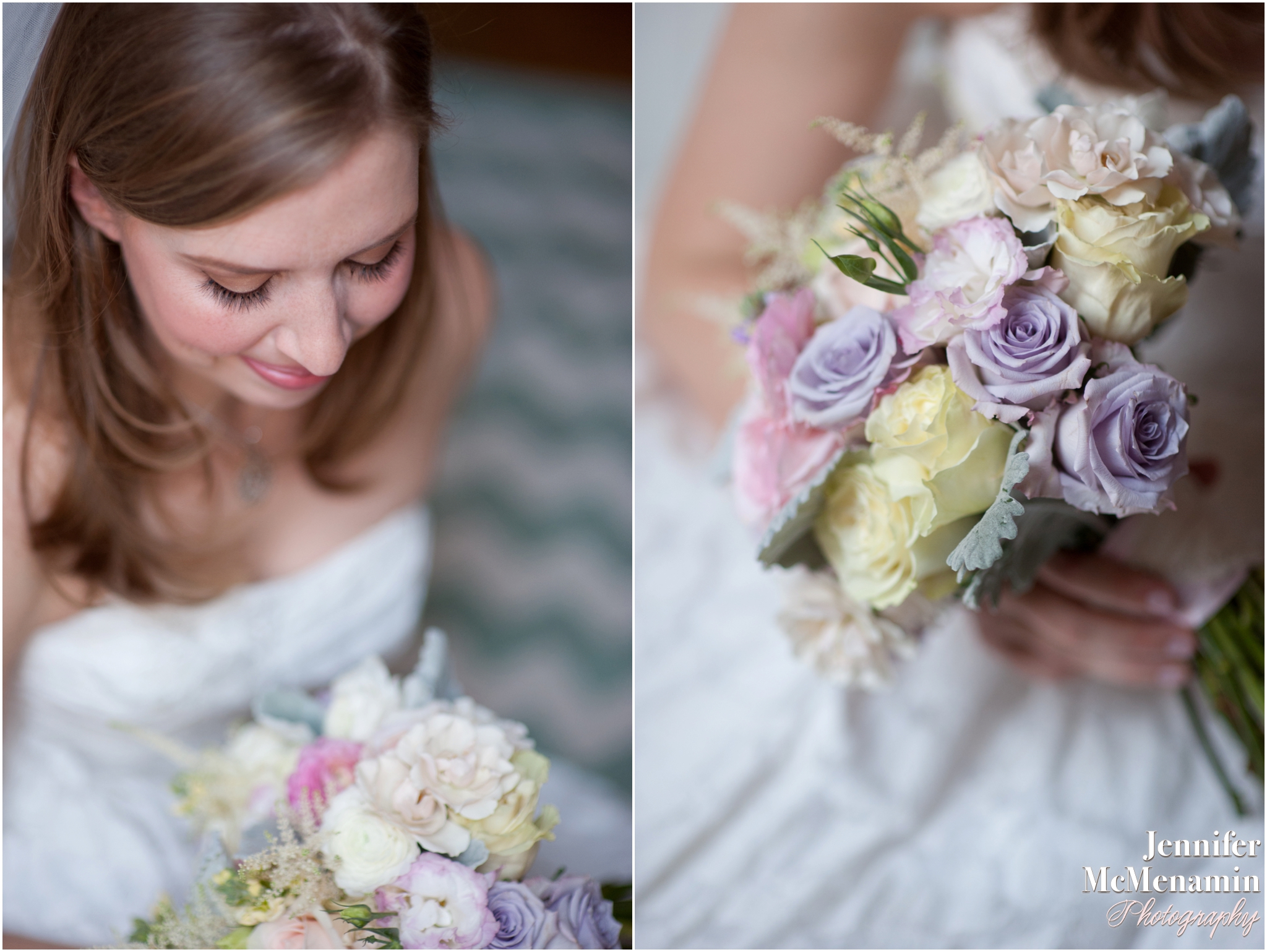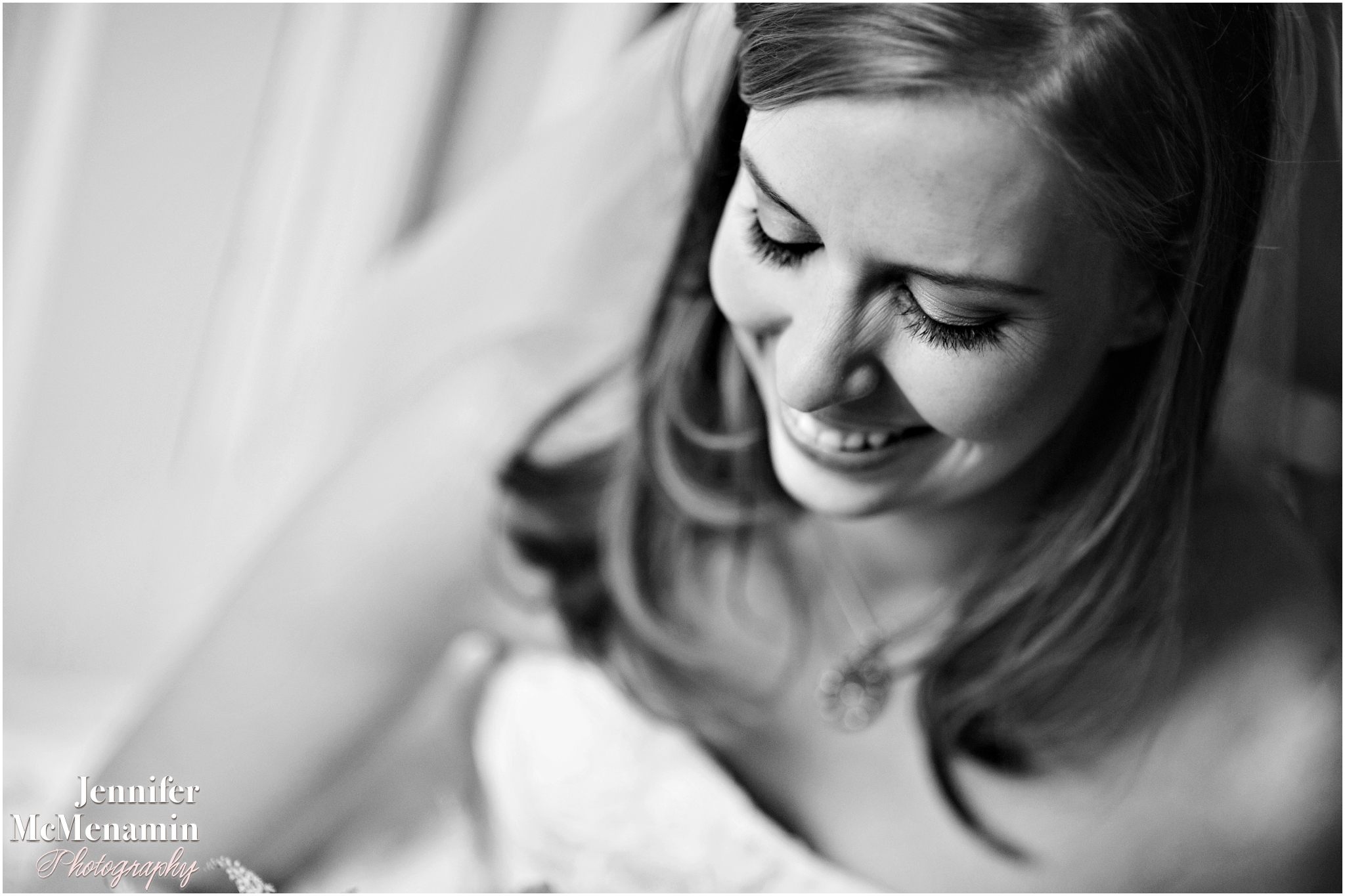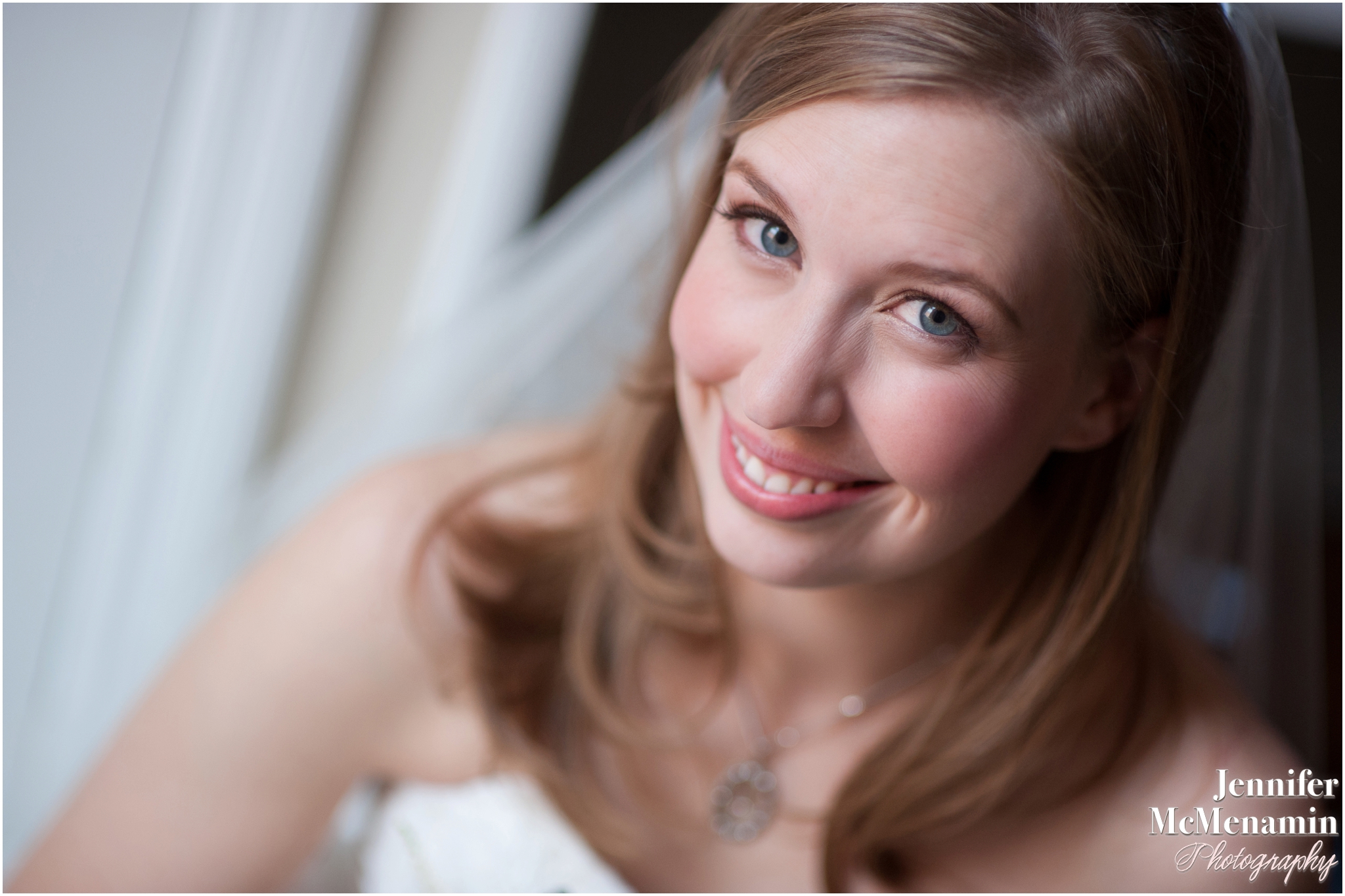 Rachel reads a letter from her Ben.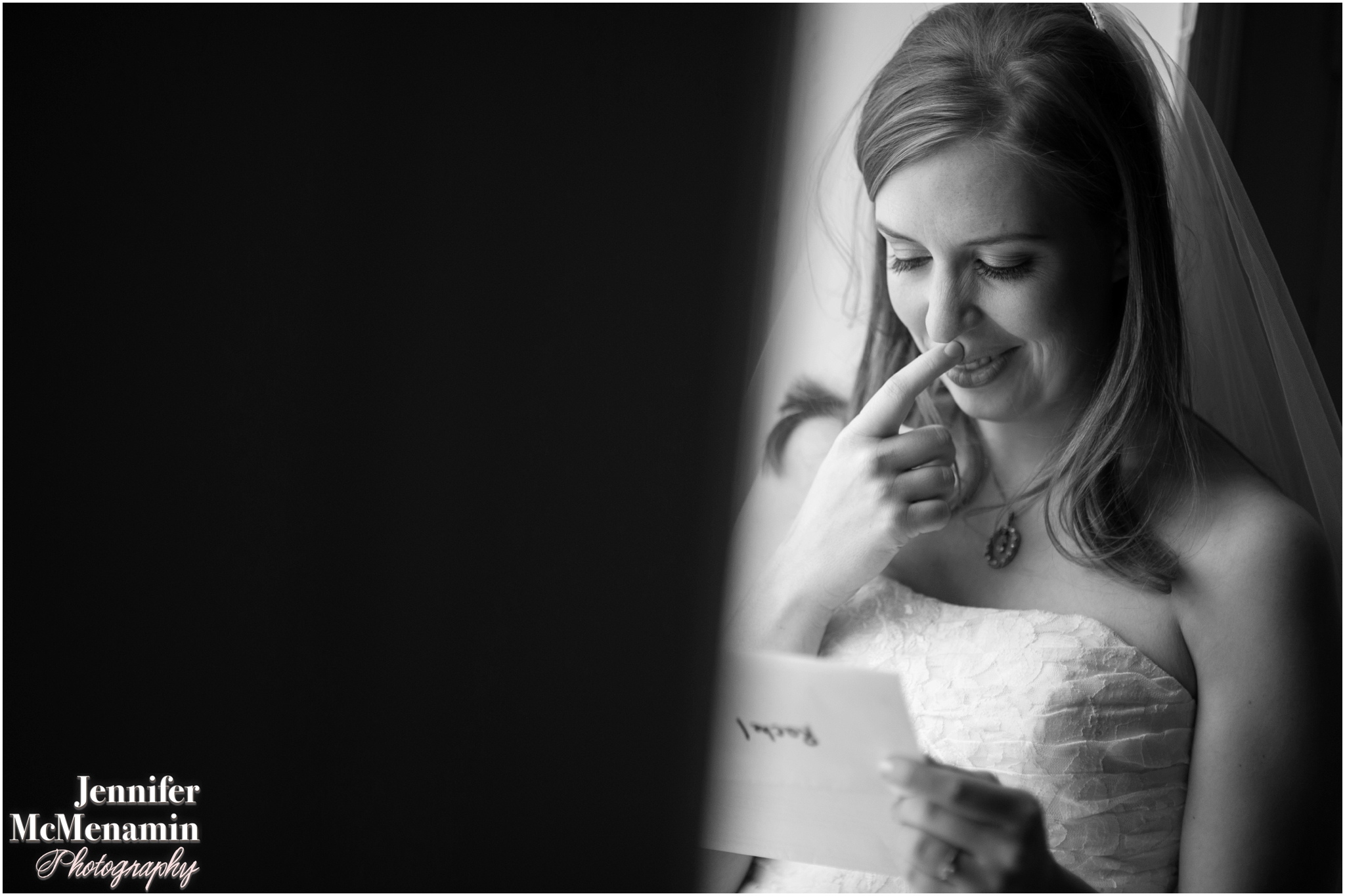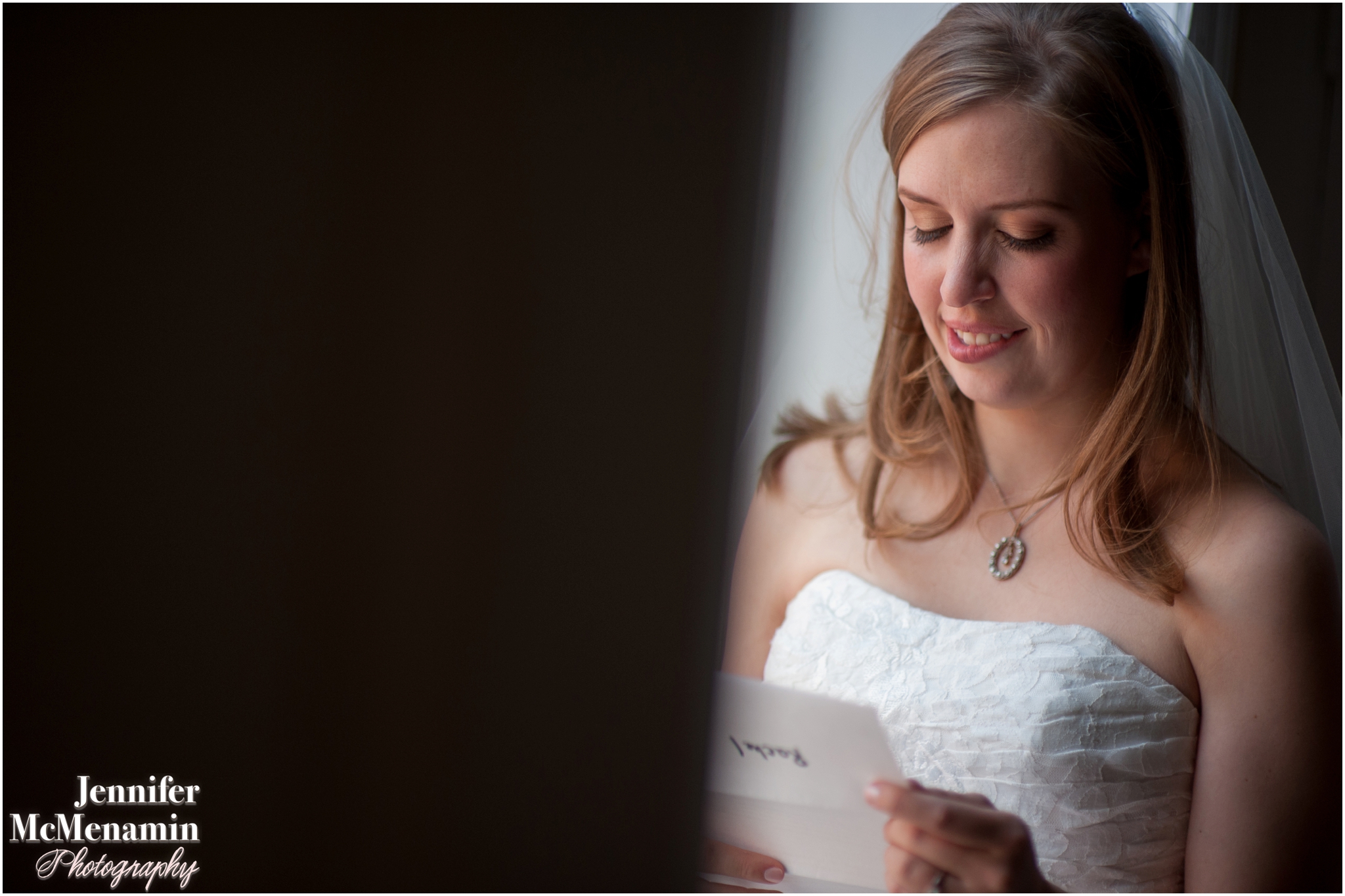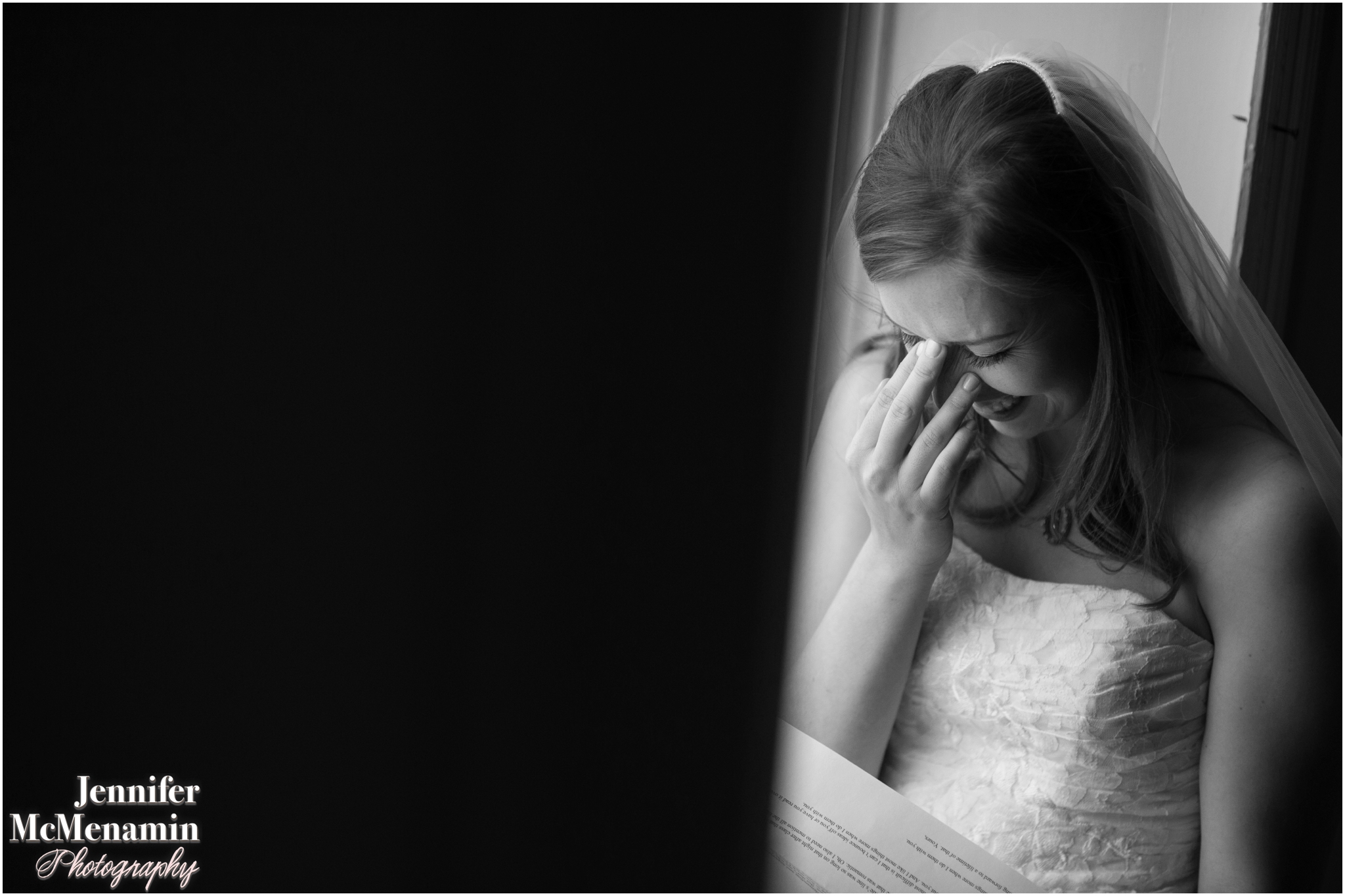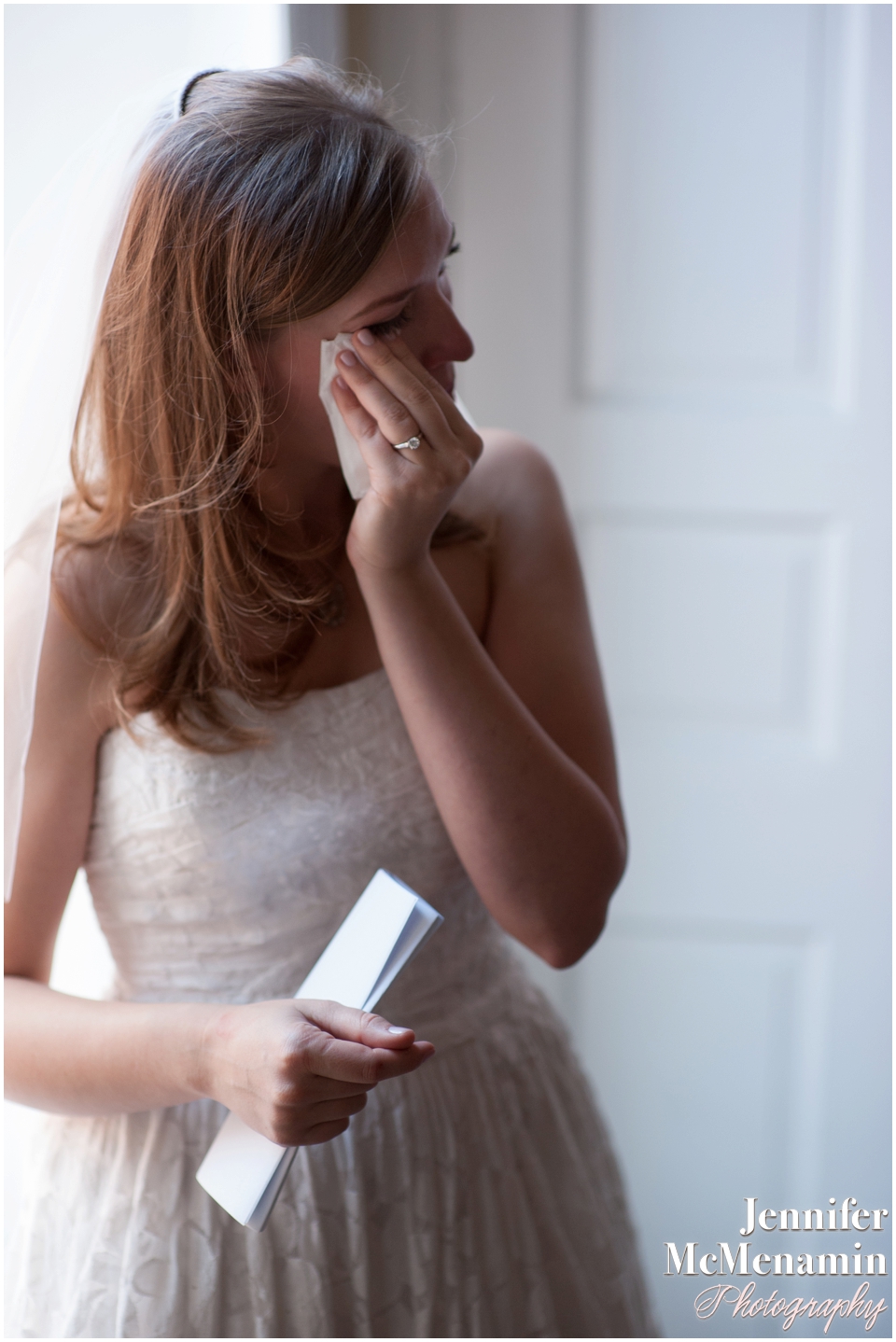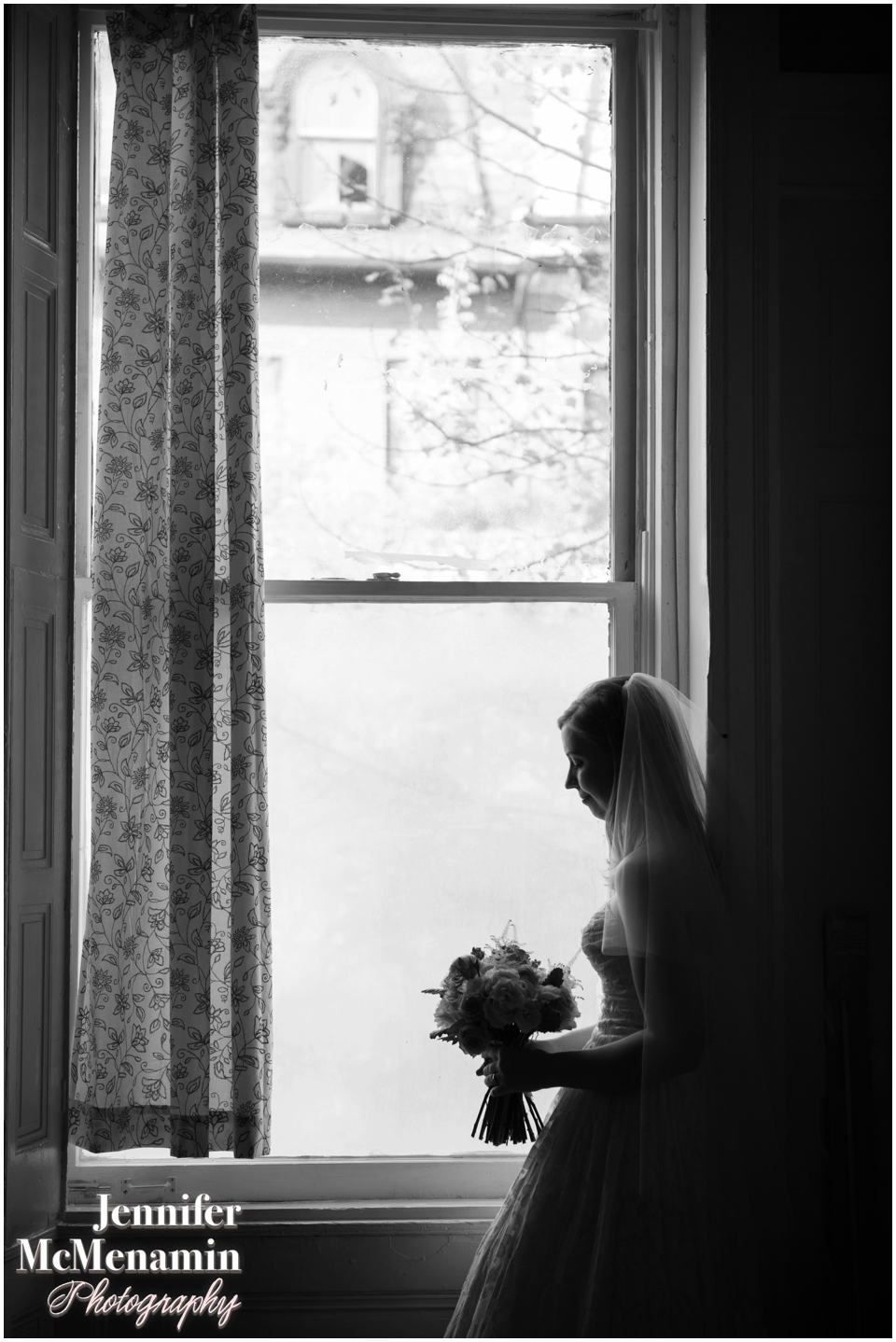 And then we were off to Bolton Hill for her to see Ben.
I love love love this next series of photos as Rachel looks for him and strains to see him and then realizes he's sneaking up behind her. So lovely.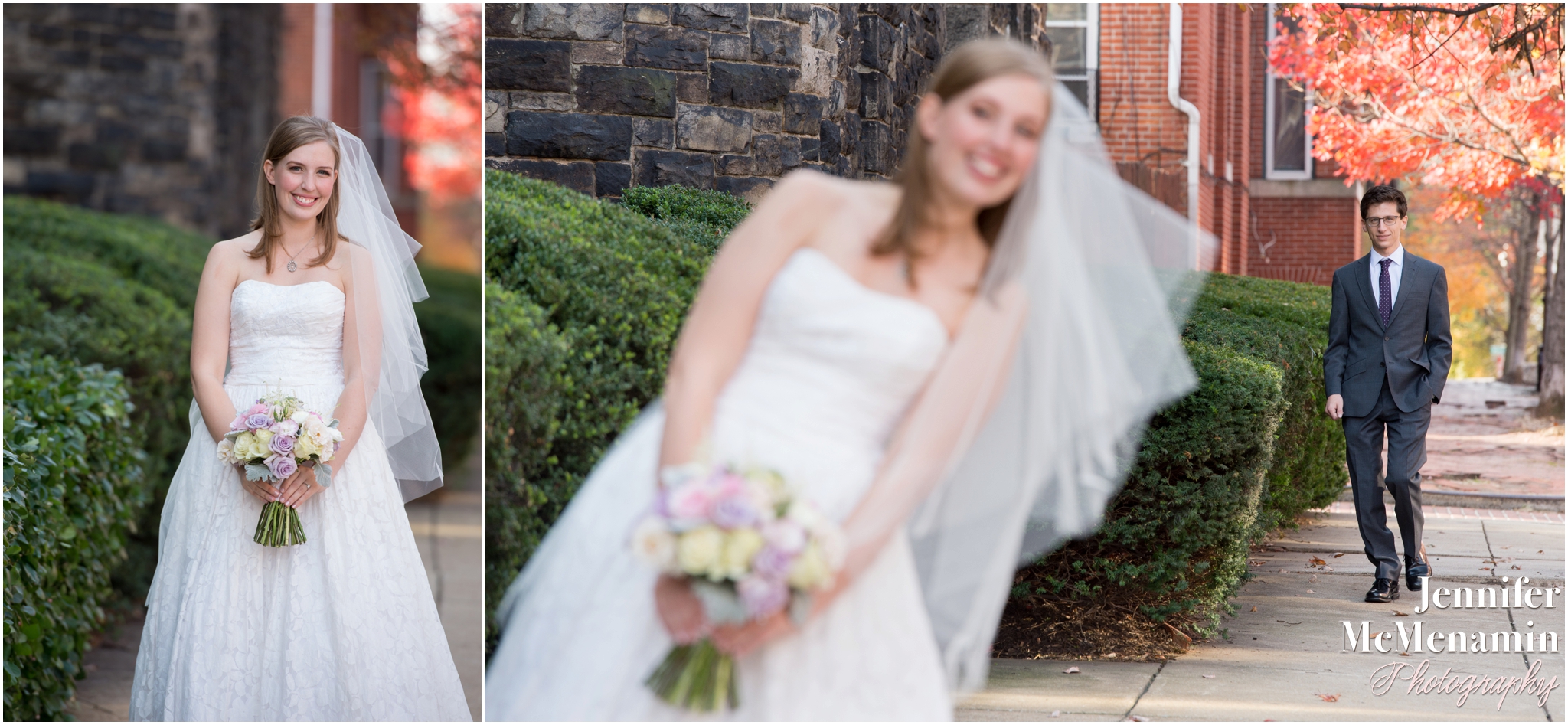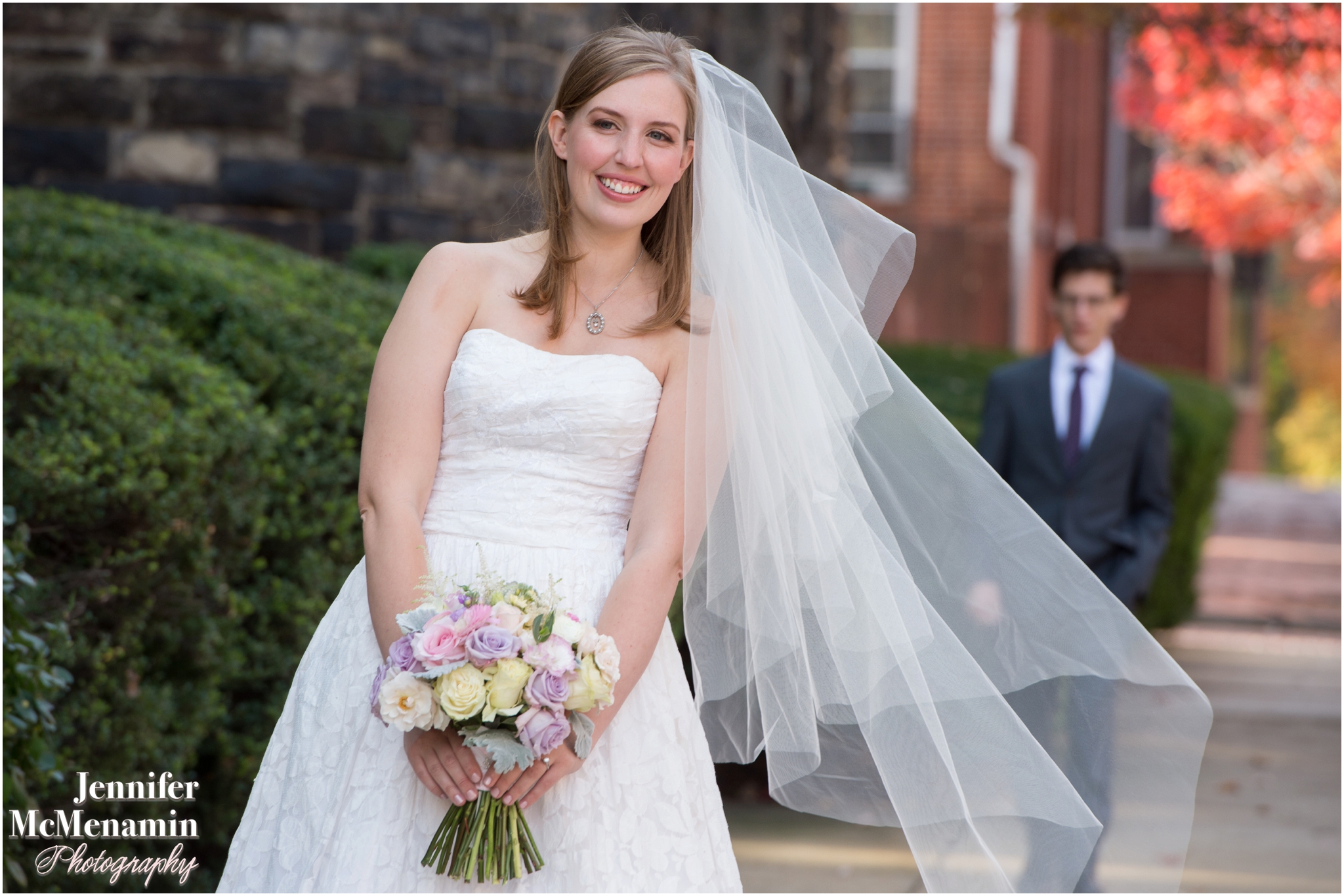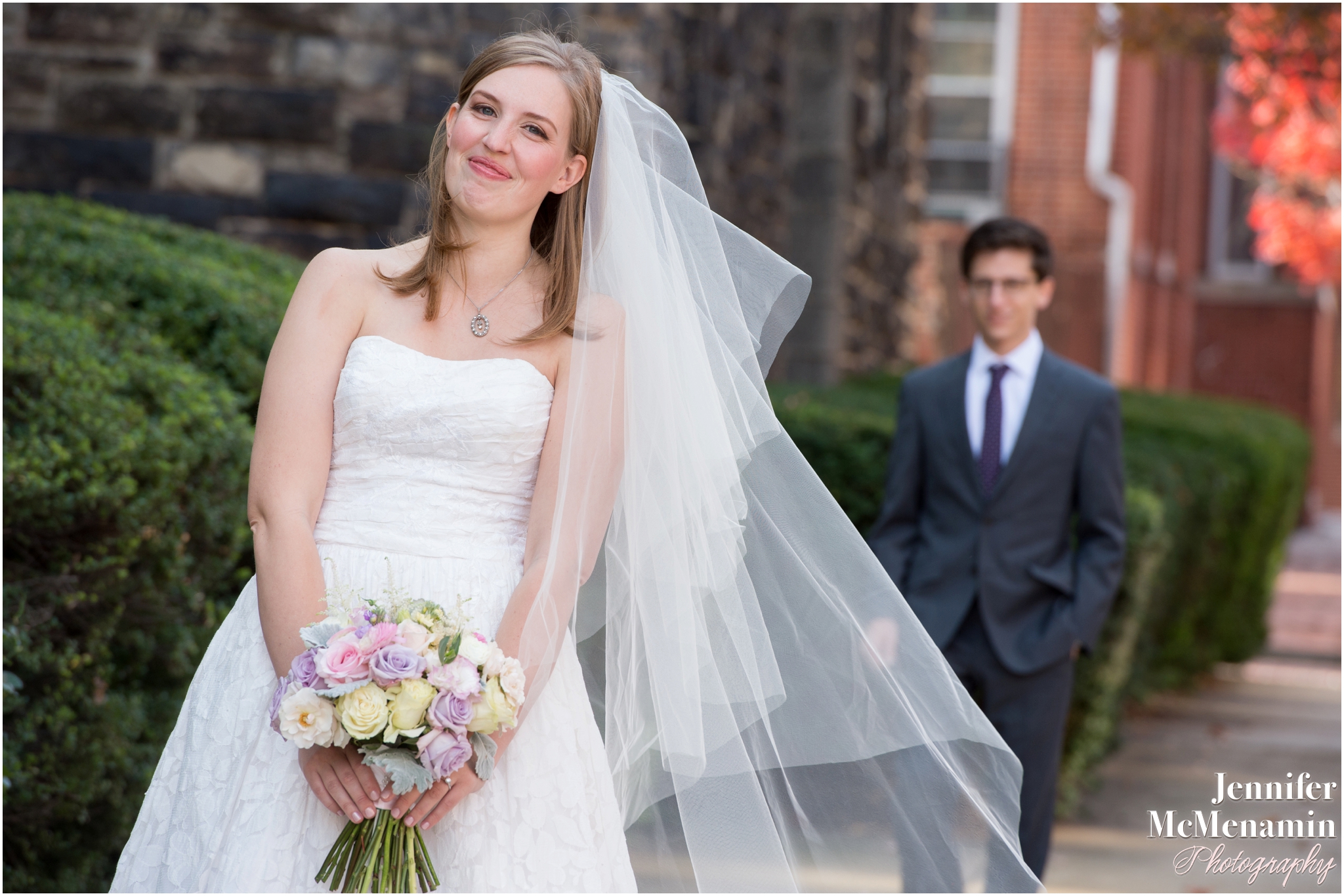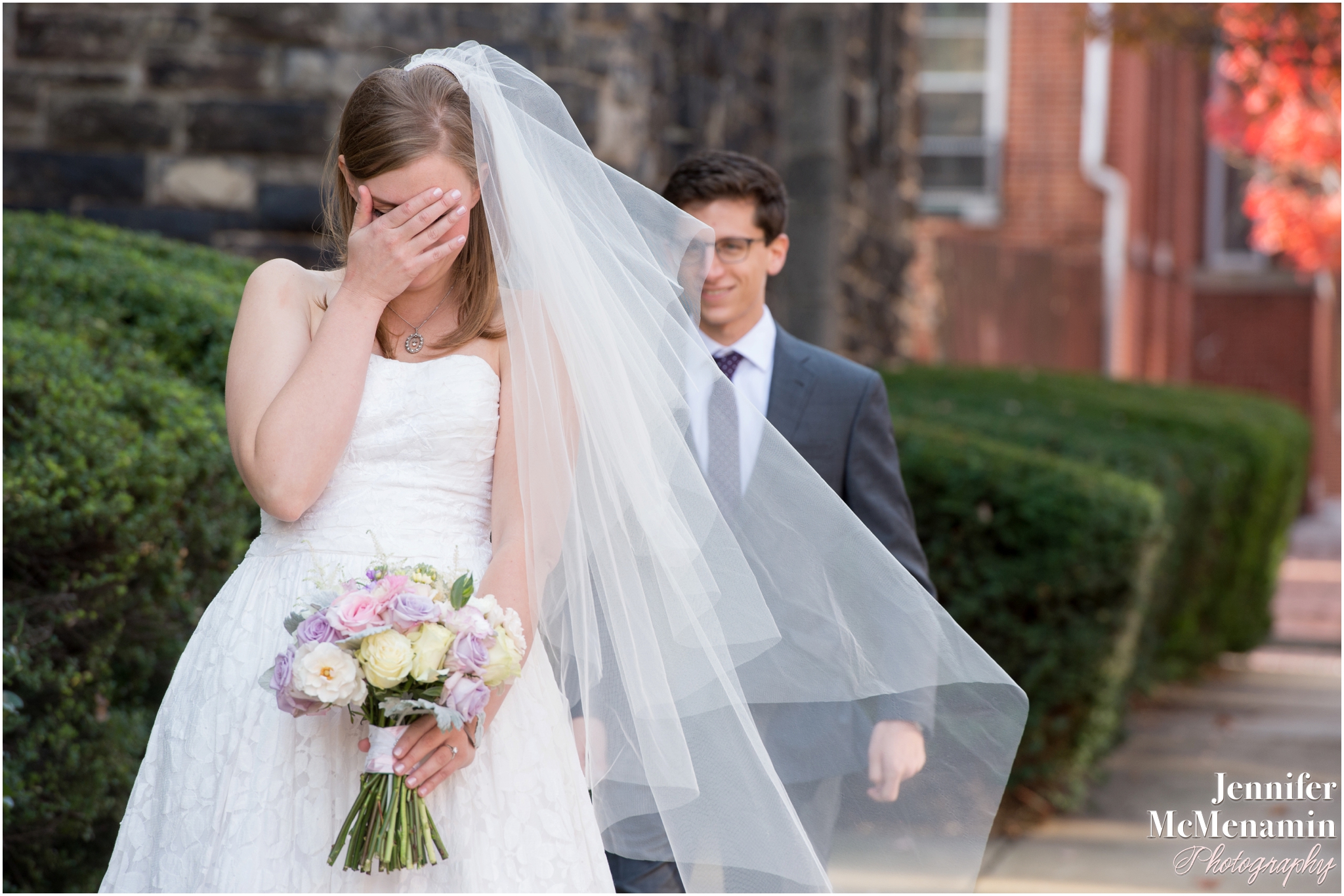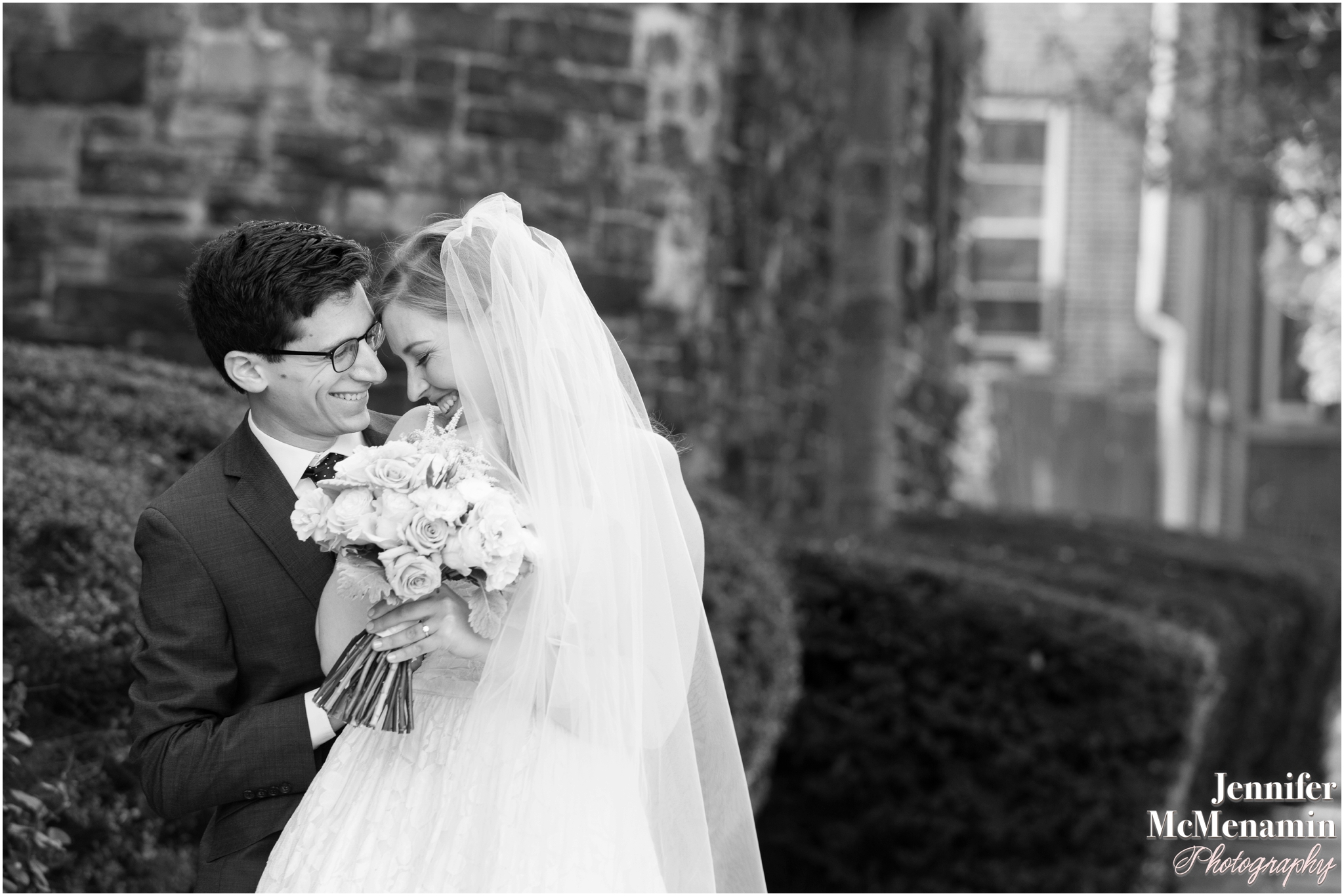 We had to reschedule their engagement session because of rain, oh, three or four or five times. The gorgeous fall weather for their wedding served as the universe's apology.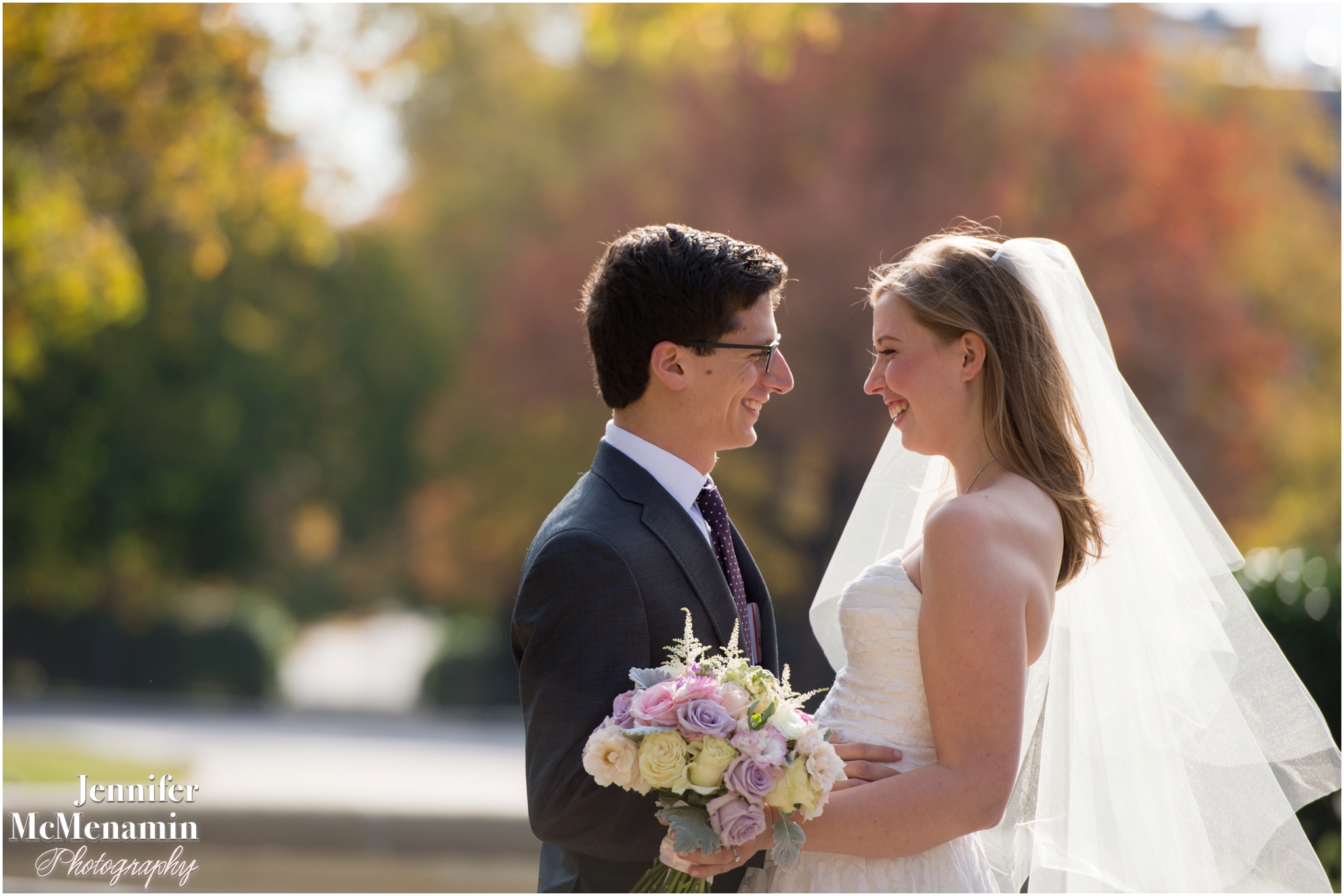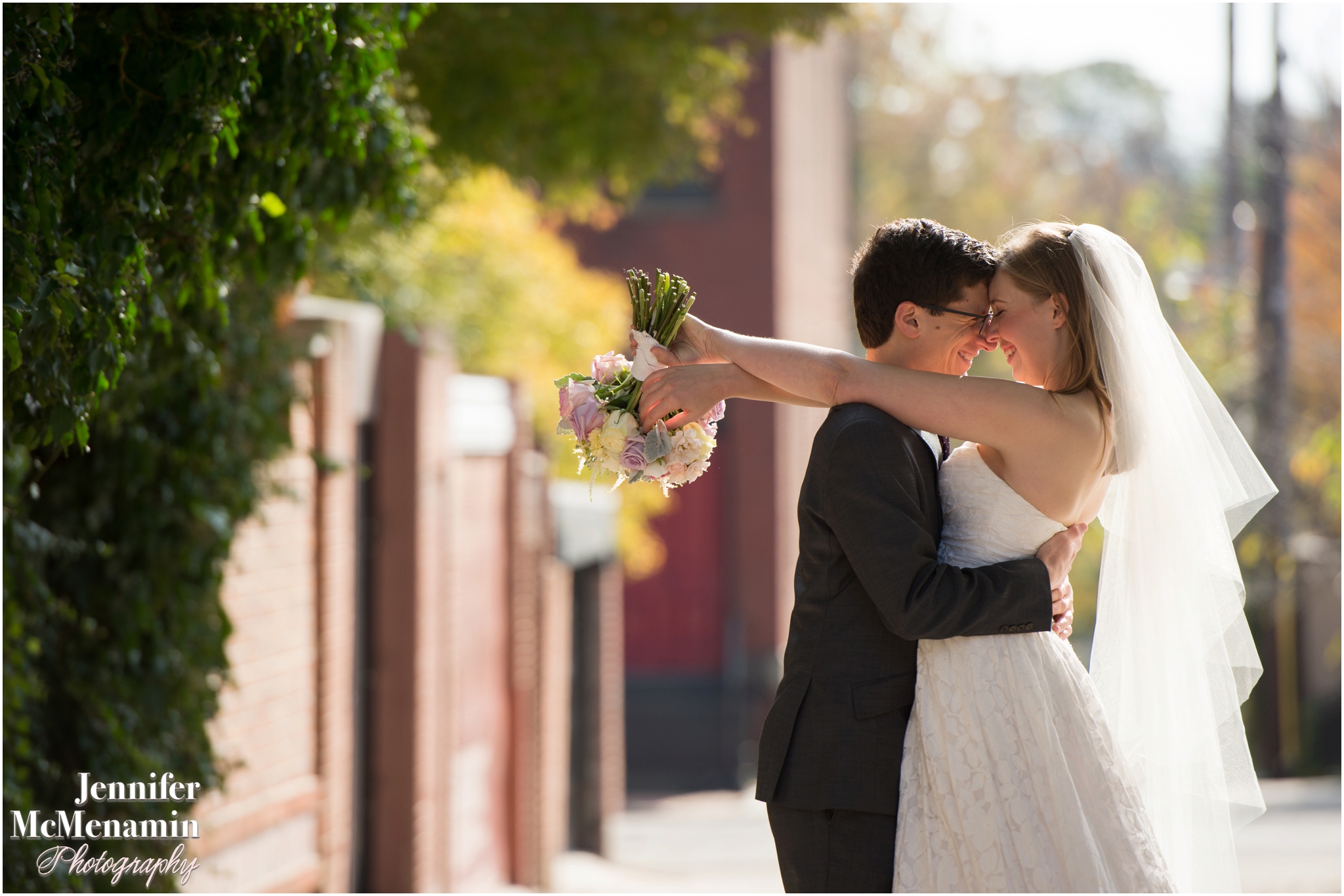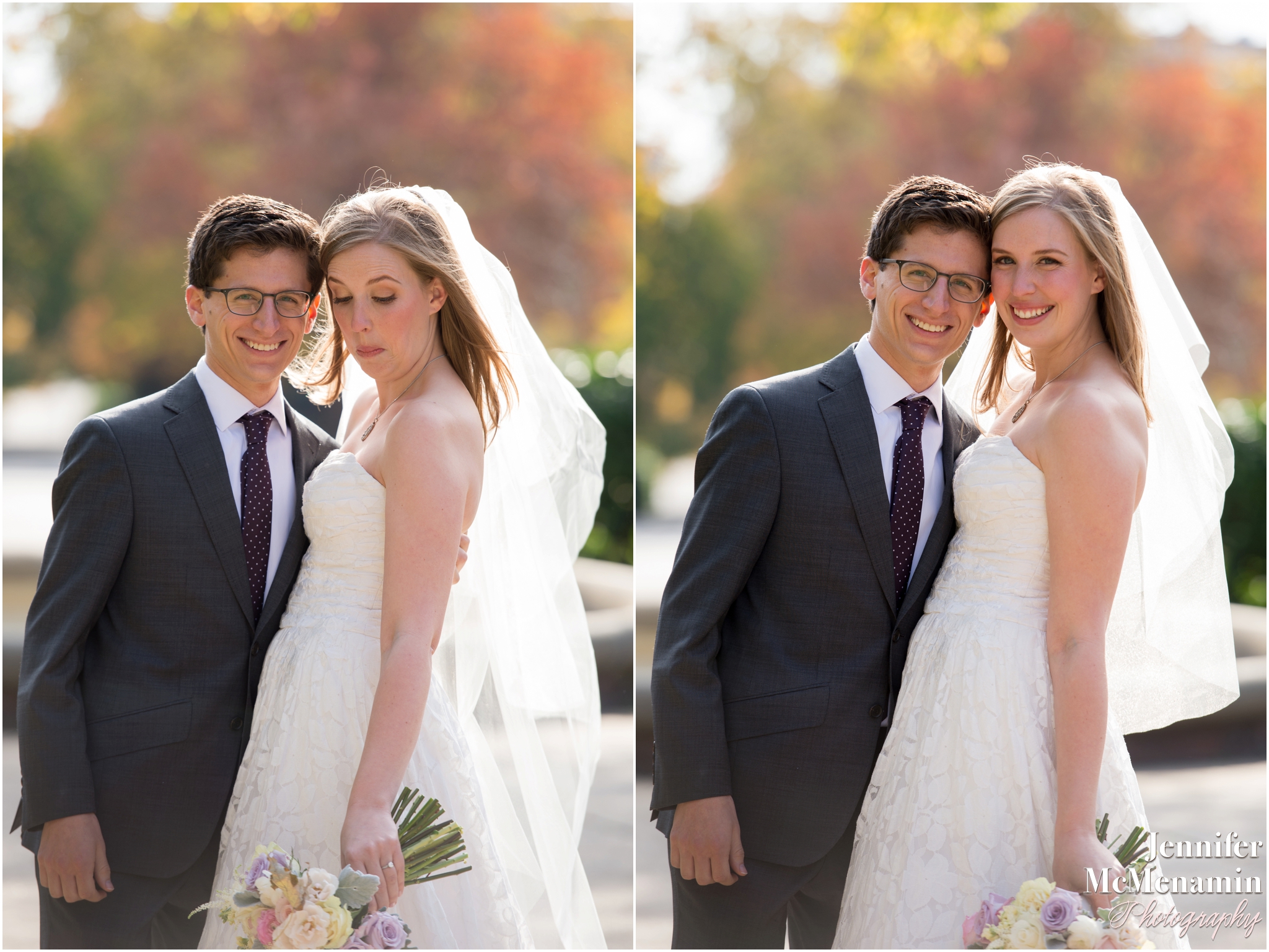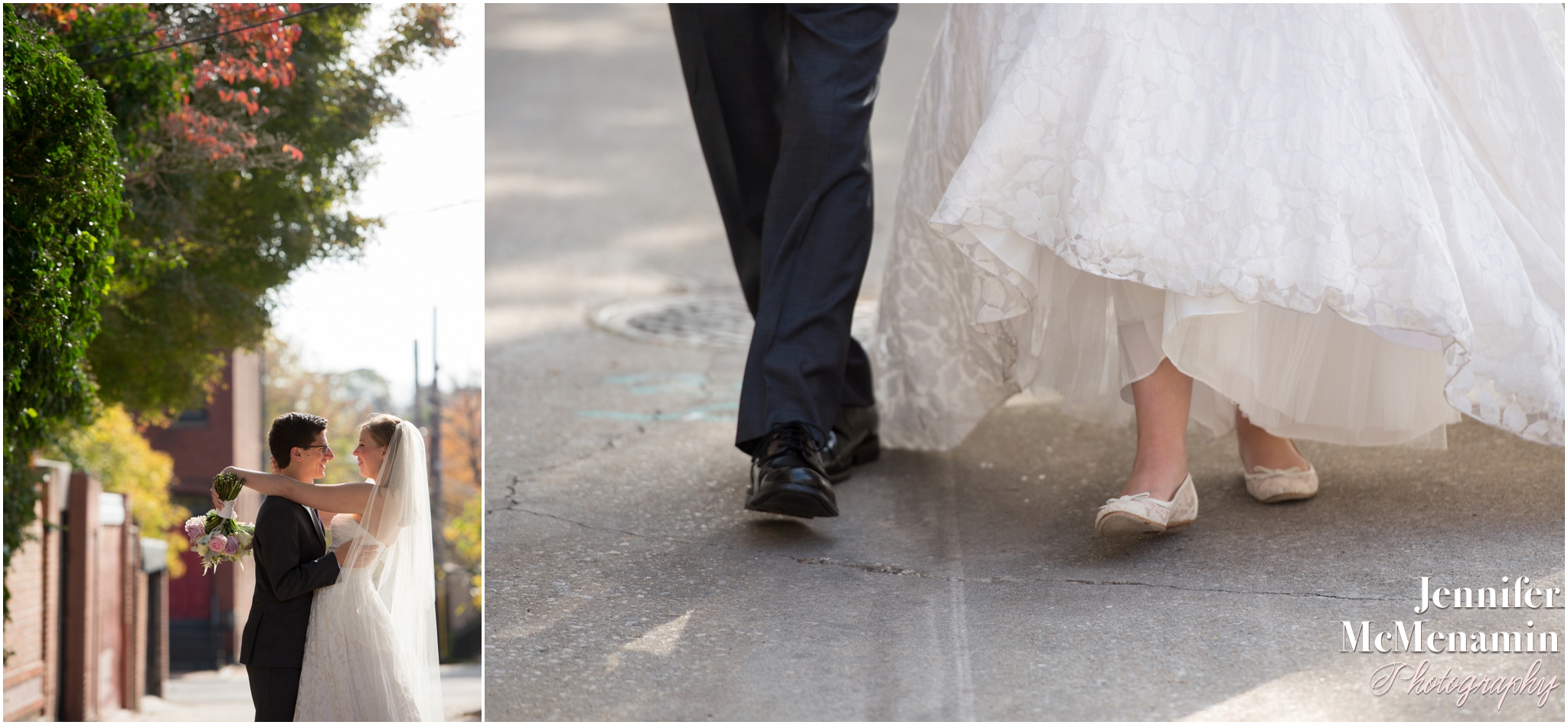 There are not terribly many people who can so comfortably ignore me while I'm photographing them — and I mean that in a very, very good way! Rachel and Ben were great at it.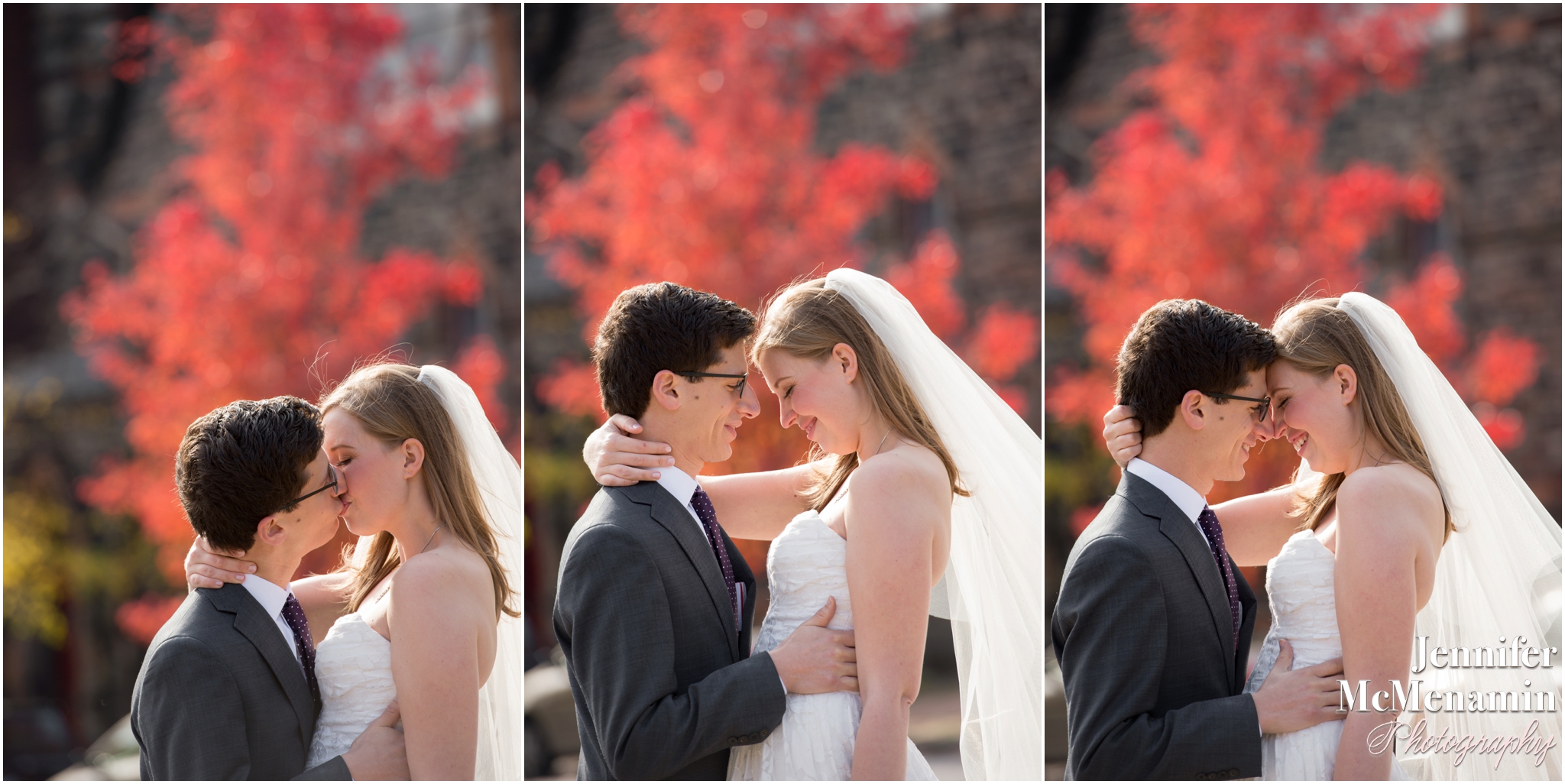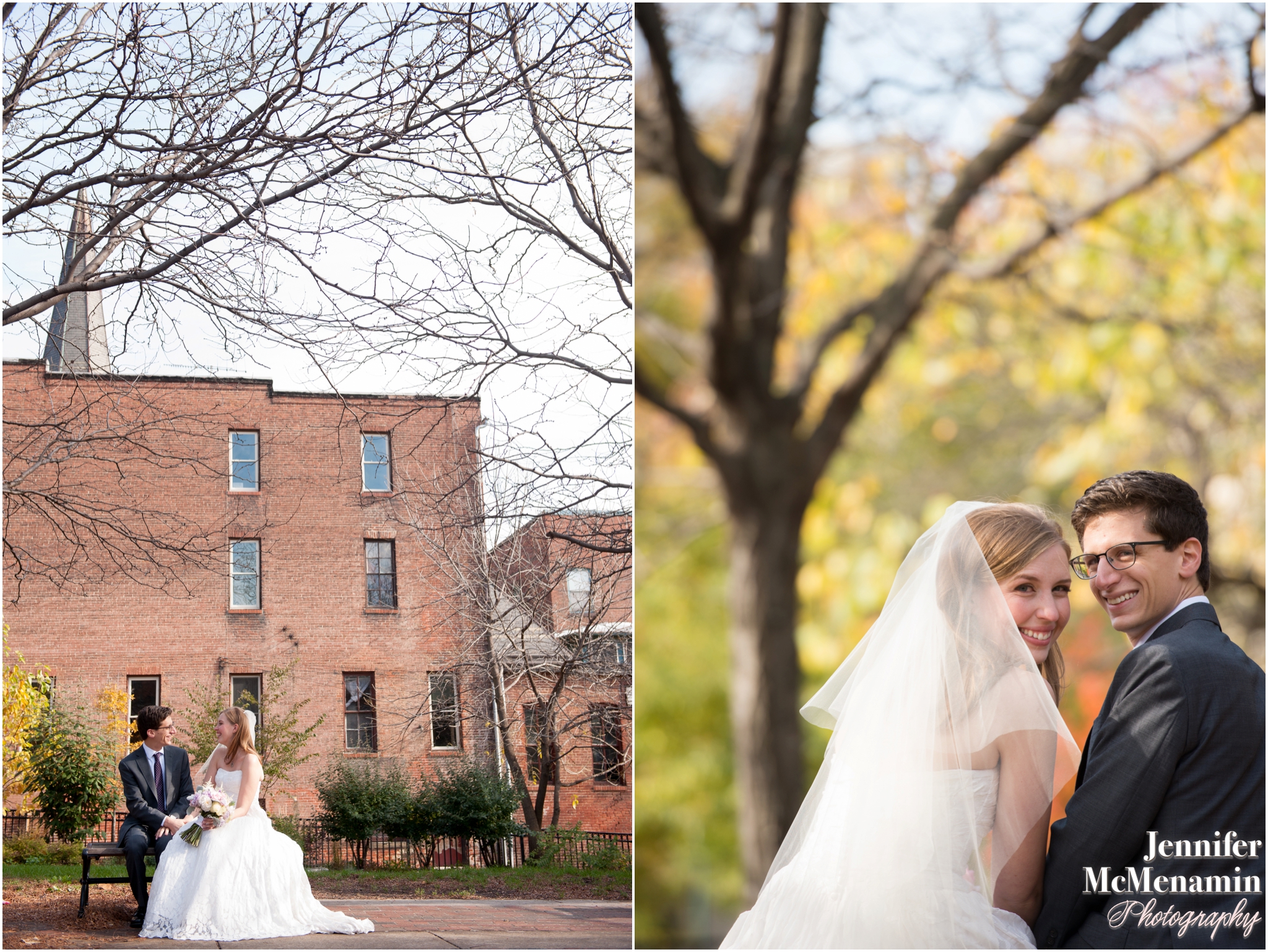 If there were one thing I could request for every single wedding I photograph, it would be light like this to play with. All day long.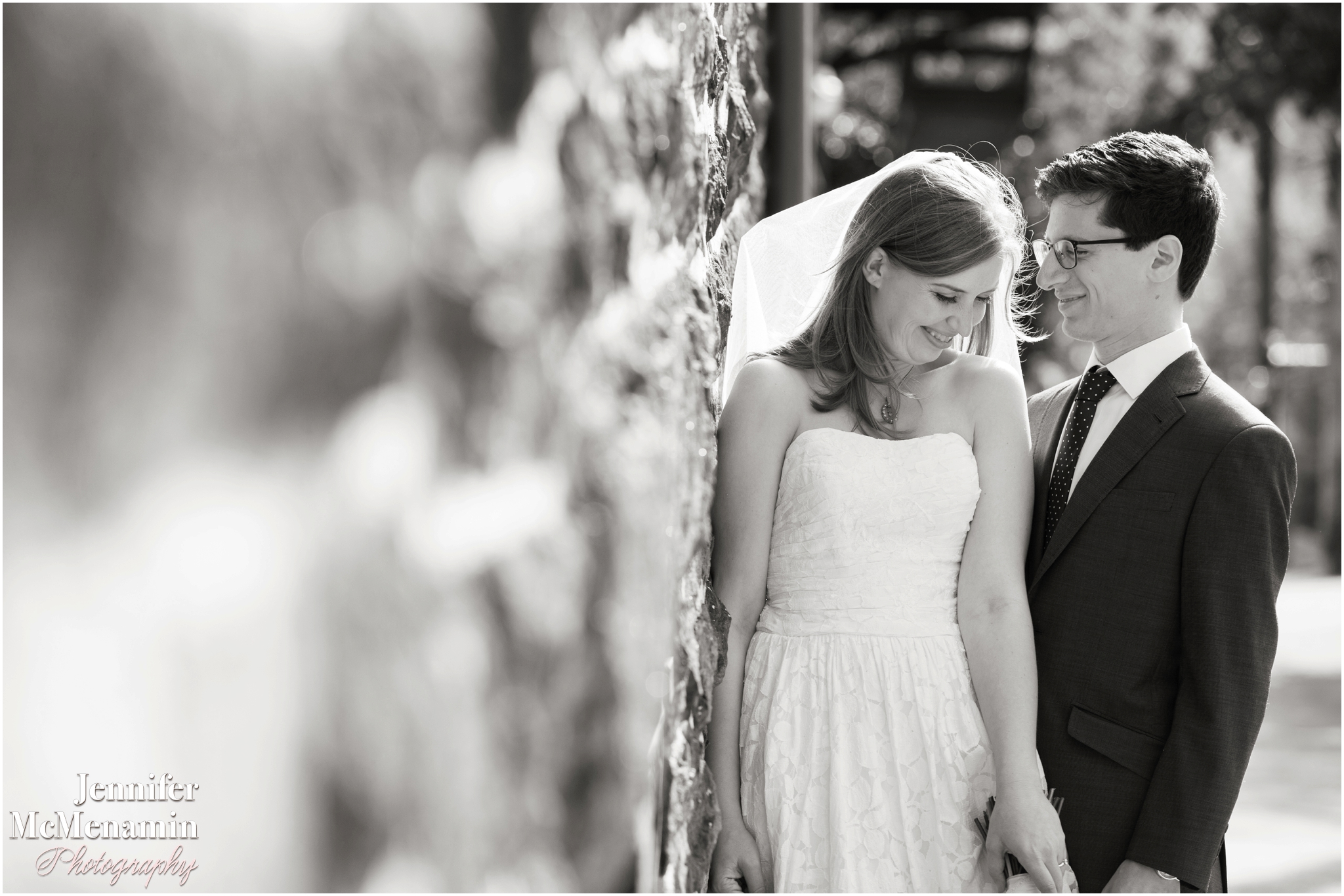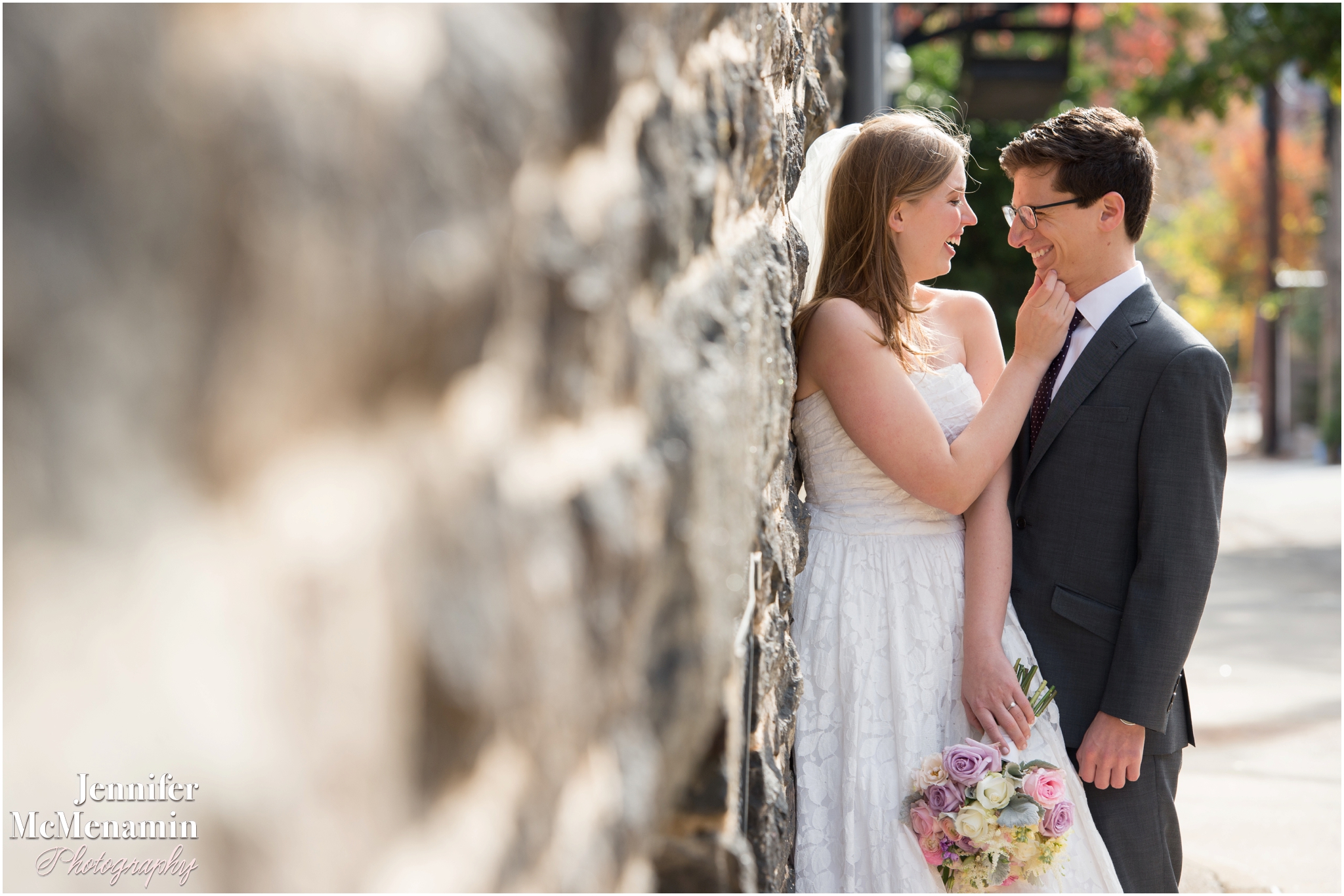 Why yes, Rachel *did* drive herself and Ben to their wedding. And found street parking. All in her wedding gown and veil!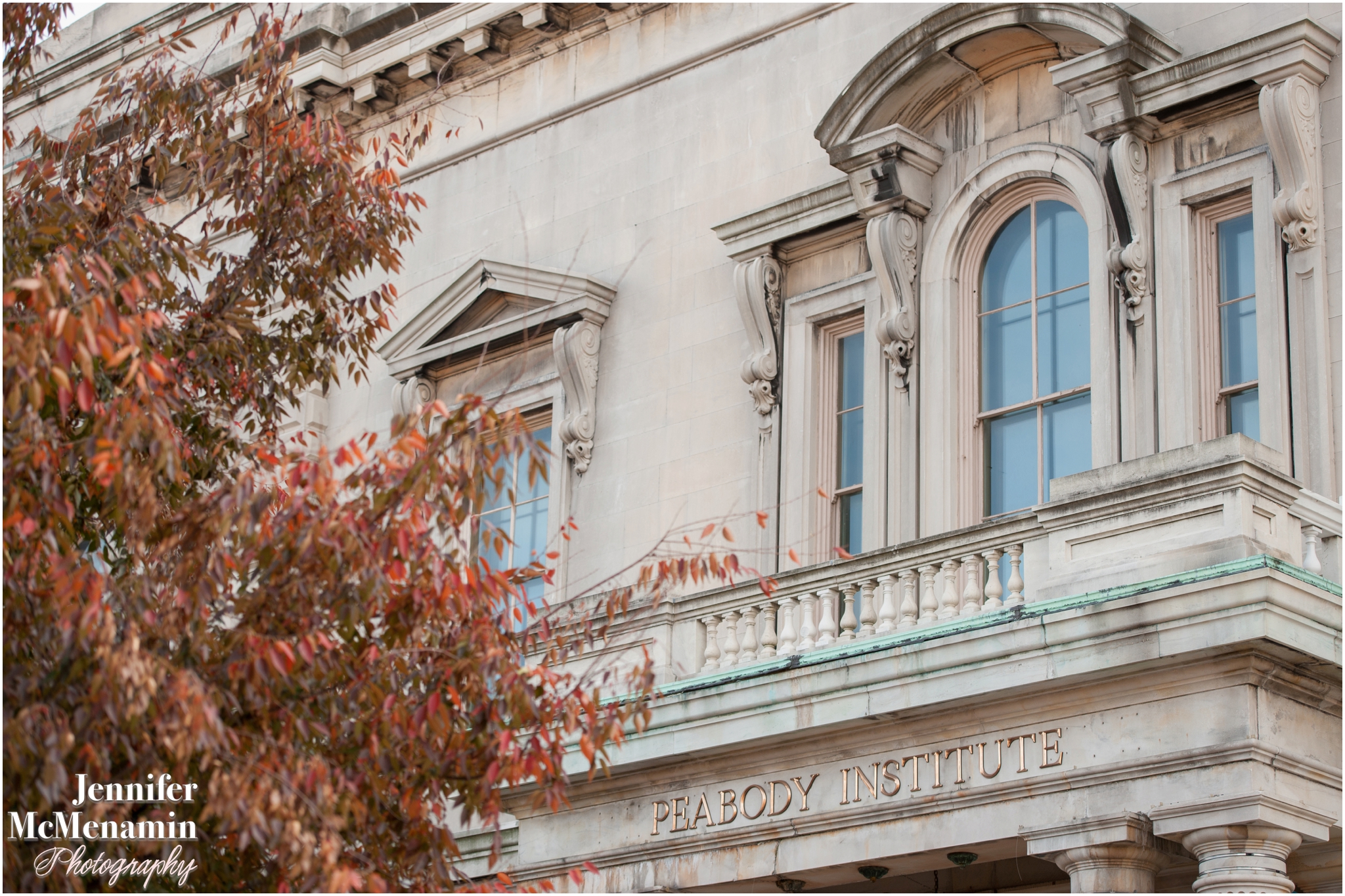 Roy sees his daughter for the first time that day.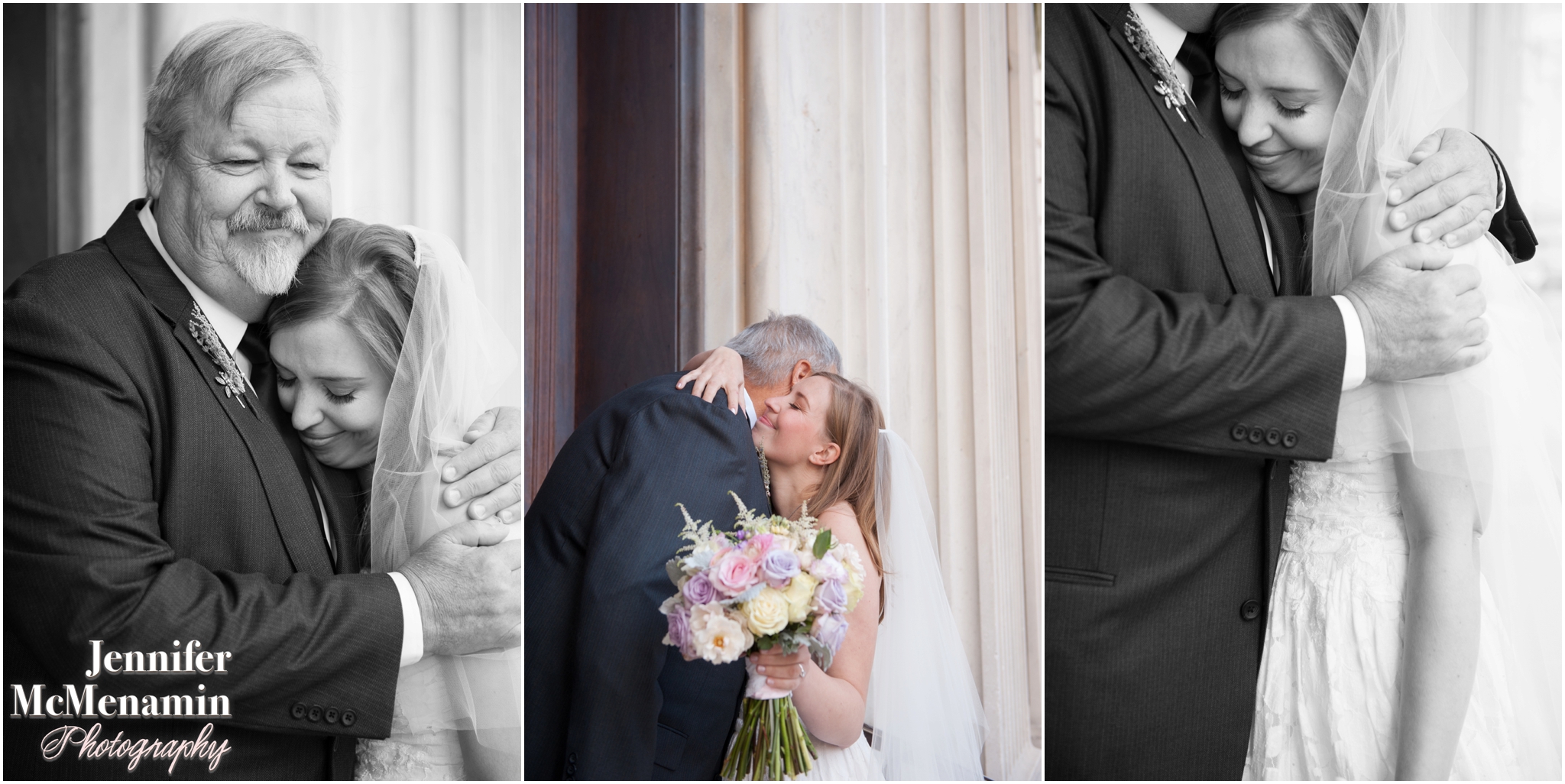 A few efficient family photos.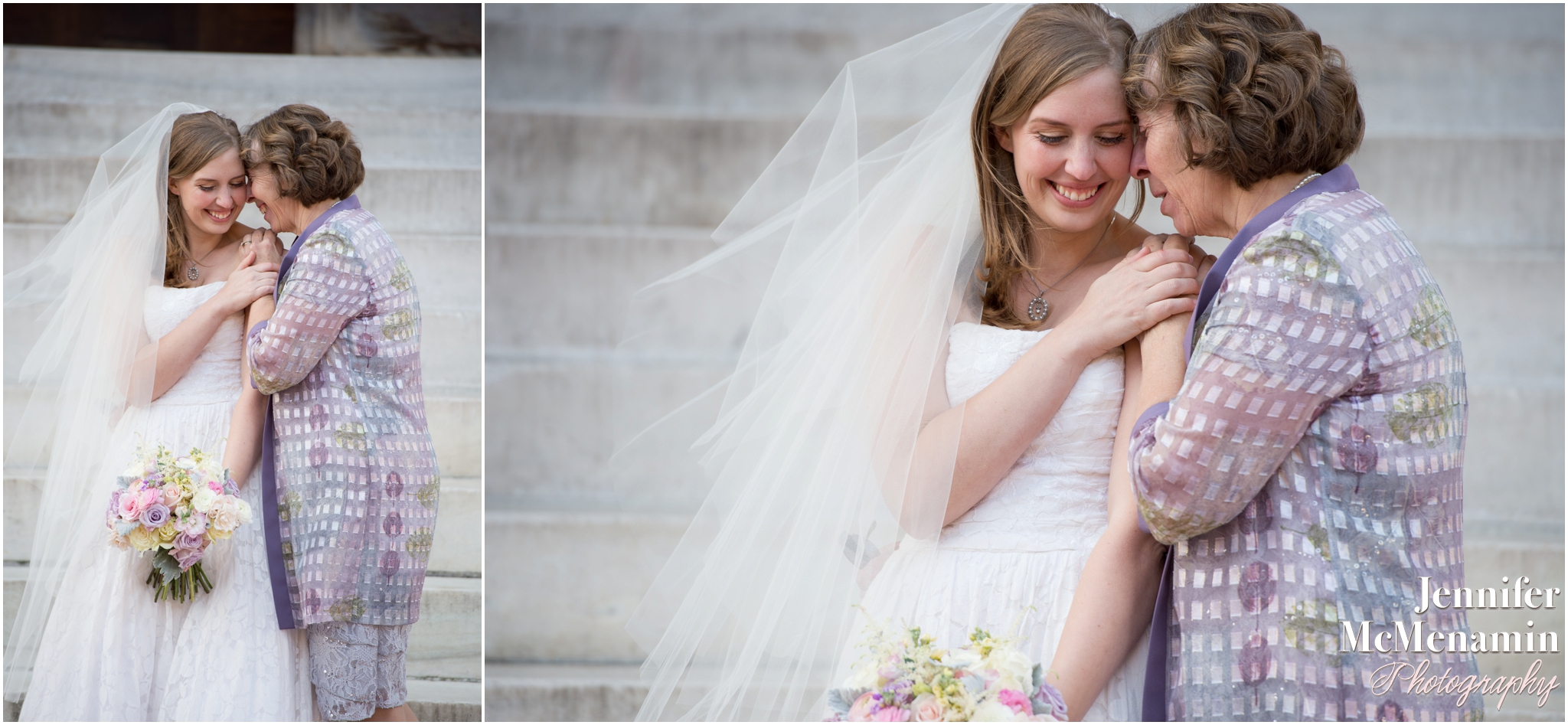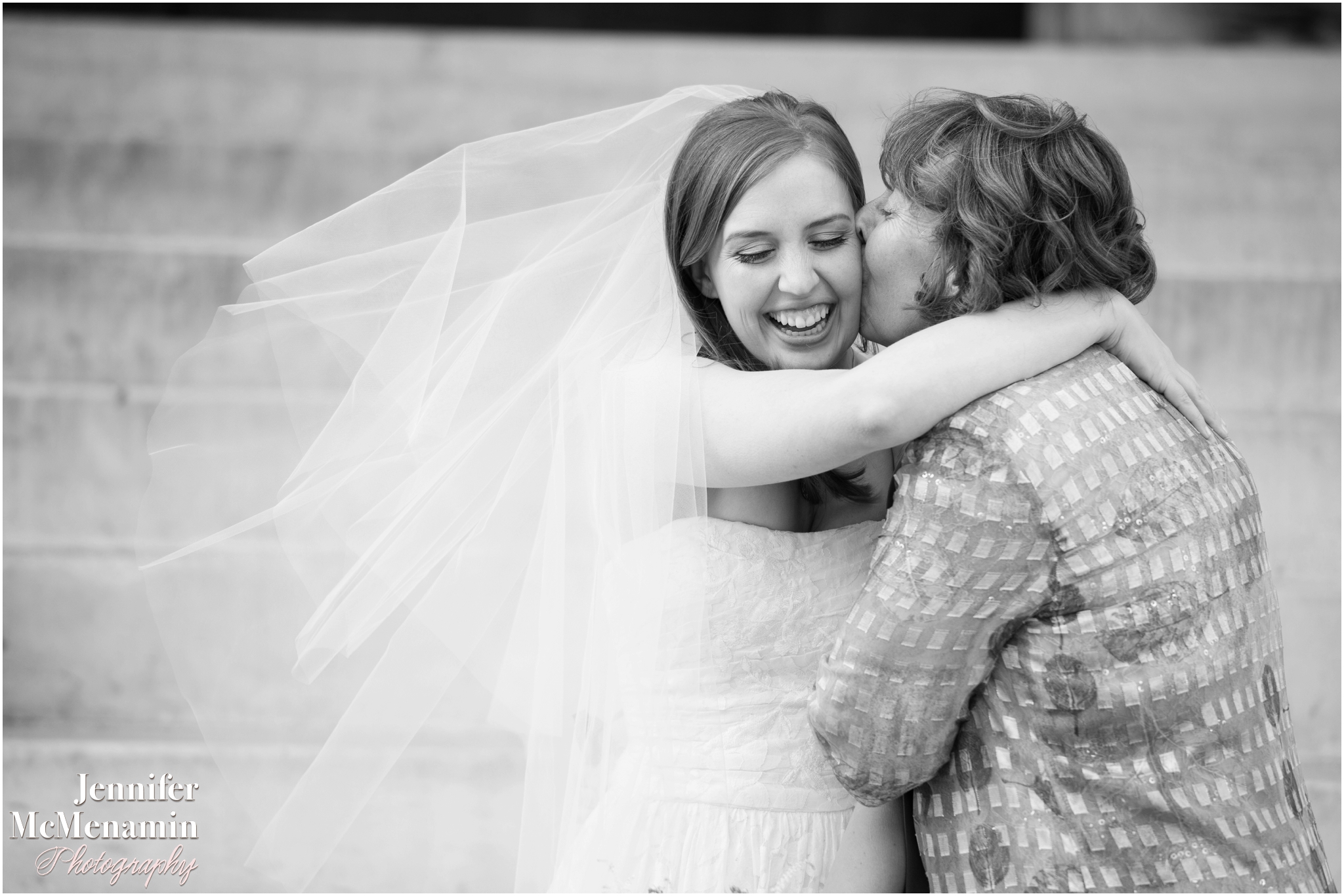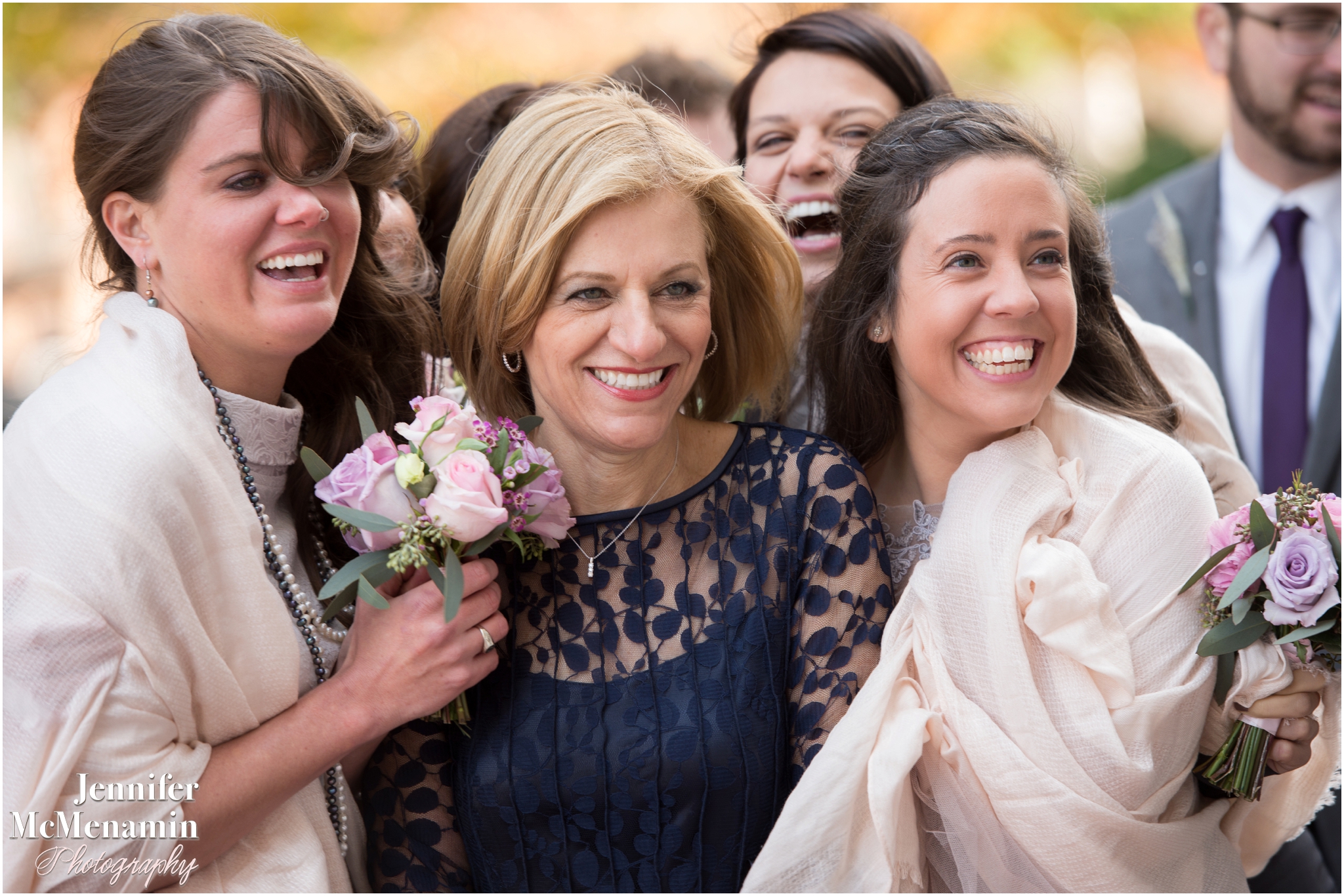 And a couple of wedding party pictures.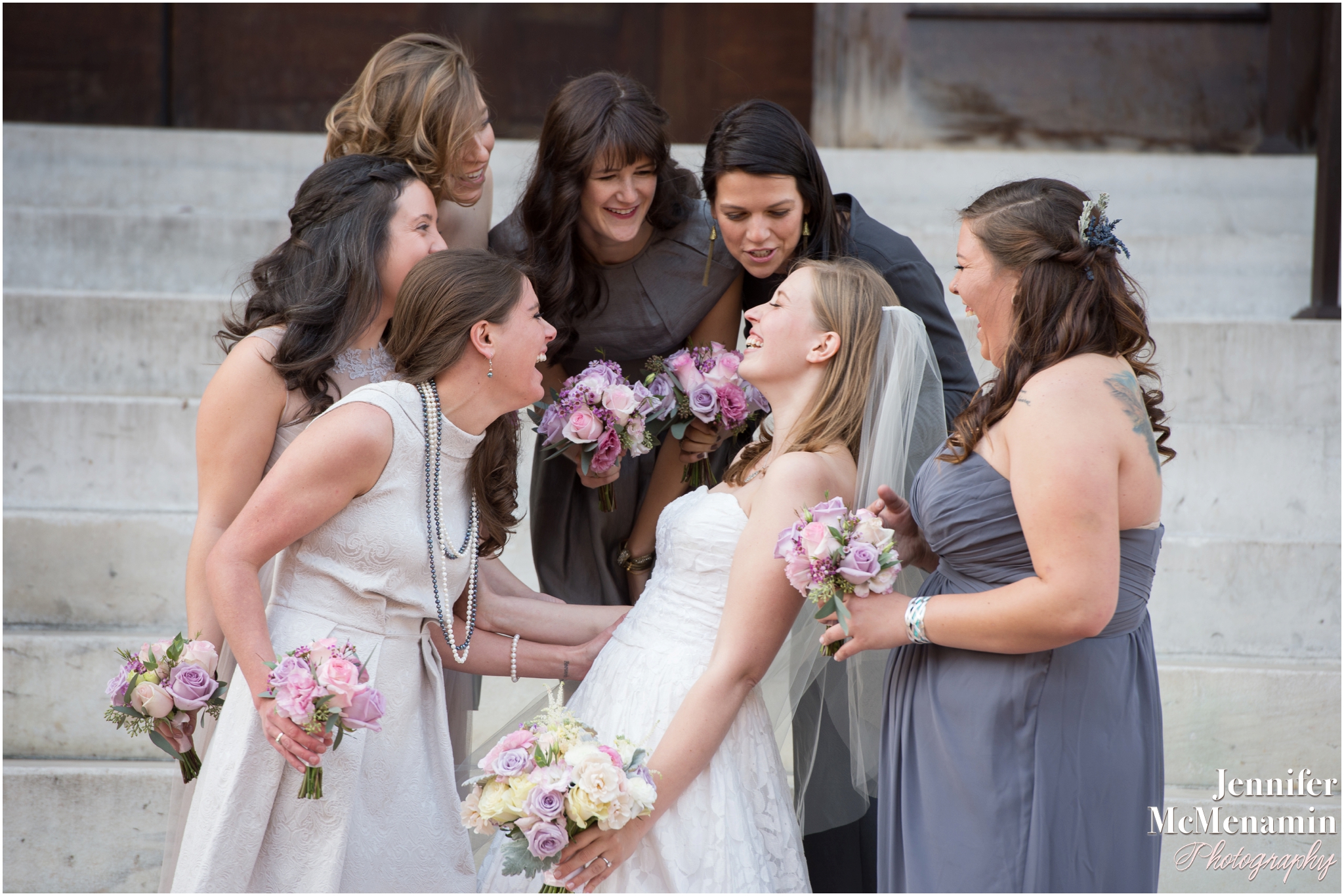 And then it was time to sign the ketubah — the Jewish marriage contract — and then exchange vows before their guests.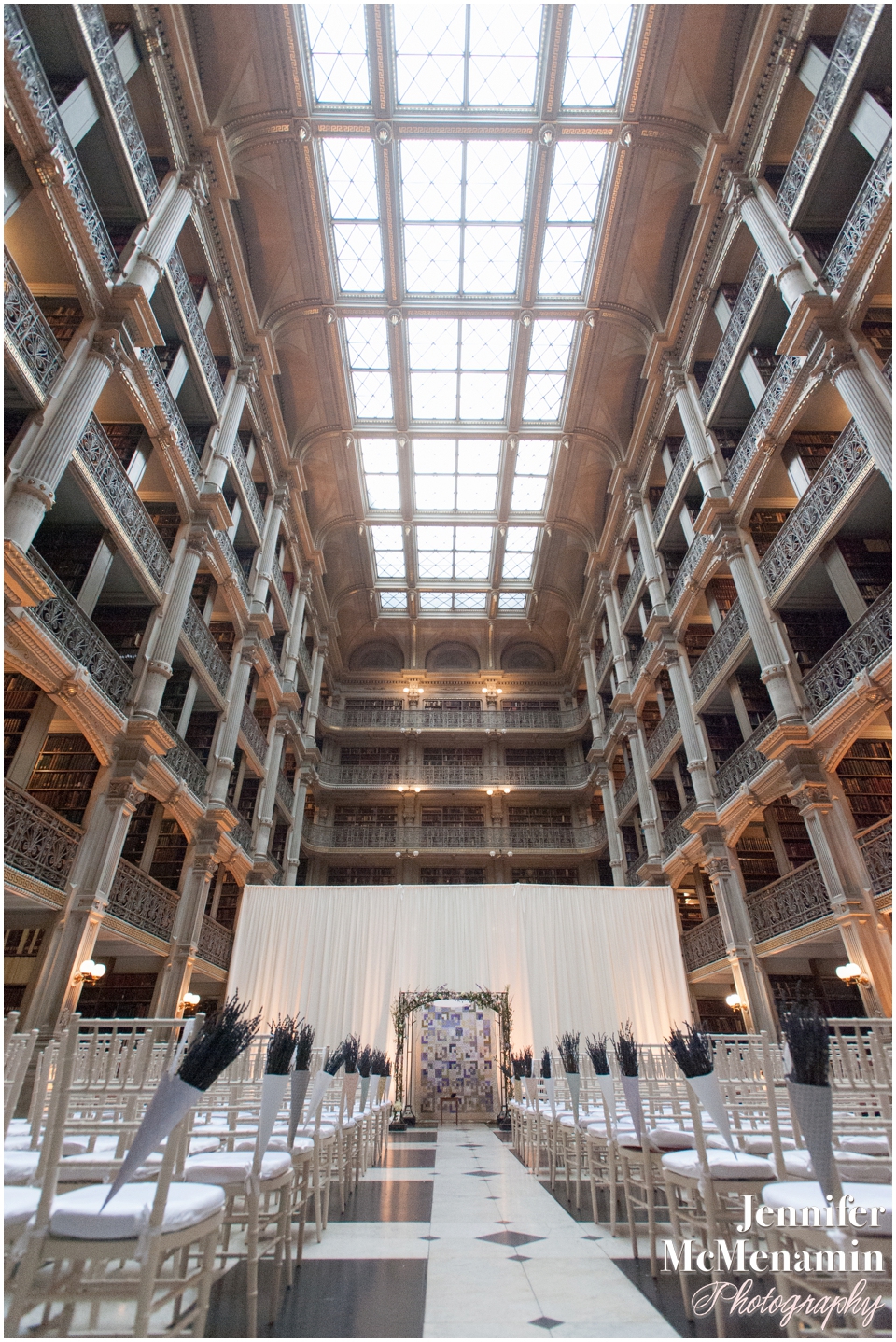 But first, Rachel and Ben sneak a peek of the library, all set up and ready to go.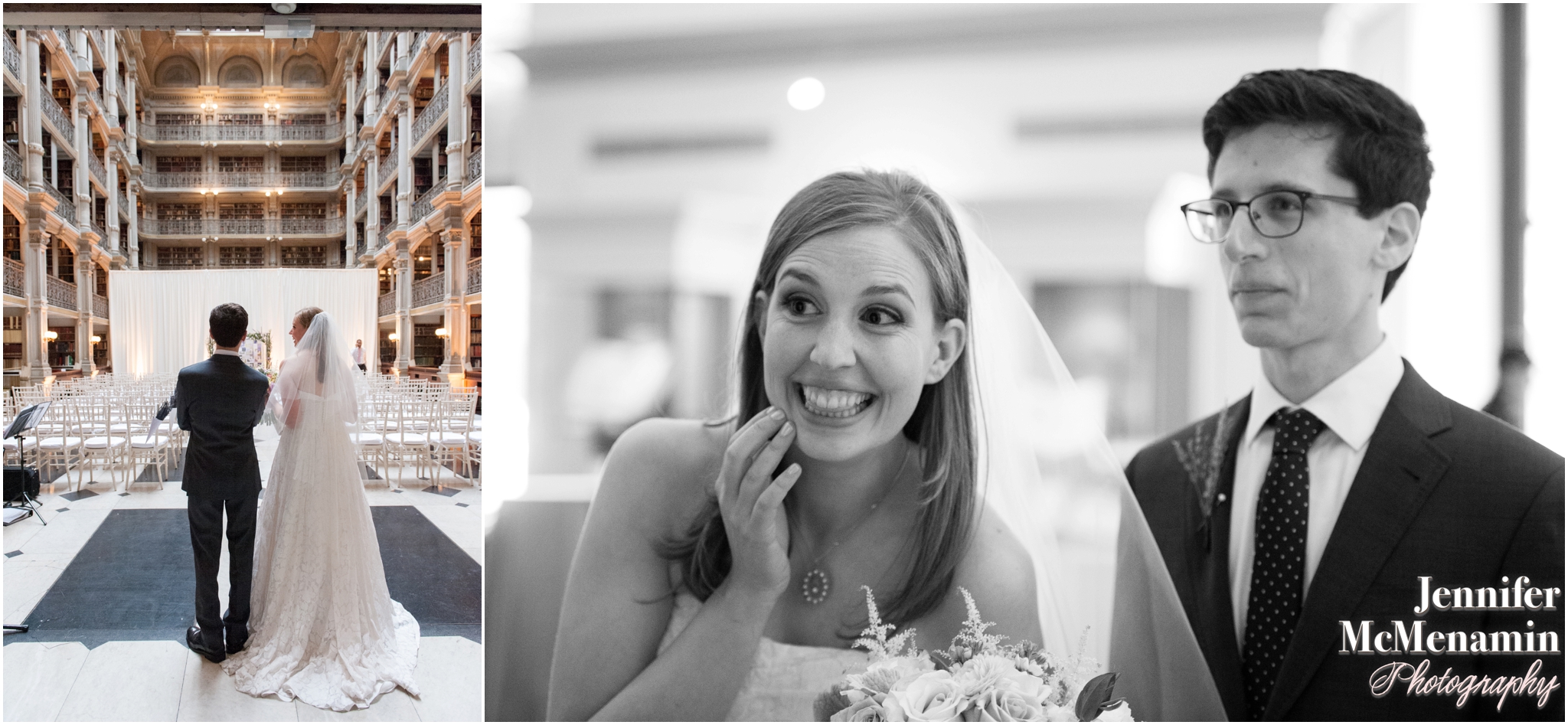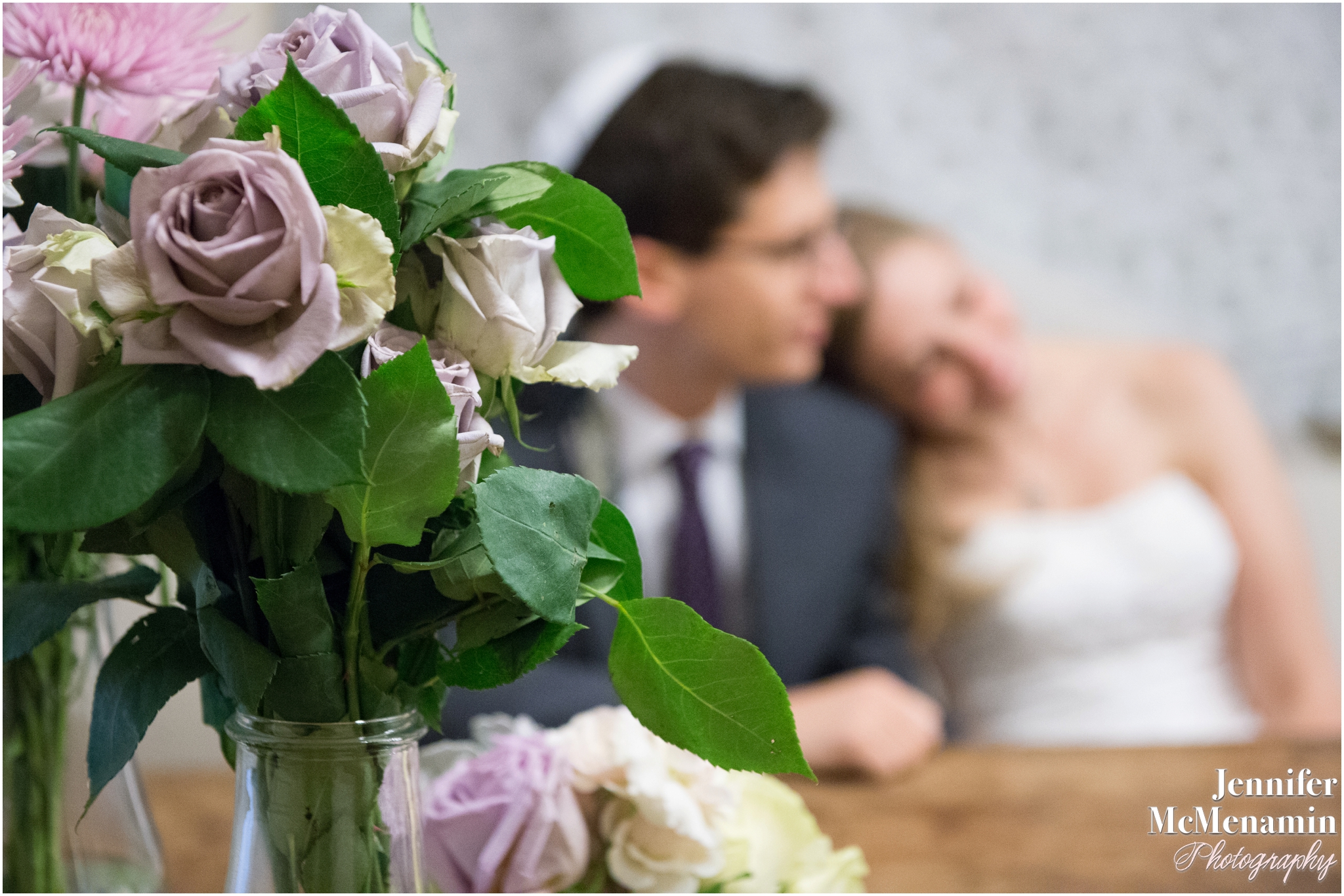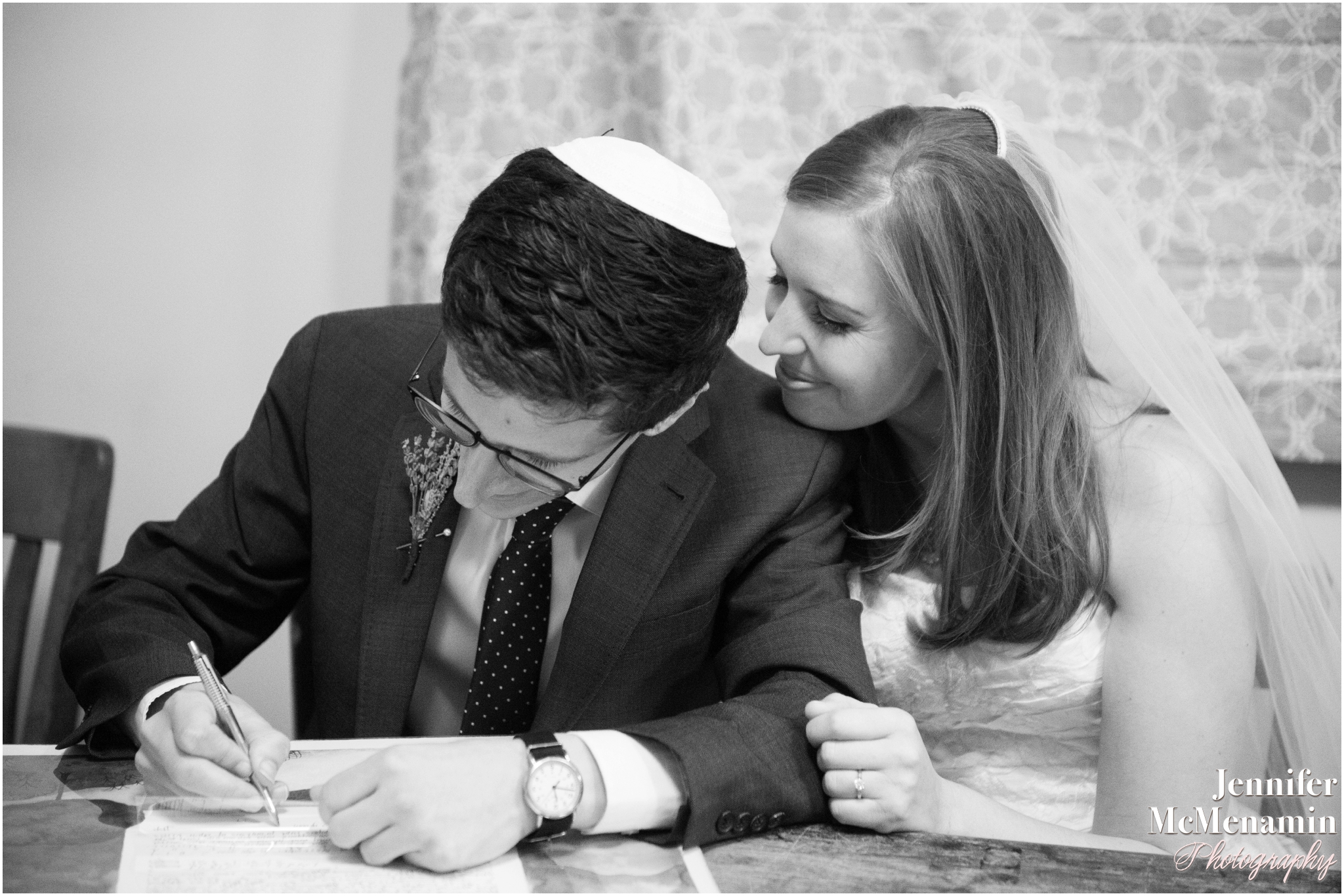 A few ceremony details, including the aforementioned dried lavender. (The fresh lavender used in the flower arrangements and the gentlemen's boutonnieres came from the bride's mother's garden.)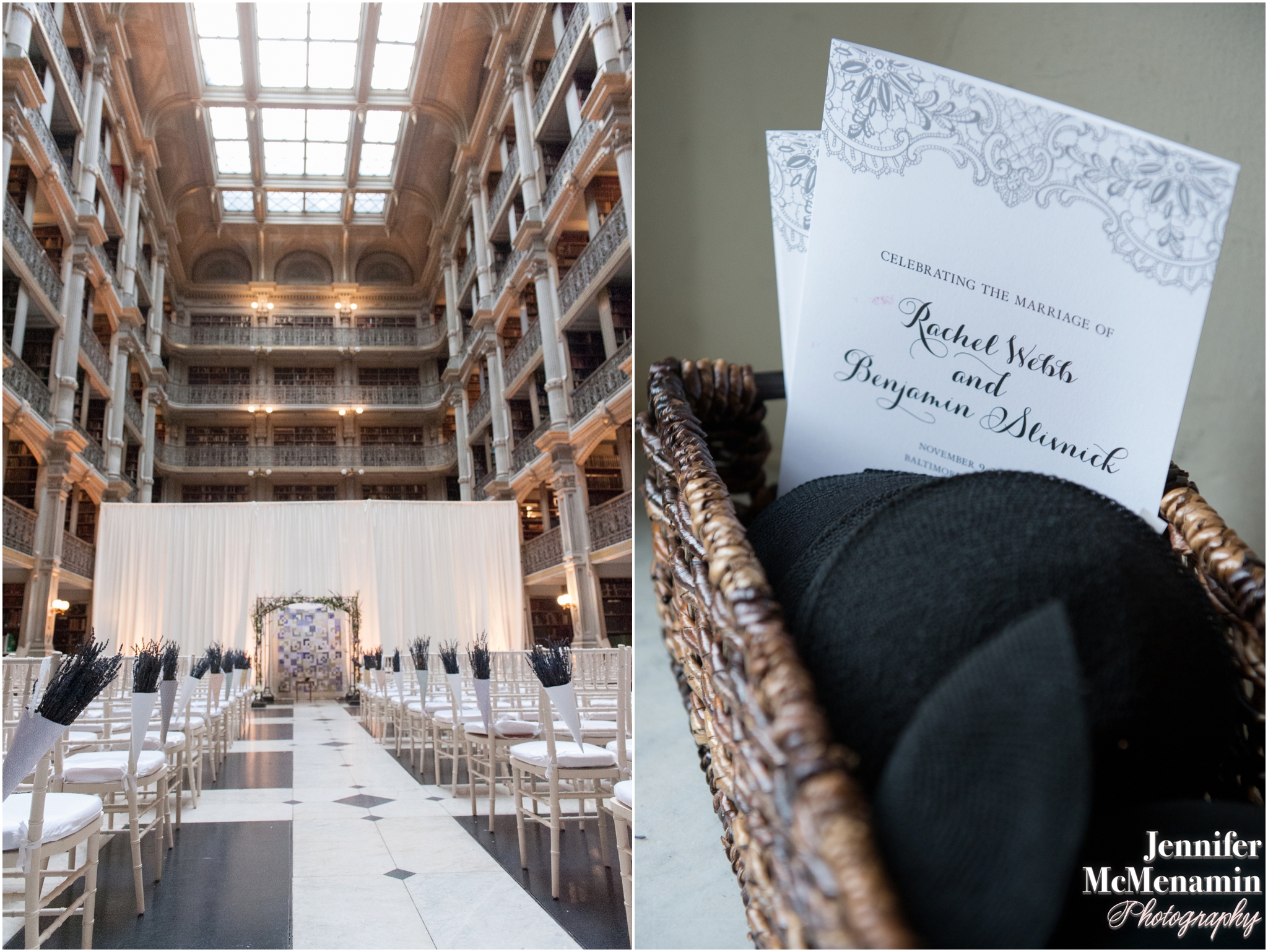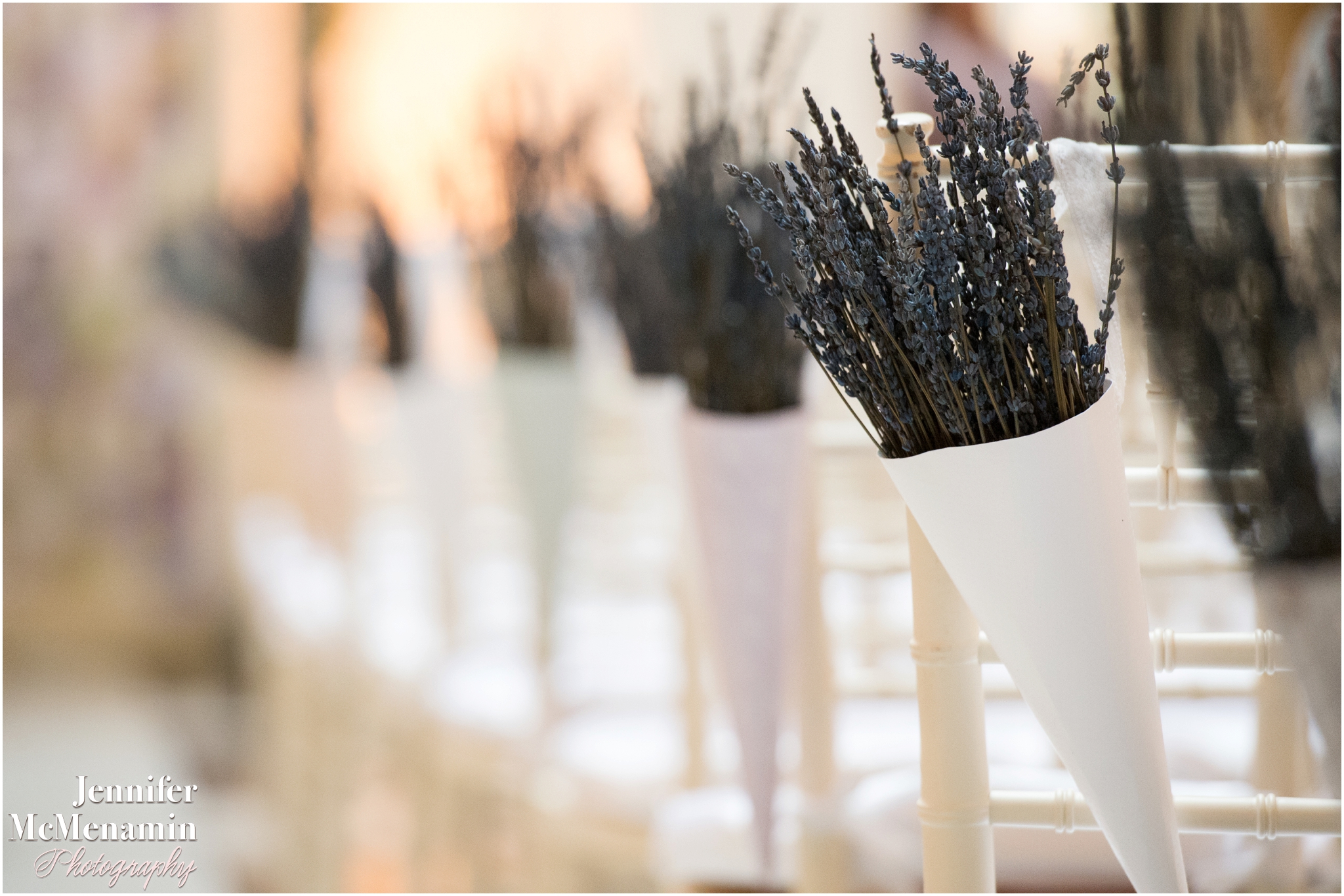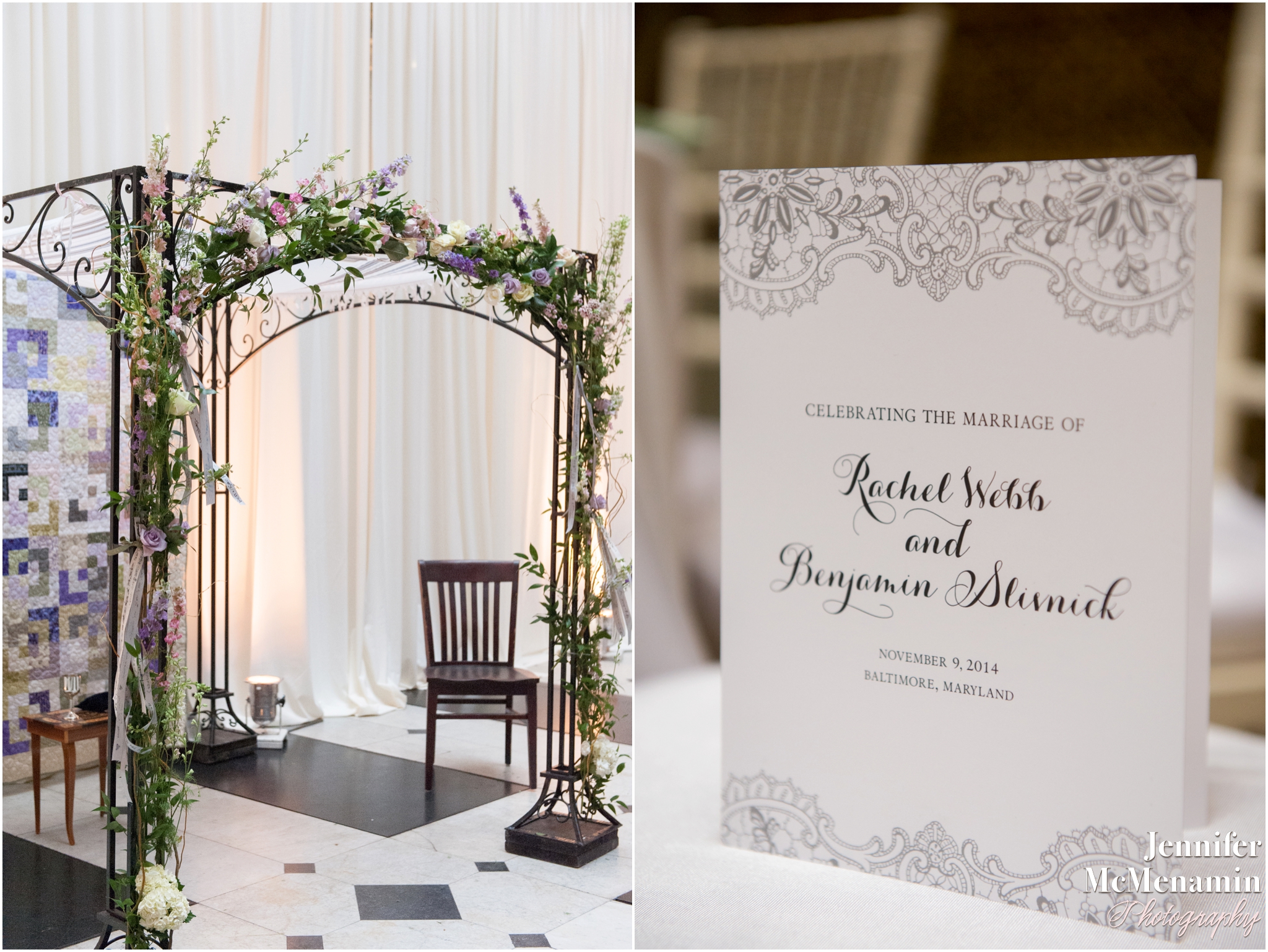 Another sweet detail from Rachel: The prayer shawl that forms the top of the chuppah — the wedding canopy, of sorts — was a gift from Ben's mother, Judy, while the quilt that serves as its backdrop was made by Rachel's mother, an avid quilter. "She has made me blankets and hand-made gifts since I was born," Rachel wrote. "From baby quilts to quilts for my American Girl dolls to a T-shirt quilt I took to college, she literally wraps me in love for every big moment of my life."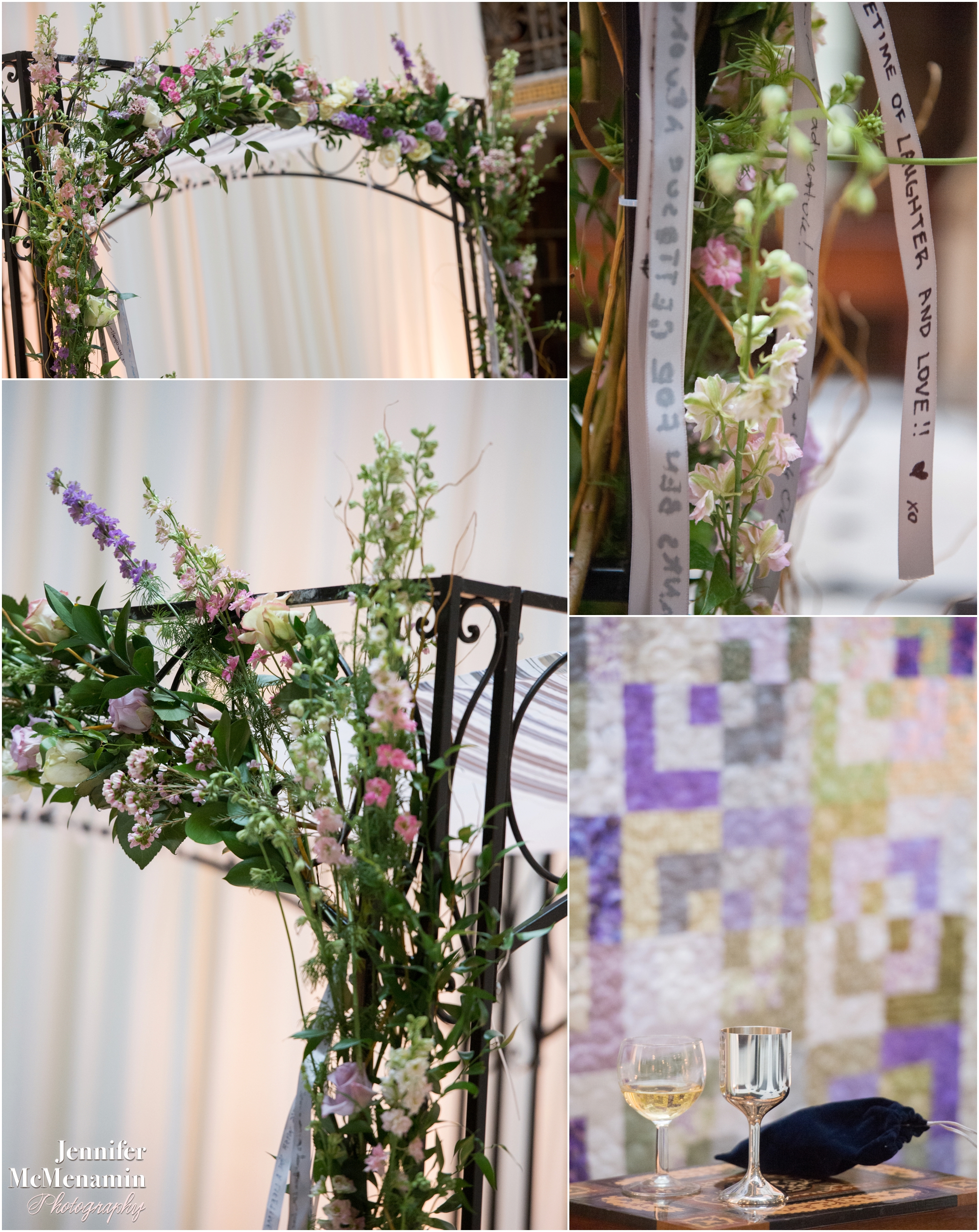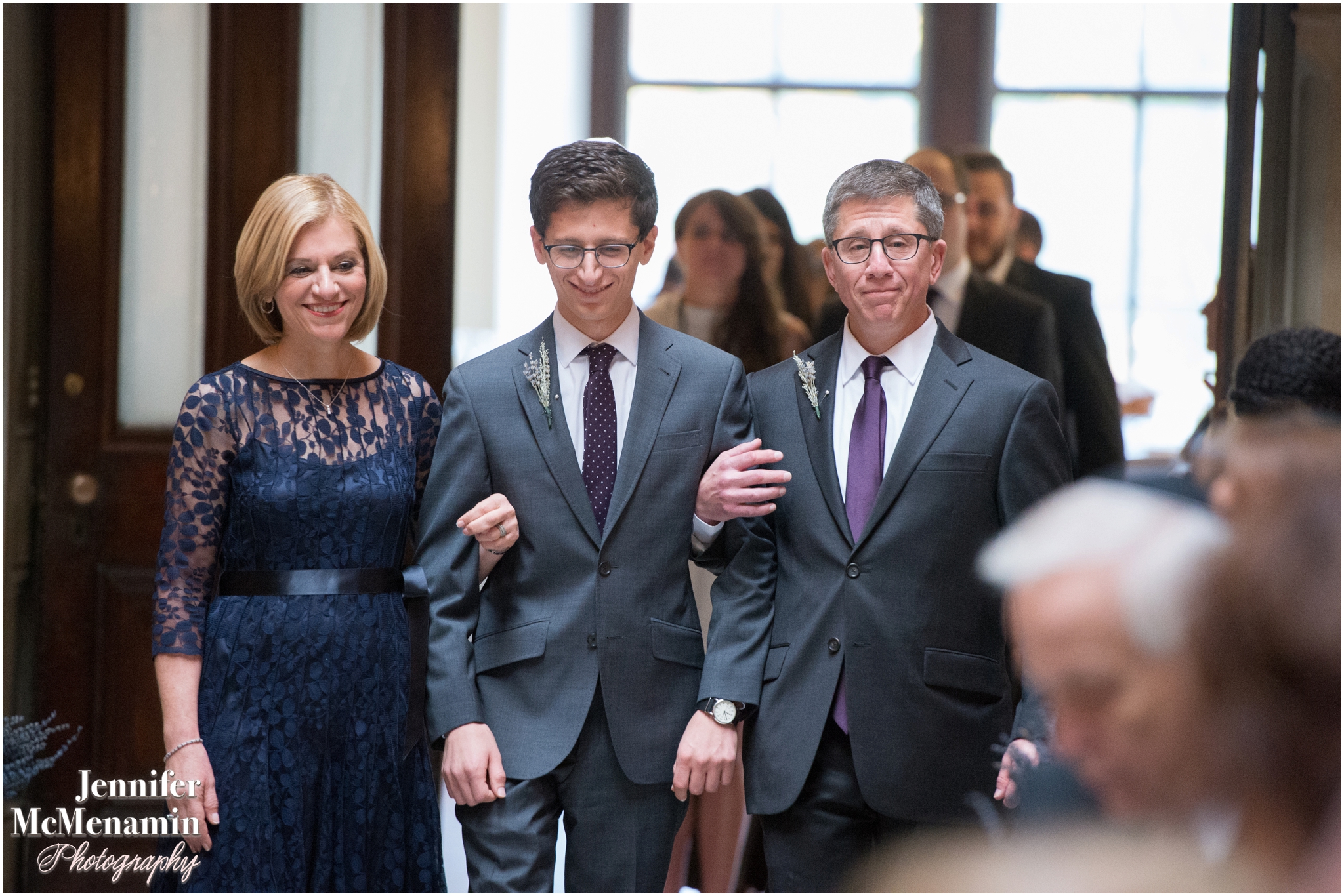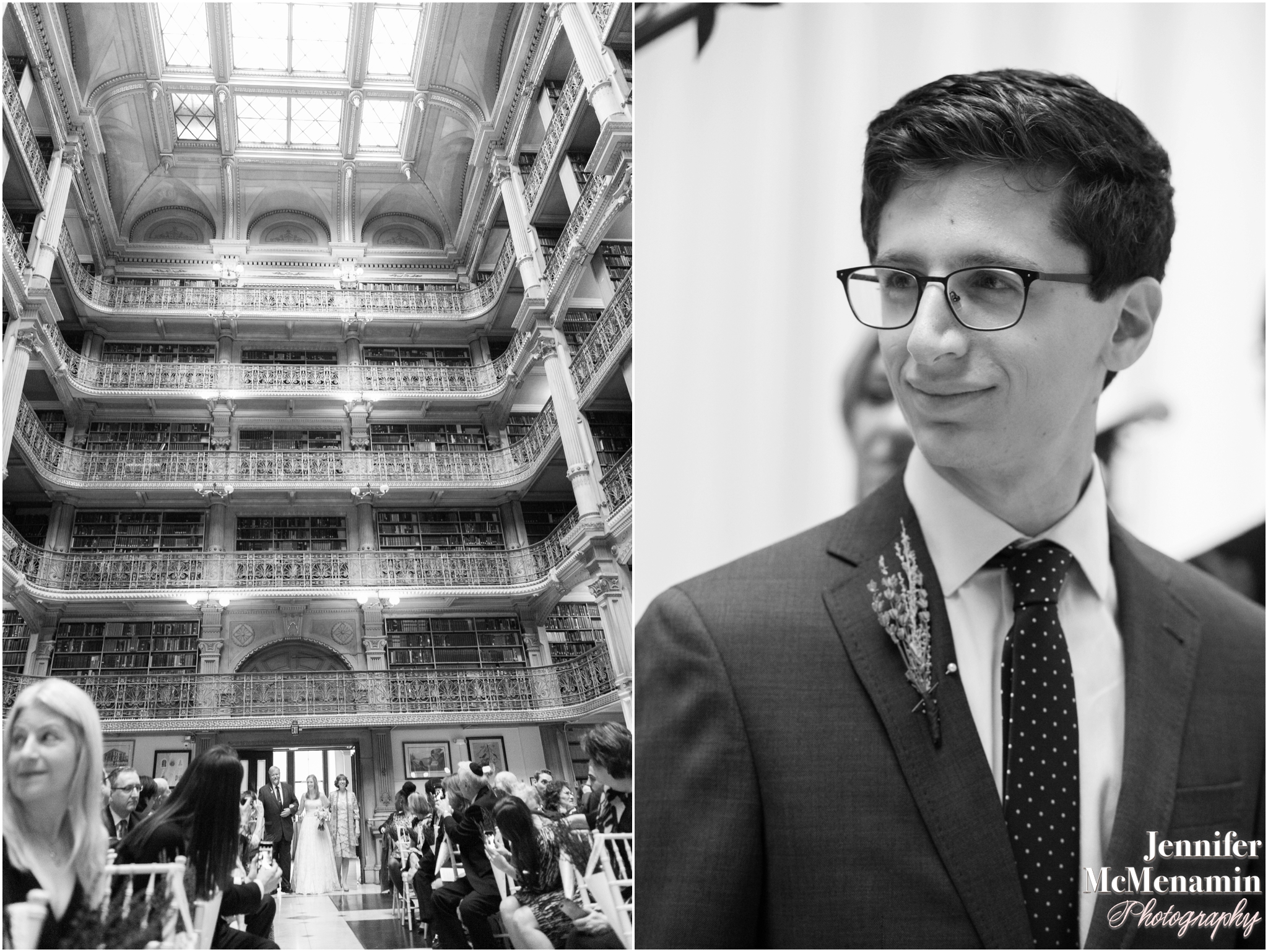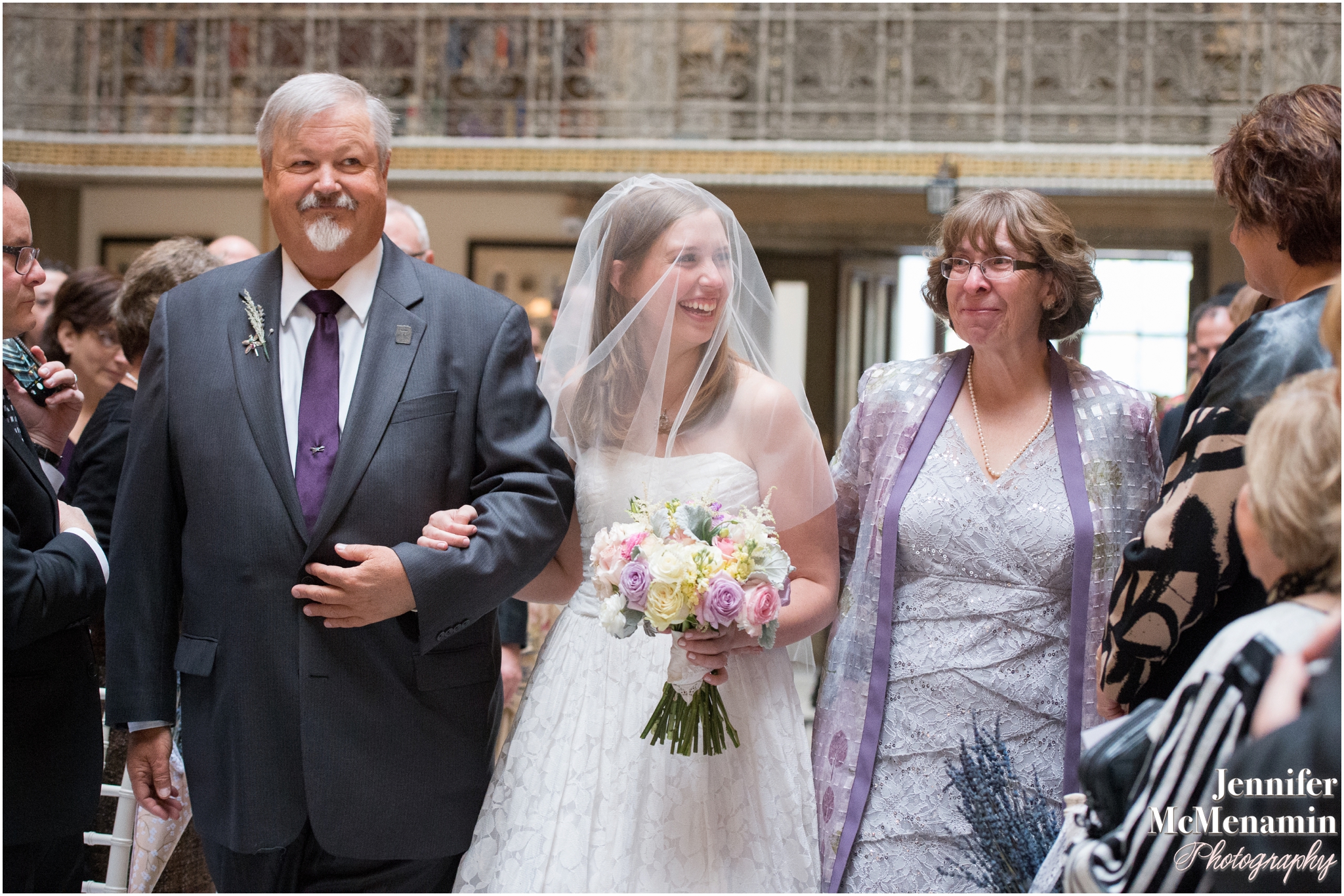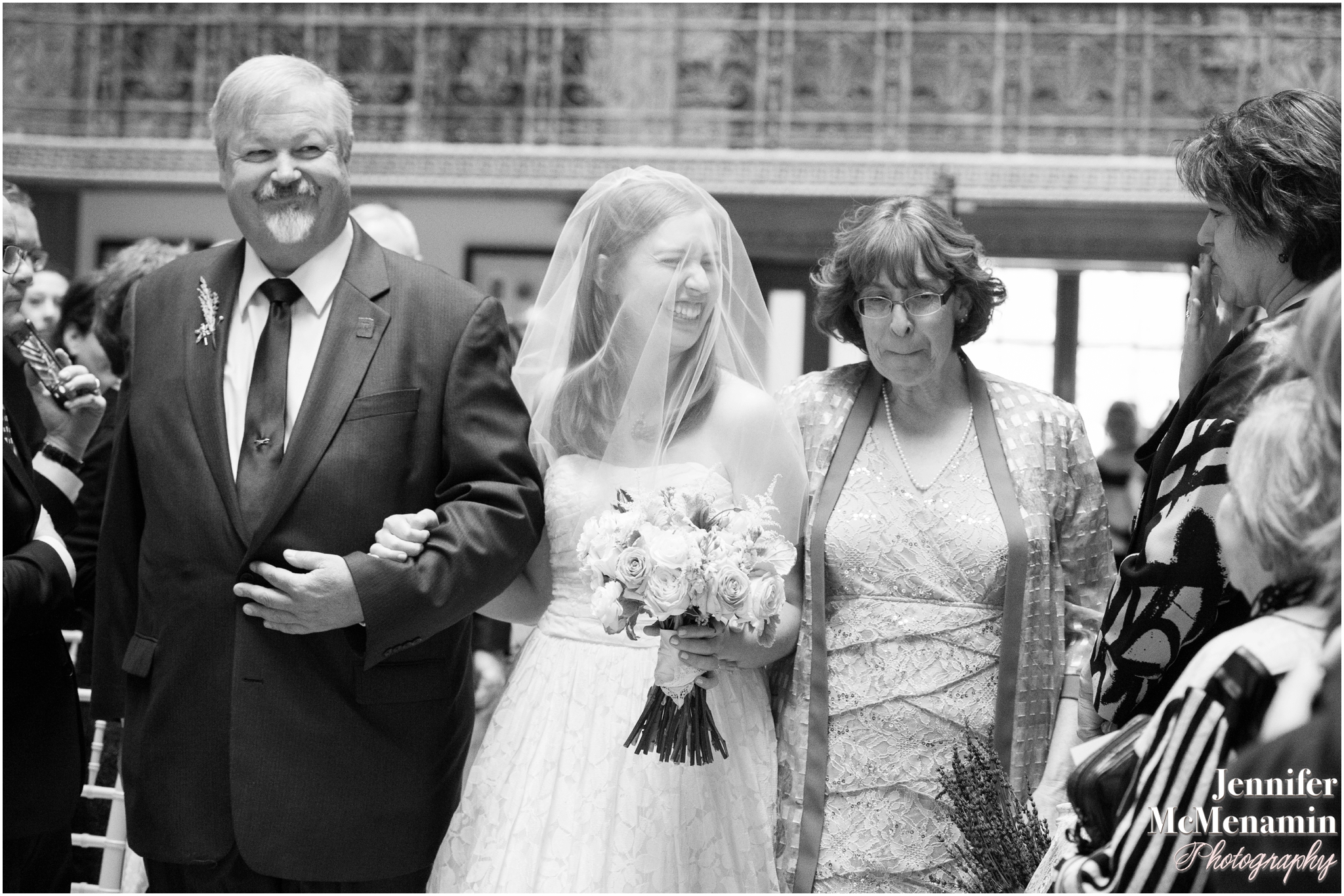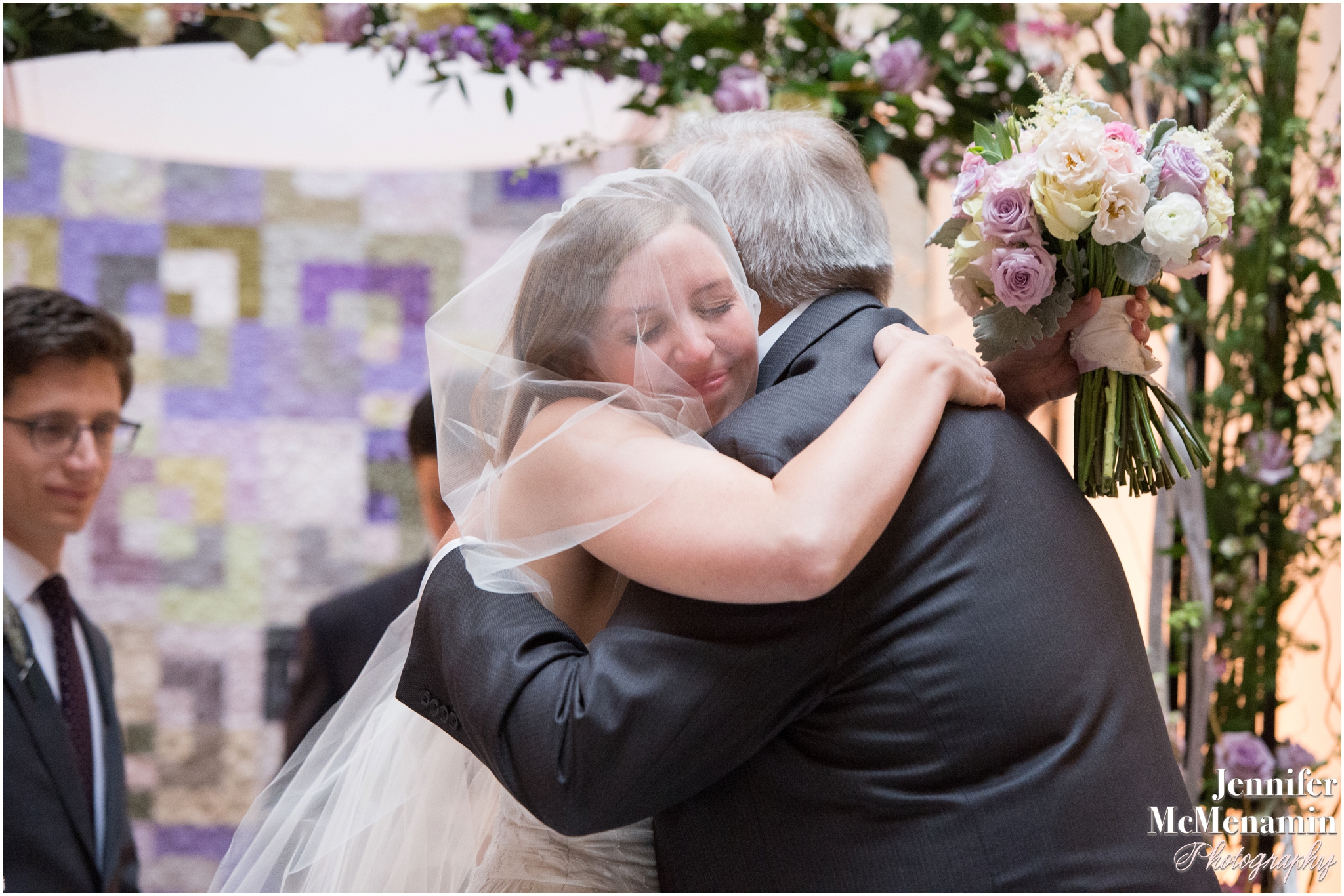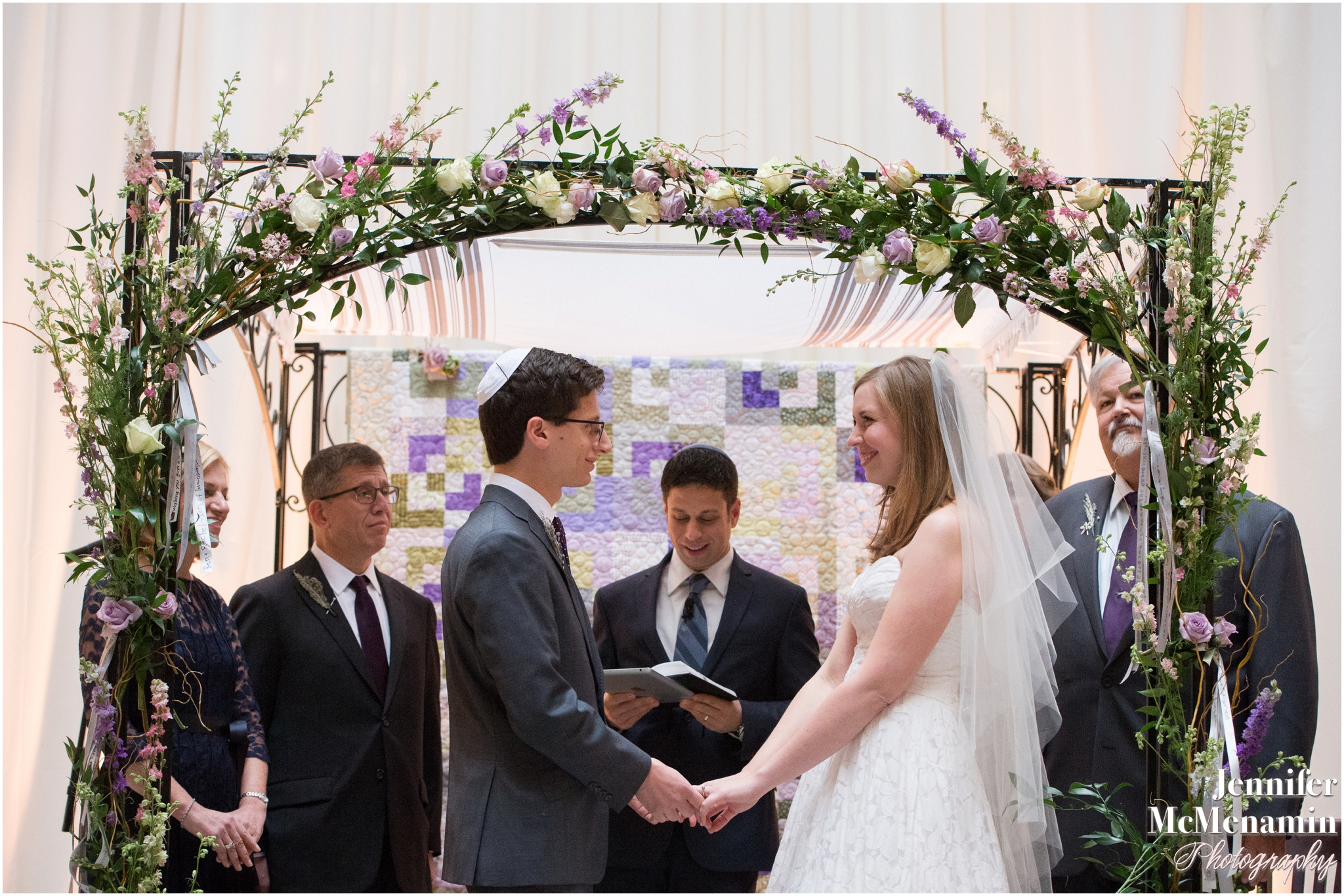 The George Peabody Library is one of my most-favorite wedding venues in the Baltimore-DC area.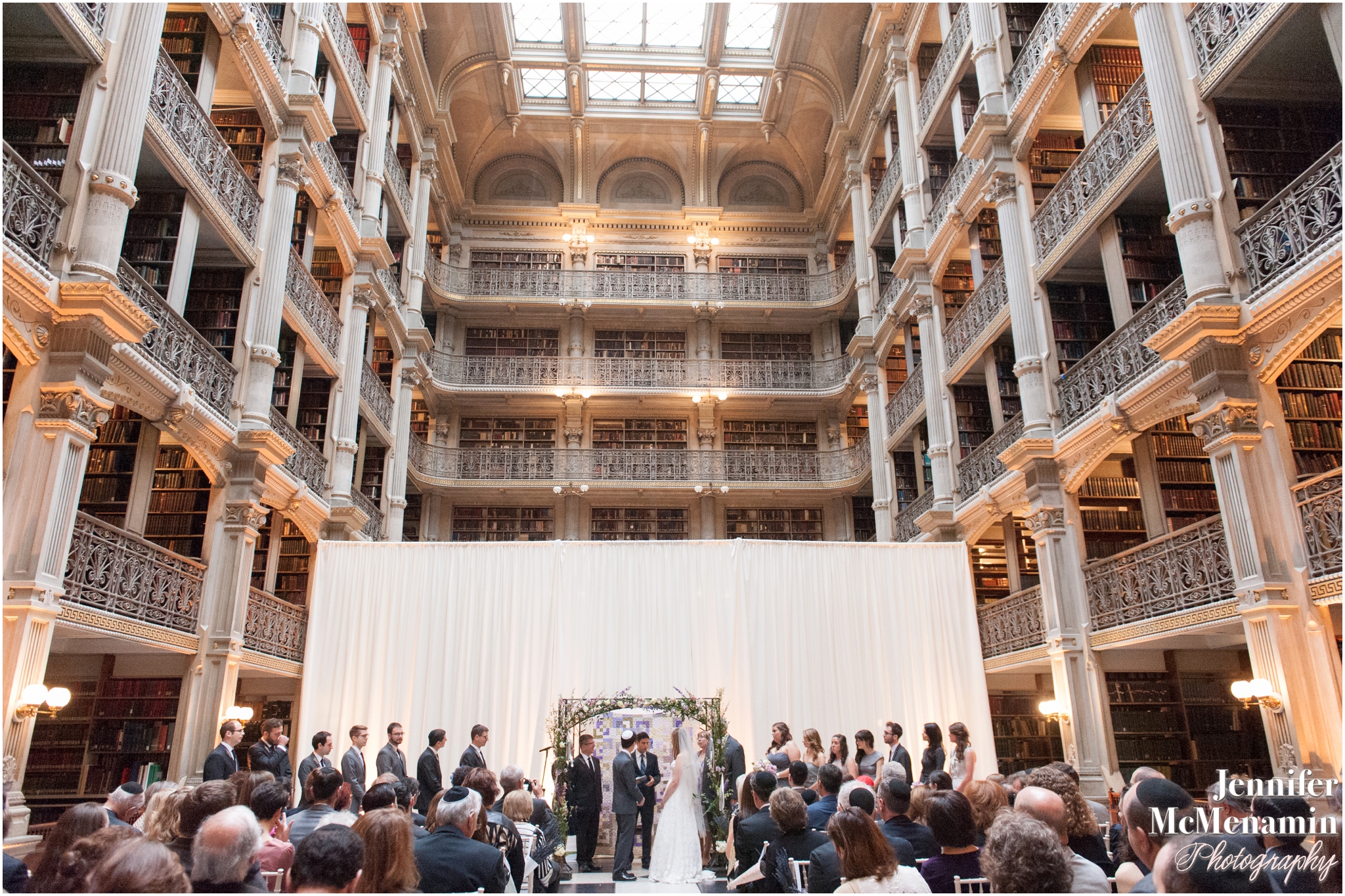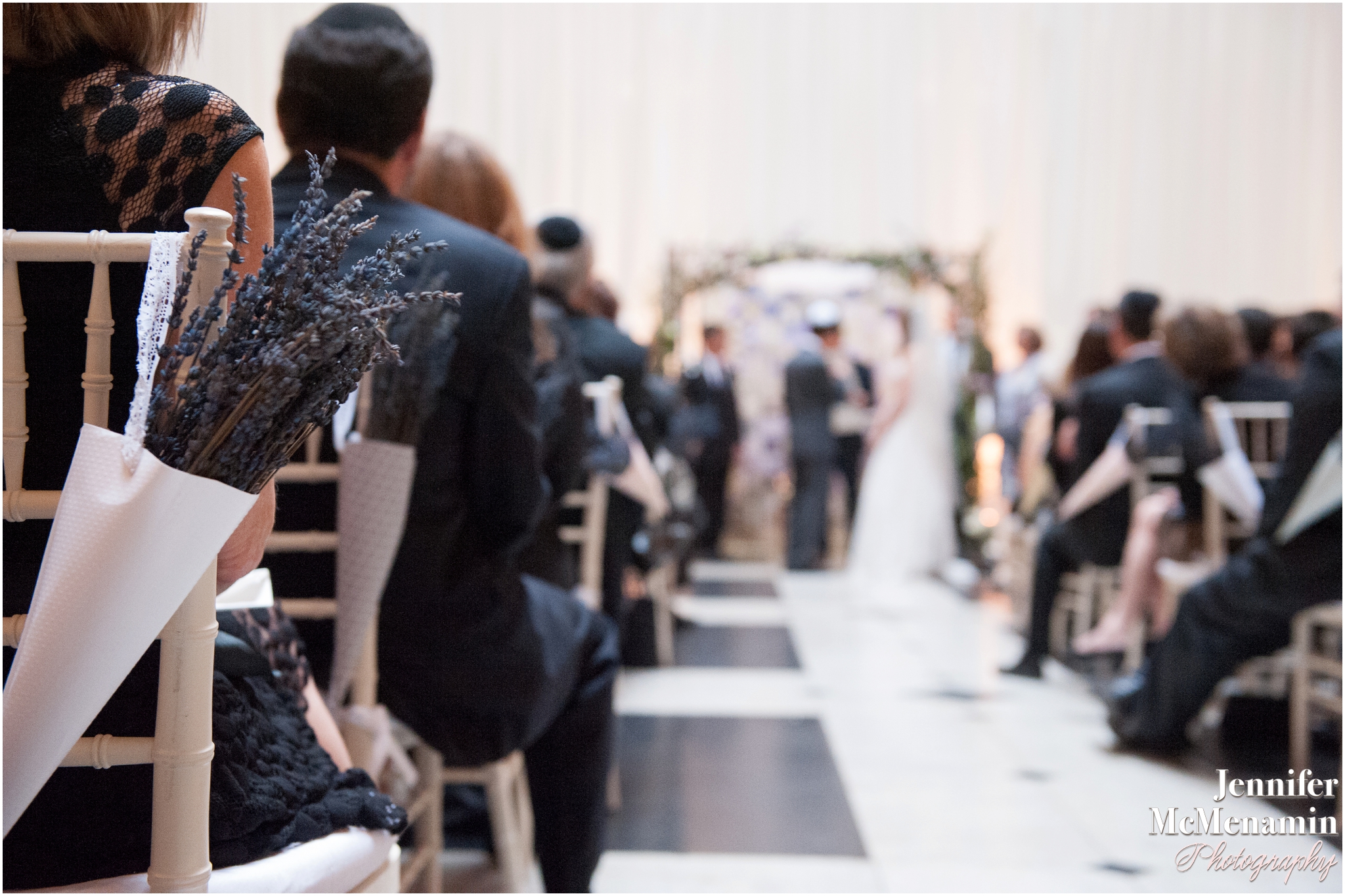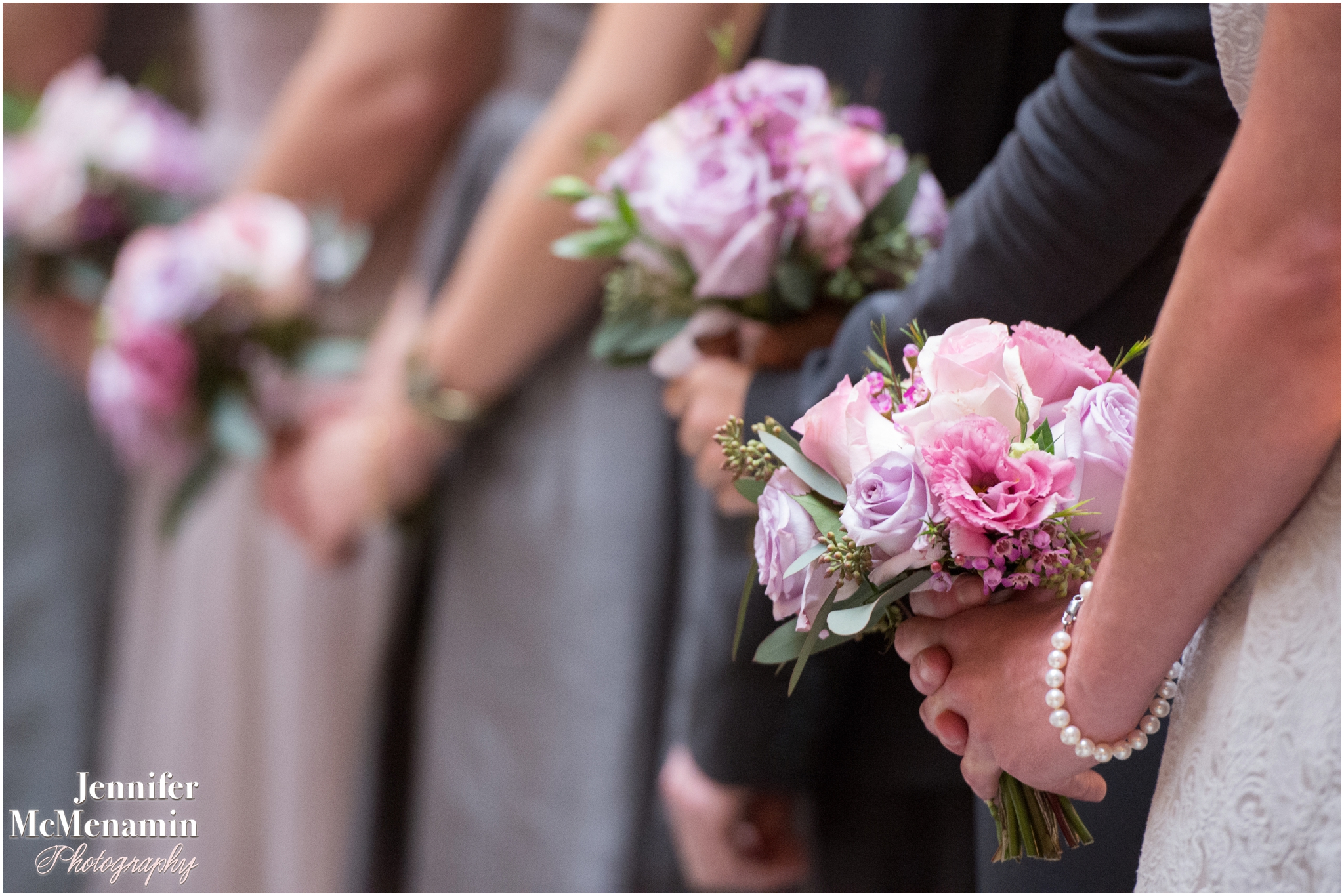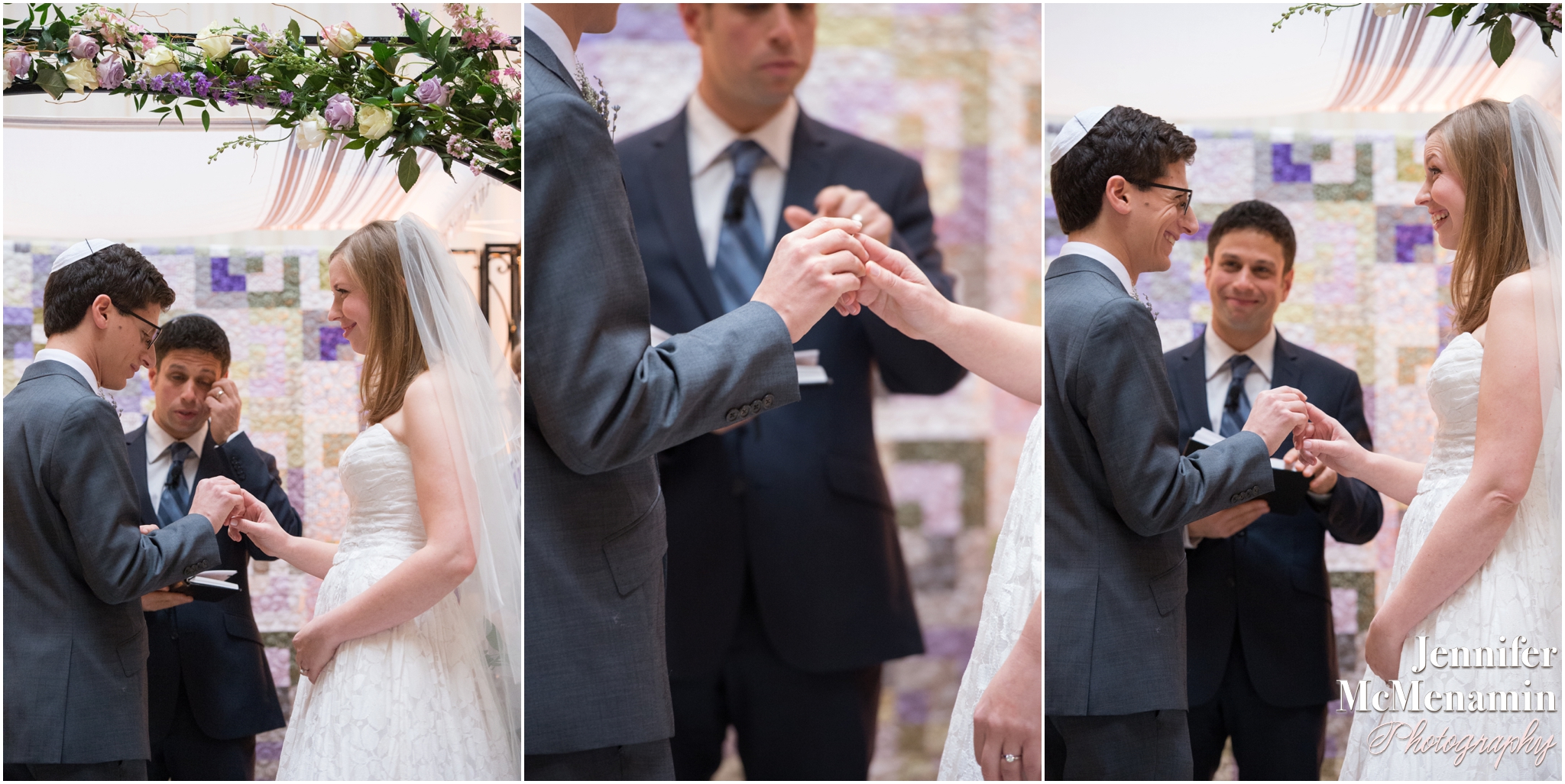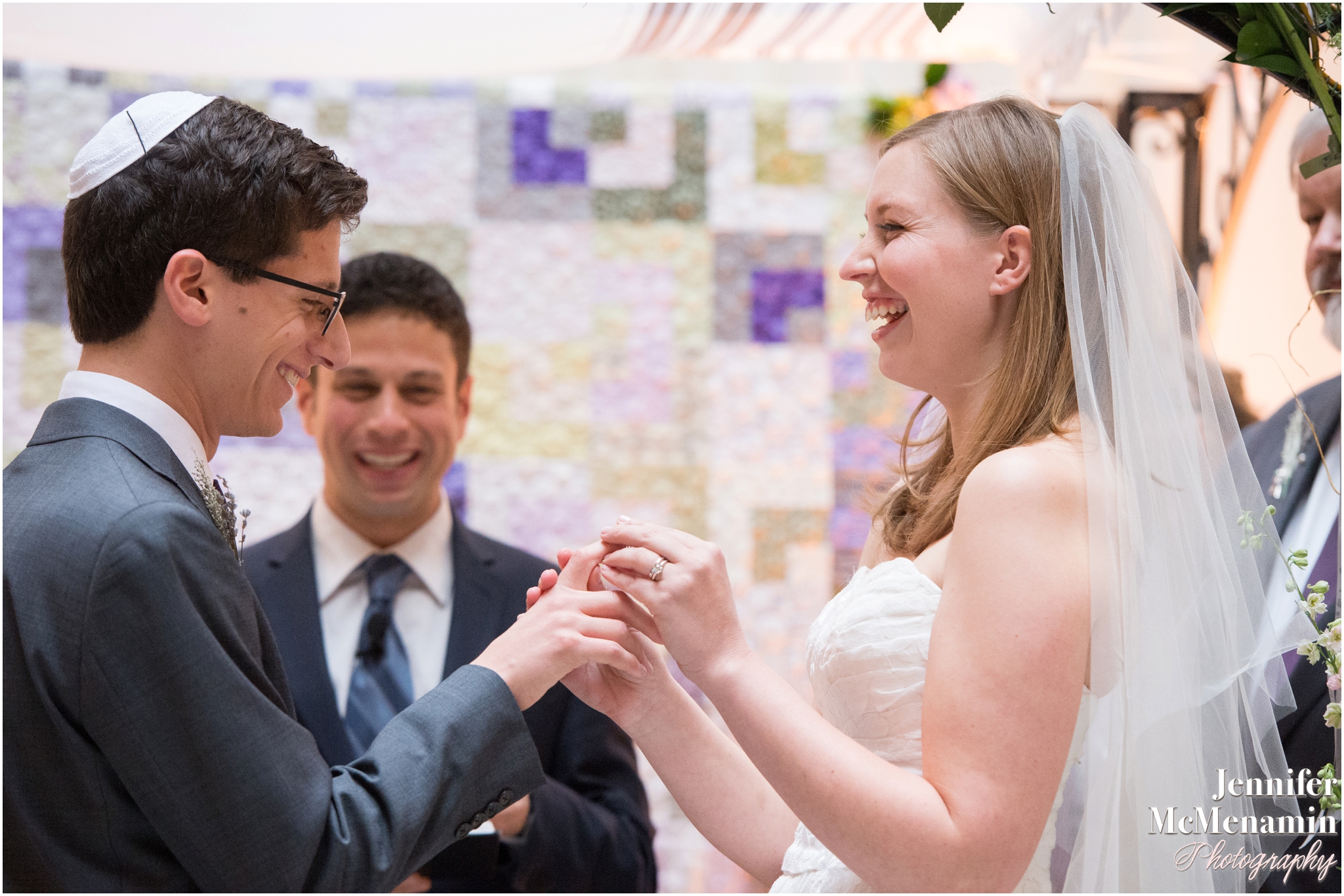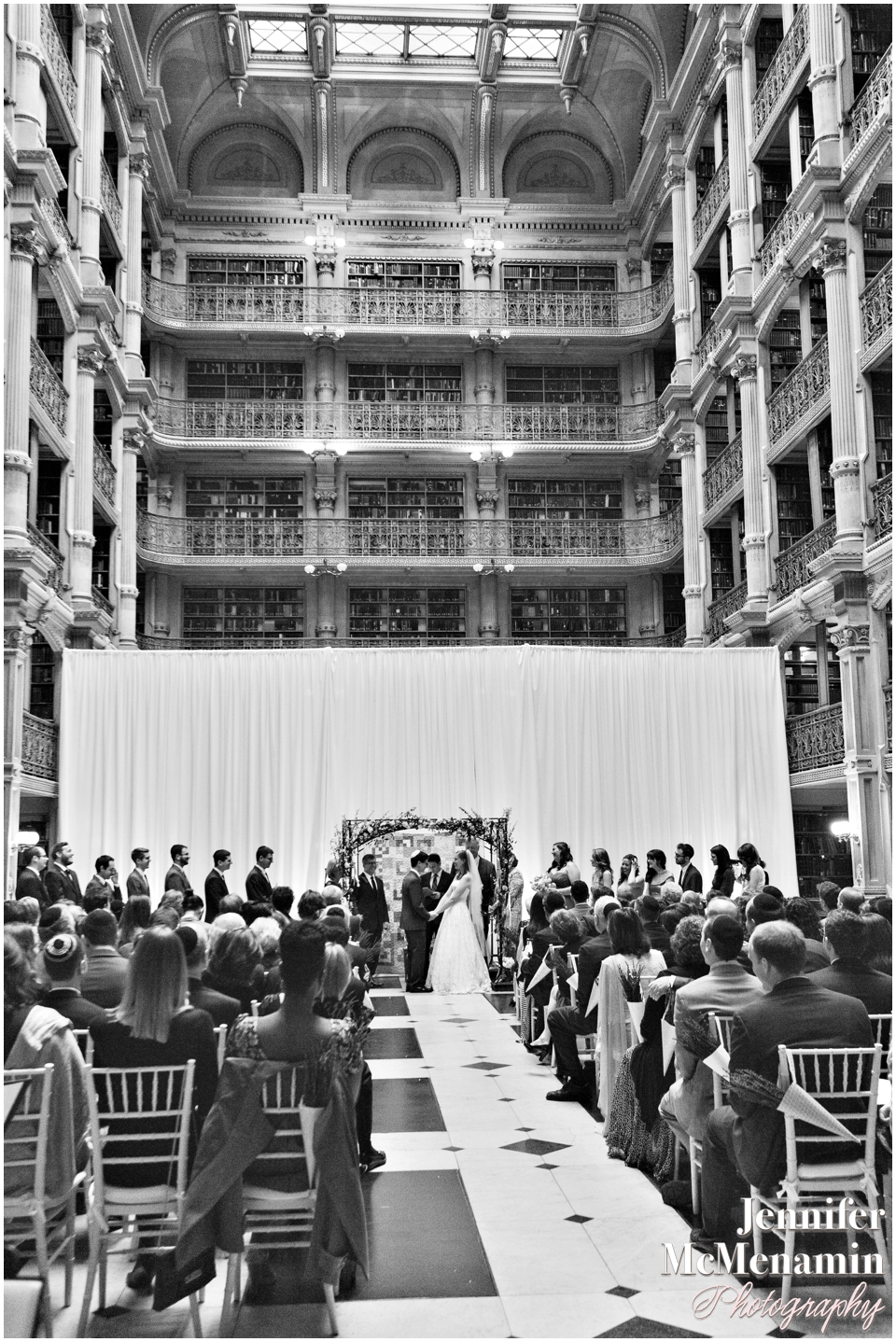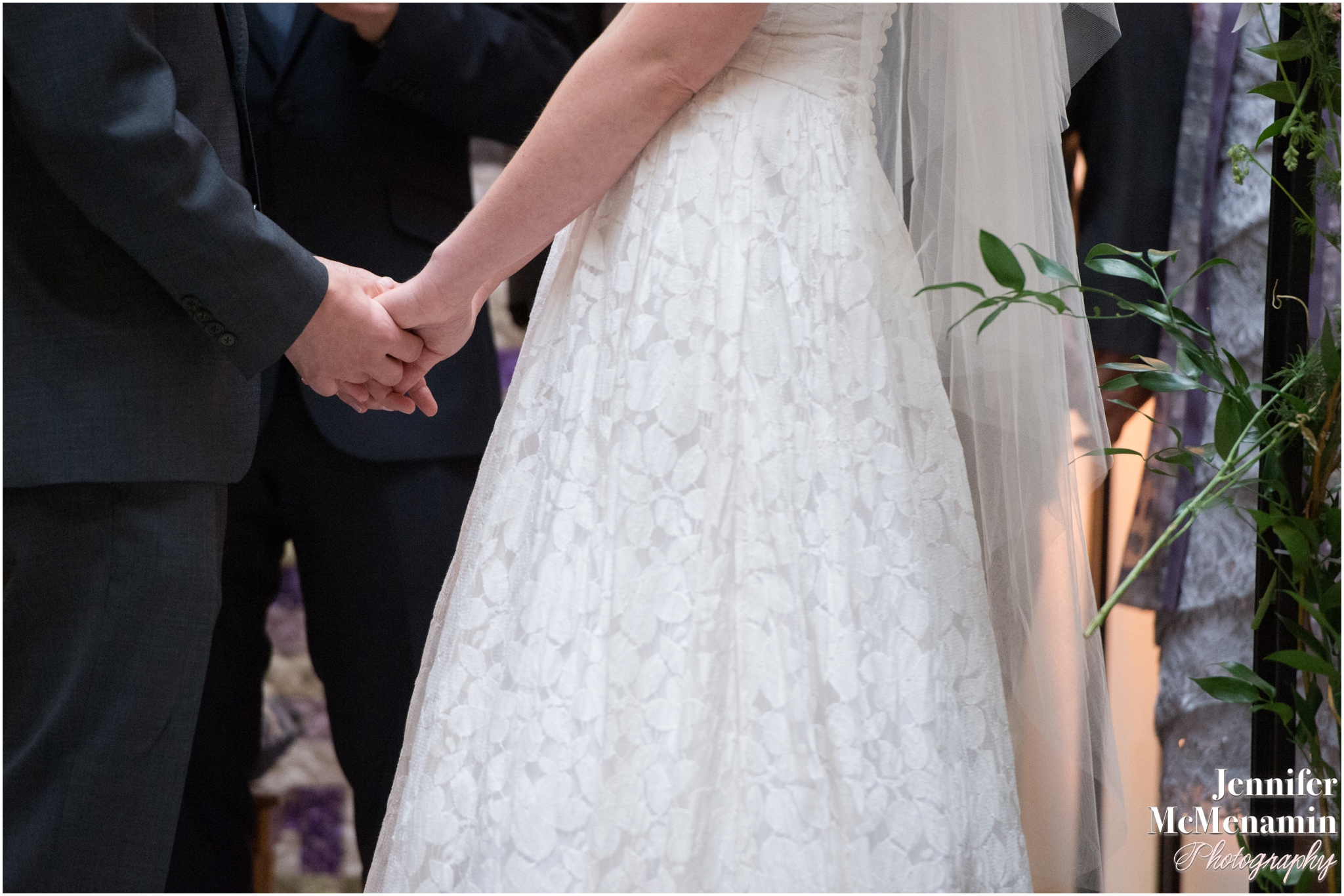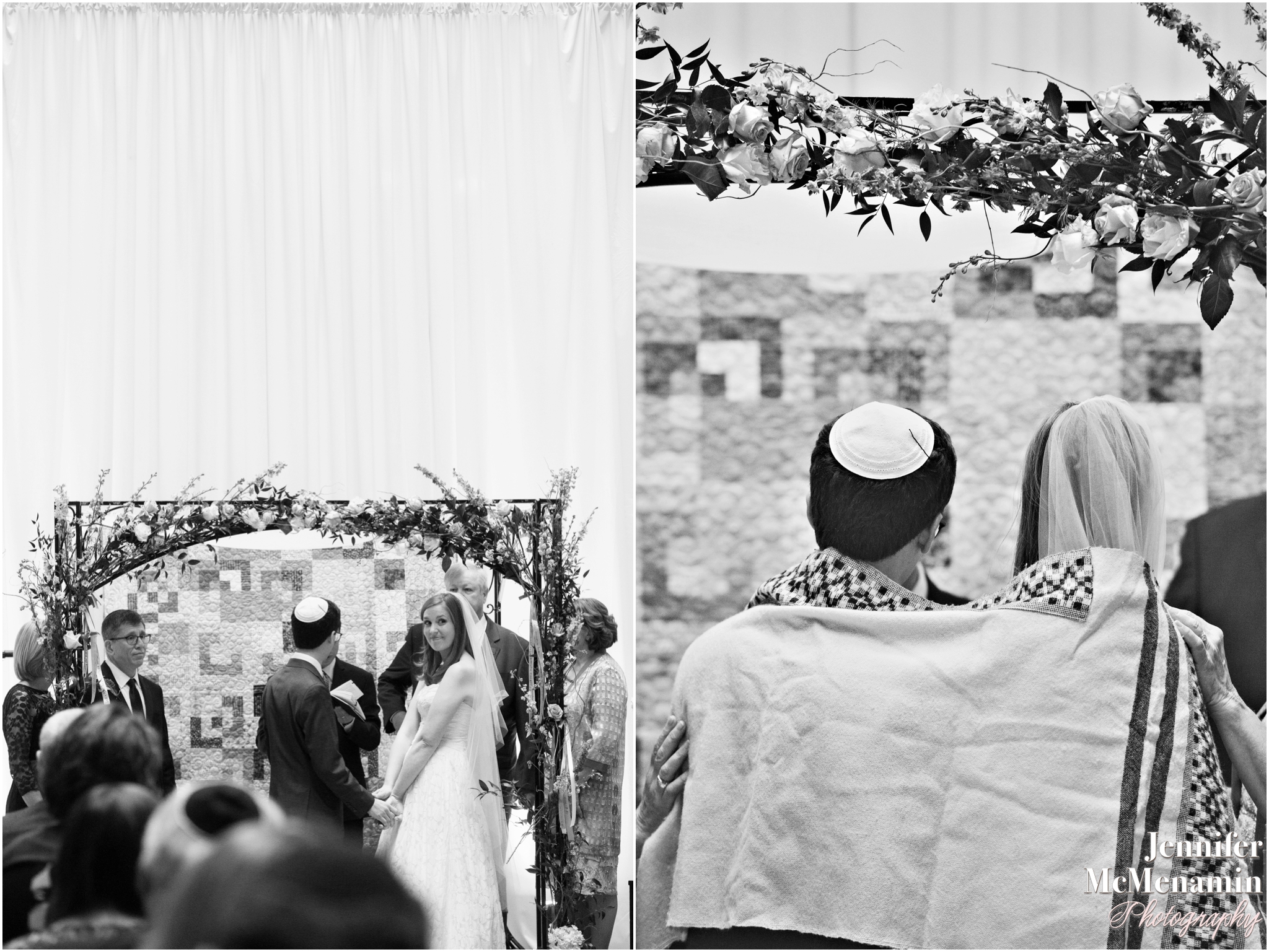 Rachel and Ben were wrapped in a prayer shawl, or tallis, that belonged to Ben's late grandfather.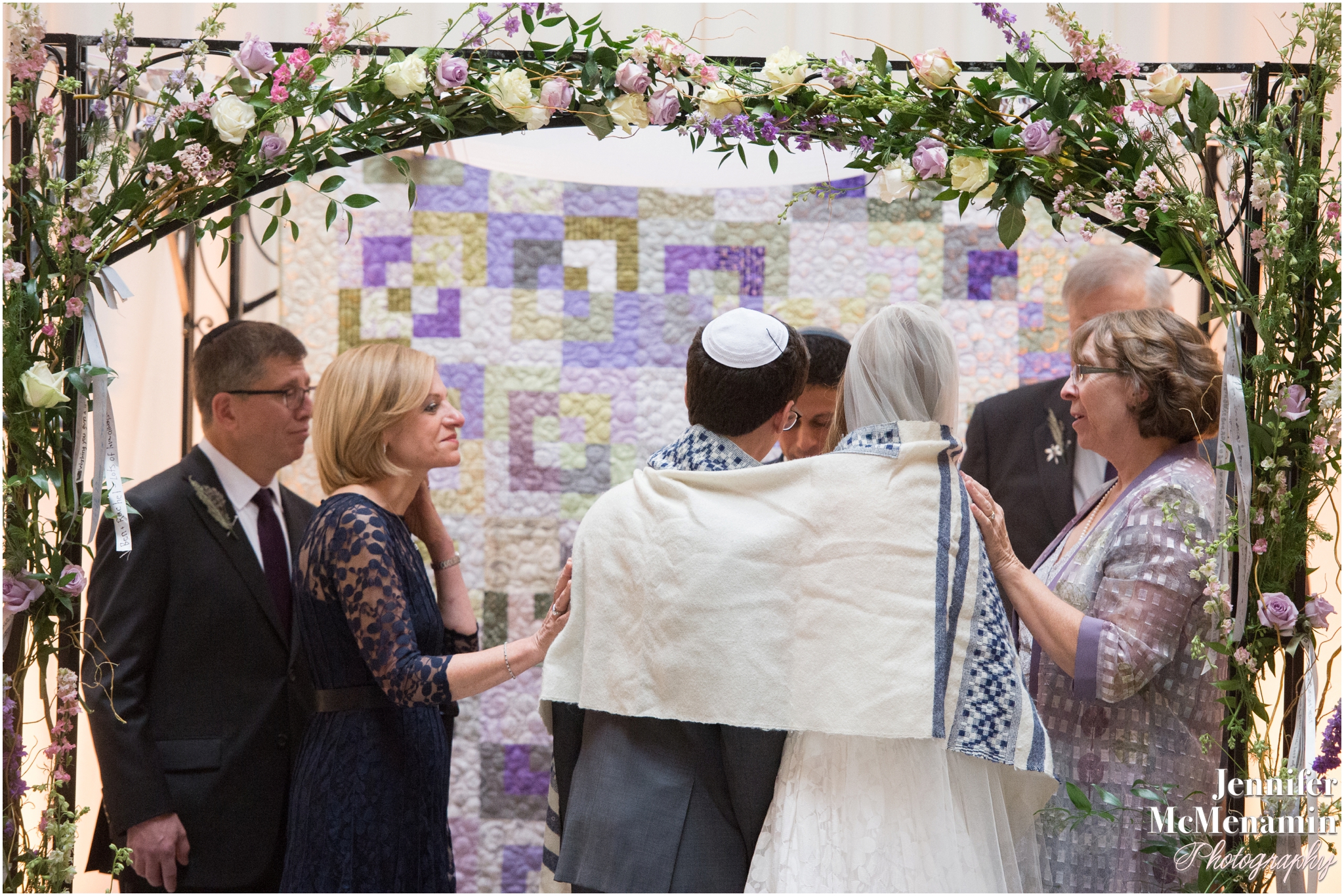 I loved this display of family photos and guest table assignments. So lovely!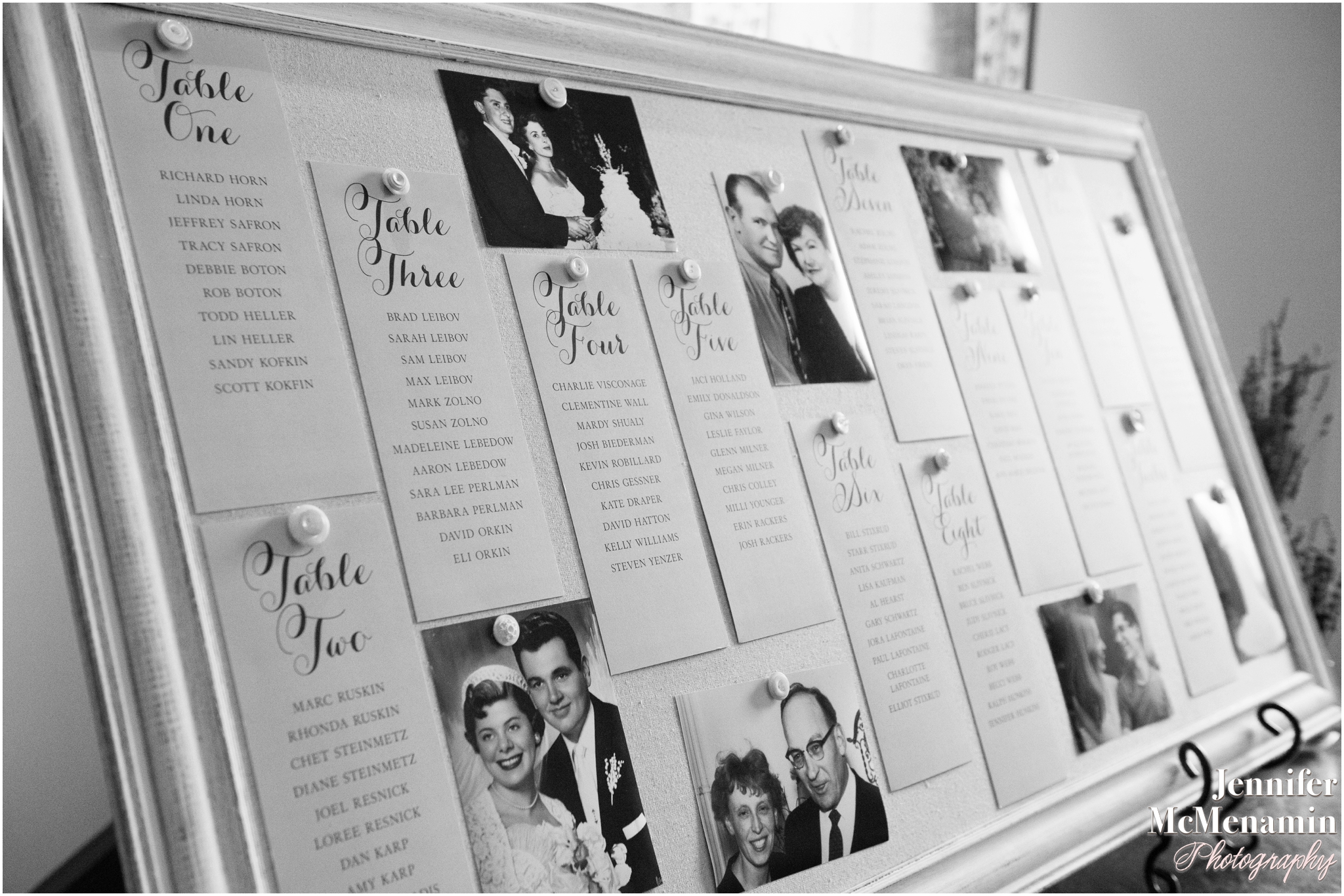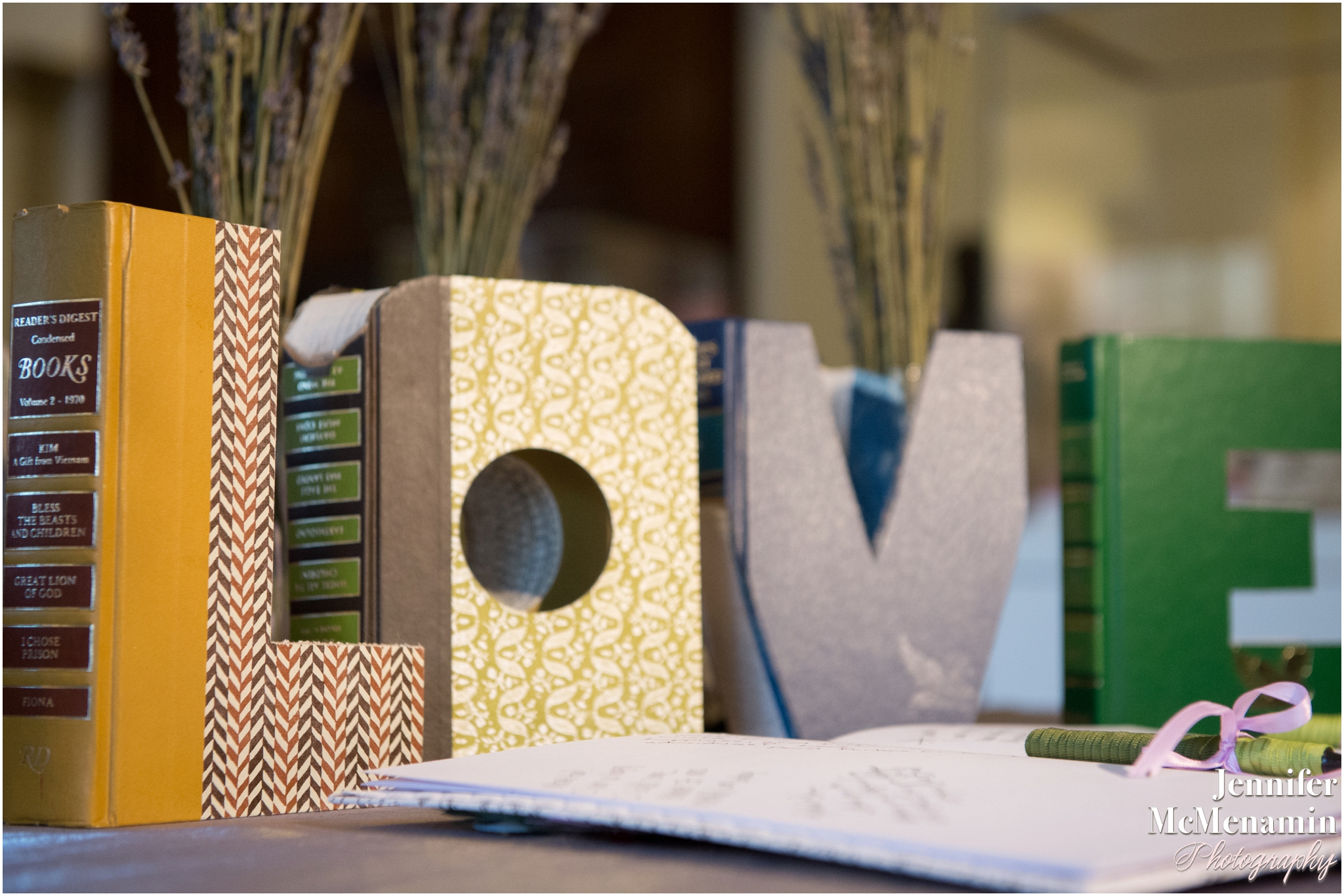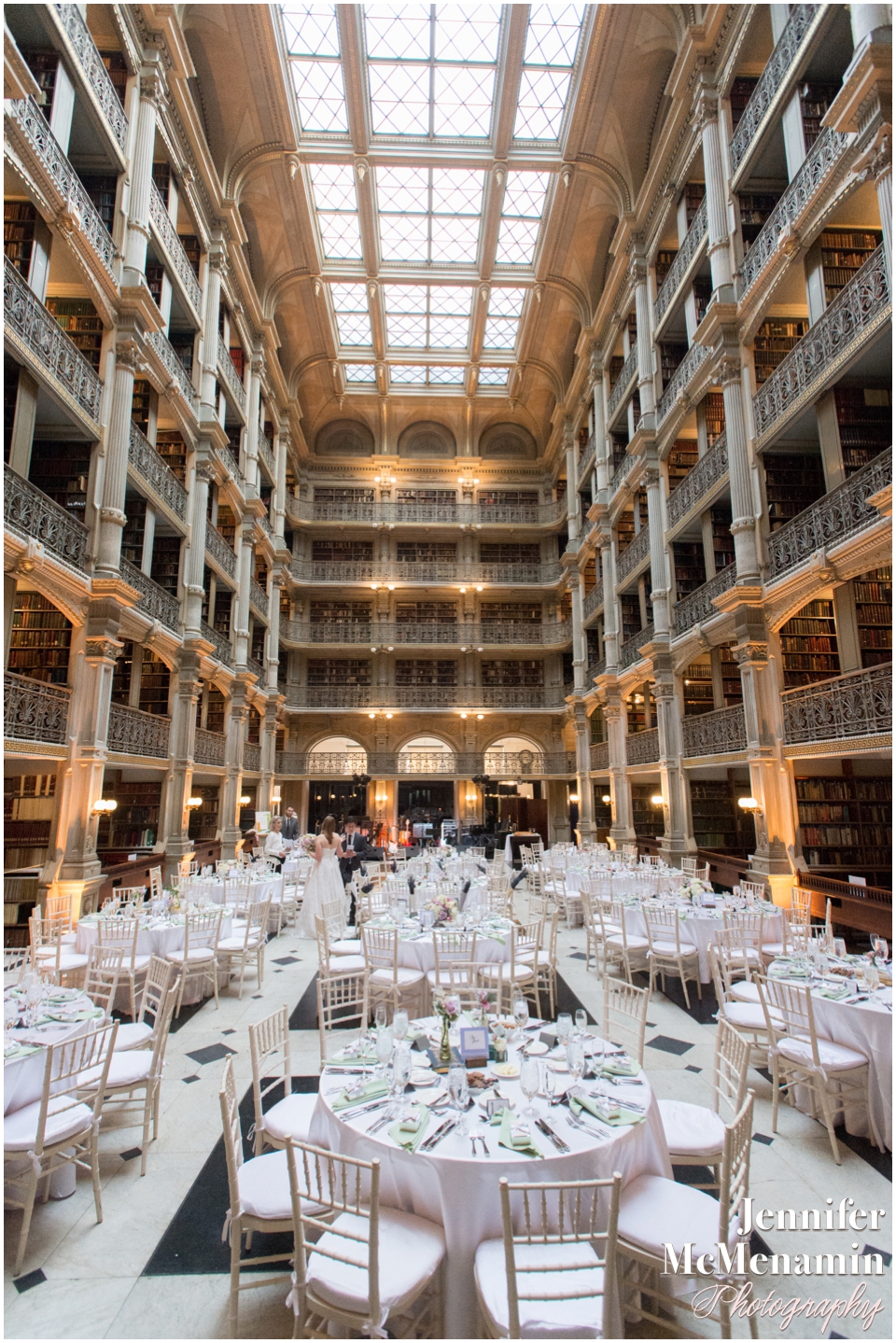 A few reception details.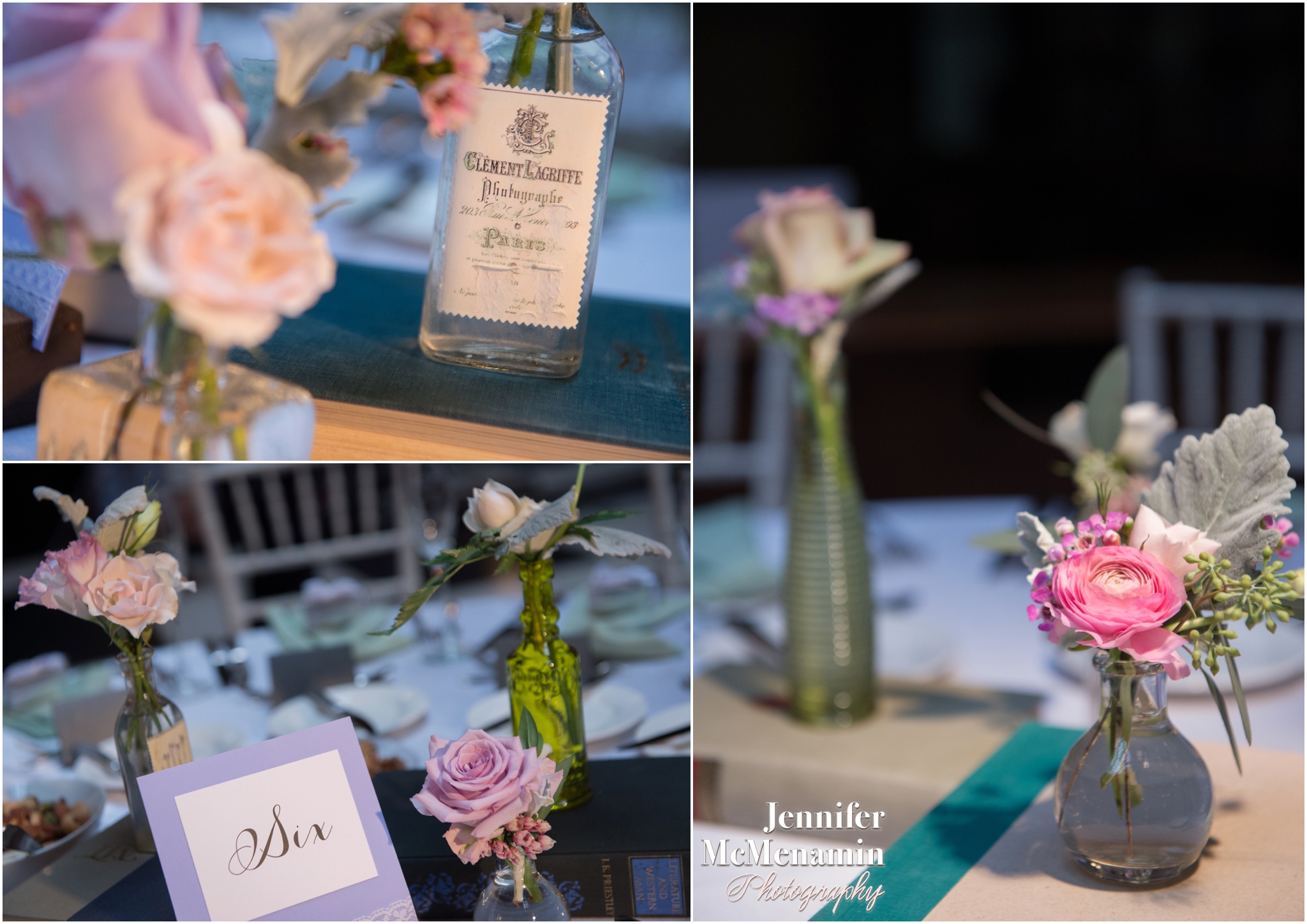 The celebratory placecards — of a leaping bride and groom — fit Rachel and Ben to a T.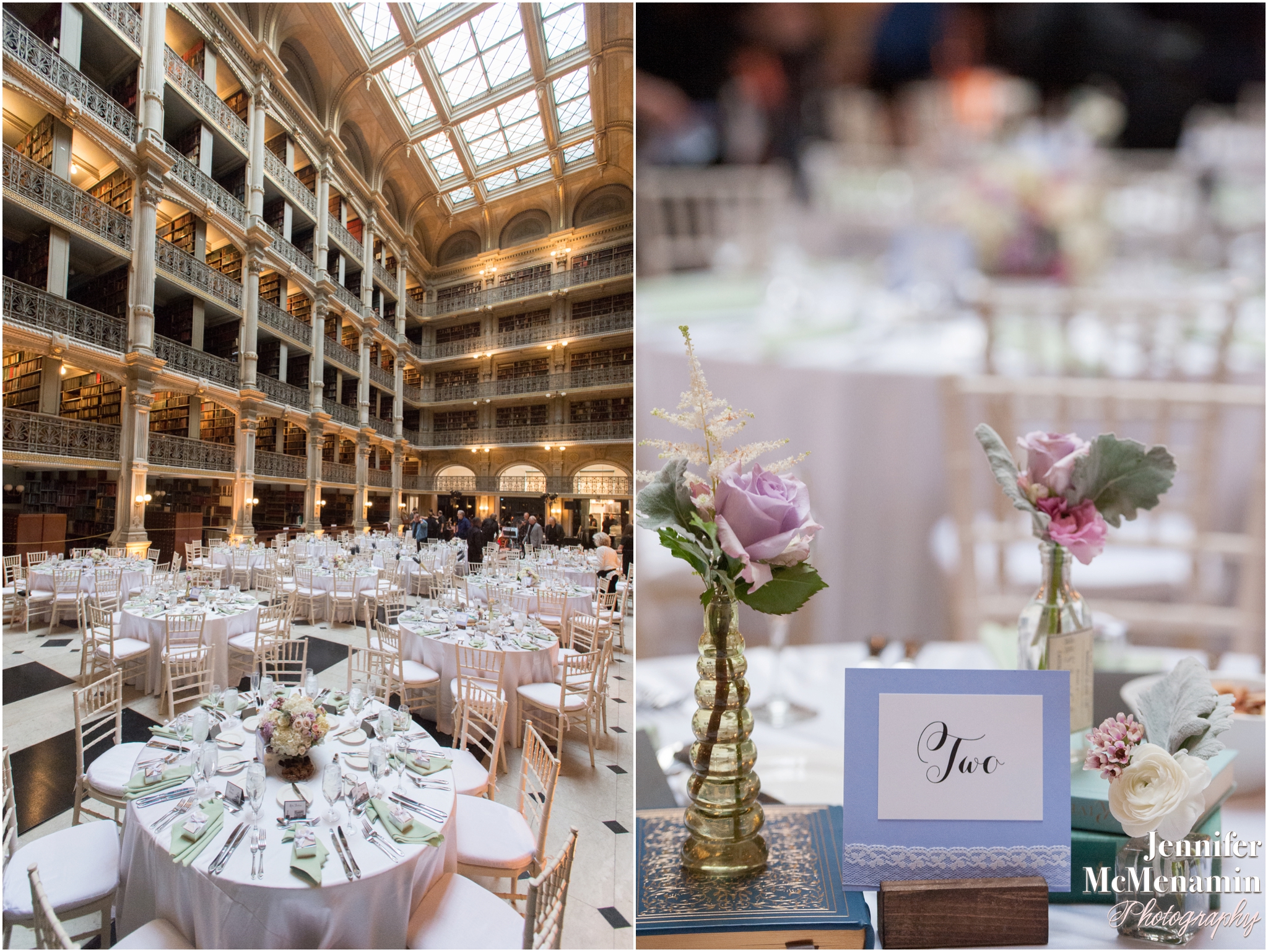 Heart confetti made of newspaper for the former newspaperman — and fellow University of Maryland Diamondbacker!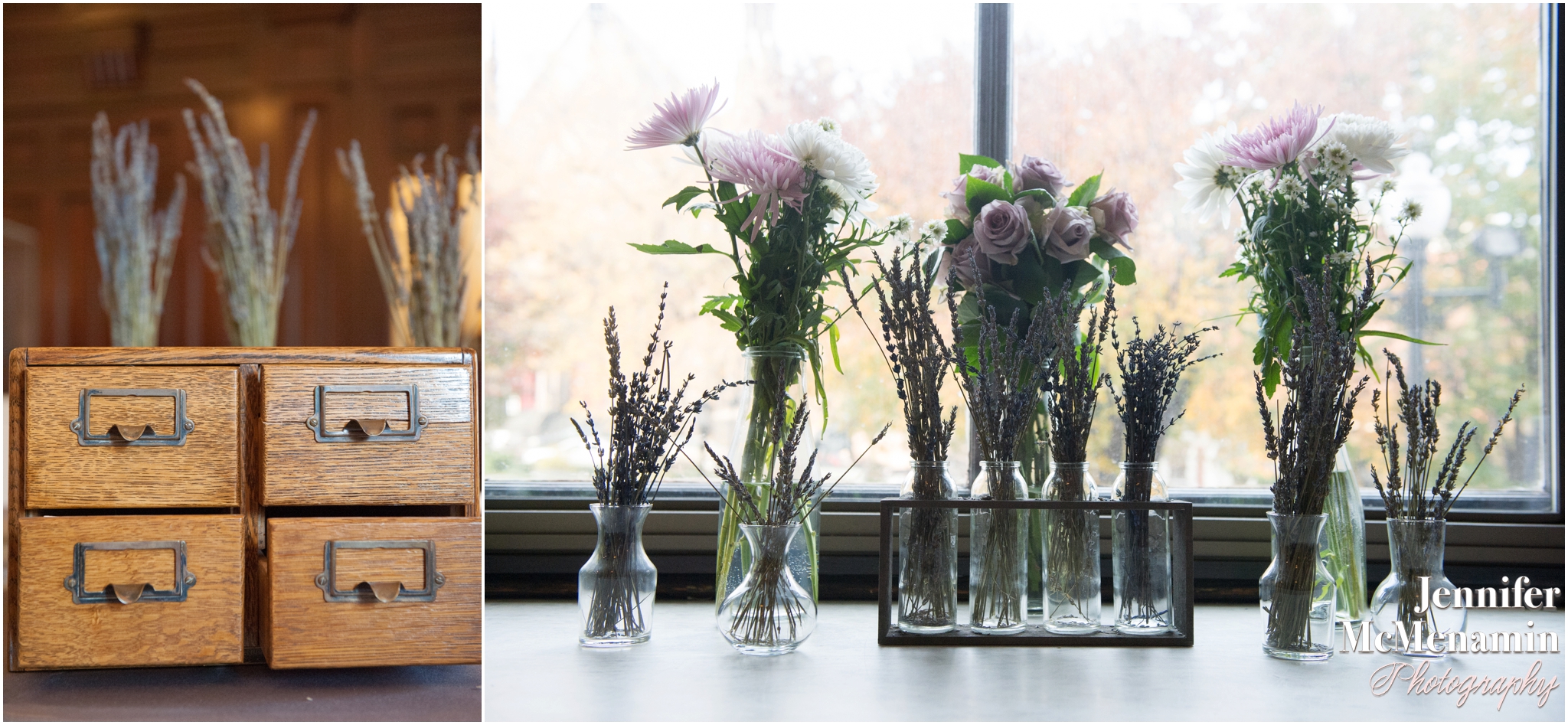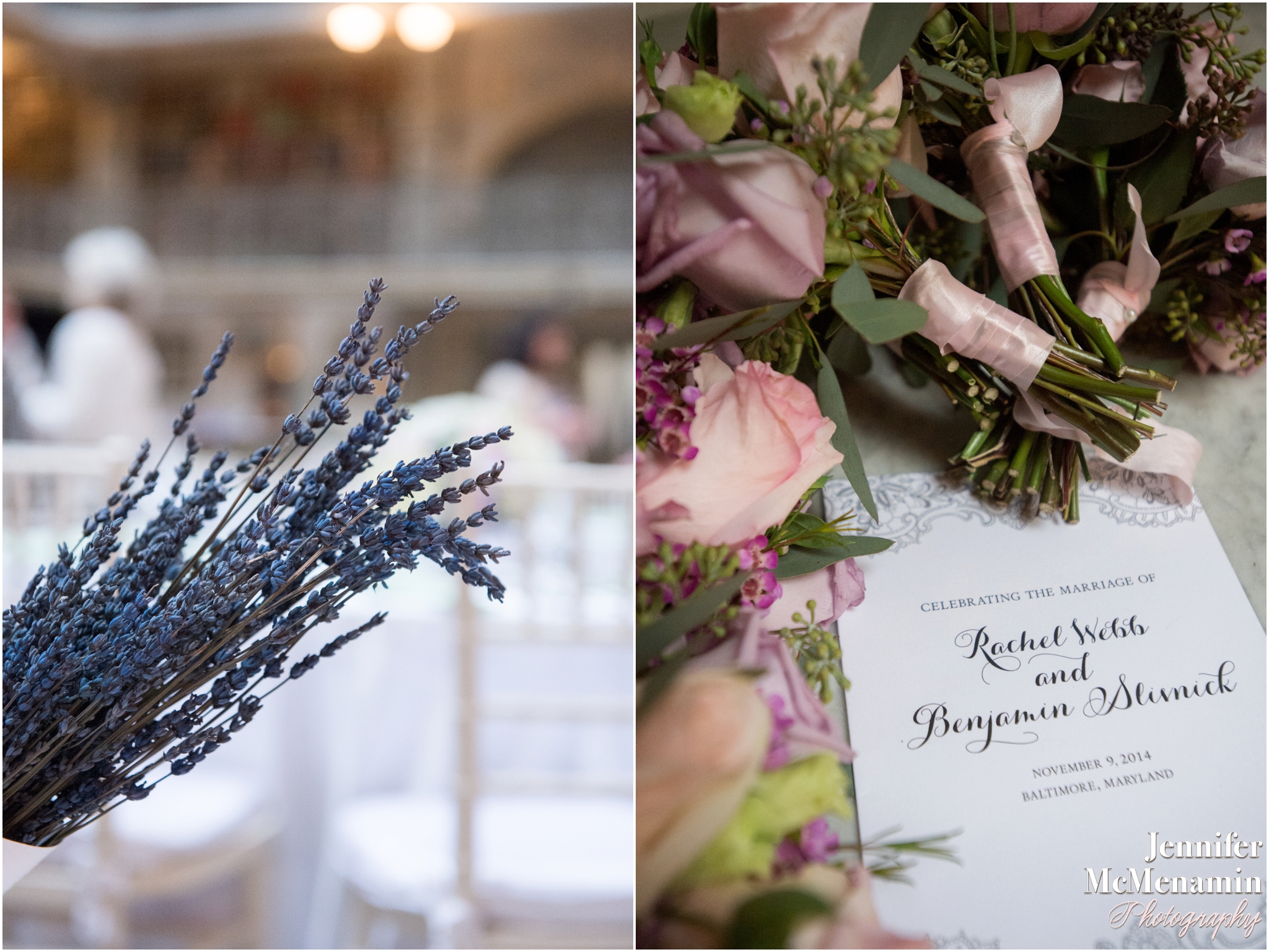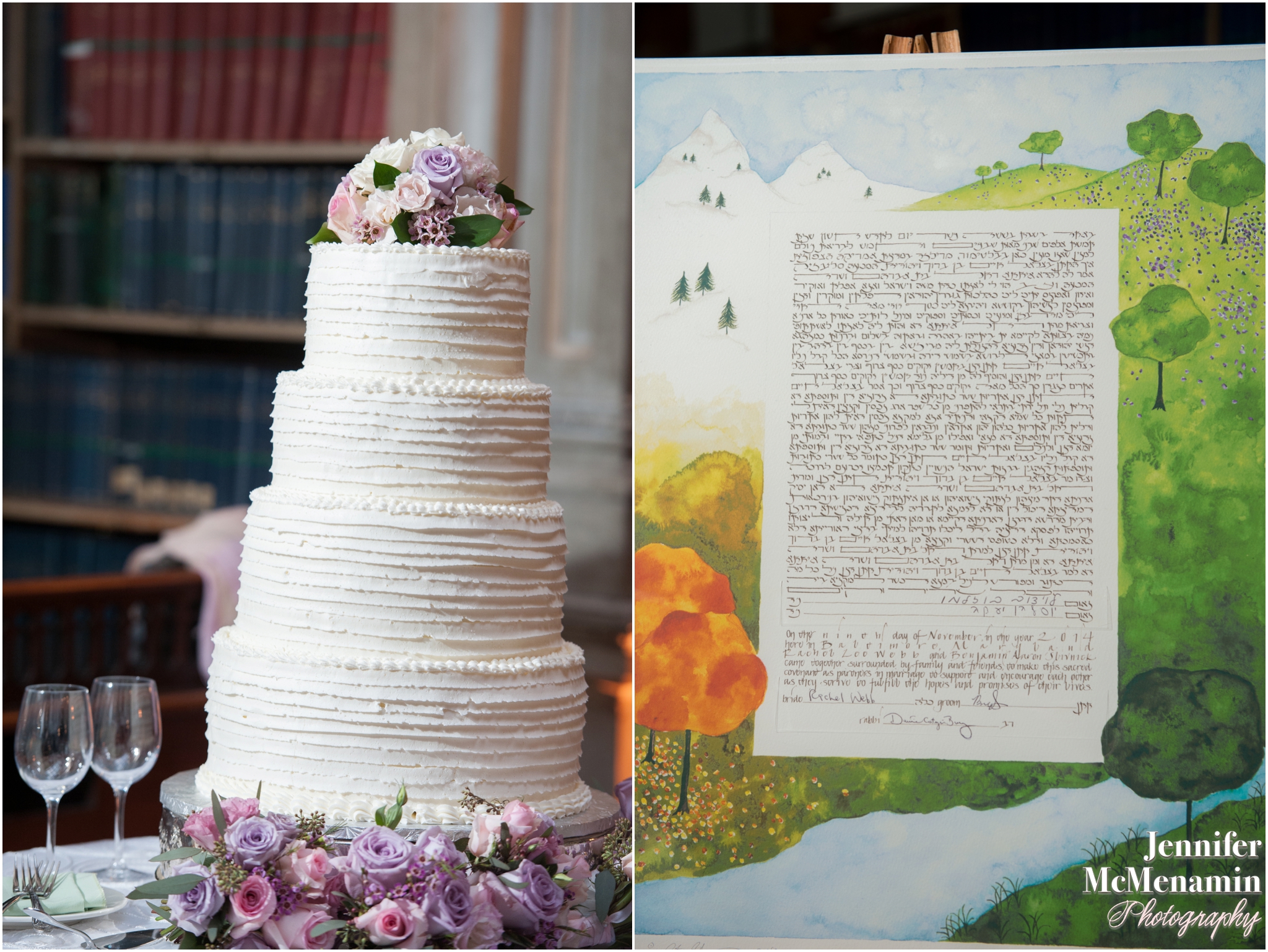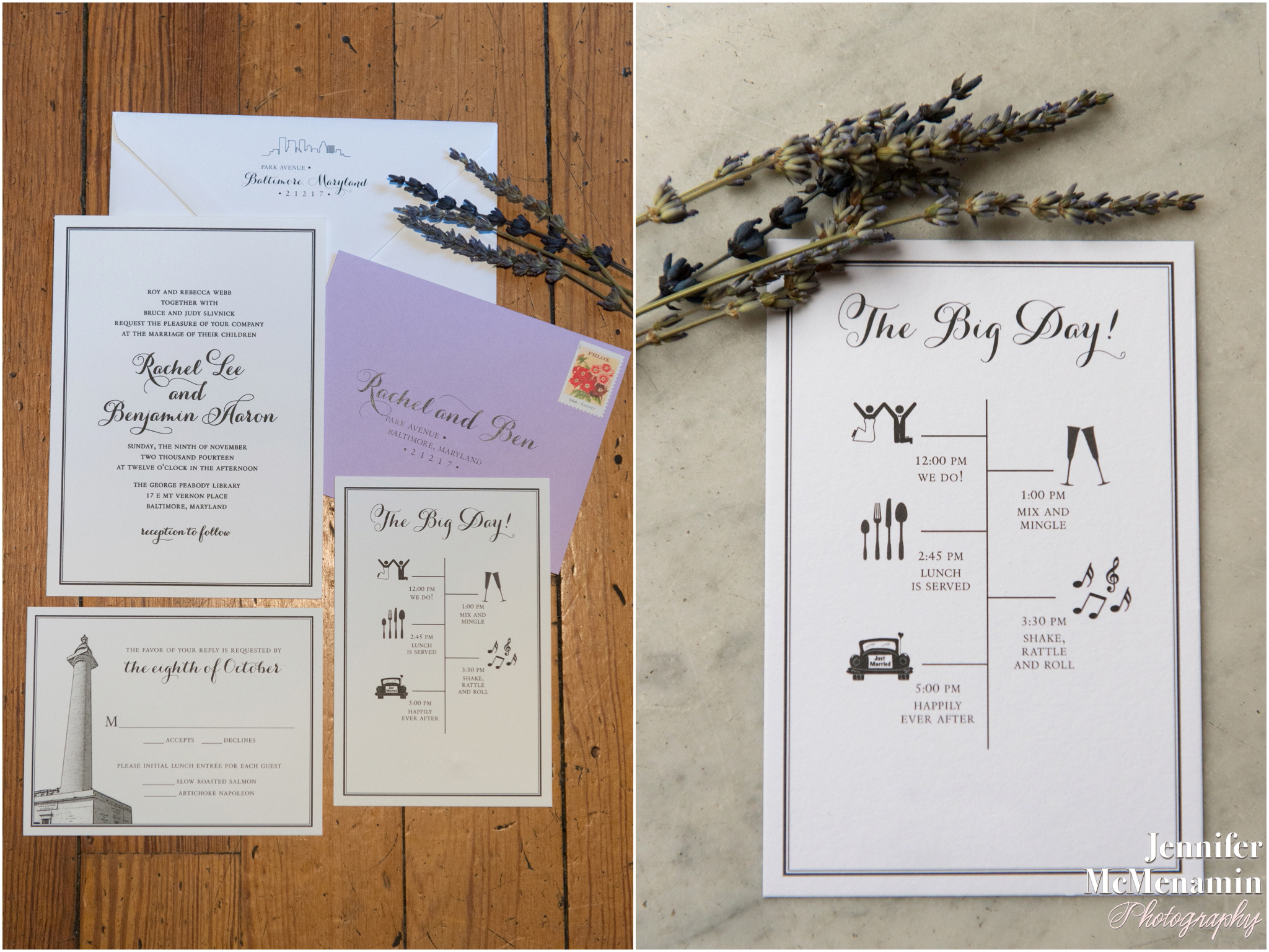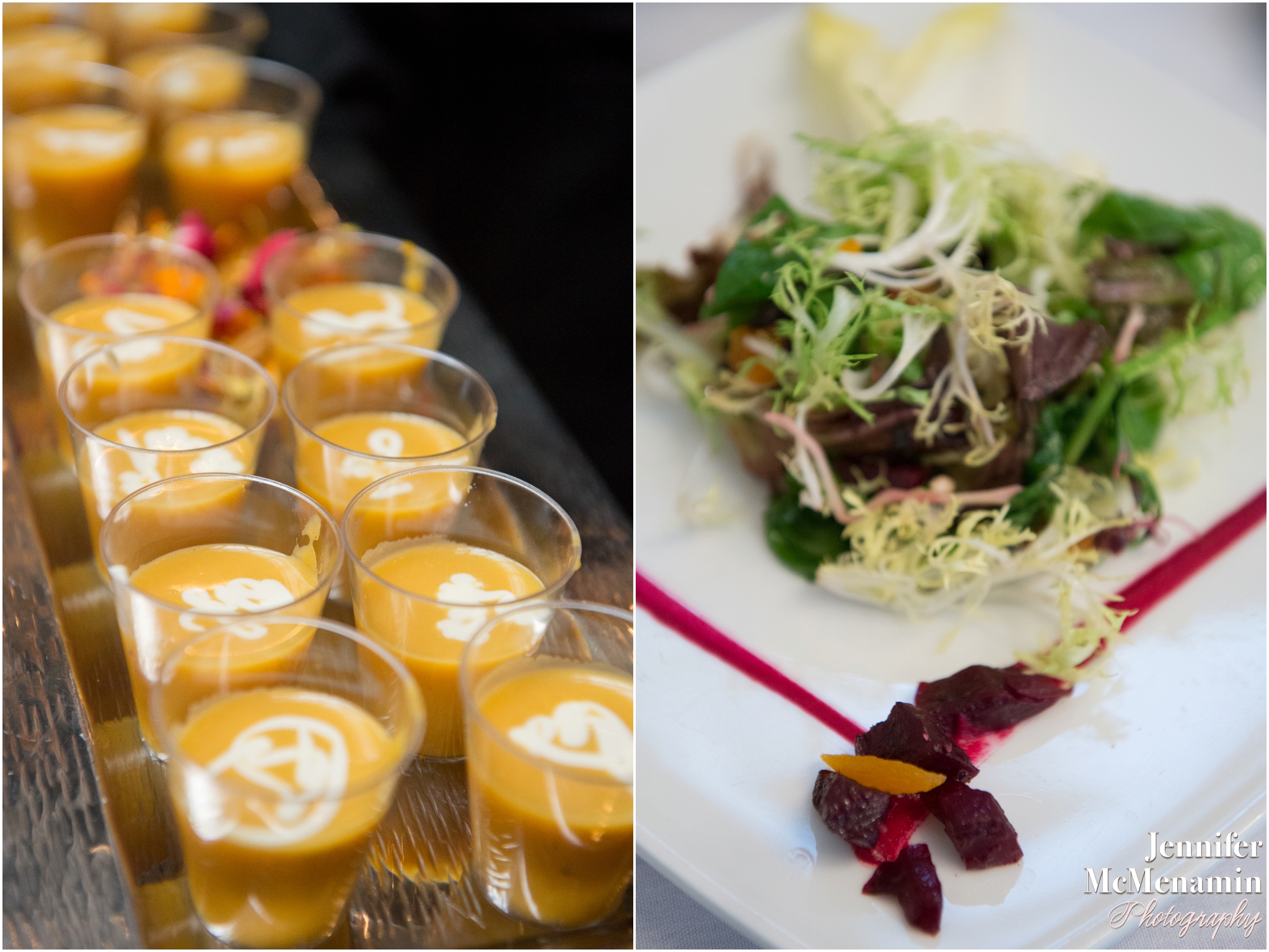 A first dance — to the tunes of Larry 2.0, a band in which Ben's uncle plays!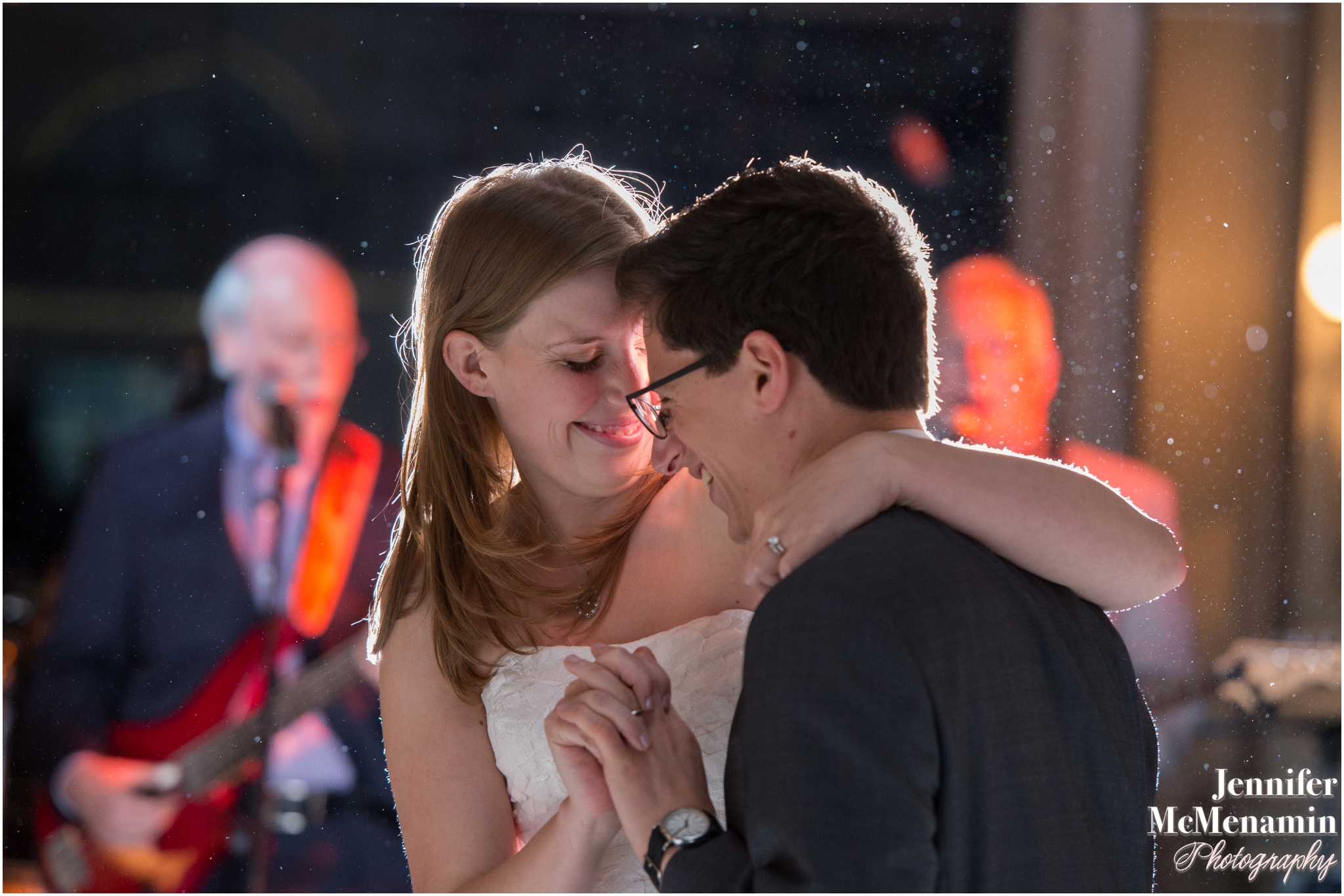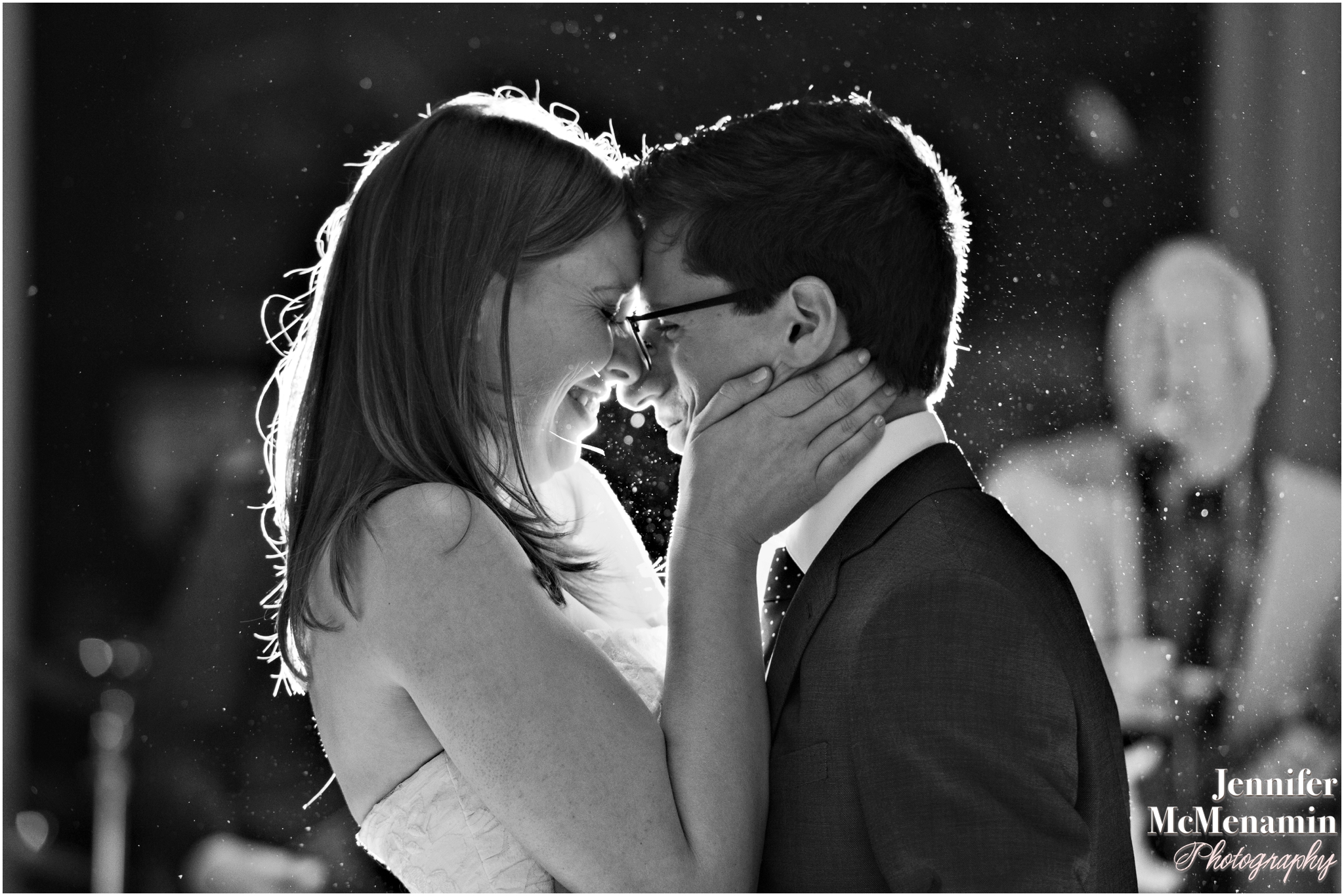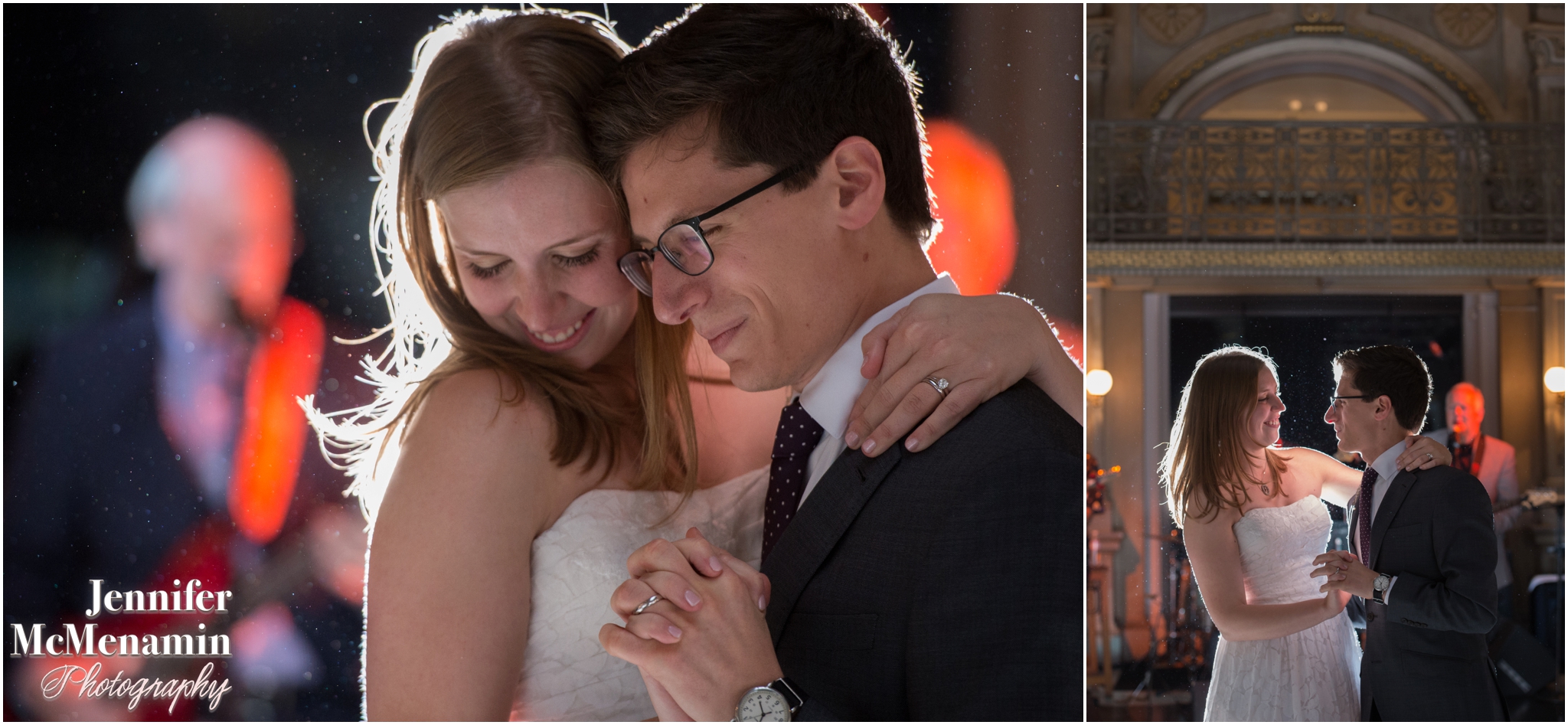 A pair of parent dances.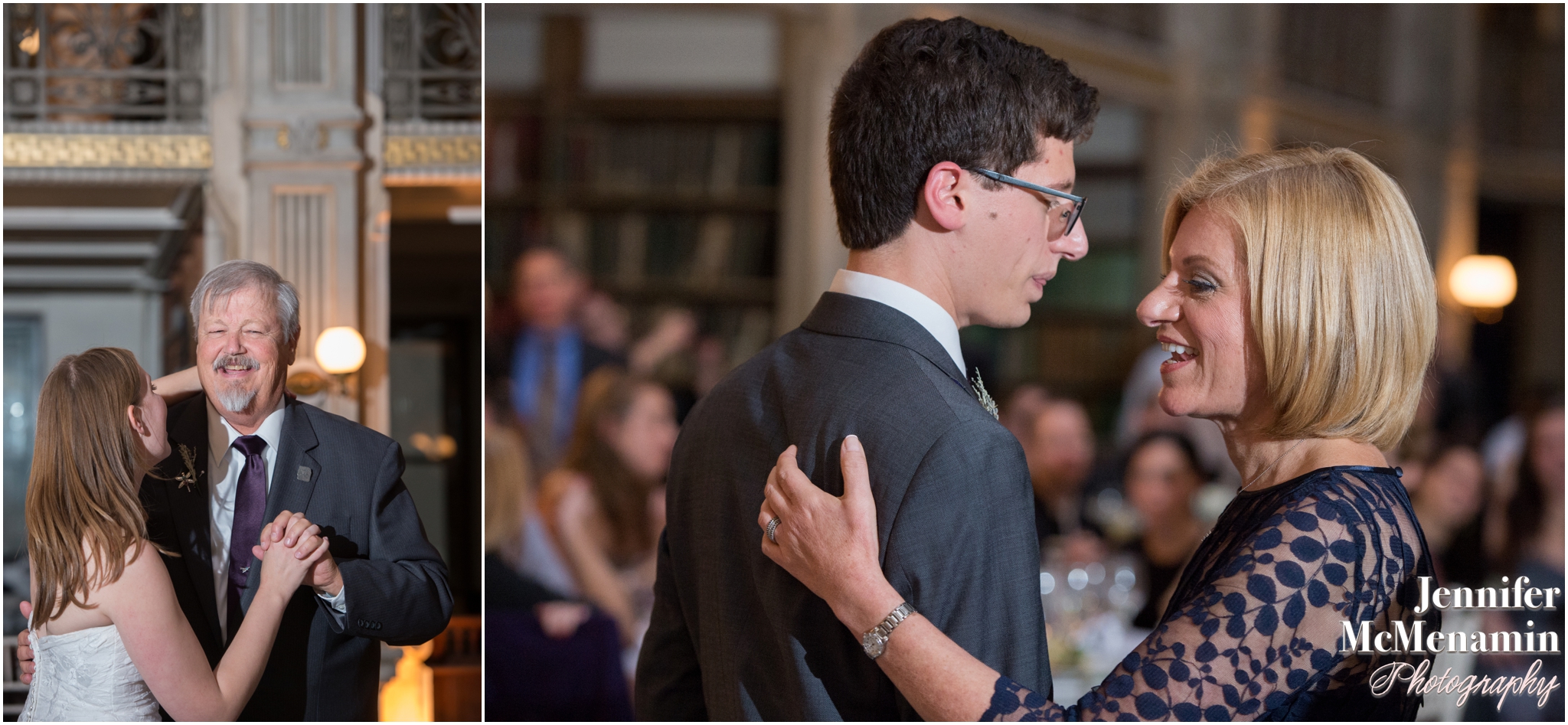 And lots and lots of fun and merriment!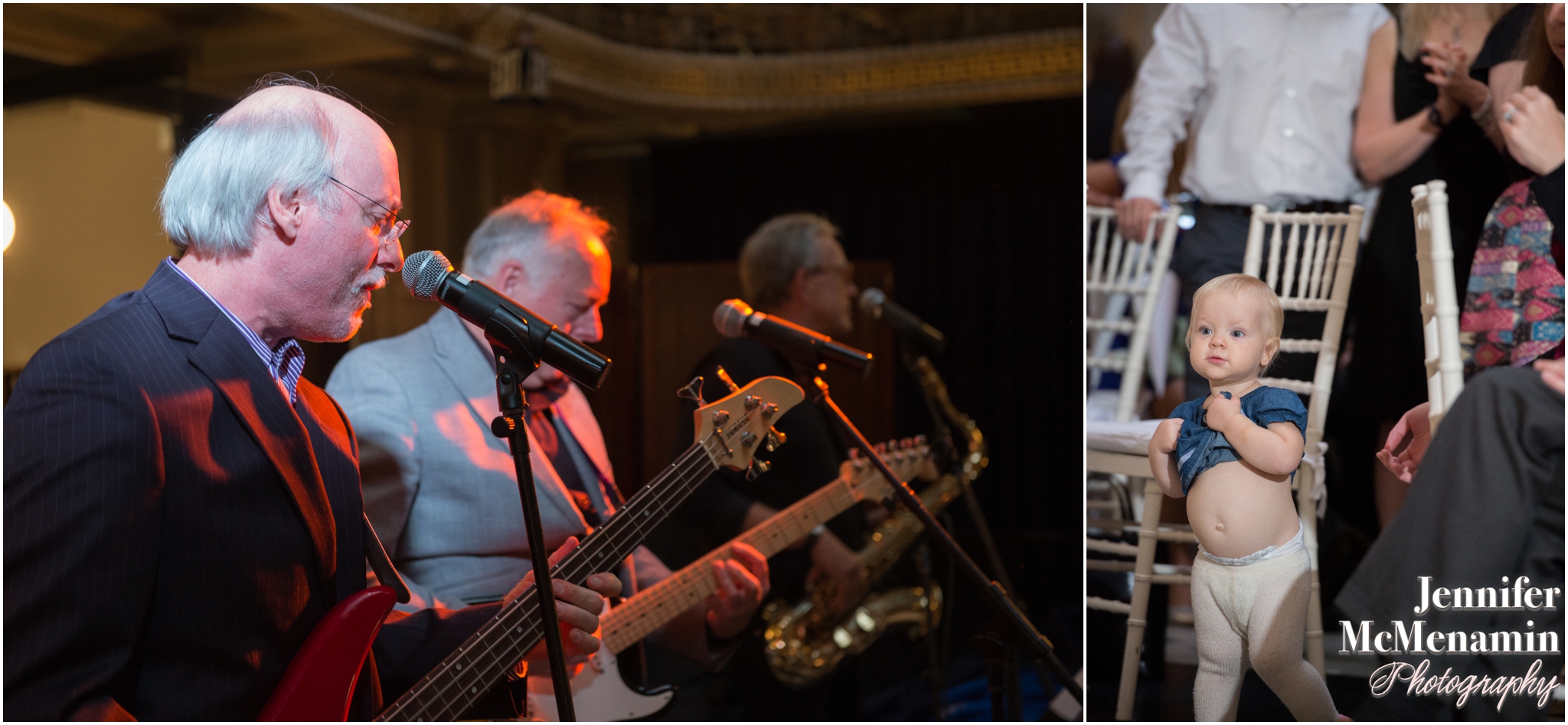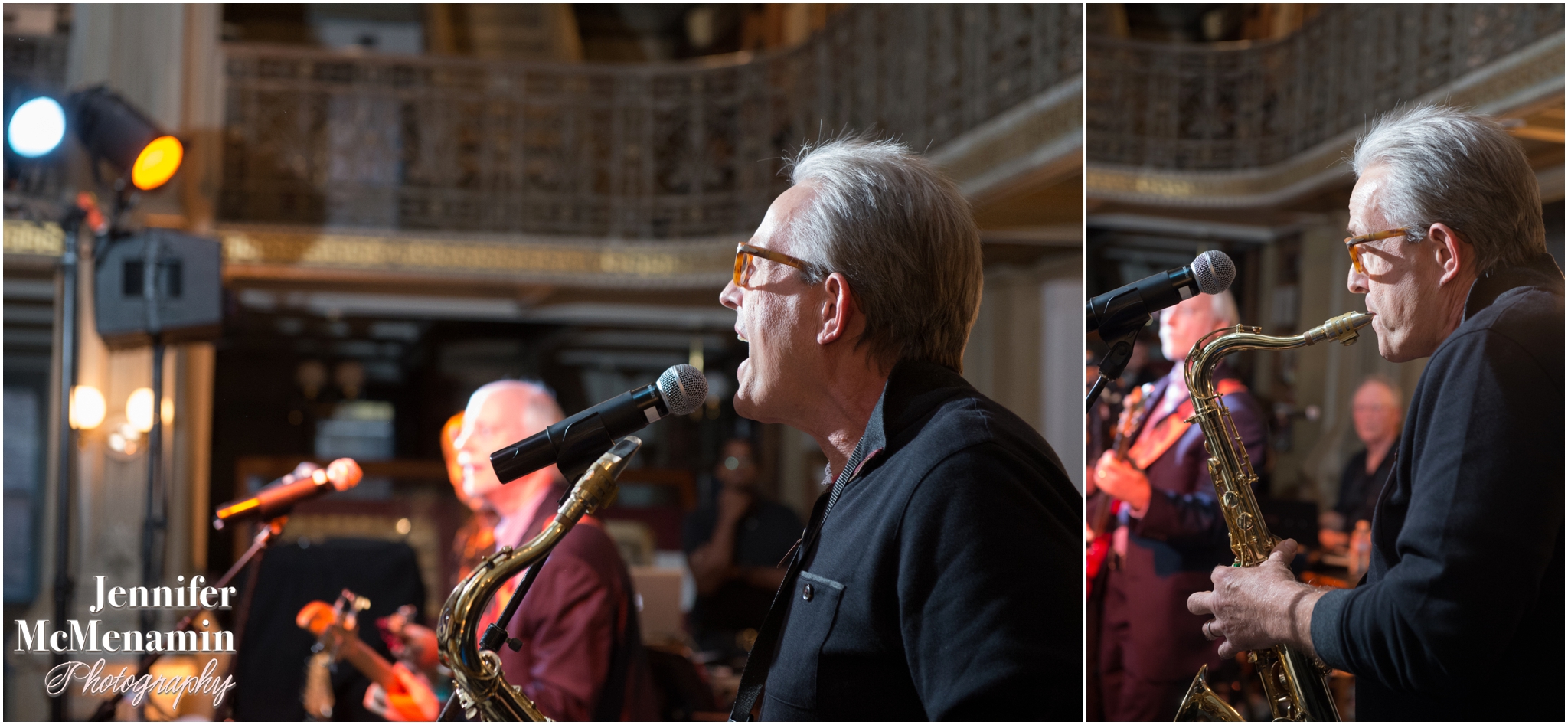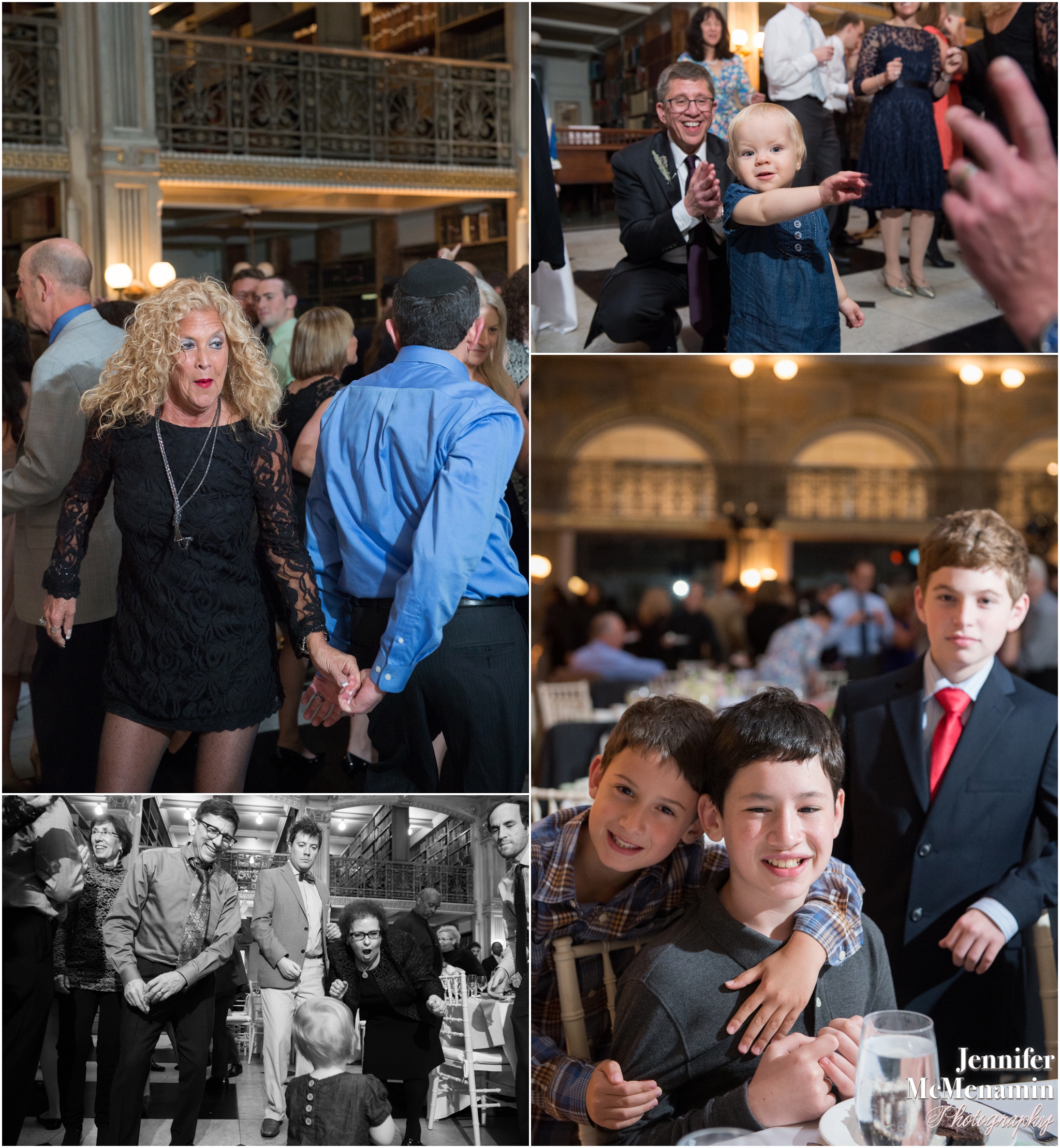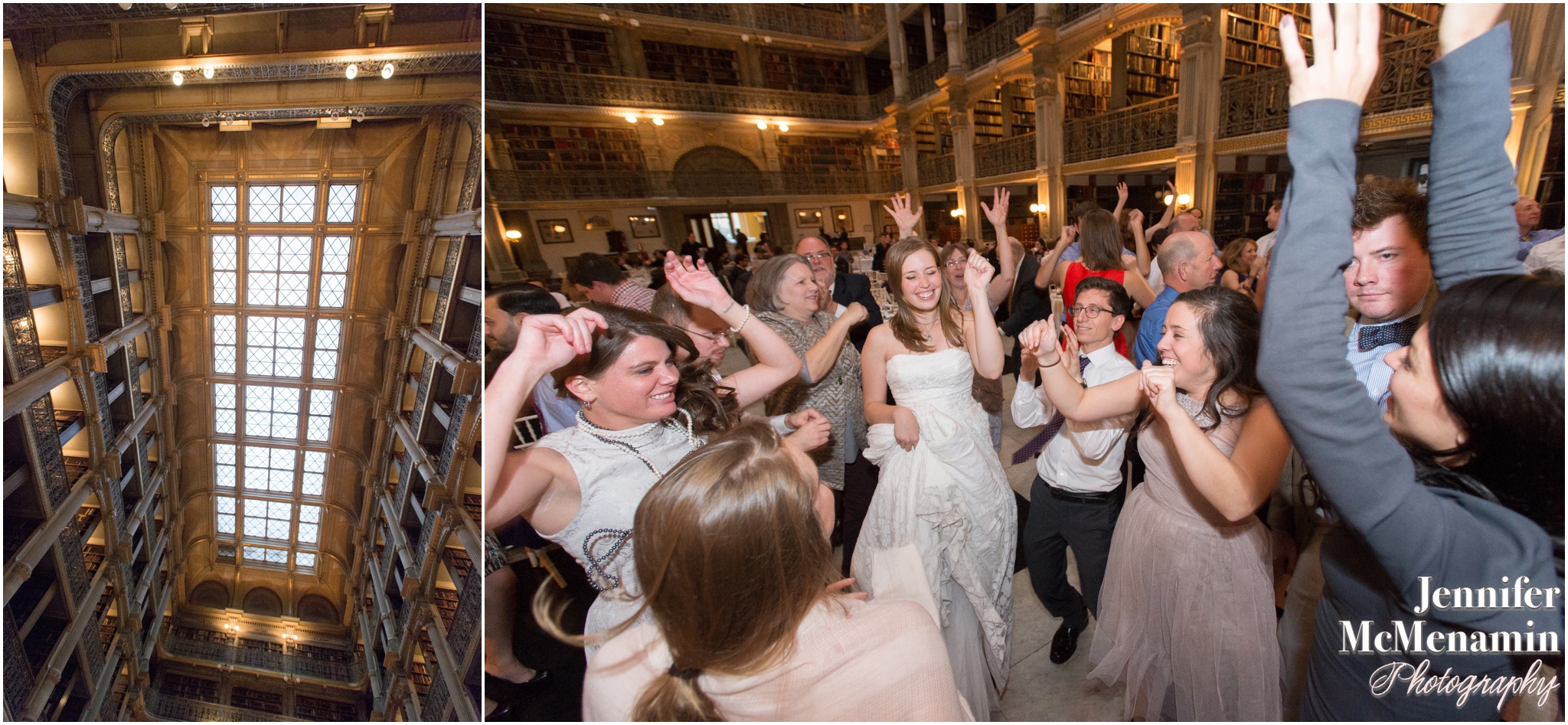 Rachel and Ben's farewell remarks.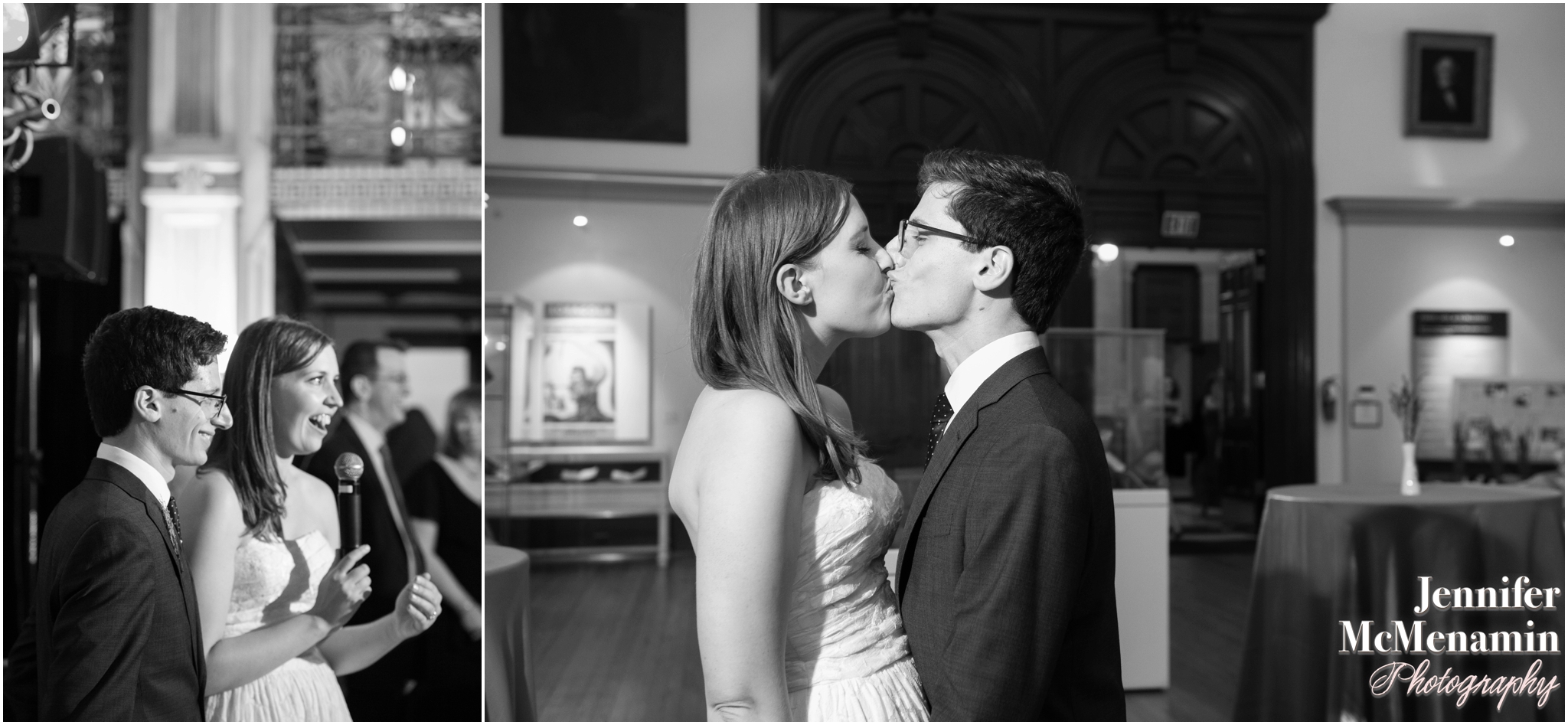 And with that, they ran off into the sunset.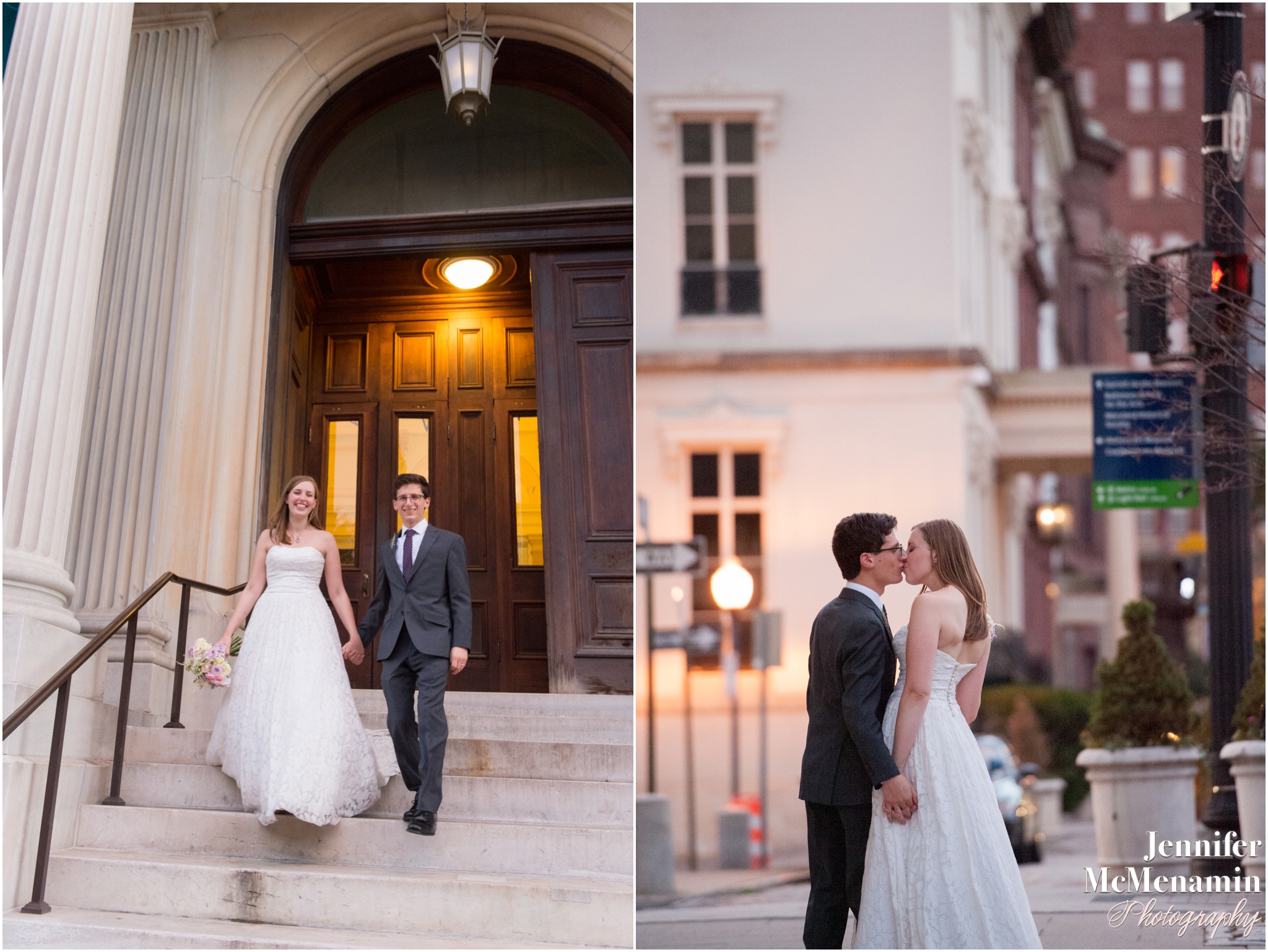 But not before I caught a few more moments of their exuberant, joyful love!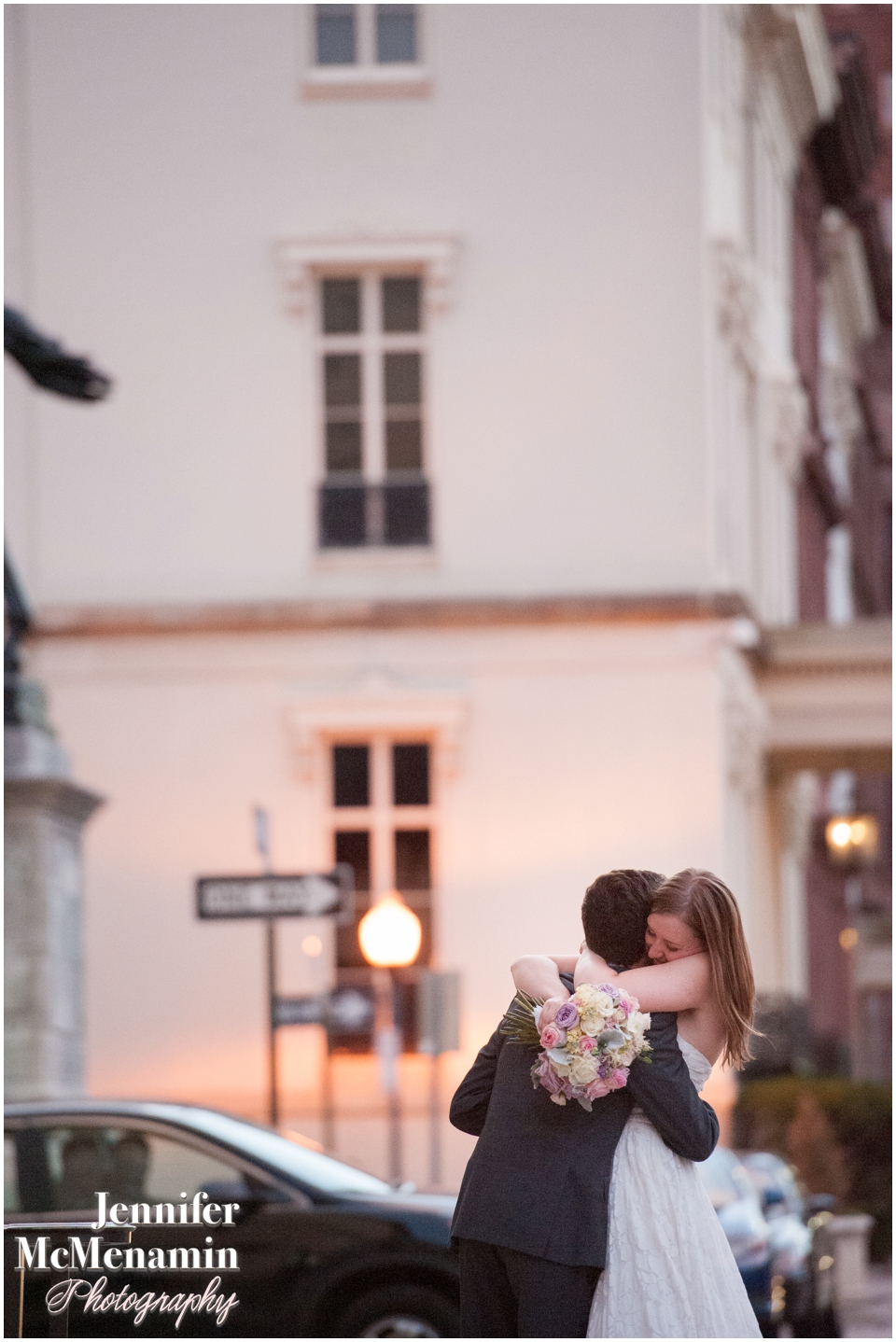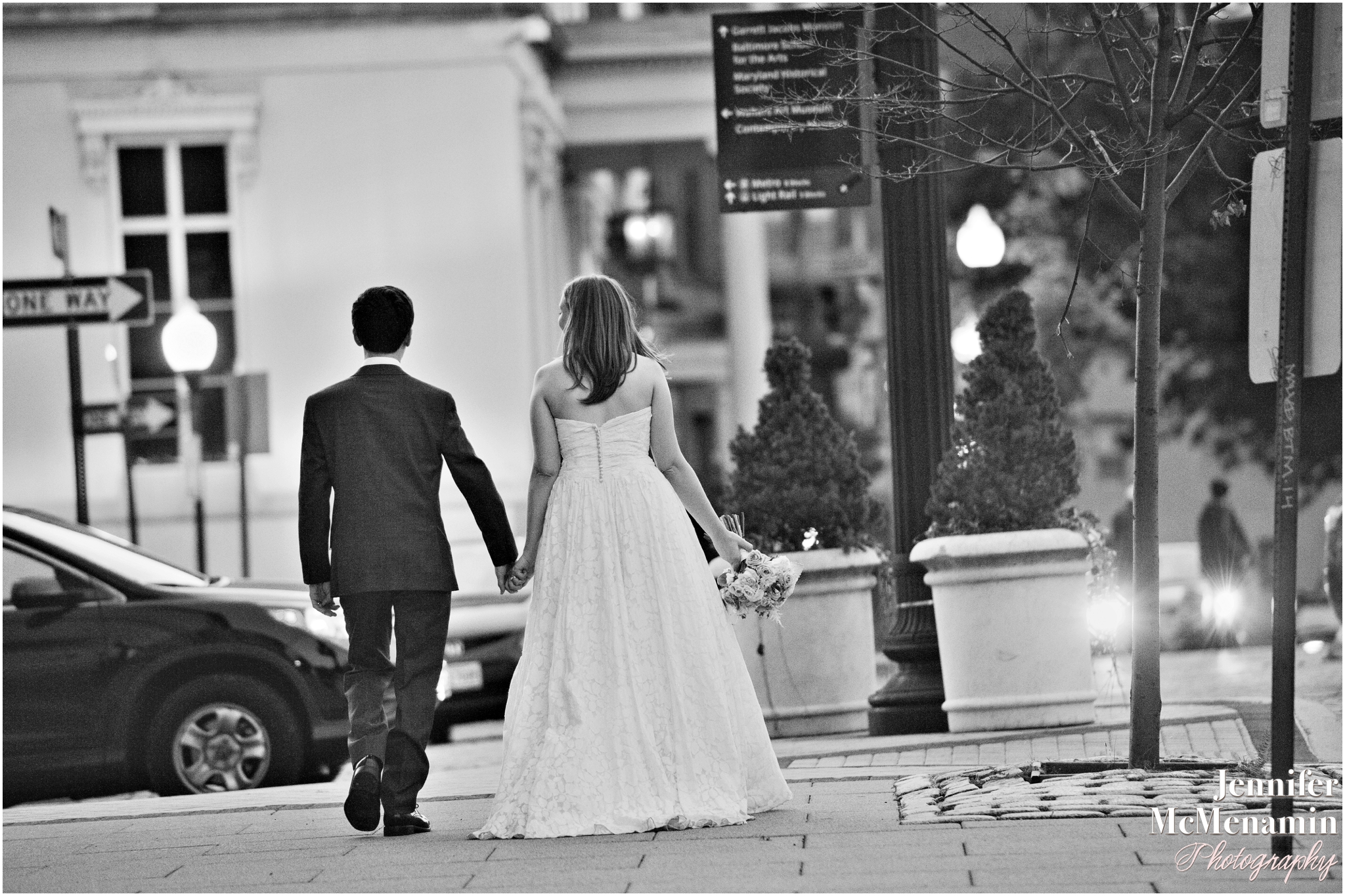 Many, many congratulations, Rachel + Ben. I could not have had more fun working with you, your parents, your families and your friends!
Credits:
Photography: Jennifer McMenamin Photography, LLC

Ceremony + Reception: The George Peabody Library
Officiant: Rabbi Daniel Cotzin Burg
Ceremony musicians: Two Rivers Chambers Music

Catering: The Classic Catering People
Lighting designers: Event Dynamics
Bridal attire: David's Bridal
Make-up: Diane Steinmetz

Hair: Haute Blow Dry Bar

Bridesmaids' attire: Grey dresses of their choice.
Groom's attire: Ted Baker suit from Nordstrom

Florist: The Floral Studio
Band: Larry 2.0
Invitations + Papergoods: Just Ink on Paper