Melissa & Jimmy

St. Alphonsus Church + The Gramercy Mansion -- Baltimore wedding photography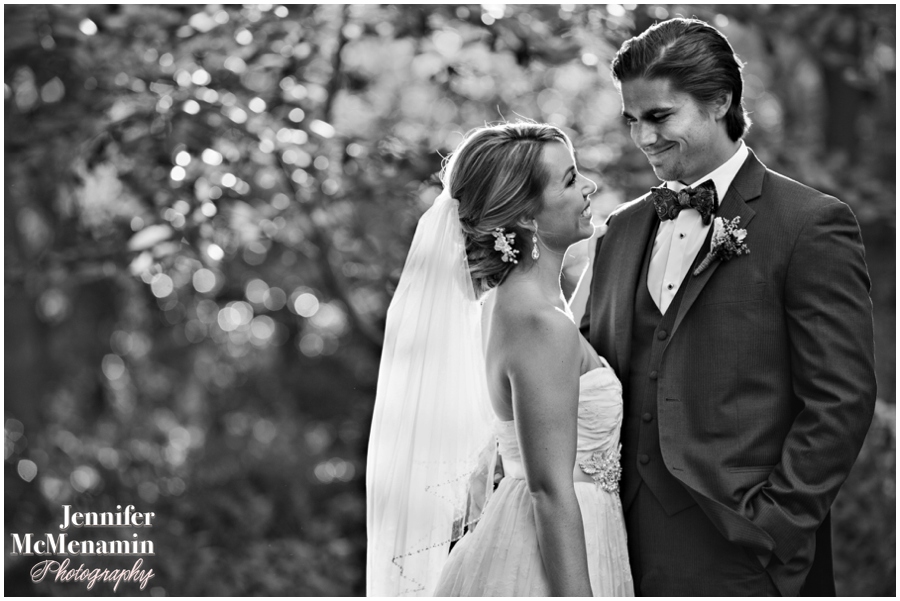 I love almost everything about my job on wedding days. I love shooting the grand, scene-setter shots that show the big picture of what a wedding day looked like. I love shooting the artistic still-life images of the flowers and rings and the placecards and all the other pretty little details that my clients spend so much time and attention and money on — but don't get to keep much of after the wedding! And I love finding great light or beautiful scenery or striking architecture to make wonderful, timeless portraits of the newlyweds on their big day. But the photos that I am most proud of — and the parts of the day that keep me chattering to my husband later that night, long after he probably wishes I would let him go to sleep — are the quiet little looks and glances that I catch as my clients exchange vows, the anxious excitement of parents about to watch their children marry, the emotional tears during toasts and the laughter among friends reminiscing. The real moments. The emotion. The little things that are gone in an instant, if they're even noticed at all in the whirlwind of the wedding day. That's what I love most about photography. Melissa and Jimmy seemingly had a million of those moments on their wedding day. I knew from all the fun I had with them during their engagement session that I would enjoy their wedding day. But even that afternoon could not prepare me for how wonderful their wedding would be. From the emotional moment when Jimmy and Melissa first saw each other that day and the personal stories the priest shared during their ceremony to the way they looked at each other during our portrait session in the gorgeous late-afternoon sunlight streaming through the trees at Gramercy Mansion and the way they seemed to melt into each other during their first dance, it was an absolute pleasure to photograph them together. But it was more than just the two of them that made their wedding feel so special. Melissa and Jimmy met and started dating in high school and have kind of grown up with their families intertwined. Jimmy's sister, Michelle, is Melissa's best friend. Their two fathers beamed equally as they watched Melissa step out of the house that she and Jimmy share to leave for the church. The whole day just felt doused with love. In addition to Michelle, who served as Melissa's maid of honor, the other members of the wedding party were funny and loads of fun. They picked the Gramercy for their reception, in part, because they had driven past it repeatedly when they were both in school at then-Villa Julie College (now Stevenson University). There were a ton of personal DIY touches that Melissa tackled for their reception. And as a surprise for Jimmy, she arranged to have a cigar roller on hand to roll some Cubans for the guests. I promised her a great photo of Jimmy smoking his cigar and am thrilled to have been able to make good on that promise. (In that vein, I must publicly thank my marvelous assistant, Lucas, who crouched behind Jimmy in a cloud of smoke with my flash so I could get the shot I wanted. This is especially remarkable because Lucas suffers from a bit of a smoke allergy that left him raspy and sounding like a grandfather for the rest of the evening. Thank you, Lucas!) Here are some of my favorites from Melissa and Jimmy's wonderful wedding:
I started with Melissa and her girlfriends as they got ready at the couple's home.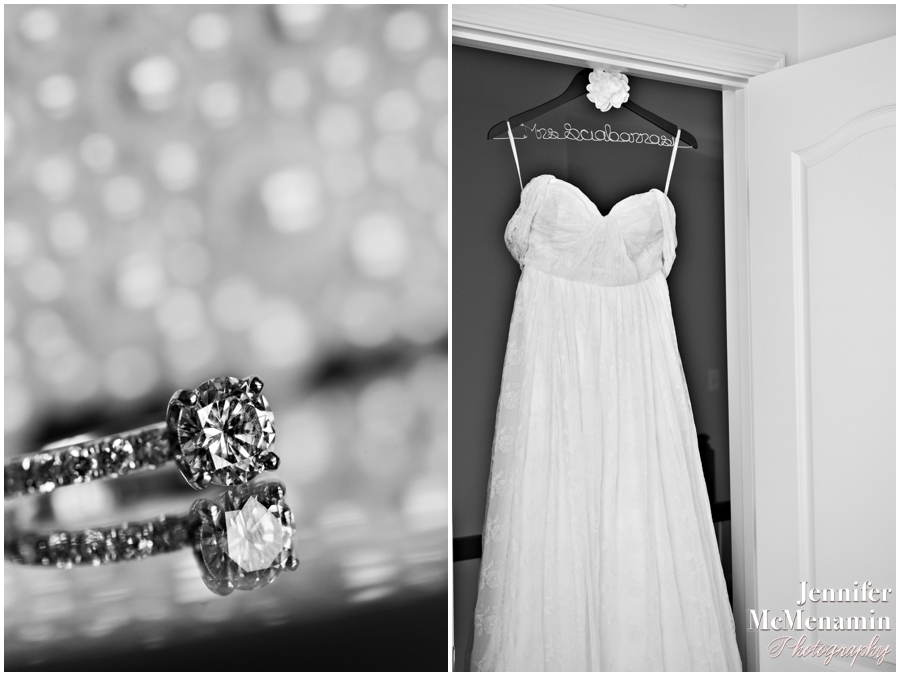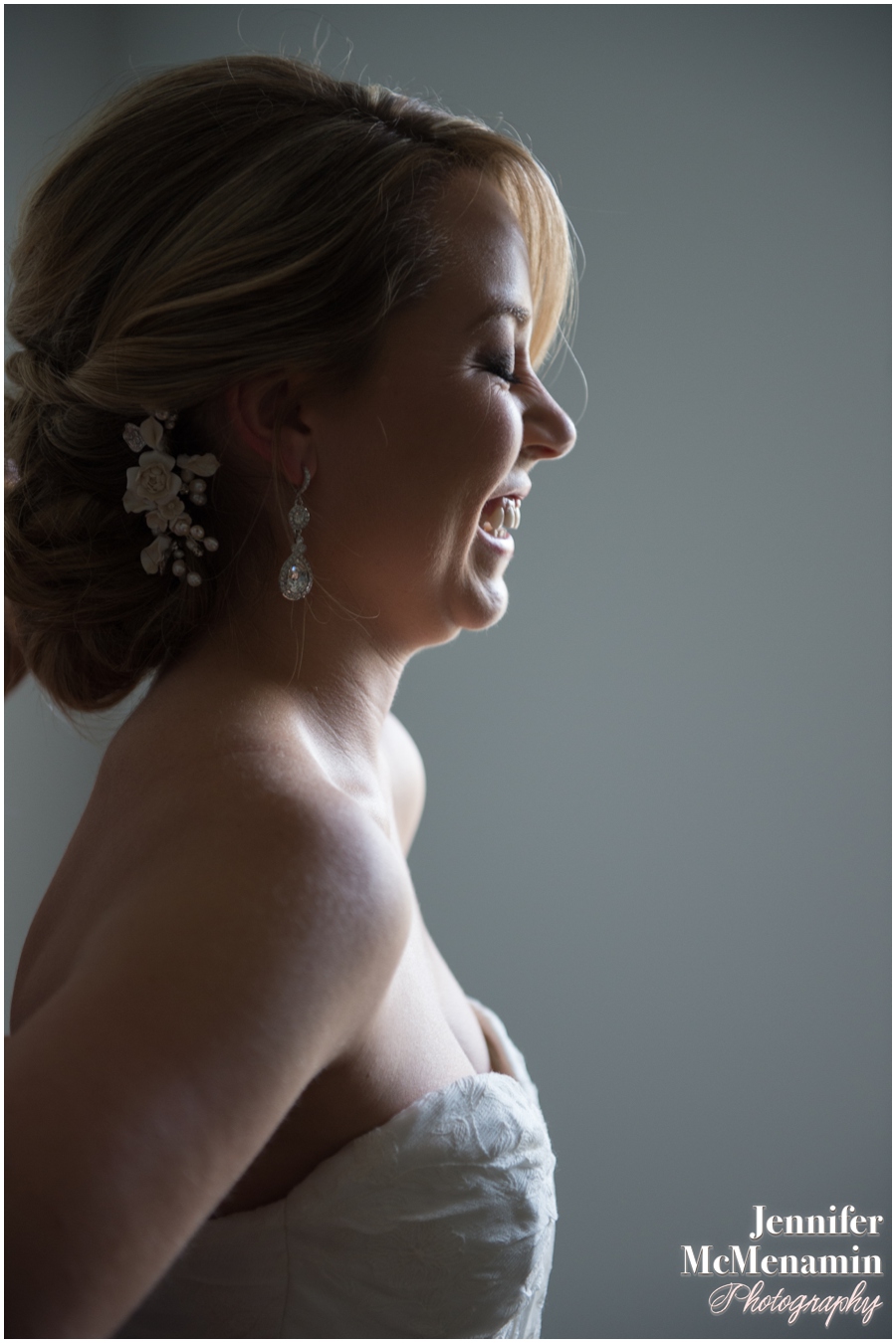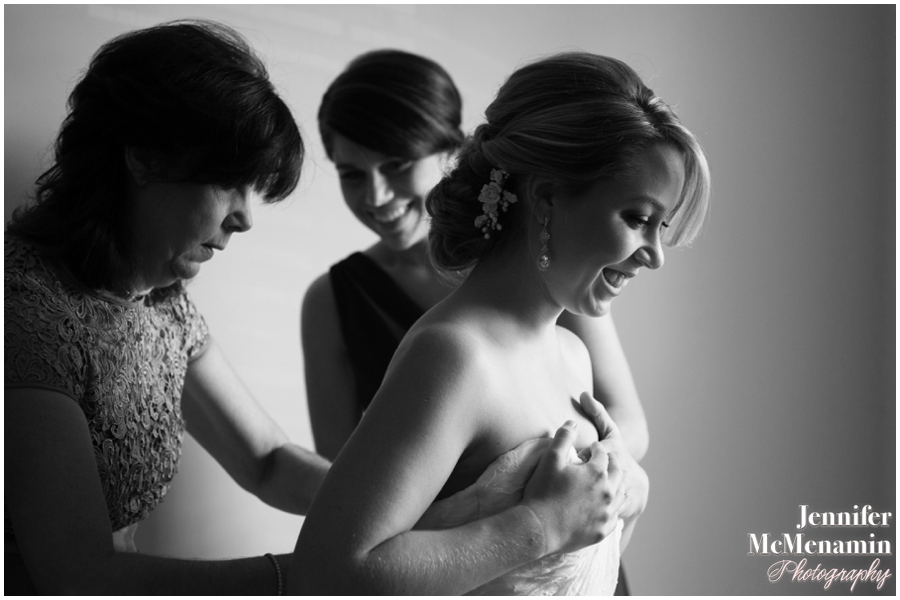 The bride, looking absolutely lovely!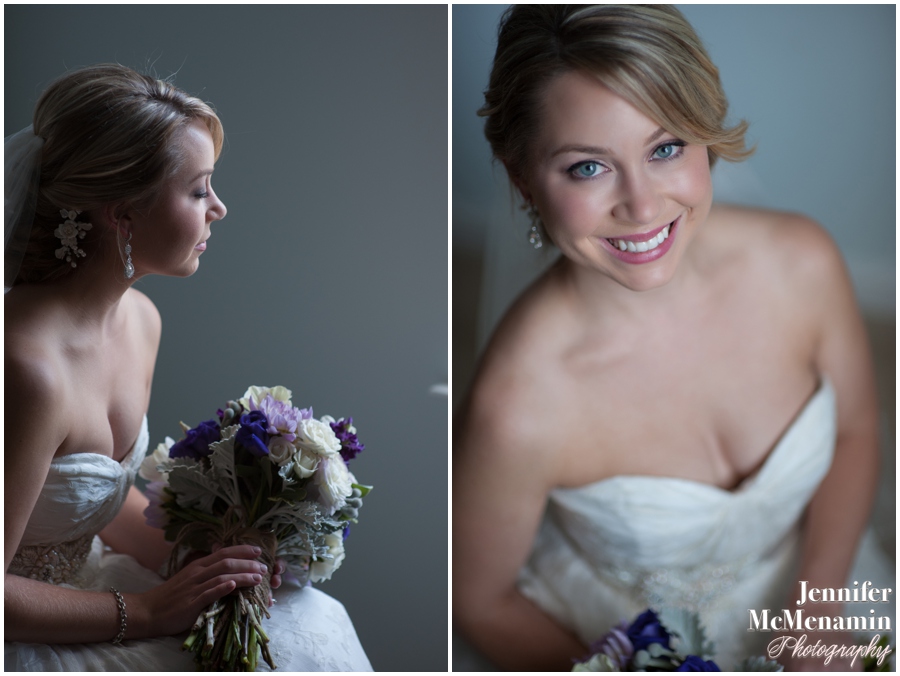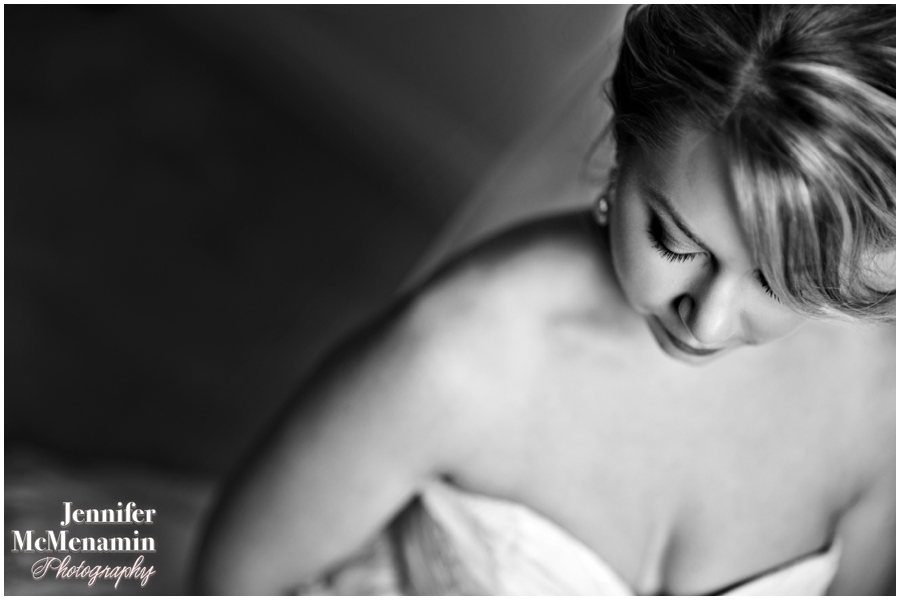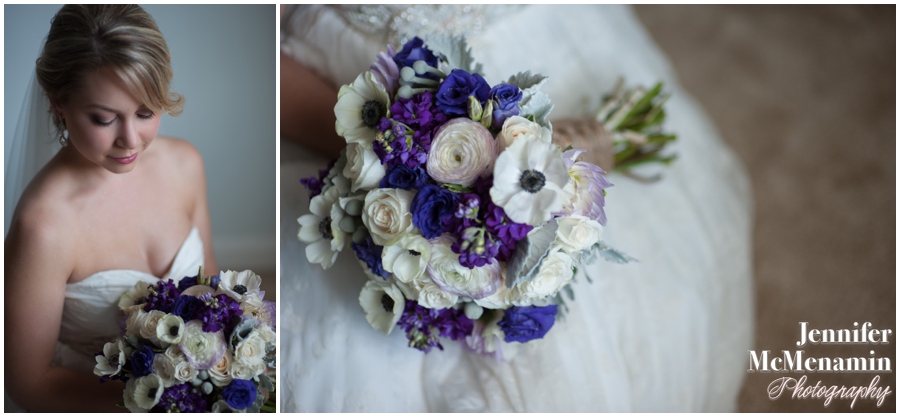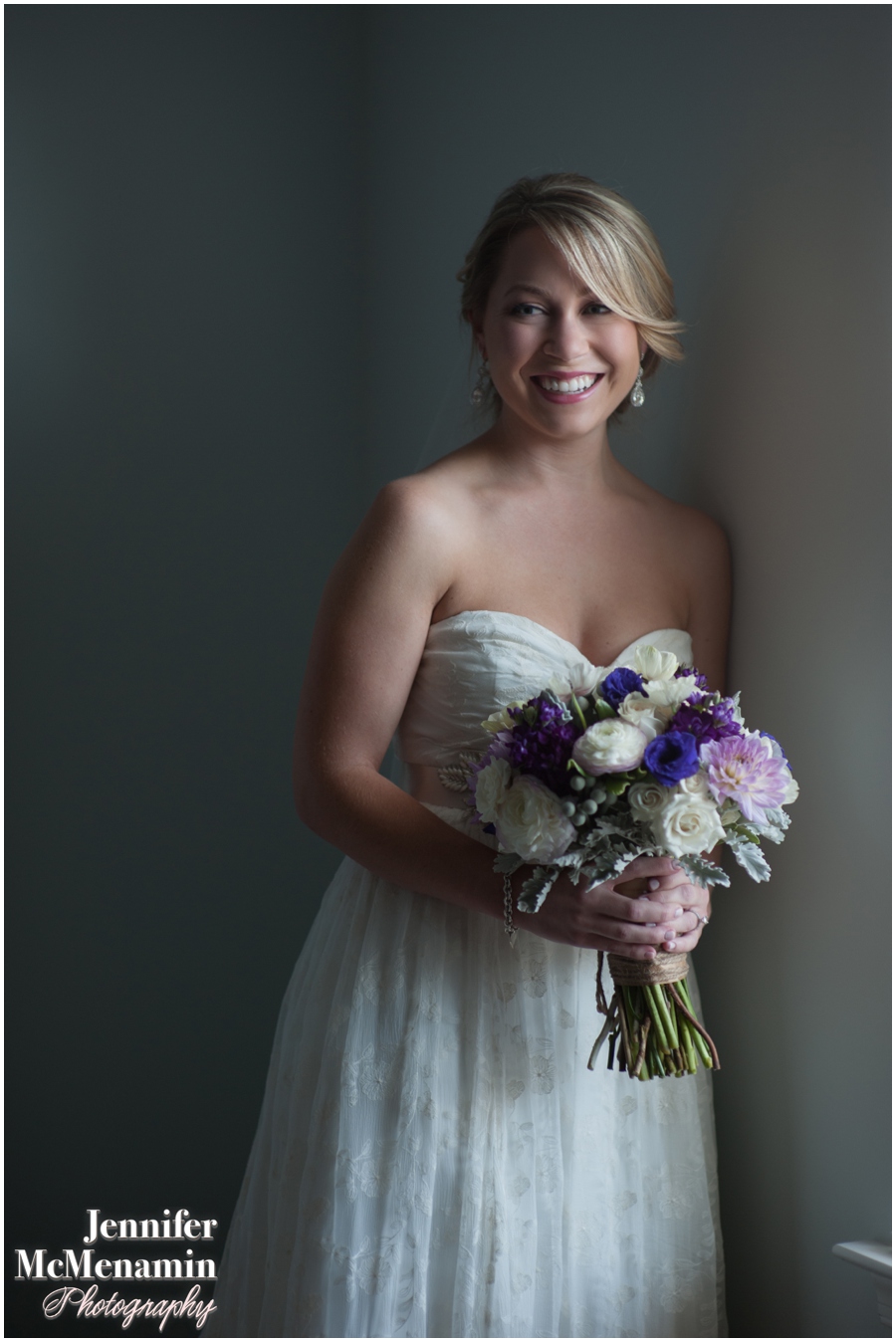 Melissa told me that after seeing photos of herself crying after Jimmy proposed, she worked hard on her weepy facial expressions to be less of an 'ugly crier' on her wedding day. I think she is nothing but lovely, whether she's teary-eyed or not.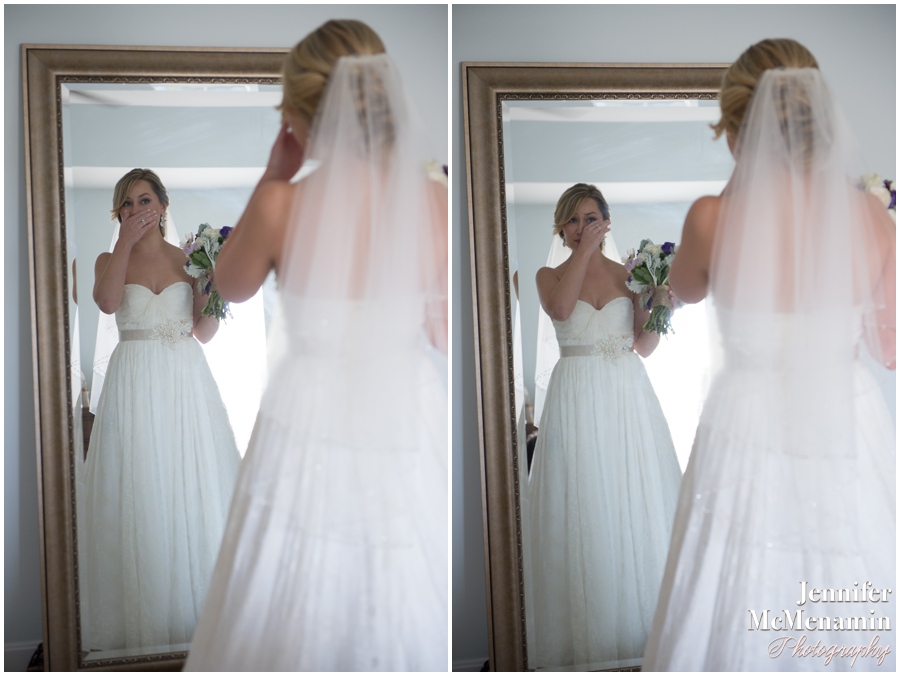 Melissa and her father in the antique car he restored.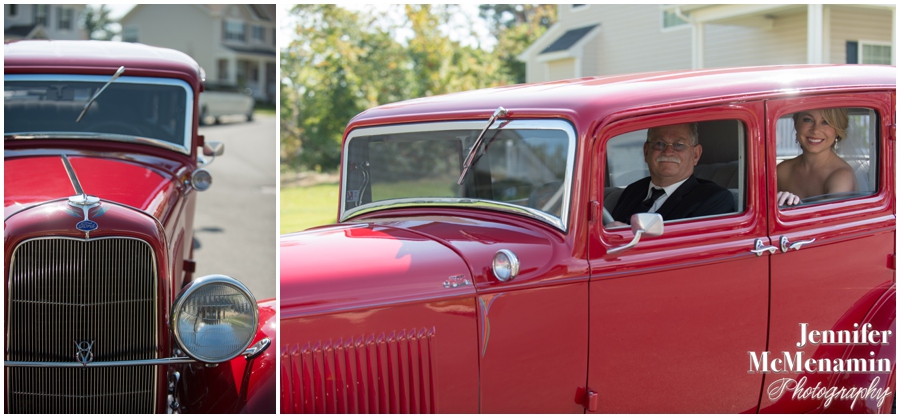 I love this series of photos of Melissa and Jimmy seeing each other for the first time. That striking-a-pose-behind-her was all Jimmy as he snuck up on her.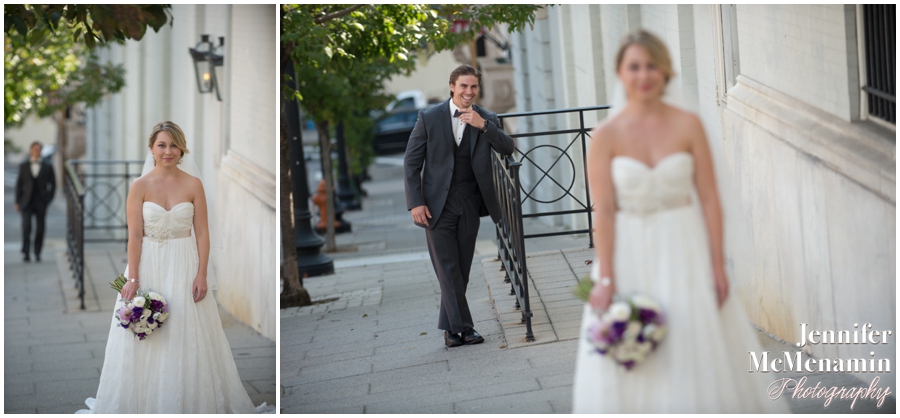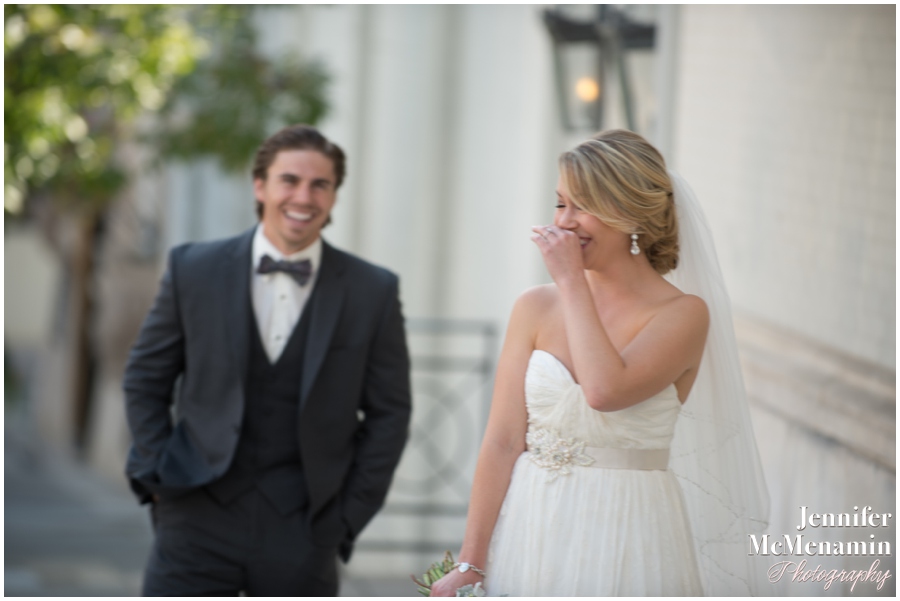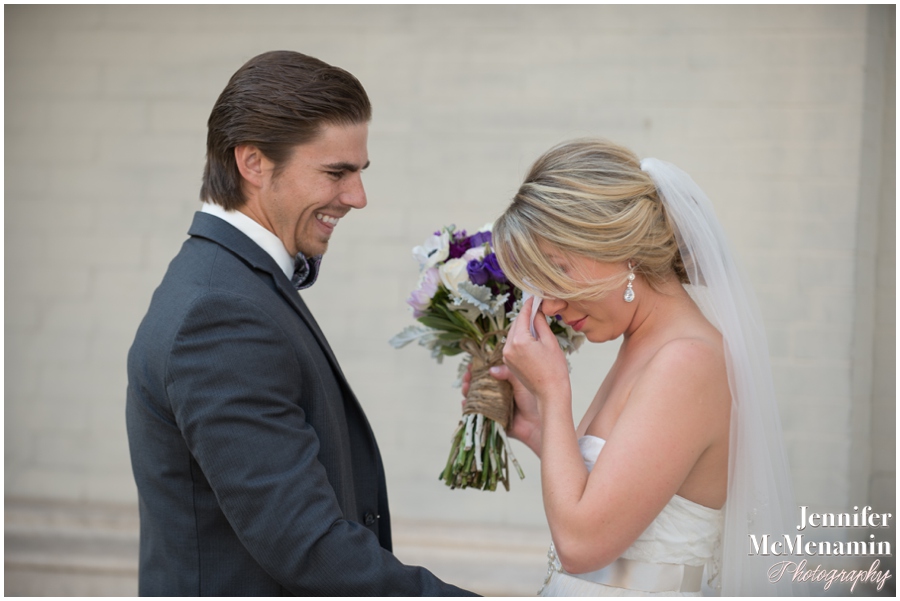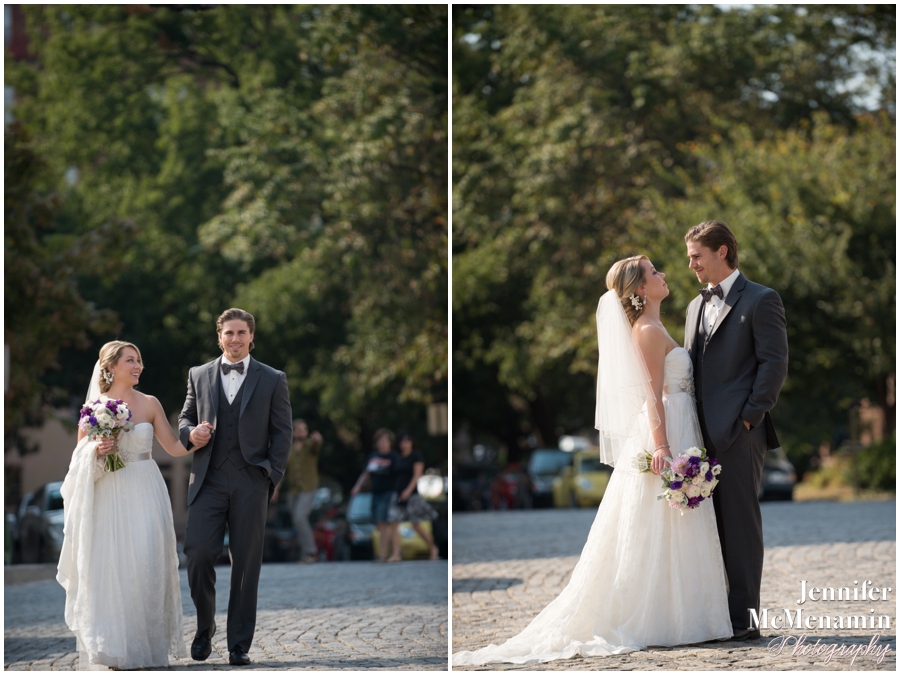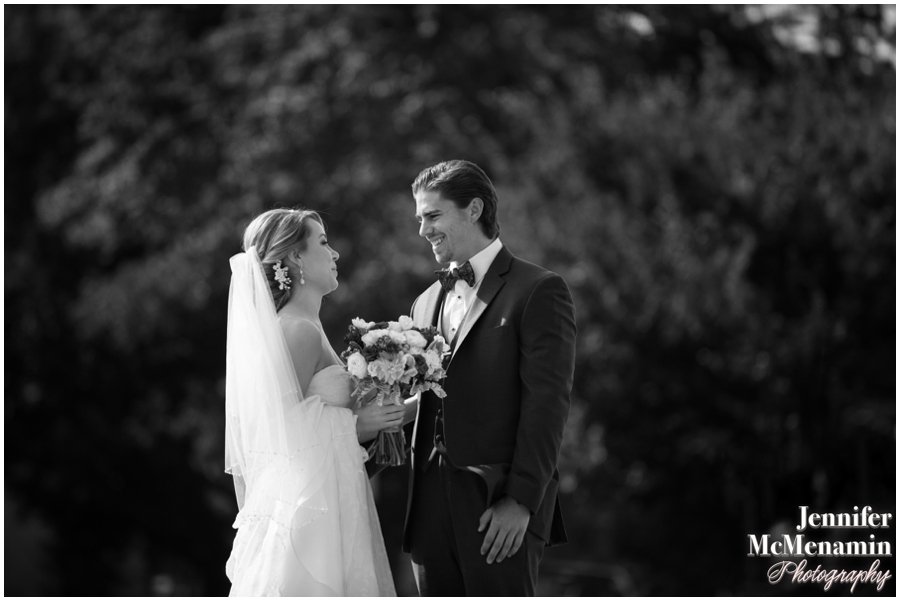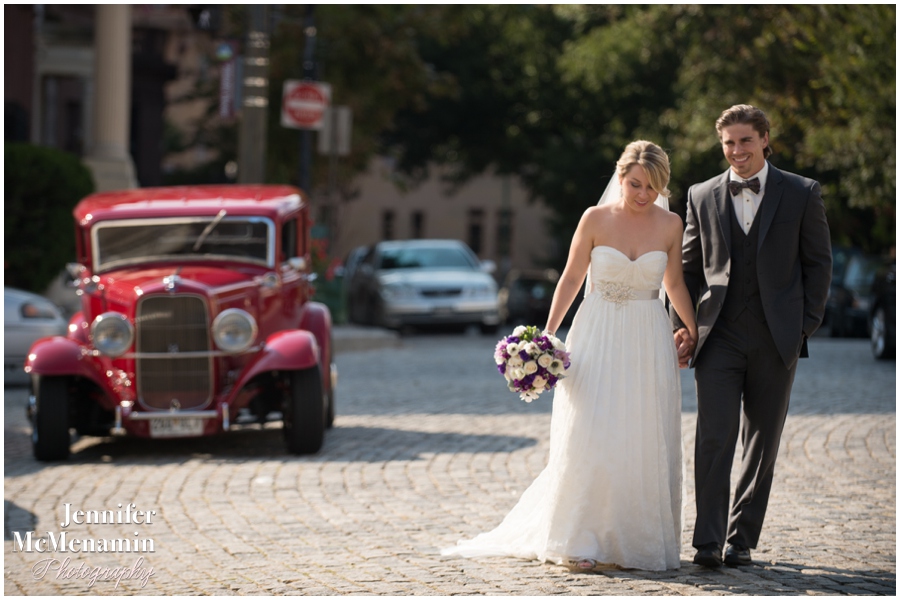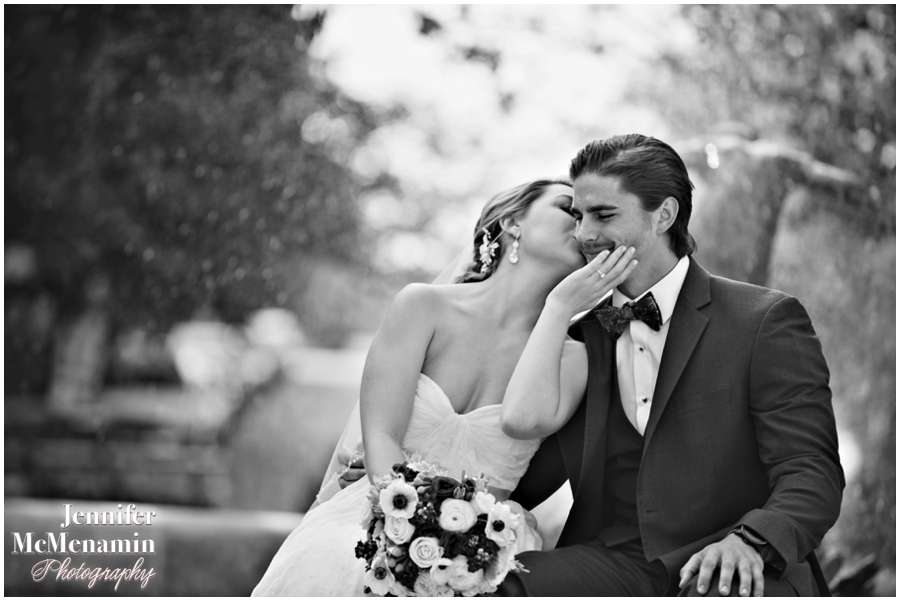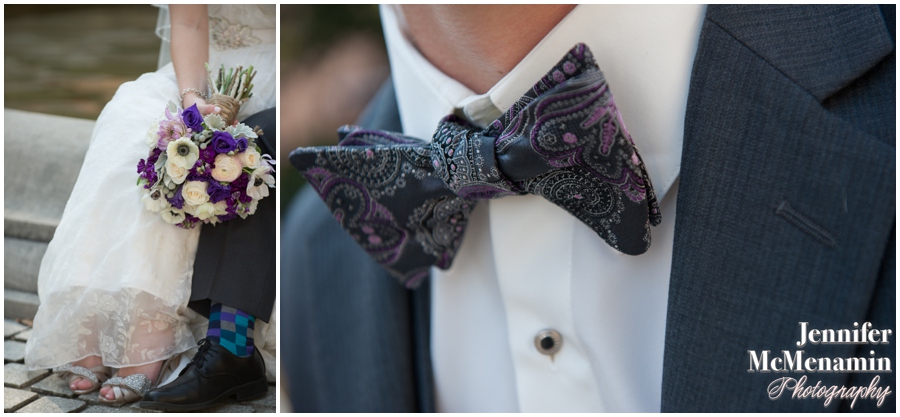 Melissa and her lovely bridesmaids.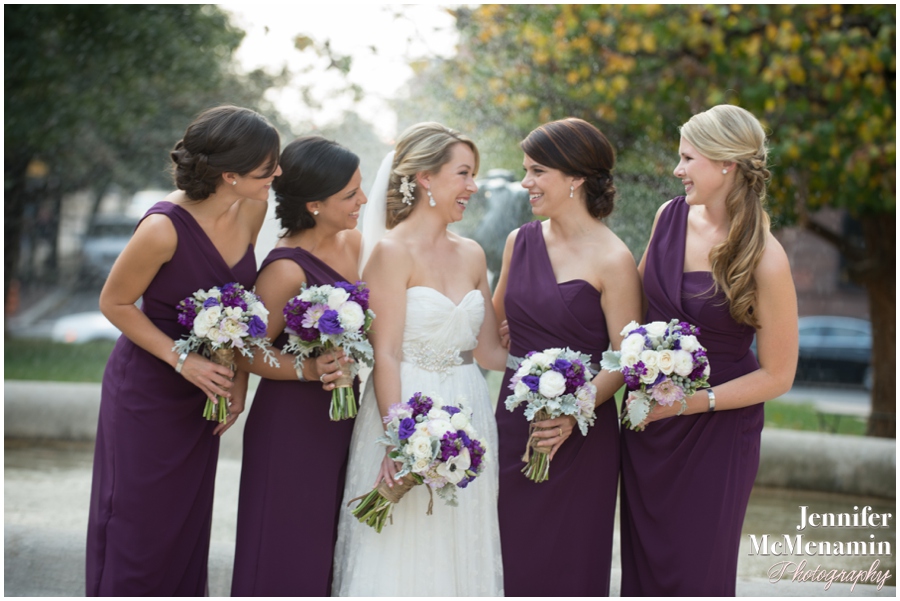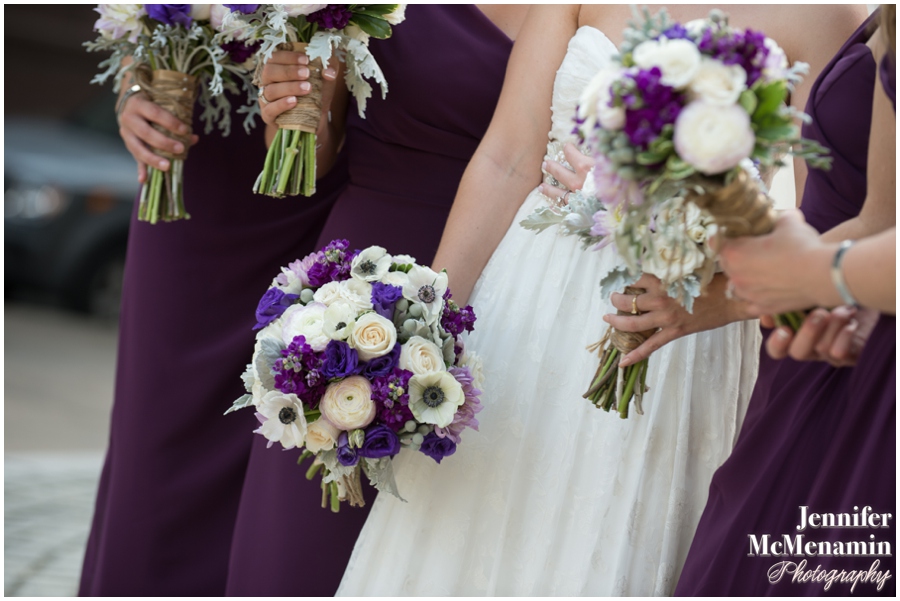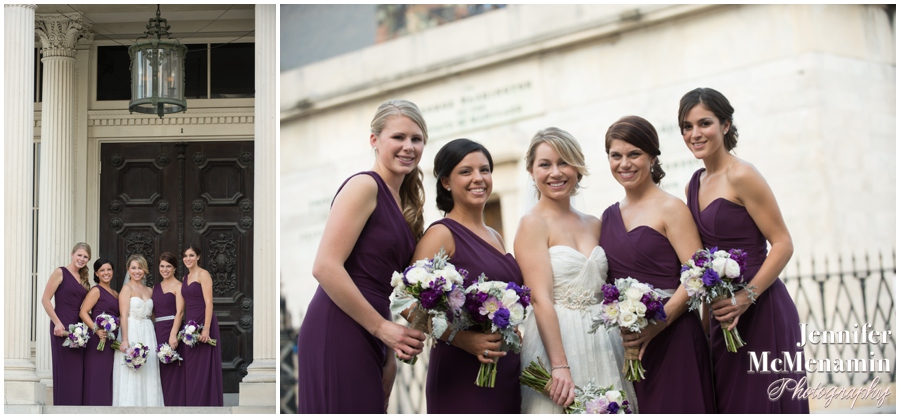 And then it was time to get married!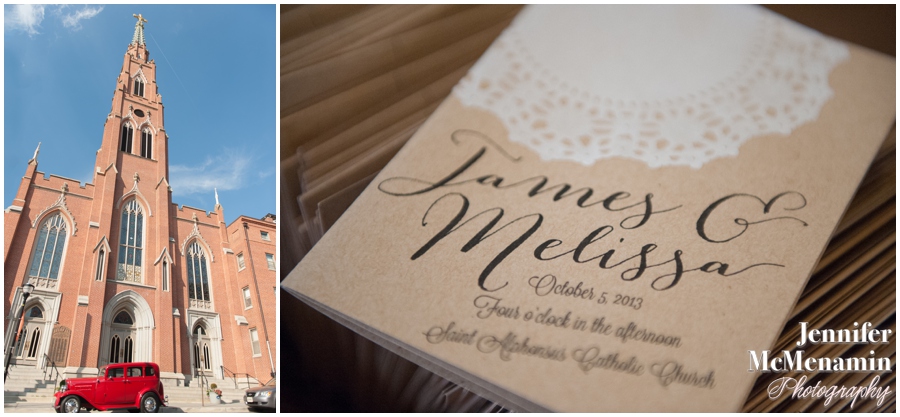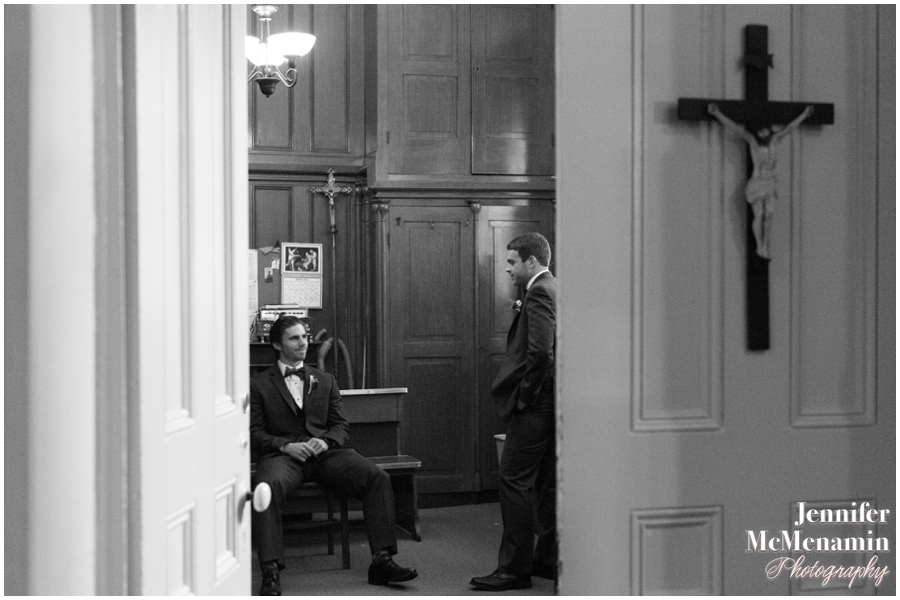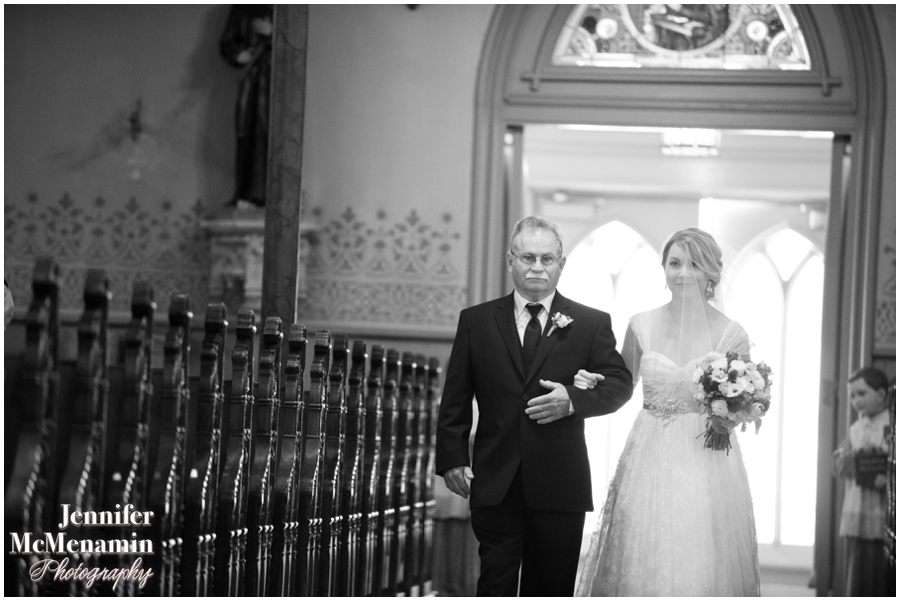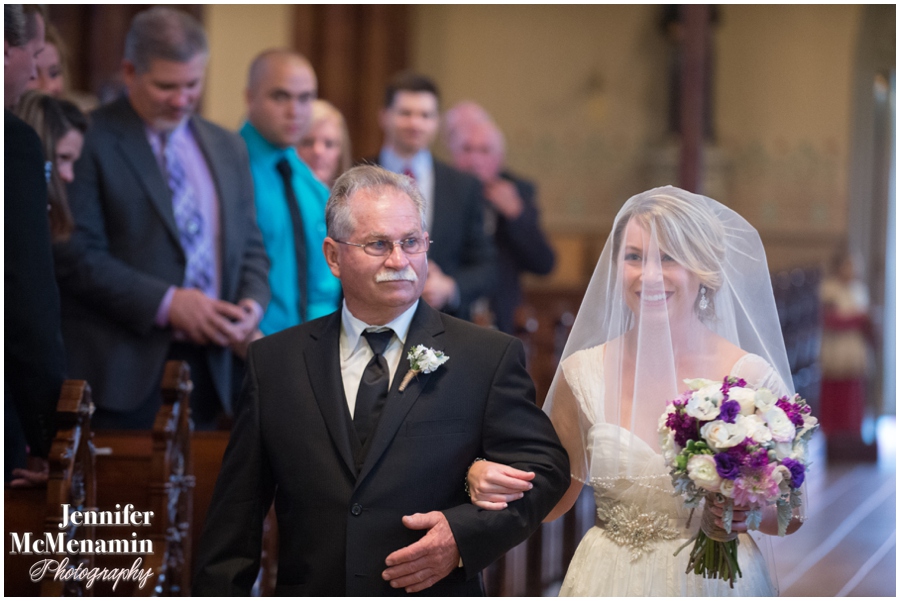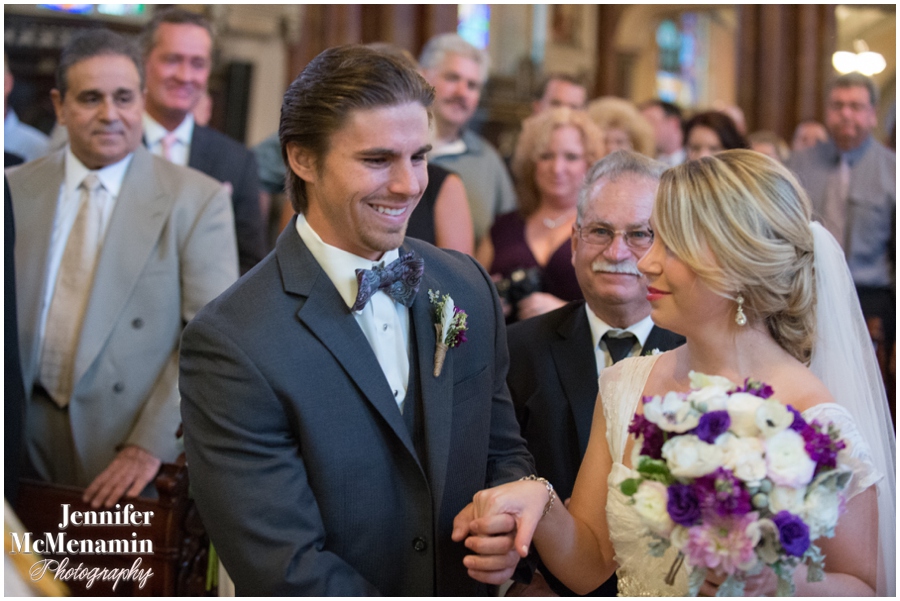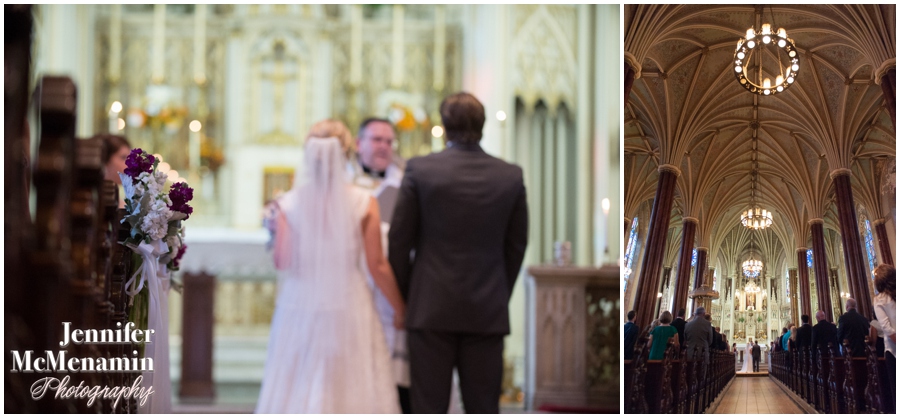 Lucas, my assistant, shot the next photo on the right side as well as the subsequent photo of the wedding party reflected in the organist's mirror.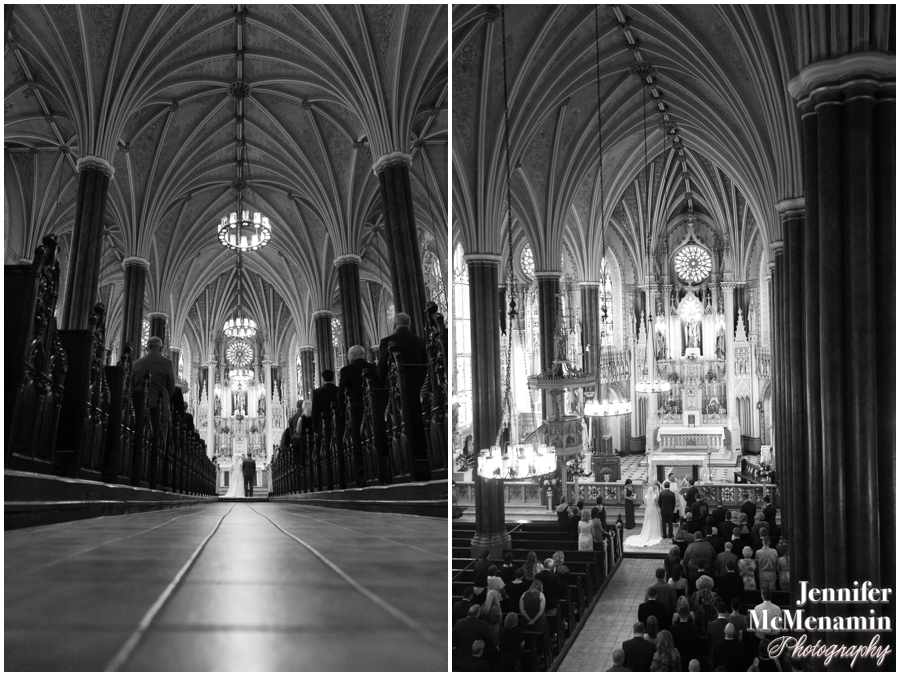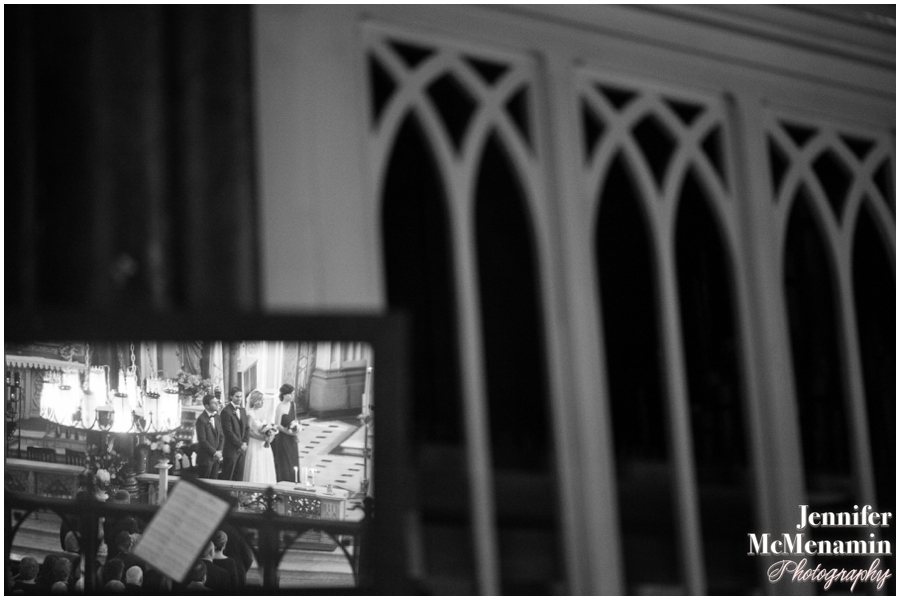 I absolutely love this next series of photos, which were all shot during Father William Spacek's homily as he shared personal stories from the bride and groom about each other.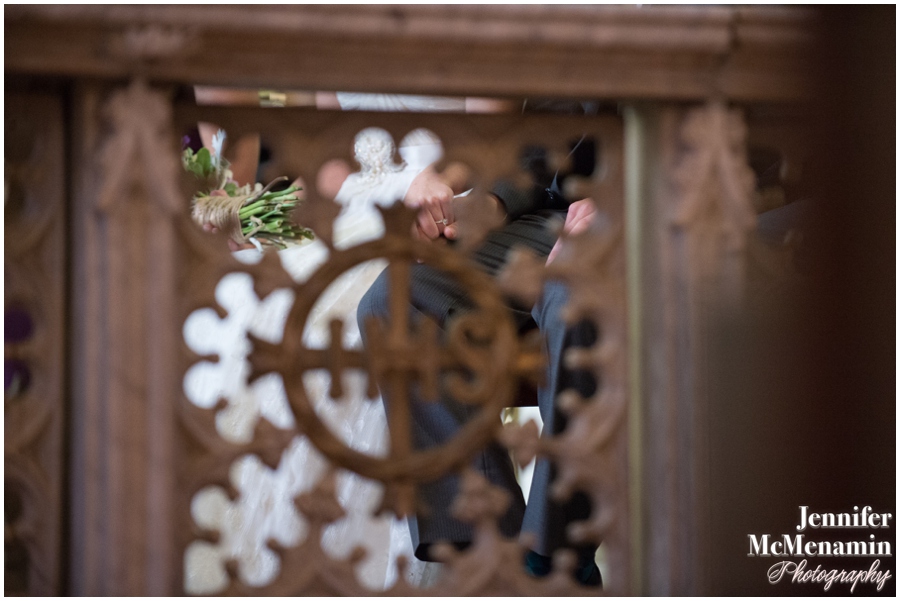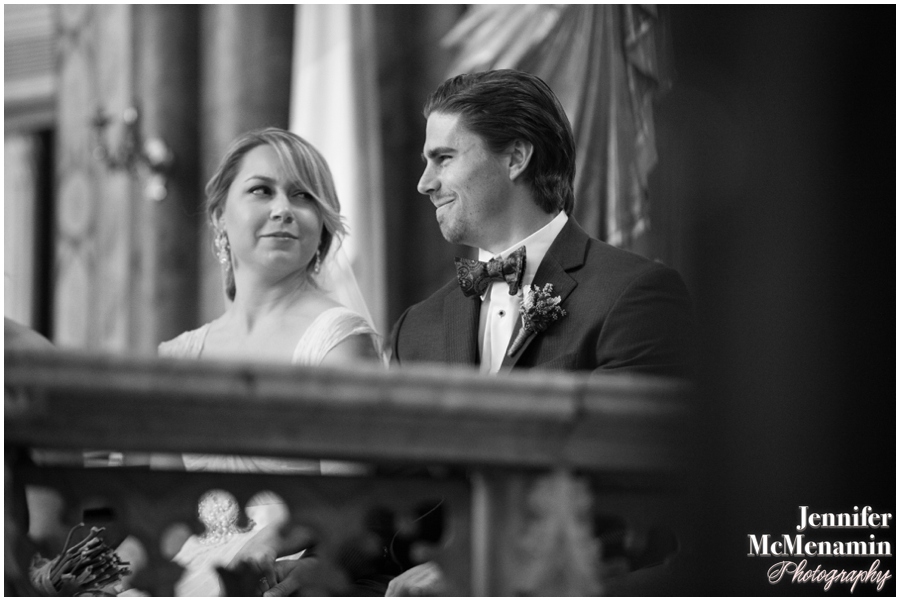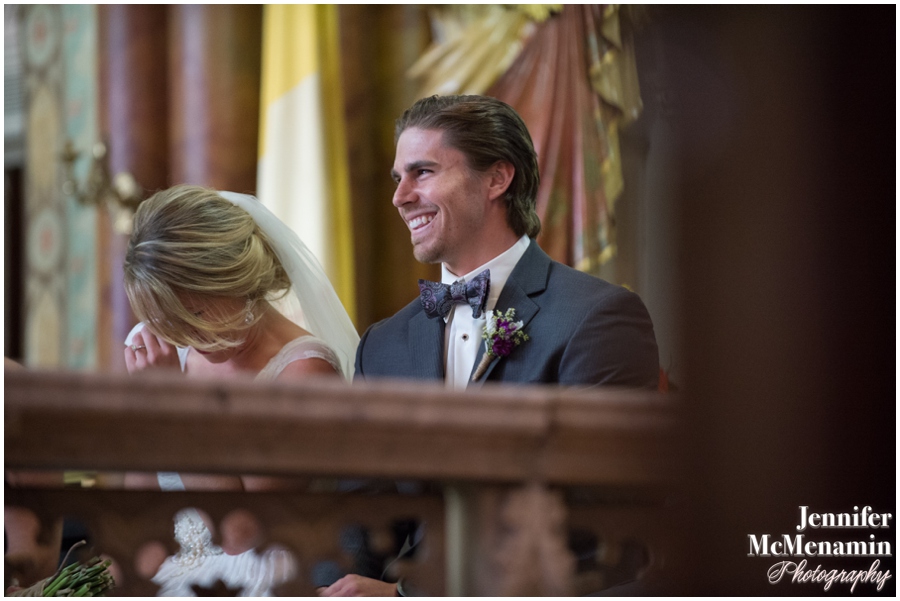 We could not have asked for better light at the Gramercy for family and wedding party photos and then some quick portraits of Melissa and Jimmy.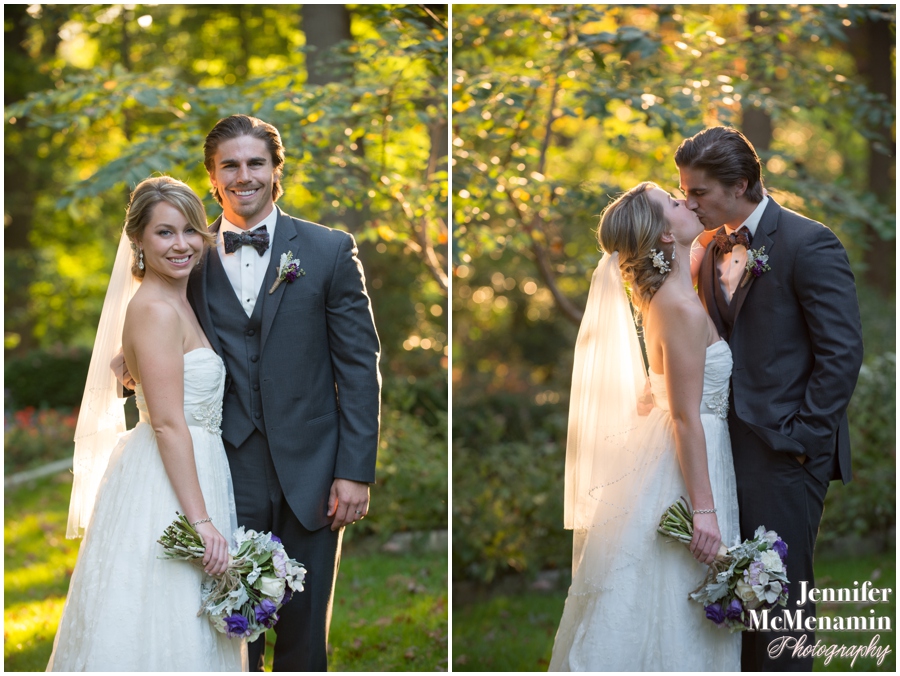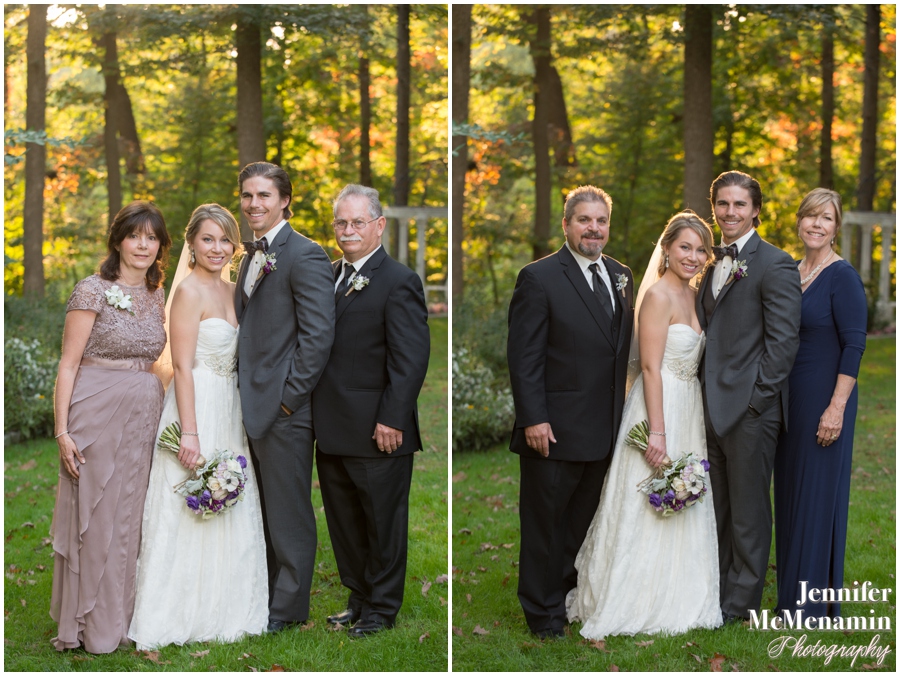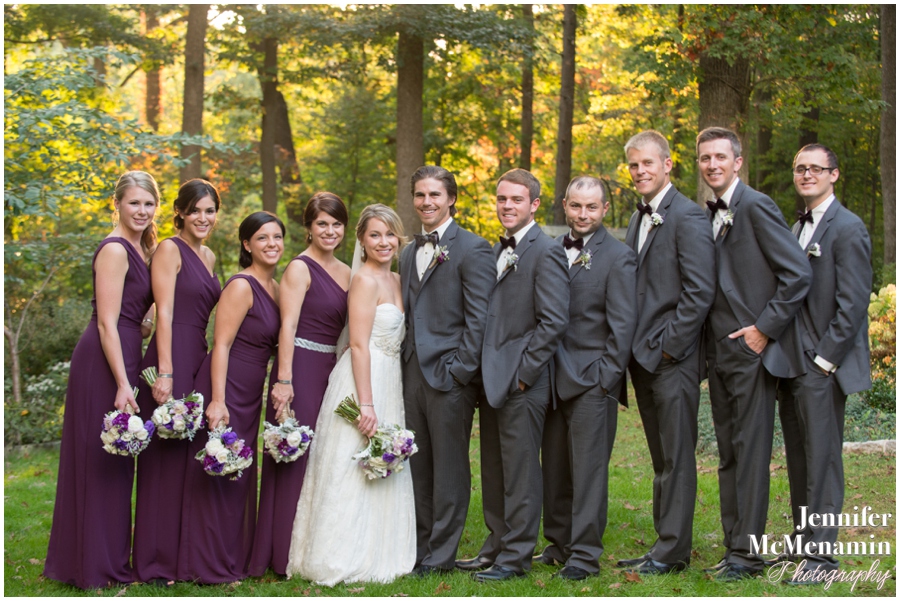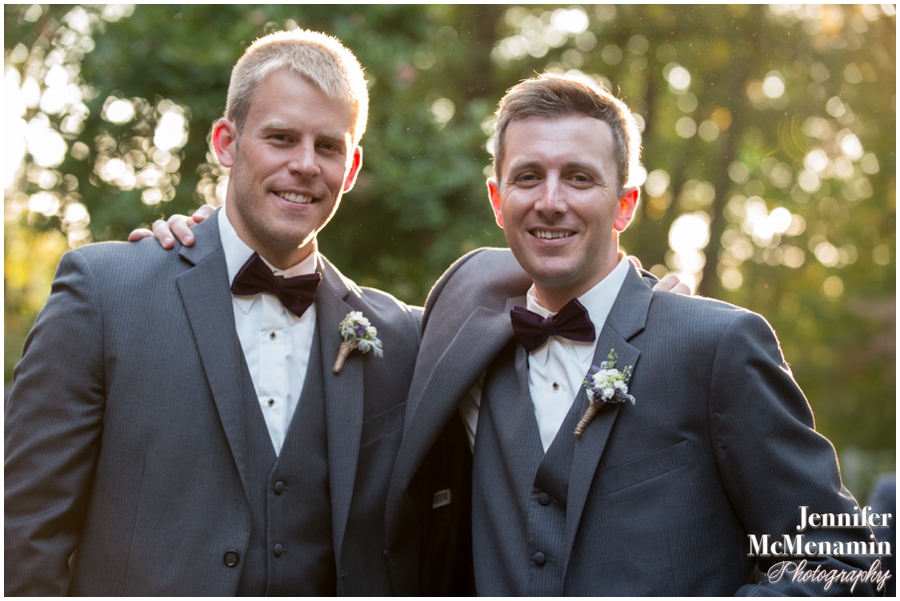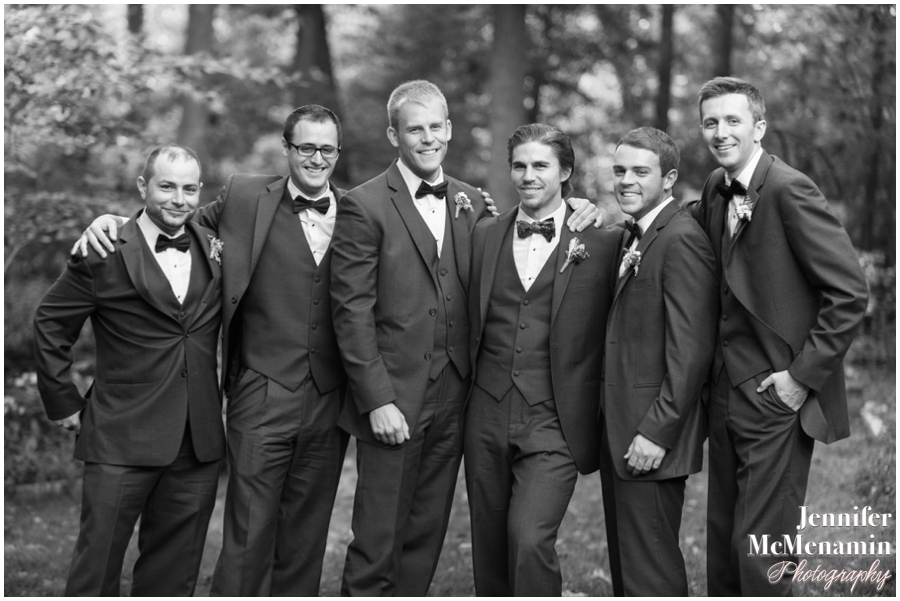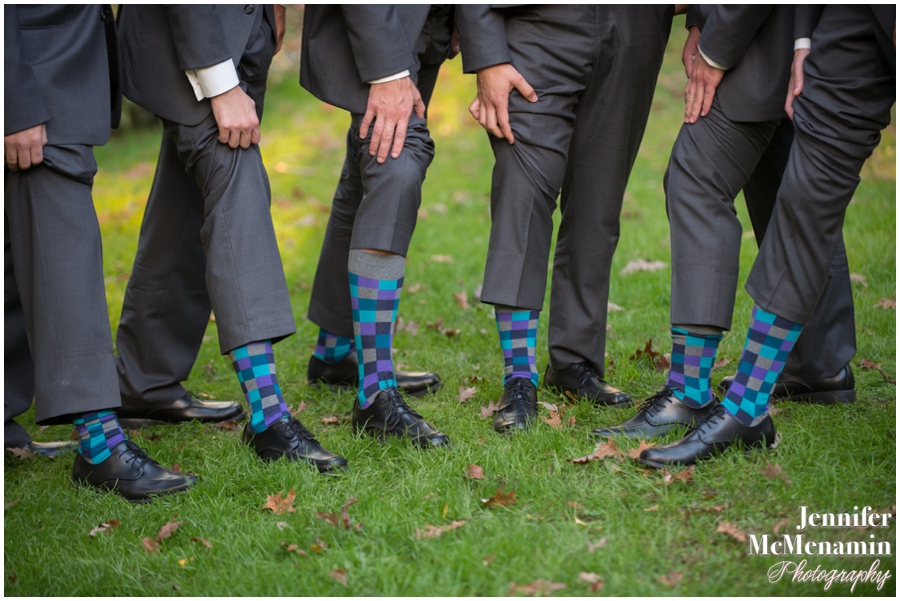 A few reception details, many of which Melissa painstakingly created herself.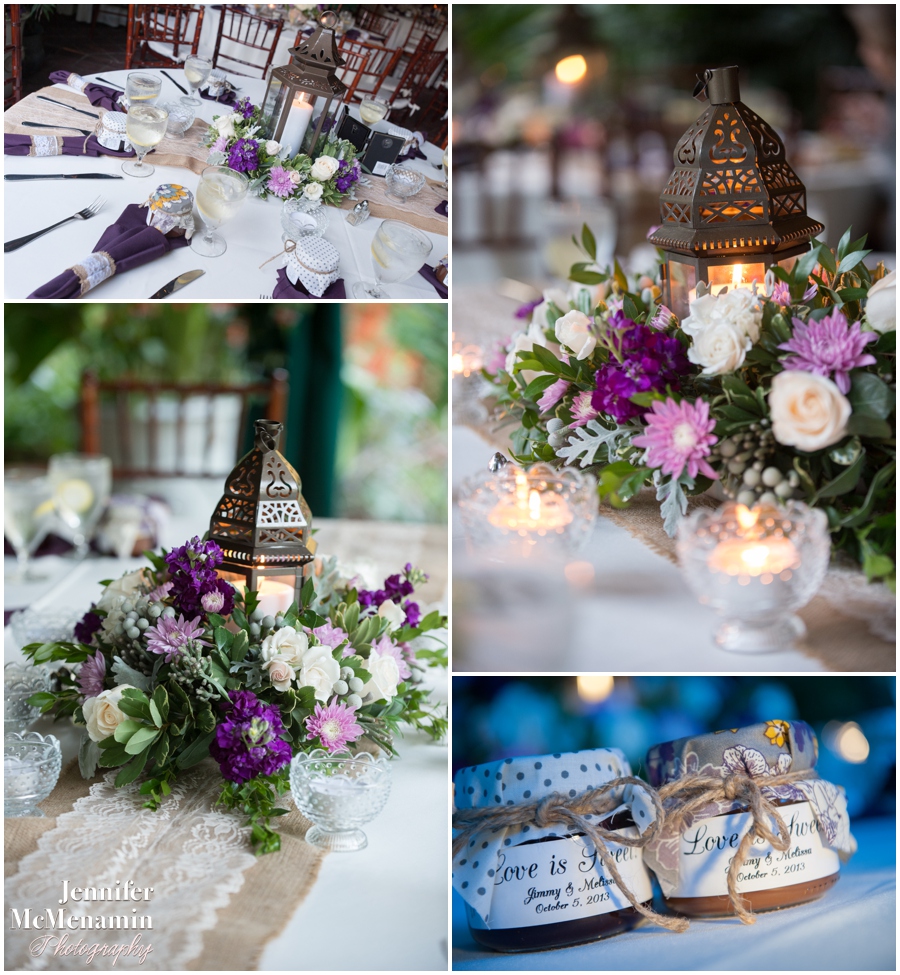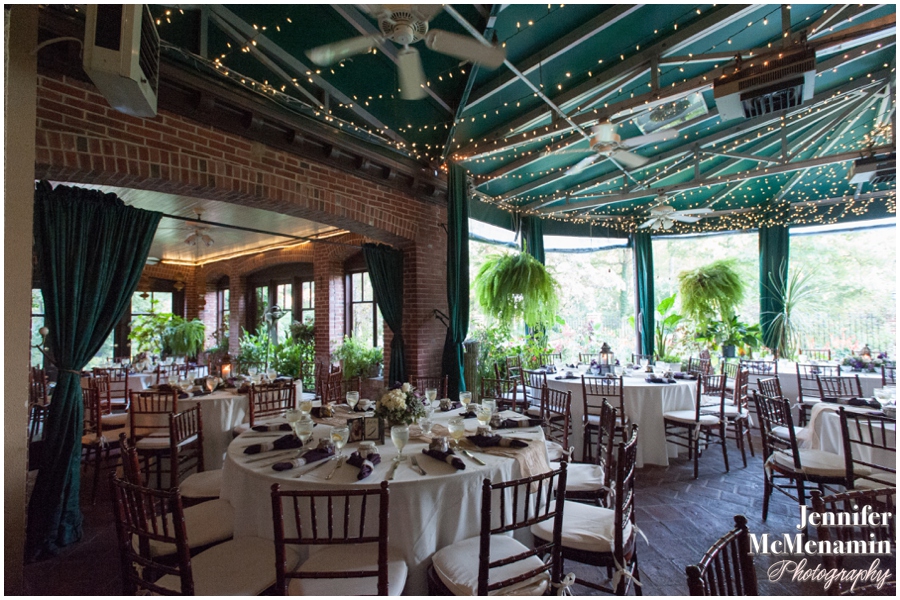 And lots of fun and merriment.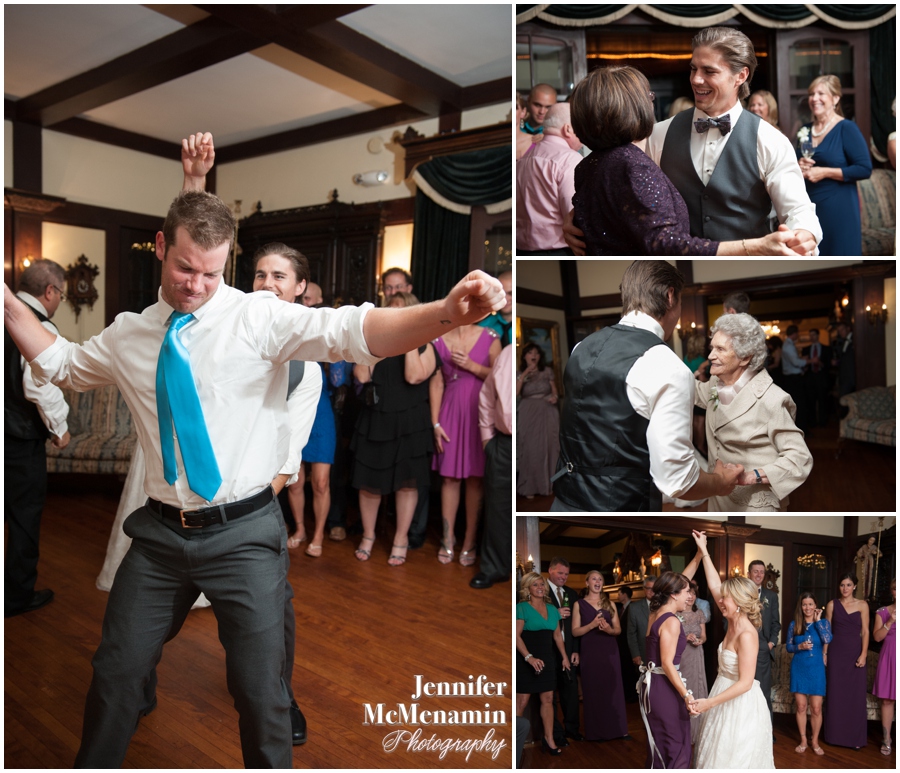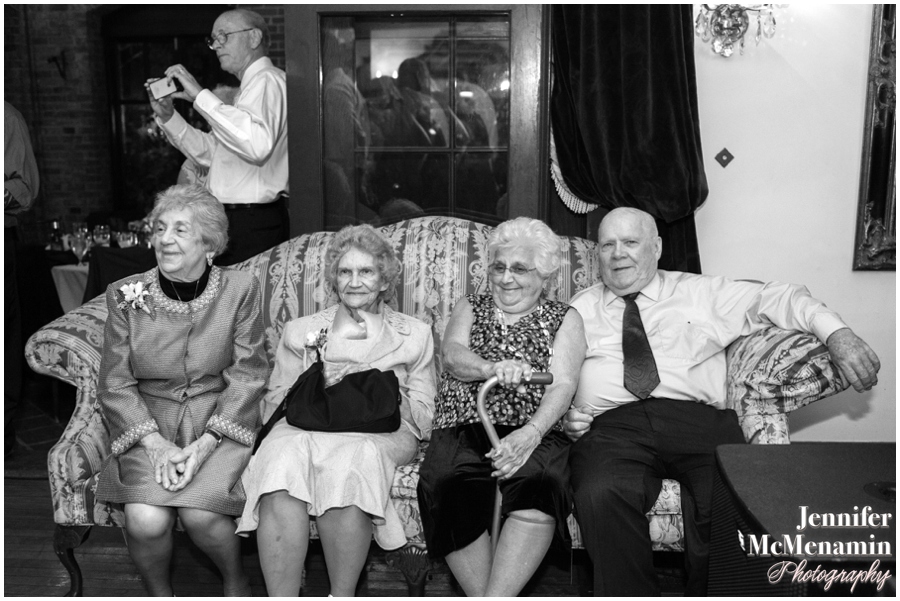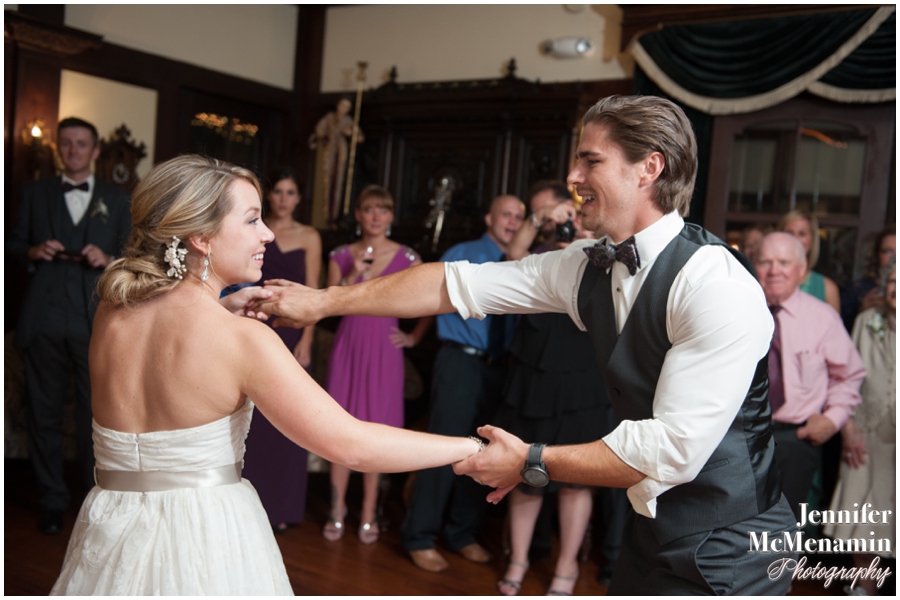 The cigar roller. 

And my promised photo of Jimmy with his cigar.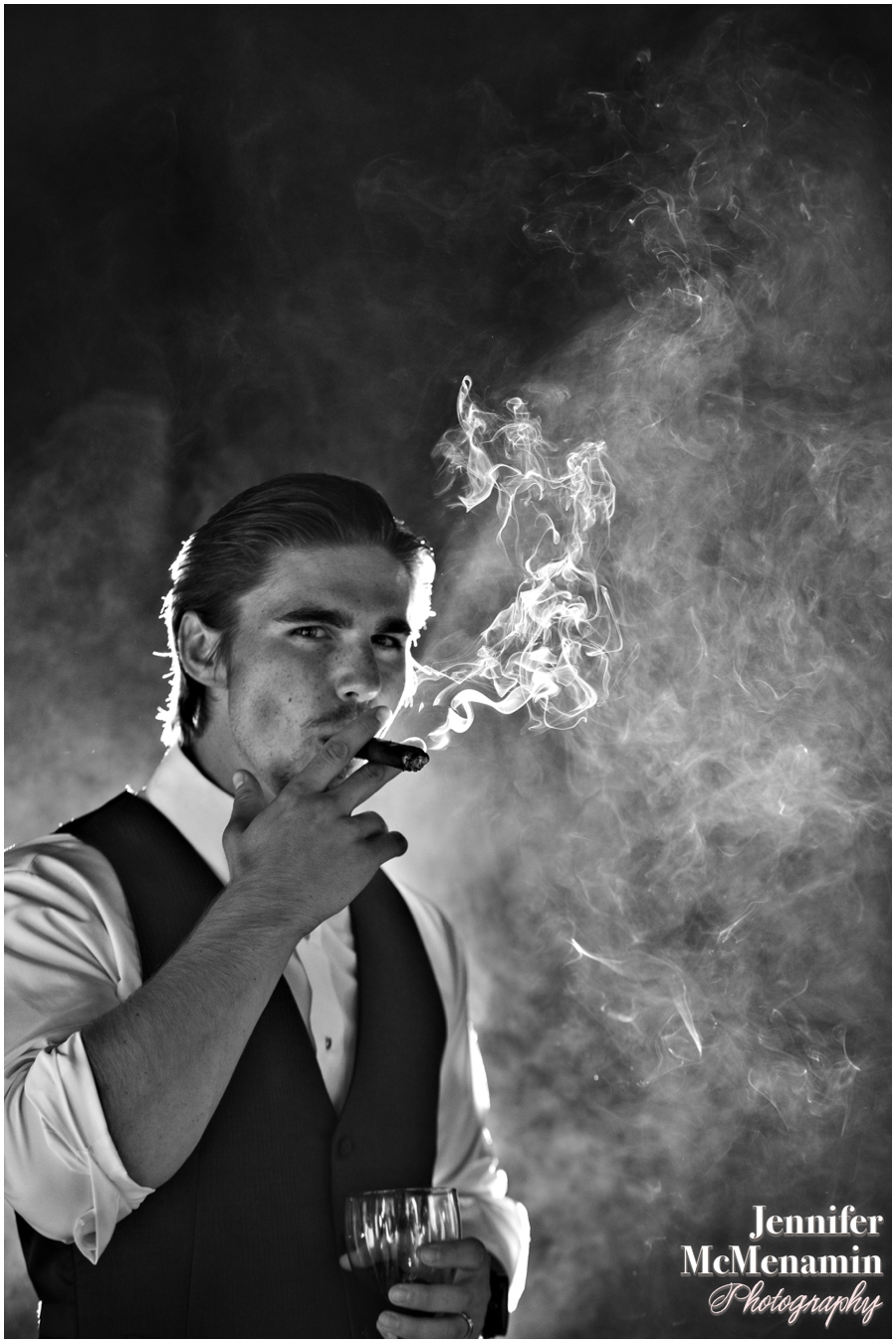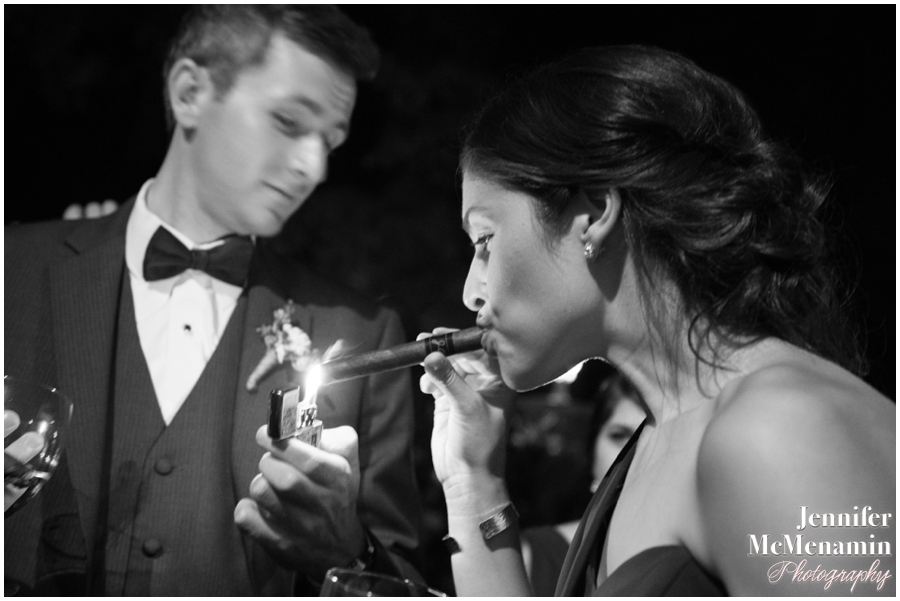 (Hi, Katie and Josh, another one of my all-time favorite client couples!)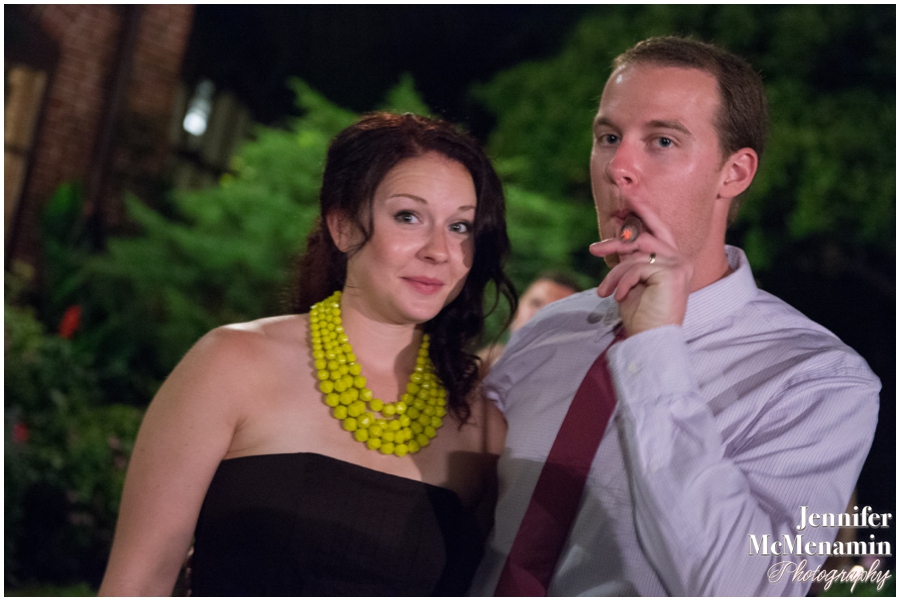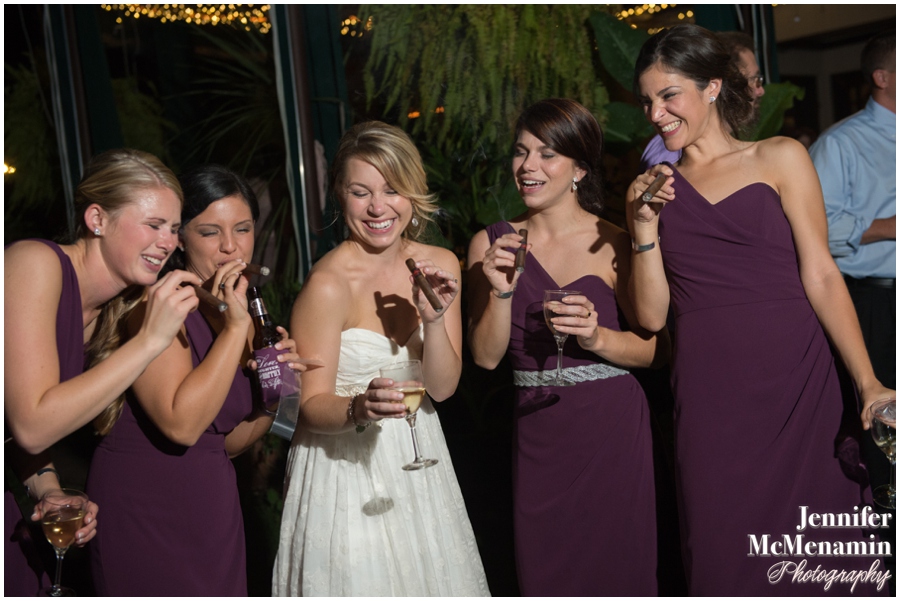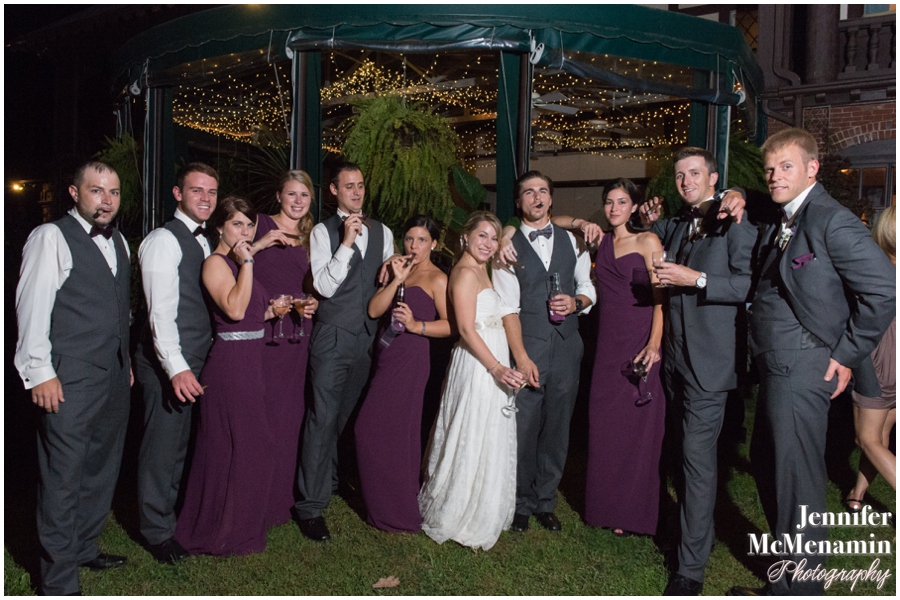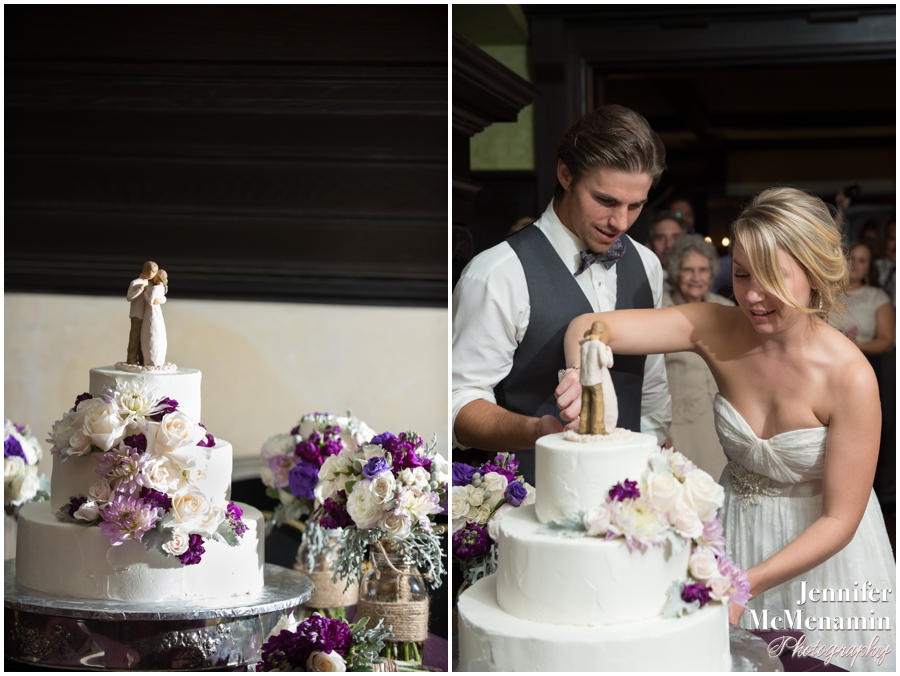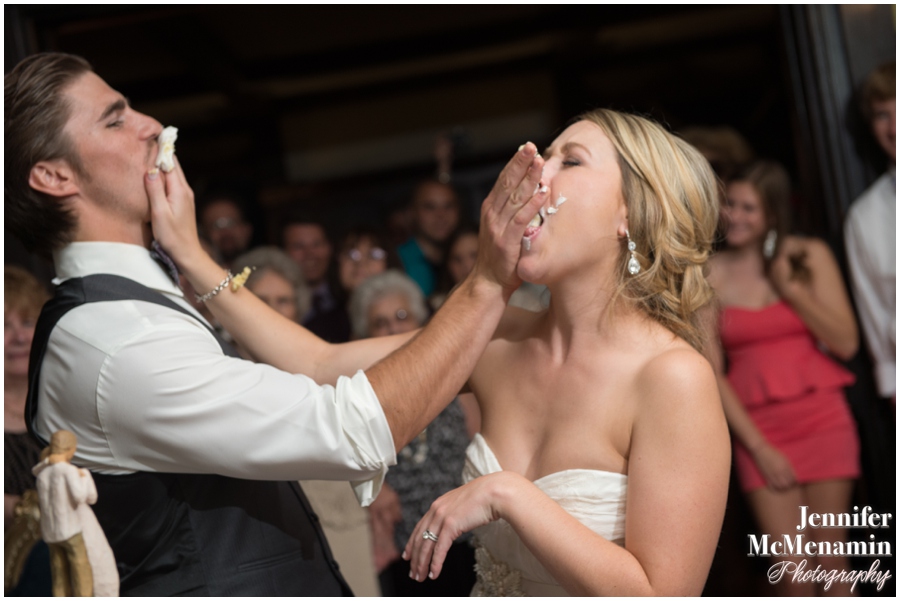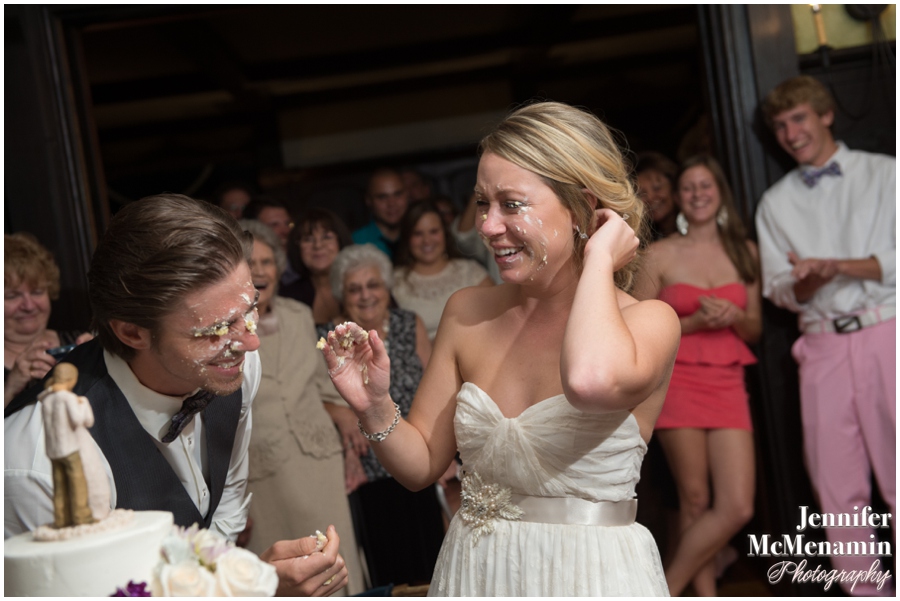 Hmmm. The maid of honor and best man just happened to catch the bouquet and garter?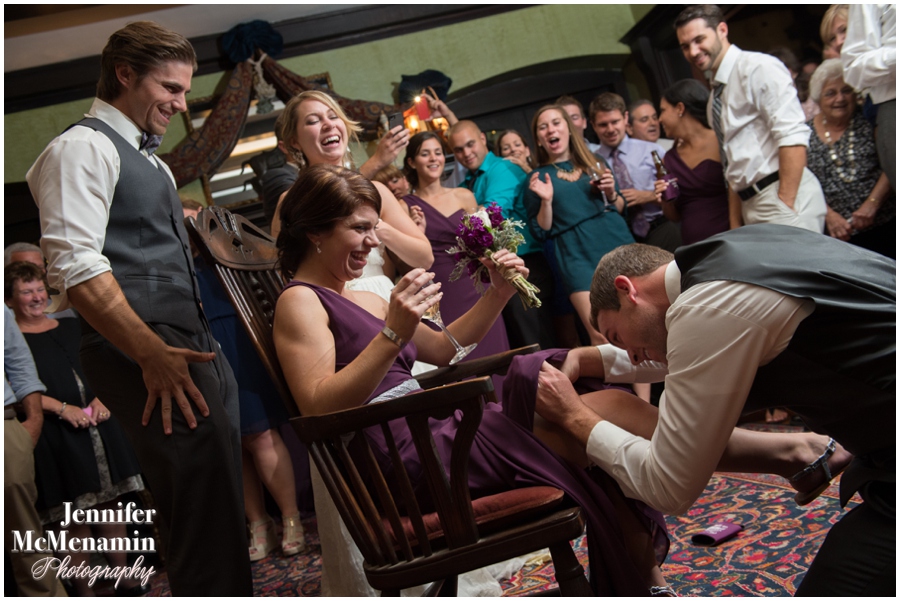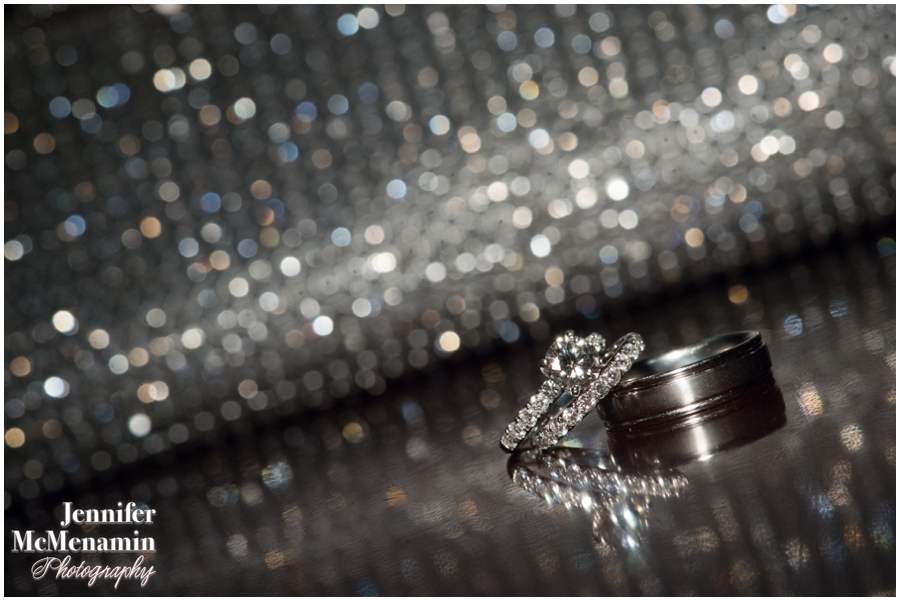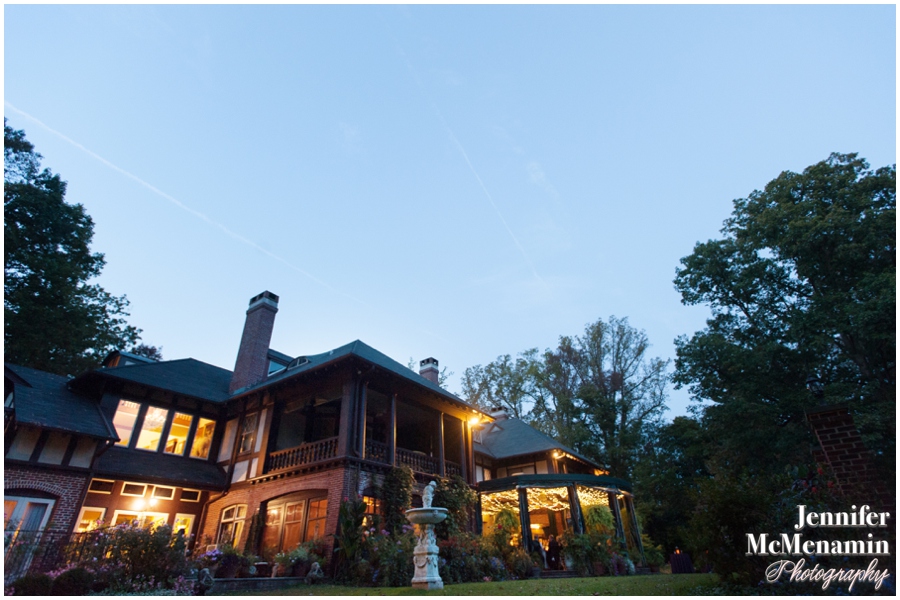 Congratulations, Melissa & Jimmy. I could not have had more fun with you, your friends and family on your big day!
Credits:
Photography: Jennifer McMenamin Photography, LLC

Ceremony: St. Alphonsus Church
Officiant: Father Bill Spacek
Ceremony musicians: Jeffrey Bunn + Mary Stanton

Reception: The Gramercy Mansion

Catering, Cake & Rentals: Absolutely Perfect Catering 
Bridal attire: Ivy & Aster gown from Betsy Robinson's Bridal Collection
Hair: Jenna Crew with All About Me Salon

Bridesmaids' attire: After Six gowns
Groom's attire: Perry Ellis suit from Tuxedo House

Florist: Radebaugh Florist
DJ: AJ Smith of AJ Productions 
Invitations & napkin rings: Rustic Elegance Design etsy shop
Placecards: Postscripts etsy shop
Cigar roller: Jesus Castanon from Hains Cigar Shop