Megan & Galen

The Castaway -- Portland, Oregon wedding photography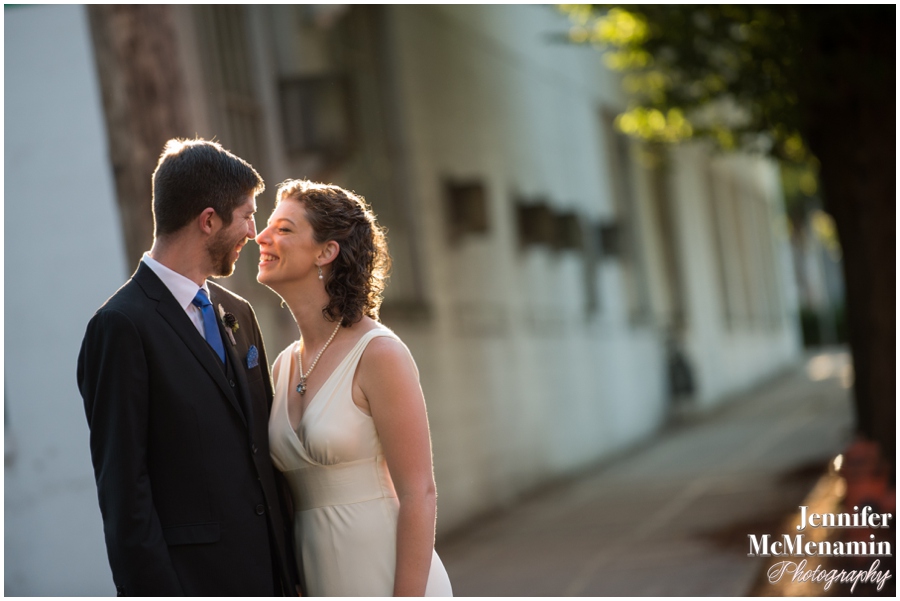 I vividly recall her question, dropped into a casual conversation during a walk: "So how do you feel about photographing family weddings?" I was positively thrilled. Not only to hear that Megan — one of my favorite of my husband's many, many fabulous cousins — and her then-boyfriend, Galen, were talking marriage. (They were not yet engaged.) But also that they were contemplating asking me to photograph it for them. Megan is one of the most wonderful people I've ever met. That she is now part of my extended family delights me every time I see her. She is funny with a dead-pan sense of humor. She knows a completely unimaginably vast number of song lyrics, from The Little Mermaid and Garth Brooks to the Dixie Chicks and the Wu Tang Clan. She can compete in and organize pub trivia competitions. She runs, she blogs, she has earned degrees in mathematics, French and speech pathology and she thoughtfully always thinks to ask about not only the major and obvious things in my life (like my sweet daughters) but also my friends whom she met at my own wedding eight years ago or problems I might have mentioned in passing during a previous visit. Galen has been her quiet, less gregarious Other Half for the past several years. When Megan first brought him to the annual family reunion in Waterton, Canada, he so thoroughly impressed and amused us (especially during a late-night round of charades for the game Celebrity) and was so obviously completely smitten with Mego that we couldn't help but cheer for them as a couple. So I practically jumped up and down when Megan asked how I feel about photographing family weddings. I love just about everything about my job as a wedding photographer. I love working with a couple to capture all the joy and emotion of their day and producing photographs that freeze those happy, emotional moments for them for forever. Getting to do that for someone I already adore? Well, that's just a cherry on top. With the help of their friends and families and an extraordinarily talented event coordinator, Megan and Galen planned a gorgeous wedding that was so thoroughly them. Their ceremony opened with Miracle Max's thoughts on true love from The Princess Bride. There was a parade of superhero cape-wearing flowergirls and a ring bearer and baby cousins. Their personal vows left their guests in both stitches and tears. Innumerable woodsy elements — from the pattern of the invitations and dinner menus printed on actual wooden tablets to the slices of logs used in the centerpieces, dessert display and wedding signage and cocktail straws that resembled birch trees — paid tribute to their love of the outdoors and Galen's jobs in sustainable logging. And in a reception highlight, the Irish Catholics in the crowd joined the Jews in a rousing performance of a personalized Dayenu song that Megan's mother and aunt wrote for the occasion. It was a complete honor and joy to work with Megan and Galen and their/my family. Here are many, many, many of my favorites from their big day:
My sweet cousin, looking absolutely beautiful.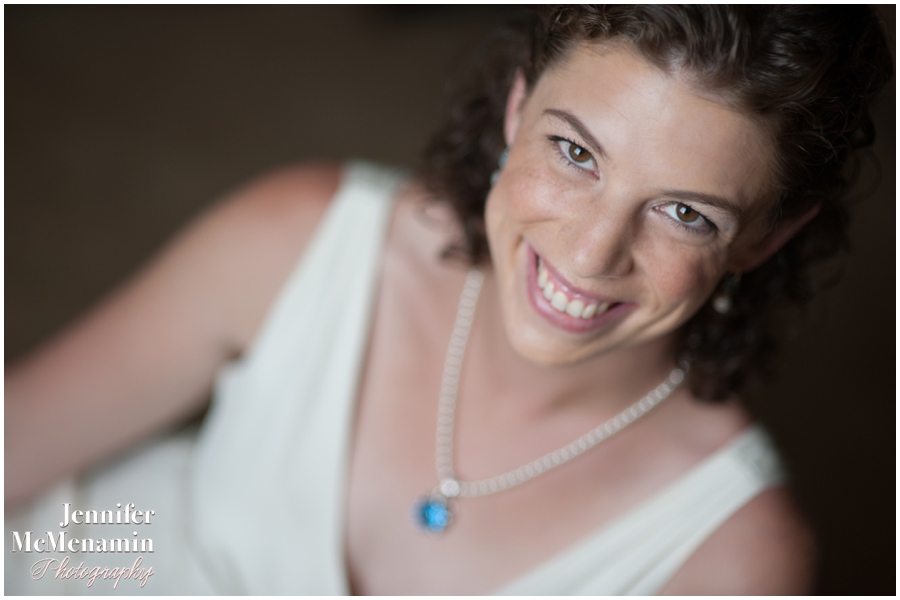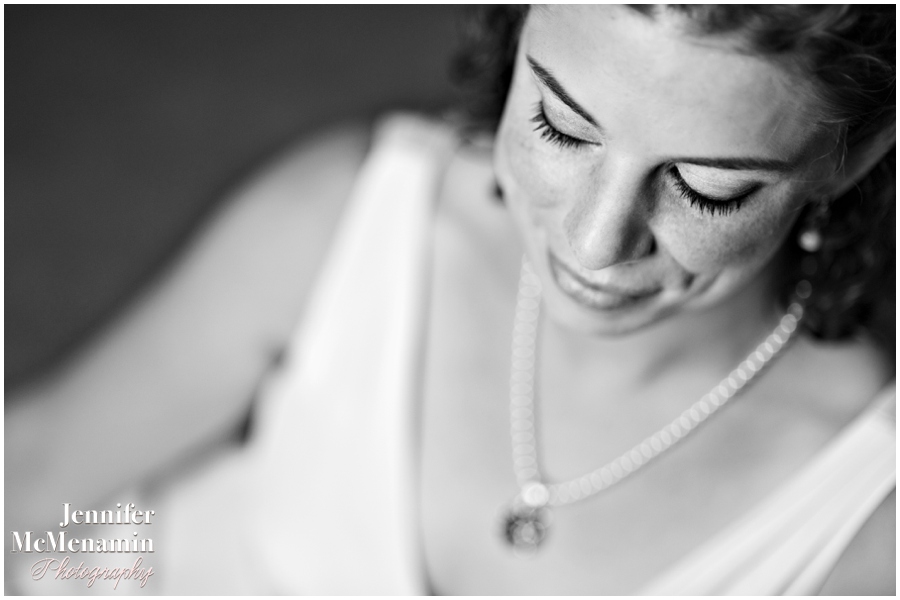 Megan & Galen chose The Castaway for their ceremony and reception, a wonderful kind of warehousey and loft-like blank canvas for their plans.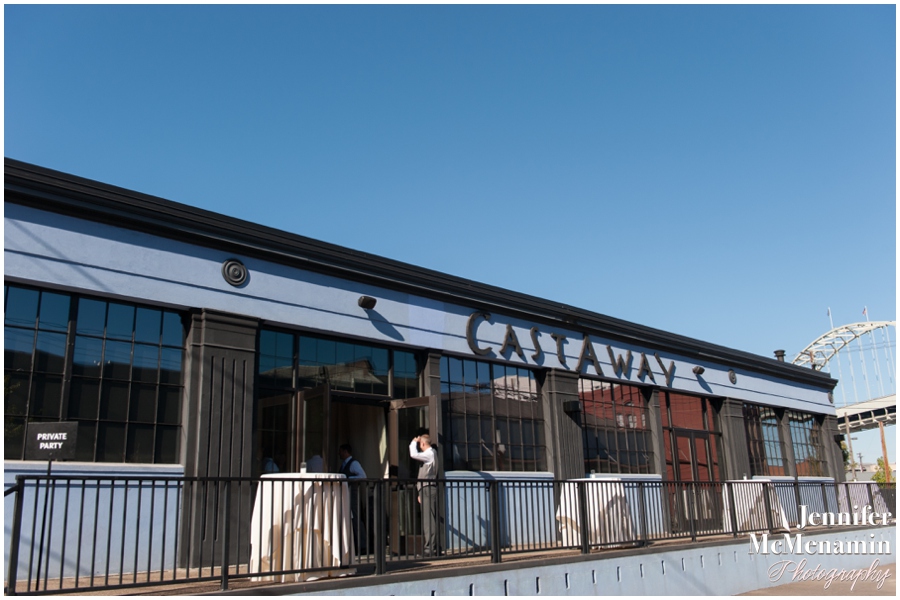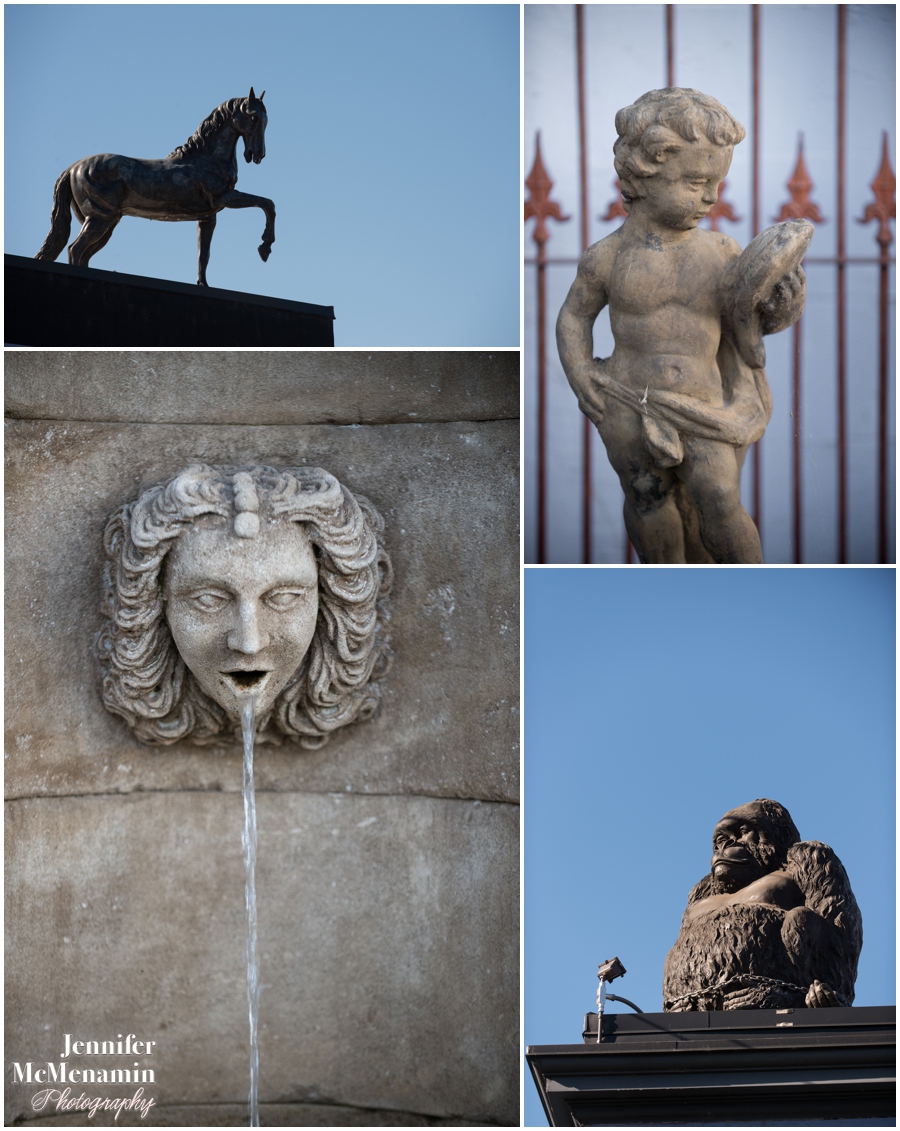 While I was with Megan and the girls as they got ready, Amy Prutch, a very talented Portland photographer whom I hired to assist me, was with Galen as he finished up his own preparations. Which involved bourbon.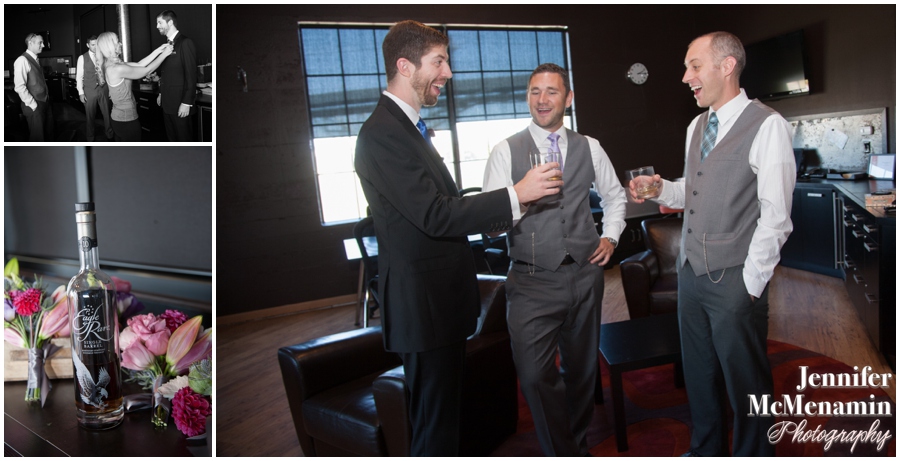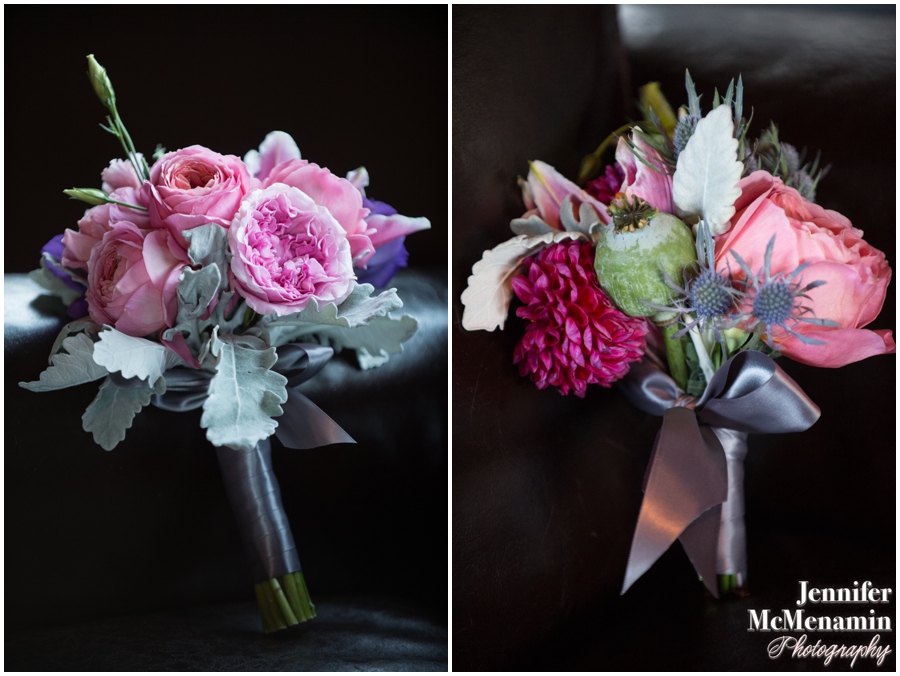 Meg and Galen chose to see each other before their ceremony so that they could take care of family photos before their cocktail hour and also hop on a vintage trolley running through Portland that day for some fun photos with their wedding party. It was a very memorable First Look. It involved Megan affectionately proclaiming, "What the hell?" when Galen appeared from the opposite direction than she was expecting. They could not have been happier to see each other and spend a few quiet moments together in the Versailles Gardens beside The Castaway.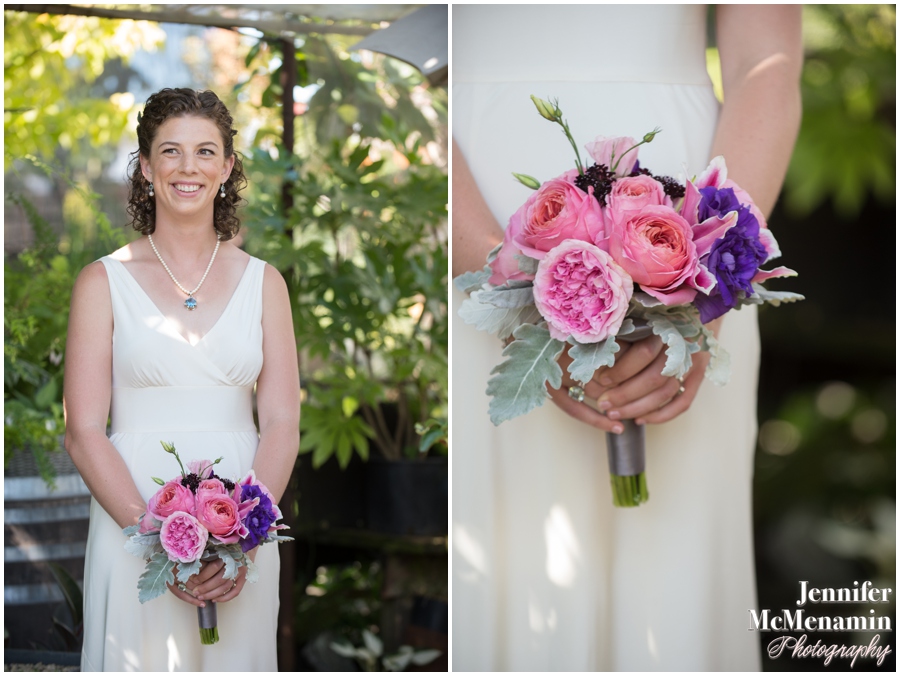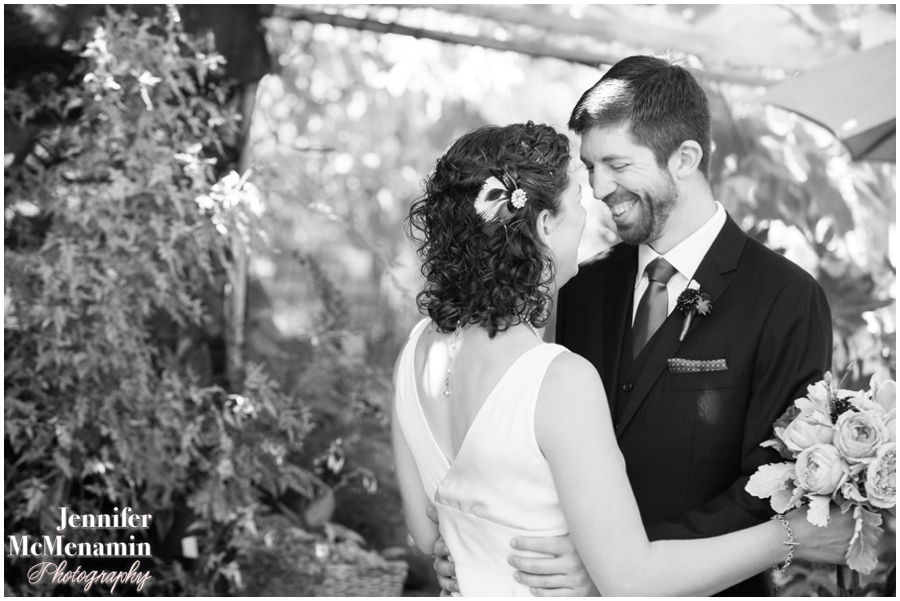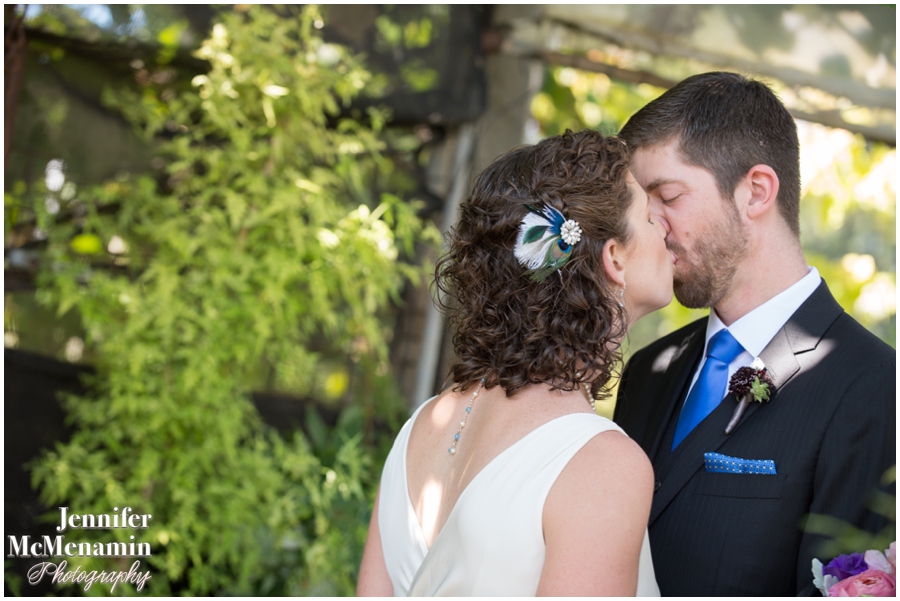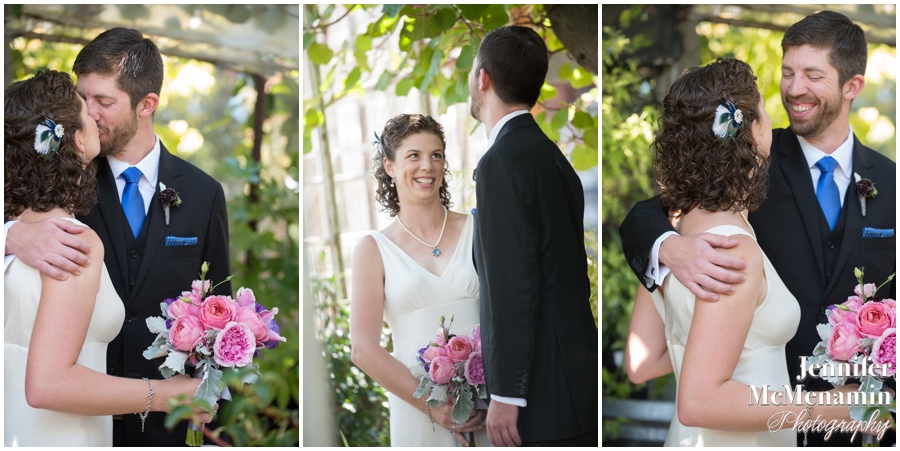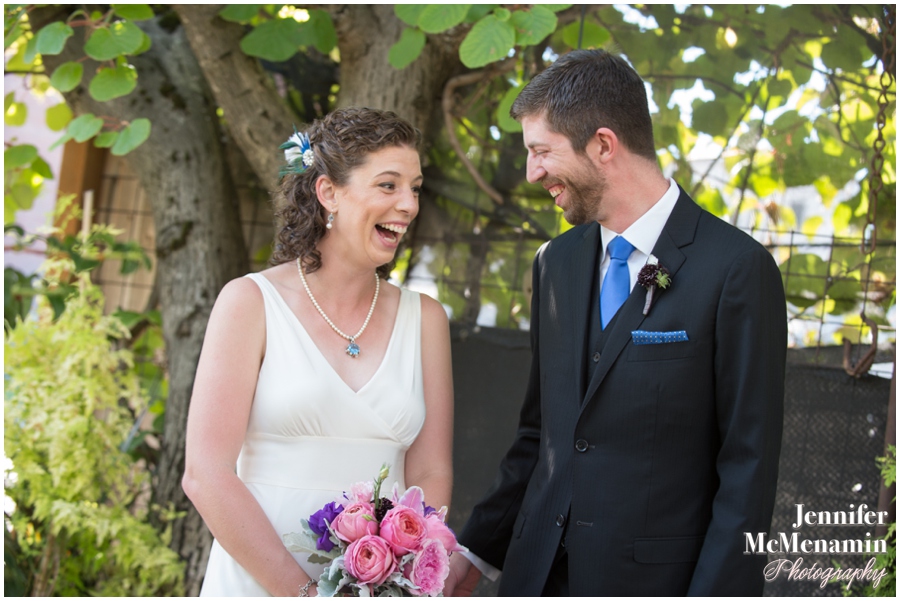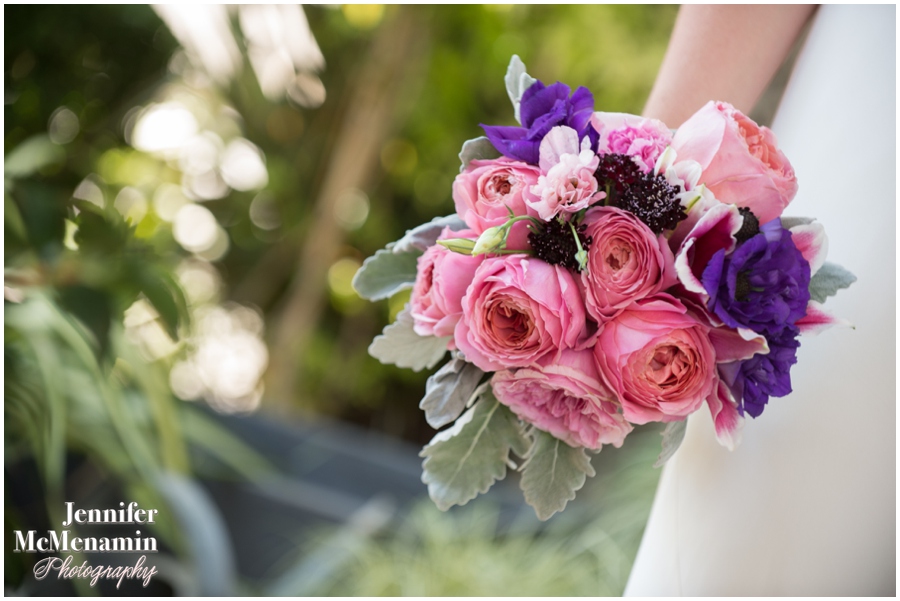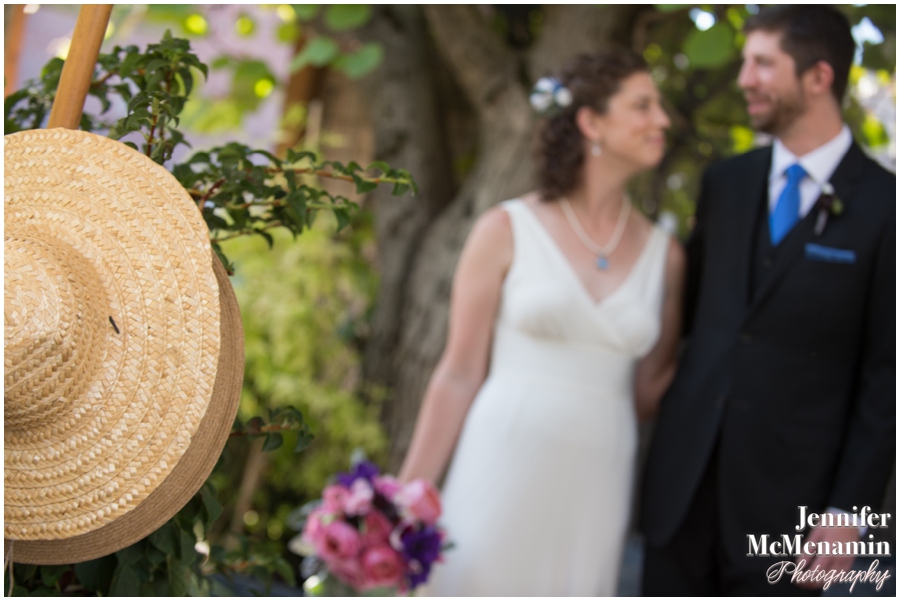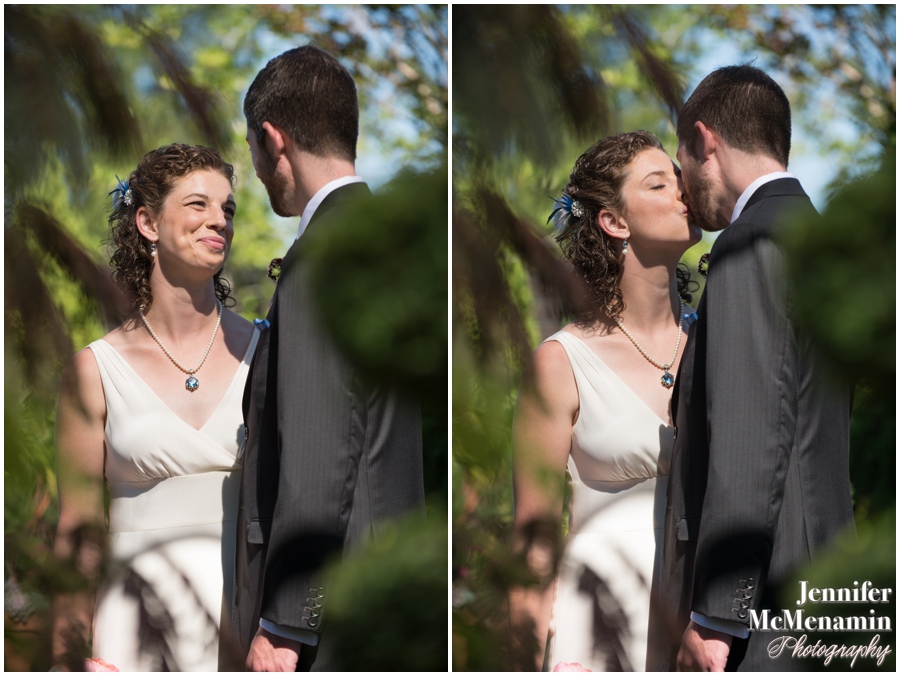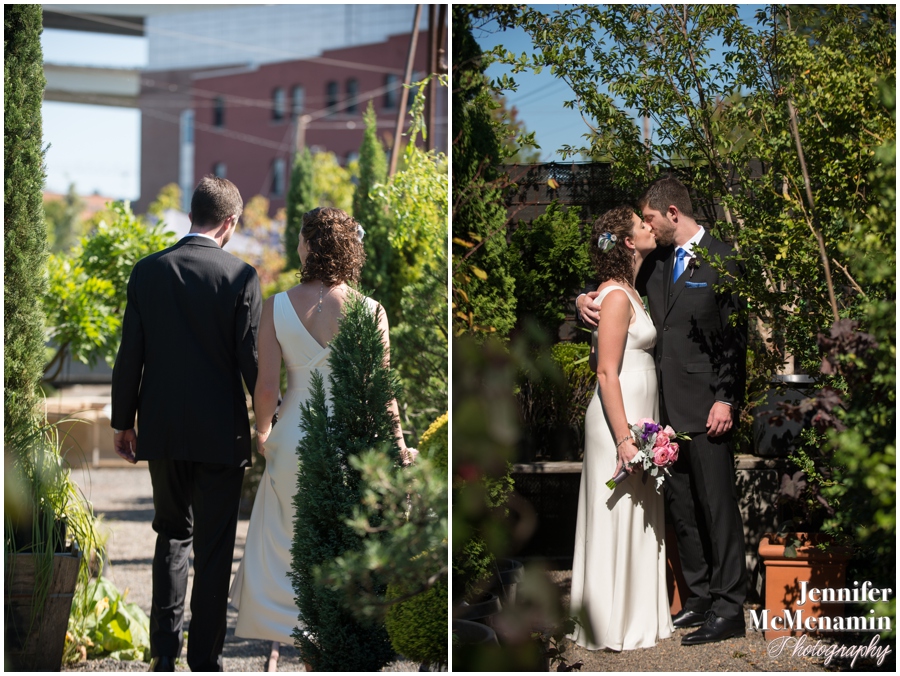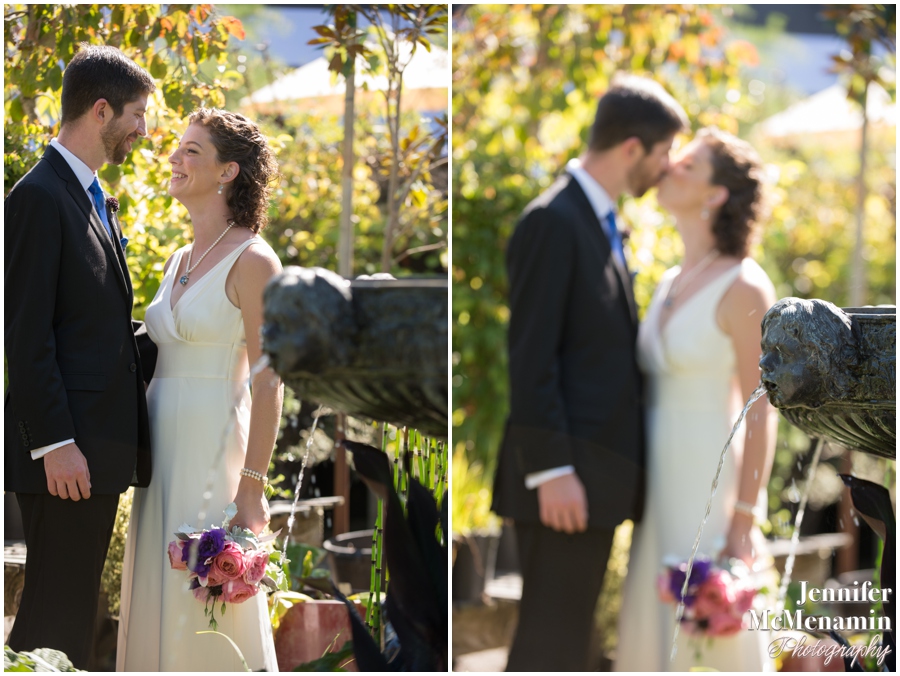 These next couple photos so thoroughly capture how happy Megan and Galen were on their wedding day. There was some fantastic light coming from behind this red building. Just as they were about to hop on the school bus that would take them and their wedding party to the vintage trolley, I asked them to stand for just a few moments in the middle of the street where the sun would backlight them and just ignore me. This is what happened.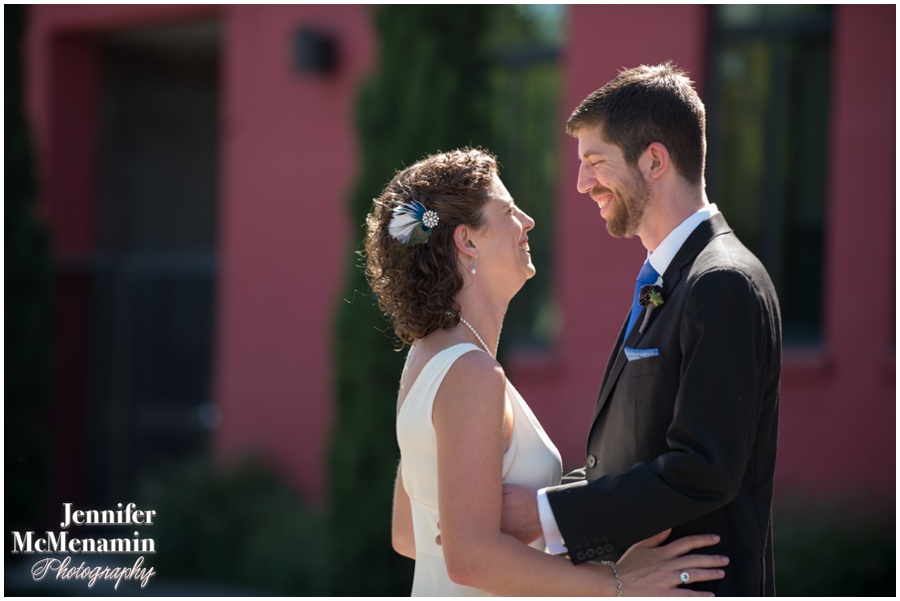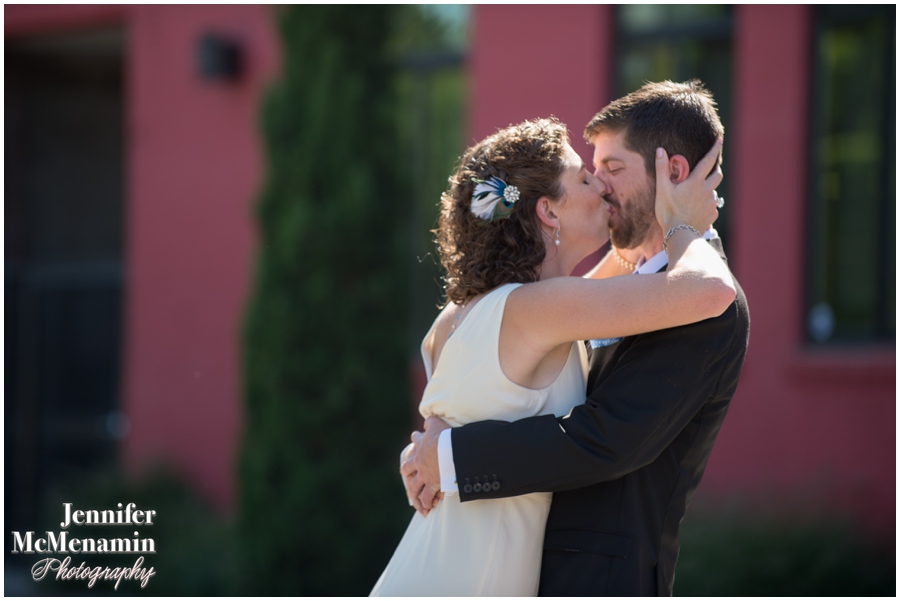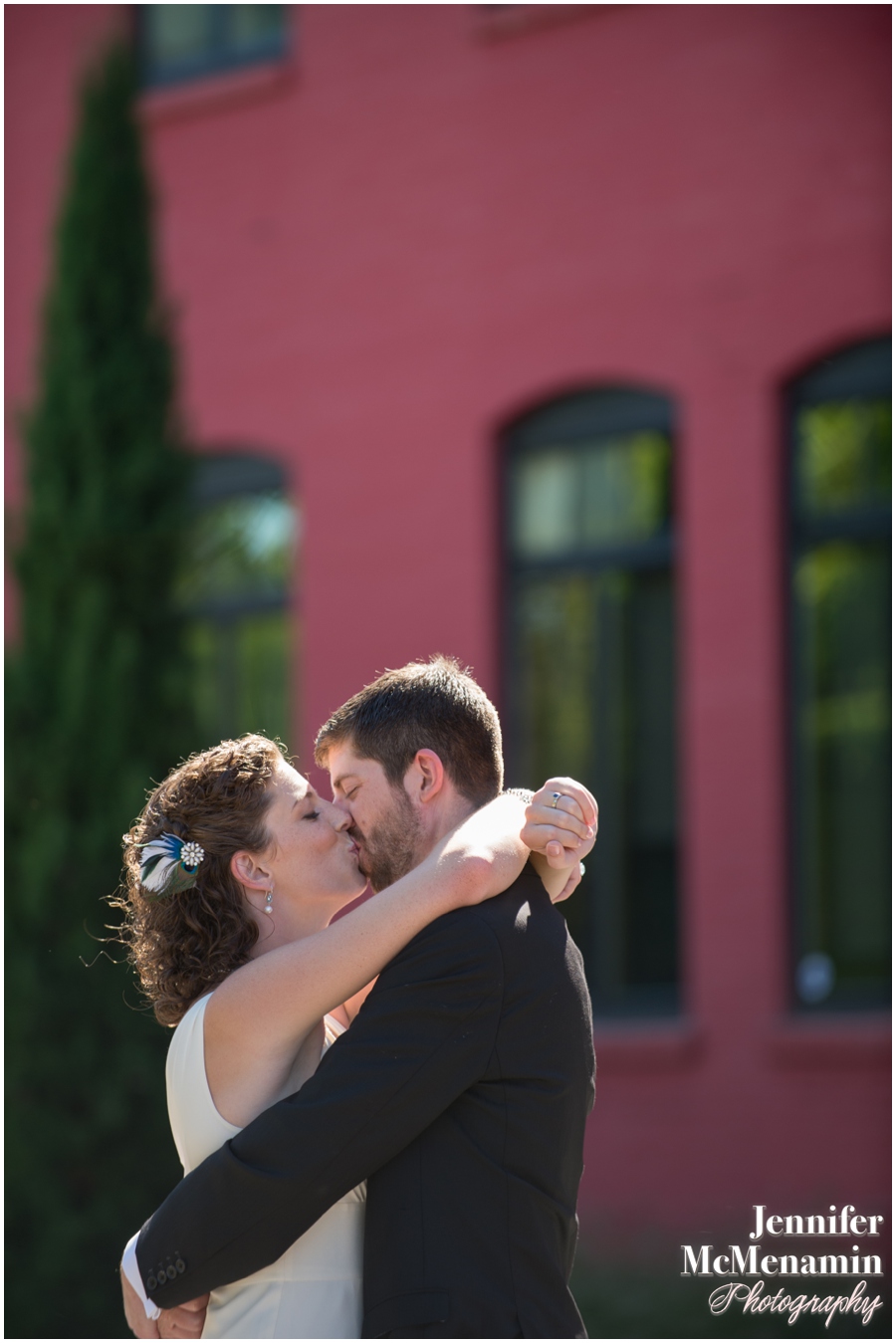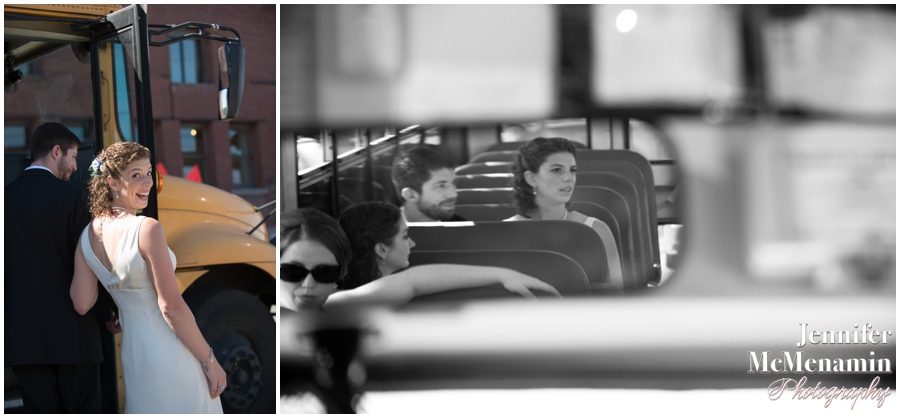 I love this image that Amy shot of the wedding party climbing onto the trolley. We had a fun ride through town.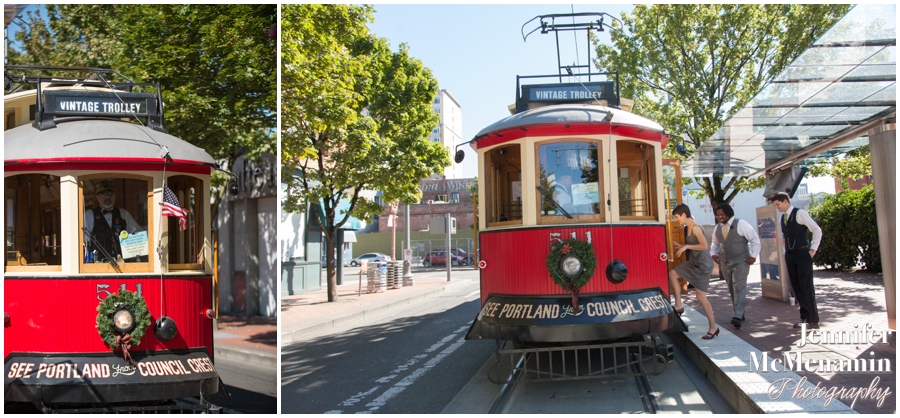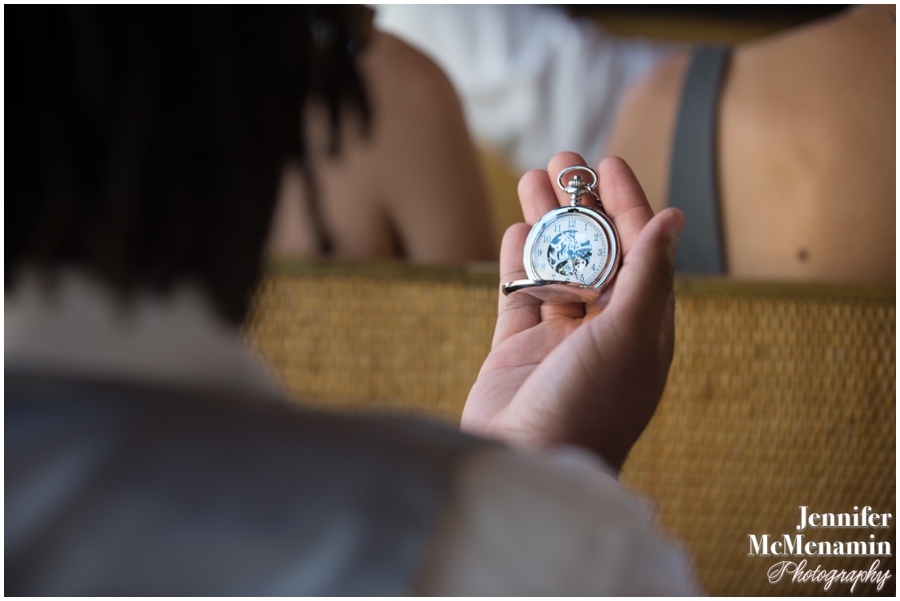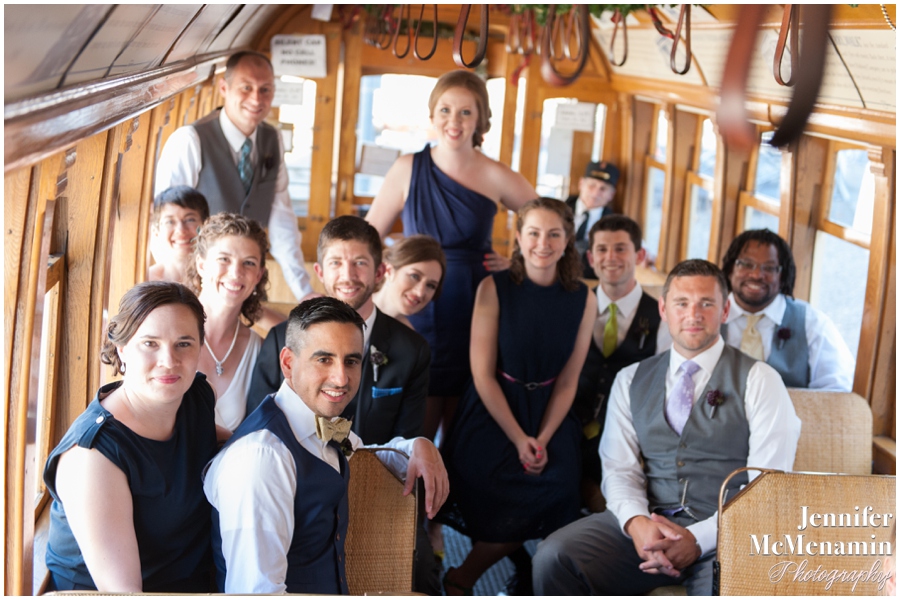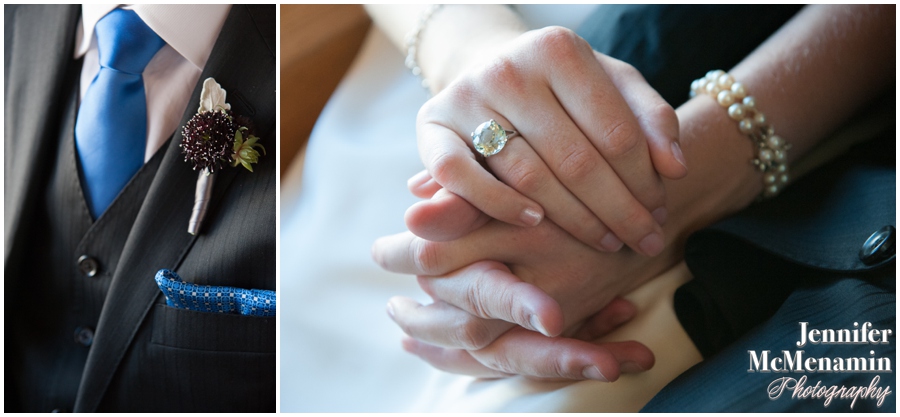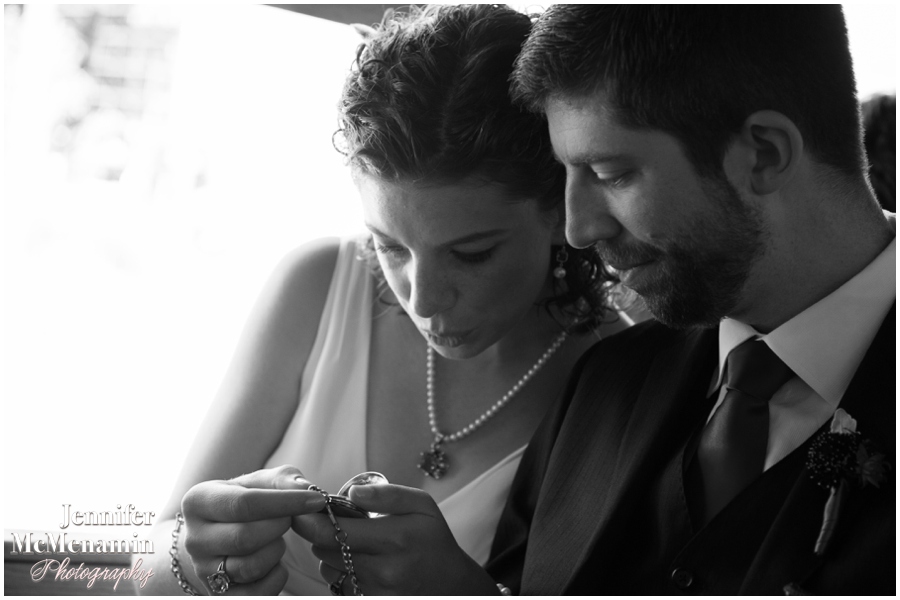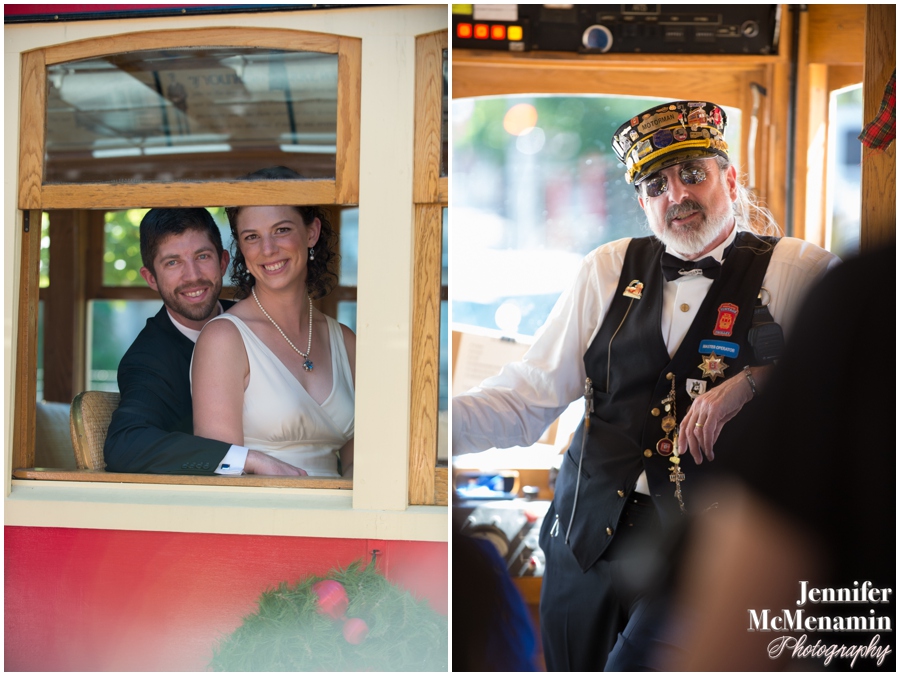 Amy also shot this great photo of everyone in front of the trolley.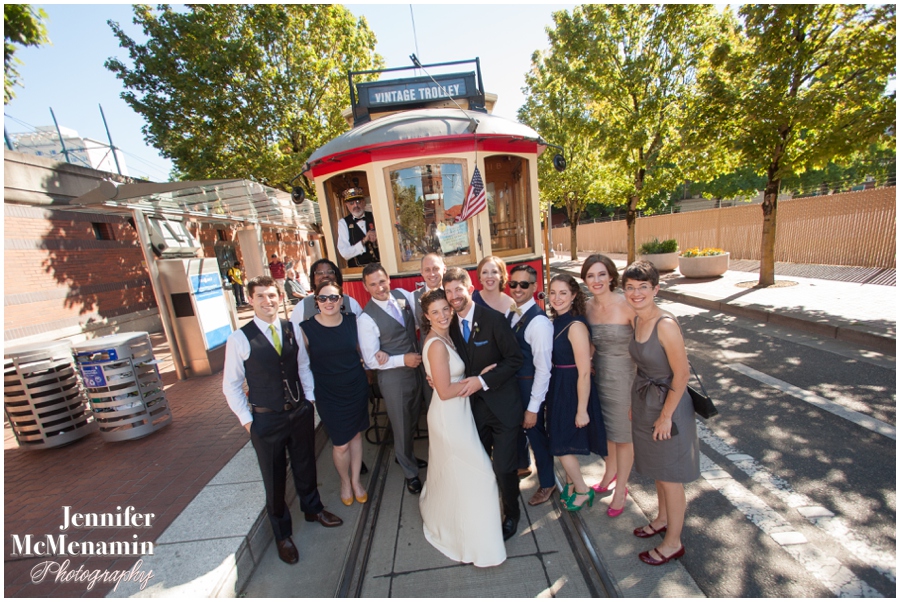 After a few family photos and a few photos with Meg and Galen and their Best People — a mix of men and women on each side — it was time to get married.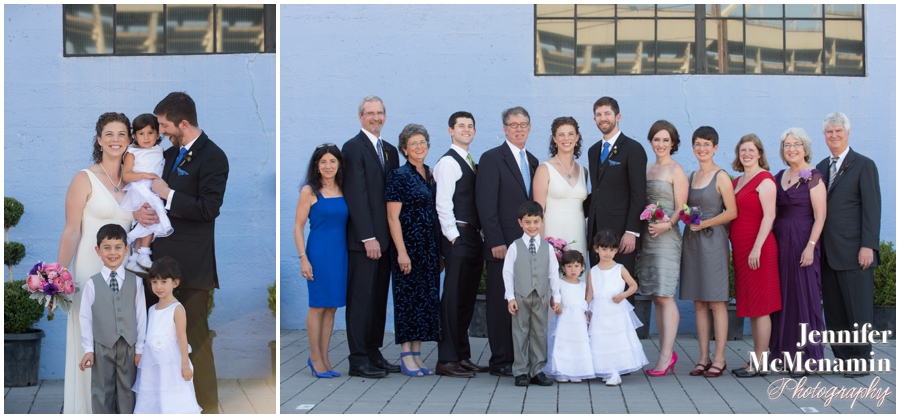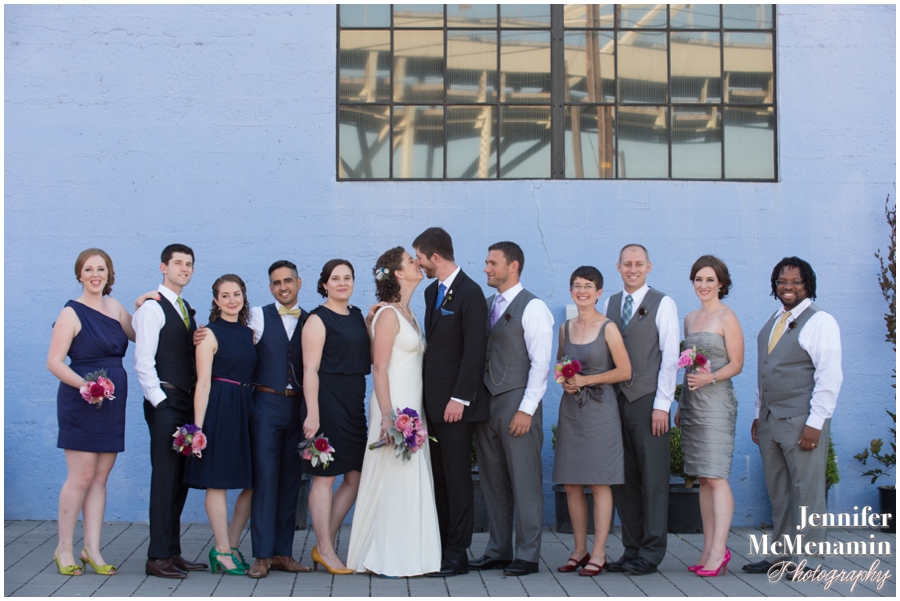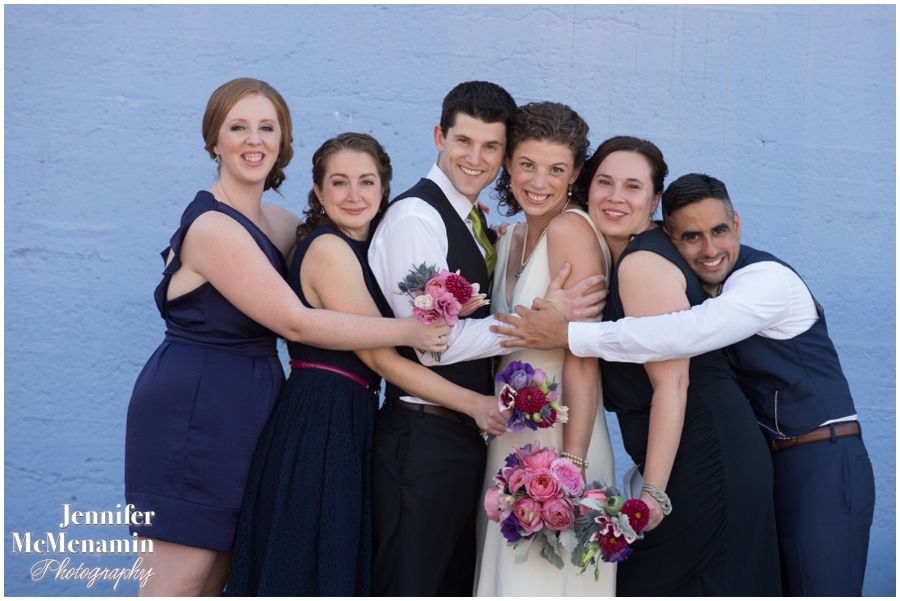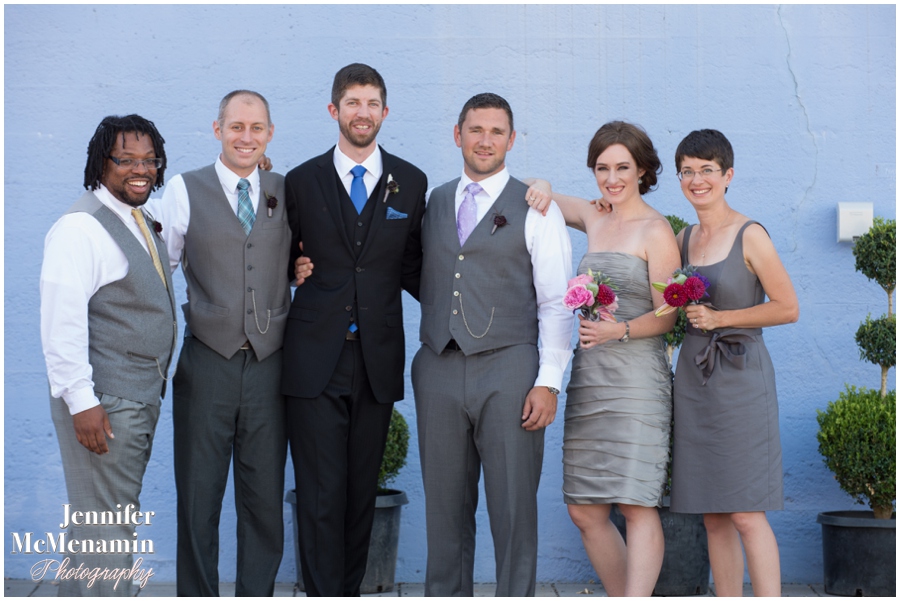 A few ceremony details.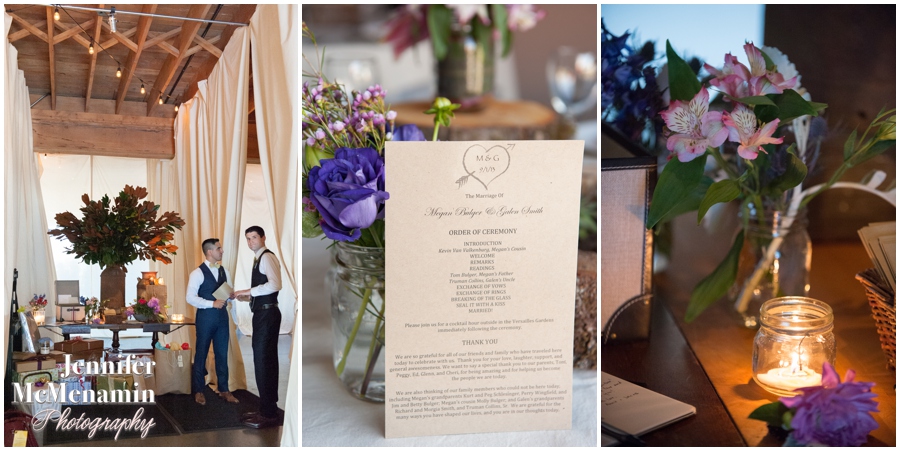 The ceremony — funny, personal, and did I mention funny? — was performed by another cousin from my husband's family, Brian. (Fun fact: He and his fabulous wife currently live in Palau, a tiny island near the Philippines where he is clerking for the country's Supreme Court and developing a mediation system for them.)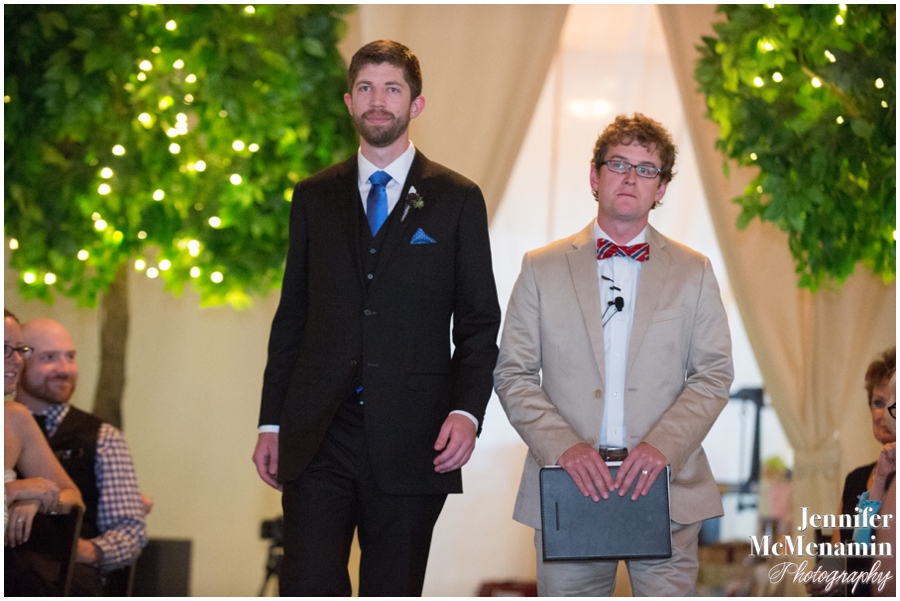 The previously mentioned superheros and parade of littles.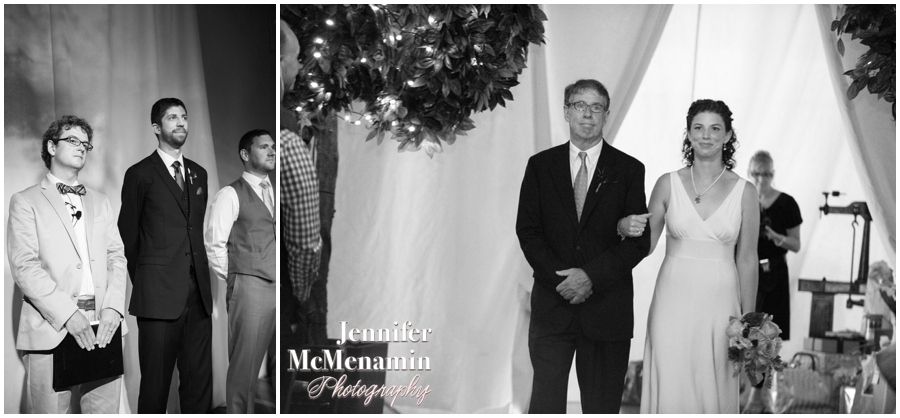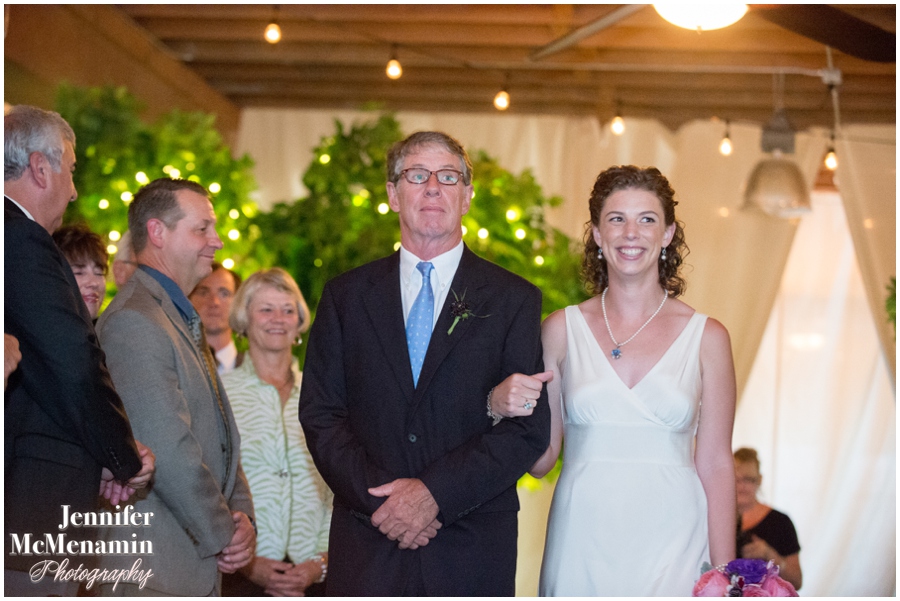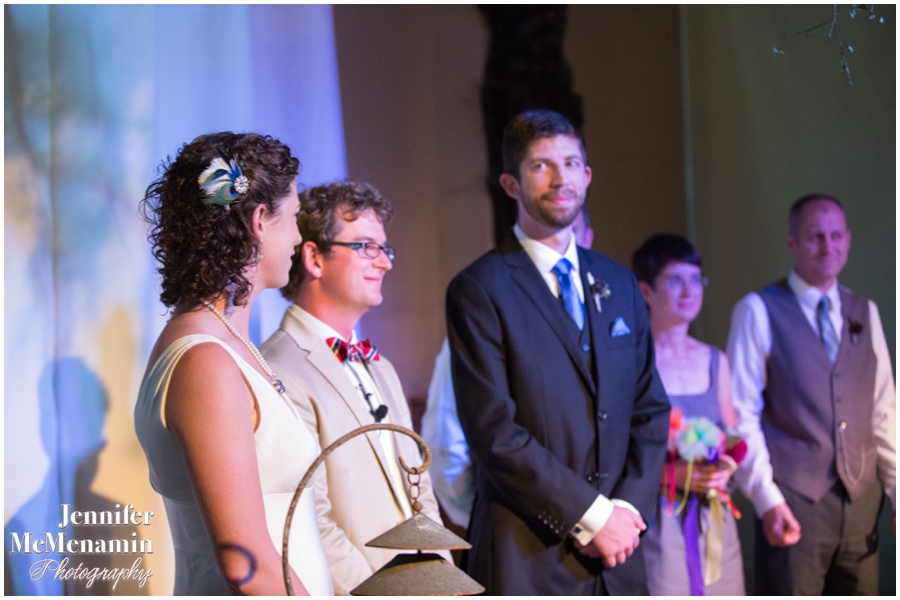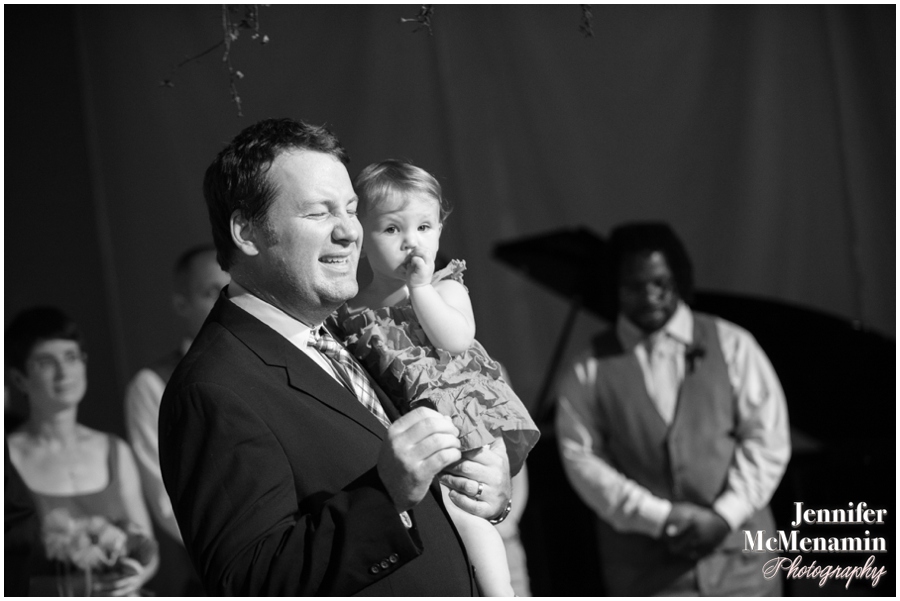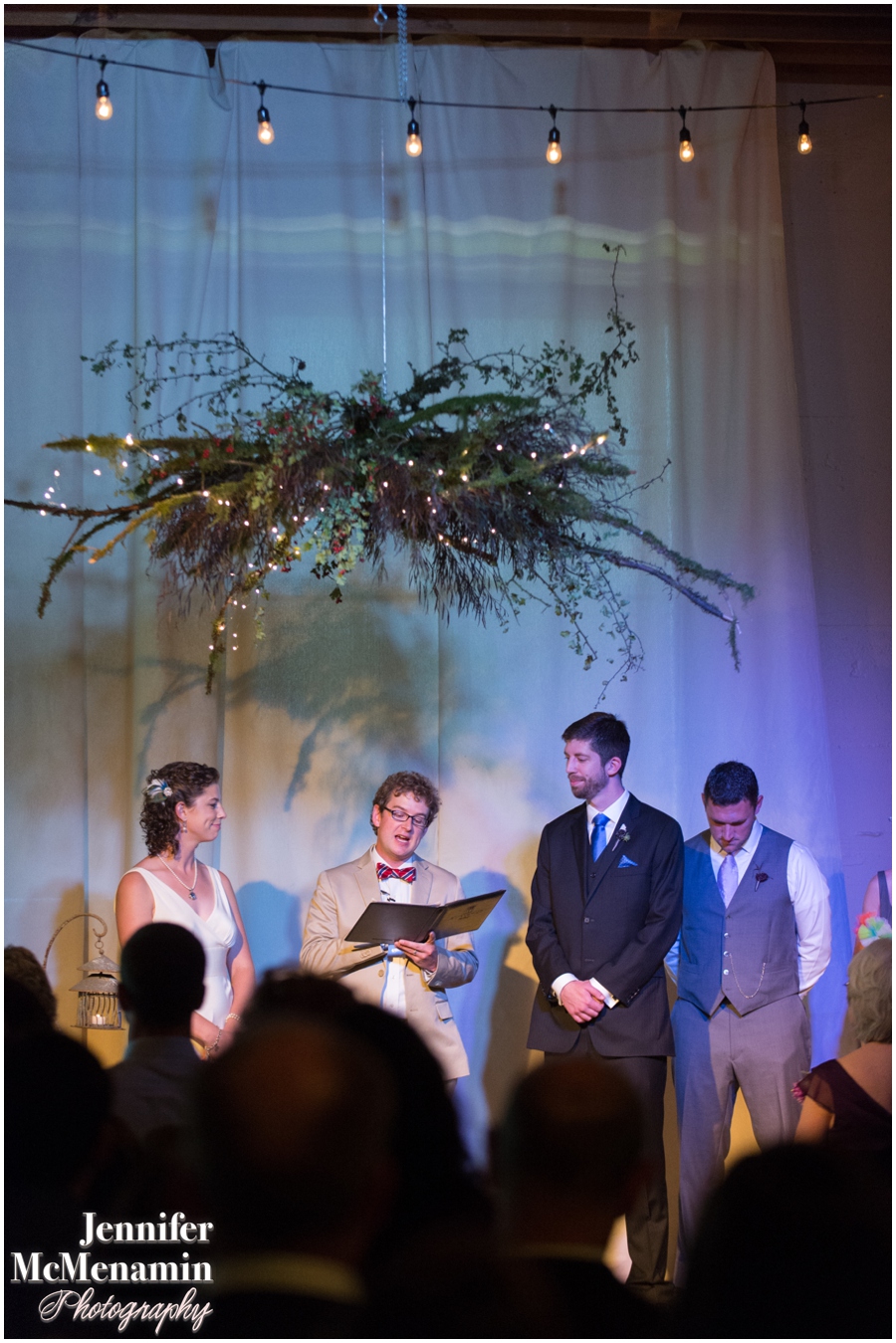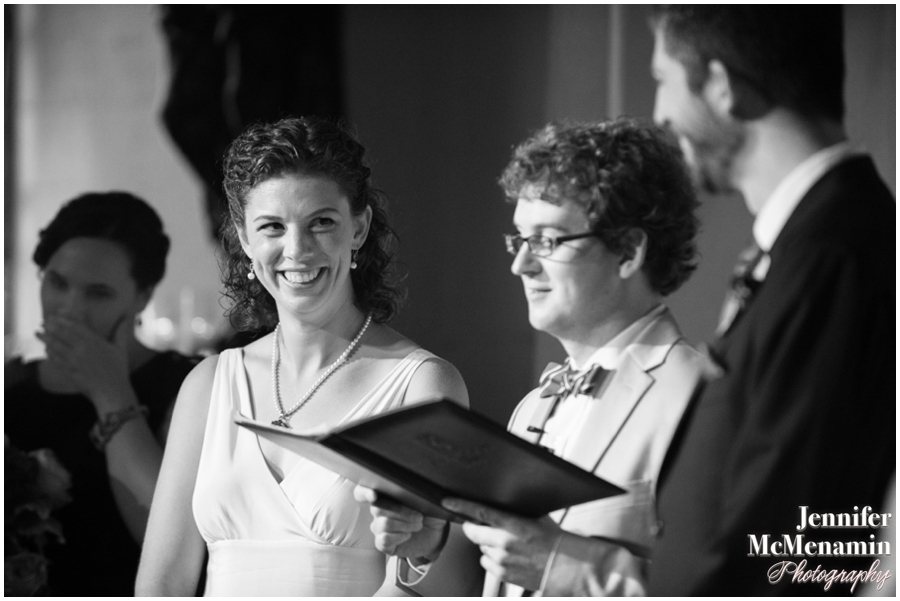 Amy shot this next fun image of the videographers' camera trained on Meg and Galen.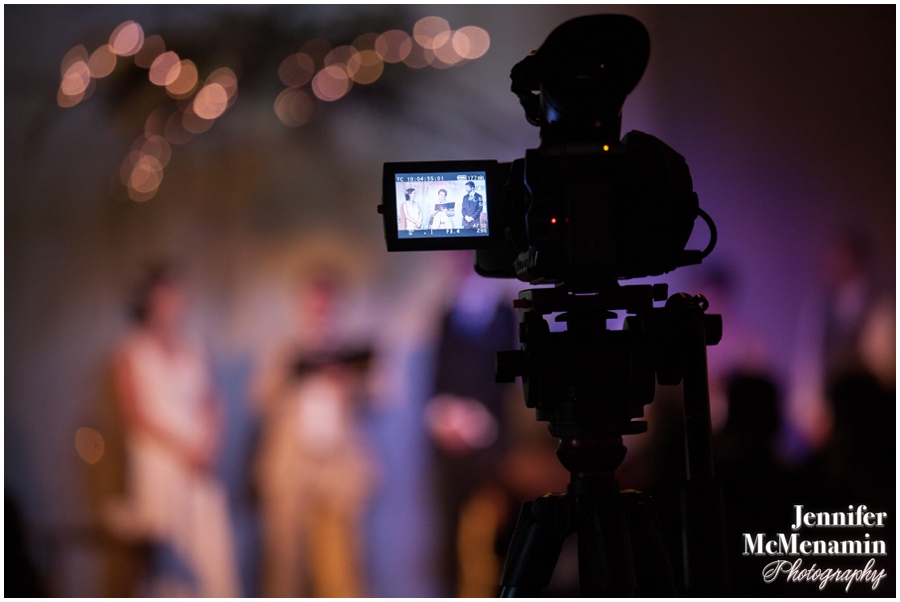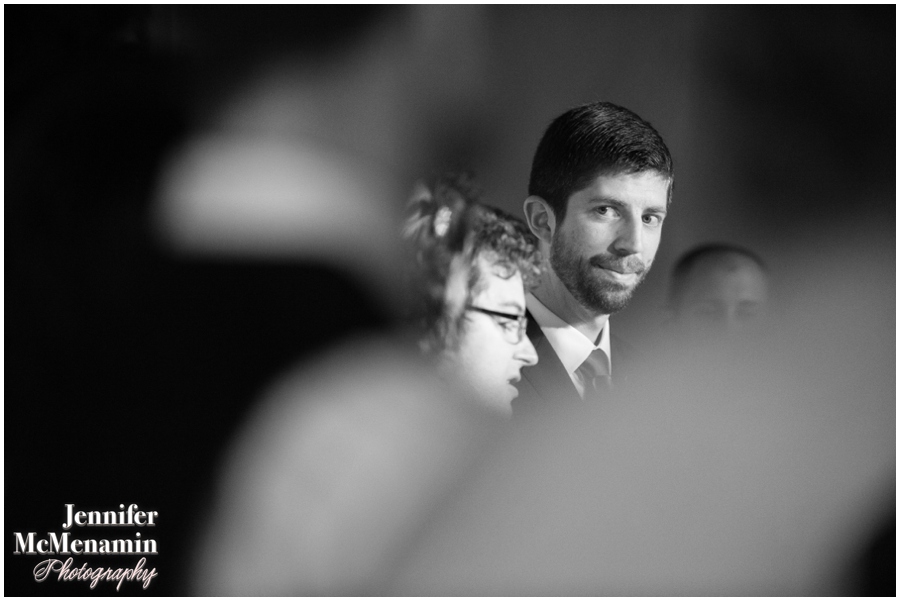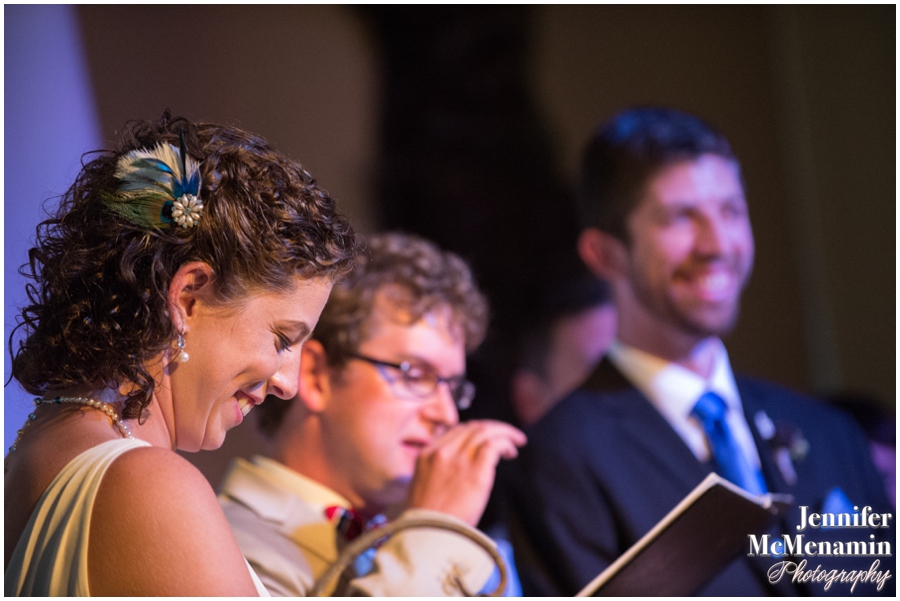 Breaking the glass and the kiss.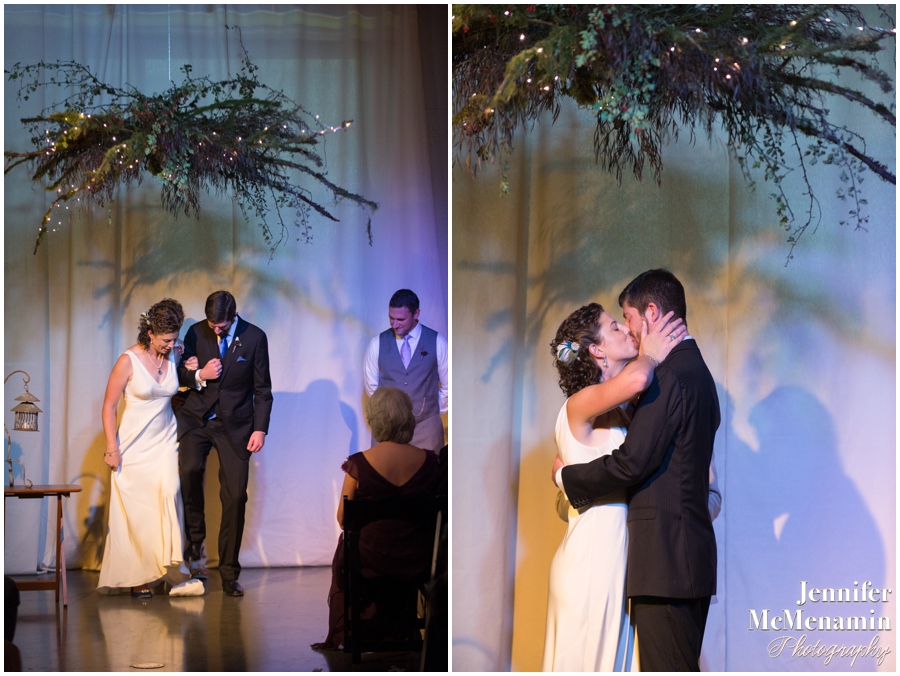 Married!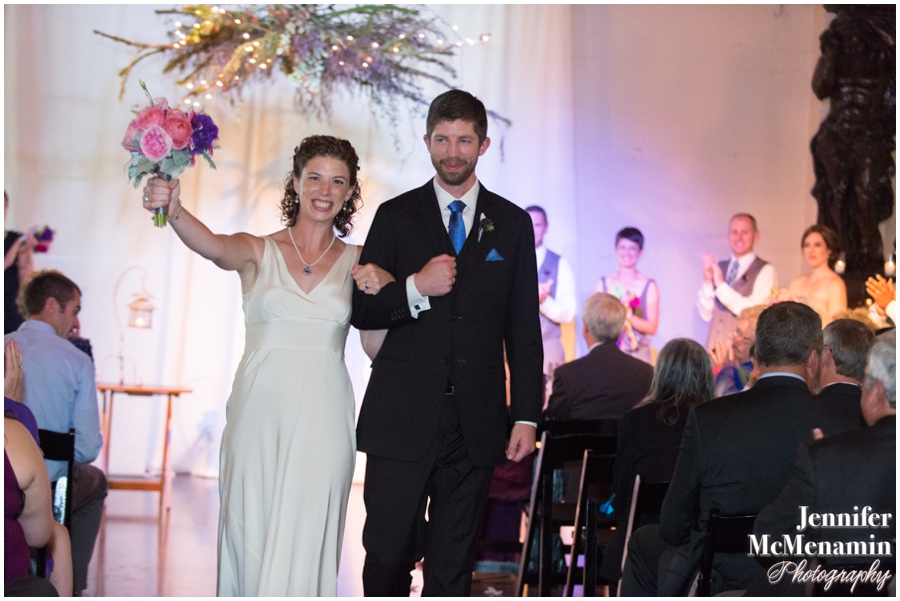 Amy shot this great silhouette of Megan and Galen leaving their ceremony.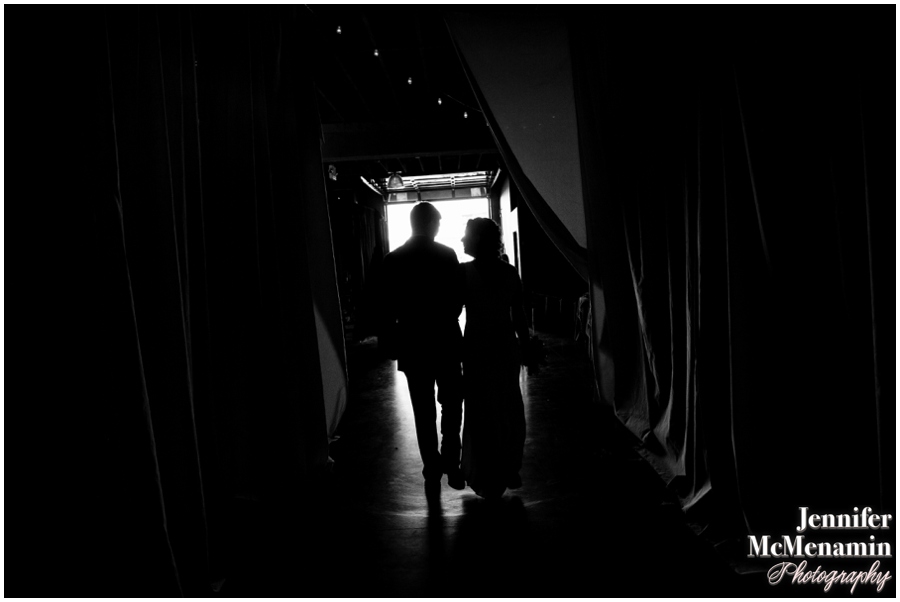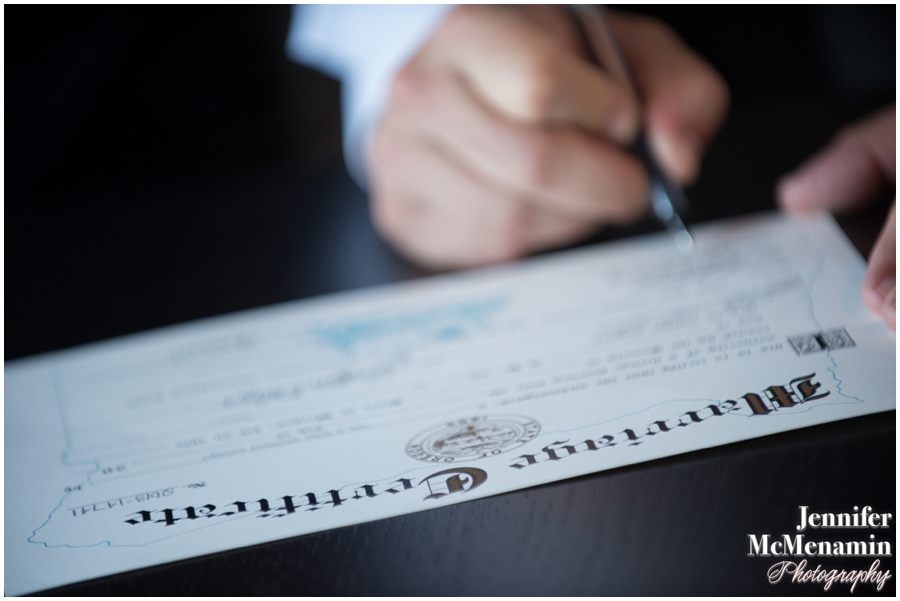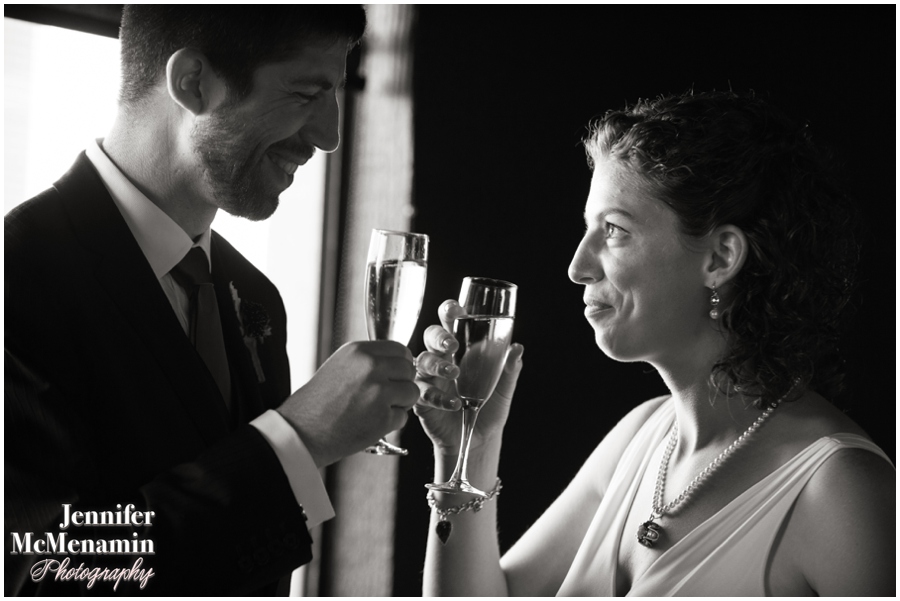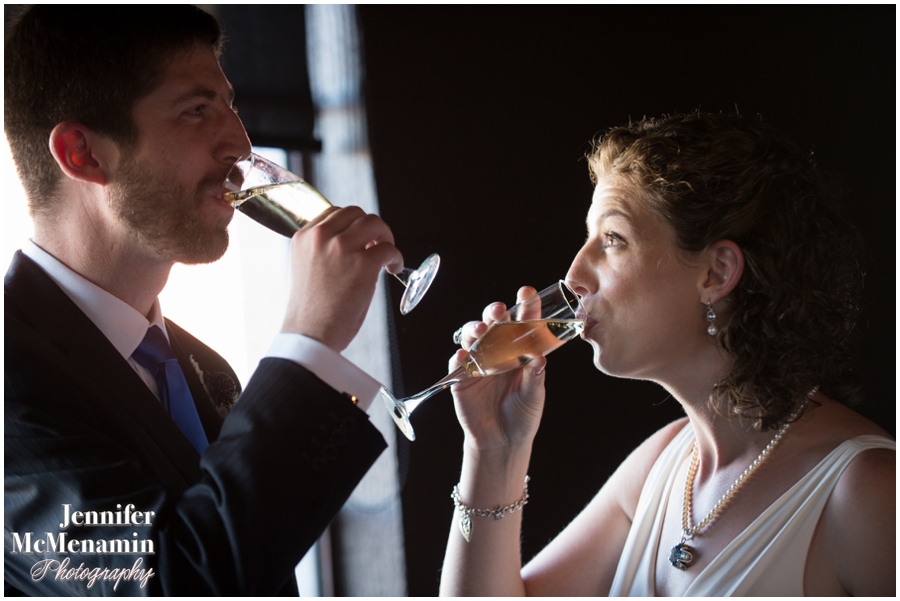 Another great slice of light to play with for a few more photos of the newlyweds.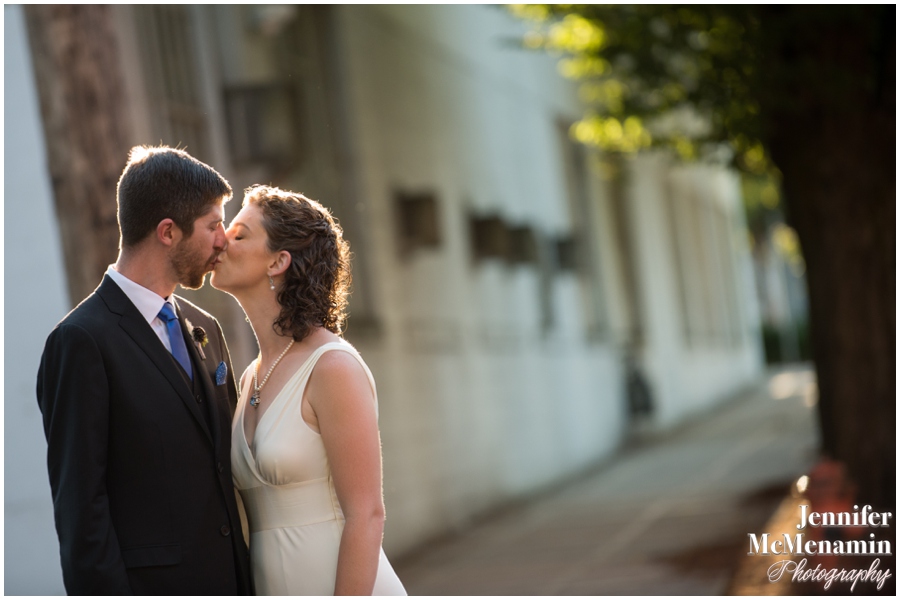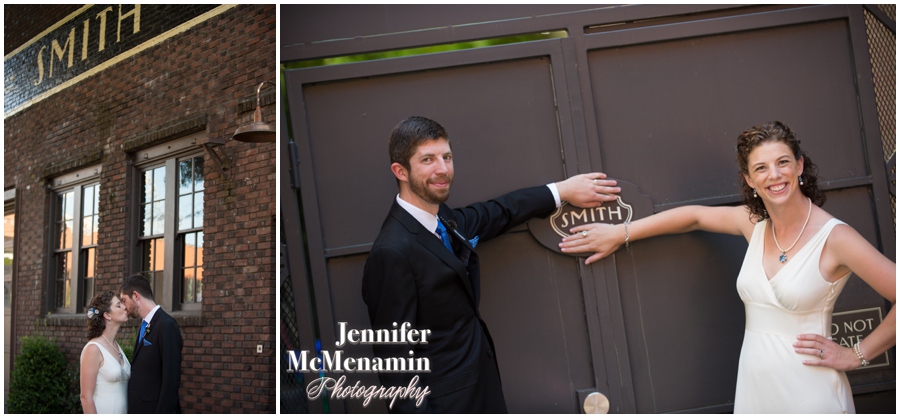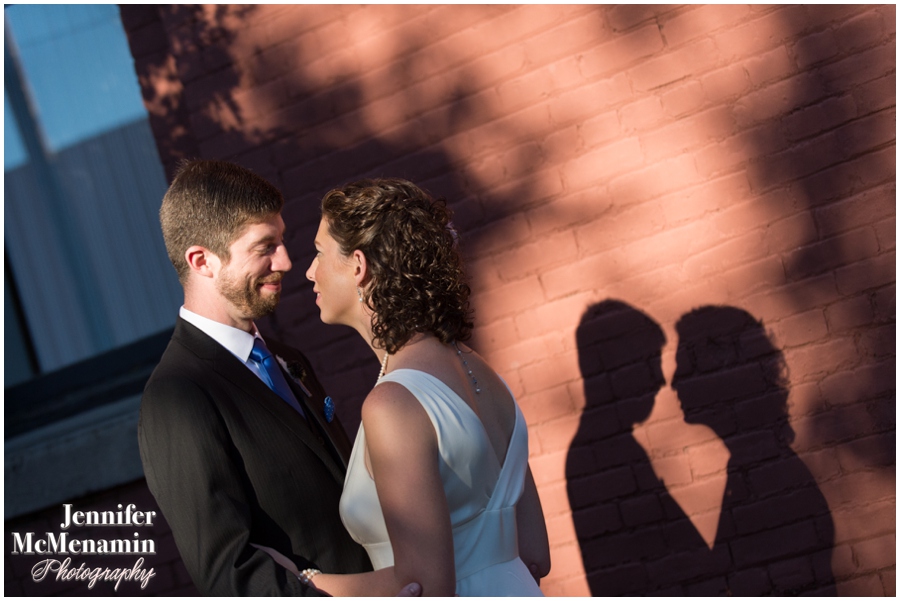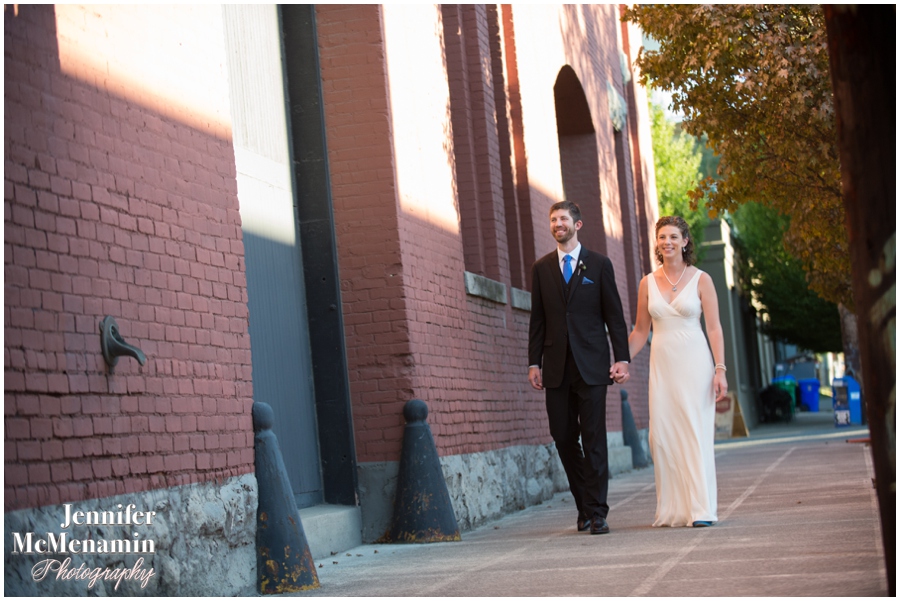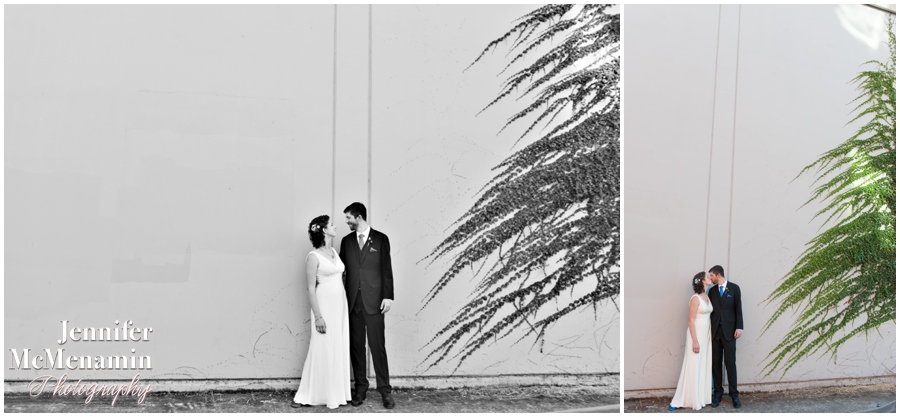 Amy circulated through cocktail hour in the gardens while I took a walk with Megan and Galen and then shot reception details.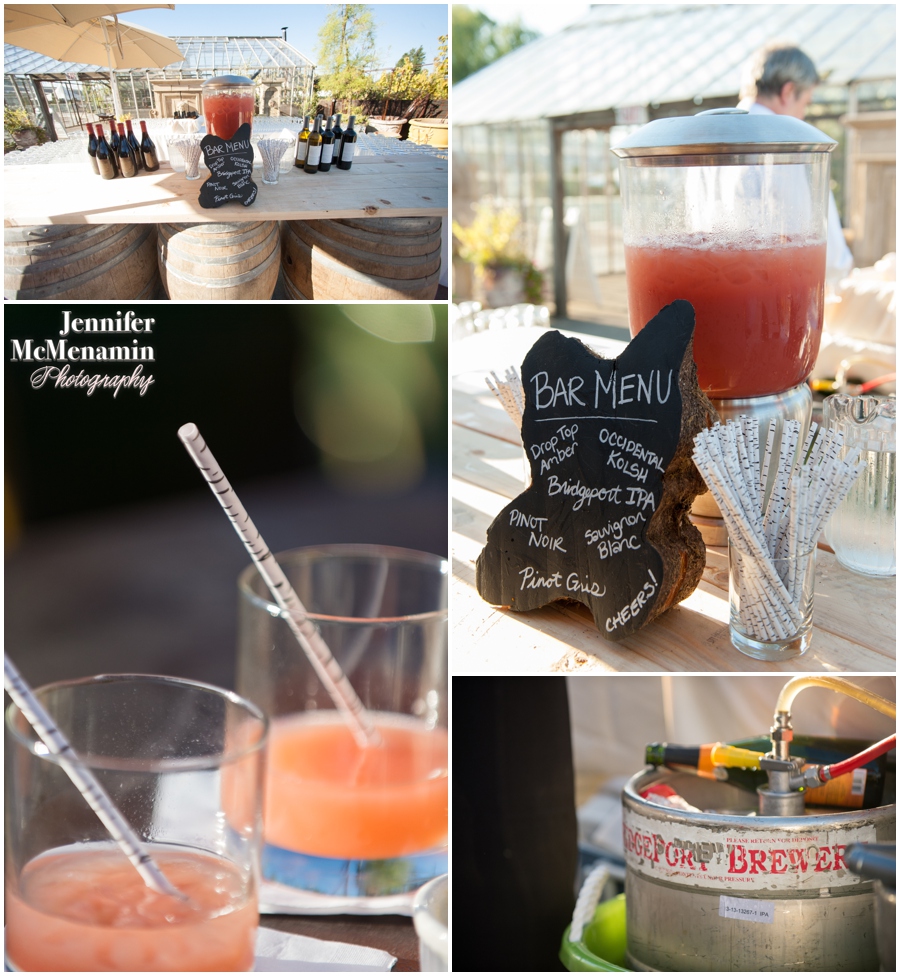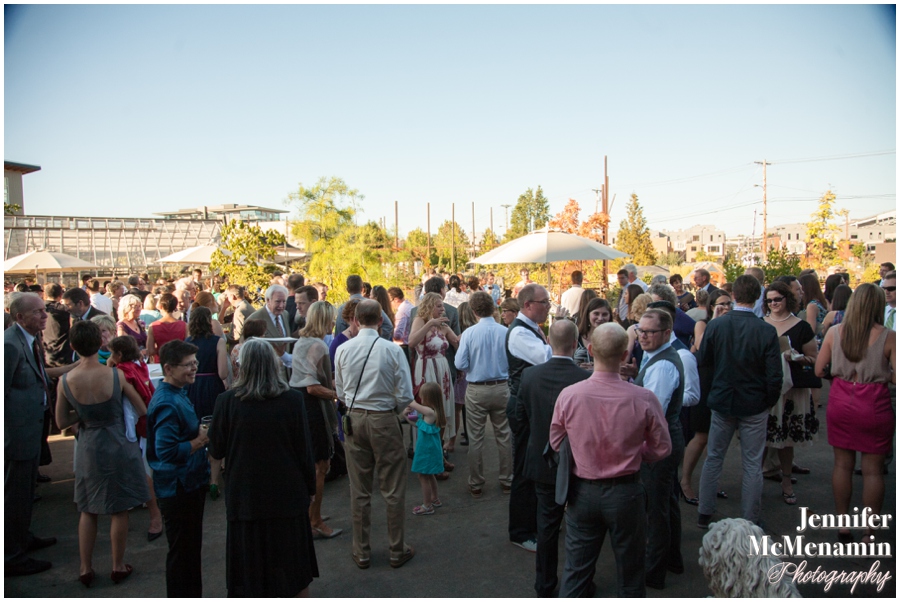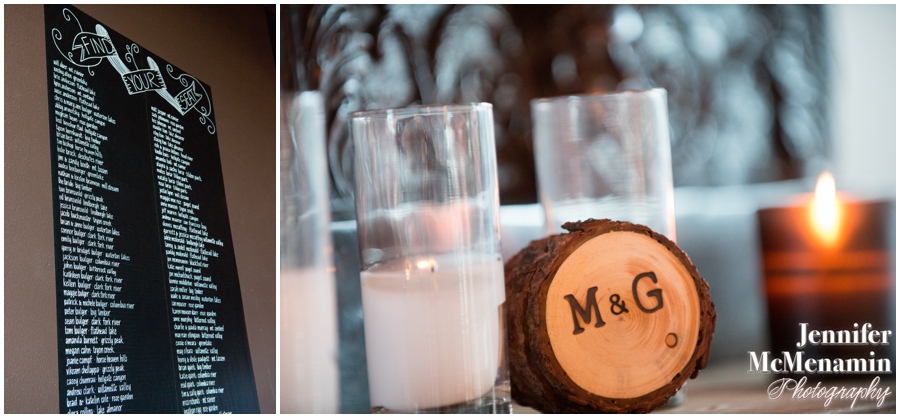 I was completely crazy for this incredible display for their cake and cupcakes.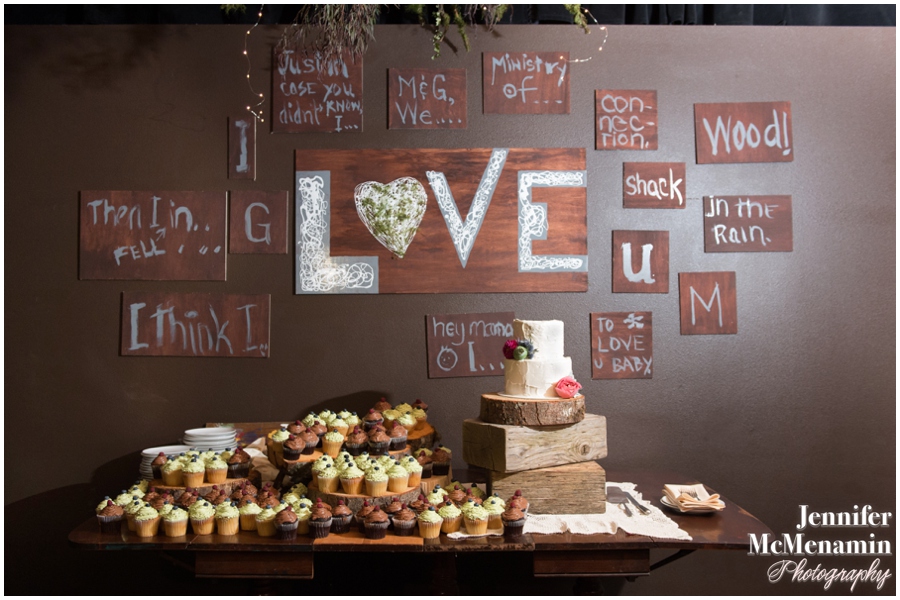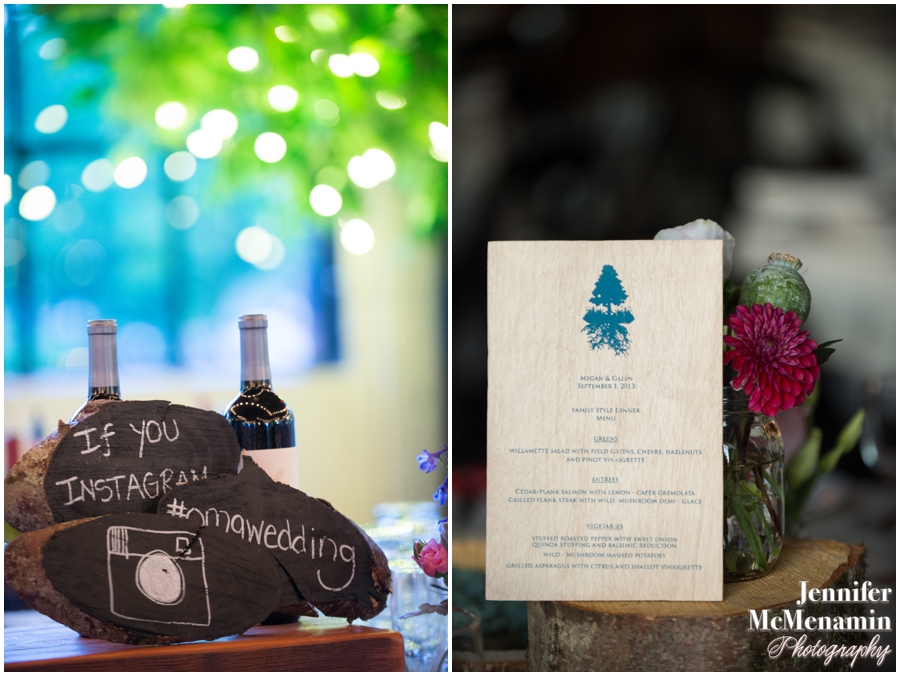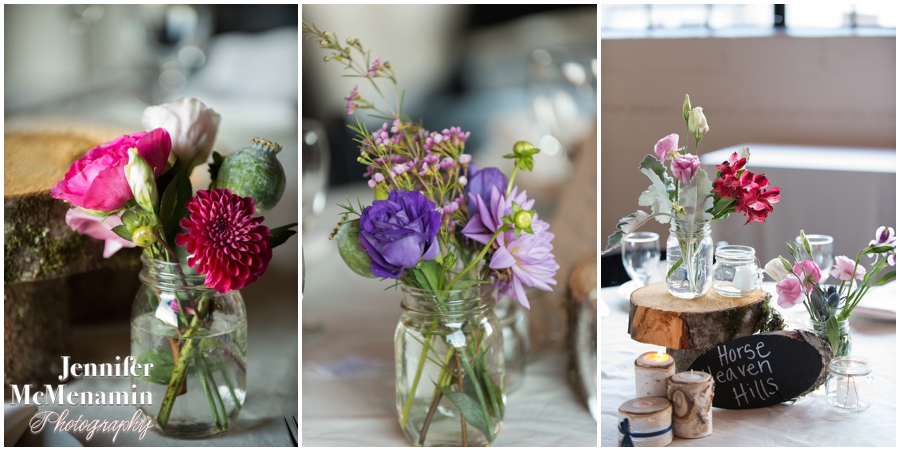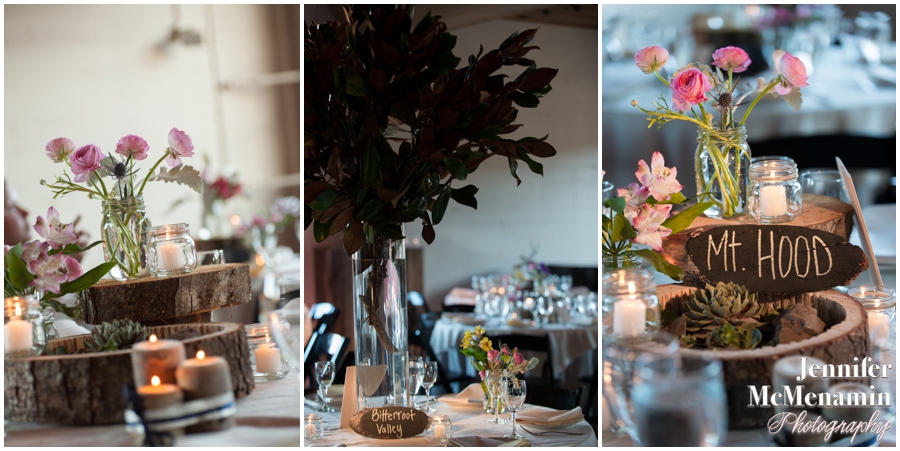 A few *really* big family photos, including one that I jumped in!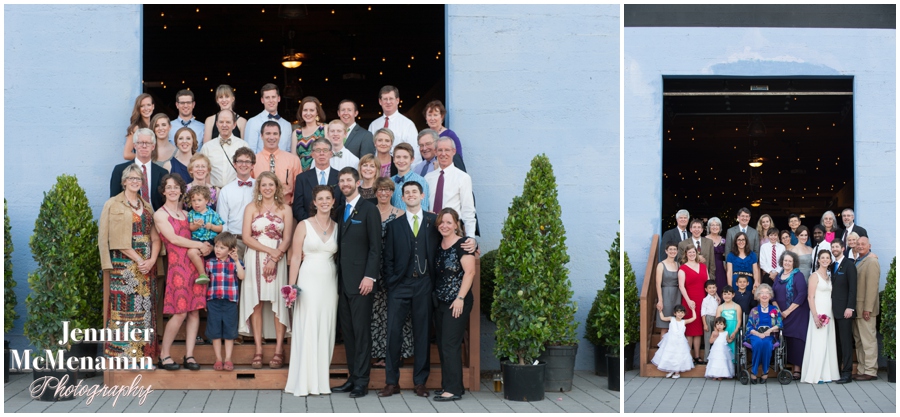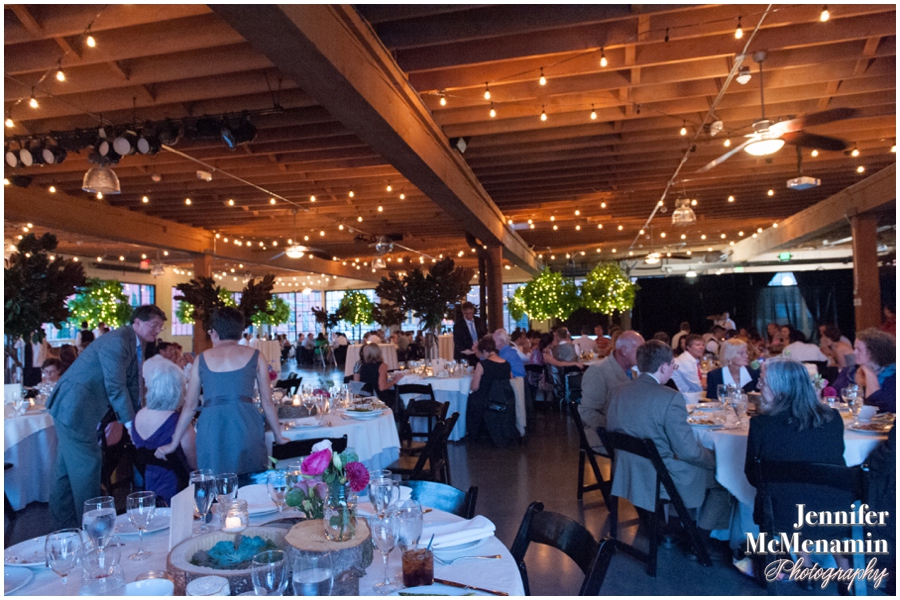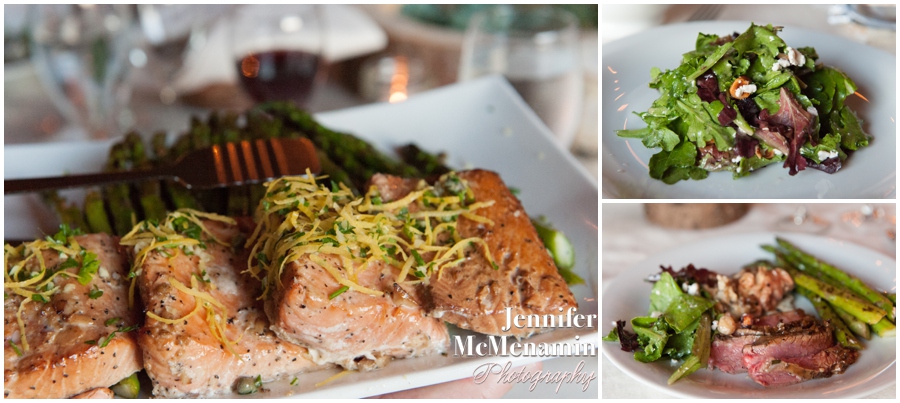 A Passover song and dance, customized for Meg and Galen.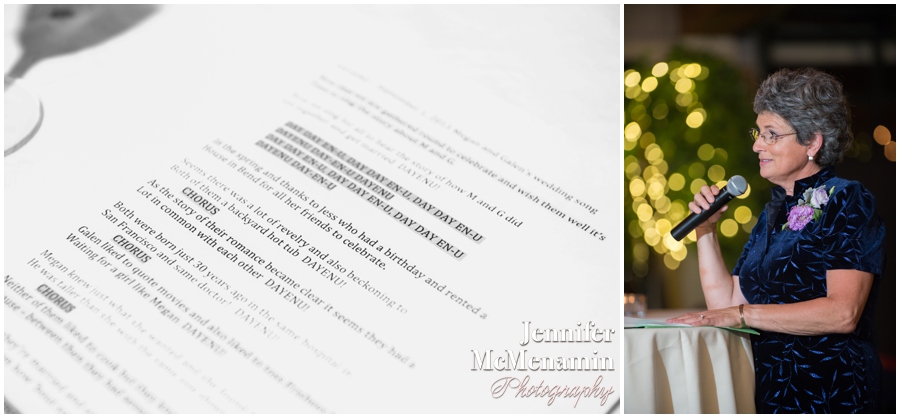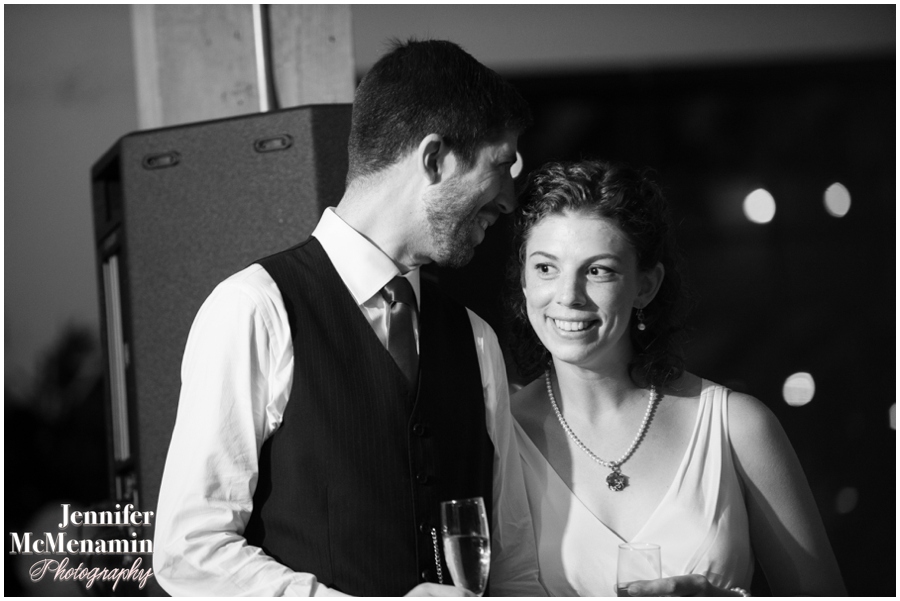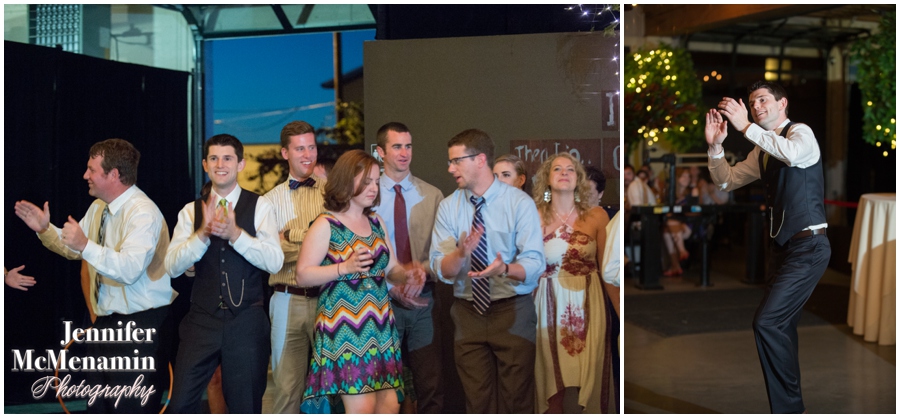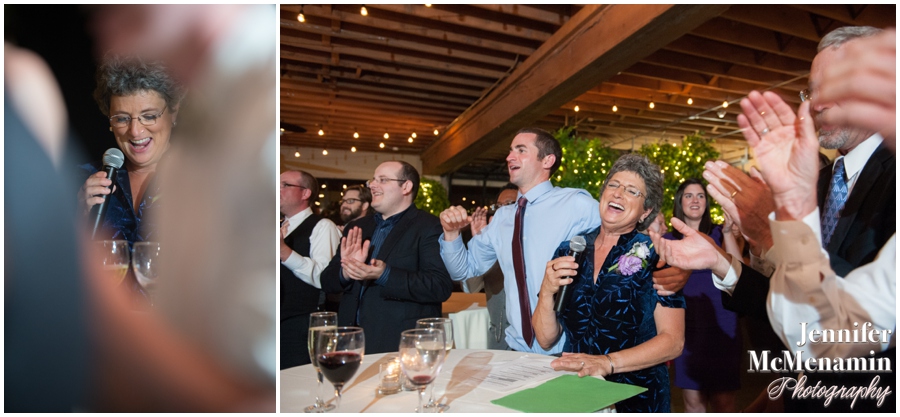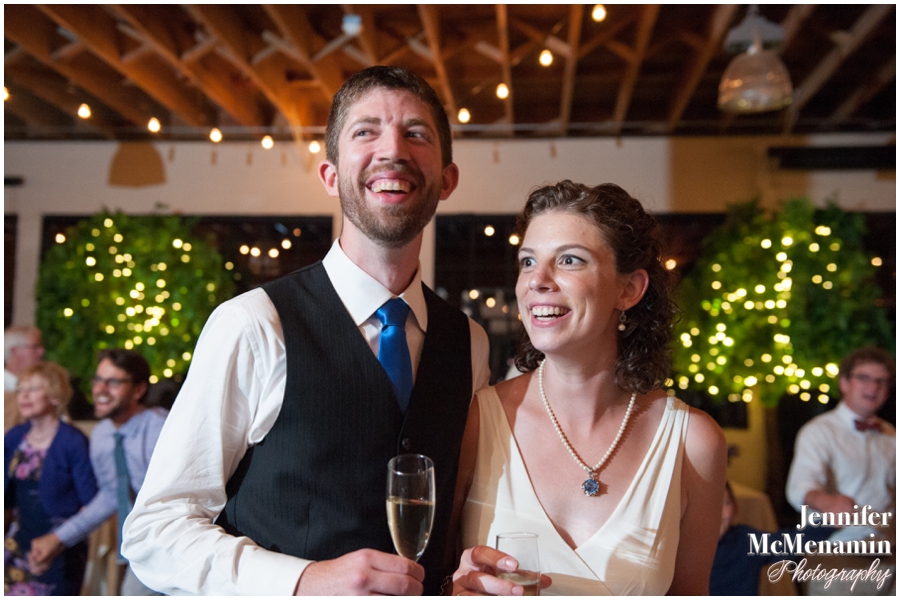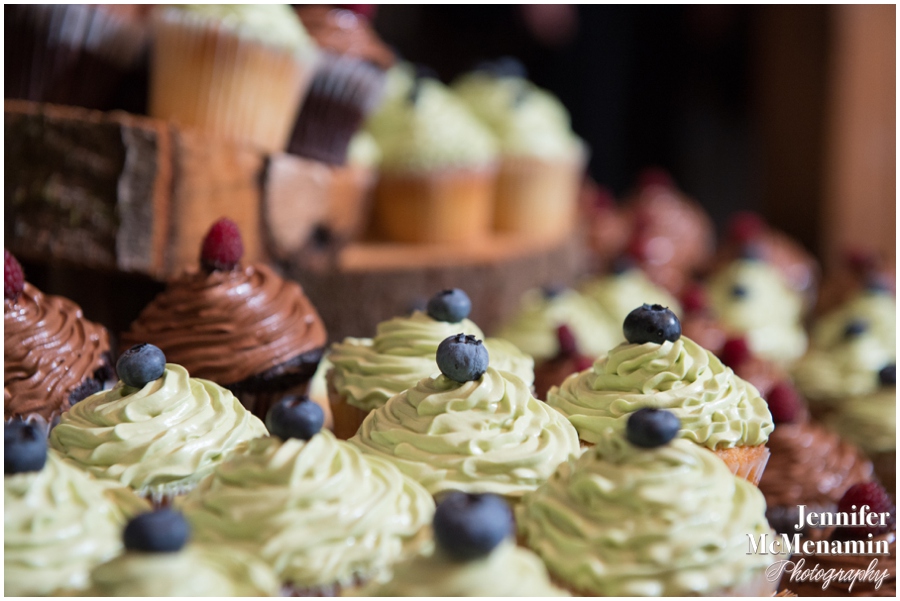 And lots of fun and frivolity. The majority of the remaining dancing photos were shot by Amy, who took the lead on reception coverage after toasts, official dances and the cake cutting so that I could celebrate a bit with my family. I ended up picking up my cameras again for Meg and Galen's thank-you photos and a surprise glow stick send-off at the very end of the reception. How could I not shoot a surprise glow stick send-off?? I even enlisted my husband, Kevin, as my lighting assistant since Amy's time had wrapped up by then.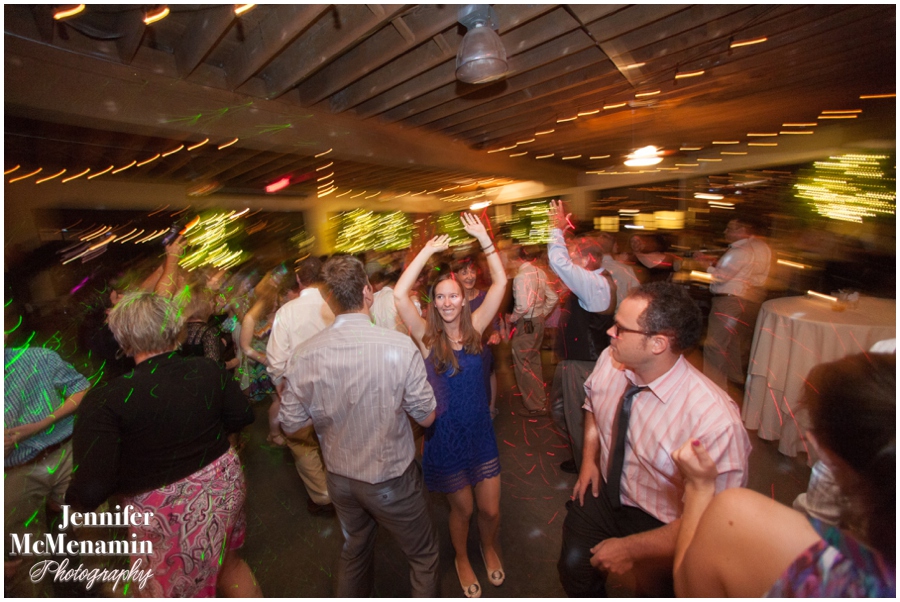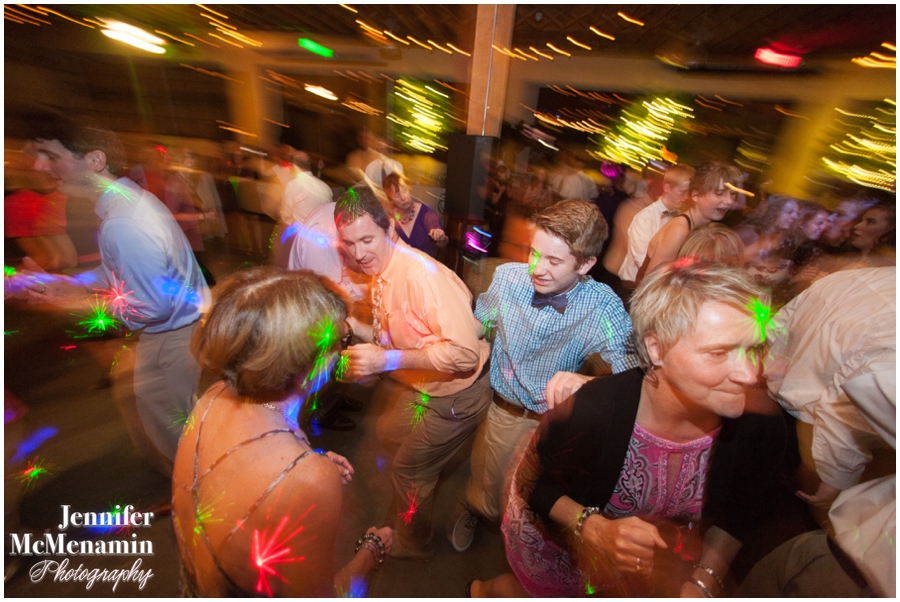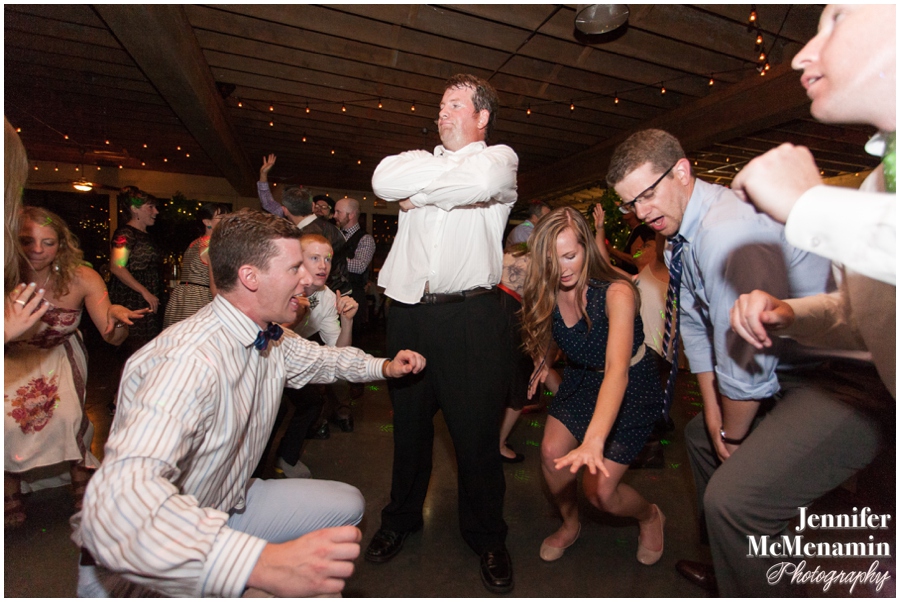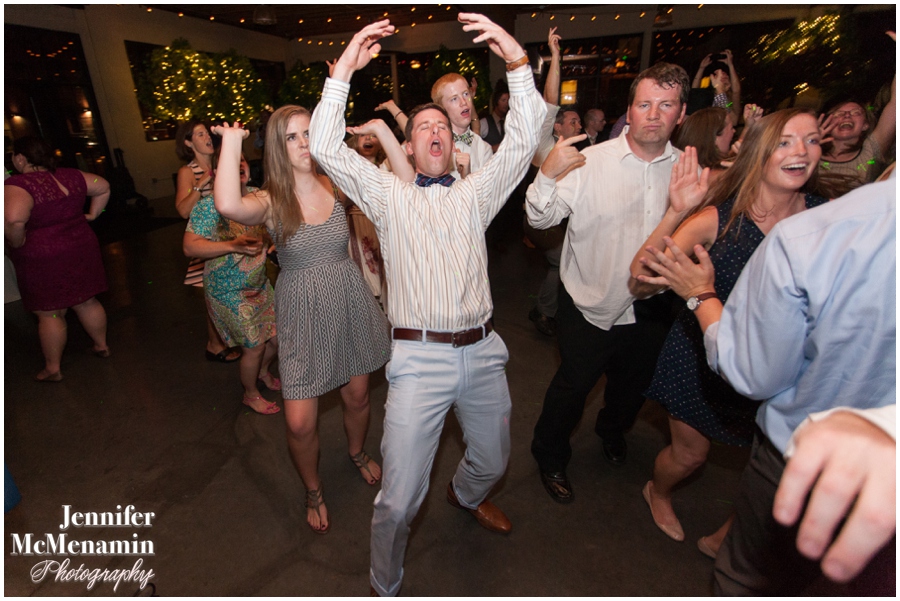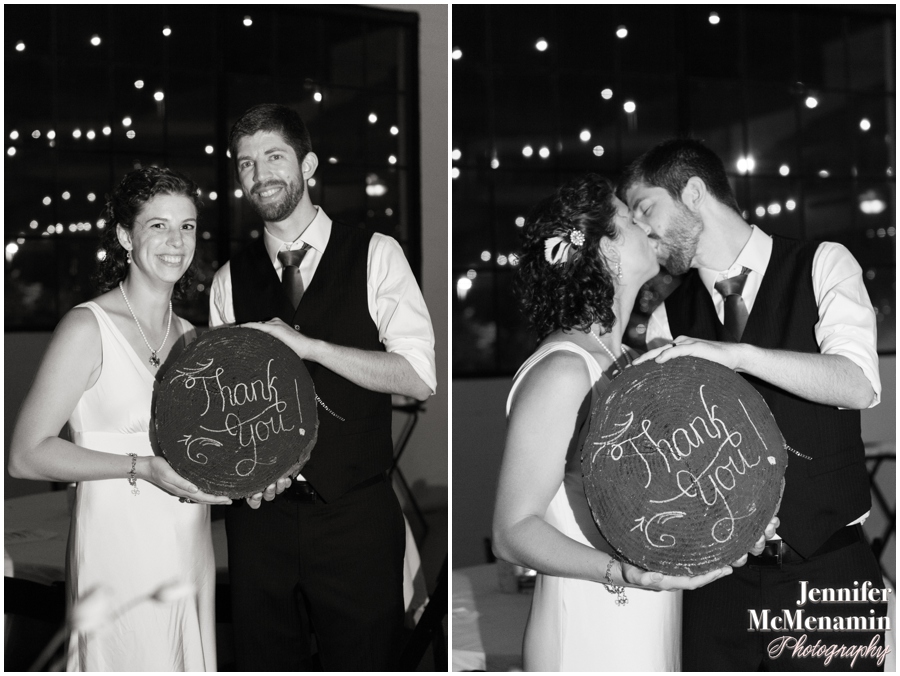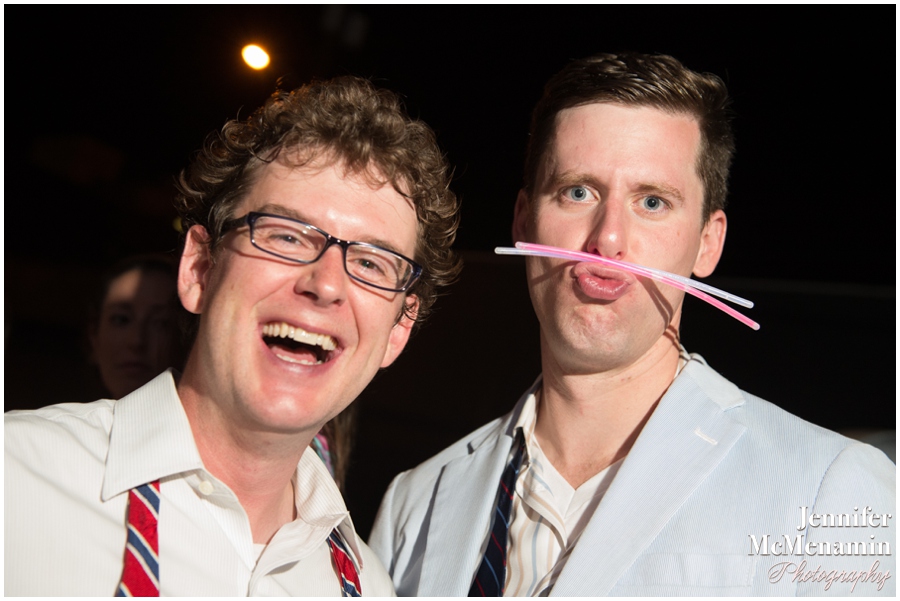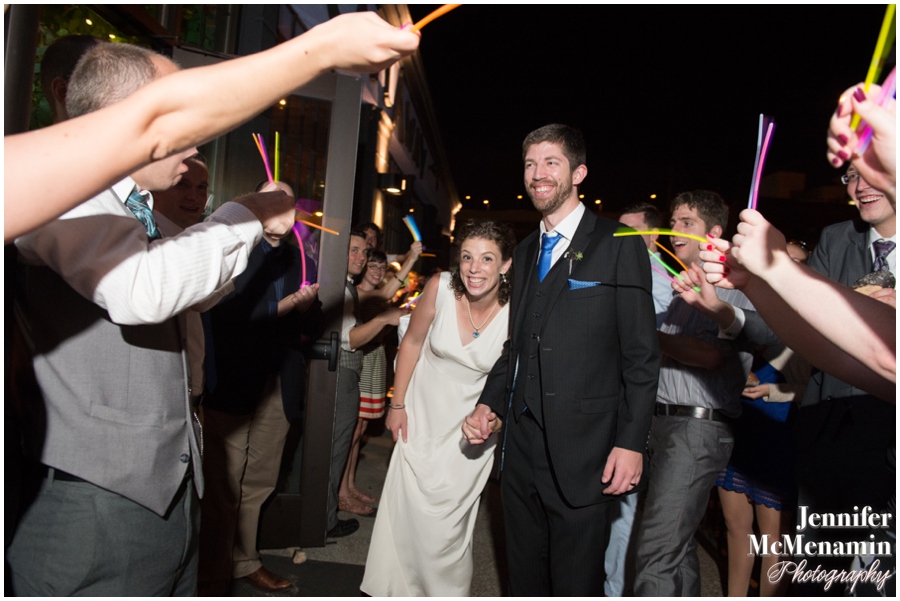 And finally, I must close with an exciting first for me. My two daughters get to see and hear a lot about my clients. Every day, as they get ready with their babysitter for naps, they stop in my office on the way to their room to say hi and give hugs. Earlier this year, Molly, who is nearly 4, started saying she wanted to come with me to weddings. When I asked why, she responded, "To take pictures of the beyooootiful bride." Since Aunt Megan is family and our daughters were invited as guests, Kevin and I decided it would be ok for Molly to bring along her camera to the wedding. As a proud mama, I'm including below two photos that my little Molly shot. Many relatives came up to me at the wedding to tell me that they had seen Molly crouched behind me at one point mimicking my posture and camera position as I got low to photograph Megan and Galen's vows. Molly's resulting photo, with a pretty great silhouette of me in front of her, is below alongside a wiggly photo of her mama working. I loves my whole family!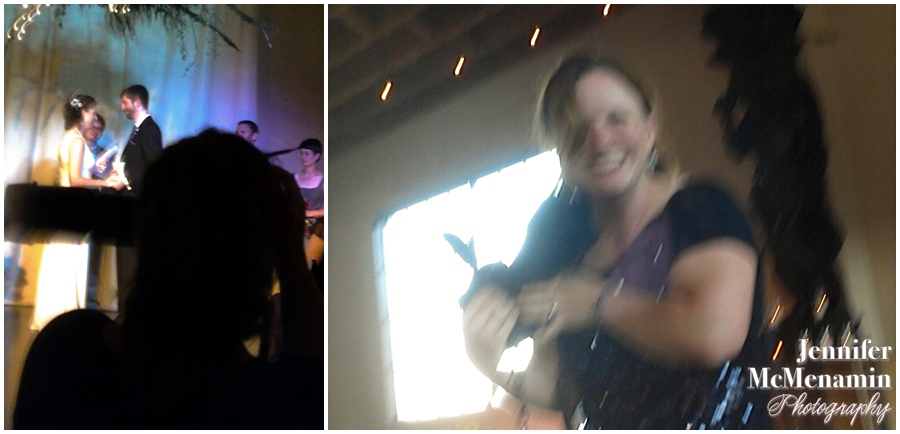 Megan and Galen, it was an absolute joy to work with you for your wedding. I hope you have as much fun looking at your photos as I had shooting and editing them! xoxo.
Credits:
Photography: Jennifer McMenamin Photography, LLC

Assistant/second shooter: Amy Prutch of Art of Joy Photography
Event coordinator: Christie Wilson of Blush Bridal Events
Ceremony + Reception: The Castaway
Officiant: Brian Quirk
Ceremony music: pianist Adele McDonald, the bride's aunt
Catering: Vibrant Table
Florist, lighting and event design: Z. Reyna

Bridal attire: J. Crew
Hair + Make-up: Aimee J'Adore 

Bride's Best People's attire: Navy blue dresses and suits with bright colored shoes/socks
Groom's Best People's attire: Silver and light gray dresses and suits with bright colored shoes/socks
Cake + cupcakes: Judy Reese Dream Cakes 
Videographer: Travis Shields of Shields Films
Transportation: School bus from First Student

Seating chart calligraphy: Alesia Zorn Calligraphy
Invitations: Minted.com on recycled paper