Ladew Topiary Gardens wedding: Anne + Nathan

Second Presbyterian Church | Ladew Topiary Gardens | Baltimore wedding photographer | Baltimore wedding photography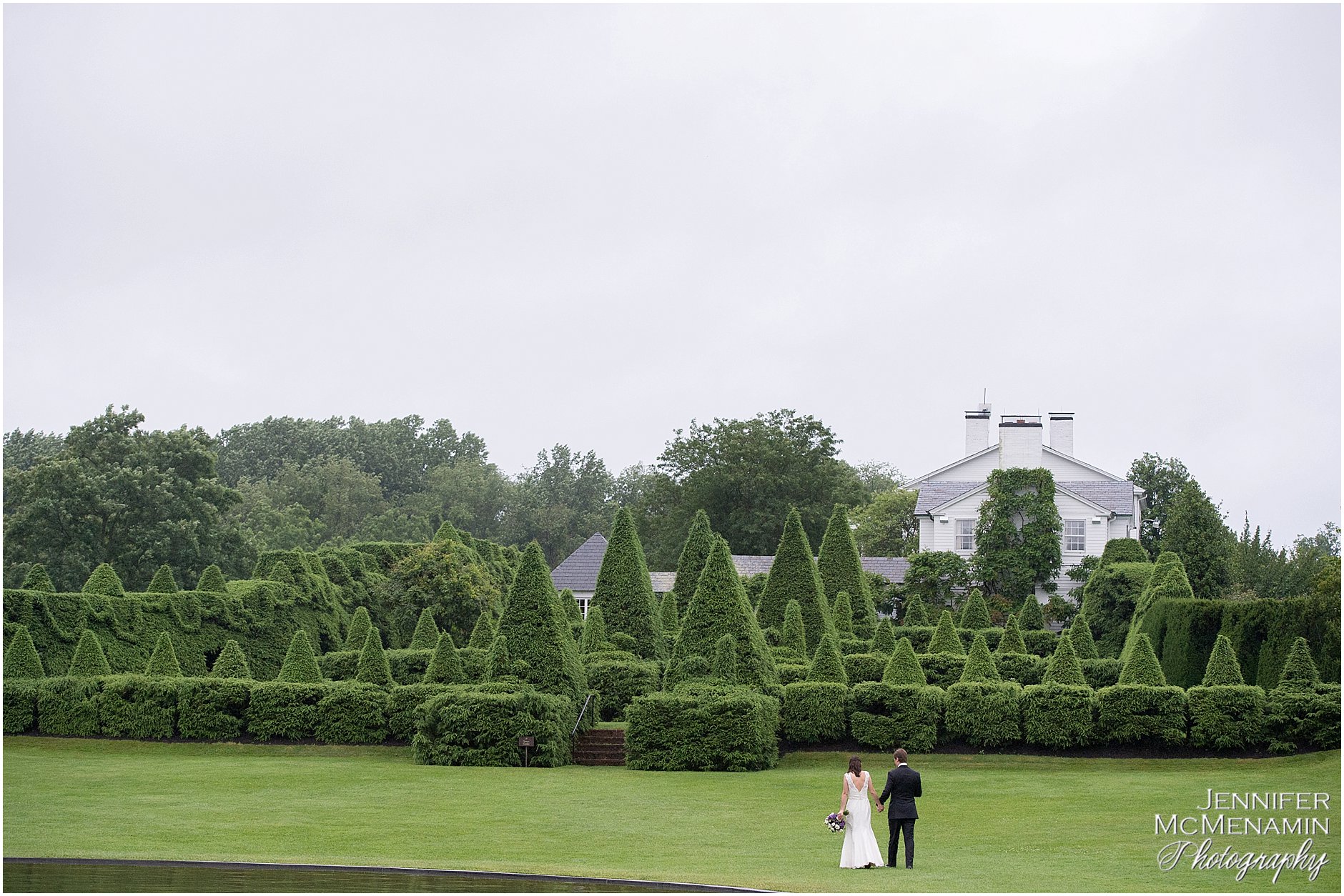 Anne + Nathan planned an absolutely beautiful summer wedding with itineraries and schedules for lots of outdoor fun and photos. There was a stop planned at one of my favorite city parks where the couple would see each other for the first time that day. There were plans for family and wedding party photos in beautifully landscaped gardens. There was supposed to be a scenic stroll with the bridesmaids and groomsmen and parents and siblings from the gardens to the nearby Second Presbyterian Church for the ceremony. And there were plans for photos of the newlyweds at the gorgeous, sprawling grounds of the Ladew Topiary Gardens, where they would start celebrating their reception with cocktails and hor d'oeuvres on the outdoor terrace. Then, it poured. And poured. All morning. And all afternoon. At one point during the ceremony — after we moved the first look undercover to a church portico and shot family photos on the altar — the entire sanctuary reverberated with the sound of a National Weather Service flash flood warning as the steady rain somehow fell even harder. But a wedding day miracle occurred. As we were on our way to Ladew — many of us on the wedding party bus repeatedly checking weather apps and radar maps — the last of the serious storm clouds drifted out of the area. By the time we arrived in Monkton, there was nothing but a little drizzle and Anne + Nathan gamely ducked in and out of the garden's arches and overhangs so that we could make some beautiful photos in the gardens that they love so much. They and their families could not have had better attitudes throughout the soggy day. They bought umbrellas for the wedding party. Umbrella-toting groomsmen hustled to escort guests from cars to the church through the downpour. And lots of guests happily traipsed across the soaked grass at Ladew to admire the beauty of the gardens that Anne grew up visiting and that Nathan's mother had toured 20 years earlier with her garden club. Here are some of my favorites from their wonderful wedding: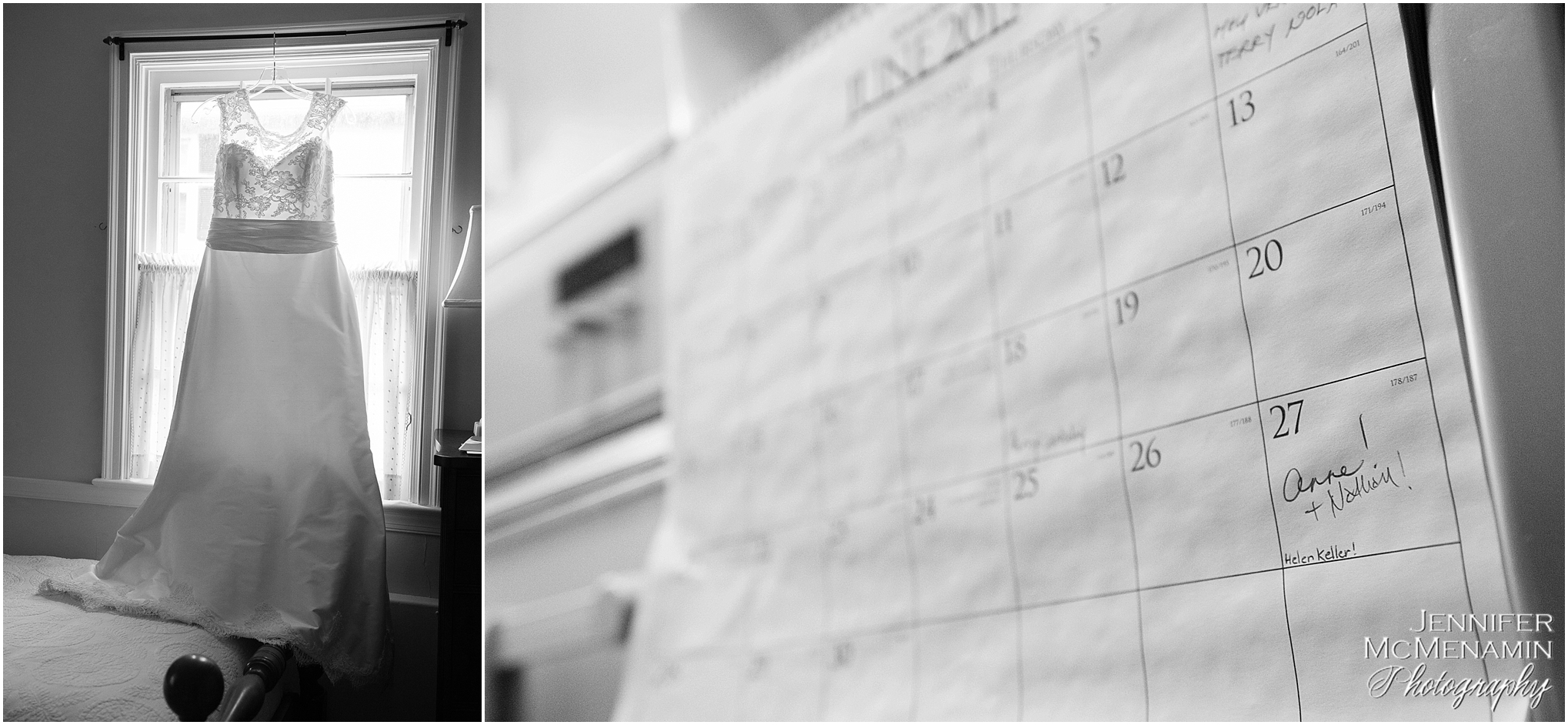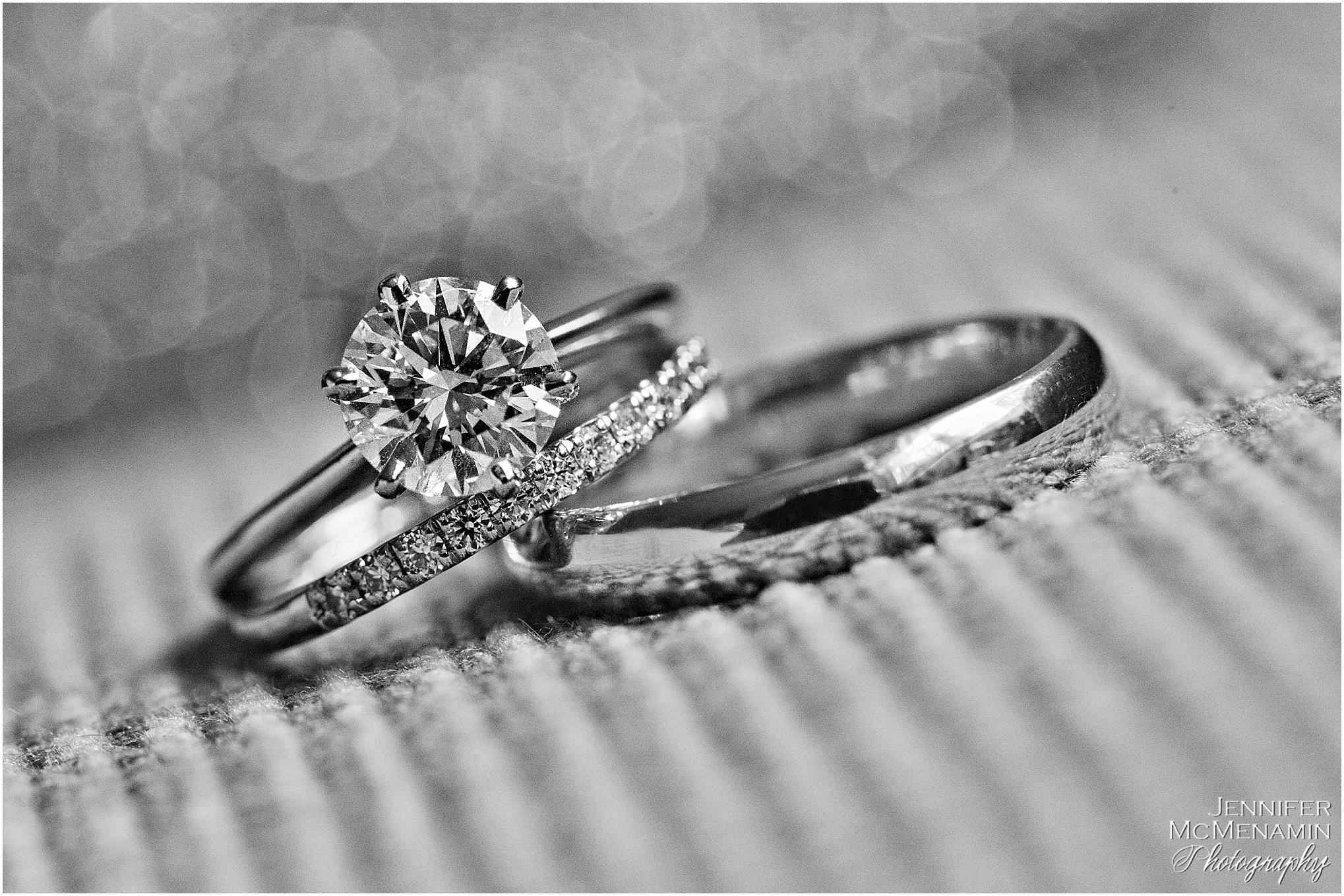 We started at the bride's childhood home, where Anne got ready.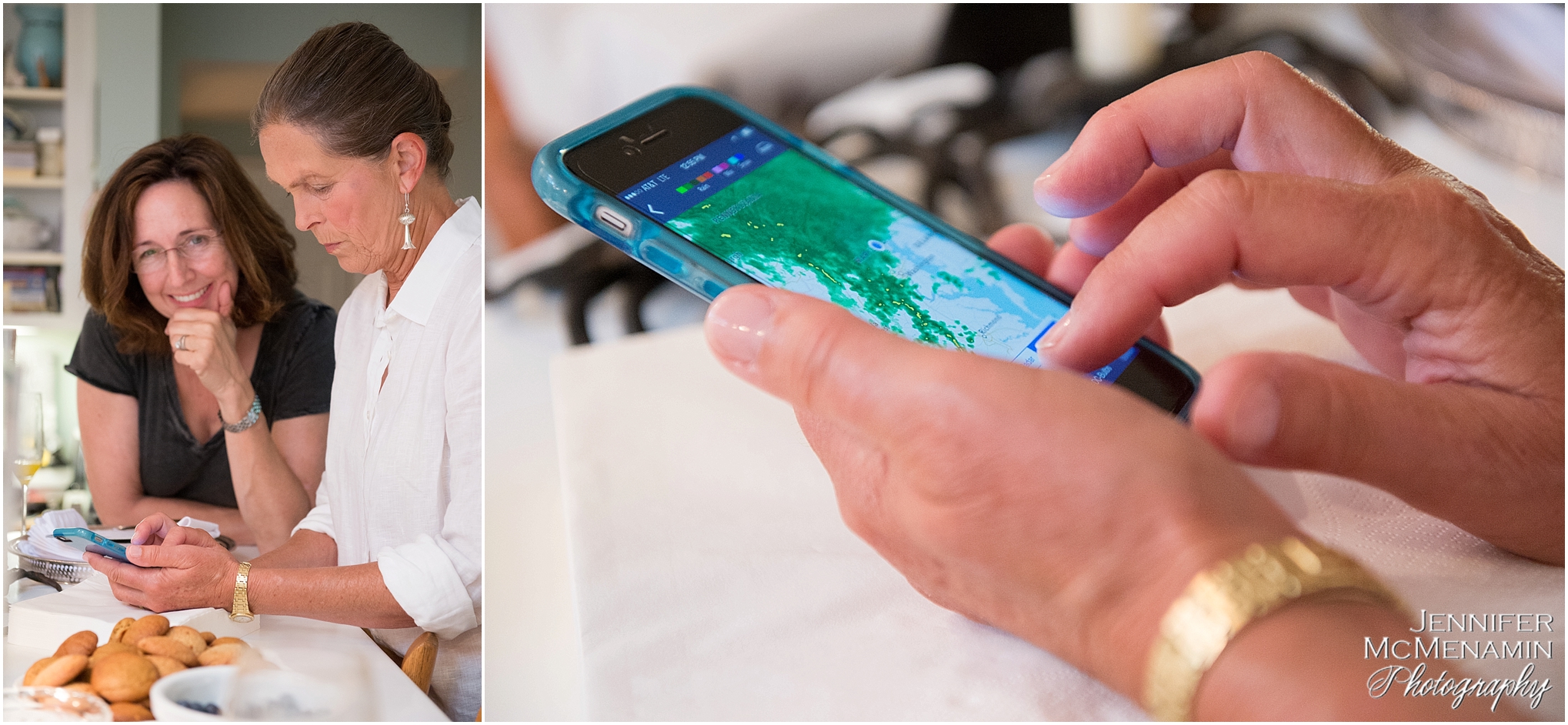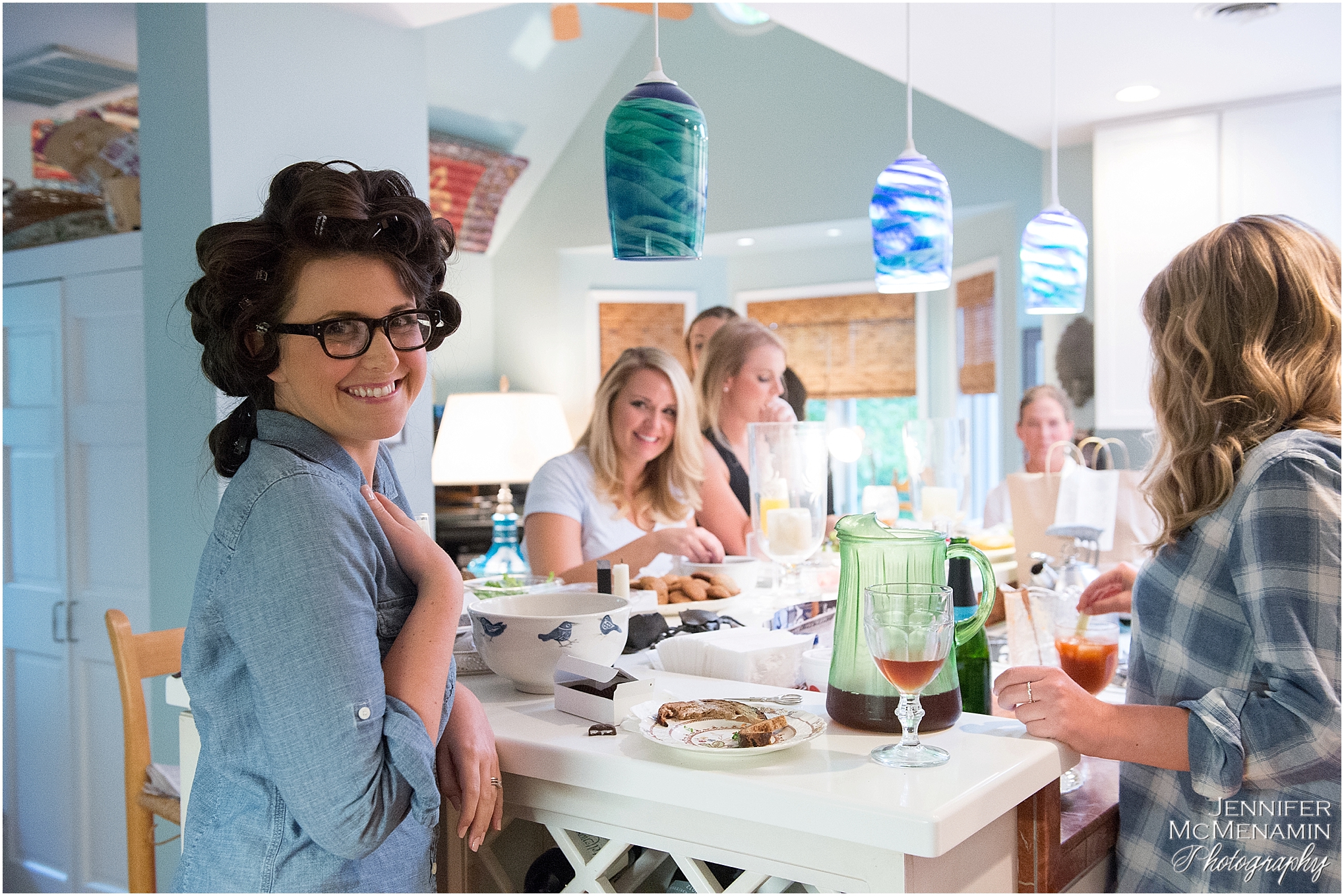 The bride, looking absolutely lovely.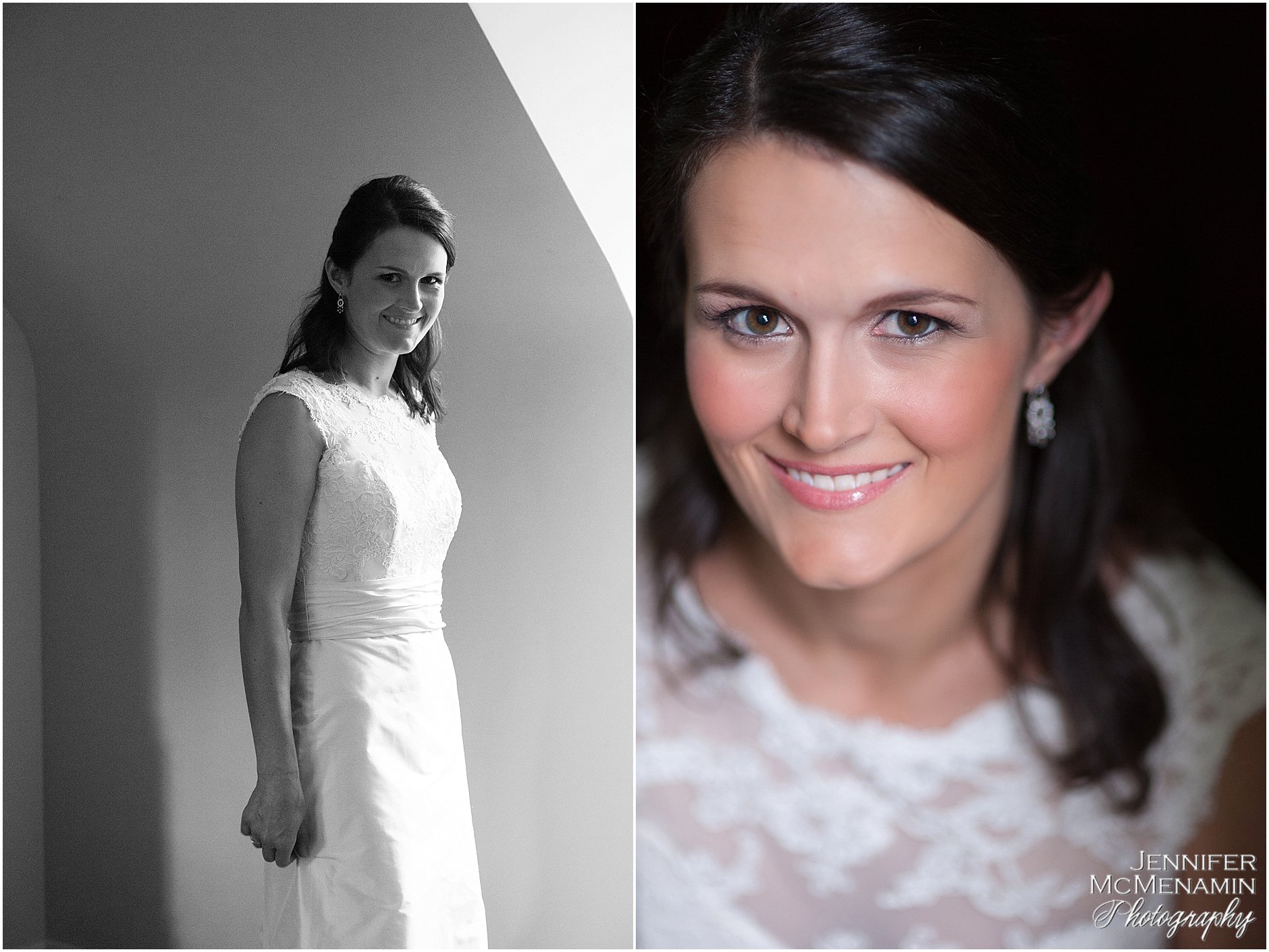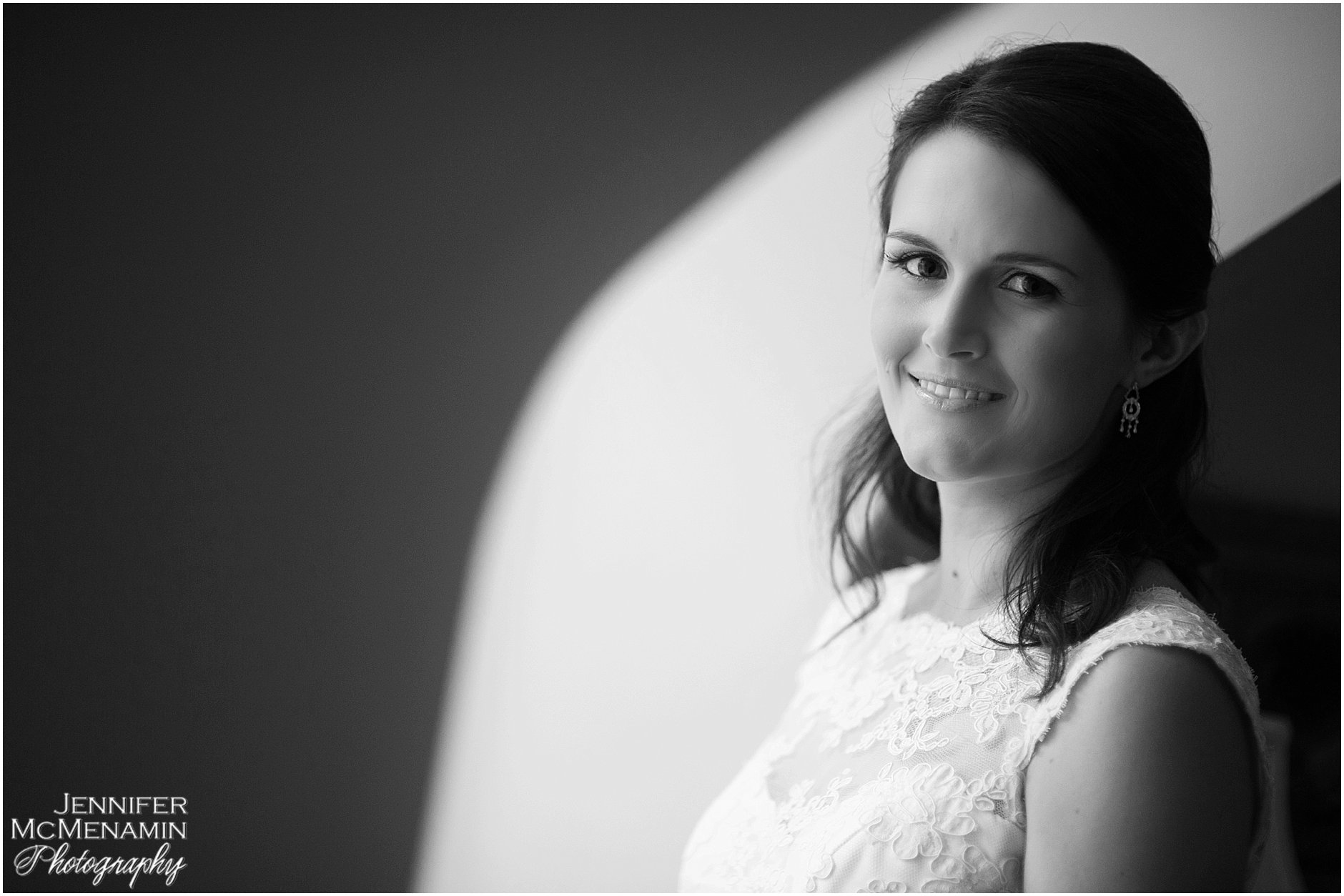 Only Anne's mother and one of her sisters helped her get dressed. Her bridesmaids were in the midst of taking a group photo when she quietly slipped into the kitchen in her wedding attire. I loved capturing their reactions to seeing their beautiful friend all ready to get married.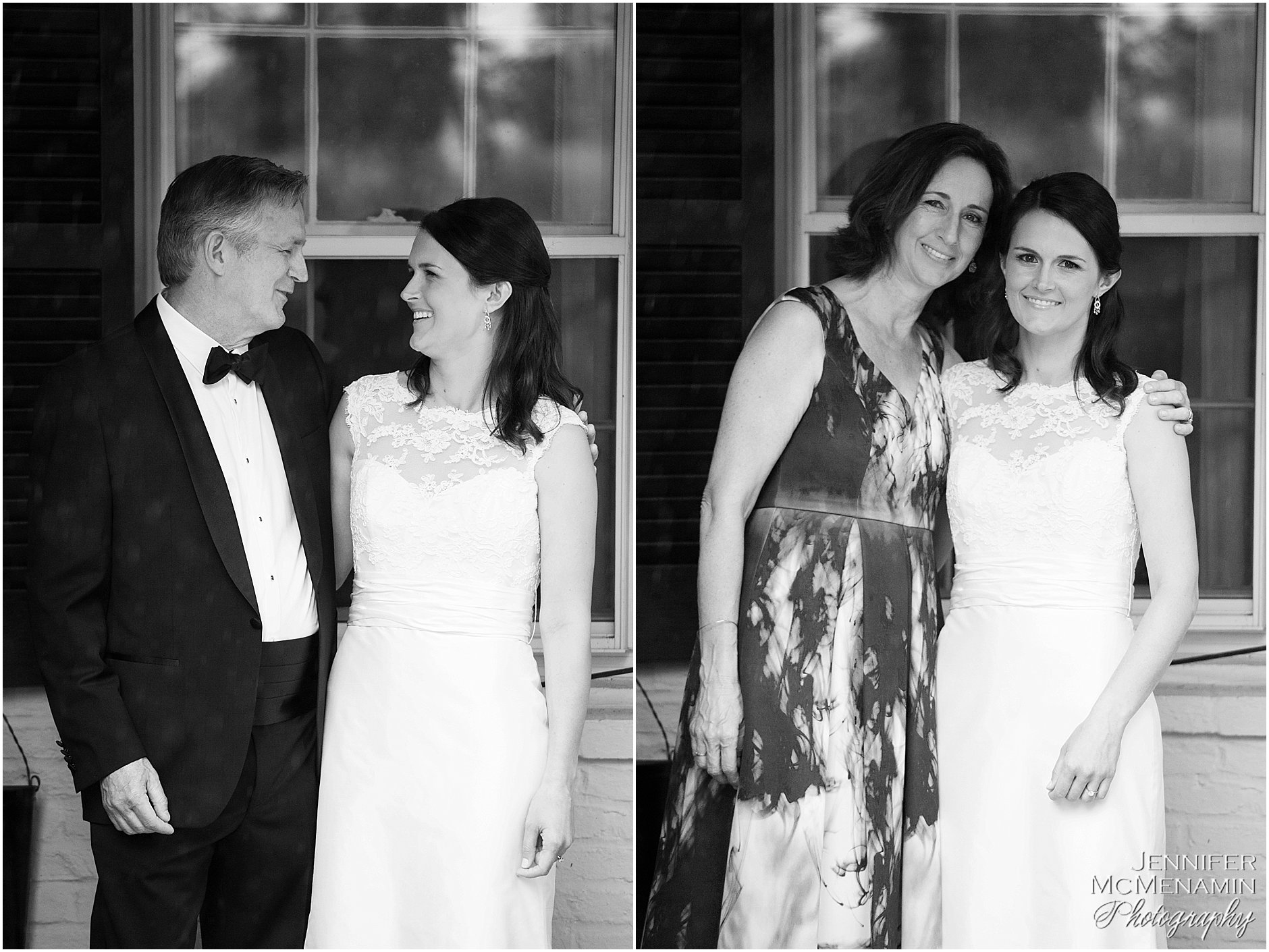 Because it was, ahem, pouring when we had planned to take outdoor photos at Anne's house of her with each bridesmaid and her parents, I set them up on covered front porch while my wonderful assistant, Lindsay, shielded my gear and me with a huge golf umbrella.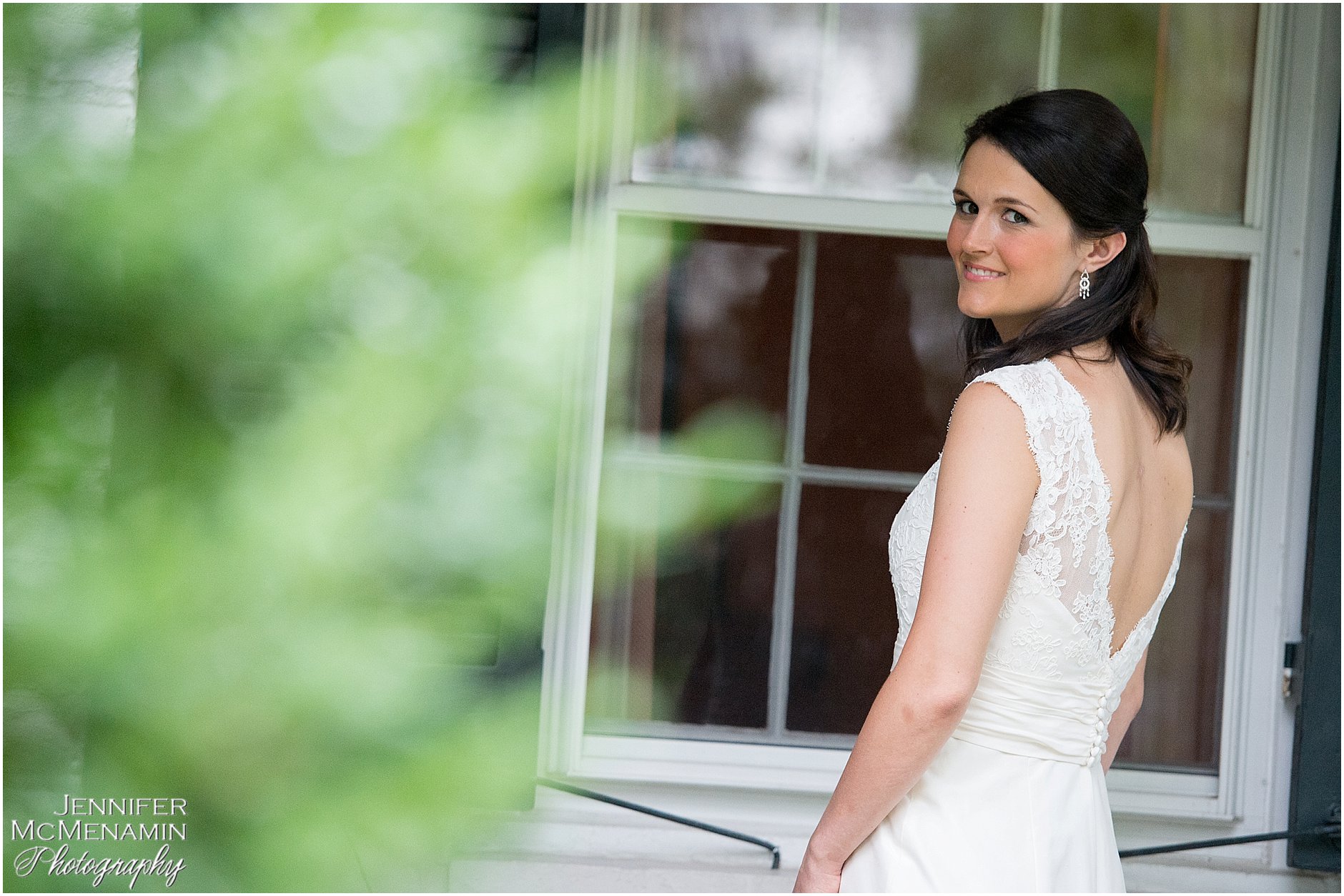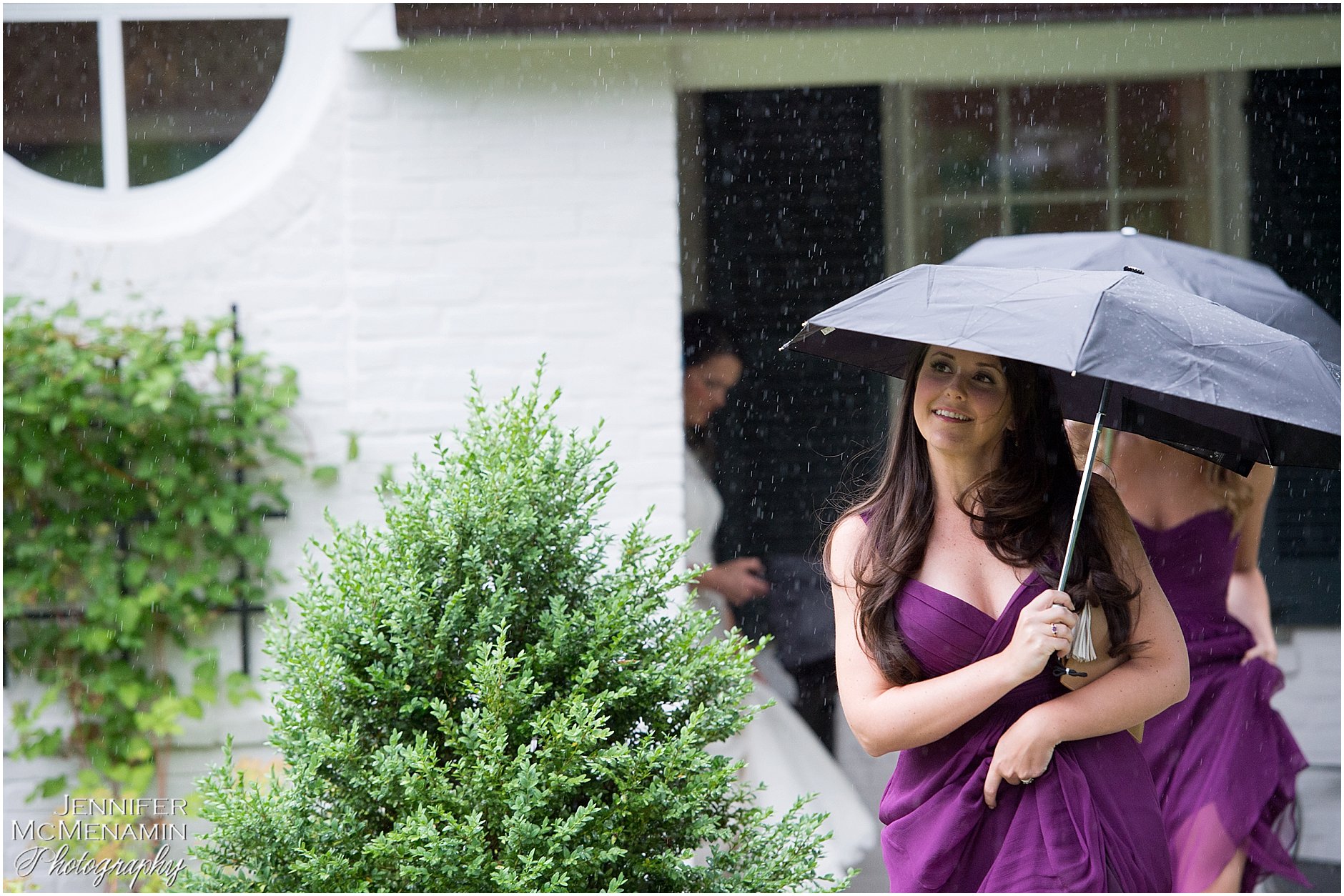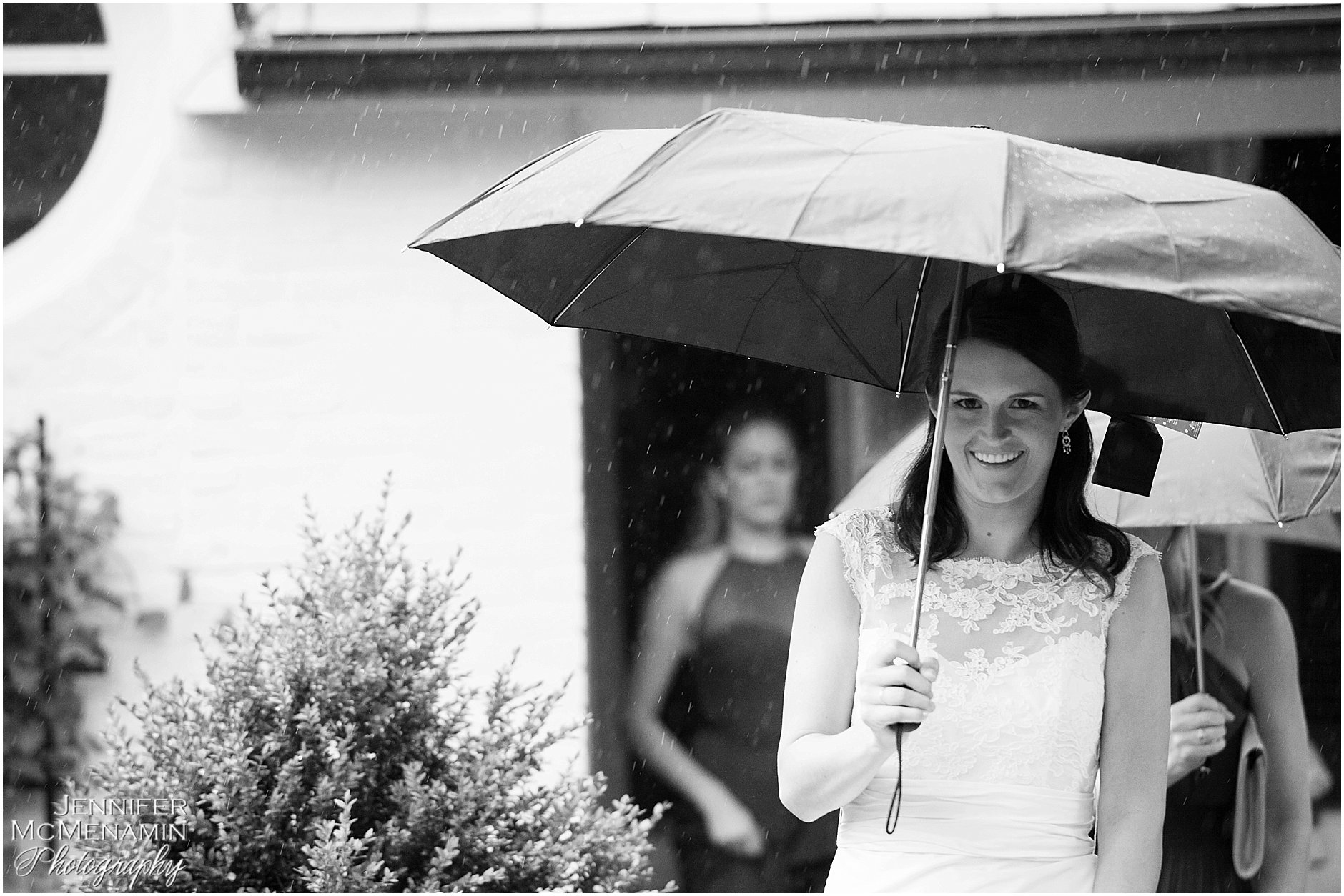 I loved Anne's nieces' reactions to her arrival at the church, too. Flower girl Lola continue fussing with and fluffing her own dress while Aya's whole face lit up.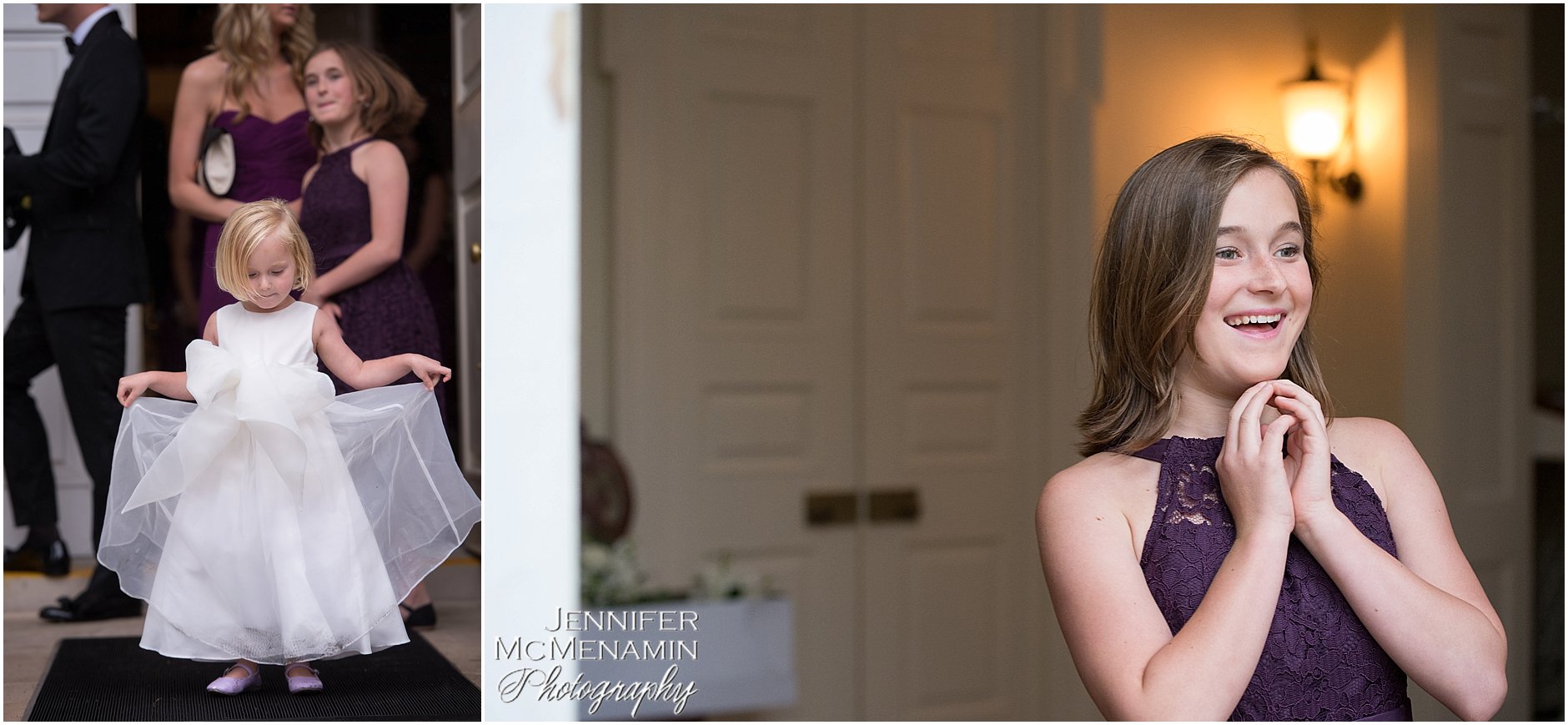 Anne + Nathan had some pretty great reactions to seeing each other that day, too.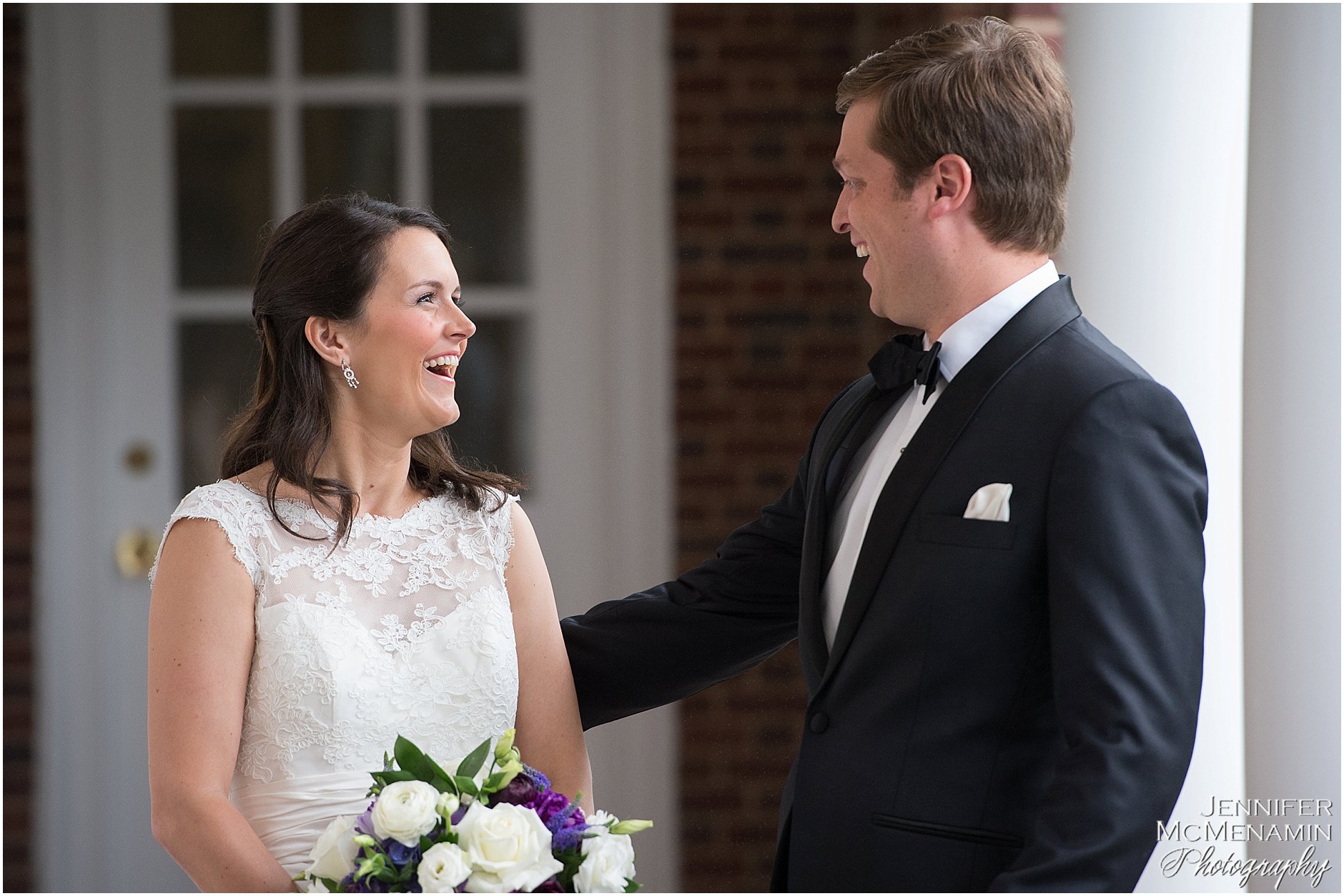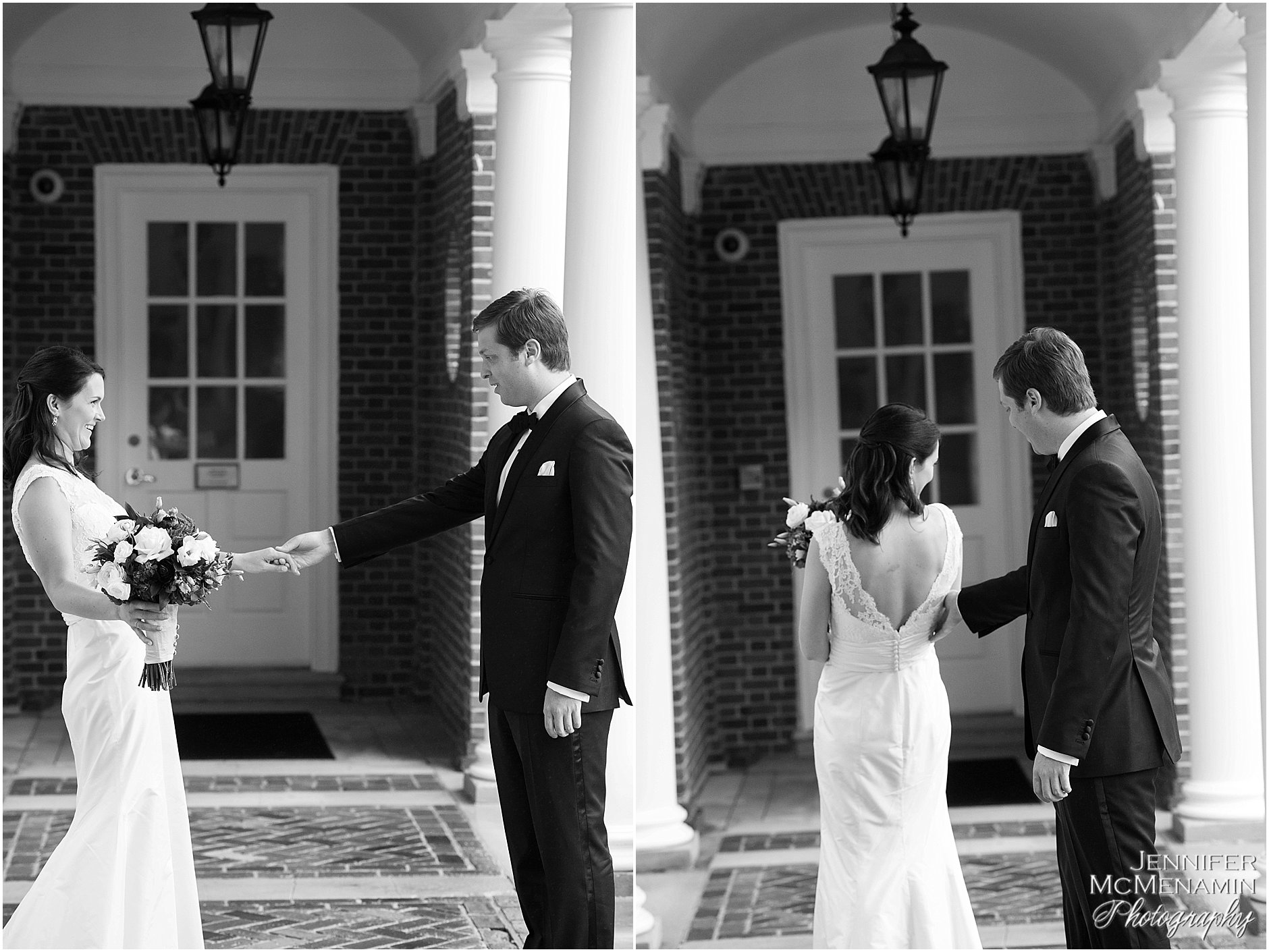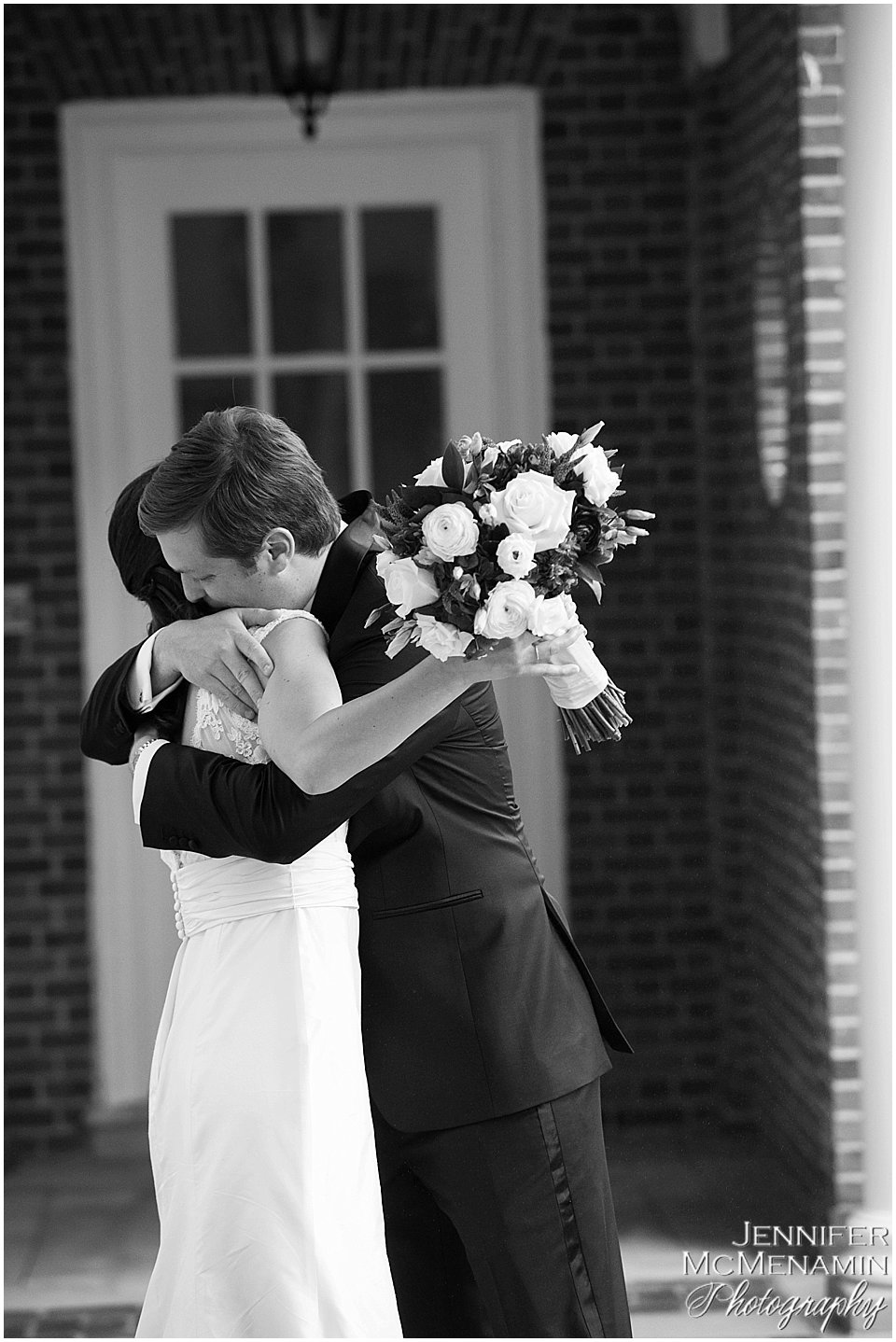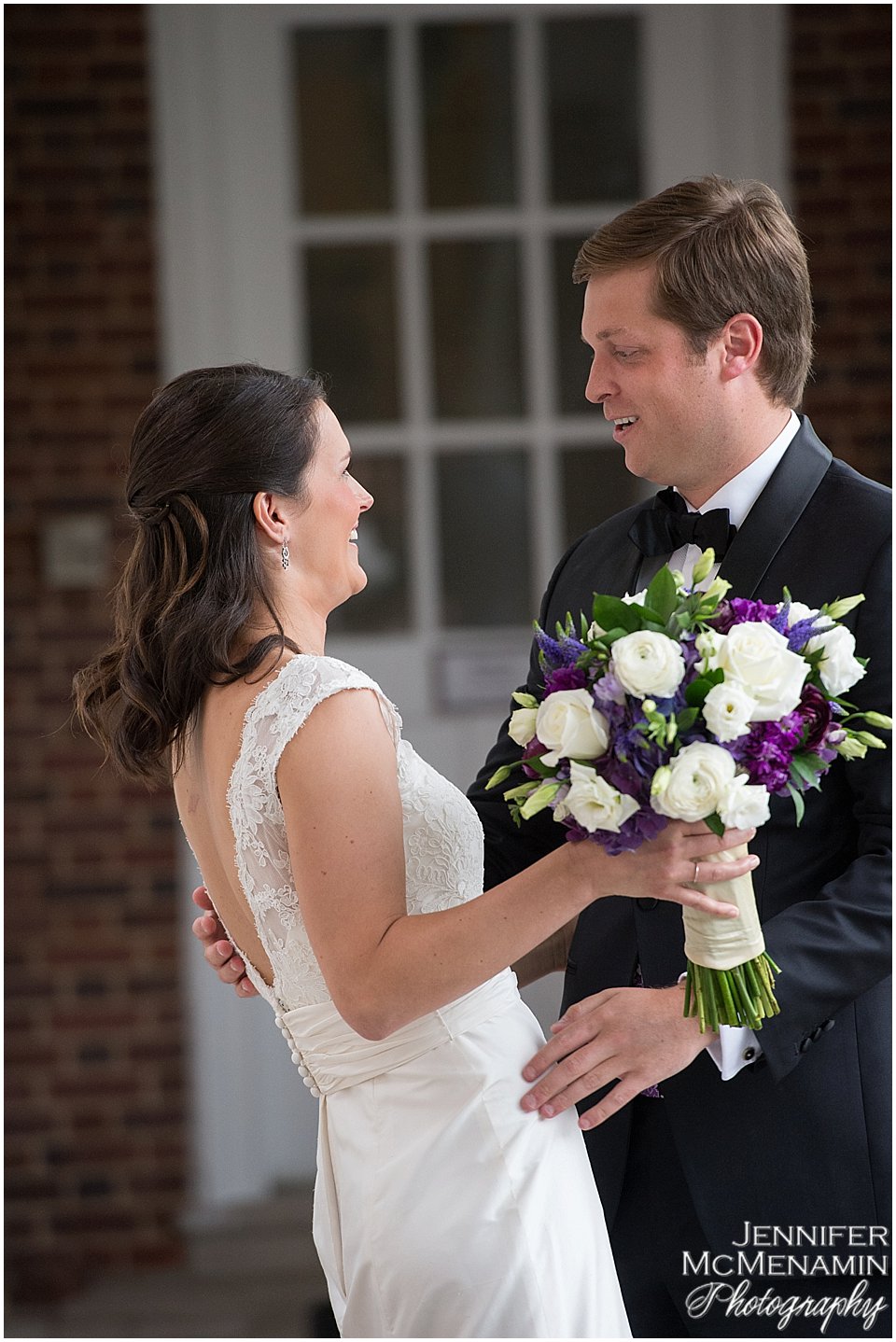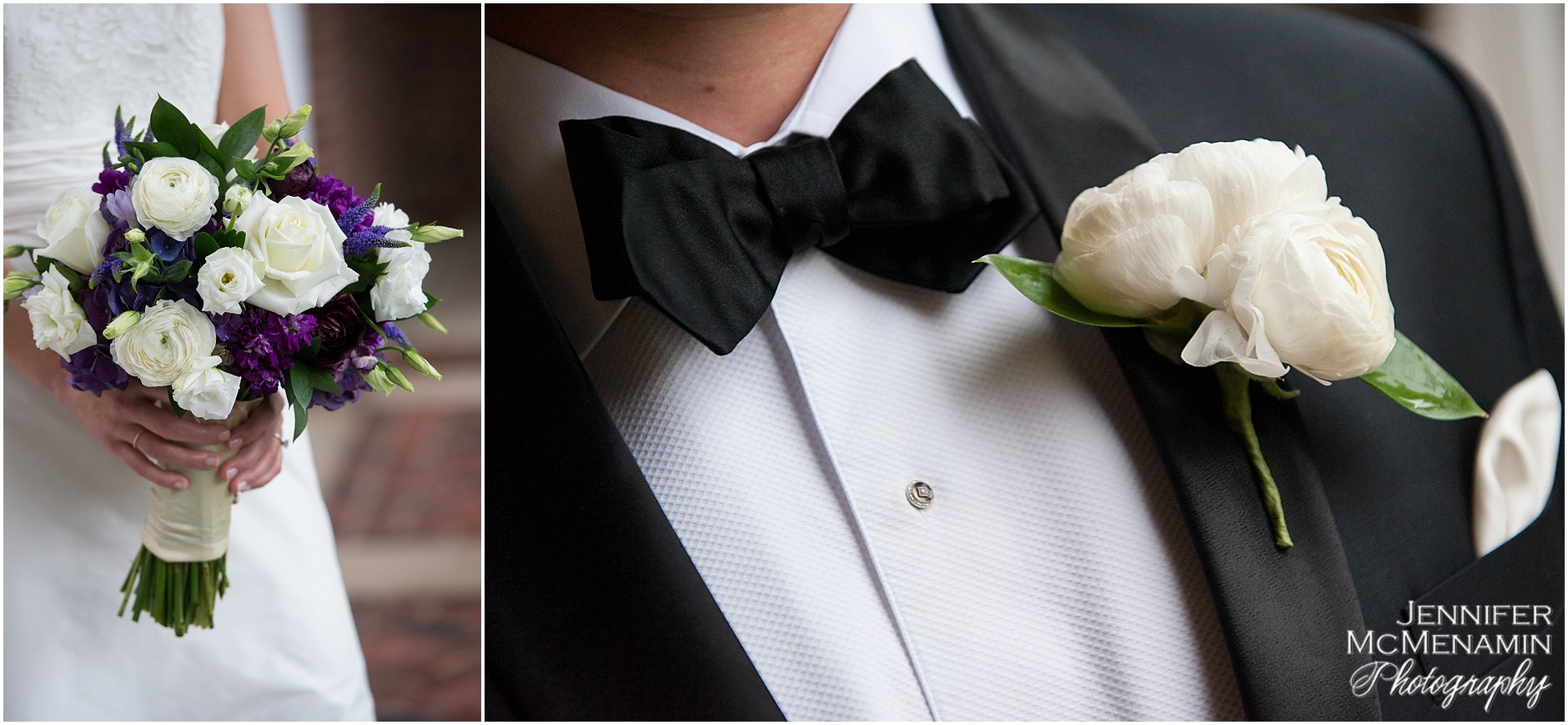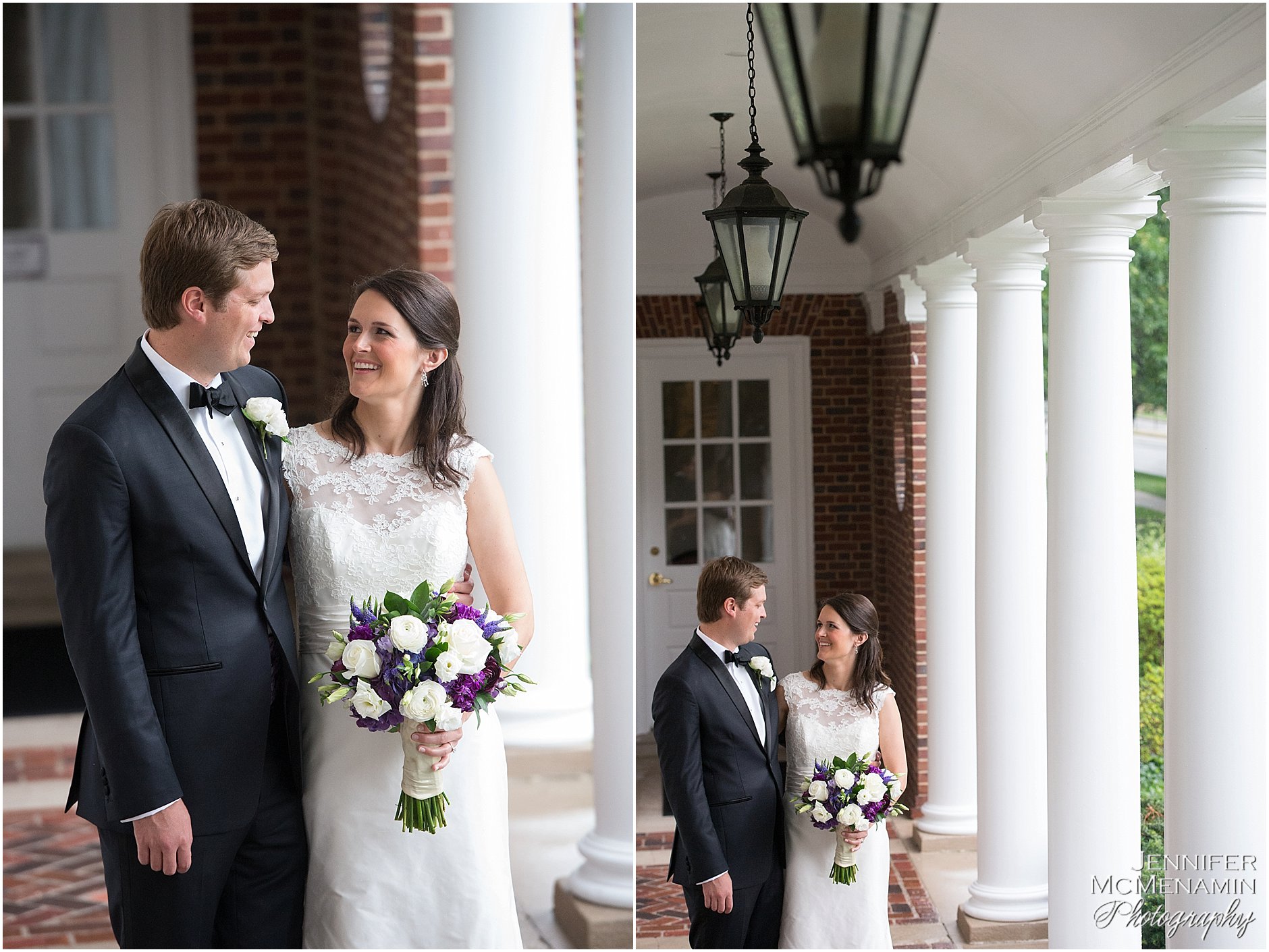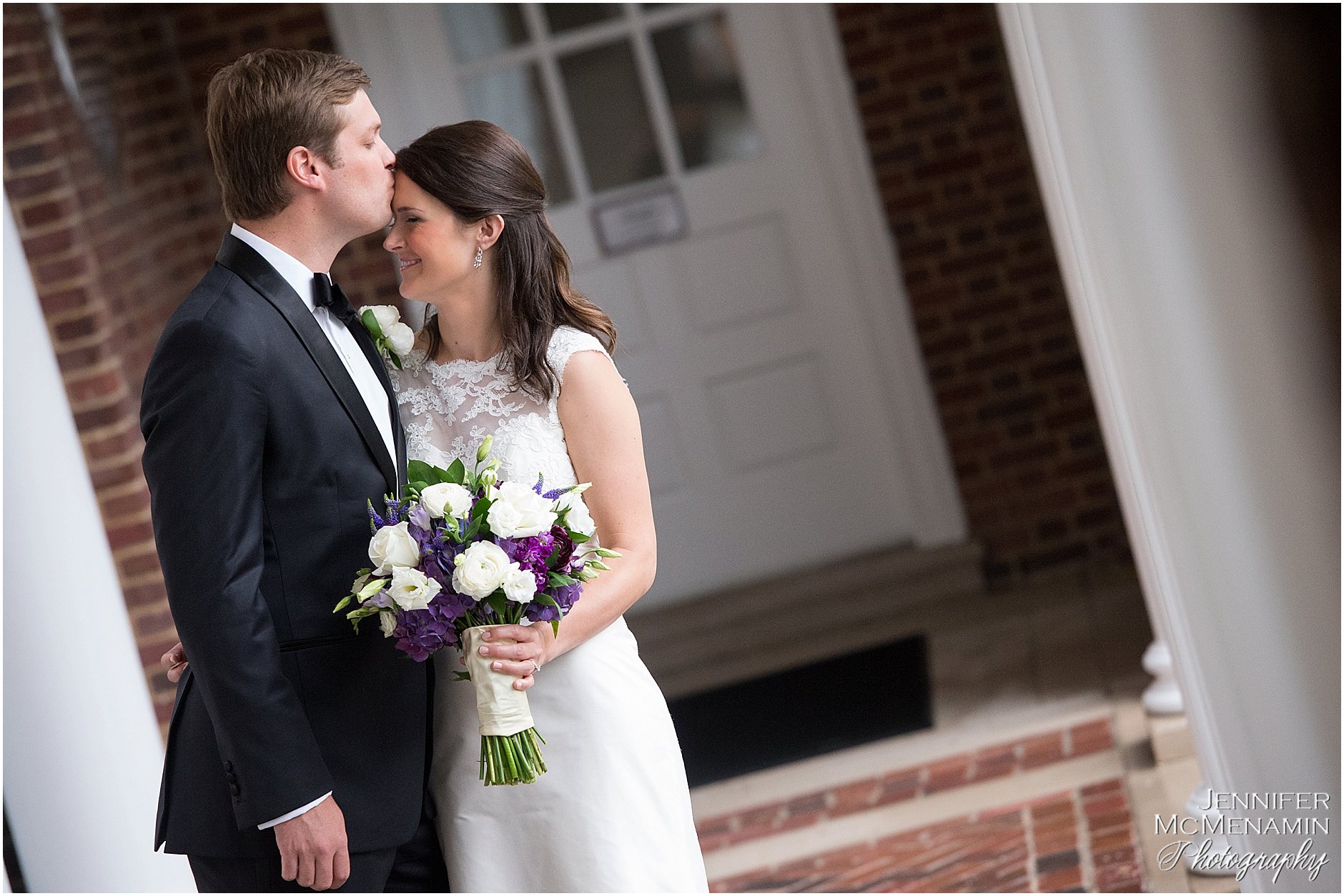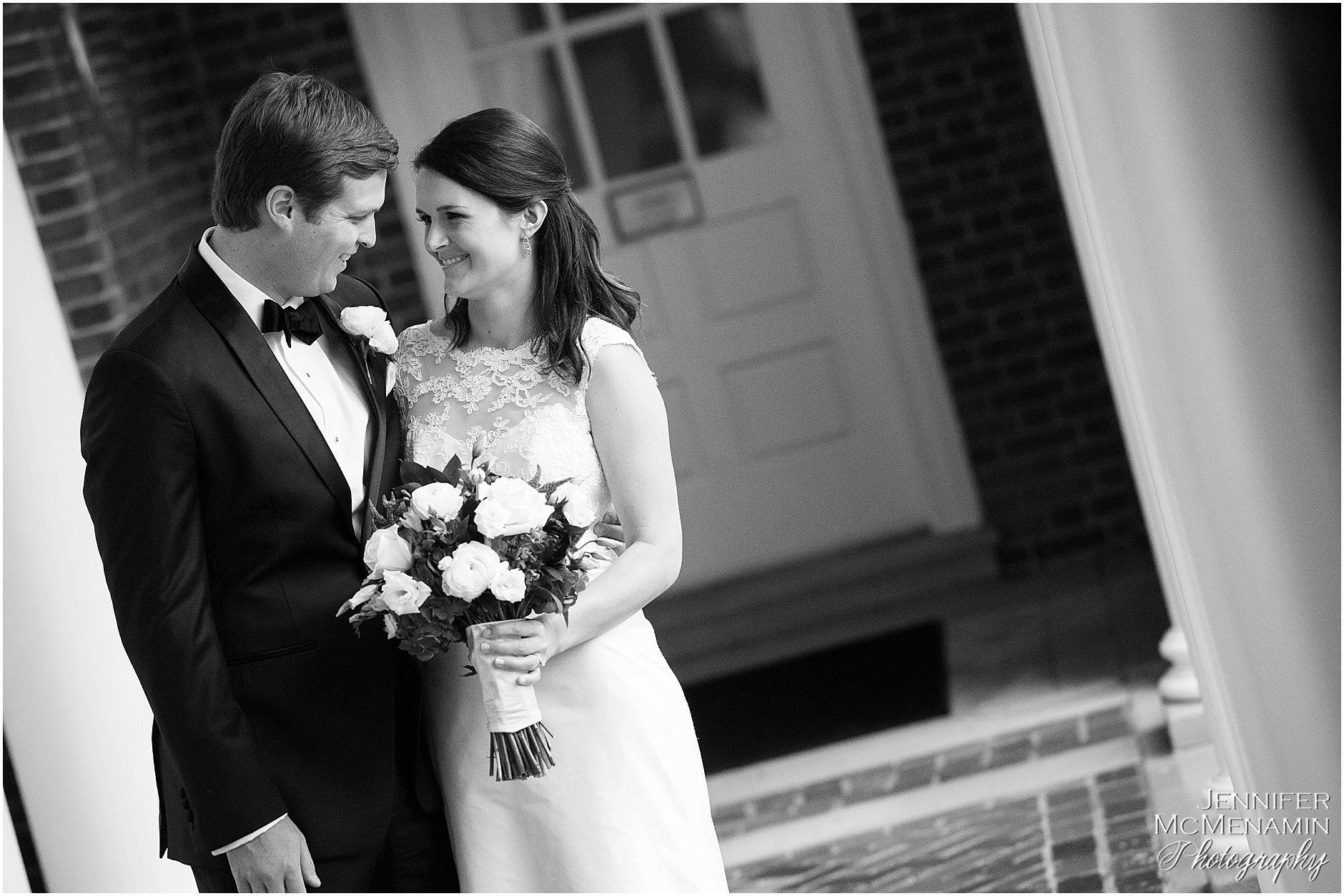 Little Lola stole the show during formal photos.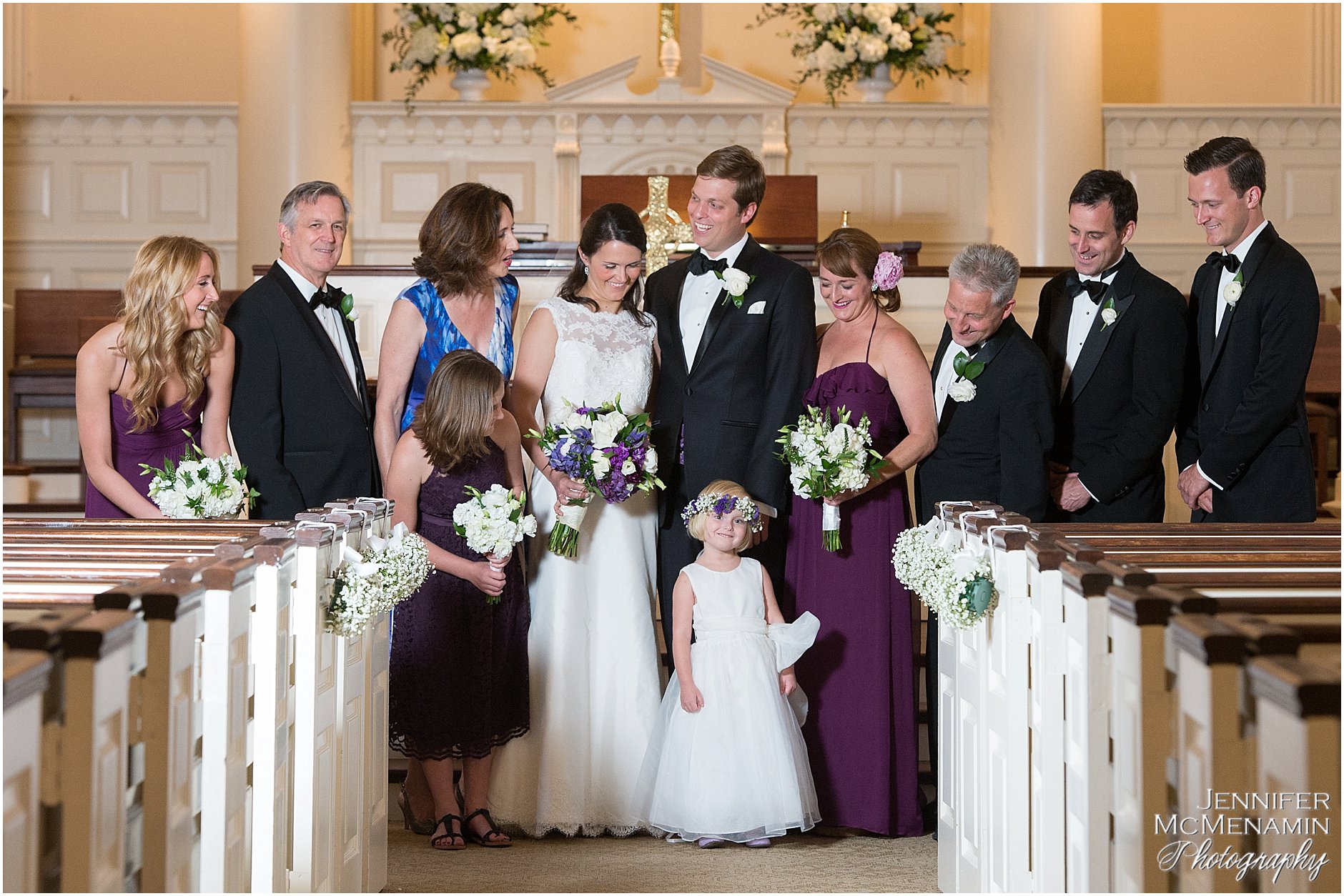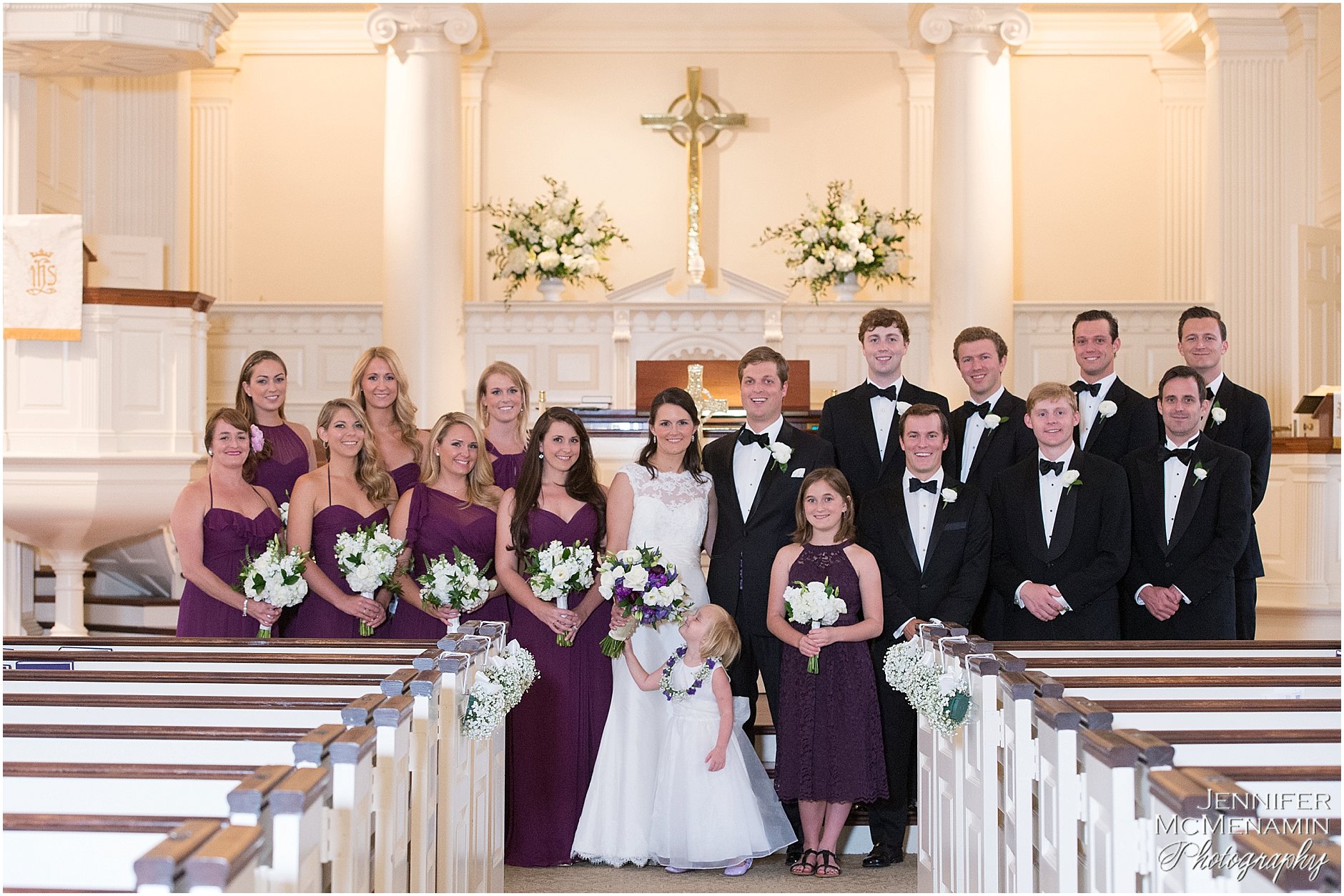 Fancy footwear for some fancy groomsmen.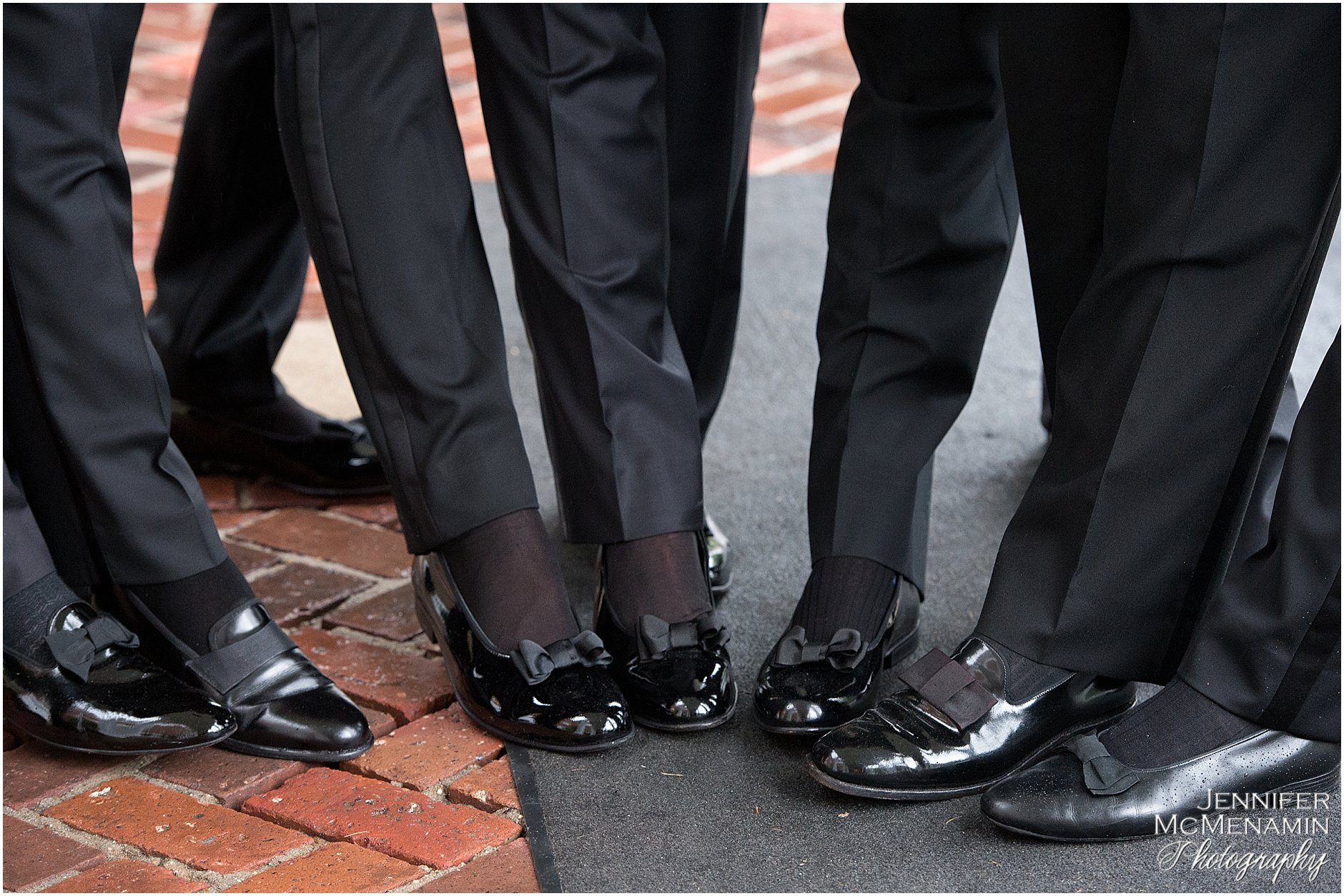 The groom, looking very dapper.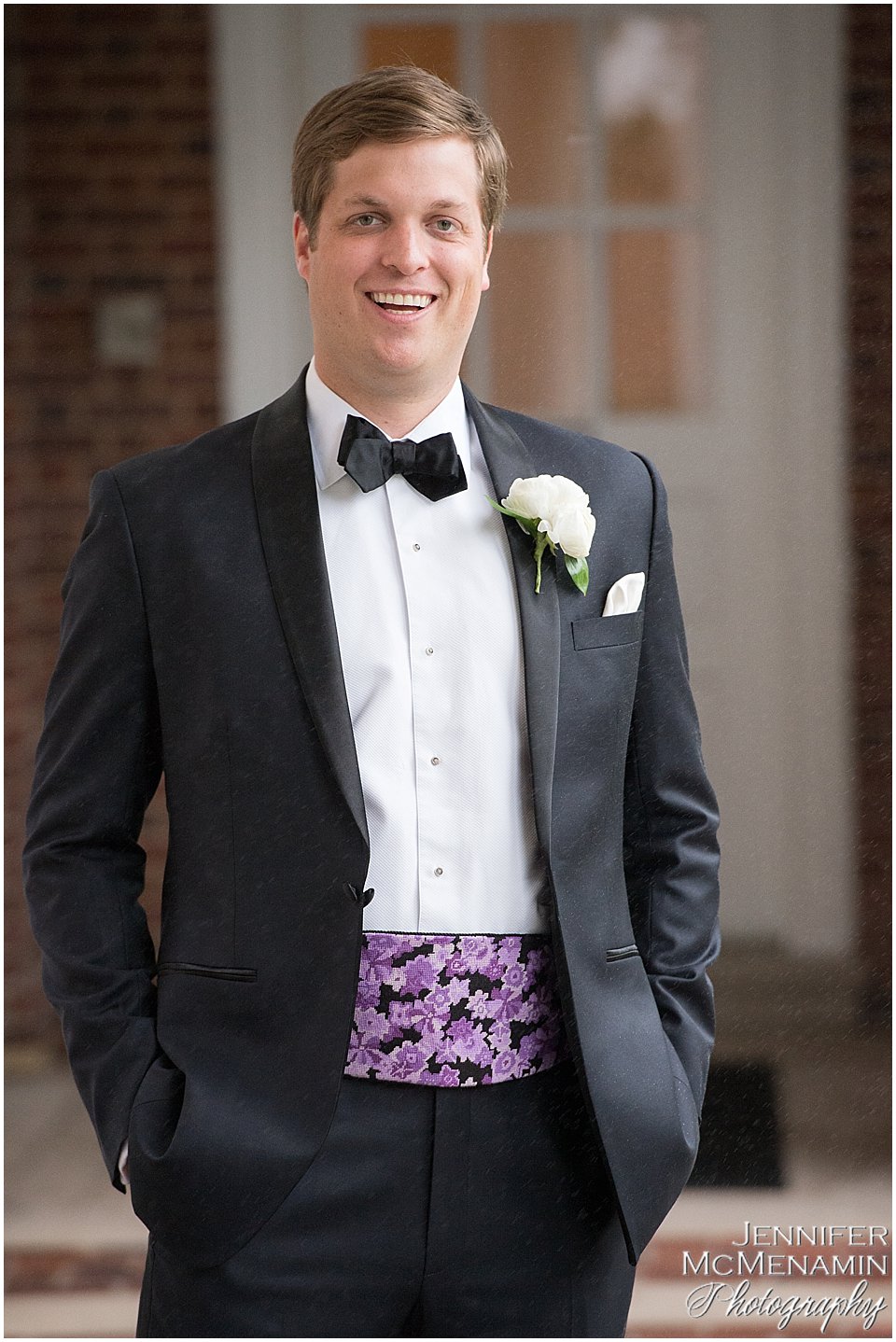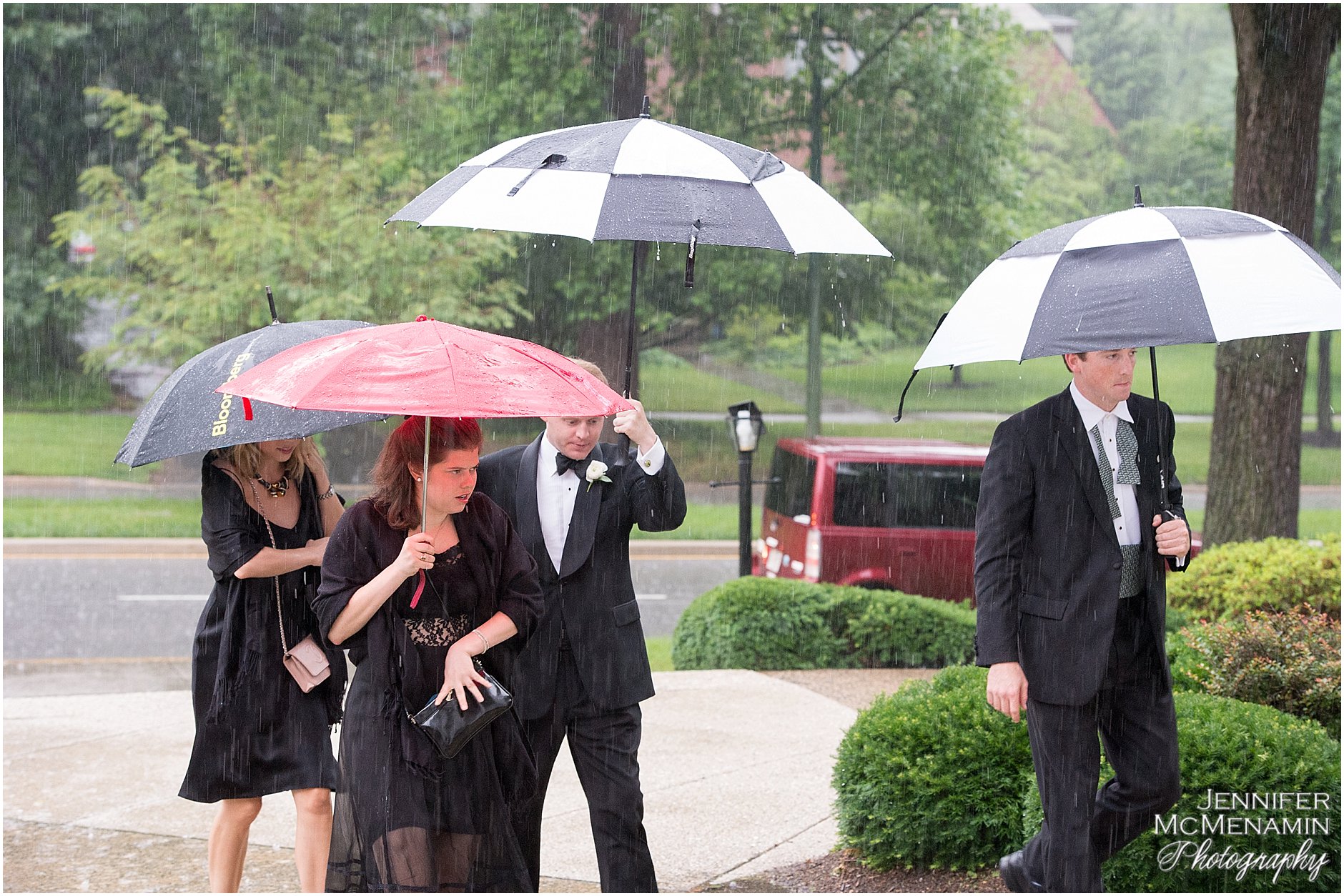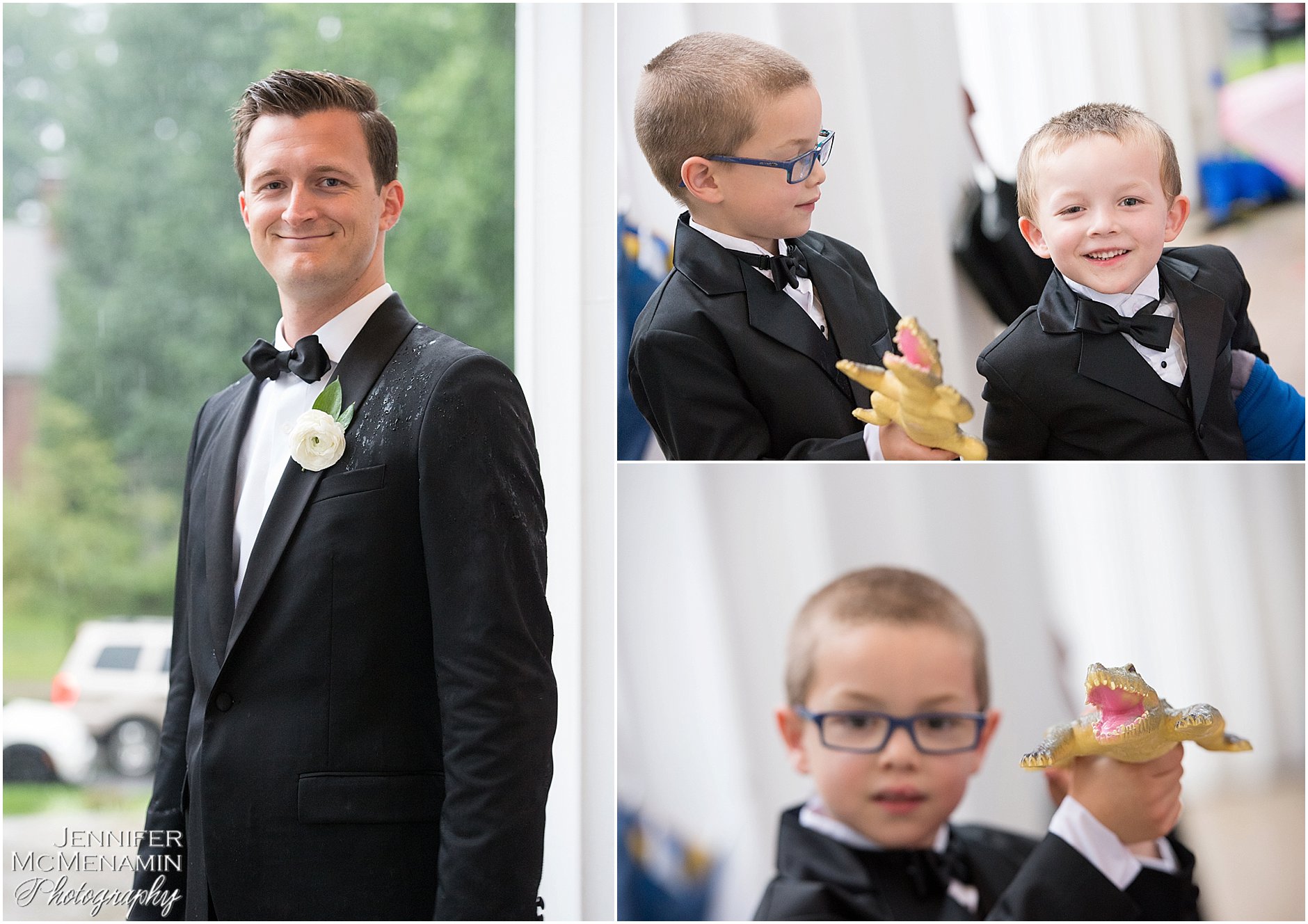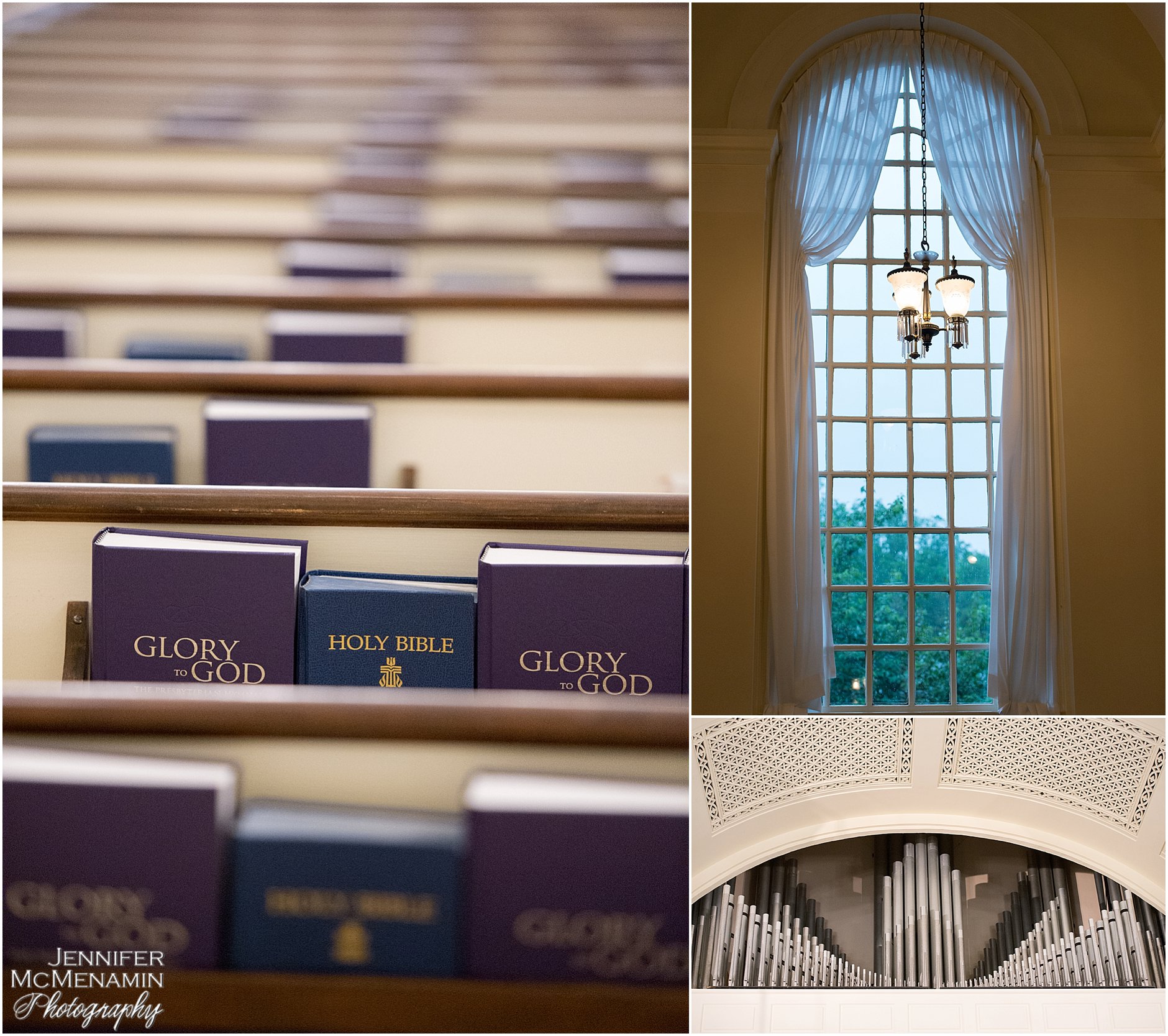 My assistant, Lindsay, shot this next wonderful image from the church choir loft.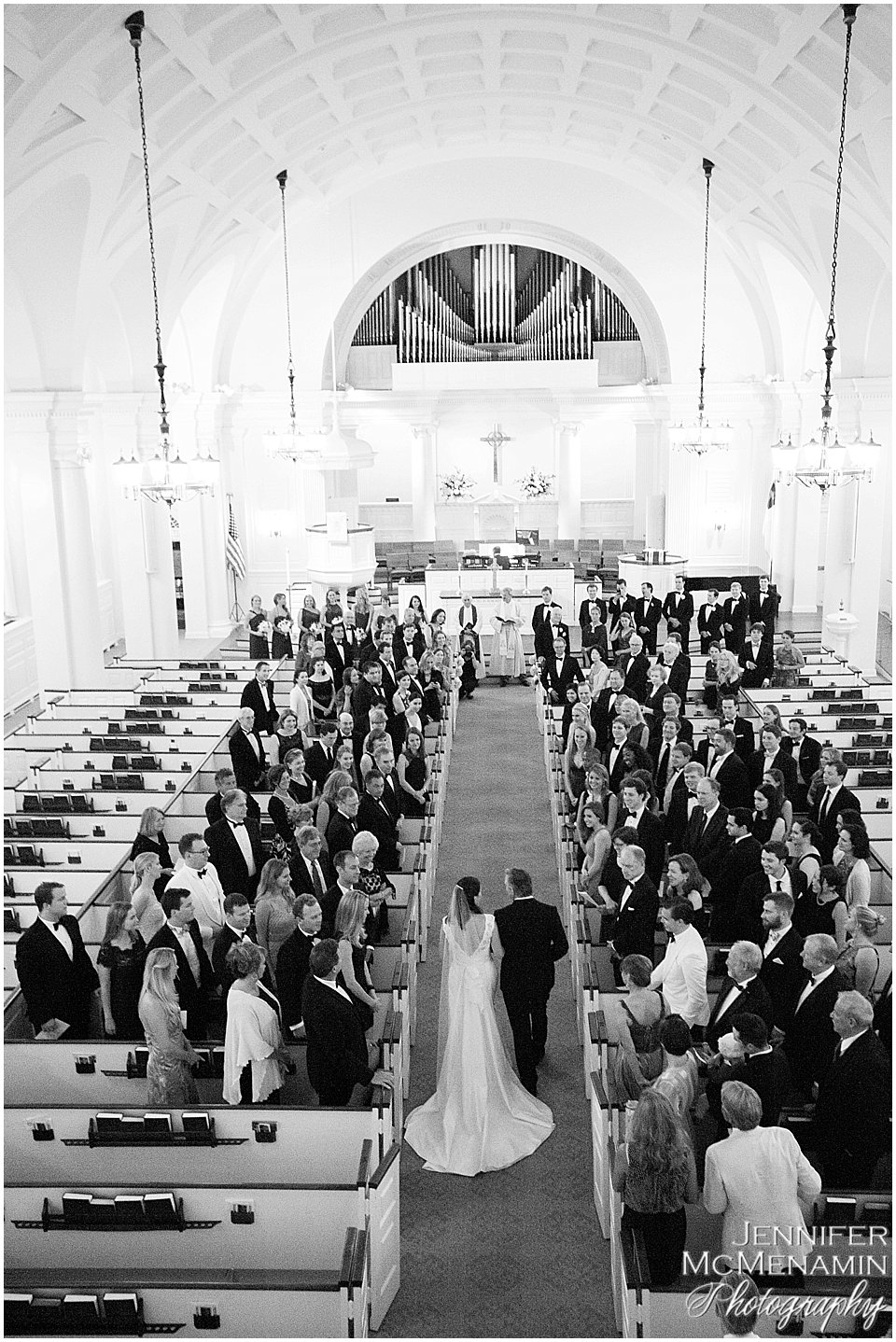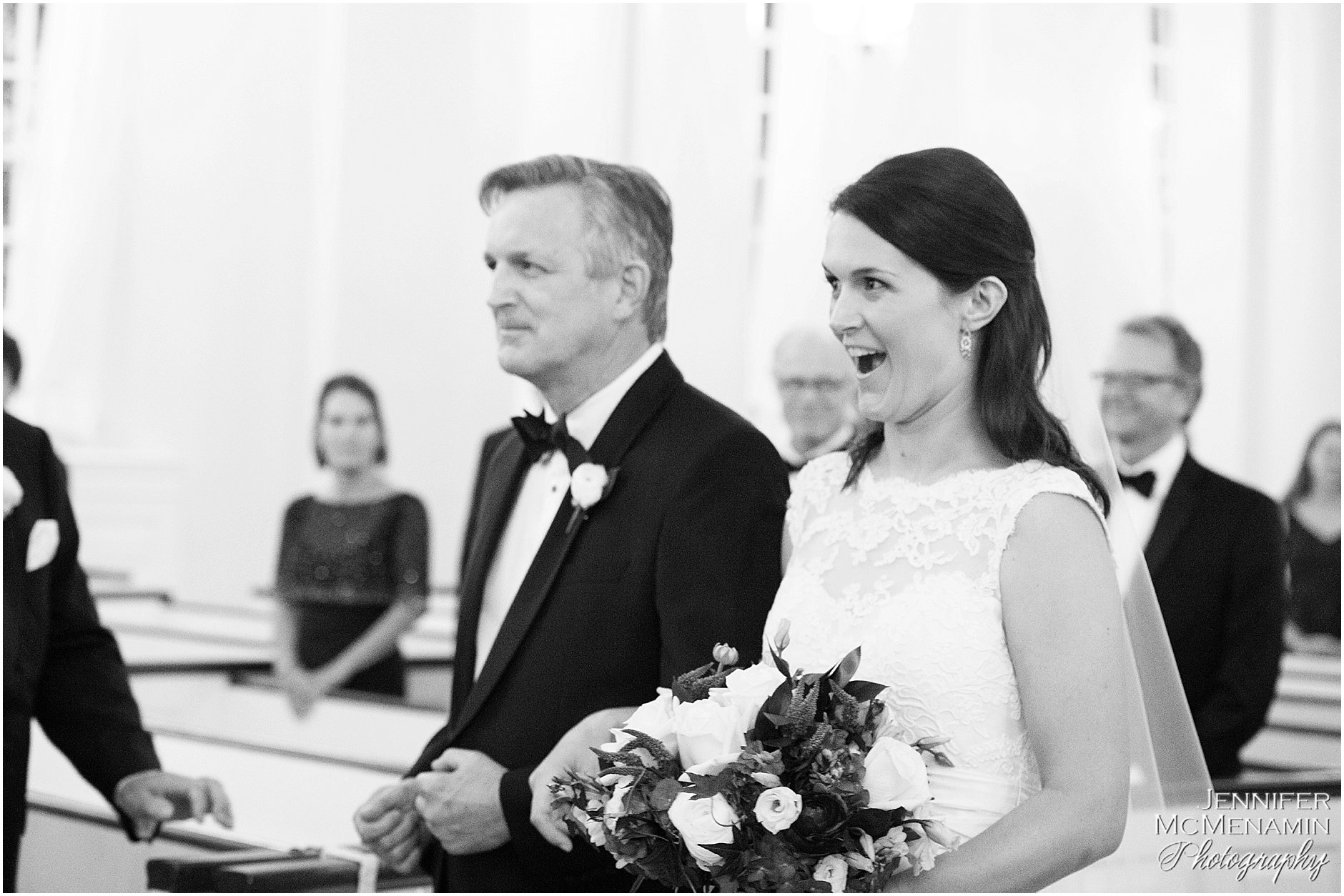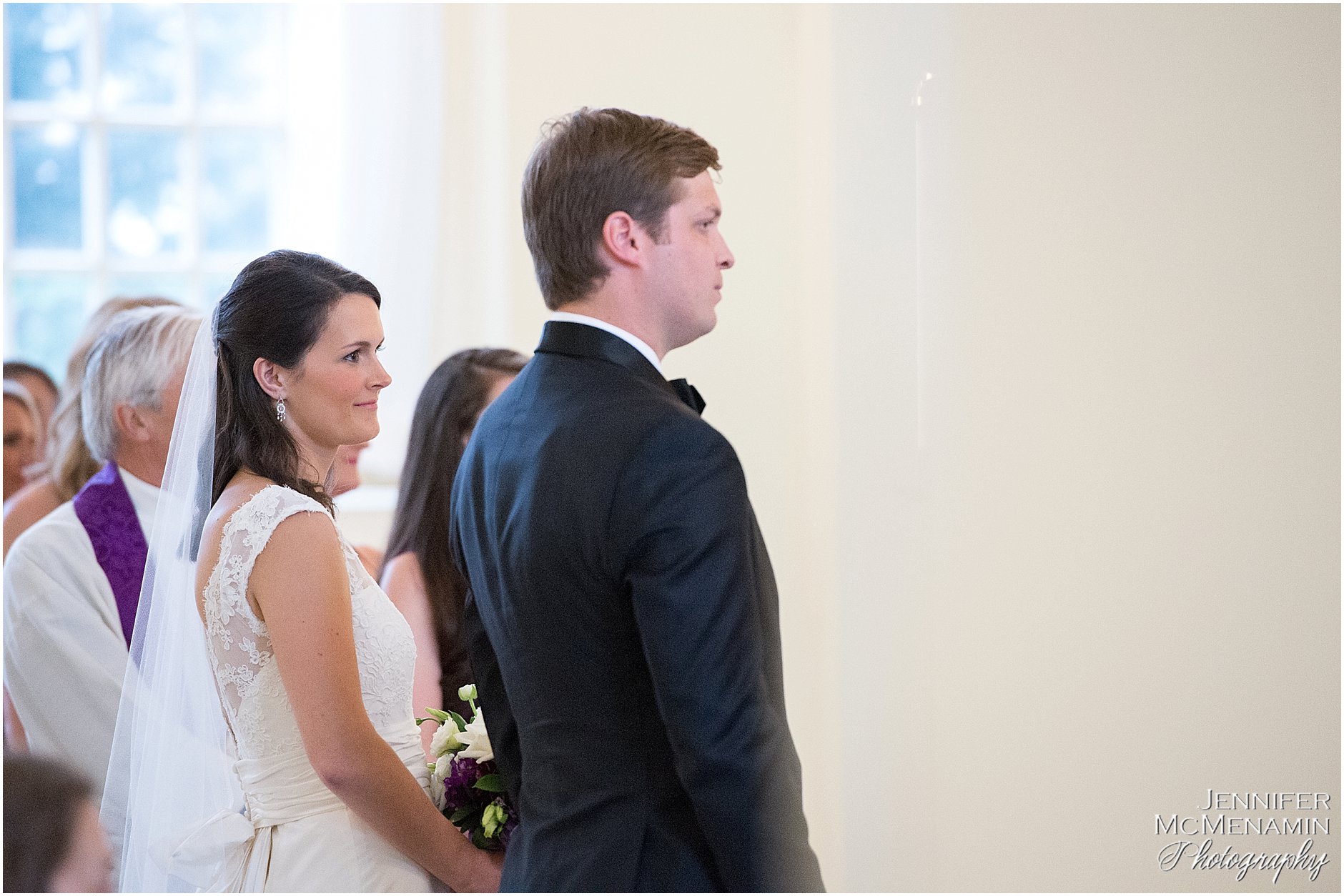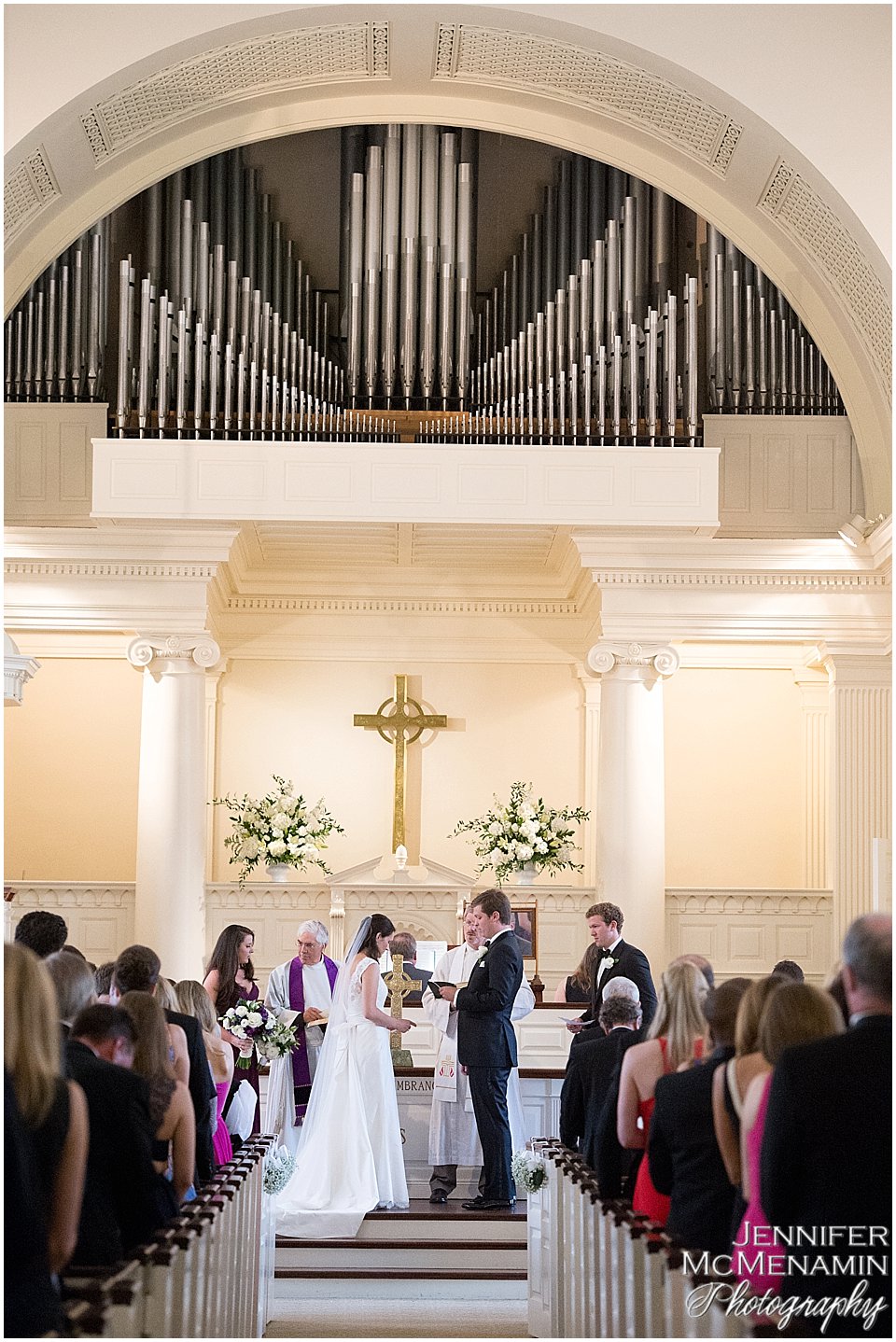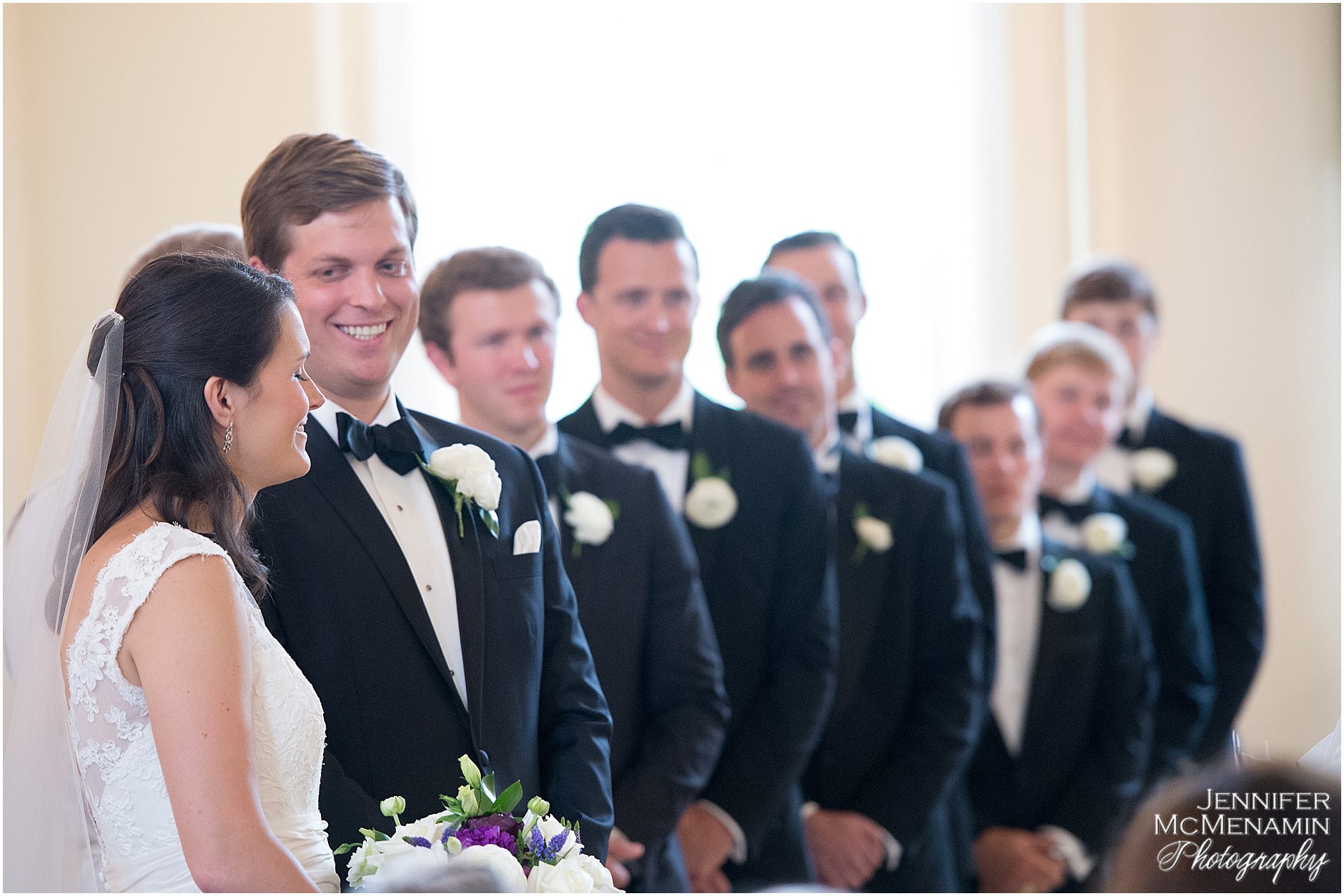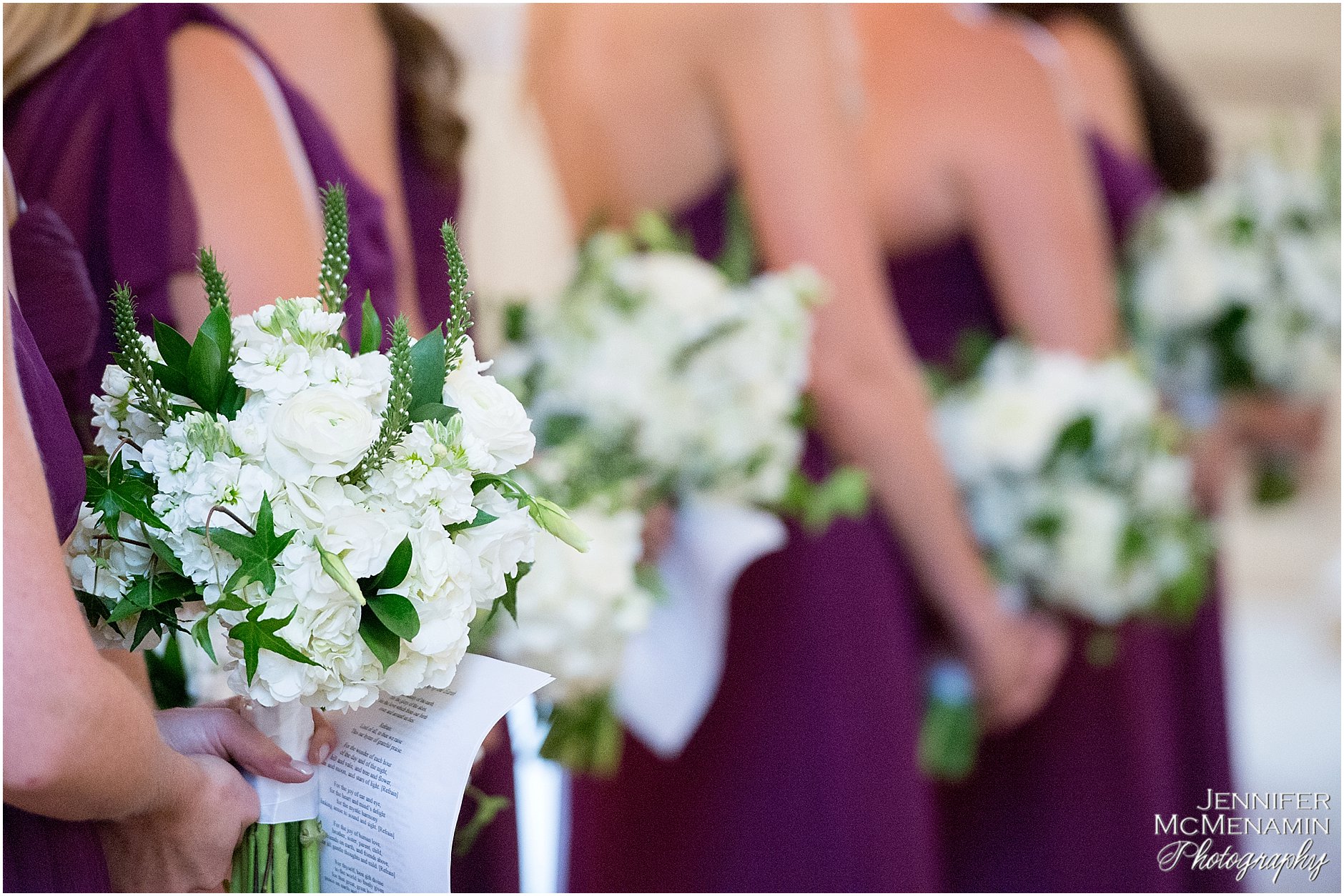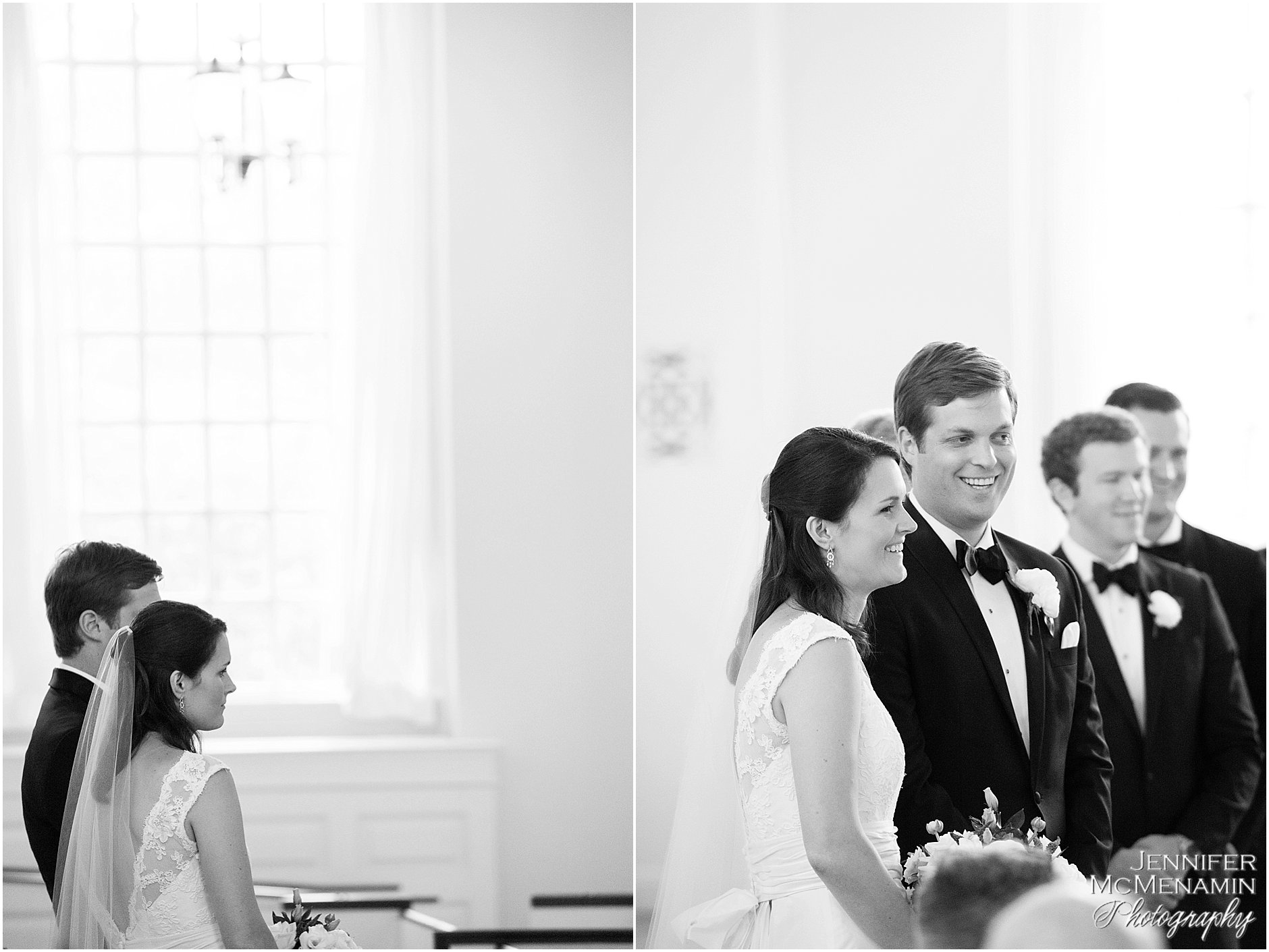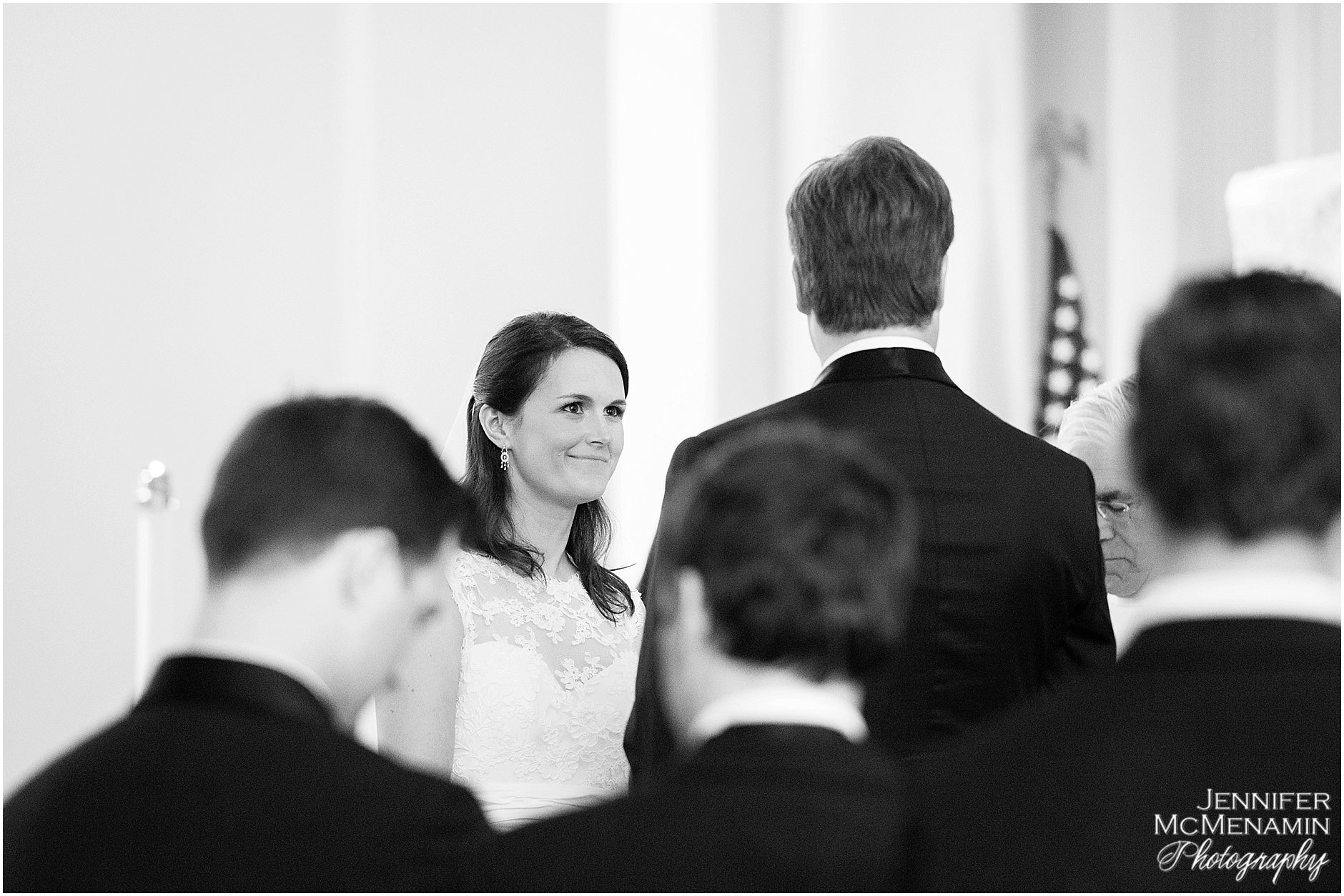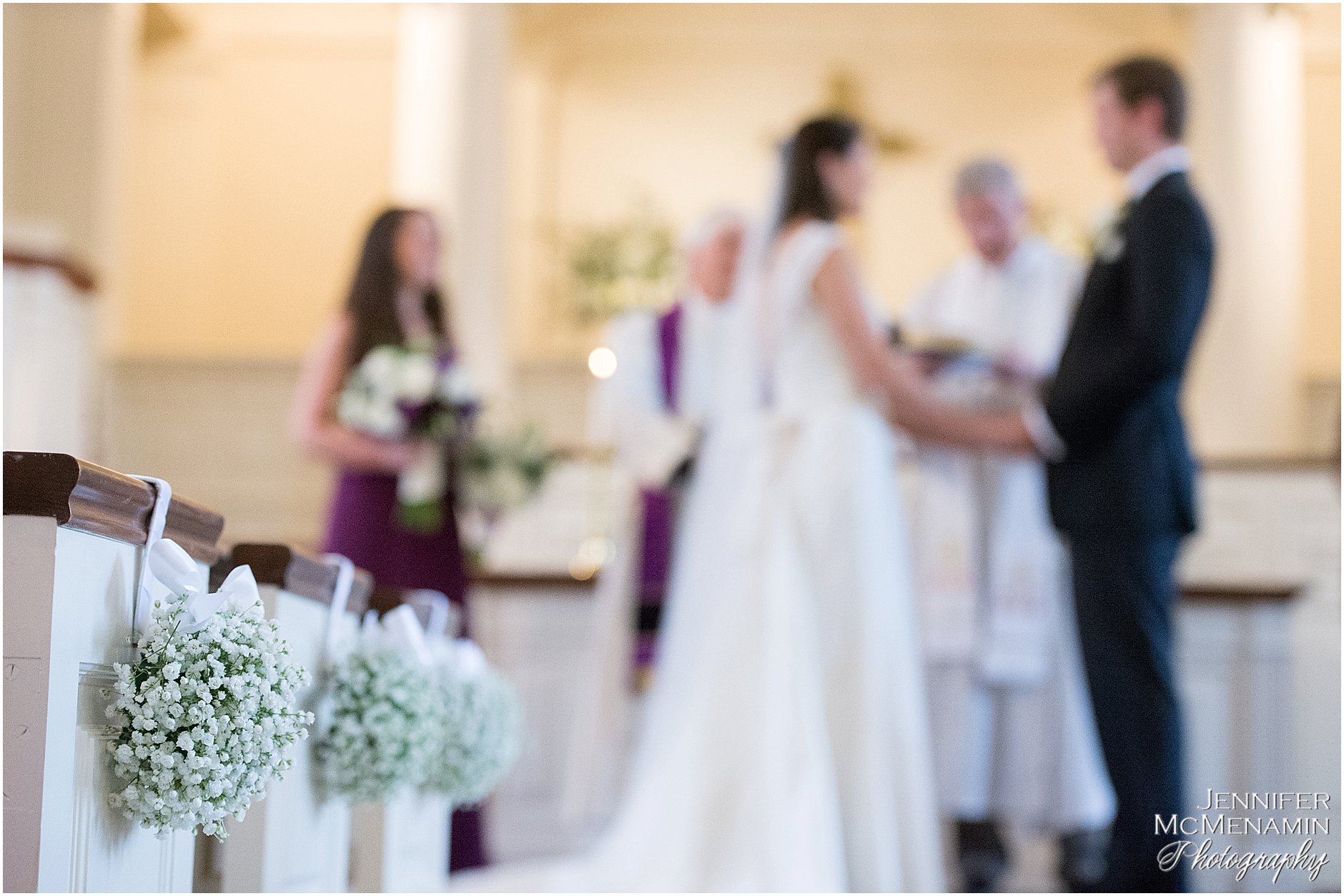 Nathan's cousin helped marry them.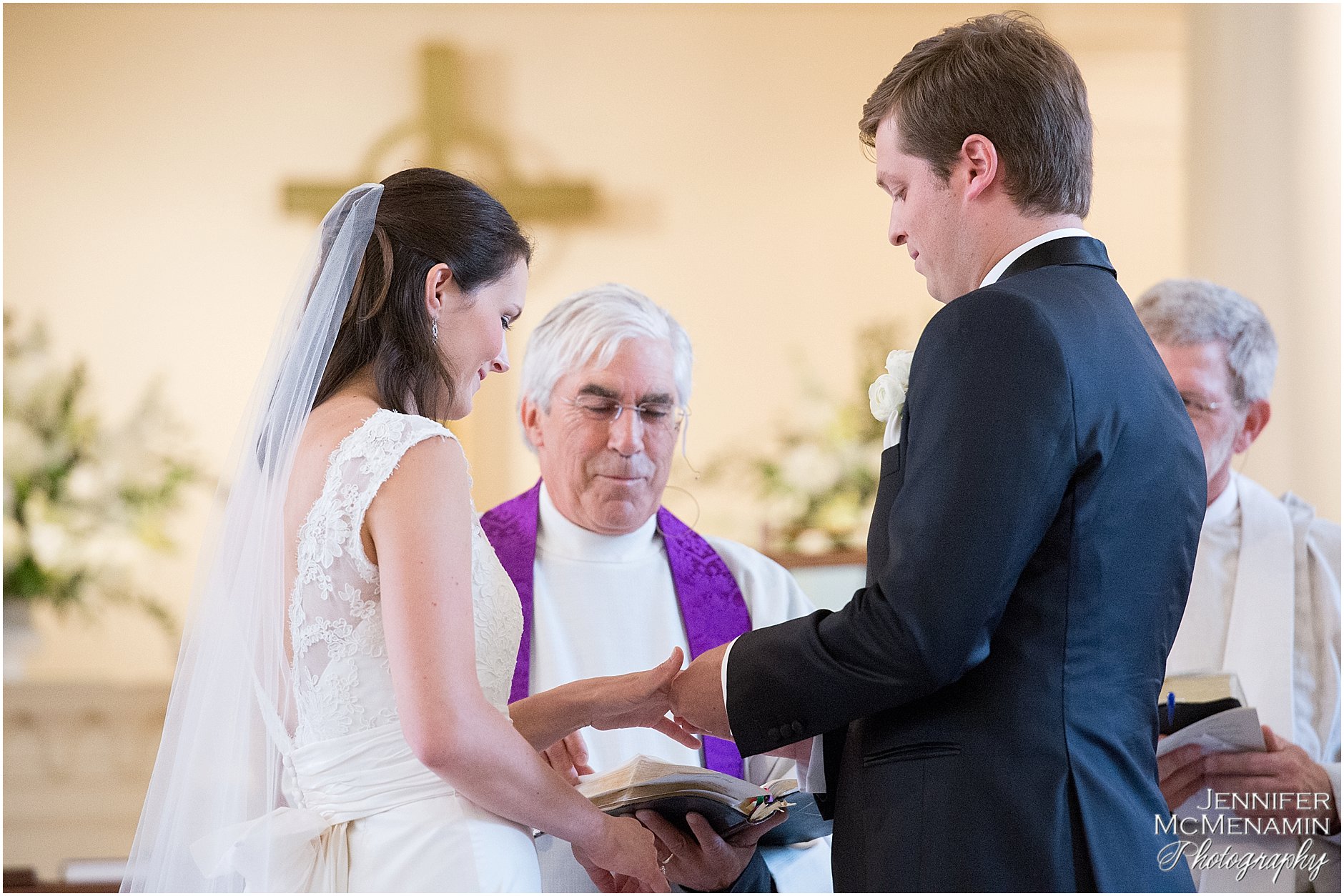 We took the opportunity to shoot some quick portraits on the portico before leaving the church because we weren't sure at that point whether the weather would worsen or — hope against hopes! — improve. You can see how hard it was still raining in the rain drops that are visible against Nathan's tuxedo!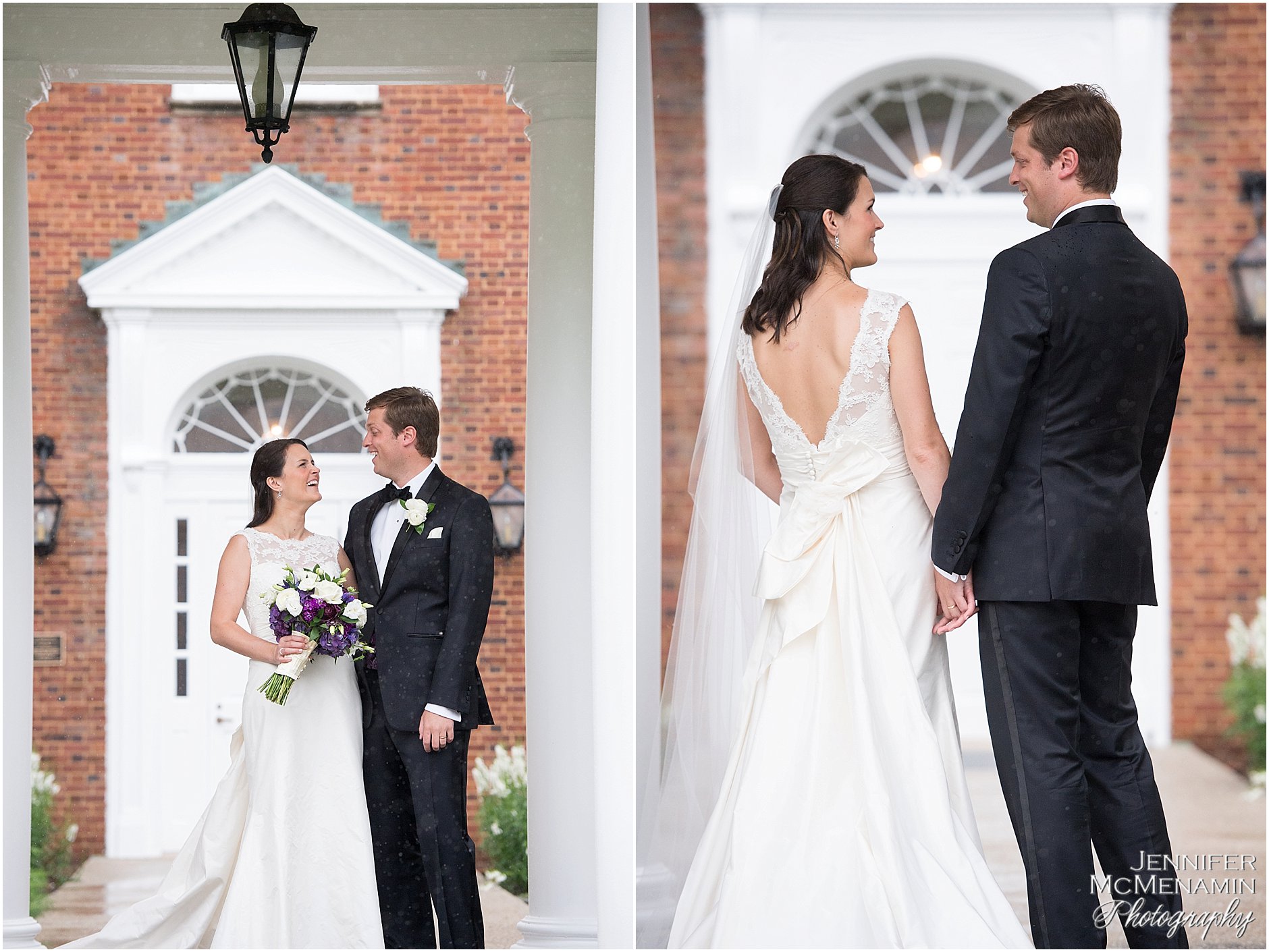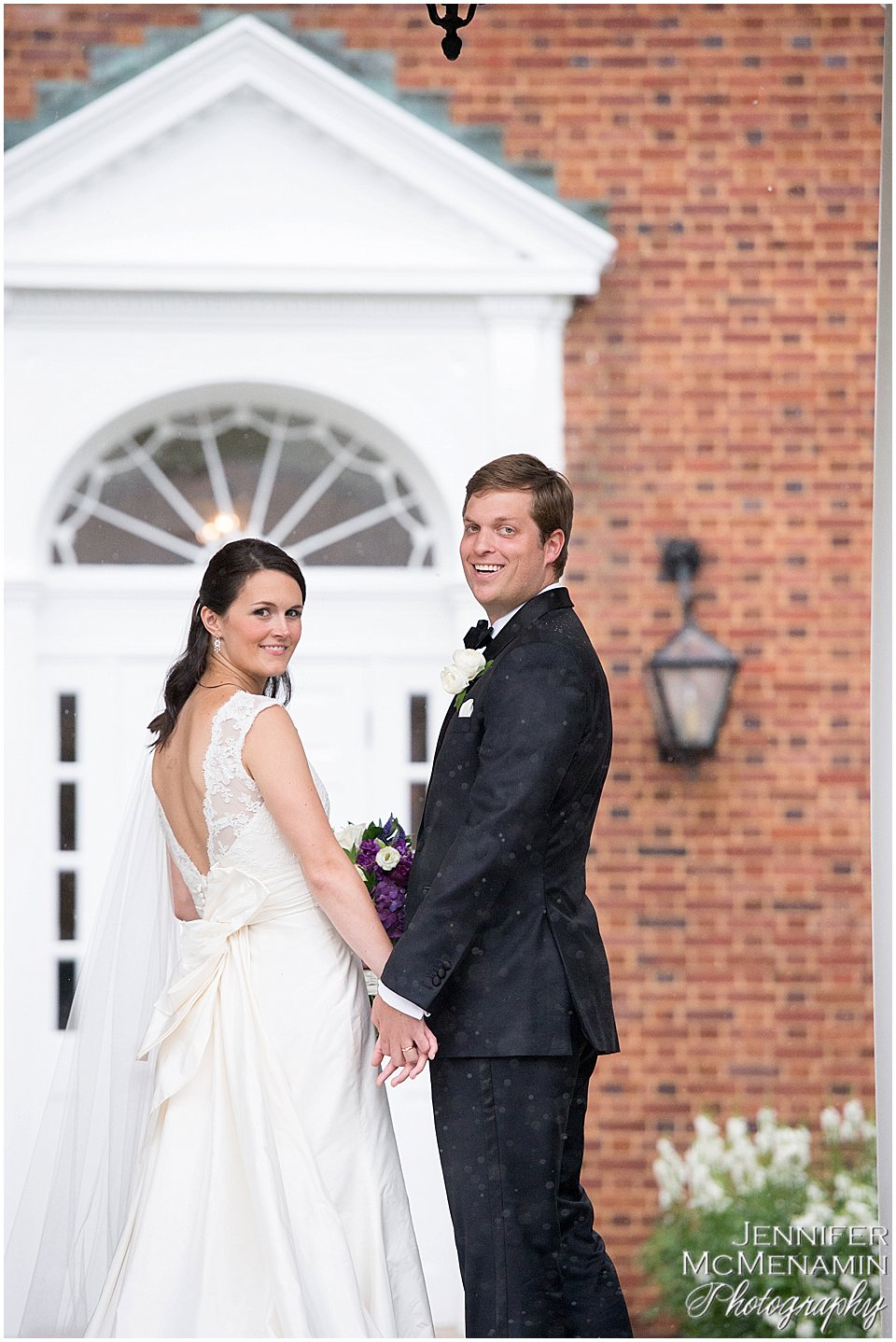 Also, this is not a pond outside the church. It is a flowerbed with *that much* standing water.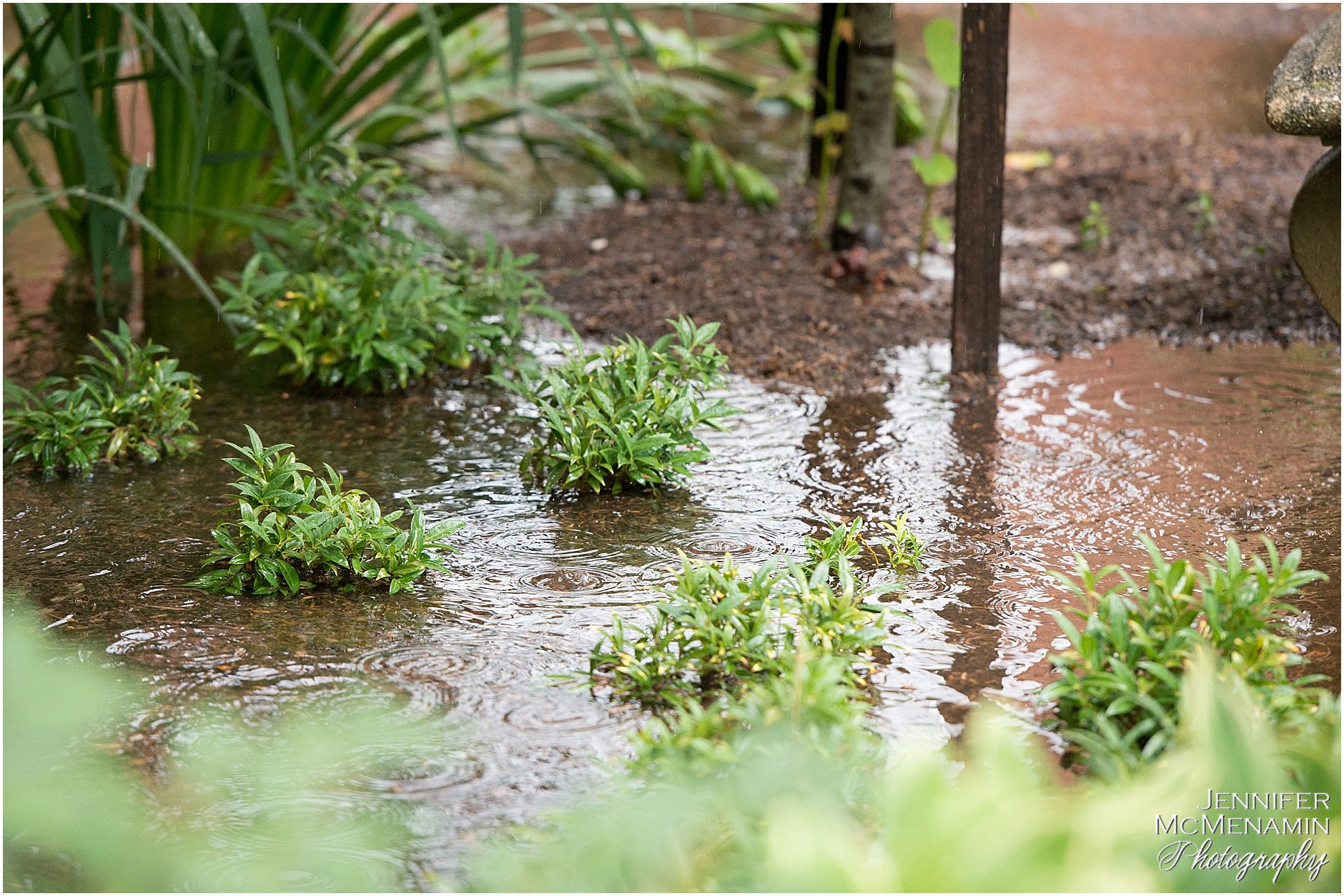 Just as we arrived the Ladew Gardens, the rain began letting up.Amazing! Having learned my lesson from the prior week when I lost my shoes in ankle deep mud after a flash flood at a horse farm wedding, I pulled on my wellies and we dashed around the grounds for some fun photos. Even with the overcast skies, we found some pockets of pretty light for portraits.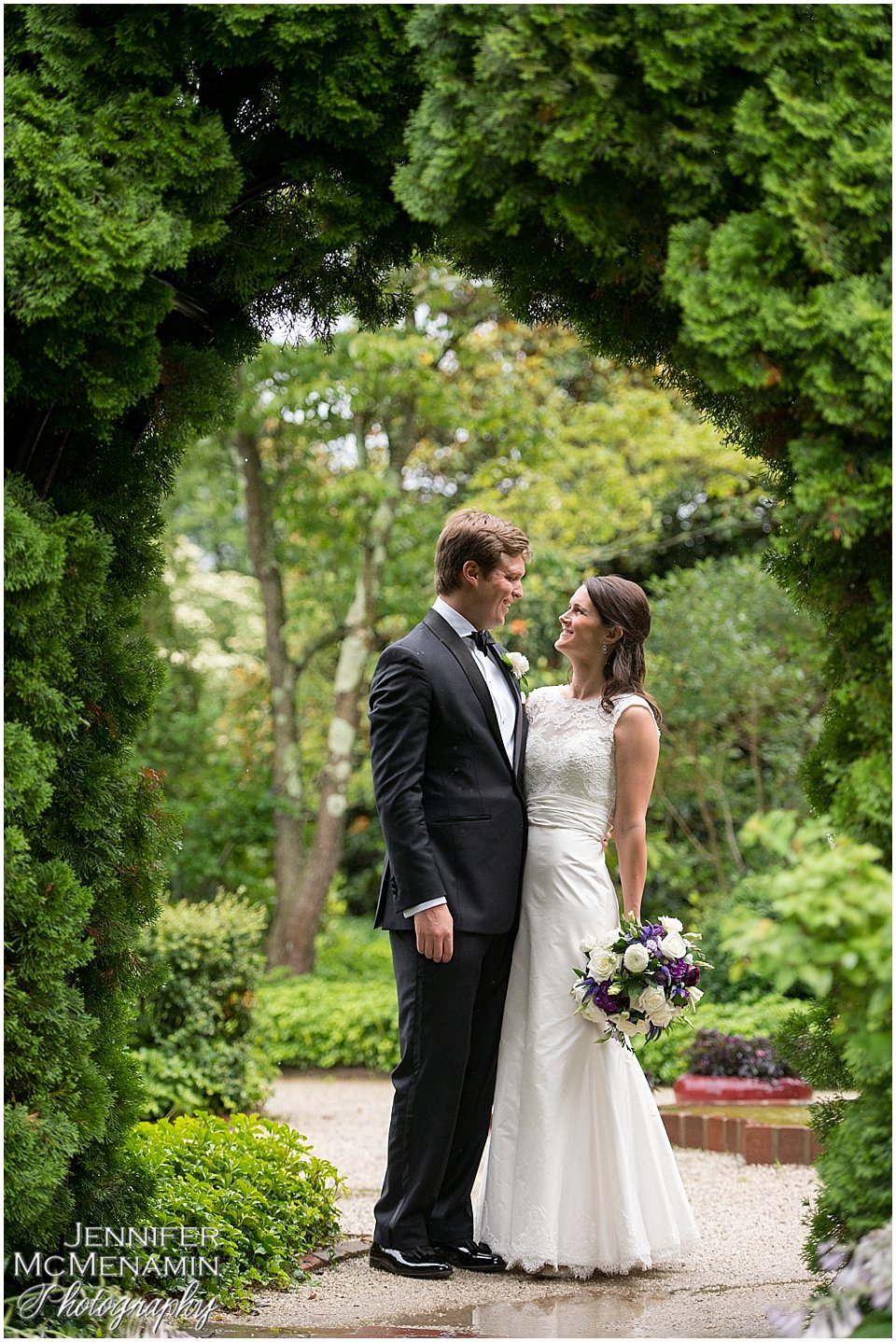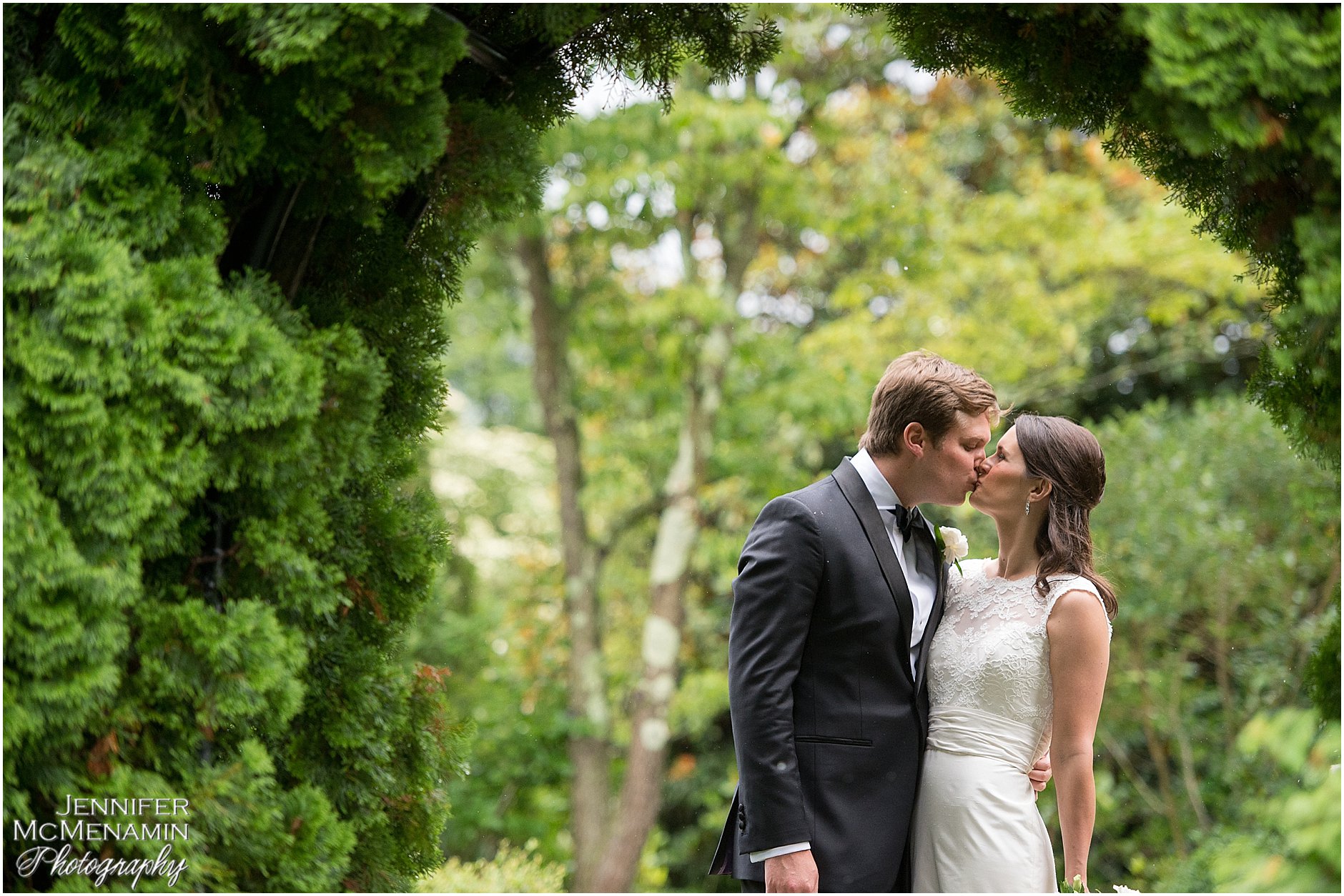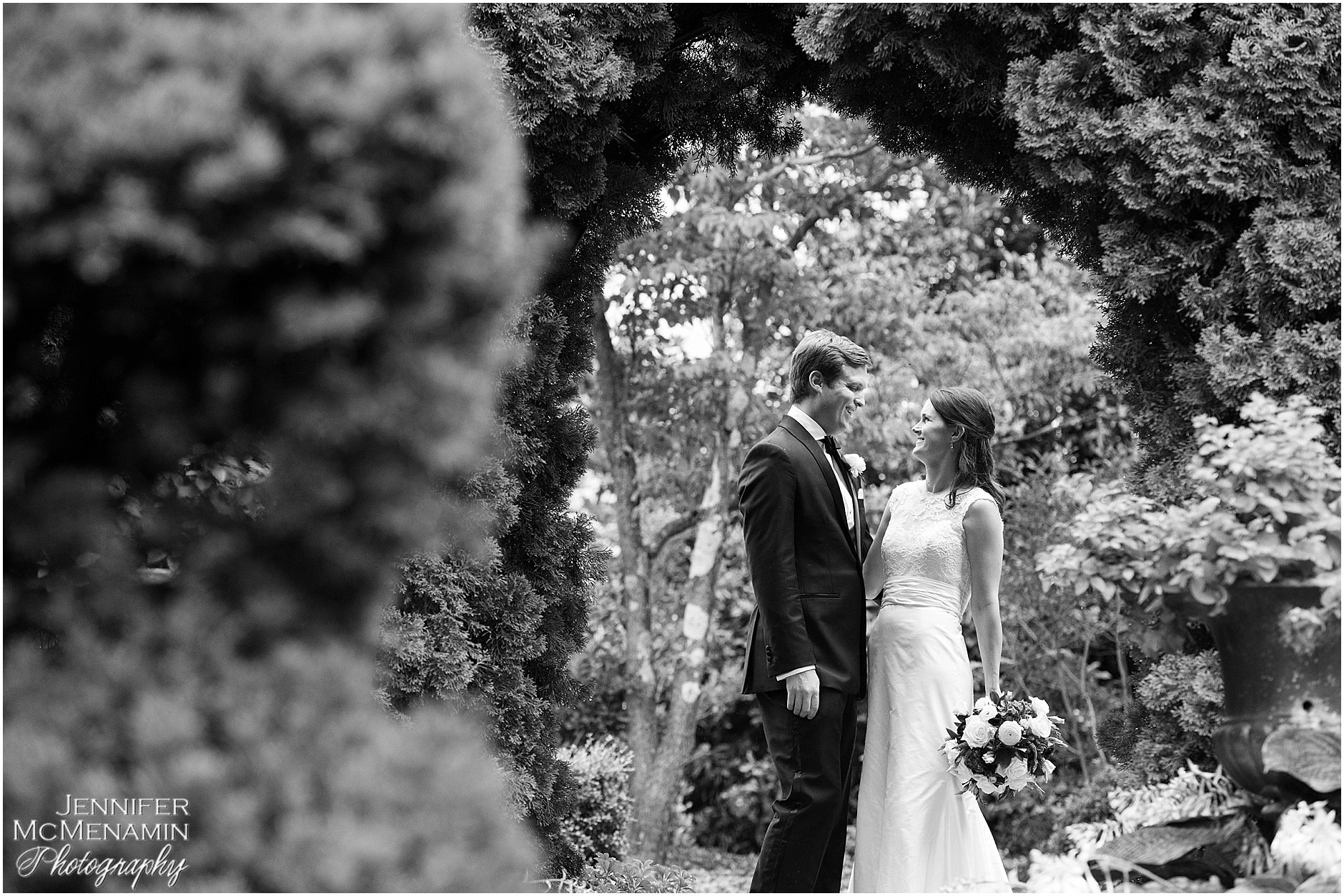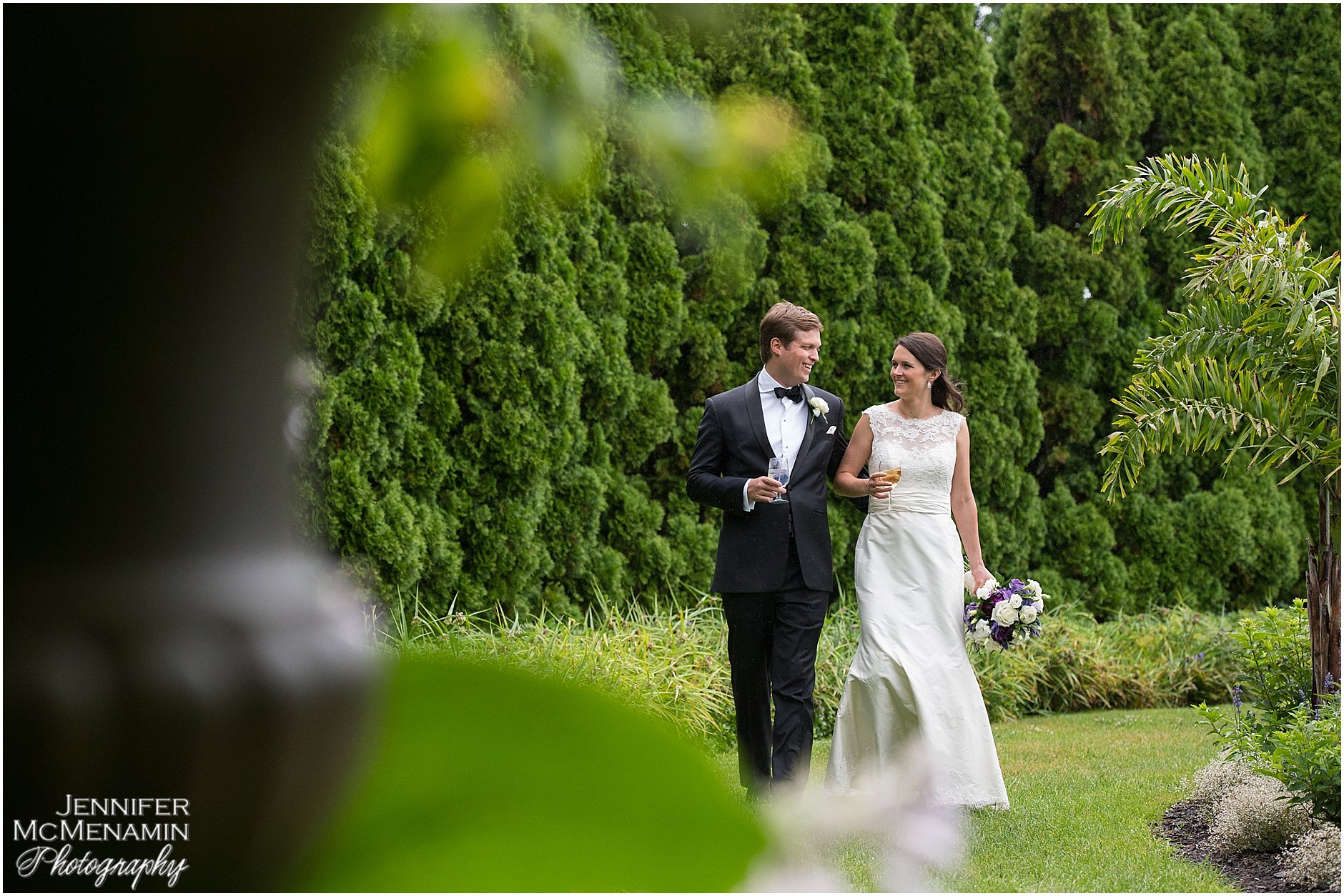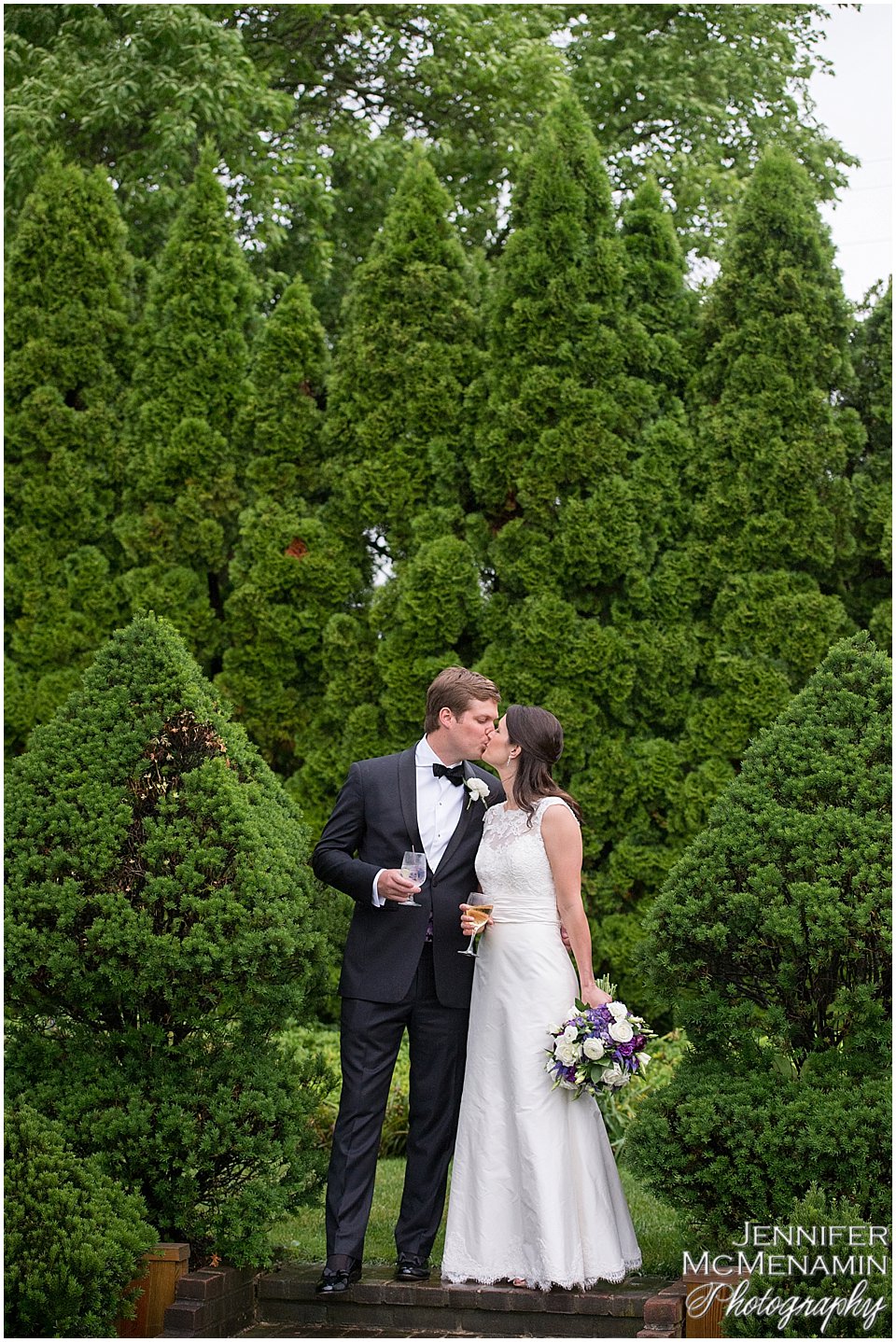 The best thing about rain on a wedding day? It's not the old adage about good luck. It's the opportunity for reflections in puddles!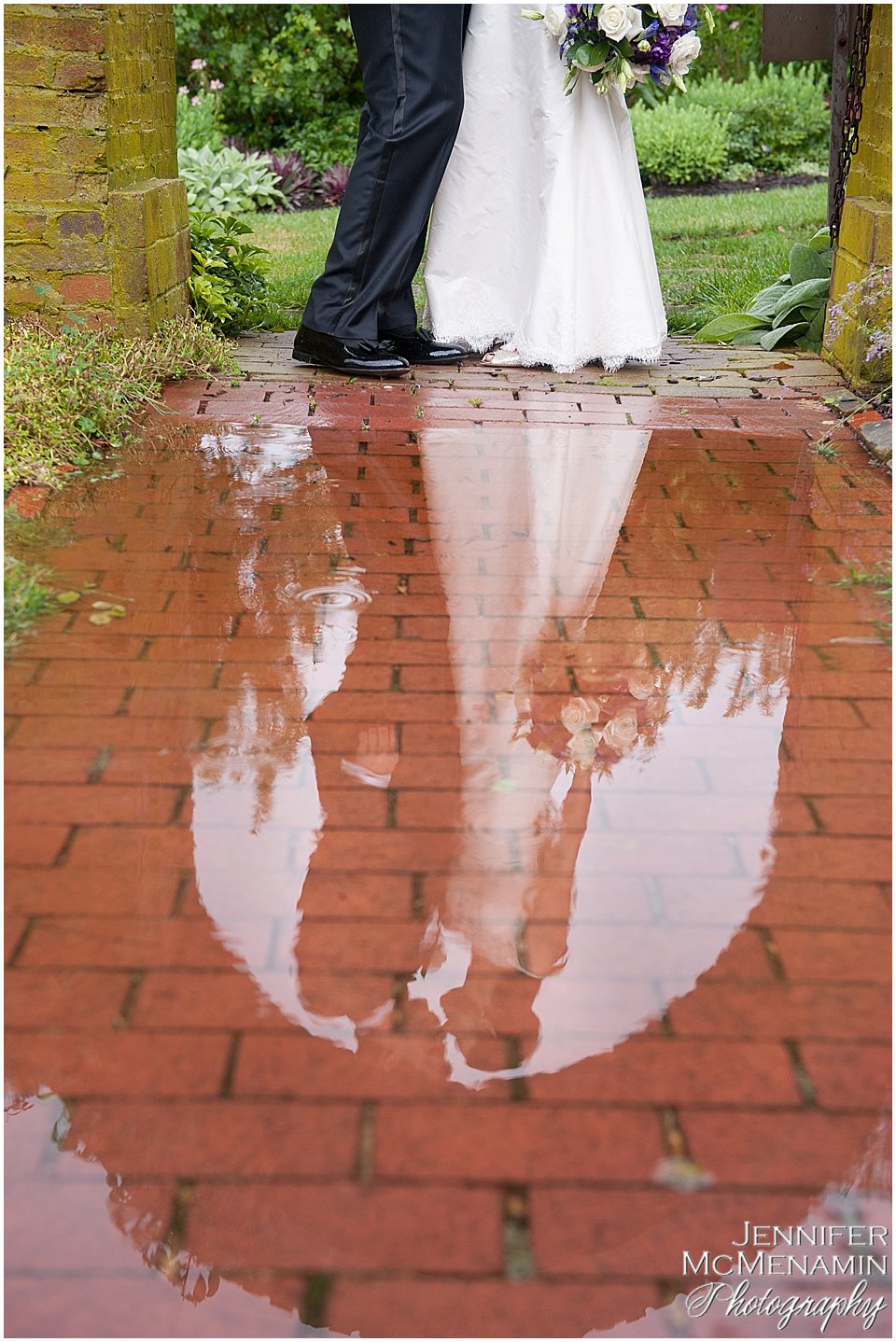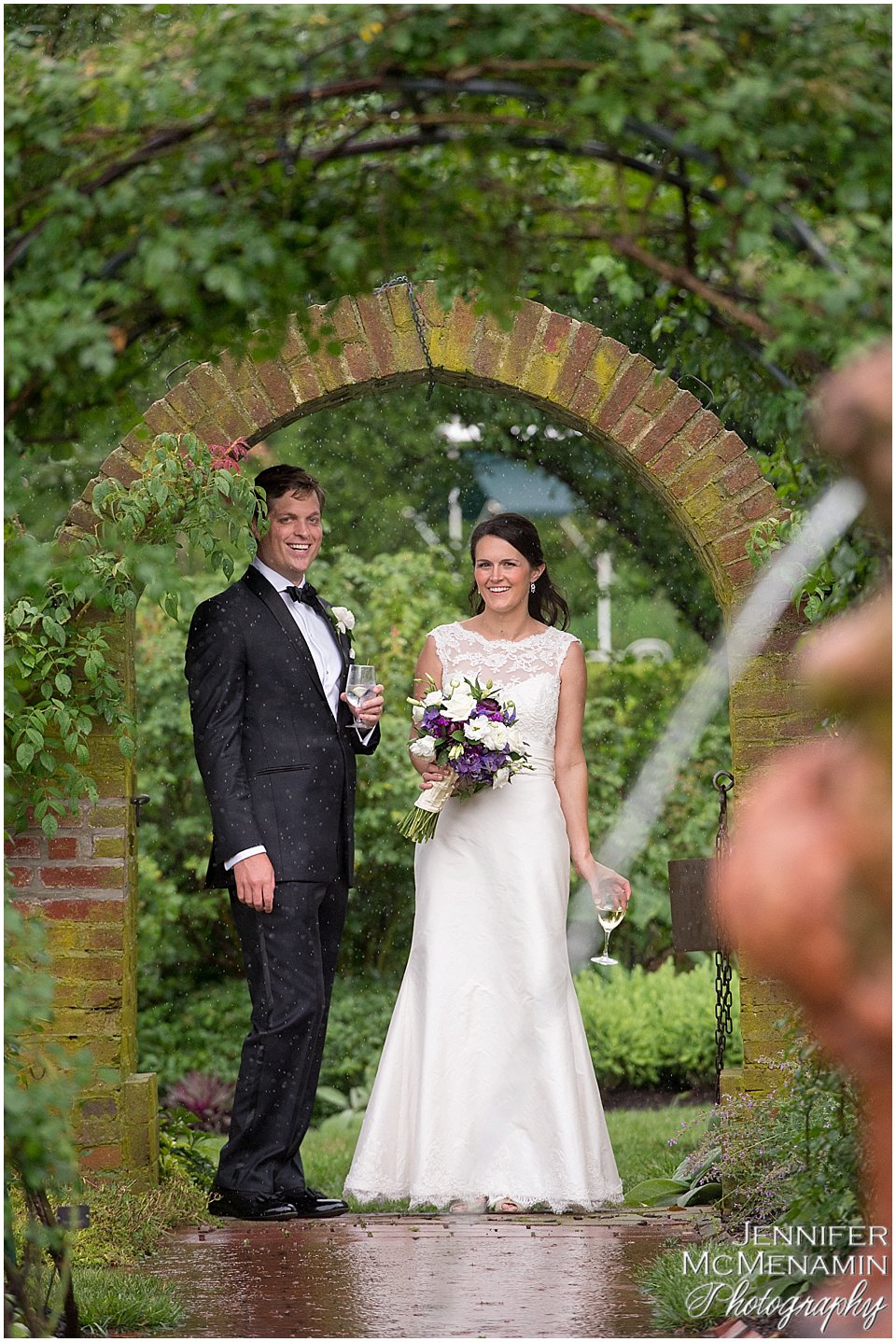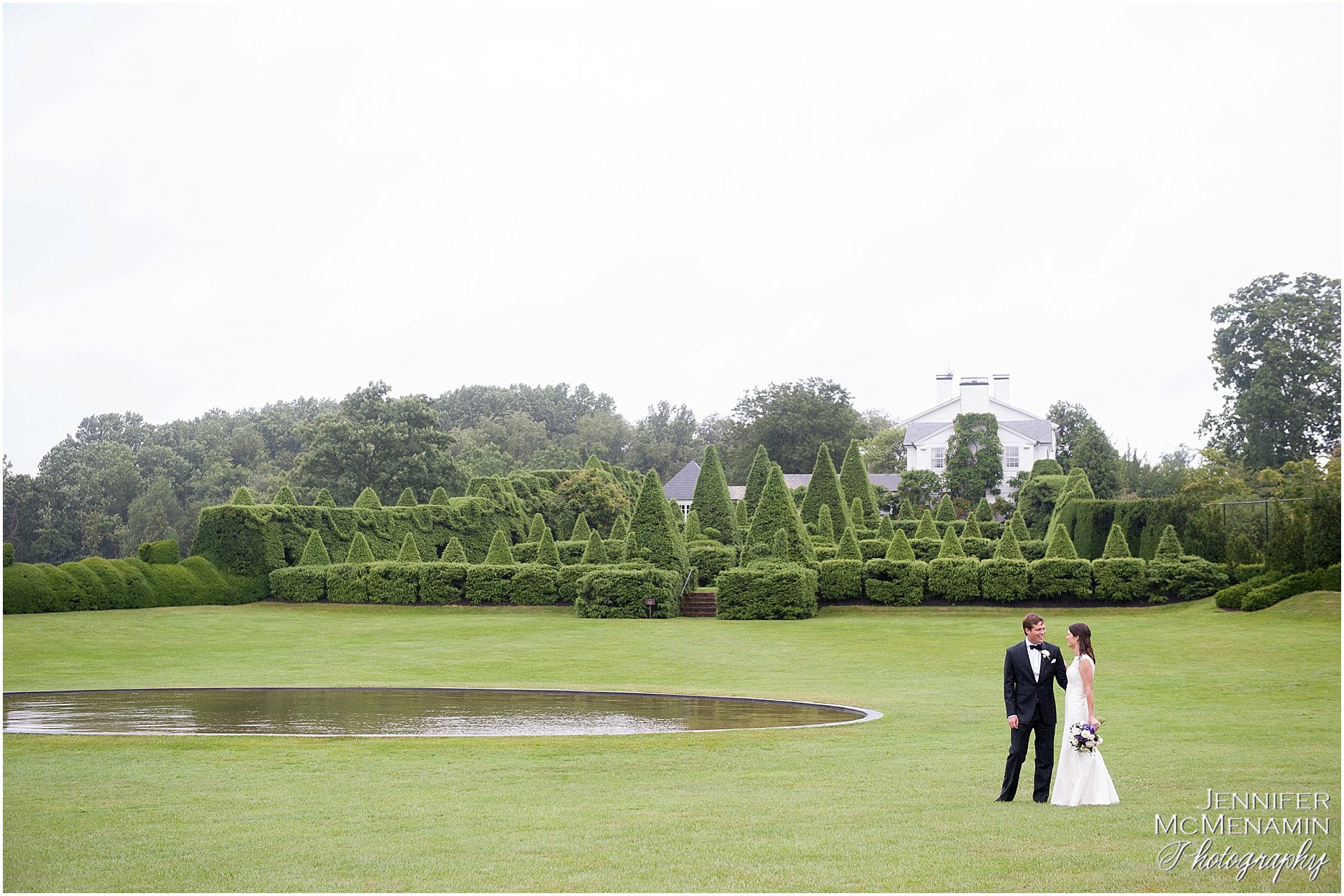 I love the grandeur of Ladew's gardens. The manicured topiaries are enormous and everything is so beautiful! Even on a cloudy day. And even in light rain.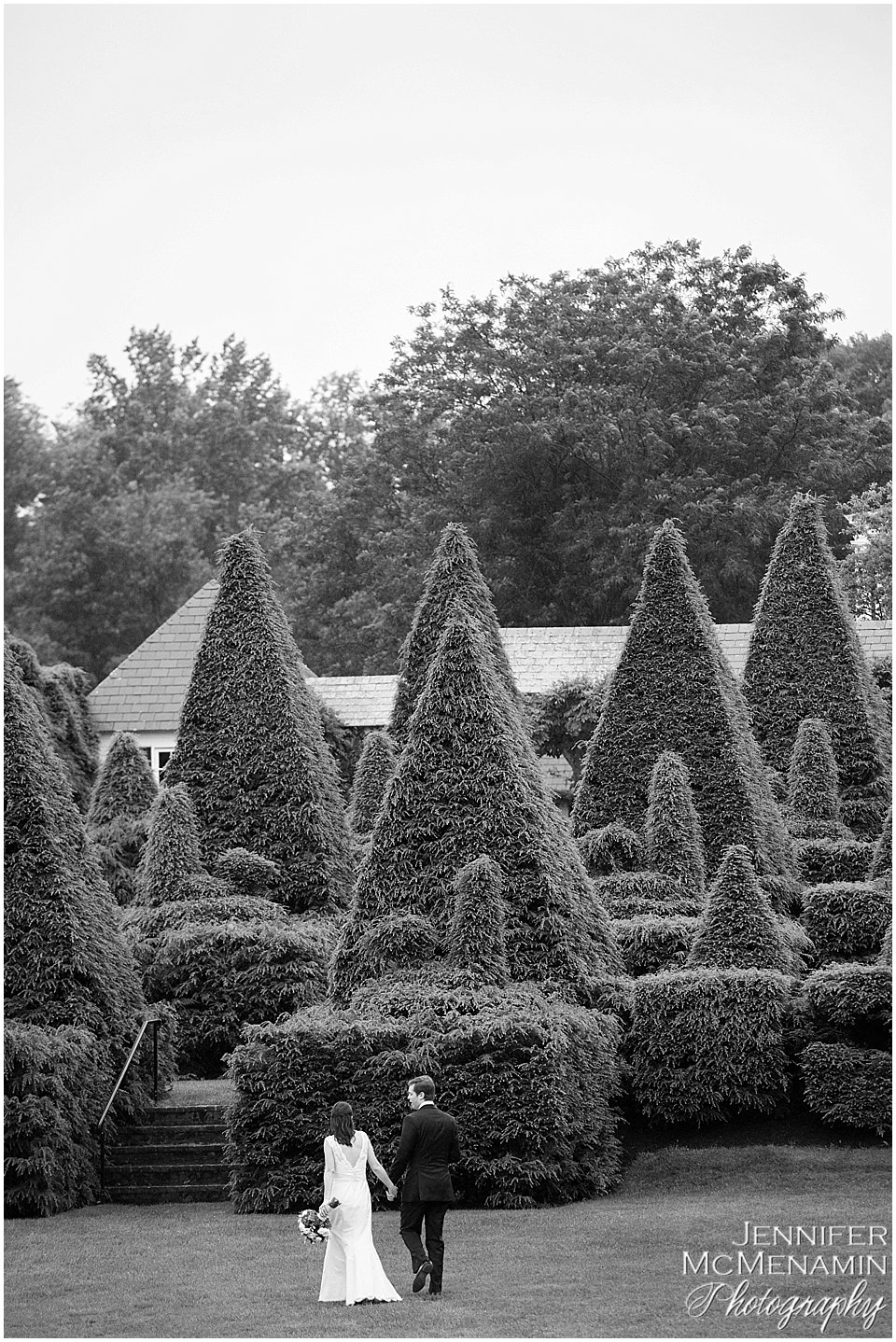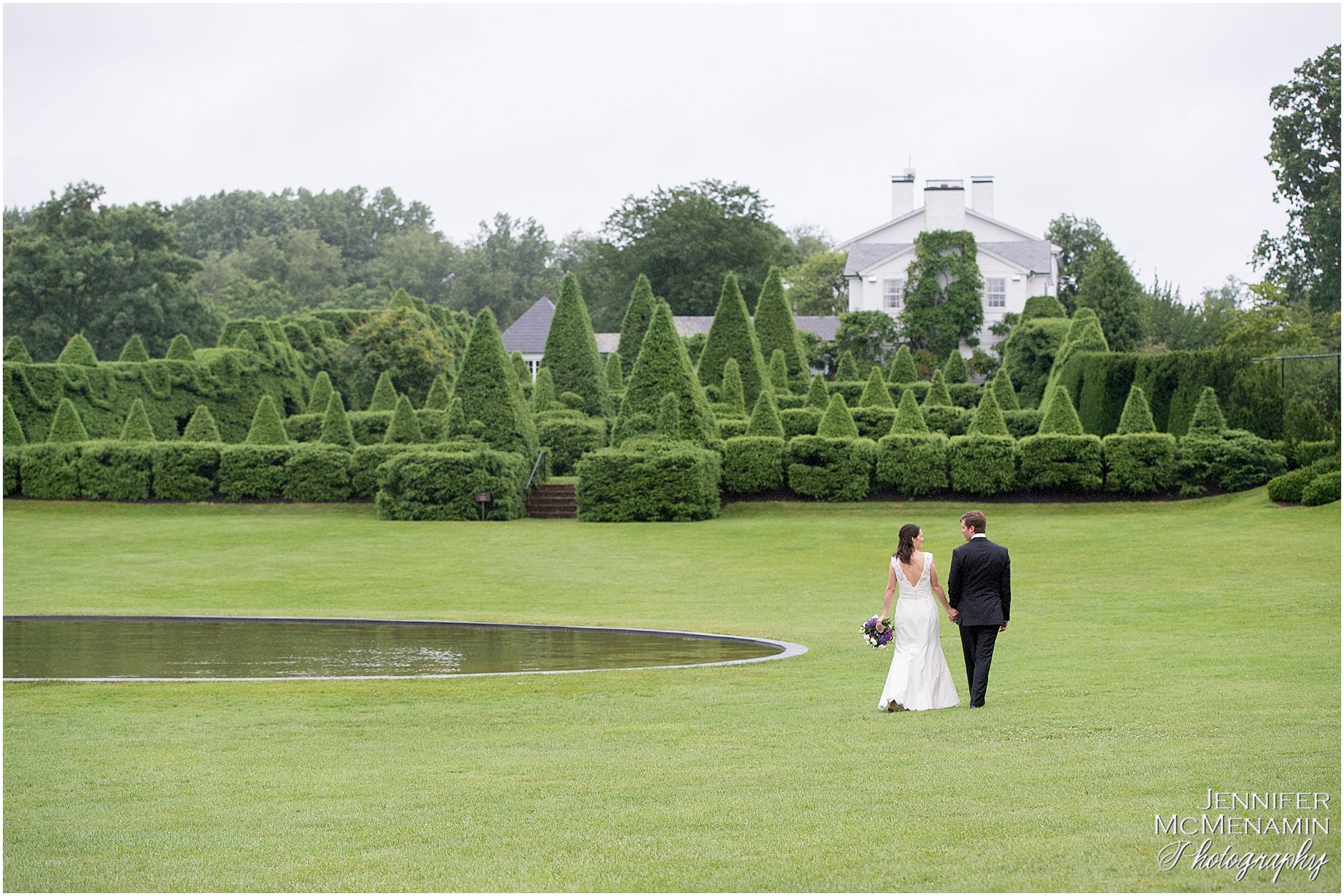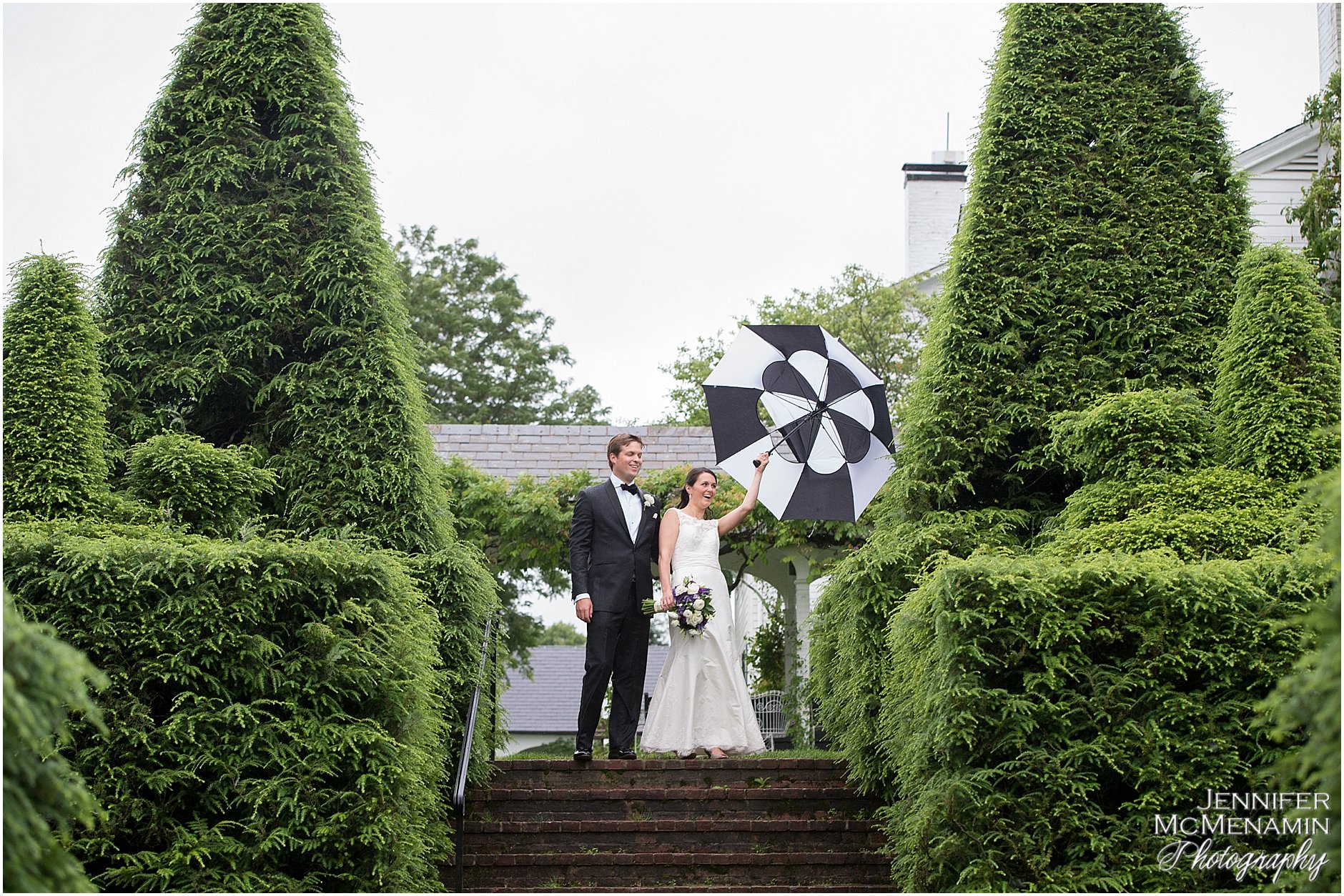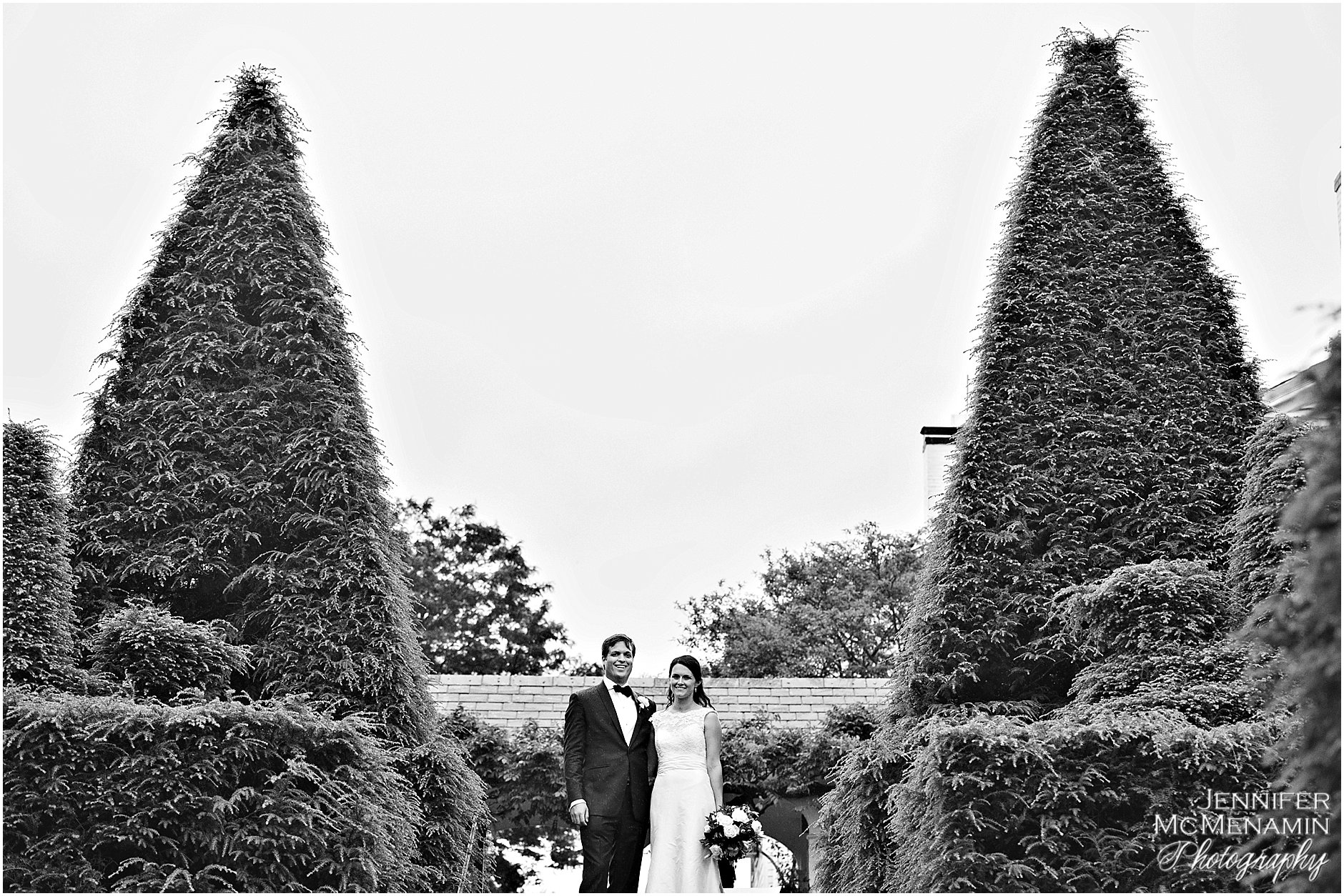 Anne's beautiful bouquet included part of Nathan's grandmother's wedding gown.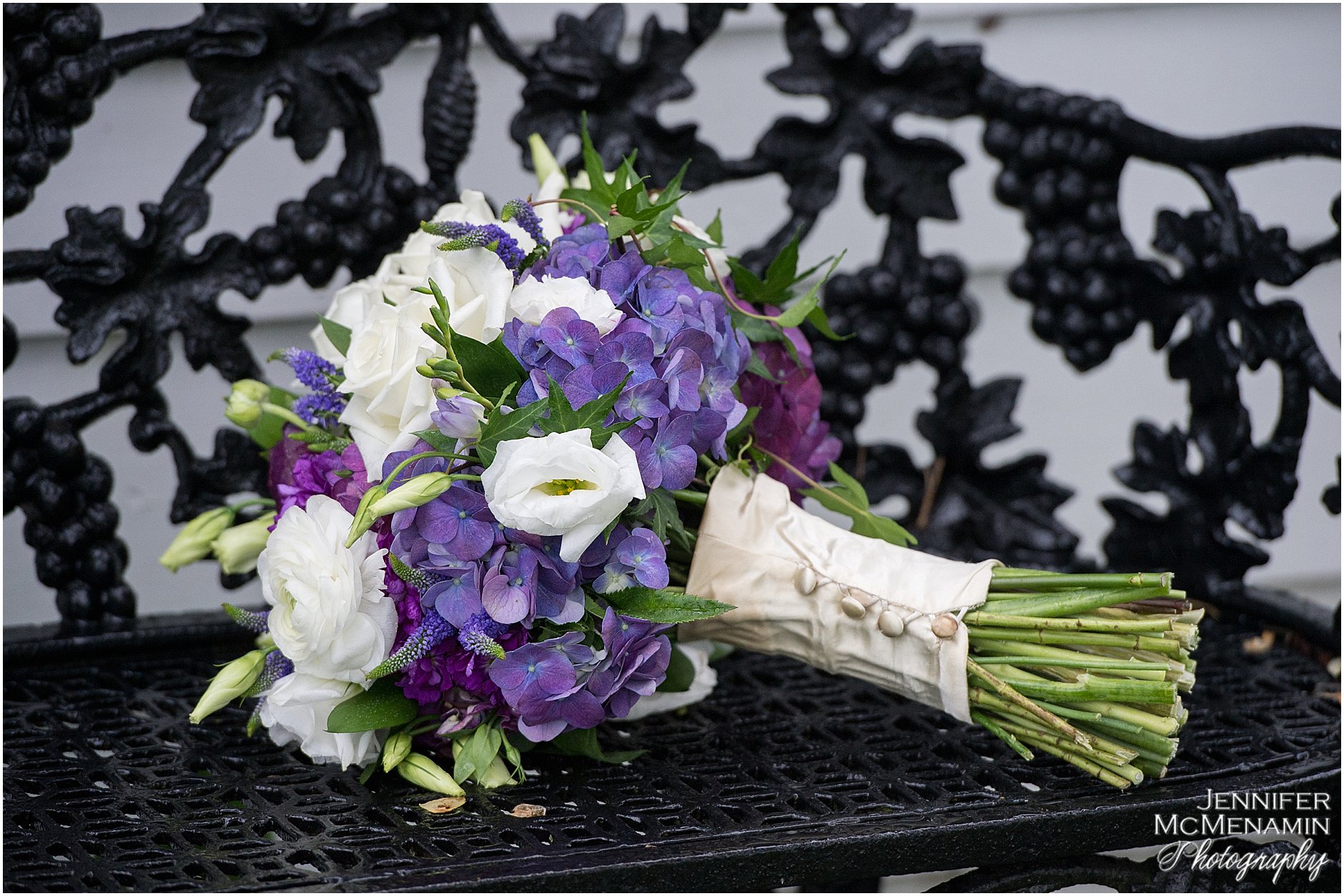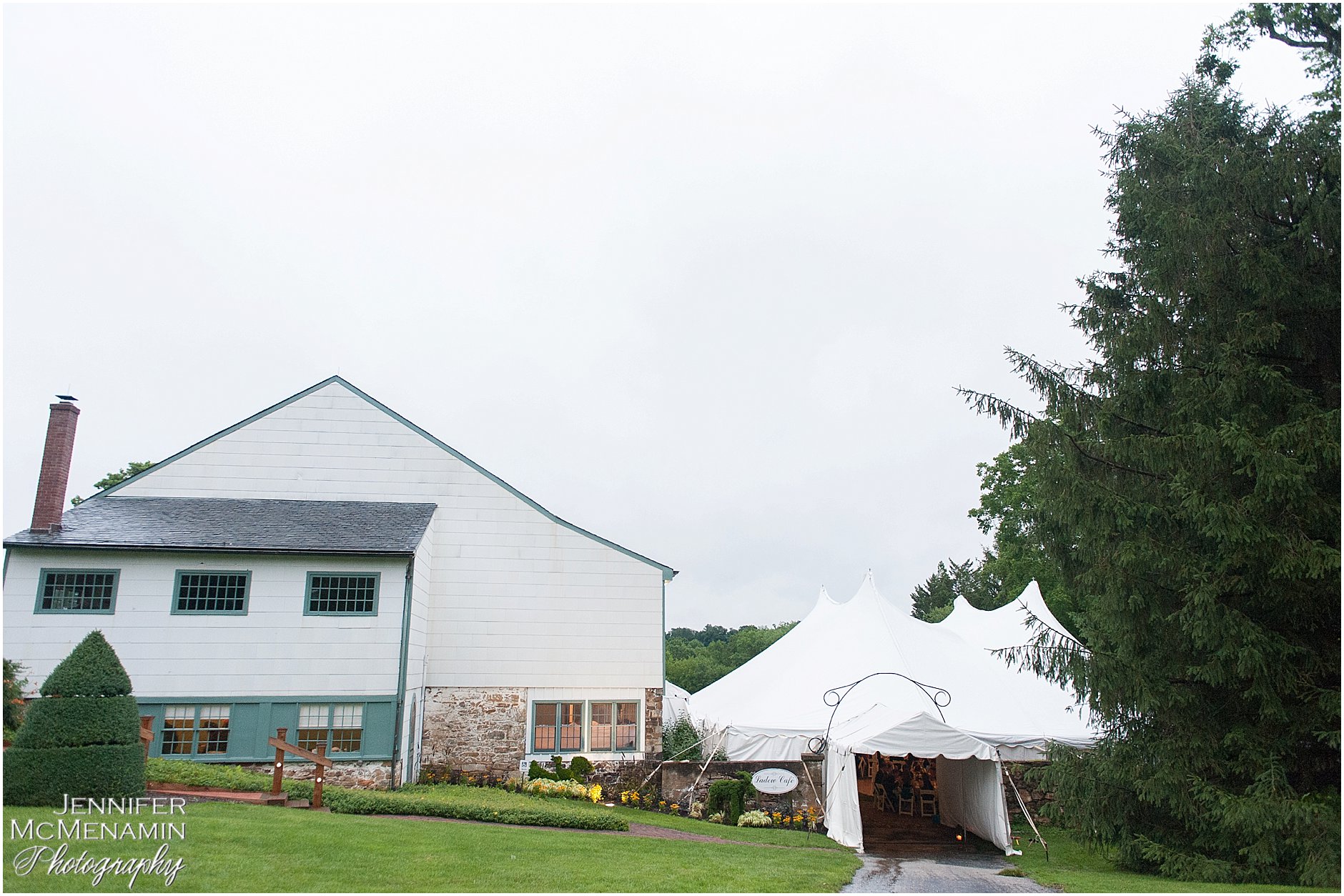 Anne specifically asked for photos that captured the beauty of the gardens. I was happy to oblige.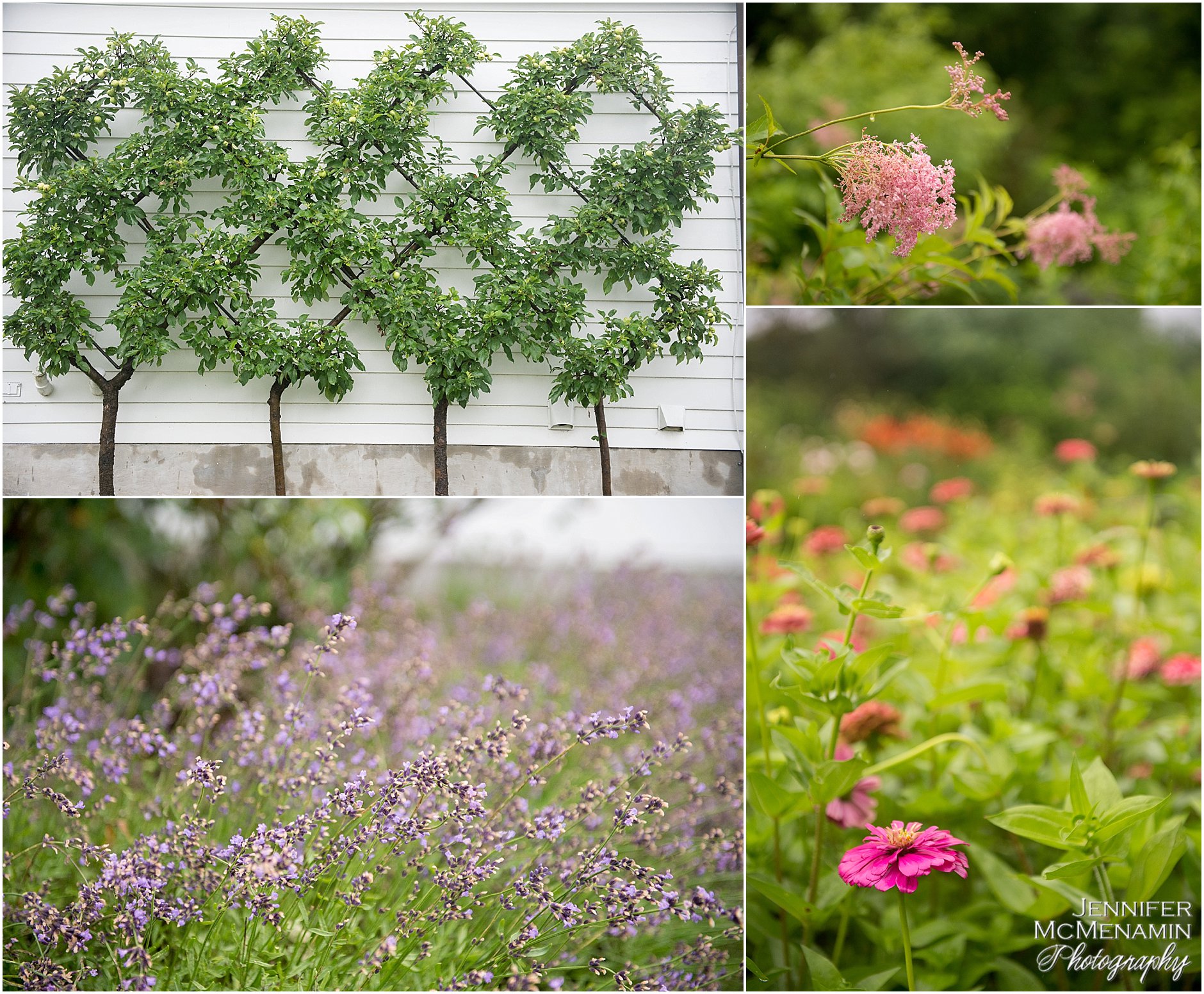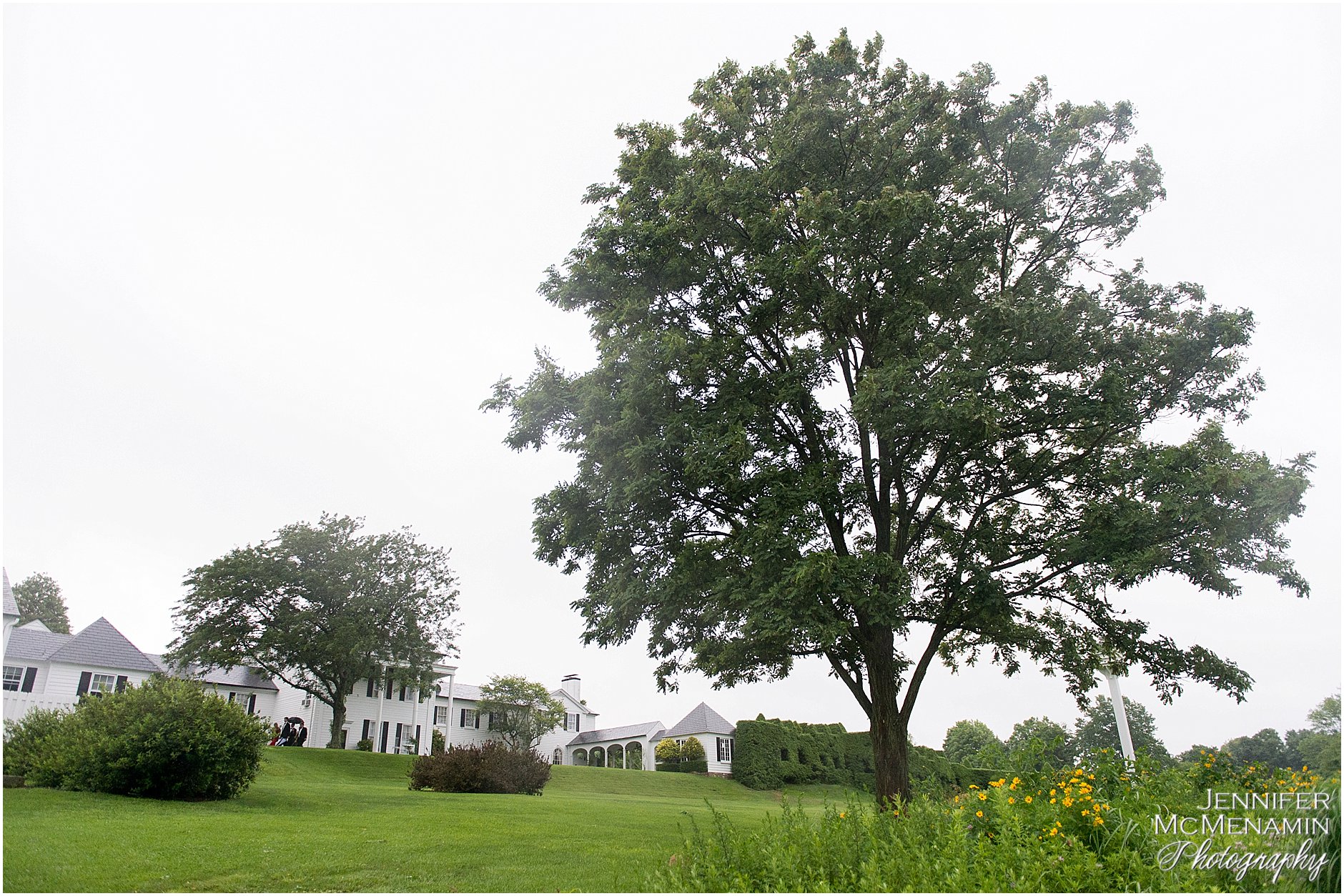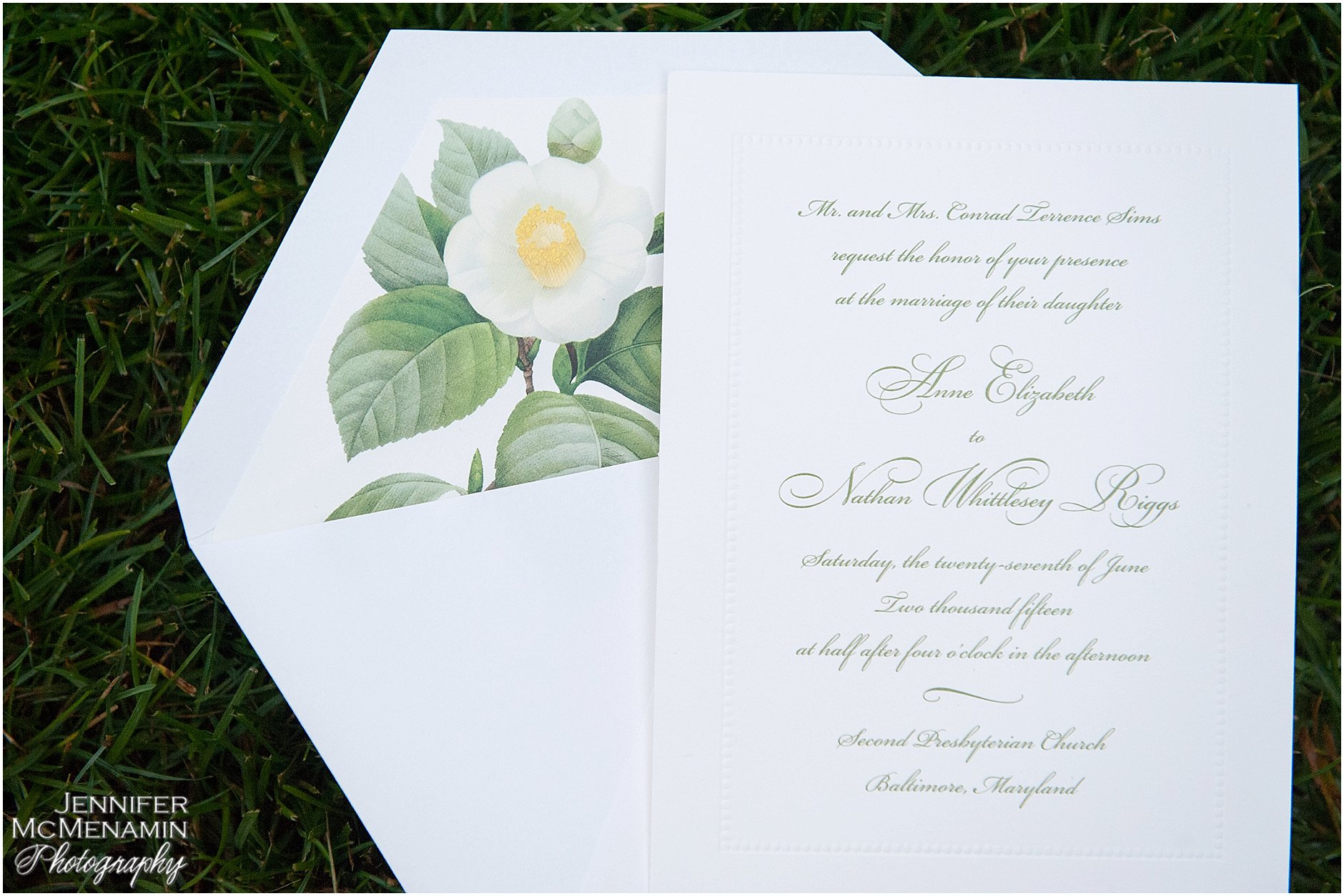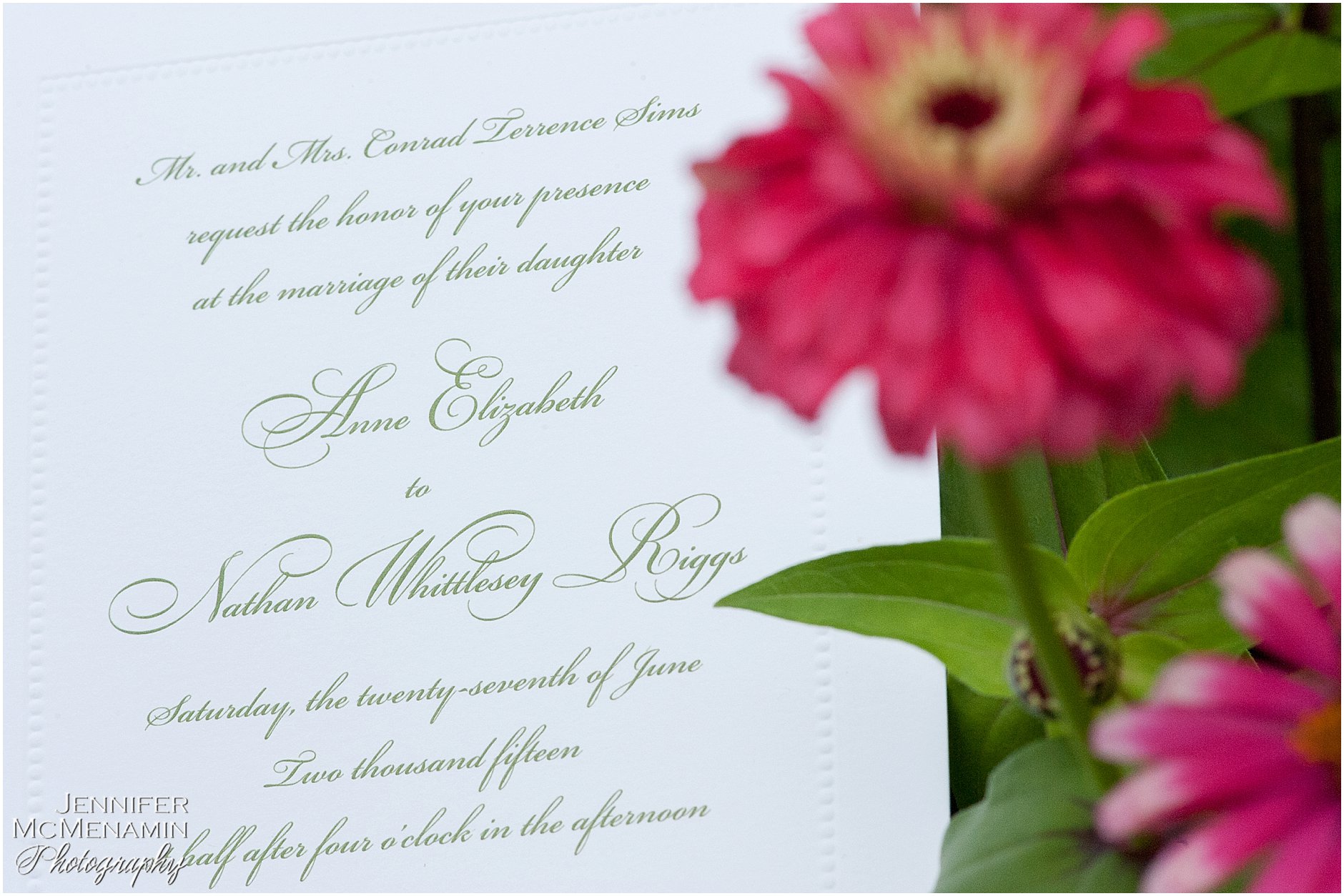 For favors, Anne + Nathan bottled limoncello made from lemons grown by his parents at their home in Arizona. What a wonderfully personal touch.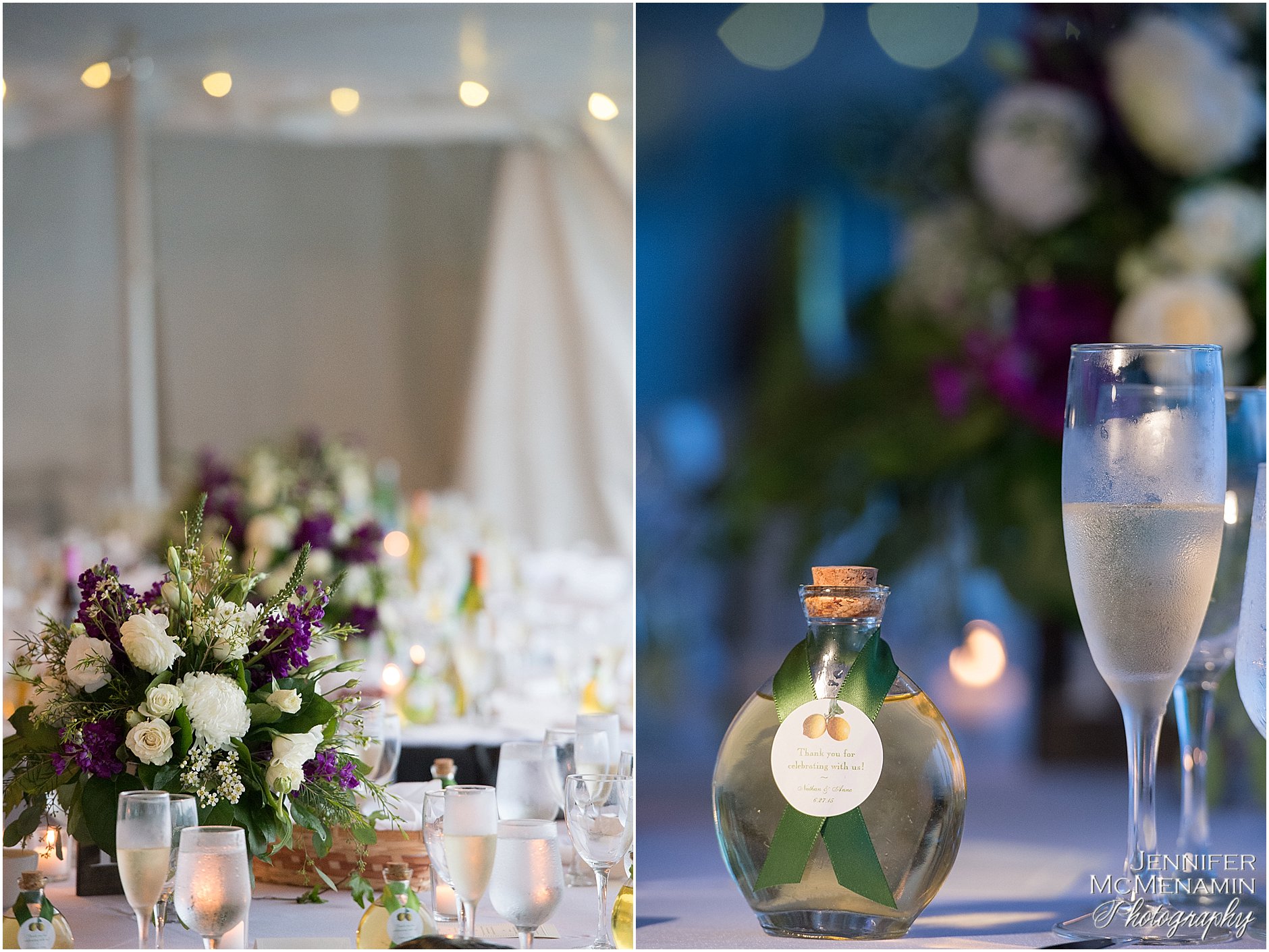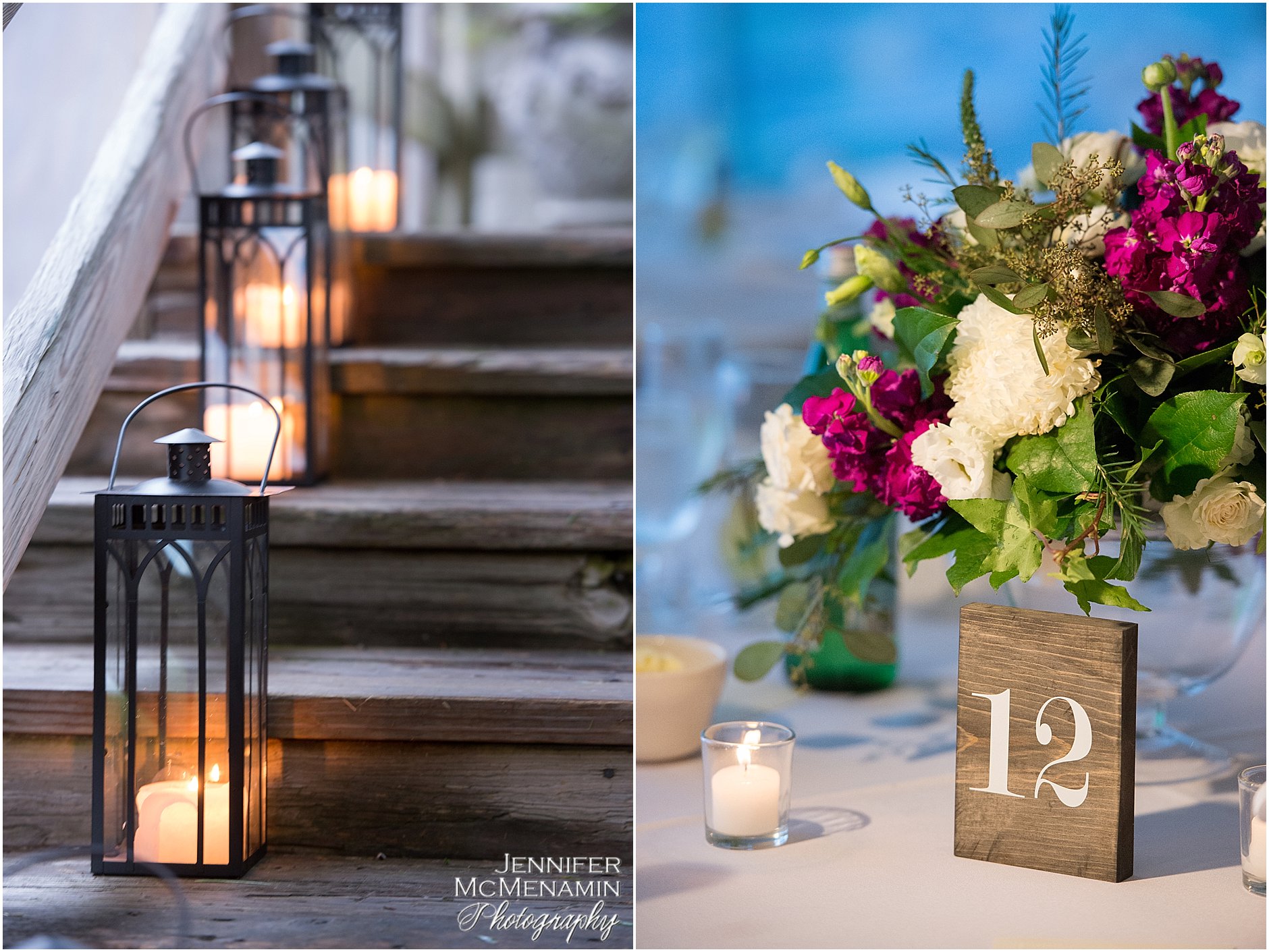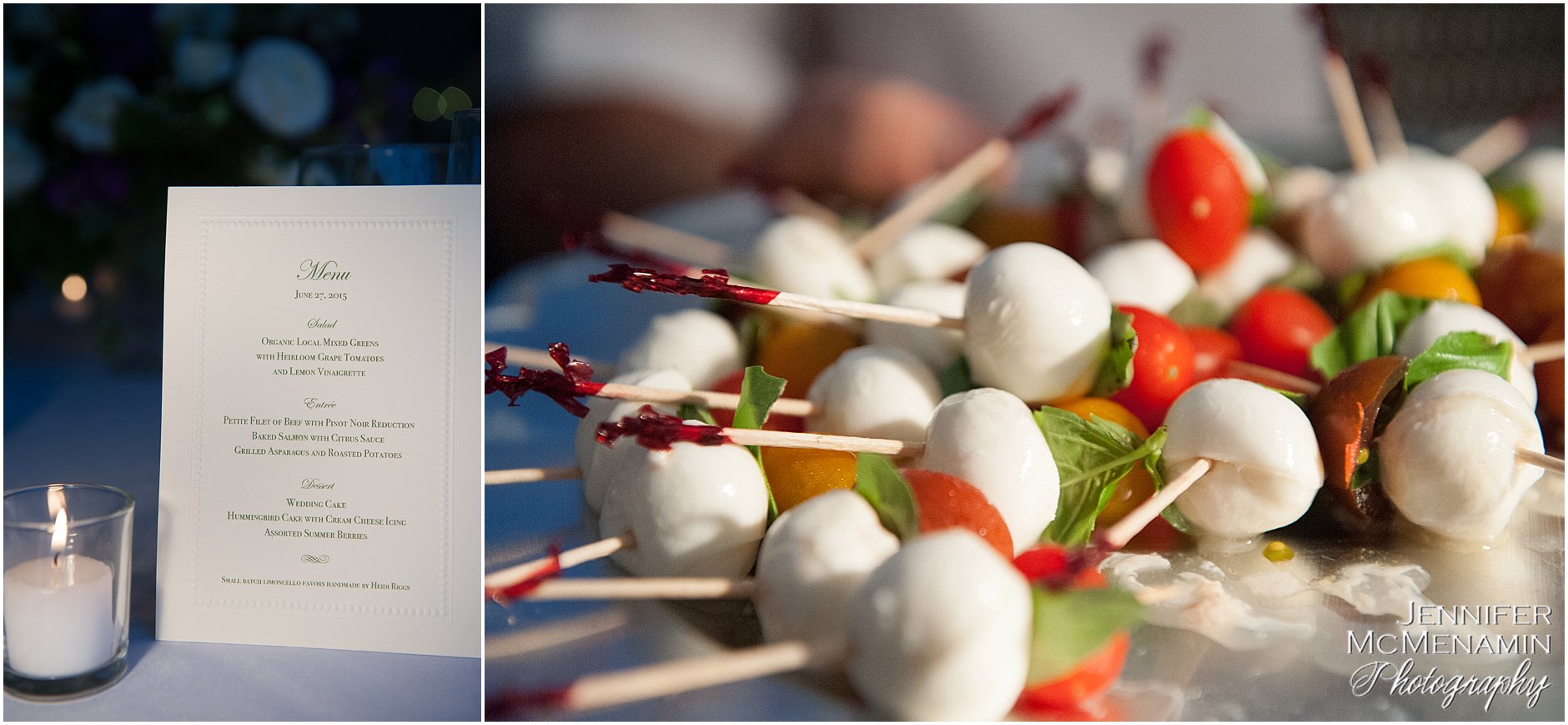 My most favorite-est part of my job is capturing all the joy and emotion of wedding days. Including when parents get choked up toasting their children.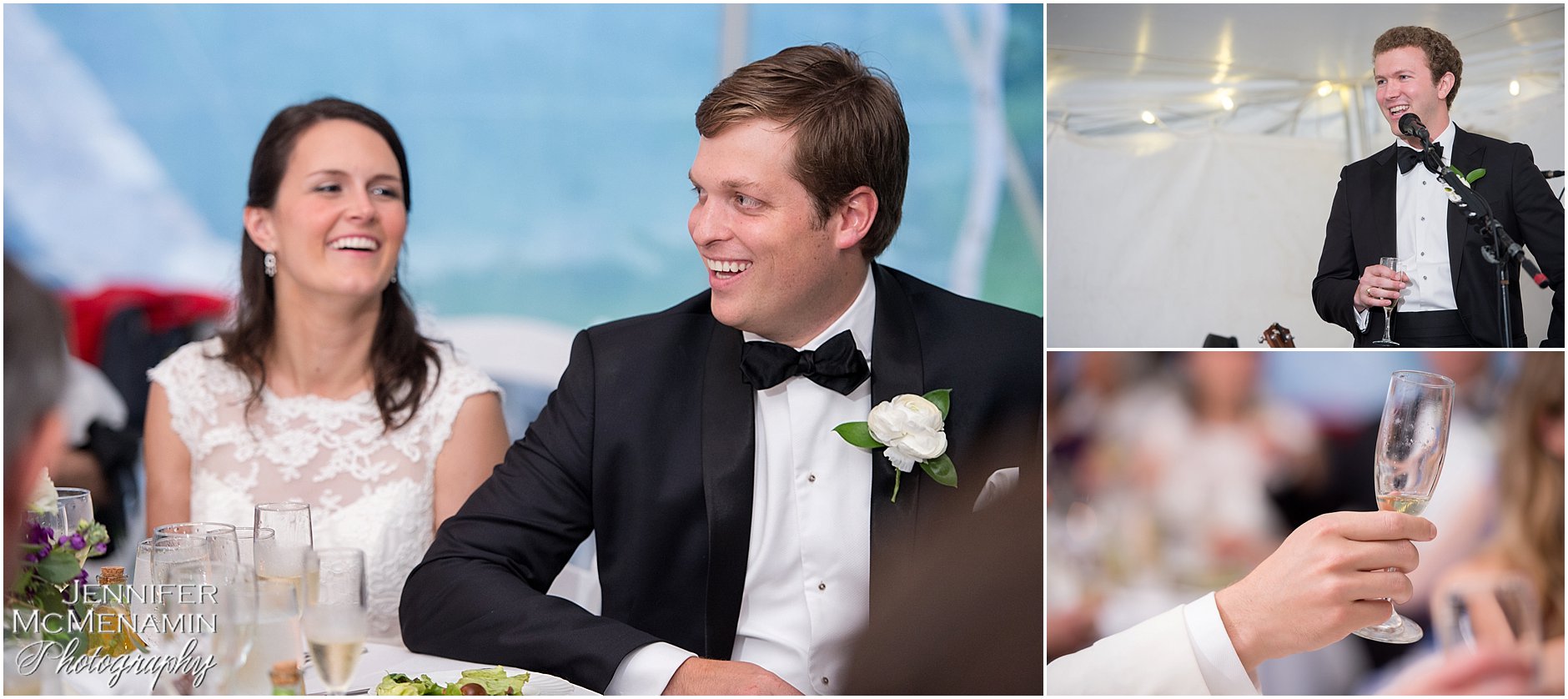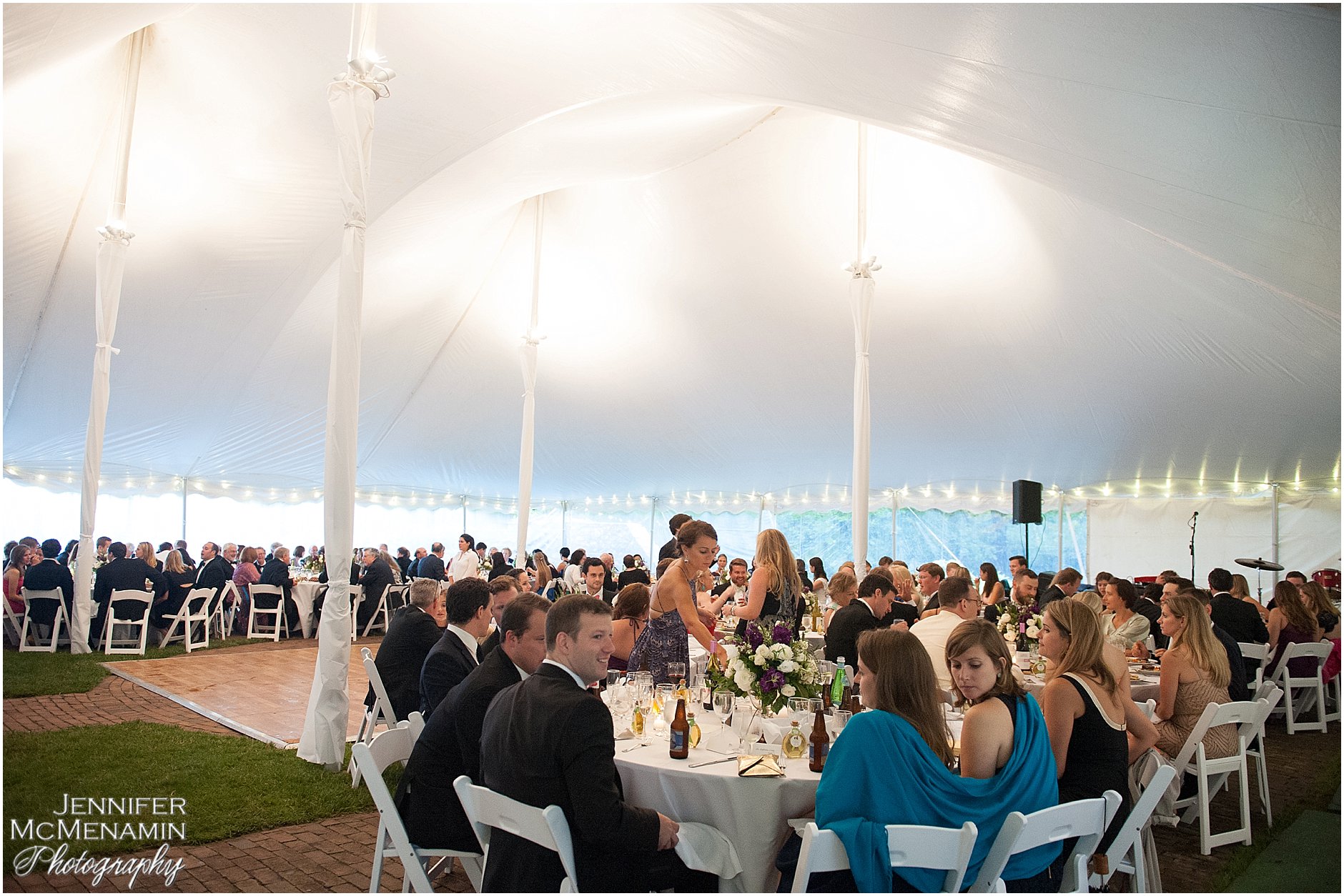 And then there was lots and lots of merriment.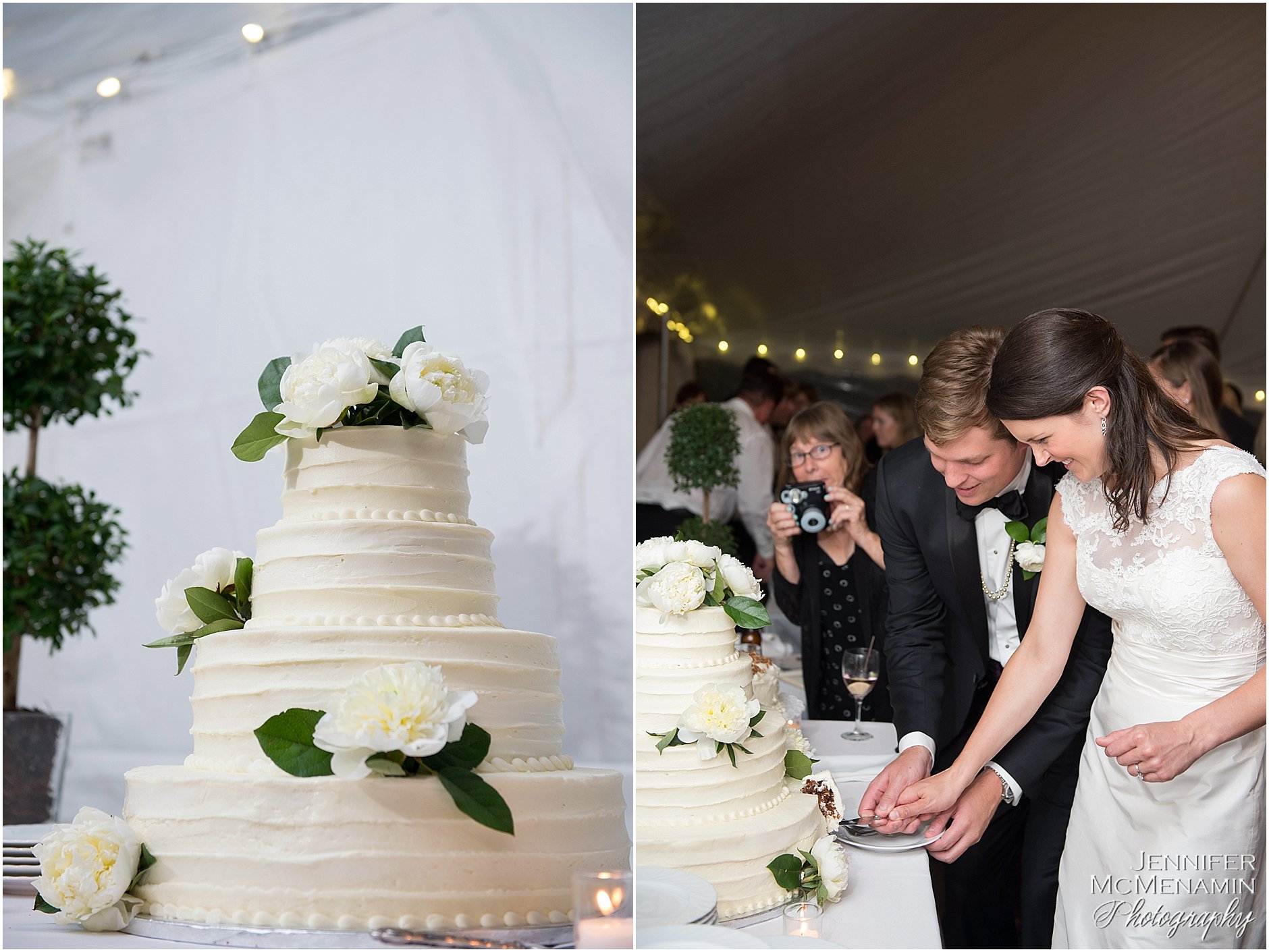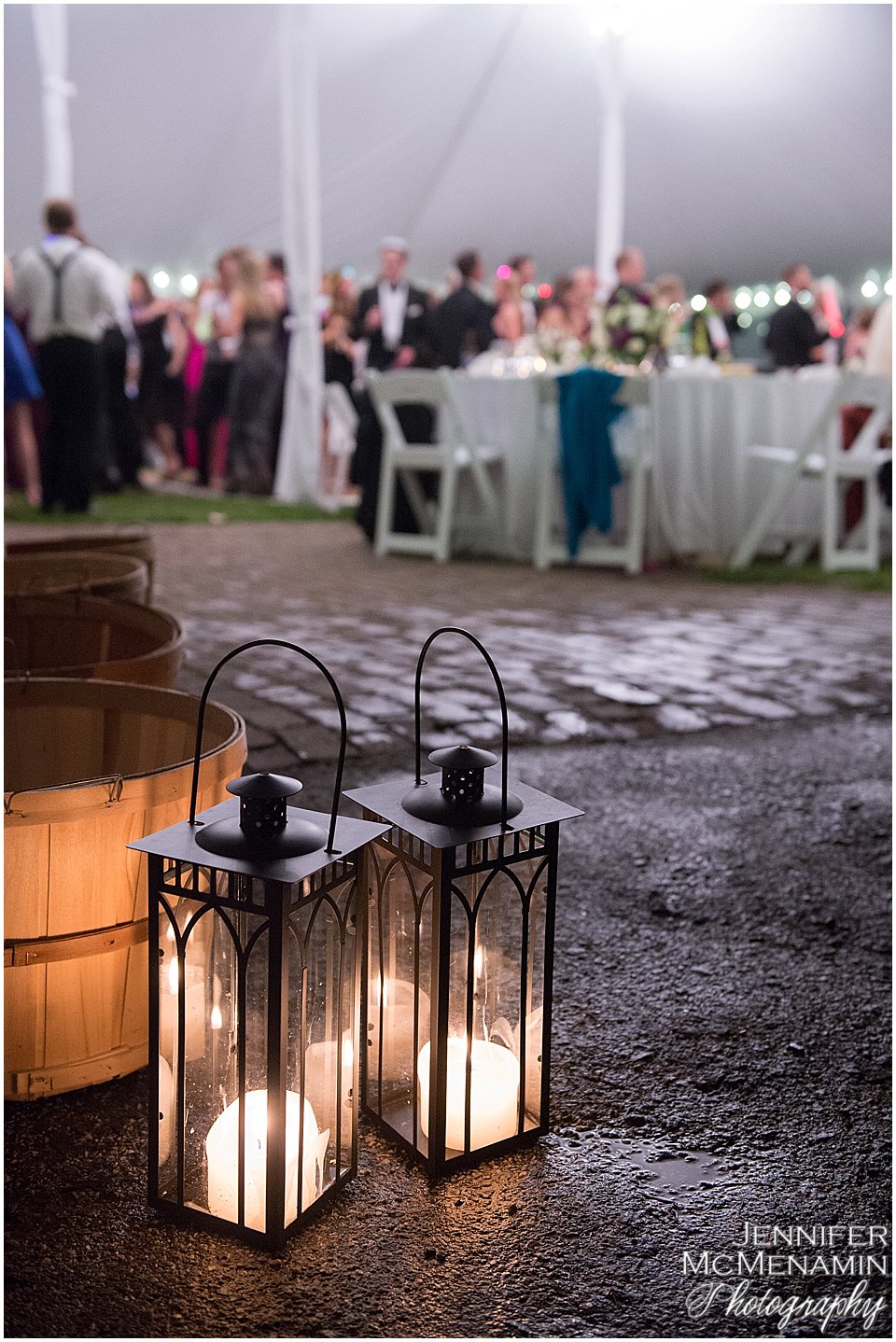 After a quick dress change for Anne, the couple departed in a flurry of glow sticks at the end of the evening.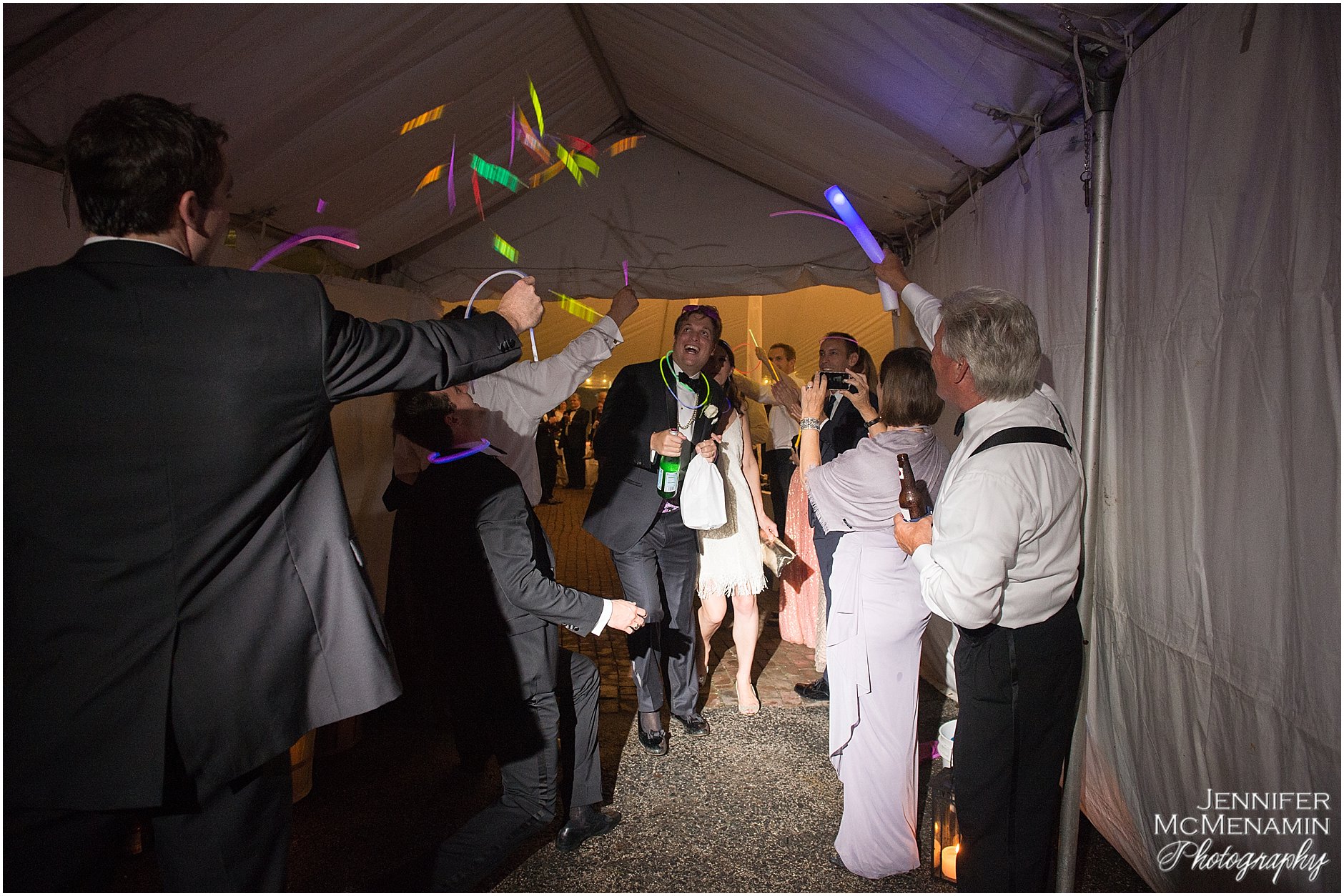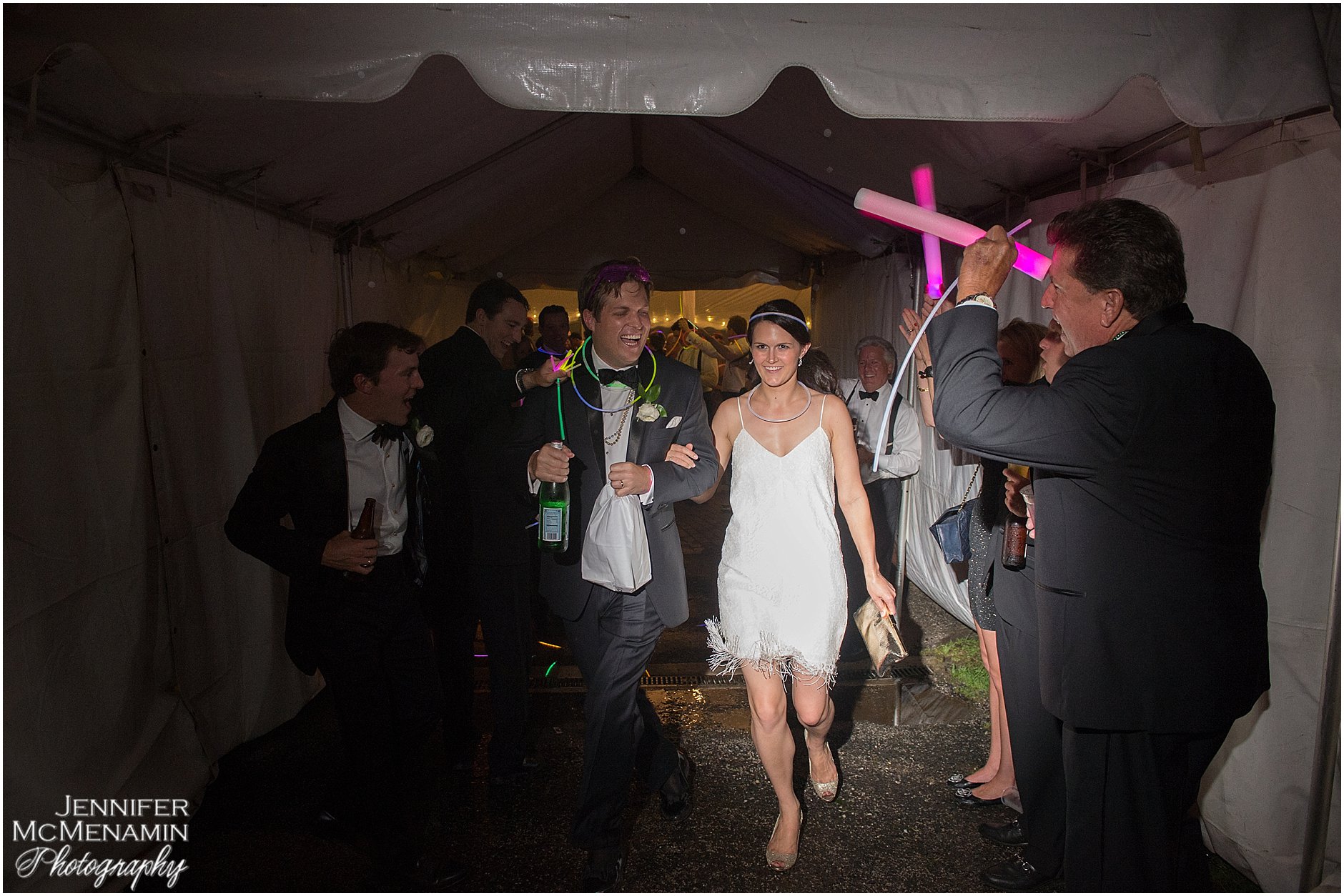 Many, many congratulations, Anne + Nathan! We could not have had more fun with you, your friends and your families!
Credits:
Photography: Jennifer McMenamin Photography, LLC

Ceremony: Second Presbyterian Church
Officiant: The Rev. Dr. Thomas Blair and The Rev. William Eddy
Ceremony musicians: Organist Herb Dimmock

Reception: Ladew Topiary Gardens

Catering: Your Day Gourmet

Bridal attire: Paloma Blanca gown from Gamaberdella
Make-up: Suzanne Della Pella

Hair: Spa in the Valley

Bridesmaids' attire: Amsale
Groom's attire: Alabaster & Chess Custom Luxury Menswear

Florist: Flowers & Fancies
Cake: Graul's Market

Band: The Crawdaddies

Transportation: American Limousines

Invitations: The Pleasure of Your Company