Erica & Marlon

The Belvedere -- Baltimore wedding photography -- Maryland wedding photography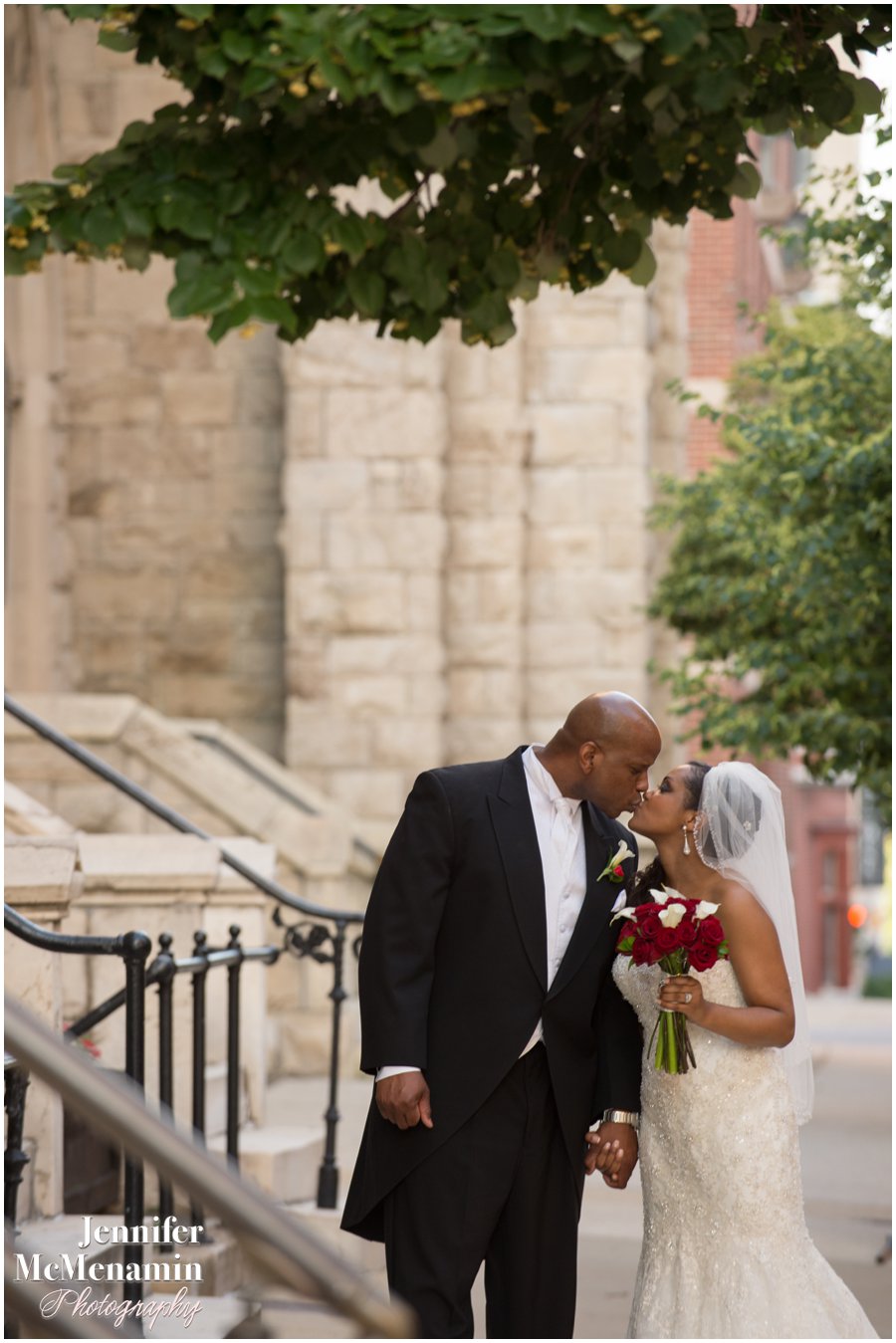 Erica and Marlon's was a wedding that I looked forward to for a long time. We first met nearly a year out from their wedding date. It was one of those meetings that left me crossing my fingers that the stars would align and we'd get to work together. When Marlon called to ask a couple of follow-up questions, I was on vacation in Montana with my husband and our girls but answered the phone right away upon seeing their names pop up. I vividly remember standing in my mother-in-law's kitchen, wanting to dance around upon hearing that they were hiring me. They so obviously have a wonderful connection together and they truly value their friends, their families and great photography. Pretty much my recipe for ideal clients. Erica, a former Redskins cheerleader, and Marlon, a former Terrapin football player at my beloved alma mater of the University of Maryland, chose not to see each other before their wedding. But they did want to share some sort of personal moment in each other's presence before the ceremony. Those images — Erica and Marlon each leaning against opposite sides of a hallway corner in the ornate Belvedere Hotel — practically crackle with anticipation and excitement. Their wedding happened to fall on the weekend of Baltimore's Gay Pride Festival and much of the neighborhood surrounding their venue was taken over by the festivities. We deftly dodged the crowds for some beautiful outdoor photos after the ceremony. Erica and Marlon even posed with one passerby's rainbow flag. It was a marvelous day full of emotion, laughter, beautiful tributes — in words and saxophone serenade! — and one utterly rocking dance party. One more quick story before I get to the photographs: At our first meeting, I had to confess to Marlon that I had not attended many football games when I was in college and he played defensive end for the Terps. Rather, I explained, I was a very dedicated basketball fan, camping out on the sticky floor of Cole Field House for tickets to the big games and even hanging a bedsheet painted with "Don't Go Joe!" out the window of my dorm room when one of my favorite players announced his intentions to leave school early for the NBA. "I remember that," Marlon quickly responded. "LaPlata Hall, right?" The stars aligned. It was just meant to be. Here are some of my favorites from their beautiful day: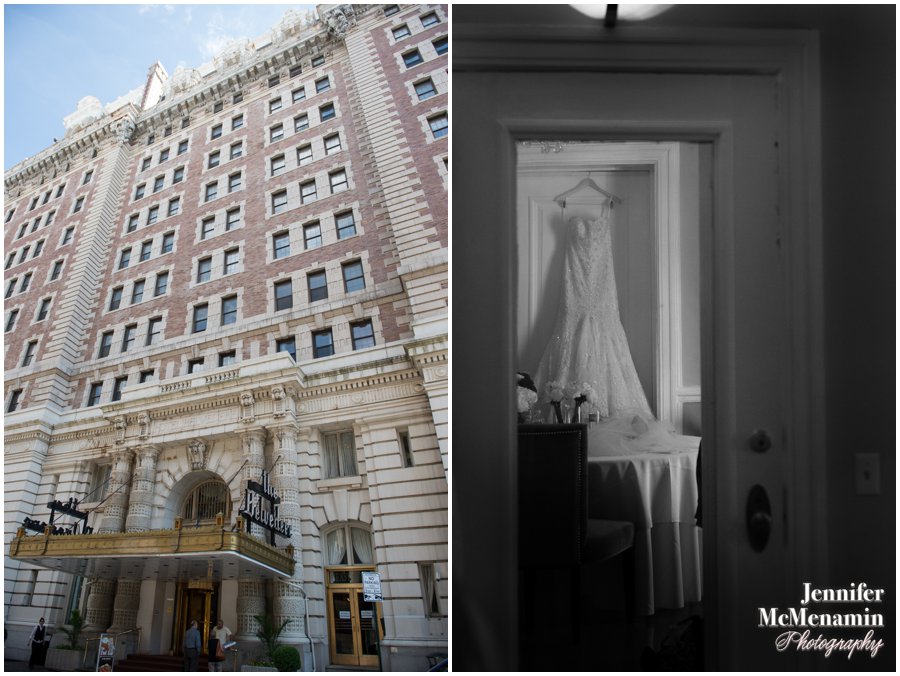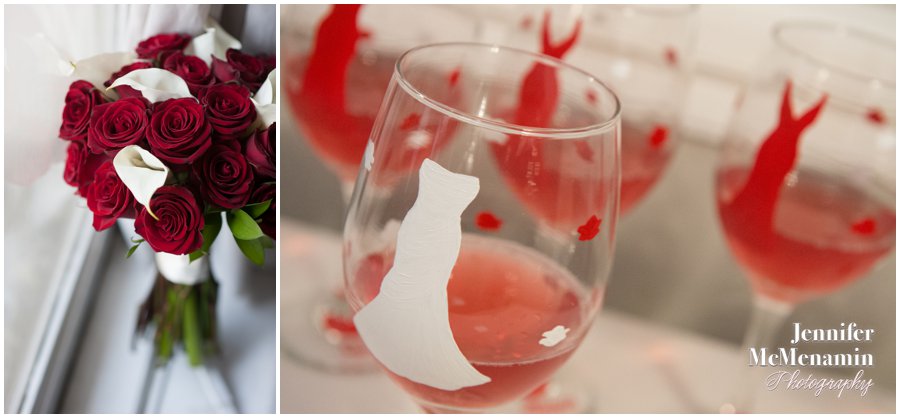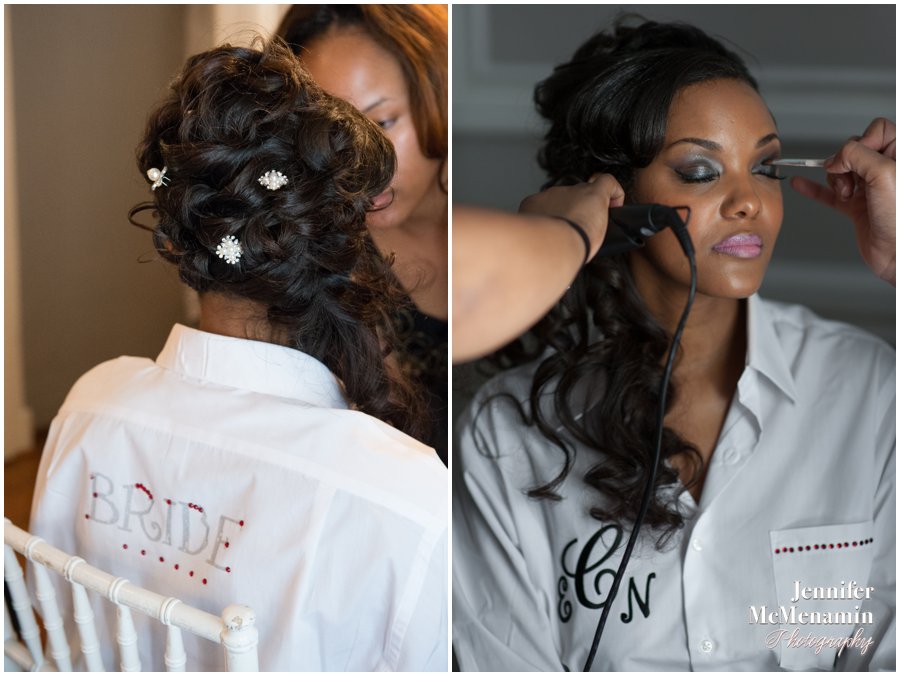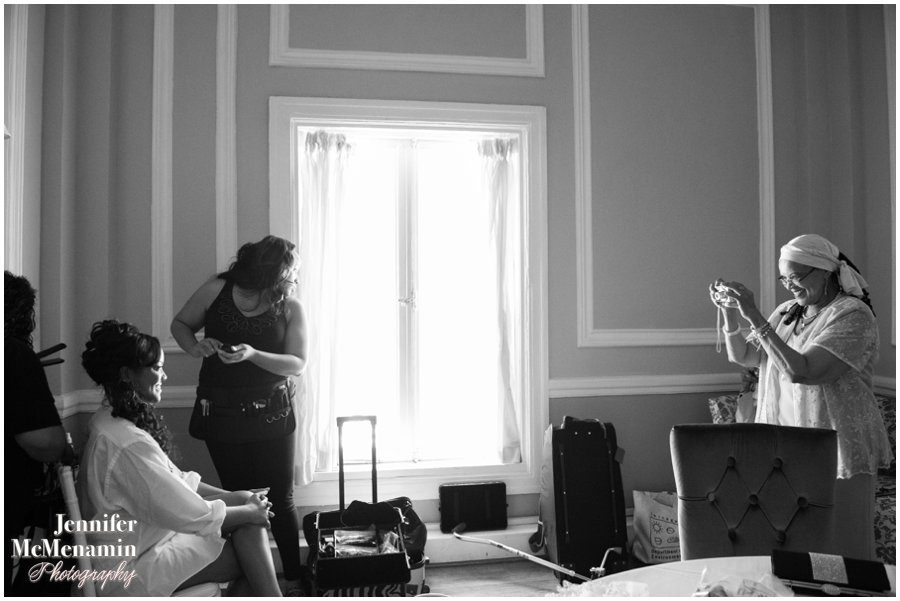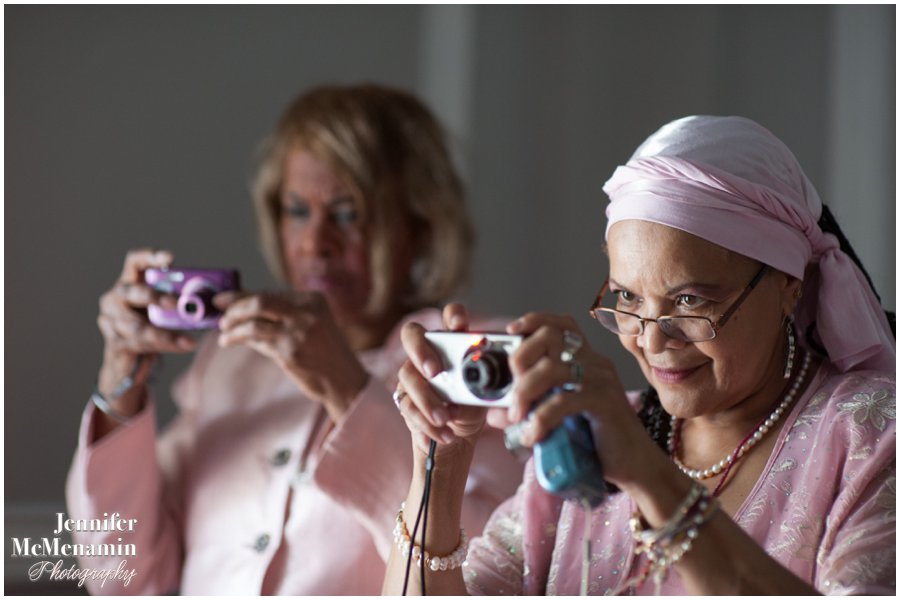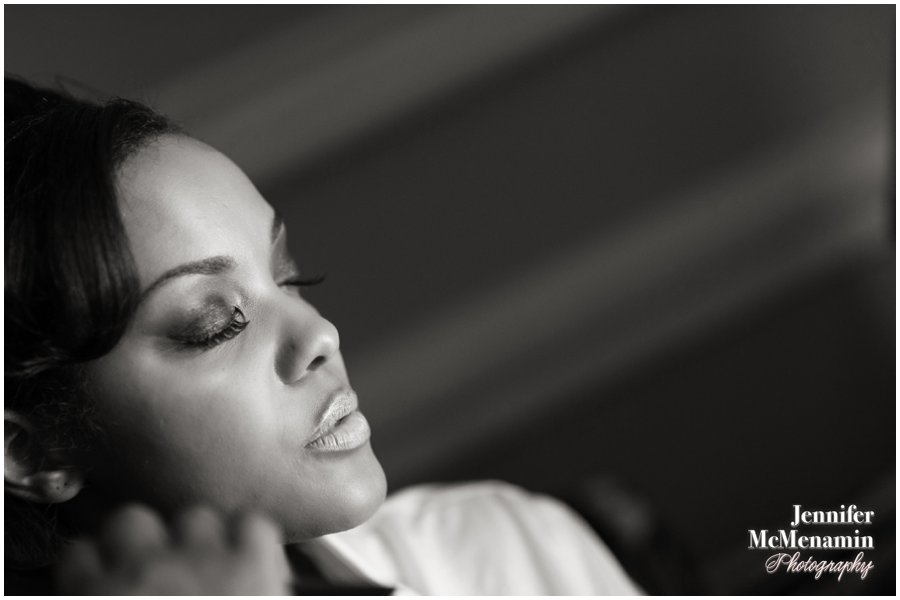 Erica needed to dive, rather than step, into her dress, which presented a bit of a challenge in protecting her perfectly styled hair and make-up. Her bridesmaids' and aunties' solution involved a plastic bag with a small hole for breathing. I kid you not. Hence the victorious exuberance at success!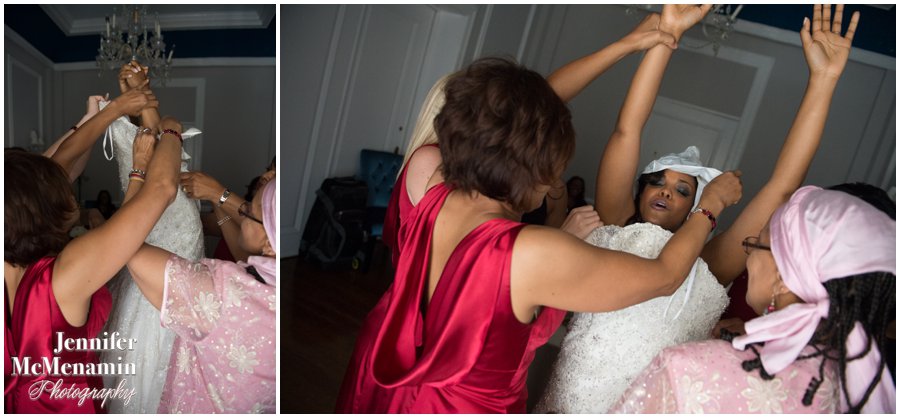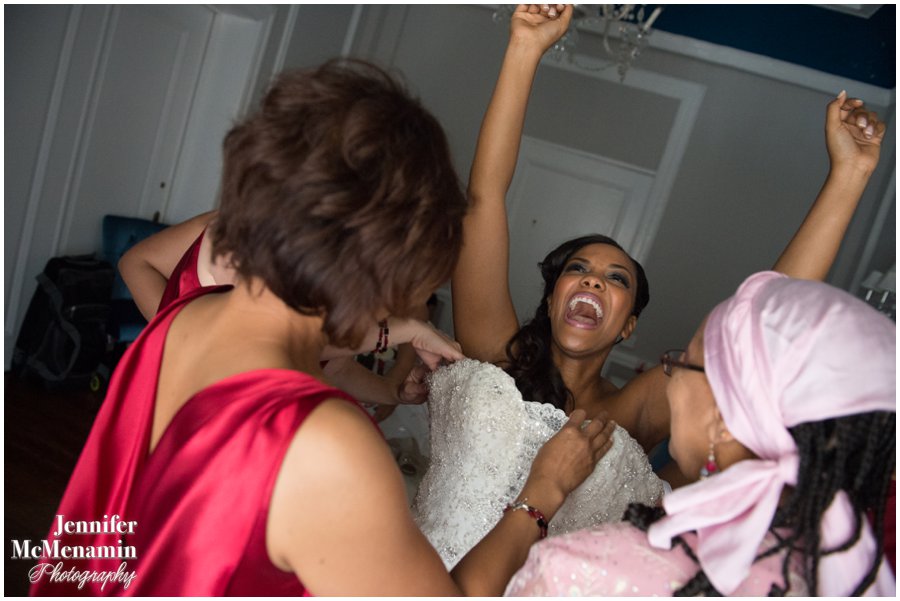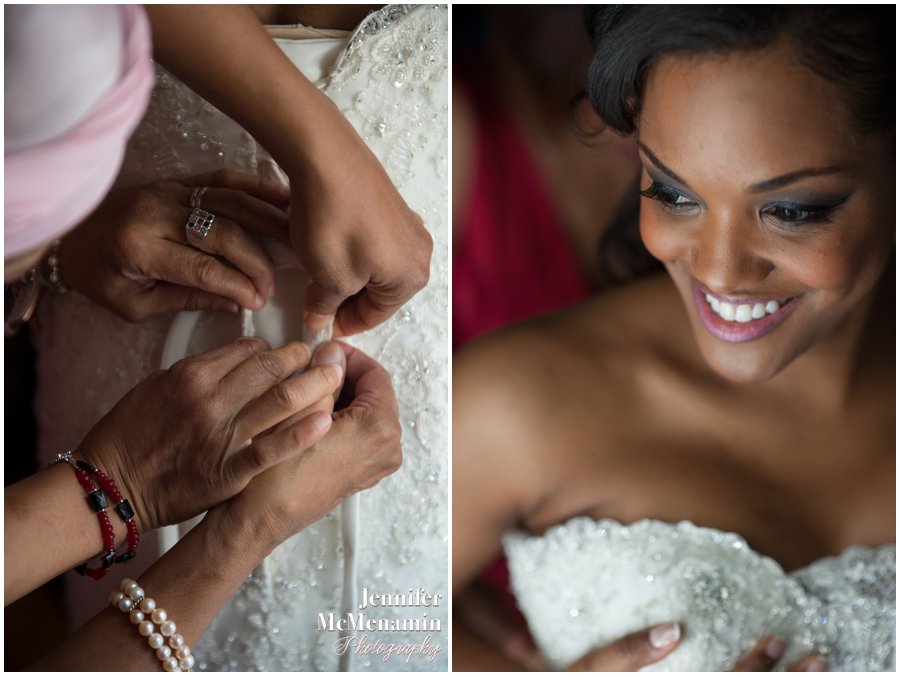 And seeing her father for the first time as a bride.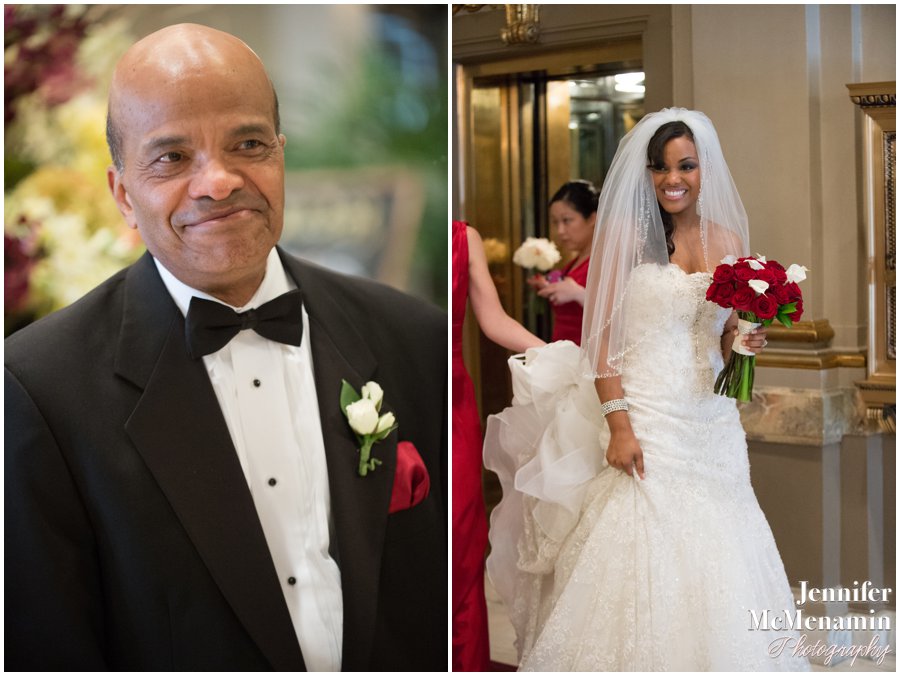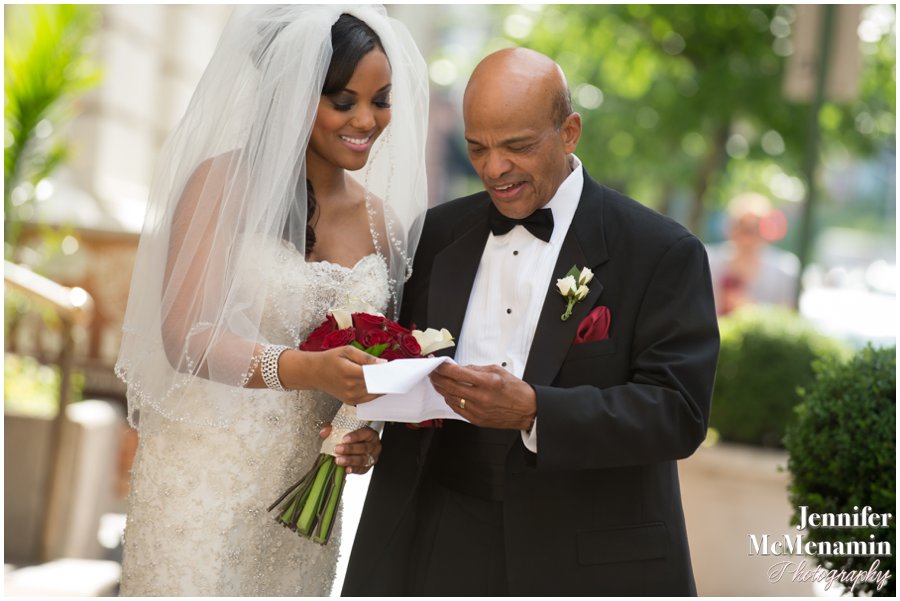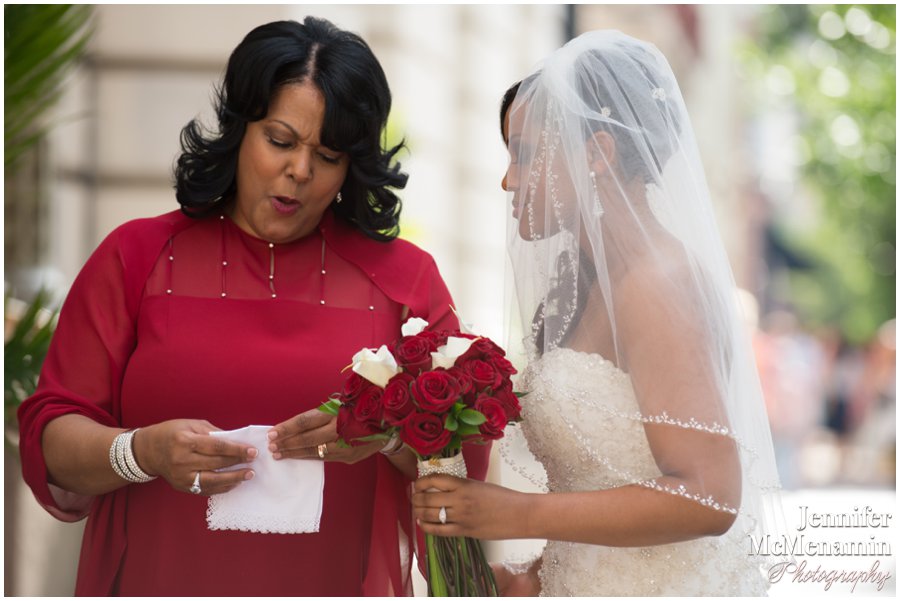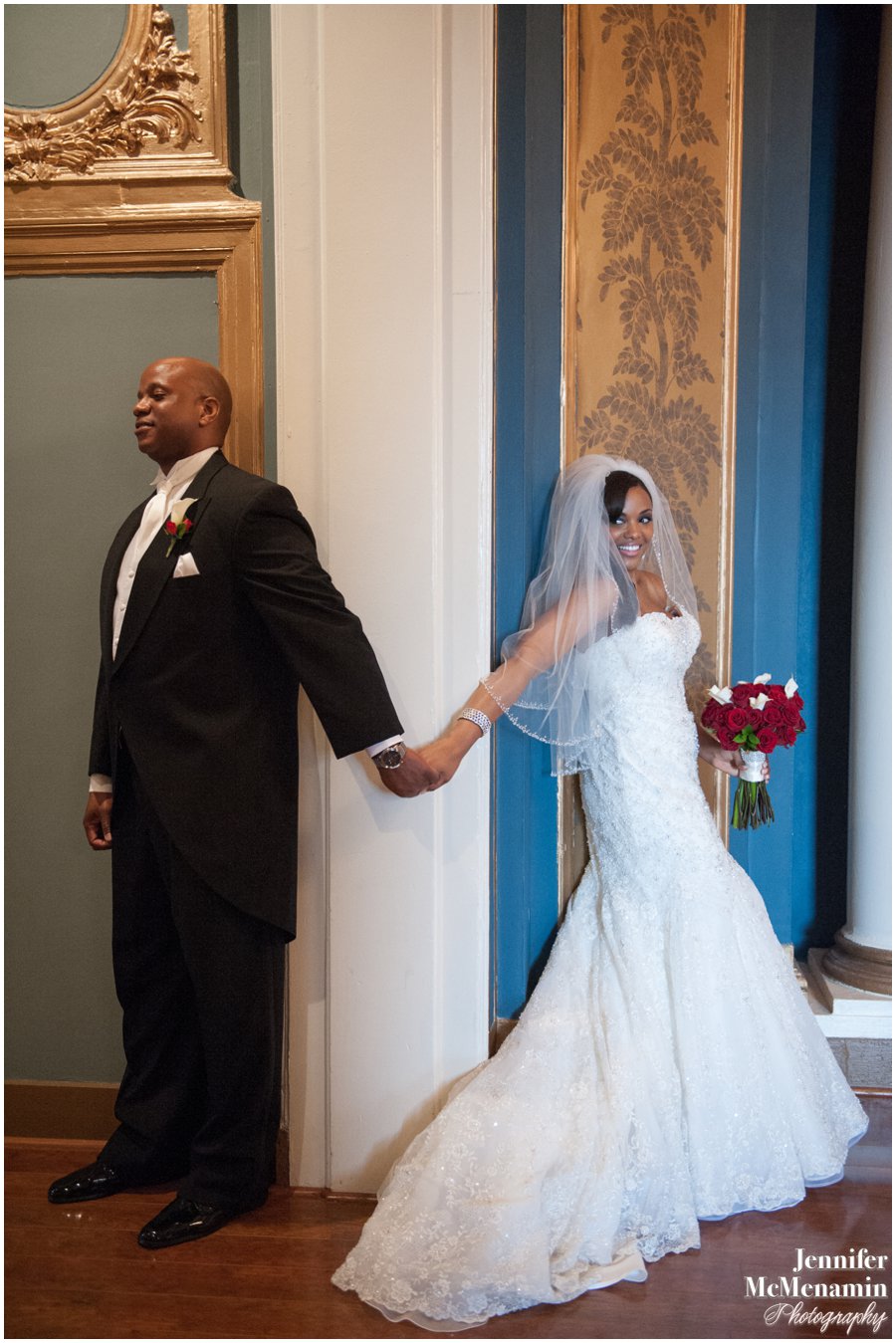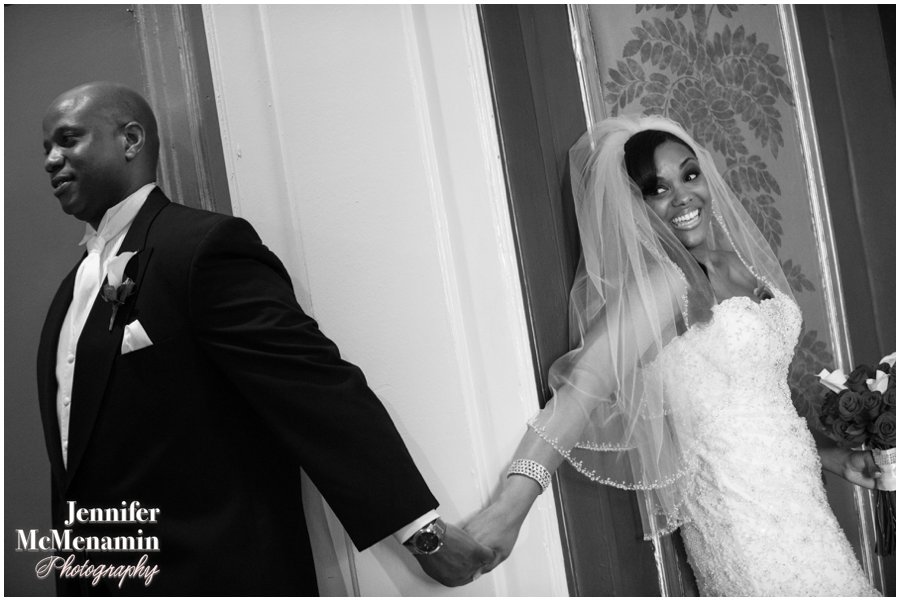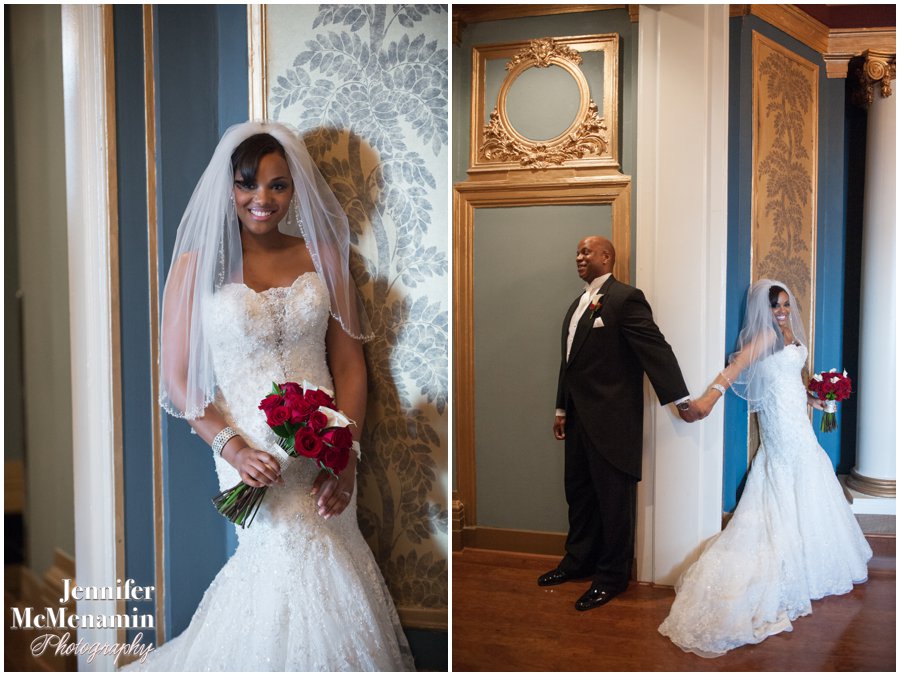 Time to get married!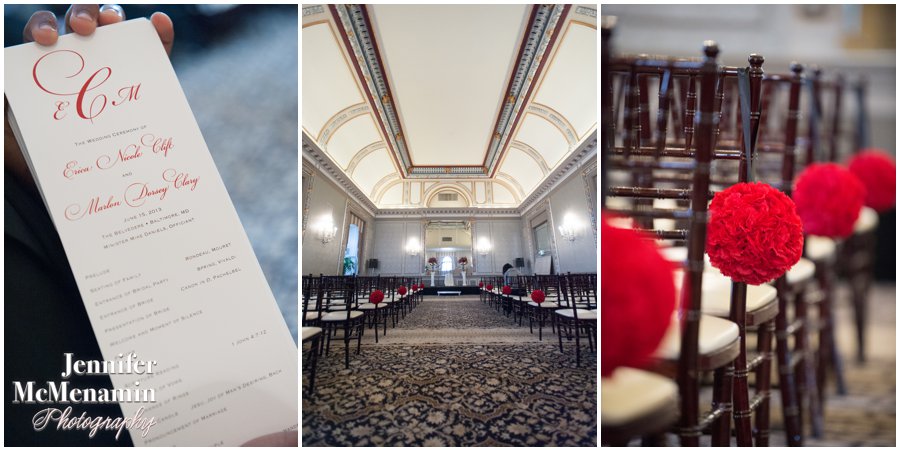 Guests audibly started oohing and aaahing before Erica and her father even rounded the corner to make the final walk toward Marlon.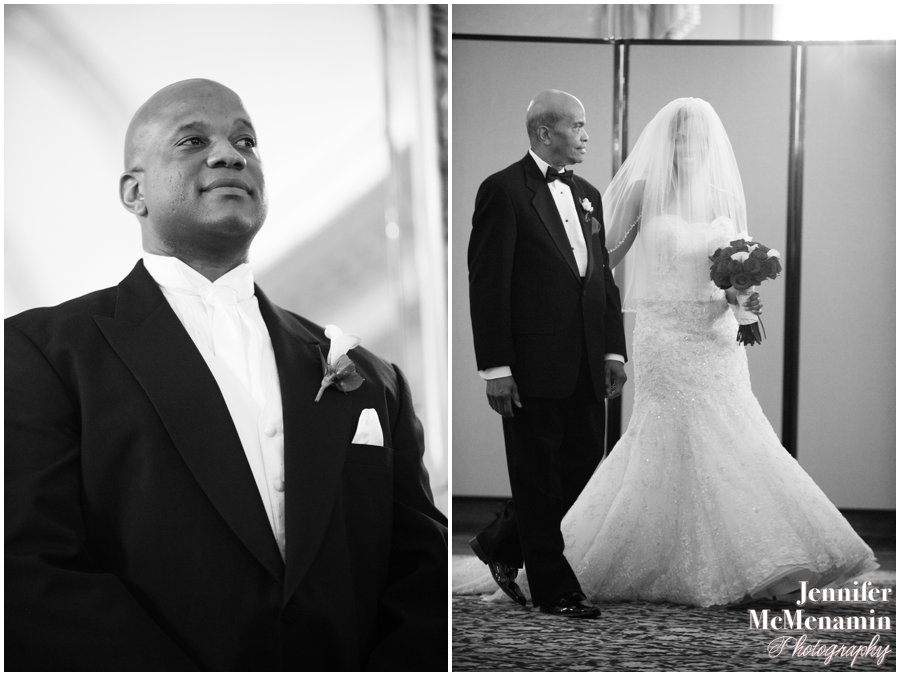 This next photo was shot by my assistant, Lucas.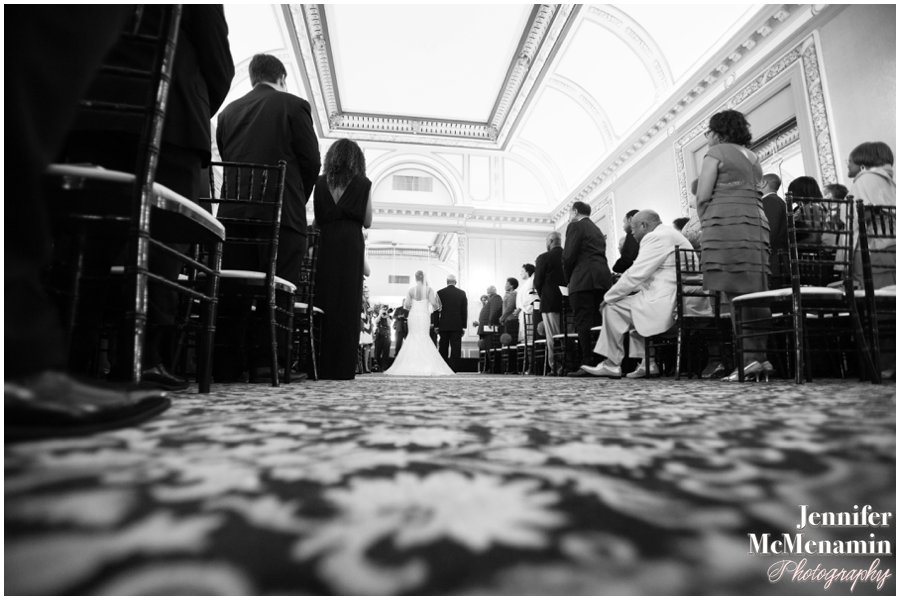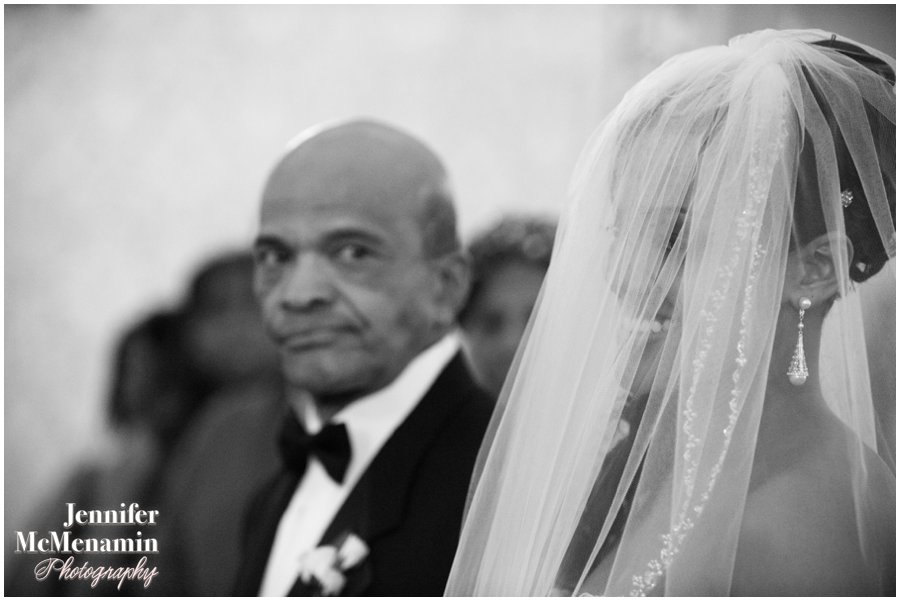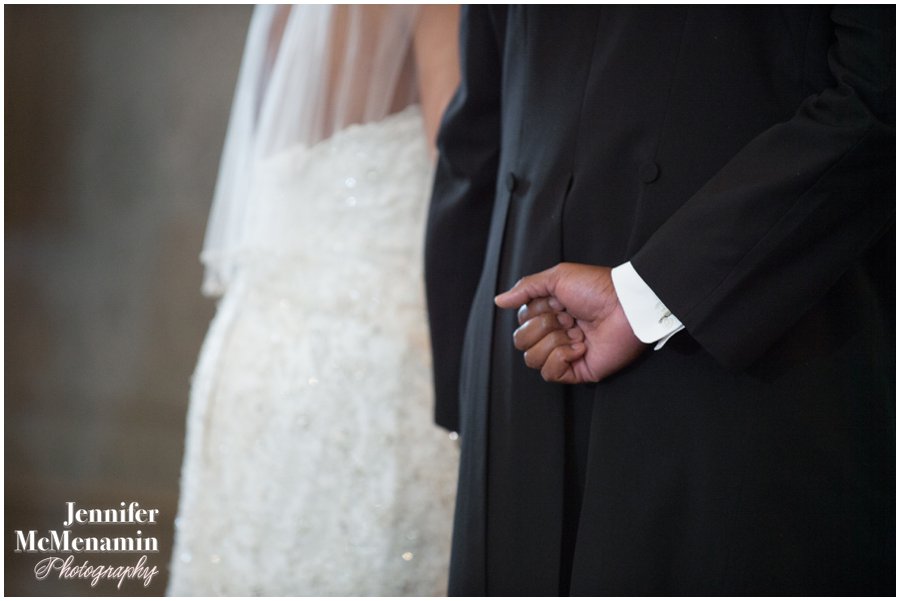 They shared so many lovely moments during their ceremony — little glances and expressions that I hope will help them relive their big day and all their wonderful memories.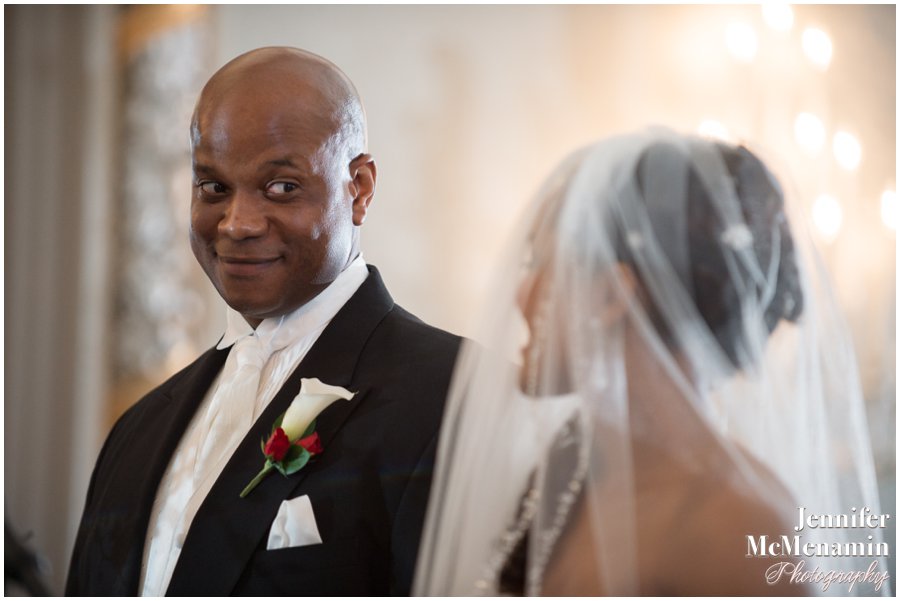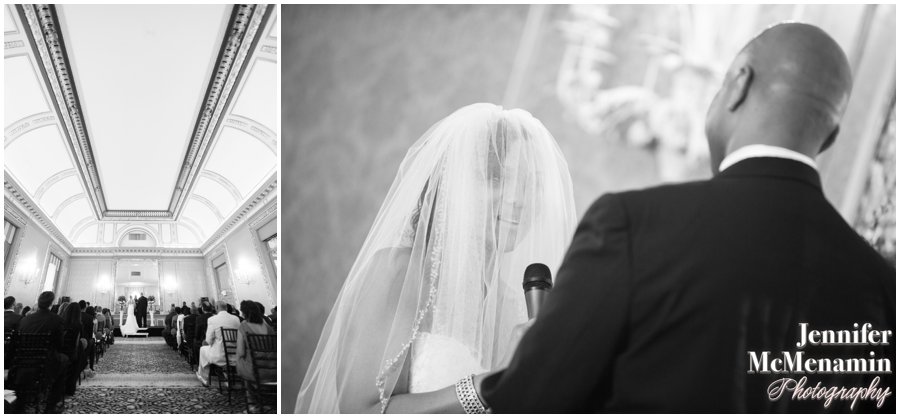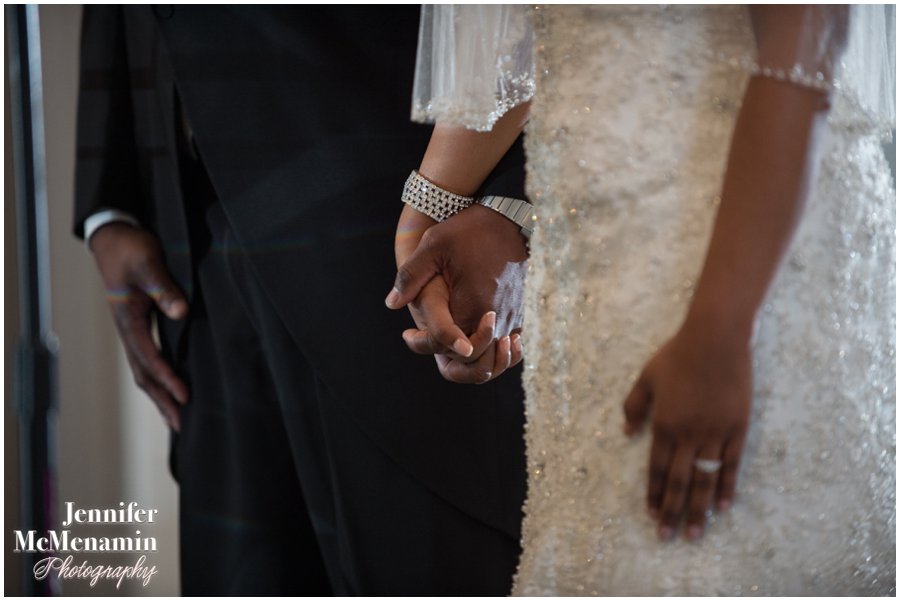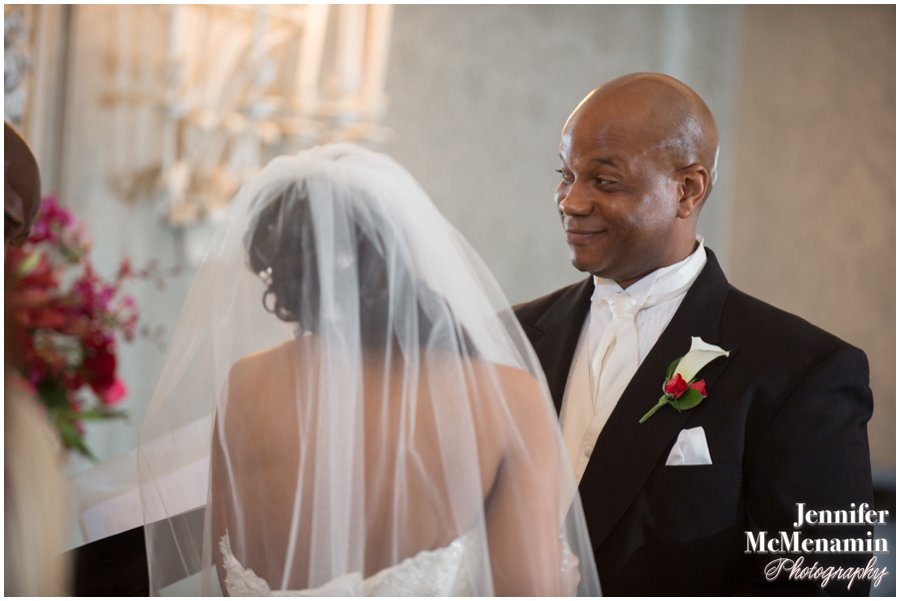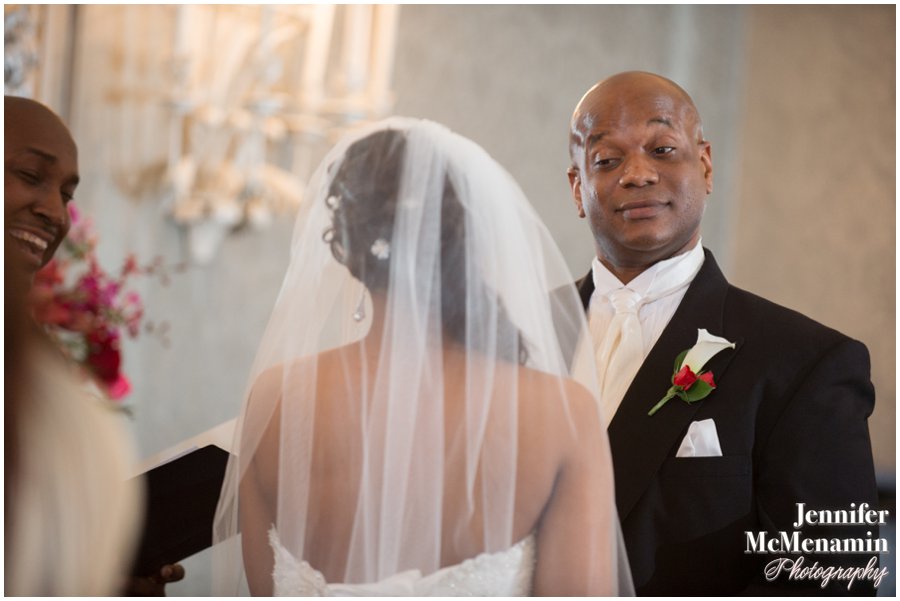 There were also jokes from their pastor, upon receiving the rings they were about to exchange, about the recession obviously being over. That prompted much laughter.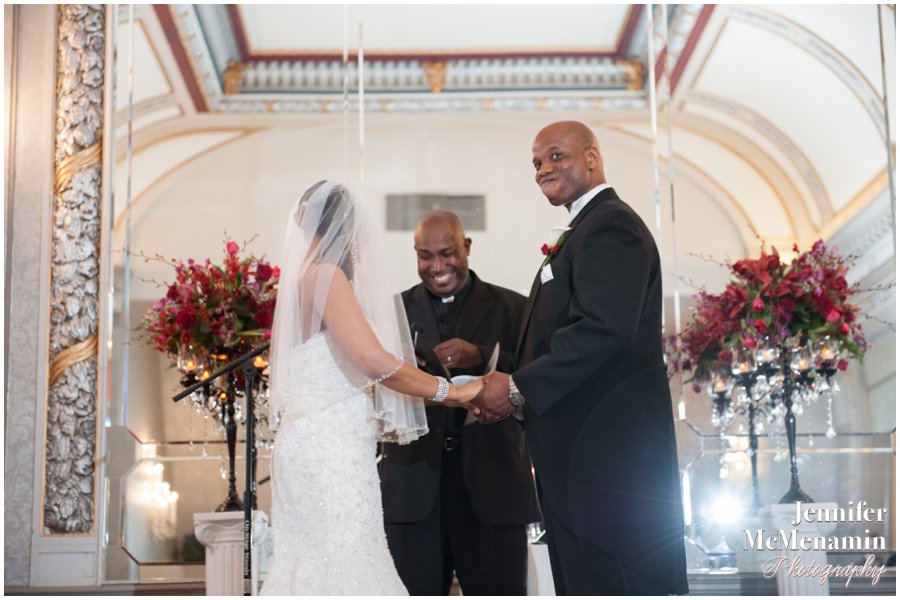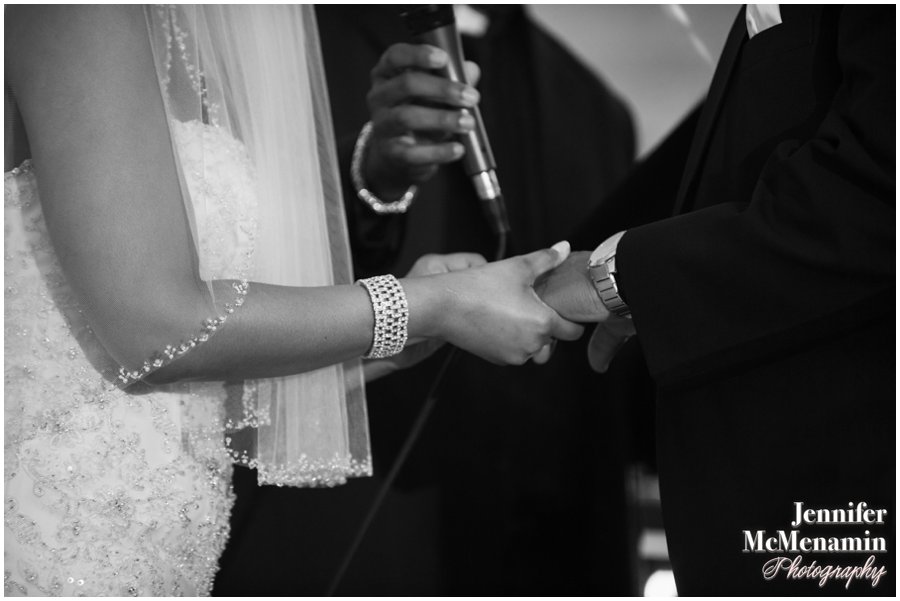 After family and wedding party photos, we found some great light for some quick portraits of the newlyweds.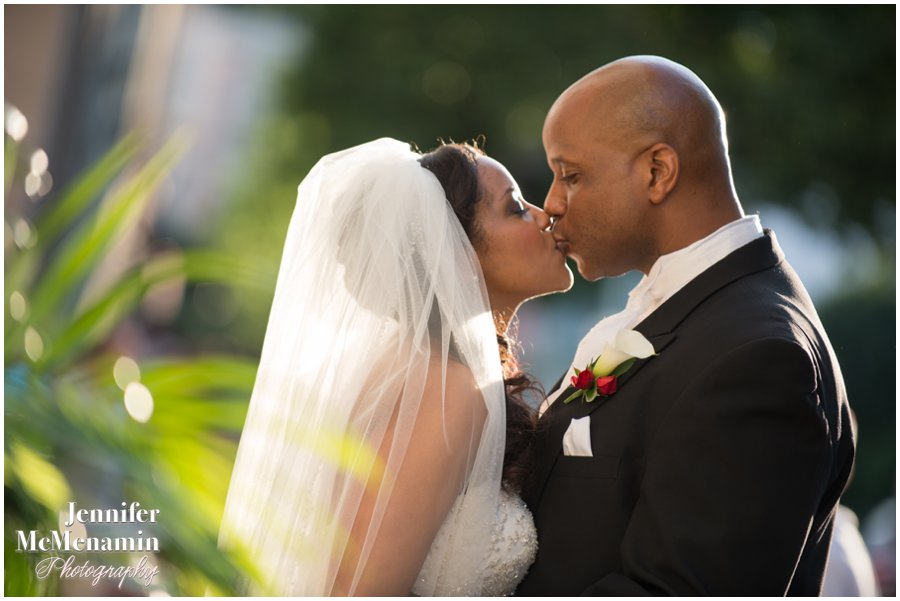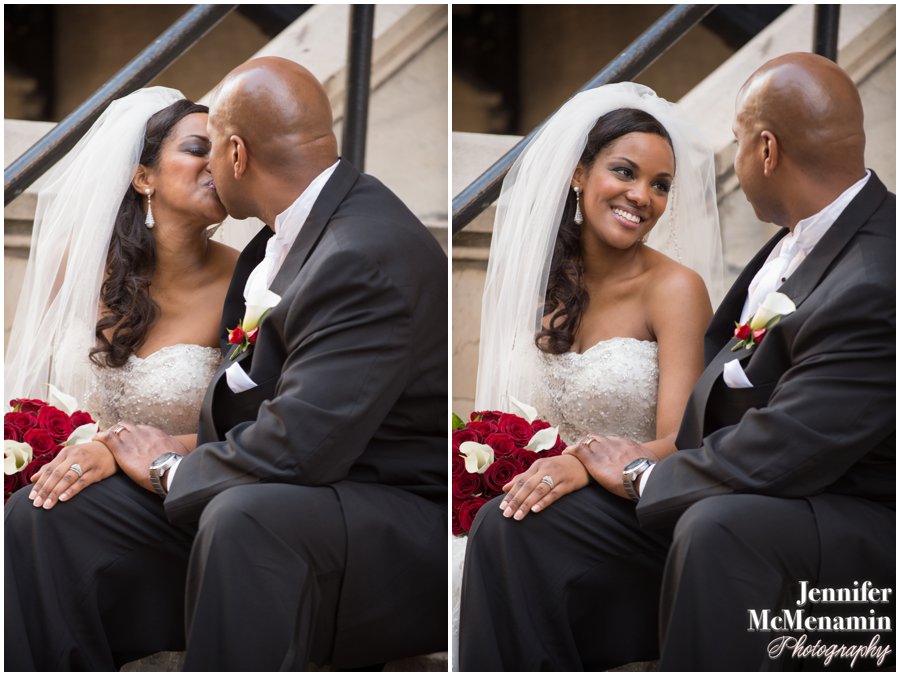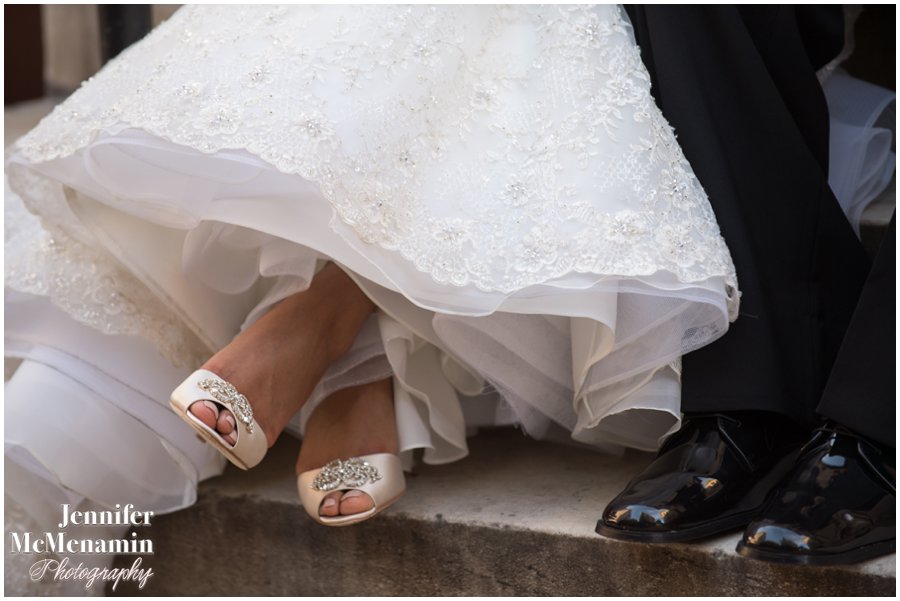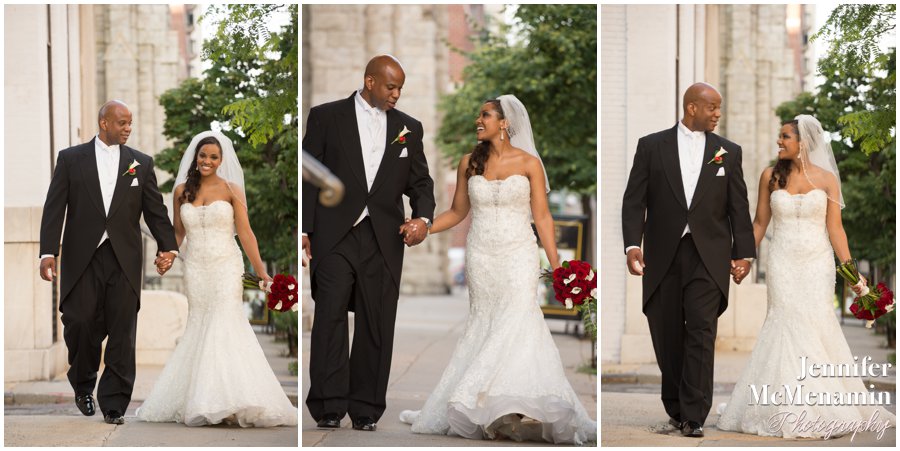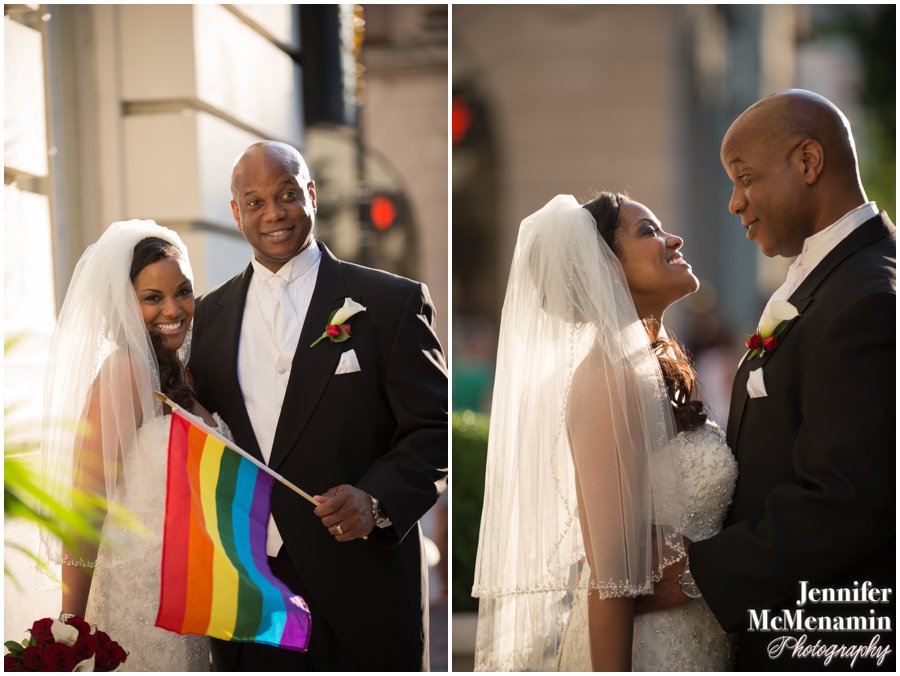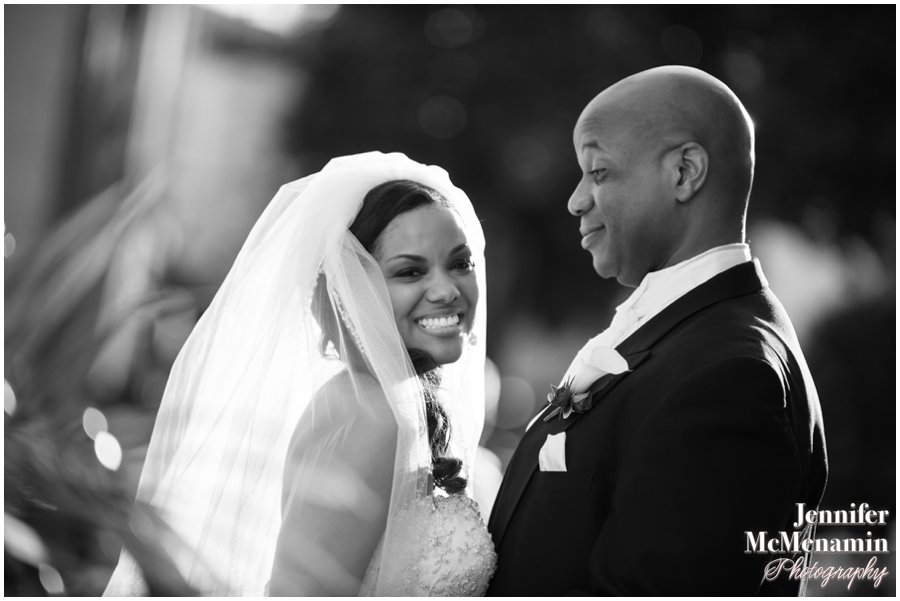 A few reception details.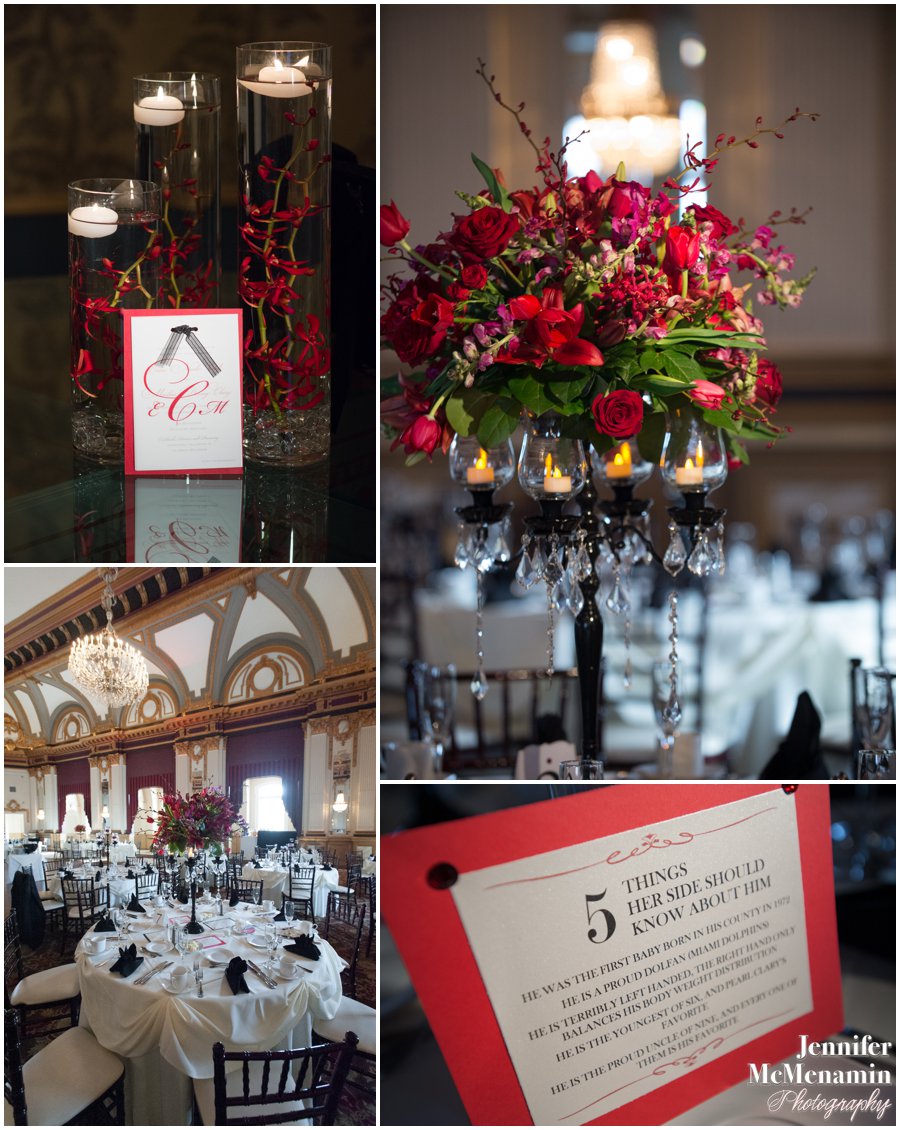 This was the first time I've ever seen a smiley face inscribed in a ring. Because Marlon calls Erica 'Happy Face' as a nickname, she inscribed, "Love 4ever : )" in his ring.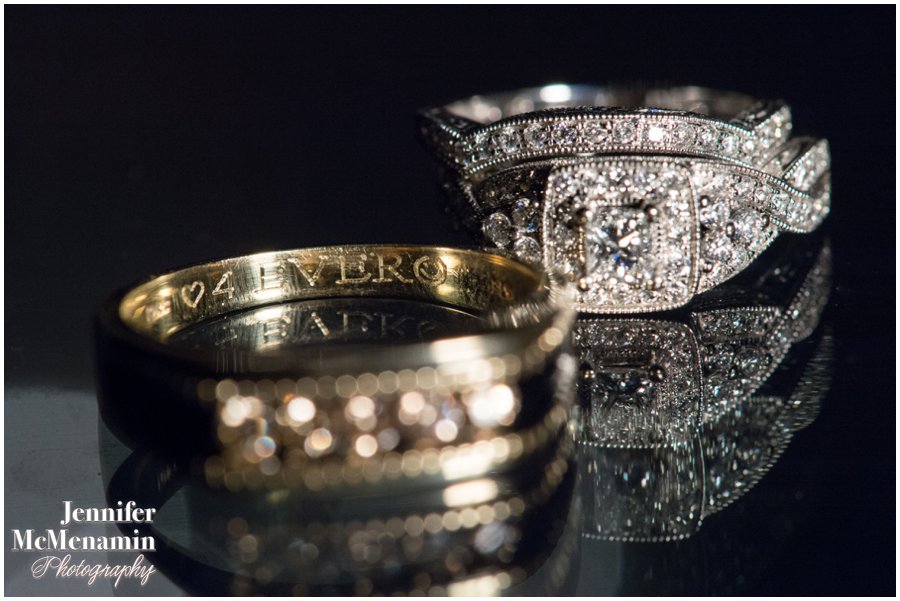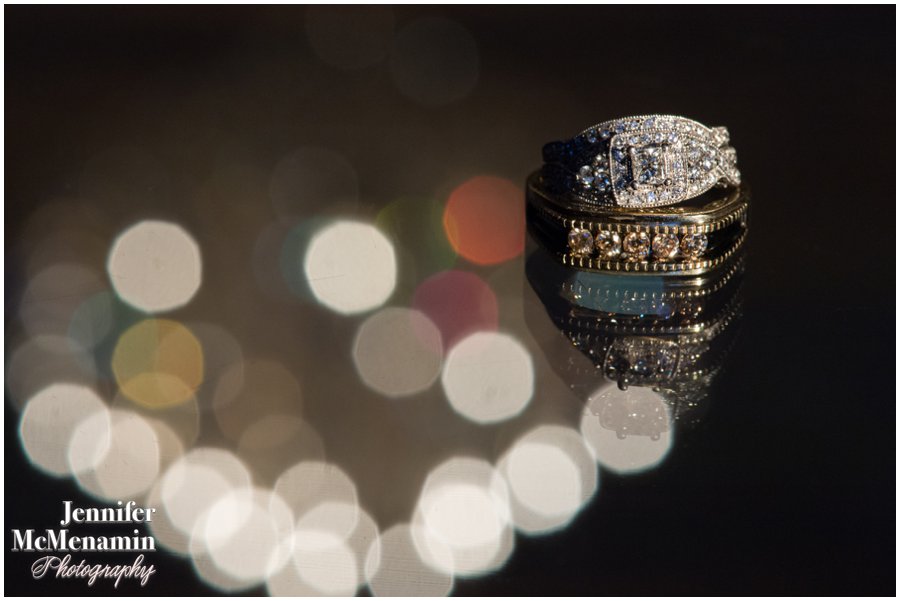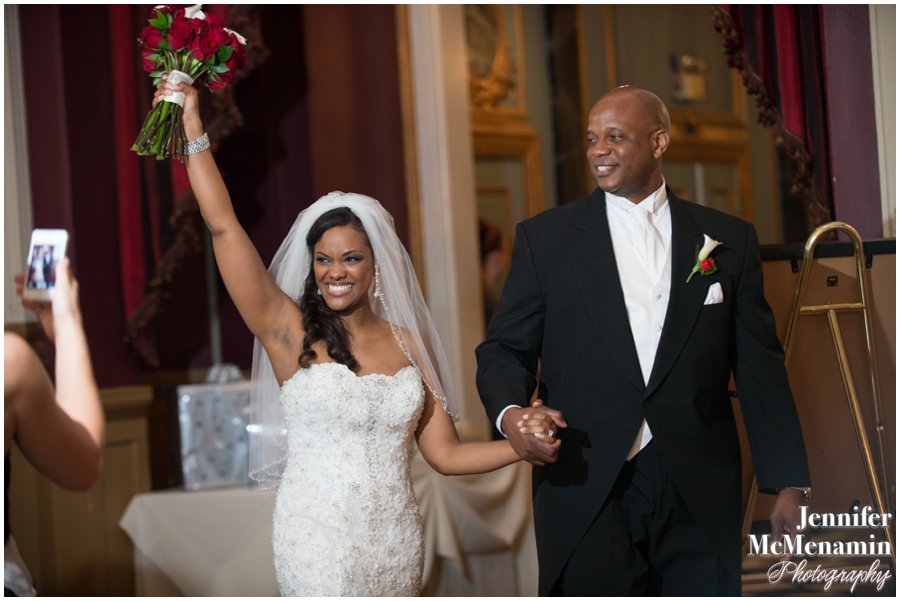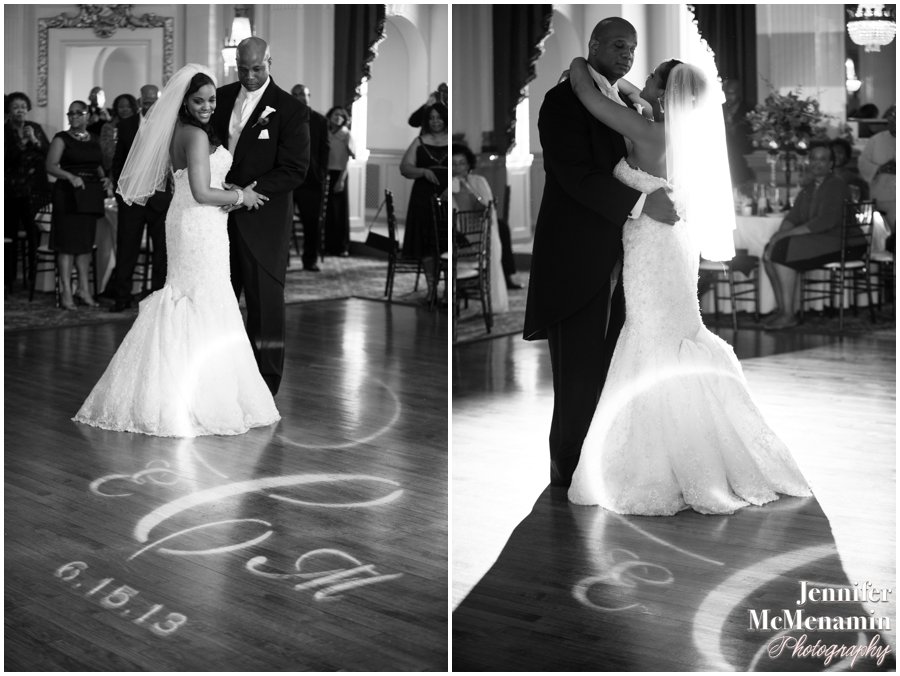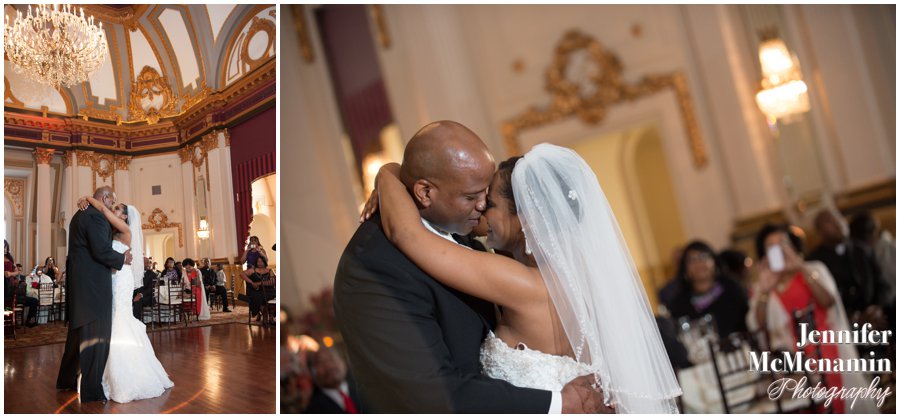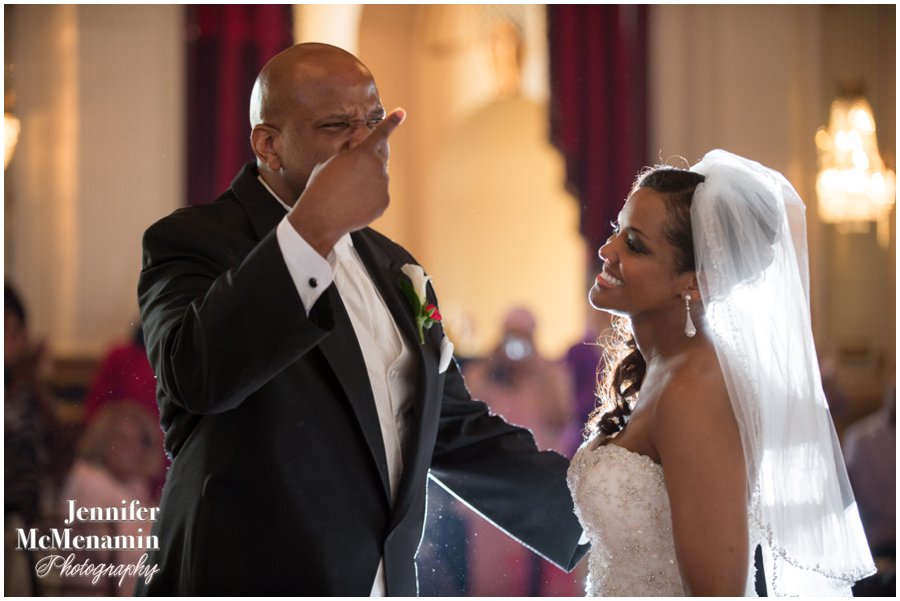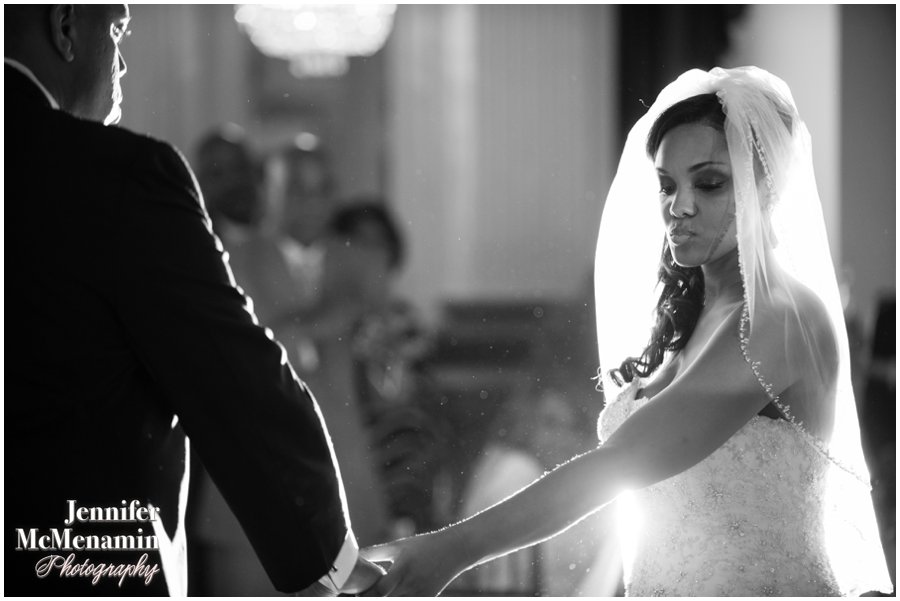 A blessing.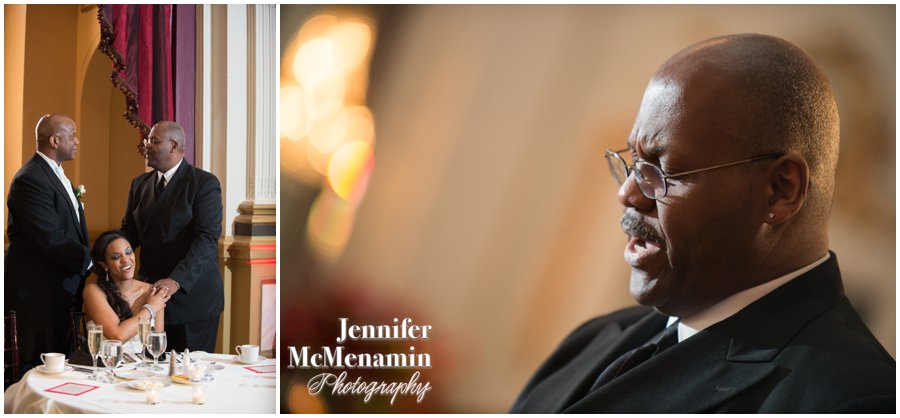 A serenade. 
I have three words for this next photo: It. Takes. Two. (One of my all-time favorite songs!)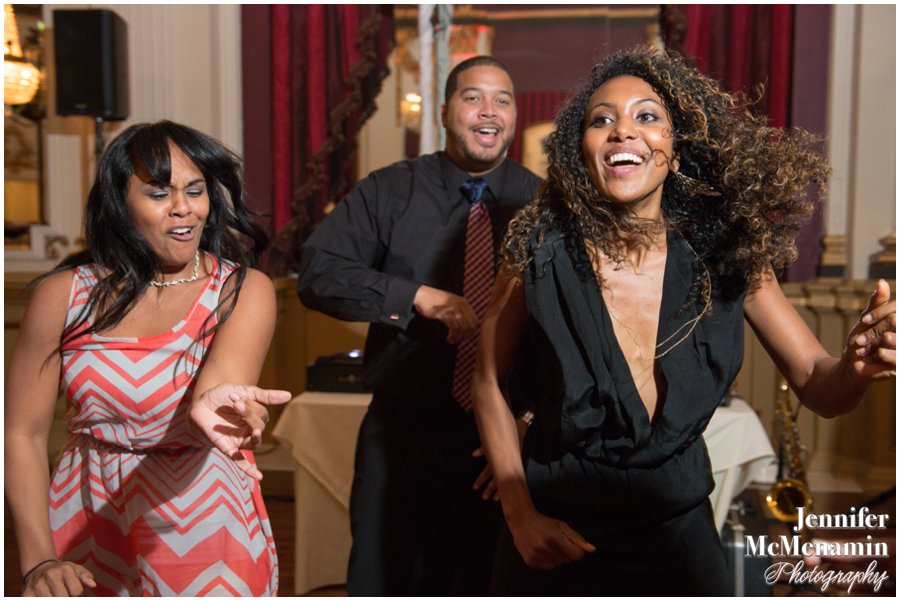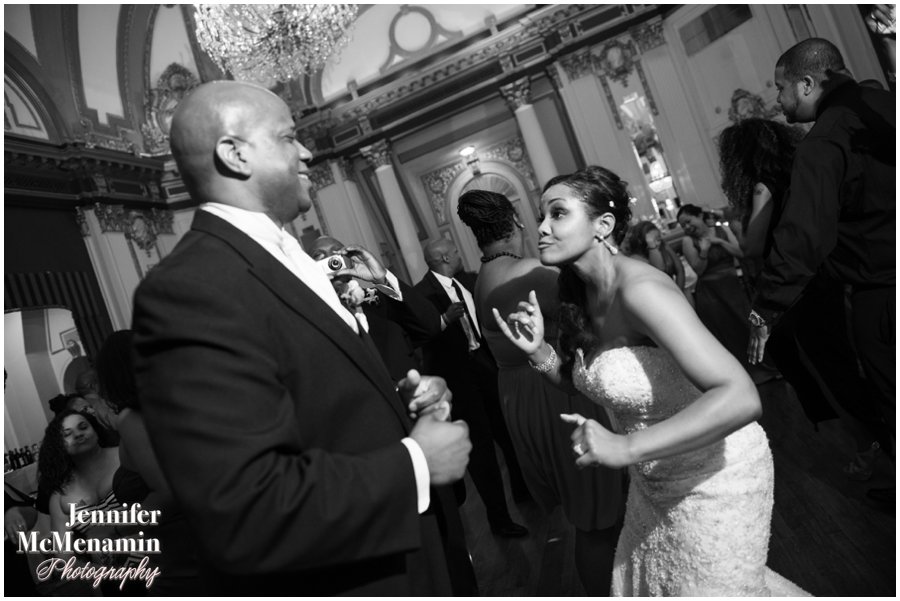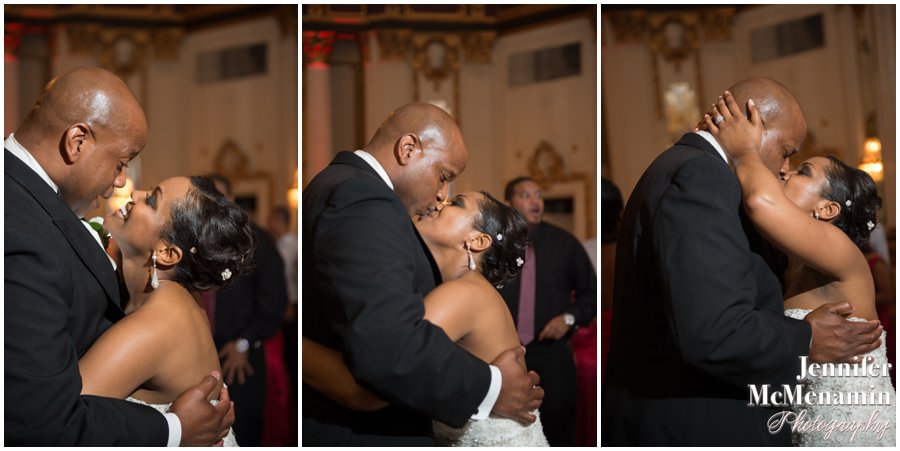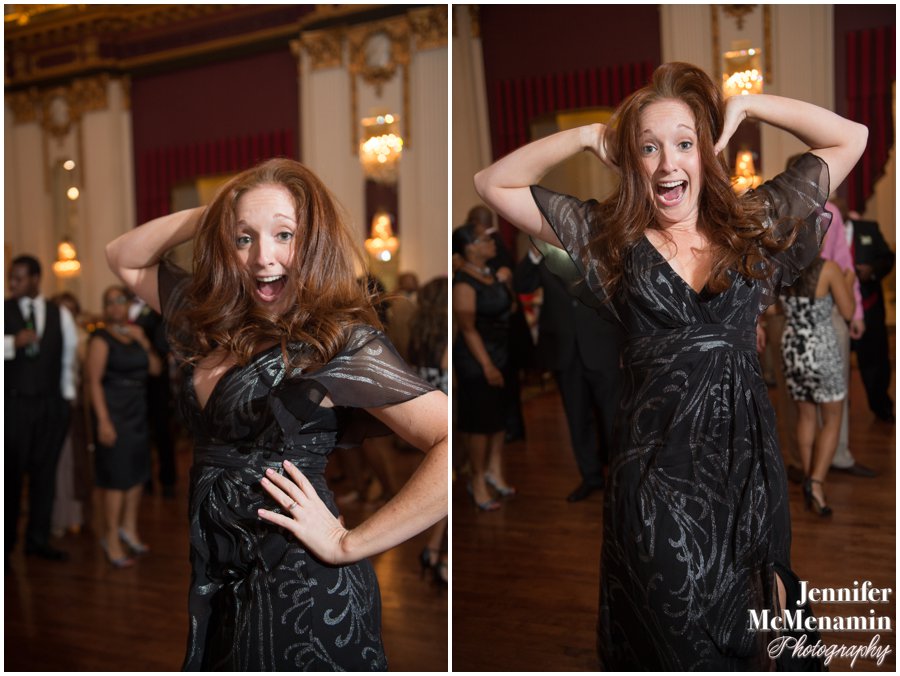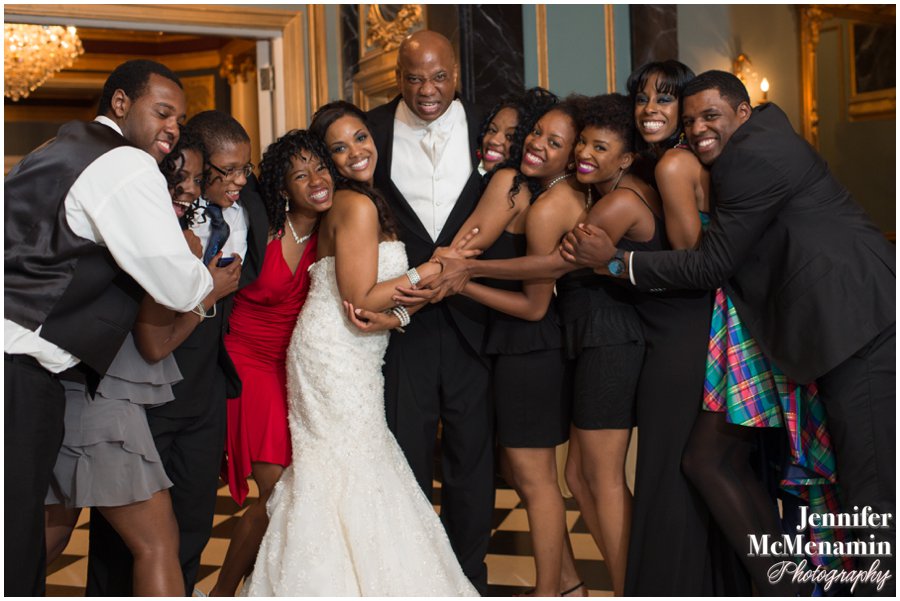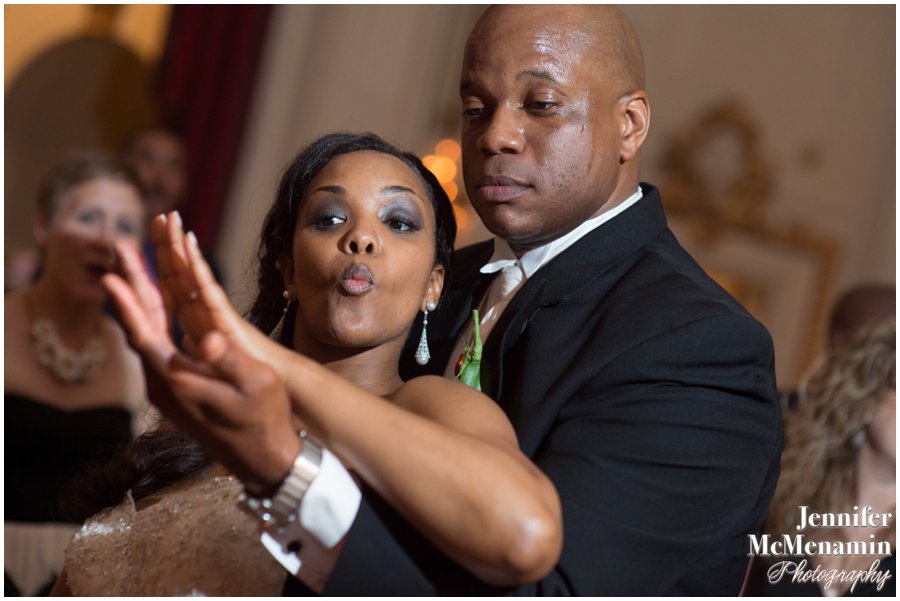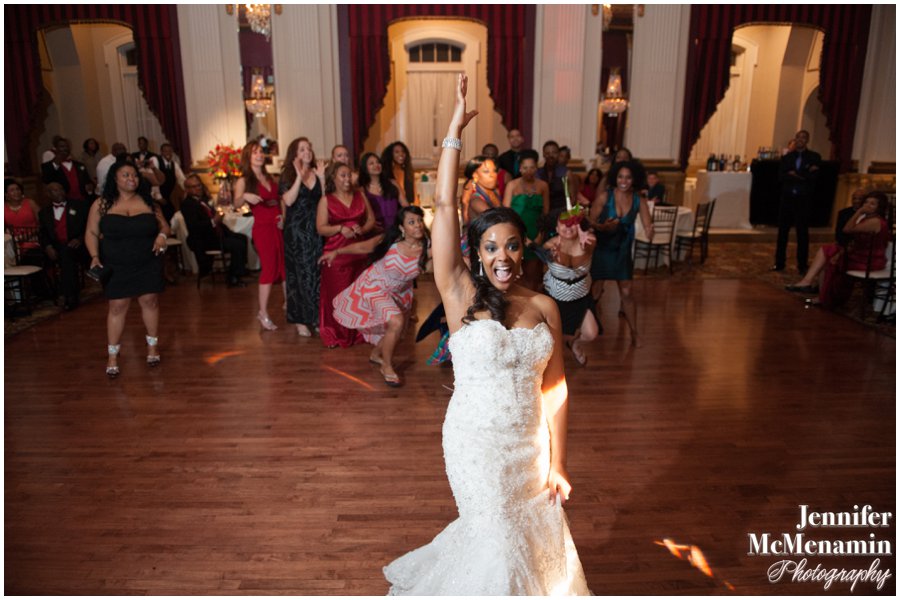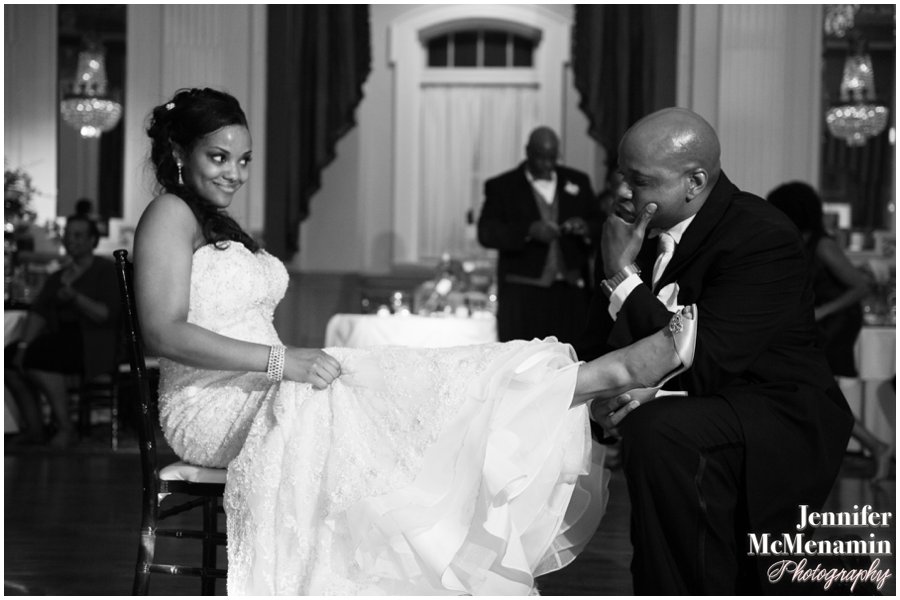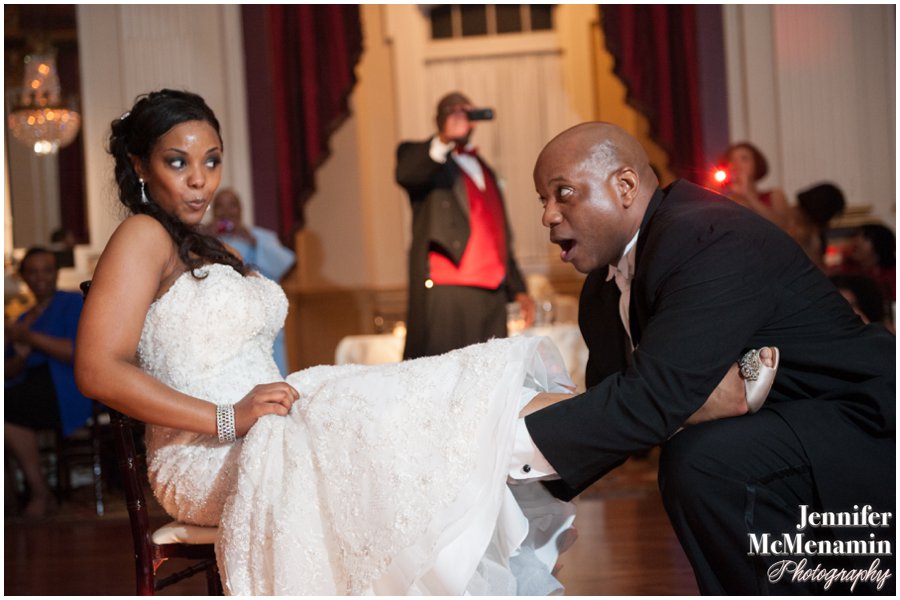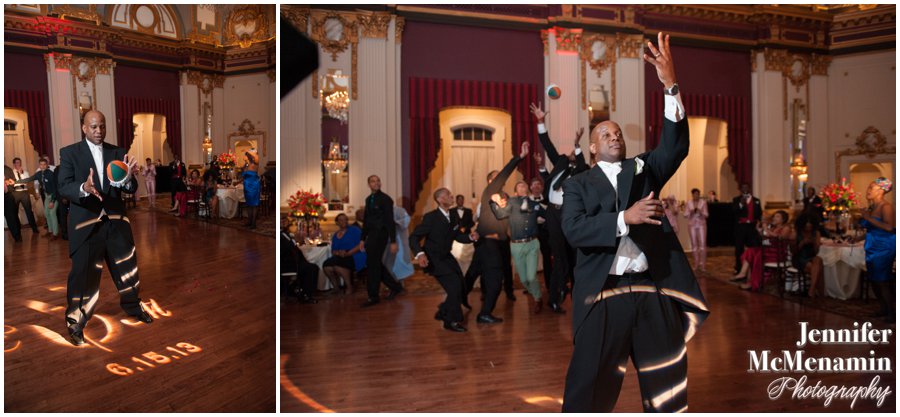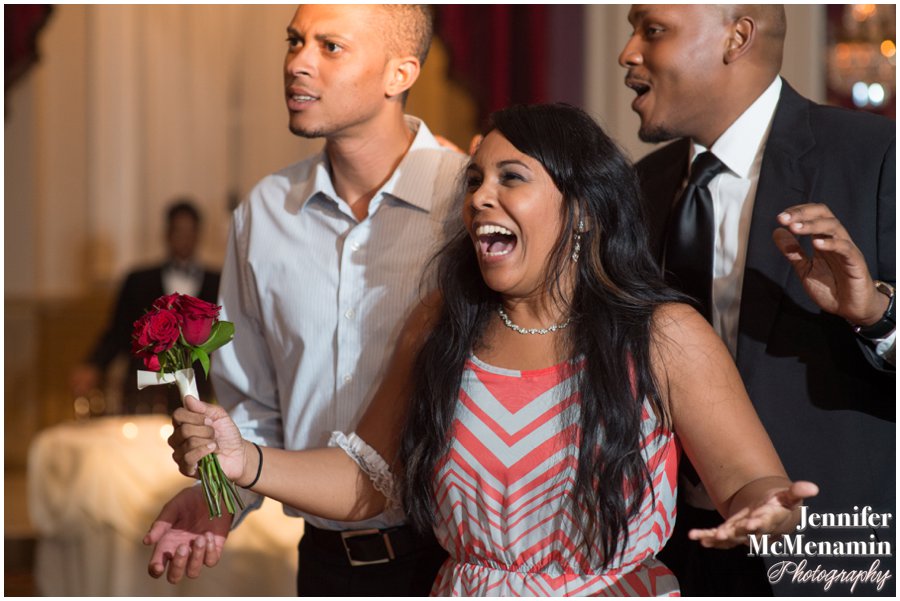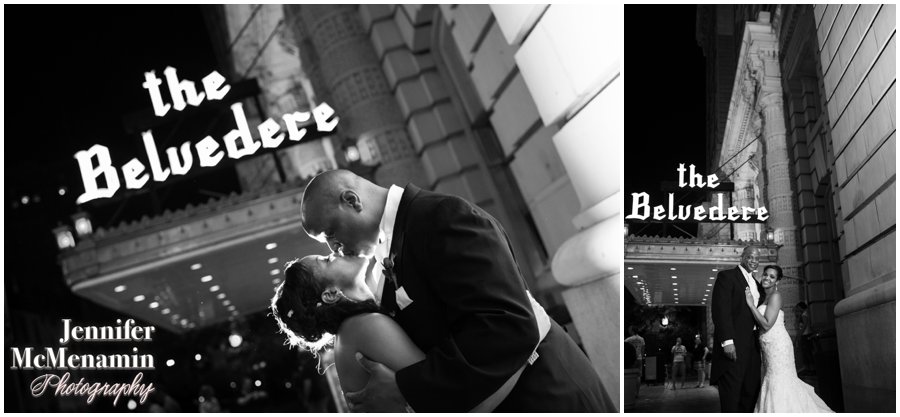 Congratulations, Erica & Marlon. It was an absolute joy to work with you and your families for your wedding!
Credits:
Photography: Jennifer McMenamin Photography, LLC

Ceremony & Reception: The Belvedere
Officiant: Minister Mike Daniels
Ceremony musicians: Tami Lee Hughes & Winston Philip
Catering: Truffles Catering at The Belvedere
Bridal attire: Allure Bridals
Make-up: Arianne Stokes

Hair: Fatima Armstead

Groom's attire: Men's Wearhouse
Florist: My Flower Box Events
DJ: DJ Paul Love