Emily + Kristine

Oriole Park at Camden Yards -- Baltimore wedding photography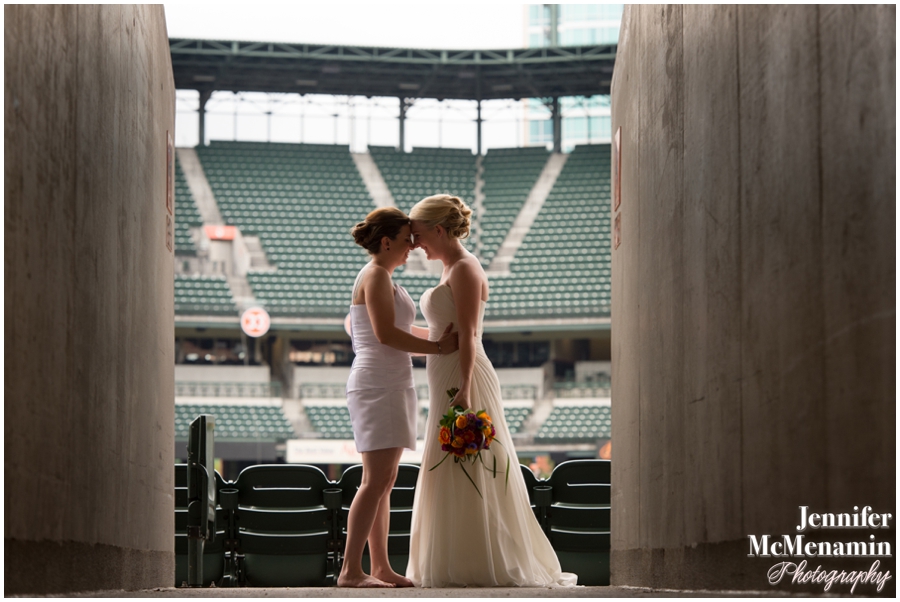 Emily + Kristine's wedding was the very best kind. It was well-planned and well-scheduled (thanks in no small part to Emily's incredible organization. Like myself, she is a lover of lists!) They picked a theme — their mutual love of baseball, and the Orioles in particular — and chose tasteful and sweet details to carry it through the day, from sunflower seeds tossed at the newlyweds to the baseball bat they asked everyone to sign in lieu of a boring old guestbook. They wrote their own vows — and boy were they good vows! Their friends and family offered moving, emotional toasts. They reveled in being surrounded by their closest friends and family. And they found creative ways to publicly declare their delight in the ability to marry each other. (Check out the custom shirts they had made for not only the members of their wedding parties but also the entire hair and make-up team from Xtreme Hair Salon, who prepped and primped all the ladies for the big day.)  I have had the distinct pleasure and honor this year of photographing a number of same-sex weddings — about a fifth of my weddings this season, in fact. I get goosebumps every single time. But I also approach the weddings with a wee bit of trepidation, caution and protectiveness. I never know, after all, whether every passerby we encounter when we're out shooting will be as thrilled for the couple as they should be and I don't want any kind of ugliness to cast even the tiniest shadow on an utterly joyful day for my clients. But when the opposite happens — when strangers wave and cheer, when motorists honk their support and shout compliments out the window and, as was the case for Emily + Kristine, when onlookers at the stadium bar stand and clap and holler their support and congratulations — my heart just soars and I feel a rush of pride in my city. Love is love. Hooray for marriage equality! But back to Emily and Kristine's big day. I was lucky to have my friend and assistant, Sam Levitan, working with me again for this wedding. He started the day with Kristine and her wedding party while I spent the morning with Emily and hers. His photos are mixed in below with mine. Here are some of my favorites from Emily + Kristine's beautiful wedding:
Emily's father had a wonderful reaction upon seeing her for the first time on her wedding day.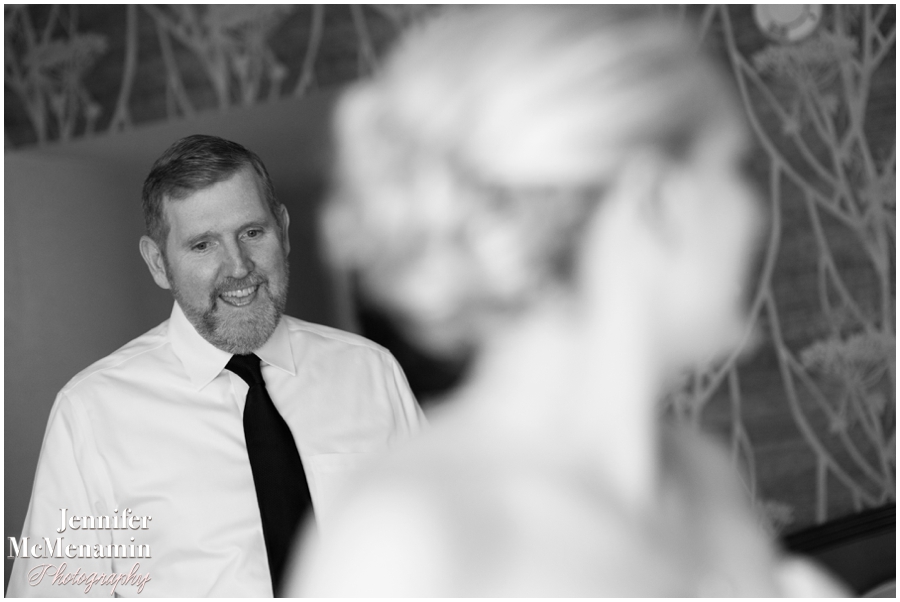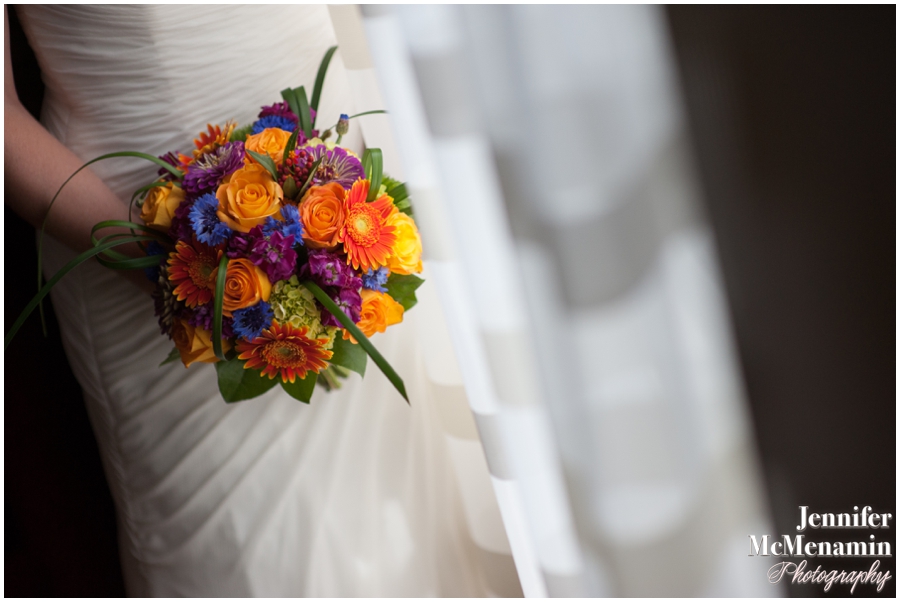 Emily, looking positively lovely.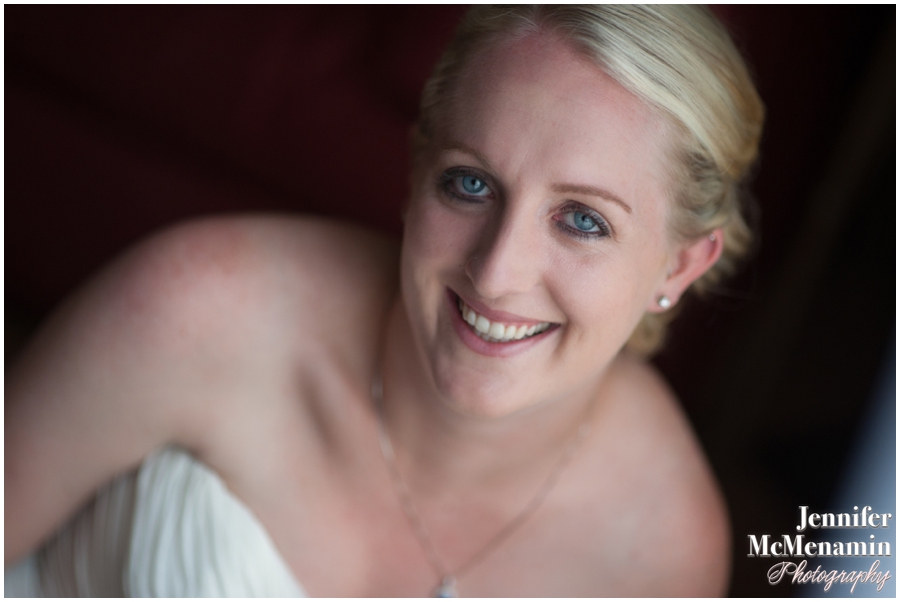 The previously mentioned amazing team from Xtreme Hair Salon.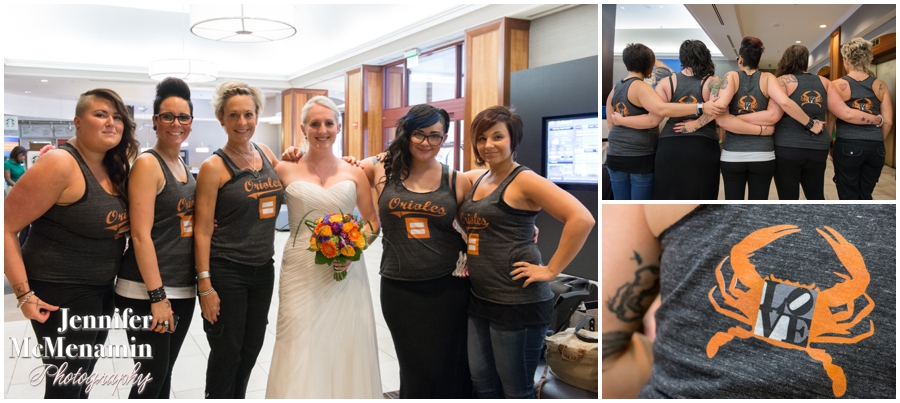 Meanwhile, Kristine and her girls were helping her get ready as well.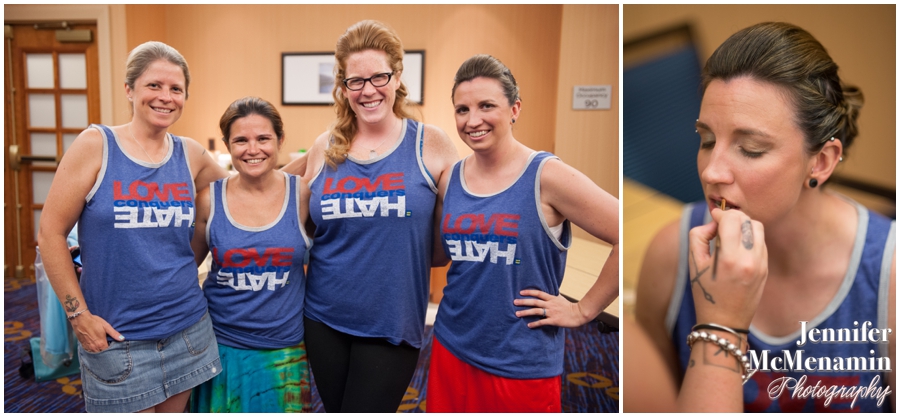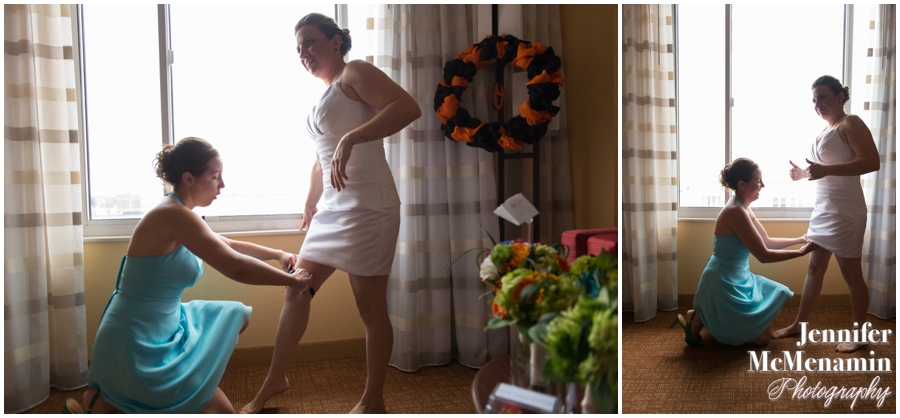 The couple wanted to be photographed before the wedding with their respective wedding parties but without seeing each other or running into each other at the stadium. I started with Emily and her crew.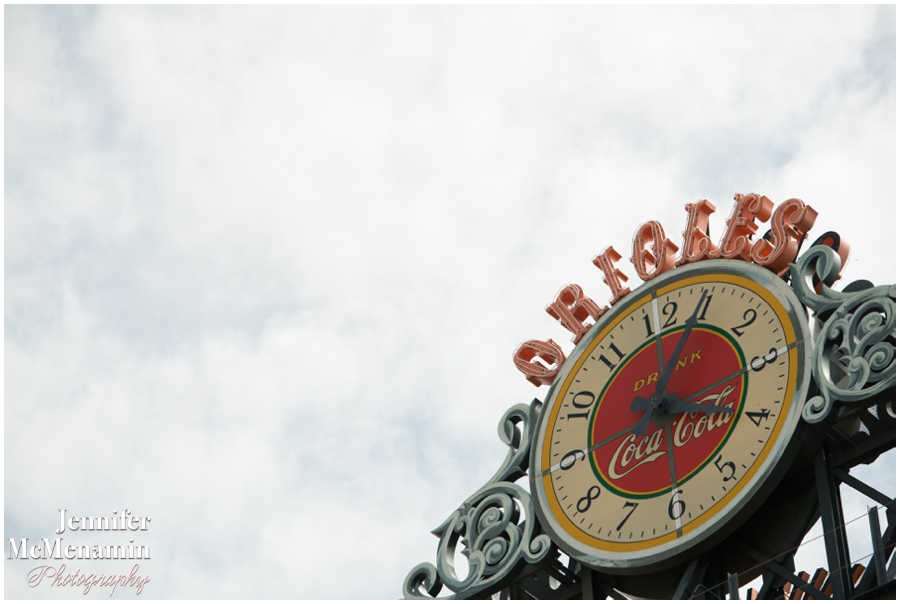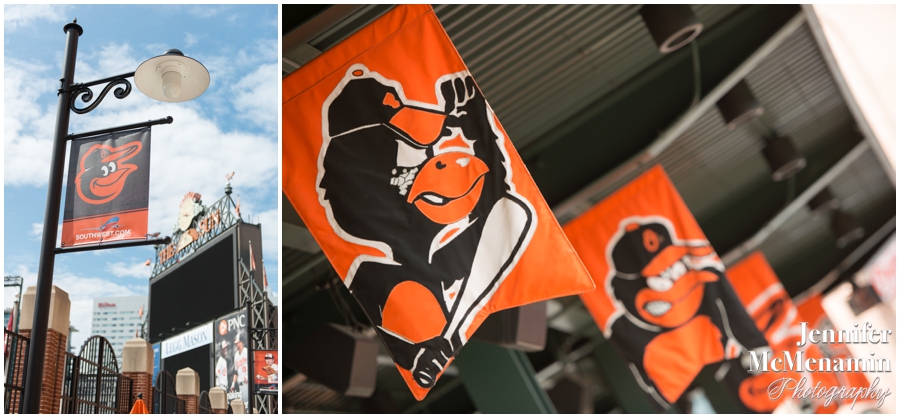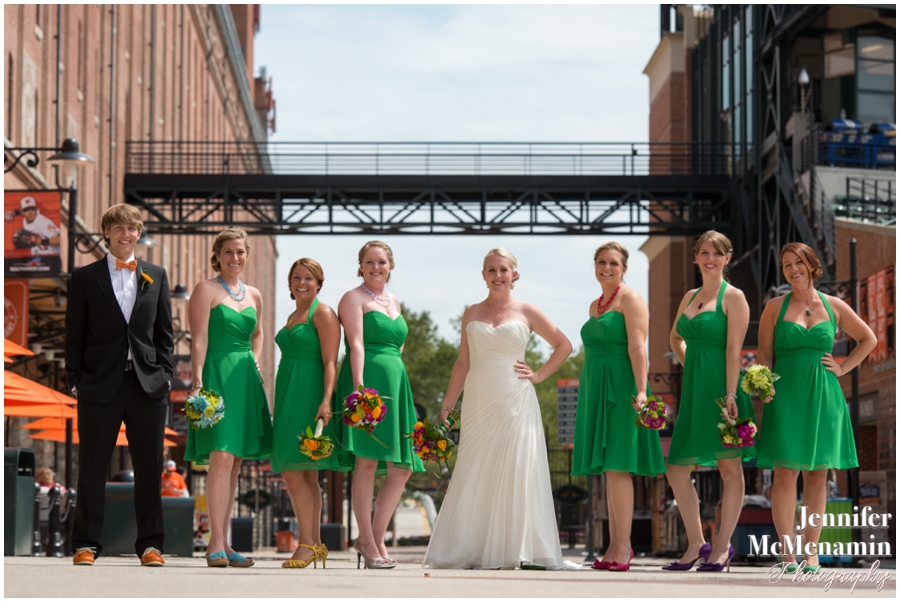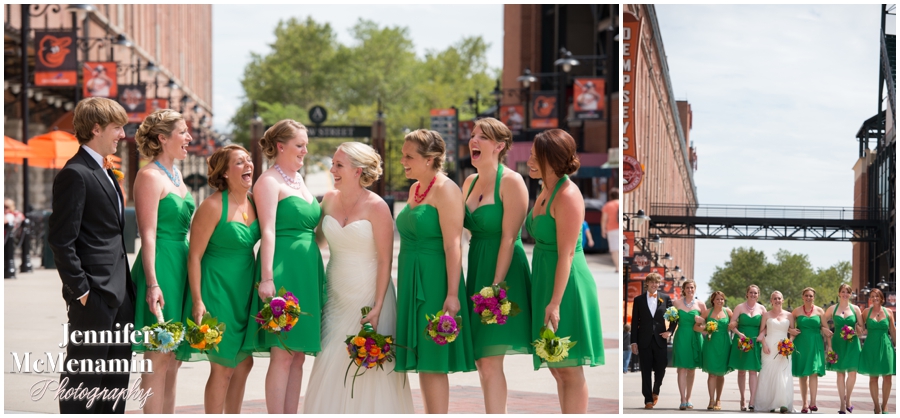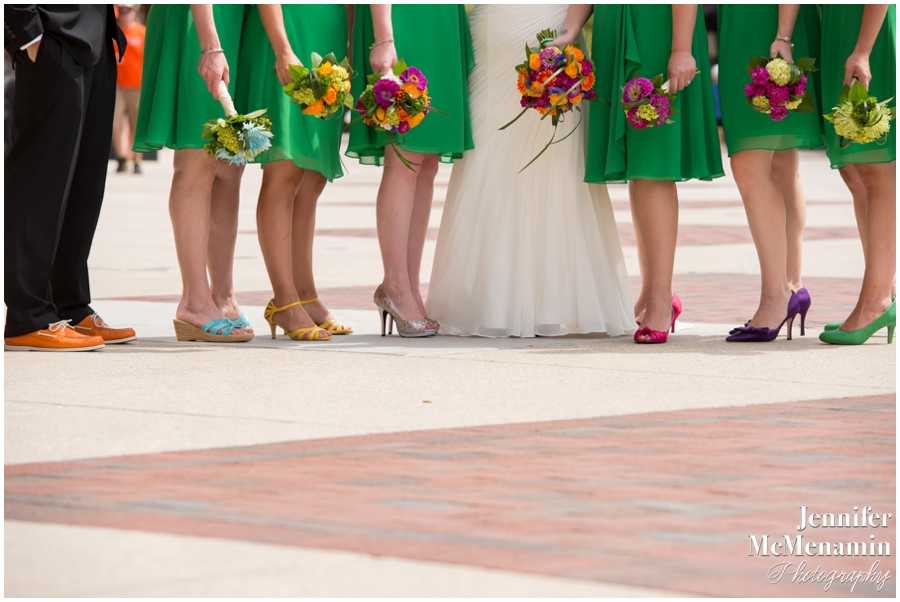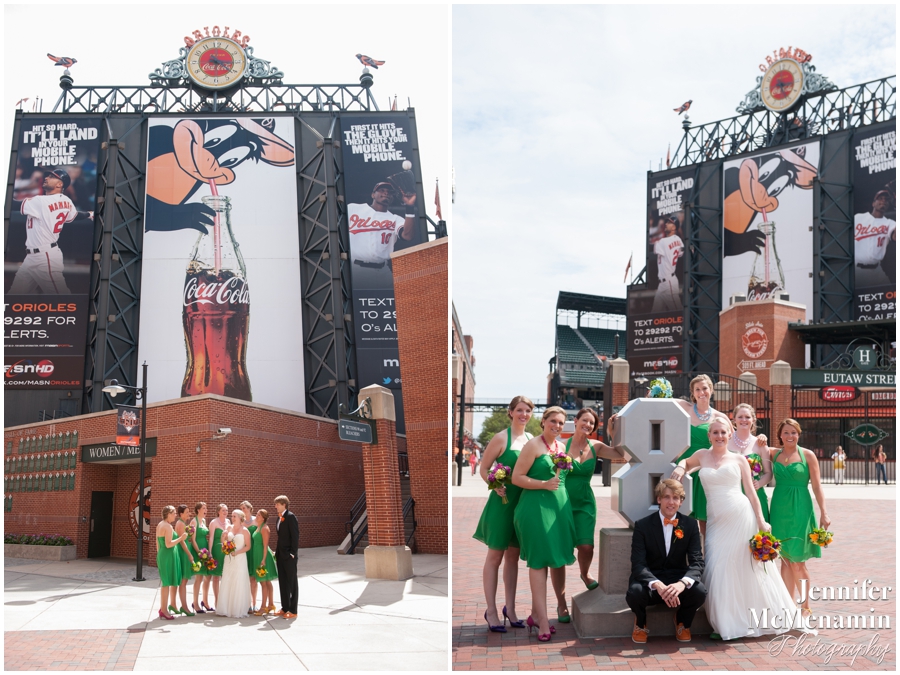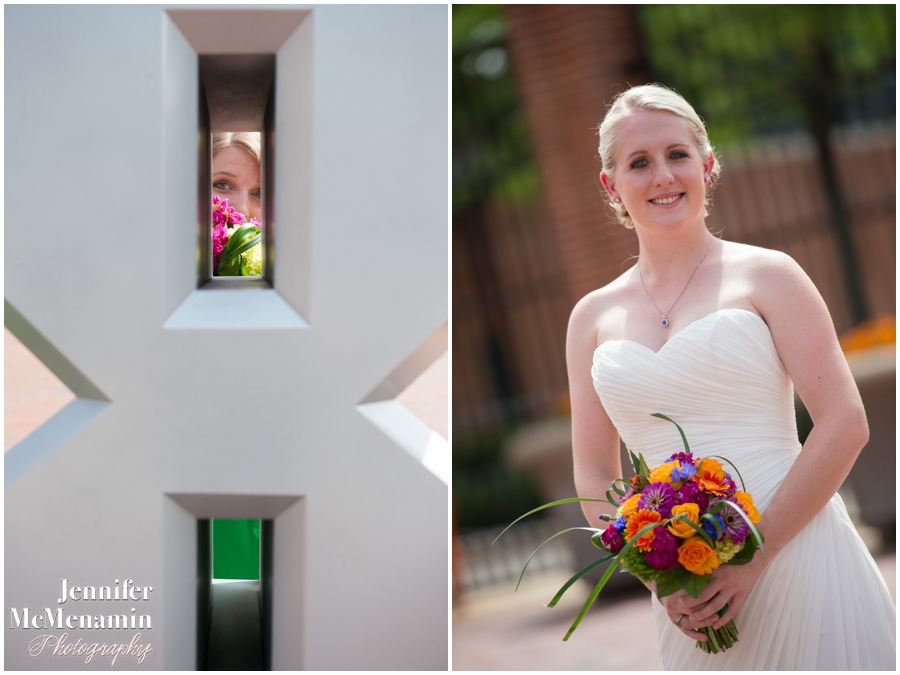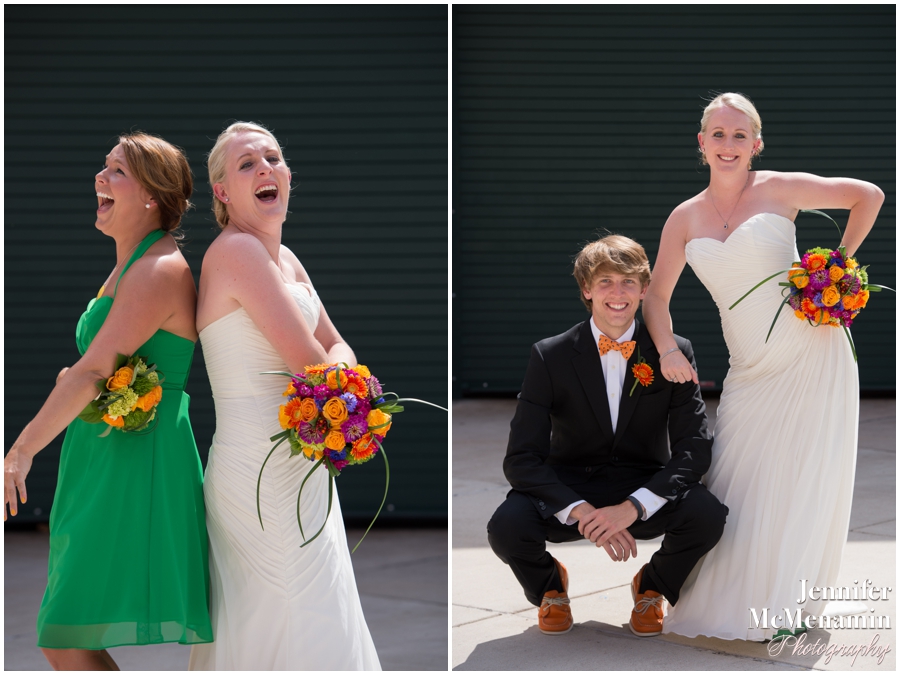 As Kristine arrived with her ladies, Emily and her wedding party were whisked upstairs to the warehouse. Told that Emily's attendants each decided to do something different with her for their photos, Kristine's attendants were not to be outdone.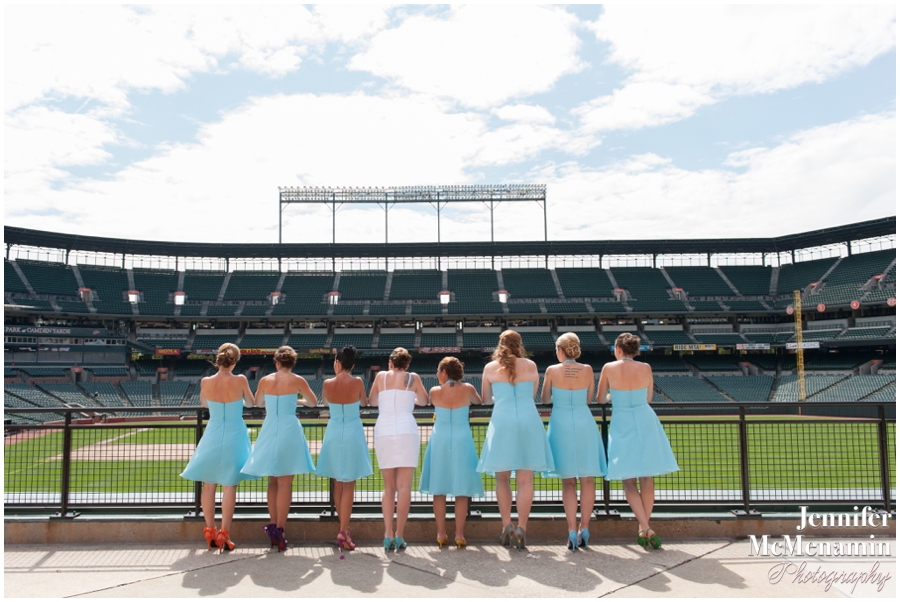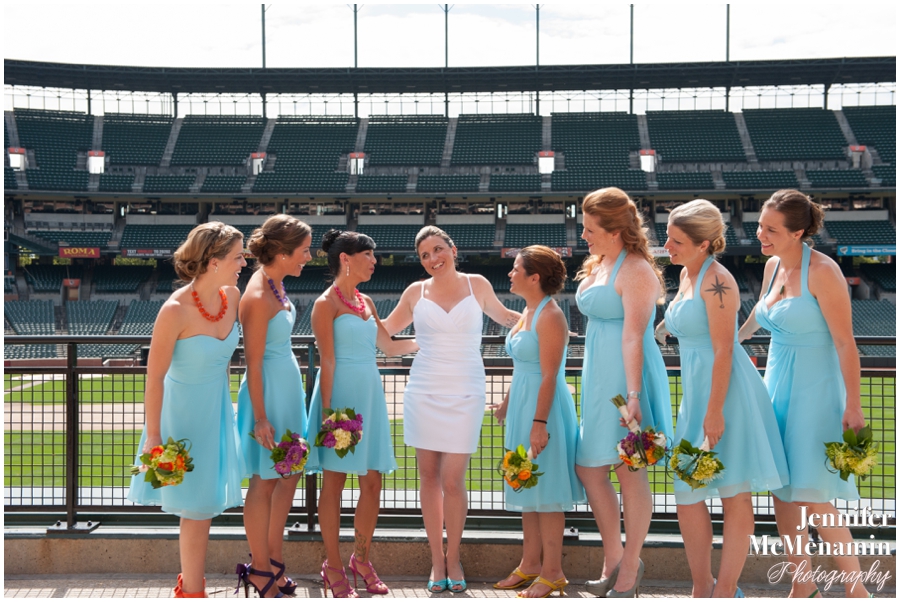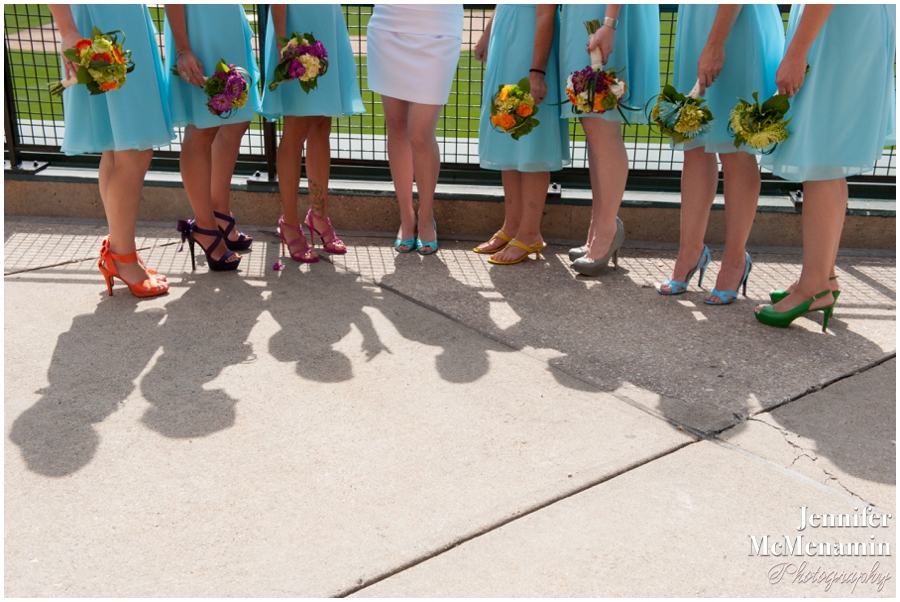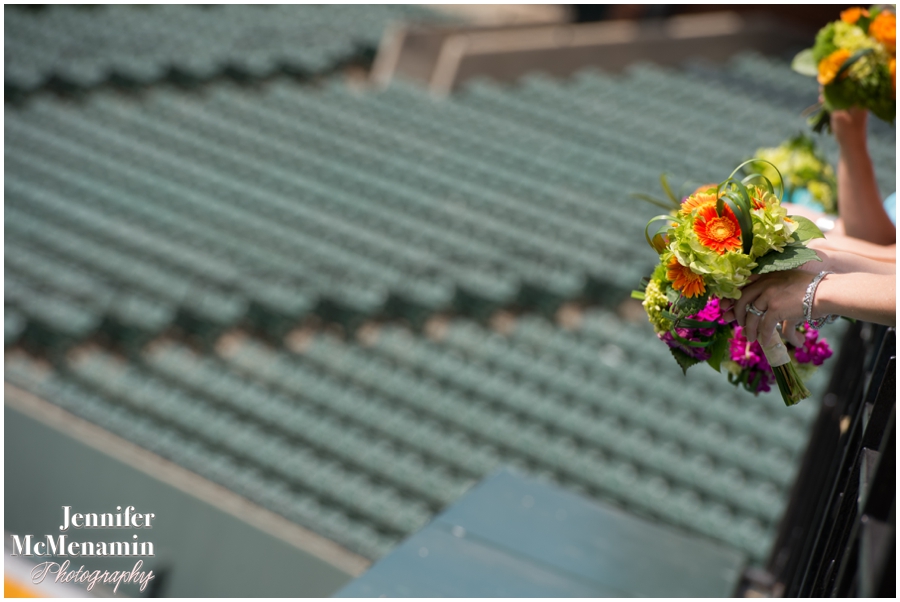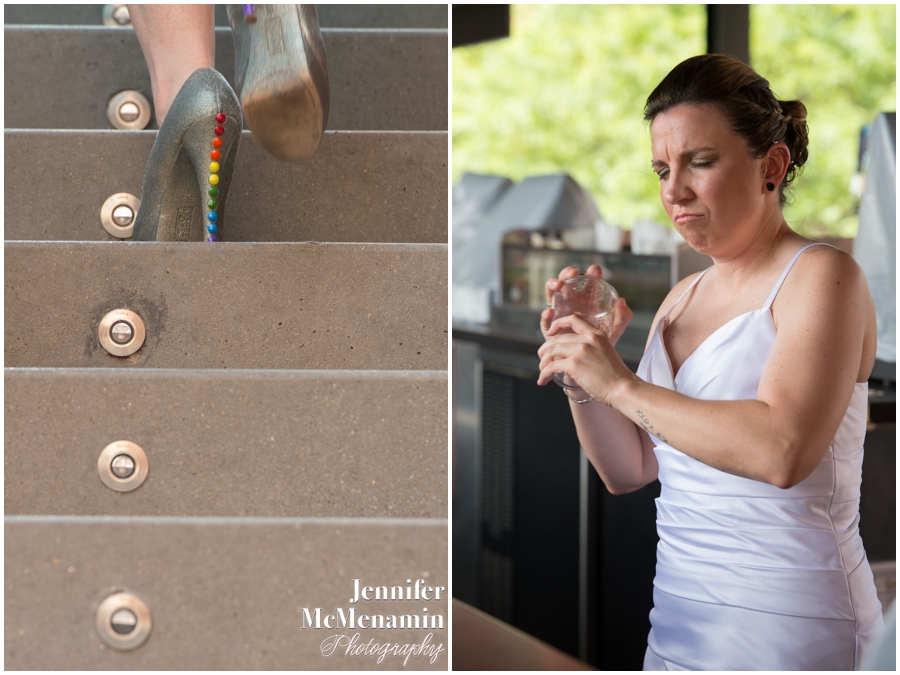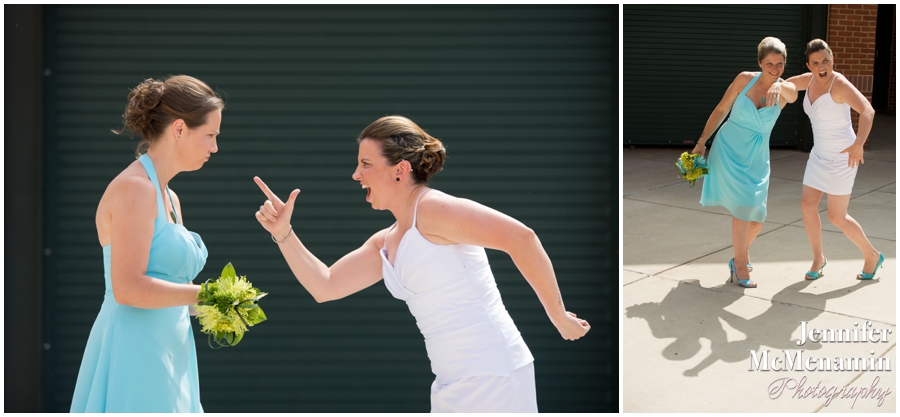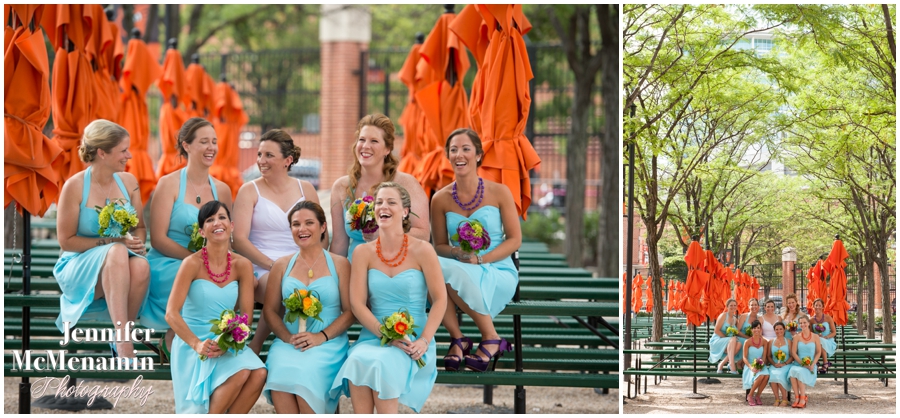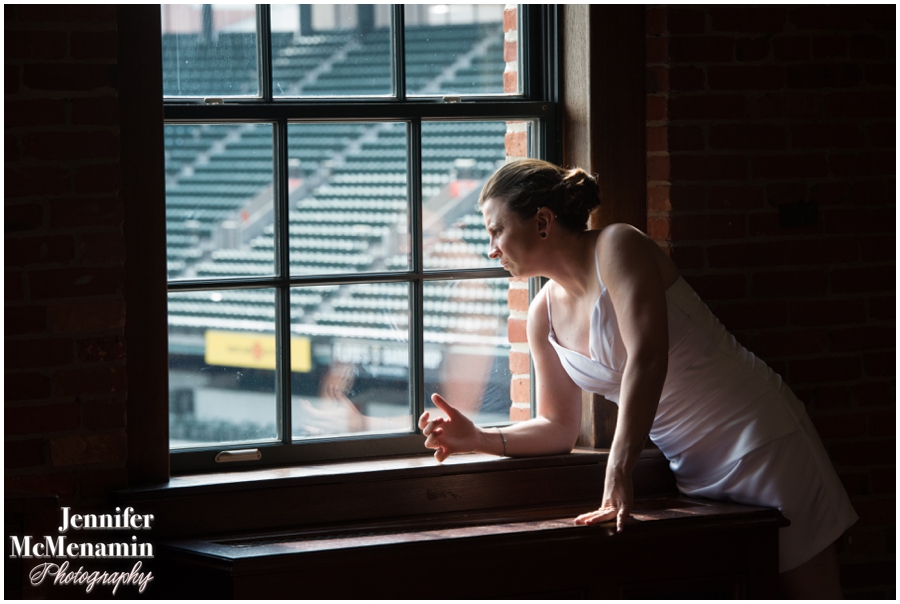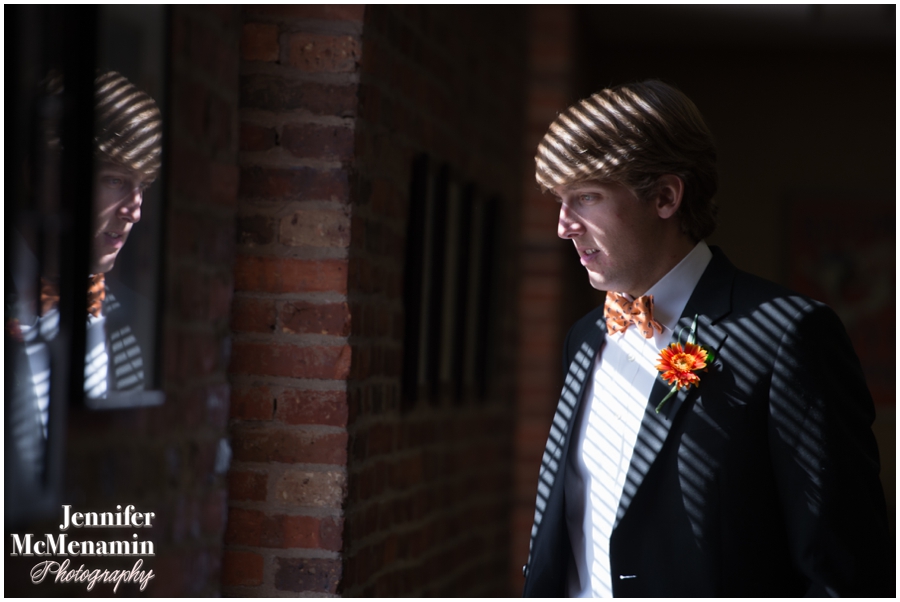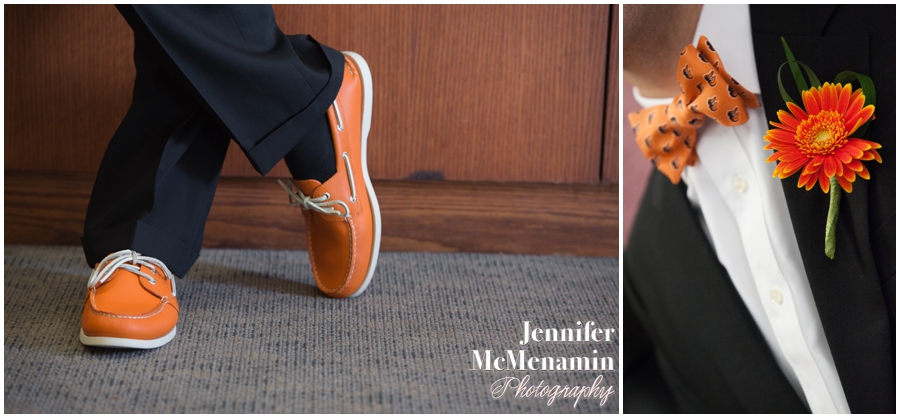 And then, it was time for the wedding.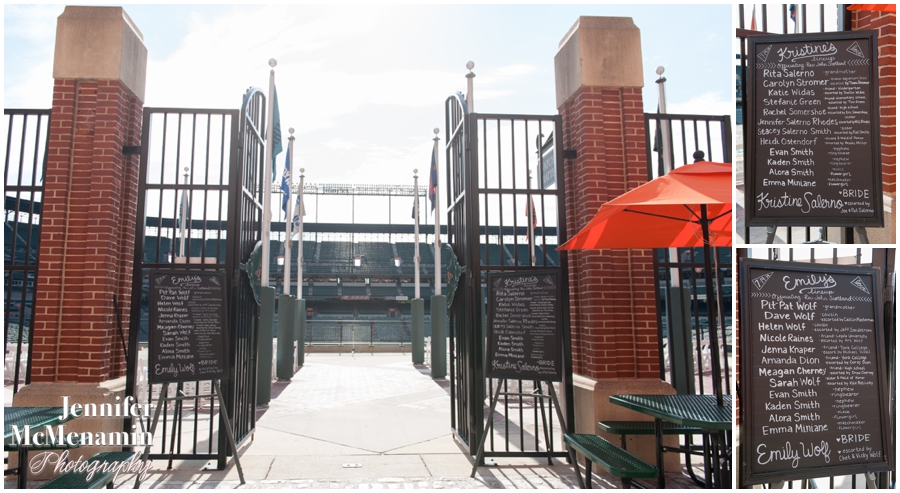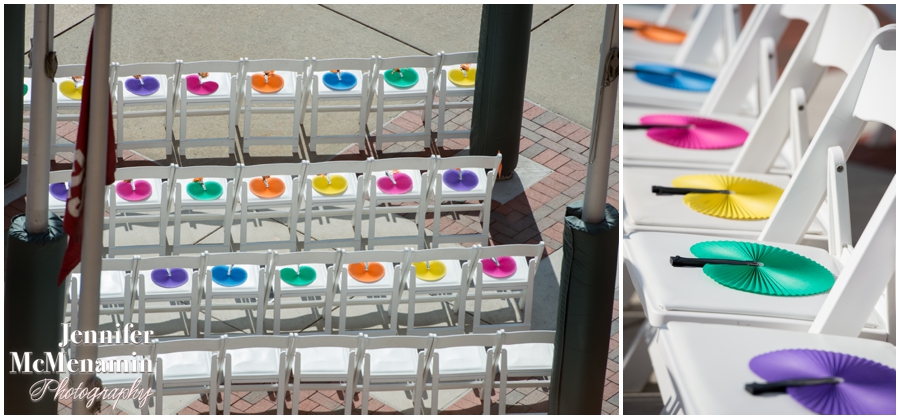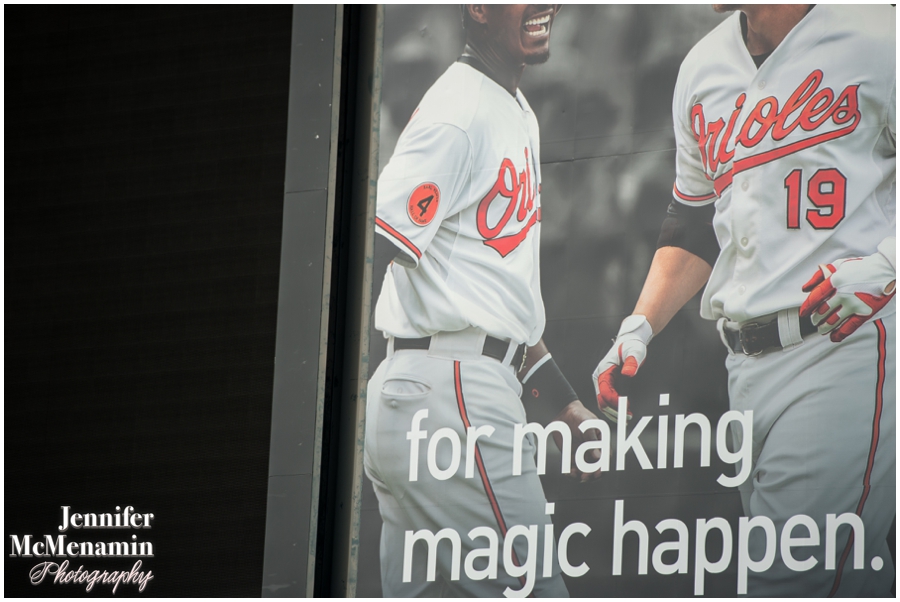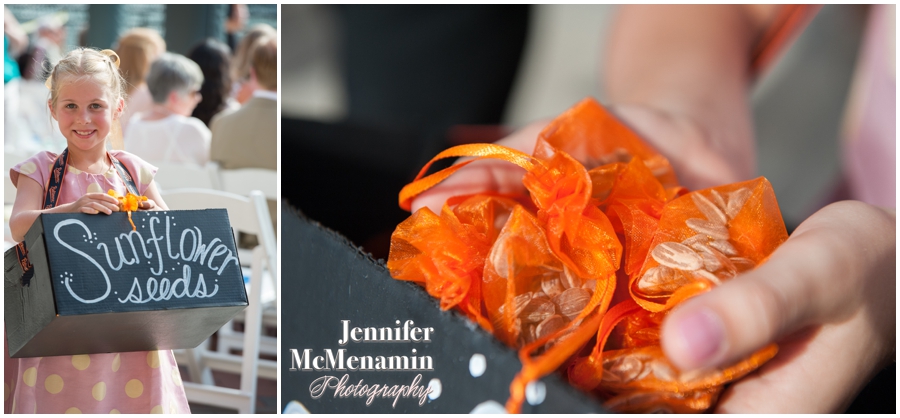 Flowergirls tossed petals from baseball mitts. The ringbearers were carried down the aisle with mitts of their own. And both women were escorted down the aisle by both of their parents. It was one of my most favorite moments of the day.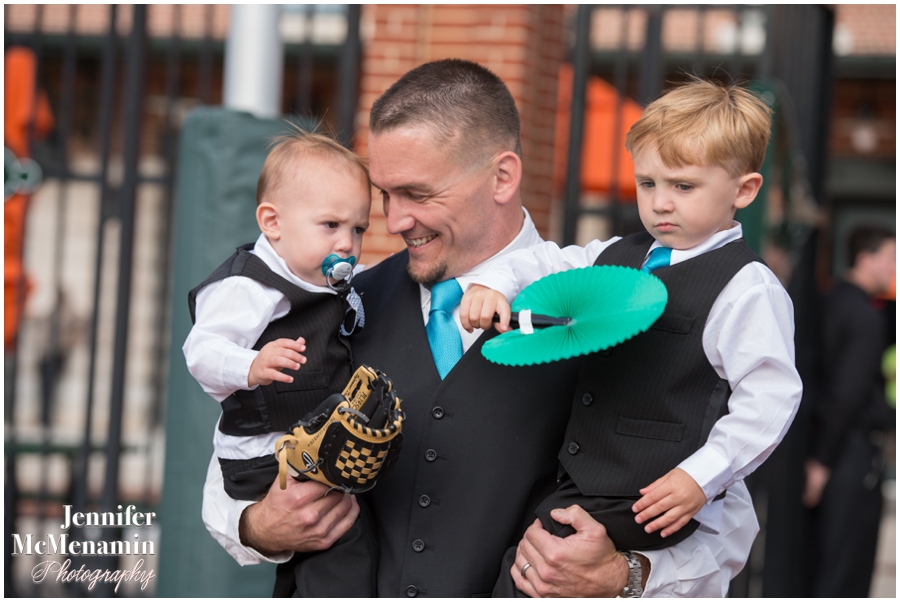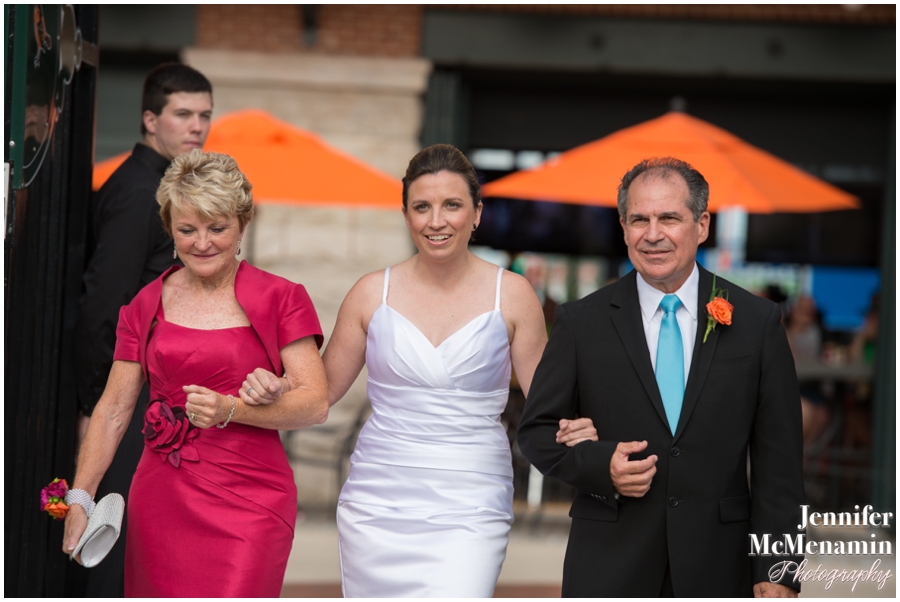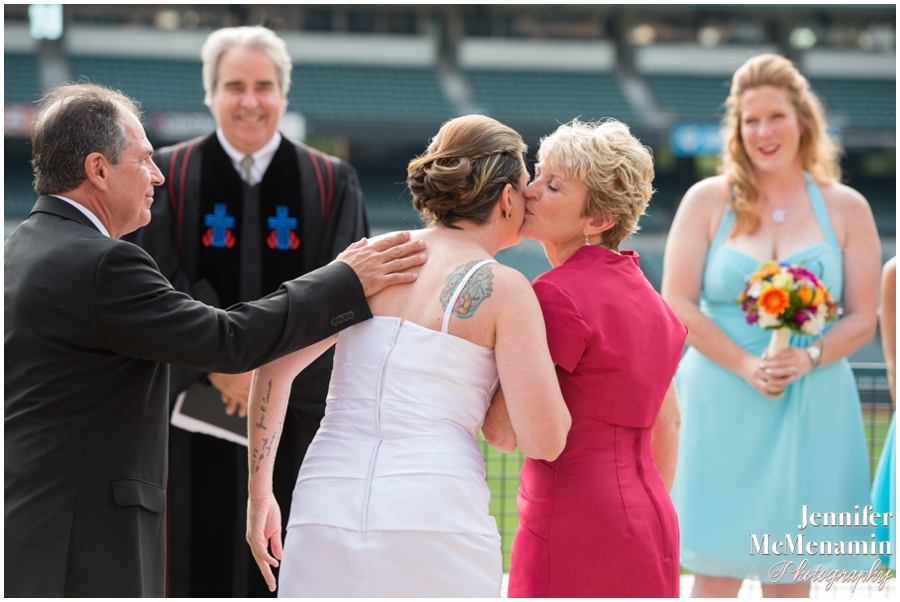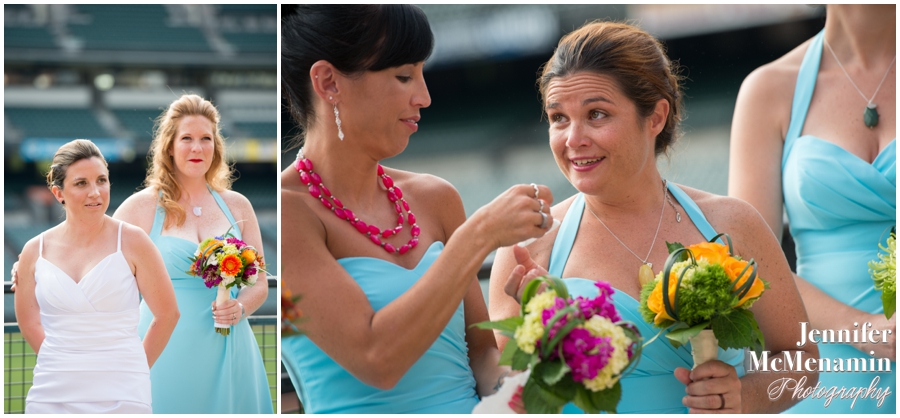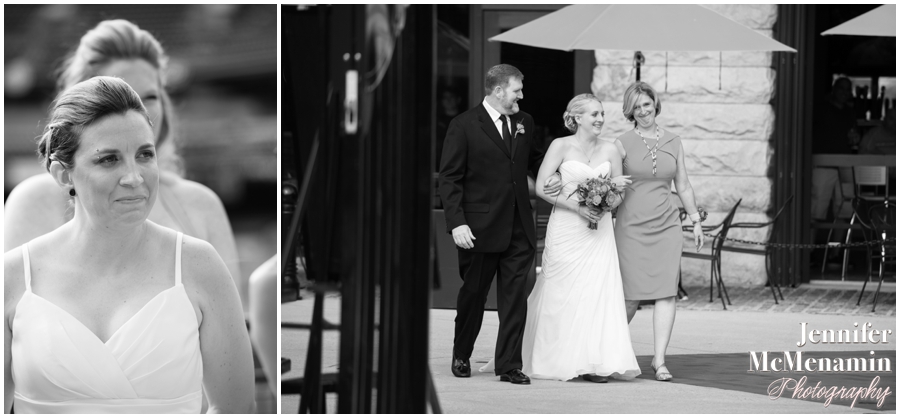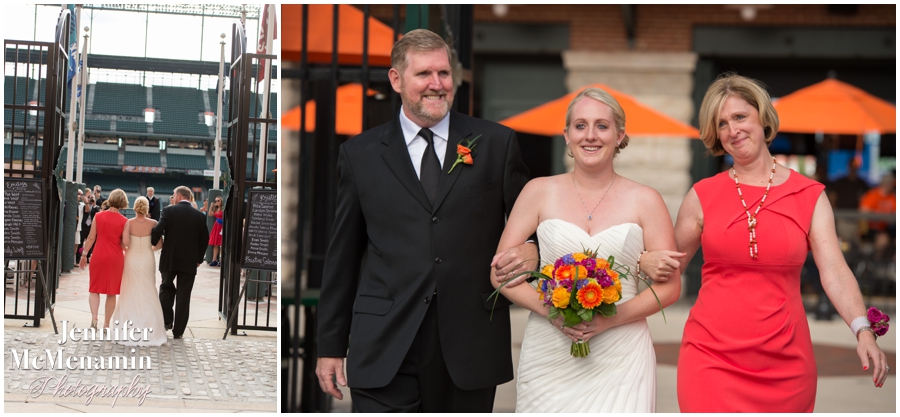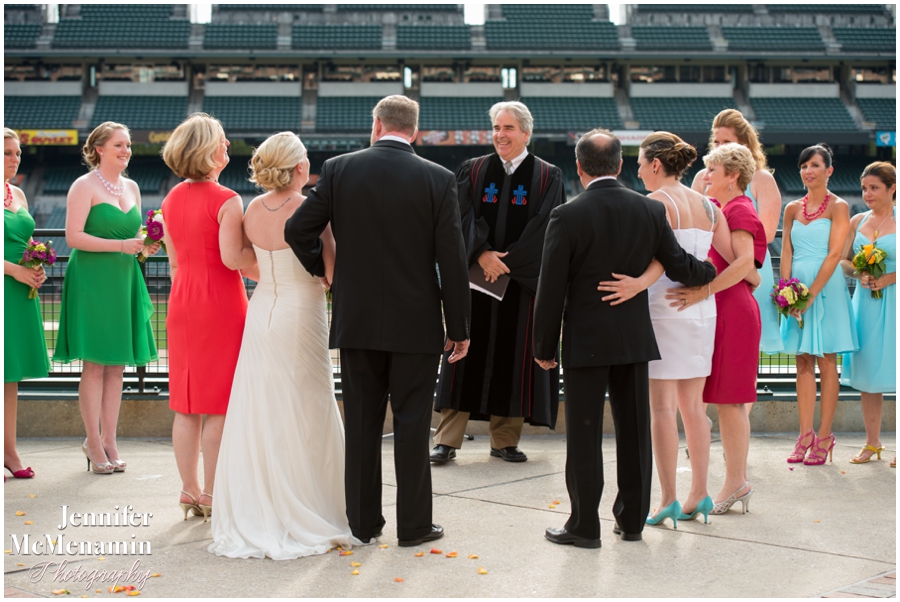 Sam, tucked away in a warehouse window, shot this great overhead photo of the ceremony.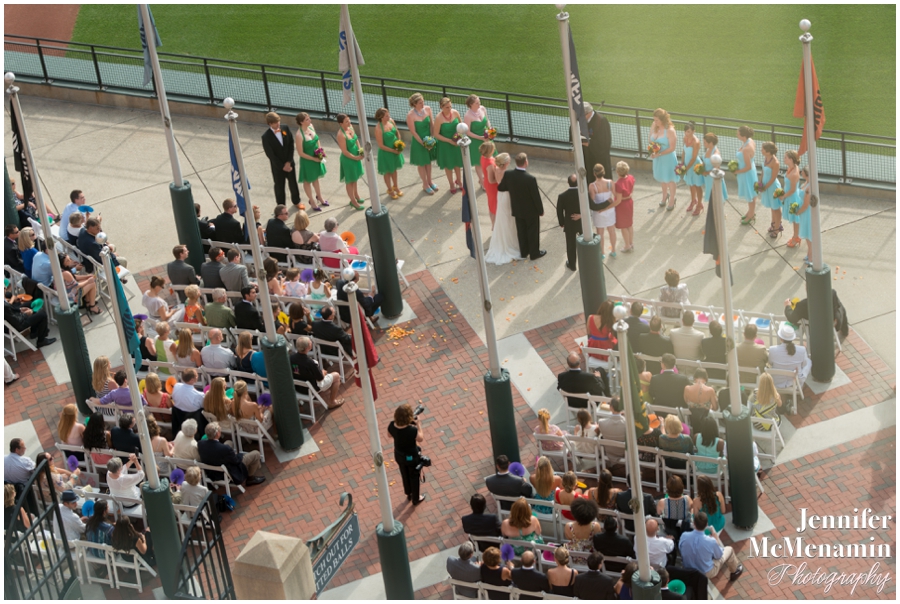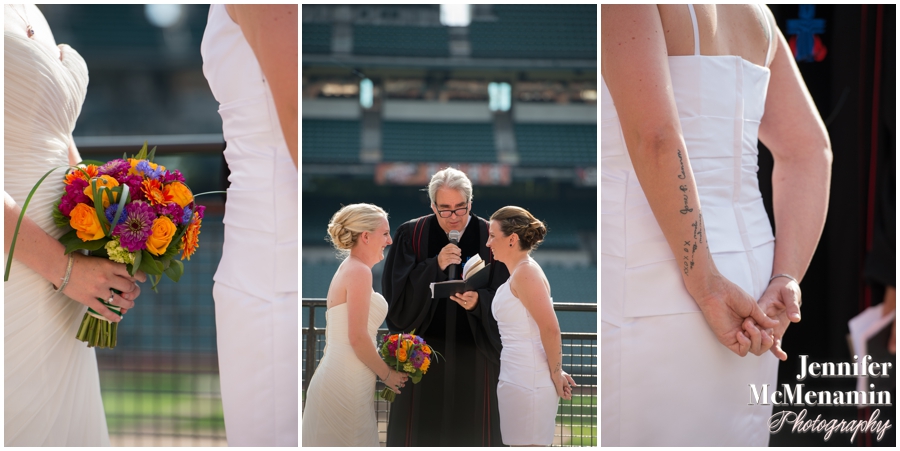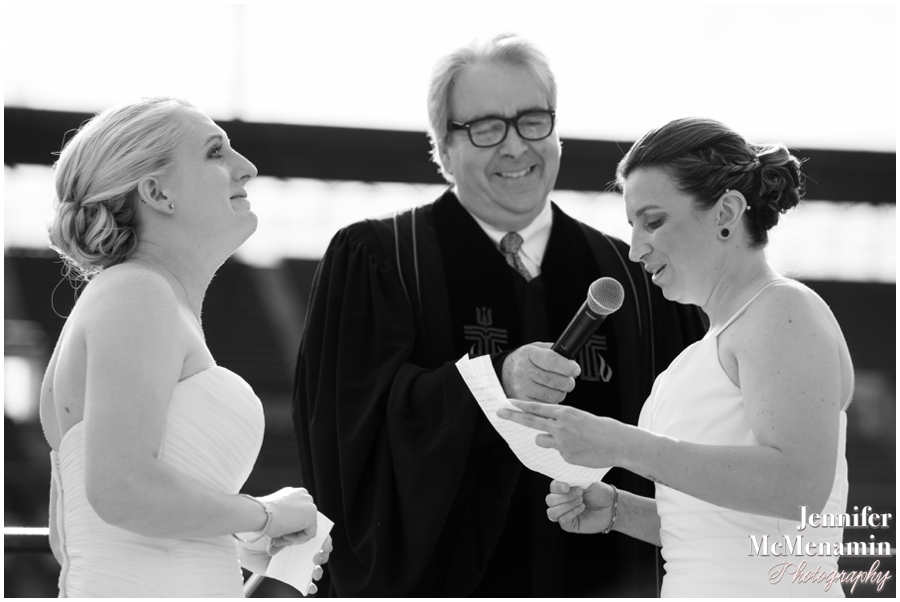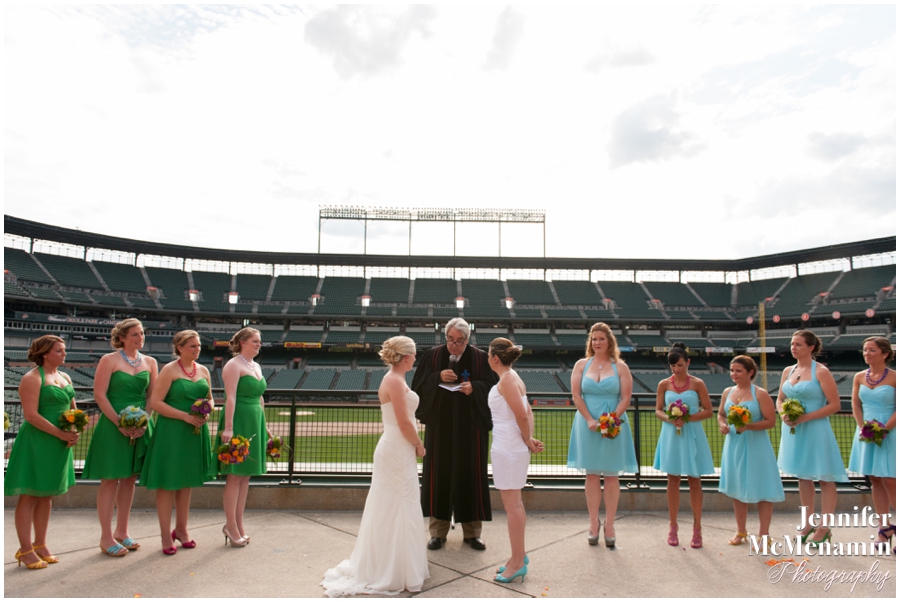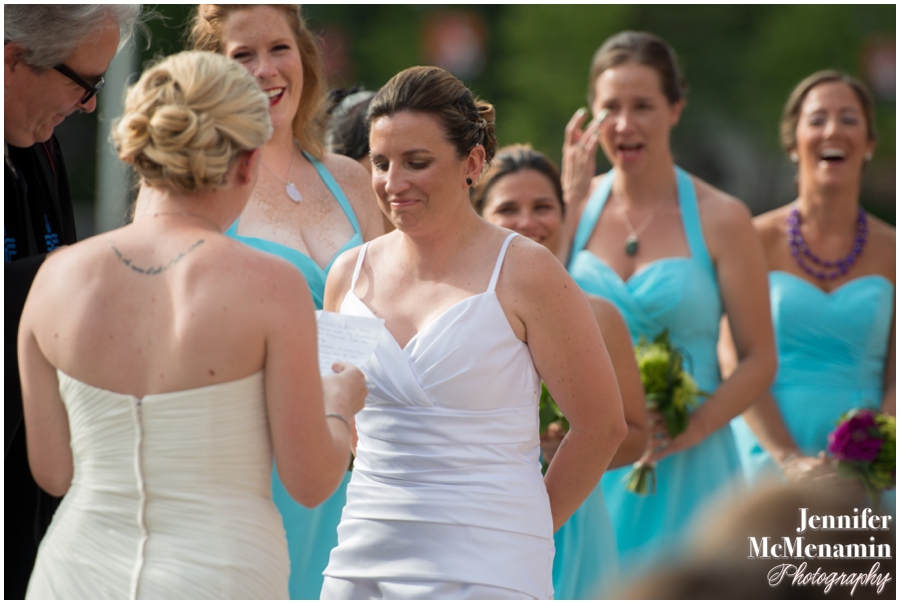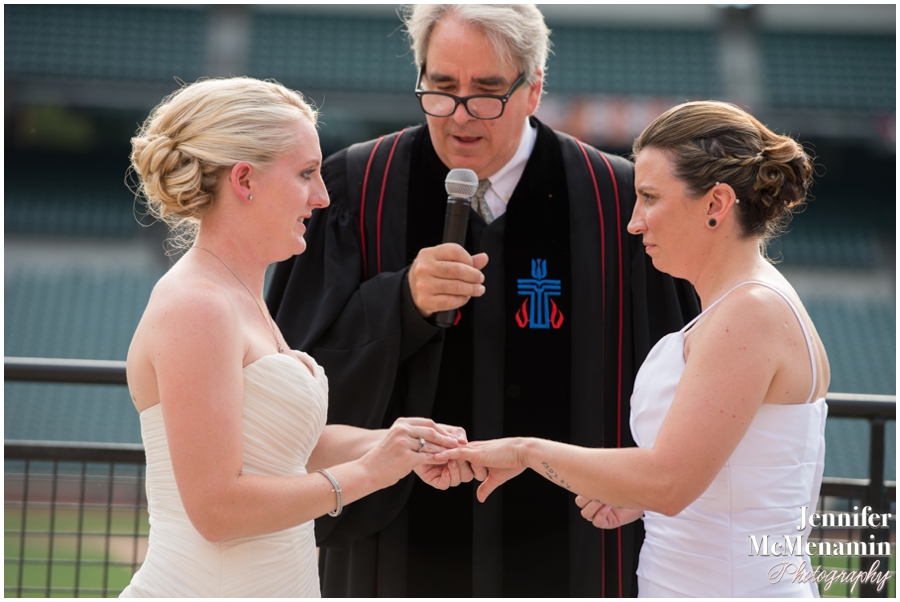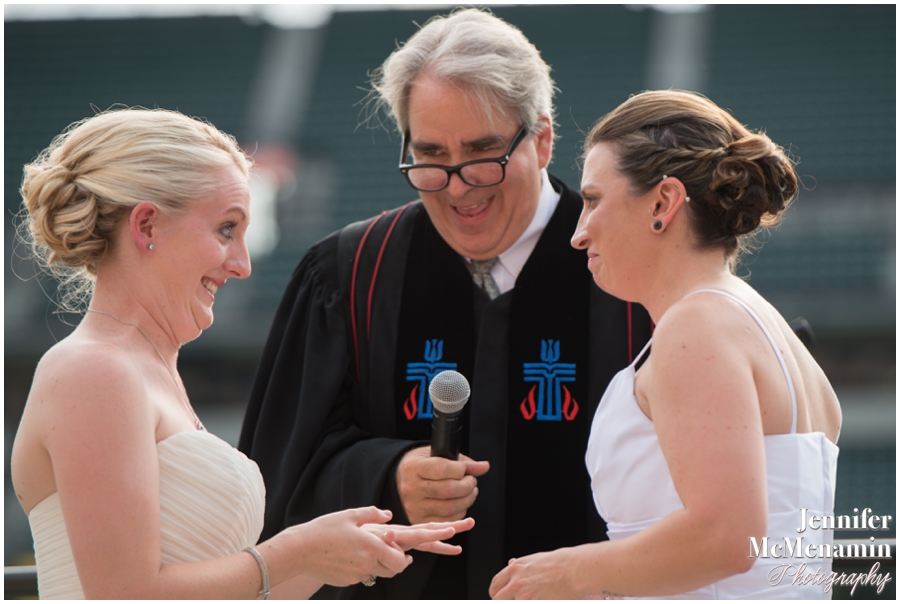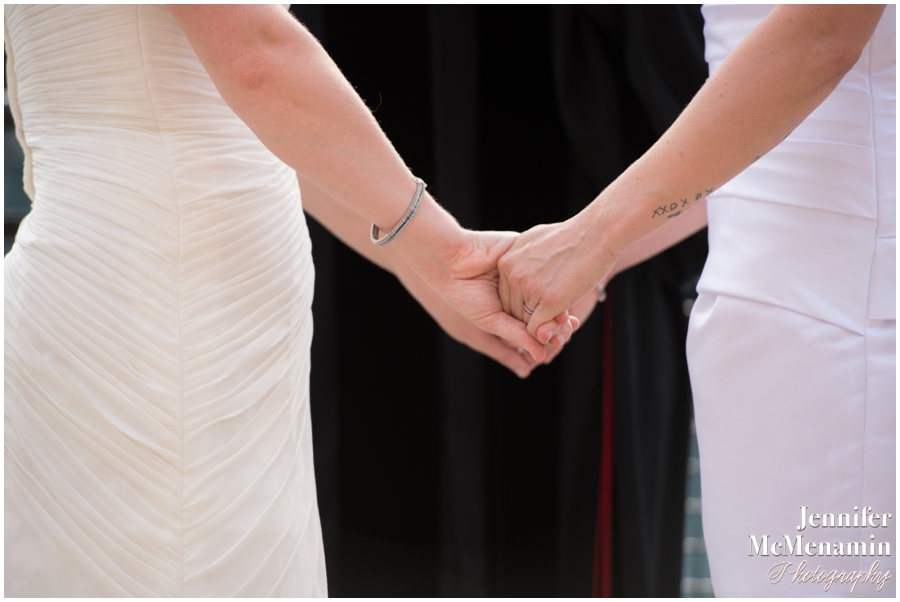 Married!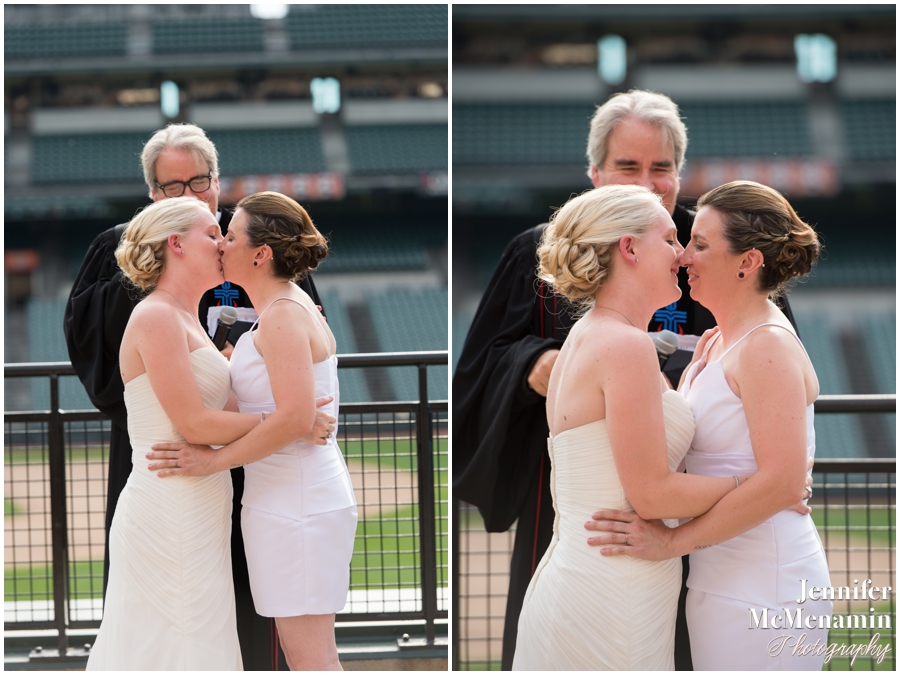 As guests tossed sunflower seeds at the couple, Kristine tried to catch some on her tongue. I think she might have succeeded!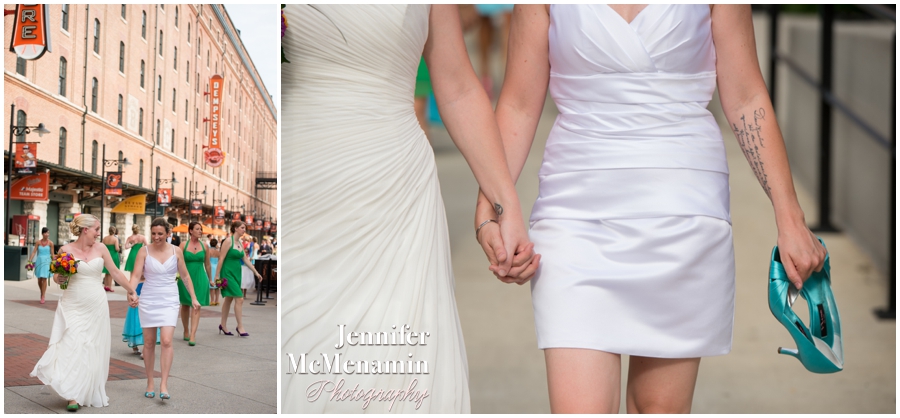 A perk of throwing a ballpark wedding at Oriole Park at Camden Yards: The Oriole bird stops by to join photos and to attend cocktail hour!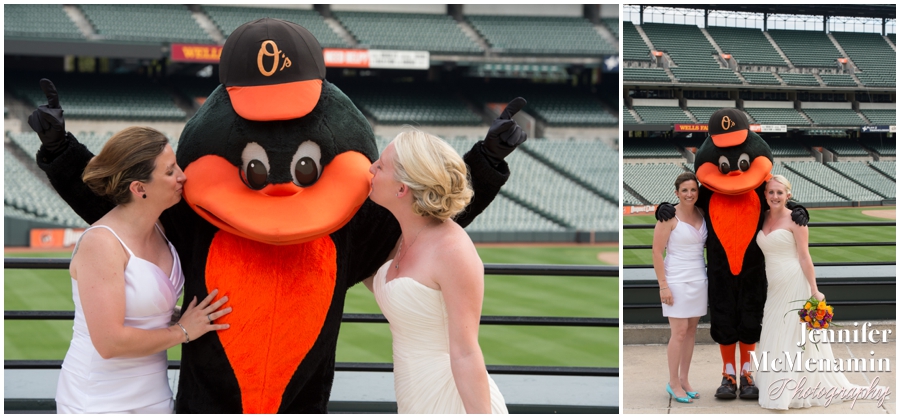 Then, we had the pleasure of heading down to the field for photos. I distinctly recall the moment I stepped on the field at Ravens Stadium for a wedding with clients a few years ago. It was similarly electric to be in the on-deck circles and standing on the dugout at Camden Yards. As season ticket holders, Emily, her parents and sister wanted to be photographed in their regular seats.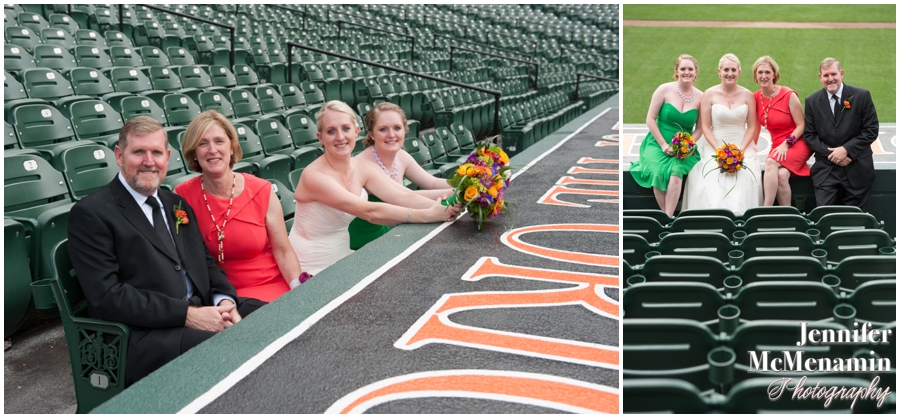 This is one of my most favorite family photos of all time.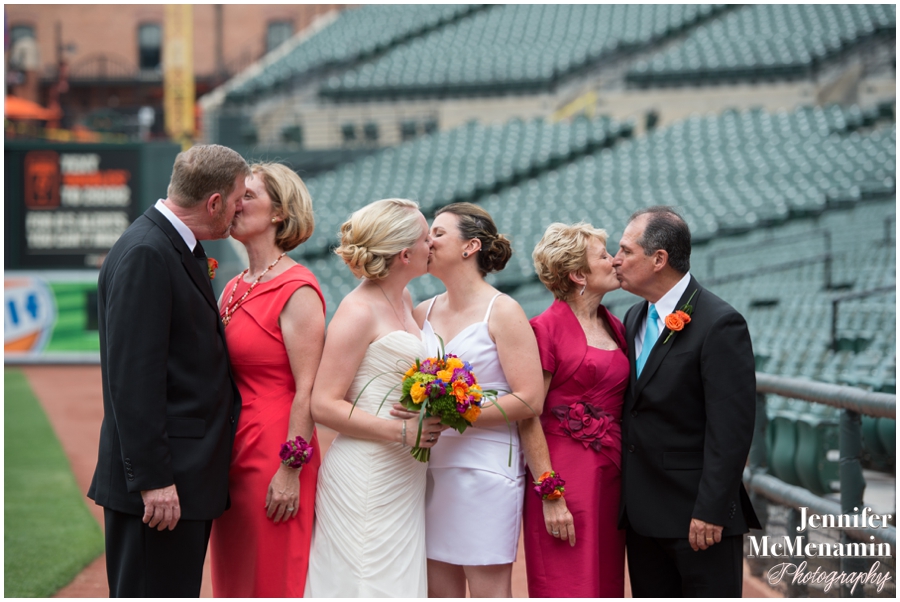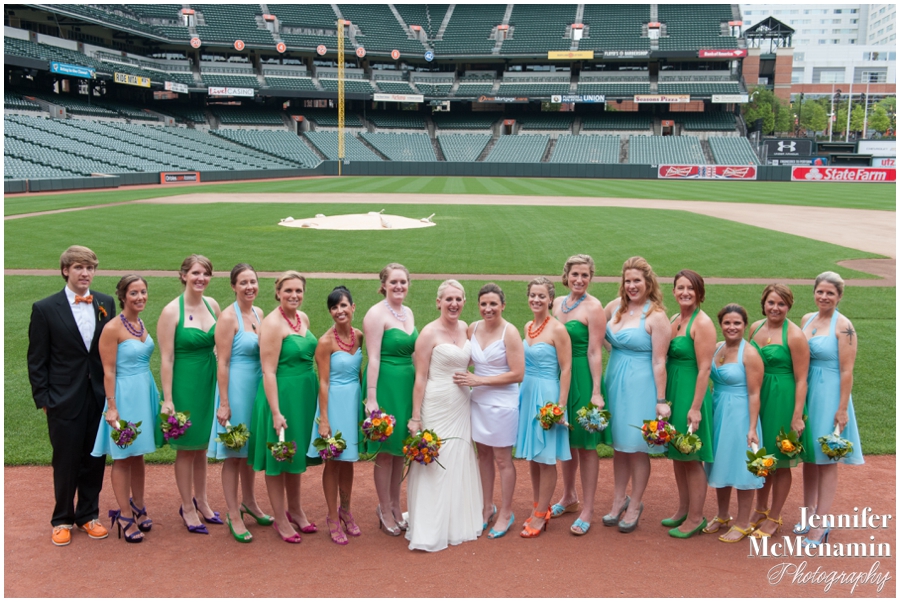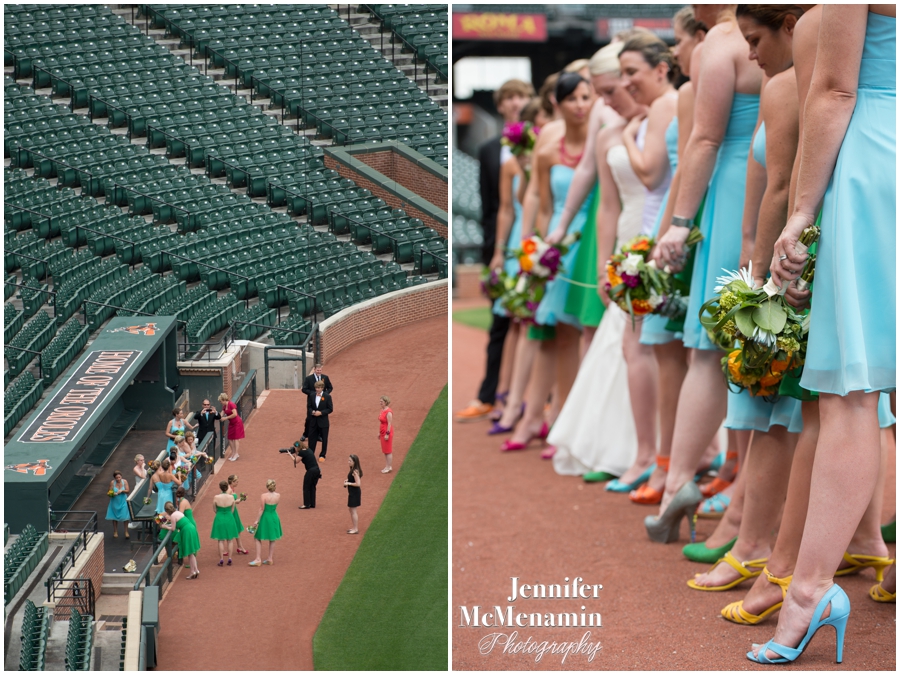 Kristine and her wedding party brought props for their photos.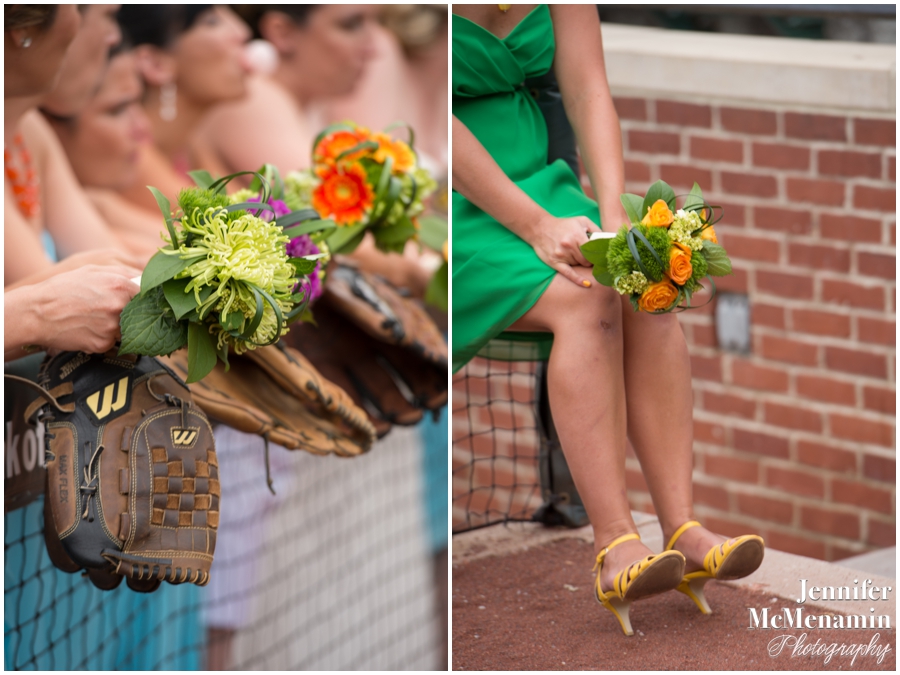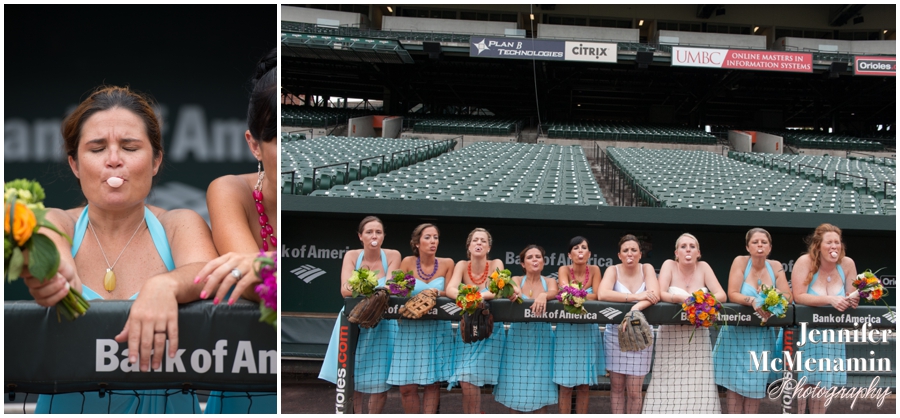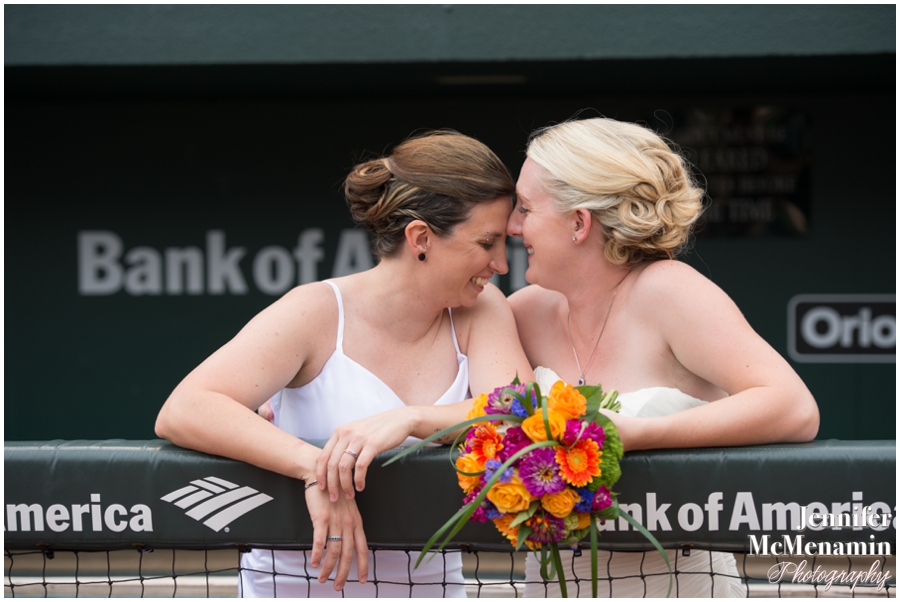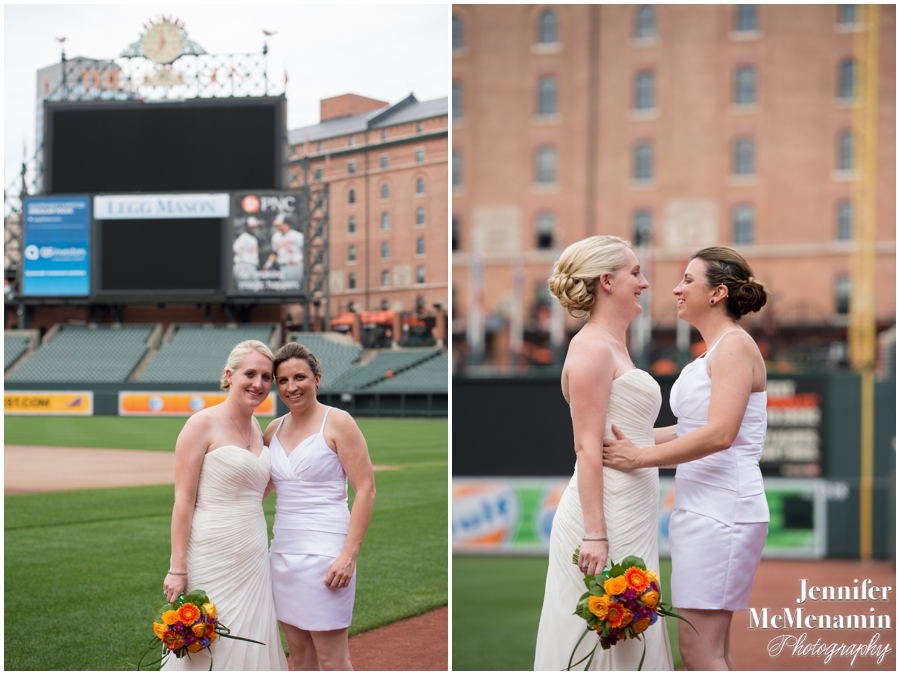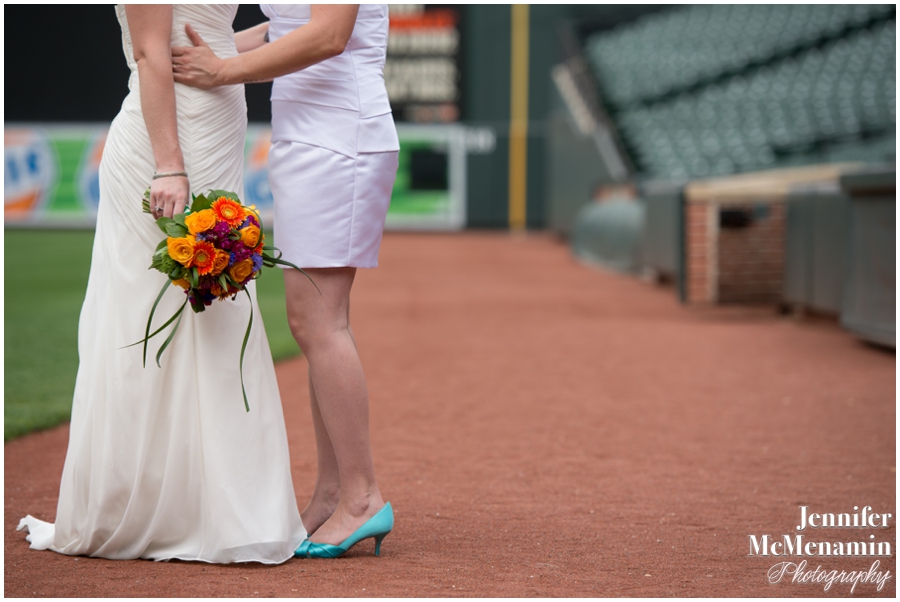 Meanwhile, Sam photographed cocktail hour in the bar overlooking the field.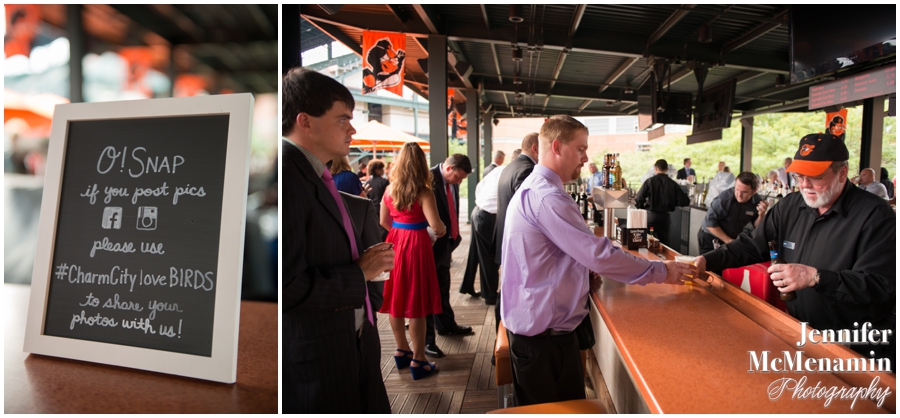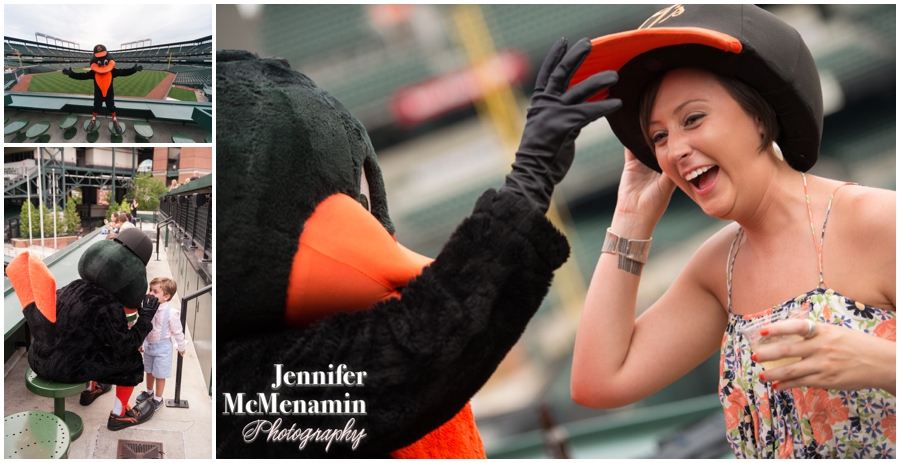 A first dance. 

A little fun with Pixilated Photobooth.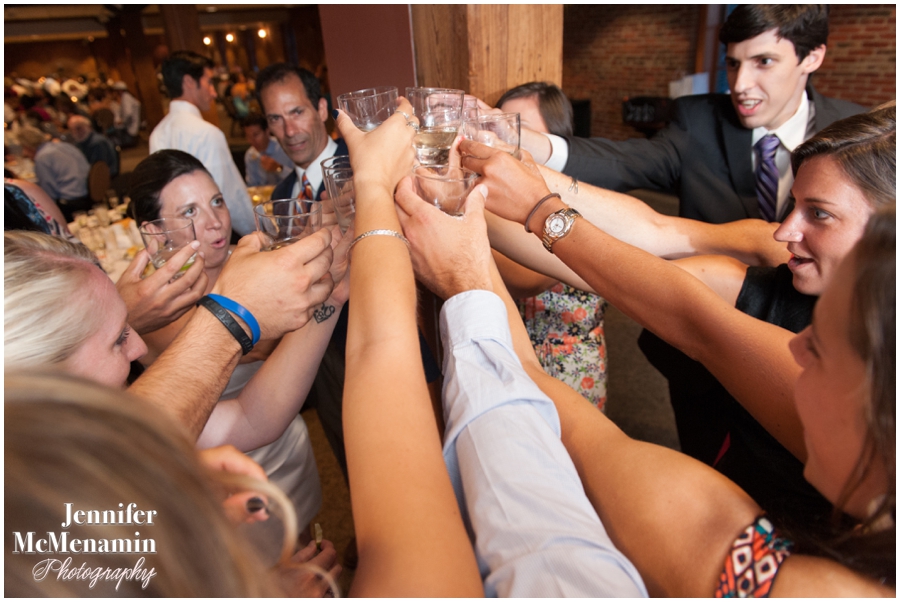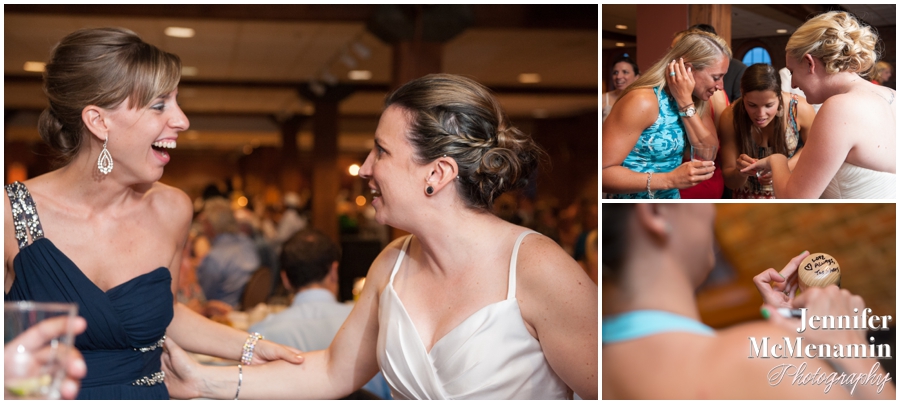 Father-daughter dances — preceded by a quick game of catch.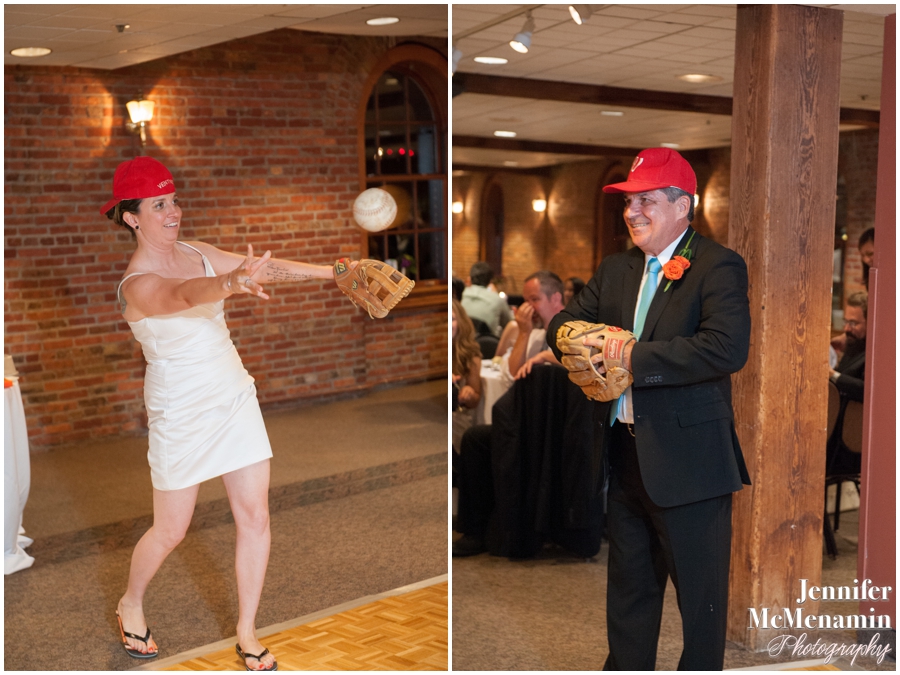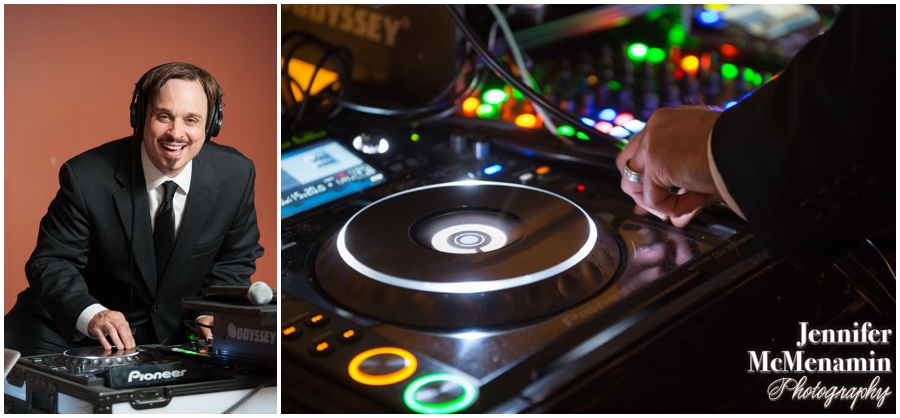 And — as they had forecast on their invitation — lots of fun and merriment.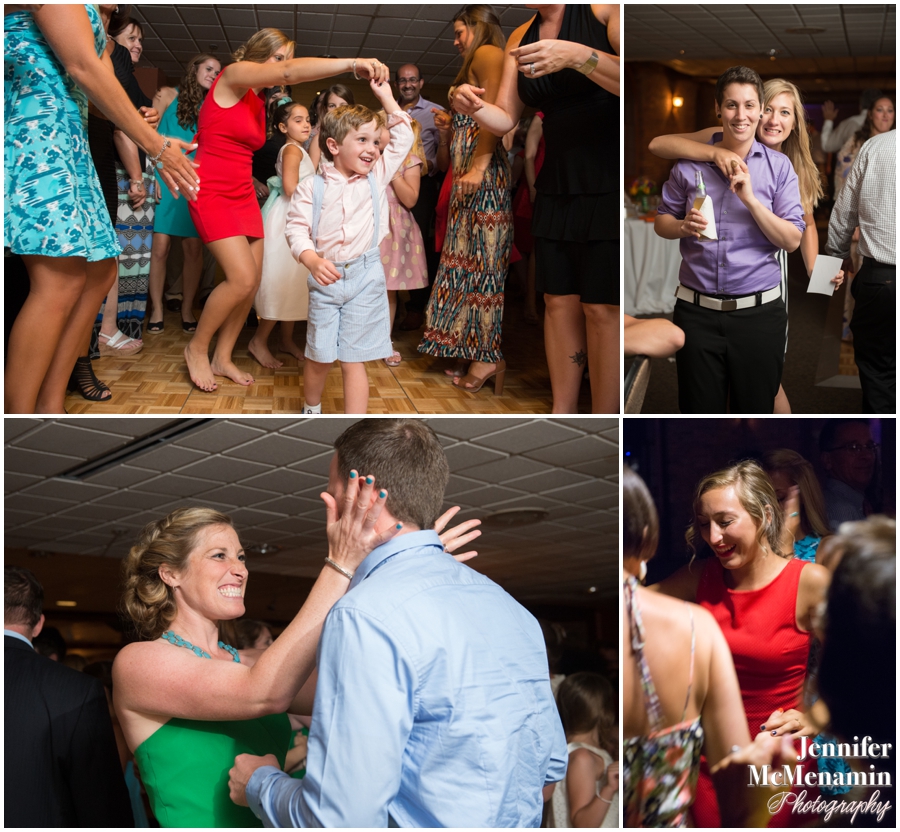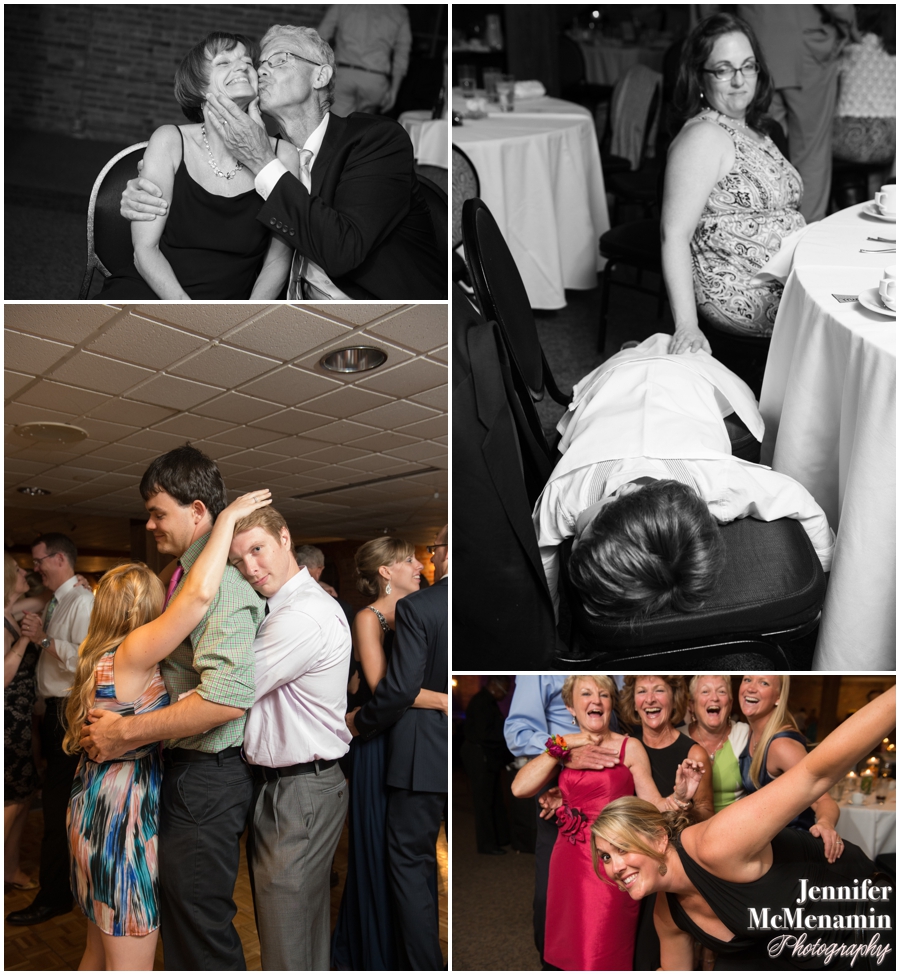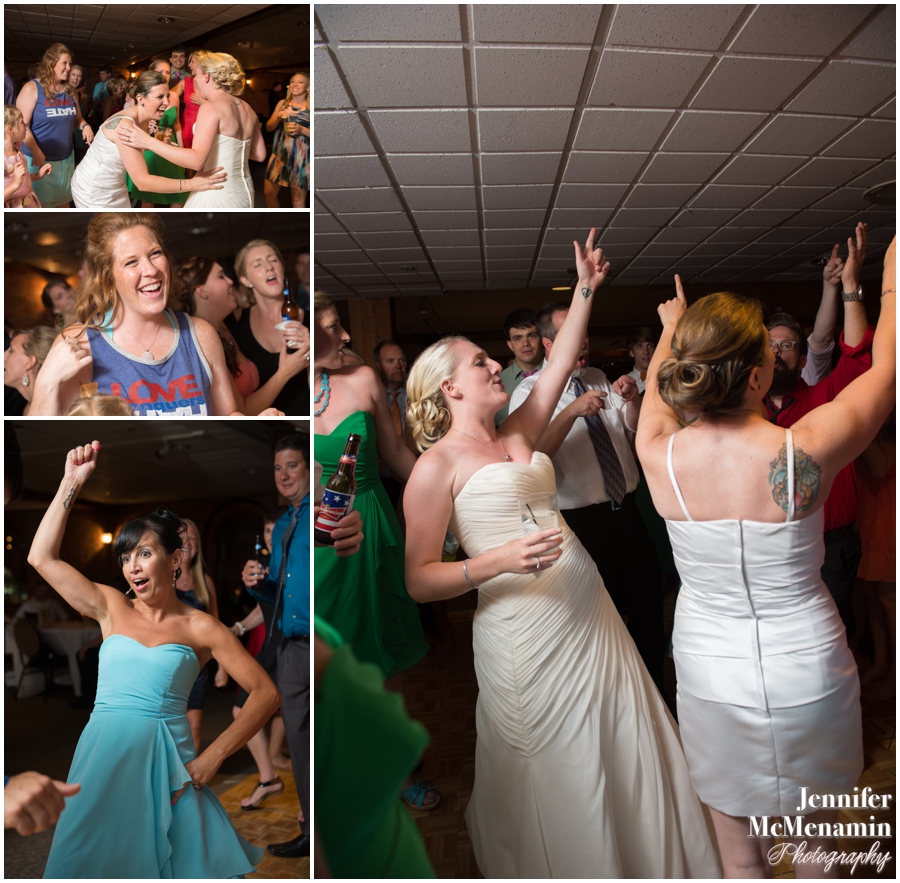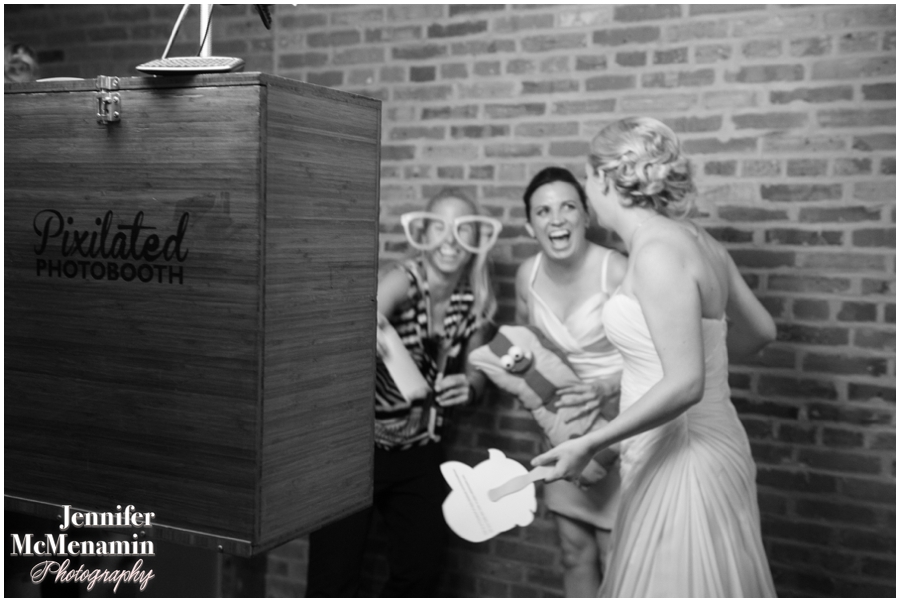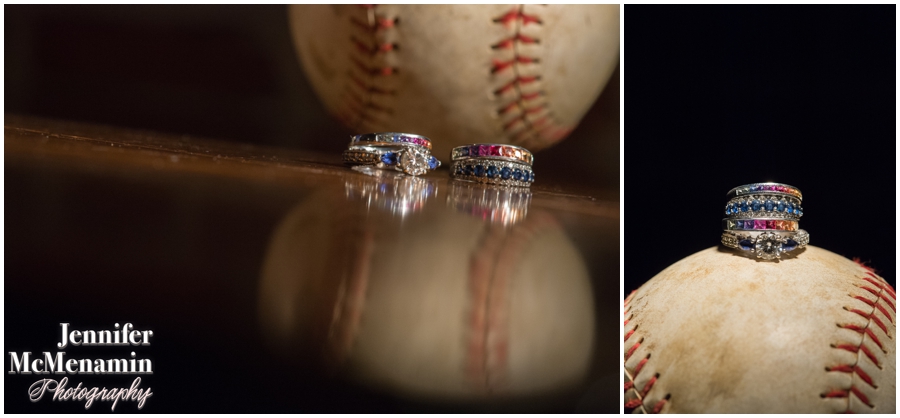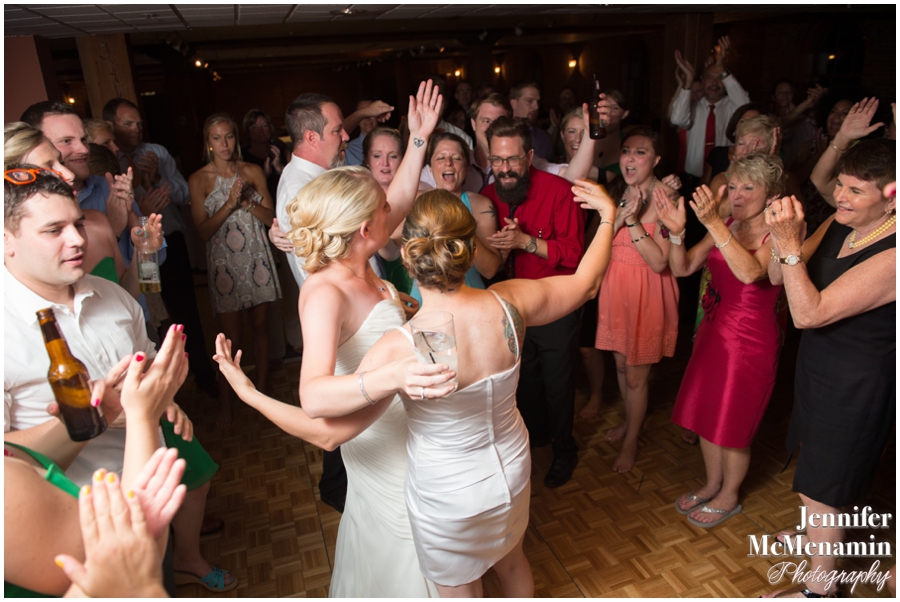 Emily + Kristine ended the night with a massive group hug on the dance floor — a gesture that seemed amazingly perfect for them.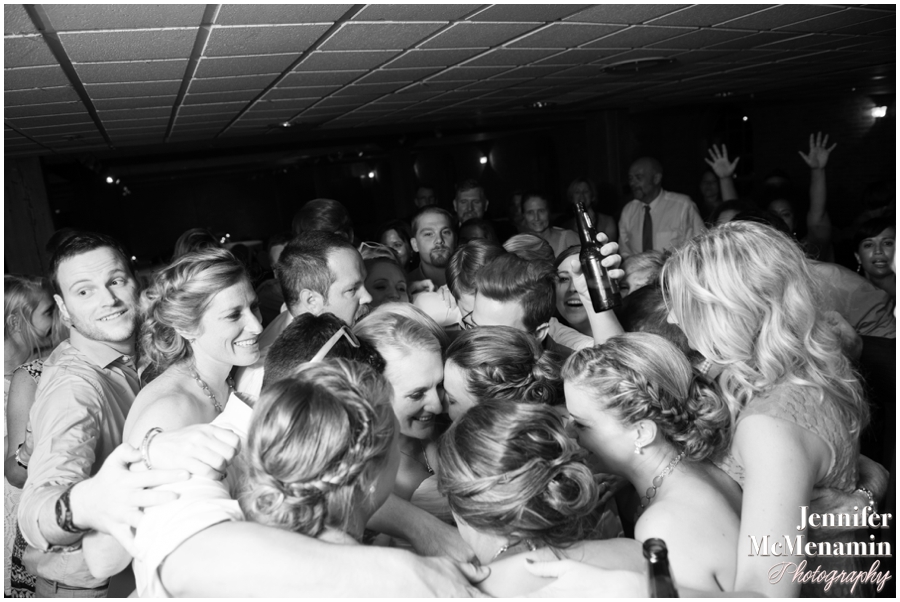 Many, many congratulations, Emily + Kristine. I could not have had more fun with you, your families and your friends!
Credits:
Photography: Jennifer McMenamin Photography, LLC

Ceremony & Reception: Oriole Park at Camden Yards
Officiant: The Rev. John Scotland
Catering: DNC Inc.
Emily's attire: David's Bridal Collection
Kristine's attire: Simply Bridal
Hair & Make-up: Xtreme Hair Salon

Attendants' attire: Alfred Angelo and Jos. A. Bank
Bridesmaids' necklaces: That's Mine Boutique
Florist: Fleur de Lis
DJ: Matt Davis

Photobooth: Pixilated Photobooth
Invitations: Beth Cote