St. Mary of the Mills wedding: Elizabeth + Juan

St. Mary of the Mills Catholic Church - Baltimore wedding photography - Maryland wedding photography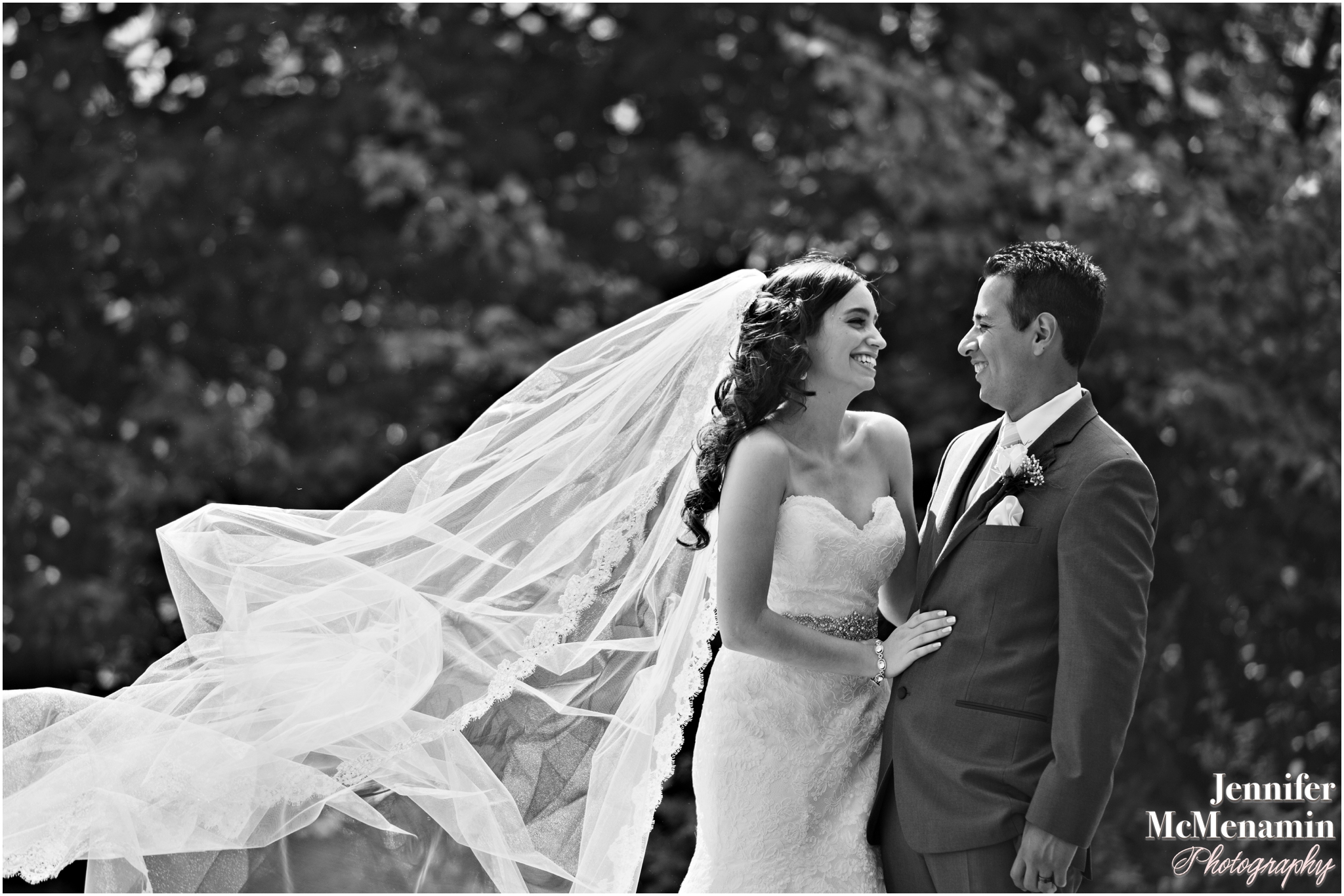 Juan actually married the girl next door. Well, the girl two doors down, to be precise. He and Liz met in the summer of 2006, just before their senior years of high school, when his family moved into a house just down the street from her family's. After a few months of running into each other as Juan walked his dog, they started dating. Seven years later, at a surprise party Juan threw for Liz's 24th birthday, he asked her to marry him. And a little more than a year after that, on a perfect June afternoon, they exchanged vows and rings in a moving wedding ceremony at St. Mary of the Mills Catholic Church, surrounded by their friends and family and a million summery yellow roses. Liz smiled her beautiful smile all day long, from the moment we arrived to capture her getting ready at Juan's parents' house to their joyful dash through a burst of bubbles at the end of the evening. Along the way, a pair of adorable flower girls traipsed down the lantern-lined aisle followed by a shy ring bearer. A gentle breeze played with Liz's gorgeous veil as we shot portraits in a park. Juan chivalrously carried Liz up a hill when she mentioned that her heels were sinking into the grass. And they shared not one, but two, official first dances as well as a traditional Mexican vibora snake dance under strings of twinkling cafe lights. The whole day — orchestrated to perfection by event planners Karin and Peyton Craig of Encounters — was an absolute joy to photograph. My friend and assistant, Sam Levitan, worked with me again for this wedding and his images are mixed in with mine. Here are some of my favorites: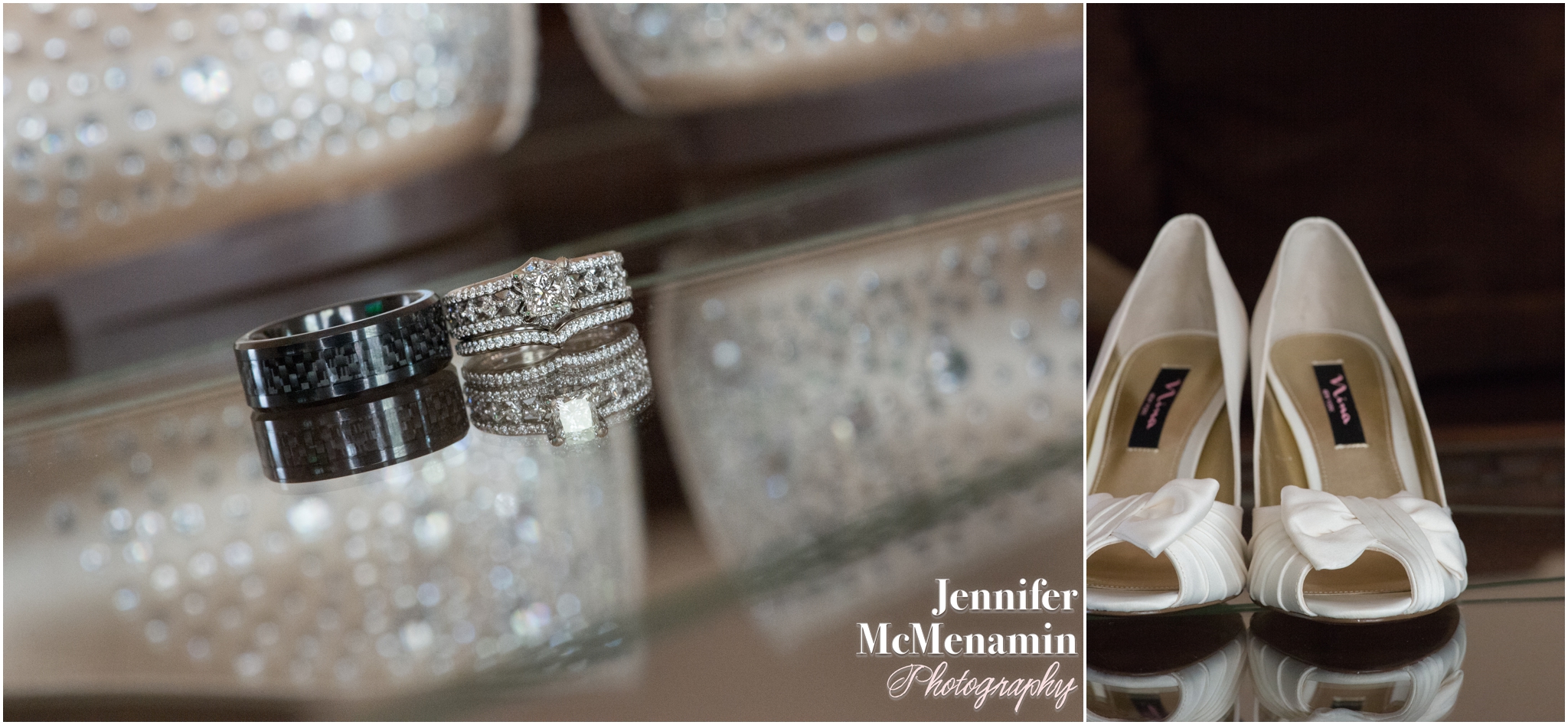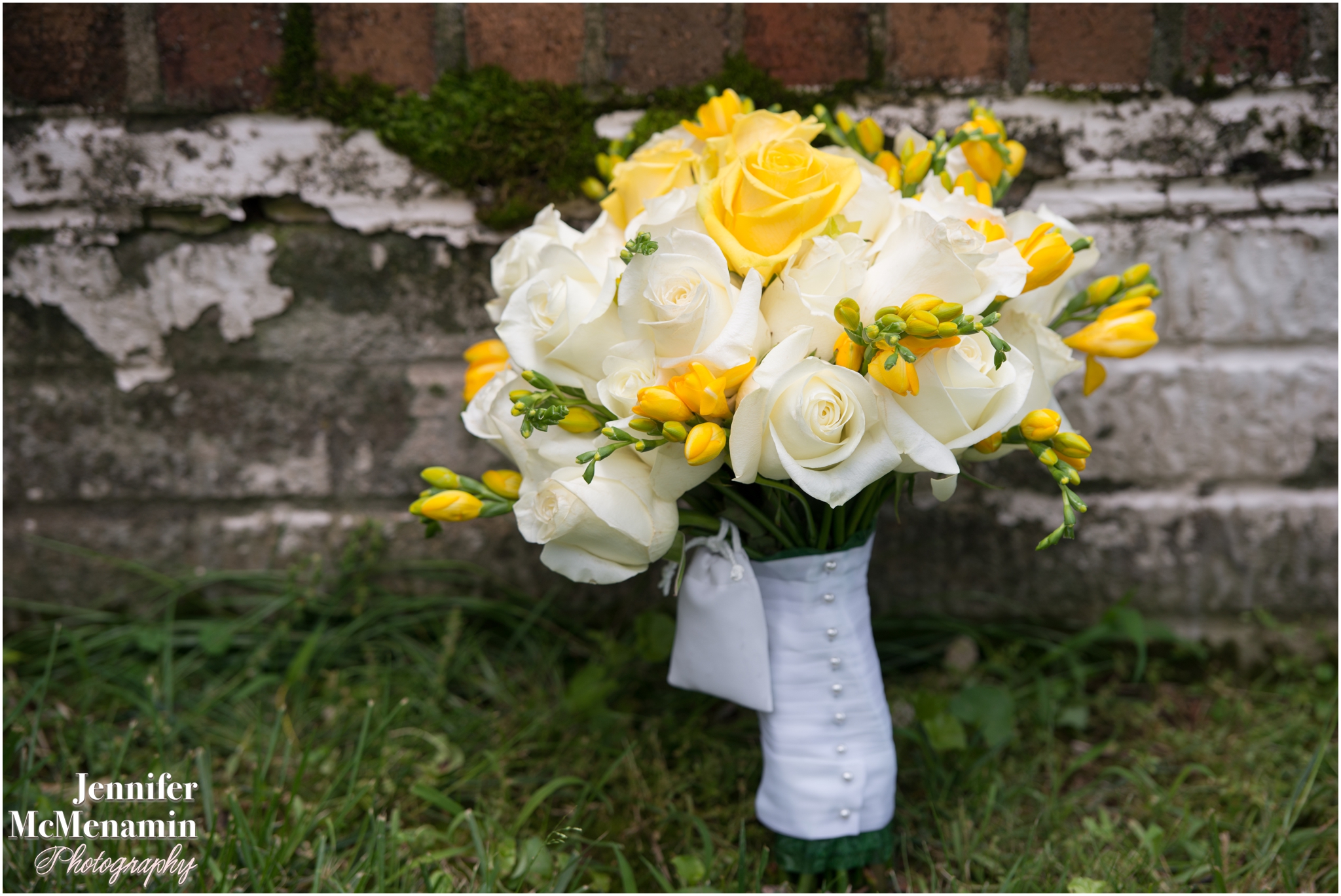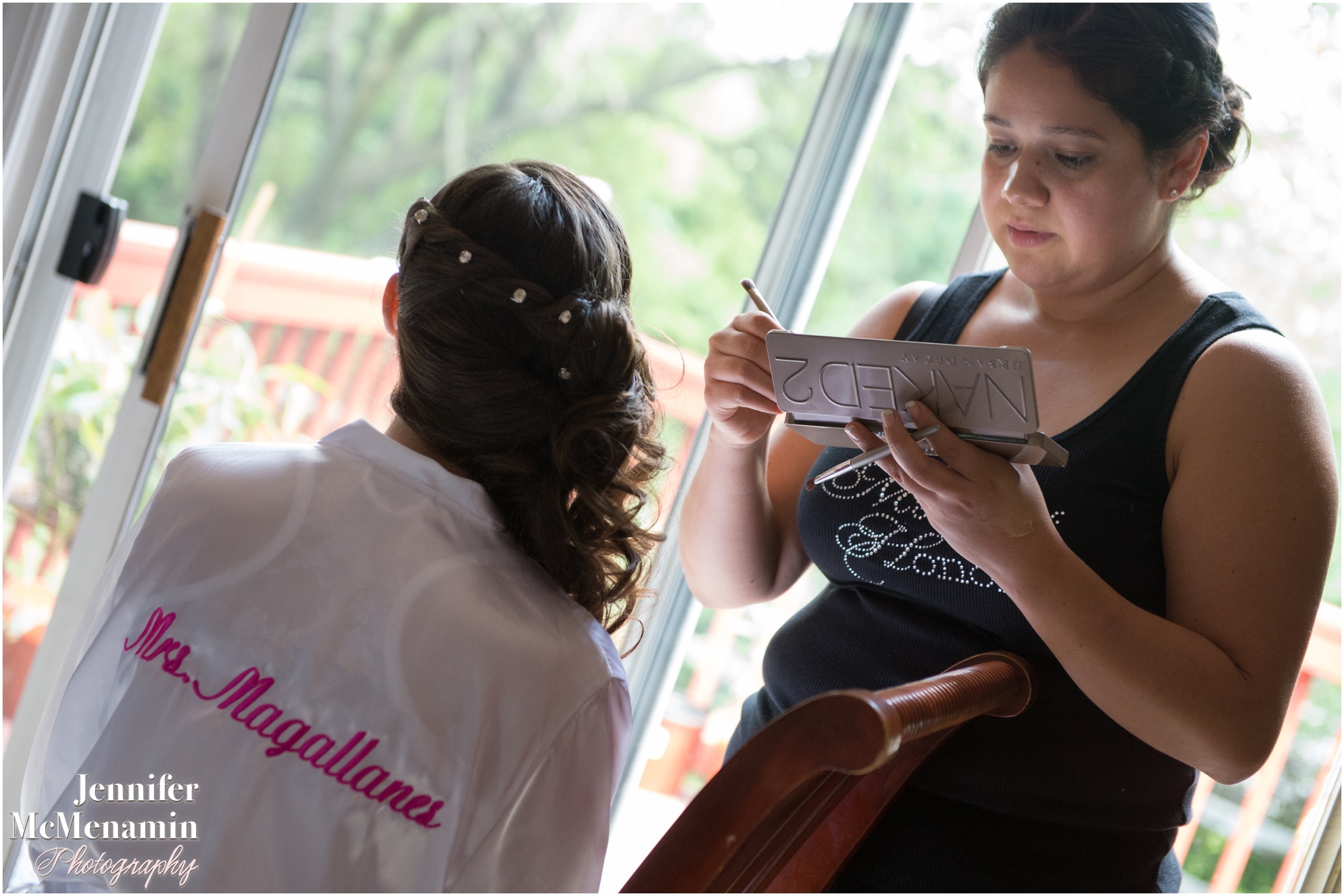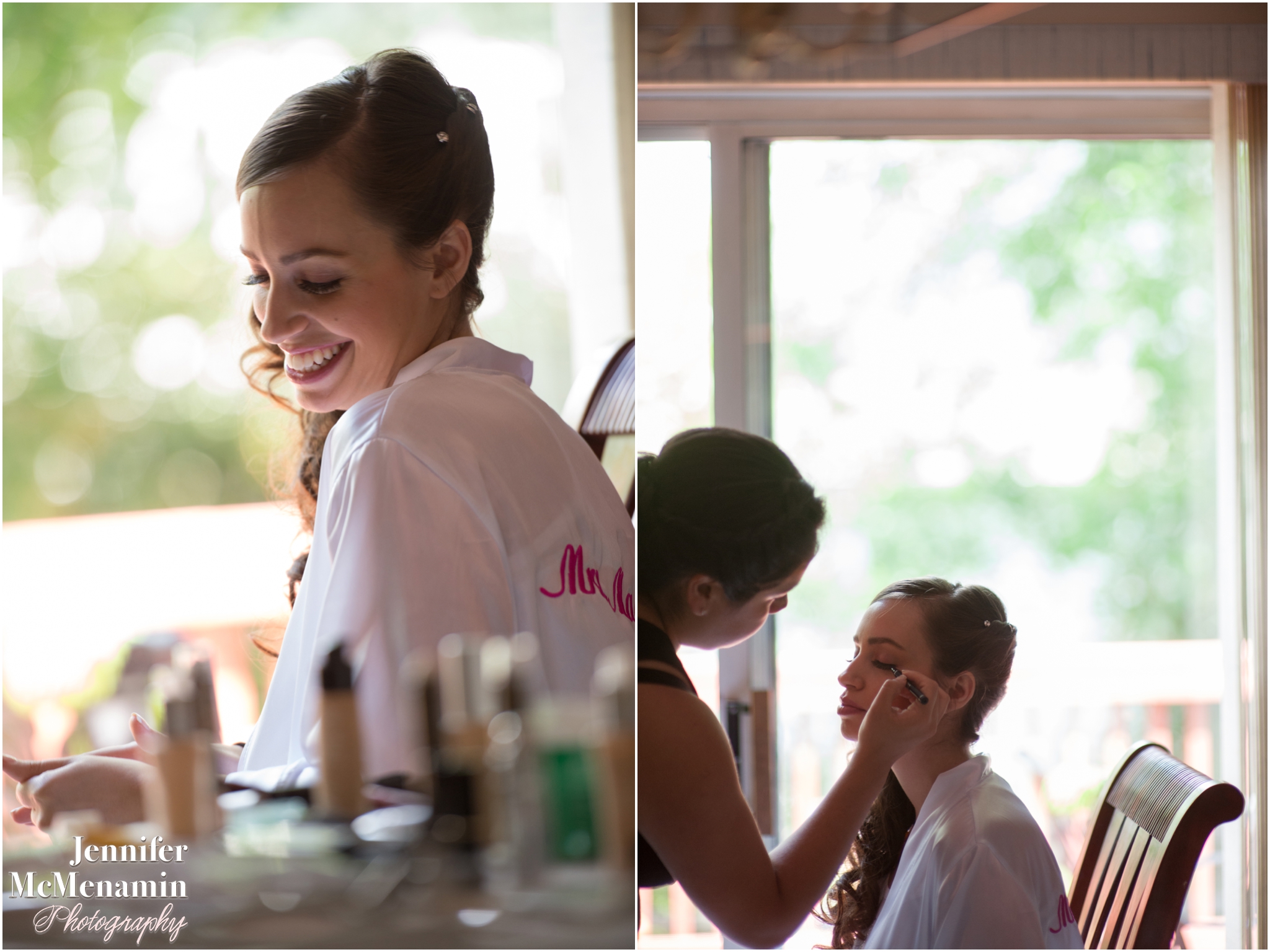 This is a great reaction to seeing your dress hung up and ready for your wedding day.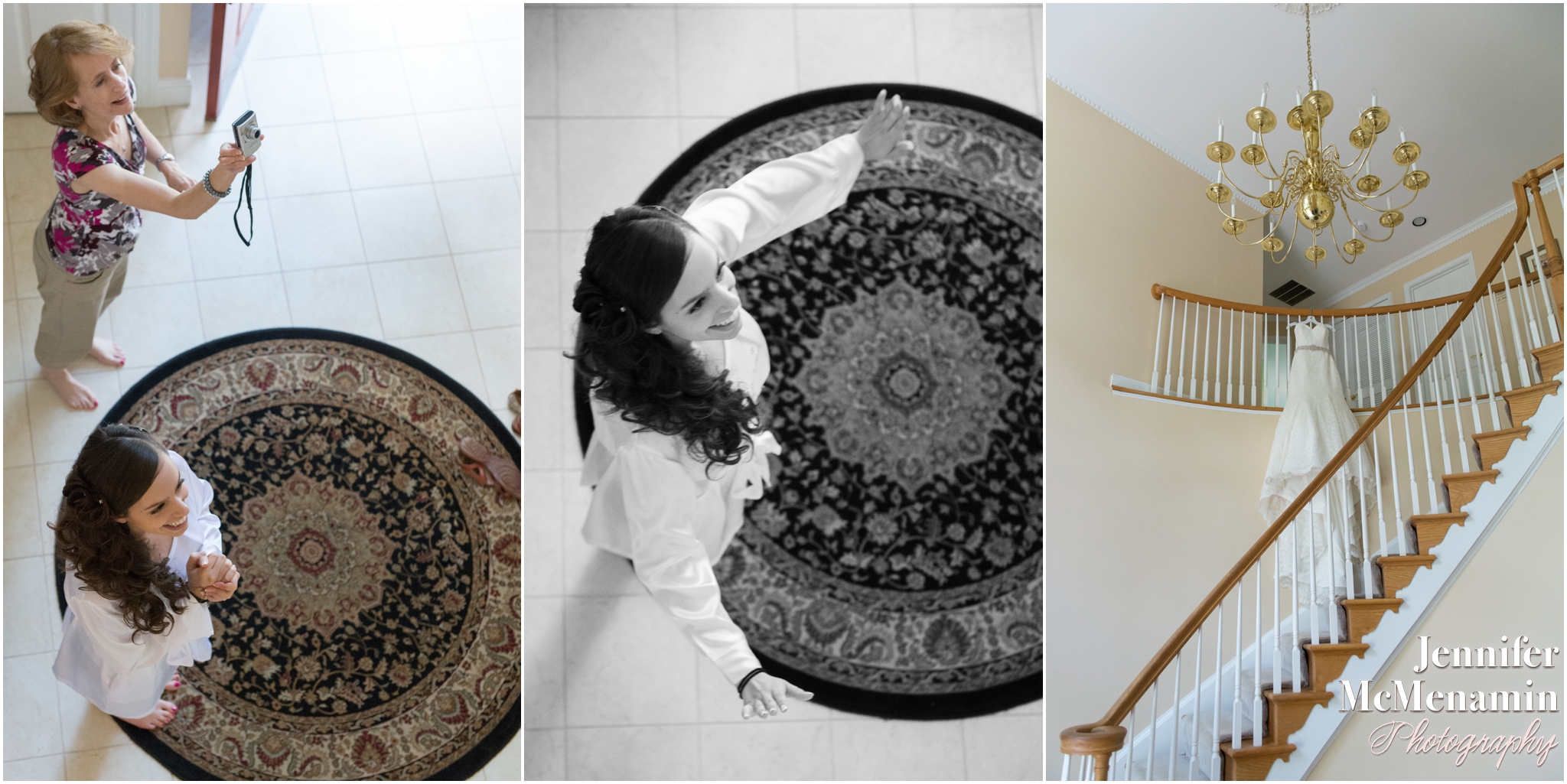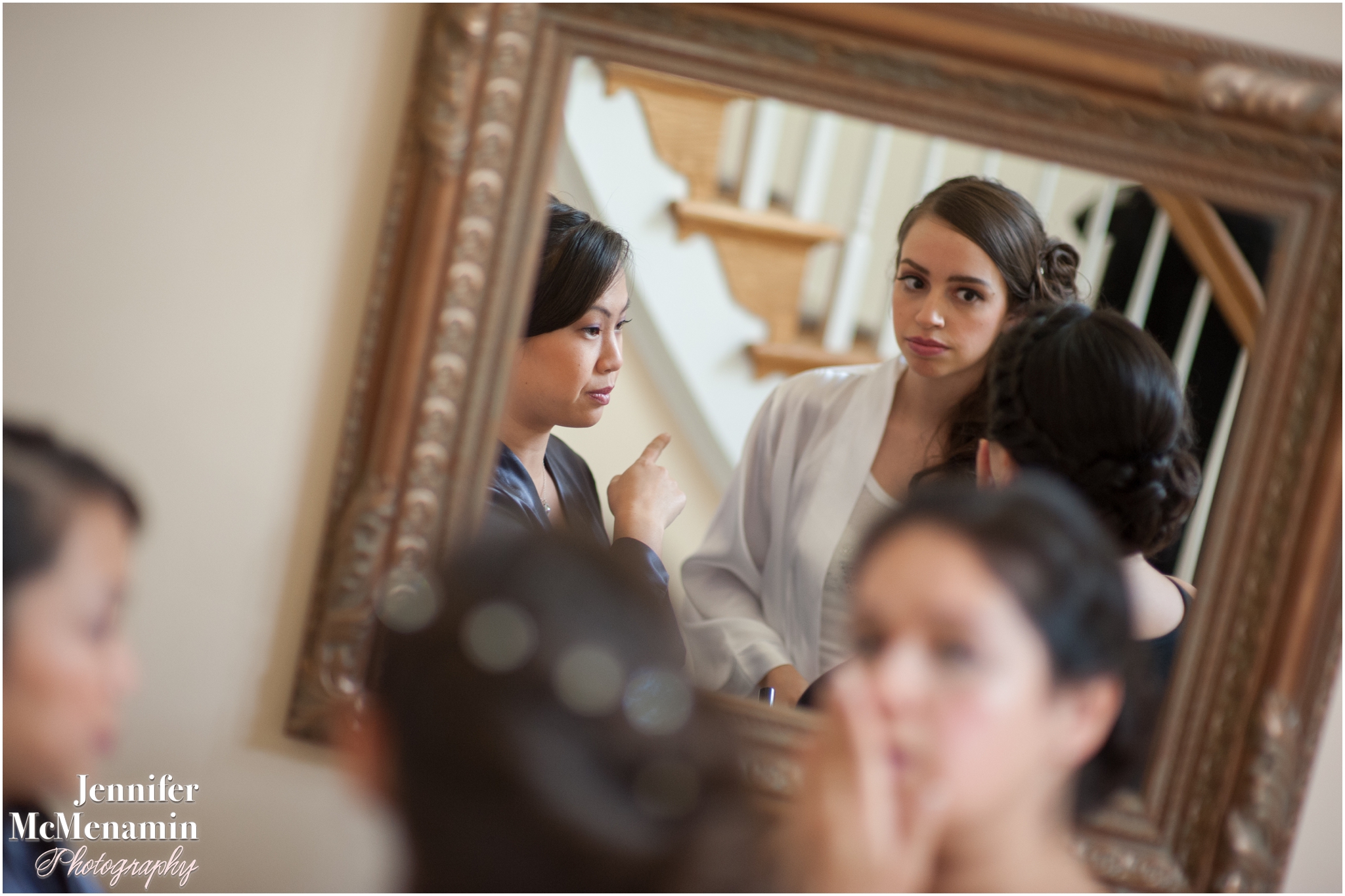 Liz peeks out the door to see if she can spot Juan, who arrived with the groomsmen to transport flowers to the church.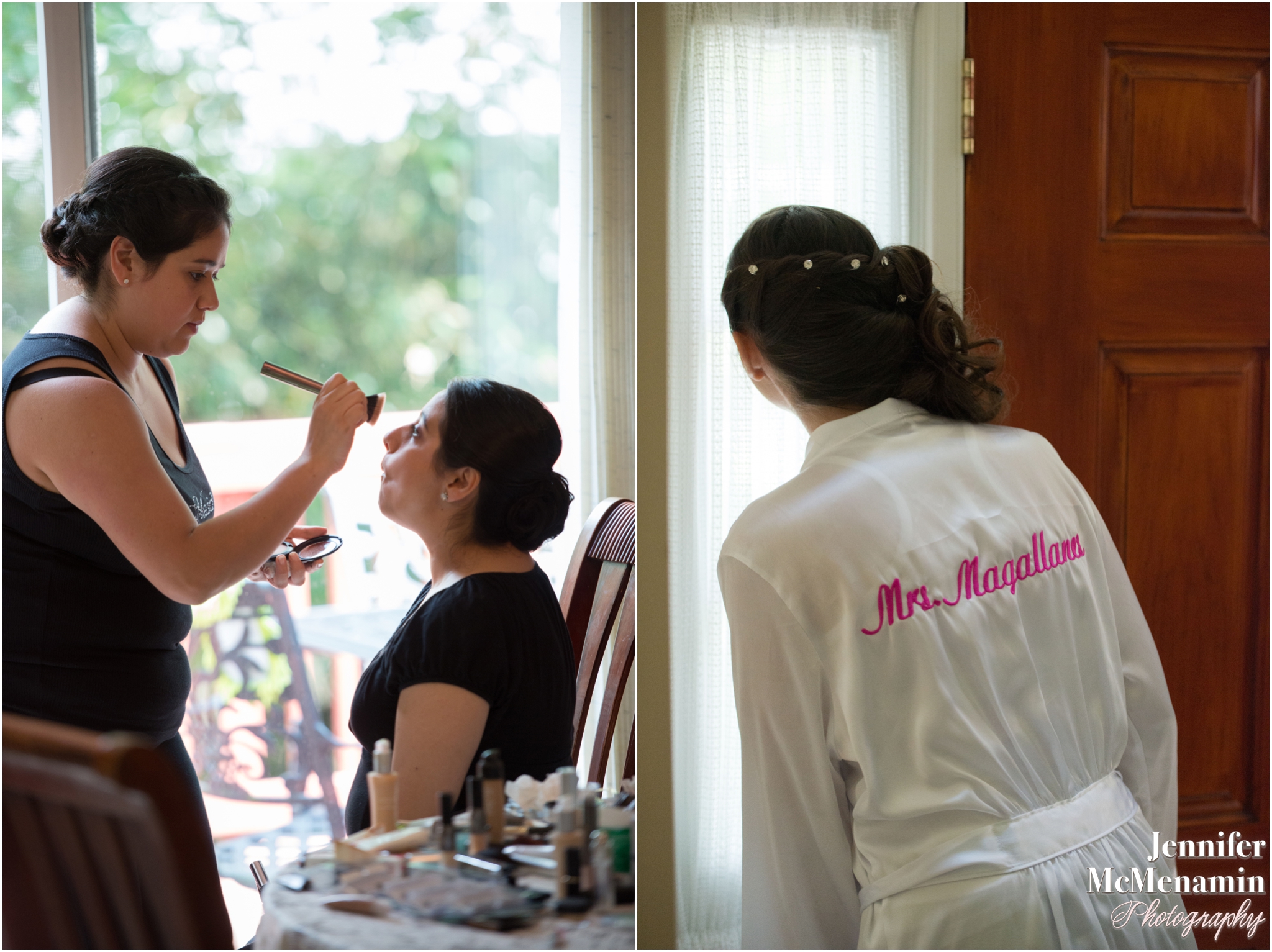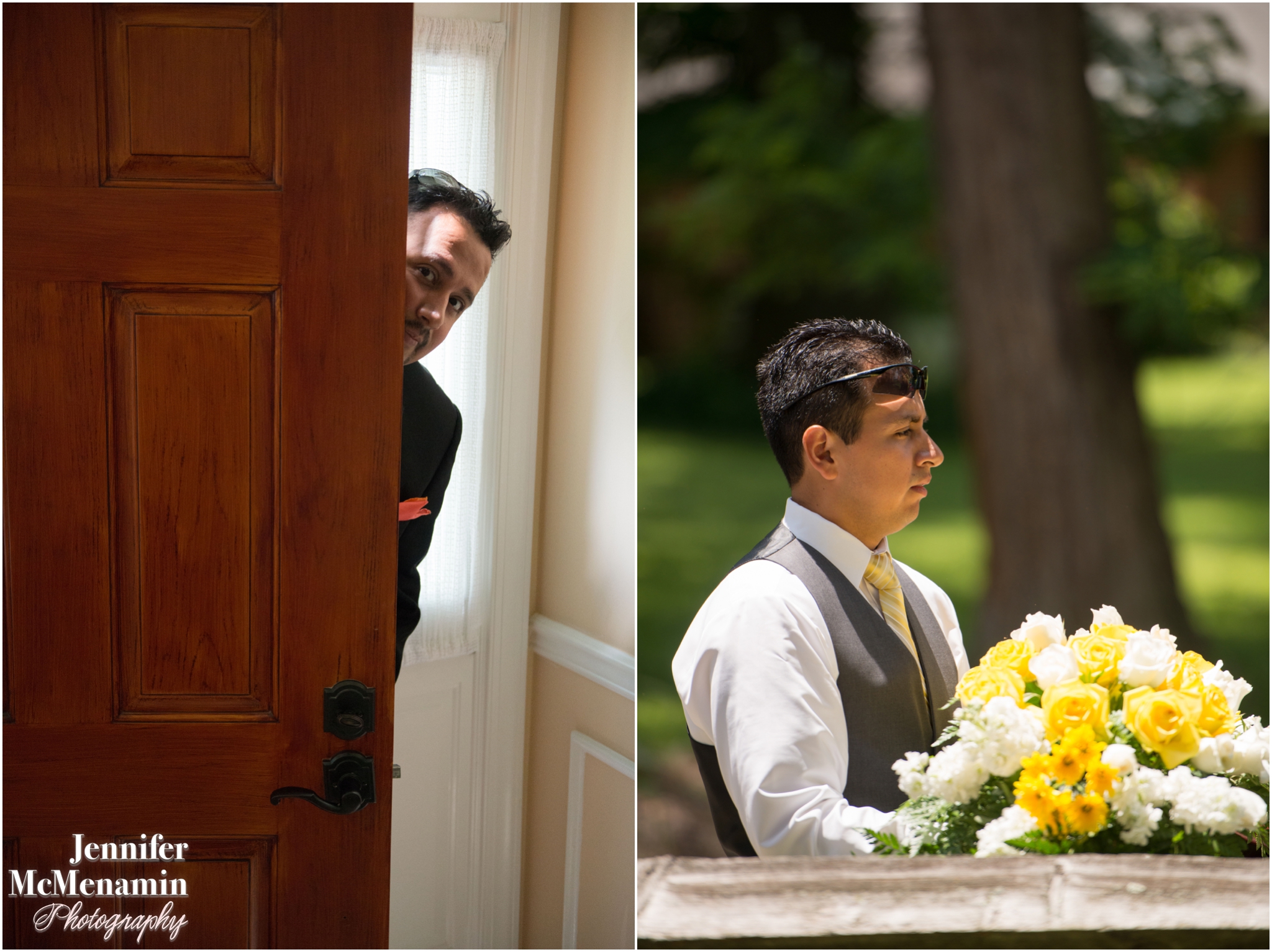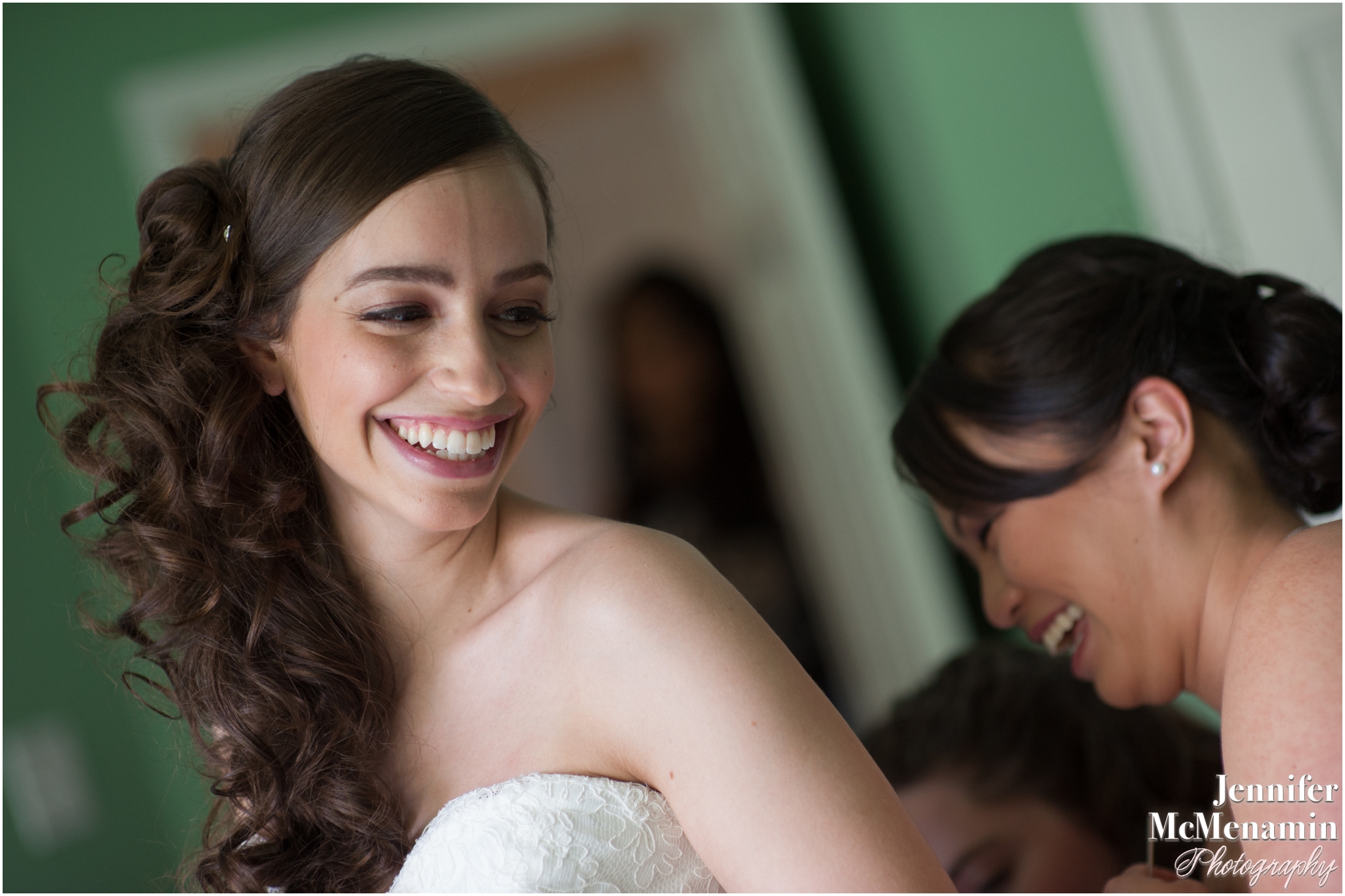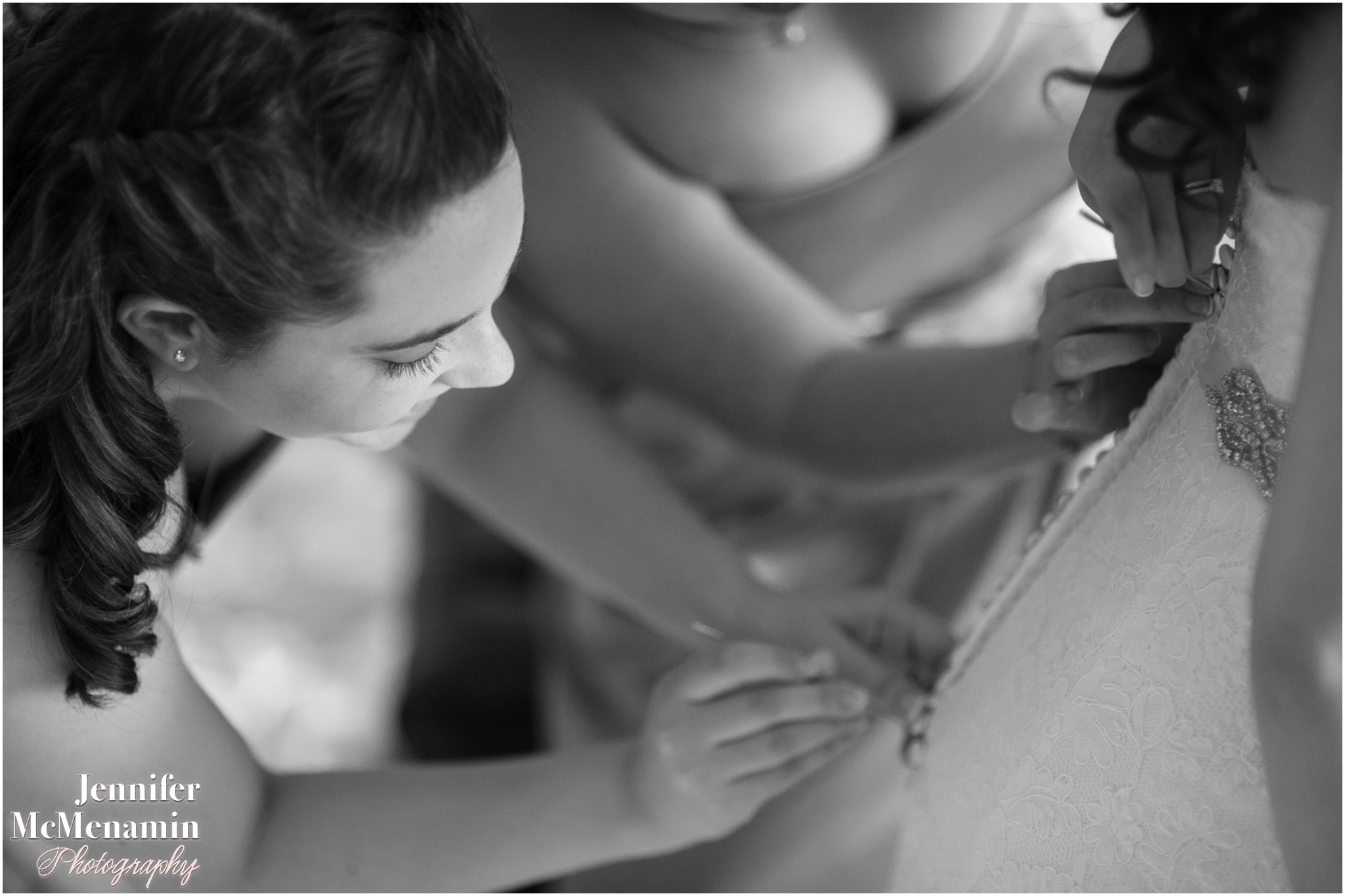 I love this next image that Sam shot of these women peeking into the room in which Liz was getting dressed.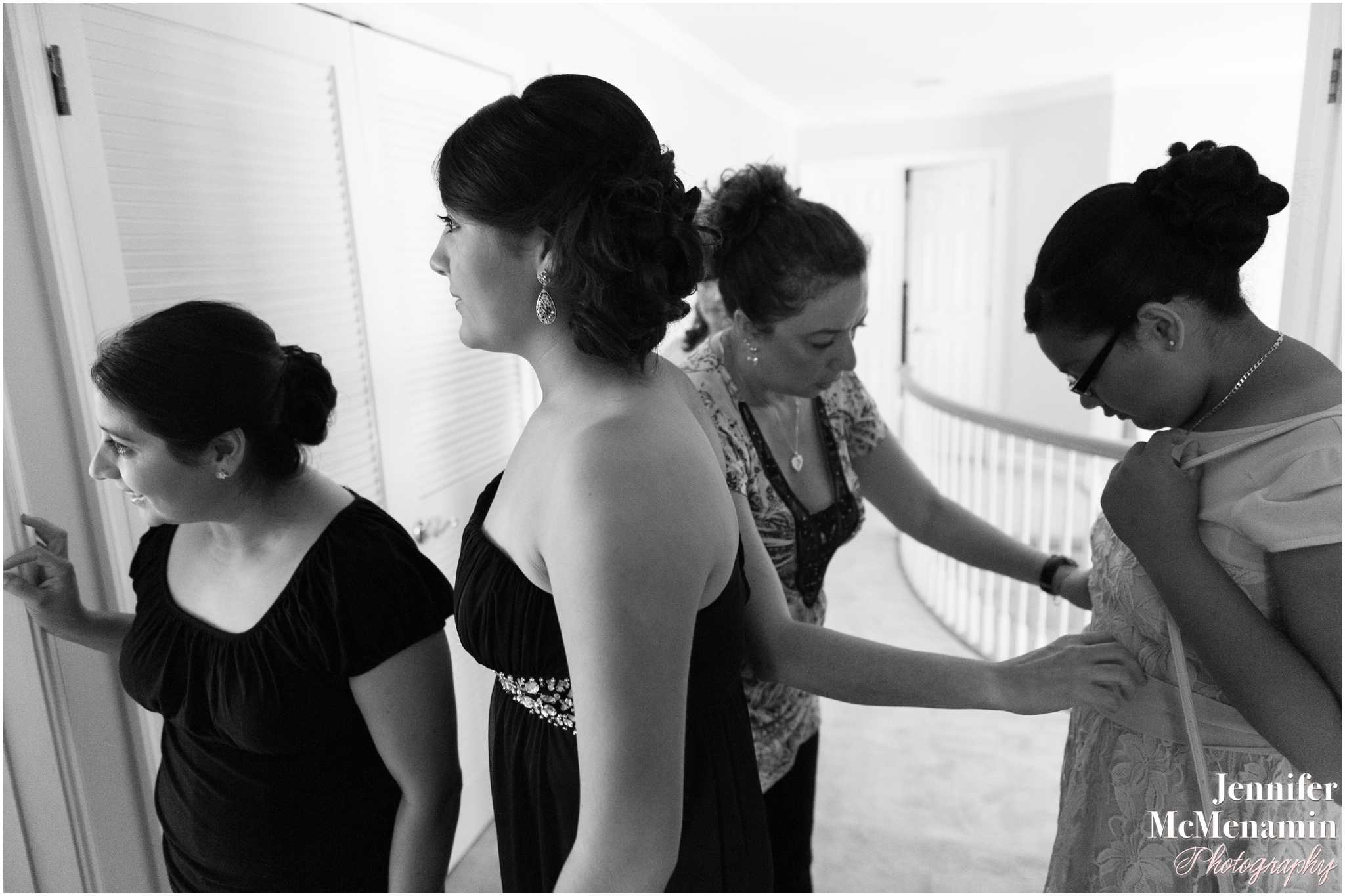 The bride, looking absolutely gorgeous.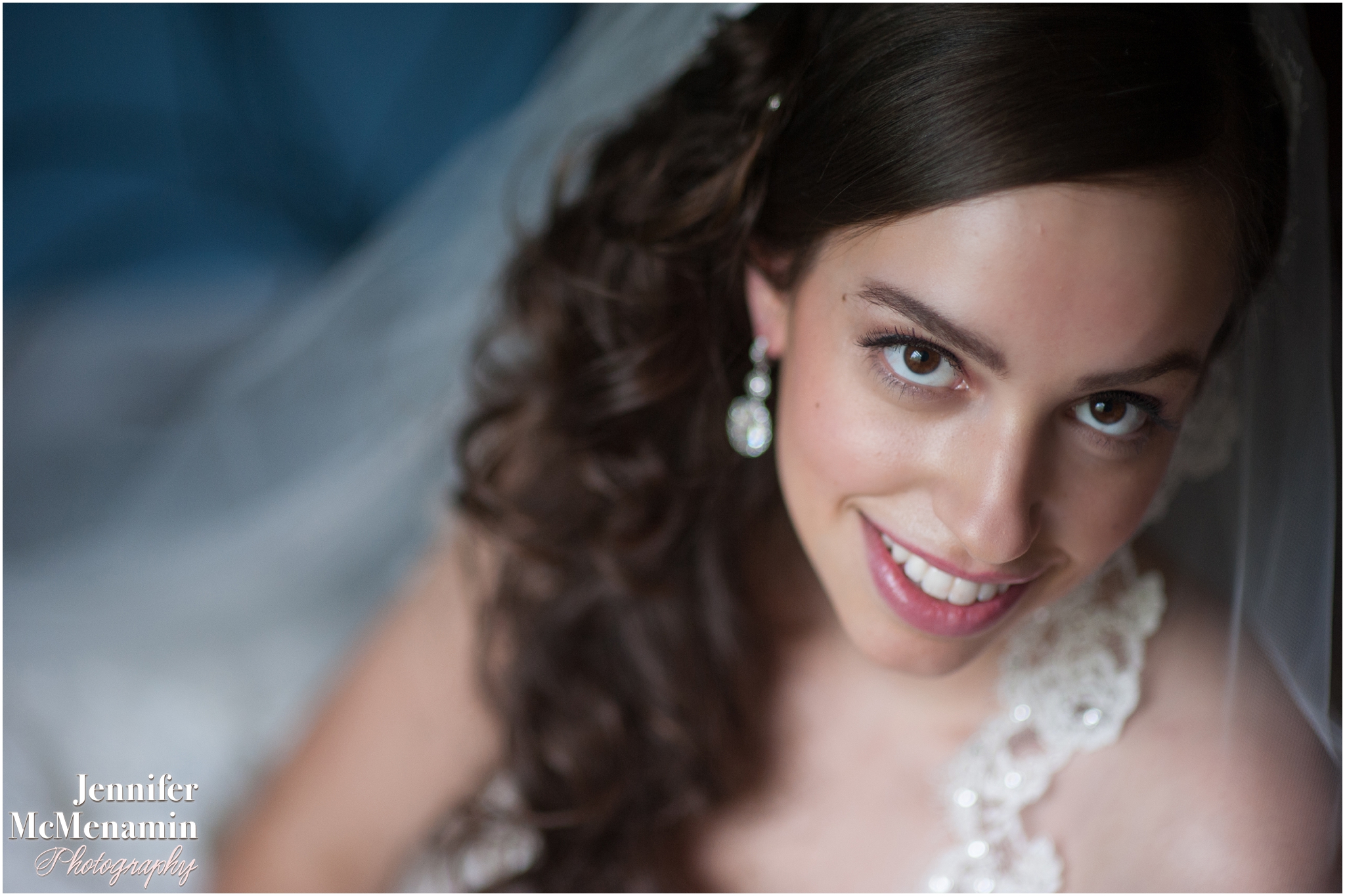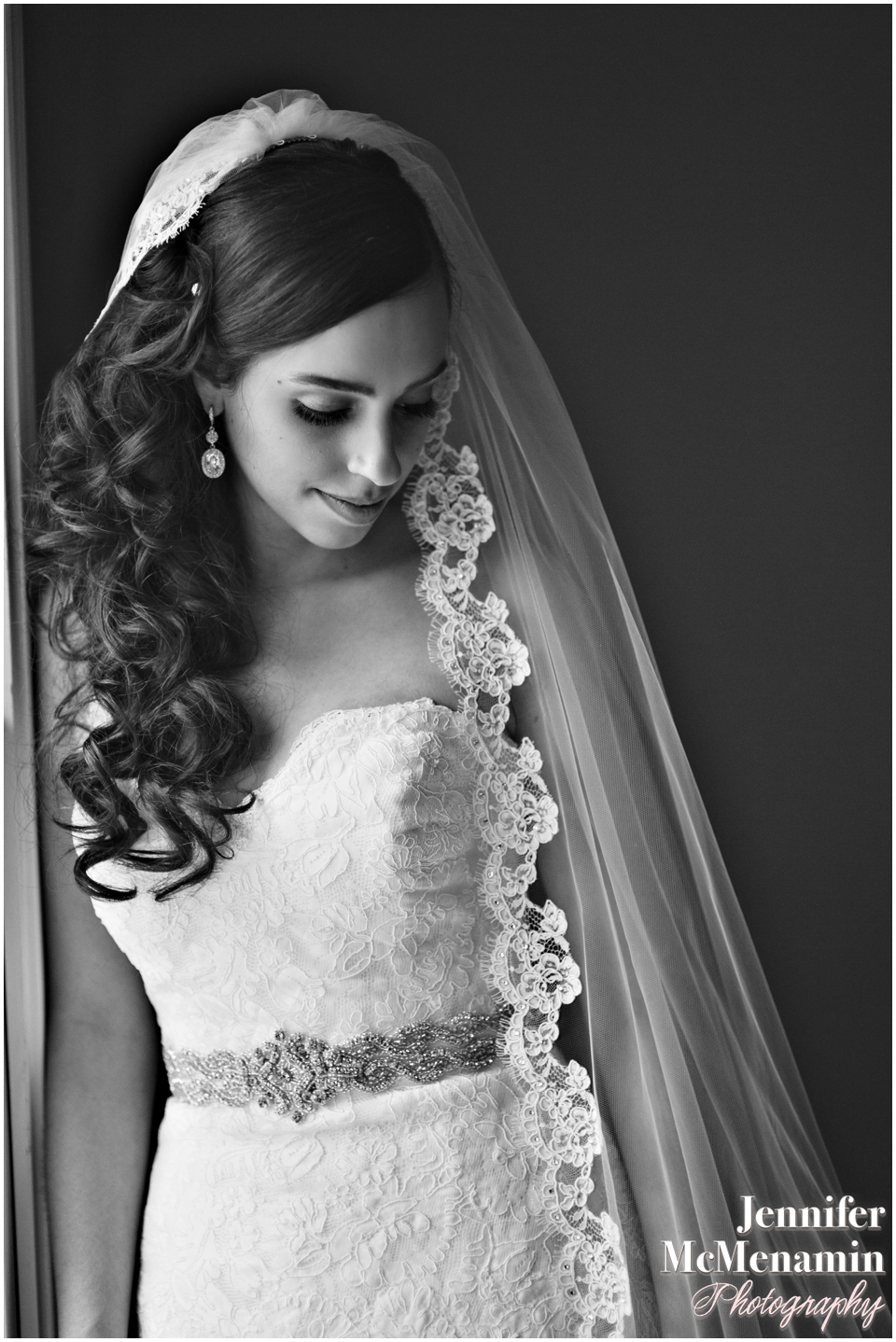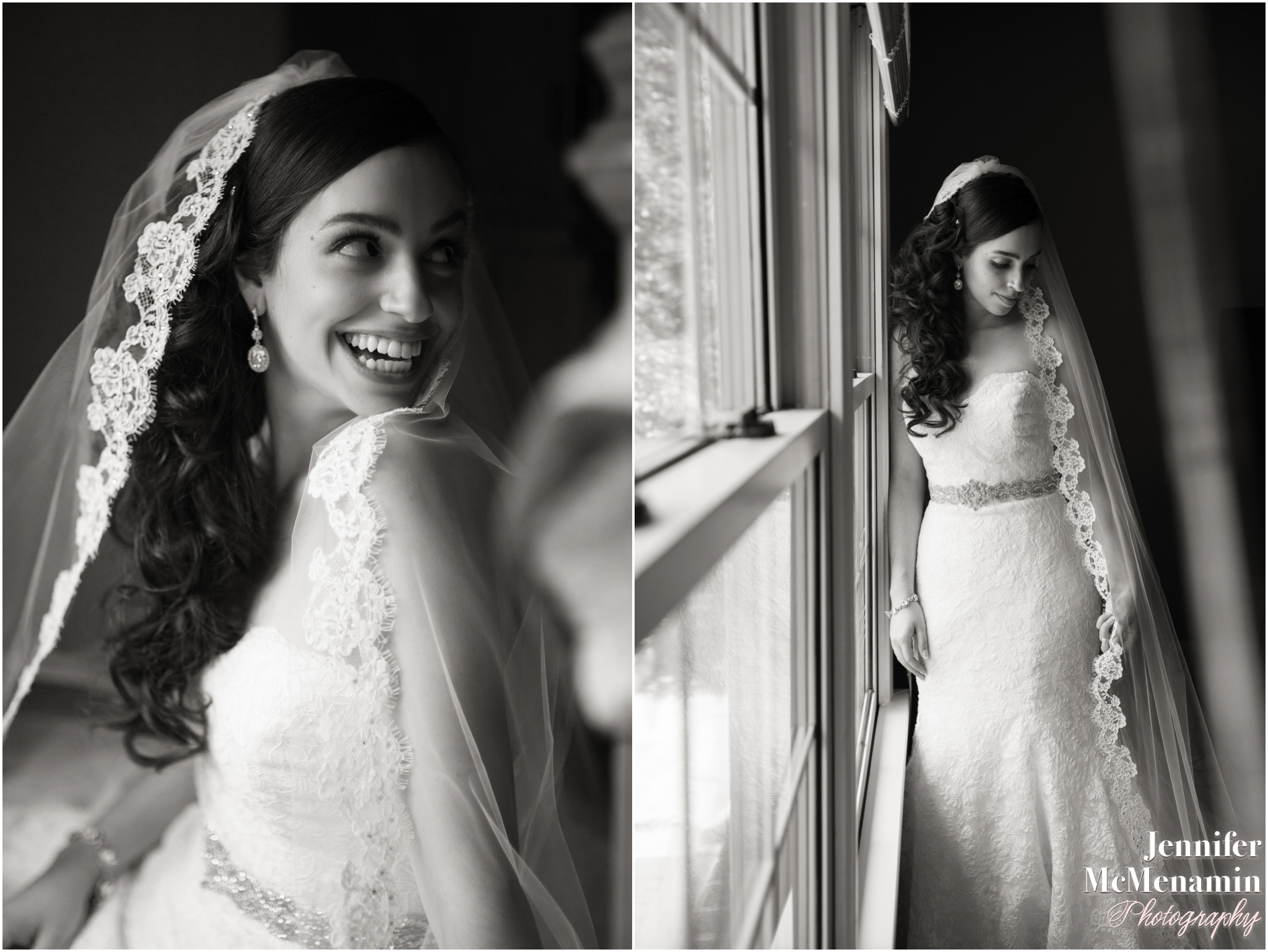 Sam shot this great trio of images of Liz's father, seeing her as a bride for the first time.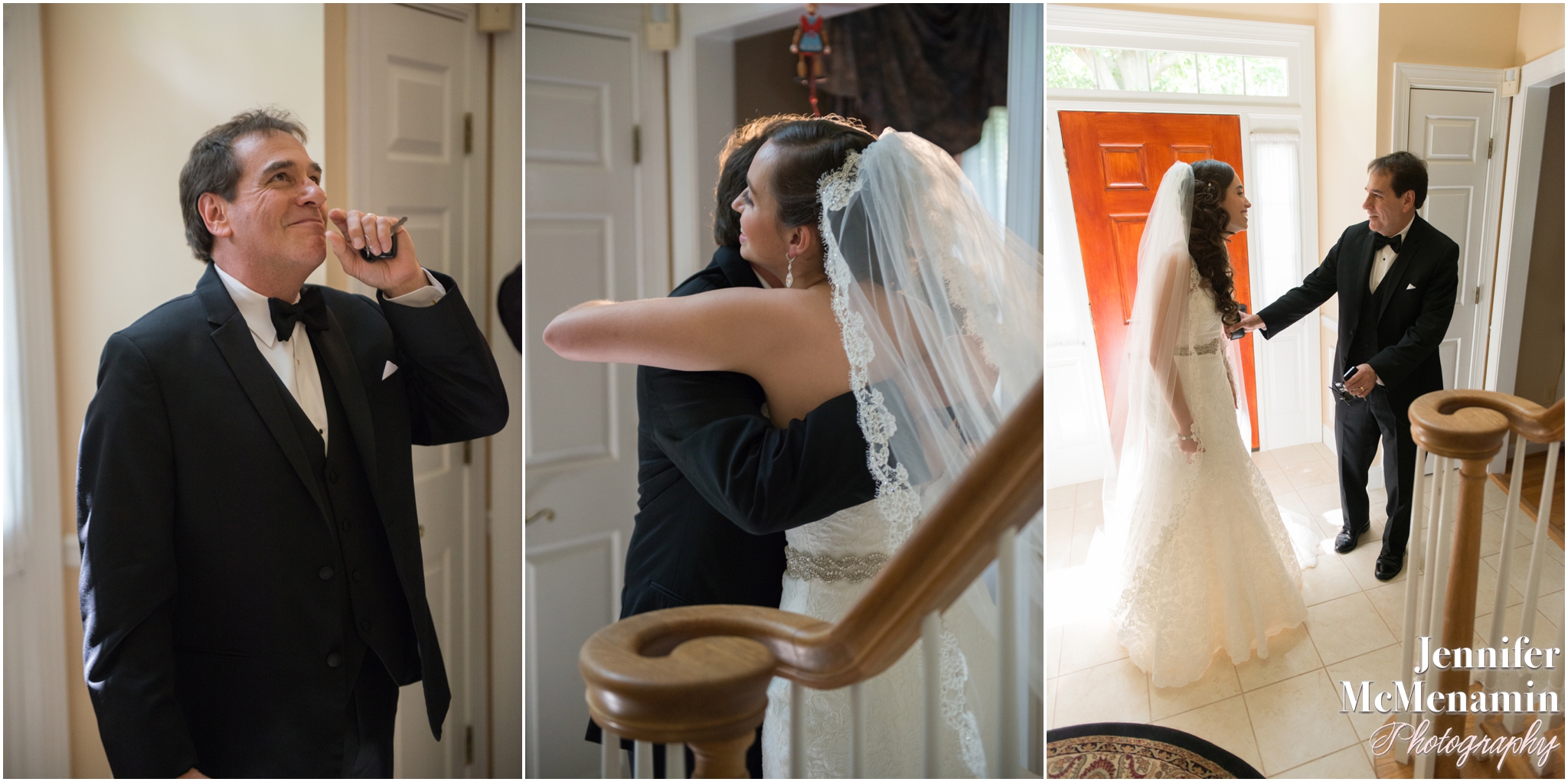 The flower girls originally thought they'd be scattering petals down the aisle. But the night before the wedding, the couple learned that they would actually not be be permitted to do so. This was explained to the flower girls, who took these new directions very, very seriously. When the littlest one accidentally dropped a petal from her basket, she insisted upon returning to pick it up even as her sister attempted to efficiently tug her down the aisle. It was darling.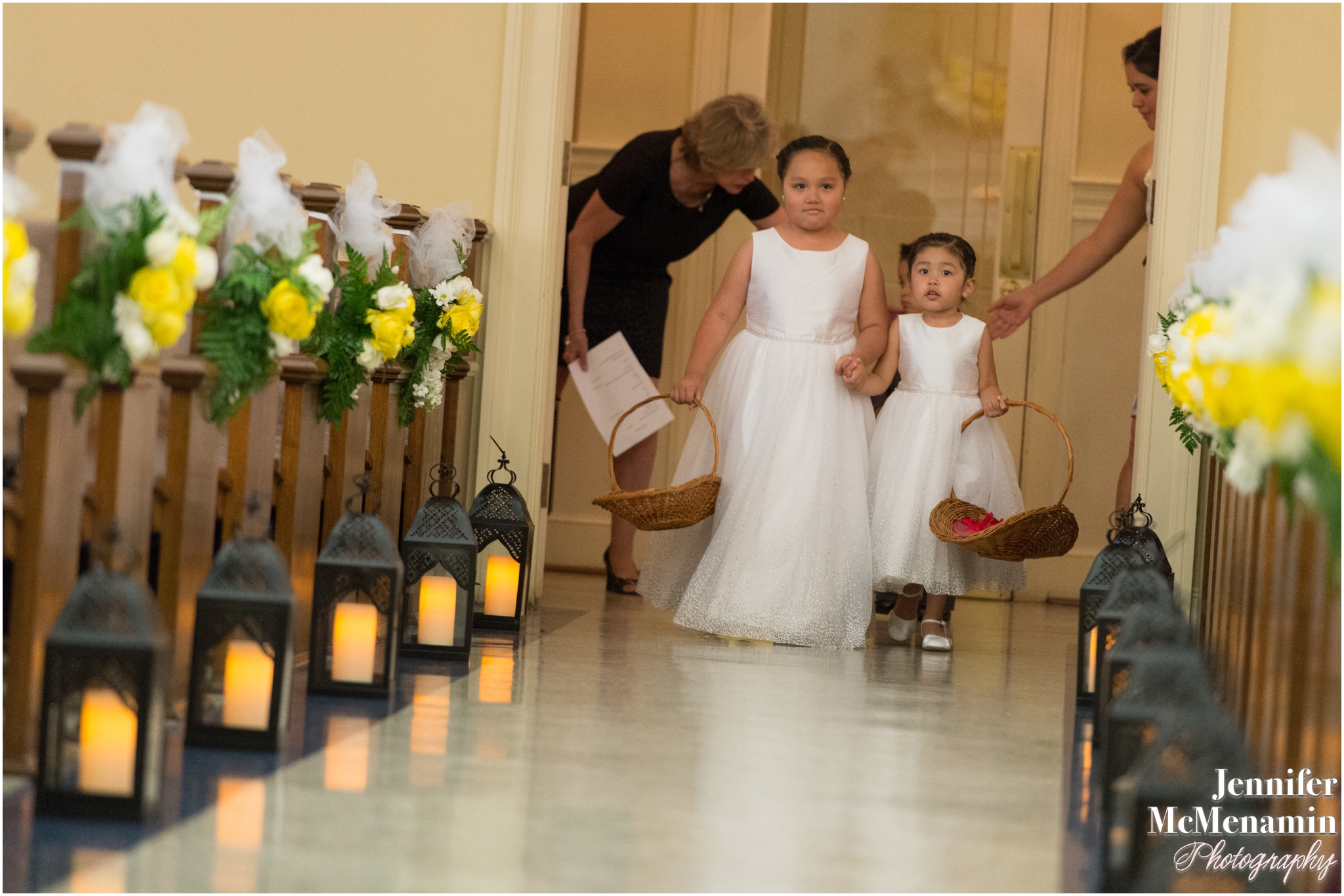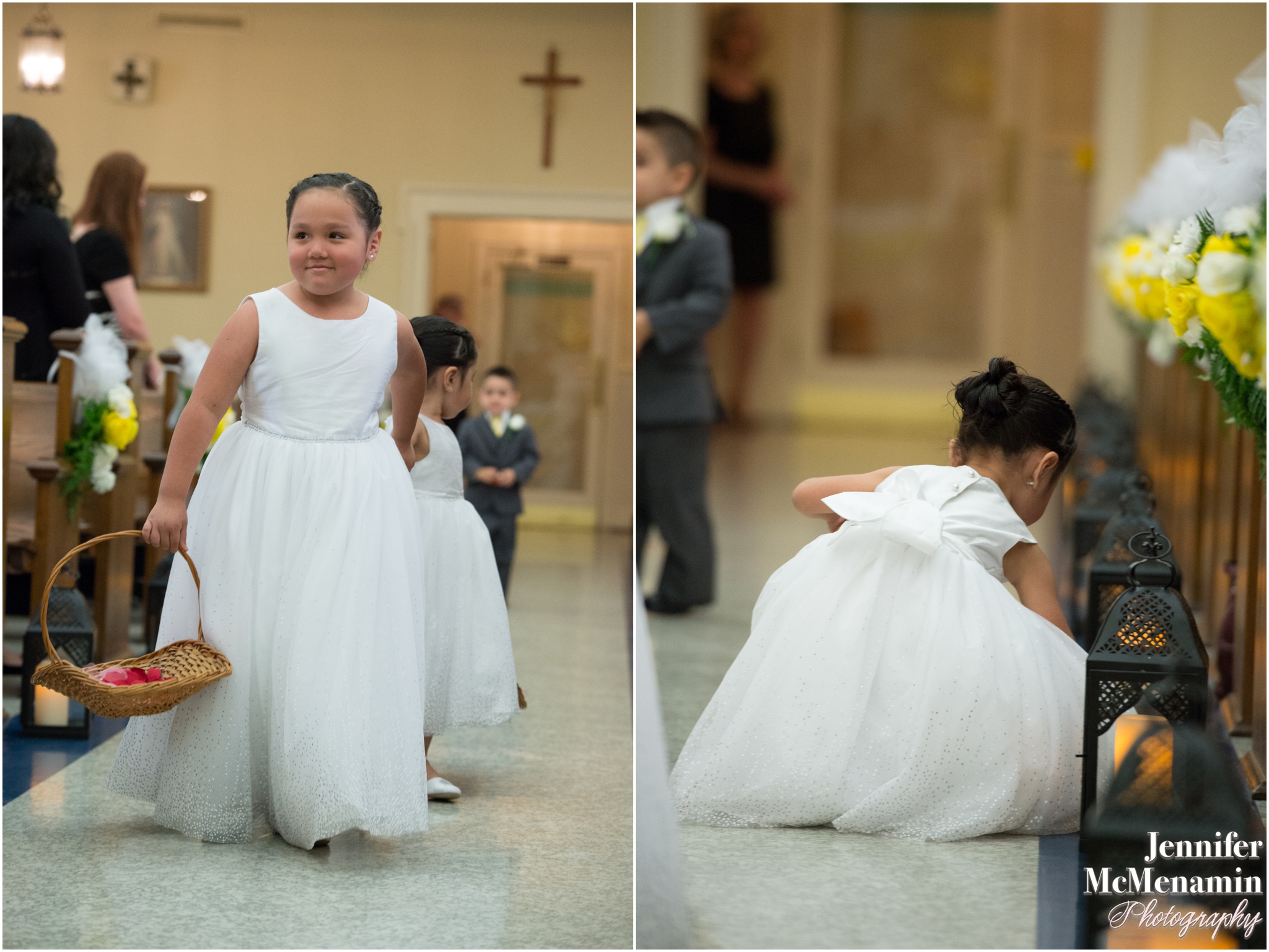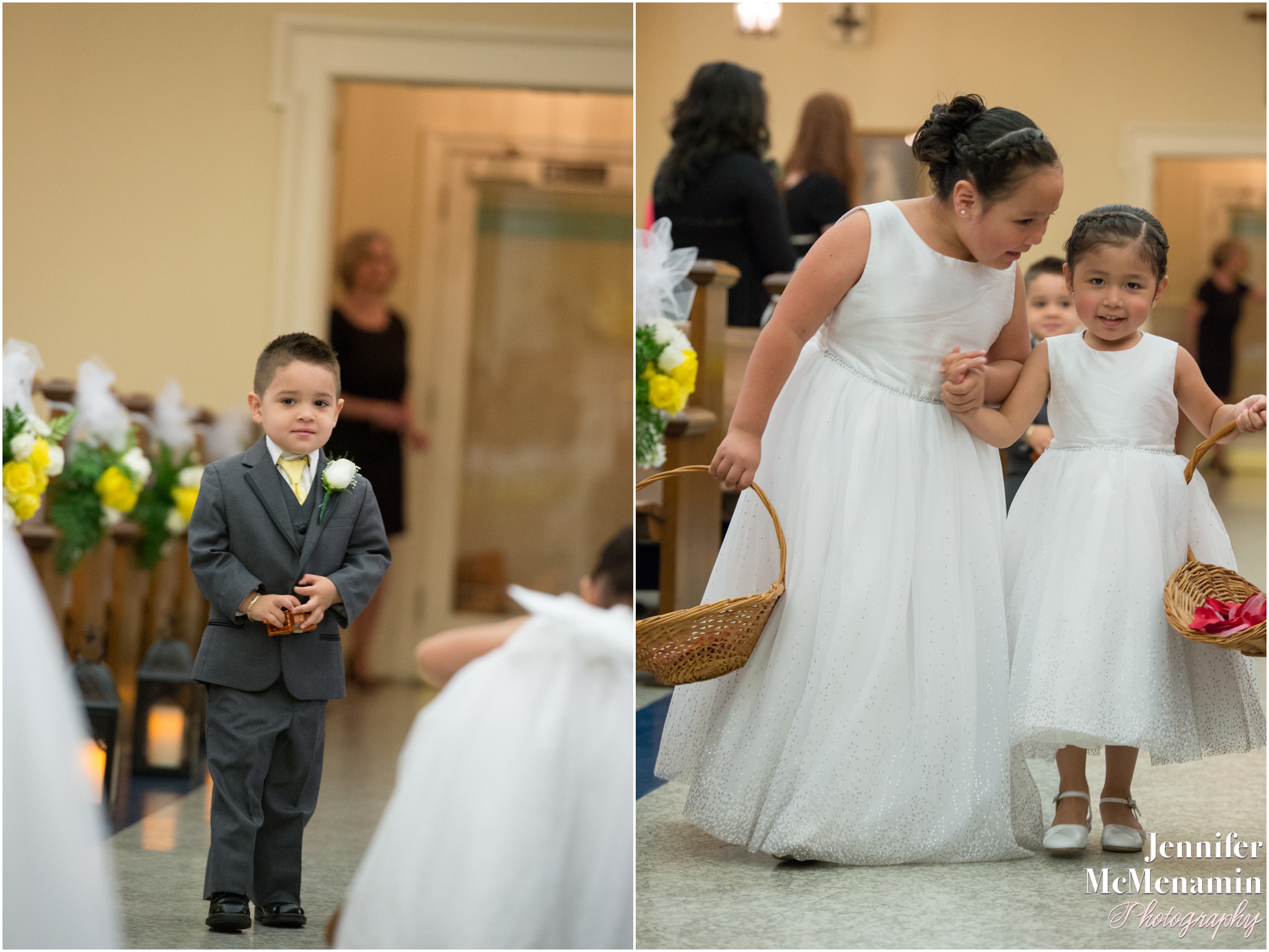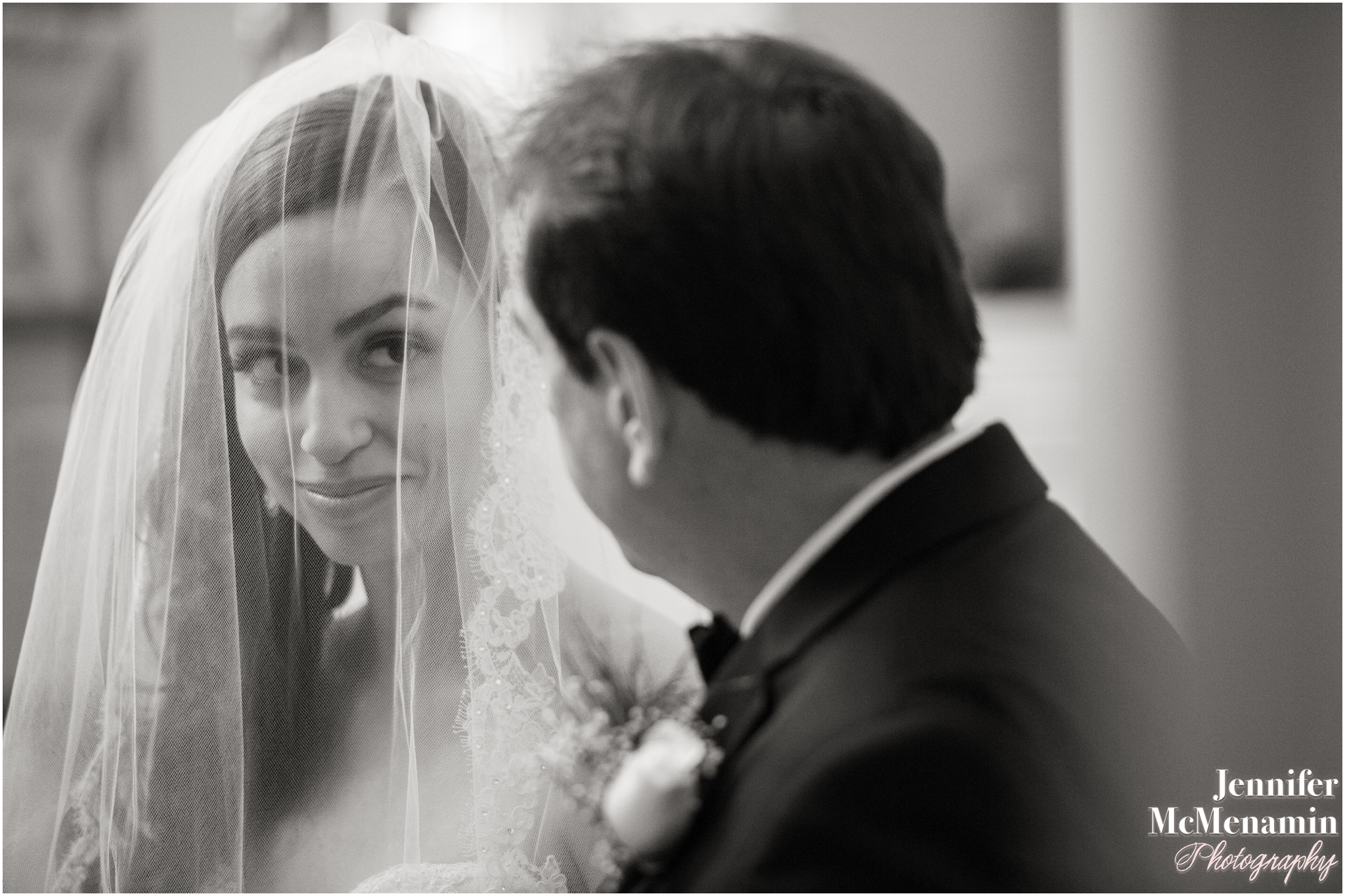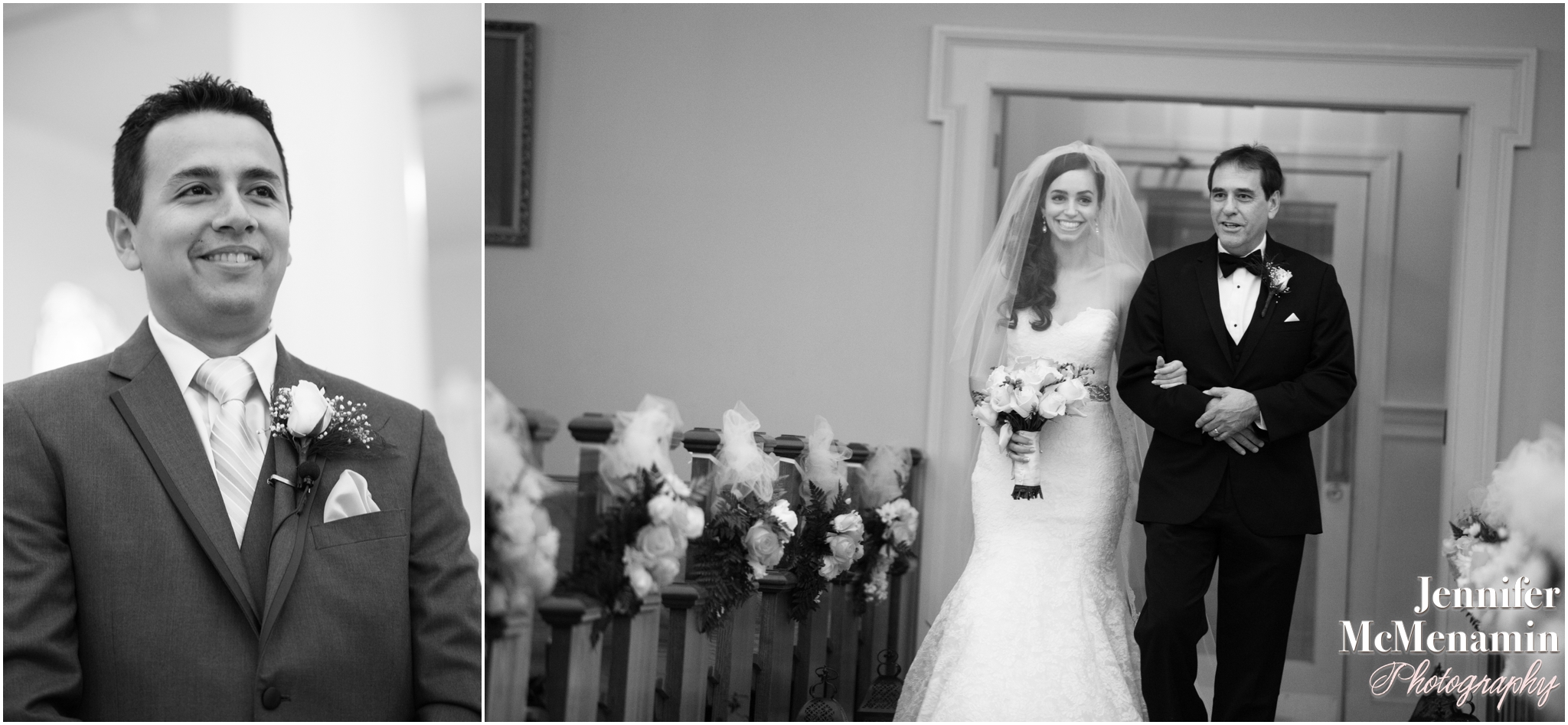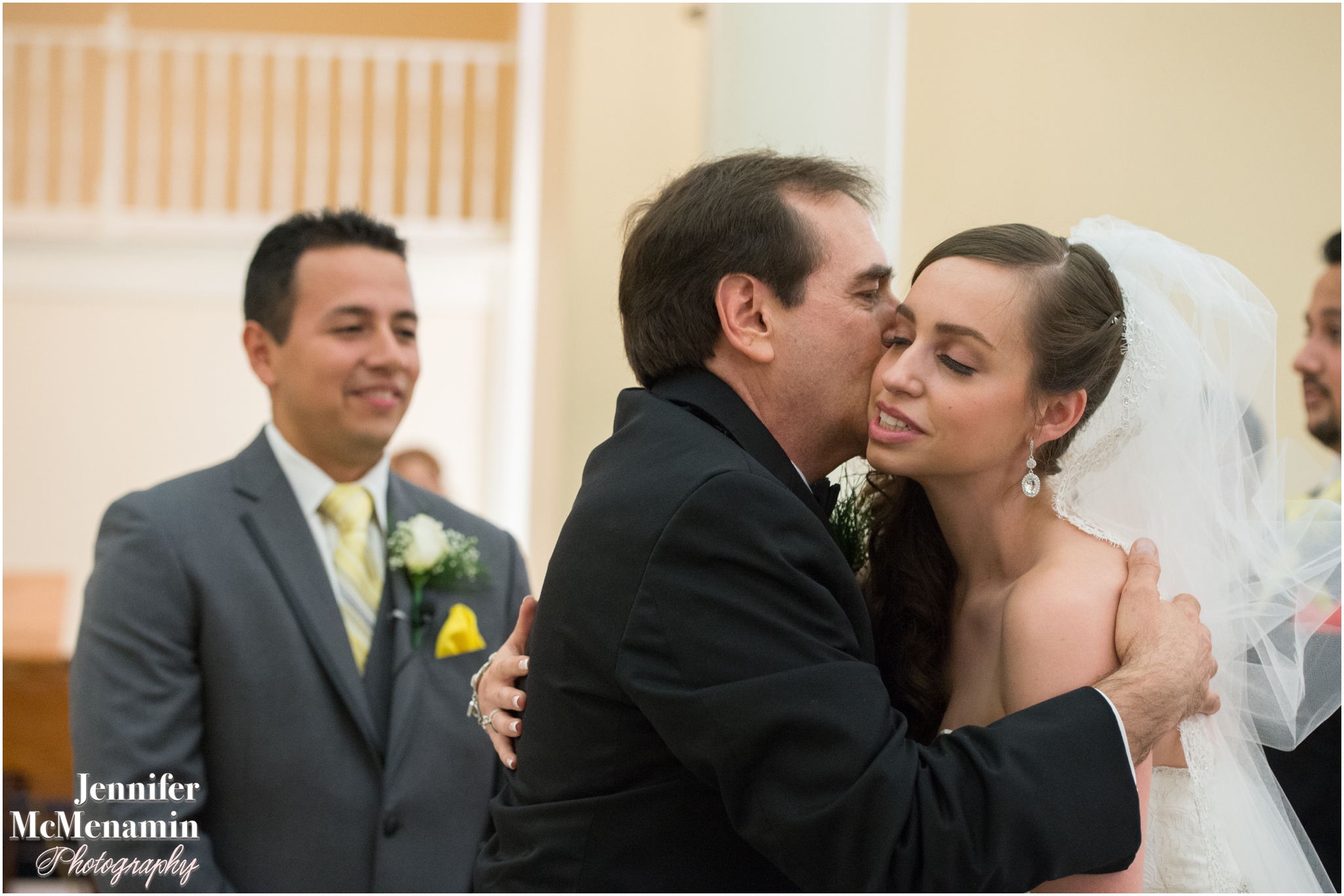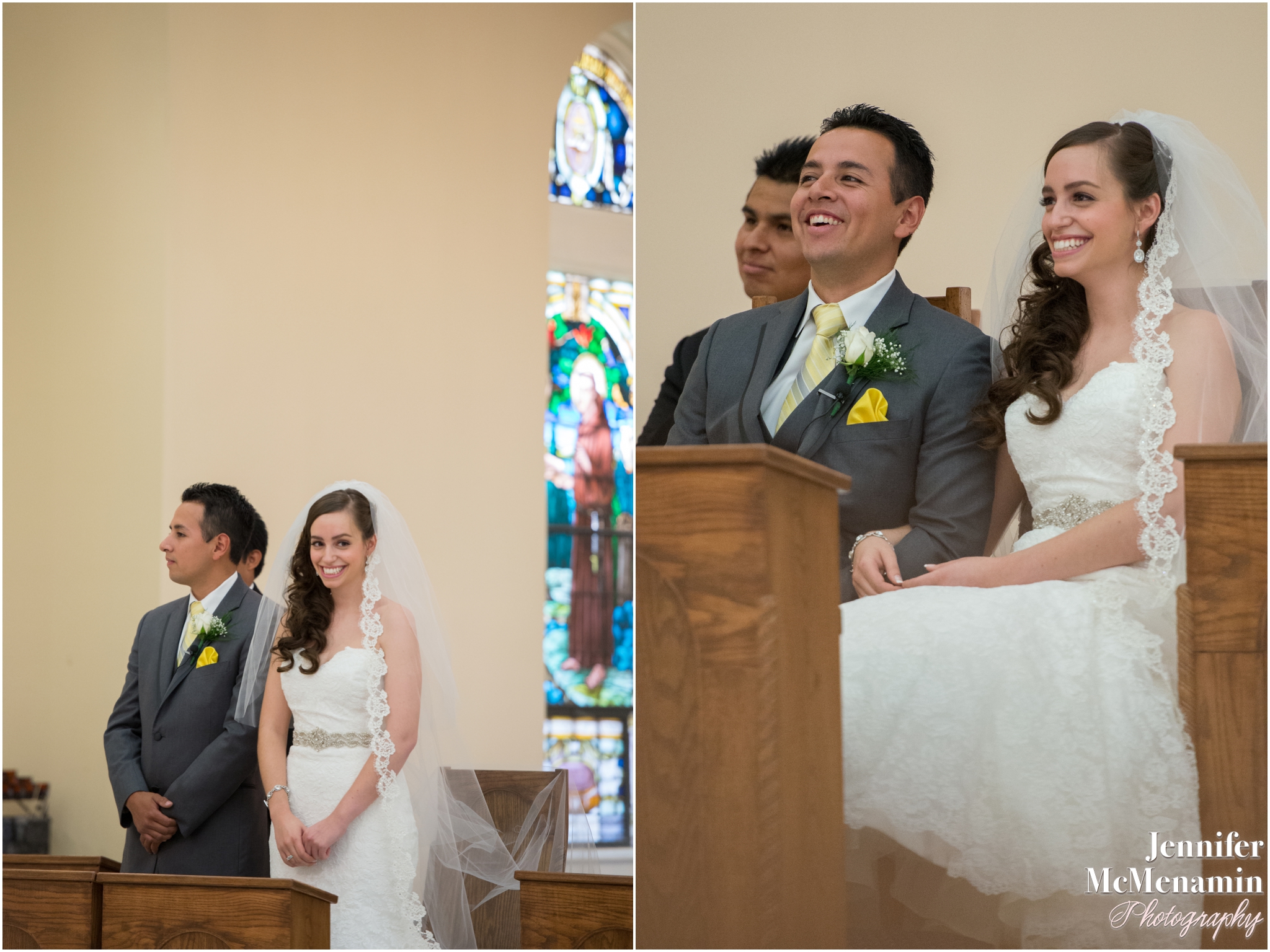 I love this little look between the two of them.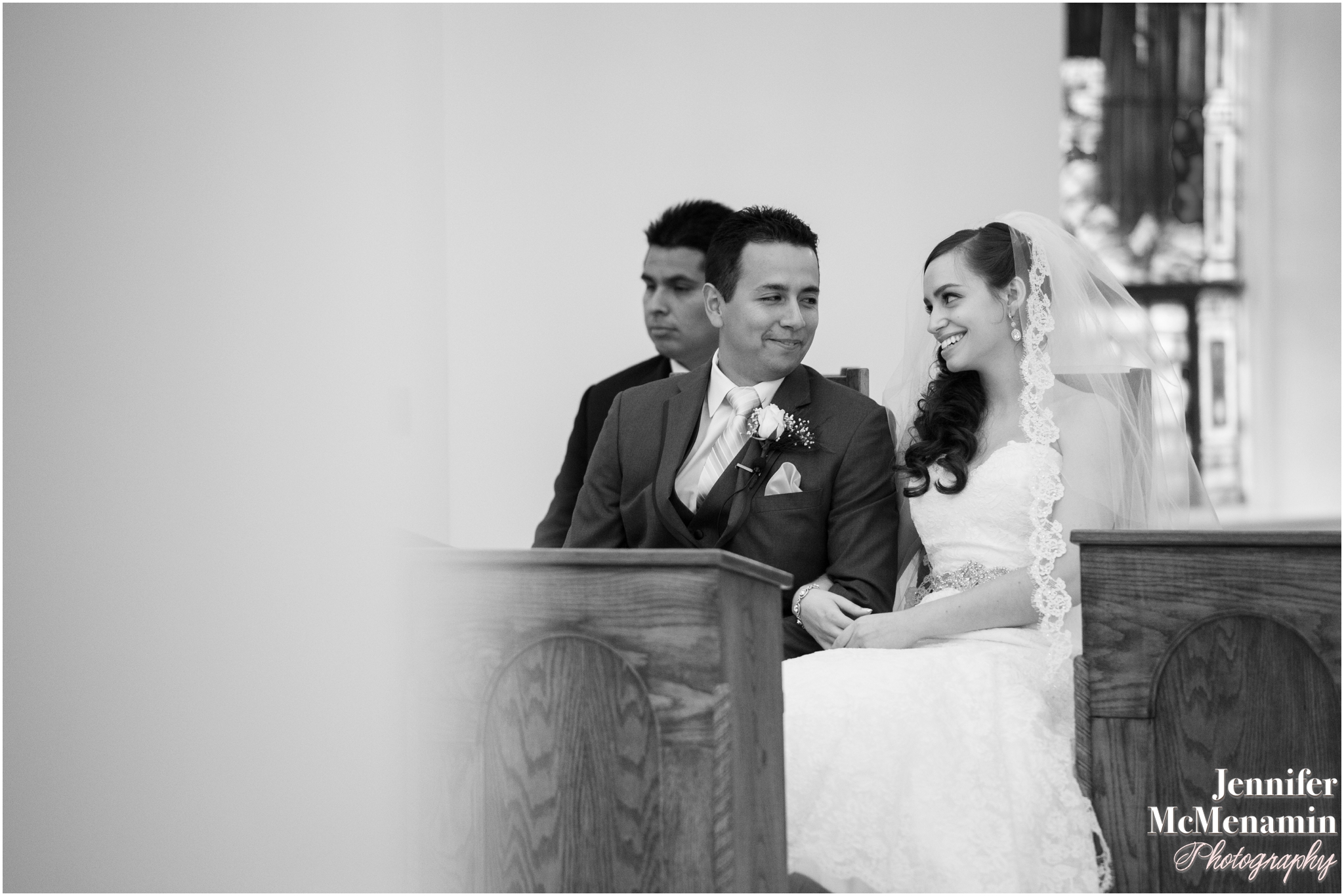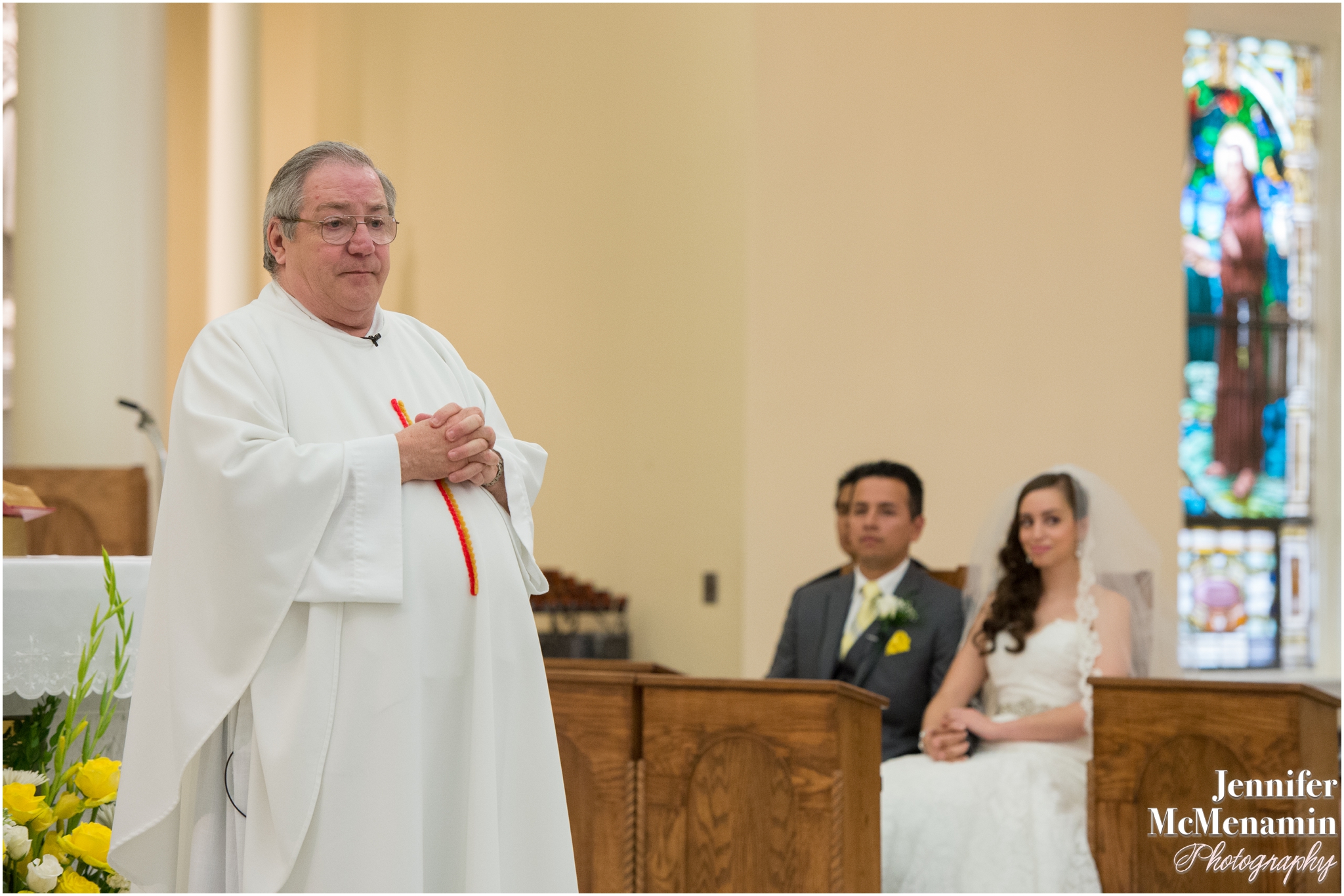 Liz's parents share a whisper and a hand squeeze.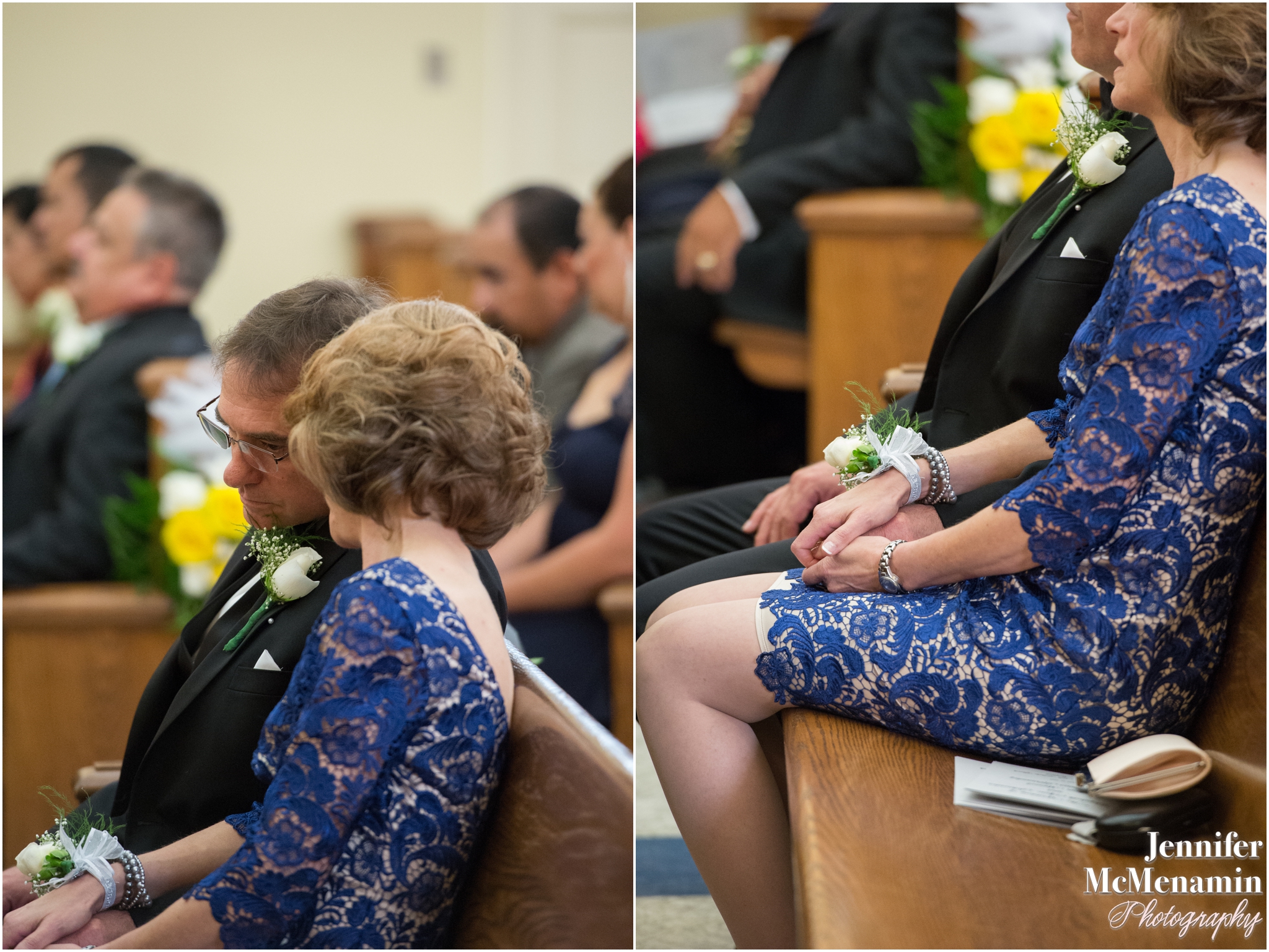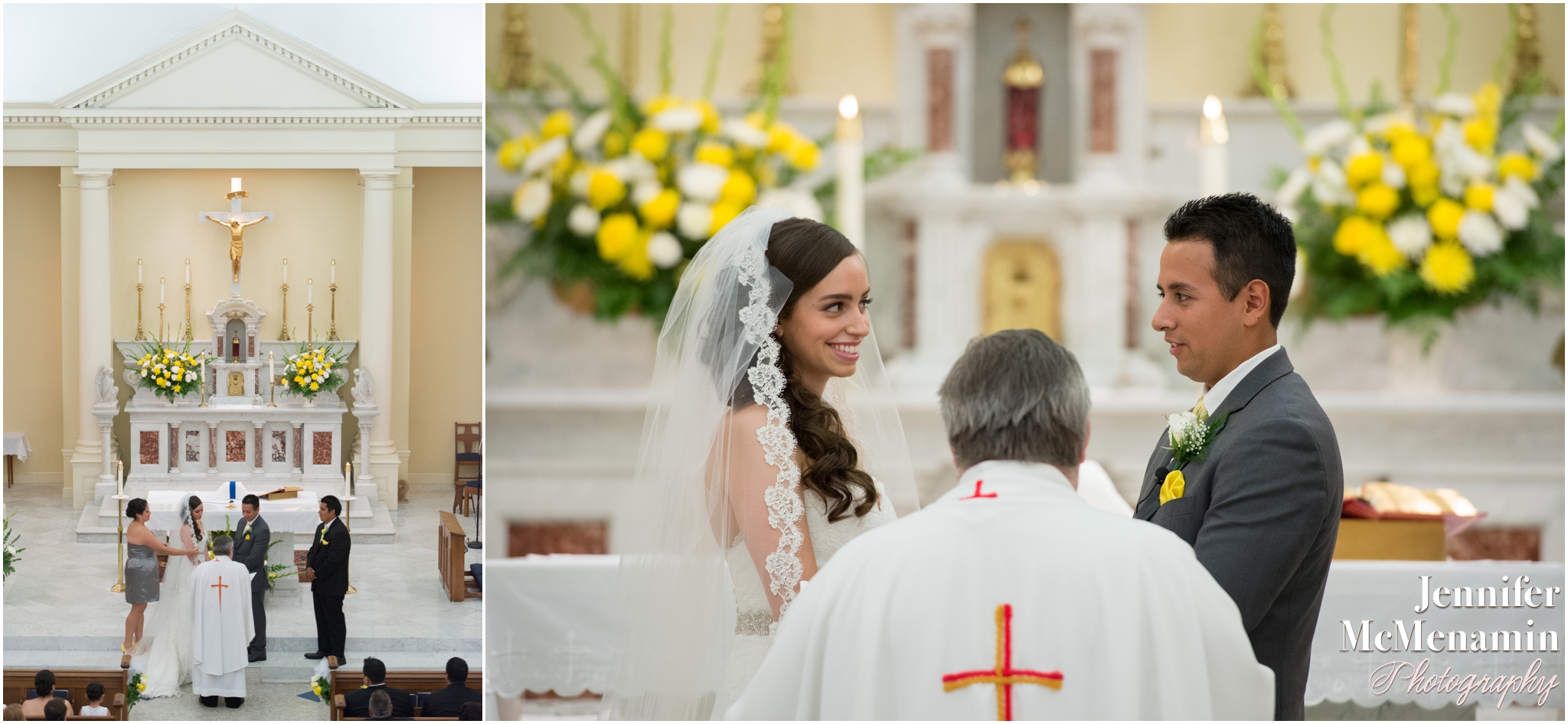 Santiago delivers the rings.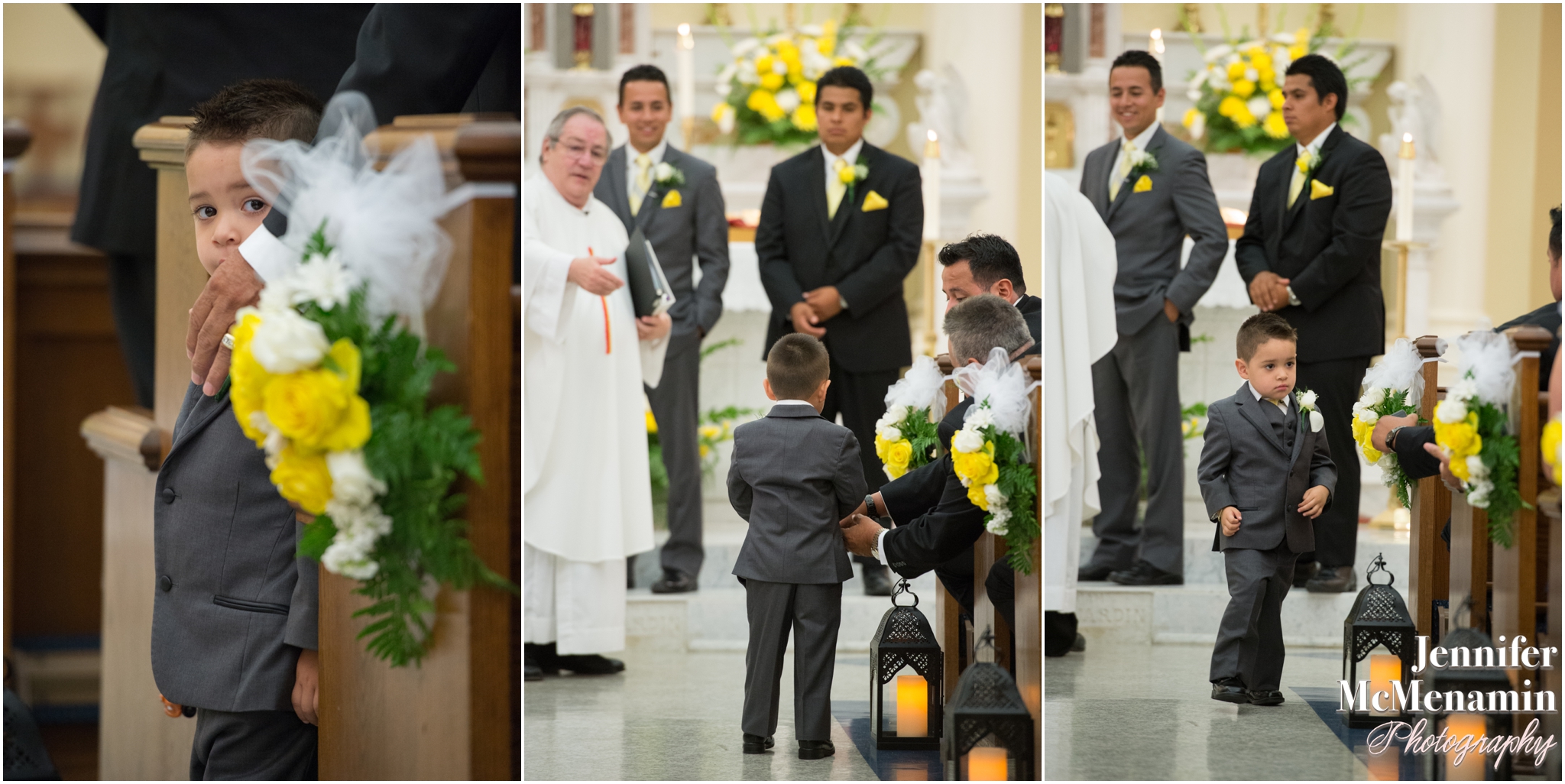 Keeping with Mexican tradition, the couple was presented with 13 coins to symbolize the groom's commitment to take care of his wife and make his wealth hers. They also were encircled with the loops of a lazo to "tie the knot."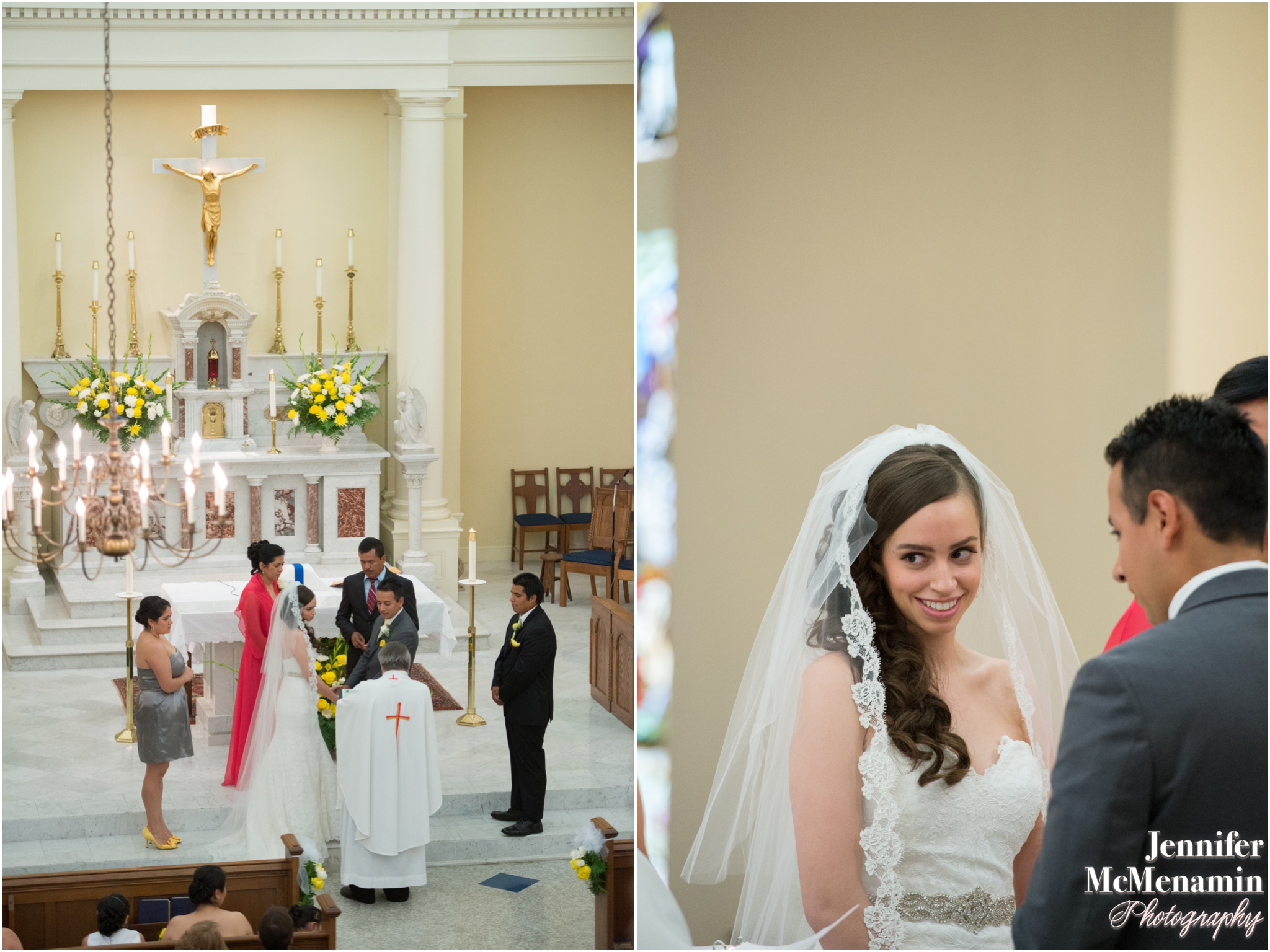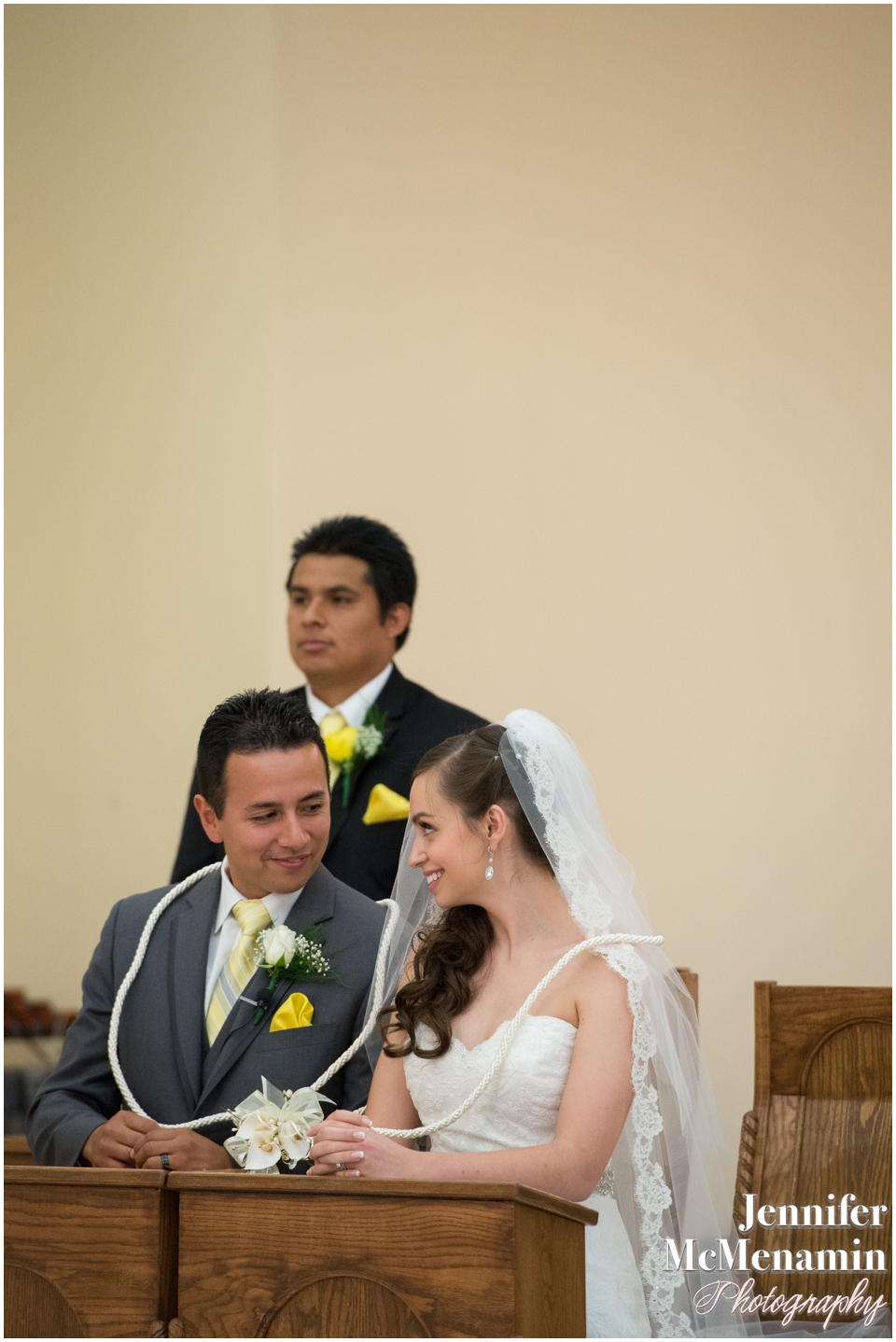 Adriana was incredibly entertaining all day long.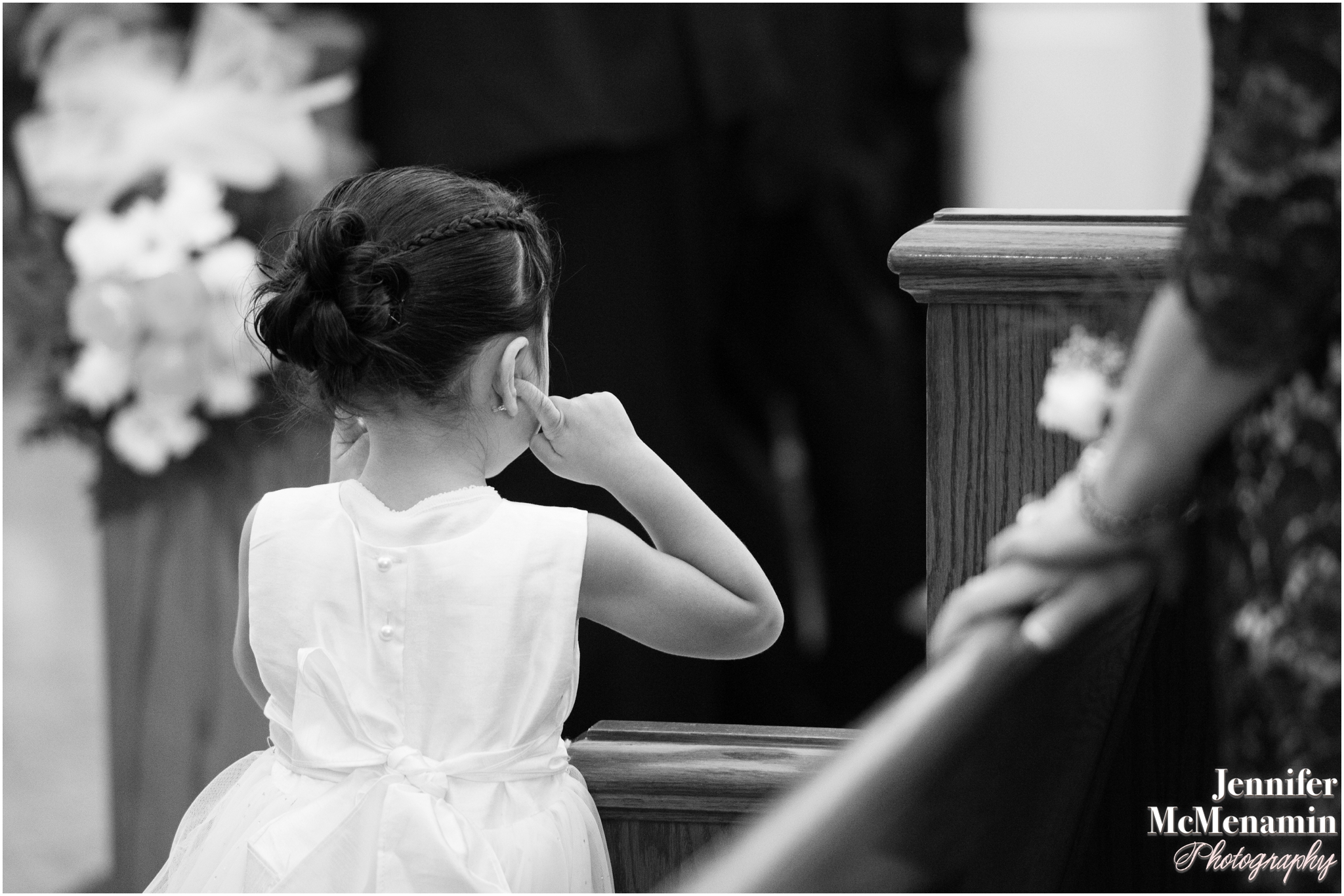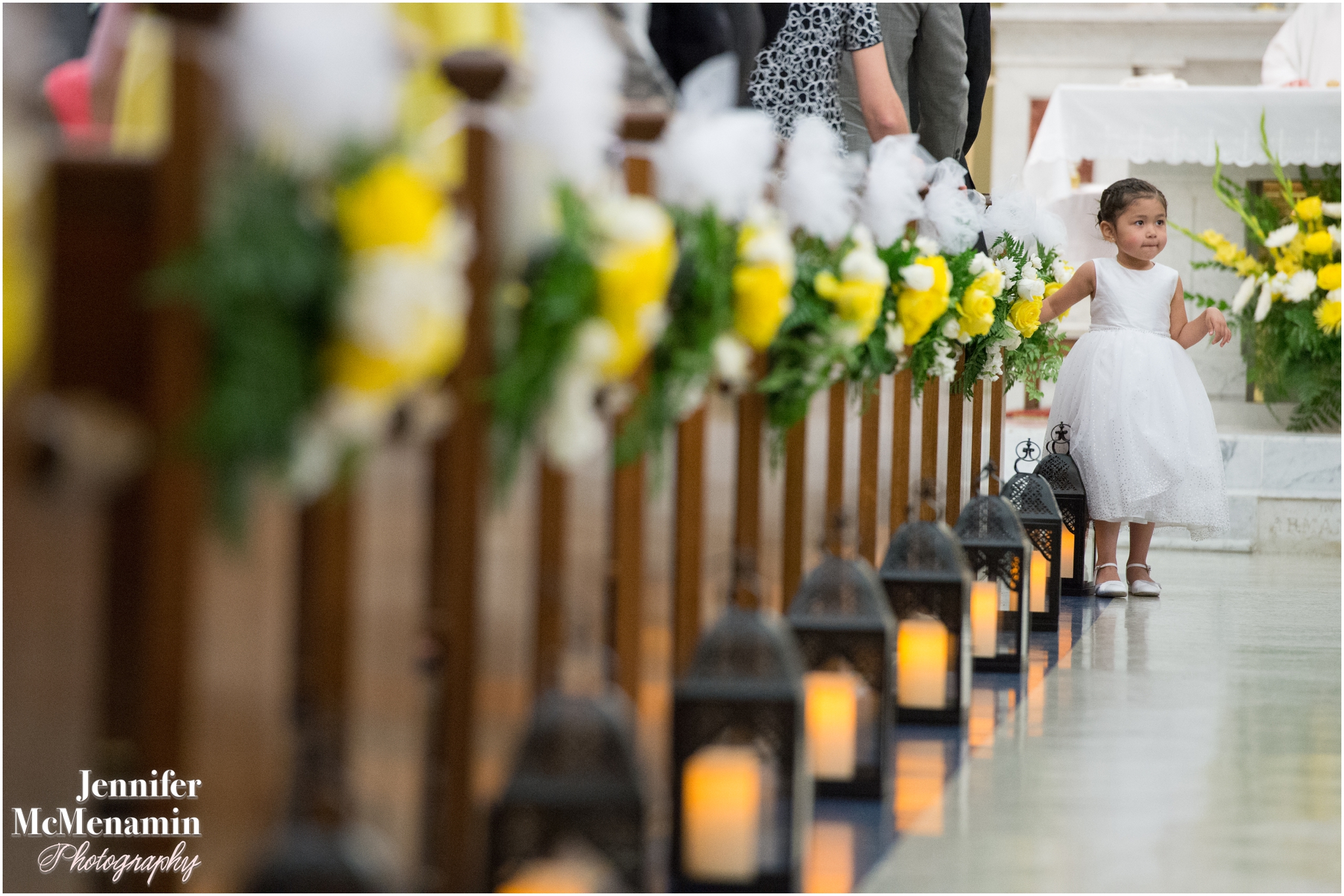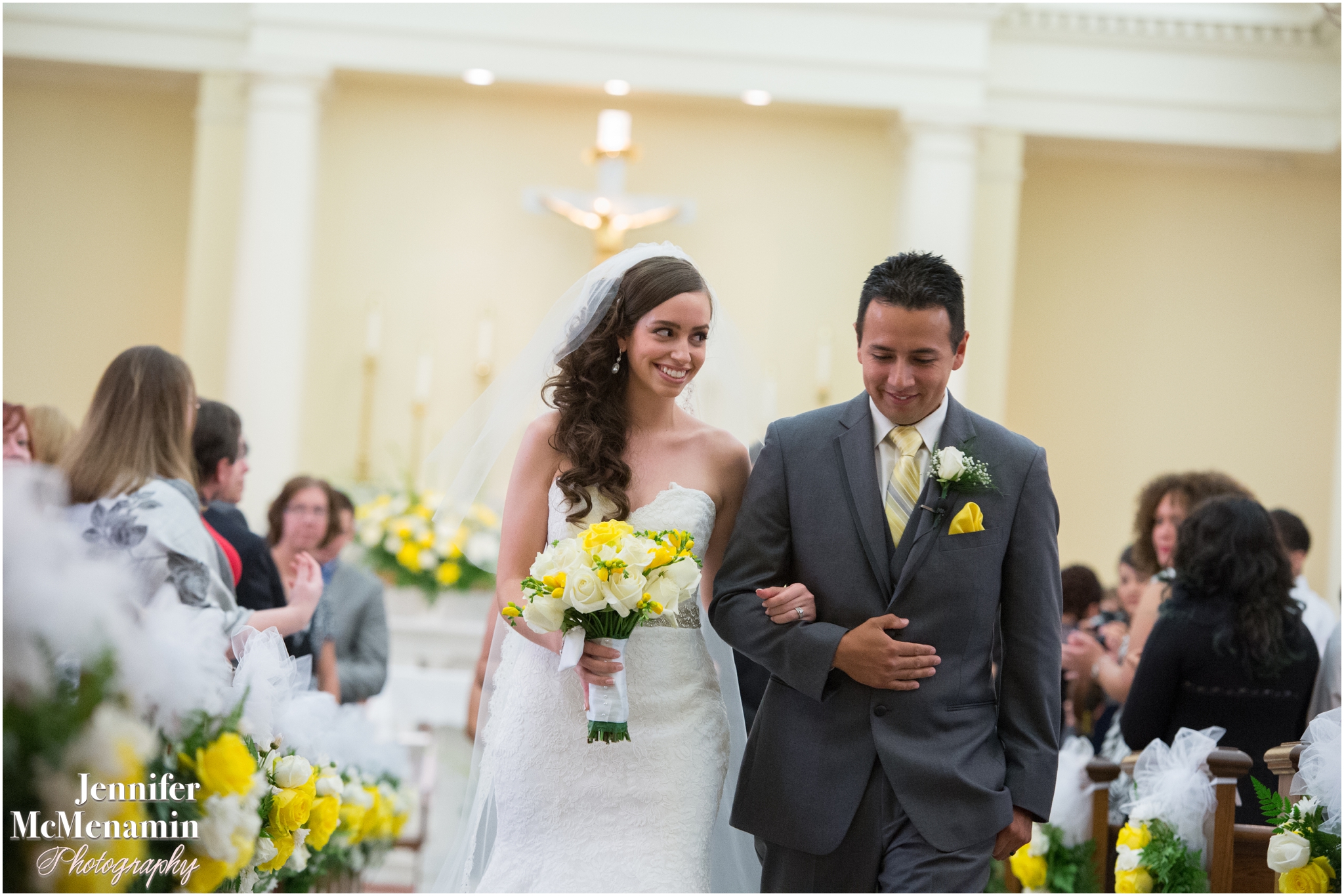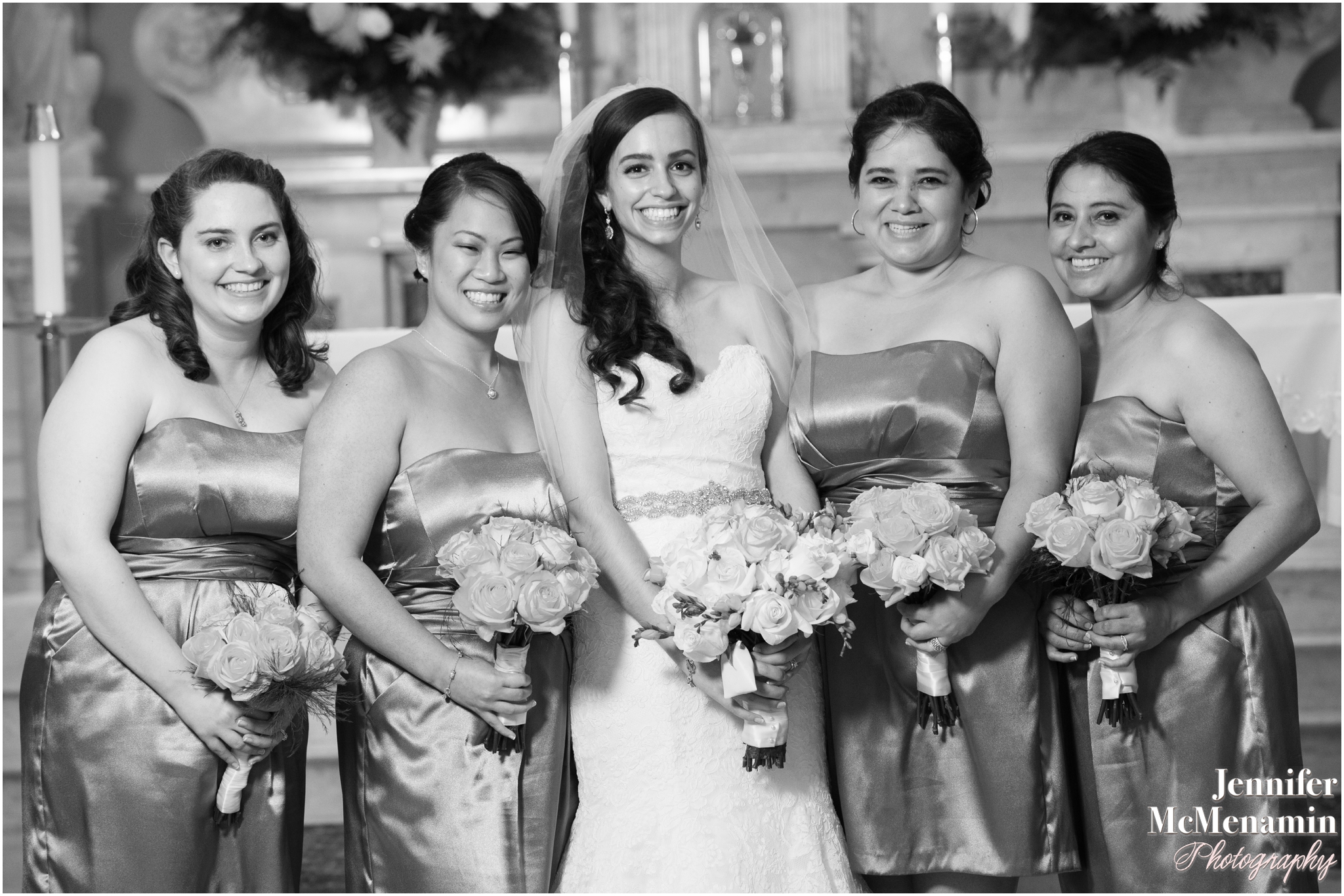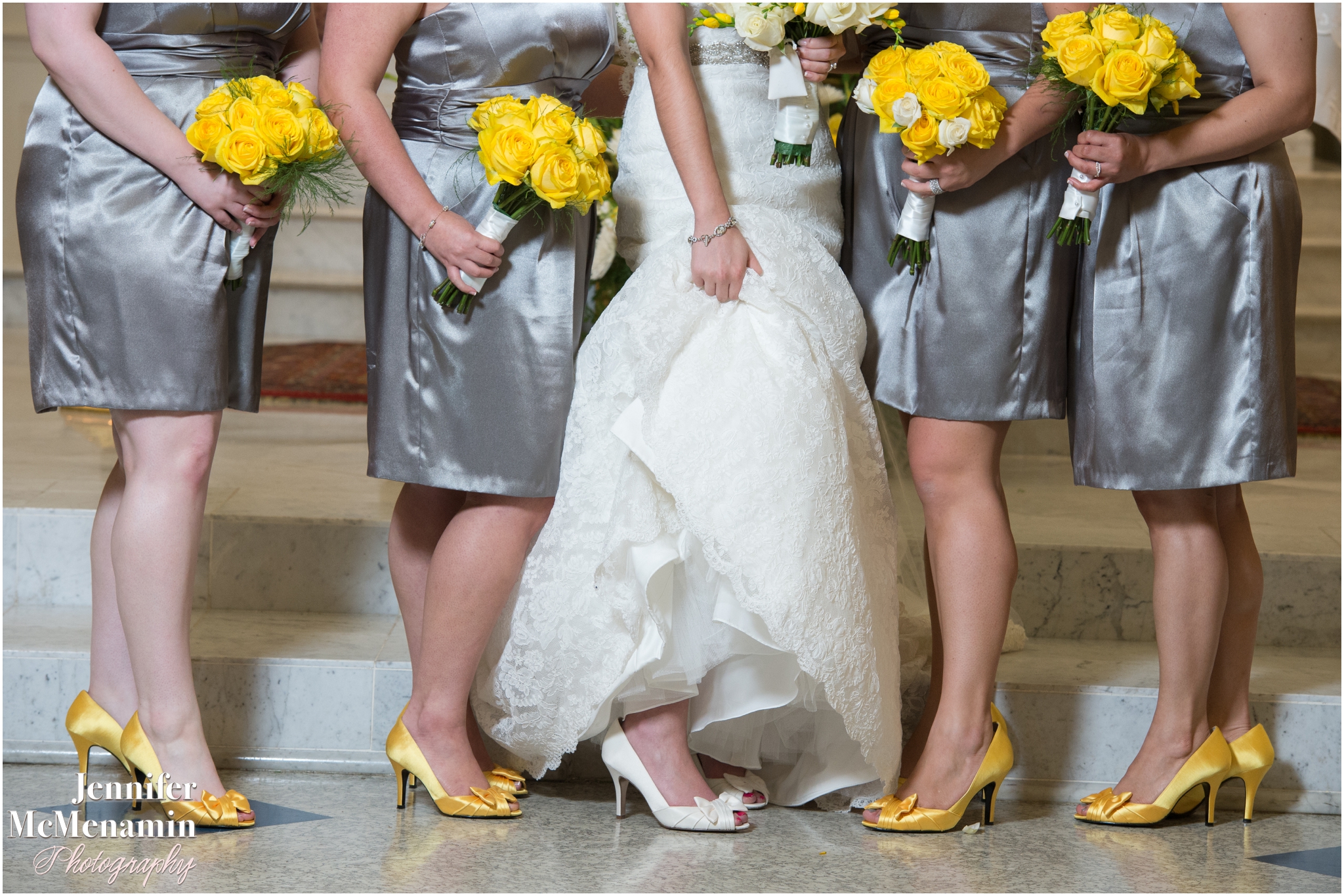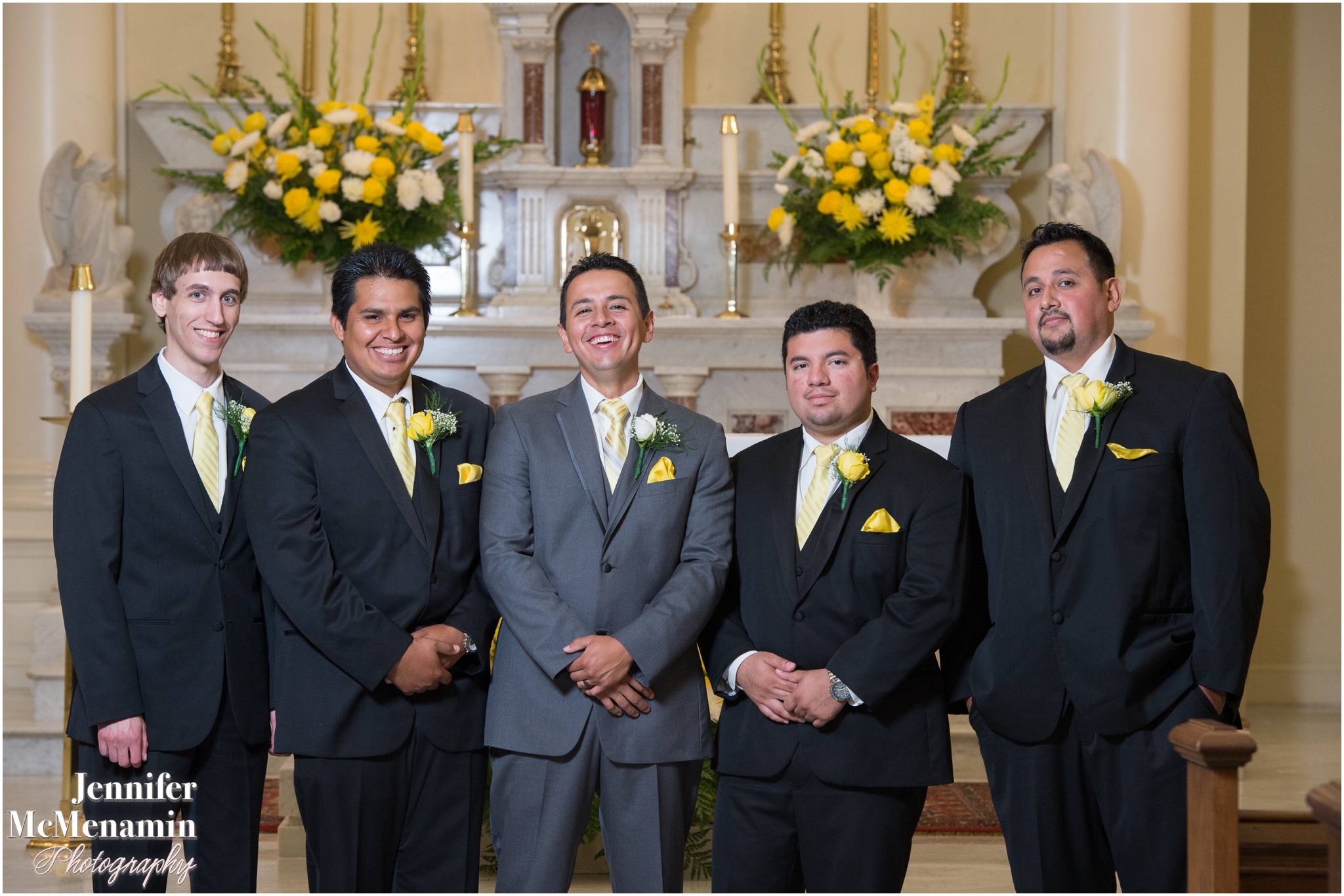 After a few quick family and wedding party pictures, we were off to a nearby park for photos of the newlyweds. We could not have asked for better weather, including a lovely breeze that did marvelous things to Liz's veil.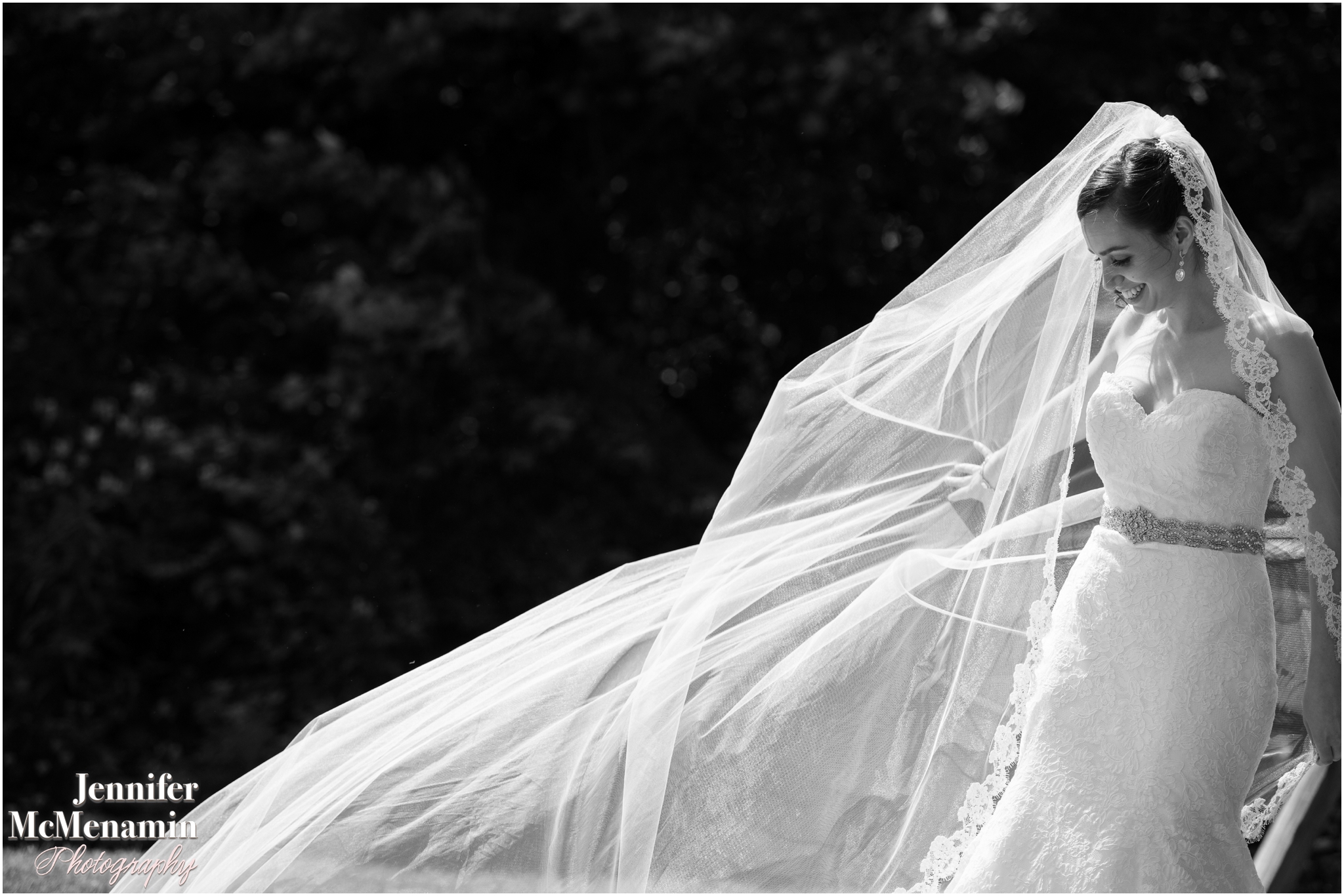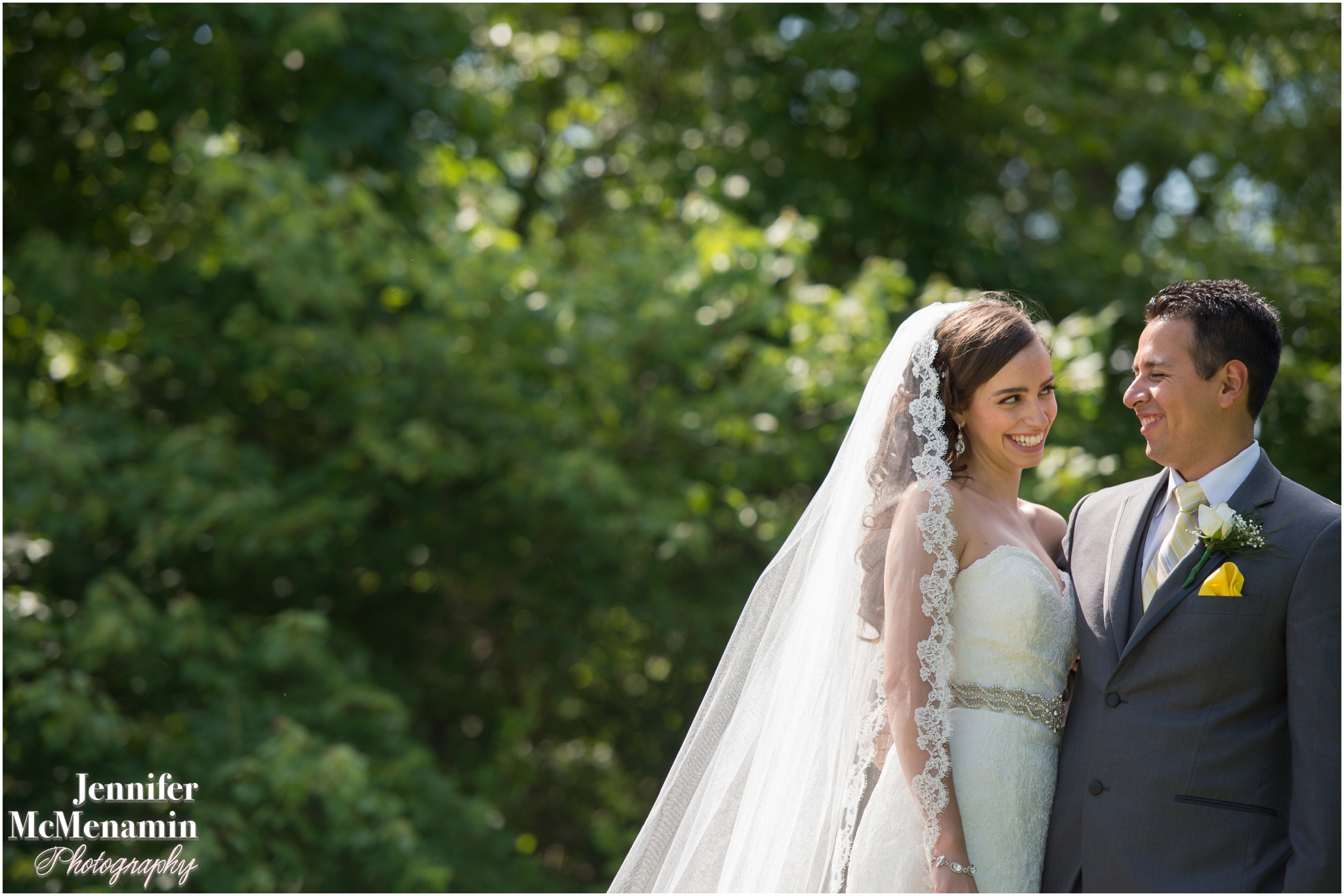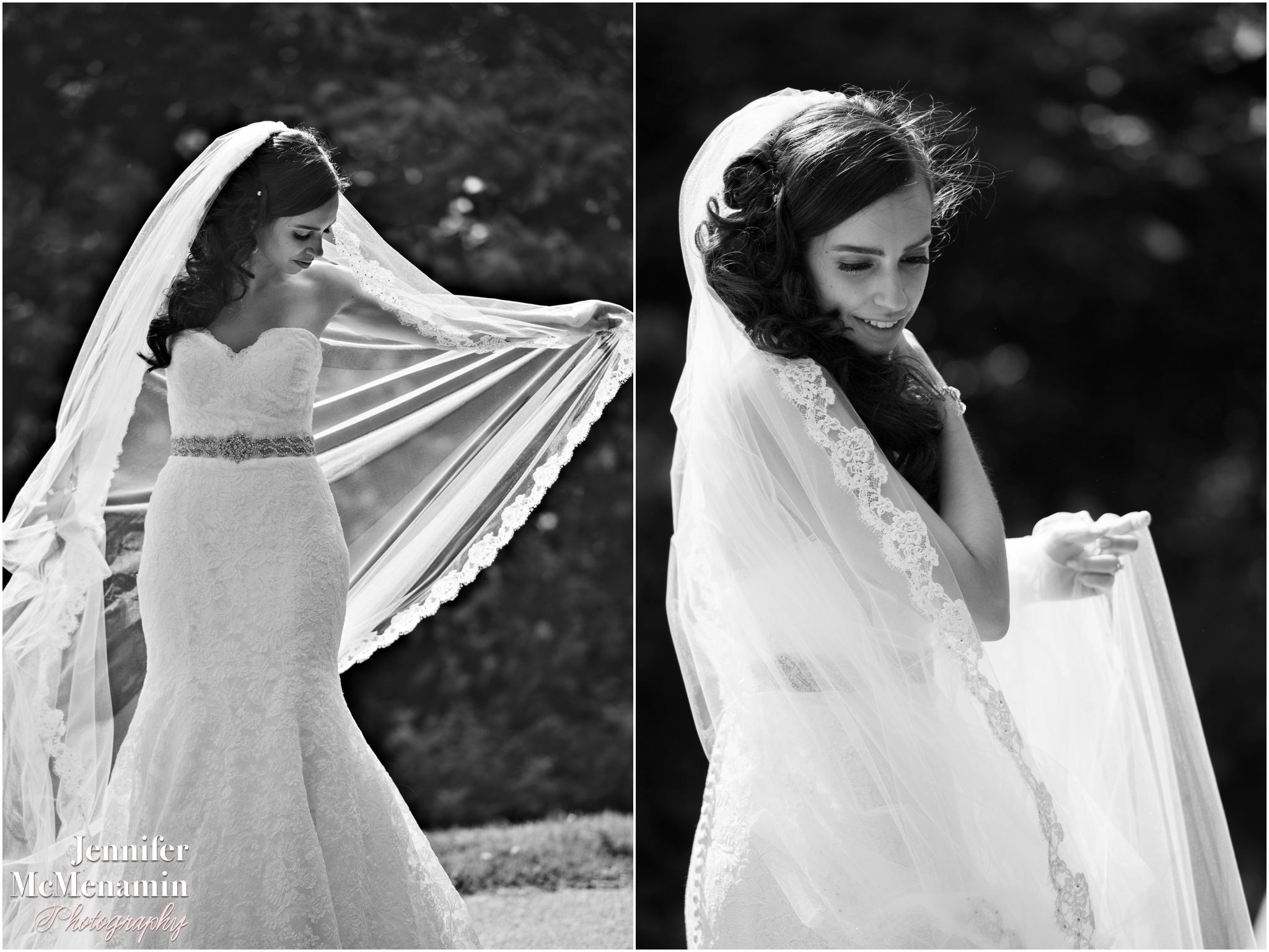 And then we were off to the reception!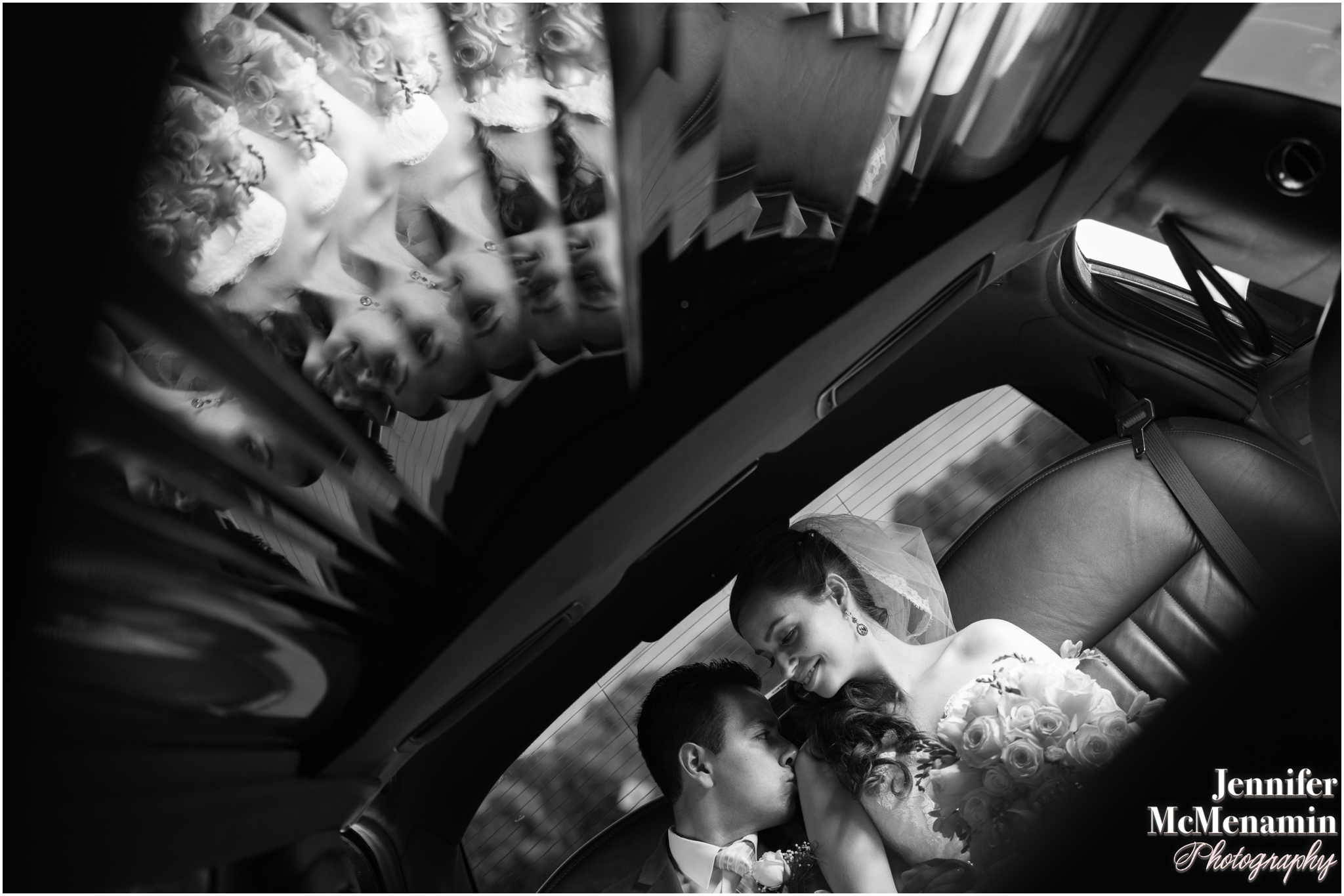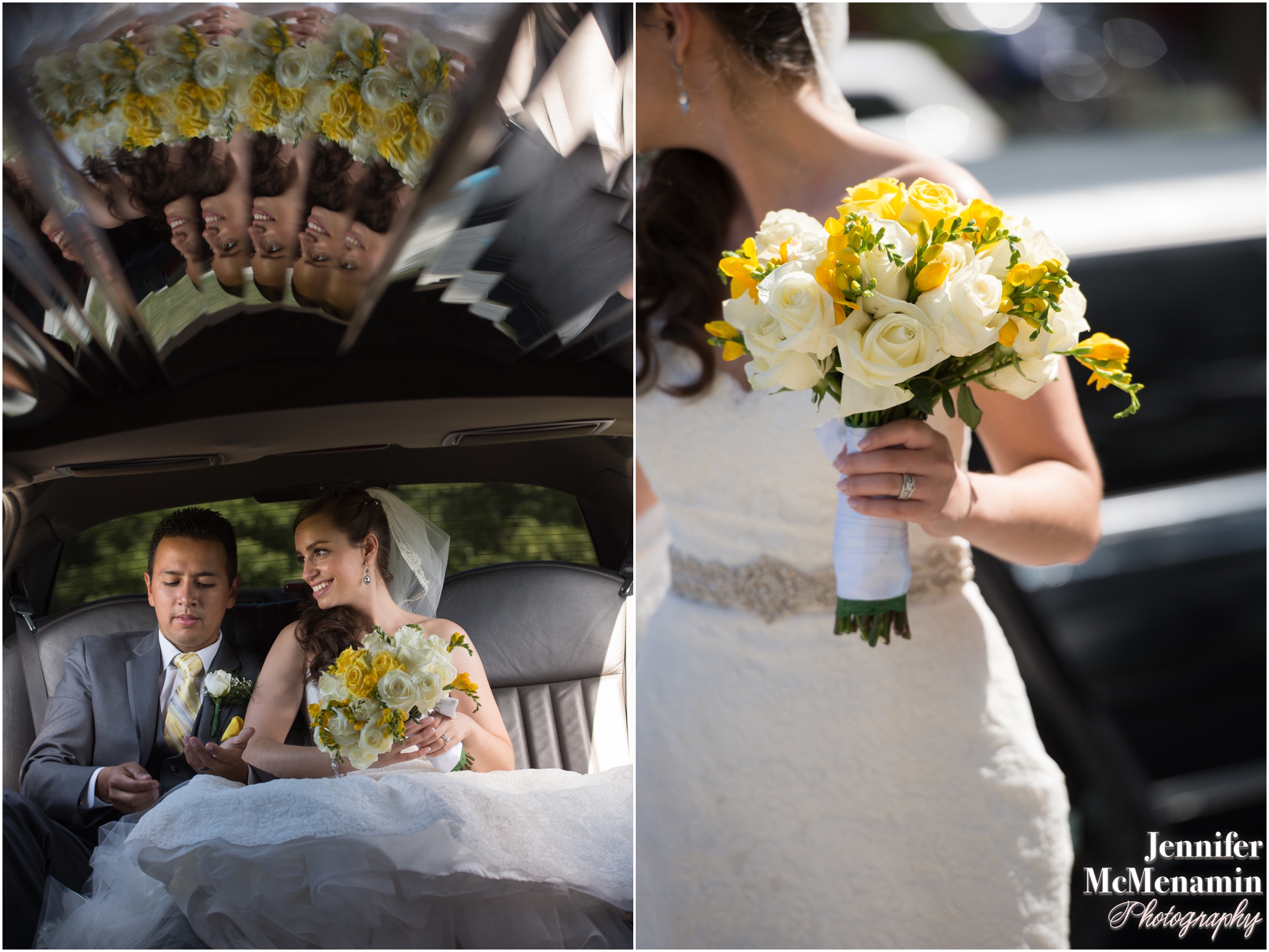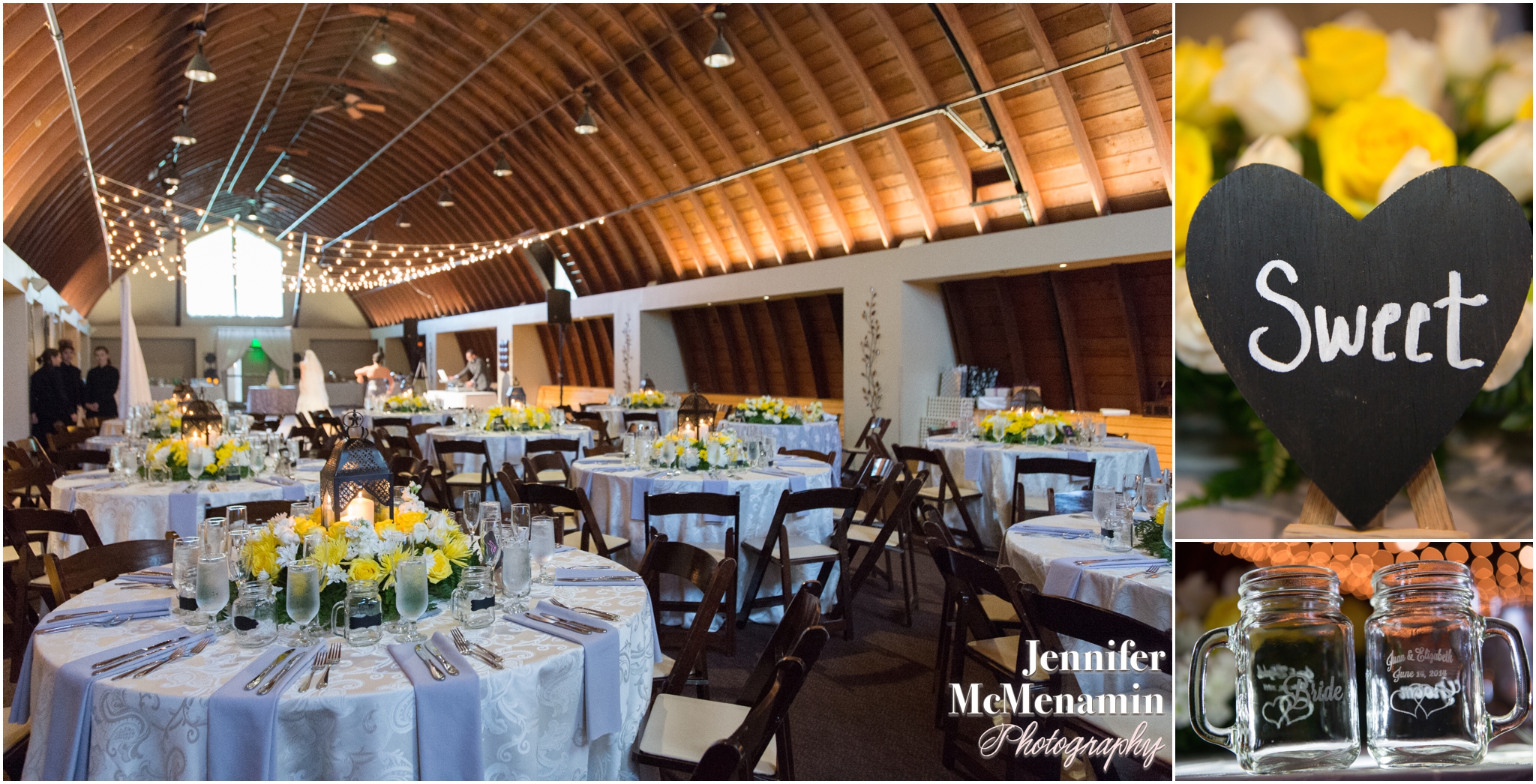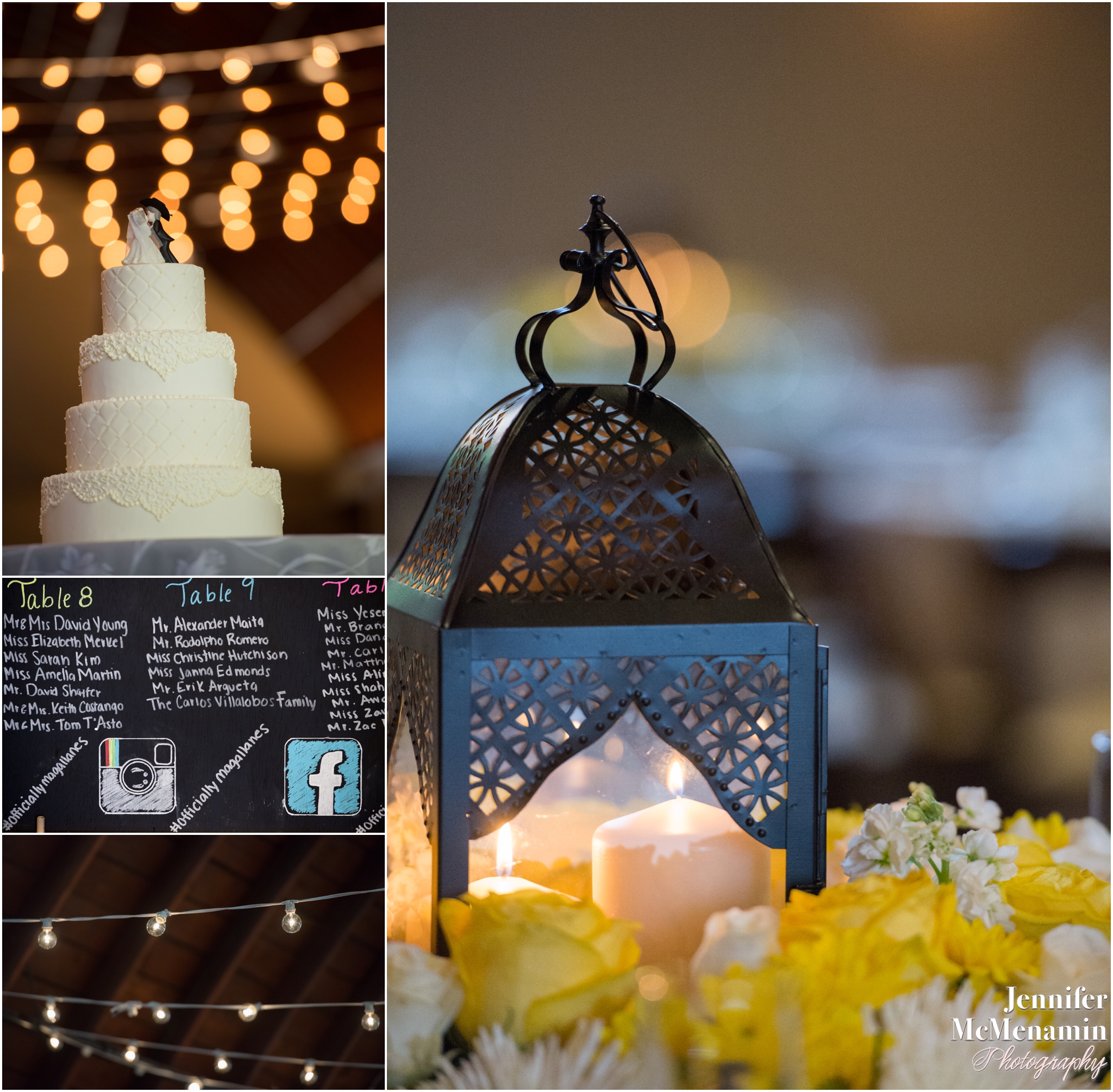 A couple of toasts.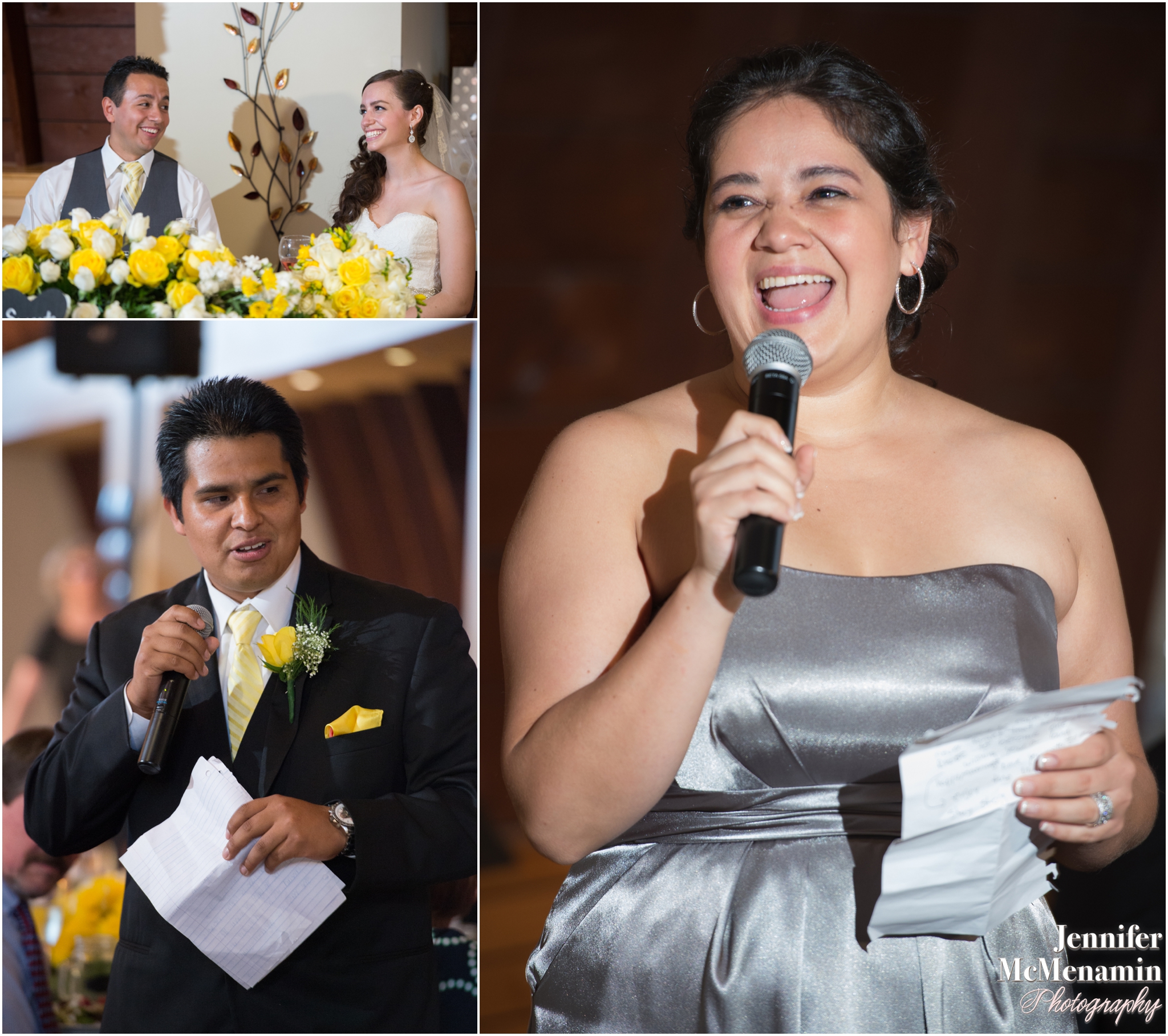 And lots of fun and merriment!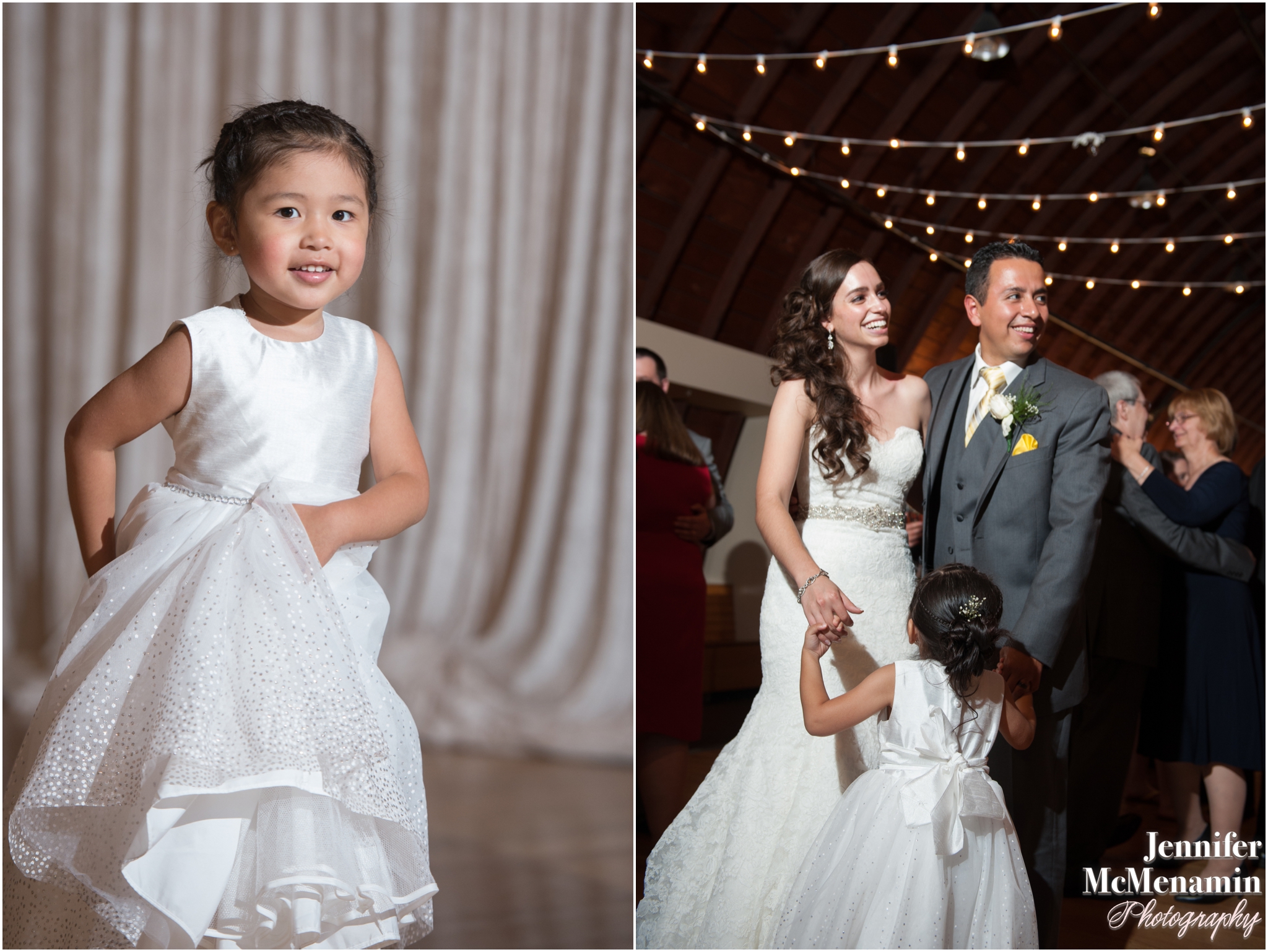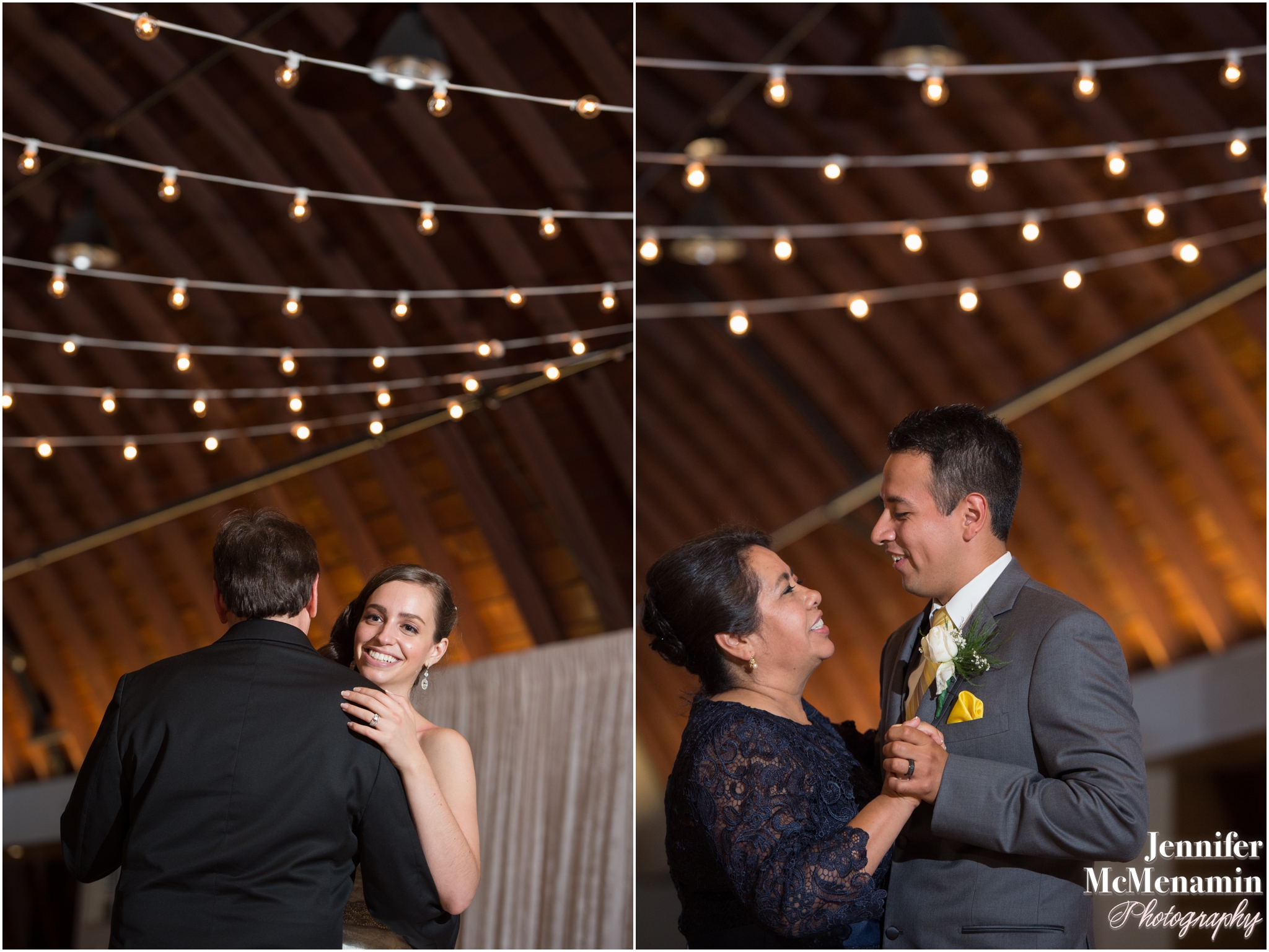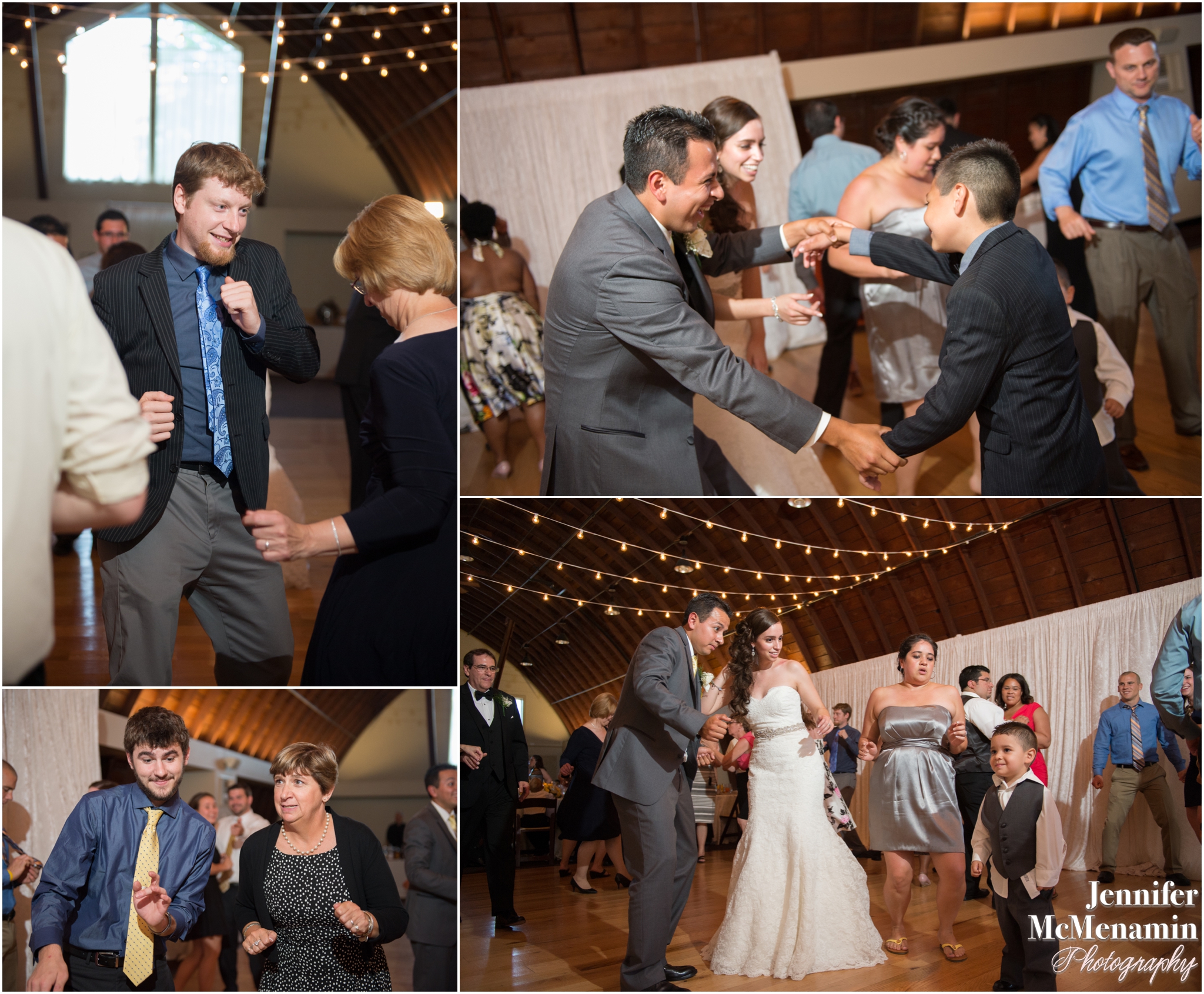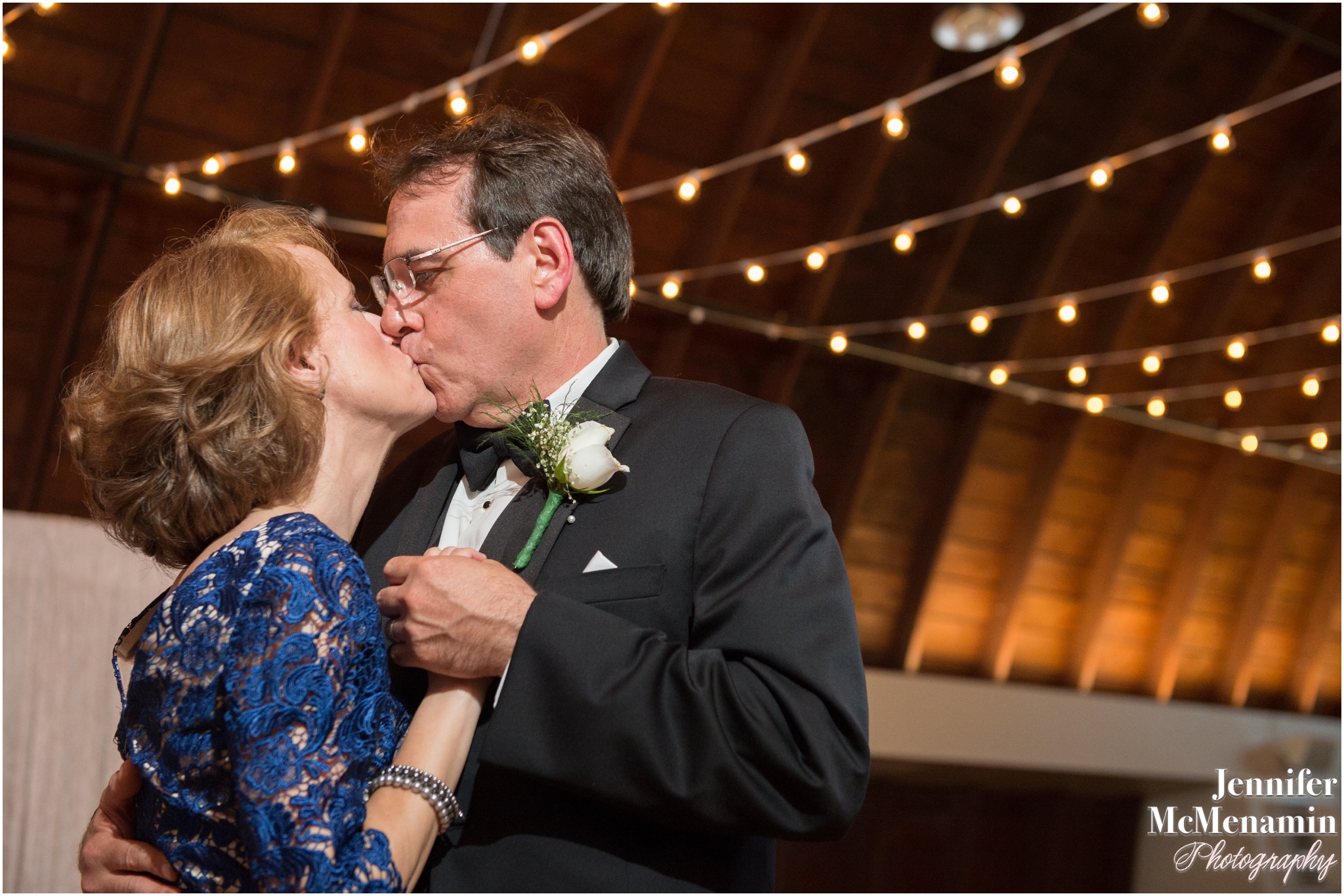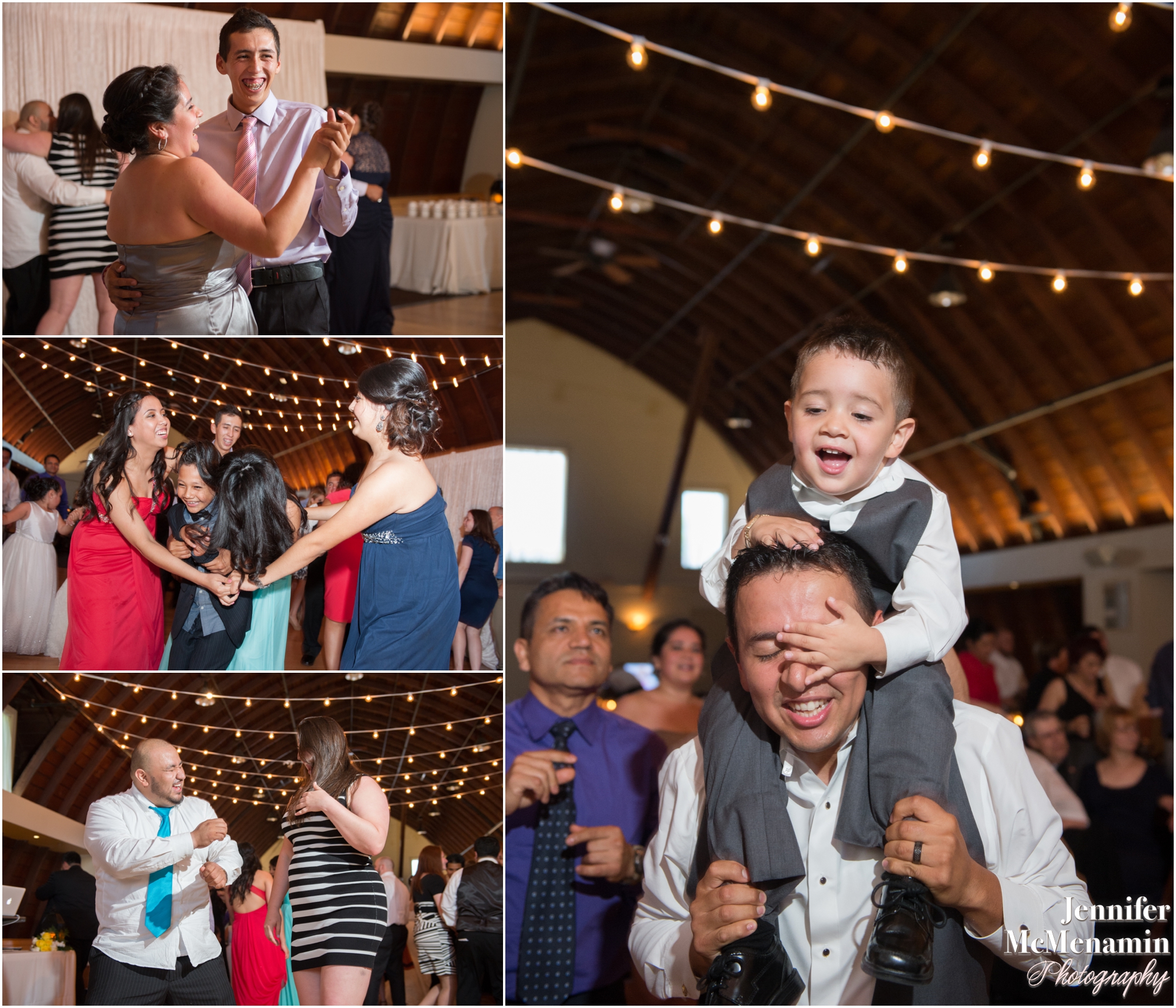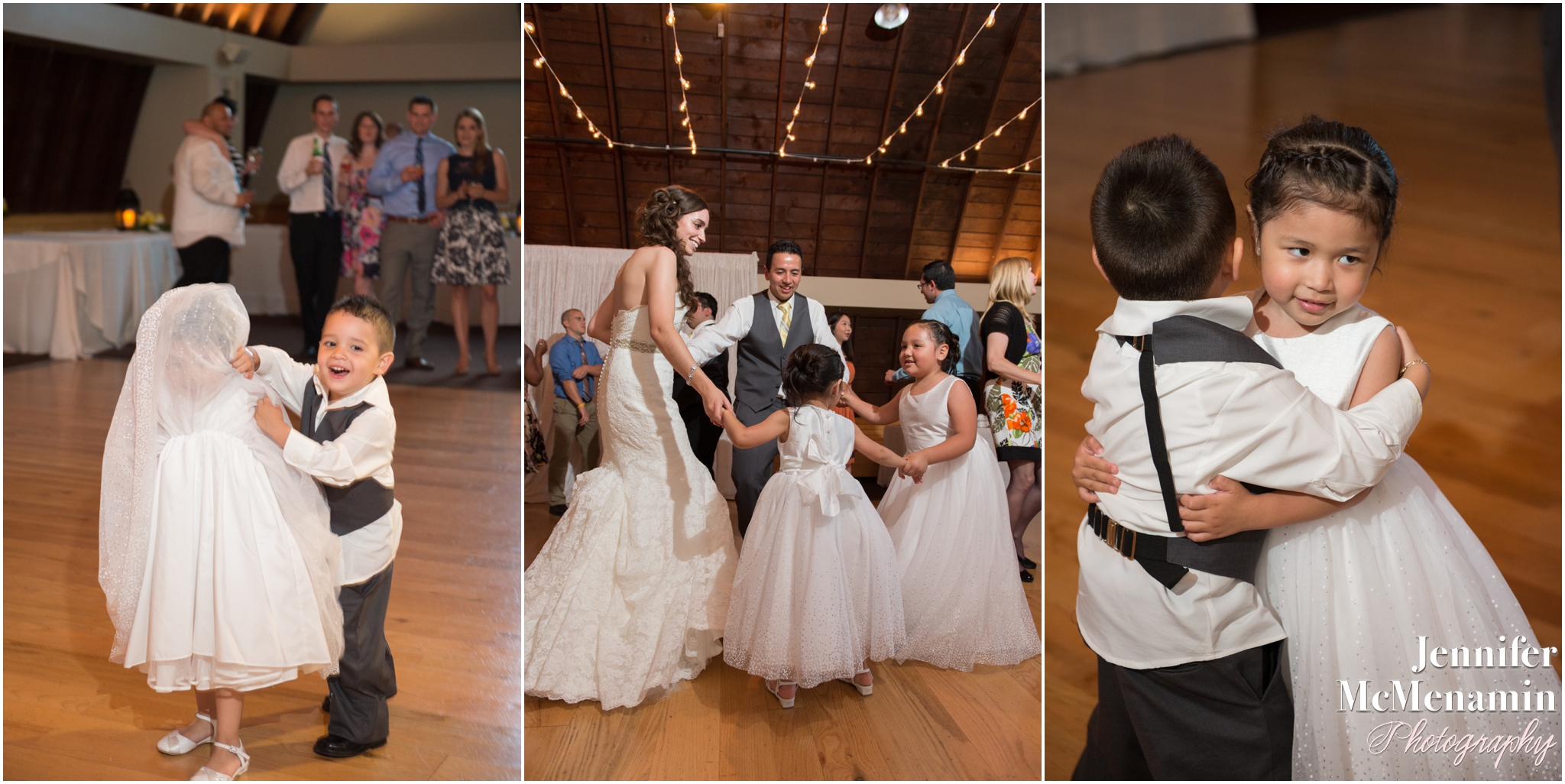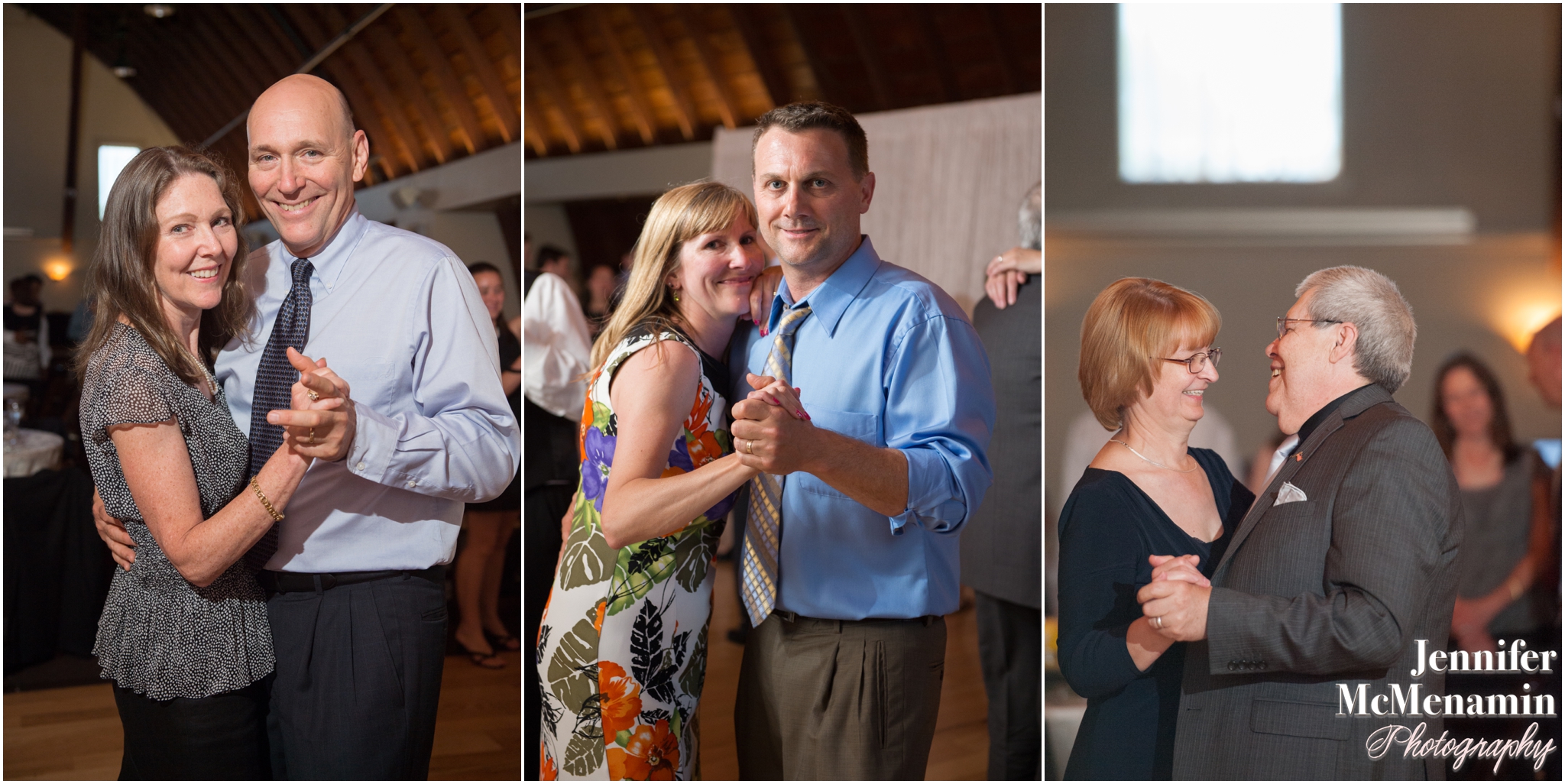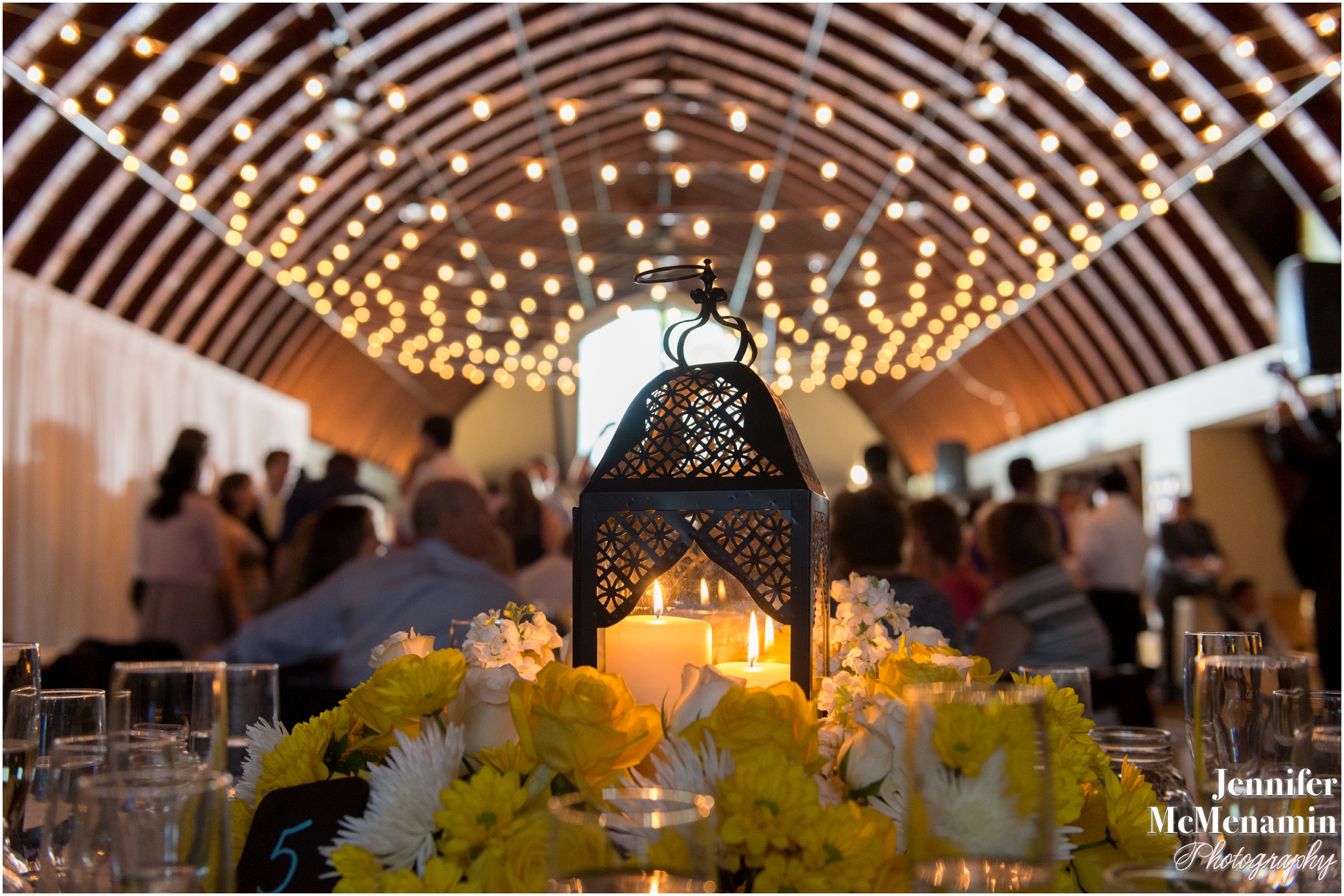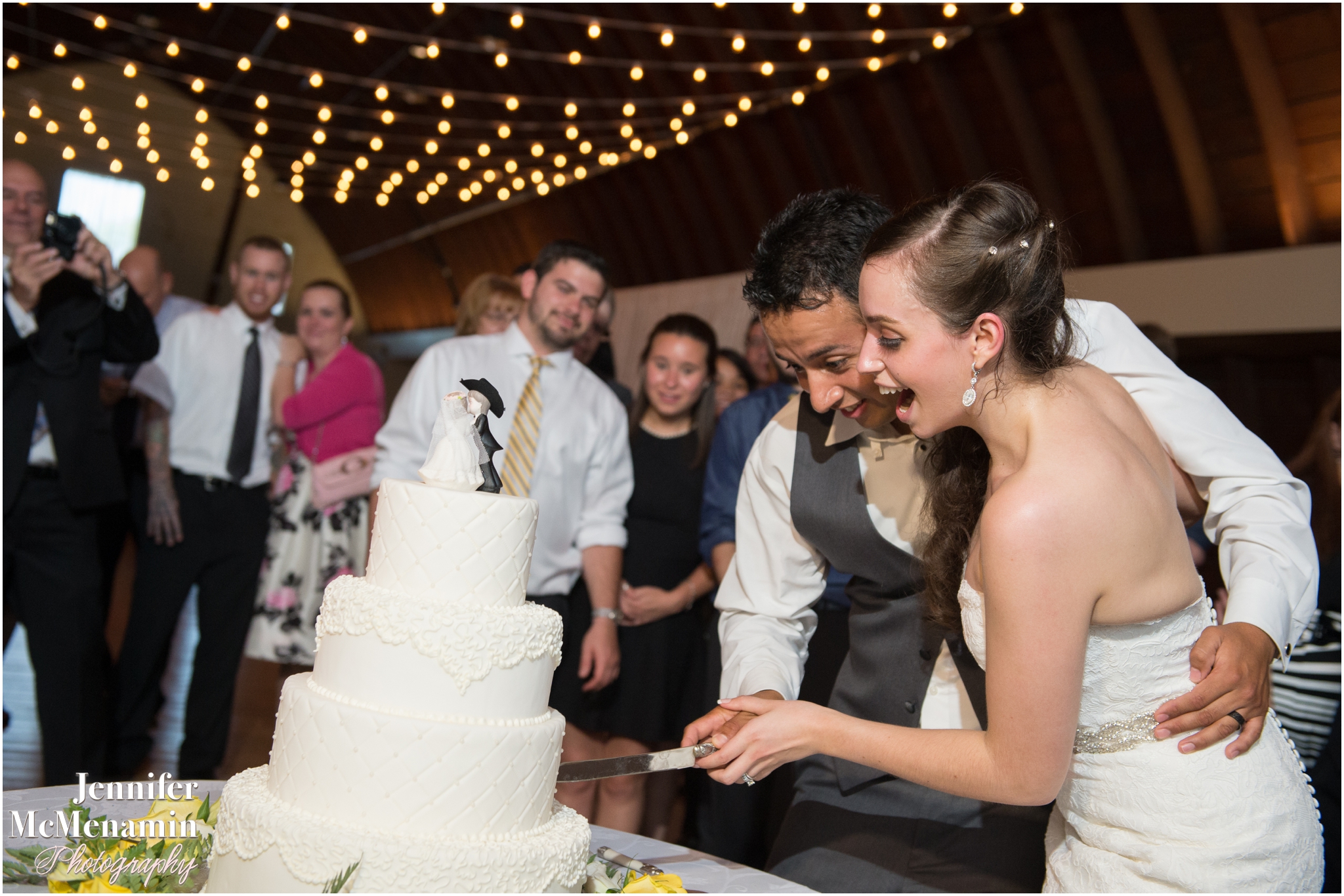 A silhouette captured in the moment as Liz and Juan hit the dance floor.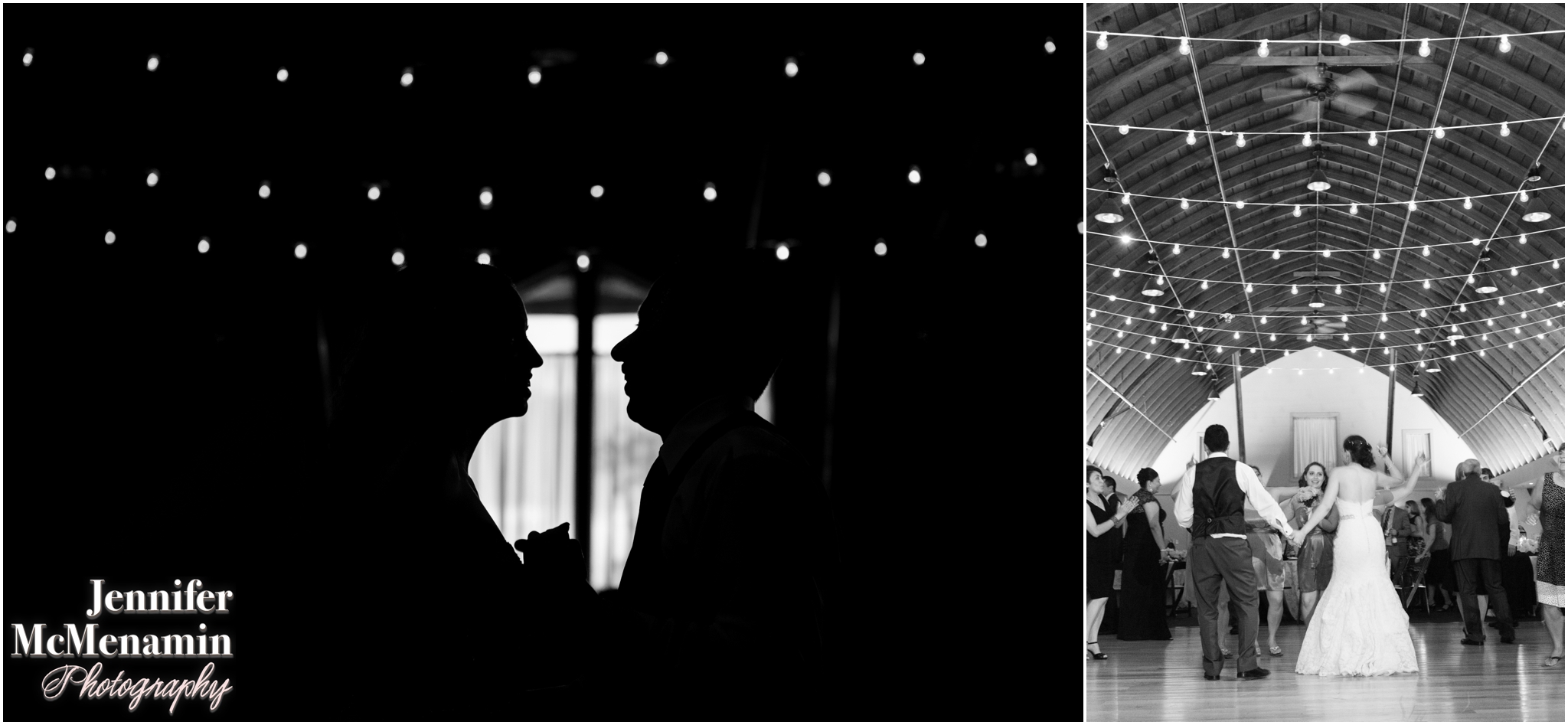 And a tremendously fun exit amidst a shower of bubbles.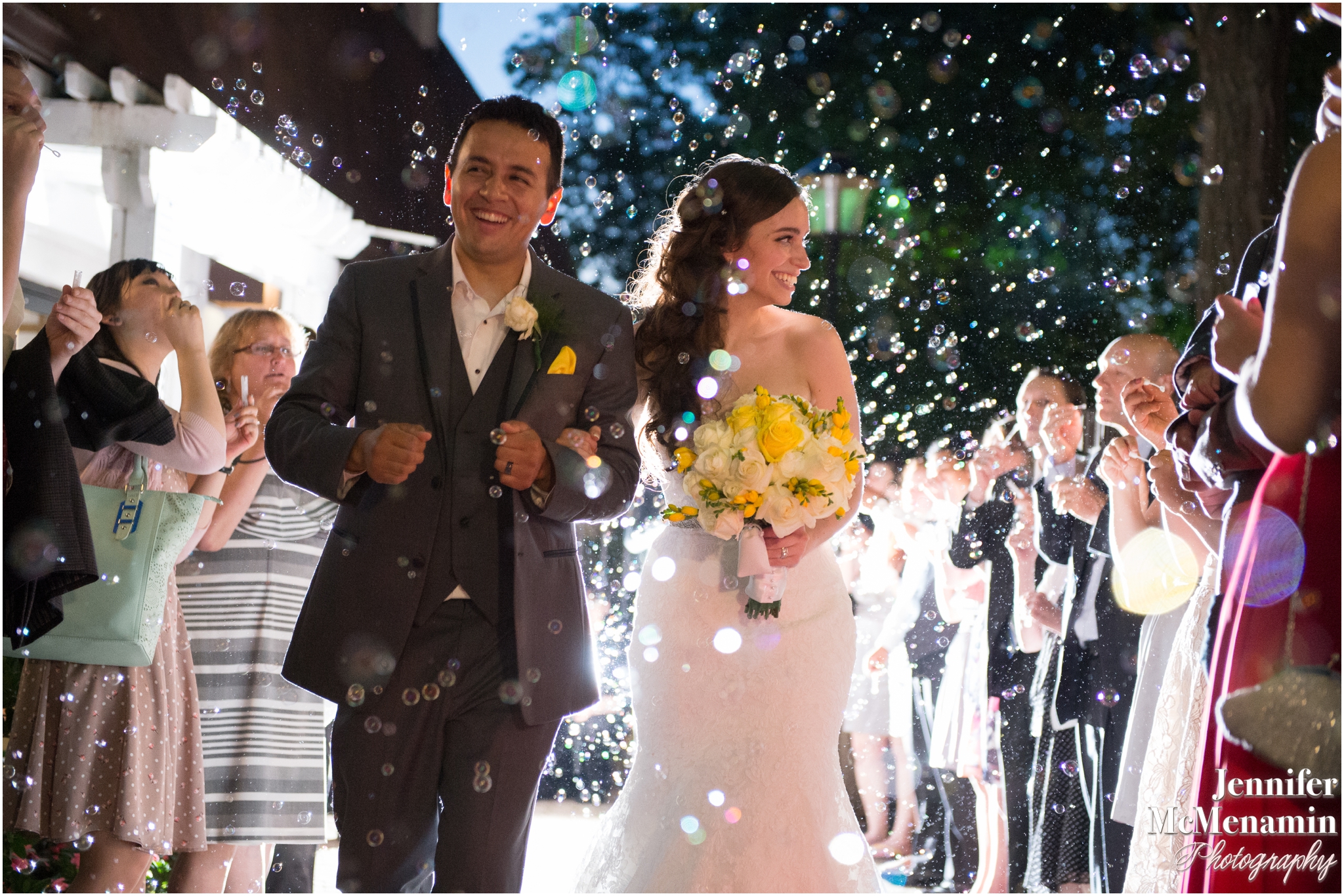 Many, many congratulations, Liz + Juan. It was an absolute pleasure working with you and your friends and family!
Credits:
Photography: Jennifer McMenamin Photography, LLC

Ceremony: St. Mary of the Mills Catholic Church
Catering: My Thyme Catering
Event coordinator: Karin and Peyton Craig of Encounters Inc.
Lighting designers: Perkins Productions

Rentals: Select Event Rental
Bridal attire: Dennis Basso gown from Kleinfeld
Make-up and hair: Ana Kenny

Bridesmaids' attire: David's Bridal
Groom's attire: Men's Wearhouse

Cake: The Cake Studio
Transportation: Deluxe Transportation
Centerpieces: Made by the groom's mother, Maria Magallanes