Elizabeth + Jordan

Christ Lutheran Church -- Pier V Hotel -- Baltimore wedding photographer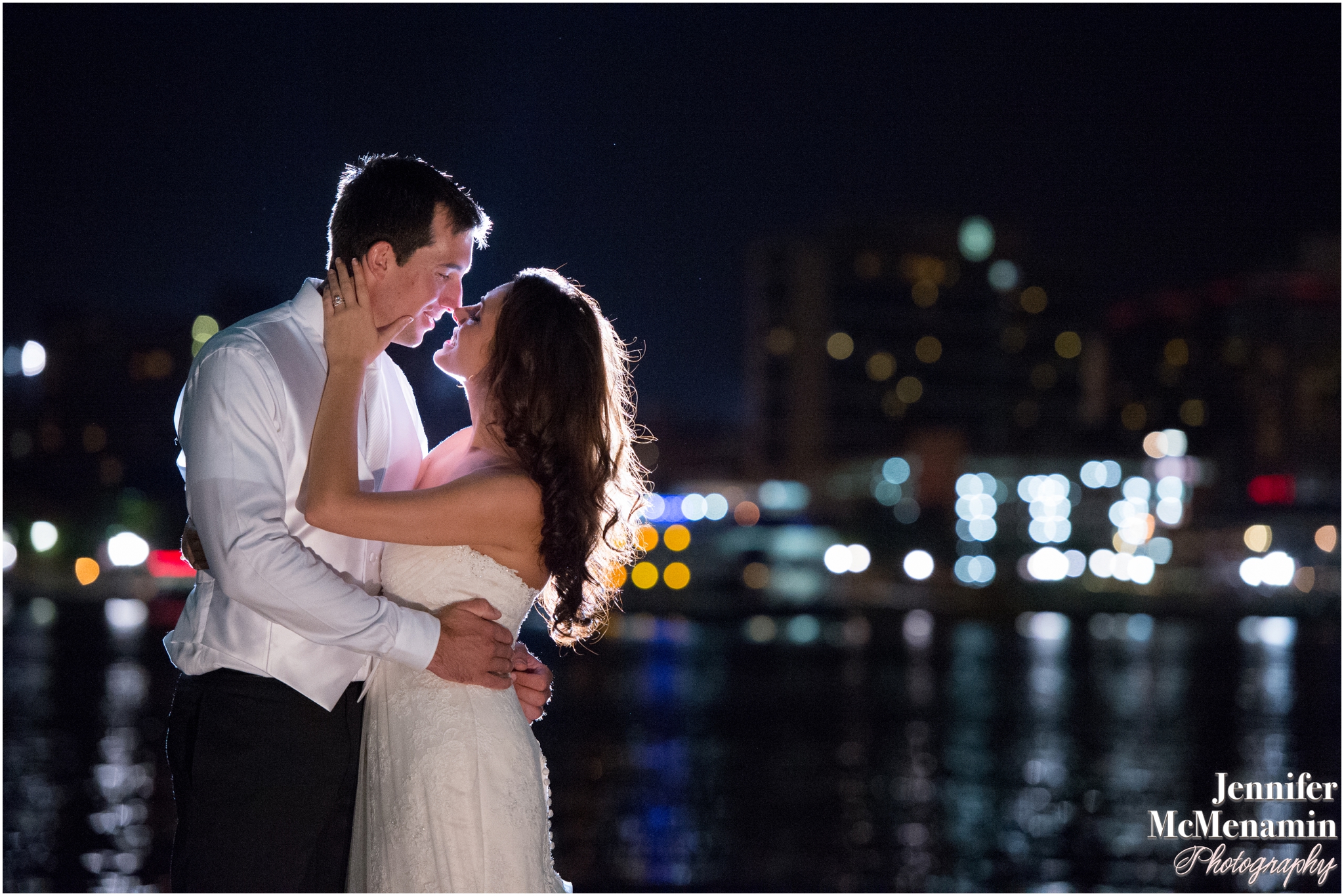 I didn't meet Liz or Jordan before they booked me to photograph their Pier V Hotel wedding. But come their wedding weekend, I spent nearly all of it with them, photographing their fun rehearsal dinner and then their wedding day preparations, their moving wedding ceremony and their all-things-blush-pink reception and dance party. What a great weekend! Liz and her mother worked their tails off on wedding planning. (Debbie, the mother of the bride, even went to the trouble of researching which length of sparkler is best for fun sparkler exits at the end of the party!) Liz and Jordan were married at Christ Lutheran Church, one of the prettiest churches in Baltimore with its gorgeous stained glass windows. The pastor from Liz's family's home church officiated the wedding and friends of the couple graced the congregation with such a beautiful rendition of The Prayer that many, including the bride, were moved to tears. One of the benefits of photographing the rehearsal dinner festivities was that I had a chance to meet flowergirl Olivia and ring bearer Connor ahead of time. Olivia's family members told her that she should smile sweetly every time she saw me and that darling little girl followed their instructions to a T. Whether she was hiding behind her bouquet, peeking from the pew in church or twirling on the dance floor after her introduction into the reception, Olivia was so photogenic that I could have filled an entire blog post with photos of her doing her adorable little thing. Liz and Jordan also asked for some nighttime portraits with the beautiful city of Baltimore lit up behind them and I'm thrilled with our results. My friend and assistant, Sam, worked with me again for this wedding and his photos are mixed in below with mine. Here are some of my favorites from Liz and Jordan's wonderful wedding day: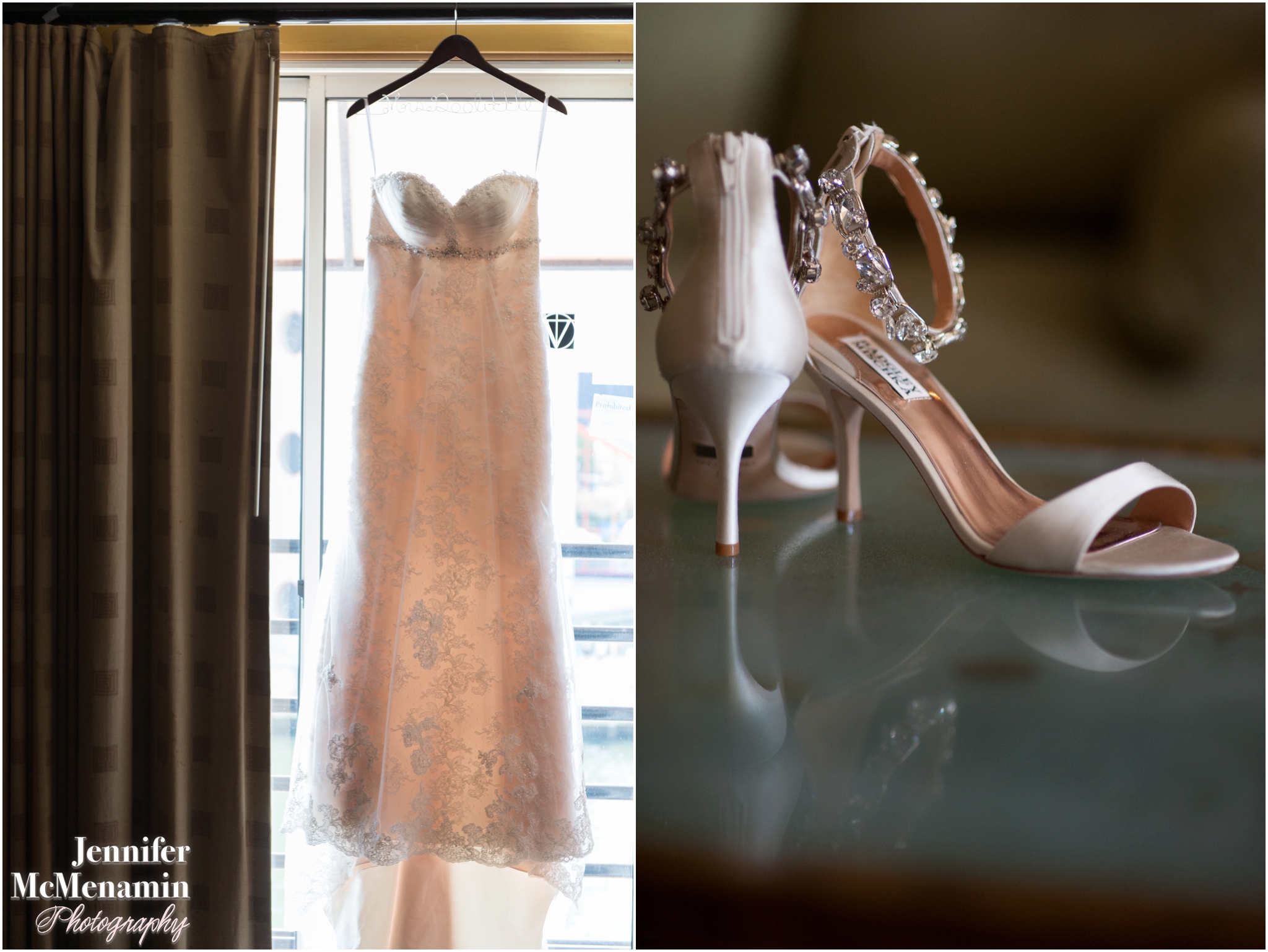 I started with Liz and her girls.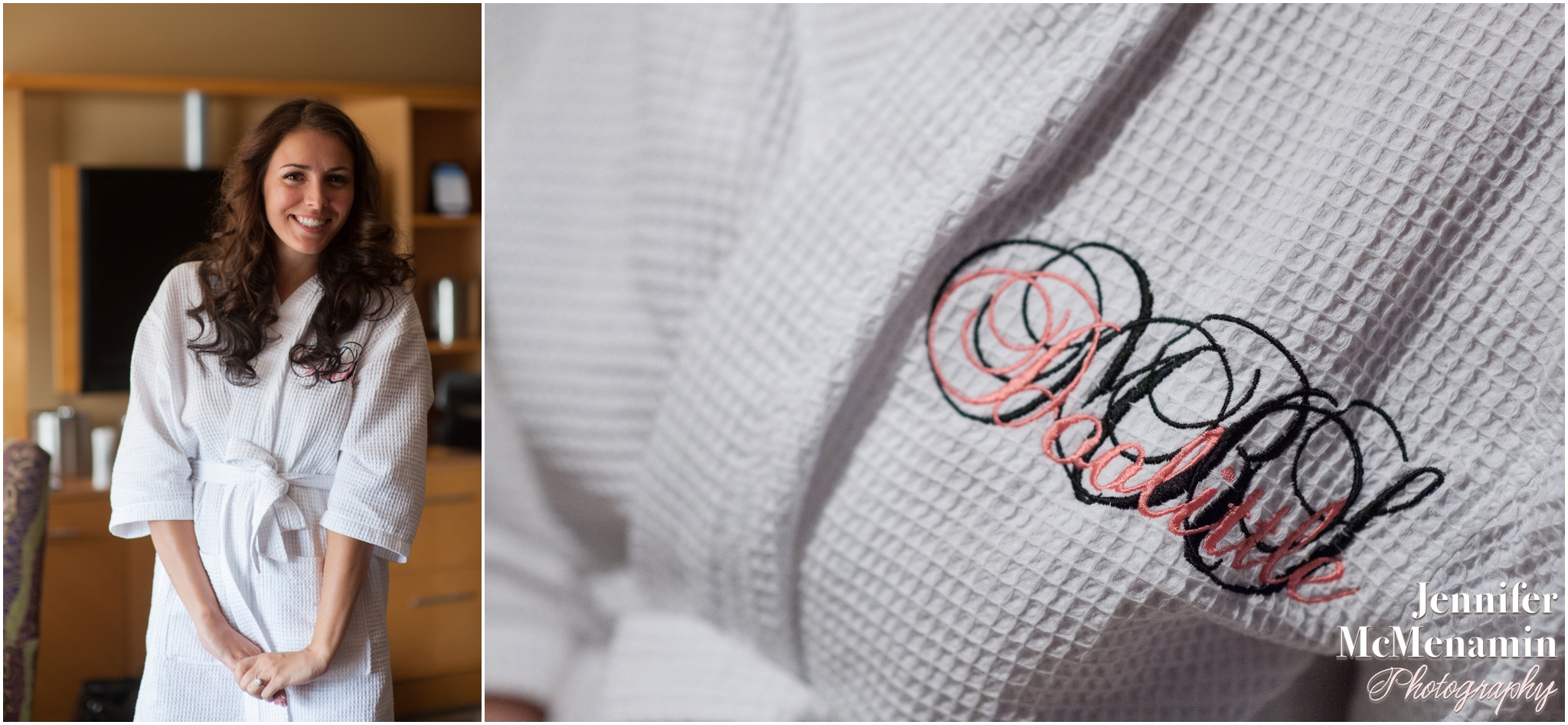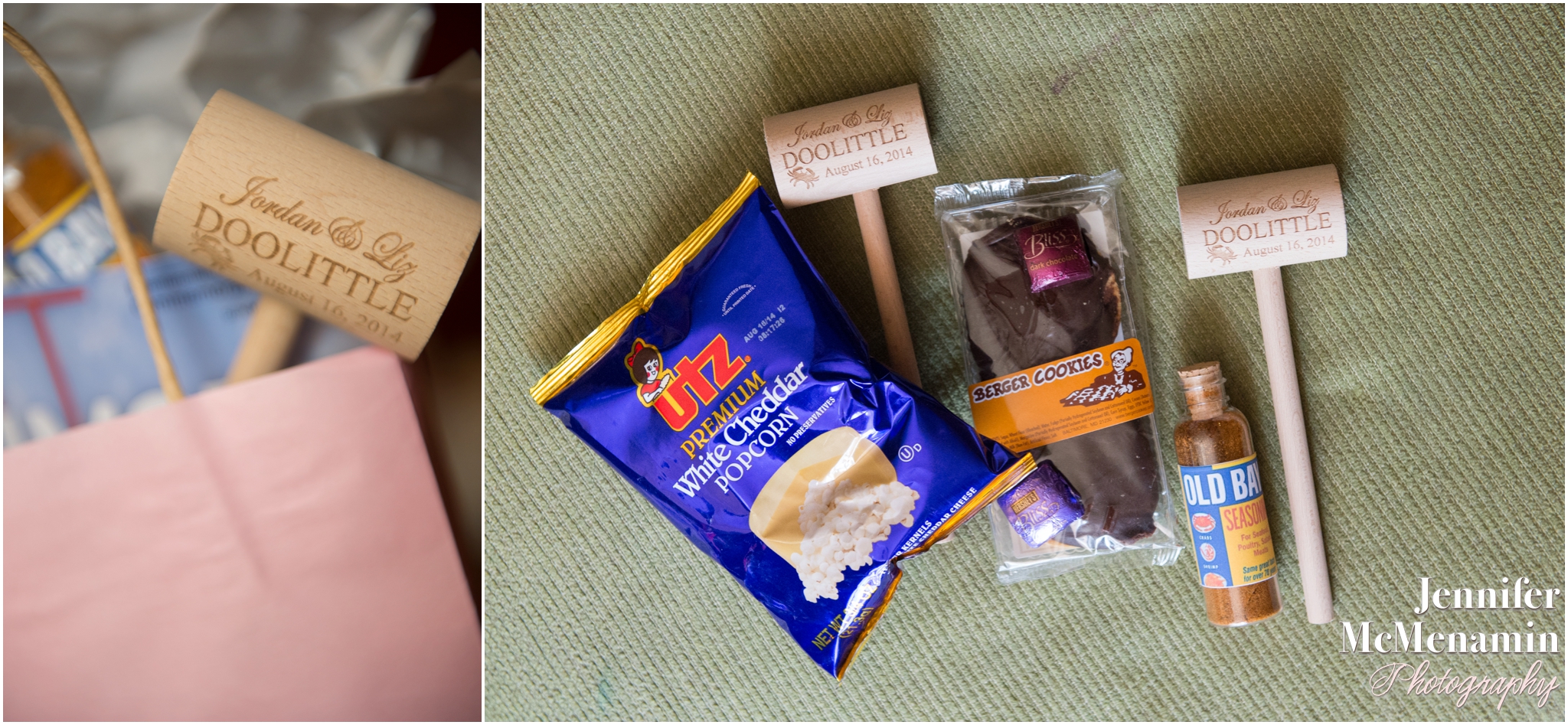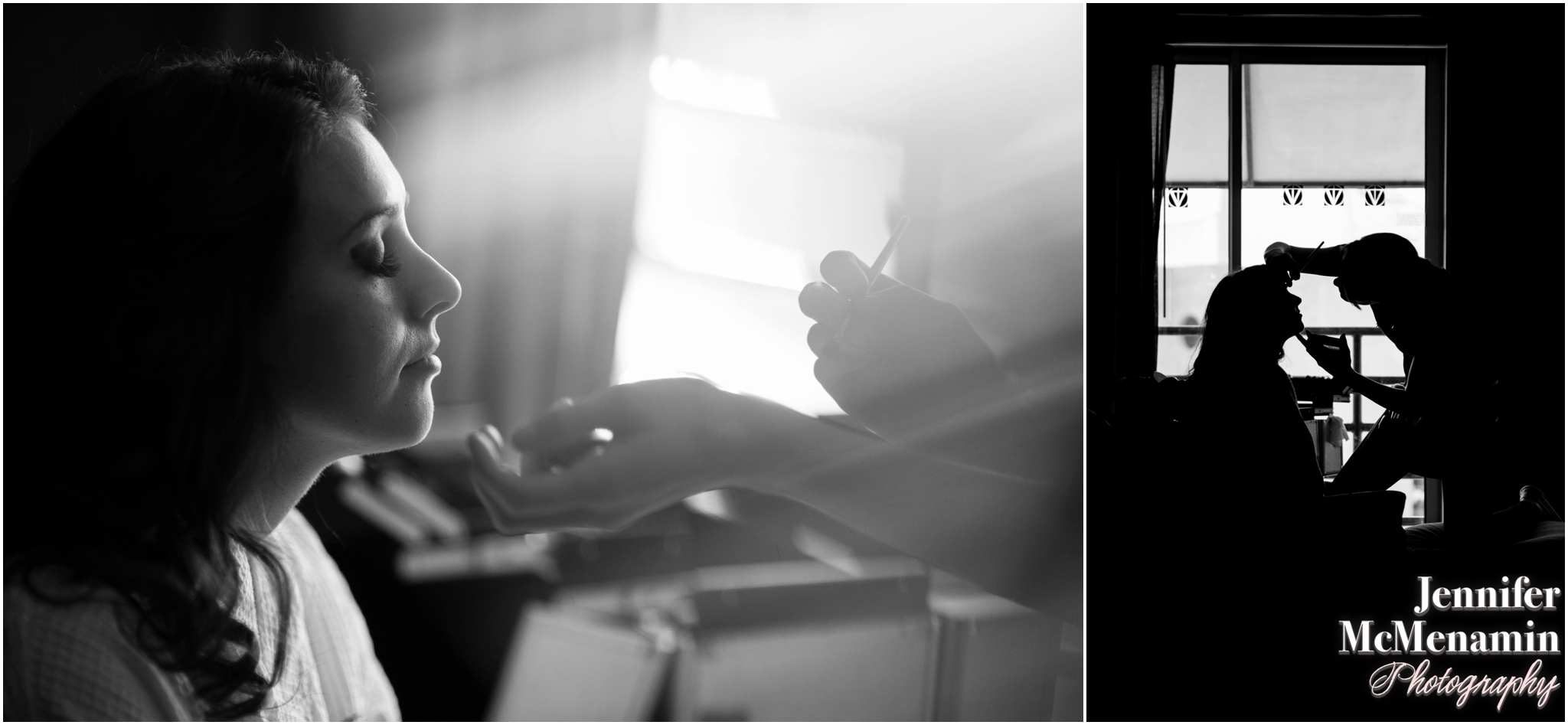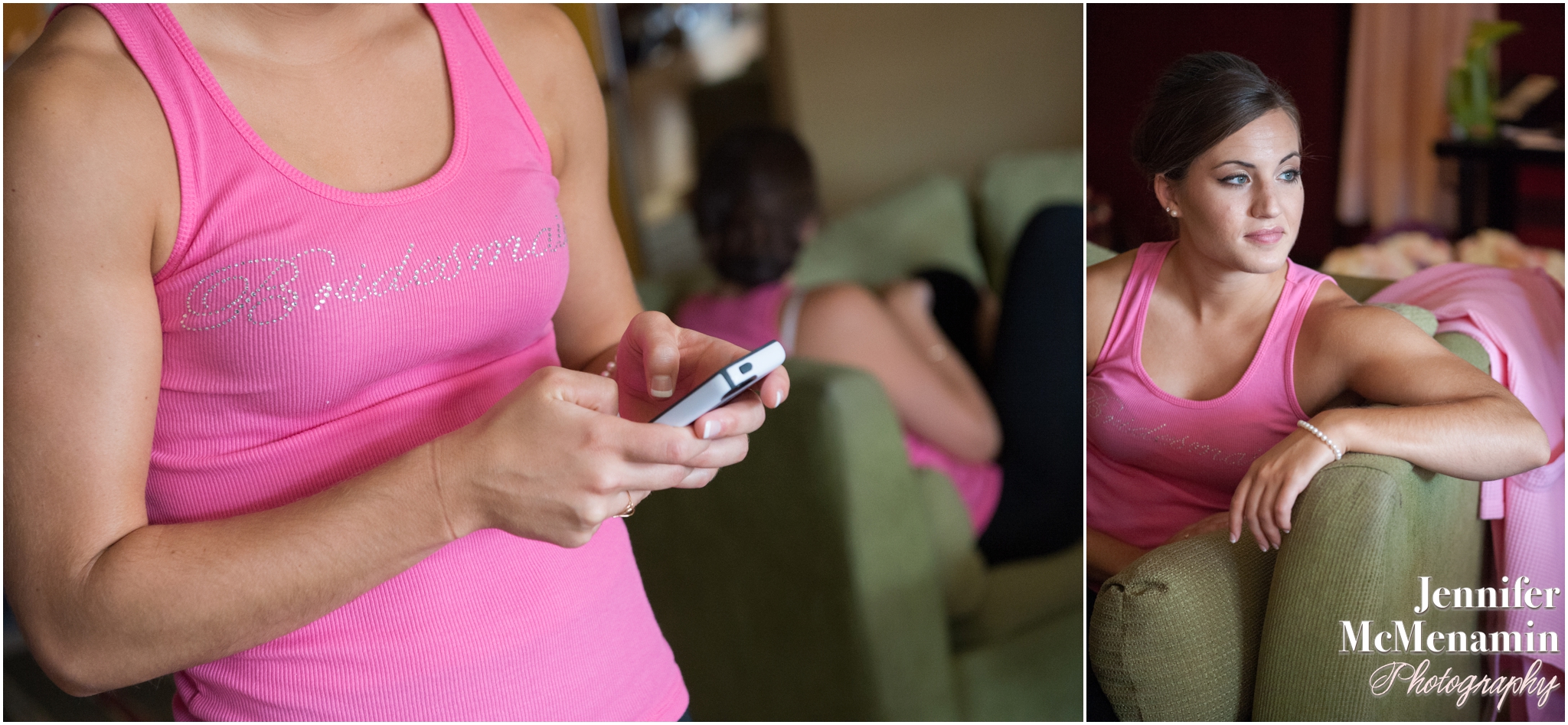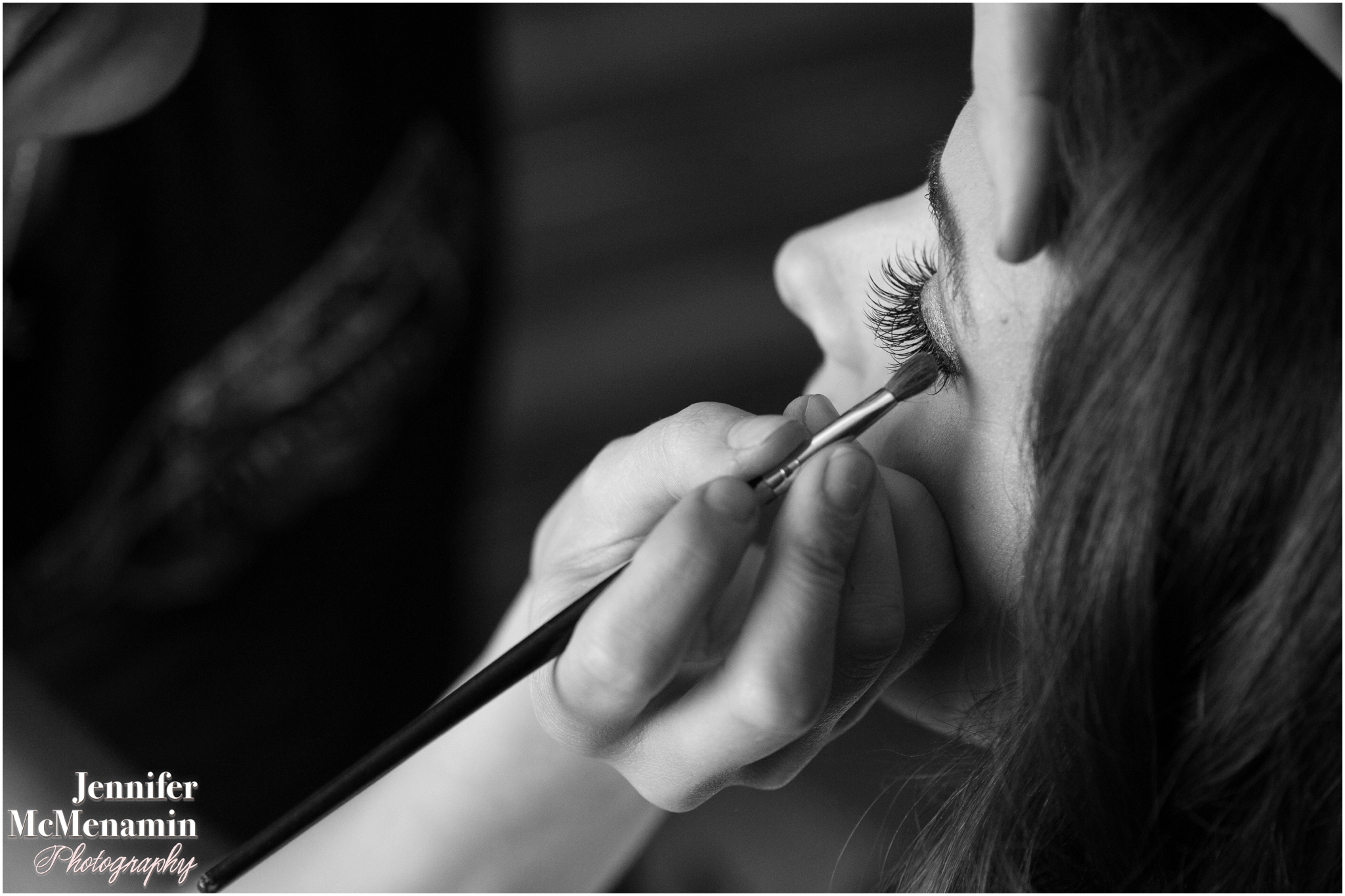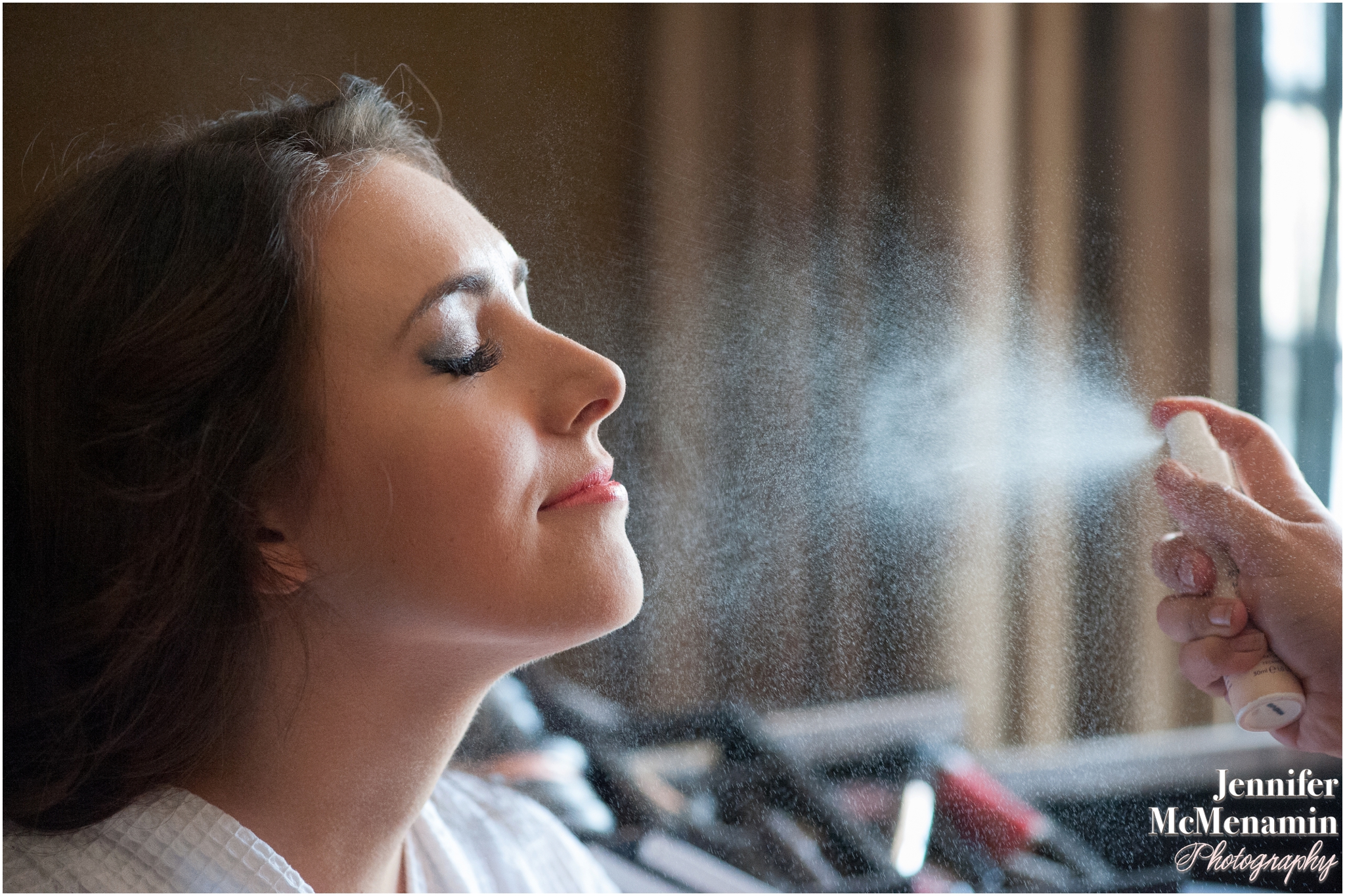 Both Liz and her mother needed tissues after the bride read a card from her parents.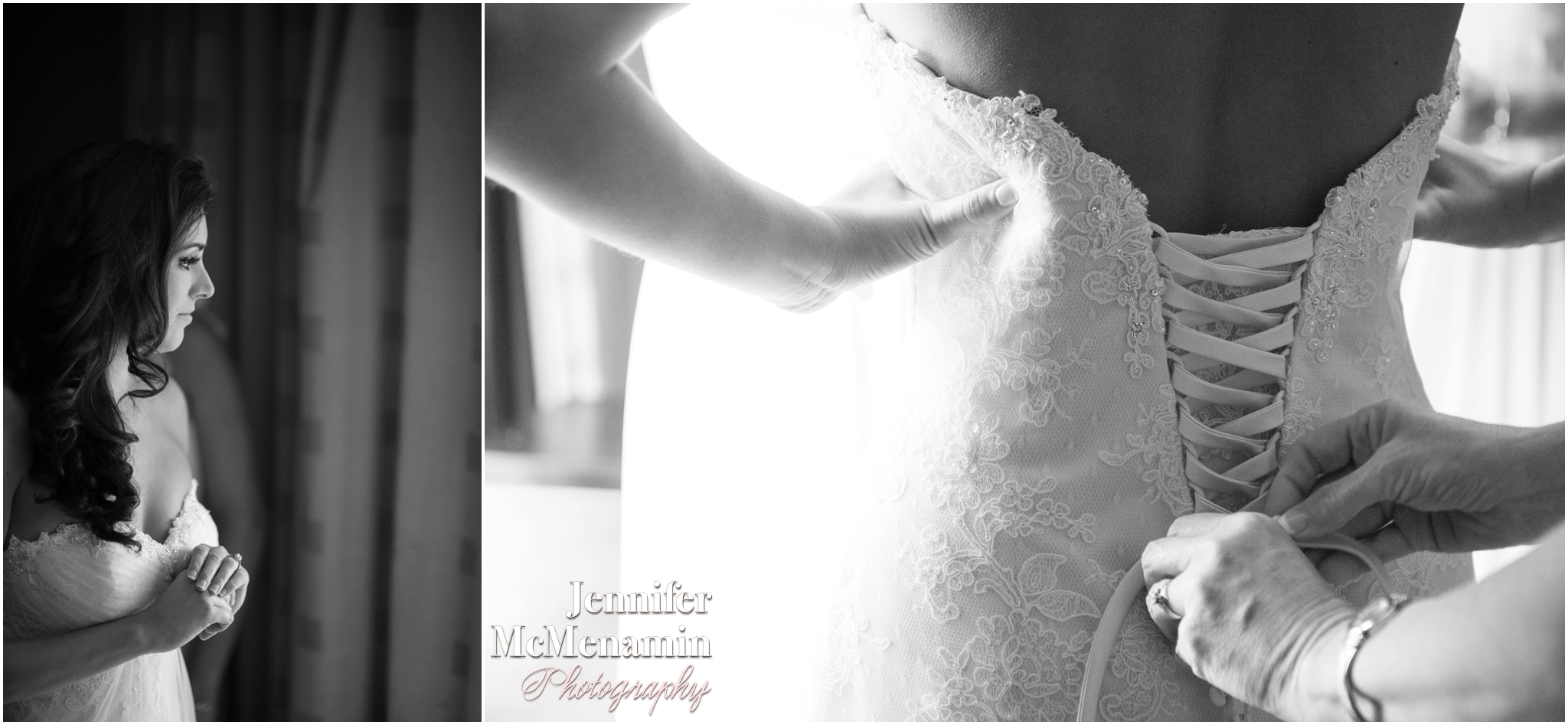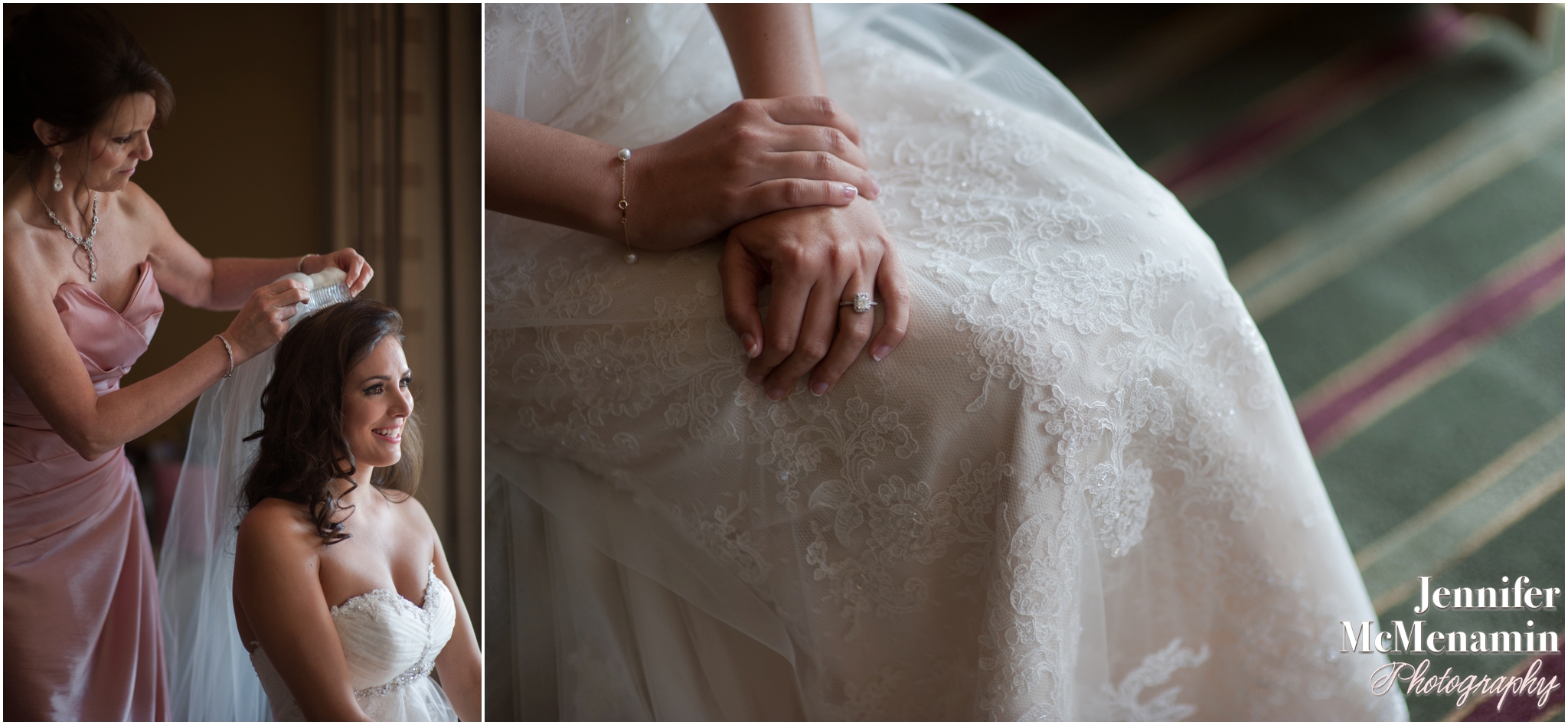 The bride, looking absolutely beautiful.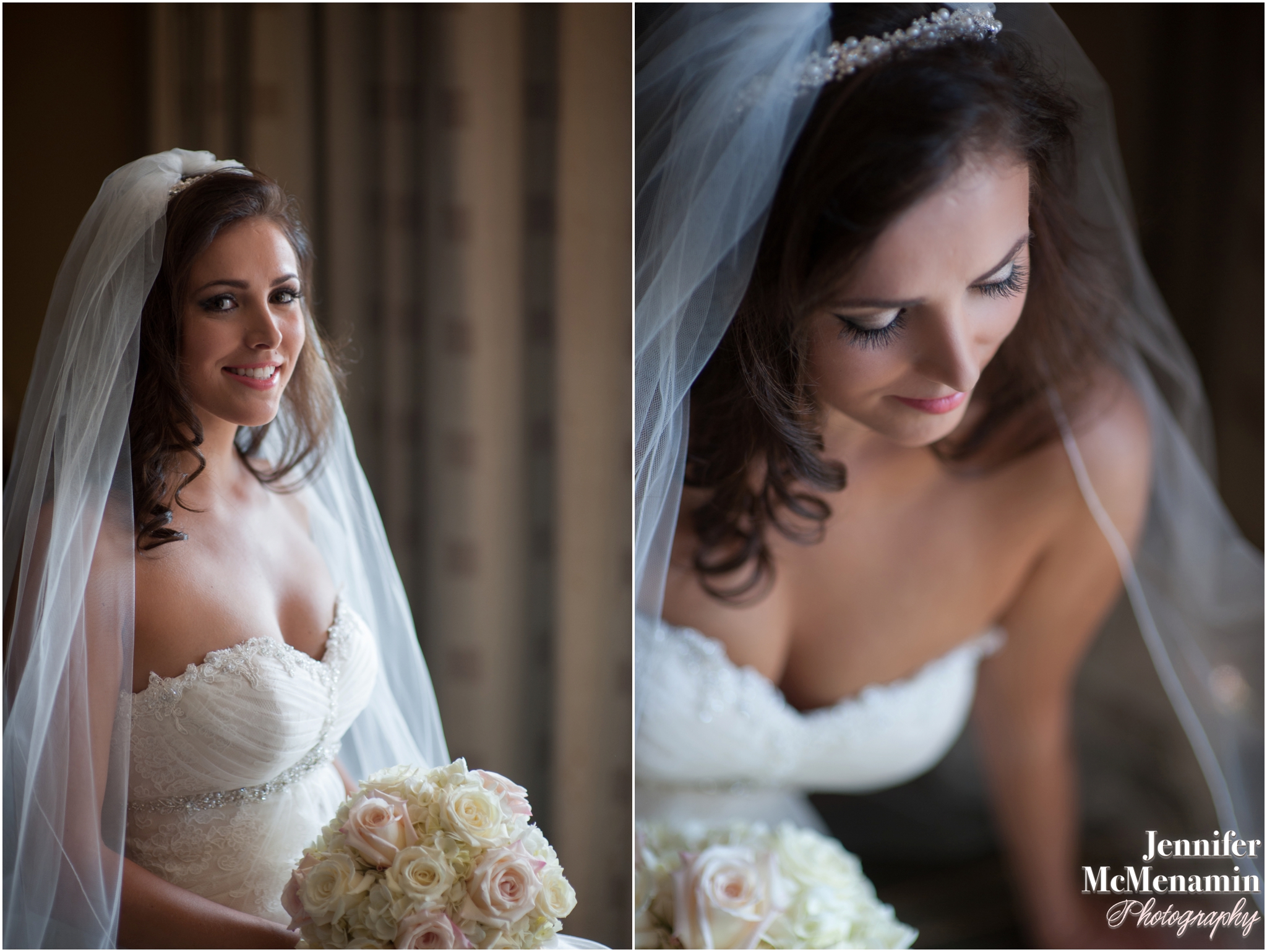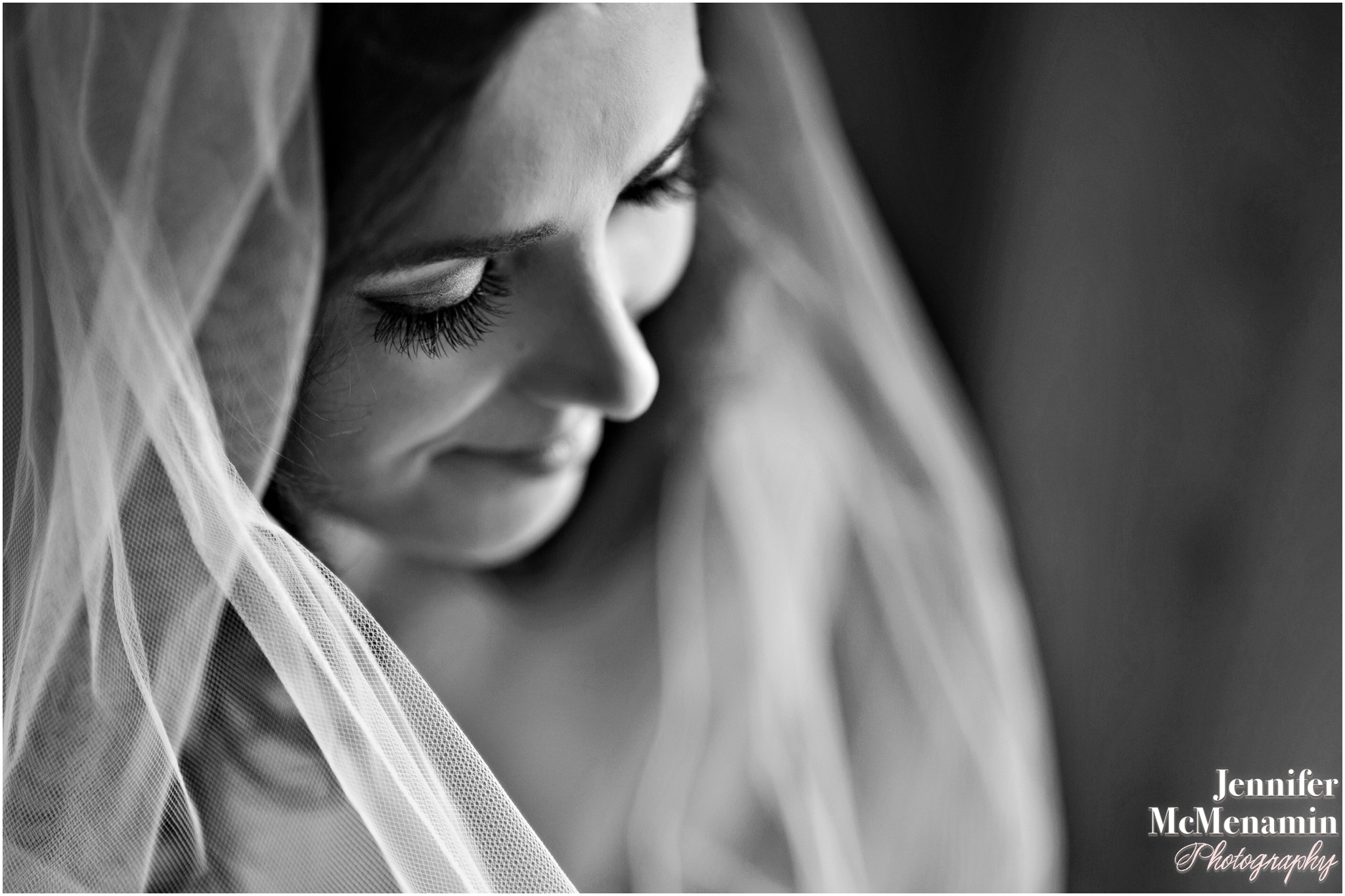 The first of many photos of little Olivia.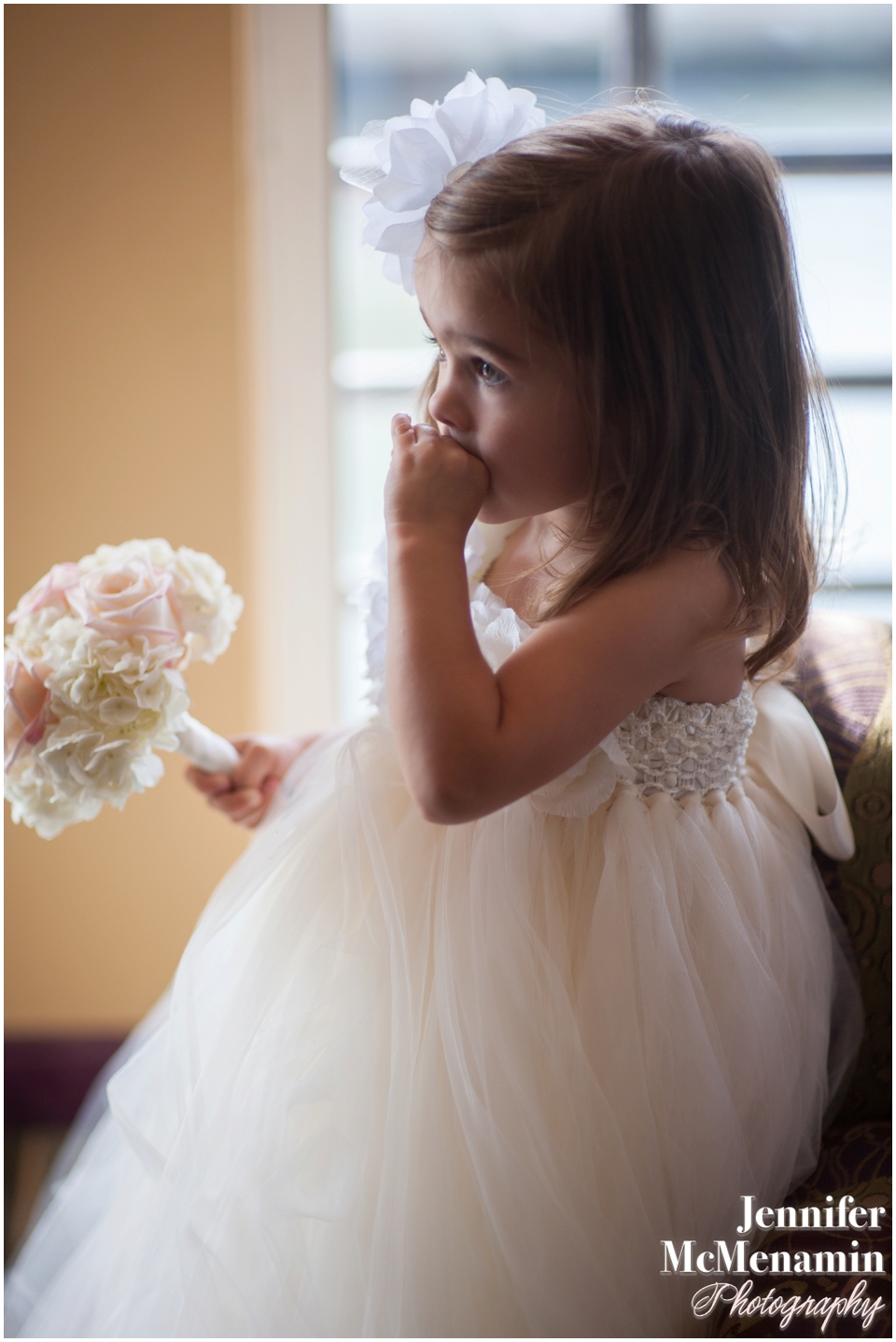 I shot this next photo on the left first and then noticed the unexpected little head trying oh so hard to peek over the railing at me. Simply adorable.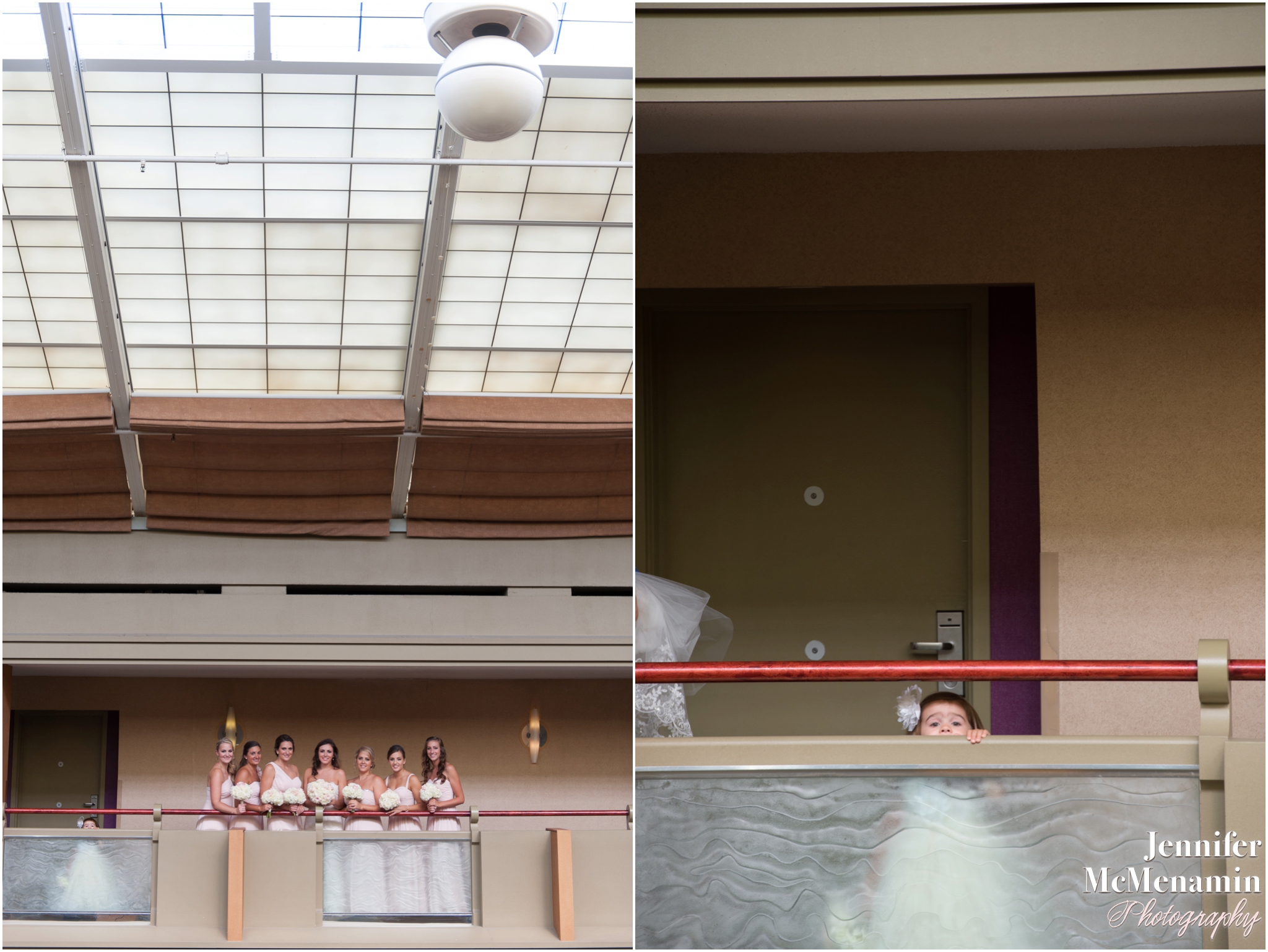 Meanwhile, Sam started with the guys as they got ready.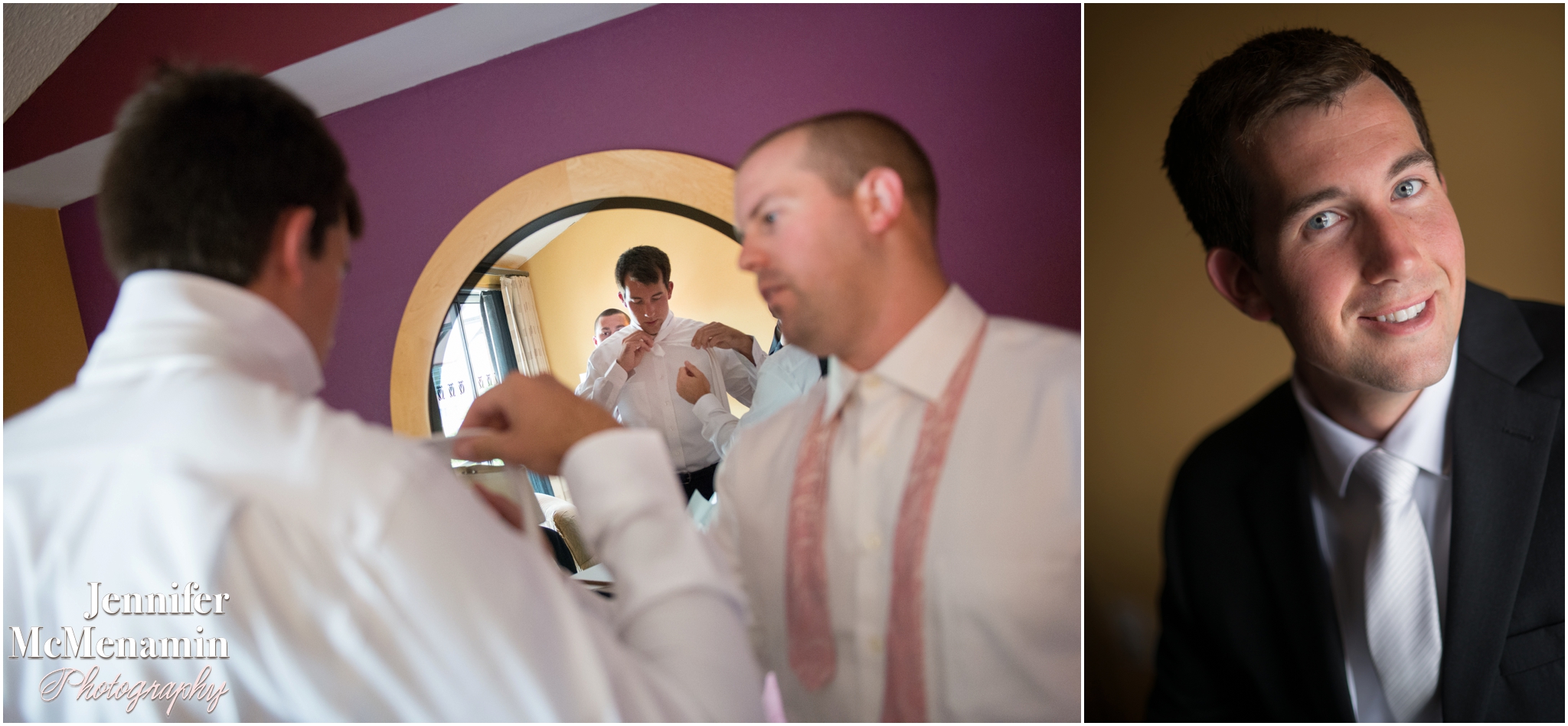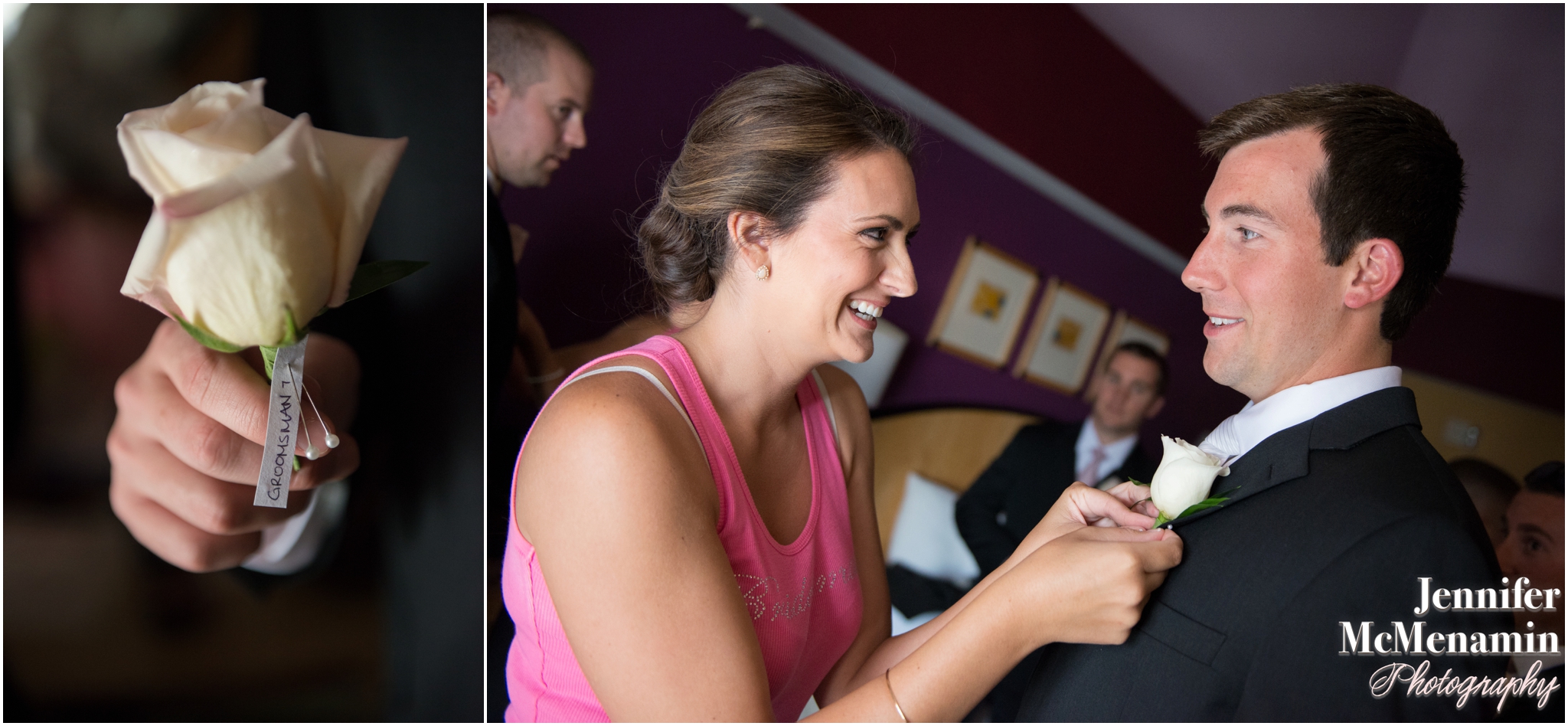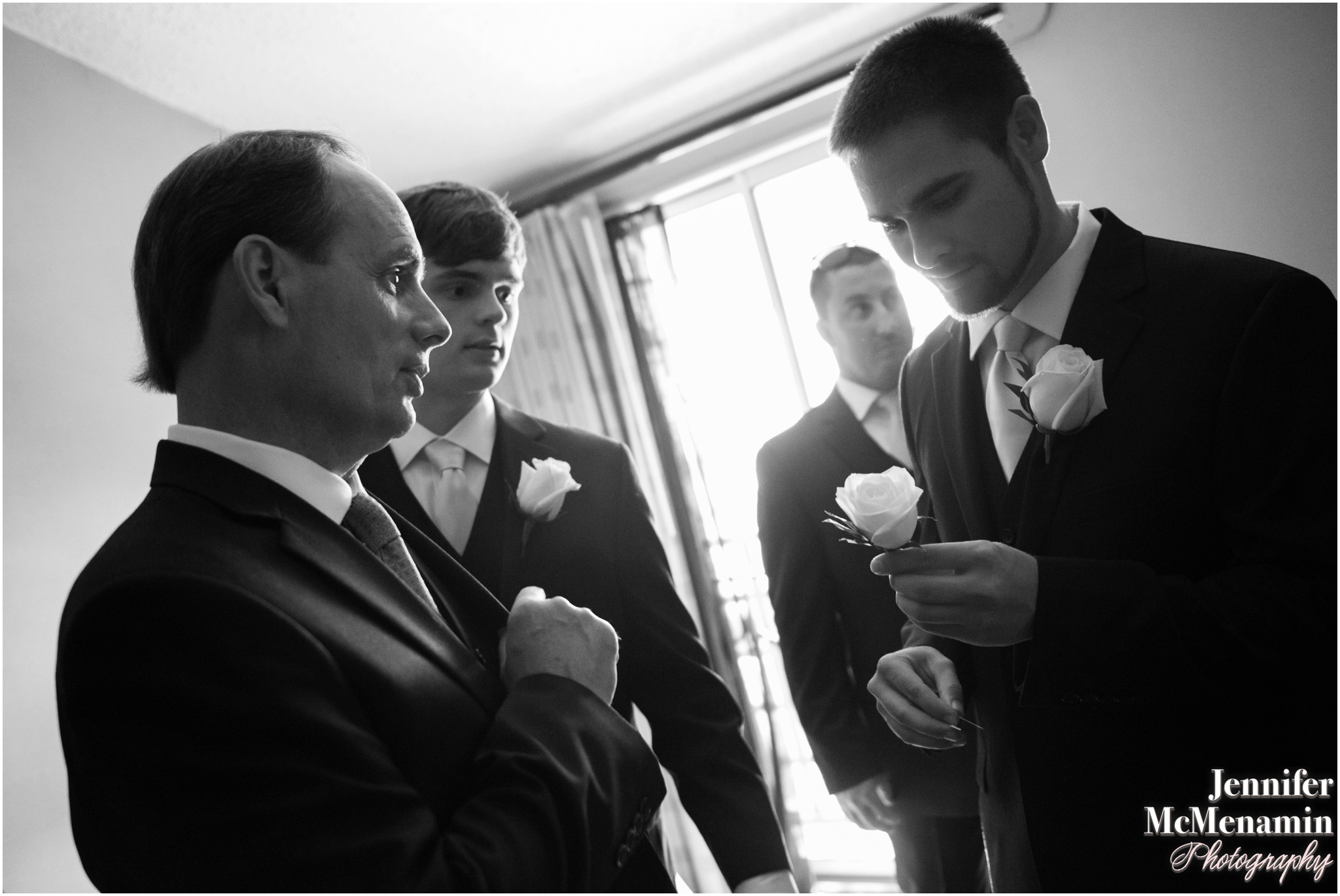 And then we were off to the church.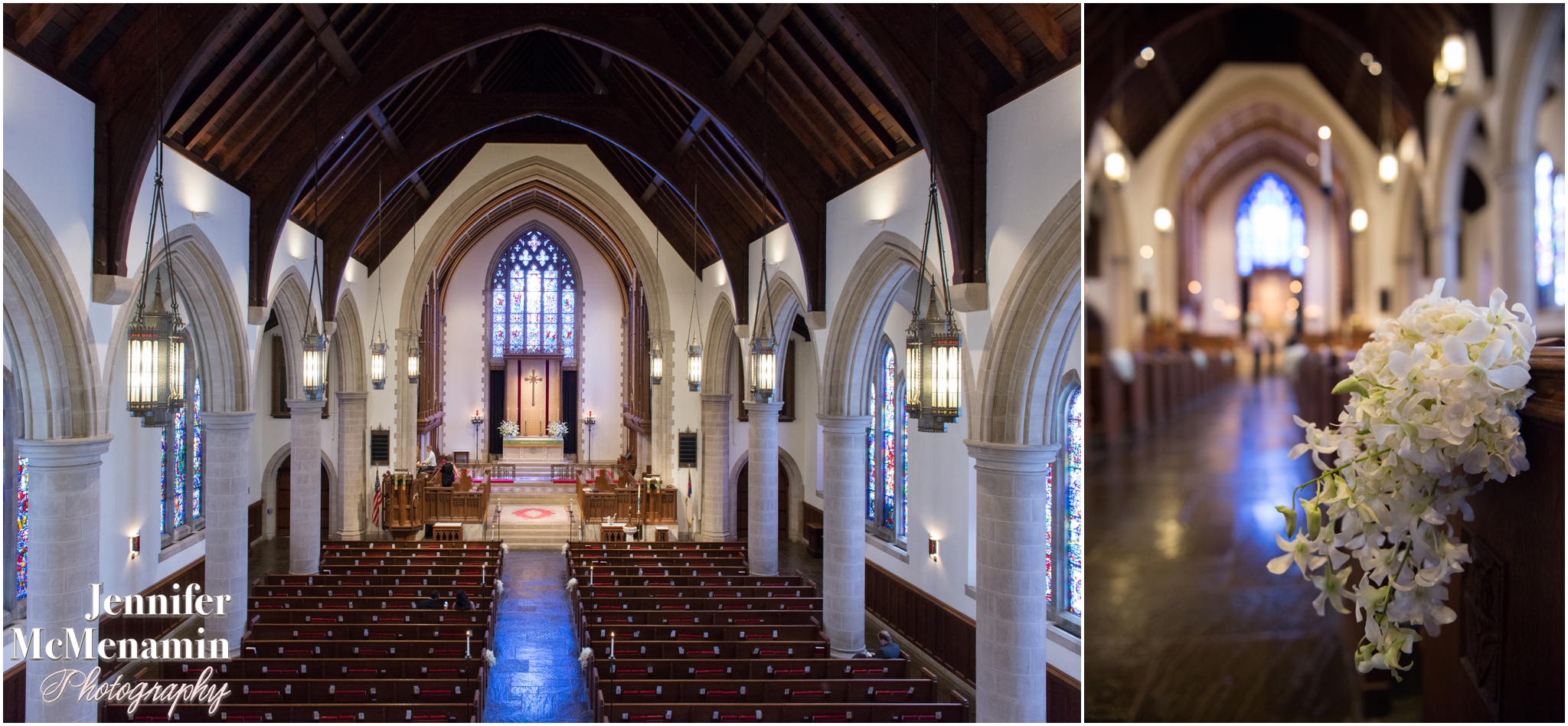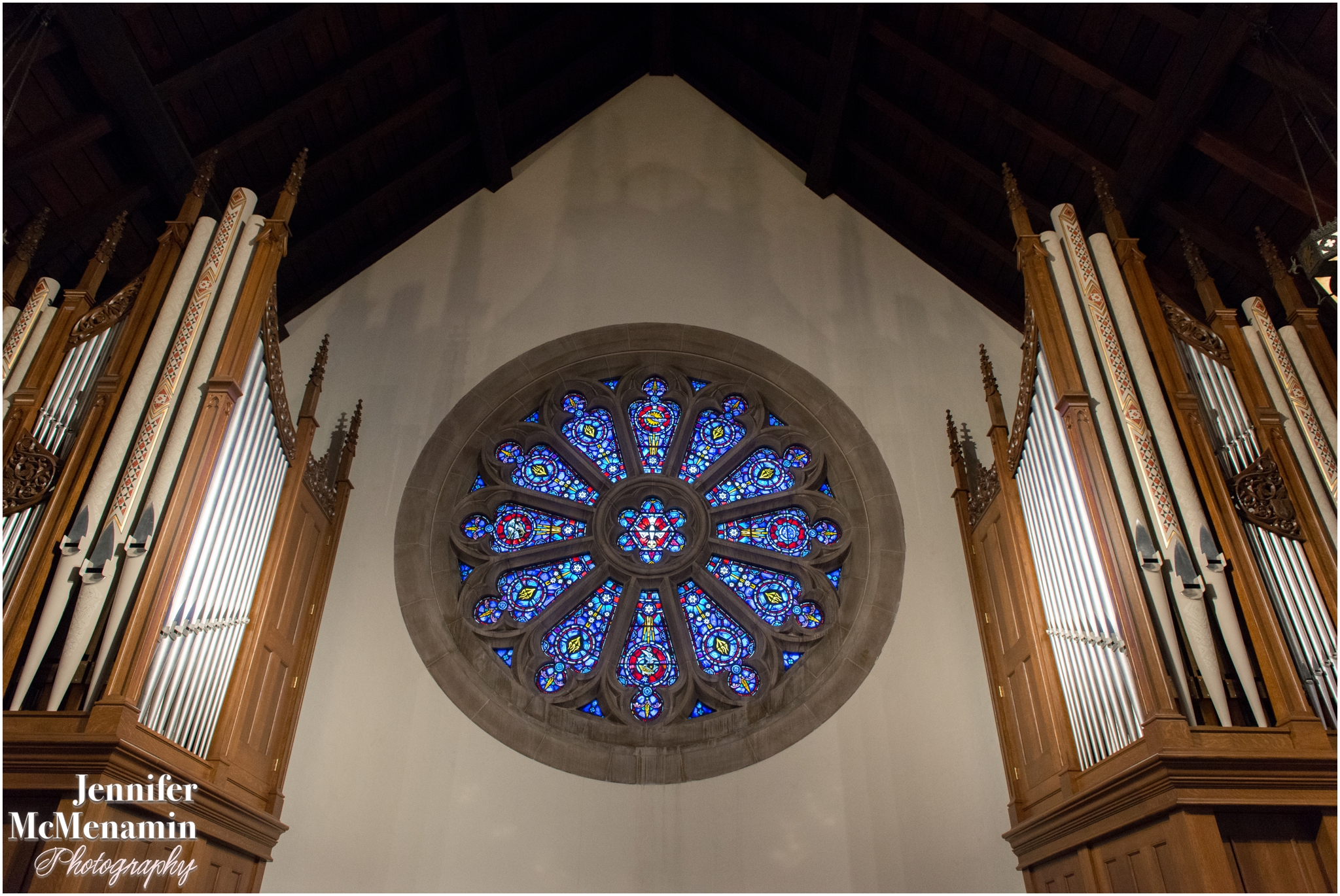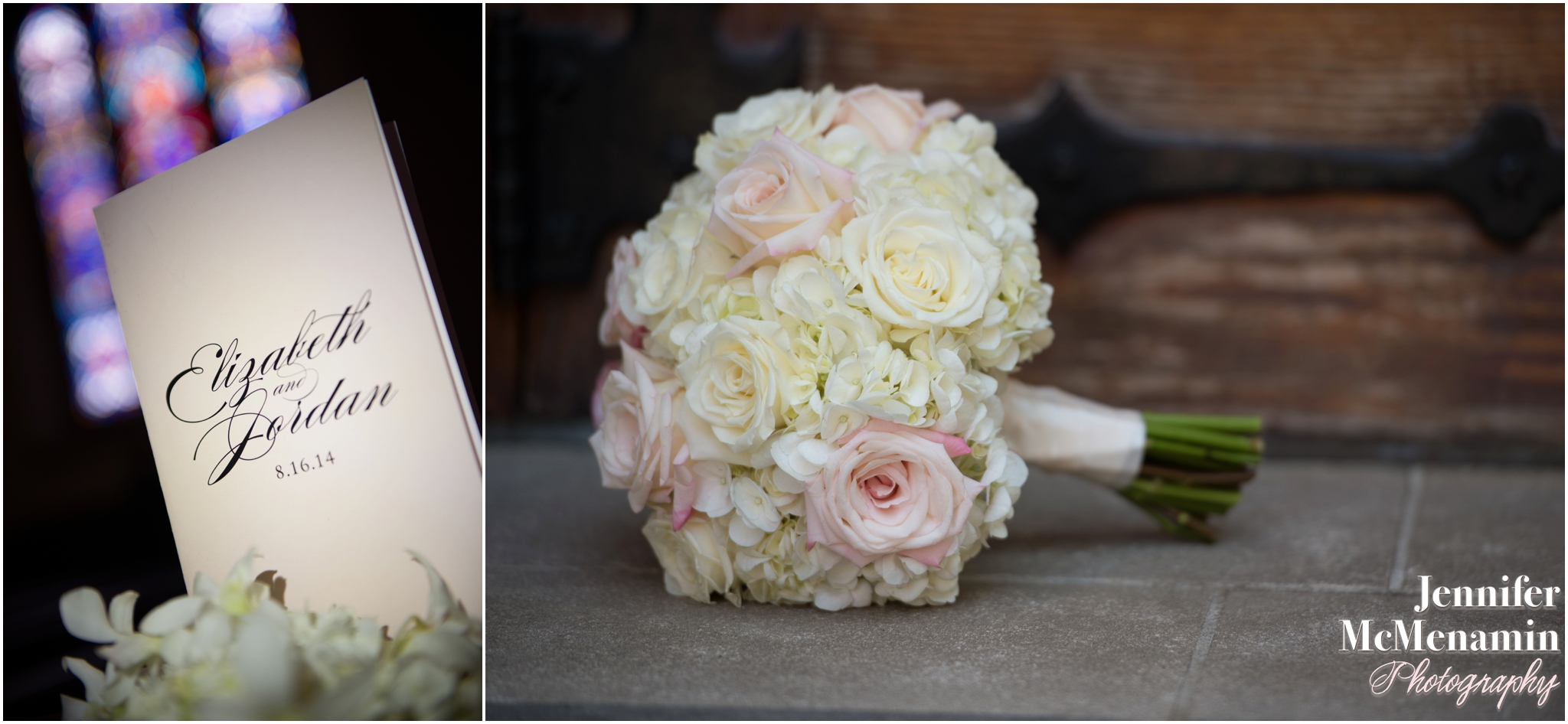 Liz was crazy about her shoes. I was thrilled to have captured this nice shot of them with a bit of lace from her gown and surrounded by her bridesmaids' blush pink dresses.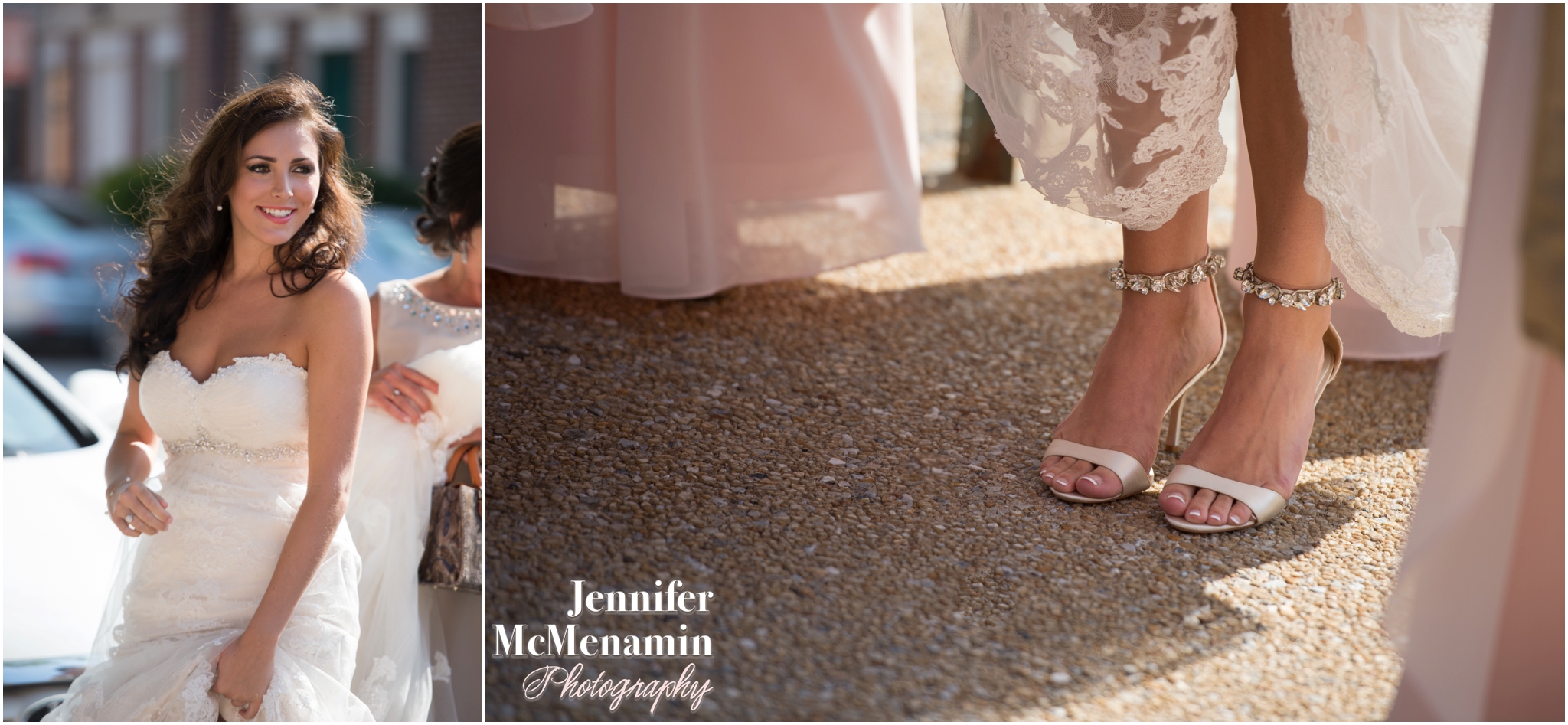 These two. They seriously could not be cuter.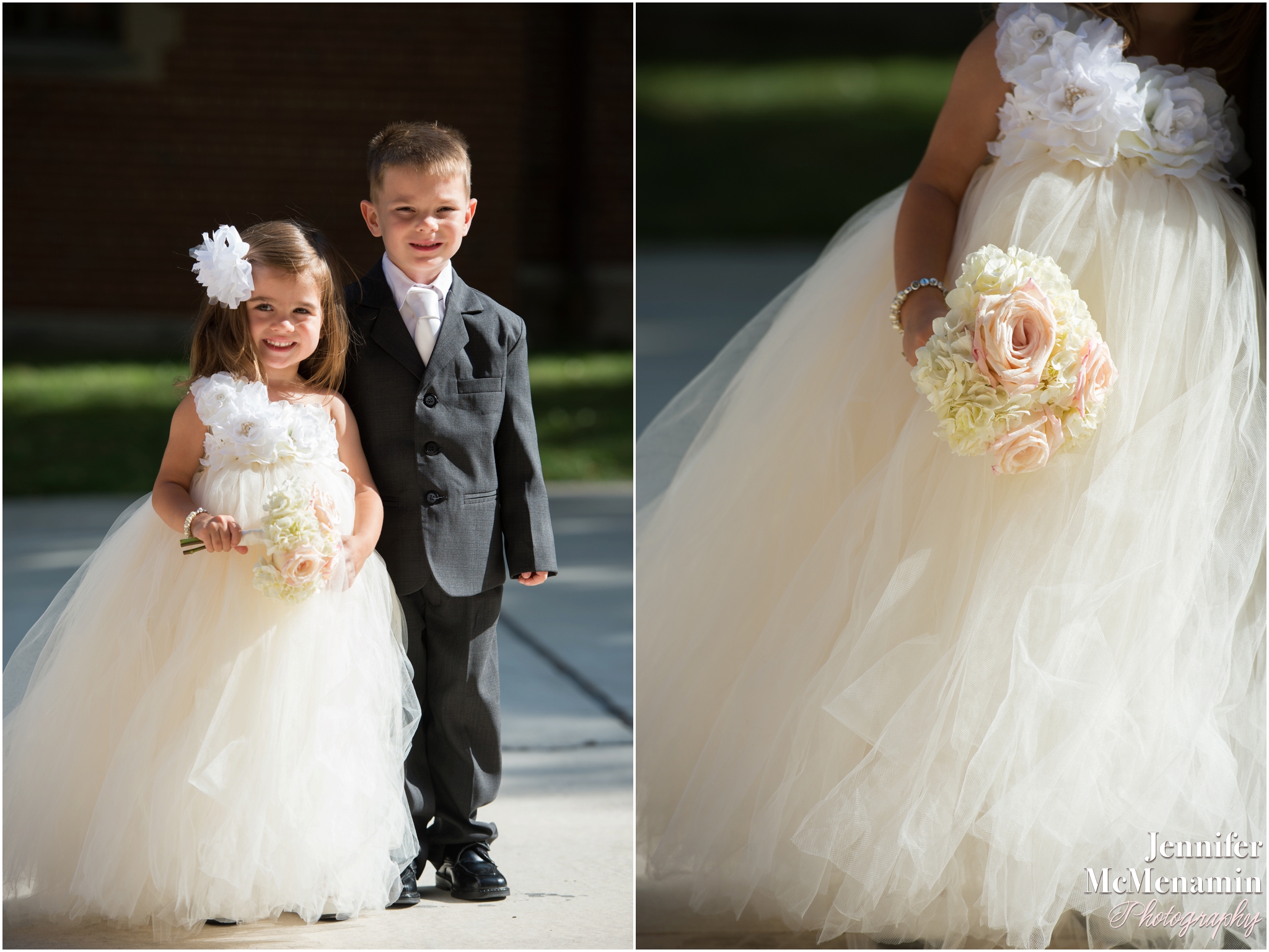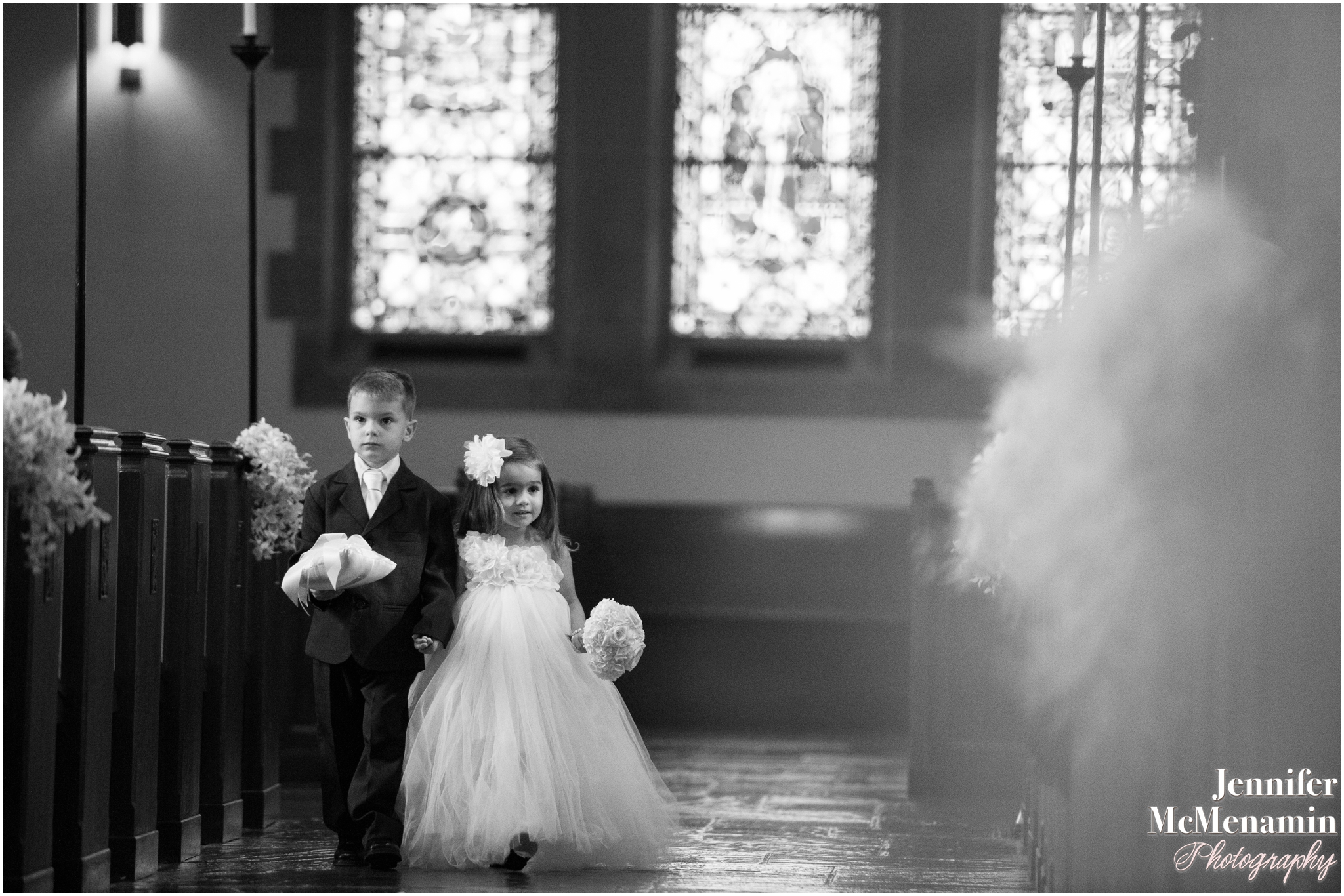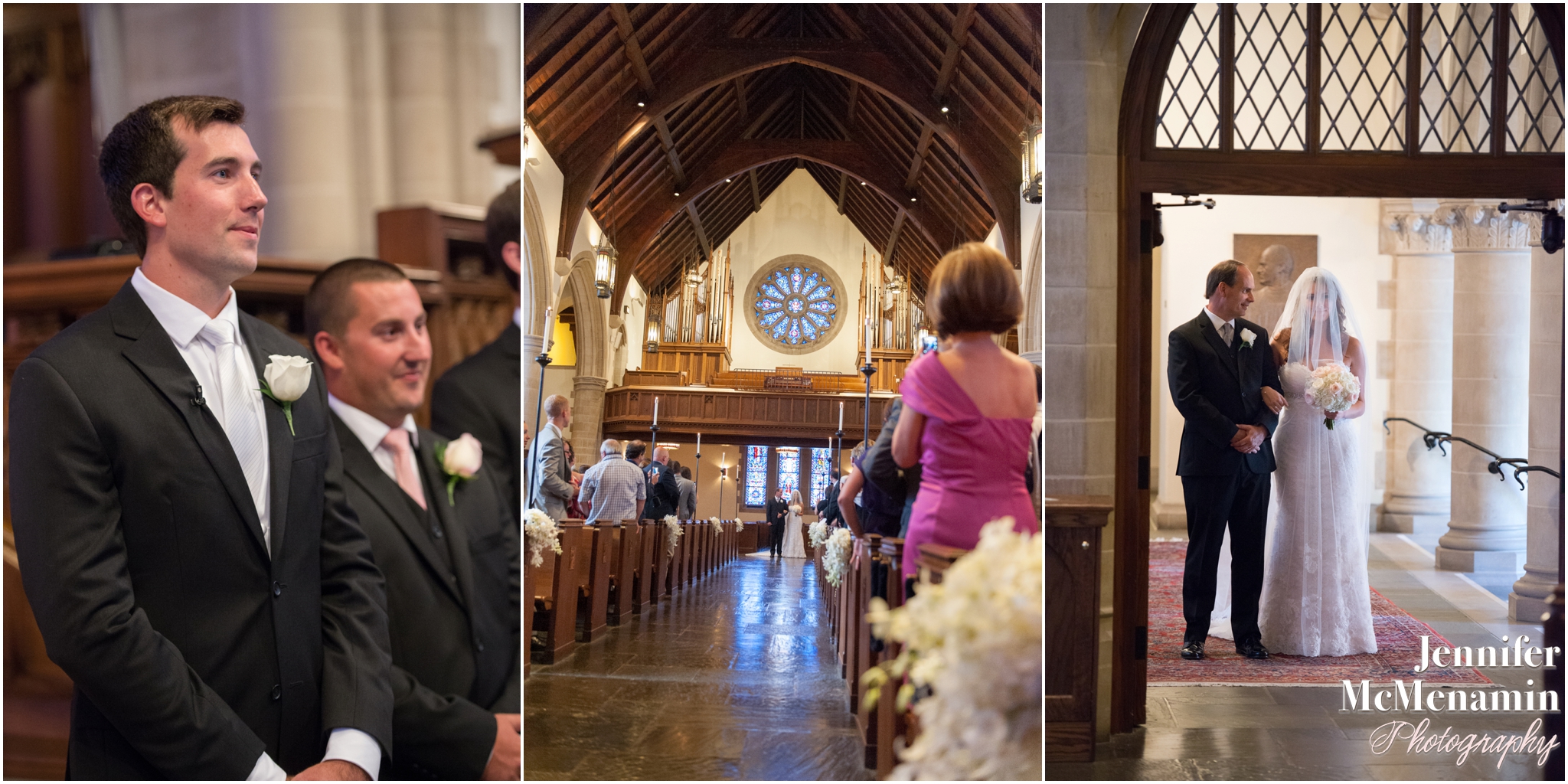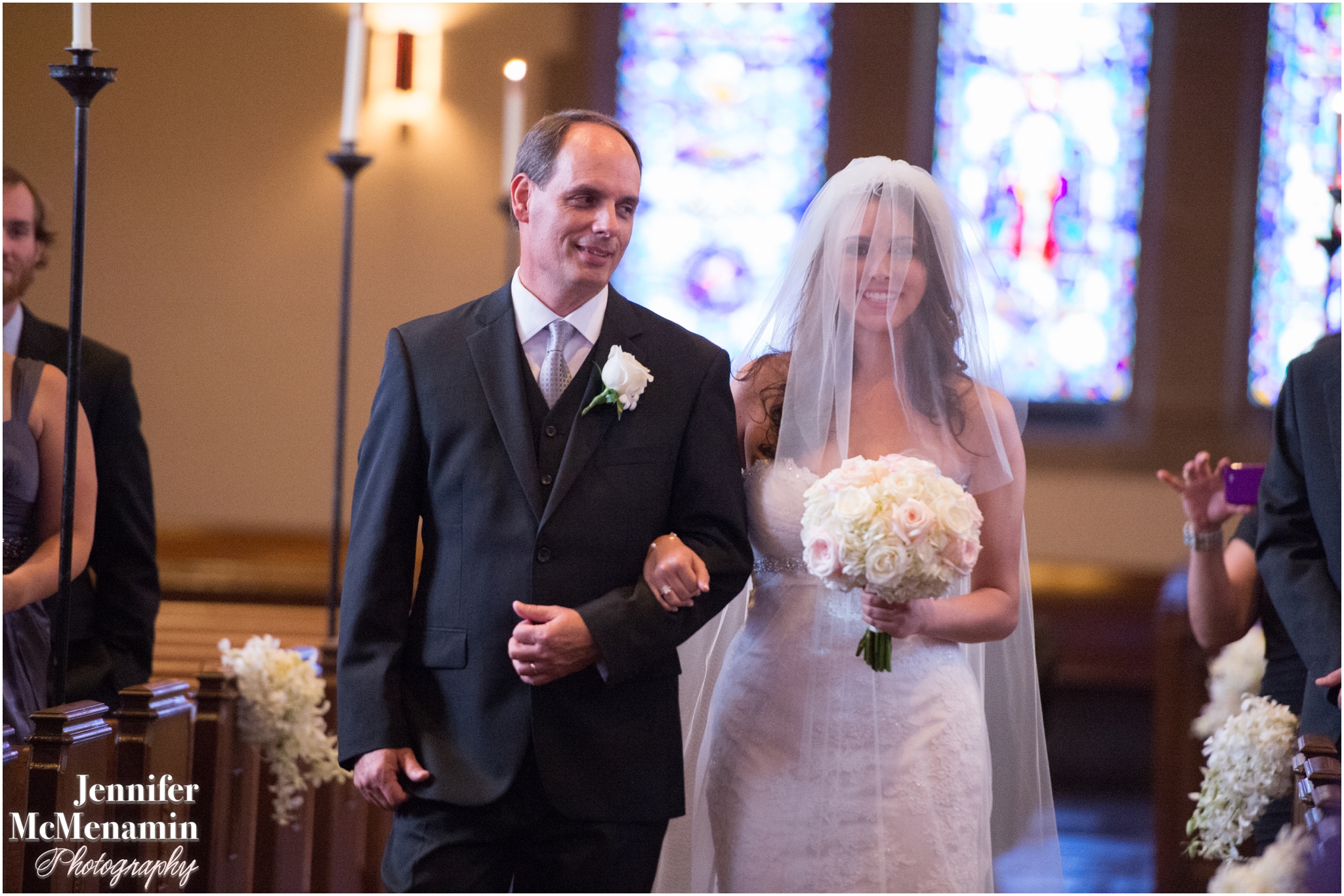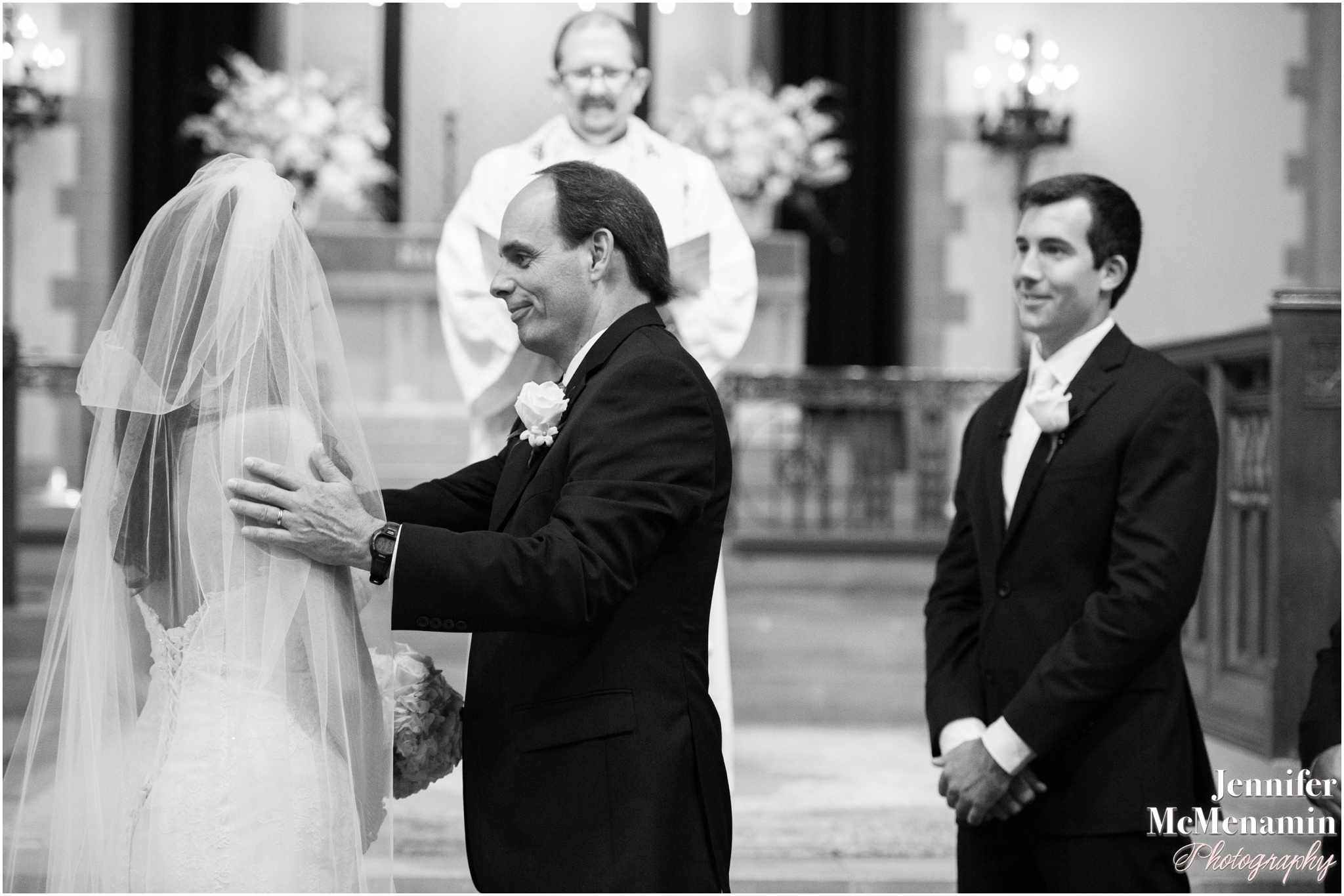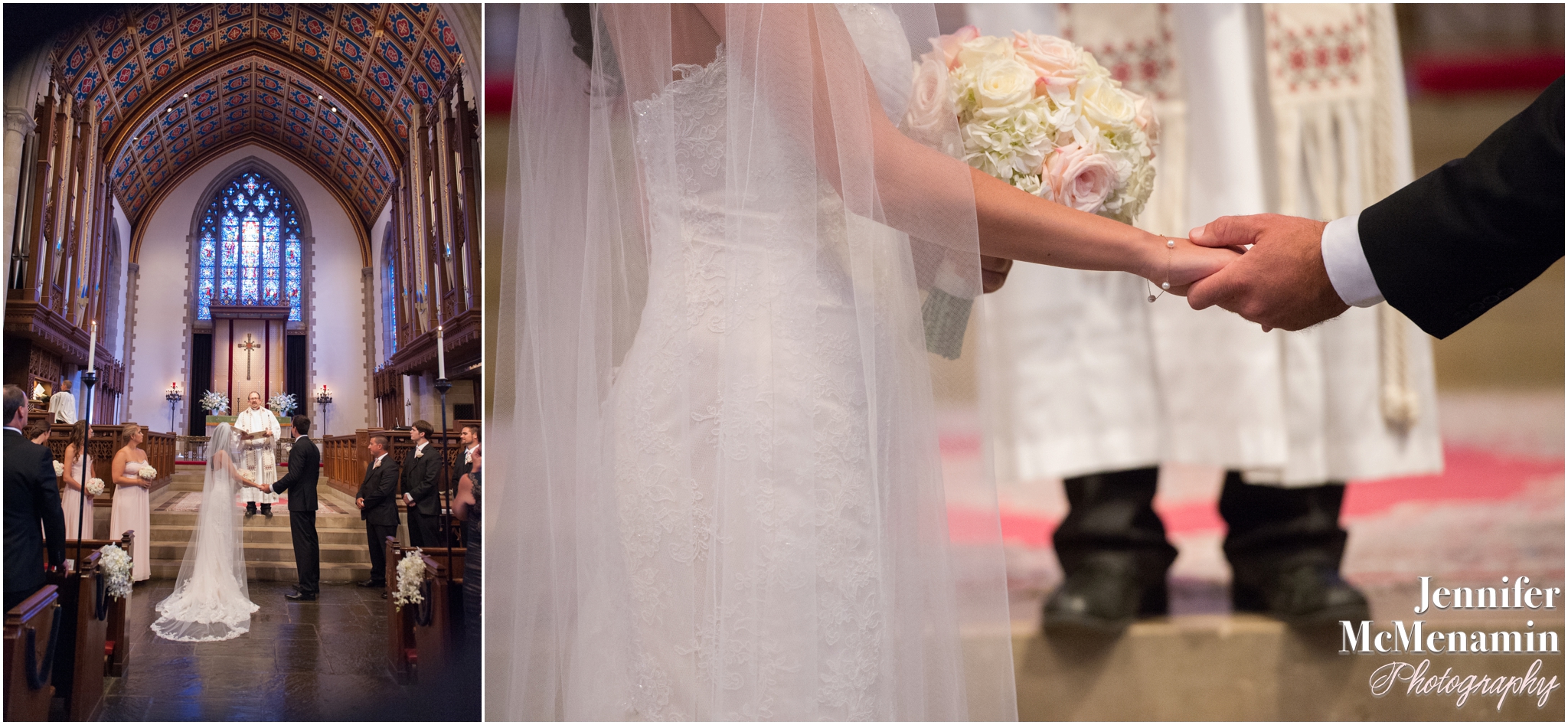 Sam spent the majority of the ceremony in the choir loft and shot all of the photos from that vantage point, including the next image on the right.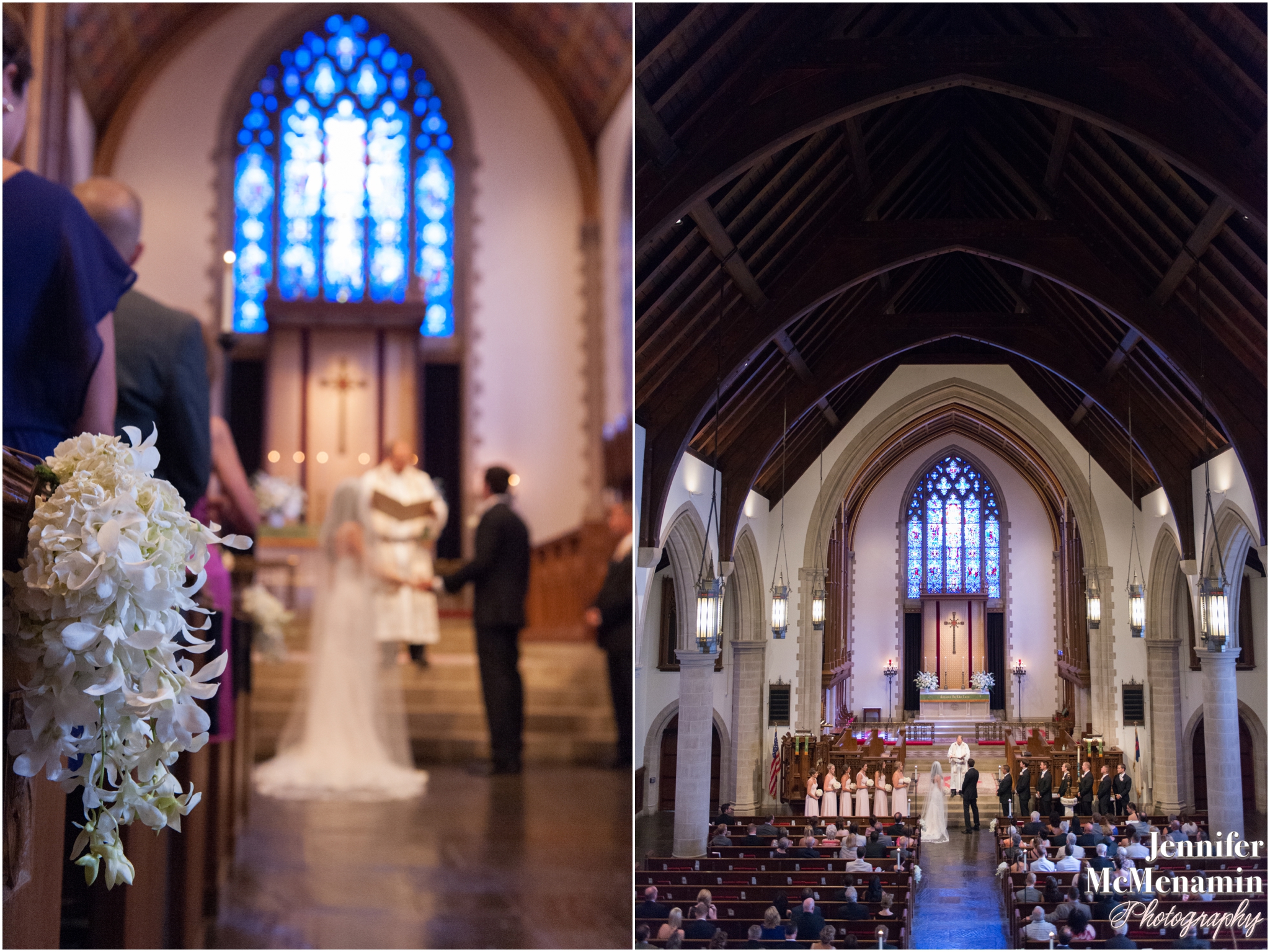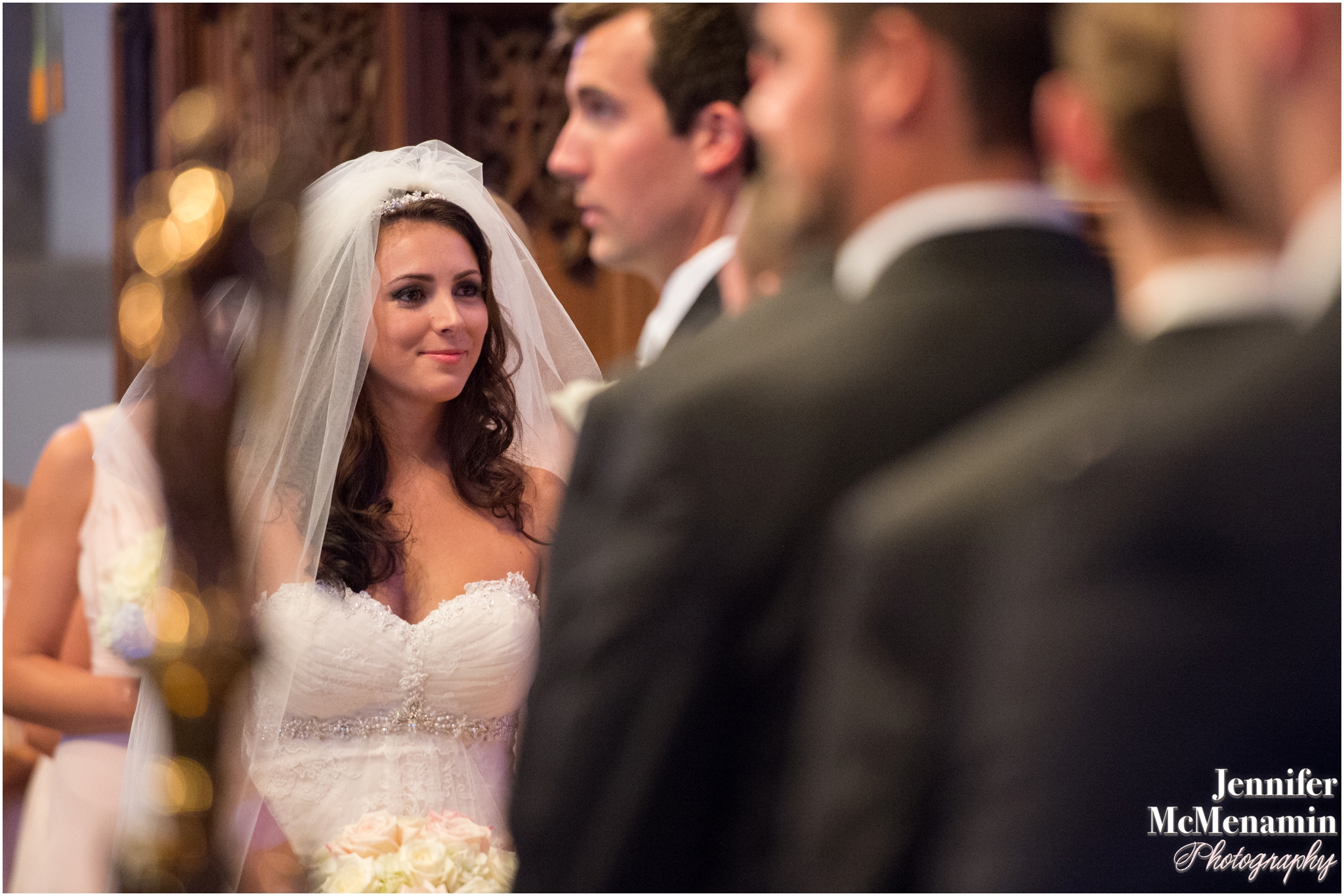 The voices on this pair were truly extraordinary.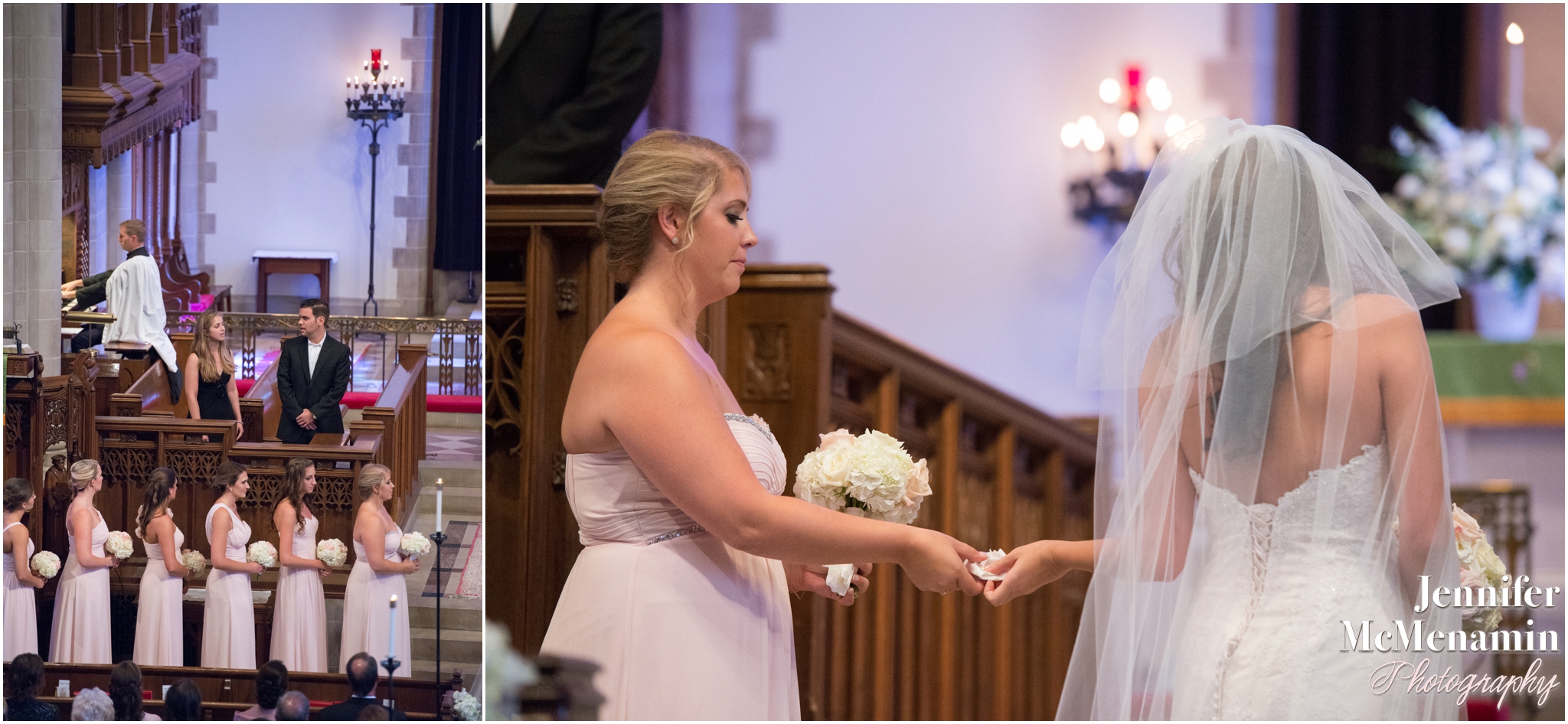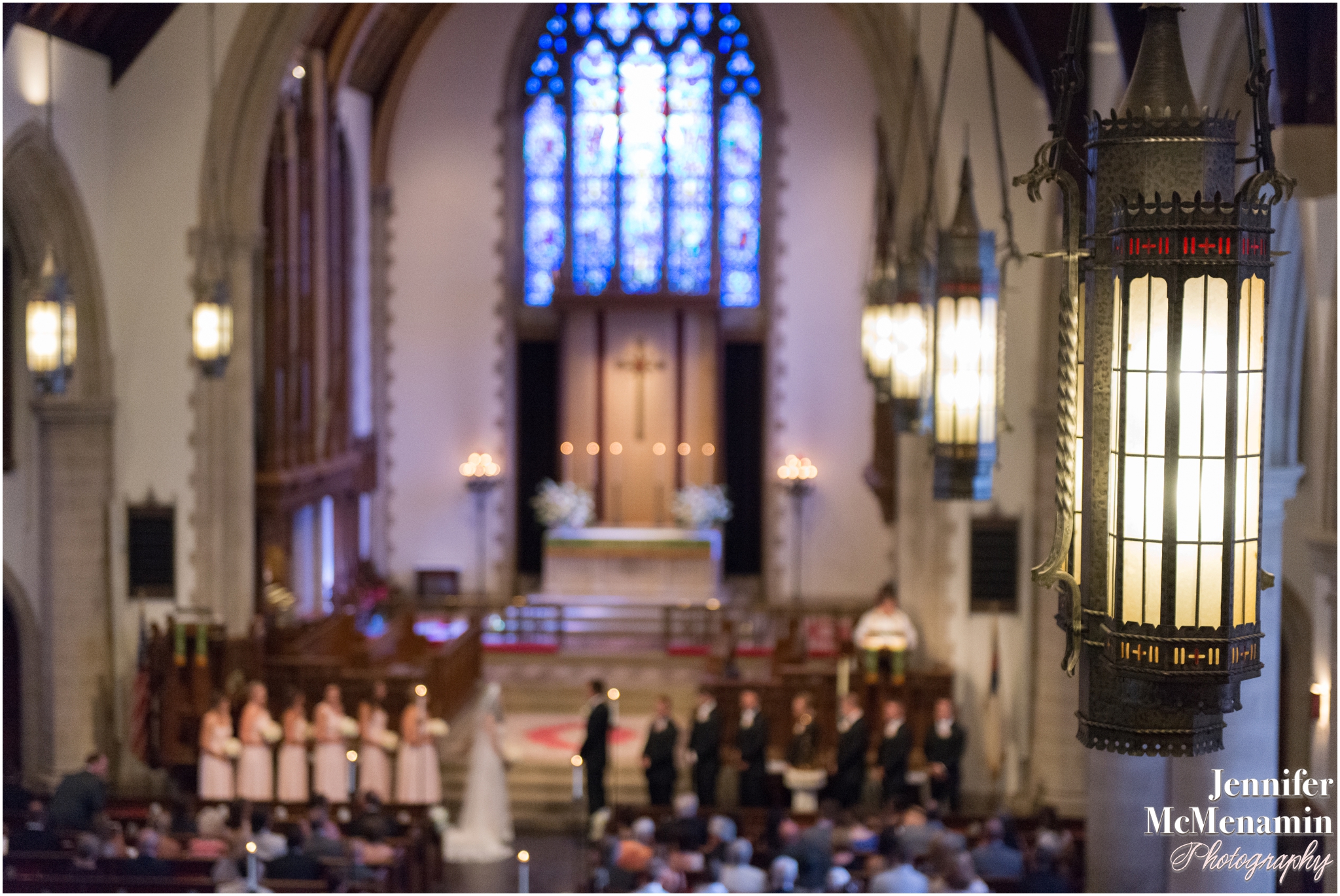 Vows and rings.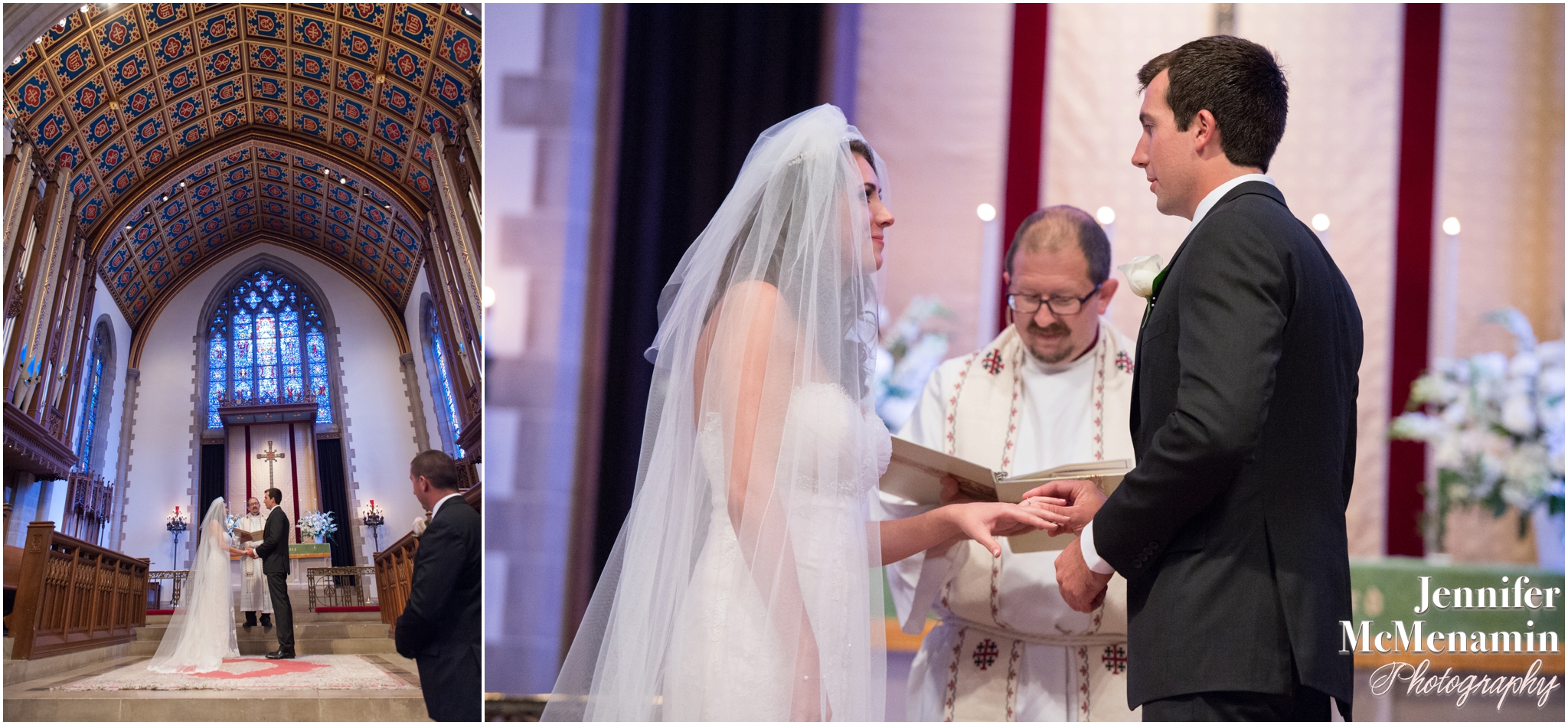 I love that you can tell that Liz is smiling in this next image, even though only her eyes are visible.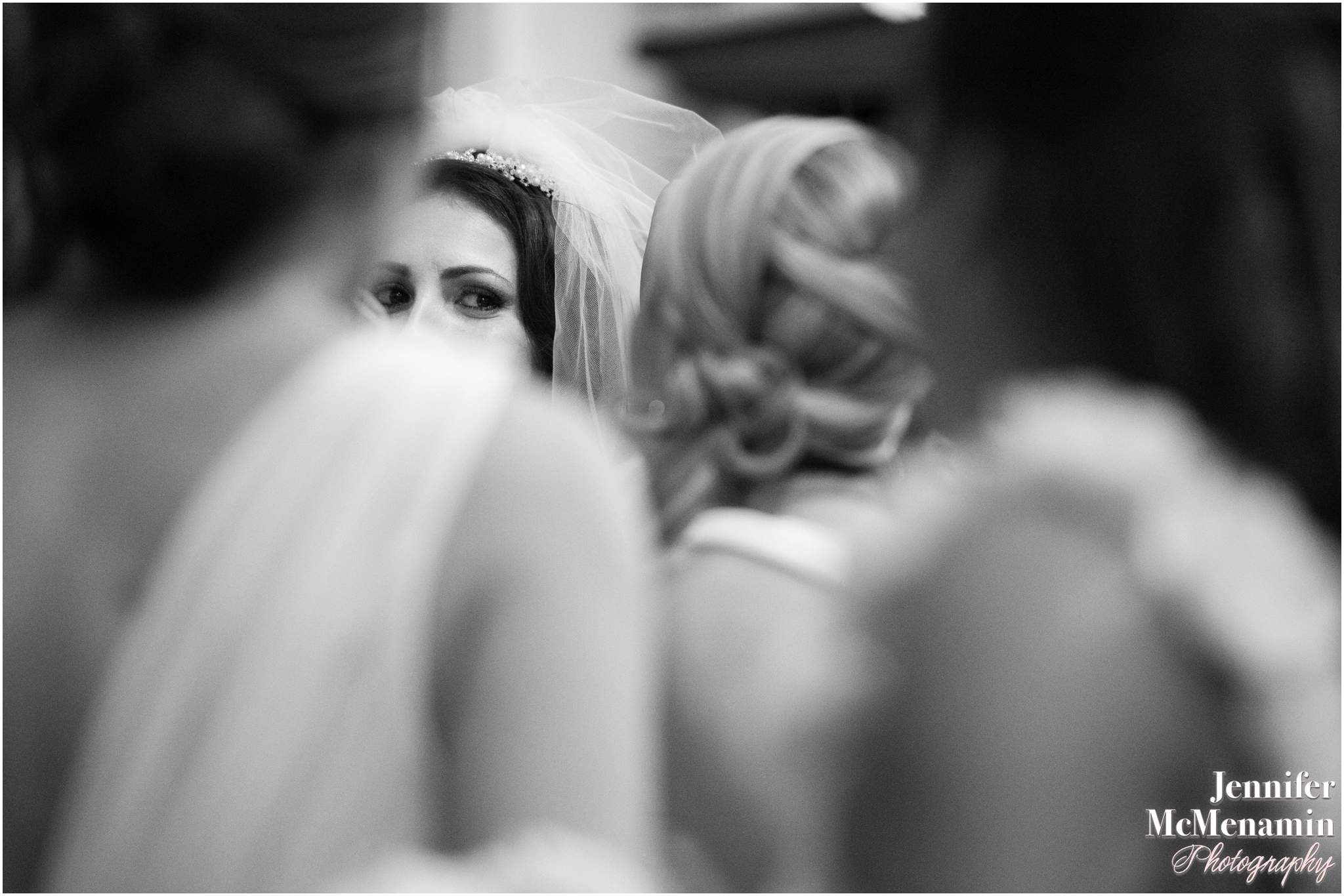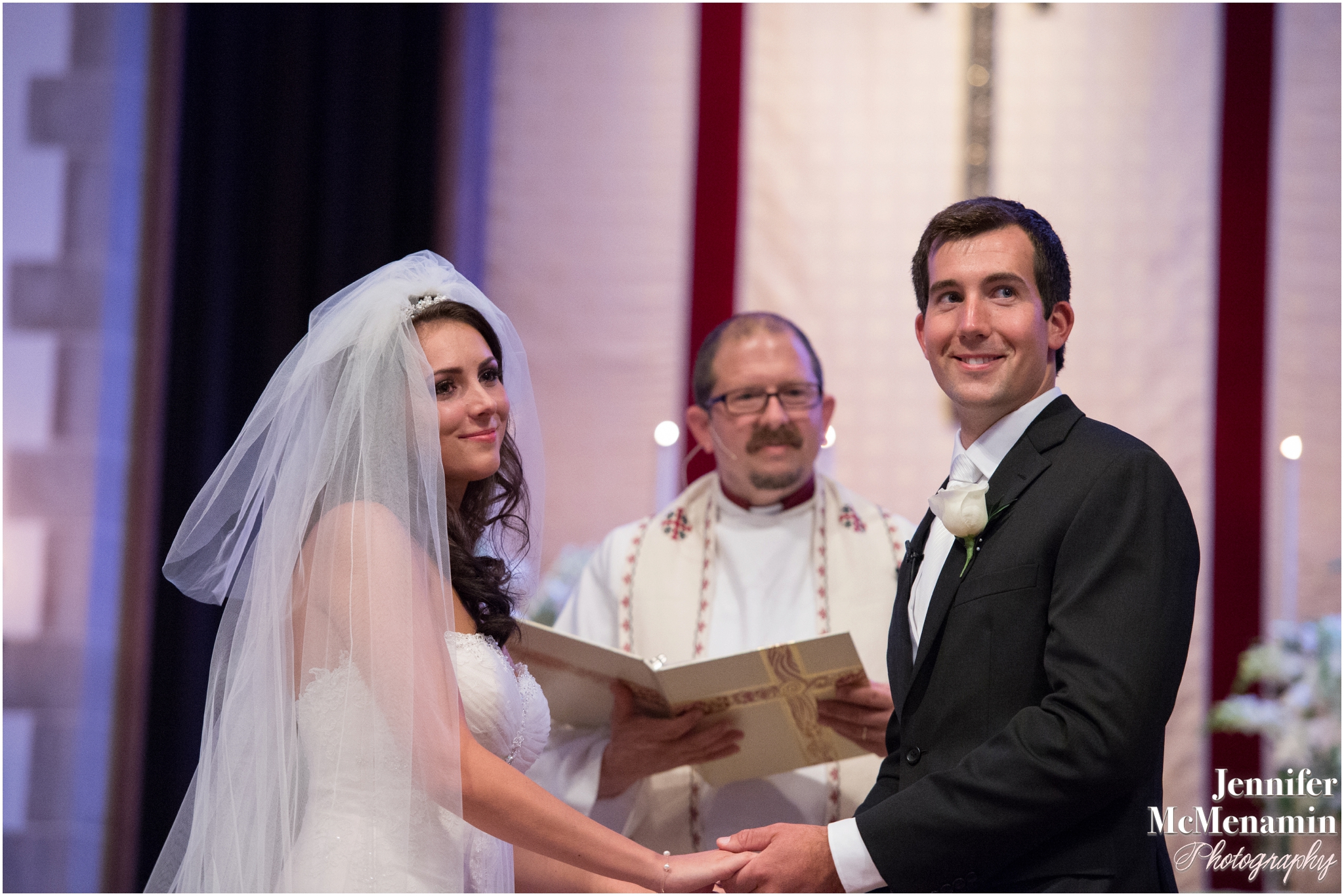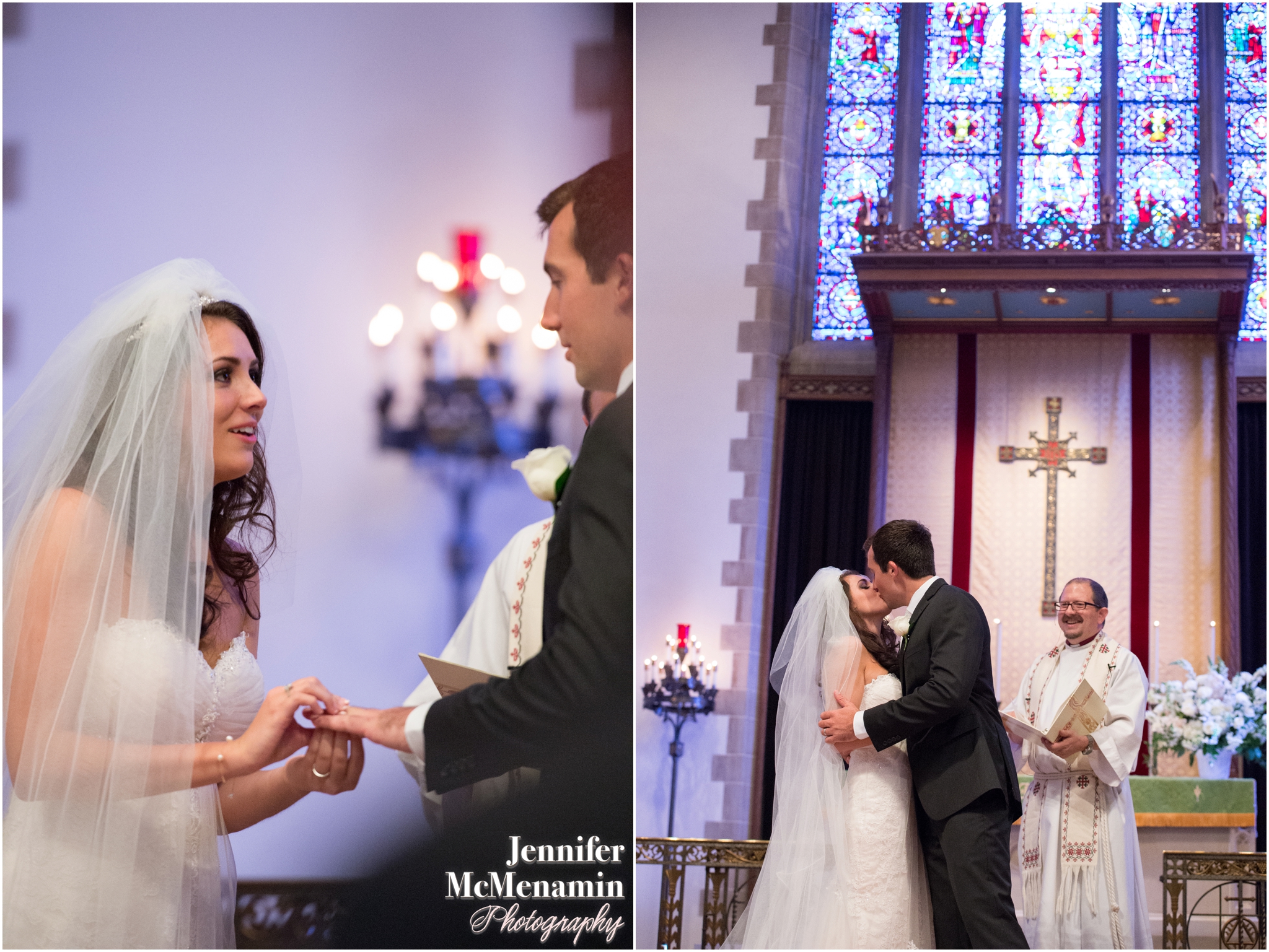 Married!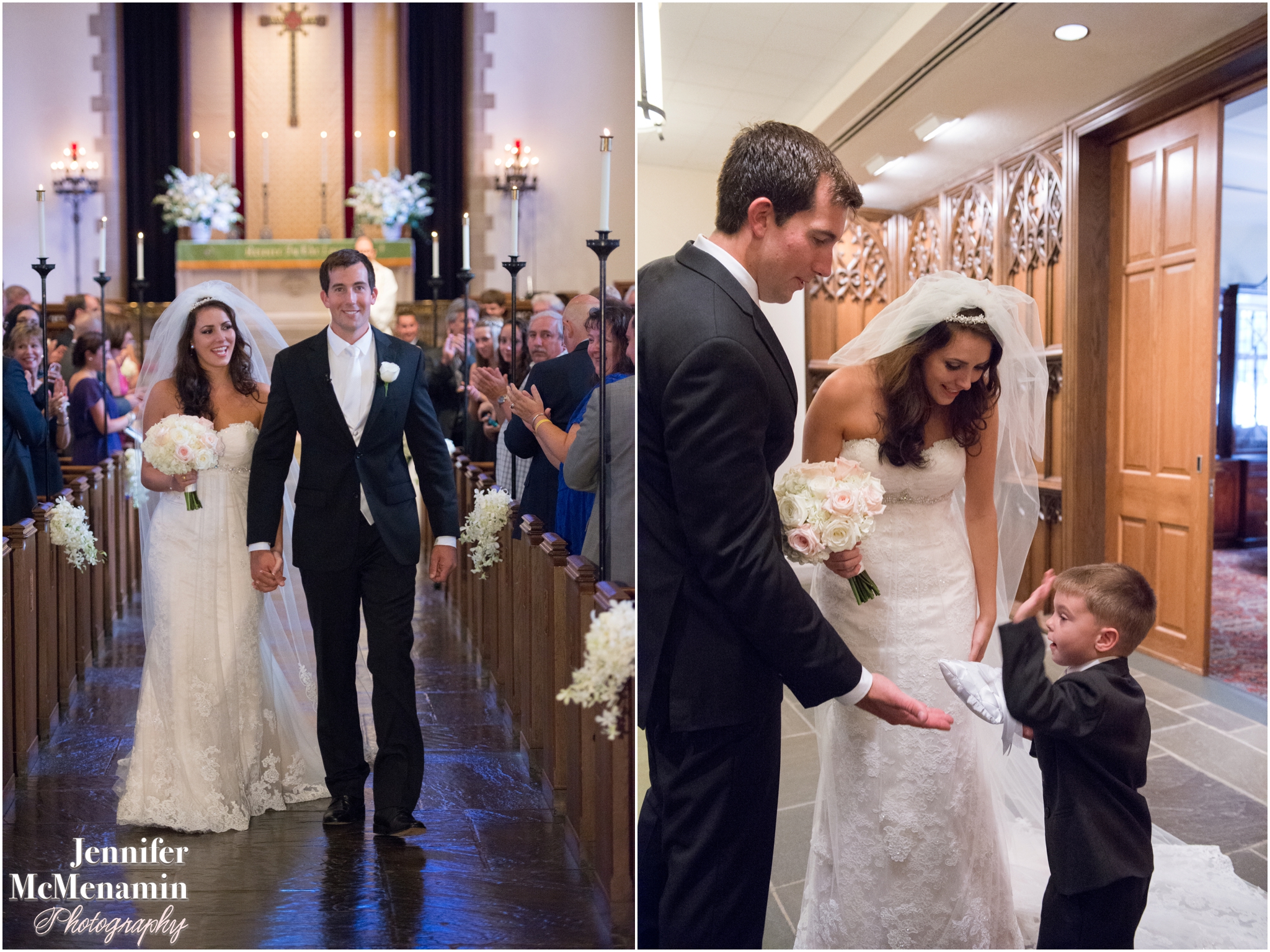 Jordan checks out what Liz had inscribed in his ring.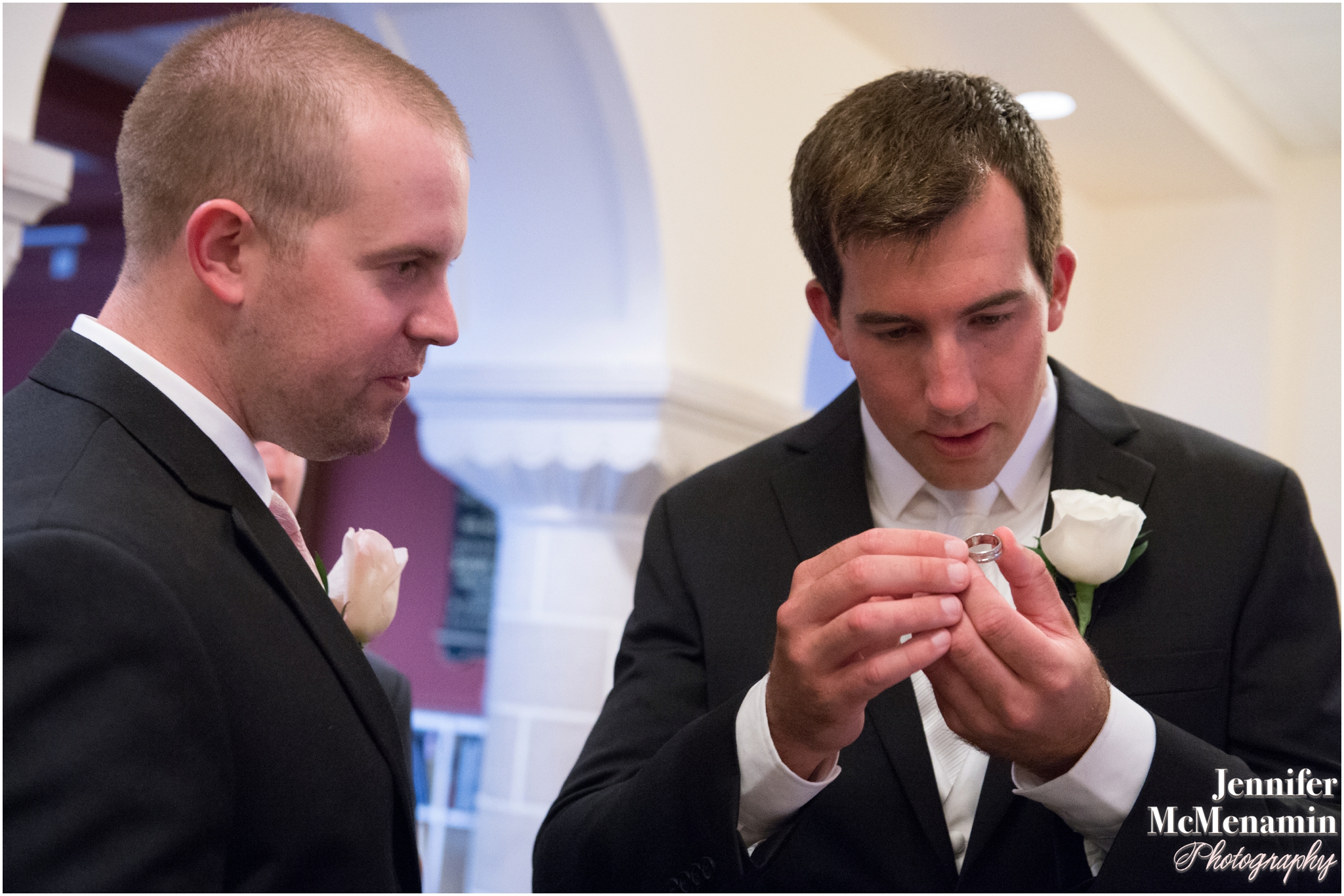 After family photos, we photographed the very fun wedding party outside the church and then headed to Federal Hill.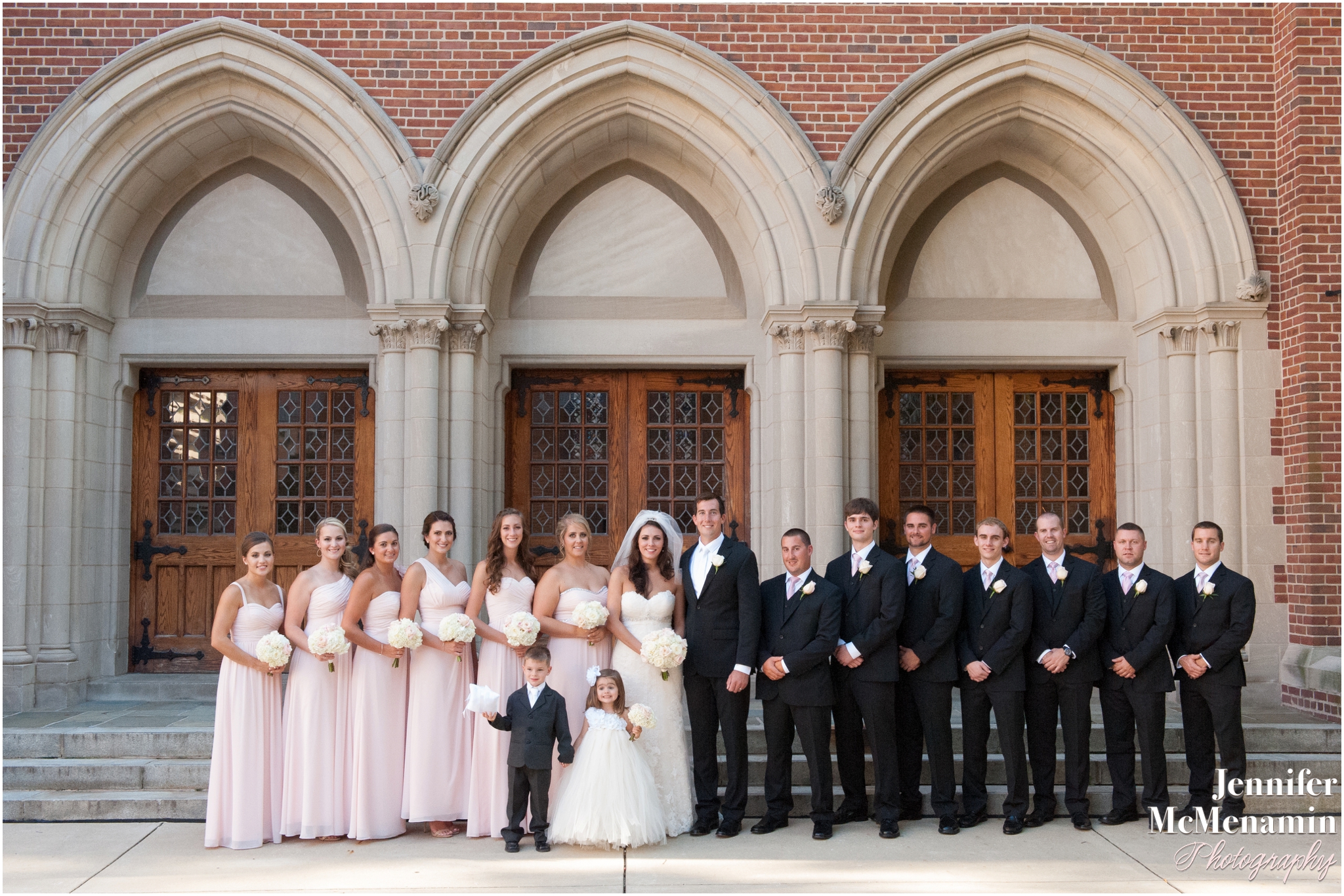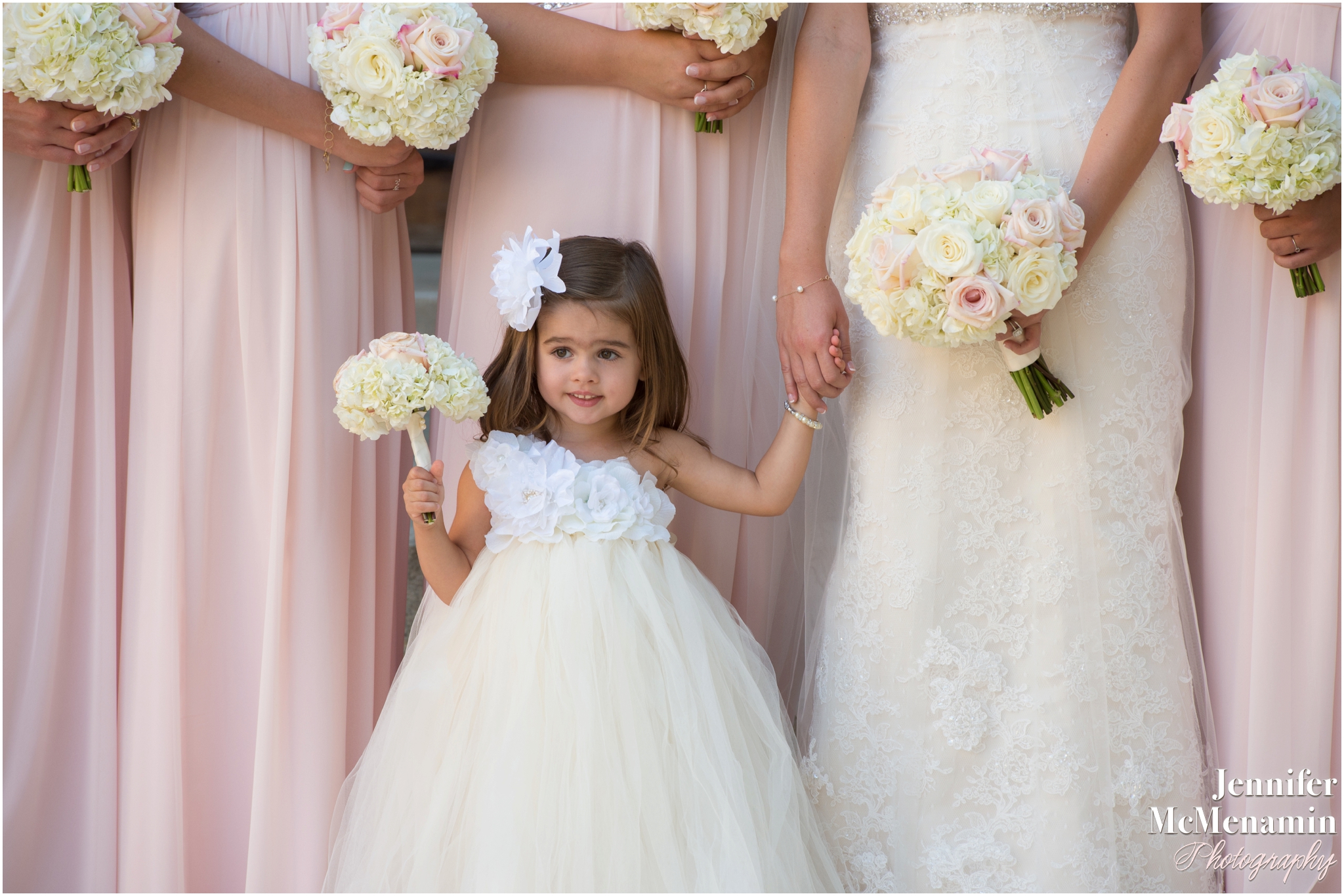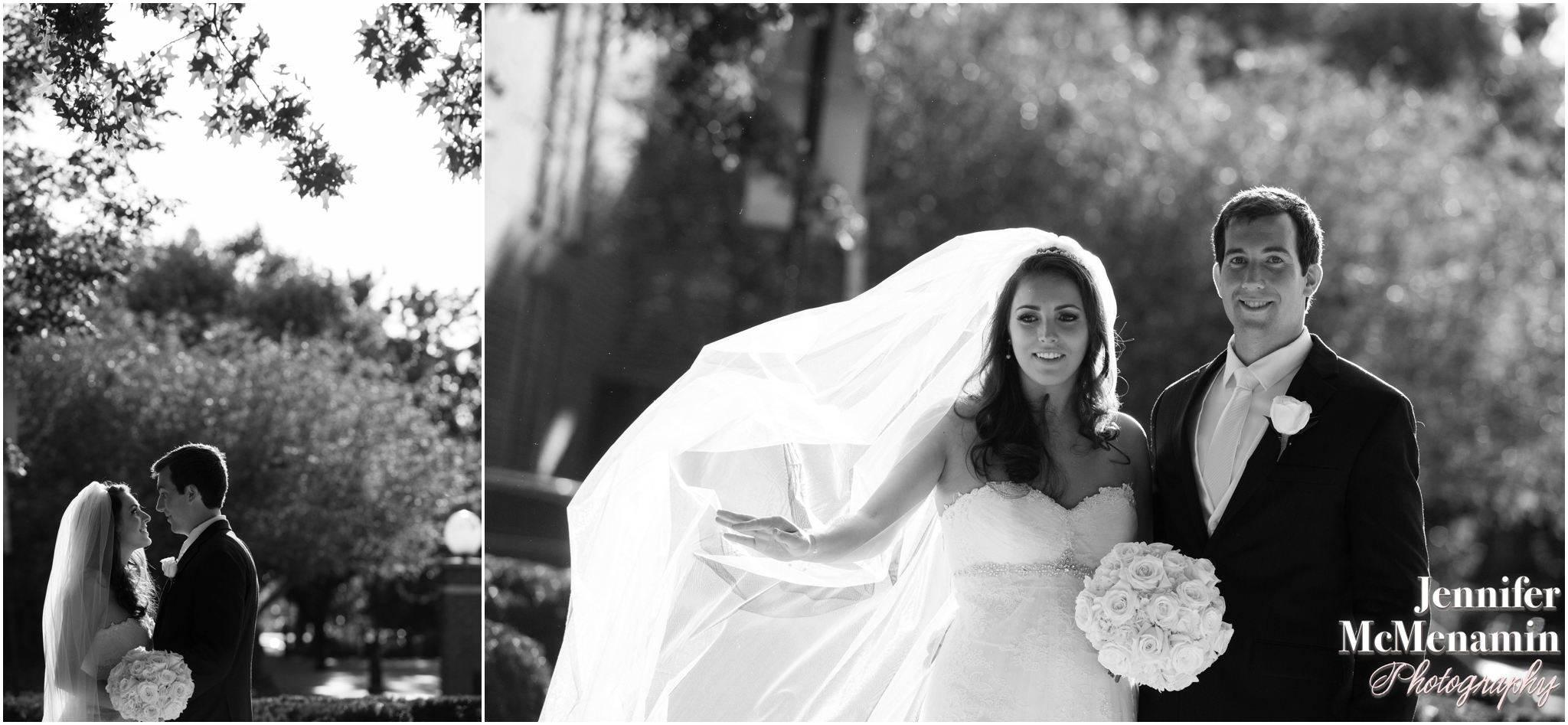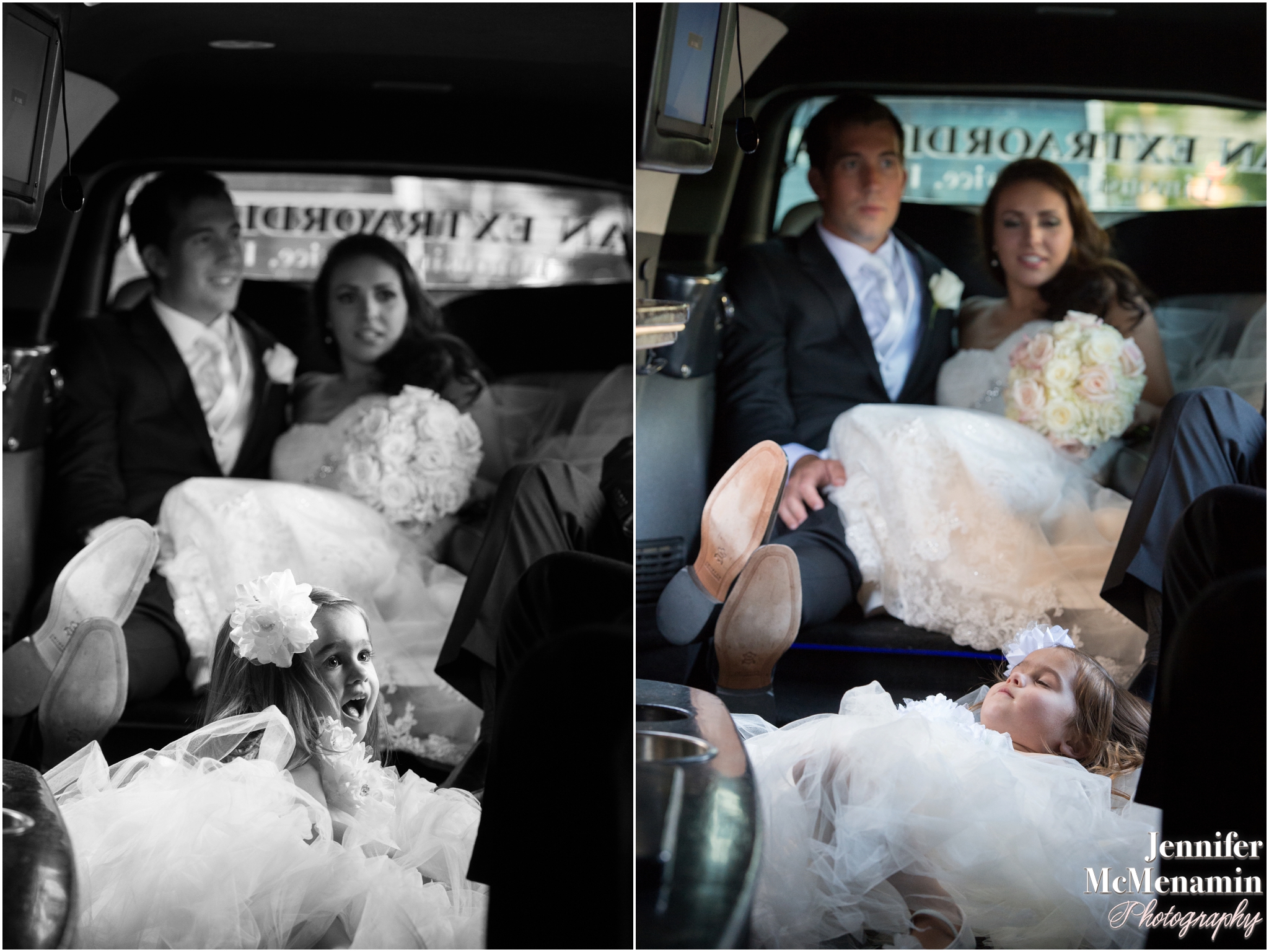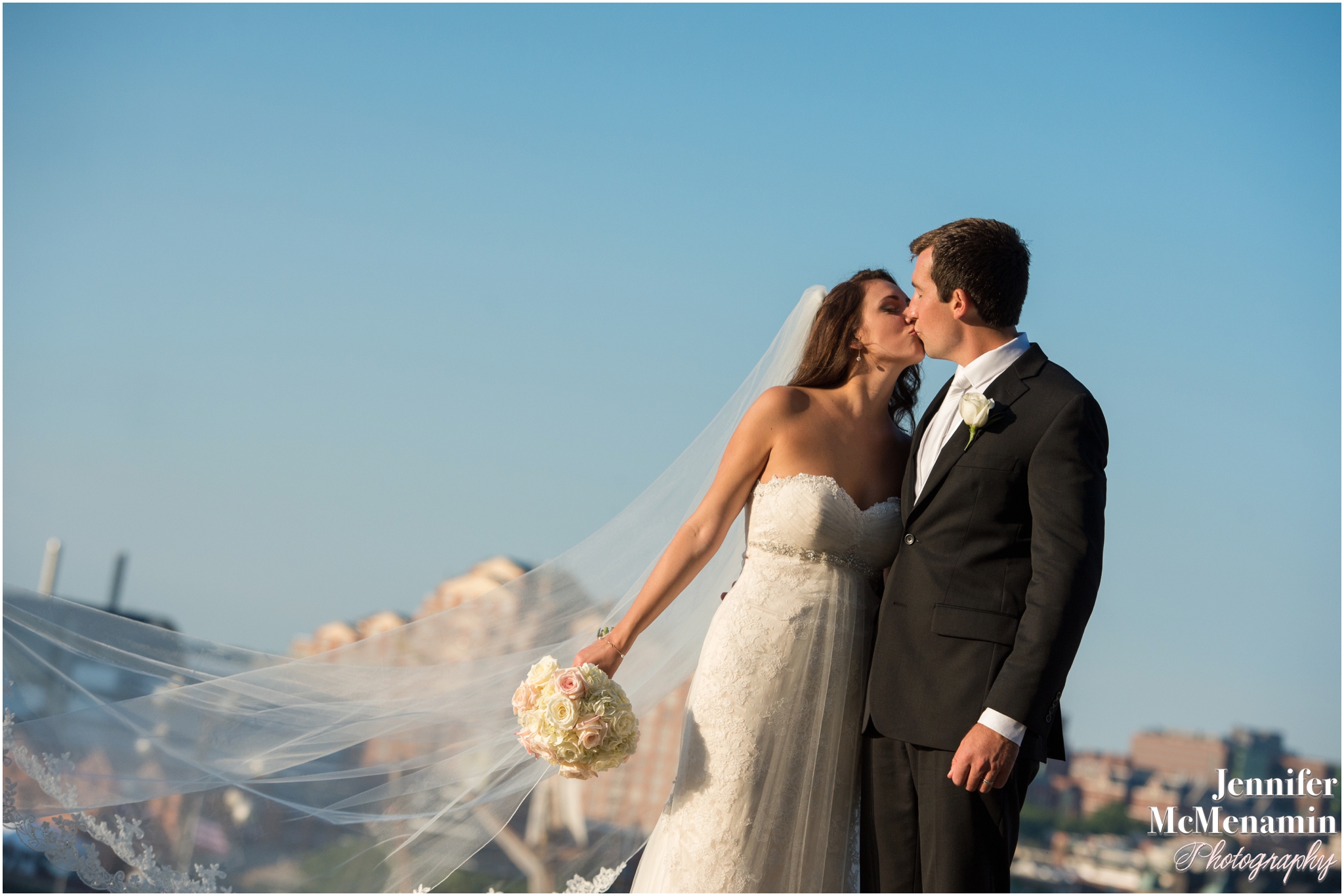 As we wrapped up photos of Liz and Jordan, their cocktail hour got underway on the beautiful tented patio at Pier V Hotel (which you can see in the next photo behind them!).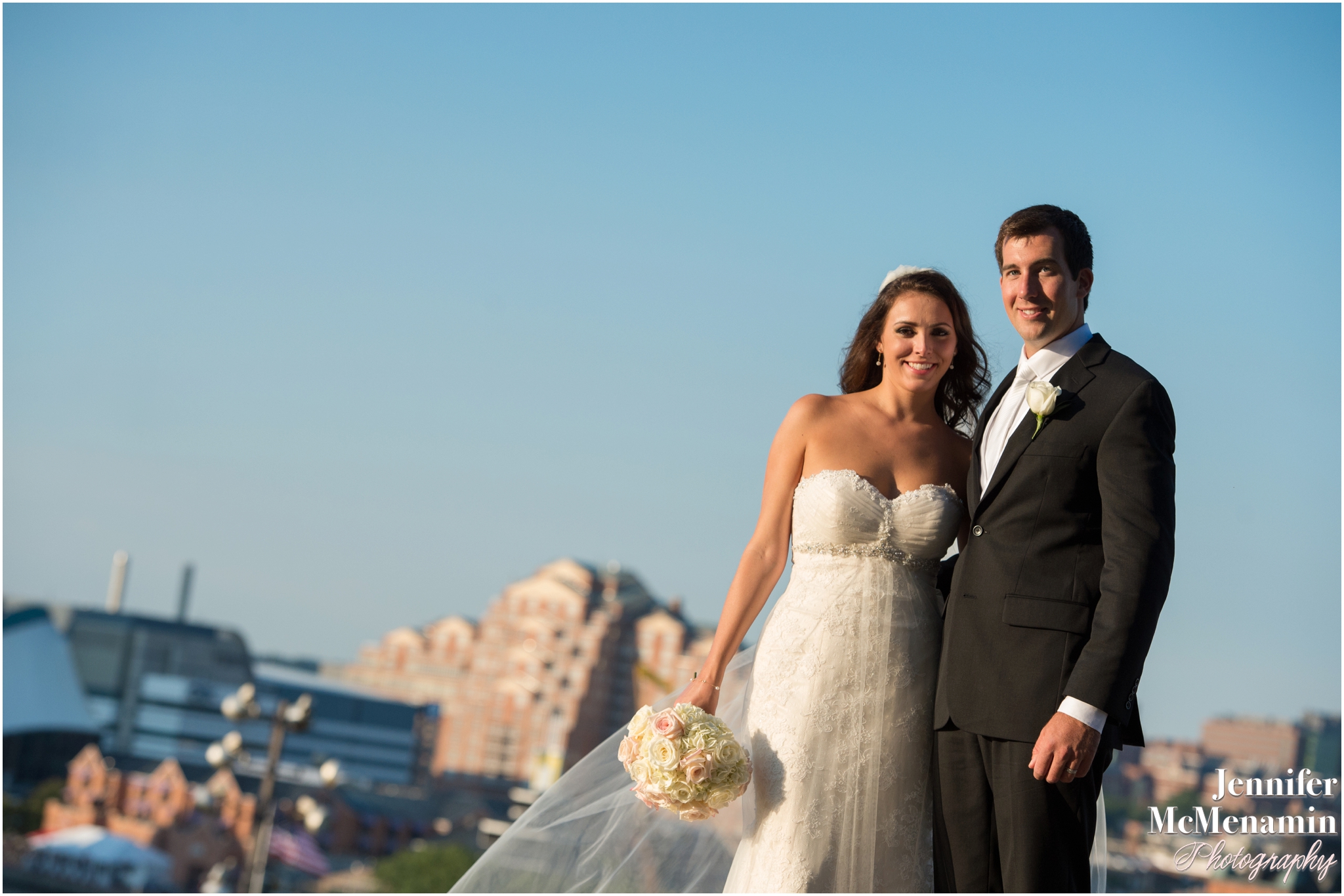 I love this next image of the newlyweds. So very much.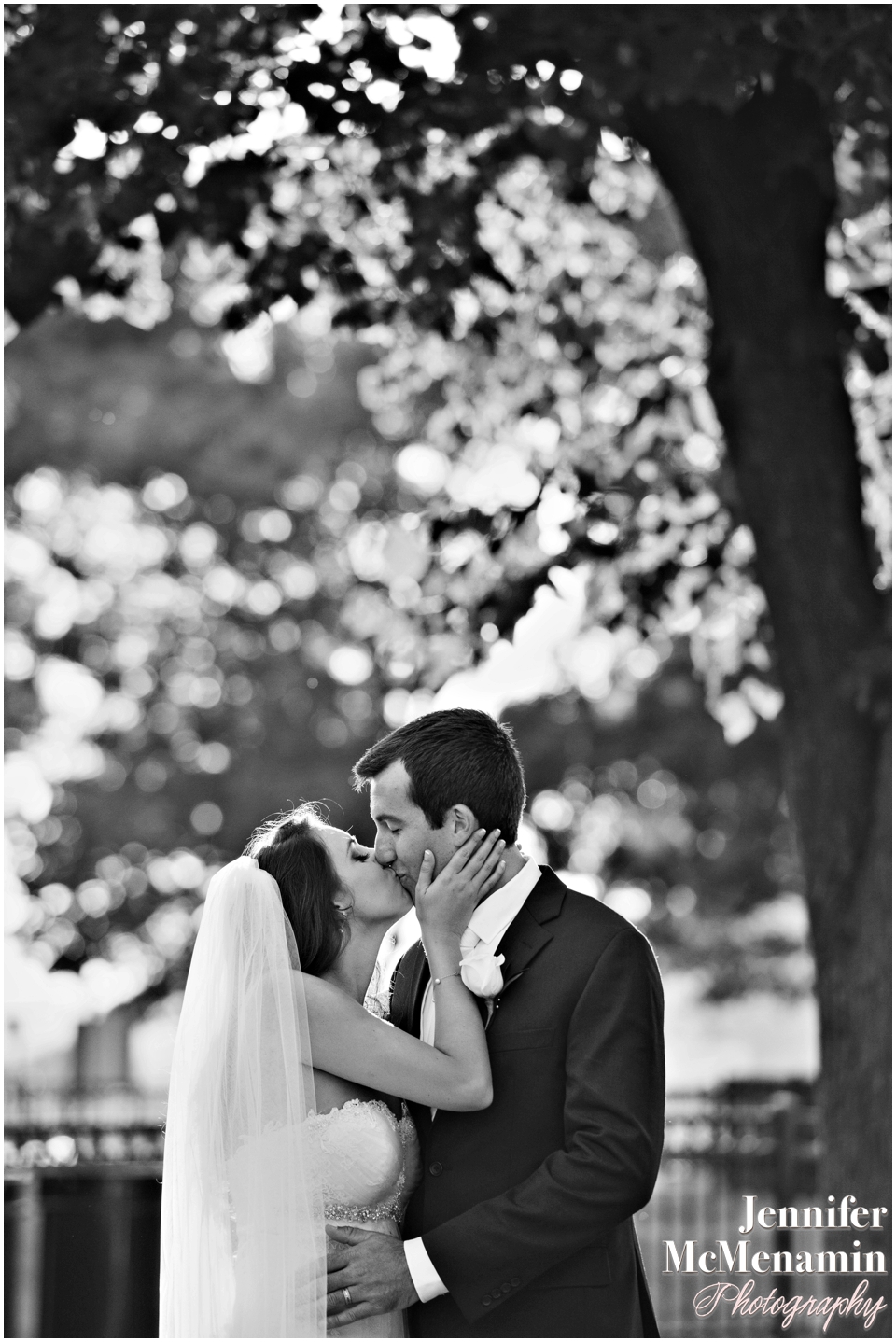 Such beautiful light to play with. And a great-looking couple, of course!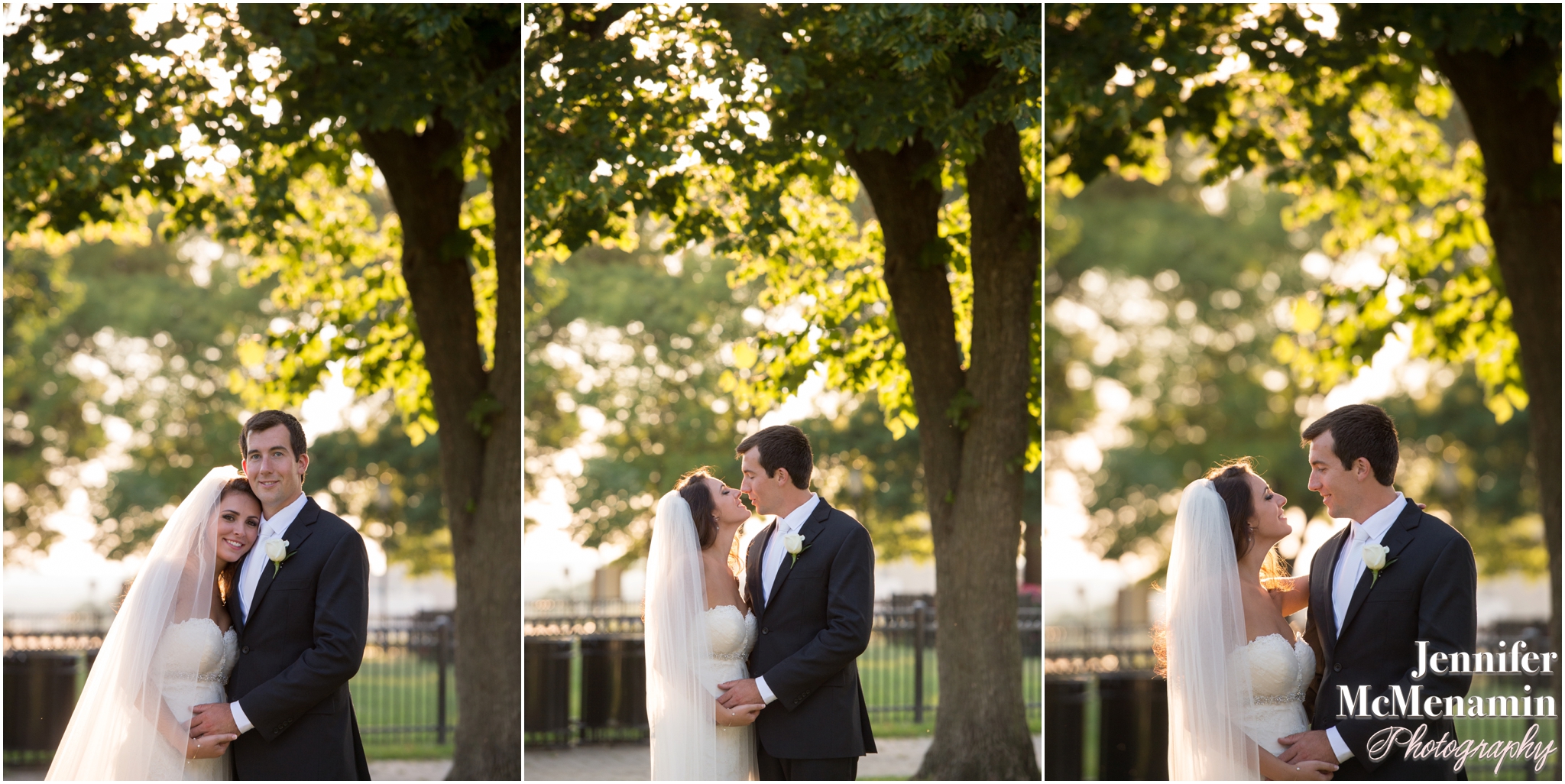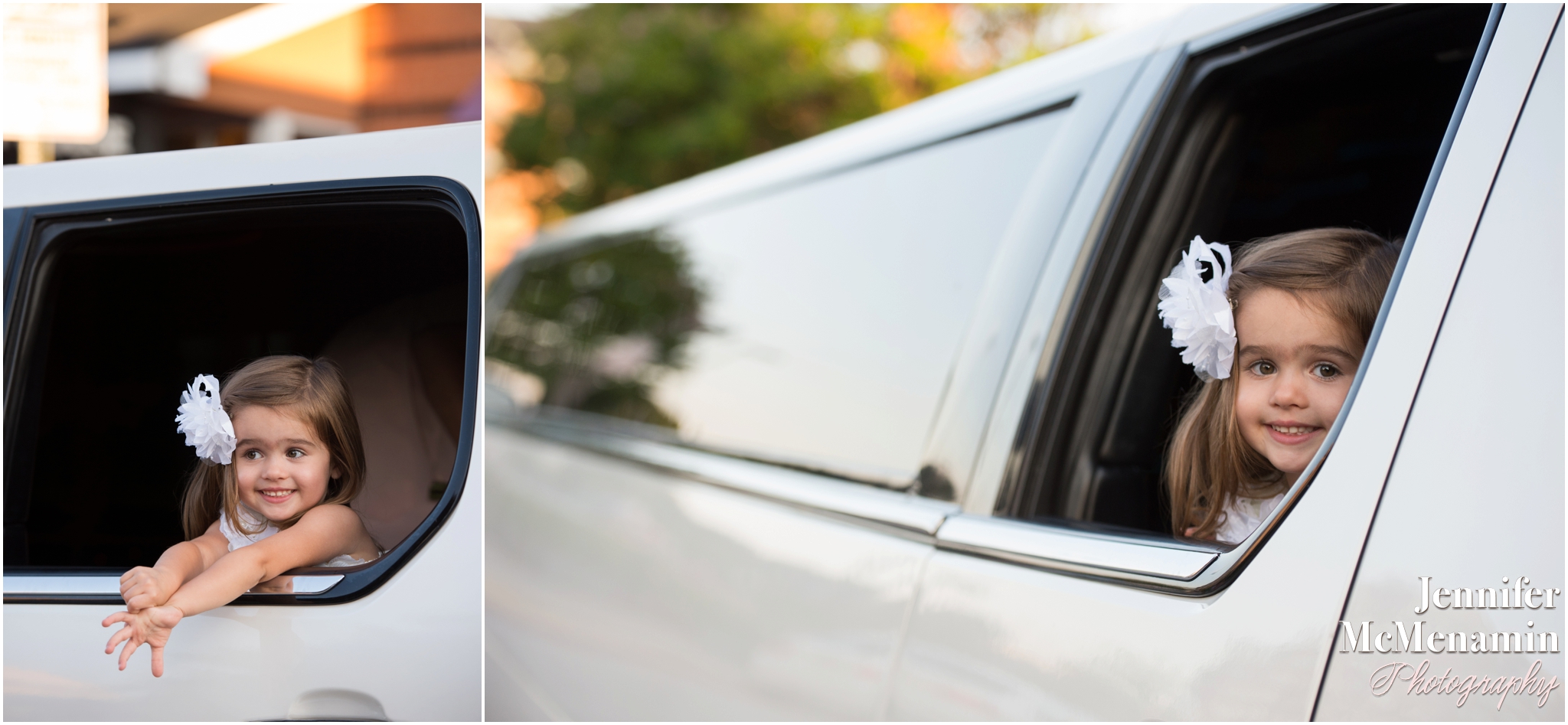 Then it was time to get to the party.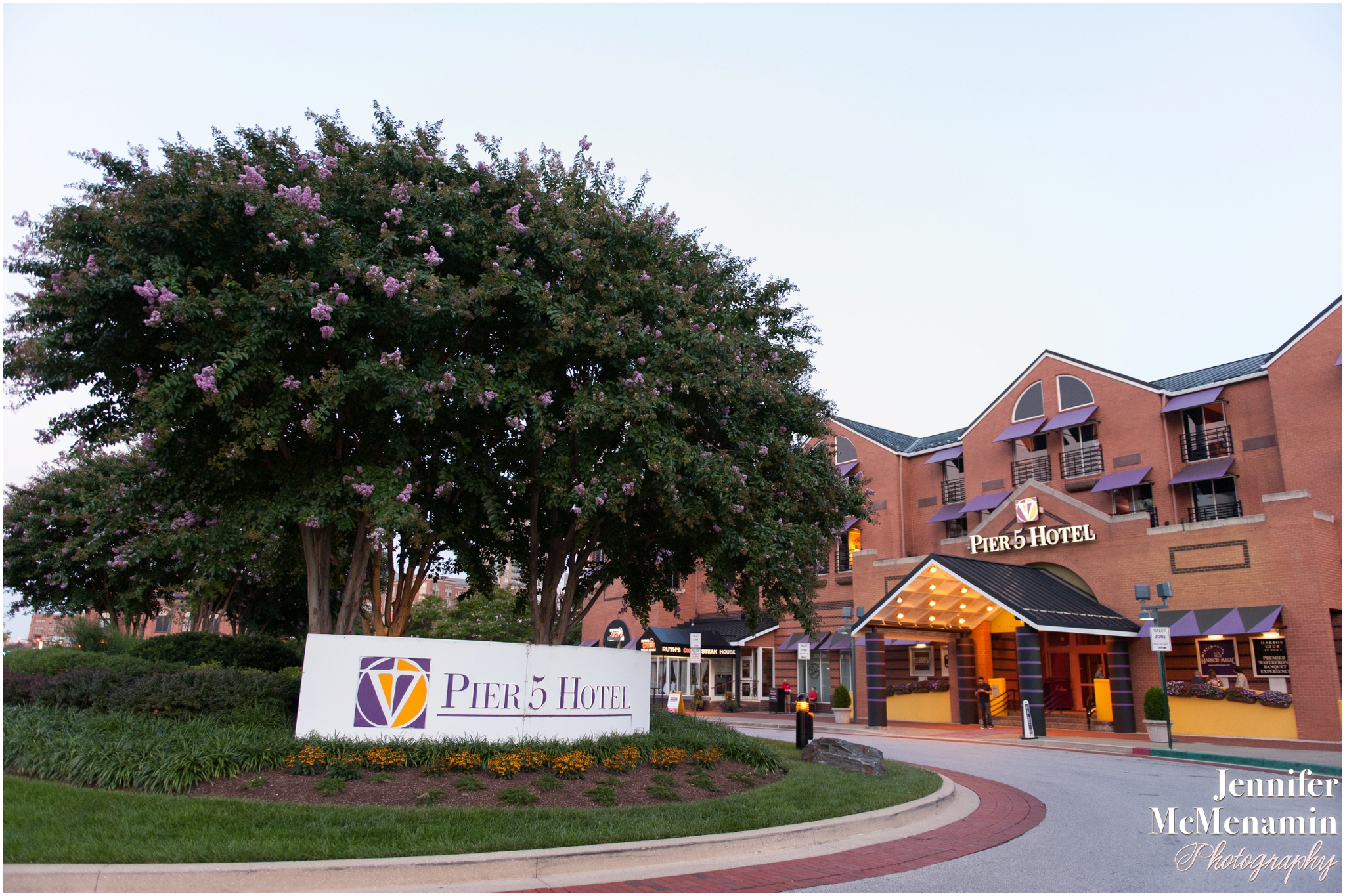 From all the pink and white draping to the towering centerpieces by Flowers & Fancies, Liz was very excited about all of the details they worked so hard to plan. It was not hard to see why. I was particularly crazy about the gorgeous, gold, sparkly invitation suite that Susan McArdle of Just Ink on Paper created for her!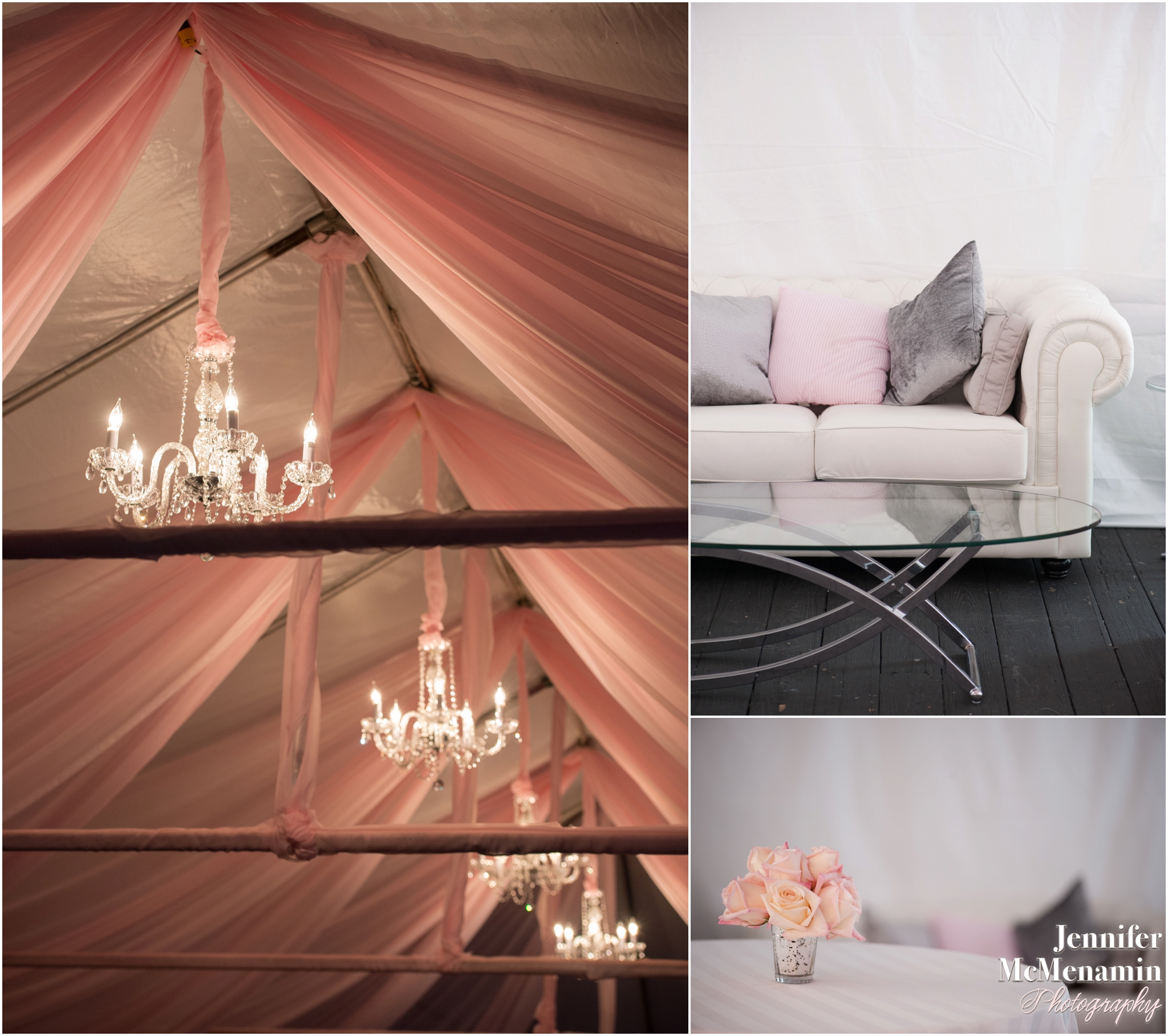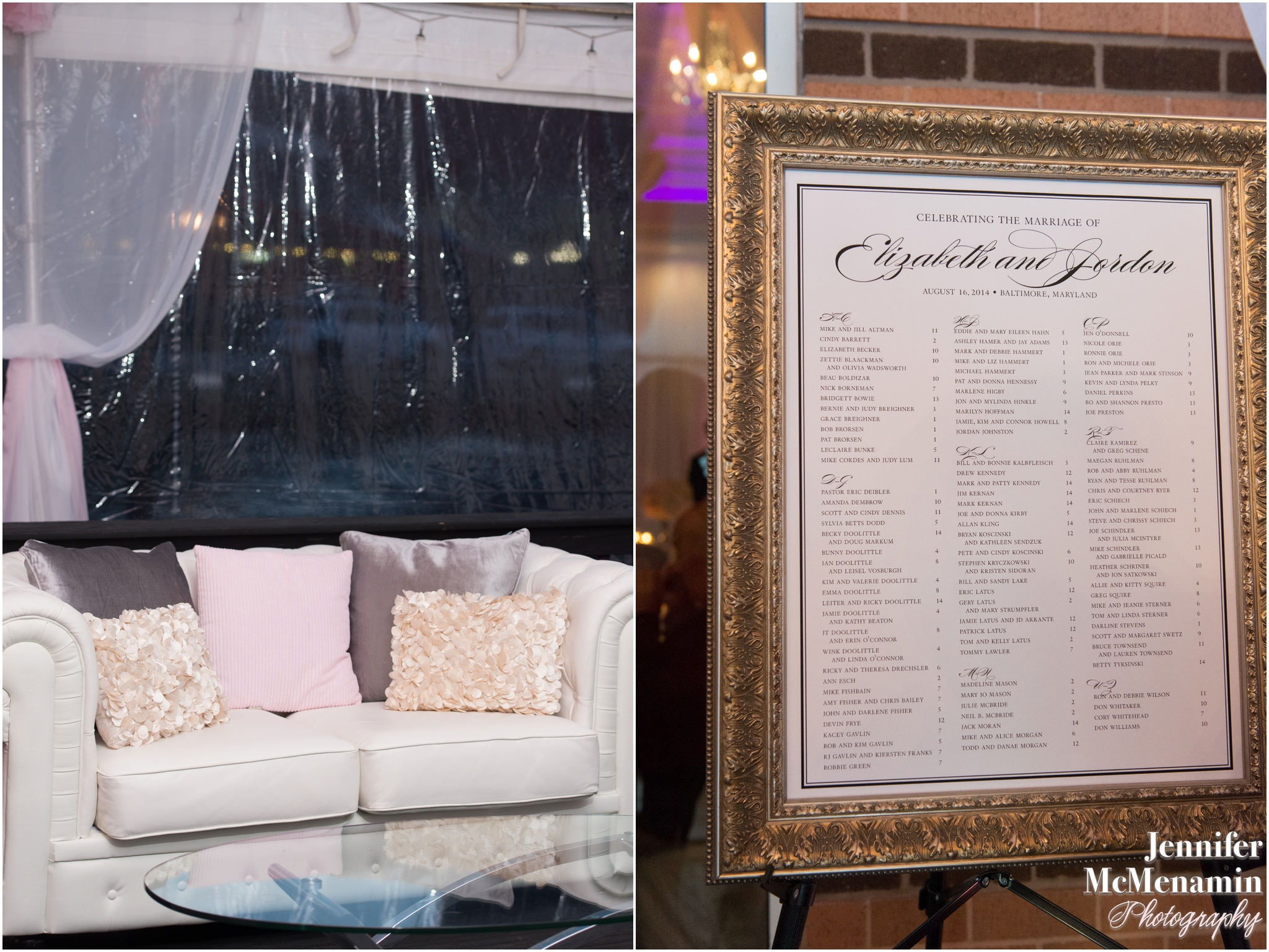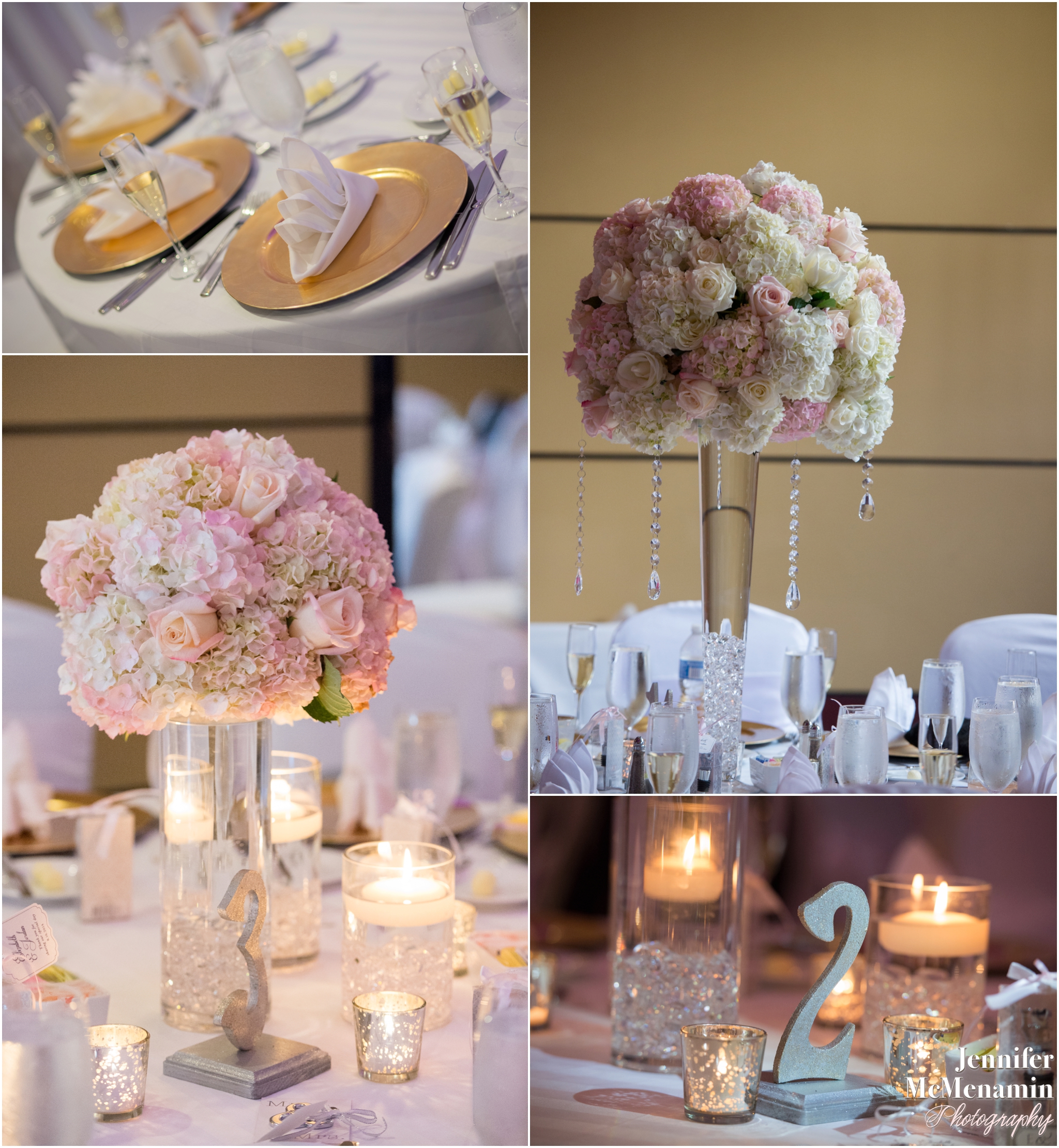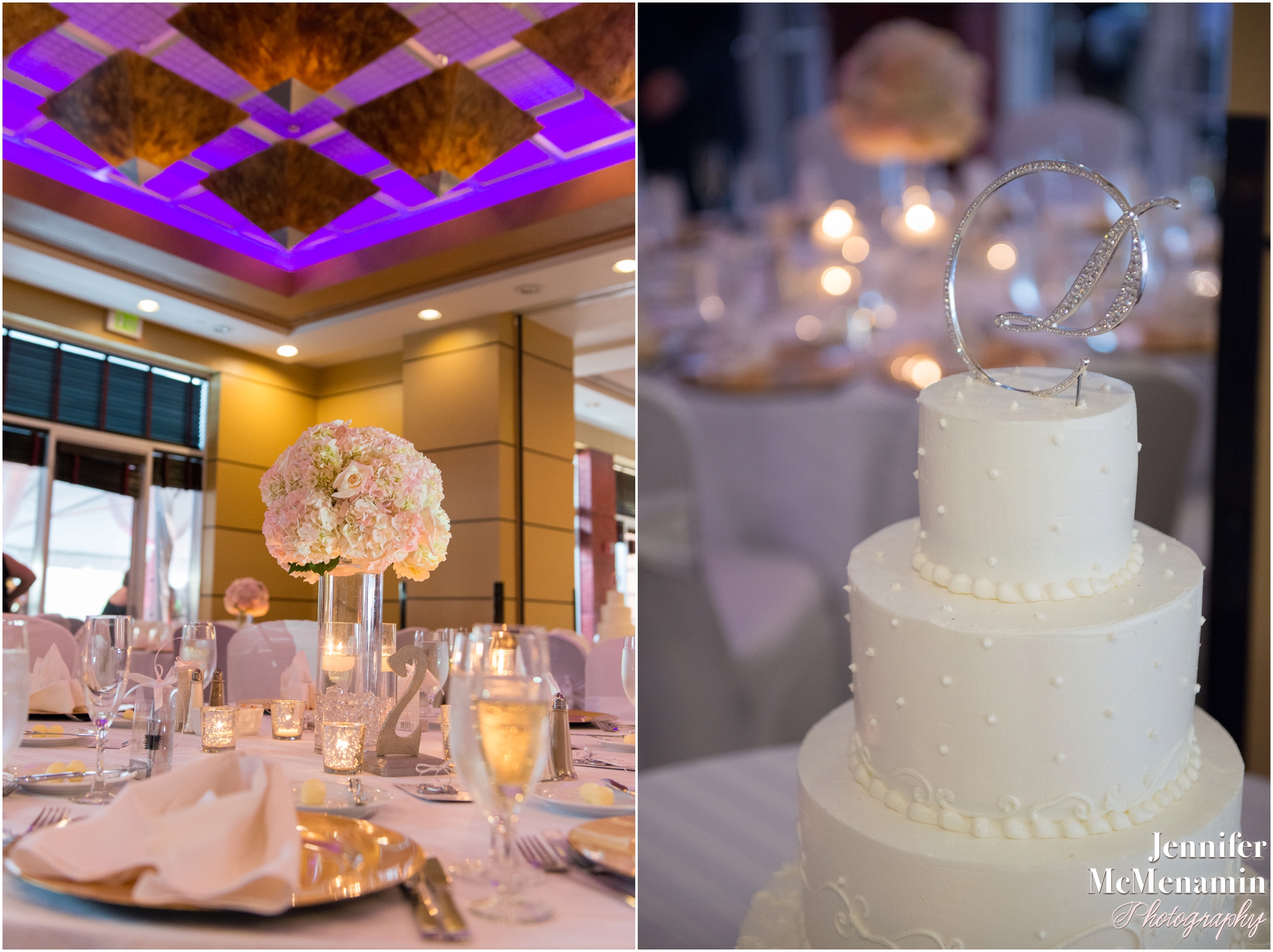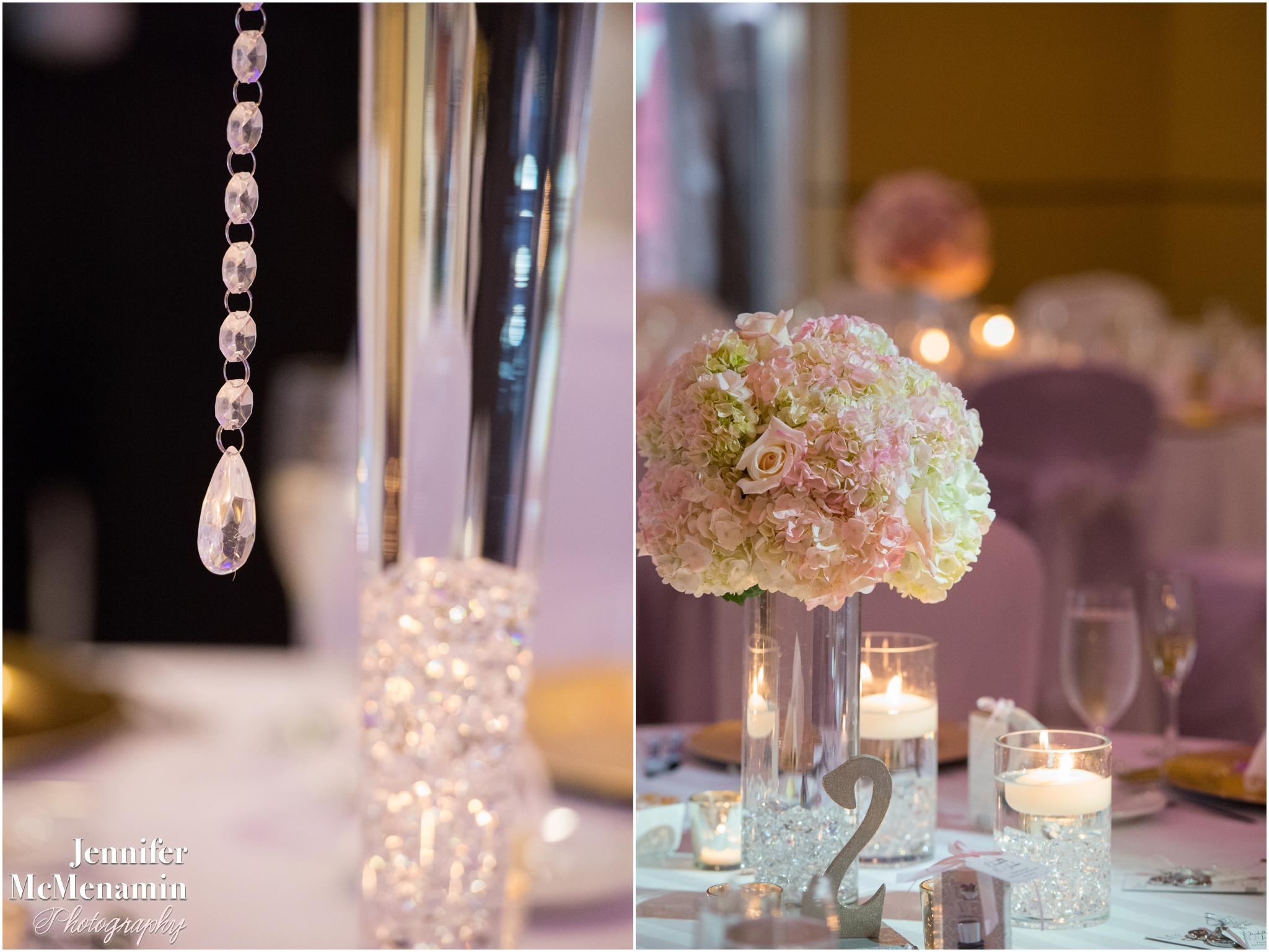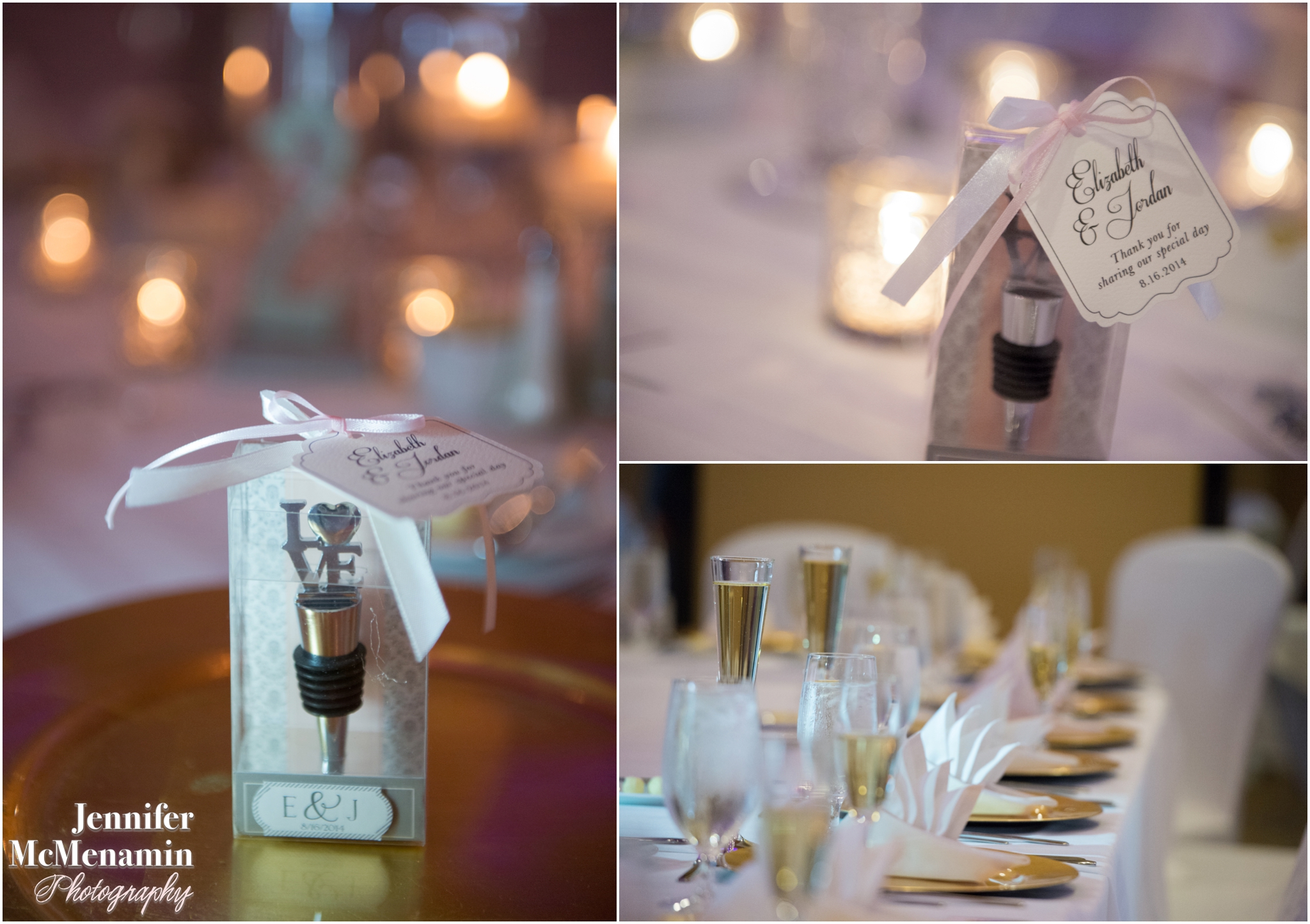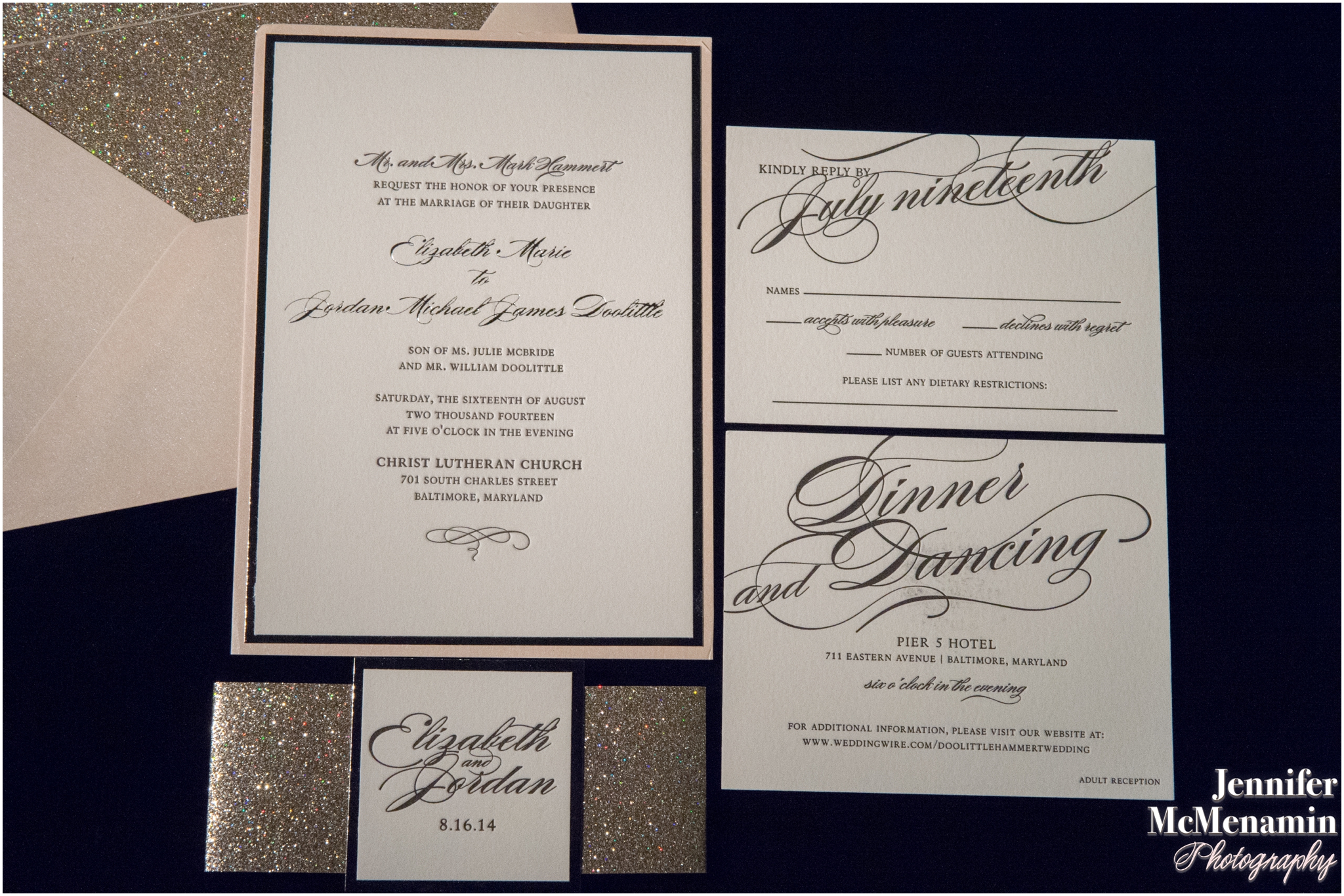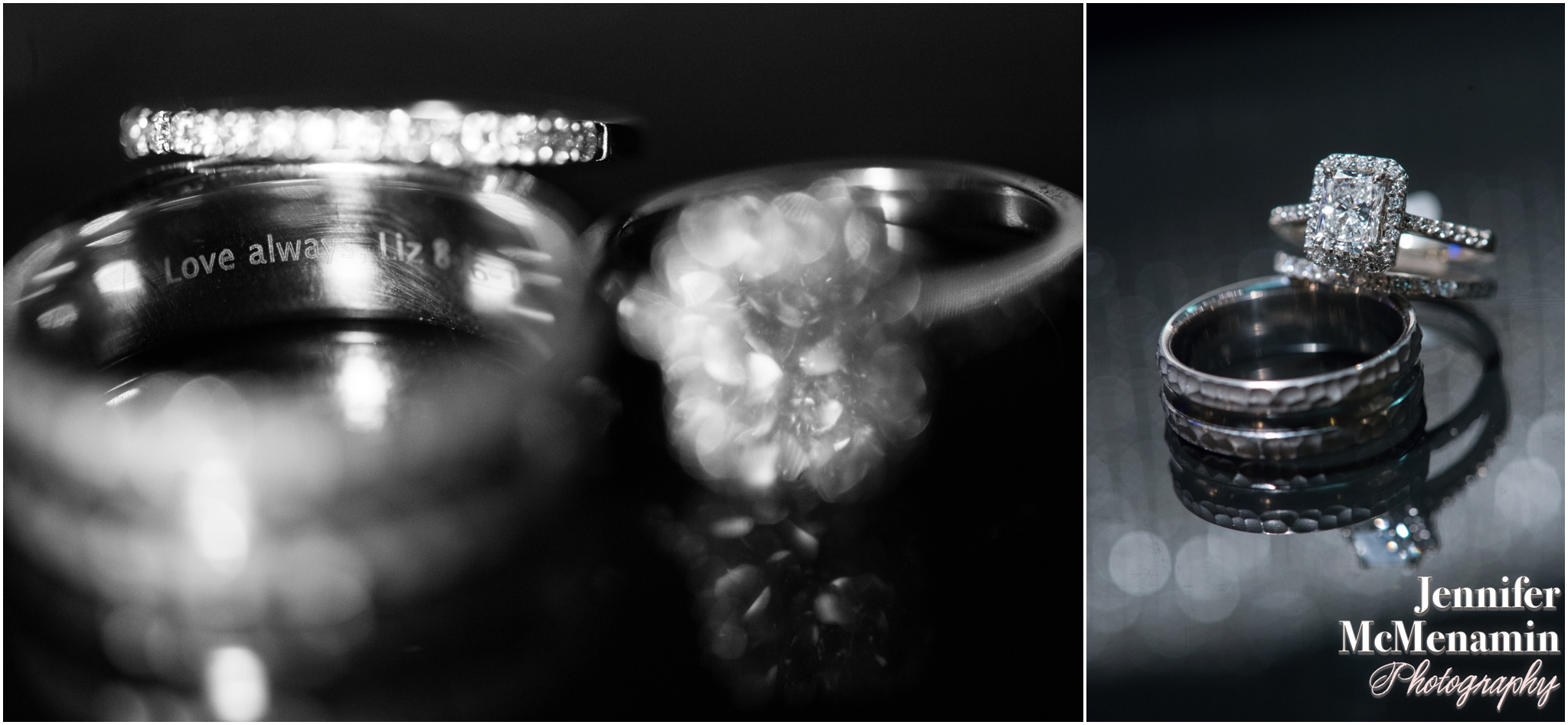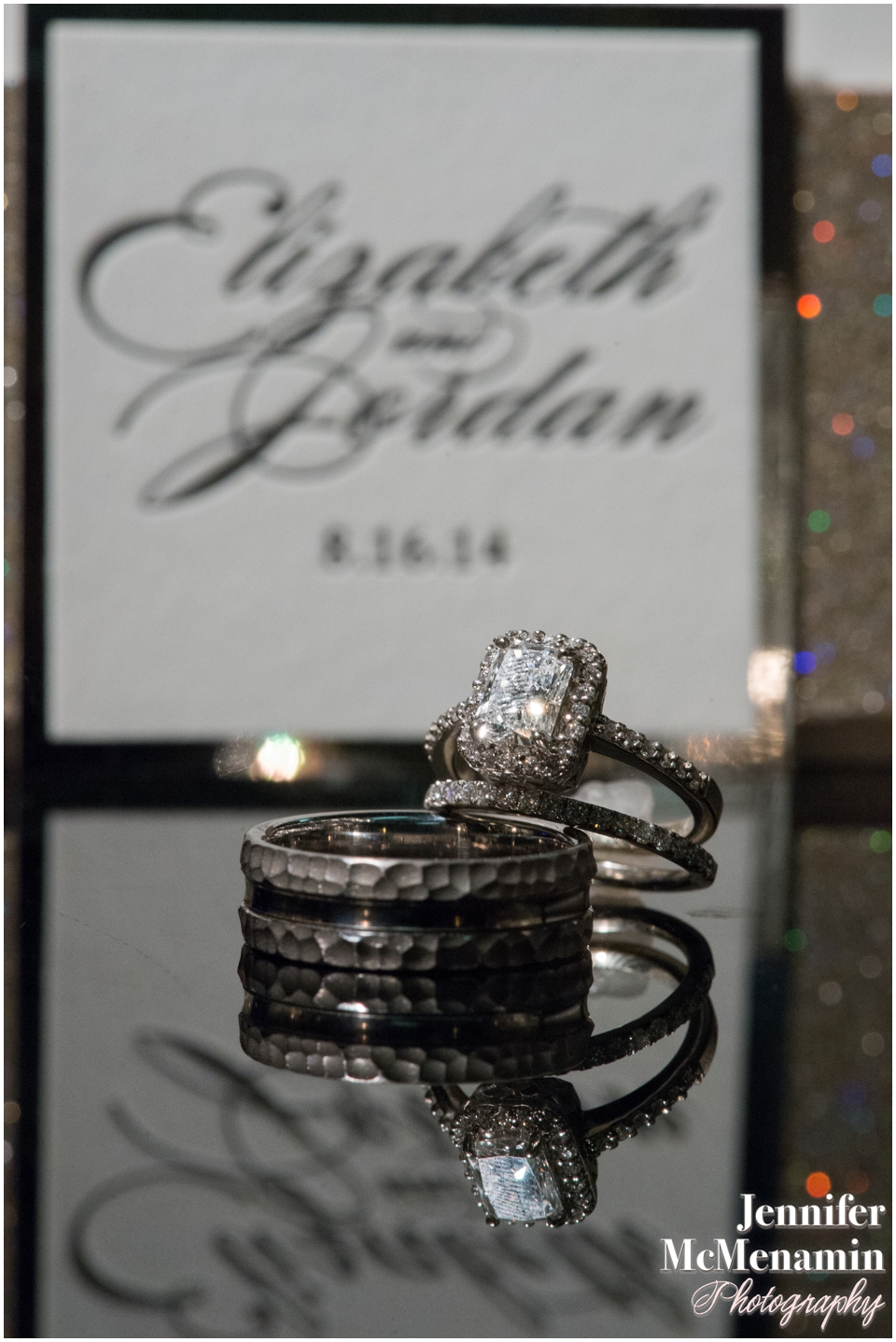 Olivia and Connor's big entrance.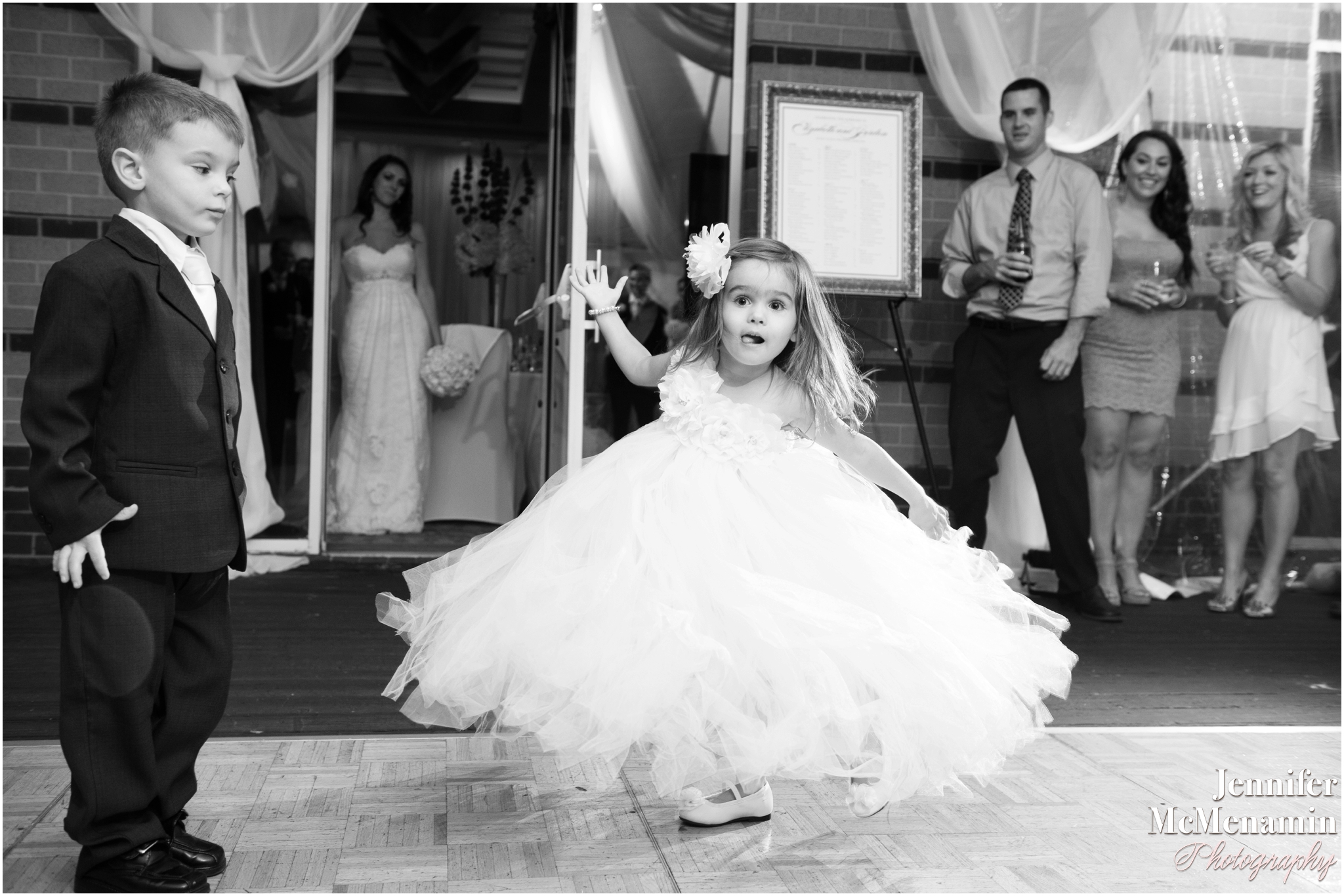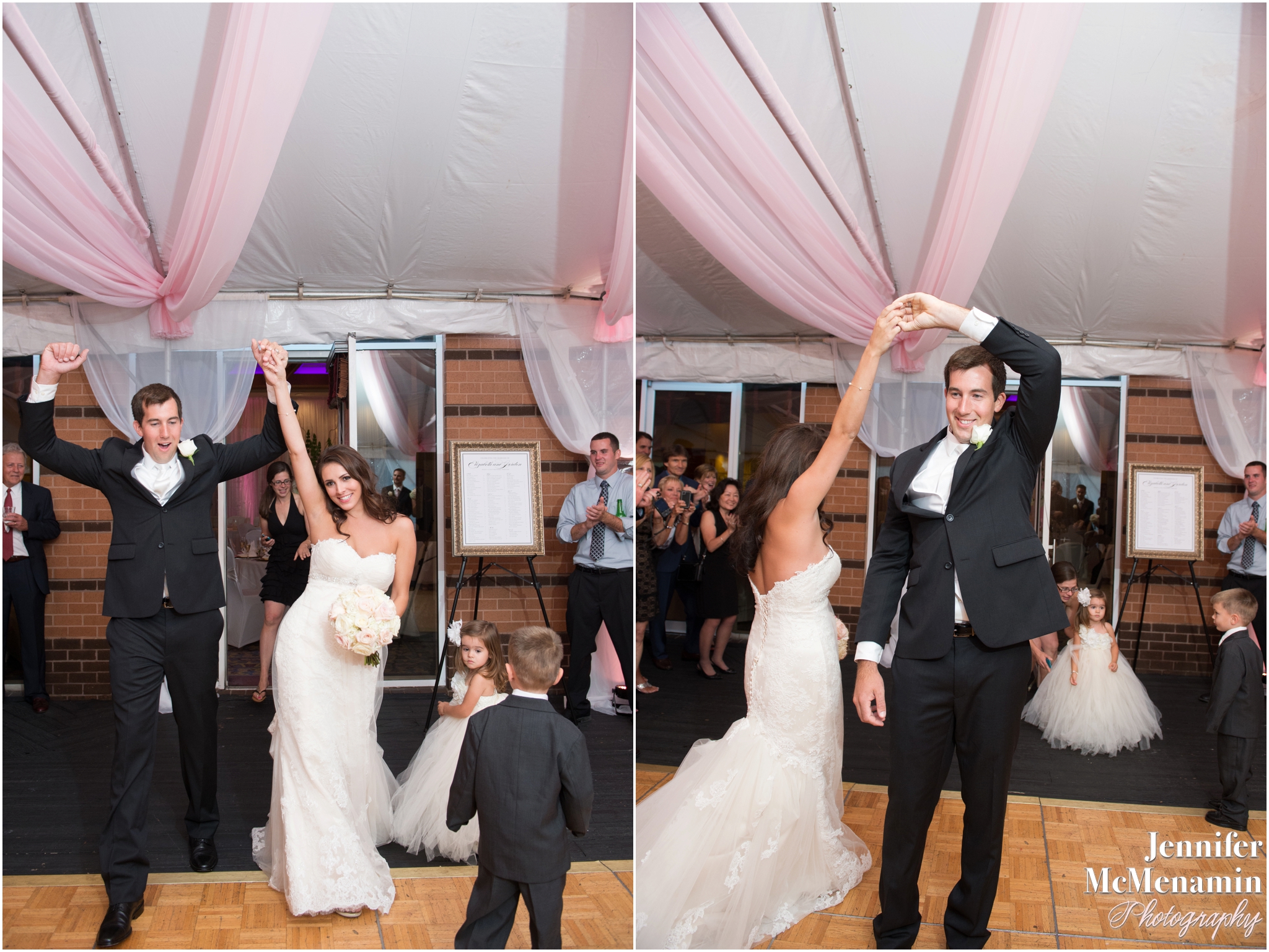 A beautifully choreographed first dance.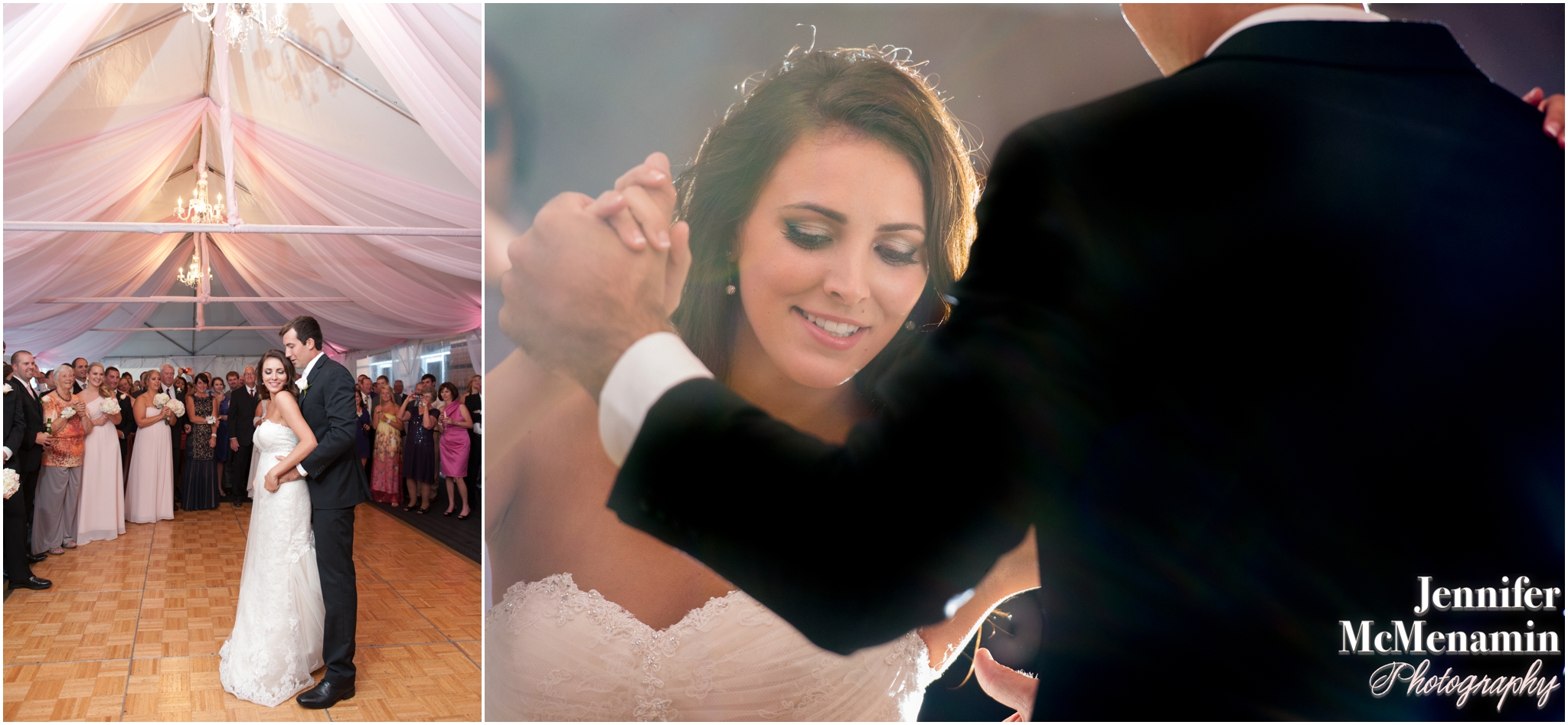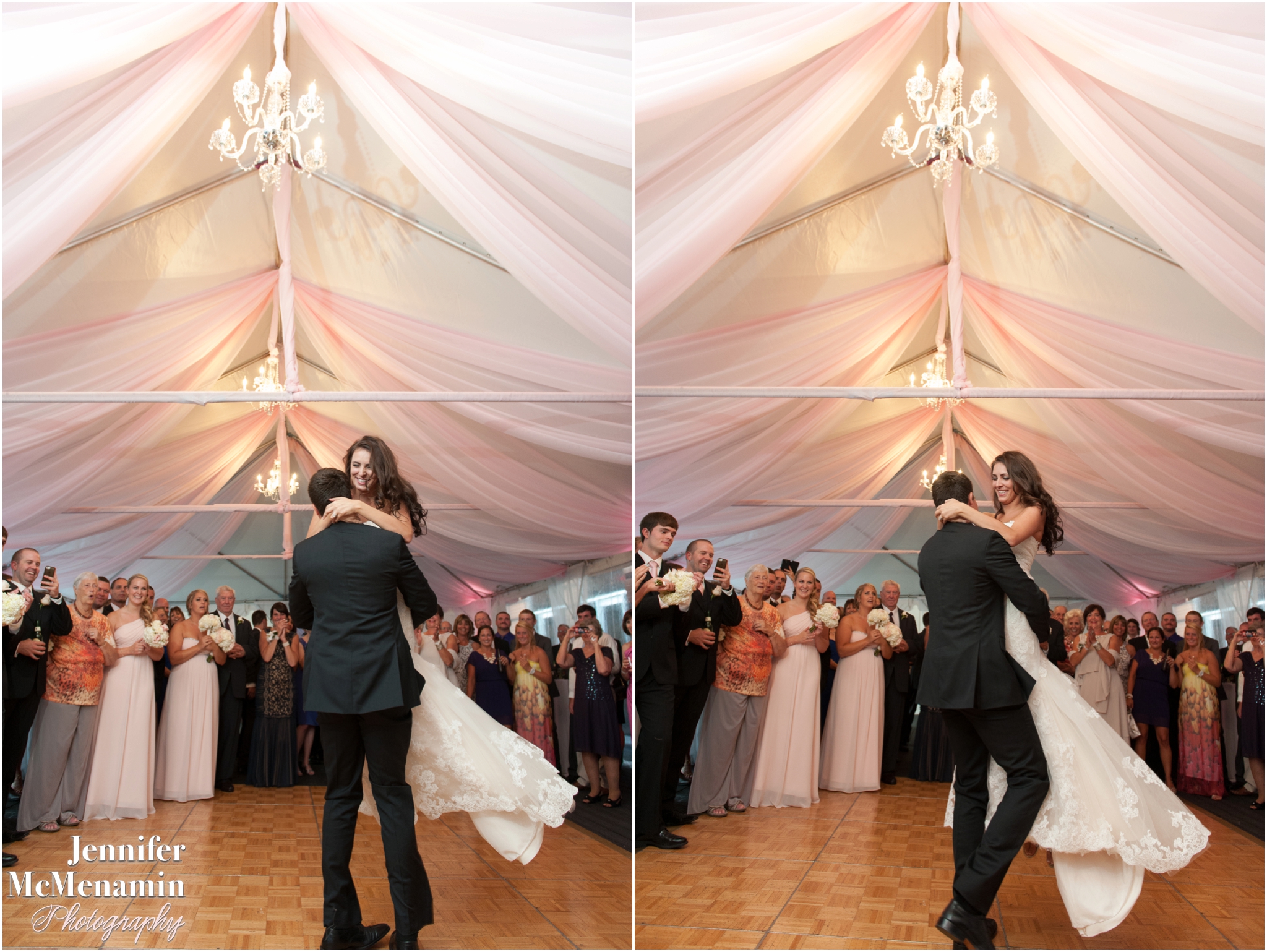 A trio of toasts.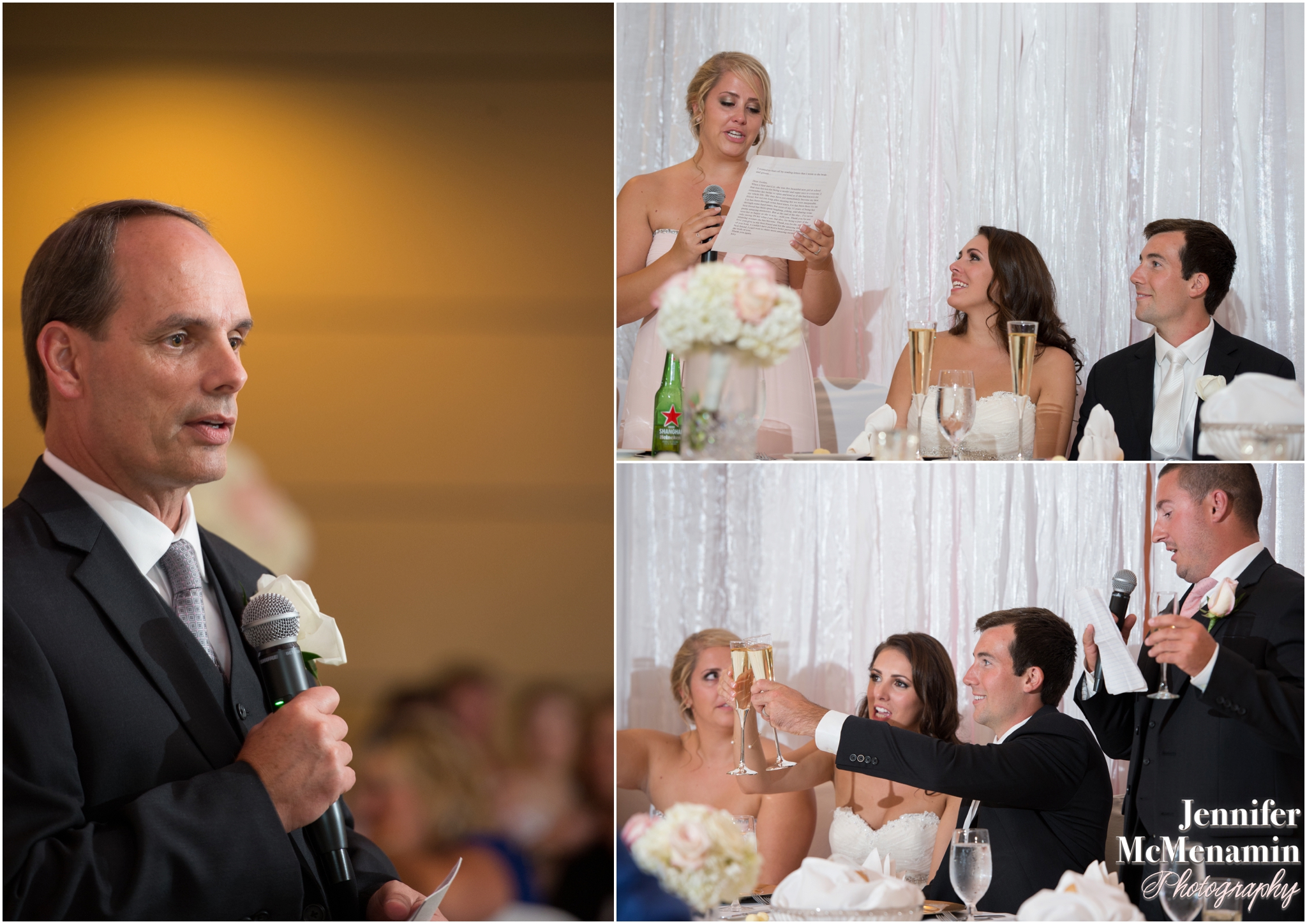 And lots and lots of fun and merriment. (Little Connor just conked out on the patio couches!)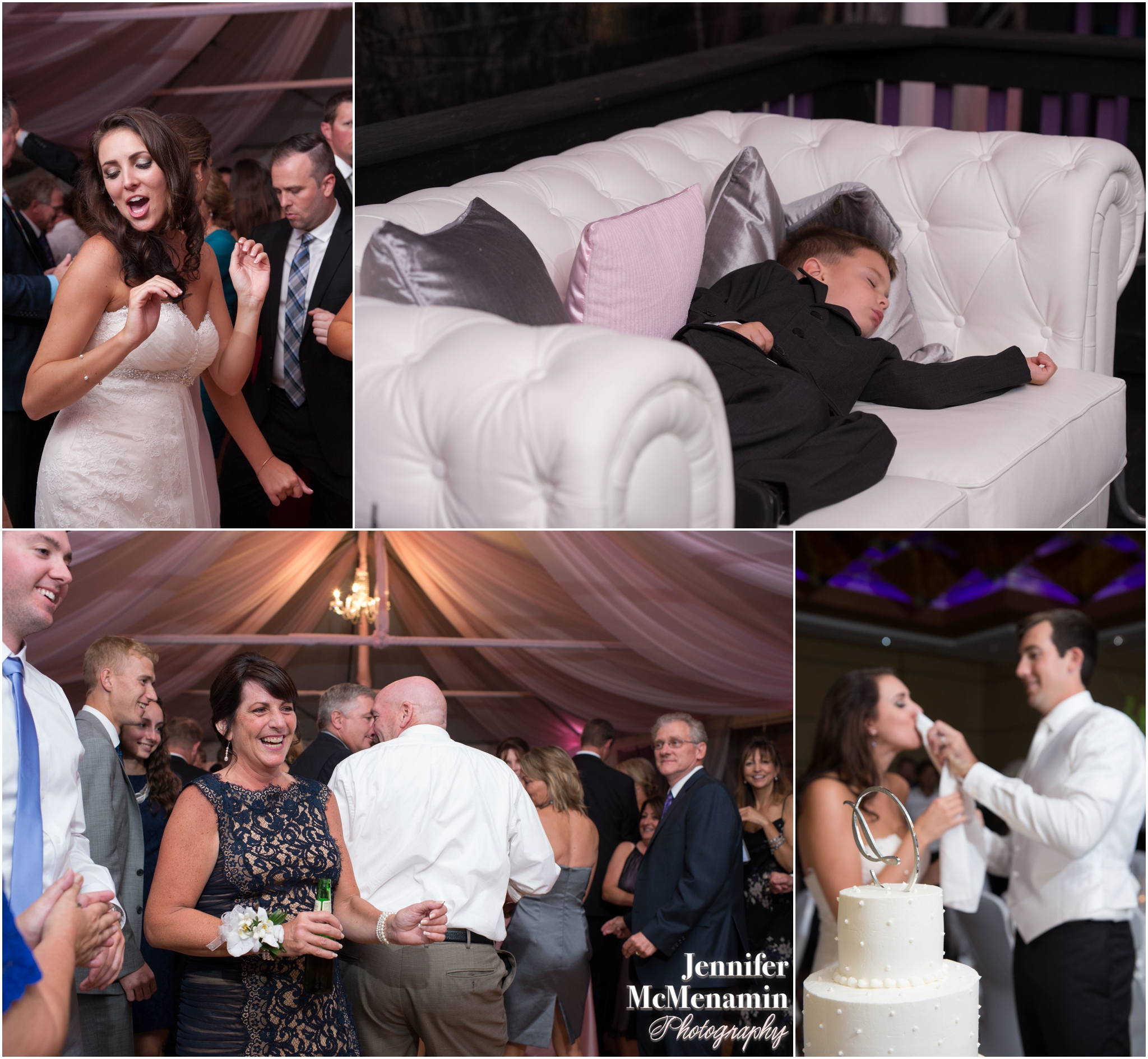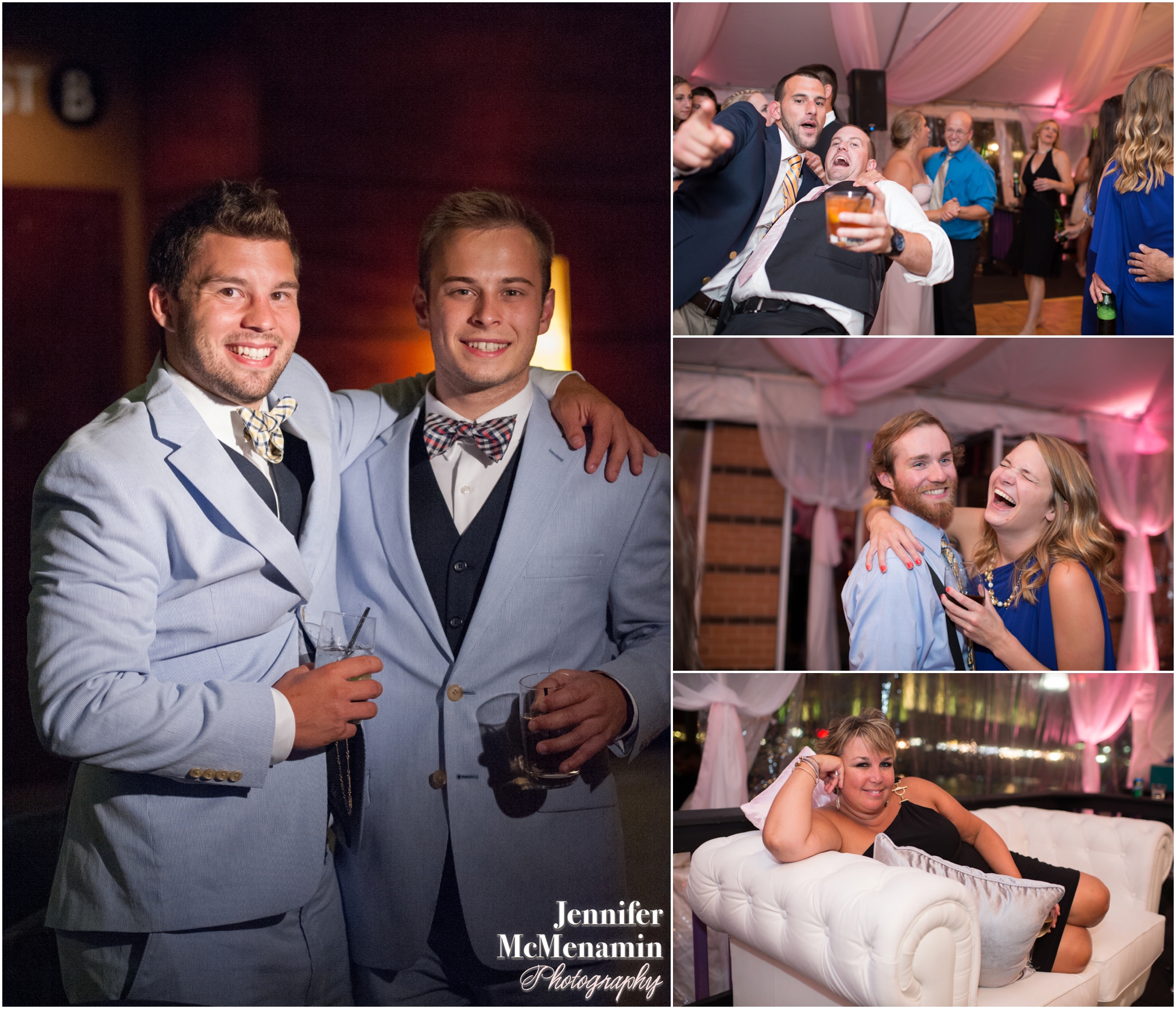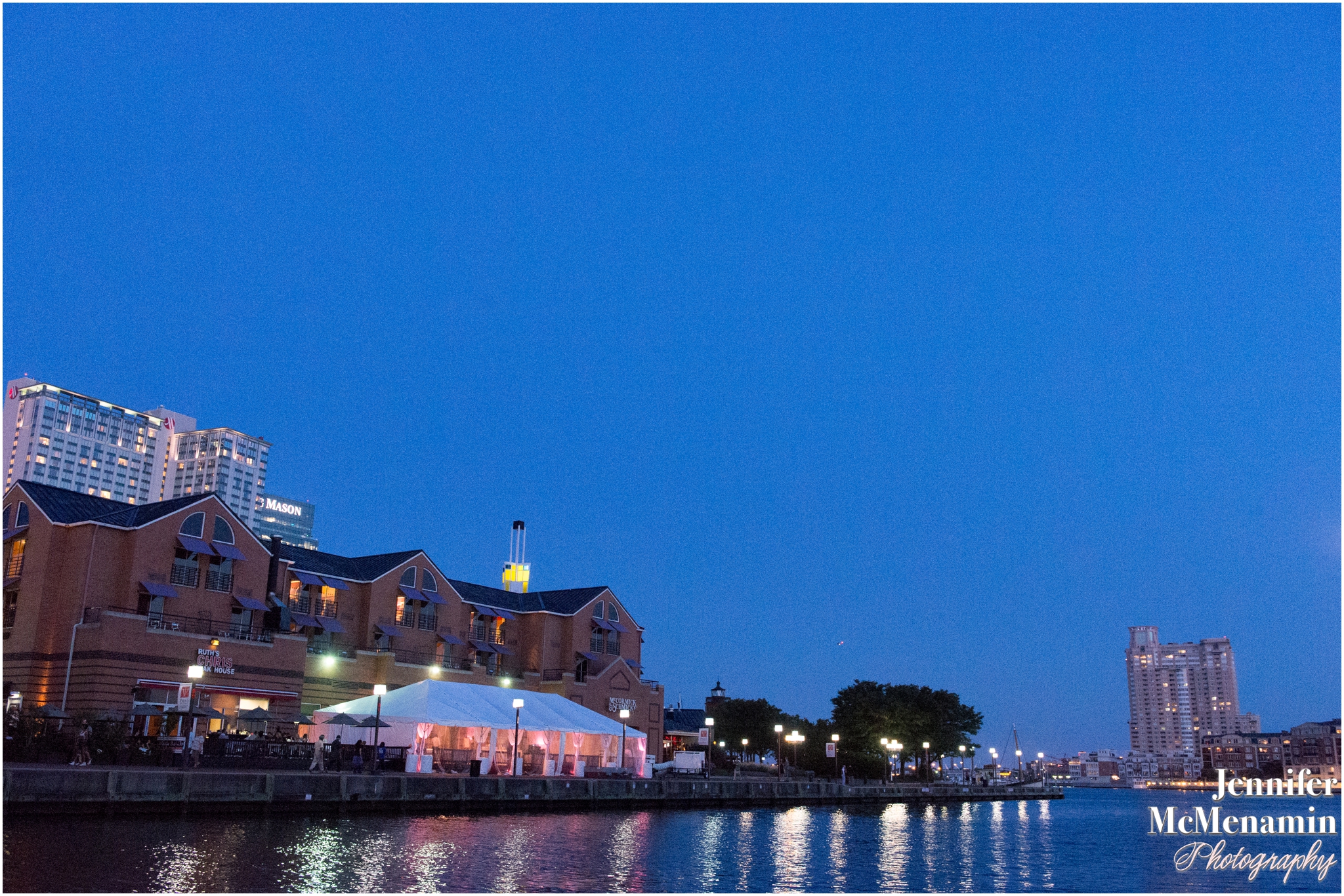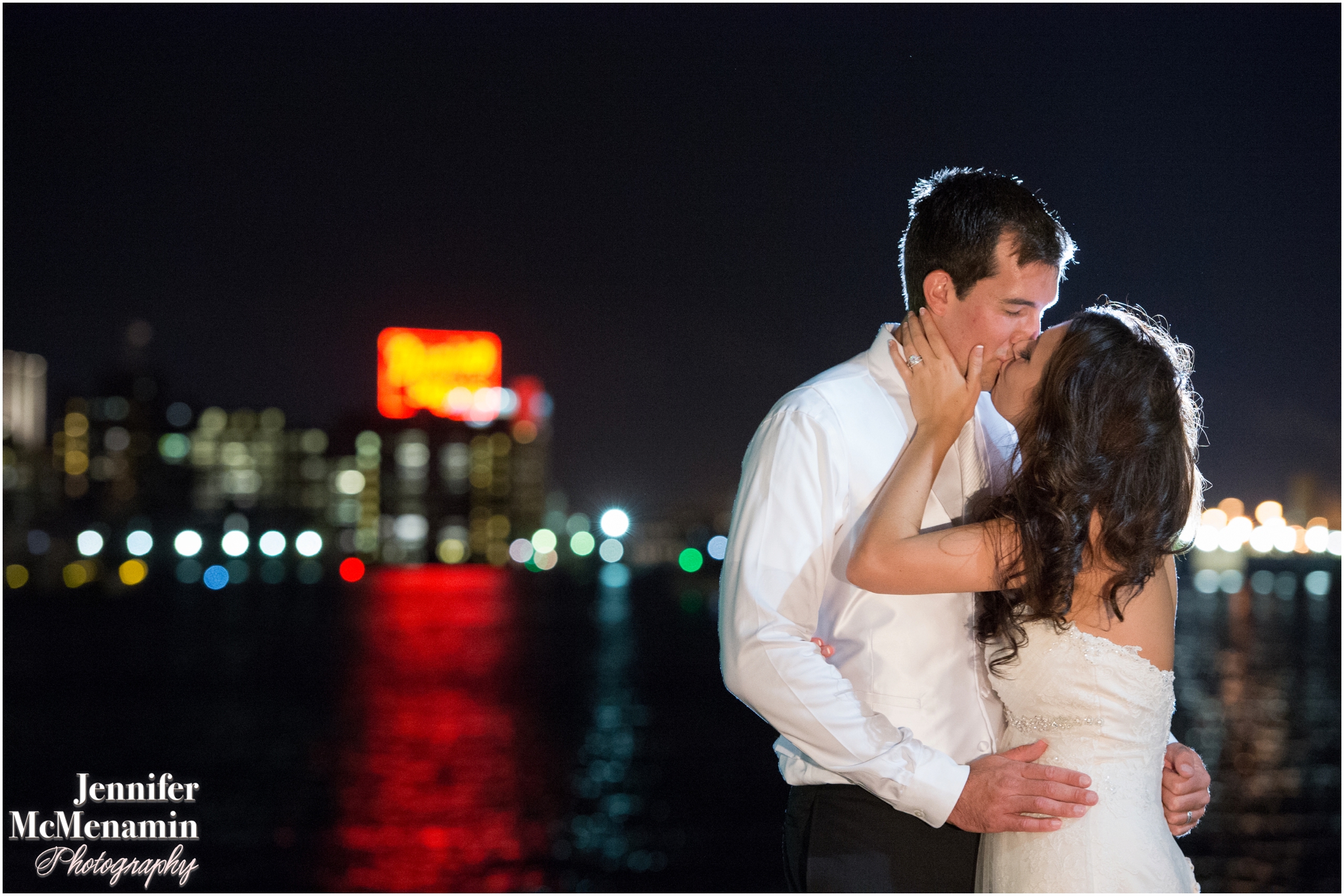 In case anyone else is wondering, the 3-foot-long sparklers that Debbie tracked down were positively perfect for a grand exit!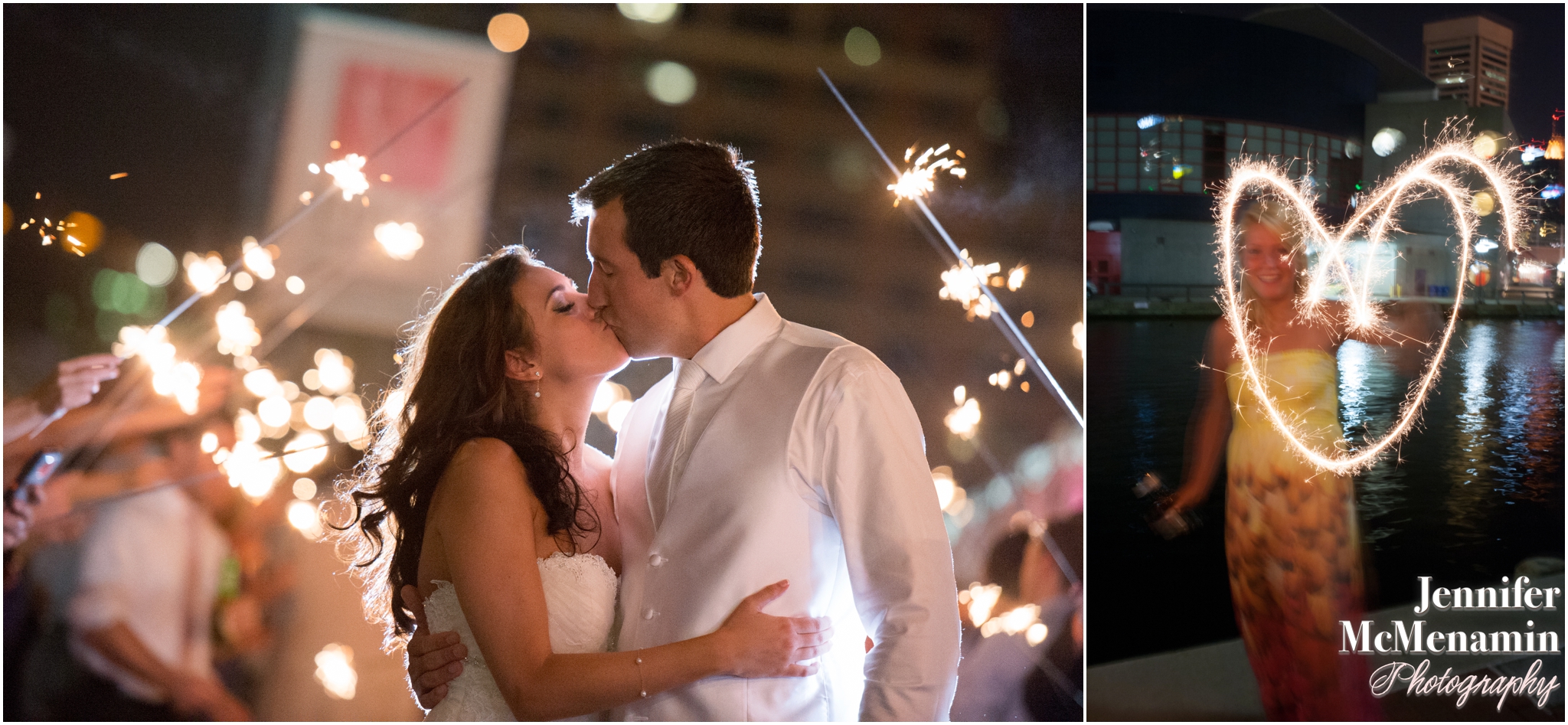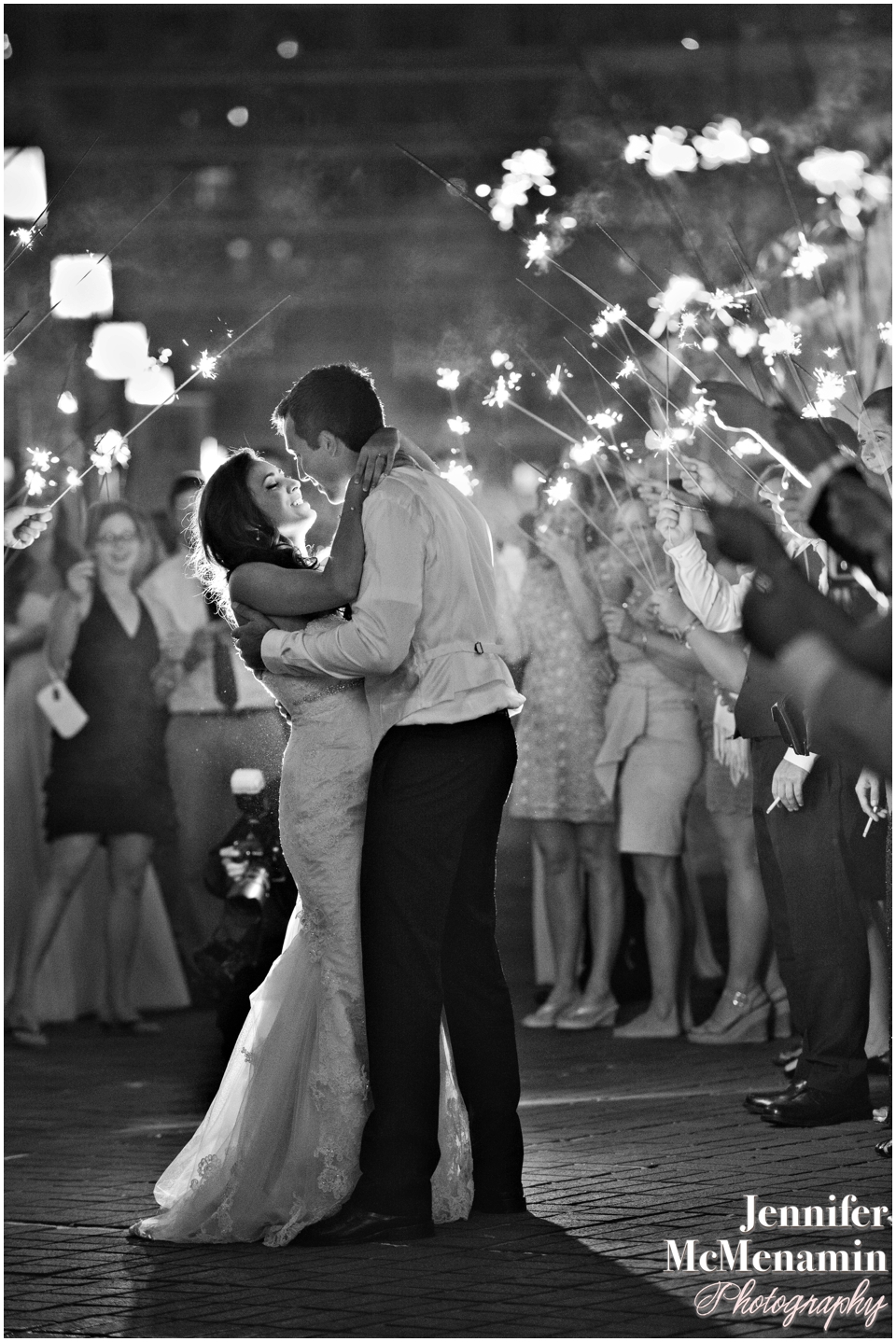 Liz and Jordan, it was an absolute pleasure to work with you both and your families. Many, many congratulations to you both.
Credits:
Photography: Jennifer McMenamin Photography, LLC

Ceremony: Christ Lutheran Church
Officiant: Pastor Eric Deibler
Ceremony musicians: Organist Daniel Aune

Reception: Pier V Hotel
Lighting, tenting, furniture rentals & decor designers: Party Plus
Bridal attire: Kenneth Winston gown from Peggy's Bridal Shop
Hair & Make-up: Symmetry Hair Studio

Bridesmaids' attire: Bill Levkoff
Groom's attire: Men's Wearhouse

Florist: Flowers & Fancies
Cake: SugarBakers Cakes accompanied by Patisserie Poupon desserts

DJ: Music Masters

Invitations & papergoods: Just Ink On Paper