Briana + Kevin

The George Peabody Library -- Baltimore wedding photographer -- Baltimore wedding photography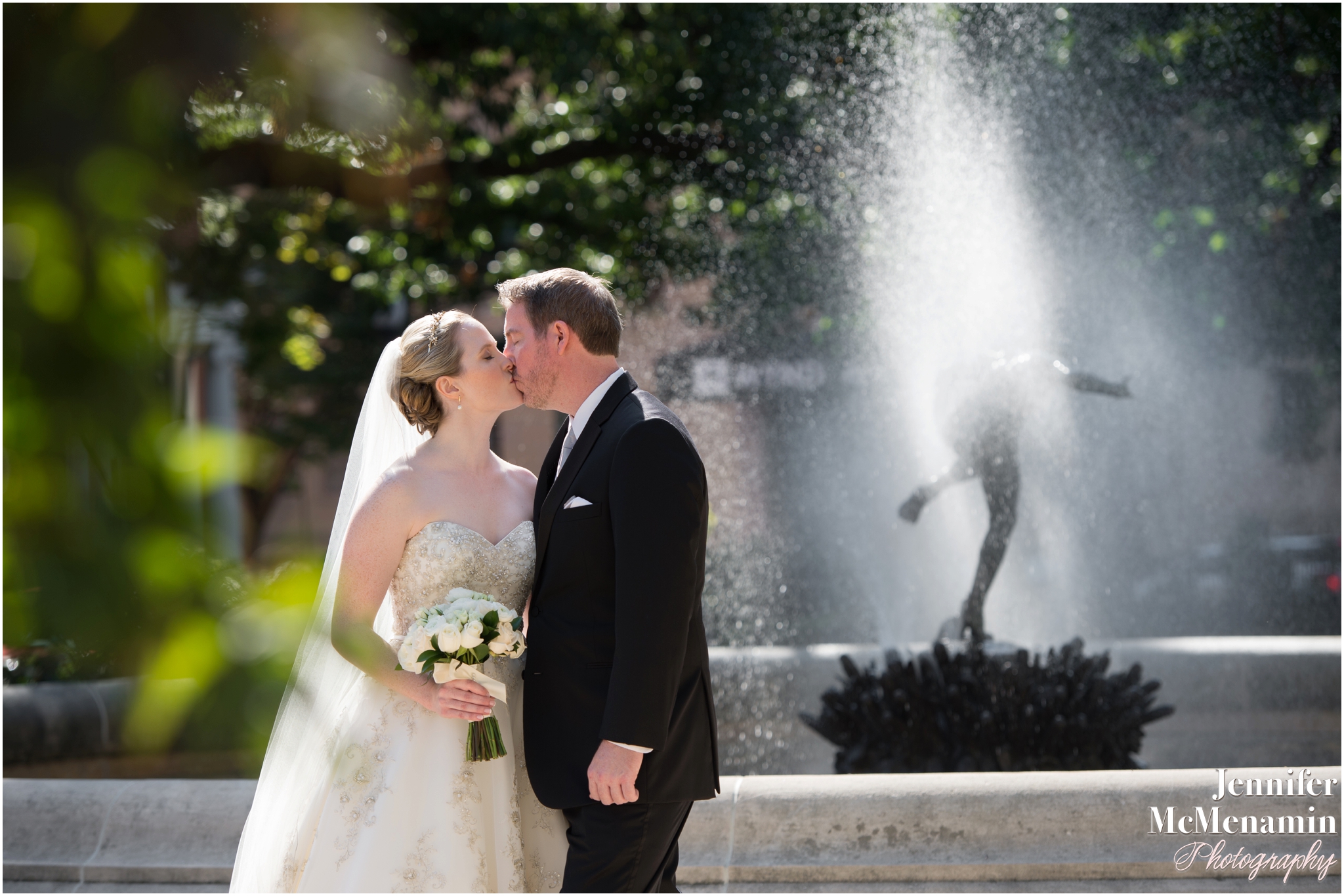 Briana and Kevin decided to see each other before their ceremony for photos. That moment — when he snuck up on her, when she first spotted him and together they reveled in the joy of their wedding day and their happy coupledom — was one of the loveliest I've photographed. Clients sometimes ask me about first looks, whether that moment seeing each other for the first time is actually special if it doesn't happen in the ceremony and whether the subsequent walk down the aisle is less meaningful as a result. I don't have a preference either way on whether my clients see each other before the wedding and think couples should choose what works best for them. But I submit Brie and Kevin's images — both of their first look and their ceremony processional — as a little glimpse into how both moments are special in their own way. Just look at their wonderful facial expressions. You can read the emotion all over their faces! Their wedding was joyful from start to finish, from the excitement of Lulu (the couple's energetic Lhasa Apso pup) in the hotel as Brie got ready and the beautiful light we got to play with in the park for their portraits to the very personal ceremony officiated by the couple's former pastor and the bagpiper who escorted the newlyweds down the aisle and outside for a few sunset photos. As if all of that wasn't enough, we got a little sliver of perfect golden sunset light for a few quick photos right after their ceremony — and a police officer even stepped in to stop traffic for us. Amazing! It was just that kind of day. My wonderful former assistant of three years, Lucas, came out of retirement to help me with this wedding and he shot some beautiful photos during the ceremony. Here are some of my favorites from Brie and Kevin's wonderful day: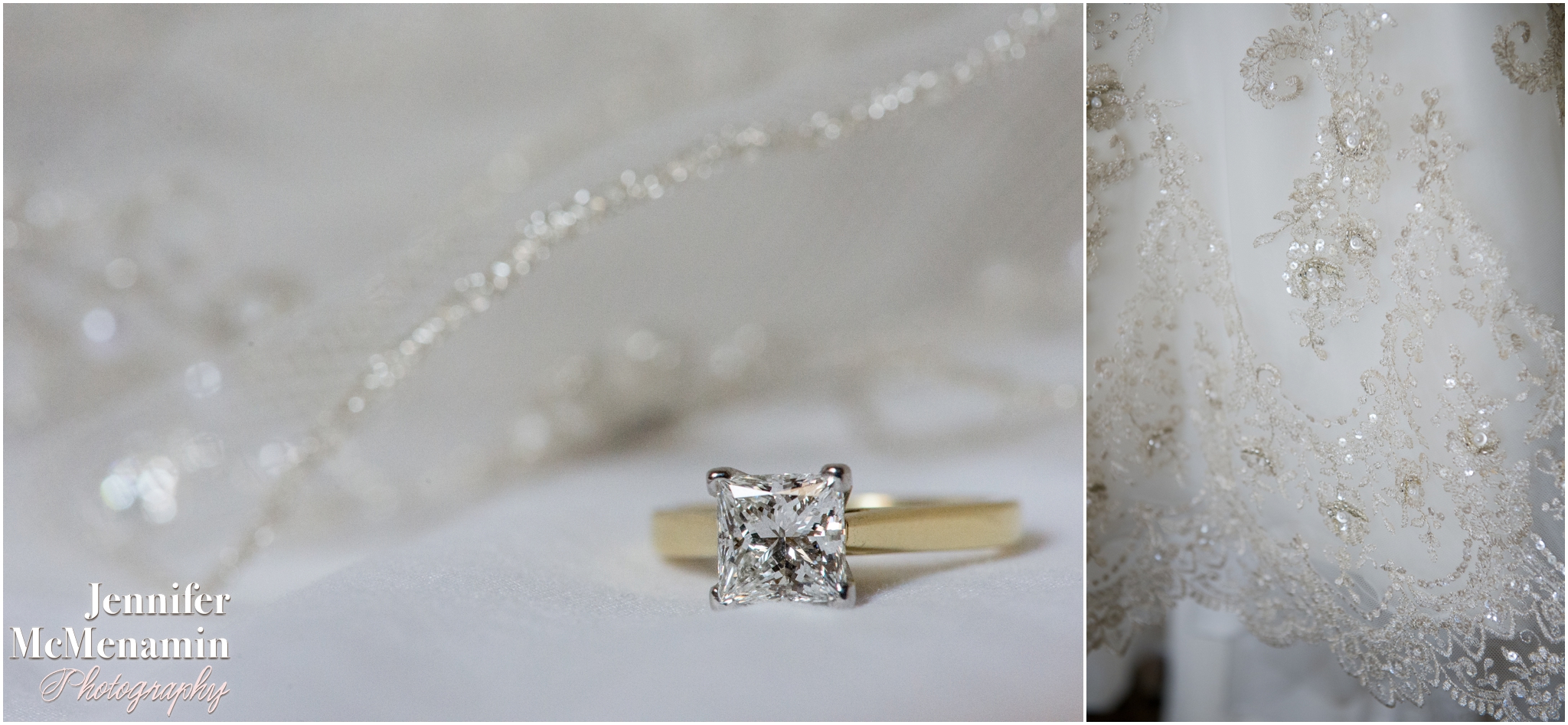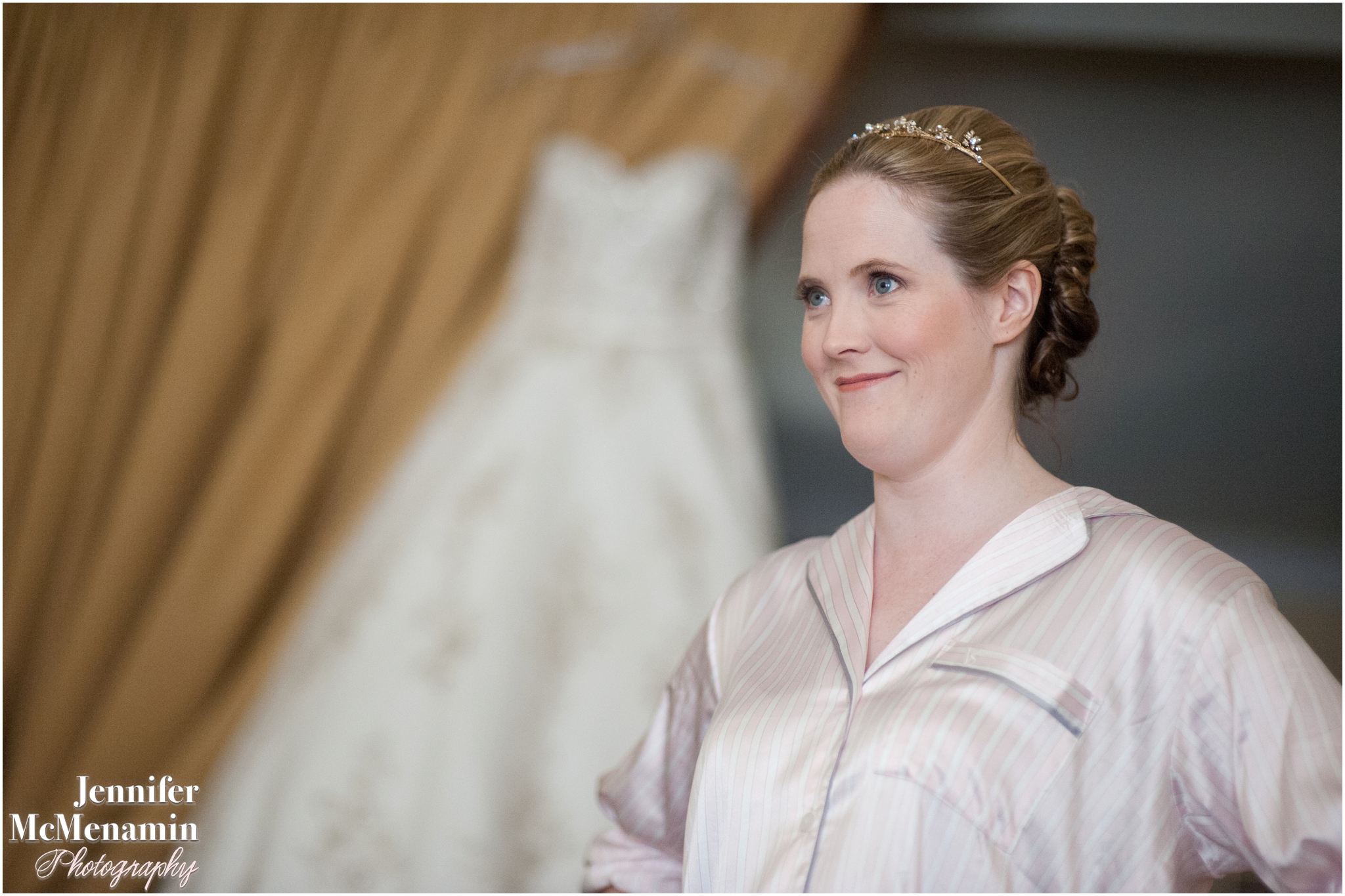 The bride, looking absolutely lovely. Brie has skin so flawless and eyes so incredibly blue that look like they've been Photoshopped to this level of perfection. They have not. This is all her.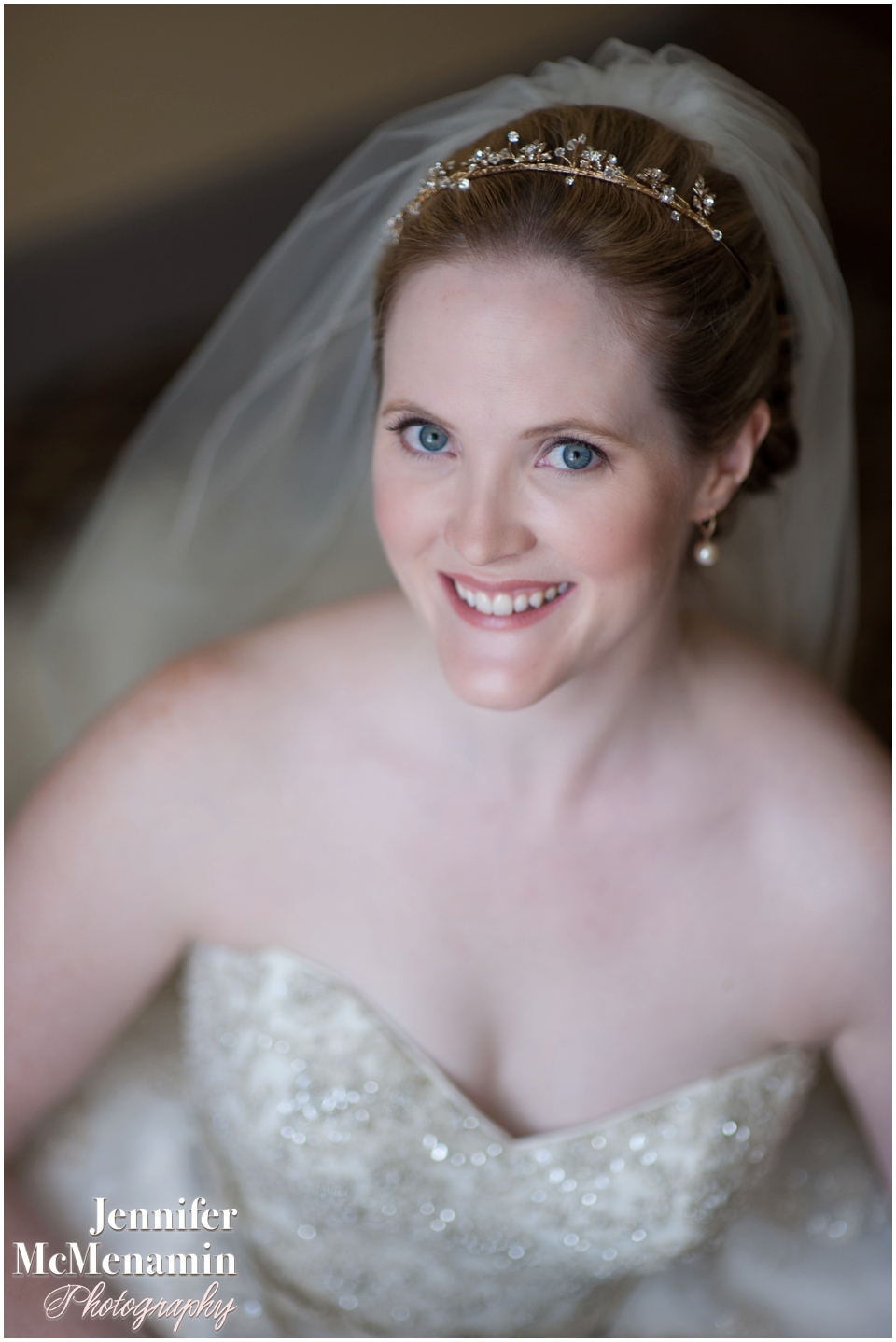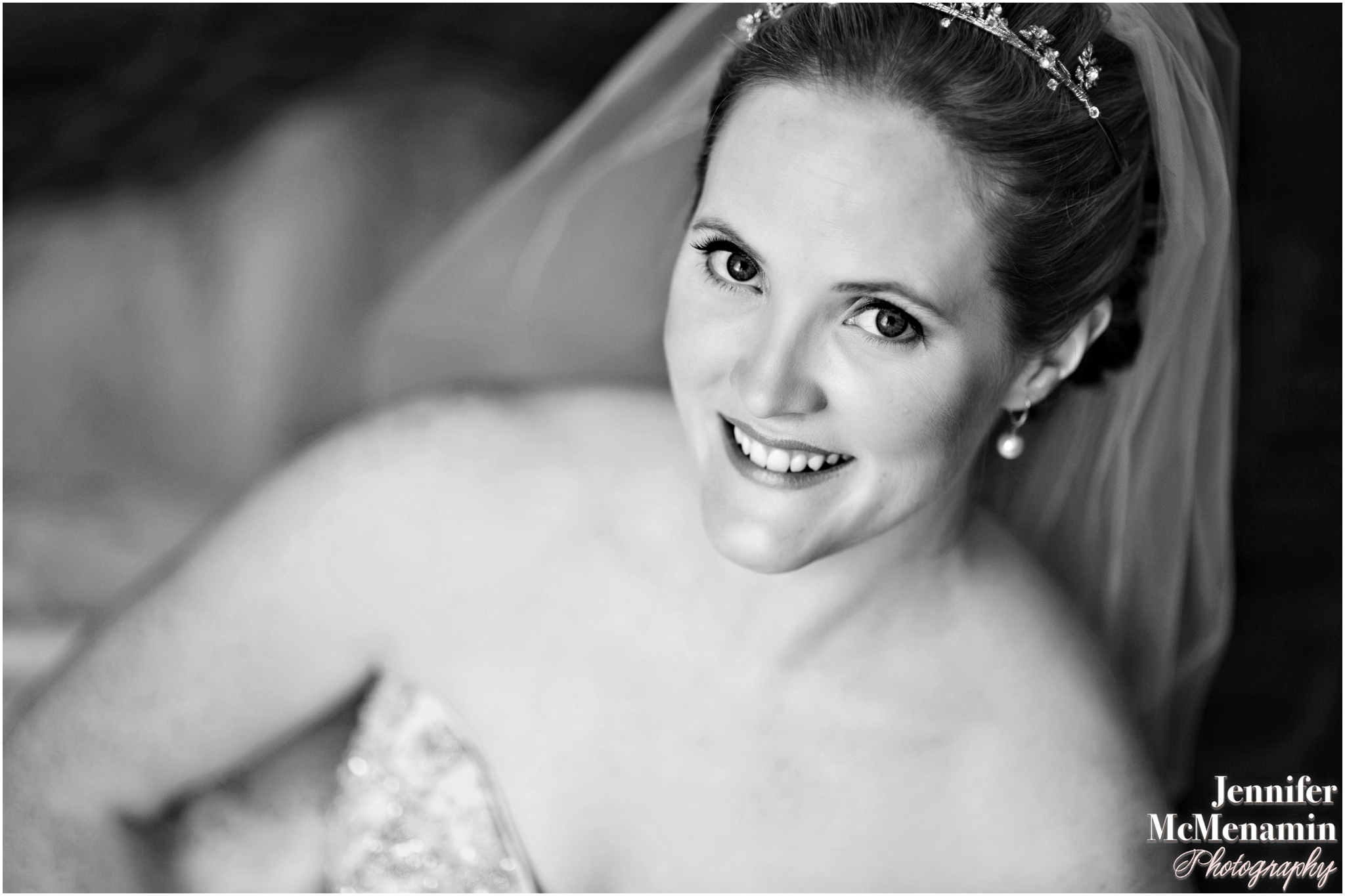 Kevin makes final adjustments before going to see Brie.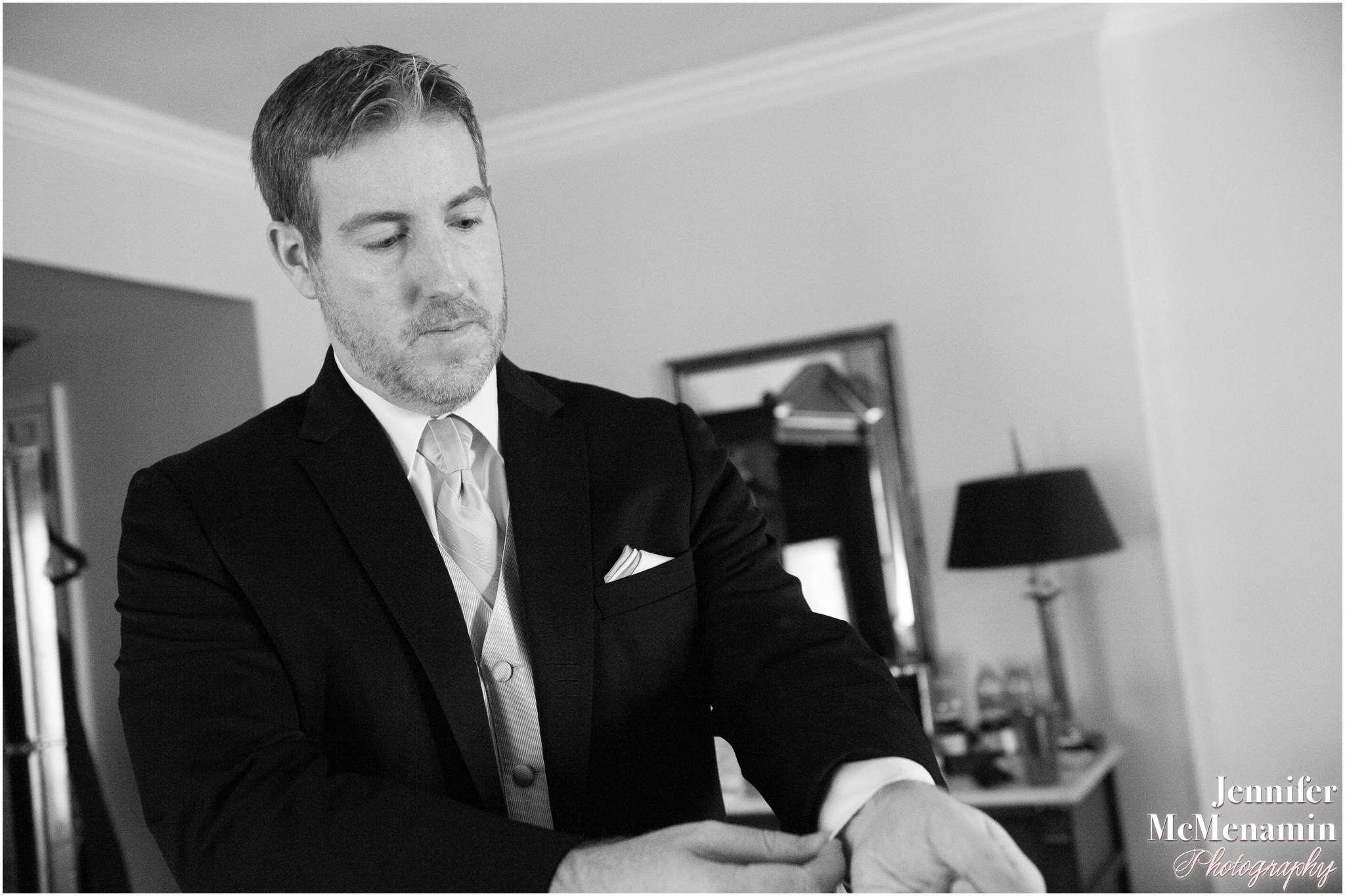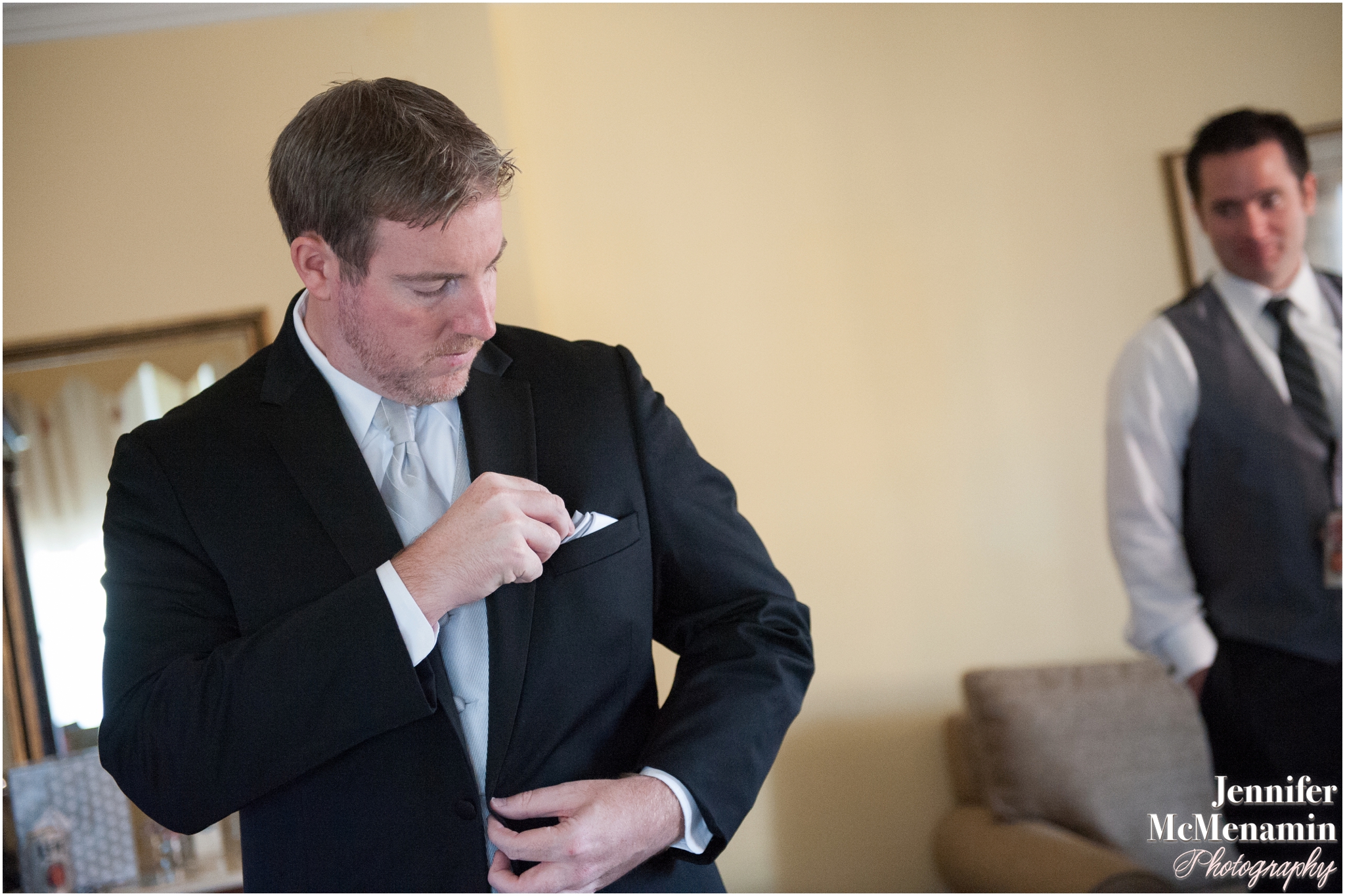 I could not love this next series of photos more.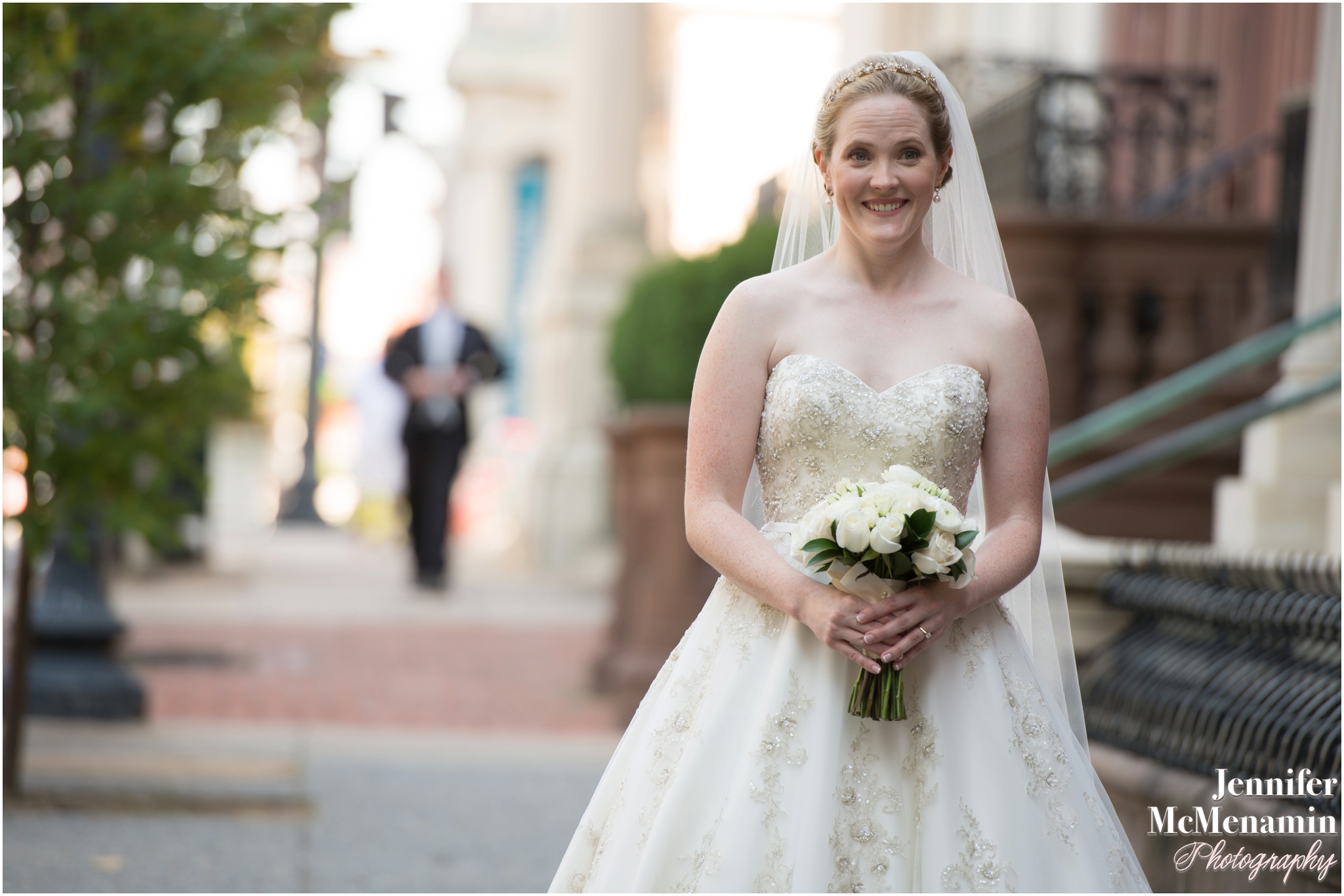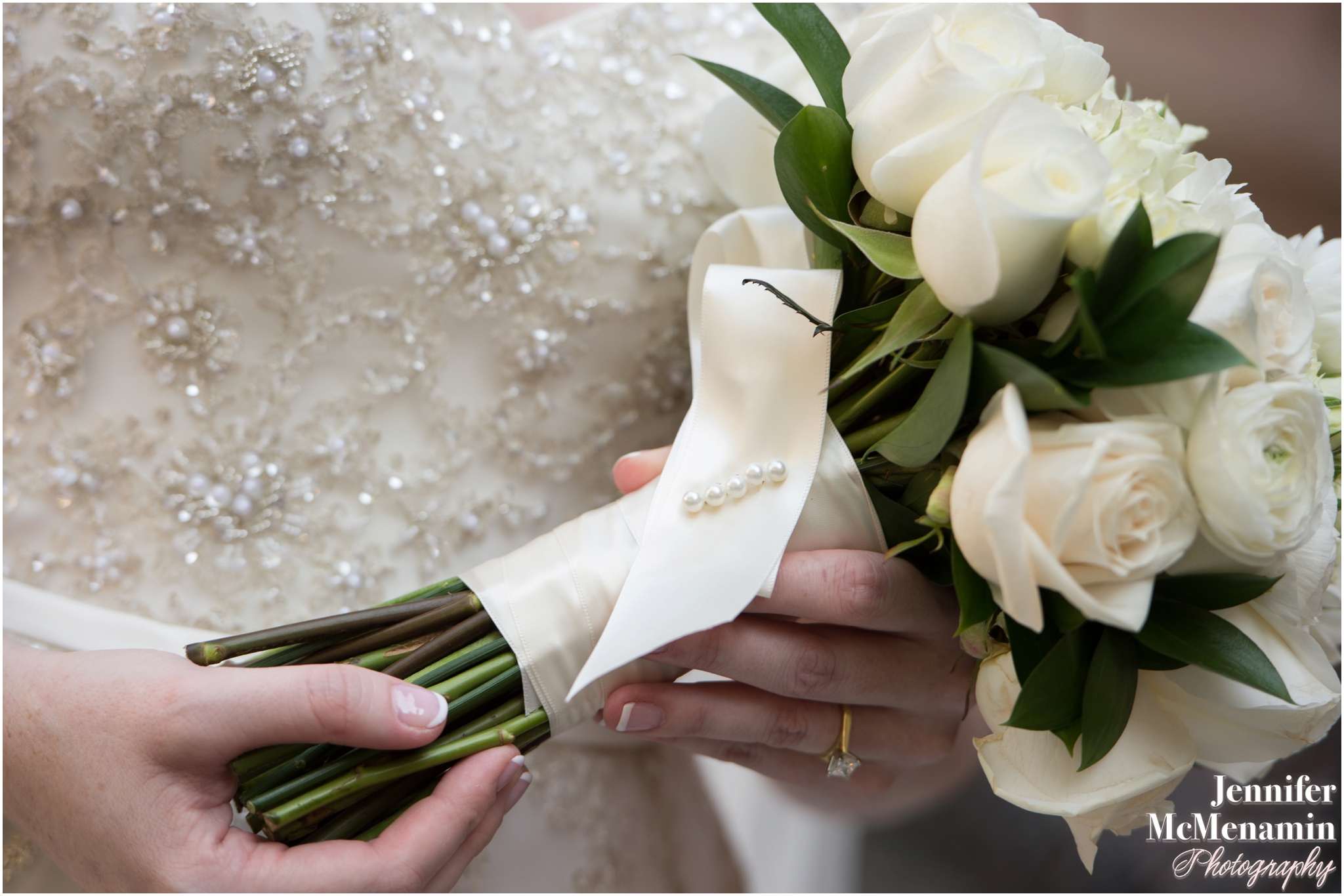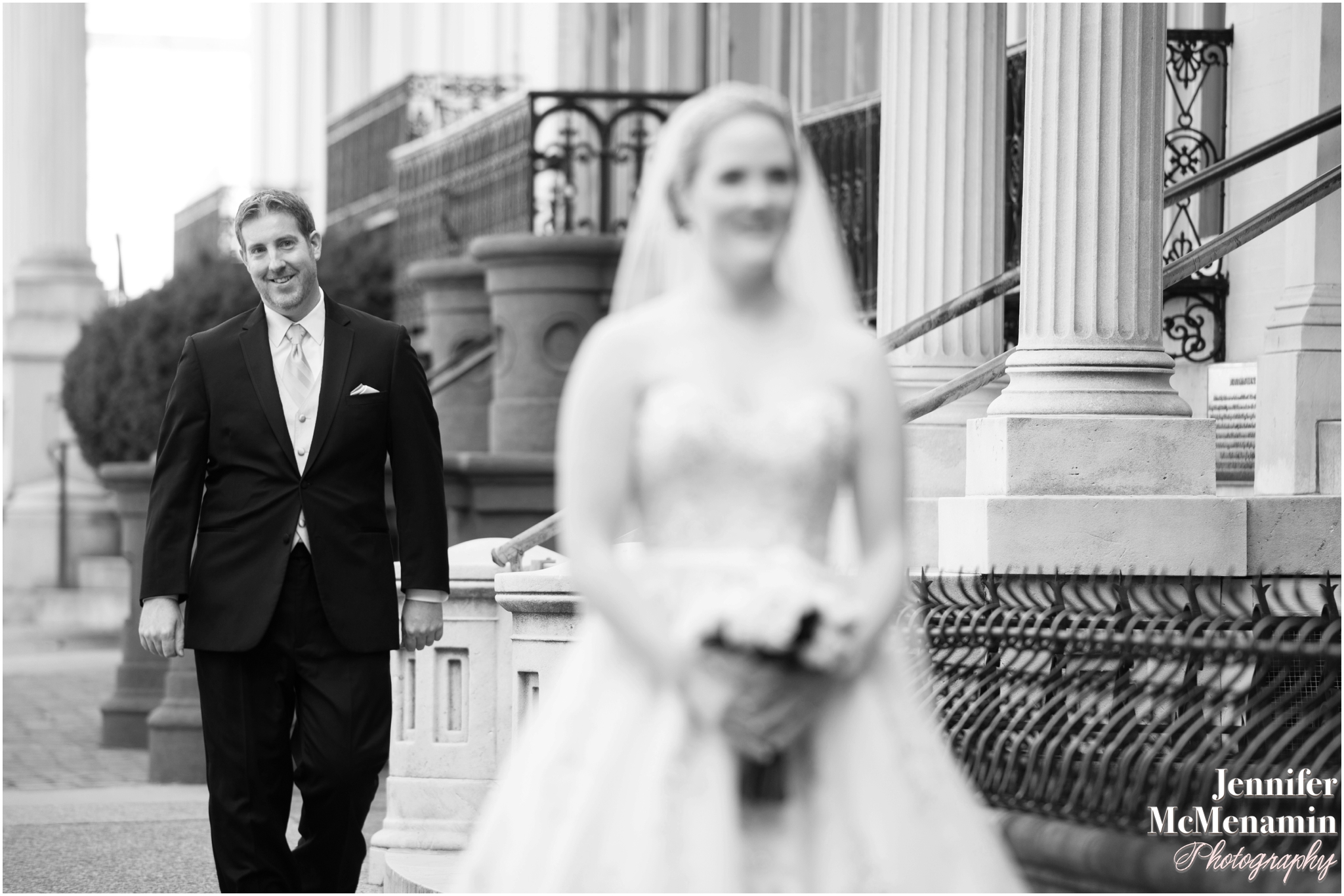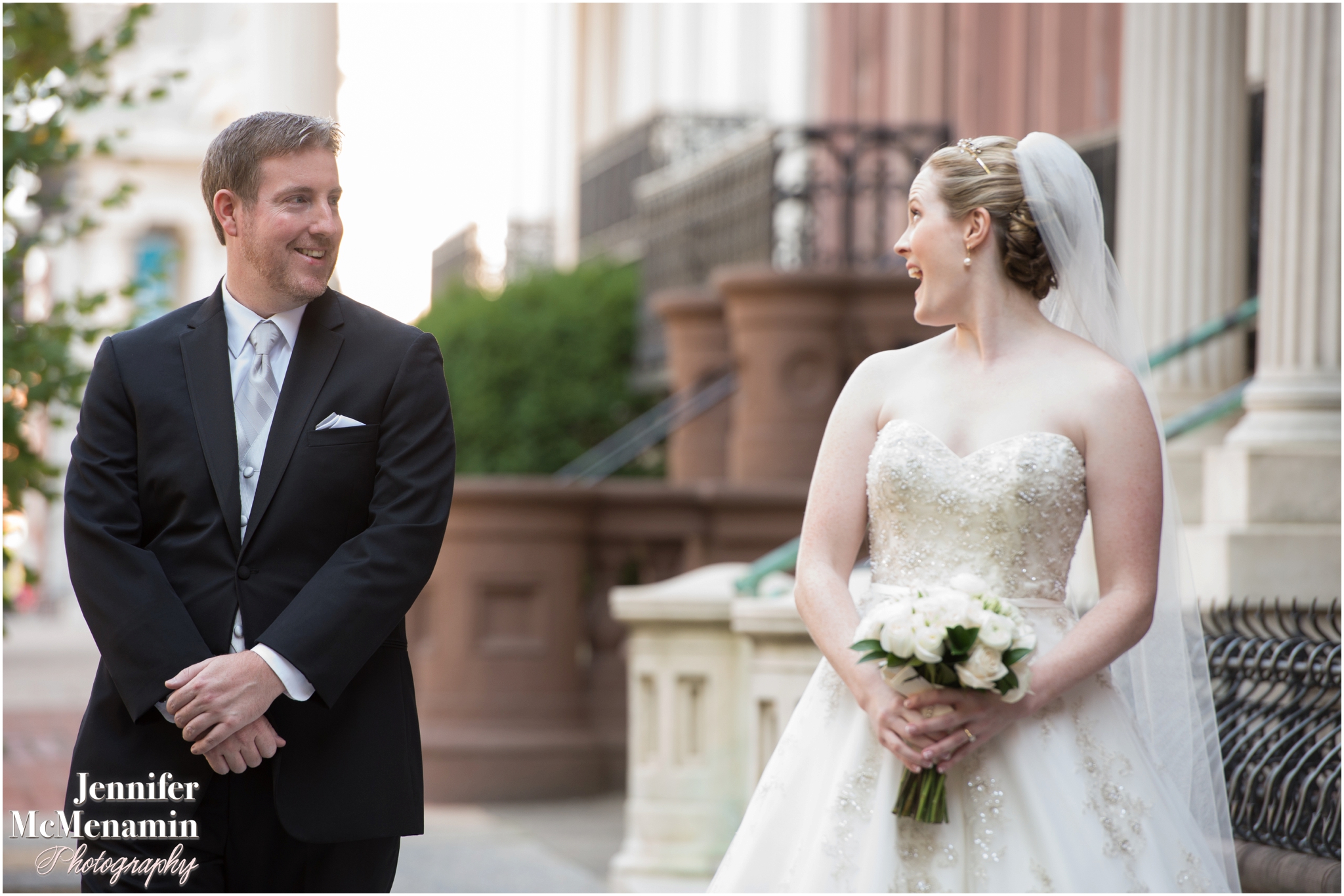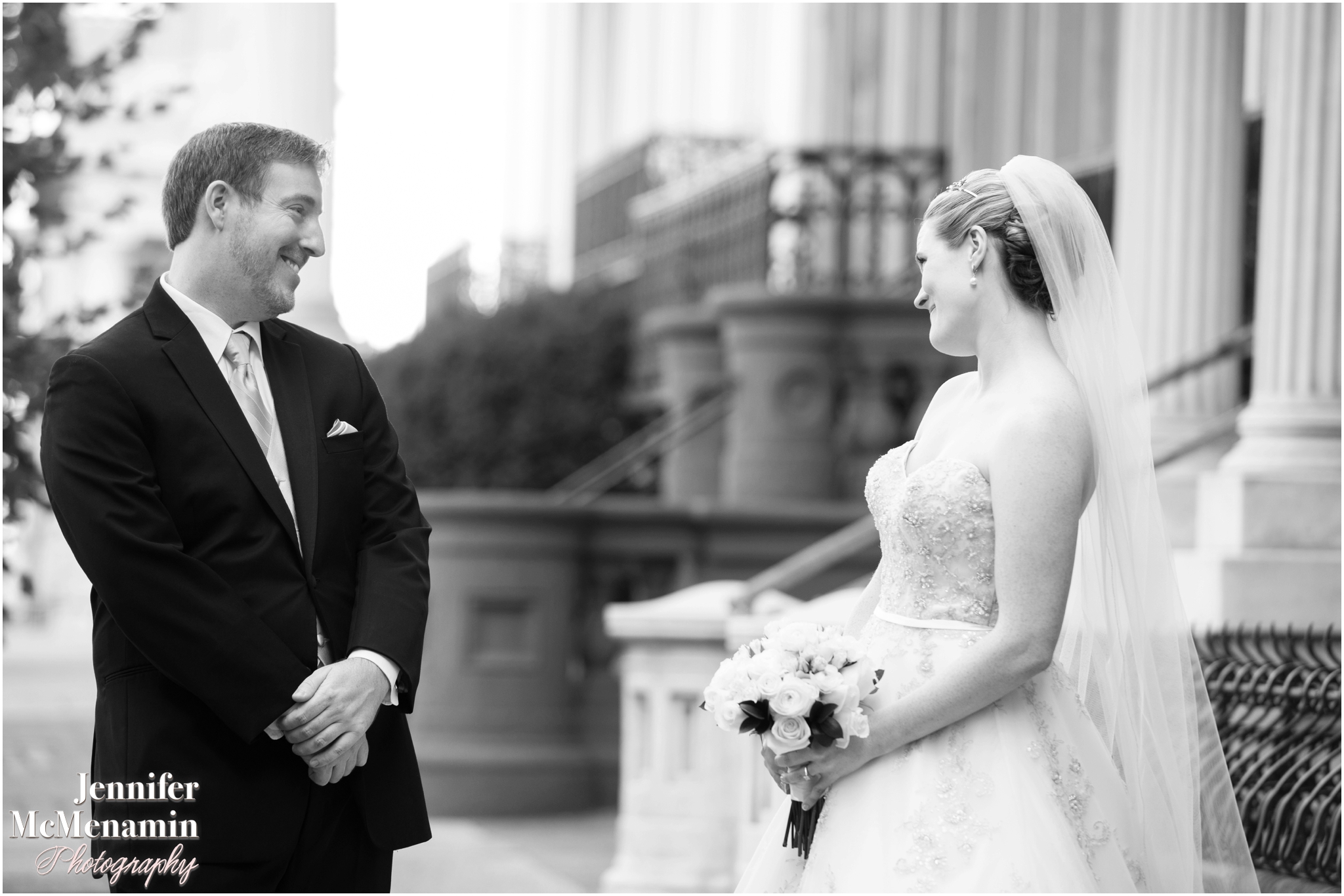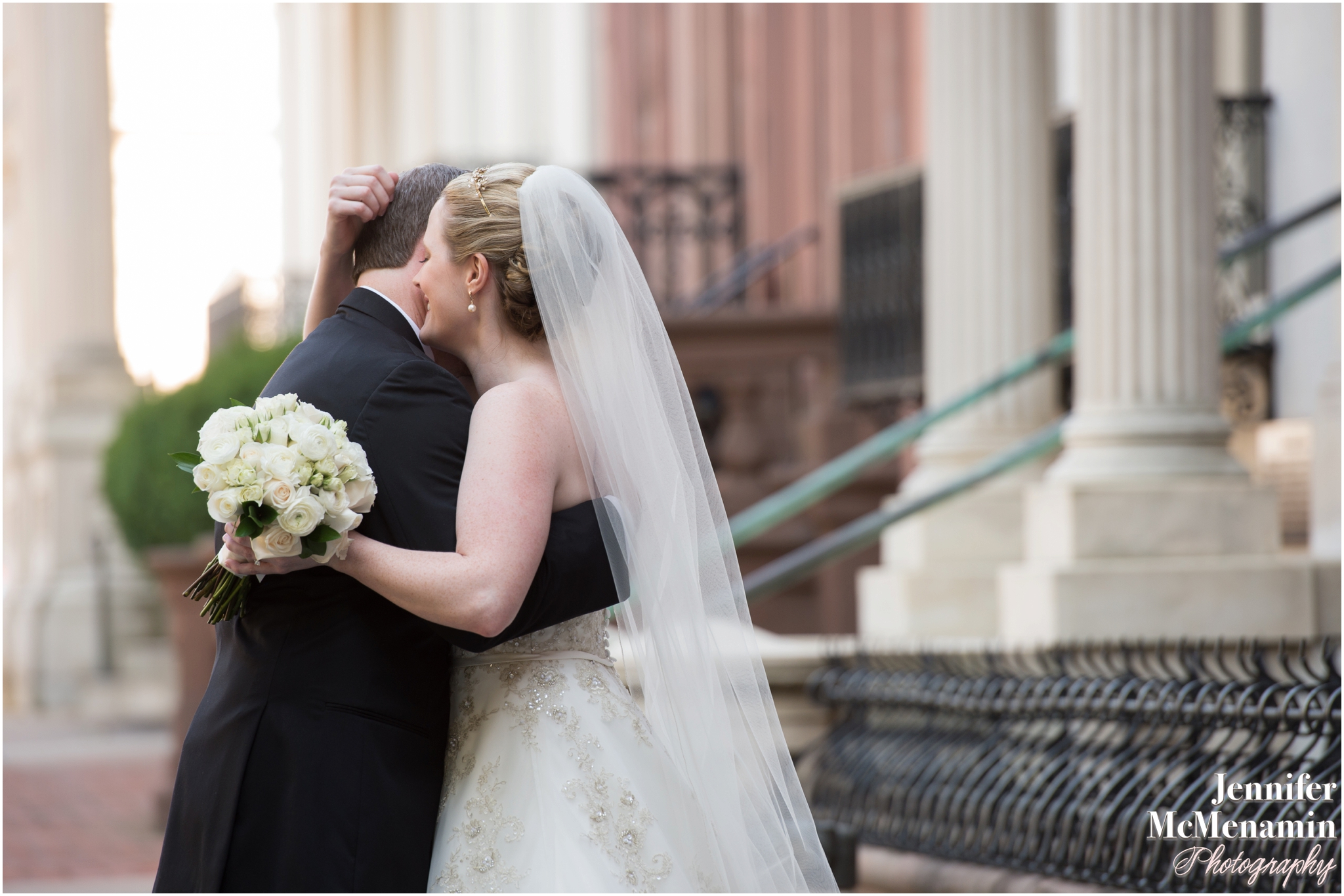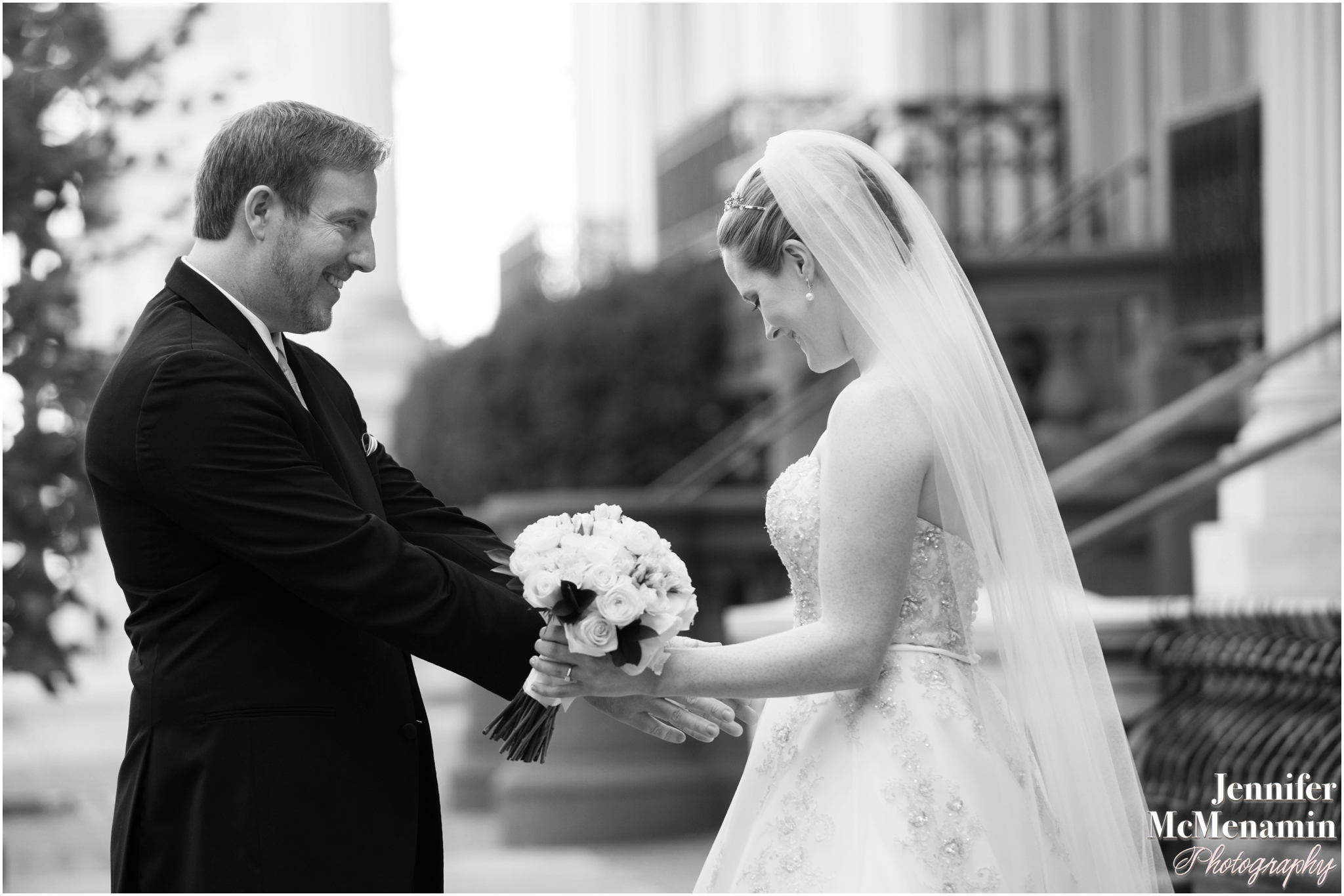 Brie's mother, Diane, looks on as her daughter greets her soon-to-be husband.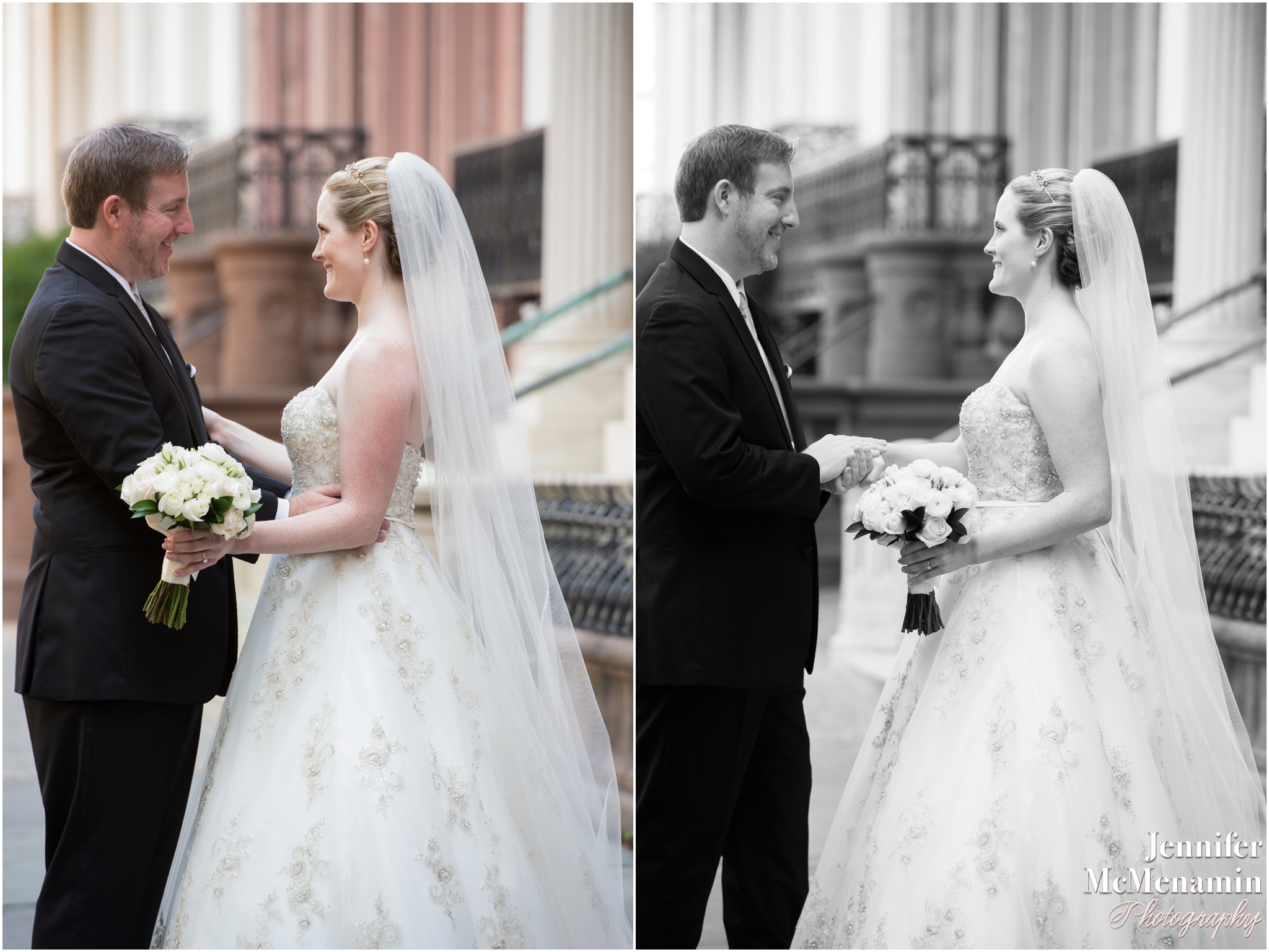 The light. The fountain spray. This moment.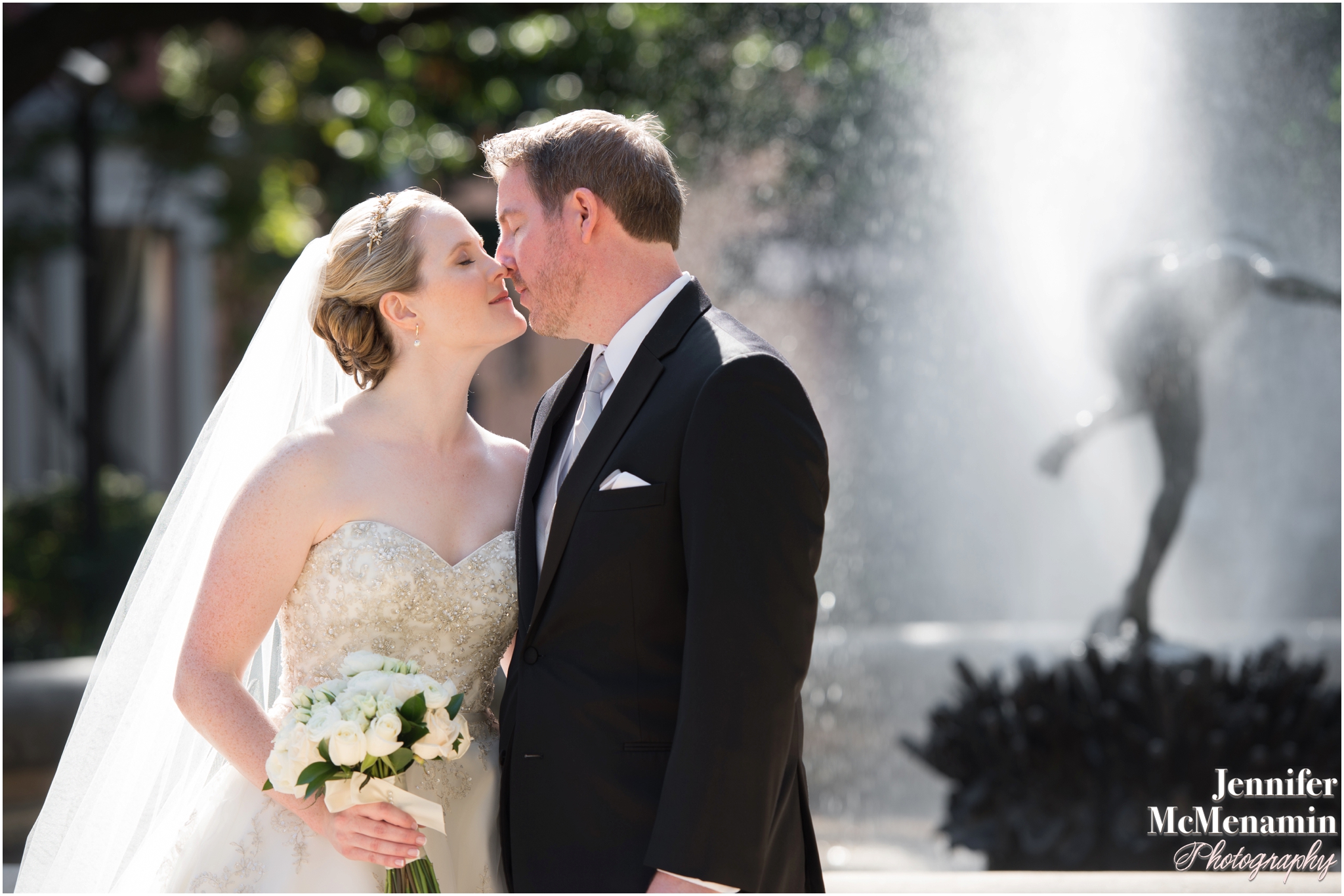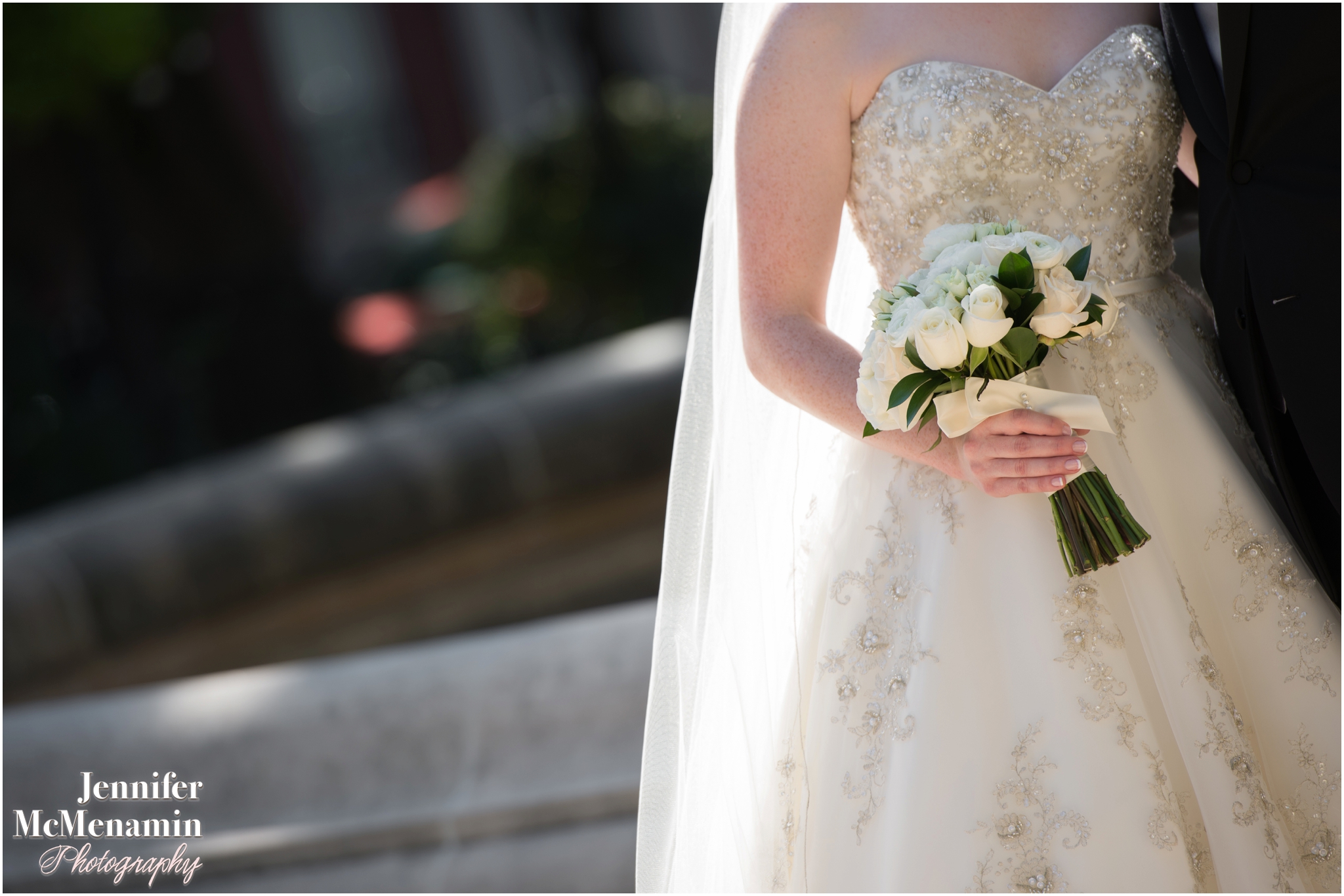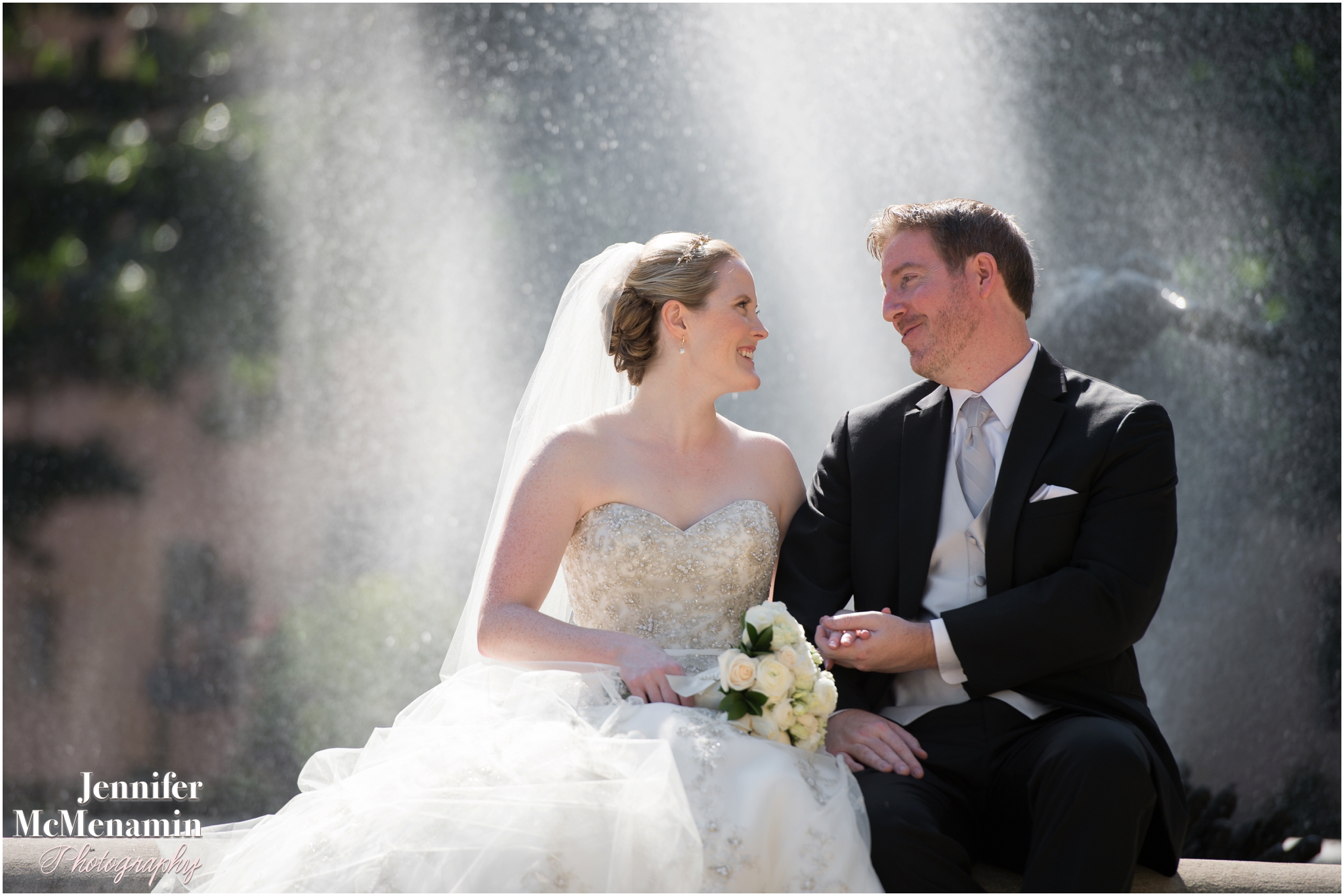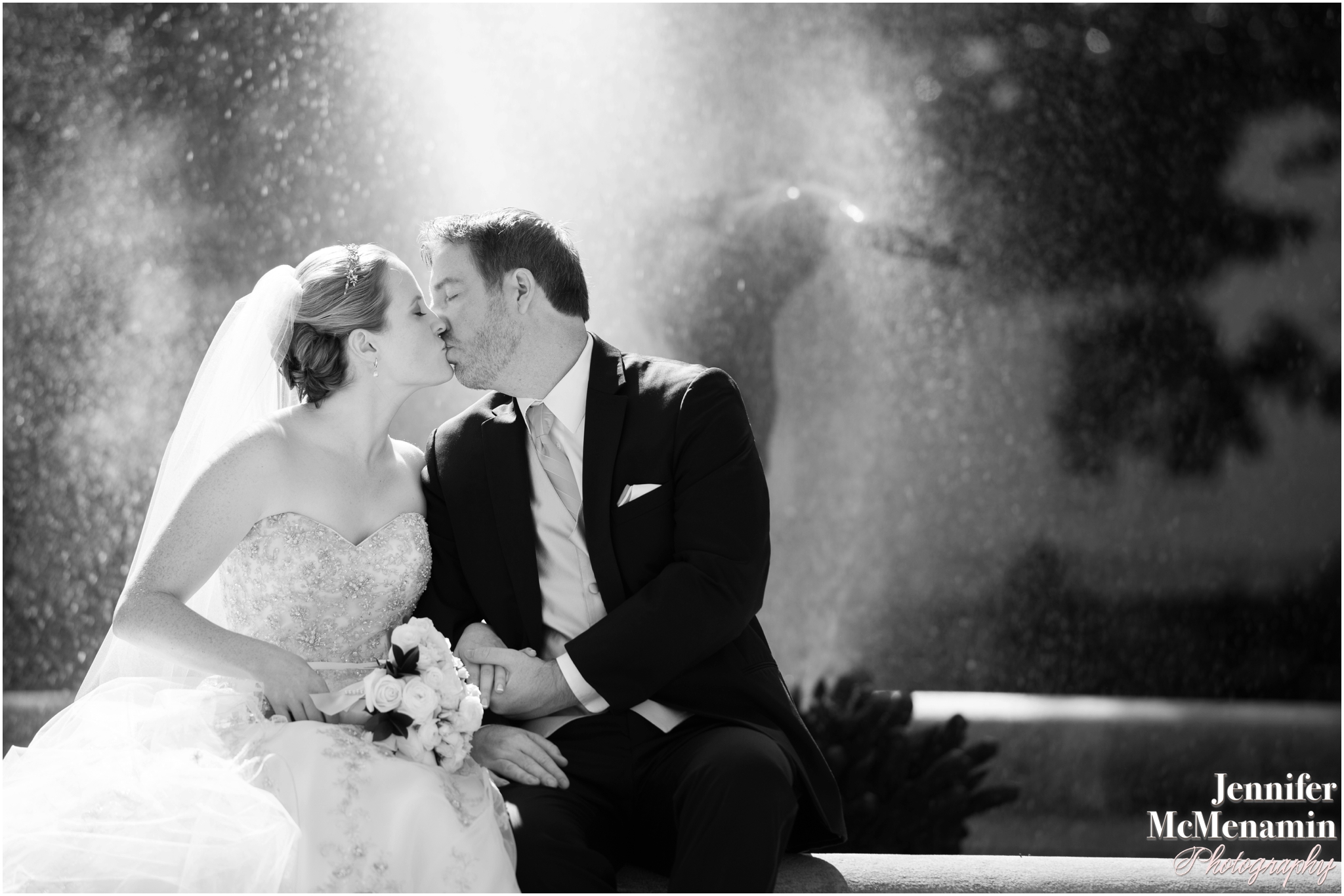 Oh how I love a pretty long veil on such a graceful bride.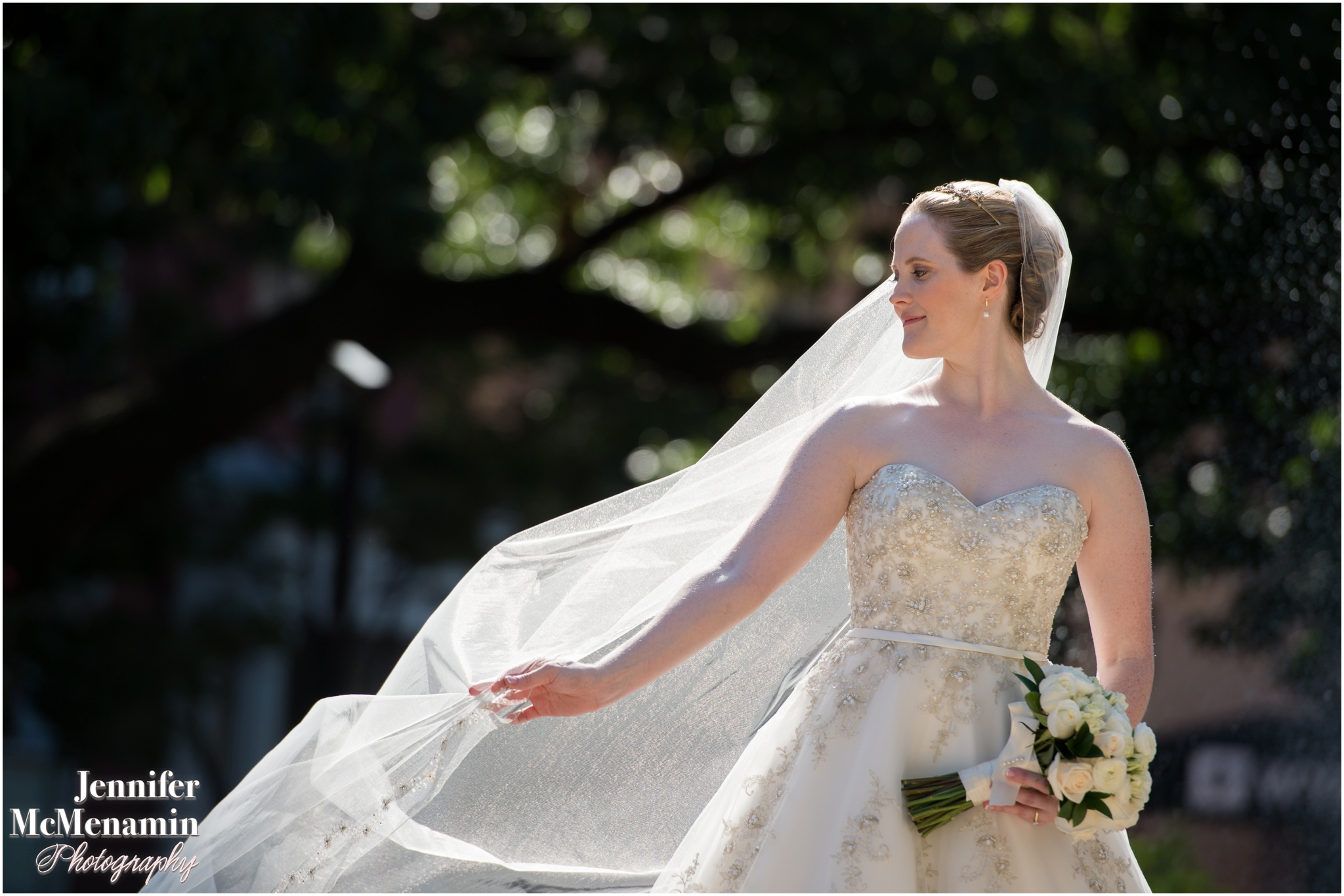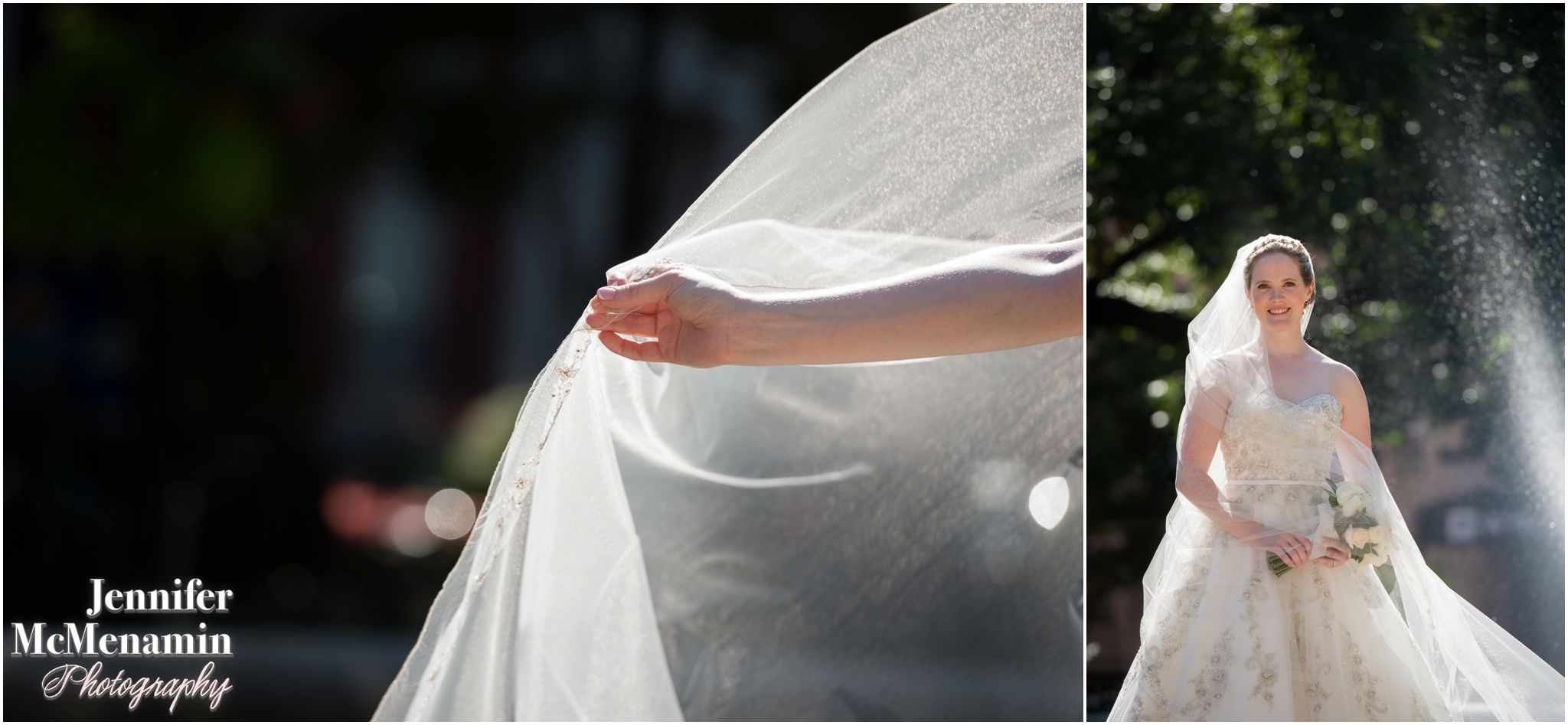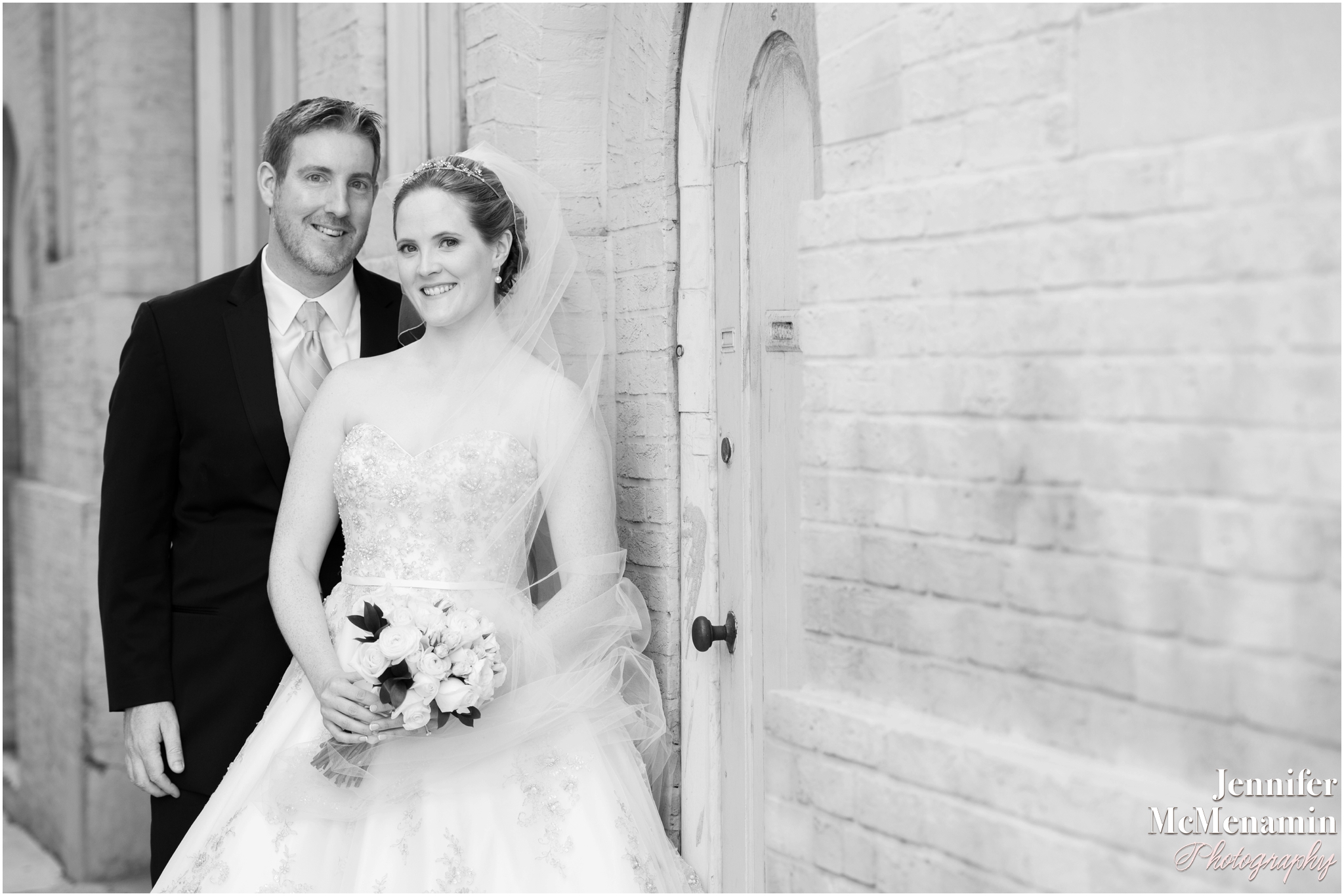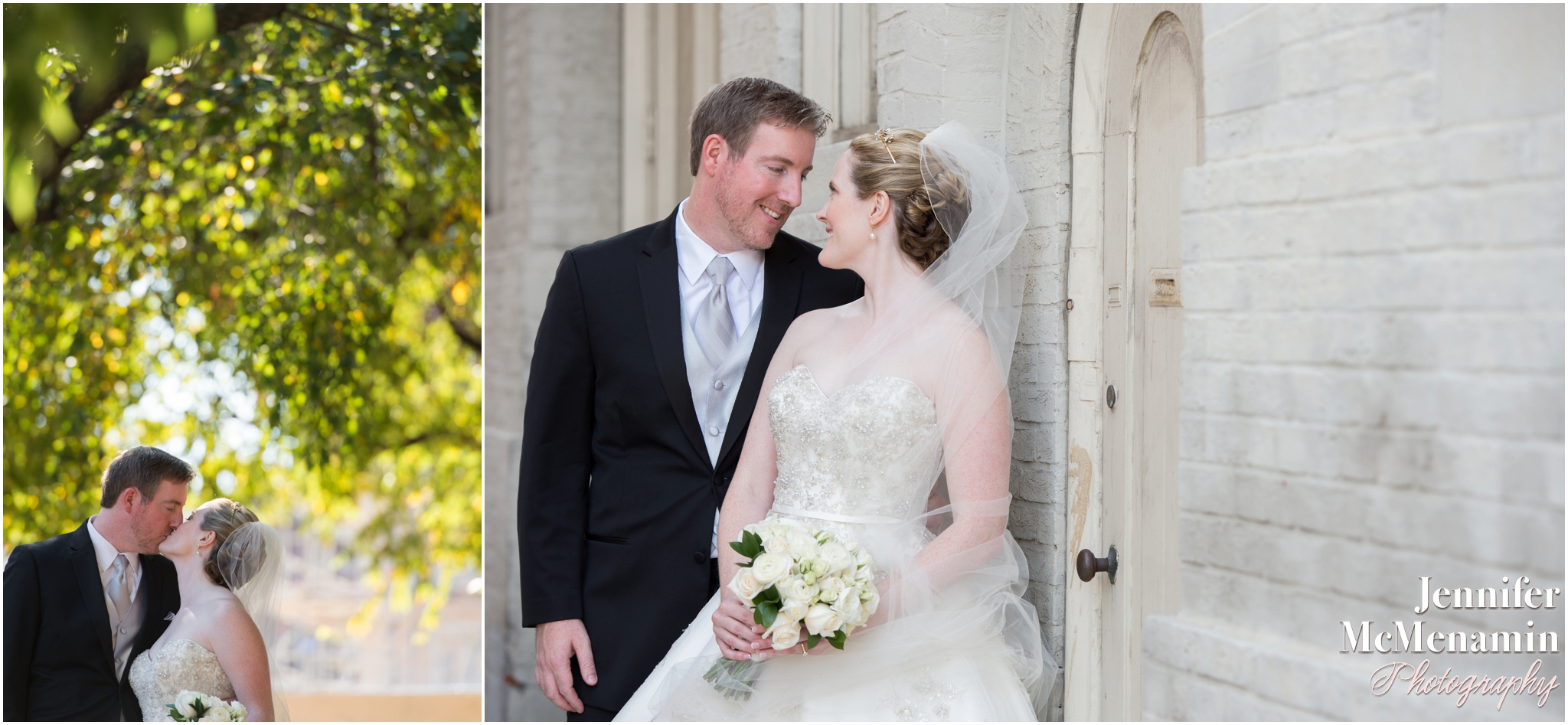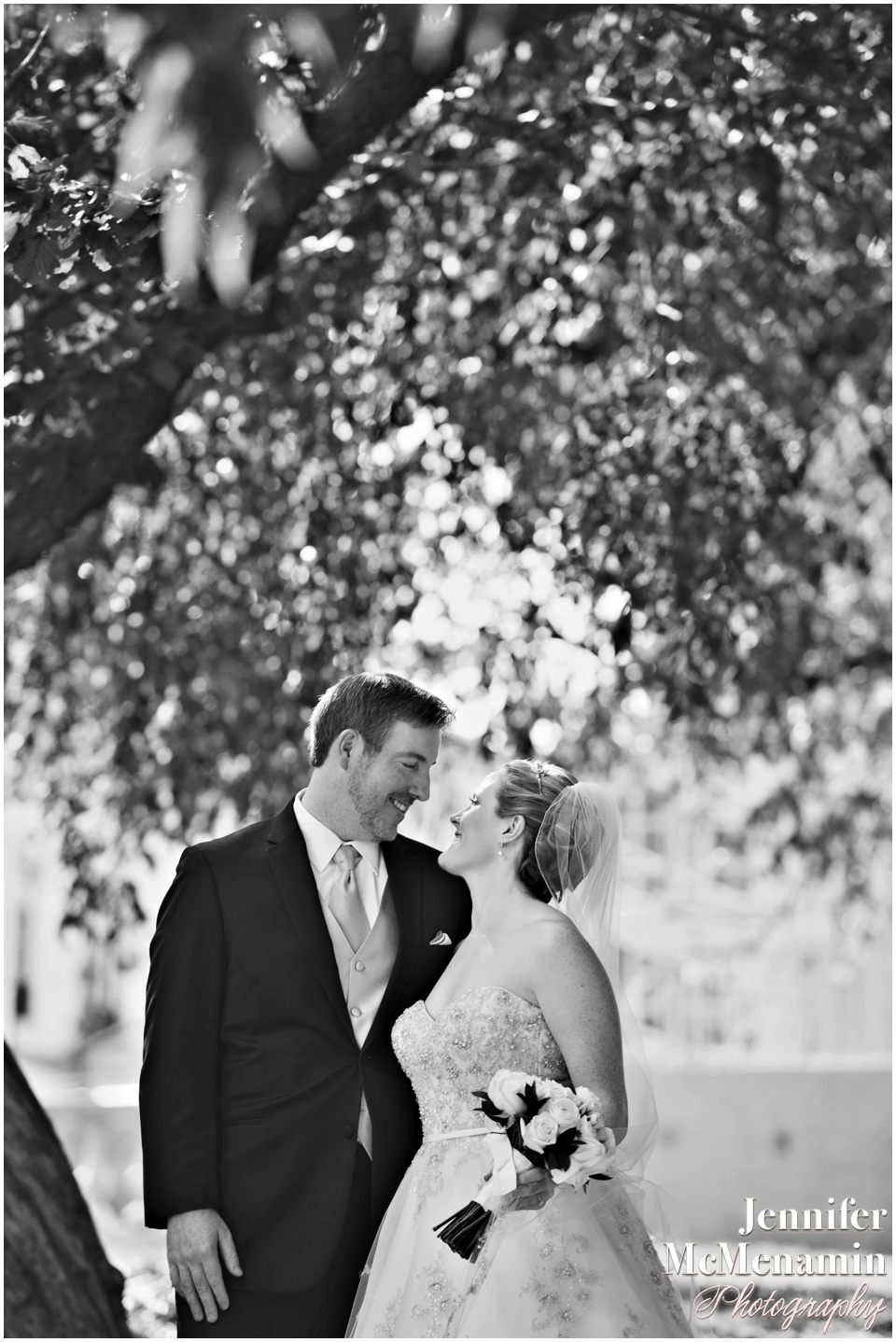 Brie greets her grandmother.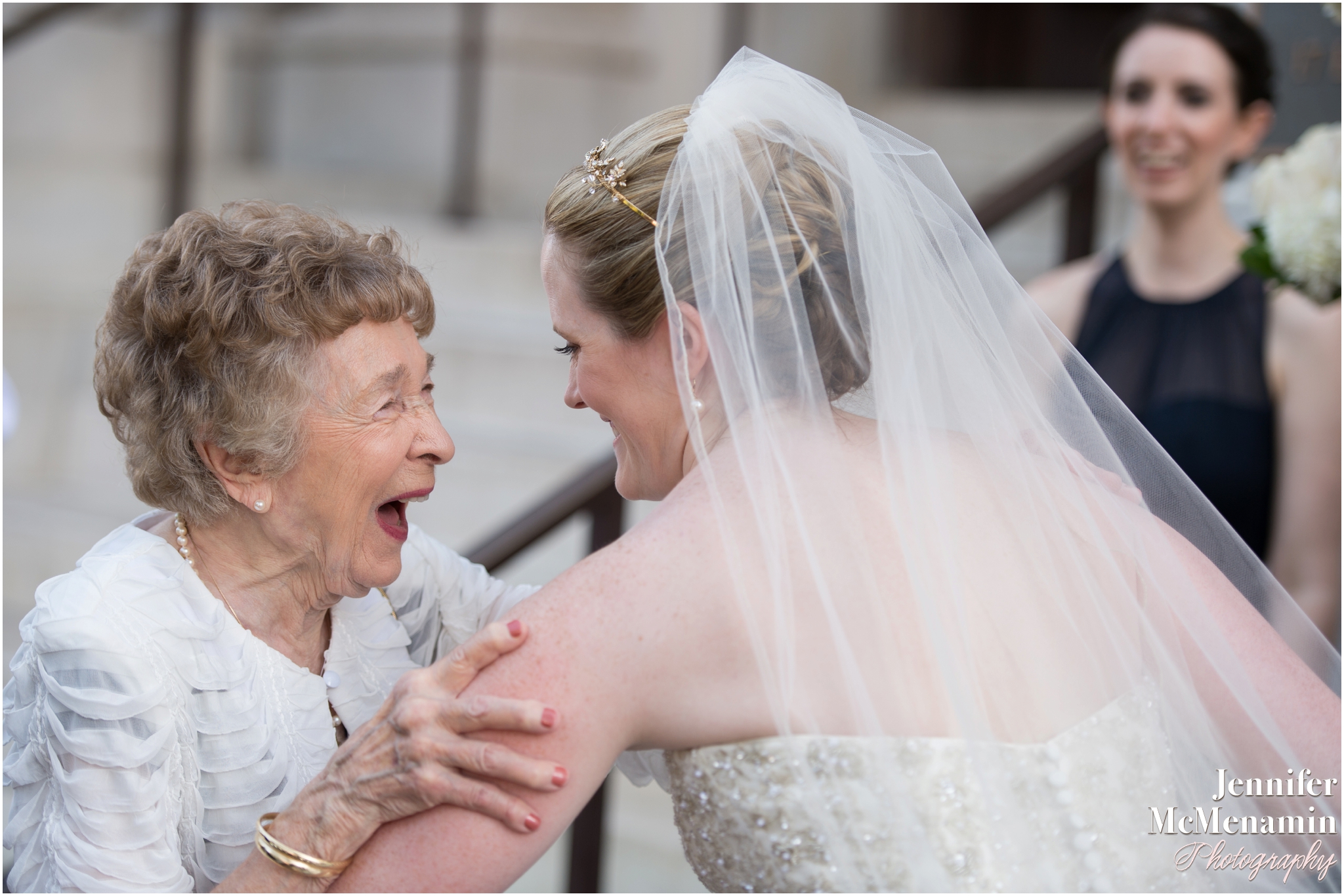 A few fun wedding party photos.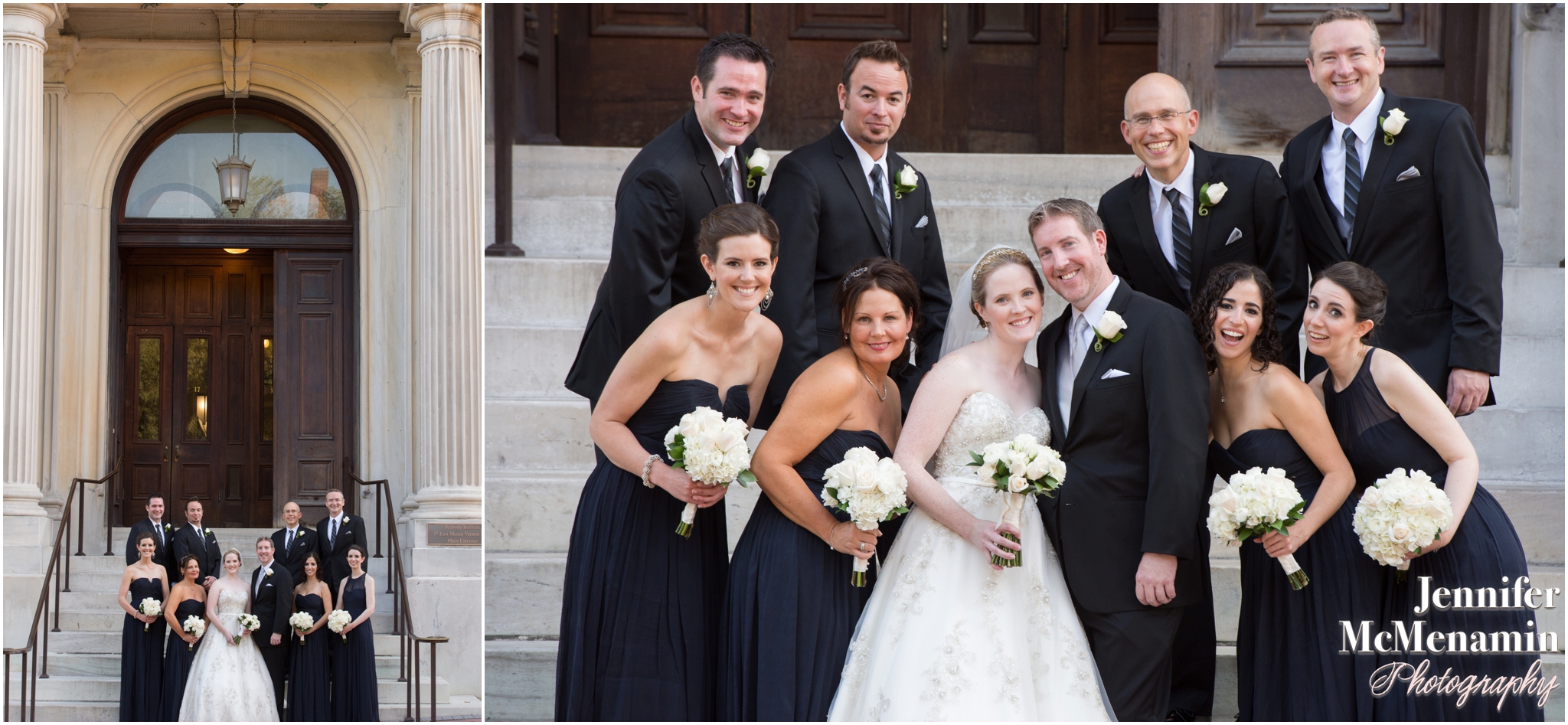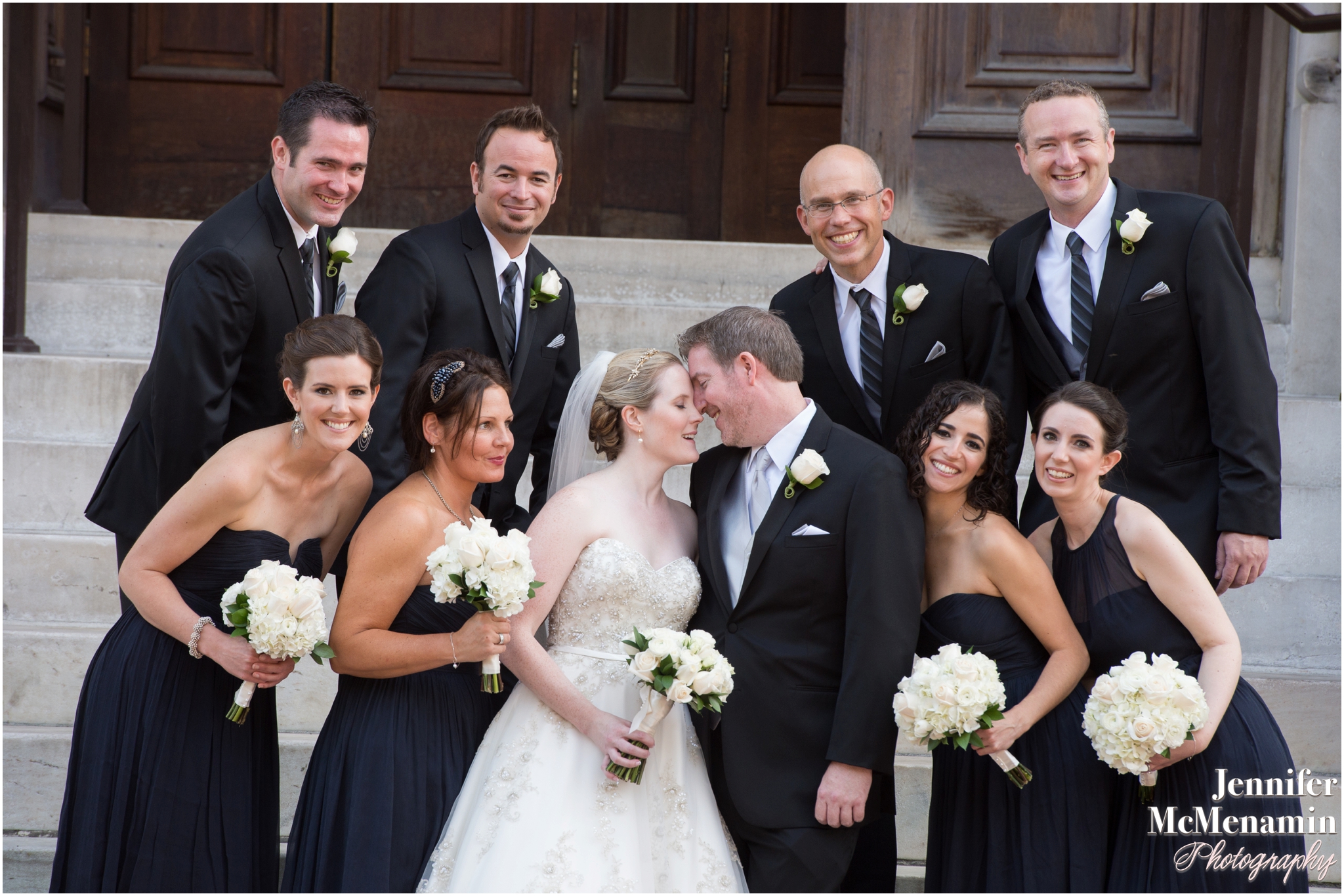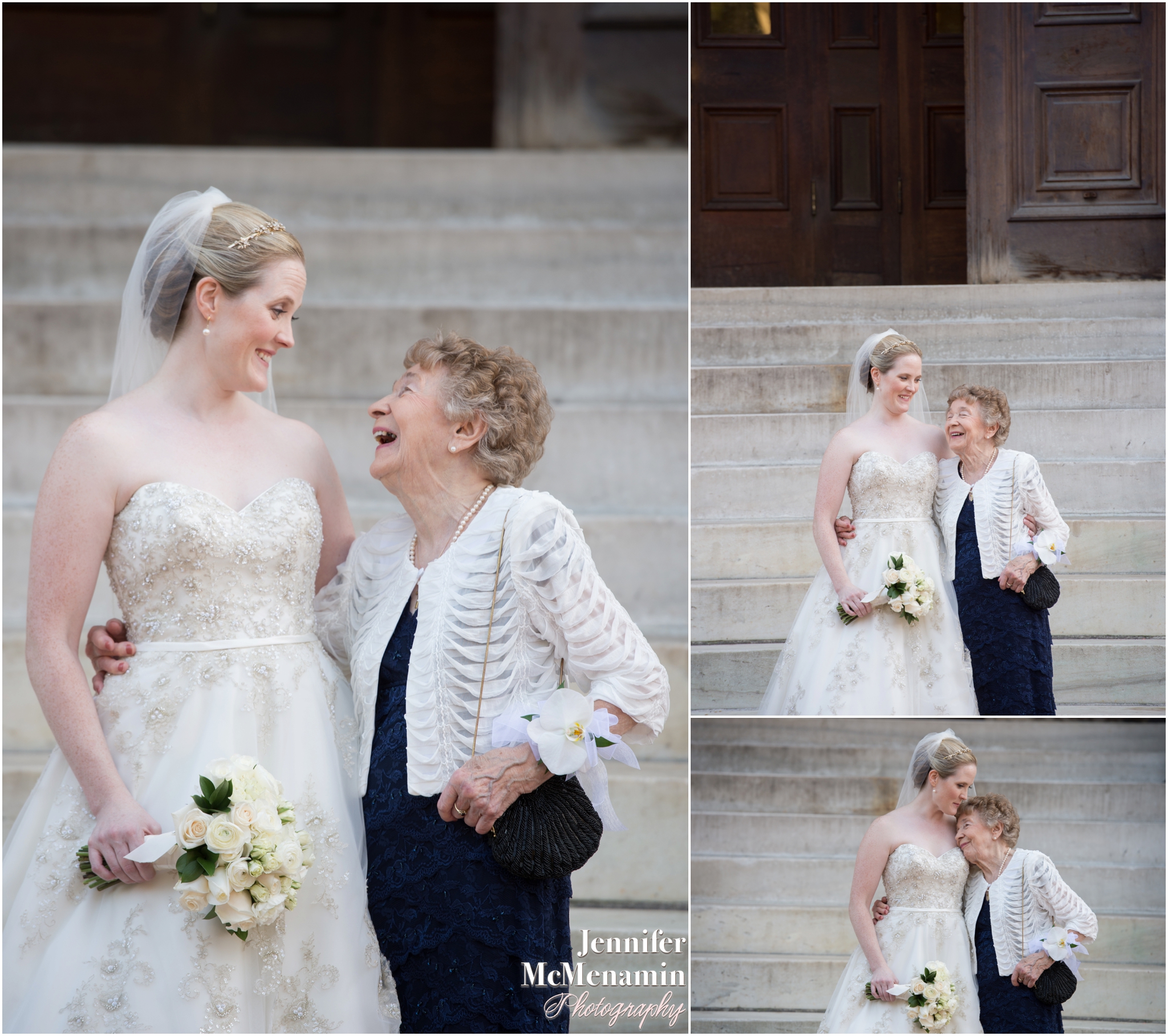 Del enjoying his role for the day as father of the bride.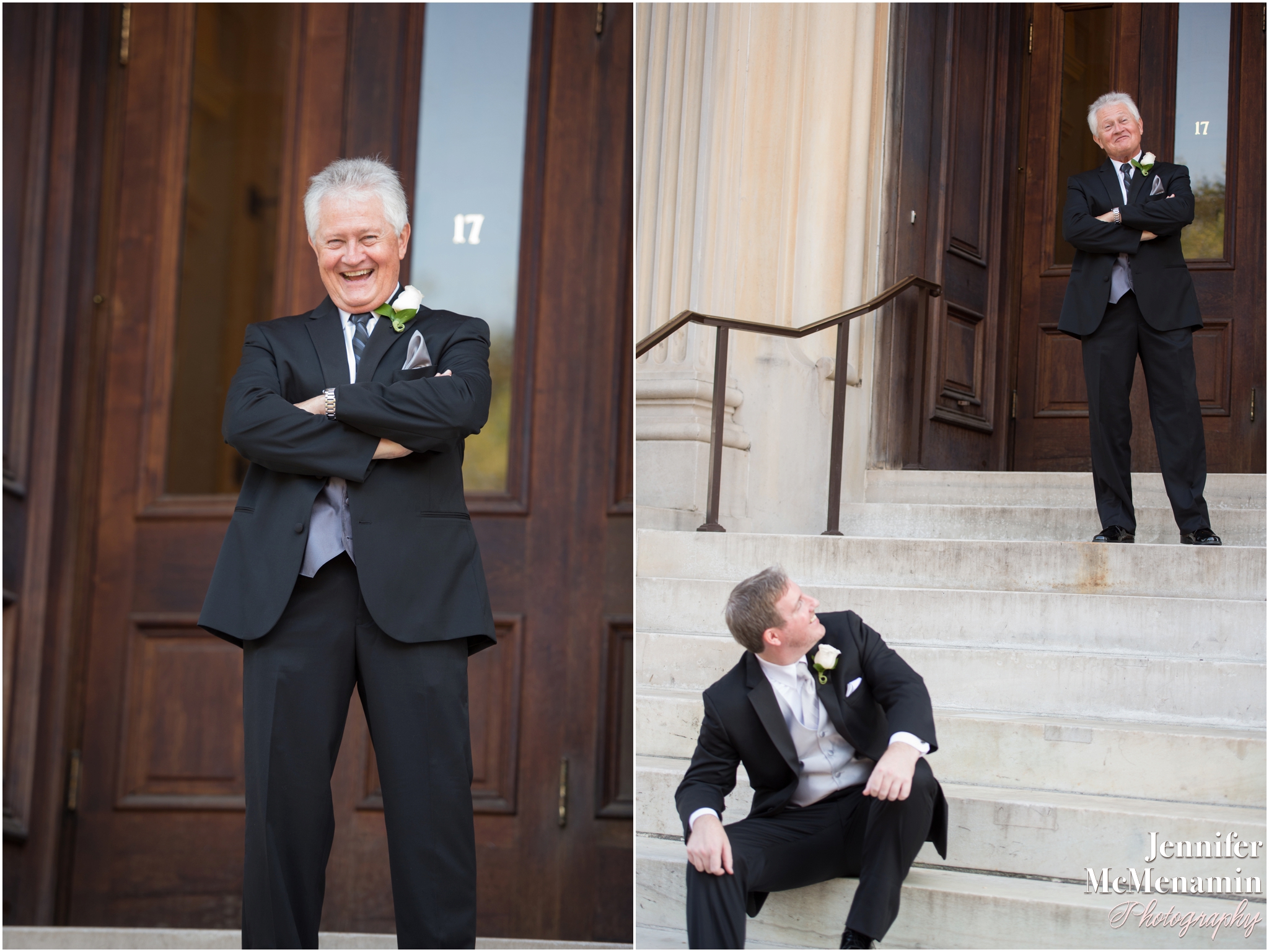 The George Peabody Library is one of my absolute most favorite venues. It still gives me goosebumps every time I walk into the Stacks Room.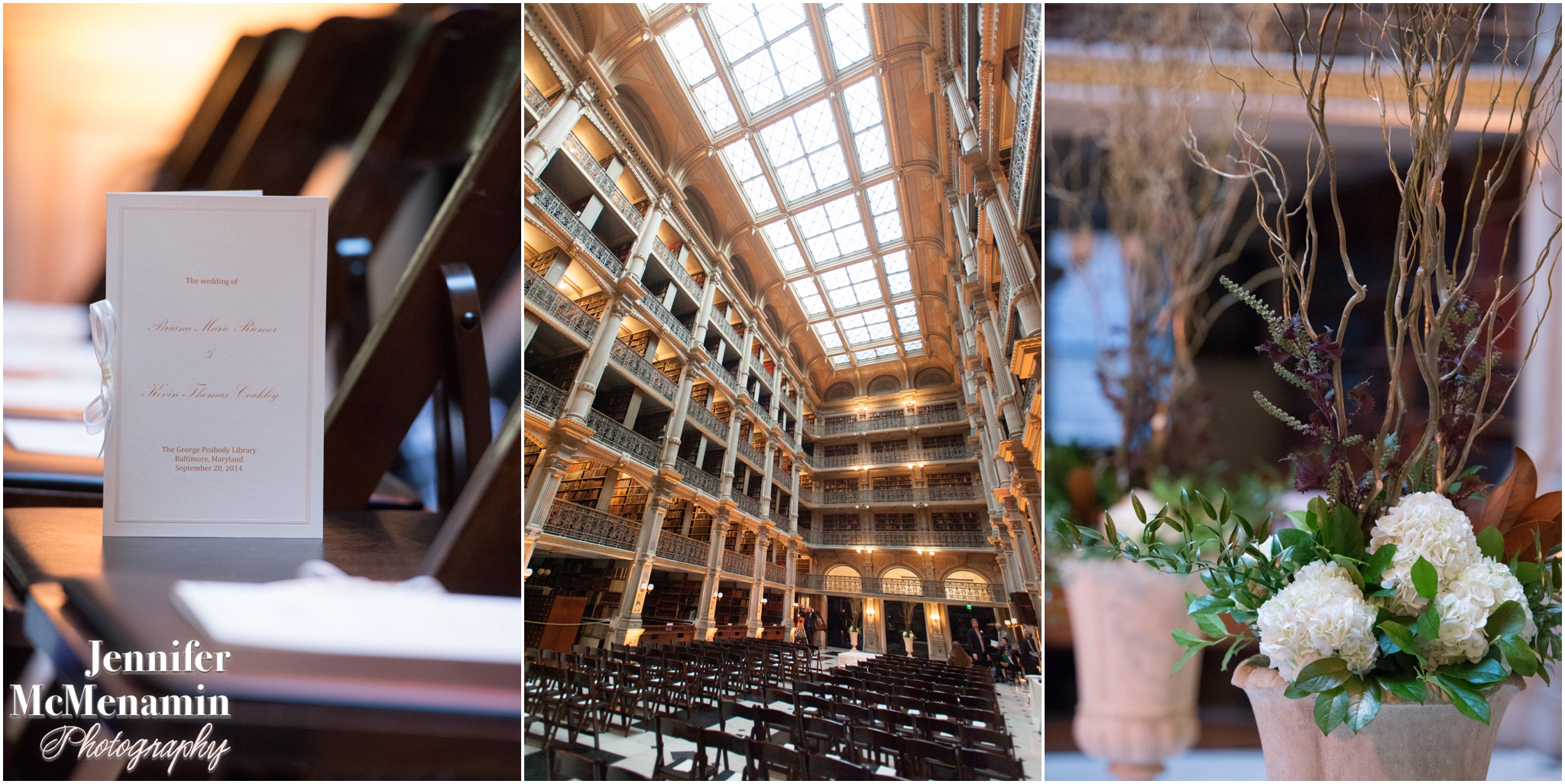 Kevin peeks out to see if it's time yet for the ceremony to begin.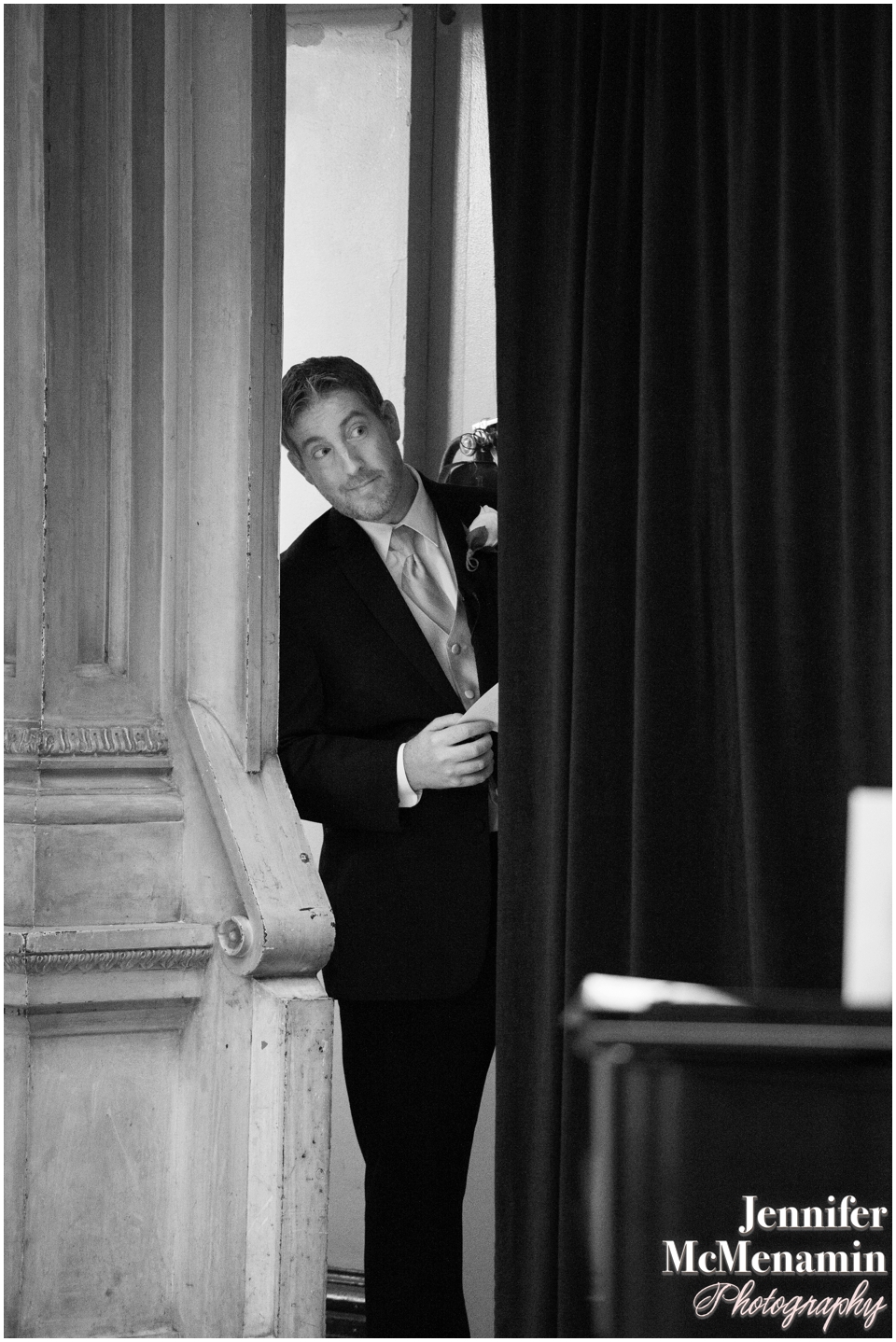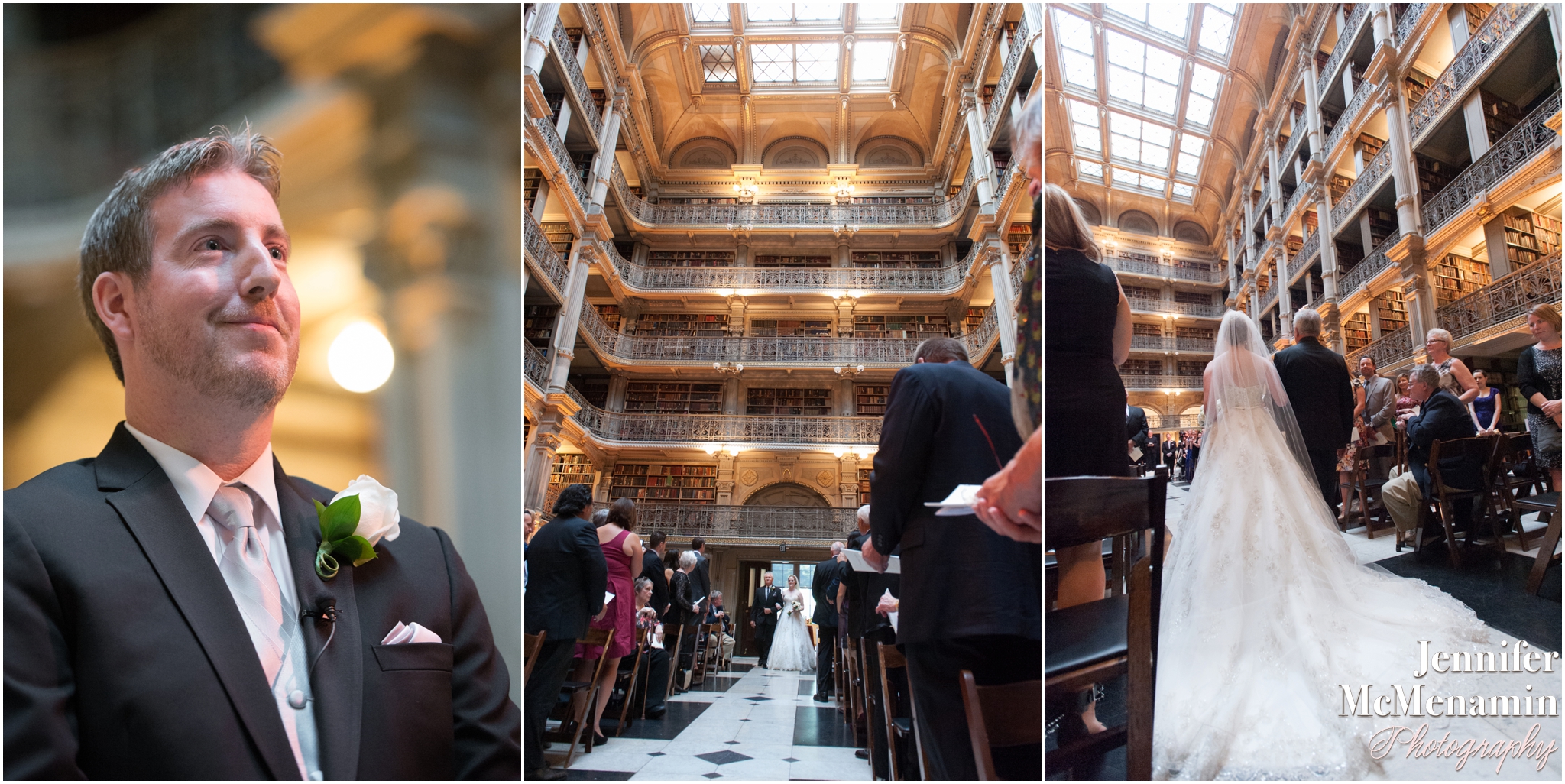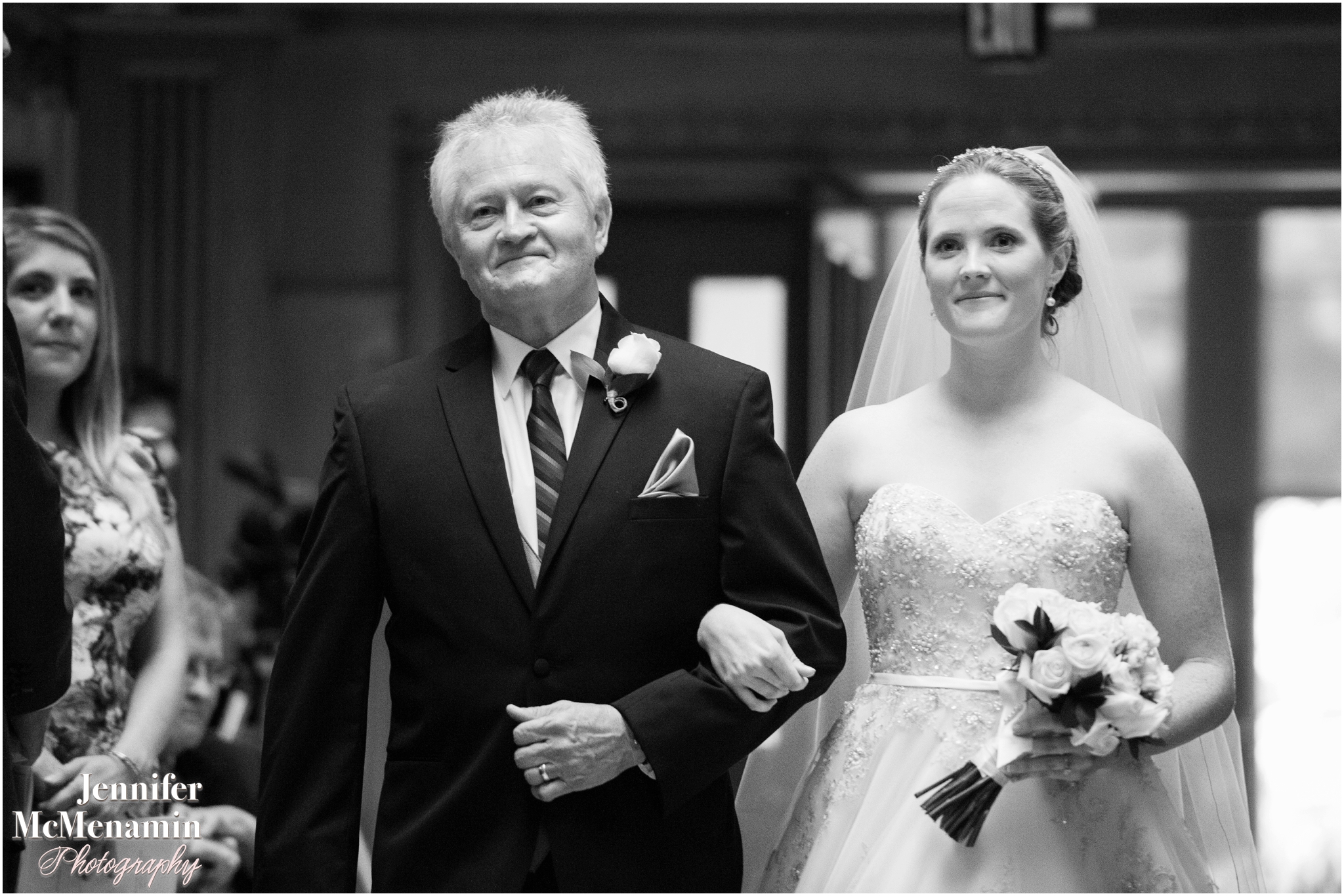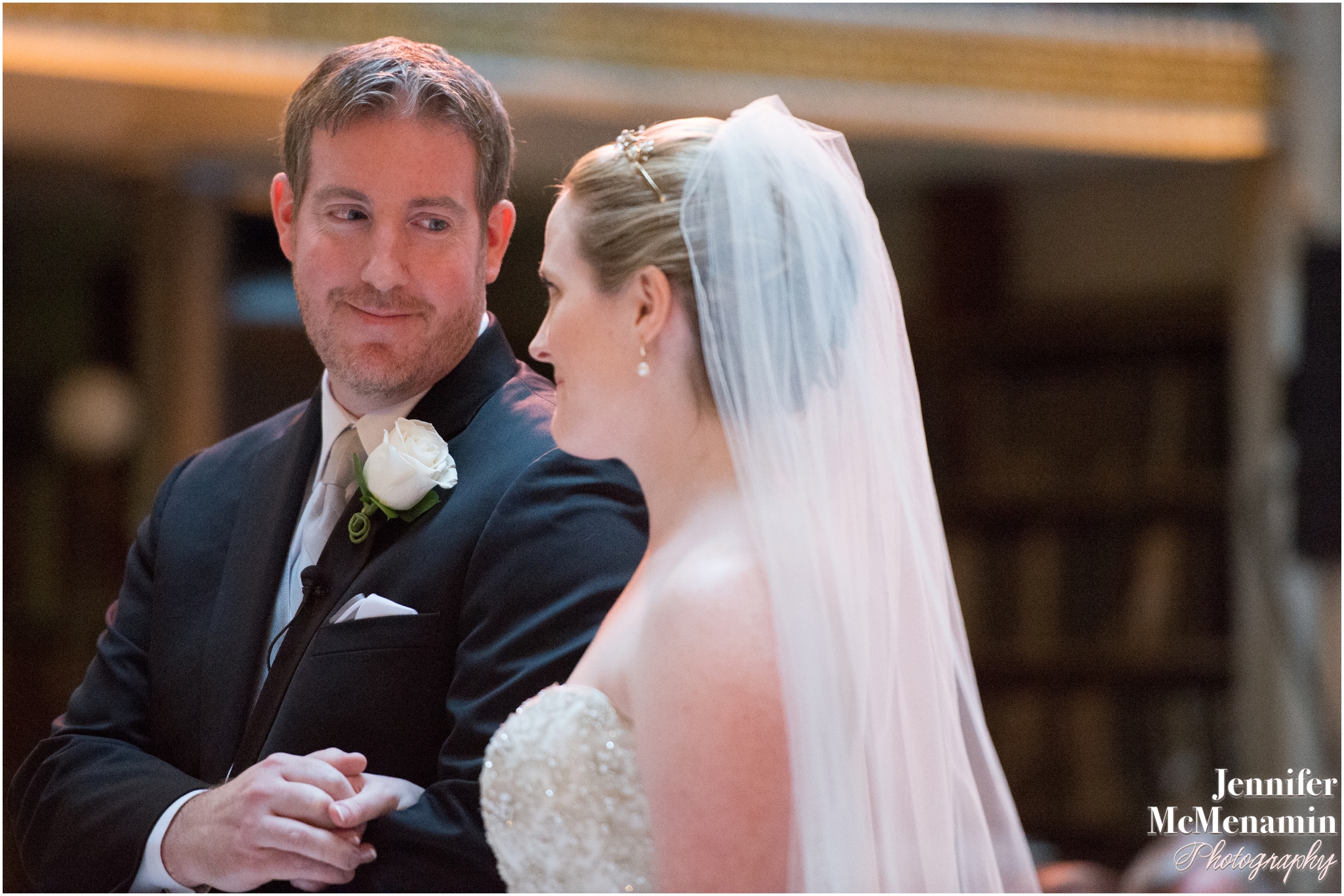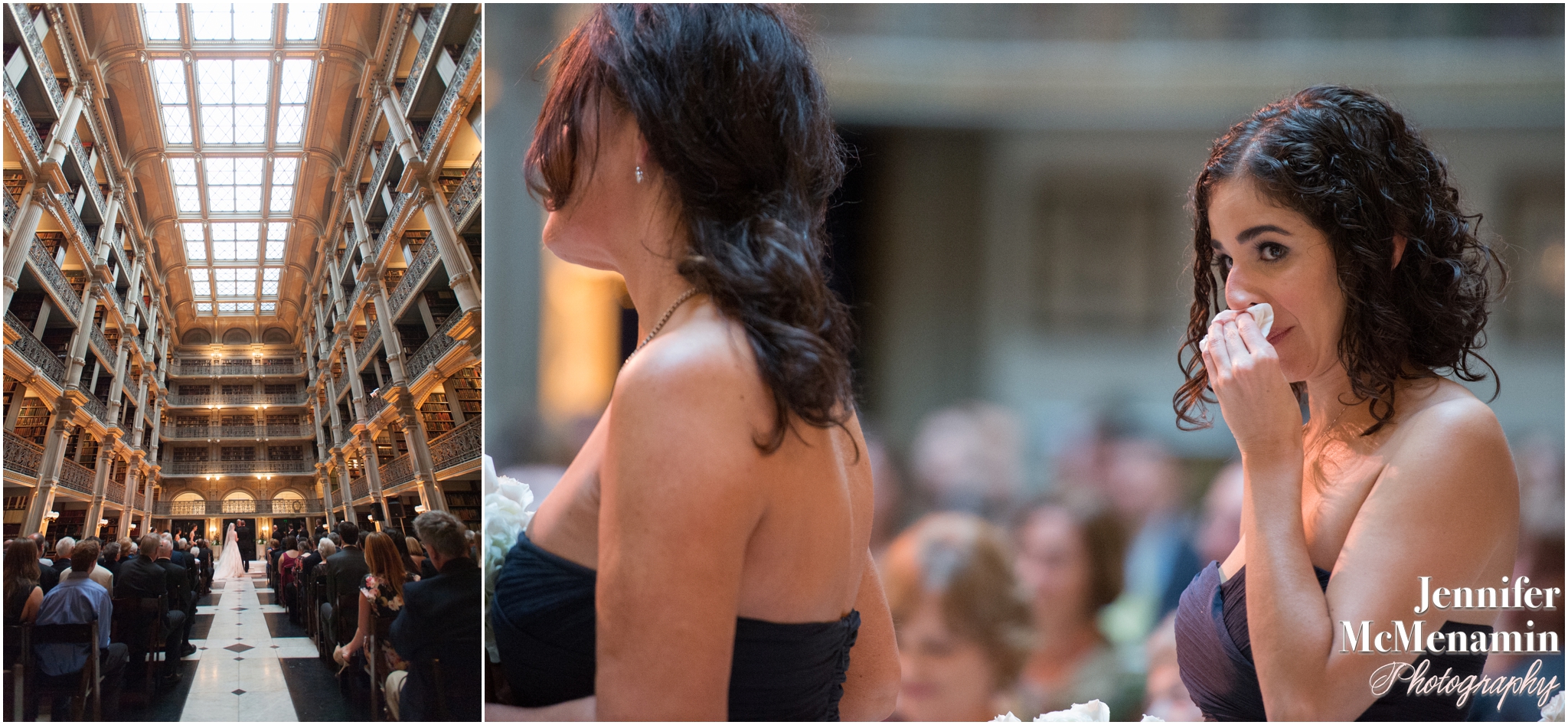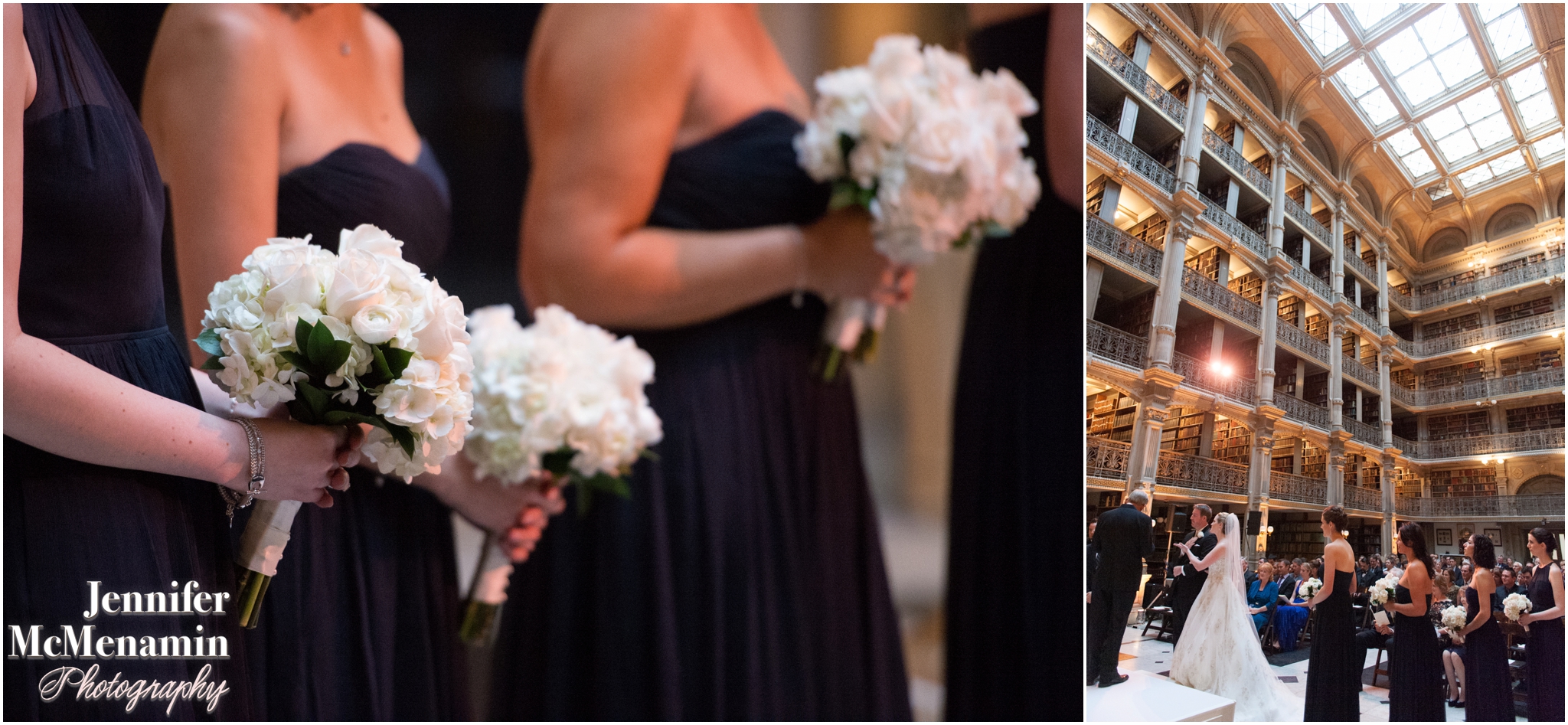 Lucas shot these next two photos and I love them both. Such great, unusual perspectives.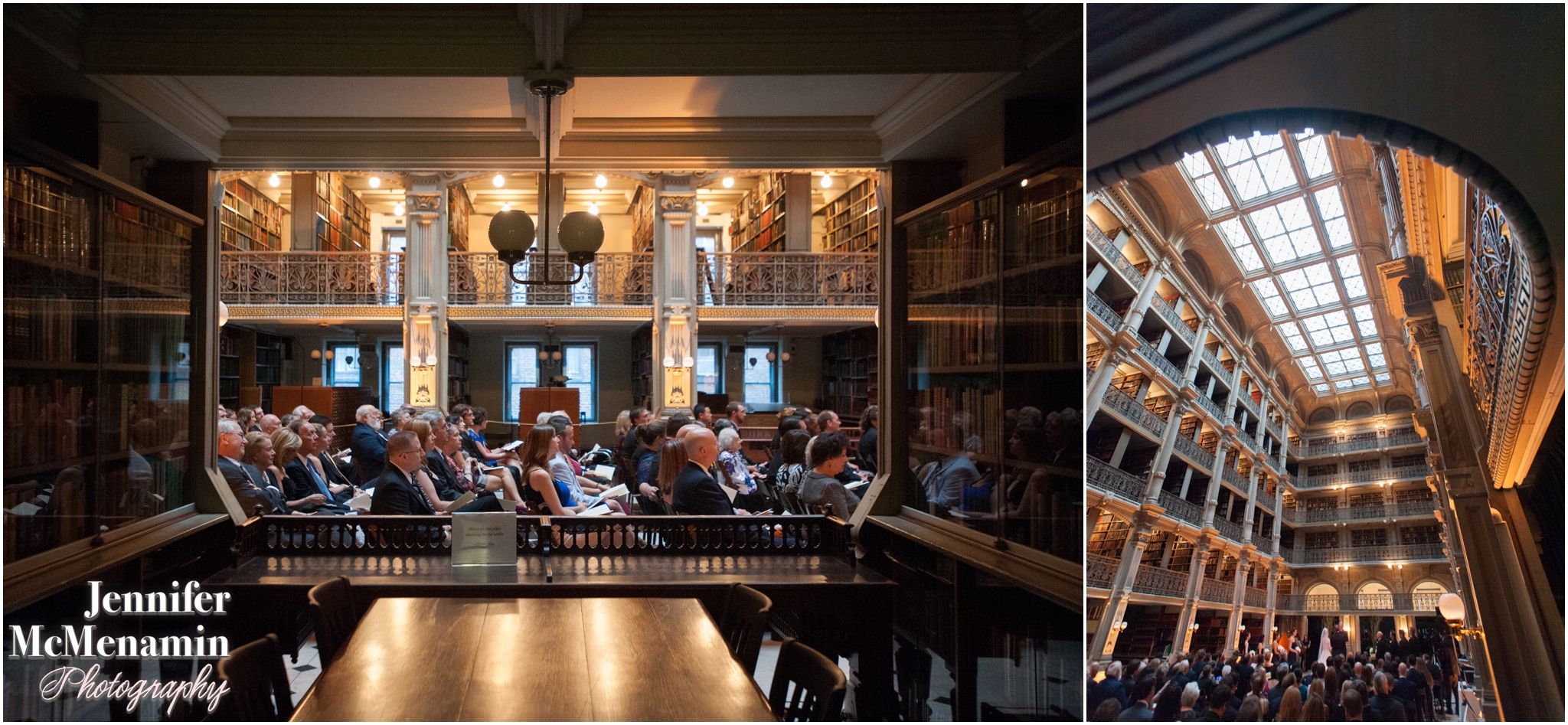 I hope they remember exactly what they were thinking here. Such a great exchange of glances.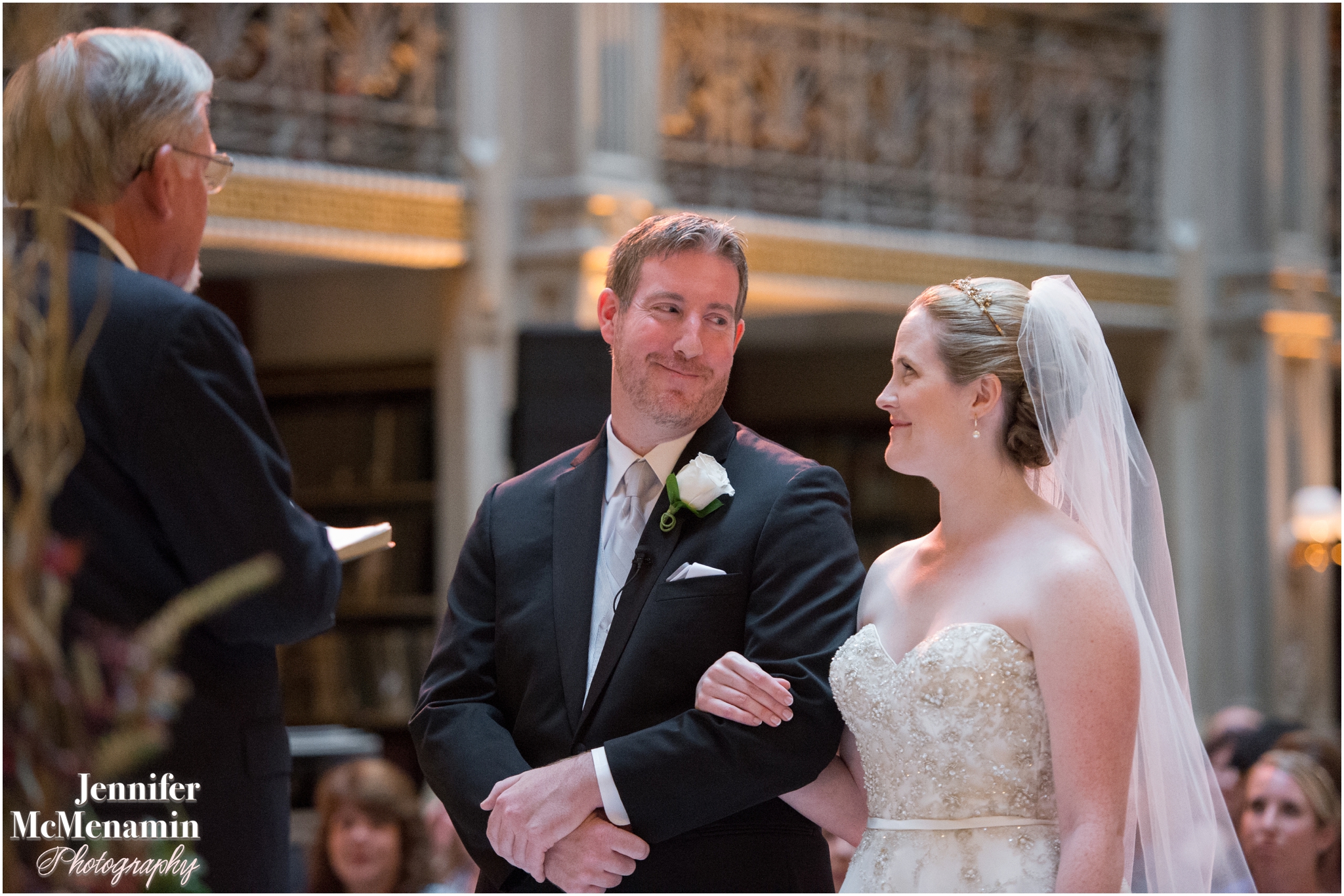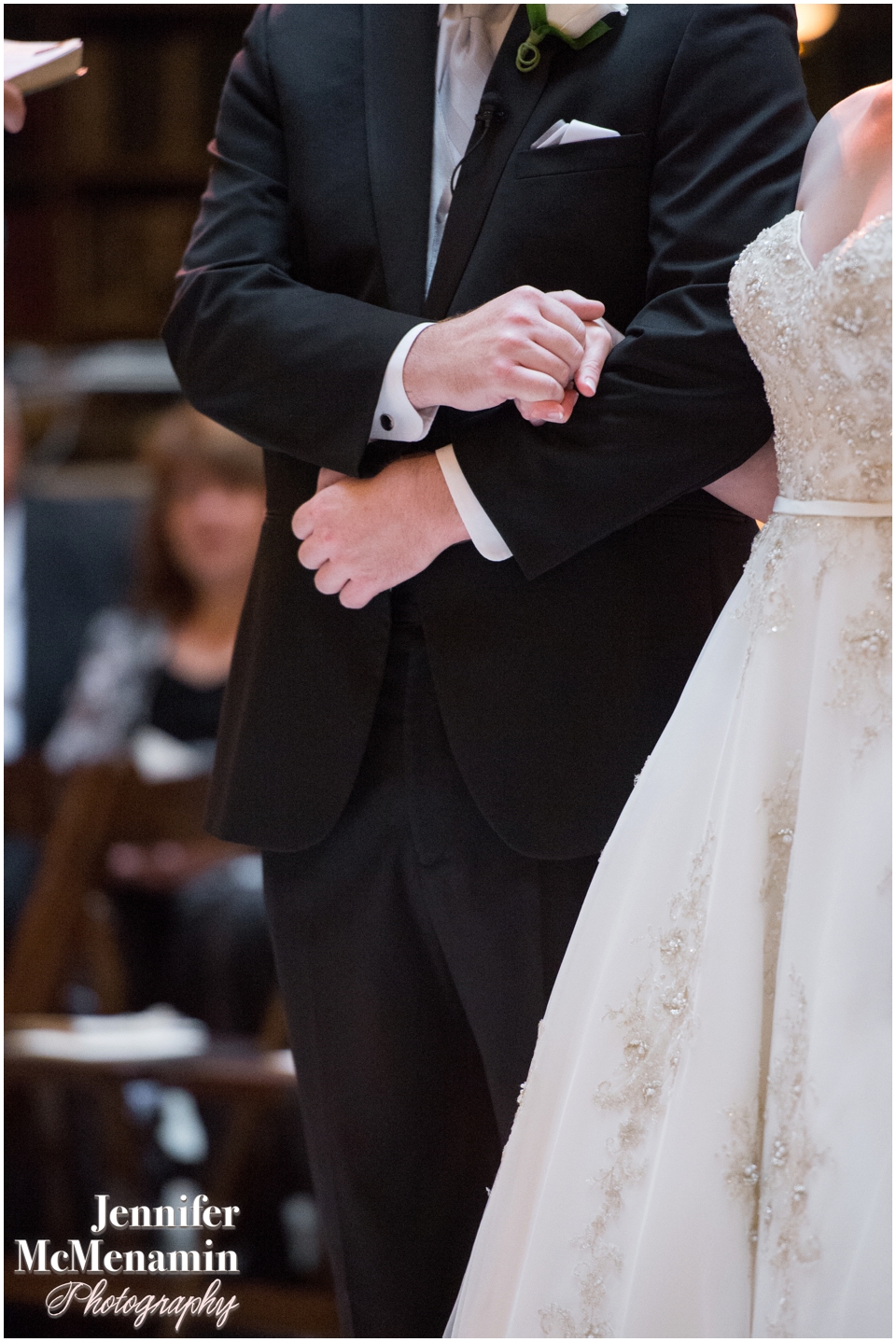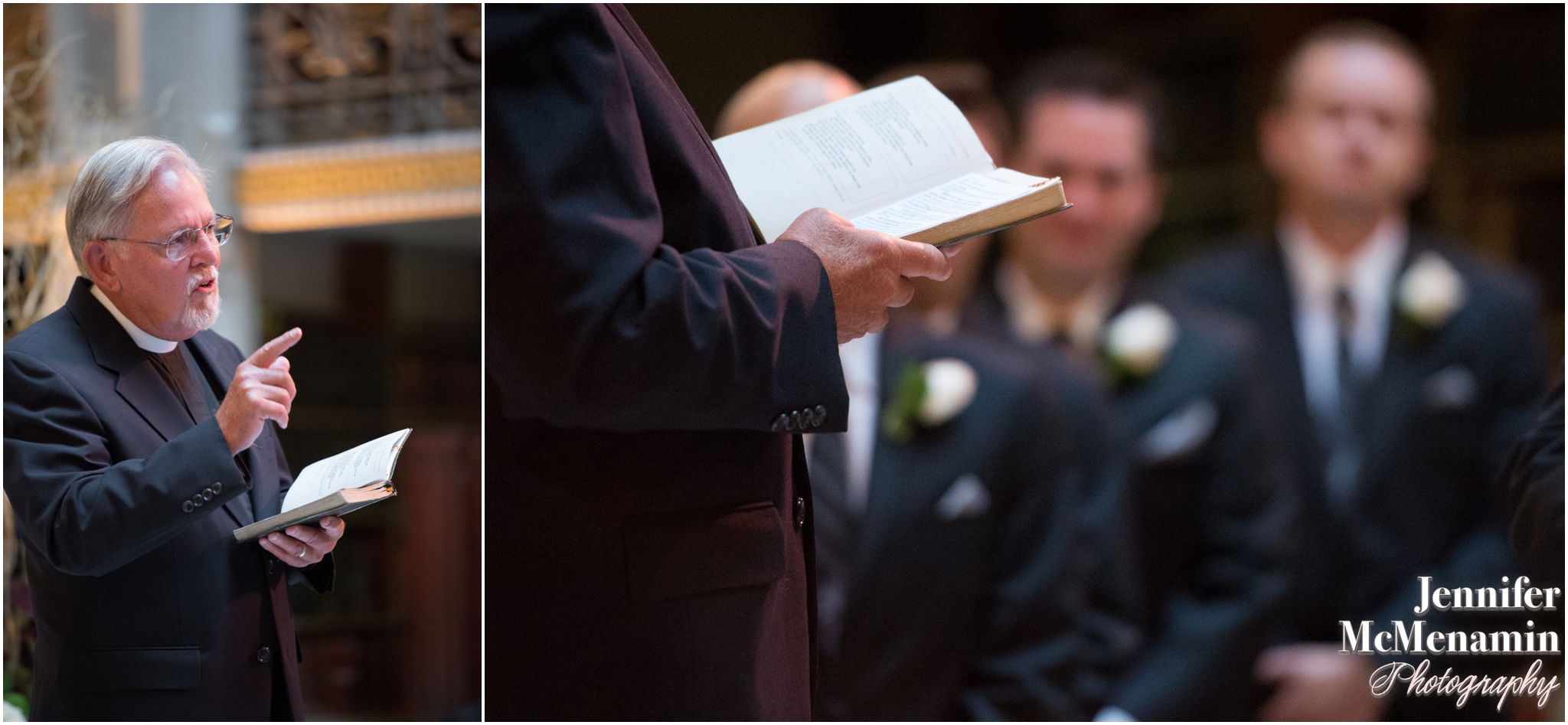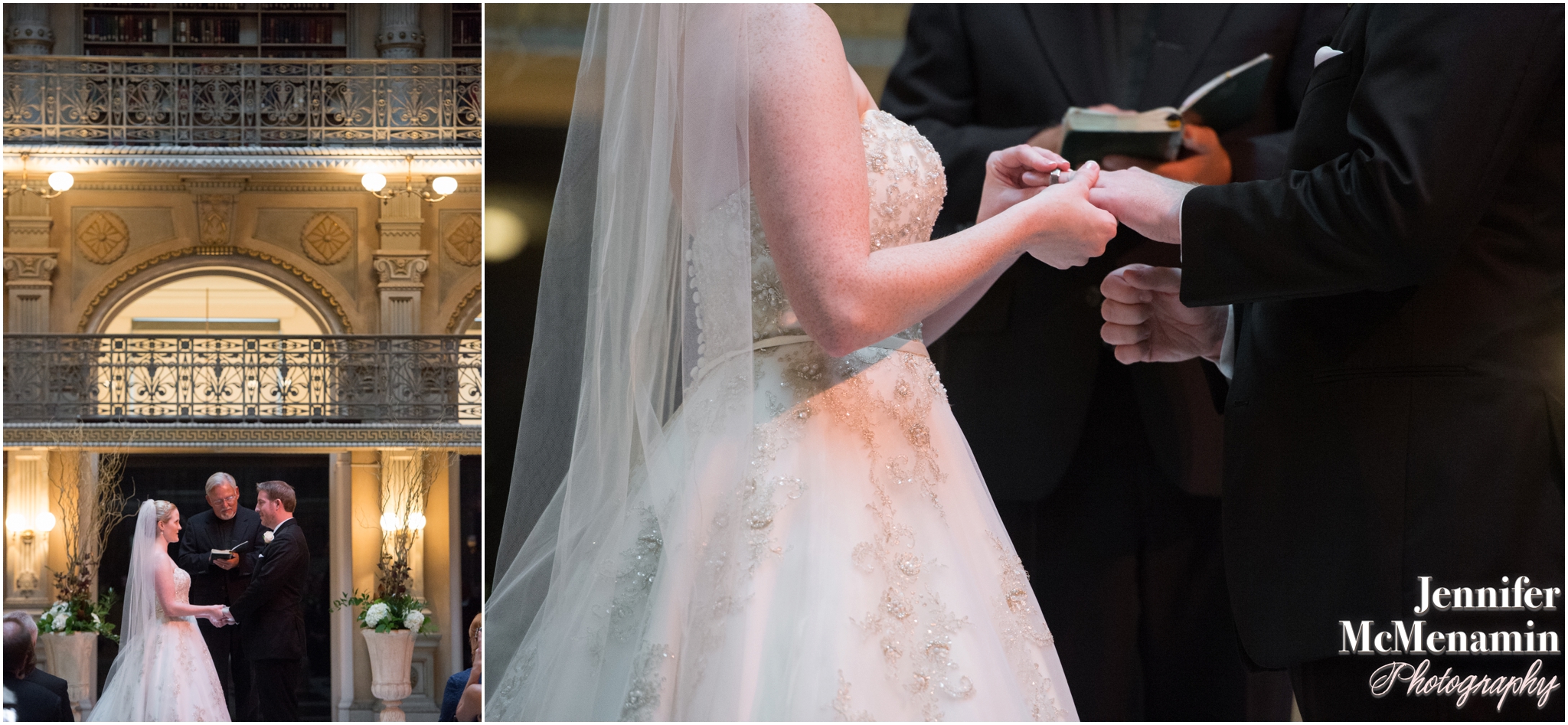 Married!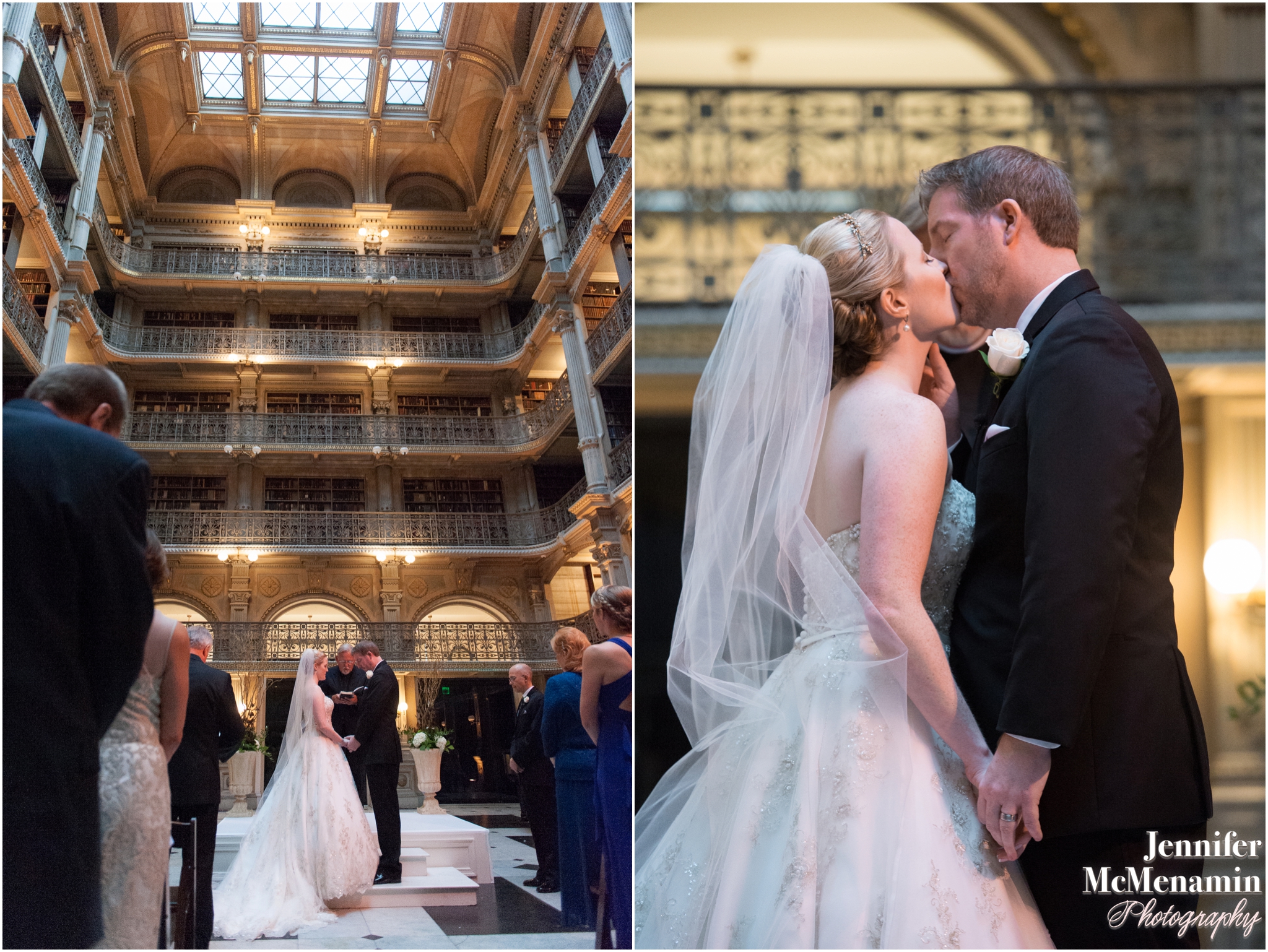 I waited to capture their faces precisely between the drones of the bagpipes. I love the joy on their faces.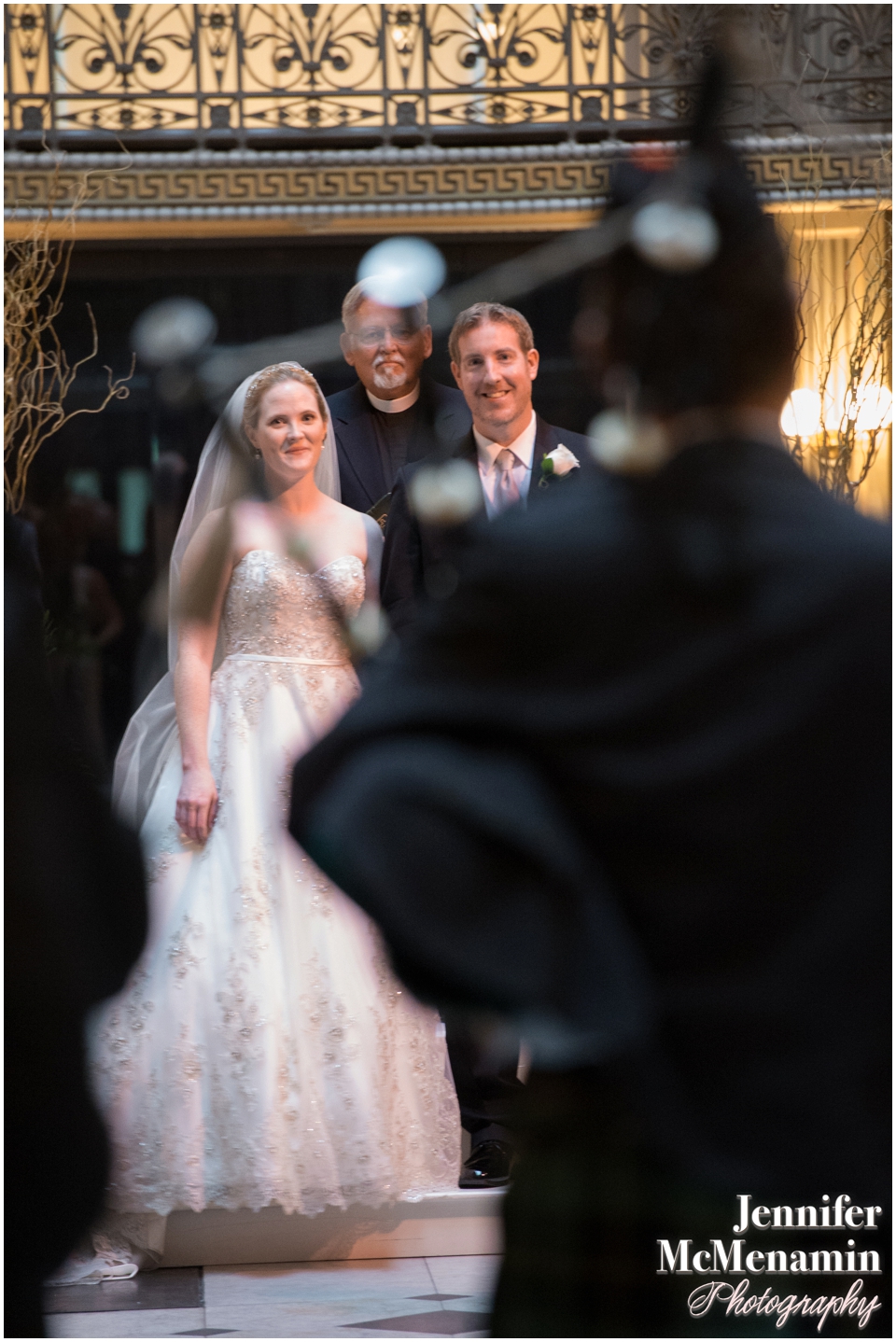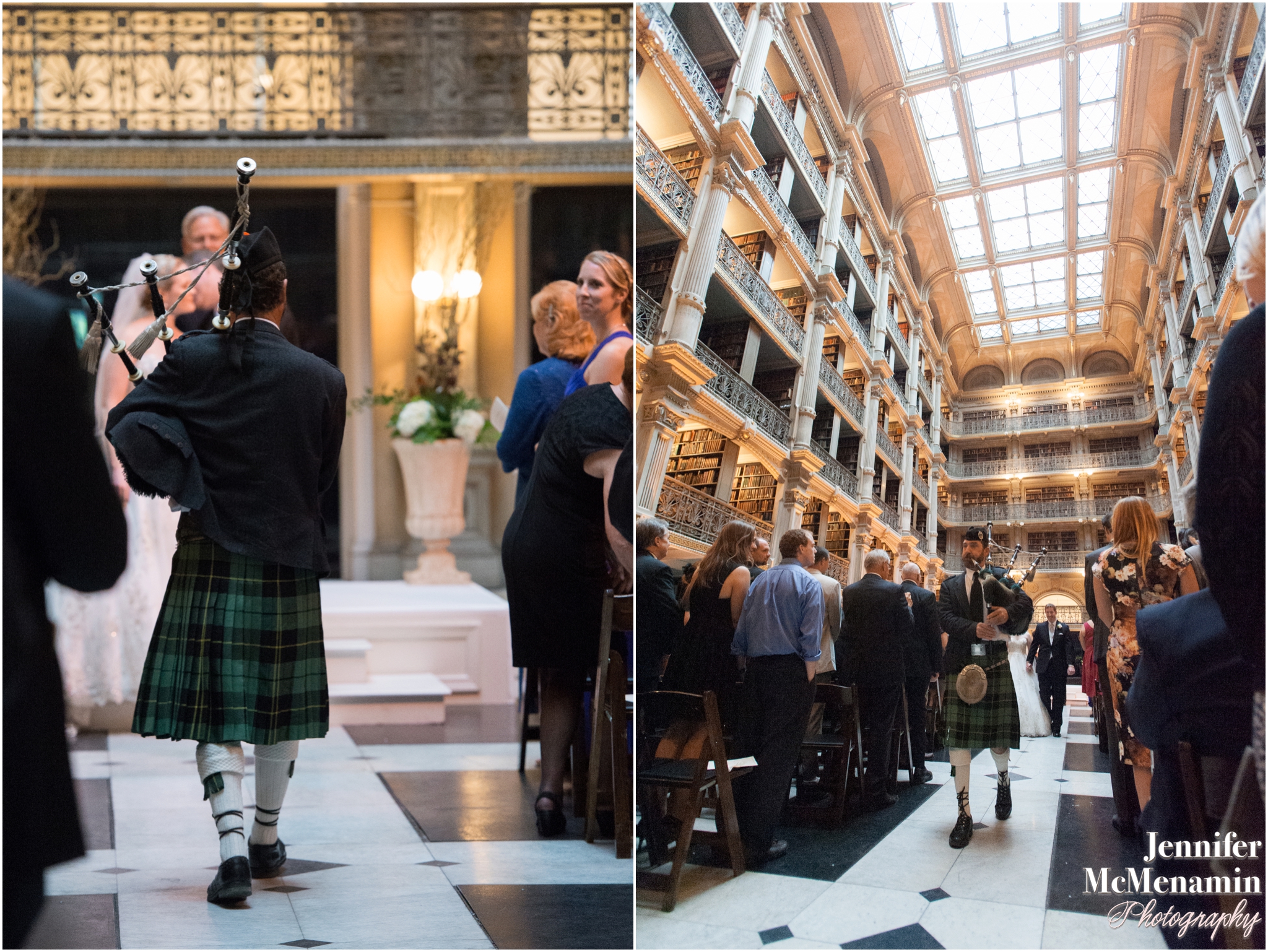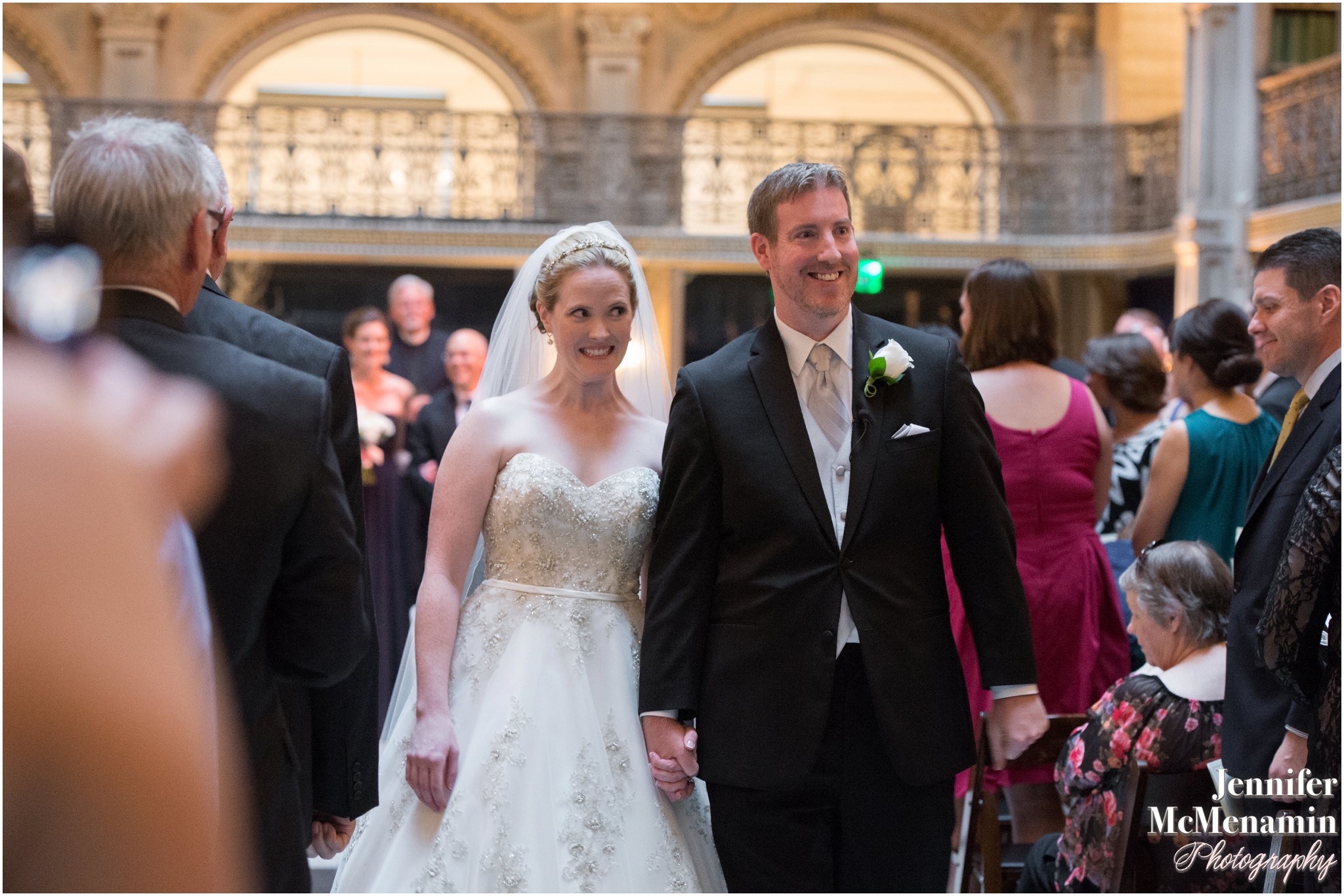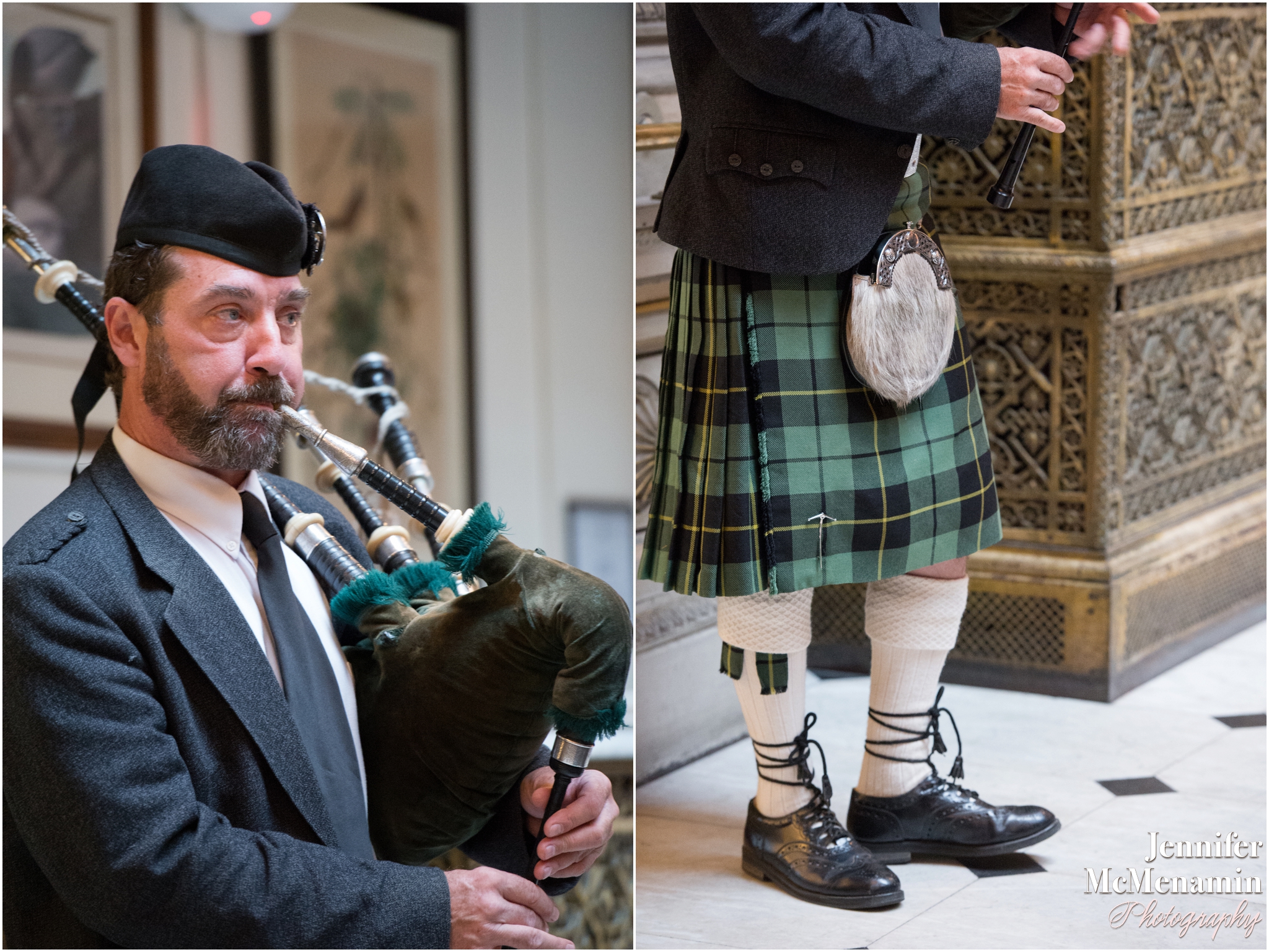 A few quick portraits of the newlyweds after the ceremony.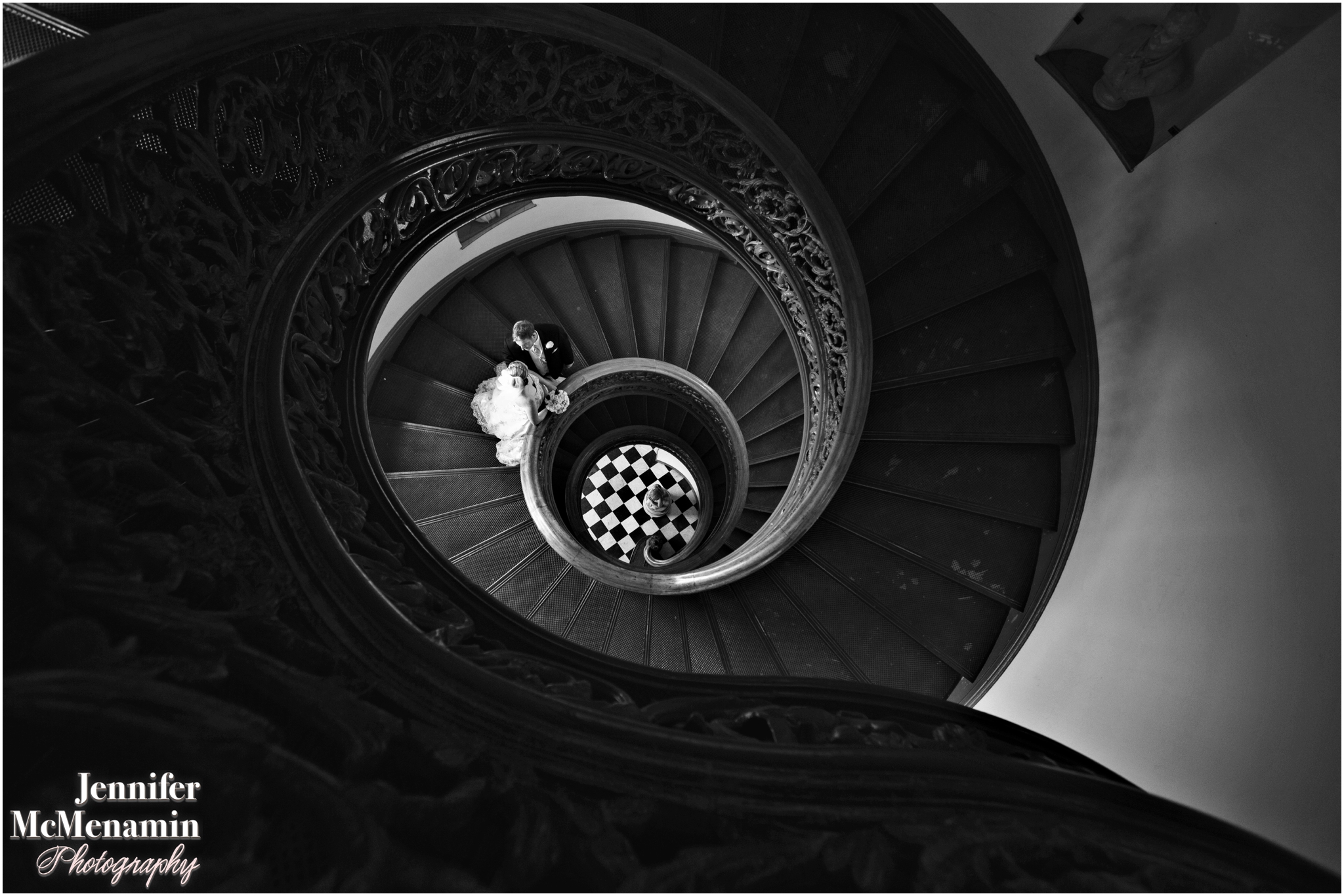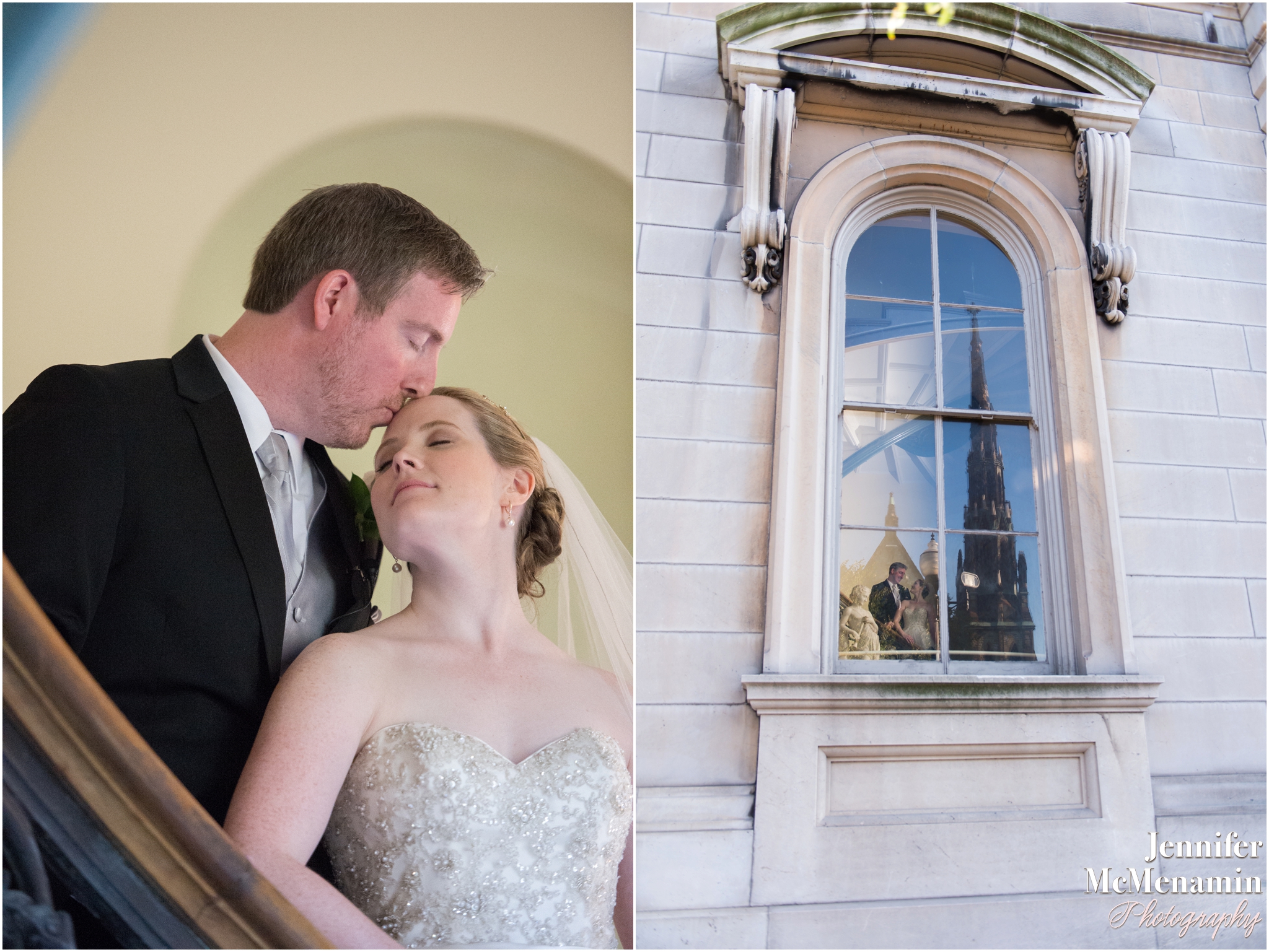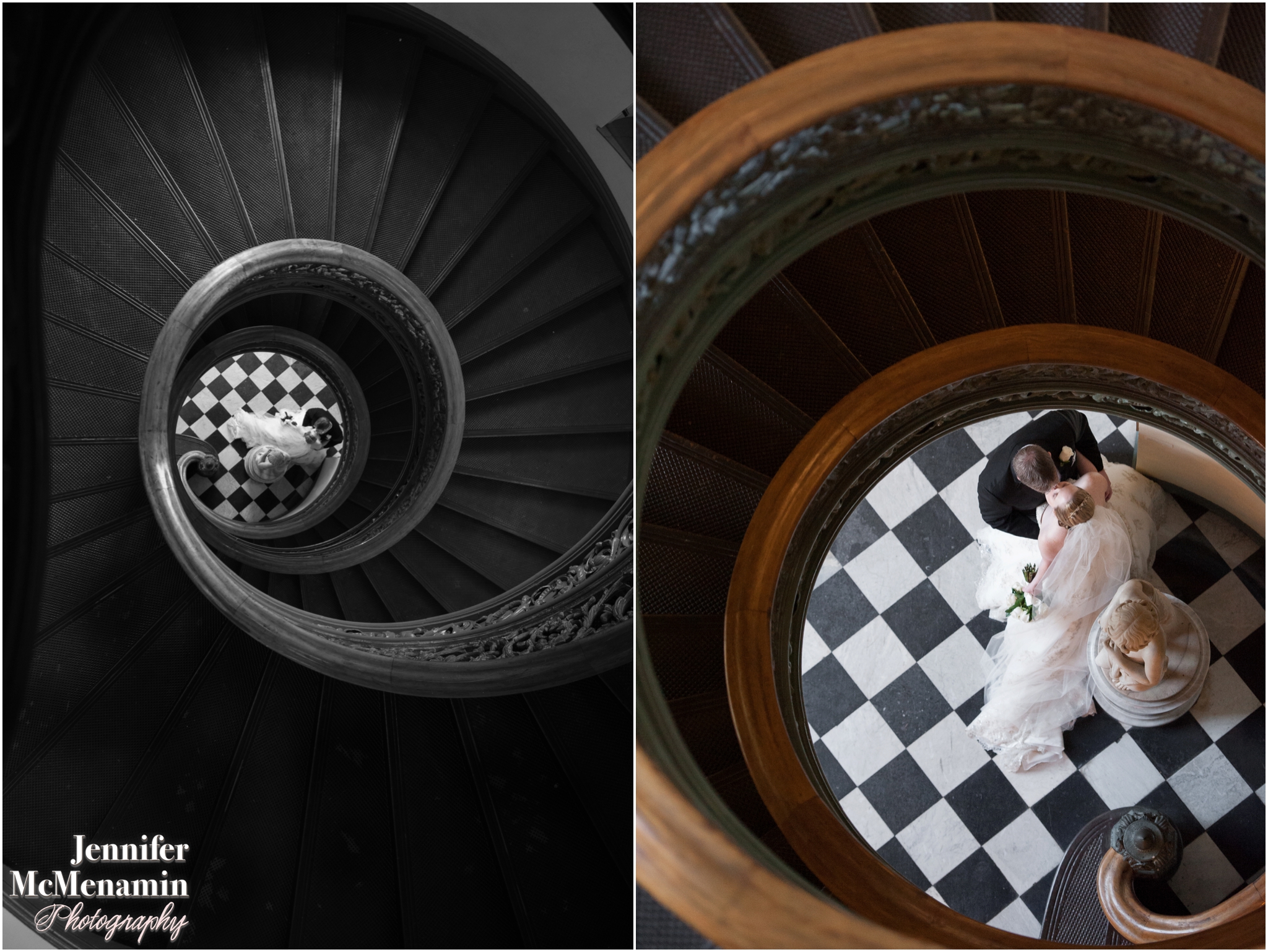 Perfect sunset light.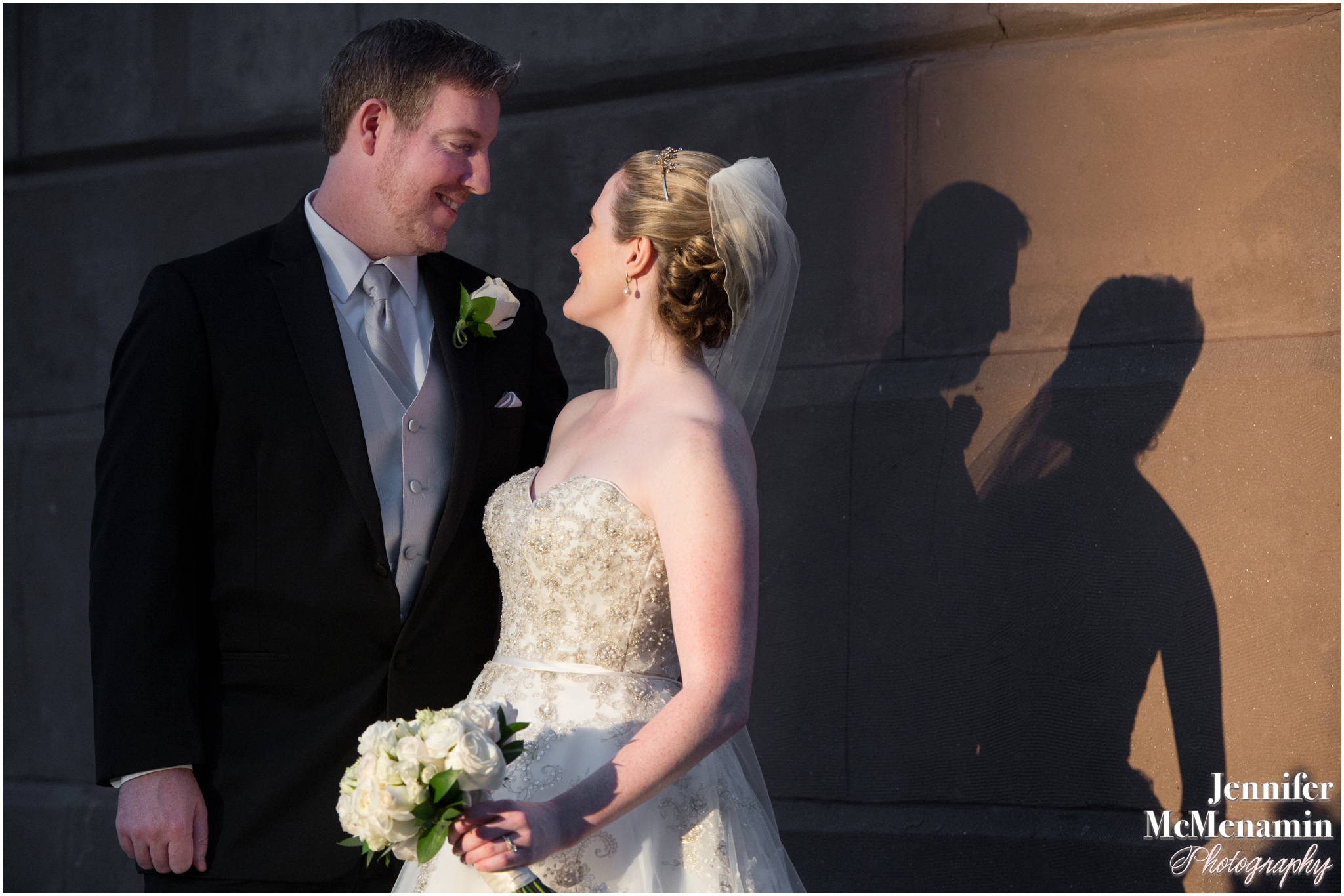 And an assist from this very kind police officer.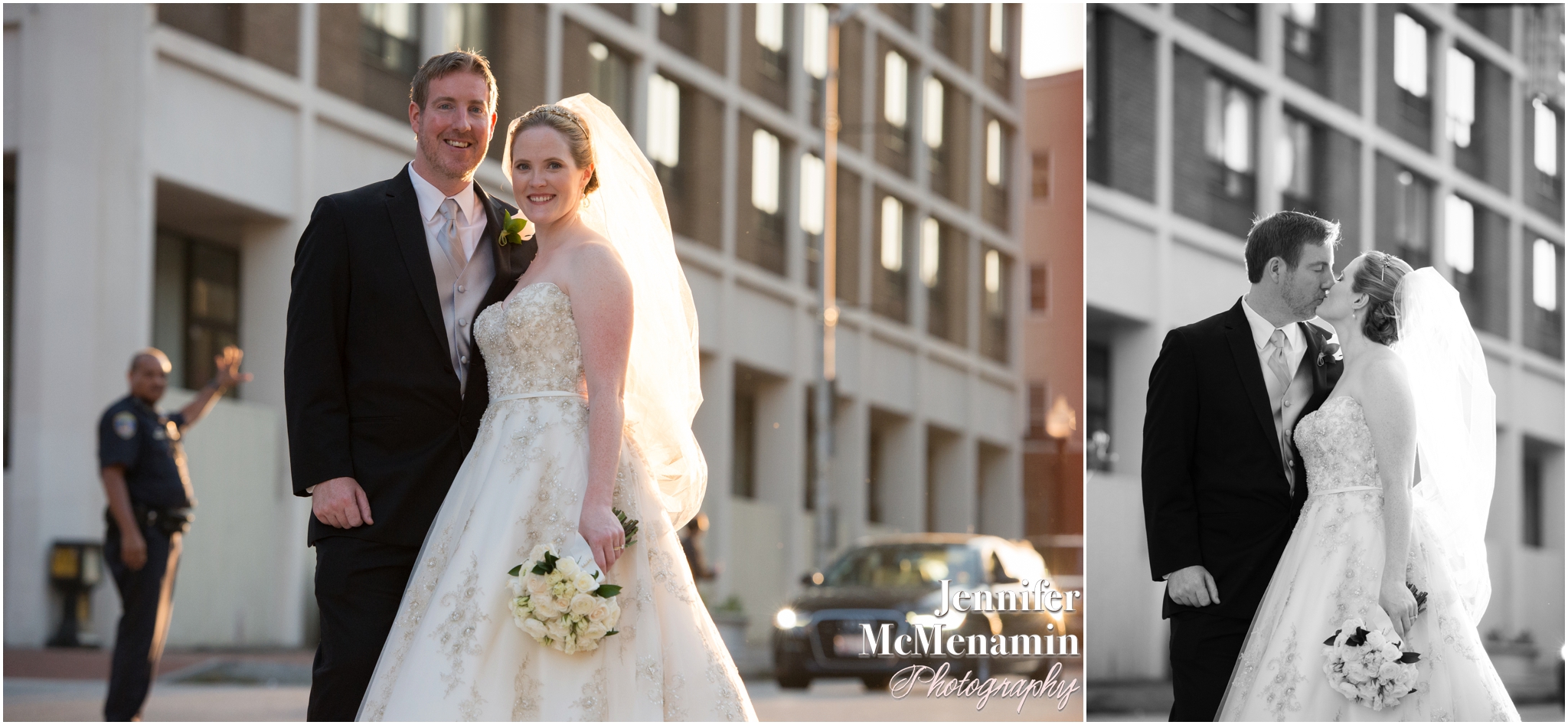 The McMenamin in me can't help but share one more bagpiping photo.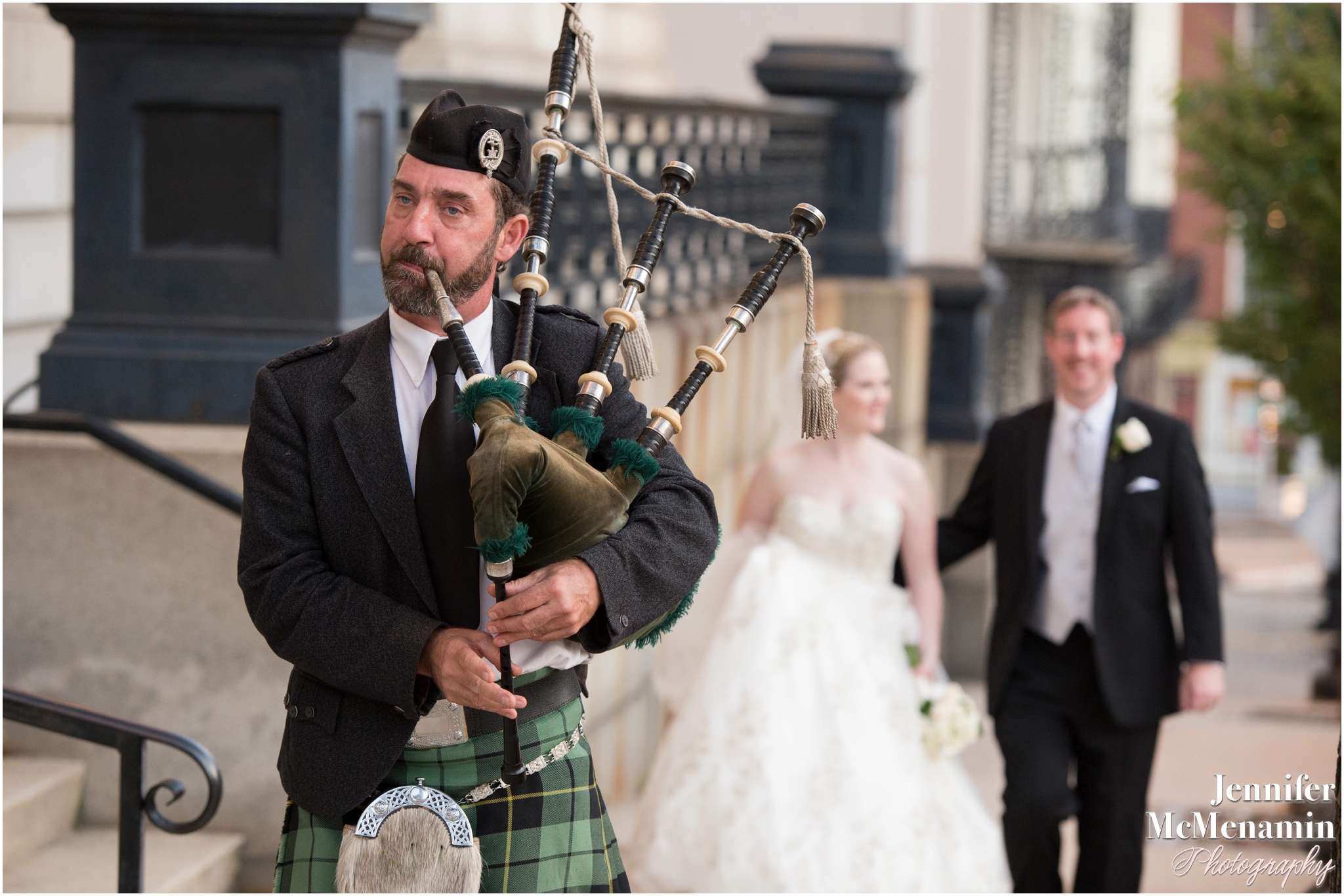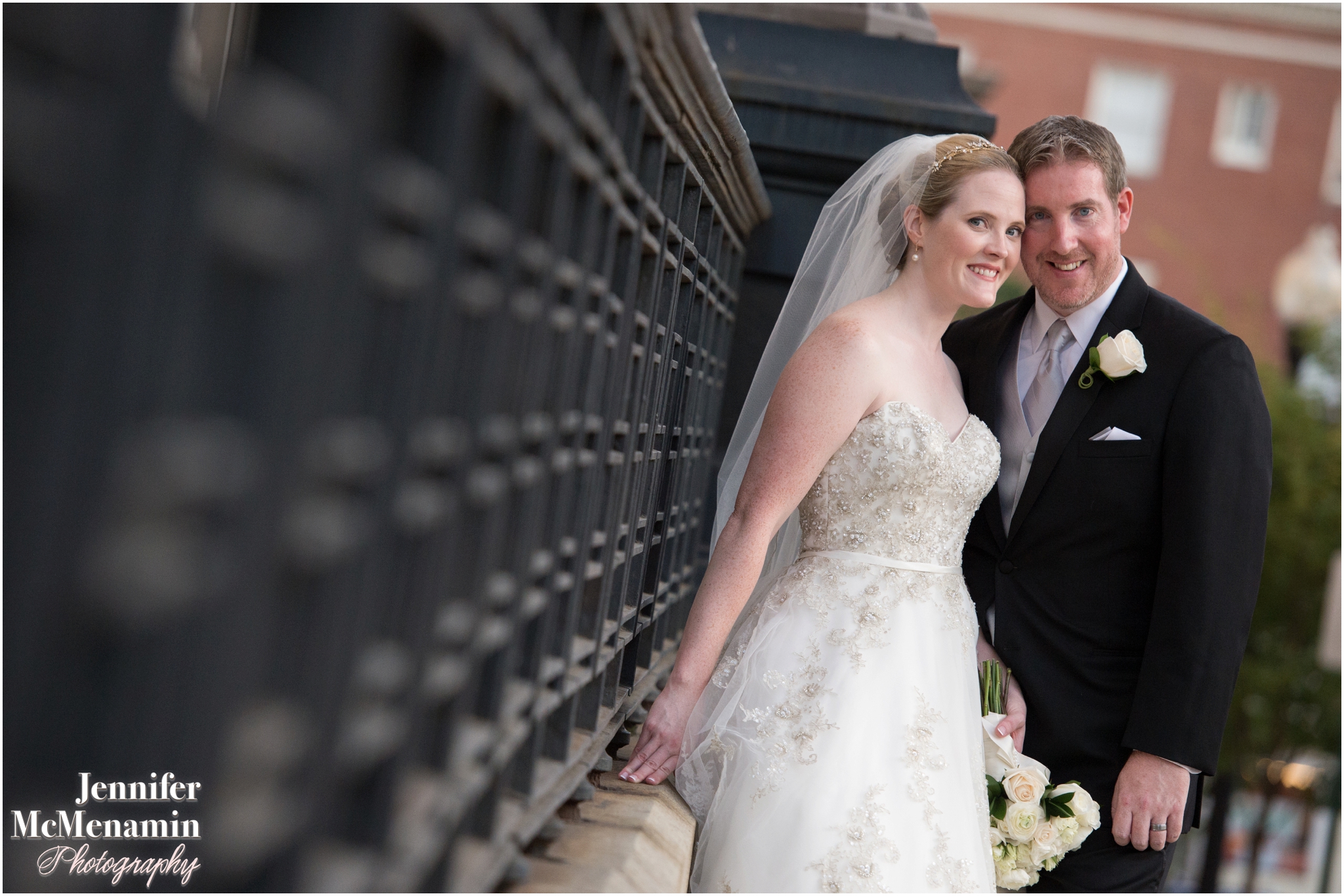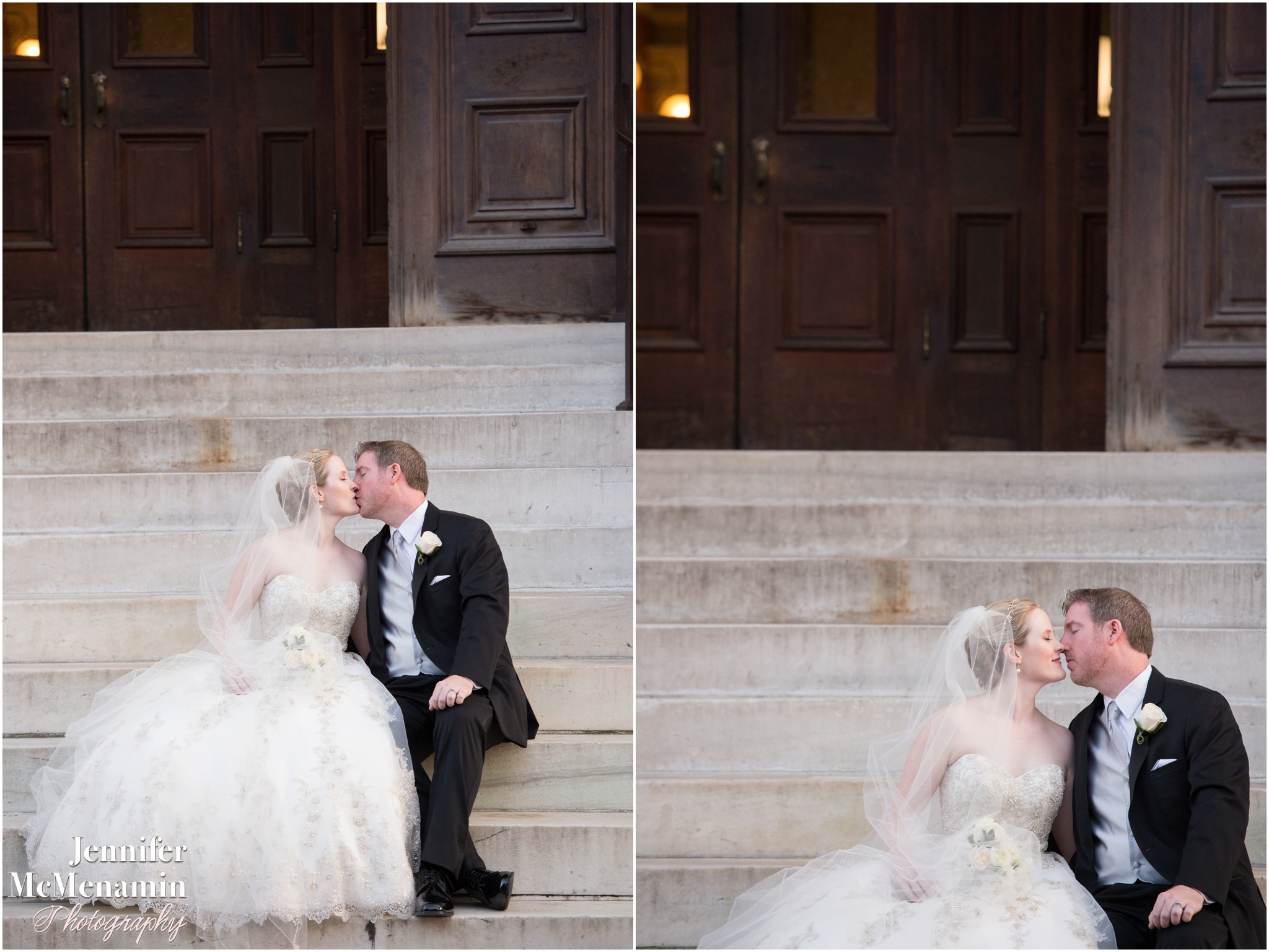 A few reception details.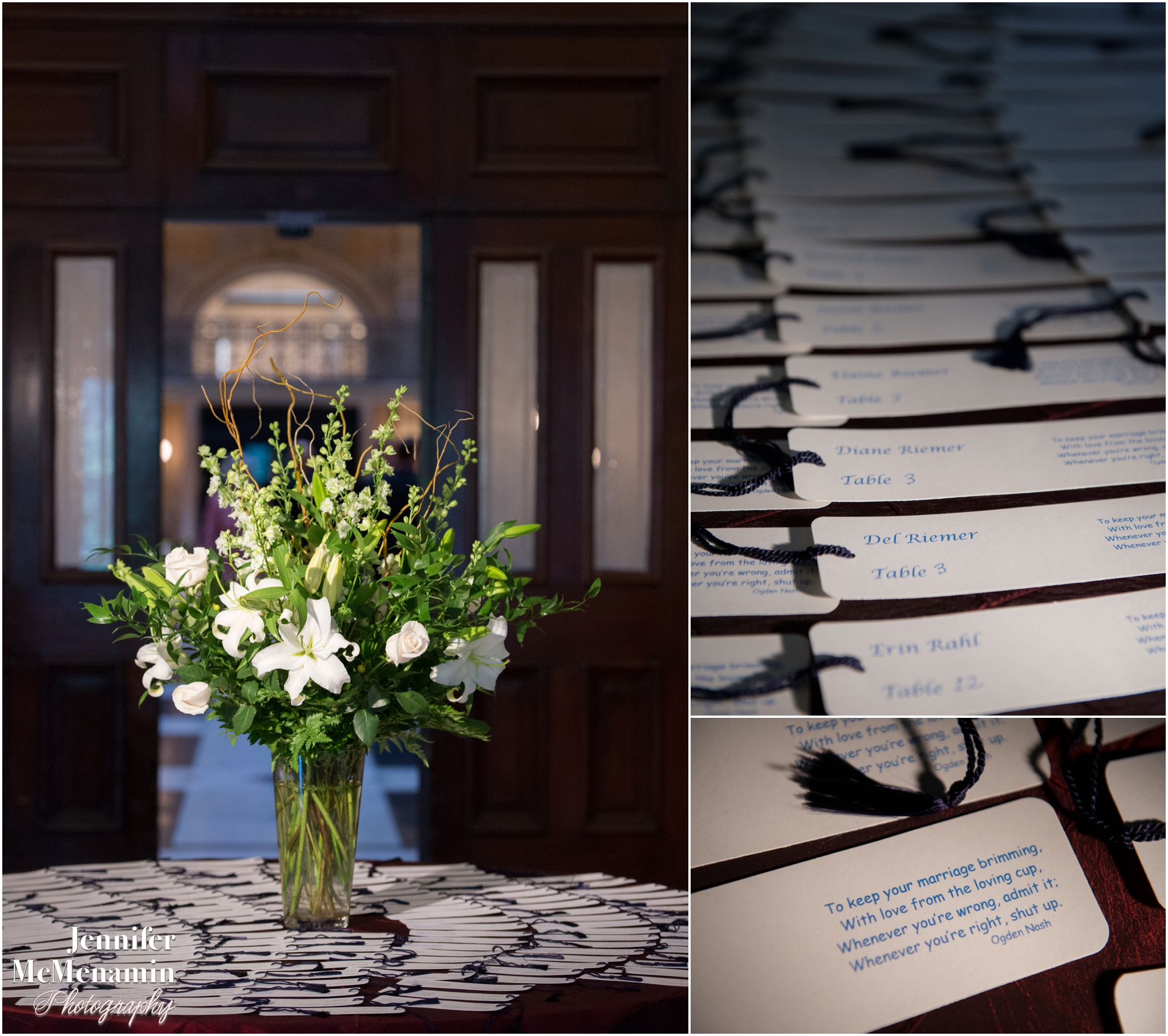 Bonny Opper of Chef's Expressions and her staff performed the miracle of quickly flipping the Stacks Room from ceremony to elegant dinner party without the usual benefit of having the tables set behind a curtain before the ceremony. They did every last thing in the hour between the I do's and the couple's first dance. It looked beautiful.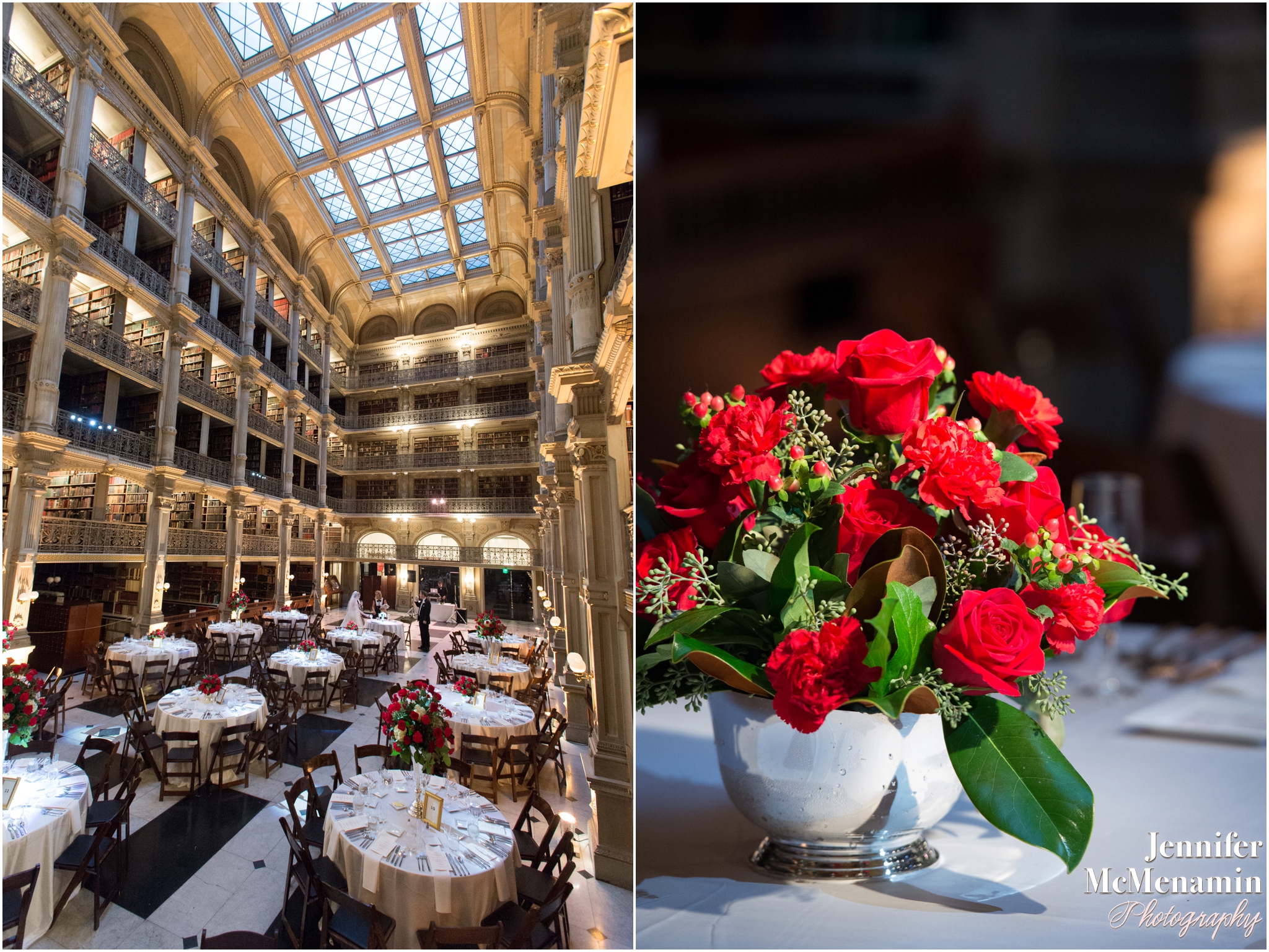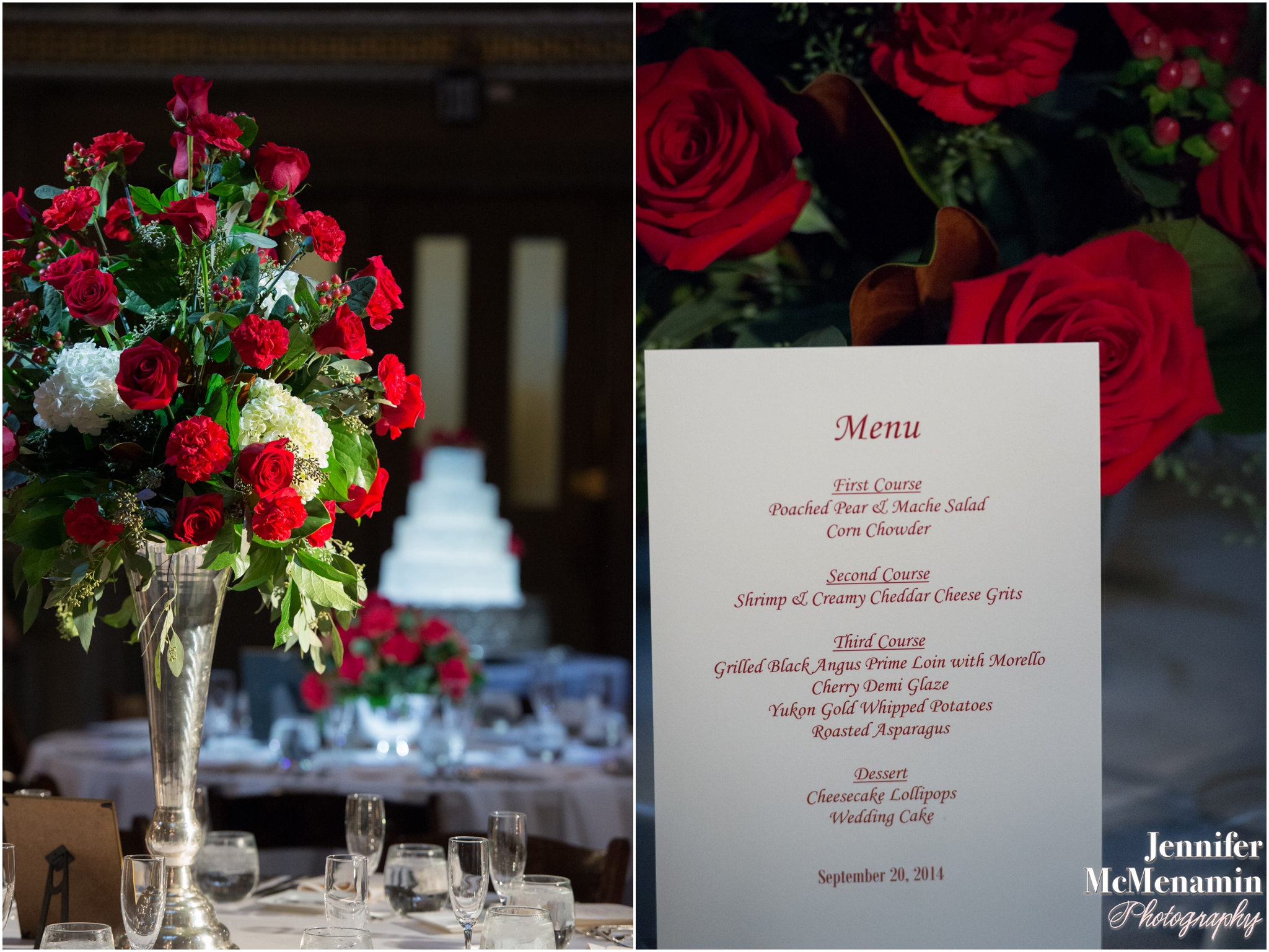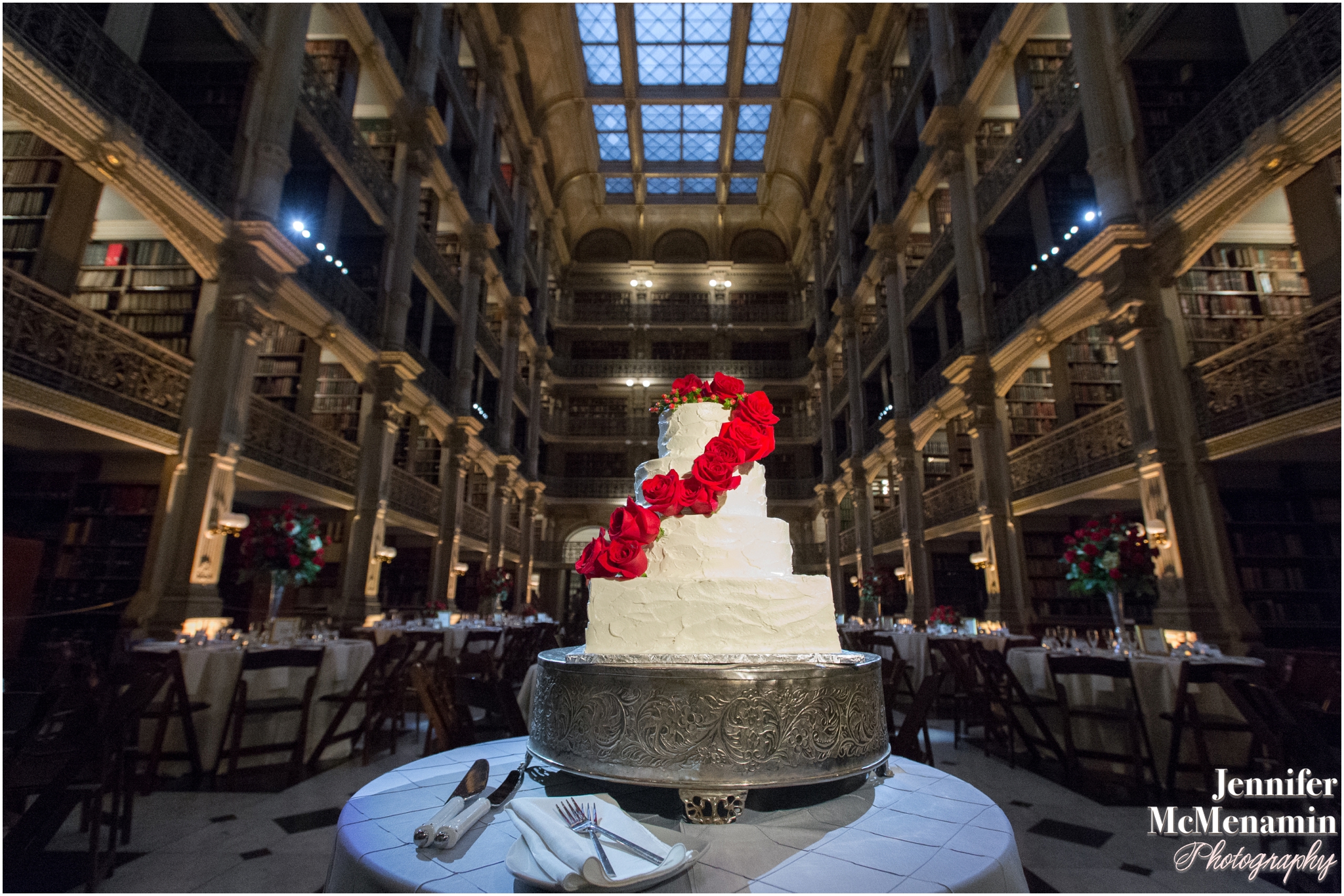 A pair of parent dances.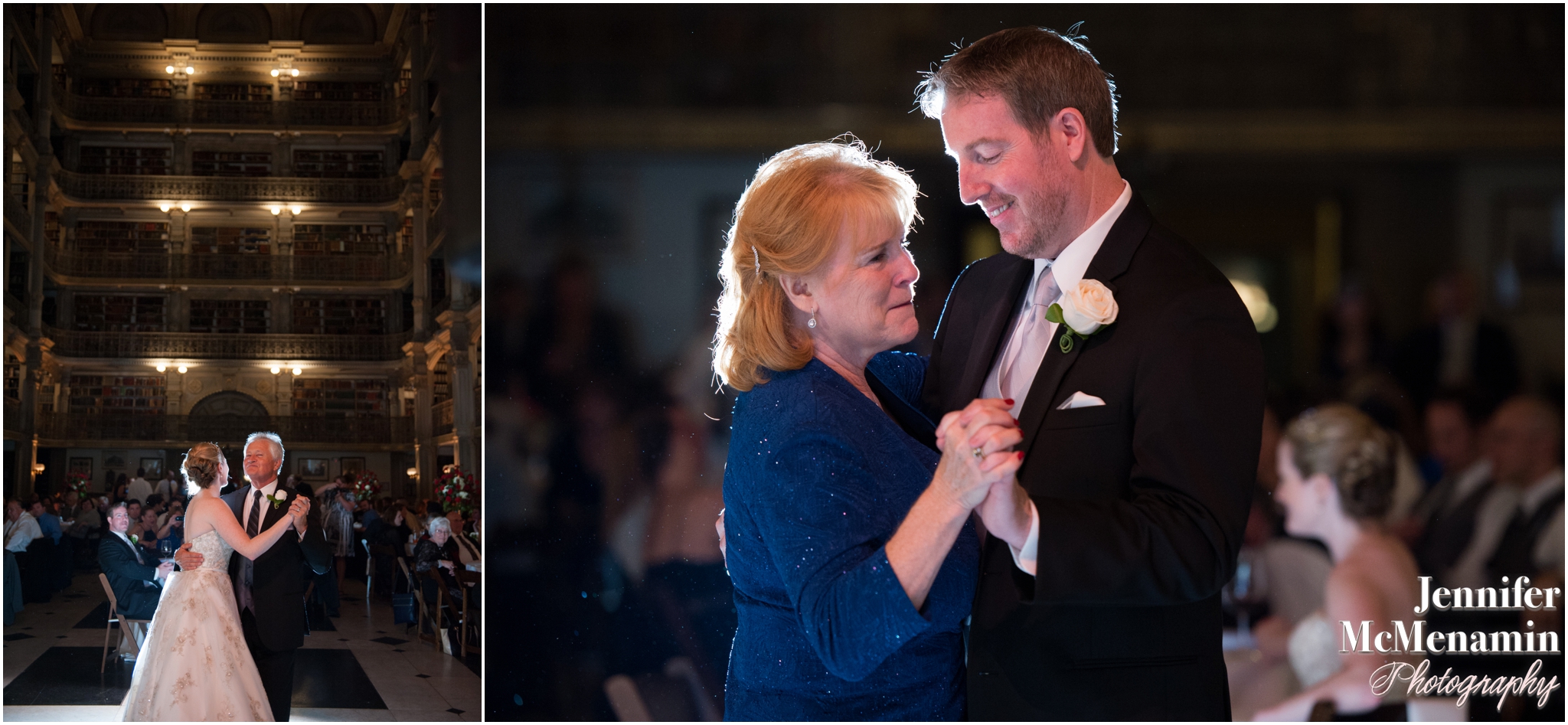 And lots and lots of fun.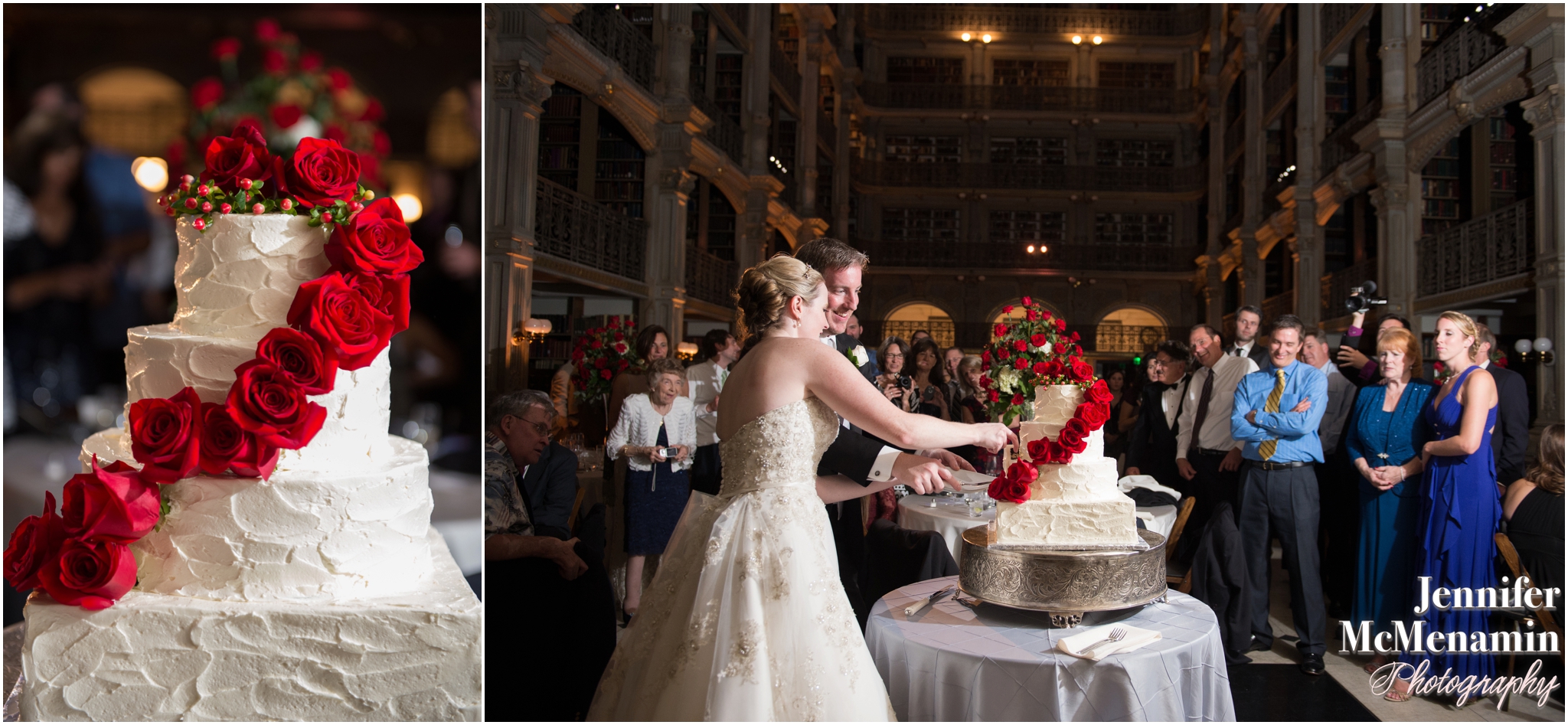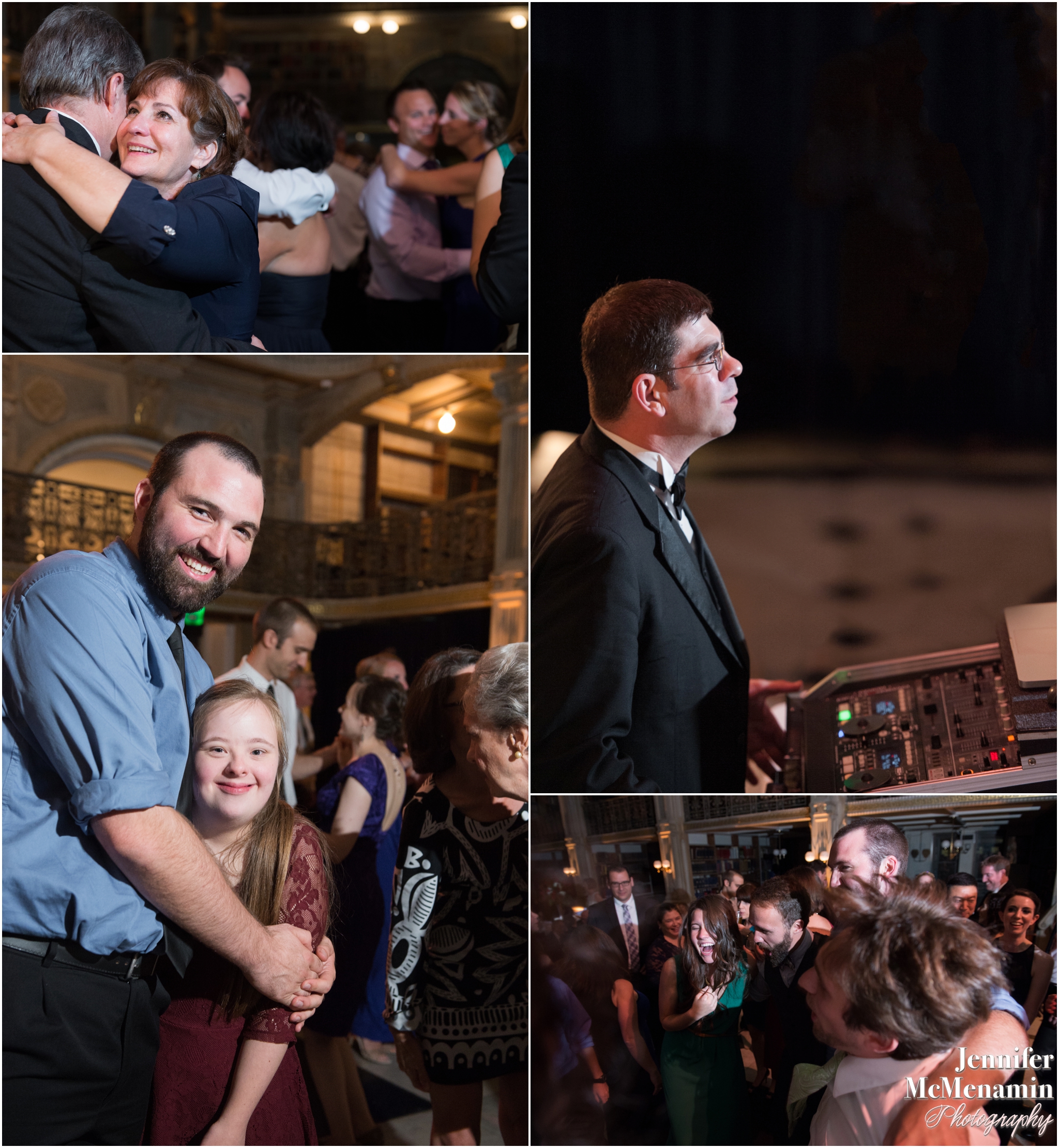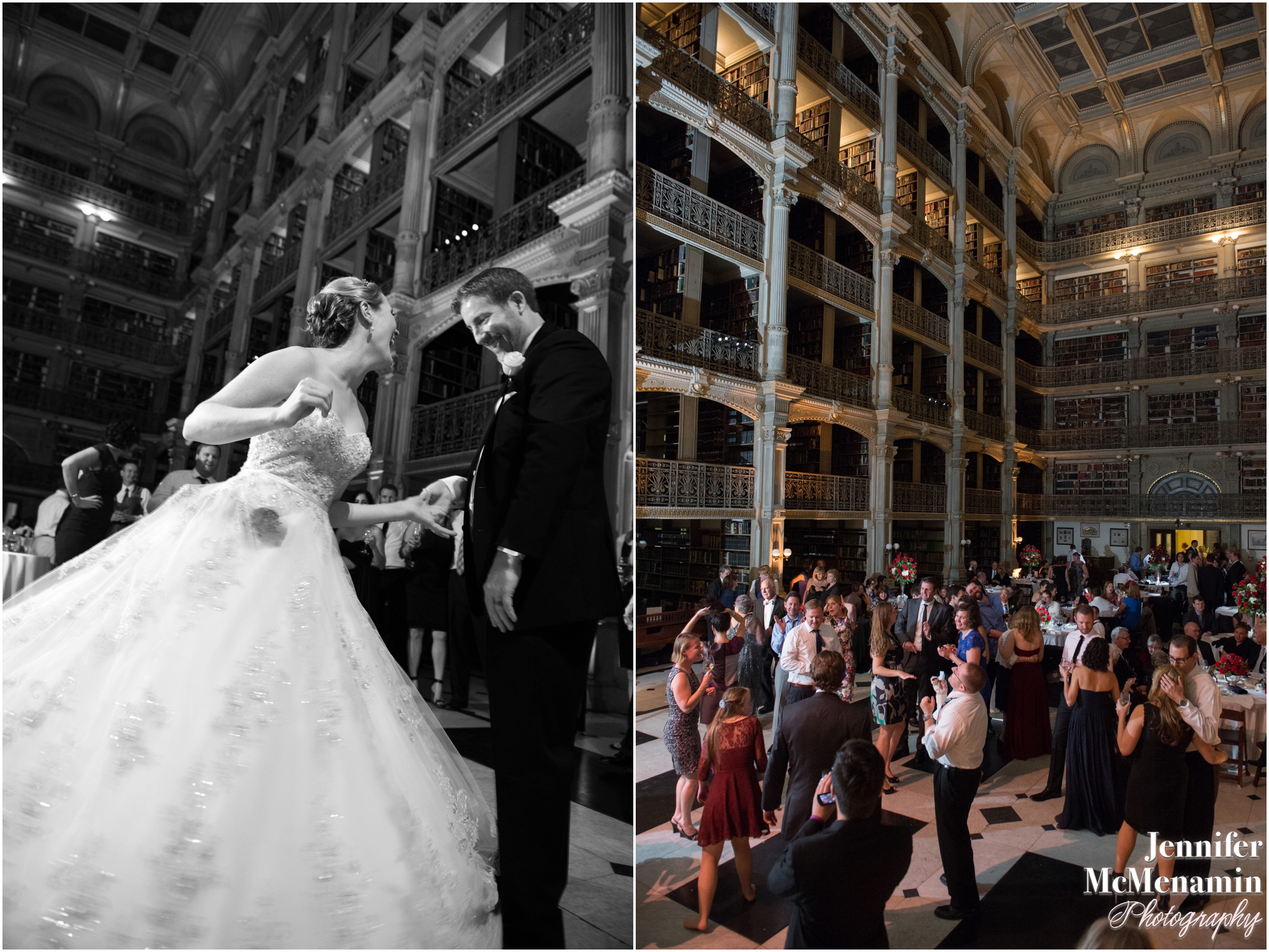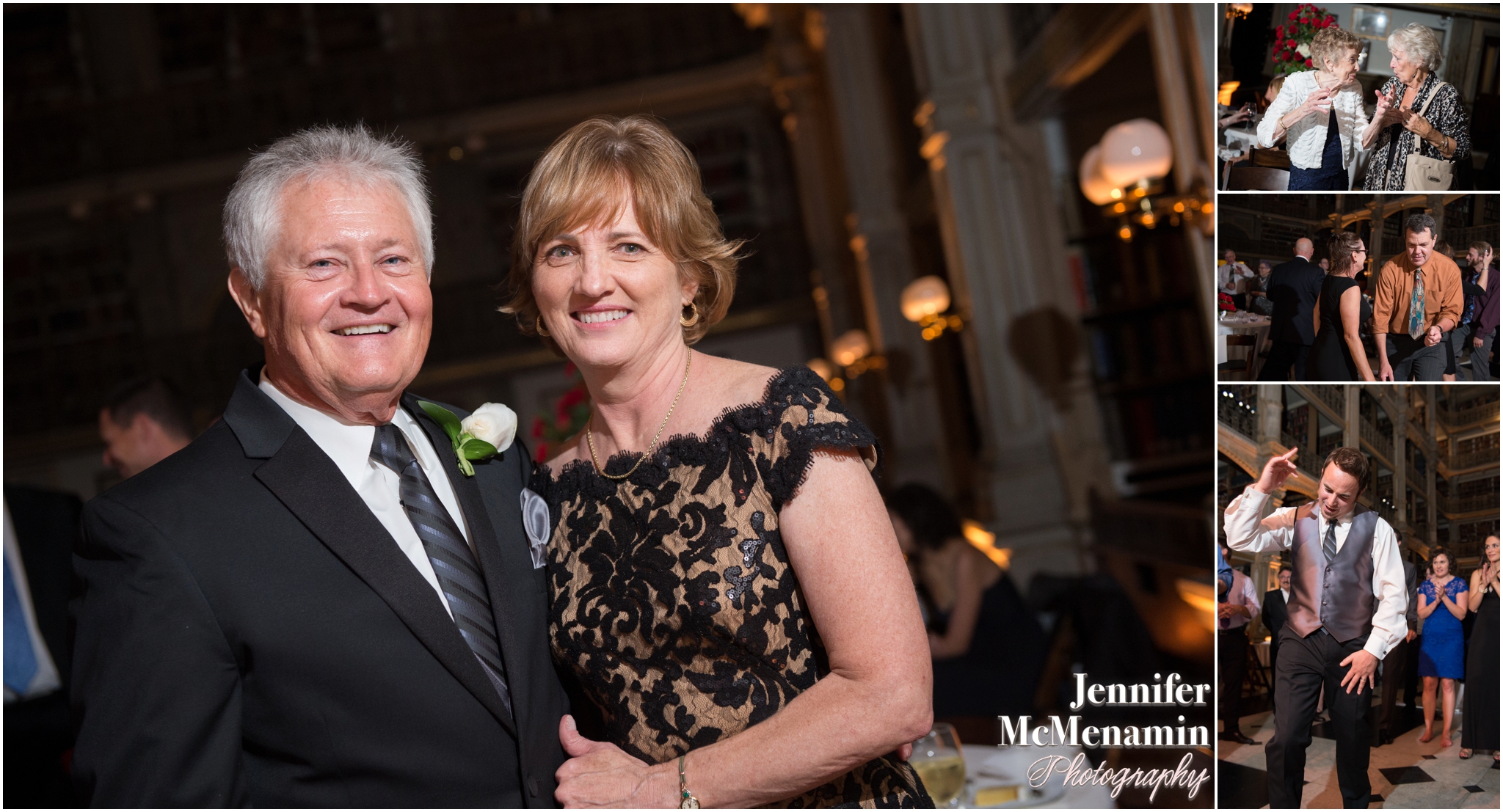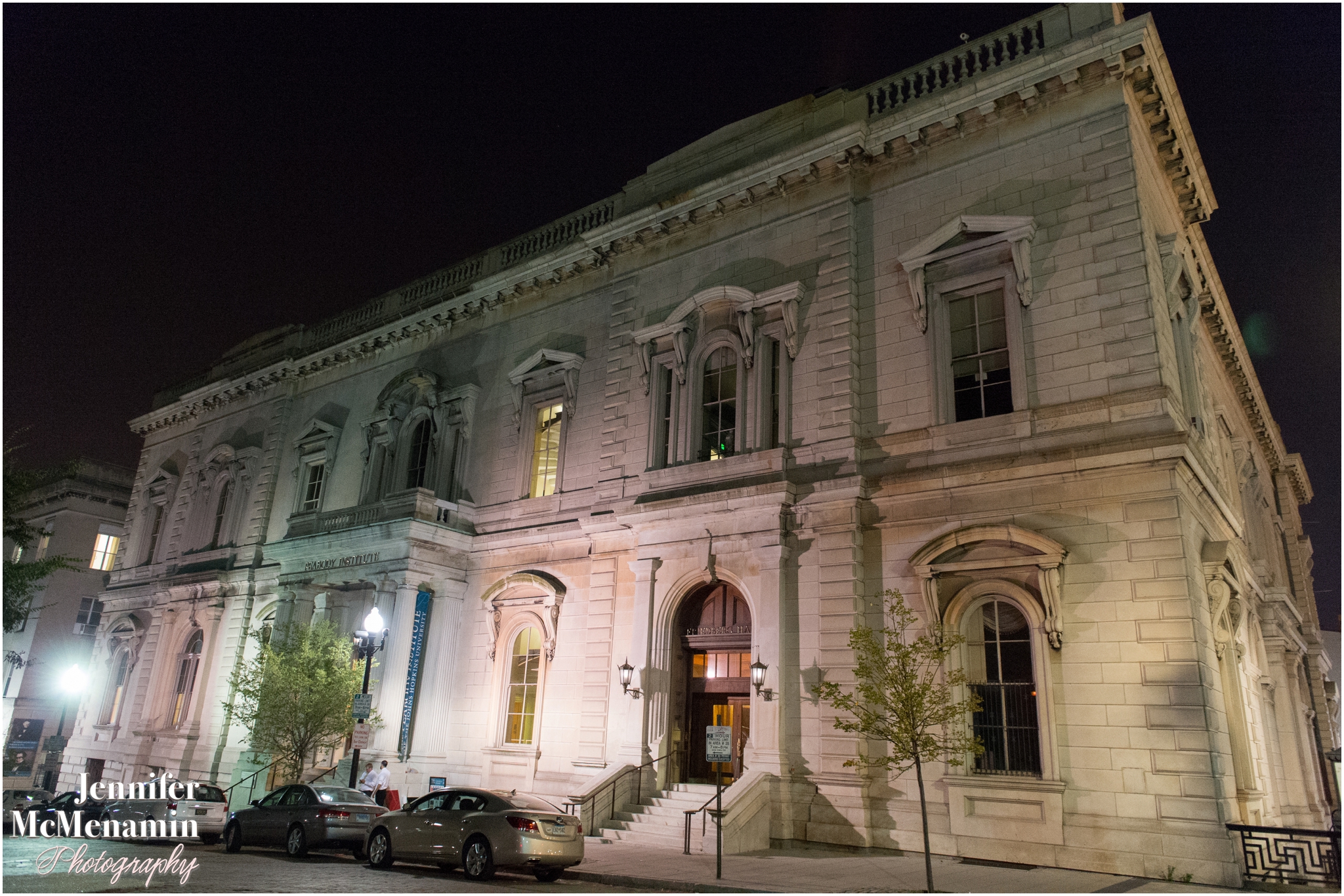 Many, many congratulations, Brie + Kevin. I could not have had more fun with you, your friends and your families!
Credits:
Photography: Jennifer McMenamin Photography, LLC

Ceremony & reception: George Peabody Library
Officiant: Pastor Robert Mordhorst
Ceremony musicians: Bagpiper Francis Wallace & soloist Denise Izzi

Catering: Chef's Expressions
Lighting designers: Event Dynamics
Bridal attire: Maggie Sottero gown from Juliet's Bridal
Make-up: Emmey Makeup Artistry

Hair: Bridal Beauty Associates

Bridesmaids' attire: JCrew
Groom's attire: Vera Wang tuxedo from Men's Wearhouse

Florist: Wessel's Florist
Cake: Yia Yia's Bakery

DJ: Anthony Simpson of My Deejay

Videographer: Bill Desrochers Video Productions
Invitations: Wedding Paper Divas