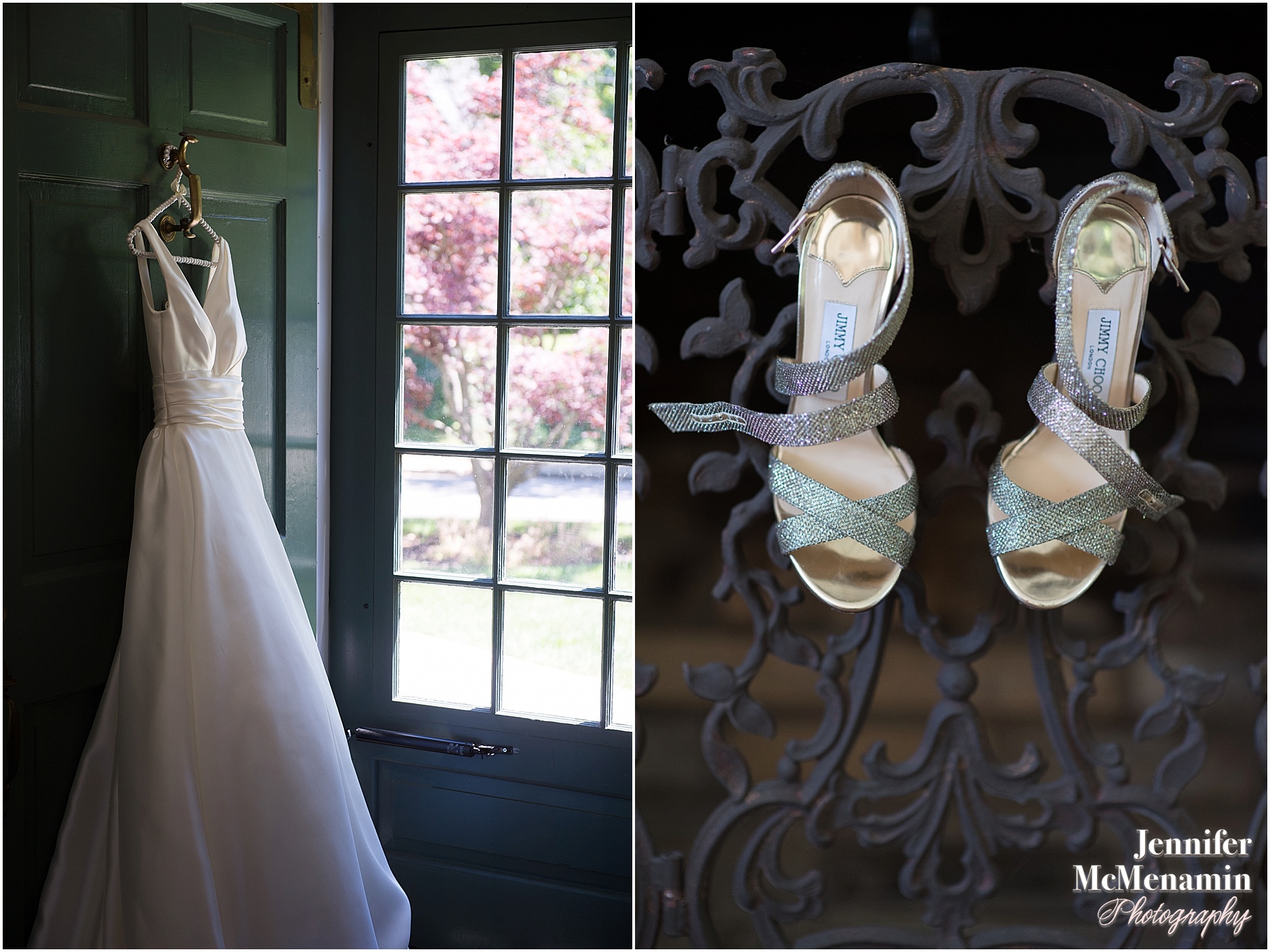 Grace carried her grandmother's sparkly vintage clutch, complete with its smudges of her signature hue of hot, hot pink lipstick on the inside. It was lovely.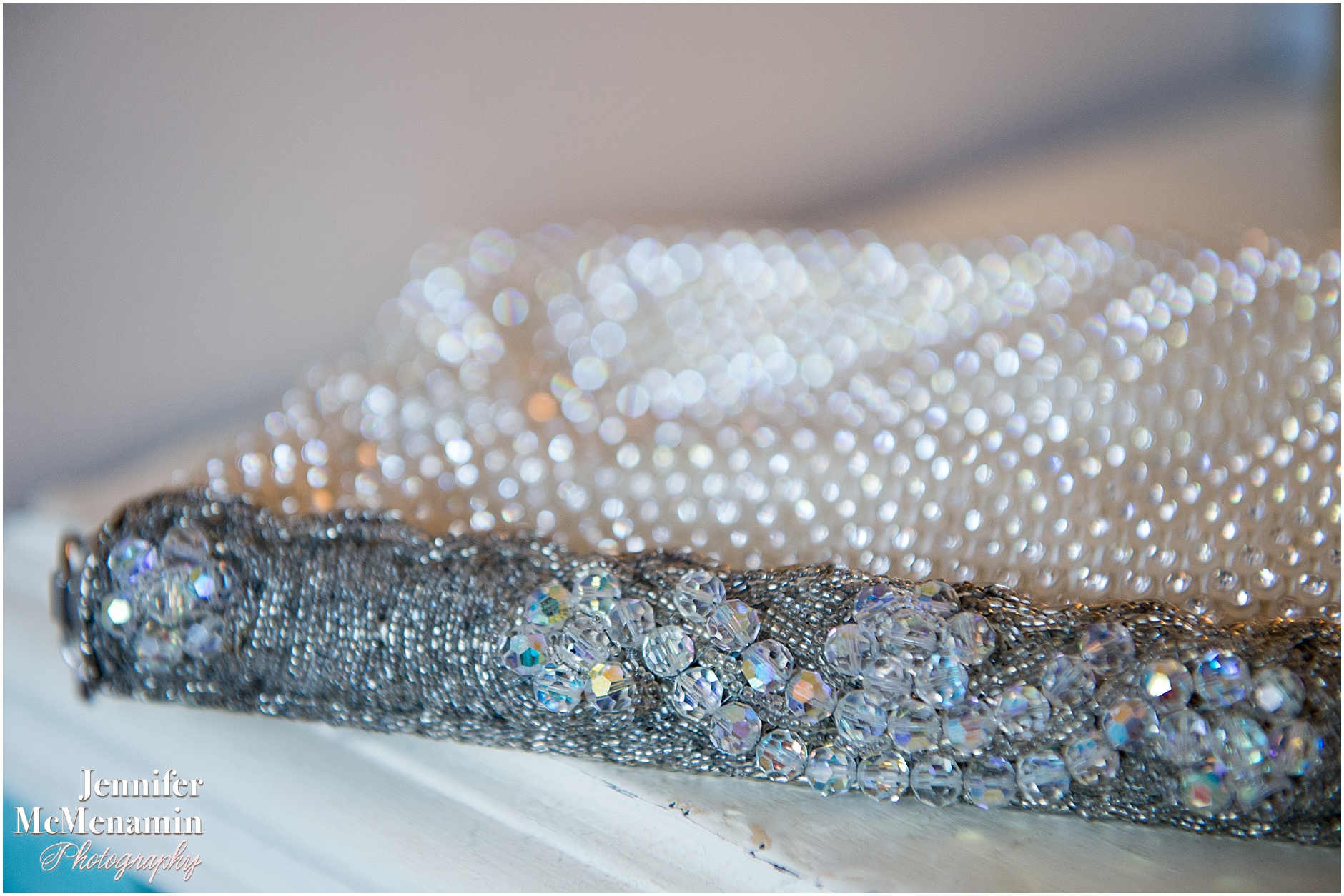 Rex, the family dog, seemed somewhat unimpressed with all the commotion of the occasion.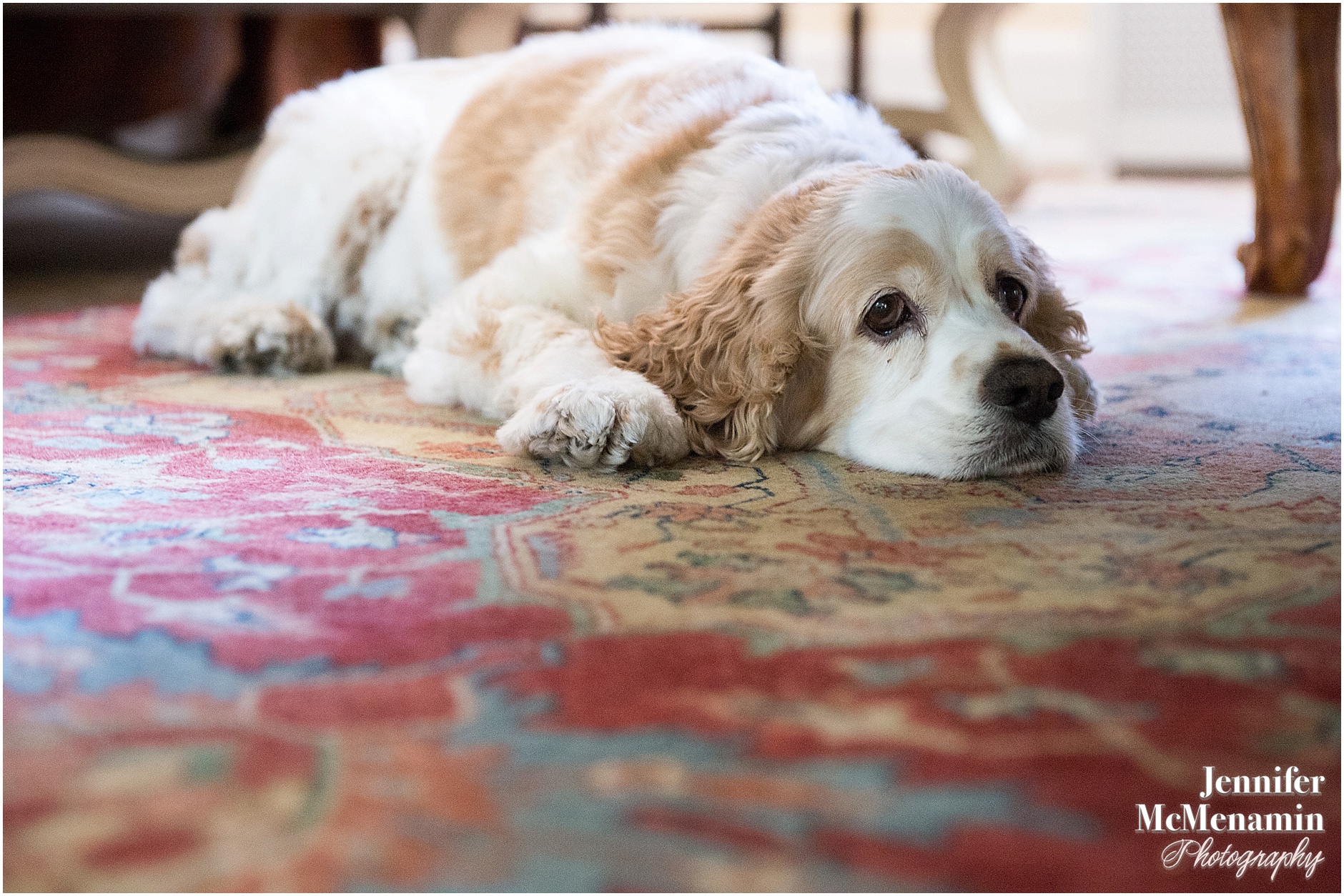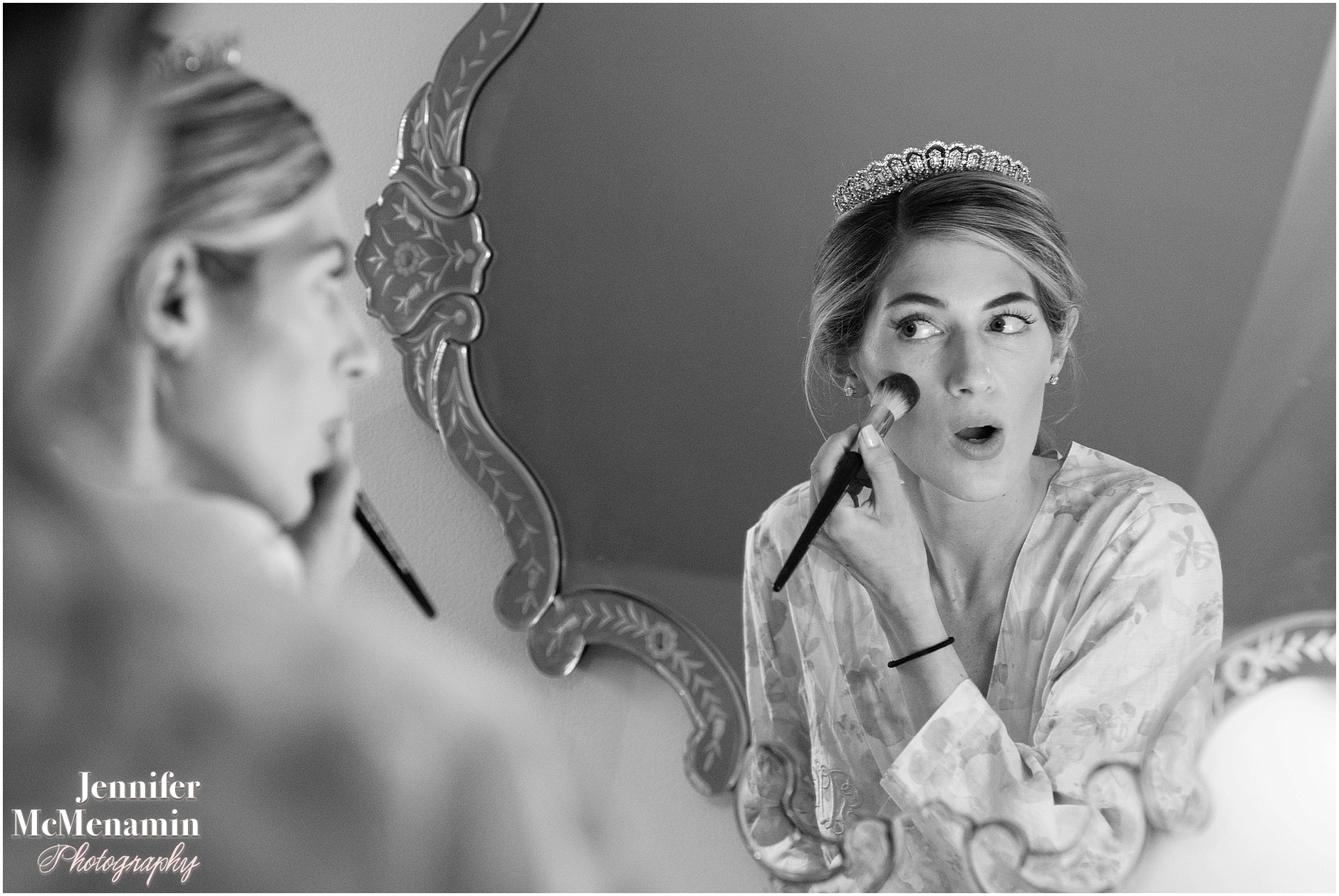 Grace and her youngest brother have the most darling, affectionate relationship. He was a riot to photograph, all day long.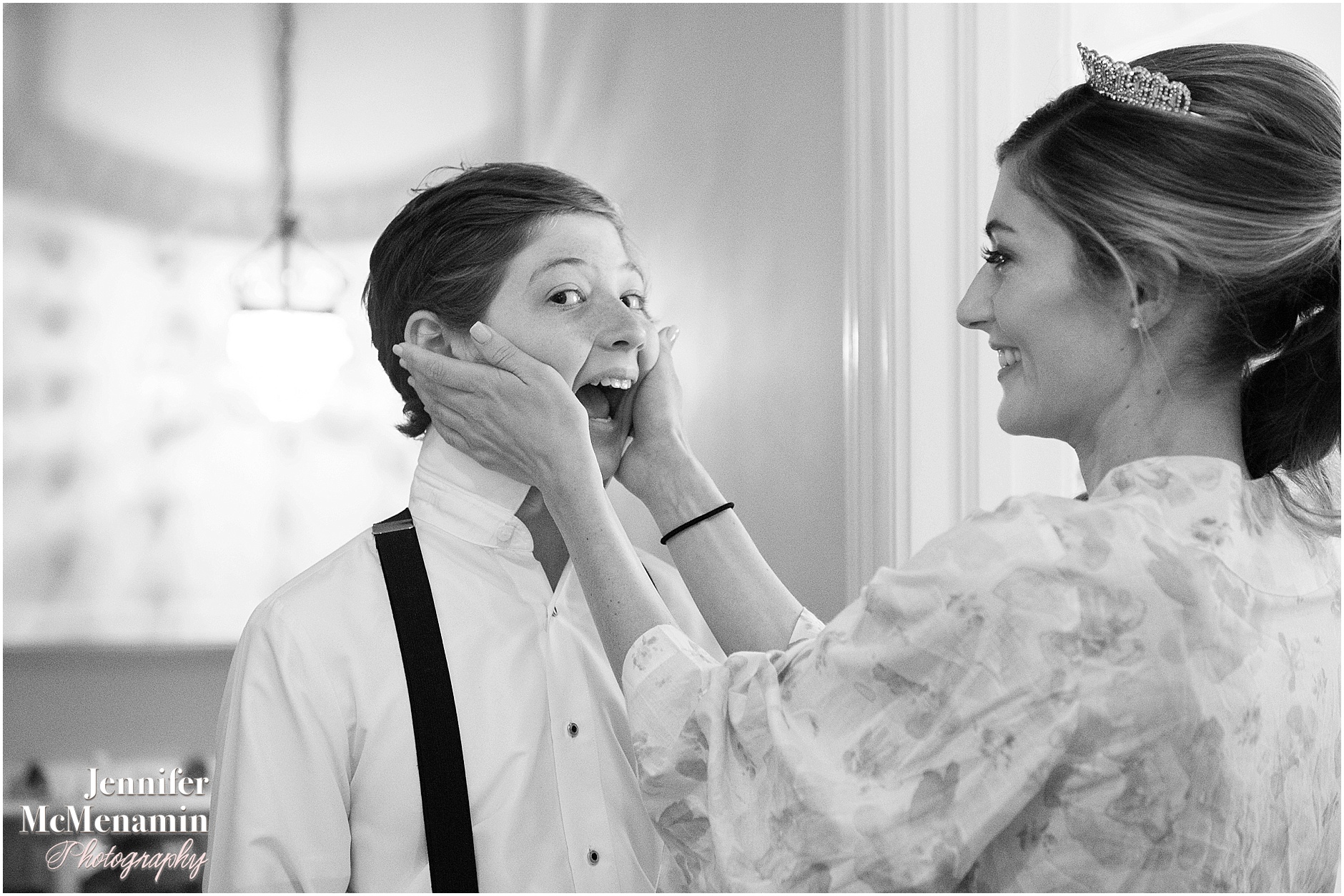 Grace's father, Martin, helps his youngest son with his tuxedo.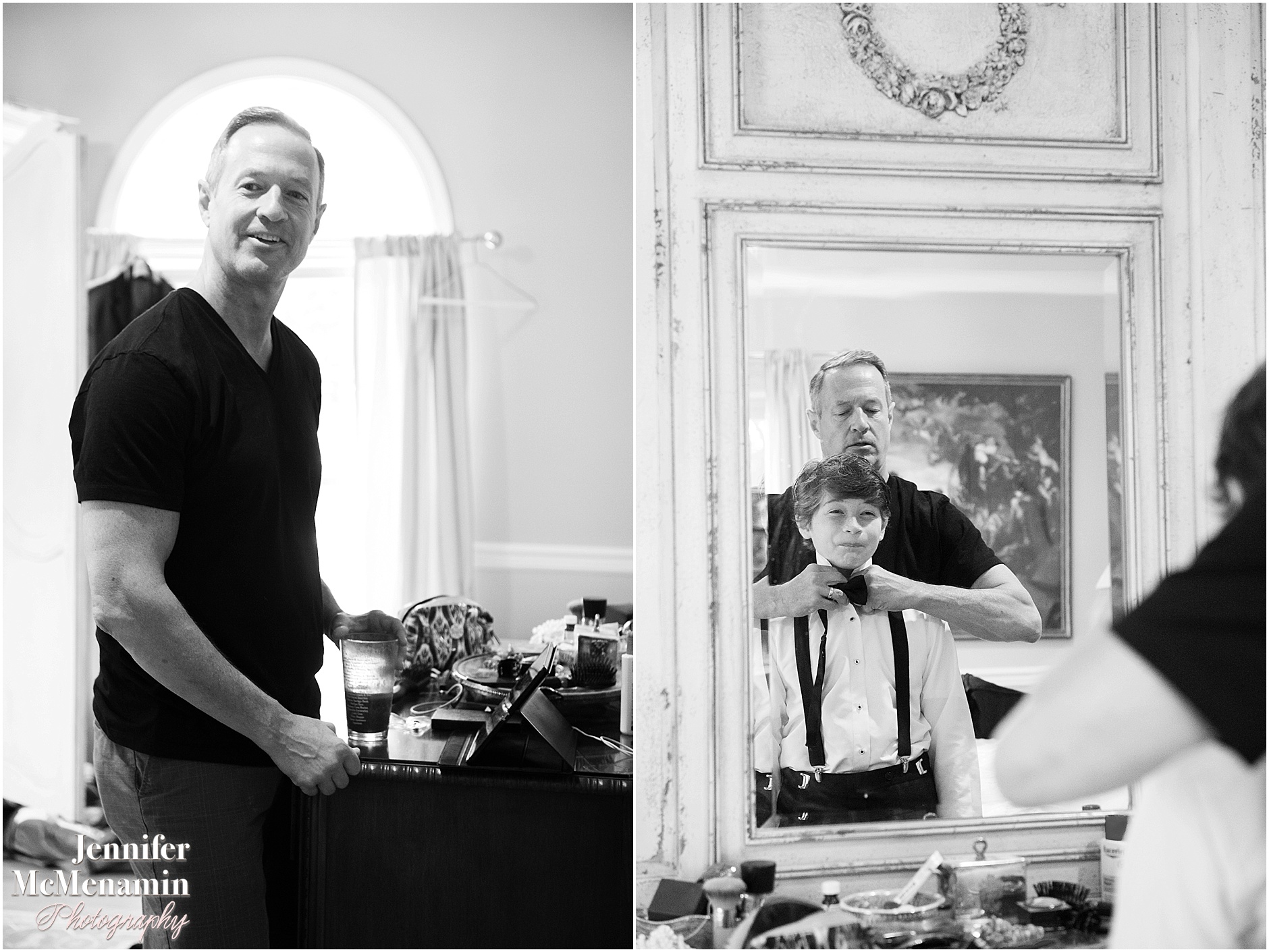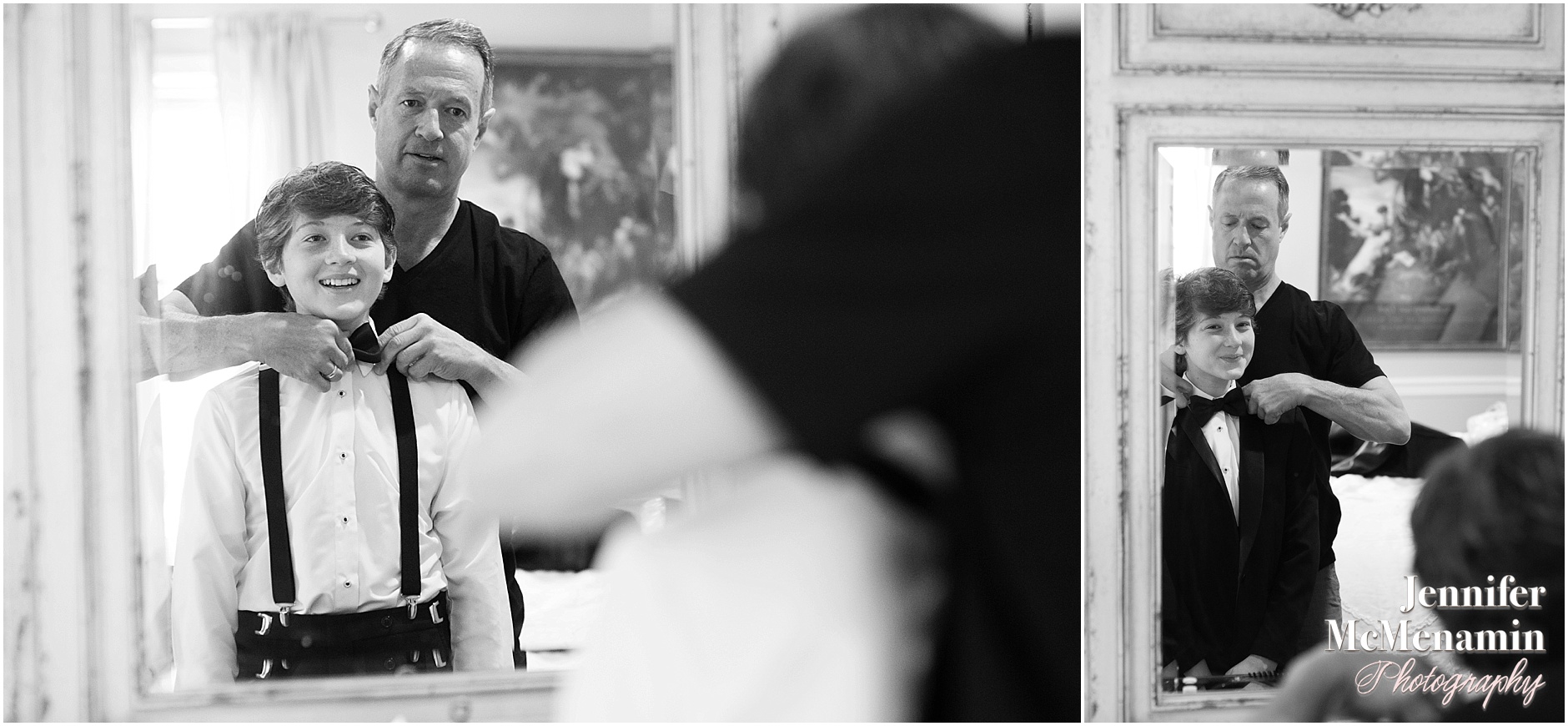 I love catching little moments like the one in this next image for my clients. It's my most favorite part of my job! To me, it's the difference between documenting the scene of a wedding and capturing moments that my clients will want to remember.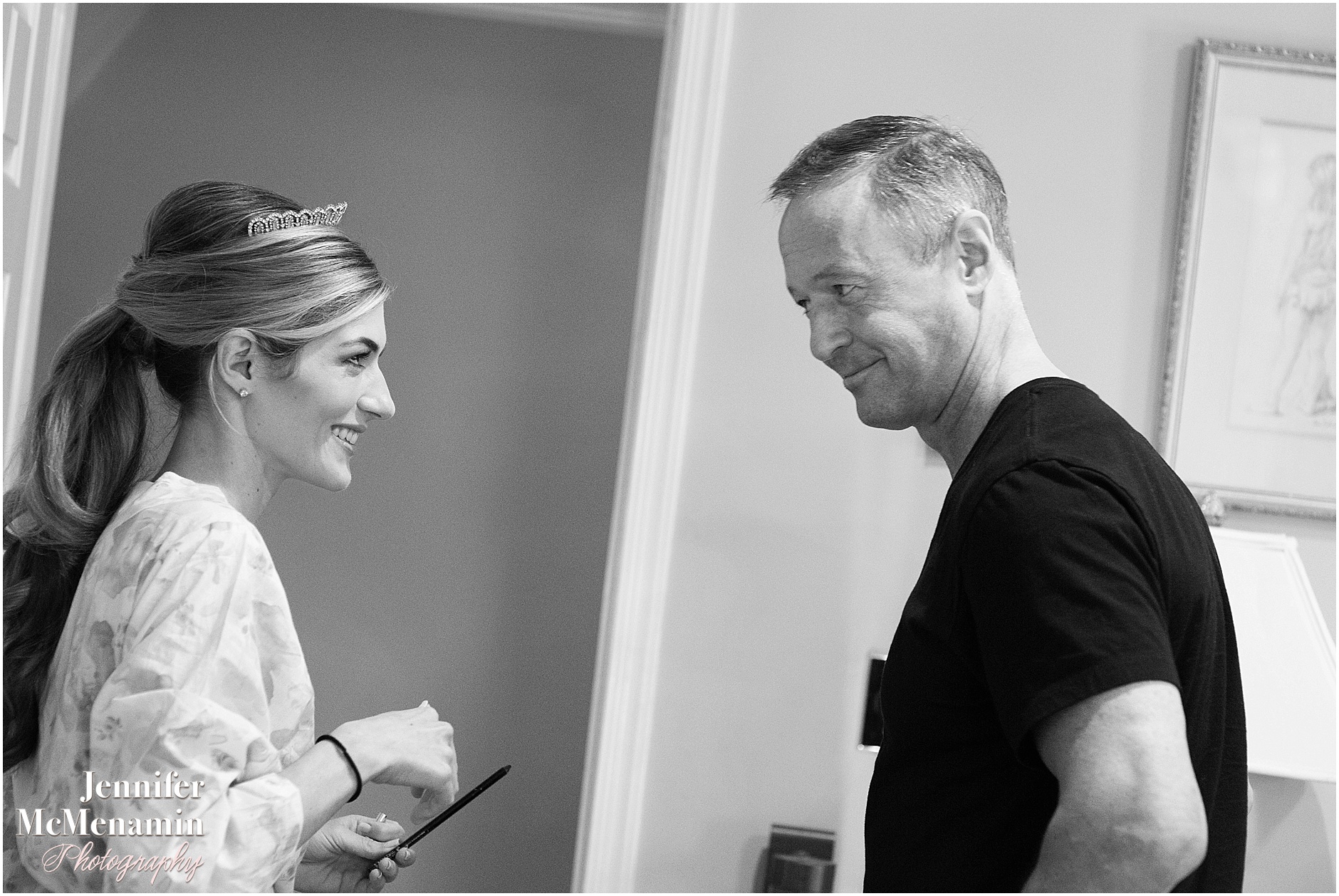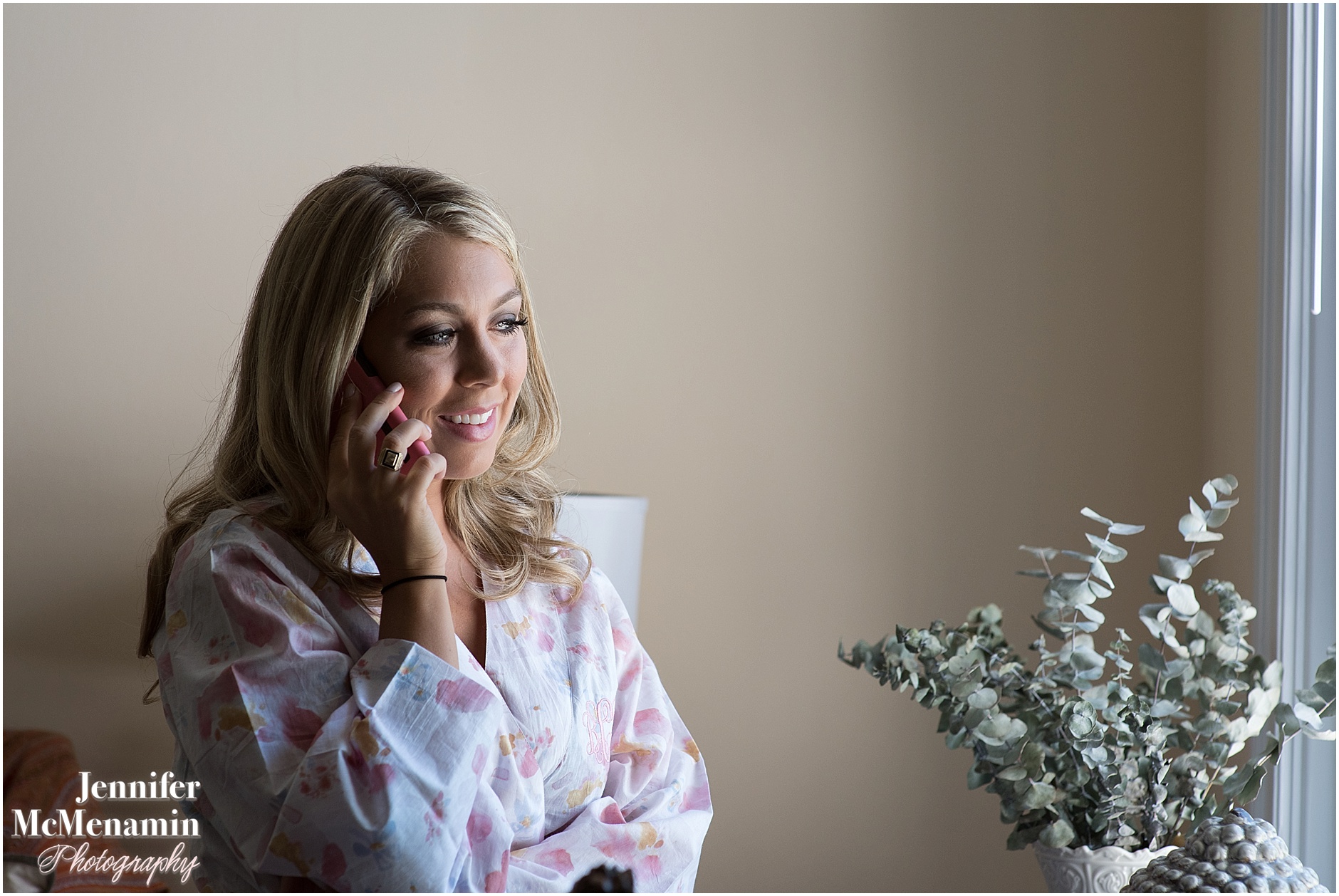 A quick, simple portrait of the bride, looking absolutely beautiful.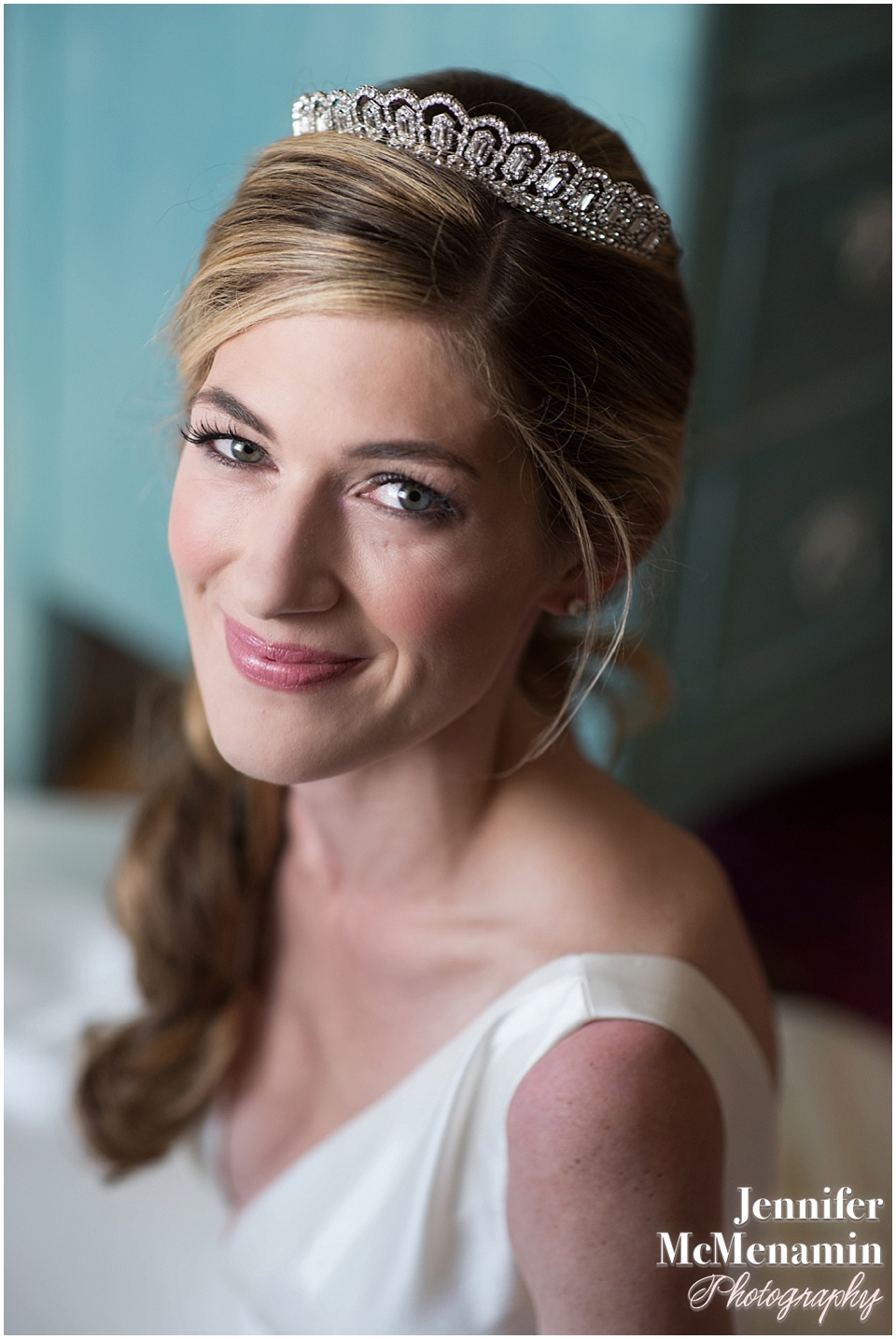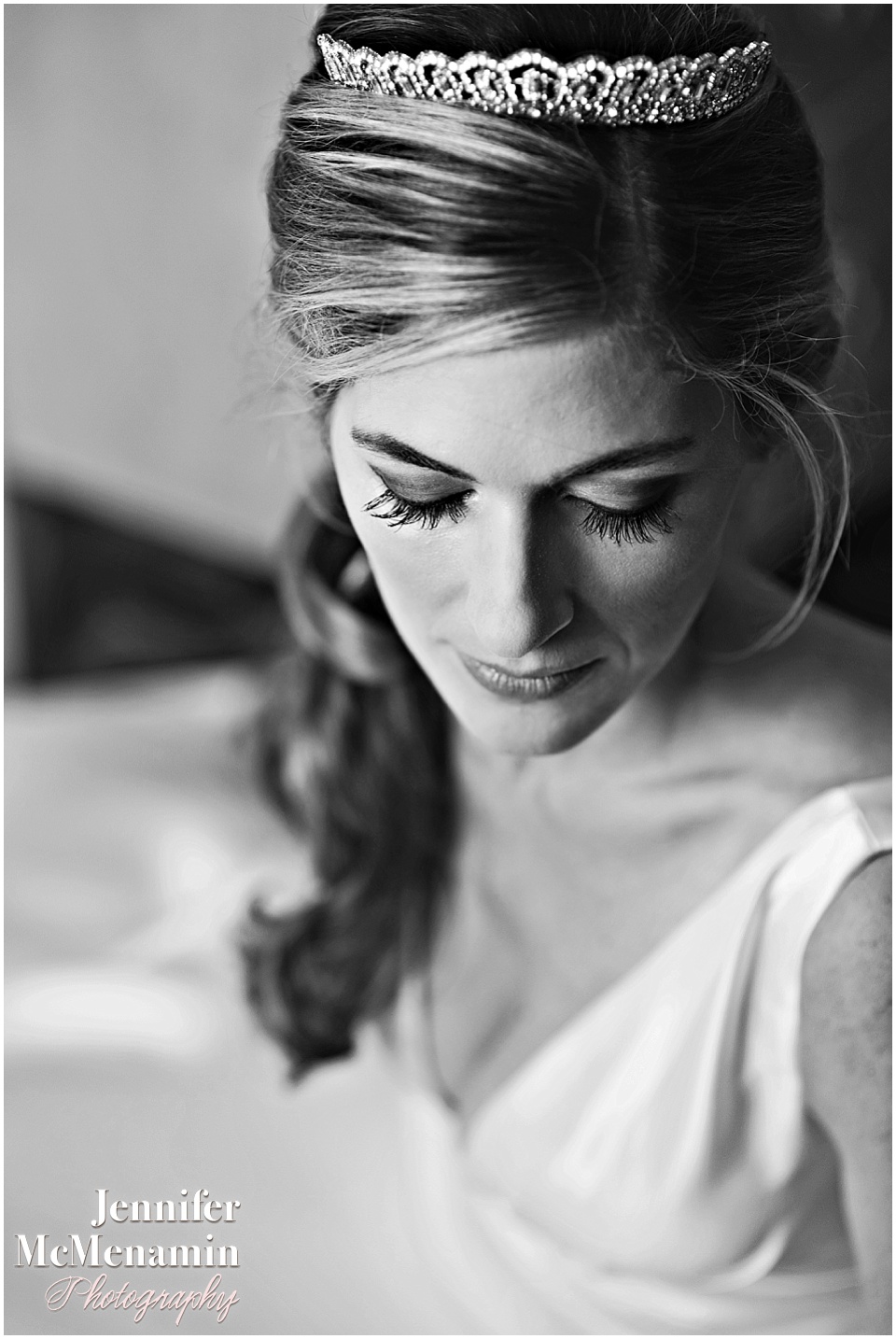 I love everything about this next image of Grace's parents, siblings and bridesmaids seeing her come down the steps for the first time — including Rex the dog's *still* unimpressed reaction.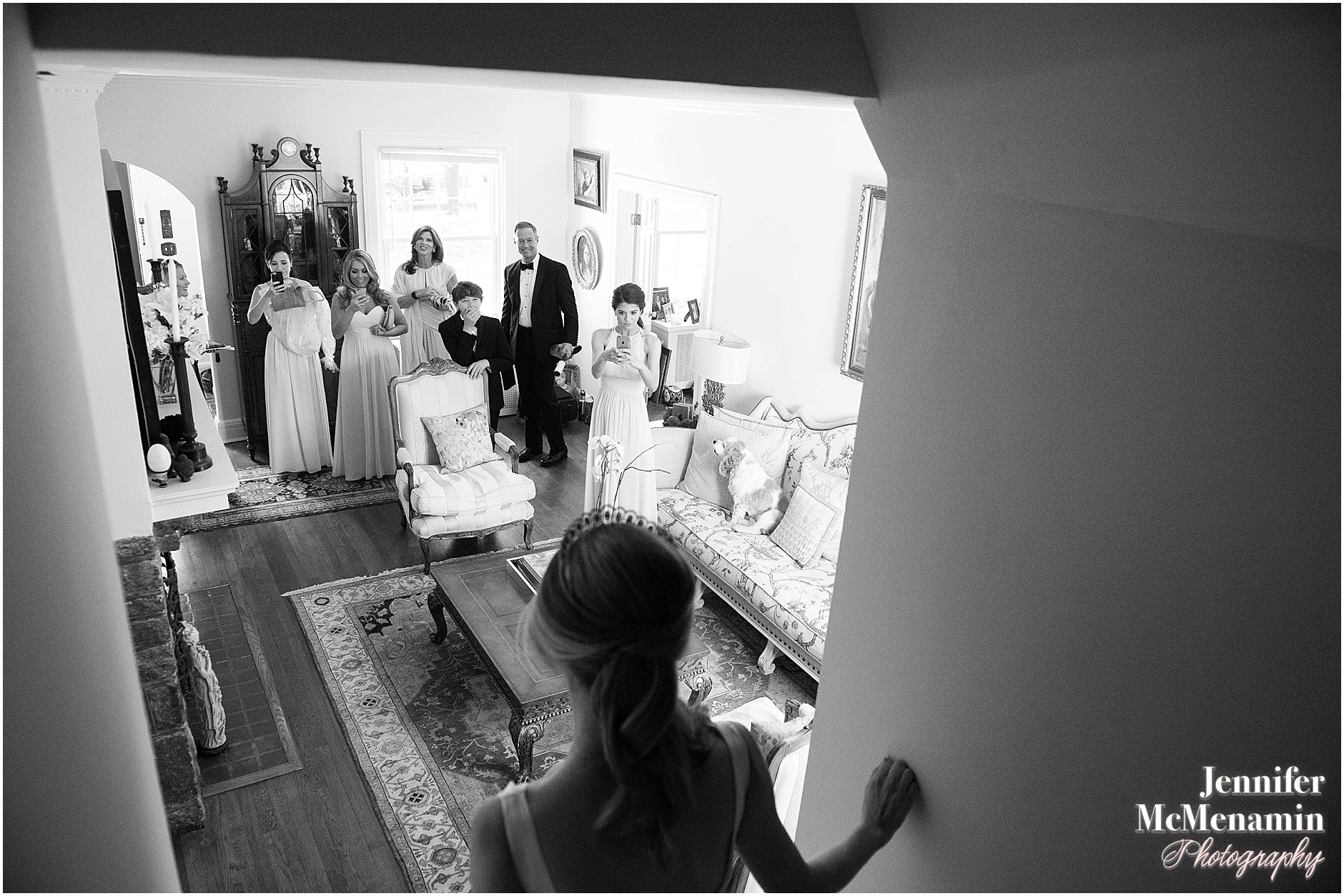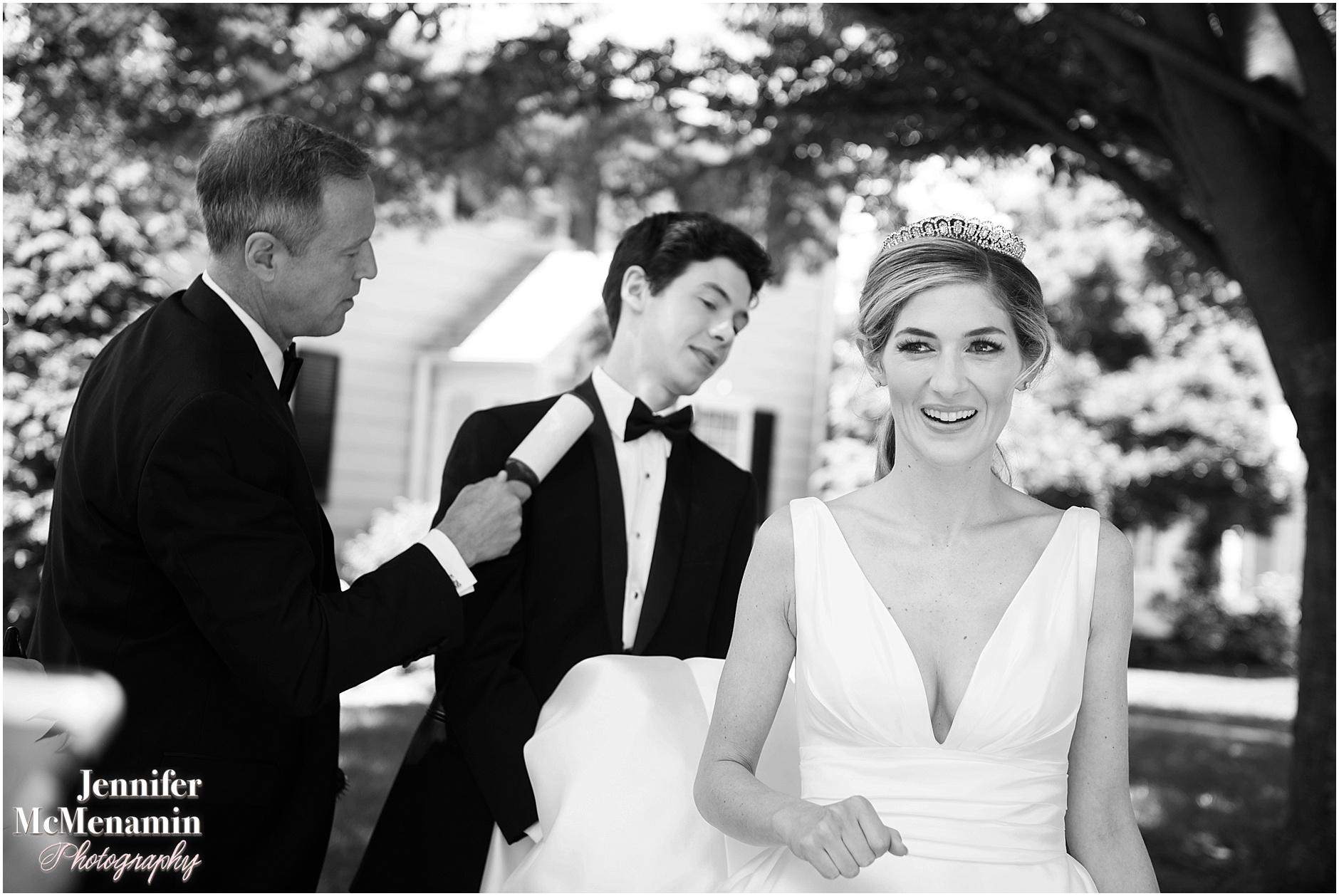 And then we were off to Saint Ignatius, a beautiful Jesuit church in Baltimore's Mount Vernon neighborhood, for the ceremony.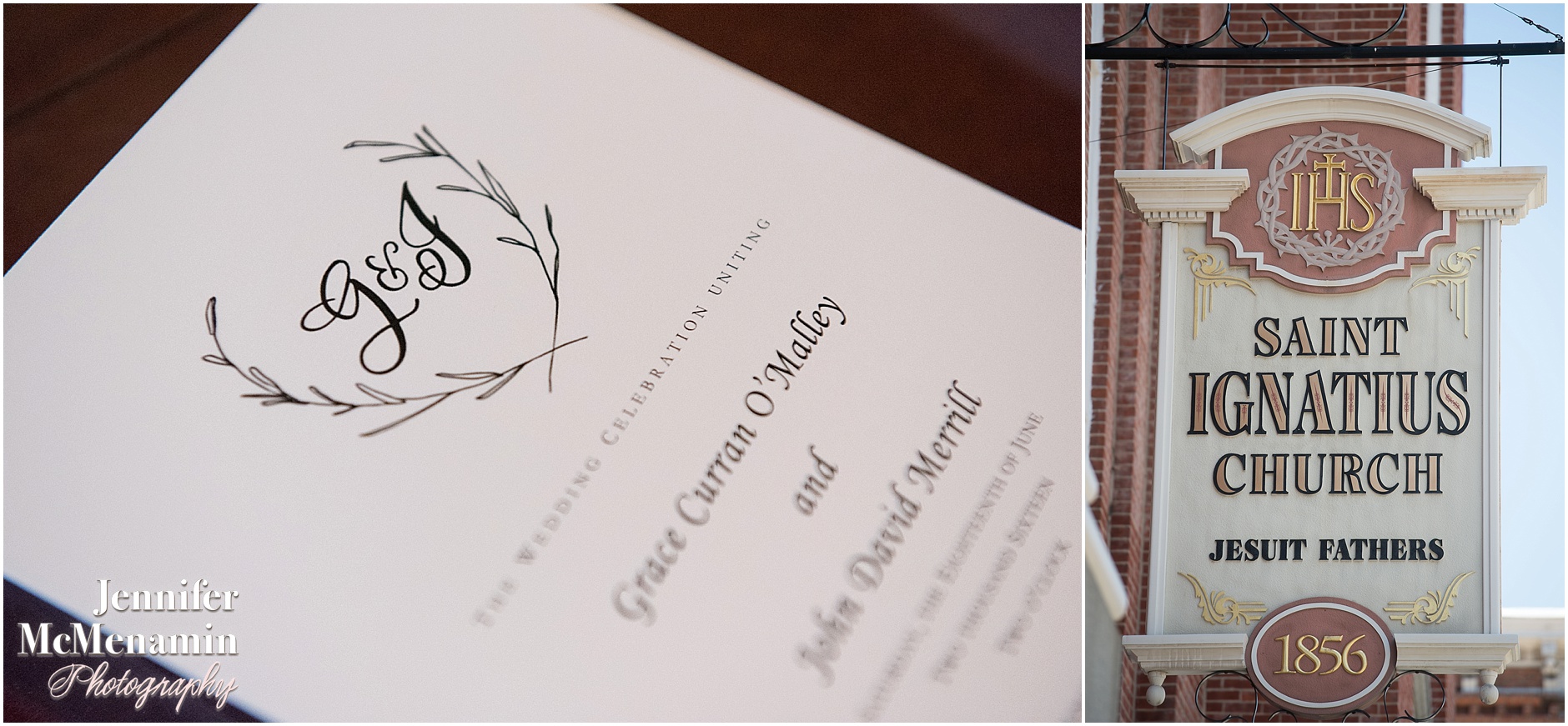 Check out those Maryland flag cuff links on the former governor!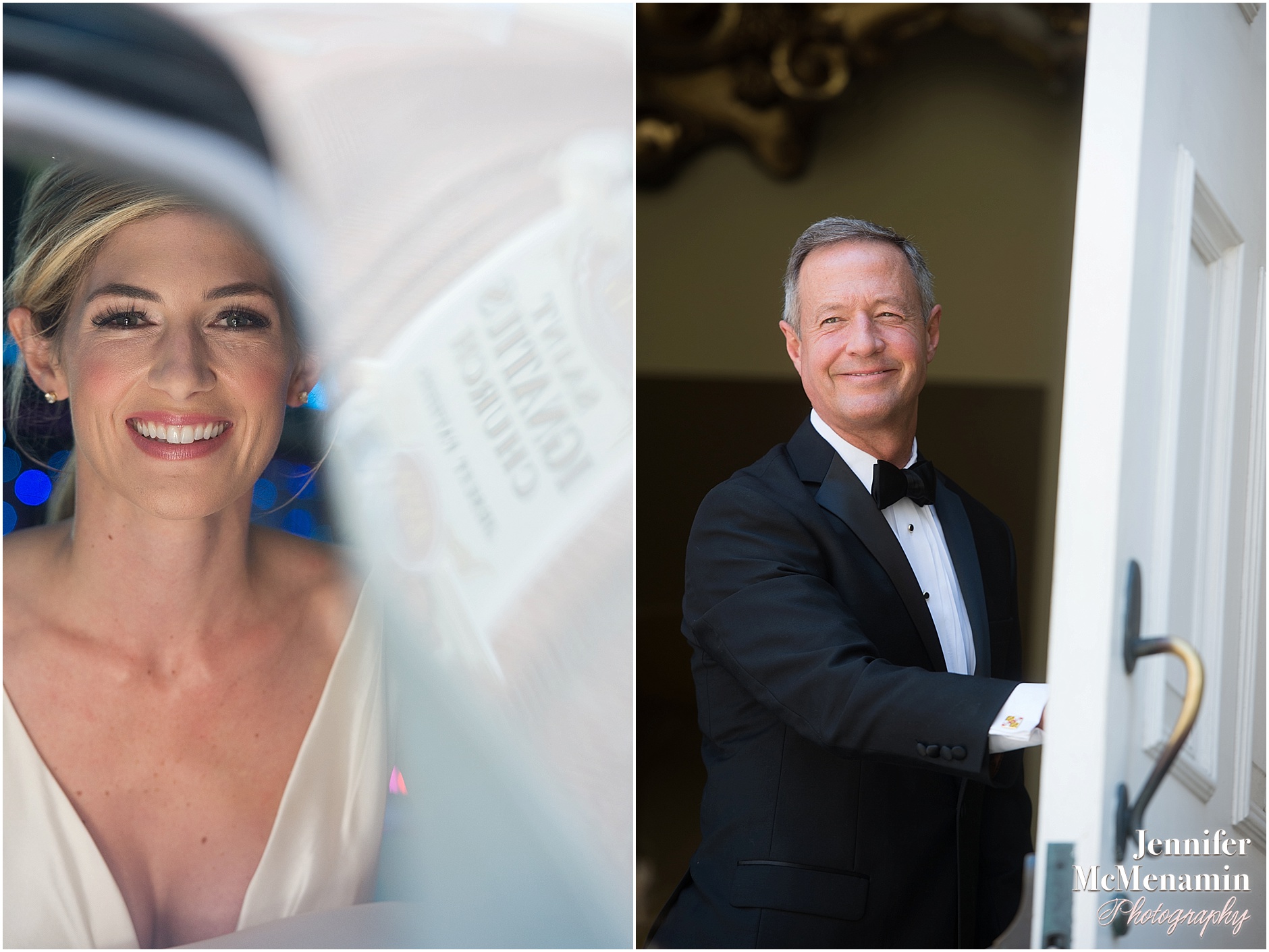 Meanwhile, JD and his groomsmen awaited the start of the ceremony in the church sacristy.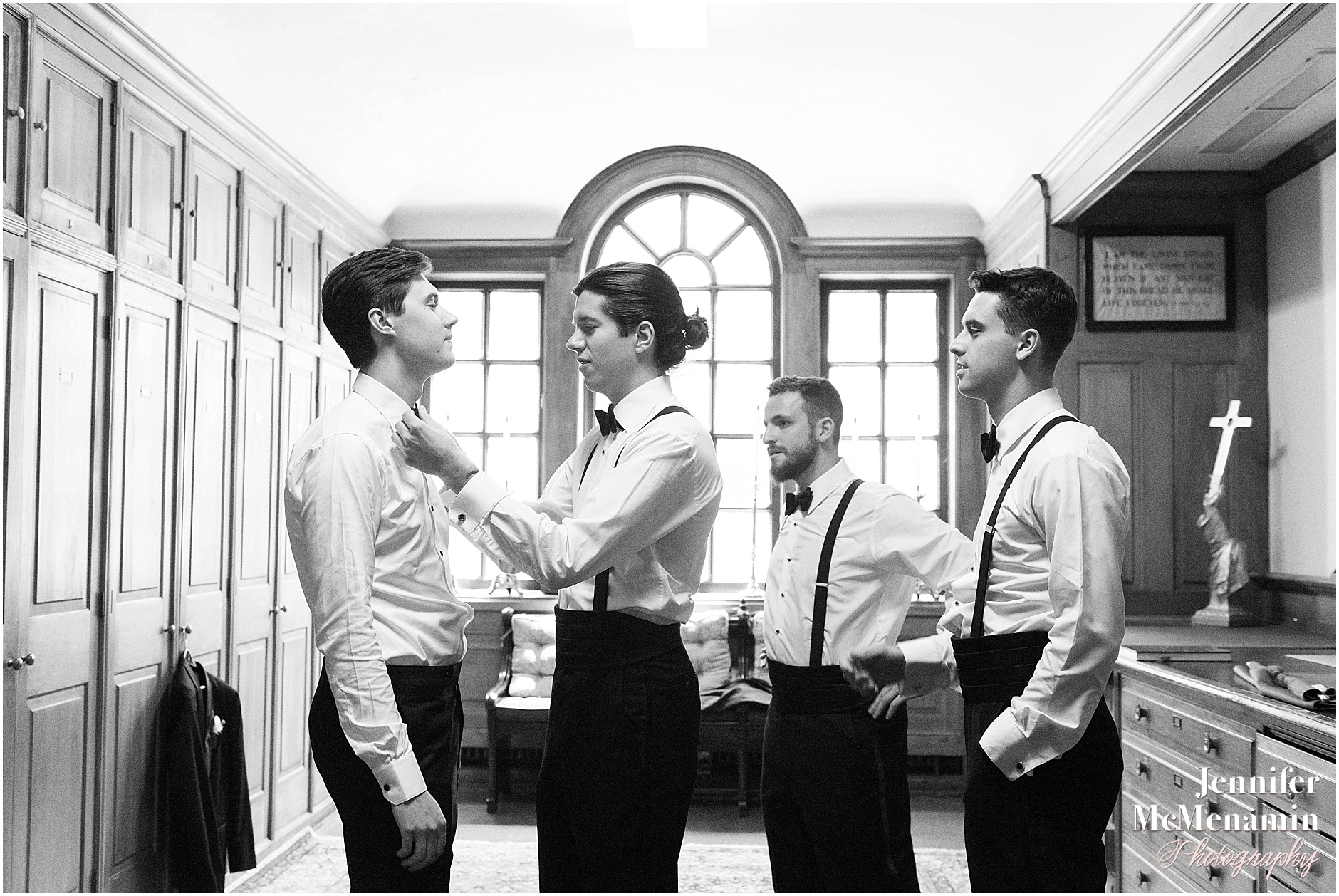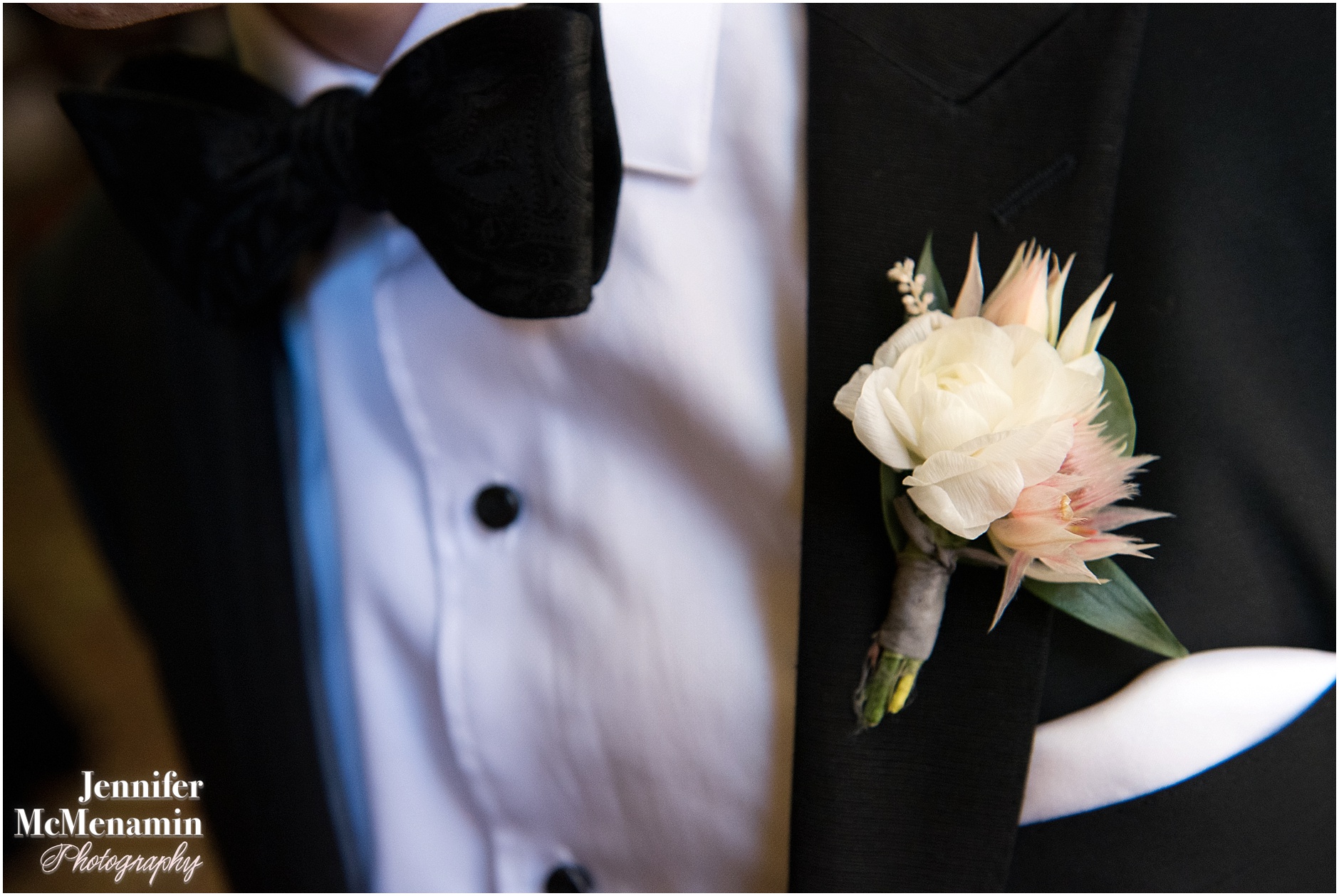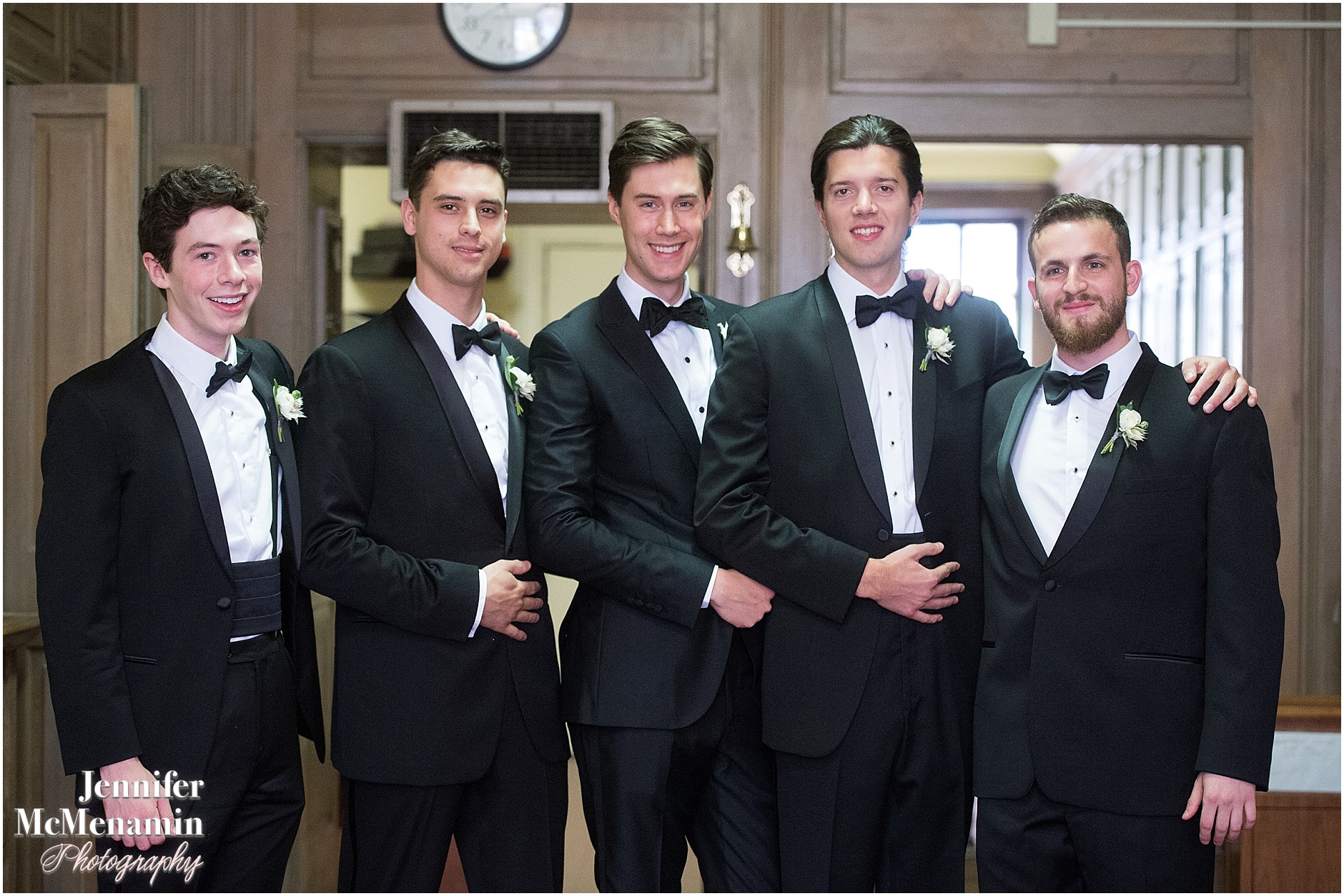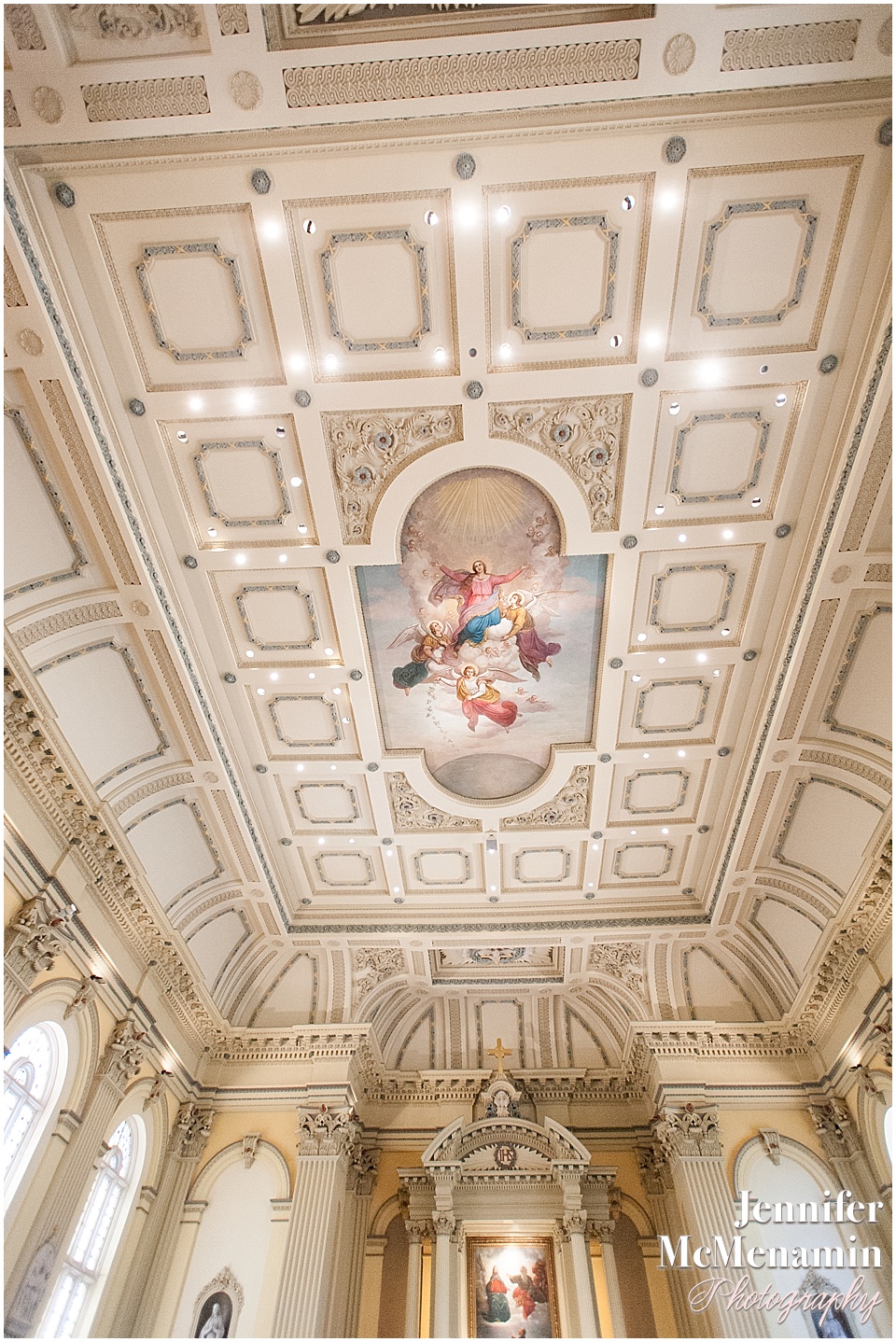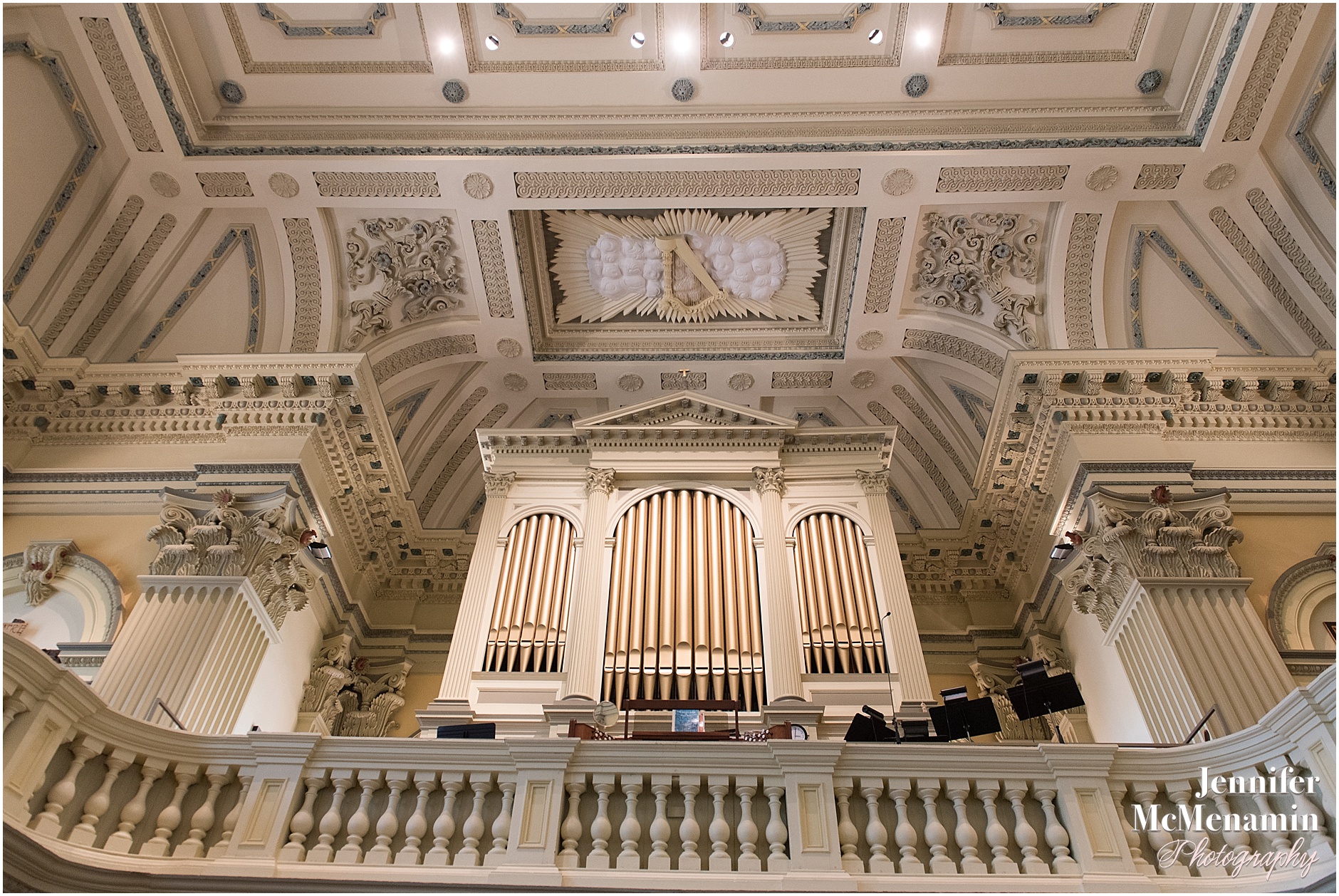 And then it was time to get married!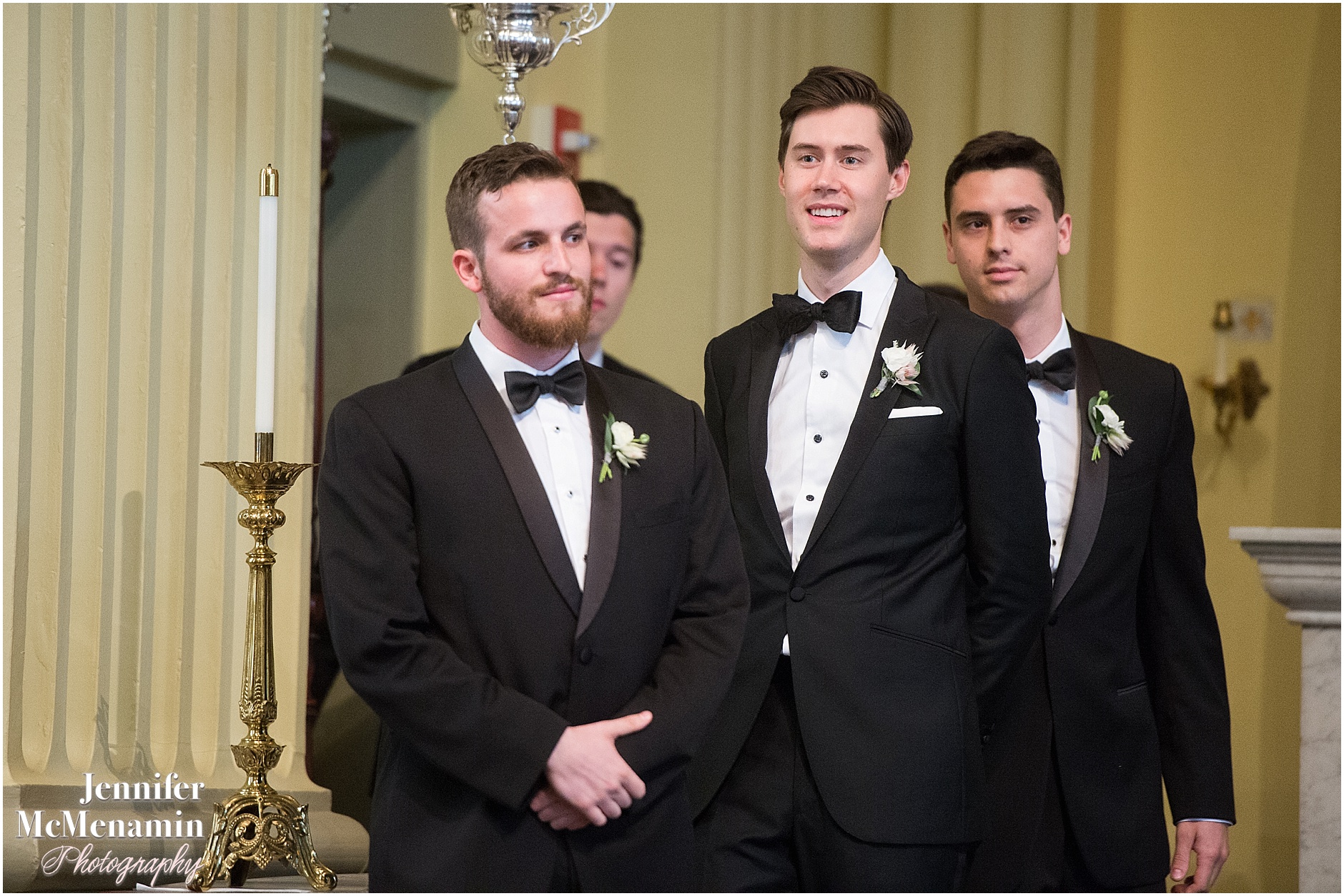 Grace had told me in advance that her two brothers would escort their mother, Katie, down the aisle and that it had the potential to be a charming and perhaps emotional moment for the trio. She was exactly right. And I couldn't love this next image any more.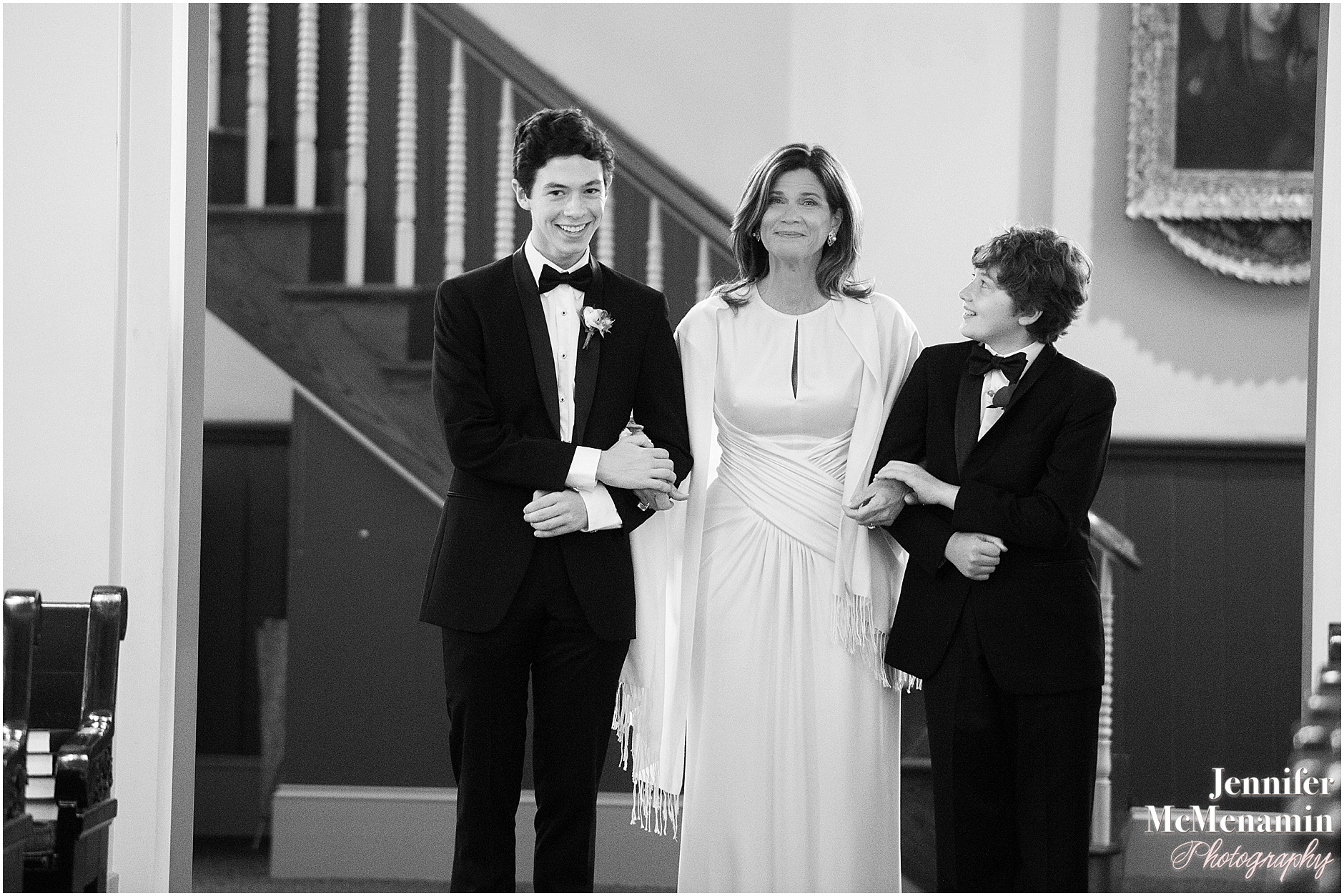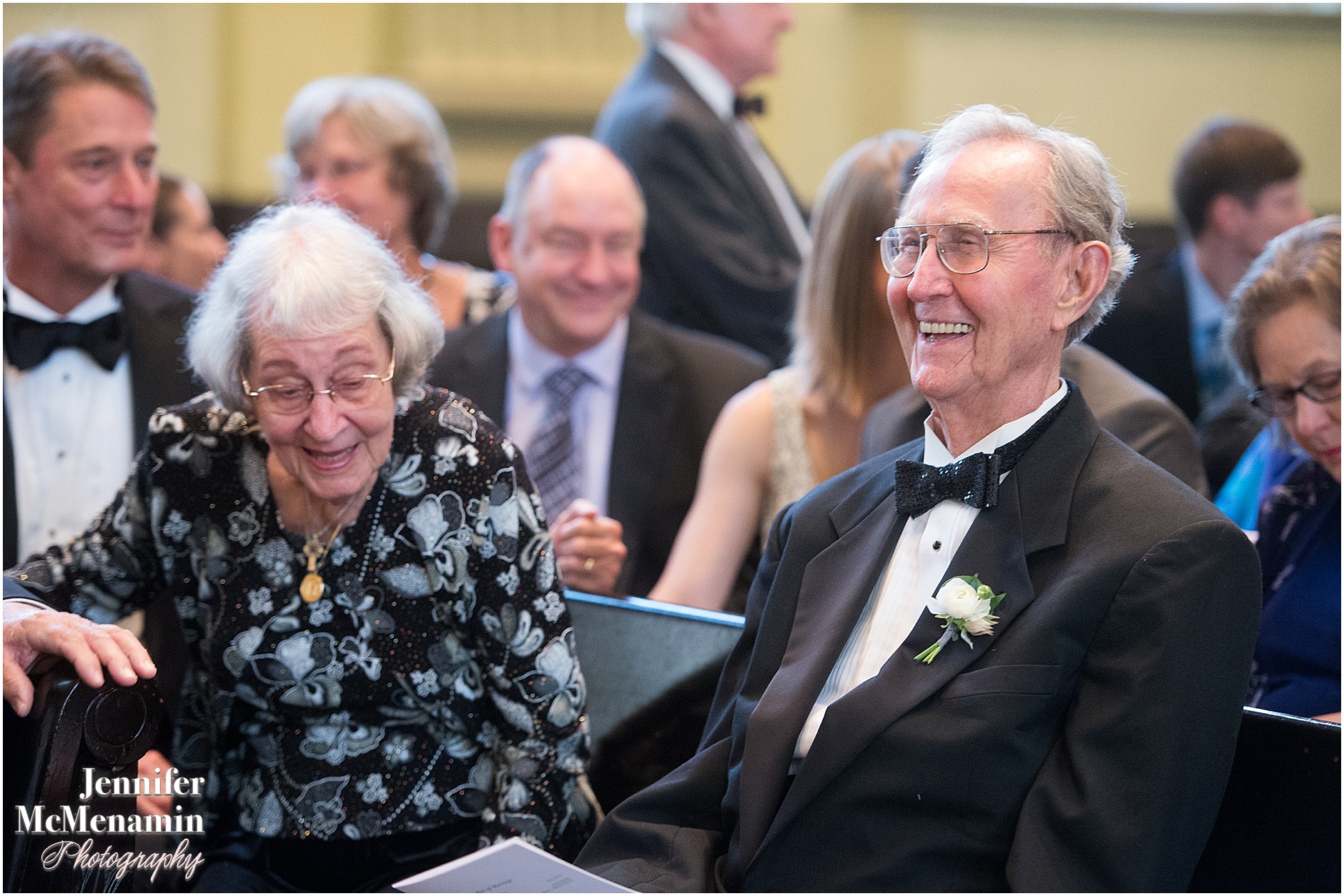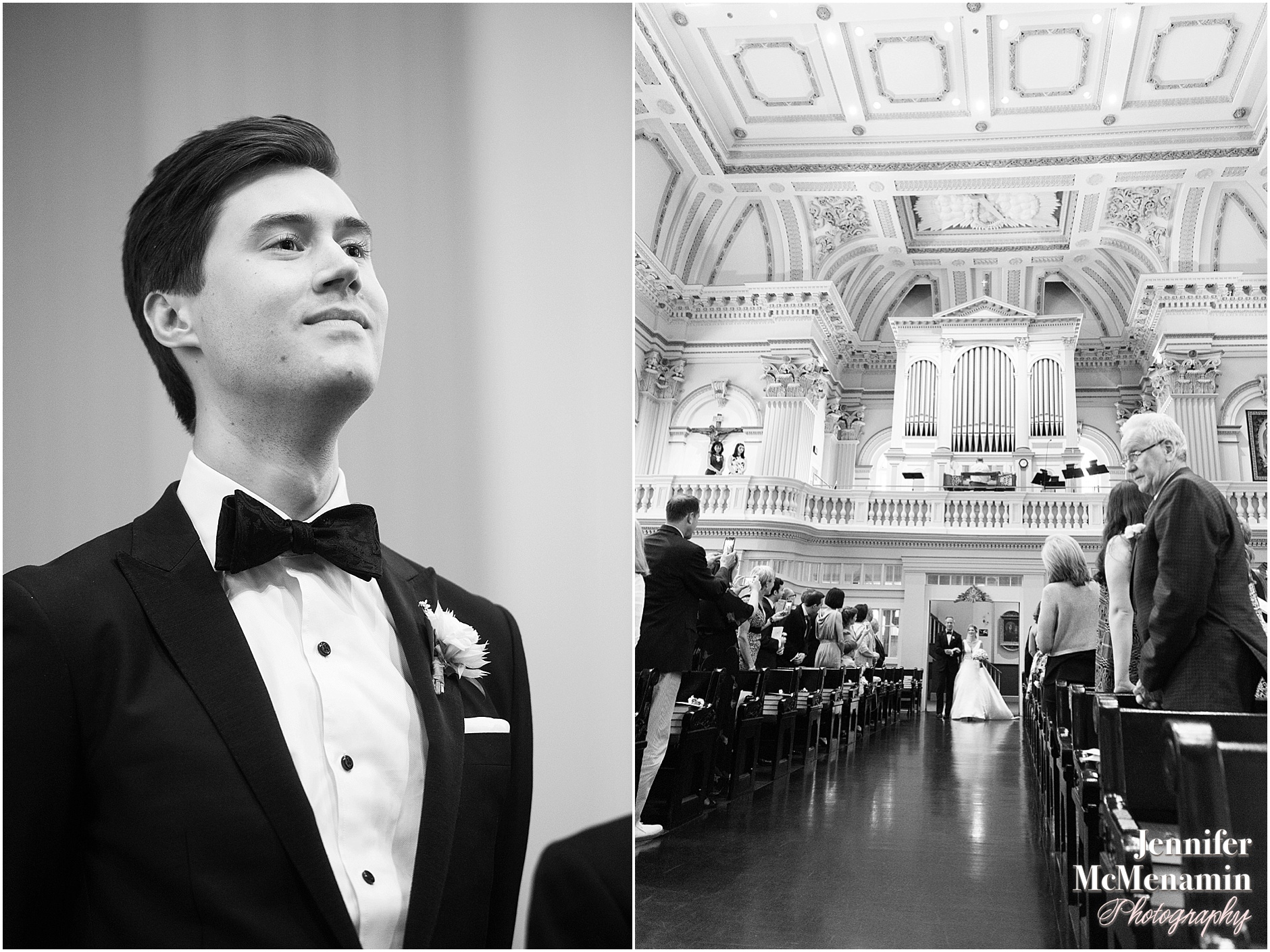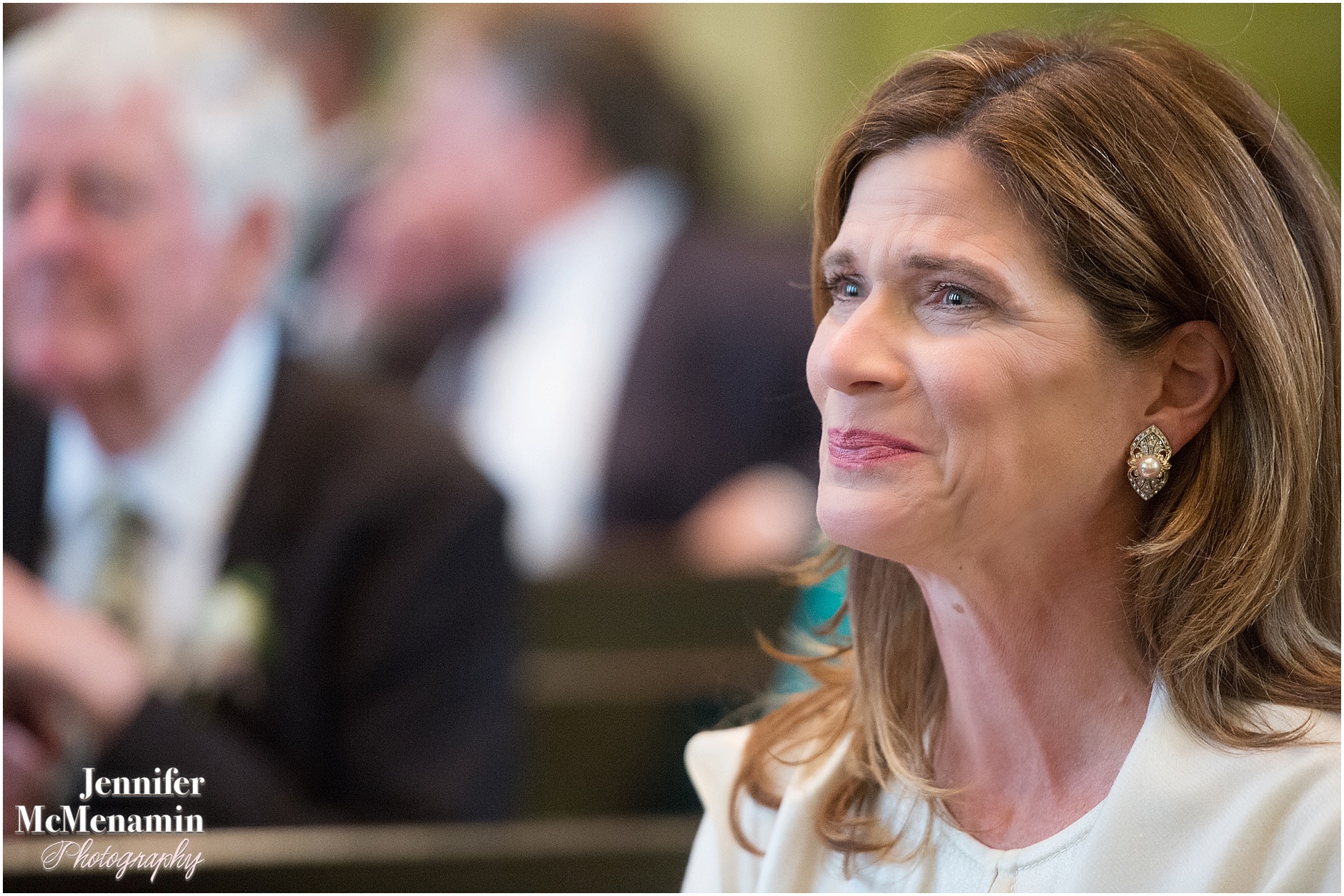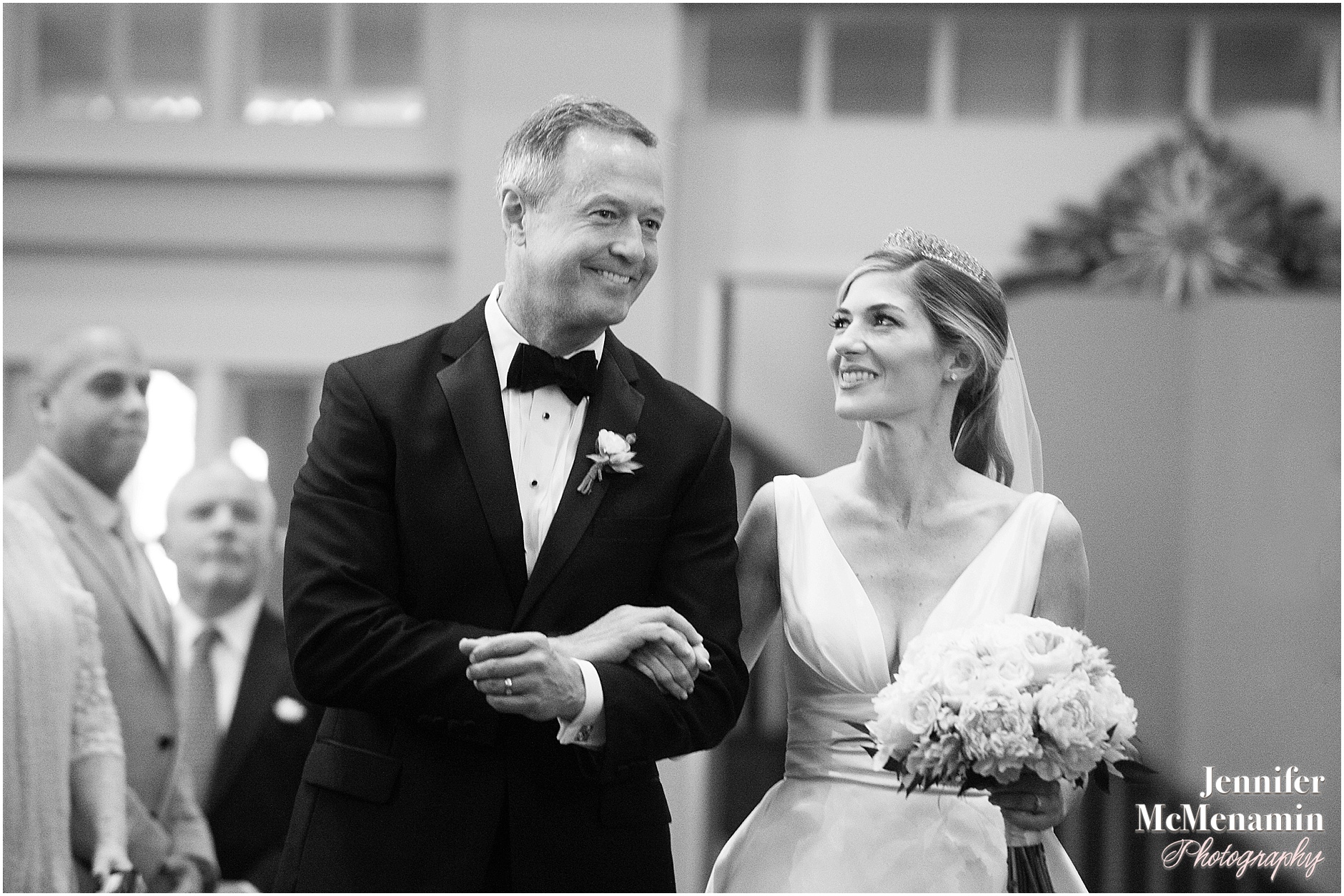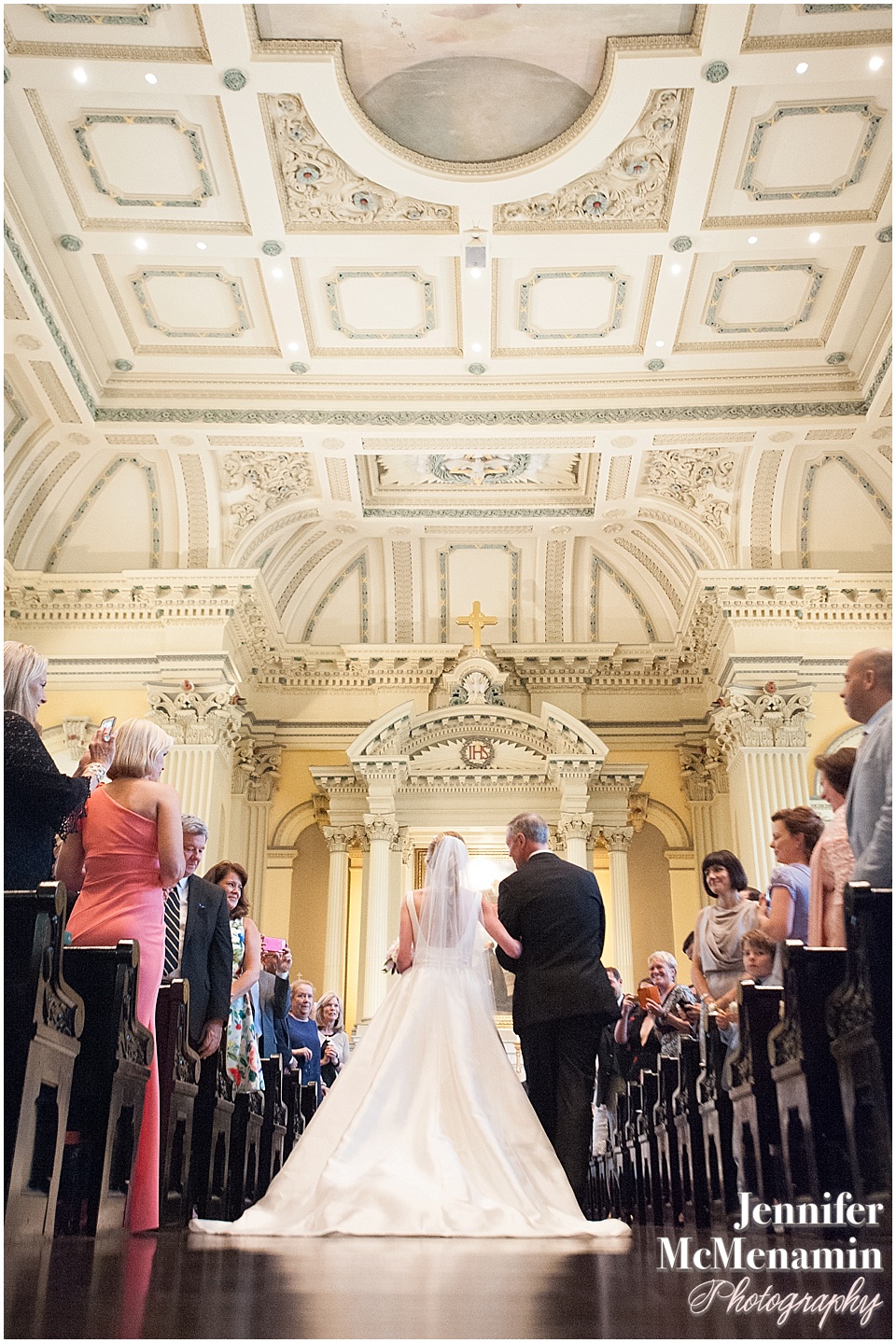 While her father winked on his way down the aisle, Grace blew a kiss to her family looking on.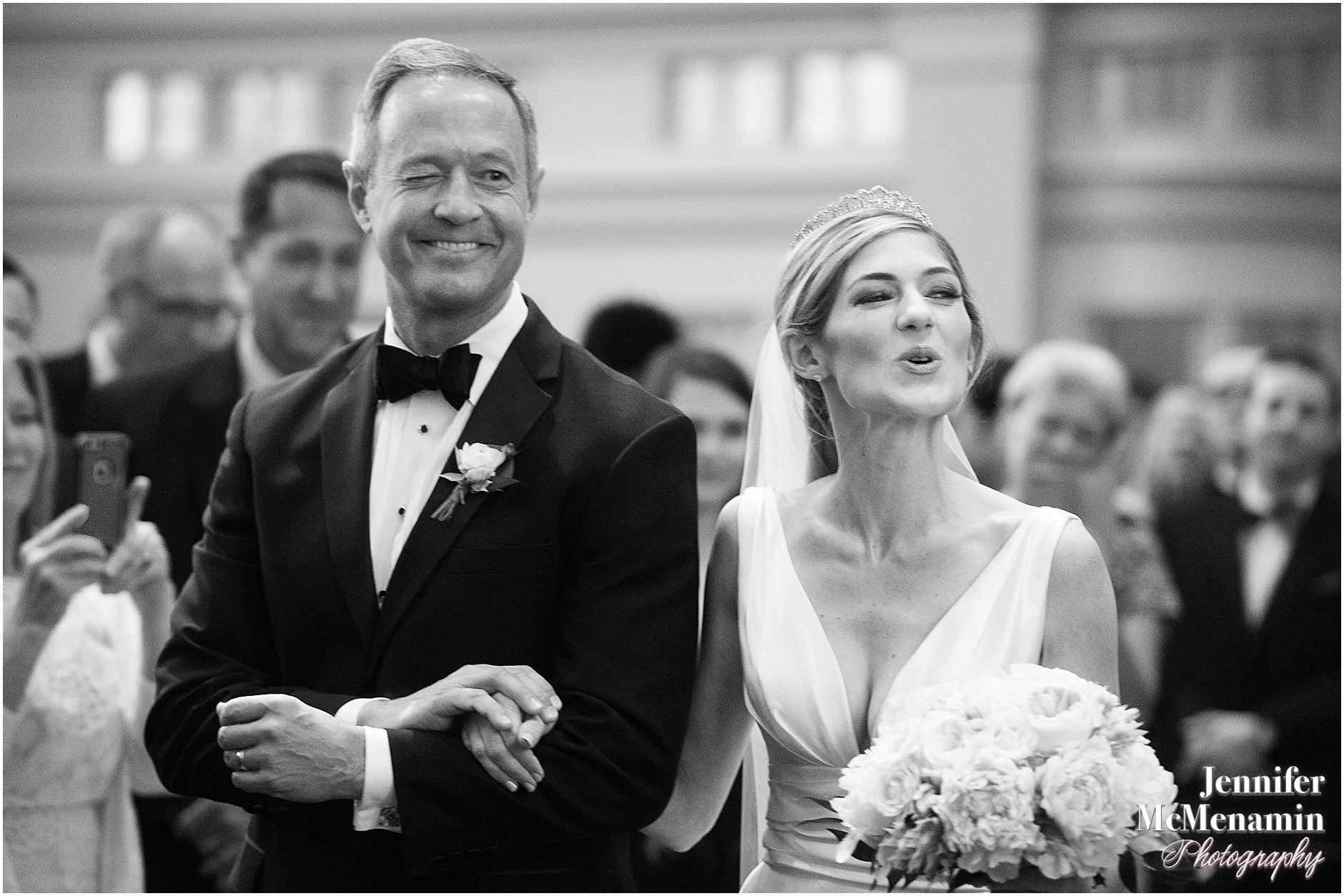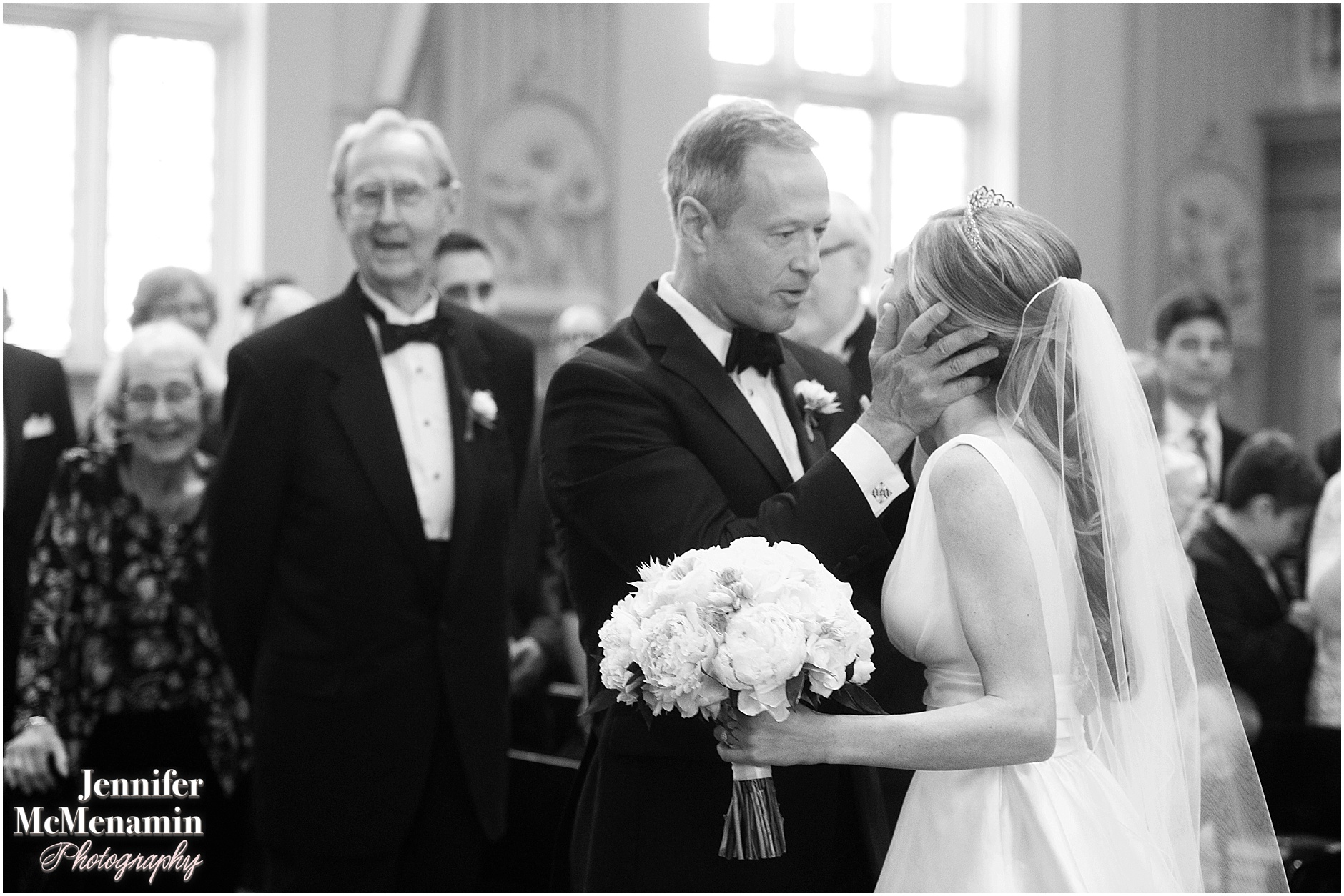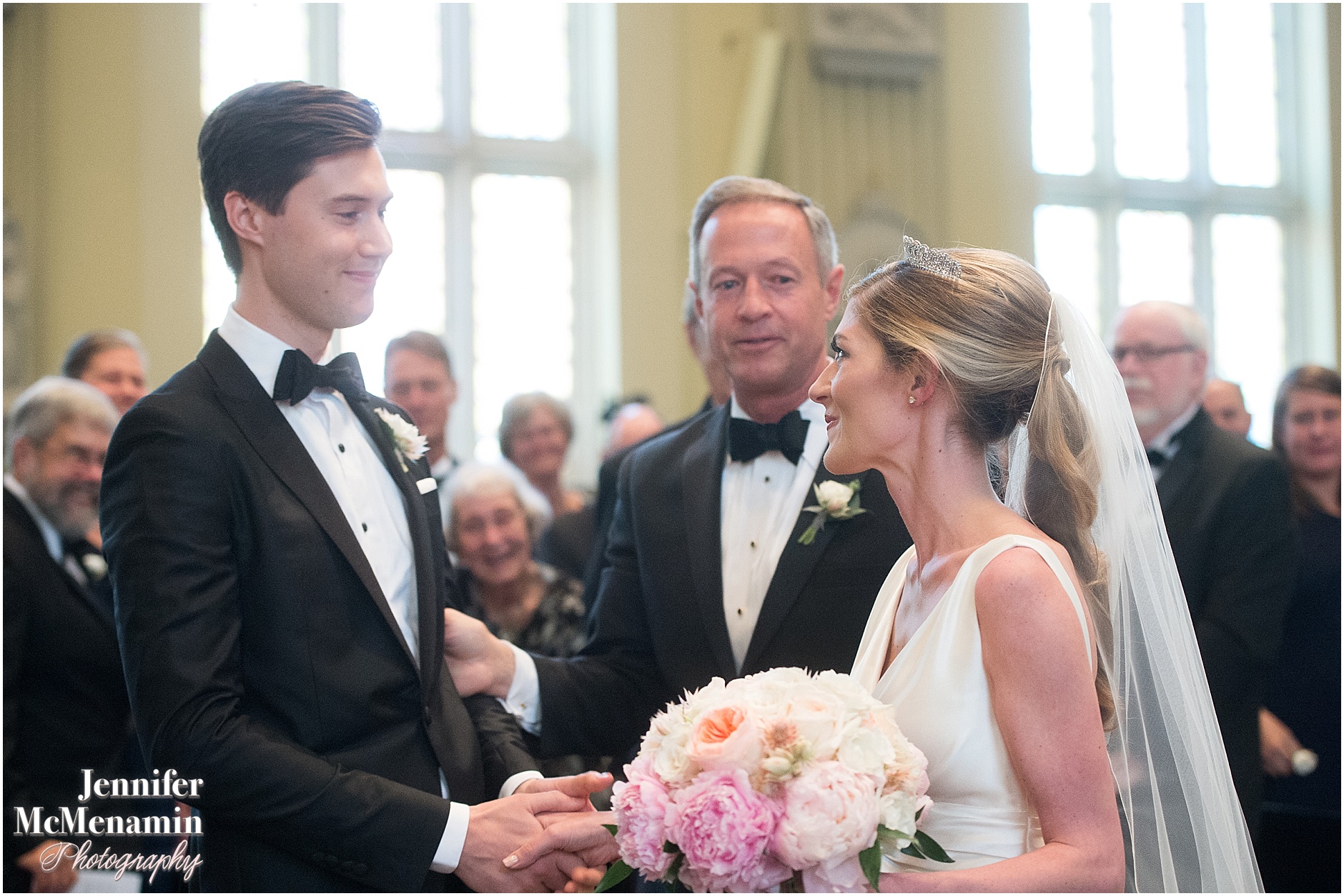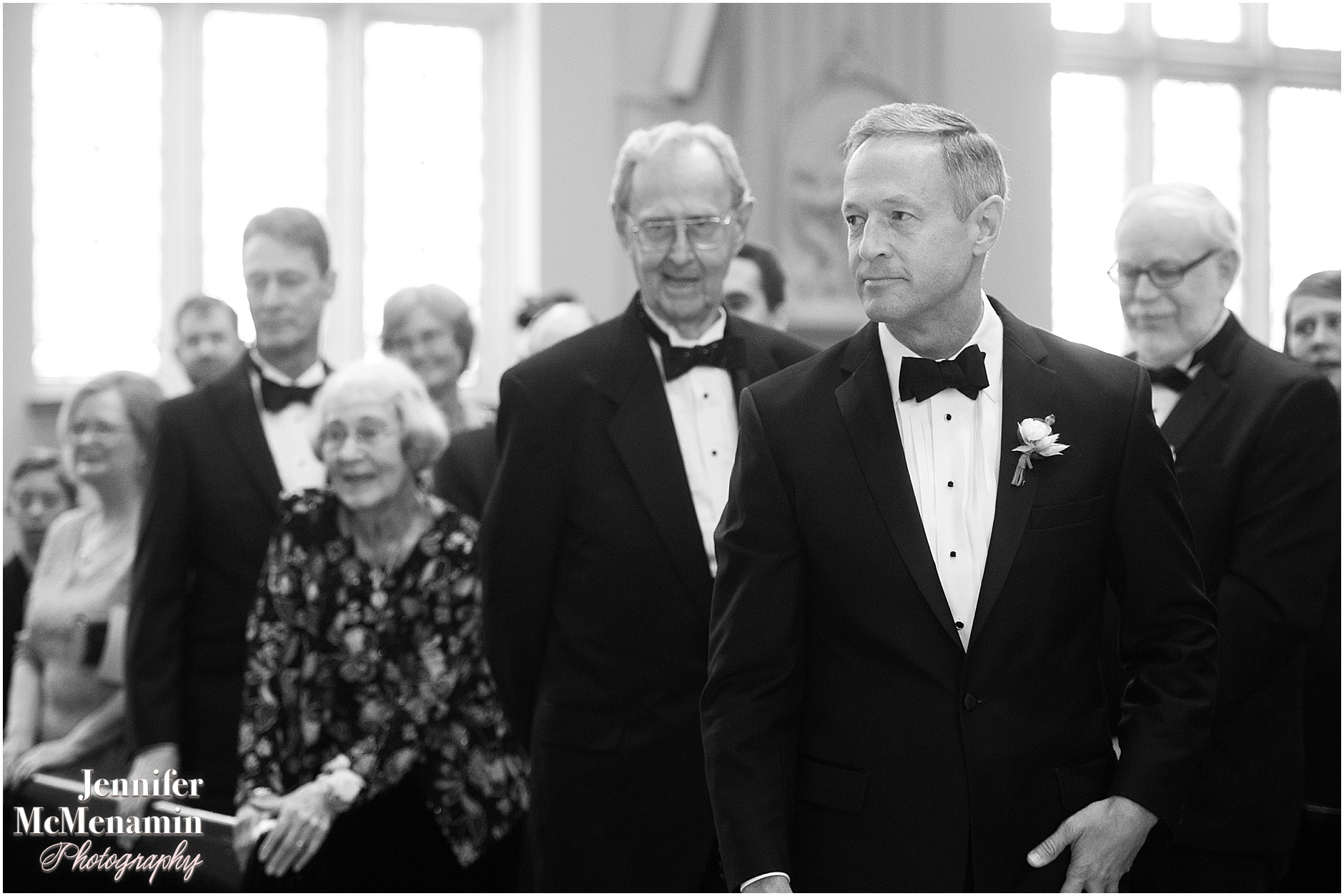 My assistant Lucas shot this next image — and the others from the same vantage point — from the choir loft of the church.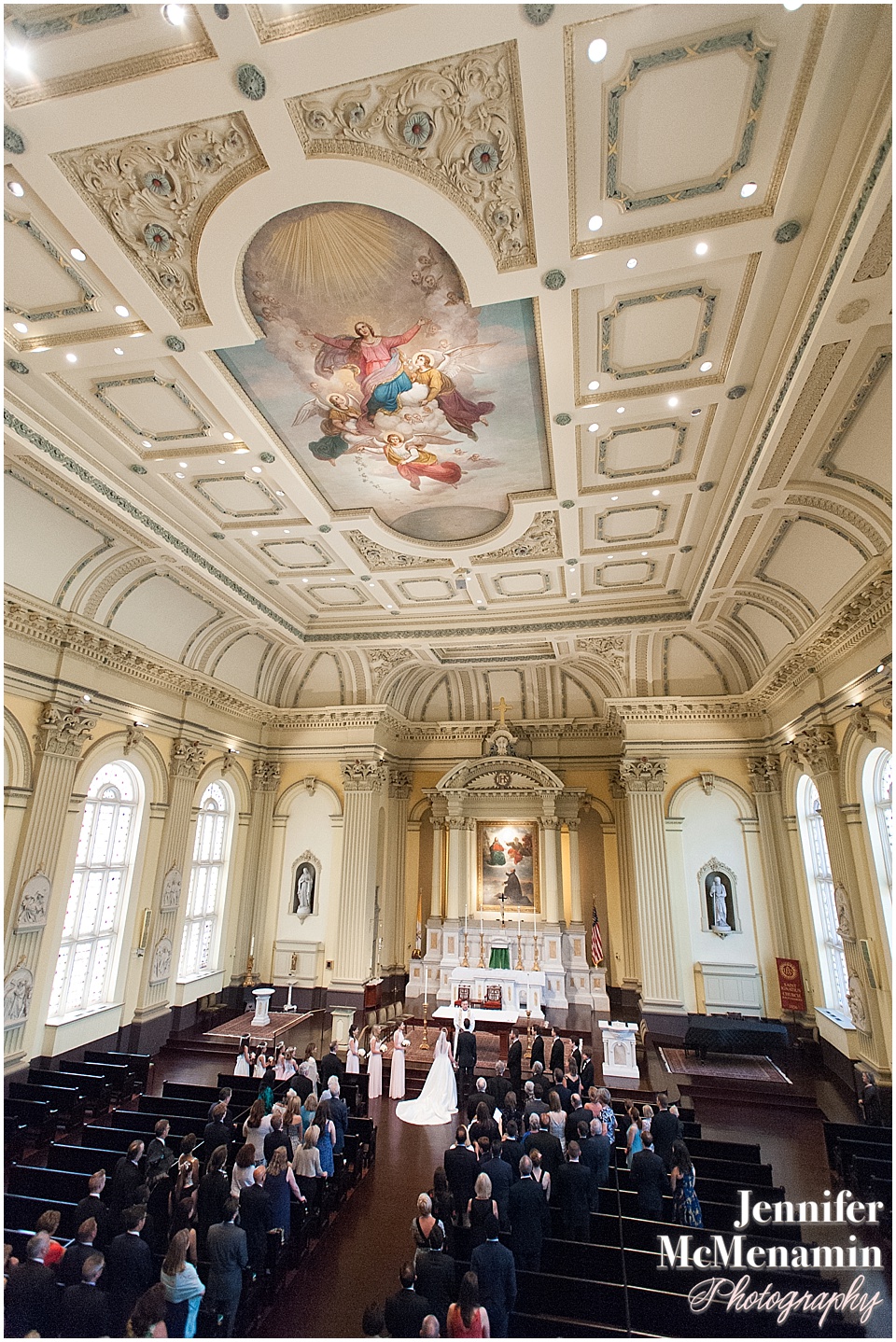 There were some truly adorable kiddos among the guests at the wedding.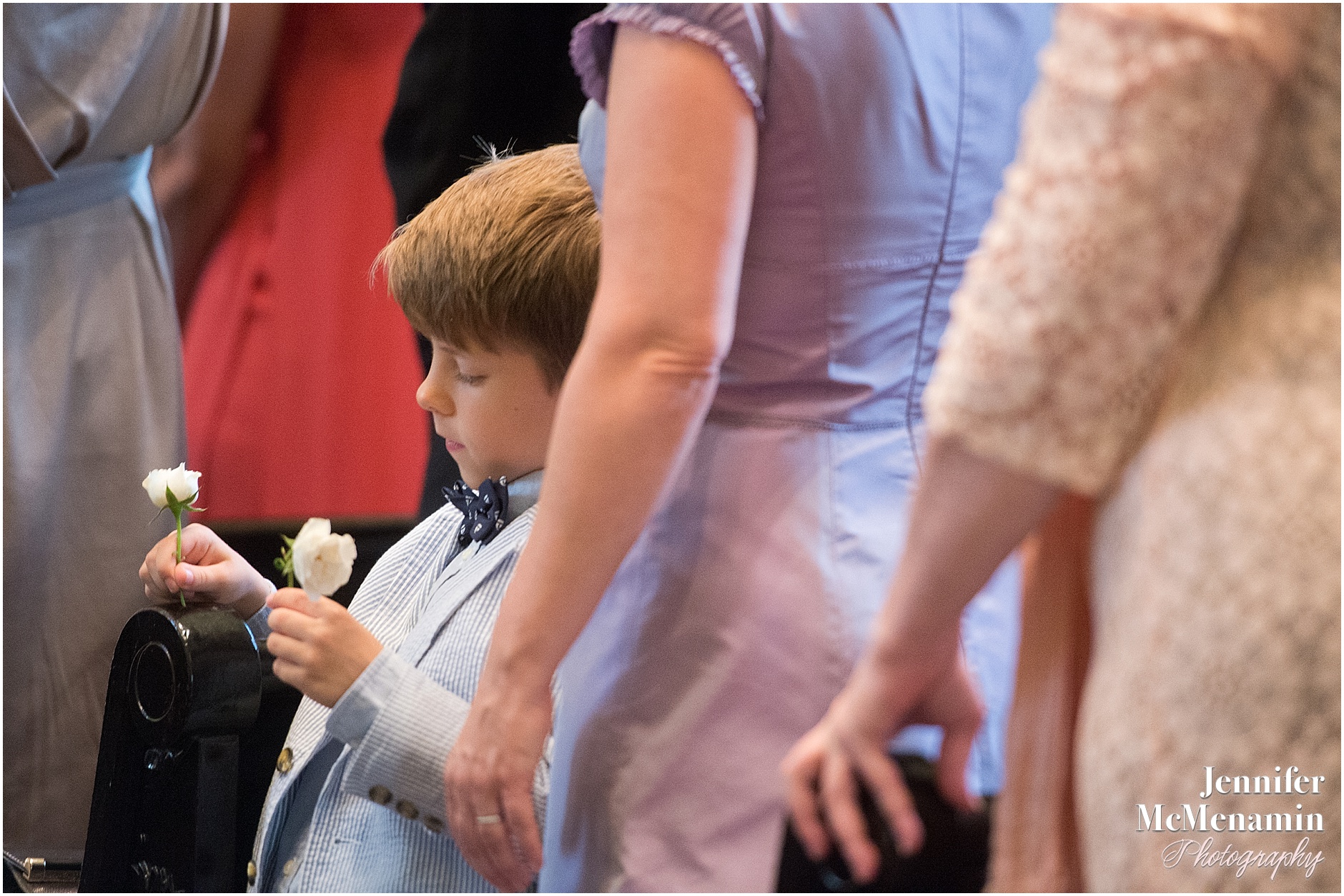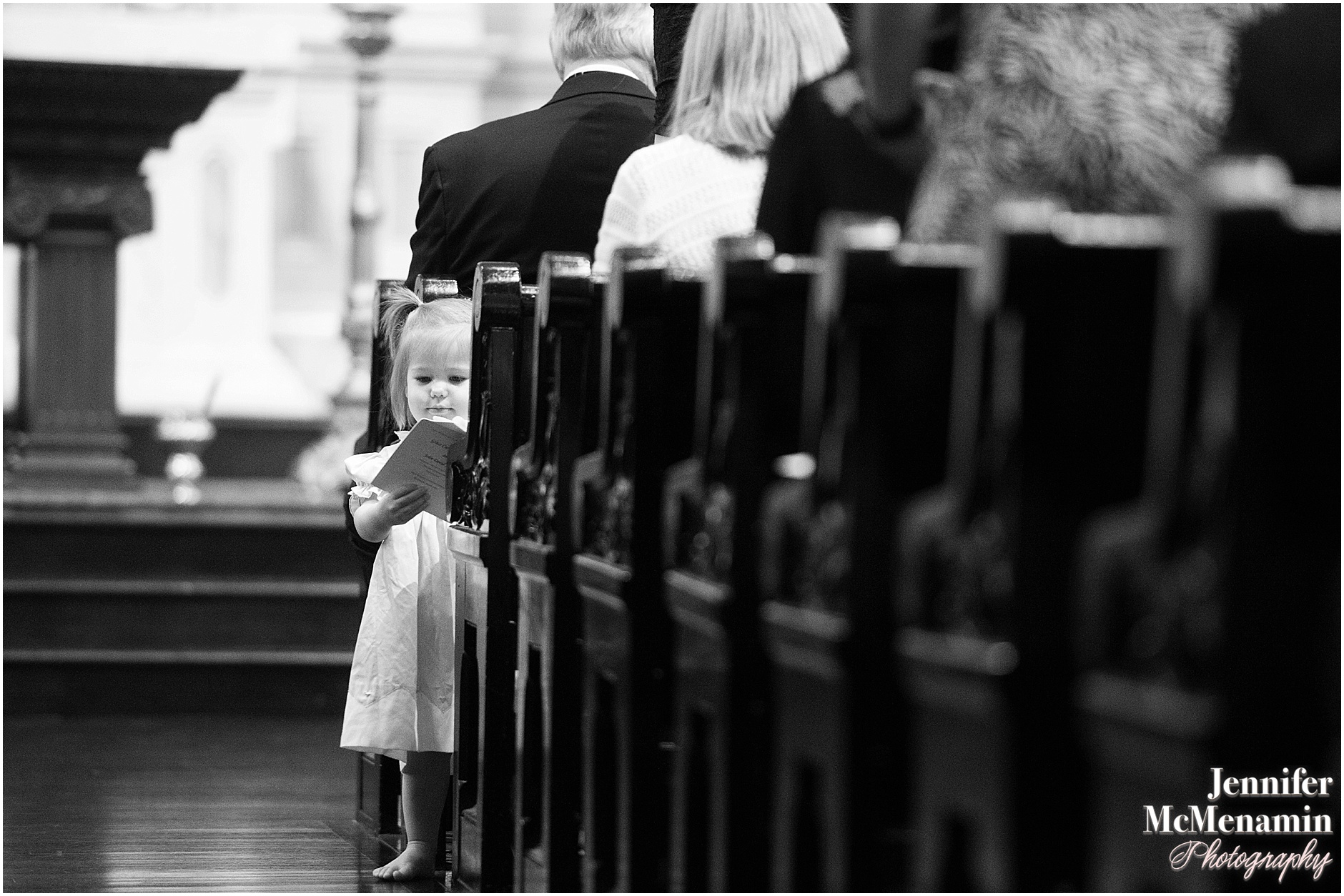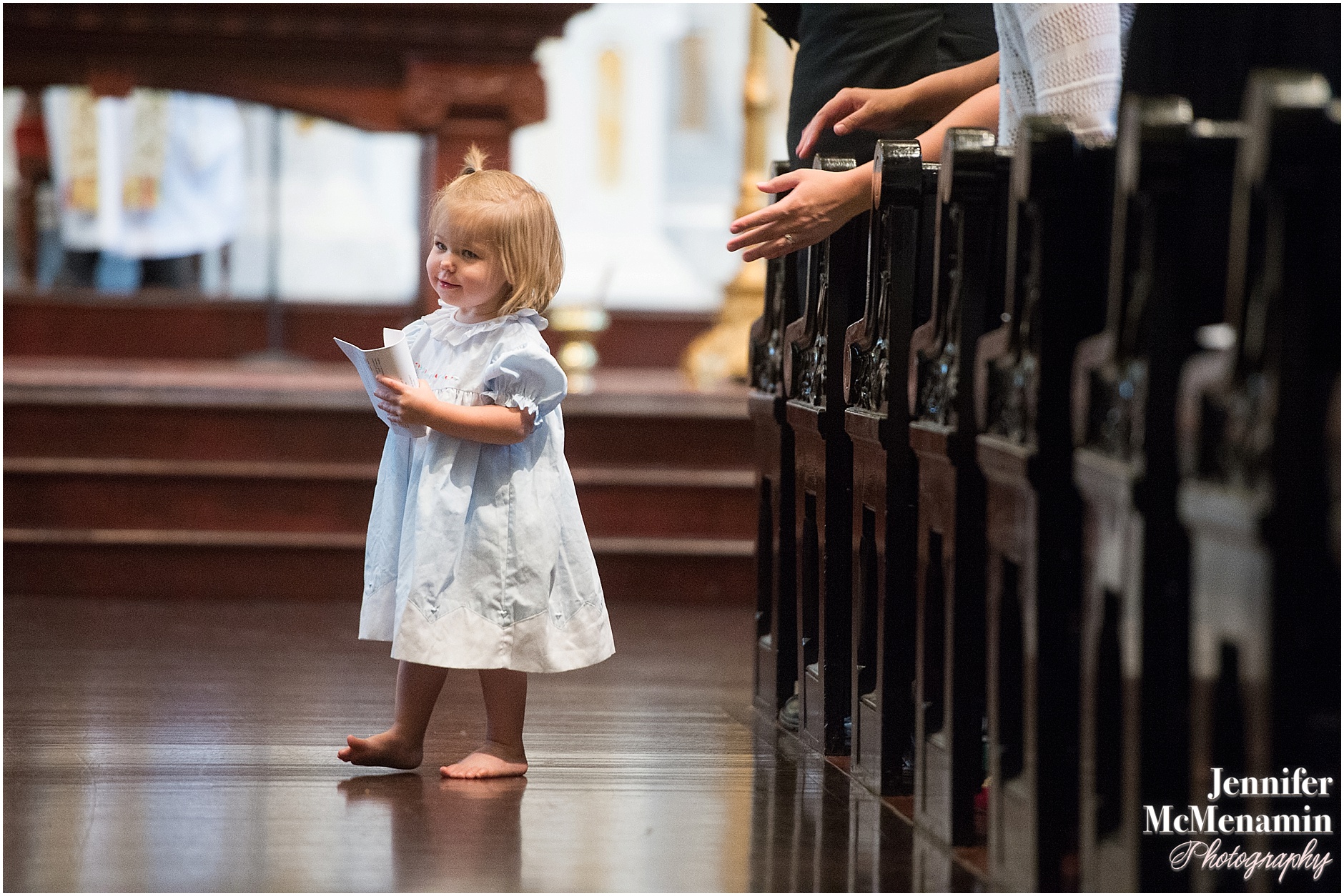 Grace is incredibly expressive, which made her a particular joy to photograph all day long.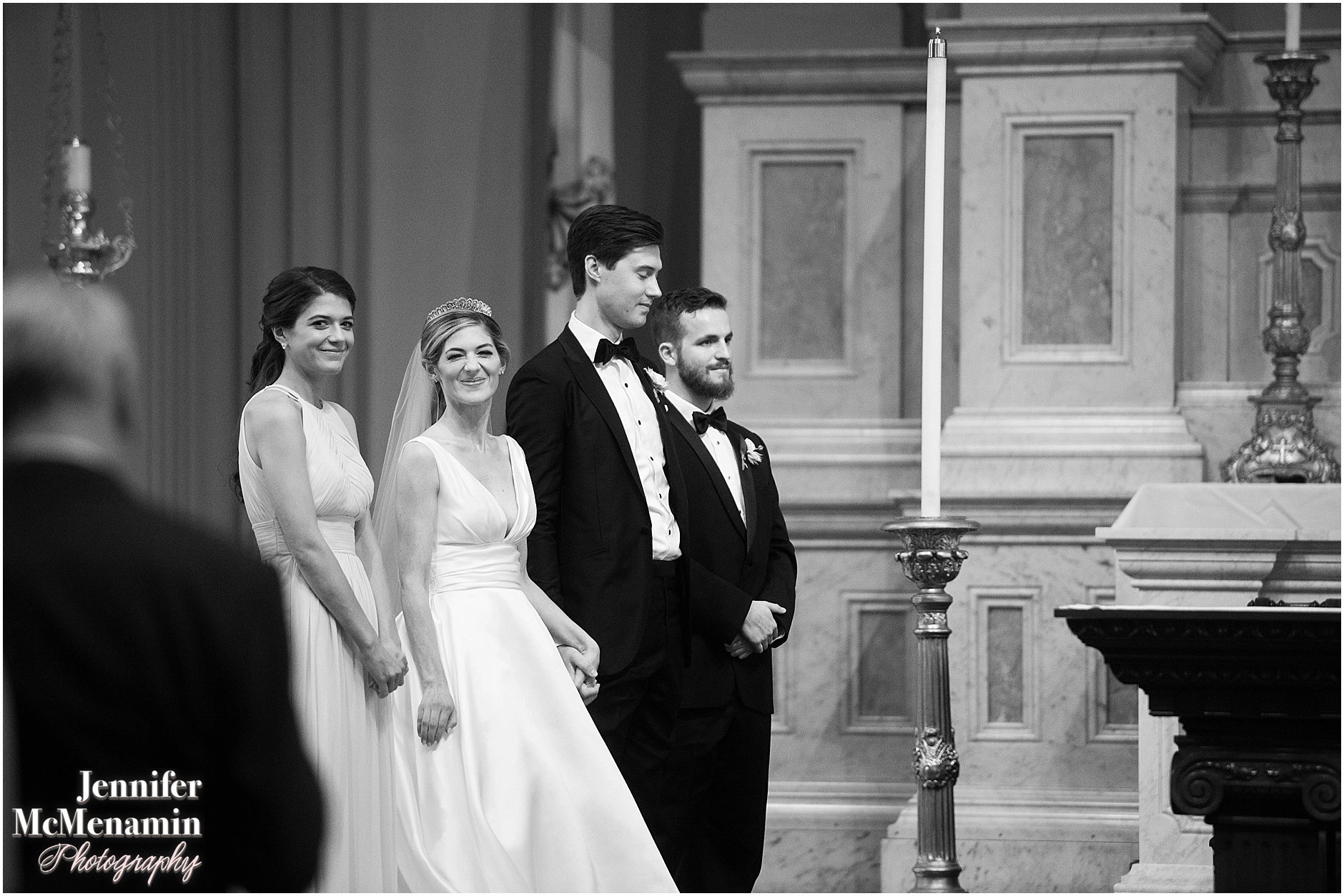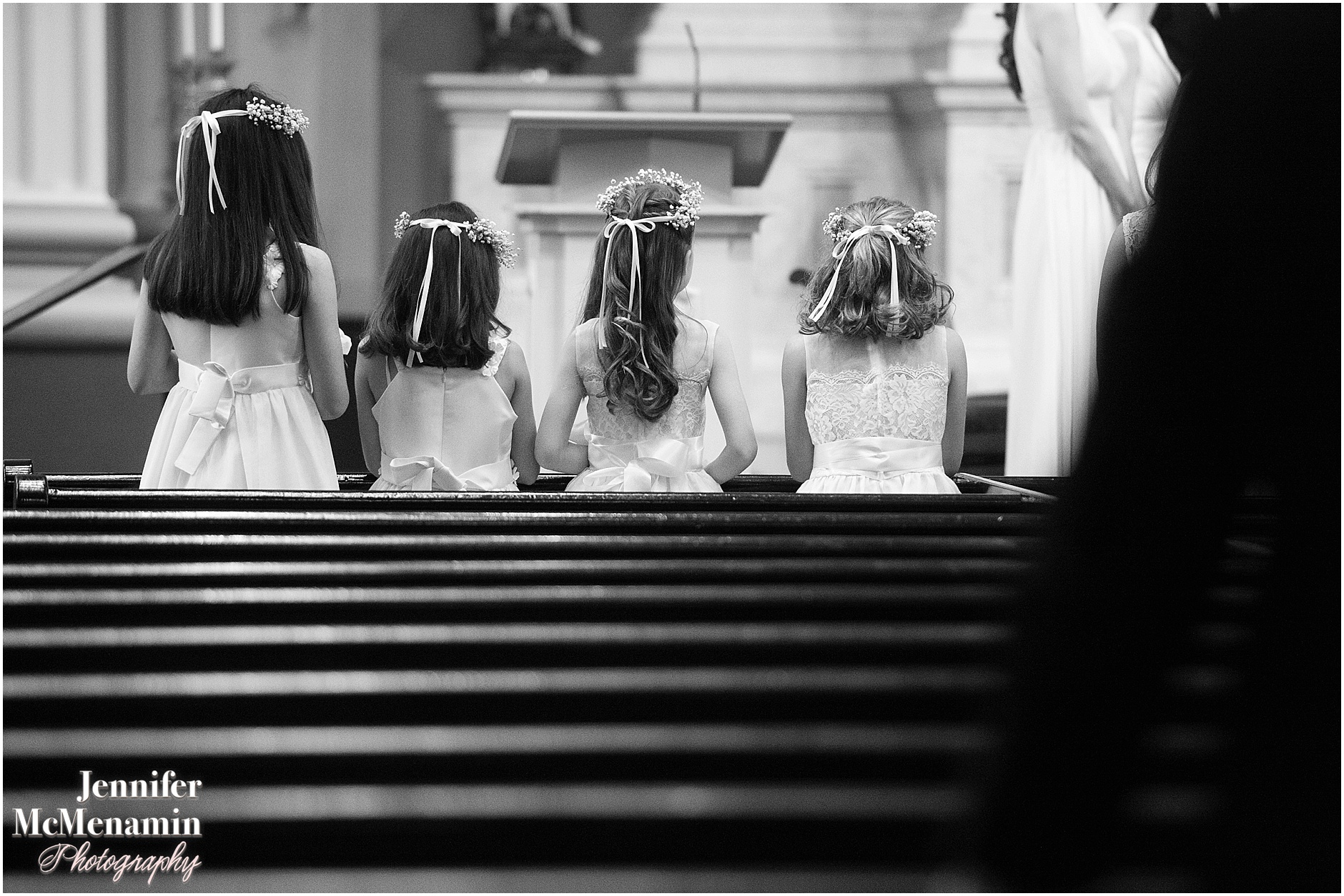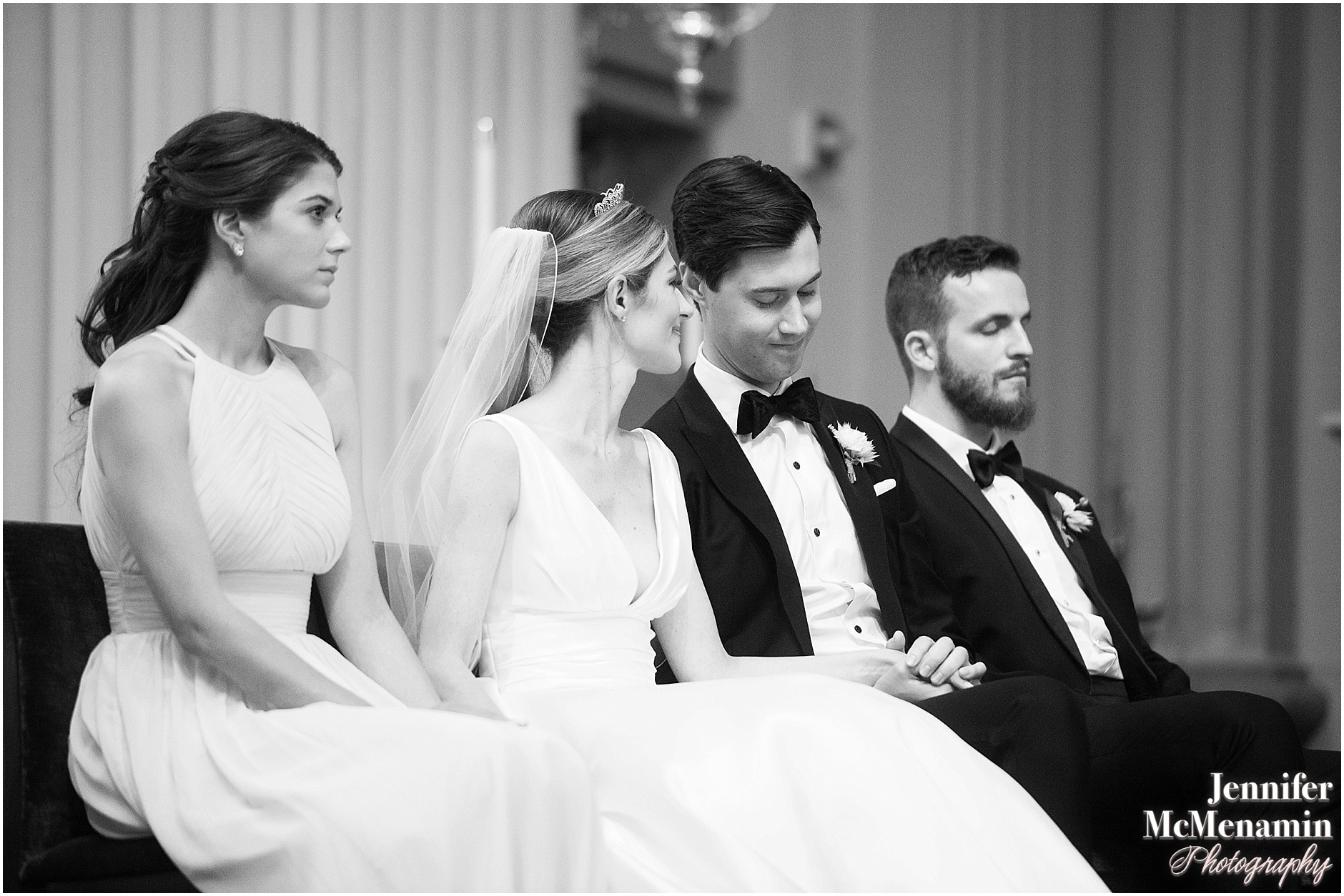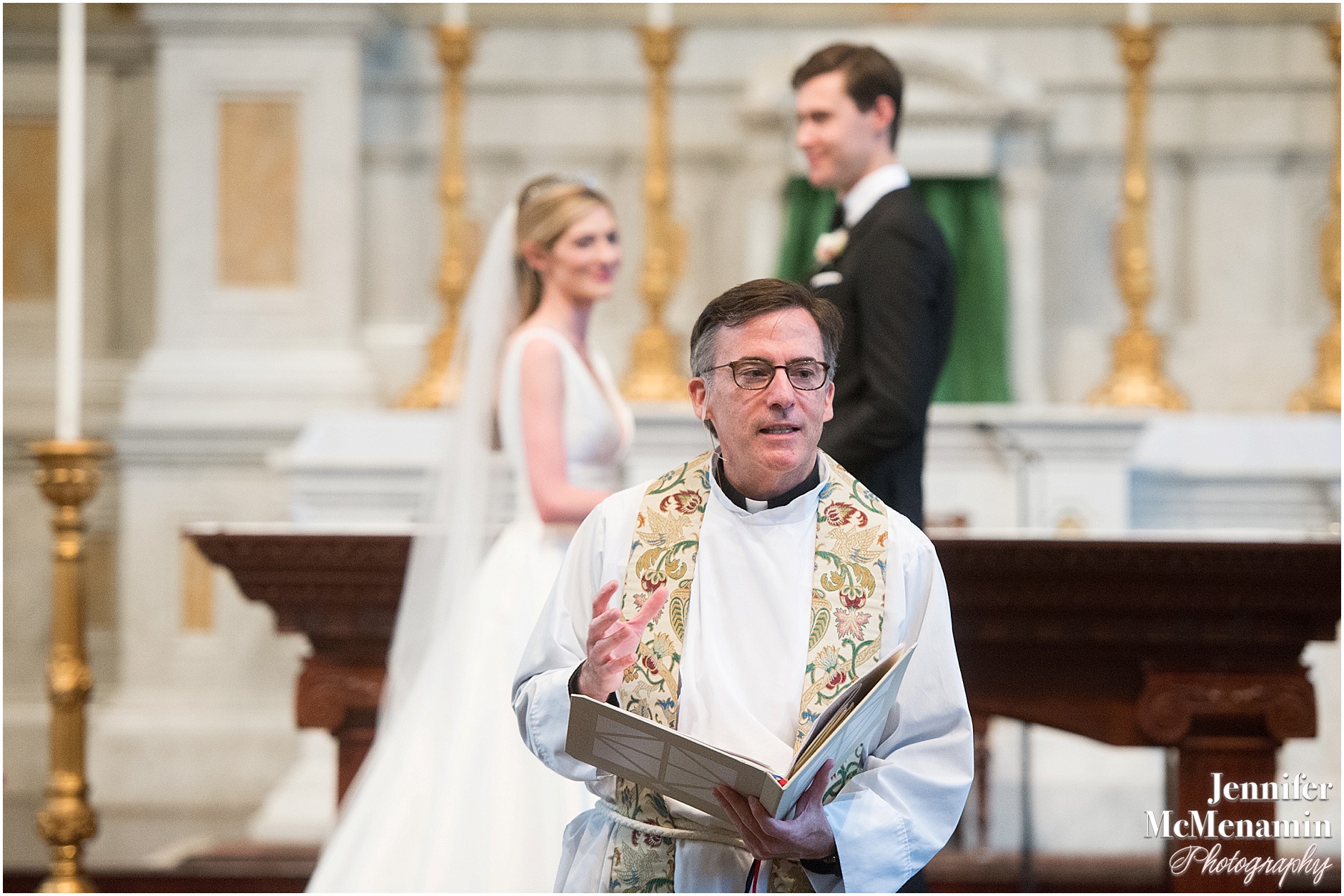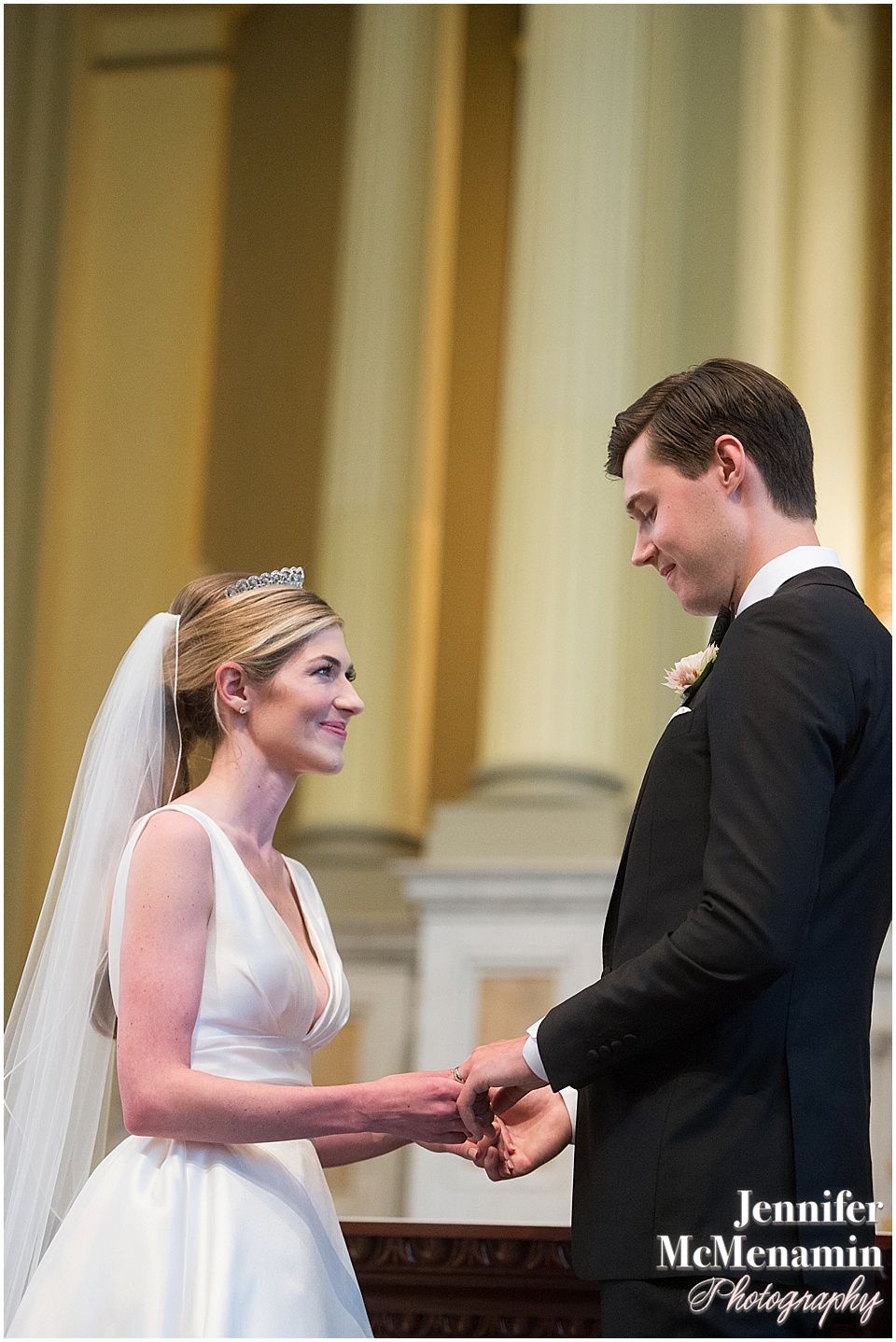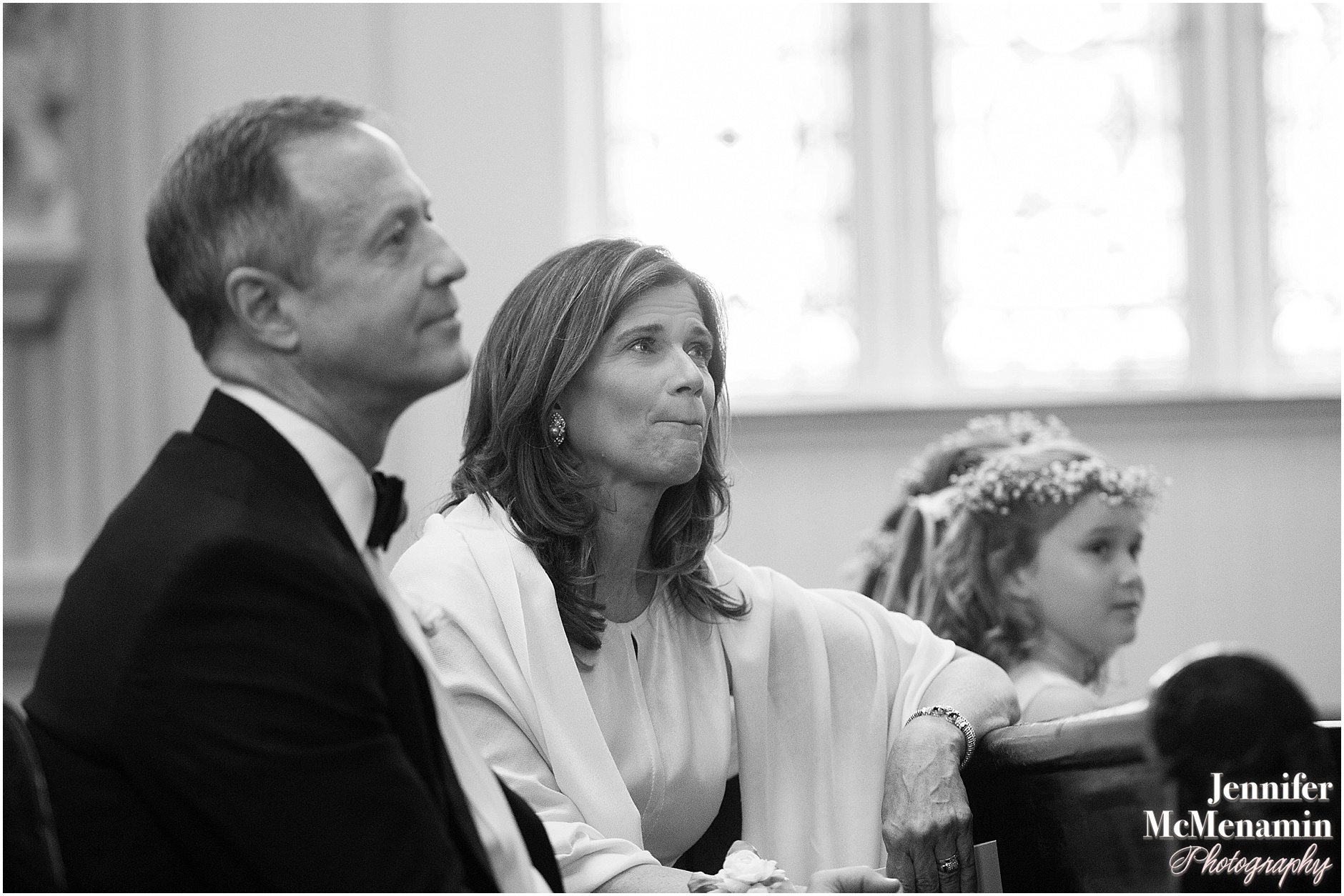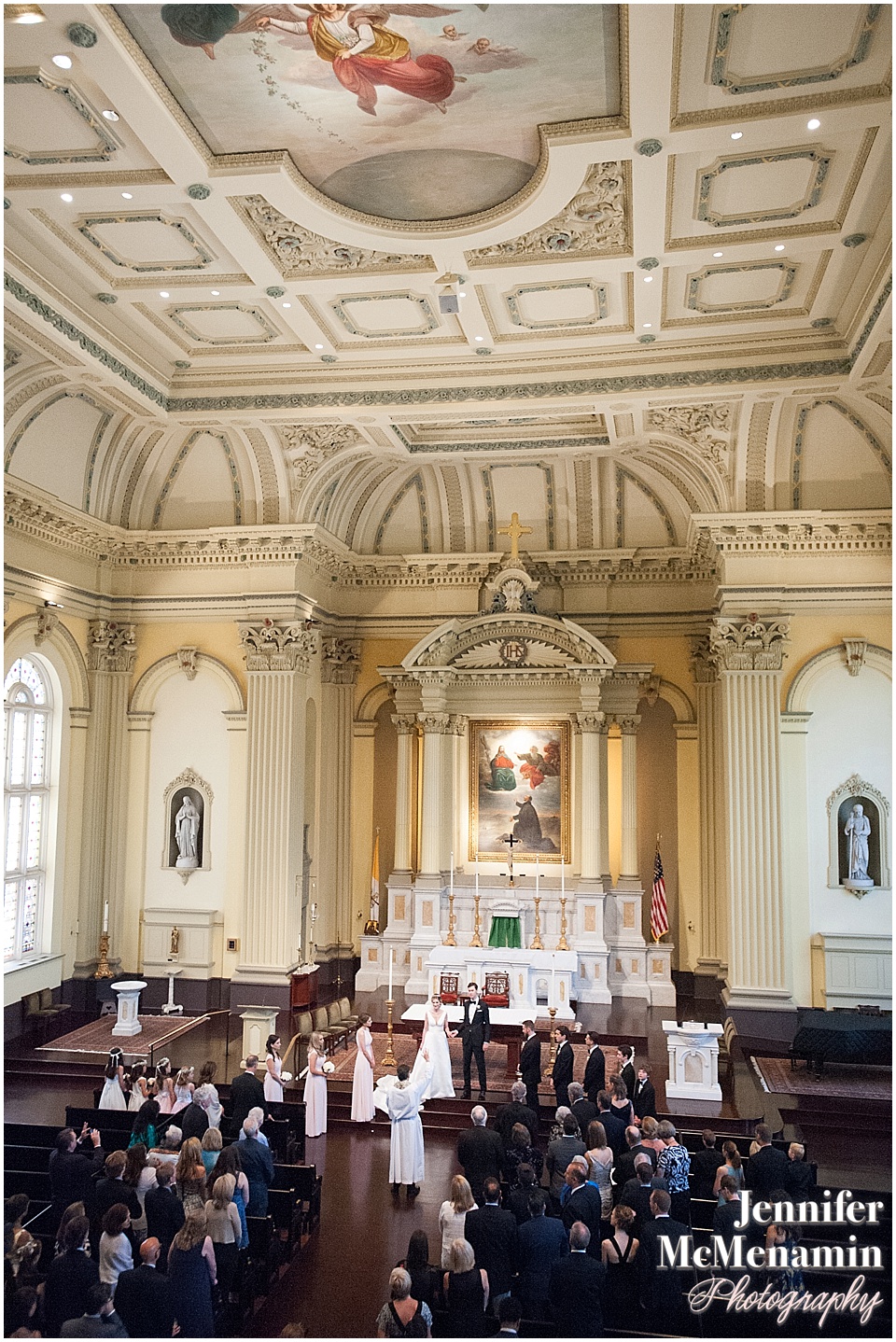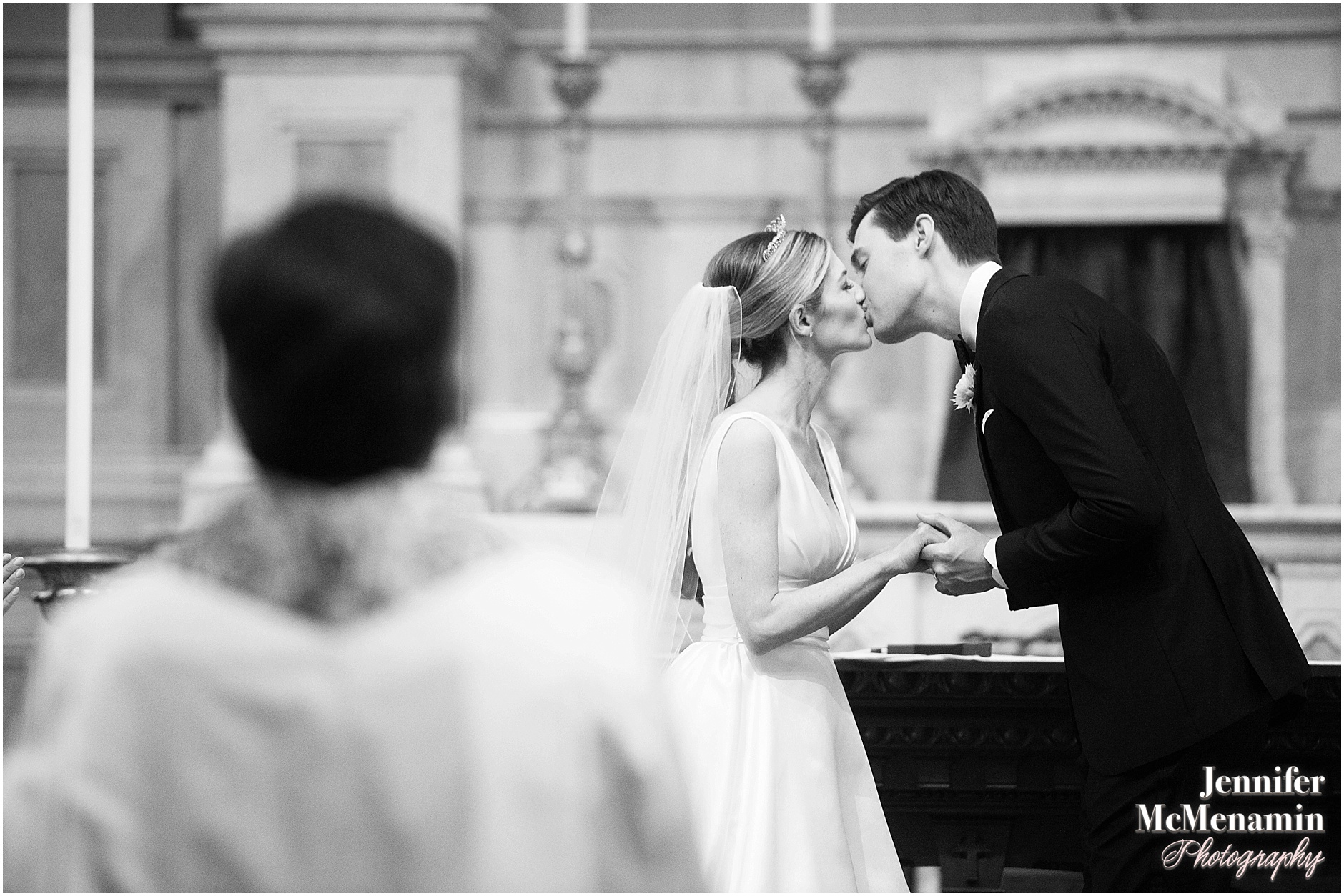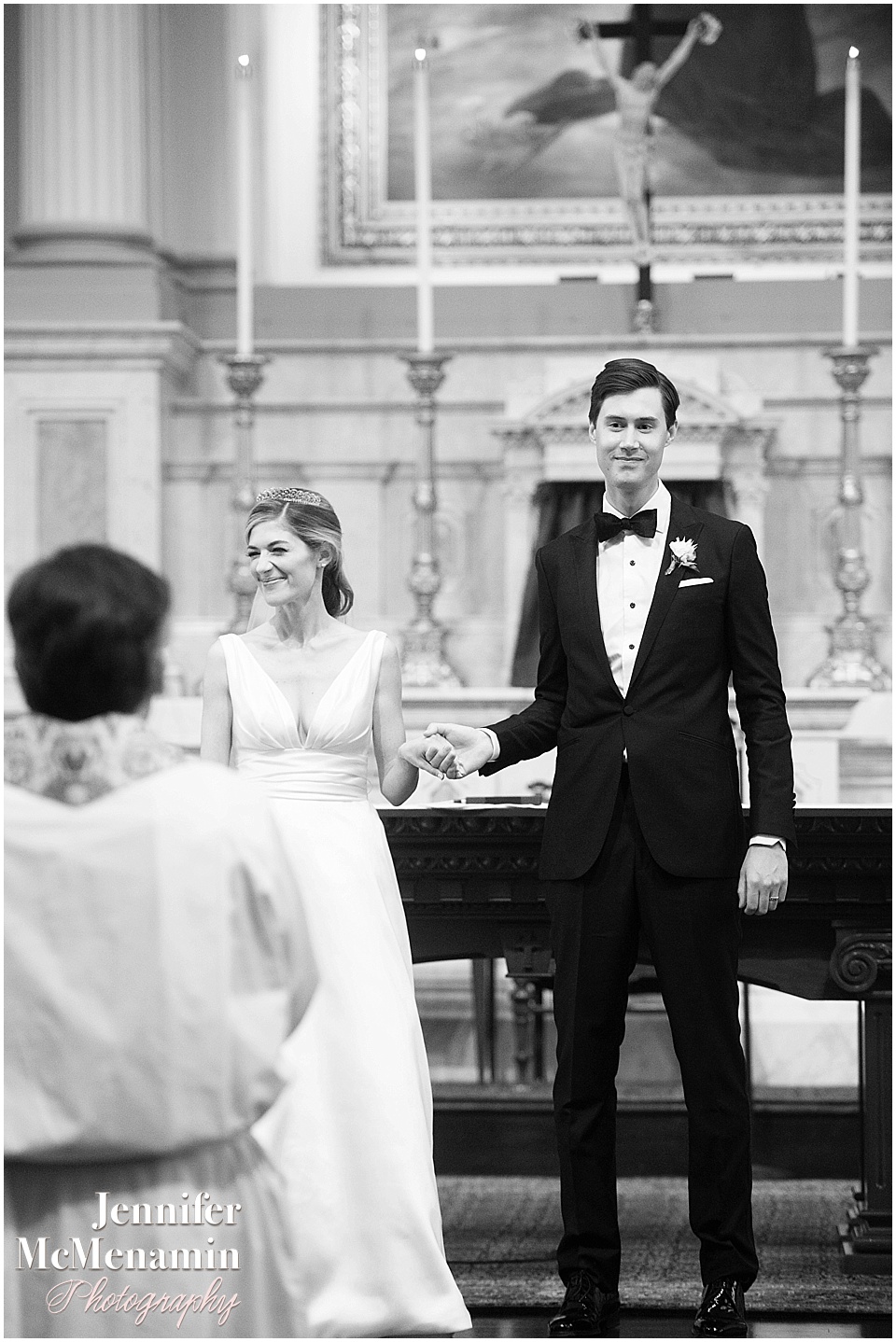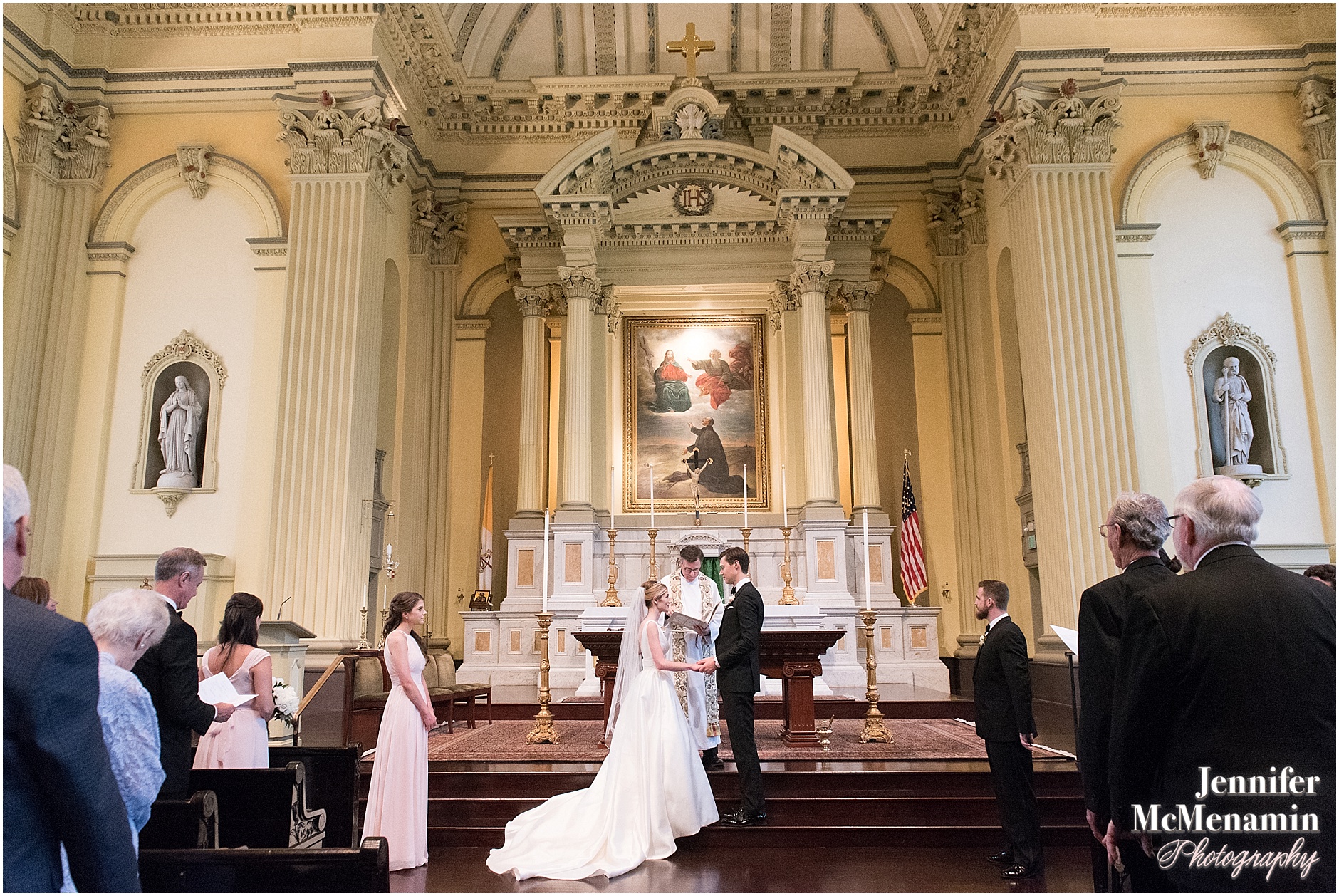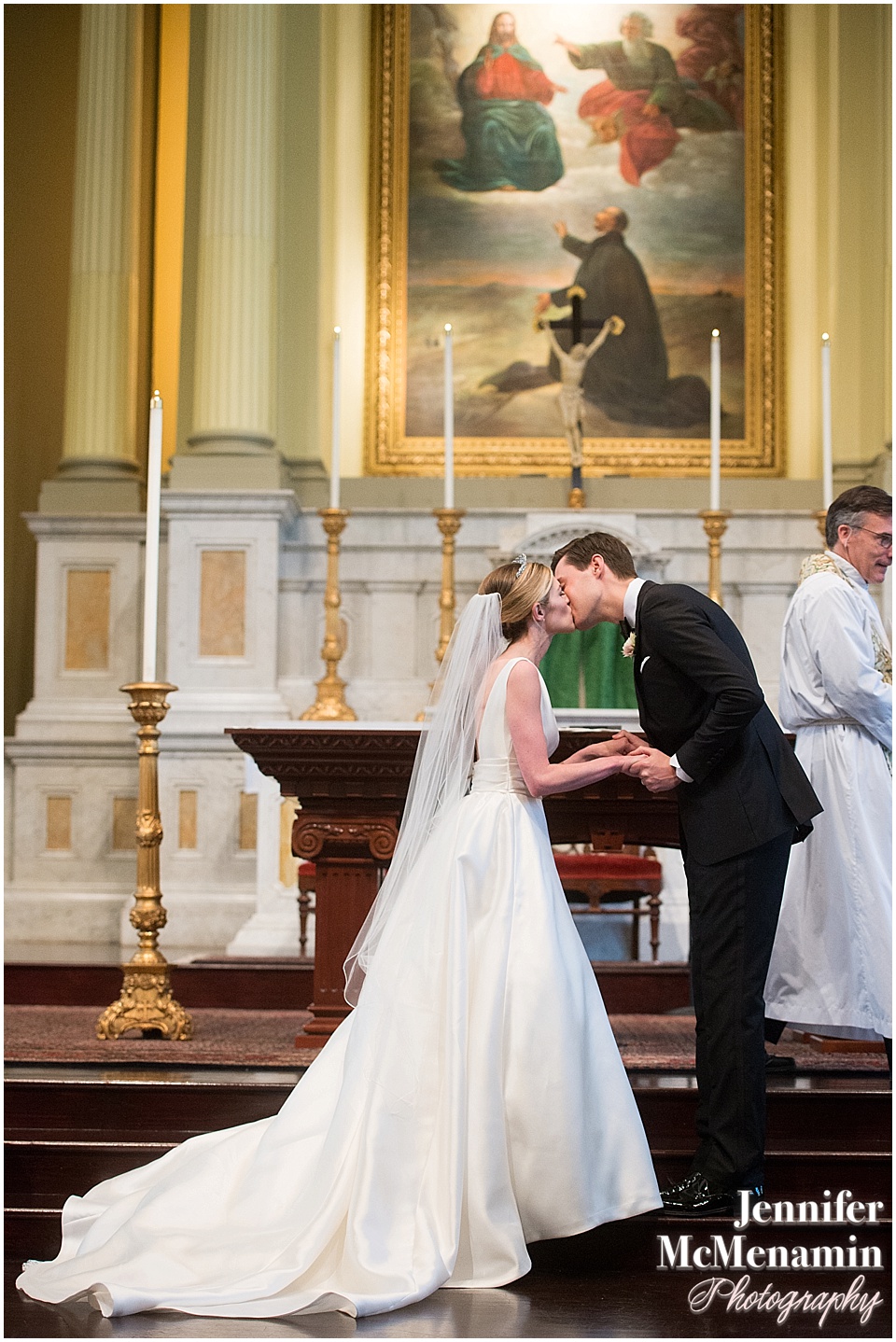 After a few quick and efficient family and wedding party photos in the church, we embarked on our tour d' photos around Baltimore, visiting some meaningful and iconic Charm City spots for these two Baltimore devotees and city school teachers.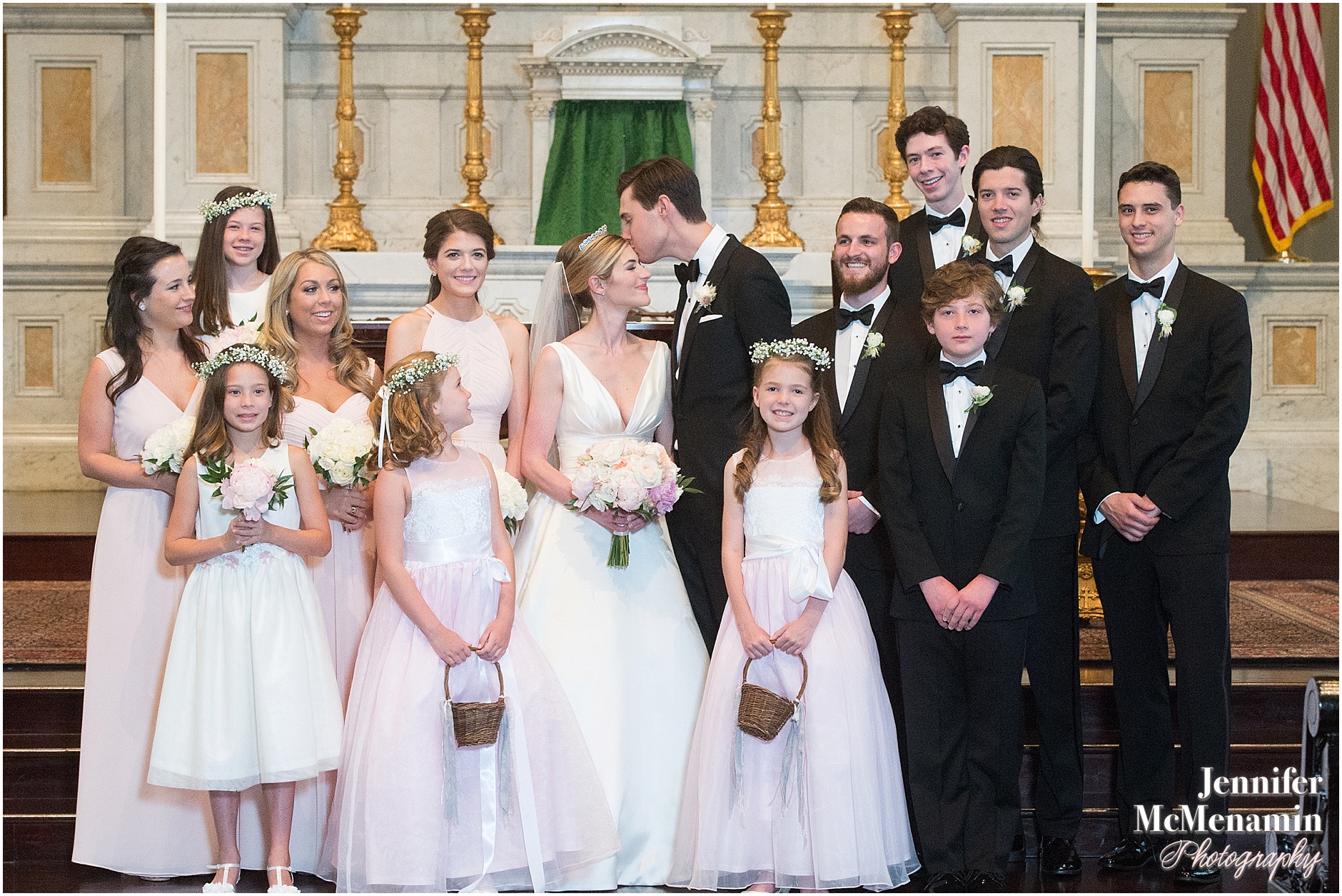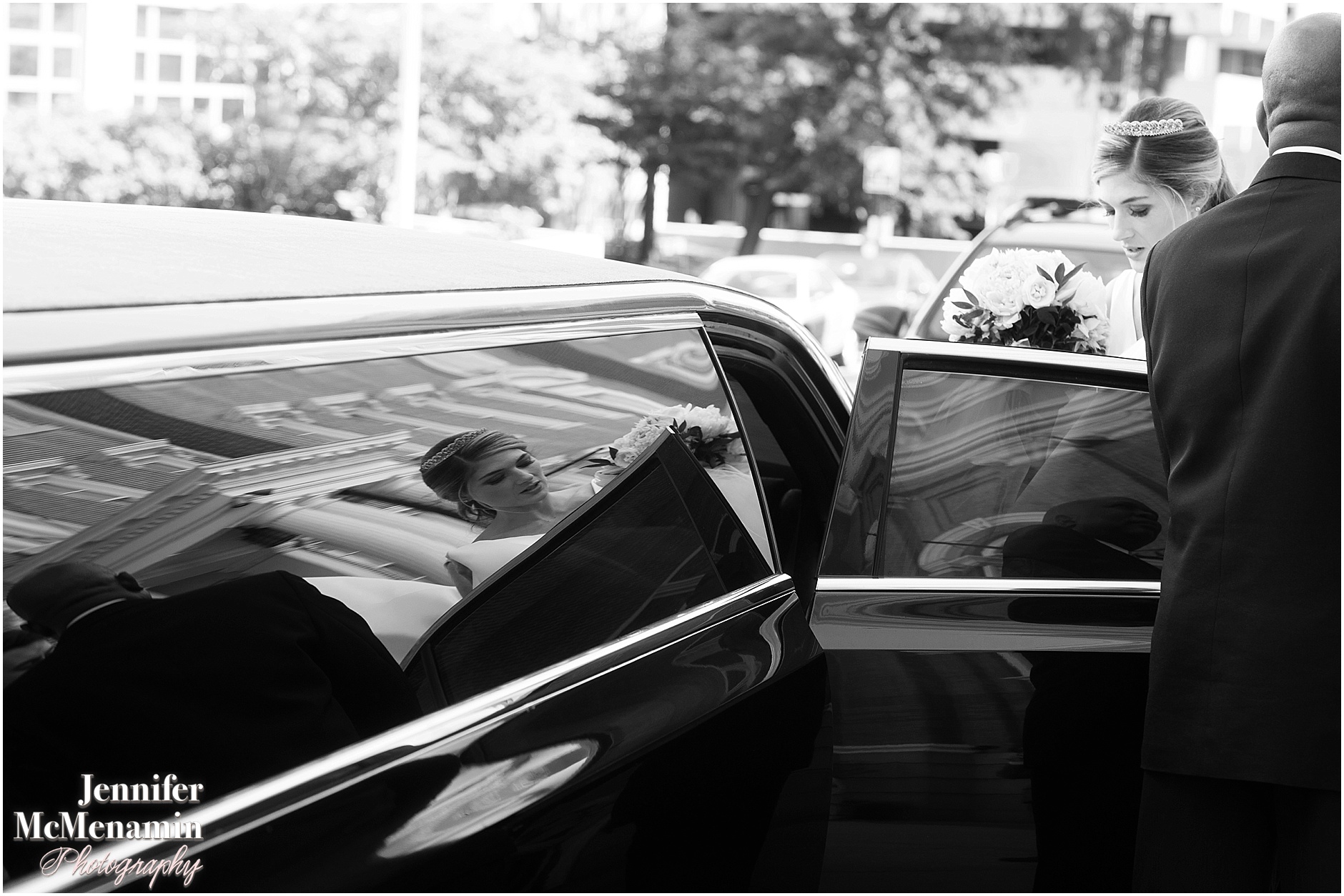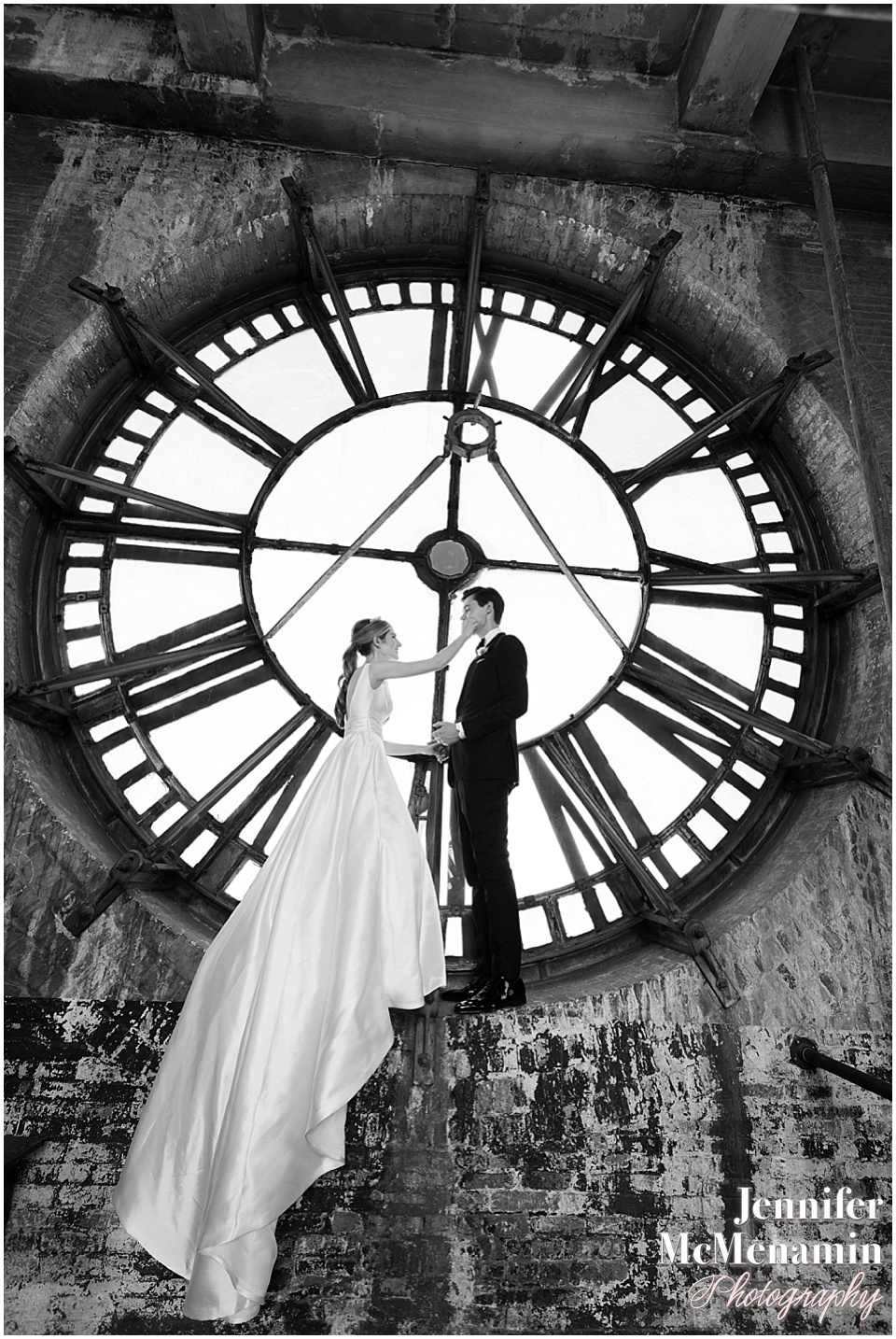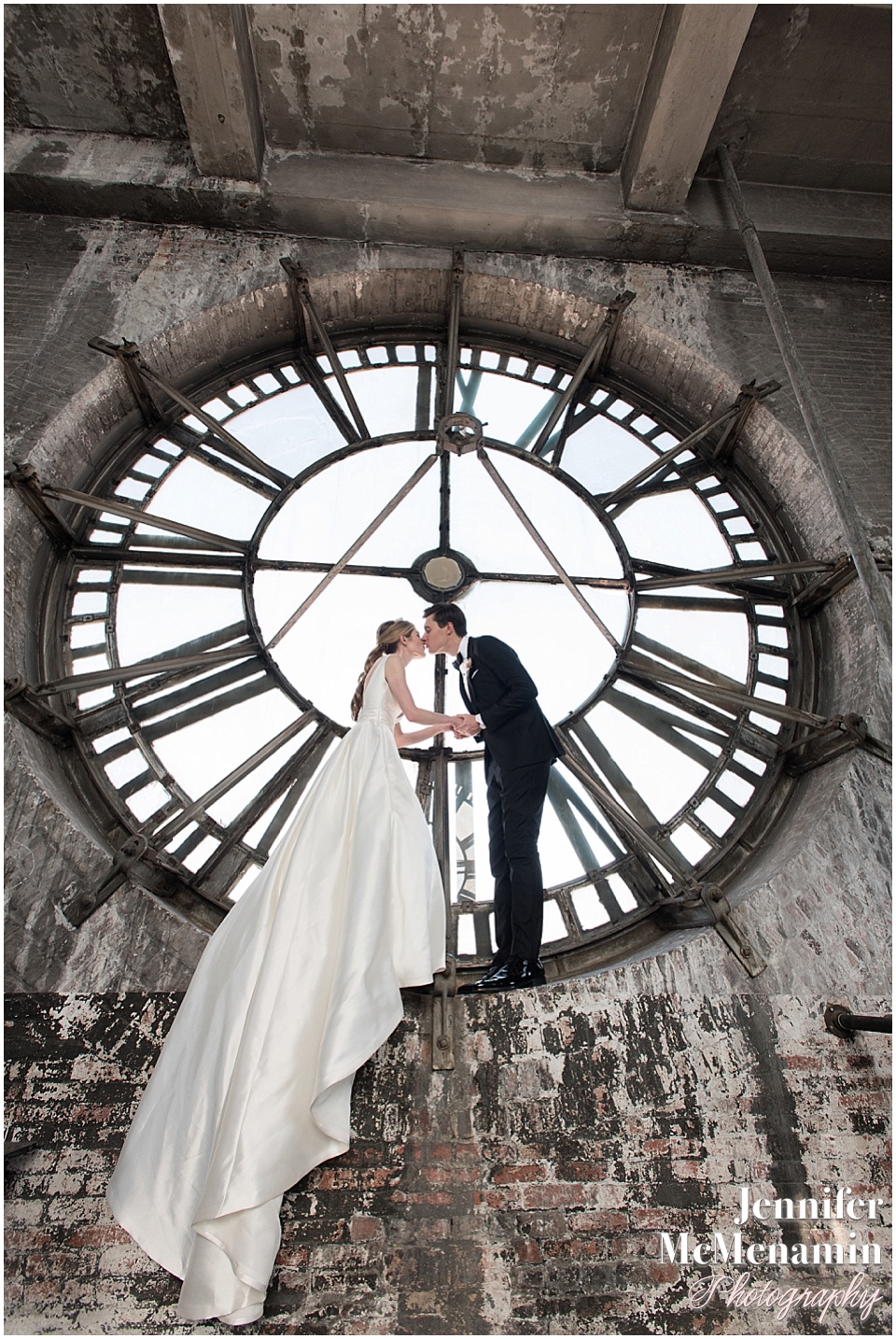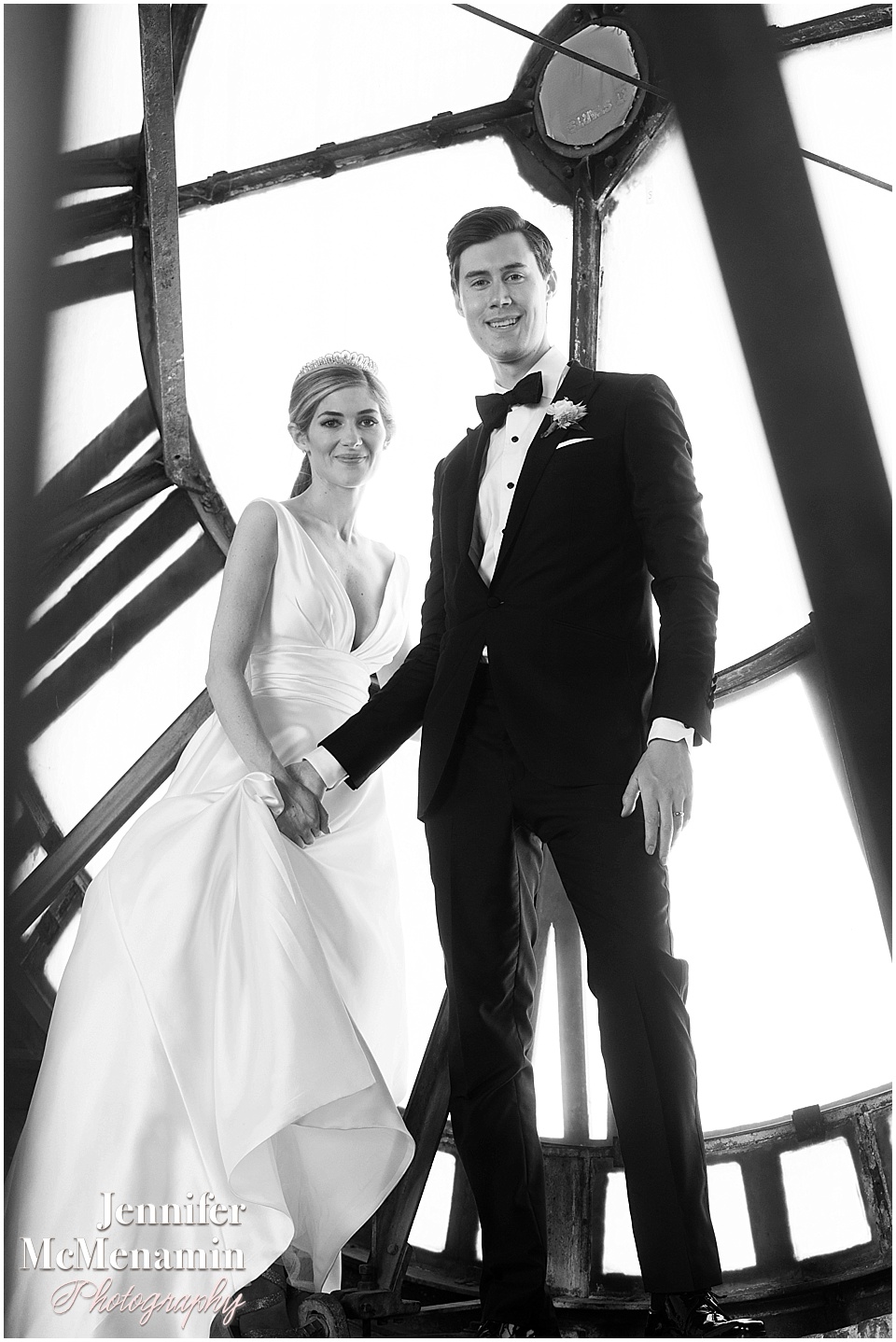 I felt very lucky to get to photograph such a wonderful couple in one of my most favorite Baltimore buildings, the Bromo Seltzer Tower.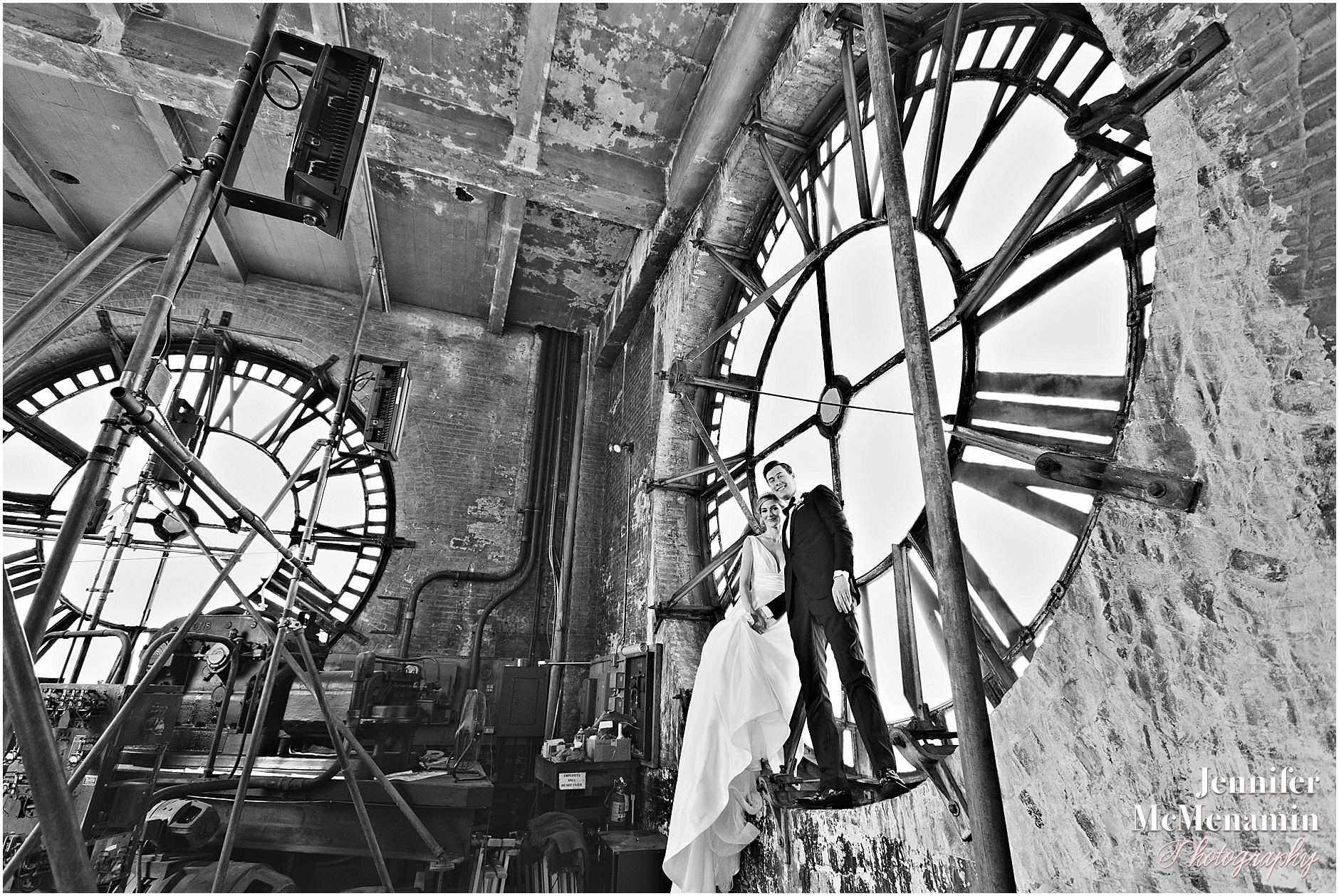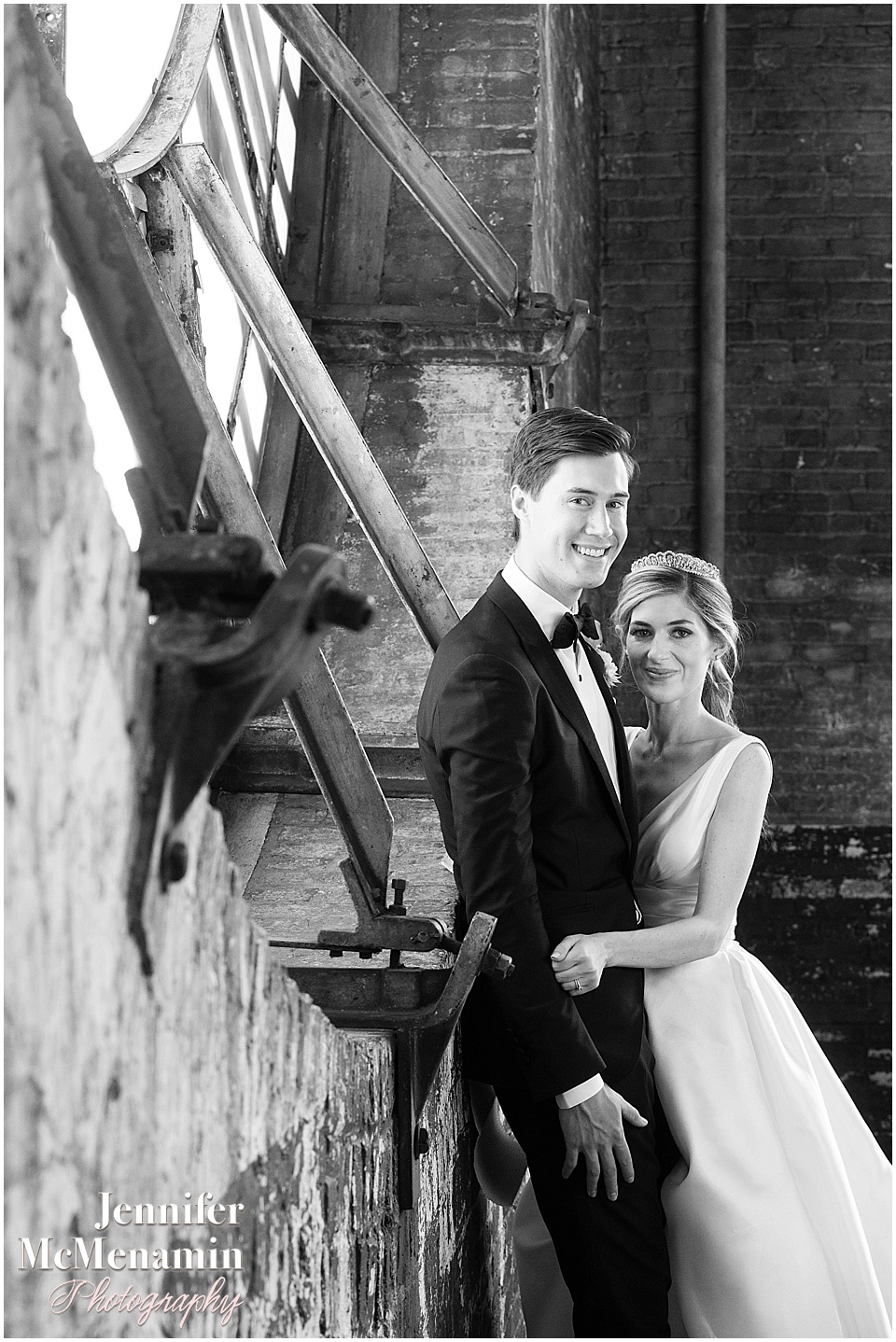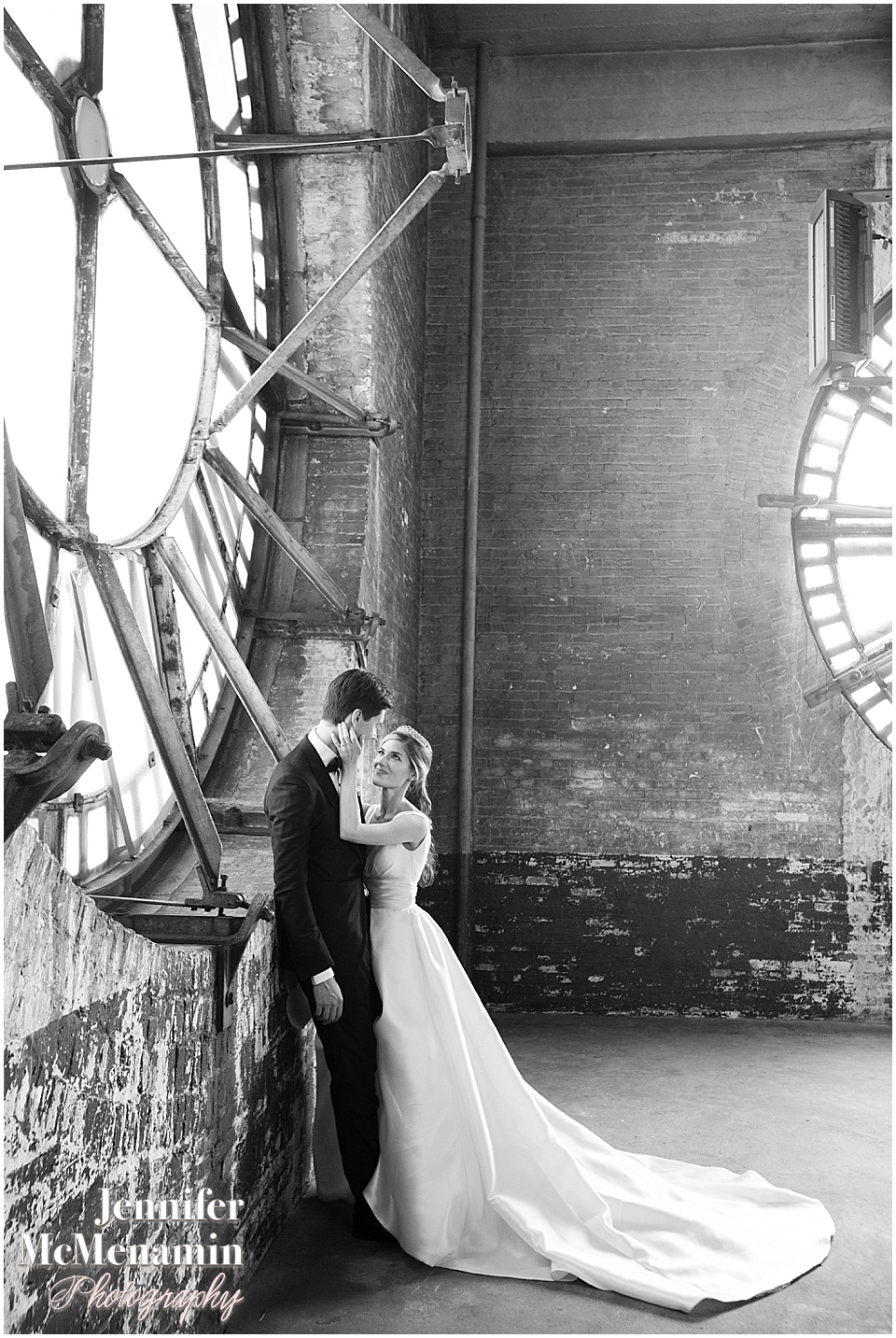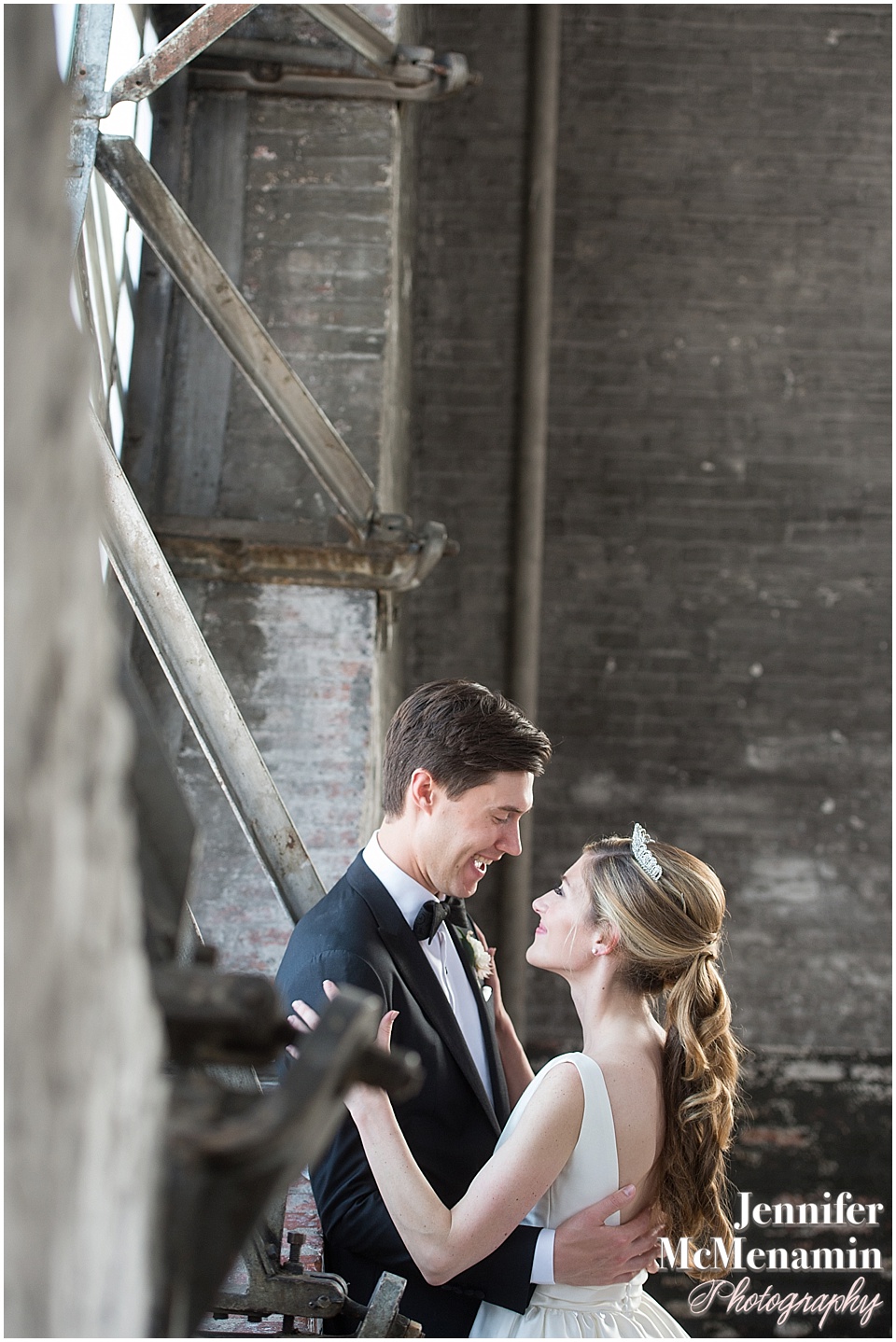 JD requested at our very first meeting "an epic photo" of him walking down the street in front of City College with his groomsmen. The guys also spontaneously burst into song to express their love for their alma mater.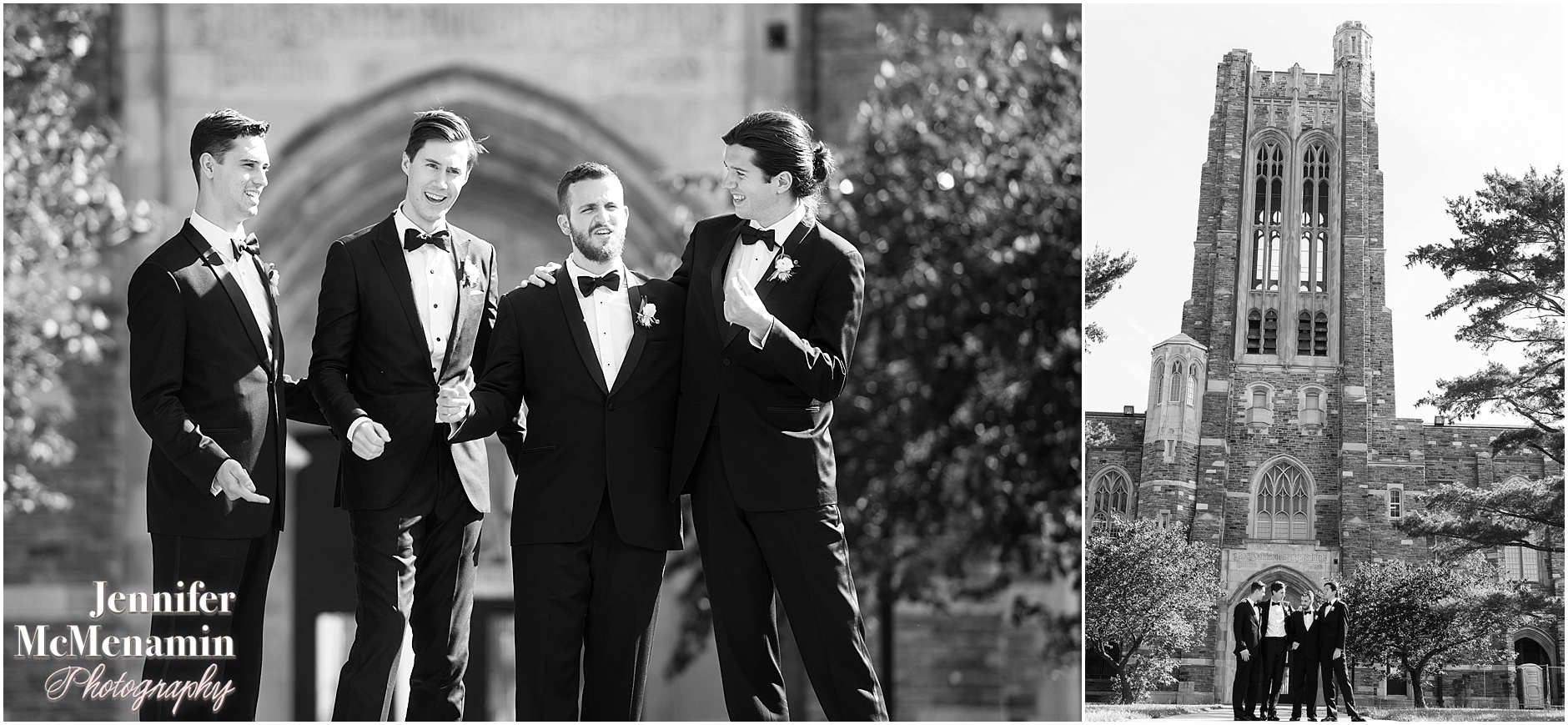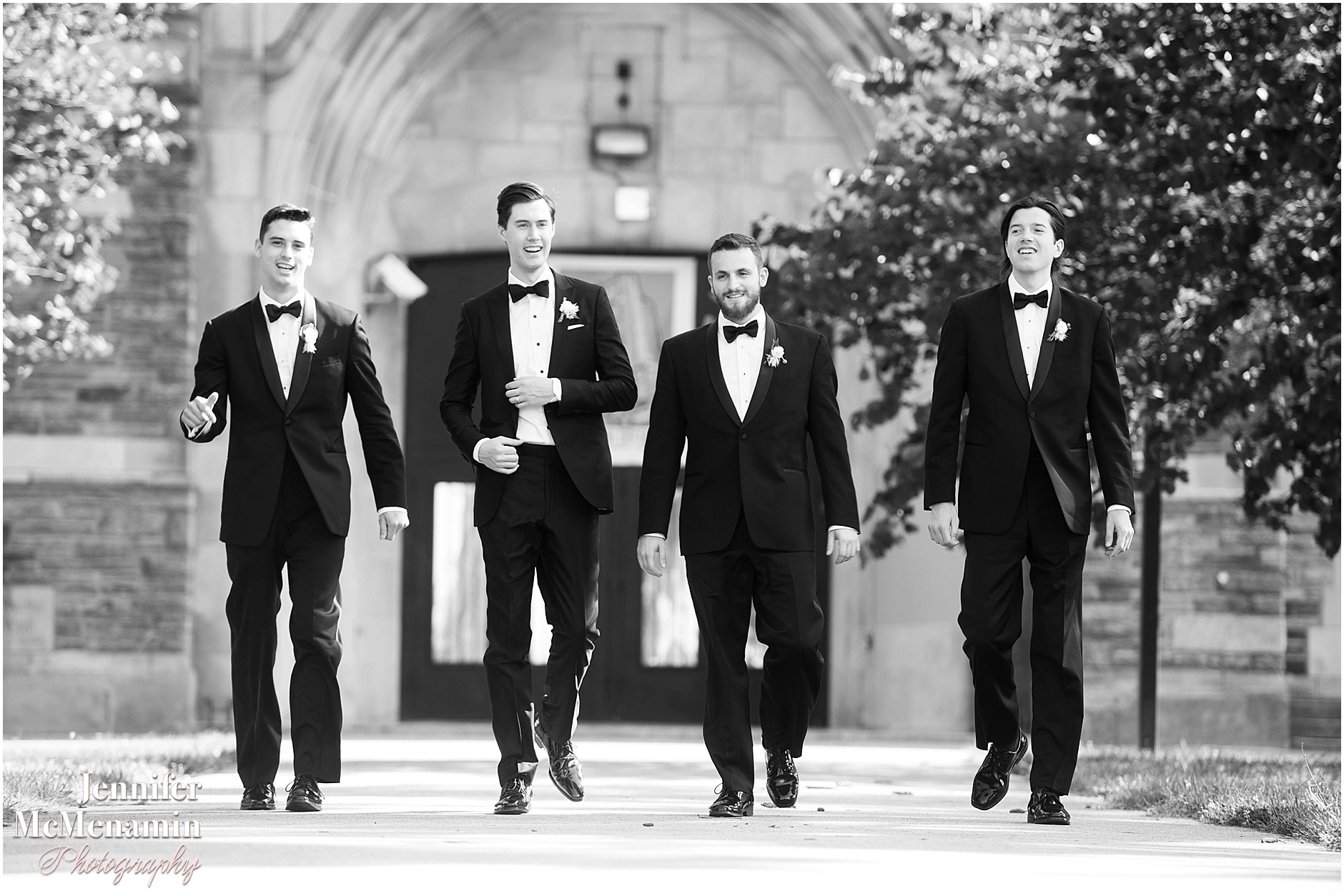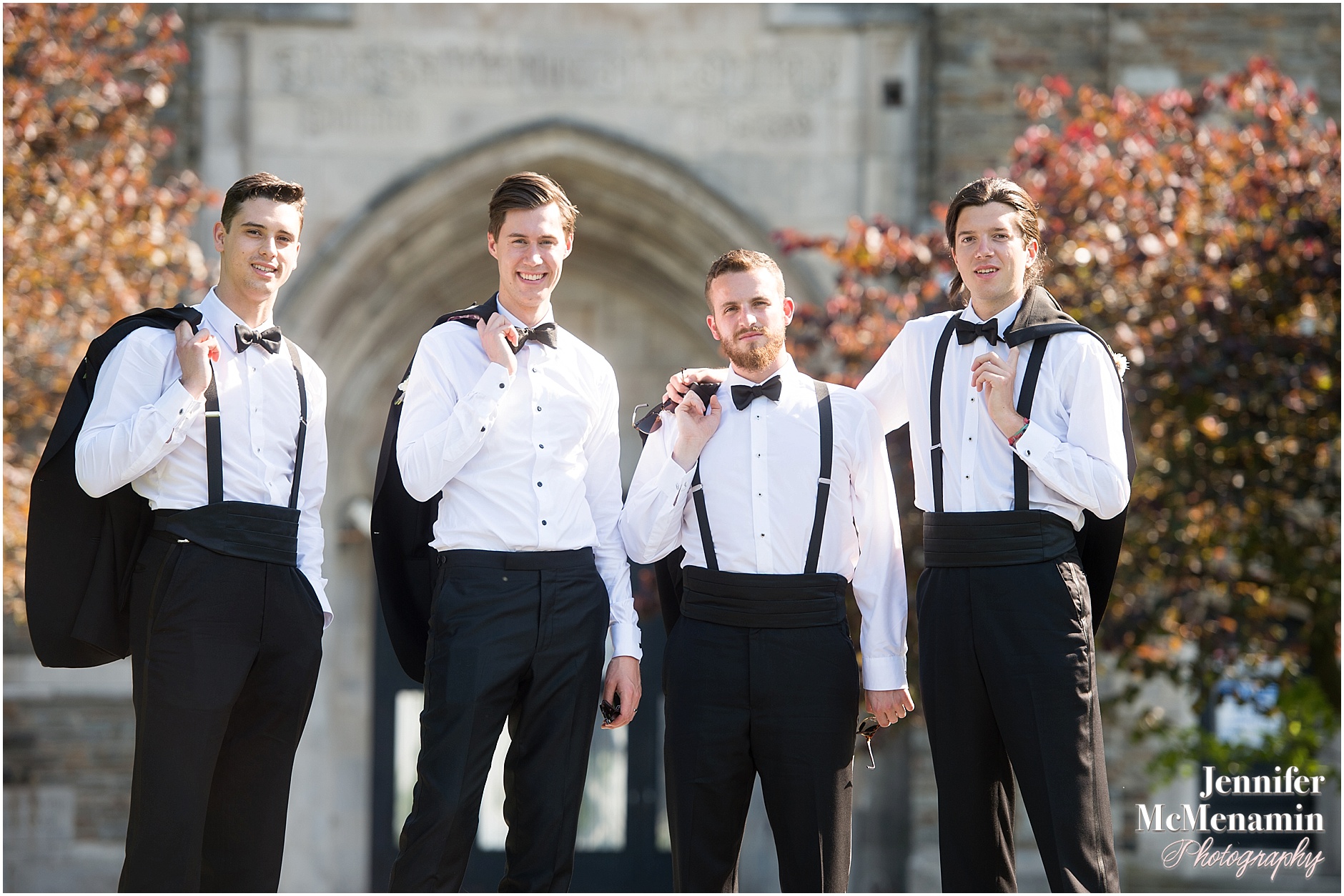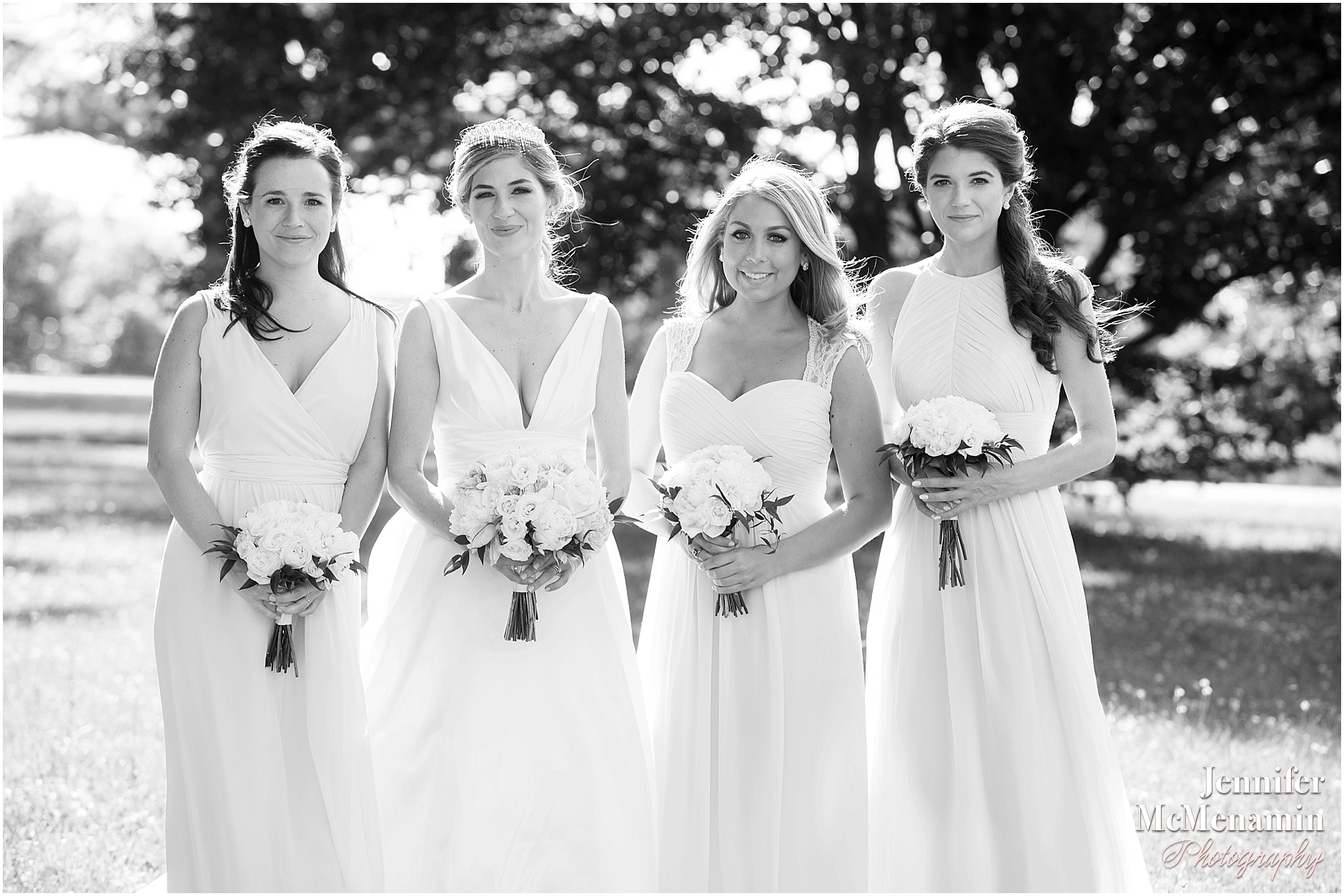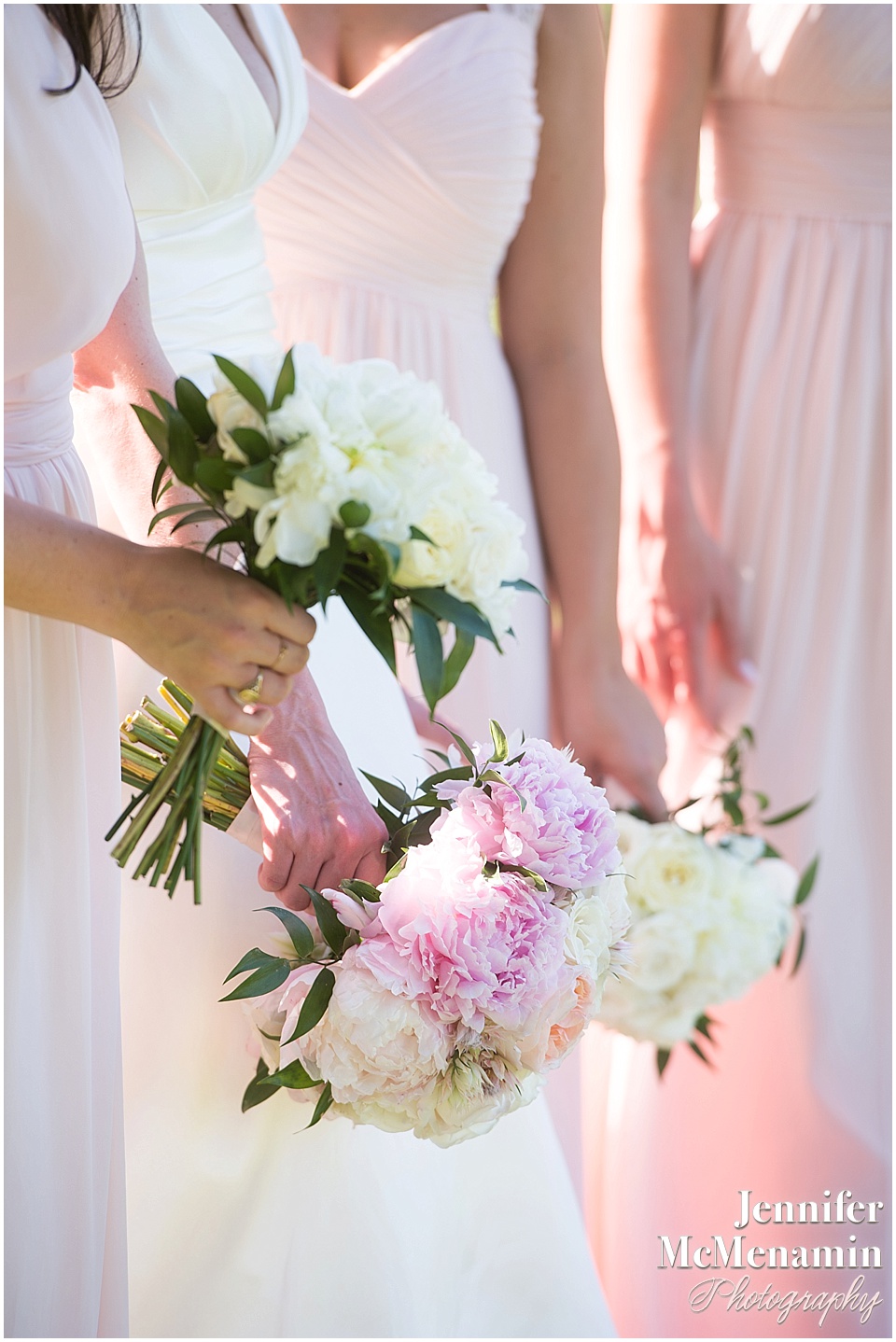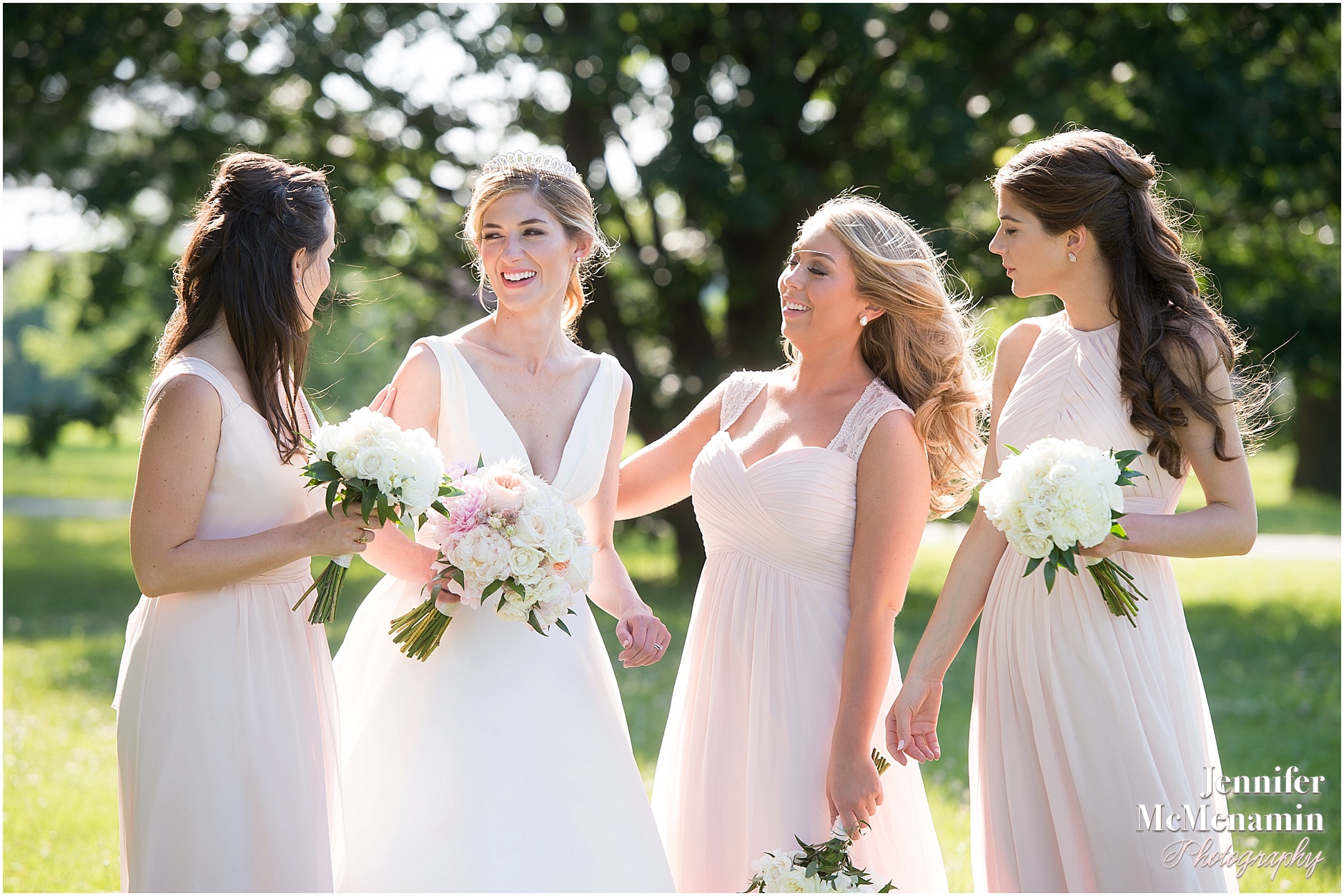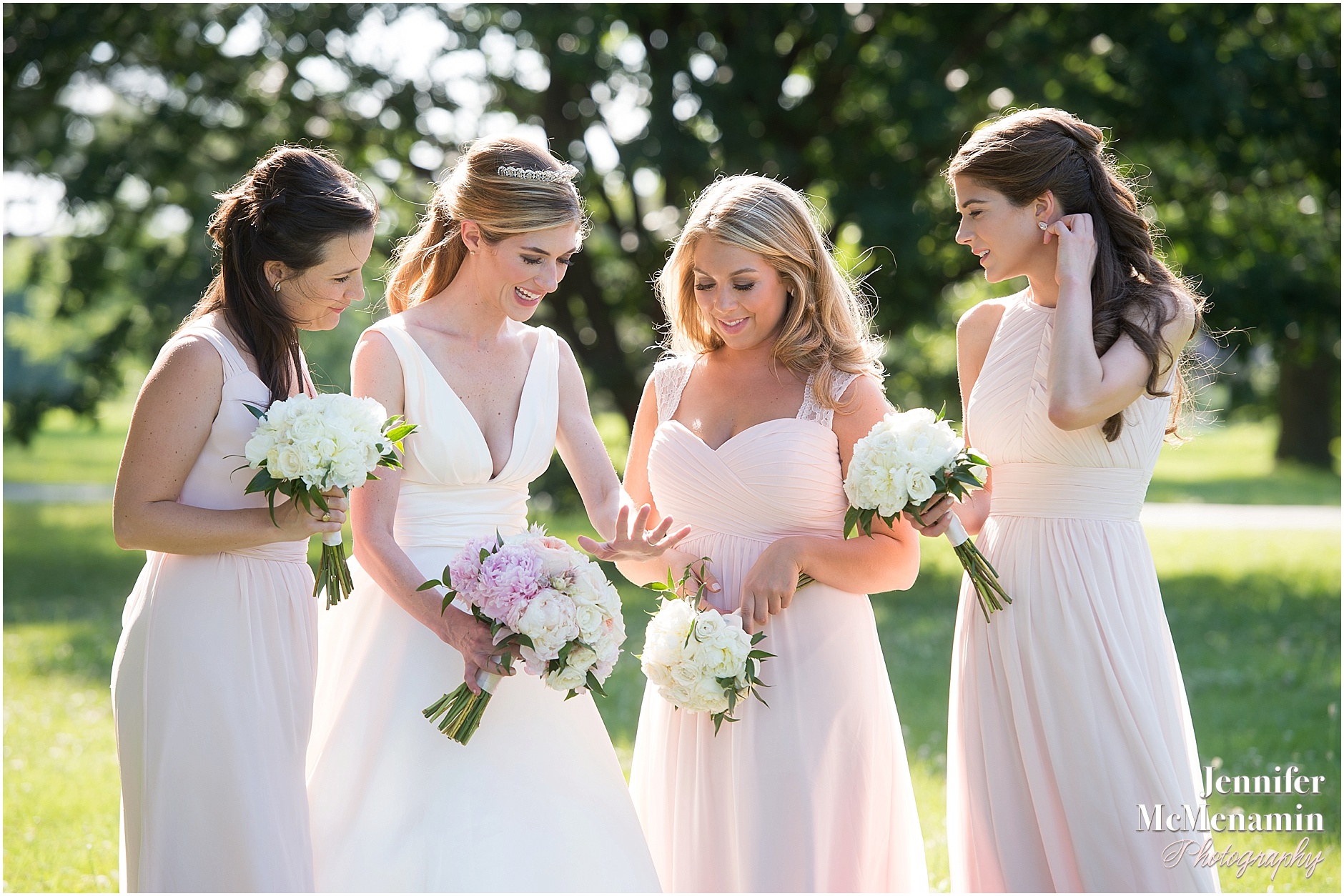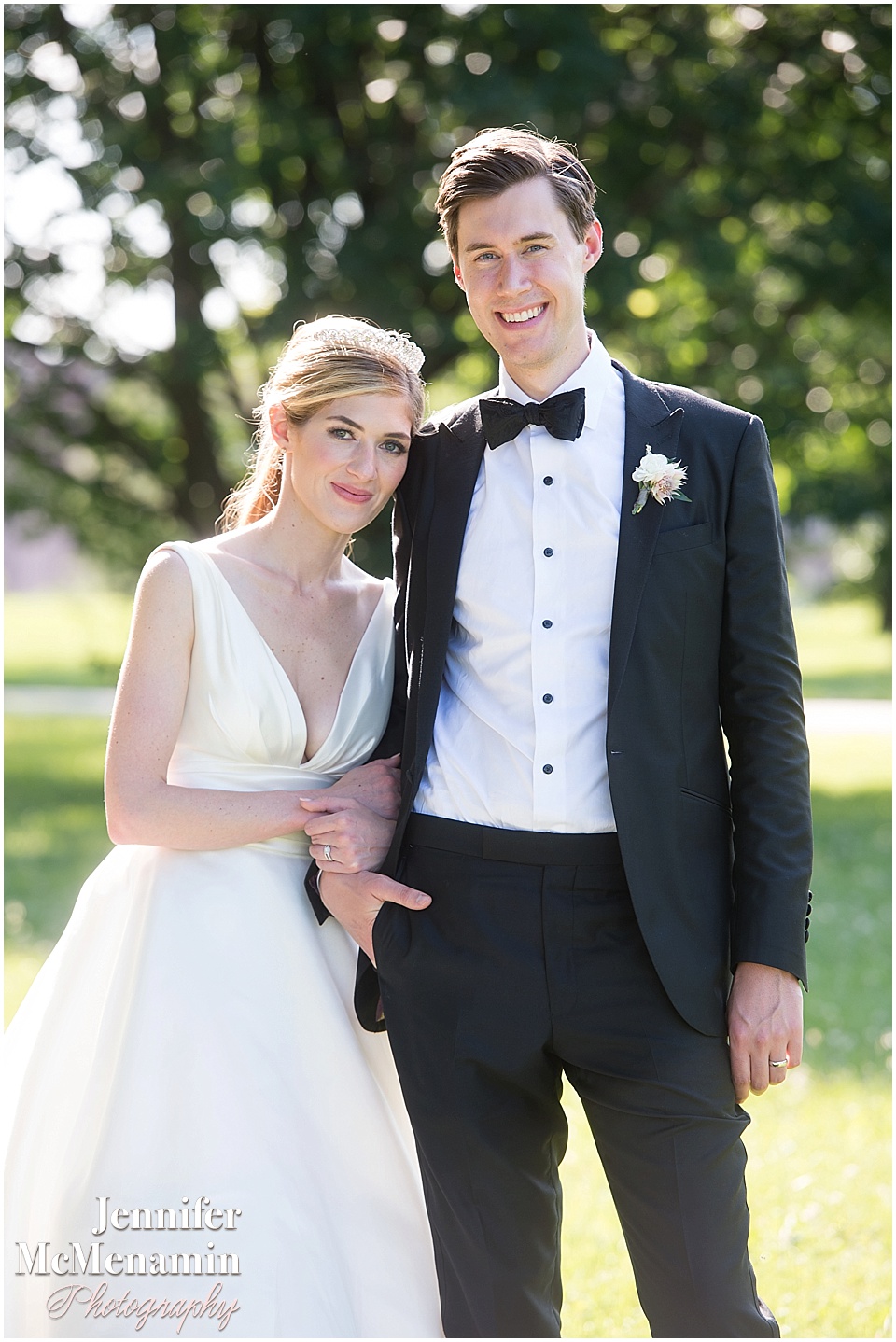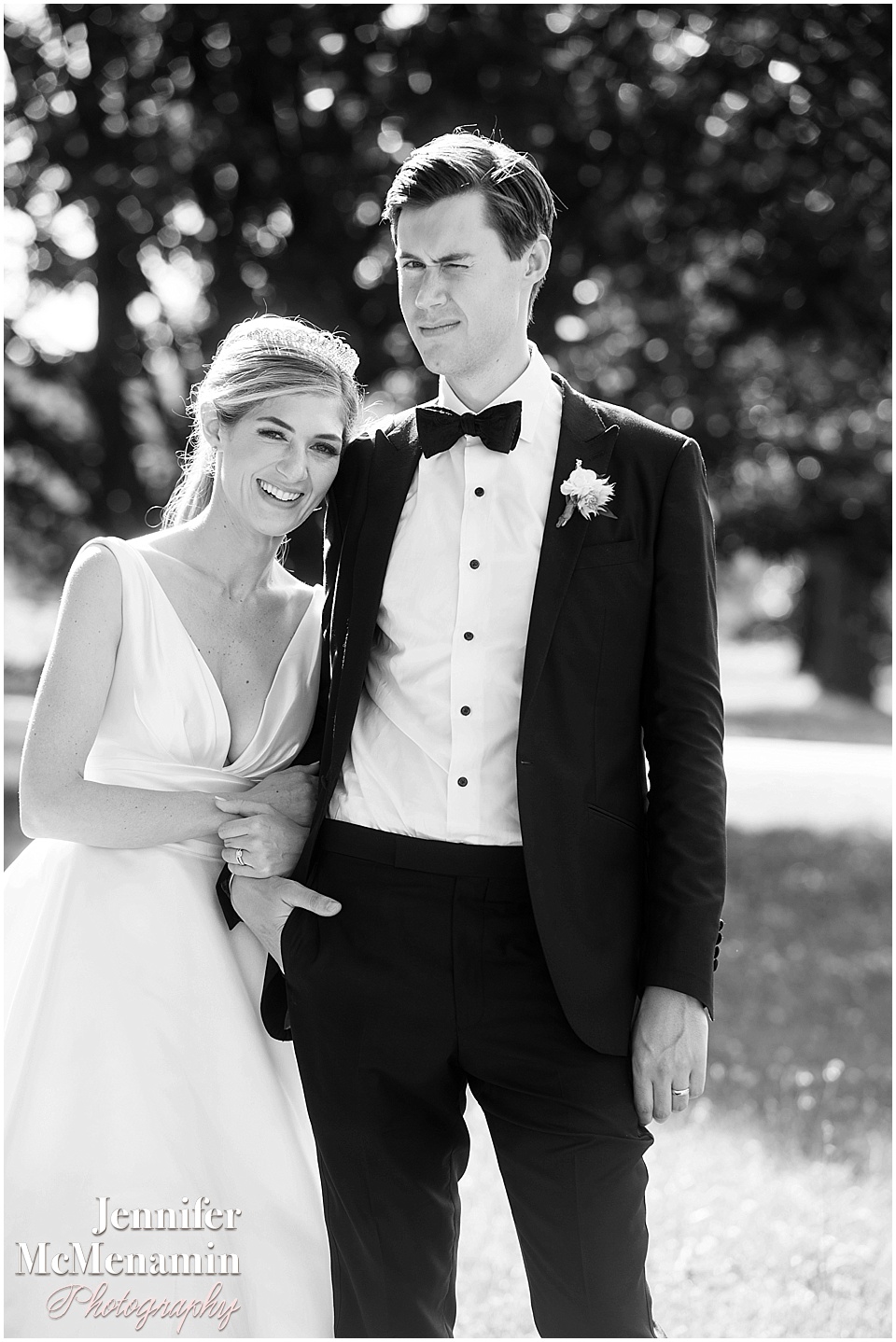 The newlyweds with their pup.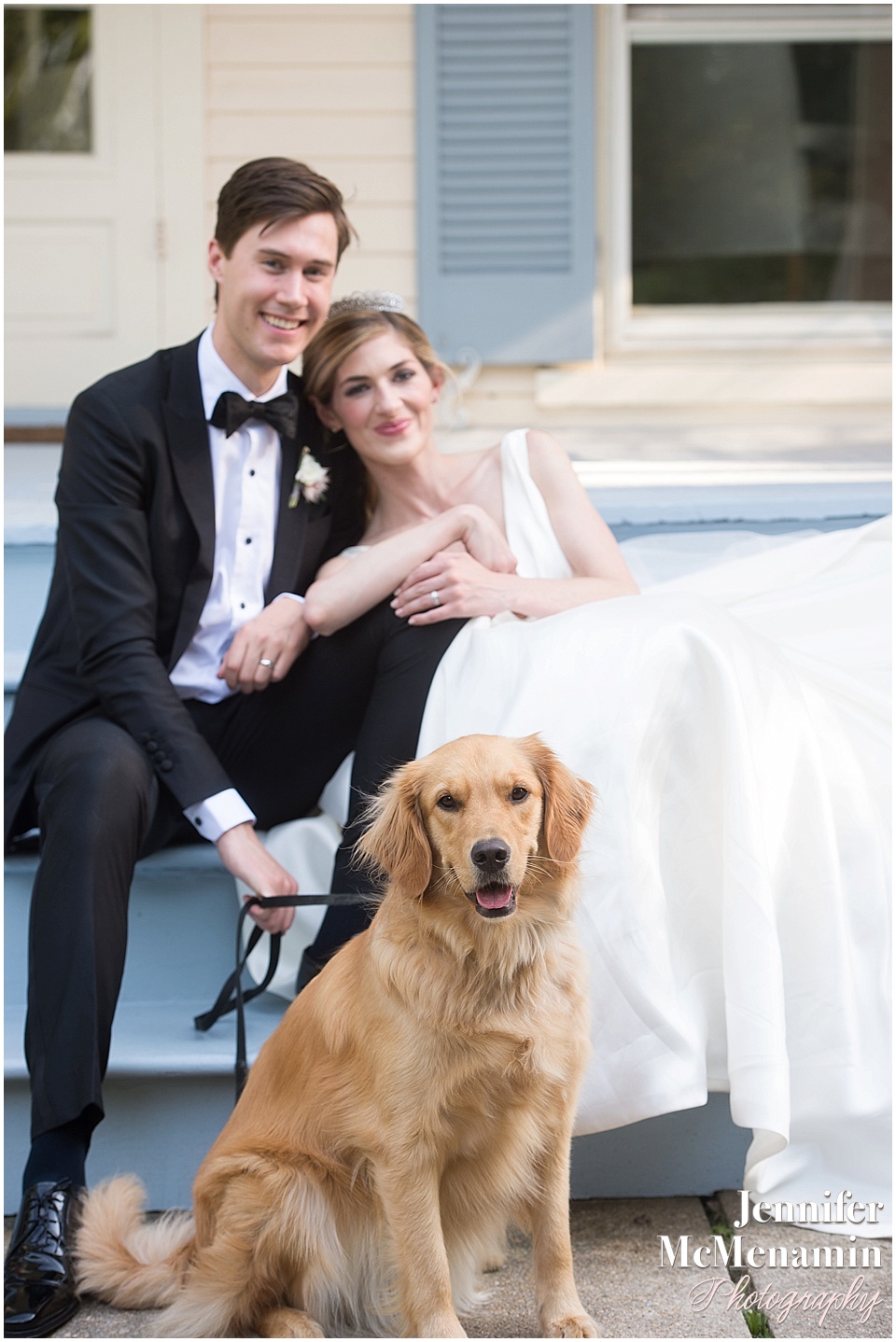 And finally, we headed to the Baltimore Museum of Art for a few photos before the couple joined their guests for cocktail hour and then the reception.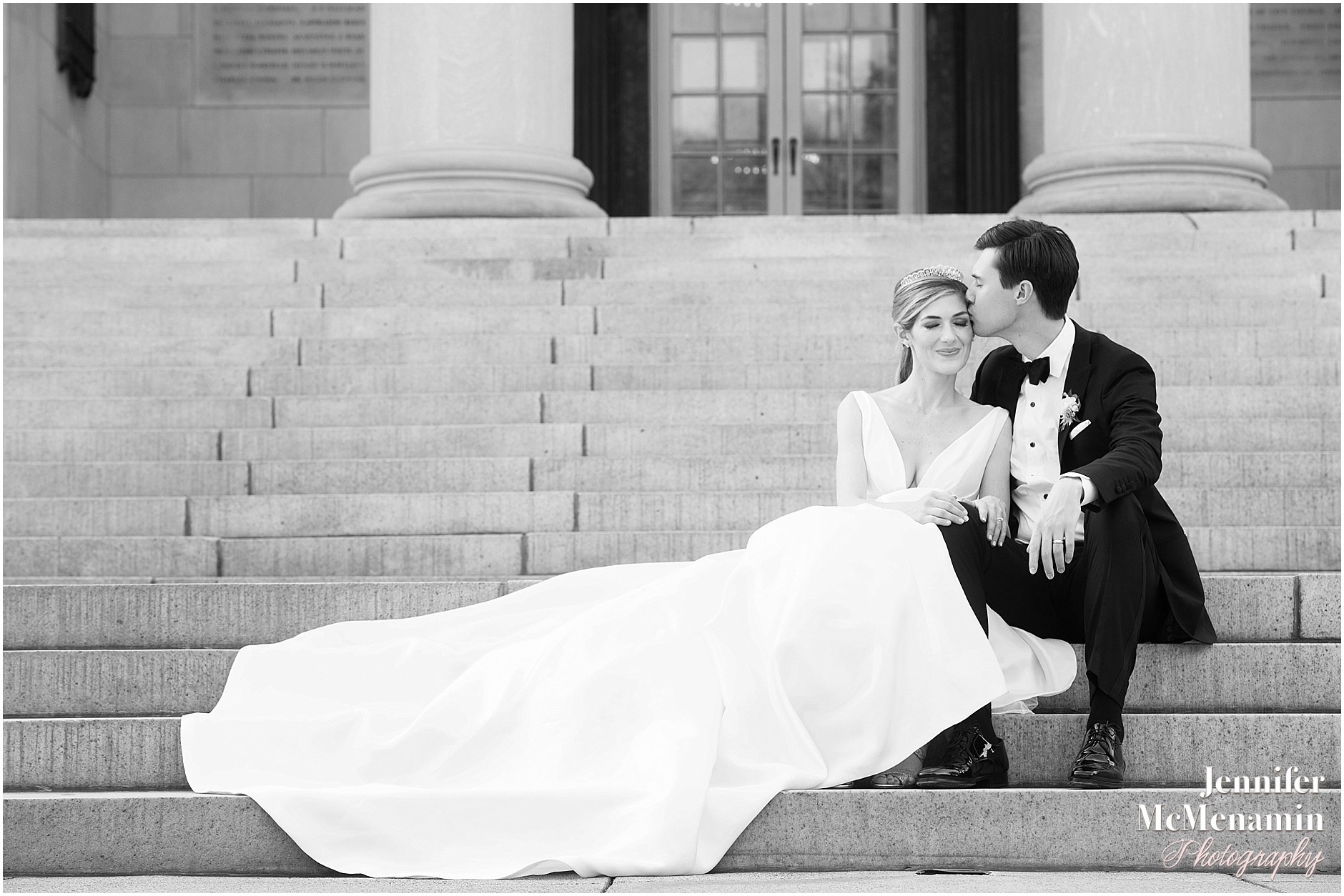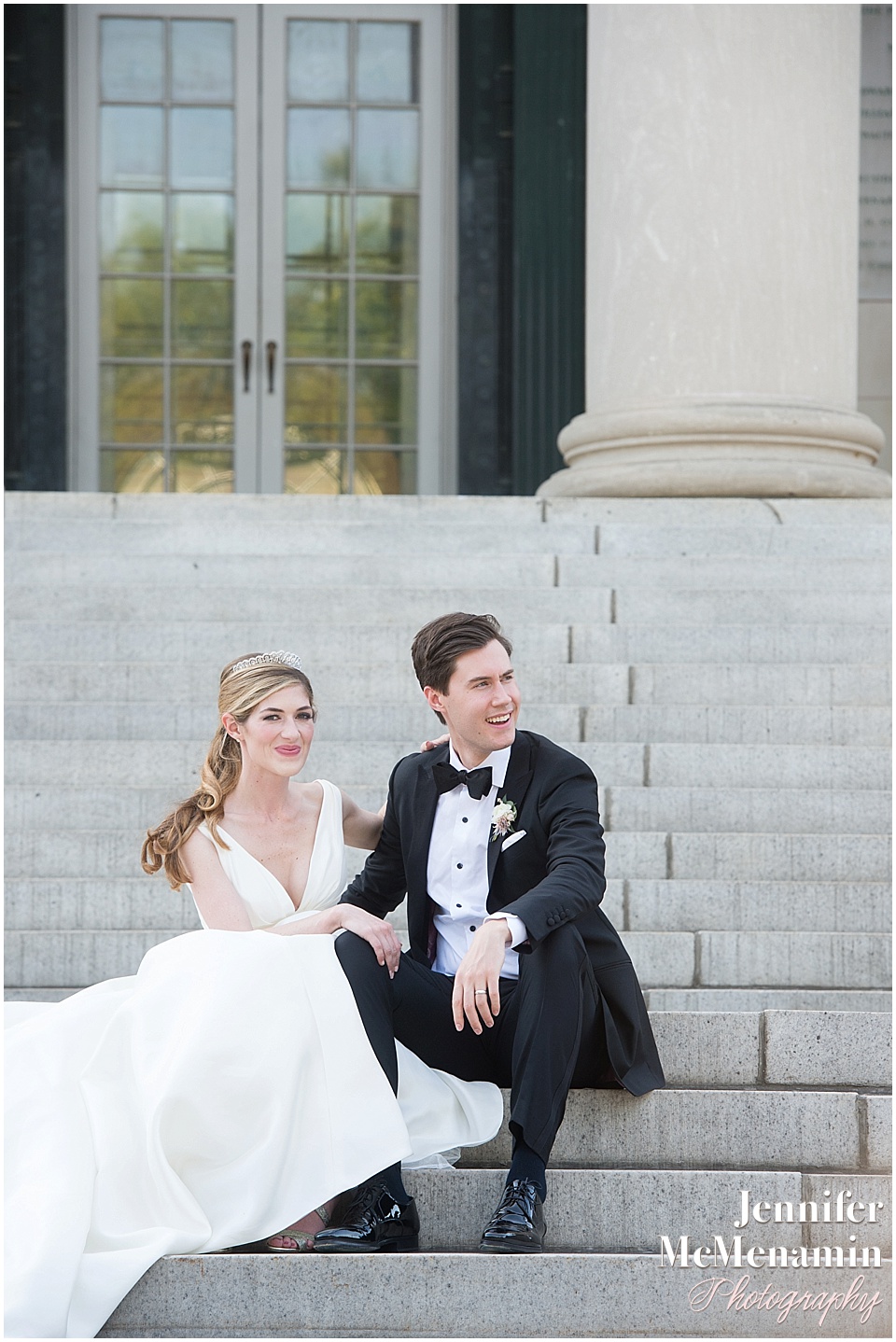 The parents of the bride toast the newlyweds and welcome everyone to the celebration.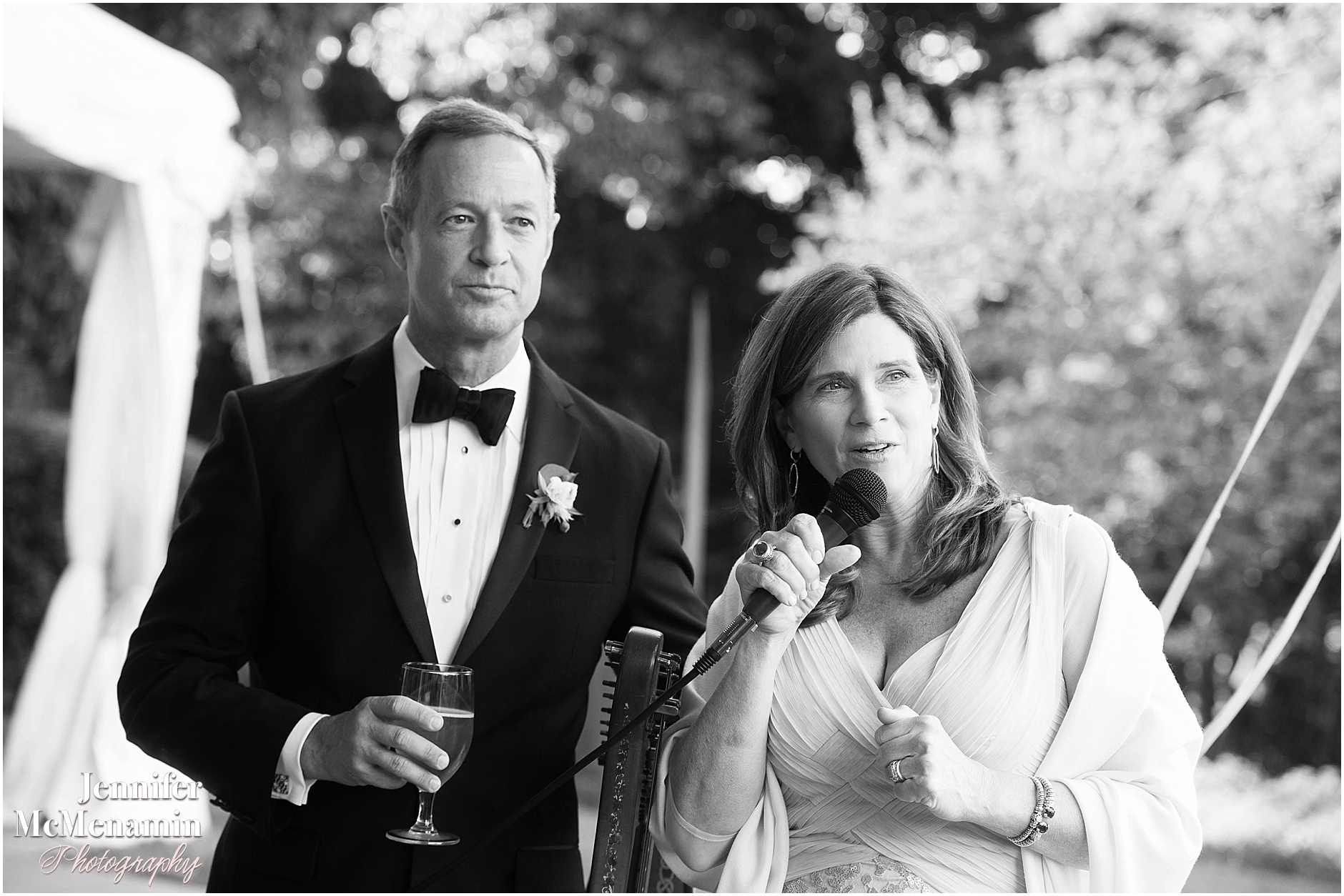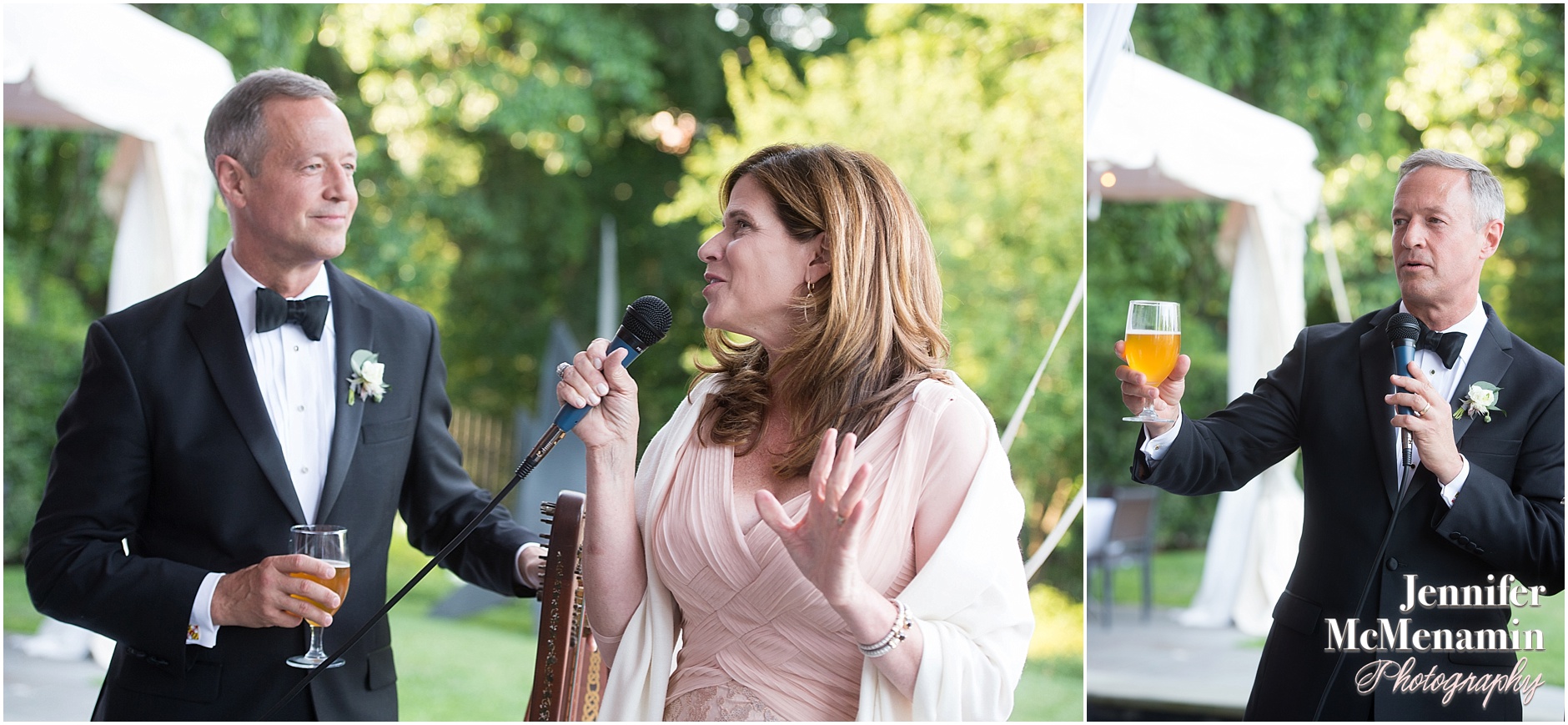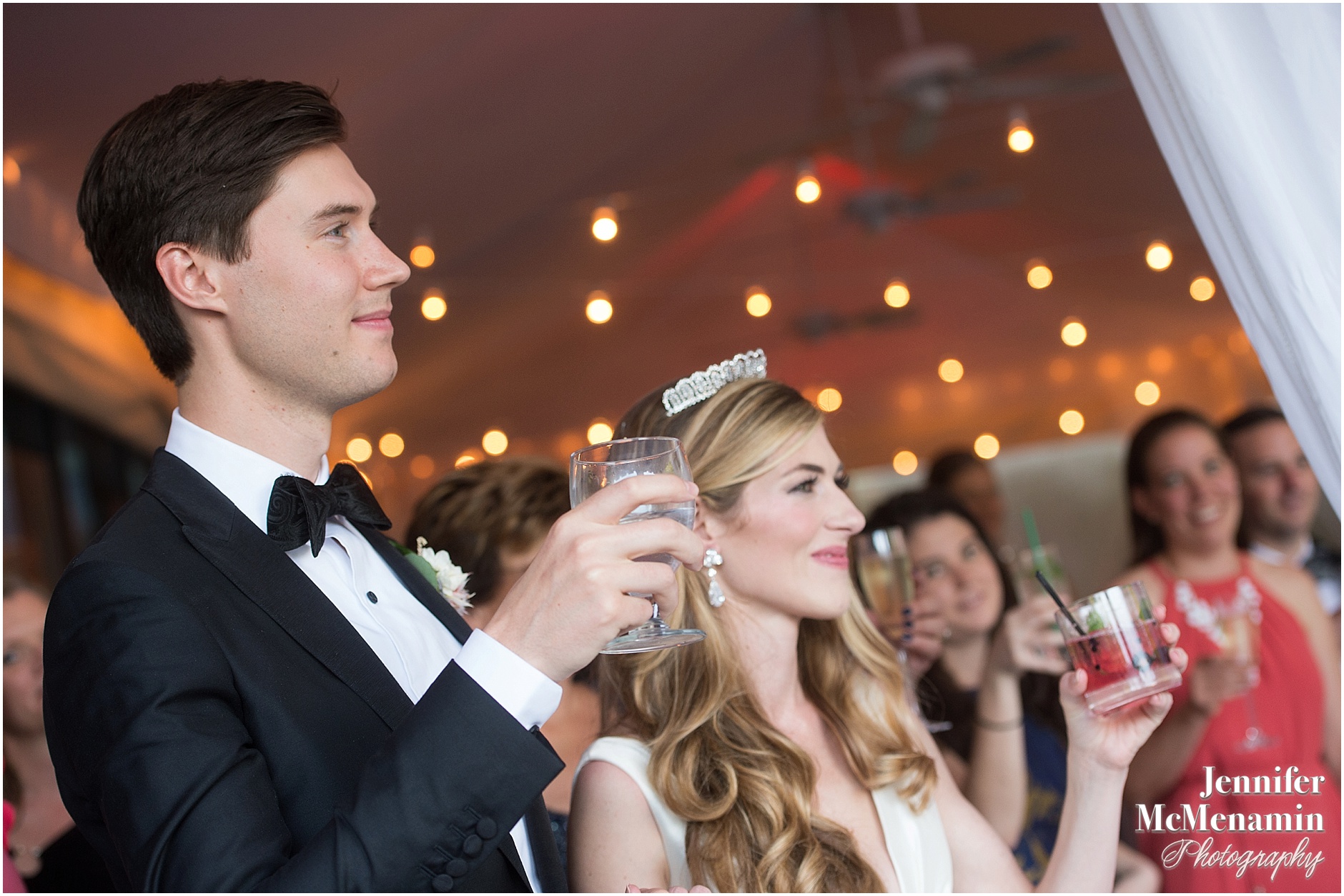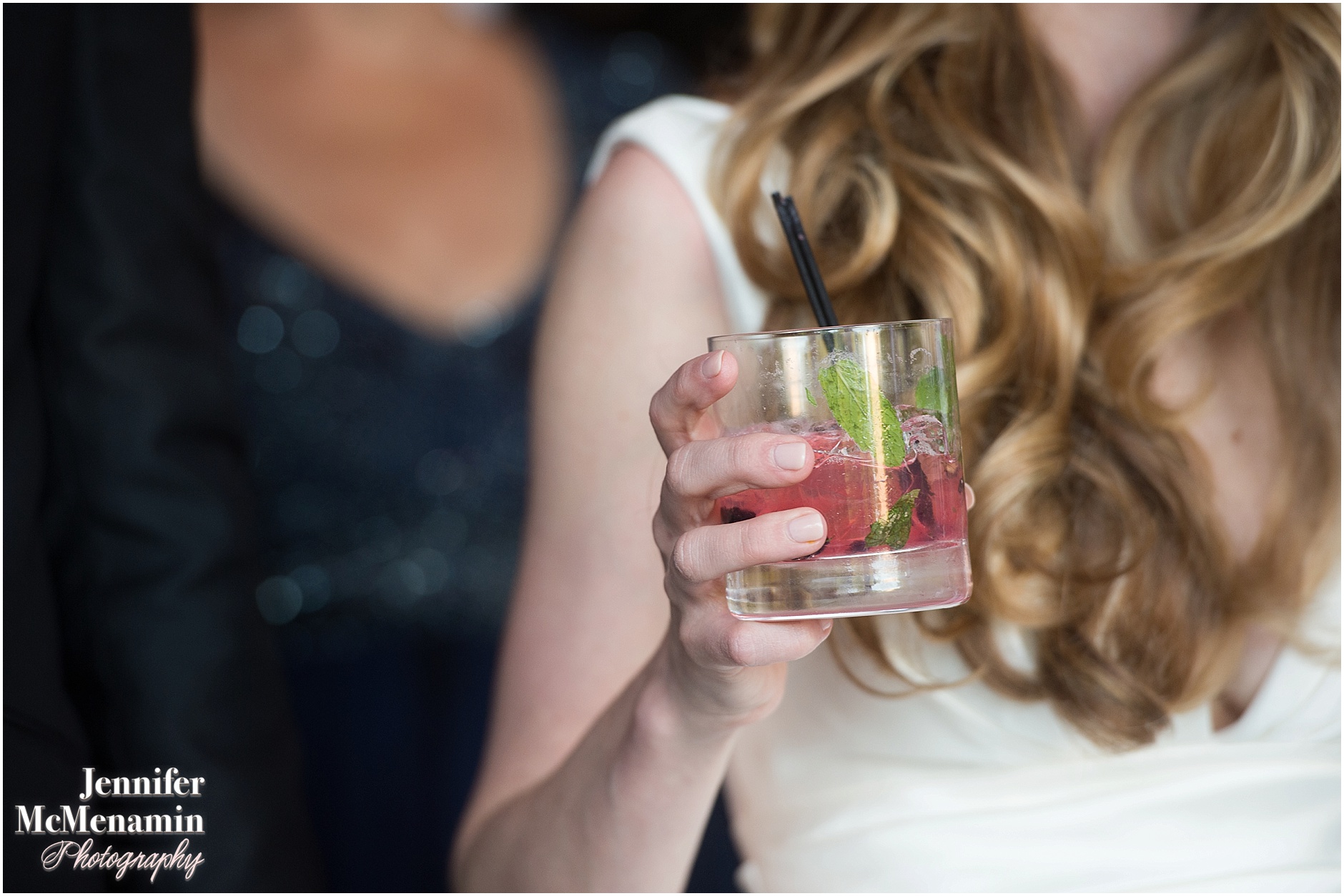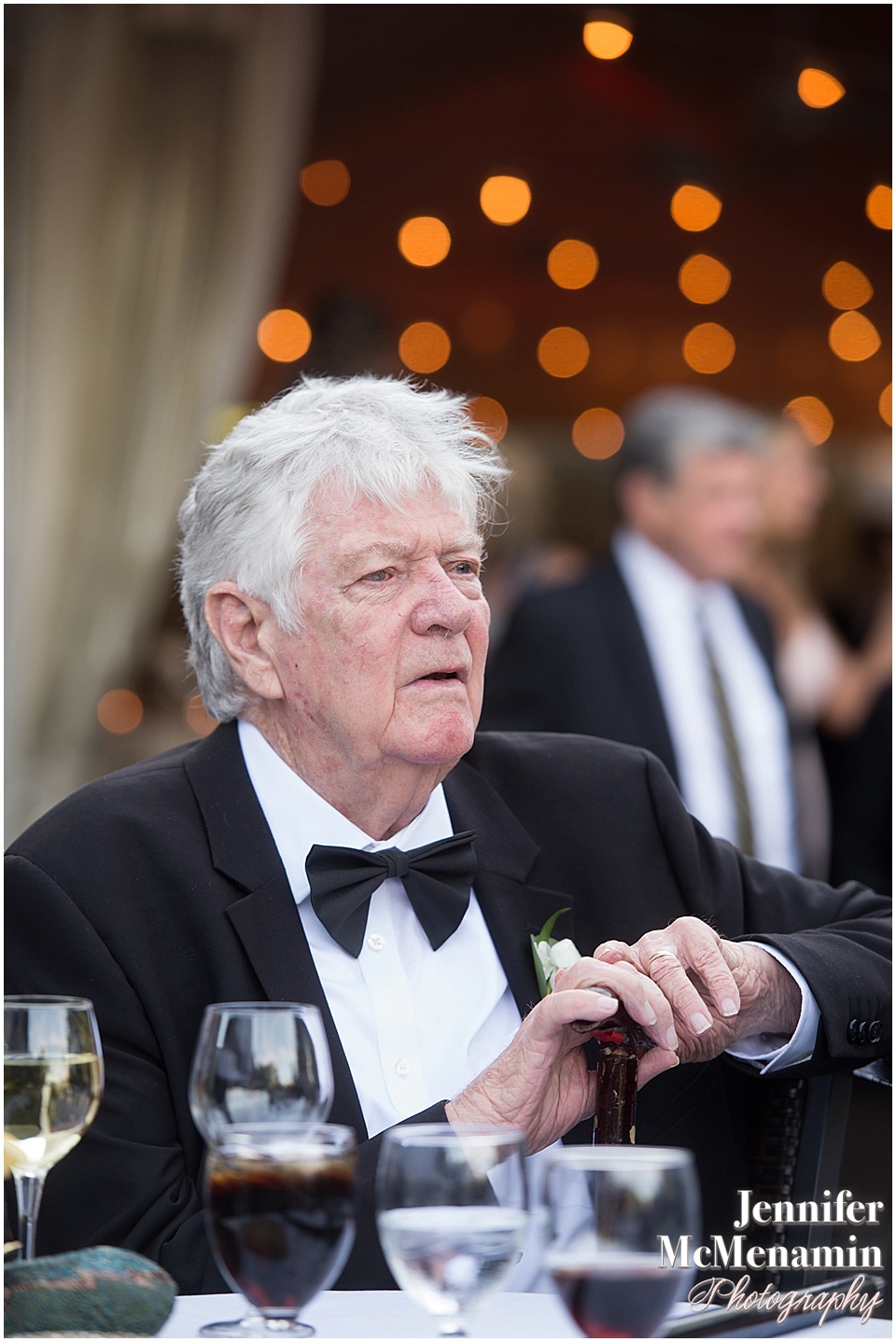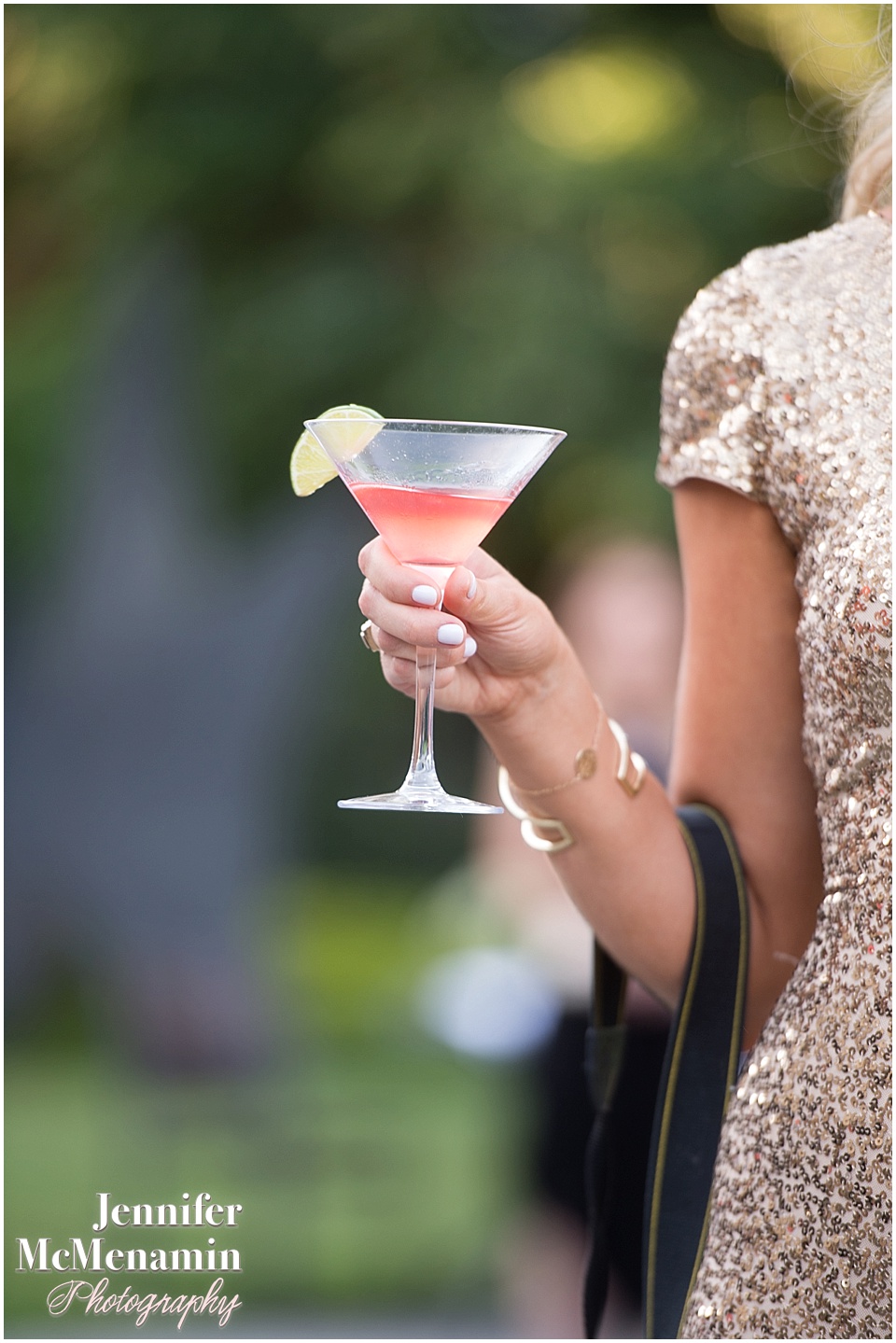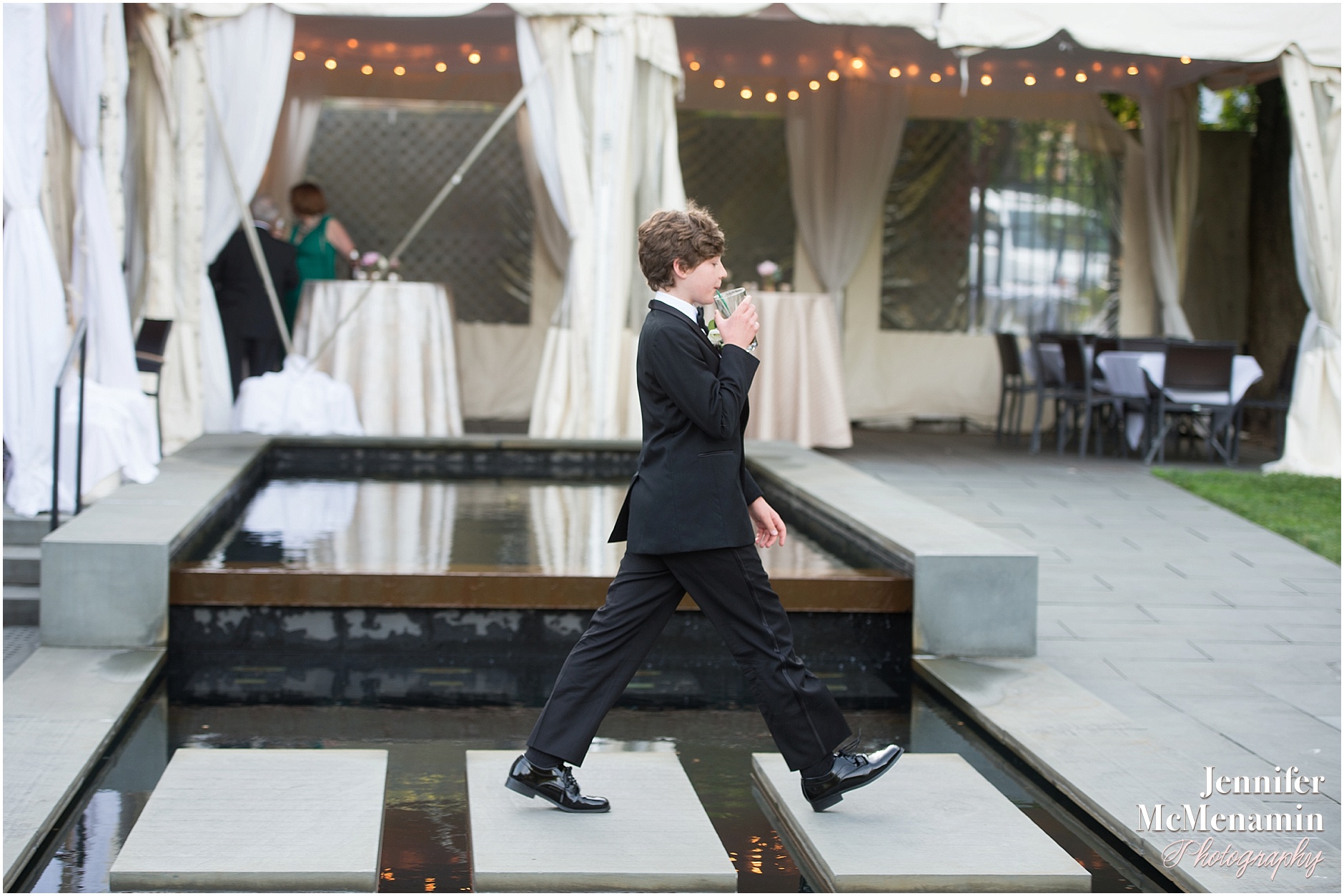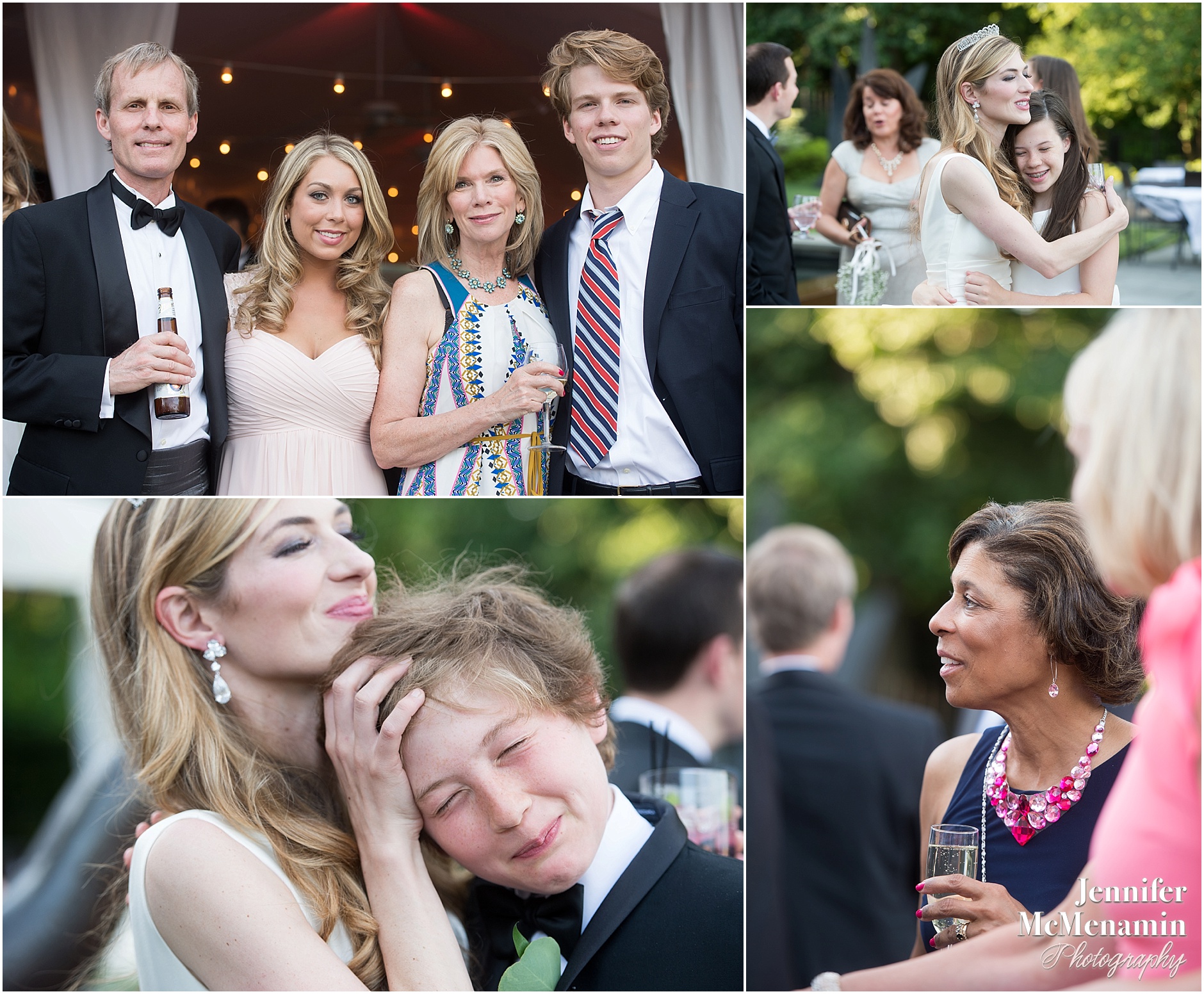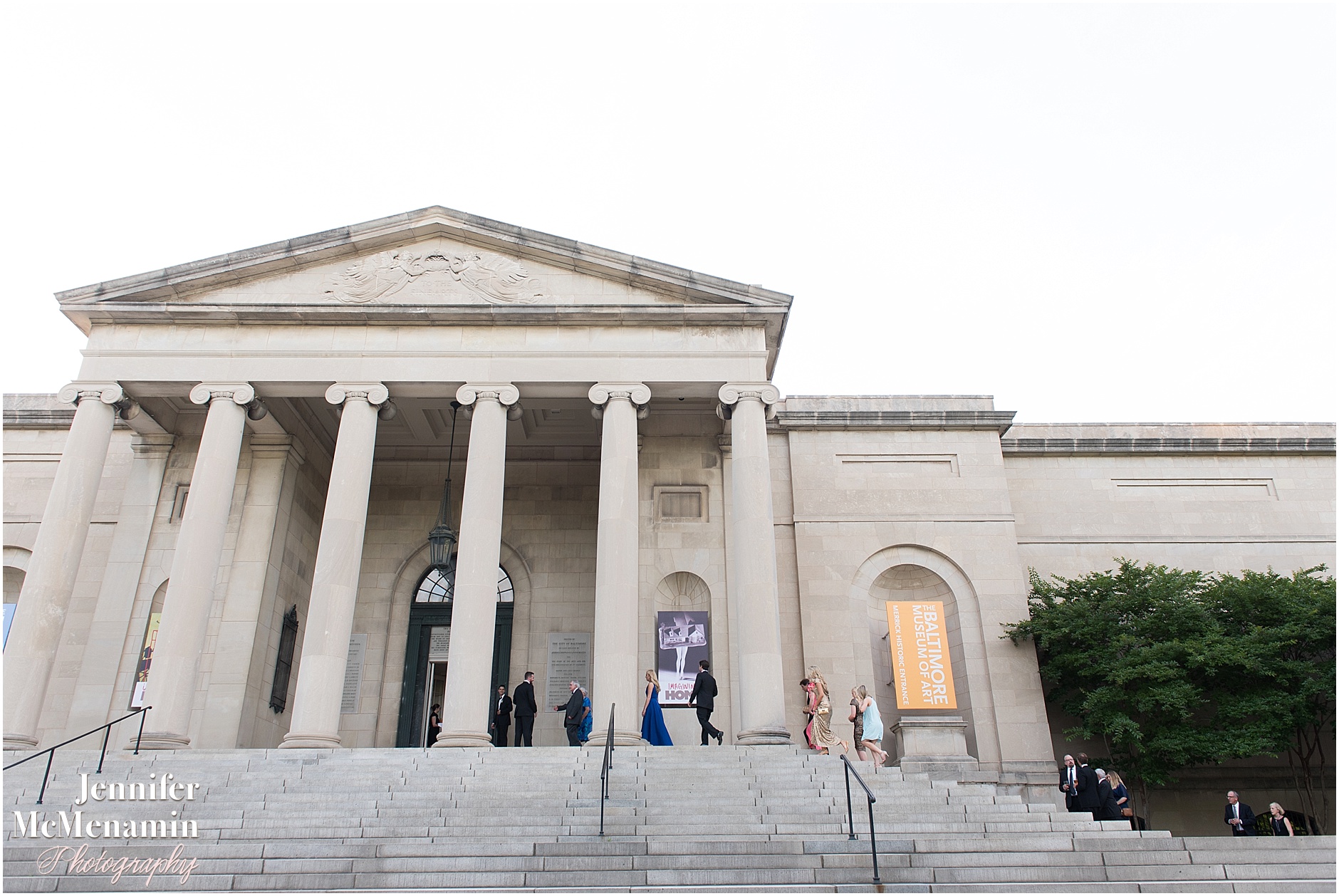 When I was growing up in Baltimore, I couldn't think of a better way to spend a cold or rainy day than wandering the rooms of the Baltimore Museum of Art — and most especially the Cone Collection. So I could not have been more delighted when the BMA recently began hosting weddings again. It was really something to shoot photographs — and for the guests, to celebrate a special occasion — in a place with so much inherent beauty. A few reception details.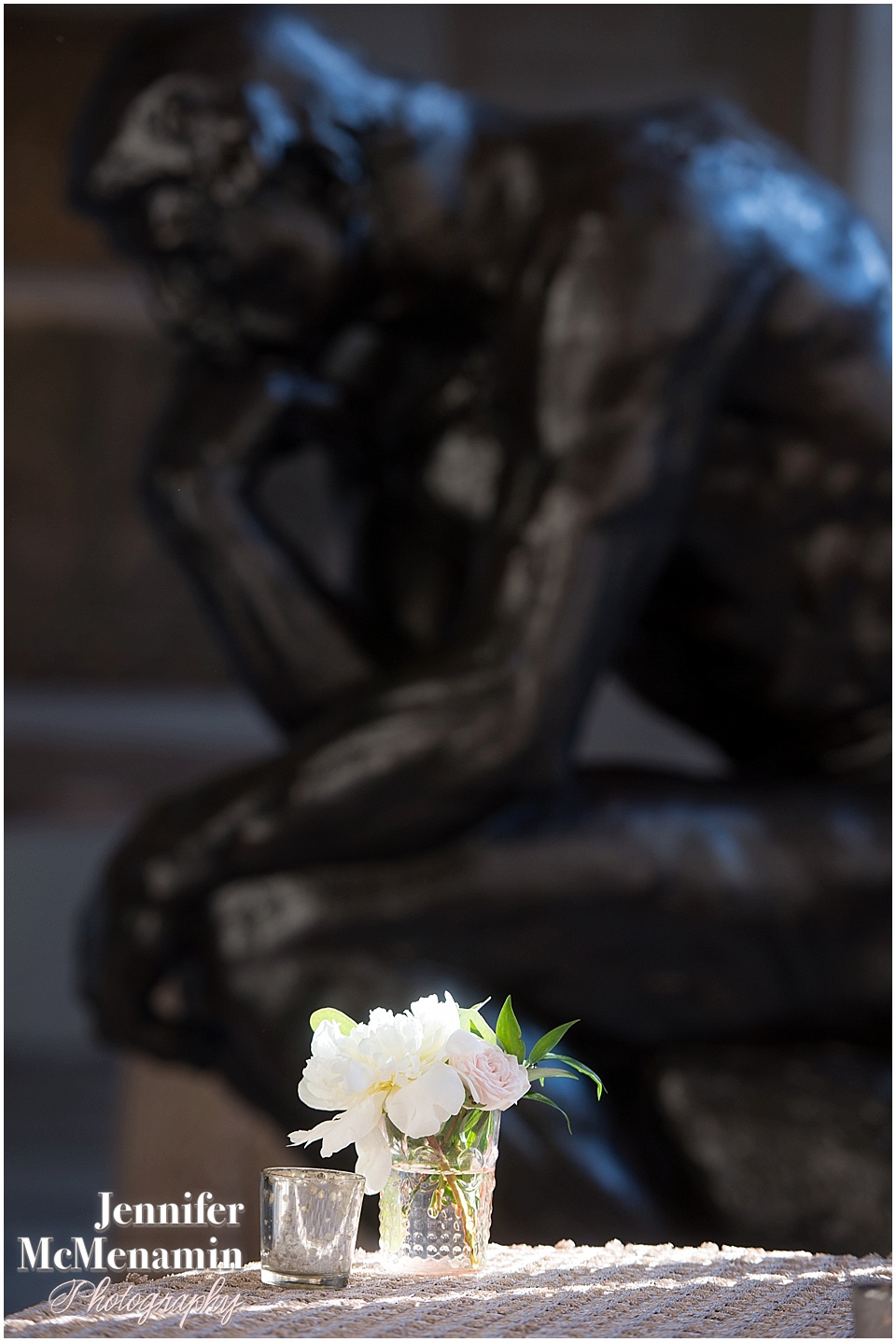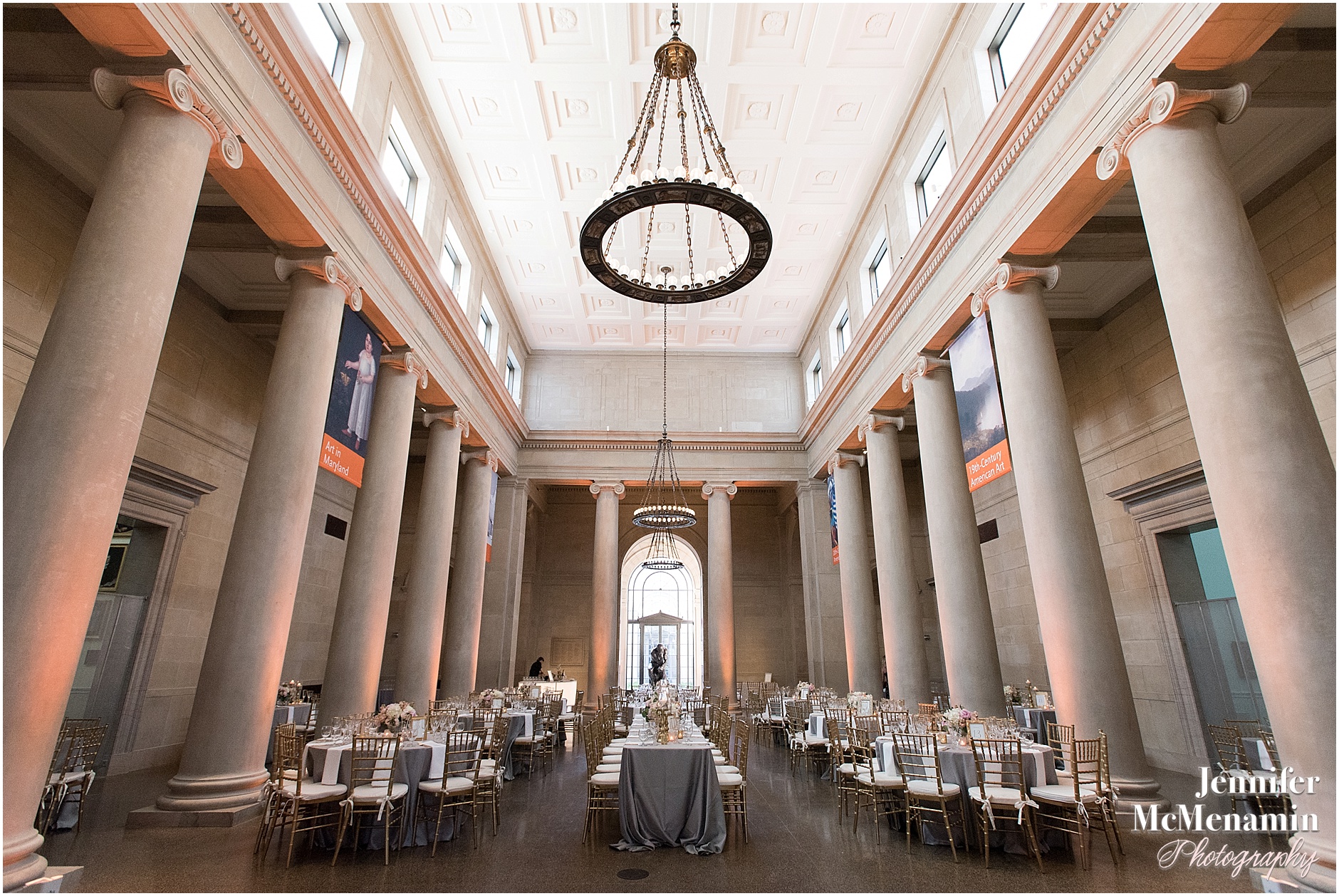 It felt like Rodin's sculpture of The Thinker was sitting at the head of the main table.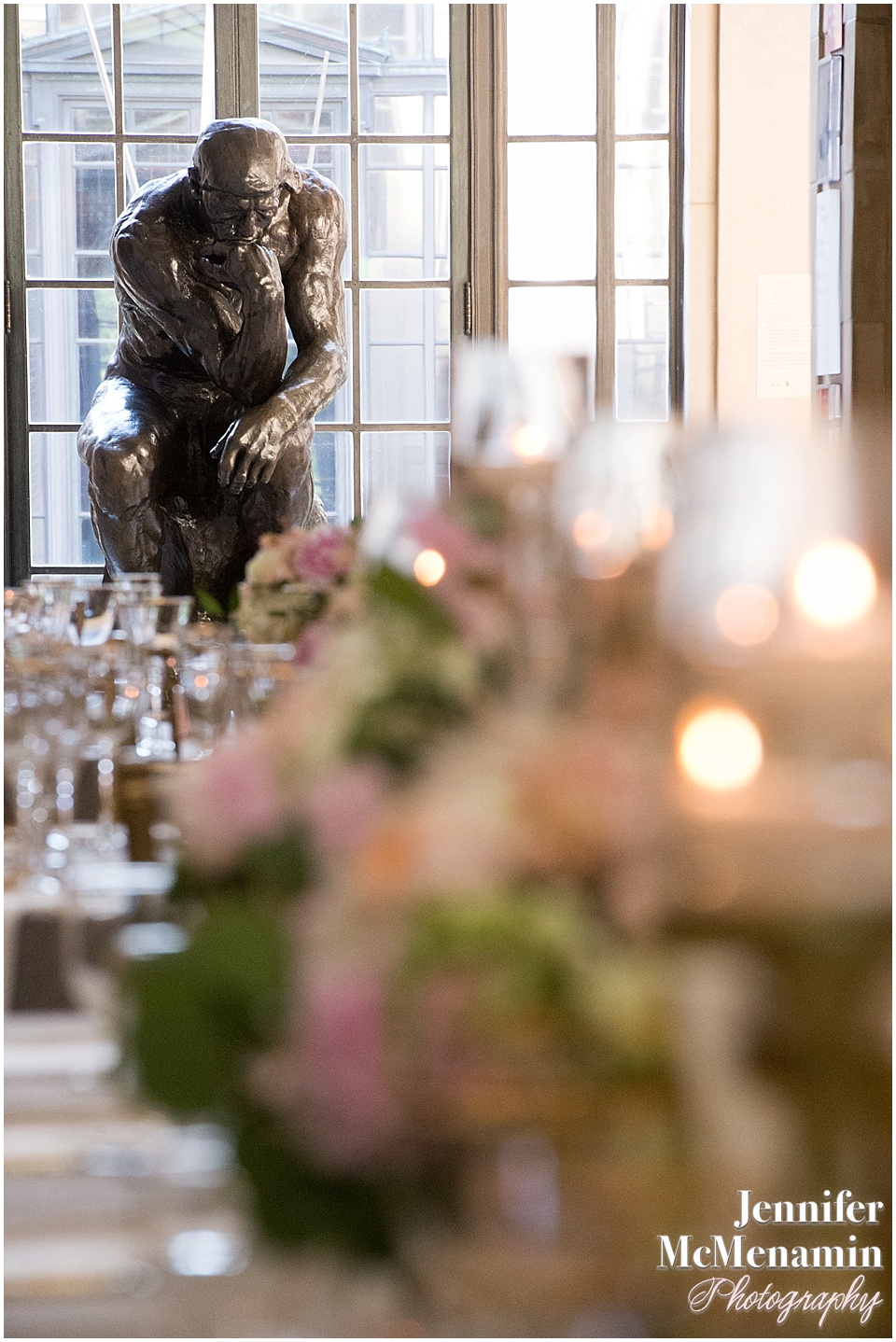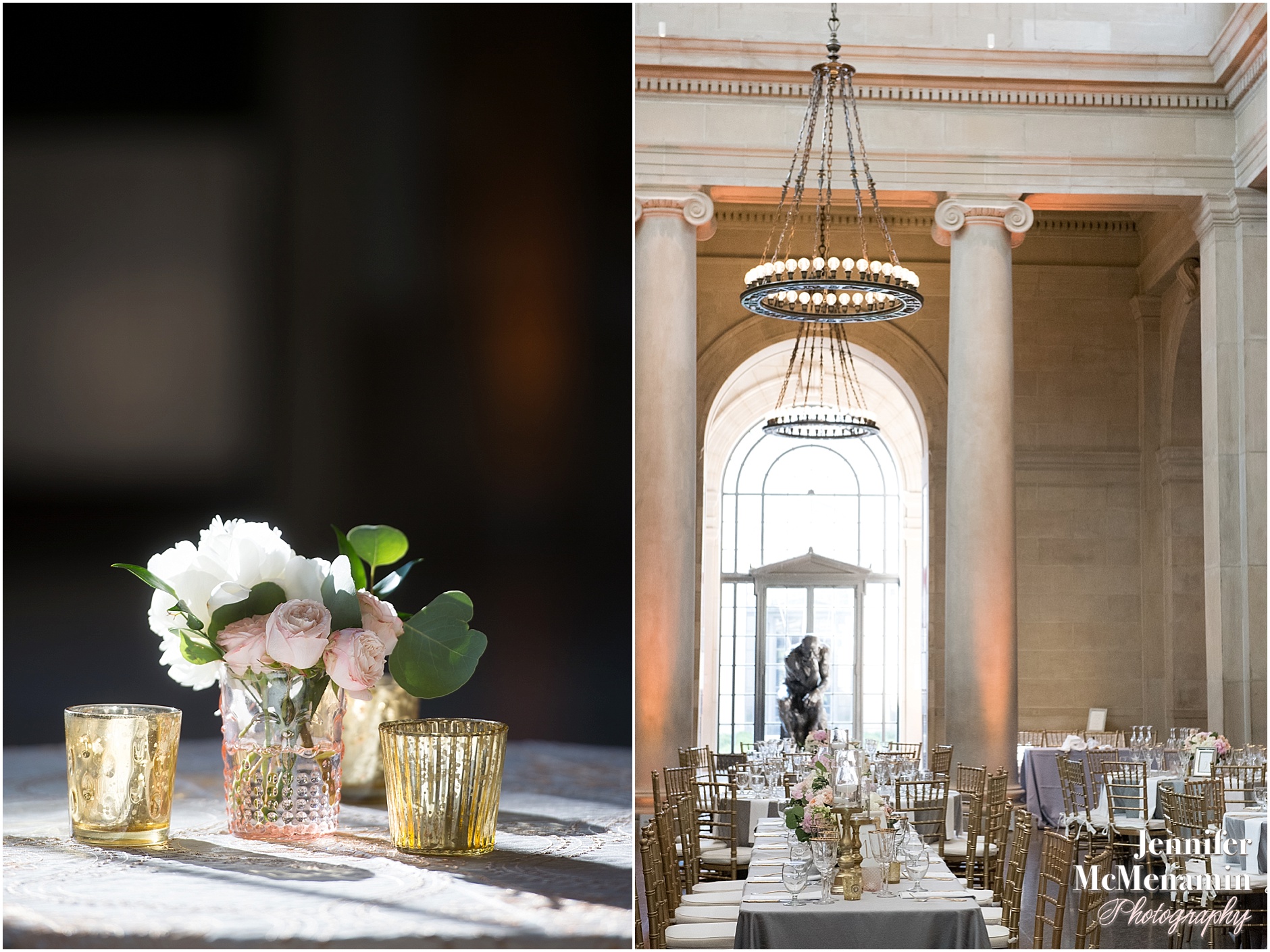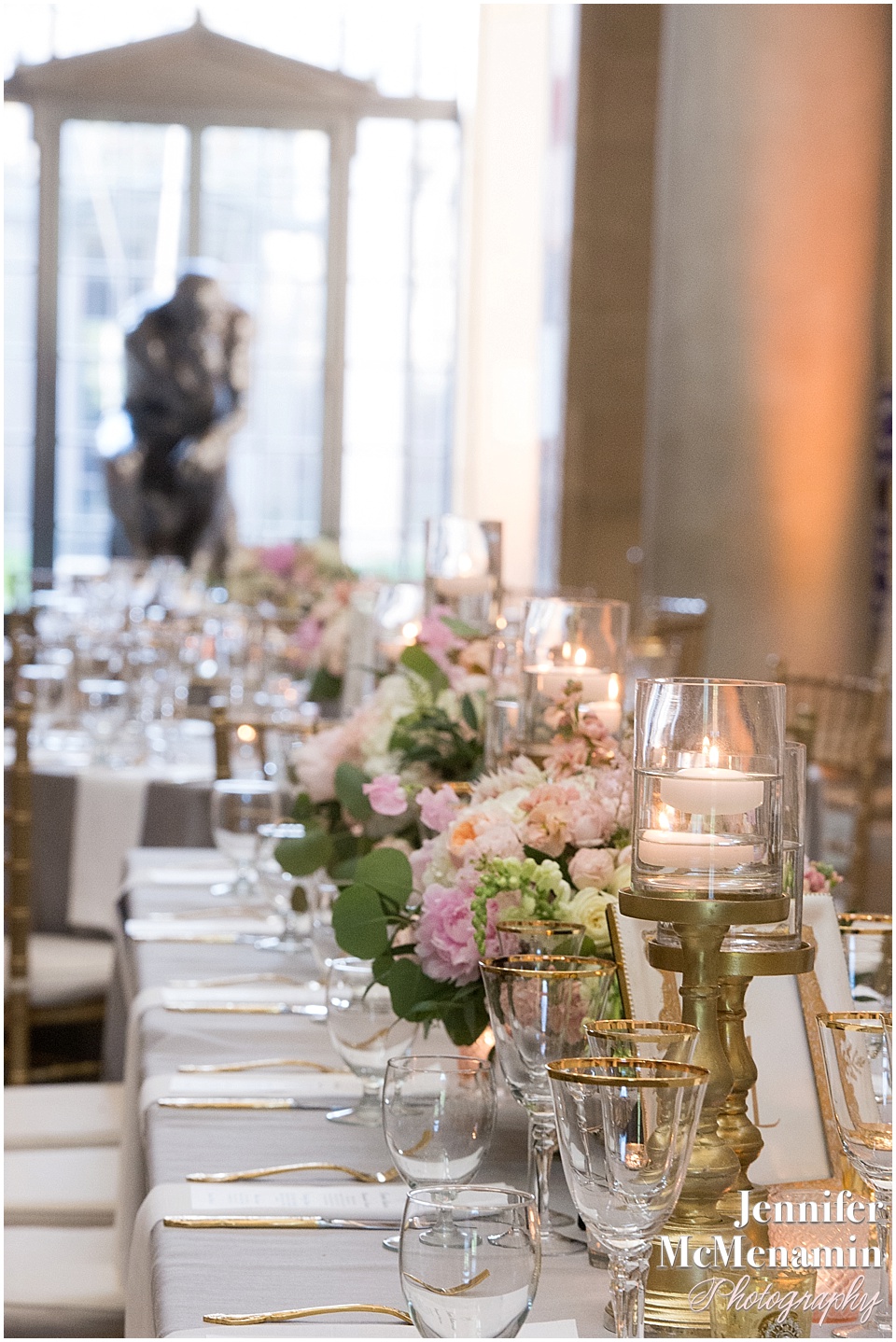 Grace + JD prepare to make their grand entrance into the reception for their first dance.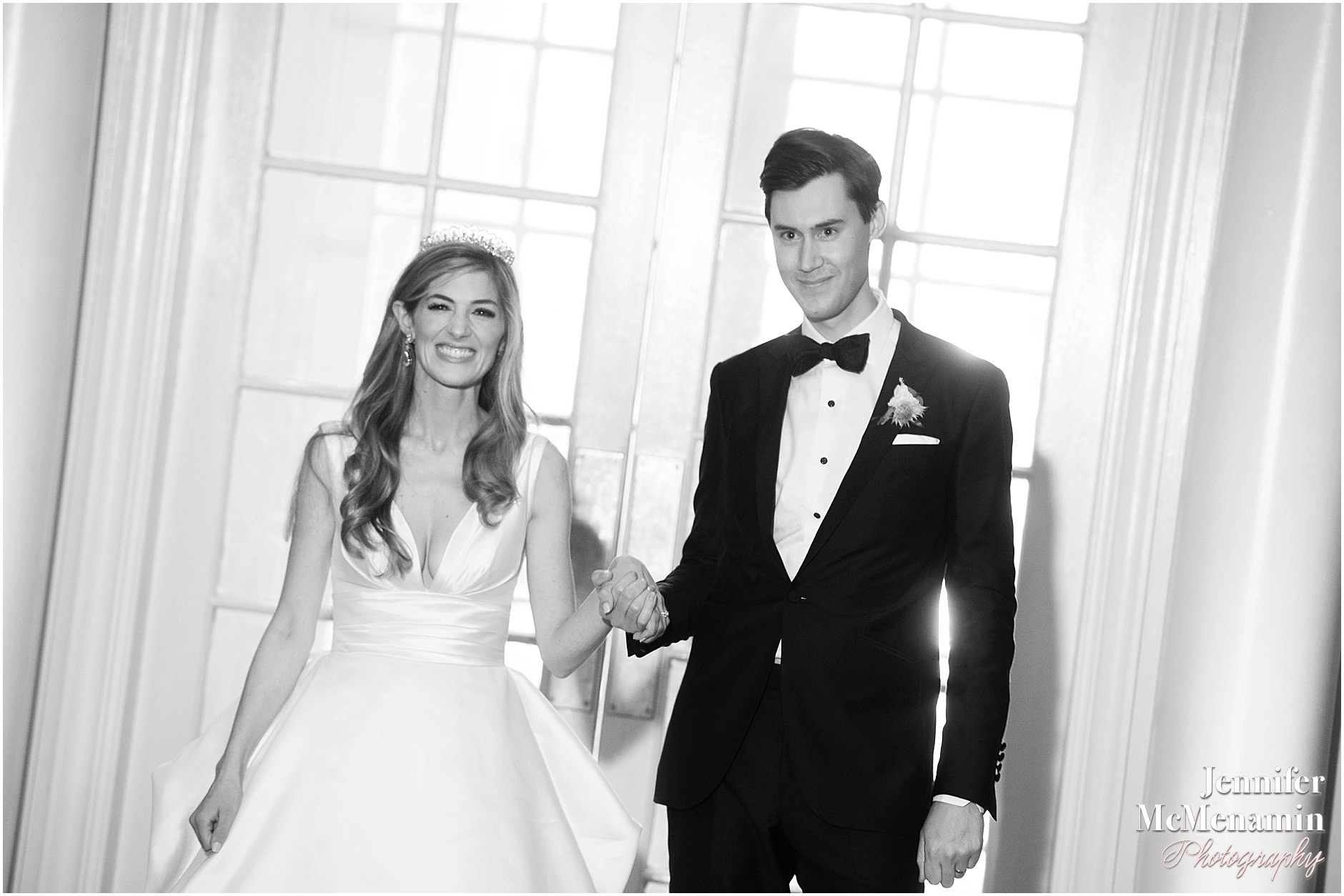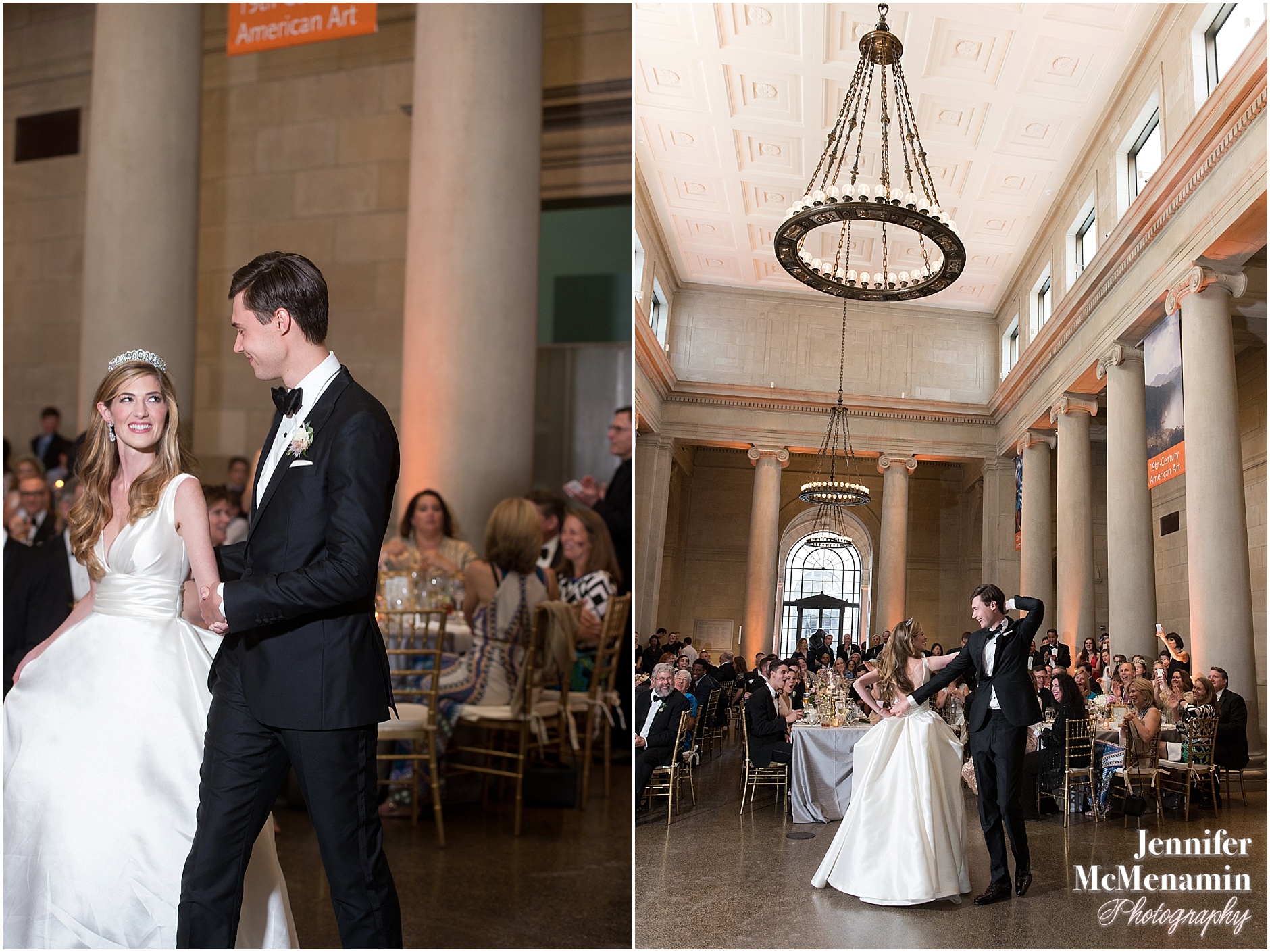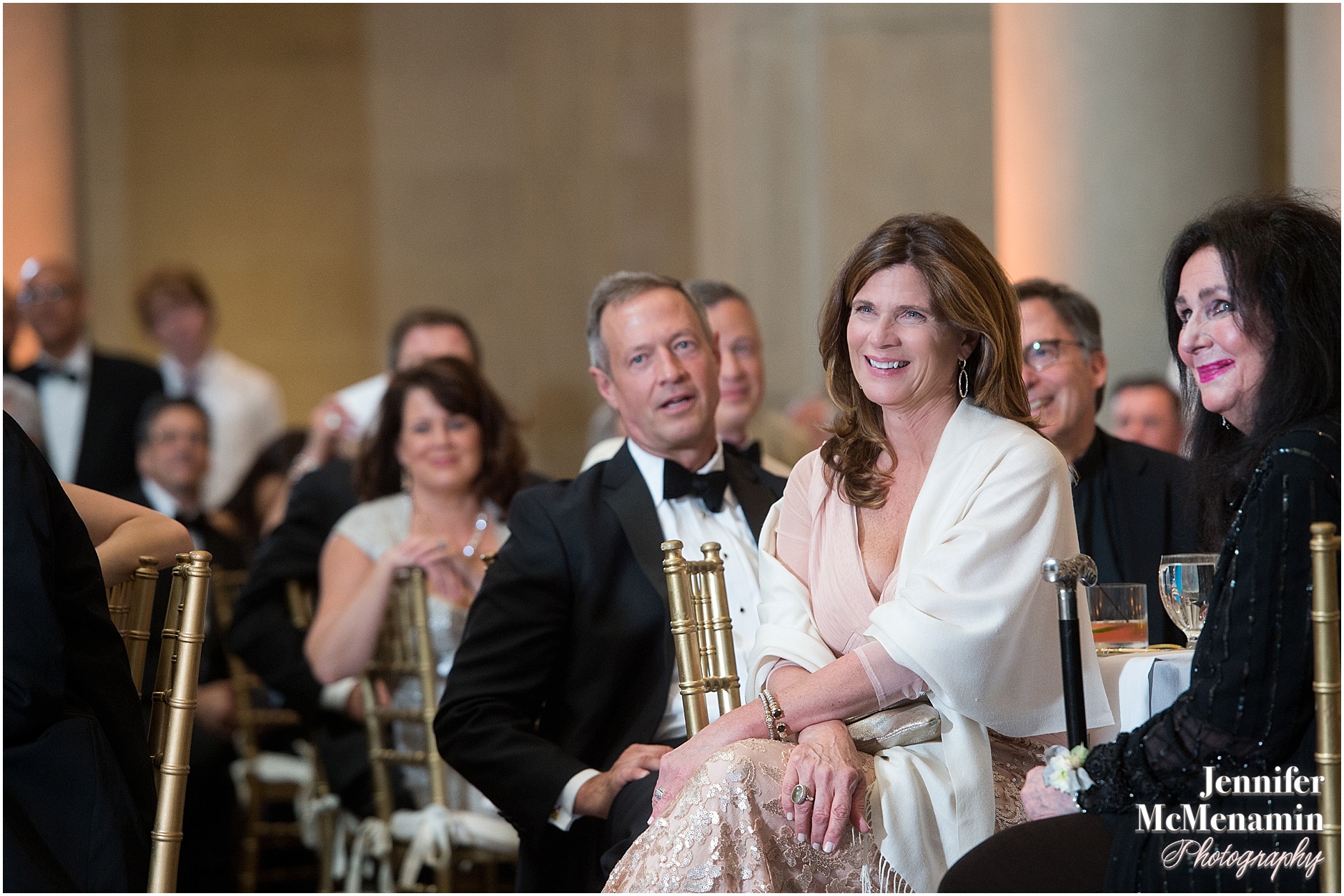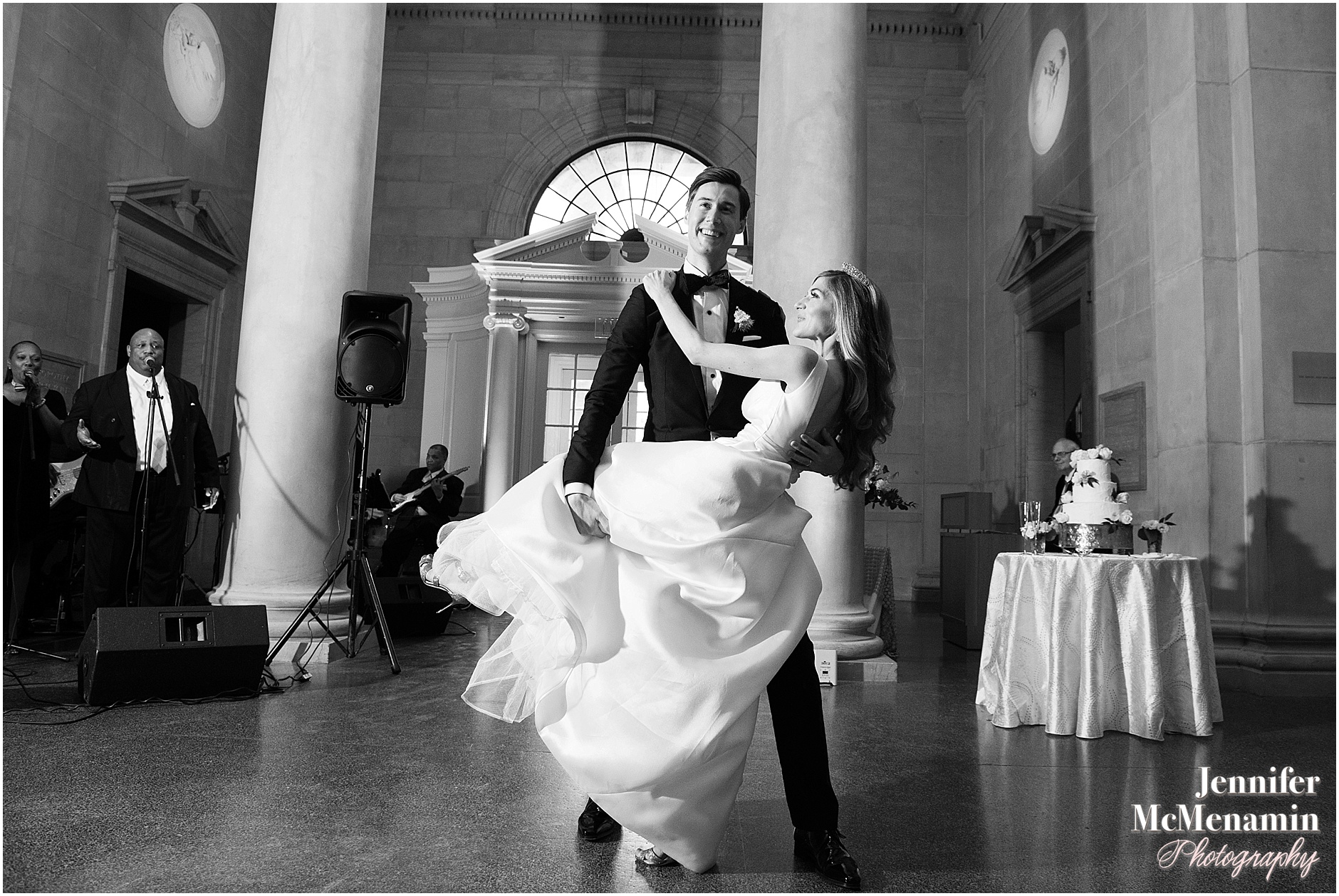 And lots and lots of fun and frivolity.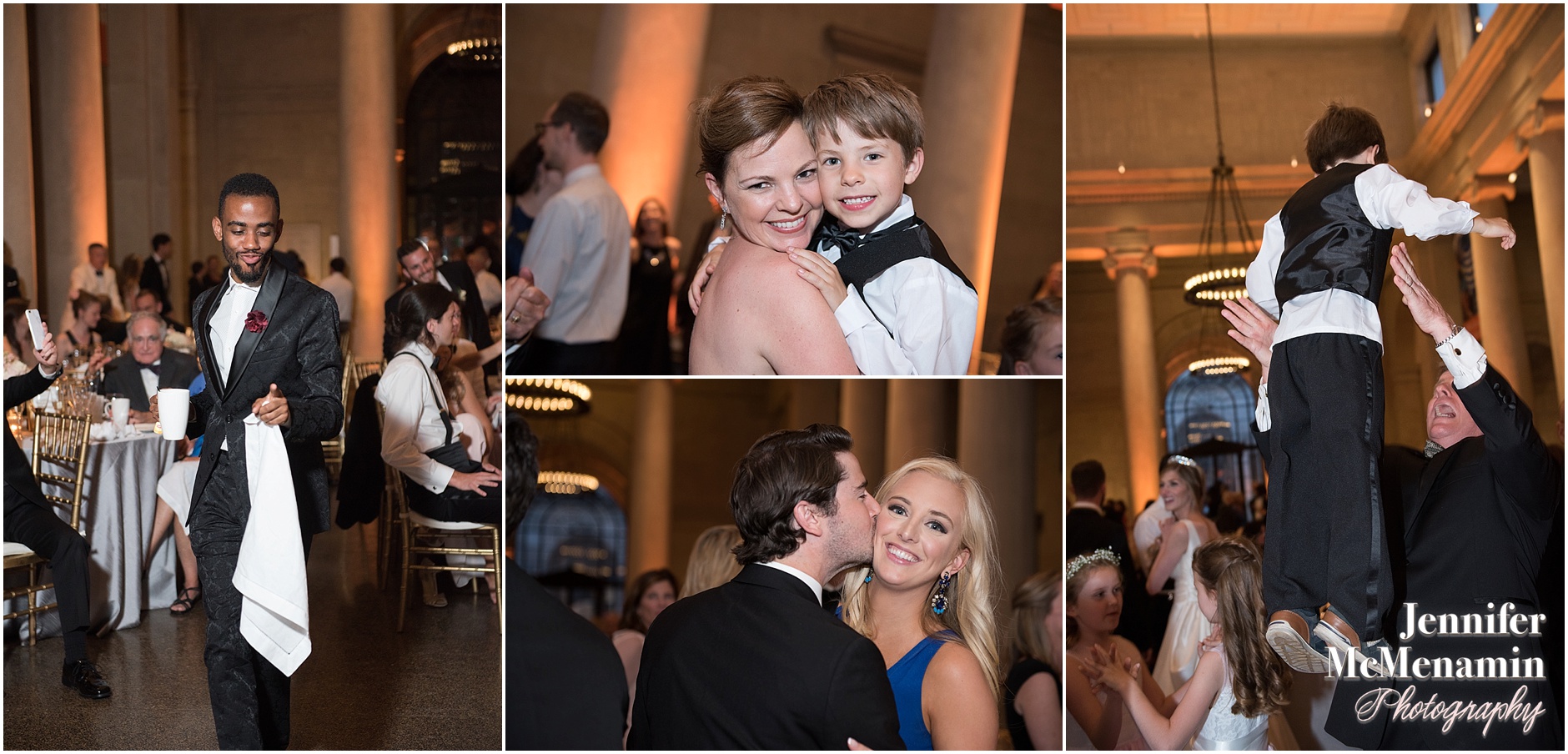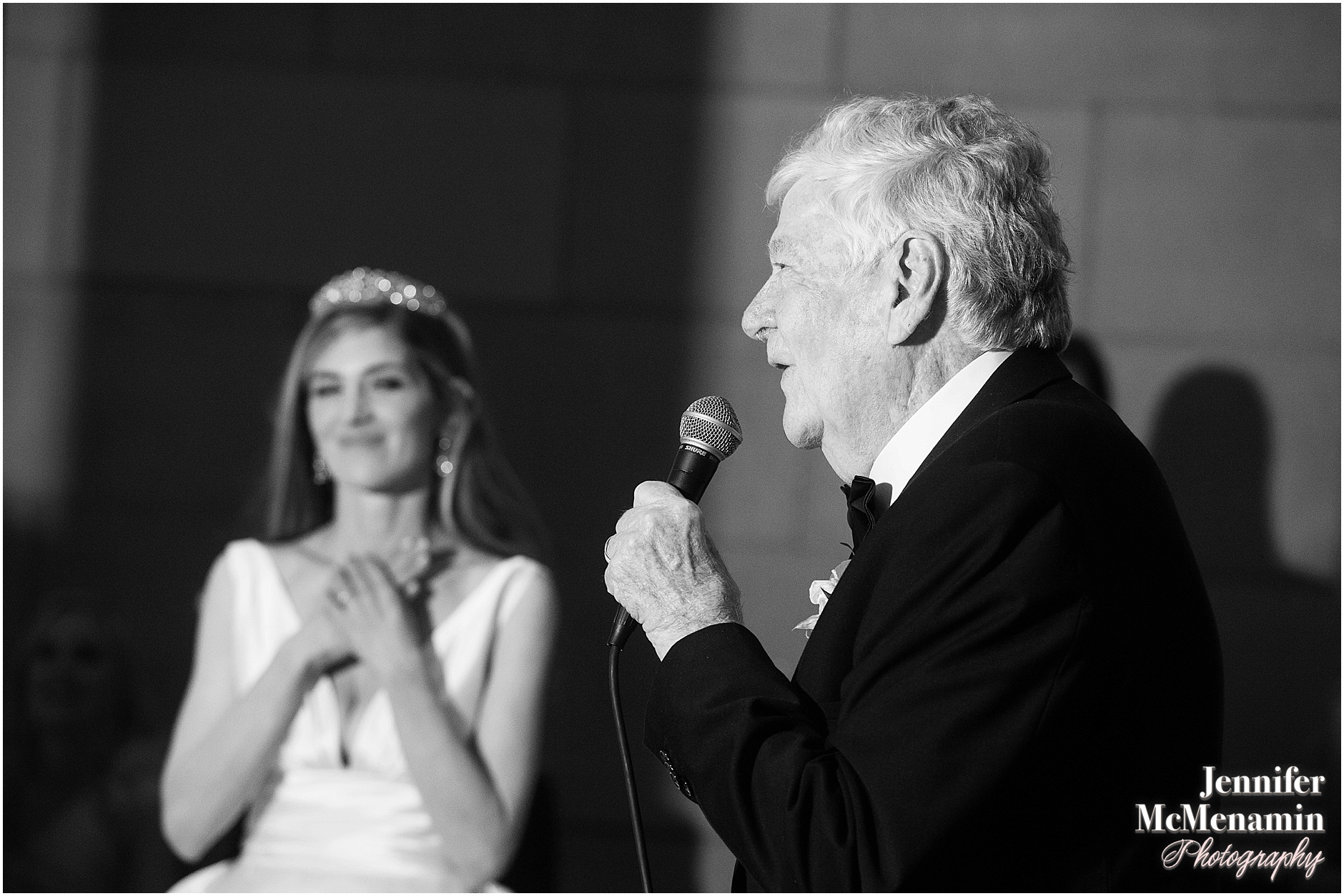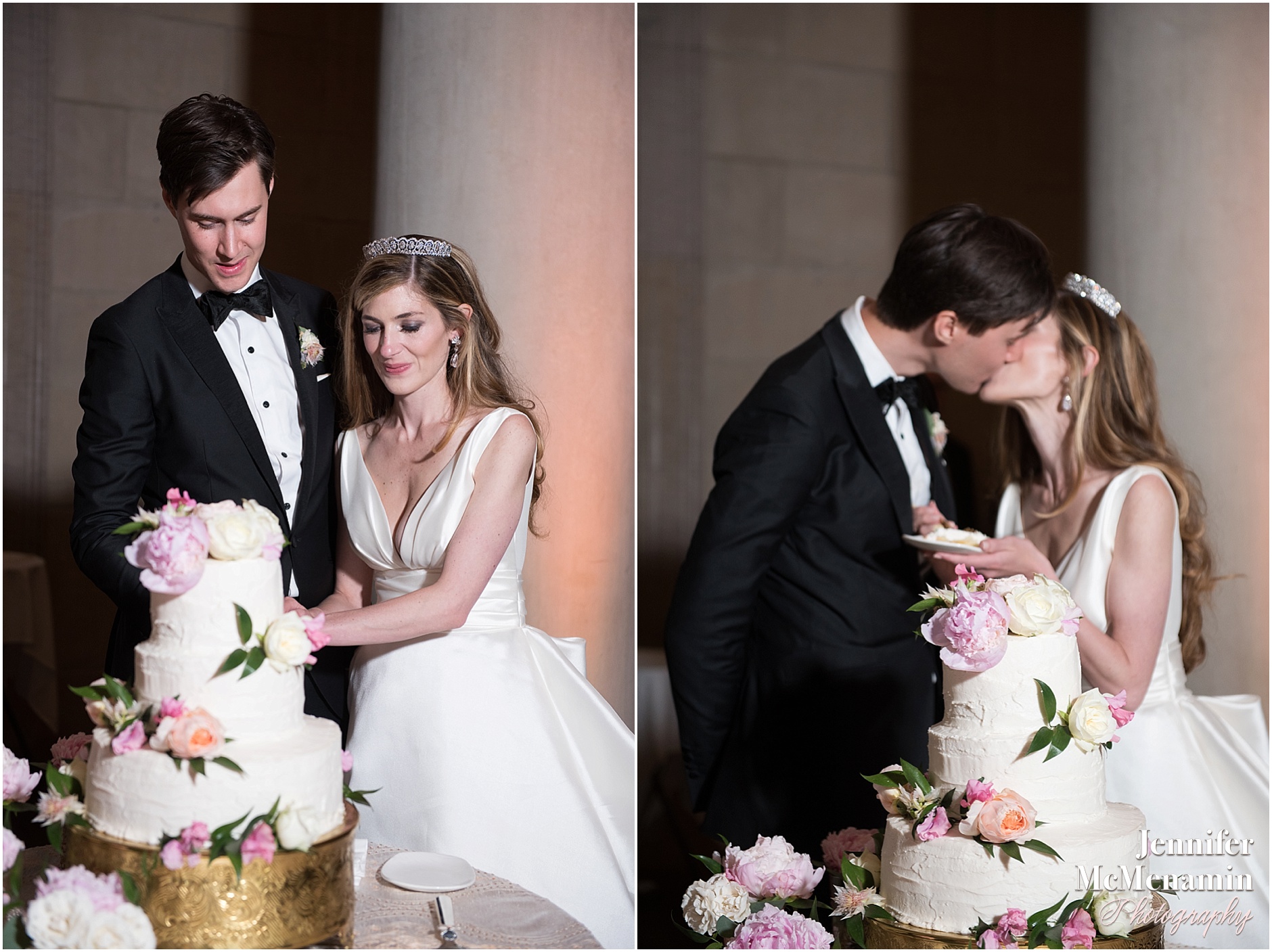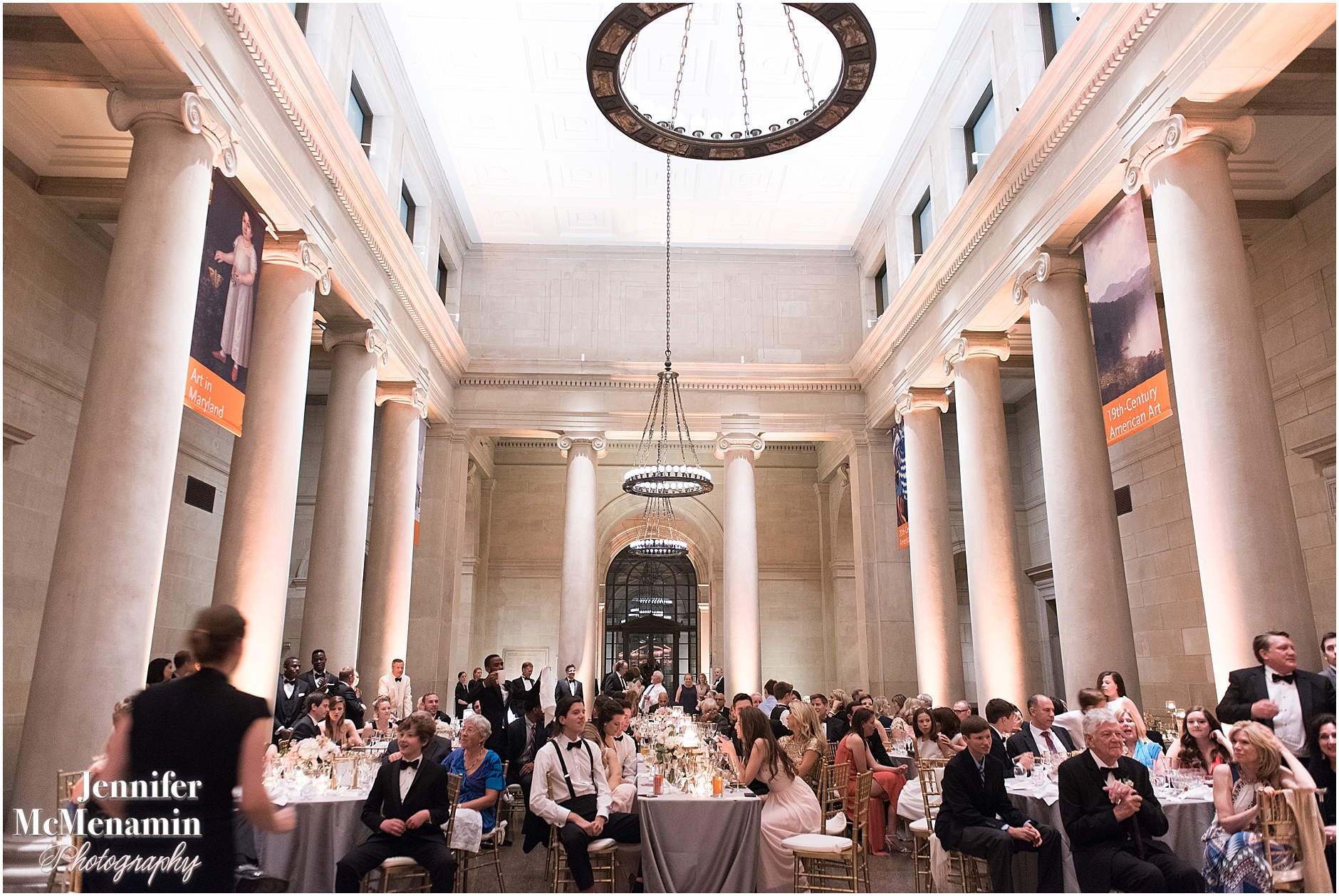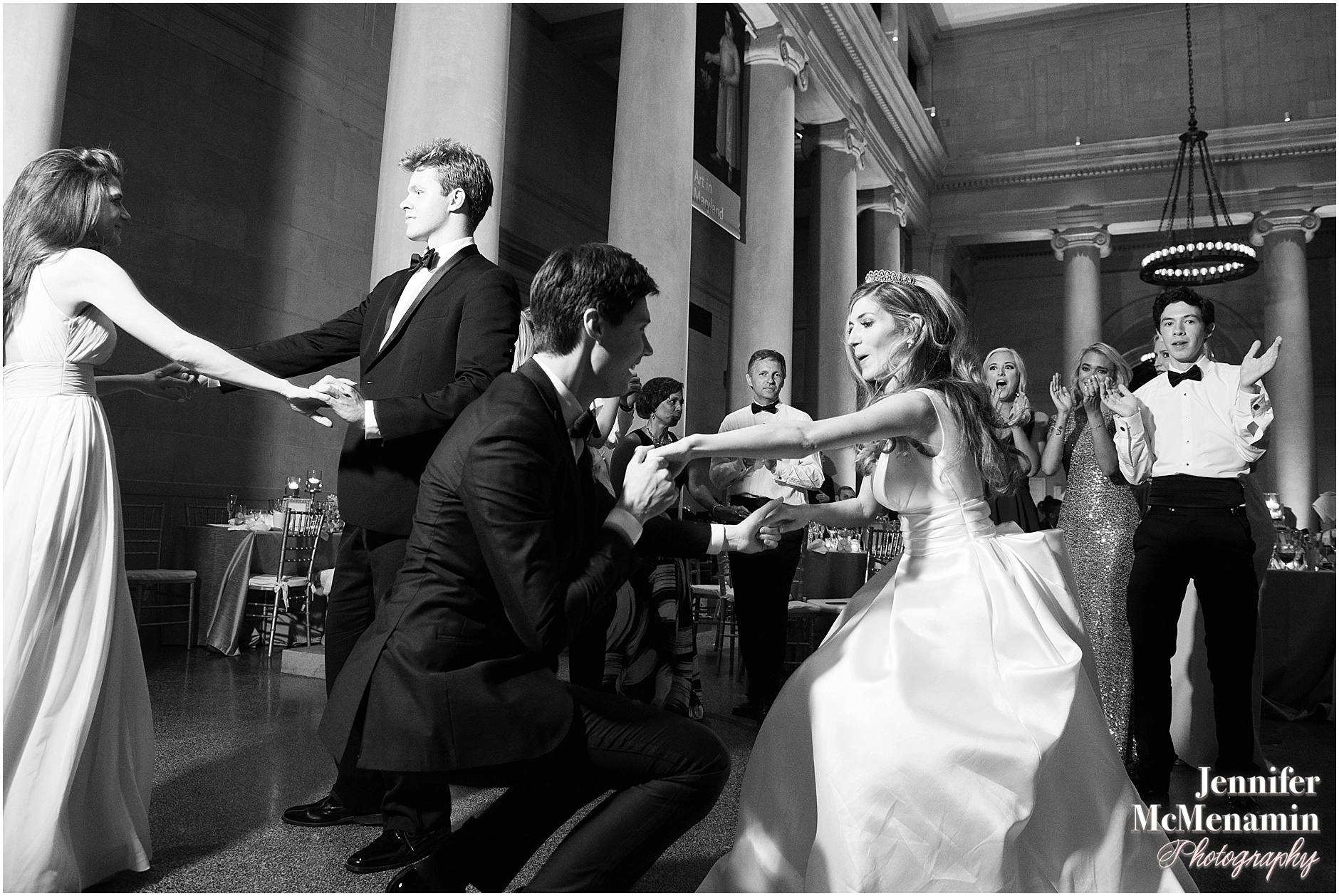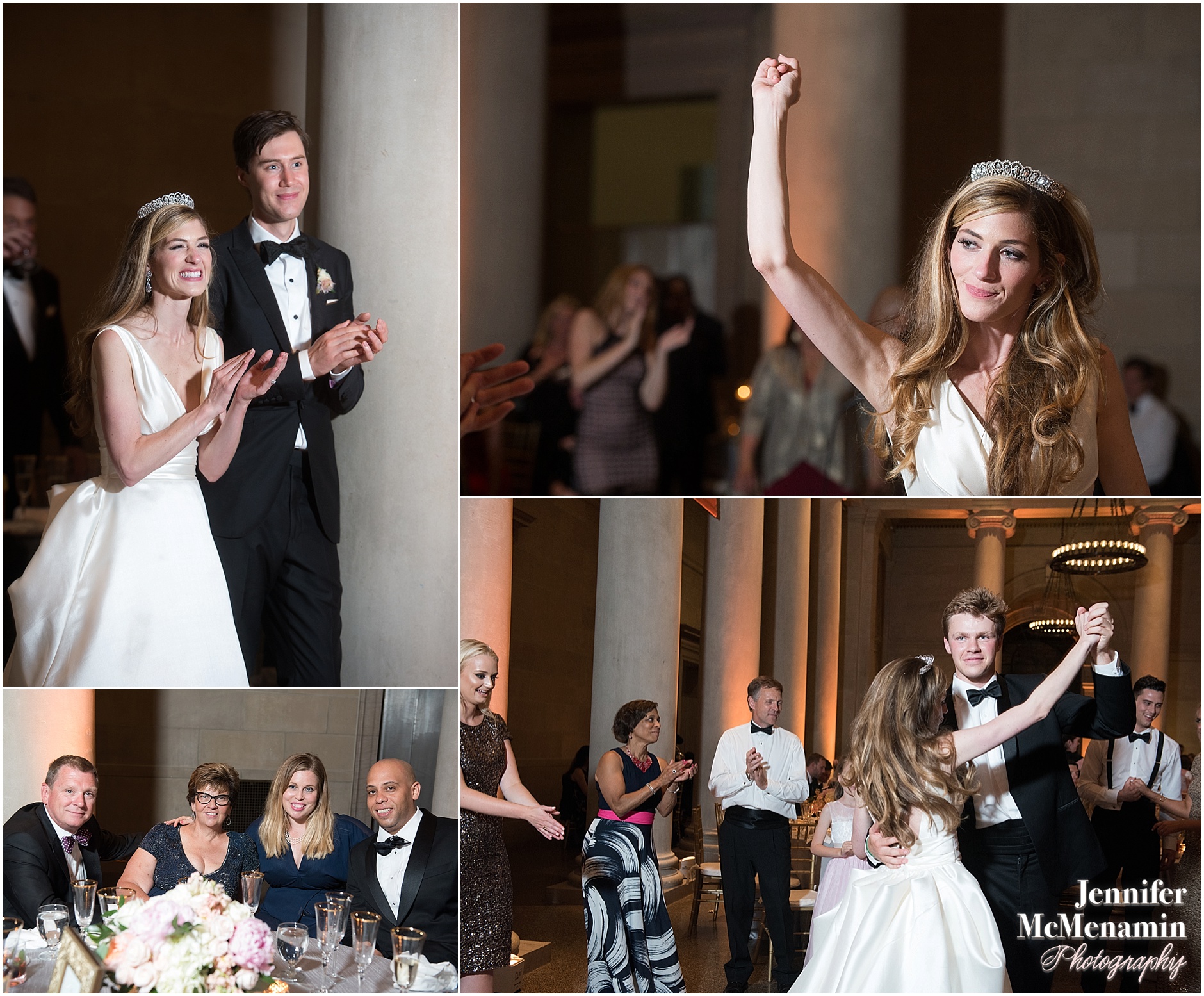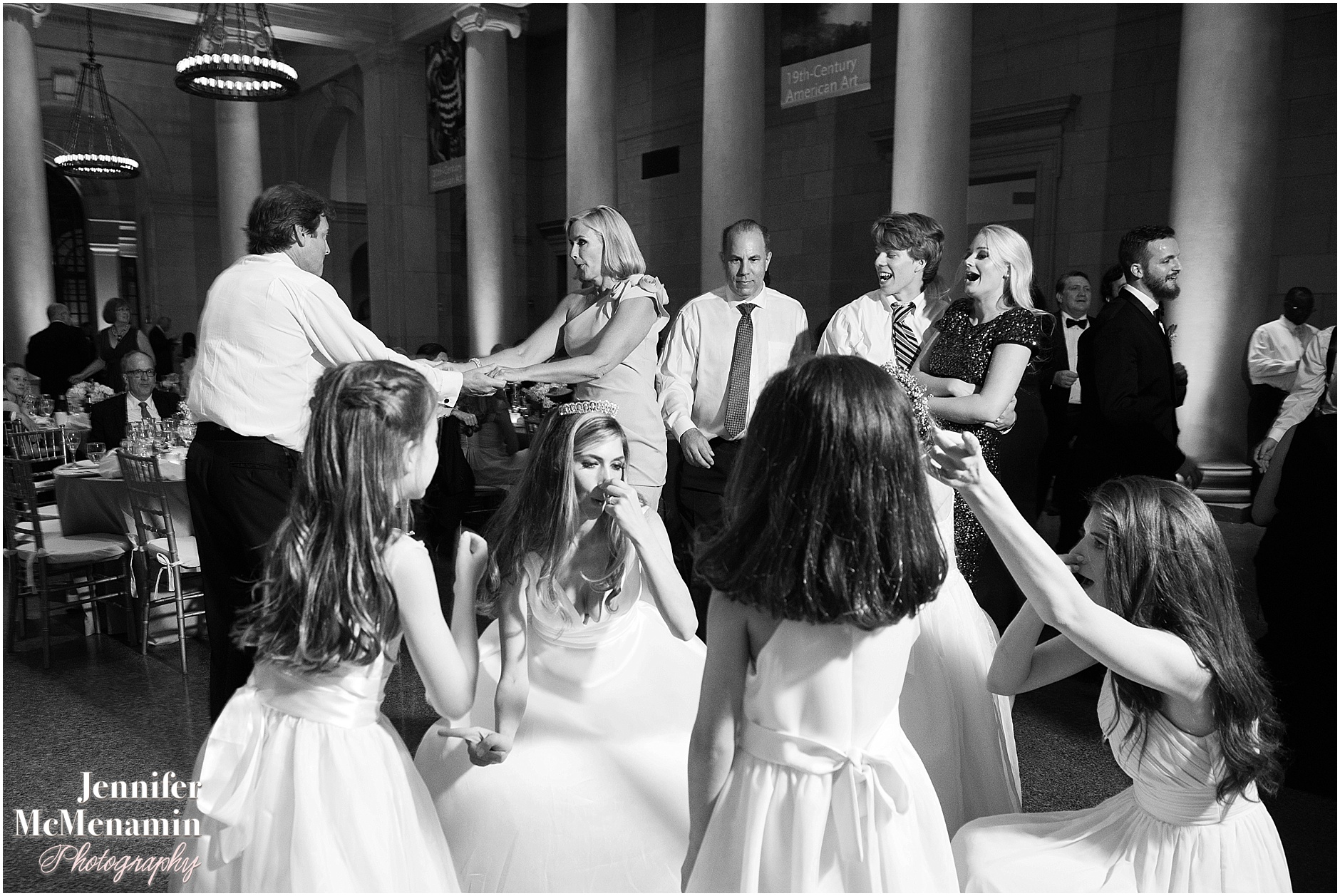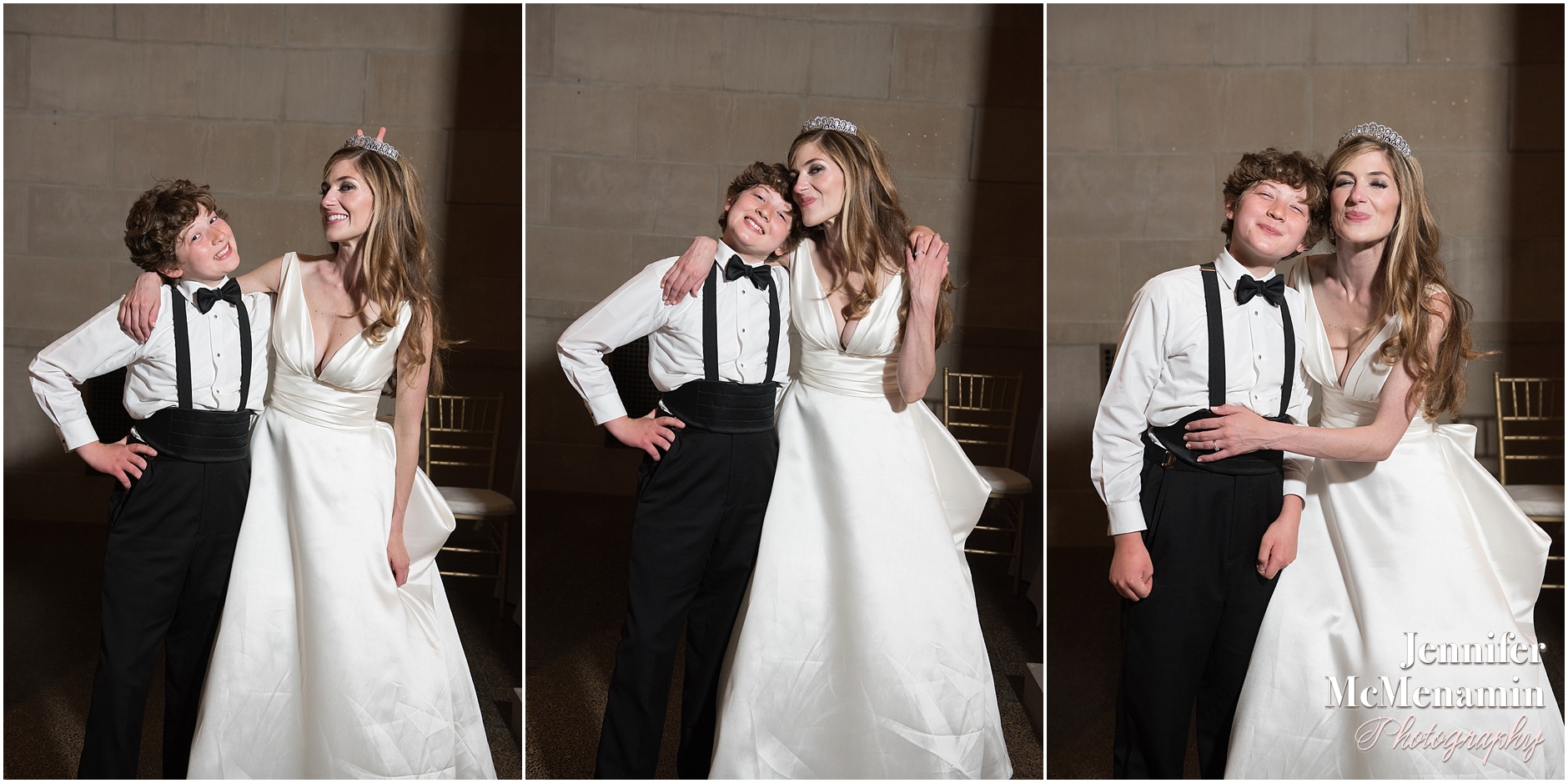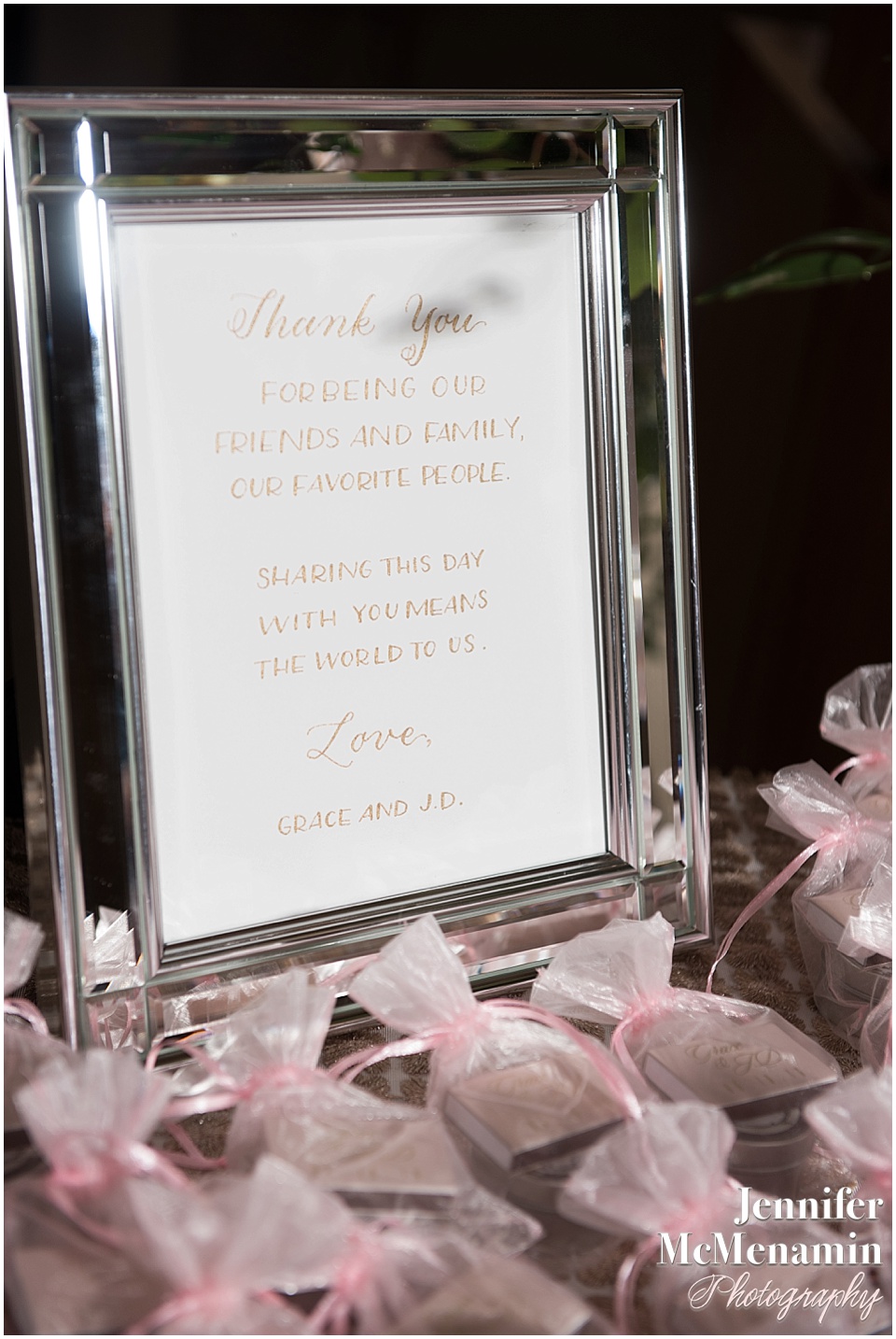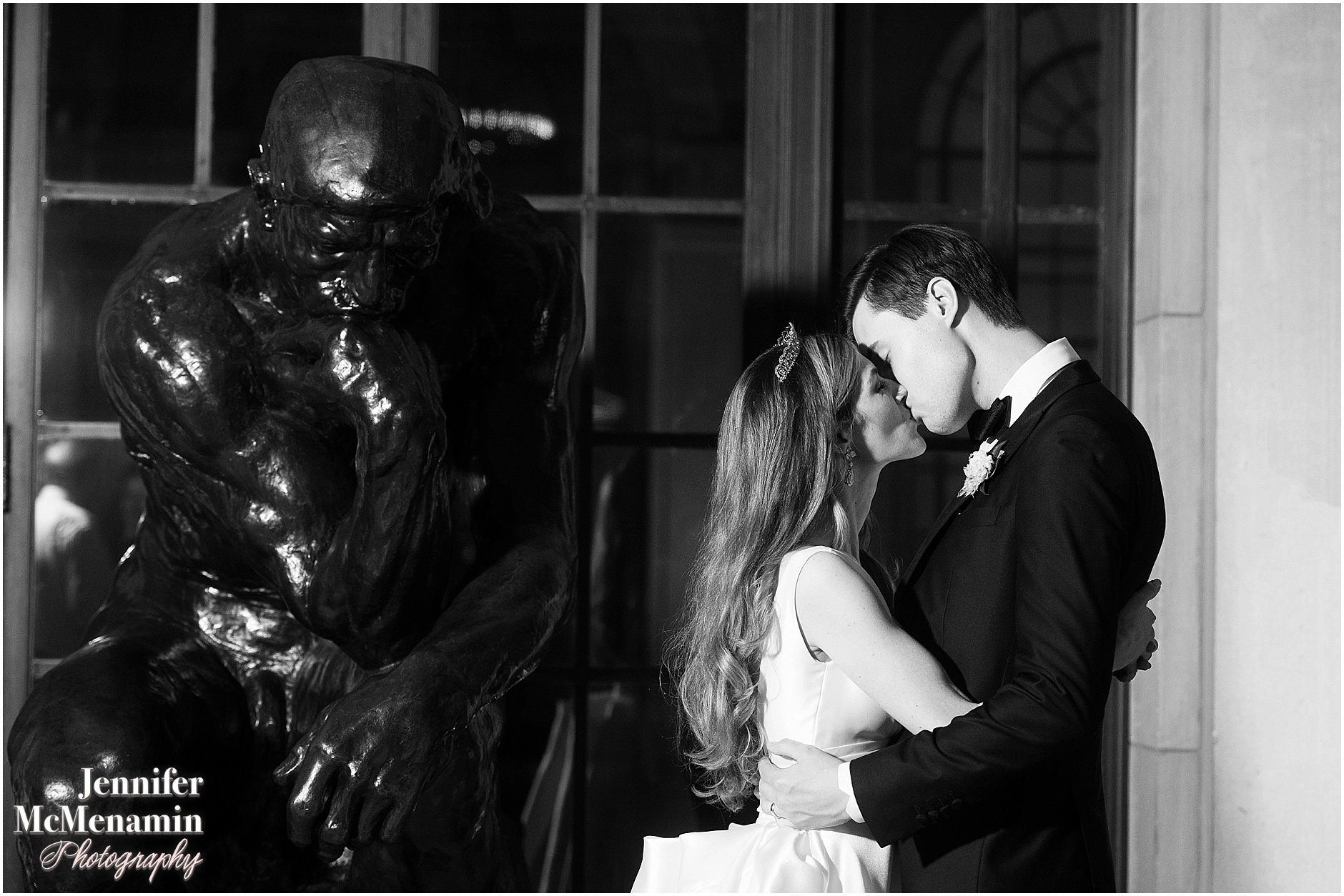 Many, many congratulations to Grace + JD. I could not have had more fun getting to know you over the last year and working together with your friends and your families for your wedding!
Credits:
Photography: Jennifer McMenamin Photography, LLC

Ceremony: Saint Ignatius Church
Officiant: The Rev. Kevin O'Brien, the former chaplain at Georgetown University
Ceremony musicians: Cantor Julie Kurzava and organist Tim Murphy

Reception: The Baltimore Museum of Art

Catering: Gertrude's at the BMA

Event coordinator: Emily Villarreal of Boutique Events
Lighting designers: Event Dynamics

Rentals: PartyPlus Rentals and Tabletoppers
Bridal attire: Pronovias gown from The Betsy Robinson Bridal Collection
Make-up: Lacy Dodge

Hair: Dean Krapf, owner of Lluminaire Salon

Bridesmaids' attire: Bill Levkoff and Joanna August gowns from Bella Bridesmaids
Groom's attire: Tuxedo by Christopher Schafer Clothier

Florist: Crimson and Clover Floral Design
Cake: Baked by the bride's Aunt Eileen

Band: Signature Live!

Transportation: An Extraordinar Limousine

Invitations: Simply Noted

Calligraphy: Designs by Laney
Photobooth: Pixilated