A Four Seasons Baltimore wedding: Kelly + Jeff

The Cathedral of Mary Our Queen | The Four Seasons Hotel Baltimore | Baltimore wedding photographer | Baltimore wedding photography
Kelly could see the Pier Six Concert Pavilion — the site of her first date with Jeff — from the suite in which she got ready at the Four Seasons. I was glad to include it in photos for her.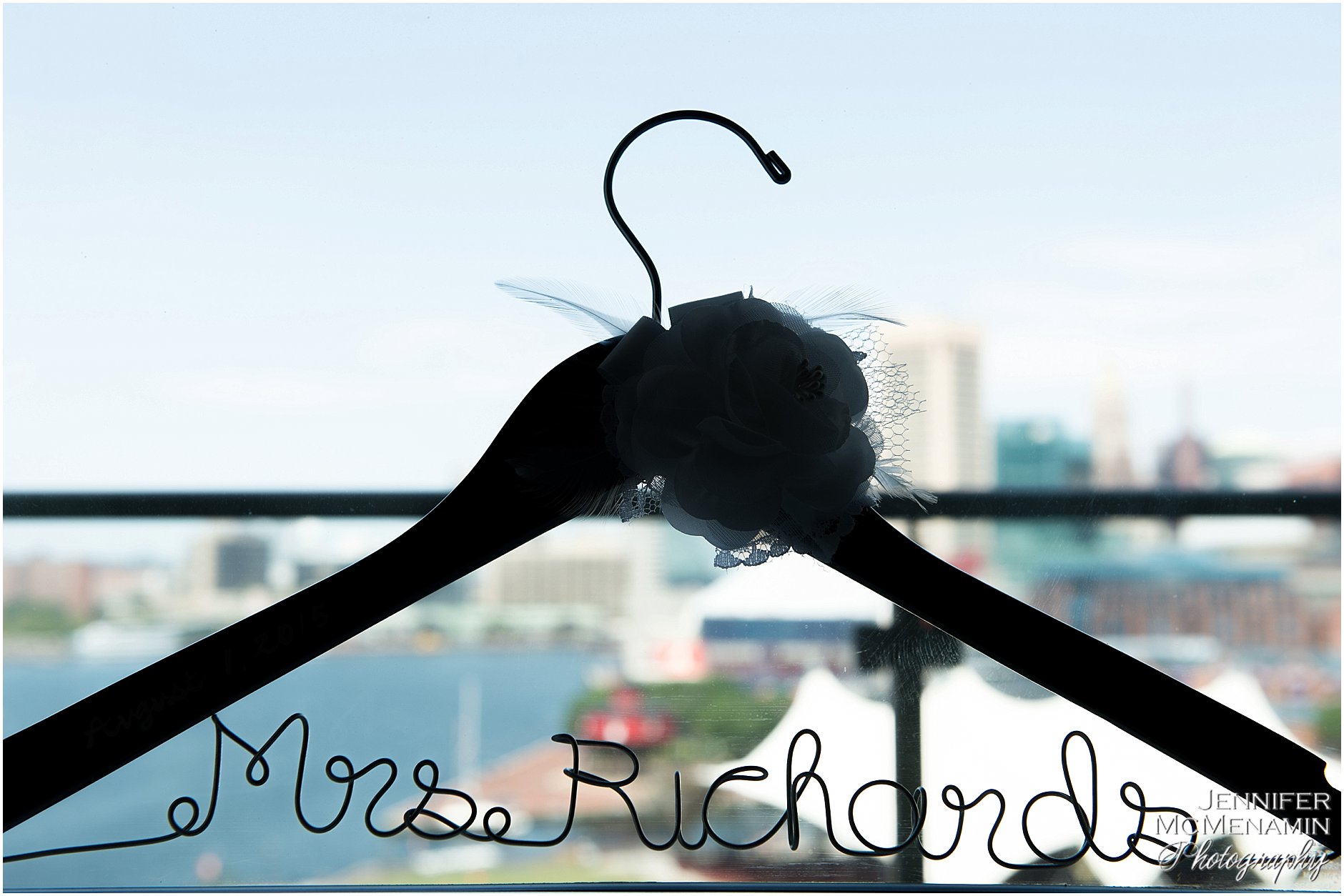 Yes, this is a purse *for* flowers, *made of* flowers, for the world's cutest flower girl. That Victoria Clausen thinks of everything!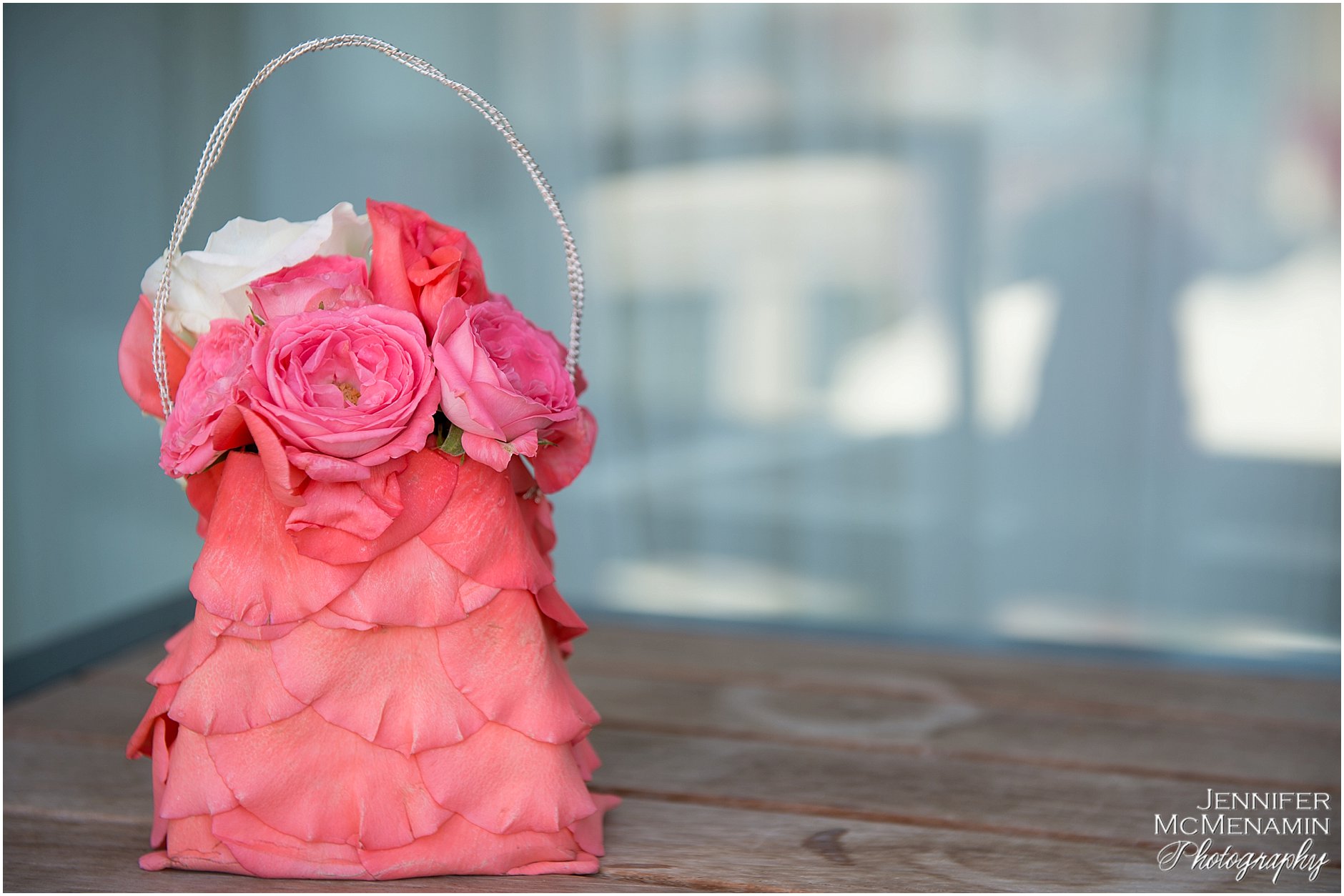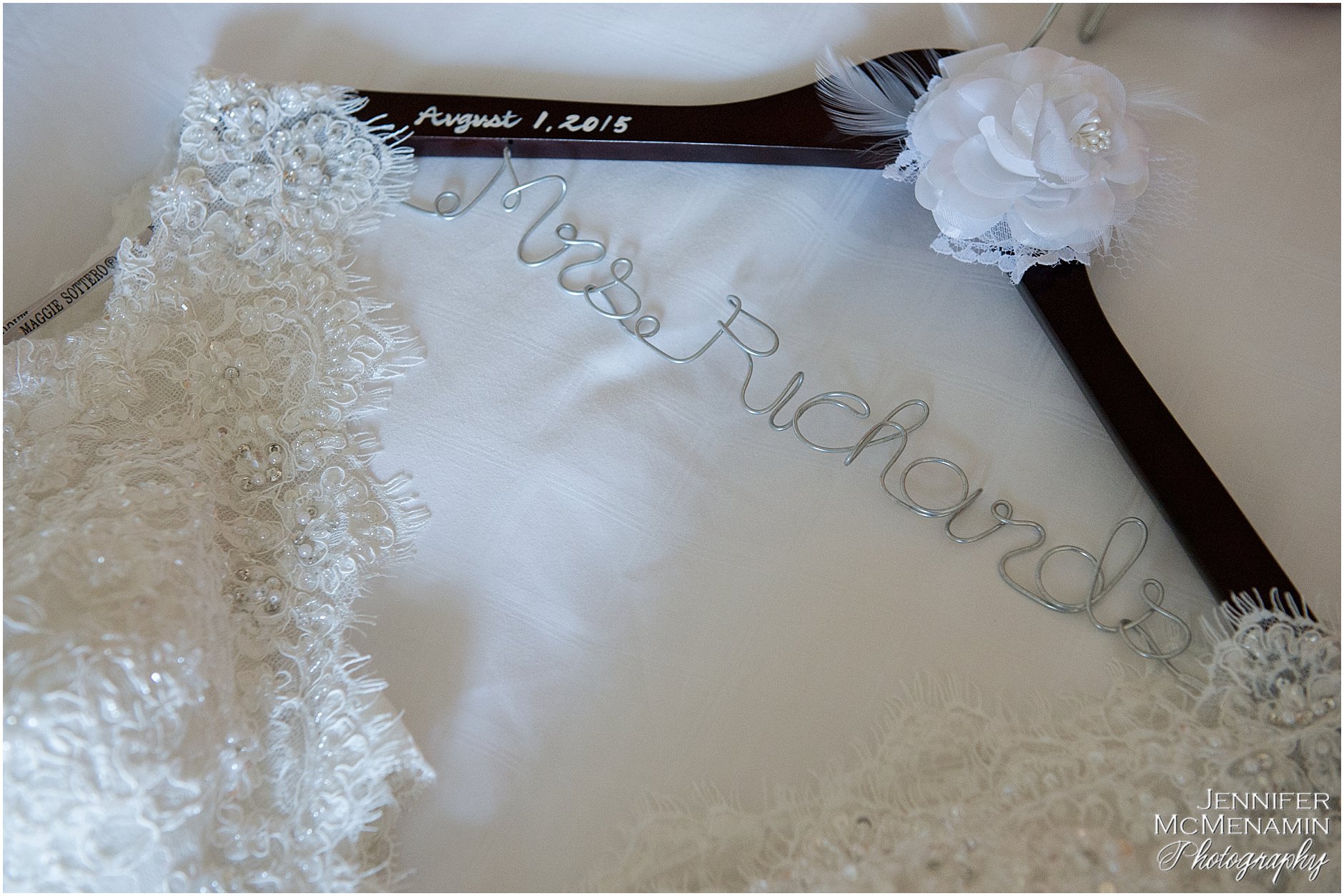 Kelly and the flower girl, her niece, enjoyed some silly time before getting ready.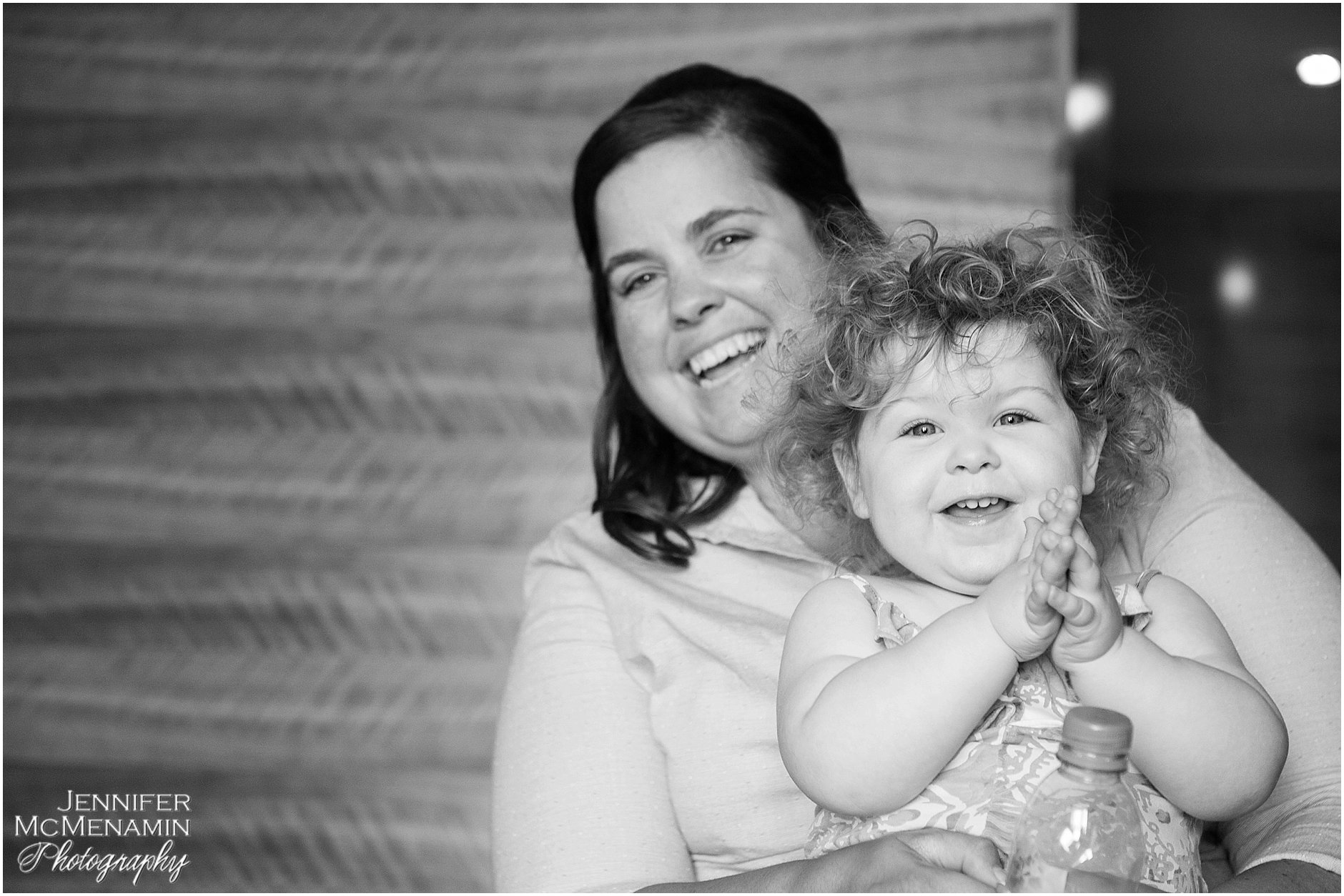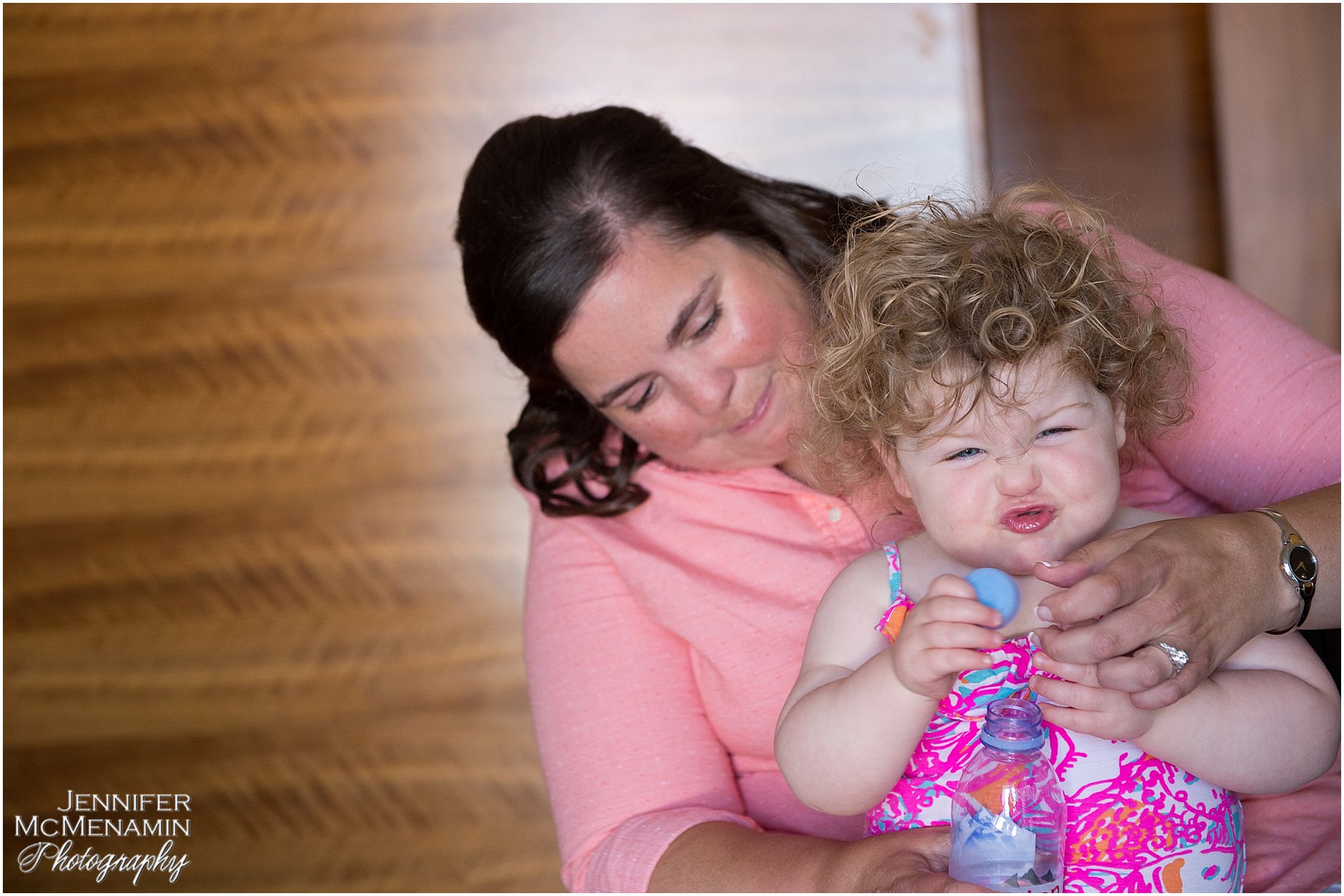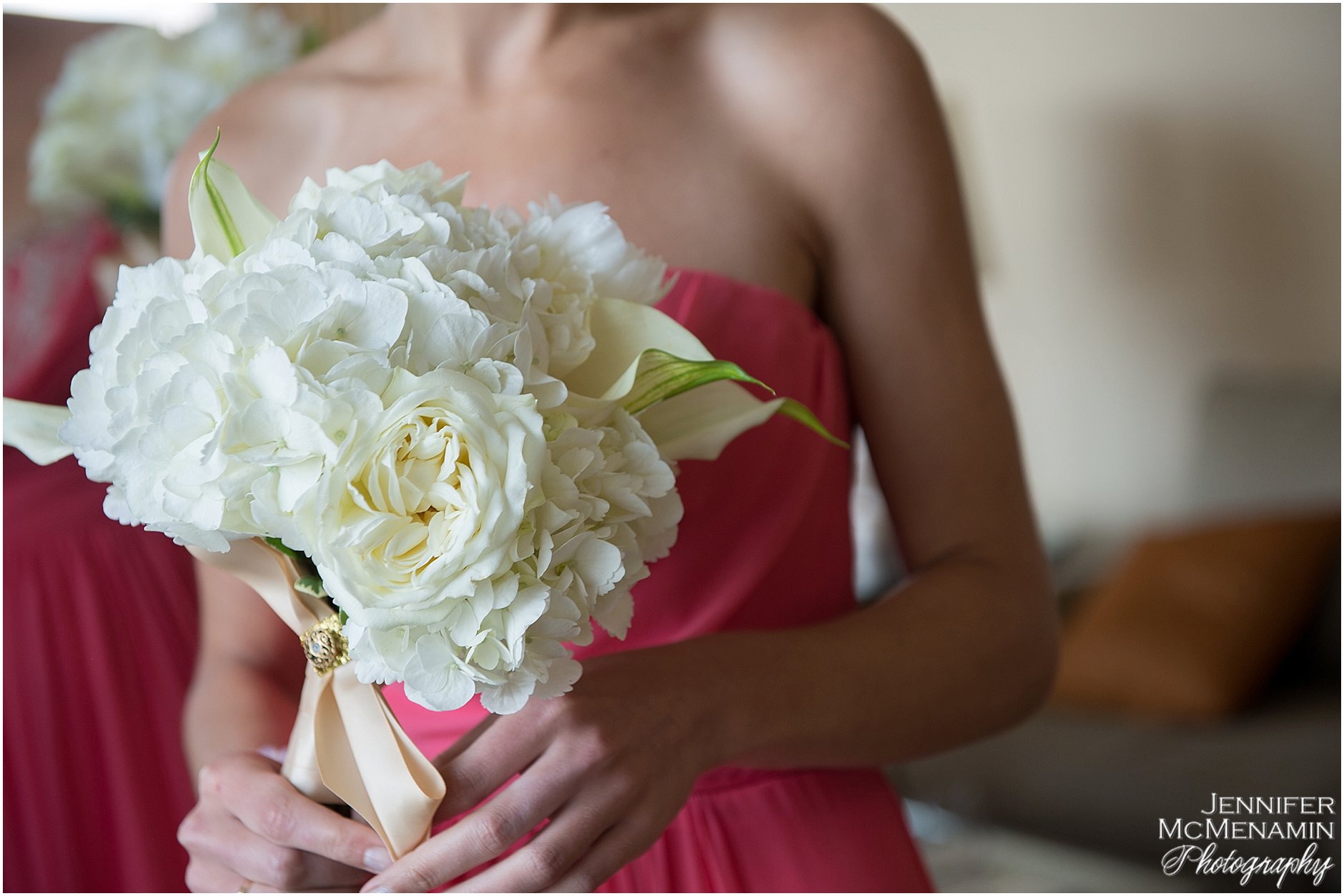 Meanwhile, just down the street, Jeff and his groomsmen were getting ready as well.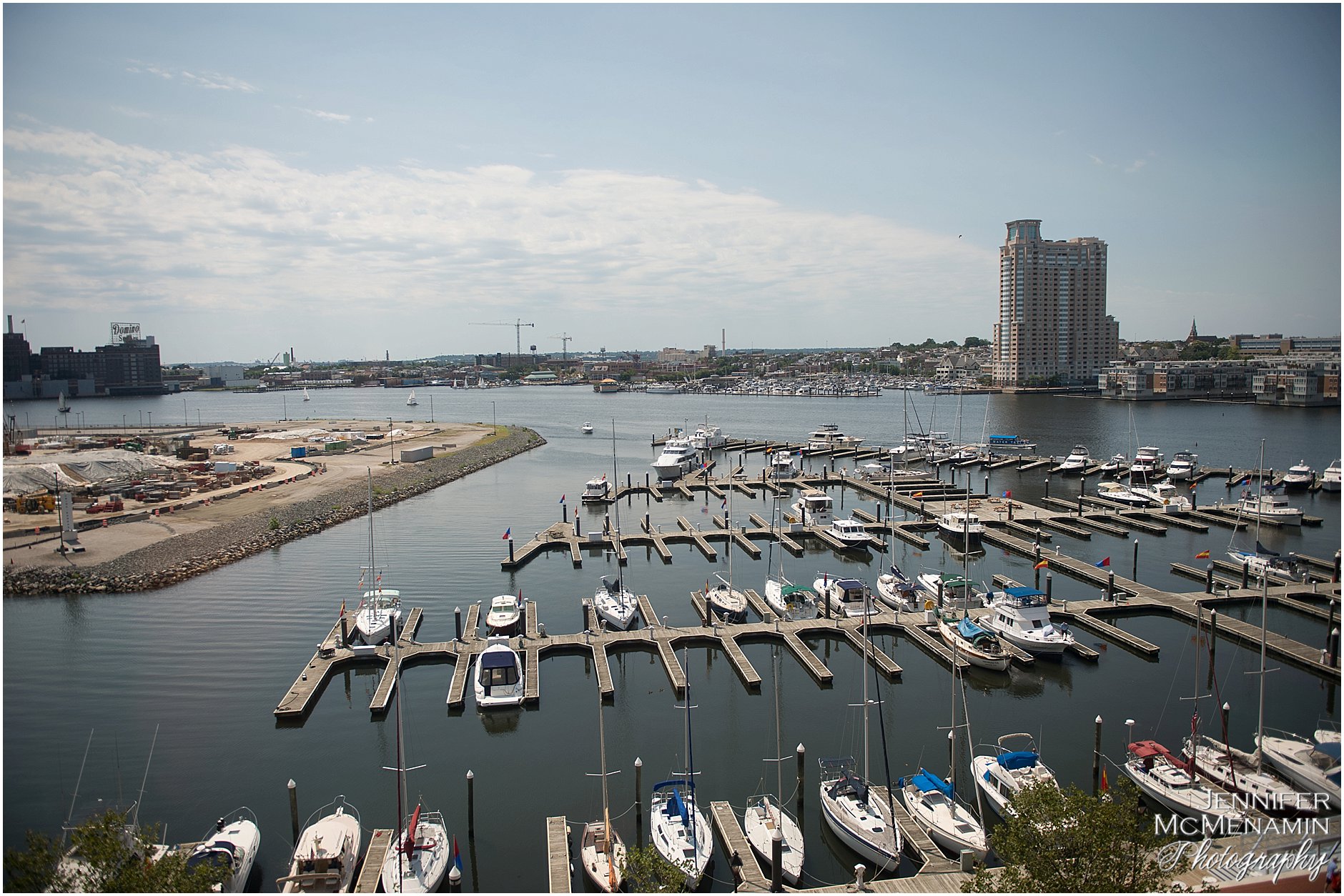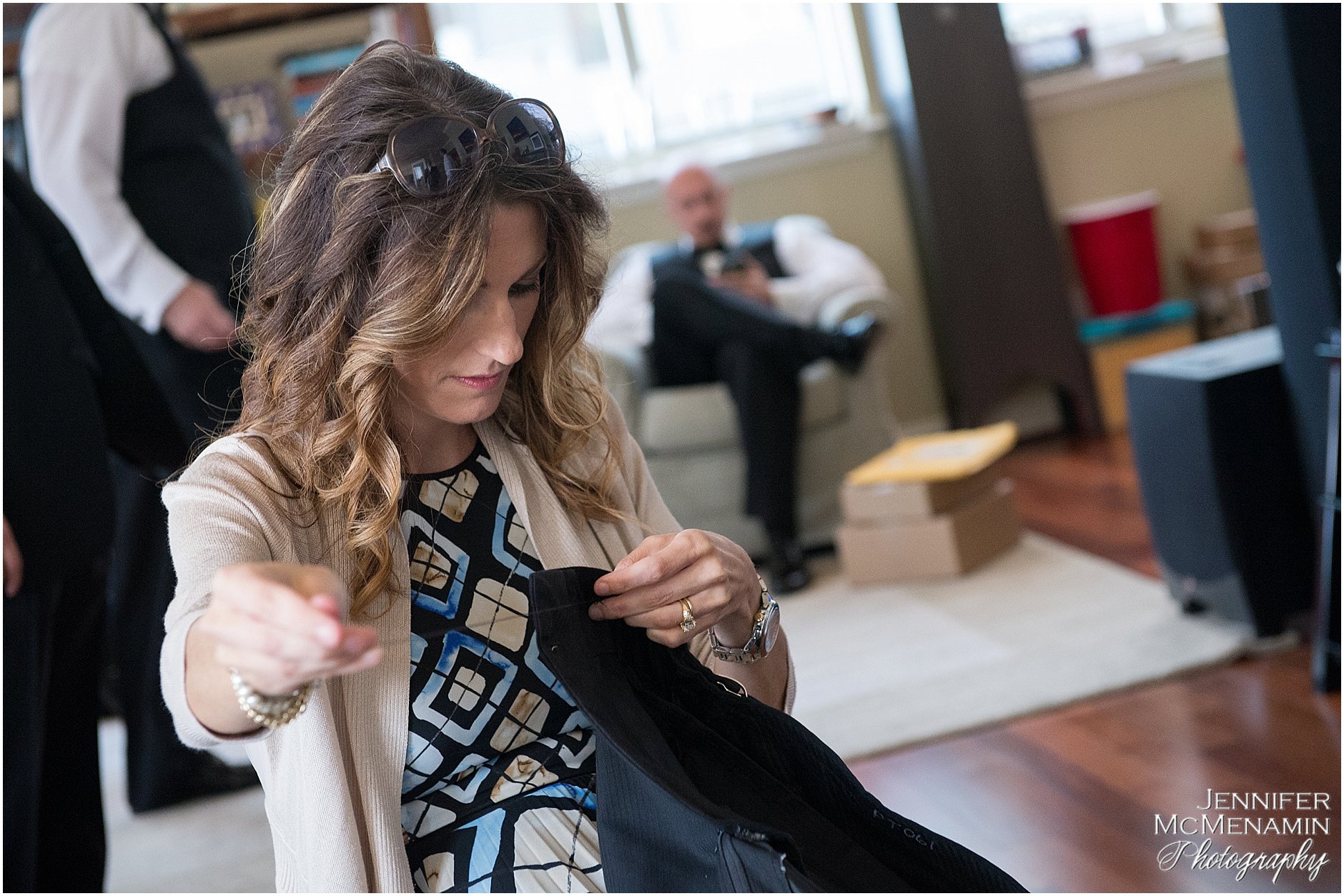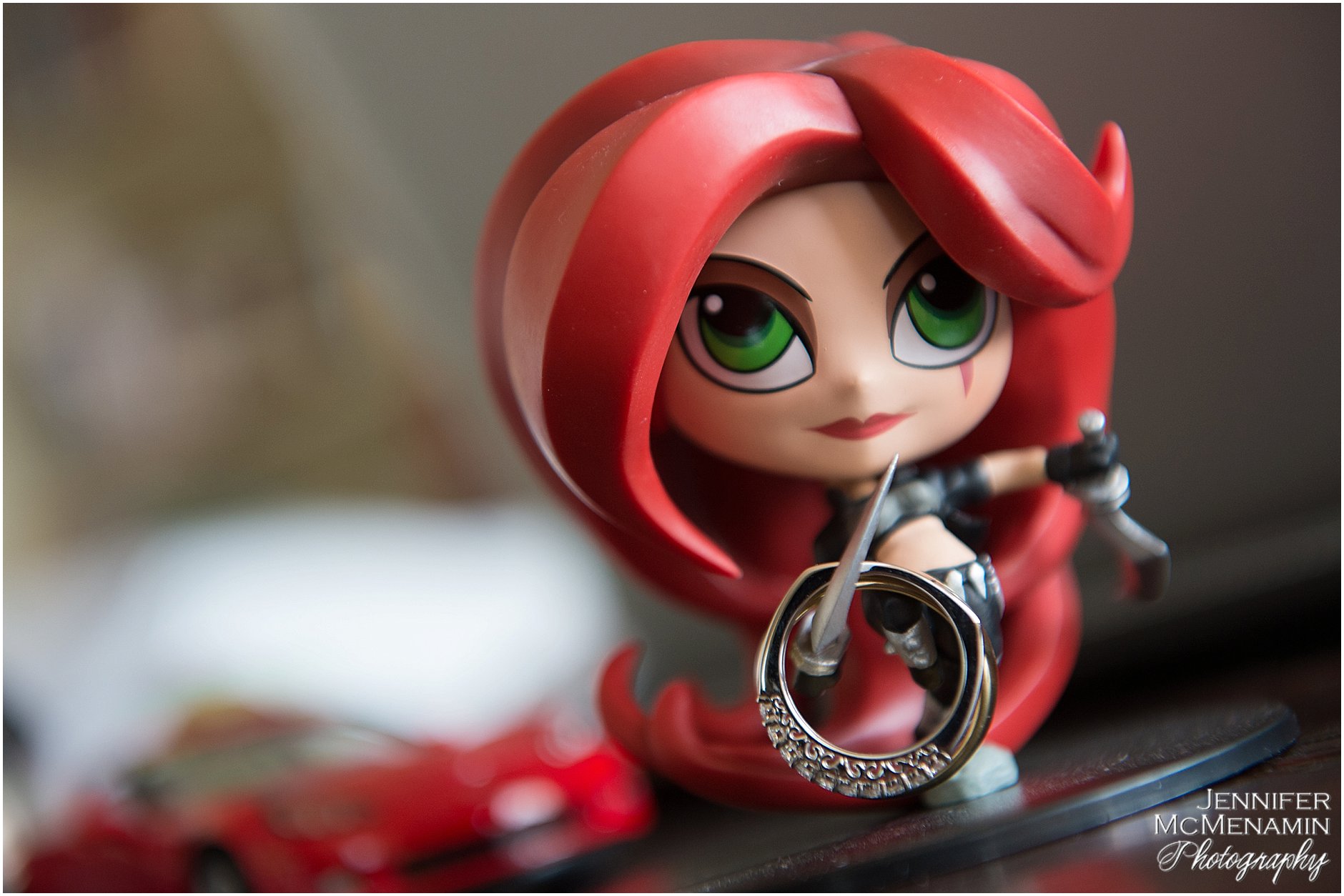 Yes, this Star Wars fan had not only Storm Trooper cuff links, he also had a special Death Star box to hold the wedding bands. (As a surprise, Kelly also arranged for him to get an amazing Star Wars-themed groom's cake at the reception! You'll see that later.)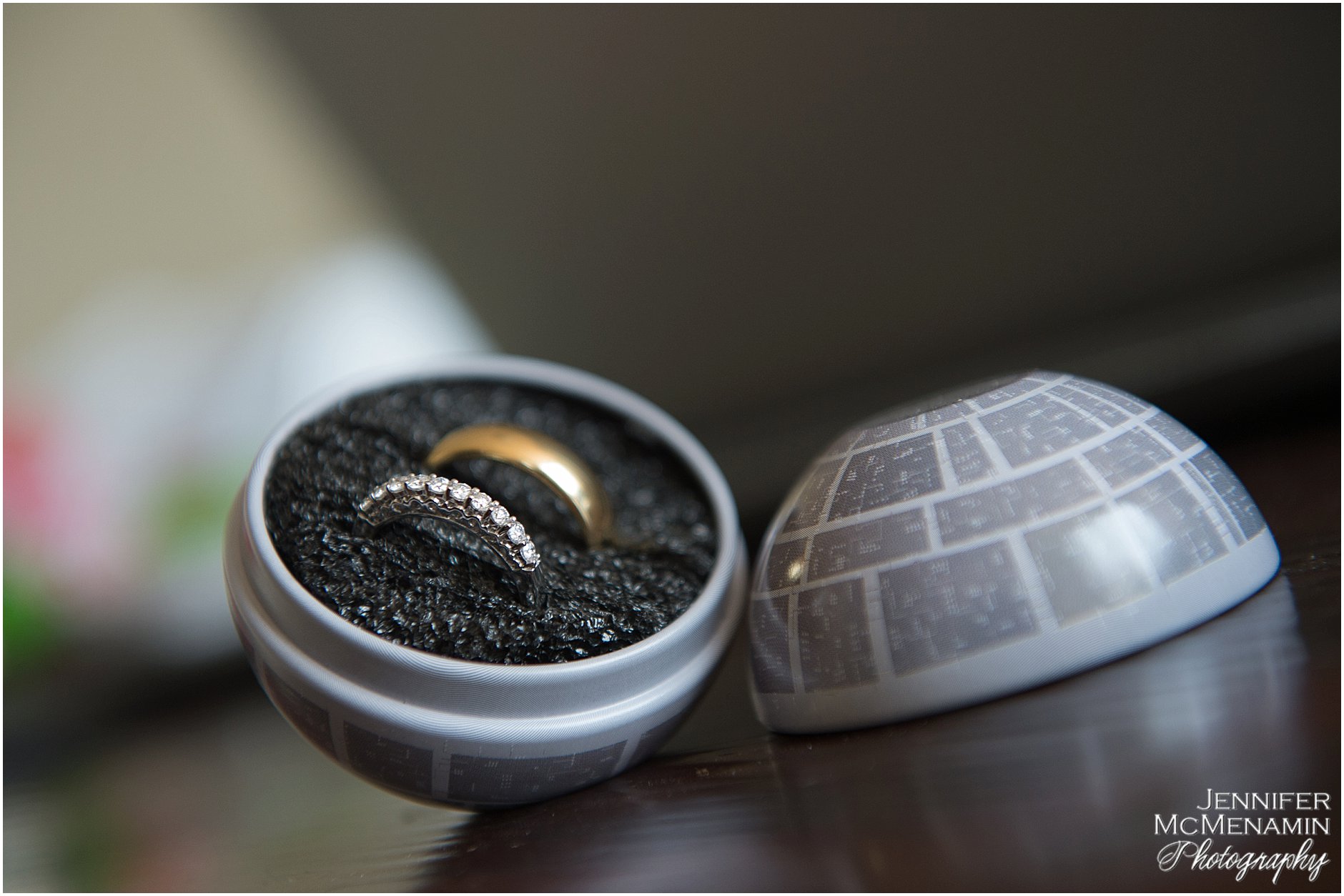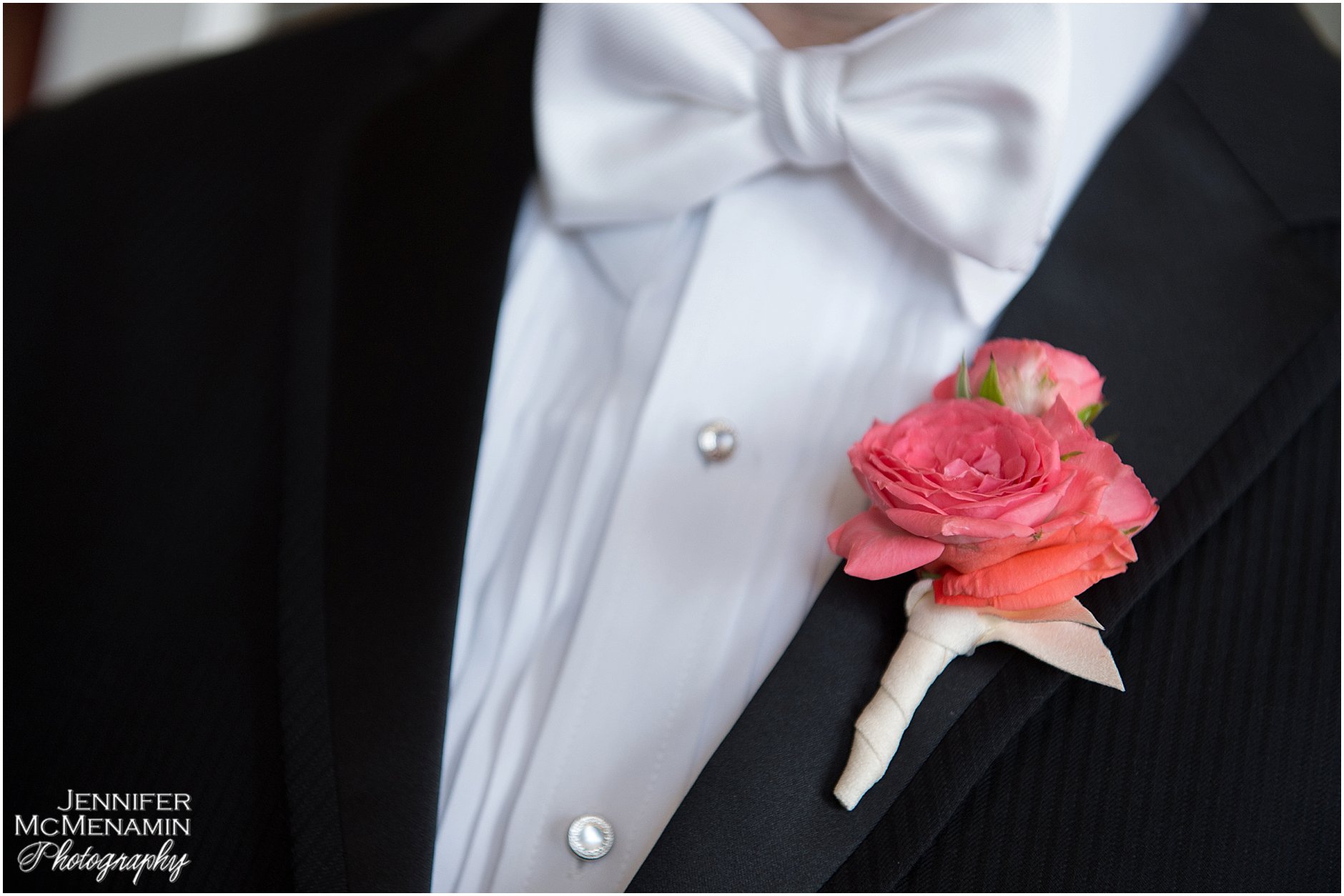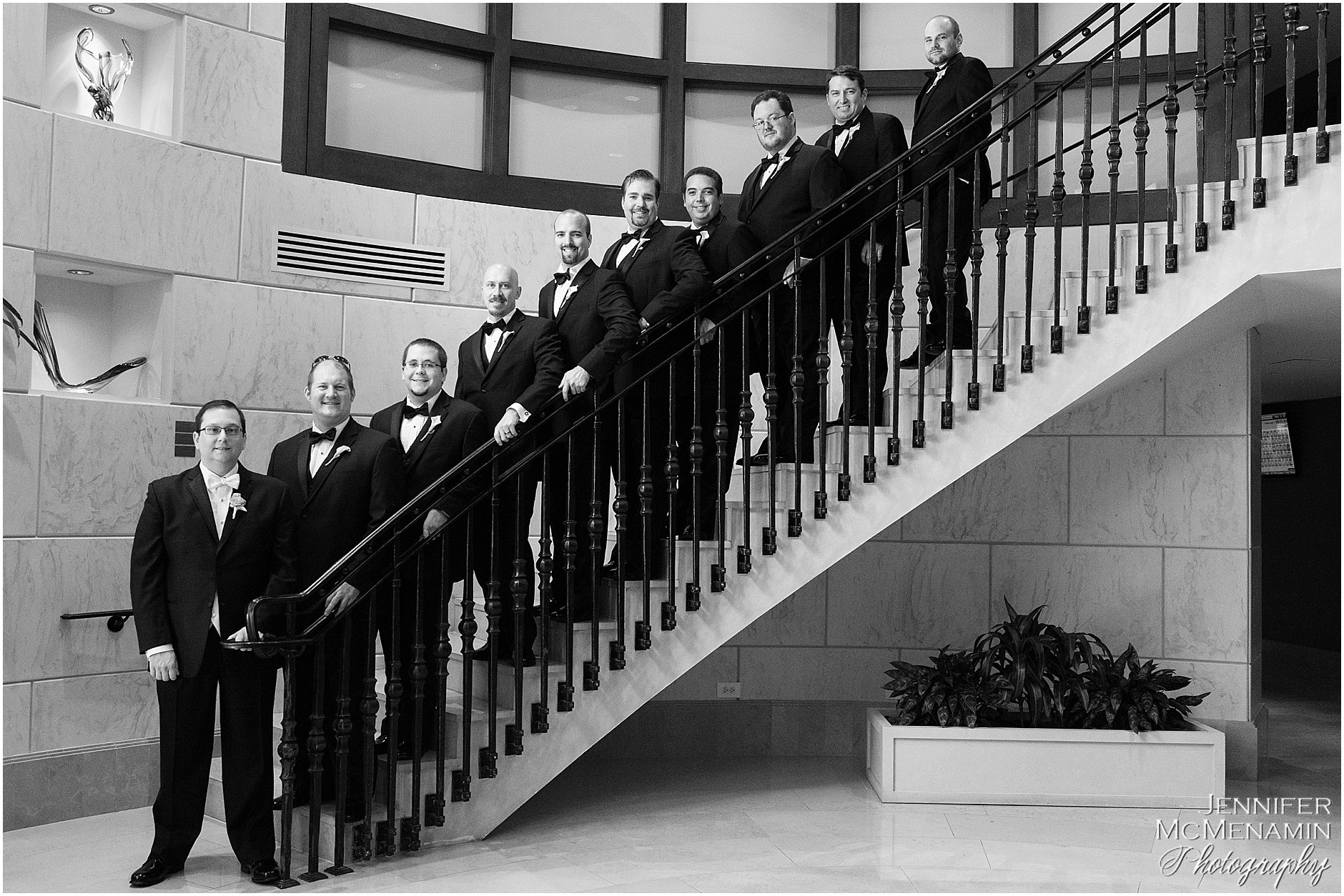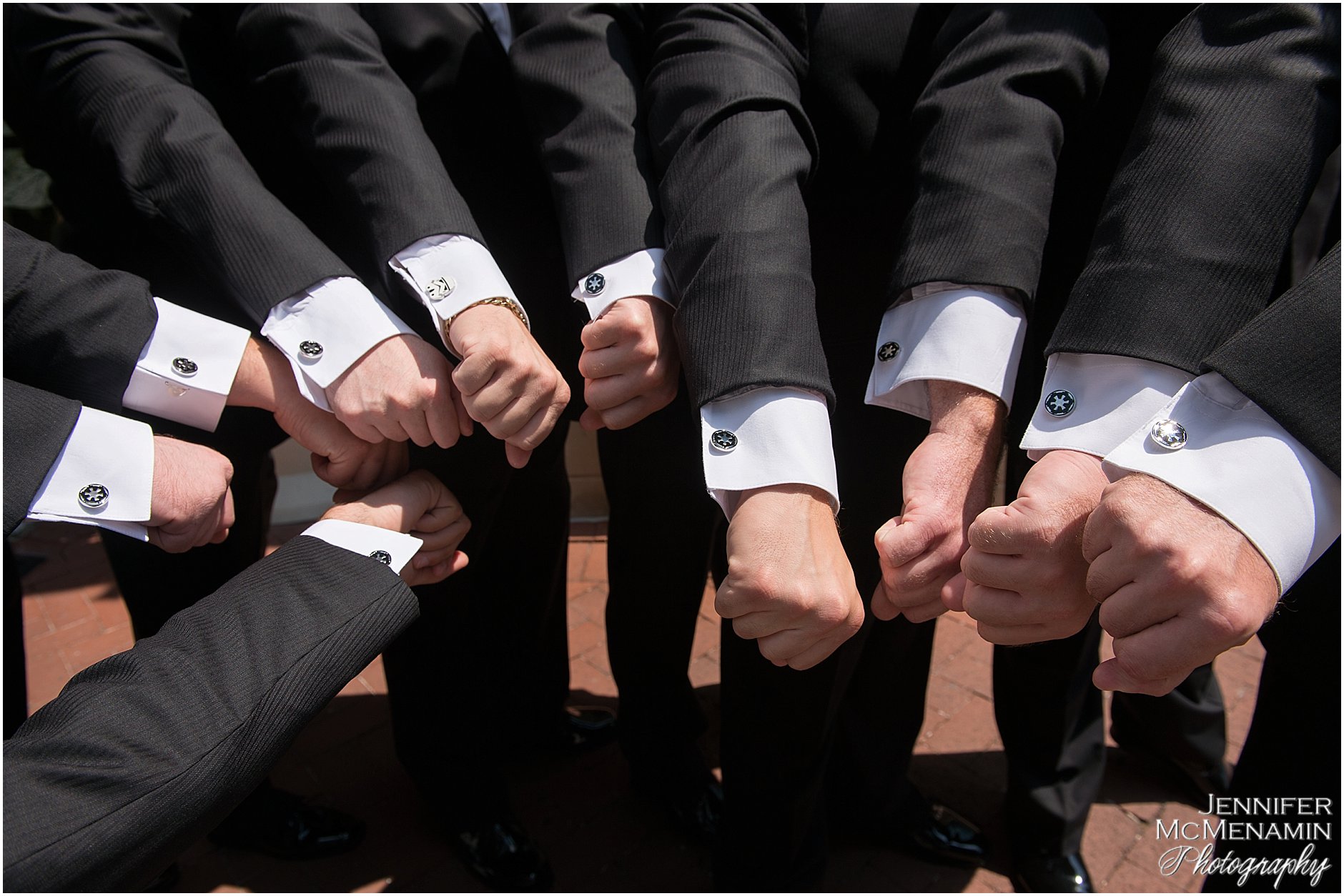 Back at the Four Seasons, Kelly was finishing up getting ready and about to wow her father and her bridesmaids.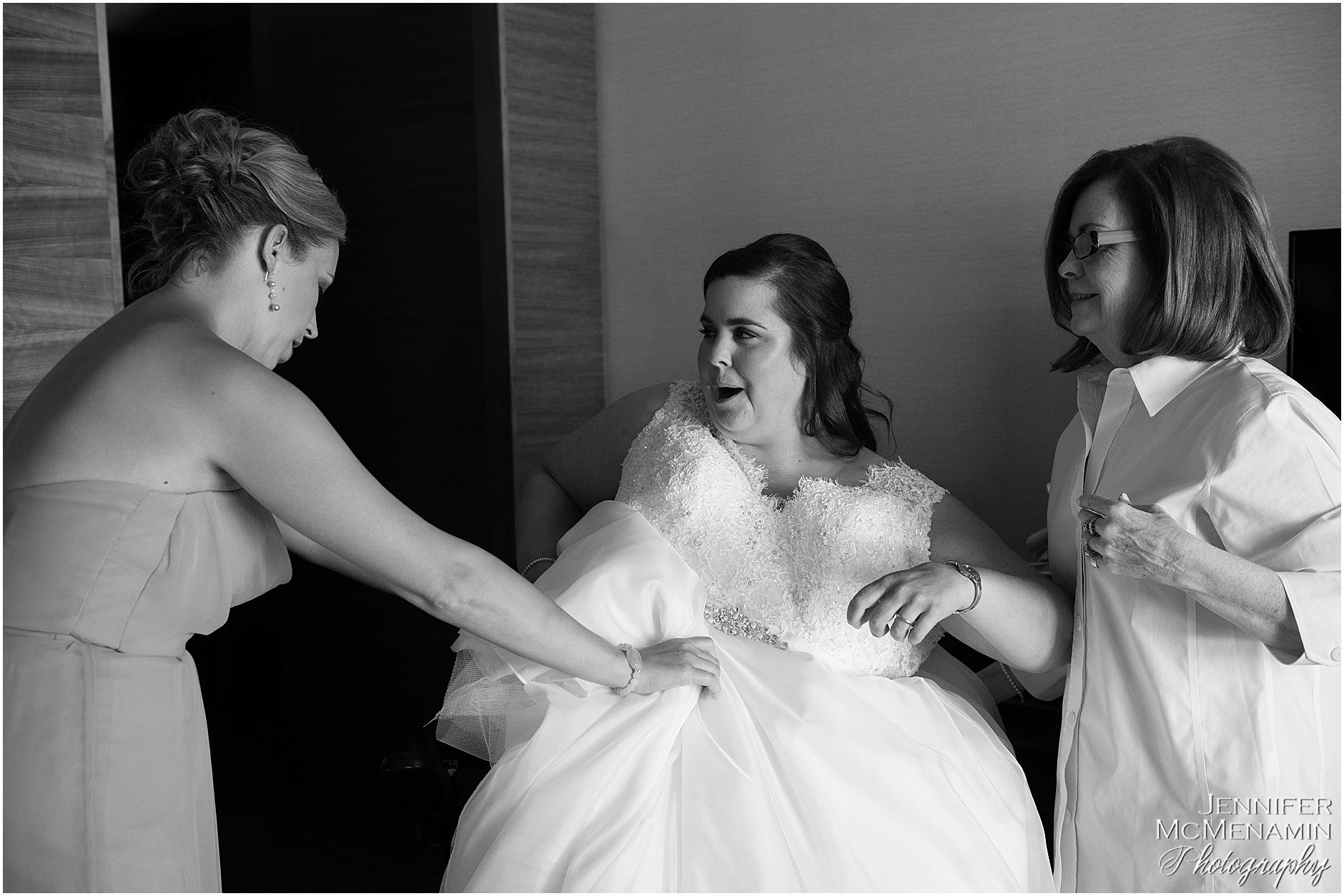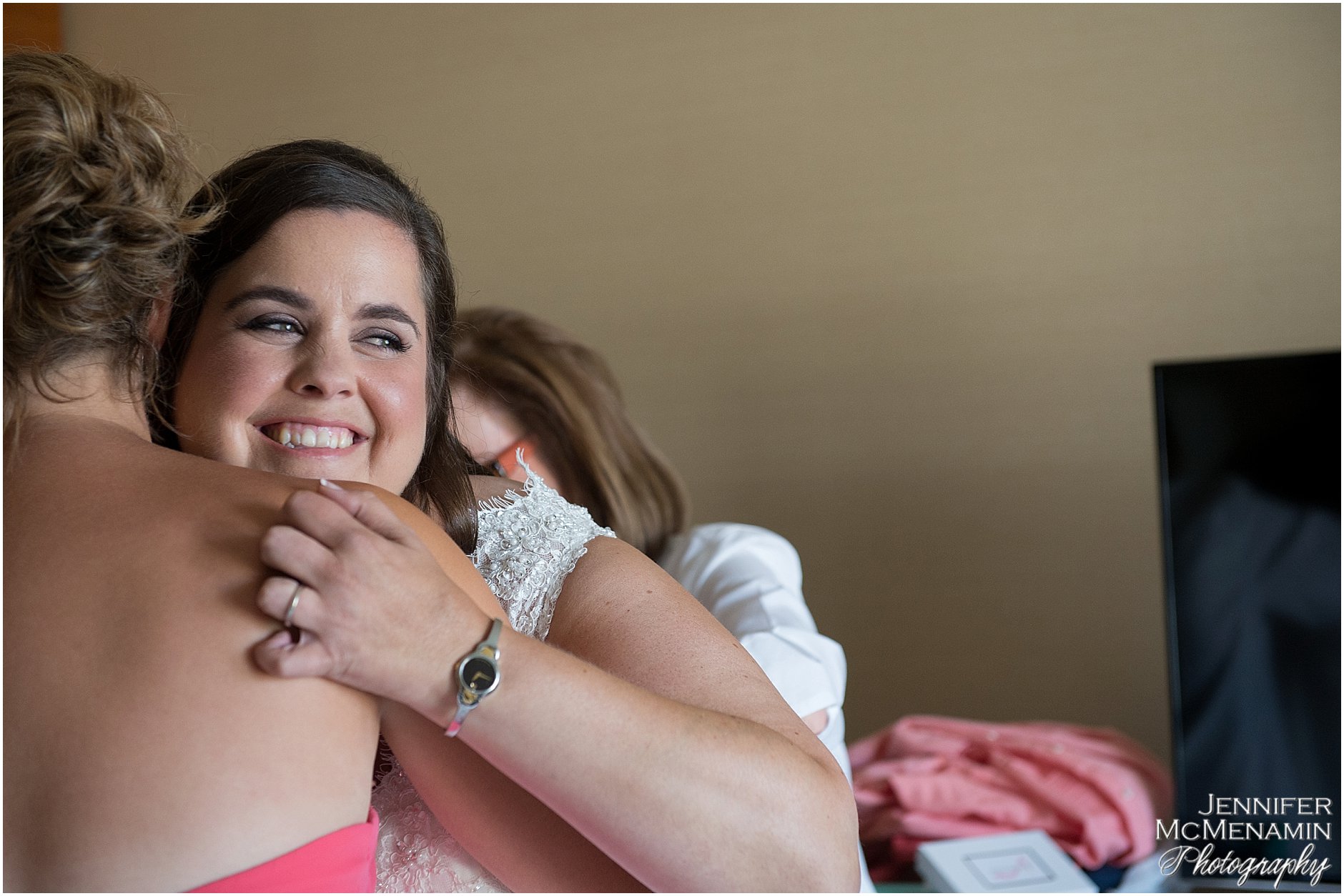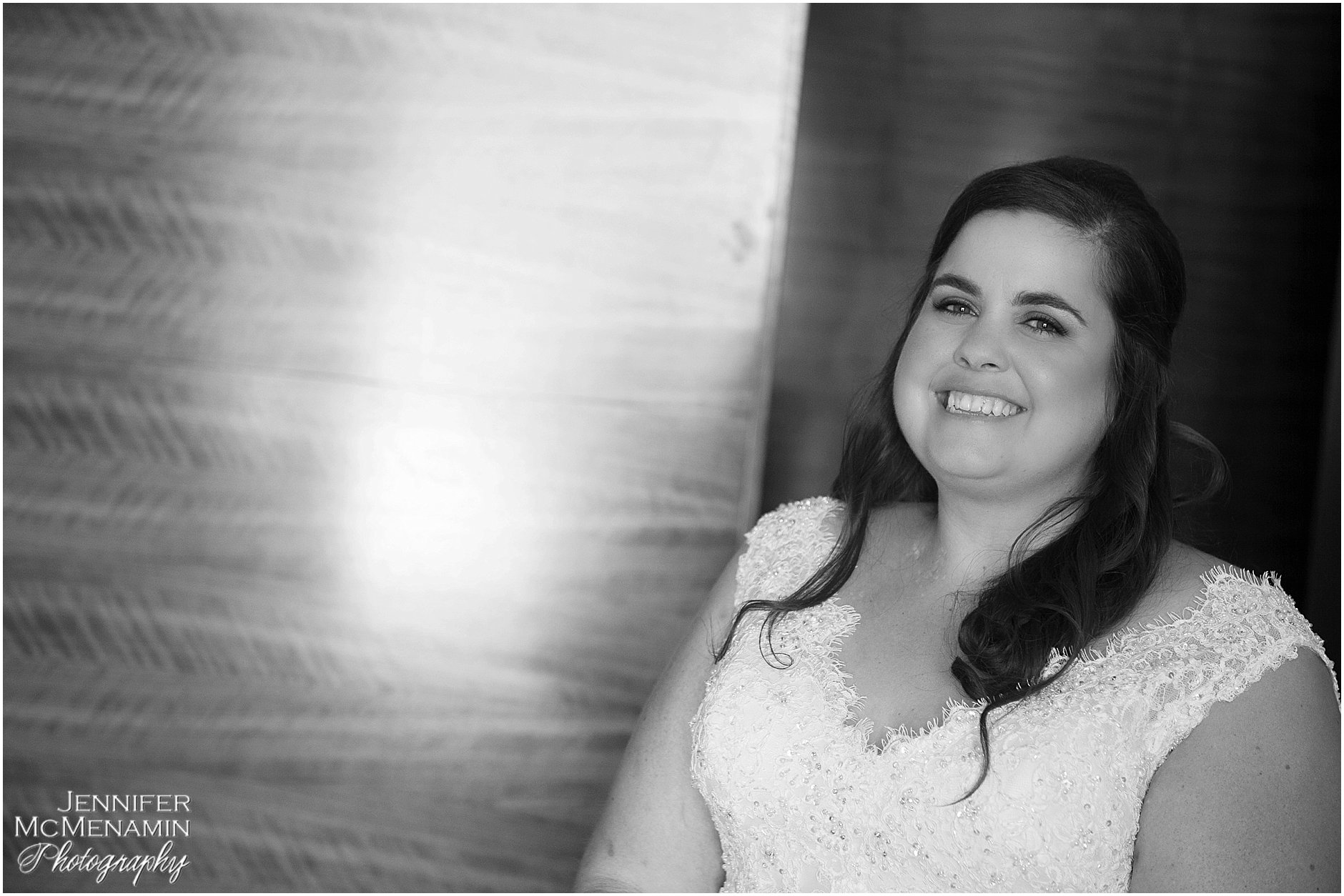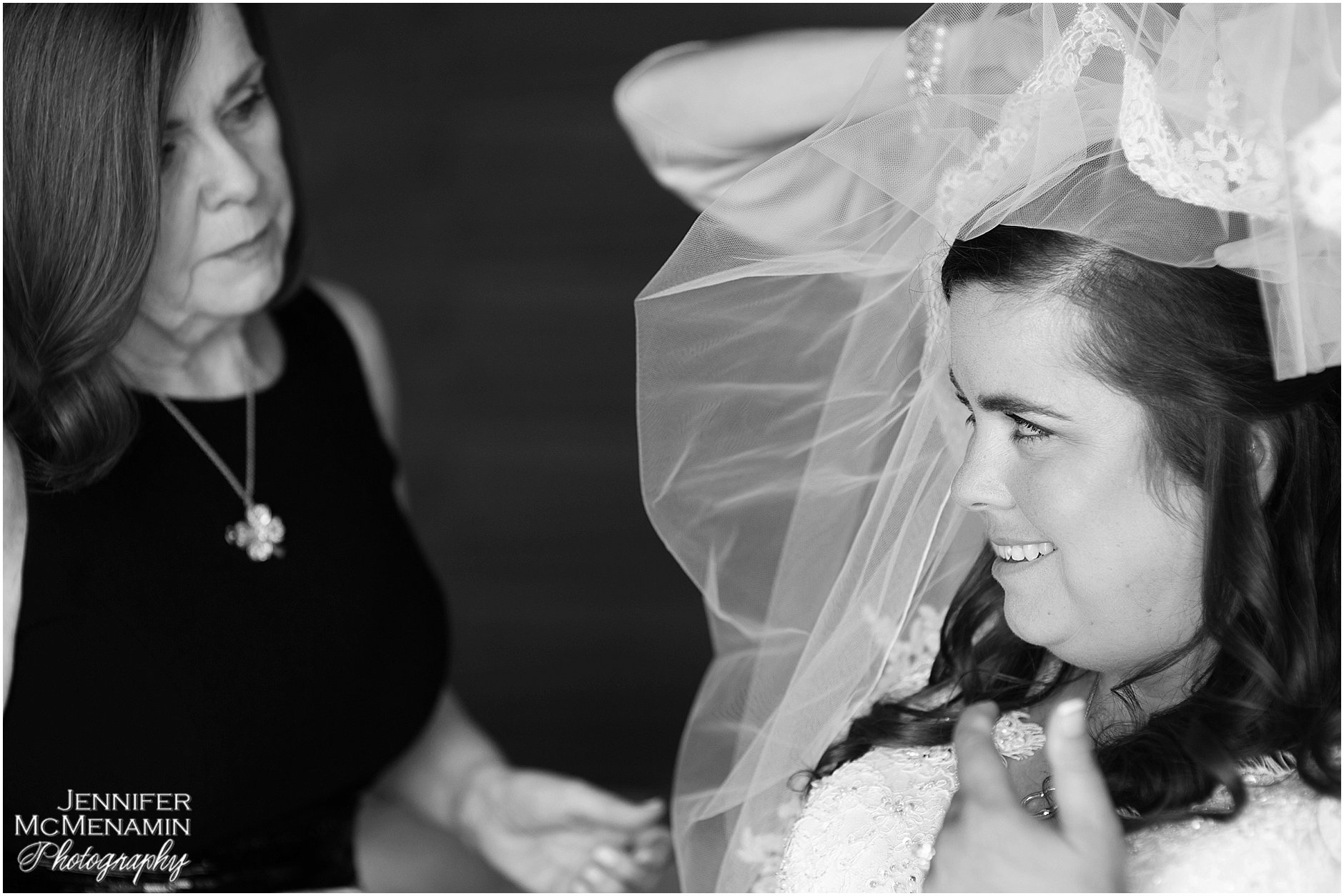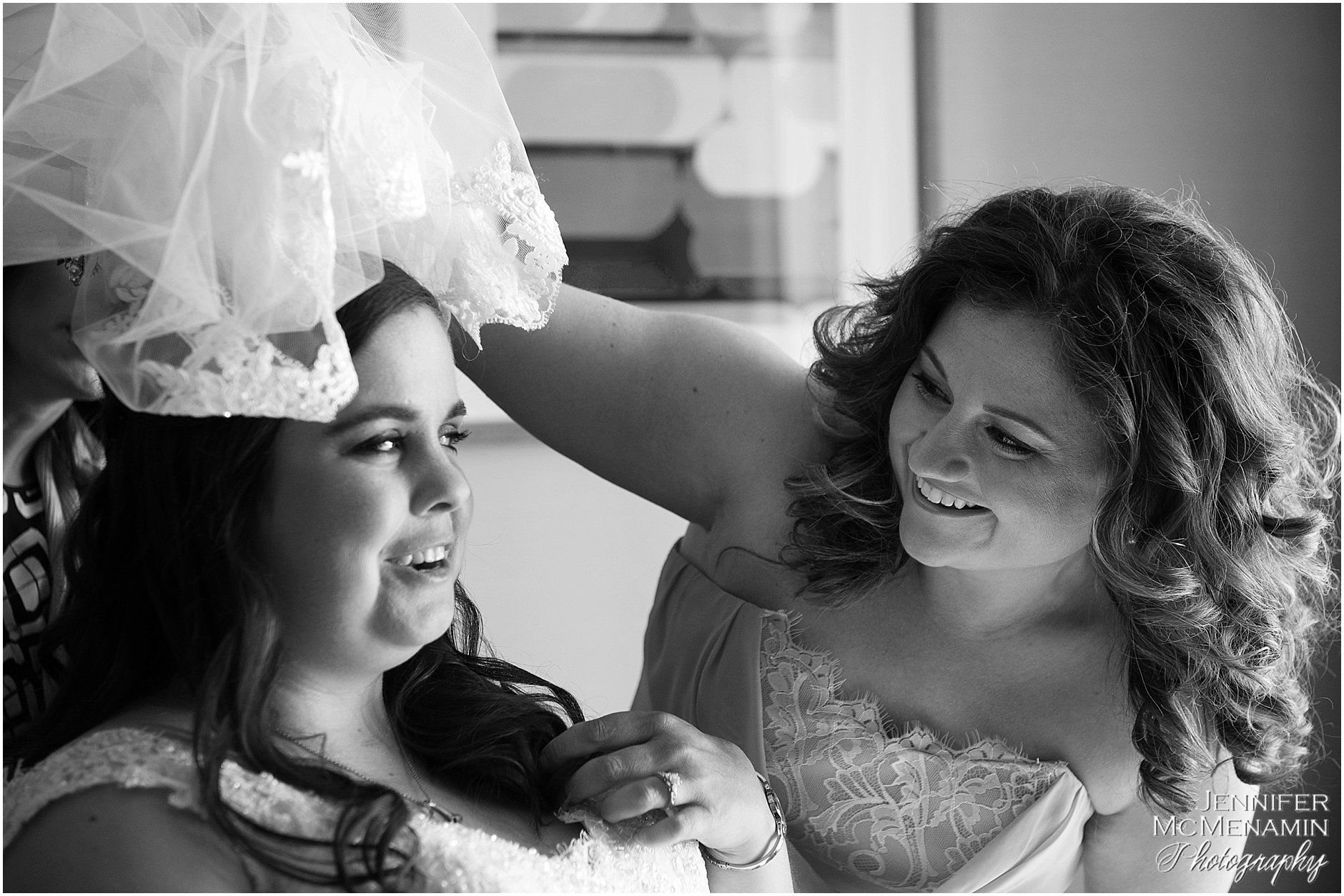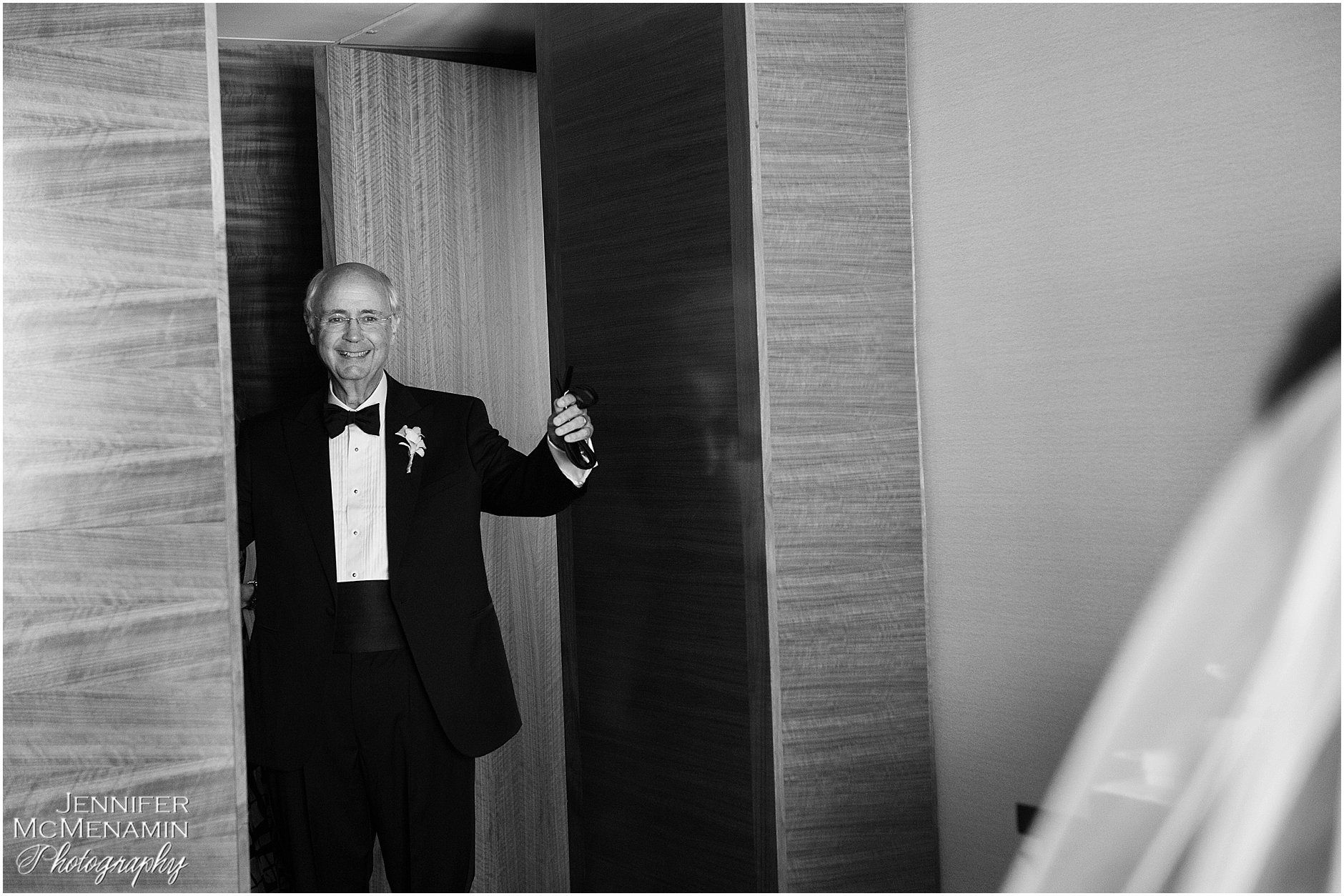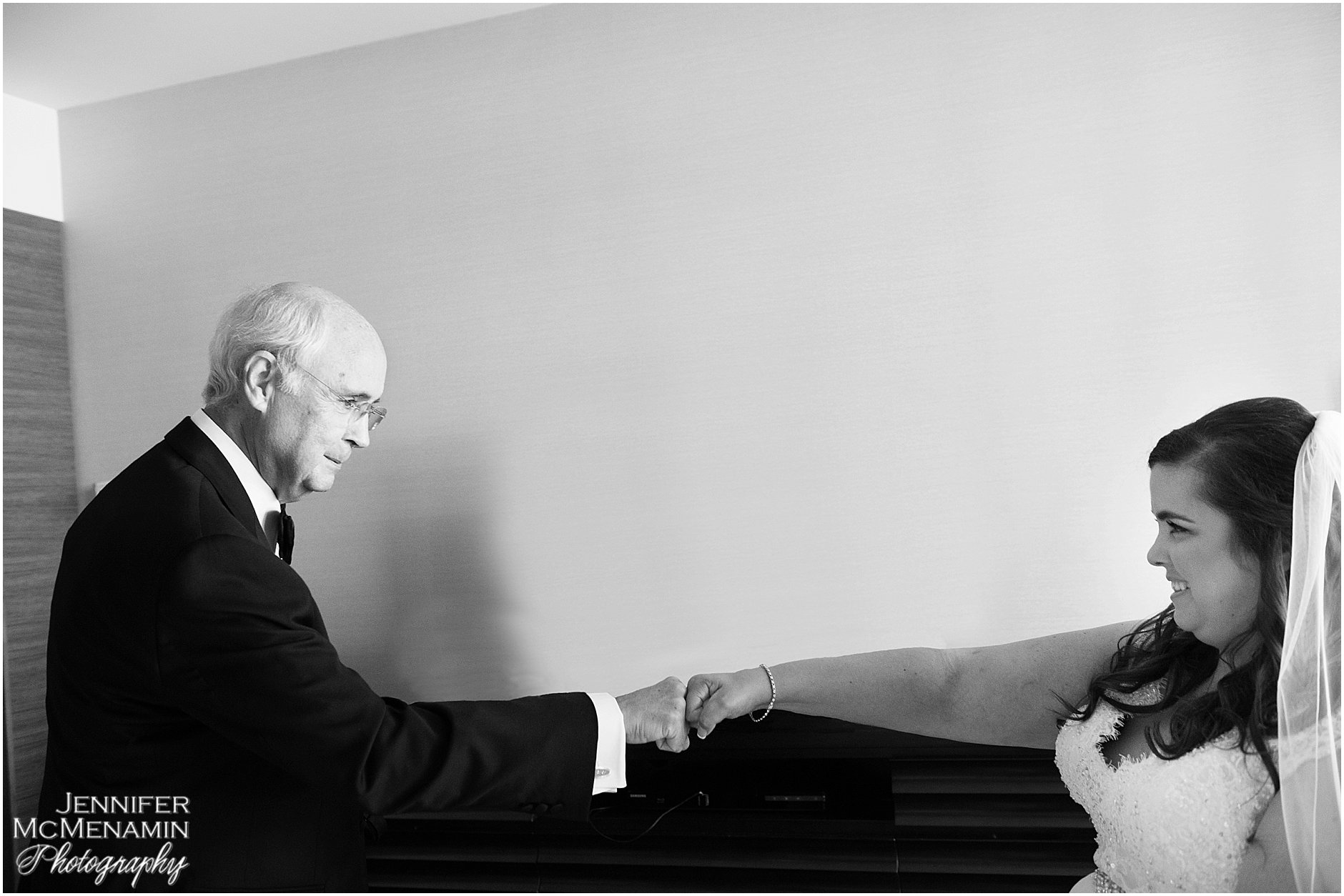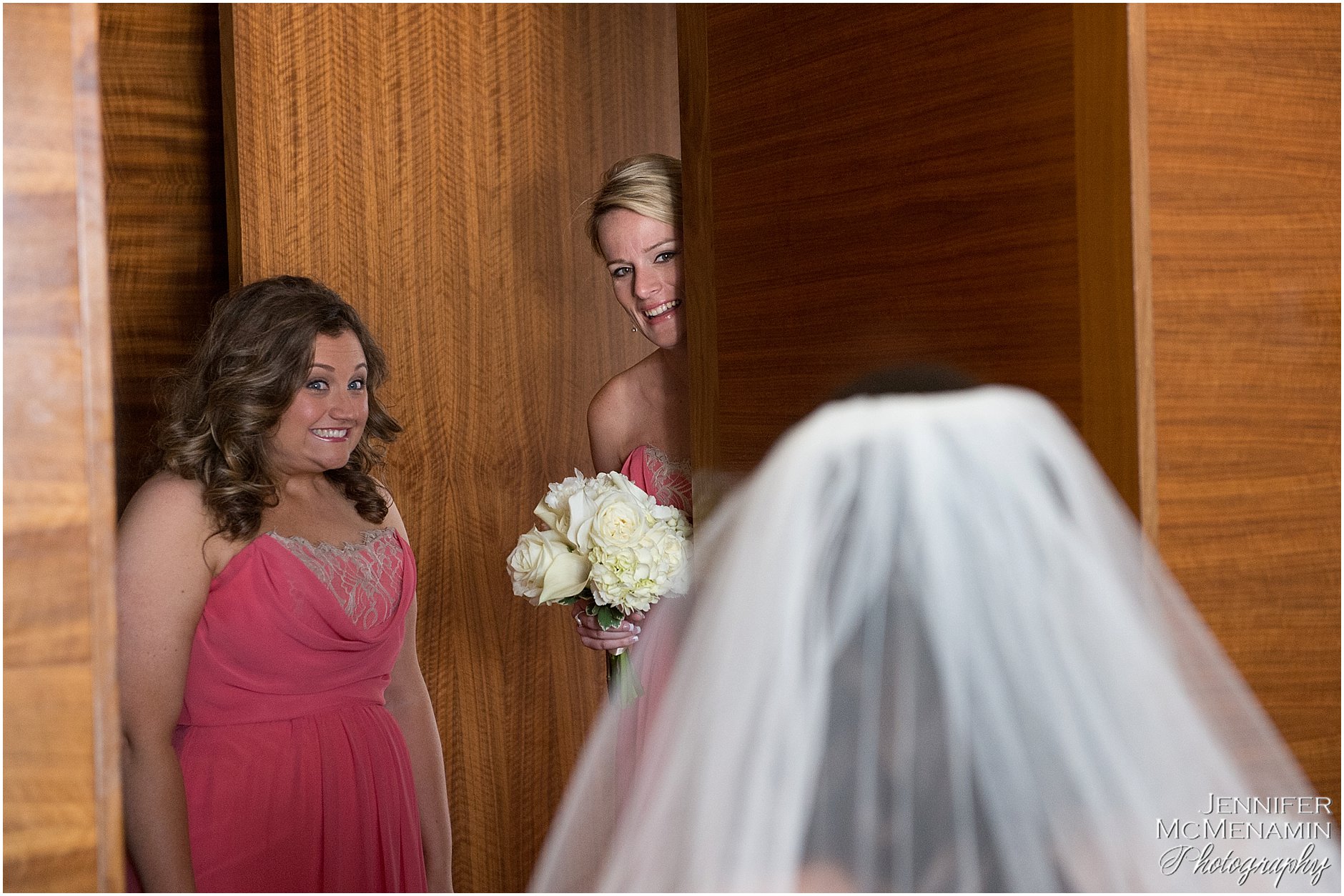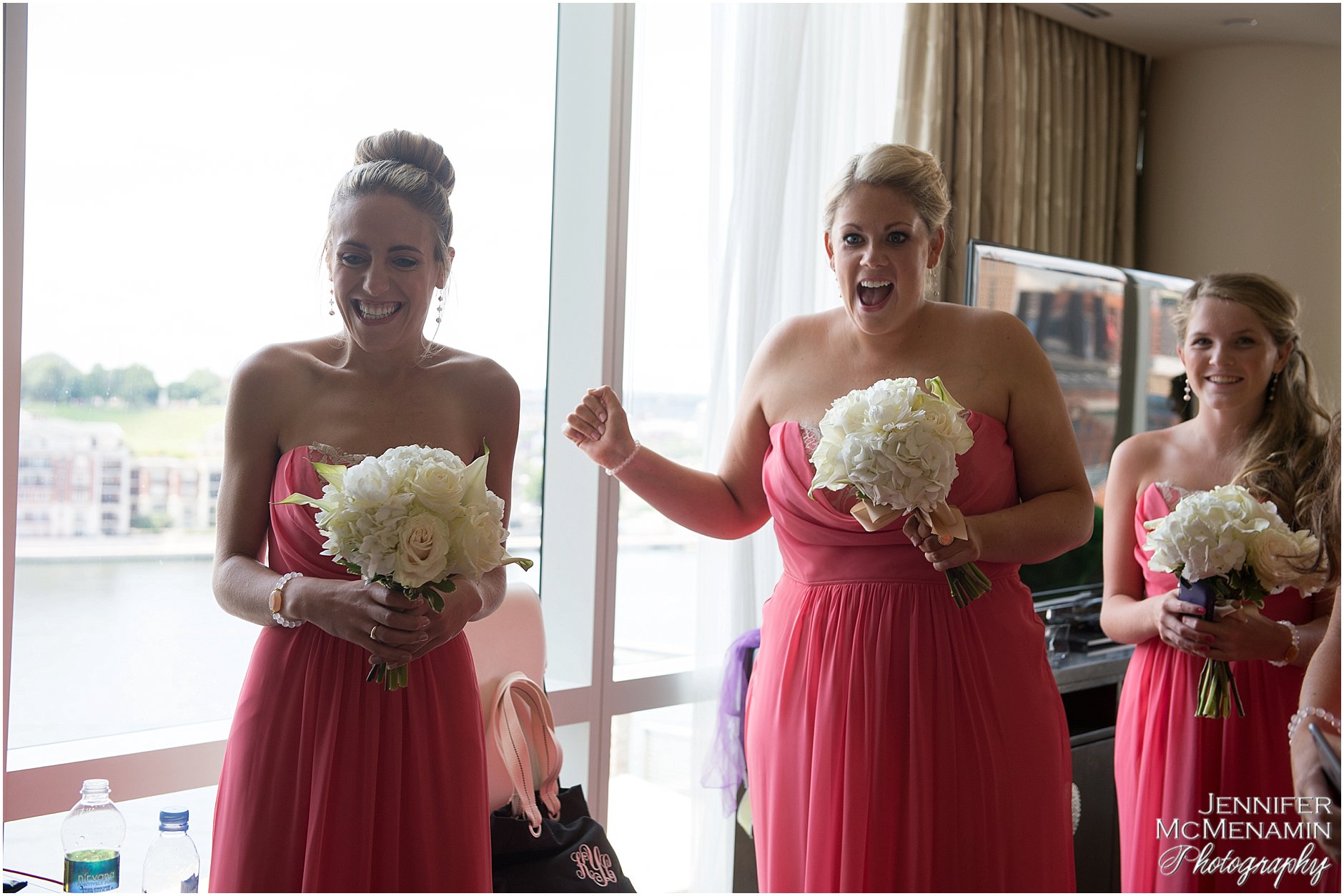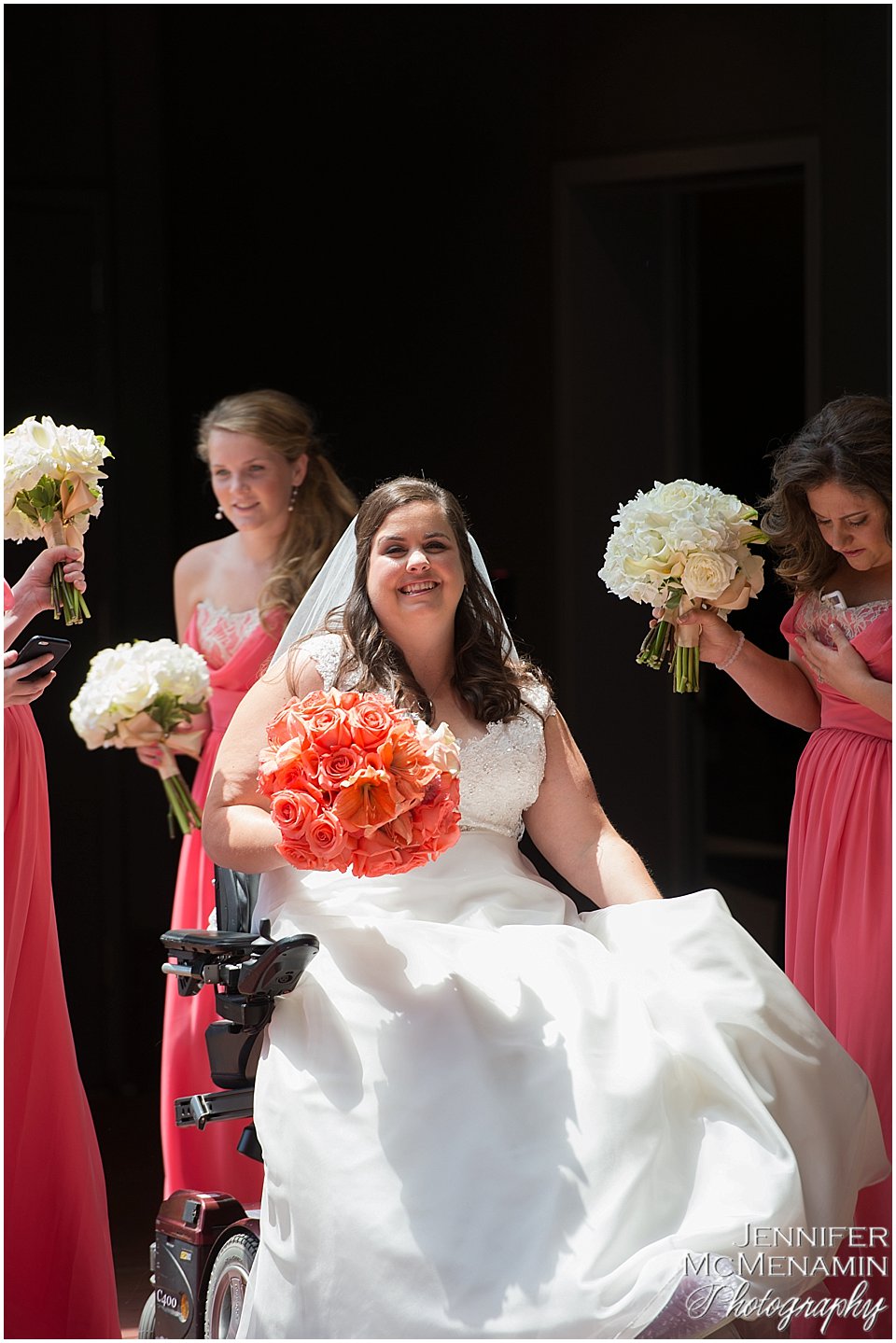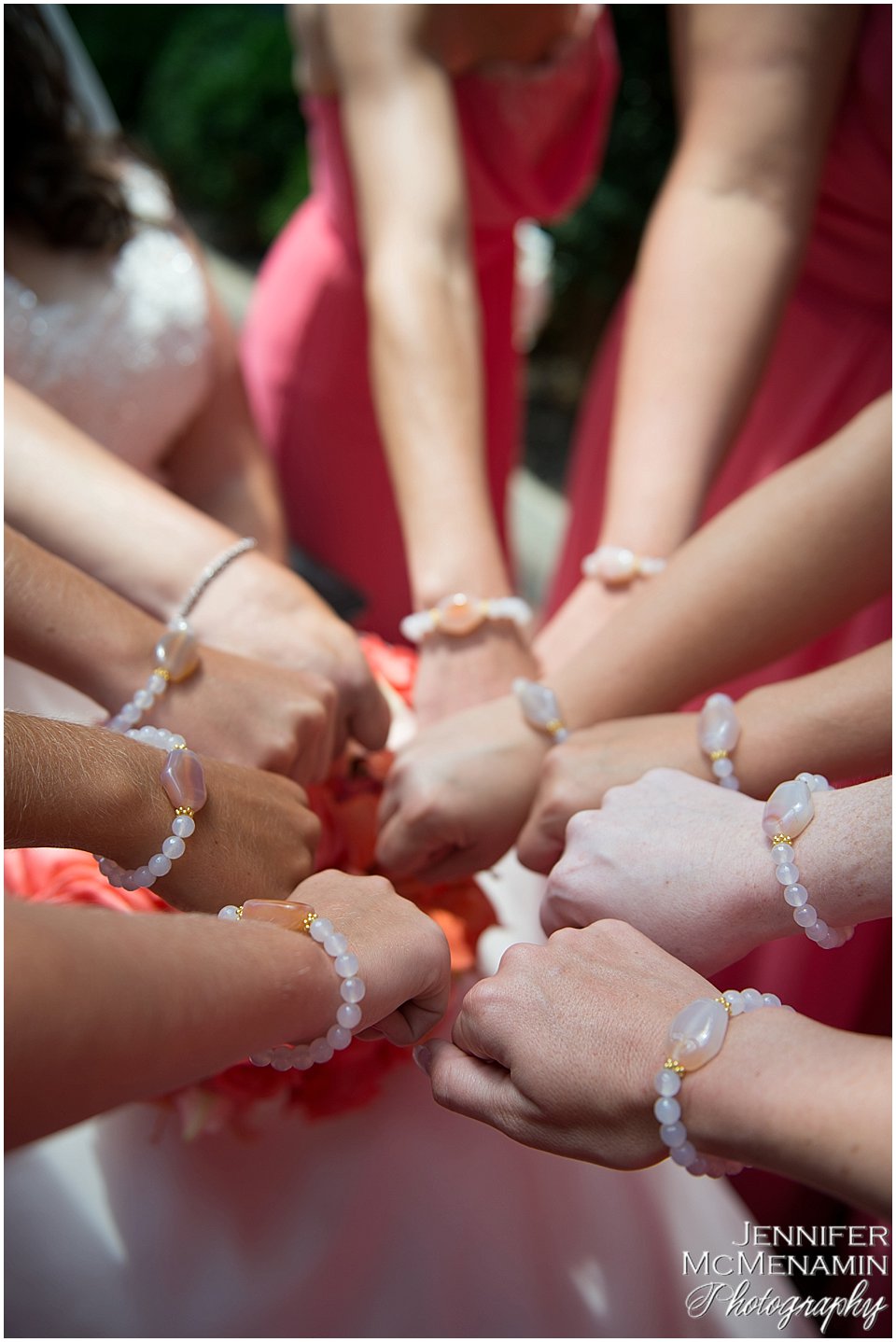 And then we were off to the Cathedral of Mary Our Queen for the ceremony.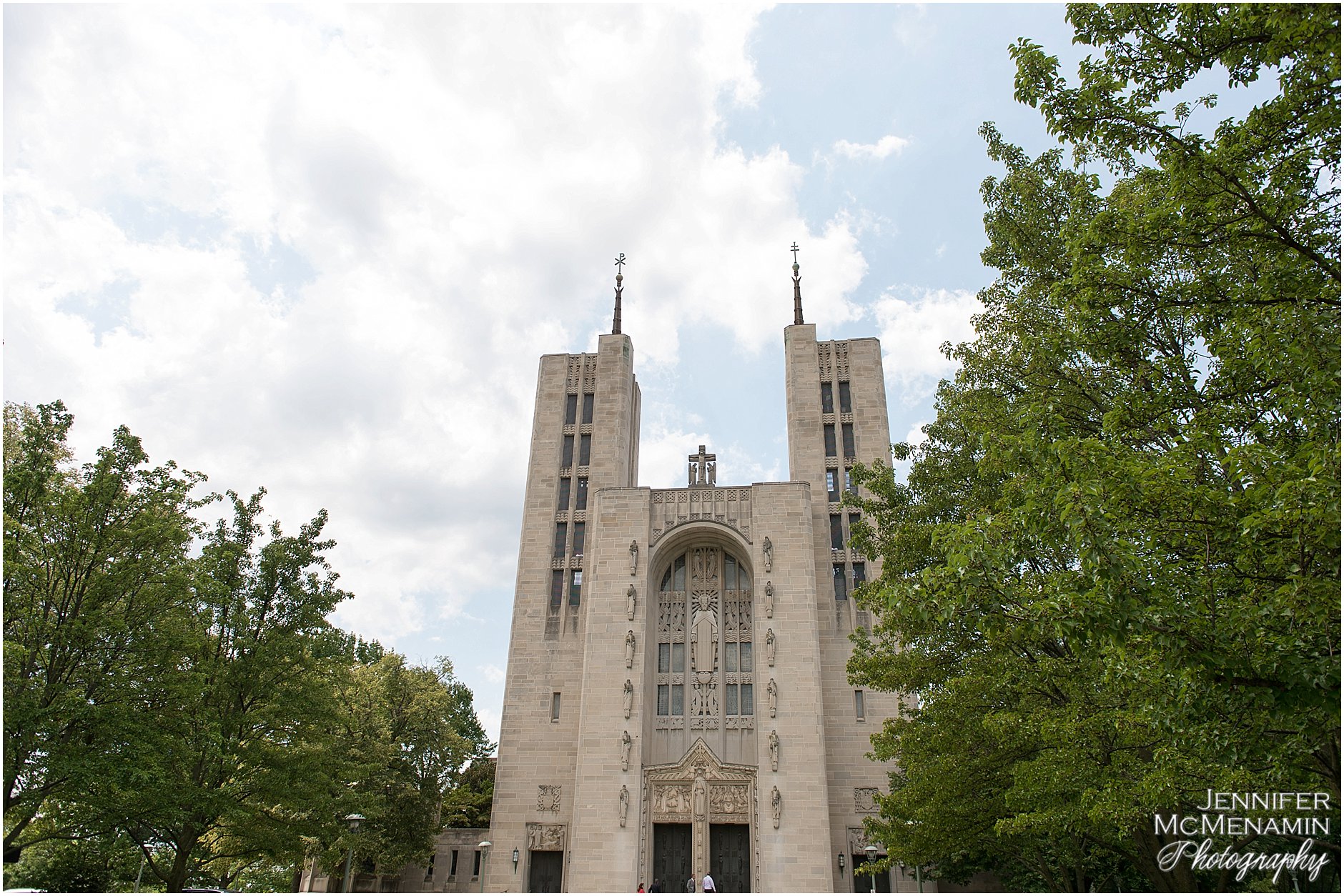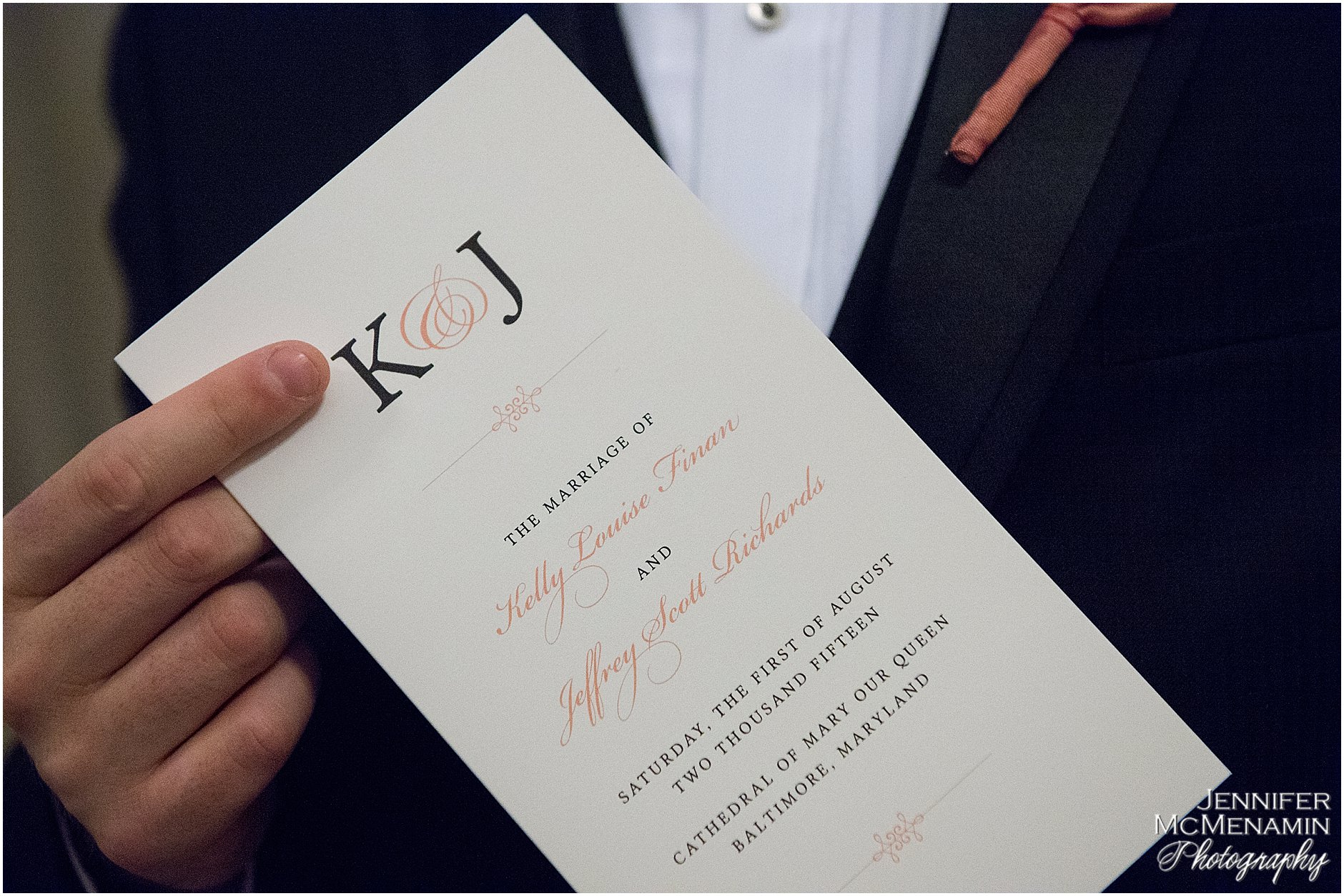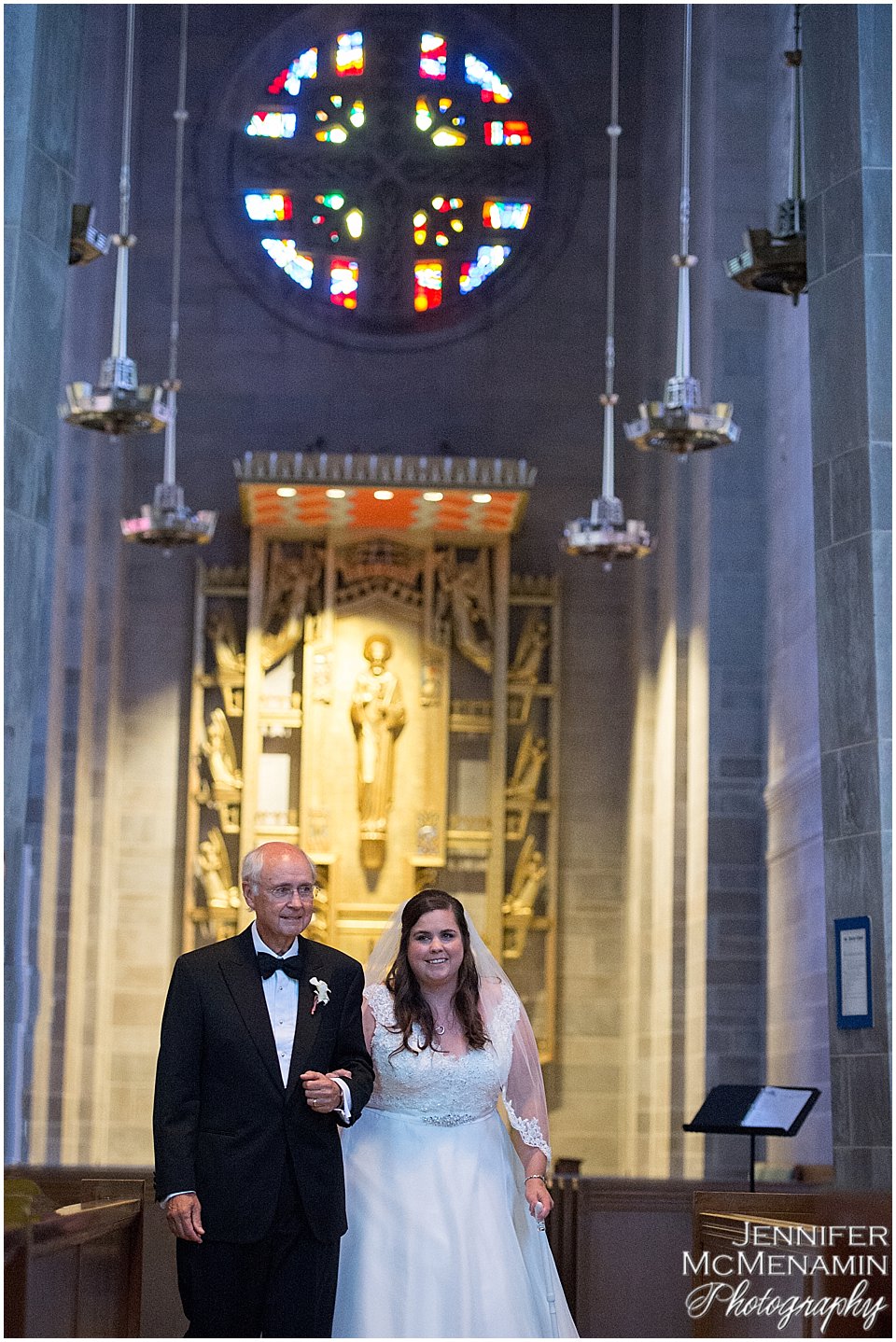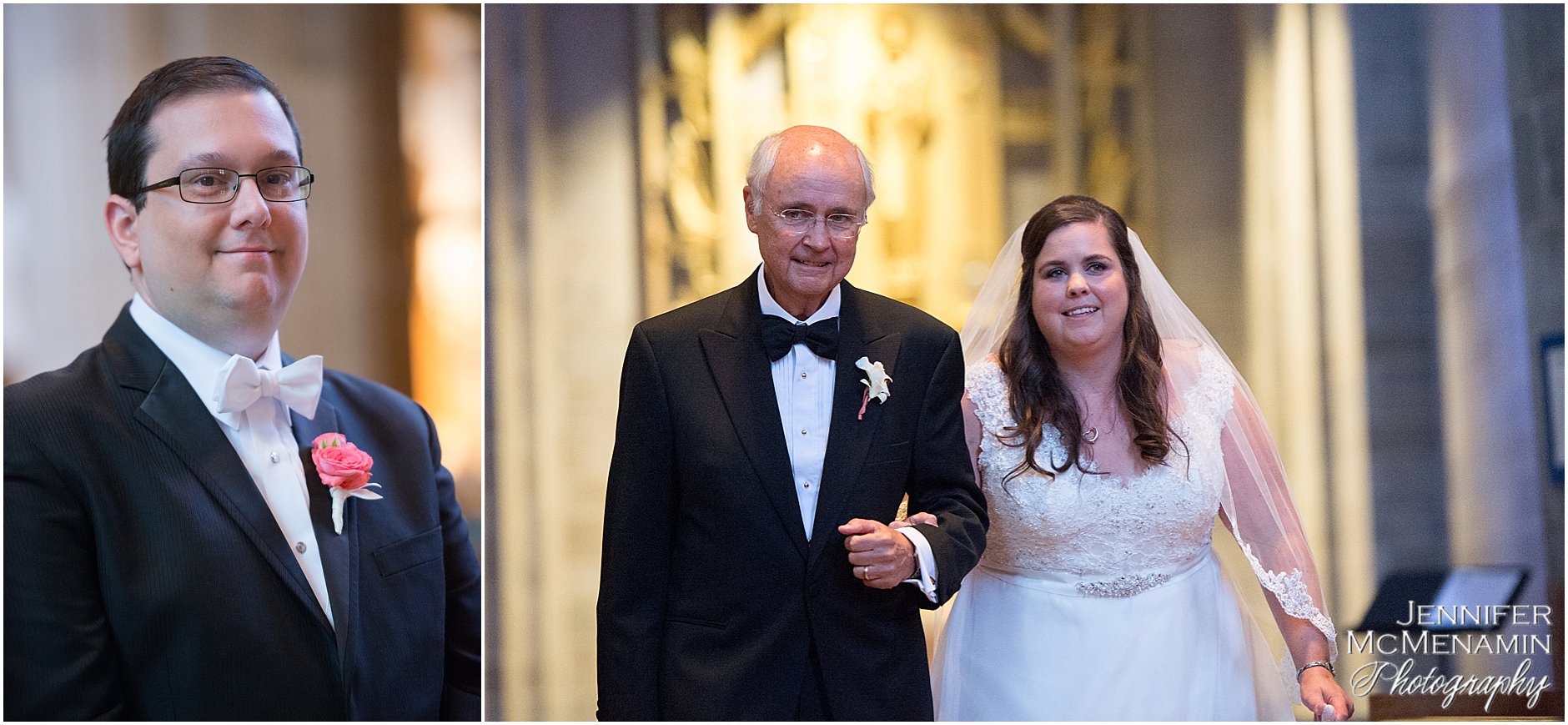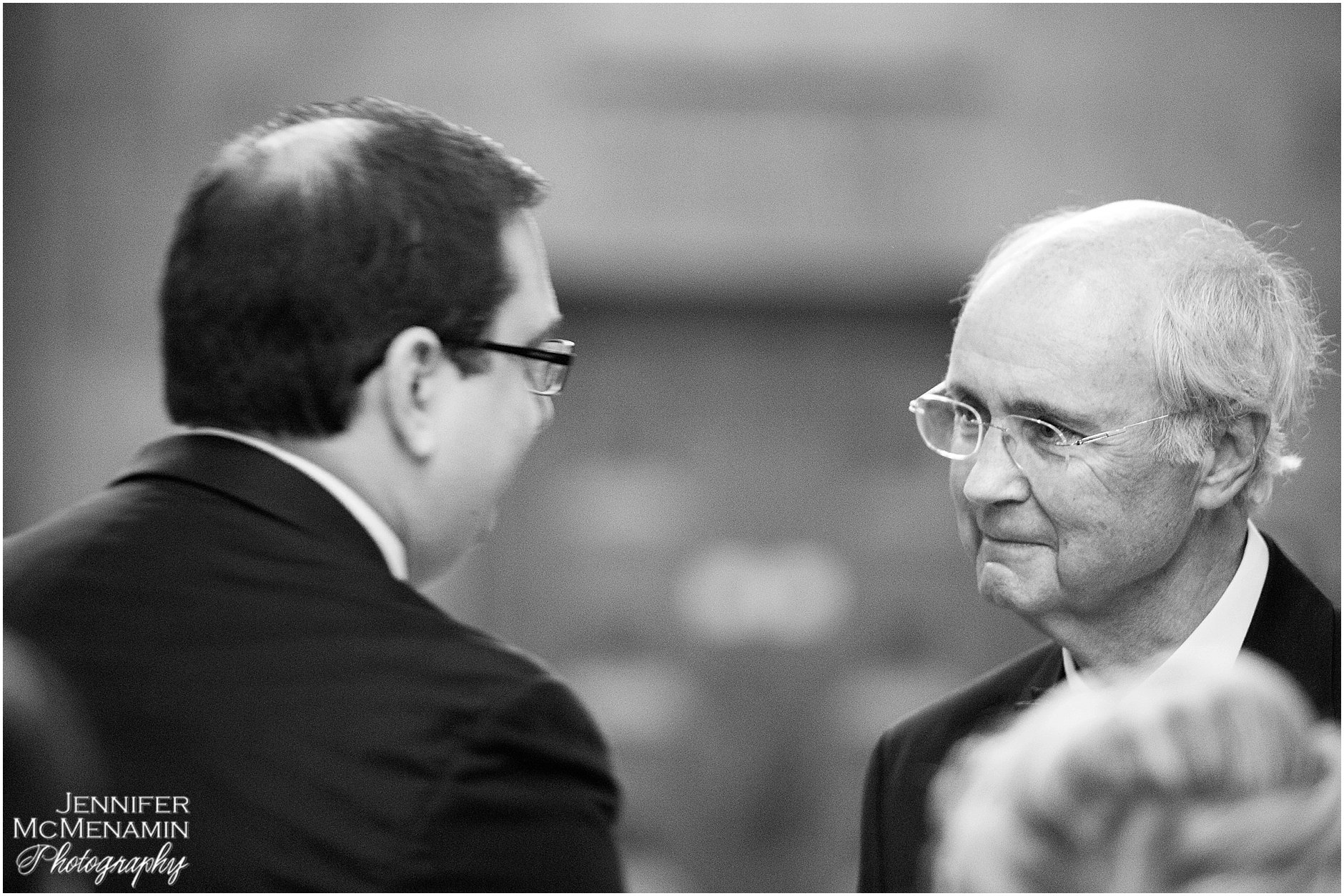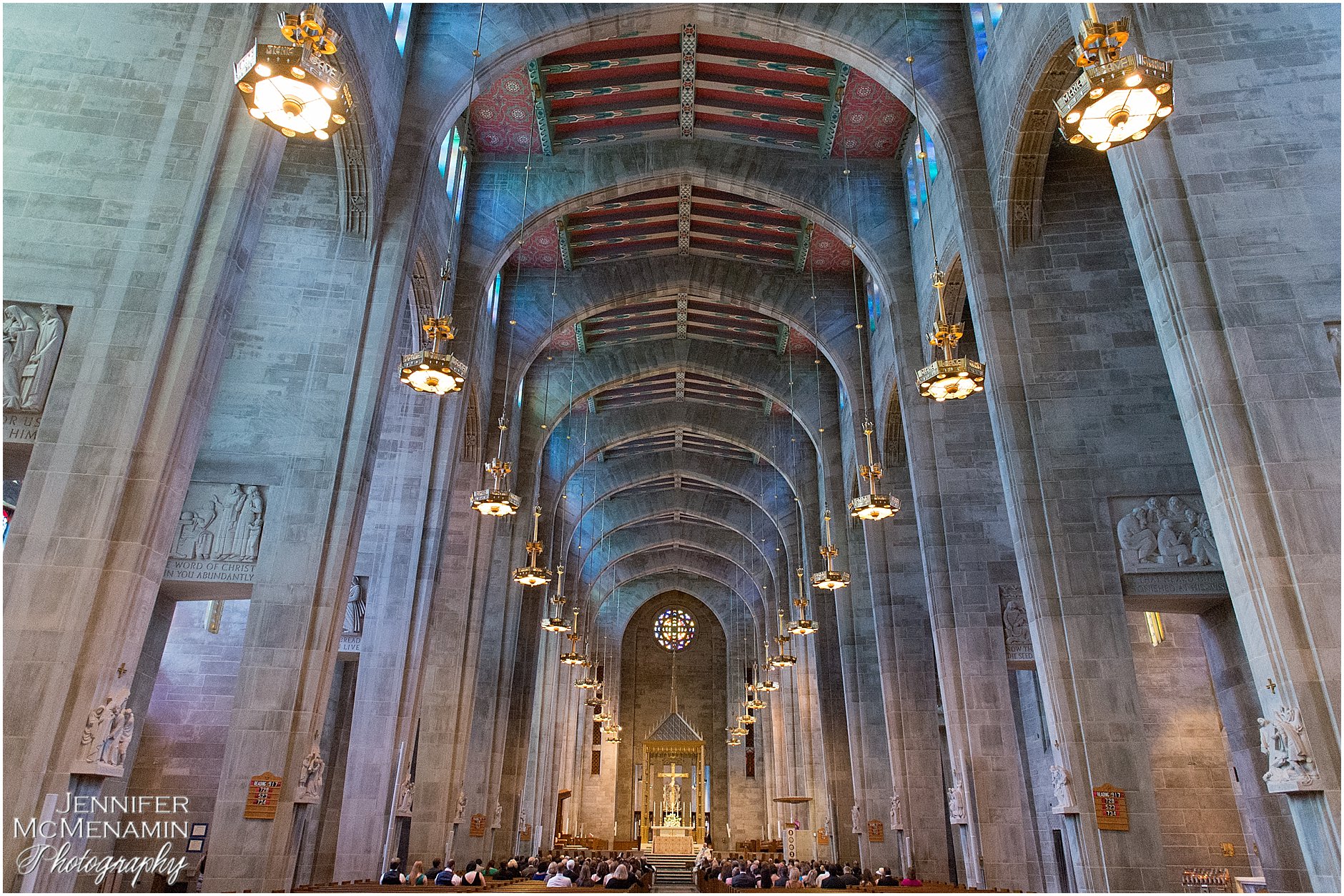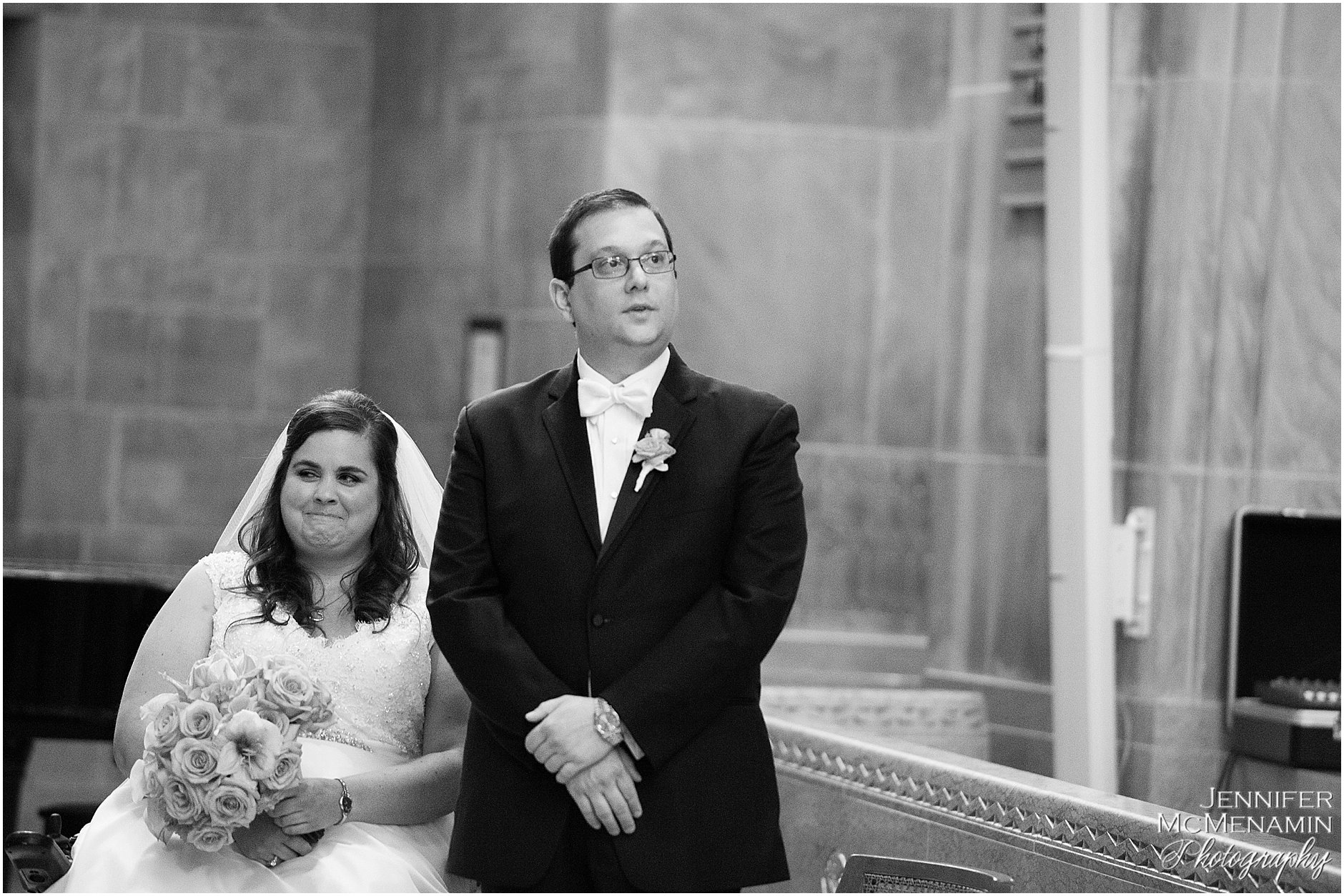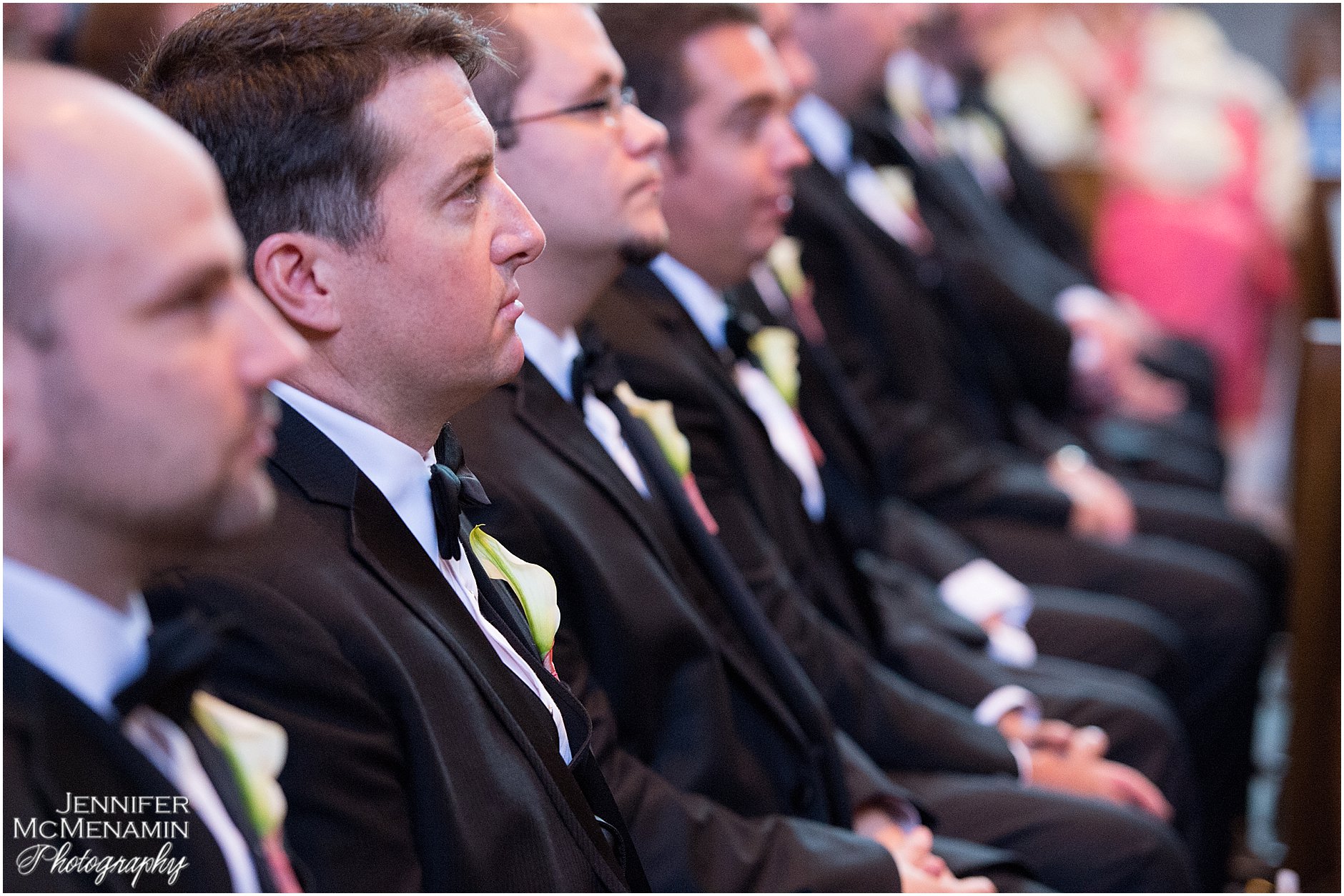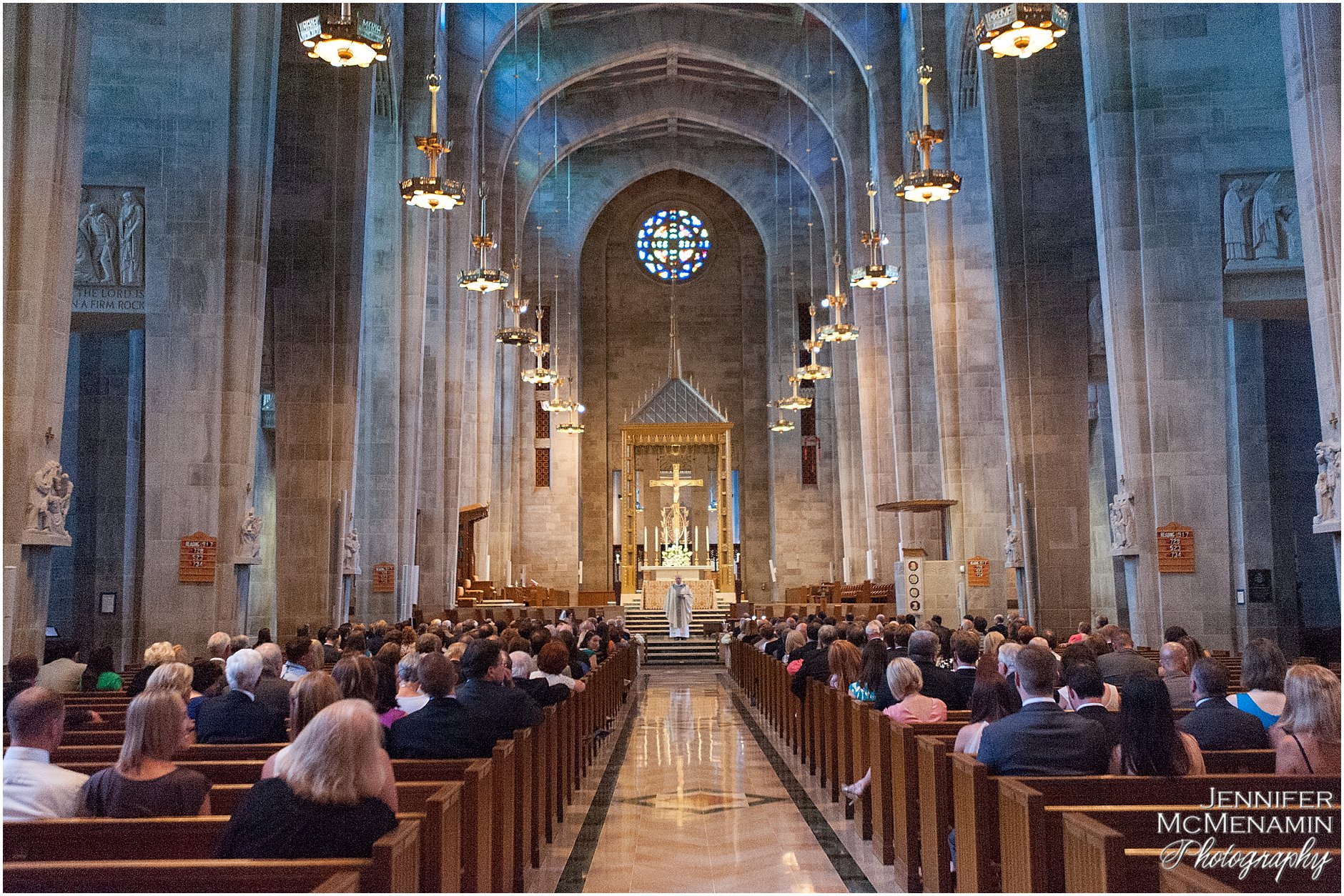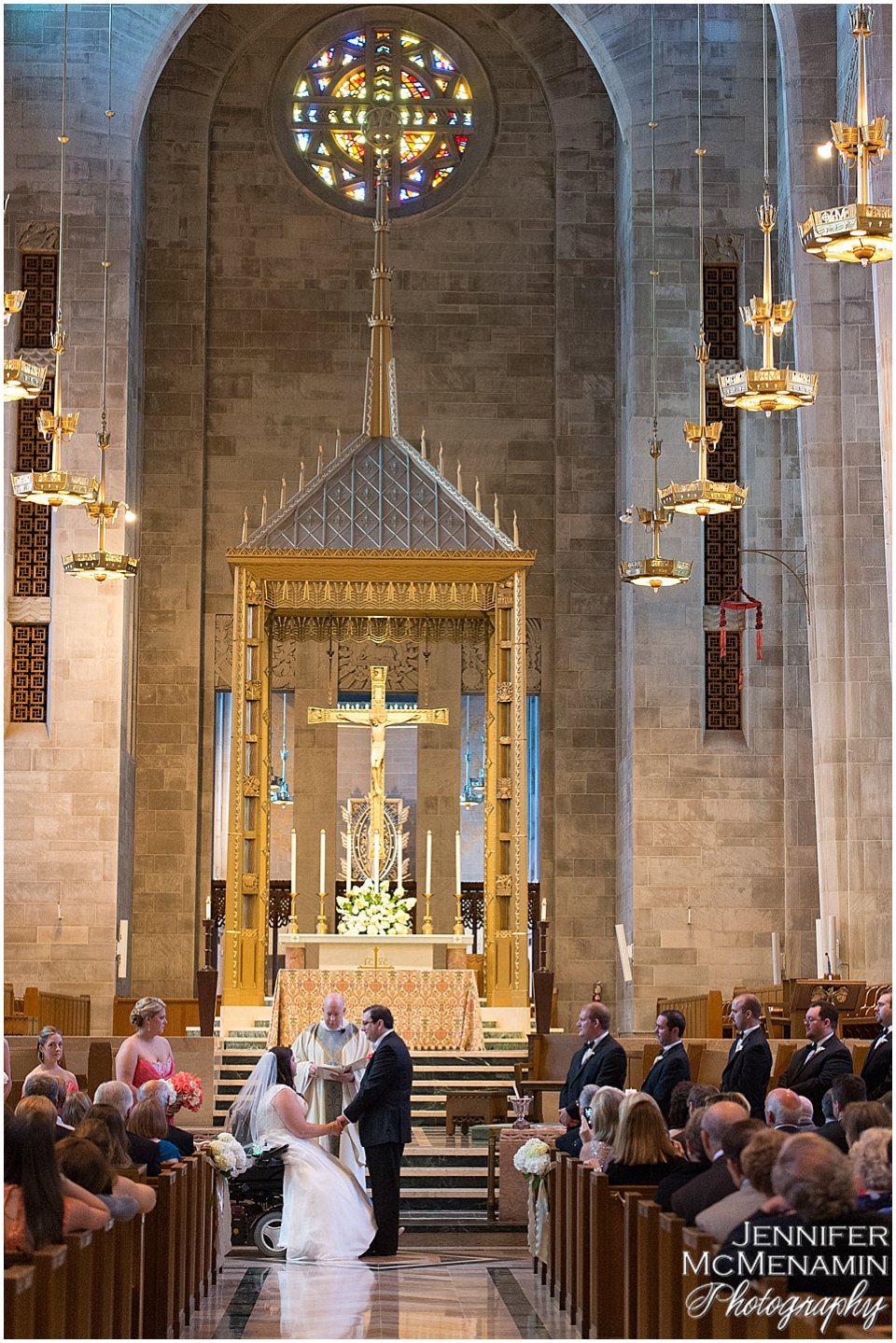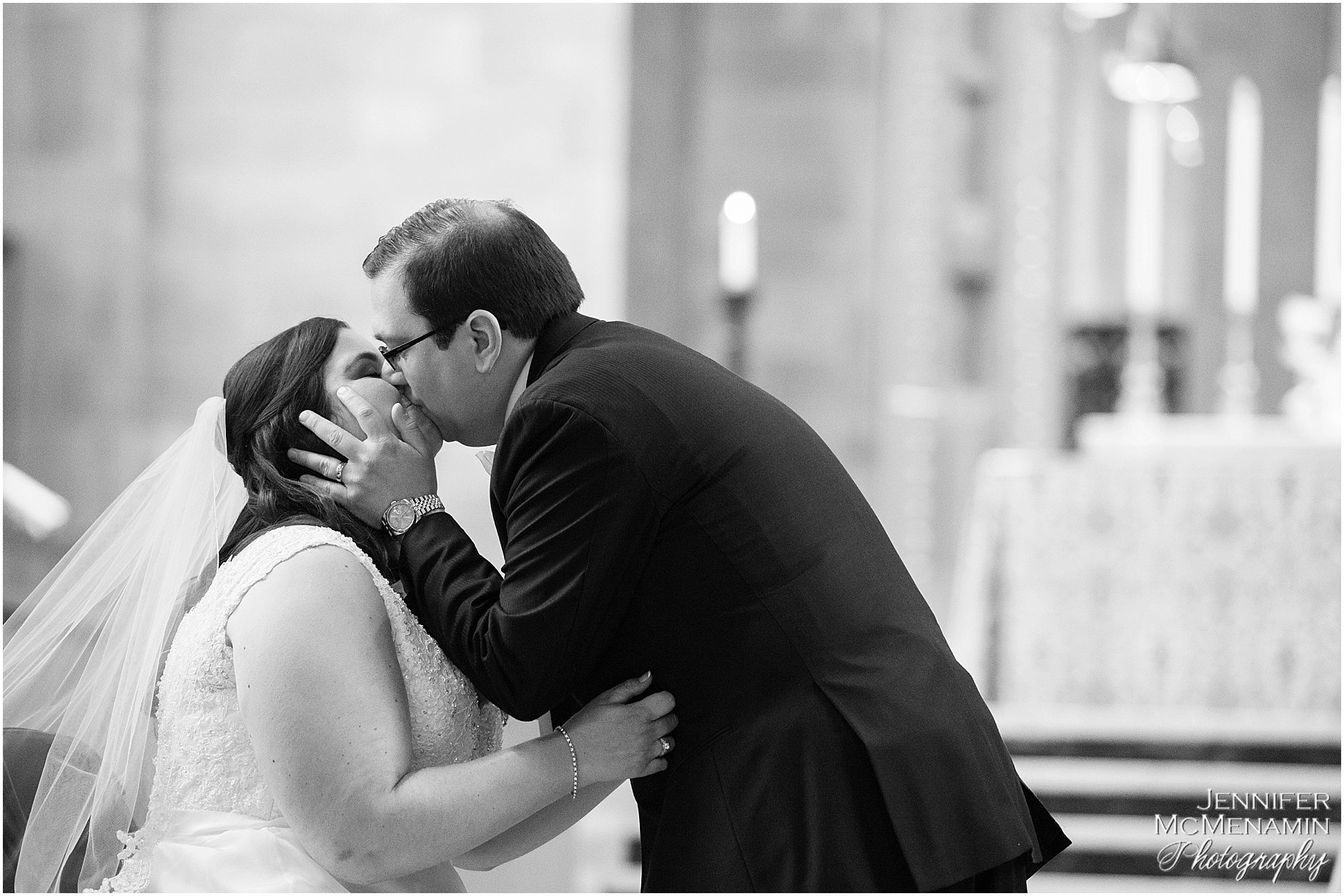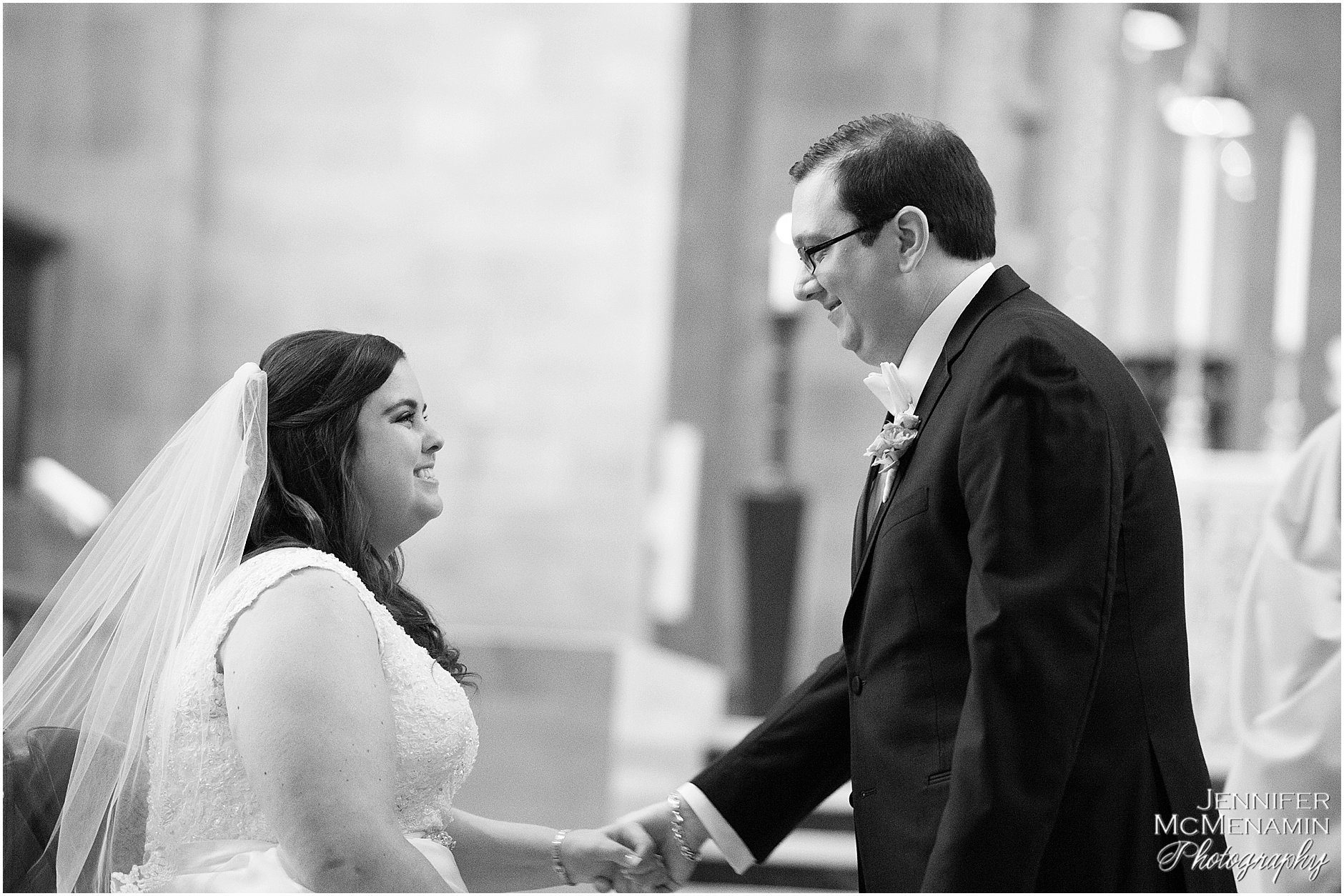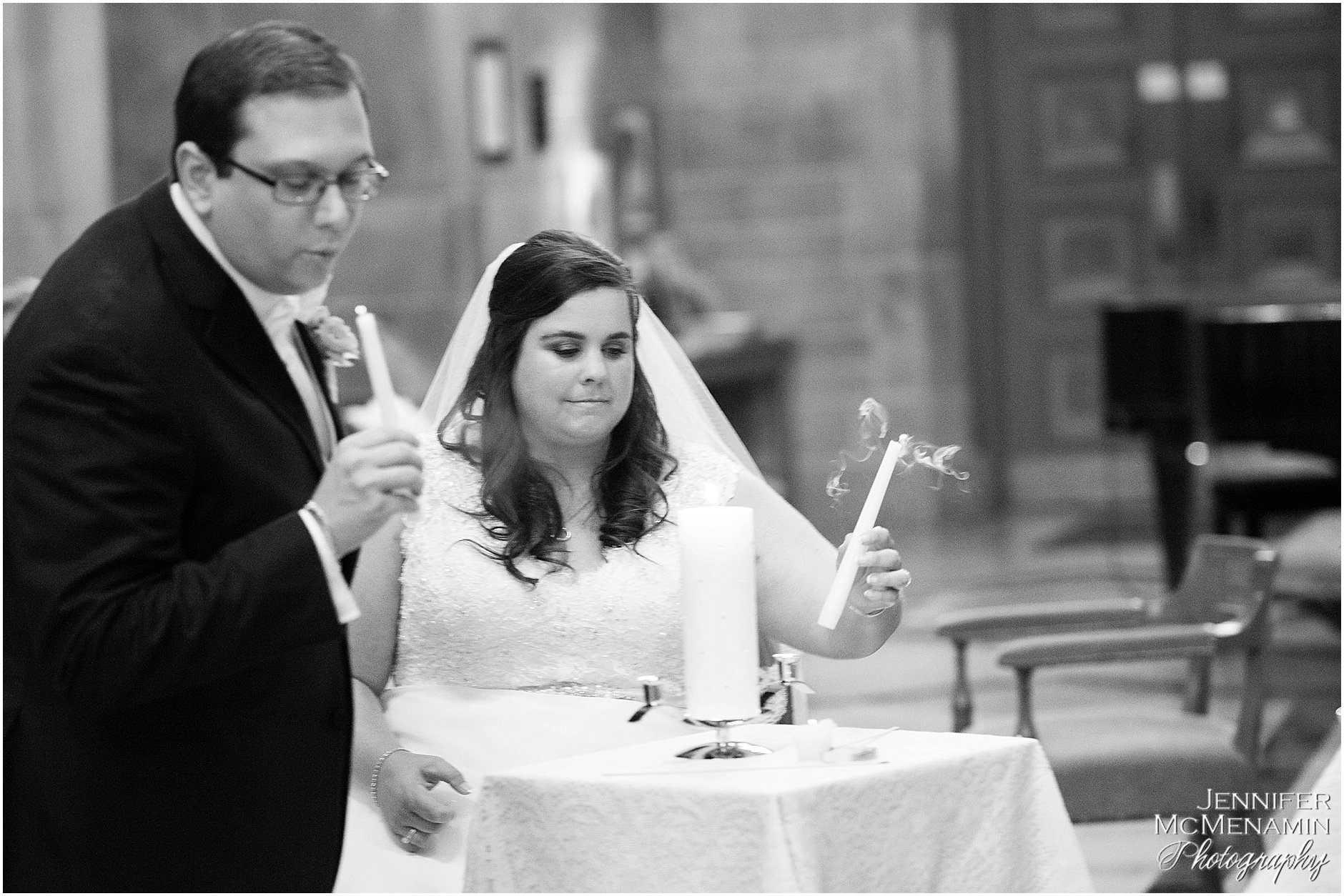 I love catching little glances and quiet exchanges between my clients for them.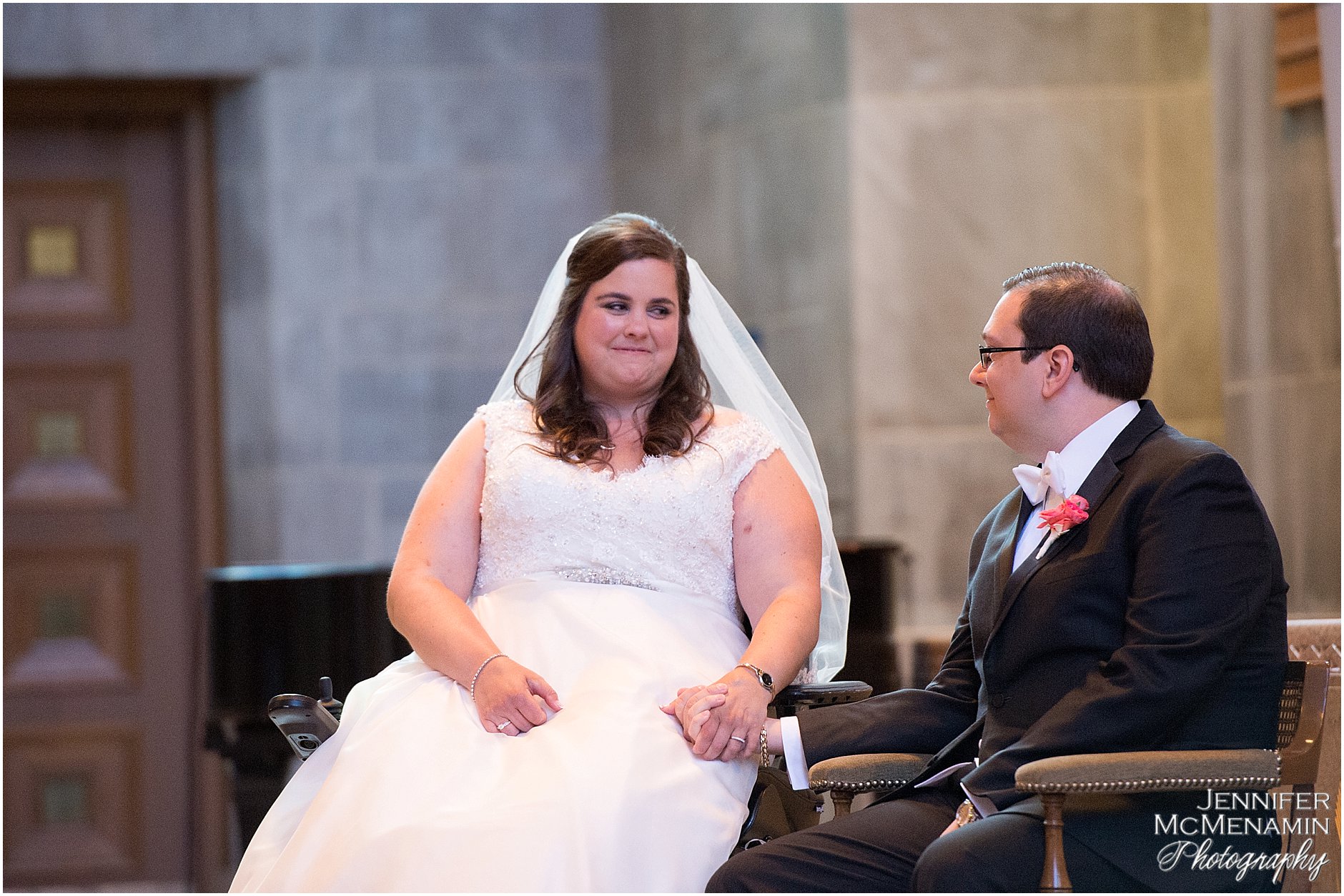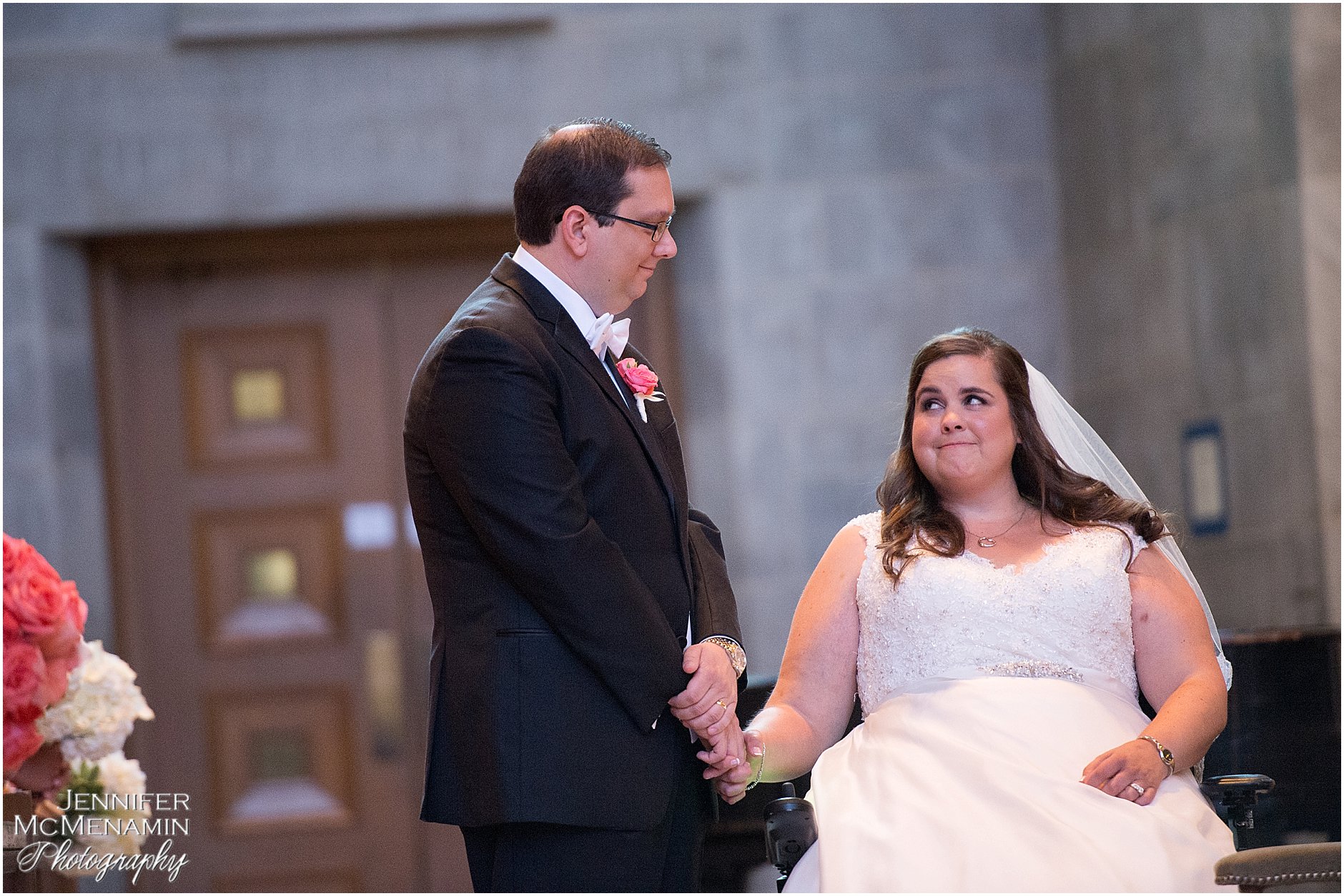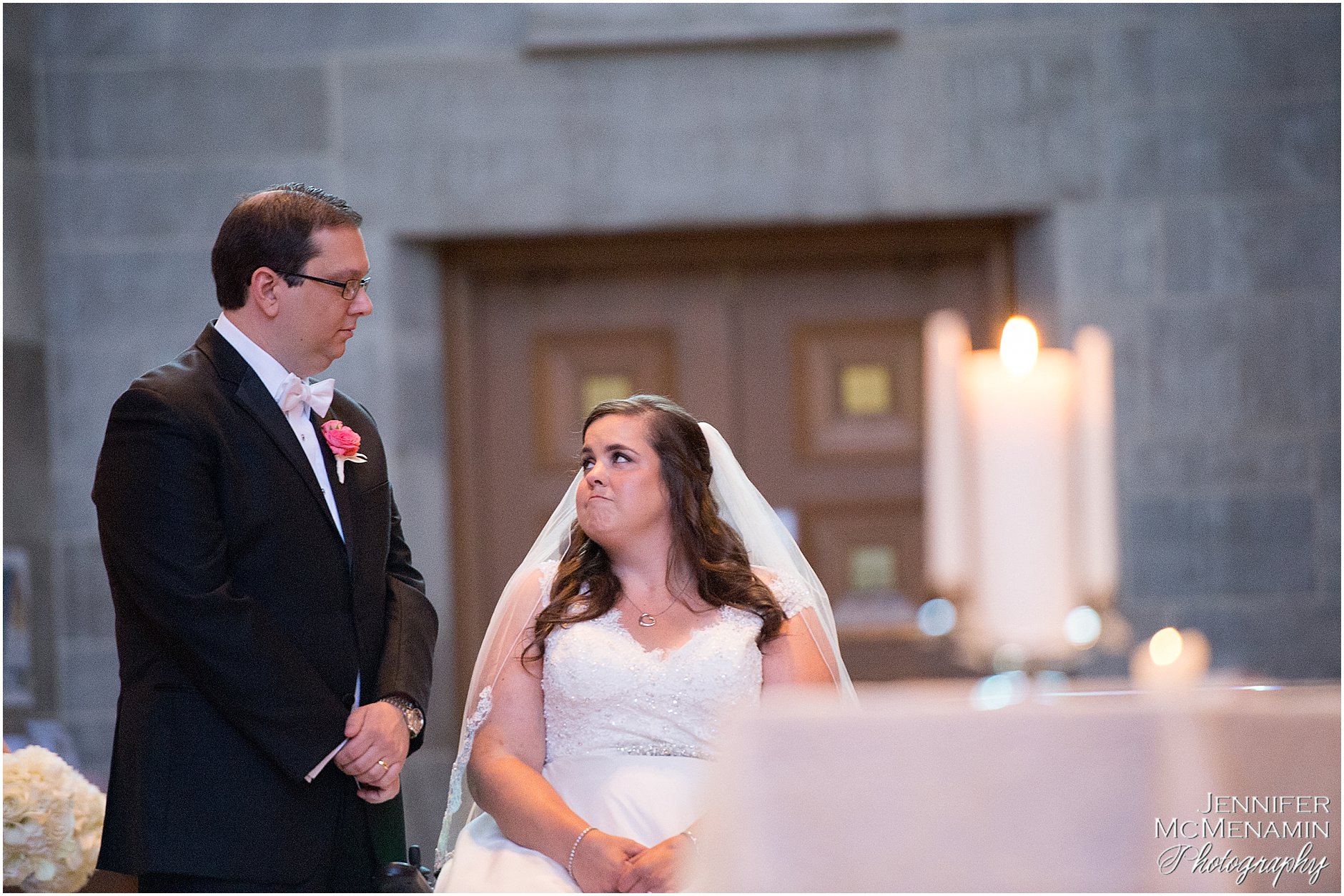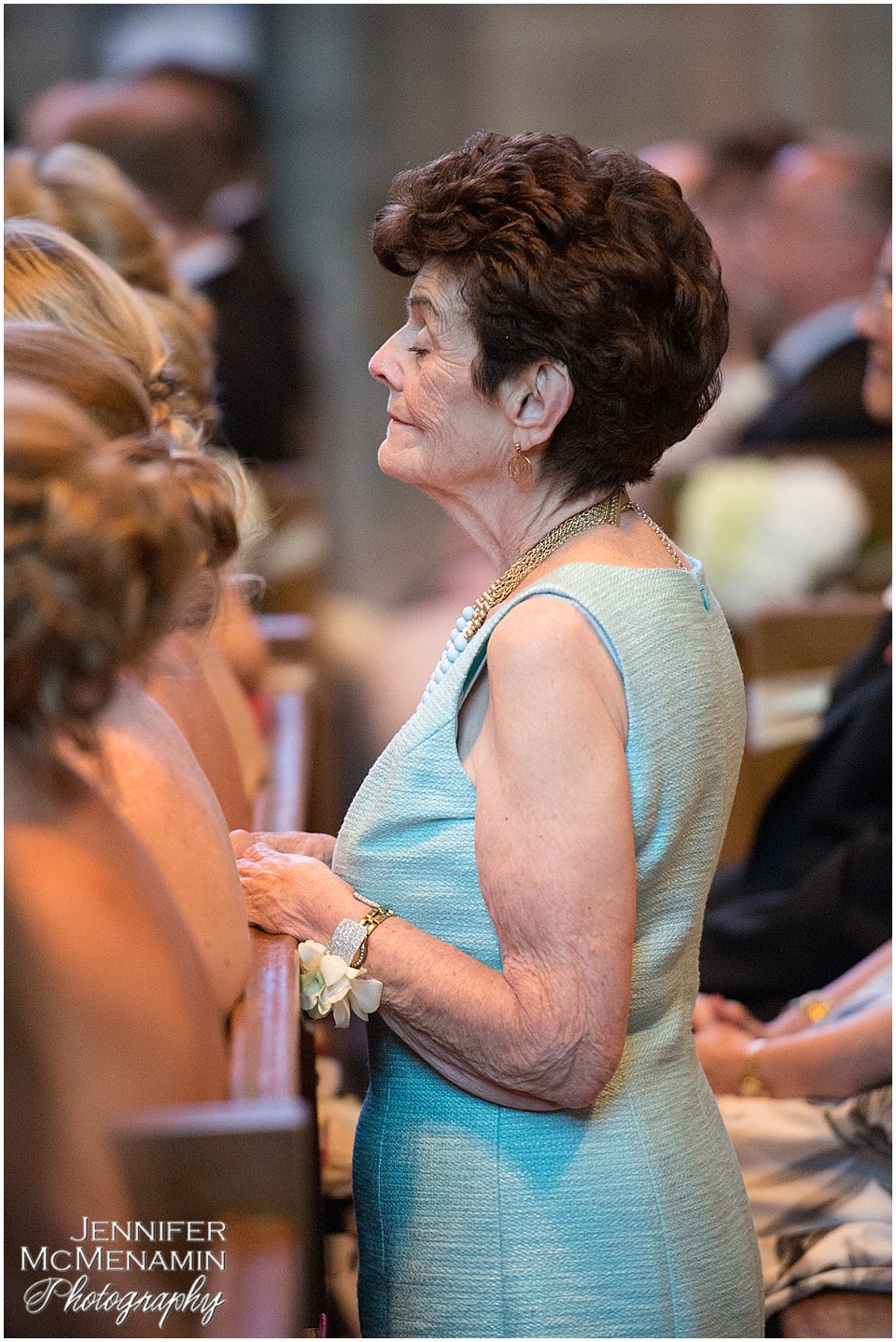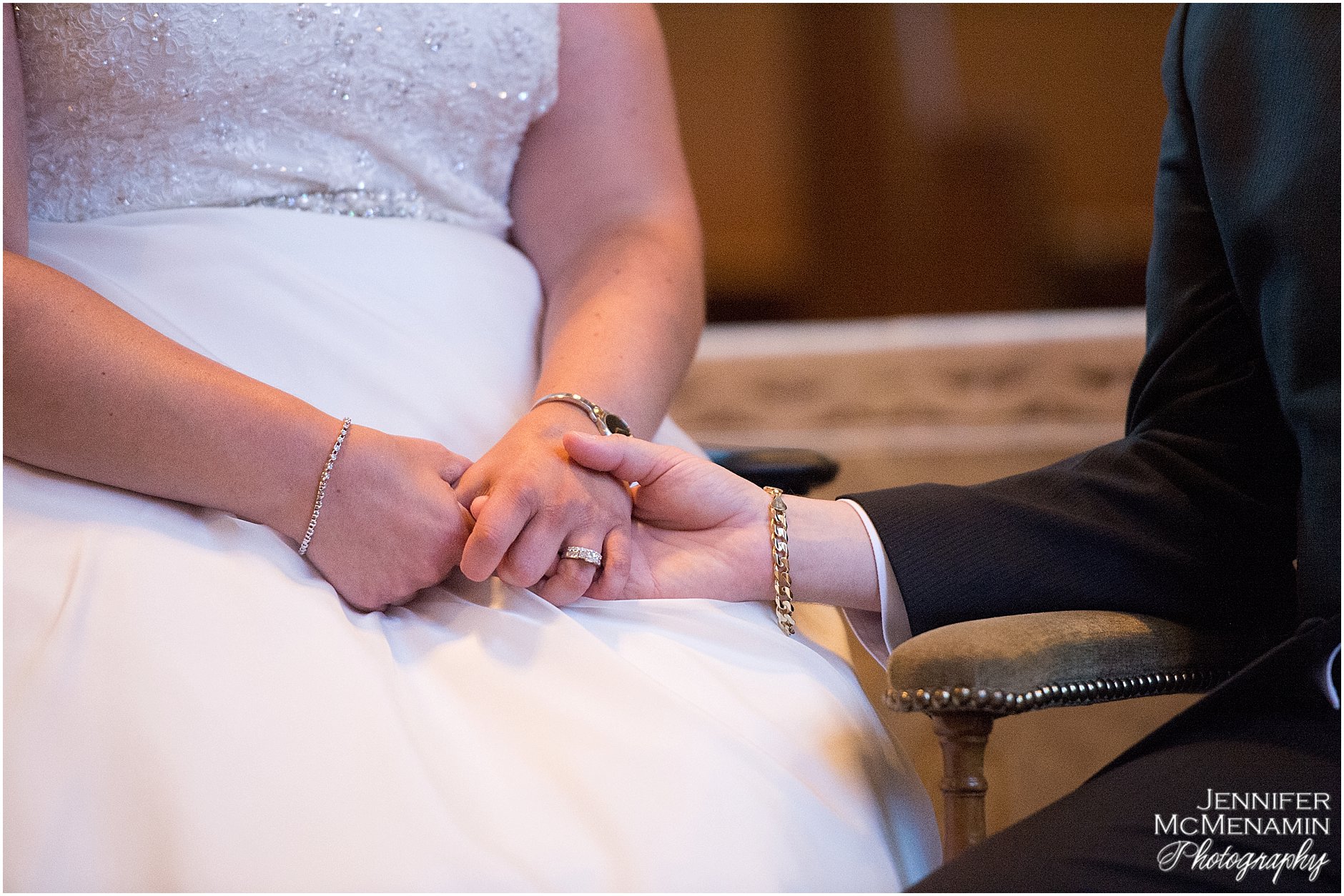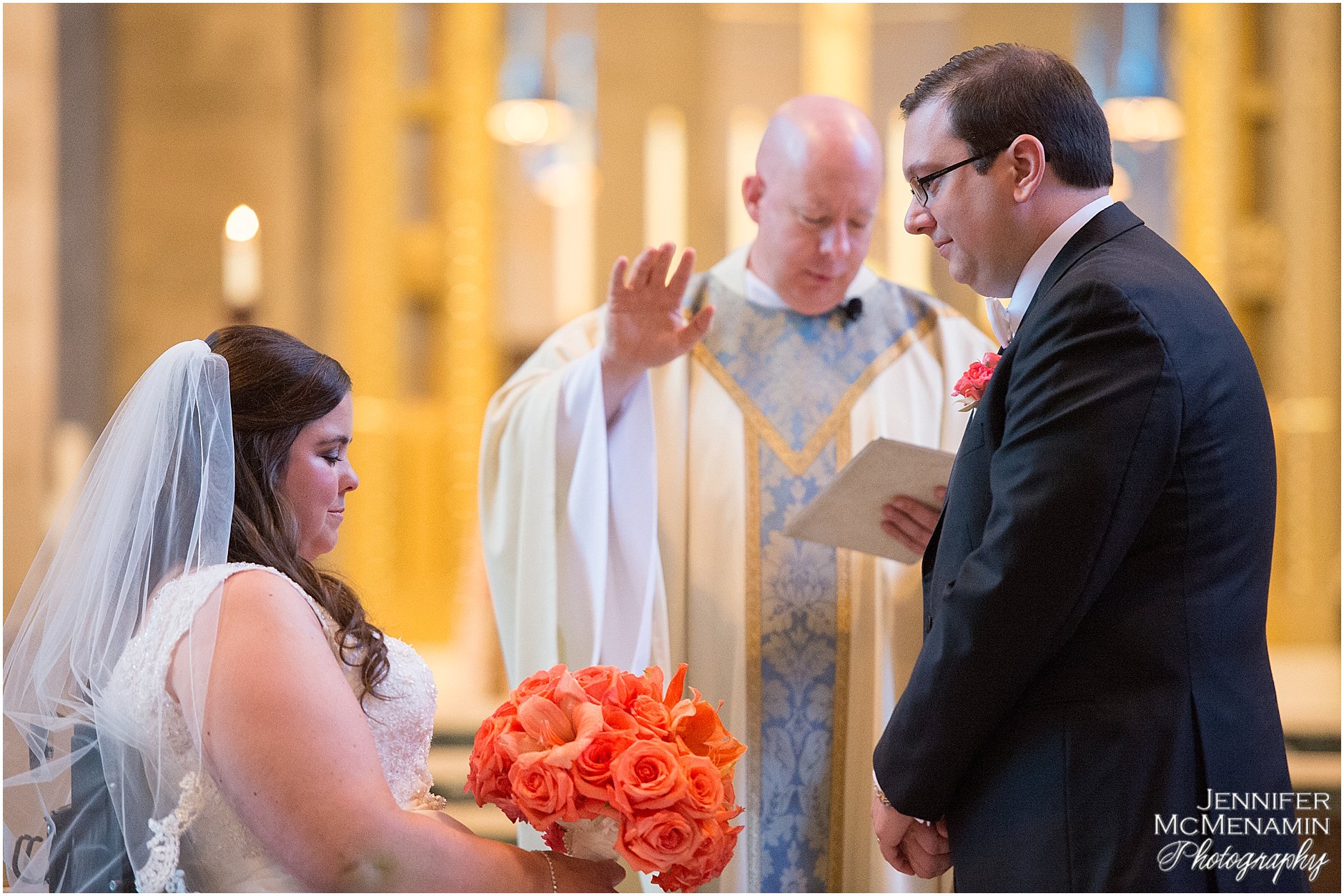 After a few quick family photos and some nice big wedding party portraits, we hopped back on the bus for photos of the newlyweds at The Charleston restaurant and in their Harbor East neighborhood.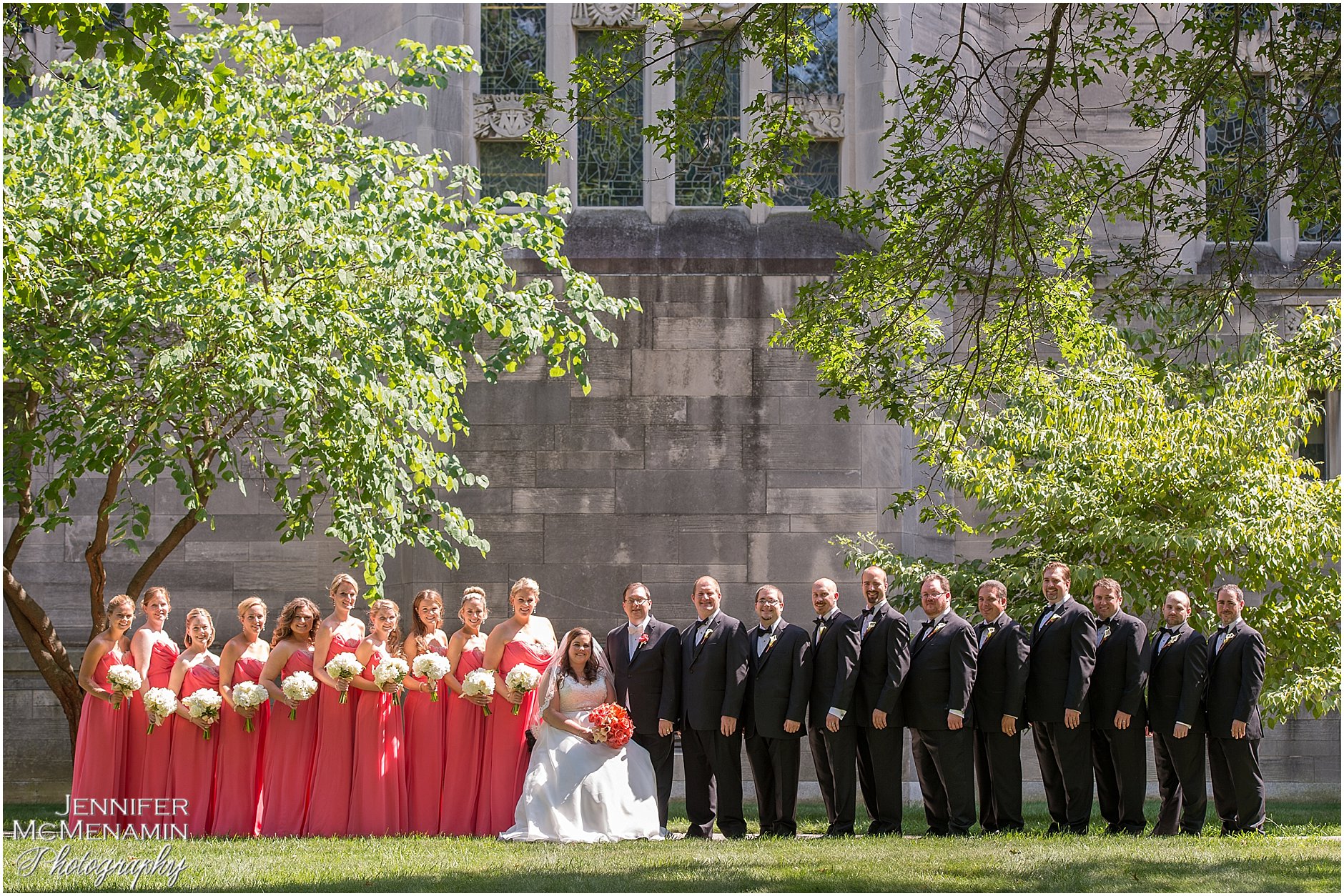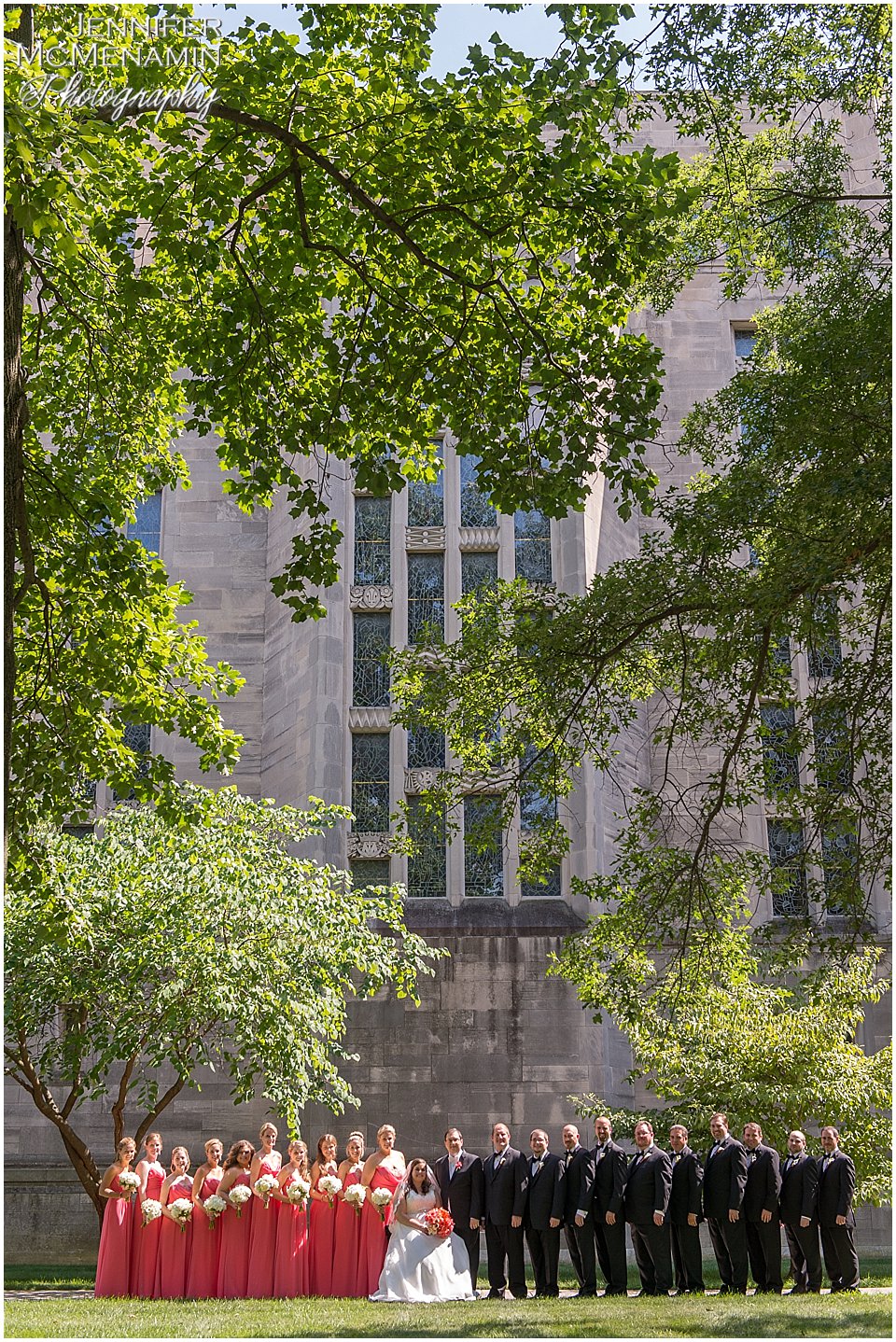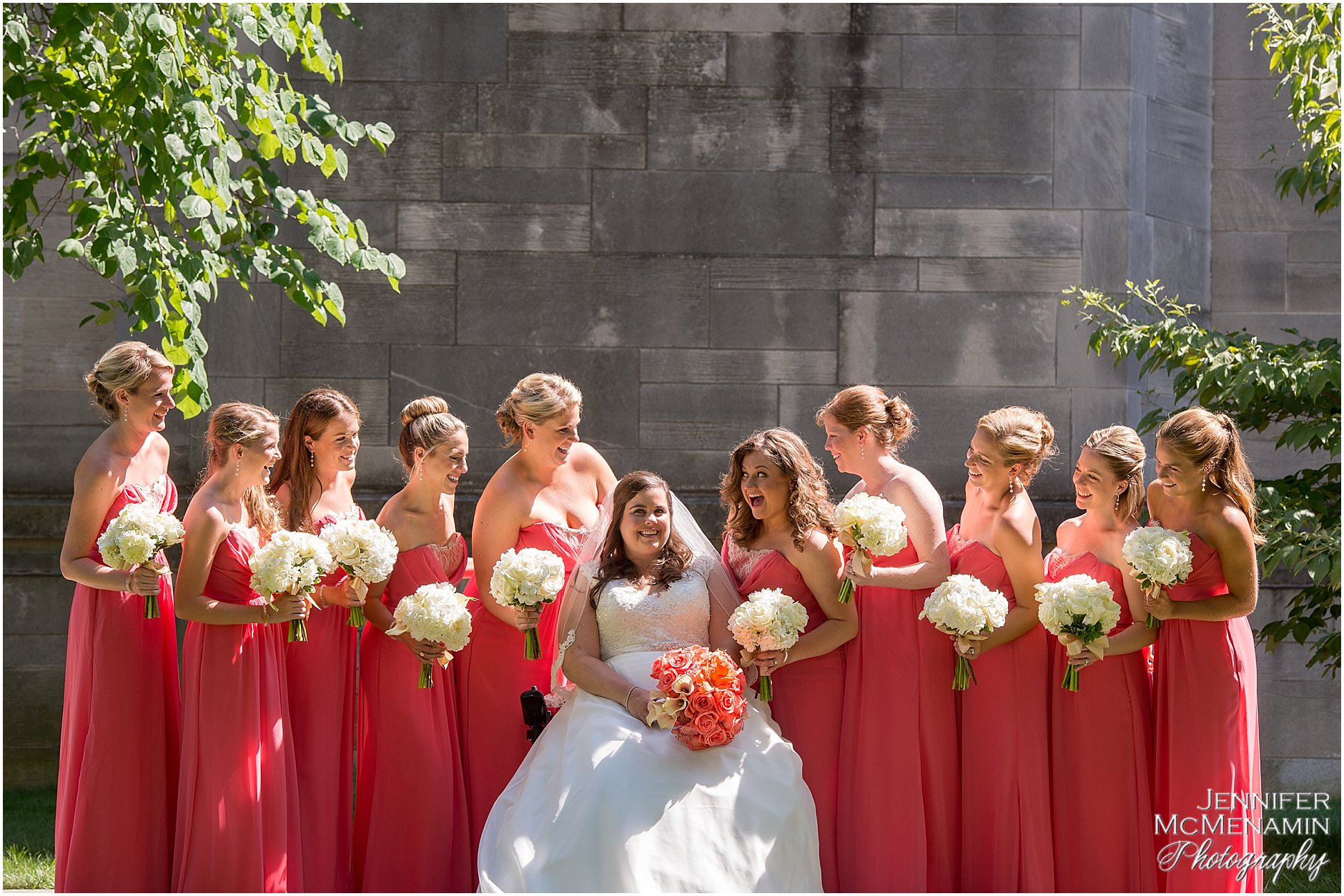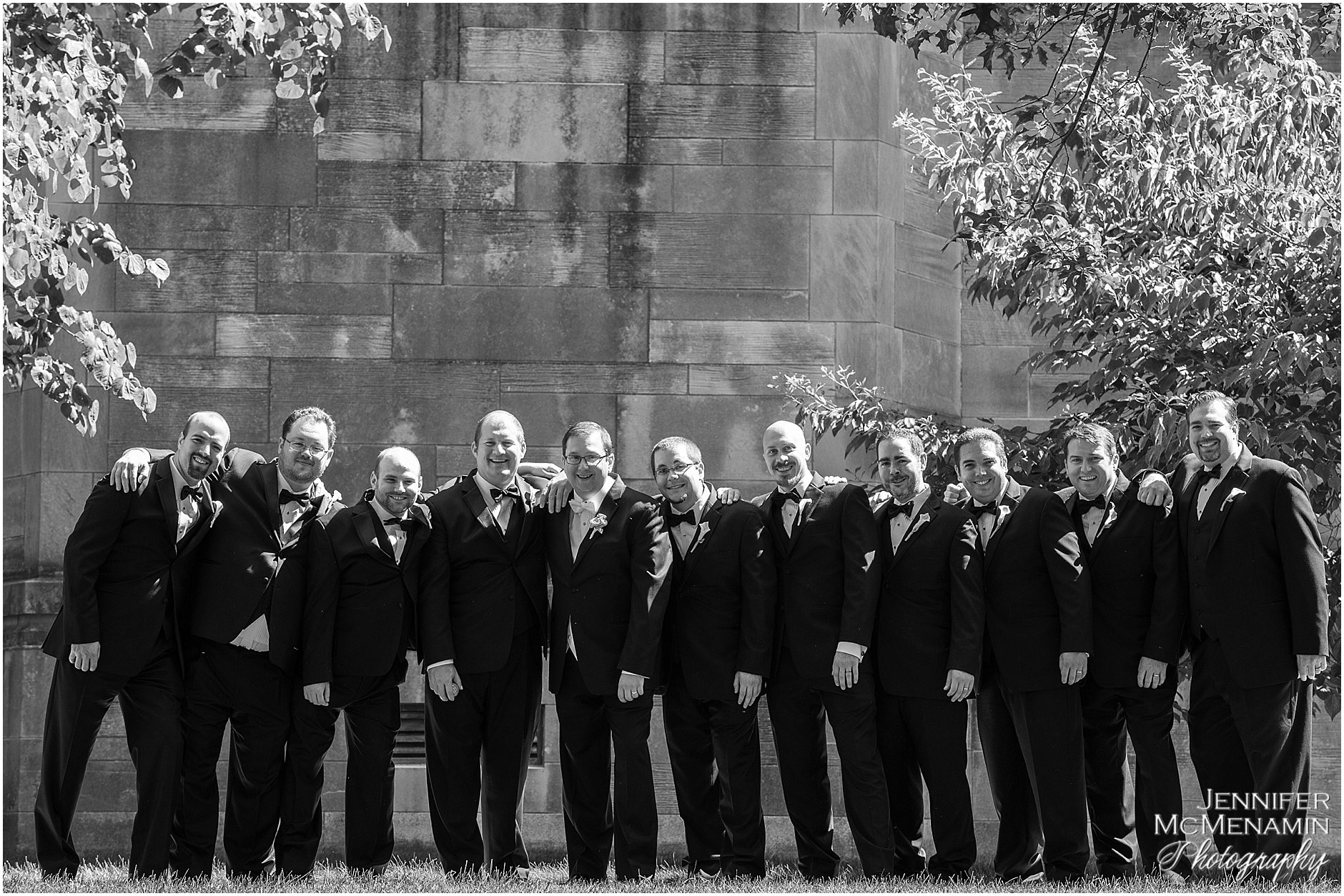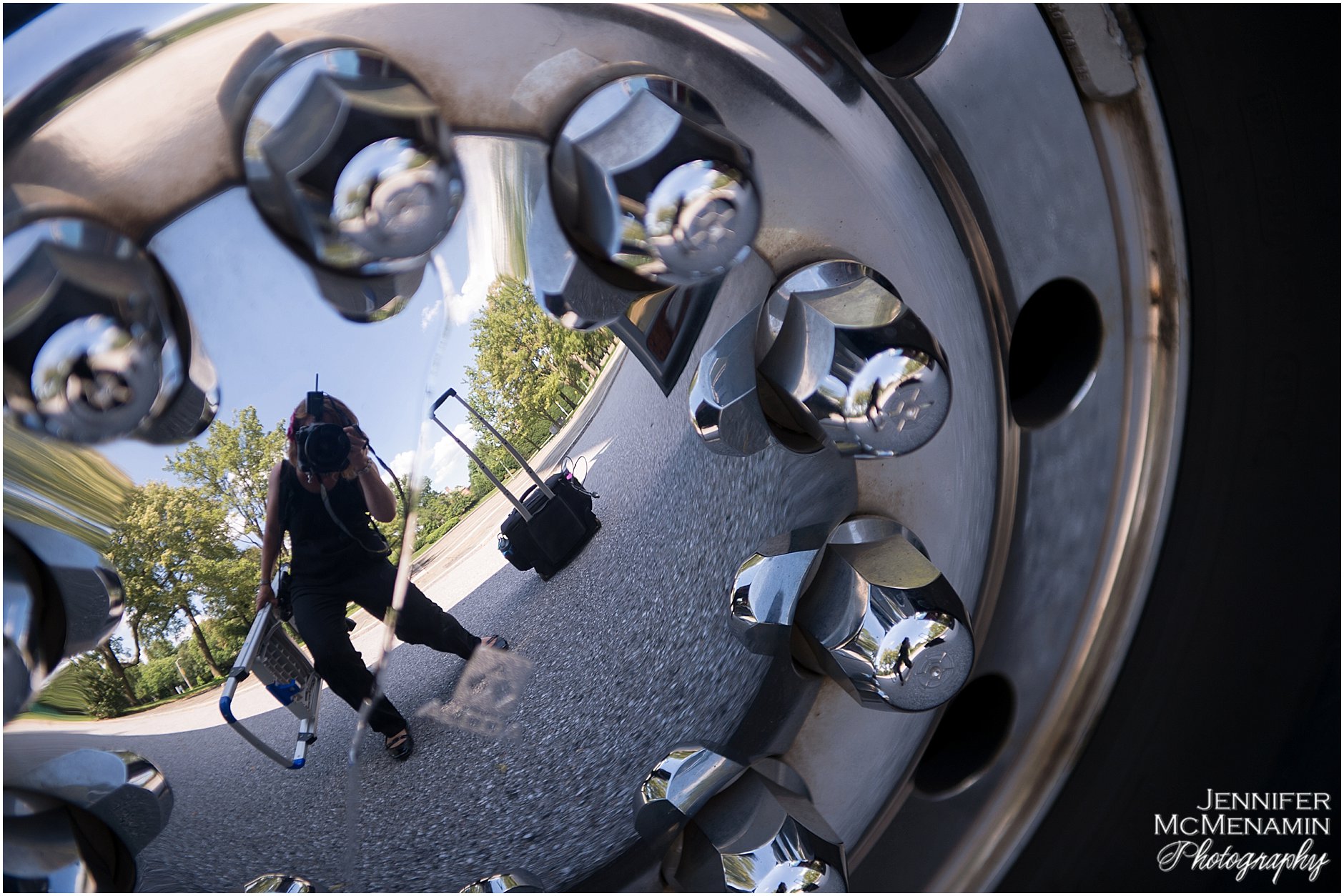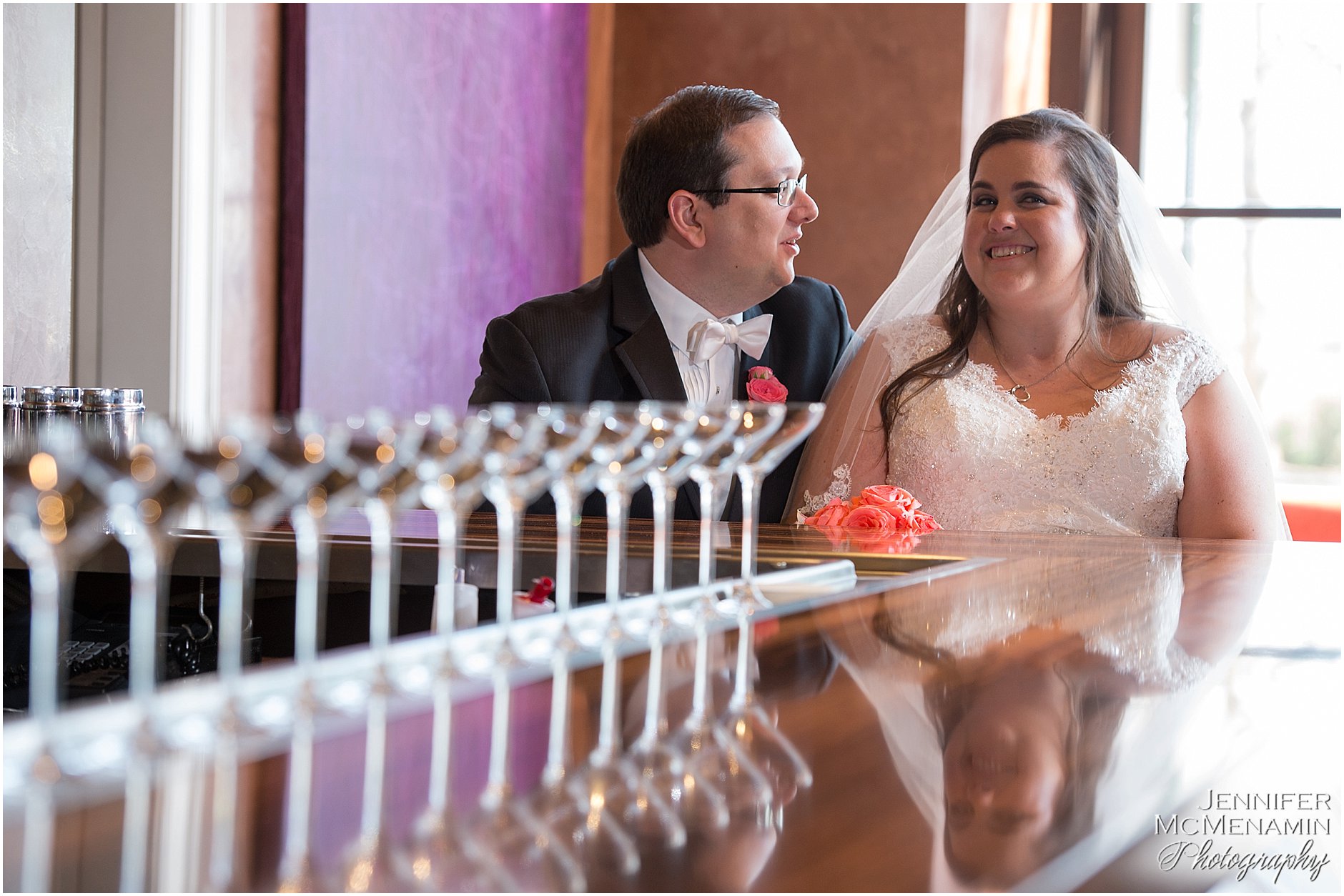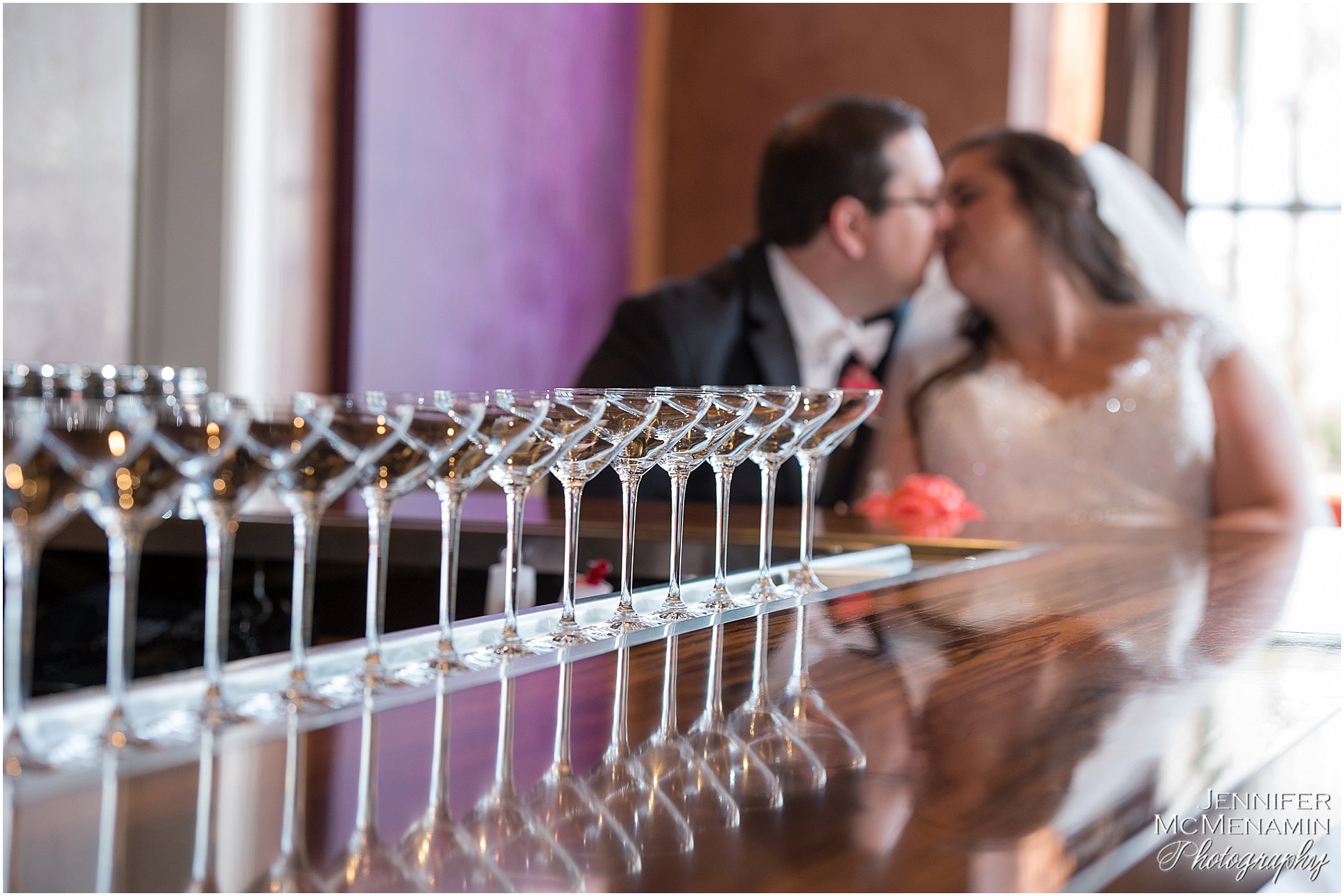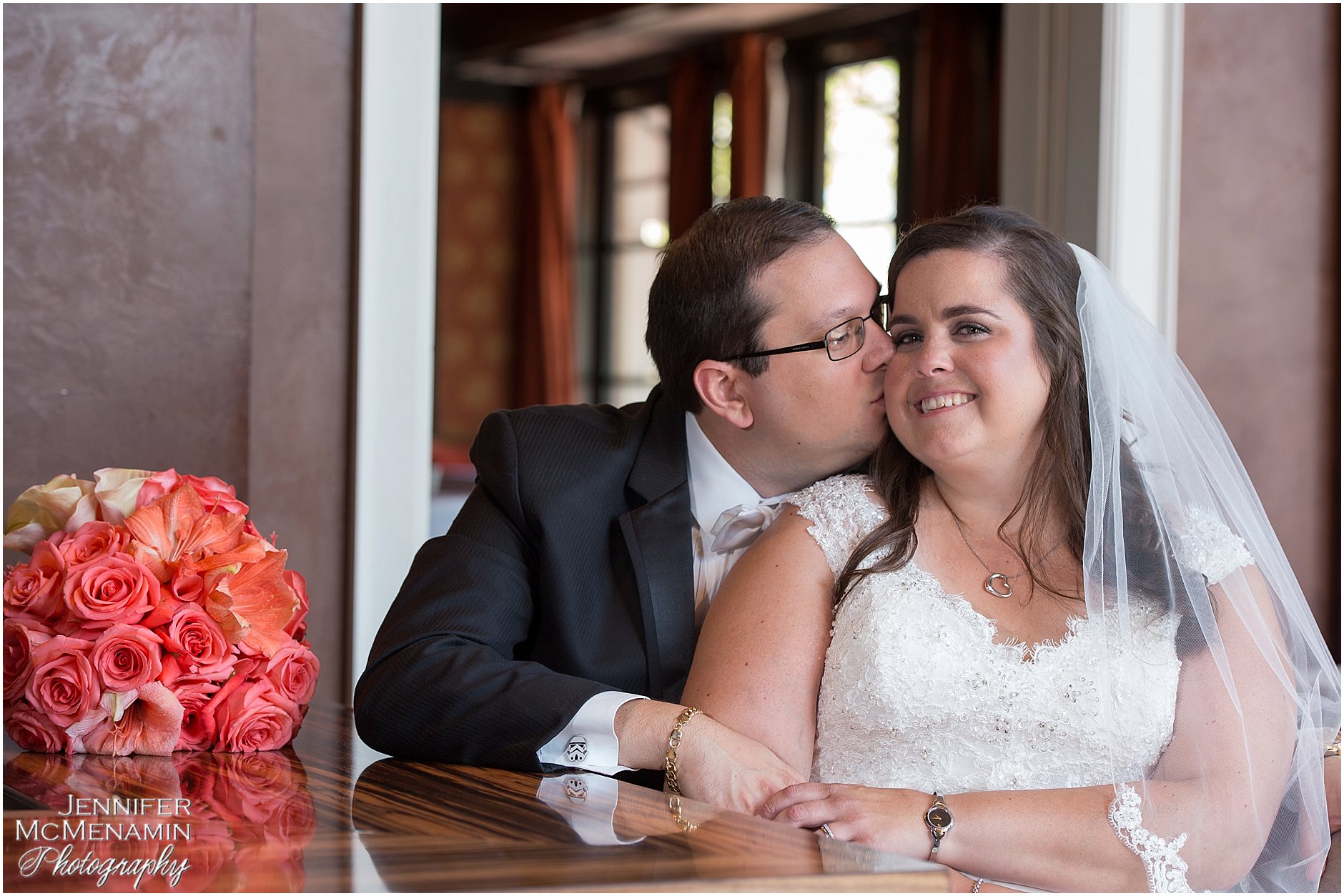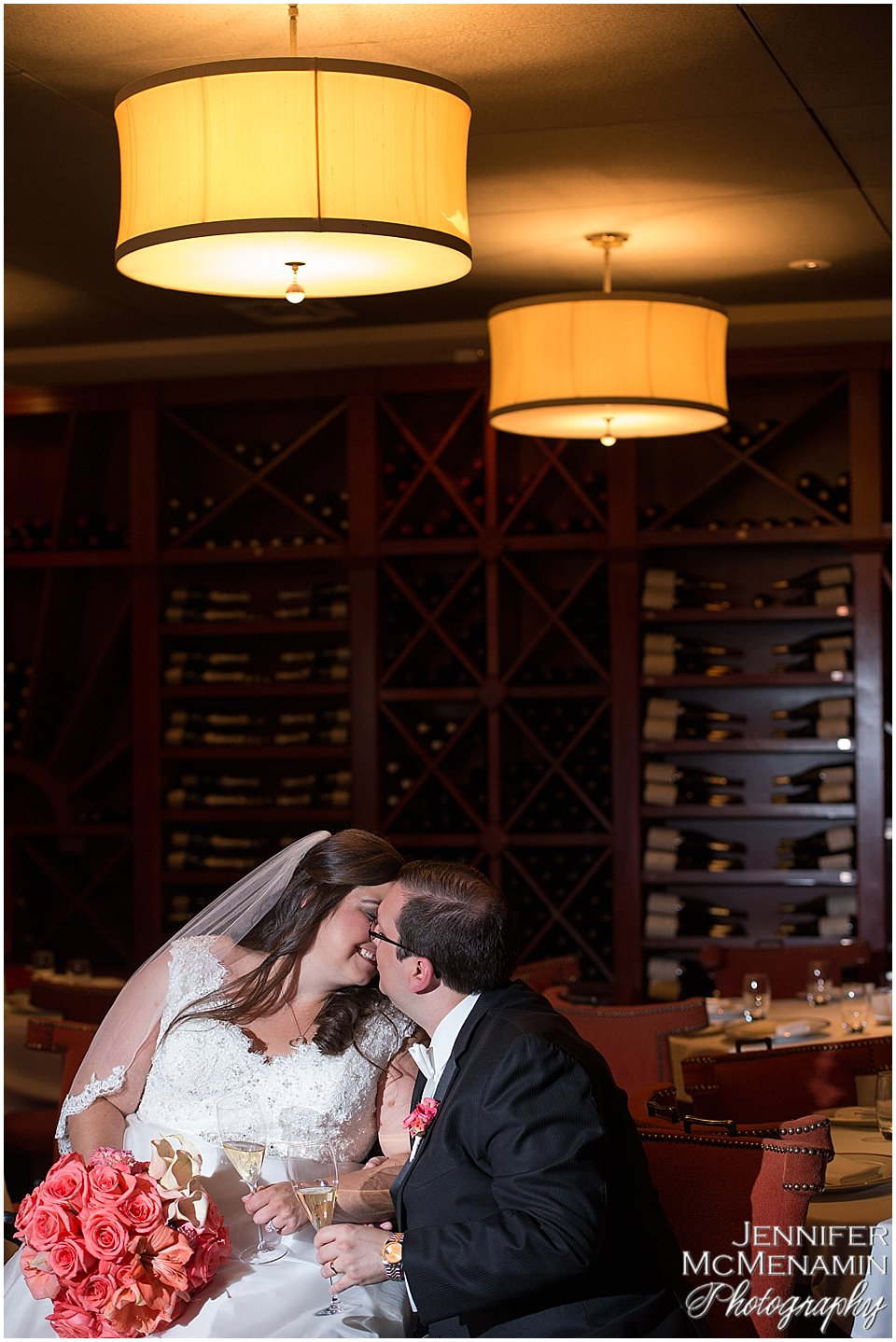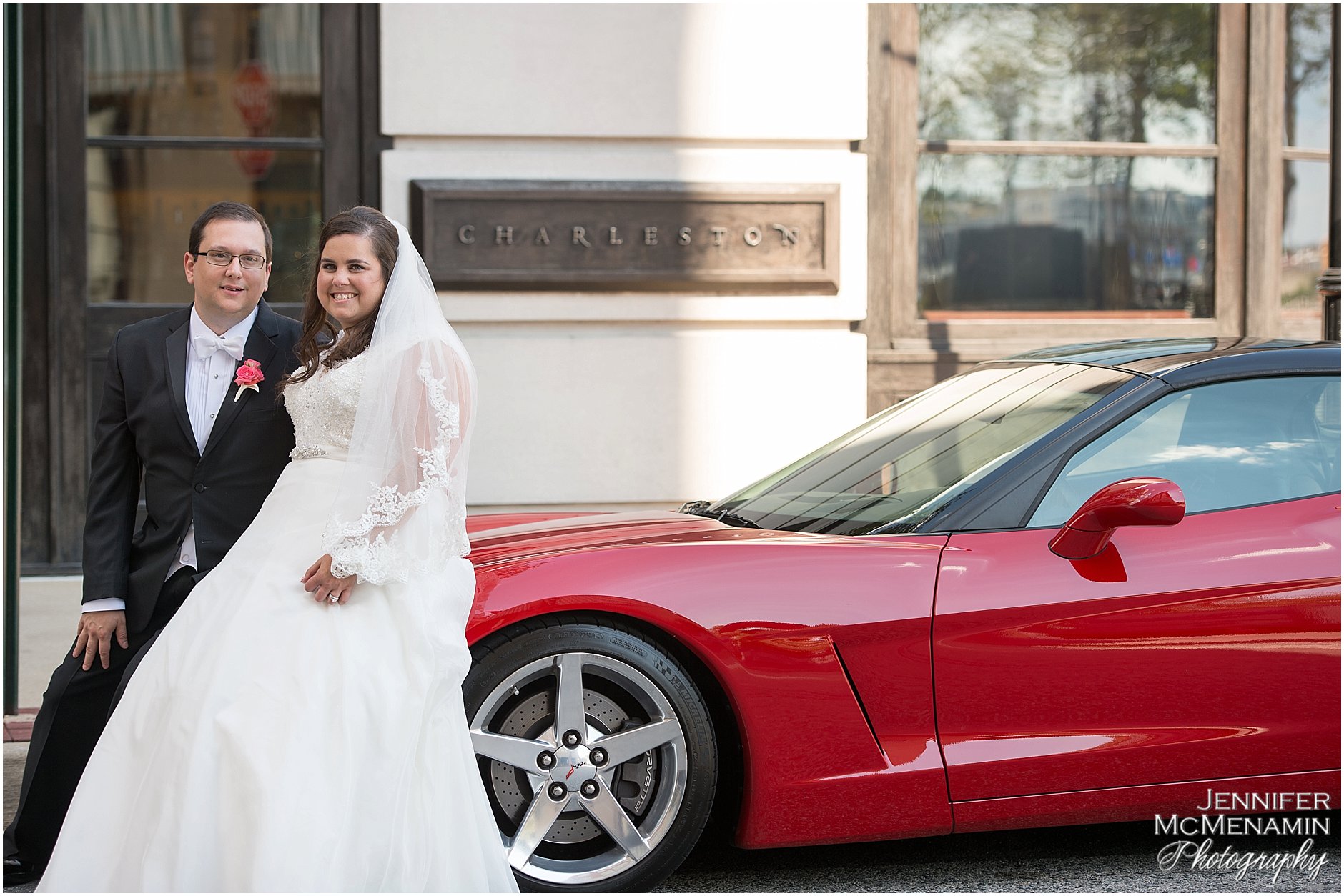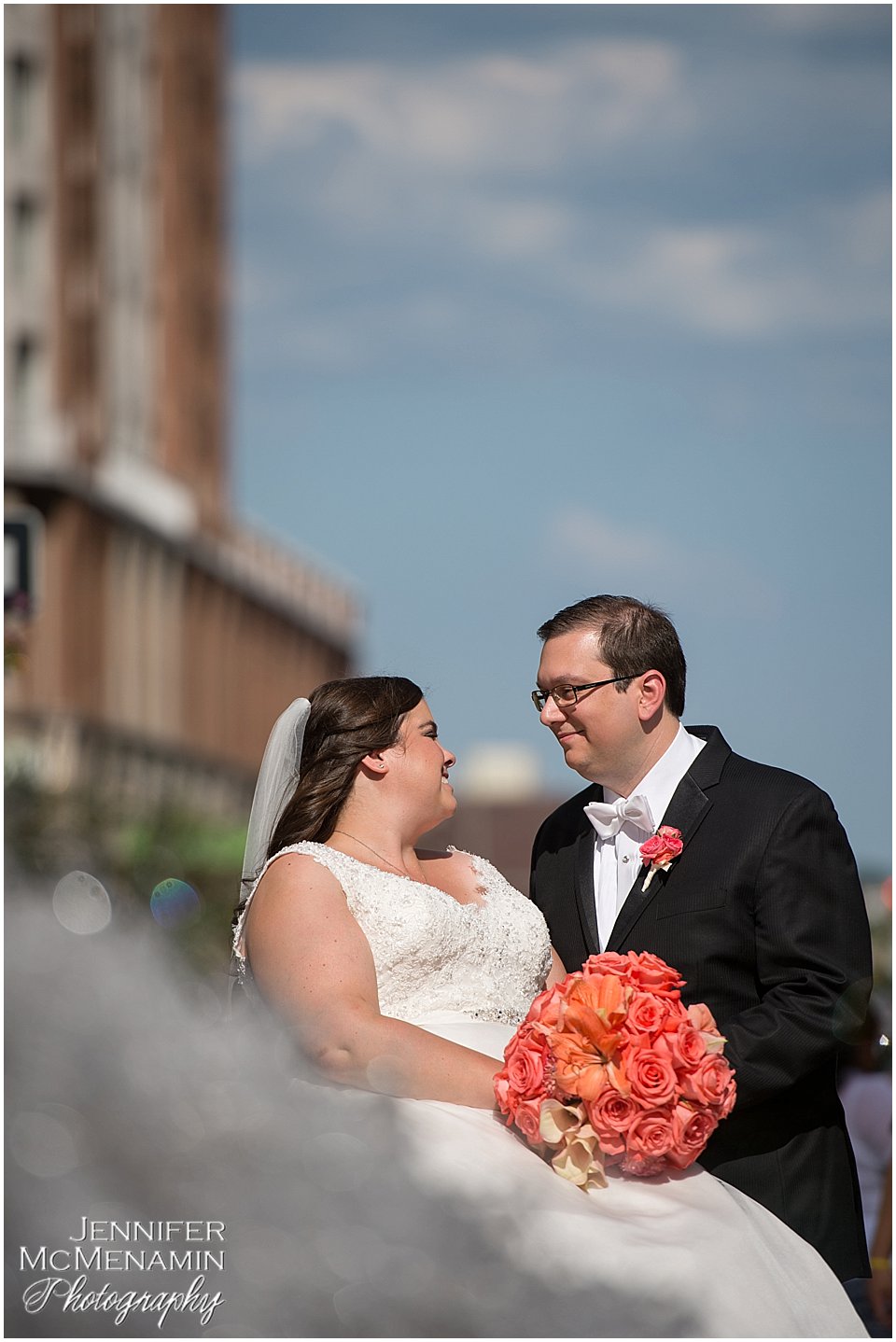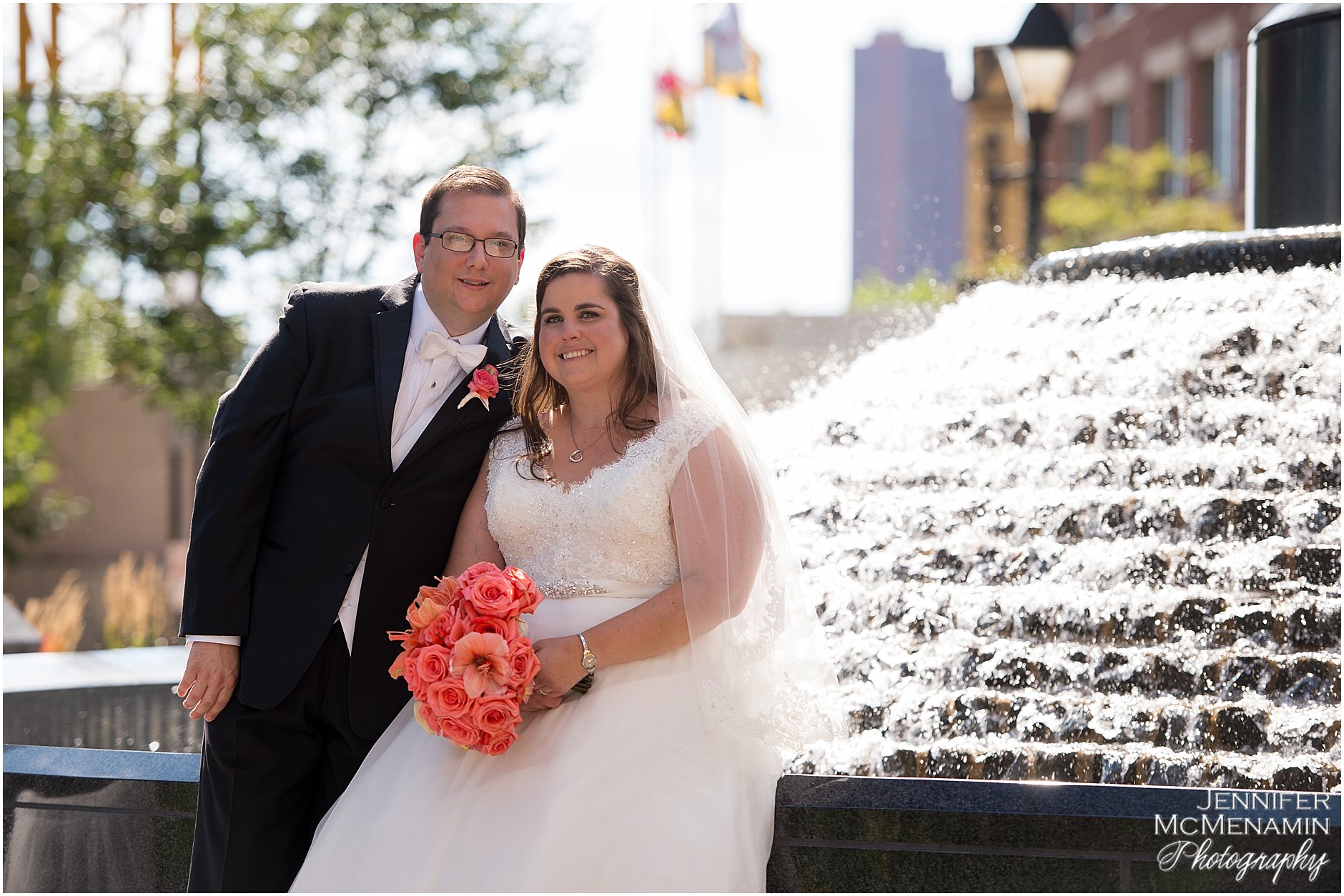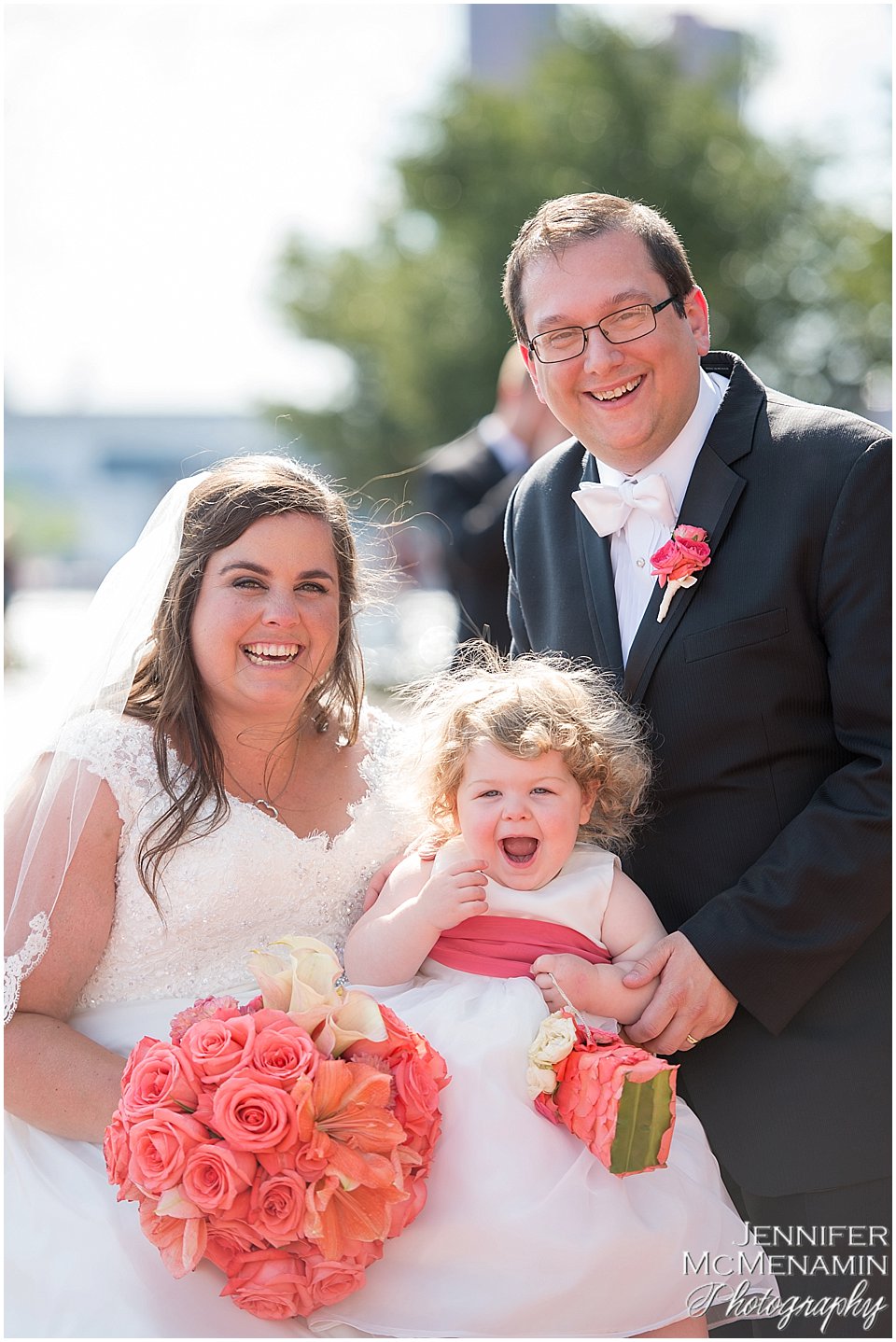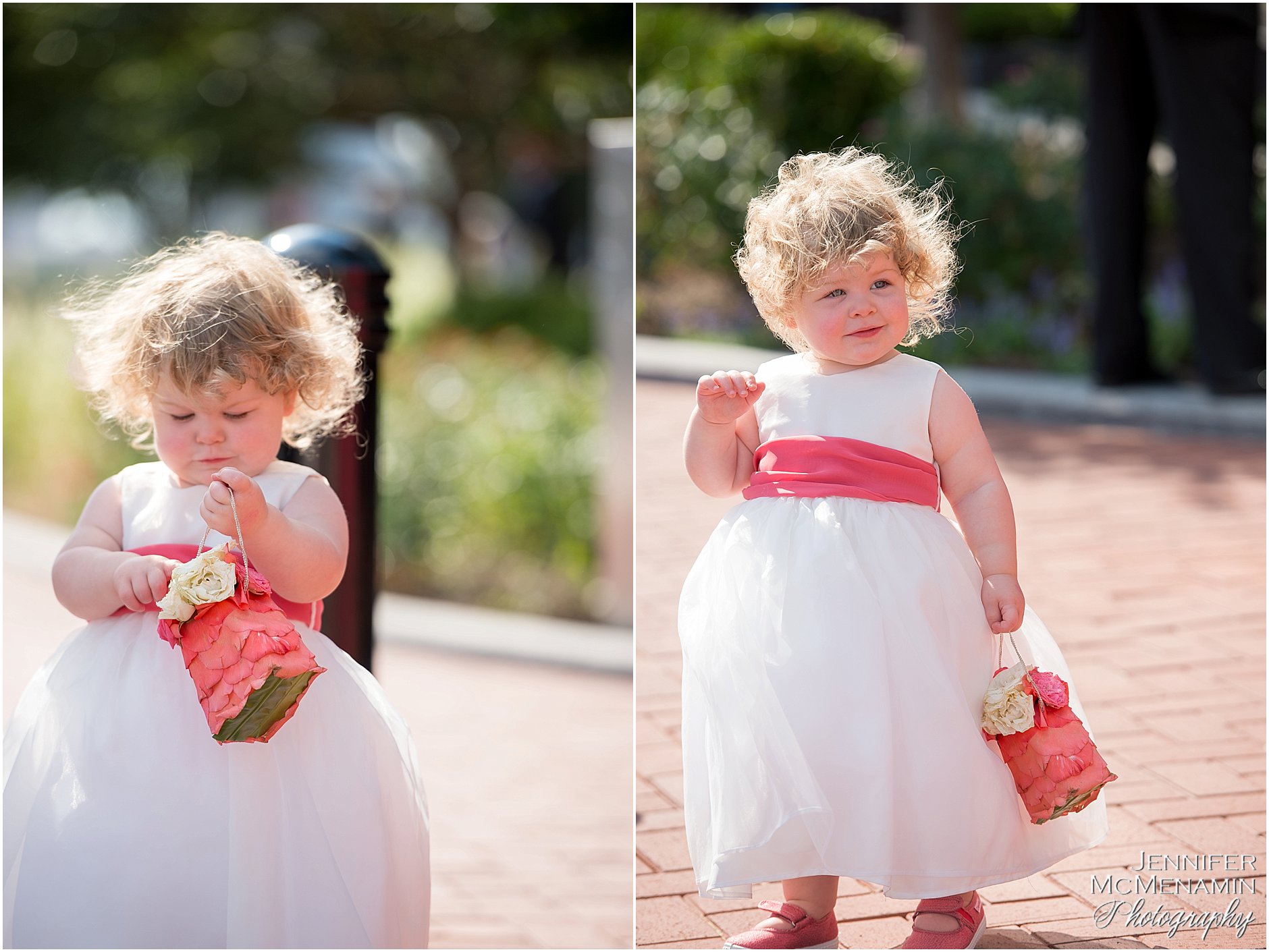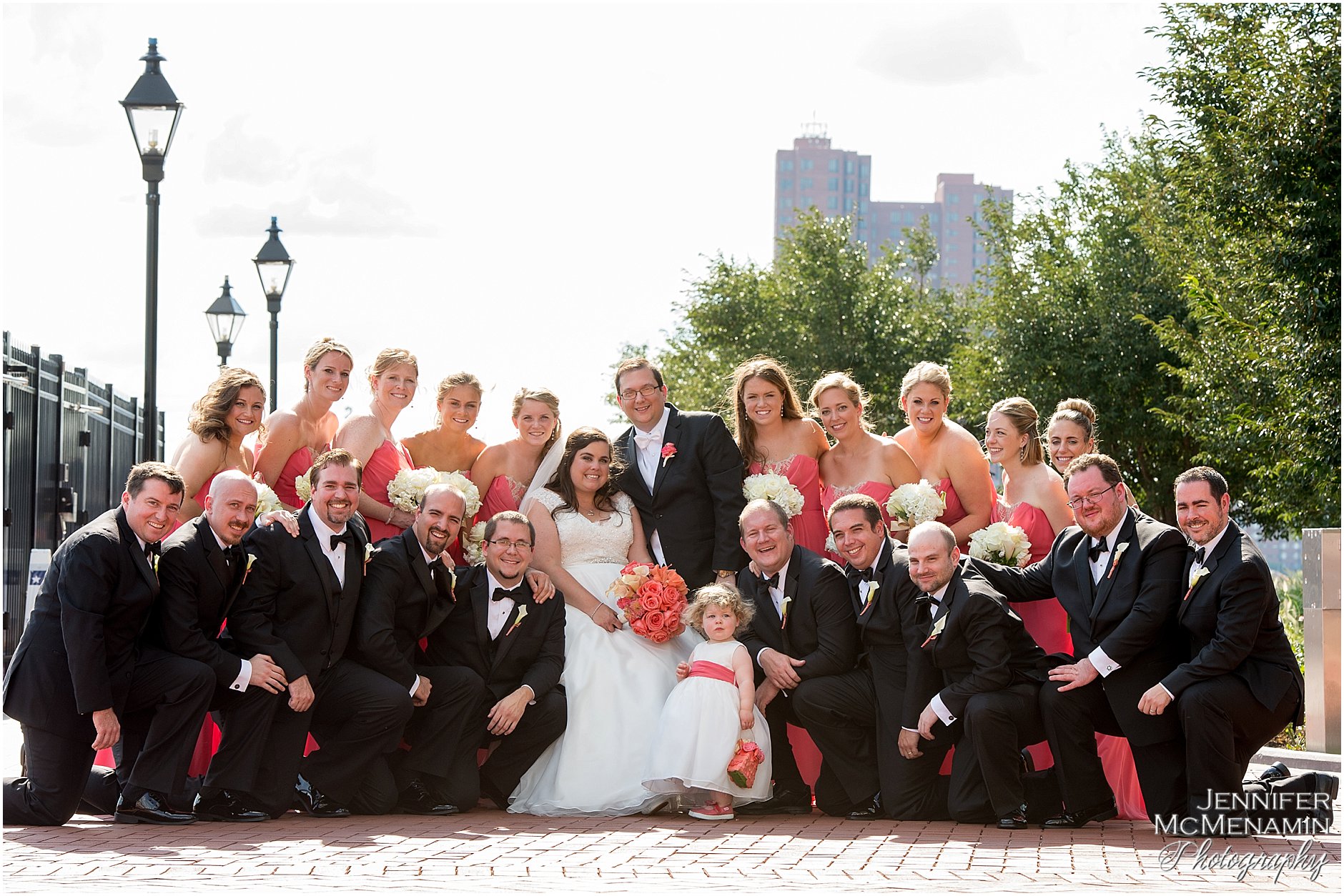 A few reception details. Kelly's choice of coral — brought to life by the amazingly talented planners and designers at Boutique Events and Victoria Clausen Floral Events — was such a pretty hue for summer. And I loved that in addition to naming their tables, Kelly + Jeff included fun facts about themselves and their relationship on the opposite side of the table cards. What a fun way to share little tidbits with guests who might know only one of them.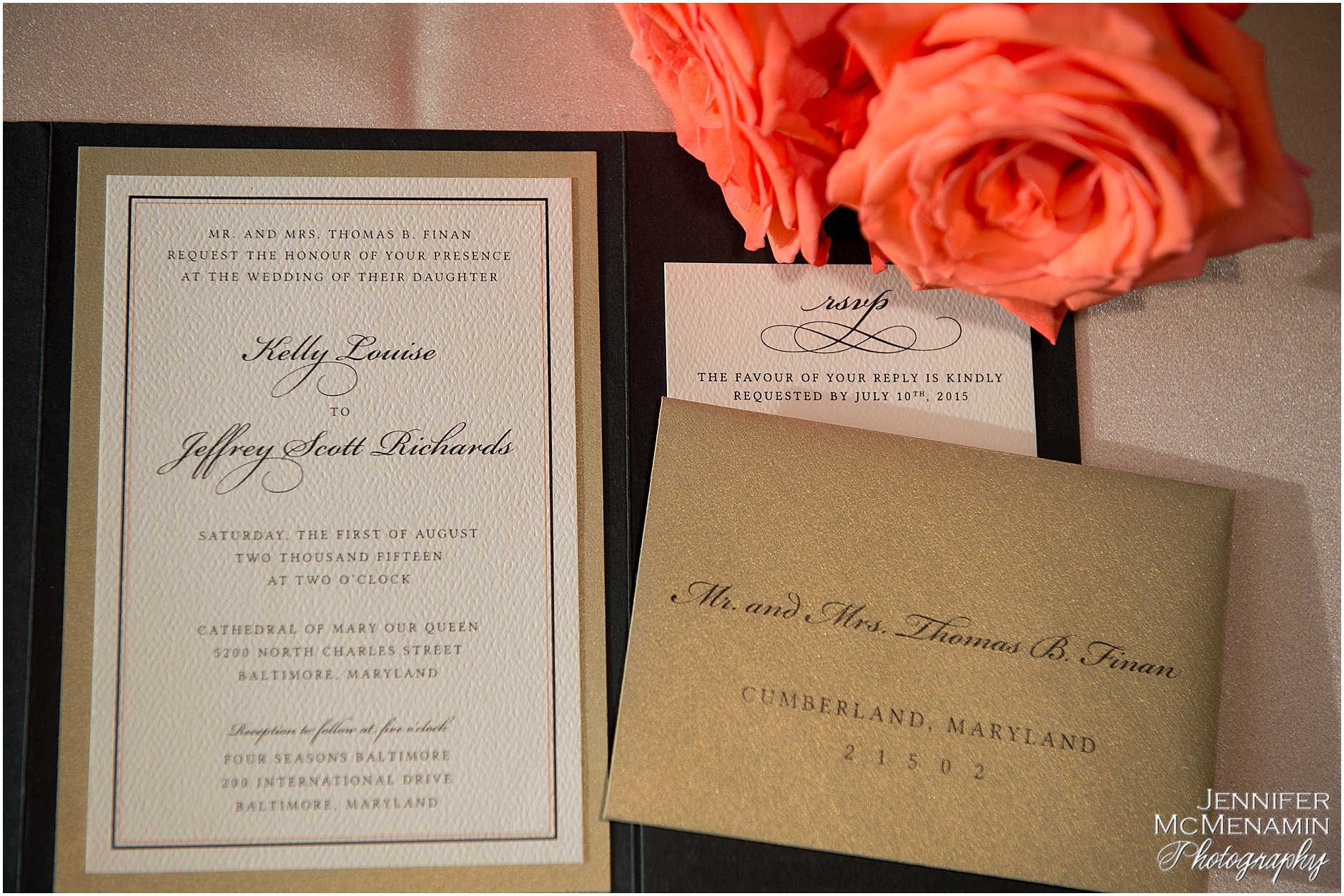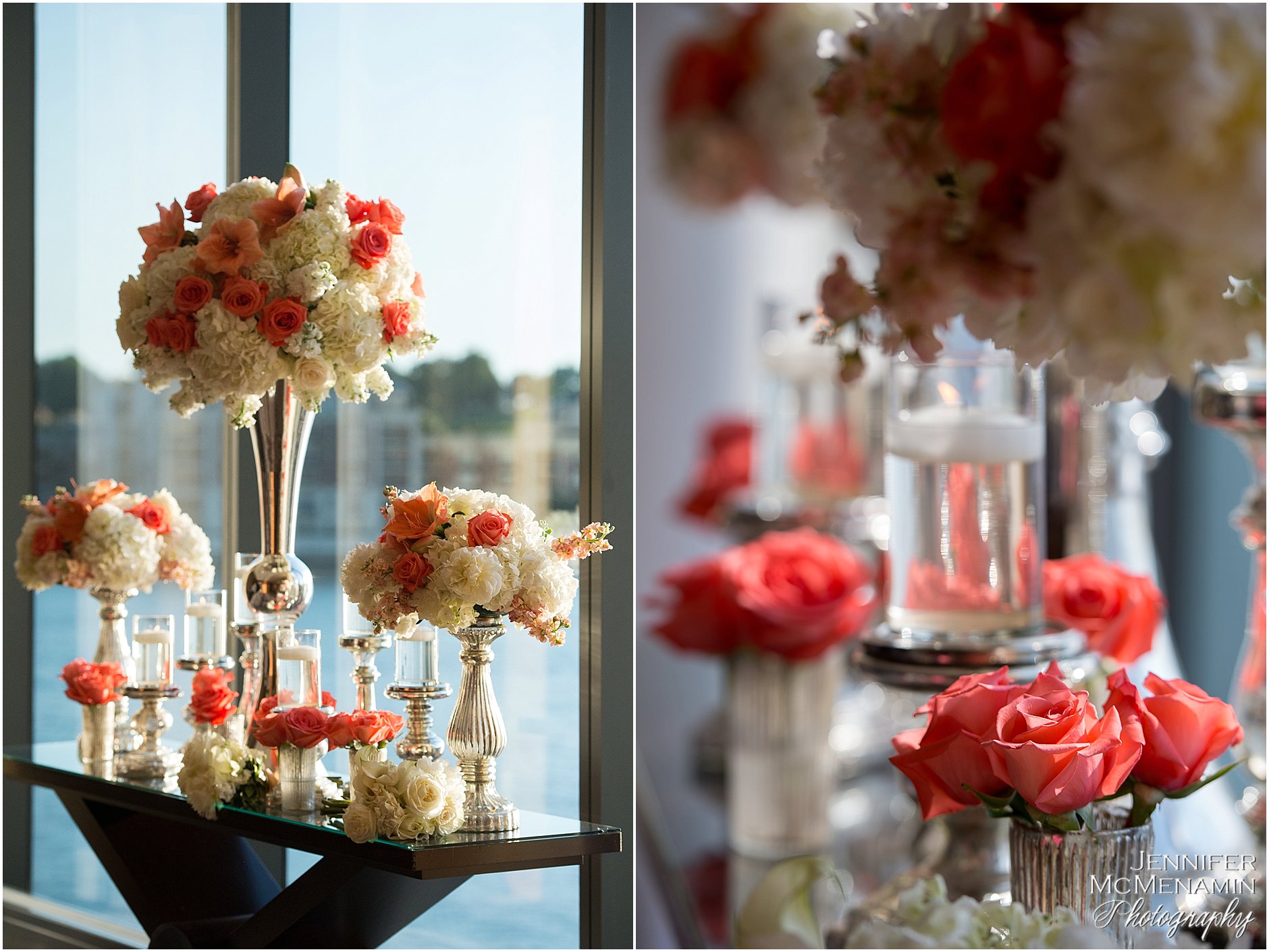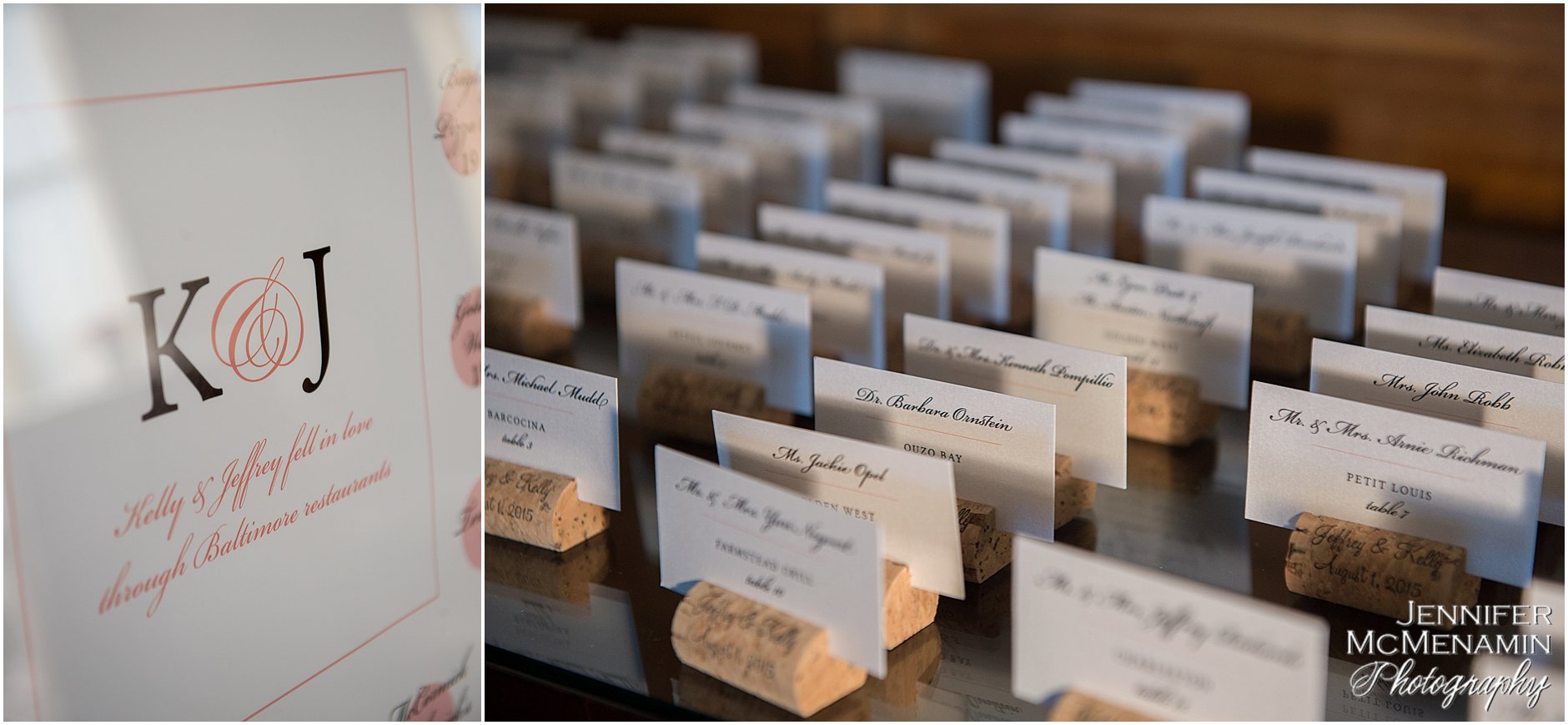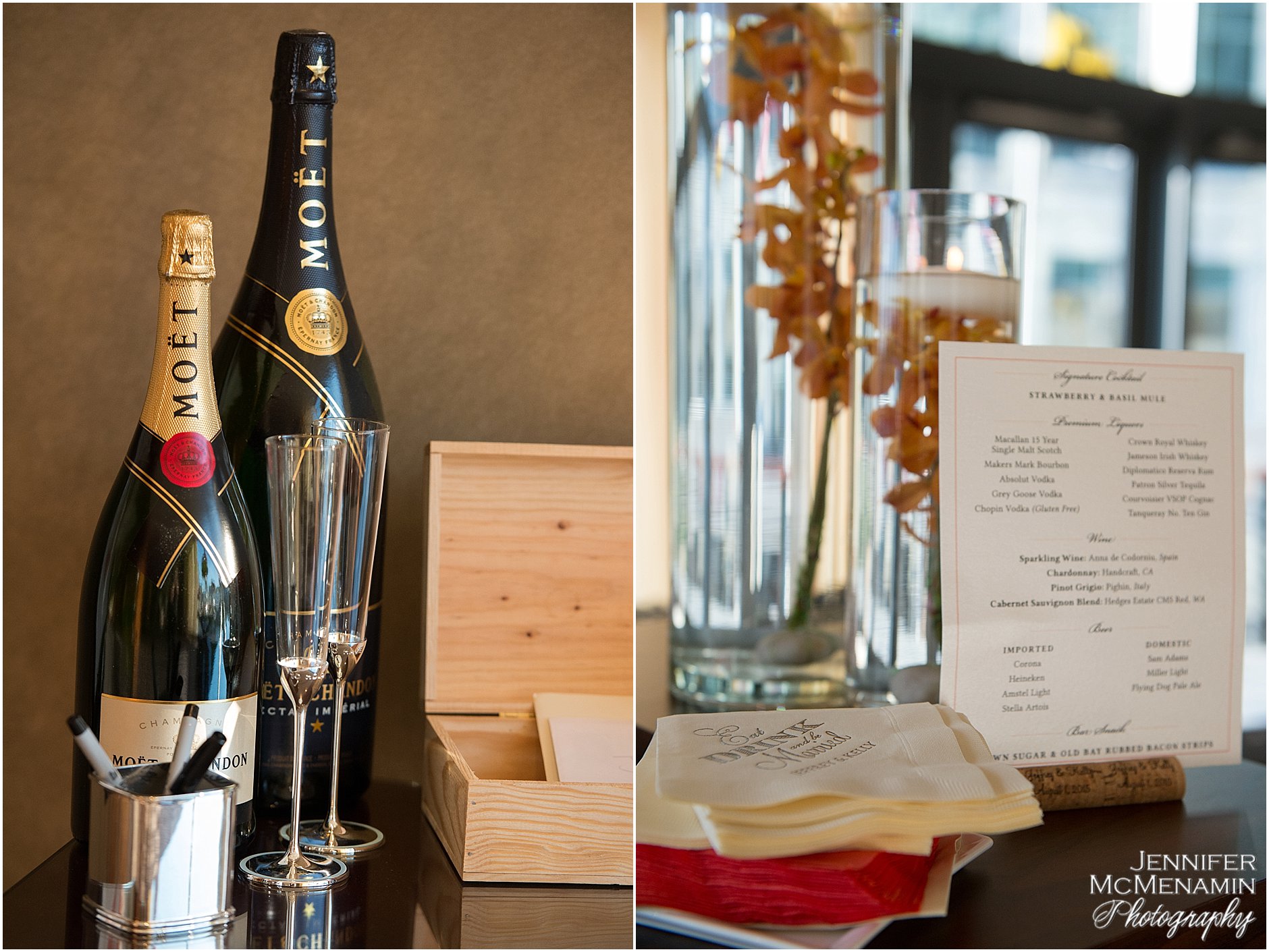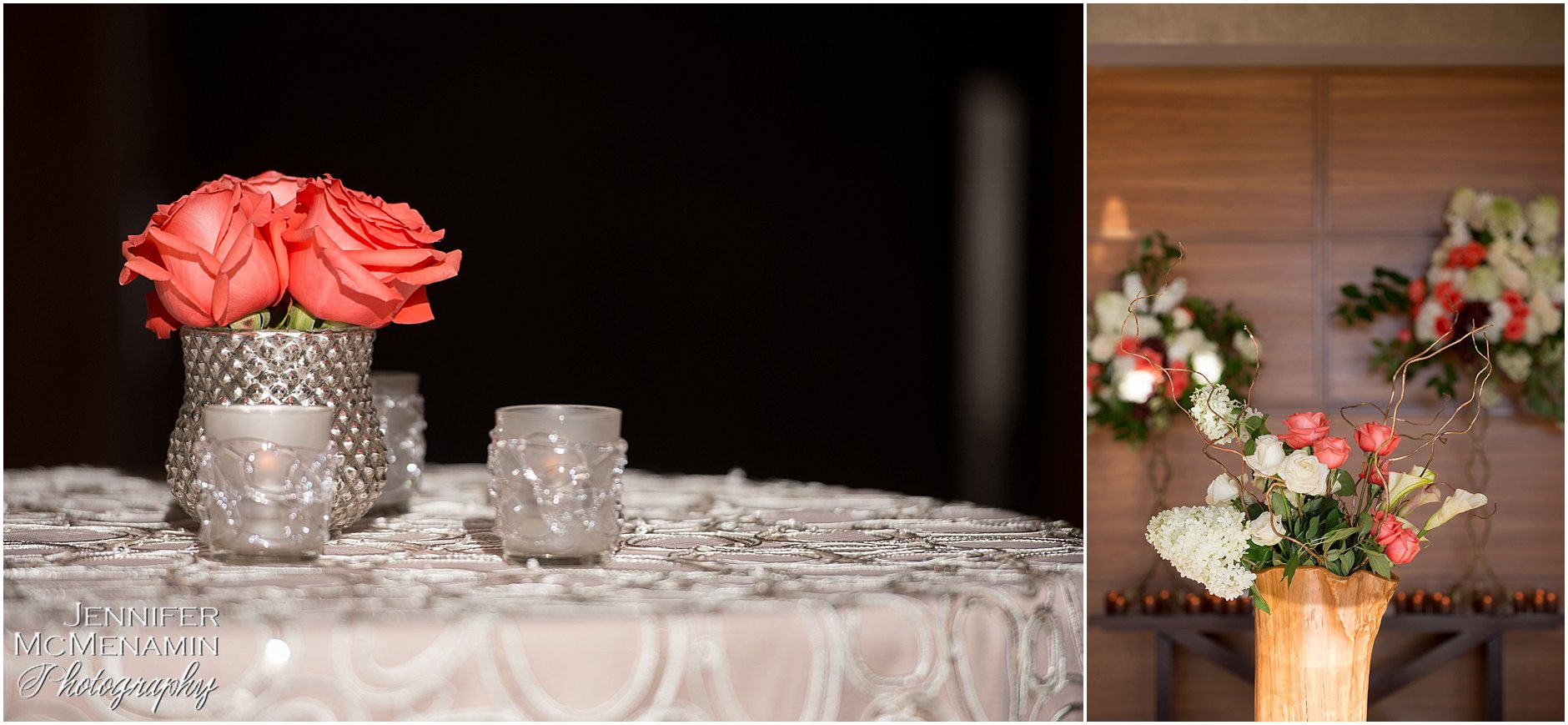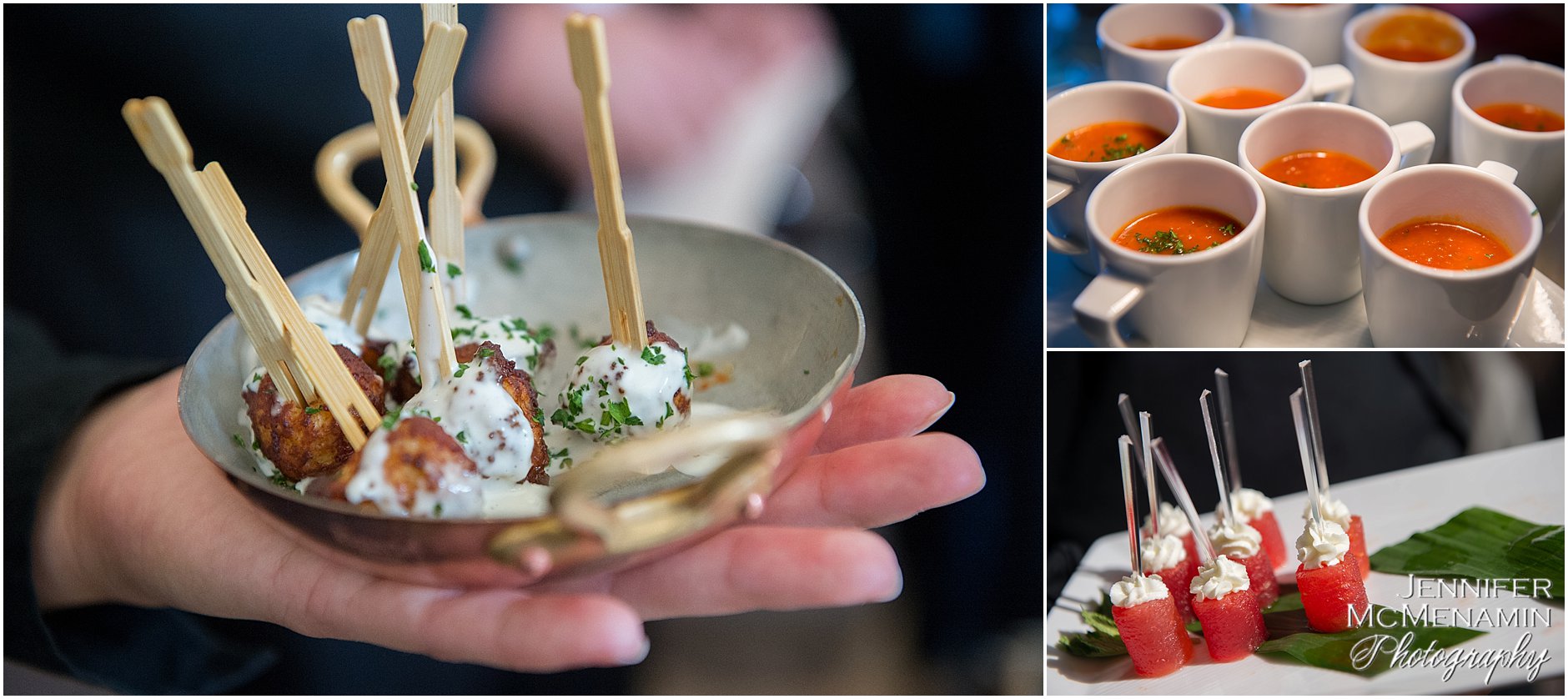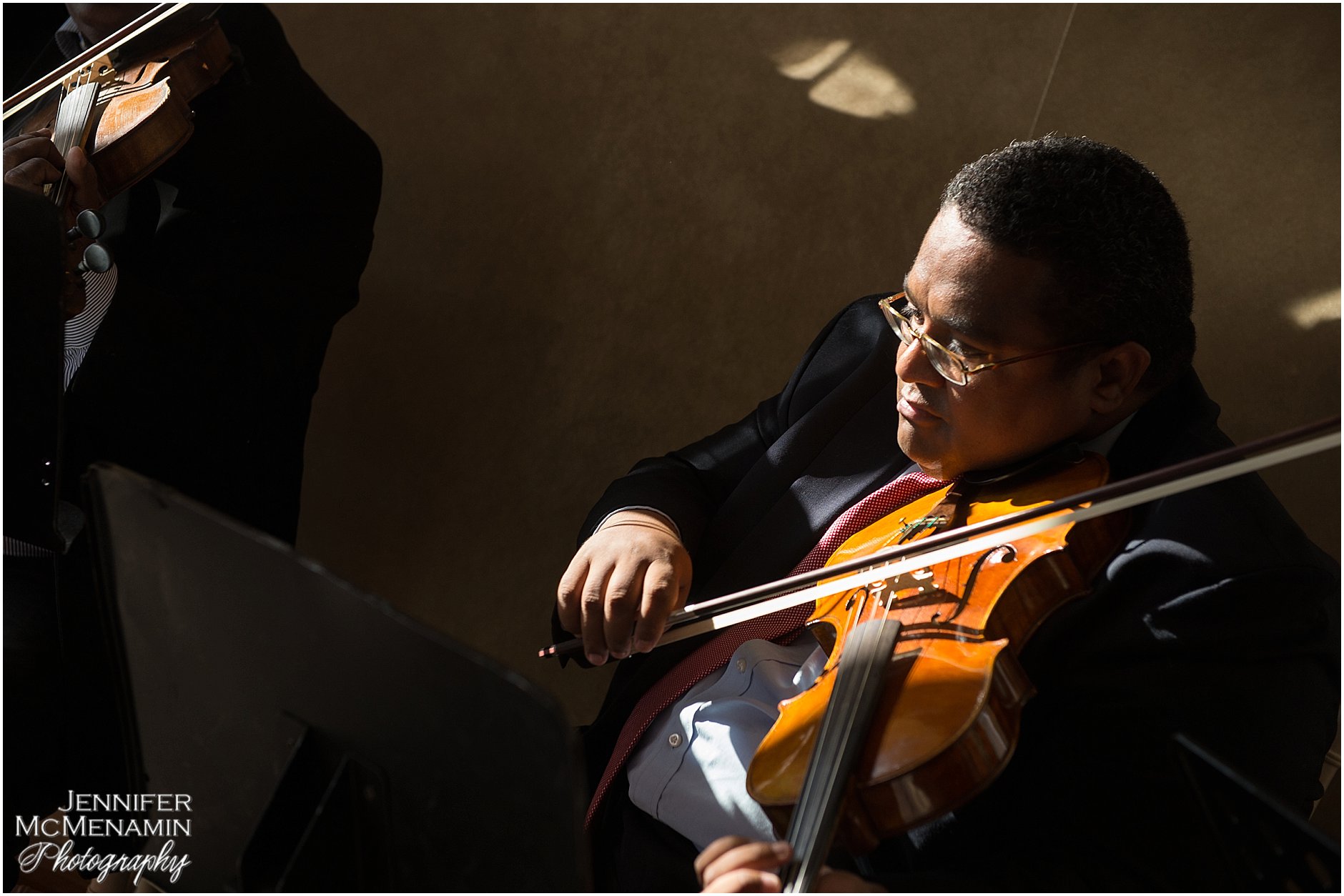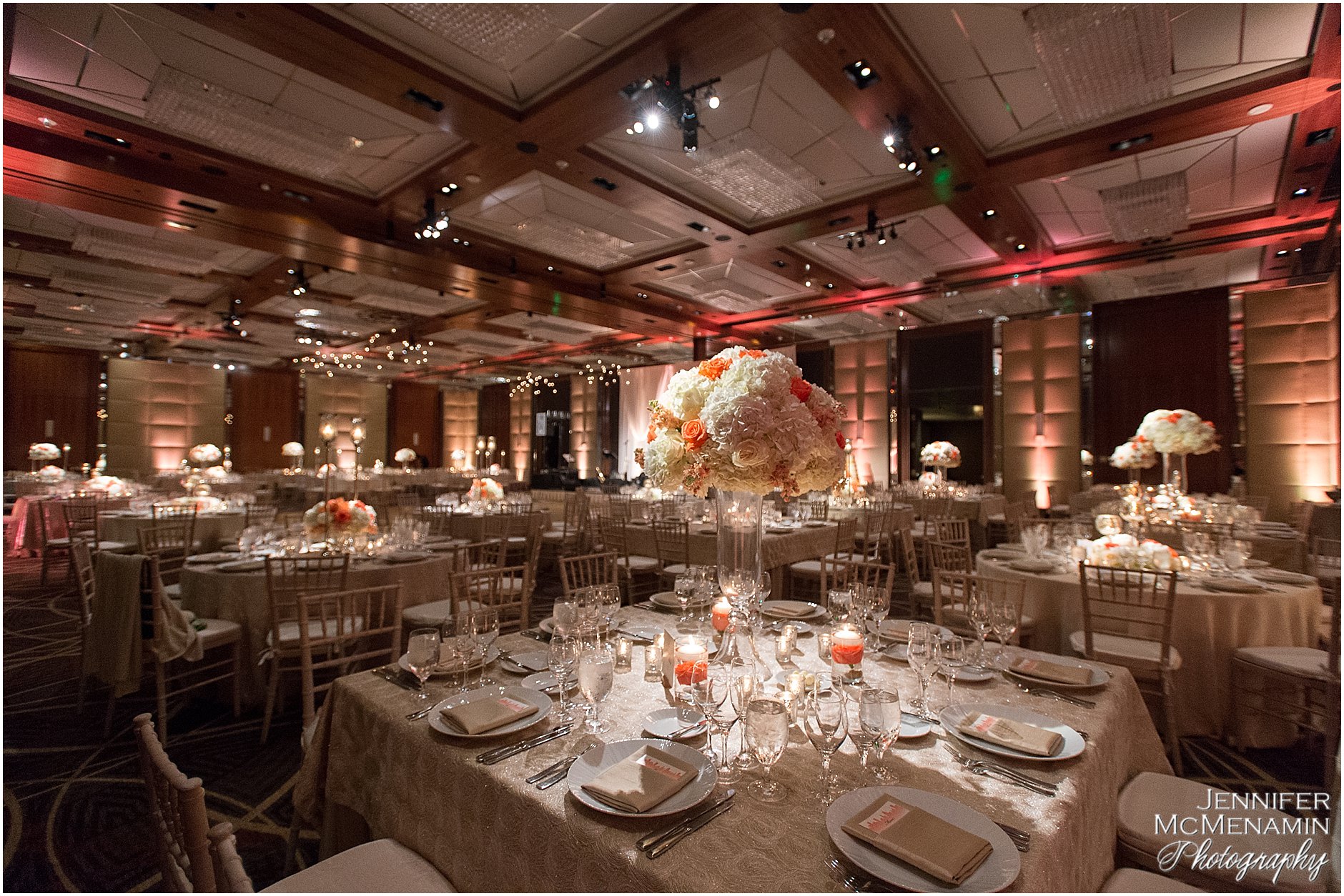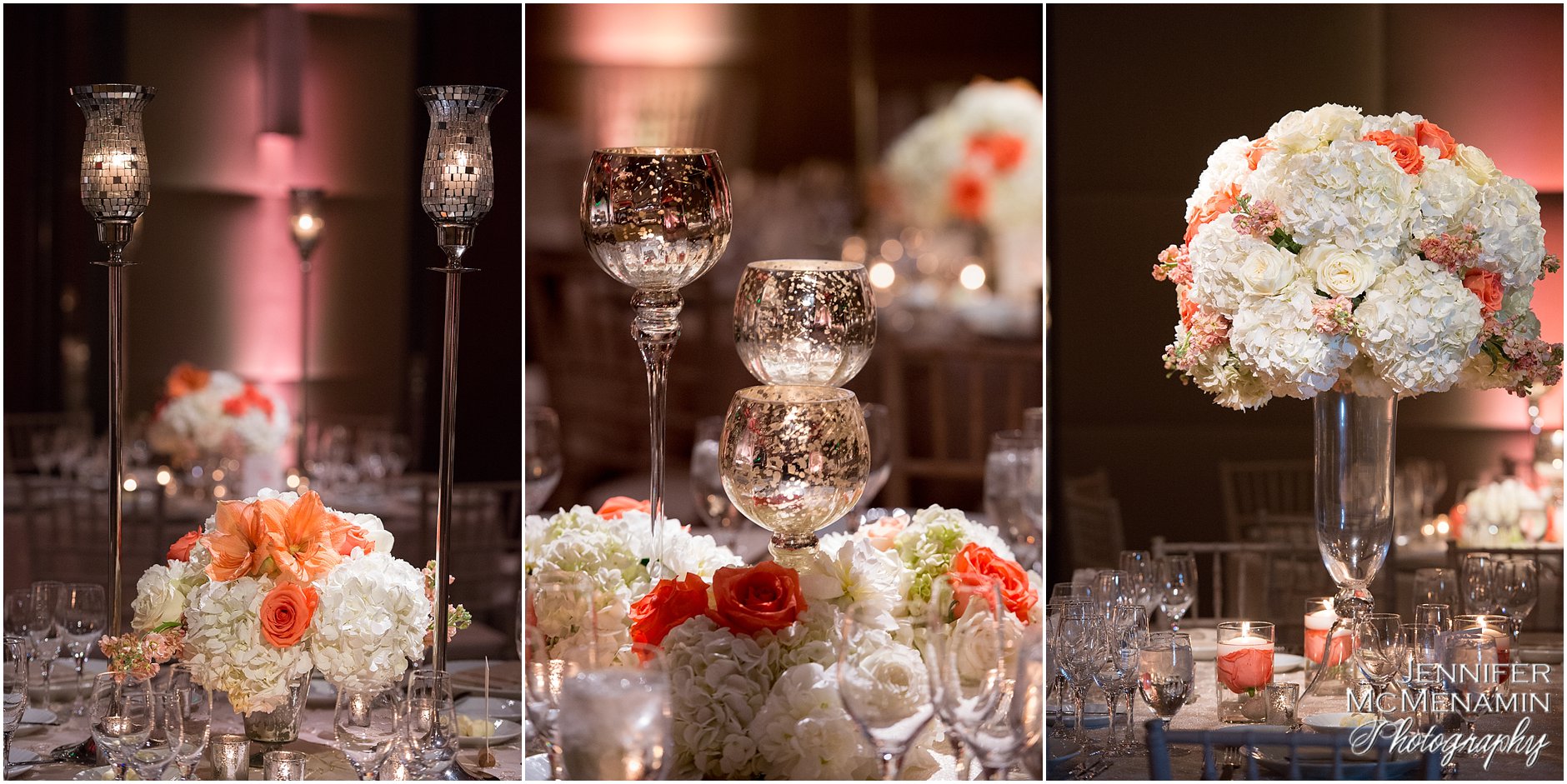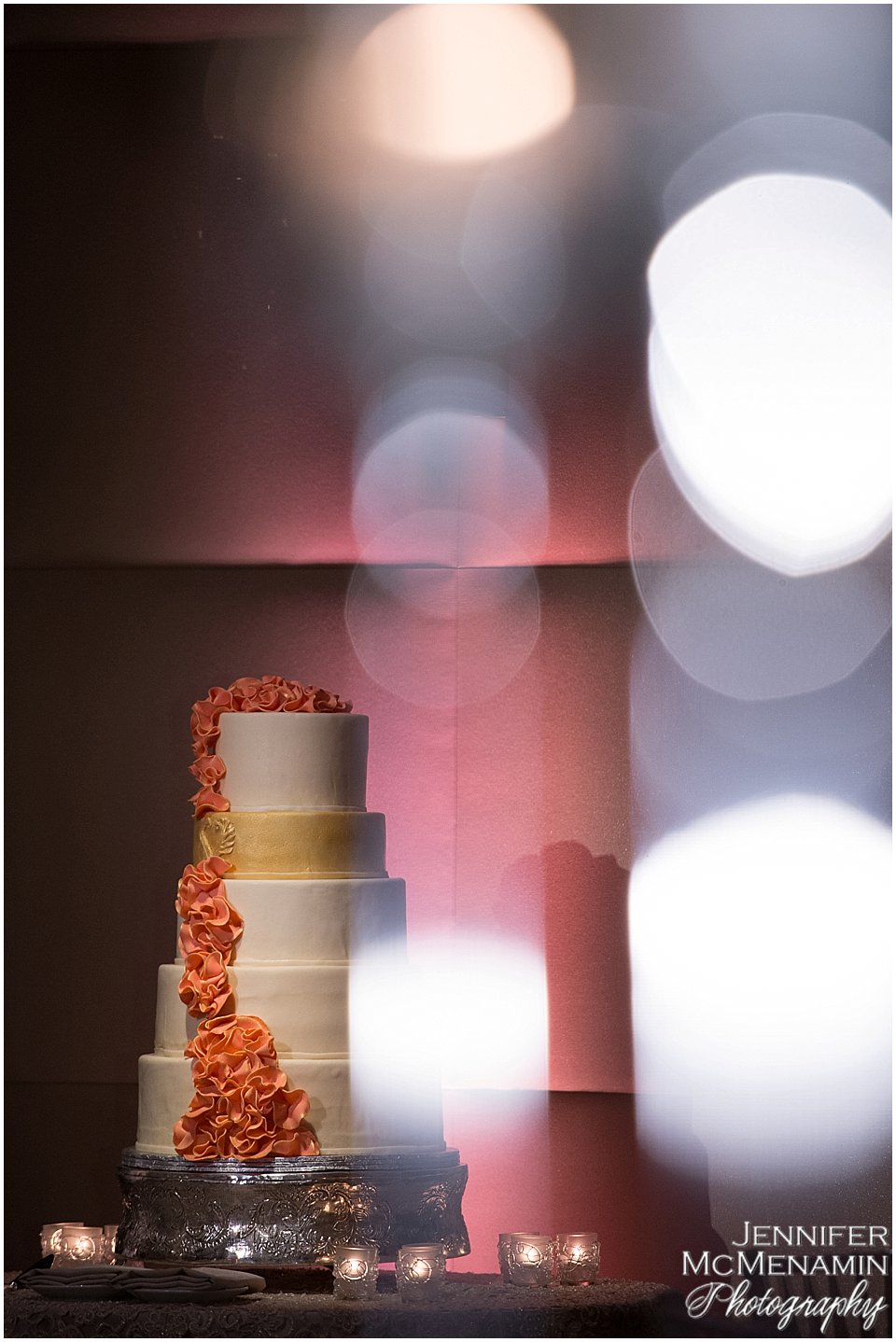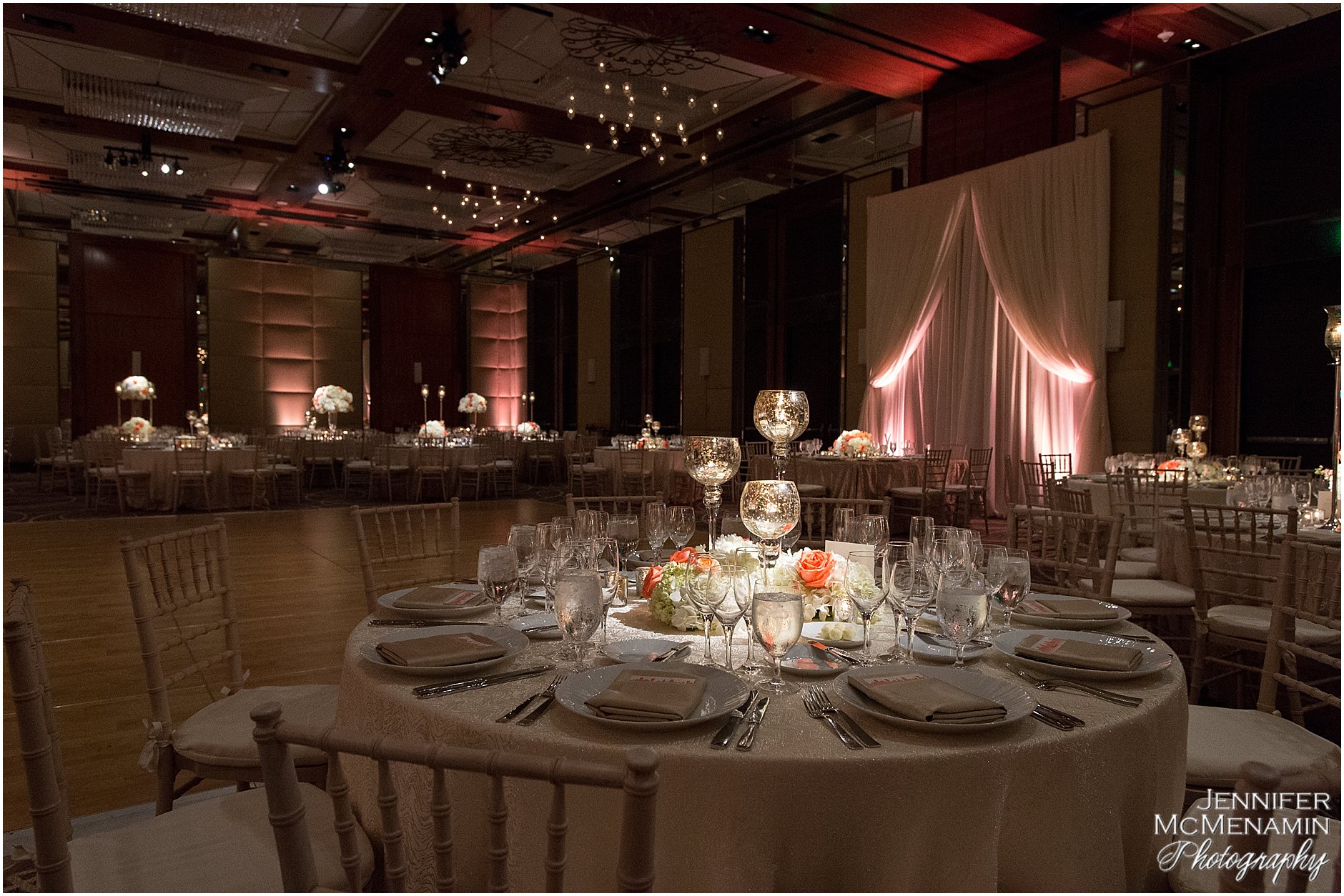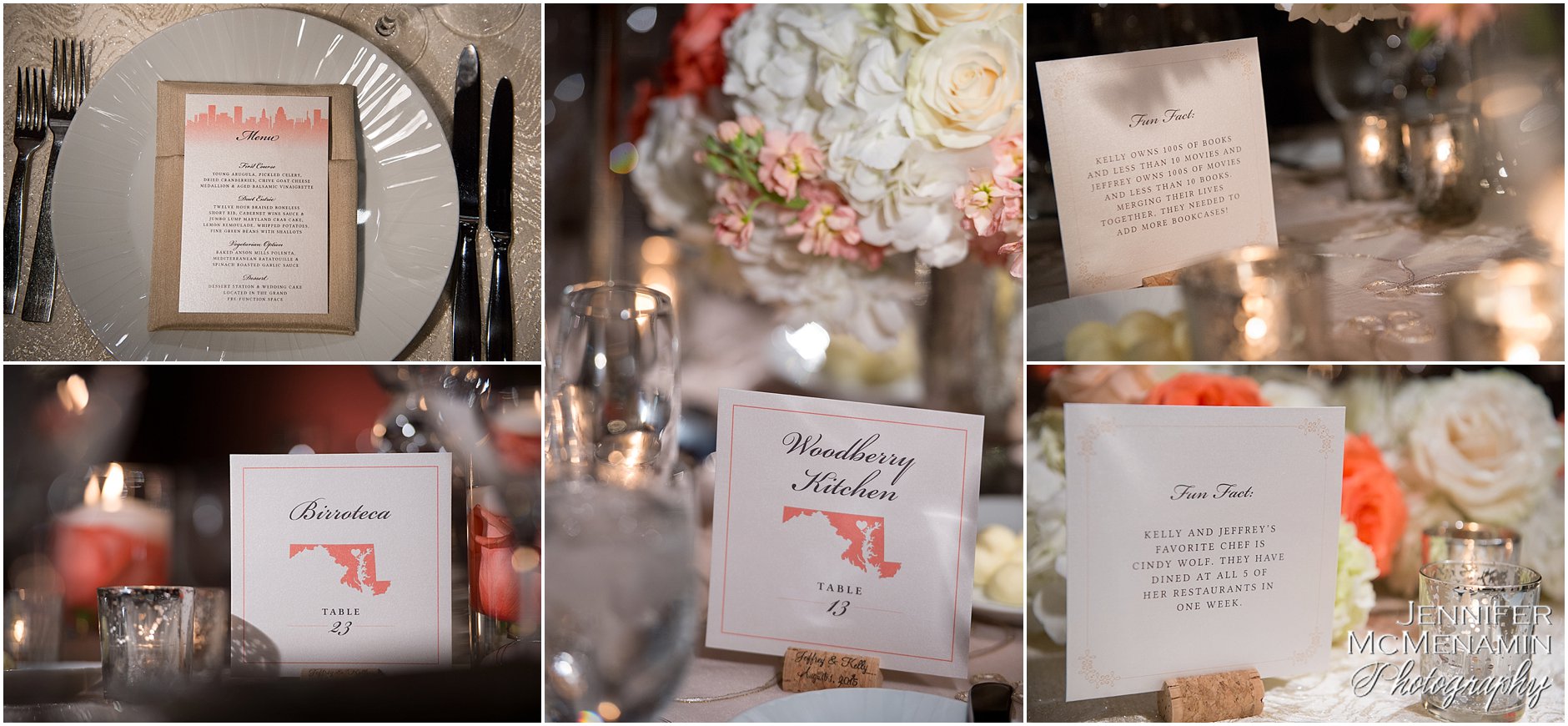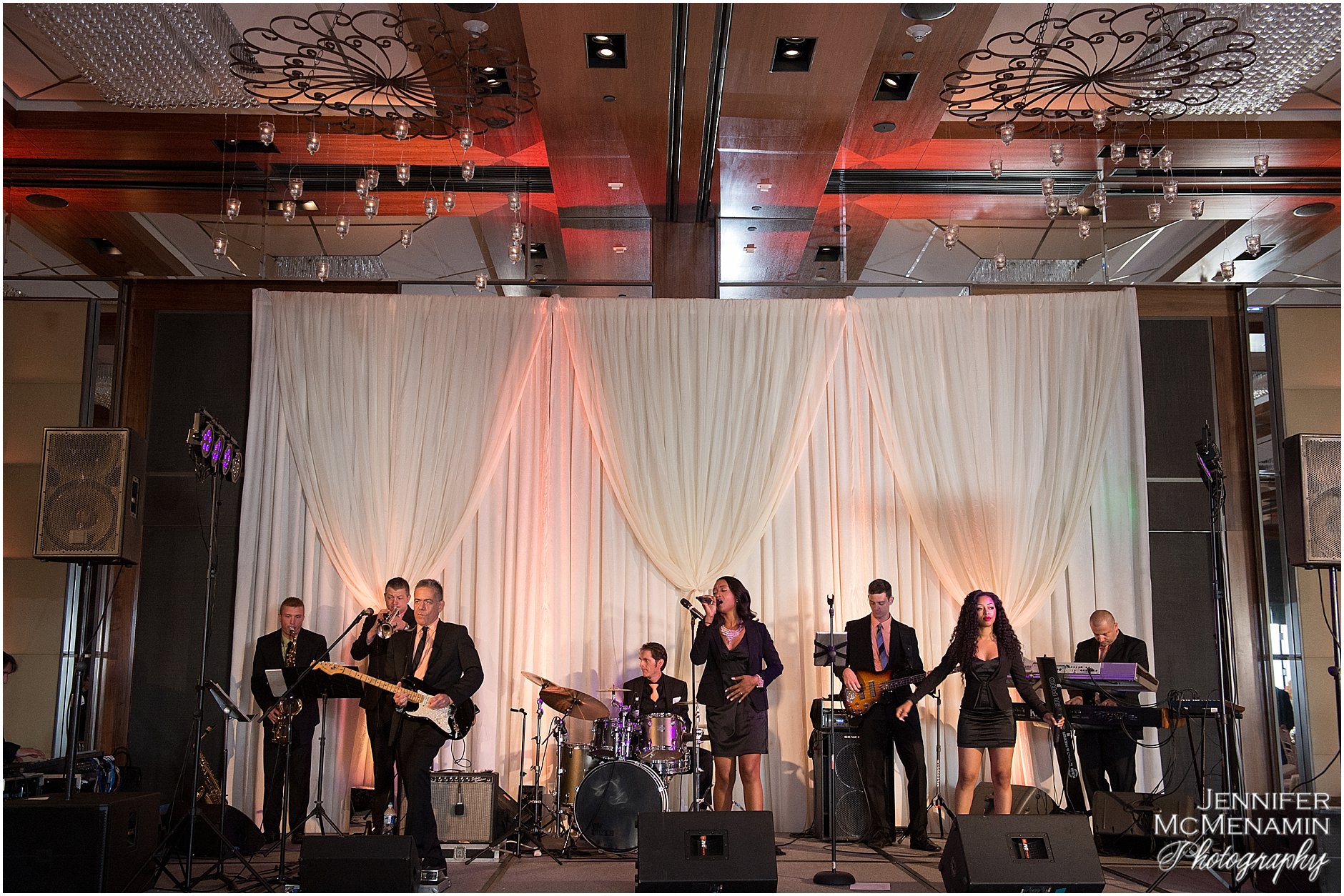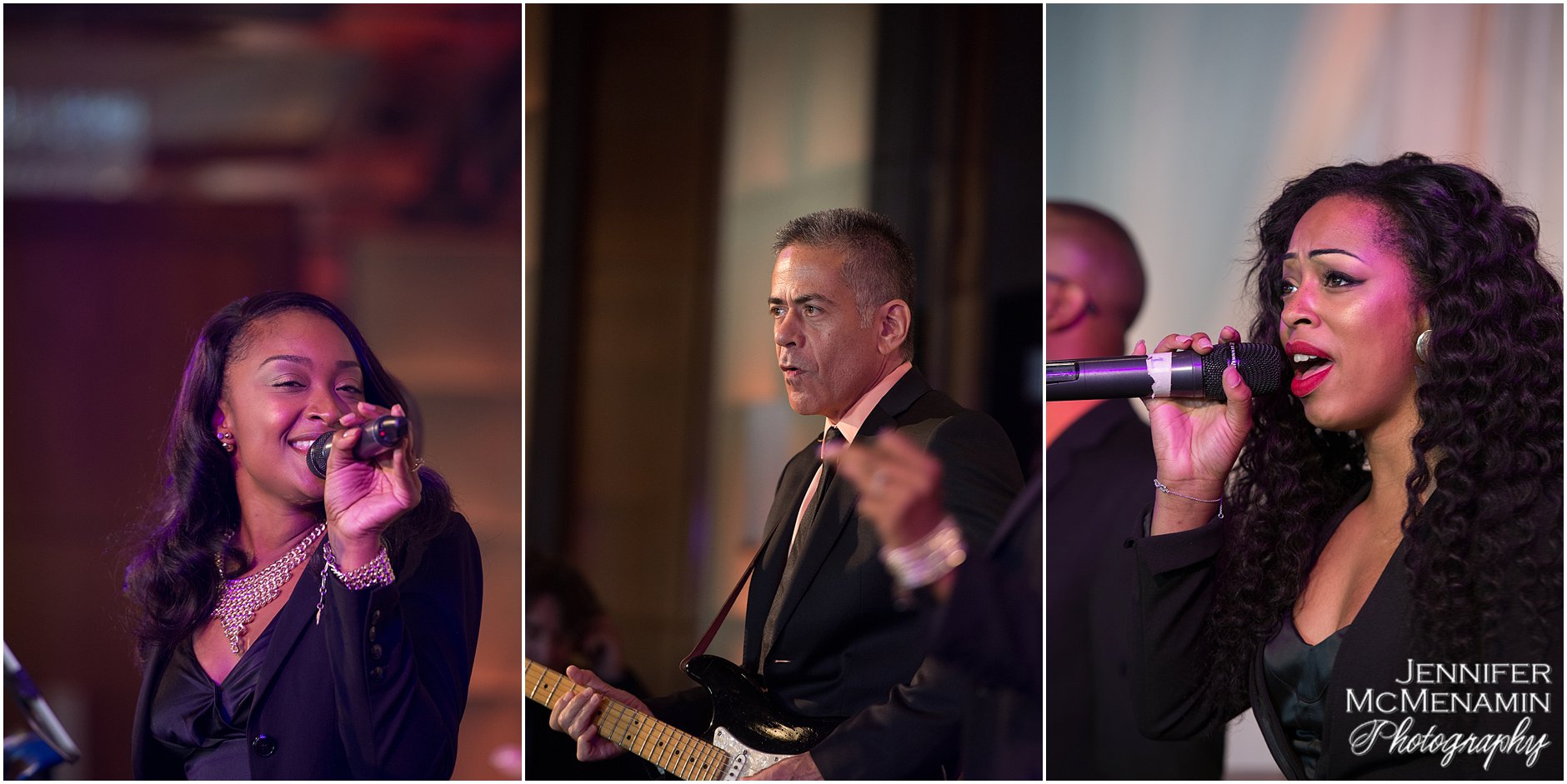 And fun, merriment and endless entertainment from a twirling, wiggling and tongue-sticking-out flower girl!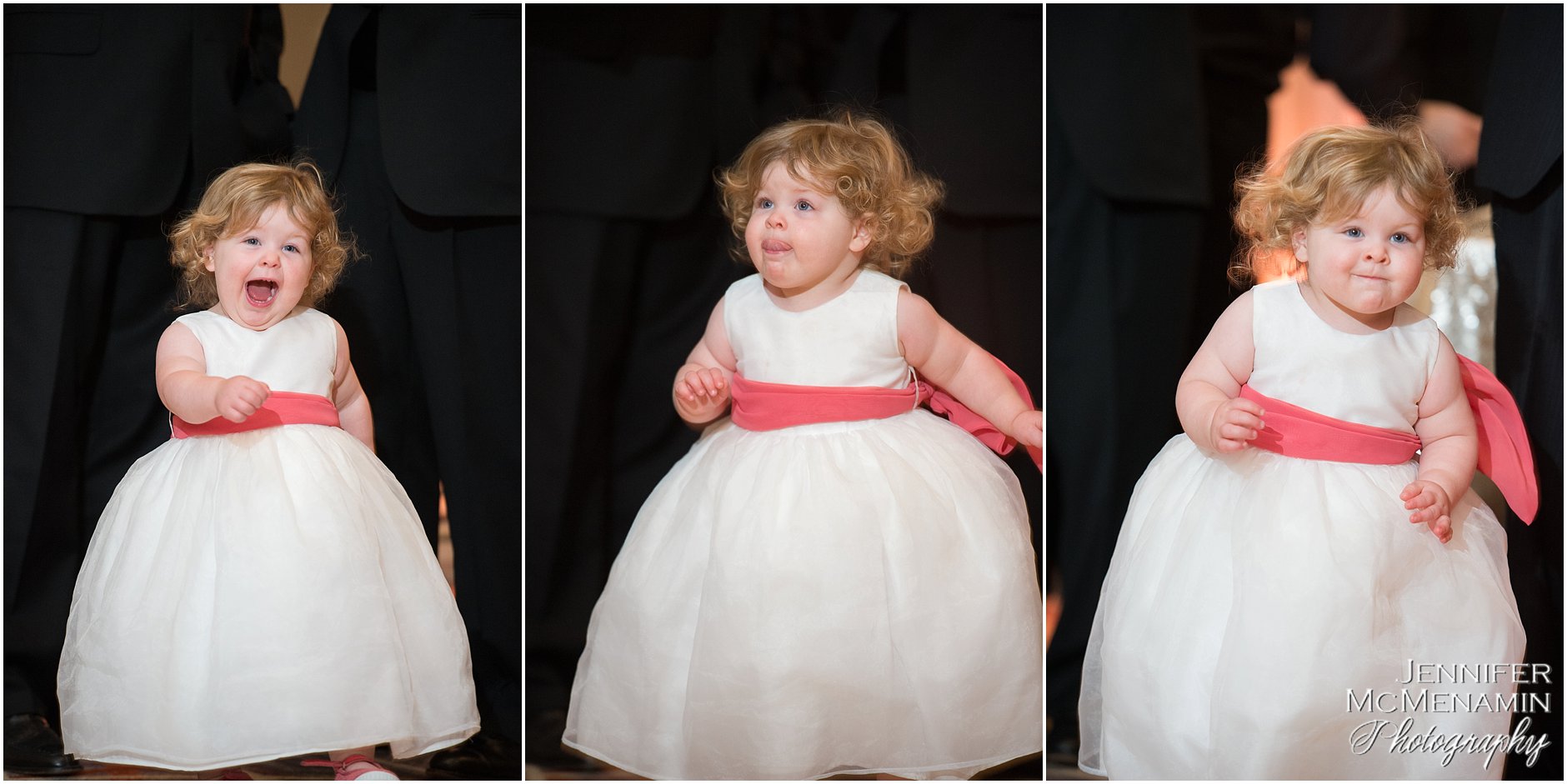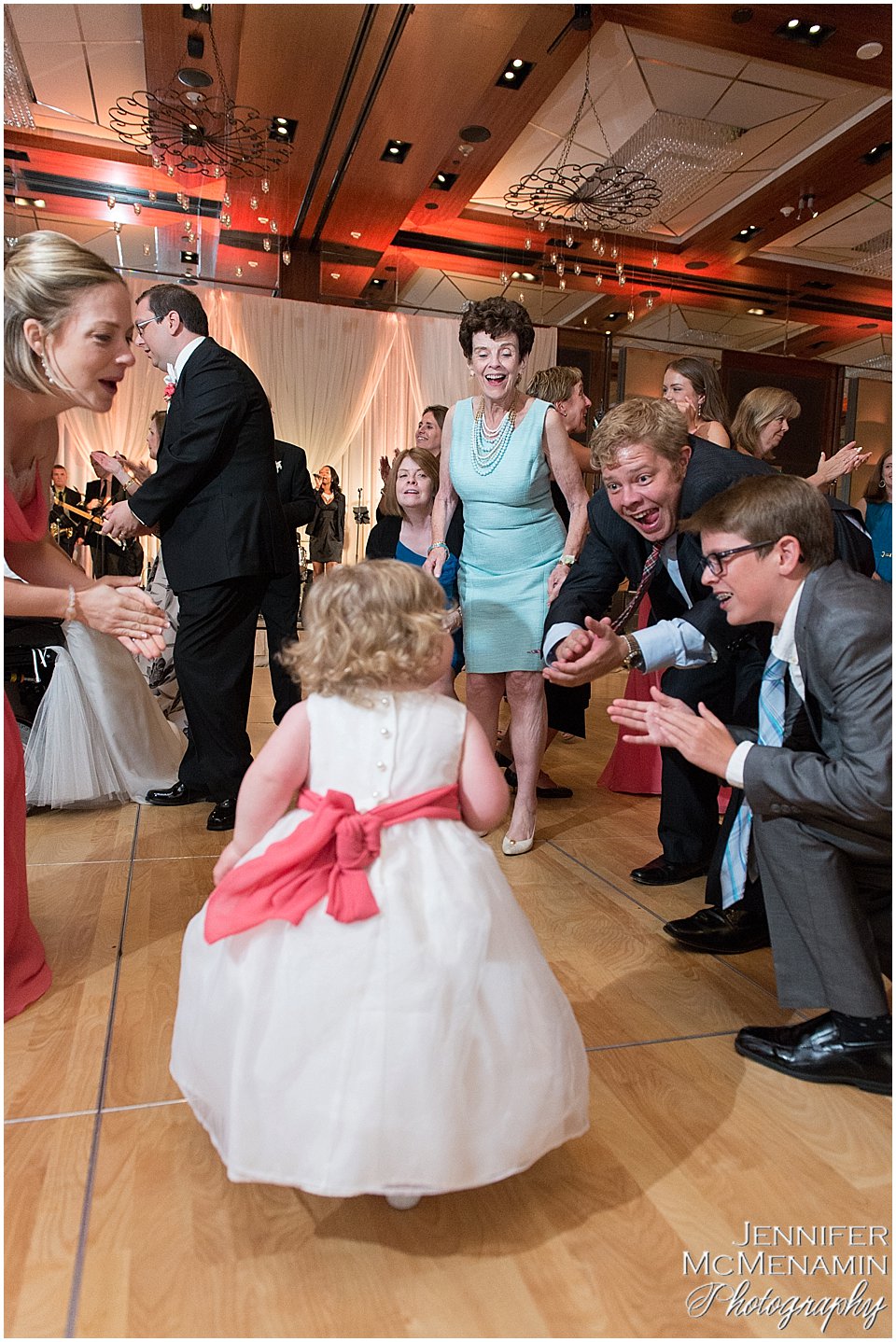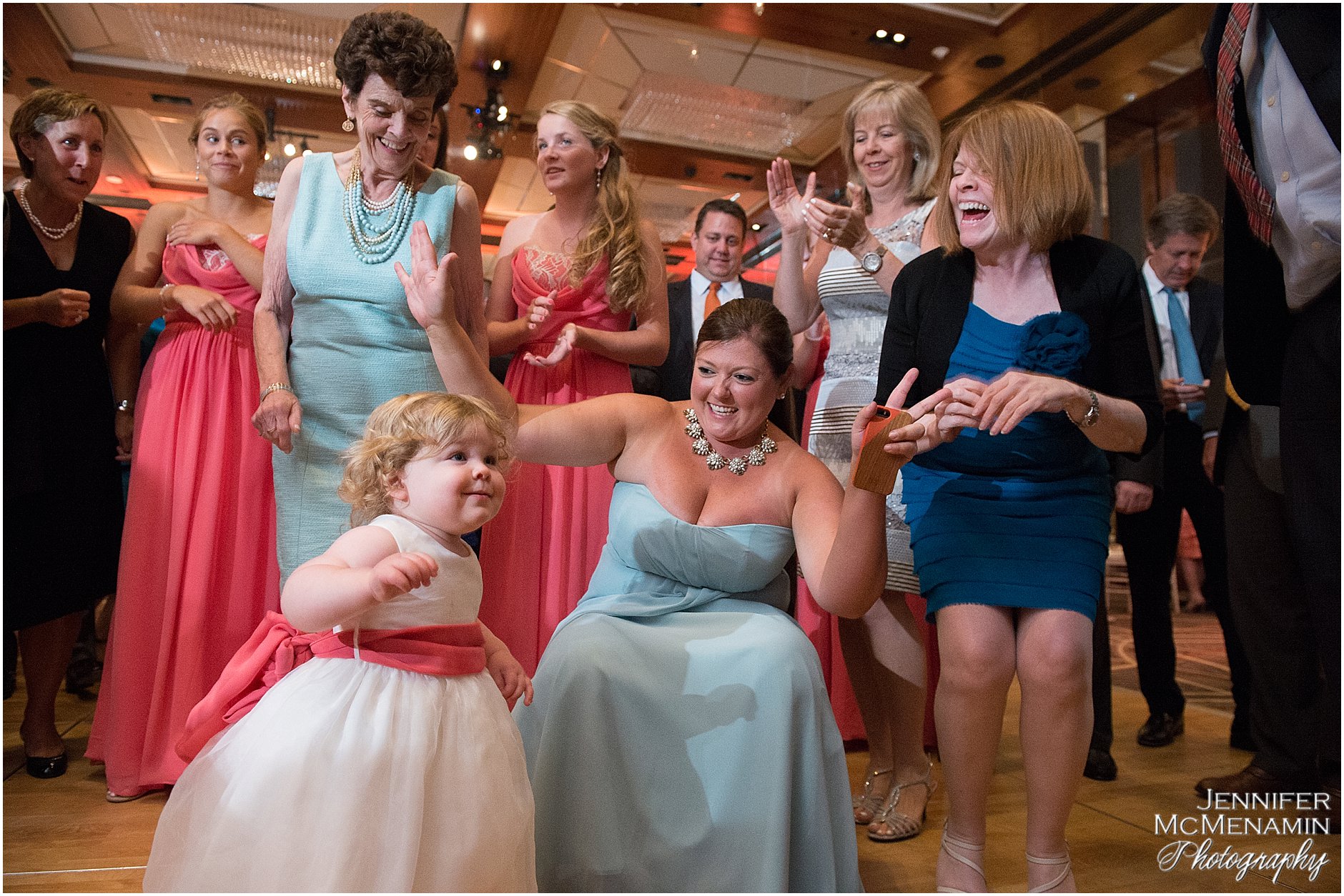 Kelly + Jeff were graced with a positively gorgeous and uncharacteristically un-humid summer sunset. We couldn't resist heading up to the pool deck for a few photos at dusk with Pier Six and the city's iconic Domino Sugar sign in the backgrounds.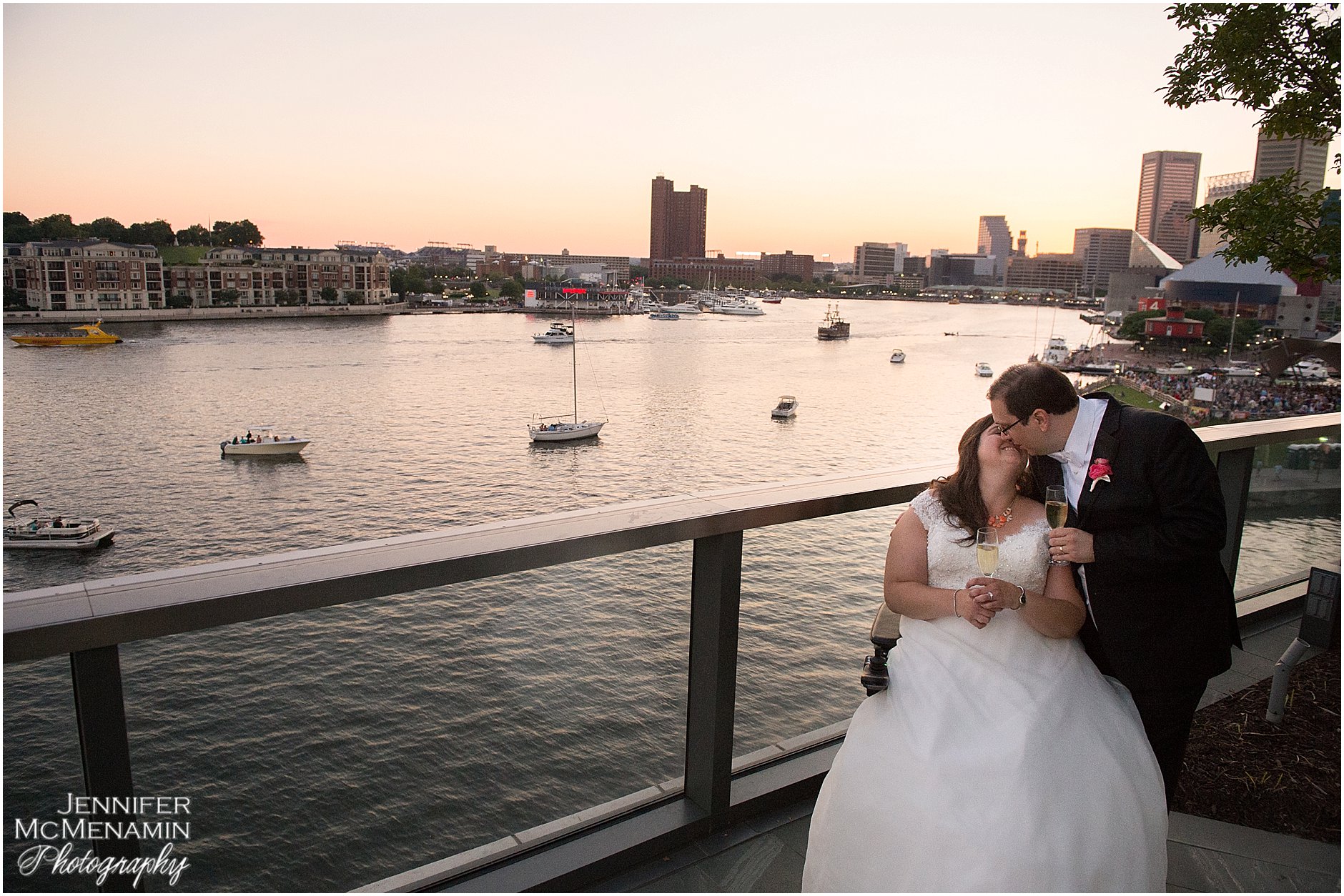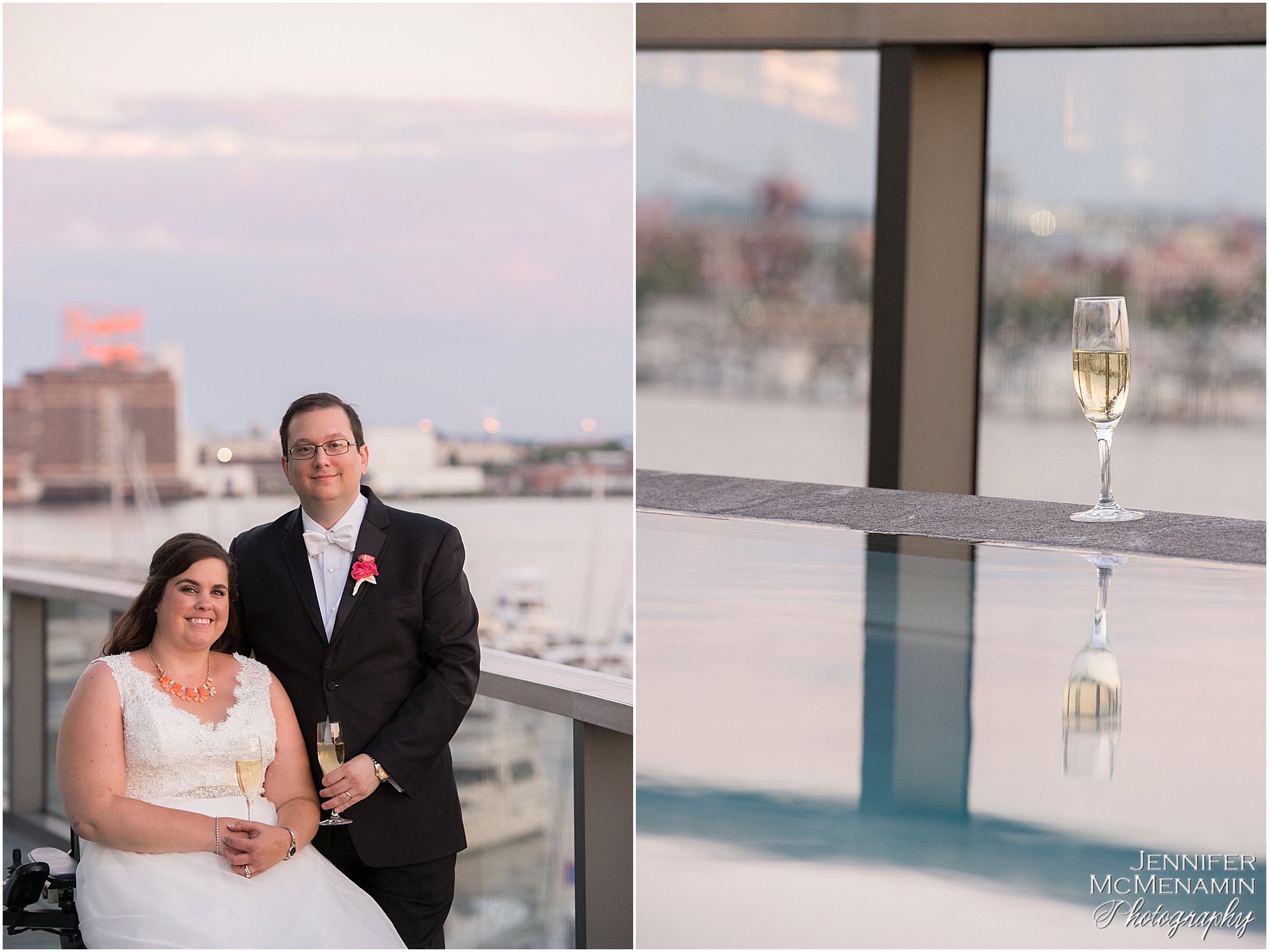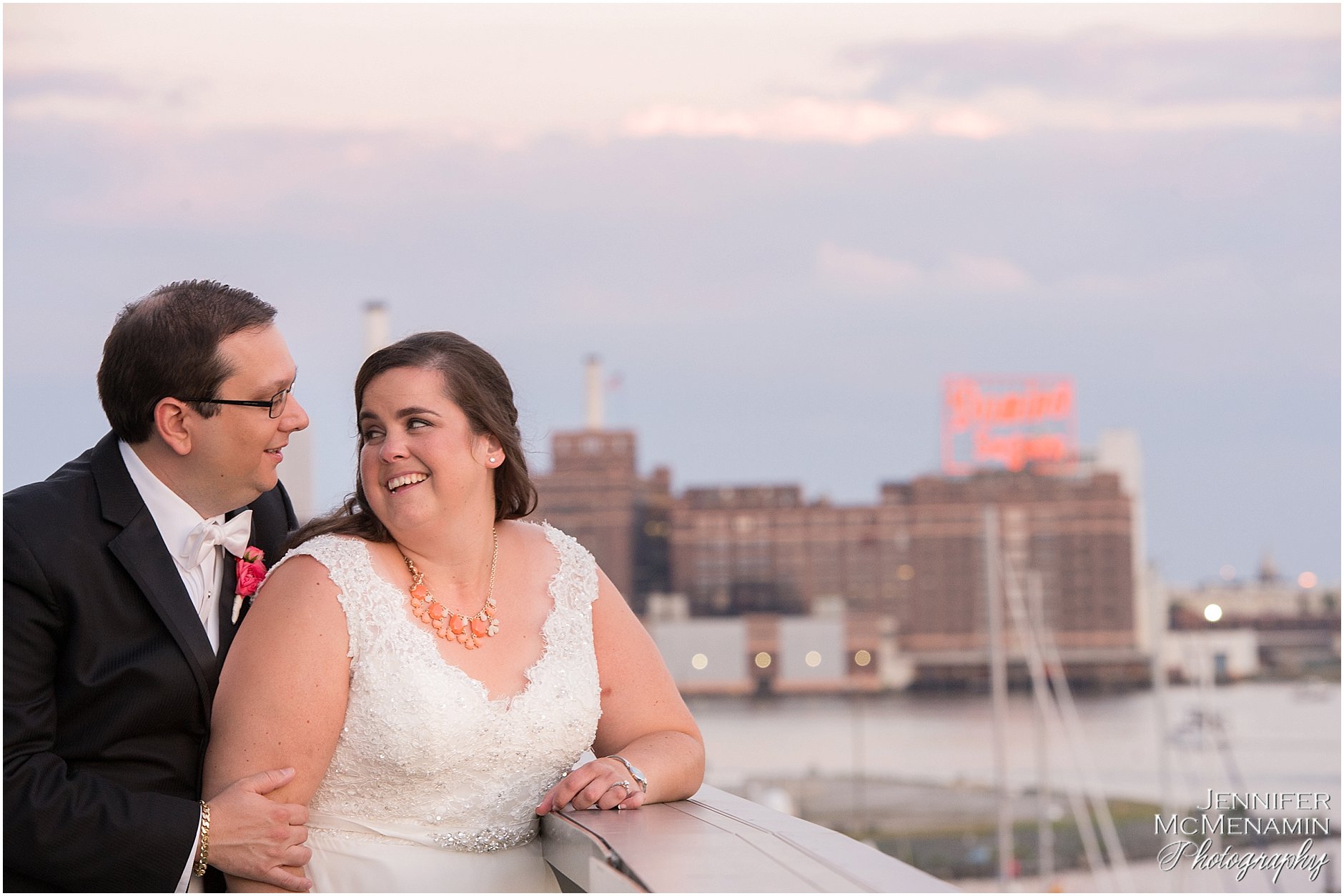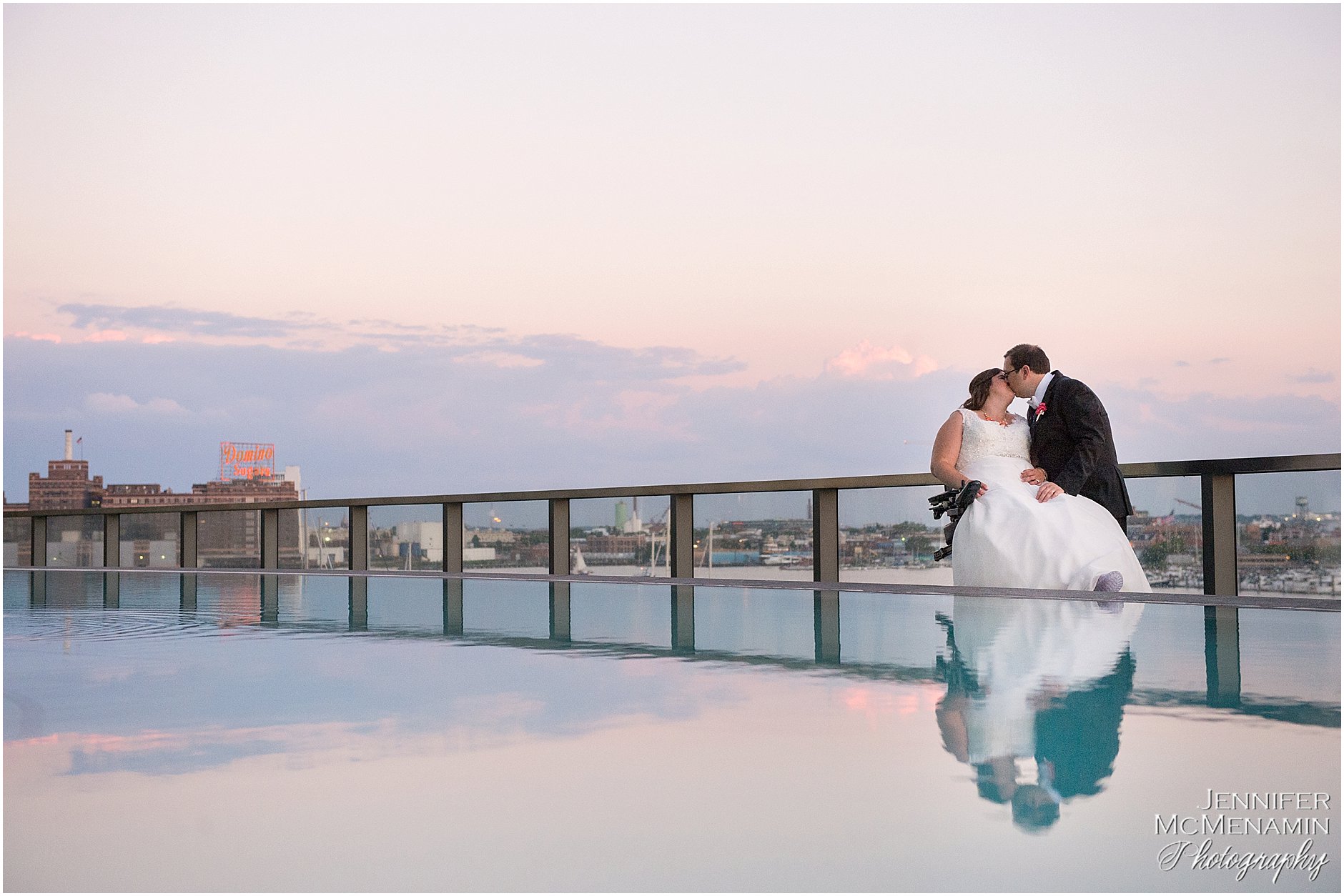 Live event painter Patricia Bennett works on her work of art commemorating the couple's big day.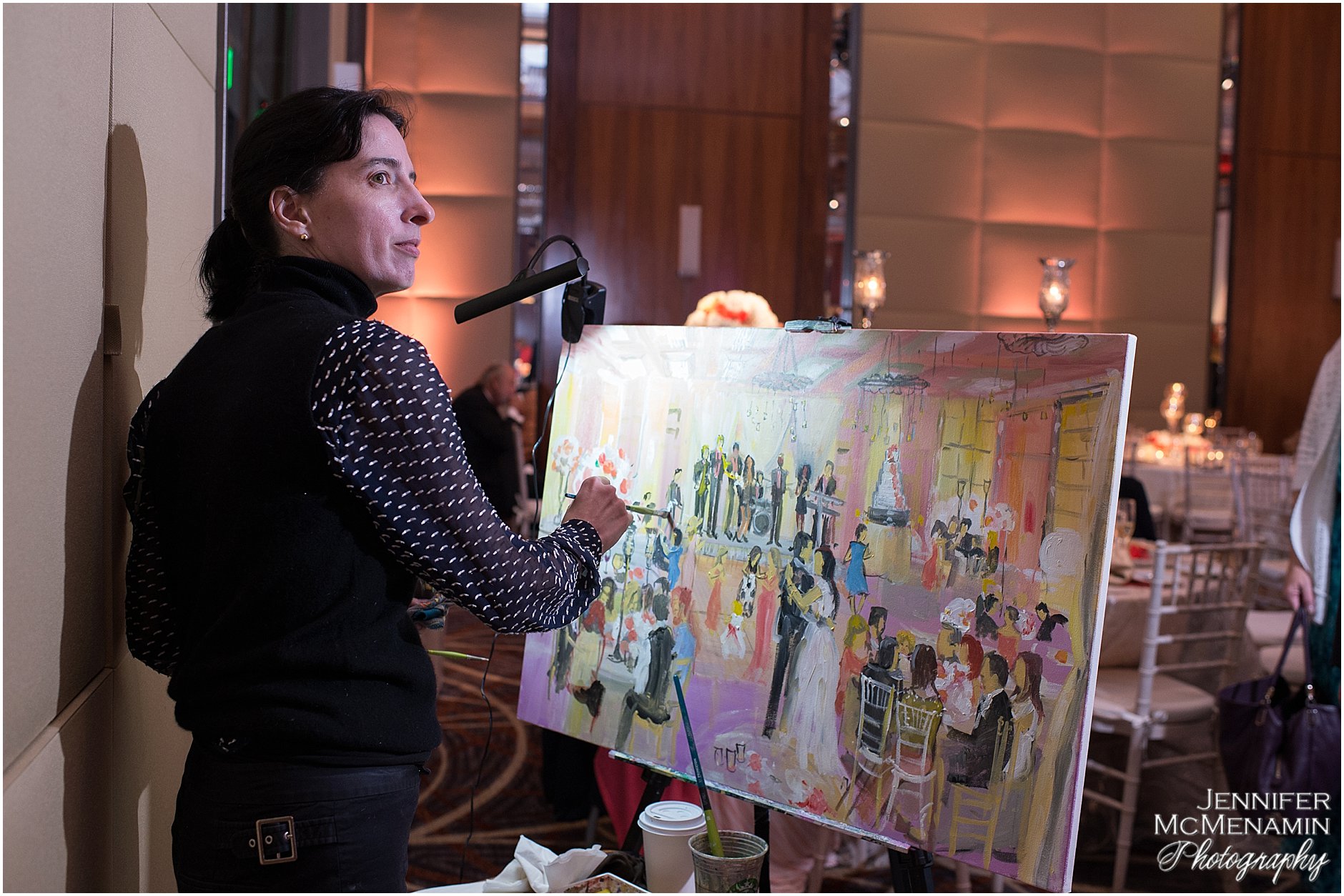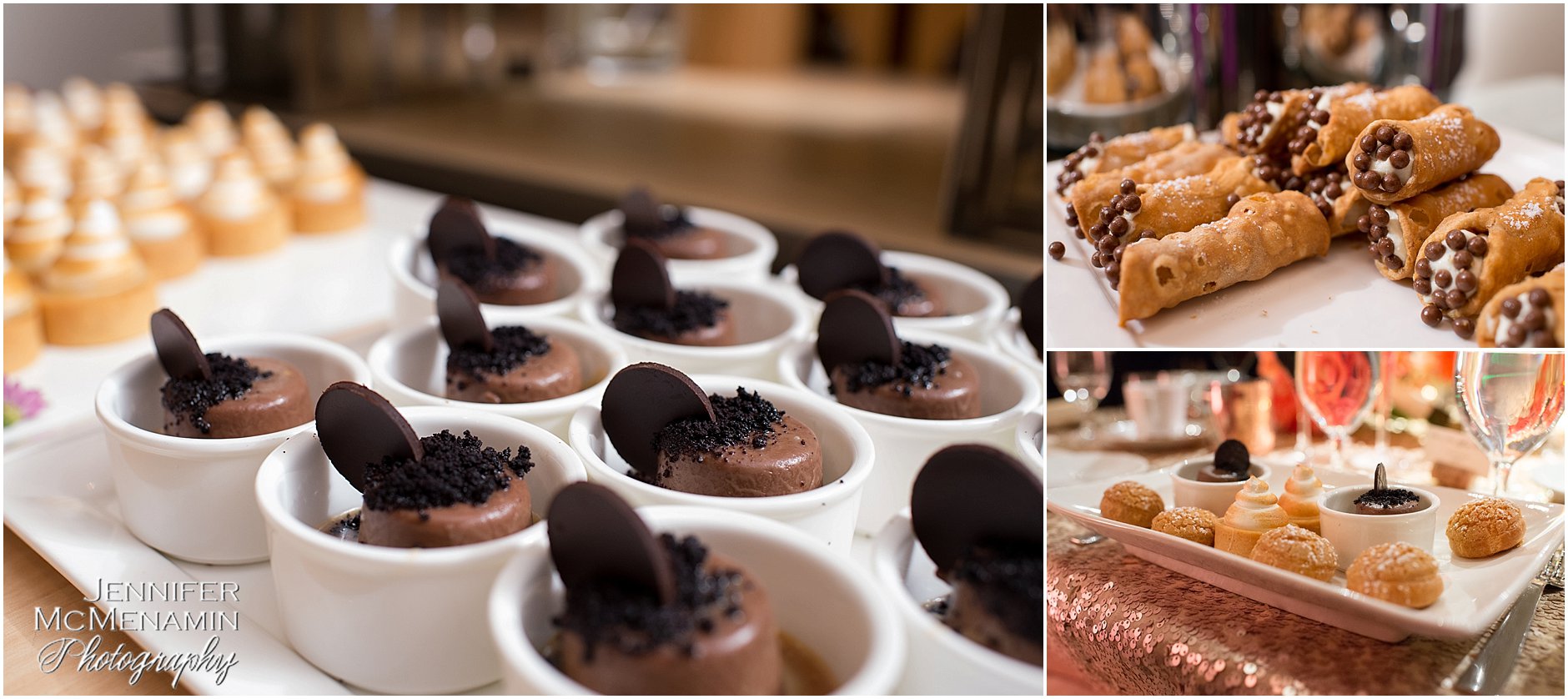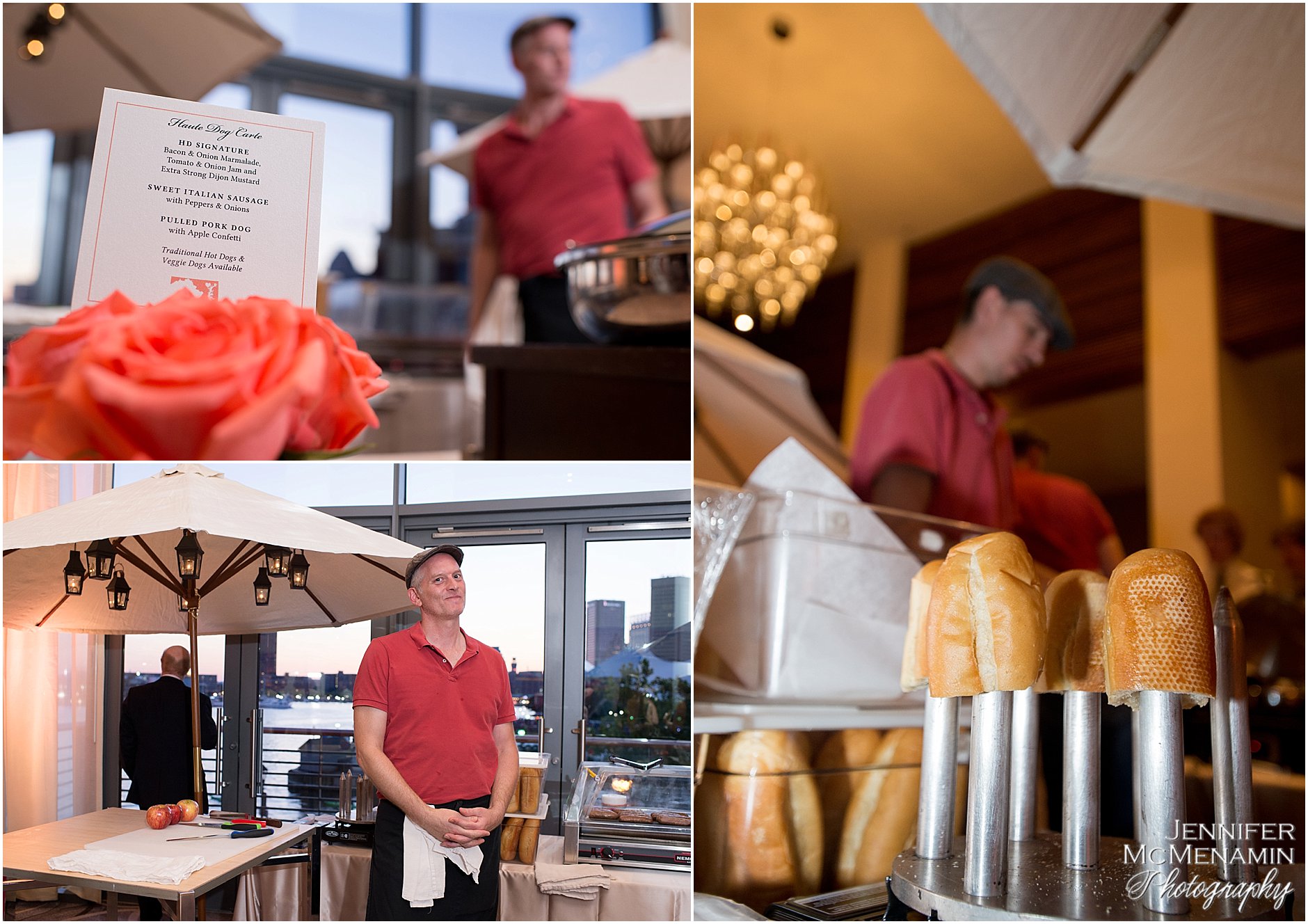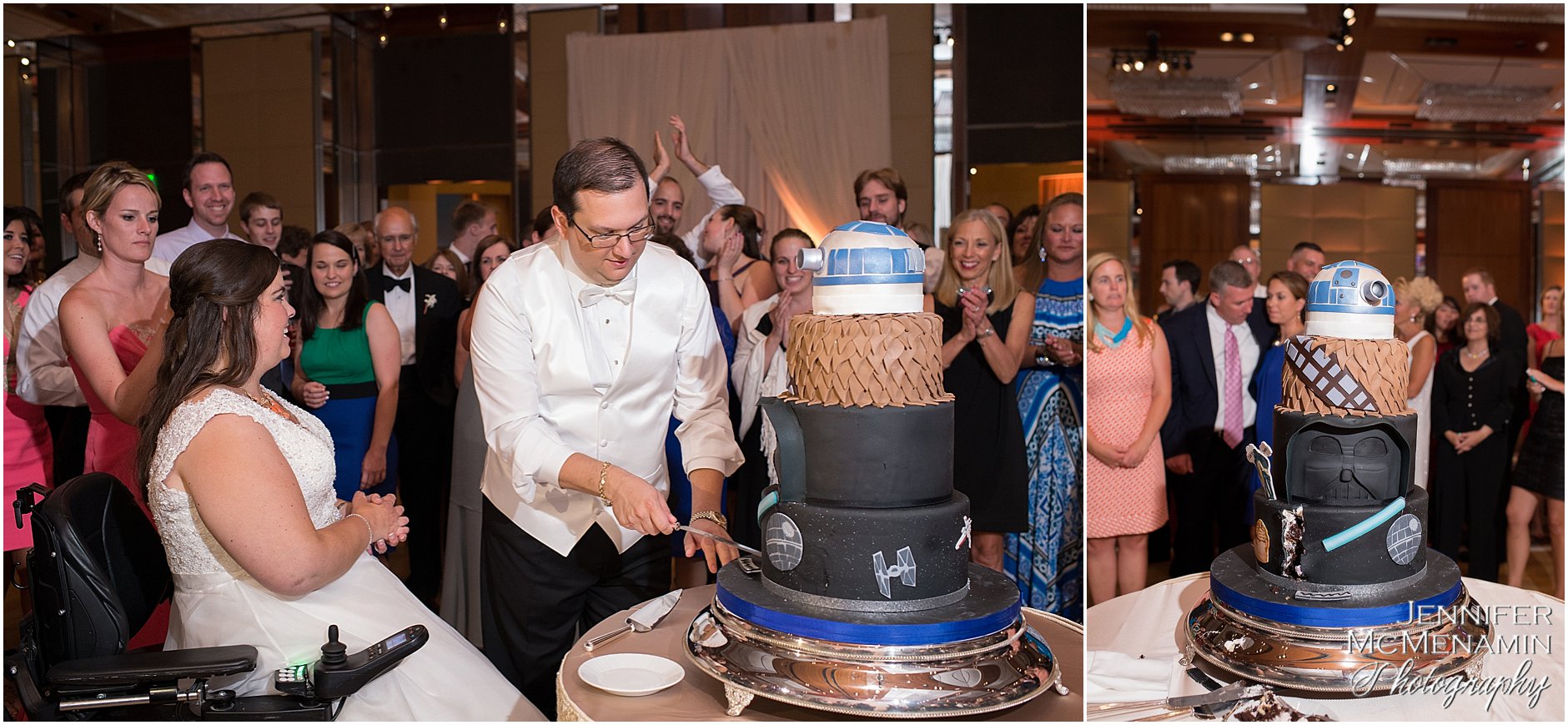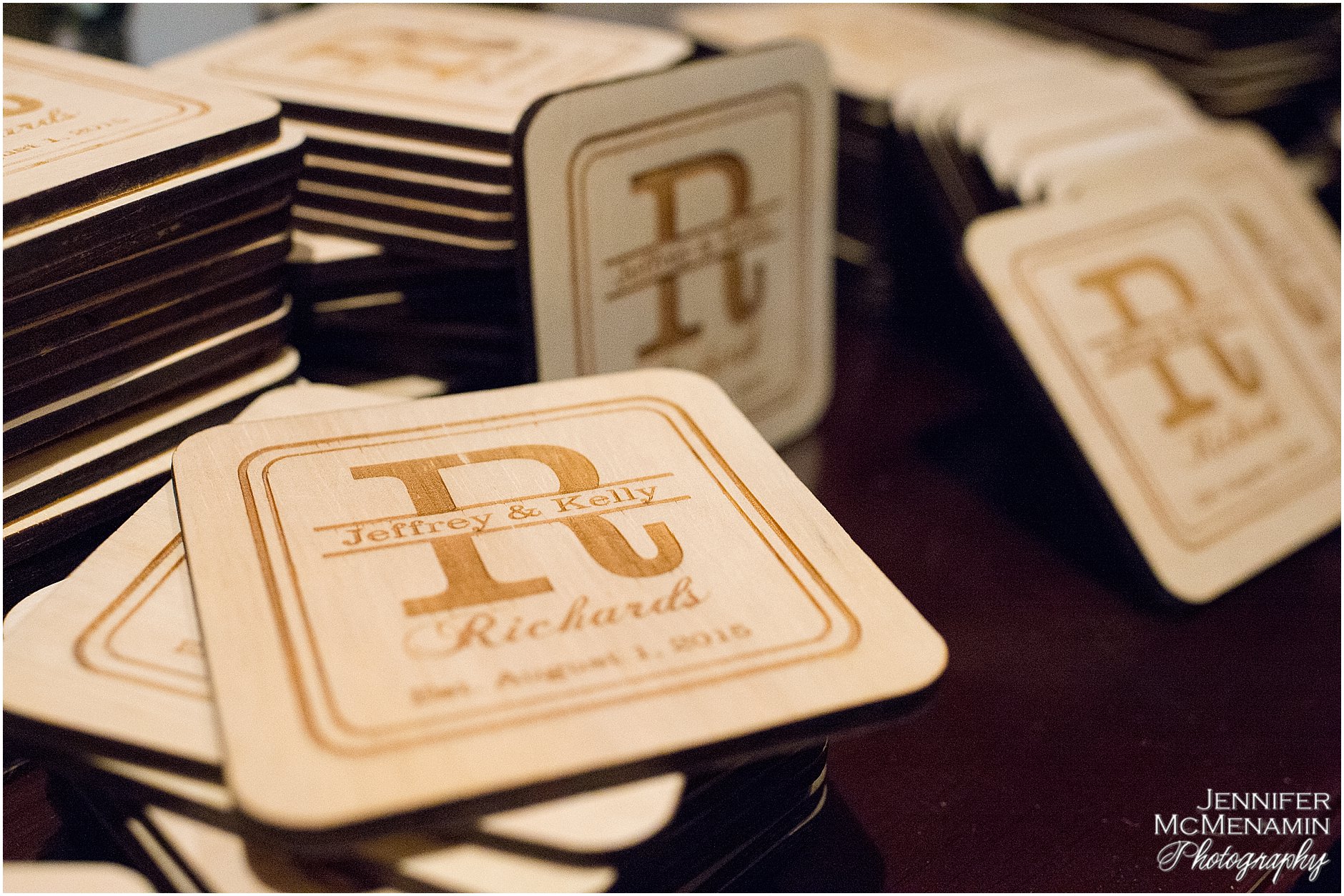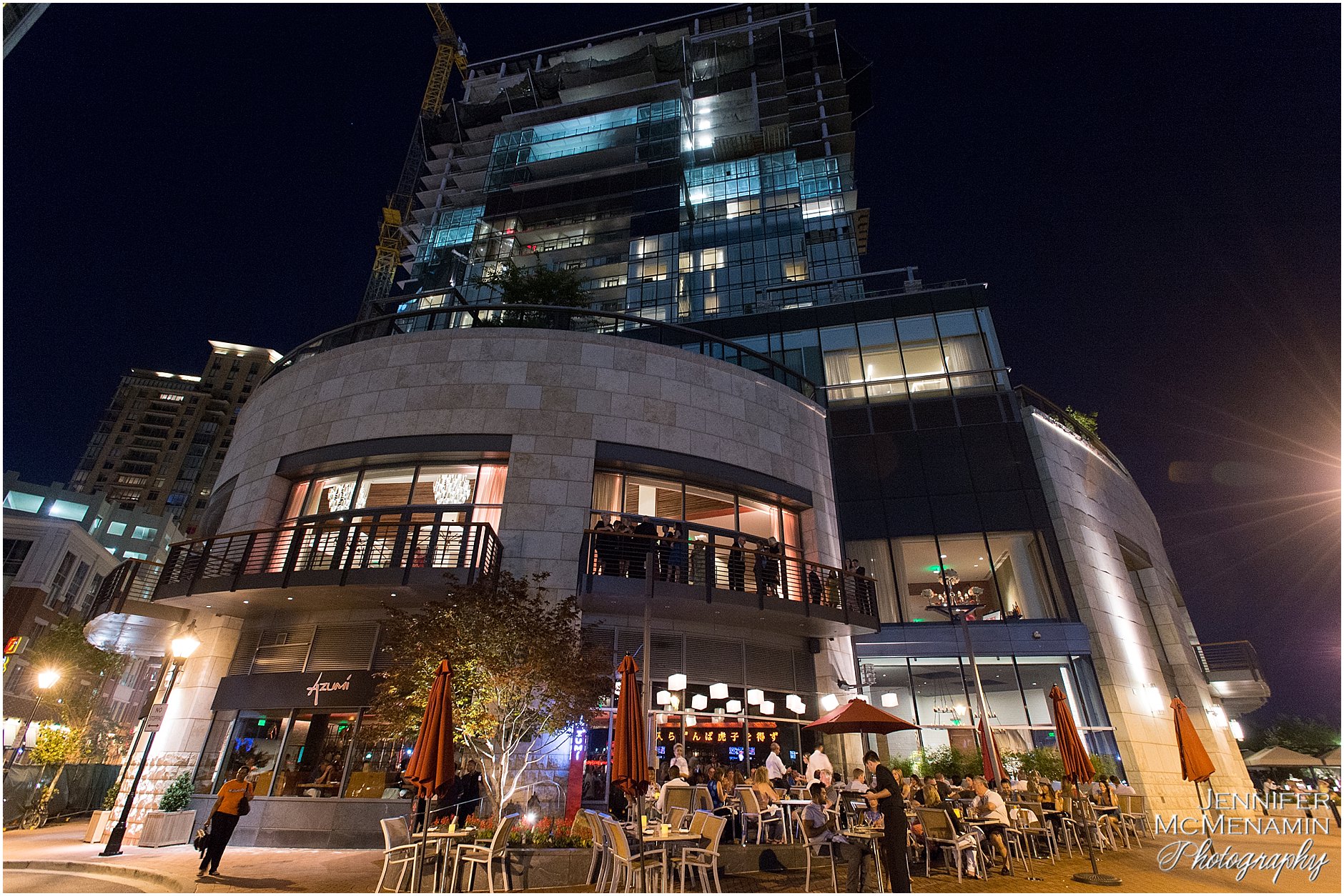 Many, many congratulations, Kelly + Jeff! We could not have had more fun with you, your friends and your families!
Credits:
Photography: Jennifer McMenamin Photography, LLC

Ceremony: The Cathedral of Mary Our Queen
Officiant: Father Michael Murphy
Reception: The Four Seasons Hotel Baltimore

Event coordinator: Boutique Events
Florist & decor: Victoria Clausen Floral Events 
Lighting designers: PSAV

Rentals: Table Toppers and Party Rental Ltd.
Bridal attire: Betsy Robinson's Bridal Collection
Hair & Make-up: Behind the Veil Beauty

Wedding Cake: Patisserie Poupon

Groom's Cake: La Cakerie
Late-night Snack: Haute Dog Carte
Cocktail hour music: String Theory Quartet
Band: NightSong from the Entertainment Exchange

Transportation: American Limousines

Invitations & papergoods: Lynn Theresa Designs

Event painter: Patricia Bennett