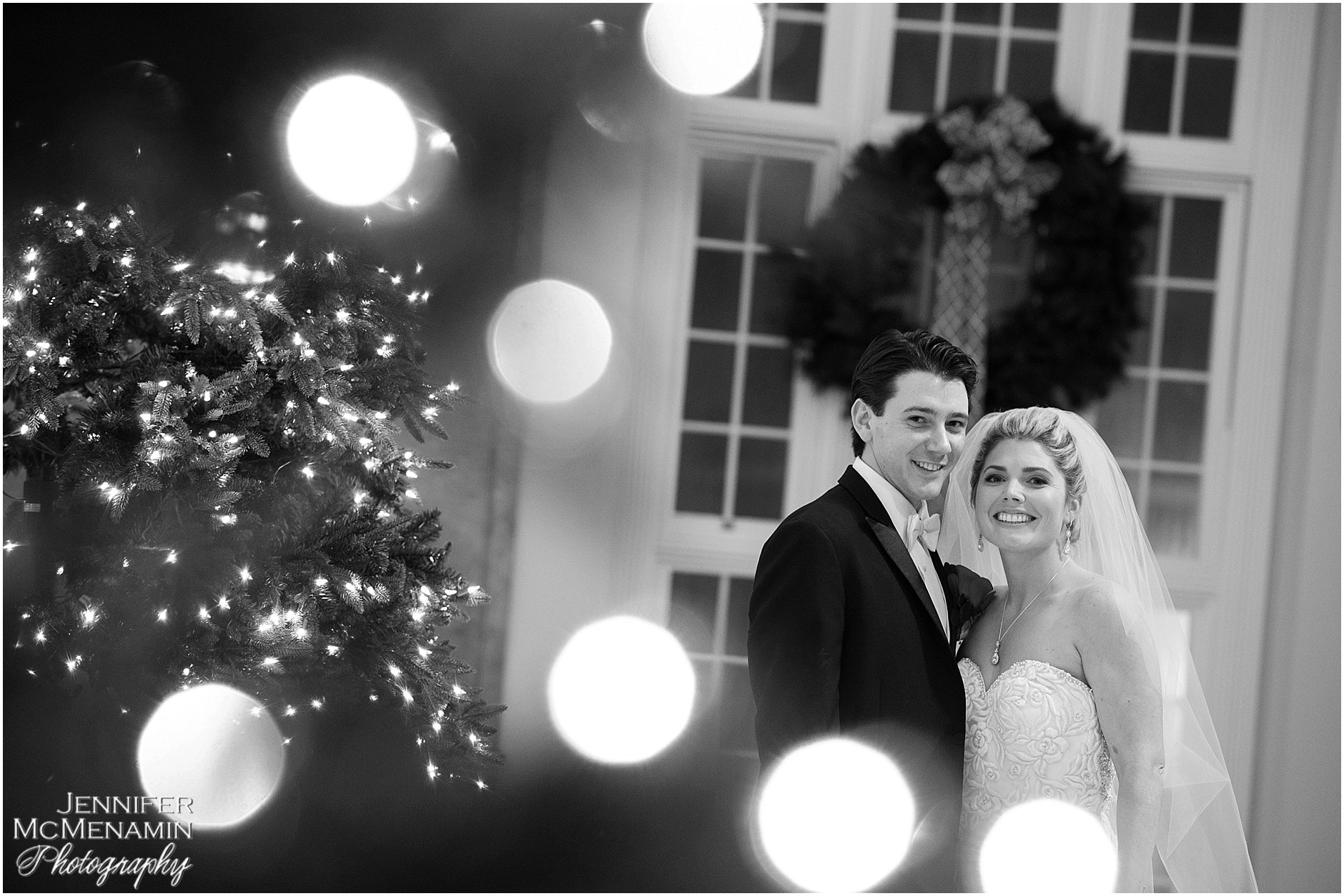 Nick proposed to Laura on the eve of Christmas Eve on 34th Street in Hampden, a block known as Christmas Street for the over-the-top decorations that residents string up to celebrate the holidays. The groom's elaborate scheme included not only Laura's parents but also the one and only Mr. Natty Boh. How to top that? With a glittery New Year's Eve wedding, of course. With the help of Intrinsic Events, the couple planned a gorgeous evening at one of the grandest Catholic churches in all of Baltimore and a confetti-strewn party with a waterfront view of the evening's fireworks. The black tie affair featured the requisite fanciness and more gold sparkle than one could imagine. But the evening also included some truly personal and touching elements. Laura's hair, for example, was styled by the man who has been cutting her locks since her very first trim. The priest who officiated the beautiful ceremony at the Basilica of the National Shrine of the Assumption of the Blessed Virgin Mary serves as pastor of Mercy Medical Center, where both the bride and her mother work. An aunt of the groom sang at the church, the mother of Laura's best friend arranged her flowers and the bride made almost all of the gold and silver decor herself for the reception at the Royal Sonesta Harbor Court Hotel. In lieu of a formal seated dinner, guests ate a variety of tailgate favorites and Maryland and Mexican comfort food. And the best man regaled guests with a hilarious story of the couple's courtship, which began at a Baltimore County country club and later prompted the bride to move back to Baltimore from a job down South. It was such a pleasure to ring in 2016 with this wonderful group of people. My friend, Jamie, helped out as my assistant for this wedding and a few of her beautiful photos are mixed in below with mine. Here are some of my favorites from Laura + Nick's big day:
Laura's mother paired her beautiful blue gown with an absolutely amazing statement necklace.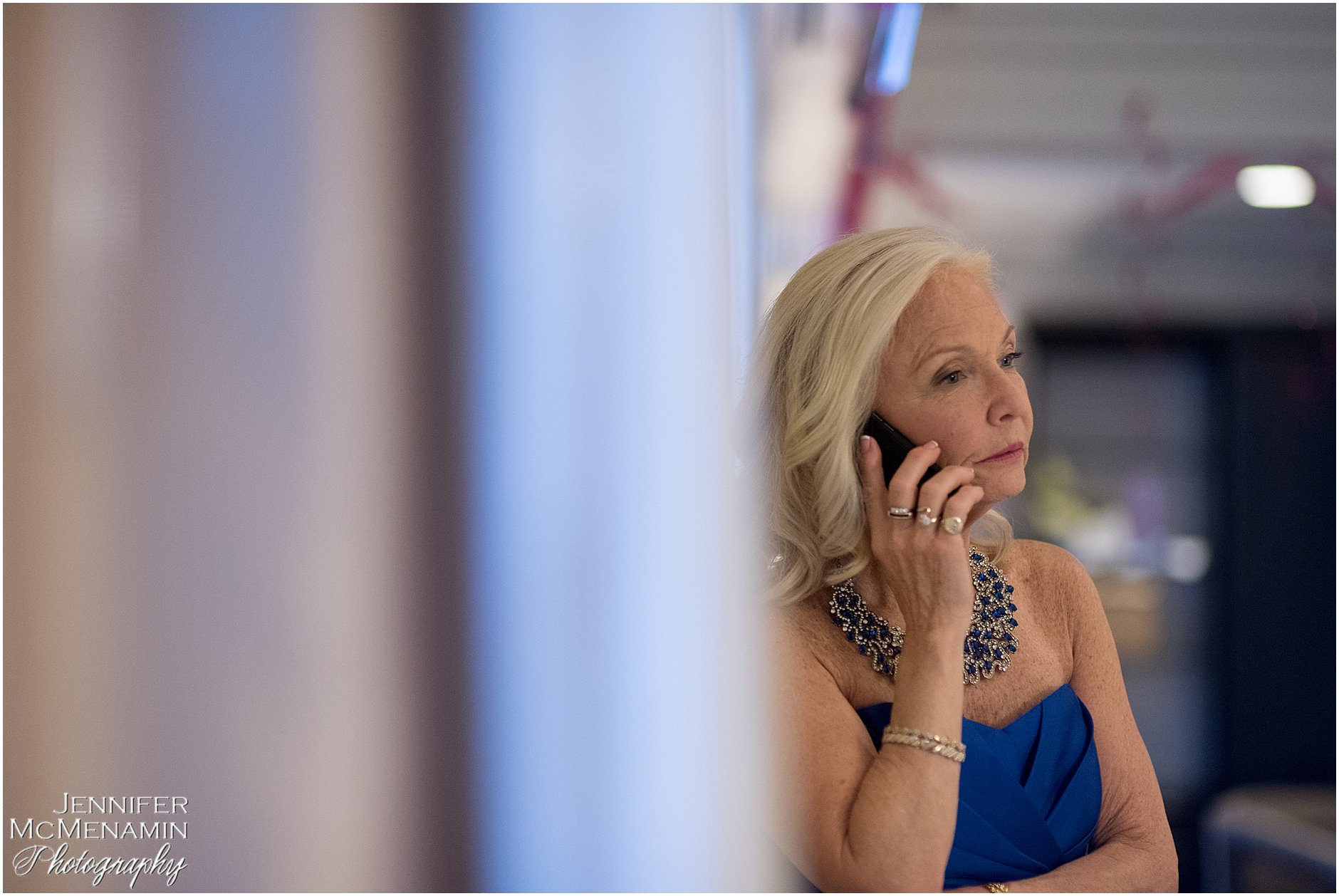 About 10 months before her wedding, Laura sent me an e-mail asking my advice on bridesmaid dresses that would photograph well. She explained that she was interested in some metallic glitzy options but expressed concern at potentially crossing "the fine line of over-the-top versus appropriate." As a lover of all things glitter and sparkle, I'd say they got it just right.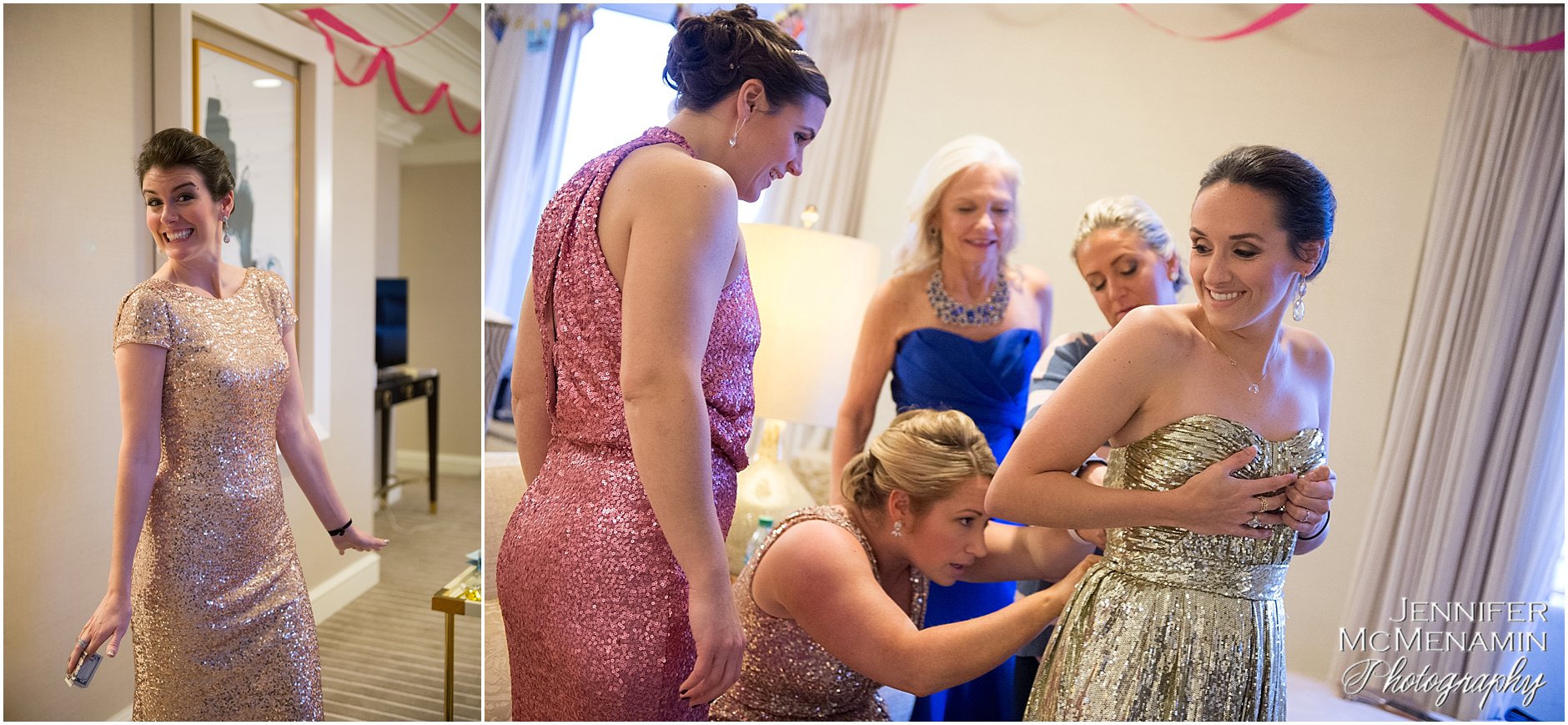 Meanwhile, Jamie spent some time with Nick and the guys as they got ready.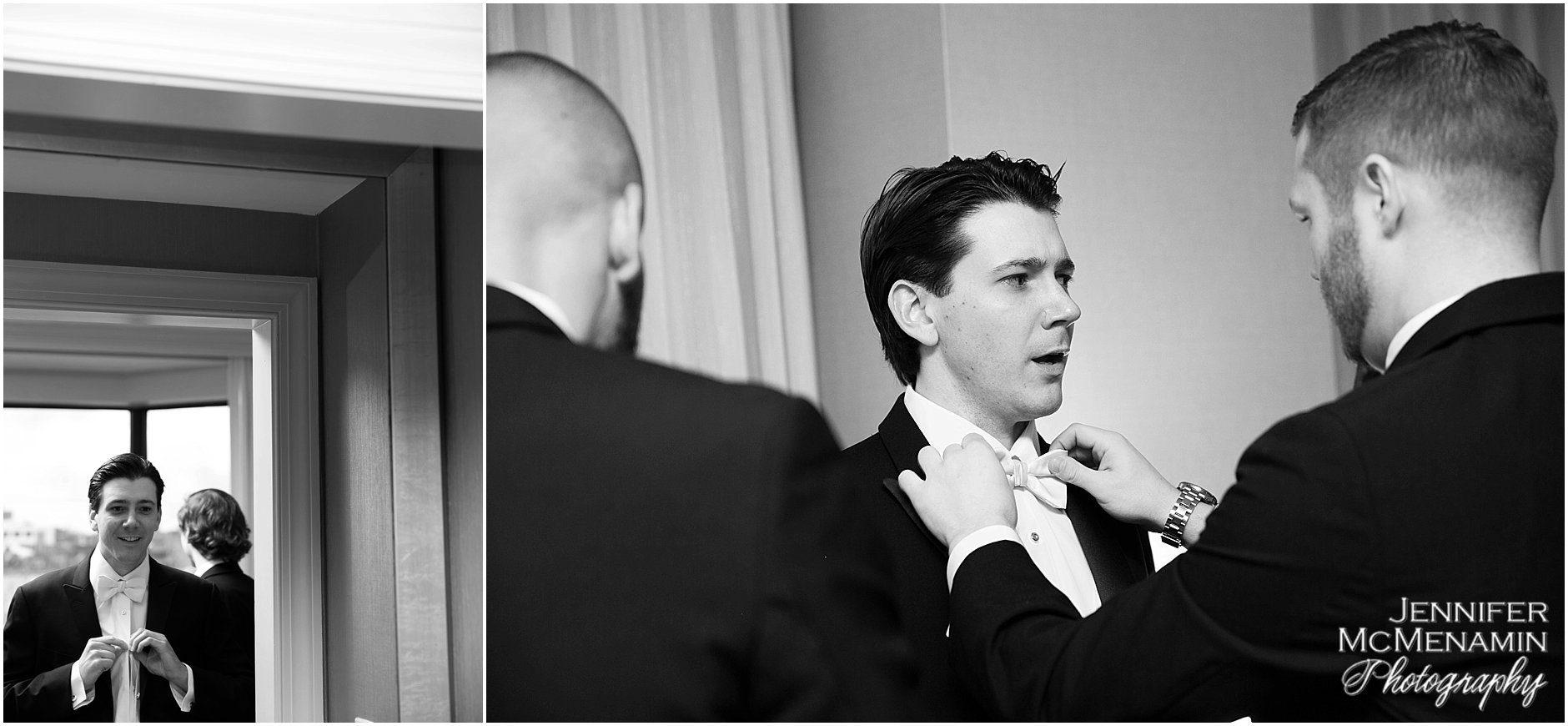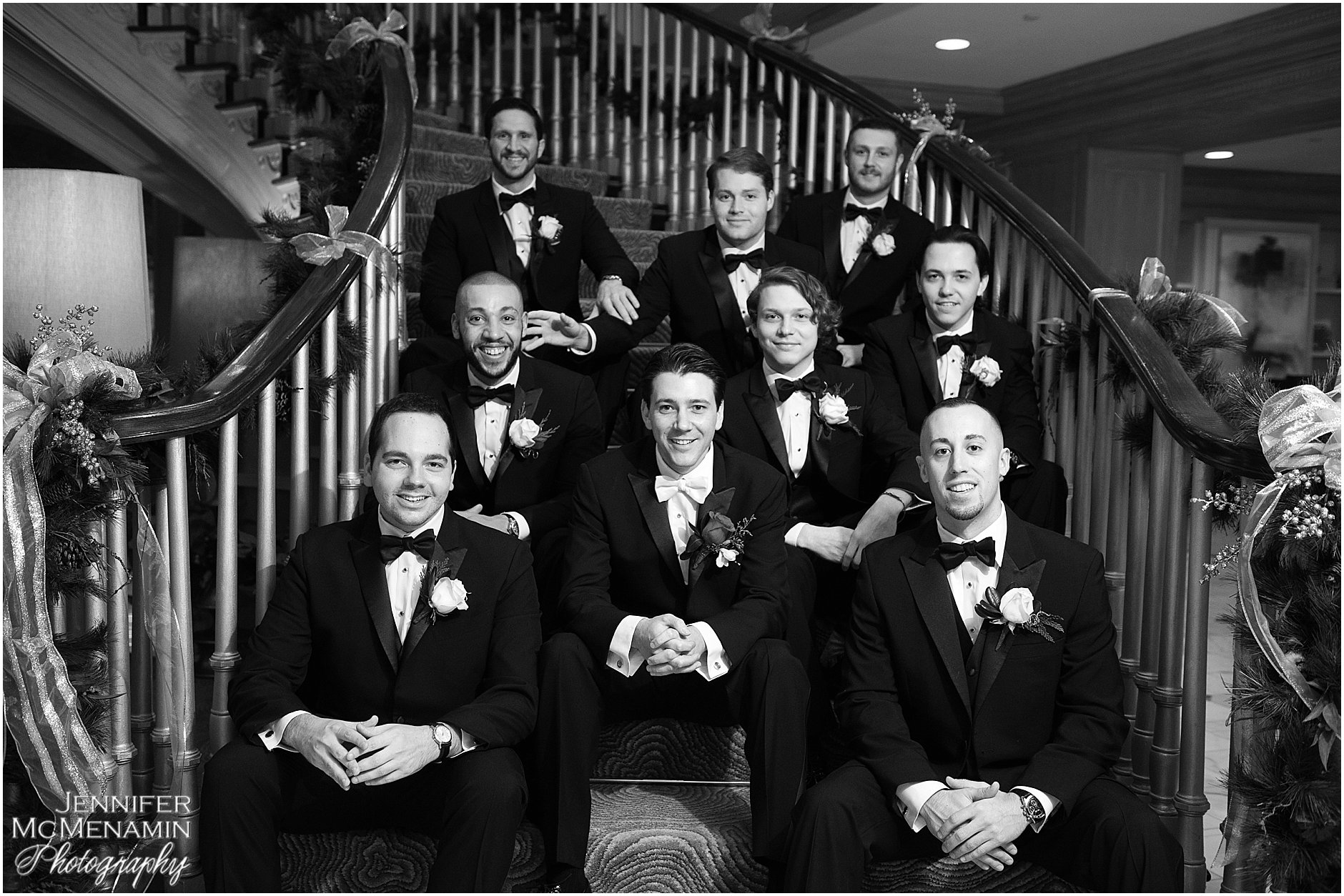 Back in the bride's suite, it was almost time for Laura to step into her gown.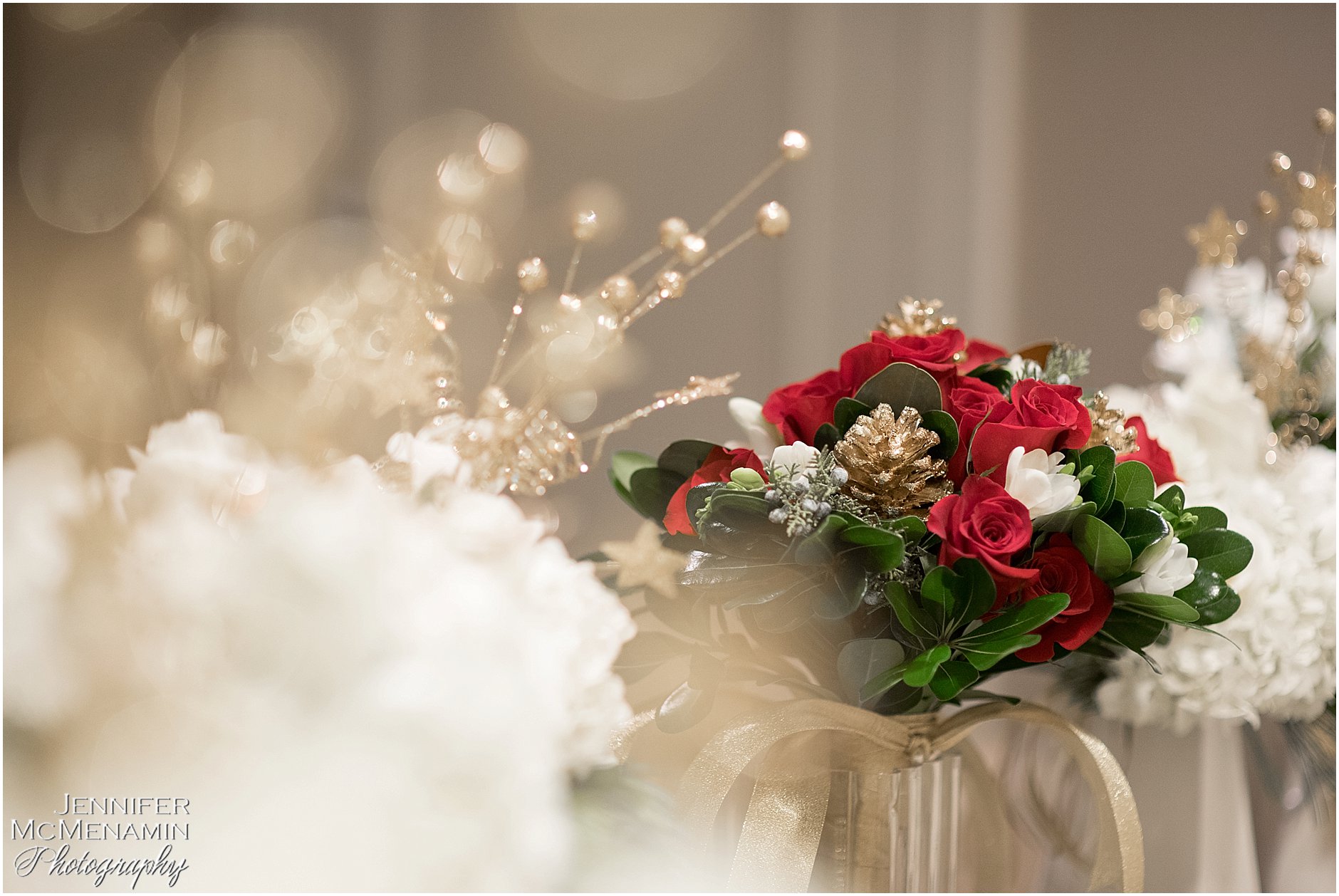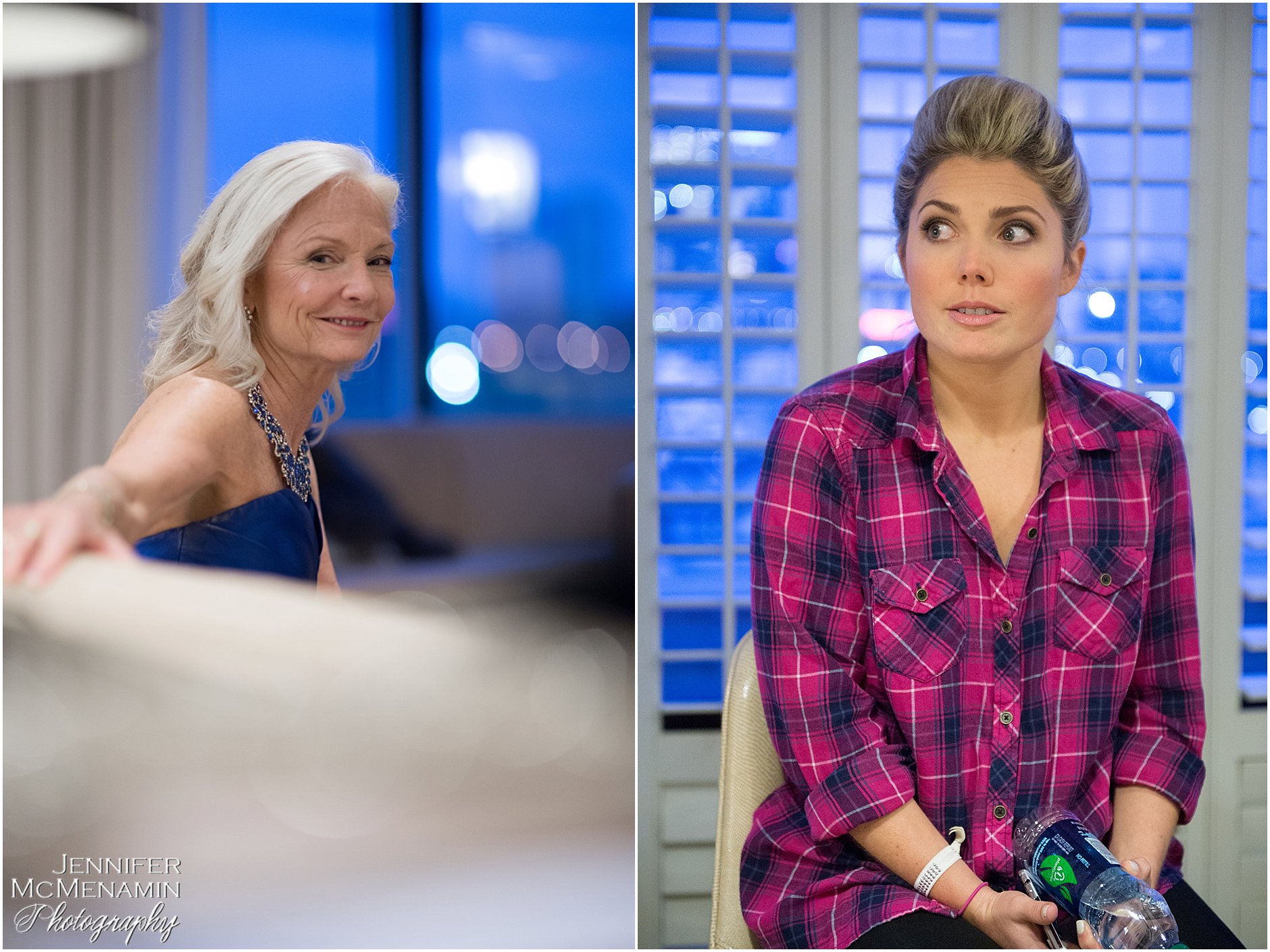 Laura had monogrammed suede slippers made for all of her bridesmaids — and wanted to be photographed in the suite's hot tub with all of her girls in them!

Laura happened to read a card from Nick at almost the exact same time that Nick read the note that Laura had delivered to him. Also, they bought each other the same card.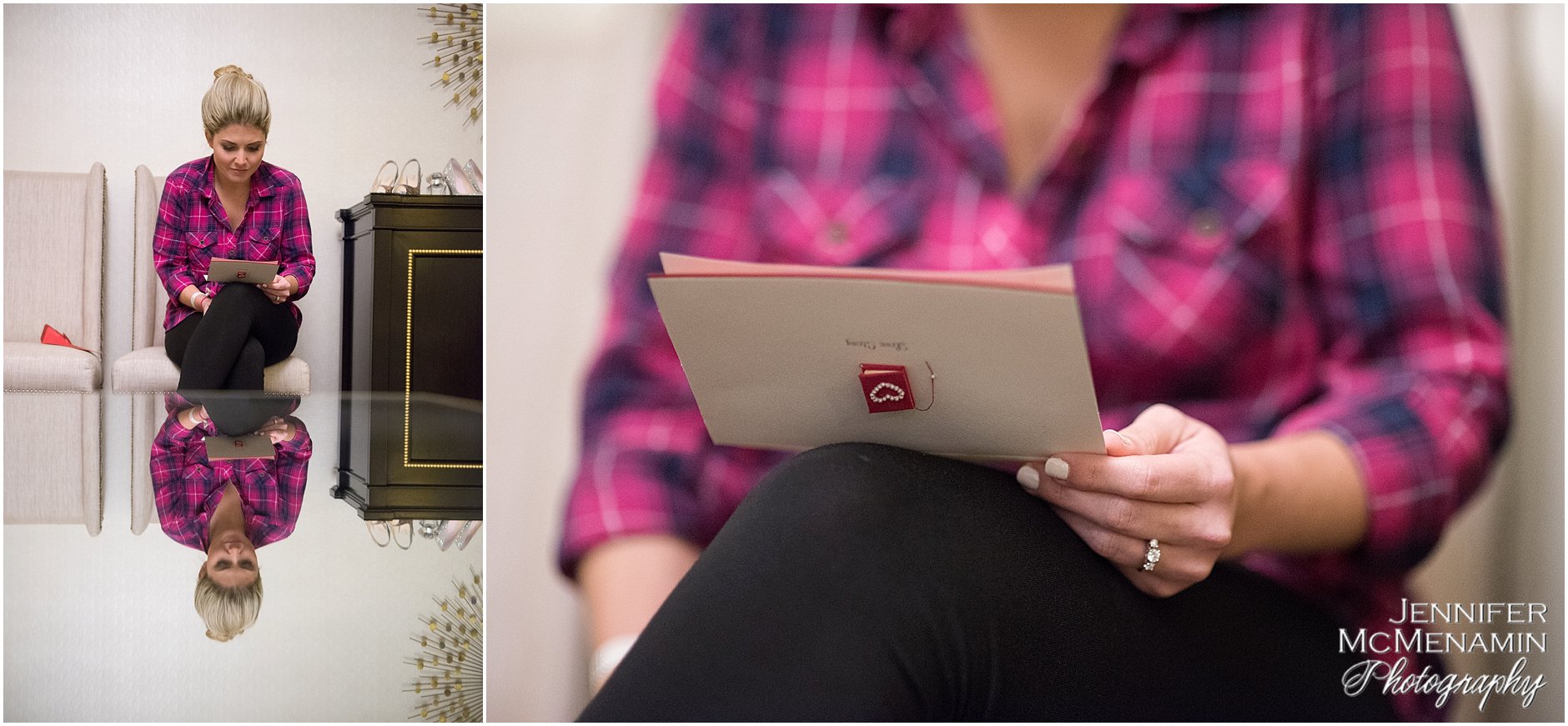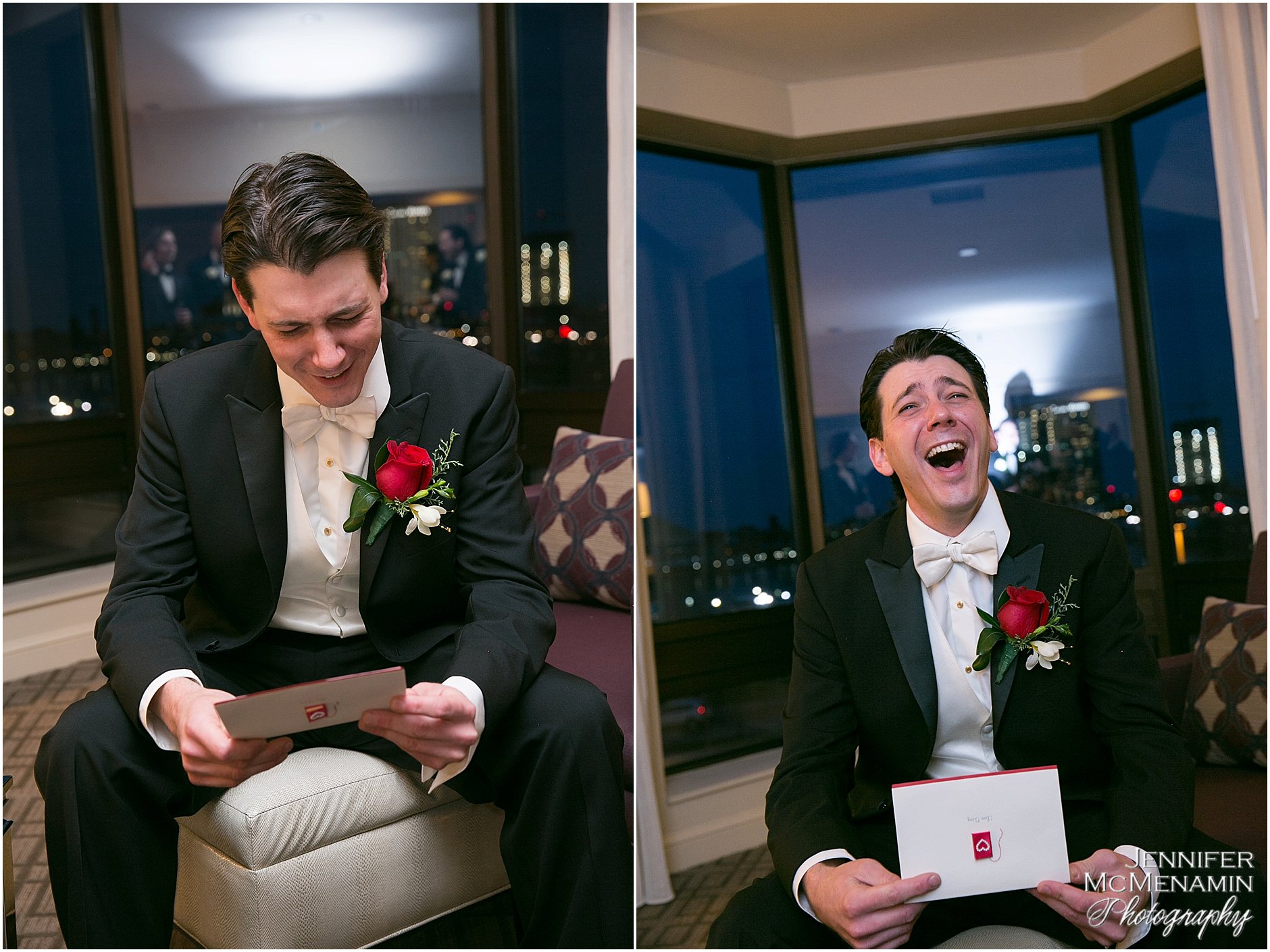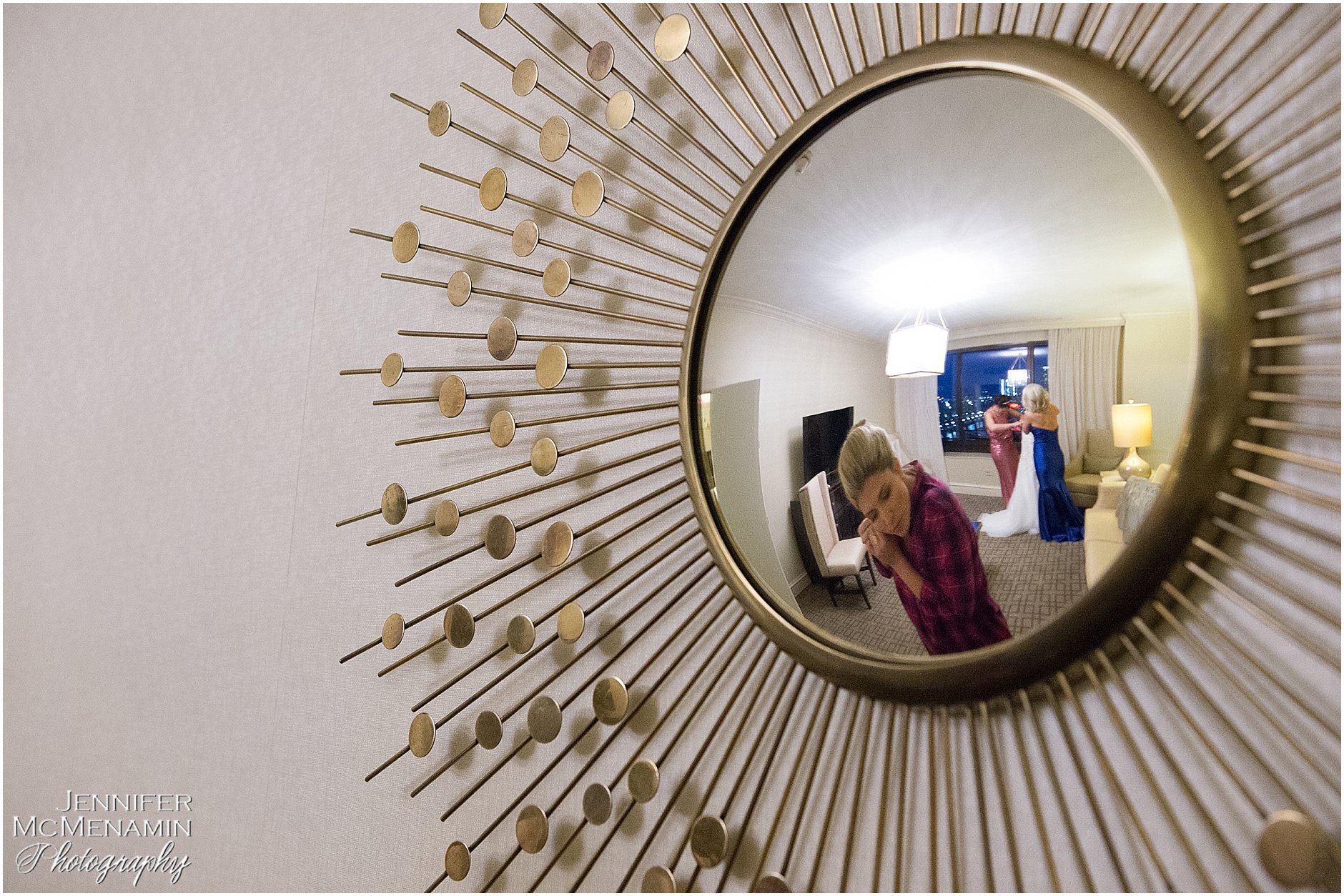 I loved the twinkling bokeh of the lights of the city behind Laura as her mother and maid of honor helped her into her dress.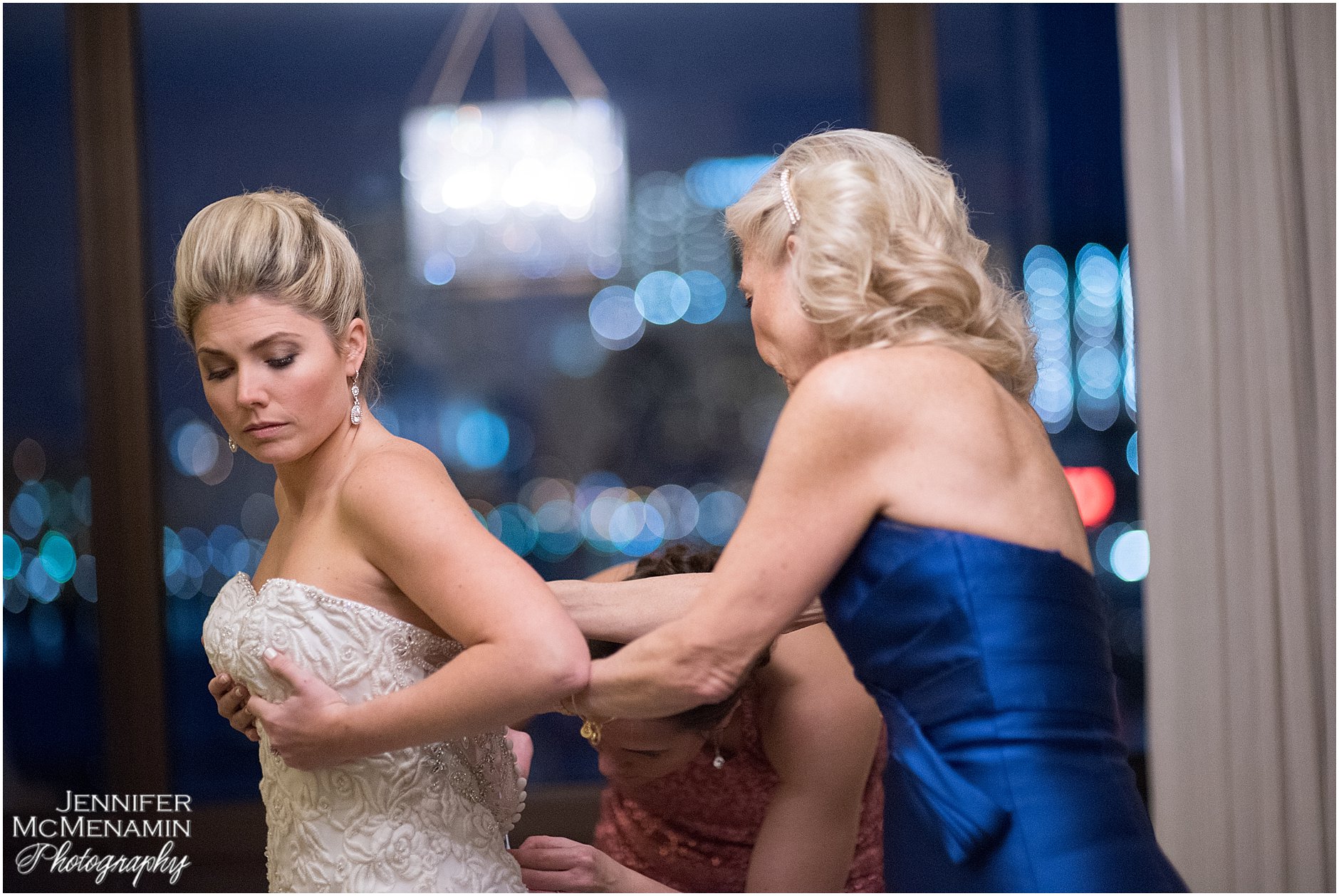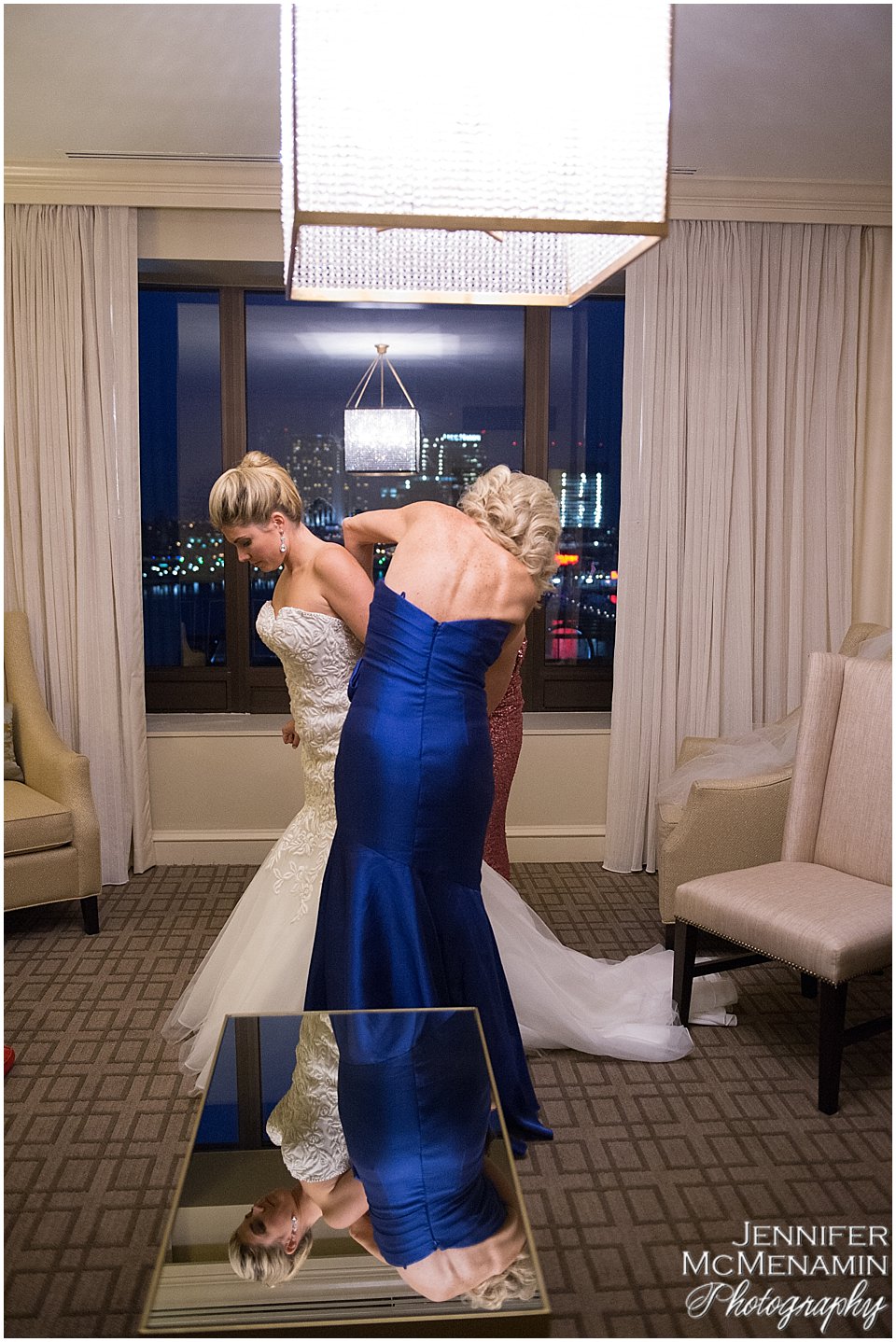 The bride, looking absolutely gorgeous.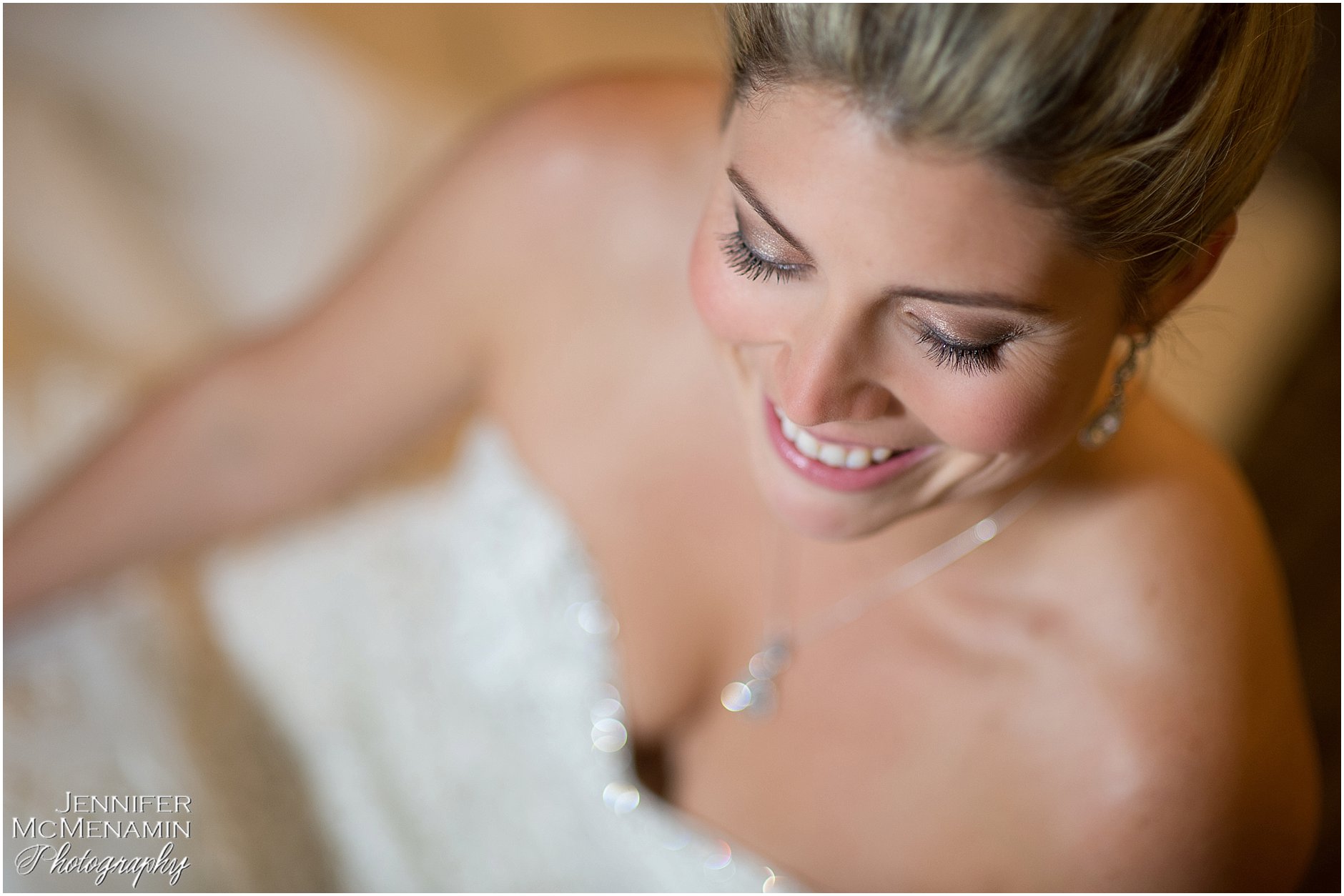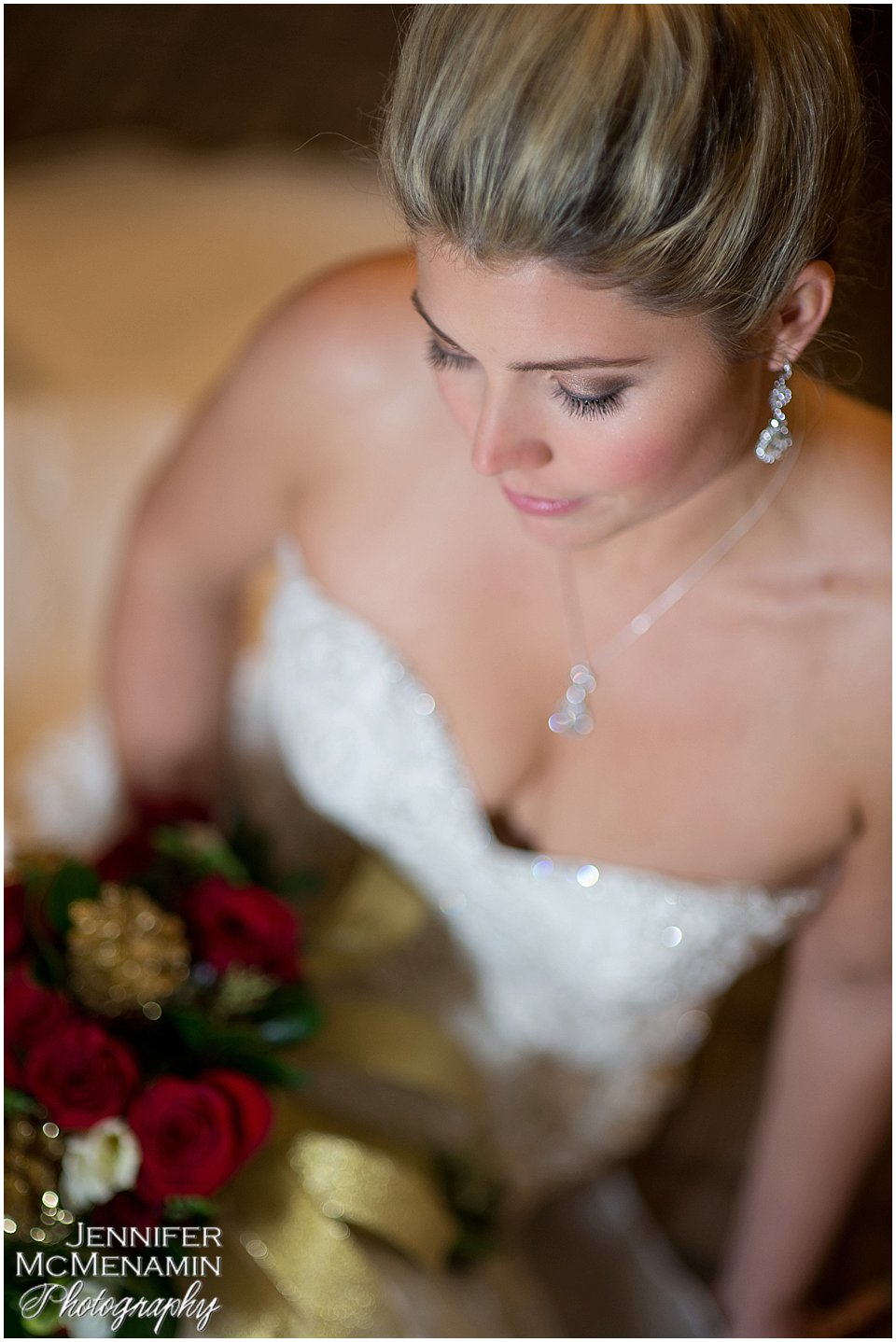 Laura's father, a professional sports photographer, practices his dance with his daughter.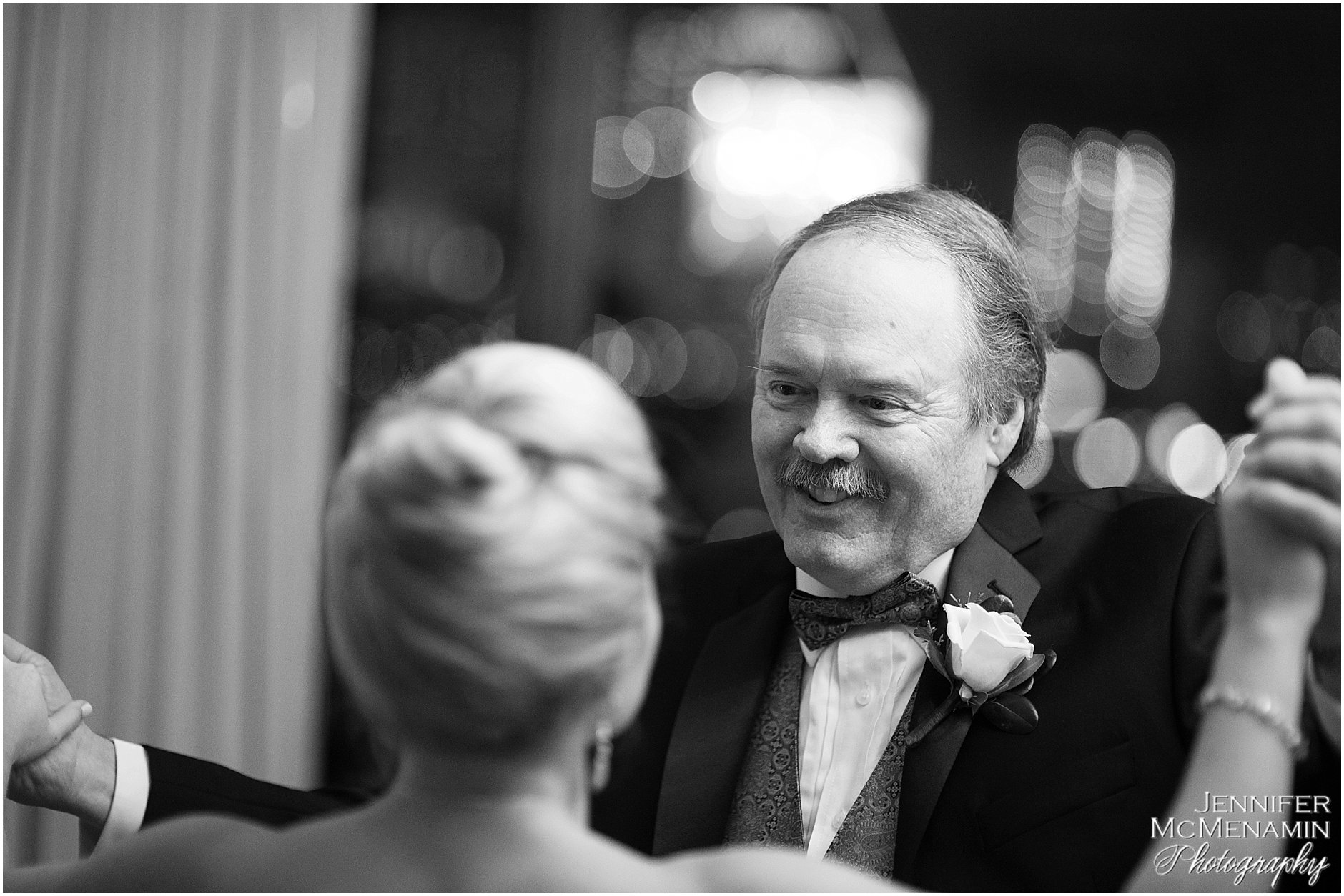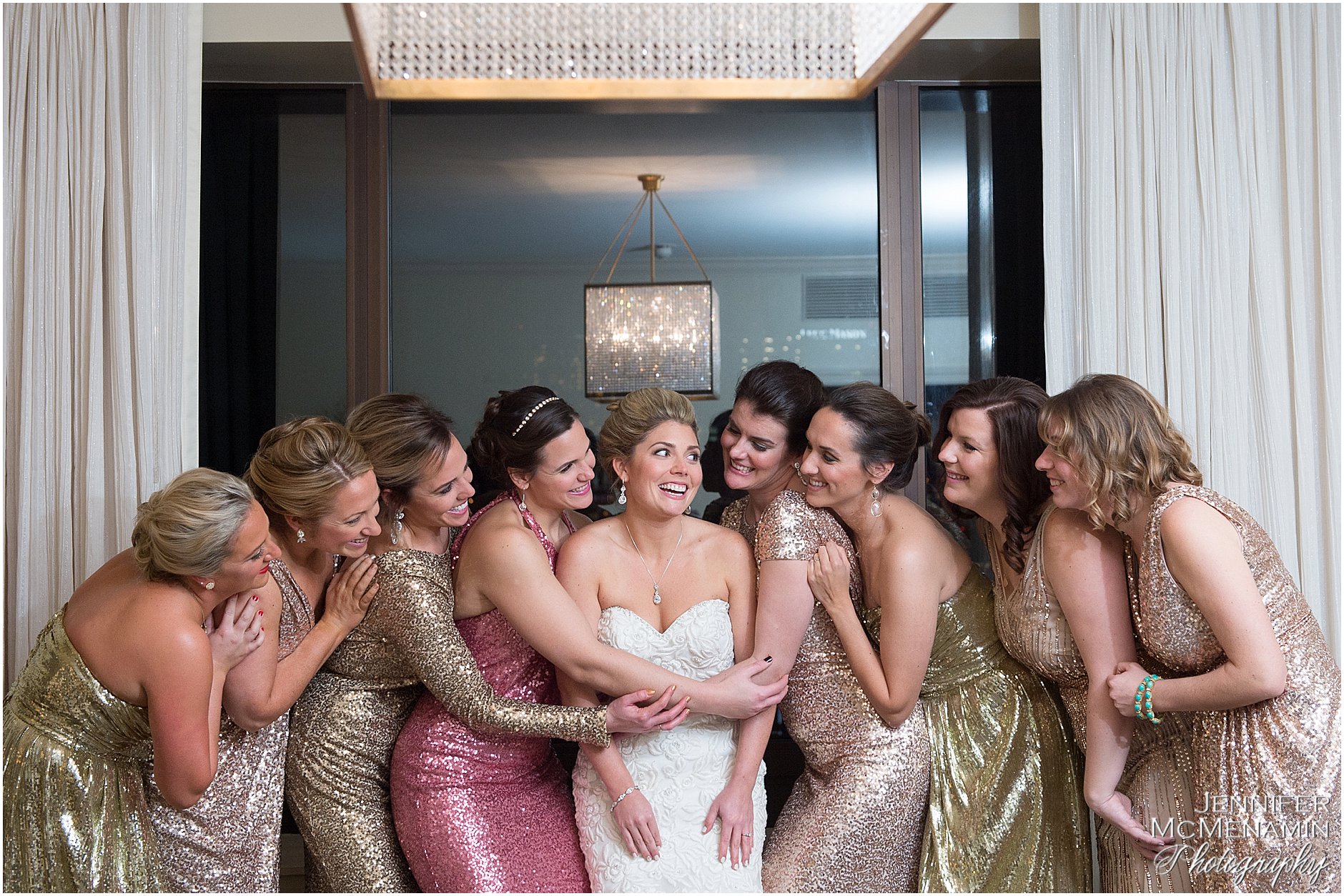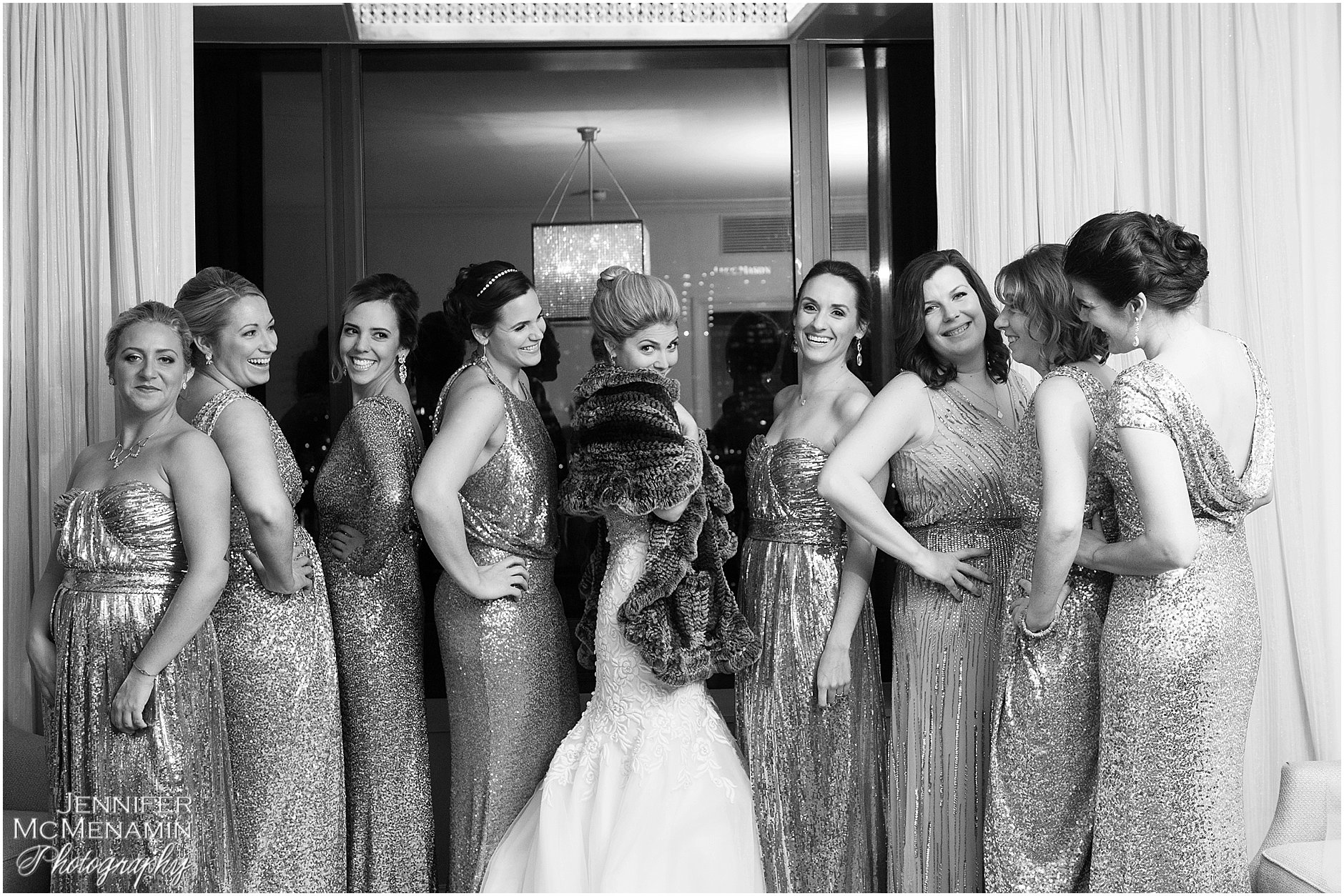 And then we were off to the Basilica.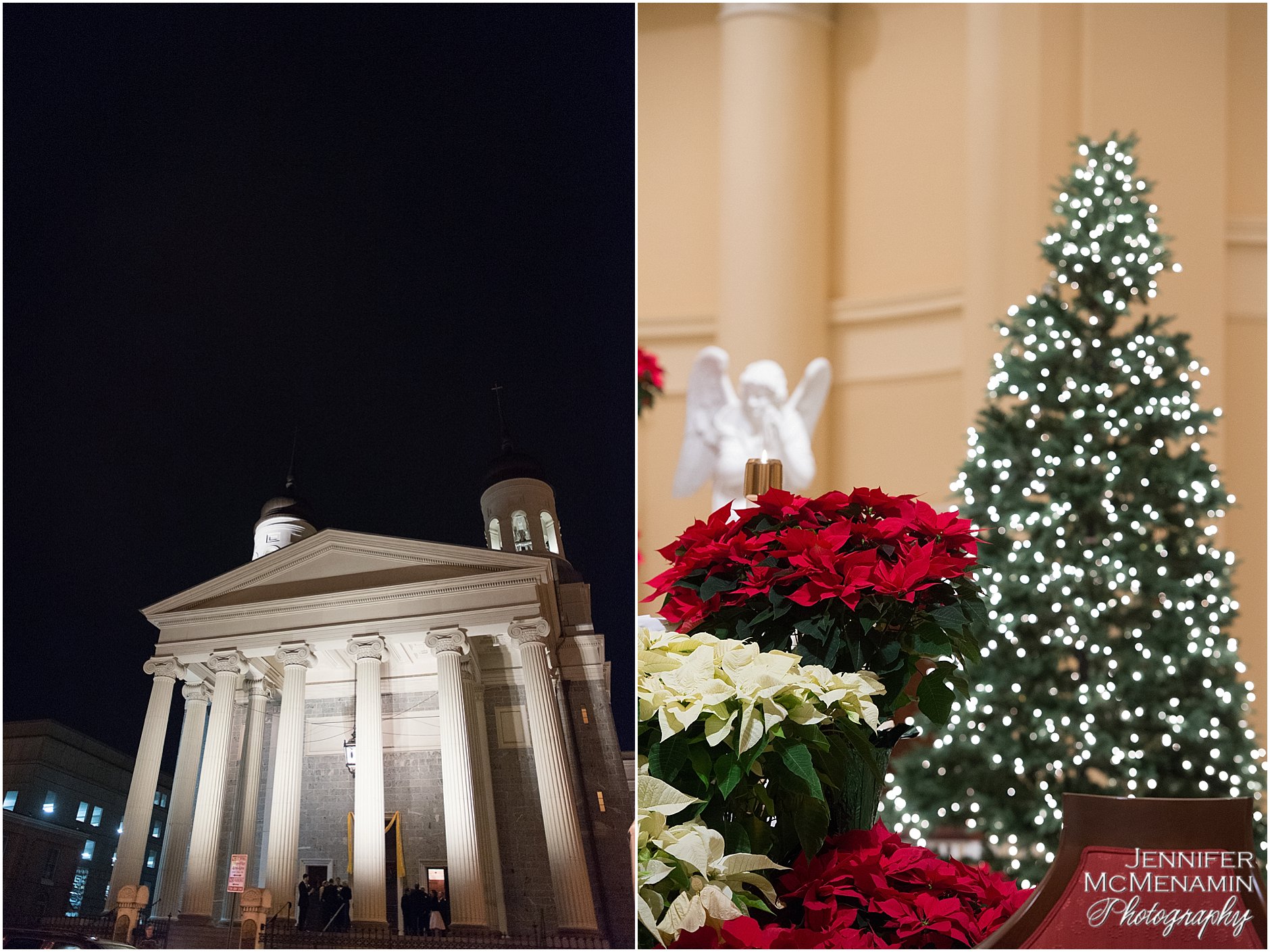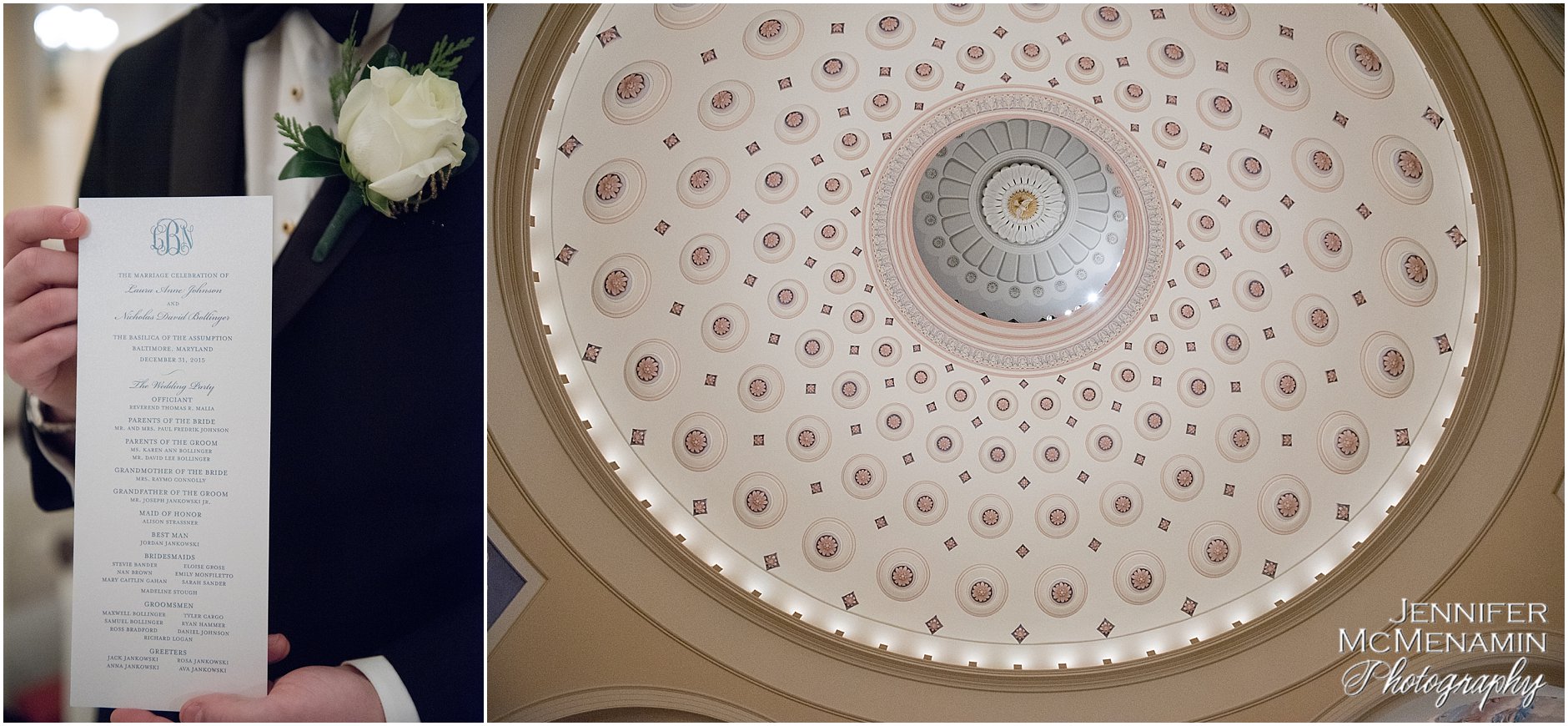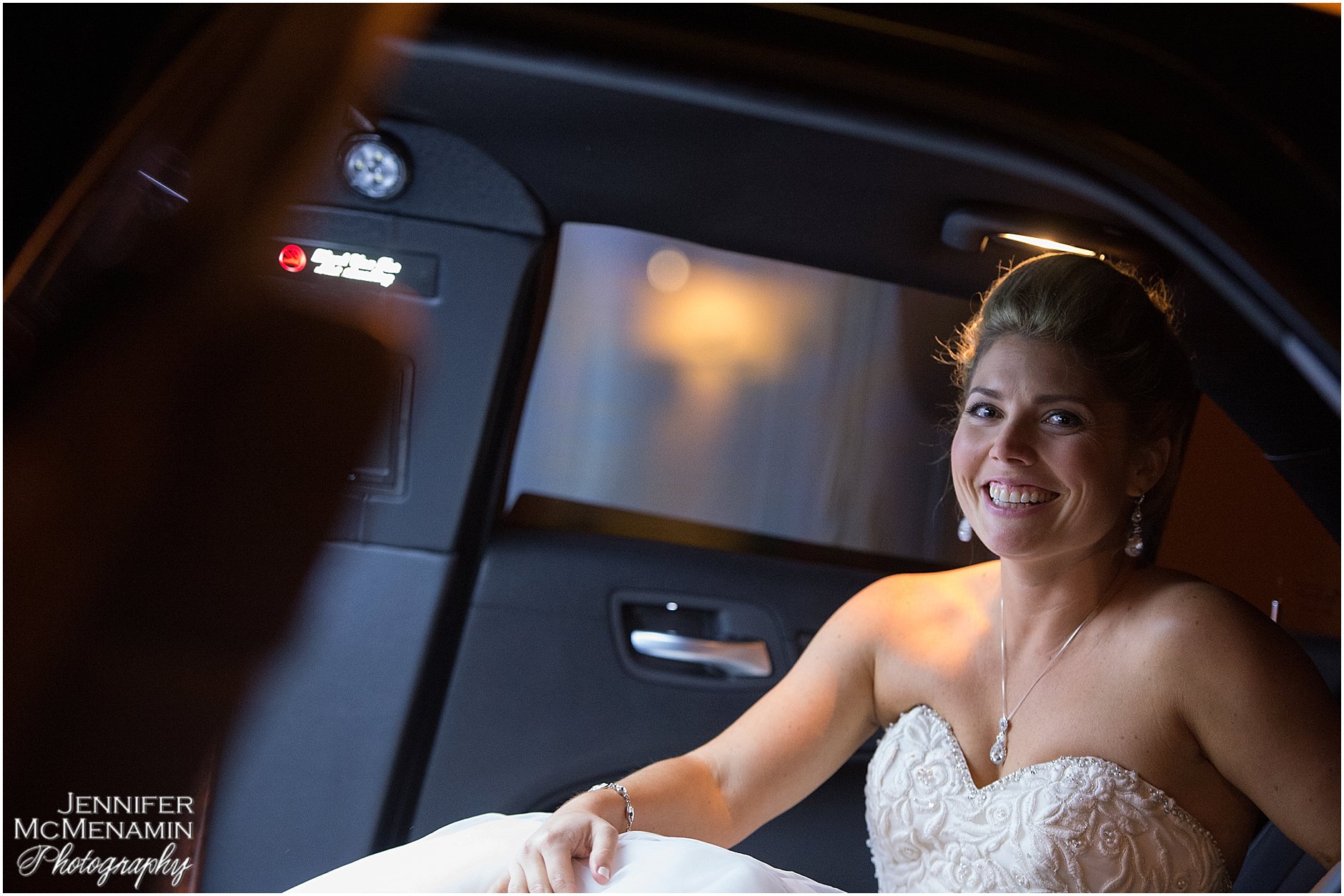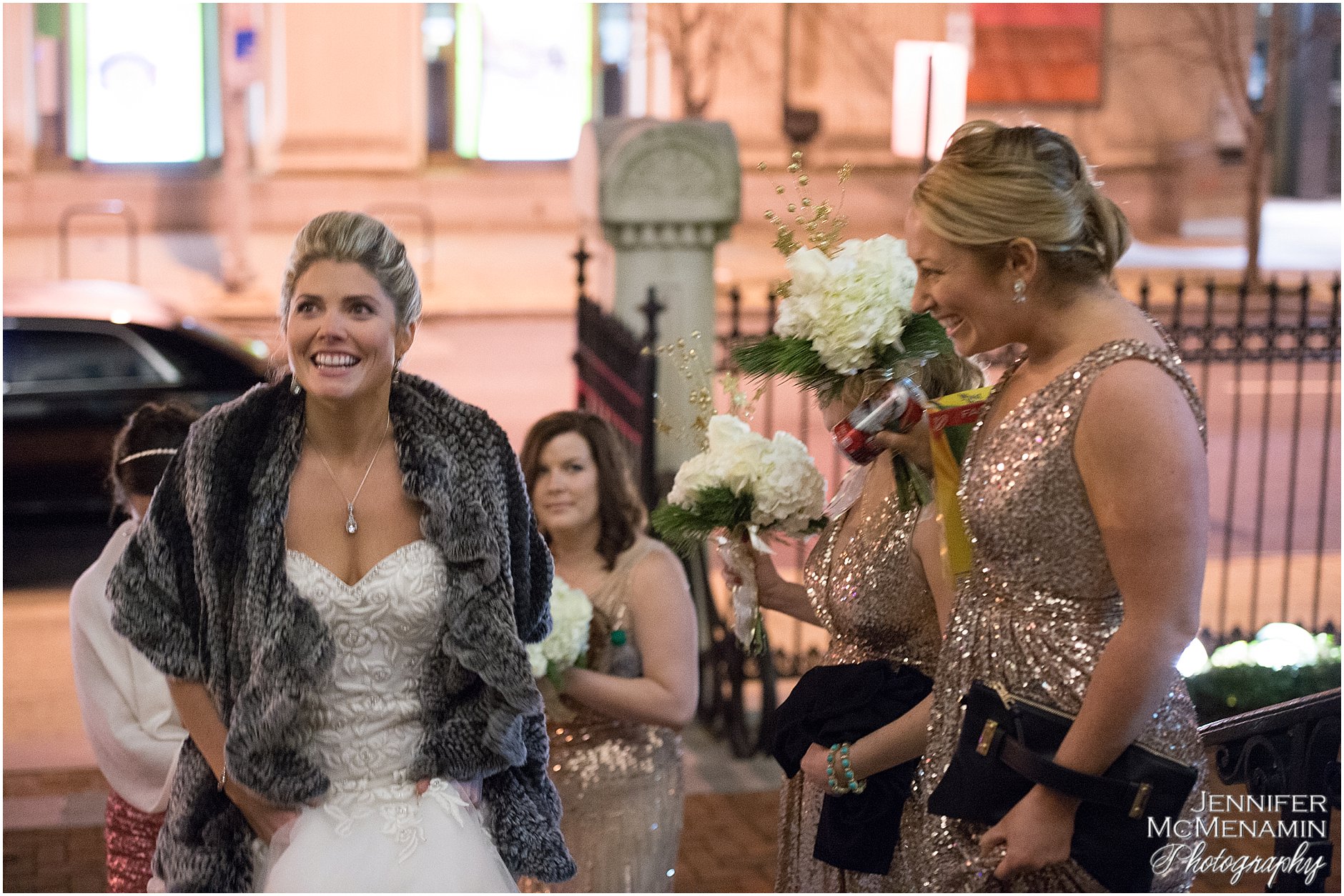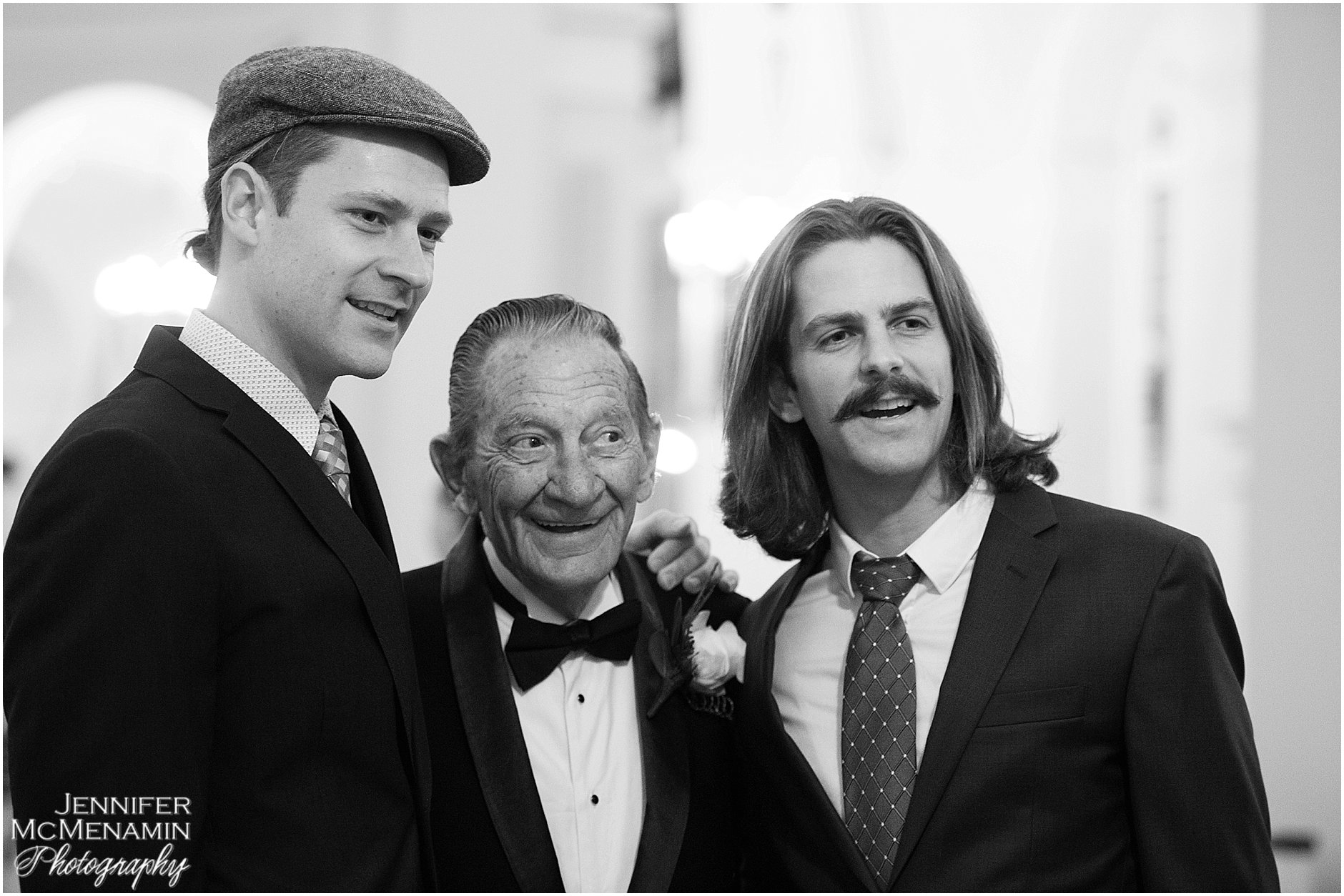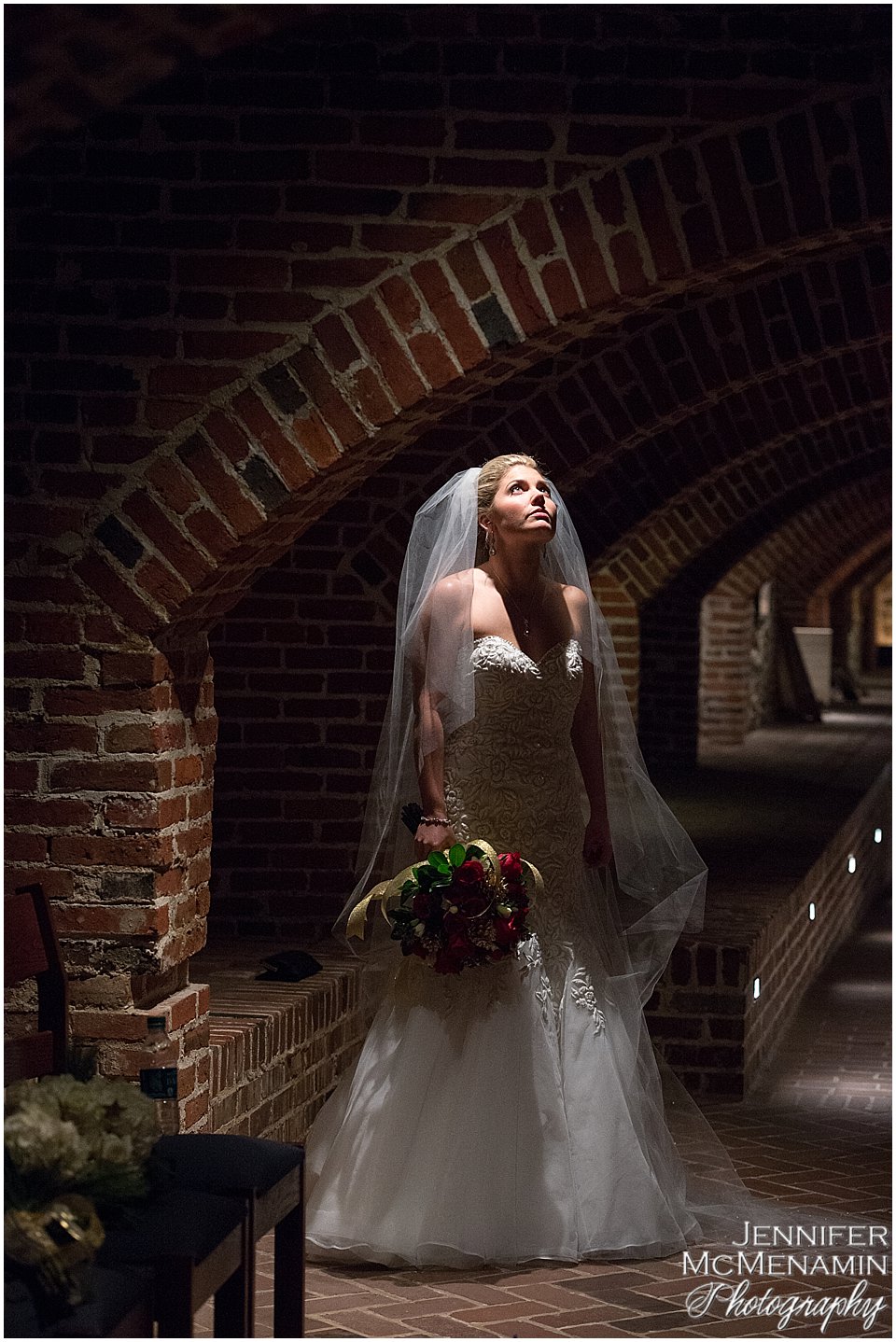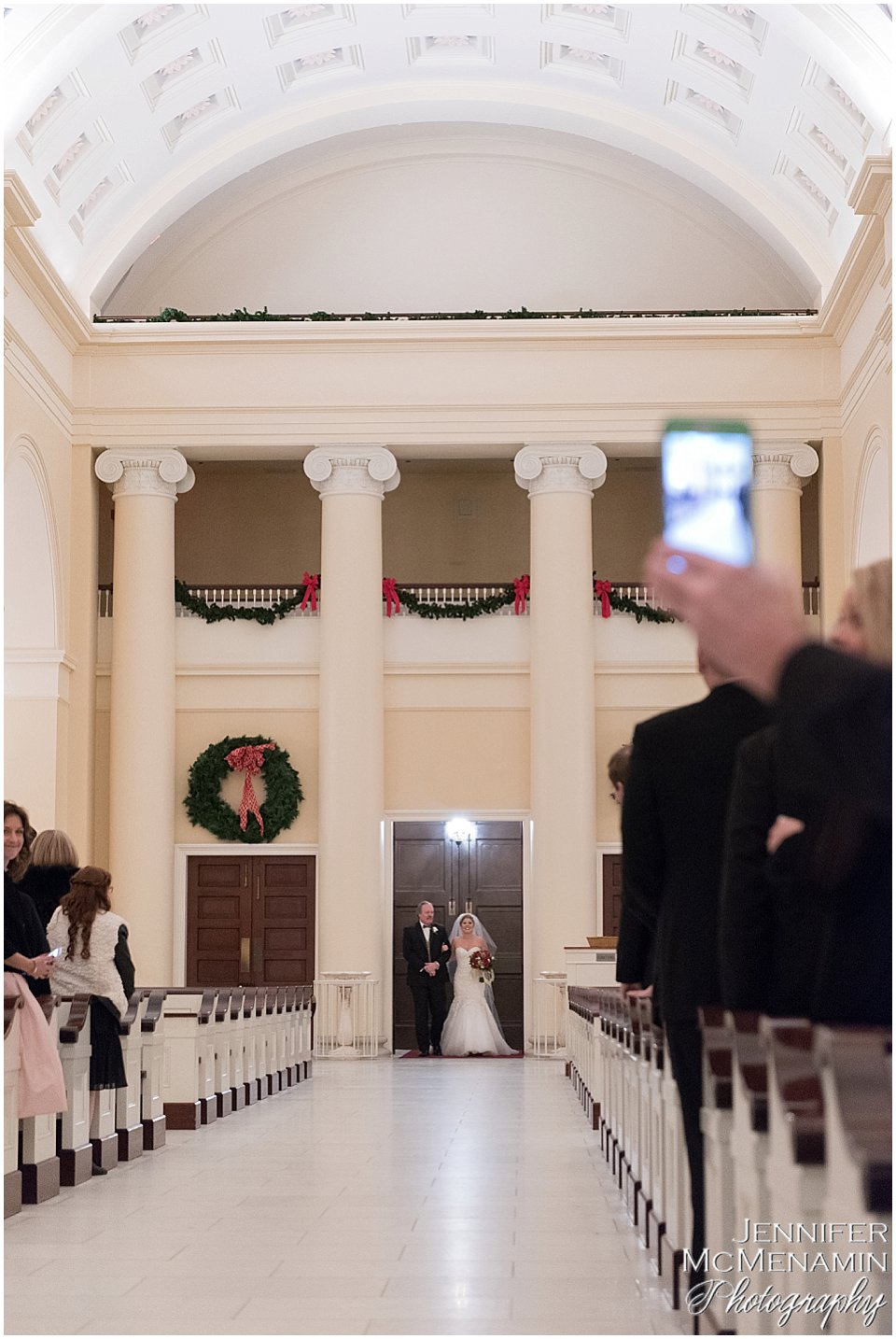 I love absolutely everything about the moment captured in this next photo: Laura + Nick can't tear their eyes off each other. Meanwhile, the bride's dad smiles at the groom while shaking his hand and both of Nick's parents and brothers all beam in the couple's direction. I love that my job entails freezing special moments like this for forever for my clients and their families.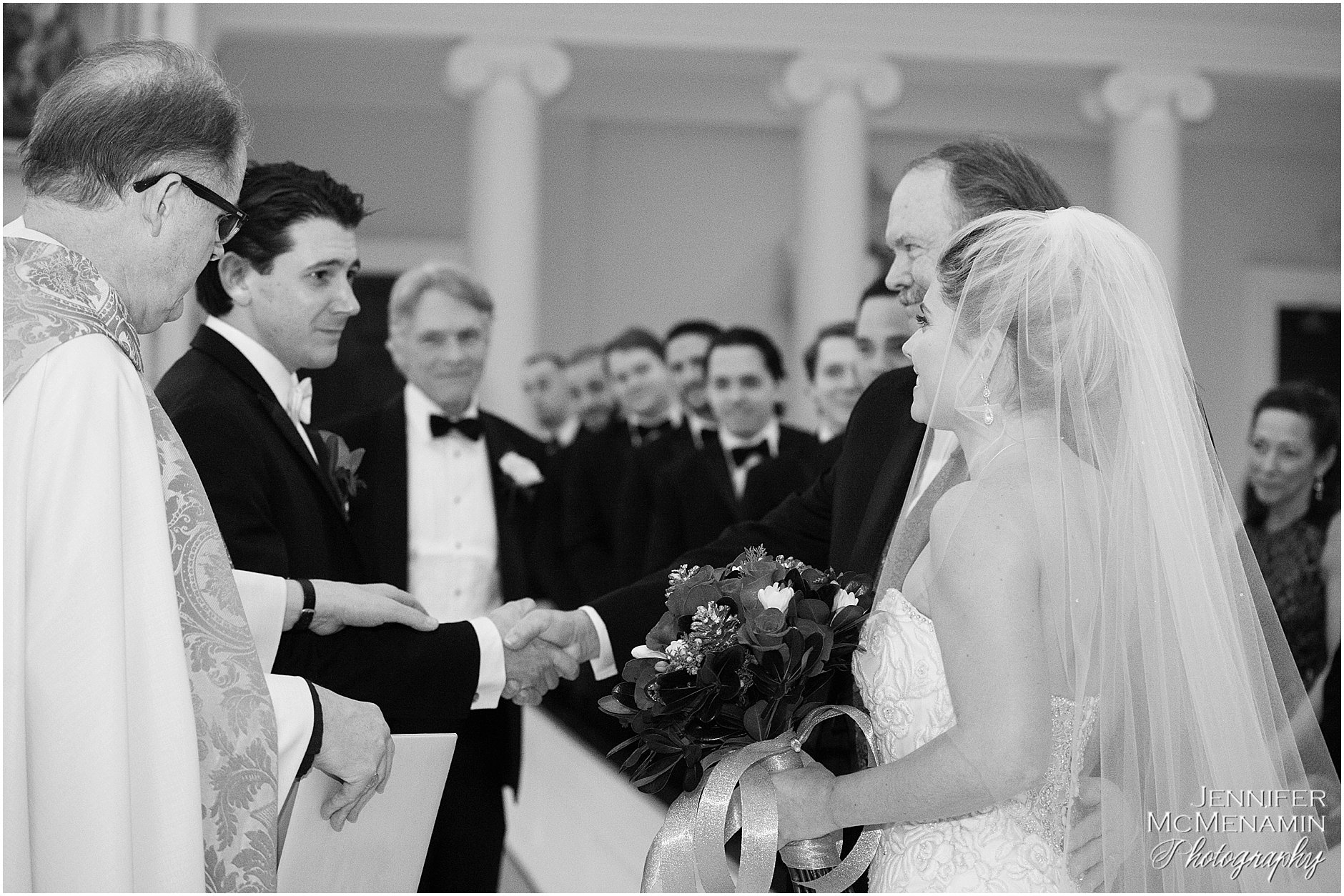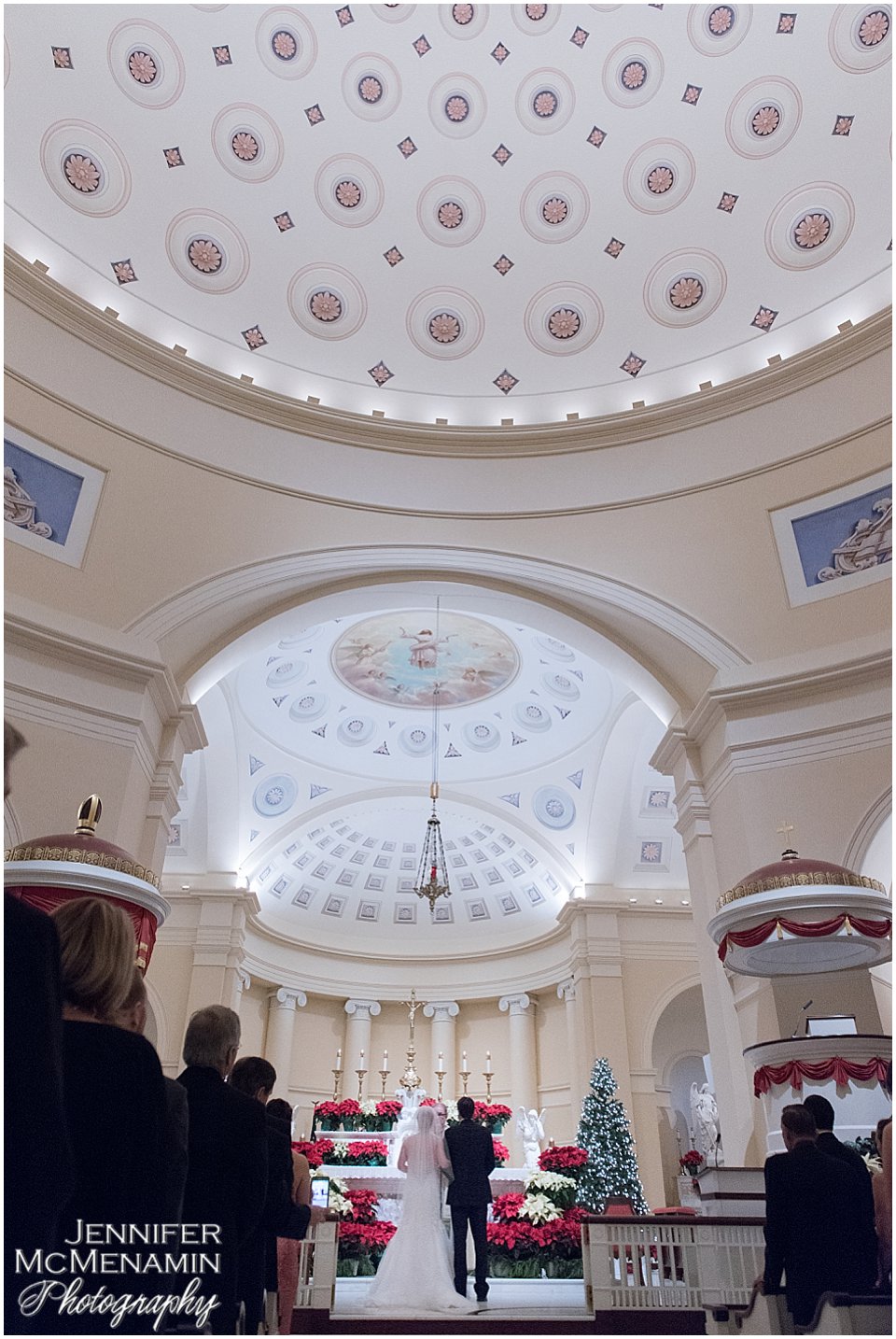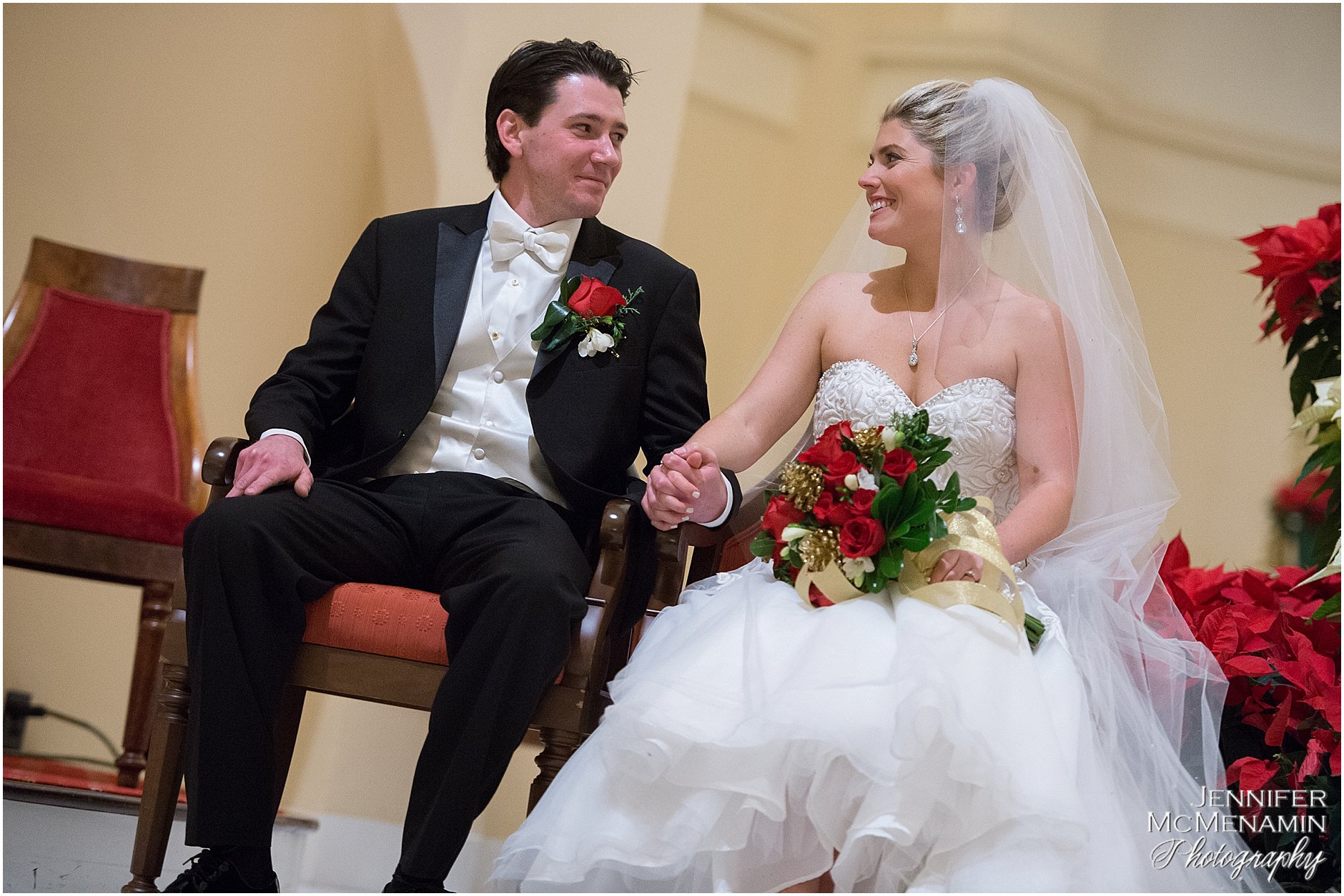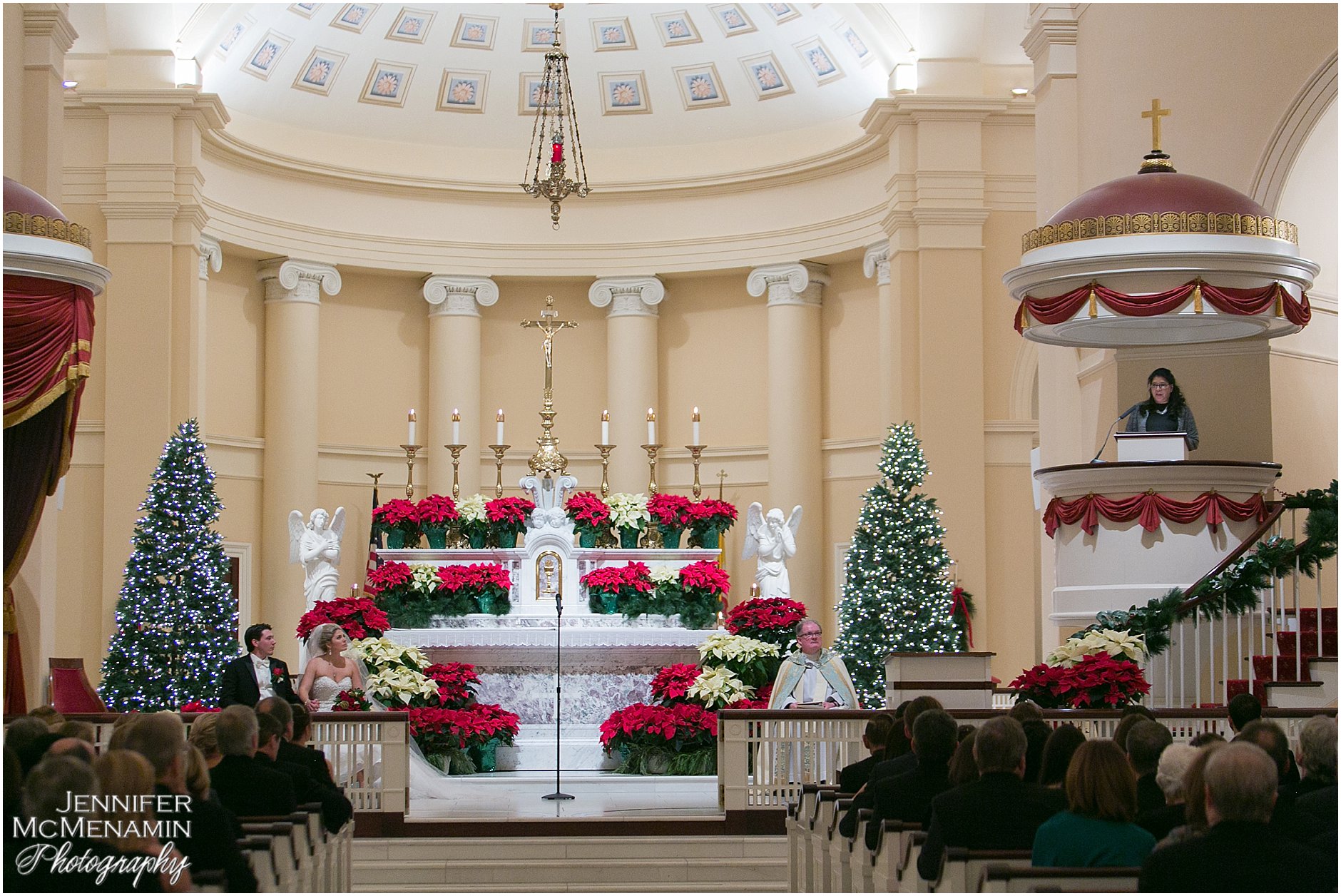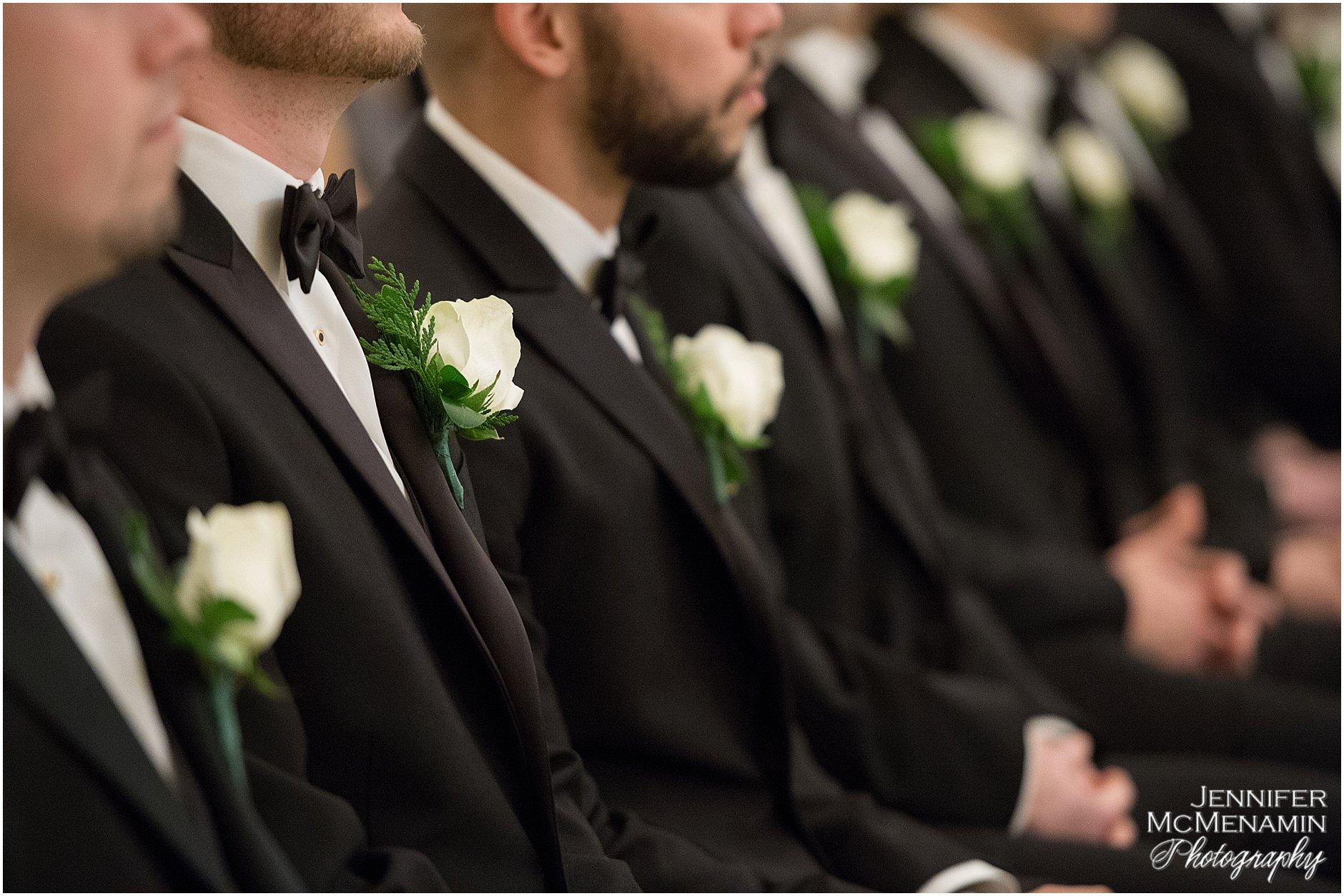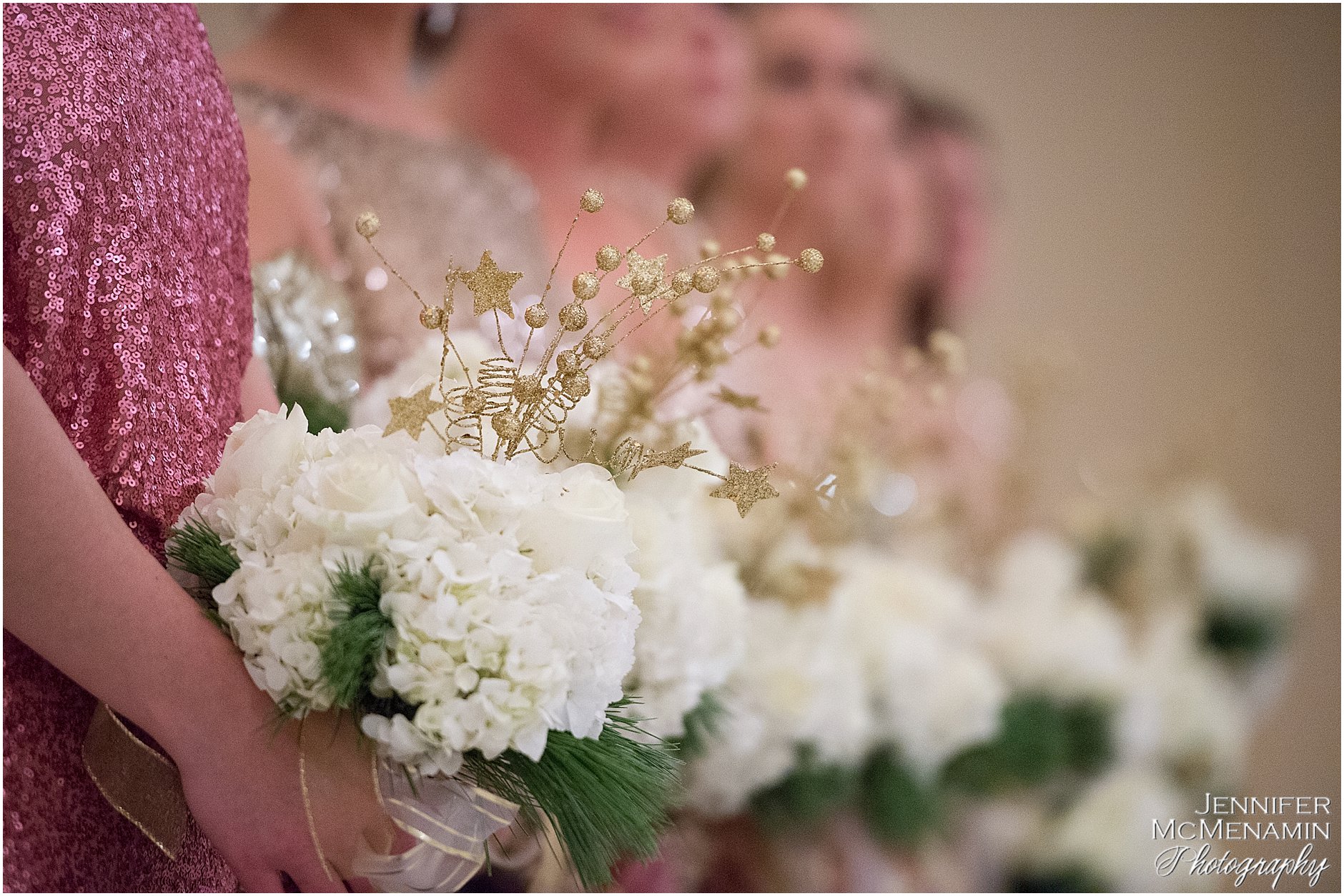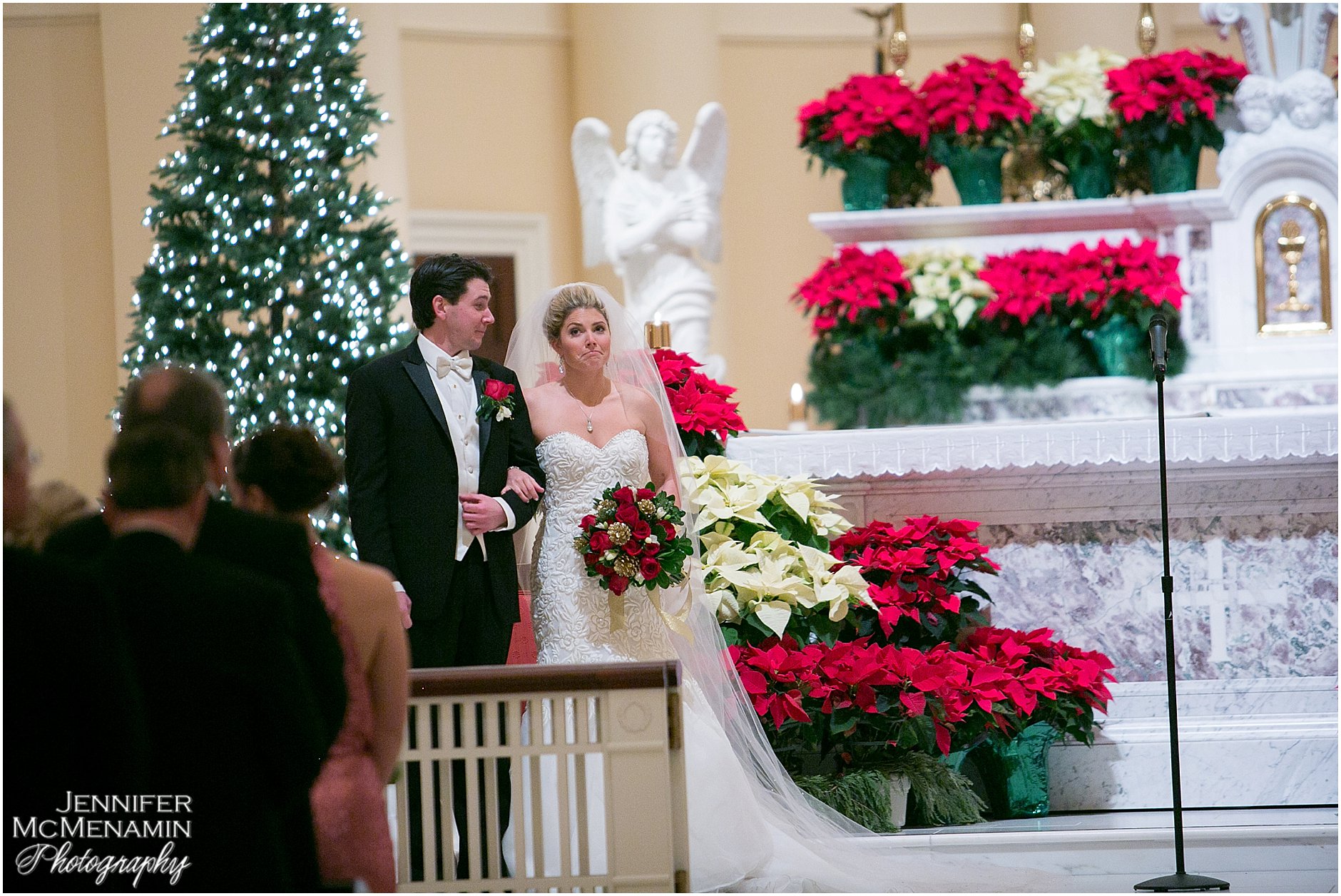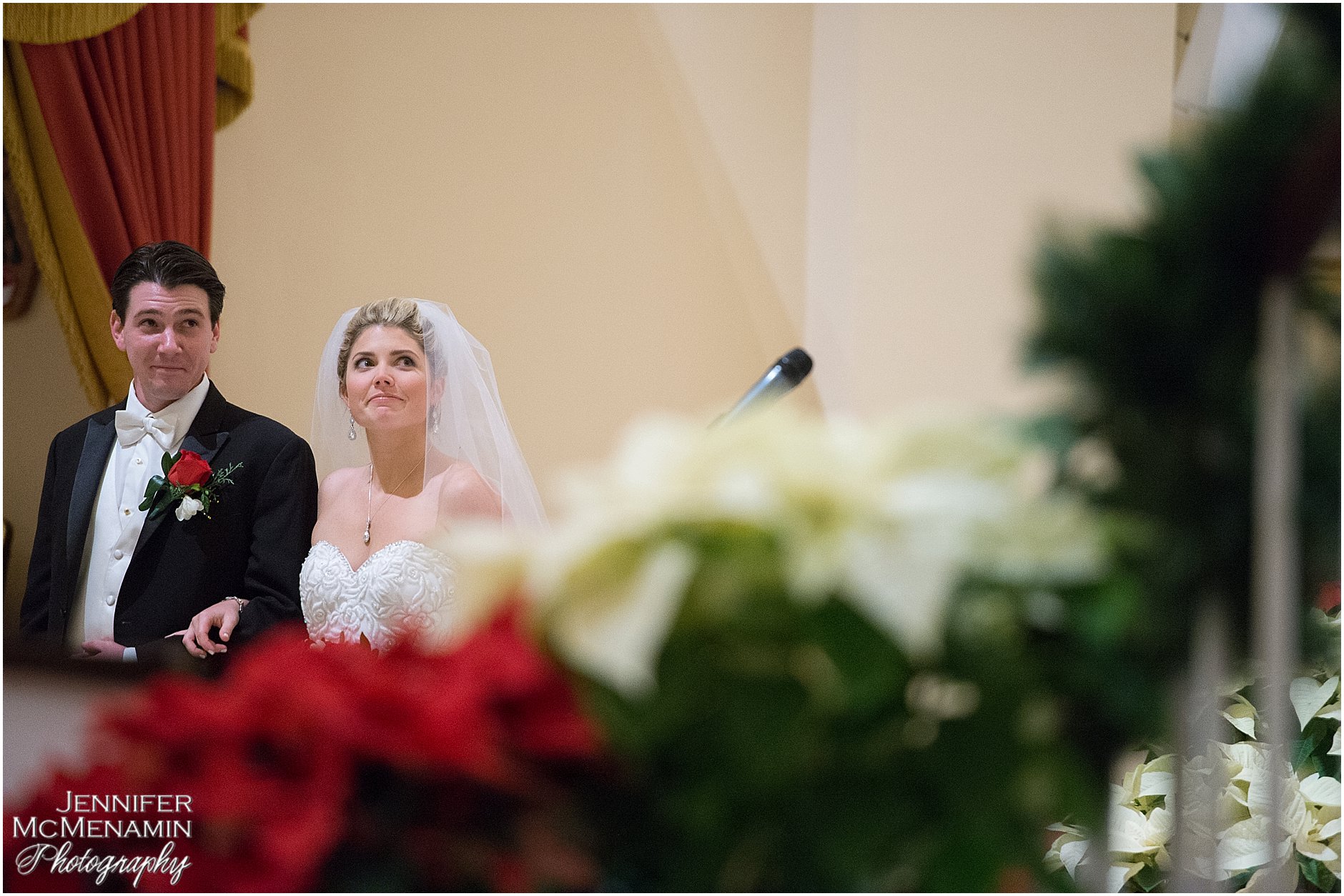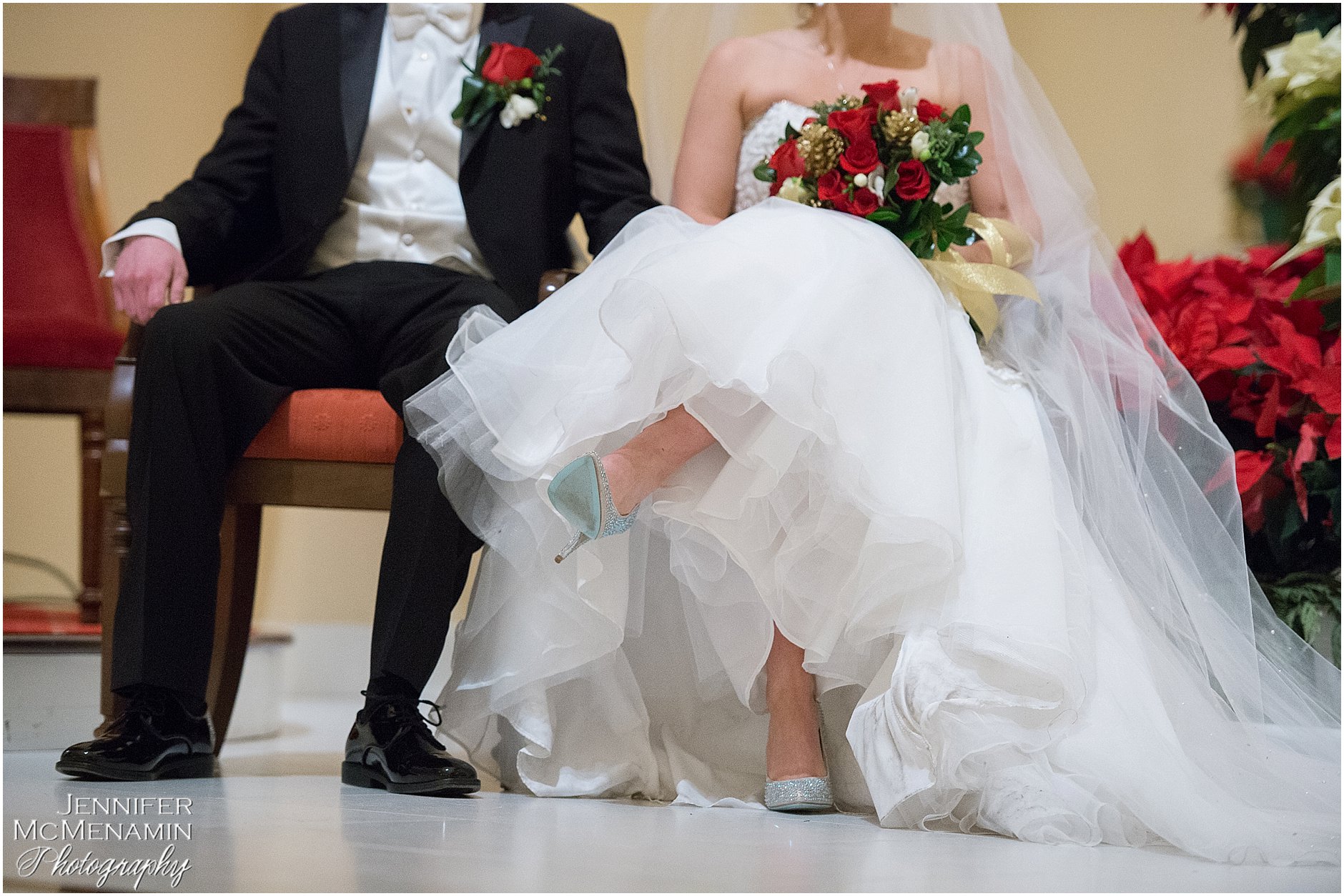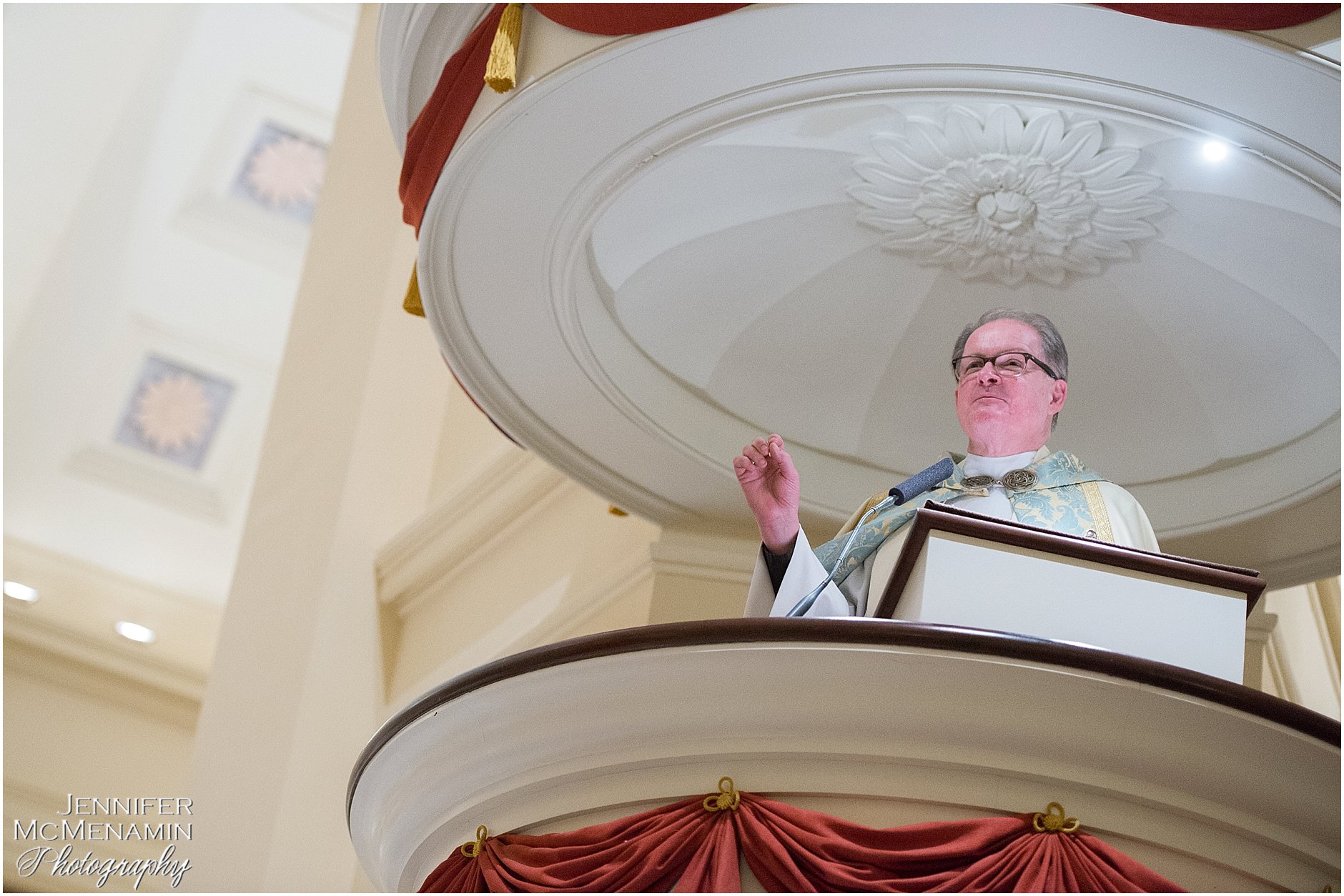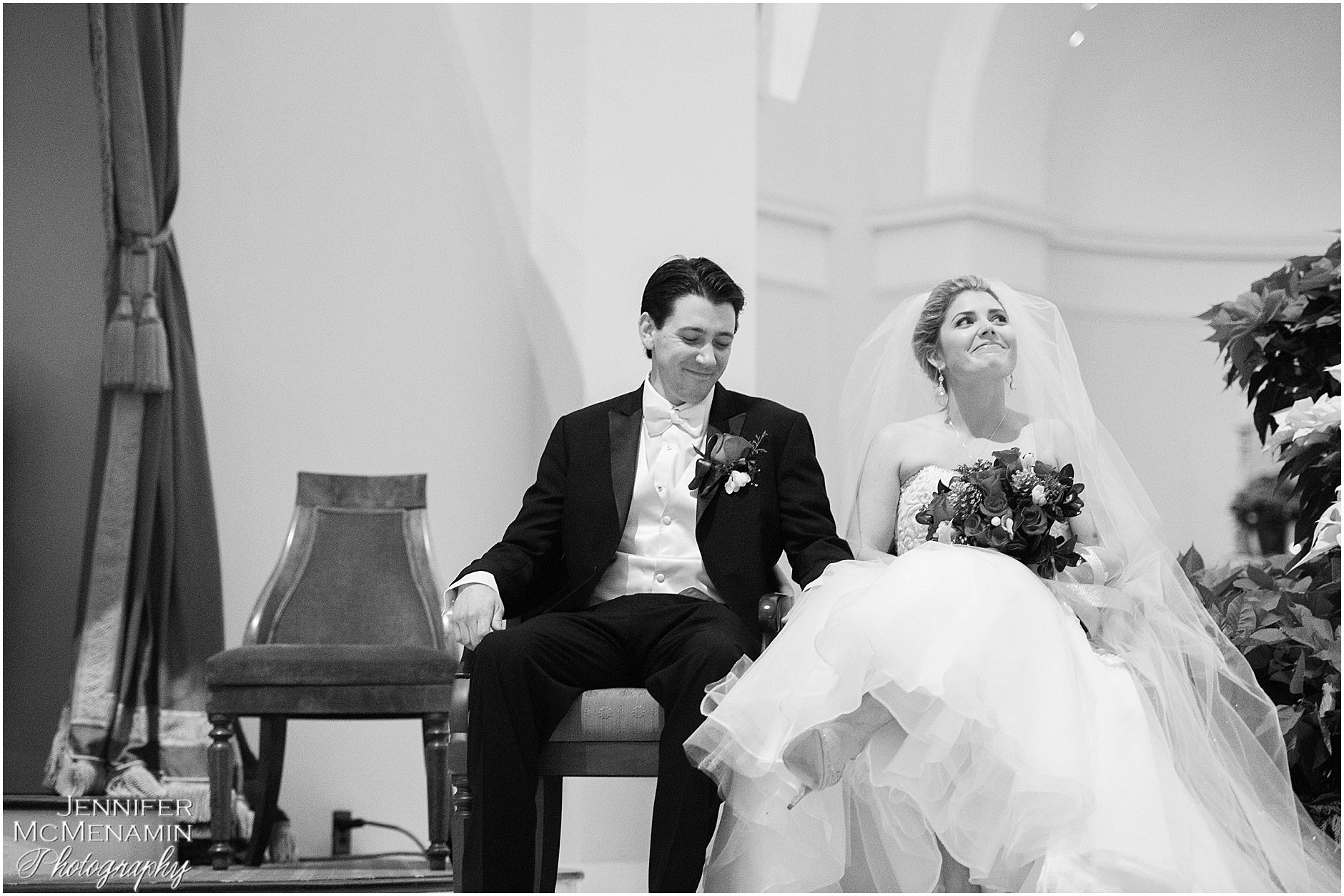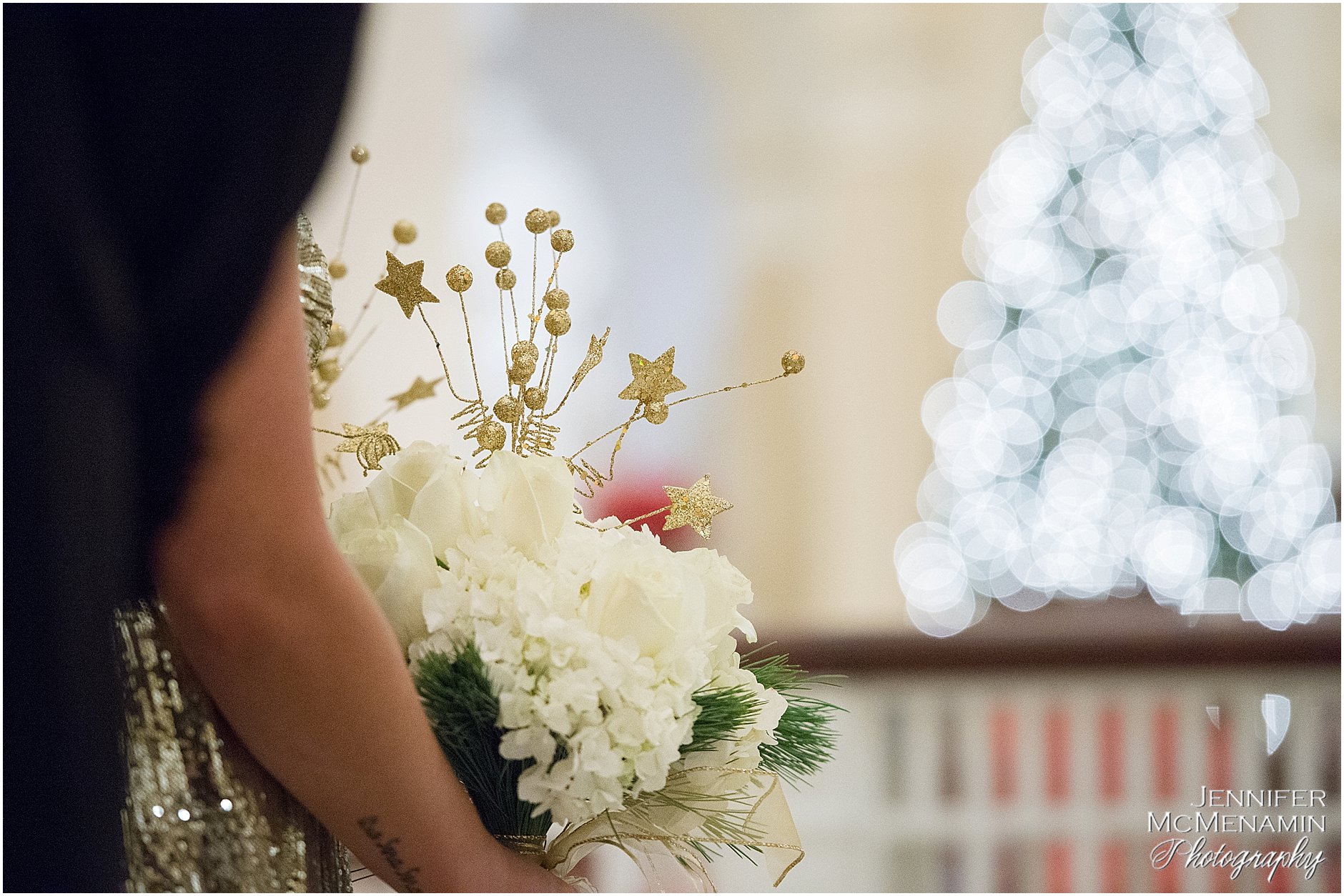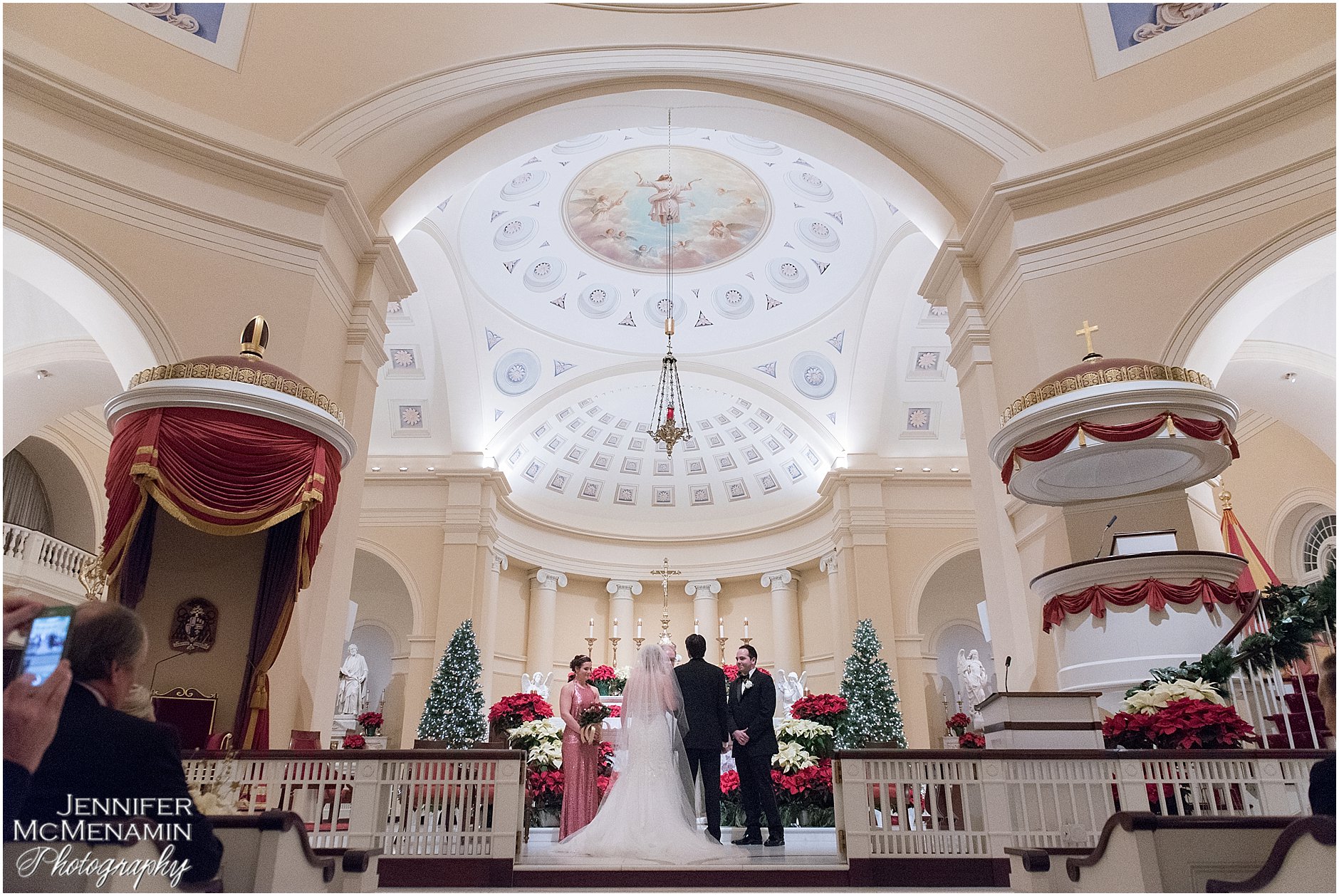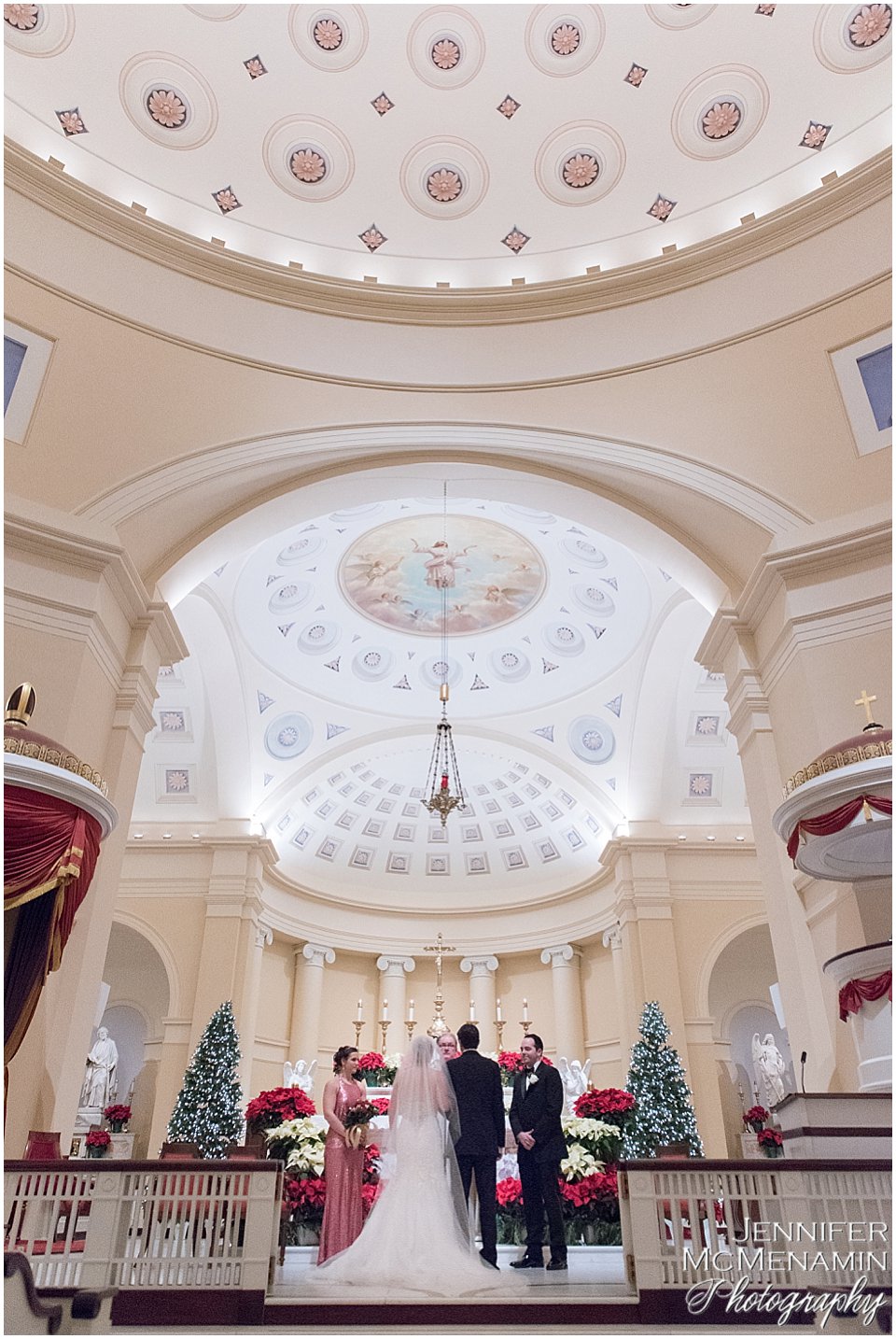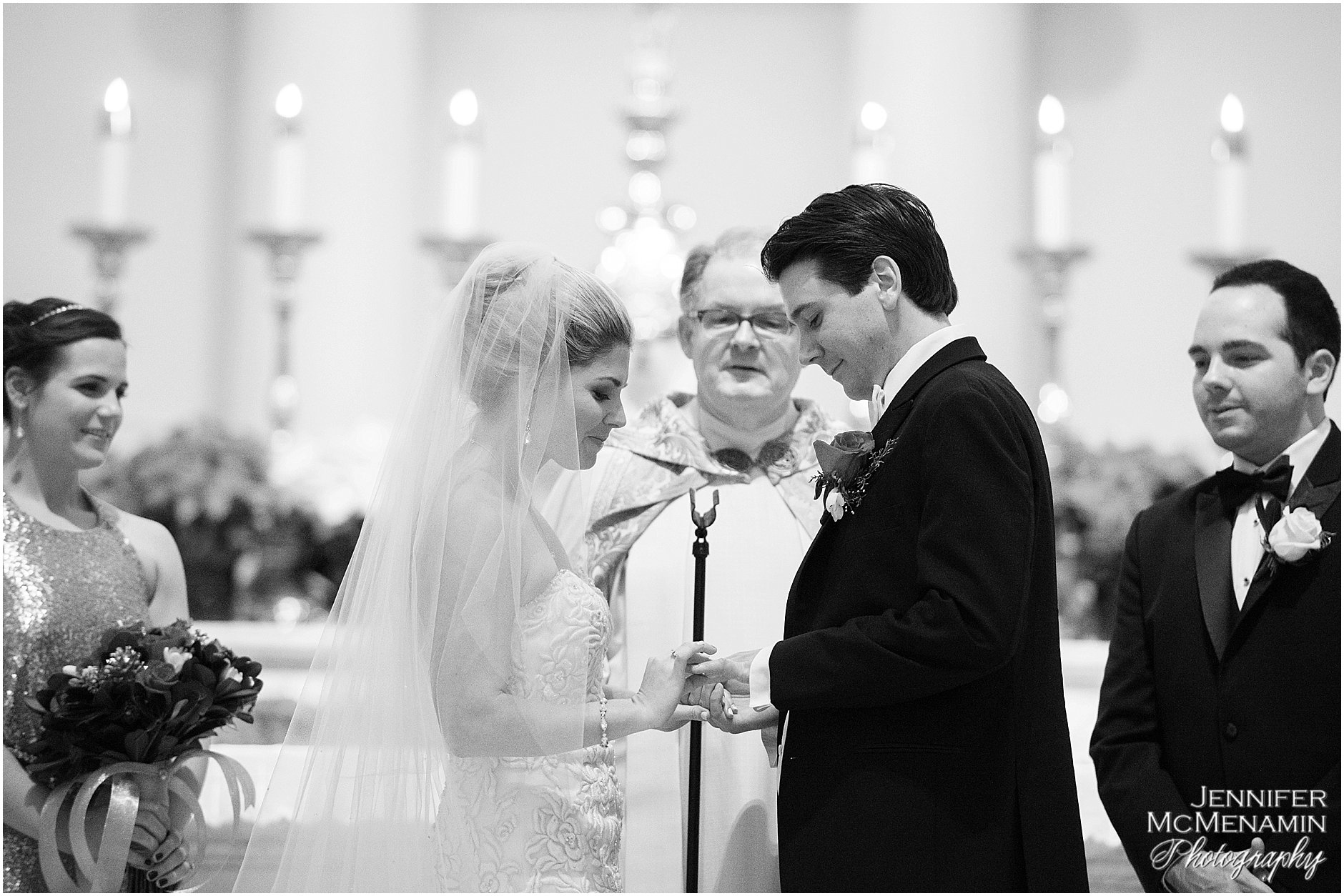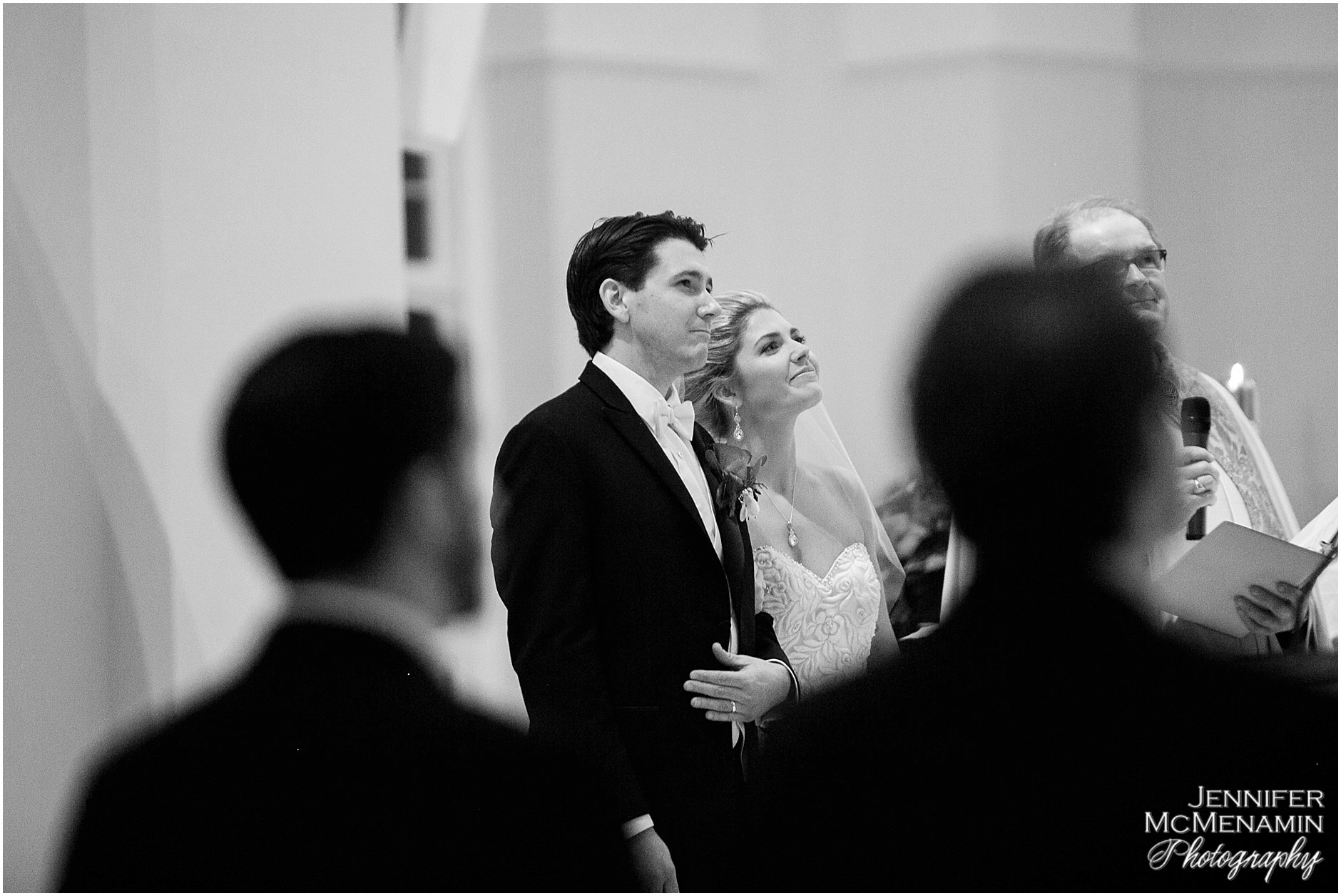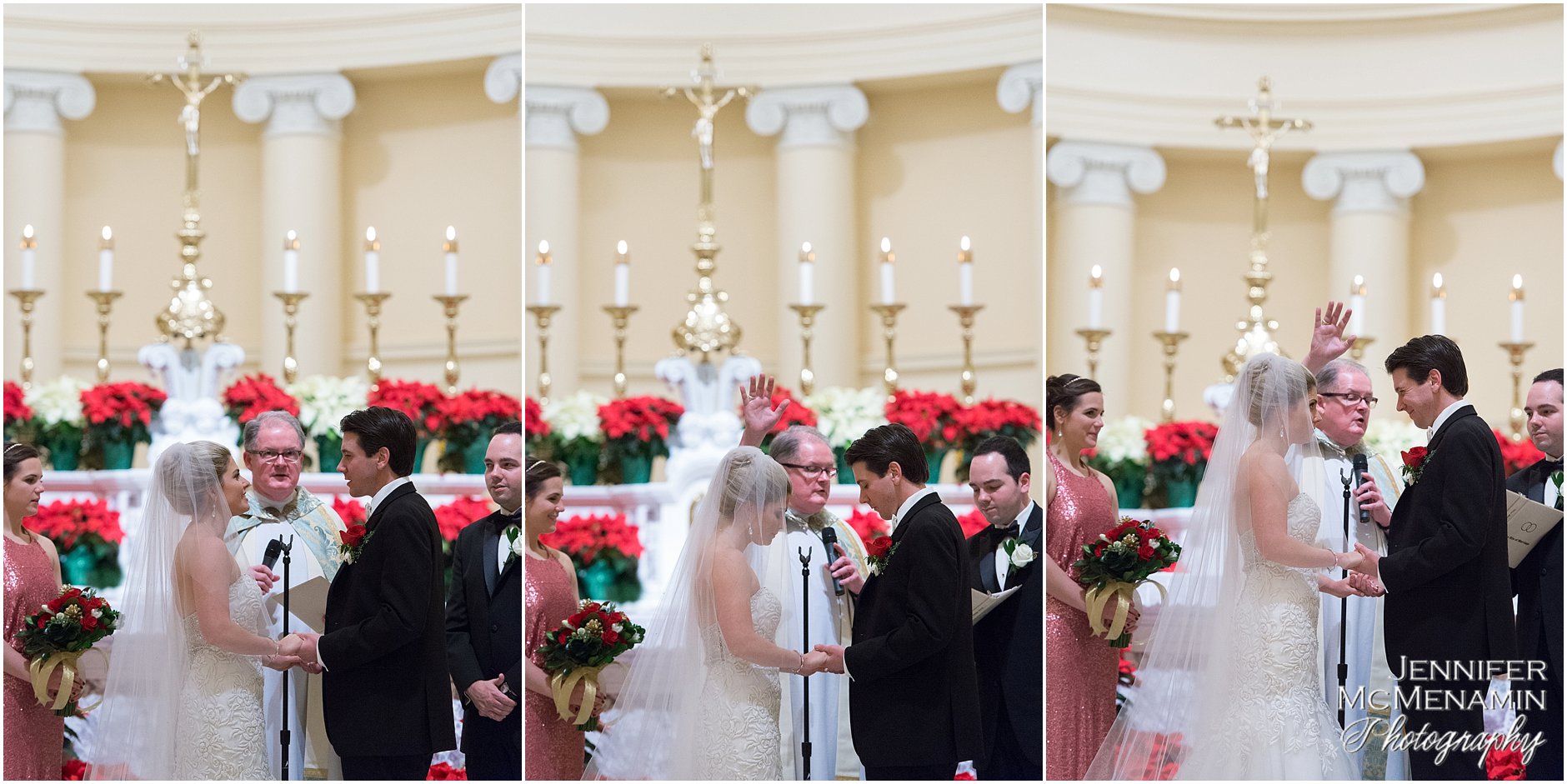 Married!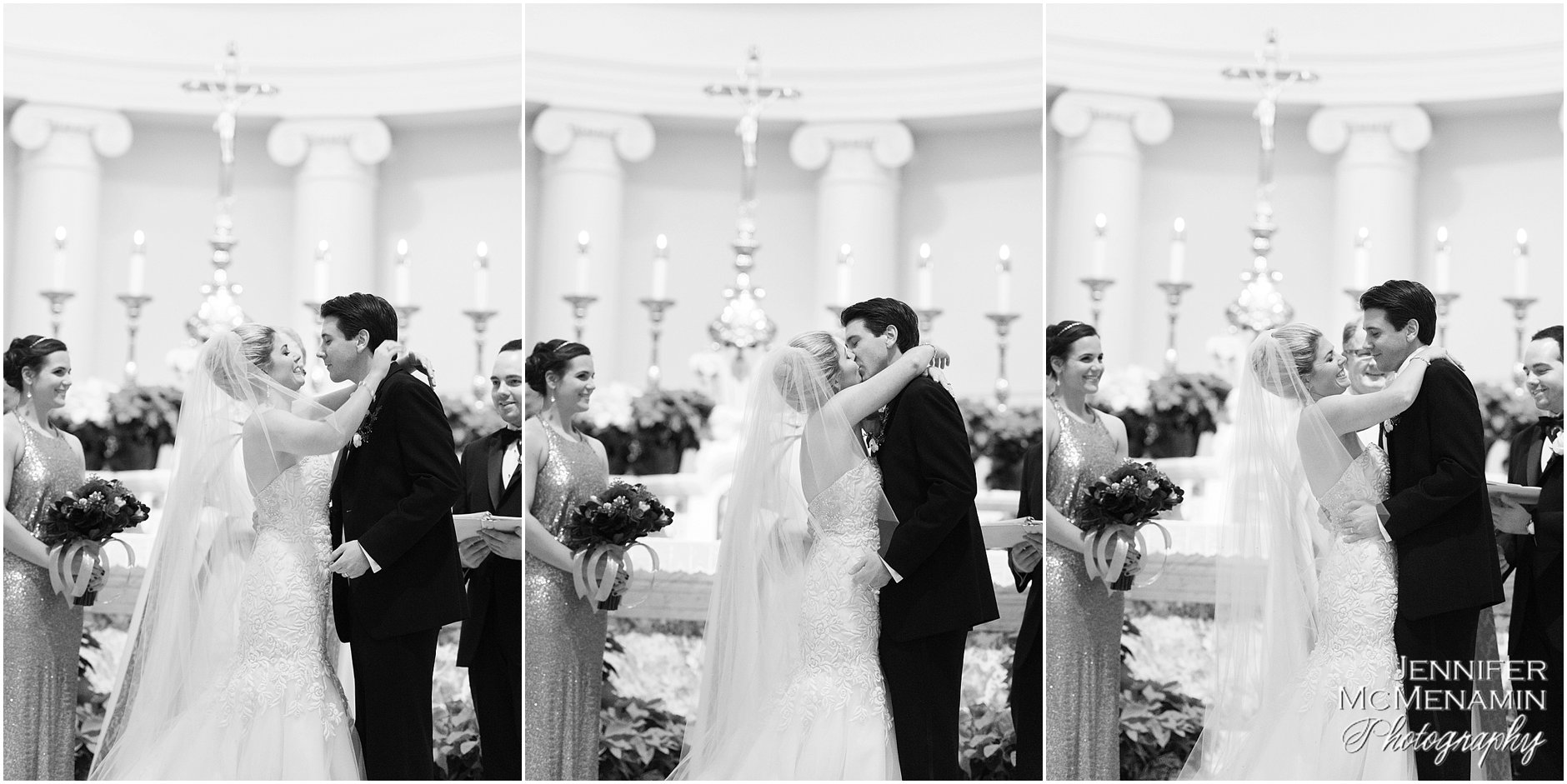 Jamie caught these next two great moments from her vantage point in the cathedral.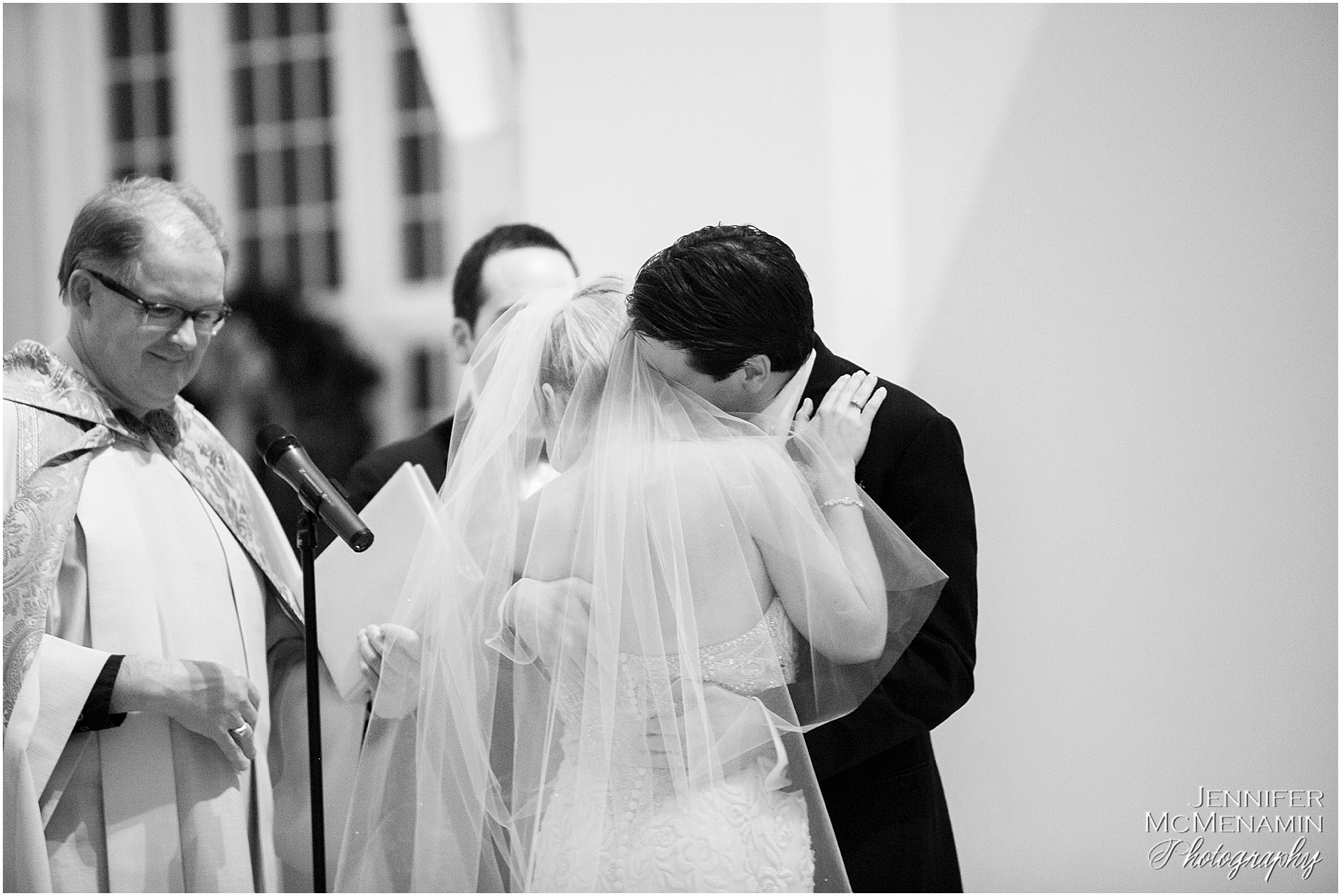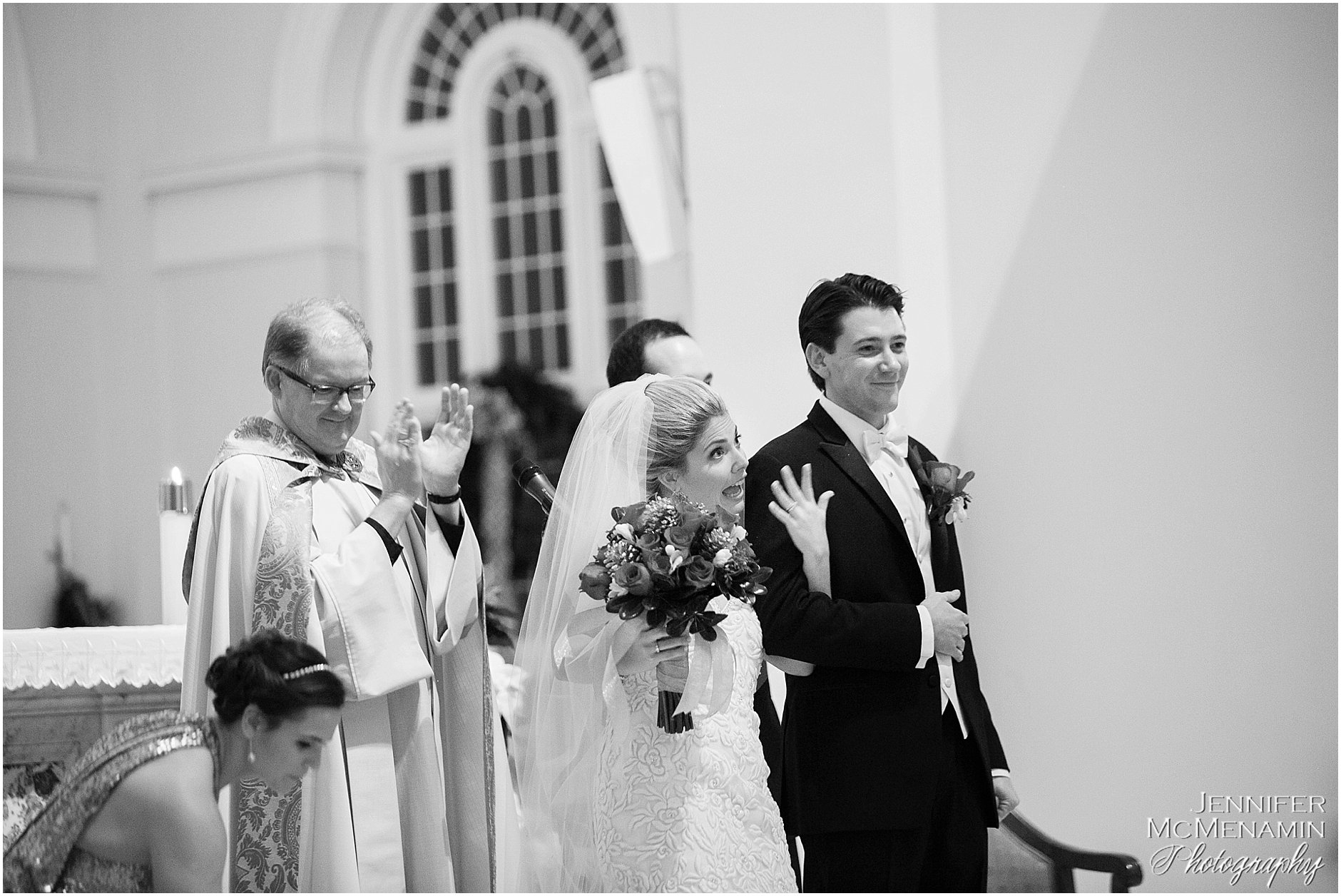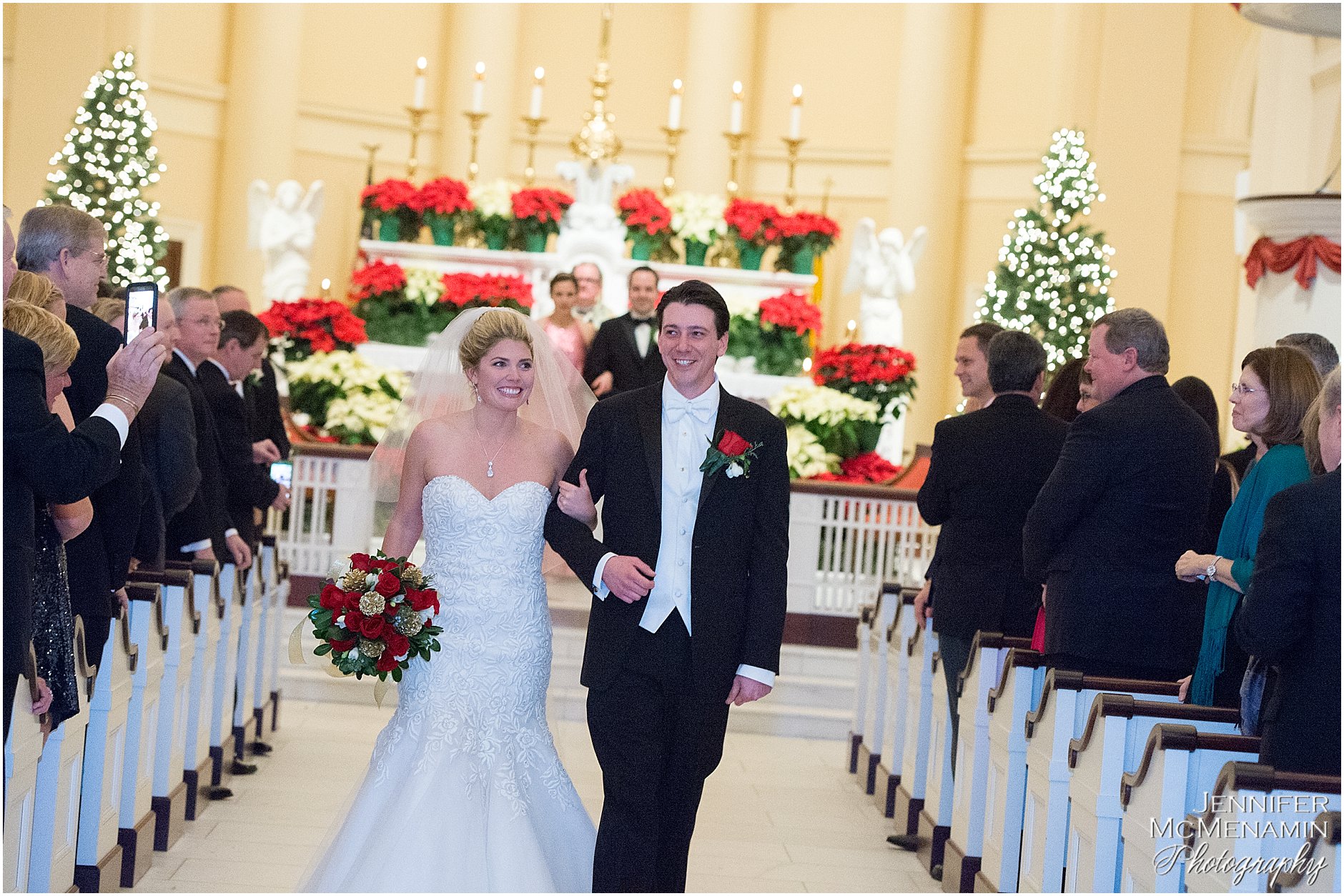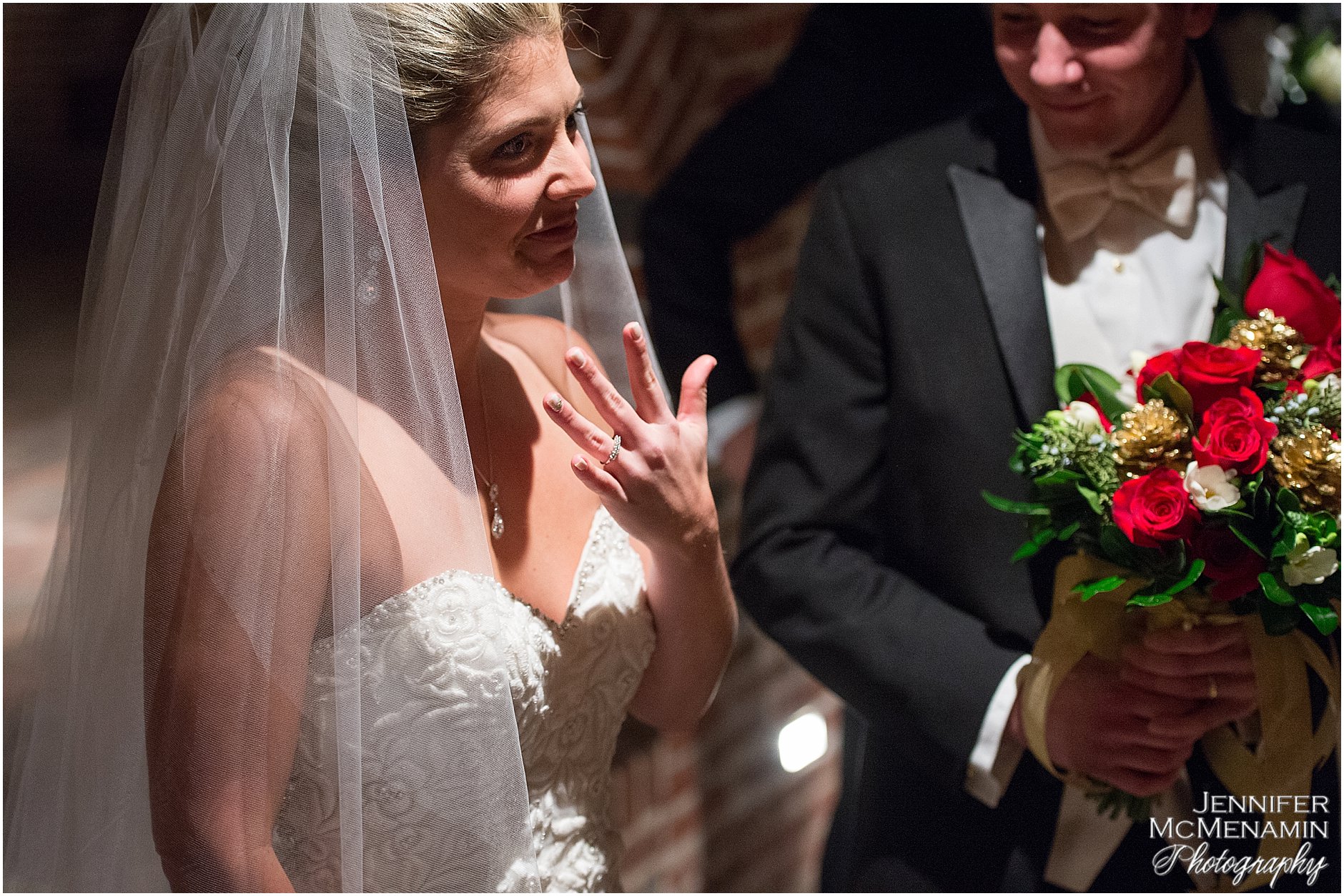 After a few efficient family and wedding party portraits at the church, we headed to Mount Vernon Place for a couple of fun pictures with the newlyweds against a backdrop of the city's remaining holiday lights.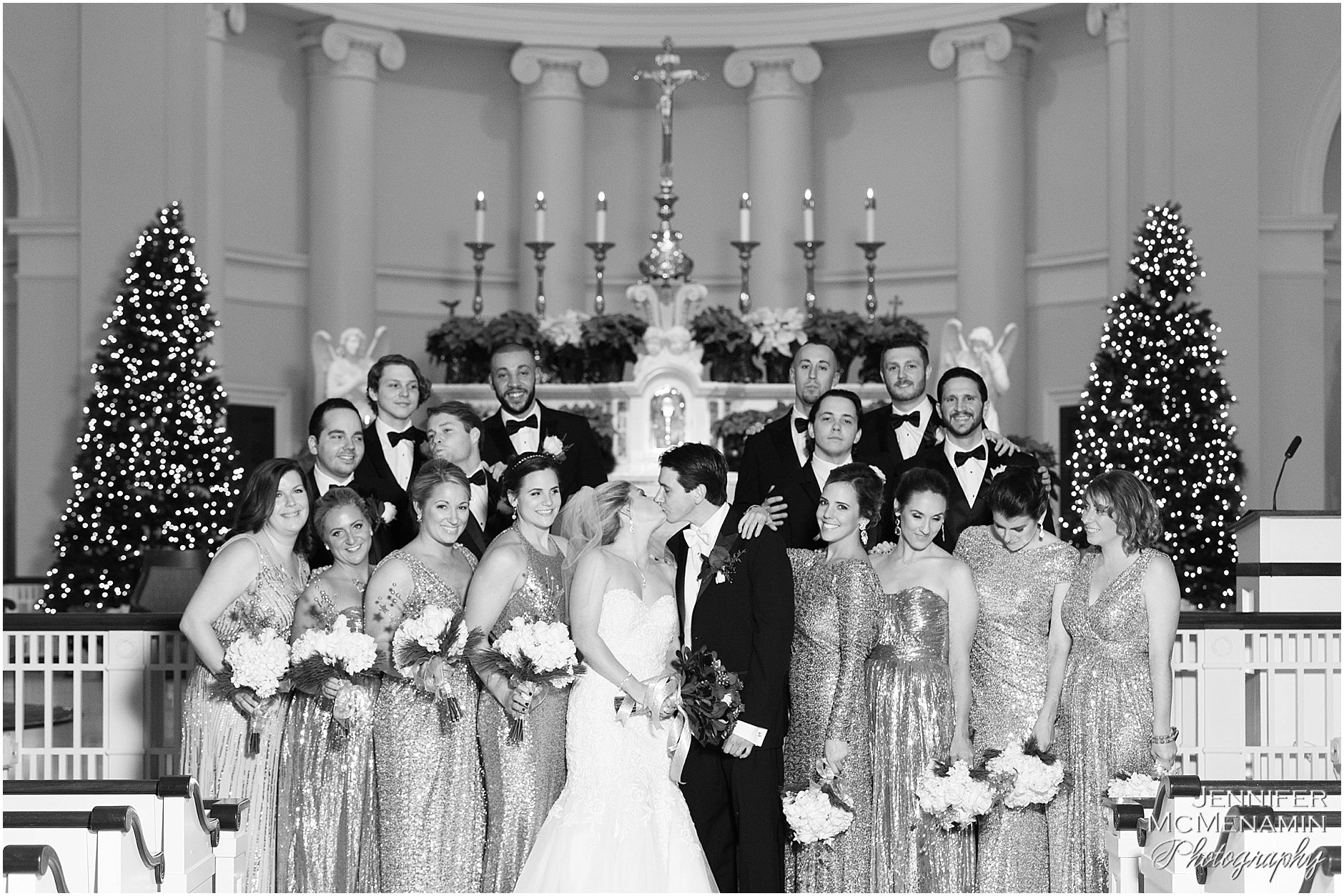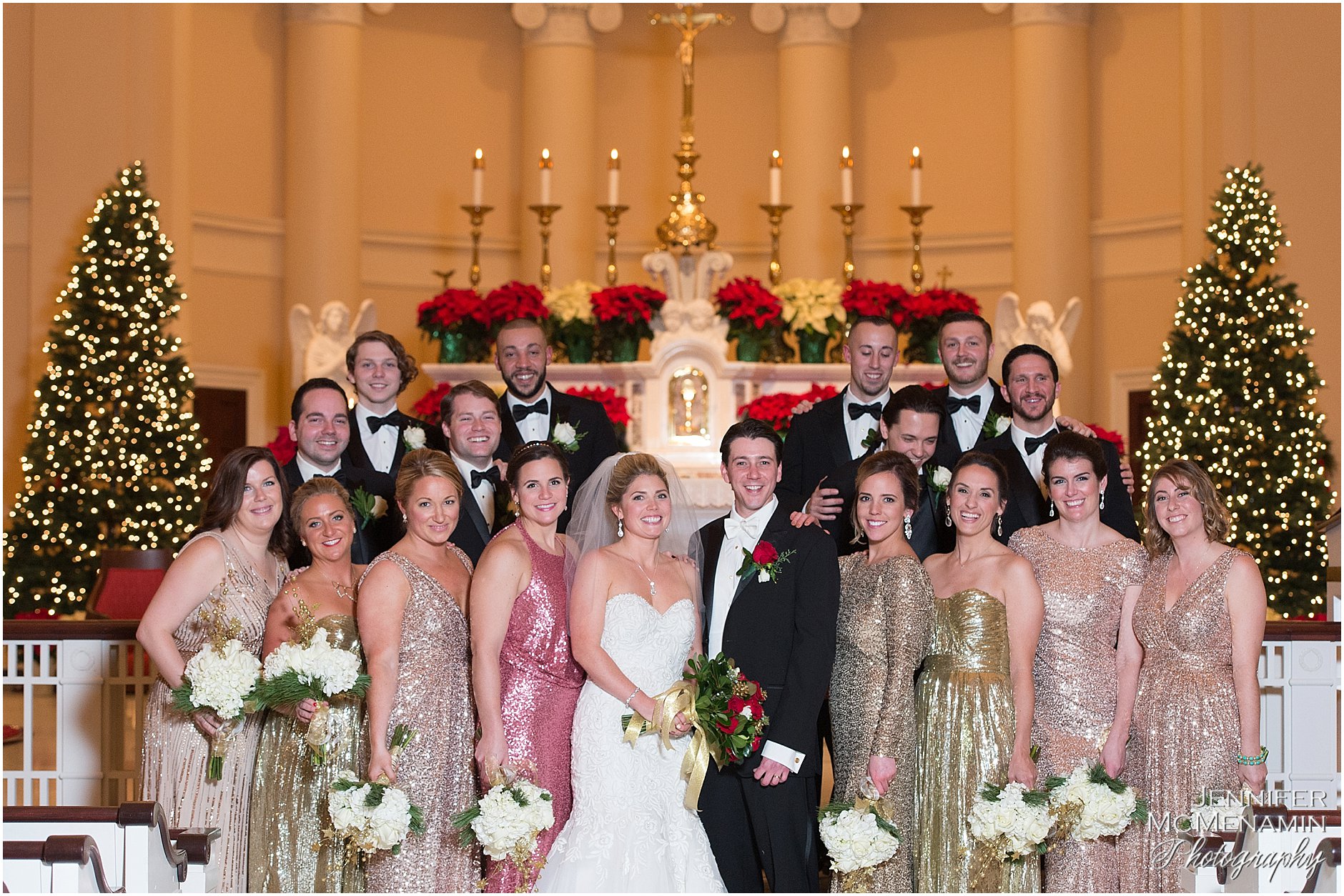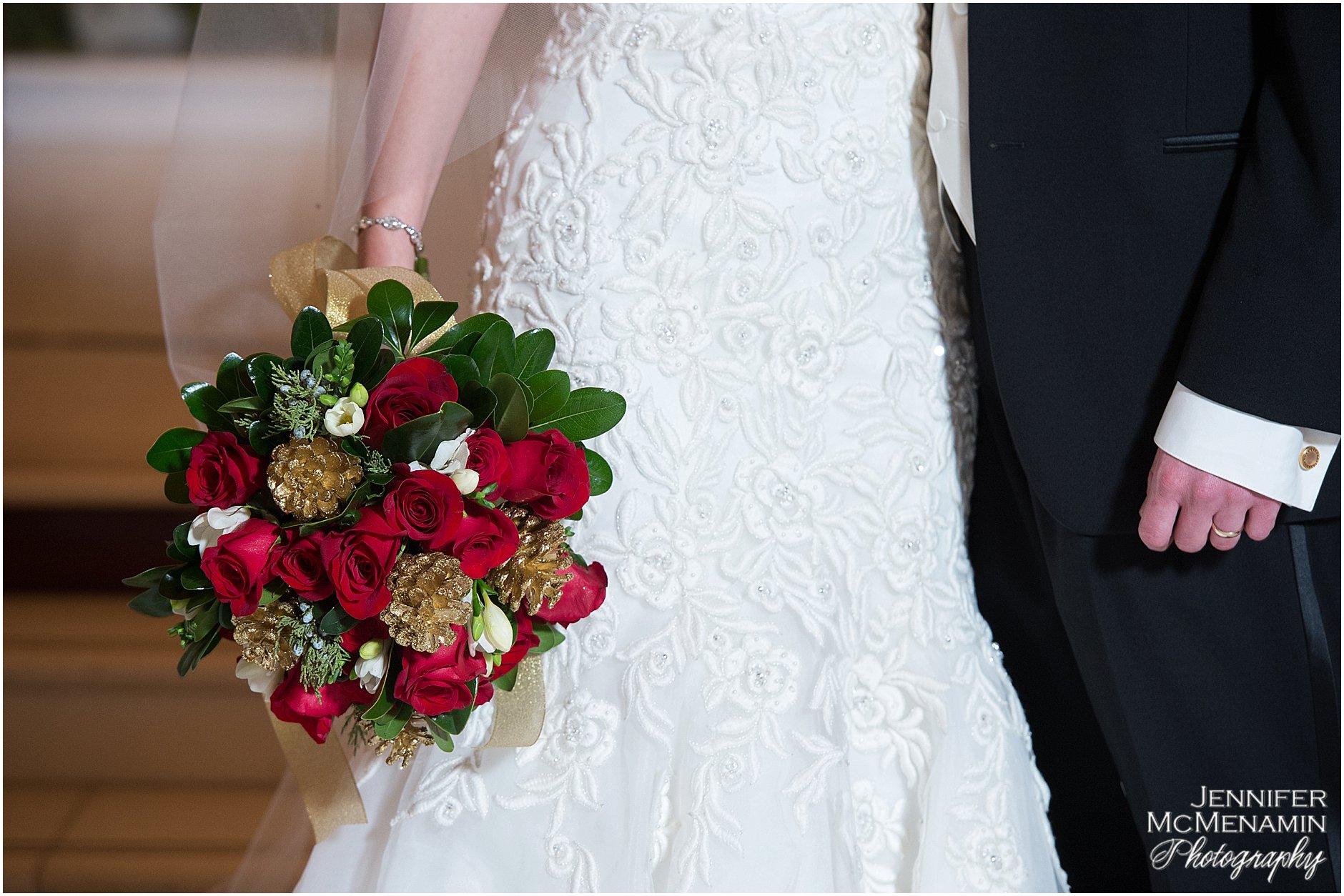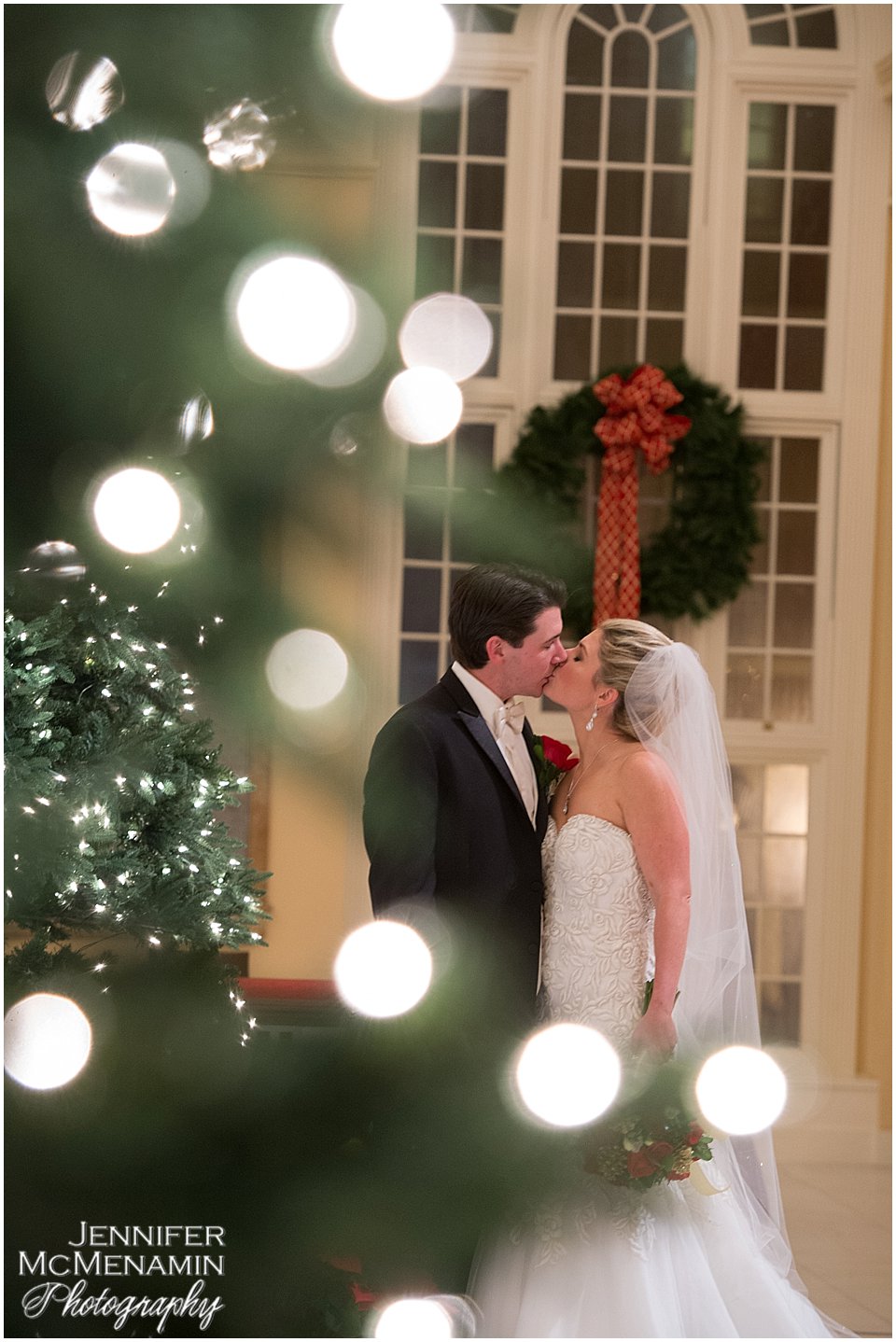 A wonderfully choreographed first dance.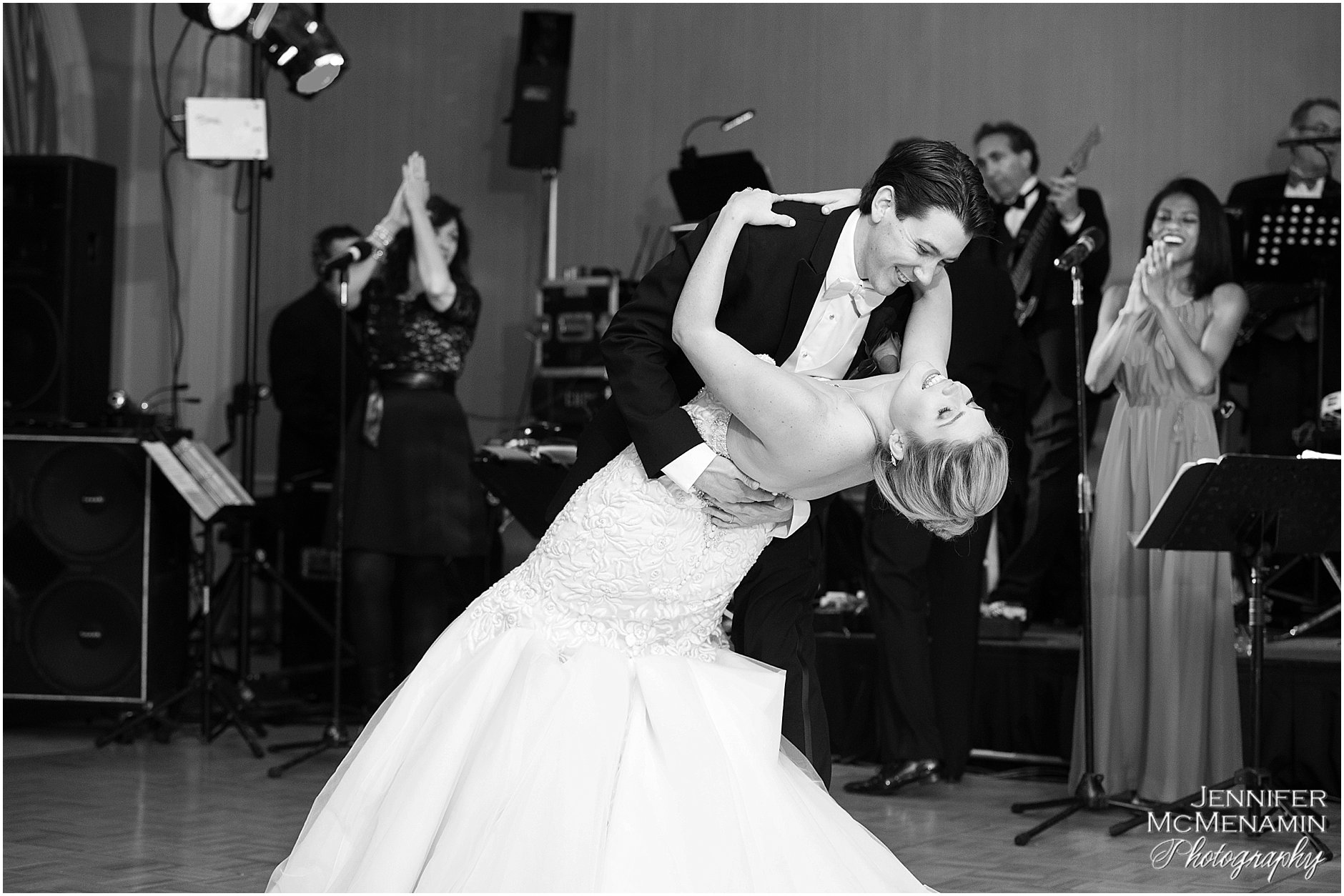 Toasts from the best man and the married maid of honor.


And lots and lots of fun and frivolity!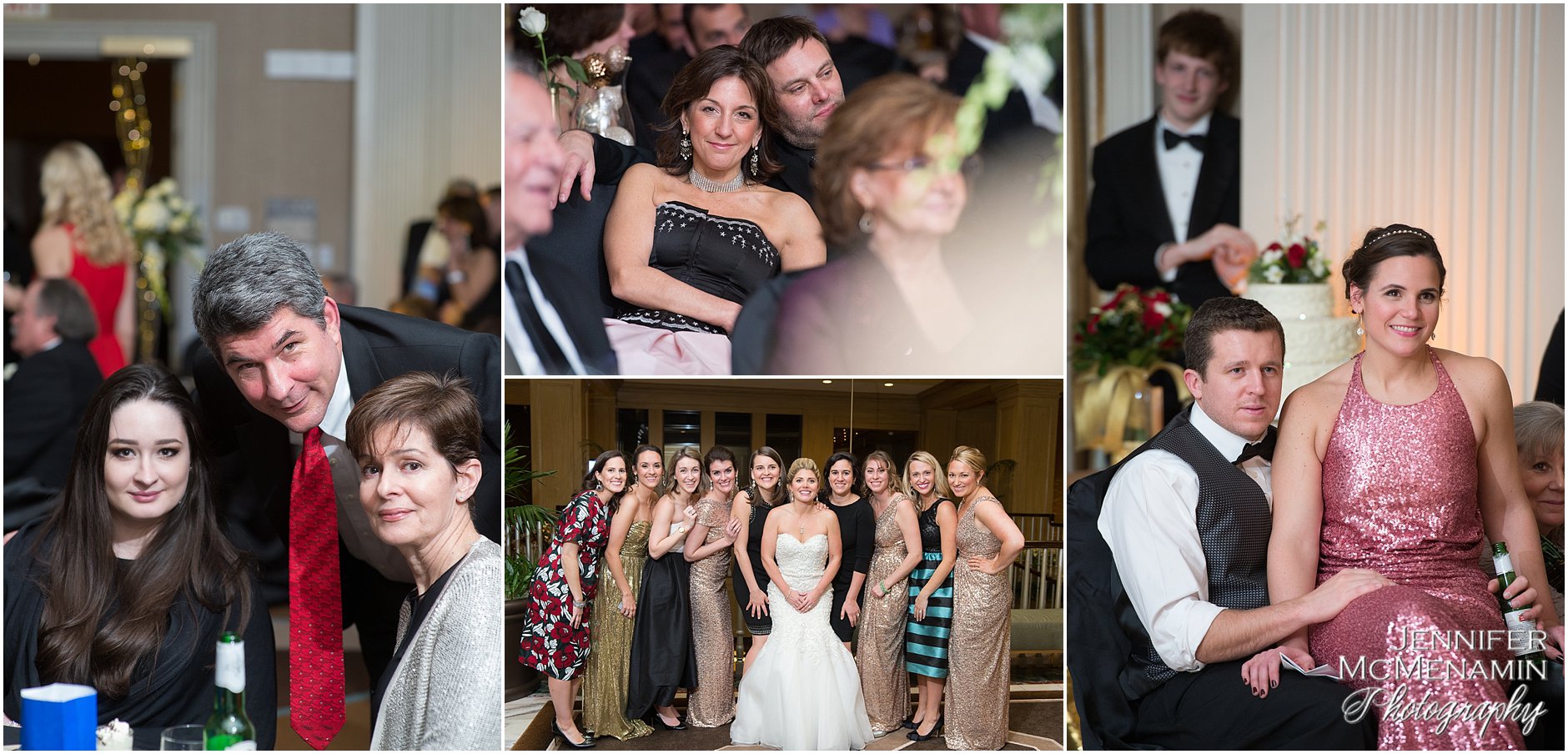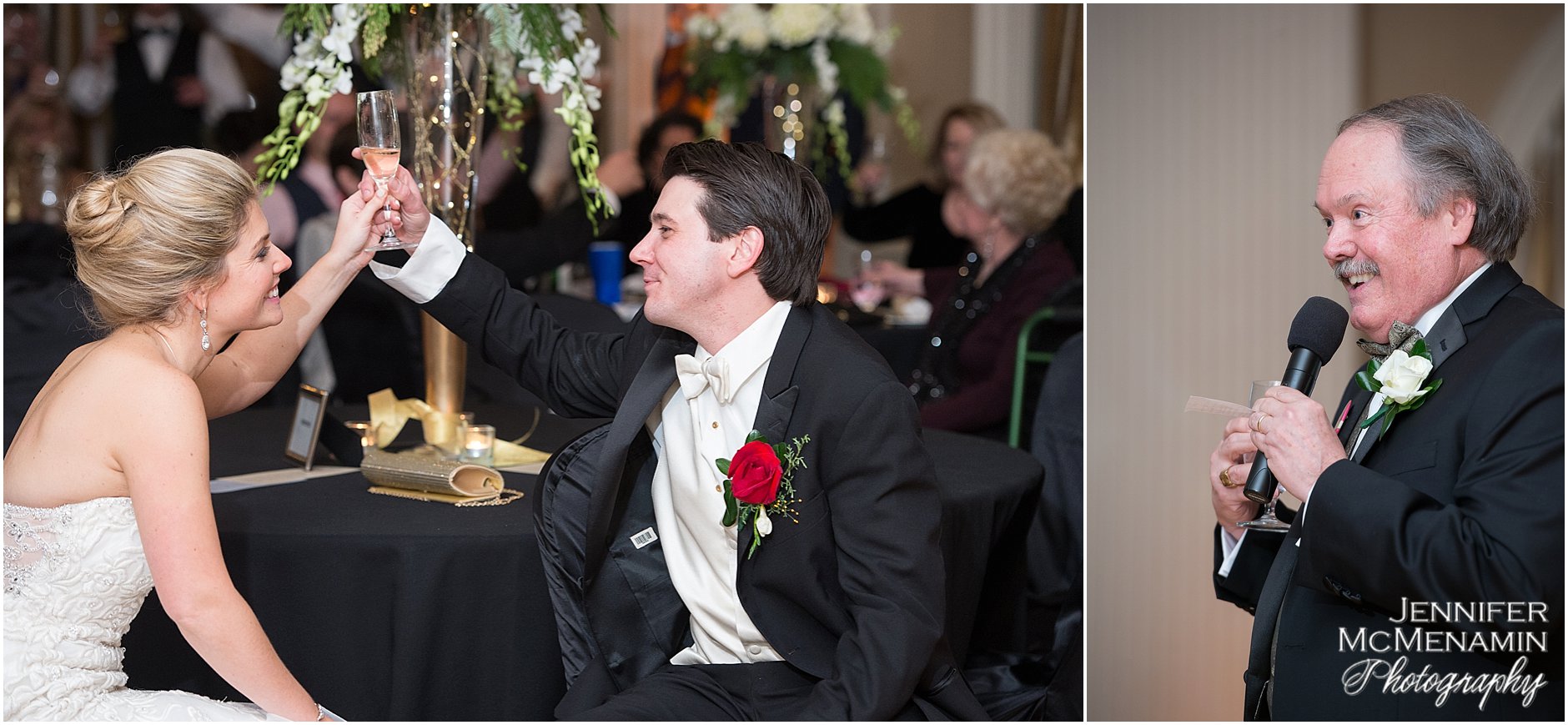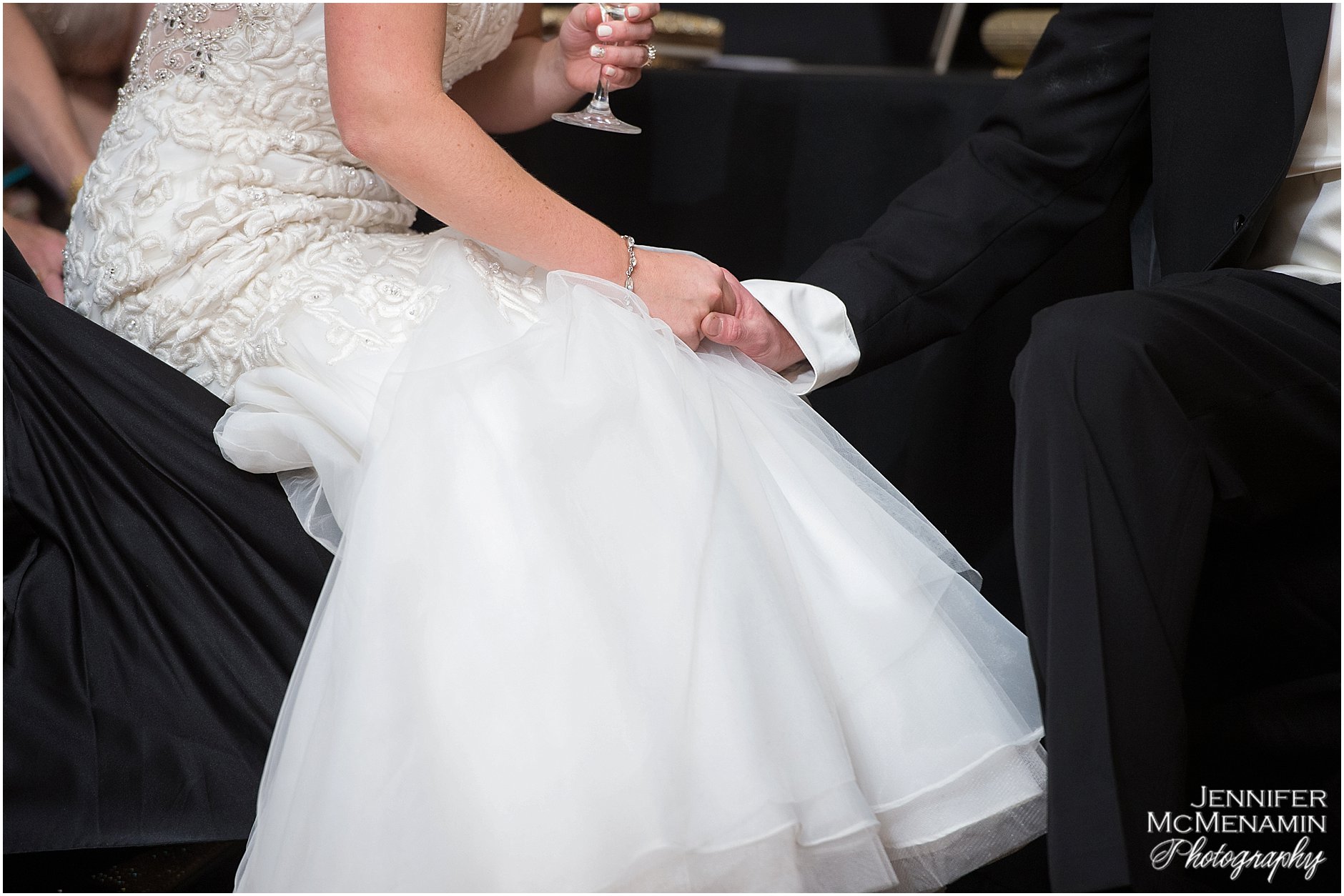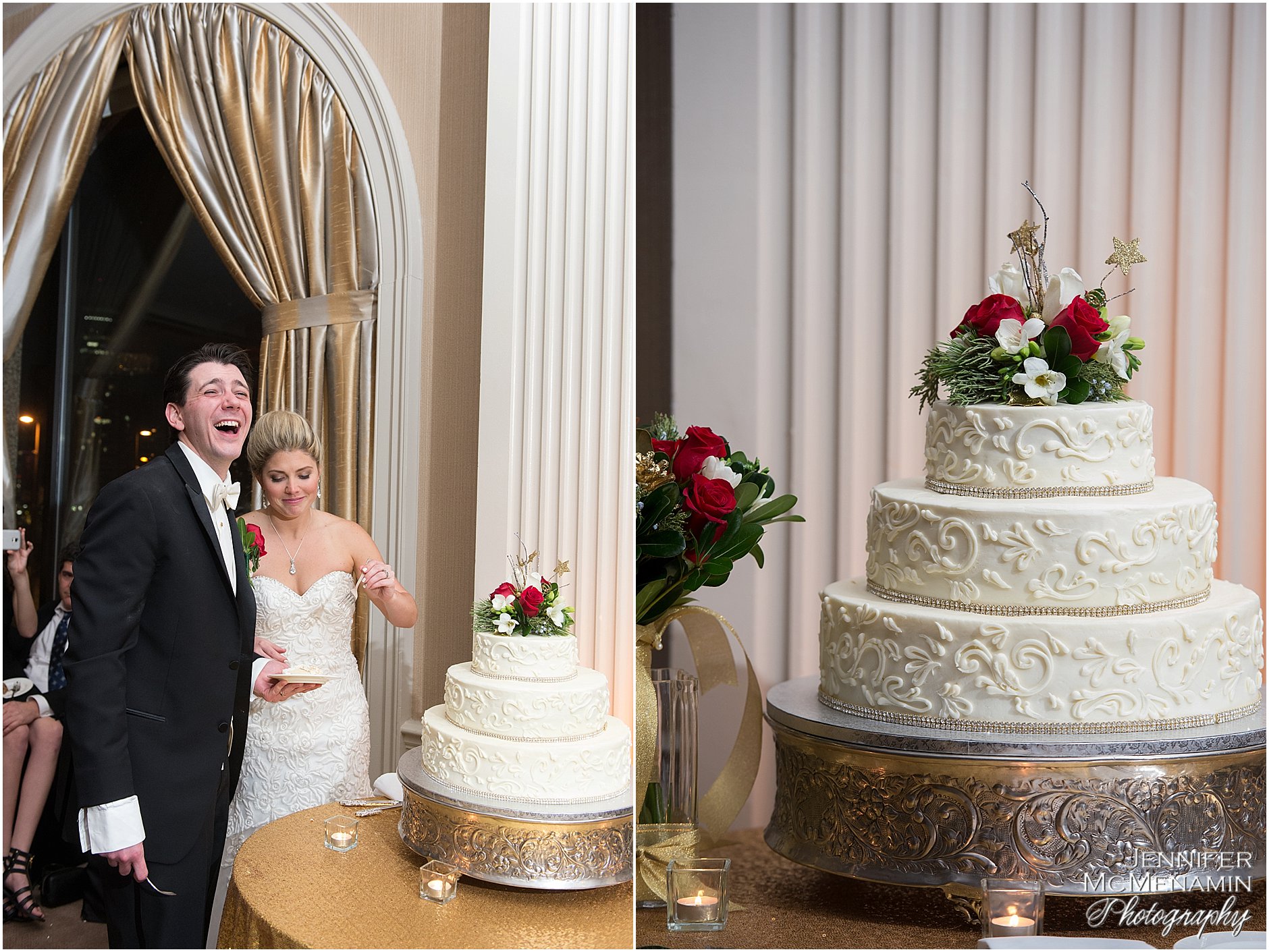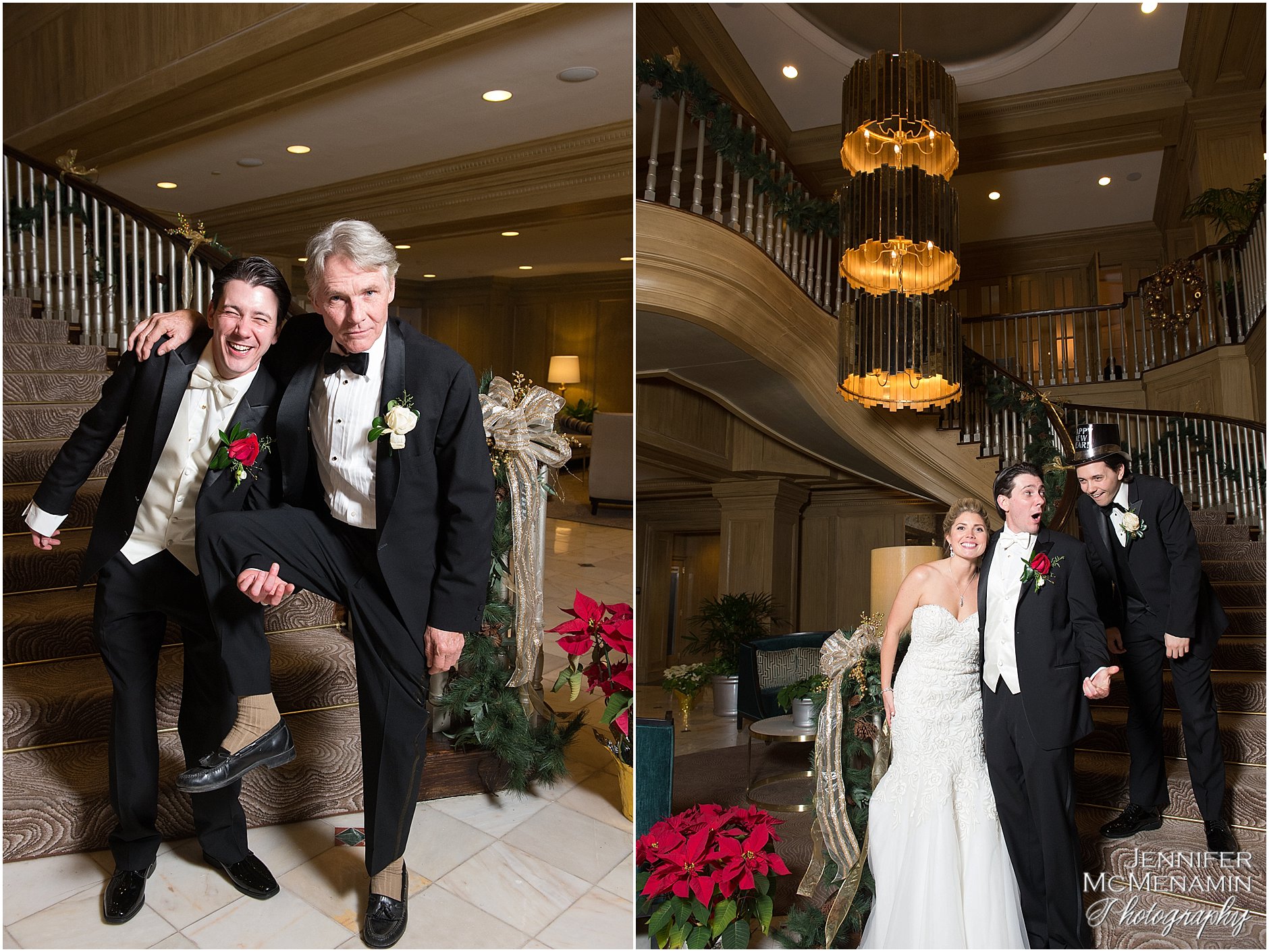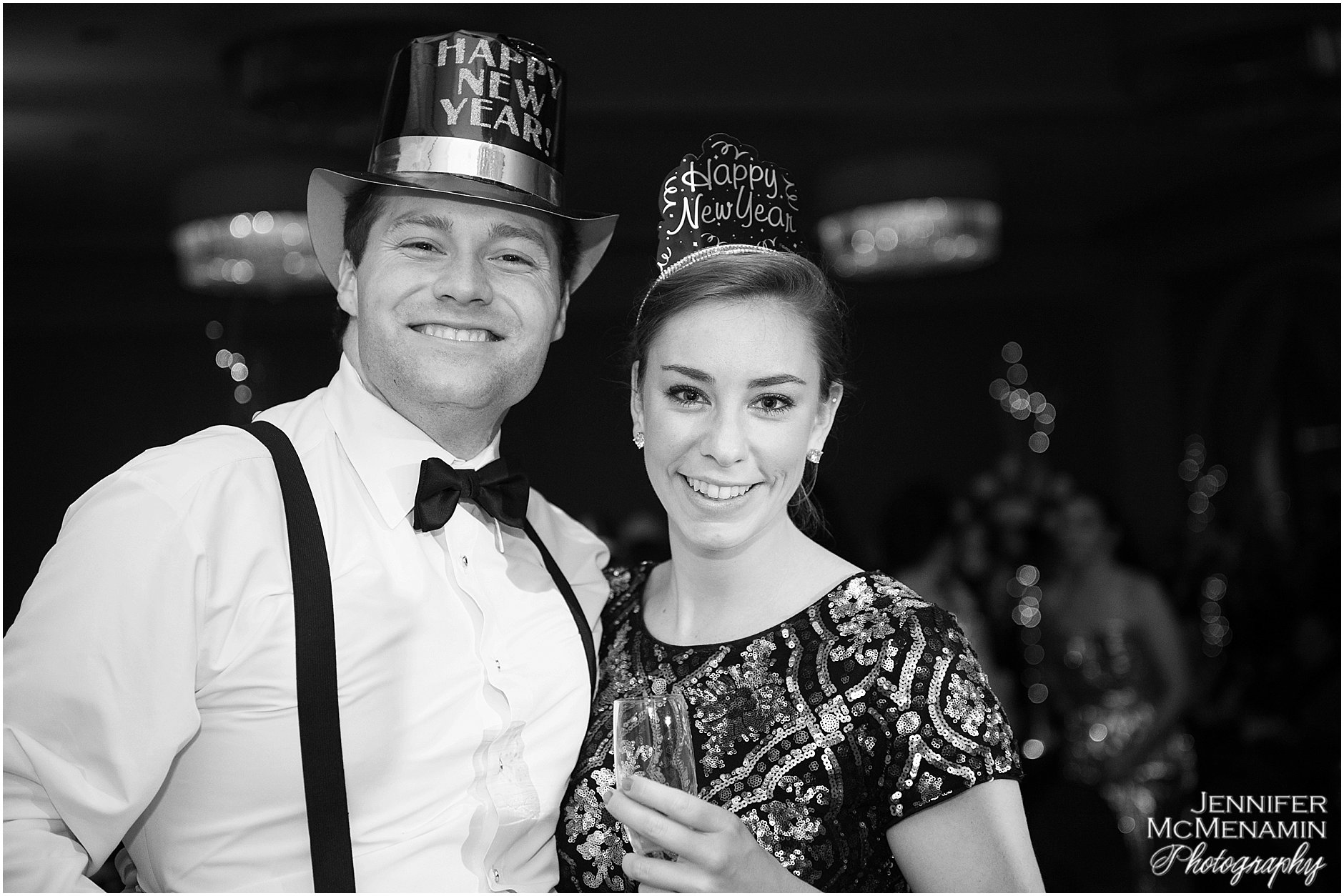 Happy New Year's!
Many, many congratulations, Laura + Nick. It was an absolute pleasure to ring in the New Year with you, your friends and your families!
Credits:
Photography: Jennifer McMenamin Photography, LLC

Ceremony: The Basilica of the National Shrine of the Assumption of the Blessed Virgin Mary
Officiant: Father Tom Malia
Ceremony musicians: Organist Muriel Hopkins & soloist Mary King

Reception: The Royal Sonesta Harbor Court Hotel

Event coordinator: Intrinsic Events
Bridal attire: A Madison James gown from Betsy Robinson's Bridal Collection
Make-up: Sara Elizabeth Artistry

Hair: Hair by Elite

Bridesmaids' attire: Rent the Runway
Groom's attire: Tuxedo House

Florist: Christina Strassner, a family friend
Cake: Graul's Market

Band: Gazze

Invitations & Papergoods: The Pleasure of Your Company

Transportation: American Limousines